Have you ever wondered about the best fishing destinations in each US state? Luckily for you, we've done the hard work, so you don't have to. Today, we'll meander through all fifty states to see whose oceans, lakes, rivers, reservoirs, ponds, creeks, and babbling brooks are full of fish just waiting to leap into your nets and which states will leave you floundering. Are you sitting comfortably? Good! Then grab your rod, waders, tackle, sandwich, and flask of coffee, and let's cast off on our mighty American fishing adventure. 
Alabama
We kick off in the first state, alphabetically––'Bama! If y'all wanna go fishing in the southeast United States, then Alabama is the place for you. Orange Beach and Gulf Shores on the incredible Gulf of Mexico are teeming with marine life and fish screaming out to jump into your nets.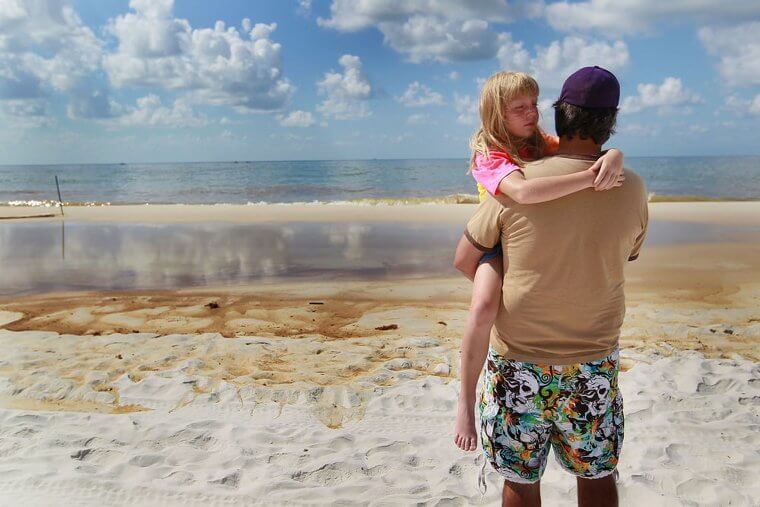 You're sure to land bass, speckled trout, flounder, and redfish. Just imagine them smothered in BBQ sauce and served with fried green tomatoes... provided you're not in catch-and-release season. But hold your horses! If you're looking for one of the South's best trophy smallmouth fisheries, mosey on down to Pickwick Lake in northern Alabama. It's renowned for its largemouth and smallmouth bass fishing. Lake Eufaula on the Chattahoochee River forms part of the border with neighboring Georgia and is a prime location for large blue catfish.

Alaska
Serious anglers travel halfway around the globe to fish for high-quality silver, pink, chum, and sockeye salmon in Alaska. The wild frontier provides thousands of rivers and lakes surrounded by stunning terrain. It's estimated that by 2027, half of Americans will live in Alaska, taking part in rugged outdoors reality TV shows.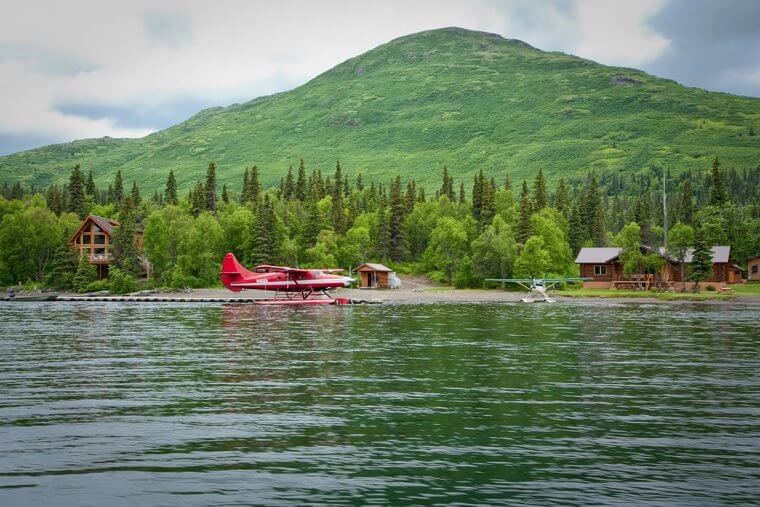 Cooper River is well known for its rich salmon catches if you don't get eaten by grizzlies! Bristol Bay makes the perfect landing spot for sockeye, King (or Chinook), coho, chum, and pink salmon because of its huge watershed. Meanwhile, the nearby Alagnak River is the best place for trout. You see, the trout follow the salmon and feed upon their haphazardly buried salmon roe. The best time to go is June - August. In Anchorage, you can win a gold nugget if you land the largest King Salmon at the Slam'n Salm'n King Derby.
Arizona
From Phoenix to Flagstaff, Arizona has hundreds of great places to fish. Lake Roosevelt is the most abundant and popular fishing spot in The Grand Canyon State. But don't worry about not finding a tranquil spot, it's  22 miles long and covers 1.6 million acres! You'll reel in large catfish, carp, bass, crappie, and bream from both its shallow and deep warm waters.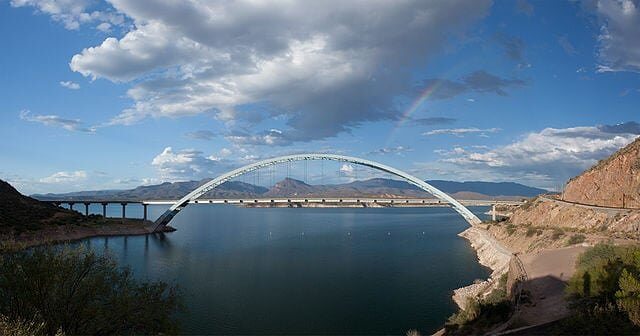 Oh, and in 2016, Florida strain largemouth bass were introduced as fingerling and fry. Oak Creek near gorgeous Sedona is one of Arizona's best fly-fishing spots and home to lots of friendly catfish and bass. Lake Patagonia is the perfect spot to take the family on a fishing getaway. Located just an hour outside of Tucson, you will find plenty of bluegills, flathead catfish, and bass. The best fishing is during the catch-and-release-only season. So no barbecuing! 

Arkansas
With over 10,000 miles of waterways in the Land of Opportunity, you'll have plenty of opportunity to catch large fish. The Arkansas River is great for a paddle and paddlefish but beware of the Swamp Stalker Sasquatch around Boggy Creek! Lake Ouachitanear's clear waters are abundant with bass, crappie, catfish, bream, and cool-water walleye.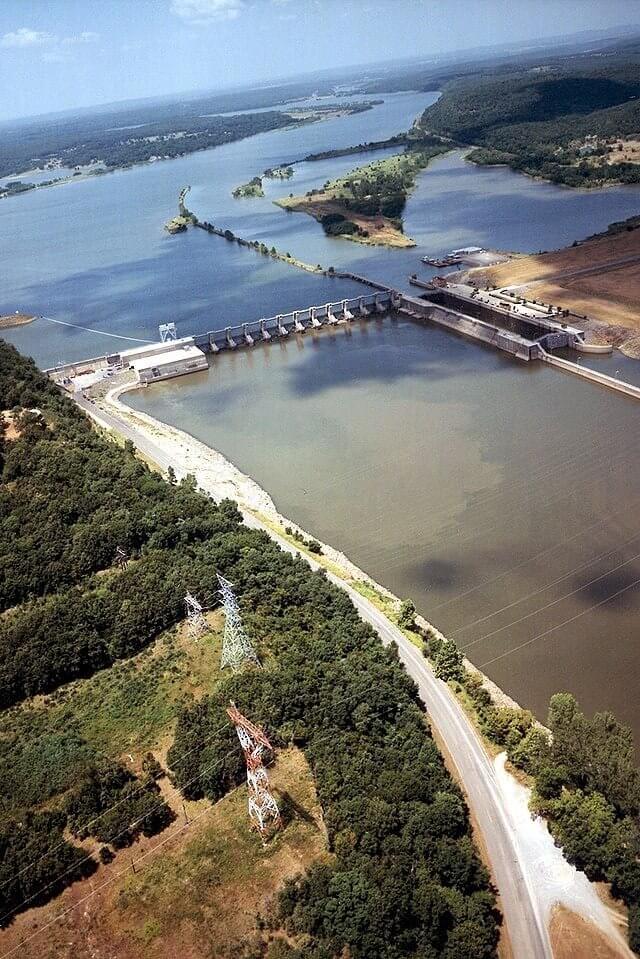 Meanwhile, the White River contains world-class rainbow, brown, and cutthroat trout and fly-fishing. Bull Shoals Lake in the north of the state is famous for its trophy-sized smallmouth and largemouth bass, crappie, walleye, and catfish. Greers Ferry Lake reservoir is well-known for its striped, largemouth, and smallmouth bass, crappie, and catfish, while the north-central Little Red River overfloweth with rainbow and brown trout.
California
Stretching 840 miles from Oregon to Mexico, California is teeming with thousands of saltwater species. Its stunning inland lakes, rivers, and reservoirs aren't too shabby, either! Lake Tahoe and Lake Shasta are chocked-full of salmon, bass, rainbow, brown, and mackinaw (or lake trout), and kokanee trout.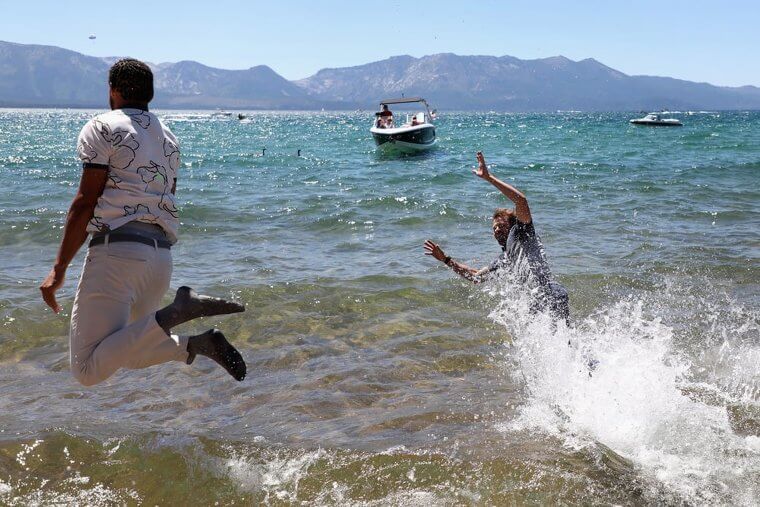 San Francisco Bay provides excellent striped bass, halibut, salmon, rockfish, and sturgeon via shore, pier, and charter boat fishing.  Mammoth Lake provides bluegill and rainbow trout and brook and golden trout, respectively. Driving south down Pacific Highway California 1, Monterey Bay is home to saltwater salmon, halibut, rockfish, lingcod, and Dungeness crab. Surprisingly, Los Angeles has plenty of fishing. If you don't fancy casting your rod off Santa Monica Pier, you can travel to Castaic Lake for striped bass, catfish, and trout or Lake Perris for catfish, rainbow trout, bass, and bluegill. 

Colorado
Colorado is an excellent fishing destination due to its abundance of rivers and lakes nestled within breathtaking Rocky Mountain landscapes. From the famous Colorado River and Arkansas River to pristine alpine reservoirs, you'll catch a hundred fish in The Centennial State.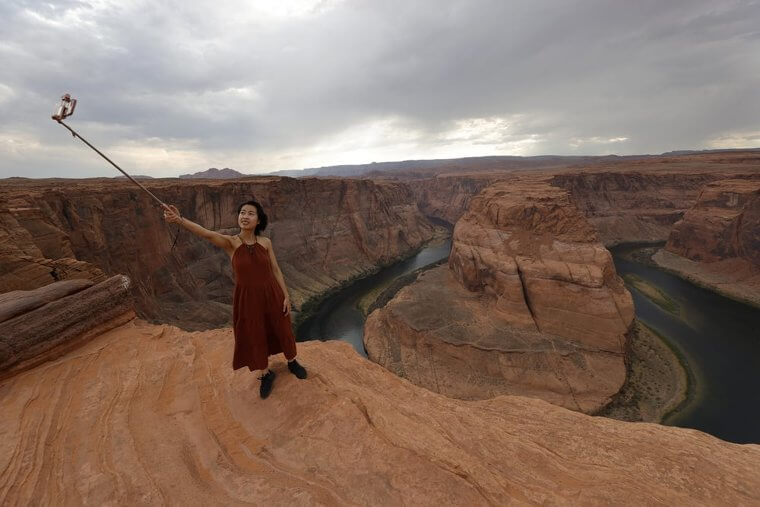 The Gunnison River––particularly the stretch between Almont to the Black Canyon––is famous for its Gold Medal Waters containing rainbow, brown, and cutthroat trout. The Frying Pan River and Gore Creek are both fly-fishing paradises with crystal clear waters and population of trophy-sized trout. Blue Mesa Reservoir is Colorado's largest body of water and home to kokanee salmon, mackinaw, rainbow, and brown trout. Finally, North Platte River is one of Colorado's more exclusive fishing spots, but you have to be brave as you have to get a raft or kayak to get there!
Connecticut
New England's longest waterway, the Connecticut River, rises 300 yards south of the border with Quebec, Canada, travels through Vermont, New Hampshire, Massachusetts, and Connecticut before discharging at Long Island Sound. It is home to freshwater and saltwater fish, including striped bass, bluefish, American shad, Atlantic salmon, and various freshwater species like catfish, walleye, and carp.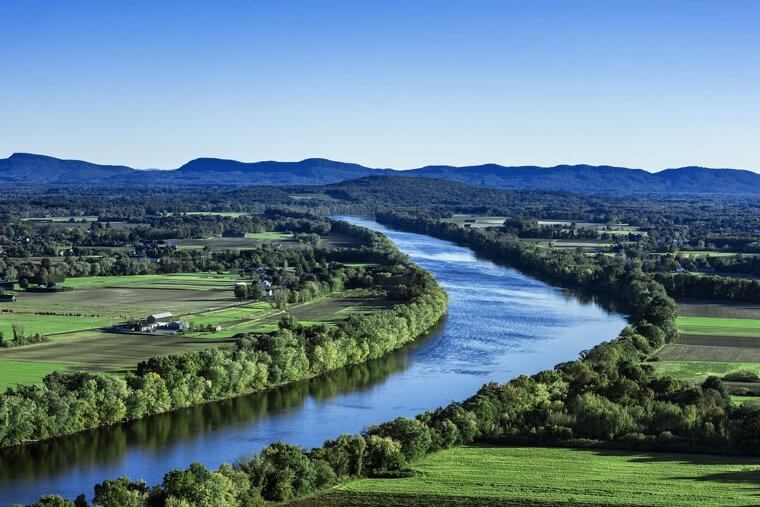 Bantam Lake, west of Hartford, is perfect for a peaceful and relaxing fishing experience. This tranquil fishing spot gives opportunities to catch yellow and white perch and calico bass. 80-mile-long Farmington River is situated west of Hartford, and its diverse fish population includes northern pike, bass, American eel, and many different trout. Lastly, Hammonasset Beach State Park is great for family fun. Try pier fishing for striped bass, bluefish, flounder, and blackfish.

Delaware
Like the state of Delaware itself, its lakes, rivers, and ponds tend to be on the small side. But fear not, The Small Wonder state provides a range of fishing, from freshwater lakes to crabbing off piers, providing hungry fishermen with dinner! White Clay Creek is best visited in the springtime and is stocked with plenty of rainbow and brown trout.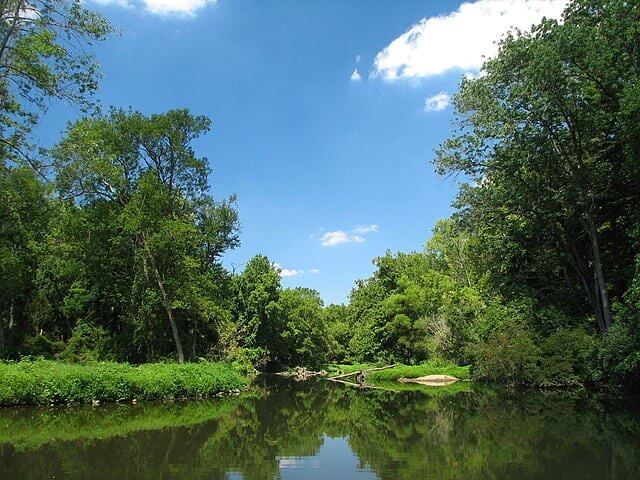 Killens Pond lies east of Washington, D.C., near Dover. Renowned for its gamefish and largemouth bass population, the small 66-acre pond also offers catfish, carp, perch, crappie, bluegills, and pickerel. Whereas Beck's Pond is a beloved fishing spot located in New Castle County. It boasts a healthy population of largemouth bass, making it a favorite among anglers. With an area spanning nearly 25 acres, the pond also supports a good number of crappie, perch, and bluegill.
Florida
Florida is officially the best state in the USA for fishing, eclipsing even Alaska. And you won't even need to pack your thermal long johns and Souwester! The Florida Keys are every angler's dream location. Chartering a deep-sea offshore fishing tour with a seasoned skipper almost guarantees trophies.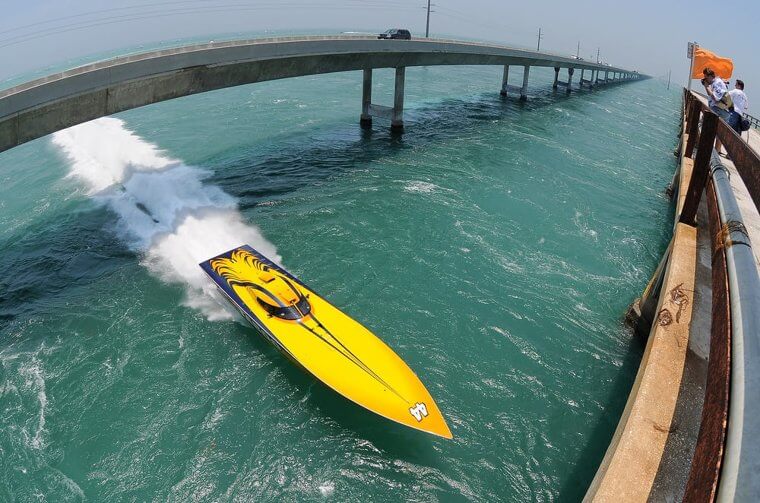 At Marathon Key, you can expect oodles of yellowfin and blackfin tuna, redfish, tarpon, grouper, mahi-mahi, mackerel, and maybe a swordfish. Pro-Tip: if you're after Blue Marlin, head to the deep-water bank known as Wood's Wall, southeast of Key West but keep it a secret! Panama City Beach and Destin are your best destin-ations for deep-sea fishing in northern Florida. You can find sailfish, grouper, snapper, mahi-mahi... and our favorite named fish––wahoo. Woohoo! Tampa is a great inshore destination where anglers can target a variety of game fish such as snook, trout, tarpon, flounder, and year-round redfish.

Georgia
Fishing off Georgia's Atlantic coast or on its reservoirs, warm water streams, and State Park lakes will make you think you've died and gone to heaven. The Golden Isles offer redfish, snapper, king mackerel, cobia, and tarpon, while St. Simon's Island also offers redfish, speckled trout, flounder, and sheepshead.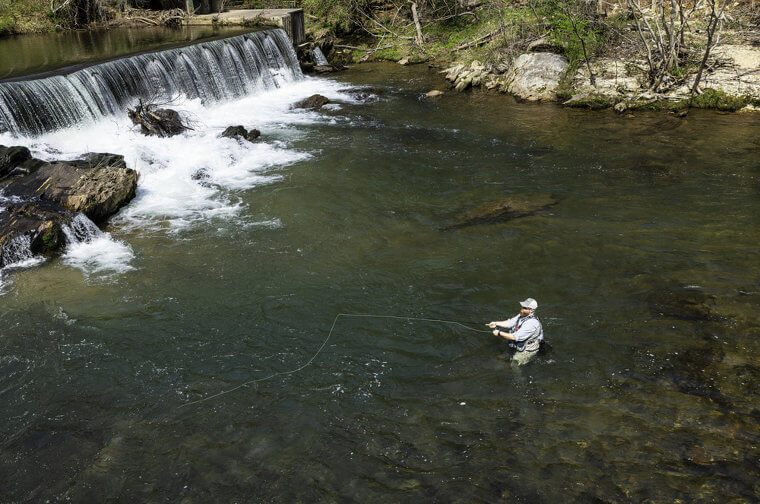 Lake Seminole contains a whopping 46 fish species, while Lake Lanier is home to blackfish, walleye, salmon, brown fish, and shellfish. Chattahoochee River is swarming with huge catfish. Don't believe us? While social fishtancing in 2020, Tim Trone caught a 110-pound blue catfish. Okefenokee Swamp in southeastern Georgia affords unique fishing experiences in a wild setting. It's perfect for kayak fishing around the beautiful marshland and bagging bass, chain pickerel, catfish, and panfish. And we didn't even have time to mention Lake Burton, Big Lazer Creek, Paradise PFA, and Flat Creek!
Hawai'i
Aloha and welcome to Hawai'i! The islands are surrounded by the warm tropical waters of the Pacific Ocean, creating a diverse marine ecosystem making the perfect hunting ground for both game fish and reef fish. Ka'ena Point State Park on the island of Oahu is great for hiking and picnicking, plus a prime location for saltwater fishing.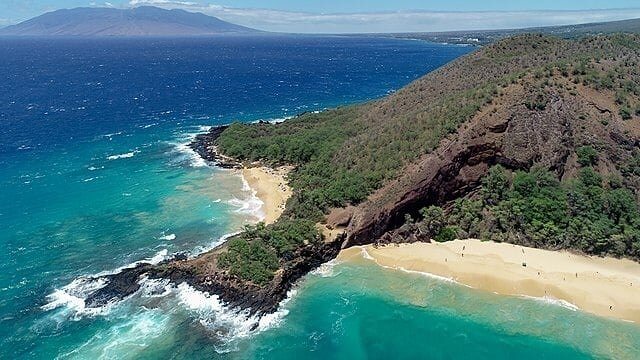 You'll find swordfish, barracuda, and ulua (giant trevally.) However, you're gonna need a bigger boat for the sharks! Makena Landing on Maui is a great spot for kayak anglers and shore fishermen who regularly catch big game fish, including marlin and dorado (mahi-mahi). Lake Wilson, aka Wahiawa Reservoir, is Oahu's go-to freshwater fishing destination. Spanning 400 acres, it has abundant fishing opportunities with over 17 different fish, including the more exotic Pungi (snakehead), oscar, tilapia, red devil, and the beautifully colored Tucanare or Peacock Bass.

Idaho
Idaho is famous for its shimmering lakes, streams and rivers, and blue-ribbon trout.  If you live near Boise, stop what you're doing and head on down to CJ Striker Reservoir for the best bass, catfish, salmon, and trout. Snake River winds through Idaho, offering diverse fishing opportunities, from trout in the upper stretches to smallmouth bass and catfish in the lower stretches.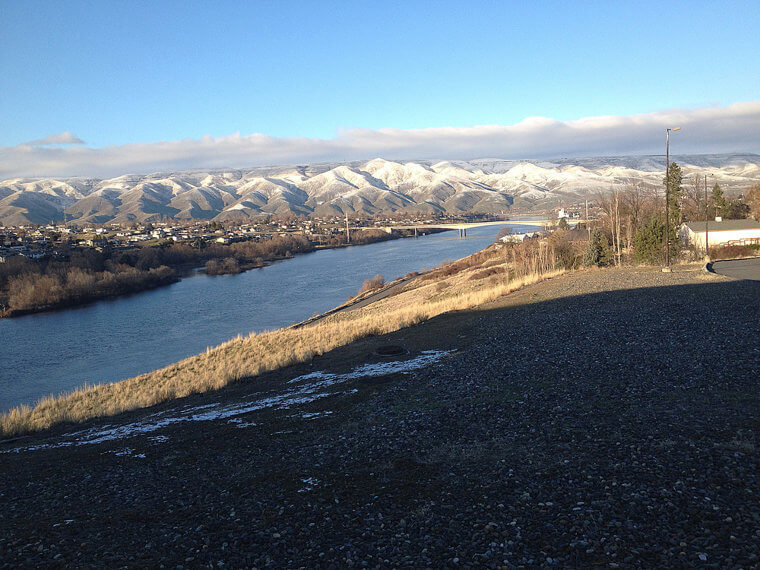 Meanwhile, Payette River offers both fly fishing and spin fishing and opportunities to catch rainbow trout and cutthroat trout. If you prefer not to mess about on the river, Lake Coeur d'Alene is a stunningly picturesque freshwater lake in northern Idaho where you can find kokanee salmon, northern pike, bass, and trout. Lake Cascade offers bluegill, bass, perch, trout, salmon, and crappie. Dworshak Reservoir in north-central Idaho features trophy-sized smallmouth bass, as well as kokanee salmon, trout, and walleye. 
Illinois
The Prairie State is one of the best states for fishing in the Midwest and features some species like muskellunge (muskie) and northern pike that you don't often find everywhere. Illinois contains more of the Mississippi River than any other state––575 miles from East Dubuque to Cairo. And if you're super lucky, like these gentlemen, you might even catch a 10-foot alligator gar!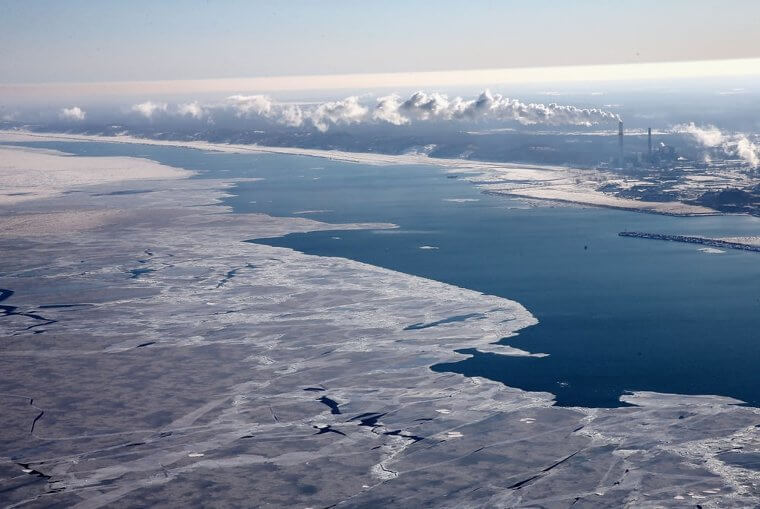 Lake Michigan's proximity to Chicago makes it popular for seasoned anglers, novices, and families. Even first-timers can expect to land a whitefish, salmon, smelt, walleye, steelhead, lake trout, or brown trout. Lake Springfield's beautiful parks and abundance of wildlife also make it a great family destination. Anglers can rent a kayak to try their chances at catching bluegill,  common carp, sauger, and channel catfish.

Indiana
From glacial lakes to natural babbling streams and man-made rivers, The Hoosier State boasts some of the best fishing spots in the Midwest. If you're up for a hike, check out the angling at Indian, Celina, Tipsaw, and Saddle Lakes of Hoosier National Forest.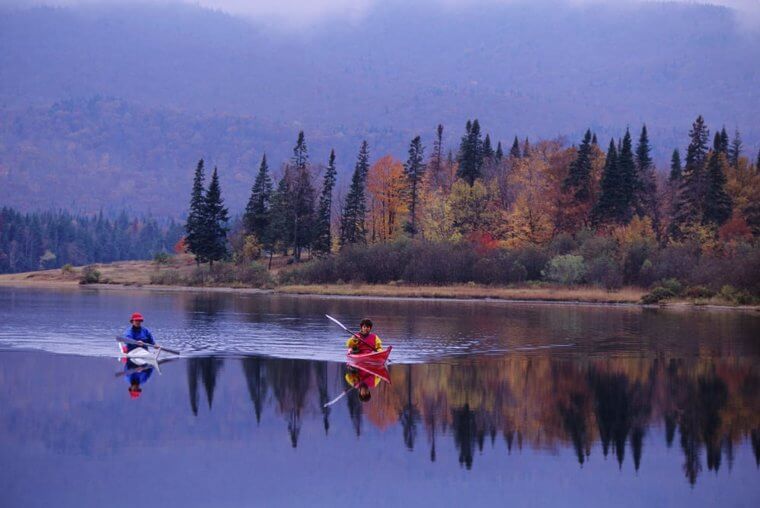 Indiana's premier fishing destination is Patoka Lake. Originally constructed by the  US Army Corps of Engineers as a reservoir, nowadays it's a beautiful and tranquil home to much wildlife and fish species, including stripers, catfish, crappie, and bass. Lake Monroe in Bloomington is the picture-perfect summer vacation spot. Its beaches offer camping, swimming, fishing, hiking, and boating. Its pristine waters boast a diverse array of species, such as carp, catfish, bass, walleye, and crappie. 
Iowa
Iowa is another Midwestern fishing haven, thanks to its perfect lakes and waterways brimming with aquatic wildlife to tempt fishermen from all over Fly Over Country. Black Hawk Lake was formed by a glacier, making it another perfect summer holiday destination with camping, boating, hiking, and all that malarkey.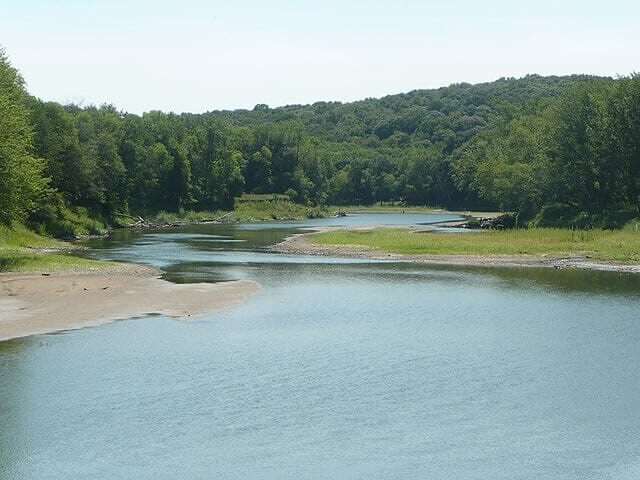 Leave the kids to crazy golf while you enjoy a bountiful year-round supply of walleye, 10-inch bluegill, northern pike, sunfish, and crappie. The scenic and peaceful Des Moines River flows through central Iowa and furnishes excellent fishing spots for reeling in all of the above, plus catfish, smallmouth bass, and panfish. Gorgeous, 11,000-acre Lake Rathbun boats over 700 campsites amongst the rolling hills of southern Iowa. Known as Iowa's crappie capital... but Larry Sparks caught a 93.5-pound bighead carp.

Kansas
Think of Kansas, and you think of endless prairies, the Dustbowl, and tornadoes transporting Dorothy and Toto off to Oz. But, somewhat surprisingly, The Sunflower state has a wealth of great angling dusty-nations. The Kansas River, also known as the Kaw River, flows through the heart of Kansas.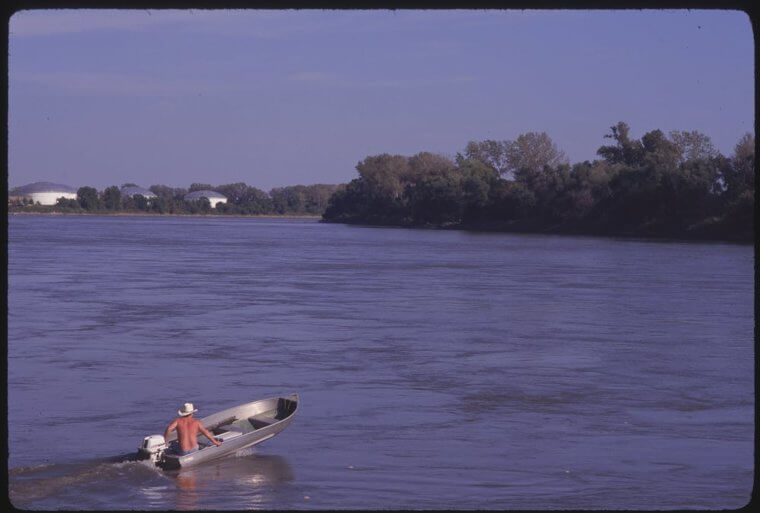 There, you'll land flathead and channel catfish, walleye, sauger, white bass, and drum before you can say, "This ain't Kansas!" Milford Lake is the largest lake in the state and can be found in north-central Kansas, It offers all the usual, including walleye, basses, crappie, white bass, and catfish. The Smoky Hill River runs through central and western Kansas, allowing anglers to find catfish, smallmouth bass, walleye, sauger, and drum frolicking in its rolling waters.
Kentucky
When Kentuckians aren't racing horses, they're fishing... dressed as Colonel Sanders, playing the banjo around a campfire eating KFC hidden from their tackle box. No, seriously, The Bluegrass State is a mecca for anglers because Kentucky is second only to Alaska in terms of navigable miles of waterways in the USA!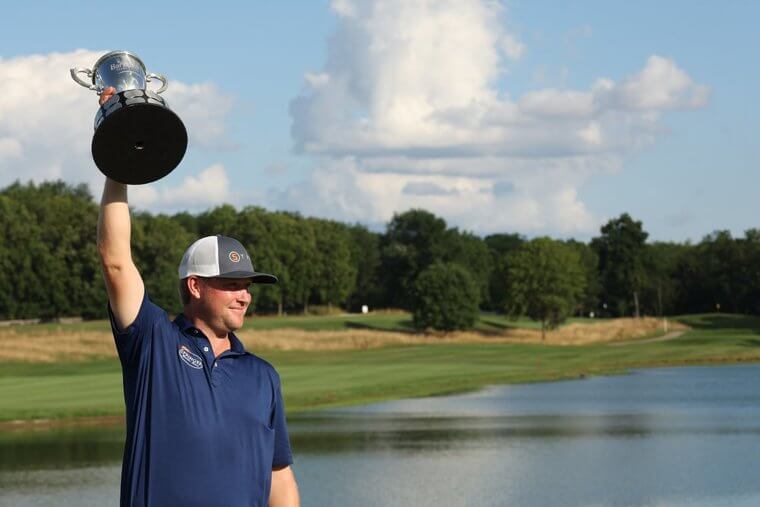 You'll know the Ohio River and Mississippi River, but the lesser-known Cumberland River, Licking River, and Green River are angler's paradises, too. But it's not just rivers. Kentucky boasts more creeks than doors in haunted houses. Check out Beargrass, Tygarts or Hickman Creeks, Clear Fork, and our favorite, Tug Fork. Just remember not to tug too hard on your rod! Yatesville Lake and Buckhorn Lake are pretty tidy, too!

Louisiana
Louisiana is unlike anywhere else in the States. From its French-sounding names to its beautiful bayous. LA has its own brand of southern hospitality; New Orleans Mardi Gras, Dixieland jazz, and mouthwatering Cajun food. But you can't make gumbo without catching some shrimp.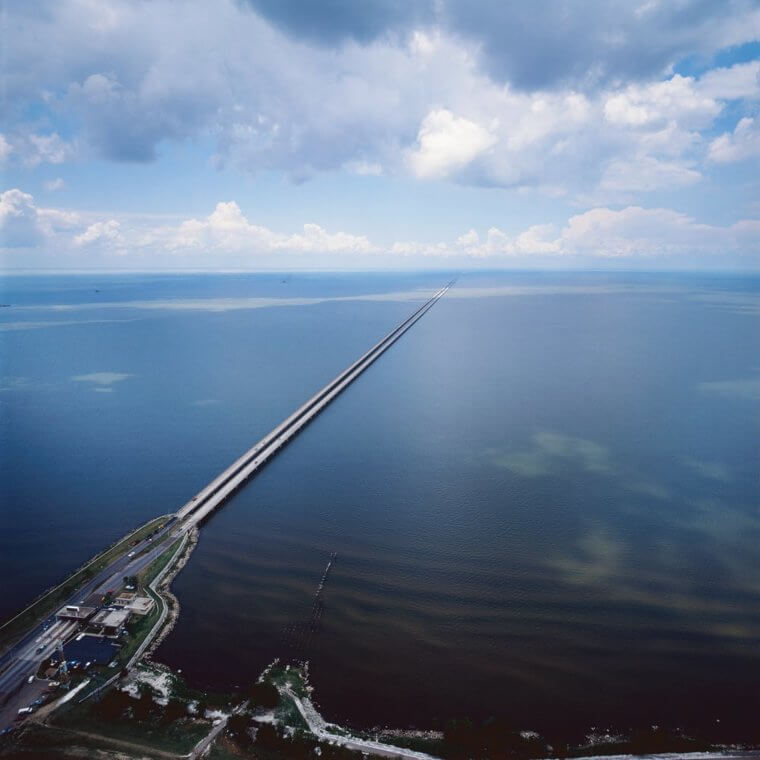 So head on down to Lake Borgne or Lake Pontchartrain to catch your shrimp jambalaya and Po' boy ingredients. Venice is Louisiana's premier saltwater fishing spot on the Gulf of Mexico, and you may land redfish or snapper to tuna, tarpon, or marlin. Inland, Black Bayou Lake is a wildlife refuge just north of Monroe. It's popular with local bream fishermen but can get busy as it's a major tourist attraction. 
Maine
Maine is Stephen King country and the home of American golf, Augusta. The northern state has an extensive network of waterways, including the Atlantic Ocean, majestic lakes, tranquil ponds, and pretty winding streams. Just ten miles from Augusta, the Belgrade Lakes are full of bass, brook trout, and wayward golf balls!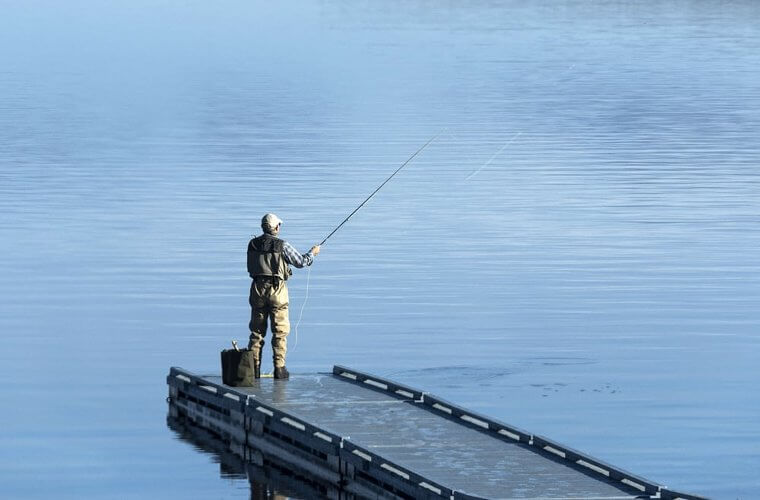 Off Kennebunk, you can reel in all sorts of fish we haven't mentioned yet. From Atlantic mackerel and Atlantic pollock to summer and winter flounders, garfish, and tautog. Brave, hardy anglers from across the country flock to Sebago Lake during the winter months to set up ice-fishing huts and target salmon and lake trout.
Maryland
If you think Maryland doesn't cut the mustard when it comes to fishing, think again. Fishing enthusiasts flock to its bountiful shorelines along the Chesapeake Bay and the Atlantic Ocean. She has deep, expansive lakes and secret hidden ponds with tons of cover. The Old Line State's largest freshwater lake is Deep Creek Lake, which holds the ever-reliable crappie, bass, as well as rainbow trout.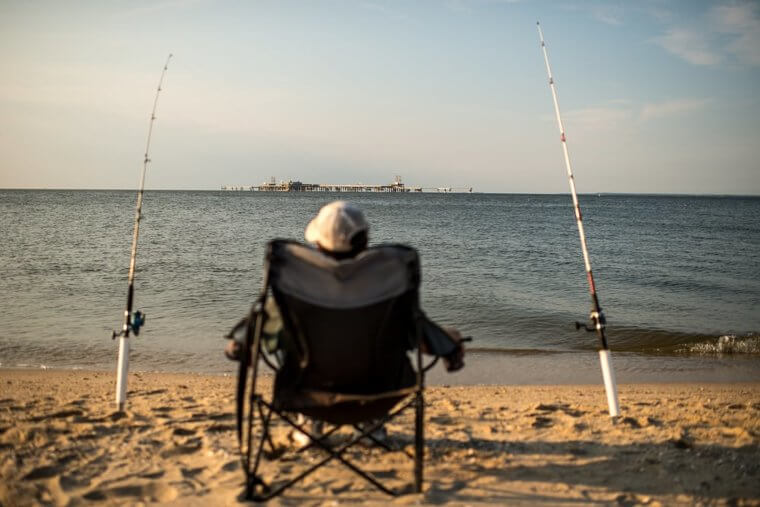 At the delightfully named Unicorn Lake, you may come across some new fish like yellow perch, white perch, green sunfish, and the delightfully named pumpkinseed sunfish. And before you ask, no, you can't turn them into jack-o'lanterns. Meanwhile, a barrier island on the Maryland coastline, Assateague Island volunteers up schools of red and black drum, flounder, bluefish, and striped bass.
Massachusetts
Bostonians and Bay Staters are proud of their fishing heritage. And so they should be, because their most famous peninsular is called Cape Cod. If you don't fancy chasing Moby Dick or Jaws on the high seas, the narrow Cape Cod Canal is the most popular shore fishing destination on the peninsula and ideal for casting into from shore.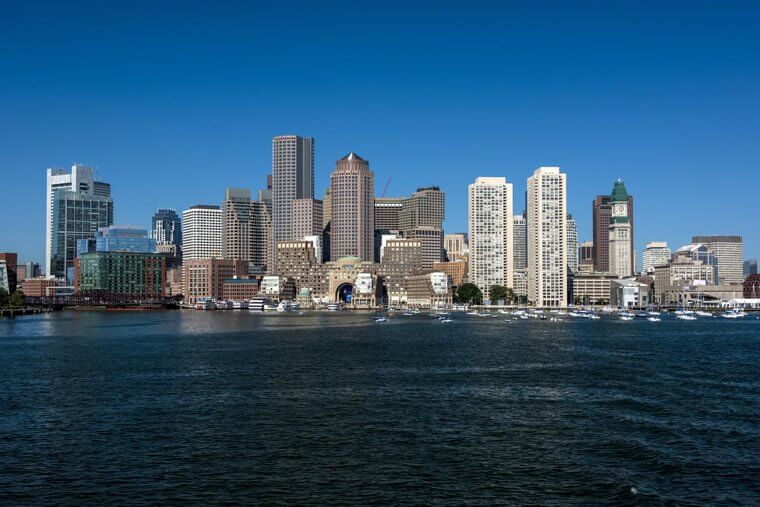 Expect to catch haddock, striped bass, bluefish, tuna, and, err... cod!  Boston Harbor might not be your first thought, but the estuary system mixes brackish Atlantic saltwater with freshwater from the Charles, Mystic, and Neponset Rivers. As such, you can find plenty of striped bass, black sea bass, mackerel, and more. For lazy, meditative, Henry David Thoreau-inspired days, pitch up anywhere along the sumptuous Merrimack River. 
Michigan
You might only be able to name one, but Michigan is home to over 11,000 lakes. You can fish in Lake Michigan from Michigan, Illinois, Wisconsin, and Indiana, but not Canada, as it's the only Great Lake wholly within the USA.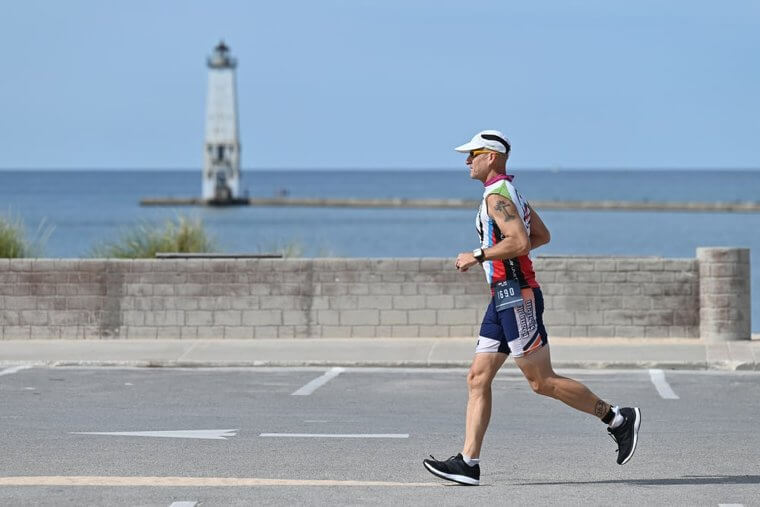 As well as your run-off-the-mill fishies, you can also catch coho and Chinook salmon, steelhead trout, brown trout, lake trout, yellow perch, catfish, freshwater drum, lake whitefish, and sunfish. On the other side of the Michigan peninsula, Saginaw Bay lies on Lake Huron. Famous for its productive fisheries, the bay holds national walleye tournaments. Further north, the stunning Au Sable River is a designated National Wild and Scenic River and is highly regarded for its trout fishing. 
Minnesota
Minnesota is known as The Land of 10,000 Lakes and therefore is a prominent fishing destination in the Midwest. Oh yaah... you betcha! Lake Winnibigoshish occupies 55,000 acres of the Chippewa National Forest and offers year-round fishing, particularly for walleye.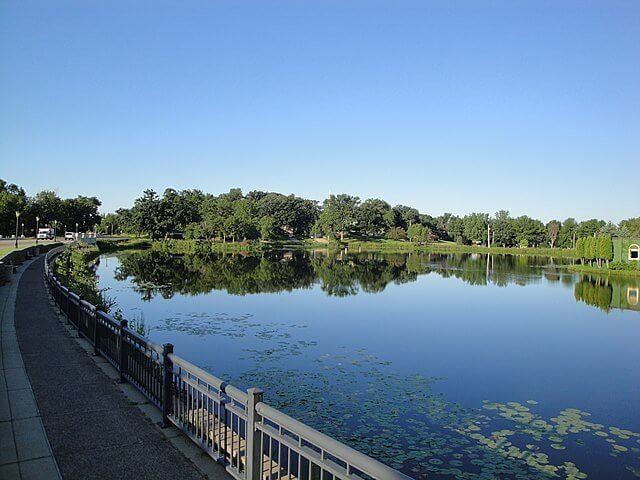 Meanwhile, the thriving, gorgeous Red Lake in Beltrami County is twice the size, and anglers can ice-fish during the winter months. Flowing from Taylor's Falls to its convergence with the Mississippi, the St. Croix River forms much of the border between Wisconsin and Minnesota. Its icy waters used to be a favored fur trade route from the Mississippi River to Lake Superior, but nowadays, it's home to over 60 fish species, including sturgeon and catfish. 
Mississippi
Located in the Gulf of Mexico, offshore and nearshore anglers will love the Mississippi Sound. You'll be sure to catch plenty of redfish, tripletail, black drums, and sheepshead in these waters. If you like listening to Blues music while you're fishing, head on up to the Mississippi Delta, where you might bang on a freshwater drum!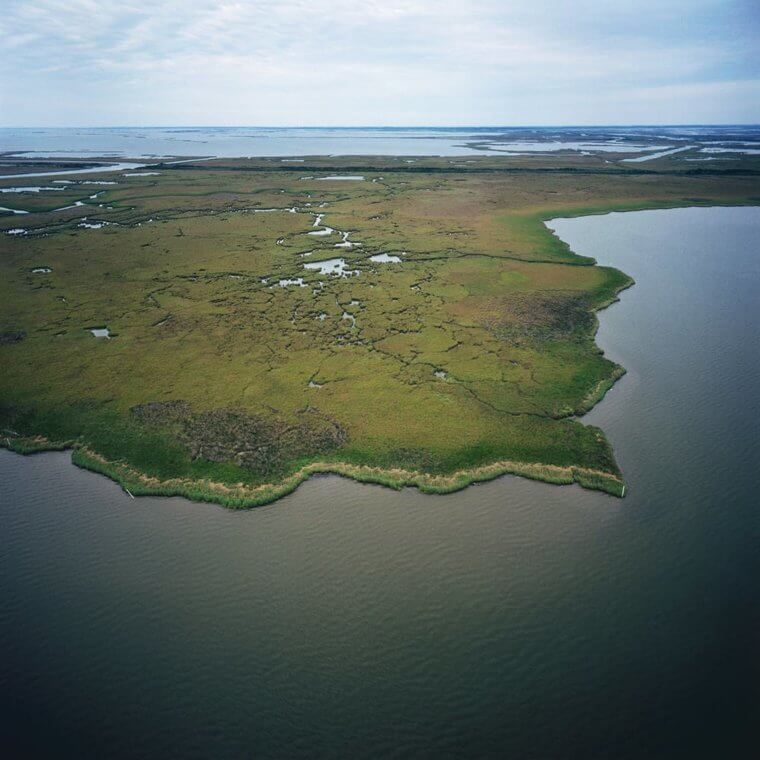 Inland, the Mississippi Department of Wildlife, Fisheries, and Parks operates 20 prime fishing lakes which offer outstanding fishing on over 4,000 acres of calm, flat waters. The best state lakes are the 33,000-acre, bream and catfish-filled Ross Barnett Reservoir near Jackson, Sardis Lake in northern Mississippi, Grenada Lake, and the aforementioned Pickwick Lake, which Mississippi shares with Alabama and Tennessee.
Missouri
Missouri wouldn't be Missouri without The Ozarks. Its gorgeous surroundings offer exceptional fishing opportunities year-round, with winter fishing offering a rewarding challenge. The staggering 1,500 miles of shoreline around the Lake of the Ozarks offer bass fishing, but this massive lake also includes white crappie, channel catfish, paddlefish, white bass, bluegill, and more.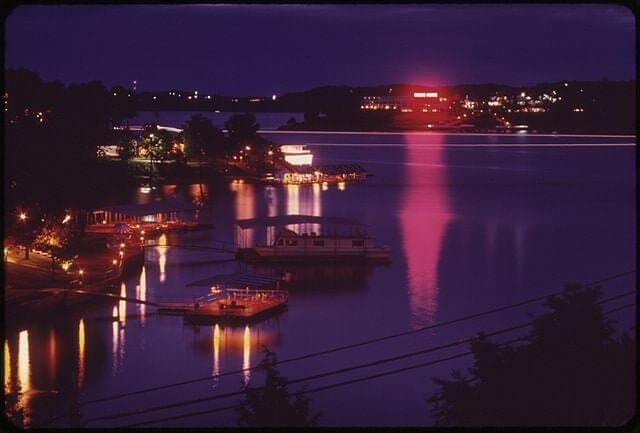 Missouri shares the already-mentioned Bull Shoals Lake with Arkansas. The two states also share Table Rock Lake. There, somewhat confusingly, you can snag some Kentucky spotted bass. Alternatively, cast your line on the Osage River, home to paddlefish, crappie, sunfish, catfish, white bass, hybrid stripers, and walleye. Pro-Tip: Bagnell Dam near the city of Bagnell on the Osage is the best spot for walleye fishing with live minnows and nightcrawlers during the early spring.
Montana
If fishing in Montana isn't near the top of your bucket list, then you might be certifiably insane! Welcome to Big Sky Country, where the firmament above is so clear you can see all the way to heaven. The breathtaking scenery and rivers plummet down from the Rockies and boast some of the finest trout fishing in North America and maybe even the world.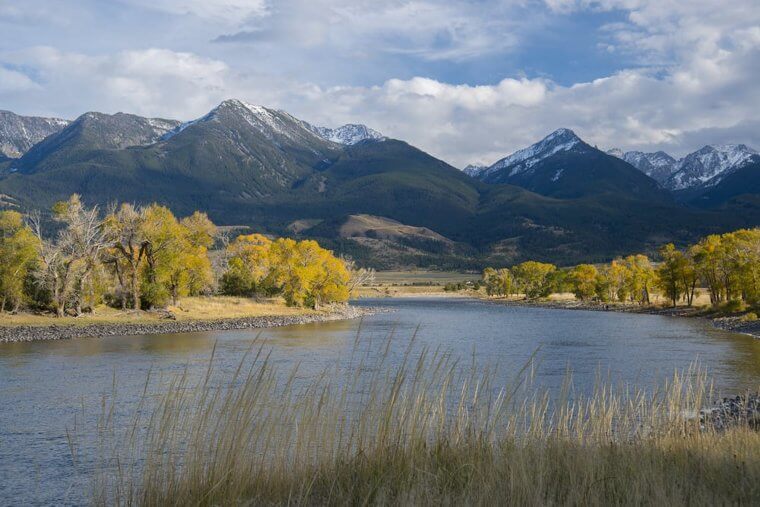 Check out the waters of Big Hole River and Hebgen Lake. The Beaverhead River flows 69 miles from Clark Canyon Reservoir in Dillon to converge with the Big Hole River at Twin Bridges. The Beaverhead is deep, swift, challenging to fish, and famed for brown trout and mountain whitefish. Originating in Yellowstone National Park, the 692-mile-long Yellowstone River is the longest un-dammed waterway in the contiguous United States and teems with a huge trout population.
Nebraska
The Cornhusker State may not spring to mind as a primary piscary destination, but the farther north and west you head, the state's vast prairies and spacious farmlands give way to rugged buttes, mountains, and more than 400 rivers, streams, and lakes. Lake McConaughy is Nebraska's largest lake, with 55 square miles of calm, crystal-clear, deep waters and 70 miles of shoreline containing walleye, catfish, bass, and rainbow trout.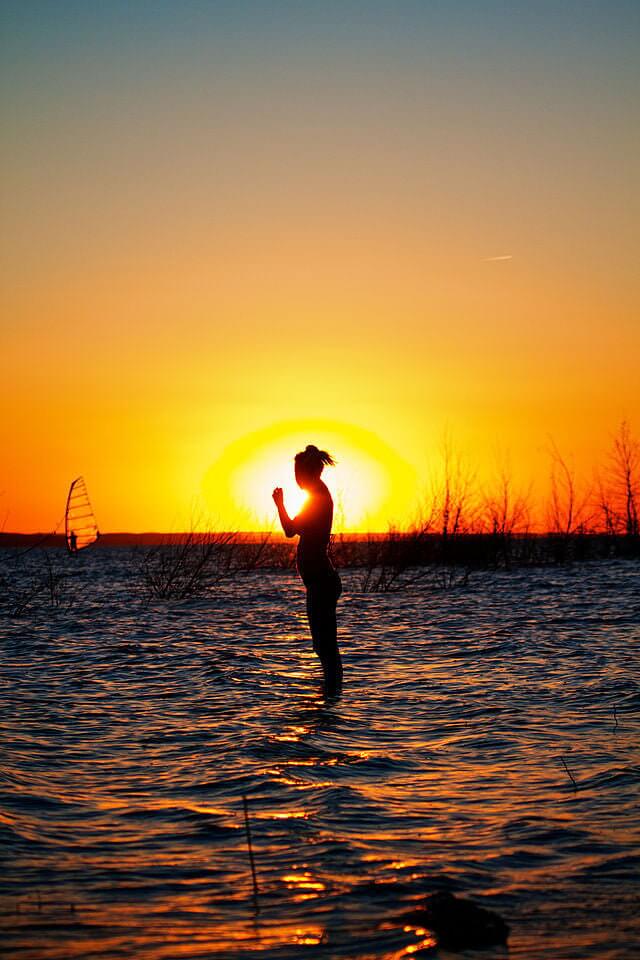 Standing Bear Lake in Northwest Omaha is named after Ponca leader, Chief Standing Bear. As well as the usual suspects, this 135-acre reservoir contains saugeye and yellow bass and is ideal for fishing, camping, kayaking, boating, biking, and hiking in summer and ice skating in winter. Branched Oak Lake, near Malcolm, is the biggest reservoir among the Salt Valley lakes and features bluegill, blue, channel, and flathead catfish, crappie, and striped bass.
Nevada
Nevada has much more to offer than desert landscapes and Las Vegas. The Battle Born State shares Lake Tahoe with California. Situated high in the Sierra Nevada, the country's largest alpine lake boasts crystal turquoise waters and is a popular hotspot for fishermen and women.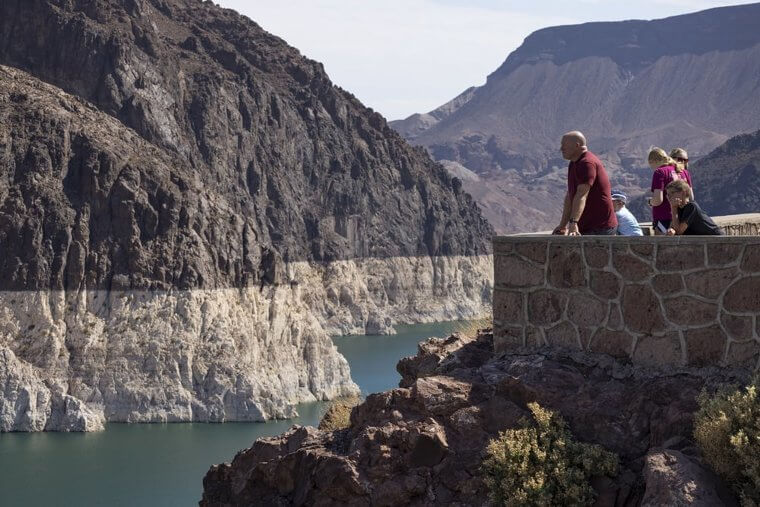 Lake trout are common, but also sockeye and kokanee salmon, plus rainbow and brown trout. Whether you want tranquility or excitement, the Truckee River proffers serene stretches and fast-paced rapids. Cave Lake is surrounded by the foothills of the Schell Creek Range and is a great place to catch cutthroat and tiger trout. Half an hour southeast of Las Vegas, Lake Mead is a reservoir formed by the Hoover Dam on the Colorado River and another of Nevada's alluring fishing spots. But remember, what happens at Lake Mead, stays at Lake Mead! 
New Hampshire
The Granite State boasts over 900 lakes, hundreds of rivers and ponds, and thousands of streams for freshwater fishing. It also features 18 miles of stunning coastal waters, punctuated by lighthouses for saltwater fishing. The picturesque Isles of Shoals, Rye Harbor, and Portsmouth Harbor are ideal casting-off points for bluefish, flounder, cod, haddock, mackerel, and even the occasional tuna.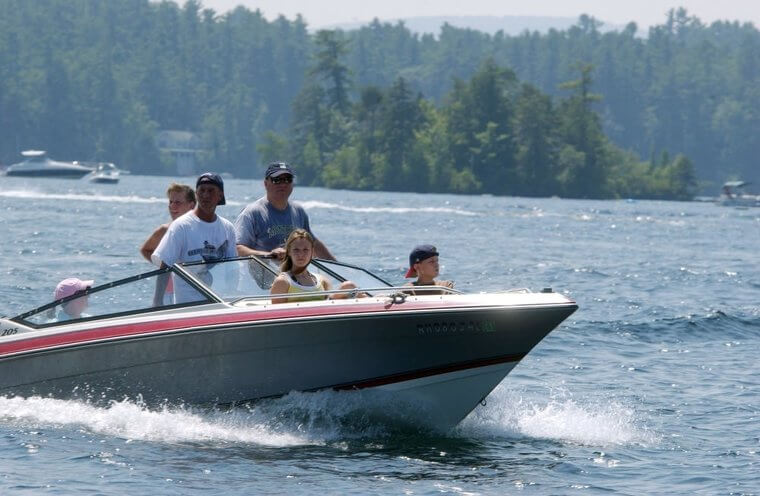 Nestled in the foothills of the White Mountains, Lake Winnipesaukee is the largest lake in New Hampshire and home to lake trout, rainbow trout, landlocked salmon, bass, yellow perch, and white perch. Crystal Lake is smaller but no less gorgeous or full of fish. The Merrimack River is sublime. Lazily meandering through Manchester, the Piscataquog River is ideal to brush up on your whitewater fishing and rafting
New Jersey
New Jersey might be famous for The Sopranos and Jersey Shore, but with the extensive Atlantic Ocean on one side and the Delaware River on the other, you're laughing all the way to the freezer! The bay's channels, flats, and marshes provide diverse habitats for fish.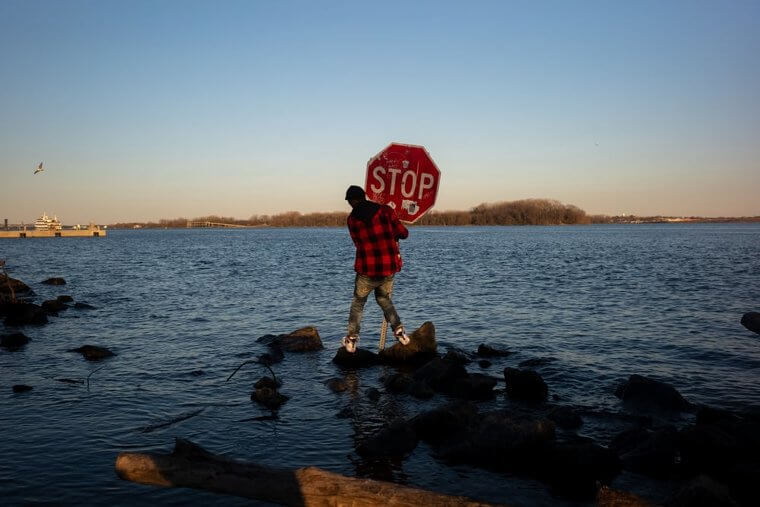 On the Atlantic Barnegat Bay, Raritan Bay, and Raritan River, anglers can target striped bass, fluke (summer flounder), bluefish, weakfish, and black sea bass. The Delaware River forms the western border of New Jersey. In addition to the usual suspects, you can catch muskellunge, northern pike, American shad, and various panfish from the shore or by boat. If you're visiting Atlantic City or Ocean City, make sure you charter a boat for deep-sea fishing. 
New Mexico
New Mexico is known as The Land of Enchantment, and if you travel there for a fishing trip, expect to come away enchanted. You'll be mesmerized by the mountain lakes, hypnotized by the artificial reservoirs, bewitched by the rivers, and spellbound by the pretty little creeks.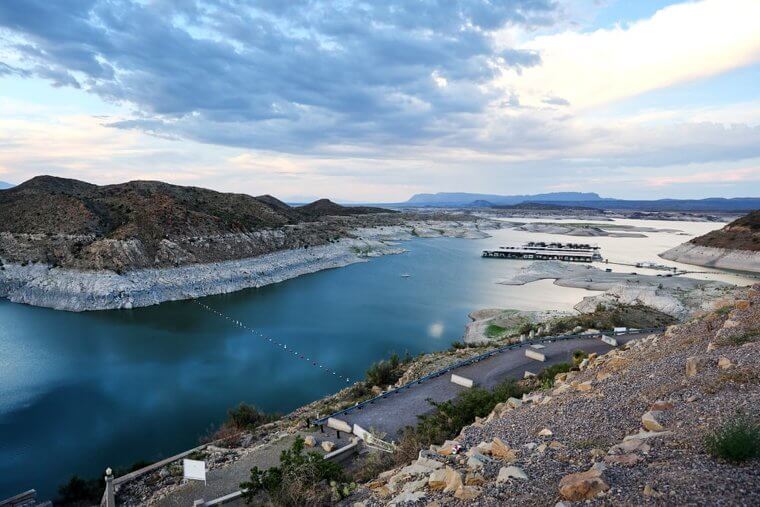 The magnificent Rio Grande flows through New Mexico, offering a border with Mexico and excellent opportunities for various trout species. In the northwest, the San Juan River is famous for its exceptional fly-fishing, particularly for world-class rainbow and brown trout. In the south, Elephant Butte Lake is the state's largest lake. Eagle Nest Lake in the Sangre de Cristo Mountains, is regularly stocked with kokanee salmon and rainbow trout. Ice fishing is popular here during the winter months. Yes, you heard that right, ice fishing in New Mexico! 
New York
The Empire State is a fishing oasis that will leave anglers of all levels grinning from ear to ear. Upstate, the scenic Adirondack Mountains are dotted with numerous lakes and rivers teeming with brook, brown, and rainbow trout. Fly-fishing fanatics will find be laden with trout.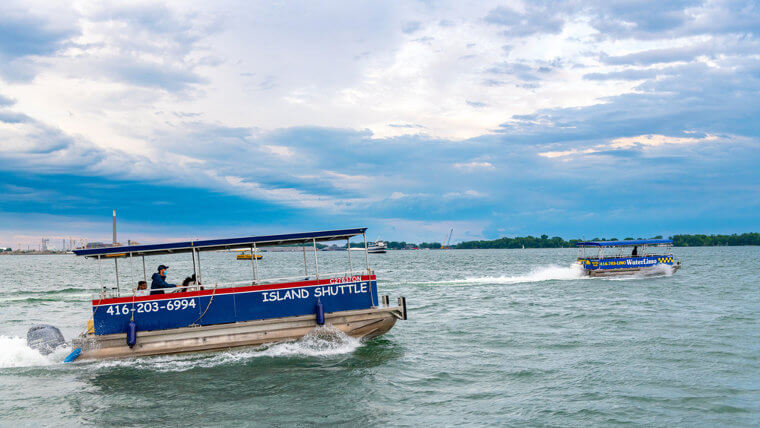 Lake Ontario's deep waters are renowned for its world-class Chinook and coho salmon, steelhead, brown, and lake trout. The Finger Lakes are home to pretty waterfalls and lakes like Cayuga Lake, Seneca Lake, and Keuka Lake; all renowned for their trout and salmon fishing in spring and fall. The Hudson River sees striped bass migrate up the river during the spring and autumn seasons when the leaves turn red and gold. The Thousand Islands' picturesque inlets are also a favorite among anglers. Nearer the Big Apple, on the eastern tip of Long Island, Montauk is renowned for saltwater and surf fishing.
North Carolina
The Tar Heel State's many lakes, streams, rivers, and bays along the Atlantic Coast provide an incredible array of fishing experiences for novices and expert anglers. sunfish, bowfin, chain pickerel, and longnose gar are some of the more unusual fish that call NC their home.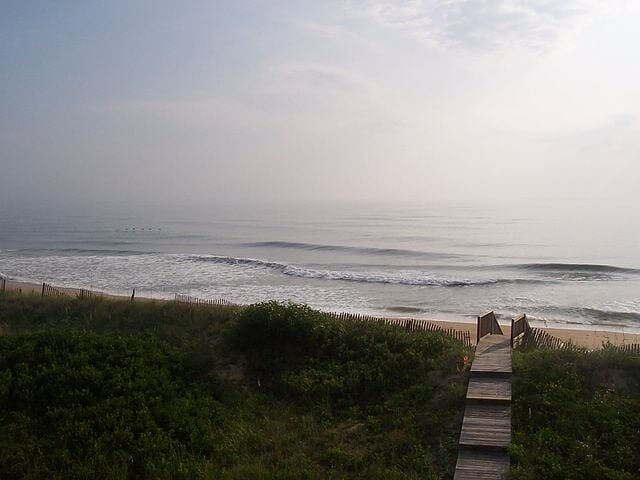 The Outer Banks region near the famed Lost Colony of Roanoke is the perfect spot for sport fishermen who love brackish fishing, fly fishing, pier and surf fishing, and sound and head boat fishing. Just south of Fayetteville, the Mysterious Bay Lakes include the delicious Jones Lake, the Carolina Bay Lakes, and Salter's Lake, and plenty of catfish, bluegill, black crappie, and yellow perch. Near Denver, NC, the Catawba River flows into the state's largest man-made body of freshwater, Lake Norman, which is a veritable bass fishing paradise. 
North Dakota
The state's largest natural body of water, Devils Lake, has quadrupled in size since 1993. Luckily, fish populations have thrived, and it is known for its abundance of walleye, northern pike, and perch, and winter ice fishing. The Missouri River flows from Montana into North Dakota and is a great place to catch sauger in the spring and fall or giant paddlefish in late spring.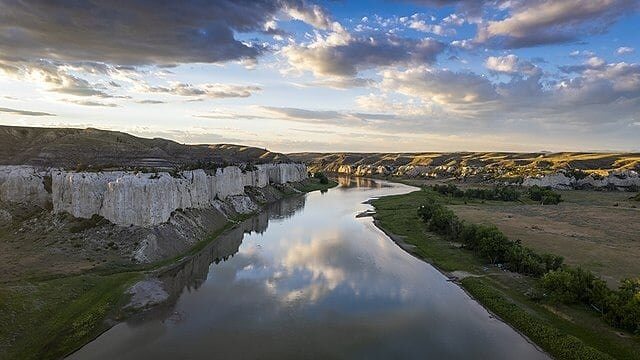 Filled by the Missouri, Lake Sakakawea was named after the Native American woman who helped guide explorers Lewis and Clark across the frontier 200 years ago. The picture-perfect lake is mind-mindbogglingly huge, featuring more shoreline than the state of California. It's home to walleye, northern pike, and Chinook salmon.
Ohio
Did you know that Ohio has more than 7,000 miles of rivers and streams and over 50,000 lakes and ponds? No, nor did we until we looked it up. As such, The Buckeye State will have all fishermen singing, "Hi-Ho, Hi-Ho, it's off to Ohio, we go!" Lake Erie is the obvious place to start and is famed for its perch and walleye fishing.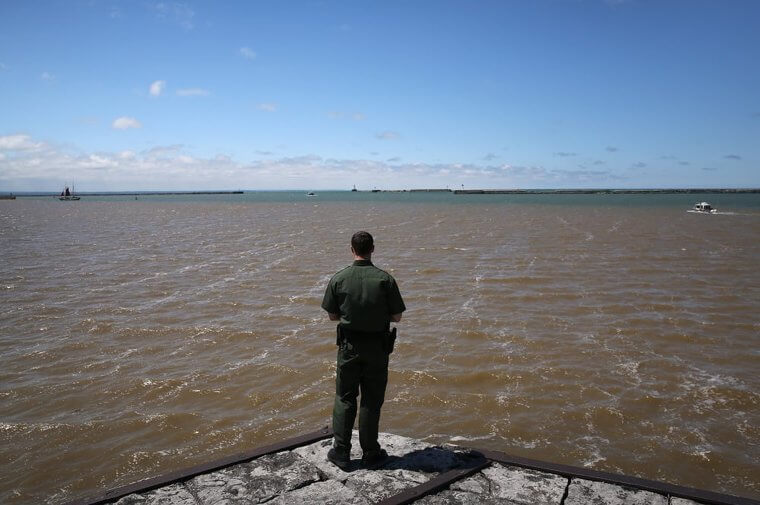 That said, the Ohio River may be an even more obvious spot! Flowing a smidgeon under 1,000 miles from Pittsburgh to Cairo, IL, the Ohio River has rich, diverse fishing hot spots providing walleye, saugeye, bass, and catfish, but you can also hook other species like longnose gar and bowfin. In southwest Ohio, Caesar Creek Lake near Waynesville occupies over 2,000 acres and is a perfect location for the above, plus carp and muskellunge.
Oklahoma
Anglers of all experiences are sure to find amazing fishing spots across the Sooner State. Situated on the border with Texas, Lake Texoma isn't just Oklahoma's top inland striped bass fisheries, it's one of the best in the whole country. And it doesn't just have bass, it has catfish, bass, gar, paddlefish, and crappie.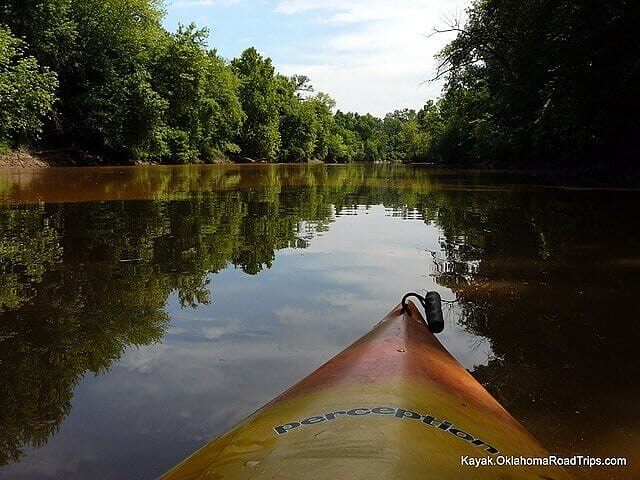 Accidentally "lose" your kids to the nearby water park and relax at Flint Creek. It's a charming stream in northeast Oklahoma full of smallies, largemouth, and spotted bass. But if chasing catfish by kayak floats your boat, Deep Fork River near Bristow is the spot for you. Pro-Tip: The best Deep Fork fishing spots are around Okmulgee or at the bridge by Nuyaka Creek Winery. Then, stop in for a glass or two of red!
Oregon
Laying in one of the world's most abundant ecosystems, the Pacific Northwest, Oregon's coastal streams are famous for their runs of silver, Chinook salmon, steelhead, and sea-run cutthroat trout. Garibaldi, Newport, or Tillamook Bay are the perfect launching off points to also troll for tuna and halibut.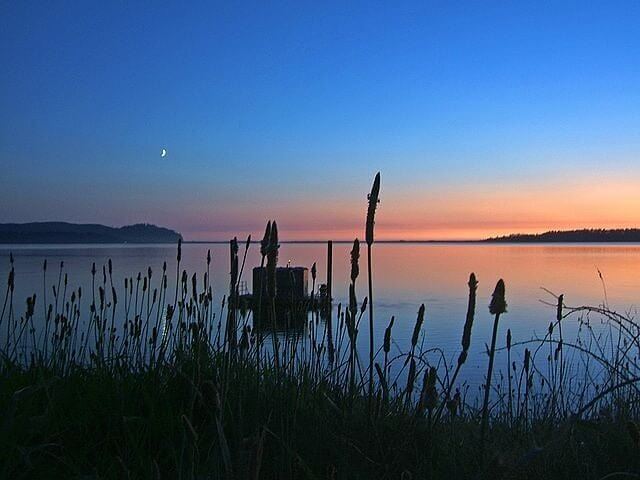 The Beaver State also features picturesque mountain streams, lakes, and reservoirs that are chock-a-block with all species of fish. The Columbia River is the largest in the Pacific Northwest, making its way south from Canada creating the border between Oregon and Washington. It's a top spot for smallmouth bass, walleye, catfish, trout, and salmon. Diamond Lake and the Necanicum River provide good alternatives. 
Pennsylvania
Parks and forests provide Pennsylvania's many meandering rivers, pristine streams, and cold creeks. Most of which are teeming with native brook trout, stocked rainbow and brown trout, and catfish and pike. In the north, the Keystone State has 77 miles of shoreline on Lake Eerie, so that's a good place to start for the usual suspects, plus yellow perch, steelhead trout, and northern pike.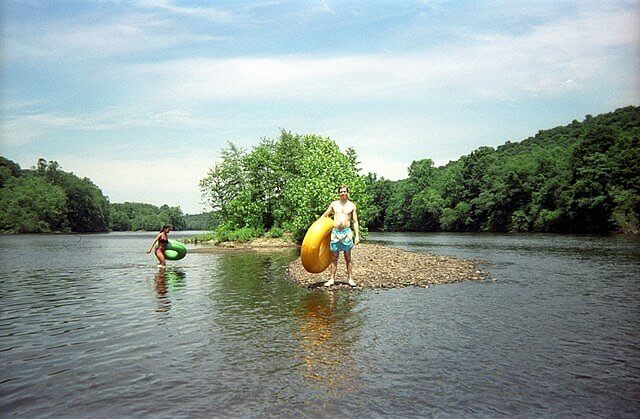 On the east coast, Pennsylvania has 112 miles of coastline along the Delaware River in and around Philadelphia. Carp fishing is popular here, but if you're lucky, you may snag an American shad. The impressive Susquehanna River flows 448 miles from upstate New York state through Pennsylvania and emptying to the Chesapeake Bay in Maryland. It's the perfect home for smallmouth bass, which can grow up to a whopping 20 inches. 
Rhode Island
Rhode Island may be the USA's smallest state and famous for its red chickens, but Little Rhody is great for fishing. While it's not an island, RI is known as The Ocean State as it sits on 400 miles of prime Atlantic coastline. Which is surprising as it's only 37 miles wide and 48 miles long!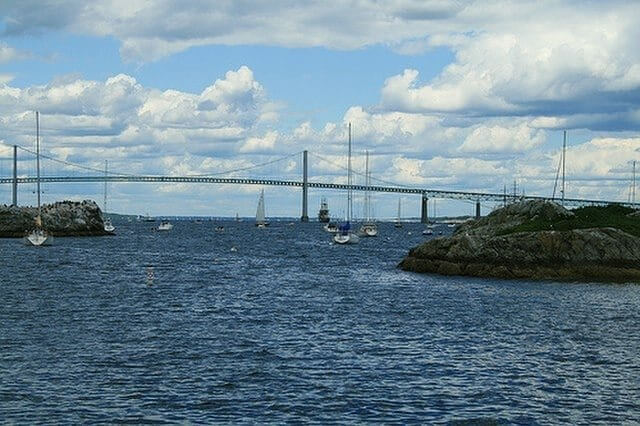 Located 12 miles off the coast, Block Island is known for its excellent fishing striped bass, bluefish, fluke, scup (porgy), tautog, and black sea bass. Another of Rhode Island's hidden fishing gems is Point Judith which provides both inshore and offshore fishing. Also, there's the nearby Narragansett Bay. You'll find all the above species in both places. But at Brenton Reef, Newport, you may also land pelagic fishes such as tuna and mahi-mahi.
South Carolina
With a sunny climate, a 187-mile coastline on the Atlantic Ocean, and a plethora of gorgeous lakes and rivers, what more could you want from a fishing trip? South Carolina boasts top-notch fishing, and everyone agrees the place to start is Hilton Head Island.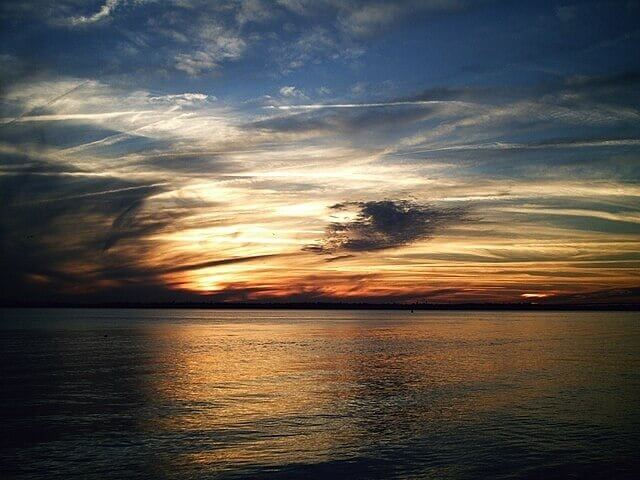 Situated just north of the border with Georgia, it offers easy access to the Atlantic Ocean, estuaries, and freshwater rivers... the only hard part is choosing which side of the island to cast off from! If you're upstate, Charleston Harbor and Georgetown are both prime locations for saltwater fishing from jetties. Species include redfish (red drum), speckled trout, flounder, sheepshead, black drum, trout, flounder, and tarpon. Get yourself to Edisto Island to fish off its dazzlingly beautiful beaches and marshes. If you fancy some inland bass fishing, head to Lake Hartwell otherwise, it's the famous anglers' haven of Myrtle Beach. 
South Dakota
South Dakota––the wild Mid-West. Home to Wild Bill Hickok, Calamity Jane, and other gun-toting, foul-mouthed patrons of Al Swerengen's famous saloon in Deadwood. Nowadays, SD is thankfully much less dangerous. The Great Plains and Badlands aren't so great for fishing, but the lush Black Hills provide plenty of spots to gently while away the days on lakes and rivers.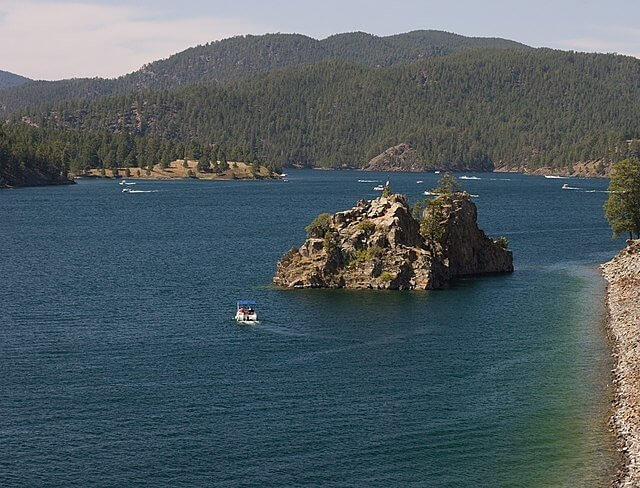 Near Keystone, Horse Thief Lake, and Pactola Lake's clear blue waters are ideal for taking in the refreshing scenery. In southern South Dakota, Lewis and Clark Lake, on the border with Nebraska, offers a diverse fishery and scenic surroundings. Six hours west, Angostura Reservoir contains copious amounts of northern pike, largemouth bass, and catfish. 
Tennessee
What's not to love about Tennessee? The Volunteer State contains some of the most breathtaking scenery in the country, from the Appalachians to the Great Smoky Mountains National Park. All that lush countryside means their rivers and lakes overfloweth with game.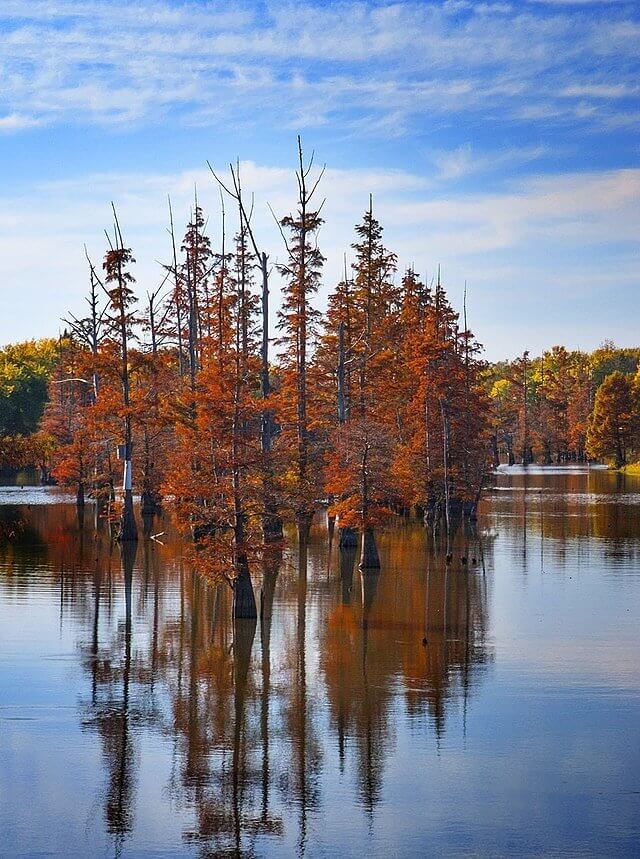 Tennessee's largest natural body of water, Reelfoot Lake, is located in the state's northwest corner and contains panfish, bluegill, crappie, and freshwater catfish. If you like bass fishing, then 60-mile-long Chickamauga Lake near Nickajack and Watts Bar will tickle your fancy.  But if your angling angle is river fishing, there are loads of great rivers, including the Tennessee, the Hiwassee, the Clinch, the Caney Fork, and the Cumberland River. 
Texas
The Lone Star state. Home to cowboys, their boots, their ten-gallon hats, their rodeos, Country music, BBQ, and inferior Mexican food! Texas is huge and offers everything from deserts to rich coastal waters of the Gulf Coast.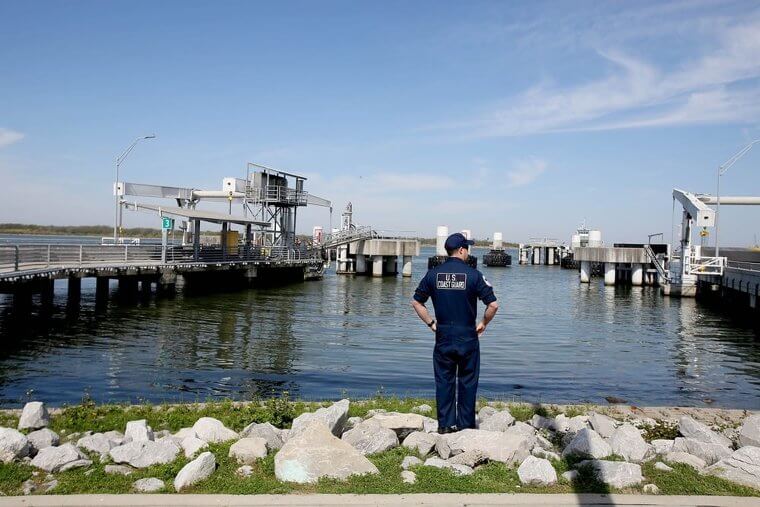 Speaking of which, Corpus Christi and Port Aransas both provide world-class fishing opportunities, from bay and offshore fishing to pier and shore fishing for redfish, flounder, snapper, marlin, and shark. Galveston Bay is the seventh largest estuary in the US, providing ample opportunity for all the above plus black drum, spotted seatrout, and sheepshead. Alternatively, head to Lake Travis or Lake Fork to catch white, striped, and largemouth bass, catfish, and sunfish. Or mosey on down to the Guadalupe River, which is regularly stocked with rainbow and brown trout.

Utah
Comprising the Rocky Mountains, the Great Basin, and the Colorado Plateau, The Beehive State has everything from snow-capped mountains and red-rock arches to perfect lakes and bountiful rivers. Where to start other than the Colorado River?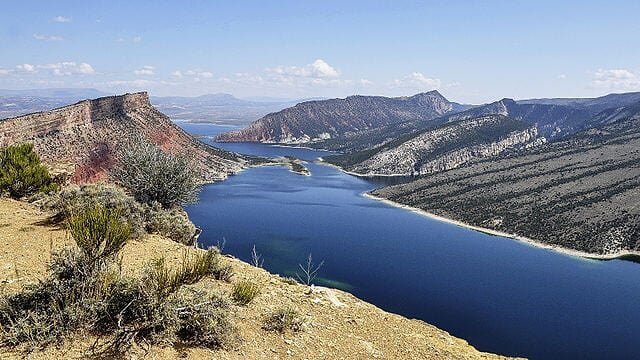 If you cast your rod near the town of Moab, you're bound to pick up bass and catfish along with sunfish. The Slickrock Bike Trail is nearby if you have the energy. Although an even more obvious choice to start might be the imaginatively titled Fish Lake, where you can catch many trout, yellow perch, and splake. The Green River is famous for its blue-ribbon trout fishery. It flows through Flaming Gorge National Recreation Area and offers great fly-fishing for brown, rainbow, and cutthroat trout. Also check out the wonderfully named Flaming Gorge Reservoir and Strawberry Reservoir. 
Vermont
Unfortunately, Vermont is landlocked by Quebec, New Hampshire, New York, and Massachusetts. Fortunately, the Connecticut River forms the border between Vermont and New Hampshire and provides excellent fishing opportunities. It is known for its populations of smallmouth bass, largemouth bass, northern pike, walleye, and many different trout.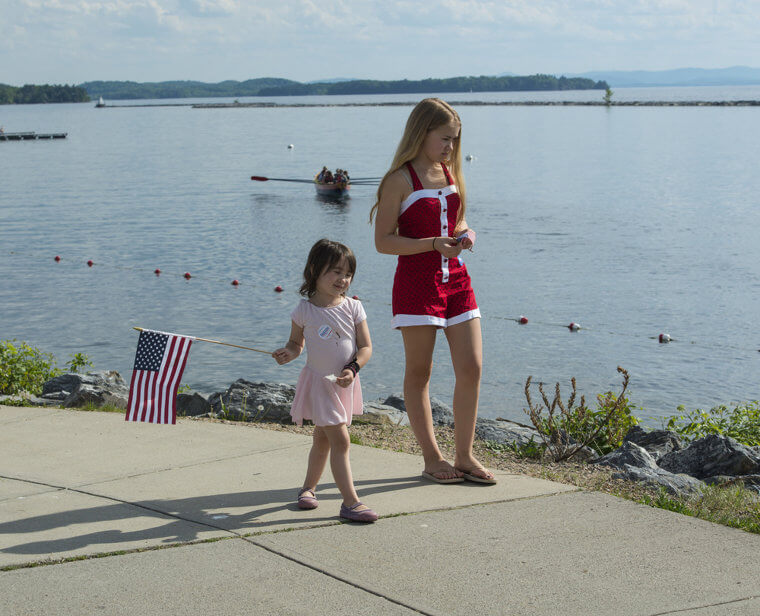 Shelburne Bay on Lake Champlain is the ideal stomping ground to catch rainbow-smelt and landlocked salmon. Nestled in the Northeast Kingdom of Vermont, Lake Willoughby is surrounded by scenic cliffs and famed for its beauty and excellent togue, rainbow trout, and smallmouth bass fishing. The brilliantly named Battenkill River is the longest Hudson tributary and a classic trout stream that flows through southwestern Vermont.

Virginia
Virginia was named after Queen Elizabeth I, the Virgin Queen. As you're already aware, Chesapeake Bay is Virginia's best saltwater fishing destination. In fact, it has been since Pocahontas met Captain John Smith nearby in 1608. Today, anglers can fish inshore and offshore for rockfish (striped bass), bluefish, flounder, red drum, and many more.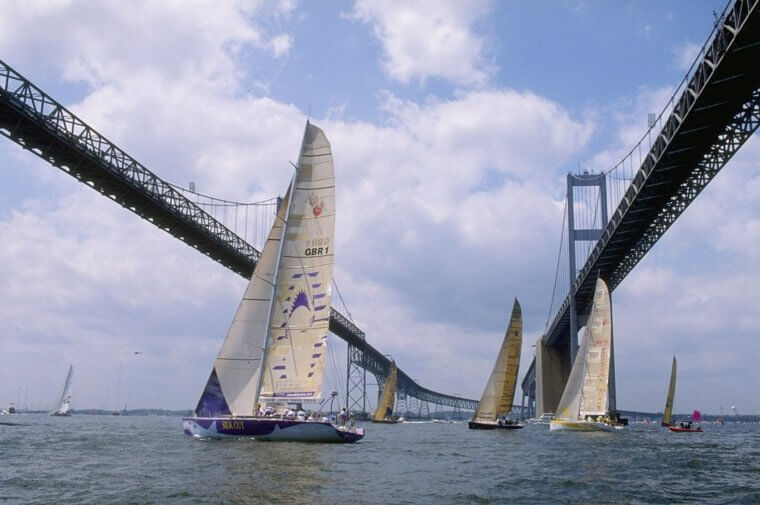 Pro-Tip: Head to the Chesapeake Bay Bridge Tunnel for a great spot. The James River and Jamestown were named after Elizabeth's successor James I. It's known for its diverse fishery featuring blue catfish, American shad, and hickory shad. It's also spawning ground for rockfish in the spring. Virginia Beach is your best bet for sea fishing, and we highly recommend its Rudee Inlet. 
Washington
The magnificent Northwest Pacific Coast is filled with some of the most diverse flora and fauna on earth, and that means a thousand different types of fish! We couldn't write about Washington State without mentioning Puget Sound.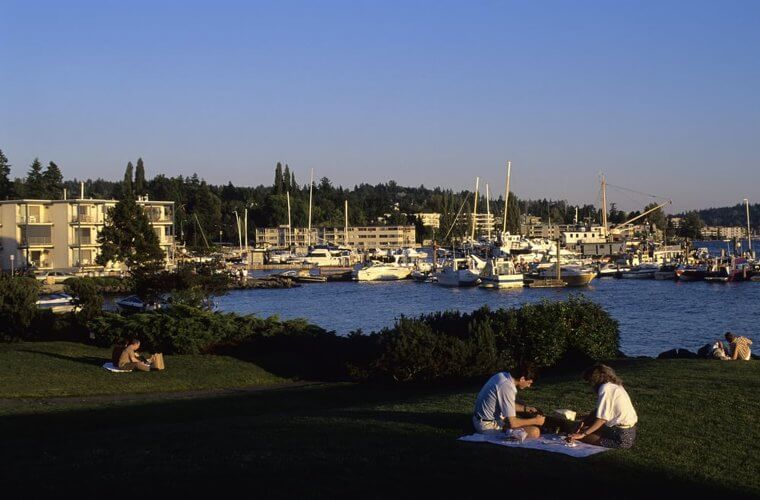 Easily accessible from Seattle, Tacoma, and Olympia, 'The Sound' is one of the USA's most productive saltwater fishing areas, offering up salmon, lingcod, halibut, rockfish, and Dungeness crab... if the orcas haven't eaten them all! If you're near Seattle, Lake Washington is known for species such as kokanee salmon, trout, bass, and perch, plus fly fishing. There's also ice fishing during the winter months. The Olympic Peninsula is home to several renowned rivers, including the Hoh, Queets, and Bogachiel Rivers, which provide excellent fishing for salmon and steelhead. 

West Virginia
Country Road, take me home to the place I belong, West Virginia! Now, to paraphrase the late great John Denver, WV is "Almost Heaven" for anglers. The Mountain State might be landlocked, but it sits entirely within the Appalachians, meaning its mountain rivers, streams, and creeks are choked with freshwater species.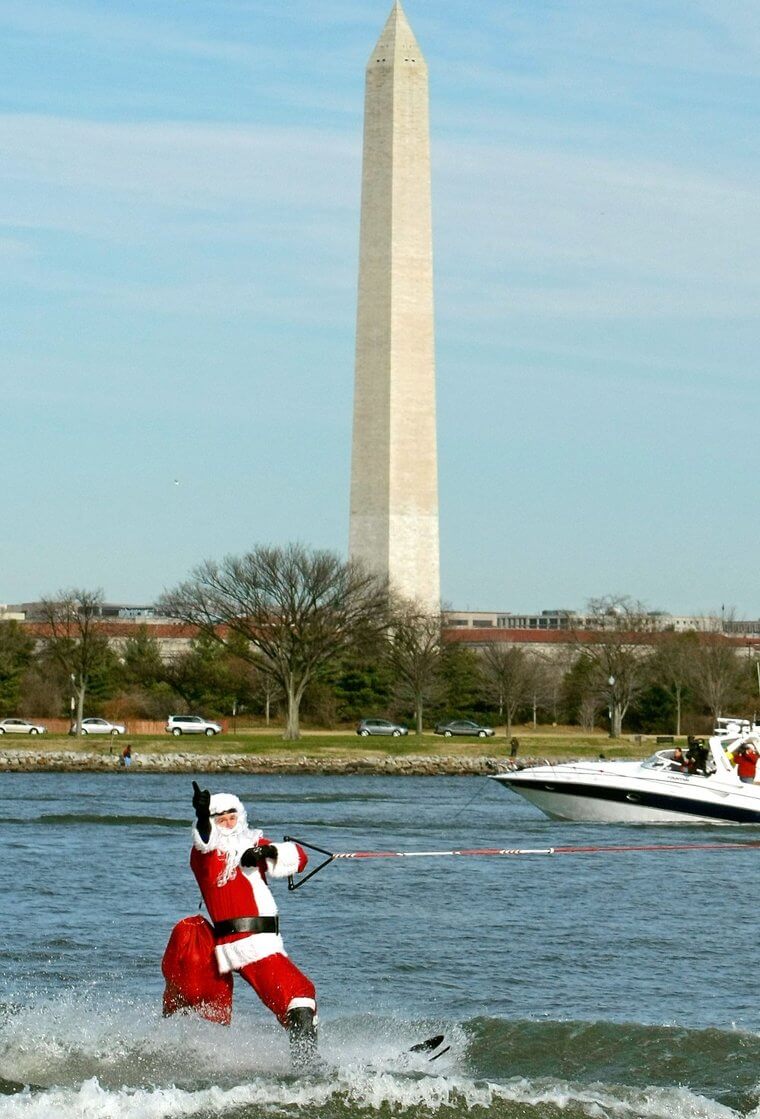 The Elk River flows down from the Allegheny Mountains in Pocahontas County and is renowned for its trophy-sized trout, particularly rainbow and brown trout. Meanwhile, the North Fork South Branch of the Potomac River is the perfect spot to try your luck at catching an elusive golden trout. Finally, Bluestone Lake is the third-largest lake in West Virginia and is surrounded by the dreamy Bluestone State Park.
Wisconsin
Did you know that Wisconsinites are called badgers because lead miners used to live in burrows in the ground to get through harsh winters? Well, now you do! Wisconsin shares its eastern border with Lake Michigan, which provides both shore and boat fishing for trout, salmon, walleye, perch, and smallmouth bass.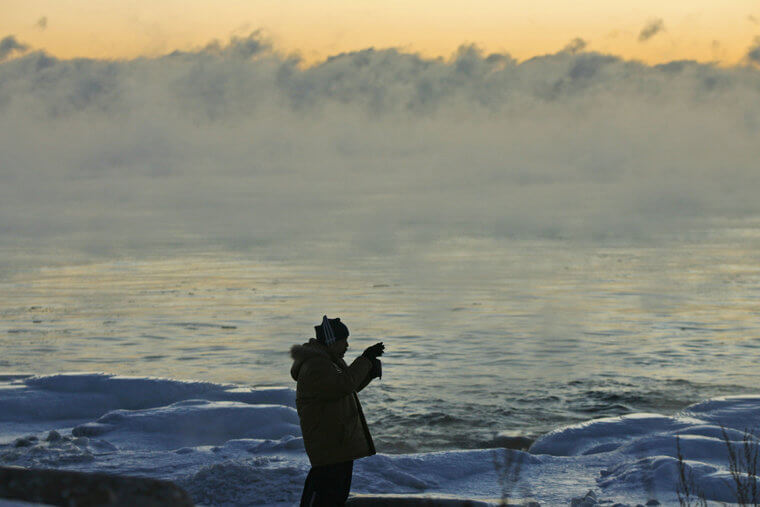 The Mississippi River and Wisconsin River both flow through The Badger State and offer up one of the nation's most elusive fish, the musky. Known to anglers as the "Fish of Ten Thousand Casts," they are a prized catch. If you want to take your RV lake fishing, head for the state's largest inland lake Lake Winnebago. It's famed for its outstanding walleye, perch, and sturgeon fishing.

Wyoming
Last but by no means least, our angling odyssey ends in Wyoming. Yellowstone's famous geysers and hot springs occur because the National Park sits on a supervolcano that could wipe out humankind any day now! Yellowstone's Firehole River is one of the best places to go nymph fishing as it's the first to warm up in late spring.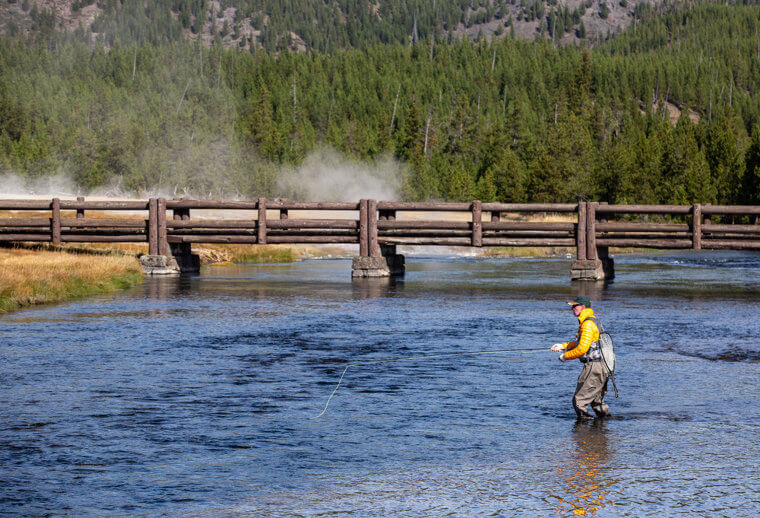 Snuggled in a valley between the Gros Ventre and Teton mountain ranges, Jackson Hole's Snake River has ideal nooks punctuated by fine-spotted cutthroat and brown trout. Miracle Mile and the Gray Reef on the North Platte River boast excellent fly-fishing plus brown and cutthroat trout. Thanks for joining us on our angling adventure. Happy hunting, have fun, stay safe, and make sure you have your permits.