If you're like us, when you see photos from the '70s, you're filled with FOMO. The era of flower power, disco, and effortless glitz era has long gone, so, we've rounded the best vintage shots of stars from the 70's, some of which are still shining today. Intimate pictures, uniquely captured moments, and long-buried publicity shots are all included. So, let's go back to when bras were optional, and people wore sequins when running errands.
Barbi Benton - Playboy
Barbi may be best known for her appearances on Hee Haw and Fantasy Island, or she might be best known as Hugh Hefner's partner for a while in the '70s. This shot is from a photoshoot used in the Swedish Playboy, and it captures the casual innocence that Hugh fell in love with for a while. Perhaps it's that innocence that kept her from ever being a Playmate of the Month...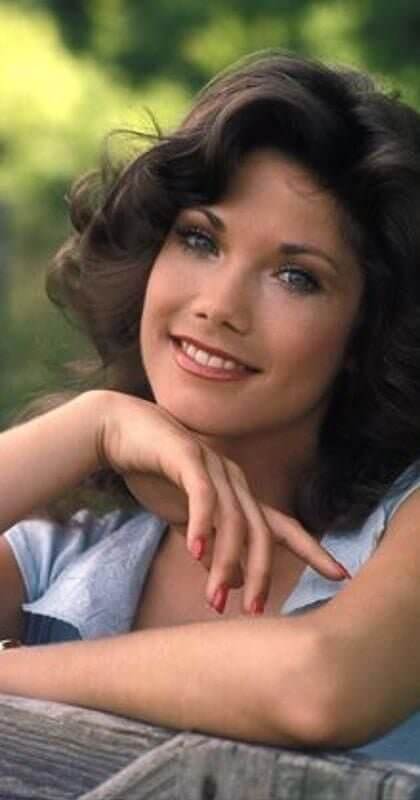 Her Hollywood career never really got off the ground, but Barbi did record a few music albums during the groovy decade, which enjoyed moderate success. She sang, composed, and accompanied the songs by piano. After she and Hugh parted ways, she remarried and then quit acting to raise her children. She looks back on her time in the Playboy mansion with fondness still. After all, when in the '70s...
Jill St. John - Diamonds Are Forever
America's first Bond girl, Tiffany Case, was argumentative, loud, and brash compared to previous girls. Rumor has it that she was written that way because she was American, and therefore much less demure than her European counterparts! We think that it might just be an evolution of how women were seen as we entered the '70s culture changes. Before she met 007, Jill was a comedy actress, usually playing a femme fatale with a goofy streak.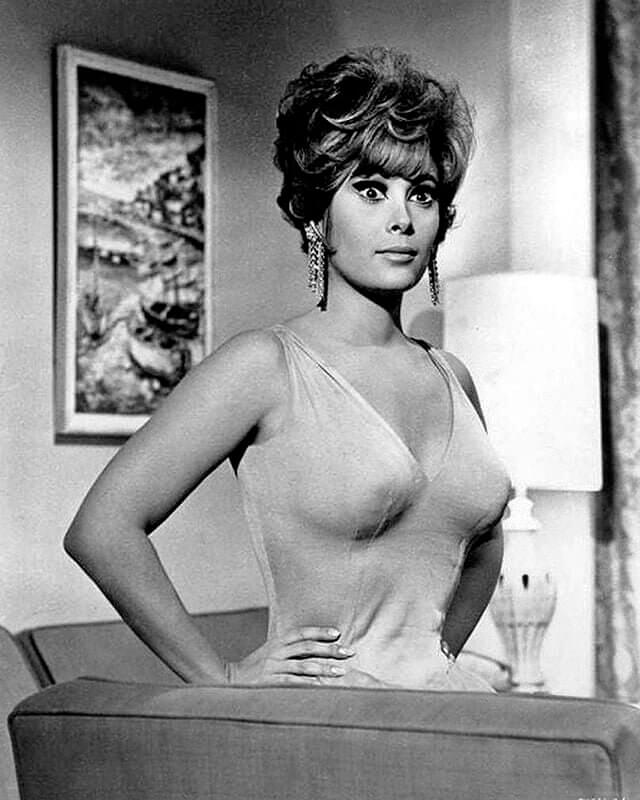 Movie stardom wasn't for Jill, however, and she moved to Colorado, scaling back on her acting roles and taking up cookery. She became a TV culinary personality through the '80s. Over the years she has embraced the more relaxed attitudes to love that the '70s introduced. She's consequently nearly as famous for all the men that she's dated as she is for her showbiz career. She's now been married to Robert Wagner since 1990. The two make a great pair, both on and off the screen.
Lynda Carter - Keeping It Casual
Lynda started her career as a pageant queen and a singer, but in 1975 she landed a TV role that shaped the rest of her life. Wonder Woman made her a symbol of feminine force, and also one of the most popular pinups of the decade. She played the Amazonian princess as a woman for women, proud to be a strong character that could make a difference in many lives.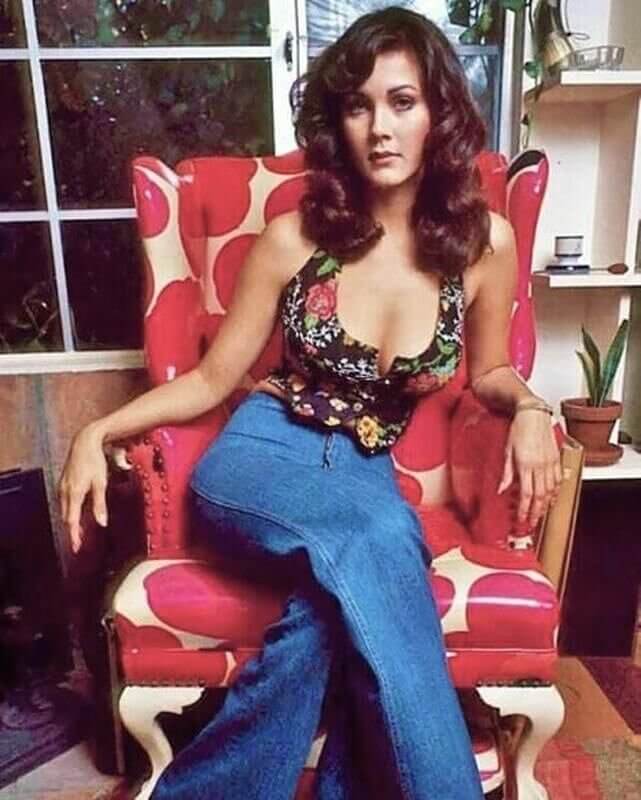 Wonder Woman was known for her hotpants, corset top, and of course, her whip, but Lynda was never about the predatory man-hater image. The Spirit of Truth was her guiding force, and even when she's relaxing at home in jeans, she still emanates the quiet confidence that made her a role model for women everywhere. We love seeing a candid moment of one of the biggest feminist icons.
Suzanne Somers - Zuma Beach
Suzanne's is a tale of caution. From being a prize model on a game show, she worked through various bit parts and tirelessly promoted her book of poetry until, after nearly ten years, she landed the part of Chrissy Snow in Three's Company. That role would take Suzanne to the dizzy heights of '70s stardom, and she, in turn, made the show a global success.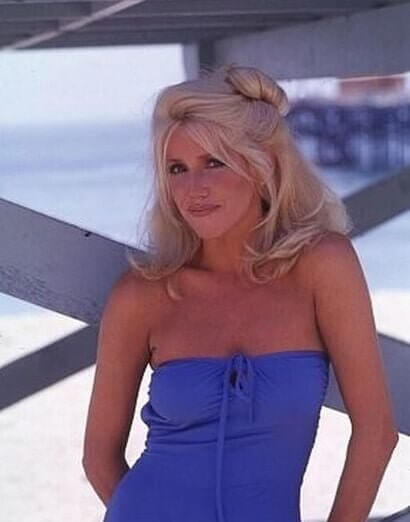 The next year, she starred in Zuma Beach, a made-for-TV movie in which she was praised for her natural performance. Buoyed up by her success and the way women were beginning to gain strength in the industry, she asked for a pay rise, which eventually got her fired by the end of the season. Maybe she was still a little ahead of her time...
Jacqueline Bisset - The Deep
English-born Jacqueline has appeared in many productions and gained praise over the years. But did you know that she has been credited with starting the wet t-shirt competition? It's generally accepted that a lot of the movie The Deep's box office success can be attributed to the opening scene, in which Jacqueline does some scuba diving wearing nothing but a white t-shirt and black bikini bottoms.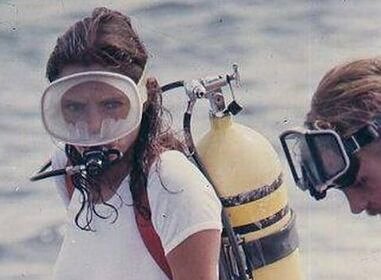 This picture shows her about to dive while giving the camera a very intent look. The wet t-shirt look was an instant hit, and the film's producer claims that it was what made him rich. The film itself had a mixed reception. The storyline and melodrama were criticized, but the cinematography of the underwater scenes was called beautiful and chilling. The sound design was nominated for an Oscar!
Jacqueline Bisset - Wooden Pose
We've seen her in that t-shirt, now we've found a drier pose from a '70s photoshoot. Jacqueline started out the decade in the monster hit Airport, then after a few less popular films, decamped to Europe for a string of critically acclaimed hits. When she returned to the States, she gained that exotic European allure and became one of the most glamorous stars of the time.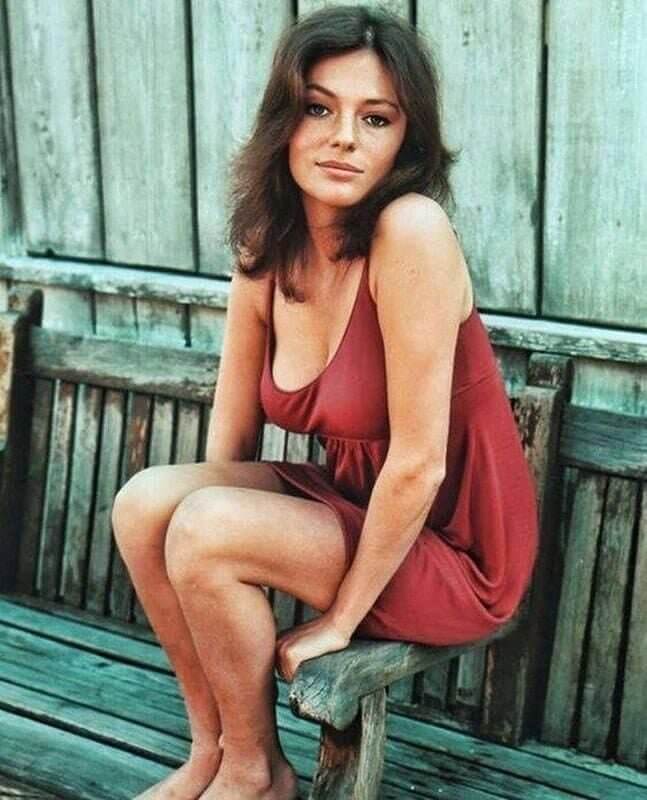 Here she's showing a more relaxed side, yet still looking stunning in a simple red dress. Looking at her here, it's almost hard to believe that she is one of the first actresses to be paid a seven-figure salary for a movie, in 1981. But then, maybe not. Look into her eyes, and you'll see the depth of emotion that's kept getting her roles, year after year after year...
 
Susan Sarandon - Pretty Baby
Susan Sarandon is one of the most iconic actors of all time, and back in the '70s, She was the sultry star of all sorts of movie genres. She's won many prestigious awards, including an Academy Award. Never afraid to play a controversial character, this photo shows her playing Hattie, a prostitute who works alongside her underage daughter.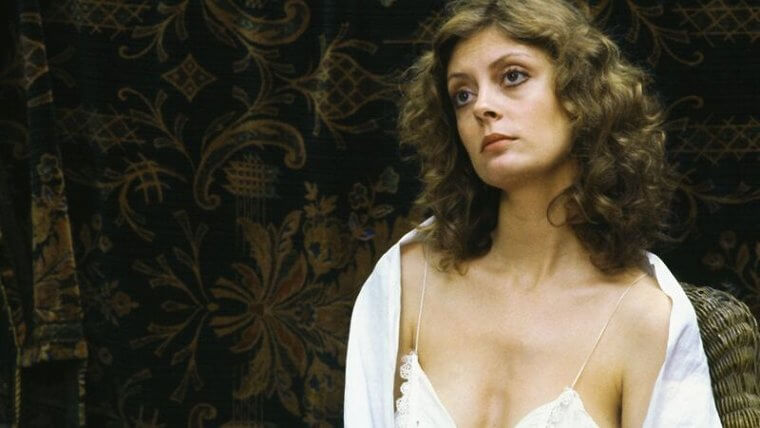 It's an intense part to play, and this shot radiates the passion that she put into the role. Her brown hair blending into the darkness gives the impression that she's emerging from (or being sucked into) the dark. Her big eyes show such a range of emotions that even in a grainy vintage photograph, we're captured by them. 
Madonna - A Backyard In Bay City
Madonna is seen today as a pillar of self-confidence, a feminist role model, and a barrier-breaking woman. You can grasp some of that drive in this picture, captured back in 1974 in her backyard. She's relaxed, but there's a readiness to spring lurking under the surface. As a teenager, she embraced the au natural feel of the decade and didn't shave her underarms or wear makeup.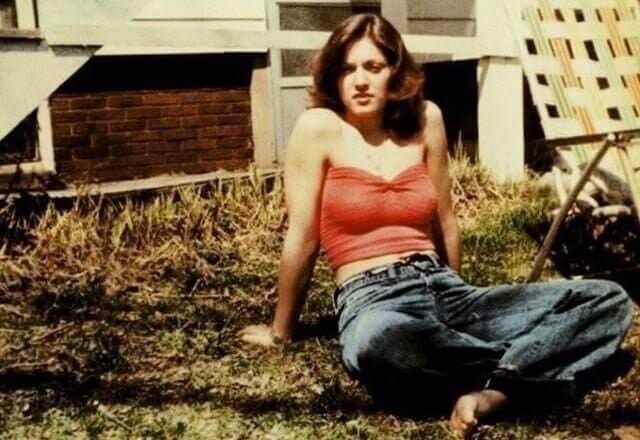 The loss of her mother affected her deeply and indirectly caused a lot of her unconventional behavior. She has always been a fighter, however, and was warmly received by the public. Her talent is beyond doubt, and it was her experiences in the '70s that helped her to become a megastar. She singlehandedly shaped much of the pop culture of the following decade. And the following decade. And the following decade...
Raquel Welch - Myra Breckenridge
Myra Breckenridge was a best-selling novel, praised for its portrayal of feminism and transsexuality. The film, however, was not. It was so bad that Gore Vidal, the book's author, disowned it. Kudos to Raquel for taking on such a brave role in the closing years of the '60s, but, well, we all make mistakes. Luckily, she was able to overcome the backlash and carry on with her career.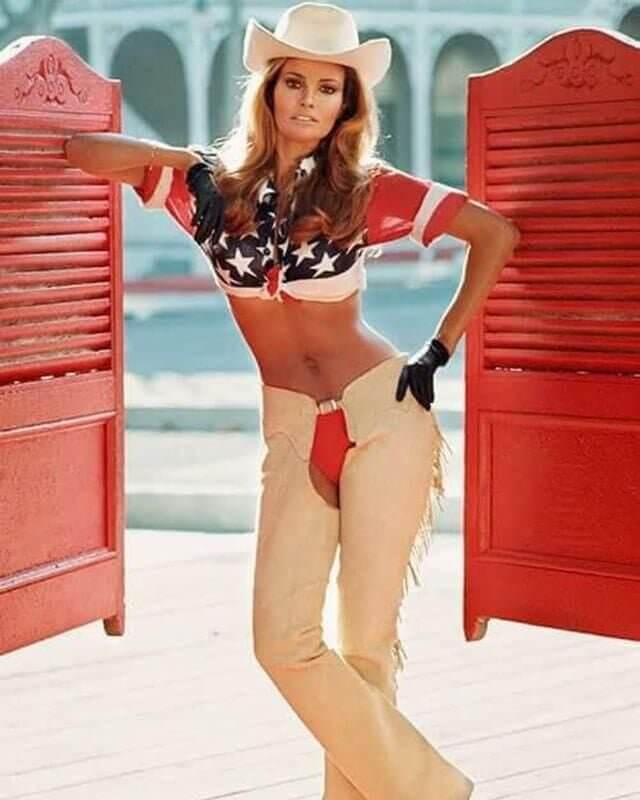 It's hardly surprising to us that Raquel became a sex symbol in the '70s, but it did come as a shock to her. Her first role was actually as a scientist, minimized and injected into a human body for research. She still isn't really sure how she went from that to One Million Years BC (and that bikini). It was quite a change and showed early proof of her versatility as an actress.
Dawn Wells - Taking A Break
Her signature role was that of sweet Mary Ann in Gilligan's Island, but off-screen, Dawn knew how to kick back; 70's style. Gilligan's Island, however, was filmed in the '60s and showed none of the following decade's attitude to filming. Dawn once said that they couldn't even show her navel, and believed that if the series was shot today, they'd all be living in the same hut.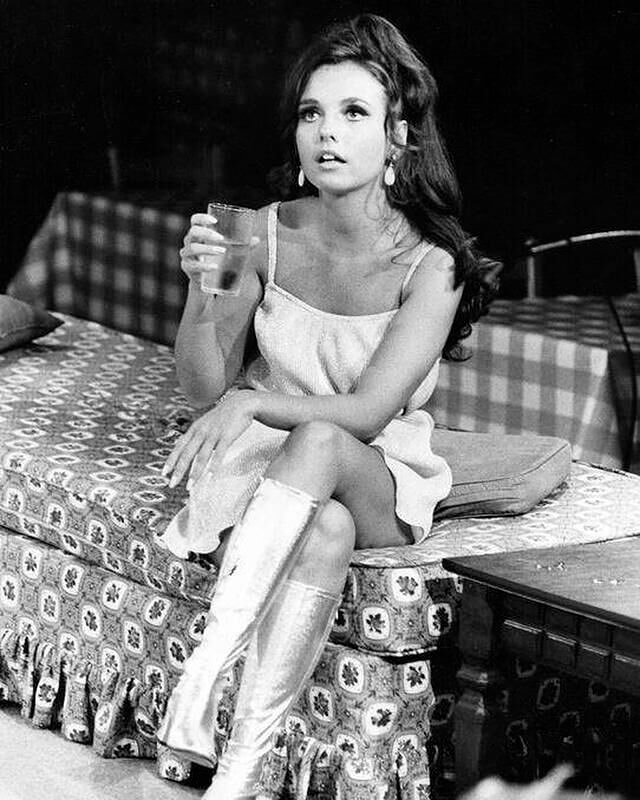 Her 1970s screen resume was a series of b-horror flicks. Mostly, however, Dawn turned to the stage for her roles. She toured in musical theater and can boast over 100 roles in theatrical productions. She even had a one-woman Vegas show in the '80s. She might have run into money worries recently, but here, she is the embodiment of the cool, effortless style and groove that the '70s are known for.
Sharon Tate - Designer Modeling
Sharon didn't live to see the '70s, but her spirit was totally in the groovy zone of that decade. She was a model and a promising actress, married to Roman Polanski. The dress she's wearing here is from one of her favorite designers, Betsey Johnson. Many years later, in 2018, several personal items from Sharon's estate were auctioned off, and another, similar Betsey Johnson dress sold for $2,500.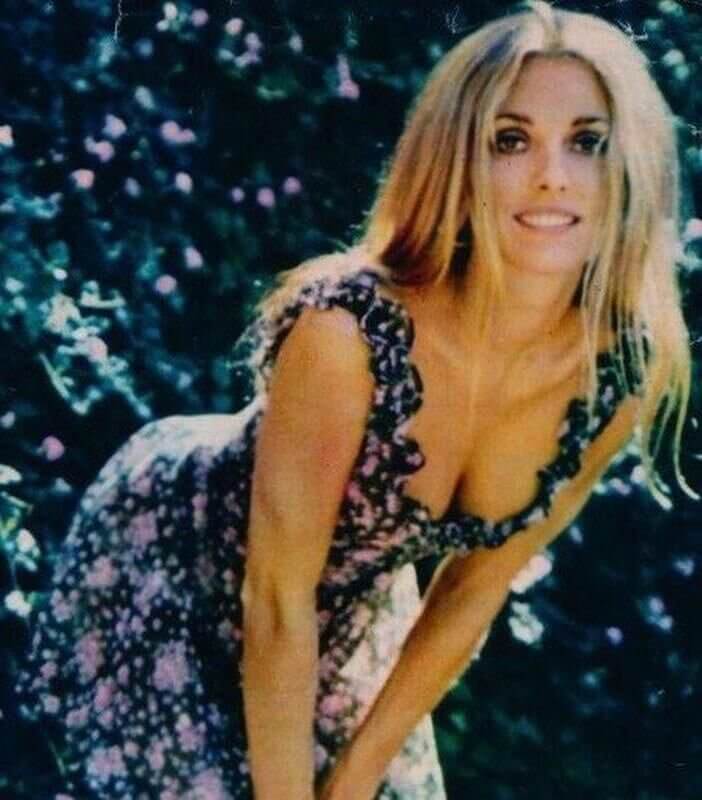 The couple was known for their all-encompassing entertainment values and their open house. They even had an open marriage, although sources agree that they were very much in love. Their son was due to be born just a few weeks after Sharon's tragic death. Sharon also had a very open attitude to onscreen nakedness - as long as it was done with meaning and intention. She couldn't understand how children could watch violence without censorship, and yet not sexual scenes, a worry still held by millions today!
Maren Jensen - Holding It In
Maren graced our screens in the original Battlestar Galactica series, but we don't think that Athena ever got to wear swimsuits like this. We're not sure how she managed to move around with all the electrics strapped to her when she was onboard the ship! By the way that she's holding on for dear life in the pictures from this photoshoot, we're guessing that someone has yet to induct her into the joys of clothing tape.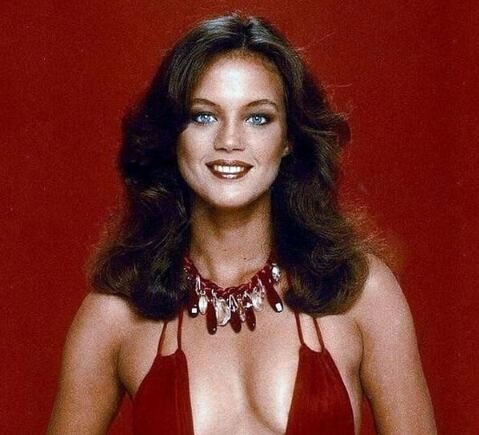 She started as a model, and we can see how that happened, and then went on to act for an all-too-short while. As a sufferer of Epstein Barr Syndrome, she just couldn't keep up with her workload and bowed out of the business. She did, however, get to be a scream queen before she went. Her last film was Wes Craven's Deadly Blessing. She went on to work closely in music with Don Henley of The Eagles as he launched his solo career.
Brigitte Bardot - The Towel Session
We're not sure how this photo sneaked into this list, as the shoot featuring that purple towel took place way back in 1959! Brigitte, however, was very much a star in the 1970s. She was also one of the women who helped to redefine the female role in the film. Trained as a dancer, modeling just happened to her. Acting followed in much the same way, and her heart was never in it. The roles that she played were usually reflections of who she was in her attitudes, and this highlighted to women a strength that they never knew they had.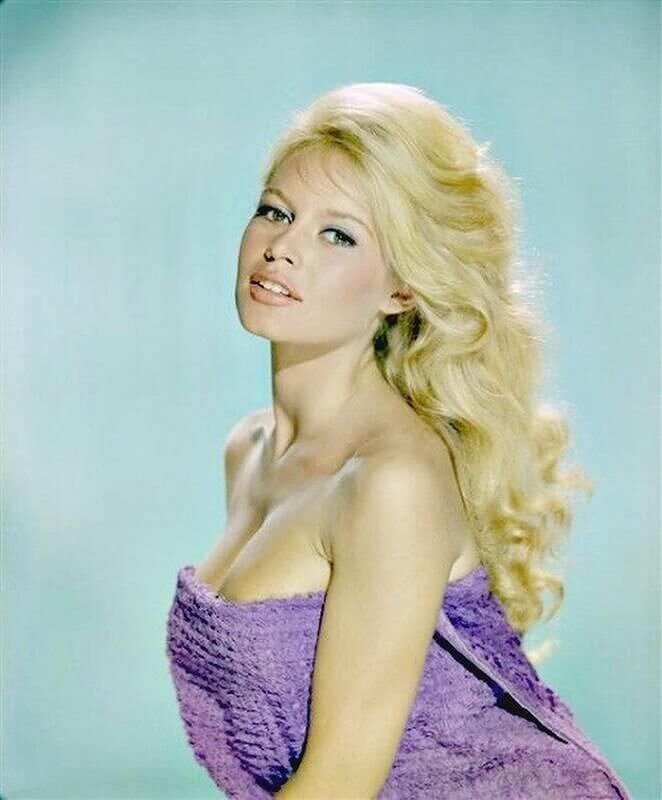 Brigitte does what she wants when she wants. She lives in the moment, consequences are damned. When she realized how unhappy her stardom had left her, she quit. Just like that. In 1973, she walked away from the business at the height of her success and started using her fame to promote animal welfare concerns. Thus she became a feminist icon of the decade.
Jamie Lee Curtis & Janet Leigh - Studio 54
It's hard to say which of these two lovely ladies plays the more iconic horror movie, scream queen. Jamie is universally known for her role as Laurie in the Halloween series, but the apple doesn't fall far from the tree. Janet was none other than Marion from Alfred Hitchcock's Psycho. In fact, the two women went on to star together in two horror flicks; The Fog and Halloween H20.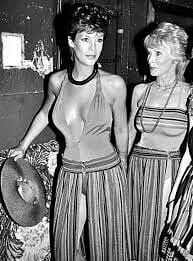 They seem to have had a great mother-daughter relationship! Here they are, caught on camera, entering the notorious Studio 54 together for a night of partying. We certainly can't imagine going to such a place with a parent! We love the matching outfits and the way that they're holding hands. Do you think that this is Janet's first visit? - We all know that there were some hedonistic goings-on at the club, and she looks rather surprised at what she can see!
Lynda Carter - Battle Of The Network Stars
The Battle of the Network Stars had us glued to our chairs every six months or so for years. All the favorite names of the three main networks, ABC, CBS, and NBC, would get together and compete in a grueling 9-stage physical tournament. Lynda only took part in the first-ever episode, but she definitely helped to make the show a huge hit. Future episodes would star names like Billy Crystal, Sonny Bono, Suzanne Somers, Victoria Principal, and Robin Williams, to name but a few.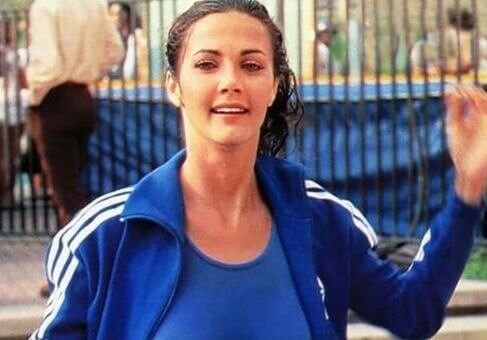 This snap was taken after Lynda had competed in the first event of the battle, the swimming relay. She won her part with ease, which we guessed might happen - we're sure that she had to keep super fit to play a crime-busting action hero on Wonder Woman! Lynda's team, which included Farrah Fawcett, another action hero legend, dominated the whole battle. The other guys didn't stand a chance!
Caroline Munro - He Said What?
We love this candid shot of Caroline. It looks like she's been caught mid-conversation, sharing a particularly juicy bit of gossip. Do you think she knows that if she moves suddenly she's going to become her own gossip-worthy situation? We just hope that that belt is sewn on, that's all we can say. Caroline is known for her refusal to appear nude on-screen - she's turned down lead roles in movies because of their nude scenes.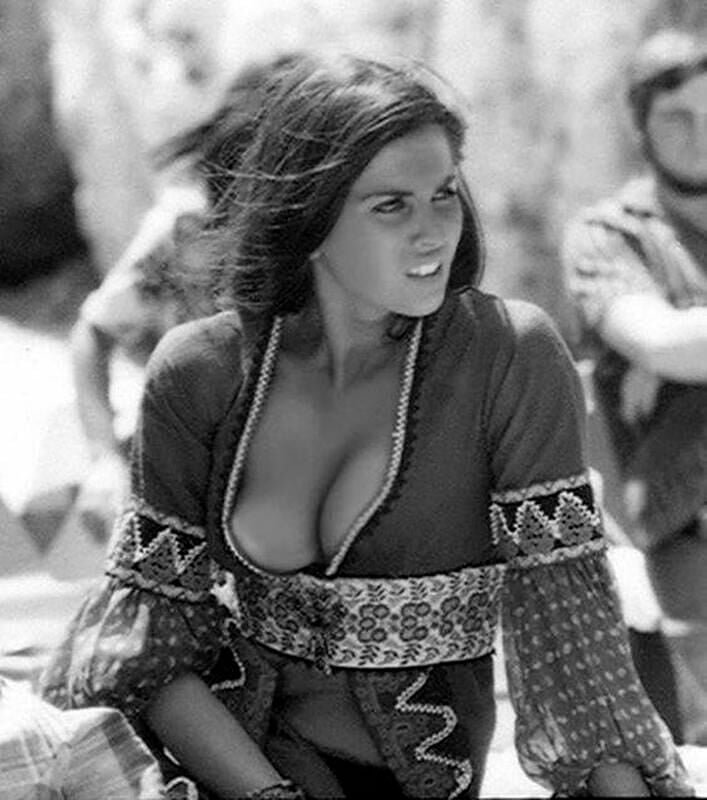 It was the early '70s when Caroline discovered the horror genre - or rather when Hammer Films discovered her. She still holds the distinction of being the only actor ever to sign a long-term contract with the legendary horror film studio. And don't forget that she has also been a slave girl in The Golden Voyage Of Sinbad and a Bond girl in The Spy Who Loved Me, just for a bit of a change of scenery!
Morgan Fairchild - Out For A Swim
As a child, Morgan was painfully shy. She couldn't even stand up in class to make a book report, so in desperation, her mother signed her up for drama class, hoping that she could be brought out of her shell a little. Judging by this picture, we'd say that it worked. She took on a screen name and shed her inhibitions to become a well-known soap opera actress throughout the 1970s and well beyond.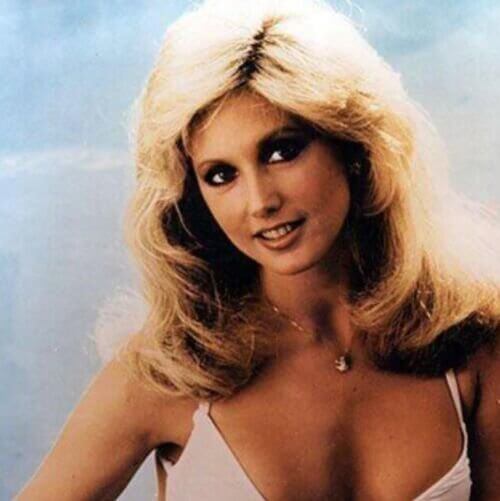 Morgan started her acting career as Faye Dunaway's double in Bonnie and Clyde. Faye couldn't operate a stick shift, so the driving scenes are all Morgan. From there, she jumped straight into a regular spot on Search For Tomorrow. That role would prove to be the first in a line of rich bitches in the daytime and primetime soaps. The decade was certainly a memorable one for her - she claims that she was kidnapped twice in the early '70s!
Stevie Nicks - Fleetwood Mac
If we could bring back anything from the '70s, it would definitely be the top hat as a fashion accessory for women. Stevie is rocking the flowing lines of this look, set off, and dressed up perfectly with the addition of that hat. Fleetwood Mac was the rock band of the decade with the addition of Stevie and Lindsey, and her performances onstage reached legendary proportions. Her witchy bohemian look was embraced by millions.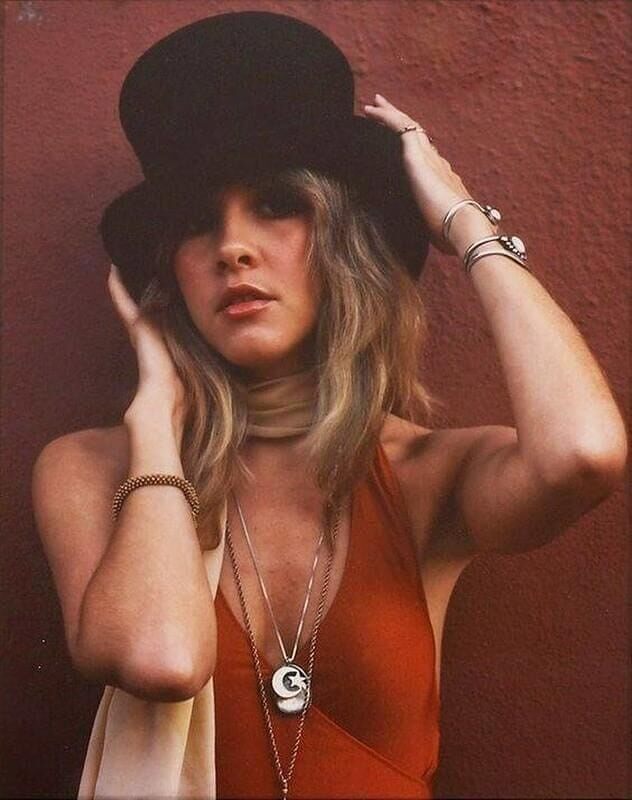 Today, she is 72, and still wearing the same unmistakable style of clothing, churning out unmistakeably awesome work. She has been an icon and an inspiration for generations of female music artists. She's sung with some of the biggest stars in the industry. In 1977, Fleetwood Mac released Rumours, which is the eighth-highest-selling album in history. The dramatic lyrics helped to endear Stevie to every woman out there who had ever had their heartbroken.
Bernadette Peters - Lounging Around
Bernadette is a legend of screen and stage, and you can see why when she can pull off poses like this. She's an acclaimed actress with a string of awards. Over the years, she's appeared in 33 feature films, and the '70s were when her Hollywood career took flight. She even achieved the ultimate of cool accolades - a guest spot on The Muppet Show!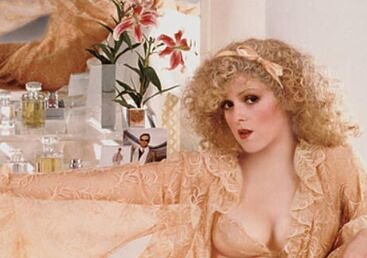 We love this image of a vintage boudoir. It's a shame that she never starred in Sunset Boulevard. She would have made a great silent actress - she can say it all with just one look! Bernadette herself had an image of being eternally youthful, with a childlike adorability contrasting with her appearance, that of a 1920's vamp. Maybe that's why she was posing for Playboy - to try to grow up in our eyes a little.
Farrah Fawcett & Jaclyn Smith - Charlie's Angels
What we love about the '70s is the au natural trend in makeup and attire. These two girls are more or less as nature intended, with the probable exception of a can or two of hairspray, and yet they look just wonderful. From their expressions, it looks like it's a complicated scene, but we are jealous of how they're rocking plain t-shirts. It strikes us as funny that what was acceptable fifty years ago is frowned upon in today's society.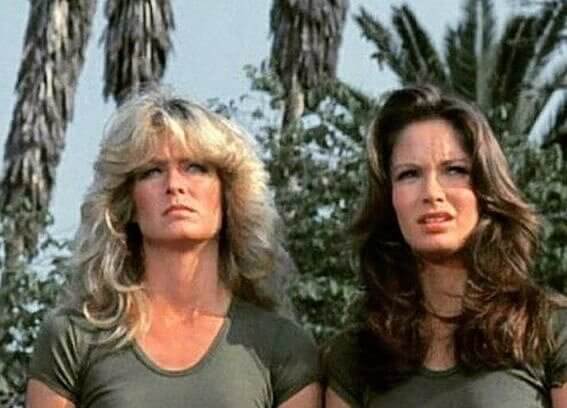 Charlie's Angels was another cultural breakthrough of the decade. Three bonafide female action leading characters would take empowered women to the next step over the succeeding years. And yet, the show also promoted close female bonding and friendship. In this world where women often still feel alone, helpless, and even pitted against each other, maybe we could all do with a bit of a giggle, paired with a lethal stiletto heel.
Ann-Margret - Striking A Pose
It must have been lovely to have been a free spirit in the 1970s. Ann-Margret already had several movie roles behind her by then, as well as gigs dancing in Californian clubs and theater appearances. In the '60s, she had some small success as a singer and would, many years later, be nominated for a Grammy. You can see the confidence that brought her acting success in this photo, which captures her in the prime of her career.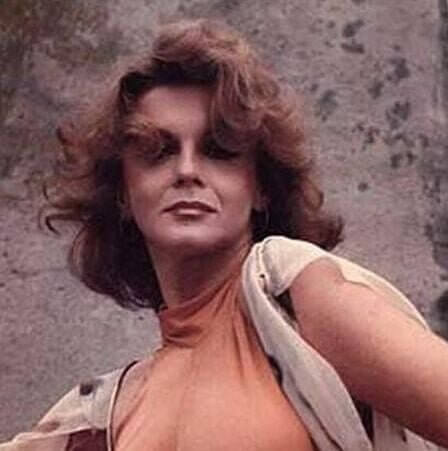 Not only does she take a great photo, but Christie is also a motorbike enthusiast. She even featured in Triumph Motorcycles' official advertisements back in the '60s. Always one to live life to the fullest, she has been linked romantically to the King of Rock and Roll, Elvis himself. In 1972, she fell 22 feet while performing, and had to undergo extensive facial reconstruction surgery. Amazingly, after just 10 weeks of recovery, she returned to work almost perfectly recovered.
Deidre Hall - Electra Woman
Days Of Our Lives has been running since 1965, and Deidre joined the cast just after the episodes went from 30 minutes to 60 minutes. The soap is one of the longest-running dramas in the world, and Deidre has been part of it for over 40 years. In the '70s, it was considered the most daring drama of its time for its coverage of topics such as artificial insemination and interracial romance.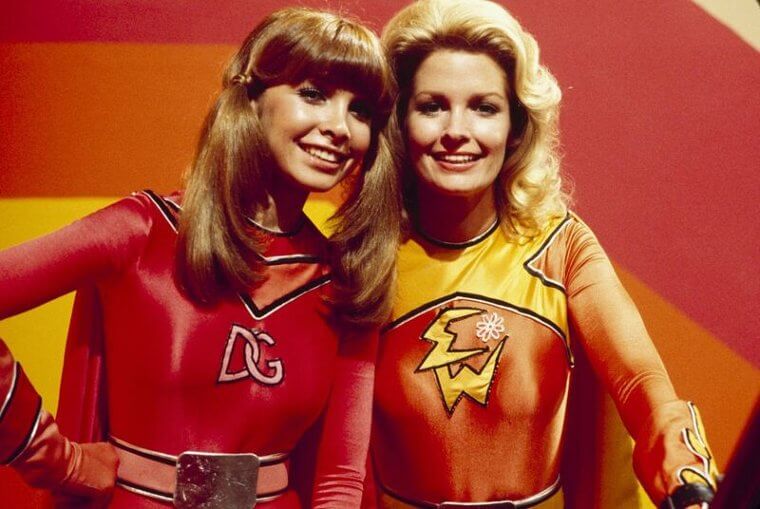 This, however, is a shot taken from one of Diedre's other projects. Electra Woman (and her sidekick Dyna Girl) were the female versions of Batman and Robin, complete with an underground lair, an ElectraCar, and their assortment of larger than life villains. The show ran in the mid-'70s and was a tongue in cheek reminder that anything a man can do, a woman can do, well, yellower. It must have been super fun to play the comic duo, although we do deplore the choice of mustard tights on our superhero!
Hugh Hefner - The Mansion
Now here is a man who had it all. Power, women, and a great big mansion. Full of women. Hugh has been a controversial character his entire career, and the permissiveness of the '70s was stretched to breaking point by his antics. There are those that lay the mainstreaming of soft porn and the exploitation of women's bodies right at his door, and they're not wrong. But he was also a fierce advocate of the First Amendment rights, and actively supported gay rights and equality between races.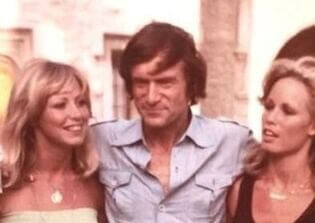 The Playboy Mansion was Hef's home from the early '70s right through to his death. It was a hedonistic den of pleasure, by all accounts, although it was cleaned up a bit once he hit domestic family life with his second wife. What we love about this shot is the outfits and makeup on the ladies. If that's the overtly sexual look that Hugh was promoting, then we guess today's fashions must have originated somewhere else...
Susan Anton - Golden Girl
In the '60s, Susan was a pageant winner. That got her noticed by the right people, and in the '70s, she became the face of Muriel Cigars, appearing in a series of commercials for them where she sang their jingle. It was her voice that caught the public's attention, and she went on to sing for mattress company Serta in their commercials. In 1979, she got her to break into movies with the starring role in Goldengirl.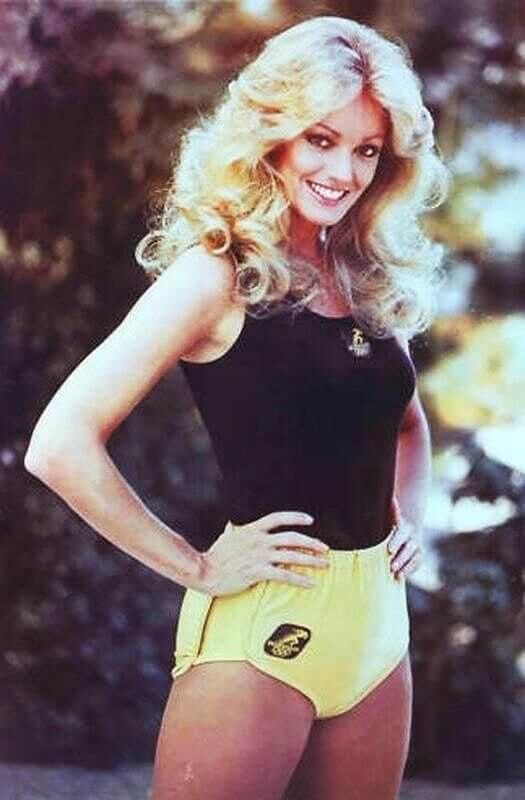 Unfortunately, the film was not well-received. Susan was an easy pick for the lead role, a beautiful athlete who was a prototype for a physically superior human being. Her performance left a little to be desired, and she soon went back to TV, where she was known for her variety show performances. Eventually, she left Hollywood and headed for Vegas, where she hosted the Great Radio City Music Hall Spectacular for more than 5,000 performances.
Charlotte Rampling
Well-known for her wild antics off the screen, British-born Charlotte was at the forefront of the swinging sixties and entered the seventies at the height of her fame. She was a regular in arthouse film and her English accent and cold stare got her some of the best female parts of the decade. Did you know that the English verb 'to rample' was actually created from her surname? It means to reduce a man to helplessness through chilly, mysterious sexuality.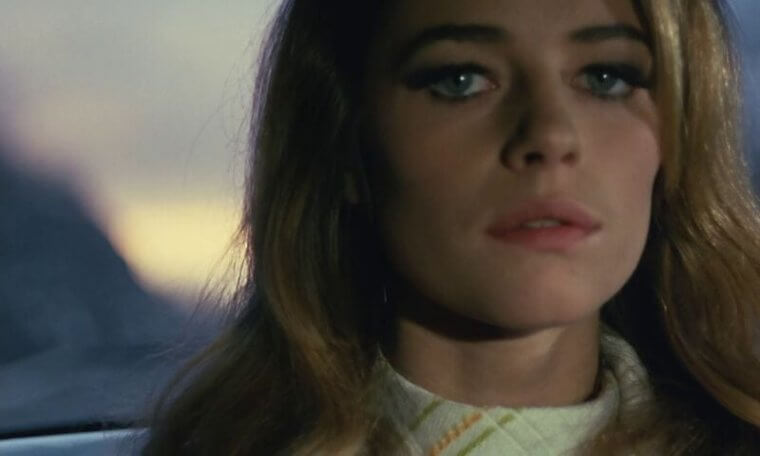 She has played a gunfighter, a dominatrix, a young wife in a Nazi concentration camp, one of Henry VIII's doomed spouses, and a lady in love with a chimpanzee. She's appeared naked, in film and for Playboy. And that was just the '70s, more or less. Despite being a regular sufferer of depression, Charlotte is one woman who knows how to live life to the fullest!
Tanya Roberts - The Beastmaster
Never what you'd call a leading lady, Tanya is nevertheless a firm favorite among cult classic fans. She's been a Bond girl, a scream queen, one of Charlie's Angels, and a sitcom regular, among other things. We've cheated a little here and chosen a picture from the early '80s, showing Tanya in the sci-fi flick The Beastmaster, but let's face it, hempen loincloths are a pretty timeless fashion accessory.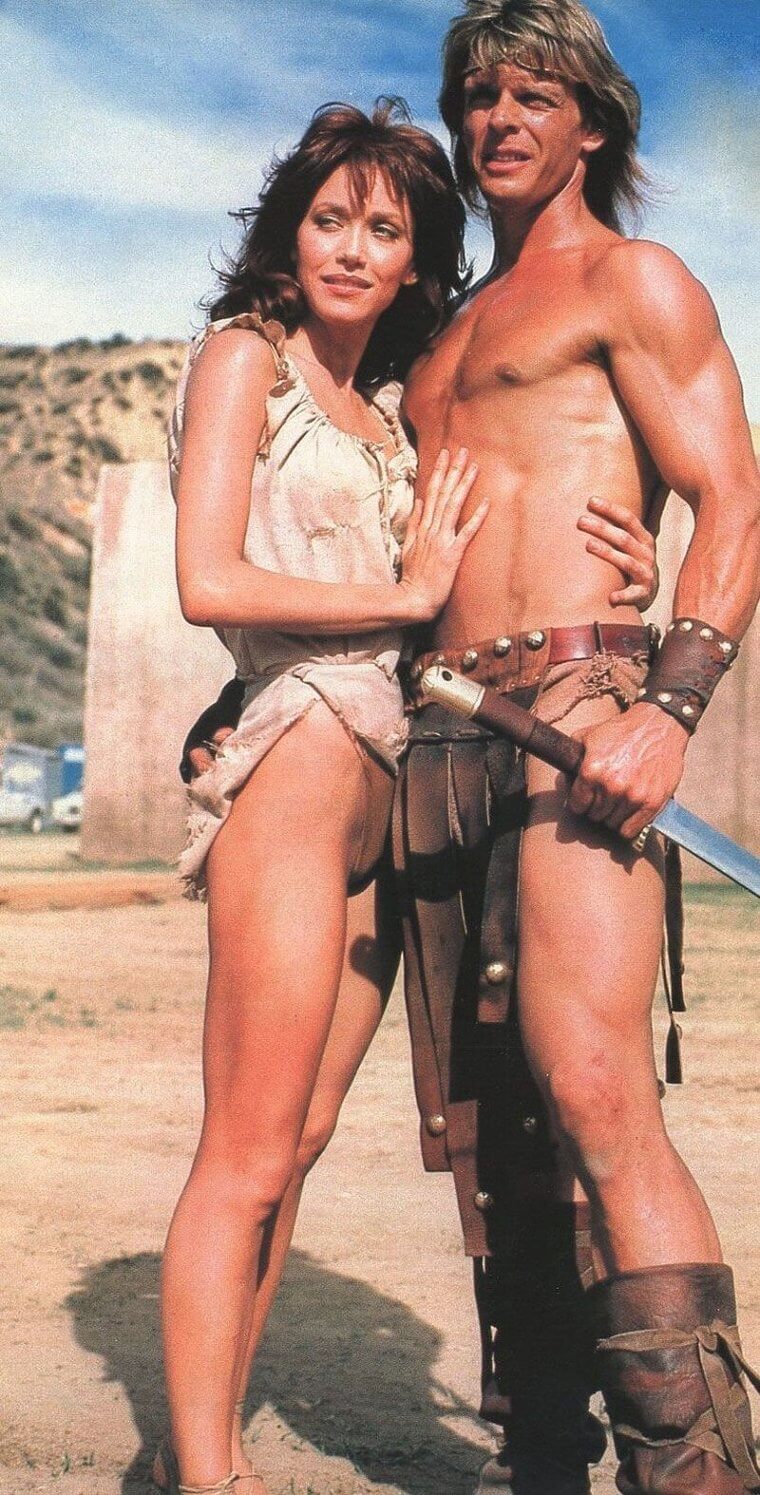 Tanya has a much stronger connection to the decade with her role in the turn of the century comedy series celebrating all things the '70s; That '70s Show. Midge was the embodiment of a woman discovering feminism in the funniest way possible. Such was her lovability that we even forgave her when she left her husband and daughter behind and ventured forth to be who she needed to be. In reality, Tanya quit the series to be with her dying husband of over 30 years.
Linda Ronstadt - Nature Trail
The Top Female Pop Singer of the 1970s was a Rock 'n' Roll queen. A natural singer, she never set out to be famous or win awards, she just knew that she had to sing. That was all she ever wanted. Luckily, she had what it took to sing to the masses, and spent the groovy decade churning out albums, winning Grammy Awards, and gracing the covers of Newsweek, Time, and Rolling Stone - the latter six times!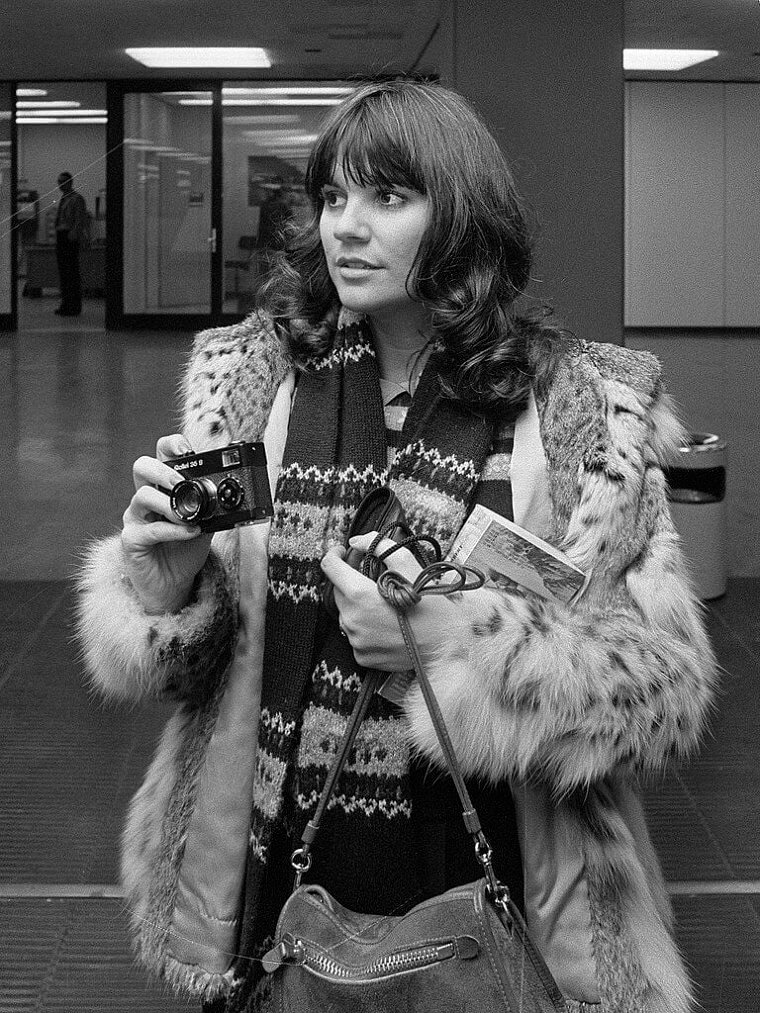 Linda was never into the glamor-obsessed high society culture of Los Angeles, preferring to keep it low-key, rather like this photo. We have always been in love with those bangs and that layered look screaming shaggy, sexy superstar no matter what she might be wearing. Although she's never found true love, Linda has adopted two children and has rocked the single mother approach with as much passion as she sings. Nowadays, she's vocal about standing up for what is right and has controversially supported many political and cultural causes.
Goldie Hawn - Just Chilling
Goldie had already won an Oscar before the '70s even got going, and it was only uphill from there. This photo captures the free spirit that she's always been known for, and reminds us that a bit of leg can go a long way, too... As the decade started, most of her roles were in the 'dumb blonde' style, with a lot of giggling, but even then, her promise shone through.
The '70s were a great time for Goldie as her career soared. She took time out in the middle to focus on her family after her first son was born. A trained dancer, she also released an LP in 1972. Her image, with those huge eyes and that infectious smile, has never waned over the years, and she has handed it down to her daughter Kate, who has followed in her mother's professional footsteps.
Jaclyn Smith - Angelic In White
Jaclyn was modeling and doing commercials in the first half of the seventies, but in 1976 everything would change for her as she became one of Charlie's Angels with the premiere of the series. She went on to become the only original Angel to act out the whole run of the series. Not only that, but she also had cameos in the later films. She's been a regular in TV films and series her whole career.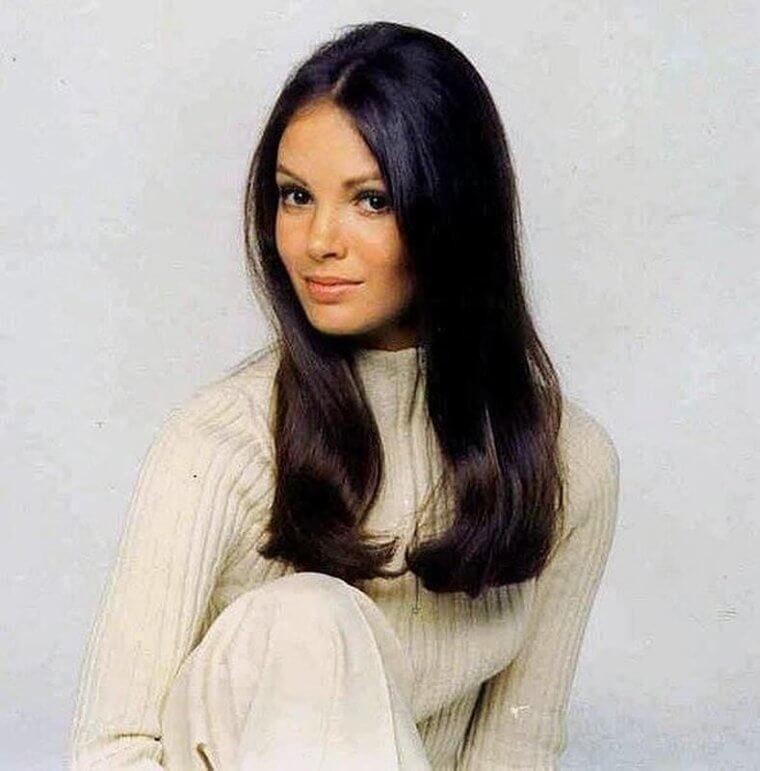 After making her mark as a female action hero, and garnering a massive female fan base in the process, Jaclyn capitalized on her fame by being one of the first celebrities to take ownership of her name as a brand. Endorsements were common enough, but she took it to the next level by introducing her own clothing collection. Then, it was considered a bit of a step-down, but today, all the biggest celebrities have their own brands.
Jamie Lee Curtis - Cine Revue
Rumor has it that this shot was featured in a 1978 edition of Ciné Revue. Jamie is looking extremely cheerful, probably due to her new-found fame for her role in Halloween. It's not the silliest picture we've seen from the photoshoot, but it definitely encompasses the happy-go-lucky essence of our favorite scream queen comedienne. Jamie was a bit young to make her mark in the '70s and has remarked on the difficulties of growing up in the era.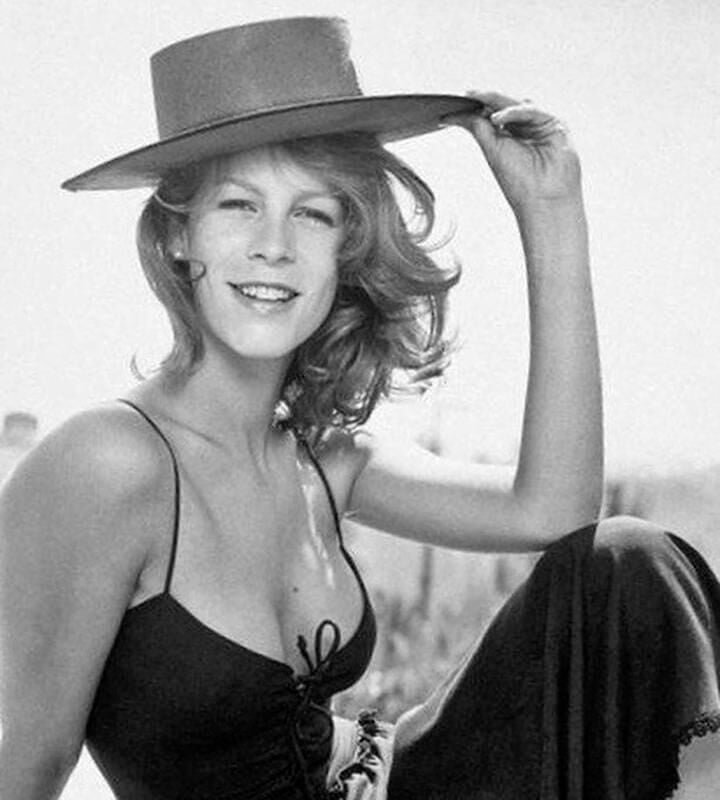 What has become known as laid-back grooviness could, at the time, be seen as lethargy and indolence? In a culture that was reaching out to find a new identity that meshed with emerging values, it was difficult to find focus. Jamie felt that there were no strong leads in which to find inspiration in film, music, or fashion. Luckily, the '80s proved to be her decade, and we couldn't get her off our screens!
Stevie Nicks - Out to Lunch
Stevie has always lived in a world of music. Her first song was written when she was 16, with the help of a guitar bought for her birthday present. At school, she was in a folk-rock group. The second band she joined opened for Jimi Hendrix and Janis Joplin for a couple of years, and she learned how to stage her intense performing presence from them.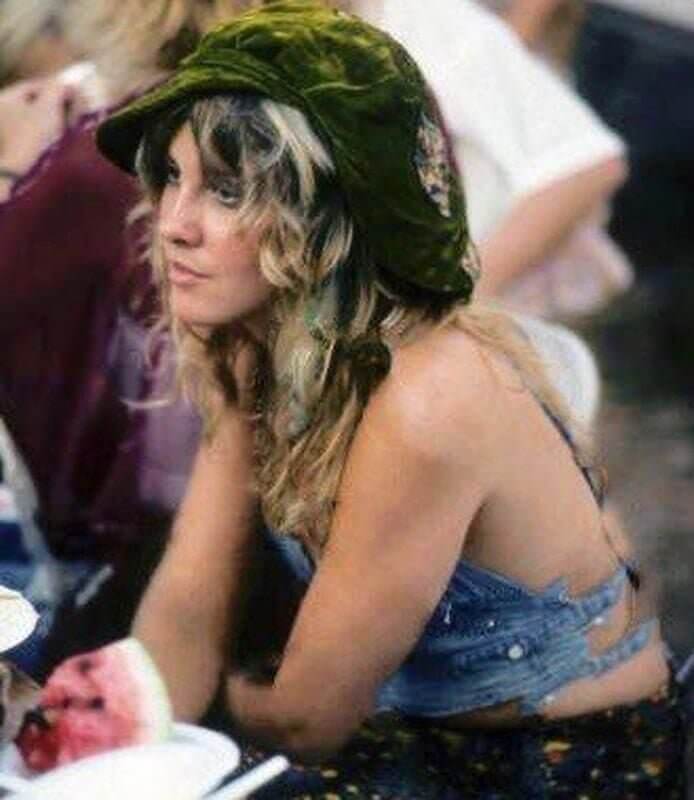 She would go on to join Fleetwood Mac in the '70s. Fleetwood invited her boyfriend and professional partner Lindsey Buckingham to join the band, but he would only do so if Stevie could come too. When they tested together, they knew that they had found the right mix of pop and rock to take the country by storm, which is exactly what they did. Stevie became a superstar and an icon of the groovy decade, and far beyond. She now also has a successful solo career to her name.
Loni Anderson - WKRP In Cincinnati
Loni played Jennifer Marlowe in the popular series centering around a struggling radio station. Jennifer was the secretary to the incompetent manager and the real power behind the throne. She oozed sex appeal and was also an accomplished professional who knew exactly where her boundaries lay and wouldn't cross them. It was great to see a woman in a role applauding her abilities in the workplace without playing down her femininity.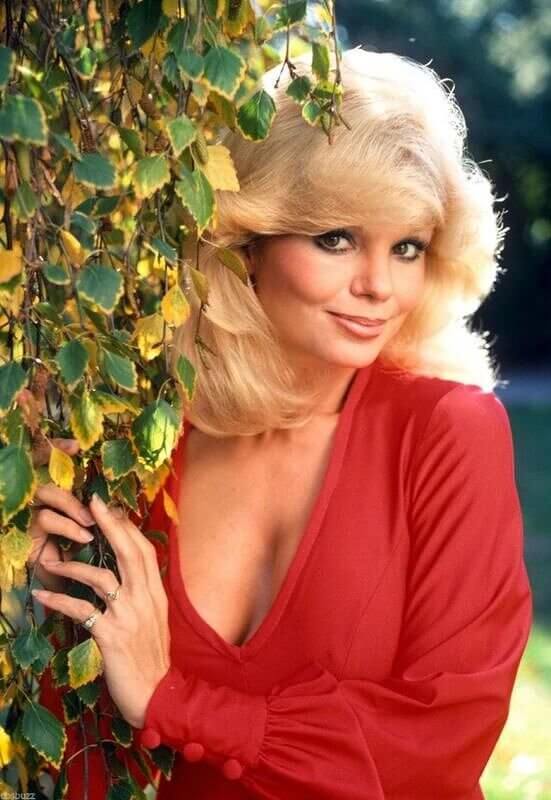 Jennifer was such a popular character that Loni was able to ask for a substantial pay rise as the seasons progressed. The show itself was badly managed by the network, but when it reached syndication, it became one of the most popular sitcoms broadcasted. The '70s would prove to be Loni's heyday - she went on to work in film and TV, but never again would she achieve the same level of recognition as she did as Jennifer.
Sally Field - Chilling In The Park
This shot was taken sometime in the early '70s, just as Sally was trying to lose her girl-next-door image and be taken seriously as a drama actress. The photo is an amalgamation of sexy and sweet, with the relatively high neckline and below the knee hem dress contrasting with her provocative pose, perched on the back of a park bench. The whole effect was a harbinger of what was to come, as Sally slowly got to show more of her hidden talents as the juicier parts came in.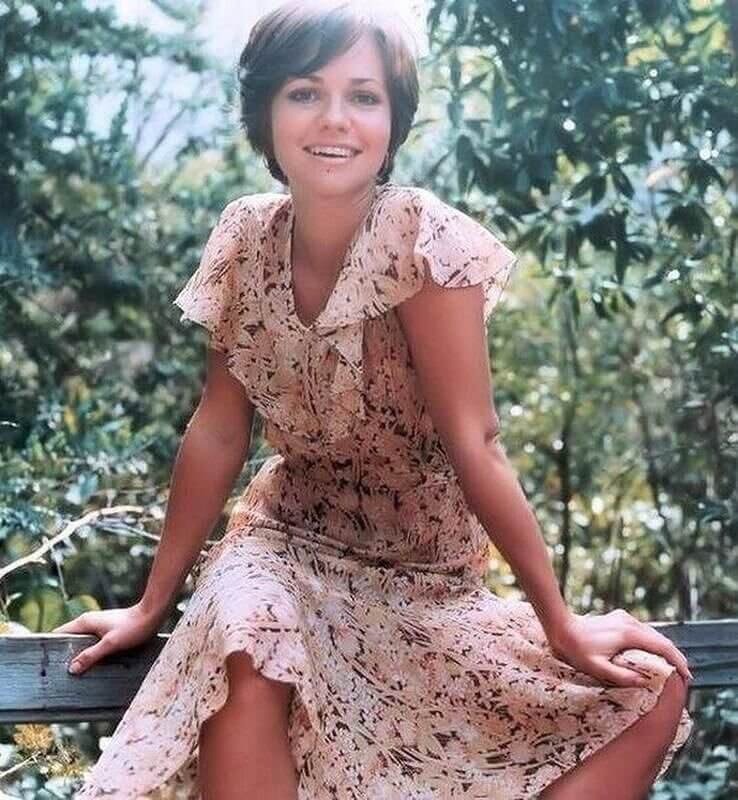 After proving that she has what it takes in Sybil, our girl went on to win Oscars, Emmys, and Golden Globes and gathered in nominations for a Tony and two BAFTAs to boot. Always a progressive thinker, she has spoken out for women's rights and advocated women in leadership. She also supports gay rights and has been arrested while protesting about climate change!
Lindsay Wagner - Bionic Woman
Jaime Sommers first appeared in The Six Million Dollar Man in 1975. Lindsay had already enjoyed parts in a number of TV films and series, and this was to have been her last job under her network contract. Jaime, the girlfriend of the man himself, received her bionic implants after an accident, but they couldn't save her from death. The public response to her, however, made the network rethink a few things, and she was resurrected with a secret recovery scene and given her own show.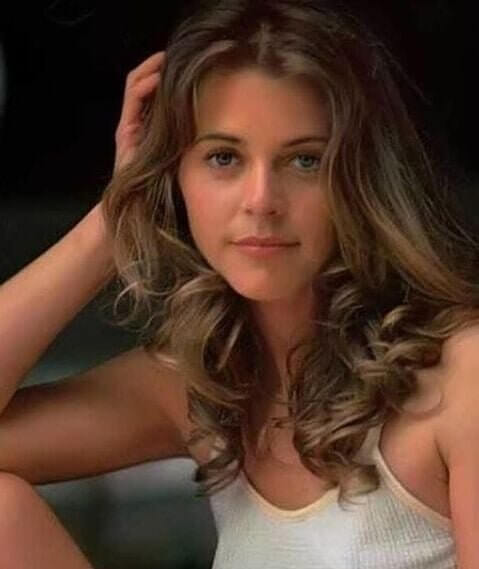 The show ran until Lindsay fell pregnant, but she was soon back as the ubiquitous crime fighter in a series of films. The franchise has gone on to spawn remakes and merchandise sold across the globe. It was a heady mix, with the strong woman lead often being kidnapped or going undercover in traditional roles. Jaime was a schoolteacher in her 'normal' life.
Jane Seymour - Period Piece
This doesn't look like a professional photo, so Jane probably isn't in a Jane Austen-era frock, but it does look like it, and she has done plenty of period work in her time. In War and Remembrance, she played an American Jewish woman trapped in Europe during WWII. In La Révolution Française, she was none other than the French queen Marie Antoinette.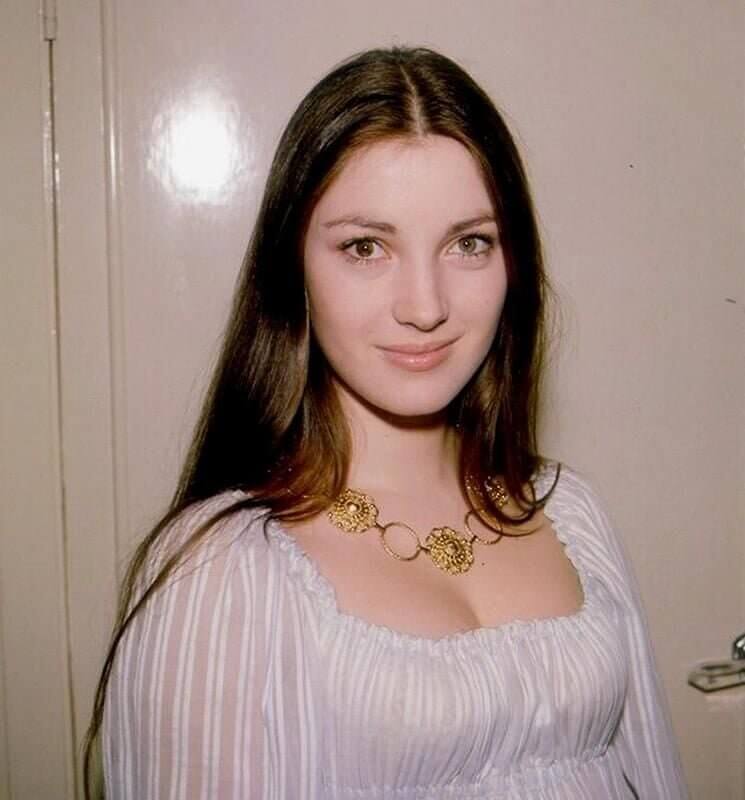 Once you catch her gaze, you can't look away, and not only because she has heterochromia, which means that one of her eyes is a different color to the other. There's something about her natural beauty. Nowadays, she's written ten books and is still regularly starring in movies. She's also a prolific guest star in TV series, and she's a fashion designer. Our '70s flower bud has blossomed into one of the most enduring stars of the last five decades.
Farrah Fawcett - Going For A Ride
If there ever was a woman photographed in a swimsuit, it's Farrah Fawcett. This photo was taken by Bruce McBroom, who also took the shot featured on the best-selling poster of all time. Which poster? Oh, the one of Farrah in the red swimsuit. With the stripy background? Now that was a poster that nearly didn't happen, as the producers wanted her in a bikini.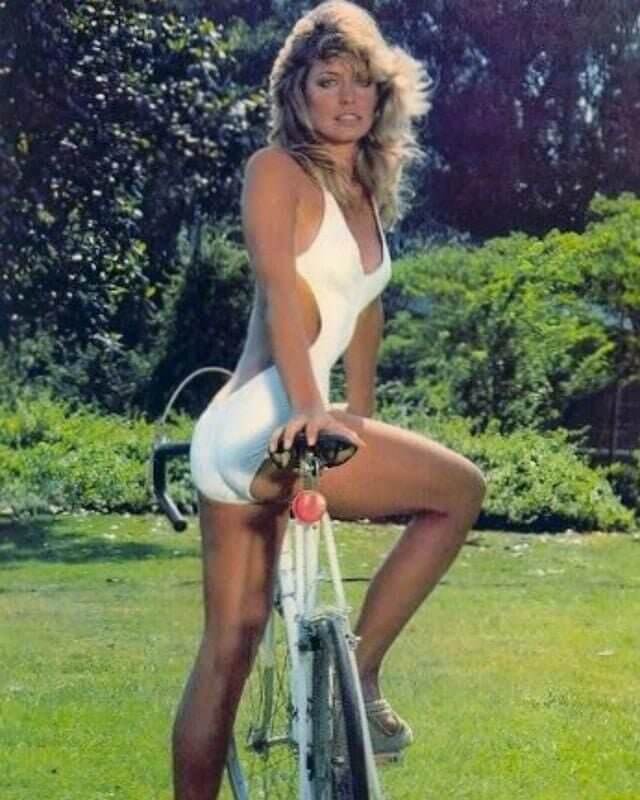 Farrah didn't have a two-piece, and so whipped out that plain red swimsuit instead. And indeed, it's rare to find a photo of our girl wearing a bikini, although the internet is swamped with swimsuit shots like this one. And let's face it, this is a woman that doesn't need anything more - or less - than a single-color piece when she's got that hair and that smile. Her hair was a '70s fashion must-have, with its soft shape that looked good on just about everyone. Farrah was an all-natural '70s babe.
Susan Dey - Young And Innocent
When she landed the role of Laurie in The Partridge Family, Susan was just 17 years old. The show, as we're sure you know, proved to become a huge phenomenon, spawning all sorts of spin-offs and merchandise, and taking over the lives of the actors. The show wasn't kind to Susan, and she suffered from anorexia during The Partridge Family's run. A relationship turned sour with a co-star certainly didn't help. As a result, Susan will not now participate in any 'family' reunions.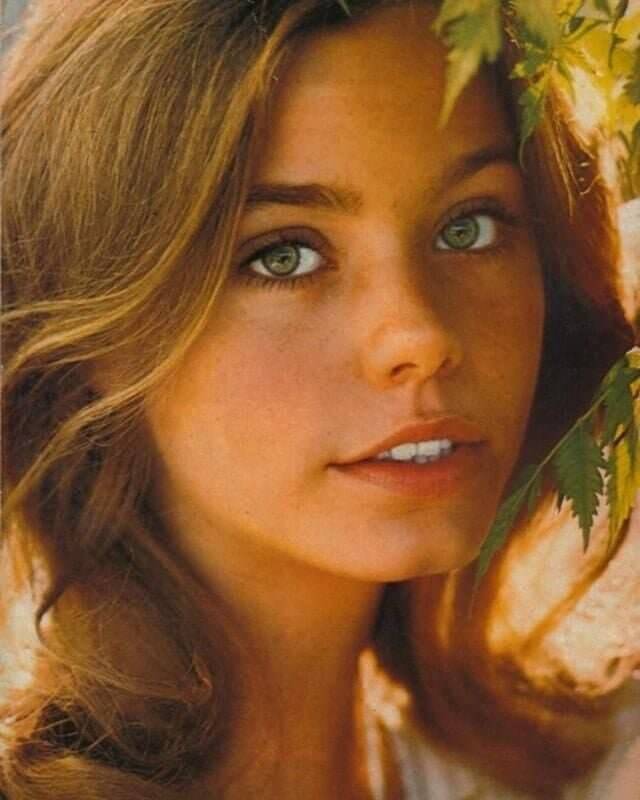 She is, however, a talented actress. Over the years, she has played some meaty parts on TV and in film. She was nominated for a Golden Globe as Laurie, and would later go on to win another for her work on L.A. Law in the '80s. Nowadays, she is a board member at a rape treatment center and has helped bring awareness to the problem of campus rape.

Raquel Welch - Bluebeard
So, we're sorry, but we couldn't resist this shot from Bluebeard, where Raquel plays Magdalena the nun. Yes, we know it's the fourth photo that we've featured, but let's face it, she was the face of the '70s. The face, people. Up top! It didn't matter how good or bad (and apparently there were some corkers) the film was, we want to see more of those dark locks and that glint in her eye.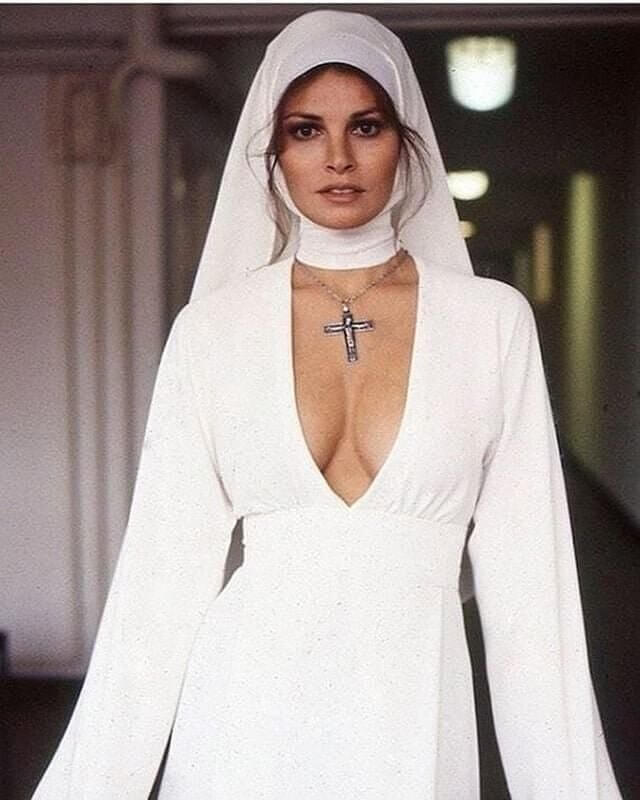 Raquel went a long way towards ending the domination of the blonde bombshell in the 1960s. Her sultry look and her penchant for playing strong female roles recreated what made a woman sexy. She is of Latin descent with a Bolivian father. Evidently, she comes from a family of strong women leaders - she is related to the first female president of Bolivia! Although she's been in Playboy, she has never done a nude scene or shoots in five decades, proving that a bit of mystery is still an alluring asset.

Olivia Newton-John - Grease
Yes, we couldn't have a collection of '70s photos of gorgeous women without Sandy Olsson taking part. Most of the shots we've shown have been relatively hard to find, but not so Olivia's reveal of one of the most famous outfits of the decade. Apparently, the pants she's sporting were so tight that she had to be sewn into them, which raises hard-to-ask questions about bathroom breaks. We hope they got it in the can in just a few takes!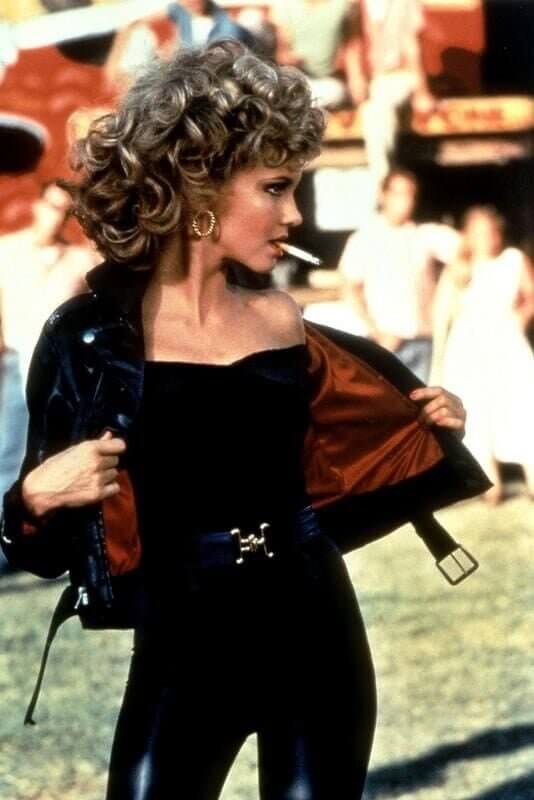 Did you know that Olivia was 29 when she played high school senior Sandy? Do you think that she still got asked for ID at the cinema? Inspired by her radical image change in the film, Olivia took advantage of her newfound popularity to change her musical image at the same time. The results were profound - she's been a singing superstar ever since, winning four Grammy Awards and selling 100 million records worldwide.

Jane Seymour - The LBD
Jane was the epitome of a '70s woman, and this photo attests to the fact. A waterfall of long hair in the simple style of the time, and a dress that reveals nothing but hints at everything. Once again, we're a little envious of the braless halcyon days of that decade! Jane was, of course, a Bond girl, which went a long way toward adding to her sultry image. Our favorite bit of Seymour trivia? She has A 2.08-carat cushion-cut fancy vivid blue diamond in an 18-karat rose-gold-plated platinum setting named after her by the World of Diamonds group!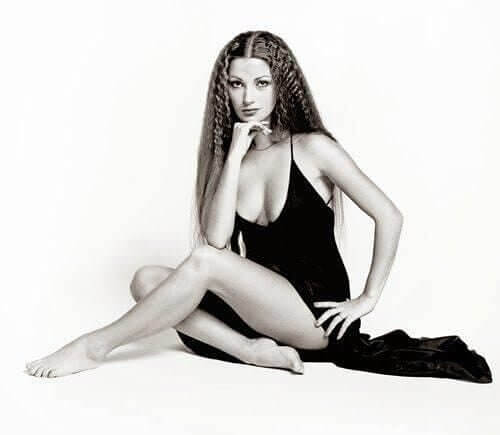 The '70s were a time of cultural change. Women were gaining more freedom, but the perennial problem of men not being able to deal with that was still a strong undercurrent. Jane actually quit acting after being sexually harassed by a film producer. A woman's sexuality is hers to do as she wants with, and Jane underlined that fact in 2018 when she posed for a Playboy photoshoot at age 67.

Catherine Bach - The Dukes Of Hazzard
Daisy became such an integral part of '70s pop culture that the short shorts she was usually wearing became known as 'Daisy Dukes'. It's a good job that Catherine was persuaded to try out for the part because the producers had a very different image of what Daisy was going to look like. She took one look at the Dolly Parton-inspired outfit they offered her and told them she'd be making her own.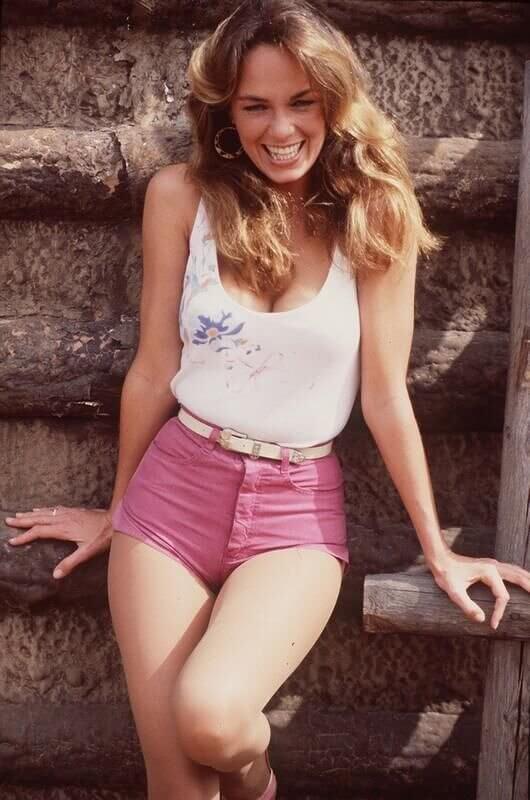 The same went for a poster they wanted her to pose for. Catherine flat out refused to pose oiled up in a bikini, with inch-long nails and slicked-back hair. She kept to Daisy's look instead, and the result sold over 5 million copies. A lot of Daisy's outfits ended up being made by the woman who played her, and she makes similar clothes still! Those shorts certainly showed off Catherine's lovely legs, which she had insured for $1,000,000 while starring on the show.

Charles Bronson & Jill Ireland - Saturday Stroll
Was there ever such a tale of Hollywood love as that of Charles and Jill? Here they are, unabashedly holding hands while out for a walk in Santa Monica, back in 1971. Jill was Charles' second wife, and they were married for 22 years until her death in 1990. Together, they co-starred in a whopping fifteen films. The family was so close that the whole unit would travel with the lovebirds to wherever they were filming at the time.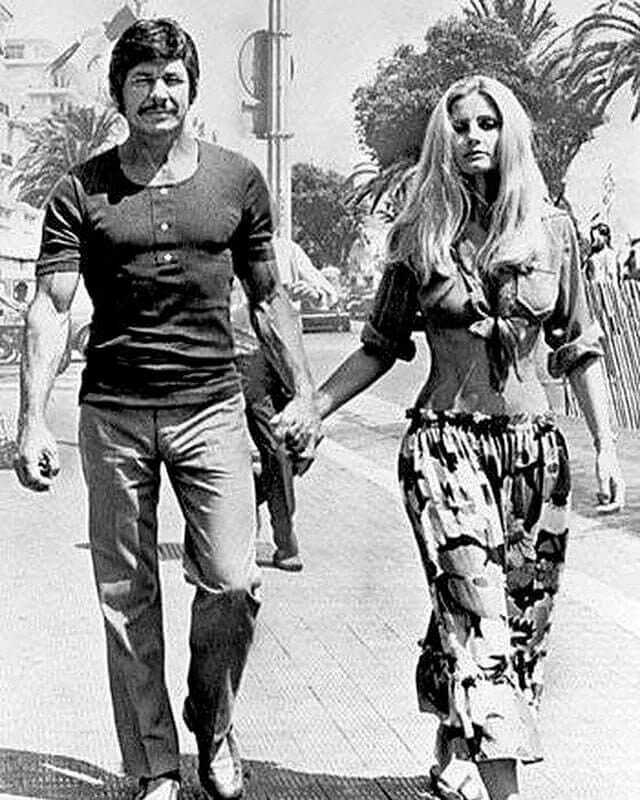 Although Charles did marry once more after Jill died, she was never far from his heart. He had her ashes placed inside a cane that he used. When he died, the cane was placed with him in his grave. At the time that this shot was taken, Charles was the world's number one box office attraction, but there was only one attraction for him - his extraordinary relationship with the woman he's walking with.

Cheryl Tiegs - US Magazine
Rather than bore you all with Cheryl's pink bikini shot, which became an icon of the popular culture of the 1970s, we scoured the internet for a picture of her wearing more than just swimwear. And we can tell you, it wasn't easy, not from that period. Hailed as America's first supermodel, she was another regular on the cover of the Sports Illustrated Swimsuit Issue. The pink micro bikini was just a taste of her daring - in the same year, she was photographed in a white fishnet swimsuit!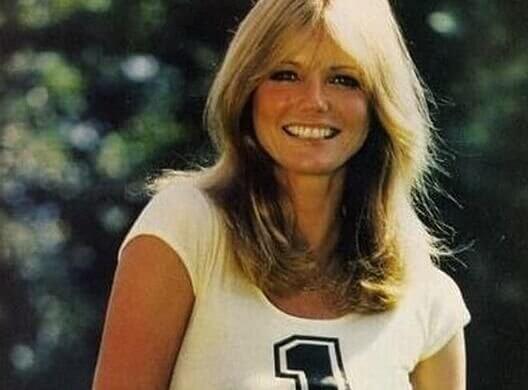 The '70s were a time of the cultural revolution, and Cheryl played her part there, too. At the turn of the decade into the 1980s, she became the first supermodel to launch a retail venture, which neared $1 billion in sales by 1989. She was still showing off her bathing attire in 2001, earning kudos for breaking barriers in the fitness, fashion, and beauty fields.

Madonna - Touring In Paris
Madonna has been famous for her exhibitionism from as early on as high school, where she would dangle on the monkey bars, showing her underwear off to everyone. She has always kept her pop persona, however, under rigid control. Throughout the years, Madonna has become an inspiration to girls and women across the globe and paved the way for many successful female pop artists in her wake. Her enduring fame lies in the manner in which she can reinvent herself as the culture around her evolves.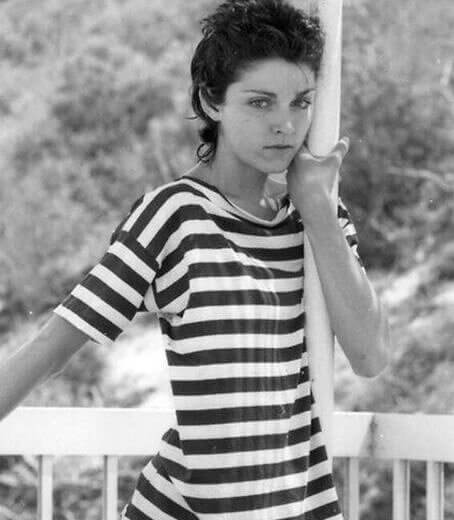 Here, in stark contrast to all of that, we find her on a three-month hiatus in Paris as a backing singer and dancer for French disco artist Patrick Hernandez. Plain-faced and simply attired, we can barely recognize her. This shot was taken in 1979, and you can almost feel the discontent she felt at being a sidekick. It wasn't long before she was back in the US, and her first solo album was released just three years later.

Cheryl Ladd - Charlie's Angels
It can't have been easy to replace a star-like Farrah Fawcett, especially when you're a relatively unknown actress, but that's what Cheryl had to do. The network made it easier by casting her as the sister of Farrah's departing character, and it seemed to do the job because Cheryl stayed on until the show stopped airing in 1981. In this photo, she's certainly showing off the smooth style and perfect hair that Charlie seems to find so important.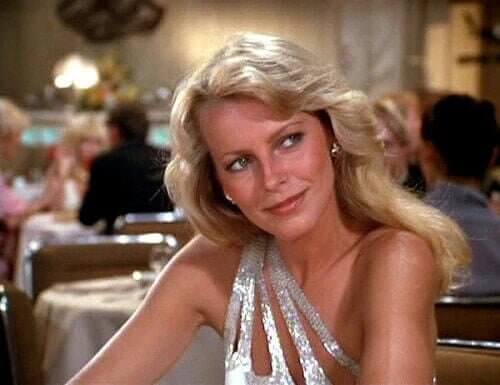 Cheryl started branching out on the back of her Angel fame and embarked upon a fairly successful musical career, as well as starring in over 30 made-for-TV films, some big-screen flicks, and a Broadway production. She might have been a bit nervous about taking the part after Farrah's exit, but we bet she's pleased that she took the plunge nowadays. It's thanks to that that she's sung the National Anthem at a Super Bowl, and perhaps much more importantly, guested on the Muppet Show!

Blondie - LA Cool
Blondie was huge in the '70s. They personified the New York City punk rock culture, and Debbie Harry was the ultimate in cool mystique. Did you know that Debbie was also a Playboy Bunny before she made it big? The band was constantly breaking barriers - for instance, it was Blondie that released the first rap song to chart at number one in the US.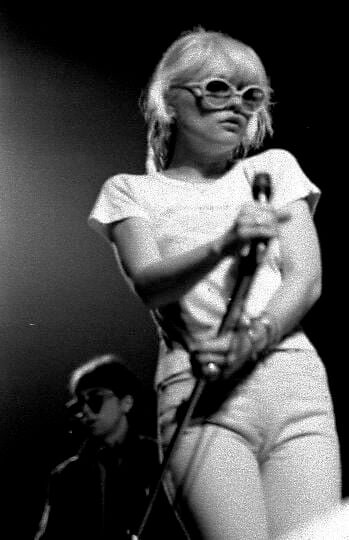 Of course, there's nothing natural about Debbie's hair color, but the look is otherwise pure '70s unmade-up, as-it-comes cool. 

Angie Dickinson - Police Woman
Police Woman was the first successful show to feature a woman lead in a police officer role. It was an hour-long, primetime show that ran for four seasons in the mid-to-late 1970s. In it, Angie was frequently undercover, portraying prostitutes, waitresses, air stewardesses, dancer, teacher, even prison inmate. All those traditional female-led professions, usually with a uniform...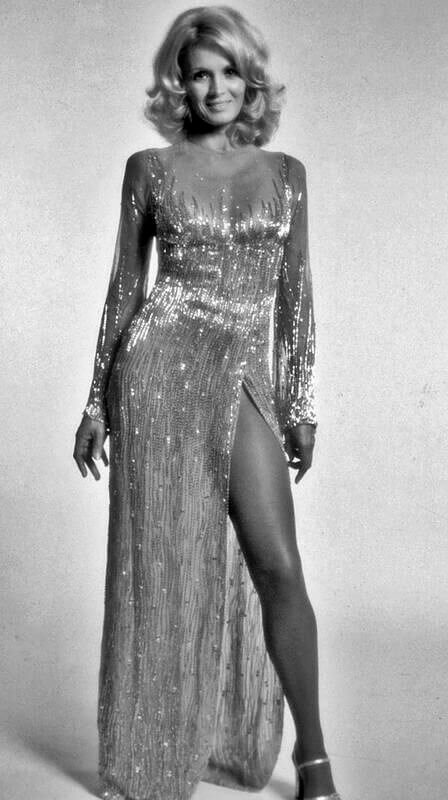 However, the show did a lot for women's representation in the police force. Angie received a letter upon a letter from fans thanking her for inspiring them to take up a career in law enforcement. Even today, sociologists are surprised by how many female police officers cite the series as their catalyst. Angie got to revolutionize America and wear shimmery gowns while on the job. You'd think that it couldn't get better than that, but ironically, she regrets taking the job because the pay was poor and the hours too long!

Marilu Henner - Taxi
Marilu was performing in the original production of Grease as the seventies started, and had her screen debut in 1977 in Between The Lines, but it was the ever-popular sitcom Taxi that brought her to our attention. She received no less than five Golden Globe nominations for her portrayal of single mother Elaine Nardo. She remembers that it was great fun to be working with a comedic legend such as Danny DeVito - although it did make shooting scenes hard work when all she wanted to do was laugh...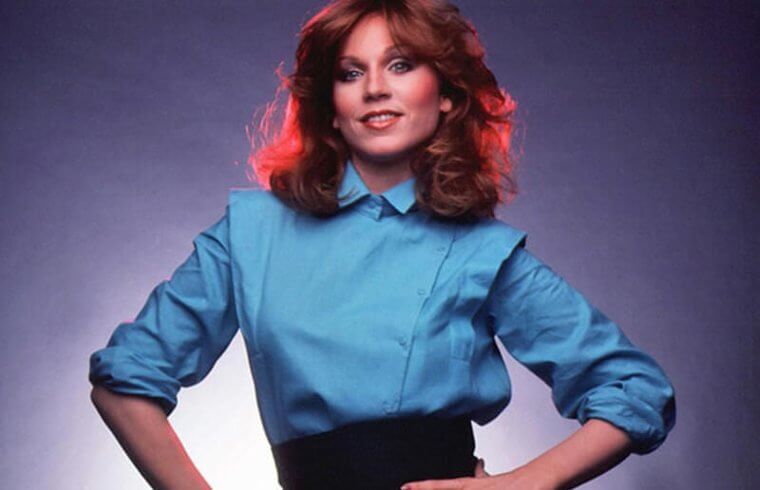 Taxi is now syndicated, and still running today. Although it's a lighthearted comedy program, it did take the time to address some of the pressing issues of its time, such as homosexuality, racism, nuclear war, divorce, and that perennial problem, PMT. Marilu saw daily struggles as a mother and as an object of lust. We're pretty sure that we've cheated with the photo here, though, as that looks very much like '80s fashion to us...

Carly Simon - Life In London
It's a casual shot that doesn't look posed at all, just our girl exploring the streets of London in 1971. Carly is rocking the laid back groove, and the cowboy hat finishes it off perfectly. Did you know that during the '70s, she lived in a small cabin, half-hidden under a layer of wild growth and trees? It must have been very romantic, although apparently there was no bathroom door...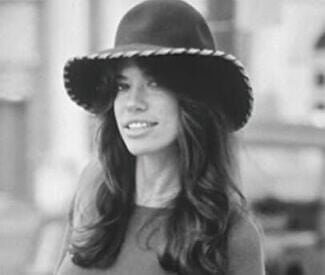 Carly has always been a shy artist, and never toured much because she was uncomfortable on-stage. In fact, she's never been really comfortable in her skin, and can't understand how she got branded as a sex symbol. In an age of sexual freedom, she couldn't even bring herself to write the word 'bra' in her diary, rather replacing it, along with other sexually loaded words, with codewords of her own devising.

Raquel Welch - Hannie Caulder
Raquel has played a variety of different roles, as we've discussed, and sometimes they included some good old-fashioned vengeful-woman-in-not-a-lot-of-clothes parts. Because who doesn't wander around in the sandy wastes wearing nothing but a holster and a ripped towel? She saw the '70s in with a bang and a reload in this Western flick, becoming the first woman to lead in a western, and paving the way for a strong woman leads in the future. Quentin Tarantino has said that Kill Bill was inspired by Raquel's performance back in 1972.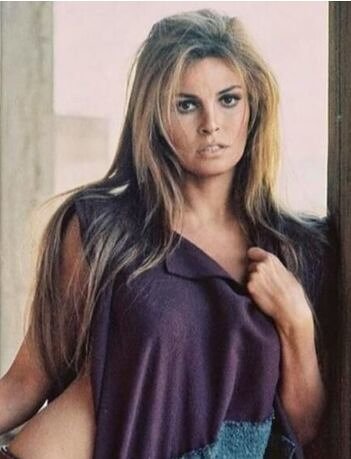 We know, however, that she's a whole lot more woman than what you see here. She's a Golden Globe winner, for a start. Did you know that she also starred in a one-woman Vegas nightclub musical act for many years? Or that she has won recognition for her work promoting Americans of Latin Heritage? Or, and we love this one, that she has a line of wigs called HAIRuWEAR?

Cher - The Bunny Club
Well, we're sure that the sight of Cher dressed up as a Playboy bunny is extremely pleasing to some, but we can't find any proof that she ever worked as one! Perhaps she's just trying out a new look here, which, let's face it, is something that she's pretty good at. The queen of redefinition, Cher has embraced every decade on entry and left behind at least one number one Billboard chart single upon exit.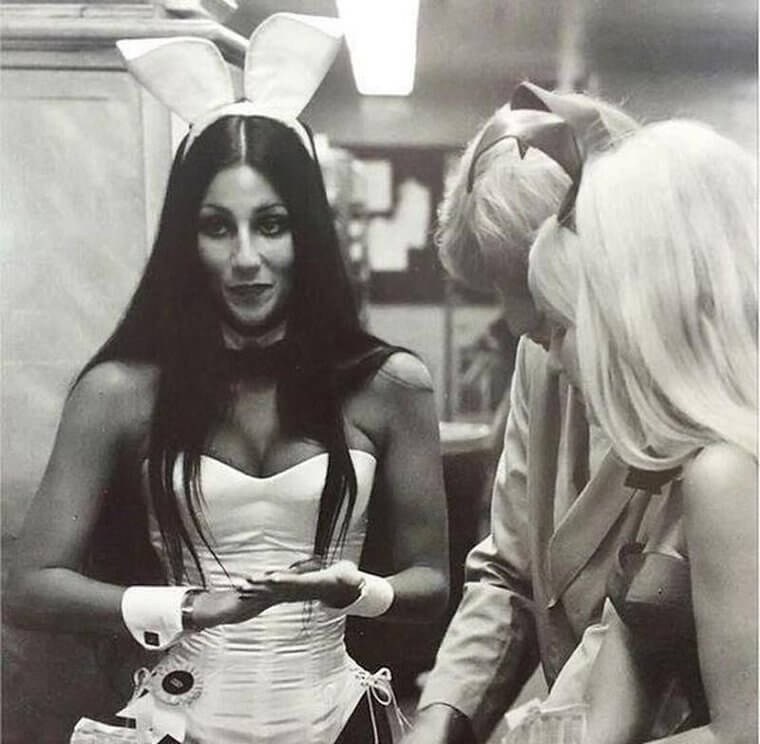 She was actually seen as a bit of a square in the '70s, with her monogamous marriage and anti-drug stance. Soon enough, though, she and Sonny were divorced. Dressing up outrageously soon became her thing, and she fought network censors to be one of the first to bare her navel on TV. She has been inspiring fashion looks ever since, as well, of course, as becoming one of the most iconic female singers in history.

Pamela Hensley - Buck Rogers In The 25th Century
They just don't make sci-fi cult films like they used to. The '70s were an era where the natural mixed with the futuristic and elegant grace merged with glitz and drama. The results were some of the best cult classics to ever be made. They may not have broken box office records, but they're still watched avidly even today by fans of the genre. They capture that '70s groove perfectly, and most of us wish we had a little bit more of that in our everyday lives...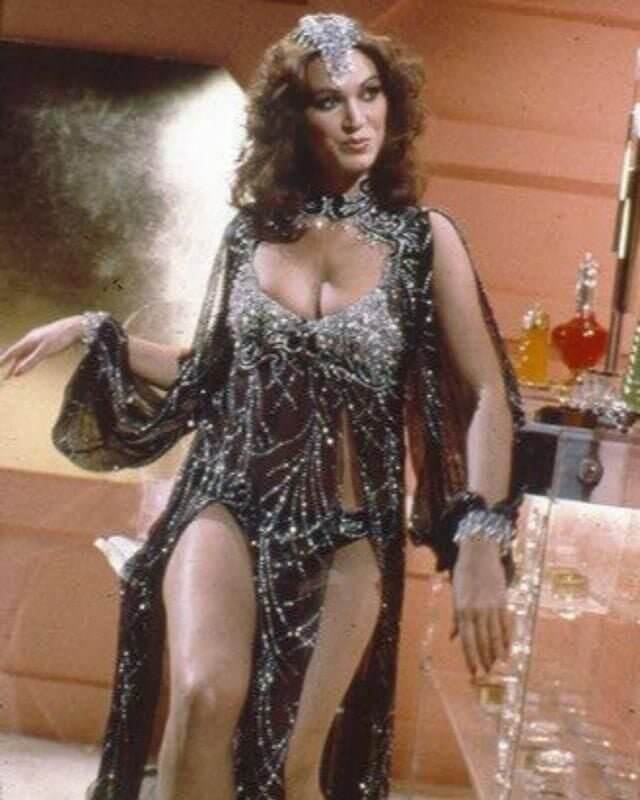 Pamela was Princess Ardala in Buck Rogers In The 25th Century, both the movie and the subsequent series. Her character was always wearing some sort of bikini/sarong concoction that hinted to allure and mystery and, of course, was encrusted with shiny bits. The princess was in charge of an entire invading fleet, which is totally achievable while kitted out like window dressing, ladies, and don't let anyone tell you otherwise!

Lynda Carter - Miss World USA
We just can't get enough of Lynda, and this victory shot from the Miss World USA pageant of 1972 might just be our favorite. It captures all of her innocence and much of her potential. We just love that cheeky smile, with her tongue caught between her teeth! She had only just come off the road from touring as a singer in a group, and pageanting just sort of fell into her lap.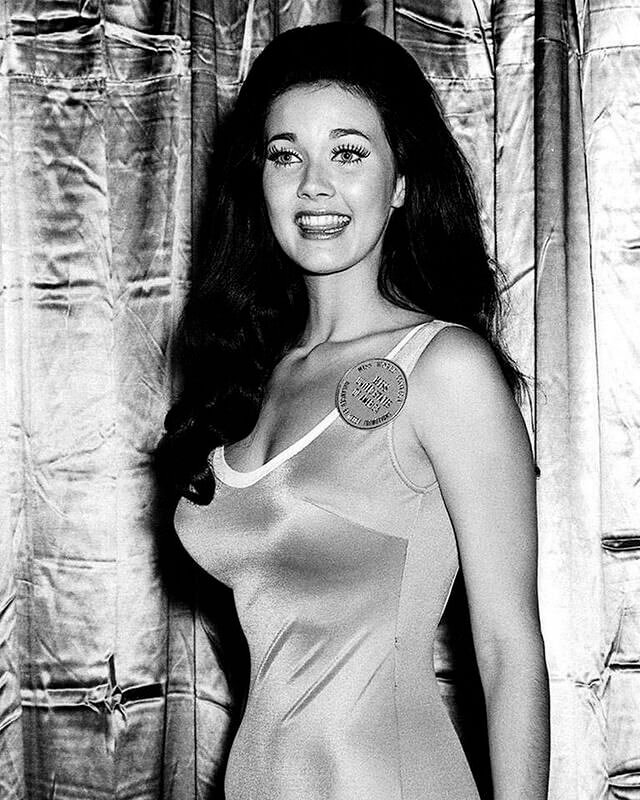 Lynda didn't give music up entirely during the years that followed. She's starred in musical theater and various musical TV specials. She even recorded her own album in the late '70s. Nowadays, she's still gorgeous, and she still has that smile. An active supporter of pro-choice rights and legal equality for LGBT people, she's been the Grand Marshall for three big city Pride Parades. A recovering alcoholic, Lynda's now been sober for over 20 years.