The latest news of the show's star Danny Masterson's conviction for heinous crimes has shaken the world of Hollywood. Read on. 
That 70's Show followed a close group of teenagers in the late 1970s. While the goal of the show was to play on the nostalgia that older viewers had for bell-bottoms and the Bee Gees, younger viewers related to the experiences, shenanigans, and small-town boredom the gang went through.
Not only was the majority of the cast young and attractive, but they were also all future Hollywood stars in the making. Buckle up and keep reep for these far-out facts and all the drama behind That 70's Show.
 
Name Games
Originally, That 70's Show had a different name. When the creators of the show, Mark Brazil, Terry Turner, and Bonnie Turner, pitched it to the network, they called it Teenage Wasteland after the song by The Who.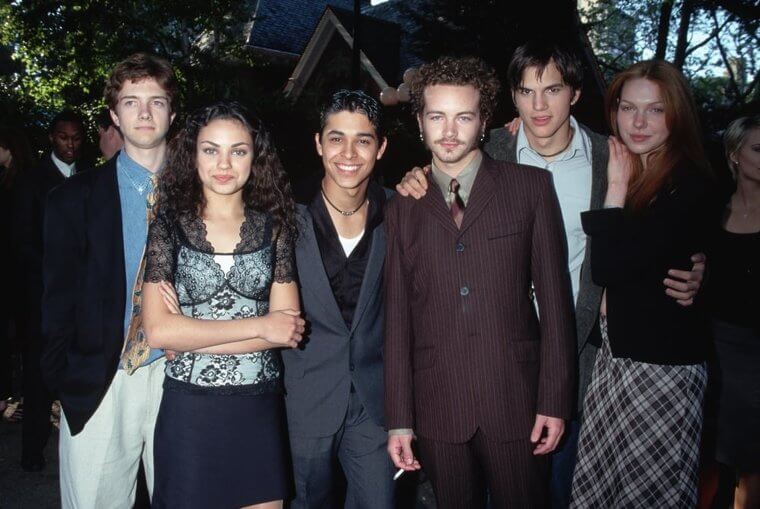 However, the band would not allow the network to use that name. So, they were back to square one. When they shot the pilot episode, the show was titled Feelin' All Right but was changed to That 70's Show when Bonnie heard members of the test audience used that in reference to the show. The rest was history and That 70's Show went on to air eight seasons.
Going With the Model
Believe it or not, the cast of That 70's Show could have looked a lot different. The role of Eric's handsome yet stupid friend Michael Kelso could have gone to James Franco. Franco was young but had a promising resume with Freaks and Geeks and other projects.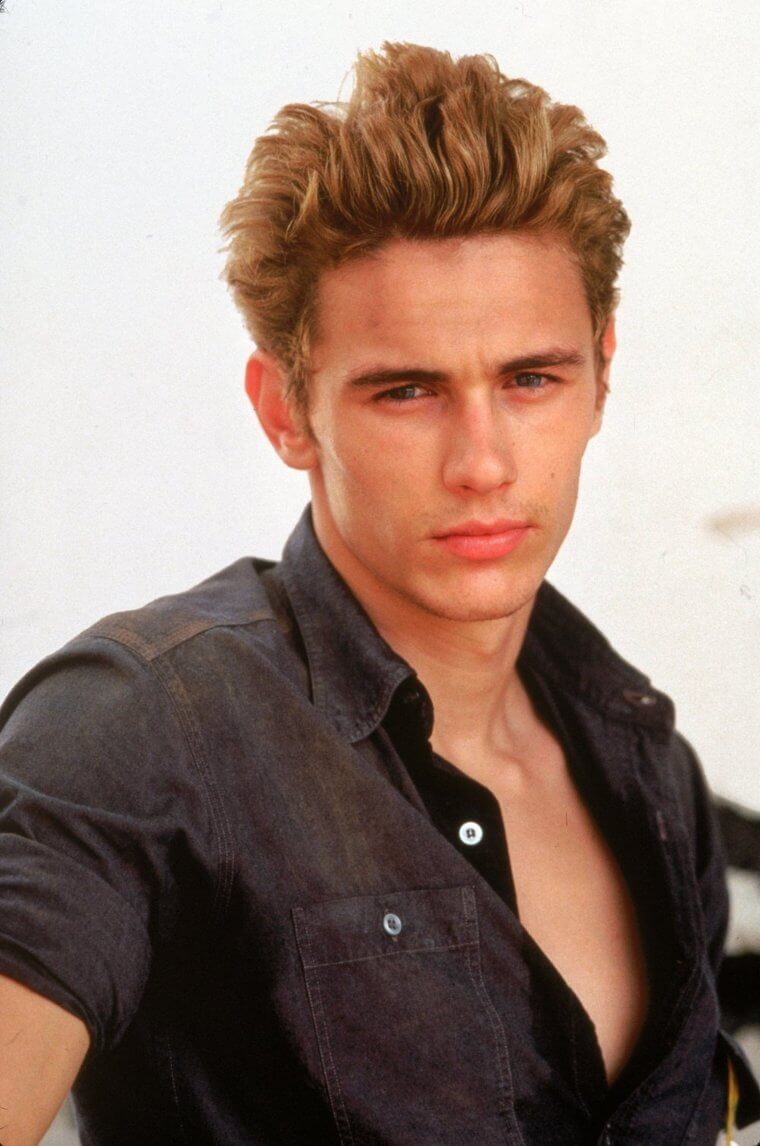 However, the producers took a risk and went with a young model who had never acted before, Ashton Kutcher. Seeing as how Kutcher went on to be one of the biggest stars after the show ended, it seems to have been a good choice. Plus, Kelso would not have been the same without him!
Young Blood
Mila Kunis played the role of Kelso's brassy, determined, and rich girlfriend, Jackie Burkhart. When she auditioned for the role, she was only 14-years-old and she knew that the producers weren't too keen on hiring a minor.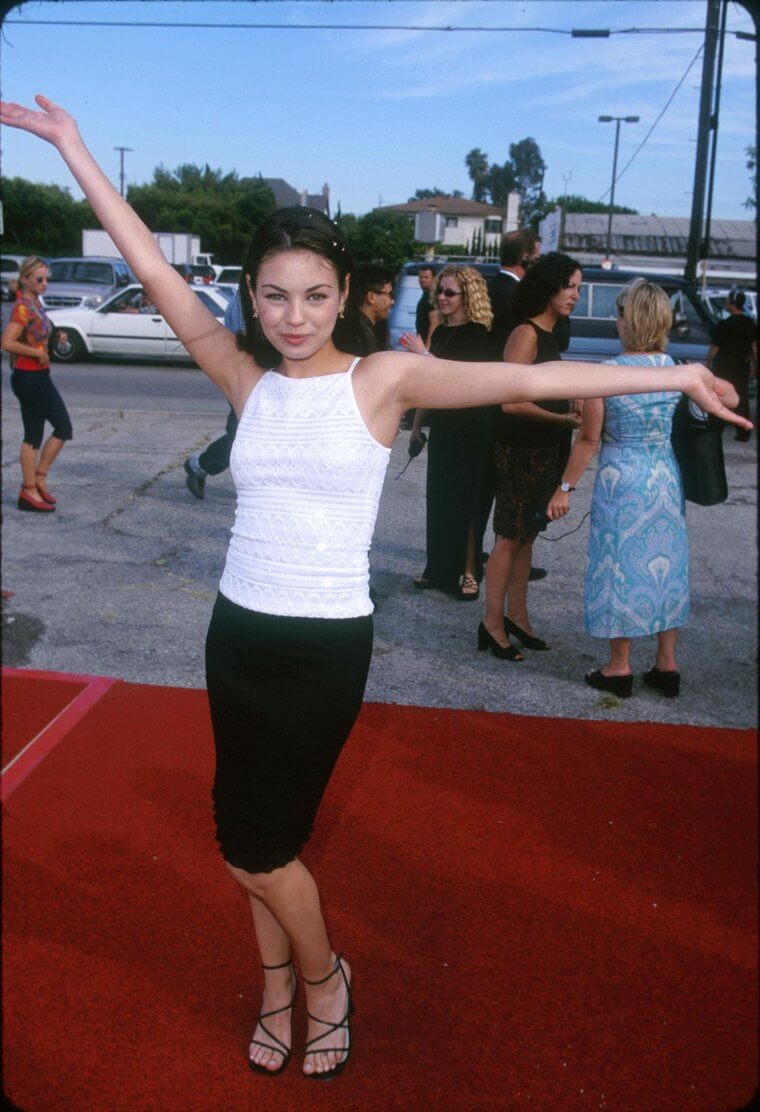 So, when the producers asked her about her age at the audition, she told them that she would be 18 years old on her birthday. But she didn't say which one. True to her word, Mila turned 18 on her birthday, just four years after her audition.
Growing Up Onscreen
Since she was only 14-years-old when she was cast, Mila Kunis did a lot of growing up on the set of That 70's Show. Co-star Wilmer Valderrama actually taught her how to drive. And Mila's first kiss was on screen in front of an audience.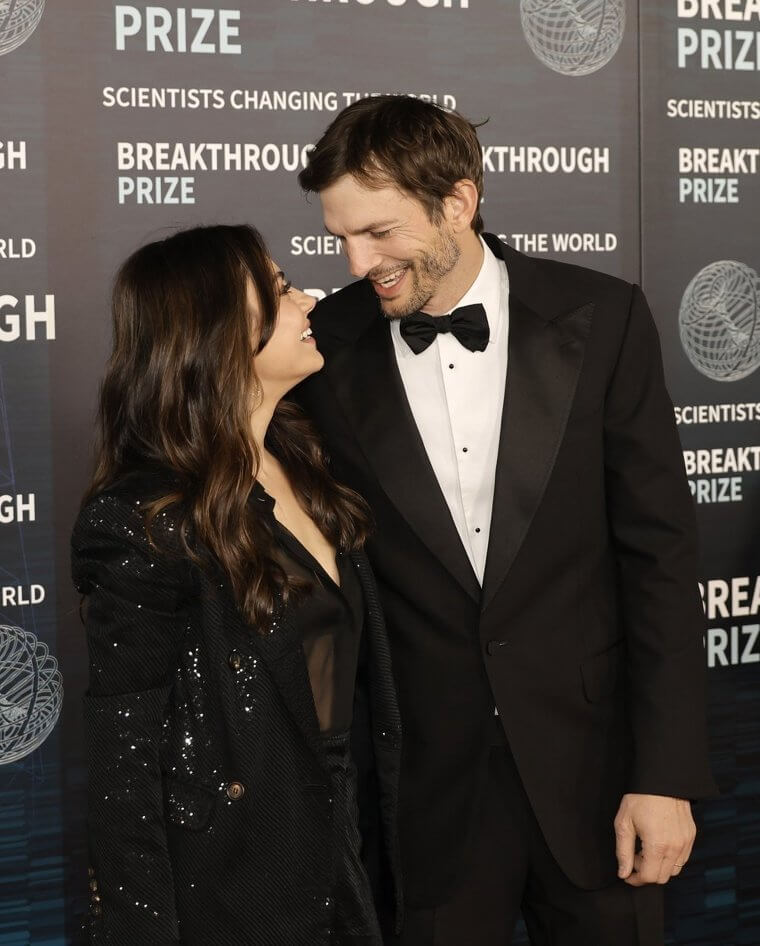 However, it did have its perks. Danny Masterson took her to prom. And remember that first kiss? Well, it was with Ashton Kutcher, so it could have been much worse. Not to mention, considering that they are now married, it makes that kiss much more special!

Not Love at First Sight
Despite Mila Kunis and Ashton Kutcher's popular onscreen romance, and the fact that they are now married, Kunis and Kutcher were not great friends on the set of That 70's Show. In fact, they didn't really like each other at first.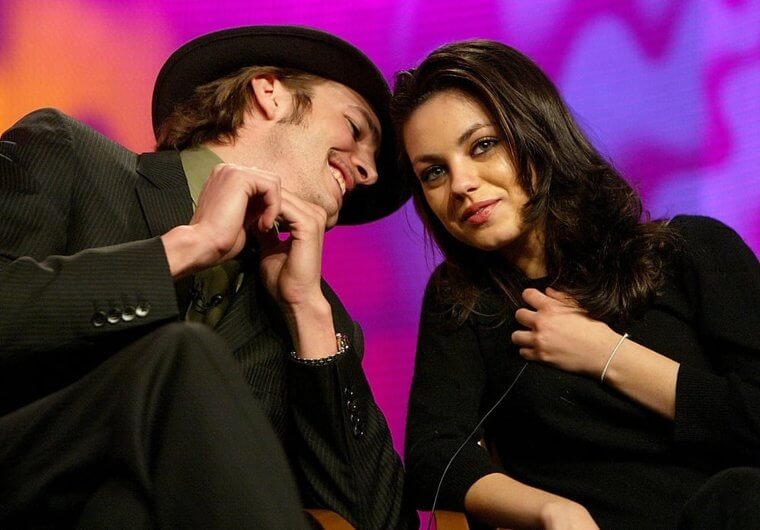 It is reported that the pair went through many different "friendship break-ups" over the eight seasons of the show. Well, it seems that everything worked out for the best between the two because they got married in 2015 and are now parents to two children.
That Foreign Kid
Eric had another friend in his inner circle named Fez, played by Wilmer Valderrama. Fez's name was created from an abbreviation of Foreign Exchange Student, which Fez was. However, the rest of Fez's background remains a mystery for the entire series.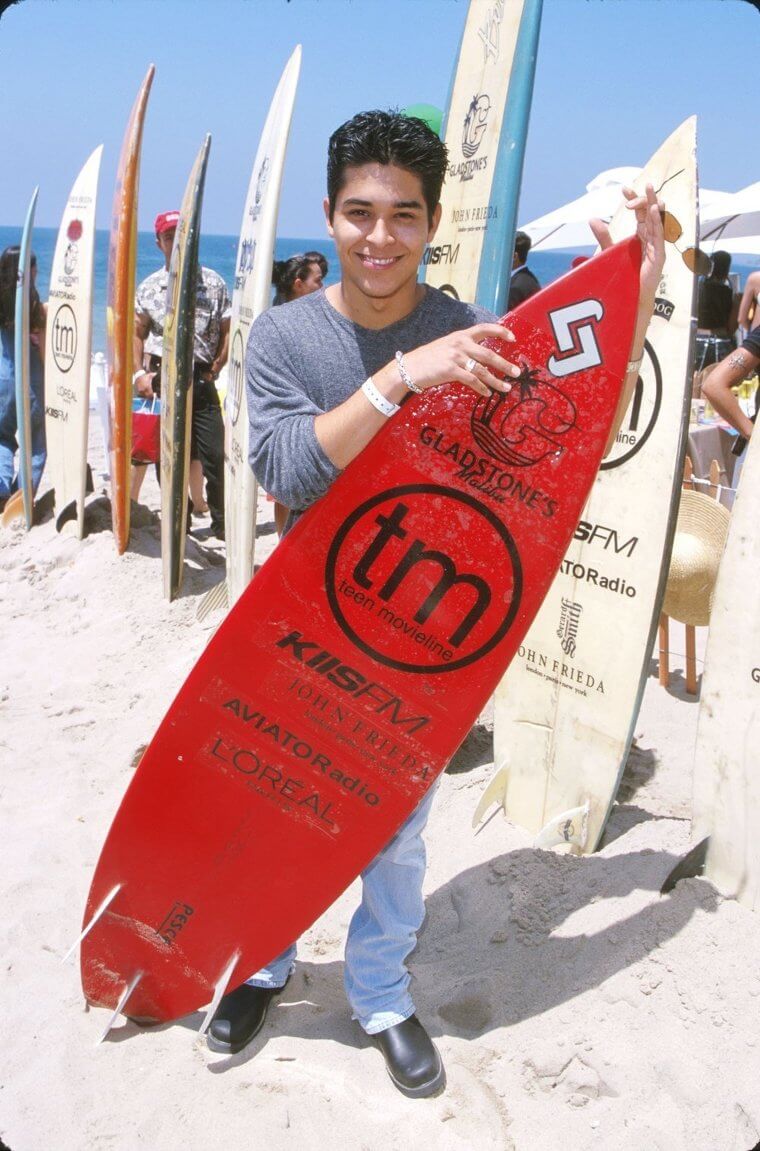 Fez was a one-dimensional character whose real name and home country was never revealed. Comically, Fez goes to tell his friends this information in one scene but was drowned out by various noises. So that it looked realistic, Wilmer kept talking but used all the names of his co-stars instead.
A Controversial Kiss
Joseph Gordon Levitt made a guest appearance on That 70's Show in season one. He played Buddy Morgan, a classmate of Eric and the gang, who had a big secret. It was revealed the minute he planted a kiss on Eric that Buddy was gay.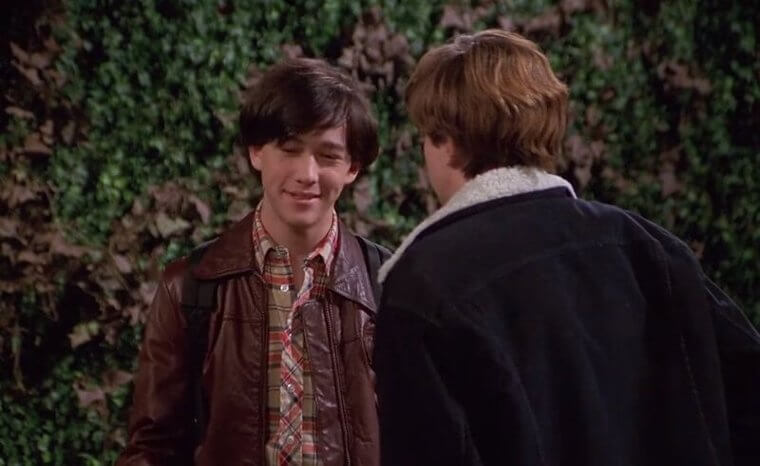 In fact, it was the first American primetime television kiss between two men. However, it proved to be a little too controversial, even in the '90s. Fox told the producers of That 70s Show that Buddy should not make another appearance even though they originally wanted him to be a recurring role.
Only One Red
Eric's no-nonsense father who constantly threatened to put his foot up everybody's behind, Red Forman, was played by Kurtwood Smith who had previously been in Robocop. However, when they were casting the series, producers wanted Chuck Norris to play Red.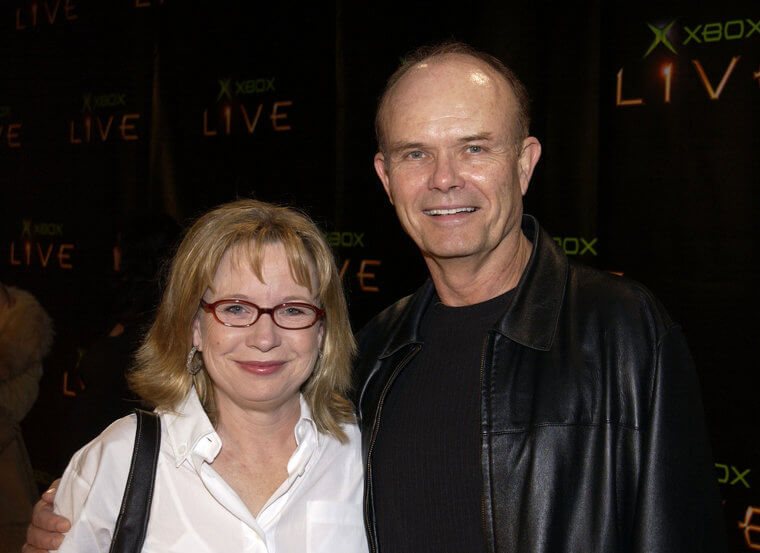 But Norris was unavailable for the part because he was busy starring in his own popular show, Walker, Texas Ranger. Things worked out for the best because, in hindsight, Kurtwood was the one who made Red the iconic character he is today.

Creating Red
Speaking of Kurtwood Smith, he was the only That 70's Show actor that was actually from Wisconsin, where the show took place. Smith was born in New Lisbon, Wisconsin. He even used his upbringing to help create the character of Red Forman.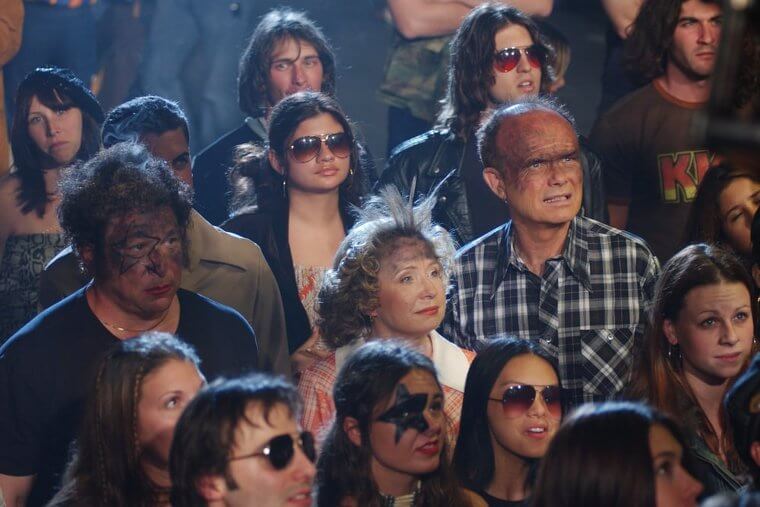 In fact, he had just experienced a tragedy before he filmed the pilot. His stepfather had just died and he used him as his role model for Red's personality. And even as he was giving his stepfather a great tribute, he was creating an iconic character at the same time.
Landing the Lead
One of the main characters of That 70's Show was Eric Forman, a nerdy Wisconsin teenager with a crush on the girl next door. Topher Grace was the actor who played Eric but before getting this part, he had never acted professionally.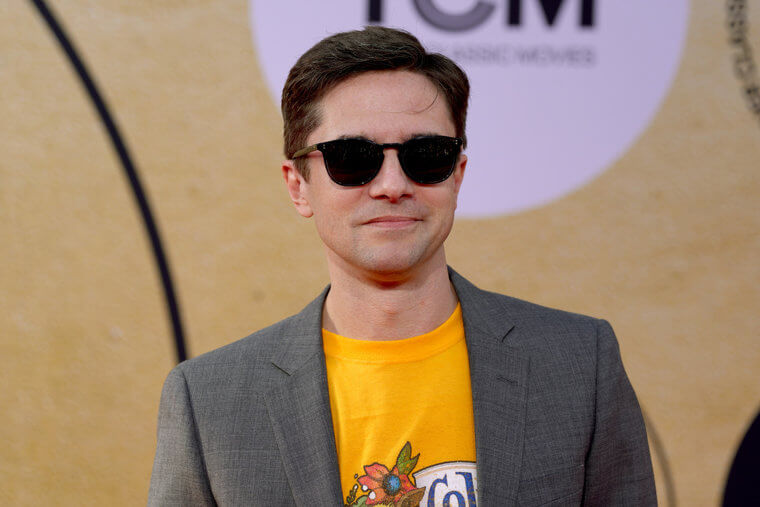 He was only cast after a producer for the show saw him in a play that their daughter was also in and knew he was perfect for the part. That just goes to show that in Hollywood, it comes down to who you know, not what you know.
True to Her Character
Kitty Forman was Eric's mother and she was played by Debra Jo Rupp. Kitty was a super sweet homemaker who spent a lot of her time on screen in the kitchen cooking and baking for her family.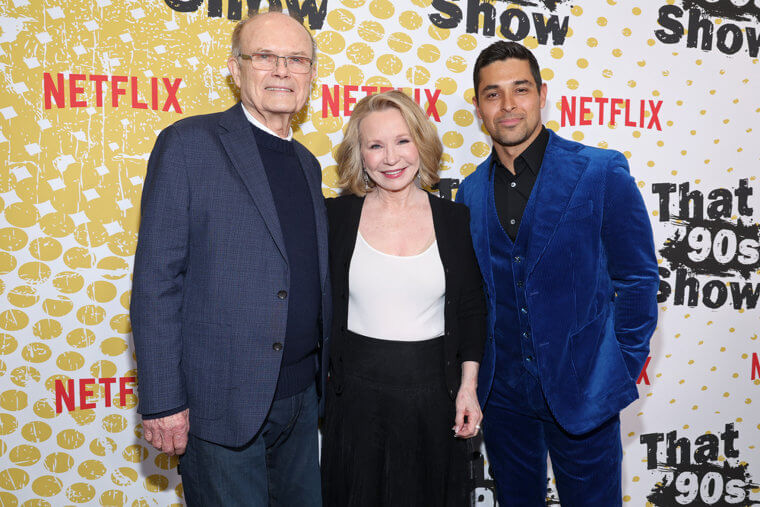 In these scenes, Kitty is seen with various cookies, brownies, and other goodies. Most people figure that they are props used for filming, but they weren't. Jo Rupp would actually make those cookies and brownies while filming her scenes! Afterward, she would give them out to the cast and crew when she got a break.
Too Many Roles
Eric Forman's best friend in That 70's Show was Hyde, played by Danny Masterson. When they began shooting the show, Danny was already working on a film titled The Faculty in which he had a main role.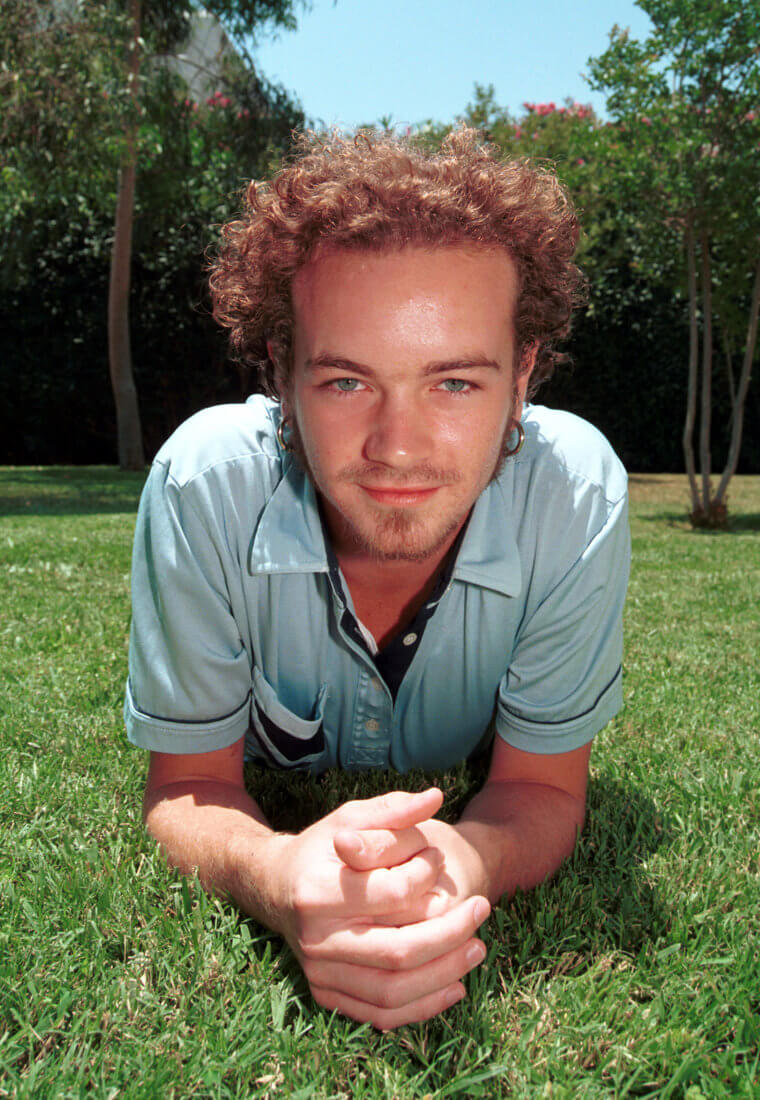 However, he could not play a main role in both projects at the same time. So, Danny decided to cut back on his time working on The Faculty so that he could portray Hyde in That 70s Show. Overall, it was a good call. Even if The Faculty has become a cult '90s movie.

Odd Choices
Danny Masterson has had a rocky personal life, especially in the last couple of years. Not only has he been accused of sexual assault by at least four women, but he also joined the infamous Church of Scientology.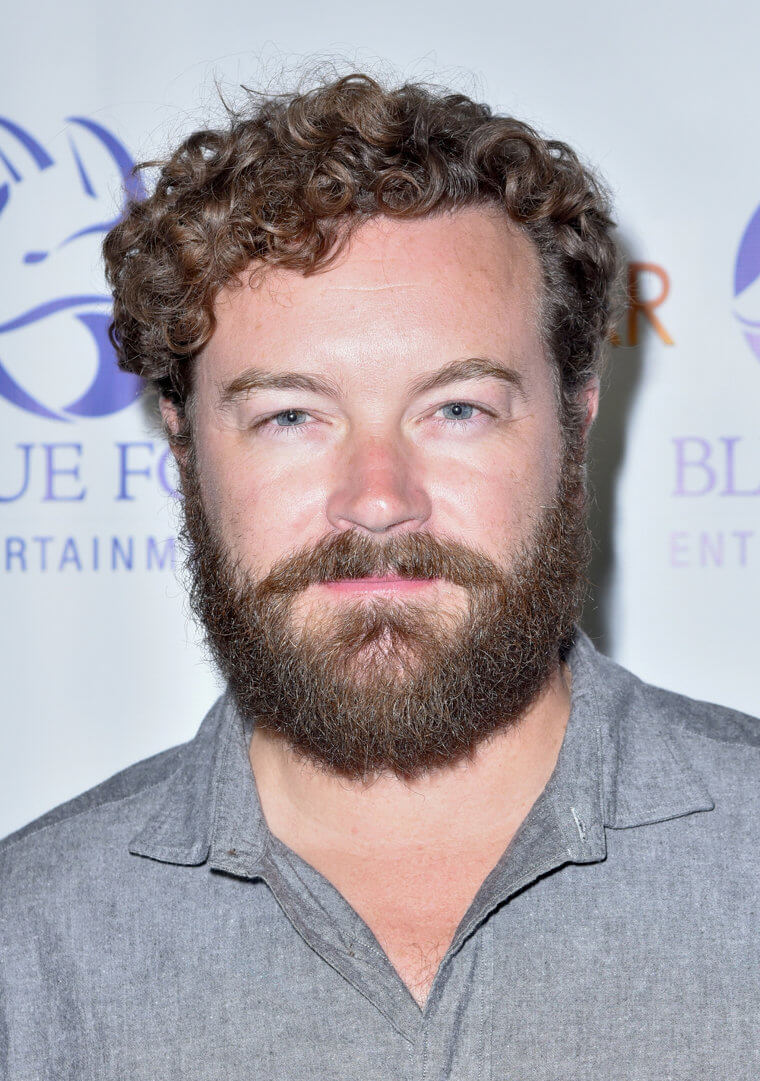 Before all of this became known, Danny bonded with his co-star Laura Prepon who played Donna Pinciotti, Eric's love interest and next-door neighbor. This makes sense now considering that Laura also went on to become a member of the Church of Scientology.
It Got Worse
Most recently, Danny Masterson's personal issues got even worse when he was charged with three separate counts of rape in June of 2020. The incidents took place almost 20 years ago, between 2001 and 2003. The Los Angeles County District Attorney's Office has stated that the allegations against him stem from incidents with a 23-year-old woman early in 2001, a 28 year-old-woman in April of 2003, and another 23 year-old-woman at his home in Hollywood Hills in late 2003. Danny and his attorney state that he is innocent of the crimes he was charged with.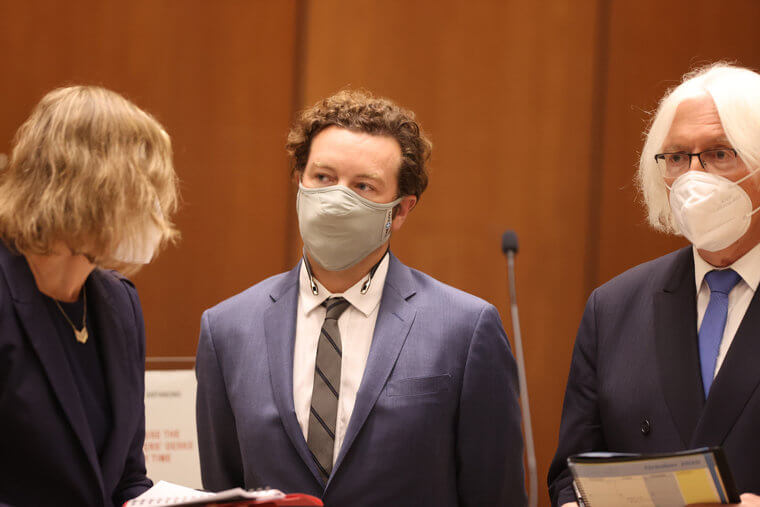 In May of 2023, he was convicted of forcible rape and could be sentenced to 30 years to life in prison on two charges. The actor was accused of raping three women between the years 2001 and 2003. During the trial, the jury could not reach a verdict on a third rape charge, deadlocking with a vote of 8-4 in favor of conviction. As soon as the clerk announced the guilty verdicts, Masterson's family, sitting in the audience, let out an audible gasp. His wife, actor and model Bijou Phillips, gasped when the verdict was read and wept as he was taken into custody.  In a statement, one of the women whom Masterson knew as a fellow church member and who was raped by him at his home in 2003, expressed the following: "I am experiencing a complex array of emotions — relief, exhaustion, strength, sadness — knowing that my abuser, Danny Masterson, will face accountability for his criminal behavior".


Danny Masterson Now Sentenced 30 Years to Life
The latest developments in Danny Masterson's case have shaken the world of Hollywood and those who worked with him. In September of 2023, Masterson has been sentenced to serve 30 years to life in prison for raping two women. Prosecutors contended that Masterson, 47, had exploited his stature as a prominent Scientologist to evade responsibility.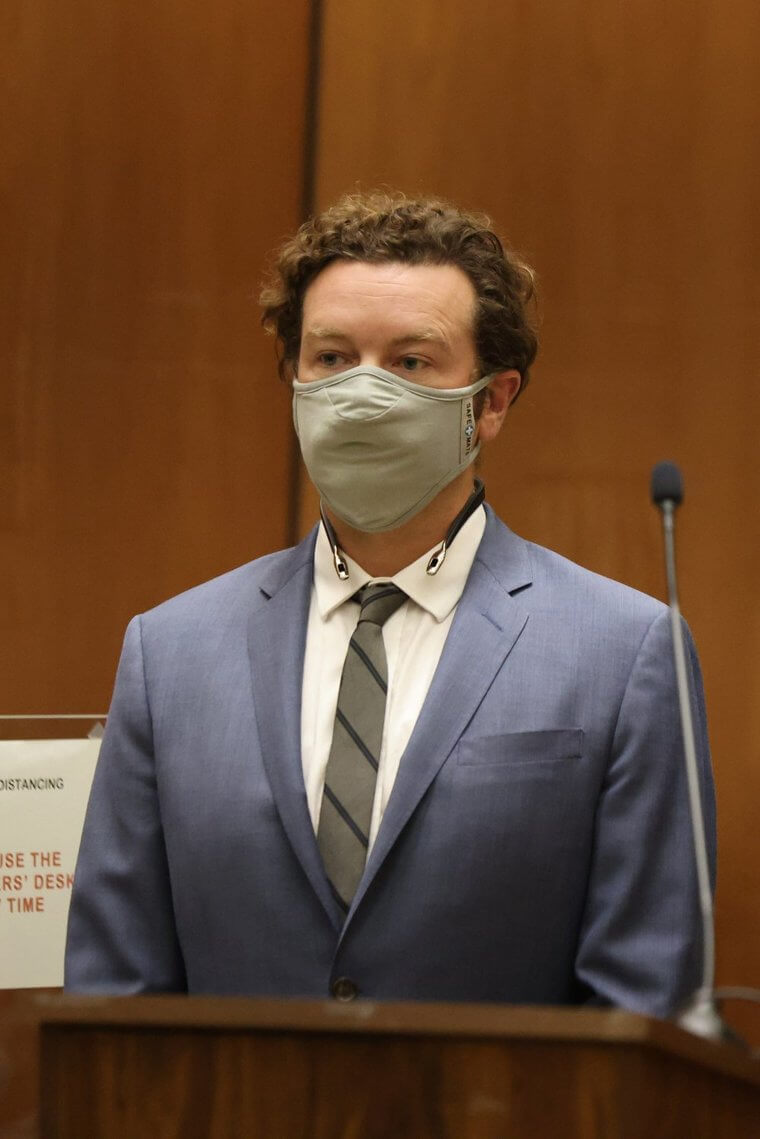 The latest developments in Danny Masterson's case have shaken the world of Hollywood and those who worked with him. In September of 2023, Masterson has been sentenced to serve 30 years to life in prison for raping two women. Prosecutors contended that Masterson, 47, had exploited his stature as a prominent Scientologist to evade responsibility.
Romantic Rivals
Avid fans of That 70's Show will remember that Eric and Hyde had a minor rivalry over Eric's next-door neighbor, Donna, for a few episodes in the first season. These episodes mainly revolved around wondering if Eric would make a move, or if Hyde would beat him to it.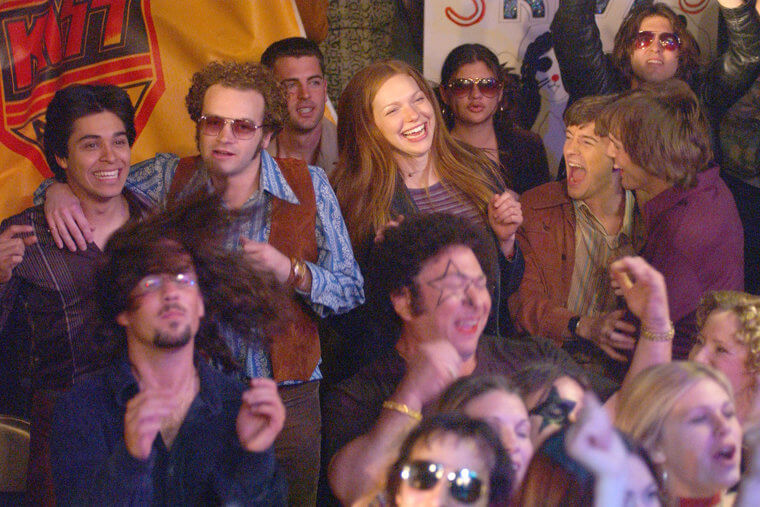 Eventually, Eric made a move and he and Donna became one of the main couples of the show. However, the creators of the show wanted Eric and Hyde's rivalry to be ongoing throughout the show. But we're glad they didn't because it made Eric and Hyde's friendship that much more special.
Multiple Sisters
Eventually, Eric made a move and he and Donna became one of the main couples of the show. However, the creators of the show wanted Eric and Hyde's rivalry to be ongoing throughout the show. But we're glad they didn't because it made Eric and Hyde's friendship that much more special.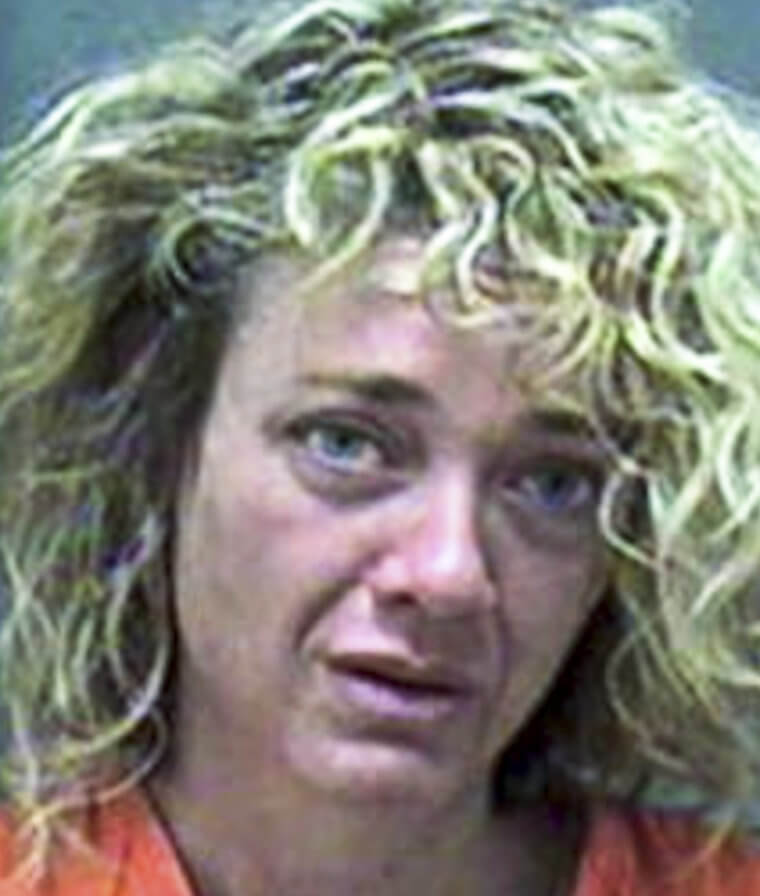 Then, in the first episode of season six, Laurie was played by a whole new actress, Christina Moore. Laurie had to be recast because Lisa was struggling with drug abuse and alcoholism. Unfortunately, Lisa ended up dying in 2013 from multiple drug intoxication.
Tina Who?
Speaking of sisters, Donna has sisters, too. However, unlike Eric's sister, they ended up disappearing from the show, for good. Both of Donna's sisters ended up getting written out of the show. Tina, Donna's youngest sister, even appeared onscreen in the fifth episode of the first season.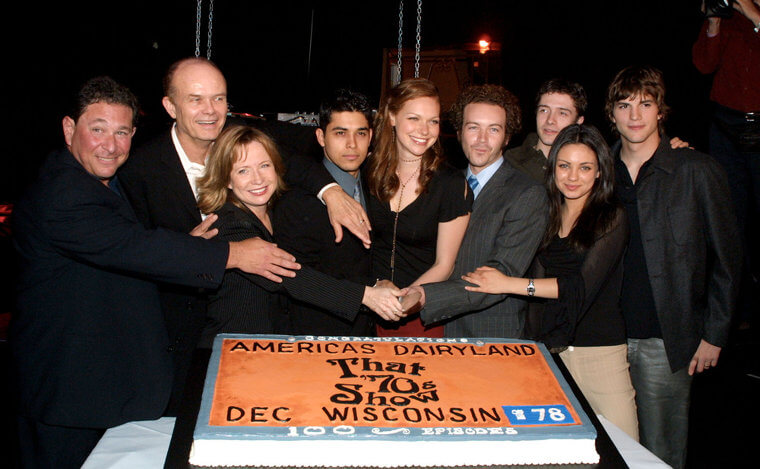 However, she was never heard from again after that episode. Later in the series, Donna is even referred to as an only child. And in the Vanstock episode, a soap opera parody rolling during the credits poses the question, "Whatever happened to Midge's daughter, Tina?"
It's All Alright
Most fans of That 70's Show know all the words to the theme song In the Street. In the first season intro, it was performed by Todd Griffin. However, by season two, the show decided to go with a different version of the same song.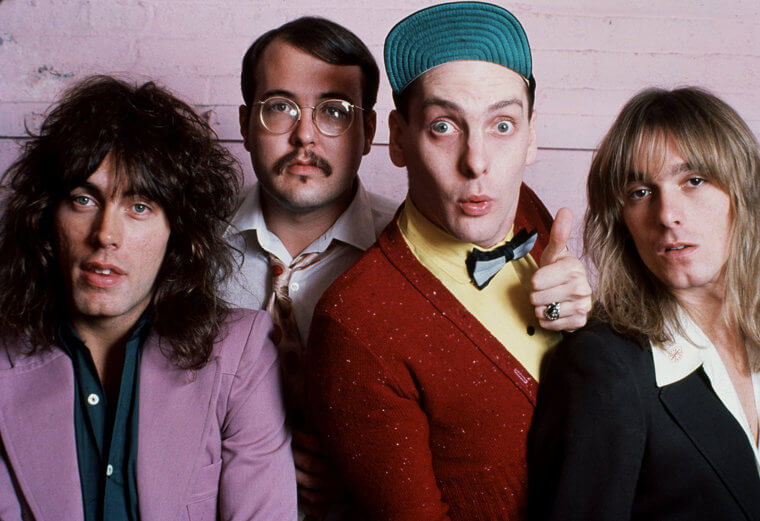 The new version of the theme song was done by Cheap Trick, a popular classic rock band. Songwriters, Chris Bell and Alex Chilton from Big Star, get a royalty check in a very appropriate amount every time the episode comes on television. The amount is $70.

Changing With the Times
Something you might not have noticed even if you've binged the show many times, is the fact that the license plate shown in the opening credits changes regularly. As the series progresses, the license plate changes to reflect the passing time.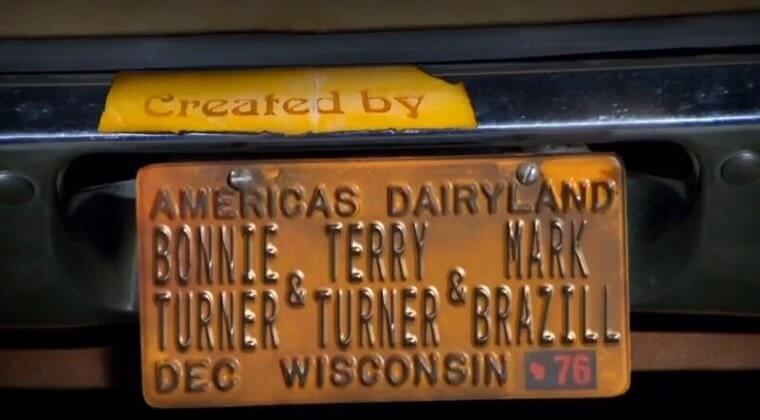 This is useful to keep up with the show seeing as how all eight seasons are supposed to take place over about three years. One license plate shows June 1977 while the final episode of the series shows a license plate that says 1980.
Quick Success
That 70's Show was a success from the moment it aired. Obviously, this was celebrated by both the young actors trying to break into the business and the veteran actors who needed to revive their careers.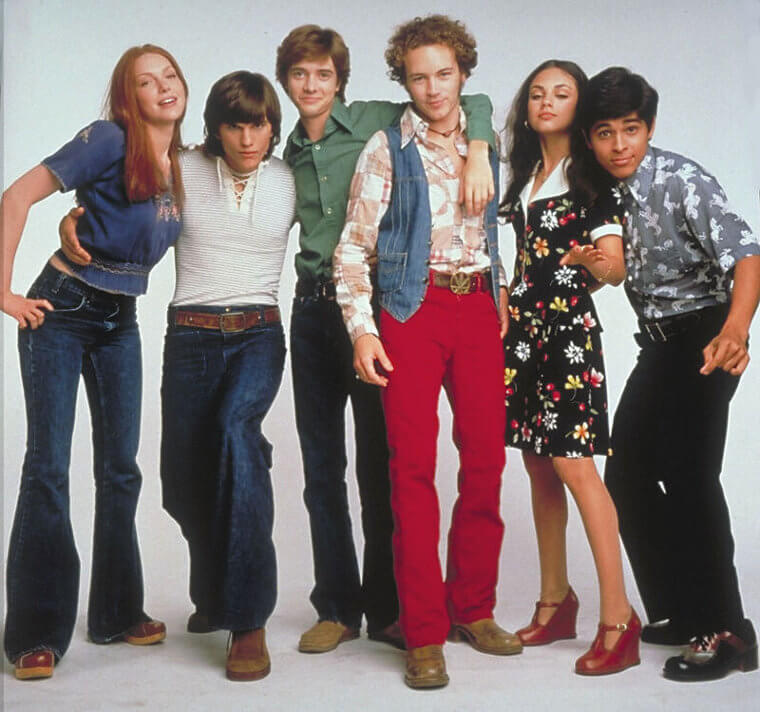 However, the Fox executives might have been the happiest ones to receive the news of the show's success. Especially considering the fact that That 70's Show was the only one of nine new shows the network aired at the time that was not canceled.
That 70's Music
When they realized how successful That 70's Show was, Fox was quick to start selling 70's themed merchandise. First and foremost, they released two albums that were supposed to be the soundtrack to the show.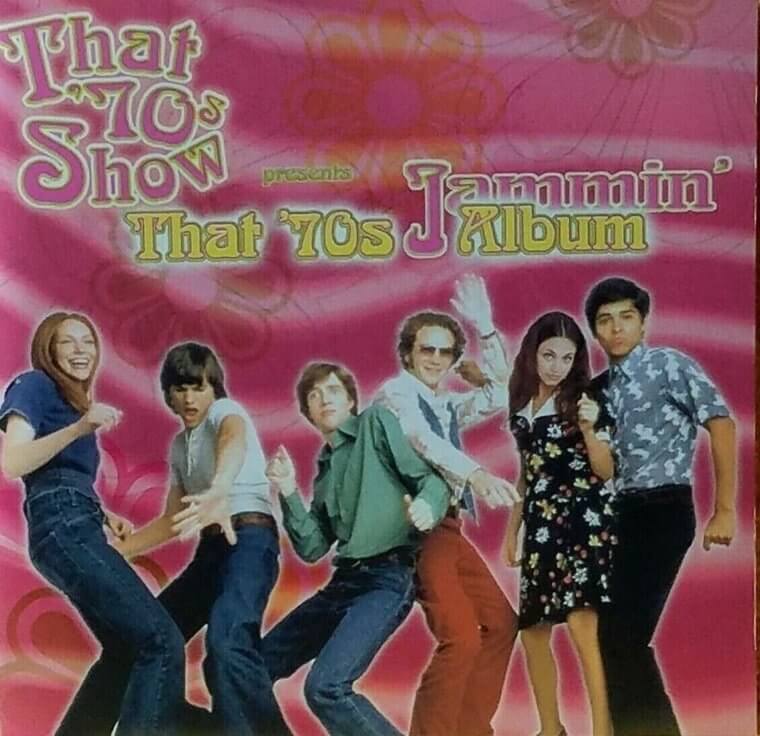 The first album was That 70's Album (Jammin') which featured the best disco hits of that decade. The second album was That 70's Album (Rockin') which featured songs from popular rock bands in that decade. While most merchandise from shows like this ends up being pretty cheesy, these weren't that bad after all.
The Circle
"The Circle" is a staple all throughout That 70's Show. It's an activity where all the characters get together in, you guessed it, a circle, and take part in some illicit activities while discussing their various problems of the episode.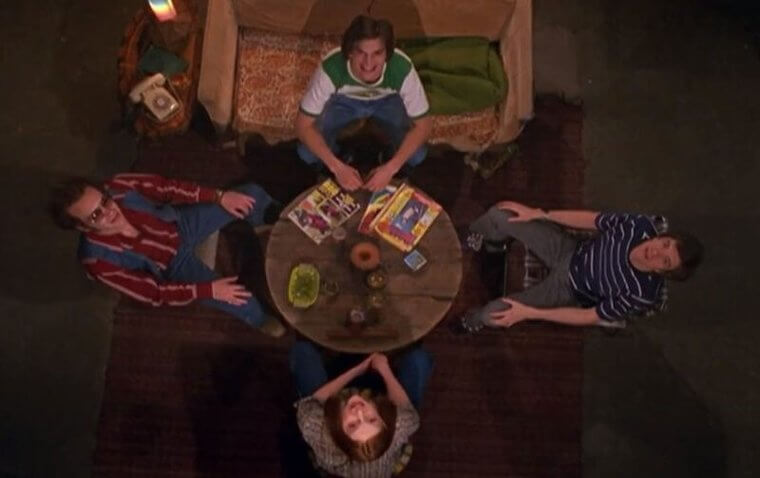 However, even though the thick smoke that hangs in the air during the circle scenes implies drug use, you never actually see the characters partaking. The camera is centered in the middle of the circle and swings from one character to another as they talk.

They decided to use this technique in order to get around censors, especially considering this particular activity is a staple of the '70s.
 
Strawberry Smoke
Speaking of the circle and the smoke that surrounded it, we have a fun fact about the smoke in these scenes! As you know, the heavy smoke was used to imply drug use by Eric and his friends without actually showing them using drugs.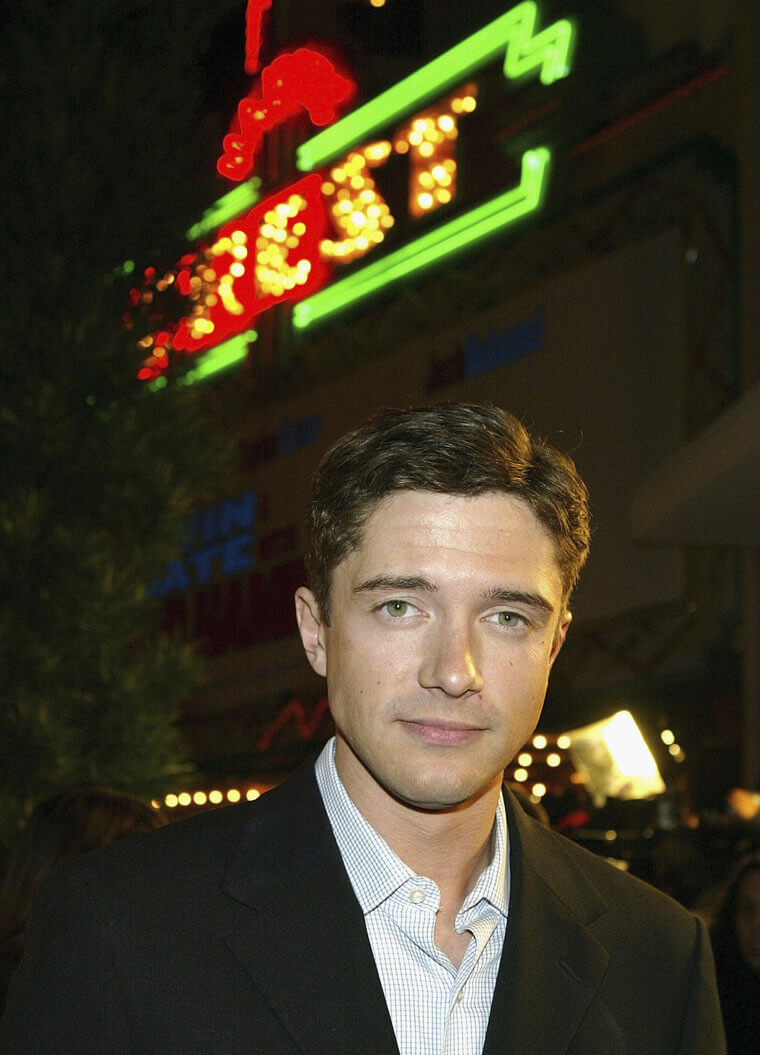 To create the appearance that they were smoking in Eric's basement, they had to use fake smoke to fill up the room. And this smoke was strawberry scented! Since they had to be around the smoke so much, at least it smelled good!

Smoke, Smoke, and More Smoke
In fact, we have yet another fun fact surrounding the smoke in the circle scenes in That 70's Show. Because of all the smoke they had to use in these scenes, Danny Masterson, Ashton Kutcher, and Laura Prepon used this excuse to indulge in their habits.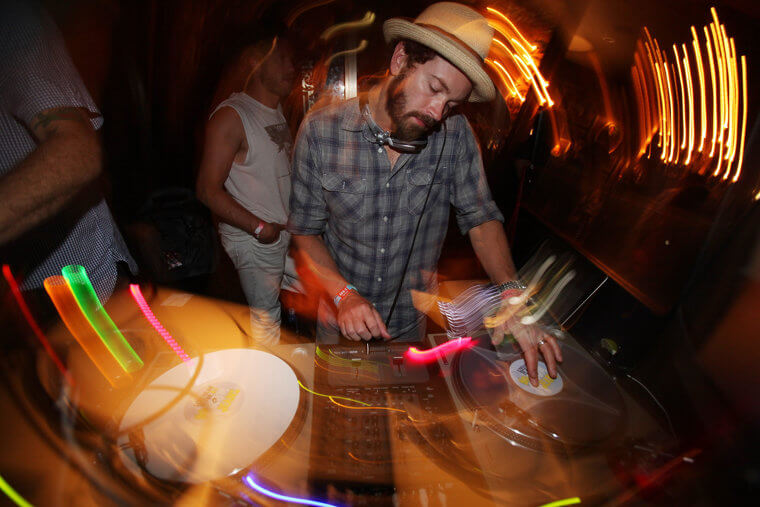 All three of them were cigarette smokers. So, when circle scenes were being filmed, they would hide their cigarettes under the table and smoke them in between takes. Talk about taking advantage of the time you have!
Wigs Galore
When you think of the 1970s, chances are, you think about hair. With all the hairspray, hot rollers, and voluminous curls, the hairstyles of this decade were truly iconic. So, naturally, they had to be iconic for That 70's Show as well.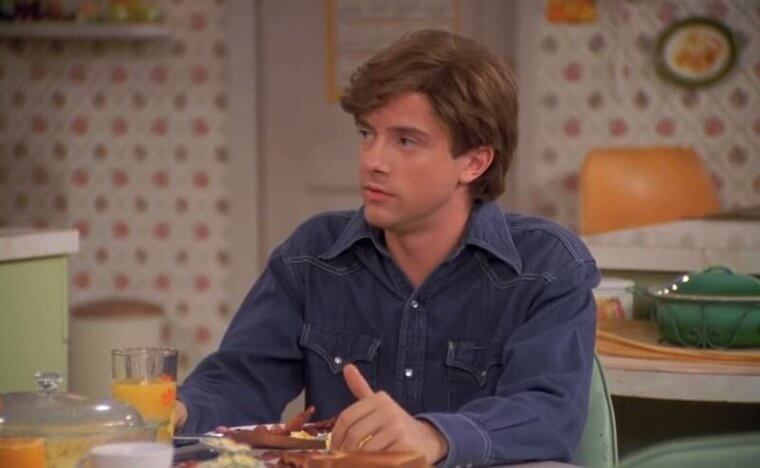 However, the damage that would have done to Topher Grace and Debra Jo Rupp's hair would have been too bad. So, instead, they wore wigs for most of the series! And you can't even tell it! Topher's average brown hair seemed so natural.
Bad Kissing
Speaking of planting a kiss on Topher Grace, Joseph Gordon Levitt said that Topher was a pretty bad on-screen kisser when interviewed about that historic kiss.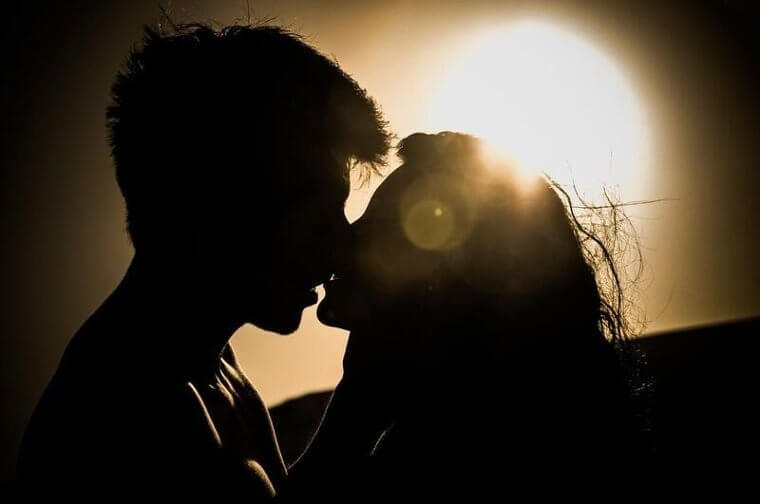 To back him up, Laura Prepon, who spent most of her time on That 70s Show kissing Topher, also said that he was a bad kisser and that she preferred kissing her co-star in Orange is the New Black, Taylor Schilling. Tough break for Topher. Hopefully, he is a much better kisser off-screen!
Appropriate Casting
Before Dwayne "The Rock" Johnson was one of the biggest and wealthiest actors in Hollywood, he was a professional wrestler trying to break into the acting business and his acting debut was actually on That 70's Show.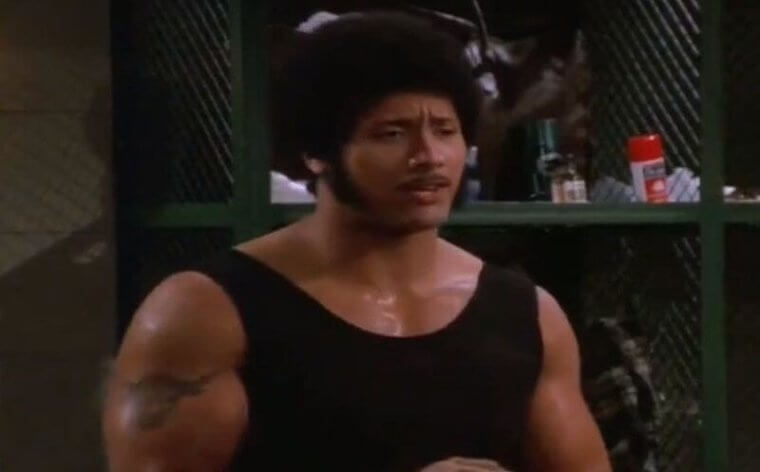 The Rock appeared in That Wrestling Show in season one when he portrayed his real-life father Rocky Johnson who was also a professional wrestler in the '70s. Wow. Talk about appropriate casting. It's hard to believe that That 70's Show was so meta.

Look Who It Is
We've already discussed how That 70's Show was supposed to be titled Teenage Wasteland after the song by the classic rock band The Who, but was changed when the band wouldn't let them use their song for the theme song.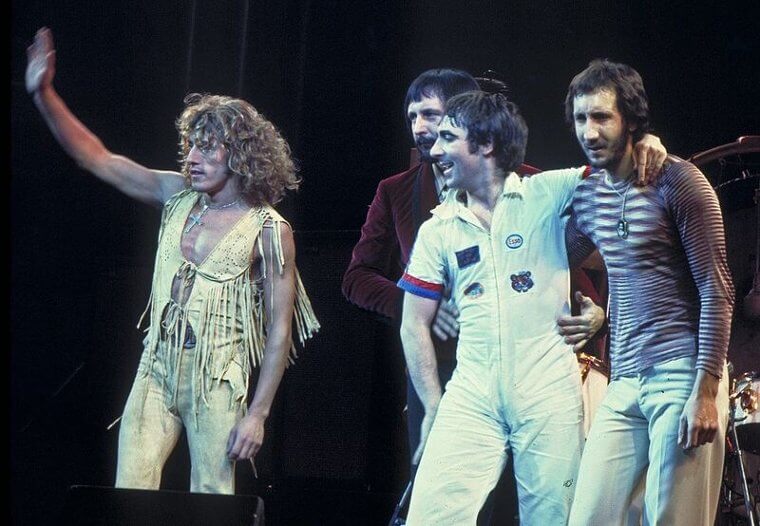 Even though they wouldn't give them rights to the song, the lead singer for The Who, Roger Daltry, ended up making it up to the producers. He appeared in an episode in season four when he played the choir director that had a beef with Fez.
Hits of the Decade
During the first few seasons of the show, That 70's Show's episode titles were various forms of the show name. However, starting in season five, episodes were given titles of songs from popular 1970s bands. Each season used a different band.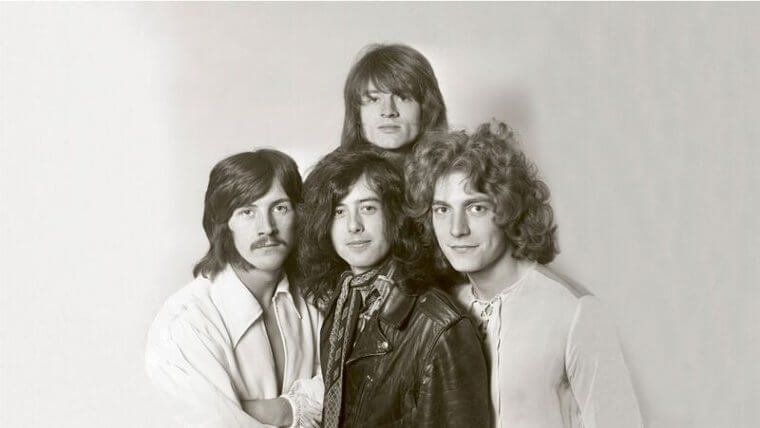 For example, episode titles in season five were all titled after Led Zeppelin songs. Season six episodes were titled after songs from The Who, season seven episodes were titled after songs by the Rolling Stones, and season eight episodes were titled after songs by Queen.
Where Did Leo Go?
Tommy Chong was a fan favorite for playing the constantly stoned owner of the Photo Hut, Leo. Tommy was already well known and loved for playing Chong in the hit stoner films Cheech and Chong, so it seems the casting was on the nose here, too.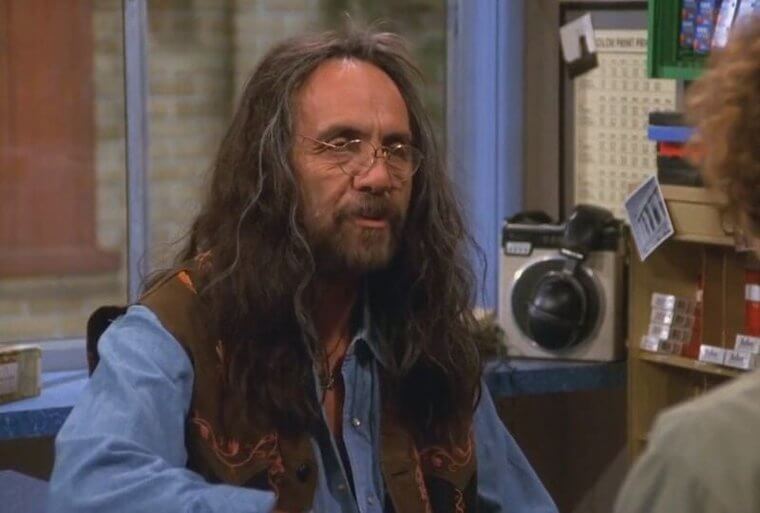 However, Leo was MIA for most of seasons five, six, and seven. The reason for that is because Tommy was actually too busy. He was away in prison for selling drug paraphernalia. And instead of just dropping his character completely, the writers of That 70s Show wrote his arrest into the show.

Even Tommy said he was surprised that it was written in. But, you have to admit, it does fit perfectly with his character.
 
From One Leo to Another
Funny enough, while Tommy Chong was in prison, his cellmate was someone who would later become a well-known name: Jordan Belfort. Jordan is known as "The Wolf of Wall Street" from the book and movie based on his life.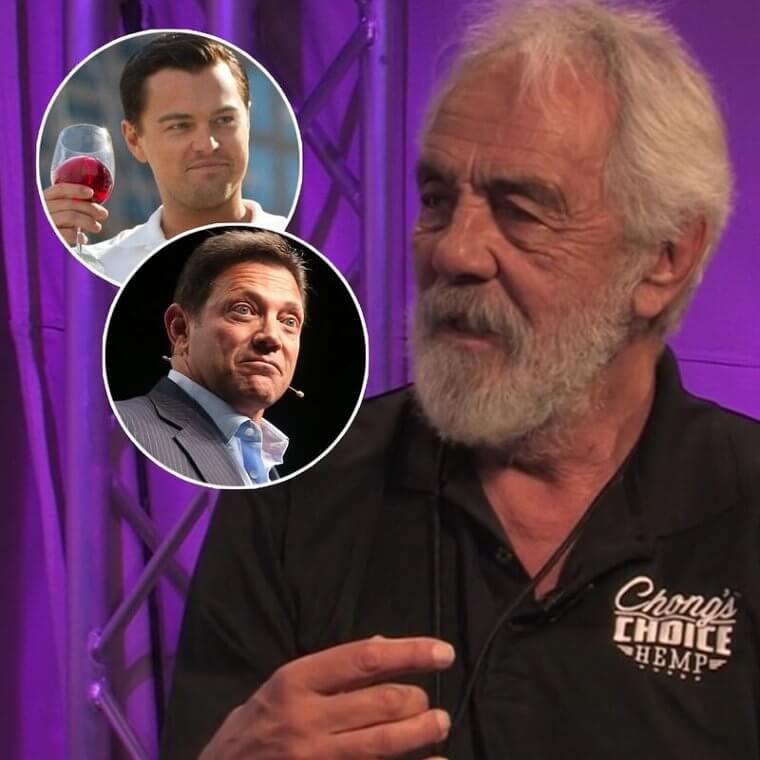 While in prison together, he would tell Tommy stories of his days as a stockbroker and all of his lavish spending. Tommy was amused by Jordan's stories and even encouraged him to write all of these stories down. Well, it looks like Jordan took that advice to heart. And, as it turns out, when the book was turned into a movie, another Leo played Jordan: Leonardo Di Caprio.
Going Blonder for Murder
Donna was known for being a hot redhead for most of the series, up until season seven. In the first episode of season seven, Time is on My Side, Donna unveils her new blonde hair. If you think she went blonde just because "blondes have more fun," think again.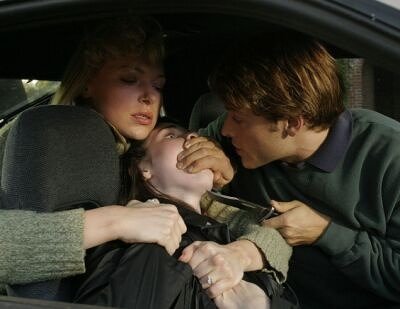 While Laura Prepon was a natural redhead, she had to dye her hair blonde to play the infamous Canadian serial killer Karla Homolka in the TV movie Karla. Laura kept the blonde hair for the last two seasons of That 70's Show. Maybe the saying should be "blondes have more murder."
Lone Wolf
When you have a young cast that spends a lot of time together like on That 70's Show, it's easy for them to all become pretty close. And that's exactly what happened with this cast. Well, except for Topher Grace.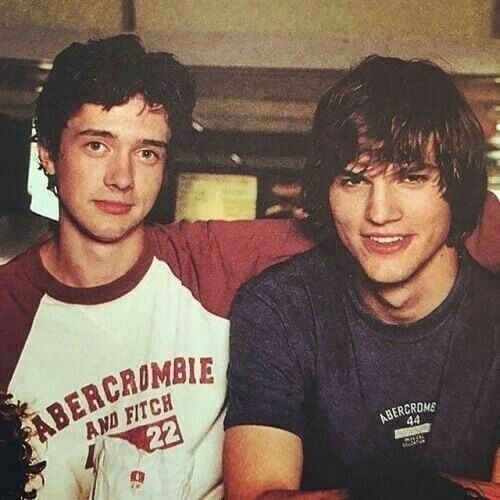 He was close with his on-screen girlfriend, Laura Prepon, but it seems that he wasn't that close with the rest of his castmates. In fact, he even distanced himself from them and wouldn't hang out when filming was over. He hasn't even appeared in any projects with his old castmates since That 70's Show ended, even though the rest of them have. Topher is a self-reported introvert, so maybe that's why.

An Early Departure
Despite being one of the lead actors on That 70's Show, Topher Grace left the series at the end of the seventh season. Since the main protagonist was gone, producers hired Josh Meyers to fill Eric's shoes.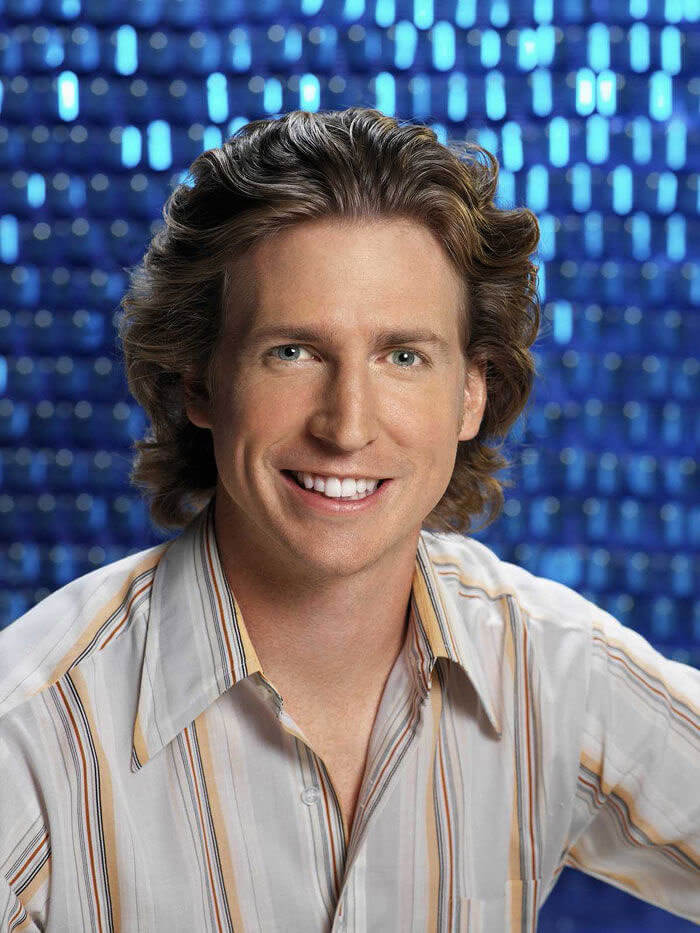 At first, the producers were going to have Meyers play the role of Eric. But they decided against it after learning fans would not be pleased. Plus, they had already recast one Forman kid already. So, instead, they created the character of Randy for Meyers to fill the hole Eric left behind. To explain his departure, the writers wrote a storyline where Eric had a break-up with Donna to leave for Africa to become a teacher.

An Awkward Return
Topher Grace left That 70's Show because it looked like his career was ready to take off and he wanted to make it big in Hollywood. Even after he left, Topher came back for the very last episode of the series.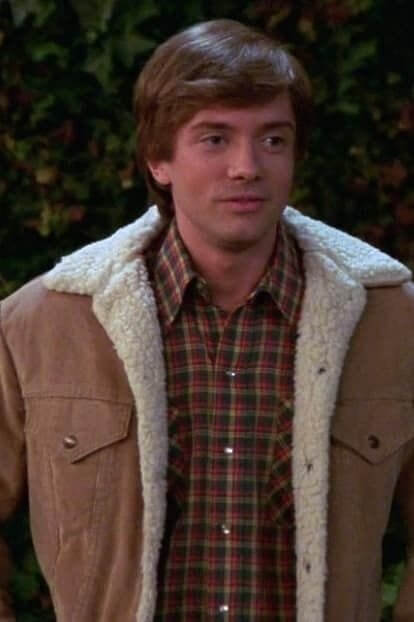 In the episode, Eric came home just in time to make up with Donna right before 1979 became 1980. It was a sweet way to end the show, but it was pretty awkward which was fitting for the character. At first, Topher's career seemed pretty promising. He got lead roles in popular movies like Win a Date with Tad Hamilton! and In Good Company.
Not Fulfilling Expectations
Once Topher Grace stepped out on his own, his career was going great. That is until he took the role of Venom in Spiderman 3. His performance in that movie was a great disappointment, but so was the entire movie to be honest.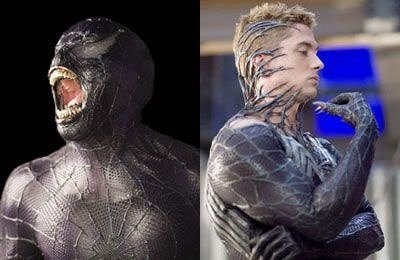 Ever since then, his career lost momentum and he started to fade out of the spotlight. However, in the past few years, things started looking up for Grace. He got several big roles including ones in BlacKkKlansman and Black Mirror.
In The End
Everyone was sad to see That 70's Show come to an end, especially the cast and crew. It ended in 2006 after its eighth season and it was wildly successful while it was on the air. And when it came to shooting the last episode, it was much harder than expected.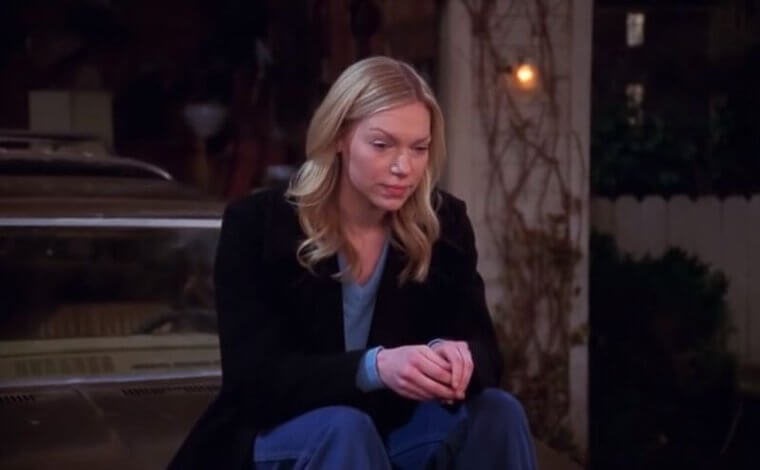 In fact, the last episode took a lot longer than it should have to film. That was mostly because Laura Prepon couldn't stop crying when she was filming her scenes. Since her character Donna is usually pretty tough, they had to keep reshooting her scenes.
It's All in the Outfit
When all is said and done on big television shows like this, the cast usually has its own unique way of saying goodbye to the show and its characters. For Debra Jo Rupp, who played Kitty, she said goodbye with her outfit.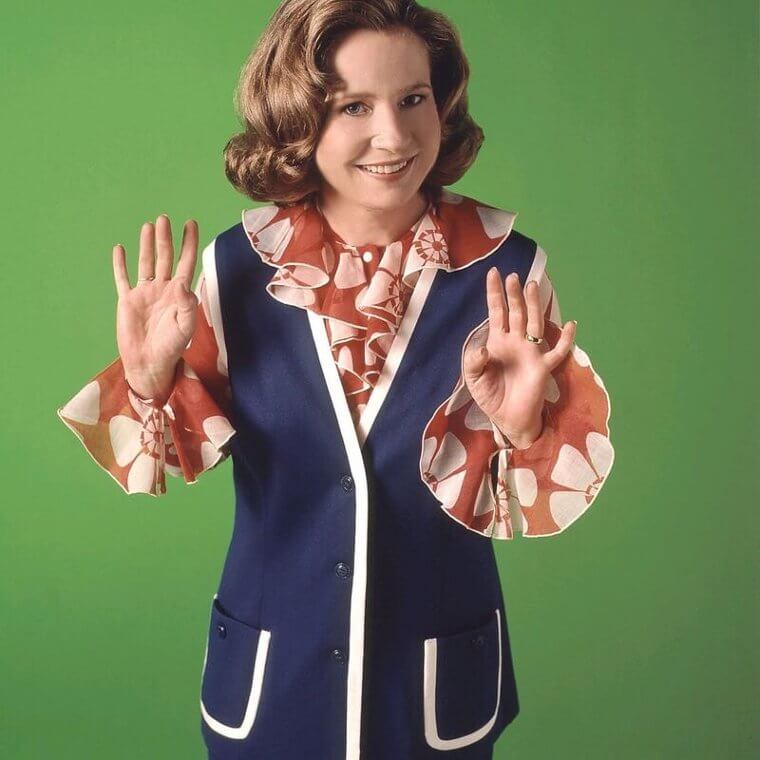 In the very last scene of That 70's Show, when the Formans and the kids were counting down the seconds to 1980, Kitty was wearing the same outfit that she wore in the very first scene she appeared in.

Riding Out in Style
Fans of That 70's Show know that the Vista Cruiser is a true staple of the show. It was the car that Red gave Eric in which he and the rest of the gang drove around all the time and also the car they all rode in for the opening credits.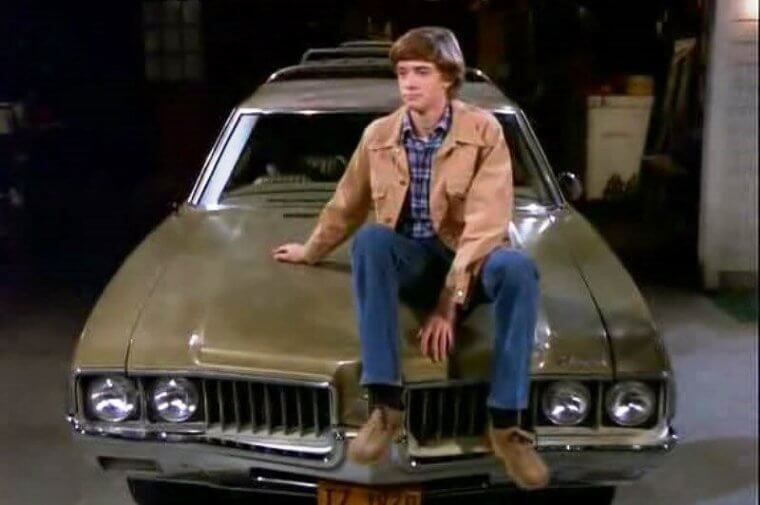 After filming ended and the show was over, Wilmer Valderrama who played Fez ended up buying it. Do you know how much he played for this iconic piece from the set? Only $500. We guess it pays to know the right people!
British Spin-Off
As you probably know, American television is constantly making their own versions of British television shows, just like The Office. However, when it comes to That 70's Show, the American show was so successful that Britain turned the tables and made their own version of it.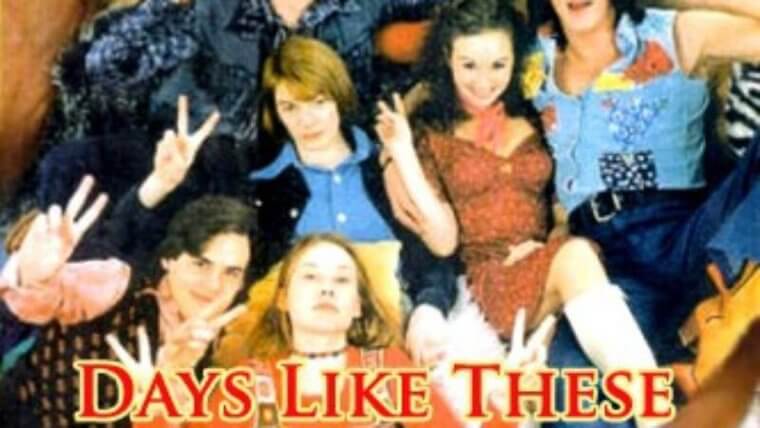 The show was called Days Like These and practically used the same scripts as the American show. Max Wrottesley starred as Eric, but it was not as successful as the American version. Days Like These was canceled after airing 10 episodes, which is like two seasons in England
After the '70s Comes the '80s
When it was clear that That 70's Show would be so successful, Fox tried to use nostalgia for decades passed to make more successful shows. They created a spin-off show set in the 1980s and called it That 80's Show.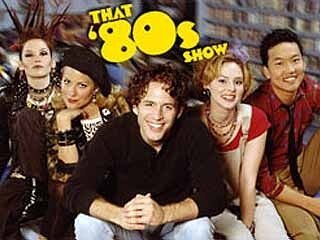 It starred Glenn Howerton before he broke out in It's Always Sunny in Philadelphia. The show had many of the same writers as That 70's Show with a similar premise. However, the characters never crossed over. Unfortunately, That 80's Show was not as successful as That 70's Show and Fox canceled the spin-off after only 13 episodes.
That 70's Awards
Even though That 70's Show was so successful and generally well-received by critics, it only won one Emmy Award out of the 16 it was nominated for. The Emmy was for Outstanding Costume Design for That Disco Episode in season one. In the episode, the gang goes to a disco club to show off their moves.
That 70's Show did much better at awards shows like the Teen Choice Awards. In fact, Wilmer Valderrama won three different awards for Choice Sidekick while Ashton Kutcher won three different awards for Choice Actor.
Fast Forward a Few Decades
Since That 70's Show ended, most of the cast have had pretty successful careers. Ashton Kutcher has been in several movies and even starred alongside Danny Masterson in The Ranch, a comedy show on Netflix. However, Masterson was written off of the show when all the allegations started piling up against him.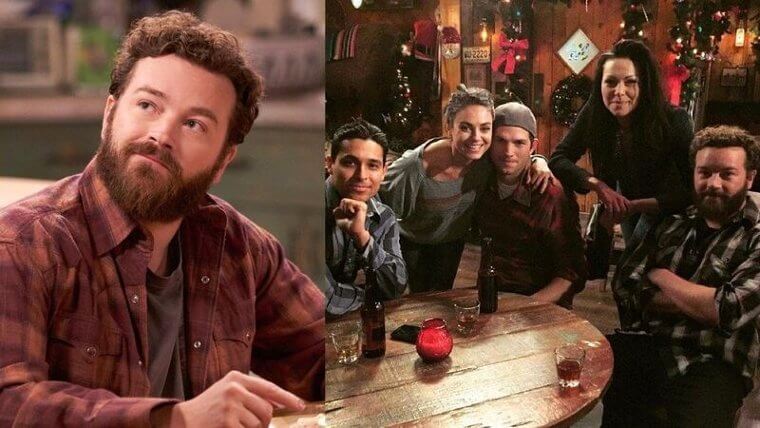 Wilmer Valderrama also had a guest spot on The Ranch, and also stars in NCIS on CBS as Nick Torres. Mila Kunis had a supporting role in the awarding winning movie Black Swan and was even nominated for a Golden Globe for that role. She also continues to flex her comedy chops with movies such as Bad Moms. Topher Grace has been in several movies and even recently played David Duke, the infamous white supremacist, in the critically acclaimed movie BlacKkKlansman. Laura Prepon has won two Emmys for being on the hit Netflix show Orange is the New Black.

Our favorite parents are back as grandparents! That 90's Show is the highly anticipated follow-up to the classic sitcom That 70's Show. Set 15 years after the original series finale, the show follows Eric and Donna's daughter Leia as she visits her grandparents Red and Kitty. The new show will feature the same core cast from the original series, who are now older and wiser, and will also showcase a new generation of teen stars.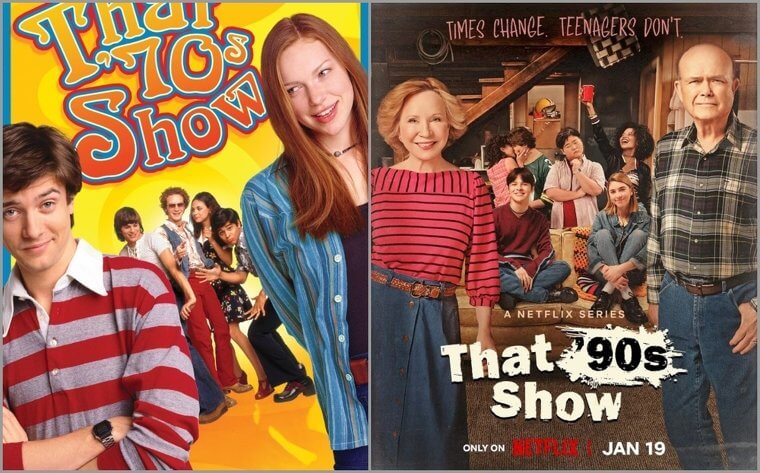 Fans of the original show will recognize many of the old characters and catch a glimpse of the nostalgia that made That 70's Show so beloved. But That 90's Show will be more than just a rehash -- it'll be a fresh start, with a new cast and a modern setting that promises to keep viewers entertained. But today we want to reminisce about the original... let's head back to That 70's Show facts!
Wedding Bells
In one of the best turns of fate, Mila Kunis and Ashton Kutcher met on the set of That '70s Show in 1998, although they didn't start dating until 2012. After Kutcher's split from actress Demi Moore, the two reconnected and started to date.
They got married in 2015 and now have two kids together. Kunis has shared that she had never considered marriage before meeting Kutcher, but the two have stayed together ever since.