While most NBA players stick to sports talk shows or otherwise just appear on the screens to be interviewed, a number have also appeared in scripted shows and even movies, whether playing themselves, a generic basketball character, or in some cases taking on legitimate acting roles. Let's walk through players from throughout league history who stepped off the court to take on acting, whether for a single episode or a full-length feature film.
 
LeBron James
Let's address the Hollywood elephant in the room first. No one is surprised that LeBron James has acted because his face was plastered everywhere alongside that of an animated rabbit all summer long. What might surprise you, or perhaps remind you of memories long forgotten, is that James has actually appeared in a number of other shows and movies. Like many other professional athletes he showed up in Entourage, but he also had a prominent role in Judd Apatow's 2015 romantic comedy Trainwreck, where James was a supporting actor alongside Amy Schumer. He also had a memorable appearance on Nickelodeon's SpongeBob SquarePants.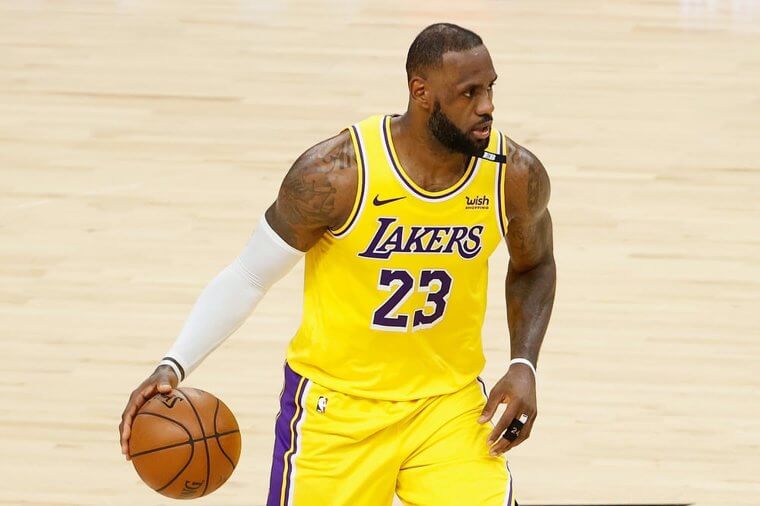 The acting performance that you truly might not be aware of is also perhaps his best. When the makers of the DC animated children's show "Teen Titan Go!" discovered that LeBron was a legitimate fan of their show, they invited him to take part. That led to the insertion of James into the show as a dribble-happy athlete: LeBron got his own catchphrase! "Dribble, dribble, dribble, dribble." Let's go again: Does anyone doubt that LeBron James could put down a 6'8″ sandwich? Seems realistic enough to me, just like the upper body muscles. Hopefully, he can work his Teen Titans catchphrase into a press conference or two this upcoming season.
Larry Bird
Watching Larry Bird play basketball in the 1980s was better than going to a movie. His shooting stroke, his taunting of opponents, his farmboy look – Larry Bird put on a performance for every fan sitting in the stands. Unlike some of his contemporaries, Bird was not an avid participant in television or movies, and certainly not while he was an active player. He did have at least one appearance in a movie that you may have forgotten he appeared in: as Michael Jordan's golf buddy in Space Jam. You can catch a glimpse of Bird around 30 seconds into this truly remarkable example of a 1990s movie trailer: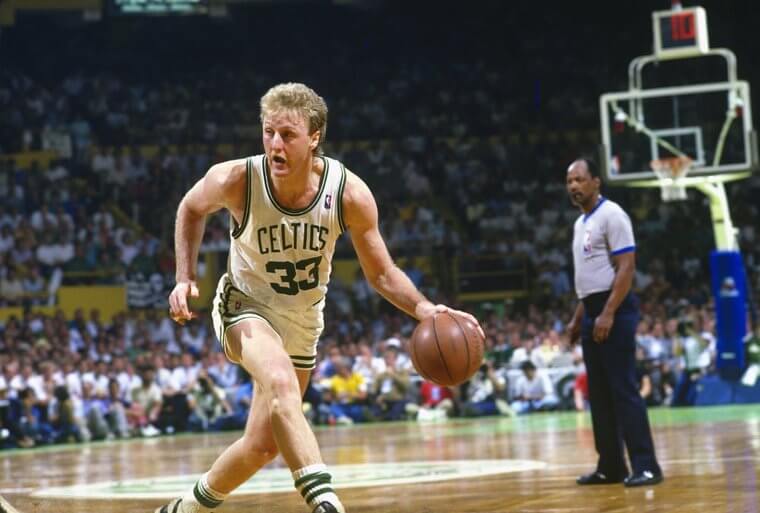 Bill Murray was the comedic heart of the original Space Jam, and Bird played off of him and Michael brilliantly. He plays his character straight, likely just being himself, playing golf with two guys like he probably did seven days a week. In his first scene, he's lining up a shot when Bill Murray makes his pitch to Jordan that he should be in the NBA. Jordan tells him he doesn't have a chance, and Murray thinks it's because he's white. "Larry's white, so what?" Jordan replies. "Larry's not white," returns Murray, "Larry's clear."
Shaquille O'Neal
This isn't meant to inform you that Shaquille O'Neal has acted before; it's hard to miss him, from reality shows to innumerable commercials. It's simply to help fill in the gaps on the truly extensive filmography he has amassed since entering the NBA. O'Neal's film debut was in 1994's Blue Chips, where he played a college basketball player struggling with academics who accepts a bribe to join Nick Nolte's basketball team. He parlayed that into the truly iconic Kazaam, where he played a magical genie, and Steel, where he was a metal-clad superhero.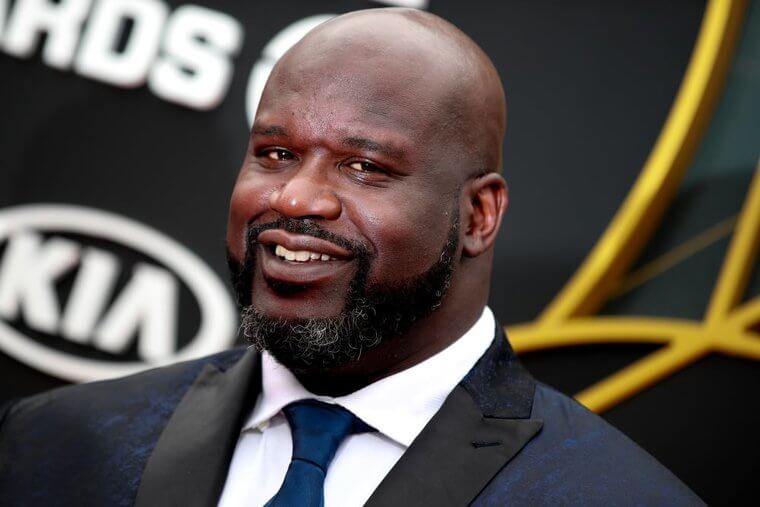 In the 25 years since he has made frequent appearances in a host of TV shows and movies, although generally just playing himself: Curb Your Enthusiasm, The Tracy Morgan Show, Scary Movie 4, Jack and Jill, The Lego Movie, and on and on. He did quite the Andre the Giant impression playing the giant Fezzik in the celebrity-packed Princess Bride Home Movie of 2020. We haven't got the time or space to list all of his acting credits, and that is before recognizing that Shaq's been in roughly one billion commercials over the course of his adult life. It's possible, if not likely, that Shaquille O'Neal has appeared on television screens outside of basketball games more than any other NBA player in history.
Kareem Abdul-Jabbar
Many of the NBA players on this list appeared in cameos playing themselves, or at the very least playing a basketball player. Only a handful have portrayed characters in the traditional sense as professional actors, and Kareem Abdul-Jabbar likely leads the way for quality and quantity of such roles. His standout role was as pilot Roger Murdock in the1980 film, parody comedy "Airplane!", taking part in a number of classic comedic exchanges that have revervebrated through pop culture since.

Even in the midst of winning MVP awards and championships with the Los Angeles Lakers, Abdul-Jabbar didn't stop acting. He played roles in the 1985 comedy Fletch, the horror anthology series "Tales from the "Darkside" and had a memorable recurring role as a substitute teacher on Deff'rent Strokes. And on and on. He showed up in sitcoms like The Fresh Prince of Bel-Air, Full House, Martin, Everybody Loves Raymond, Scrubs and The Big Bang Theory. He's still appearing in things to this day, overseeing a basketball-related date on ABC's The Bachelorette a few years ago.

Ray Allen
In the late 1990s, filmmakers were looking for someone to star across from Denzel Washington in a movie about an imprisoned father and his basketball phenom of a son. Ray Allen, at the time a young rising star with the Milwaukee Bucks, was picked to play "Jesus Shuttlesworth." This was no token role; Allen was being asked to play a significant part, one of the film's main characters with significant screen time. He had to hold his own in scenes with Denzel Washington, and be the centerpiece of scenes himself. He had to play basketball, yes, but he was also carrying emotional storylines as well.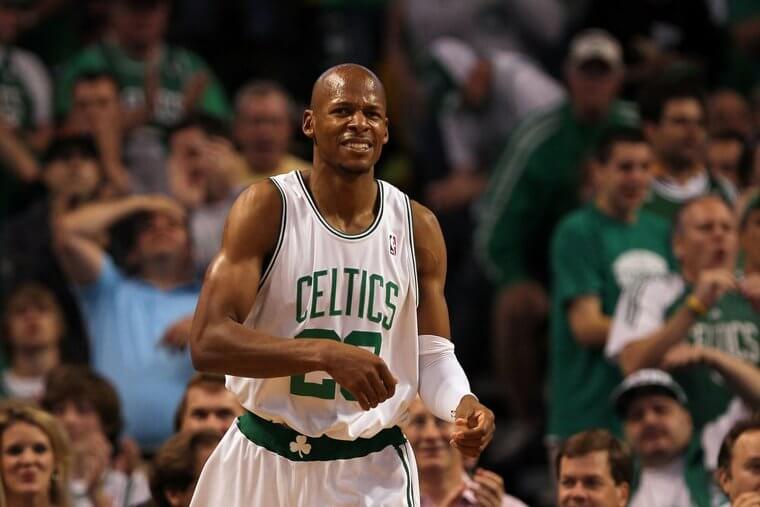 Everyone at the time and since agrees: Ray Allen killed it in this movie. He was not a basketball player making a cameo, he was an actor legitimately playing a role in a serious movie with serious co-stars. He did an incredible job, perhaps the best dramatic role ever played by a basketball player. Allen later picked up one more movie credit, as Adrian Grenier's Harvard basketball teammate in the 2001 film Harvard Man. Since he has avoided the stage, although is't not impossible he could circle back given his clear talent in the right role.

Rick Fox
For Rick Fox, being a part of the Los Angeles Lakers was a chance to play basketball on the biggest stage and win championships, but it was also an opportunity to parlay his basketball platform into a long acting career. Fox's big break and most iconic role was as Chick Deagan in the aforementioned "He Got Game" but he didn't stop there. Young people of a certain generation may recognize Fox as the baseball star Clyde "Sweetfeet" Livingston from 2003's Holes, when Shia LaBeouf is accused of stealing a pair of his shoes.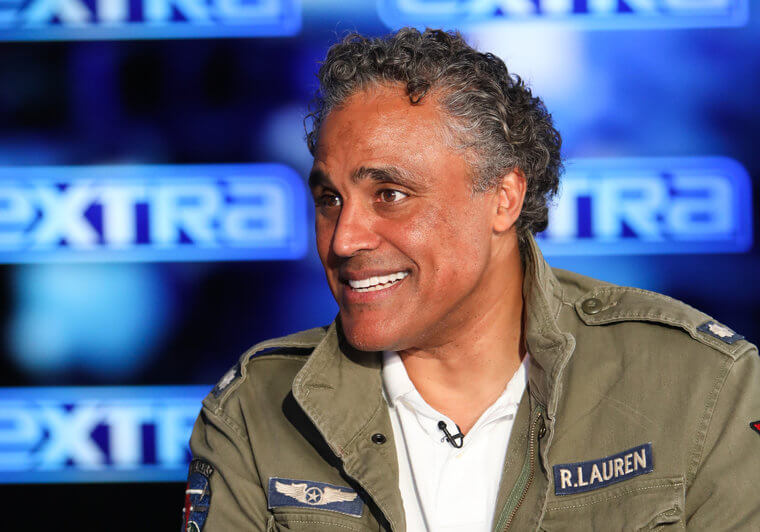 Fox was no stranger to supporting roles while in the league, playing in the shadows of stars such as Shaquille O'Neal and Kobe Bryant. He had no problem doing that as an actor, taking small roles and amassing a long line of acting credits. He had an 11-episode run in the prison series "Oz" and continued through a number of television series, including multi-episode runs of "1-800-Missing", "One Tree Hill and even "Ugly Betty." He had established a legitimate, and lengthy, acting career. Err, we'll skip over his role in Sharknado 3 for now.

Charles Barkley
Charles Barkley is one of the most entertaining personalities to ever play the game of basketball. His colorful way of talking and strong opinions on everything from centers to food make him a must-watch on TNT's "Inside the NBA" before, during and after games. That personality carries over from the Hardwood to the Hollywood (see what I did there?). He made a few appearances during his basketball career, hitting some of the same beats as other basketball players in the 1990s. He had a role in 1995's Forget Paris (a romantic comedy about an NBA referee) and played himself in 1998's He Got Game.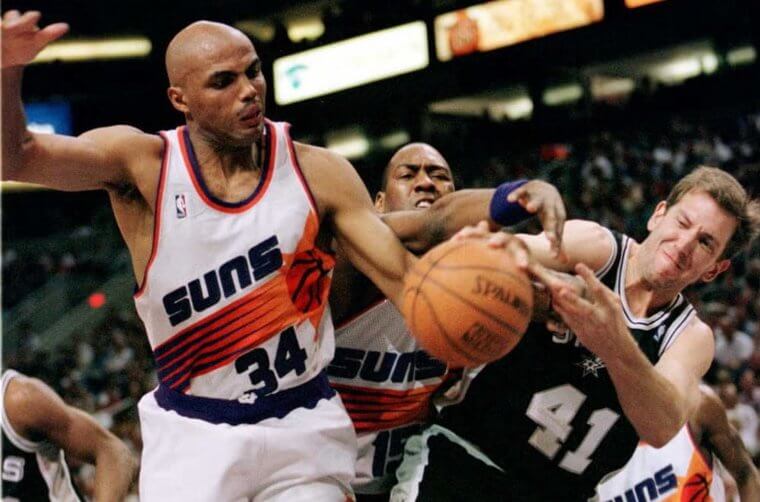 While Michael Jordan obviously dominated the screen and the publicity for Space Jam, Charles Barkley had a surprisingly large role as one of the basketball players to have his powers drained by the aliens. He even gives an emotional monologue near the end of the movie to his fellow zapped stars. Barkley has mostly kept to his studio desk in the years since his retirement, but every so often he pops out to make a cameo. He was his usual hilarious self in appearances on The Simpsons, Modern Family and The Goldbergs in recent years.

Marques Johnson
Marques Johnson was a star at UCLA who had a long and successful NBA career, playing 11 years and making 5 All-Star teams. He carried the Milwaukee Bucks in the years after Kareem Abdul-Jabbar left, and still ranks fourth in Bucks history with 71.1 win shares. In recent years he has become one of basketball's best analysts, working for Fox Sports and specifically for the Bucks' telecasts for the last half decade. Decades before, however, he tried his hand as an actor in a few films.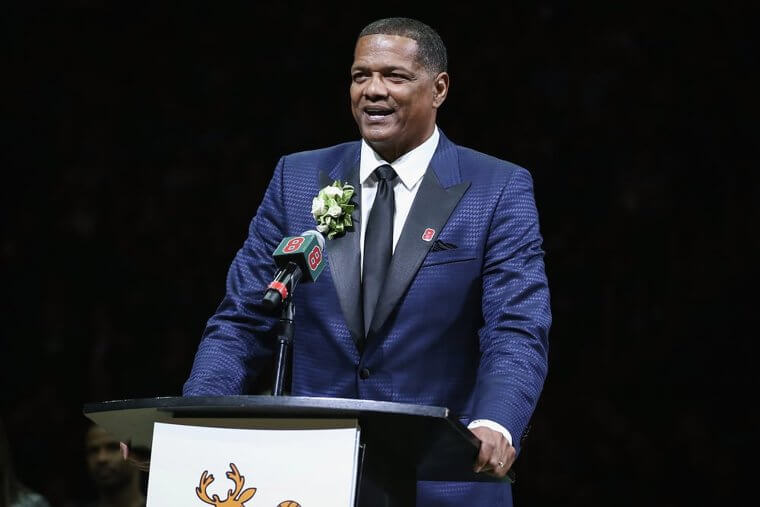 The most well-known of these, by far, is his performance as street basketball star "Raymond" in 1992's White Men Can't Jump. After Wesley Snipes and Woody Harrelson's characters hustle him out of money he loses it, providing an intense foil at times throughout the film. Johnson then pops up in some of the other films we see NBA stars in throughout the 1990s, including Blue Chips and Forget Paris. Since then he's occasionally stepped back onto the screen for minor roles in shows like State of Mind, Boston Legal and Castle.

Julius Erving
Julius "Dr. J" Erving was one of the most graceful athletes the league has ever seen, and when he approached an open rim it was like watching art be made before your eyes as he performed a beautiful dunk – beautiful, and often rim-shaking with its power. Erving rose to stardom in the 1970s, alongside the rise of another phenomenon: disco music. The two came together in the cult-classic film, "The Fish That Saved Pittsburgh". Julius Erving not only appears but is the lead star in the sports/fantasy film, featuring a groovy disco soundtrack throughout. Check out this trailer!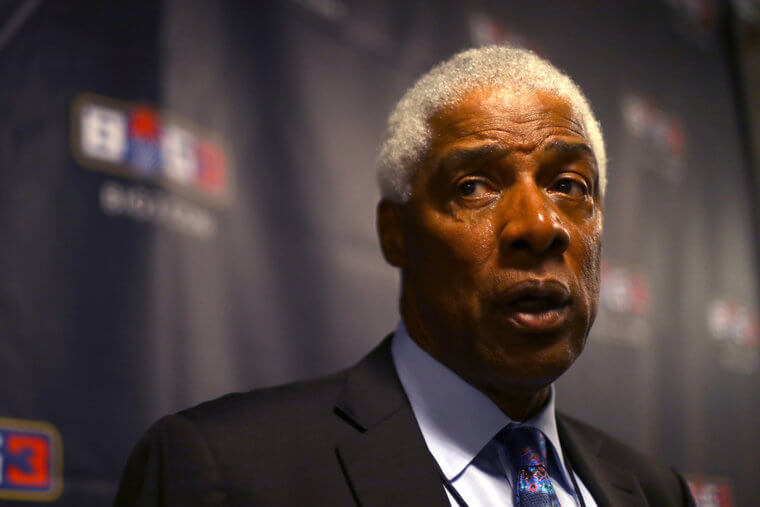 Erving stars as Moses Guthrie, the best player on the Pittsburgh Pythons, a struggling basketball team. Future television First Lady Stockard Channing is an astrologer who tells the team to swap out all of Moses' teammates for players born under the astrological sign of Pisces, and the newly remade "Pittsburgh Pisces" go on to become nearly undefeated. Erving popped up a few other times in cameo roles, including a fun appearance on The Office, but "Fish" was his only prominent role, and it was a bopping one.

Dennis Rodman
Dennis Rodman became a household name as part of one of the greatest basketball teams in NBA history, the rebounding defensive forward playing alongside Michael Jordan and Scottie Pippen in the late 1990s. The stories about Rodman from The Last Dance documentary alone are as entertaining as anything you will find at Blockbuster (err, on Netflix, I mean).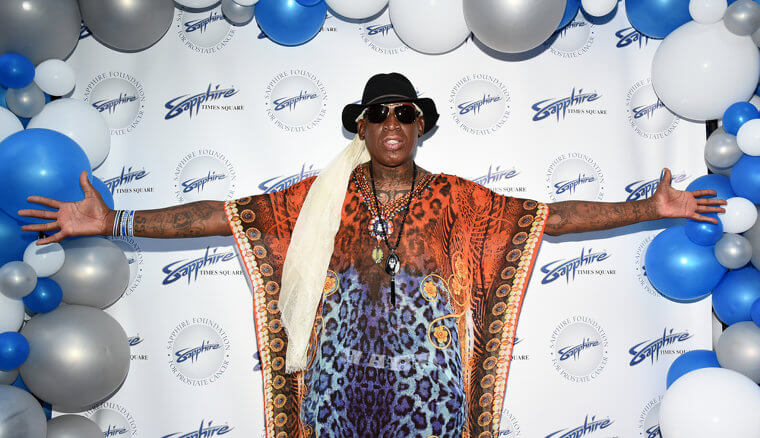 That being said, Rodman certainly showed up in a variety of films and shows. The most painful wonderful prominent of these was his role as an arms dealer in the Jean-Claude Van Damme action movie Double Team. Somehow the climax of that movie ends with Van Damme and Mickey Rourke facing off in a sand-covered arena with a tiger and a baby in a basket, with Rodman driving in on a motorbike to save the baby and allow Van Damme and Rourke to have their classic fight. Apparently, Hollywood producers were so impressed that they cast him as the lead in 1999 action/spy film Simon Sez as an Interpol agent alongside Dane Cook. If that sounds like the recipe for a successful movie…you would be wrong. Rotten Tomatoes rates it at 0%, and it appears on innumerable lists of the worst movies of all time.

John Salley
In the late 1980s and through the 1990s, if you wanted a solid two-way big man to come off the bench and hold up in high-pressure situations, you wanted John Salley. If you wanted an intelligent and entertaining interview, you wanted John Salley. And, perhaps surprisingly, if you wanted a basketball player to star in your movie, you wanted John Salley. Although he won four championships with three different franchises, Salley was best known for his role on the Bad Boys Pistons. Perhaps initially intended as some sort of inside joke or homage, Salley was cast in the 1995 film "Bad Boys" starring Martin Lawrence and Will Smith.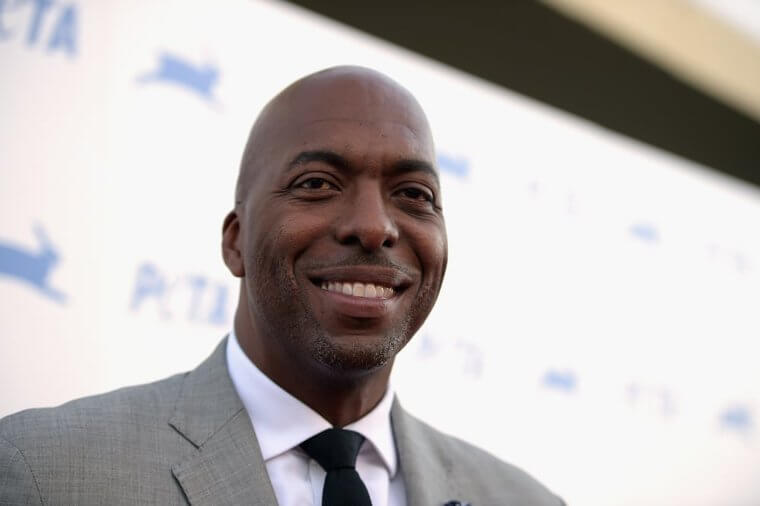 Was Salley an ex-basketball player in the film? Nope. Was he a thug among the muscle of some gang? Nope. He was a glasses-wearing computer nerd who helps the stars with their various hacking needs. He became a fan favorite, appearing in Bad Boys II and later in a spin-off television show. He also appears in a more traditional ex-player role alongside Whoopi Goldberg in "Eddie" where she became the coach of the New York Knicks, and in a variety of other minor roles in television and film. For most, though, he will always be Fletcher, glasses and all.

Kevin Durant
Kevin Durant is one of the most gifted scorers in NBA history. He came into the league averaging 20 points per game as a teenager and never looked back, leading the league in scoring by the time he was 21. As a rising star, it made sense to capture that popularity in any way possible. That led to the development of the 2012 film "Thunderstruck" a fascinating wordplay combining Durant's professional team, the Oklahoma City Thunder, with the concept of the movie: namely that a talentless high school kid makes a wish and receives all of Kevin Durant's talent. Sound familiar?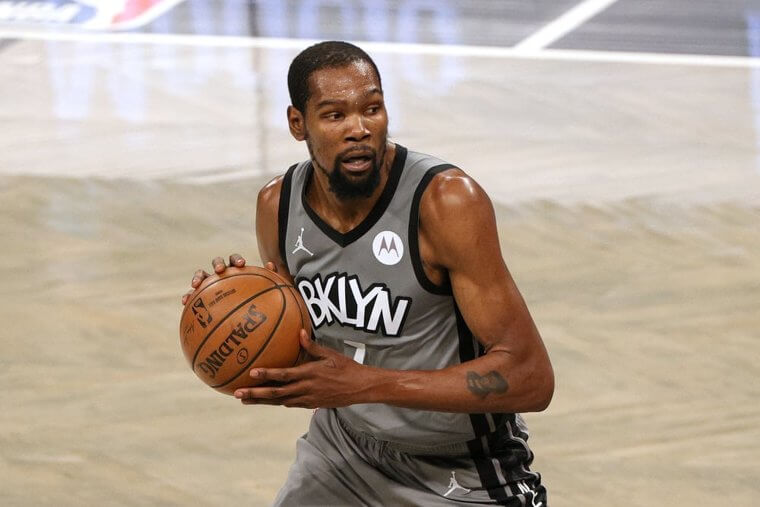 Following in Michael Jordan's footsteps from a different film, Durant actually features prominently in his movie debut. He and young co-star Taylor Gray go back-and-forth in the film. Durant is not carrying emotional scenes, but he leans into a deadpan demeanor that works enough to get through the film. That seems to have been enough of a taste of acting for Durant, who shifted to other mediums and is now producing a number of productions without starring in them himself. Instead, his leading role is with the Brooklyn Nets, as Durant continues to chase the career satisfaction that has eluded him at other stops.

Kevin Garnett
Kevin Garnett was the front-runner for the prep-to-pro generation, going straight from high school to the NBA. He was drafted by the Minnesota Timberwolves and established himself as not only the best player in franchise history (at the time and since), but one of the league's very best, including an MVP award in 2004. While with the Timberwolves Garnett made a special appearance, not on the court but on the television screen. He had a guest appearance on The Jamie Foxx show, complete with comedian and actress Sherri Shepherd contemplating the benefits of a man with hands "large enough to palm a basketball" and multiple characters making fun of the unpronounceable last name of fellow Timberwolves All-Star Wally Szczerbiak.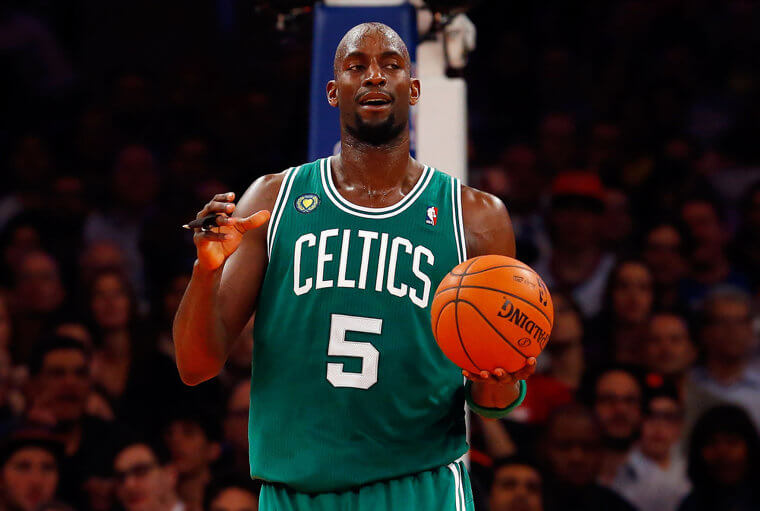 Garnett didn't appear back on the screen again for some time, instead focusing on winning a championship with the Boston Celtics and otherwise finishing his career. Since retiring, however, he has been more active, including an unexpected role in an unexpected film. In Uncut Gems, Adam Sandler is a New York City jeweler who has to find a valuable gem to pay off his gambling debts. It's a legitimate crime thriller, not a comedy, an unexpected turn for Sandler. Also unexpected was the appearance of Kevin Garnett, who came in showing off his championship ring as a customer of Sandler's character. Garnett's intense demeanor on the court is driven by his passion and drive, and those can come through in an acting performance as well. It would not be a surprise to see Garnett appear again in an acting role.

Kevin McHale
Kevin McHale went from Sixth Man to a starter on one of the all-time dynasties in basketball history, starting between Robert Parish and Larry Bird for the Boston Celtics in the 1980s. He won three titles with Boston, playing all 13 years of his career in Beantown. He made seven All-Star games, was a six-time All-Defensive team pick and became one of the most recognizable faces in Boston during the 80s and 90s. In fact, the only Boston thing that could match the Celtics' popularity during the late 1980s was the show Cheers, famously set in a Boston pub. In 1990 McHale completed the connection when he appeared in two episodes of the sitcom as a version of himself, a Celtics star who tended the bar enough to play for their annual inter-bar basketball game.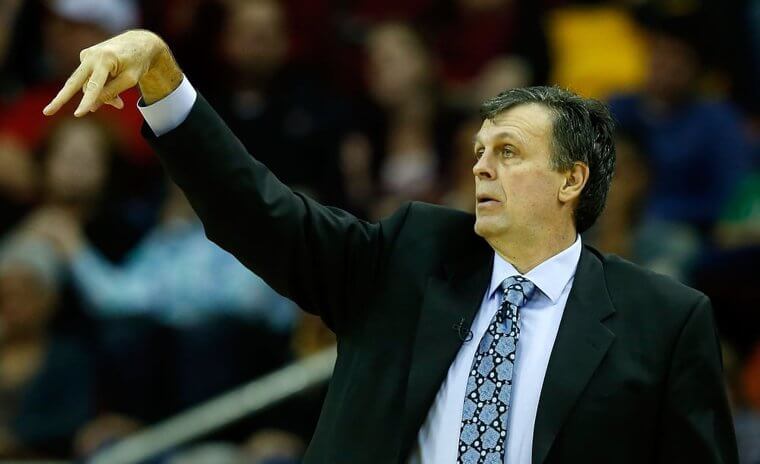 McHale is more than competent in delivering the lines written for him, which include an excellent joke setup with Detroit Pistons center Bill Laimbeer as the punchline. His affable nature makes him a great fit alongside the comedic personalities of Ted Danson and Woody Harrelson, and he relies on them to carry the scenes. That's the extent of McHale's acting career, but it was well worth the watch. Check out "Cheers Fouls Out" (Season 9, Episode 2) for a great, Boston-themed time.

Blake Griffin
Blake Griffin is an incredibly talented and athletic basketball player, who has added perimeter skills to his game even as he has aged into his athletic twilight. He was the star of "Lob City" for the LA Clippers before making his way East later in his career. Some combination of his personal wit and exposure to Hollywood seems to have created a legitimately funny individual, as Griffin frequently does stand-up comedy and is producing his own prank show. He has a dry wit and really good timing; he is actually good at telling jokes, not just "good for a basketball player."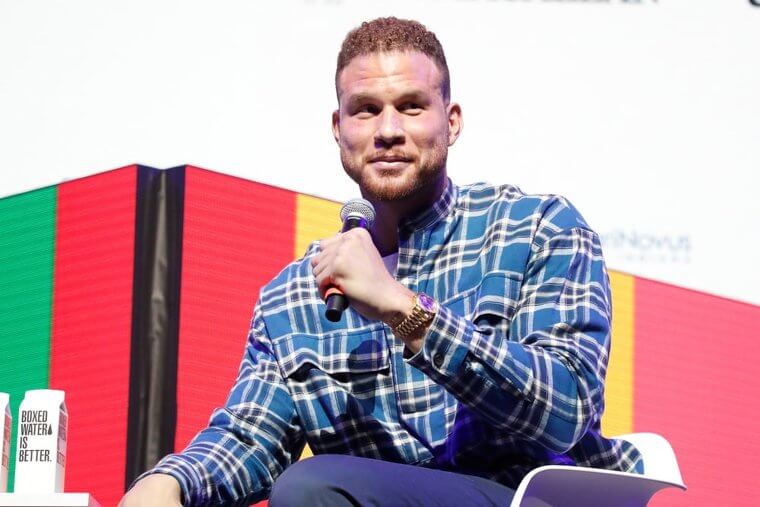 After a couple of minor roles, he really broke into the comedy scene by his ensemble role in "The Female Brain" as a version of himself, an injured professional basketball player. His "I'm a physical marvel" scene is sure to induce at least a chuckle. Griffin is now producing and hosting a hidden camera reality prank show called "Double Cross with Blake Griffin" where he helps frequent "prankees" become the pranksters. Any Candid Camera fans out there? Even as Griffin's NBA career dies down, his comedy career is likely just ramping up.

Darius Miles
Darius Miles was one of the nation's most heralded high school players when he made the leap straight into the NBA. He saw some instant success, making the first-time All-Rookie team after he went No. 3 overall in the 2000 NBA Draft. Playing for the Clippers, a team in desperate need for hope, Miles became part of an exciting young core for the team. That core fell apart, and Miles' NBA career fizzled out as frequent injuries and relational issues prevented him from capturing any further upside to grow into a star. Miles was able to pursue stardom in a different way, however, parlaying his NBA fame into a handful of acting appearances.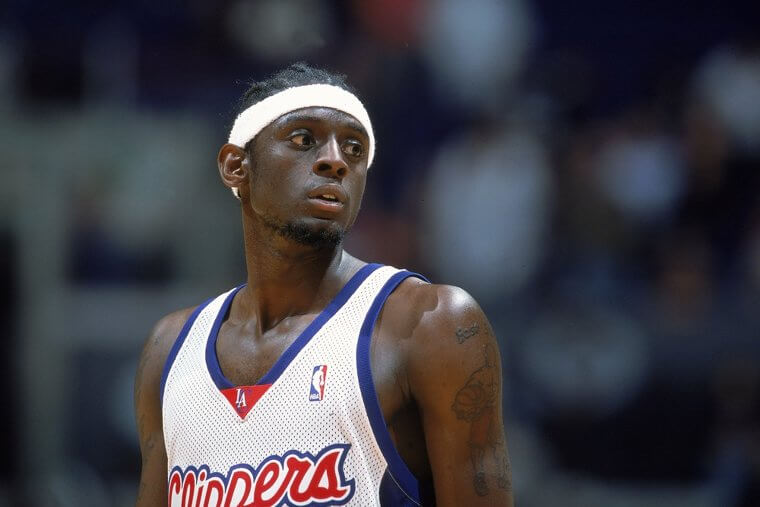 The most prominent of those was his role in "The Perfect Score" where he joined an ensemble cast of future movie stars, including Chris Evans and Scarlett Johansson. He played Desmond, part of a group of high school players trying to steal the answers for the SAT exam. For Miles, his character needs a high enough school to play college basketball. Miles wasn't a breakout star, but he did fine in The Perfect Score, and it's somewhat surprising he didn't end up with another role after that. Perhaps the end of his on-court stardom signaled the end of his on-screen stardom as well.

Blake Griffin is an NBA big man who is sharp and can write funny material. Shaquille O'Neal is naturally goofy and hilarious. Dwight Howard is an NBA big man who tries really, really hard to be both of those things. As far as on-court success, Dwight Howard has a lot of it. He was the league's best defensive player for years, winning three Defensive Player of the Year awards with the Orlando Magic. Then in the twilight of his career he won a title with the Los Angeles Lakers. Unfortunately, his acting career has not brought any of those accolades.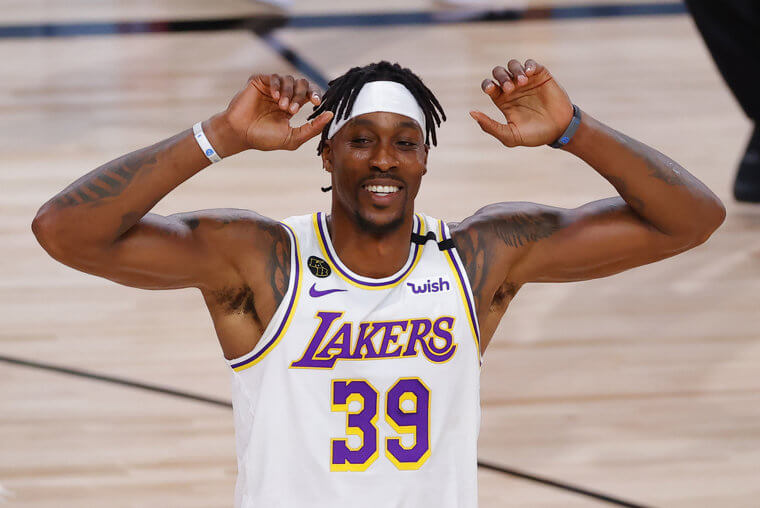 He has shown up, that's for sure. He was one of a series of celebrities interacting with Larry, Curly and Moe in The Three Stooges film in 2012. He likewise played himself in the 2010 film Just Wright, briefly appearing alongside Common in the basketball-themed movie. It continued from there. He voiced a turkey in the animated film "Free Birds" and had a well-marketed but brief role in the Chinese film "Amazing" where a programmer hacks into a basketball game containing such stars as Dwight Howard, Carmelo Anthony, Yao Ming and Scottie Pippen. Howard is still in the Hollywood game, both making cameos and producing content. Hopefully, he will accept the reality of his acting ability and stick to what he is good at. Erm, whatever that is.

Kevin Love
Kevin Love's profile in the league increased in 2014 when he was traded to the Cleveland Cavaliers and played with LeBron James, winning a title in 2016. He is still playing and trying to keep alive his NBA career, one that has totaled a surprisingly high amount of accolades, from five All-Star appearances to a pair of All-NBA selections. His career rebound percentage is 11th all-time, highlighting just how dominant of a rebounder he was during his prime. Once upon a time Love was just a big kid entering the league out of UCLA, the hoped-for heir of Kevin Garnett's empty throne in Minnesota. Somehow the producers of the Disney children's television show "Suite Life on Deck" decided that Love was the guy to appear alongside All-Star players Dwight Howard and Deron Williams in an episode of their cruise-ship-based show.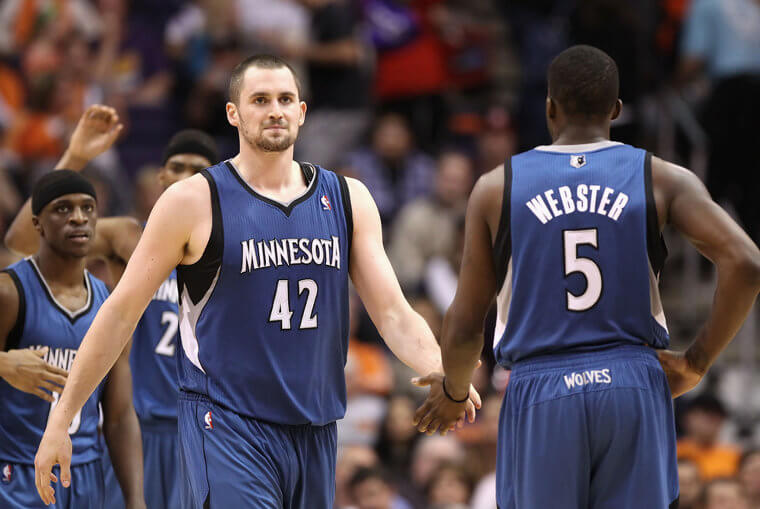 Howard plays the unexpectedly-tall, and basketball-gifted, brother of a character on the show, who shows up with his NBA buddies to help with a friendly basketball game. It was probably Howard's best acting performance of his career, and Williams is his typical suave self. Kevin Love is anything but. He is such a surprising pick to appear on the show, and he delivers his lines with all the poise of a young NBA player who has never delivered lines before. Again, how did he get picked to appear on the show? Other than the typical NBA fare (Entourage, an Uncle Drew short) Love hasn't appeared in anything since. Now that's not a surprise.

Roy Hibbert
There was a point in time when Roy Hibbert was nearly a household name. The former Indiana Pacers center was the anchor of a defense built to challenge LeBron James and the titanic Miami Heat. The Pacers pushed the Heat as hard as anyone, twice, even if they couldn't ultimately overcome King James and his crew. Then Hibbert was gone, an extinct dinosaur in a league spacing the court. Hibbert was something of a one-hit wonder, existing on a certain team at a certain point in time. Yet for a certain group of people Hibbert will live on, not just as the center who almost stopped LeBron, but as a recurring guest on the NBA sitcom Parks and Recreation.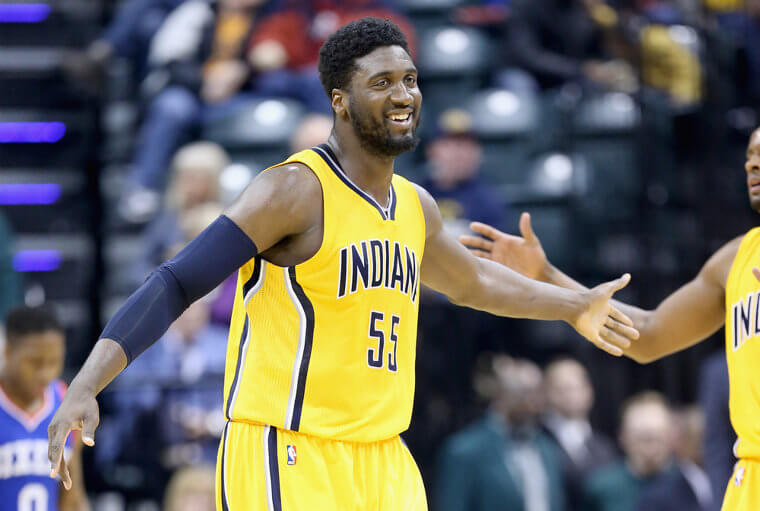 Set in the fictional town of Pawnee, Indiana, the show was a mockumentary following the staff of the local Parks and Recreation Department. They were not afraid to wade into Indiana-only references and connections, including bringing on multiple Indiana Pacers players. Hibbert actually delivers lines on a top-notch sitcom that are witty. He also boosts "Jean Ralfio" up for an alley-oop, which must have been incredibly fun for both to film. Hibbert's one claim to fame was his time on the Indiana Pacers, and it also became his link to one of the funniest shows ever made.

Detlef Schrempf
Detlef Schrempf was not the flash-in-the-pan that Roy Hibbert was, as the German forward made three All-Star games and was a two-time winner of the NBA's Sixth Man of the Year award. Hibbert never once averaged as many points in one season as Schrempf averaged for his entire 16-year career. Some of the best years of Schrempf's career were with the Indiana Pacers, where he broke out into an impact player and won both Sixth Man awards. That connection to Indiana was enough for him to get the call to, like Hibbert, cameo on the hilarious sitcom Parks and Recreation.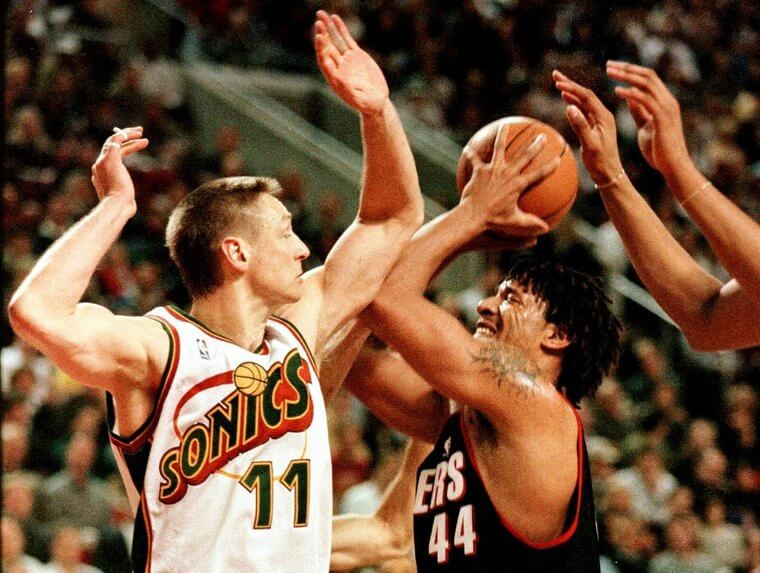 Schrempf is hired, as "former NBA superstar Detlef Scrempf", to simply stand around and shoot hoops. After his advice to reduce overhead is met with scorn, Schrempf retaliates by absolutely stuffing character Jean Ralfio's layup attempt. The retired star appears in a couple of other episodes, including with Roy Hibbert in another episode where both have given up trying to help the hapless characters in the show with their business. It was no virtuoso performance, but it was funny, and that's all watchers of the show were looking for.

Chris Bosh
Chris Bosh is seemingly underrated at every turn, which is unfortunate for such a beloved and talented person. Doomed my virtue of his role to live in the shadow of LeBron James and Dwyane Wade on the Miami Heat, Bosh's career was then cut short by blood clots, preventing him from establishing himself post-LeBron as one of the NBA's all-timers. What has also gone mostly unnoticed is Bosh's forays into television, which is a shame because he is actually quite funny. Bosh shows up in Parks and Recreation, not just as Indiana-connected eye candy but as an actual NBA star.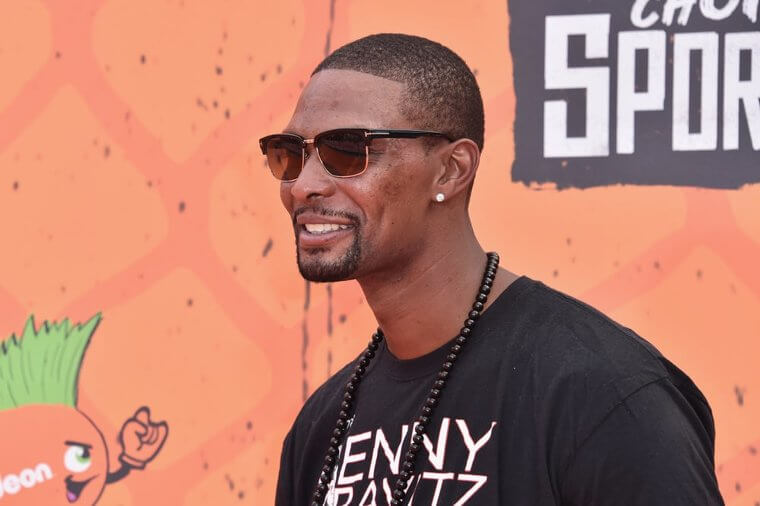 That same year, 2013, Bosh made a cameo in another show, the widely-watched "Jessie" on Disney Channel. He doesn't just show up, but he has interactions with each of the children in the show. He gets in a dig at LeBron's love of Justin Bieber, solicits some oddly-prescient advice on pink uniforms for the Miami Heat, and overall carries himself as well as any guest actor should be expected to. Those appearances are fairly common for NBA players, even if Bosh handles them better than most. What is unique is that Bosh also stepped in and voiced an animated character in Disney's "Hulk and the Agents of S.M.A.S.H." in 2014. He was Heimdall, the all-seeing gatekeeper of Asgard. This was a legitimate role, with a number of speaking parts. Well done for Bosh!

Larry Johnson
Larry Johnson was selected first overall in the 1991 NBA Draft by the Charlotte Hornets, and less than a year later he was throwing down slams in the Slam Dunk Contest during All-Star Weekend. That was how Johnson approached everything: relentlessly and above the rim. That's how he showed up in his TV appearance too. Anyone alive in the early 1990s was likely a fan of the sitcom Family Matters. Steve Urkel, the nerdy lead character of the show, needs a partner for a street basketball game after his best friend Eddy dumps him for a better partner. The result: Estelle recommends one of her friends, "Grandmama".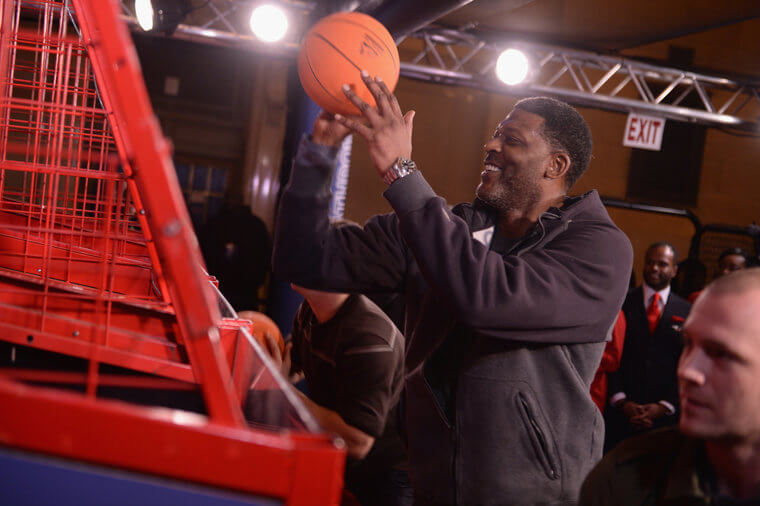 That friend turns out to be a 6'6″ elderly woman (6'10" with the hat) played by none other than Larry Johnson. Johnson, fully bedecked in a floral dress, a gray wig and some sneakers, dominates the competition, including throwing down alley-oop passes from Urkel. This brings up so many questions. Why did the show land on Larry Johnson? Did they go through 30 other NBA stars before someone agreed to do it? Why did Johnson agree to put on a dress and wig for his television debut? In what way does that elevate his popularity or sell basketball shoes? It's baffling, but in the end it resulted in a wildly entertaining episode with some legit basketball moments.

Jason Kidd
Jason Kidd is going to stand in here for all of the basketball players who are simply playing themselves on a court when a movie needs to interact with a basketball game. He gets the nod for two primary reasons: he is utterly embarrassed in his appearance, which is funny, and he's a terrible actor in every facet of his life. Kidd is in the Hall of Fame as one of the greatest point guards of all time. Few players can put together the combination of 9-time All-Defensive Team selection, 10-time All-Star and 5-time assists leader. He won Rookie of the Year at one end of his career and a title at the other end. In 2002, right in the midst of his prime, he played himself in the movie "Like Mike". If you are somehow not familiar with this film, it's a children's movie where Lil Bow Wow stars as a kid who finds a pair of Michael Jordan's old sneakers and, when he puts them on, plays just like Michael Jordan. Then he joins a fictional NBA team and dominates the league, including making Jason Kidd look stupid (about the 1:40 mark of this trailer):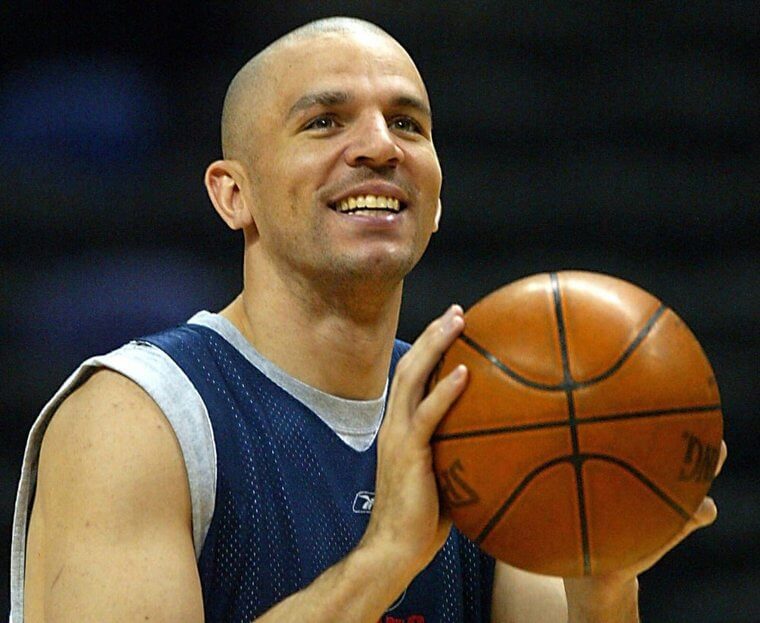 We could forgive Kidd for his wooden line delivery, but we don't really want to, as it fits a pattern for Kidd. He's not an actor, no matter how hard he tries. And he really tried as the coach of the Brooklyn Nets when he was out of timeouts and needed to speak with his team, as Kidd laid out a few years ago on The Jump (after explaining another acting job he attempted): At least Kidd knows he's a bad actor, fessing up and recommending acting school for himself. Kidd is now the head coach of the Dallas Mavericks, and perhaps he can stick to improving as a coach instead of acting.

Isaiah Thomas
Isaiah Thomas was the ultimate underdog, a 5'9″ point guard taken with the final pick of the 2011 NBA Draft — and by Sacramento, no less. The odds of Thomas succeeding in the NBA were basically nothing. Yet he did, becoming one of the league's best point guard scorers, even making an All-NBA team in 2017. In 2017 Thomas was traded to the Cleveland Cavaliers as part of the Kyrie Irving trade. Very shortly after that trade he was an official representative of his new team by…showing up for an episode of Law & Order: SVU.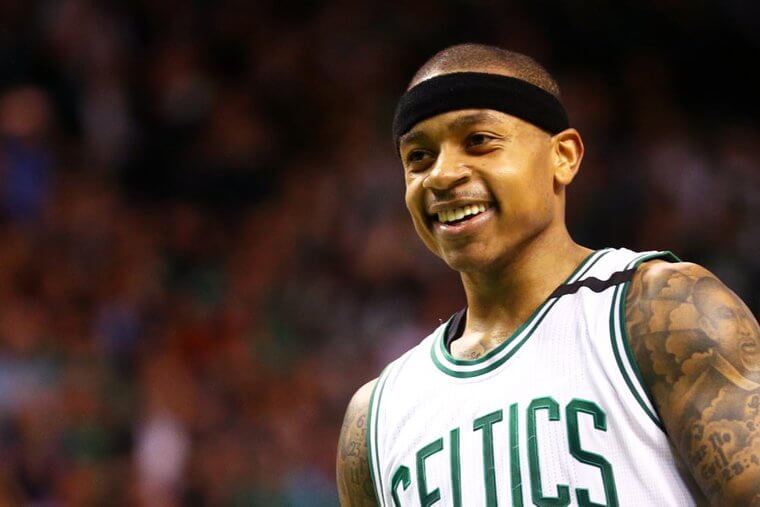 The plot of the show was a young girl who was kidnapped being found 15 years later. The girl was a devoted Cleveland Cavaliers fan, and so the team (both in the show and presumably in real life) sent a player to represent them. Just weeks, perhaps just days, into his tenure with the Cavs he was representing the team and, in a way, the entire city of Cleveland on the show. Was Thomas any good? No, no he was not. His acting role was to speak to the media at a press conference, something he does 82+ times a year. He couldn't even handle that, needing to bring cue cards along with him to finish the incredibly brief segment. If Thomas is looking for a new career now that his NBA one is nearing the end, acting is not the place to look.

Kobe Bryant
There is very little that needs to be said to introduce you to the late, great Kobe Bryant. Not simply one of the greatest to play the game, Bryant had a brilliant and creative mind that, when paired with his unparalleled drive, pushed him into new realms during and after his playing career. He became a writer, a director, a producer, even winning an Oscar for his short film "Dear Basketball" in 2018. His show "Detail" that probes the minds of former greats to help explain modern sports was a hit from the beginning and continues to this day with other sports luminaries taking up the mantle. Bryant was brilliant at everything he did.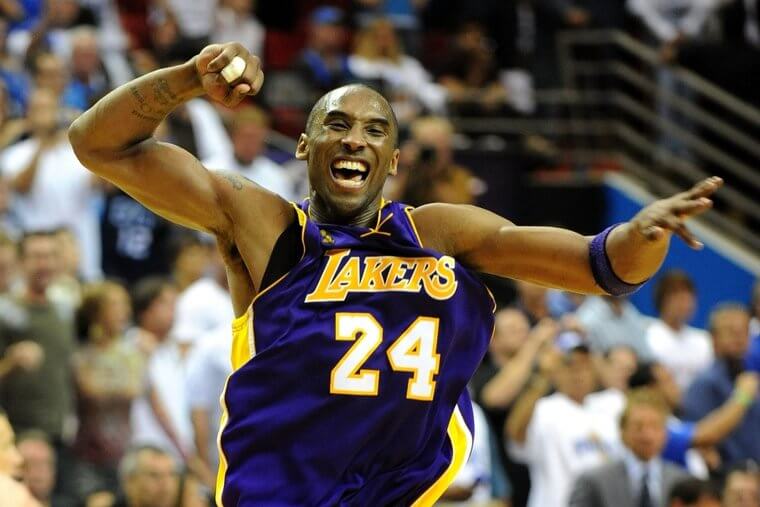 Yet before he was proving himself an accomplished writer and producer, he was making the same television cameos as many of his peers. Bryant wasn't bouncing around every show filming in Los Angeles like his teammate Shaquille O'Neal, but he did pick his spots. During his rookie season, he appeared on Sister, Sister, looking every bit a guy just out of high school. Years later he made a surprise appearance on Modern Family, where the Dunphy family unexpectedly draws his attention and dad Phil "chokes" about what to ask him. Kobe chides him. "Preparation" he tells Phil. "It's a mental game." That's good advice for all of us.

Muggsy Bogues
Most NBA players gain fame because of personal achievements on the basketball court. They lead the league in scoring, or rack up highlight plays, etc. For Muggsy Bogues, while he was certainly a very talented player, his claim to fame was simply that he made it into the NBA at the height of 5'3″. He built a long, 14-year career despite his height, a testament to his dedication and ability.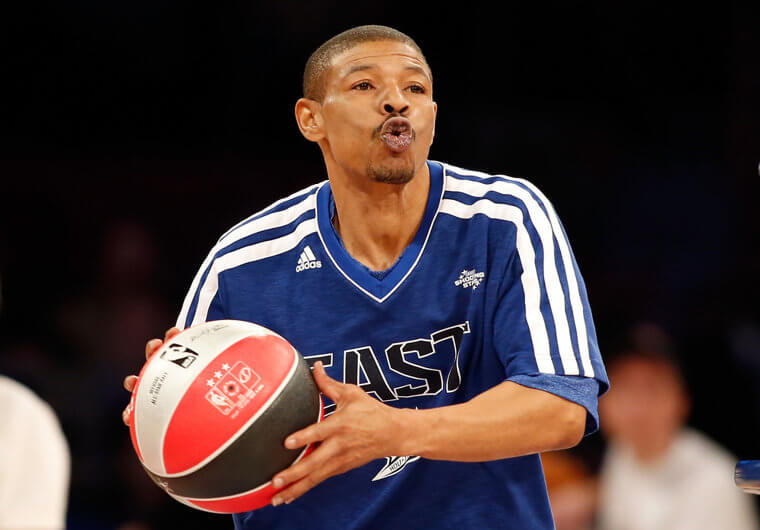 The visual dissonance of his size versus his peers likely earned him a spot in the original Space Jam as one of the players zapped of his powers by the aliens. He was the antithesis to 7'6″ Shawn Bradley, while the other players were chosen more for their star power. Bogues hung around the Hollywood game, memorably appearing in a 2004 episode of Curb Your Enthusiasm where he meets Larry David in the bathroom and predictable humor ensues. His affable nature and wide smile made him a logical choice to cameo in Curb and a few other shows around the tail end of his career.

Karl Malone
Karl Malone earned a spot among the all-time greats by showing up, year after year, the most reliable player in the league. He played 19 seasons in the league and averaged at least 20 points in 17 of them, missing it only in his first and final seasons. He played at least 80 games of the 82 game season 17 times as well. He always showed up and he always delivered, earning him the nickname of "The Mailman."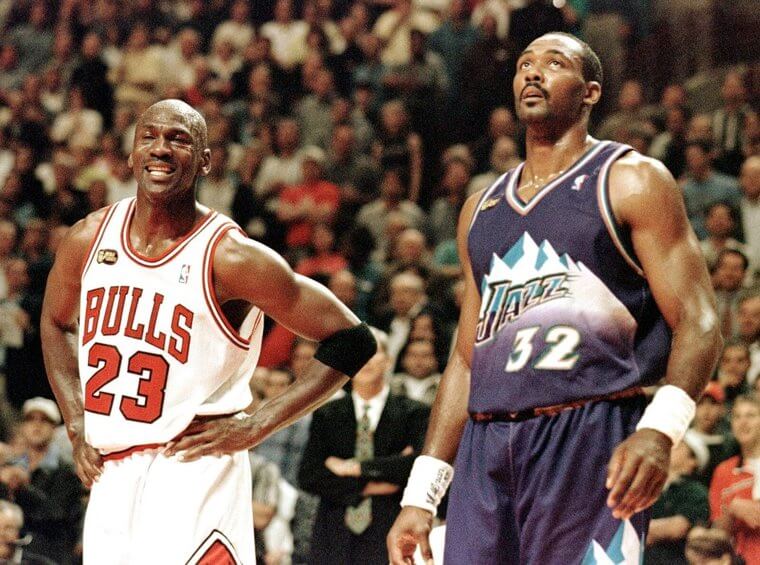 Basketball player, postal worker…and actor? Malone certainly tried his hand at it while in the midst of his basketball career. One unique performance came as a voice actor for the children's superhero series "Static Shock" where he and other NBA players voiced versions of themselves recruited to wear mech suits and protect the world from dire threats. As Malone, aka Pulverizer, says in the show "Who else has the right mix of strength and skill"? There's always been an obvious byline from basketball superstars to superheroes, and DC rolls out a fun version of it. Malone didn't stop there. He made one of the most curious appearances on this entire list, when in 1998 he played an INS agent in an episode of Nash Bridges. He shows up trying to arrest ballplayer Jose Canesco also appearing on the show. Malone basically is the butt of a variety of height-related jokes and delivers his lines as stiffly as can be. It's probably no surprise he didn't make many on-screen appearances after that.

Metta World Peace
One of the things that draws people into reality television shows is how the characters are outsized versions of their own personalities, following their most insane urges and peculiar whims in front of our watching eyes. The NBA world had a version of that in Ron Artest, who later changed his name to Metta World Peace, and years after his career to Metta Sandiford-Artest. World Peace was entirely unpredictable, a player who has a legitimate defensive weapon on the court but a complete wild card off of it. That made him a logical choice to be picked for a number of reality television shows, Dancing with the Stars to Celebrity Big Brother.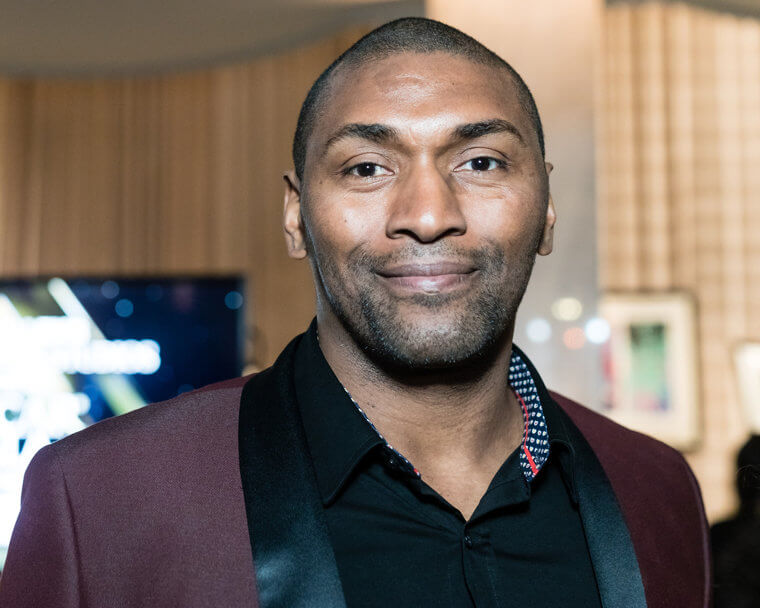 His particular brand of quirkiness also put him on the radar for Key & Peele, who nabbed him for a recurring role on their comedy show. He showed up as the one-man anchor for a news program called "Metta World News" where he appeared on screen and delivered a bizarre version of the news, which was basically how he would approach hypothetical situations of his own creation. Perhaps the most chuckle-inducing part of the sketch was how he signed off each segment, providing the date as some sort of unintelligible string of words following a month. He delivered it each time — delivered all of his ridiculous lines, in face — completely straight without cracking up. Anyone else up for more of this, in perpetuity?

Amar'e Stoudemire
Amar'e Stoudemire was the high-powered sidekick to Steve Nash for the "8 Seconds or Less" Phoenix Suns, averaging 21.4 points in eight seasons with the Suns. With Nash setting him up, Stoudemire was able to get the ball in advantageous situations, and he absolutely made the most of it. Off the court, Stoudemire proved he could be a star in his role as an actor as well, taking the set up from better comedic talents and helping create beautiful comedy in the process. Perhaps his most prominent role was in the 2015 film Trainwreck, where he and Bill Hader have some great back-and-forths.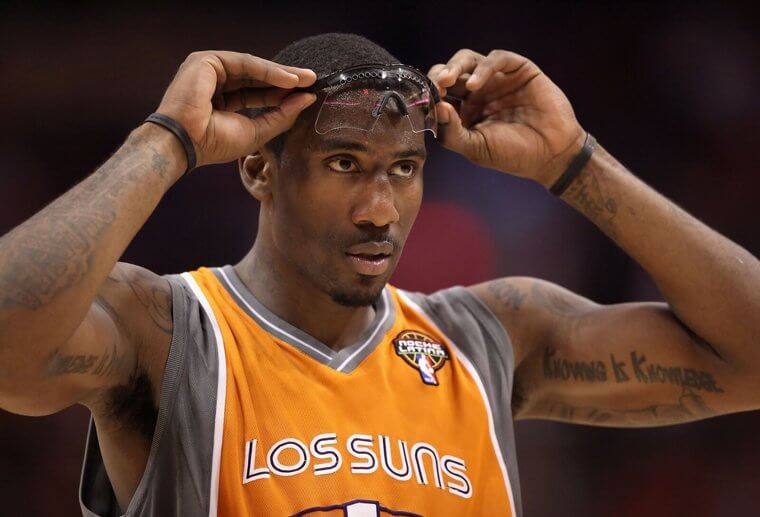 He also made some other appearances on a variety of sitcoms. He is the butt of some incredible jokes on "The Mindy Project" and his height is the subject of laughs on "The Exes" alongside 5'0″ Kelly Stables. He also has a memorable role in the Saturday Night Live film "MacGruber." Stoudemire might not be a leading man, but he can absolutely finish when set up, on the court or on the set.

Wilt Chamberlain
No one in NBA history has been able to match the records set by Wilt Chamberlain. The 7'1″ giant was an all-world athlete, and he was simply unstoppable on the court. He is the only player in league history to ever average at least 30 points and 20 rebounds in a single season, and he did it seven times! His record of 100 points in a single game will likely be never touched, as will his season average of 50 points per game. Perhaps unsurprisingly for such a talented person, no one is likely to ever match his iconic movie role either. After Arnold Schwarzenegger's Conan the Barbarian was a surprise hit, he returned to the role in 1984's Conan the Destroyer. Cast alongside him, as the giant warrior Bombaata? None other than Wilt Chamberlain.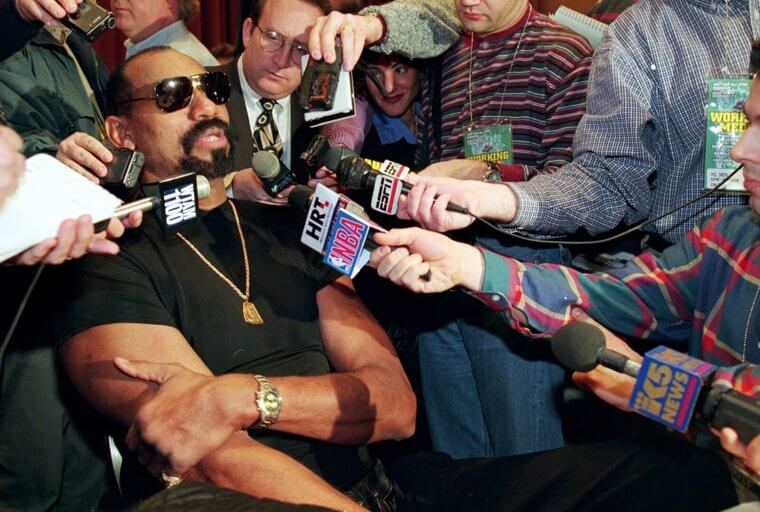 Chamberlain at times wields a giant sword, numerous knives and daggers, and even an absolutely massive ax. At one point he is fighting Conan, and he literally bites his ear off! The sheer insanity of a 7′ basketball player, one of the league's biggest retired stars, playing such an insane character in an insane Fantasy movie – it's incredible, and unlikely to be touched. Could you imagine Kevin Durant playing Legolas in Lord of the Rings? Or Stephen Curry as Tyrion Lannister in Game of Thrones? That's what we are talking about here. Chamberlain's performance as Bombaata may never be touched, but there are always candidates appearing on screen. From LeBron James in Space Jam, to Larry Johnson dunking in a dress, to Wilt Chamberlain wielding an axe, NBA players have made a number of memorable acting performances for us to enjoy.

40 Surprisingly Normal Jobs That NBA Stars Got Once They Left the Court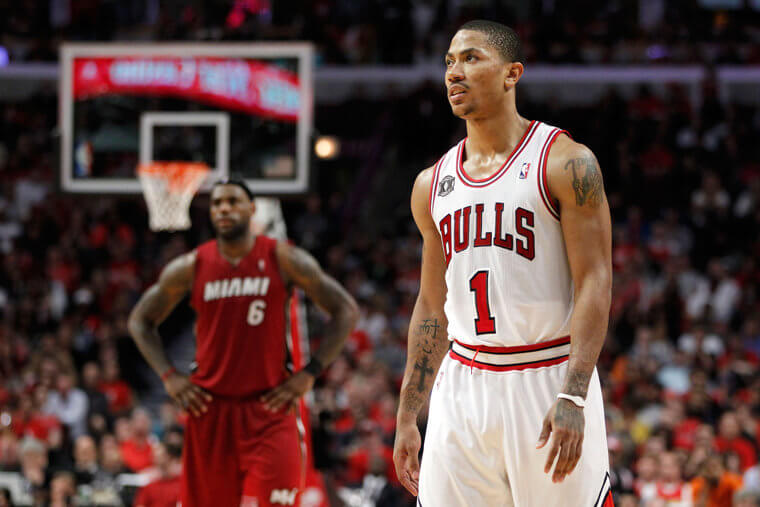 Playing in the NBA may be a dream career, but it's not always a long-term one. So, what do former players do next? While some stay in the sports world as commentators, team owners, broadcasters, or coaches, others took on surprising careers - from serving at McDonald's to making cupcakes and becoming professors. These ex-NBA stars remind us that they offer more than just their basketball skills.

Dan Dickau Became … a TV Host and Radio Broadcaster
Dan Dickau didn't have a long career in the NBA, but it was still eventful. During his basketball career, he played for eight teams, including the Portland Trail Blazers and Los Angeles Clippers. And after he retired, he decided to stay within the field of basketball - first as a player development assistant and then as a sports presenter -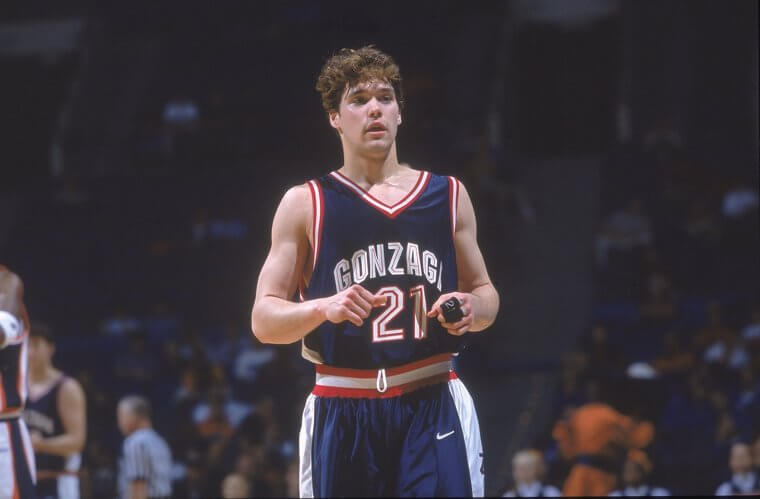 This makes sense, considering how well he did on the court. While presenting, he developed a successful career with ESPN and the CBS Sports Network and hosted the Disckau and Slim Show. Now that's how to turn a short basketball career - into a very long sports one! 

Greg Oden Became … a Sports Advisor
Greg Oden is another player who decided to stay within the field of basketball and use his expertise in his future career by becoming a Sports Adviser - returning to his university, Ohio State, to manage the men's basketball team.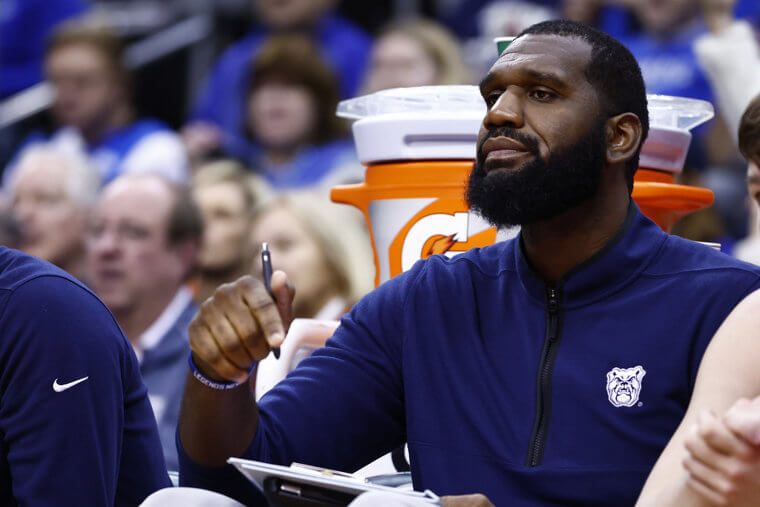 His own time as a player was cut short due to a spout of injuries that forced him to leave the Portland Trail Blazers and end his basketball career with two short runs with the Miami Heat and Jiangsu Dragons. Managing suited him far better, so he decided to get a sports degree and eventually become a sports advisor for Edyoucore Sports & Entertainment. 

Adrian Dantley Became … a School Crossing Guard
While some of the players on the list made entirely predictable and logical steps from the court - to say, training or commentating - Adrian Dantley decided to go a different route and become a… school crossing guard. Dantley had one of the most successful NBA careers of all time -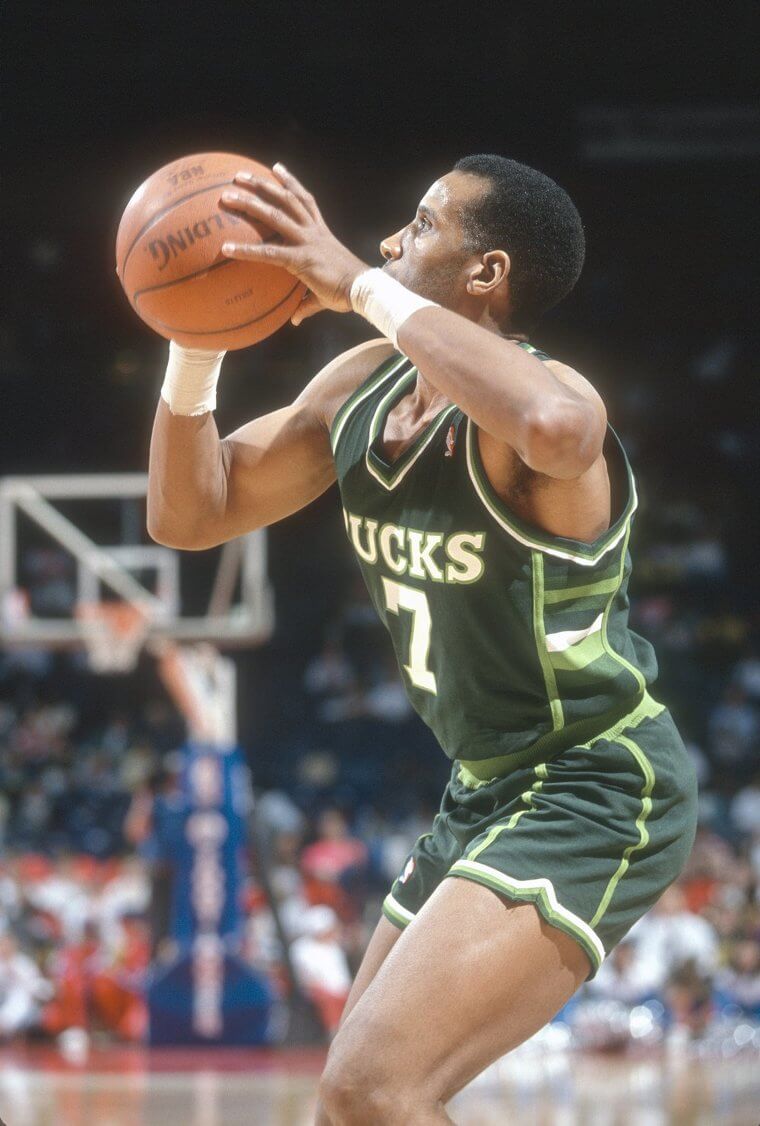 Playing for 15 seasons, becoming a six-time NBA All-Star, receiving an Olympic gold medal, and even being inducted into the Naismith Memorial Basketball Hall of Fame. So, why the change? Well, the retired star enjoys the medical benefits and working with children. And he still gets to flex his basketball muscles once in a while by refereeing the local high school team games… now that's one lucky team. 

Detlef Schrempf Became … a Business Development Officer
Sometimes it's hard to imagine that NBA stars had a life before the court, but some of them, such as Scherempf, had other paths carved out for them before they joined the basketball world. Scherempf obtained a degree in International Business before switching careers.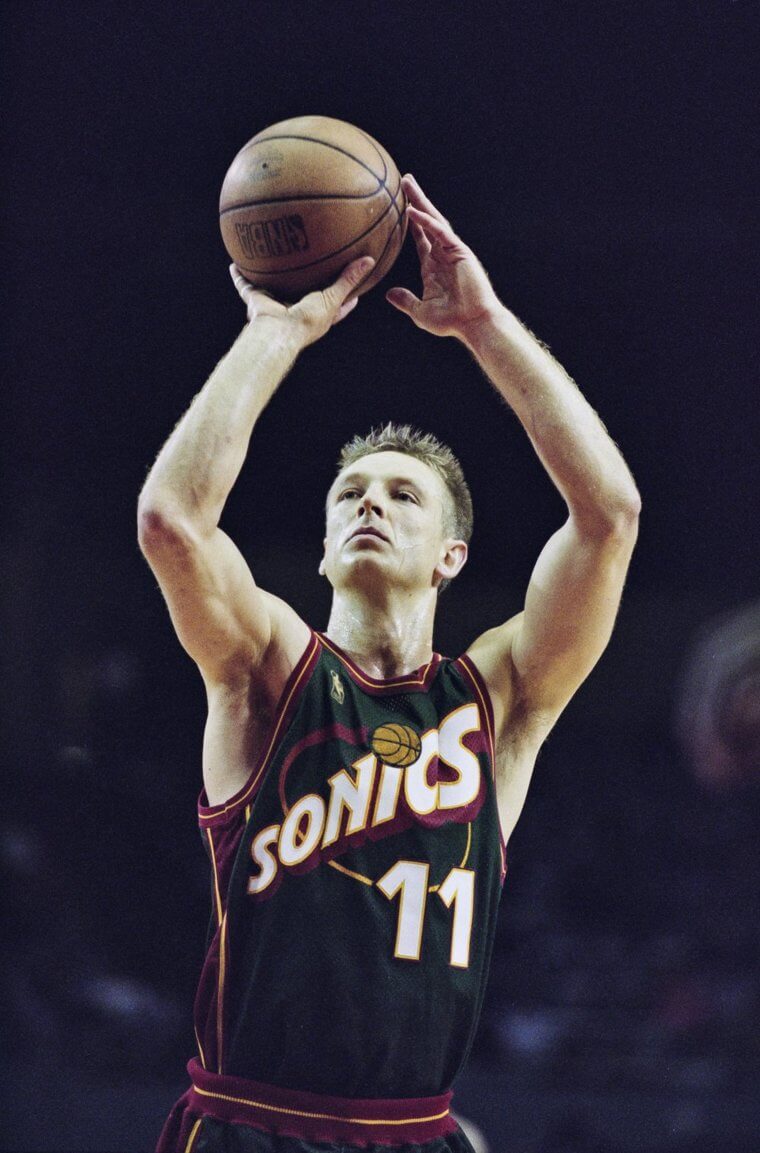 And so, after he completed his 16-year NBA career playing with the Dallas Mavericks, Indiana Pacers, Seattle SuperSonics, and Portland Trail Blazers - he decided to return to his studies and become a business development officer with the wealth management firm Coldstream Capital. Before getting too serious, though, he did make an appearance in a few episodes of Parks and Recreation that we recommend you check out. 

Brandon Roy Became … a High School Basketball Coach
Some of these stars go on to work with international league teams… while others stick with their local high schools - and Brandon Roy is one of them. Brandon had an up-and-coming NBA career, but a knee injury forced him to leave the Trail Blazers and Minnesota Timberwolves and rethink his career.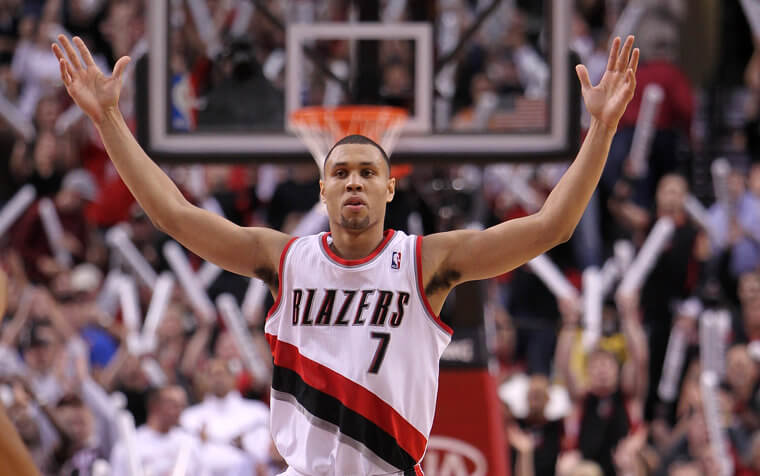 So he decided to coach the boy's basketball teams at Nathan Hale High School and Garfield High School in Seattle - but don't think this was little league stuff as it turns out that Roy was so good he won the Naismith National Award for High School Coach of the Year. We wonder how many NBA stars will come out of those schools.

Scottie Pippen Became … a Farmer and Writer
Scottie Pippen tried his hand at quite a few things after leaving the court - one of the first being writing a memoir about his time with the NBA called Unguarded, published in 2021. In it, he recounts how his career stalled after leaving his successful six-championship stint with the Chicago Bulls - and never quite recovered with the Houston Rockets or Portland Trail Blazers.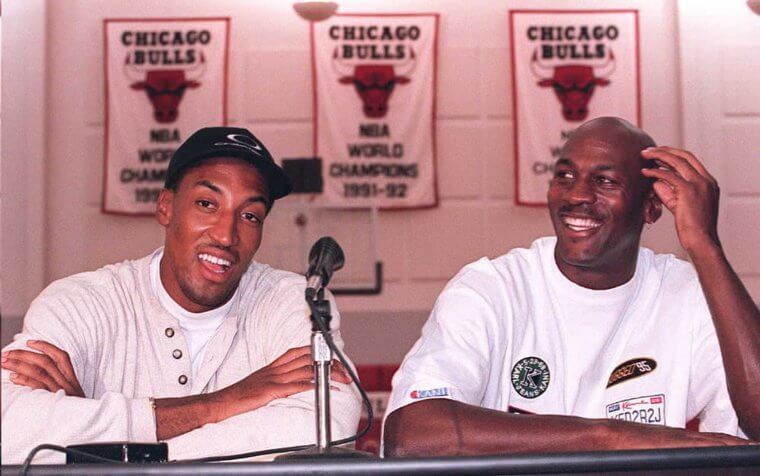 As well as writing, he established his own bourbon brand called The Digits and - more surprisingly - bought a livestock farm in Arkansas. Who needs the court when you have a field, eh?

Charlie Ward Became … a School Basketball Coach and TV Presenter
Basketball wasn't Charlie Ward's first or last career. He found success as a quarterback at college, but after failing to be drafted, he switched to basketball, where he made his mark with the New York Knicks.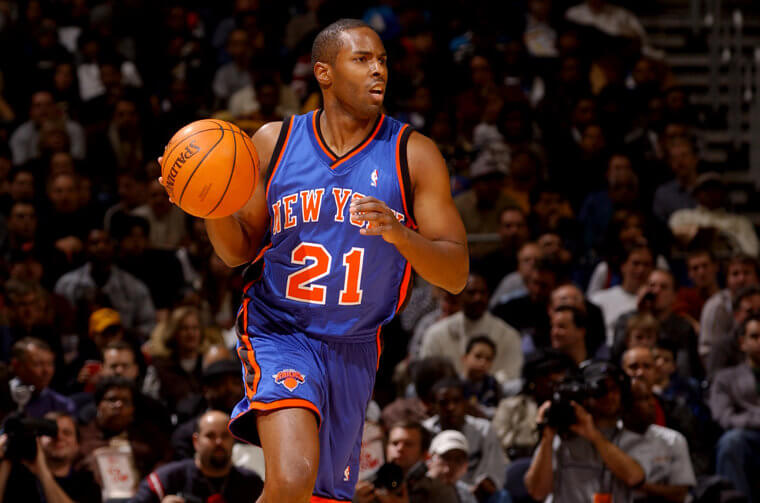 He was happy to start coaching  once he retired and became the Head Coach at Booker T. Washington High School in Pensacola, Florida - which happened to be his son's school (we bet he was picked every time!). Realizing that he had a coaching talent, he then went on to become the Head Coach for Florida State University School's Boy's Basketball Team. He still craved a little limelight, though - so he decided to host a show called Chalk Talk with Charlie Ward on the side. 

Karl "The Mailman" Malone Became … a Trucker, Hunter, and Business Owner
Karl "The Mailman" Malone got his nickname because he never failed to deliver as one of the best forwards in his 18 NBA season history - most of which was spent with the Utah Jazz gaining 14 NBA all-star titles. He decided to have a real career change when he retired,-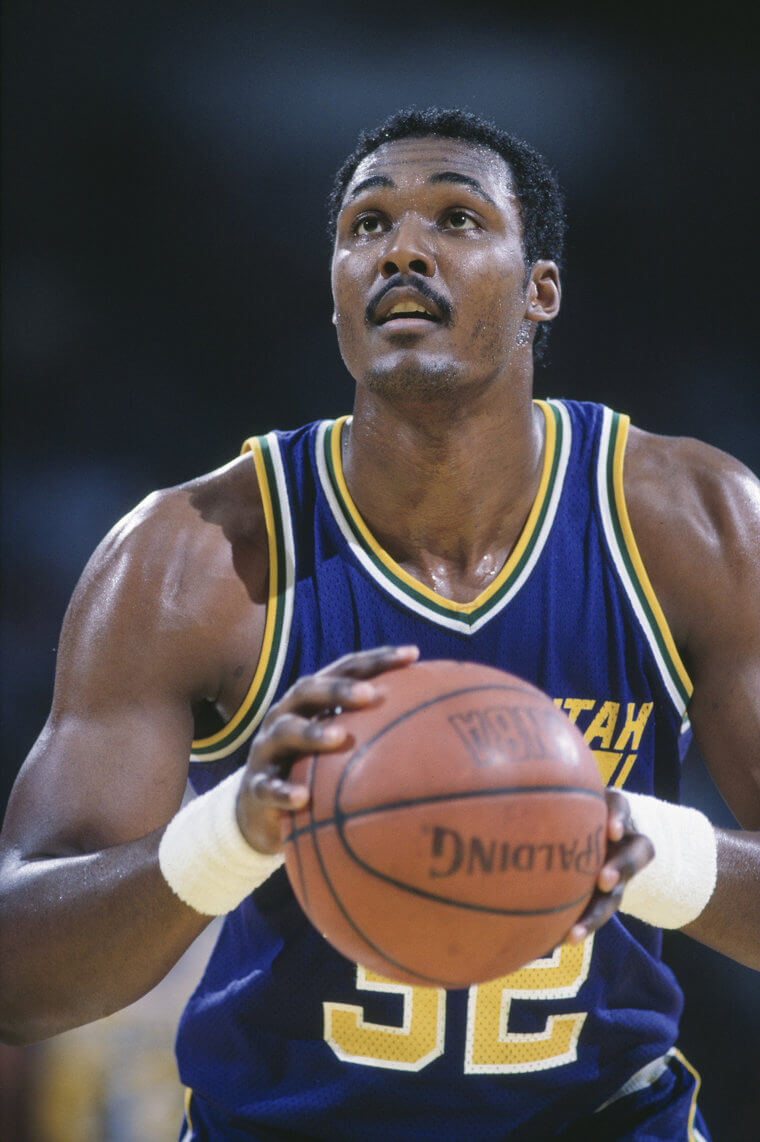 And become a trucker while also spending time indulging his passion for hunting. He was no fool, though, and very wisely invested his earnings into various businesses, including a cattle ranch, teriyaki grill, and cigar and vape shop - making him a very successful businessman indeed. 

Shawn Kemp Became … an Investor in a Cannabis Dispensary
Cannabis wasn't Shawn's first go-to after retiring from his 14-year NBA career - but it's probably the one that stands out the most! He was incredibly successful with the Seattle SuperSonics, Cleveland Cavaliers, Portland Trail Blazers, and Orlando Magic - and even became a six-time NBA All-Star.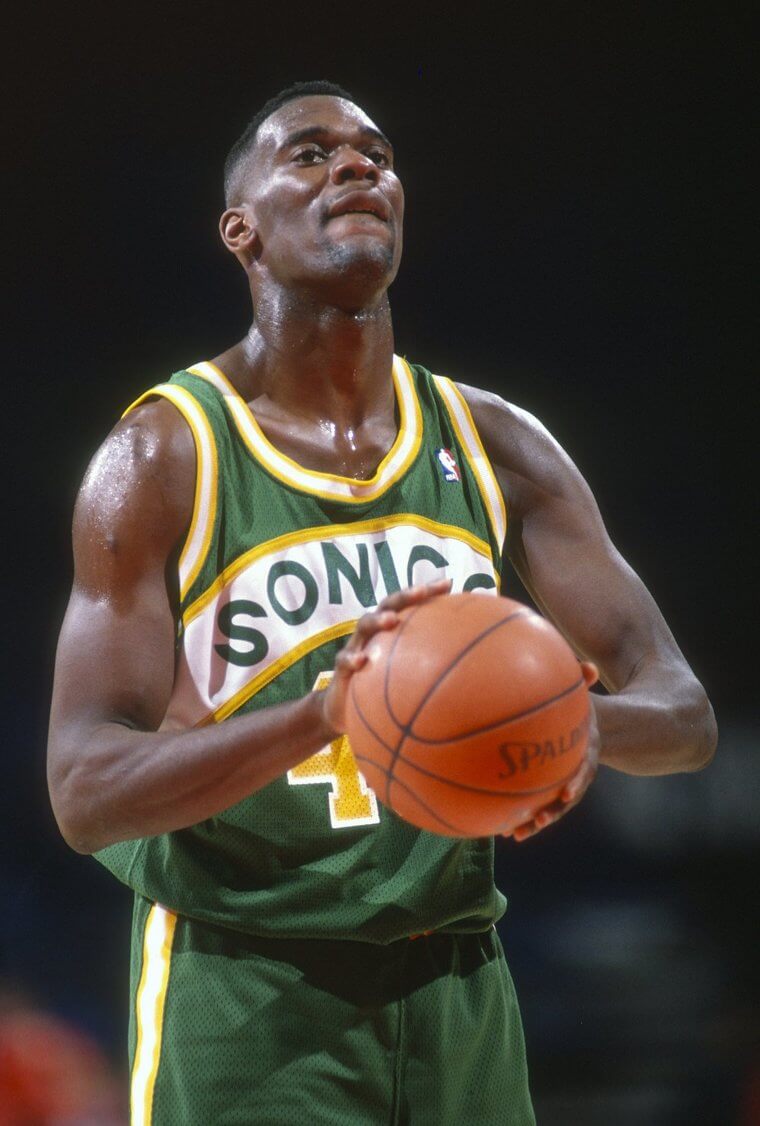 But unfortunately, he didn't know when to stop and was unsuccessful when he tried to make a comeback. As a result, he instead opened a sports bar and then a restaurant that he still co-owns called Amber's Kitchen. He also decided to invest in some Seattle businesses - including Kemps Cannabis distillery. We're not sure that the NBA would approve of that!

Darko Milicic Became … an Apple Farmer
Let's be honest... Darko Milicic didn't exactly have the best NBA career. The Detroit Pistons had high hopes when they drafted him in 2003, but he never quite met their expectations and, after a short spell with the Boston Celtics, eventually retired. He then decided to try his hand at another sport instead and got into kickboxing -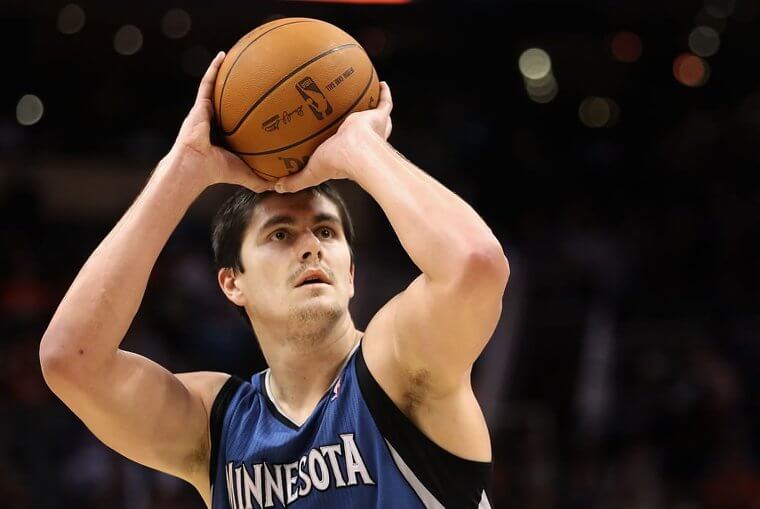 Which was, unfortunately, even less successful. This story has a happy ending, though - after returning to his home country of Serbia, he decided to buy a 123-acre apple orchard which he still runs incredibly successfully and is expanding soon! So he did eventually find his (farmer) feet. 

LaRue Martin Became … a Community Services Manager
It's not that much of a surprise that LaRue Martin decided to pick a complete change of career after retiring from basketball - as he has gone down as one of the worst first picks in NBA draft history after a pretty bad run with the Portland Trail Blazers.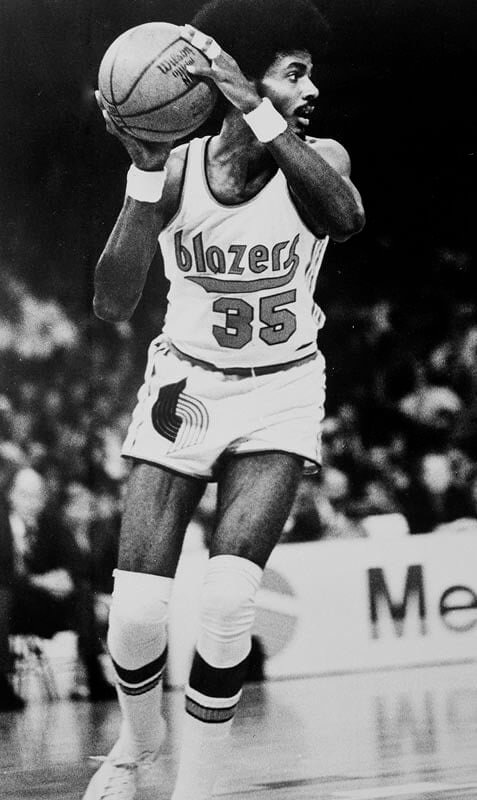 He, therefore, decided to retire after just four years with the NBA and went on to much more successful things in the capacity of Community Services Manager with UPS. Being a retired basketballer, he also sits on the National Basketball Retired Players Board of Directors - to make sure ex-NBA stars like him are doing all right. 

Chris Anderson Became … a Big 3 League Player
Chirs Anderson is one of the only NBA stars on our list who actually continued playing professional basketball after retiring from the league - and that's quite a surprise considering the career he had. During his run, he made more headlines for his bold tattoos and a two-year ban from the court than he did for his actual playing.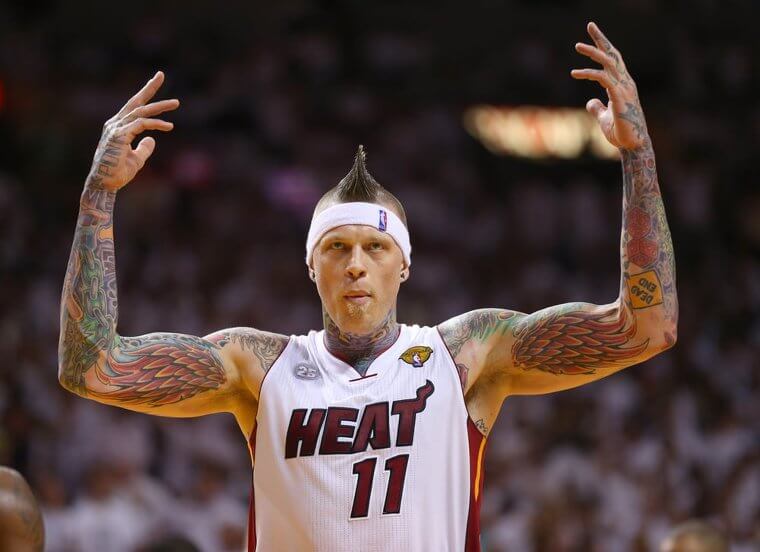 After violating the strict anti-drug policy of the league, he made a short comeback before transferring to the BIG 3 League, where he had great success and even won the championship in his first year. He's still there today (you can still catch him playing for team Power), so it seems like a good fit for the Birdman. 

Oscar "Big O" Robertson Became … a Philanthropist
Oscar Robertson probably wins the title for one of the best switches after the NBA. He was very successful during his run back in the '60s and '70s - and after 14 years with the Cincinnati Royals and Milwaukee Bucks, and 12 all-star wins, he made his way into the Basketball Hall of Fame.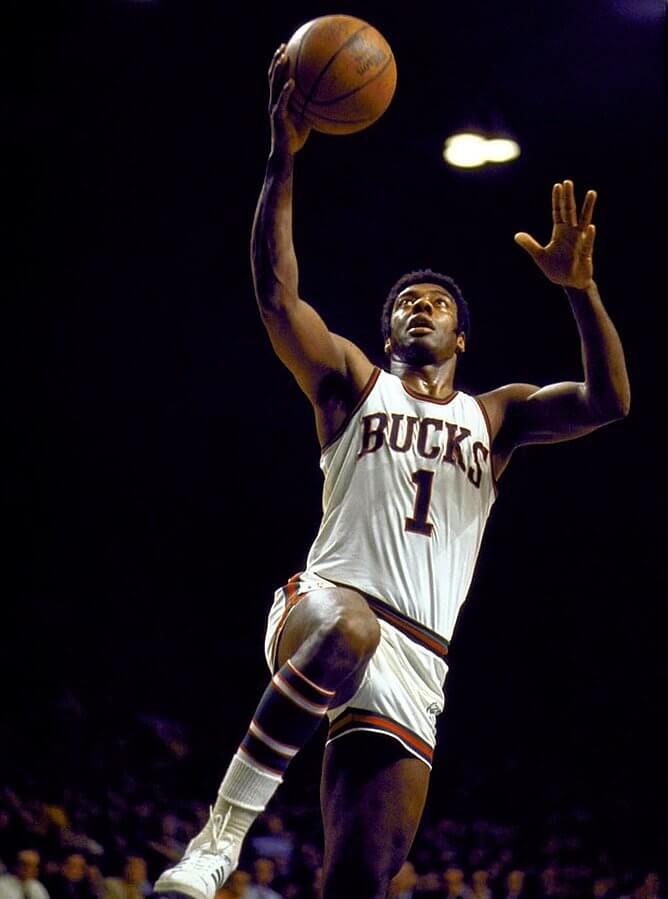 After retiring, he decided to use his social position to do some good and became an affordable housing advocate for African-Americans in Indianapolis. This led to him serving as a director for Countrywide Financial Corporation and receiving an Honorary Doctorate of Humane Letters from the University of Cincinnati for his excellent philanthropic and entrepreneurial work.

Vin Baker Became … a Starbucks Manager and Assistant Coach
Vin Baker, unfortunately, did not initially do very well after leaving the NBA. Leaving such a colossal league can't be easy; Vin is an example. He had 13 great years with the Milwaukee Bucks, Boston Celtics, and the New York Knicks - but struggled after he retired in 2006.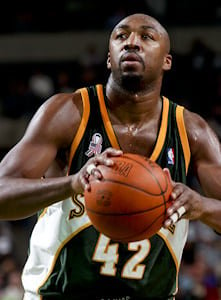 He battled depression and alcoholism and ended up losing over $100 million. As a result, he began working at Starbucks and managed to turn his life around. He is now an Assistant Coach for the Bucks and doing well in life - well-done Vin!

Tim Duncan Became … an Auto Shop Owner, Basketball Coach, and Charity Runner
Tim '"The Big Fundamental" Duncan spent just short of 20 years in the NBA with the San Antonio Spurs and is, of course, in the Basketball Hall of Fame. So what does one do after spending so long in such a successful team? Well, go on to coach them, of course!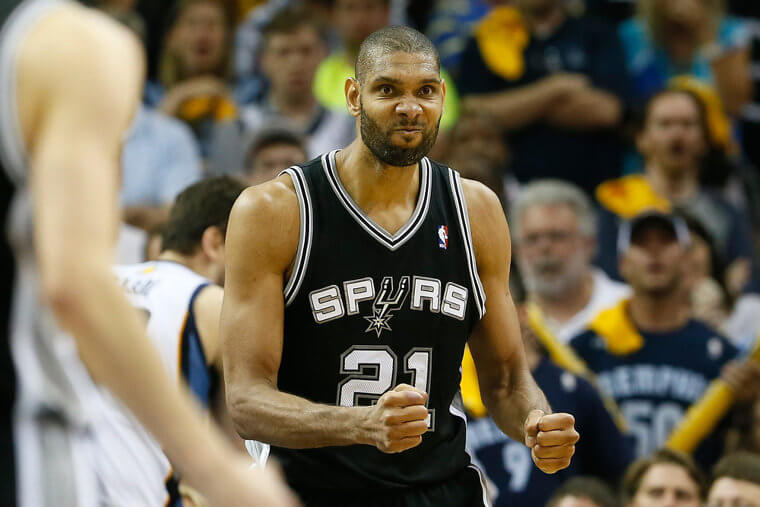 He rejoined the Spurs as an Assistant Coach during the 2019-20 season and was right at home. He has also had some ventures off of the court too, though - and ran an auto body shop called Blackjack Speed and a charity called the Tim Duncan foundation - and the two came together during Hurricane Harvey when the foundation funded Blackjack to organize supplies for the victims. Good work, Tim!

Michael "Sugar" Ray Richardson Became … a Youth Camp Teacher
This one might come as a bit of a surprise considering that Michael Ray Richardson famously received a lifelong ban from the NBA for violating their drug policy - which doesn't precisely scream youth camp teacher. But he turned things around and was even asked back to the NBA, but he decided against it and played in Europe instead.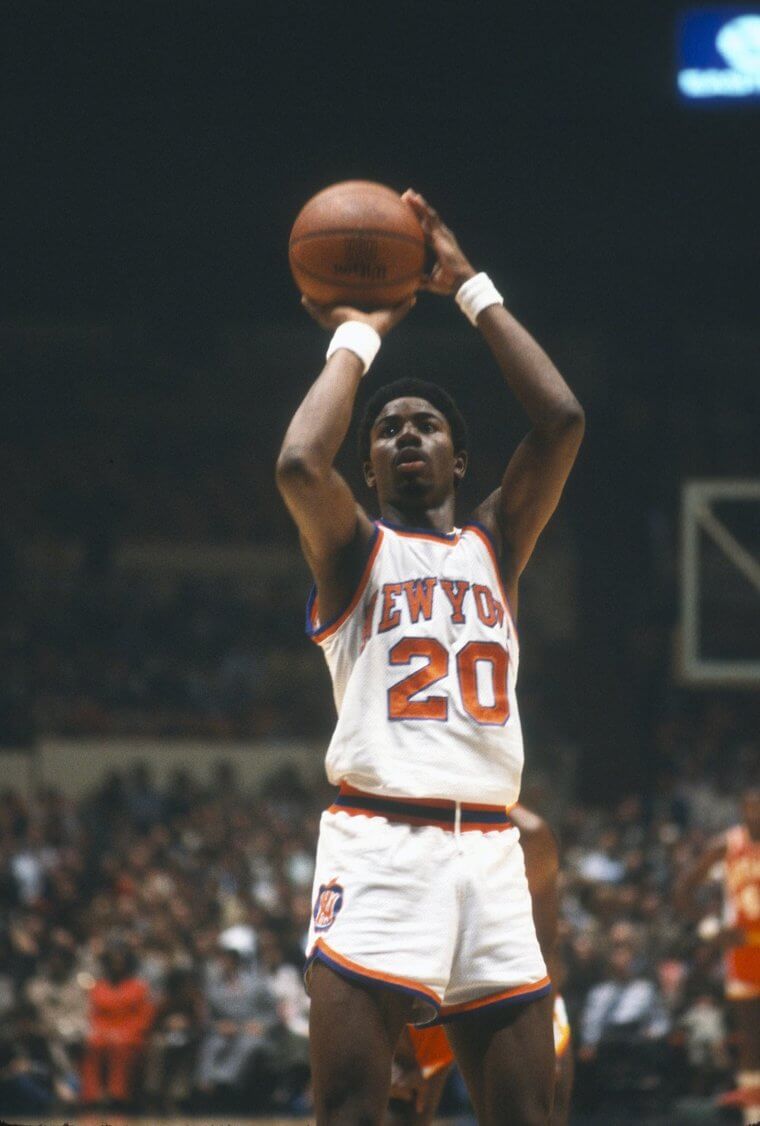 He then worked at a financial firm and even ran a beauty salon with his wife before finding his path helping the youth as a camp coach and teacher - working at basketing ball clinics with his old teammate Otis Birdsong. Talk about a dynamic duo. 

Derrick Coleman Became … a Charitable Water Supplier
Derrick Coleman's another ex-NBA player who turned to good deeds once he left the court. And he's also another one who struggled with not being able to meet the very high expectations put on him when he was first drafted by the New Jersey Jets. Still, he managed to scrimp out a 15-year career, moving to the Sixers, Hornets, and Pistons.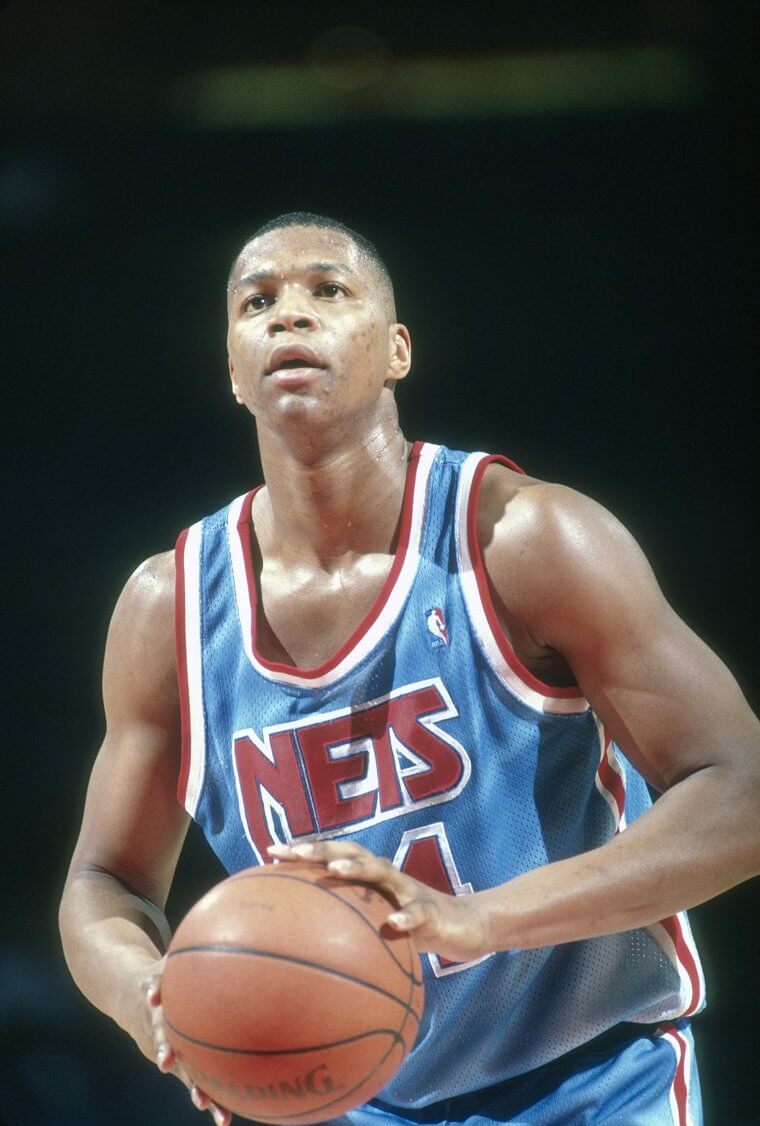 After retiring, he made his mark by helping his community in Flint, Michigan. After a massive water crisis hit it, he drove for around 65 miles a day, delivering clean bottled water and other essentials to those affected in the town. A local hero! 

Steve Francis Became … an Entrepreneur
Starting as the 'Co-NBA Rookie of the Year, Francis went on to play for many teams, including the Houston Rockets, Orlando Magic, and New York Knicks. After retiring, he was a bit of a rookie in the non-basketball world too, and set up many failed businesses that led him into some legal difficulties.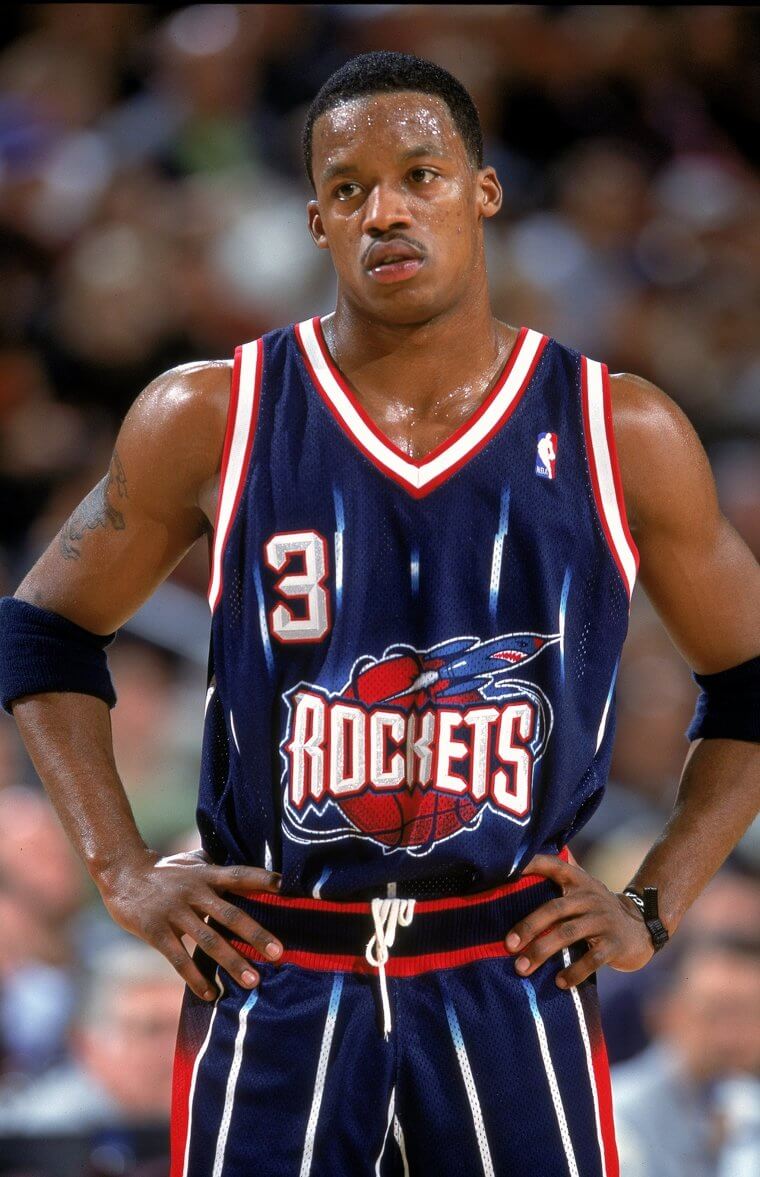 These included Maserati Music, a hip-hop label, and We r One, a clothing brand. He didn't give up though and went on to run a successful construction company, boxing promotions business, and barbershop. It could be fun chatting about the NBA while getting your hair cut! 

Latrell Sprewell Became … a Travel Agency Pitchman
Laterell's life following the NBA was just as controversial off the court as it was on. His time with the league is mainly remembered by his choking and punching a coach during a practice in 1997. He then waited out his 68-game suspension - only to retire and return to more controversy.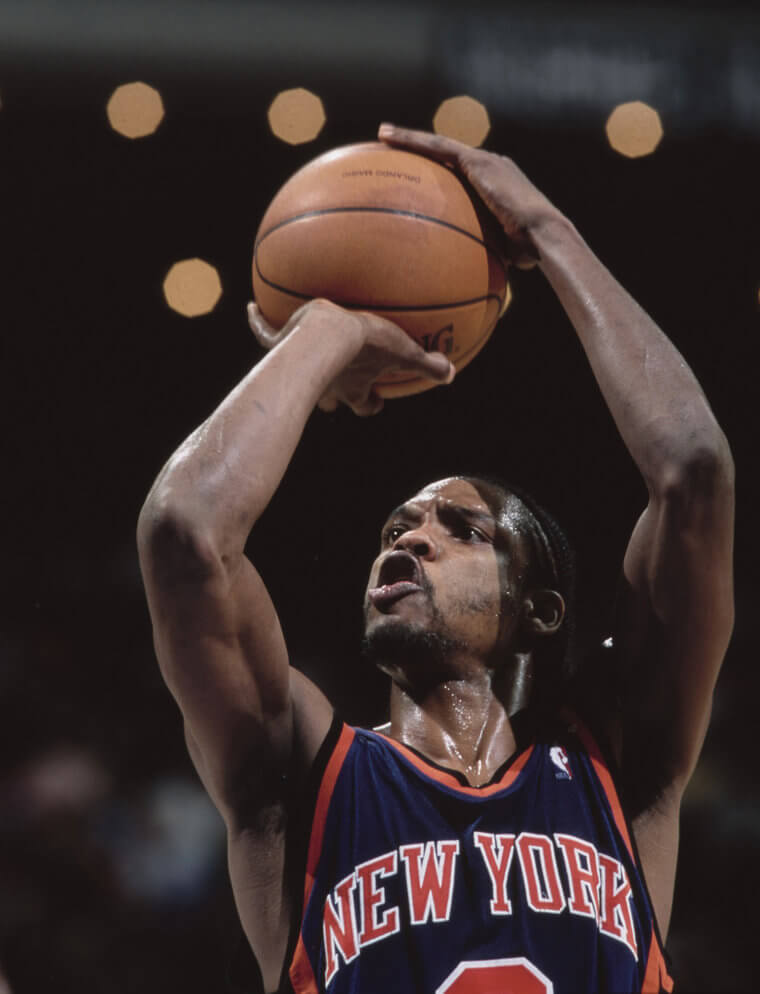 He crashed his yacht, was sued hundreds of millions by his ex-girlfriend and faced a whole host of legal issues that forced him to take a very different type of job - pitching sales at the travel company Priceline, with his fortune down to around $50K. A bit of advice - if he offers you a holiday, take it or face the consequences… 

Wilt Chamberlain Became … Too Many Things to List!
Despite retiring in 1973, Wil't The Big Dipper' Chamberlain still holds many world NBA records. Sadly he passed away in 1999 - but boy, did he make the most of his 16 years post-retirement and tried his hand at absolutely everything. He first delved into a new sport and became a volleyball player -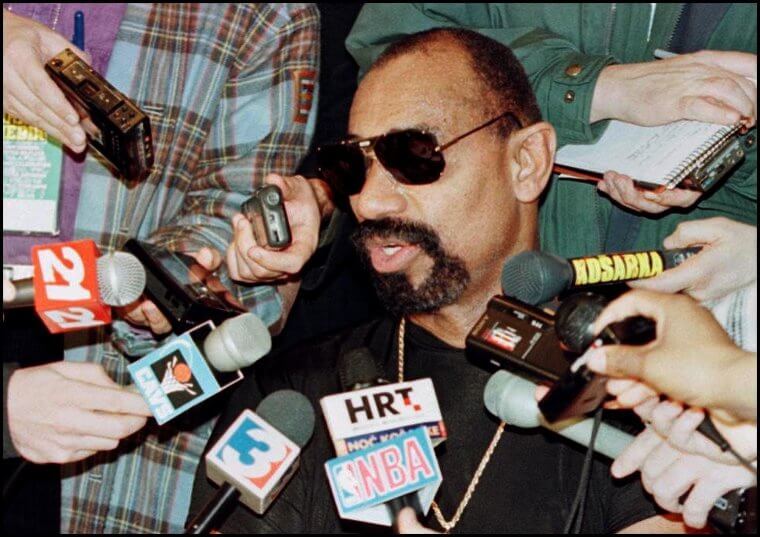 And then went into the world of business and ran several nightclubs and a production company. He also invested in stocks and real estate - and of course, appeared in a plethora of movies. A true legend.