Flashback scenes and origin stories can be tricky to cast. As well as finding someone that looks the (very specific) part, they must also be able to perform it. That's where nepotism meets narcissism and family members are often brought in. Not every relative is going to do you proud though, and many have risked saying no to a professional actor, just to help out someone with the same surname as them. Let's see if these trade-offs were worth it.
Mamie Gummer
In 2007's ensemble drama movie Evening, Meryl Streep played the present-day version of Lila Wittenborn. The film tells the story of two sisters at their mother's deathbed, and it jumps back to the 1950s often as the mother reflects on her past. As you may have guessed, the younger version of Streep's character was played by her daughter, Mamie Gummer.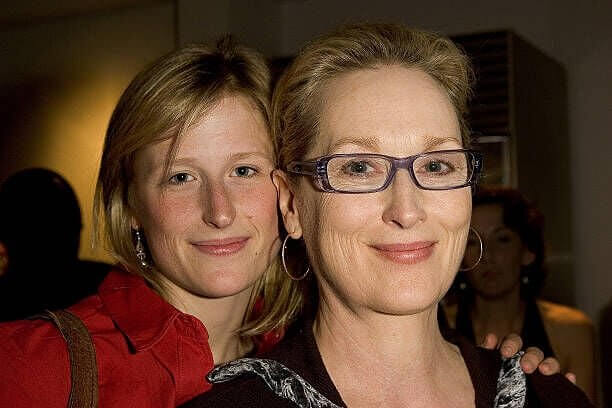 Mamie spoke about working with her mother in an interview, "I am among four other people on the planet that would not be actually intimidated by my mom, the others being the other people that I'm related to. It was a really wonderful experience. Honestly it was, it was really profound and one that I will treasure." Mamie and Meryl put on the mother-daughter double-act once again in 2015's Ricki and the Flash.
Alice Richmond
Creator of the American satirical sitcom 30 Rock, Tina Fey is no stranger to silly and surreal moments in television. After all, she did make a sitcom about making a sitcom. When Fey needed an actress to play a younger version of herself in a flashback during the 2012 episode "Mazel Tov, Dummies," who better to use than her own seven-year-old daughter, Alice Richmond?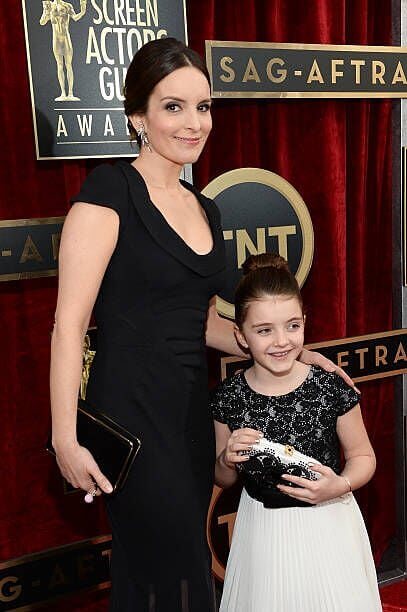 The younger version of Liz Lemon was seen rolling her eyes at a wedding, mirroring one of adult Liz's go-to reactions. It seems she wasn't just finding work for her child, as Fey said her daughter is the "funniest person in my family" and that she's responsible for the show's famous line "I want to go to there."
Melissa Rivers
Joy is an American biographical comedy-drama film that was written and directed by David O. Russell. Released in 2015, the movie stars Jennifer Lawrence as Joy Mangano, a DIY millionaire with her own business empire, and the focus of the picture. Joy's story traveled through Joan River's QVC show, but Joan sadly passed away in 2013. That's when her daughter, Mellisa was contacted.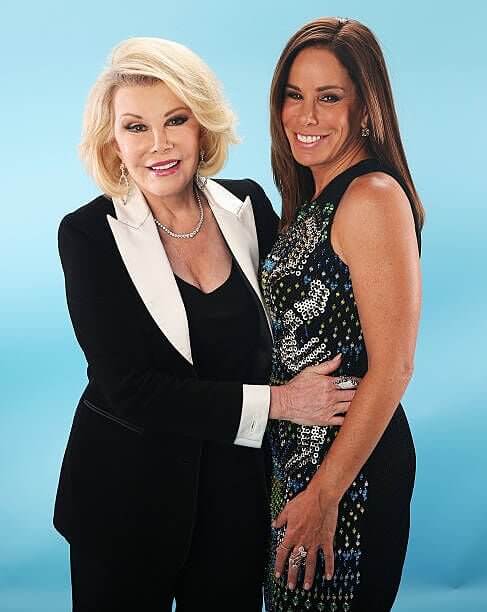 Melissa told People, "It was David's idea. I literally one day got a call saying David O. Russell would like to meet you. Huh? What?" I thought, 'Seriously when am I ever going to get to work with Bradley Cooper, Jennifer Lawrence and David O. Russell?' I was like, 'Okay, I'm in.' I think I was more freaked out in the hair and makeup tests than I was once I got on set. It was bizarre. I stopped looking in a mirror."

Sosie Bacon
Kevin Bacon and his wife Kyra Sedgwick vowed never to make their children perform in any of their projects, but they broke that rule when Bacon made his directorial debut in 2005's Loverboy. Not one, but both of their kids appeared in the film about a possessive mother, and Sosie played a 10-year-old version of her mother's character.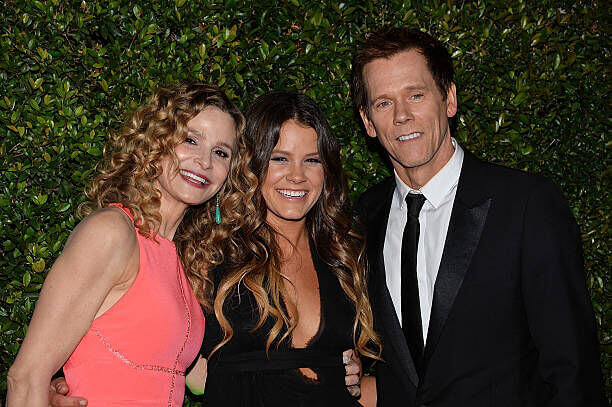 Kevin said in 2006, "Directing the kids, it was a little bit different. It's weird to have your kids go to a darker, emotional place. It's something we vowed we would never do. They never showed any interest in it anyway. This is just a situation where for the part that Sosie [Bacon] played was kind of a no-brainer. I put on my director's hat. The director overruled the father." Despite the apparent lack of interest, Sosie went on to be in Stranger Things and The Mare of Easttown.

Michael Joseph Consuelos
Mark Consuelos plays Hiram Lodge in the American supernatural crime drama Riverdale. Based on characters from Archie Comics, Riverdale was reimagined as a TV series in 2017 and Consuelos had a pretty big role between the second and sixth seasons. During the third season, however, the audience got the chance to see how Hiram used to be, and that's when Mark's son, Michael came into the equation.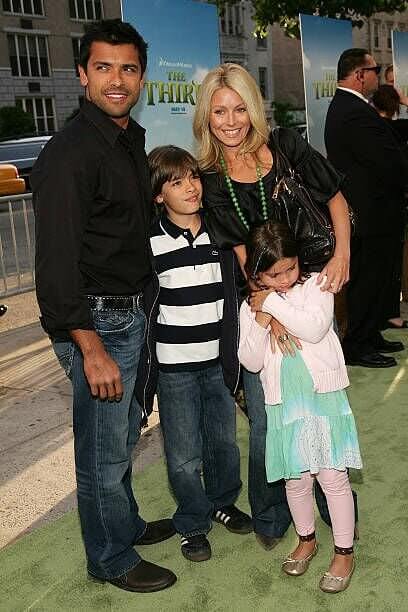 Michael admitted he'd asked his father for some guidance, saying, "He told me, what's important right now is that Hiram the character is very different as a kid as he is as an adult; he's not going to be like me. So make it your own thing. You see what kind of guy [Hiram] was, and it makes the eventual person he becomes all the more tragic - and a bit poetic, I think."

Michael Gandolfini
When The Many Saints of Newark, the 2021 prequel movie to the TV show The Sopranos, needed a younger version of James Gandolfini's Tony Soprano, James' son Michael was selected. Michael explained, "I was just a kid when he was making it. I would go to the set and ask him what it was about, and he'd say, 'Oh, it's about this guy who's in the mob and kind of goes to therapy.'"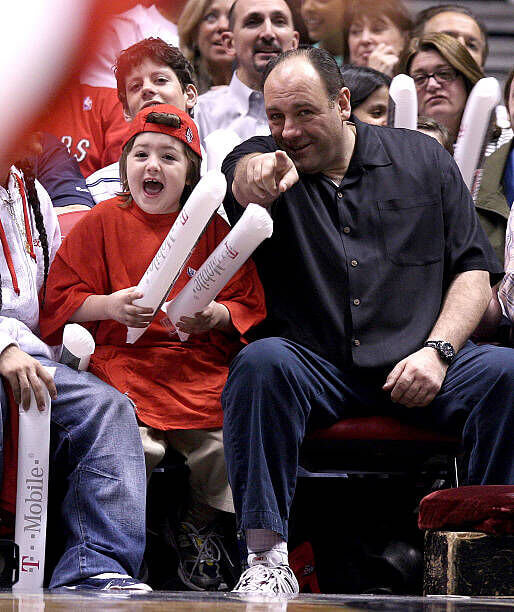 Michael continued, "It was an intense process. Because, as an actor, I had to watch this guy who created the role, to look for mannerisms, voice, all those things I would have to echo. But then I'd also be seeing my father. I think what made it so hard was I had to do it alone. I was just sitting alone in my dark apartment, watching my dad all the time."

O'Shea Jackson Jr.
Ice Cube's son, O'Shea Jackson Jr. was given the opportunity to portray his dad in 2015's Straight Outta Compton. O'Shea knocked it out of the park, as Ice Cube expected, "I've seen him rap my songs before onstage with me. So to see him do this on the big screen, it was great. I wasn't surprised that he was so good, because I knew how good he was."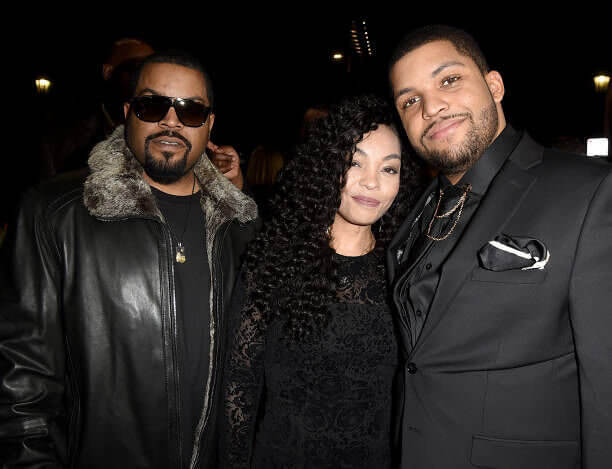 O'Shea said on the experience of wearing his father's shoes, "He would call me every day to ask how I was feeling and let me know where his head was during that scene in real life. That helped me to add to it and make it real. But my whole process with this film is Gary Gray (the director) taking the time and the technique to mold me into something nice."

Christopher Wallace Jr.
When the Notorious B.I.G. was murdered in 1997, his son, Christopher Wallace Jr. was five months old. Fast forward to 2009, and Christopher Jr. was called up to play a younger version of his father in Notorious. Despite Jamal Woolard being cast as the lead and portraying Biggie for the majority, Wallace Jr. took charge of his dad's teenage years.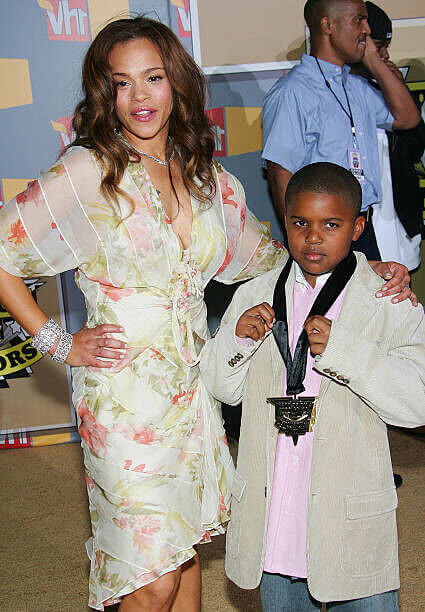 Wallace Jr. admitted, "It was nerve-wracking. I was really scared. Playing your dad as a kid is scary when you've never had a conversation with your dad. Of course, my grandparents and my mom are always telling me, 'You look just like him, you act just like him, you do all the same things,' so it only made sense for me to play him. I was up for the challenge." Wallace went on to act in other movies and TV shows from this point.

Dwayne "The Rock" Johnson
Before Dwayne Johnson became one of the biggest Hollywood stars in history, he was a highly successful professional wrestler for WWE, and he was looking for jobs to help him break into the main event of show business. Although far from the first wrestler to make it into mainstream entertainment, The Rock's crossover story is unparalleled in success.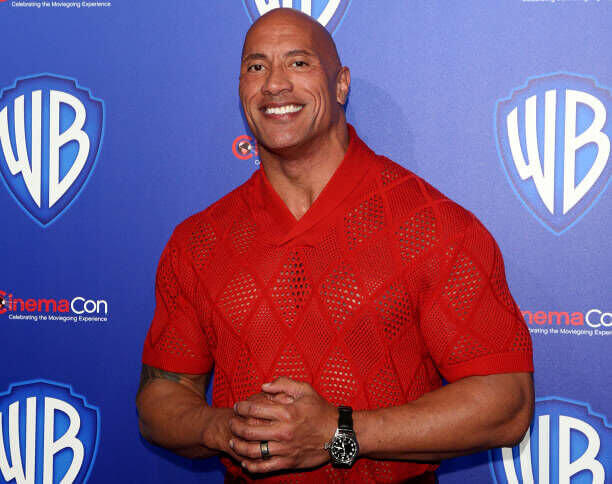 One of his first steps onto the ladder was in 1999 during a first-season episode of That '70s Show. The Rock's role on the show was pretty straightforward, he just had to pretend to be his dad, fellow wrestler Rocky Johnson. In the show, Red, played by Kurtwood Smith, and Eric, portrayed by Topher Grace, meet Johnson at a wrestling event. They're told by Johnson, played by Dwayne, that his son (the future Rock/himself) would become "the most electrifying man in sports entertainment." Confusing, but very amusing.

Max Winkler
After Henry Winkler became a household name portraying The Fonz in Happy Days, he stepped behind the camera and started producing and directing on a regular basis. Henry's son Max would grow up to be just like his dad, becoming a successful director and screenwriter in his own right. As well as giving his son a tiny role in 1993's Cop and a Half, which Henry directed, Max was asked to perform on-screen for the sake of his father in 2013.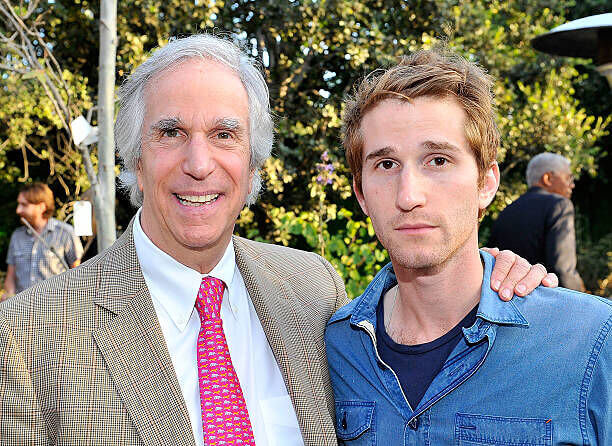 Max obliged and he played a younger version of Barry Zuckerkorn, Henry's character in Arrested Development. It wasn't a long period of employment, as Max was only needed for three episodes in the show's fourth season, but he did a great job and returned to writing, producing, and directing other TV shows and films.

DeVaughn Nixon
Devaughn Nixon had already acted in numerous films and TV shows before being given the chance to portray his father, former professional basketball player Norm Nixon on film. In 2022, Winning Time: The Rise of the Lakers Dynasty began airing on HBO, and Devaughn acted like his old man to tell the story of the 1980s LA Lakers team under Jerry Buss.

Nixie told IndieWire over a Zoom call, "[There were] secret recordings when I'm talking to him, [and I] put my phone in my pocket asking him some things I didn't know. But really what it was, was the physical aspects. I had to cut weight, get down at his weight, mimic his style of play. I had an ugly shot when I first started training. Our trainer, Idan Ravin, actually helped me craft my shot and mimic my dad's shot."

Shia LaBeouf
Writing 2019's Honey Boy was originally a therapeutic escape for Shia LaBeouf while he was in rehab. The semi-autobiographical drama came about when he was asked to write down memories from his childhood. He did so in script format, and he even cast himself as his own father.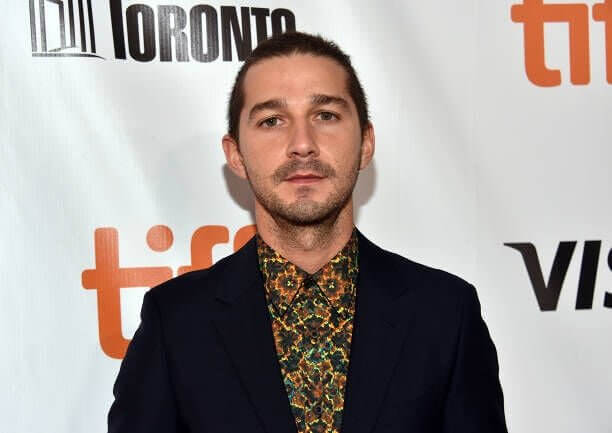 Director Alma Har'el commented, "What was very clear from the script was the relationship between father and son: the exploring and competition between them; the expectation of masculinity; the frustration and the shame of the father as well as the love and the need for approval from the child and the position he found himself in, needing to actually pay his father for chaperoning him. All of that, combined with my own inclination for this topic - because I too am a child of an alcoholic - made for perfectly ripe material for me to want to dive into."

Zoe Perry
Here's a double feature involving Zoe Perry playing a younger version of her mother, Laurie Metcalf's characters. First off was in a 1992 episode of Roseanne. Metcalf played Jackie Harris, Roseanne's sister, and Perry was brought in to stand in as a younger version of her character briefly. Later in life, Perry played a younger version of Mary Cooper in the prequel spin-off series Young Sheldon. The original incarnation of Mary Cooper can be found in The Big Bang Theory, which was portrayed by Metcalf.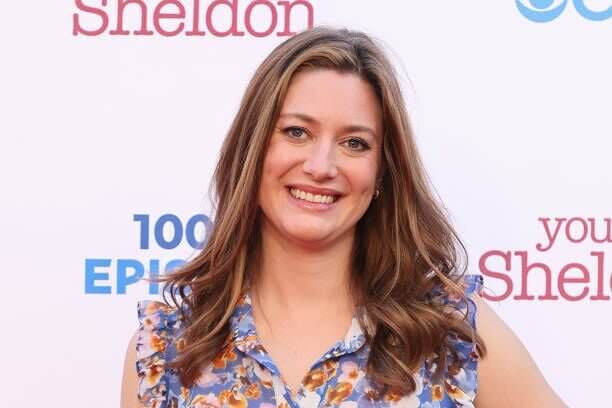 Perry said about her mother's methods, "She's too good and empathetic an actor to give another actor any notes! She's been really supportive through the whole thing, and I feel lucky that I get to share this with her in that way. At the end of the day, she's a parent and she's happy to see that her kids are okay."

Ever Gabo Anderson
Daughter of actress Milla Jovovich and director Paul W. S. Anderson, Ever Gabo Anderson first got into the acting business when she was seven years old. Milla and Paul hooked up after starting the Resident Evil film franchise, and they said goodbye with the sixth installation, Resident Evil: The Final Chapter. In the last movie, Ever played the Red Queen and a younger version of her mother's character.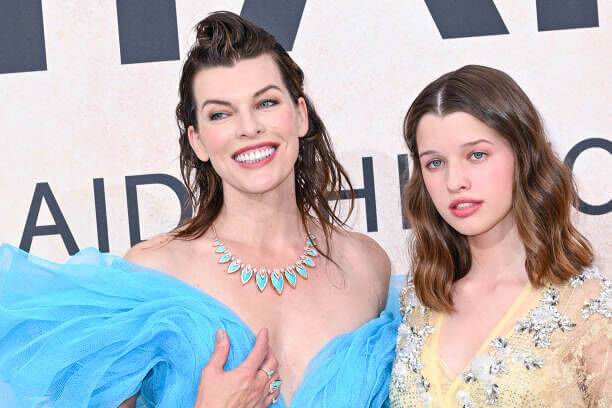 Interviewed by i-d Vice when she was 12, Anderson was asked if she'd seen any of the films. She replied, "I haven't seen any of them! Not even the one I'm in! My parents won't let me see them yet. I actually had my eighth birthday on set. They brought me a big cake which I got to share with the crew during our lunch break. There were zombies singing 'Happy birthday,' which was super weird and funny."

Mario Van Peebles
When Melvin Van Peebles made the 1971 movie Sweet Sweetback's Baadasssss Song, he failed to find someone to finance the picture, so he had to star, write, co-produce, score, edit, and direct the thing himself. This would also explain why he cut costs and picked his son Mario to play a young version of his character.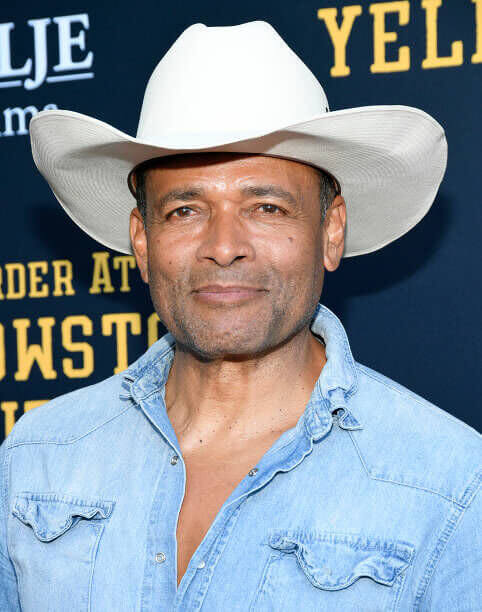 When the 2003 biopic about Melvin's life Baadasssss was announced, Mario was cast. In an interview, Mario recalled, "On some level I was aware of being in a war, the war of my father making this film, and what it put everyone through. I saw the pain in my own situation, but it was eclipsed by all these other things that were happening, the things that were going on around me -- death threats, money problems. When he ordered me to do that scene, my father made a choice."

Sophia Loren
In the 1980 made-for-TV biographical film Sophia Loren: Her Own Story, not only did Sophia play herself in a movie about herself, but she also carried out the role of her mother, Romilda Villani.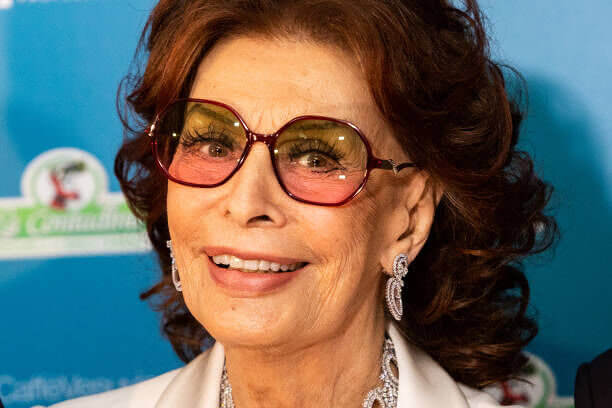 Thirty years later in 2010, another TV movie hit our screens called My House is Full of Mirrors. Adapted from a book by Sophia's sister, Anna Maria Scicolone, then 75-year-old Loren reprised the role of her mother, who was dealing with the frustration of missing her shot at movie stardom.

Quinn Dempsey Stiller
It seems Ben Stiller keeps taking his son, Quinn Dempsey Stiller, on jobs with him, and Stiller Jr. manages to find work for himself while he's hanging around with his dad. Quinn played a younger version of his father's character in Madagascar: Escape 2 Africa, and they do have a bit of an ongoing double-act on offer.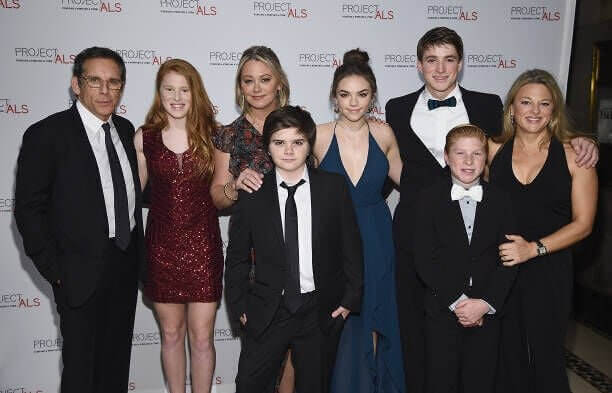 Ben voices the franchise's main protagonist, Alex the lion. In the second Madagascar film, Quinn Dempsey was brought in to voice a younger version of Alex. Ben and Quinn also played father and son in 2021's Locked Down, and they had minor roles in 2010's Megamind.

Indio Falconer Downey
In the 2005 neo-noir black comedy crime film Kiss Kiss Bang Bang, Robert Downey Jr. plays Harry Lockhart, a man who accidentally wins a screen test by showing remorse for a fumbled burglary when a casting director mistakes it for method acting. There's plenty of sex and violence included, so the last thing any responsible parent would do is bring their child on board. The problem was, Downey Jr. needed an actor to play his character in a flashback…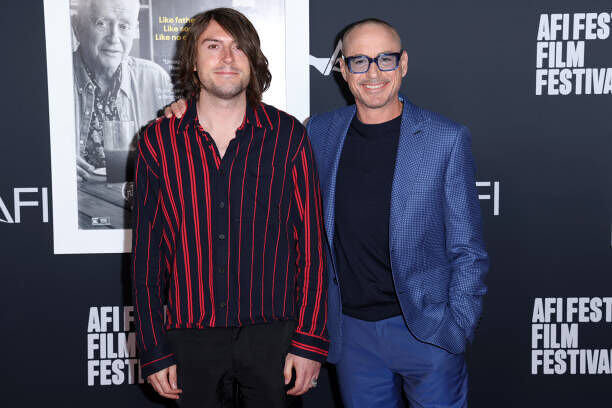 Enter Downey Jr.'s (and producer Susan Downey's) nine-year-old son, Indio Falconer Downey. Indio did his dad a favor and played the childhood version of Harry Lockhart briefly, and hopefully got off the set even quicker. With Downey Jr.'s track record, introducing his child, especially at such a young age, into the same environment that he lost control of himself in, probably wasn't the wisest of decisions.

Rubén Amaro Jr.
Former professional baseball outfielder, coach, and General Manager Rubén Amaro Jr. played a younger version of his father, ex-MLB star Rubén Amaro in two episodes of The Goldbergs. His first daddy impression on the show came in Season 5, Episode 11, and he reprised the role in Season 6, Episode 6. However, Rubén Jr. had been a part of the show all of this time in his own way.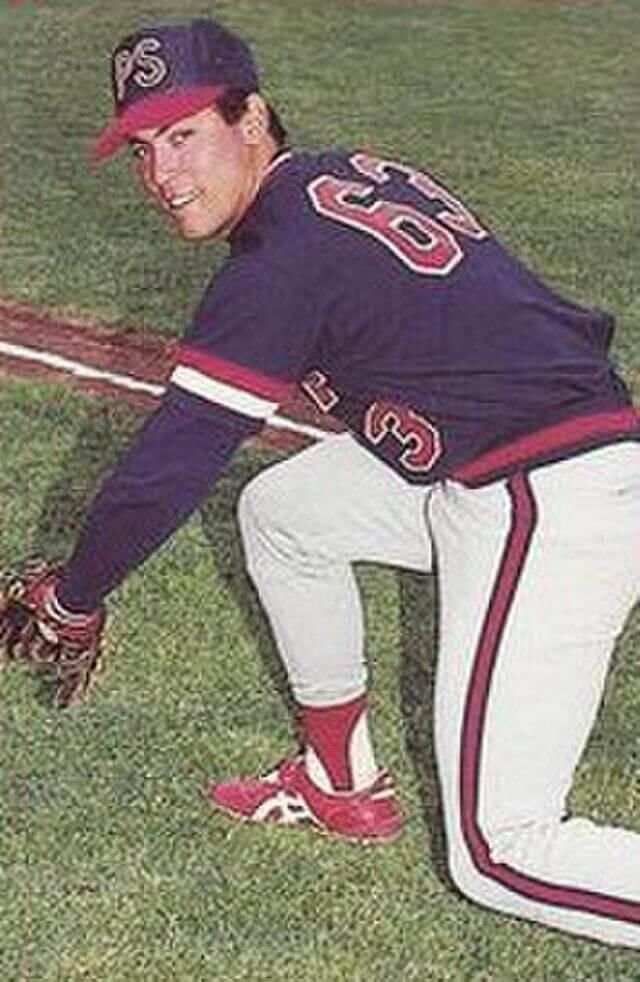 Rubén Jr. attended the same school as the creator of The Goldbergs, Adam F. Goldberg, whose life story is the loose basis of the show. Because of this, a teenage Rubén Jr. is a recurring character in the sitcom and is portrayed by Niko Guardado, son of another MLB player, Eddie Guardado.

Dasany Kristal Gonzalez
During the fifth season of Orange Is the New Black, fans took to social media to complement a great job by the casting department. They were referring to a flashback scene and the younger version of Dascha Polanco's character, Daya Diaz.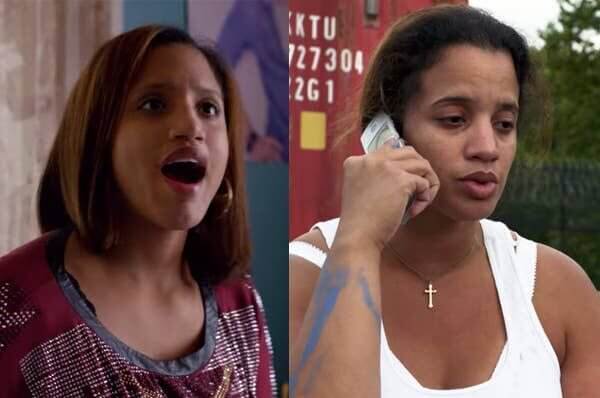 Little did the fanatic followers know that it took very little time to cast the actress who portrayed Daya as a 14-year-old. After all, Dasany Kristal Gonzalez is Polanco's real-life daughter, and she executed her role perfectly.

30 Celebs You Had No Idea Were Related
Ah, celebrities. Know them, love them, hate them, they're a part of our lives that we usually can't escape from, much like our own families. In fact, some celebs even have that experience with each other...and are related! Some share the same bloodlines while others are related only by marriage. Even though one could say that to be a celebrity, in general, is to be a part of a certain type of family, here are 30 pairs of celebrities who are truly related, however distantly, to each other.

Beanie Feldstein and Jonah Hill
Did you know that Jonah has a tattoo of his sister's name? This is actually a great reminder for all who keep forgetting that these two are siblings. He tattooed her name as a celebration of her debut in the Broadway play, Hello, Dolly!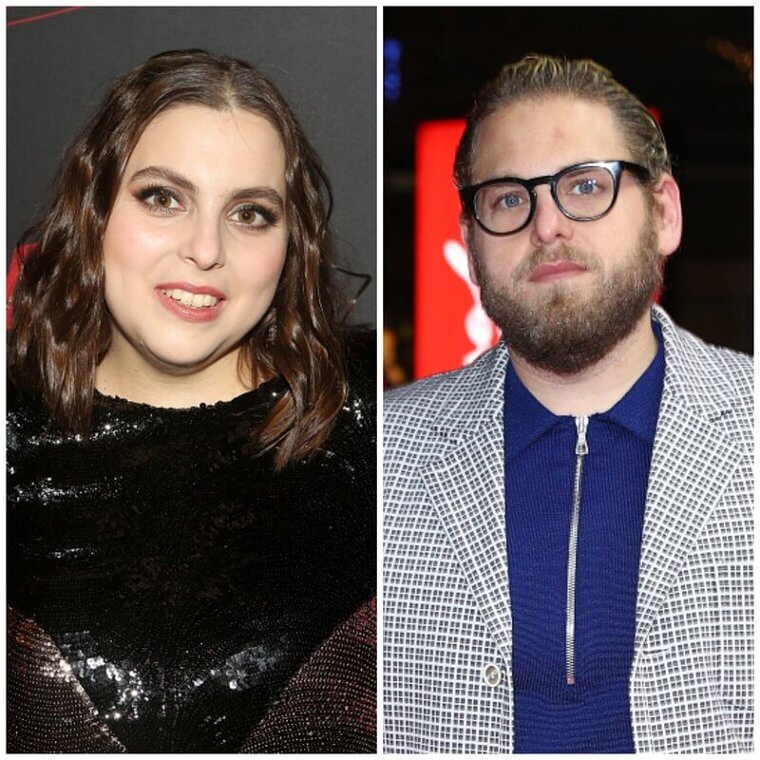 So, don't let the difference in their appearance fool you! The Superbad actor is, in fact, the older sibling to the star of Booksmart, Beanie Feldstein. Beanie even says that her brother Jonah is her best friend in the world. Apparently, they have a great bond!

Melanie Griffith and Dakota Johnson
These two are so beautiful and talented, but so different that you wouldn't have guessed that they were related, right? Well, Melanie Griffith is Dakota Johnson's mom.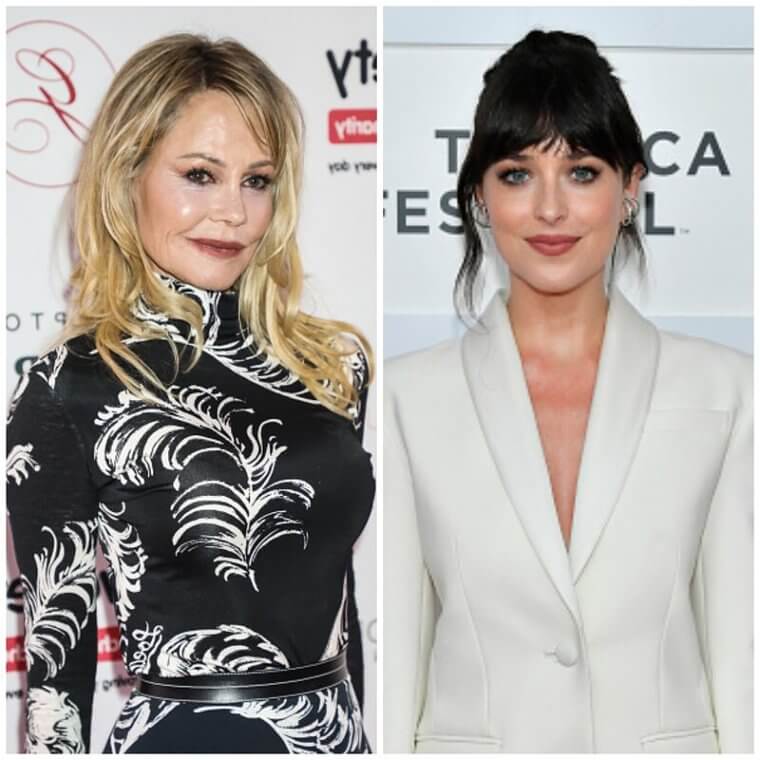 In fact, Dakota comes from a well-known Hollywood family. Her grandmother is Tippi Hedren, famous for starring in the Hitchcock film The Birds and her father is director Don Johnson. It seems acting is in their blood! There's no doubt that this young Fifty Shades of Grey actress will have a glorious career ahead of her. Dakota's acting debut was made when she was only ten years old in the movie Crazy in Alabama, starring her mother.

Jenny McCarthy and Melissa McCarthy
Jenny and Melissa do not only share a last name but are also actually cousins! These two are quite the opposite but definitely have one interest in common - their love for acting.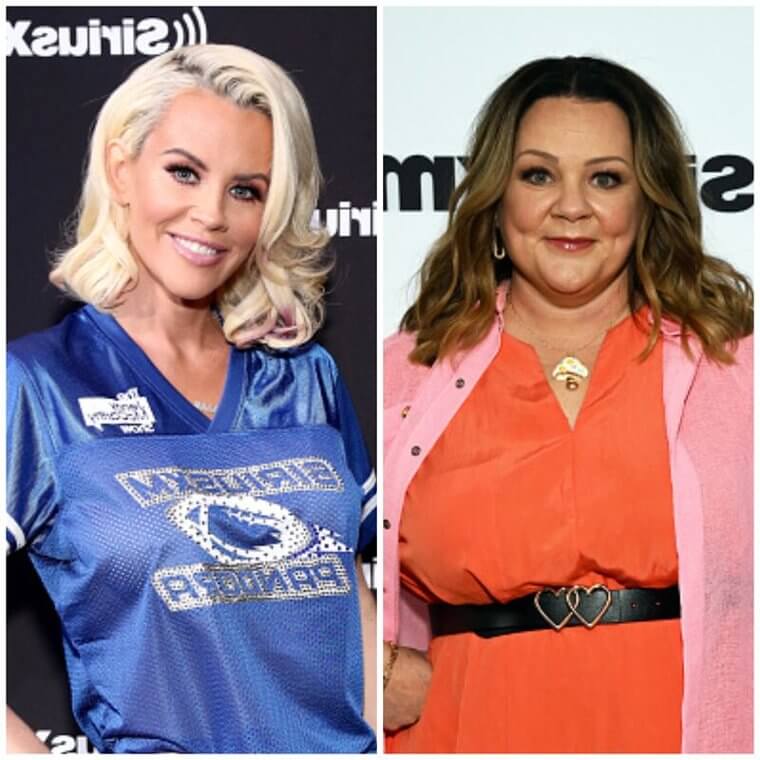 Jenny was well known for her modeling and acting career, having started as a model for Playboy in 1993. Already famous, she was able to help her cousin Melissa McCarthy land her first role. It was for a TV show, as a guest role. Since then, Melissa has made a name for herself, acting in blockbuster hits like Bridesmaids, Tammy, and The Boss. 

Emily Blunt and Stanley Tucci
This acting duo is in fact related. Stanley Tucci is married to Emily Blunt's sister, Felicity Blunt. Felicity has nothing to do with acting - rather, she is a literary agent - and the couple lives in England. Emily is the aunt of Stanley and Felicity's two children.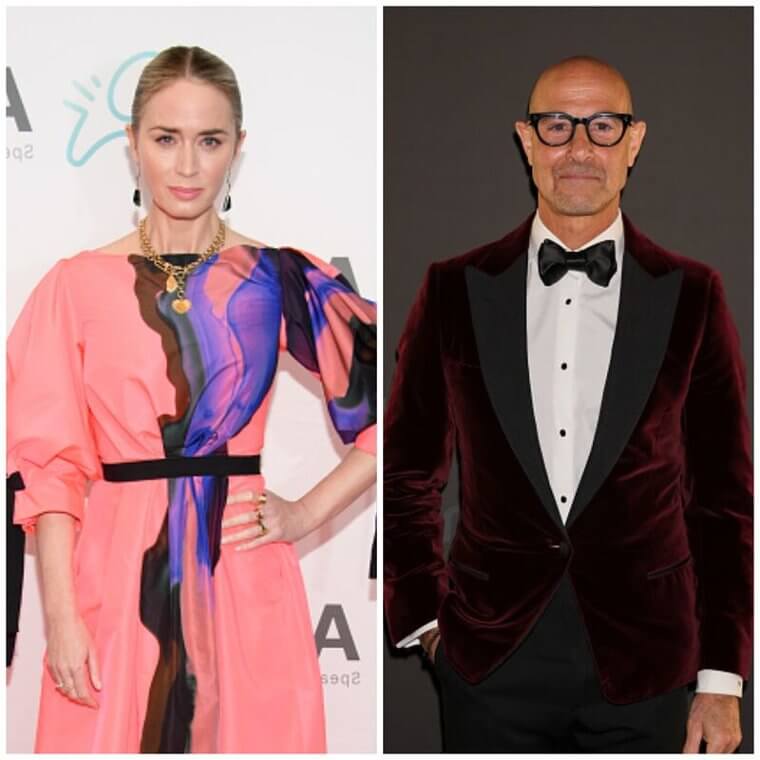 Emily Blunt and Stanley Tucci met on the set of the movie The Devil Wears Prada in 2006, as co-stars. Later on, Stanley met his now-wife Felicity at Emily's wedding to actor John Krasinski. What an odd scenario, right?

Emma Roberts and Julia Roberts
The young star Emma Roberts has taken after her aunt Julia Roberts and keeps on getting acting roles. Who knows, maybe Emma will outperform her aunt Julia Roberts, whose most famous role might be in the legendary movie Pretty Woman. Emma and Julia have the same surname because of Eric Roberts, who is Julia's brother and Emma's father.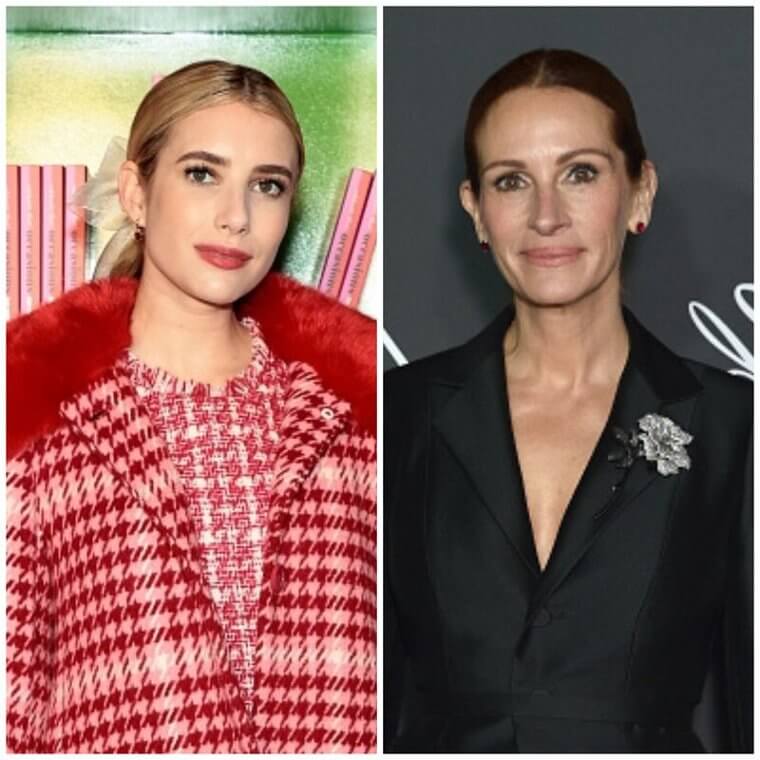 These two look so much alike that people may mix them for being a mother and daughter. One thing's for sure - they share the same passion and talent for acting!

Kate Hudson and Goldie Hawn
They are both blonde, fun, and talented actresses! This mother-daughter acting duo is what we'd like to see in a movie, right? However, Goldie says a movie with her daughter on the same set will bring "too much baggage" for her and that's why they haven't been cast in the same movie thus far.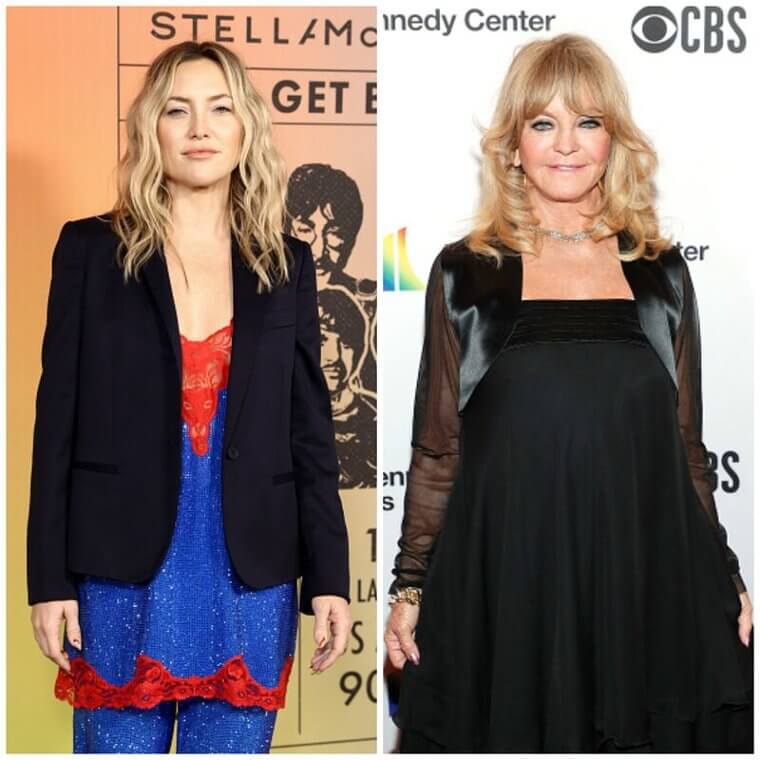 Kate is the daughter of Bill Hudson, a famous actor and musician. Well, we can confirm that she's got her beauty and talent genes from her parents, right? In October 2018 she gave birth to her daughter, Rani, who looks just like her grandma Goldie. 

Janet Leigh and Jamie Lee Curtis
Janet Leigh is Jamie Lee Curtis's mother. This fact isn't quite obvious because they have differing last names. Jamie, in fact, took her mother's maiden name and changed it a bit to be the "Lee" we know as her first surname.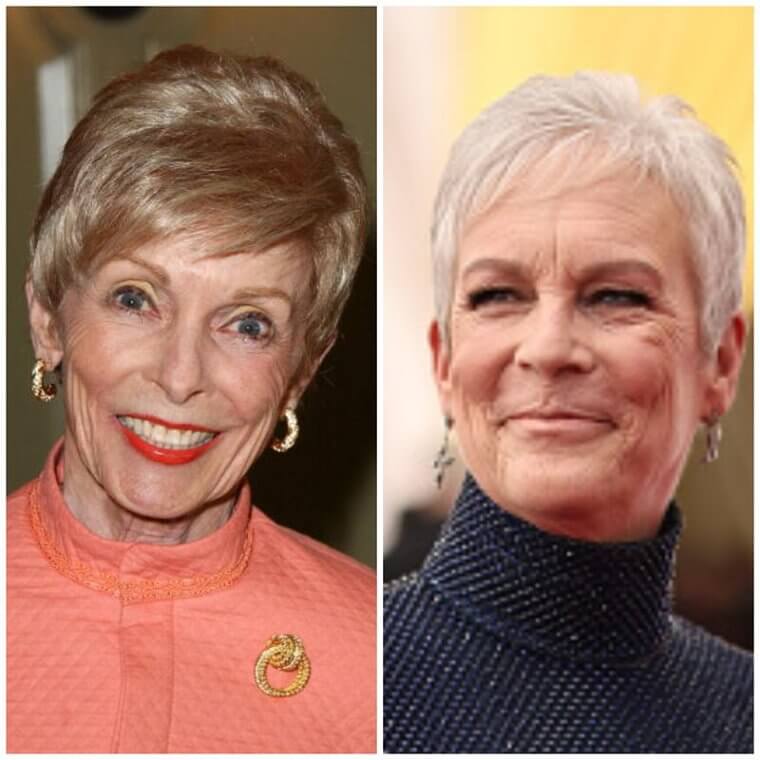 Jamie Lee Curtis paid a tribute to her mom with the scene in Halloween, recreating Janet Leigh's iconic appearance in Psycho. When asked about her mother, Jamie had only praising words for her, saying that she was an "astonishing beauty" in this gloomy world. Clearly, both actresses have a lot to be proud of when it comes to each other.

Brandy Norwood and Snoop Dogg
Snoop Dogg and Brandy both had a booming career in the R&B and hip-hop music industry in the 1990s'. However, very few people know they are actually first cousins. Her fans would probably know her brother, the singer Ray J, but the fact that she is related to Snoop Dogg isn't as widely known.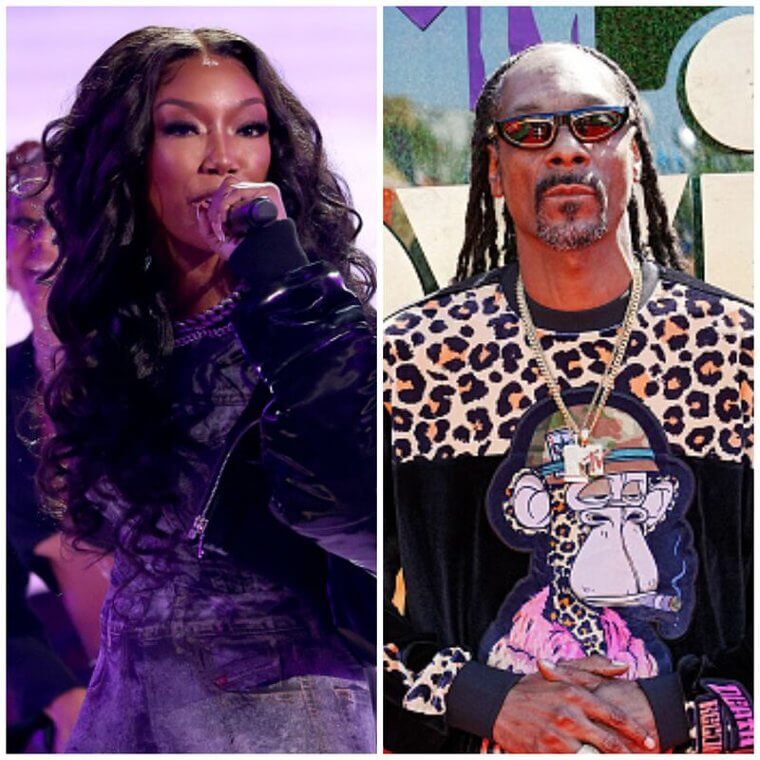 In fact, Brandy Norwood started her singing career from a very young age. Snoop Dogg and she even have a duet called "Special", released in 2009. 

Jason Sudeikis and George Wendt
Former Saturday Night Live cast member Jason Sudeikis is related to fellow actor George Wendt. In fact, George Wendt is Jason's uncle on his mother's side. They both share the love for comedy since Jason has been cast in many comedy movies and it is a known comedian. His uncle, George, also started in a comedy troupe with his fame only escalating from his role in the TV series Cheers.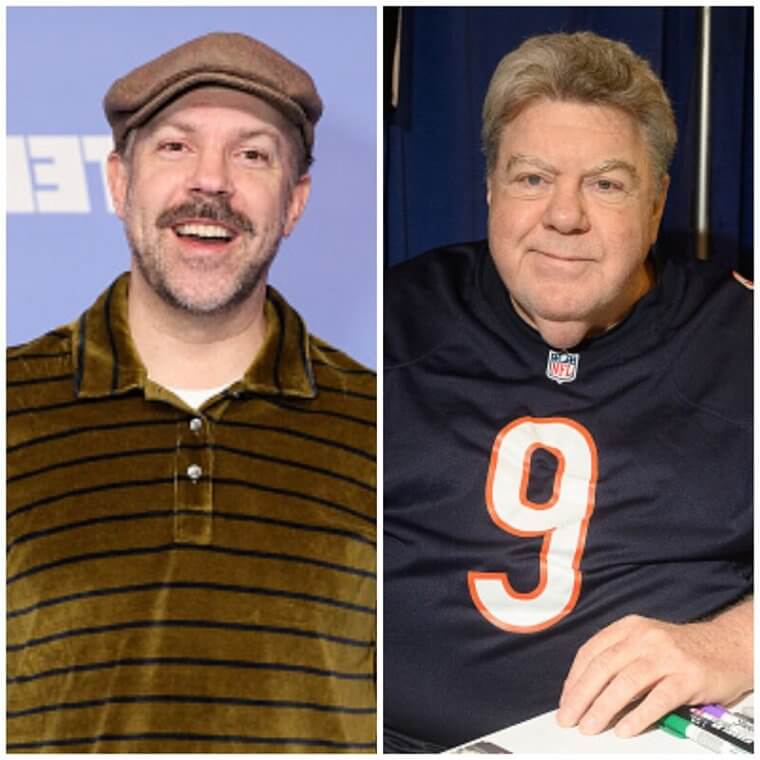 Jason Sudeikis is married to the famous actress Olivia Wilde with whom he has two kids. The most recent movie he has starred in was The Angry Birds Movie 2 in 2019.

Lenny Kravitz and Al Roker
Did you know that Lenny Kravitz and Al Roker are actually cousins? Al Roker is the weather anchor on NBC's Today and has been a television personality his whole life. However, nobody would ever think that he'd be related to the rockstar Lenny Kravitz - the two are as different as they come!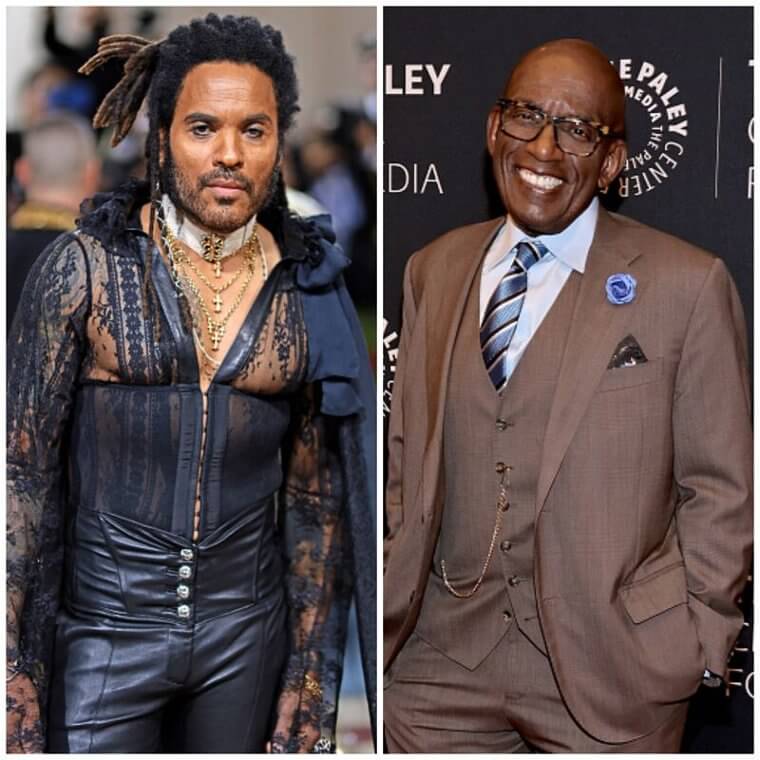 With Lenny's appearance on the Today Show in 2011, he and Al revealed they were related through Lenny's mother. Her name was Roxie Roker, and you can see that her last name matches that of Al. Roxie was also famous, known for her role as Helen in the TV sitcom, The Jeffersons. Unfortunately, Al Roker announced in November 2020 that he had been diagnosed with prostate cancer and that surgery will be performed to remove his prostate.

Queen Elizabeth II and Prince Philip
As a rule, royals weren't supposed to mix with commoners. So, to keep the bloodline, Queen Elizabeth married her third cousin, current Prince Philip. It's very odd to be actually related to your husband, don't you think? However, this is very common among the royal families of Europe. The Duke of Edinburgh, Philip, and Queen Elizabeth have the same ancestors, Queen Victoria and Prince Albert, as their great-great-grandparents.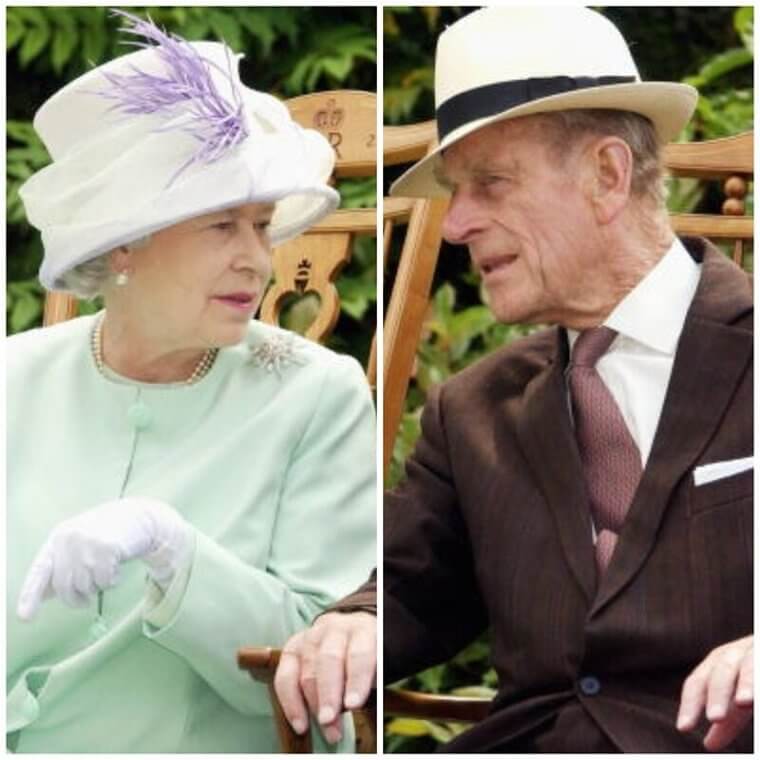 Maybe now, traditions will have changed with most recent marriages of Queen Elizabeth's grandsons, Harry and William, to women who weren't in the royal family. 

Lily Collins and Phil Collins
Lily Collins is the daughter of the musician Phil Collins and his wife, Jill Tavelman. Phil is known for such hit songs as "In the Air Tonight", "Another Day in Paradise", "Do You Remember", as well as his career with the band Genesis. Lily has obviously gotten his artistic spirit as she has become a great actress. Some of the movies she has starred in are Love, Rosie, Les Miserables, Abduction, and Rules Don't Apply.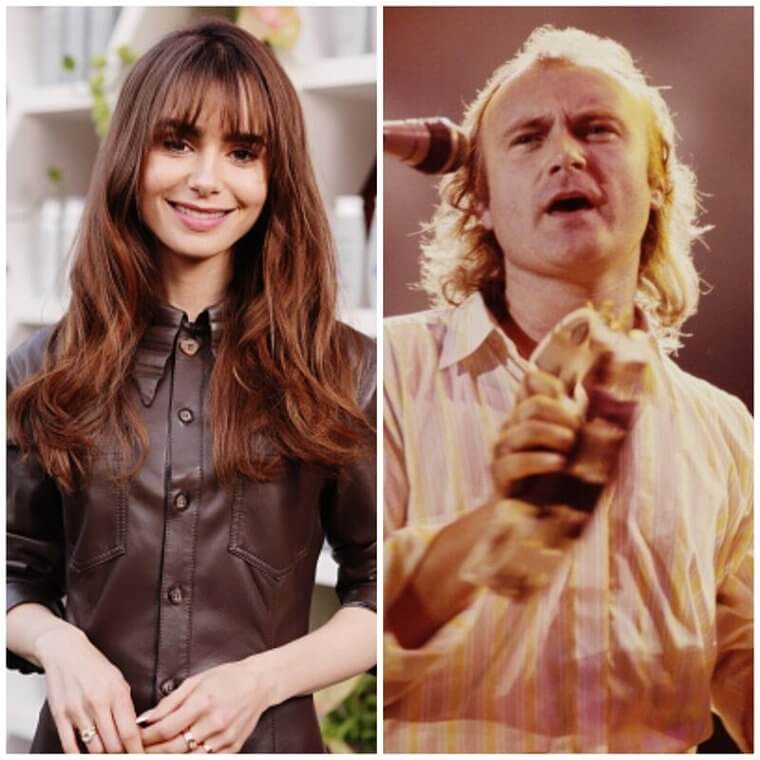 In 2017, in a personal book of essays, Lily spoke about her troubled relationship with her father., saying that he wasn't the father she expected him to be. and that her eating disorders were partly due to his divorce with his third wife. However, in the end, she says that she forgives him for everything.

John David Washington and Denzel Washington
John David Washington looks so much like his father Denzel Washington, but still, so many people have no idea they are related. Both are award-winning actors that support each other. The 34-year-old BlacKkKlansman star, John, started out playing professional football but after an injury, decided to follow in his father's footsteps.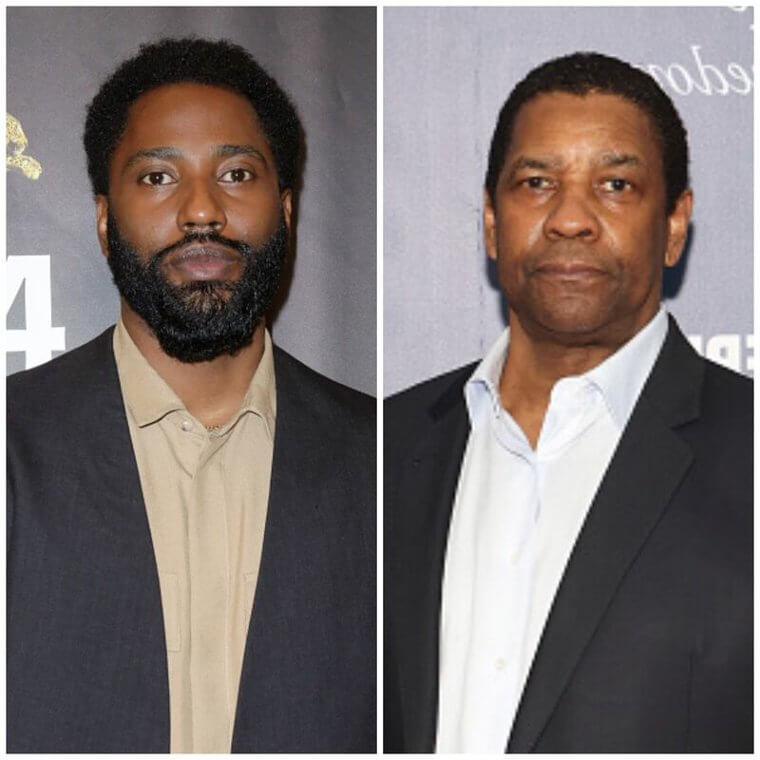 John's starring film BlacKkKlansman received four Golden Globe nominations, and John himself got the nomination for Best Actor. So, get used to hearing his name because his career has just started. Judging by his father's success, we think that John can reach, or even surpass, Denzel.

Dolly Parton and Miley Cyrus
On February 10th, 2019, the 61st annual Grammy Awards were held. Miley Cyrus and Dolly Parton were performing together on stage, and there, Miley paid homage to Dolly.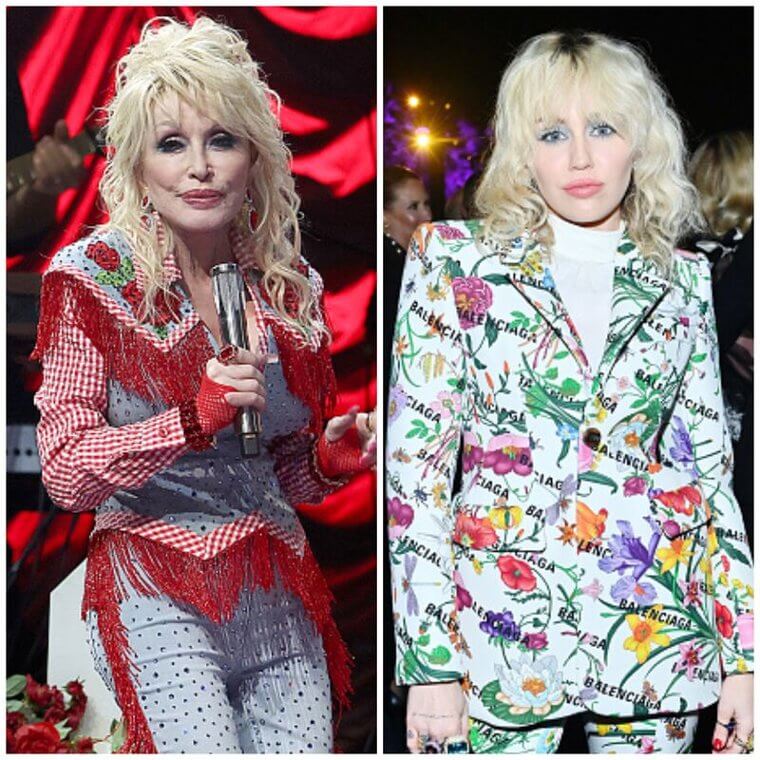 However, this respect given publicly wasn't just because Miley Cyrus likes Dolly Parton's song, "Jolene". It was also because these two are actually family! Dolly Parton is Miley Cyrus' godmother. In fact, long before Miley was born, Dolly was friends with Miley's father, Billy Ray Cyrus. The friendship of these two artists has its roots in country music.  

Nasir (a. K. A Nas) Jones and Yara Shahidi
Nas and Yara, believe it or not, are second cousins. Both of them are noted artists within the entertainment industry- Nas is one of the greatest rappers alive, breaking records with every song release. Yara Shahidi has had significant success in her acting career with the sitcom Grown-ish, playing the role of Zoey Johnson. She even won an NAACP Image Award for her portrayal!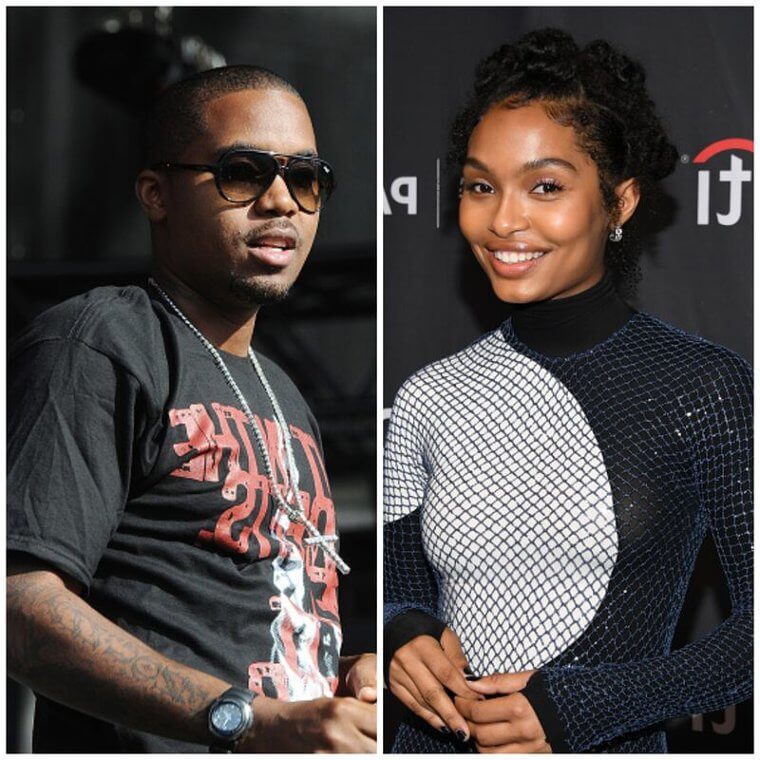 Yara's mom, Keri Shahidi, grew up alongside Nas in Queens, New York. Both Yara and Keri were close to Nas and his family. In fact, Yara is very close to Nas's daughter, Destiny. This is evident by the modeling Yara did for Destiny's line of lip glosses back in 2015. 

Steven Spielberg and Jessica Capshaw
The award-winning director Steven Spielberg became actress Jessica Capshaw's step-father in 1991 when he married Jessica's mother, Kate Capshaw, after meeting on the set of his movie, Indiana Jones and the Temple of Doom. The two clearly share more than just the same professional industry!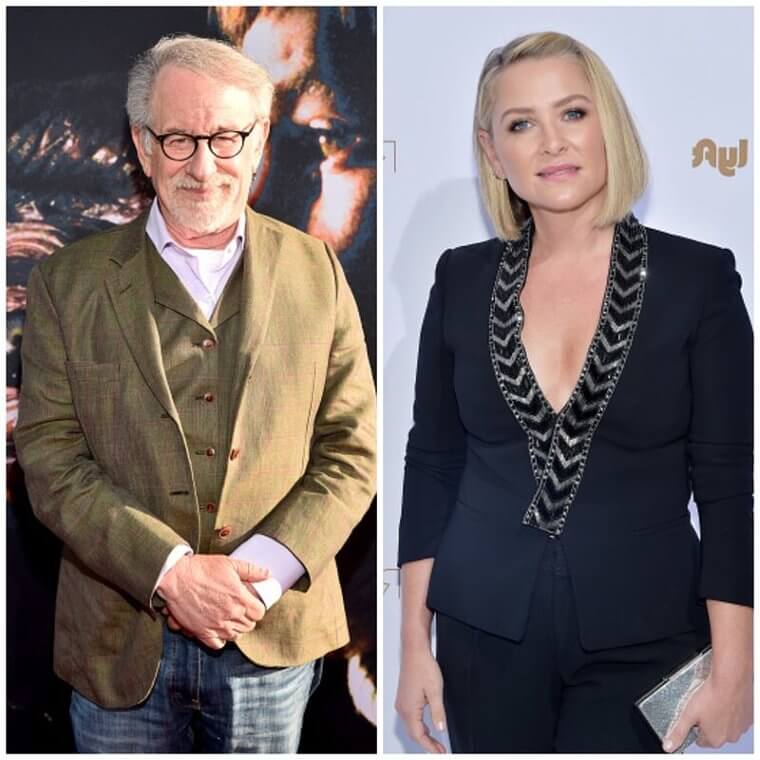 Steven Spielberg has been in the film industry for years as a noted director of films such as Jaws and Jurassic Park, and Jessica has made a name for herself with her role as a surgeon on the TV show Grey's Anatomy.

Jason Schwartzman and Sofia Coppola
Many members of the famed Coppola family have succeeded in the Hollywood film industry, and Jason Schwartzman and Sofia Coppola are no exception (neither is their cousin, actor Nicolas Cage!).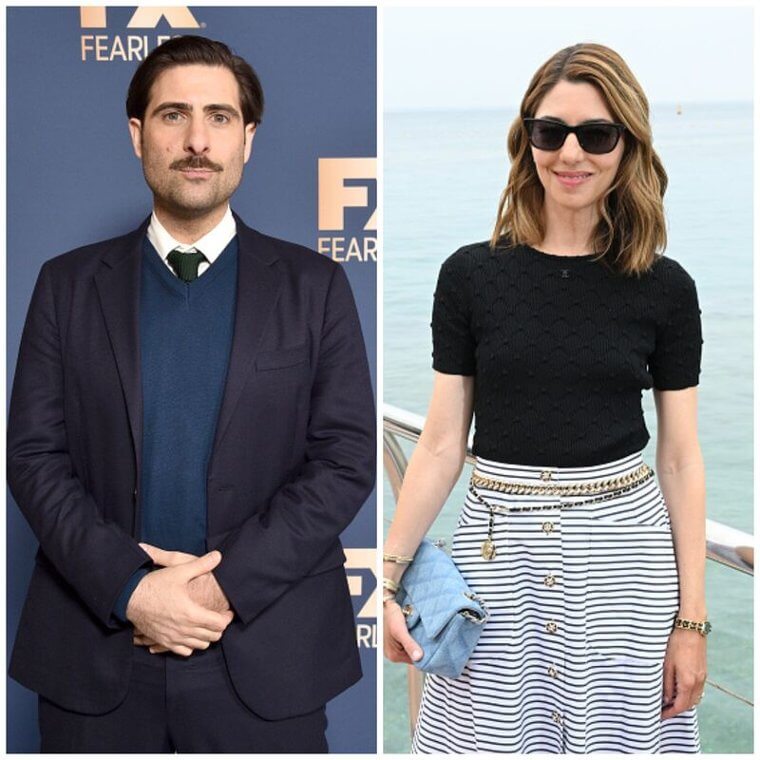 Sofia, a noted director known for having directed Lost in Translation and The Bling Ring, and Jason, an actor known for his collaborations with Wes Anderson, are first cousins through Sofia's father, famed director Francis Ford Coppola. It seems the passion for acting and directing runs in the family, don't you agree?

Warren Beatty and Shirley MacLaine
Warren Beatty, believe it or not, is Shirley MacLaine's younger brother! They were raised together in a house in Richmond, Virginia, where Shirley remembers how they grew up sometimes eating salty crackers with hot sauce for dinner.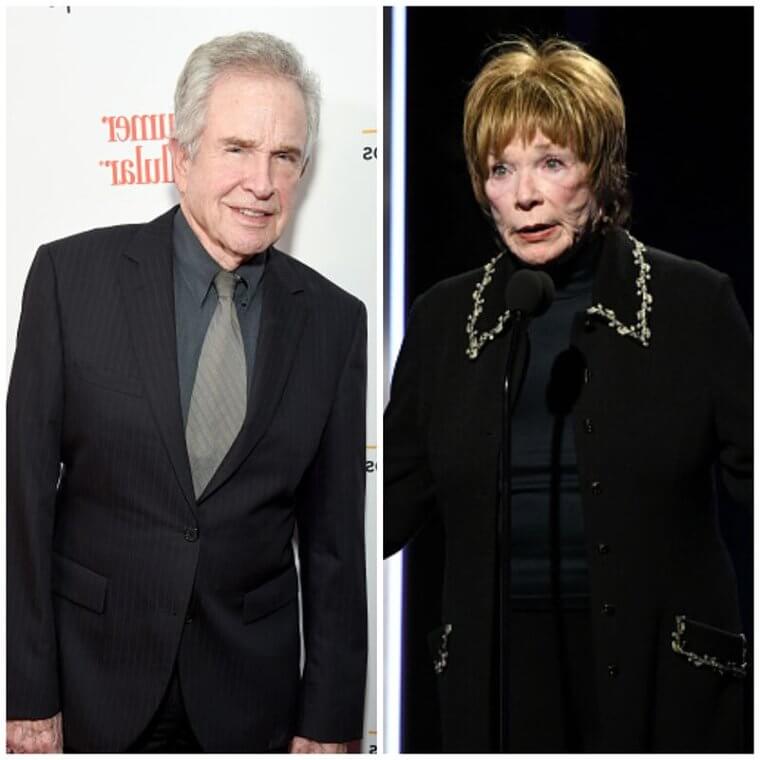 Warren Beatty, believe it or not, is Shirley MacLaine's younger brother! They were raised together in a house in Richmond, Virginia, where Shirley remembers how they grew up sometimes eating salty crackers with hot sauce for dinner.
Ralph Fiennes and Prince Charles
Apparently, Ralph Fiennes has royal ancestors. In fact, the English actor is the eighth cousin to Prince Charles! Even though the media is usually all over the royals and never misses a detail about the Prince of Wales, this fact isn't widely known. The focus always seems to fall on the royal members that have the highest rank and the distant relatives don't really matter.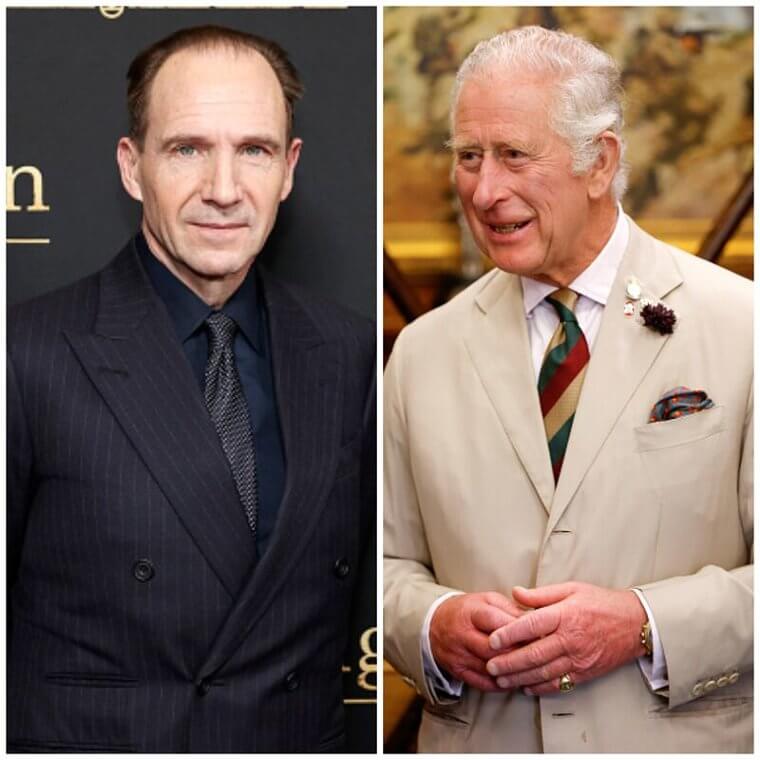 Make no mistake, Ralph has made a name for himself, most notably with his role as Lord Voldemort in the Harry Potter film franchise.

Blake Lively and Robyn Lively
These two attractive actresses are half-sisters who share the same mother: Elaine Lively. Blake Lively is a well-known actress, having starred in the movies like The Age of Adaline, A Simple Favor, and Savages, and the TV series Gossip Girl.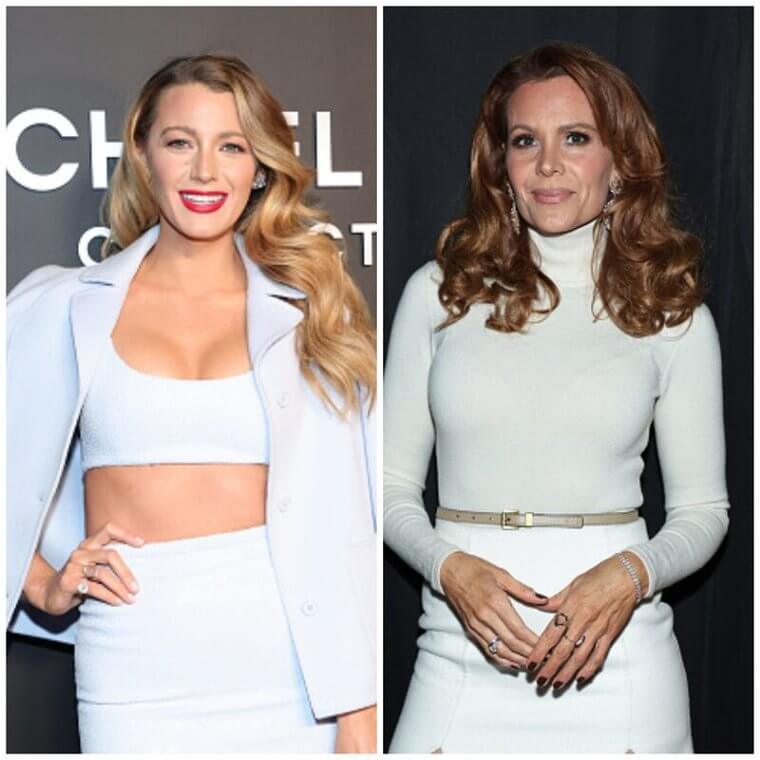 Robyn is known for her role in the film Teen Witch in 1989. That's not the only way the acting ability runs in the family, though! Blake played a father-daughter duo role with her father, Earnie Lively, in the movie The Sisterhood of the Traveling Pants in 2005.

Zoe Kravitz & Jason Momoa
Zoe Kravitz is already a famous showbiz personality, being born and raised by two famous parents, rockstar Lenny Kravitz and actress Lisa Bonet. And when Lisa Bonet and Lenny Kravitz split up, Lisa got together with Jason Momoa.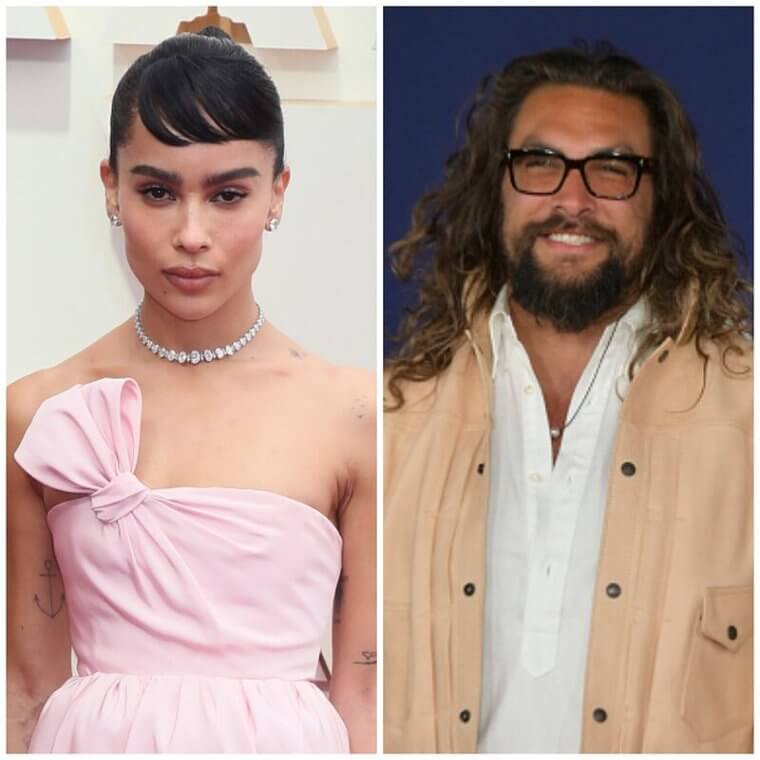 After being together for 12 years, Lisa and Jason decided to get married, which made Jason Zoe's step-dad! Even before officially becoming family in 2018, Zoe and Jason already had a father-daughter relationship. Lucky for Zoe, she gets to enjoy the fatherly love from both Lenny and Jason.

Conan O'Brien and Denis Leary
Conan is a late-night talk show hosted by Conan O'Brien. He's known for his unique appearance, his ginger hair, and his specific laugh. Conan is related to Denis Leary, with the two being third cousins. It seems as they are both are known for their funny personalities since Denis is a standup comedian and comedic actor.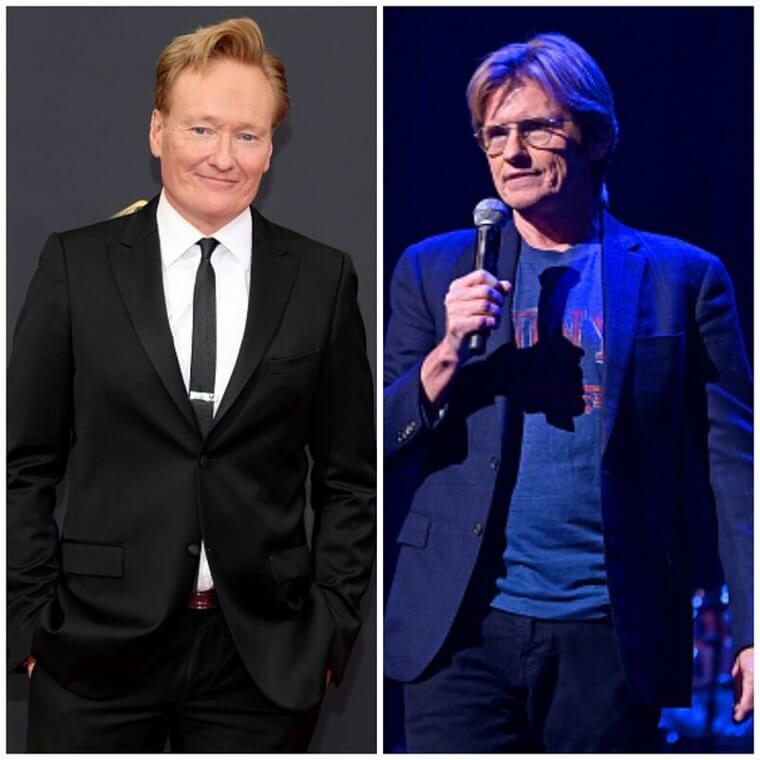 Conan and Denis both come from Boston, Massachusetts, and have American-Irish heritage, and they apparently call each other "cuz" every time they meet. 

Amy Schumer and Chuck Schumer
At first glance, U.S. Senator Chuck Schumer and comedian Amy Schumer, other than having the same last name, have little in common. However, first impressions aren't always true and there is more to their relationship.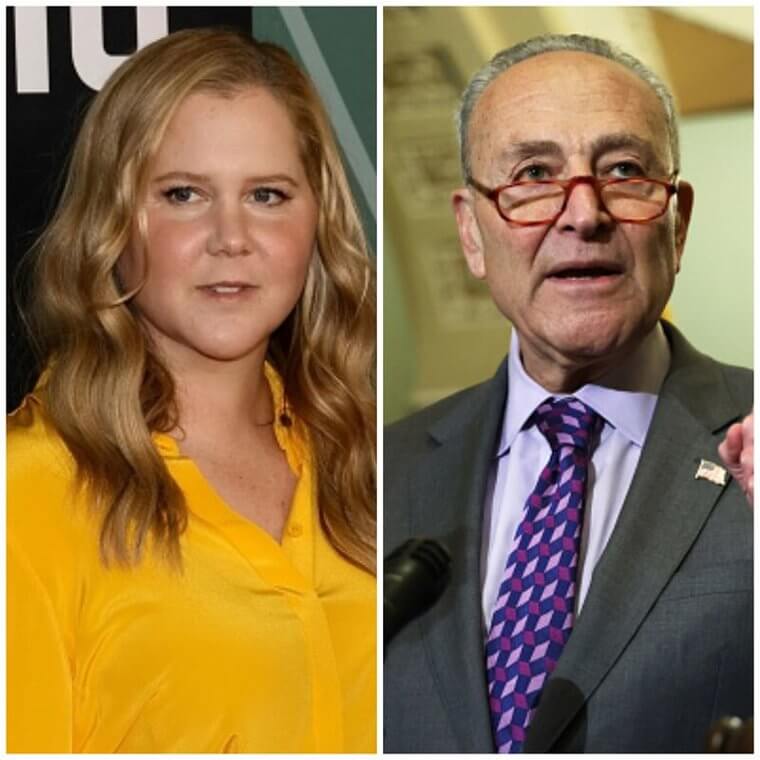 In fact, the U.S. Senator and the Trainwreck star are related. Senator Schumer is the first cousin to Amy's dad, making him also Amy's cousin. Besides being related, the two teamed up in 2015 at a gun control reform press conference. Family and teamwork!

Diana Ross and Tracee Ellis Ross
Actress Tracee Ellis Ross is legendary musical artist Diana Ross' daughter. The Black-ish star is known for her charm and talent that she definitely got from her mother. Tracee even wore one of her mom's epic looks from 1981 at the American Music Awards in 2017 as a way to pay homage to her.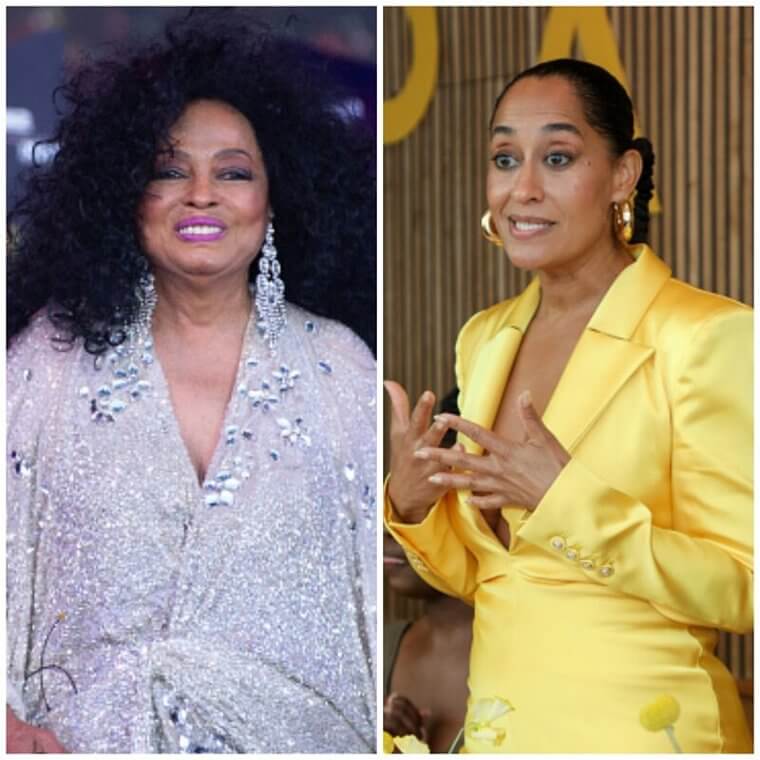 Tracee is one of Diana's five children, and her siblings are Rhonda Ross Kendrick, Chudney Ross, Evan Ross, and Ross Naess. Apparently, Diana has another legacy to be proud of besides just her musical one.

Whitney Houston and Dionne Warwick
As the legendary singer of "I Will Always Love You", Whitney Houston was, and is, one of the best female vocalists of all time. She received numerous awards and recognitions as both an artist and as a number one performer.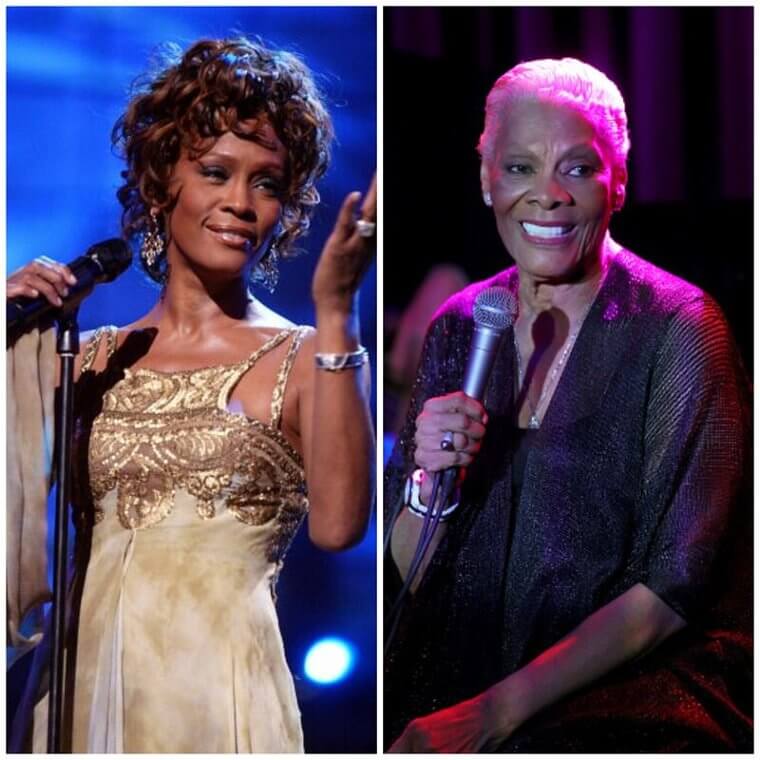 Even though fans know everything that revolved around Whitney's rather troubled life, most of them aren't aware that she and Dionne Warwick were cousins. Diane, also a talented singer and actress, made amazing duets and performances together with Whitney. 

Josh Brolin and Barbra Streisand
Being related to the epic Barbra Streisand must be exciting, right? So, you might as well ask actor Josh Brolin and see what he says because he is Barbra's stepson! Barbra is married to Josh's father, actor and director James Brolin.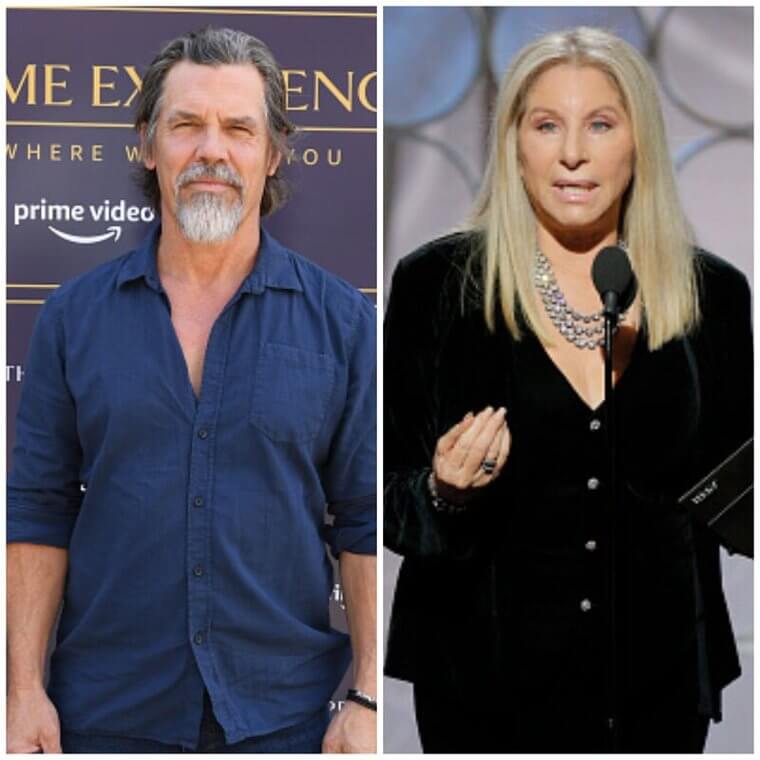 Barbra Streisand will leave a mark on the younger generation because of her role in the Meet the Parents movie franchise, but.she is known generations-over by her legendary voice and music, especially the song "Woman in Love", and her acting role in Funny Girl.

Rashida Jones and Quincy Jones
Rashida Jones is best known from the TV show Parks and Recreation where she plays nurse Ann Perkins. She has also found fame as a director and a producer, having produced the Netflix documentary Quincy about her famous father, who happens to be Quincy Jones.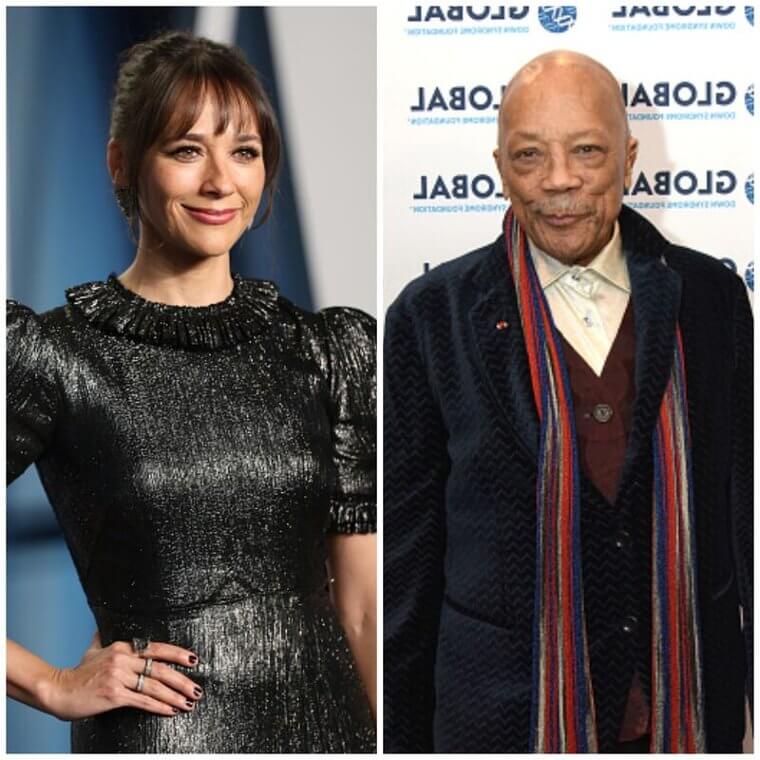 Quincy Jones is a notable musician, composer, songwriter, and producer in both music and film who has had a decades-long and very fruitful career. He famously produced musician Michael Jackson's albums, Thriller and Bad. 

Nicolas Cage and Francis Ford Coppola
Nicolas Cage's first appearance in a movie was when he was 17 years old. He had a role in the movie Fast Times at Ridgemont High, directed by Francis Ford Coppola, who is actually Nicolas's uncle! However, Nicolas wanted to make a name for himself and actually changed his name from Nicolas Kim Coppola to Nicolas Cage.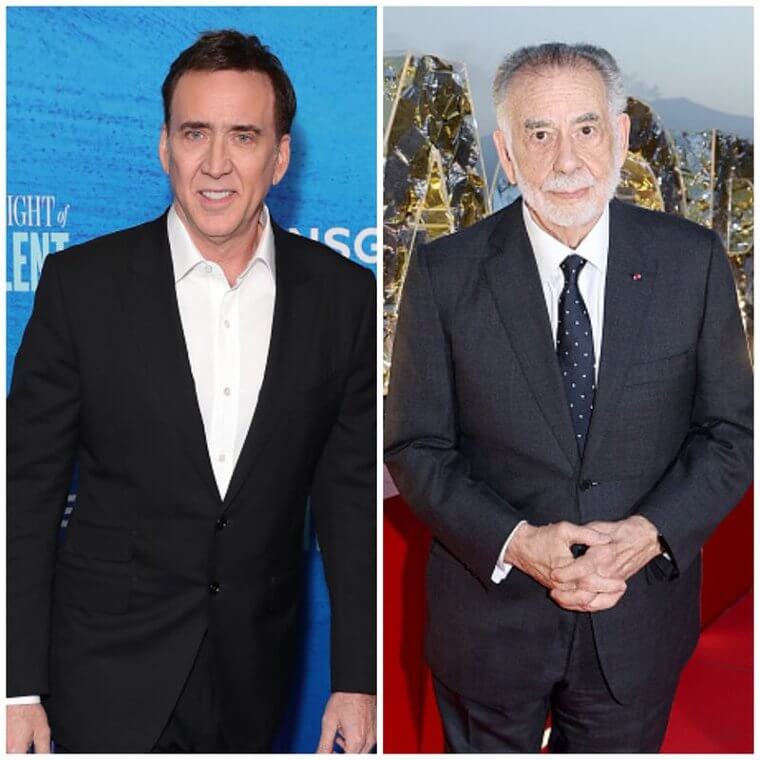 With the name change, people wouldn't connect him with the already famous director Francis Ford Coppola (his uncle), and he could form his own career without the influence of nepotism. Nowadays he has a wide array of movies, awards, and recognitions under his belt. Way to go Nick!

Bruce Dern and Laura Dern
Laura Dern is, in fact, the child of two Hollywood A-listers - Diane Ladd and Bruce Dern. It seems that this family is famous for getting awarded for their acting. Diane Ladd has actually played Laura's mother in the film Rambling Rose and the TV series Enlightened.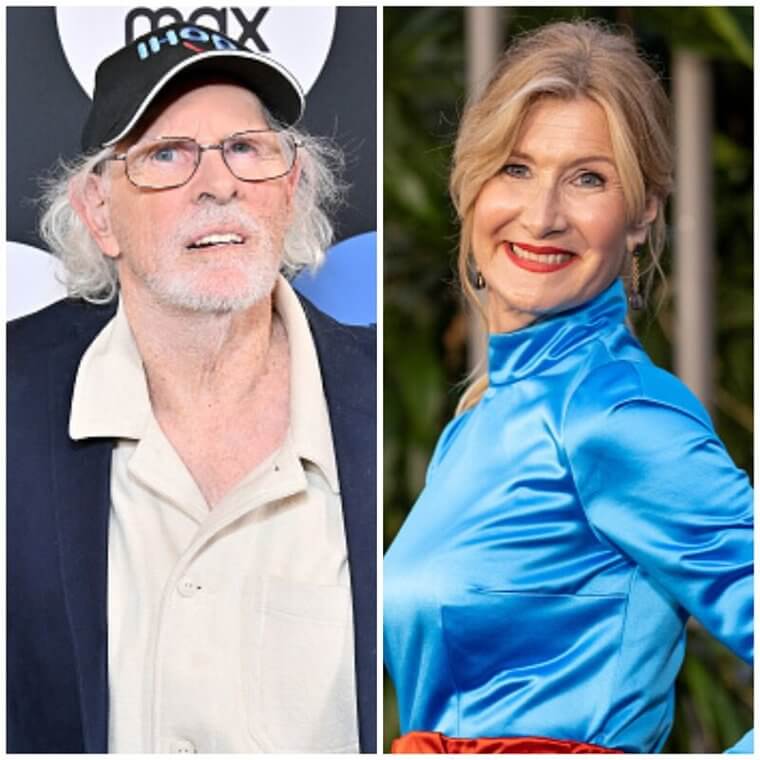 In 2015, Laura was nominated for Best Supporting Actress by the Academy Awards for her role in Wild. At the ceremony, she brought her dad, Bruce Dern as her date. This acting family has a total number of seven Oscar nominations between them. They really are something, right?

Tom Hanks and Fred Rogers
You'll definitely be amazed by this relation between Tom Hanks and Fred Rogers. According to ancestry.com, the star of Sleepless in Seattle, Tom Hanks, is the sixth cousin to the famed TV show host, Mister Rogers. Tom Hanks actually plays Fred Rogers in the 2019 movie, A Beautiful Day in the Neighbourhood.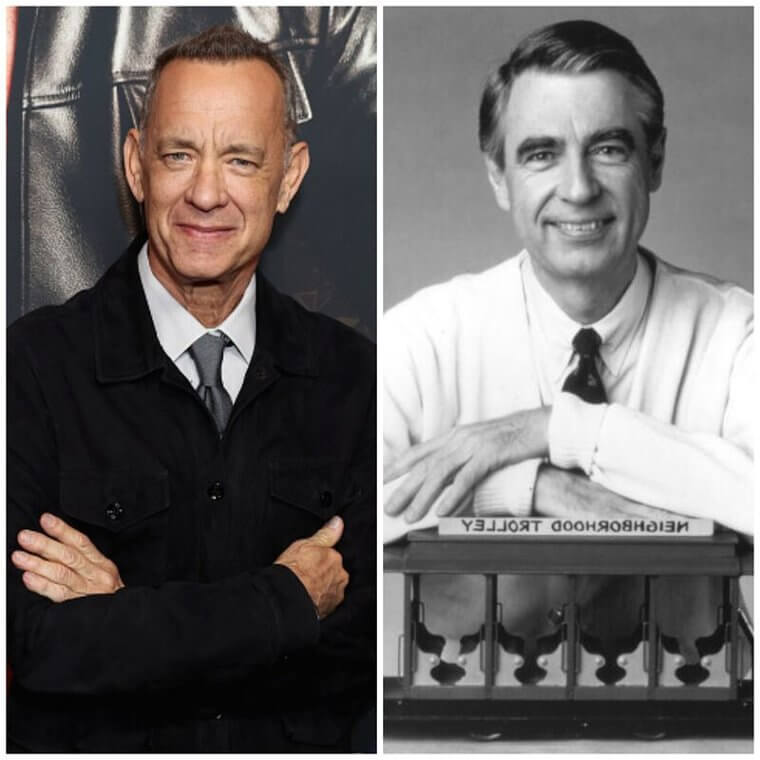 The familial link between the two is a German immigrant named Johannes Meffert (though later descendants had the last name "Mefford"), who immigrated to America from Germany in the 18th century.