The world of acting is like a melting pot of diversity. Thanks to the wonders of CGI, prosthetics, costumes, and makeup, performers aren't limited to playing roles that match their natural look. Look no further than the abundance of superhero movies for proof of this point.
The most-loved modern films and TV shows are filled with talented actors who all bring something special to the mix. However, you'll often find at least one character who truly stands out from the rest of the cast; and we're not just talking about the heroes here. Many of the characters who capture people's hearts do so despite (or perhaps because of) their homely, drab, or sometimes shocking appearance.
These characters leave such an impression on us that we often fail to realize that beneath all the costuming and makeup, there's an actor who bears little resemblance to the role they're playing. Get set to meet the performers lurking beneath the surface of some of your favorite characters. And if you haven't guessed by now, you're in for a massive surprise when you see what these ladies and gents really look like!
Naomi Grossman
Pepper is a microcephalic woman who was the first character to feature in more than one season of FX's American Horror Story (the second and fourth seasons). Pepper was first seen as a patient in American Horror Story: Asylum, where she was accused of a hideous crime. She was brought to life by the stunning and talented actress Naomi Grossman.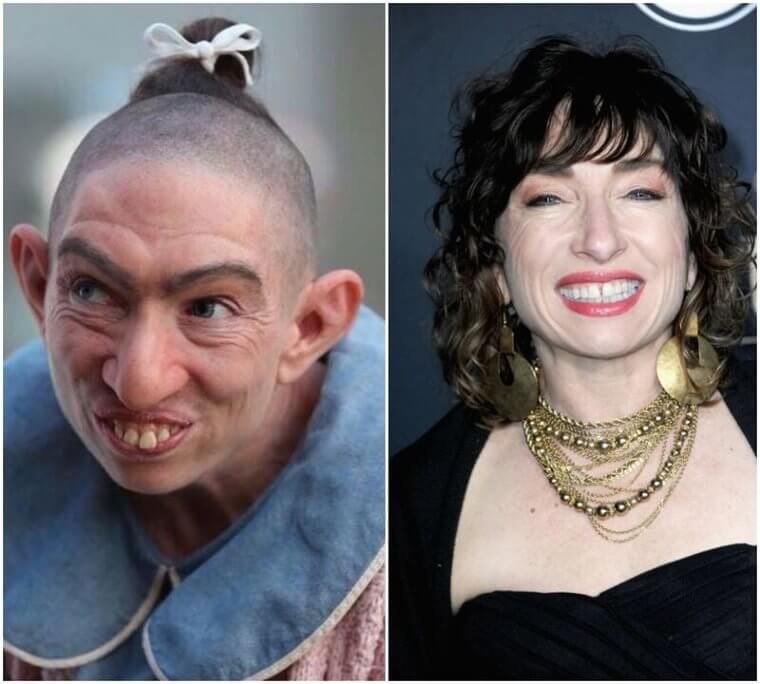 In order to create the right aesthetic, Grossman shaved her head to play Pepper. Though she didn't initially audition for the part, Grossman's portrayal of Pepper remains her best-known performance, even though she's had roles in other TV shows and films.
Ralph Fiennes
The Harry Potter films have attracted a cult following that is certain to stand the test of time. The actors who play the characters in the magical story of 'The Boy Who Lived' and his nemesis will forever be remembered by the role that they play in these films. But while you may easily recognize Daniel Radcliffe as the young wizard, the actor who played Lord Voldemort may not be as obvious.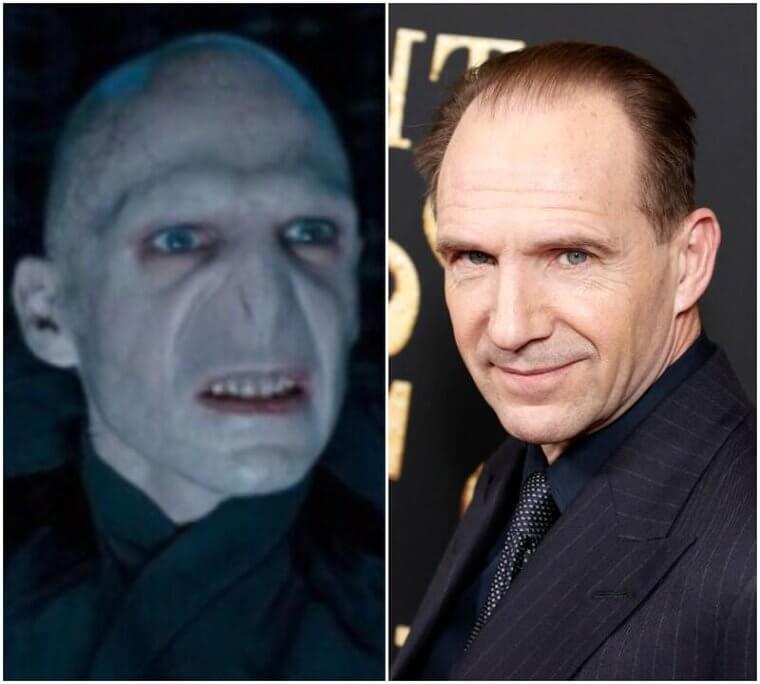 Ralph Fiennes, a notable Shakespeare interpreter, and English actor transforms his striking features into a snake-like master of dark magic with a flattened nose and creepy head. And yet the resemblance is uncanny!
Anne Hathaway
As many of us remember, Anne Hathaway made her big debut in the 2001 film The Princess Diaries. She portrayed Mia Thermopolis, a homely teenager who discovered her claim to royalty through her father's lineage. After this revelation, the character is given a major makeover to help her fit her new royal role. As it turns out, this "makeover" simply reveals Hathaway's everyday appearance outside of the confines of the film.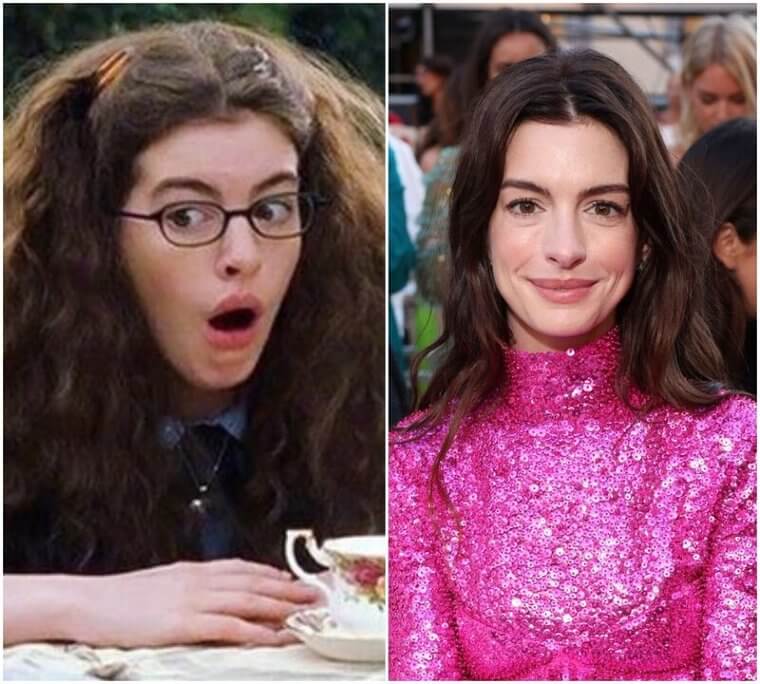 Hathaway made another milestone in her acting career through her role in Les Misérables, a 2012 adaptation of the musical, which in turn was adapted from the novel. Her role as Fantine saw her lose weight and shave her head. Hathaway stated in an interview that her roles do not "feel like sacrifices. Getting to transform is one of the best parts of [acting]."
Robin Williams
Robin Williams was a legend during his lifetime, having played a long list of highly successful roles that shocked, inspired, and amused. One of the most notable characters played by Robin Williams required the comedic actor to transform into an elderly Scottish housekeeper.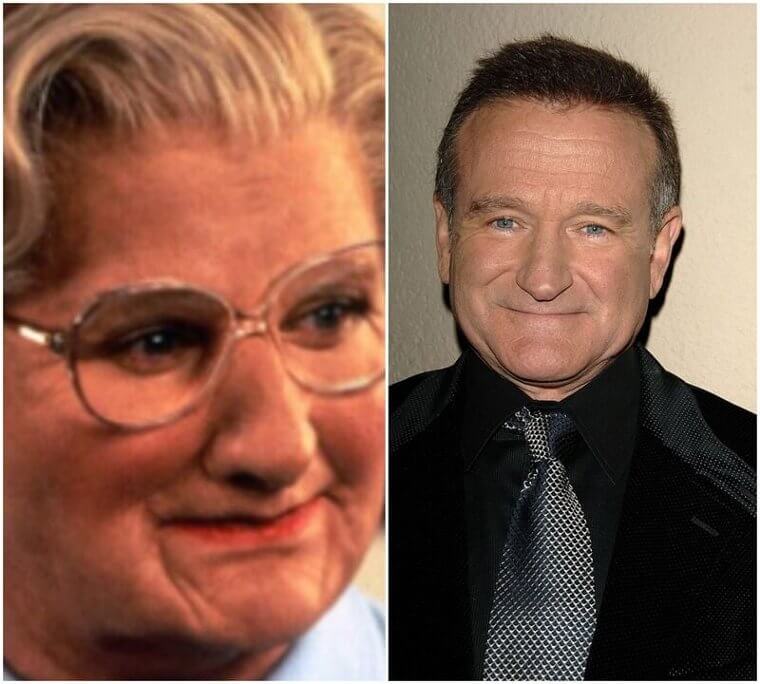 The story behind Mrs. Doubtfire is heartwarming. Robin Williams' performance in the body of a plump old woman with whitened hair only makes the film even more touching. Seeing the established actor in vintage clothing and granny heels is the cherry on the top!
Taryn Manning
Although Taryn Manning began her acting career in the late 1990s, it was her role as Tiffany "Pennsatucky" Doggett in the Netflix series Orange Is the New Black that won her worldwide fame. She took the offer right off the bat, even stating in an interview that she "loved it and didn't need to look any further. [She] was sold."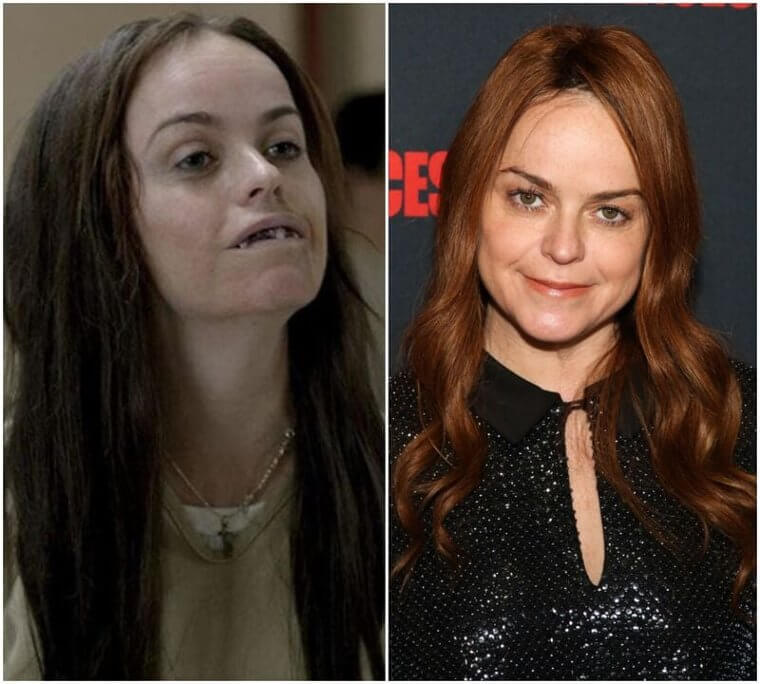 Described as "a young woman from western Pennsylvania who proudly called herself a redneck," Tiffany Doggett's most defining features are her missing teeth and receding gums. This was probably because she was a drug addict before being sent to prison. Manning, on the other hand, is a stunning actress who has enjoyed roles in films and other TV shows, most notably Sons of Anarchy.

Heath Ledger
In a tragic turn of events, Heath Ledger's training to perform the role of the Joker is said to have contributed to his untimely death by suicide. His acting skills shine through the extravagant makeup and adds to his unforgettable performance. In addition, his aesthetic transformation is second-to-none.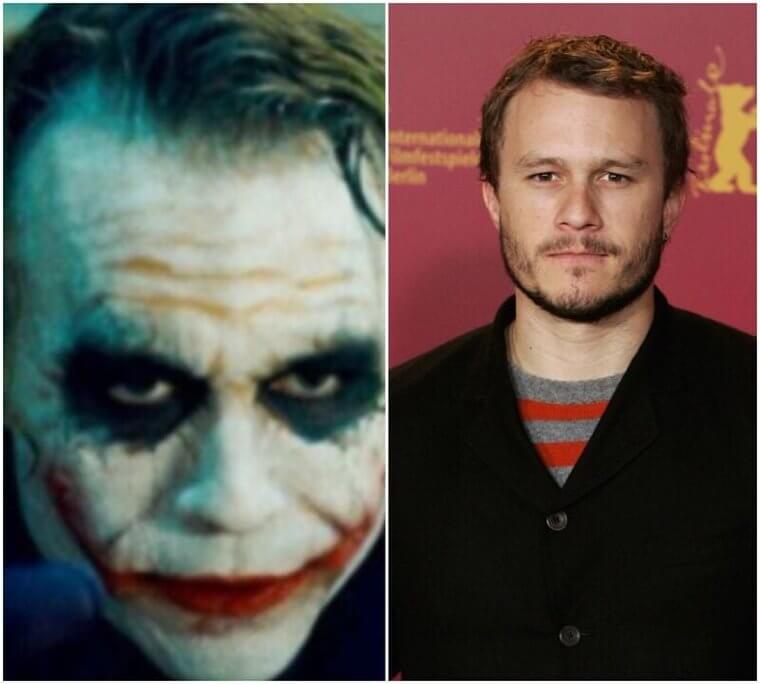 The incredible part about Heath Ledger's transformations is that there are no prosthetics involved. Simply facepaint and convincing facial expressions. It's undeniable that both the makeup and Heath Ledger's performance brought the villain to life.
Elisabeth Moss
Elisabeth Moss is well-known to many people for her role as Peggy in Mad Men, AMC's hit series. Her character started out as the secretary to Don Draper, the show's main character. Peggy's coworkers scrutinized her looks during her debut episode, with most of them suggesting that her appearance should match the office atmosphere.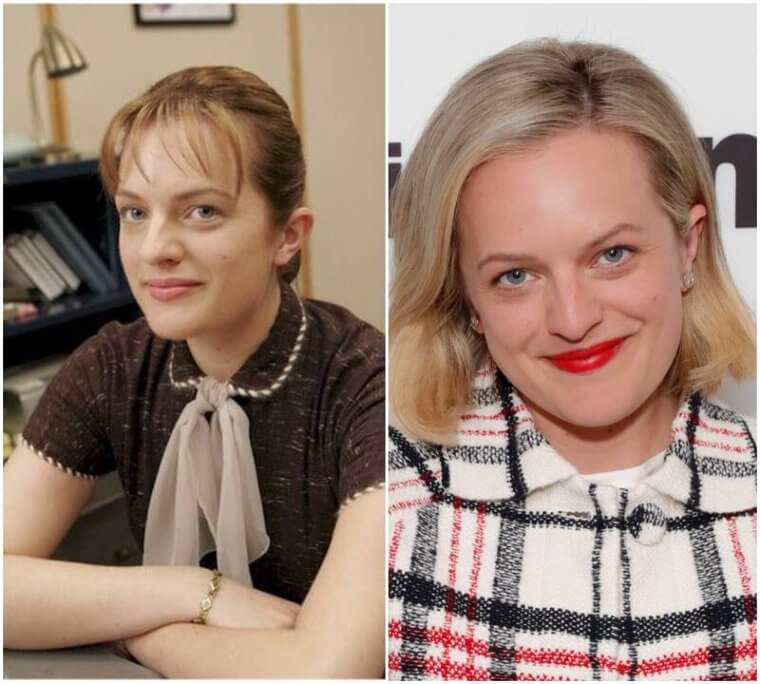 Though Moss's real-life look is a far cry from Peggy's innocent, homely appearance, she loved the fact that her character became an advocate for feminism. Throughout the show, Peggy insistently calls out the double standards between men and women. The series is set in the 1960s, and its portrayal of gender stereotypes is a reflection of the standards of the time.
Eddie Redmayne
Eddie Redmayne's performance as Lili in The Danish Girl earned him an Academy Award nomination among many other notable mentions. This is largely due to the outstanding transformation of Einar into Lili after his suppressed identification is triggered when he poses as a female model for his wife's painting.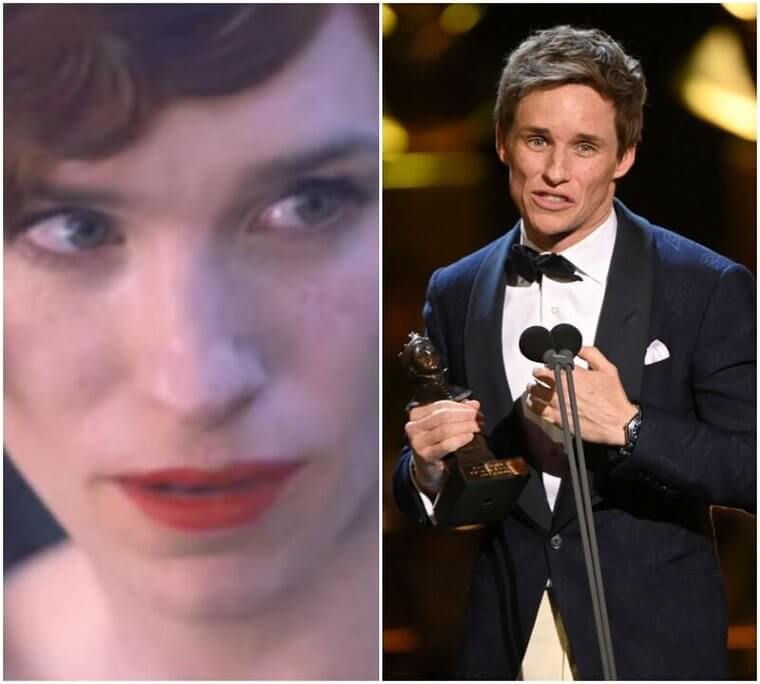 The talented actor's defined features are highlighted with makeup and a delicate wig frames his face in a soft, feminine way. Perhaps the best part about this transformation is that you can watch it unfold through the story.
America Ferrera
America Ferrera's biggest breakthrough came when she won the role of the titular character in Ugly Betty. Ferrara portrayed Betty Suarez, an ambitious young woman known for wearing glasses, adult braces, and unusually bright outfits. The show focuses on Betty's struggles fitting in after getting hired by a high-fashion magazine.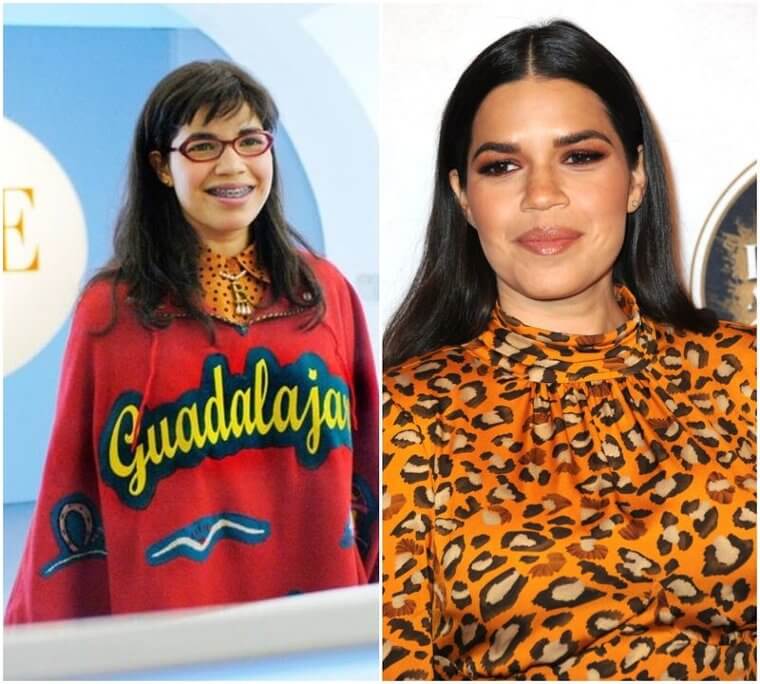 America Ferrera became a household name in the US for her performance in the show, but many people imagined she was just like Betty in real life. Betty gets a makeover towards the end of the series, but this still doesn't stop the fans from being surprised by Ferrera's appearance whenever she walks the red carpet.
Richard Brake
The Game of Thrones television series took the world by storm. And in the center of the storm was a very-well disguised Richard Brake as the Night King. The Welsh-born actor has found fame playing several iconic roles in films such as Perfect Skin and The Tonto Woman and yet his name will most notably be remembered for his threatening and unrecognizable getup in George R.R. Martin's show.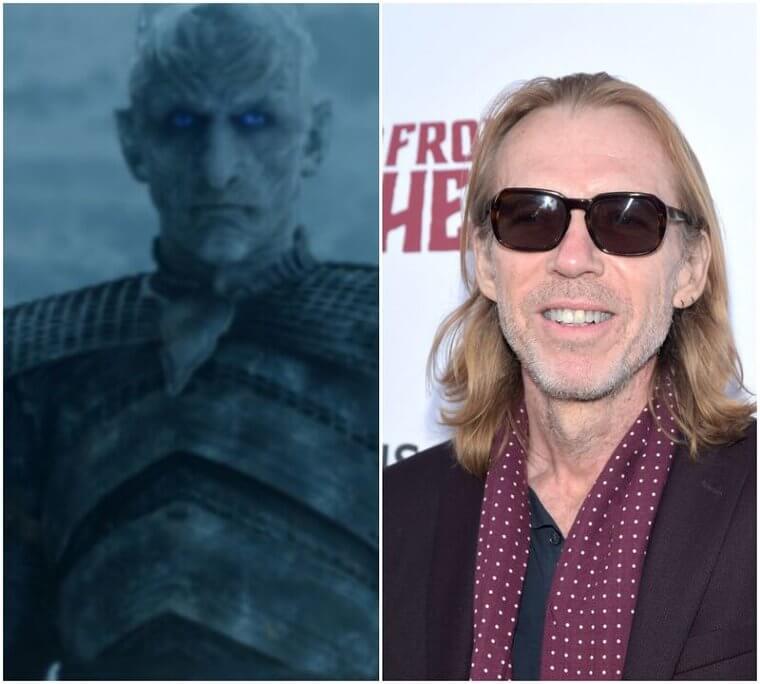 The show's prosthetic designer, Barrie Gower, did an incredible job. He describes his time on set with the following words, "The process of prosthetics is something I don't think people are aware of how extensive it is. It's such a complex department, and the builds that go into these things are quite time-consuming."
Charlize Theron
Many of you may already know Charlize Theron for her roles in blockbuster movies such as Mad Max: Fury Road, The Italian Job, and Snow White and the Huntsman. She was considered an "It girl" by Hollywood in the early 2000s. At the peak of her career, Theron starred in Monster, a 2003 crime drama about serial killer Aileen Wuornos.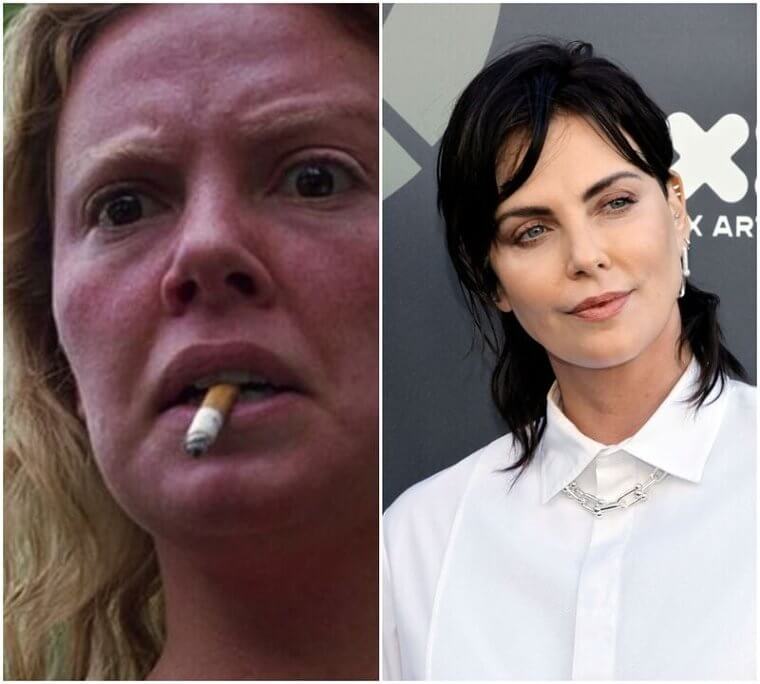 Wuornos was a real-life lady-of-the-night-turned-serial killer from Florida who was executed in 2002 for murdering six men. Theron's portrayal was lauded by film critic Roger Ebert as "one of the greatest performances in the history of the cinema." It seems the Academy agreed as Theron won the Best Actress Oscar in 2004 for her role in Monster.
Jacob Tremblay
Jacob Tremblay may be a young player in the Hollywood scene, but his achievements are already notable, especially his breakout performance as the starring role in the award-winning film Room. This only made his performance as a deformed boy named Auggie all the more impressive.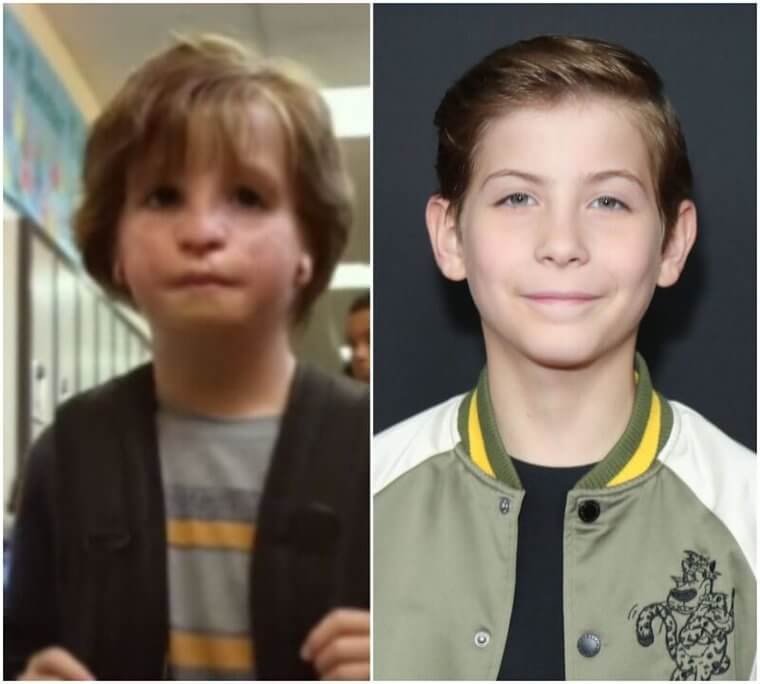 The transformation of the adorable actor to a young boy suffering from a rare condition called mandibulofacial dysostosis is quite remarkable. Not only did Jacob Tremblay prepare for the part by talking with patients at Toronto's Hospital for Sick Children, but he also had prosthetics and a lot of makeup applied to himself.

Emma Thompson
Emma Thompson is a British actress known for her roles in the Harry Potter film series, as well as Love Actually, and Sense and Sensibility. However, one of her most stand-out roles is that of Nanny McPhee in the movie of the same name. Nanny McPhee was a magical nanny known for her "frighteningly hideous" looks (achieved through extensive makeup).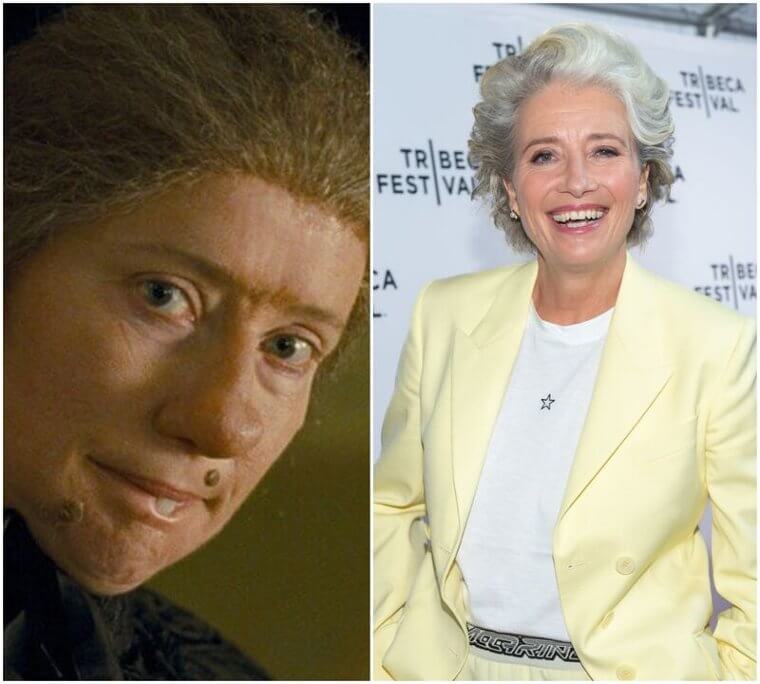 Although the children do their best to oust her, just like their previous nannies, Nanny McPhee's patience and magic eventually win them over. She even becomes more beautiful with each lesson learned by the children. Emma Thompson is a beautiful actress in real life, yet she was not afraid to go "ugly" for the role.

John Travolta
John Travolta is renowned for being able to adopt a variety of personalities and characters on the big screen. While he's most commonly associated with the smooth-talking Danny from Grease, he is also known for his convincing performance in Tarantino's Pulp Fiction and more recently, The Fanatic. But of all of these films, his most astounding role is the plump, self-conscious Edna Turnblad in Hairspray.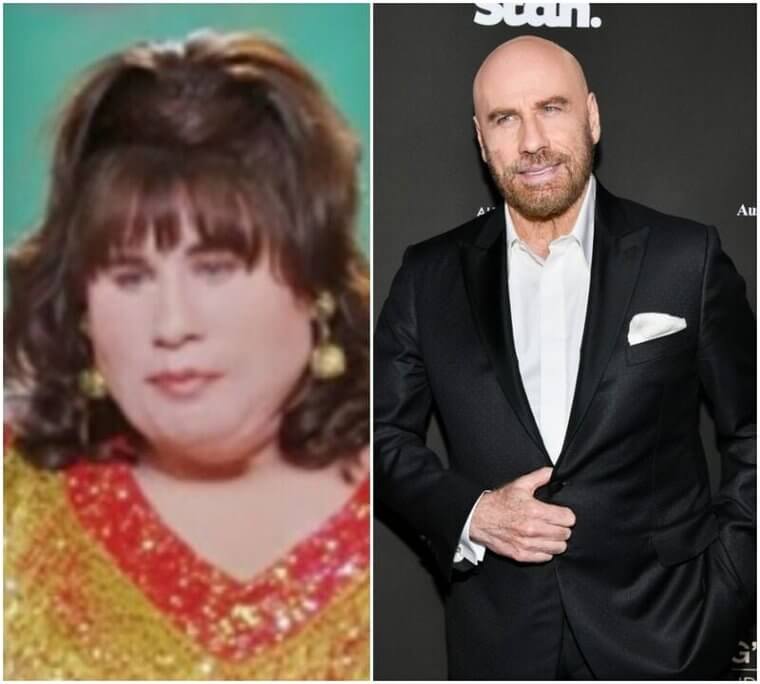 There was a lot of work that went into creating a convincing character of John Travolta. Yet they pulled it off! Thanks to prosthetics, makeup and a poofy wig, John's usual handsome face became that of Edna Turnblad.
Thesy Surface
Thesy Surface has appeared in a couple of episodes of It's Always Sunny in Philadelphia. She portrays Margaret McPoyle, a deaf-mute girl with a unibrow. In addition to these eye-catching traits, the character apparently has an incestuous relationship with her two brothers.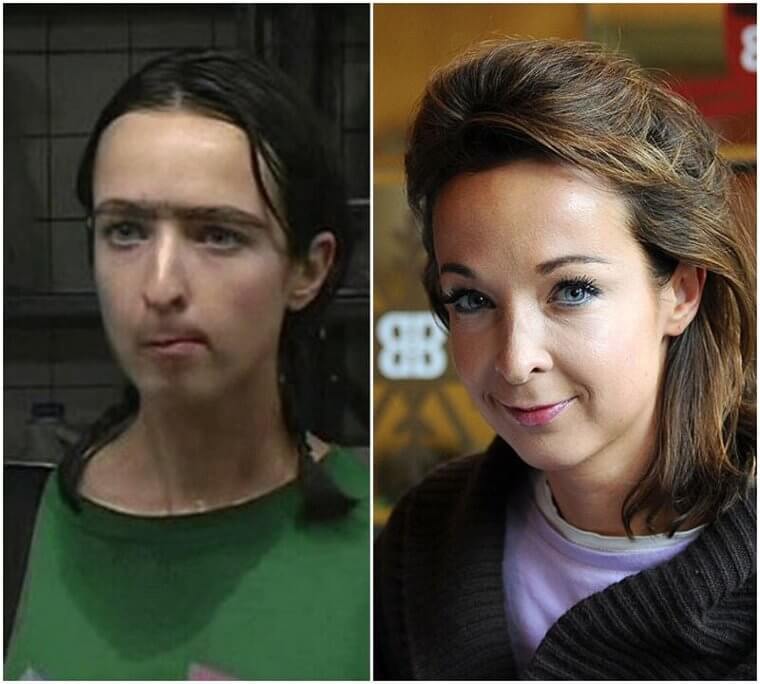 Fortunately, none of these character traits apply to actress Thesy Surface! Indeed, with such a shocking backstory, it's a relief to know that Margaret McPoyle is nothing more than a fictional television character in a comedy series. As for Thesy Surface, we hope she gets more unusual roles as she continues her acting career.
Johnny Depp
Johnny Depp is no stranger to evolving into different characters. From playing Edward Scissorhands to Captain Jack Sparrow, he's the well-titled chameleon of Hollywood. And yet perhaps one of the most impressive transformations was Johnny Depp's metamorphosis into James 'Whitey' Bulger in Black Mass.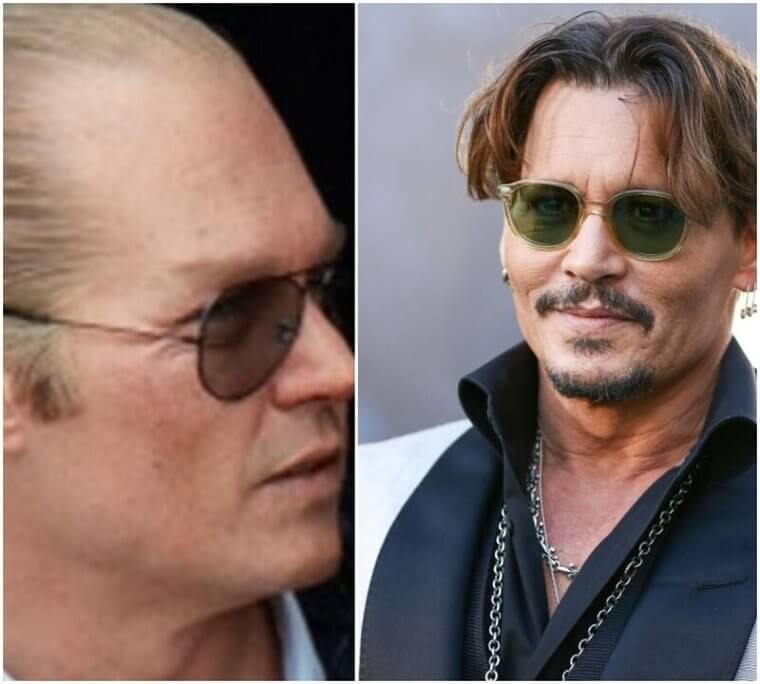 Playing the role of a notorious crime boss who was eventually killed by fellow inmates while in prison, Johnny Depp's usual head of luscious hair became a noticeable receding hairline. And his usually expressive face melts into a frown. His transformation is undeniably convincing!
Judy Greer
American actress and author Judy Greer is a familiar face from many popular shows and movies. Some of her most-loved roles include Ingrid Nelson/Fatty Magoo in It's Always Sunny in Philadelphia and Californication's Trixie. However, one of her most bizarre outings to date is undoubtedly her role as Arrested Development's Kitty Sanchez. Indeed, this role is what most people know the actress for.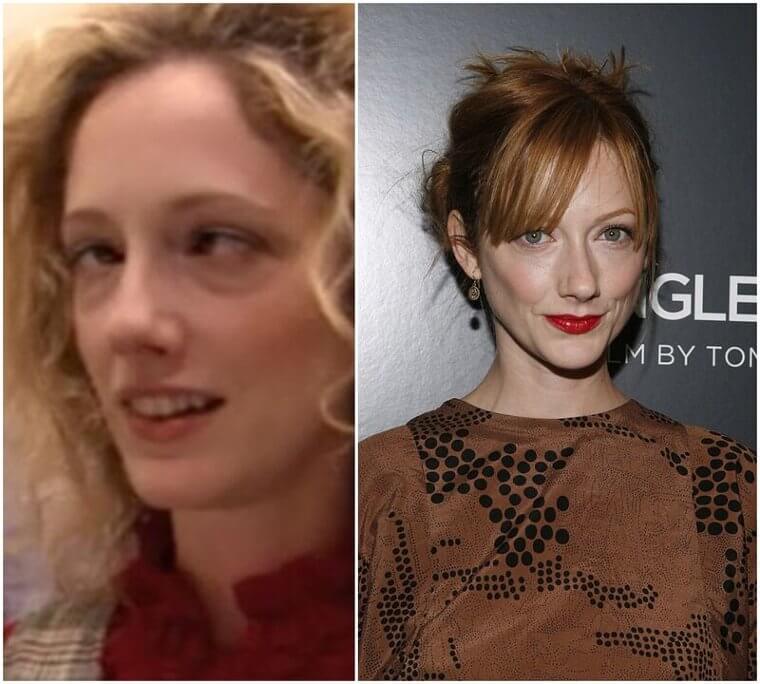 Greer stated that she remembers "making the choice to make people laugh." Her reasons include being a "late-bloomer" and having an easier time playing the "funny friend" instead of trying to be a "pretty friend." She also said she didn't develop curves like most girls have, and had frizzy hair and braces to contend with. She also said that she "took ballet dancing forever and there was a natural transition into acting."

Ryan Reynolds
It's almost unsettling to see Ryan Reynolds' usually handsome face transform into a mottled and scarred facade in Deadpool. In the story, the anti-hero's super healing power fails to cure his cancer and his face is left disfigured.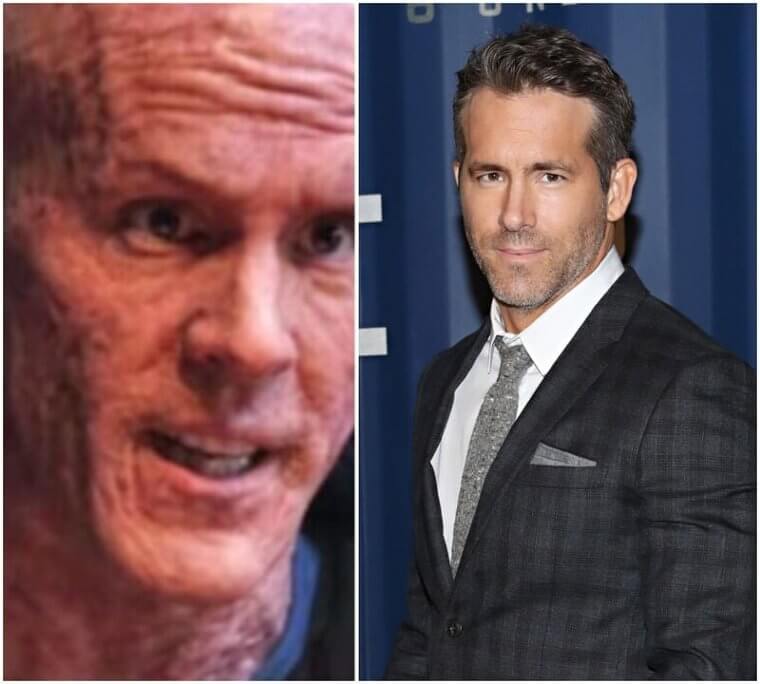 It's only when he takes off the mask that you can see the work done by makeup artist, Bill Corso. The prosthetics and makeup team completely transformed his face into a scarred character with remnants of his usual features shining through - just enough to recognize the actor!
Vanessa Hudgens
Vanessa Hudgens was widely known for her role as Gabriela in the hit Disney TV movie High School Musical, but in 2013 she took a vastly different role in the independent drama film Gimme Shelter. In the film, Hudgens portrays a struggling teenage girl named Apple who has been hopping from shelter to shelter to escape her abusive, drug-riddled mother.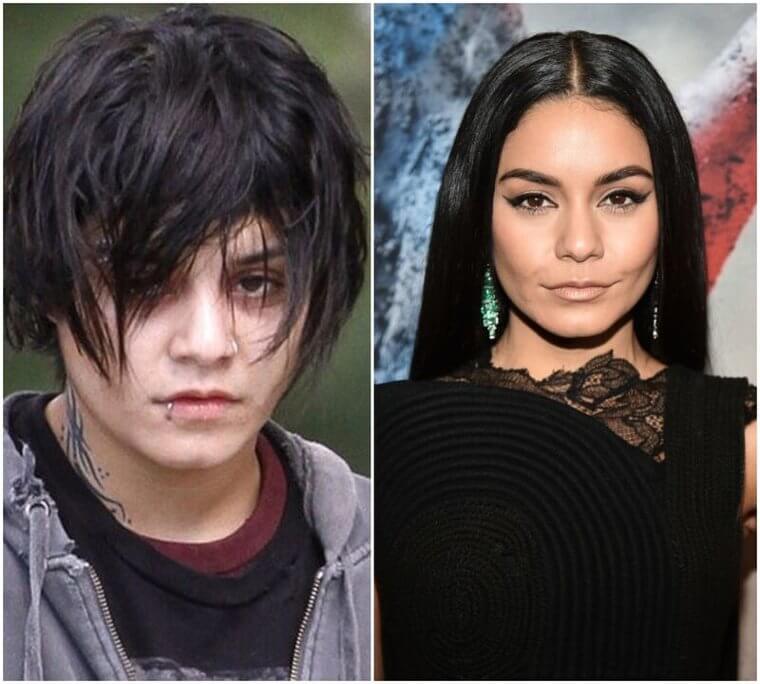 Even after finding some hope with her birth father, Apple is promptly kicked out after it's discovered that she's pregnant. As seen in the picture, Hudgens drastically altered her appearance to fit the role.
Eddie Murphy
Eddie Murphy takes centerstage in Coming to America by not only playing the protagonist, Prince Akeem Joffer, the Prince of Zamunda, but also soul singer Randy, barbershop owner Clarence and Saul, a Jewish barbershop customer. The amazing part of this casting decision is that you can barely notice Eddie Murphy playing these different roles - especially Saul.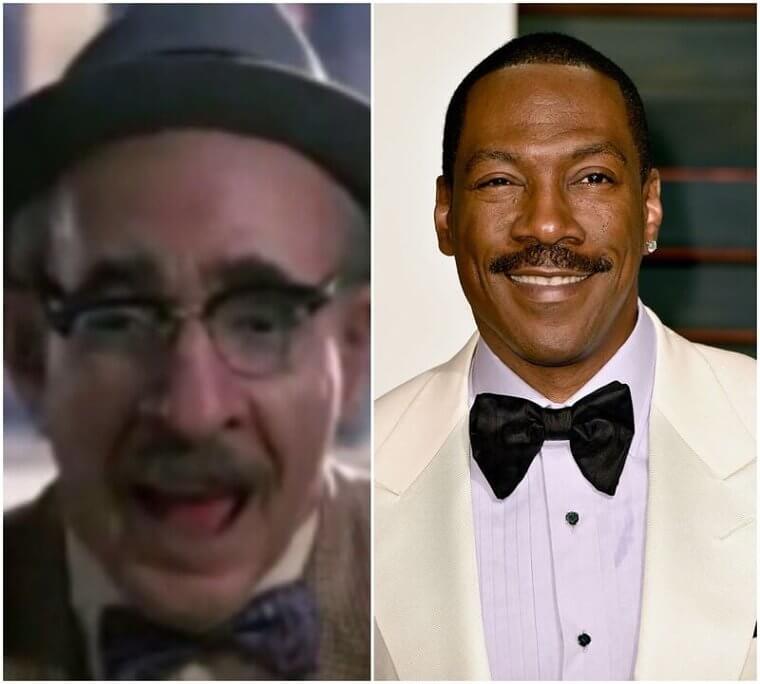 Transforming into a white, Jewish man, Eddie Murphy's character shows that he isn't only able to change his voice and personality - but also his entire look!
Rooney Mara
Although actress Rooney Mara made her debut in 2010 with the movies Nightmare on Elm Street and The Social Network, it was only in the following year that she rose to prominence with her starring role in The Girl with the Dragon Tattoo. Mara portrayed Lisbeth Salander, a troubled-yet-talented hacker, and investigator who's given a special task in the film.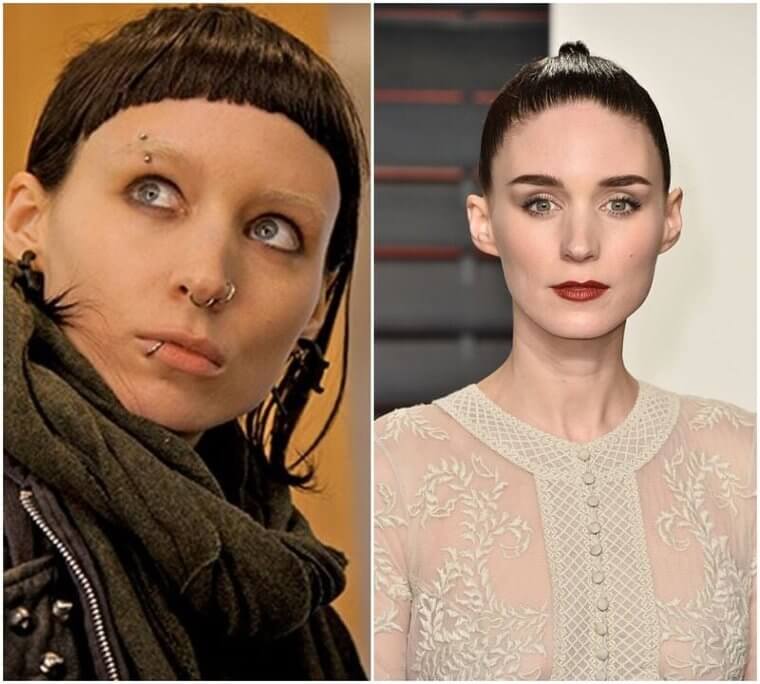 Since her character had short hair no eyebrows, as well as piercings on her face, Mara had to take the challenge and copy Salander's looks. While all that may seem painful, it was worth it in the end as her performance was met with worldwide critical acclaim. Mara was even nominated for a Golden Globe and an Oscar for her acting.

John Matuszak
Makeup and costume design was significantly less advanced in the '80s, but John Matuszak's transformation in The Goonies is quite impressive. Football star, John Matuszak, takes on a different role when he has his face molded with a combination of prosthetics, makeup, and animatronics.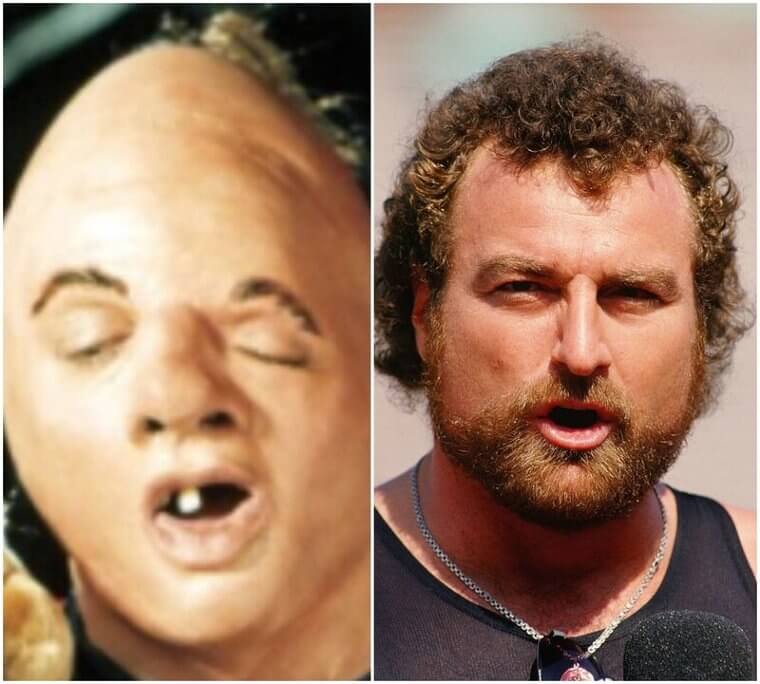 John's usually stoic face appears to be melting right off and his mouth which is normally full of teeth is full of gaps. His character is completely unrecognizable and it's tough to imagine that a young kid would ever befriend such a scary face.
Bette Midler
Among her iconic roles, Bette Midler's portrayal of Winifred, head witch of the Sanderson Sisters from Hocus Pocus, was one of the most memorable. In the 1993 Disney film, she and her sisters were executed during the Salem witch trials but were given a chance to resurrect through a spell if a special candle was lit by a virgin.

This second chance is eventually given to them, but the witch sisters return to their wicked ways of sucking the souls out of children to preserve their youth. Though the film was a cult classic for children who grew up in the 1990s, few know that the beautiful and talented Bette Midler was the woman who played the wicked witch.
Tim Curry
If you've ever wondered why clowns have earned a nightmare reputation, then you've probably never watched It. The story tells of a group of children who have to face their personal demons - and Tim Curry's face made up as a clown adds to the horror.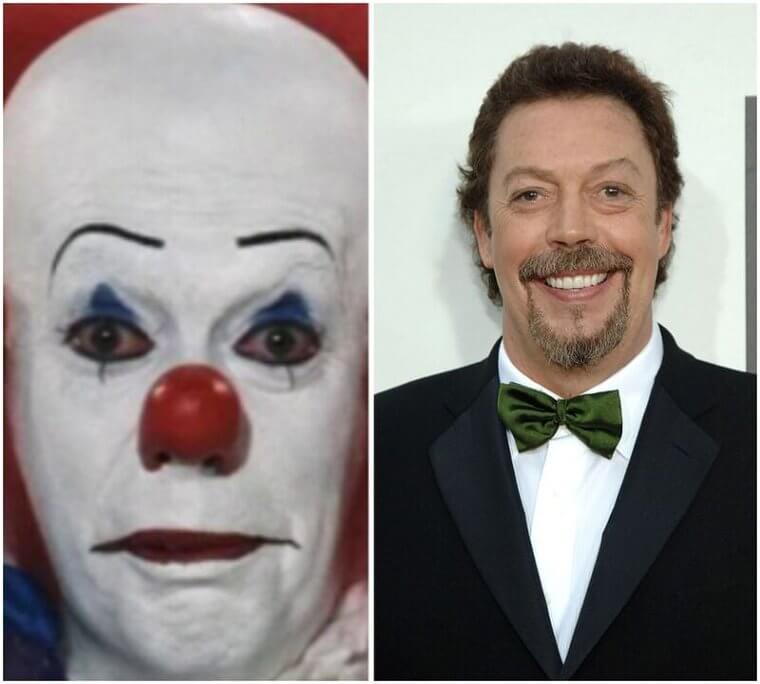 Tim has played a wide range of characters in theatre, film, and television, but none are as terrifying as his role as Pennywise the Clown in the adaptation of Stephen King's thriller novel. We won't blame you if you've since developed a fear of clowns...
Drew Barrymore
Never Before Kissed came out in 1999 and instantly became a Drew Barrymore classic. The film centers around Josie Gellar, a girl who was geeky during high school but is given a chance to redeem herself when tasked to go undercover as a high school student. Barrymore's character was known to wear ridiculous outfits that embarrass her in front of her peers.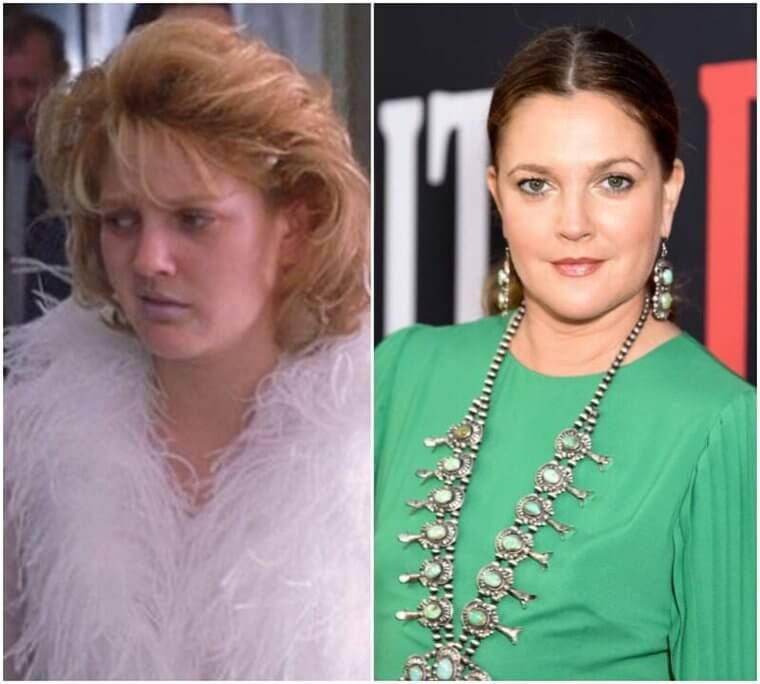 Once she realizes how ridiculous it was, Gellar tries to get rid of her high school persona and create a newer, "better" one. Barrymore certainly had to wear some crazy outfits in order to convince the audience of her character. The costume and makeup artists did an amazing job of transforming her into "Josie Grossie" during the high school flashback segments.

Bill Skarsgård
Like all successful films, It had a remake done in 2017 and the makeup was equally as impressive - if not more so! Pennywise the clown was played by Bill Skarsgård who normally sports a goofy grin or a sultry gaze, but his role in It was something else.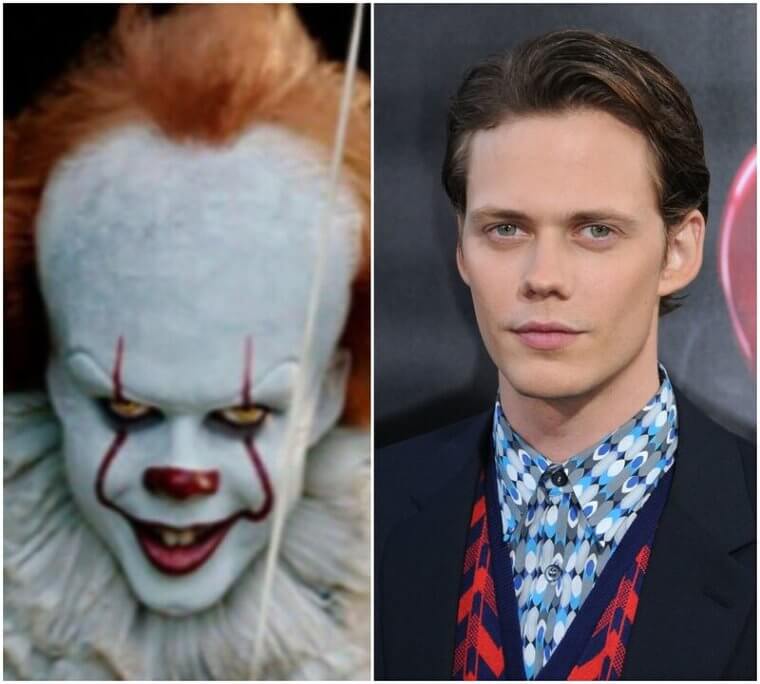 The clown makeup expertly disguised Bill's handsome face to appear as menacing and haunting. Not only was ghostly coloring painted on his face and clown makeup applied but his forehead was expanded to hold a tuft of red hair. Creepy!
Cameron Diaz
Actress Cameron Diaz managed to enthrall the audience with her performances in the 90s classics, The Mask and There's Something About Mary. She also won hearts as her voice as Fiona in the Shrek film series. However, 1999's Being John Malkovich didn't depict her as the sexy 90s starlet everyone came to see her as.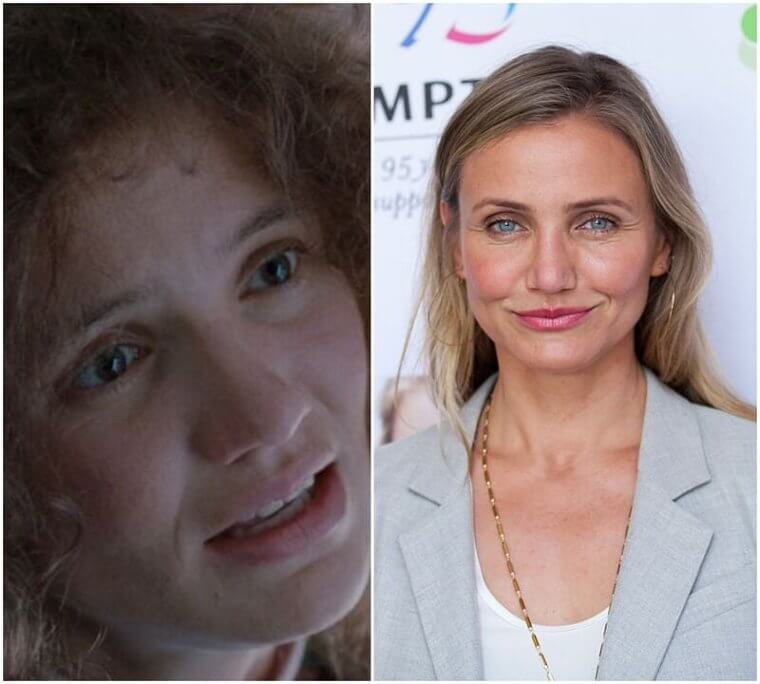 Diaz plays Lotte, a woman obsessed with pets who is able to "live out her transgender desires" when her husband directs her to a portal that allows her to access the mind of actor John Malkovich. Her character was so unusual that fans didn't immediately recognize her. Gucci Westman, Diaz's makeup artist, said that it was "a challenge, to make her look homely."
Doug Jones
They say that dog owners often look like their pooches, and we can't help but argue that some actors look like their fictional characters. When you see Doug Jones without the makeup, you can see how the casting directors decided to pick him for Paleman.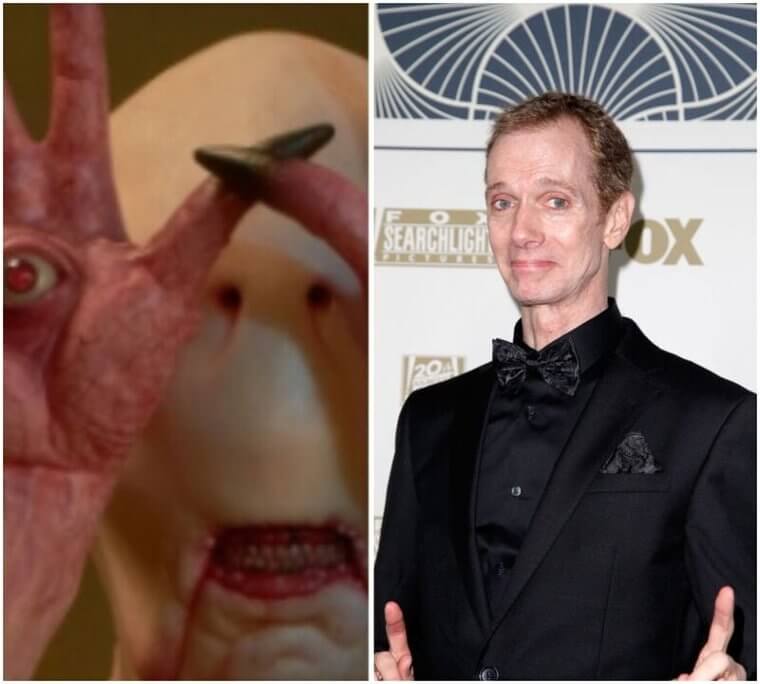 Doug Jones is actually known for portraying non-human creatures and is no stranger to heavy make-up and visual effects. However, Paleman takes this makeup to a whole new level as the creepy creature fans its hands to reveal its beady eyes.
Kate McKinnon
Kate McKinnon is known to be a funny woman, who has played so many memorable characters during her time on Saturday Night Live. Both McKinnon and her audience are thankful that she landed the comedy gig because otherwise, she would still be "destitute, unemployed, living in L.A." This definitely isn't a reality any of us would want to imagine!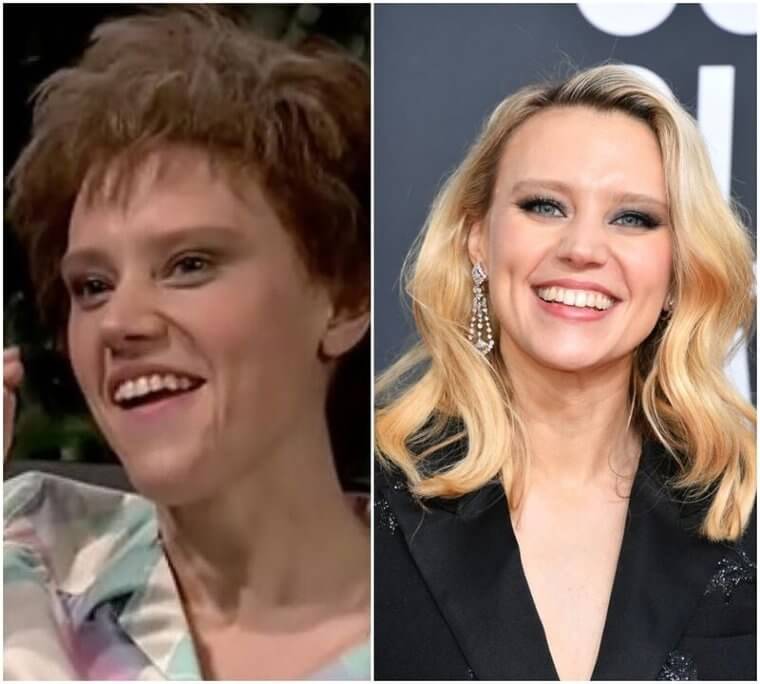 Although McKinnon is a natural beauty, she has played many unusual roles (including an eerily accurate portrayal of Justin Bieber). Speaking of the character you see in the picture, McKinning explained, "I'm unrecognizable because I'm coated in cat hair and sweat. And there's a sort of yeti quality to my presence … so I don't think that people can see the face." The talented performer became even more famous after spoofing Hillary Clinton.
Robert Downey Jr
Robert Downey Jr is barely recognizable as Kirk Lazarus in Tropic Thunder. Heavy makeup and excellent costume design disguise the Ironman actor as a black man in the story of a group of diva actors making a Vietnam War film.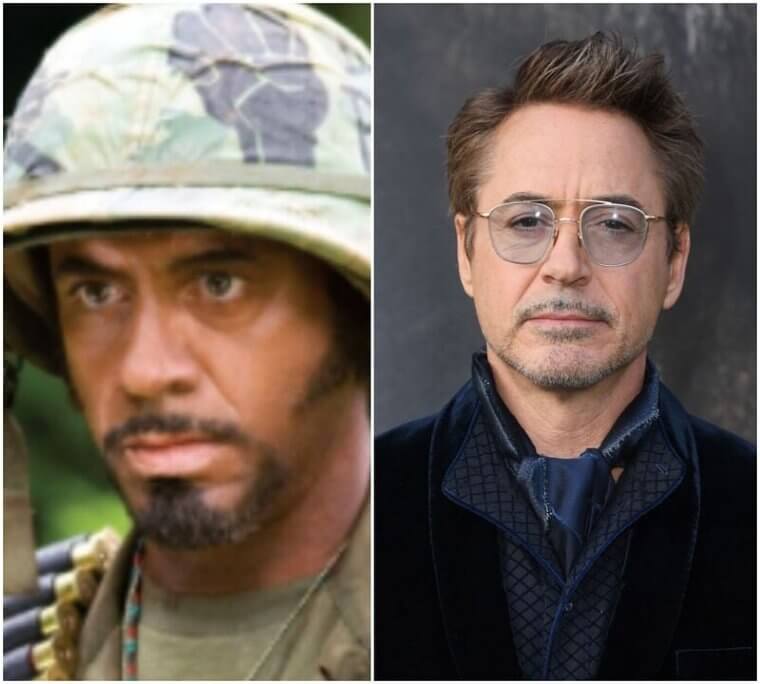 The role earned Robert Downey Jr an Oscar nomination for Best Supporting Actor, but it was controversial as it raised concerns about blackface. Still, to date, the decision to play the role has continued to spark debate and controversy.
Meryl Streep
One of the world's most illustrious actresses, Meryl Streep landed a role in the 2014 film Into the Woods, where she portrayed the witch. Judging by her looks, one can tell that the producers were intent on making Streep's character as unnerving and frightening as possible. Those who are familiar with Streep's work, however, find her more talented than terrifying.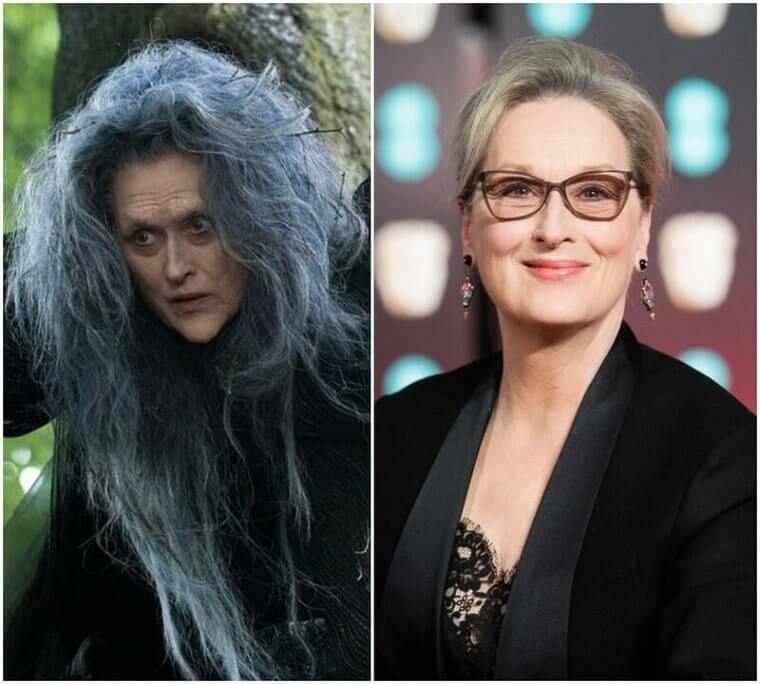 In the film, the witch actually has two appearances. One is the result of a curse designed to make her scary, and the other is not much different from Streep's real-life appearance. Being able to go from beautiful to scary and back again is a skill most fans would expect from Streep.

Daniel Radcliffe
Daniel Radcliffe has come a long way from his acting debut as Harry Potter. Playing the role of a man who is falsely accused of raping and murdering his girlfriend in Horns, his character uses newly discovered paranormal abilities to hunt down the real killer. In doing so, he transforms to become a terrifying character.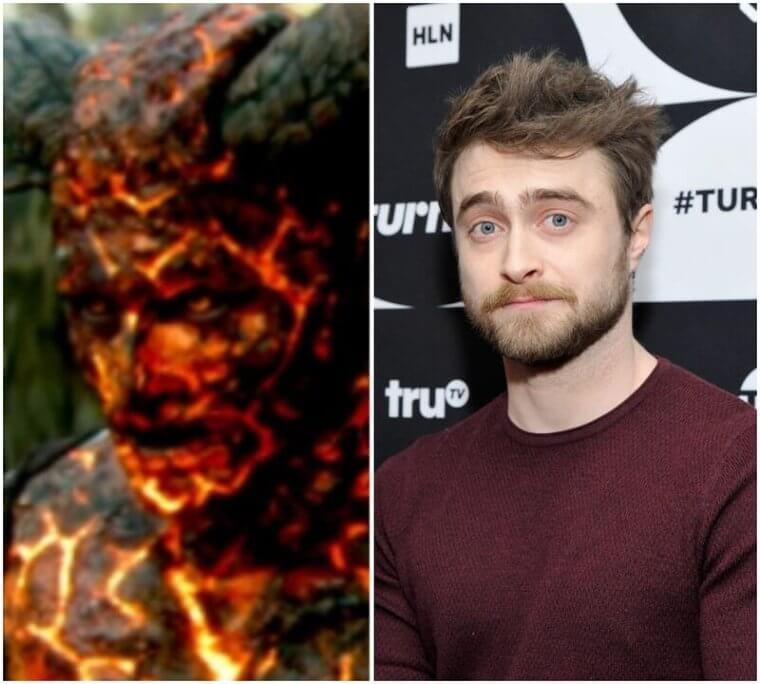 To achieve this menacing look, Daniel Radcliffe had a lot more work done than just the two horns on his head - although these horns alone are very convincing. In the end, he transforms into a fully-fledged demon yet the makeup team supposedly only took two hours to apply the look.
Salma Hayek
When Salma Hayek was called to portray Frida Kahlo in the biopic Frida, the resemblance was astonishing. Frida Kahlo, a legendary artist, was famous for her unconventional looks. In particular, her signature unibrow. Hayek was outfitted with a unibrow by makeup artists, and that's pretty much all it took to make her look the part.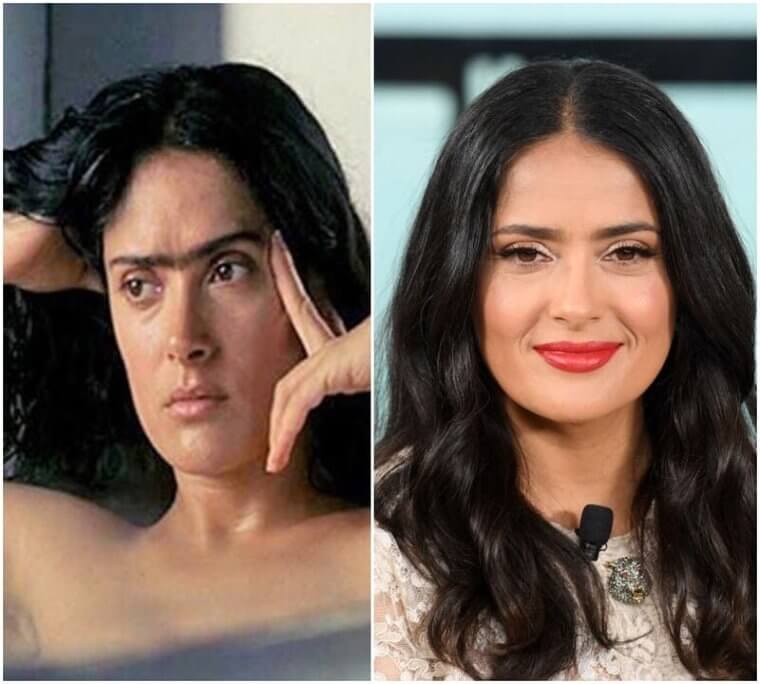 Hayek admitted in an interview that she found Kahlo's artworks to be "ugly and grotesque" when she was young. It was only through learning about the artist that she managed to appreciate her work for its "passion and depth." Hayek even consulted Dolores Olmedo Patino, the lover of Diego Rivera, who was in turn, Frida Kahlo's husband, in order to prepare for her role.

Peter Mayhew
Did you know that the loveable Chewbacca is played by an actual human and is not just a computerized character? In fact, Peter Mayhew found fame by playing the role of the fan-favorite wookie.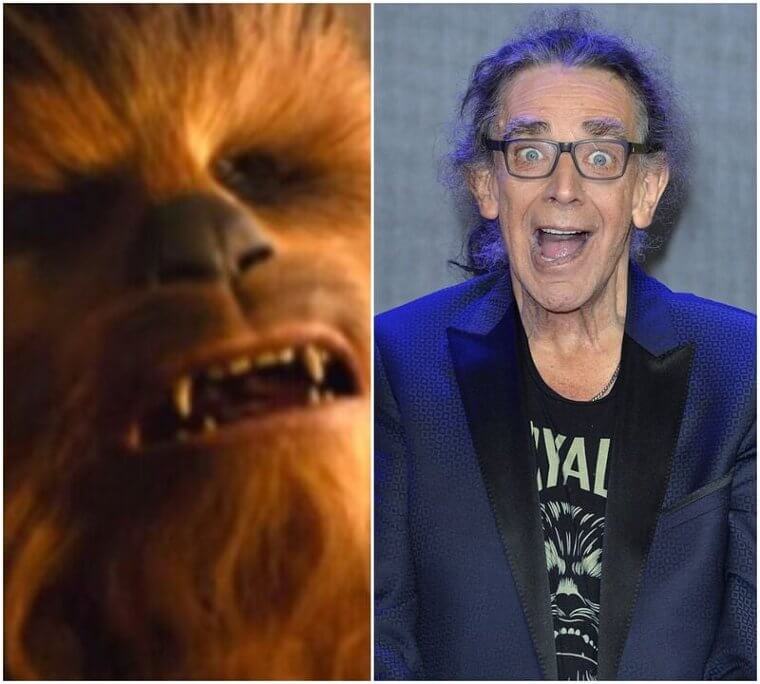 The character's aesthetic was supposedly inspired by director George Lucas's dog and the suit is made from a mix of animal hairs including a combination of yak and rabbit. In addition, the first sound effect that George Lucas hired was Chewie's voice. We can't help but wonder if Chewbacca's iconic outfit is what helped win the furry creature a Lifetime Achievement Award from MTV.
Linda Cardellini
Although she had many acting roles in movies and television, most people still associate Linda Cardellini with her role in the television series Freaks and Geeks. Aside from that, she also took on the character of Velma Dinkley in the 2002 live-action adaptation of Scooby-Doo.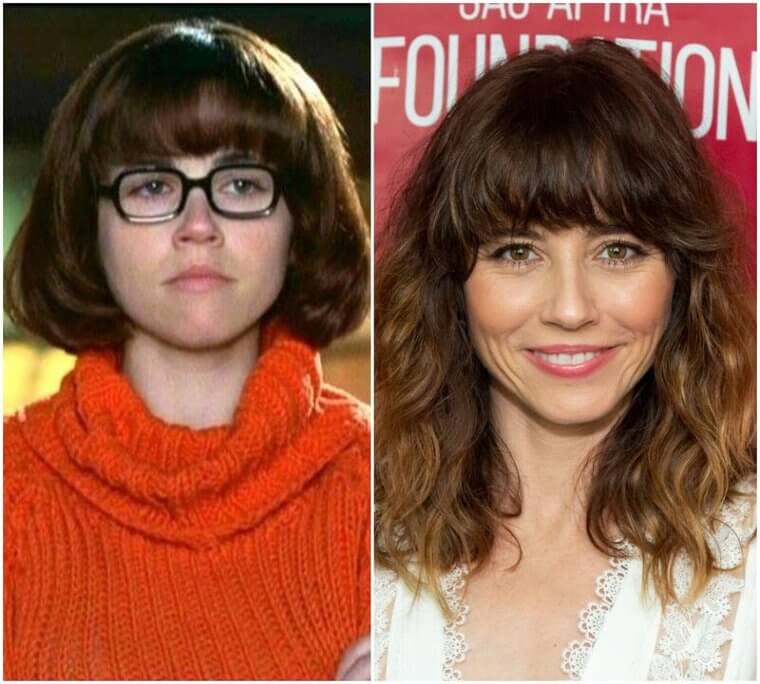 To accurately represent the homely Velma, Cardellini was given a makeover, along with a pair of glasses and an orange sweater. She reprised the role for the movie's sequel, where Daphne gives her a makeover to make her look "pretty" in order to impress a guy. This "makeover" really involved undoing all the hard work of the costume and makeup artists to reveal Linda's true appearance. 
Michael Keaton
Michael Keaton pushed his boundaries to play the role of the bio-exorcist Beetlejuice in the comedy horror film, Beetlejuice. Prosthetics and makeup were rather basic in the '80s yet Michael Keaton's transformation is quite astounding.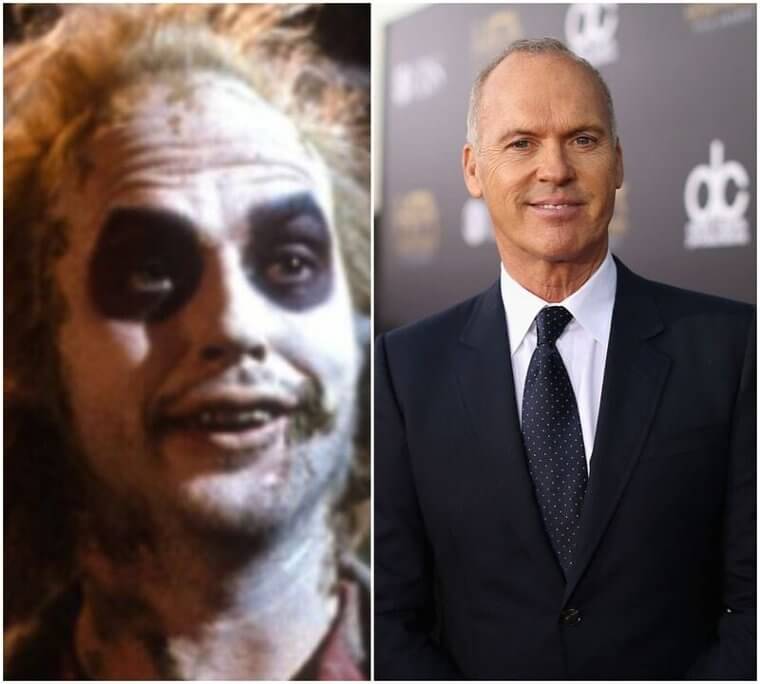 Director Tim Burton is known to include his own concept art in his films and Oscar-winning makeup artist Ve Neill used these doodles to create the character. In the end, Michael Keaton's nose was made to look broken by gluing swollen lips to the bridge, he was given a set of decaying teeth and his skin was painted a very pale yellow-white color.
Mayim Bialik
Mayim Bialik made her debut as the titular character in the TV series Blossom, but she is perhaps more famous as Amy Farrah Fowler in the CBS show The Big Bang Theory. Amy is a highly intelligent woman who fits the stereotypical nerdy type. Even though others find her to be strange, she serves as the perfect love interest for Sheldon, one of the main characters.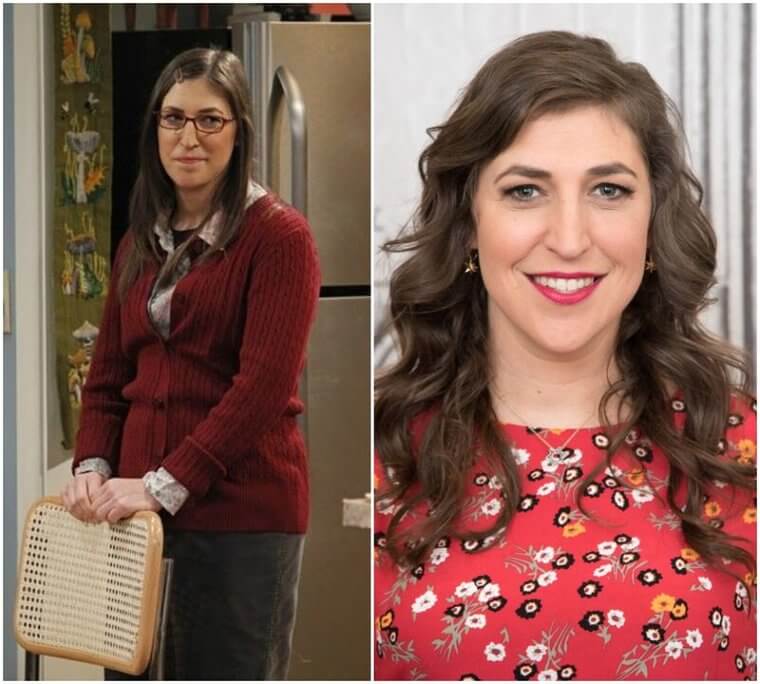 Although Bialik plays a homely character in the show, she is beautiful in real life. Just like the character she portrays, Bialik holds a Ph.D. in Neuroscience from UCLA. After getting her doctorate, she returned to the entertainment scene so she could spend more time with her family, especially her children.
Tilda Swinton
The story of The Grand Budapest Hotel pivots around a gent named Gustave trying to prove his innocence after being arrested for the murder of Madame D, a character who is played by none other than Tilda Swinton. Although, you wouldn't immediately say so when you first catch a glimpse of her elderly face.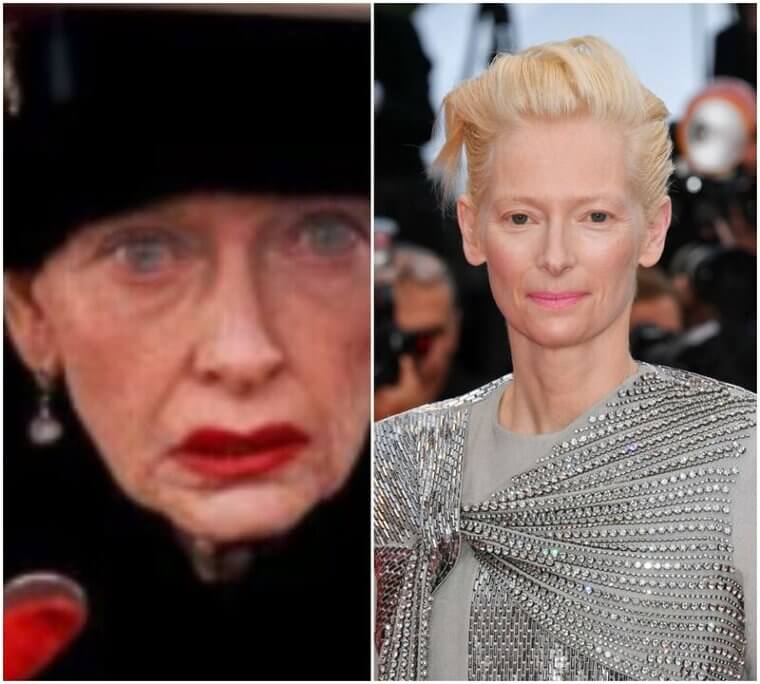 The makeup artist used very soft silicone rubber to transform the glamorous features of Tilda Swinton into the 84-year-old Madame D. In total, 11 pieces of prosthetics were used to age the gorgeous actress.

Mae Whitman
Mae Whitman started her career at a young age, starring in films like Independence Day.  However, she is mostly remembered for her role as Arrested Development's Ann Veal. Ann is the girlfriend of George Michael, Michael Cera's character. Because of her bland appearance, it became a running gag on the show for her to be forgotten.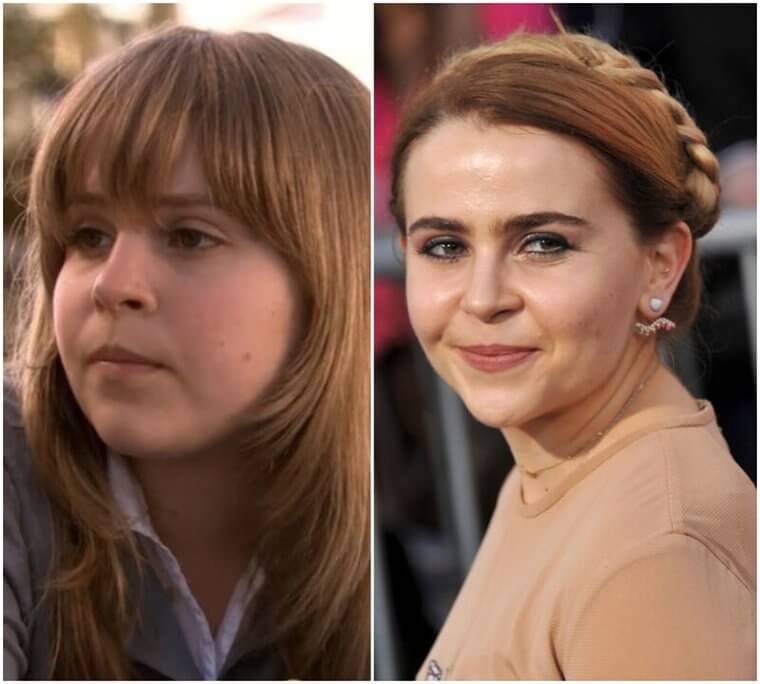 Whitman, on the other hand, is nothing like her character and has enjoyed plenty of other acting gigs since the show's end. In 2015, Whitman landed a role in The Duff, where her character was designated as "the duff" among her circle of friends. In the film's world, the word "duff" stands for "fat ugly friend," which is ironic considering how beautiful the actress is.

Ron Perlman
Ron Perlman has an unforgettable face and if you've seen any of his popular productions such as Quest for Fire and Sons of Anarchy then you'll instantly recognize him in Hellboy - even with the remarkable costume design efforts.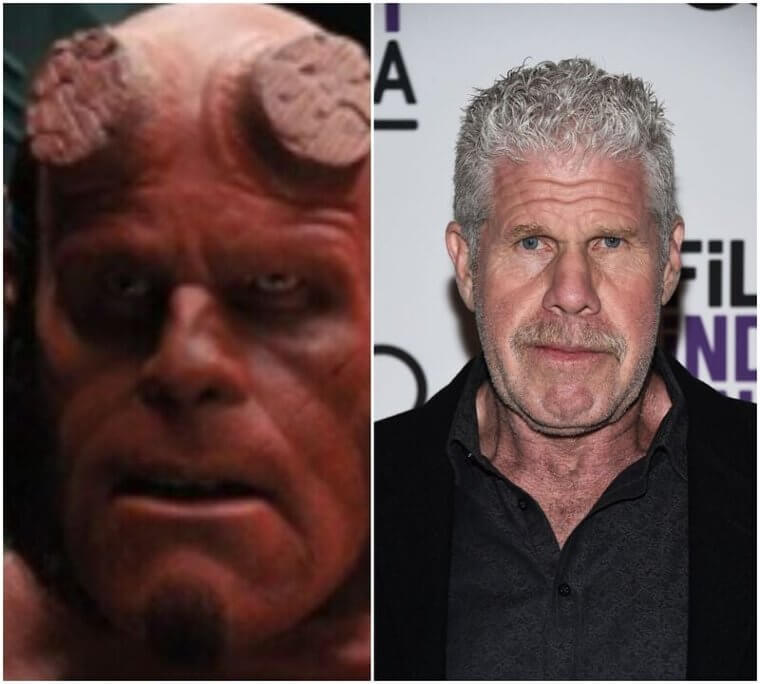 Almost 60 people were involved in the build of Hellboy's costume design (and other characters). There was a lot of effort put into the prosthetics works and a lot of thought had to be given to Ron Perlman's comfort while acting. In the end, it was pulled off without a hitch!
Maisie Williams
Margaret Constance "Maisie" Williams hails from the UK and is widely known for her portrayal of Arya Stark in the hit series Game of Thrones. Arya was known to rely on her survival skills to overcome her many adversaries, which explains her rough appearance. Williams' performance in the show earned her an Emmy Award for "Best Supporting Actress in a Drama Series," along with the Portal and Saturn Awards.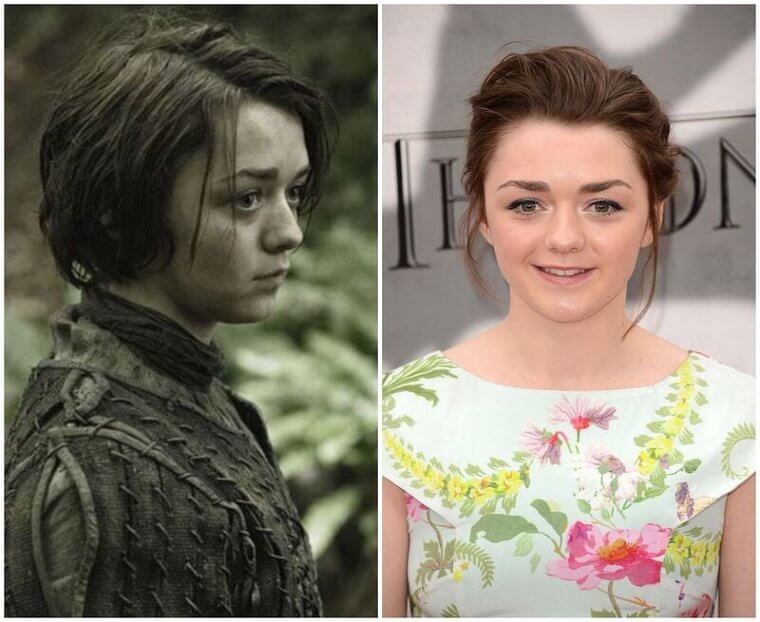 "She never really feels safe… She doesn't want to rely on anyone too much because she's worried they'll be taken away from her. I think that's really sad for someone her age, but it's probably for the best because I don't think she would have coped this long if she hadn't prepared herself," said Williams when asked to explain her character.
Jim Carrey
As an established comedic actor, Jim Carrey is remarkably talented at transforming into different roles. Yet one of his most memorable roles comes with his transformation as the Grinch.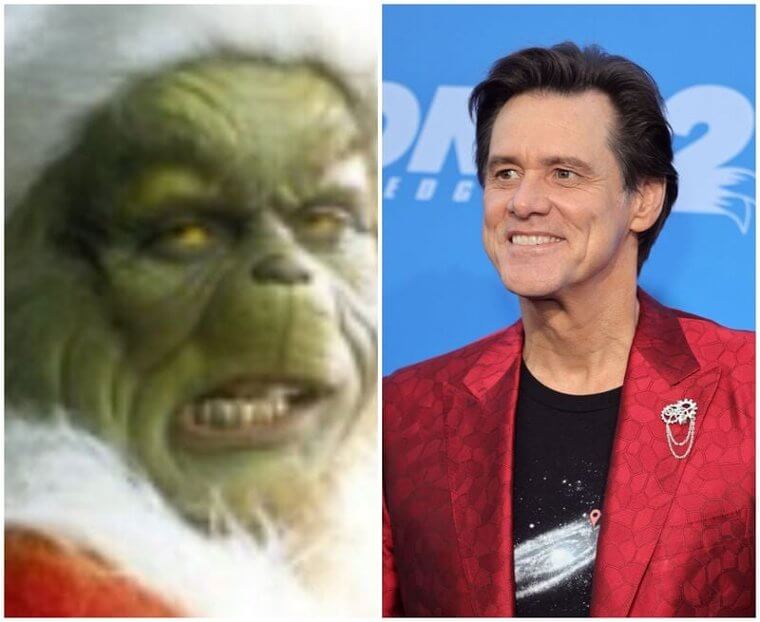 To play the role of the grumpy, green character, Jim Carrey had to undergo hours of makeup each day. Not only was he covered in green fur but he also had to wear enlarged contact lenses. Overall, the film crew dedicated more than one thousand hours to applying makeup to the cast.
Tina Fey
Tina Fey is most famous as 30 Rock's Liz Lemon, a middle-aged head writer for a variety show. Fey's character is described as a sarcastic and "sexually frightened know-it-all" who tends to eat a lot when stressed. Being a homely nerd, Lemon lacks social skills and is a Star Wars junkie.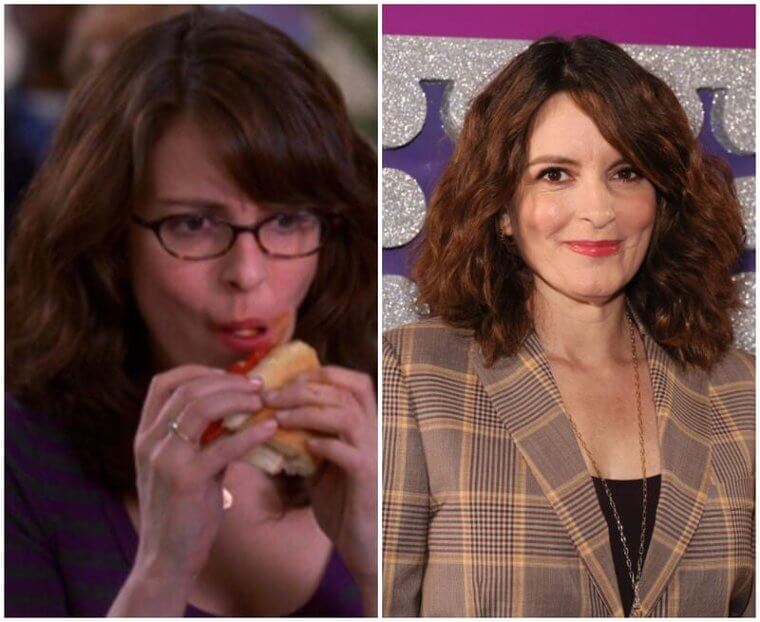 30 Rock was Fey's creation after serving as a performer and head writer on NBC's Saturday Night Live. While Lemon can be seen as setting the paradigm for weird women, Fey insists that she is simply acting out her inner nerd. Then again, her comedic genius and natural beauty can easily convince you that she's telling the truth about anything.
Gary Oldman
The horror romance, Bram Stoker's Dracula, was released in 1992 and starred Gary Oldman as the role of Dracula. The makeup team really pulled out the stops in their work to transform Gary Oldman into the Count in the gothic horror.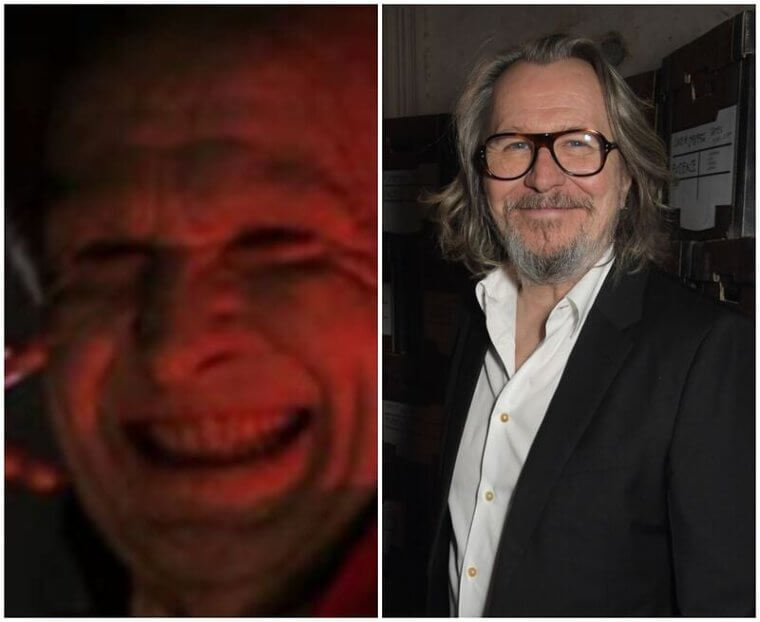 But did you know that while makeup and prosthetics played a large role in Gary Oldman's transformation, he was required to make some sacrifices himself? For example, he had to shave his hairline to allow for makeup application to be easier. Now that's commitment!
Lea Michele
Lea Michele's biggest claim to fame is her role as Rachel Berry from Glee. In the show's first season, Rachel is an ambitious member of the high school glee club, despite not being popular. She has a waspy sense of style and her peers find her overbearing, despite her vocal talents.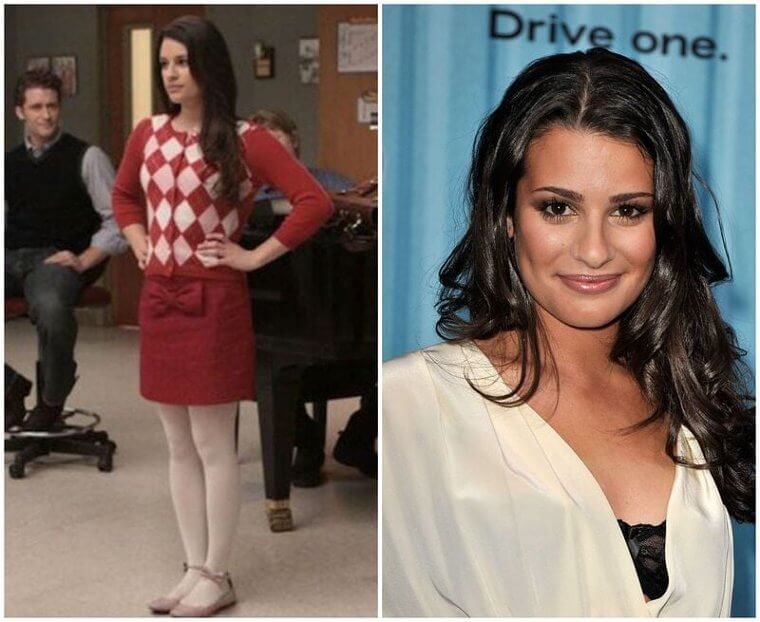 Michele said she gained a lot of weight when she was cast as Rachel, all while trying to adapt to the L.A. lifestyle (she hails from New York). Although the show has since been canceled, the actress has taken on a new, sexy persona by promoting her fit body and wellness-focused diet and lifestyle to the media.