Sometimes you come across photos from history that you really feel like you've experienced for yourself, because you look at these moments and feel like you know so much about them. However, there are other times when you come across images from history that have very unusual or lesser-known stories behind them. 
That's why we've put together this list: all the unusual photos from bygone times that we know very little about, in one place. You'll learn about World War II, Madonna and the earliest years of Disney. You'll also get to marvel at mother nature in her beauty and destruction, so get ready to learn something new about something old.
Tree Pruning Was An Extreme Sport In The Late 1800s
This photo shows the extreme measures that men had to go to prune trees, it really was dangerous. In the 19th Century, tree trimming was a huge operation and many men had to get involved in the process of trimming the top branches of the trees to make sure the foliage was more dense at the top. However, sometimes the trees were trimmed to stop them becoming a danger.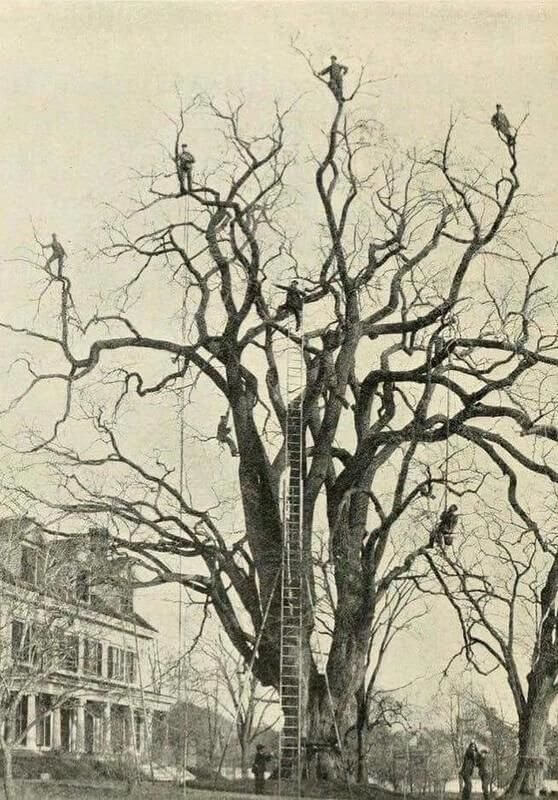 A full team of people had to work on a tree of this kind of size because it was impossible for one or two people to do it. The branches would be way too heavy to manage without extra people and their additional strength. There are men standing on the topmost branches of this tree, so it's pretty apparent that these were some incredibly sturdy (and heavy) things to manage.
Here's A Steel Worker Just Chilling Out On Top Of The Empire State Building In 1930
History has taught us so many things, and one of those things is that steelworkers are an unusually brave set of people. These men walked thousands of feet above the air while they were working on the construction of the Empire State Building. These photos are commonly found, but one question asked is always: how did someone manage to take this photo because it looks like they were taken by someone or something floating in the air.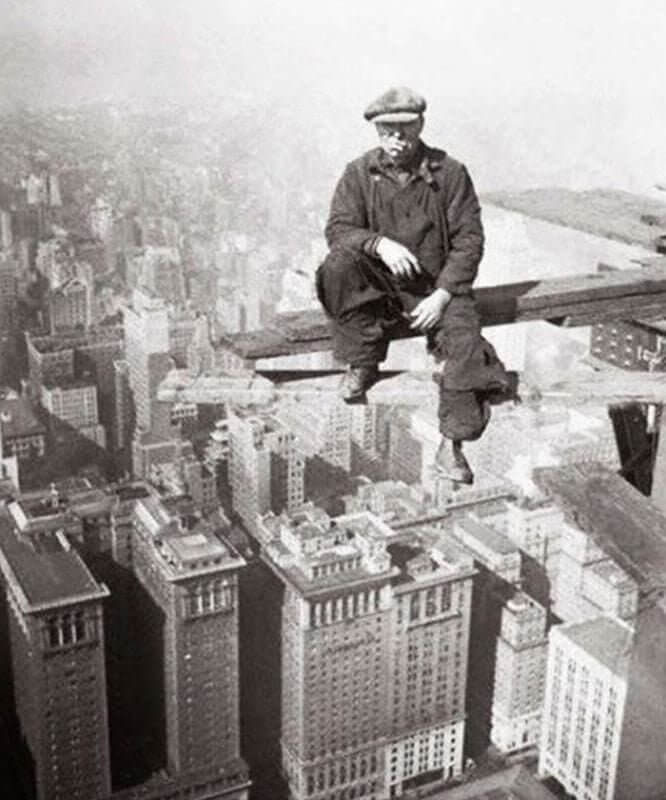 The photographer Lewis Hine was hired to document the construction of the Empire State Building and as the building grew in height, he had to work out how to get the best photographs of the workers. Hine took many of these photos from a specially constructed basket that was swinging 1,000 feet above Fifth Avenue. This allowed him to take photos of both the building and the workers at work.

A Father Seeing His Newborn Triplets For The First Time, New York, 1946
This photo looks like the new father was completely overwhelmed by seeing his newborn children for the first time. Perhaps he didn't know he was going to be a father of triplets and had been expecting twins? The nurses seem to be excited about presenting him with his babies, but we're not sure how he felt.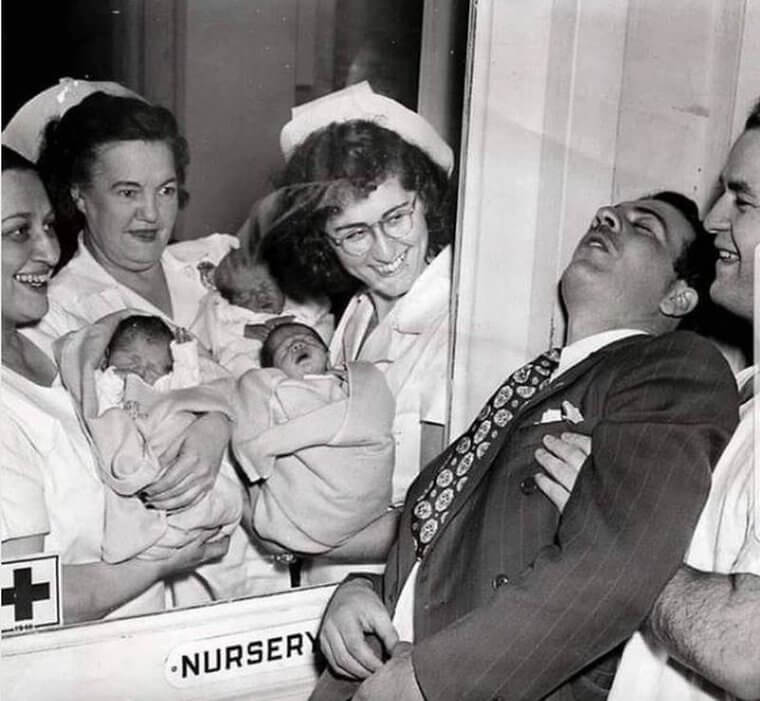 Nurses see a lot of heartbreaking things, and it looks like these nurses got a great kick out of presenting these babies to their dad! However, we wonder who the guy is holding up the father as he passed out? What if he wasn't there at the time?

A Man Looking For A Job During The Great Depression In The 1930s
After the stock market crash of October 1929, the American spirit was completely crushed with millions of investors and investments destroyed. The Great Depression resulted in factory jobs ceasing, and that meant that farms had no place or method to sell their goods. If you had a job during this time, you were really lucky.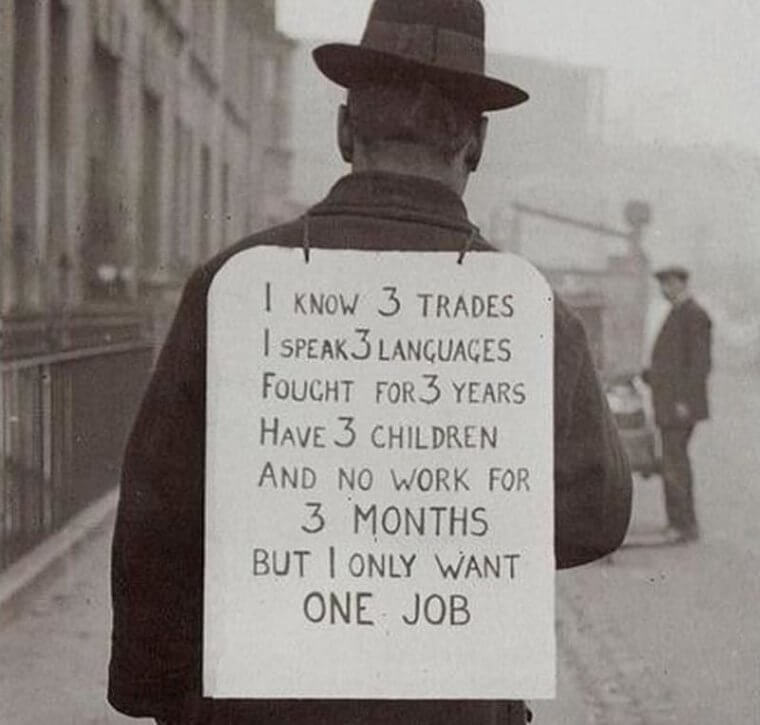 The guy in this photo is symbolic of how many Americans were left adrift and out of work, no matter how skilled they were. This guy had three children to provide for, so he couldn't just take off to work on a farm or on the road. People just tried the best they could to get by during the Depression, and it ultimately led to another war to get the country going again.

This Is 17-Year-Old Juliane Koepcke Who Was Pulled Out Of An Airplane In 1971
On 24 December 1971, Juliane Koepcke and her mother were flying from Lima to Pucallpa to visit their family in Panguana. The flight was fine until the plane flew into a thunderstorm and was hit by a bolt of lightning. The plane started to crash land, and Koepcke was sucked out of the plane while still strapped into her seat. She fell 2 miles and remembers how quiet it was as she fell down into the Peruvian jungle before passing out as she hit the trees below.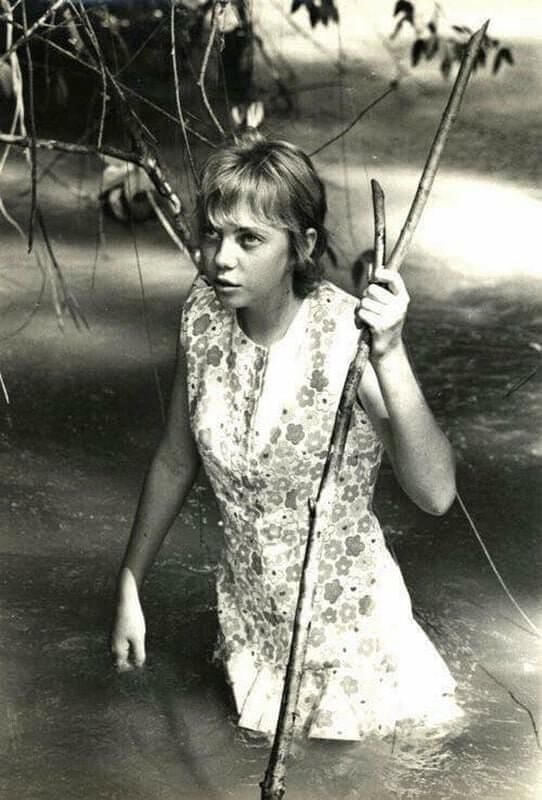 Koepcke landed and found herself without her mother and with a broken collarbone. However, she managed to free herself from her seat and she discovered a bag of candy that she could eat. It was a full 11 days before forestry workers found her wandering around on 3 January 1972.

This 90-Year-Old Lady Artistically Paints Houses In The Czech Republic To Pass The Time
Louka is a village in the Czech Republic and is home to Anežka Kašpárková, a 90-year-old lady who spends her time painting murals on the external walls of her neighbors' houses. She retired from agricultural work and started to practice her painting, using high-quality paints and using the images in her mind as a guide.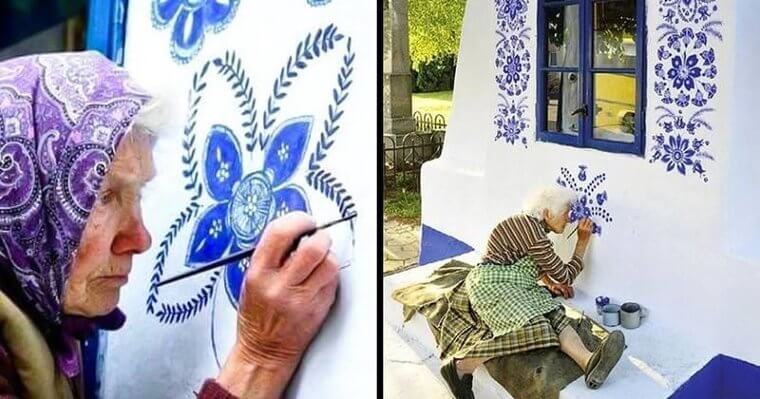 These blue-ultramarine paintings are truly remarkable, but Kašpárková is really modest and she claims that she isn't an artist. She says that all she is doing is trying to decorate the world a bit, doing what she likes.
Madonna At The University Of Michigan, 1976
Madonna has long been regarded as the queen of pop music, but before she got super famous she was a student at the University of Michigan. This photo shows her at the university when she was just 18 years old when she was attending normal college courses and studying dance in her 'spare time'.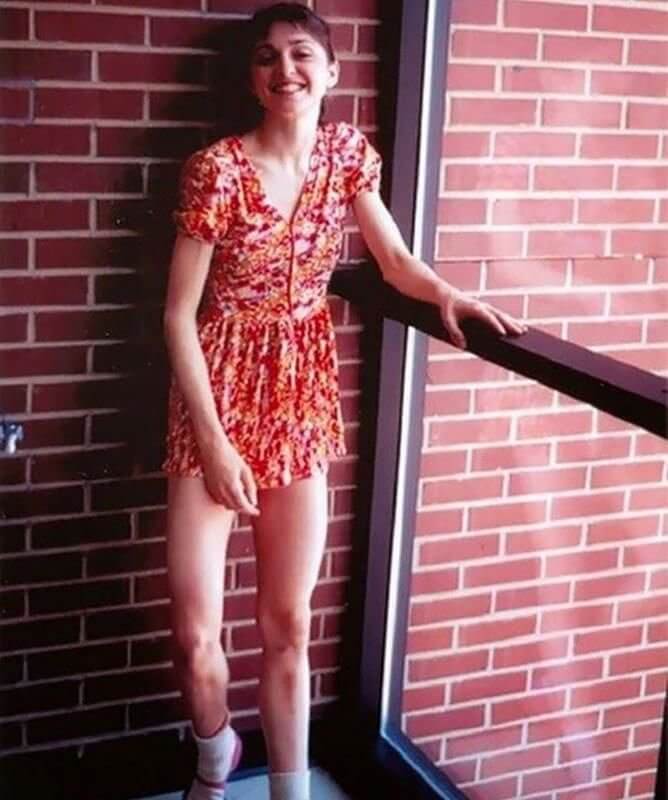 During the summer, she went to the American Dance Festival to study dance. However, she was only at the University of Michigan for two years, before she moved to New York City in 1978. When she moved to New York she kept studying dance and went to classes at the Alvin Ailey American Dance Theater. She wouldn't truly become 'Madonna' for another four years though.
The Beach Of Normandy Getting Stormed By Troops On D-Day
D-Day occurred on 6 June 1944 when roughly 156,000 American, British and Canadian troops stormed a 50 mile stretch of coast in France, known as the beaches of Normandy. The entire endeavor was one of the most intense military attacks ever enacted and to get the forces on board, plans were made for months. There was also a need to deceive the Germans, to keep them completely unaware of the plan for invasion.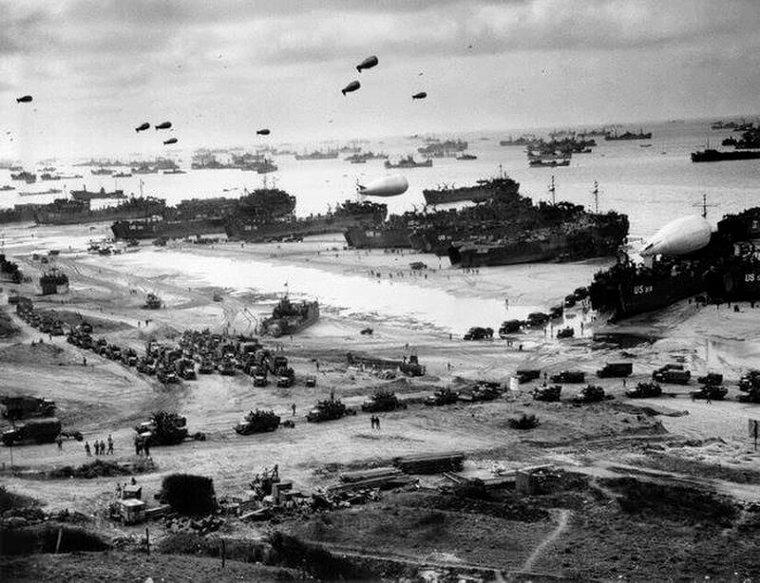 The attack lasted from June to August 1944 and as a result of the attack, Northern France was freed from the Nazis. This brought about the start of the end of the Second World War and by the same time in 1945, the entire war had ended.

Here's A Photograph Of The Children Who Voiced The 'Peanuts' Characters During The 1960s
The creator of Peanuts, Charles Schultz, really felt it was important that the children in the animated adaption of his comic would have the voices of actual children. Therefore, every character was voiced by a child who was around the same age as they were supposed to be. Cathy Steinberg was cast to play Sally Brown when she was only 4 years old, and she was discovered because she lived next door to Lee Mendelson who was a producer on the show.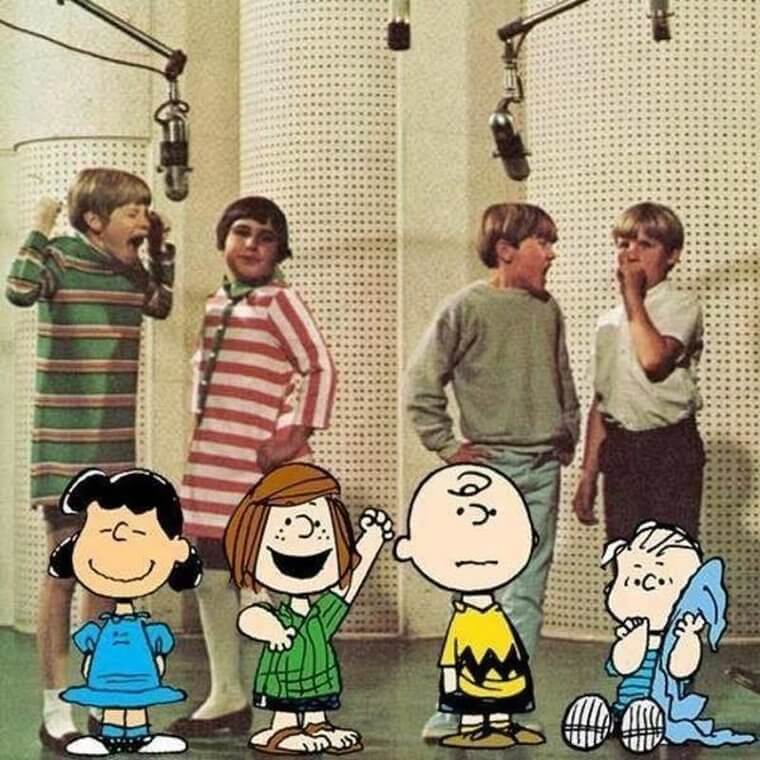 Todd Barbee voiced Charlie, and his father Chuck is the reason he got hired because he was the Director of Photography for Mendelson. Children voiced most of the characters, but Barbee, in an interview with Huffington Post, said that for one particular scene they had to use the voice of an older kid or an adult. He said that it was when Charlie Brown tries to kick the ball, only to have Lucy yank it away. Barbee just couldn't get the type of frustrated sound the directors wanted, even after close to 30 takes, so they asked someone else to do it.

The Same Giant Tortoise Is In Both Of These Photos
The photo on the left was taken in 1902, and the photo on the right was taken in 2017 and the same Aldabra giant tortoise is in them both. His name is Jonathan and he was born in 1832. Jonathan is the oldest known living land animal in the world and he lives on an island in the South Atlantic Ocean called Saint Helena with a few other tortoises but he has no offspring of his own. Jonathan has lived through the invention of the Ferris wheel, motion picture, and the electric guitar.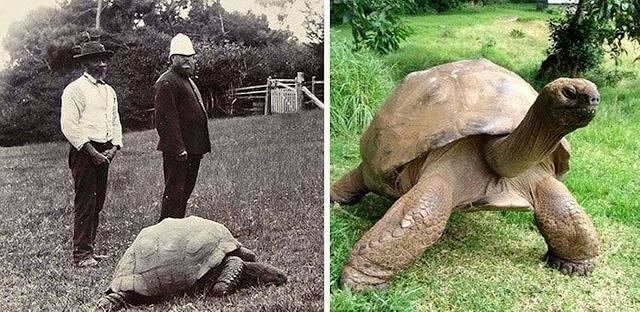 Giant tortoises have a life expectancy of roughly 150 years, and Jonathan is seriously living way beyond that! The oldest living reptile was a tortoise who lived to be 188 years old, so Jonathan has definitely surpassed that now!

A Photo Of Then-Princess Elizabeth When She Was 14 Years Old, 1940
Queen Elizabeth, it seems, has been the head of the Royal Family in Great Britain forever. That's probably because she has been reigning since 1952, which makes her the longest-reigning monarch of Great Britain! However, there was a time before she became Queen Elizabeth. During her youth, Elizabeth used to stage pantomimes during the Christmas period, so that she could raise money for the Queen's Wool Fund. This fund was responsible for buying the wool and yarn that was used to make military uniforms.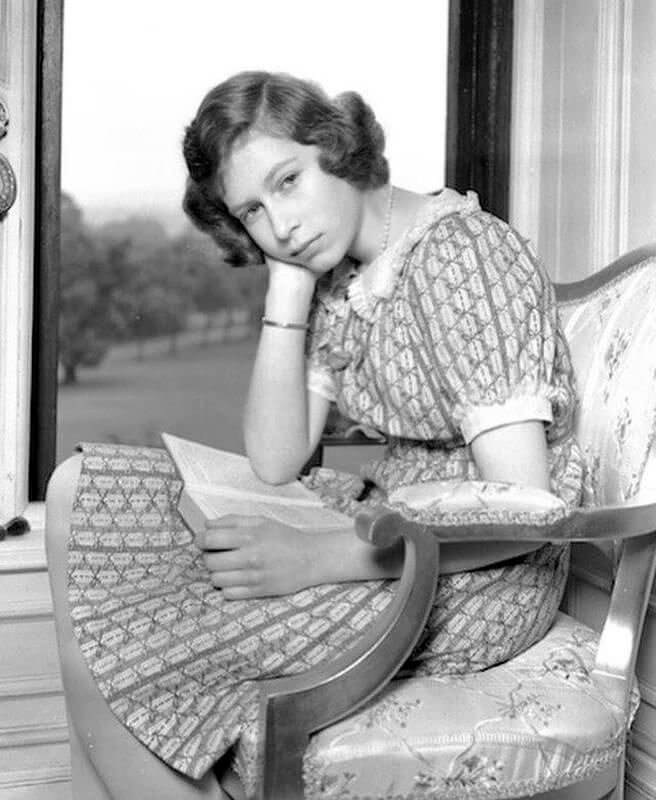 This photo is from 1940, the same year that she went on the radio for the first time, and this occurred during the BBC's Children's Hour. When she was on the air, she spoke directly to all the children who had been evacuated from London due to the air raids. She told them that everyone was trying to help the brave and gallant soldiers, airmen and sailors and they were trying to hold their share of sadness caused by the war. She also stated that she knew the end would come and everything would be well again.

A Man Runs Alongside A Carriage Carrying King George V And Company Begging
From 6 May 1910 to his death in 1936, King George V was the reigning monarch in Great Britain. Great Britain was going through a lot of changes during his reign, including the First World War. Not only that, but the House of Lords also lost some of its political might, by having their ability to veto Bills removed. This was also a time when a huge amount of people were struggling to eke out an existence.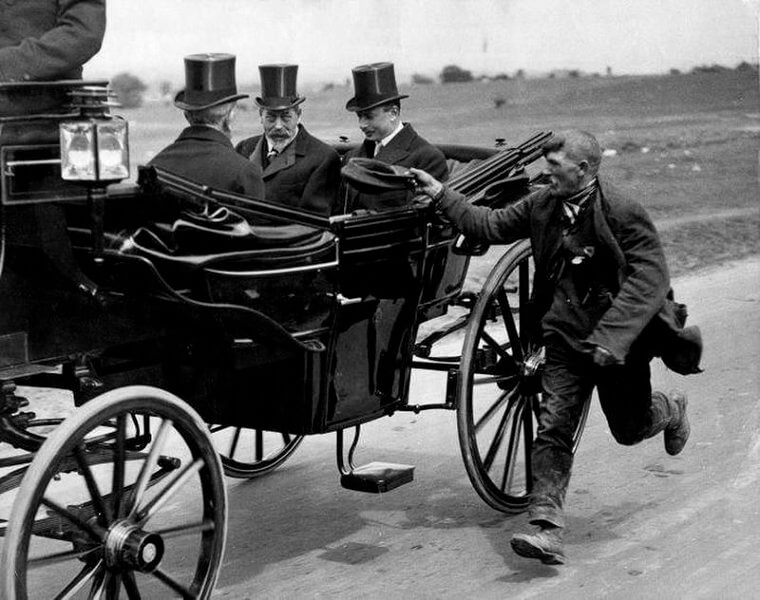 King George V loved the style of the late-Victorian era, and despite fashion changing, he continued to wear a top hat. He also preferred to ride in a landau, or carriage, even though automobiles were becoming common and fashionable. This guy saw them passing by and is holding out his cap in the hopes that they might give him some money, but it doesn't look like any of them are in a rush to do so. 
This Californian Tree Is More Than 4,850 Years Old
This tree is nicknamed Methuselah and is a Californian bristlecone pine tree. Its seeds were sown in 2833 BC and gets its name from the 969-year-old Biblical character. Methuselah is in the 'Forest of Ancients' within the Inyo National Forest. We know its age because in 1957 some samples were taken and dated the tree to around 4,789 years.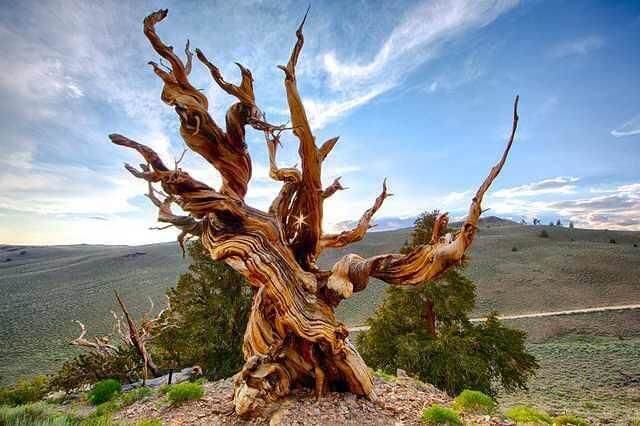 Robert Mohlenbrock is a Professor of Botany and he says that tree should only have survived this long if it lived in optimal conditions. That would mean it had shelter from extreme weather while also being supplied with adequate nutrients and water… The tree is in a place far from 'optimal' but despite this, it's older than the Egyptian pyramids!

This Photo of Barbara Walters From 1949
Nowadays, Barbara Walters is considered one of the best journalists of the 20th Century. However, when this photo was taken, Barbara was still a student of English at Sarah Lawrence College in Yonkers, New York. She graduated with a Bachelor of Arts in 1951, moved to New York City. While in New York, she got a job for an advertising agency before getting a job at a local affiliate of NBC.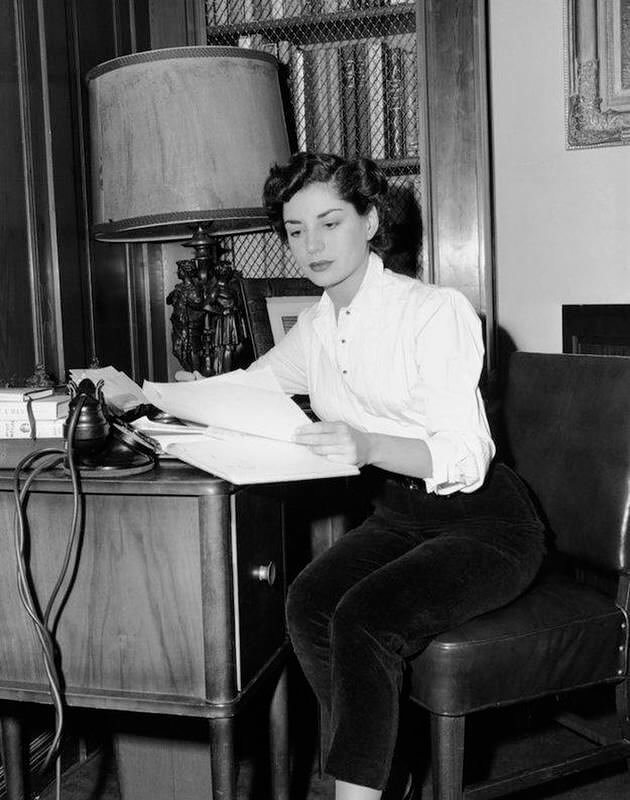 Just two years after graduating, she was producing Ask the Camera, a children's program and worked at NBC until 1955. She left NBC to work as a writer for The Morning Show at CBS, and then in 1961, she got a job at The Today Show.
This Is A Colorized Photograph Of Jean Bugatti In 1932
Ettore Bugatti always had a dream to make it big by selling really cool cars, but unfortunately, his dream coincided with the Great Depression of the United States. This photo shows him alongside the Bugatti Type 41, also known as the Bugatti Royale Esders. This car is one of the biggest cars that was ever produced to members of royalty, and he wanted to make it exclusive by only manufacturing 25.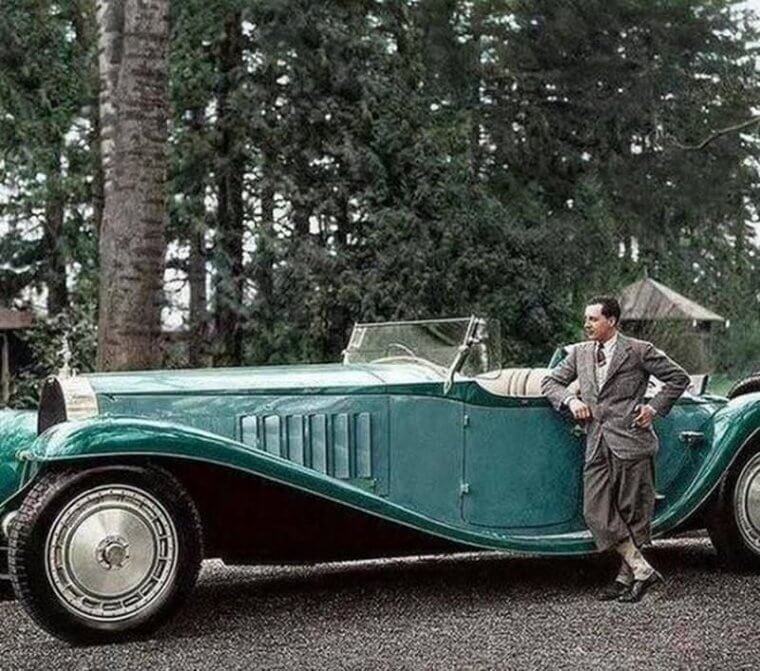 During the Great Depression, people weren't buying cars, especially large cars. Not even members of European royalty, so Bugatti's dream fell apart. However, Bugatti still managed to make seven cars, but only 6 still exist now, because he himself wrecked the seventh car.

Paparazzi In Arkansas In 1992 Trying To Get A Photo Of Socks, Bill Clinton's Cat
There are always animals in politics, and we're not naming names here. However, there is one animal in particular that got a huge amount of attention for its role in politics, and that was Socks the cat. Socks got a lot of media attention during the 1992 Presidential Race because he was a stray cat that the Clinton Family adopted and who eventually moved into the White House with them. Socks was pretty much the most popular pet that ever was, and he got his own video game, was featured on the children's version of the White House website, and Republicans were complaining that Socks was answering mail.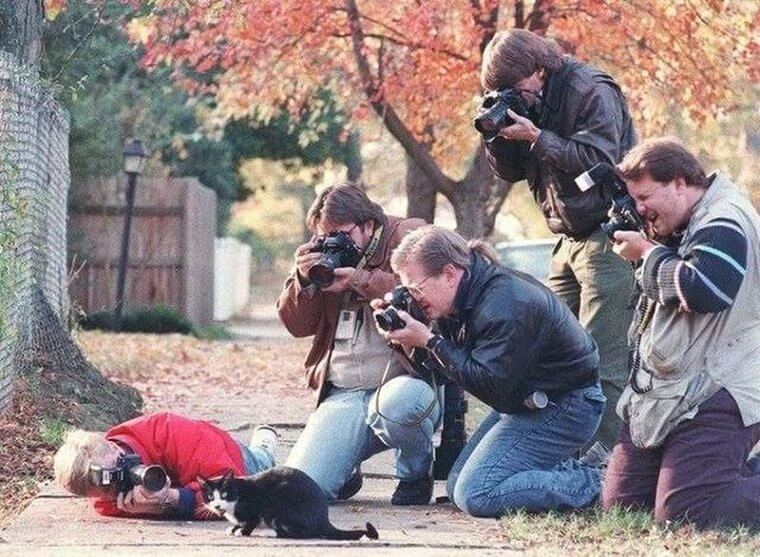 Dan Burton, Indiana GOP representative, in particular, demanded to know how much taxpayer money was being spent on the hiring of someone to answer mail under the guise of a cat. As a response to his query, a book was made that was a compilation of letters to Socks the Cat and Buddy the Dog. The profits from the book were then all donated to the National Park Foundation.
This Chart Documents The Size Of Hole In The Center Of A Donut
Does anyone really care about the size of donut holes? We're wondering if the guy in the photo thinks we should be eating teeny tiny skinny donuts. We're not sure what the point of this photo is. There's so doubt that donuts have changed over time, but there's a possibility that the donut on the left is a 'dunking donut', meant to dunk into something, which is why the ring is much bigger.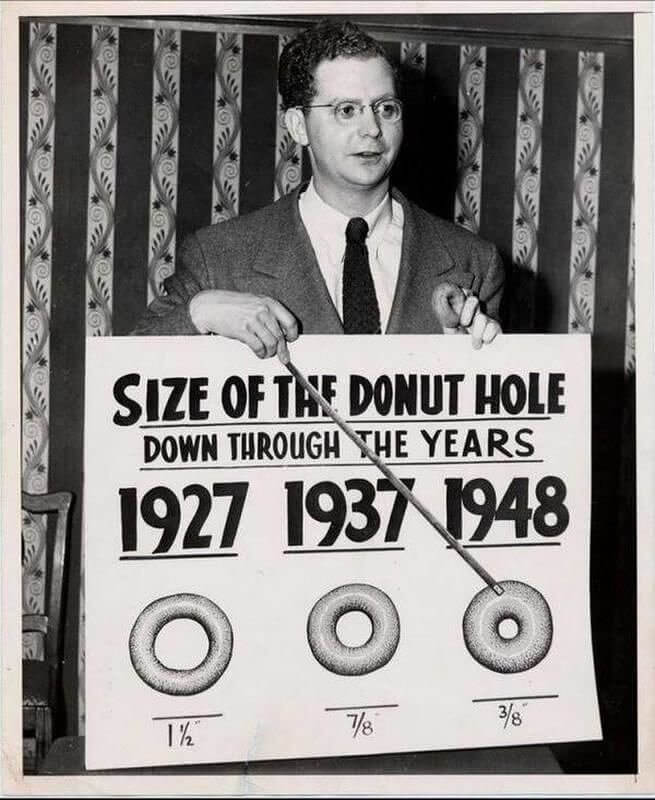 The shrinking of the donut hole is also because donut makers started to make smaller holes because they didn't need as much space to dry out and set as earlier donut machines. What also is likely to have happened is that donut chains in the United States, such as Krispy Kreme and Dunkin' Donuts were responsible for creating and introducing a standard size for the donut. No one really knows if the actual size of the donut hole has changed size or not.
This Is The First Siemens Vacuum Cleaner In 1906
Most of us find vacuuming a pain, and lugging it around can be tedious and frustrating, particularly if the cable tangles or gets caught on the leg of your chair. But imagine having to move this massive machine around your house just before your guests arrive. Siemens originally called these machines 'dedusting pumps' which is the most accurate name ever and we want to bring it back.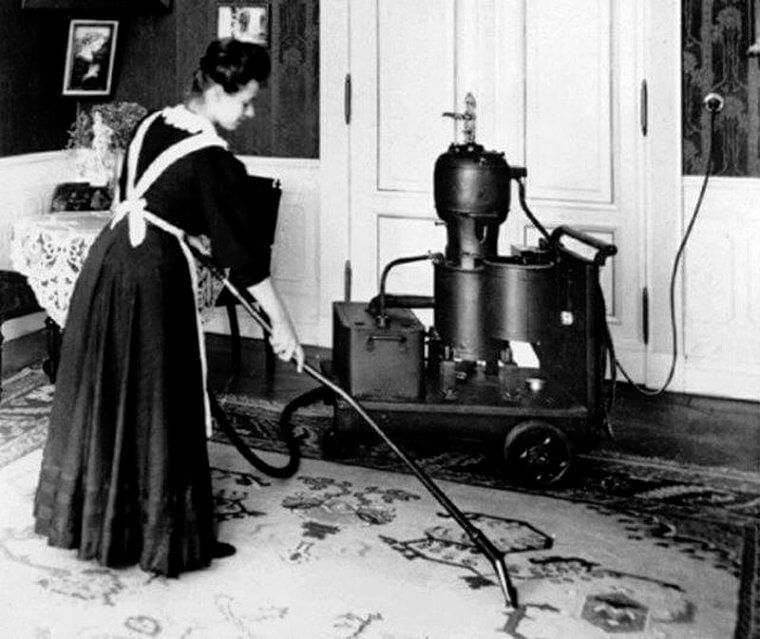 One of those weighed around 660 pounds and came with a grand total of one horsepower! If you had one of these then you must have been pretty serious about wanting a house that was dedusted. Luckily, a vertical model was coming along the manufacturing line shortly, and it would weigh much less. 
This Photo Shows A Boy Reading In A London Bookshop In October 1940, Just After Heavy Bombing
At the start of World War II, it was Great Britain that came under the heaviest fire from the Germans, and the summer and autumn months of 1940 saw them coming under hundreds of bombing attacks. The Nazis attacked military and civilian targets just as harshly as each other. Between July and December 1940, around 23,000 civilians lost their lives in Britain as a result of Nazi air raids.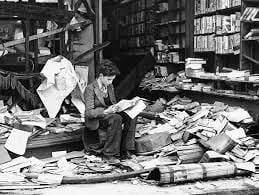 People in Britain tried as hard as they could to keep some regularity and normalcy in their lives, but a lot of people ended up going underground to seek safety in bomb shelters for days at a time. When they could leave, they often came above ground and found that their favorite places had been completely destroyed. Unfortunately, this type of bomb attack went on for the entirety of the war, so this scene was a common one.
A Female Lockheed Employee In California In 1944 Working On A P-38 Lightning Plane
Before the attack on Pearl Harbor, certain companies, like Lockheed, started to test the waters and allow women to work in their factories. This was more out of necessity than anything else because men were going to war and there was still an increased demand for machinery, planes and other things to help the Allied cause in Europe. Before the attack on Pearl Harbor, there were a few thousand women working in the entire industry, and very few of them were on the factory floors, but once the United States officially joined the war, the demand for workers increased immensely.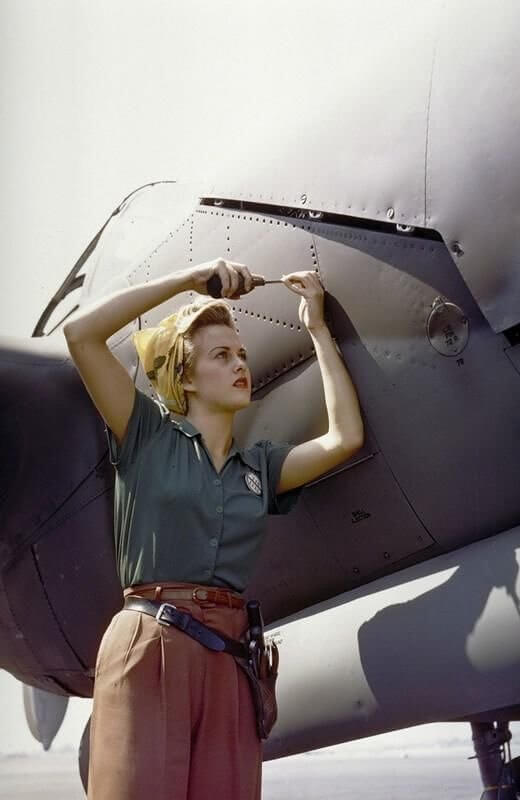 That meant that women were allowed to work in the industry who had never have gotten the chance to work were it not for the war. This also resulted in new concepts like having daycare facilities close to factories and setting up smaller manufacturing facilities in towns where women weren't used to traveling. World War II was awful, but it led to a lot of changes for the better.
This Is A Photo Of The Old Main Library In Cincinnati Which Was Demolished In 1955
The old Public Library in Cincinnati was one of the most beautiful buildings on earth between the years 1875 and 1955. The library had cast iron book alcoves, marble floors in a checkerboard pattern, spiral staircases and an amazing skylight. The place was a haven for bookworms, allowing them to get cozy and keep reading until the library closed and they had to go home. If they really wanted to, they probably could have found somewhere to hide so they could stay overnight.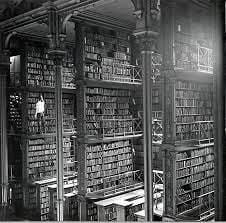 Unfortunately, the time had come and Cincinnati demolished this classic building in 1955 and built a new library a couple of blocks away. It was a devastating loss of literary beauty and a safe haven.
This Is A 1947 Labatt Brewing Company Streamliner
When you're not able to advertise your beer on signs or in magazines, you have to get creative. Prohibition ended in Ontario in 1927 and advertising beer was still banned in the media. However, Labatt accepted this challenge and came up with one of the greatest marketing campaigns of all time, the Labatt Streamliner. This truck transported beer from town to town by road rather than rail and allowed the company to advertise its beer wherever it went.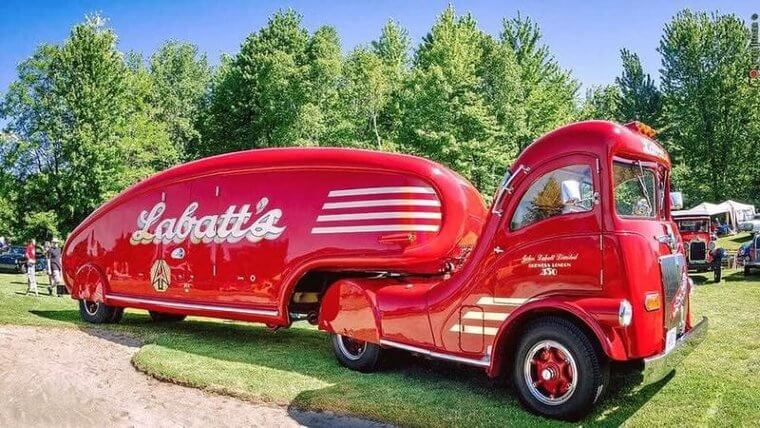 Count Alexis de Sakhnoffsky, a Russian-born engineer and artist was hired by Labatt to help in the design of the streamliner. These trucks were beautiful and unlike anything else seen before. They were taken off the roads in 1947, but how cool they must have looked cruising along the highways. 
This Is Jimi Hendrix Aged 19, When He Was Training As A Paratrooper
Jimi Hendrix was serving in the 101st Airborne Division of the United States Army when this photo was taken in 1961. Yep, before he was a guitar god and musical hero, he was training to be a paratrooper.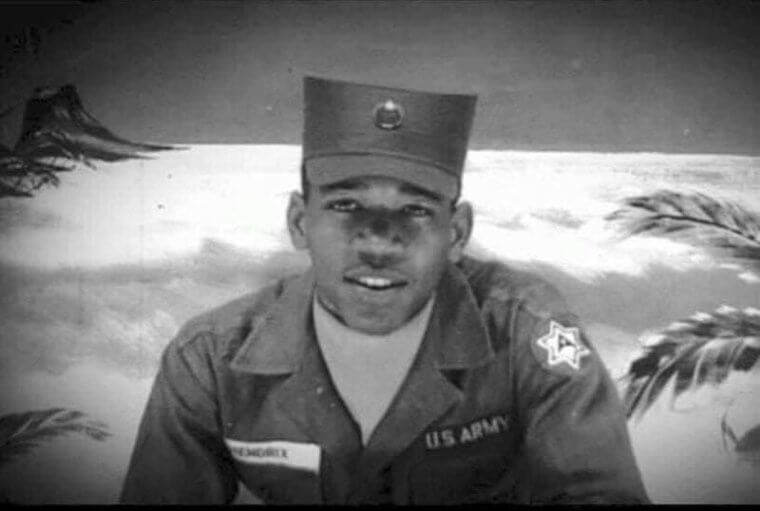 Hendrix joined the military instead of serving time in jail for stealing a car, so he was sent to Fort Campbell, Kentucky to complete military training. He hated the military, and he definitely hated military training. In a letter to his father he described how for two weeks, he did nothing but physical training and receive harassment for two weeks. Then he said he had to go to jump school where he was worked to death. Luckily, Hendrix was discharged and went on to become the rock god we know him as now. 

A US Soldier During The Vietnam War Holding Up A Giant Jungle Centipede In 1967
We've heard so many stories about how awful Vietnam was, but to make matters even worse, it seems like there were also enormous bugs crawling about waiting to bite all the brave soldiers. There are a variety of giant bugs hanging around the jungles of Vietnam but the scolopendra subspinides are so completely disgusting.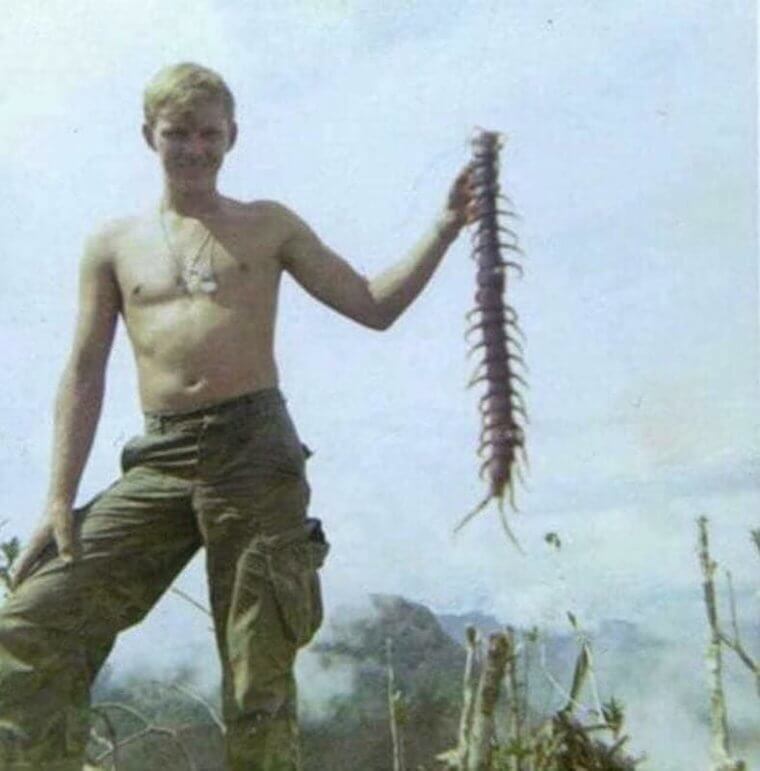 These are giant centipedes that commonly grow to between 4 and 8 inches long, but sometimes they can grow even bigger. They also, obviously, bite. Luckily, if you're a collector of centipedes these giant ones are the easiest to keep as pets… Although we definitely won't be doing that.

Walt Disney Posing For The Camera In The 1920s
Walt Disney was a starving artist before he became the creator of the studio that would define animation in the Western world and the modern fairytale. One of Disney's first jobs was creating Laugh-O-Grams that were played in the Newman Theater in Kansas City. These were modern, animated retellings of classic fairytales.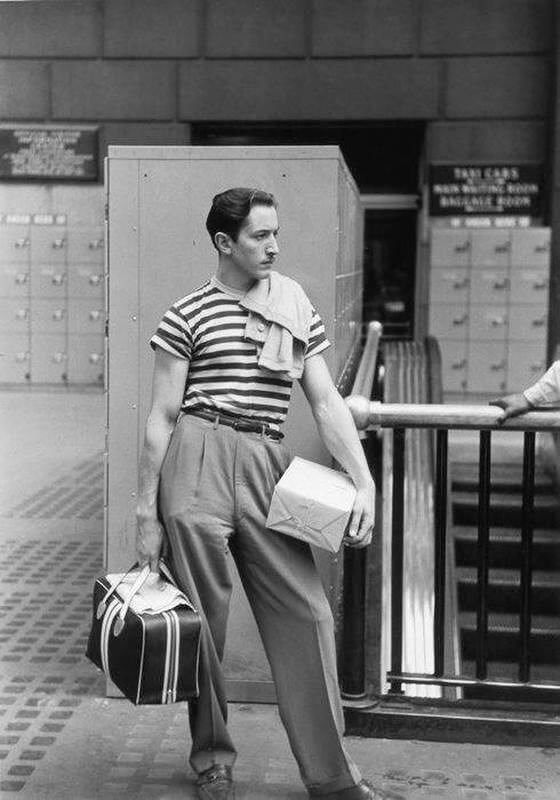 Disney made Laugh-O-Grams between 1921 and 1923 and was working on a 12-minute one-reel film based on Alice in Wonderland when the company went out of business before he could finish it. In July 1923 he relocated to Hollywood where his brother Roy lived and then he tried to sell his Alice in Wonderland. It was five years later that he created his most famous character, Mickey Mouse.

A Policeman Stopped Traffic In New York City In 1925 To Allow A Cat To Carry Her Kitten Across The Road
New York City traffic is tough to get through, and even harder to cross when you're smaller than everything around you. Then, add in the additional stress of being a cat trying to carry your kitten with you. So, in 1925 this cop stopped traffic to give this mother cat a safe crossing through the city.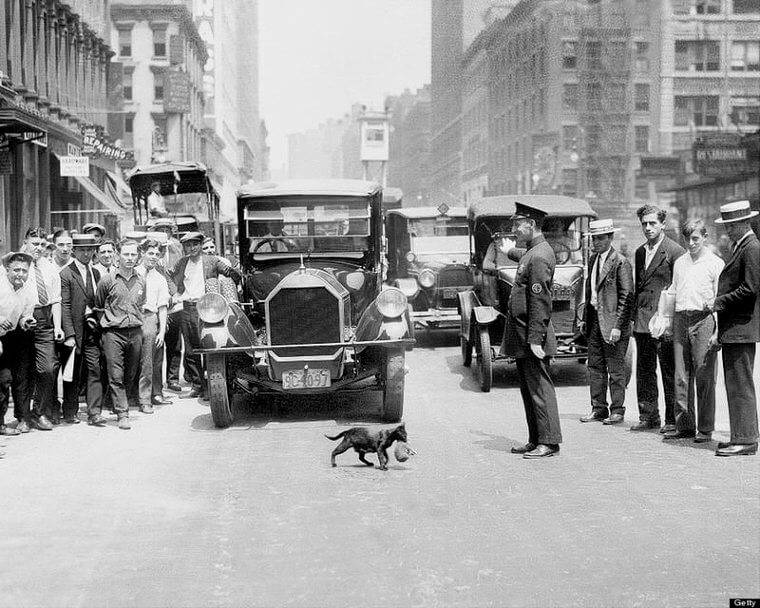 There's a story that Harry Warnecke, a photographer, heard about what was happening and tried to rush to the scene but was a bit too late. So he apparently found the cat and tried to get it to reenact the crossing, with the help of the cop. We're not sure if this story is true or not, but the photo is amazing anyway.

A Colorized Photo Of Al Capone's Free Soup Kitchen In 1931
There is absolutely no doubt that Al Capone was a ruthless mob boss who often flaunted his success brazenly in the face of law enforcement during Prohibition. However, even though he was a criminal, he did have compassion for the people of Chicago who were struggling to get by. In fact, his Chicago-based food bank and shelter was one of the first soup kitchens in the entire United States, and it really helped people out during the Great Depression by giving them access to hot meals.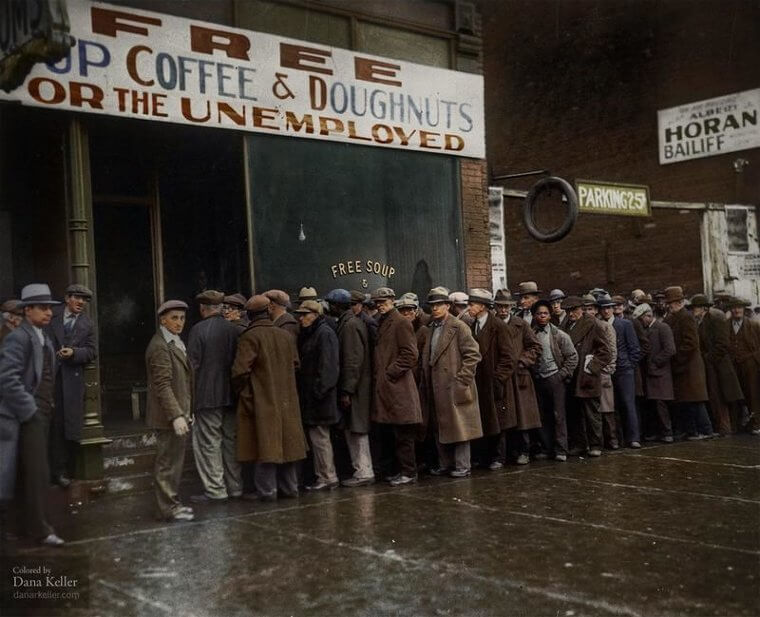 The whole thing was a publicity stunt, but it doesn't take away from the fact that it helped a lot of people out. During the winter months of November and December, the soup kitchen provided free breakfast, lunch, and dinner. The winters are cold in Illinois so the meals were definitely needed. 

Albert Einstein Wearing His Fuzzy Slippers
Albert Einstein famously owned multiples of his gray suit so that every morning he didn't waste valuable time and brainpower figuring out his outfit. That freed him up to focus on important things like the meaning of life and the theory of relativity. So, it shouldn't come as a surprise that he liked to be comfortable. And this meant he wanted his feet to be comfortable, so he wore fuzzy slippers.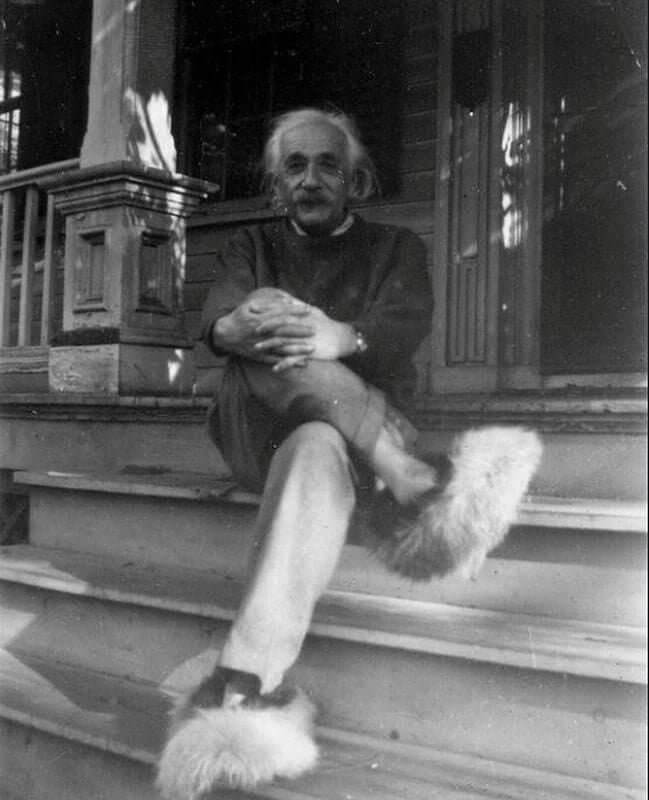 Einstein had one of the greatest human minds, so we're pretty sure he's entitled to a pass to wear whatever he wanted. Even if what the wanted was to wear enormous fuzzy slippers that looked like they may have been alive in recent times.

This Artic Explorer Is Offering A Can Of Milk To A Polar Bear While Her Cub Plays With His Leg
When Russian soldiers went on patrol in the 1950s, they carried with them a huge amount of condensed milk in cans. During a routine expedition on the Chukchi Peninsula, soldiers found a group of polar bears who were struggling to survive in the -40 degree Fahrenheit weather. The bears and their cubs were starving, so the soldiers tried to help them.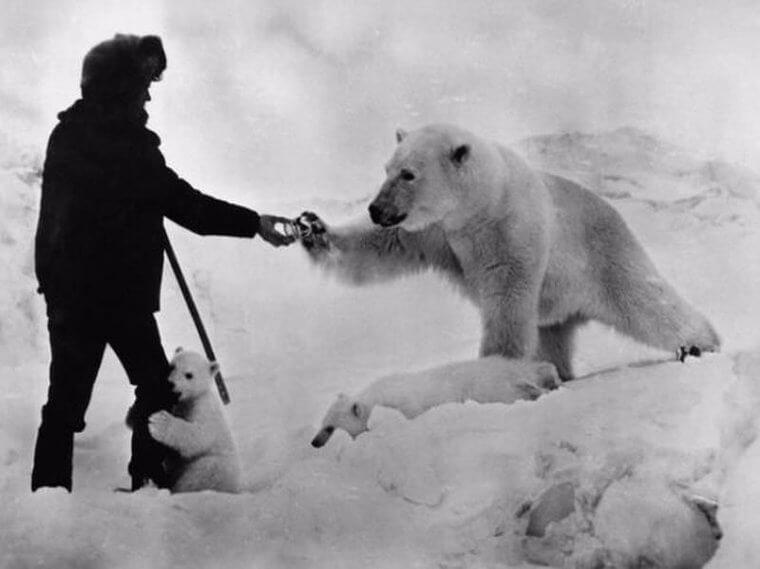 Soldiers opened the cans of condensed milk for the bears. The mother bears then licked the can clean and fed their cubs. Russian winters are really harsh, so everyone needs to look out for each other and support them if and when they need it. 

Grandpa Munster Reading Playghoul Magazine, 1965
The Munsters were on the air from 1964 to 1966 and although it was a brief run, horror fans were in for a treat. The Munsters gave viewers an insight into the personal, and hilarious lives of their favorite Universal Monsters. For most fans, their favorite character was Grandpa Munster, who was played by Al Lewis. Even though he was super old, he was really fun. 
Grandpa Munster drove the DRAG-U-LA and has a laboratory in the basement of the Munster home where he was constantly working on some kind of strange and unusual experiment. Lewis revived his character for Super Scary Saturday Movie which aired on TBS from 1987 to 1989.

Infants Getting Some Fresh Air Outside A Maternity Hospital In Moscow, 1958
This photo looks really shocking, considering the weather is definitely cold in this photo and these are really small infants. Bringing kids outside for a nap in cold weather is a normal thing to do in Russia, and it has its origins in an unusual tradition. In fact, mothers in Russia put their children into hats and stockings, then put them outside for a nap in the fresh air.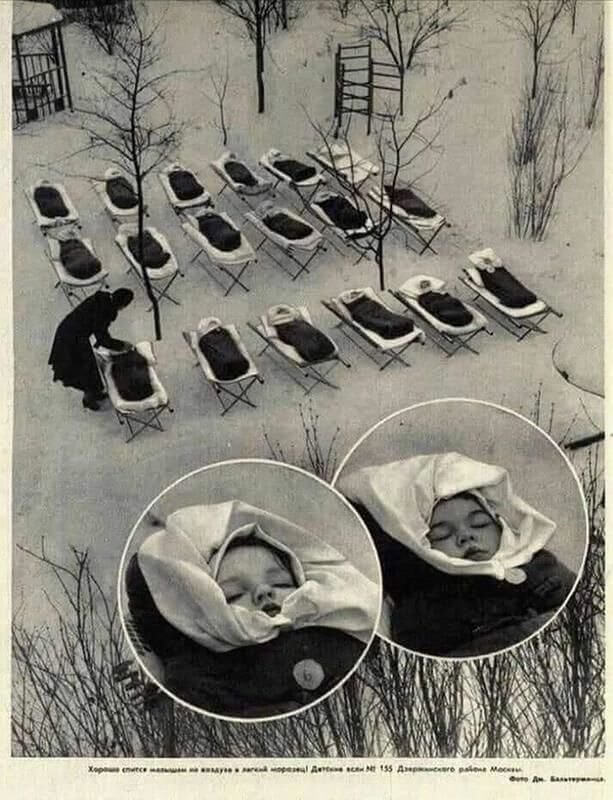 These babies will go for a nap outside on a balcony or under the care of a nanny even when the temperature drops to minus 10 degrees Celsius. They do this until they're ready to start school. This is probably an attempt to prepare them for the harsh windows in Russia. But how do we know if it works or not? We'd have to start napping outside to get the real answer.

This Hoover Ad From 1953
A new piece of technology or equipment is quite something to get for Christmas, and when it's a new Hoover vacuum, it's pretty cool! However, you'd have to wrap it in a box rather than wrap it on its own because the shape would totally give it away.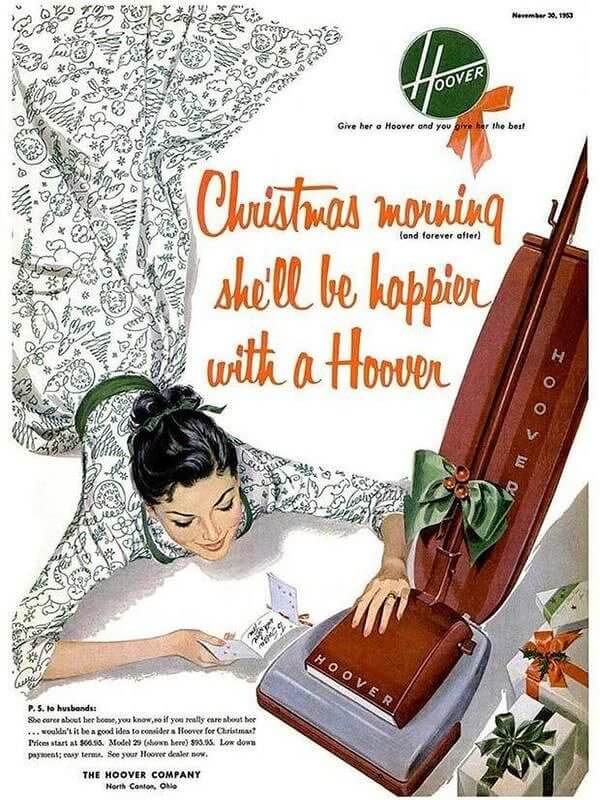 The 1950s were full of ads like this that made it seem like women absolutely love nothing more than doing house work, and even though this ad is so different to anything that we see nowadays, it's kind of inviting. The colors and fonts and composition of the ad are all stunning and the P.S. to husbands at the bottom shows them a little secret: how much the Hoover costs. It was only $69.99 which was a pretty good price! 

The Last Prisoners Leaving Alcatraz In 1963
Alcatraz Federal Penitentiary was in operation from 11 August 1934 to 21 March 1963 and is the most infamous and imposing prisons in the United States. Anyone who has ever visited the site has experienced the foreboding feeling it gives you. The prison was built to imprison criminals who caused problems at other facilities. It was positioned in San Francisco Bay, surrounded by the cold waters and strong currents, making it escape-proof.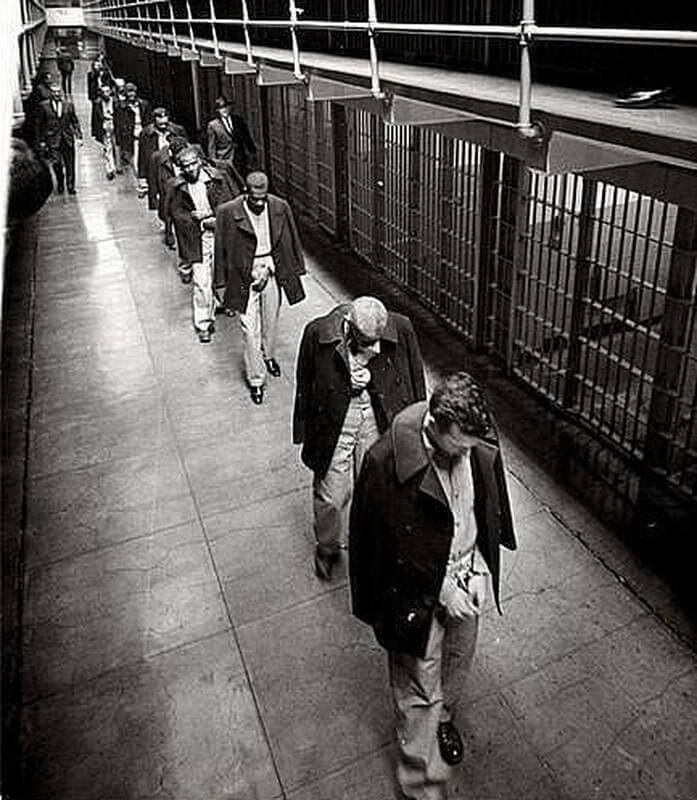 The maintenance costs for the prison were incredibly expensive. The salt spray from the sea had corroded the prison walls so badly that it cost $5 million to repair it. In 1962 there was a prison escape attempted and the whole facility was re-evaluated and shut down. The prisoners of Alcatraz were all relocated to various prisons across the United States. 

Mildred Burke Was A Pioneer Of Women's Pro-Wrestling In The 1930s
Mildred Burke fell in love with professional wrestling after seeing one event when she was 18 years old and living in Kansas City. She was working as a stenographer and kept pestering Billy Wolfe, a local wrestling promoter, to try to get him to train her as a wrestler. The story from there goes on to say that he was just tired of being constantly asked by her that he got one of his wrestlers to body slam her. He thought that would deter her, but she body slammed the guy instead.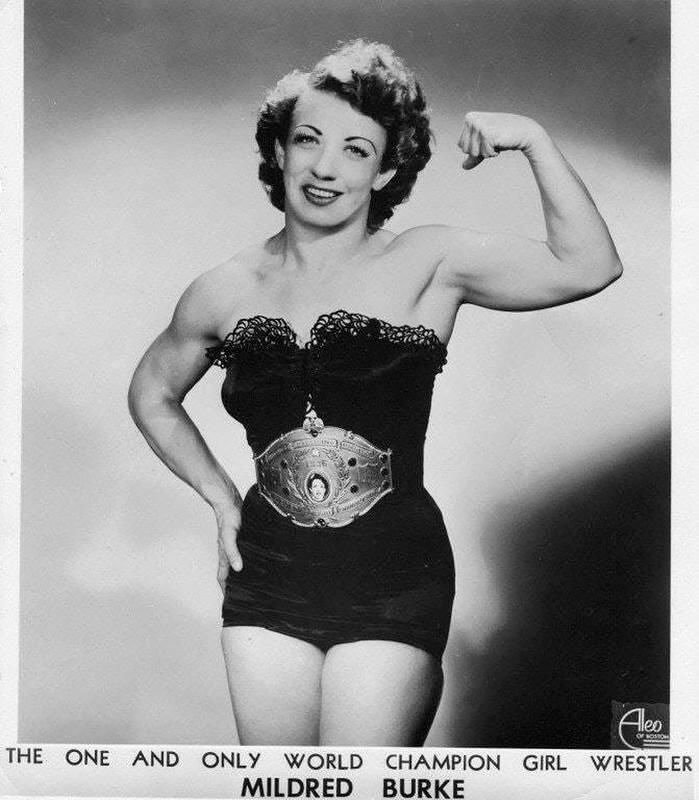 Burke and Wolfe trained together and then eventually they fell in love and got married. During the 1930s, Burke wrestled over 200 men and she only ever lost to one man in that entire time. In the 1950s she founded the World Women's Wrestling Association in Los Angeles, California. She was posthumously entered in the WWE Hall of Fame on 2 April 2016.

Bob Hope, John Wayne, Ronald Reagan, Frank Sinatra And Dean Martin In A Photo Together In 1973
Like, how is it possible to get such strong stars together in one room? Well, this photo was taken when there was a toast for a soon-to-be President of the United States. On 14 September 1973, this photo was taken when Dean Martin and friends toasted Ronald Reagan who was the Governor of California at the time.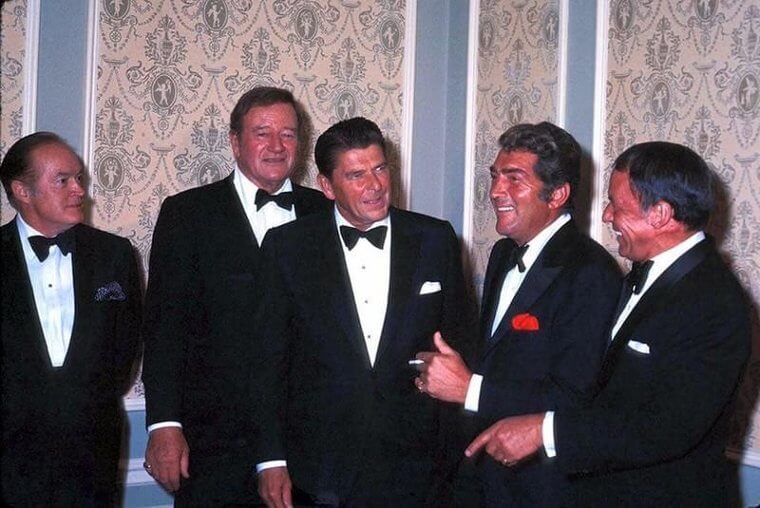 That night was a big party for Reagan and the whole evening showed that Reagan wasn't as much of a fuddy duddy as Nixon. Nixon left a bad taste for the people in the United States. However, that night Nixon did laugh at the jokes made about him. So, he was a good sport about being the butt of all the jokes.

Mount St. Helens Eruption In 1980
In Skamania County, Washington, Mount St. Helens erupted on 18 May 1980 and for two months before it erupted, there were a number of earthquakes that affected Washington State. The whole time St. Helens was spouting steam, so it was apparent that the volcano was going to erupt, but no one knew exactly when that would happen. A magnitude 5.1 earthquake happened at 8:32 am that came from directly underneath the mountain and caused the largest landslide ever.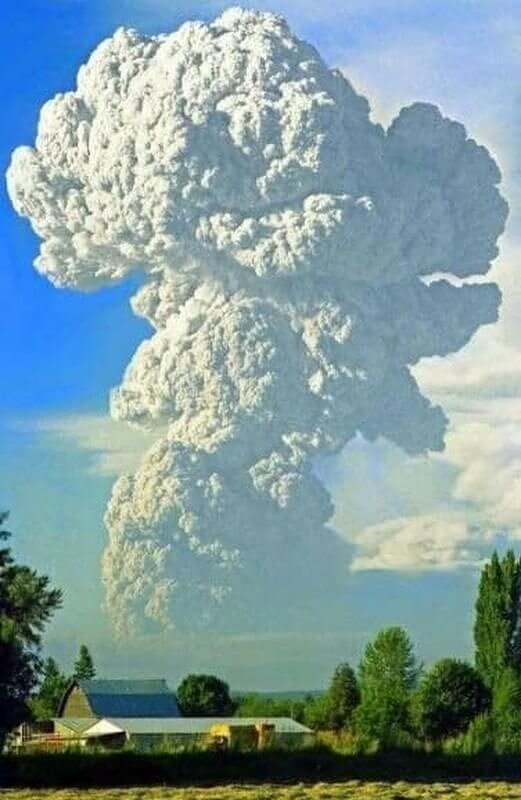 After the landslide, there was a high-pressure blast of steam out of the mountain that was charged by gas and contained partially molten rock. There were also smaller explosions that released pumice, ash and lava into the surrounding area and the total damage cost nearly $1.1 billion.

Maine In The Fall
Fall is one of the most beautiful seasons in the world, and Maine is incredibly picturesque during Fall. The chill in the air reminds people of evenings by the fire, and the changing colors of the leaves are breathtaking. Maine is great to visit in Fall because the scenery is stunning and the weather is perfectly suited to long hikes and lovely, relaxing evenings by the lake.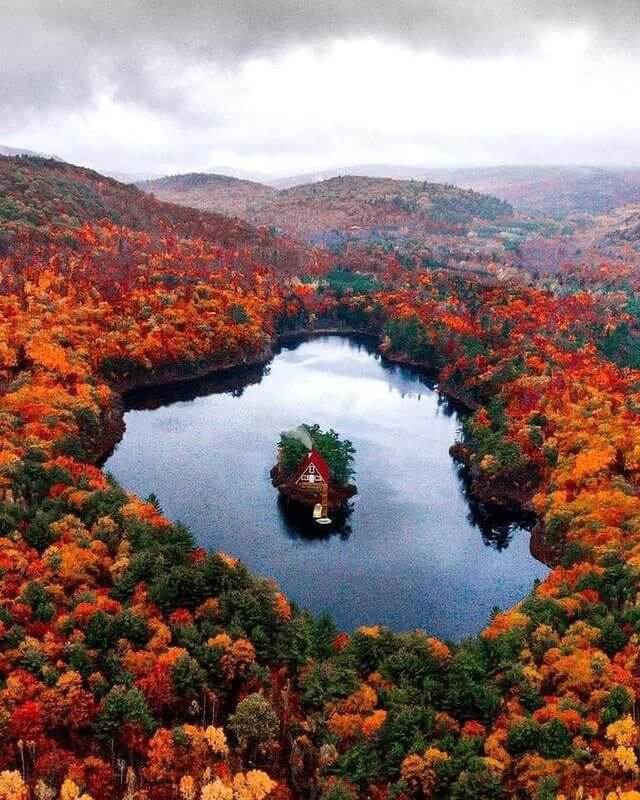 Maine produces amazing fruits and vegetables, such as apples, gourds and pumpkins and they're all ripe for the picking. If that doesn't sound enough for you, then there's lots of lobster to be caught in the water during this time. 

The Foreboding Dark Hedges In Northern Ireland
The Dark Hedges is a ghostly spot on a desolate road near a town called Ballymoney in Northern Ireland and the trees look like they're ready to attack you and swallow you whole. The road is tree-lined which beech trees and their twisted branches reach across the road, and act as an archway. The road doesn't lead to a desolate house or anything spooky, it just goes to fields. 
This road is the most photographed place in Northern Ireland, and its appearance in Game of Thrones definitely helped with this. So if you ever find yourself in Ireland, then you should make a detour to stop and grab a pic of this amazing nature.

The Duke Of York On A Slide At The Wembley Exhibition In 1925
Before he became King George VI, he was The Duke of York. And this monarch must have had a pretty rough life, as he had a really bad stammer and didn't enjoy going down slides. The look on his face really says it all. His mood was also probably a result of the fact that it took him hours to complete the speech he gave at the Wembley Exhibition due to his speech impediment.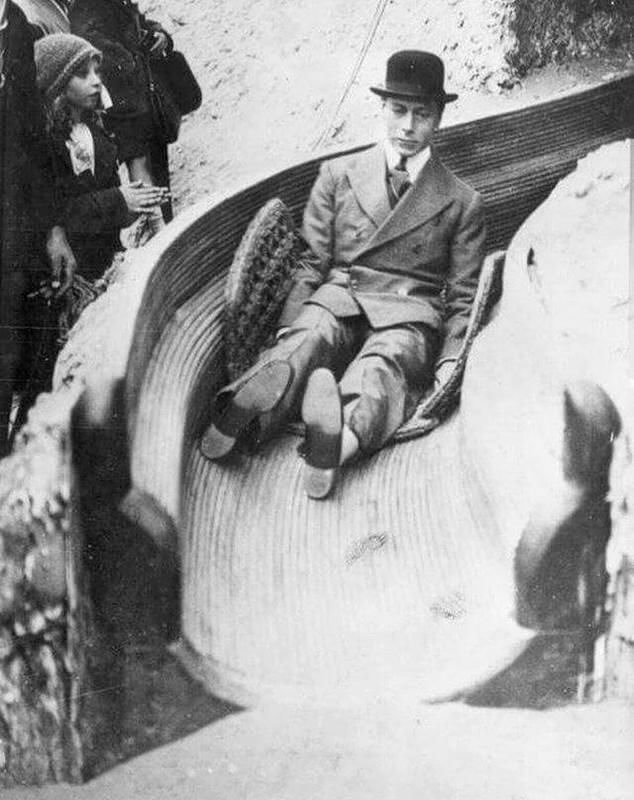 There are a number of his speeches from the war that still exist today but all the speeches he gave before he became king have been destroyed or hidden. They are really bad, but he couldn't help it. However, he hired a speech therapist called Lionel Logue and then he worked through his stammer and started to give speeches to everyone who would listen. 

The Stunning Beauty Of The French Alps
The French Alps are some of the most amazingly beautiful landmasses ever to have been created on Earth and this photo proves it. It's enough to make you want to drop everything and travel to the Alps and marvel at their beauty in person. Or wait until the snow falls in Winter and go on a ski trip of a lifetime!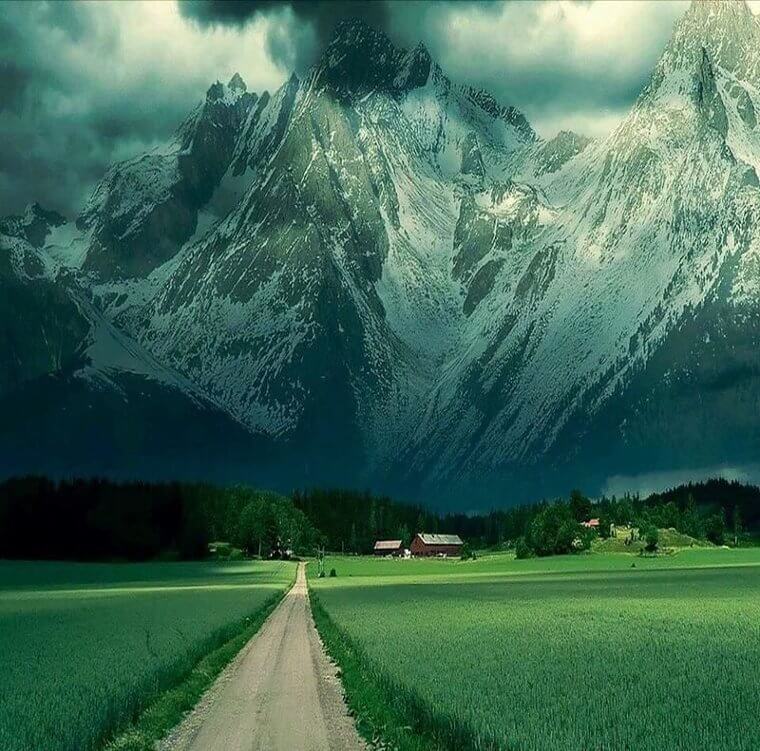 Their name is deceptive though because only some of the Alps are located in France as most of them are shared with Italy and Switzerland. The Alps are a great place to ski, and if you're into hiking or rock climbing then this is one of the most picturesque places you could ever do it. 

The Blair Witch Project House In Burkittsville, Maryland
The gripping realism of The Blair Witch Project made this 1999 film extremely terrifying because it meshed documentary-style realism and a spooky backstory together. The film then uses an urban legend style to make it seem even more real because it shares similarities with local fairytales. The house that was the inspiration behind the film just adds to the creepiness of the area.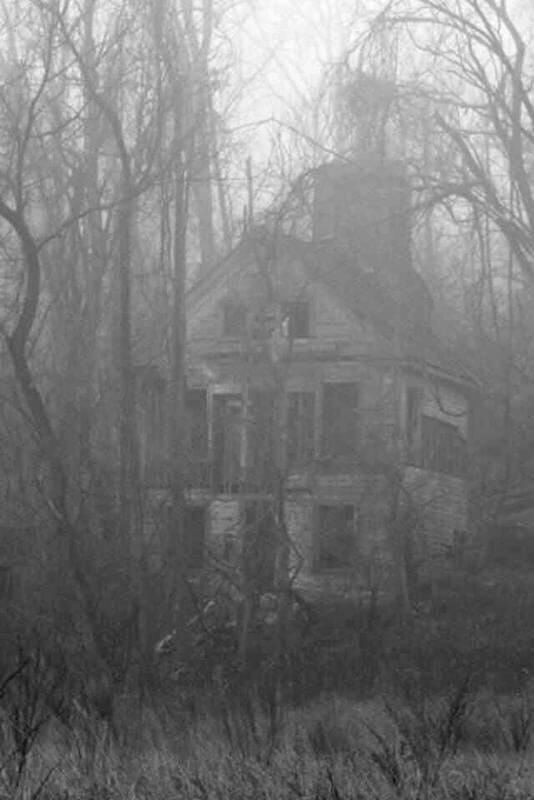 There's "Spook Hill" in the area, that's meant to be haunted by Civil War-era ghosts who push cars up the hills at night. There's also supposed to be a spooky creature that wanders through the woods at night. The house appears in most versions of the movie, so it makes sense that the house gave the moviemakers some nightmares.

A Train Drove Too Fast Into A Station In Paris In 1895 And Derailed
Sometimes people take risks in their cars if they're running late, and will go a bit too fast to try to make up for the lost time. But, speed limits are there for a reason. At 4 pm on 22 October 1895 the Granville-Paris Express train crashed past the buffer stop at the Gare Montparnasse and went through the wall.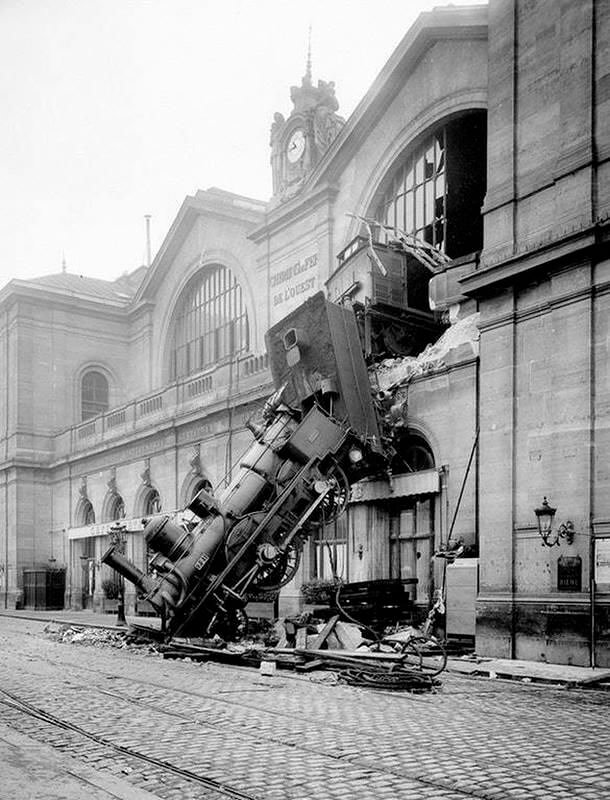 The train was running behind schedule, so the driver had been going fast to try to make up the lost time, but he was going too fast and didn't have enough time to stop, so he crashed. Luckily, out of the 131 passengers on the train, there was only one life lost and six people were injured. Things could have been way worse and even though the tragedy wasn't too bad, the driver was fined 50 francs. 

Four Months After Its Completion In 1940, The Tacoma Narrows Bridge Collapsed
The Tacoma Narrows Bridge in Washington spanned the entire strait of Tacoma Narrows at Puget Sound that ran between Tacoma and Kitsap. The bridge completely collapsed at 11 am on 7 November 1940. The suspension bridge collapsed due to 'aeroelastic flutter' which means that the winds shocked the bridge and damaged it. 
Leonard Coatsworth is a survivor of the collapse and the told the Tacoma News Tribune that he could hear concrete cracking around him, and tried to get back to his car because his dog was in it, but the car started to slide around and he knew he had no choice but to get back to the shore. He crawled to the towers with bleeding knees and bruised hands. He eventually got to his feet and ran the final yards to the toll plaza and then saw the bridge finally collapse.

This Is A Modified Vespa Scooter Called The 150 TAP (Troupes Aéro Portées) To Allow The Rider Carry A M20 75mmm Rifle
If you're in the military but still want to be a greaser, there's very little you can do. Or so you'd think. You could, in fact, go and get one of these Vespa 150 TAPs which were made for French paratroopers. The Vespa was a scooter modified to be an anti-tank scooter which a modified leg shield to carry a rifle. That's a pretty rad idea.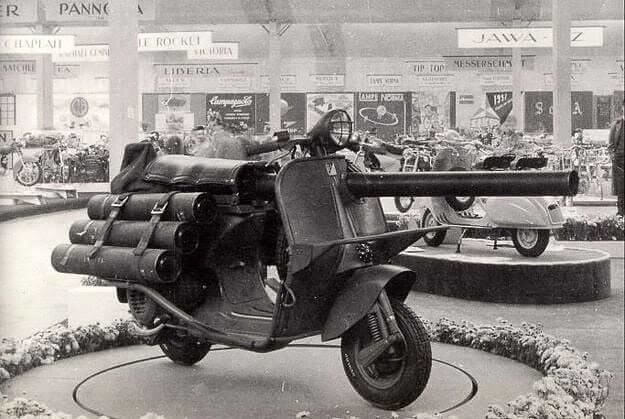 Scooters are easy to steer, and have a great ability to maneuver which made them ideal to take down bulky and lumbering, slow tanks. But, that's before the scooter was modified, and we think that this modified scooter was really hard to drive. They were also probably really heavy, just look at the gun!

Abolitionist Harriet Tubman In Her Later Years, 1911
Harriet Tubman is a legendary visionary and abolitionist and she has been known to say that dreamers need to have strength, patience and passion to try to change the world. There's so much to say about her though that's difficult to describe her in just a few paragraphs. Tubman was born into slavery in the year 1820, and in 1849 she escaped to Maryland. Then she started to risk her own life to help free hundreds of people from slavery within the plantation system by setting up multiple safehouses in the North of America.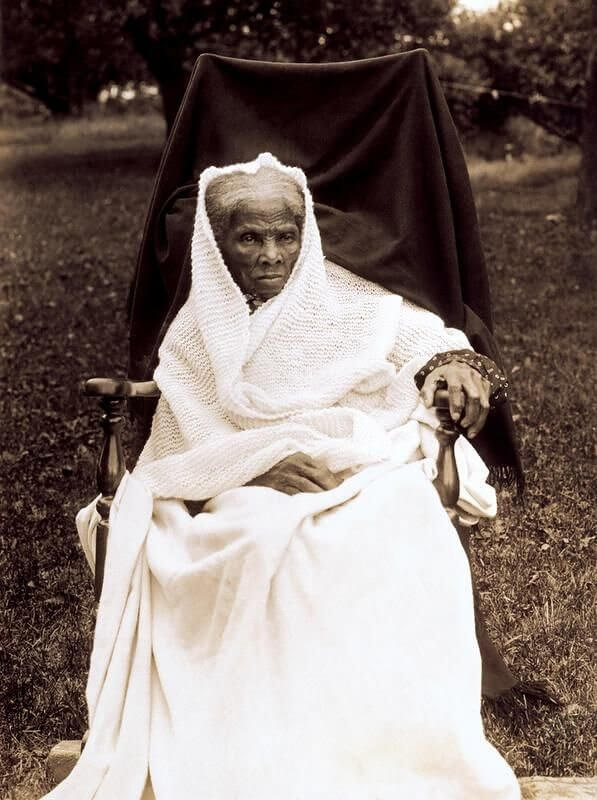 When she wasn't busy helping slaves escape to freedom, Tubman was working as a nurse and a cook for the Union Army and she was a spy for the North during the war. When the war ended, she moved to just outside Auburn, New York to a plot of land that was once owned by Senator William H. Seward, who was also an abolitionist. Auburn is where she spent her final years with friends and family.