It's almost impossible to talk about Amber Heard without mentioning Johnny Depp. The trial had the entire world deciding whether Amber Heard was a dangerous, manipulative narcissist or an innocent victim. Today, we'll learn about Amber's early life and career, and along the way, we'll uncover some of the many shocking stories from her life. We'll hear from witnesses, and even divulge the tragic events that made her this way.
Early Life
Amber Laura Heard was born on April 22nd, 1986, in Austin, Texas. Her parents were Patricia Paige and David Clinton Heard, and she was raised in a conservative Catholic family with modest finances. 
A bit of a tomboy, Amber grew up riding horses, hunting, and fishing with her father. Conversely, she also used her young feminine wiles to take part in beauty pageants. Although, as an adult, she said she can no longer "support the objectification" of beauty contests. 
Tragedy
Amber was raised Catholic but became an atheist after tragedy struck. When she was 16 years old, she lost her best friend in a car wreck. The teenager fell into despair and decided she no longer believed in God. Was this the life event that changed Amber forever?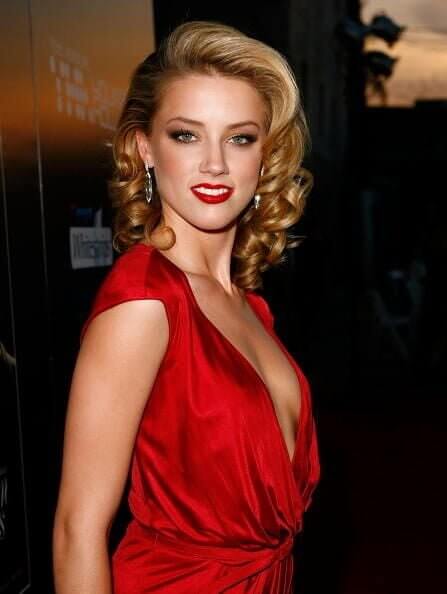 Soon after, a friend introduced Amber to the works of Ayn Rand––whose oeuvre of atheistic-objectivist work prescribes extreme self-sufficiency––and she was hooked. She says of Rand: "I've read all of her books. Ever since then, I have been obsessed with her ideals. All I've ever needed is myself." 
High School Dropout
No longer feeling comfortable in "conservative, God-fearin' Texas," Amber dropped out of her Catholic high school and gained her GED via a home study course. The teenager told her parents she was catching a plane that same day. She admits it was "kind of brash," but––armed with her home diploma, some headshots, $60 in her pocket, and a .38 gun her dad gave her––she left home to pursue a career in modeling and acting.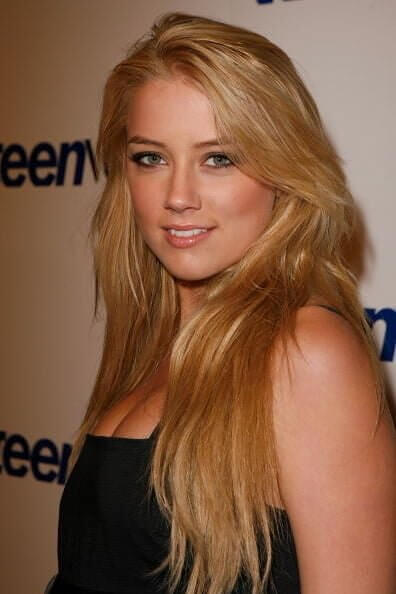 Before arriving in Hollywood, 17-year-old Heard made a pitstop in New York City to pursue a career as a model. However, she found living and finding work in the Big Apple difficult since she was only a minor. She is said to have forged her parents' signature on some documents to gain work. It wouldn't be the only time she forged legal documents. 
Early Roles
In 2004, Amber appeared in two music videos; country artist Kenny Chesney's "There Goes My Life" and rock band Eisley's "I Wasn't Prepared." Next up, she landed bit-part roles in several television shows, including Jack & Bobby (2004), The Mountain (2004), and The O.C. (2005).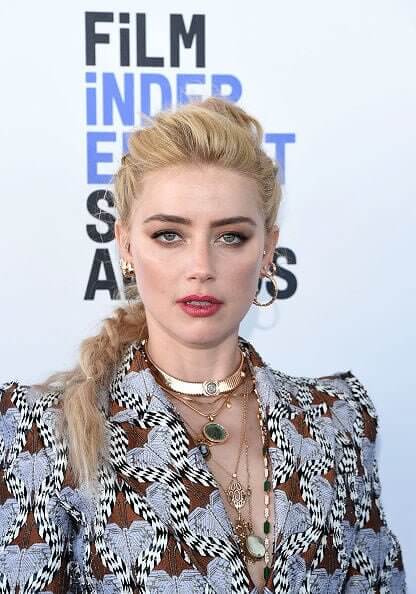 Her film debut came in the film Friday Night Lights (2004). She followed this up with supporting roles in Drop Dead Sexy, North Country, Side F.X. (all 2005), Price to Pay, alongside Justin Timberlake in Alpha Dog (both 2006) and Spin (2007). After appearing in an episode of the police procedural, Criminal Minds, Amber's first leading film role came in the slasher All The Boys Love Mandy Lane (2006). The horror movie sees her play the eponymous Mandy Lane, a beautiful, innocent teenager who bullies and murders many victims. 
Breakthrough Role
In 2007, Amber lost 25 pounds to play the main love interest in Hidden Palms. However, the teen drama was critically panned and canceled after just eight episodes. After appearing in the sitcom Californication, she appeared in the short film Day 73 with Sarah and the indie film Remember the Daze (both 2007).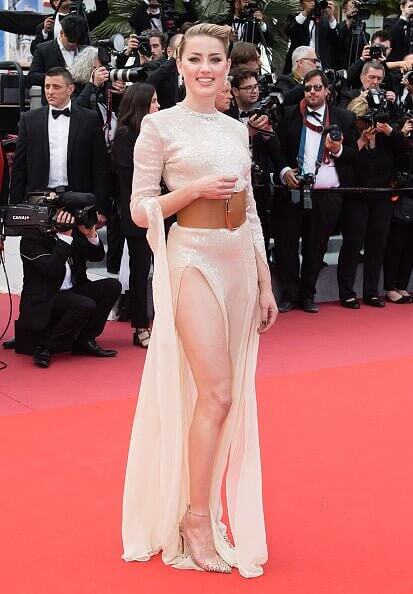 Her first major role came in stoner comedy-drama Pineapple Express (2008) alongside Seth Rogen, James Franco, and Danny McBride. The green behind the gills actress cited her biggest acting challenge was keeping a straight face when working with Seth Rogen. Nevertheless, she gained something near mainstream recognition and went on to appear in the martial arts drama Never Back Down (2008).
Keeping Up With The Joneses
Amber played in the ensemble cast of Bret Easton Ellis's novel The Informers (2008), but the film flopped at the box office. The next year, she appeared in Zombieland (2009) and starred in The Joneses (2009) opposite David Duchovny and Demi Moore. For her efforts, Variety magazine wrote that she stole the show from Demi Moore.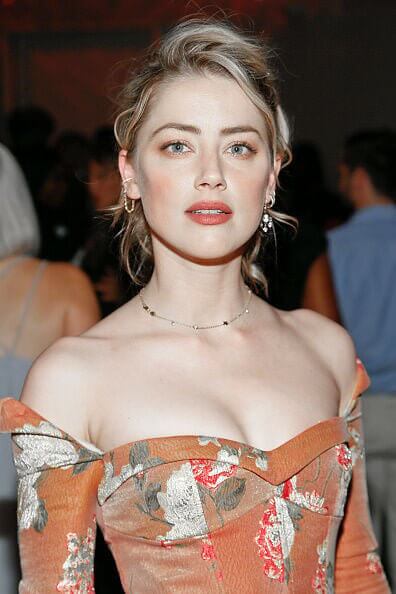 But her successes were hit and miss. For every rave review came many more critically panned movies like ExTerminators and The Stepfather (both 2009), The River Why, And Soon the Darkness, and John Carpenter's The Ward (2010). Despite all her efforts, Amber was not nearly as famous as she believed she should be. 
Tasya Van Ree
While she'd been slowly becoming famous, Amber had been dating photographer Tasya van Ree. The actress even legally changed her last name to van Ree during the relationship, only reverting back to her birth name in 2014. But while they looked great together, the relationship wasn't without its troubles.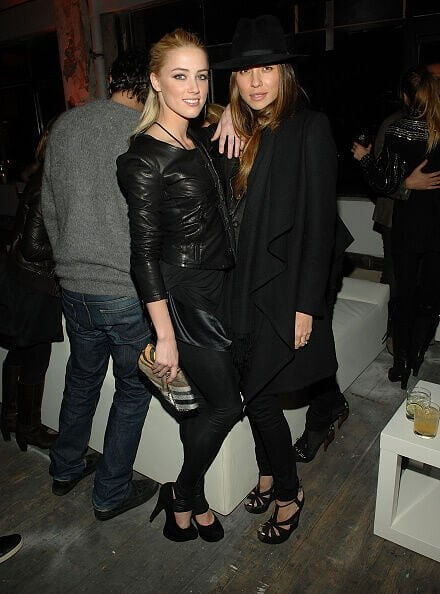 In 2009, Amber was arrested after allegedly grabbing Tasyn van Ree and hitting her arm at Seattle-Tacoma International Airport. The actress was detained for misdemeanor domestic violence. However, Tasya van Ree has since claimed that the 'wrongful' charges were misinterpreted, over-sensationalized, and motivated by homophobia. The charges were dismissed. Amber and Tasyn broke up in 2012 but remained friends.
Coming Out
In 2010, friends and colleagues warned Amber that she'd be "throwing away her career" if she announced that she was bisexual just as she was about to star opposite Nick Cage and Johnny Depp. But she says that she has no regrets. In her own words: "I [was] holding her hand, and I realized that I have two options: I can let go of her hand and, when asked about it, I can say that my private life is my private life. Or I could not let go and own it."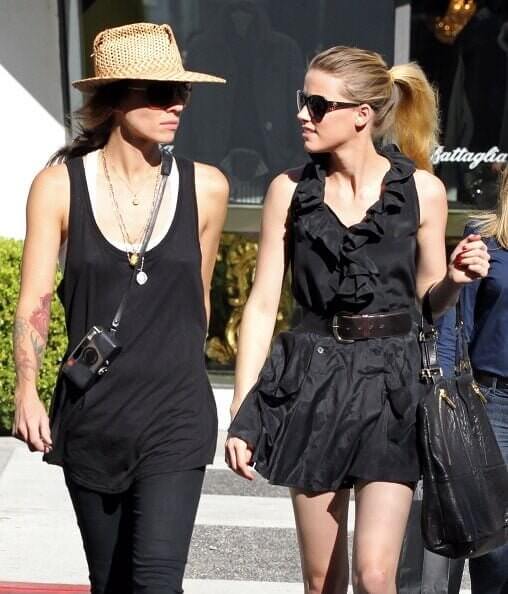 Amber came out at the 2010 GLAAD anniversary, gleefully stating: "I don't label myself one way or another—I have had successful relationships with men and now a woman. I love who I love; it's the person that matters."
The Playboy Club
One of the upcoming films her friends were referring to was the supernatural action thriller Drive Angry (2011), in which she shares the screen with Nic Cage and a classic 1969 Dodge Charger. Heard was now famous enough to fly across the Atlantic to show off her racetrack skills in the BBC Top Gear's segment Star in a Reasonably Priced Car. 
Next, she starred in NBC's controversial The Playboy Club, a crime drama series about Chicago's original Playboy Club in the 1960s. After terrible reviews and protests from both feminists and conservative groups who believed the show objectified and degraded women, the series was canceled after only three episodes. The same year, she appeared in an advertisement campaign for the Guess fashion brand.
Trouble in Paradis
Amber had all the skills to play shape-shifter Mystique in X-Men: First Class (2011) but lost out to Jennifer Lawrence. Instead, she starred in The Rum Diary (2011), allegedly beating Scarlet Johansson and Keira Knightley to the role. The film tells the story of 1960s journalist Paul Kemp (Depp), who takes up a job in a local newspaper in Puerto Rico and falls hard for a woman called Chenault (Heard), who happens to be engaged to an unscrupulous entrepreneur. This meeting irreparably changed both Amber and Johnny's lives forever.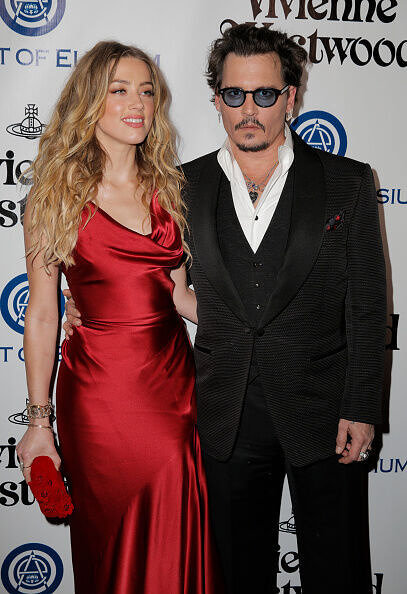 Johnny had been in a relationship with French singer and actress, Vanessa Paradis, since 1998. Although they'd never married, they had two children together, model and actress Lily-Rose Melody Depp and John Christopher "Jack" Depp III. In 2012, Depp and Paradis separated amicably. He and Amber began dating soon after the same year. 
Love & Marriage
Amber described shooting The Rum Diary with Johnny Depp as the "best experience I've ever had." The two embarked on a tumultuous relationship and were married in a private civil ceremony in February 2015 on Depp's $3 million private island, Little Halls Pond Cay in the Bahamas. 
For a while, Depp and Heard were the new Hollywood "It Couple." Unnamed tabloids span the narrative that everything was "great" and "they are great together," but behind the scenes, even as they honeymooned, it was a very different story. Red flags that this relationship was toxic started popping up everywhere… and one of the first came at an Australian airport. 
Dog Day Afternoon
In 2015, the couple was embroiled their first legal scandal… dog smuggling! They broke Australian biosecurity laws by failing to declare their dogs at Australian customs. Amber eventually pleaded guilty to falsifying official documents citing extreme sleep deprivation. It was called the "highest-profile criminal quarantine case" in Australian history.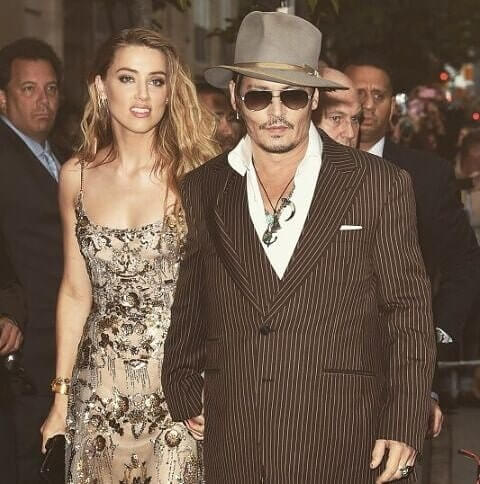 The couple released a video apologizing for their behavior and Heard received a one-month good behavior bond and a $1,000 fine. But in 2021, Australian officials and the FBI said they were investigating allegations of Amber committing perjury. Yet during the legal proceedings, Depp kept dozing off, and Amber kept having to elbow him to wake him up. This behavior was most unlike Johnny, so what exactly was going on?
Behind The Scenes
Often called one of the most beautiful men in the world, Johnny Depp grew his hair long, started gaining weight, and dressing scruffily. He appeared with new tattoos on his hands, piercings, wearing eyeliner, and dirt under his fingernails. Slowly but surely, he was turning into his most famous character, Pirates of the Caribbean's Jack Sparrow.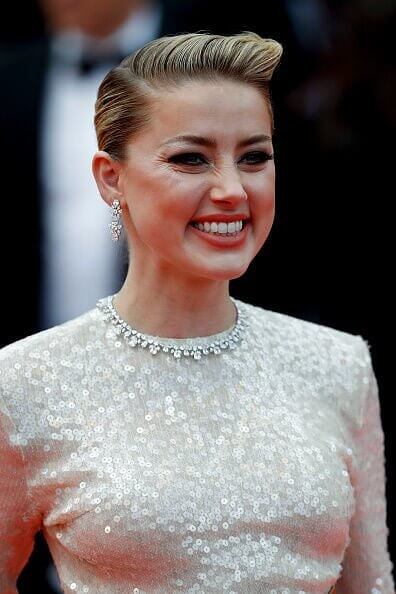 Meanwhile, Amber added to her ever-growing list of roles by appearing in the movies 3 Days to Kill, The Adderall Diaries (2014), Magic Mike XXL, and The Danish Girl (2015). Her rising stock led her to be cast in her biggest role yet, playing the Atlantean Mera alongside Jason Momoa in Zack Snyder's Justice League (2017). She would reprise the role in Aquaman (2018). During this time, she also set herself up as an activist, primarily promoting women's rights. 
Tattoos
Self-confessed fluent Spanish speaker Amber has a tattoo of Pablo Neruda's words down her side: "Te amo como se aman ciertas cosas oscuras, secretamente, entre la Sombra y el alma." The English translation is: "I love you as certain dark things are to be loved, in secret, between the shadow and the soul." On her back in Persian, she has poet Omar Khayyam's words, "Since the fate of the world is non-existence, since you exist, be merry."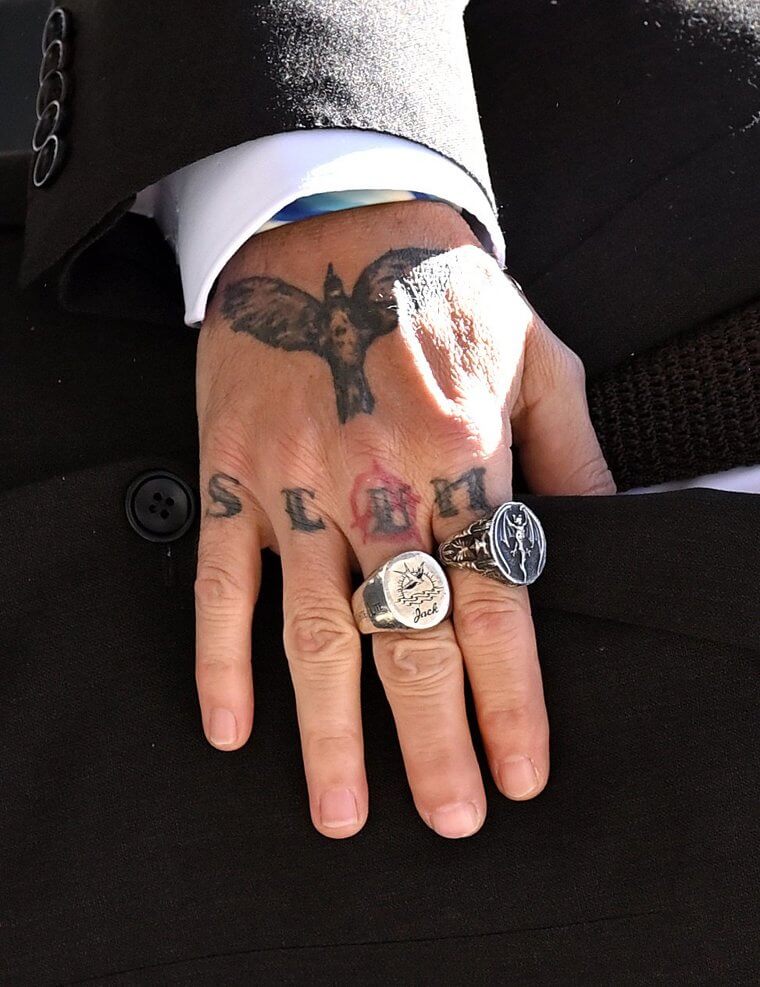 Depp had a tattoo of Amber Heard on his biceps, which he has since blackened over. At one time, his knuckles bore the words "Slim," his nickname for Amber. But during their divorce, he changed the words to say "Scum" before changing the "u" into an anarchy symbol, so for a while, the tattoo read: "Scam." 

Hollywood Attitude
As the #MeToo Movement's sparks were gathering, Amber began channeling her inner feminist and openly criticized Hollywood for its limited offerings when it comes to roles for actresses, saying: "I've worked really hard to bring something more to 'pretty girl' roles over the years. I consider it a challenge."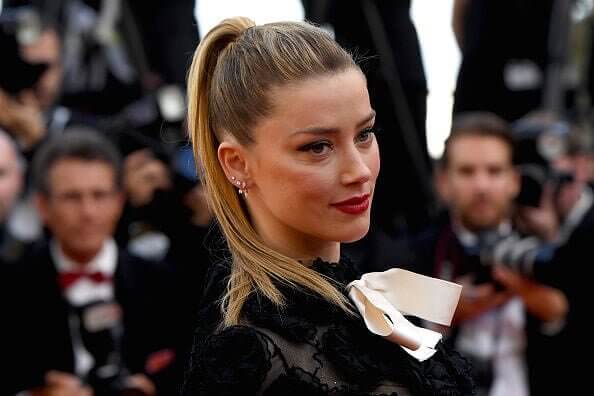 The actress also stated: "As a woman, I usually have two options: sex object or the best friend who isn't sexy," she said. "It's not creatively fulfilling to just be sexy. I did nothing to look the way I look. The genetic cards that anyone is dealt are not in their control, so to take pride in my looks would be a mistake. And besides, in L.A., there's always someone more beautiful."
Divorce
On May 23rd, 2016, after just 15 months of marriage, Heard filed for divorce. Five days later, she filed a restraining order against Depp on the grounds of his verbal and physical abuse throughout their relationship. She outed Depp as "an alcoholic and drug addict" and insisted his substance abuse had increased over the years, saying he hit and kicked her on multiple occasions.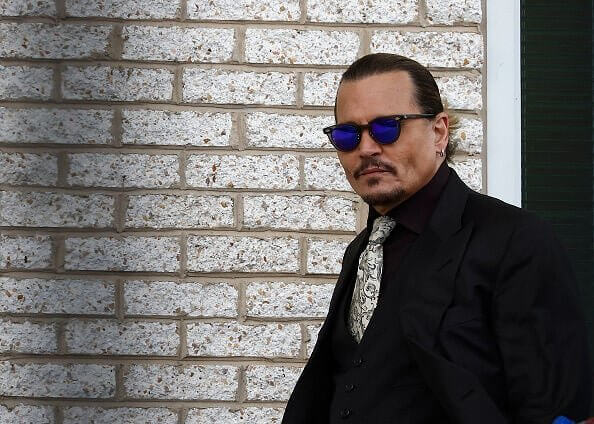 The suit alleged that "During their marriage, Heard gave Depp numerous chances to get and stay sober and change his violent behavior towards her … When she finally realized that Depp was not changing his behavior, and to avoid further injury and risk to her life, Heard took the very difficult step of filing for divorce and seeking a protective order."
Allegations Of Domestic Violence
Heard alleged Depp threw a magnum-sized champagne bottle and a wine glass at her before grabbing her by the hair and shoving her to the floor. In her statement, Heard said that "during the entirety of our relationship, Johnny has been verbally and physically abusive to me. I endured excessive emotional, verbal and physical abuse from Johnny, which has included angry, hostile, humiliating, and threatening assaults to me whenever I questioned his authority or disagreed with him." But was she telling the truth, or was she projecting?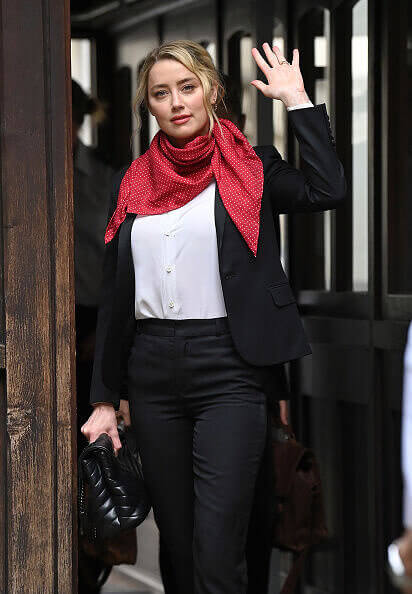 While Depp's lawyers accused Heard of falsifying accusations to gain a quick divorce settlement, Heard's lawyers released a barrage of information about Johnny's alleged violent outbursts to the media. People magazine even acquired alleged images of Heard's bruises after one altercation that apparently occurred just two days before Heard filed for divorce.
Jesters Speak The Truth
A day after Heard obtained a restraining order against Depp, entertainment website The Wrap published a guest column by American comedian Doug Stanhope, who happens to be a close friend of Johnny. The article was titled "Johnny Depp Is Being Blackmailed by Amber Heard—Here's How I Know."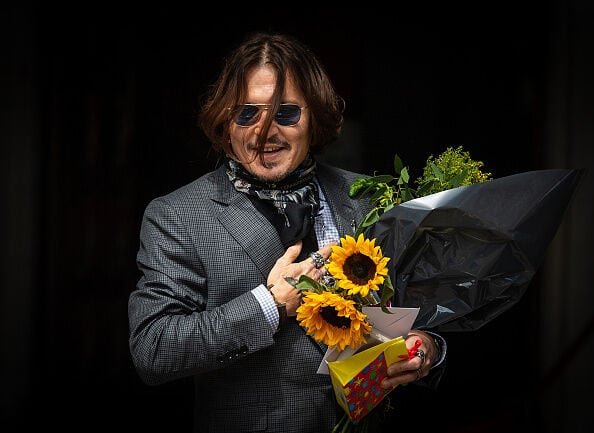 The strongly-worded article argued Depp would never abuse someone, as Amber Heard claimed. Instead, Stanhope accused Heard of "threatening to lie about [Depp] publicly in any and every possible duplicitous way if he didn't agree to her terms" and alleges that his friend Depp "got used, manipulated, set up and made to look like an a-hole." Stanhope went on to write she fabricated her domestic abuse allegations to squeeze money out of the actor. Heard's lawyers strenuously denied the claim and launched a defamation lawsuit against Stanhope... which was later dropped. 
Divorce Settlement
In January 2017, their divorce was finalized, whereupon Heard dismissed the restraining order. The ex-couple issued a joint statement citing their "relationship was intensely passionate and at times volatile, but always bound by love. Neither party has made false accusations for financial gain. There was never any intent of physical or emotional harm".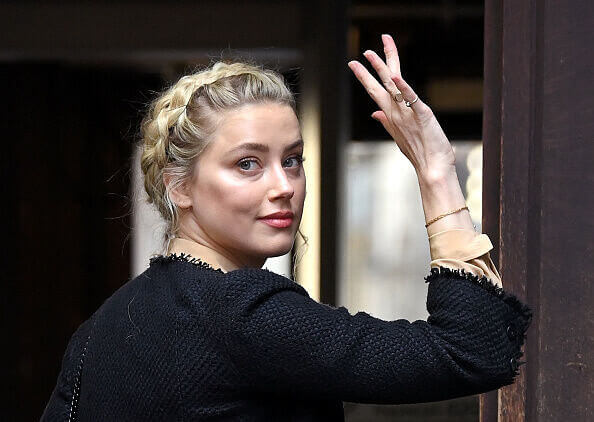 During their divorce proceedings, Amber was awarded a settlement of $7 million. To "prove that she was not after Johnny Depp's money," she announced she'd donate her settlement to charities, such as L.A. Children's Hospital, and $3.5 to the American Civil Liberties Union to help with causes related to domestic violence. Following her donation pledge, she was made an ACLU ambassador in 2018. 

Johnny Depp, The Monster
In early 2019, Depp announced he would sue Heard for defamation over The Washington Post op-ed. Depp alleged that Heard was the abuser and that her allegations against him were a hoax. Amber filed to dismiss Depp's case, offering new details about the abuse. Heard later alleged Depp abused alcohol, cocaine, and painkillers: "He would pass out, get sick, lose control of himself" in violent fits of rage.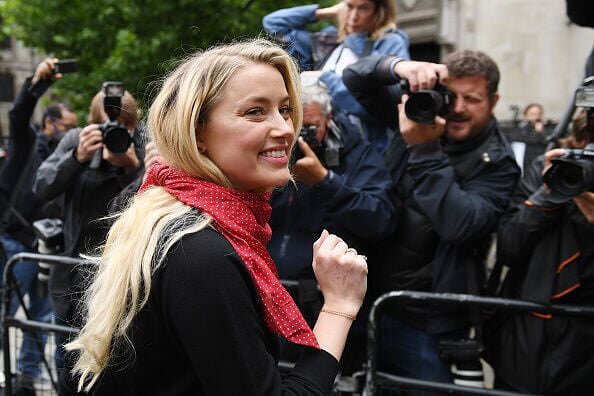 In the filing, Heard stated that: "We called that version of Johnny 'The Monster,'" and that her controlling husband would beat her, choke her, and that he ripped chunks of her scalp while pulling her hair. "I remember being afraid that Johnny might not know when to stop," she wrote of one alleged assault, "and that he might kill me." The case was not dismissed, so Amber countersued for $100 million in August 2020.
Charitable Donations
Five years later, it was alleged Heard "had not made a single donation to the charity and was called out for pocketing the amount of $7 million by her ex-husband." In court, she was forced to admit that she failed to donate $7 million to charity as promised.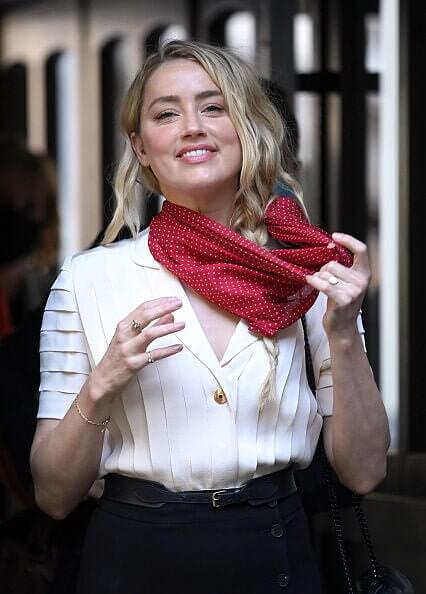 After paying some money to the ACLU, it was alleged in court that Amber Heard only gave the ACLU half the promised $3.5m she promised. In 2021, Heard's legal team blamed Depp, saying they "delayed in that goal because Mr. Depp filed a lawsuit against her, and consequently, she has been forced to spend millions of dollars defending Mr. Depp's false accusations against her."
See You In Court
In 2017, a UK-production company behind the film London Fields (2017) launched a $40 million lawsuit against the actress for breaching her contract for shirking marketing the film and other postproduction work.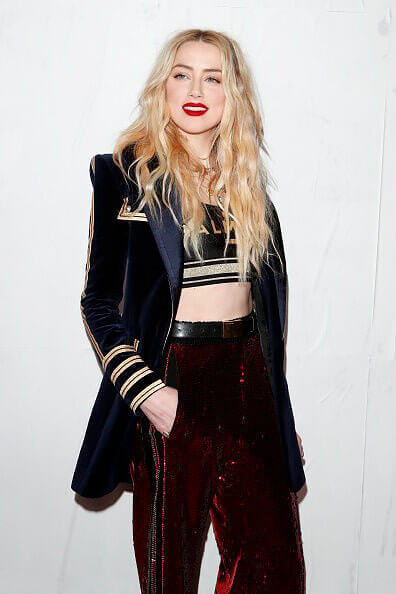 In turn, Heard countersued, alleging she was the victim of a "sexually exploitative couple," producer Christopher Hanley and his wife, Roberta. After completing filming, Amber says she didn't realize her character was a seductress and only agreed to do the movie after producers agreed to her restrictions on sex scenes. But the Hanleys went ahead and used a body double to film sexually explicit scenes of her character without her permission. 
Elon Musk
No soon as her divorce was finalized in 2017, Heard began dating tech entrepreneur, Tesla owner, and world's richest man, Elon Musk… but not before she made the billionaire "sweat" by standing him up for lunch. Elon had been trying to get it on with Amber for several years when Musk cameoed in her film Machete Kills (2013).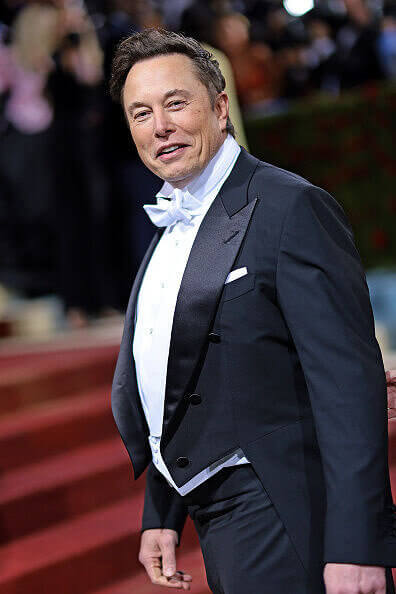 Heard and Musk never filmed together, but the billionaire entrepreneur emailed the film's director, Robert Rodriguez, asking to be informed where he could bump into Amber at parties. Heard dated Musk for a year until early 2018. 
The Sun Newspaper Trial
In June 2018, Depp brought a libel lawsuit against NGN, the publisher of the U.K. newspaper, The Sun after the tabloid had labeled him a "wife-beater" in an April 2018 article. Amber Heard was a key witness for NGN during the highly publicized trial in July 2020.​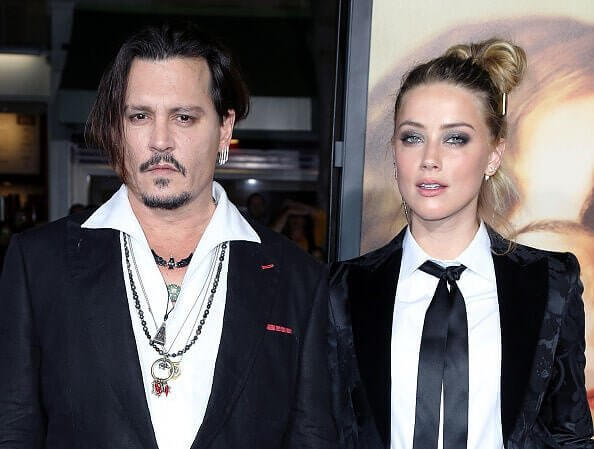 The trial focused on 14 instances of abuse that Heard maintains Depp put her through between 2013 and 2016. However, Depp denied the accusations, saying he was the victim of domestic and psychological abuse at the hands of Amber. He added she was: "a calculating, diagnosed borderline personality; she is sociopathic; she is a narcissist, and she is completely emotionally dishonest."
Heard 1 Depp 0
In November 2020, the U.K.'s High Court of Justice ruled Depp had lost his claim, saying "the great majority of alleged assaults of Ms. Heard by Mr. Depp [12 out of the 14] have been proved to the civil standard", rejecting any notion of a hoax against him," whereupon The Sun ran with this front page.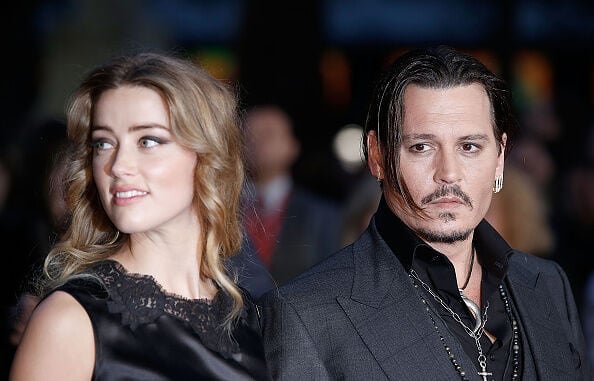 The verdict vindicated Heard, saying her career and activism had been seriously damaged by having to go public about Depp's abuse. Johnny's appeal to overturn the verdict was rejected in March 2021. The next month, Amber welcomed a baby daughter, Oonagh Paige Heard, born by a surrogate and an unknown father and named after Amber's mother, who sadly died in 2020.
Washington Post Op-Ed
Skipping back to 2018, one week before Christmas, The Washington Post published an op-ed written by Amber but believed by Depp's lawyers to have been drafted by the ACLU. The essay was entitled: "I spoke up against sexual violence — and faced our culture's wrath. That has to change." All of a sudden, Amber Heard was the new face of the #MeToo Movement.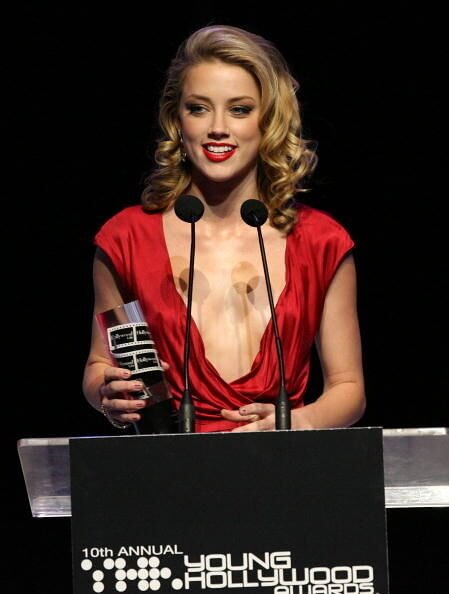 Johnny had been abused by both his mother and father in childhood, but Heard's article began by stating she had been "exposed to abuse at a very young age." If true, could this be why Amber turned out the way she did? The essay went on to talk about her experience of being a public victim of domestic violence since 2016. Though the op-ed didn't name Johnny Depp––instead only stating her abuser was a powerful man in Hollywood––every reader in the world knew who she was talking about. 
Who's Telling The Truth?
While the world seemingly believed activist Amber's claims and photos, the narrative began shifting when photos of Depp showing alleged cigarette burns, bruises, scratches, and lesions started doing the rounds on the internet. Among those who defended Depp included his ex of 14 years and mother of his children, who denounced the outrageous allegations against him as "false facts" and insisted he was a "kind, attentive, generous, and non-violent person and father."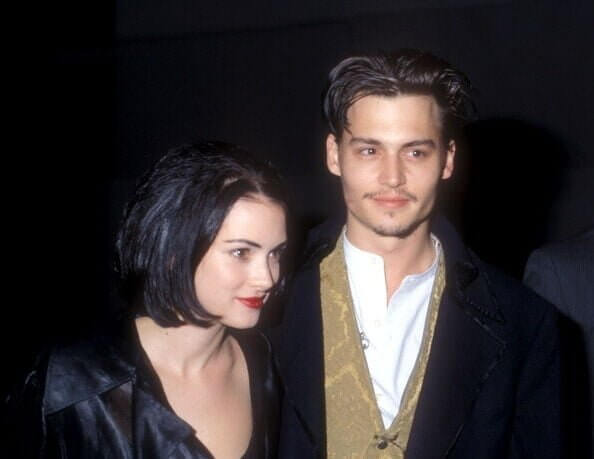 Ex-girlfriend Winona Ryder said: "The idea that he is an incredibly violent person is the farthest thing from the Johnny I knew and loved. I cannot wrap my head around these accusations. He was never, never violent towards me." Ryder also added: "I do not want to call anyone a liar, but from my experience of Johnny, it is impossible to believe that such horrific allegations are true." In fact, pretty much everyone who knows Johnny Depp has come out in his defense. 
Team Depp or Team Heard?
Depp denied he ever physically abused Amber and claimed the op-ed ruined his life and his career. Indeed, as a result of Heard's article, Warner Bros. asked him to resign from the Harry Potter prequel franchise, Fantastic Beasts, which he duly did, losing the role of Grindewald to Mads Mikkelsen. He also lost his $22.5 million deal with Disney to reprise his role as Captain Jack Sparrow in the Pirates of the Caribbean franchise.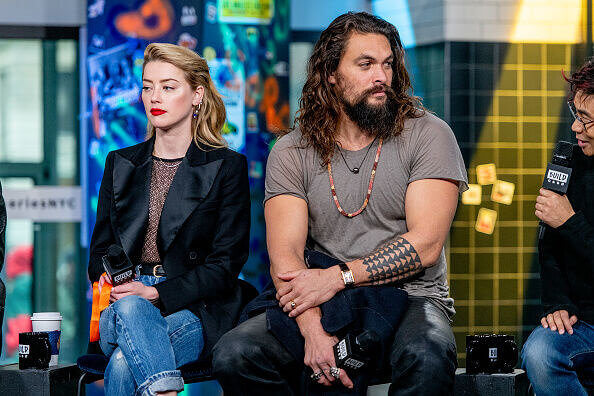 But gradually, public opinion began to swing in favor of Depp. Soon, an online petition to have Amber Heard removed from Aquaman 2 gained traction. At the time of writing, the petition has 3.7 million signatures. 
Depp Vs. Heard
Johnny sued Amber for $50 million over the Washington Post op-ed. In response, she countersued him for $100 million. The trial began on April 11th, 2022, in Fairfax County, Virginia. In opening statements, Depp's lawyers argued Heard wrongfully "presented herself as the face of the #MeToo Movement," while Heard's lawyers painted Johnny as "an obsessed ex-husband hell-bent on revenge."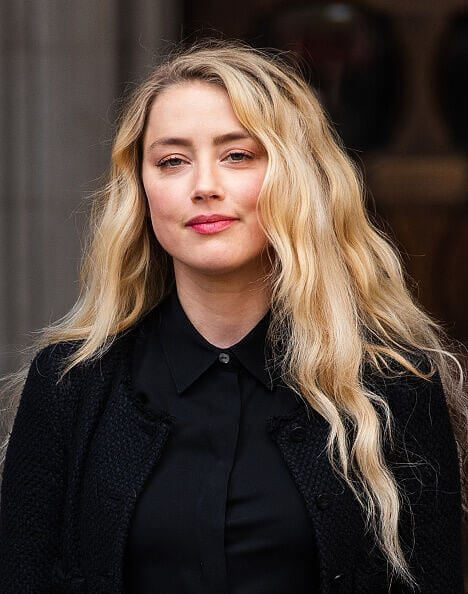 All of a sudden, the whole world soon fell into two camps. Those who believed Amber Heard, and those who believed Johnny Depp.  
Depp Takes To The Stand
During the first weeks of the multimillion-dollar defamation trial, Johnny Depp took to the witness stand. He described their honeymoon period as "too good to be true" during the first year and a half but went on to tell jurors that within another year, she had become a different person. He described how he was the one who suffered from Heard's abuse and detailed her volatile moods and her tendency to bully and abuse him.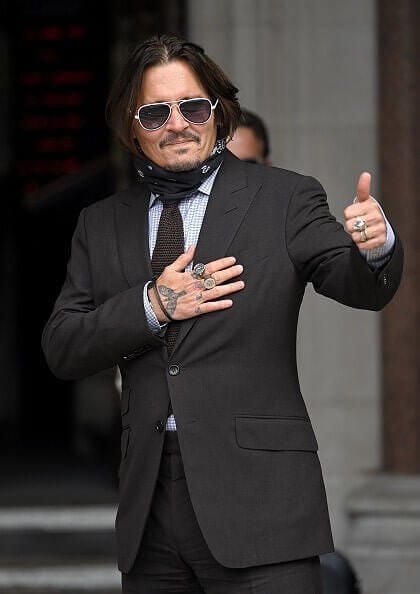 According to Heard, Depp became explosively angry and physically violent throughout their relationship. Depp's claims against Heard included multiple acts of violence and humiliation, including her defecating in his bed, often verbally berating him, physically attacking him, and that she partially severed his finger by throwing a vodka bottle at him in 2015. 
What Makes Amber Heard Tick?
One expert witness who took to the stand in Depp's defense was clinical psychologist, Dr. Shannon Curry. She took the stand saying she met with Amber Heard on "two separate dates" as she conducted her evaluation in December 2021, spending 12 hours together. Dr. Curry reported: "the result of Ms. Heard's evaluation supported two diagnoses – borderline personality disorder and histrionic personality disorder."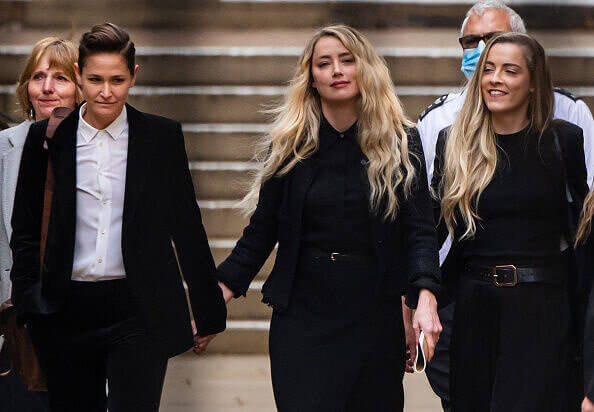 BPD sufferers are driven by an extreme fear of being abandoned––characterized by uncontrollable emotional reactions and self-harm. HPD sufferers have an underlying drive to always be the center of attention and are often dramatic, excitable, erratic, volatile, flirtatious, seductive, charming, manipulative, and impulsive. Dr. Curry also stated that Heard grossly overexaggerated symptoms of PTSD; she "externalizes blame" and has a tendency to be explosively angry and clingy. 
Couples Counsellor Testifies
The marriage counselor who worked with Heard and Depp in 2015, Dr. Laurel Anderson, also gave evidence. In Anderson's filmed testimony, based on her work with the couple, she believed "they engaged in ... mutual abuse."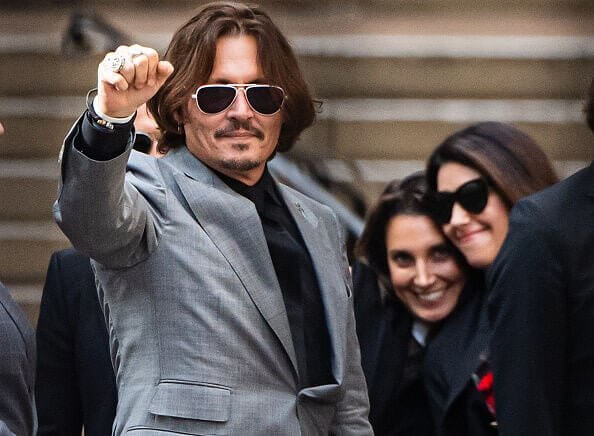 The doctor claimed Amber would start fights to "keep him with her" and that those fights could lead to physical violence. "If he was going to leave her to deescalate the fight, she would strike him to keep him there because she would rather be in a fight than have him leave." Dr. Anderson also testified she once saw "multiple" small bruises on Heard's face.
It's All About The He Said, She Said
Before and during the trial, a plethora of audio recordings, text messages, photographs, witnesses, police ​​bodycam and CCTV footage, and other evidence has come out. Audio recordings of Heard mocking and humiliating Depp have come to light, as has audio of her admitting she hit him. Photos of Depp wasted, and recordings of a deeply frustrated Depp shouting at Amber have also been played in court.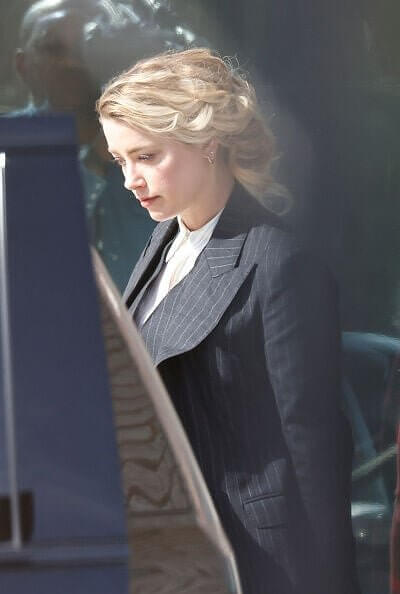 While Amber stated Depp carried out extreme physical violence against her, she posted photos of bruises on her face. However, within days, Heard was soon seen in public and appearing on chatshow interviews without a scratch on her, leading Johnny to accuse her of "painting on her bruises."

Amber's Side of the Story
When Amber took to the stand, she claimed he "slapped me across the face" and––seeming to fight back tears––said: "It changed my life…I knew you don't come back from that." She alleged he often beat her, ripped off her underwear to conduct a "cavity search" for cocaine, threatened to kill her, and even sexually violated her with a bottle.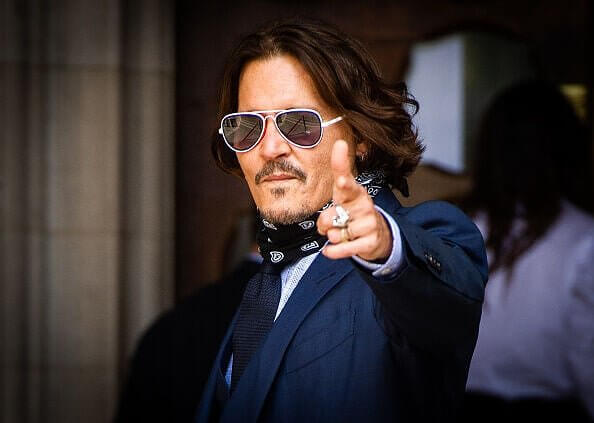 She stated his violent rages were easily triggered by feelings of jealousy. "He was accusing me of having affairs," and "He hated, hated James Franco." Meanwhile, Amber's former personal assistant has accused her of "stealing her own experience of being a victim of sexual violence" and twisting it into her own story.
The Verdict Is In
On June 1, 2022, the jury found that Depp had proven defamation from Heard's 2018 op-ed, They found that not only were the statements false but Heard also defamed Depp with actual malice. Depp was awarded $10 million in compensatory damages. The public trial led to some online bullying towards Amber, but she also gained some new supporting fans...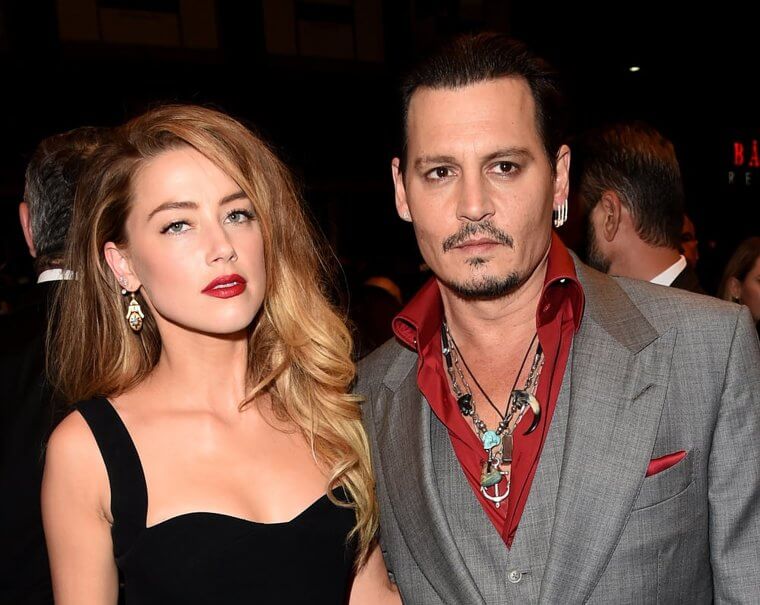 In 2023, A Saudi man left a voice note in Heard's Instagram DMs, saying "Amber…since all doors are closing on you, you have no one except me to take care of you. I've noticed that some people hate and bully you, therefore, I decided to marry you. May Allah bless us both. You are a blessing but people don't appreciate that. I am better than that old man."
Amber Ran Away
Following the trial, Amber reportedly wanted to disappear from the public, pushing her to change her name. She has been seen vacationing in a tiny village called Costitx in Mallorca, Spain, but sources say her visit is more than a short stint and that she's chosen to live there. She rented a house there under the name Martha Jane Cannary.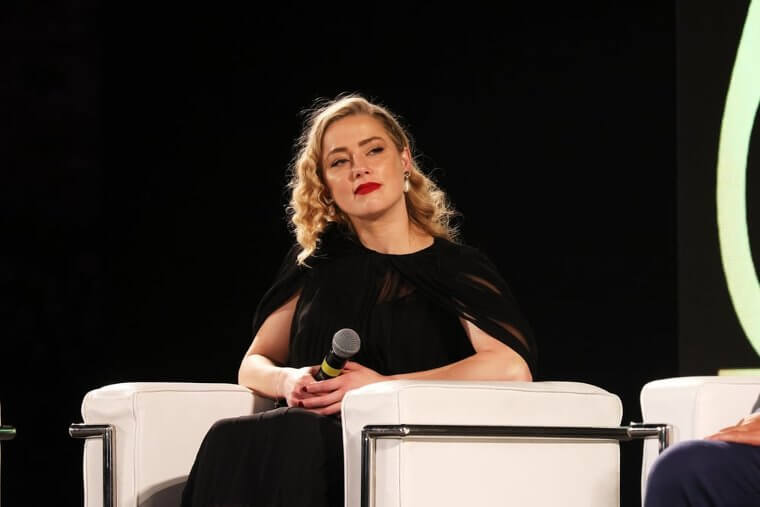 Cannary is actually a real person. This name belongs to the late 19th century, American hero "Calamity Jane". The actress has been seen in this small village a few times with her daughter and her girlfriend. It's speculated she did this to start fresh with her young daughter. But she knows it's not easy because everyone is watching her every move.
Let's Get To Know The Other Side
With four decades in the film industry, Johnny Depp is one of the world's top-grossing actors, with more than 70 films to his name and fans all over the world. He might have made his start as a squeaky-clean star in the late 1980s, but he quickly developed a bad-boy persona that has become his calling card, and some would say it is also his downfall.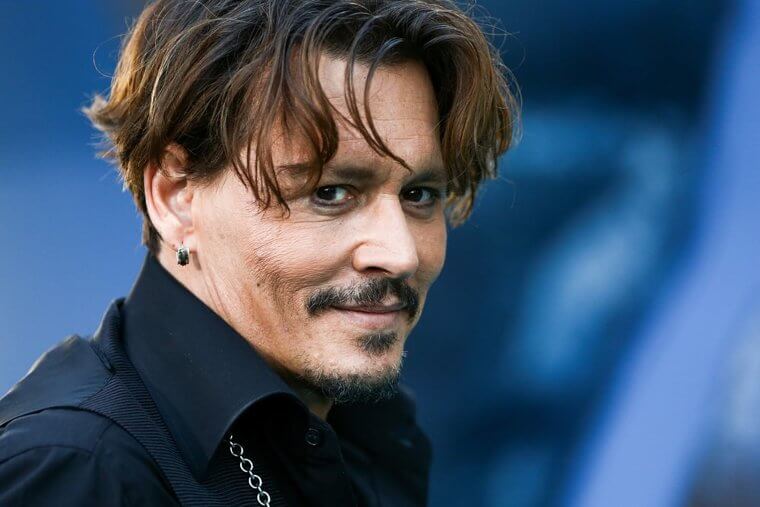 Rumors about his antics both onscreen and off are popularized by the media, but here are some facts you might not have heard about the famous character actor. Let's meet Johnny before and during the infamous trial, and you can judge for yourself if he is as innocent is he is being portrayed in the media. Or, could there be a truth to Heard's allegations?
The Peanut Butter Thing
Johnny Depp is probably best known these days for his role as Captain Jack Sparrow in the Pirates of the Caribbean franchise. But even back in the '80s and '90s, he was a big star, and the role that broke him into the mainstream was his part on the TV show 21 Jump Street.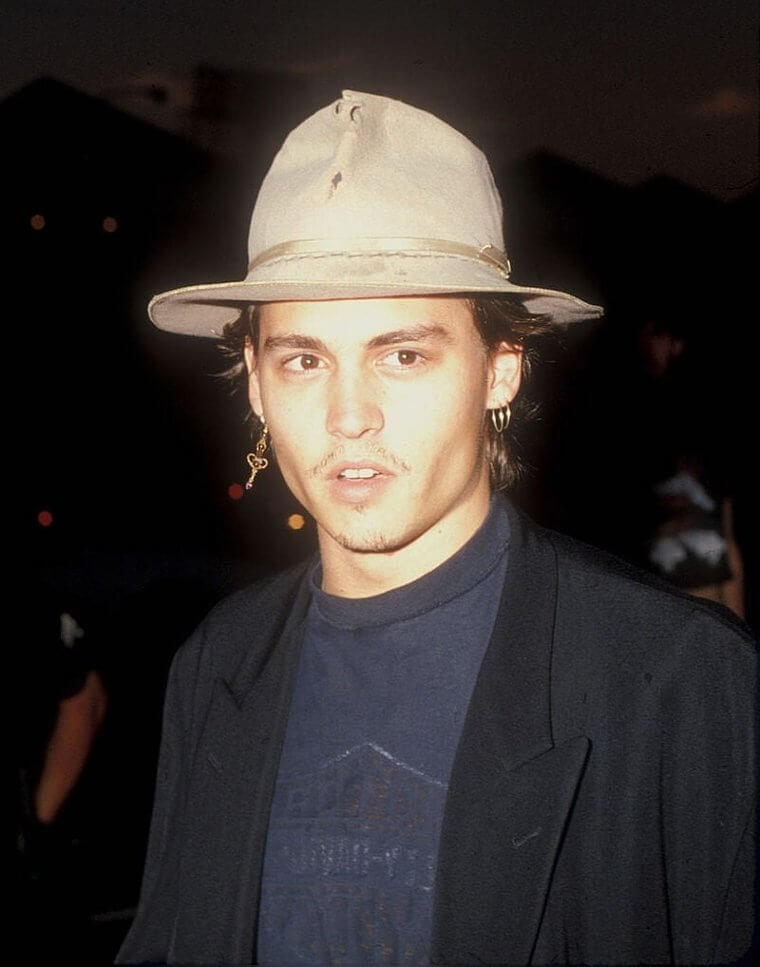 Despite the fact he could thank the series for his success, Depp became frustrated with the show's formulaic storylines and suggested it needed a bit of a shakeup. His plan? To have his character develop a weird obsession with peanut butter, including scenes of him smearing the spread all over his body.
Going for Gold
The numerous gold teeth that Captain Jack Sparrow sports make sense for a swashbuckling pirate, but you might be surprised to hear that these aren't thanks to the film's makeup department. Depp has these fancy fillings in his mouth full time.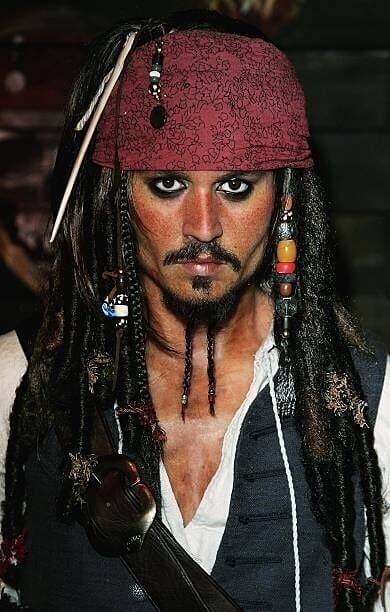 It's said that Depp wanted his character to have plenty of gold in his mouth, but didn't think that the film's producers would be on board with the idea, so he went to his dentist and got them to put in permanently.
Scar Tissue
When Depp was a teenager, he had something of a troubled home life. When his parents divorced, he took the split badly and began self-harming, cutting himself with a knife on different parts of his body. He still has the scars today but doesn't see them as a source of shame.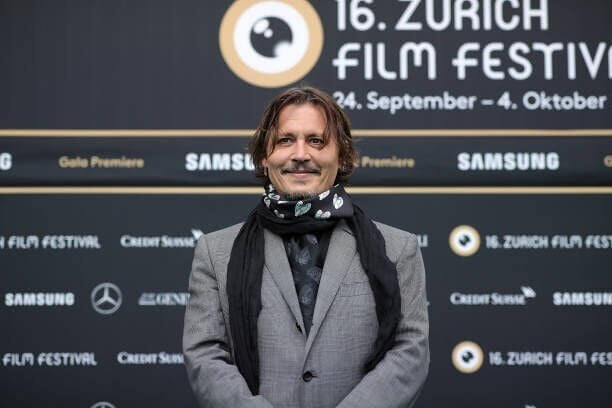 He explains, "My body is a journal in a way. It's like what sailors used to do, where every tattoo meant something, a specific time in your life when you make a mark on yourself, whether you do it yourself with a knife or with a professional tattoo artist."
Rockstar Ambitions
Before he broke into the world of acting, Depp had dreams of being a rock star. In fact, he felt so passionate about living his dream that he dropped out of high school at 15 to see if he could make it in music.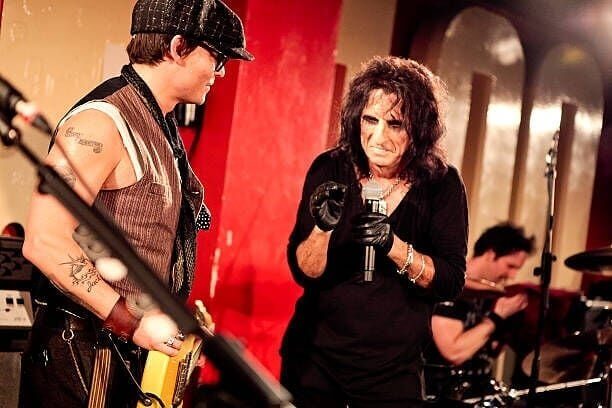 Just two weeks after leaving, he began to second-guess his decision and decided to continue with his schooling. Fate intervened, however, when his principal refused to accept him back, saying that Depp was too far behind. So Depp made a go of his music after all and went on to front a local rock band.
The Big Change
Depp was doing alright with his band, even making the move to LA to pursue the dream further. So how did he go from music to movies? The answer is Nicholas Cage, who just happened to be a friend of Johnny's first wife, Lori Allison.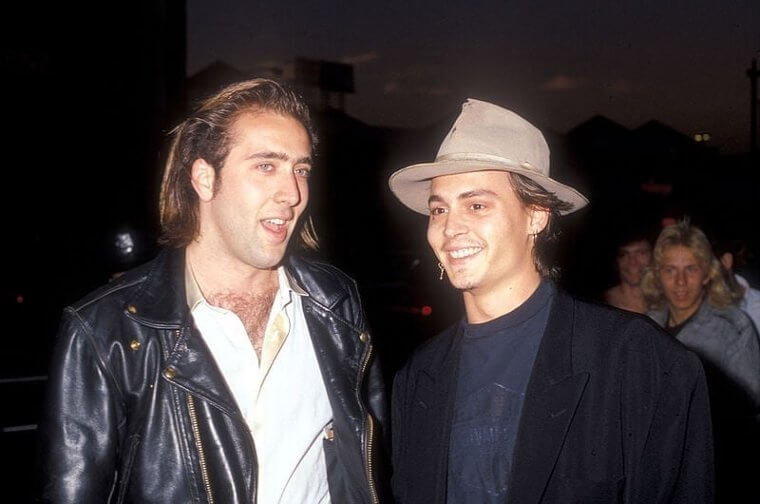 Allison introduced the two men, and over a late-night game of Monopoly, Cage suggested the idea of acting to Depp. Johnny was reluctant at first, but eventually decided to take a chance, and the rest is history.
An Engaging Man
He might have hit the headlines recently for his tumultuous relationship with Amber Heard (and their subsequent divorce), but Depp has had a number of high-profile relationships over the years. The actor first married at the age of 20 to make-up artist Lori Allison, but the two divorced just two years later.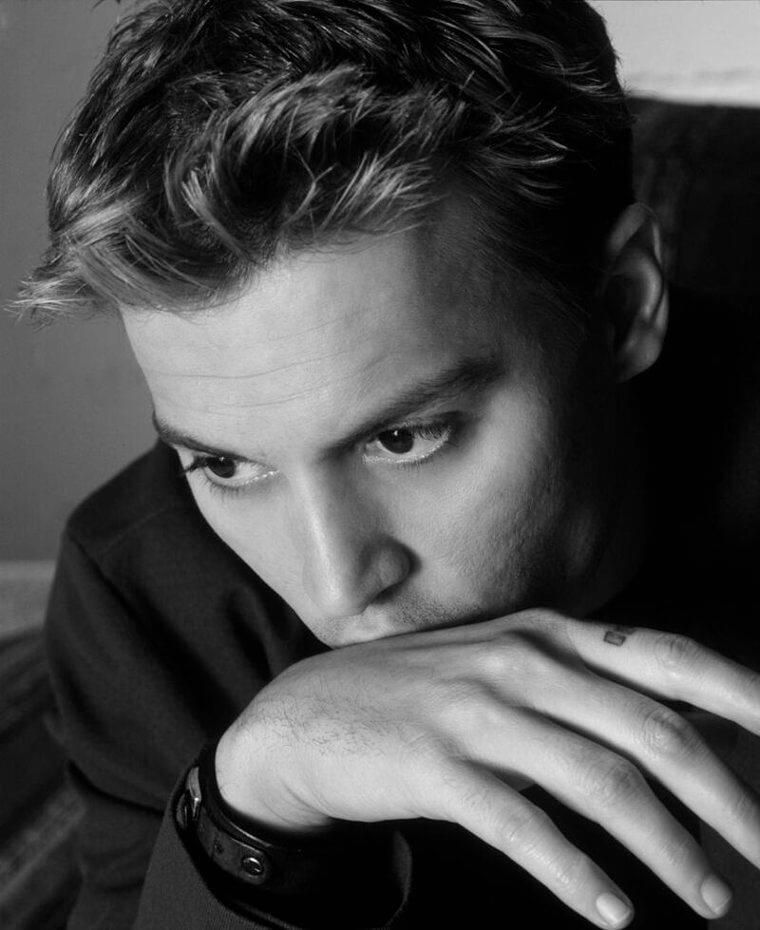 This short-lived marriage didn't seem to put the man off the idea of commitment. During his next three relationships, to actors Jennifer Grey, Sherilyn Fenn, and Winona Ryder, Depp popped the question. While they all accepted, none of these engagements ended up in marriage.
Changing Face
When Johnny Depp took the lead role in Edward Scissorhands, it kickstarted a long working relationship with director Tim Burton. Though the pair have worked on many films together, Depp wanted to challenge himself and tried to avoid repeating the roles he played.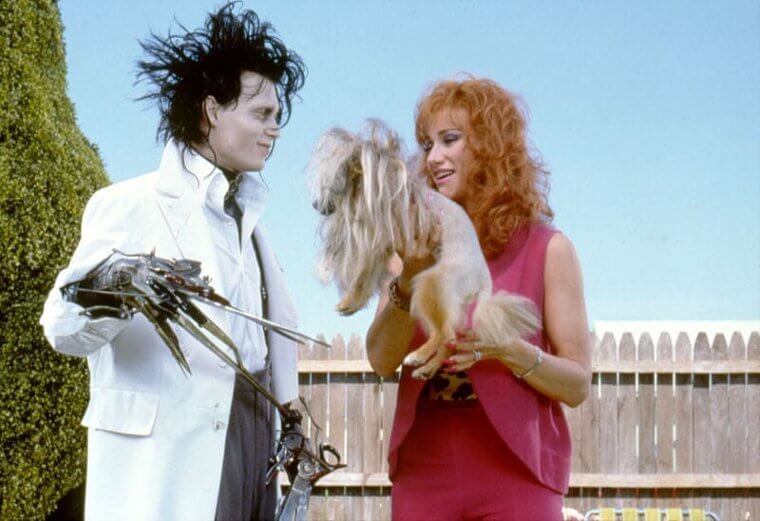 Of course, this has all changed now as he's played Captain Jack Sparrow in six films and counting! There are also some people that say despite taking on different roles, Depp always seems to be the same character anyway. Not much of a compliment for his acting skills!
The Music Still Calls Him
Acting was obviously the right fit for Johnny in the end, but he never really lost interest in music and has returned to it from time to time. In fact, he's achieved more than most casual musicians, appearing on two recordings from British rockers Oasis.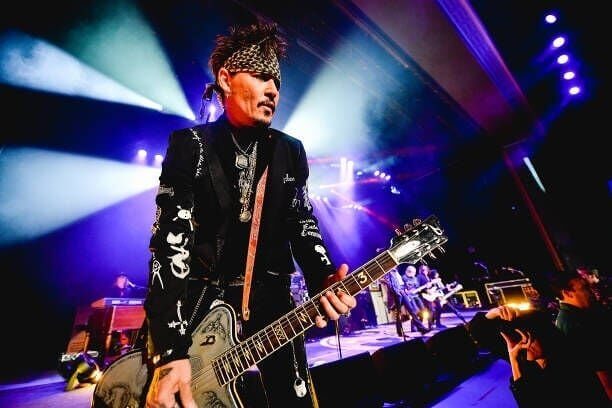 If you listen to the track "Fade In-Out", you'll hear Johnny play lead slide guitar. How did he land such a prestigious slot on the song? Allegedly Noel Gallagher was too drunk at the time of recording and Johnny happened to be there to step in.
Rock Star Cliches
The fact that he wasn't a famous musician didn't stop Johnny Depp from leading the somewhat cliched life of a rock star. He became a favorite for the tabloid press when he began dating supermodel Kate Moss in 1994 when they were both at the height of their stardom.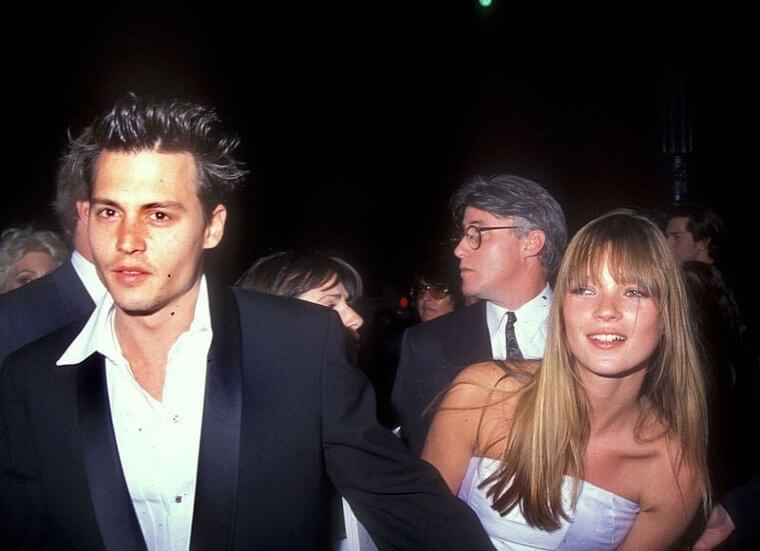 The pair gave the papers plenty to write about when they began some spectacular drunken fights, including an incident in a $1200-a-night New York City hotel room that led to Depp's arrest.
Party Animal
Depp was arrested for criminal mischief after staff found he had trashed his hotel room. But when questioned, the actor supplied an utterly bizarre explanation for the mess that they had found and tried to absolve himself of all responsibility.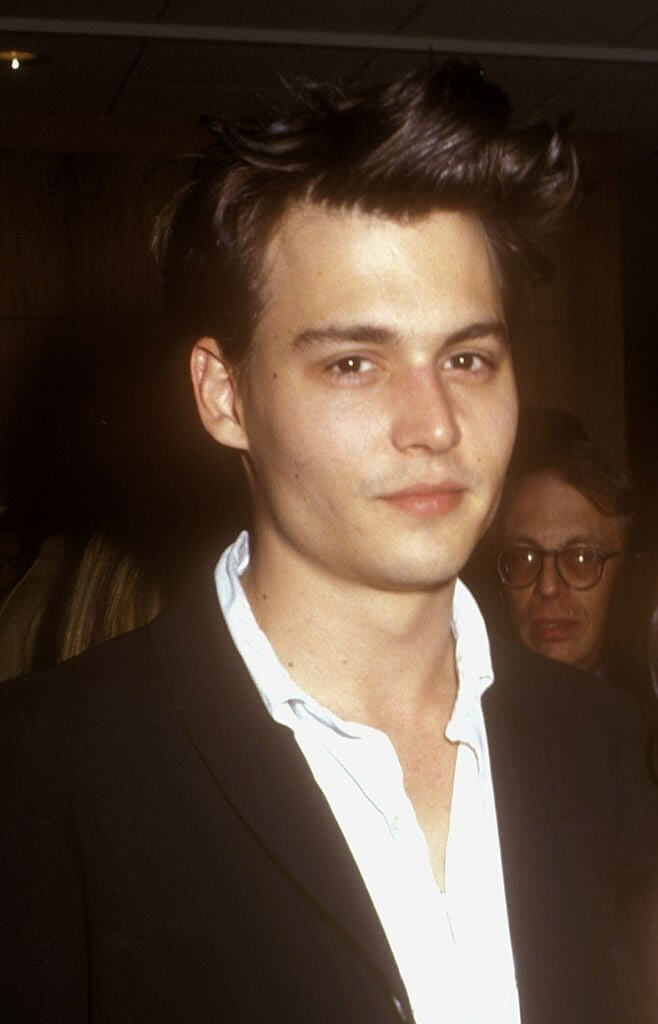 Depp claimed that he had been in the room when an armadillo (of all things) had burst out of the closet. The animal was in great distress and began to rampage through the room causing havoc. So why hadn't the staff seen it? According to Depp, the animal had jumped out the window after trashing the room.
Love at First Sight
The actor's most long-lasting relationship to date has been with the French actor and singer Vanessa Paradis. Though they were never married, the two were together for 14 years and share two children: Lily-Rose Melody Depp and John "Jack" Christopher Depp III.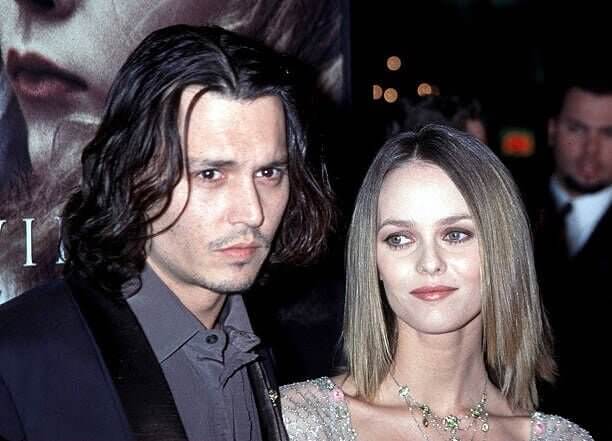 Depp describes the first time he met Paradis back in 1998, "[She] walked towards me, directly at me, and just said 'Hi.' And then I just knew, you know, it's over with." Sometimes love at first sight really is possible.
The Puppy Incident
Johnny Depp might have won the hearts of moviegoers worldwide, but he angered a lot of people in 2003 after an interview in Germany's Stern magazine. He was quoted as saying, "America is dumb, is something like a dumb puppy that has big teeth that can bite and hurt you, aggressive."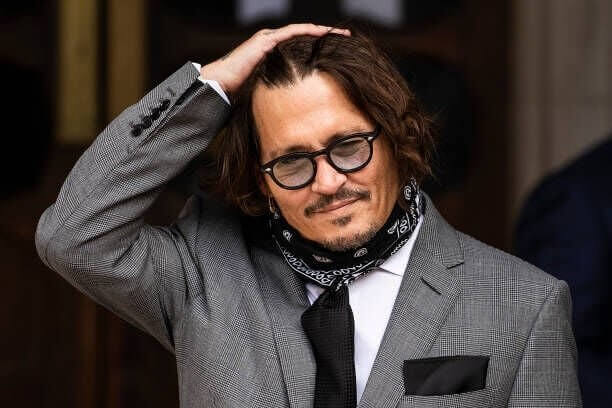 After the public backlash, which saw the actor receive hate mail from "right-wing military types", Depp claimed that the comment was taken out of context and that he merely meant to say that America was a young country compared to Europe or Asia.
Rock Swagger
When Depp first burst onto the screen as Captain Jack Sparrow in the original Pirates of the Caribbean film, he arrived with loads of rock swagger. With his tight leather pants and drunken antics, fans were quick to compare the character's style to that of guitarist Keith Richards.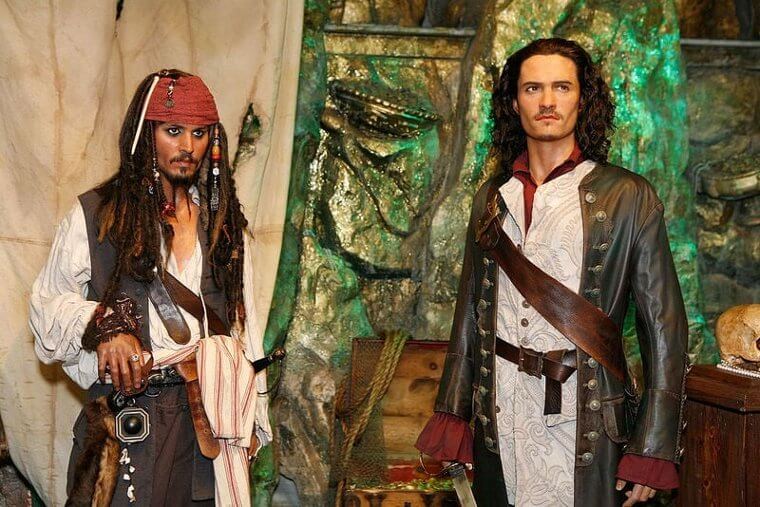 Depp confirmed that the Rolling Stones member had been a source of inspiration for the look, but added that he'd also been inspired by someone slightly less obvious: cartoon skunk Pepe Le Pew.
A Parent's Nightmare
In 2007, Depp's daughter Lily-Rose suffered a serious illness that saw her hospitalized at London's Great Ormond Street Hospital. She had an E. coli infection that was so bad her kidneys shut down.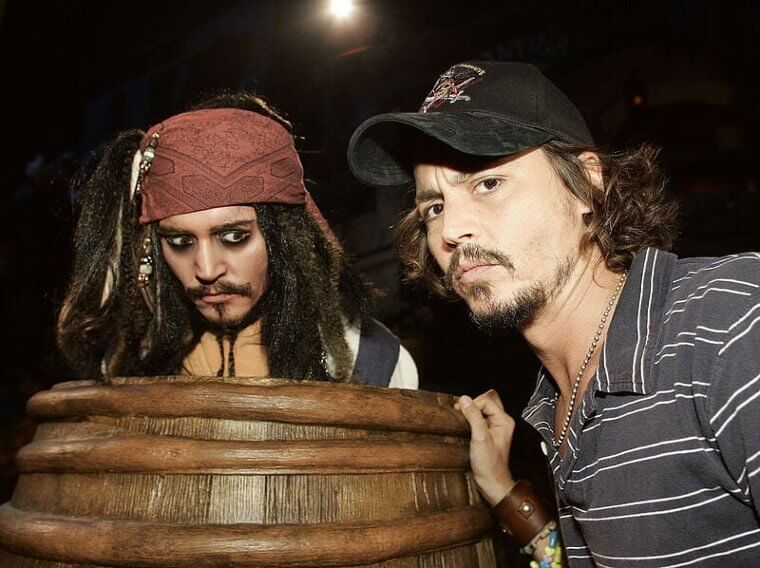 Depp didn't forget the fact that these people had saved his daughter's life and decided to give back in a way that only he could. He returned to the hospital to read to the sick children there, dressed as Captain Jack Sparrow. Not only that, but he also sent a $2 million donation.
Stepping In
When actor Heath Ledger died at just 28 years of age, it was a shock and tragedy for those who knew him. His unexpected death also left an unfinished project in the works: The Imaginarium of Dr. Parnassus, directed by Terry Gilliam. With the actor dead, the fate of the film was unsure.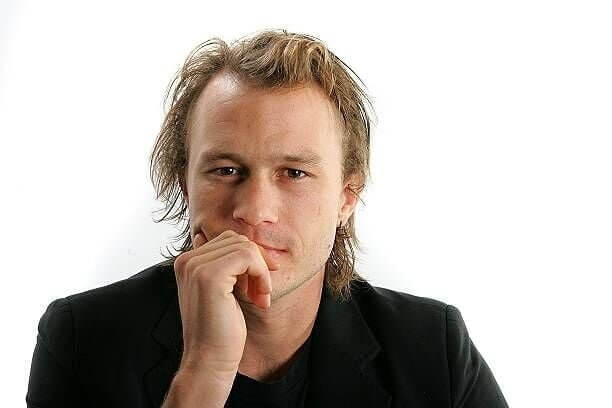 The film was saved when Johnny Depp, Jude Law, and Colin Farrell stepped in, and the film was rewritten so that the actors could all take on the character that Ledger had played. Not only did they save the project, but they donated their fee from the film to Ledger's daughter Matilda.
Offers From All Sides
The three actors weren't the only ones who had offered to step in and fill the role of Tony Shepard. When news that the film would continue got out, Gilliam said he was inundated by offers from those wanting to be part of the project, including big names like Tom Cruise.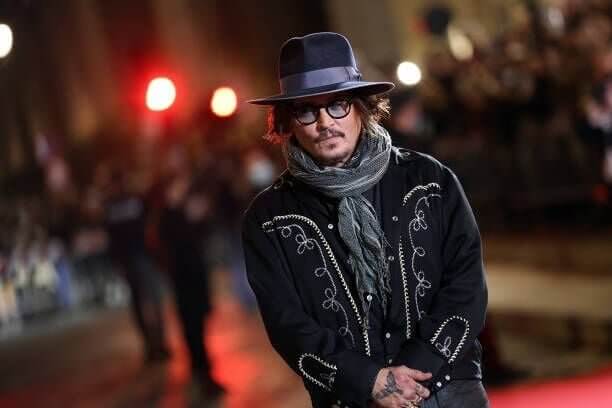 While Gilliam was touched by the response, he ended up only accepting those who had been friends with the late actor when he was alive. Ledger had been close to all three of the men, and Depp had also worked with Gilliam on a previous project.
The Burton Bond
Since they first met for Edward Scissorhands, Johnny Depp's working relationship with Tim Burton has been a great success for the two of them, resulting in a total of eight films. Sweeny Todd earned Johnny Depp a Golden Globe award for Best Actor, and also took out the Golden Globe for Best Motion Picture.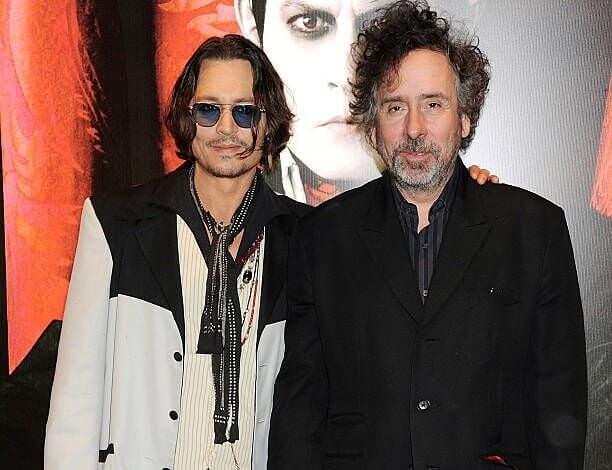 Depp credits Burton with the way his career ended up, saying that the director saved him from being "a loser, an outcast, just another piece of expendable Hollywood meat."
Successful but Unrecognized
You can't argue with Depp's Hollywood success. Since his first film role in A Nightmare on Elm Street, he's starred in more than 70 films and is one the highest-grossing actors worldwide. But despite all of this, he's never won an Oscar.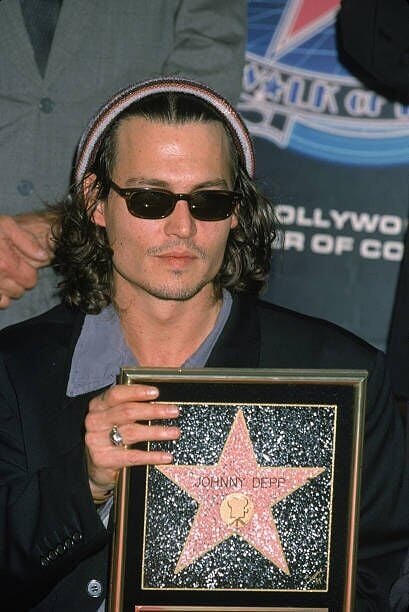 A number of his roles were critically acclaimed and three of them earned him nominations for Best Actor at the Academy Awards: Pirates of the Caribbean: Curse of the Black Pearl (2003), Finding Neverland (2004) and Sweeny Todd (2207, but ultimately, he lost out on the night.
A Nod to the Classics
Over the years Depp has returned again and again to his love of music. In 2015 he formed something of a supergroup with Joe Perry of Aerosmith and rock legend Alice Cooper, which they named the Hollywood Vampires.
The name was a reference to another part-time project that Alice Cooper had been involved in back in the 1970s: a celebs-only drinking club that counted Ringo Starr and Keith Moon among its members. We can only imagine the late-night antics that crowd would have got up to.
A Narrow Escape
Film characters get into all kinds of onscreen scrapes, but usually, the actors are replaced by stunt people for these scenes. While filming The Lone Ranger, however, Depp nearly got himself into some serious trouble during a scene on horseback.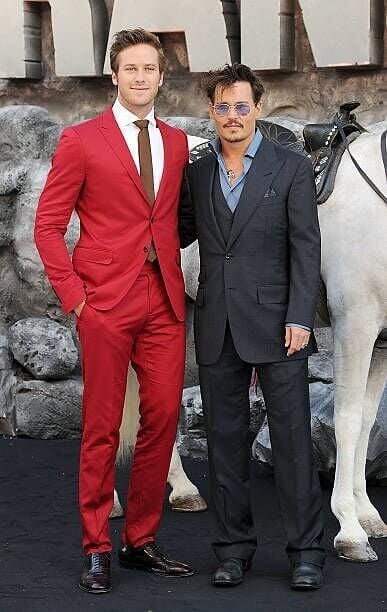 He fell out of the saddle and was dragged 25 feet along the ground. Things could have been much worse though if the horse hadn't been so well trained. The footage shows the horse jumping over Depp to avoid trampling on him.