Prom is a very special event in most teenagers' lives. It's the one night they get where they can dress up and have fun with their friends before they move on to college or join the working world. They are also aware that this night is probably the last chance they have to mess around with the friends they've known since childhood. So, naturally, things can sometimes get a bit wild and out of control. Everyone wants to take a lot of pictures on this big day. Some of those pictures really stand out for different reasons. Some look dreadful, some look like they've been taken by a professional, while others just look plain awkward. Let's take a look at 45 of them!
Taking the Opportunity
Prom is the one night in teenagers' lives when nobody knows what's going to happen since they are all at one big party together, filled with nervous energy. Some students try hard to look their best, while others don't really care and just want to look happy in the pictures.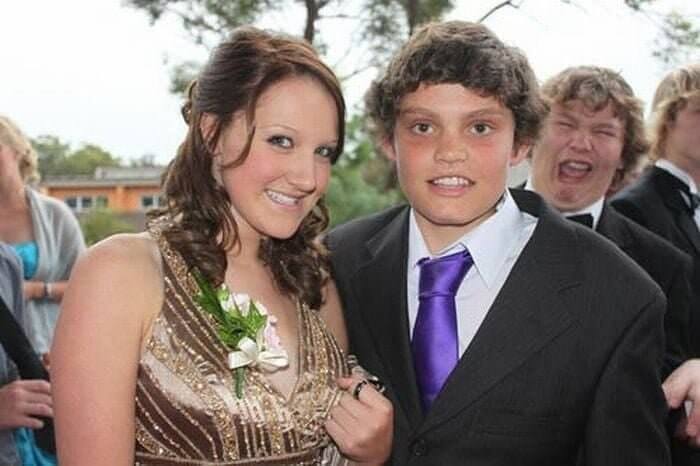 However, it's important to look at your surroundings before you snap that photo. This couple put on their finest clothes and showed up to prom ready to dance the night away. Naturally, they wanted a few nice photos before going into the venue. While they were posing, one of their classmates decided it would be fun to photobomb them. He saw an opportunity and took it.
I Said in the Eyes
We think this is the last time this guy will ever see this girl. He looks so mesmerized by the... dress. We just hope it's not the girl's dad taking this picture.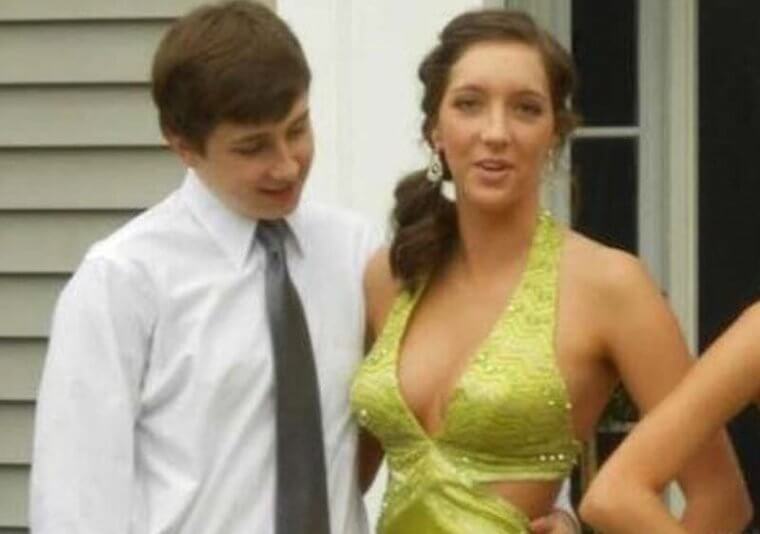 Years later, this is the image that these two will see when going through their high school memories. How would you like a memory like this?
Oh... Ummm...
There are no appropriate words to describe this prom photo. I guess they don't really care where this photo ends up, because it sure did end up everywhere on the internet.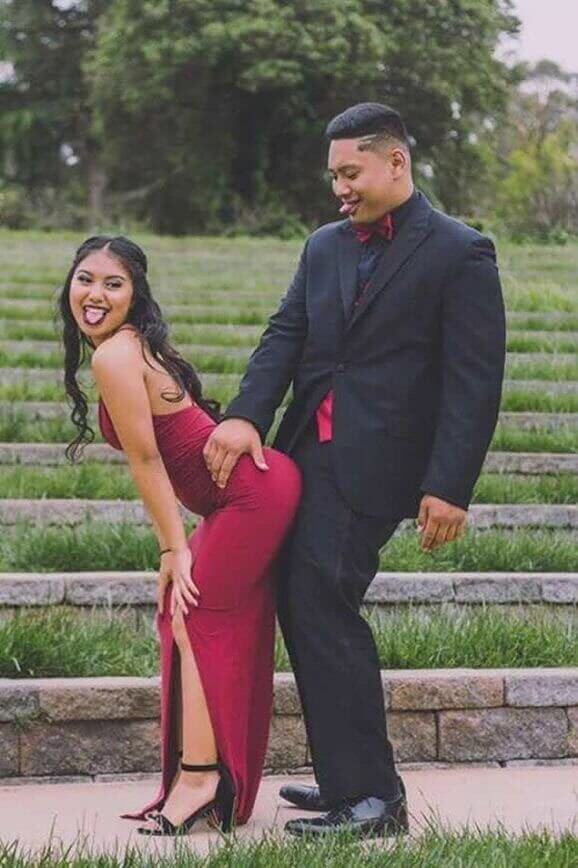 How are they going to look at this in five, 10, or 20 years? How are they going to show that to their kids? We are not sure but, at least, according to the expression on their faces, they were having a lot of fun.
Prom Season
You know prom season is just around the corner when American dads start taking out their guns and "leaving" them by mistake around the house when their daughters' dates come to pick them up.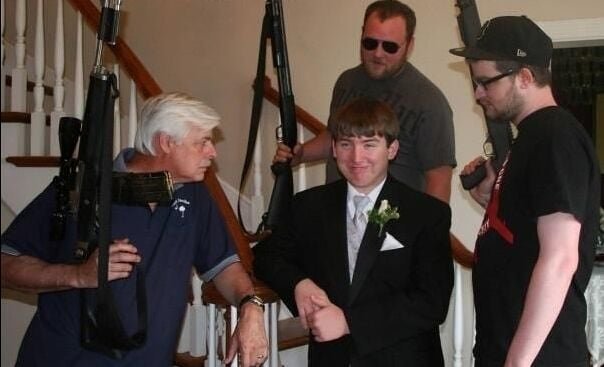 This guy in the picture might have a smile on his face but we know deep down he is not feeling okay with the dad and the brothers surrounding him with big rifles.

A Quick Nap Before Prom
Sometimes it can be hard keeping your eyes open when the flash of the camera goes off. Apparently, this guy just couldn't look into the lens of the camera for long enough and he blinked just at the wrong time.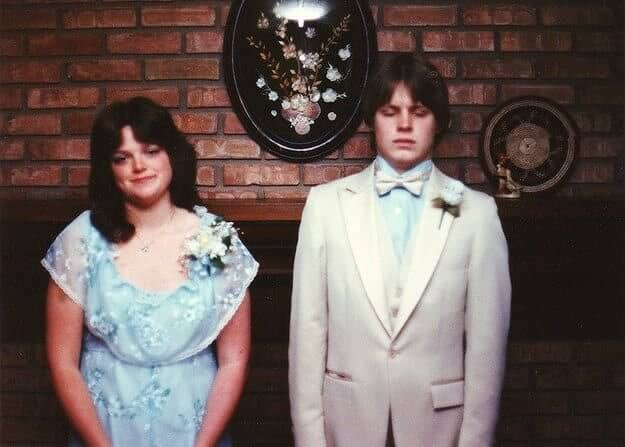 Unfortunately, this is a picture that was taken before smartphones were a thing and it was taken with a good old camera. This means that the couple couldn't look at the photo right away, but had to wait for it to be developed instead. He must have been utterly horrified when the pictures were ready.

Matching Outfits
A lot of couples decide to wear matching outfits to prom, or at least some accessories that complement the other's outfit. This couple went all out and wore outfits that take us back to the 1970s when the prom undoubtedly took place, at the time bell-bottom trousers were a thing.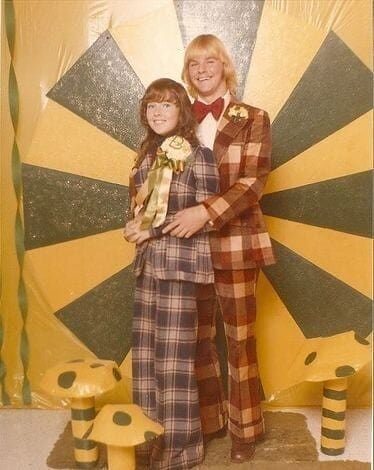 These two probably had a great time at prom together as they both look like they're happy and excited. Who knows, maybe these two are now married and have a couple of children together

The Mascot Wanted To Go to Prom, Too
Nowadays, most teenagers rent a limo to drive them to their prom, as it looks classy. However, this group of friends decided to do something unorthodox and arrive with a lama. It may sound strange to some, but others will probably think it is something that will make prom night unforgettable. Just imagine going to the dance floor and seeing one of your classmates having a blast with a lama.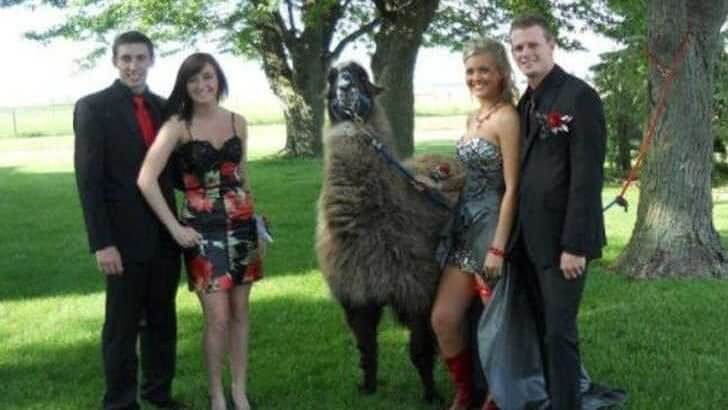 Anyone can go out and rent a limousine. On the other hand, how many people would have enough courage to actually bring an animal to prom? This group obviously knows how to make an entrance and enjoy their youth.

A Strict Girlfriend
Sometimes, a girl just has to put her foot down and show her boyfriend where he stands in their relationship. Even though prom is a very important night in a teenager's life, it's usually the girl who cares about this evening slightly more than the guy. That's why every girl wants her prom night to be special and will do anything to make sure she has a good time. Sometimes, this means being a bit firm with the date.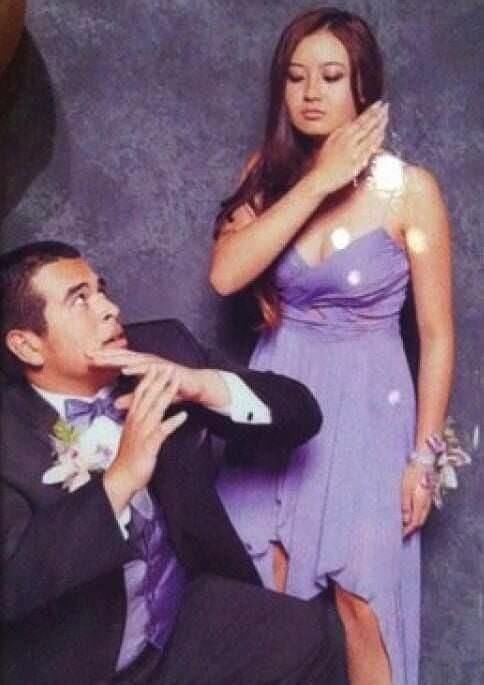 No girl wants to remember her prom as the night some hormone-filled dude tried to act up and ultimately ruined everything. That's why this girl wanted to make sure her date was behaving like a true gentleman. Of course, we don't approve of any sort of violence, but this was probably done as a joke rather than a real threat. Either way, these two ended up with a prom night picture that they will remember for years to come.

Dressing For Comfort
We all know most prom photos are taken from the waist up, and that's probably what this guy was thinking when he chose his outfit. So he believed it would be no problem at all pairing a fancy top with bottoms that would make him feel comfortable.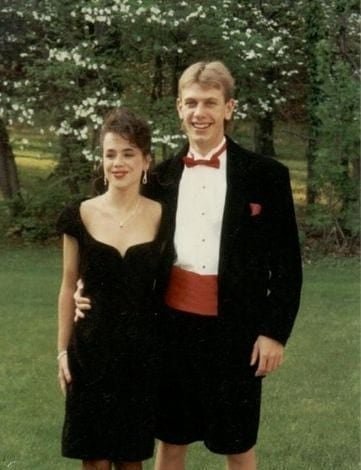 His date, on the other hand, made sure to be dressed up from top to bottom and she looked quite nice as well. However, it seems like she wasn't even bothered about her date's choice of attire as she's posing happily next to him.

A Heroic Prom
We all love superheroes. They work hard to keep all of us safe and never get a day off. However, it looks like Batman and Spiderman decided to cut loose and have some fun at a local prom. They both have stunning dates and are probably about to have a great evening.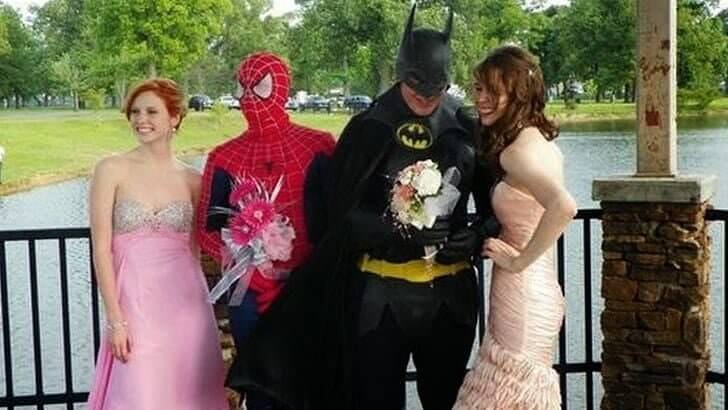 We're sure no villain is going to crash this prom, as it's heavily protected. Or maybe the only reason they're going to prom is that they heard the Joker was planning on showing up and causing some trouble.

A Colorful Group
This group of friends wanted to stand out at their prom, so they decided to wear somewhat matching outfits. Their suits might be the same cut, but they all have a different color. In fact, each guy is wearing one of the colors of the rainbow.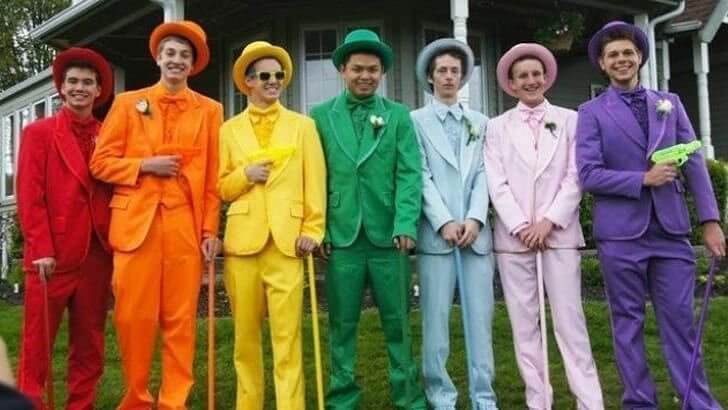 Their hats, bow ties and canes all make for amusing and charming ensembles. Who knows, maybe their dates have decided to match colors as well, so the dance floor would look like an explosion of colors. 

Yeah... Well...
We can't really understand what's going on there, or why, but the girl looks really happy about this picture being taken.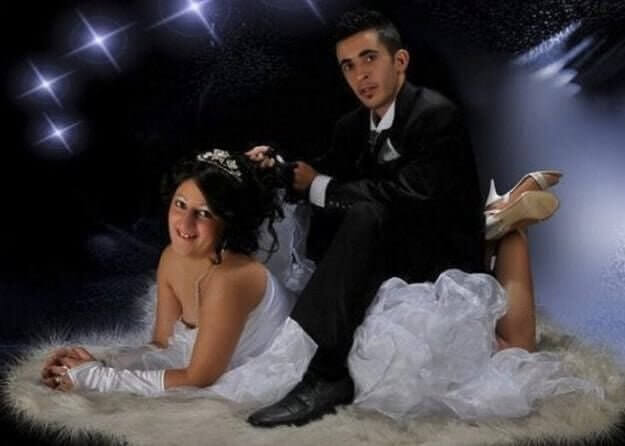 This couple really took it to the next level. Or actually, back a level. We are wondering what the photographer thought about it when the couple shared their idea, or if he himself asked them to pose that way.

Hiding in the Bushes
For every person trying to take a good picture, one of their friends is probably hiding somewhere in the background, hoping to photobomb the picture. This guy decided to hide in the bushes, and his green top is definitely helping with his camouflage.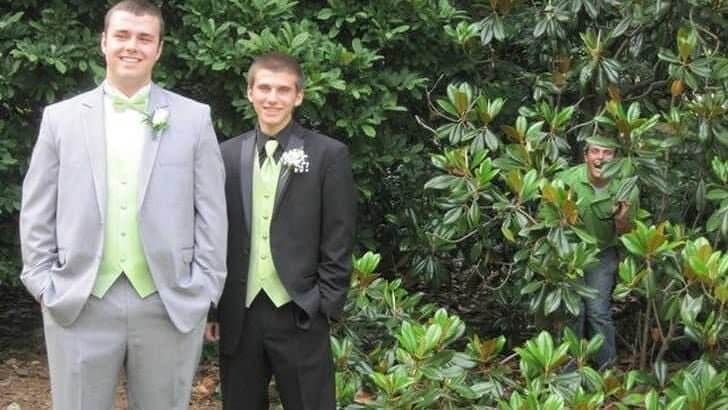 These two friends just wanted to take a nice photo in front of a green background and their unsuspecting smiles show they weren't even thinking someone was behind them making a fool of himself.

A Real Catch
When you're one of the most popular kids at school, it's easy to find the perfect date. However, some kids aren't that good at finding dates, which are also called a "catch". This guy might have had some trouble finding a date so he ended up with his own catch.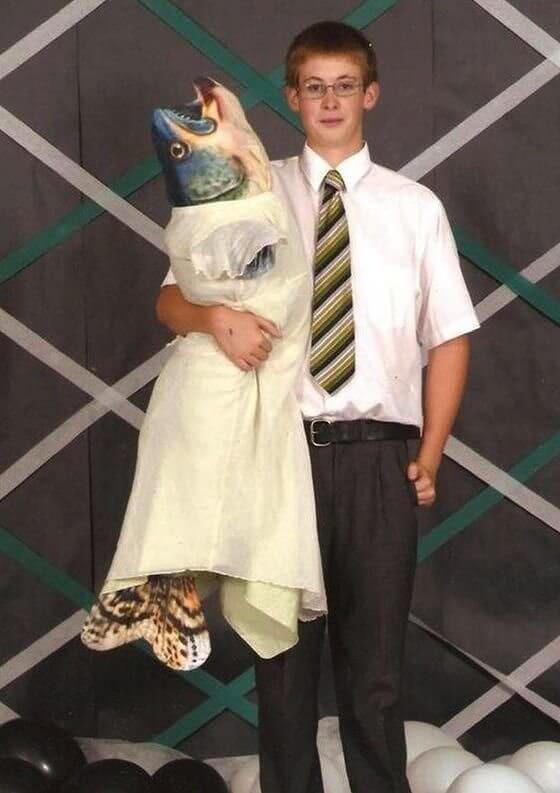 This fish wasn't any different from any other date as it also wore a fancy dress. This guy has the right attitude and knows how to laugh at himself.

A Matching Outfit
When most girls say they're going to get a prom outfit, they mean a nice dress that will make them look fabulous. This girl on the other hand really meant what she said when she said was going to get a "prom outfit" and then showed up with a dress that matched the prom's decorations.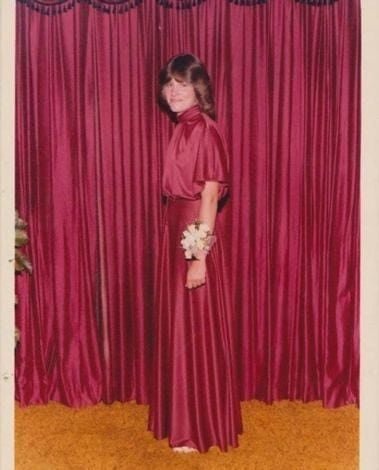 We wonder if she did it on purpose or if she was really proud of her dress until she saw the curtains. Either way, that's one unforgettable outfit.

A Real Casanova
This guy didn't want to bring just one girl as his date to prom, so he brought three. This young Casanova probably thought this was a great idea, but did he really think it through?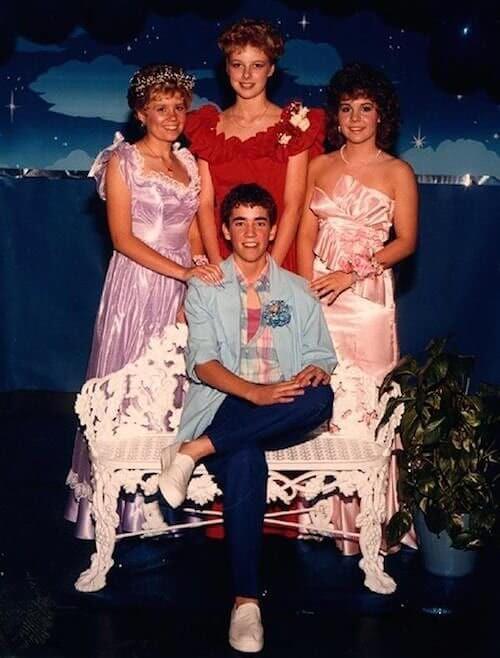 For instance, what would happen if all three wanted to dance with him at the same time and he had to choose just one? Who knows, maybe the girls didn't care about that at all and had a great time with each other. 

Bringing Your Mom to Prom
As far as we know, there's no rule that says you can't bring your mom to the prom. We don't know if all the other girls said no to him or he just wanted to celebrate the end of high school with his mom.

Either way, they still look adorable together. They also probably share a very special bond, since not many teenage boys would want their mom anywhere near their prom. Most moms would be happy if their children wanted to pose for a quick photo before leaving to the party with their friends but this was visibly not enough for this mom.

A Protective Father
One of the prom traditions is that the guy comes to the girl's house to pick her up and meet her parents. The girl's dad usually isn't so thrilled to meet the guy who is taking his daughter to prom. It seems like this dad doesn't approve of his little girl's date.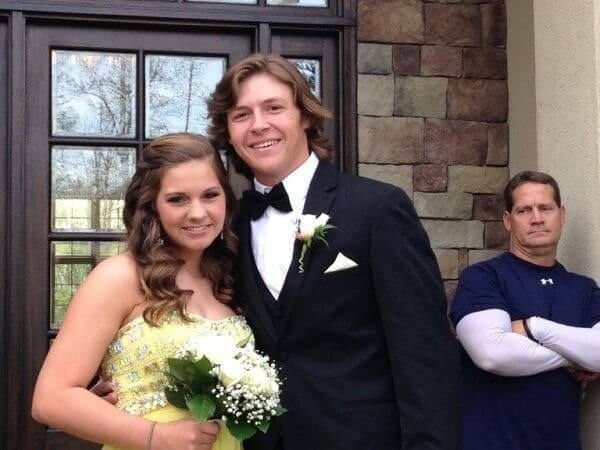 Judging by the expression on his face, he would rather have his daughter stay a little girl forever and never date. Sadly, children grow up whether or not their parents are ready to accept it.

Bringing the Doctor to Prom
Fans of books, movies, and TV shows often idealize their favorite characters and find the people in real life not that interesting. That's why this girl decided to bring a cutout of her favorite character from the British sci-fi adventure series Doctor Who.

Her date was the 10th doctor who was played by David Tennant. Unfortunately, she didn't arrive at prom in a time-traveling police box but she did have a rather handsome date. Even though he wasn't technically a real person.

A Storm Trooper Date
It looks like "nerd culture" is becoming cooler by the second, and teens aren't shy to express their love for a work of fiction. That's why this guy decided to wear a stormtrooper helmet for his prom, showing his love for Star Wars.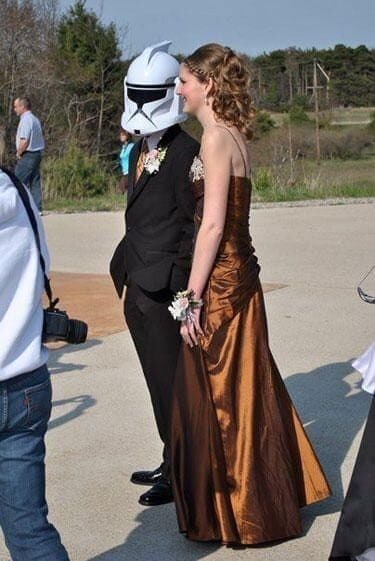 It might look ridiculous to some, but we're sure he loved the idea when he came up with it. His date doesn't seem to mind either since she's smiling and looks like she is having fun.

Lurking From Afar
We're not sure if this guy has a date and got mad at her for some reason, or if he's hoping to ask one of these two girls out by offering them a rose. However, if this is the face he always has on, we doubt someone is going to agree to go on a date with him.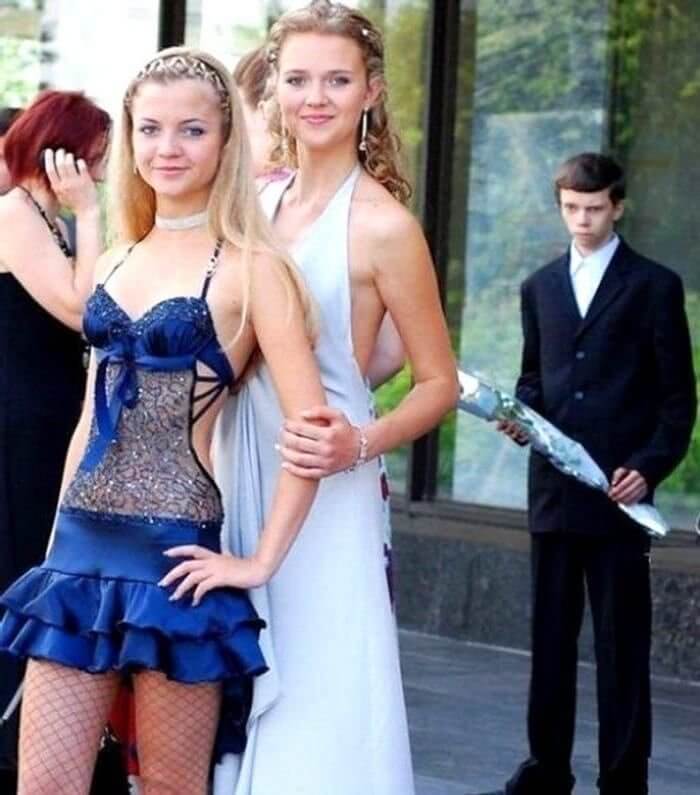 Nobody wants to go to prom with someone who will only stare creepily at them the entire night. If he just relaxed a little bit, we're sure he could get a date in no time.

Wear What You Like
We've come a long way as a society, and people accept that there's no need to stick to gender stereotypes anymore, even when it comes to clothes. Who says girls can't wear suits and guys can't wear dresses?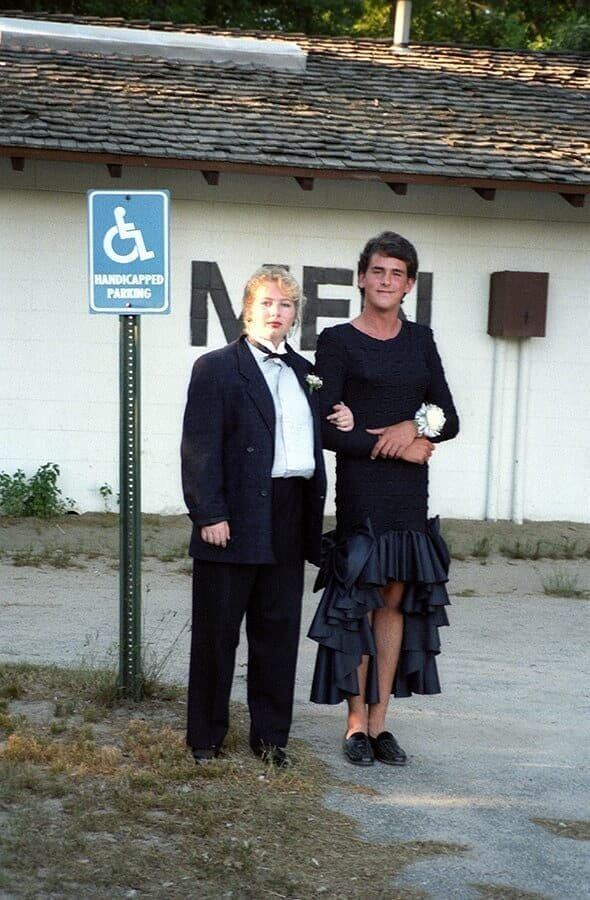 These two had obviously planned their outfits ahead of time and they both look very stylish. Maybe some of their peers didn't accept their choices of attire, but we hope most of them did and they managed to have a good time.

The Purple Dinosaur Date
Barney the purple dinosaur is very popular with kids of all ages apparently, even those who are old enough to graduate high school. Judging by the picture, it looks like this Barney managed to score two dates to the prom, while the guy on his right has only one date.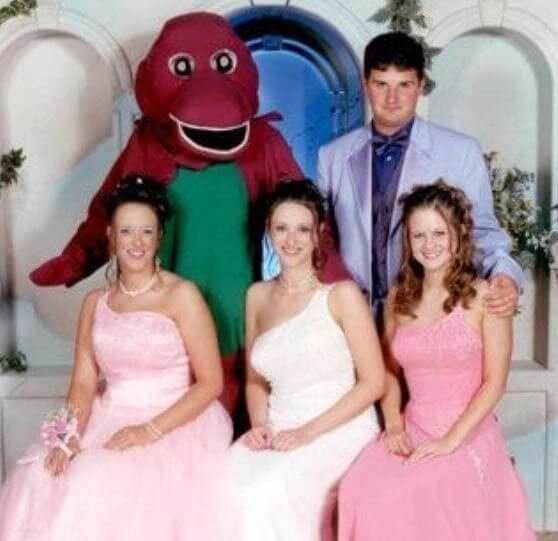 We have no idea who is wearing this costume, but we wouldn't be surprised if it was one of the popular kids with a great sense of humor. Judging by the picture, everyone seems to be having the time of their lives with Barney.

The Next Step
For most teenagers, prom is an emotion-filled evening during which they have to say goodbye to friends they've known most of their lives. For the ones who are spending the night with a significant other, they want to make the night magical and things sometimes get physical.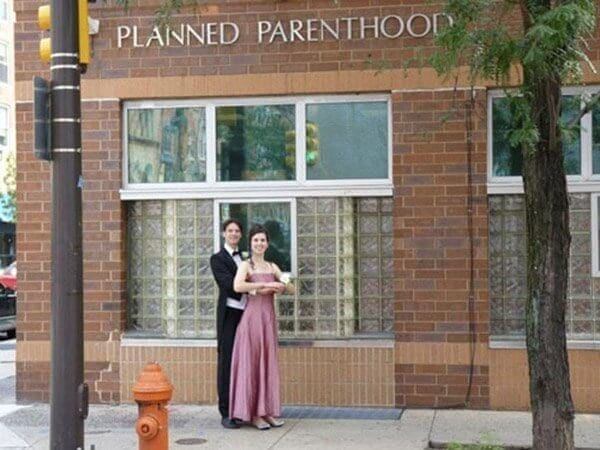 Some of these teenagers end up at Planned Parenthood after things escalate a little too far, so this couple wanted to make a joke about that situation.

Bringing a Strongman to Prom
This photo might be one of the strangest ones on our list, but that doesn't bother anyone in this photo. While most guys are dressed in formal prom tuxes, the one on the far right is dressed slightly differently than his friends. He is the exact copy of an old-timey strongman.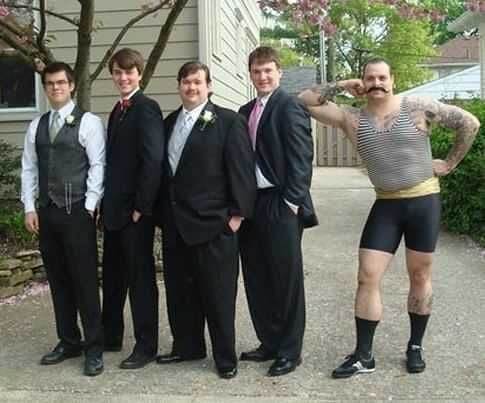 Even though they all look great, we bet that the strongman was the one who got the most attention at prom. The only thing his outfit is missing is a weight.

His True Love
While most guys take girls to prom, this young man had a different approach. He didn't want a human date, so he brought the thing he loved the most: his Xbox. It's probably an item he had a lot of special memories with, so why not have another at prom?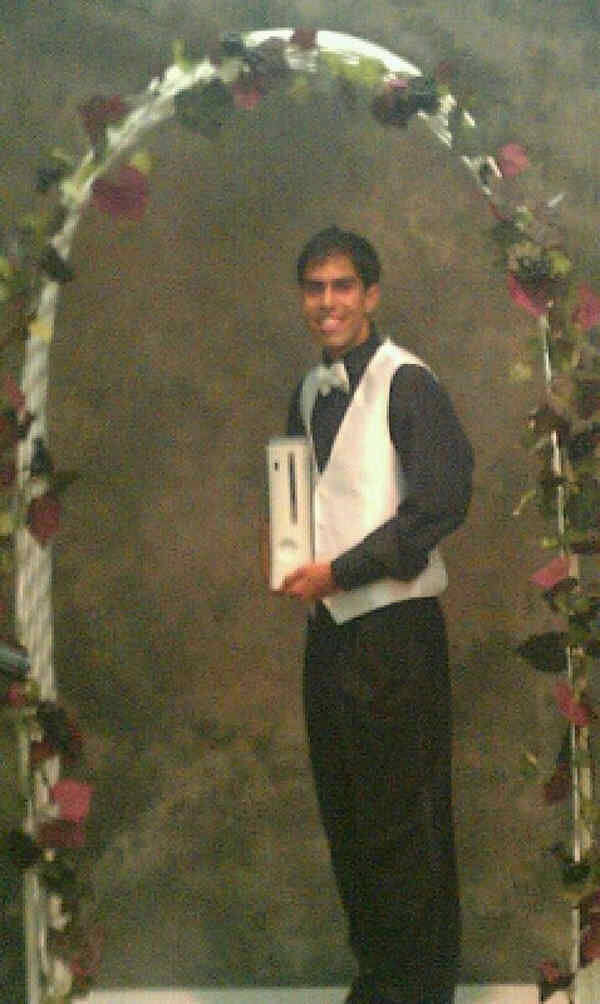 Maybe this photo was taken just before the release of a new Xbox and so, the teenager wanted to give it one last run before going to college and buying a new console.

Pretty In Black
The name used for people who often dress in all black is goth. Even though most people think they're grumpy all the time, goths still like to have fun. These two goths stuck to their fashion sense and dressed in black, but they did it in a very stylish way.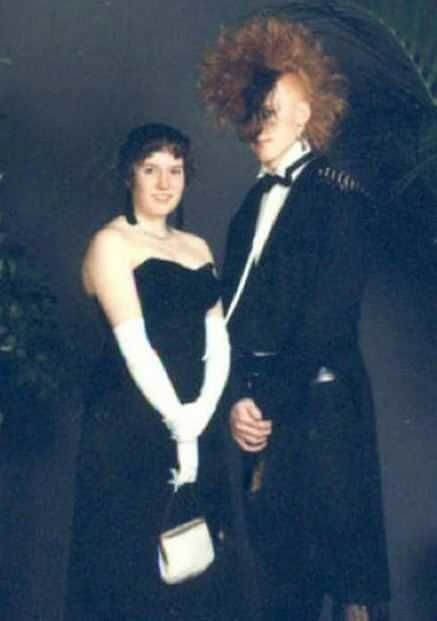 They also have some interesting-looking hair. Not only did they stick to their principles, but they also did it with smiles on their faces.

An Accident Before Prom
Most people would probably freak out if they witnessed a traffic accident but this guy had a different perspective. To him, this was a golden opportunity to capture a memorable photo.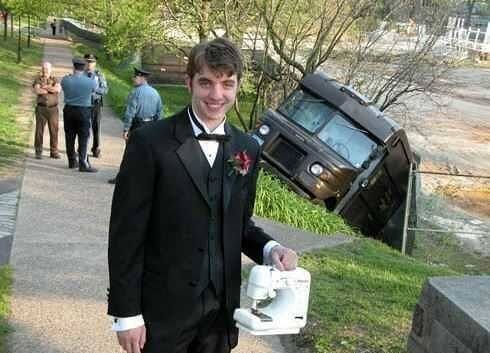 While this vehicle, which looks like a UPS truck, was stuck in a ditch, the teenager took out his trusty sewing machine and posed for a photograph. We can't deny this is a really original photograph.

Standing Out in a Crowd
Black metal fans have a very unique style and this guy wanted to show that off, even at prom. Just because everyone else wanted to dress up, that doesn't mean this black metal fan was going to conform.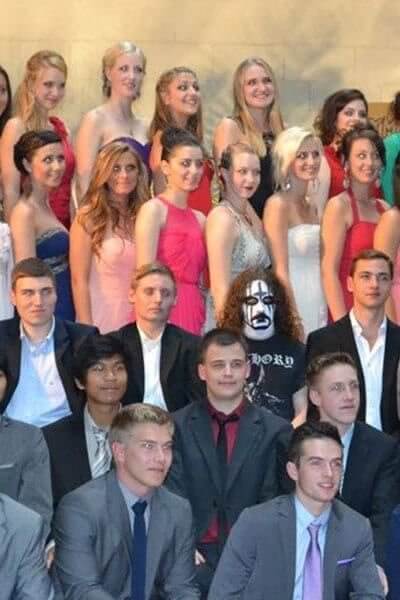 He knew what style he liked and felt comfortable in, so he wore a black outfit and painted his face. Even though he doesn't look like the rest of his classmates, it seems like they didn't mind him wearing this outfit.

A Sneaky Observer
We wonder if this smiling couple knew someone was hiding behind them while they were posing happily. This young man was hiding so well that he almost blended in with the furniture and plan in front of him. However, who is he?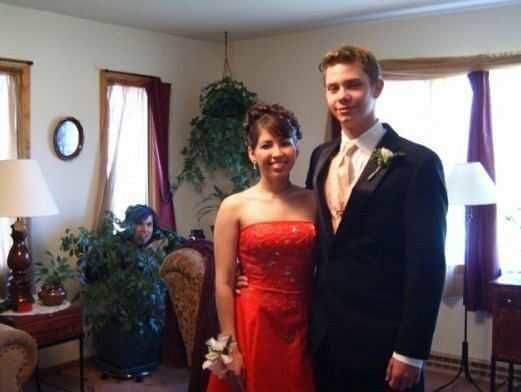 Maybe he's a younger sibling of the guy and wanted to humiliate his older brother. On the other hand, he might be someone who asked this girl out to prom and got rejected, so he wanted to scare off her date. We'll probably never know.

An Unsafe Photo Shoot
This group of prom-goers decided it would be a fun idea to have a photoshoot on a bridge. Even though it does look nice, there's one thing these teenagers didn't account for. This particular bridge wasn't made to hold so much weight at once, and the inevitable happened.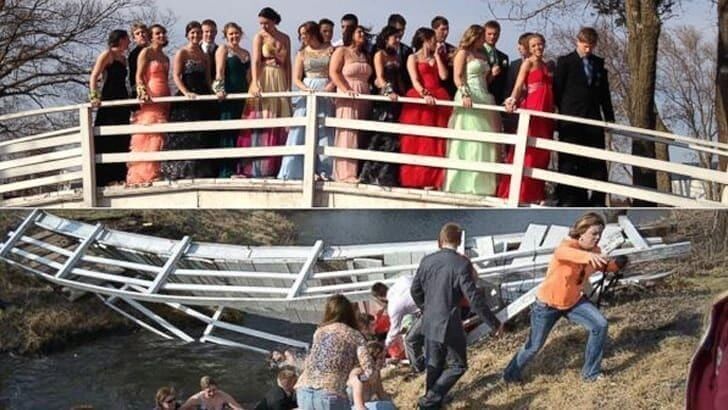 The bridge collapsed, sending anyone who was unlucky enough to be standing on it straight down into the river. Sadly, all of the fancy outfits got soaked but at least everyone got out safe. They certainly got an unforgettable photograph, but not in the way they expected.

A Mystery Date
This girl looks like she is having the time of her life at prom. She has a wide smile while posing next to a man in a green mask. Who is her date? Is it someone who just didn't want to show his face, or is he maybe a big Jim Carrey fan? Perhaps he wore the mask to achieve a green screen effect.

There's a lot you can do with a green screen. Maybe he wanted to Photoshop someone else's face onto his head and make it look like the girl was on a date with a celebrity. Maybe that's why she's smiling.

Fans of Fur
We aren't sure if this photo was taken at the guy's or the girl's house. However, the person who has this type of decoration in their house is obviously a huge fan of fur.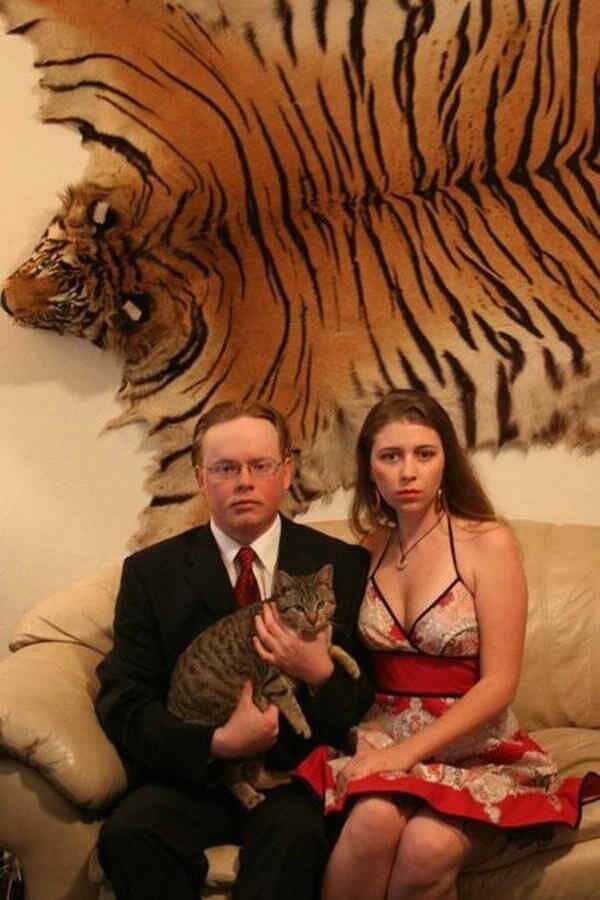 We can't deny this photo looks a bit sinister. The giant tiger fur on the wall, as well as the cat on the guy's lap, aren't too bad, but the serious faces of the couple are the most disturbing thing. Let's just hope they lightened up when they got to the party.

Three's Company
The prom isn't just a night for young lovers who want to spend a magical night together. It's also a night for friends to get together and have an amazing night. These girls wanted to take a picture before prom, but it seems like one of them was the third feel.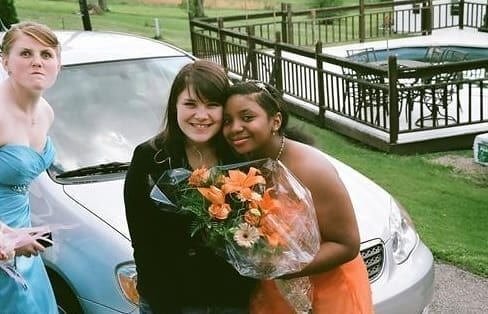 Just as the two of them were ready to take a nice picture together, the third friend noticed what was happening and she wasn't impressed. We bet her friends won't forget her next time they take a picture.

A Blast From the Past
We dare you to find a photo that screams "the 1980s" more than this one. Both of these prom-goers are dressed in a very '80s fashion and both have amazing hair.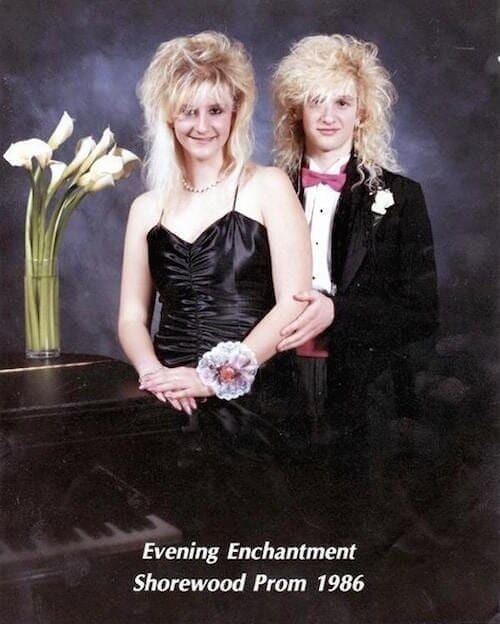 However, the only problem is that they have the exact same hairstyle and that was probably the case for everyone else at the prom. Still, that was the way fashion worked in the 1980s and we can't judge.

A Real Hen Party
Sometimes, girls don't want to go to prom with a guy. However, instead of going alone, these girls decided to have a hen party – literally. Maybe nobody else was available to go or maybe they really didn't want to spend the night with a human being.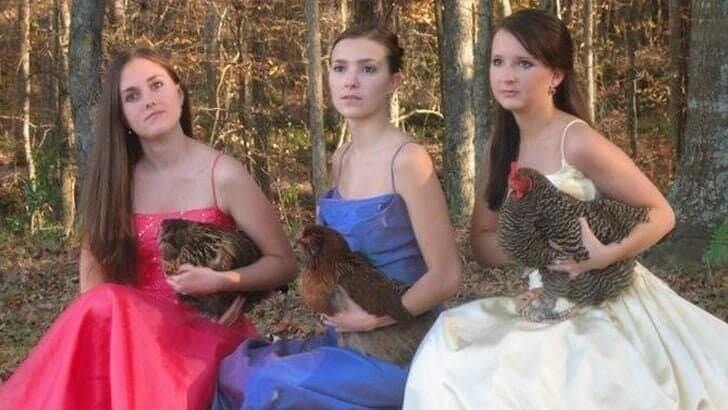 If they didn't want an actual person to be their date, why not bring an animal? Let's just hope these chickens didn't ruin anyone's nice dress and that the girls managed to have a great time.

Not Having a Great Time
While the guy in this picture seems like he's having the time of his life, which is normal for most teenagers, his date looks like she would much rather stay home than go to prom with him. Most young people can't wait for this night, but she doesn't look like one of them.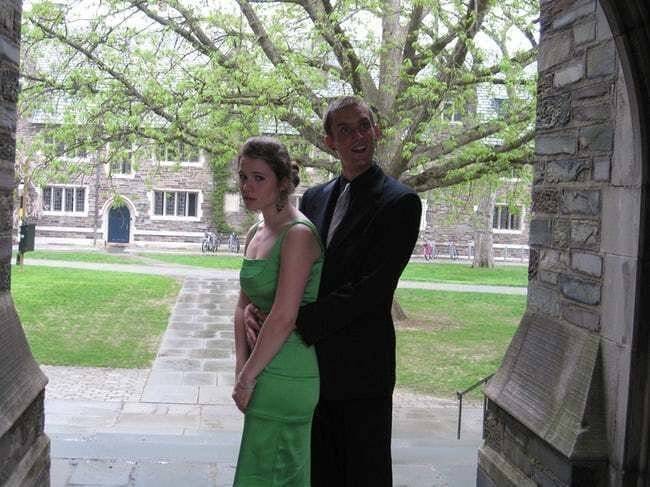 What's even funnier is that the guy looks completely oblivious to the fact his date isn't really having as good of a time as he is. Let's hope she cheered up when they got to the venue and managed to have a good time.

Scottish Pride
By the look on this girl's face, her date probably didn't warn her beforehand that he would be wearing traditional Scottish clothes to prom. He just wanted to show off some Scottish pride and celebrate his heritage, but we're not sure she was on board with this idea.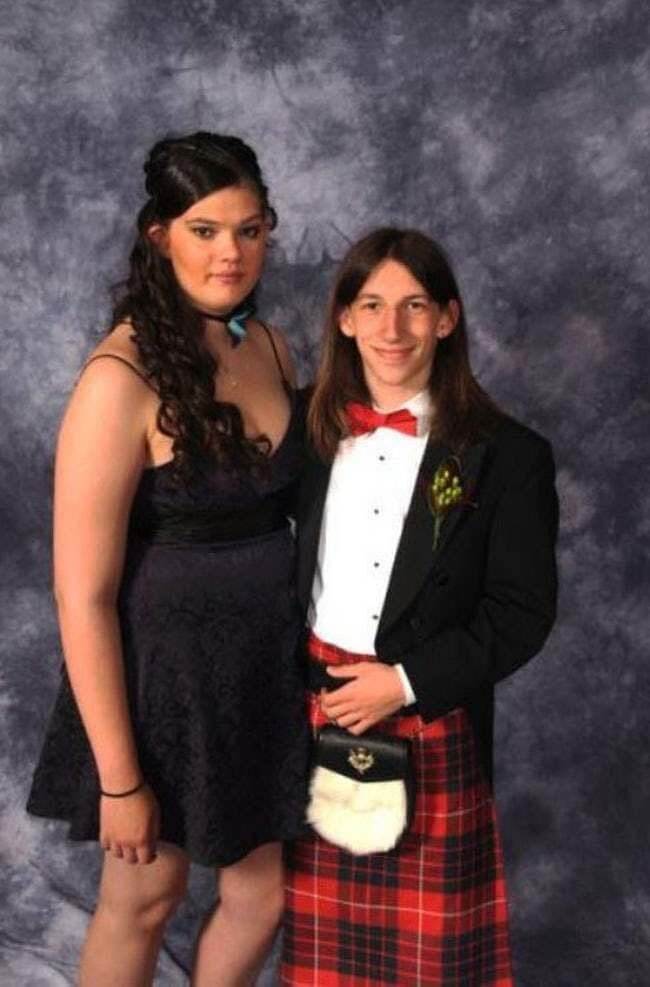 Maybe she was upset that her date would probably get more attention than her, so she got slightly jealous. Still, hats down for this guy for wearing something that proudly showed his origins.

Where the Wind Blows
Tie clips were invented for a reason, but it seems like this guy didn't get the memo. If he just put a tie clip on, a gentle breeze wouldn't have blown the tie straight into his date's face.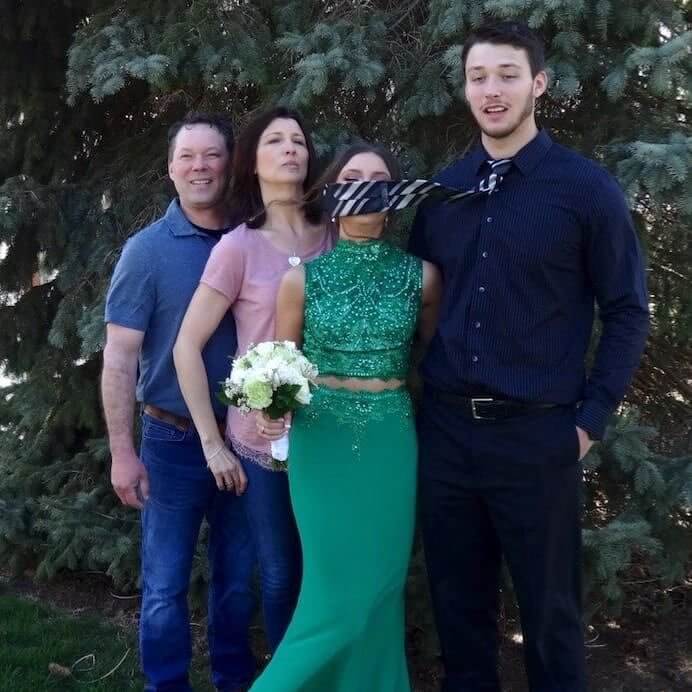 However, it looks like this breeze affected everyone in the picture. The parents seem to be struggling as well, while the guy just looks confused. Still, this photograph was captured at the perfect moment and it is something they can laugh about for years to come.

Outside the Box
What makes a group of friends interesting is that they're all different. Even though they probably have the same interests, they all have their own personalities.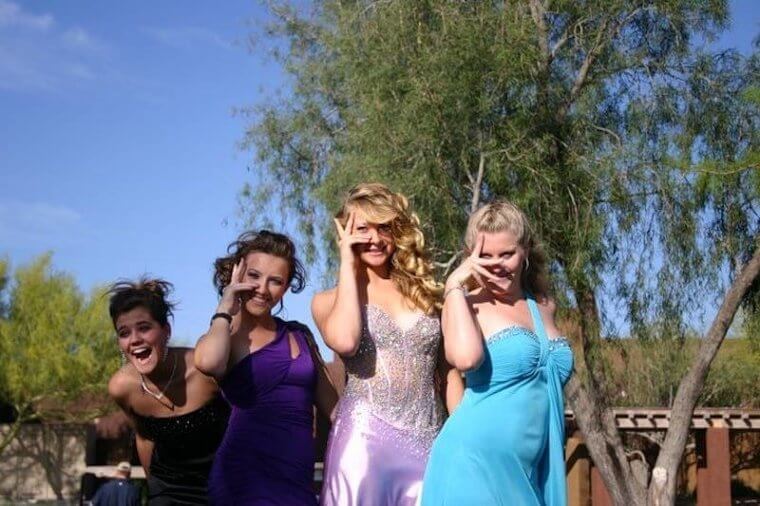 Even though three of the girls from this friend group decided to pull the same pose, the fourth friend had a different idea. She stepped outside the box and you can see her laugh is genuine. To be honest, she looks like the one who's having the best time.

Gomez And Morticia
These two are obviously perfect for each other. They have the same style and so they decided to dress up like Gomez and Morticia Addams. They probably thought this was a great idea back then and let's hope they didn't regret these outfits later in life.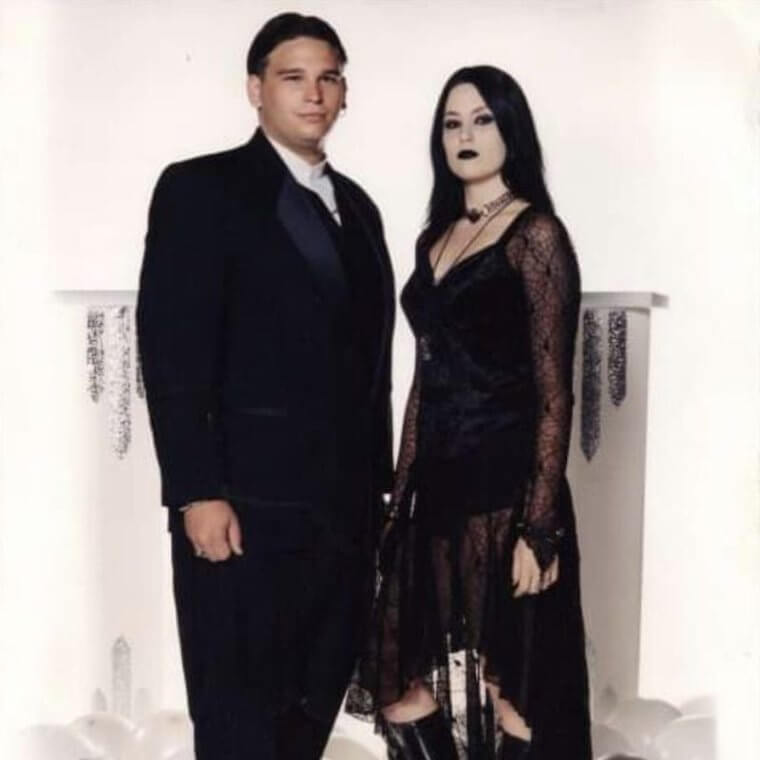 This photograph was probably taken at a prom that happened somewhere in the late 1990s. Back then, teenagers really liked dressing in dark clothes and channeling the Gomez family.

An Embarrassing Parent
A lot of teenagers are embarrassed by their parents, but this dad really took it one step further. When this man's son stopped by the house with the girl he was taking to prom, he was in the middle of mowing the grass.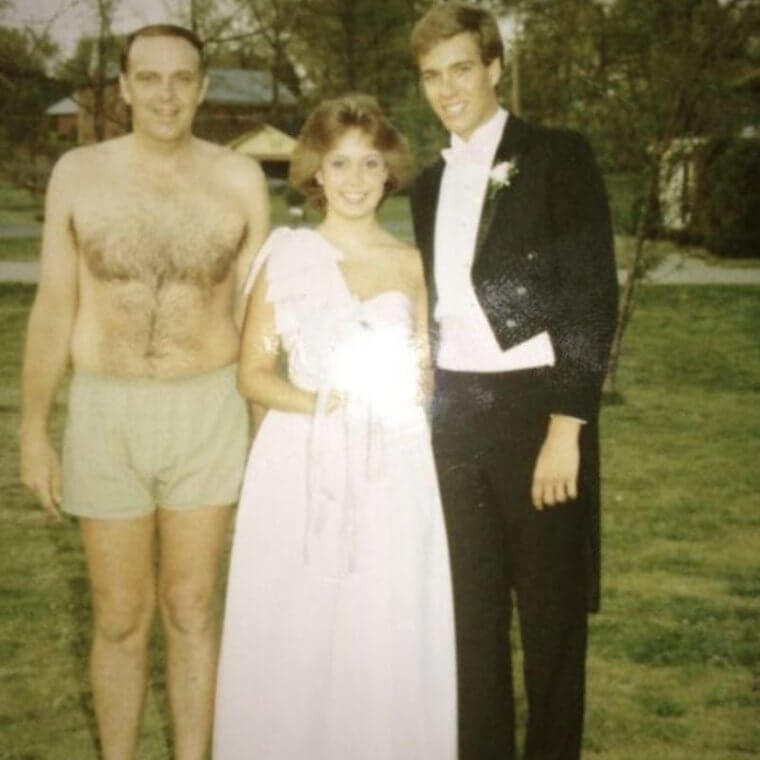 However, he didn't want to miss this golden opportunity to document the moment, and he didn't even feel like putting on a shirt or a decent pair of pants. However, the two teenagers don't seem too embarrassed.

Nature Photo Shoot
This was just supposed to be a regular prom photo. There was nothing special about it. The couple is dressed nicely and they even color-coordinated their outfit. Her dress and his tie and the same color.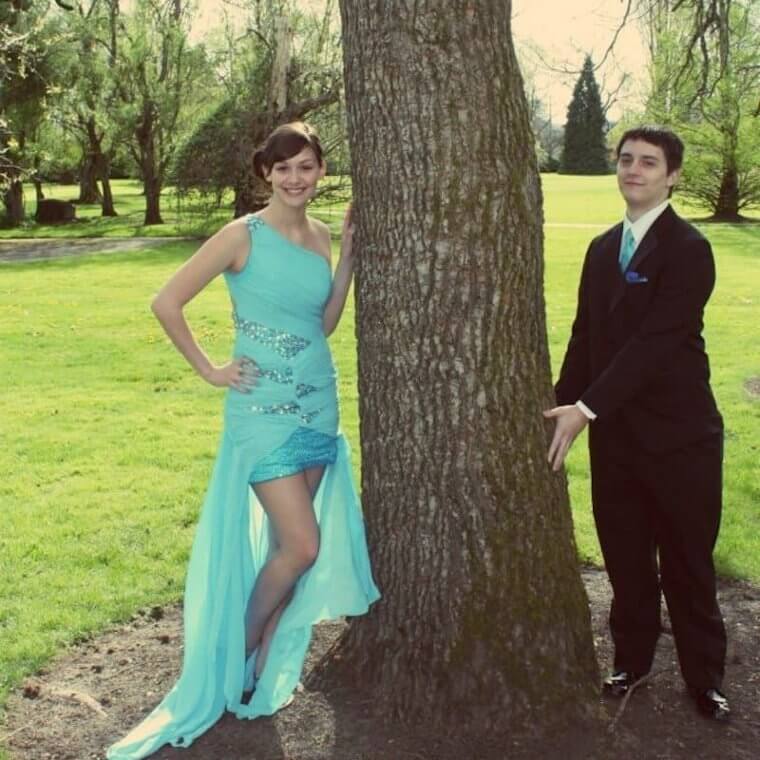 As for places to take prom photos, the park is a very regular one. However, when the photographer asked the two teenagers to touch the tree, the guy took it a little too seriously. In fact, he was too excited to touch the tree, and now he's left with an interesting prom photo.

His Favorite Girl
This guy probably could have asked any girl from school to be his prom date, but he didn't want to do that. Either that or he just couldn't find a date but it doesn't matter, because he looks extremely happy with the date he chose.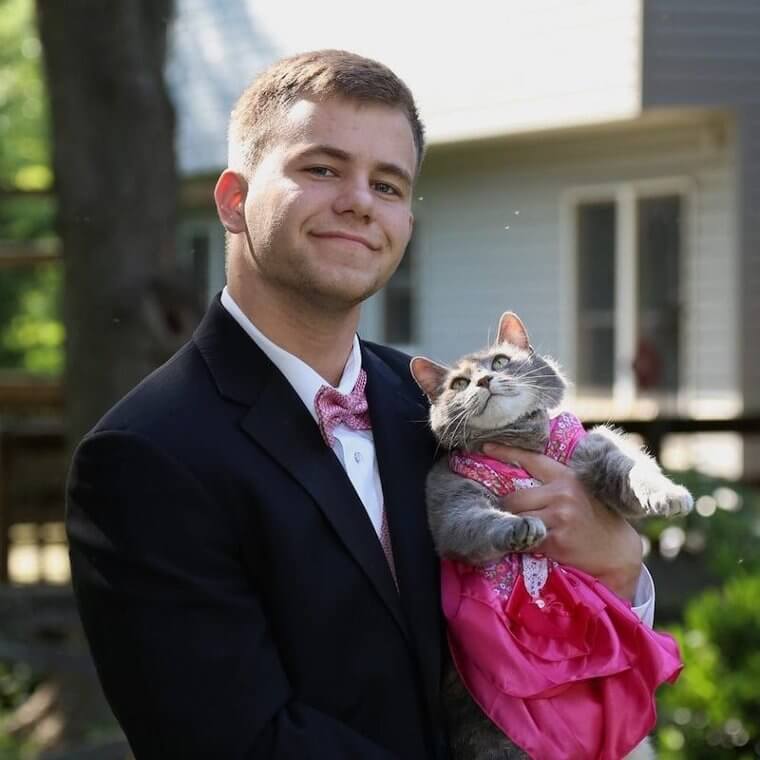 We're not quite sure how he managed to put on this dress on the cat but it looks fabulous. It also looks like the cat is really excited about going to prom as well since she's looking at her owner with a lot of love in her eyes. If a guy could bring a fish to prom, why couldn't someone else bring a cat?

A Mop Date
This guy didn't bring a fish to prom, and he didn't bring a cat either. He actually decided to take a mop, an inanimate object to prom. He even took the time to draw a face on his mop-date. Who knows, maybe he was feeling self-conscious.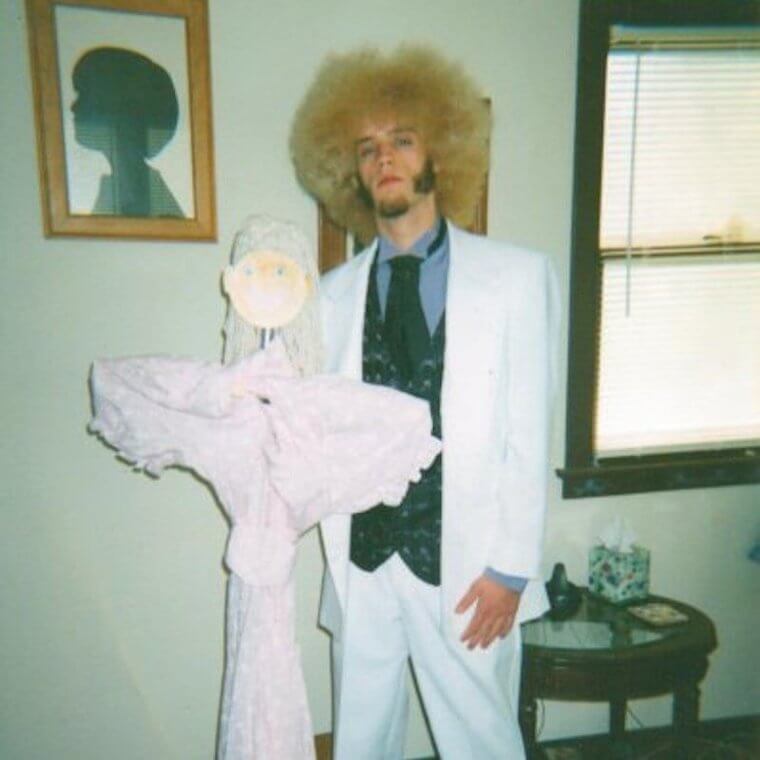 That's actually not even the weirdest thing about this photograph. If you focus on the background, you can see a framed photo of a boy's silhouette. As for the guy himself, his hairstyle is a bleached afro and his outfit is an extremely strange suit