Science tells us that there are a few dramatic differences between animals and humans, putting us at the top of the food chain. We're assumed to be more intelligent, more adept at survival, and significantly more advanced than other creatures. However, every now and then, we stumble across wild animals in an uncanny moment of human resemblance - and we can't help but wonder if they're making fun of us. And so we've put together 25 pictures of amusing moments when adorable animals perfectly embodied a human pose - enjoy!
A Cat That Brings Light to the World
Did you know that cats have a superior ability to see in the dark? The high number of rods in their retina makes them sensitive to dim light, helping them to see a lot more than humans once the sun goes down. Even so, this cat is pulling its weight in the family and helping to change the lightbulb, even though it doesn't need it.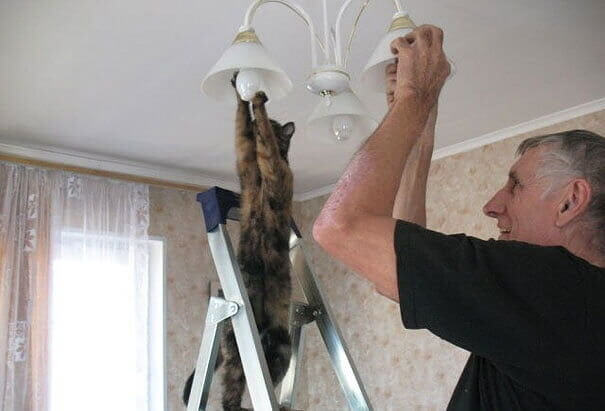 It seems as though this playful cat thinks that it's a human, balancing on a ladder to help its owner change the lightbulb. Whether it's curiosity that inspired the feline to get involved or a good-natured demeanor, it's not every day that you see a cat in this position!
A Hardworking Corgi Puts Its Energy to Good Use
Corgis may not be notoriously hyperactive, but they do have a lot of canine energy that needs to be released. While there's always the option to take the pooch for a walk, this corgi has a preferred way of tiring itself out - through a bit of hard work!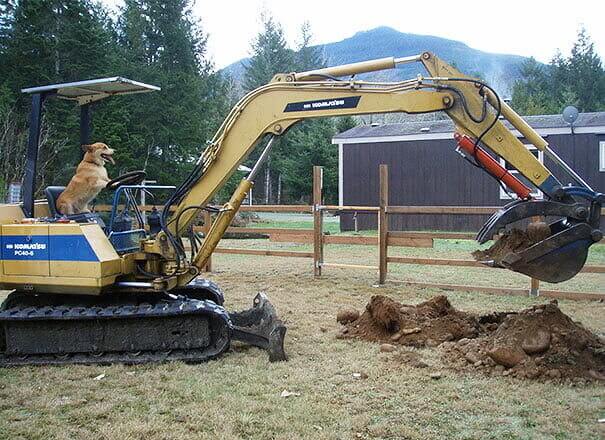 Perched on the driver seat of this excavator, this corgi seems enthusiastic about driving the heavy machinery. With its tongue out and its ears pushed back, we can only imagine the rush of moving such large amounts of dirt.
Working Like a Dog
If you're lucky, then your job is a source of motivation and inspiration. However, for many people, work can be tiresome and exhausting. Sometimes, the sight of your desk alone may cause your stomach to drop. Yet hopefully the sight of this adorable pooch will add a bit of joy to your workday.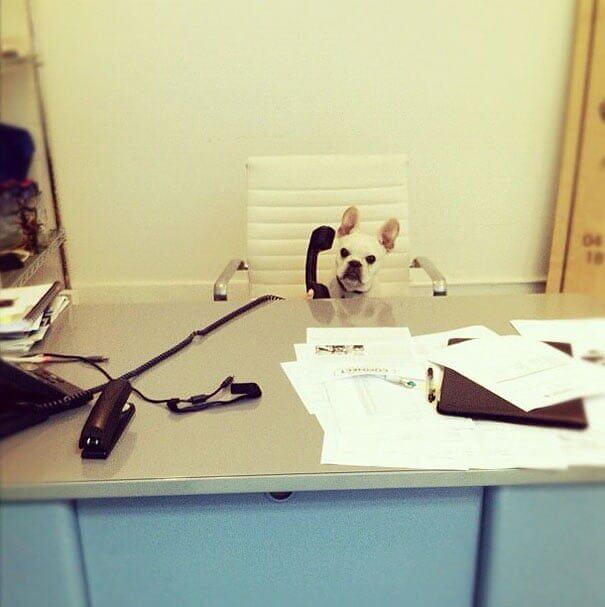 Seeing this tiny pup answering the phone is sure to bring a smile to your face. Judging by his position on the desk chair and how the phone is raised to his ear, we can almost hear the dog delegating important tasks so that he can get home to the kids!

A Cat With a Knack for Mechanics
Cats are curious creatures, so it's not surprising to find them in strange situations. However, this car owner probably didn't expect to find their kitten inspecting the undercarriage of their car!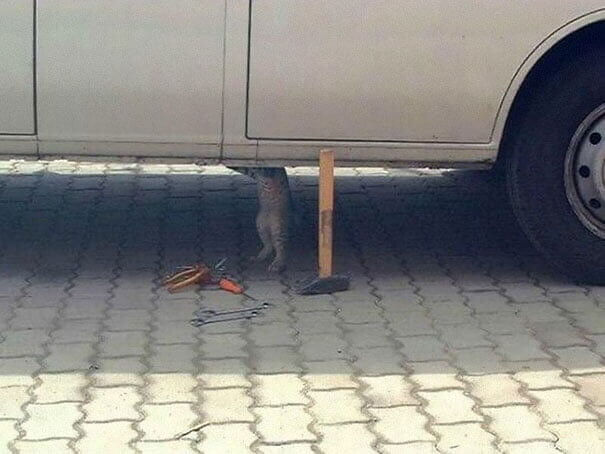 Imagine popping into the garage to fetch a tool and coming out to find a pair of furry legs underneath the vehicle. It seems as though the cat has everything under control and only needs help to have the wrench passed to him on demand - and maybe some help to jack the car up if needed!

The Kitties Version of "Netflix and Chill"
Little can compare to the relaxing feeling of a rainy Sunday afternoon spent cuddled in the bed with your favorite television show. While the term "Netflix and chill" has become internet slang for a more promiscuous activity, these adorable kittens give it a whole new meaning.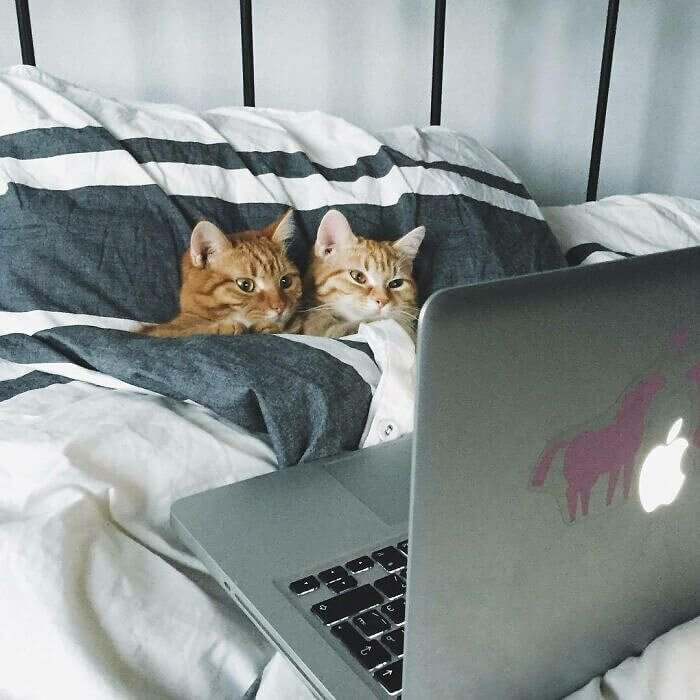 With the laptop perfectly perched on the bed, the kittens have found their comfy place nestled in the pillow with the covers drawn up to their chins. All that's missing is a little saucer of milk and a few kitty snacks!ADVERTISEMENT
A Cat at the End of a Tough Day
We all know that feeling of coming home after a long day, kicking off our shoes, and finding our comfy spot on the couch. The moment is made even better when you flick on your favorite television show and crack open a beer. In fact, the sensation is so gratifying that even this fluffy cat wants to take part!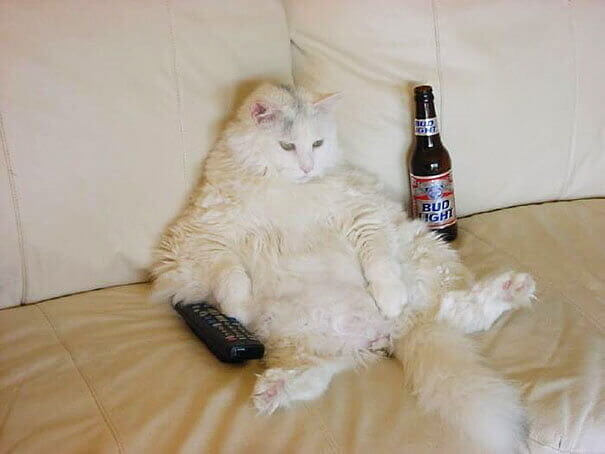 This chubby cat resembles a middle-aged man watching his favorite football team on a lazy afternoon. The only time that we can imagine the feline moving is for a bathroom break or to refill his Bud Light!

A Golden Dog in a Golden Car
It's not unusual to see a dog in a car (hopefully with the window cracked open). People take their beloved canines to the beach, on holiday, and even with them to the mall. Normally, dogs will bound around the back seat with excitement or hang their tongue out of the window - but not this Golden retriever!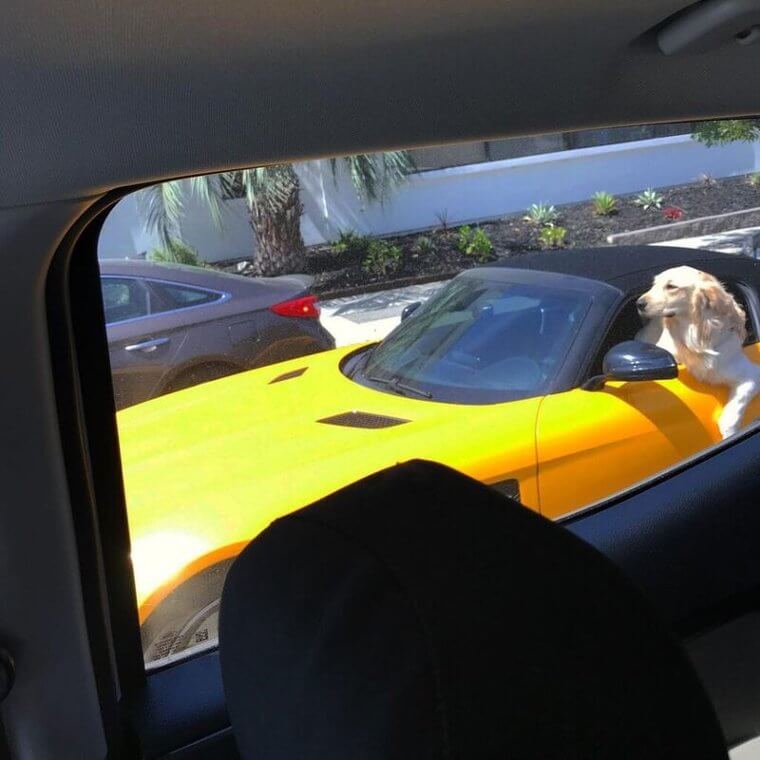 It seems as though this luxurious car was made specifically for this smooth operator. With his paw hanging out of the window and his golden locks shining in the sun, this dog perfectly mimics a successful entrepreneur taking their new wheels for a spin!

Influencers in the Wild
What better way to kickstart this series than with this squirrel and bird duo. Each critter takes its turn to stand perch themselves in front of the camera and strike a pose - sure to get them hundreds of likes on Instagram!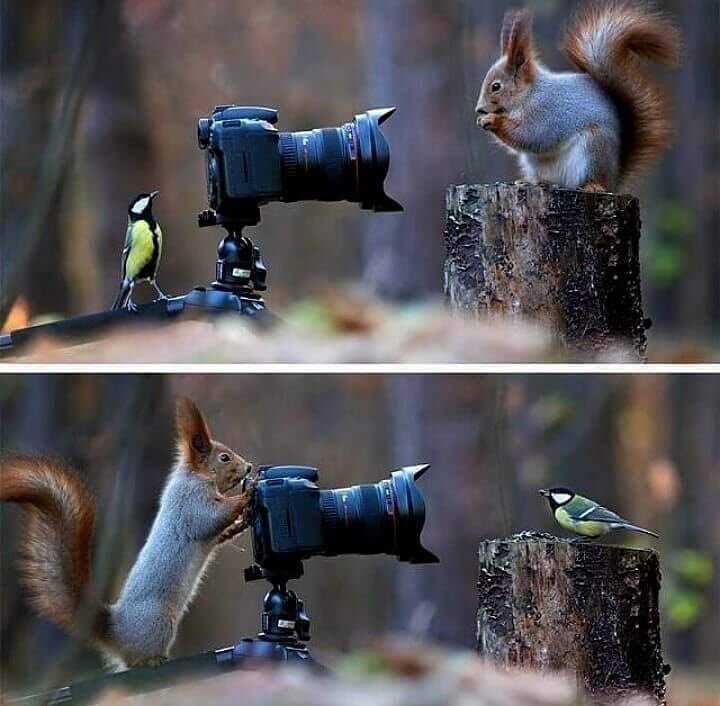 We especially love the way that the squirrel peeks above the lens as if giving the colorful bird a few suggestions.

A Dog's Meditative Space on a Rock
Recently, there's been an increased focus on the importance of self-care. Taking time out of your busy schedule to journal, exercise, meditate and cut out toxic relationships are all valuable ways to maintain optimal mental health.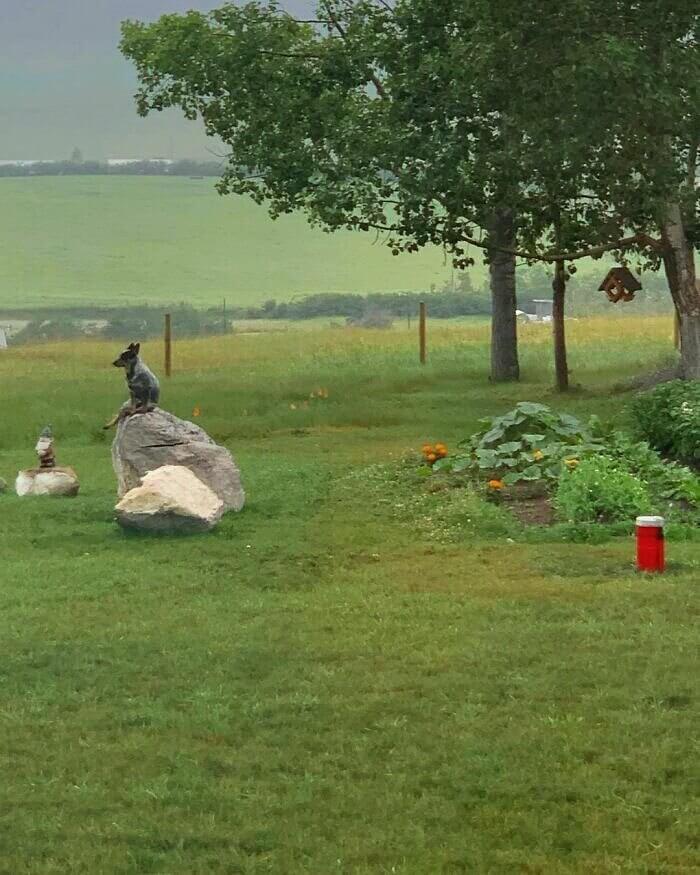 Apparently, the increased focus on self-care extends beyond humans. Imagine the relaxing mood inspired by green, rolling hills, and fresh air. This dog enjoys a quiet moment roosted on top of a rock. While we don't know the many thoughts fluttering through the dog's mind, we're certain that he's feeling significantly more relaxed than before arriving at his perch.

A Dog Waiting Patiently by the Bar
Take a moment to think about your favorite watering hole. Chances are that you've shared both laughs and tears at the bar countertop (and possibly spent enough money to earn shares in the venue).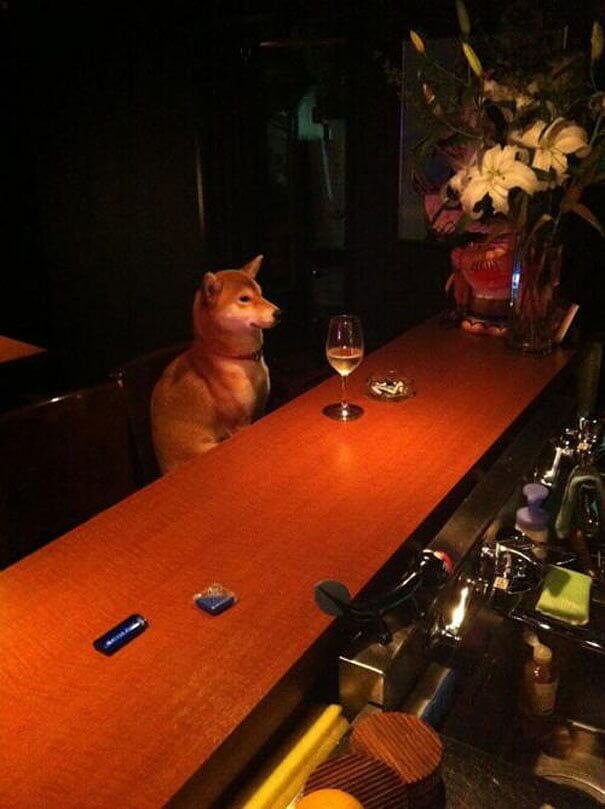 Now, imagine the shock of walking into your local bar and finding this stoic pooch nursing its drink. We can't quite pinpoint the backstory for this dog. Did they have a rough day at the park and need a drink to unwind? Or are they waiting for a canine tinder date to show up? Either way, this dog looks strikingly similar to many human moments witnessed at the bar!

A Hamster Sharing Some Love
A loving home is made up of small acts of kindness and care. It may involve a mother tucking the children in at night, a father preparing a delicious meal, and even a hamster tending to the garden!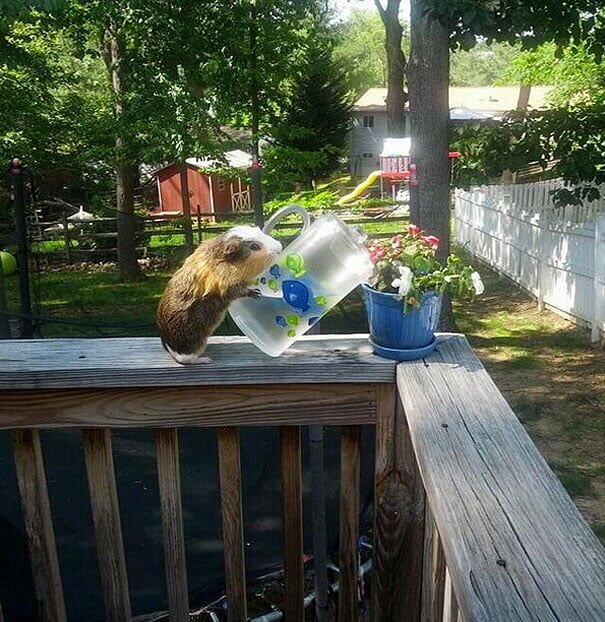 It's not every day that you see a hamster watering the plants, so this moment is very rare. The hamster obviously wants to be involved in the family chores and is happy to water the plants and keep them from dying. Maybe there will be some water left for him to hydrate after his hard work!

Top Me up There, Will Ya?
Wine can be an acquired taste for some, but an addiction for others. While many have learned to strike the balance and appreciate the delicate flavors and tones in the glass, this dog seems to be sipping to forget!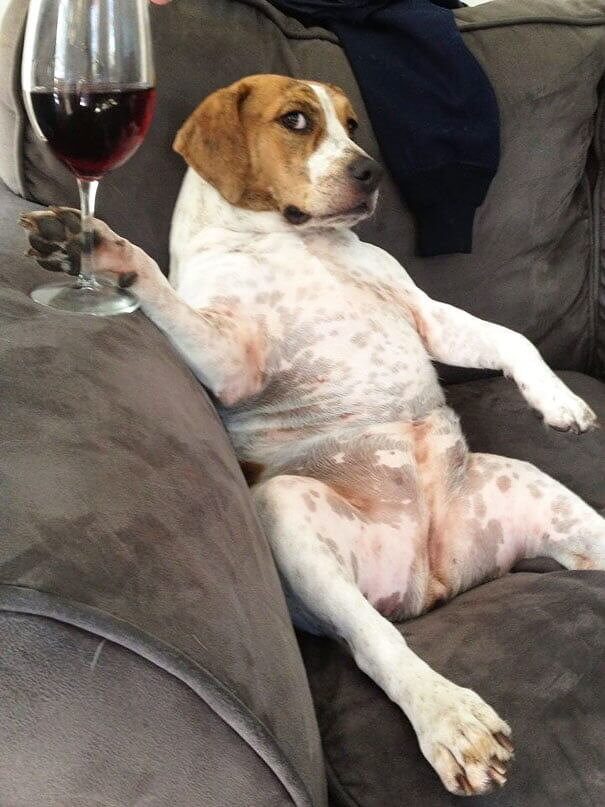 By the looks of things, this pooch has had a rough day and is numbing the senses with a tall glass of merlot. The sideways glance warns us not to ask any questions, but rather refill the glass when needed, or maybe offer a tummy rub!

Surfing Is Available for Everyone - Even Dogs
Nothing beats the feeling of riding a wave and feeling one with the ocean. The moment of exhilaration is hard to beat, but it can also be quite intimidating for newbies. Judging by the look on the middle dog's face, he's new to surfing and it's not his cup of tea.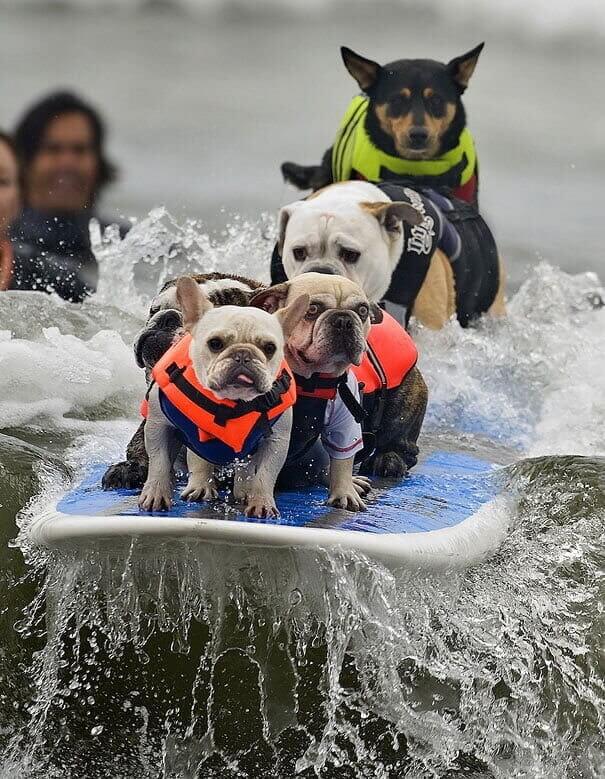 The pooch on the front of the board seems to be loving every minute, even sticking his tongue out to catch some salty air. However, his friend behind him looks terrified, and probably won't be jumping on the board again any time soon.

The Sloth at School Is a Slow Learner
Everyone has a different experience at school. Some thrive as the debating pro or cheerleading diva, while others struggle to make their grades and spend a lot of time in detention.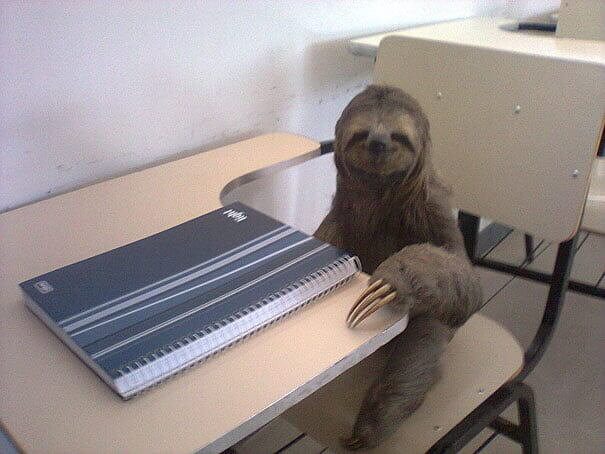 It seems as though this sloth is still figuring out where he fits in the social system. Sitting upright at the desk, the sloth seems ready to take a few notes. Poised for learning, we can't help but wonder if the sloth's mental state will match its slow physical movements. At least he gets an A for trying!

A Retired Cat on the Sidewalk
The image of an old man watching passersby on the sidewalk is iconic. After retiring from the job, there's not much to do other than relax on the side of the road and watch the world go by.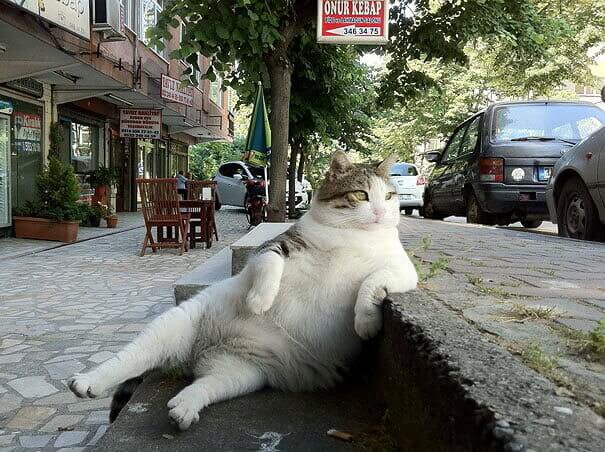 It seems as though this cat has also retired from the office, and is happy to spend his days people-watching on the street.  Resting his "arm" on the step and slouching in a comfortable position, this cat doesn't seem to have a care in the world. For all that we know, he could be counting pigeons or having a staring contest with the neighborhood dog!

Playground Pandas Releasing Their Inner Child
The playground has a wonderful way of forming friendships and providing hours of fun - just ask these two pandas and they will tell you! Normally, it's pig-tailed girls spinning on the roundabout or raucous boys chasing one another down the slide, however, this picture is a bit different.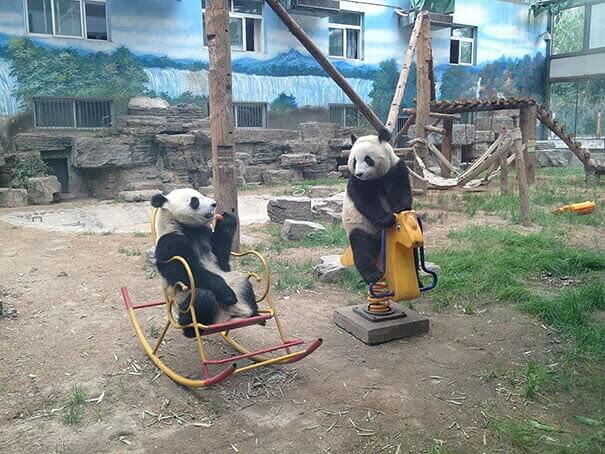 These pandas seem to be having a wonderful time together, swinging back and forth on their respective piece of equipment. We can't help but notice their smug posture, almost as though they skipped out on school to have some fun on the playground!

The Best Partner in the Business
Working in deliveries can be a tiring job that involves moving from one location to the next and cracking a window when you need some air. Luckily for this driver, he has the best partner to keep him company on the road.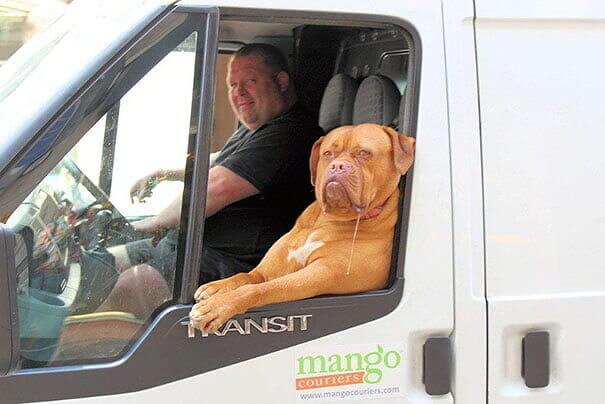 They say that dogs often look like their owners, and this picture proves the concept to be true. Both man and dog look tough but jolly and judging by the drool dripping from the pooch's face, there's nowhere else in the world that he'd rather be!

A Dog Catching up on His Favorite Sports Team
Nothing can stop sports fans from making the most of game day! A mug of beer and widescreen TV is the perfect way to watch the game, and this dog knows it! Even so, we can't help but be amused at the sight of the dog at the bar.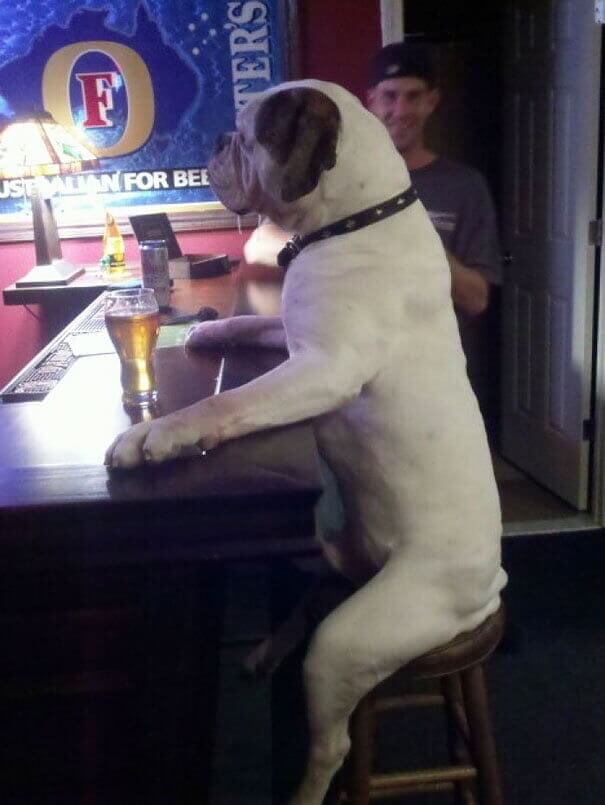 Making the picture even more uncanny is the sheer size of the pooch. Sitting upright on the barstool, the dog is almost the size of a human, and his giant paws are the size of a fist. Best manage your beer in case of a bar fight!

The Outstanding Sight of a Bear on a Jetski
Areas in Canada and across the United States are known for both beautiful lakes and bears. What happens when you mix the two together? You find a bear on a jetski! Even so, bumping into this sight isn't something you'd expect when you step out from your lake house.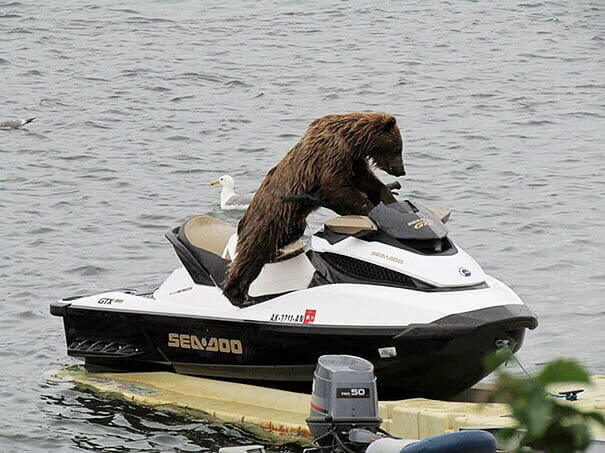 Judging by the confident way that this bear is standing on the jetski makes it seem as though he is well acquainted with how to ride the watersport equipment. Who knows, he could be spinning a wheelie in a few moments' time!

The Kangaroo Is the Last One Standing
When you live in dry, rural landscapes, there's not much to do when the sun goes down. With this in mind, it's not uncommon for the bar to be a popular place of entertainment. However, even the bar has a closing time - and this kangaroo will have none of it.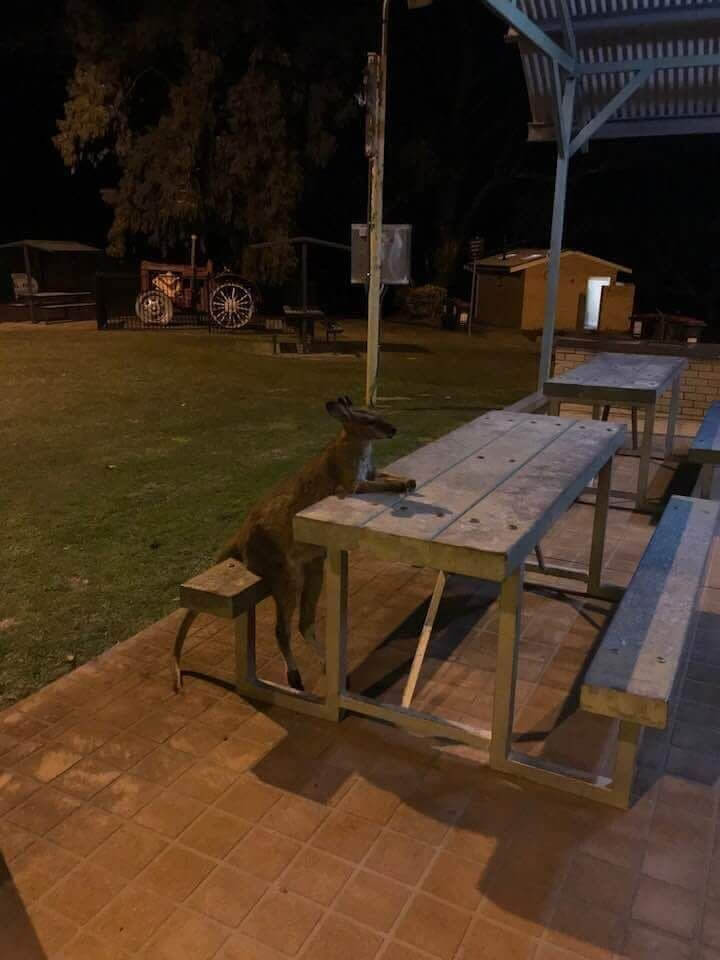 The kangaroo's impatient posture leads us to believe that the final call was a few minutes ago and he's desperate to have another drink served. Either way, it's a far cry from the sight of a bouncing kangaroo!

A Pup Soaking up Wise Words From Ellen
Ellen Degeneres is an icon for people all around the world - and not only humans! It seems that this family has bought a book and wants to share Ellen's story with every member of the household, including their pooch.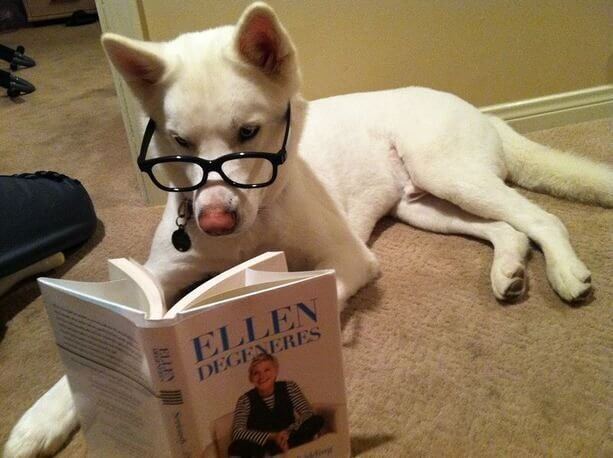 The sight of a dog getting comfy on the ground with reading glasses perched on its nose is hilarious. While we can imagine that the position is posed, the dog is certainly playing along by following the words on the page. Now that's a good doggy!

Nothing to See Here, Just a Bear on a Couch
When you think of a bear in its natural habitat, you imagine catching a fish in a lake or picking berries in a forest. You probably don't imagine a bear sitting on a couch in a junkyard - yet here one is, with an interesting look on its face!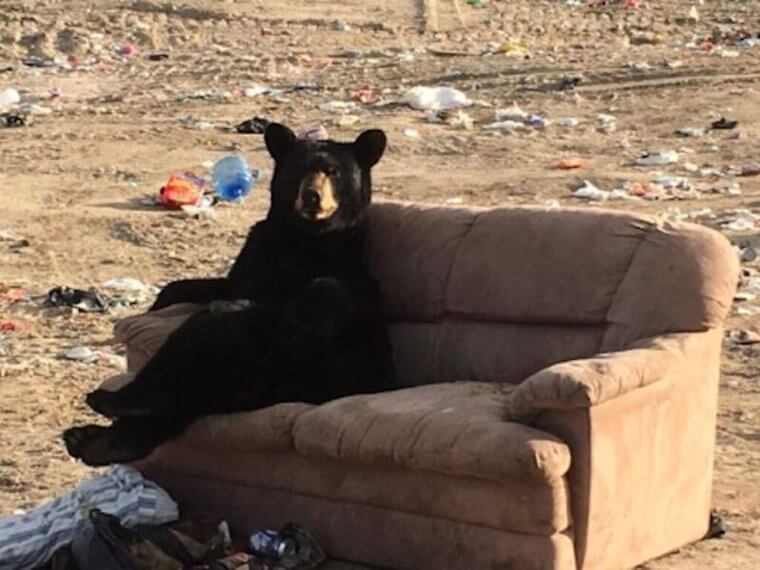 Couches are a human invention and are used to sit down, relax and unwind. However, that doesn't mean that other animals can't enjoy their comfort as well and this bear is taking full advantage.

"I'll Text You Back Later, Just Driving"
Imagining a digital device in the hands of an animal is an amusing thought on its own. Now, imagine a raccoon strapped in a car seat, playing on a cell phone - and prepare to be astounded!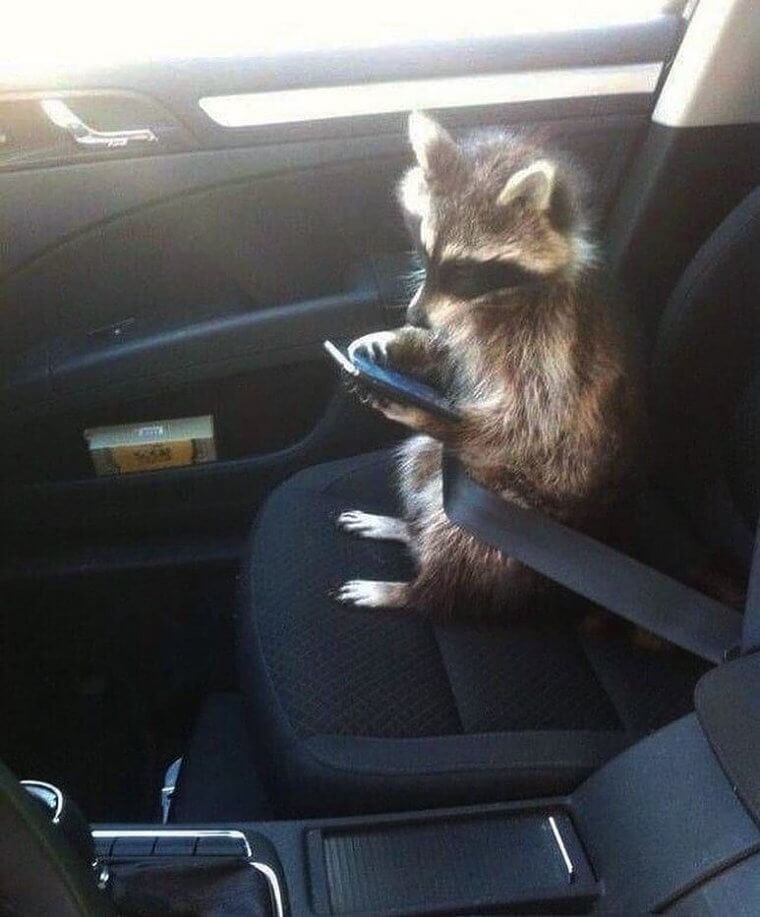 While this is a common sight for humans, it's quite a surprise to see the North American mammal in this position. Normally, we'd expect to see them rummaging through trash or climbing trees - but not this guy! What a sweet way to end off our list of animals that look like humans! Up next, more adorable animals of course. Discover the cutest baby animals that will melt your heart.

20 Baby Animals That Will Melt Your Heart
A Little Baby Seal
Let's be honest, adult seals aren't particularly beautiful. In most instances, they look like giant bundles of blubber that slip, slide and wobble around. However, baby seals, also known as pups, are incredibly cute. Just look at this little guy!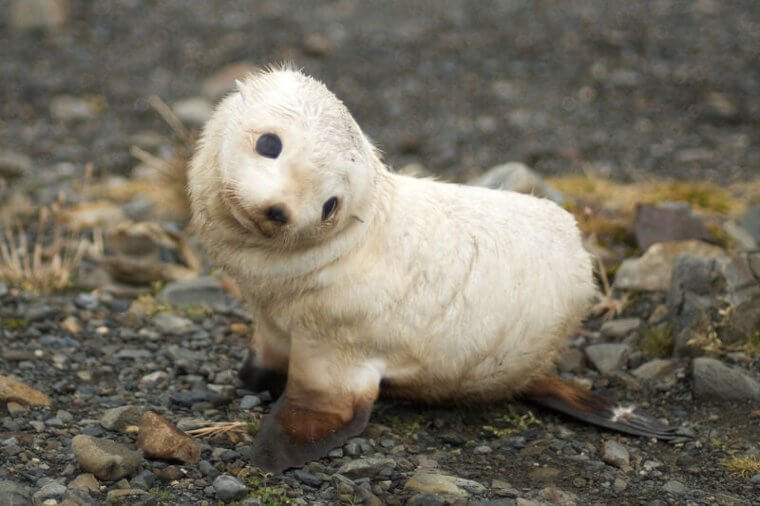 Mother seals and their pups bond with a unique call, developing vocal recognition abilities (even in the densest colonies). This baby seal looks like he's waiting patiently for his mother to call out so that he can snuggle right up to his caregiver.

A Vivacious Baby Hippo
Did you know that hippos cannot breathe underwater? Neither can they swim! Instead, hippos can hold their breath for up to five minutes and walk along the water bed. They rely on skulking in the shadows and wallowing in the water. However, this baby hippo has a lot to learn about staying discreet.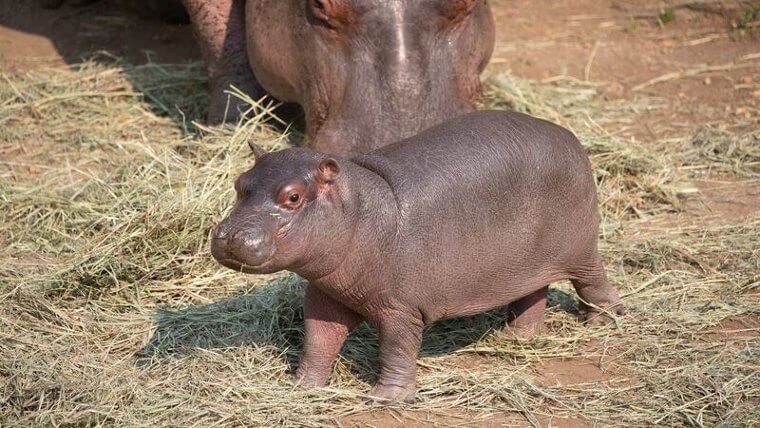 This baby hippo is the size of its mother's head, yet he has an attitude the size of a herd of hippos. The adorable caricature will grow into one mighty hippo one day, and until then he'll be practicing his roar.

Baby Croc Enjoys a Neck Scratch
When you first think of a crocodile, you most likely imagine a terrifying reptile that could break you in half with a single snap of its jaw. Before these creatures grow into their menacing form, they start off as smaller, easygoing croc - like this guy!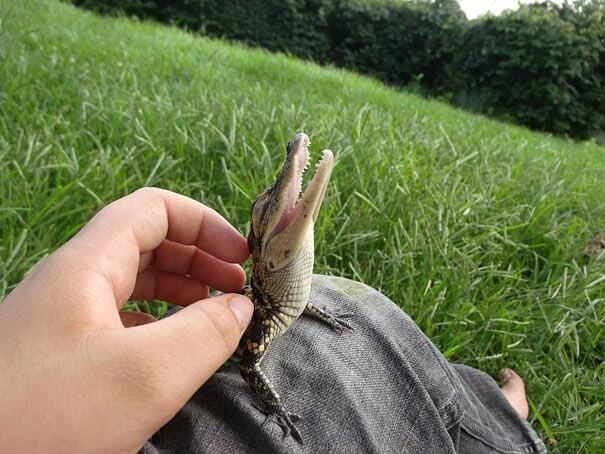 It's hard to imagine the giant beast as a baby, but here the newborn crocodile is fresh out of the egg and enjoying a neck scratch. Yet don't be fooled, those small teeth will grow to be a strong pair of gnashers.

The Giant Elephant as a Toddler
The African elephant is the largest living land animal, yet it's no surprise that they aren't born the same size that they die. An adult elephant will stomp around (with its giant feet that measure the size of a newborn human baby) yet a baby elephant is a lot smaller.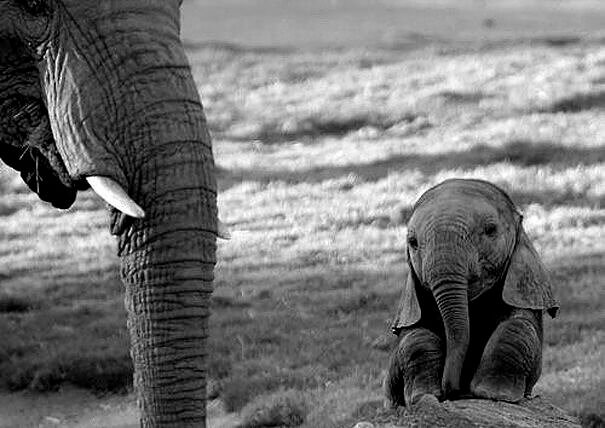 Unlike human babies, which typically weigh 7,5 pounds, a baby elephant weighs about 264 pounds. Yet this adorable elephant with his ears neatly tucked behind his ears looks as though he can be gathered up in a single swoop and cradled in your arms.

A Baby Duckling That Will Turn Into a Swan
Childhood stories tell us about the ugly duckling transforming into a beautiful swan, but this little duckling is far from ugly. In fact, this feathered friend is outrageously cute and one look into its shiny eyes will have you talking in gentle coos.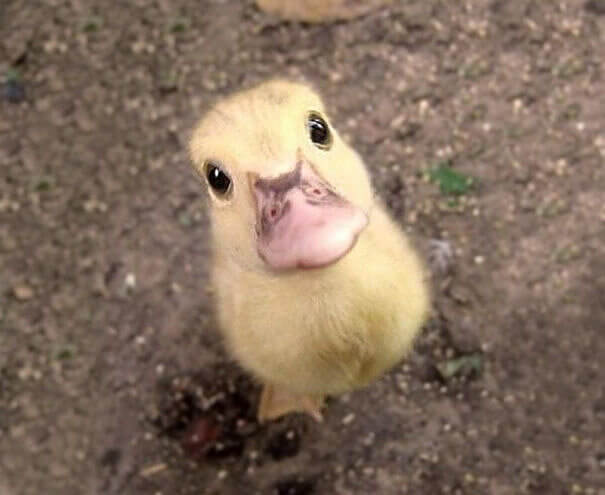 This little fluff ball seems to love the attention of the camera, and its curiosity is uncontained. We can imagine the tiny bird waddling around the garden, practicing its quack at any given opportunity, melting hearts along the way.

A Real-Life Bambi
We've just found the real-life Bambi and life has never been better. Its tiny little frame fits perfectly in two hands, nestled in a sleepy state of slumber. With cute ears poised for future survival and camouflage spots ready to expand across its soft fur, the baby deer appears vulnerable, but completely at peace.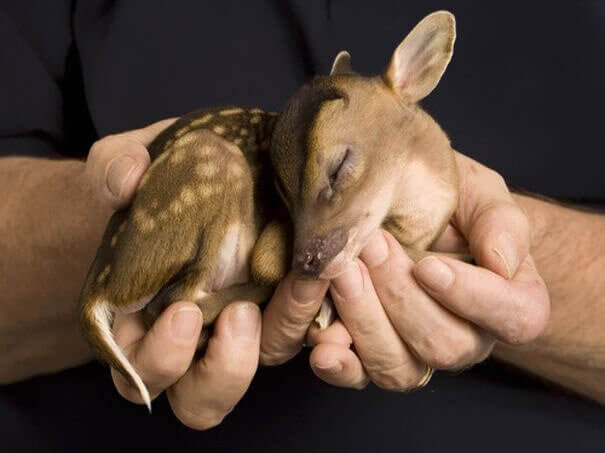 One day, this little deer will grow into an energetic animal that bounces through the veld. On one end of the scale, we have the resting fawn and on the other end, there's the energetic adult deer who frolics in nature - both are incredibly cute.

A Harmless Baby Hedgehog
Due to their spines, hedgehogs aren't very cuddly creatures. Instead of cozying on the couch as a pup would do, a hedgehog would most likely poke you into obliteration. However, this adorable hedgehog looks like a ball of snuggles.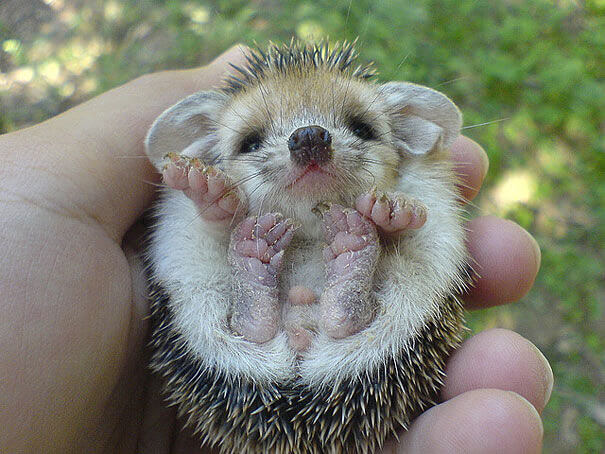 The baby hedgehog is perfectly sized to cradle in your hand, and its cute face seems to be asking a flurry of questions. Combined with his curious hand position, we can only imagine the number of questions on this baby hedgehog's mind.

Baby Anteater Finds Its Comfy Place
Anteaters don't have any teeth. Instead, they have long tongues that can lap up to 35,000 ants in a single sweep. This unique trait is alluded to with their long snouts - and this baby anteater's nose has a bit more growing to do! Until then, the baby has found its comfortable perch on the hand of a nearby human.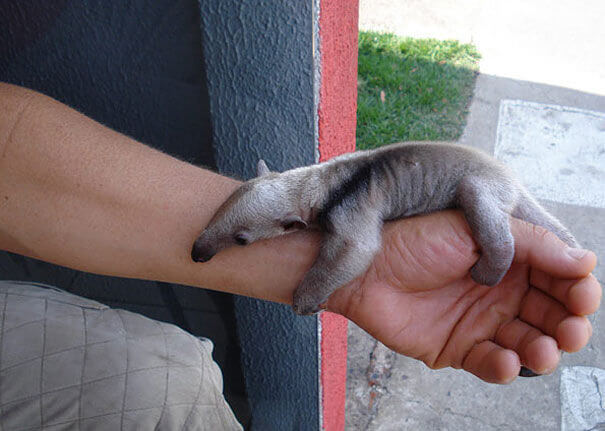 Hooked on the human's wrist, the baby anteater's fur is crumpled in all the right places, showing that it has a lot of room to grow. Normally, these little pups cling onto their mother's backs, which would explain why this little guy is so comfortable on this person's hand.

A Baby Kitten Counting Bubbles
Everything is so much more entertaining when you're a kid. Small joys that go over an adult's head can become an entire game for a child - including animal children. On its own, this little ball of fluff is adorable. Add in a few bubbles and you've got yourself a winner.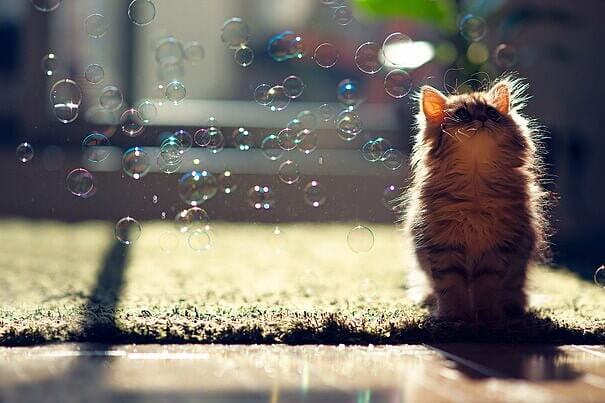 It seems that all that you need to do is blow a few bubbles and you can entertain your little kitten for hours. We can only imagine that the kitten was bouncing up to pop the soapy circles a few seconds after this picture was snapped.

A Baby Panda With an Old Soul
With nowhere to go and nothing to do, the image of an old man on the porch is iconic. While this baby panda is significantly younger, it has the same stoic demeanor as an old grandpa. Perched on the corner of the wall, this baby panda looks as though it has a million thoughts on its mind.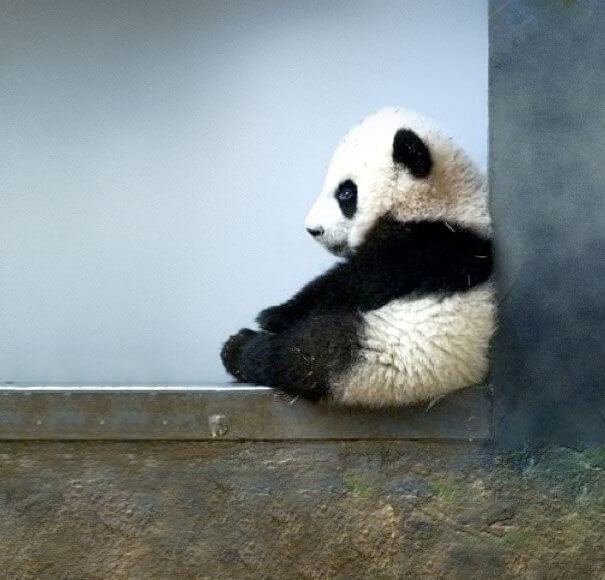 Not even this little bear's mature manner can hide his cute factor. We would do anything to scoop him up and tickle his tummy - maybe even hold him in a permanent embrace!

A Tiny Octopus That Fits on a Finger
Did you know that octopuses are one of the oldest creatures to live? In fact, the oldest octopus fossil is expected to be 296 million years old! However, this baby octopus is very new to the world!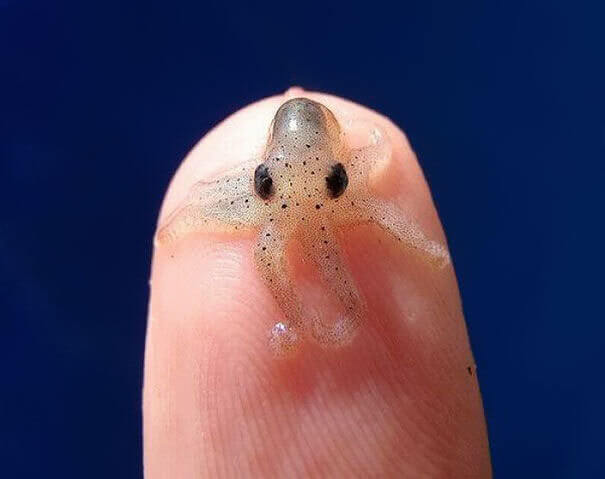 While Aristotle originally thought that these marine animals were stupid, the truth is quite the opposite. Octopus are highly intelligent and also experience emotions. With this in mind, we can't help but wonder what this cute octopus is thinking and feeling, perched on top of this person's finger.

A Shy Baby Owl
Owls are nocturnal animals and notoriously shy. If you spot an owl, then you can count yourself lucky! Even when you don't see them, they can see you - and are able to turn their head an impressive 270 degrees! Judging by this adorable owlet, we can only assume that their shy demeanor begins from a young age.

Who would've thought that such a baby owl would be so tiny! Looking at the size of the feathery bird compared to a human finger, we realize how small and vulnerable the bird can be. No wonder they only come out at night!

A Pair of Baby Foxes up to Mischief
Foxes have a reputation for being mischievous animals and cunning tricksters, and we can only imagine that their sly personalities are groomed from a young age. Yet while they're learning the ropes, this pair of fox cubs seem to be caught in the act.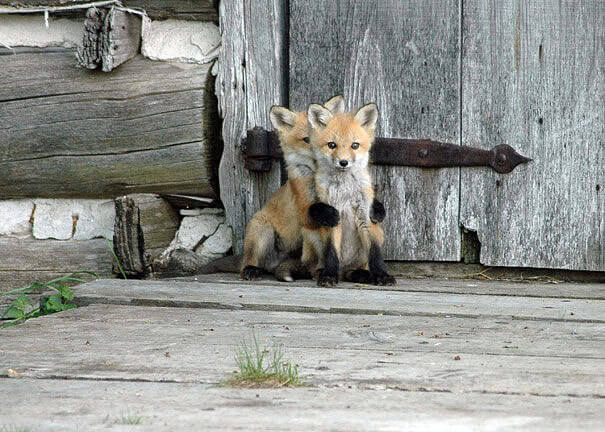 One of these cubs appears to be shyer than the other, hiding behind his brother. However, curiosity runs thick in his veins and he can't help but peek from behind his furry friend. One look at these adorable faces and any nonsense that they've caused will be forgiven in a second!

A Baby Hamster's Life Before the Wheel
Hamsters are a gateway to larger pets. Before families get a golden labrador, they test the waters by getting a little hamster. If a child manages to change the sawdust, feed the hamster, and keep the water fresh then maybe they'll be ready for more responsibility.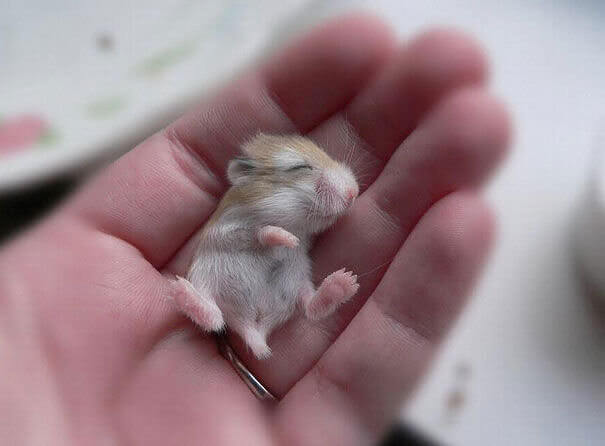 While adult hamsters are small enough on their own, a baby hamster is even tinier. The pocket-size rodent is half the size of a human finger - and its little head is half the width! One of the biggest challenges of caring for this hamster would be trying not to lose it!

A Stinking Cute Baby Skunk
Skunks may not be everyone's favorite animal, considering that a skunk's sulfuric spray has a range of up to 10-feet and the odor can be detected for up to 1.5 miles. Yet this adorable skunk is cute enough to cuddle (and risk the toxic smell).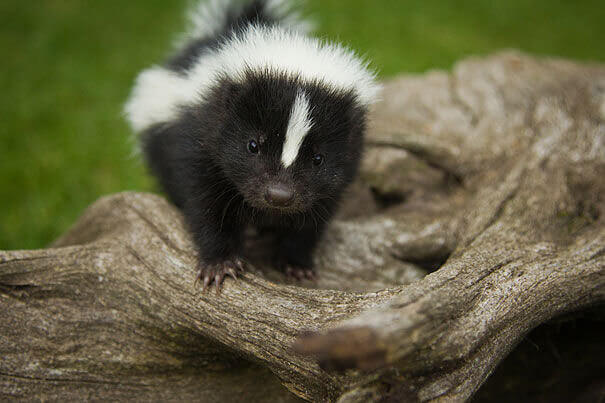 Baby skunks, called kits, are born blind and leave their den after weaning off of their mother - at around two months old. Judging by the size of this little kit, it seems that it's only just learned to venture out in the world on its own.

This Baby Chameleon Blends in a Different Way
The sight of an adorable baby animal has the power to melt the heart of the toughest person. A young creature's innocent expression, vulnerable size, and playful attitude are incomparable, breaking the cuteness barrier. We've put together 20 images of baby animals that will make your heart skip a beat and boot you into cuddle mode.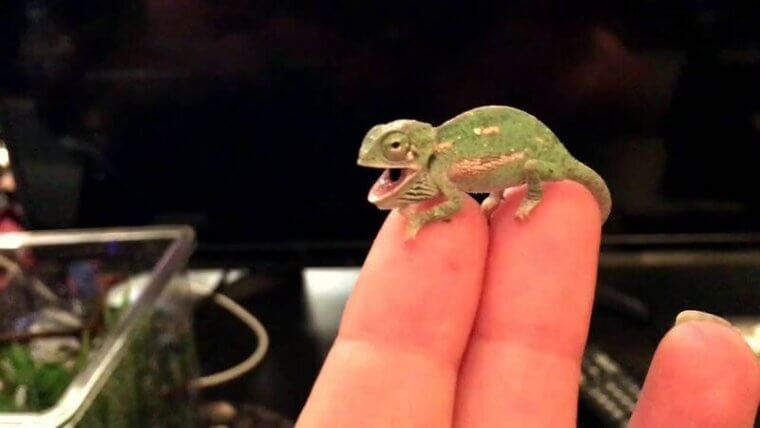 Kicking off our list of loveable baby animals is this tiny chameleon. While fully grown chameleons rely on camouflage to blend into their surroundings, this baby creature is small enough to hide in plain sight. Smaller than a fingernail, this chameleon's eyes are half the size of its body!