Ann-Margret is proof personified that some people are just born for a life in front of the camera, and even became known as "The Female Elvis". She and Elvis became lovers and soulmates. Yet, while she's inextricably linked to the King of Rock of Roll, there's much more to the sultry siren. Today, we'll explore her rise, career, love life, heartbreak, and what became of her. Are you ready to find out all about Ann-Margret? Because It's Now or Never!
Your Mama Don't Dance
Ann-Margret Olsson was born in Stockholm, Sweden, in the middle of World War II on April 28th, 1941. When her family moved to the US in 1946, as so many Swedes did, they settled in the northern Midwest of the country, probably liking the colder climate. As a youngster, Ann-Margret was introverted and found it difficult to adjust to American culture. She devoutly went to Sunday school, sang in the choir, and expressed herself through her love of song and dance.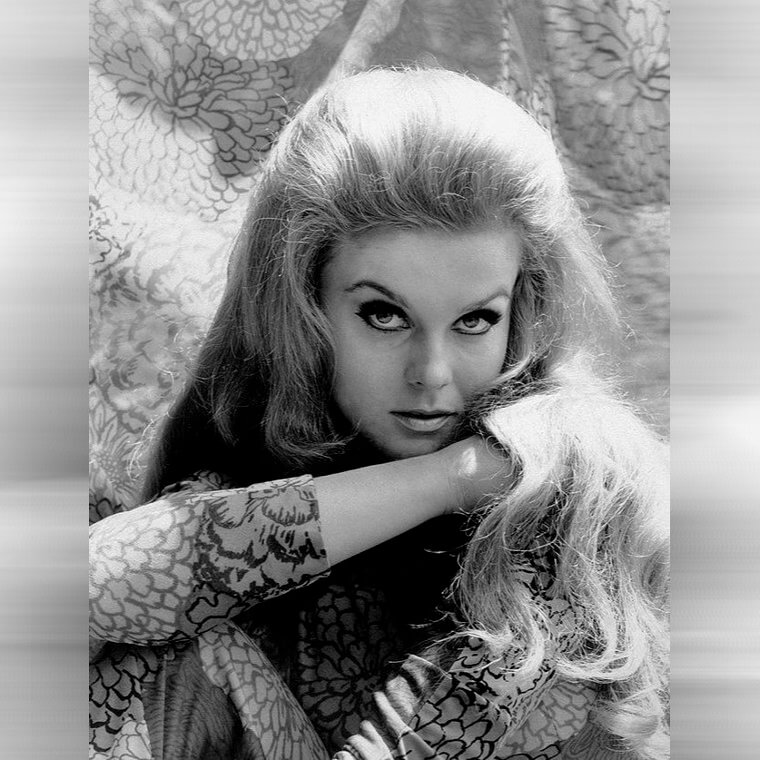 Now, being loving parents, Anna and Carl Gustav supported her, and their talented daughter took lessons at the Marjorie Young School of Dance. Sadly, her father suffered a severe work injury, rendering him unable to bring home the bacon, so mom Anna went to work as a receptionist at...a funeral parlor. 
Teenage Kicks
By the time she was 14, Ann-Margret had appeared in drama productions and school revues and won numerous local talent contests. She appeared on Morris B. Sachs Amateur Hour, as well as Don McNeill's Breakfast Club and Ted Mack's Amateur Hour. She also starred in her high school's theater program at New Trier High School in Winnetka, Illinois.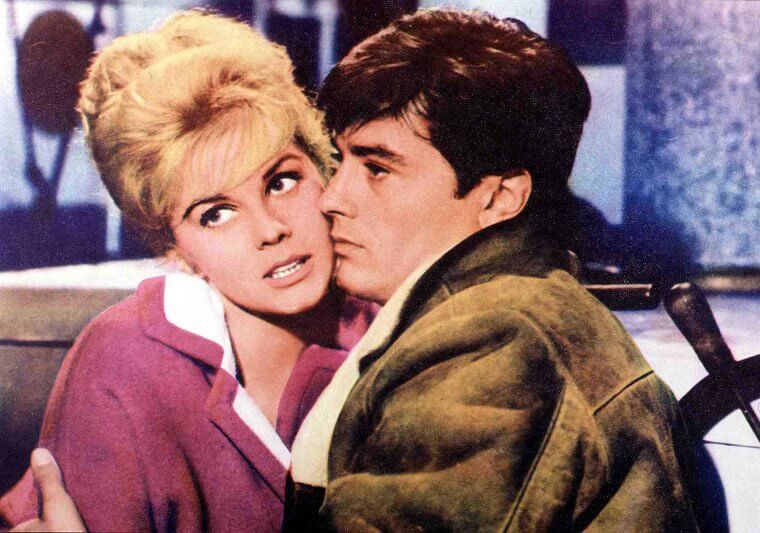 As she transformed into a young 5'5" beauty, Ann-Margret took acting jobs and appeared in numerous Chicago-based variety shows to supplement her mother's small income to help the family. If she were going to make money, it would have to be through the medium of dance. Or song and dance as Ann-Margret had also been blessed with the voice of an angel!
The Suttletones
In 1959, she attended Northwestern University in Evanston, Illinois, but did not graduate - she didn't need to! Soon after arriving, she teamed up with three male students to form a four-piece jazz combo - The Suttletones, who performed at The Mist nightclub in Chicago. The Suttletones won a club date in Las Vegas only to arrive in Sin City to find out their night had been canceled. So, they ventured on to Los Angeles where they secured club dates.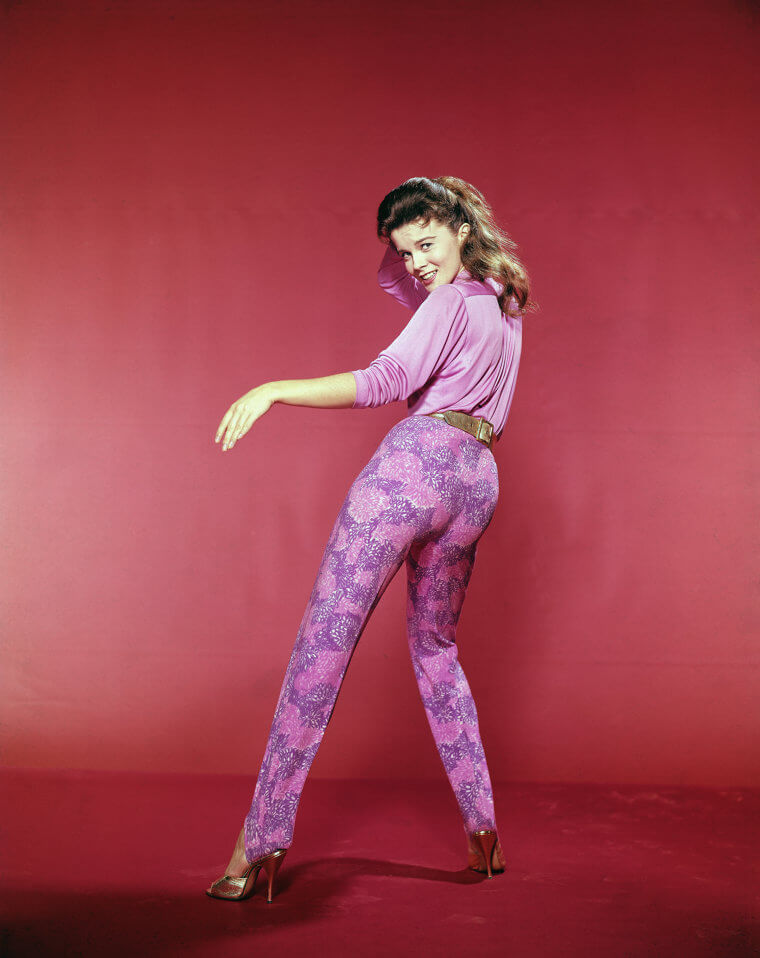 The group was invited to the Dunes in Las Vegas, where Tony Bennett used to headline. Entertainment maestro George Burns invited Ann-Margret to perform a 10-night stint at the famed Sahara Hotel, where she earned rave reviews. The 18-year-old and George Burns performed a softshoe tap dance routine on his Holiday Show, and Variety Magazine proudly stated: "George Burns has a gold mine in Ann-Margret ... she has a definite style of her own, which can easily guide her to star status." Overnight, Ann-Margret was in demand! 
Debut Album
In 1961, Ann-Margret was briefly engaged to Hollywood producer Burt Sugarman, who created the Midnight Special musical variety series. This was the year she recorded her first single in Hollywood, "Lost Love", and her debut album, And Here She Is: Ann-Margret. Her later albums – including the imaginatively titled follow-up And Here She Is Again – were produced in Nashville with The Jordanaires - Elvis Presley's backup singers.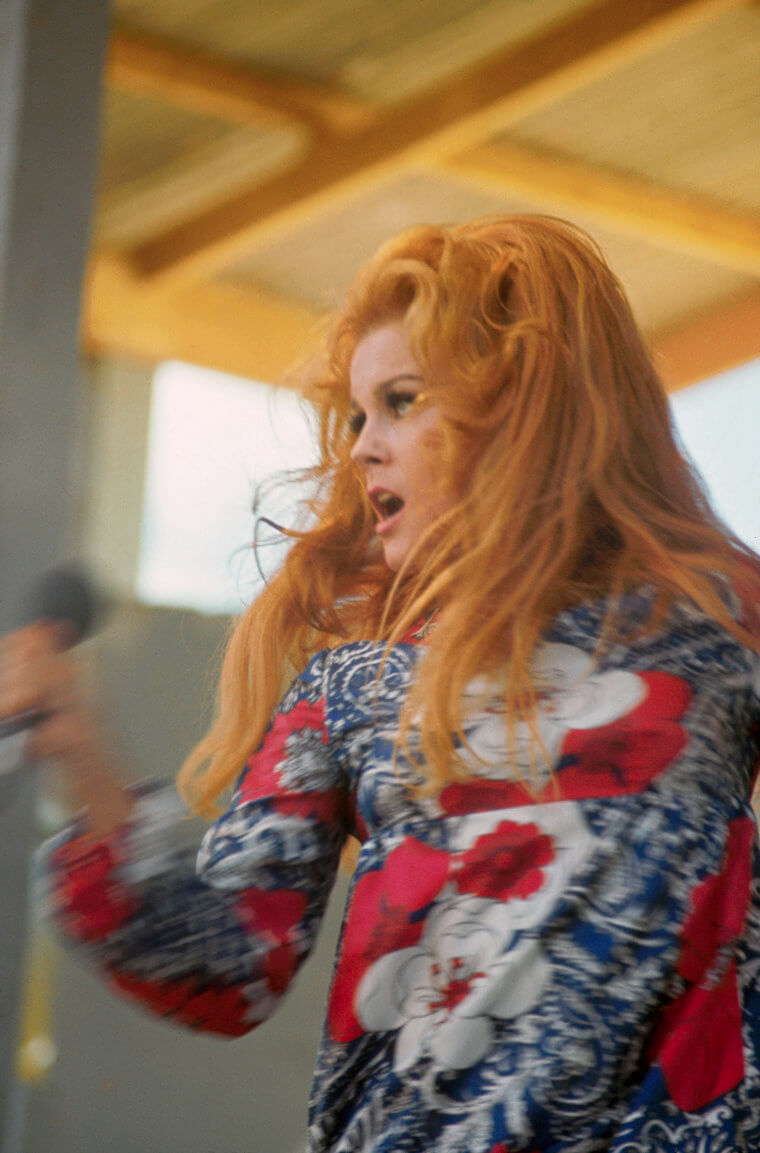 Swedish-born, Midwestern-bred Margret's voice was described as a "sexy, throaty contralto", which earned her the moniker 'The Female Elvis'. Her record label – RCA Victor – tried to cash in on this comparison by having her record a cover of "Heartbreak Hotel" and other songs stylistically similar to Elvis Presley. Just a year after signing, Ann-Margret was nominated for a Grammy Award for Best New Artist in 1962.
Pocketful of Miracles
So, remember we said that Ann-Margret could sing and dance? Well, since the sexy siren had so many strings to her bow, we're going to have to skip back a year to 1961. In-between recording her debut album, she undertook a screen test with 20th Century Fox, who immediately signed her to a seven-year contract.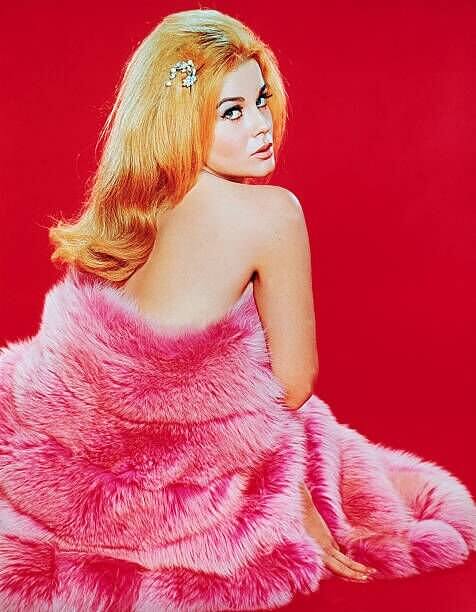 Fox loaned her to United Artists, and she made her debut on the silver screen in Frank Capra's Pocketful of Miracles (1961). While the film performed dismally at the box office, her role as Bette Davis's daughter won her a Golden Globe Award for "New Star of the Year," and Life Magazine correctly predicted she was Hollywood's next young starlet. 
Hello Birdie!
Two years later, Ann-Margret was back to the place her daddy took her on her very first day in America. But this time, she was the star of the show and guest of honor! You see, the premiere of her new film, Bye Bye Birdie (1963), was held at Manhattan's Radio City Music Hall. By the end of the year, she had firmly established herself as a recording artist with five hit singles from the Bye Bye Birdie soundtrack on top of her two albums.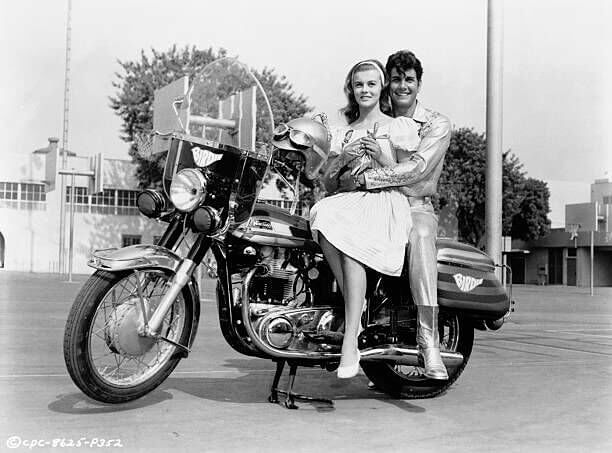 Adapted from the Broadway musical, Bye Bye Birdie told the tale of a rock n' roll icon named Conrad Birdie. He travels to a small Ohio town for a farewell performance on The Ed Sullivan Show and kisses his biggest fan before he goes off to war, leaving his legion of fans distraught. Of course, the story was loosely based on when Elvis was drafted into the US Army. 
The Ann-Margret Show
While the film featured Dick Van Dyke, Janet Leigh, and Ed Sullivan (playing himself), it might as well have been called The Ann-Margret Show. The teenage temptress stole the show as all-American girl Kim MacAfee from Sweet Apple, Ohio. She famously performed the now-iconic titular song standing and walking on a treadmill against an all-blue background… and in one take, wowing audiences across the land.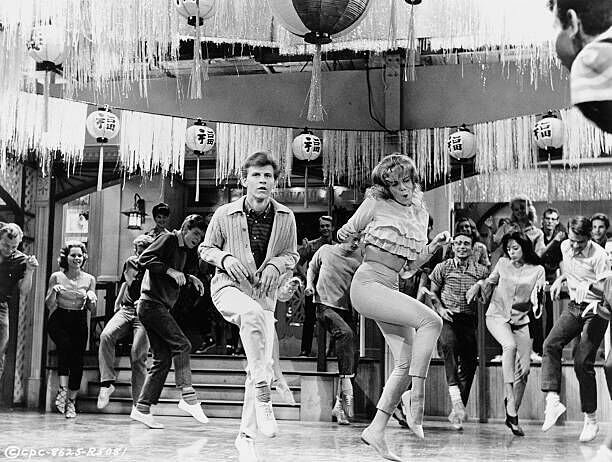 A satire of the Elvis Industry, Bye Bye Birdie also pokes fun at the insanities of the ordinary American family set-up. If you want a snapshot of life in 1950s America, look no further. Some say it's the best musical ever made, while others say it was a poor imitation of the Broadway original, a retro mix of charm and cheese. Love it or hate it, Bye Bye Birdie possibly contributed more to popular culture than any other musical and transformed 19-year-old Ann-Margret into a superstar overnight. 
Viva Rock Vegas
Her lavender-blue eyes and red hair graced the cover of Life Magazine, and – in a review of Bye Bye Birdie – they announced the "torrid dancing almost replaces the central heating in the theater." The Swedish songstress was then asked to sing her hit record, "Baby Won't You Please Come Home", at President John F. Kennedy's 46th birthday party. This was just one year after Marilyn Monroe famously sang "Happy Birthday, Mr. President".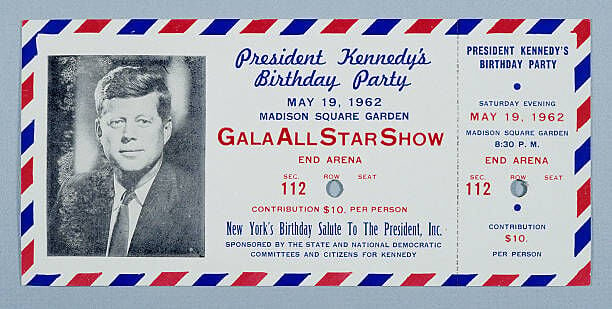 Later in 1963, she guest-starred in The Flintstones, voicing Ann-Margrock, an animated version of herself. Forget singing for JFK; guest-starring on The Flintstones is when you know you've hit the limelight to become a rock star!
The First Time Ever I Saw Your Face
While she was dating actor and singer Eddie Fisher in 1963, 22-year-old Ann-Margret made a little film you may have heard of called Viva Las Vegas (1964). The rock n' roll musical co-starred an actor you may have heard of, too. His name was Elvis Aaron Presley. Now, you'd be forgiven for thinking that when the two stars met on the MGM soundstage, it was like universes colliding, but it was actually pretty underwhelming.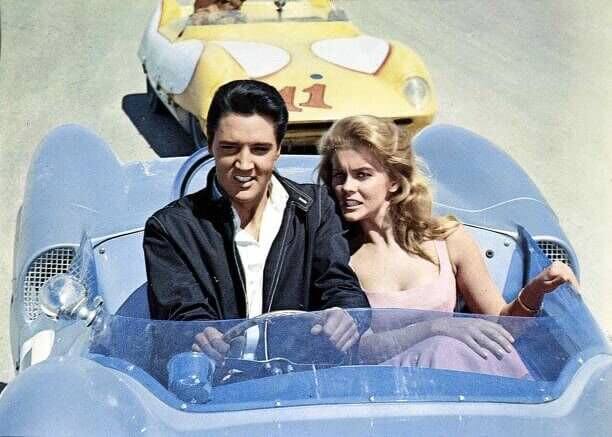 The actress recounted: "'Elvis Presley, I'd like you to meet a wonderful young lady, Ann-Margret,' said director George Sidney. 'Ann-Margret, this is Elvis Presley.' The significance was lost on Elvis and me. I reached out my hand, and he shook it gently. 'I've heard a lot about you,' we said at the same time, which made us laugh and broke the ice."
I Can't Help Falling In Love With You
They didn't know it just yet, but George Sidney's introduction was the beginning of a steamy, if doomed, love affair. Ann-Margret continues: "I'm not really sure why I was so calm about meeting 'The King,'… After all, this was Elvis, a man who had captured the heart of almost every woman in America. Little did I know he would soon capture mine." In a 1994 interview with the New York Times, she explained: "We both felt a current, an electricity that went straight through us ... It would become a force we couldn't control."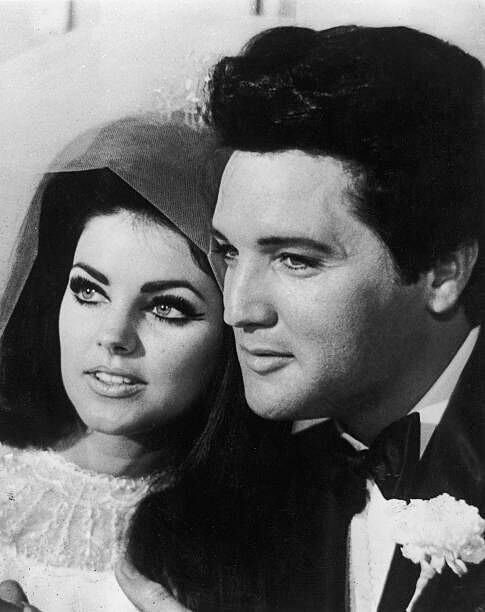 There was, however, one tiny little problem. 28-year old Elvis "The Pelvis" – hunky heartthrob singer, star of 14 films, and the most famous, adored, and lusted-after male on the planet – was already engaged to Priscilla Beaulieu, who he had met in Germany when she was 14 in 1959. 
Viva Las Vegas
Okay, let's get back on track - the racing track, that is. Viva Las Vegas tells the tale of singing, dancing race-driver Lucky Jackson (Elvis Presley). He travels to Nevada to score enough money for a new motor to win the Grand Prix, but his plans are interrupted by a temptress in the form of a gorgeous swimming instructor named Rusty (Ann-Margret).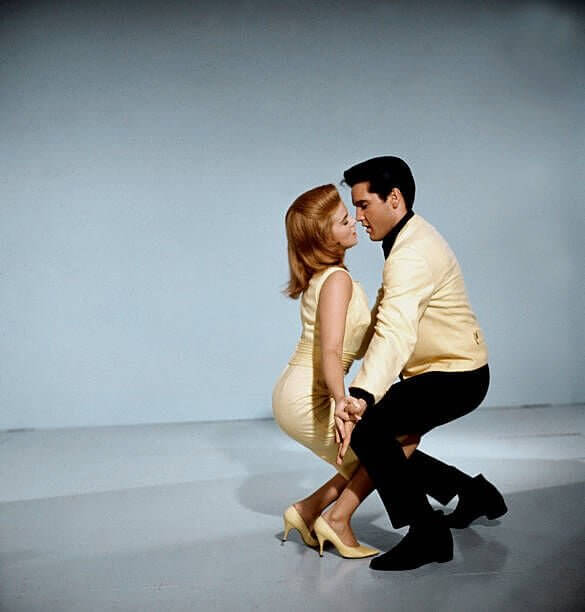 The film is generally seen as Elvis Presley's best, and of particular note is his fiery on-screen chemistry with Ann-Margret. Even the trailer says they burn up the screen! She recorded three duets with Elvis: "The Lady Loves Me", "You're The Boss", and "Today, Tomorrow, and Forever"; but only "The Lady Loves Me" made the final cut. The latter two were not released commercially until after Presley's death, as Elvis' manager, Colonel Tom Parker, believed that Ann-Margret's presence threatened to overshadow his star!
Sparks
Watching Viva Las Vegas, it's obvious there was more to Ann-Margret and Elvis' on-screen chemistry. One Associated Press correspondent noted: "They hold hands. They disappear into his dressing room between shots. They lunch together in seclusion." Ann-Margret explains they discovered they had many things in common. The two shared; "a passion for motorbikes, a love of family, a desire for privacy, a devotion to God, and late-night talks."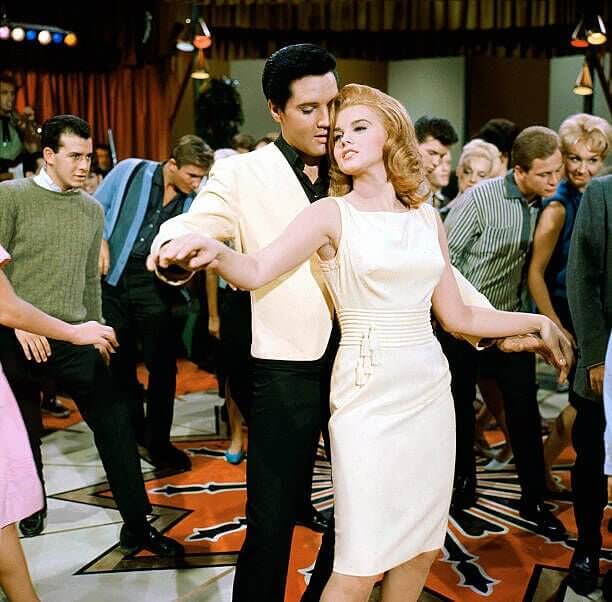 Before long, the two became lovers. In her 1994 autobiography, My Story, Ann-Margret explains her affair with Elvis was on the cards from the beginning: "We were indeed soul mates, shy on the outside, but unbridled within." It's little wonder they fell for each other; if Elvis was the King of Rock n' Roll, Ann-Margret was the Queen. Both were gifted musicians, dancers, and actors; both were charismatic sex symbols with unparalleled star power. It was a match made in heaven. Or was it?
Devil in Disguise
You may be surprised to hear it wasn't all smooth sailing; the two superstars might have been too similar for the King's taste. Ann-Margret admitted that they "both possessed the devil, [but] no one knew." She clarifies: "We both lived on the edge, and we both were self-destructive in our own ways … In many ways, both of us, despite fame and whatever else we'd achieved so quickly, had remained very childlike and emotionally dependent."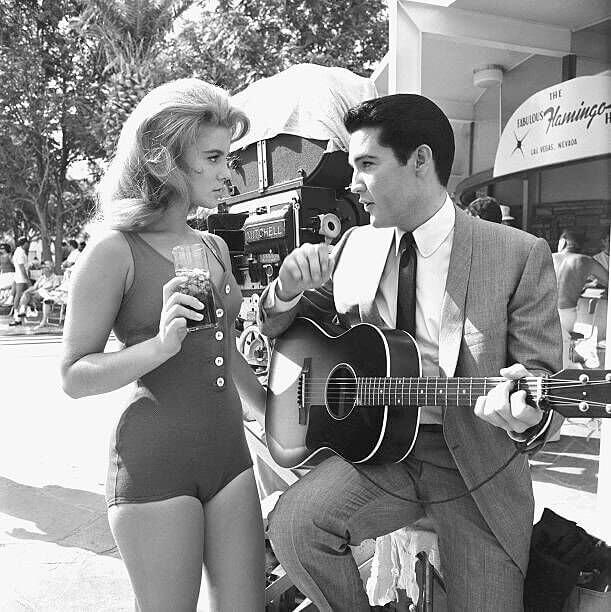 Yet, while Elvis wanted a compliant girl-next-door type who'd do as she was told, Ann-Margret was a strong, assertive, Hard Headed Woman who wouldn't play that role. The two lovers often clashed on the set of Viva Las Vegas as Elvis was jealous of Ann-Margret professionally.
Suspicious Minds
Now, speaking of girls next door, 18-year-old Priscilla was living at Graceland waiting to wed Elvis. While Priscilla always knew her fiancé had a wandering eye, she felt particularly threatened by his relationship with Ann-Margret. In her 1985 memoir, Elvis and Me, Priscilla revealed when Elvis finally admitted to carrying on with his Viva Las Vegas co-star, she "picked up a flower vase and threw it across the room, shattering it against the wall."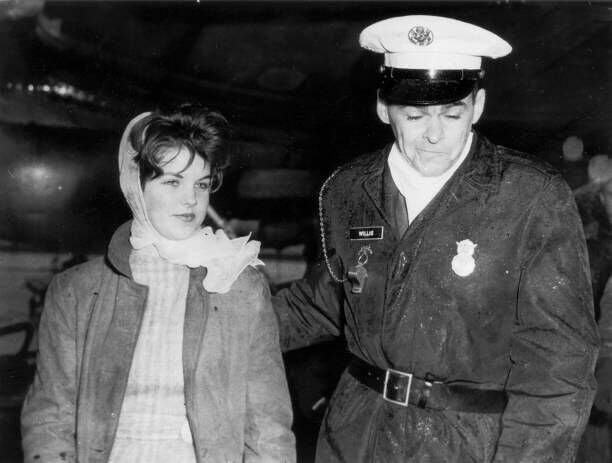 Priscilla was so enraged about the affair that Elvis even considered packing her off back to Germany to allow her to cool off. Colonel Tom Parker stepped in to pile the pressure on Elvis to marry Priscilla instead. All while this was going on, Elvis Presley gave Ann-Margret a secret codename for Graceland calls to dodge Priscilla so he could speak to her/
A Little Less Conversation
Ann-Margret knew their love affair was doomed. She explains in her autobiography: "There were other factors in Elvis's life that forced him apart from me, and I understood them. Elvis had always been honest with me, but still, it was a confusing situation. We continued to see each other periodically until we had dated for almost a year. Then everything halted. We knew the relationship had to end... that Elvis had to fulfill his commitment [to marrying Priscilla.]" Although he married Priscilla, Elvis wanted to marry his soulmate co-star and was said to have 'never got over her'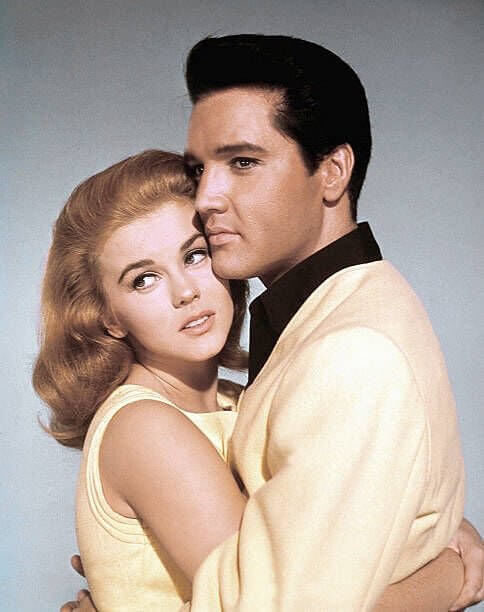 Elvis believed Ann-Margret had spilled the beans when the British tabloids reported that they planned to marry, and he knocked the affair on the head in 1964. Eventually, Elvis ghosted Ann-Margret by not returning her calls. That's one way to get a little less conversation! 
Crying in the Chapel
On May 1st, 1967, Elvis married Priscilla in Las Vegas. Despite having found his all singin', all-dancin', music lovin', God-fearin', biker-girl, sex kitten soulmate in Ann-Margret, the King opted to make Priscilla Queen of Graceland.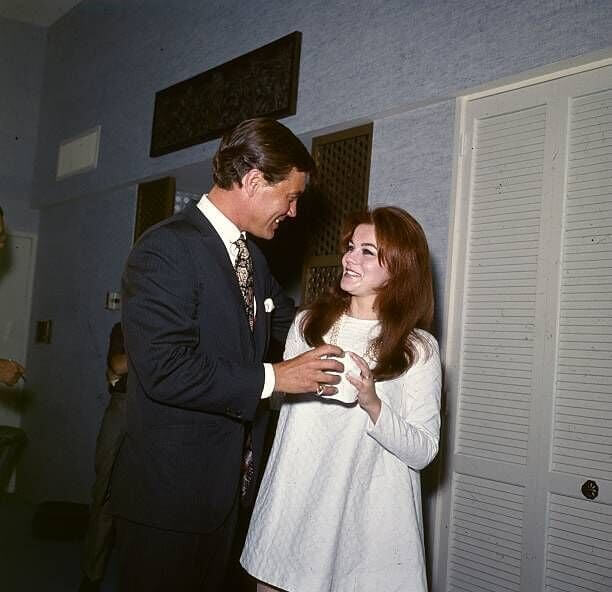 Exactly one week later, on May 8th, 1967, Ann-Margret Olsson became Ann-Margret Smith when she married Roger Smith in a cigarette-smoke-filled room at the Riviera Hotel, Las Vegas. "This is not the way I envisioned my wedding," Ann-Margret told People Magazine: "I think everyone thought I was pregnant because I was crying through the whole thing."
Roger, Roger
Actor Roger Smith and Ann-Margret had first met in 1961, right around the time she was recording her first single and appearing in her first movie. In 1966, he took her on a first date to a San Francisco nightclub where he was singing. The next night, he took her out to dinner, and their third date was a ride on his private plane the following day. Ann-Margret explains: "The man that I married is the man I knew I was going to marry on the third date," adding: "I knew he would protect me… I knew that I could depend on him. I sensed it completely."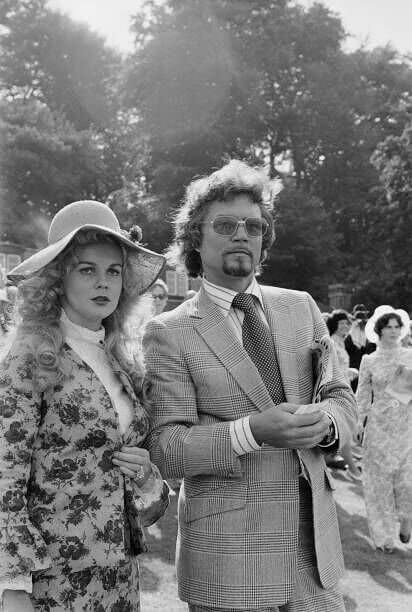 Roger became her manager, and he turned out to be a shrewd businessman, helping Ann-Margret pay off all her debts in just two years. Roger adored her: "When I met Ann-Margret, I felt happy for the first time in my life," Smith told New York Magazine. "Once I found Ann-Margret, I couldn't stand to be without her and, surprisingly, she couldn't stand to be without me." Awww, bless. 
Comeback King
Elvis' only child, Lisa Marie Presley, was born on February 1st, 1968, and while this should have been joyous news, Elvis was unhappy with his career and deeply depressed. Despite his 1968 Comeback Special and albums, documentaries, and tours galore, it was arguably all downhill from here…Elvis was never quite the same.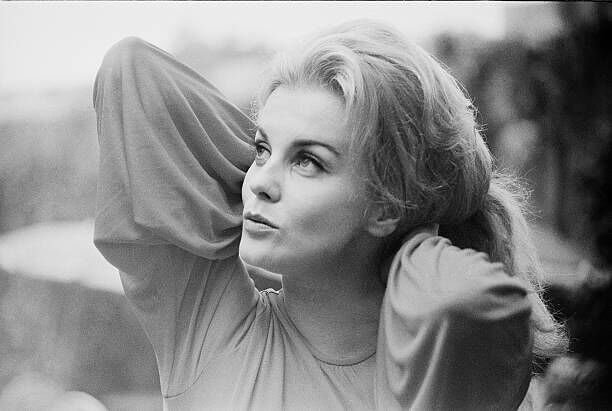 While Ann-Margret is always associated with Elvis, let's not forget she had a career in her own right, and she was on the up! In The Cincinnati Kid (1965), she appeared as Karl Malden's promiscuous wife who seduces Steve McQueen. Next up was biker sex-farce The Swinger (1966), in which she got to indulge her love of motorbikes. In 1968, she hosted CBS television specials featuring Lucille Ball, Danny Thomas, and Jack Benny. 
Carnal Knowledge
Hubby, manager, and all-around rock Roger helped "The Swedish Meatball" (as she was sometimes jokingly referred to) wave goodbye to, and grow beyond her sex-kitten persona by taking on more serious roles, and it paid off big time.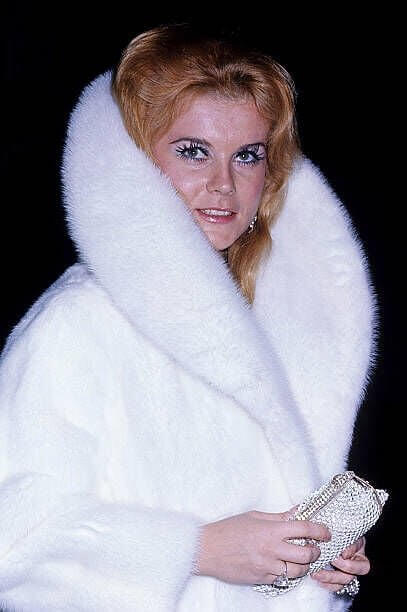 By the turn of the Seventies, she was nominated for Best Actress in the Academy Awards and won the Golden Globe for her turn as the tragic Bobbie Templeton in Mike Nichols' comedy-drama Carnal Knowledge (1971). The movie – which co-starred Jack Nicholson – was so controversial that one movie theater operator was charged with "distributing obscene material" for showing the film!
All Shook Up
In 1972, singing at a Lake Tahoe, Nevada casino, Ann-Margret had a brush with death. While she was performing an extravagant opening sequence, she plummeted 22 feet off a stage, landing on her face. She suffered a concussion, numerous facial fractures, a broken cheekbone, a broken jaw, a fractured arm, and even fell into a coma for three days. Roger refused to let doctors touch her face, insisting she be flown to U.C.L.A. Medical Center, where she underwent three hours of facial surgery; saving her good looks.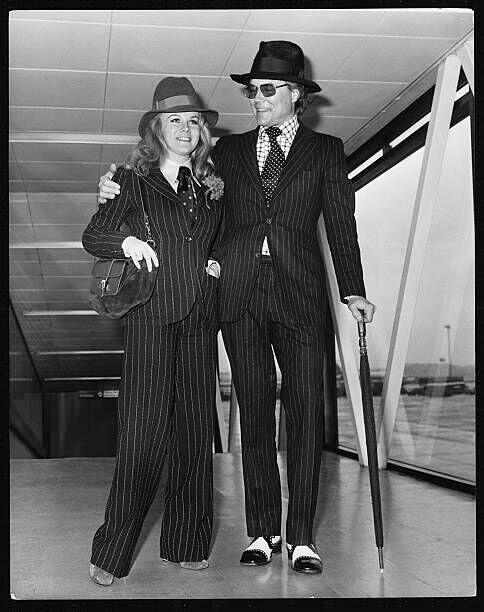 The accident was a turning point; as she recuperated with her jaw wired shut and on a liquid diet, she answered thousands of fan letters and developed a new philosophy on performing. "When I first started out, I was really, really scared when I performed before an audience. I'd look over their heads. Now there's a more personal connection. I think that some of the people who wrote those letters are in every audience. The accident really showed me something, and I'm much freer on stage now."
Behind the Scenes
Ann-Margret appeared in The Outside Man (1972) and was again nominated for an Academy Award and won the Golden Globe for The Train Robbers (1973), appearing alongside John Wayne. But behind the scenes – while Elvis began abusing prescription medications – she was struggling; Shortly after her accident, her beloved father died of cancer. This series of unfortunate events led to a growing dependency on pills and alcohol, and she was often incapable of "separating fantasy from reality".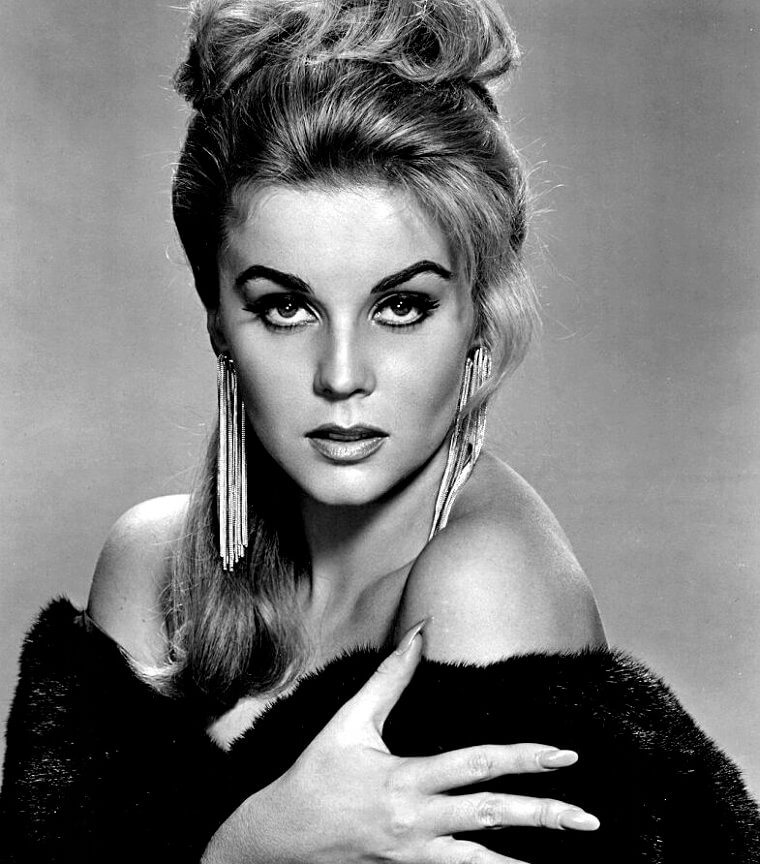 Ann-Margret explained: "I reached a point where my days and nights blended into one continuous, foggy state of inebriation … I'd drink a fifth of scotch, pass out, wake up, drink some more, and pass out again. I suffered periods that I couldn't remember." Could this have been why she fell off the stage? Her addiction definitely took its toll, and before long, she spiraled into a severe depression. However, with Roger's support, she rebuilt her life and career, emerging more vibrant than ever. 
Meanwhile, Back at the Ranch...
At Graceland, Elvis and Priscilla's marriage was on the ropes. In 1971, Elvis embarked upon an affair with Joyce Bova, which resulted in her having an abortion and Presely saying that he was likely to leave Priscilla. Meanwhile, Mrs. Presley had been carrying on with karate instructor Mike Stone. The Presleys separated in February 1972 and their divorce was finalized in October 1973.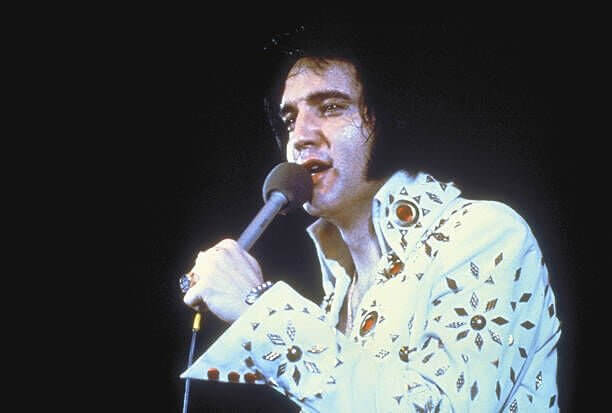 Despite pushing himself to the limit, unintelligibly slurring his way through 168 concerts that year, Elvis' health was in serious decline. Towards the end of 1973, he was hospitalized, semi-comatose from the effects of his pethidine addiction. He also started piling on the pounds thanks to the drugs and his favorite snack: the famous fried peanut butter and banana sandwiches. As though he knew his time was near, Elvis Presley had one last request for Ann-Margret before he died. Ann-Margret revealed: "He asked if he could see me. It was a question I'd anticipated since [that] afternoon but hoped that he wouldn't really ask." Ann-Margret finally responded: "You know I can't." Elvis told her: "I know, but I just want you to know that I still feel the same."
The King Is Dead
Over the years, Elvis and Ann-Margret remained loyal friends, but while she overcame her addiction, he wasn't so lucky. She earned another Best Actress Oscar nomination for her role in  The Who's rock opera, Tommy (1975). In early 1977 – when she was dubbed the Queen of Vegas – news of Elvis' poor health reached her. The King's long-time road manager, Joe Esposito told her: "Don't worry; everything's fine. There're a few problems, but we're taking care of them."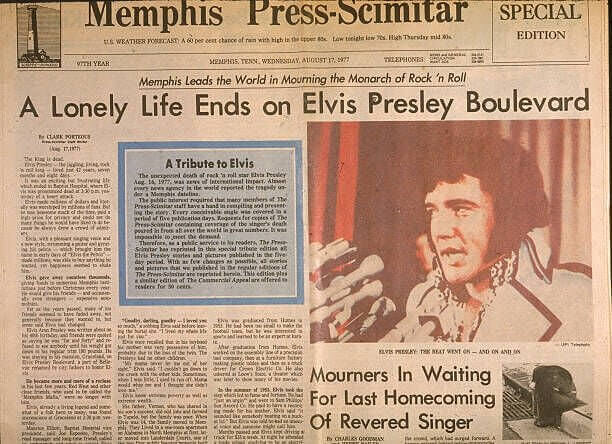 When she performed at the Hilton on August 15th, 1977, for the first time in 10 years, there was no gift from Elvis waiting for her. "No flowers, no telegram, no message. It was strange," Ann-Margret remembered: "I did two shows that night, but not without worrying in the back of my mind that something was wrong, and I had to make some phone calls the next day." The next morning, she received a phone call from Graceland with the devastating news. The King was dead. 
Long Live The King
Naturally, Ann-Margret was inconsolable. She flew to Memphis to attend the funeral on August 18th, 1977. Fifty-thousand Elvis fans and millions of flowers lined the streets outside Graceland. At the request of Colonel Tom Parker, she hosted a "Memories of Elvis", a two-hour NBC tribute, which absolutely broke her heart.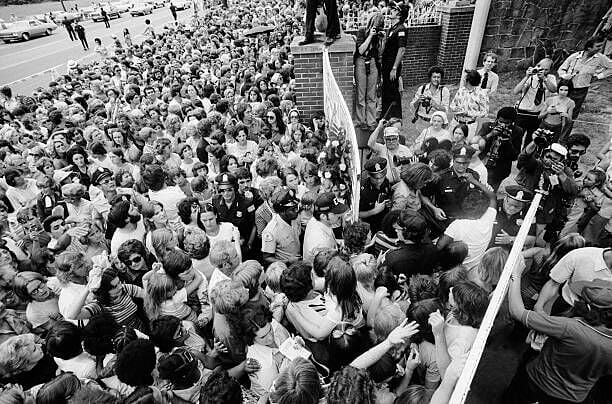 Years later, she wrote in her memoir: "I will never recover from Elvis's death...He is a part of me, of my happiness and sorrow, and that will never go away…It's rare to have such a friend as Elvis, rare to have such a soul mate."
The Seventies and Eighties
Life goes on, and Ann-Margret's film and television career continued. She went on to appear in more than 40 movies, ranging from horror movie Magic (1978), in which she shared the screen with Anthony Hopkins and a killer ventriloquist's dummy, to The Cheap Detective (1978) and The Villain (1979), which co-starred Arnold Schwarzenegger and Kirk Douglas.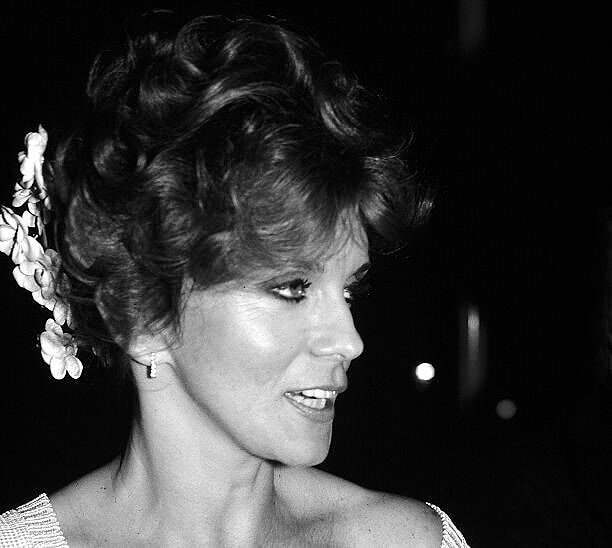 During the 1980s, Ann-Margret enjoyed a host of Emmy Award nominations for her performances in some of the decade's most acclaimed TV movies. Shedding her glamorous image, she played a sickly Iowa farm wife in Who Will Love My Children? (1983). The following year, she played Blanche Dubois in ABC's remake of A Streetcar Named Desire and, in 1987, she featured in her first TV miniseries, The Two Mrs. Grenvilles.
The Nineties and Beyond
Over the decades, she also appeared in a plethora of television series like Alex Haley's Queen. She was nominated for a Golden Globe and an Emmy for playing a woman who ages 60 years over the course of the film. Grumpy Old Men (1993) and Grumpier Old Men (1995) with Walter Matthau and Jack Lemmon followed, and, in 1999, she played Cameron Diaz's mom in Oliver Stone's football flick, Any Given Sunday.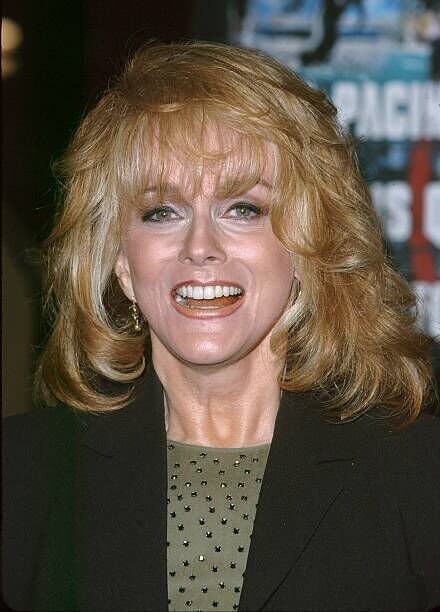 When she was 59, she suffered three broken ribs and a fractured shoulder when she was thrown off her motorbike in rural Minnesota in 2000. She starred alongside Queen Latifah in the U.S. remake of the French action movie Taxi (2004), appeared in CSI, and, more recently, co-starred alongside Morgan Freeman and Michael Caine in Going in Style (2017). Most recently, she was seen in TV shows Ray Donovan, The Kominsky Method, and Happy. She even has a new film coming out called A Very Senior High.
Accolades and Awards
Over an illustrious seven-decade career on stage, screen, and in the recording studio, Ann-Margret has won five Golden Globe Awards and was nominated for two Academy Awards, two Grammy Awards, a Screen Actors Guild Award, six Emmy Awards and loads more. And don't forget, her name was carved into stone and immortalized when she appeared in The Flintstones!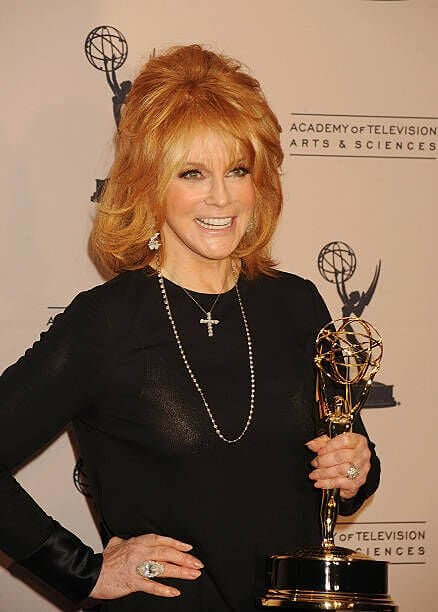 In 2010, she won an Emmy for a guest appearance in Law & Order: SVU. She also recorded a gospel album in 2001 and released Ann-Margret's Christmas Carol Collection in 2004. There is, you see, literally no end to her talent.

Still Going Strong
Ann-Margret was married to Roger Smith from 1967 until he died in 2017 at 84. Unable to have children of her own, she was stepmom to Roger's three kids from his previous relationships and became a doting, proud grandmother. The happy couple spent five blissful decades together. A friend stated: "[Ann-Margret] certainly mourned for Roger but, more than anything, she fondly recalled the life they made together … To her, a great love story doesn't end with death. You carry their spirit with you."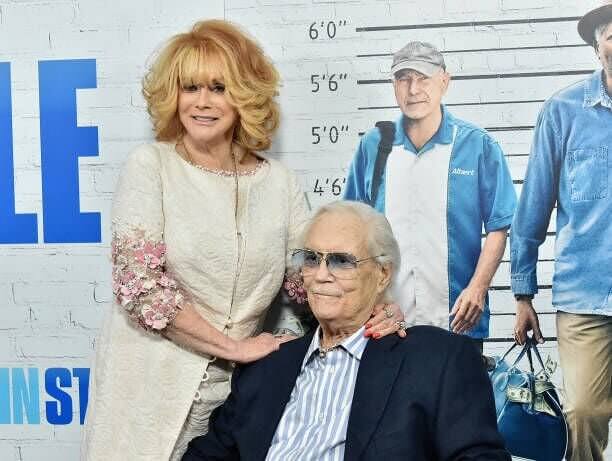 Now in her 80s and living in California, Ann-Margret is just as gorgeous as ever. On the subject of growing old gracefully, we'll leave you with a quote from the lady herself: "I always think that age is a natural progression, and I'm ready for it...Whatever! I'm going to be the best 85-year-old I can be!" She may even have added in a "Yabba Dabba Dooooo!" Romantically or not, the relationship between Ann-Margret and Elvis surely helped to cement both of their legacies in the halls of Hollywood.