You have recently arrived in a particular Asian country and are considering cultural immersion. What you will not anticipate are the strange occurrences that will arise along the way. From culinary differences to mannerisms, you may find that which they consider normal to be odd. Here is a list of things that are certain to misguide any tourist.
Monkey Business in Thailand
Elephants are off-limits to tourists in Thailand, whereas monkeys are fair game. There is an entire beach where you can interact with monkeys. They might even climb up your head and begin searching your hair for lice as if you were one of them.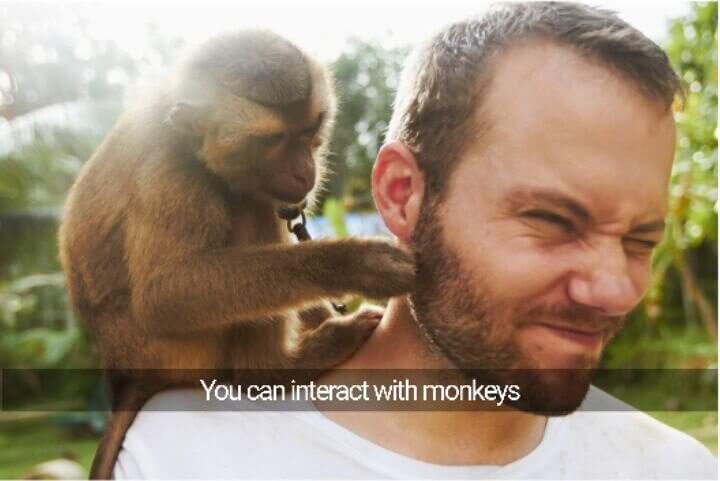 It is important to be prepared for interactions with these primates if you are traveling to Thailand, as they are especially common in tourist areas, and improper interactions could result in serious injury or even theft. That's correct! Just don't carry food or valuables in your hand if you don't want these animals to steal them. You couldn't even catch them afterward.
The World's Tallest Cliff Elevator
Climbing a cliff may appear simple, but how do you descend when you are exhausted? Here is an elevator on the side of a cliff for all the slothful individuals out there. Why waste your energy climbing when the elevator will do it for you?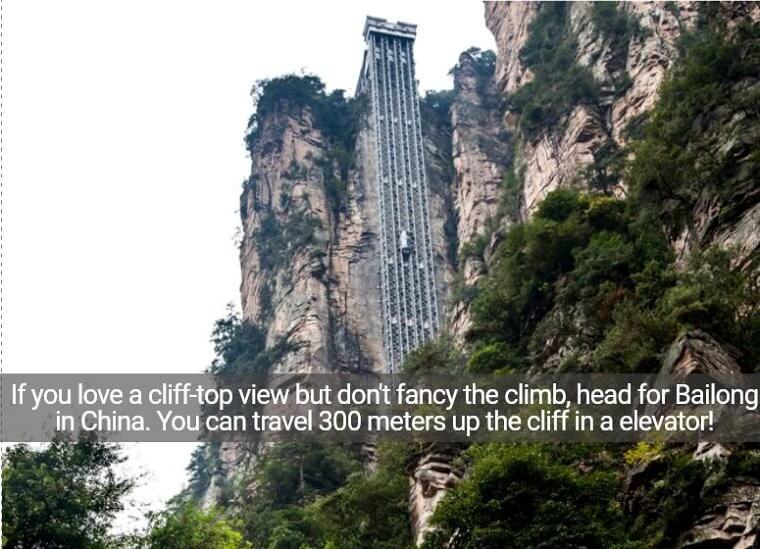 The Bailong Elevator, also known as the Hundred Dragons Elevator, is a glass double-deck elevator built onto the side of a 1,070-foot-tall cliff in the Wulingyuan area of Zhangjiajie, People's Republic of China. It is claimed to be the world's tallest and heaviest outdoor elevator, and on July 15, 2015, Guinness World Records recognized the elevator as the world's tallest outdoor elevator.
Water, Fight, and Festival – That's How Asians Roll
Songkran is a Thai festival that takes place in April and is observed in Thailand. This festival is used to show respect for the elderly by starting a water gun and balloon war. Visitors to Thailand during the summer are in for a treat, as a good water gun battle is always a good way to relax, regardless of age.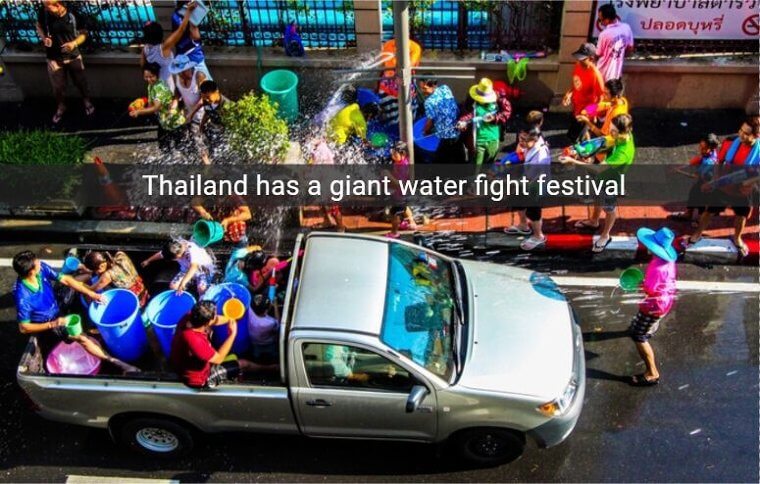 Outside, Songkran is celebrated with loud music and a massive water fight. People collect water in buckets, squirt guns, and whatever else they can find, then splash each other in the streets. April is one of the hottest months of the year in Thailand, so you'd better bring extra clothes because you're about to get soaked!
Horrifying Vegetarian Festival
You may wonder, "How can vegetables be frightening?" It is not the vegetables that are frightening, but rather the people. Phuket, Thailand, hosts an annual festival in October where, to put it mildly, people engage in horrifying activities. The Phuket Vegetarian Festival honors the Chinese community's belief that abstaining from meat and other stimulants will help them achieve health and tranquility.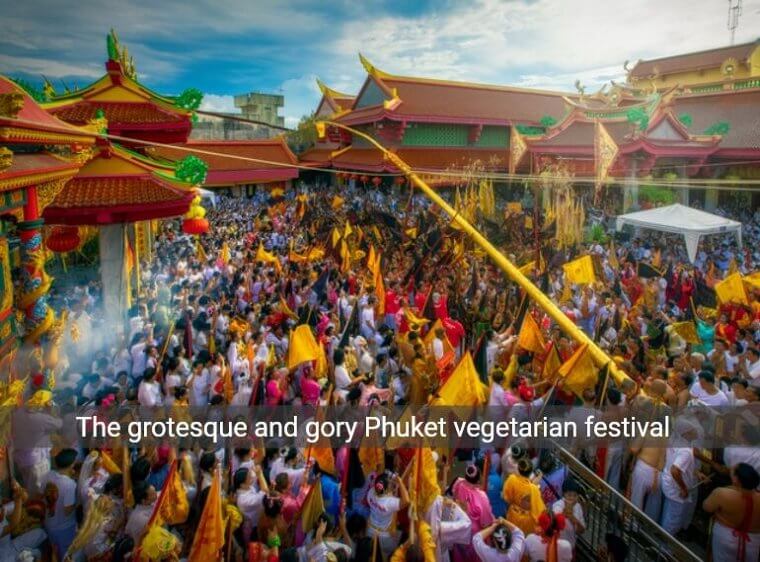 The festival is renowned for its "extreme" festivities. These include activities such as firewalking and body piercing that invoke the gods. Self-mortification is performed by participants who serve as gods' conduits. Each year, these have grown more spectacular and audacious. Unless you are a masochist, you should avoid participating in such an activity. In addition, they traverse hot coal without protection, all for a month of vegetarianism.
Making Food From Weirdest Things – Saliva
You read that correctly; I was referring to saliva. Swiftlet produces saliva in order to make its nets, and these strands of saliva are in some way regarded as a delicacy by some people. It's surprising that these are priced at a mind-boggling $900 considering that it's just saliva, but they are.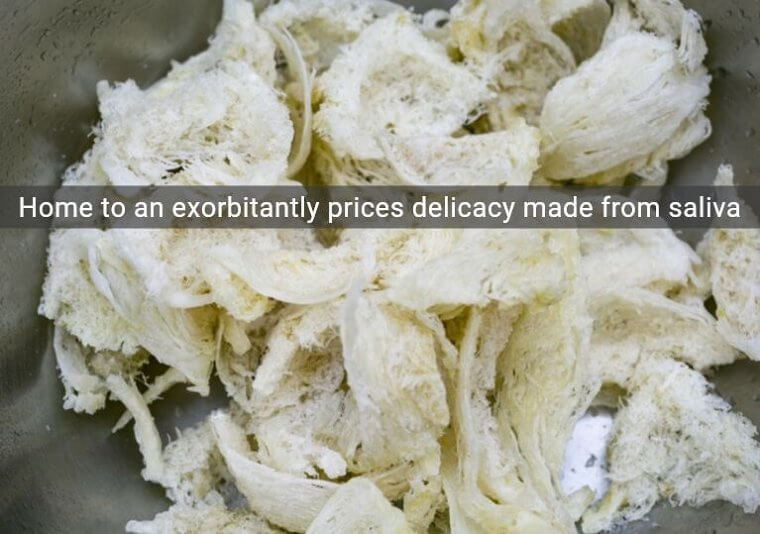 These strands of saliva are a nightmare to harvest, but there may be some advantages to using them for your health, according to some sources. In light of this, you shouldn't be surprised if you get some strange looks if you decide to sample this delicacy.
Temples in the City of Kyoto
Any visitor to Kyoto will feel as though they have stepped back in time to the Edo period thanks to the city's abundance of historical sites. Because there are over 1600 temples, first-time visitors to the area may feel overwhelmed by the sheer number of options.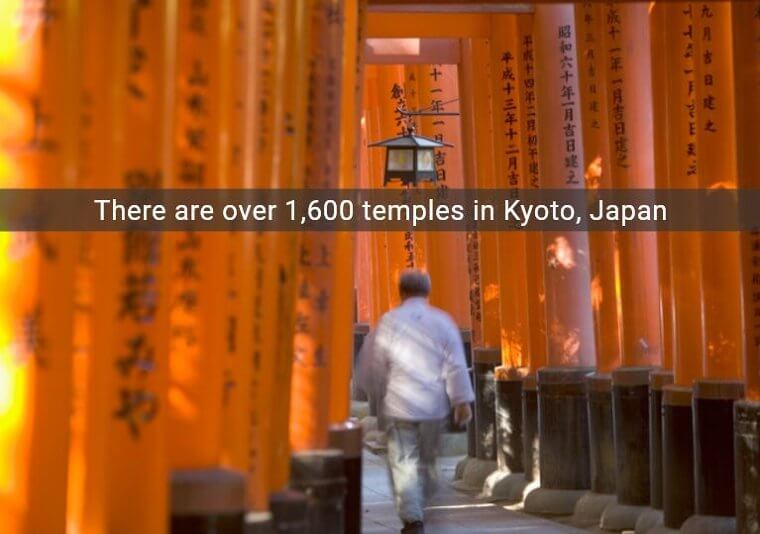 In Shinto, the traditional religion of Japan, there are many gods to represent virtually every aspect of life. That's a lot of upkeep that needs to be done. It is said that the monk who is credited with bringing Buddhism to the Japanese was born and raised in this region, making it an important part of Japanese history.
People Are Not Retiring in Japan
If you go to Japan, you might notice that there are fewer young people there than there are in other countries with younger generations. The percentage of senior citizens in the population is higher, and some of them are still putting in long hours well into their golden years.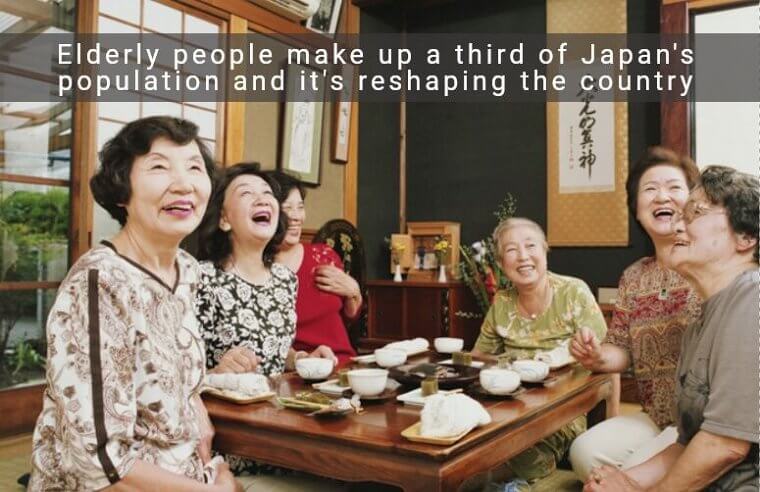 This might also be due to the fact that people don't want to go outside to socialize these days, which is one of the reasons why the birth rate is falling. Even though they are well past their prime, the majority of Japan's working citizens are elderly people like these.
Warning Signal for Oncoming Traffic
The presence of red light indicates that you are required to come to a complete stop at that location. When you see a red light in traffic in Asia, the majority of the time it simply means that you need to slow down your vehicle.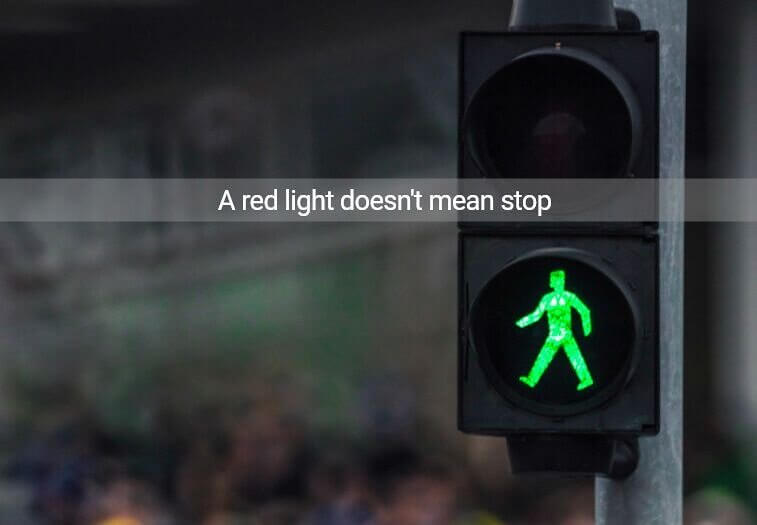 At least you won't be late for any of your scheduled appointments due to traffic, even though we can't say much about how safe it is for anyone crossing the road in this situation. Despite this, it does not mean that you should break any of the traffic rules for the sake of your safety.
The New Year in China
China is here to show you that the New Year's celebration in Times Square is nothing compared to what they have in store for you. The New Year celebration in China lasts for fifteen consecutive days, or for a total of two weeks. You did read that sentence correctly.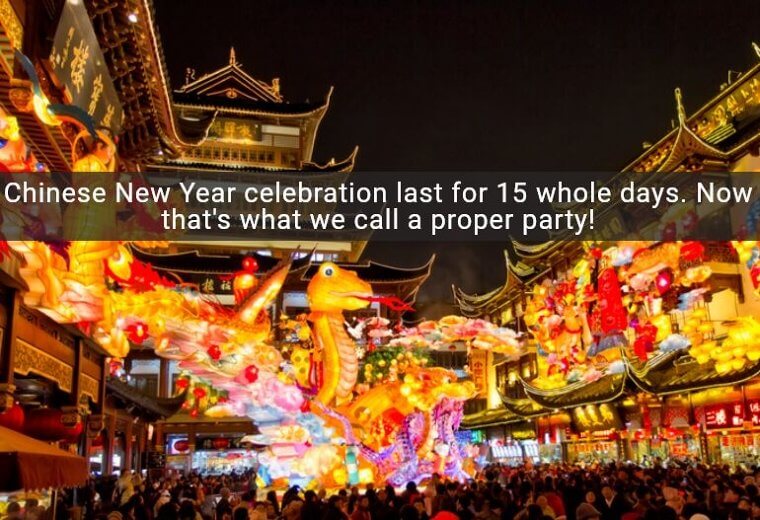 That's 15 whole days of brightly lit fireworks illuminating the night sky. Two consecutive weeks of reckless partying is guaranteed to make any college student question their priorities in life. It is a mystery how the Chinese maintain such high levels of energy throughout the entire fifteen-day celebration.
Japanese and Bucket of KFC on Christmas Day
The first thing that comes to mind when someone thinks about Christmas food is probably a fruit cake or eggnog. If we are being completely forthright, no one enjoys fruit cakes, and there is a perfectly reasonable explanation for this. The Japanese have taken this advice to heart and now celebrate Christmas with a warm KFC chicken bucket instead of a traditional meal.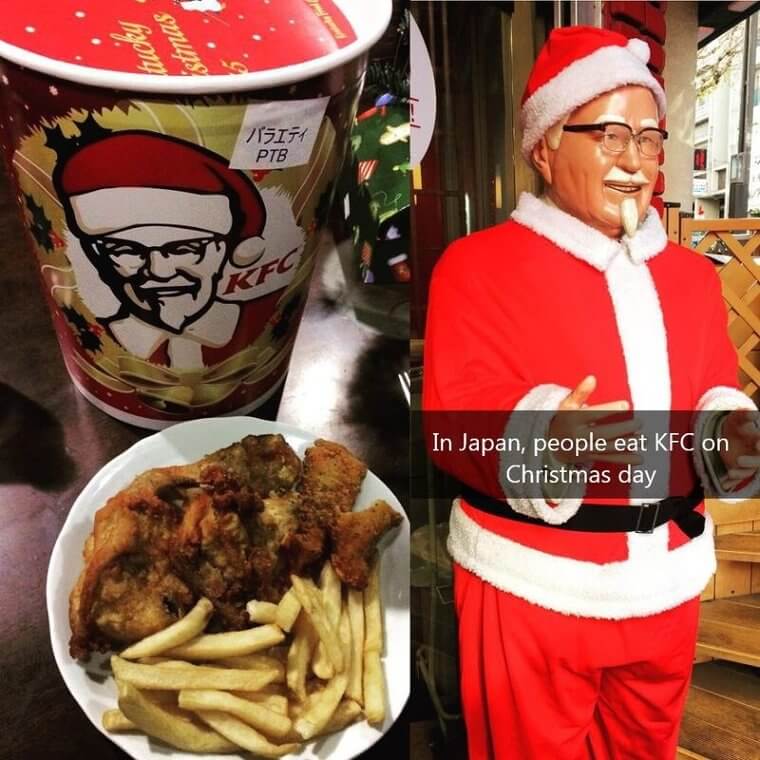 After years of marketing, KFC has established itself as the holiday leader in Japan. According to the figures that were made public by the American fast-food chain, KFC Japan made 6.9 billion yen (approximately $63 million) from December 20 to 25 in 2018, despite having lines out the door as early as December 23. The fact that tourists can recognize a familiar place or thing so far from home may come as a pleasant surprise to them.
It's Illegal to Buy a Chewing Gum in Singapore
If you are an international traveler looking to clean your mouth after a meal, you might want to take a second look. Chewing gum is illegal in Singapore, and it is also against the law to distribute gum in the country. The only choice available is to consult a doctor for a prescription and then head to the nearest pharmacy…what?
The ban on chewing gum was put into effect to eliminate the problems that were caused by littering with chewing gum in public places such as movie theaters, parks, and common areas of housing estates such as lifts, staircases, and corridors, as well as the high costs that were involved in cleaning up the litter. In the event that this does not deter you from breaking the law, then you should be prepared to pay some significant fines.
Japanese Don't Use Q-Tips But Ear Rakes
Cleaning one's ears can be a very personal and intimate experience in Japan, whether it be with a figure representing a parental figure or with your partner. However, they do not make use of tiny buds as we do. Their ear cleaners have decorative ends that are puffed up and adorable, just like a miniature Pomeranian would be. The ends are shaped like a miniature spoon, which makes it easier to remove the wax.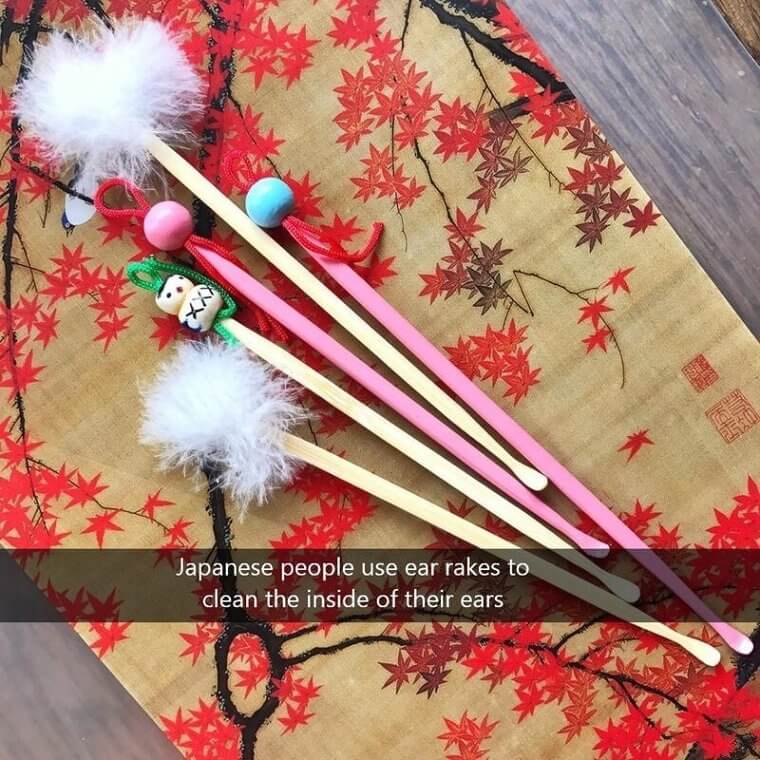 Nevertheless, there are relatively few potential risks involved. The act of picking one's ears can be dangerous to a person's hearing and overall health. While ear picking, there is always the risk of accidentally piercing the eardrum and/or breaking the auditory ossicles. This is just one of the potential risks. When used by multiple people who have not been through the sterilization process, unsterilized ear picks pose a risk of spreading infection.
Most of Them Are Afraid of the Number Four
If you have ever stepped into an elevator and discovered that there is no button designated for the fourth floor, then you should know that you are not the only person to have had this experience. Tetraphobia, or the fear of the number four, is fairly widespread among people of Chinese, Korean, and Japanese descent in the world.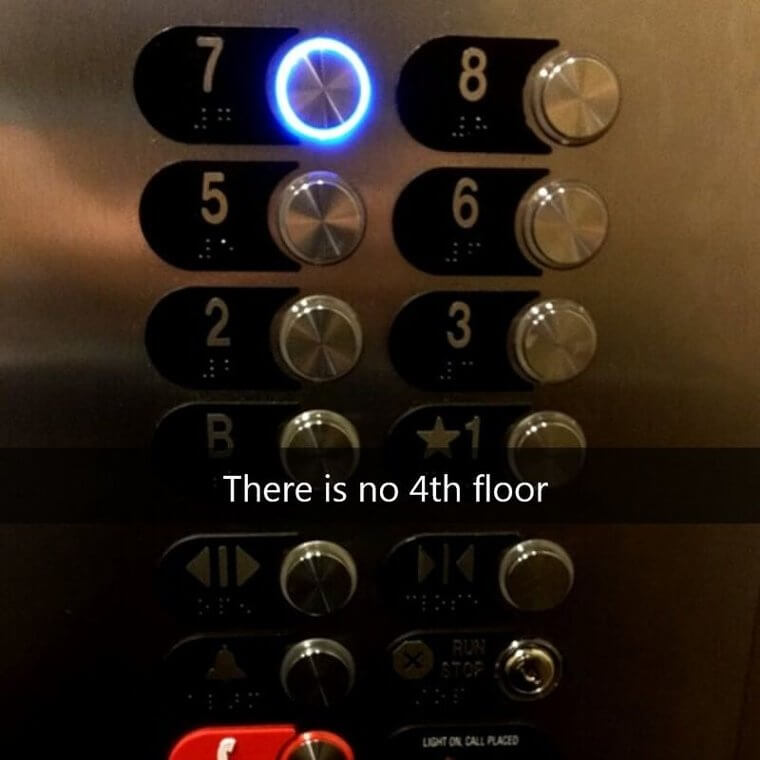 Some numbers are considered lucky, and eight is one of those numbers. As a result, apartments located on the eighth floor or higher in China are known to command a higher price on the market. However, the number four is considered unlucky in China because it is similar in sound to the word for "death." As a result, many Chinese structures do not have a floor number four (just as American buildings sometimes skip the 13th). If you want to steer clear of all of this confusion, you should take the stairs rather than the elevator.
They Drink Tomato Juice With Milk
Tomatoes have a reputation for having a thick and sour consistency. The most well-known way of consuming tomatoes is through the condiment known as ketchup. A number of nations in Asia are particularly fond of consuming it in the form of juice.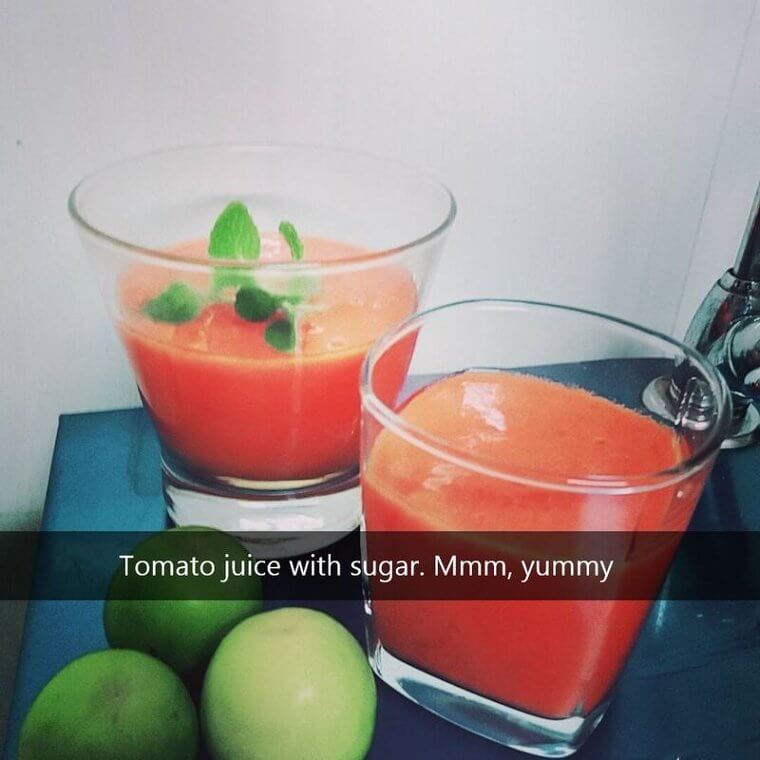 You probably aren't shocked to learn that Asians drink tomato juice, but you might be surprised to learn that they mix this juice with some milk and honey. Therefore, if you ever find yourself in the mood for a beverage that is both sweet and sour, all you have to do is go to any store and order some refreshing tomato milk juice.
You Can Become an Elevator Captain
If you have ever entered a Japanese elevator first and found the other passengers staring at you, it is because you are the captain. You must now follow a set of rules as the captain. First, stand near the control panel and hold the door open button until all passengers have boarded the vehicle safely. Once the last passenger has boarded, immediately release the open button and press the close button.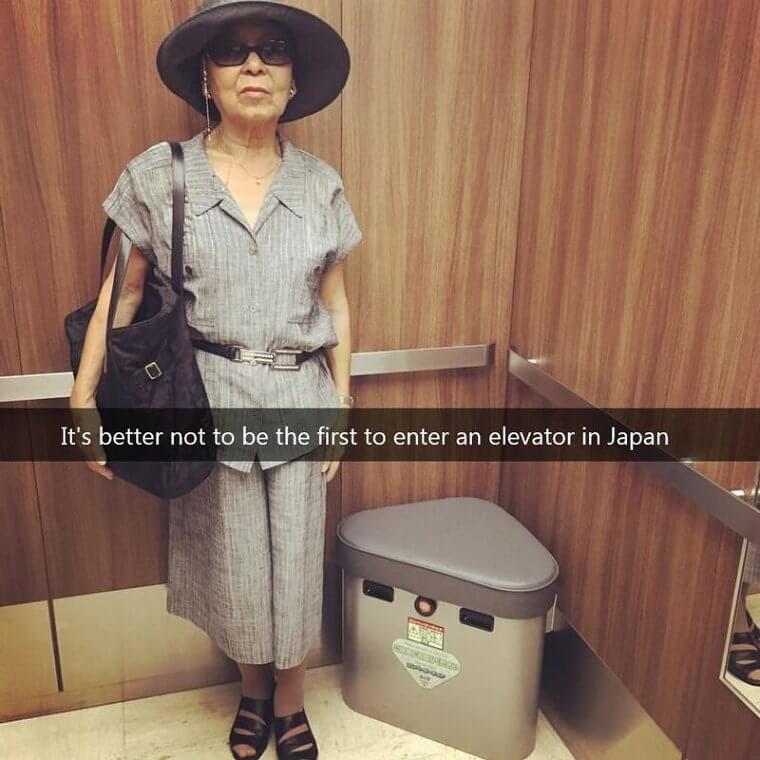 You must wait until the door closes. However, the procedure must be terminated if anyone attempts to sneak in. In addition, you must now hold the elevator door open at each floor stop. You must be the last person to exit the ship if you reach your floor, so hold the door open until everyone has left. You may then exit. The individual closest to the control panel must now assume the role of elevator captain.
Take Off Your Shoes When Inside
When you enter someone's home in many Asian countries, you are expected to take off your shoes. Instead of socks, you will be given slippers to wear on your feet. It is said that the custom of taking off one's shoes dates back to the Zhou dynasty. It was considered proper etiquette to take off one's shoes and socks before meeting one's lord during this time.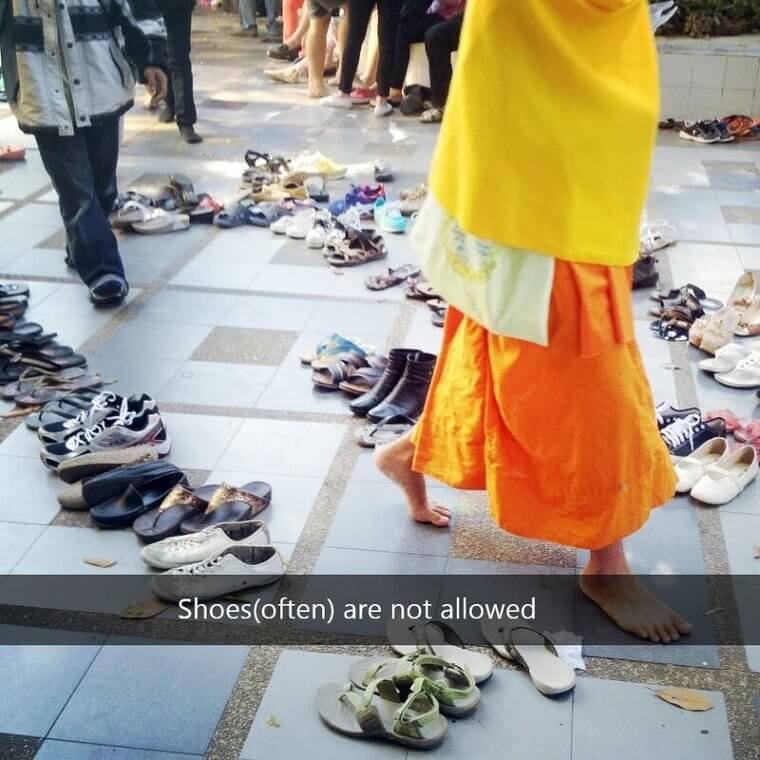 Because people would also sit on the floor to eat at low tables, the practice made perfect sense for reasons related to cleanliness. People in Chinese households frequently remove their shoes not only for personal hygiene, but also to assist in protecting wood floors and carpets in particular. This helps to prevent tracking in a lot of dirt and other substances from the outside. It also reduces the amount of wear done to the floors.
Ghost Hunting in Japan
The supernatural origins of Japanese horror can be traced back to kaidan, or traditional ghost tales with a moral message. The Japanese have been telling ghost stories, known as yrei, since their earliest historical periods. Even today, visitors to Japan can observe how deeply the nation's culture is entwined with respect for the supernatural or unexplained.
This ranges from whimsically animated spirit worlds in the film to the eccentric monsters and ghosts prominent in contemporary art to the ykai woven into the tales of postmodern writers. Perhaps this is why haunted locations are so popular in Japan. However, this is not for the faint of heart, as numerous horror films depict what happens to unwelcome guests. If you have seen The Grudge, we strongly advise you to avoid such locations if you do not wish to encounter violent spirits.
Black Day Is Actually Anti-Valentine's Day
Valentine's Day is an important holiday for couples, but what if you didn't receive any chocolates this year? Then South Korea is the perfect place for you. Black Day is "celebrated" by single people! Before you understand, in South Korea, Valentine's Day and White Day are both occasions to give gifts to significant others, just as they are everywhere else.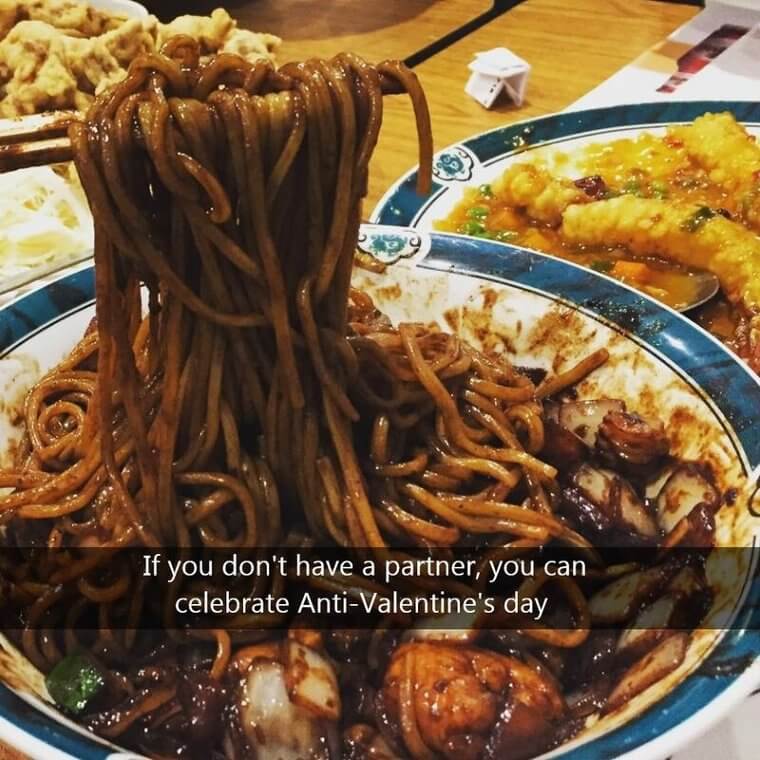 Valentine's Day is observed on February 14, when women give men gifts, while White Day is observed on March 14, when men return the favor. Due to the 14 love holidays that occur in Korea, many felt that single people also deserved recognition, which led to the popularity of Black Day. If you are feeling lonely and miserable, you can enjoy a steaming bowl of black bean noodles. Or, at the very least, you can spend the time laughing at boyfriends or husbands who forgot to purchase a gift for their significant other.
Street Vendors Are On Every Corner... Literally
Asian cuisine's best feature is its street food. You'll be surprised by the number of street vendors as they line the streets. The nutritional choices may be a bit dubious, but that is always the case with delicious food. You'll be alarmed by the crowded, vendor-filled streets, but this simply means that you need only look to your left or right if you're hungry.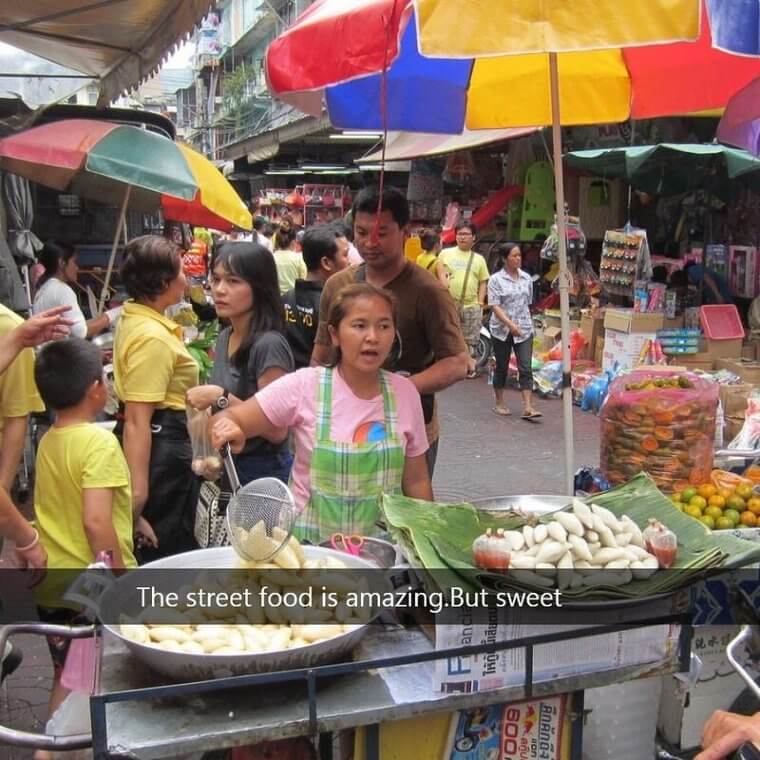 However, why are there so many street vendors? As a result of migration from rural areas and foreign countries, as well as the resulting living conditions, a large number of working people are forced to eat outside of their homes. As people have less time to prepare meals, the demand for relatively inexpensive, tasty ready-to-eat foods has increased. Therefore, it is not uncommon to see businessmen eating lunch alongside rural construction workers.
They Hold Their Elders In High Regard
Regarding respect for the individual, you anticipate receiving the same treatment. Respect for elders has been a cornerstone of Asian culture and morality for millennia. Respect for elders is often the basis for how a society is organized. Elders are revered for their wisdom, and the majority of significant decisions have never been made without their input.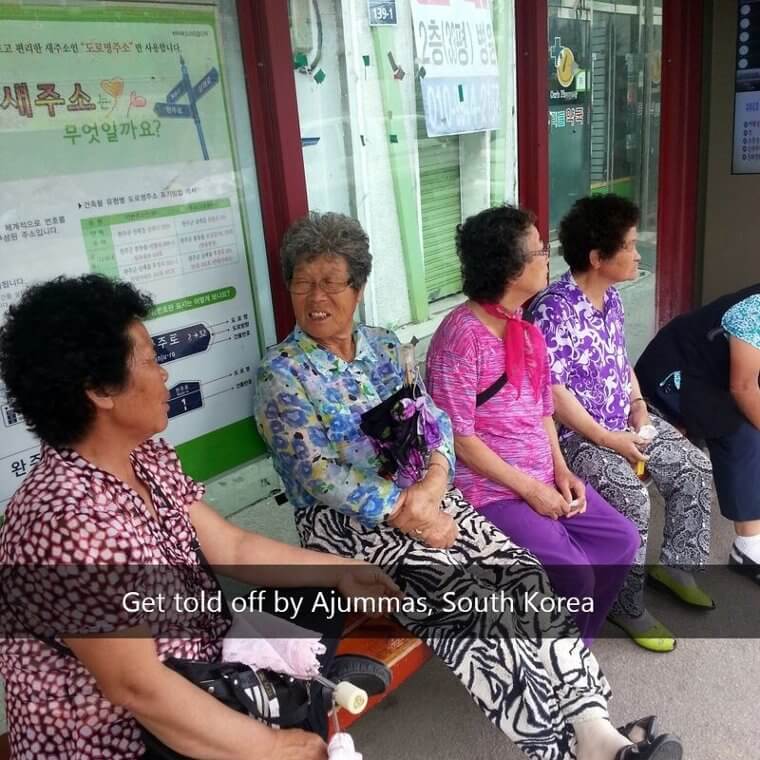 Furthermore, elders are regarded as a source of wisdom and spirituality, and their authority is so revered that questioning it is considered offensive. Consequently, if you're in South Korea, you're out of luck, as you may encounter some elderly women who will give you a difficult time. As the elderly are accorded the utmost respect in South Korea, they frequently exploit this norm. They may insult you or yell at you for no apparent reason.
Using Geese Instead of Guard Dogs?
Dogs have always been man's closest companions. However, this is not the case in China, where geese are replacing police dogs. This is because geese have superior sonar abilities and are reputed to be more courageous. Geese make excellent guards or "watchdogs." Geese are used to protect businesses such as whiskey warehouses and military bases.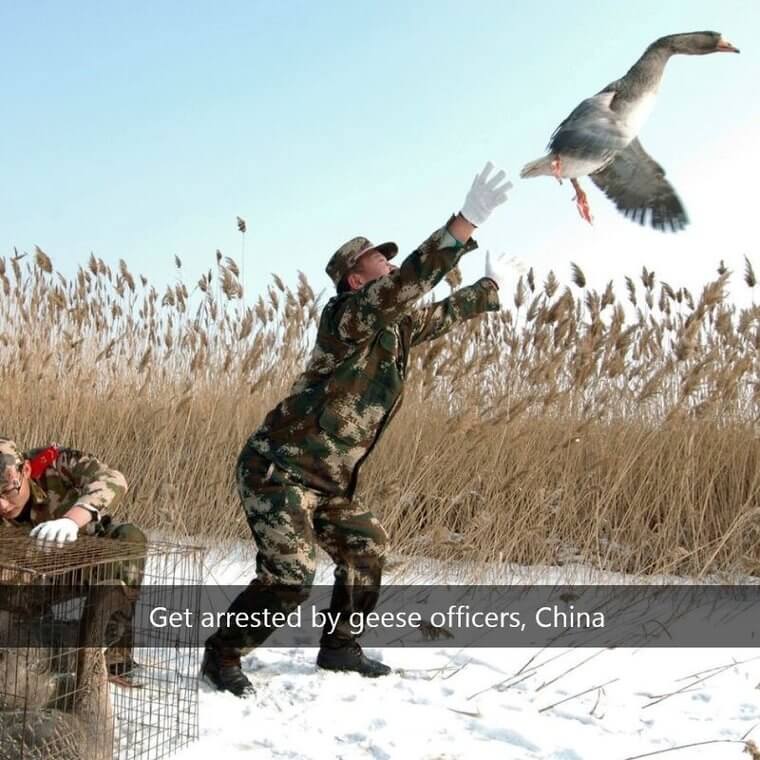 For those who do not know what geese are capable of, geese are loud and quick to react to any suspicious sound. Therefore, if you ever encounter a police checkpoint with geese instead of dogs, refrain from laughing. It is difficult to imagine being caught with illegal substances because a goose "informed" the local police.
Swimming With a Bunch of Poisonless Jellyfish
There is a location in the Philippines called "Bucas Grande" where you can swim with harmless and also somewhat friendly jellyfish. This region is teeming with harmless jellyfish from March through May and July through August. This lagoon's species of jellyfish are the Spotted Jelly or Lagoon Jelly, scientifically known as Mastigias Papia.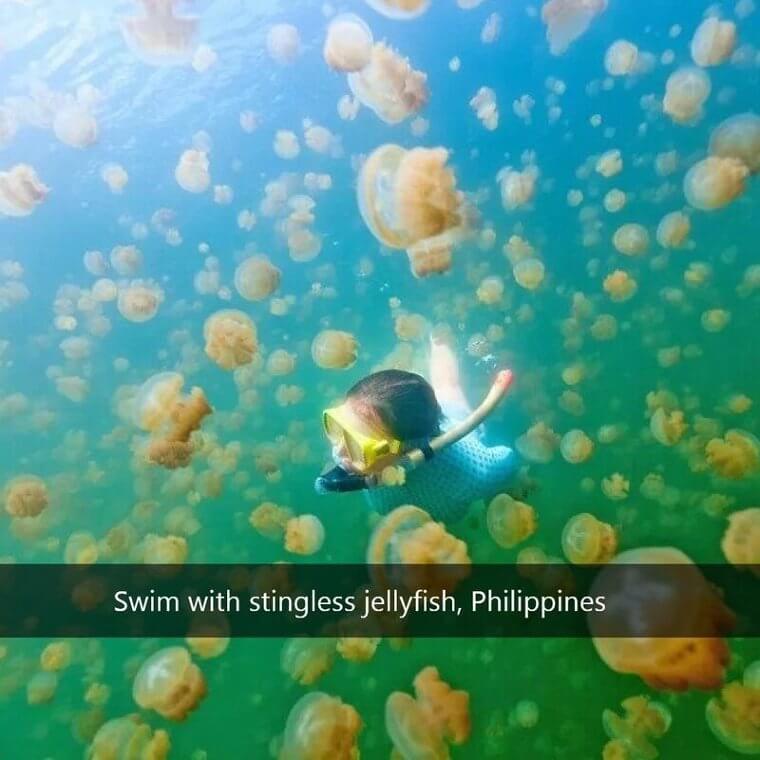 This species of jellyfish has a bell-shaped body and four clusters of oral arms. It has prominently rounded structures and thick oral arms hanging beneath the bell. It is green-brown in color with scattered white spots. Instead of a single mouth, its oral arms feature numerous small mouth openings. This creates a once-in-a-lifetime dreamlike underwater experience unavailable elsewhere. Who says you can't enjoy yourself in a field of jellyfish if SpongeBob can?
Subway Chin Rest for the Lazy Ones
One of the seven deadly sins, sloth is exemplified here in its purest form by this particular sin. On the trains in Japan, if you are feeling more than a little bit lazy, you can rest your chins on the armrests. The last thing you want to do after a long and stressful day at work is to ride a train and nod off as you stand shoulder to shoulder with other commuters.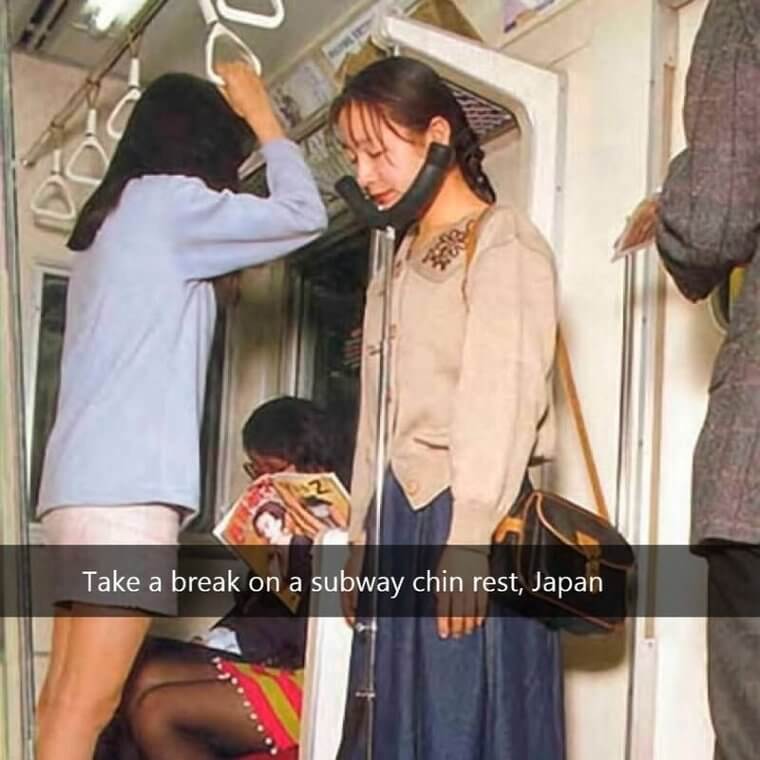 That's why engineers in Japan have developed a chin rest that lets you sleep even when you're standing up and riding the train. People do use these chin rests to take a break between long commutes, despite the fact that it seems like a ridiculous idea (and ridiculousness is what sells). It helps you relax without making you appear to be totally lazy, so you'll have to judge that for yourself.
You Can Bump Your Head Due to Height Differences
You may be wondering what the average width and height of a door are. Standard door dimensions vary from country to country. The average height in the United States, Australia, and South Africa is 6'8", in the United Kingdom it is 6'6", and in Asian countries, the average height is shorter than in western countries.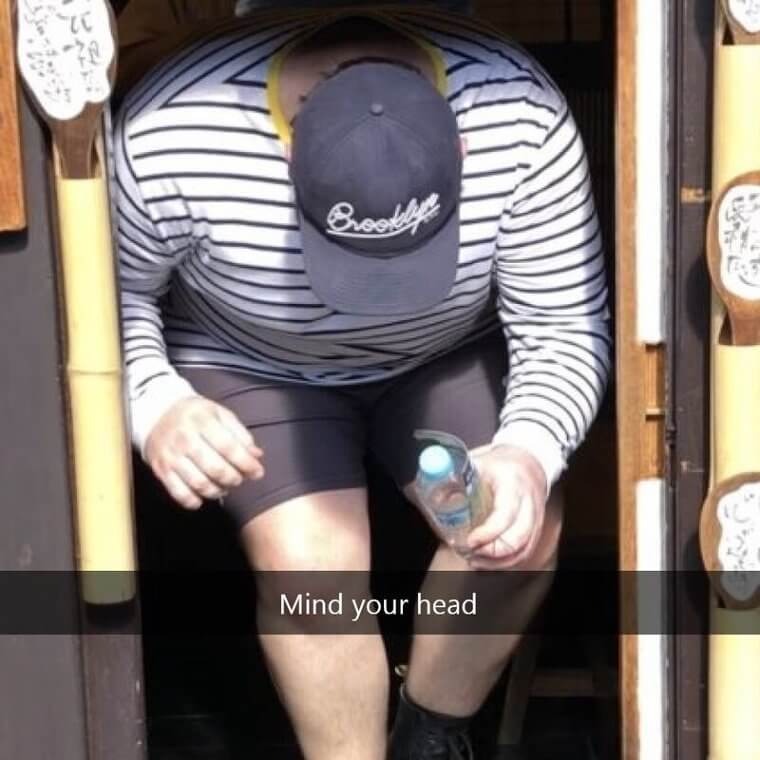 Consequently, if you have ever bumped your head while passing through a door, there is a good reason for that. As a result of the shorter stature of the population, the surrounding environment must be redesigned. This includes doorways, as individuals over six feet tall are uncommon in some Asian countries. If you forget to bend down when entering such doors, simply apply some ice to the bump.
Vietnamese Don't Like Cats (Because of Superstition)
The Internet has been taken over by cats. Who doesn't adore these adorable fluffy balls? The Vietnamese, however, do not. According to an old Vietnamese proverb, a dog entering your home is a sign of good fortune. Alternatively, a cat can bring bad luck.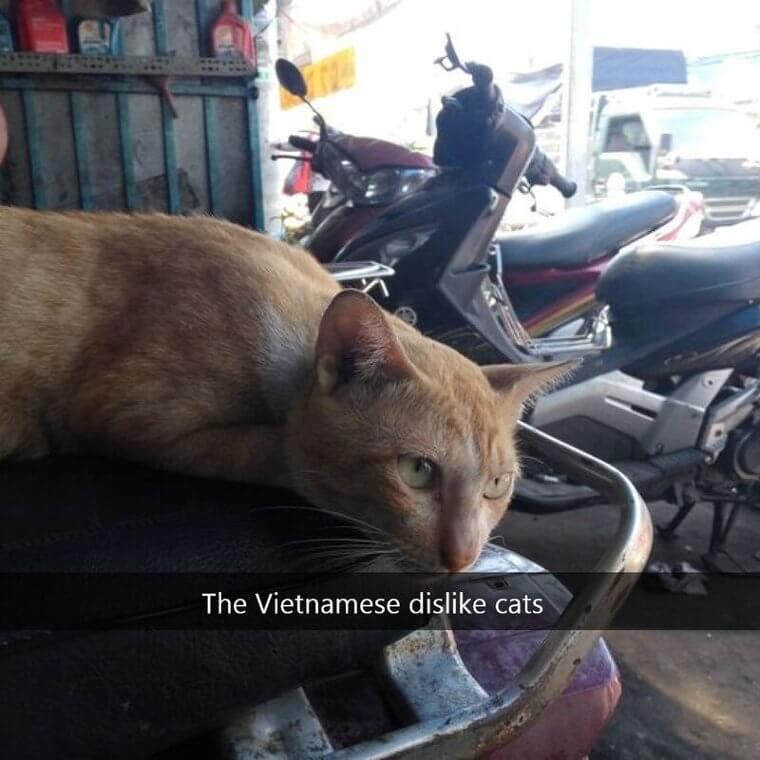 A possible explanation for this belief is that "gau gau" sounds similar to "giàu giàu" in Vietnamese, where "giàu" means "rich." On the other hand, the meowing of cats resembles the Vietnamese word for "poor" which is "nghèo." This is not surprising given the prevalence of superstitions in the Asian community. Don't be surprised if, upon visiting Vietnam, you discover a lack of indoor pet cats. This simply indicates that there are more cats for all the crazy cat ladies.
China's Giant Buddha Statue
China hasn't slacked off when it comes to statues, despite the fact that Brazil has nearly everyone beat in terms of the number of monumental statues. This 71-meter (233-foot) statue, carved into Lingyun Mountain, is the world's largest and tallest stone Buddha statue (only the modern Great Buddha of Thailand, made of concrete, is taller).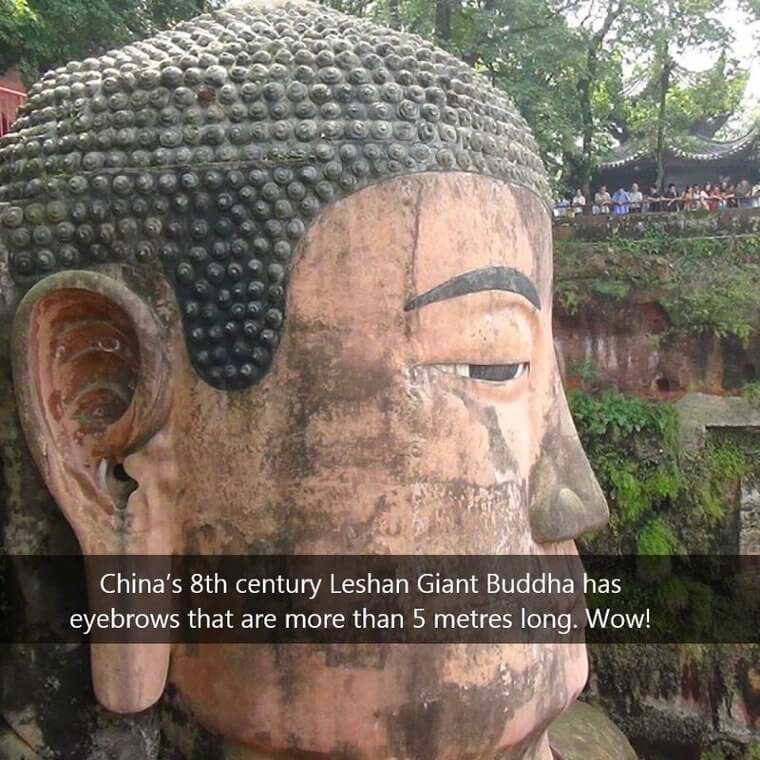 This statue would be ten stories tall, comparable to the height of the Statue of Liberty if Buddha were standing upright. Buddha's body is positioned in a symmetrical position, and the proportions of his various body parts conform to the Buddharupa requirements for a statue. That is even taller than the average basketball player, dwarfing even Lebron in comparison. The fact that it was constructed in the eighth century is fascinating. It is somewhat puzzling how such massive structures were constructed so long ago.
Japan's Adorable Cat Cafes
What is superior to a cup of coffee? Drinking a coffee while surrounded by hundreds of cats. There are many strange things in Japan, but you shouldn't miss this one. Due to the fact that many apartments in Japan prohibit pet ownership, the popularity of cat cafes has been attributed to a desire to interact with cats in order to alleviate the stress of urban living.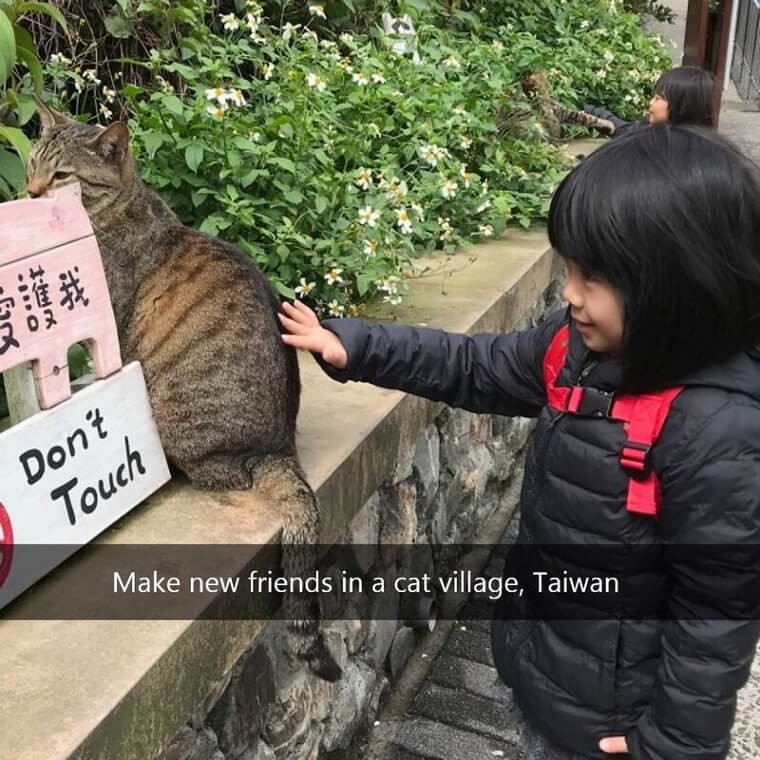 At least 39 of these cafes are located in Tokyo, where they are incredibly popular among youth. Japan has over 150 cat cafes in total. You may be too preoccupied petting adorable cats to remember to place your order, but at least you're having fun. The only downside is that there might be some fur in your beverage.
Pictures of Thailand's Fashion
Who doesn't get excited about trying out their new wardrobe? You might have to look a little bit harder, but you can find stores in Thailand that will let you take pictures while dressed up as people from Thailand's past. It transports you to a simpler era when life was less complicated.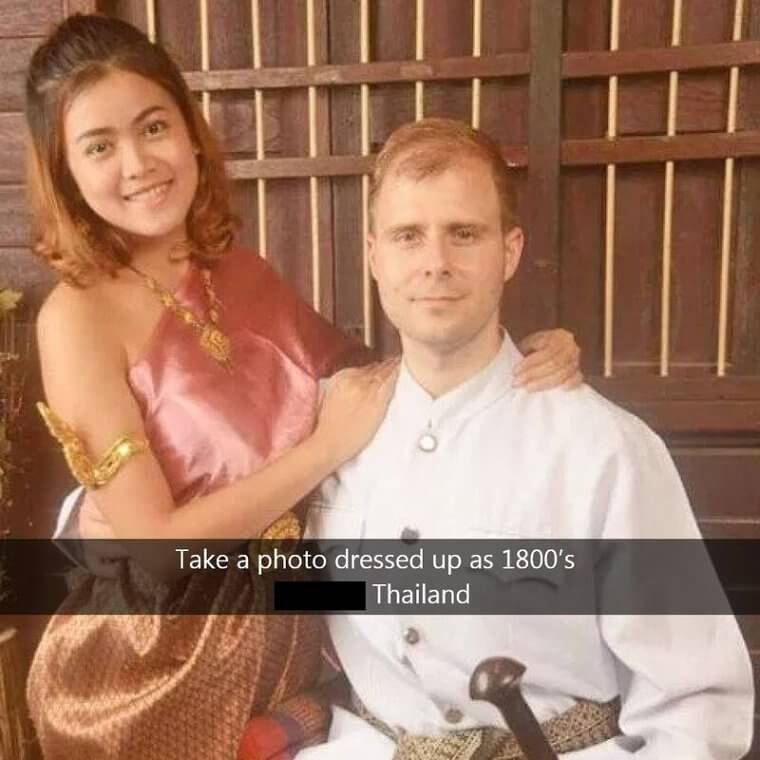 That is, until you learn that the clothes you are wearing are modeled after those that were worn by slave traders and owners who lived during that era. Since this appears to be a sensitive issue, it is probably best to avoid going to locations like these altogether.
The Famed Suicide Forest
It is said that the suicide forest is inhabited by ghosts that provide additional inspiration to individuals who have already traveled here with the intention of ending their lives. The floor is covered in the various personal effects that were left behind by people who were killed in the forest.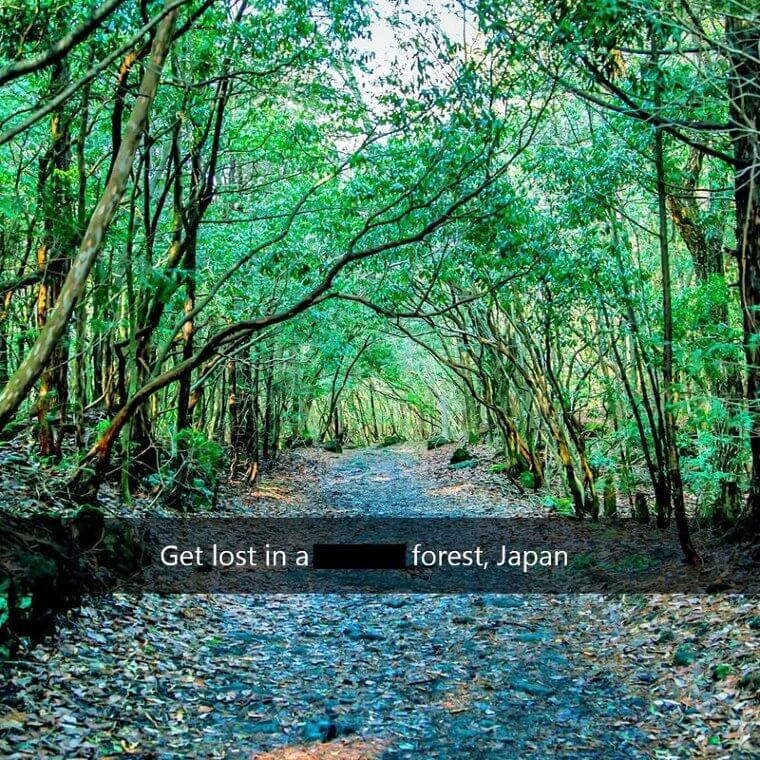 People who are having second thoughts can also call one of the helplines or look at motivational boards with positive messages. There are a great number of Japanese folk horror stories that are based on this forest. Because of the popular YouTuber Logan Paul, it has received increased publicity in other countries.
The Largest and Smelliest Flower in the World
Although the Rafflesia has gained the reputation of being the largest flower in the world, one could argue that it does not have the most pleasant aroma. This flower, which has an odor that can only be described as acrid, is the national flower of Indonesia as well as Malaysia and Thailand.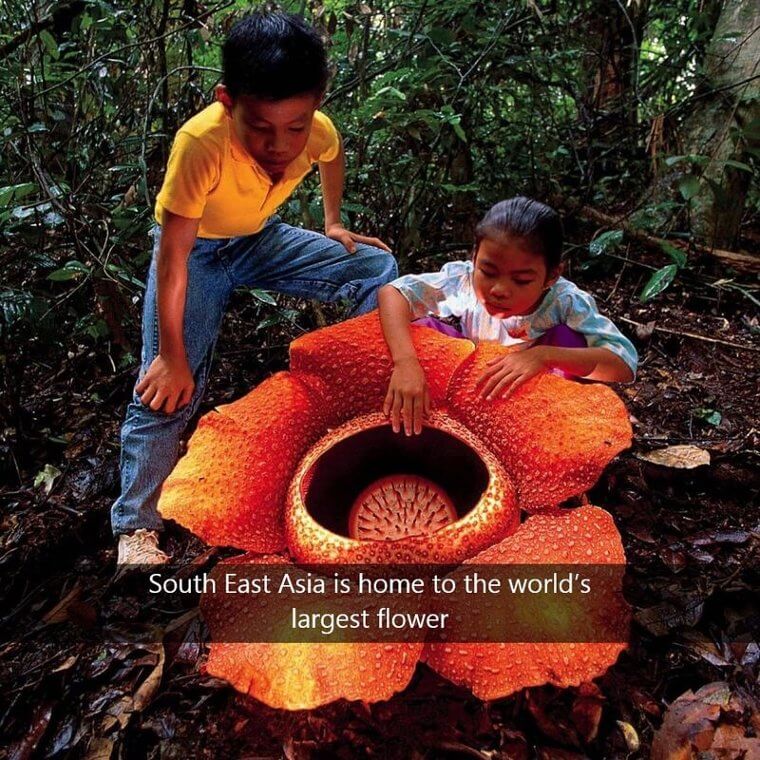 The odor is potent enough to turn away even the most ardent of admirers, earning it the nickname "Stinking Lily." It is so large that an emblem has even been modeled after its shape. In spite of the stench it gives off, it is still important to Indonesia in some way.
The Healthy Snake Beverage?
It shouldn't come as a surprise that Vietnam is at it again, offering yet another peculiar beverage for your consumption. This time around, the menu features a beverage called the snake, which is supposed to be beneficial to your health.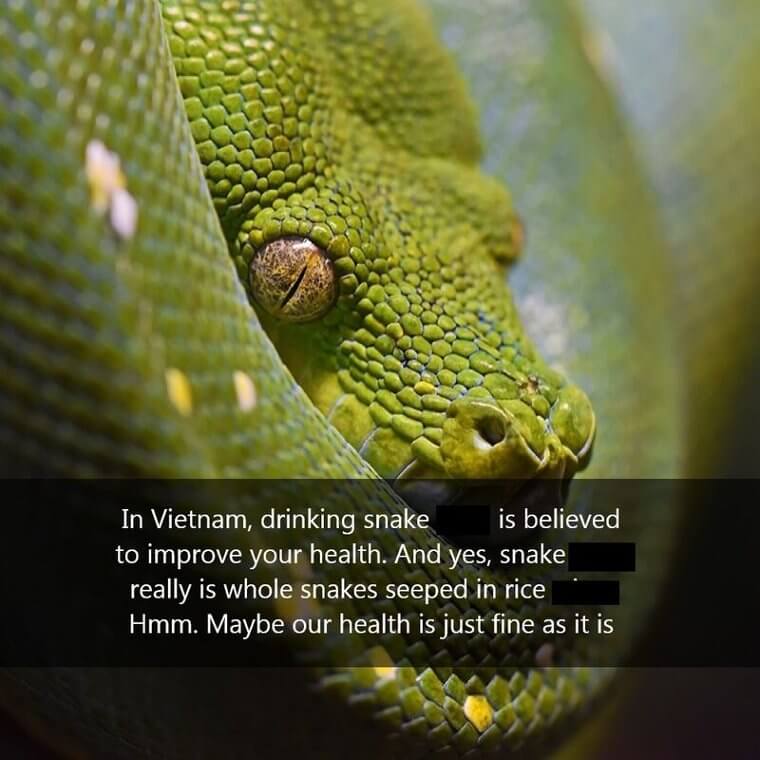 However, what we don't understand is how a drink that already has a negative reputation can be made even worse by the addition of snakes. When you consider the fact that some snakes are naturally poisonous, it causes you to question the species of snake that people put in their drinks.
Weird Vietnamese Food You Can Try
Everything from crocodile burgers to porcupine stew can be found in Vietnam. Because it contains weasel poo, it's almost on par with China in terms of the most revolting foods ever created. What possessed anyone to believe that this would be a good plan?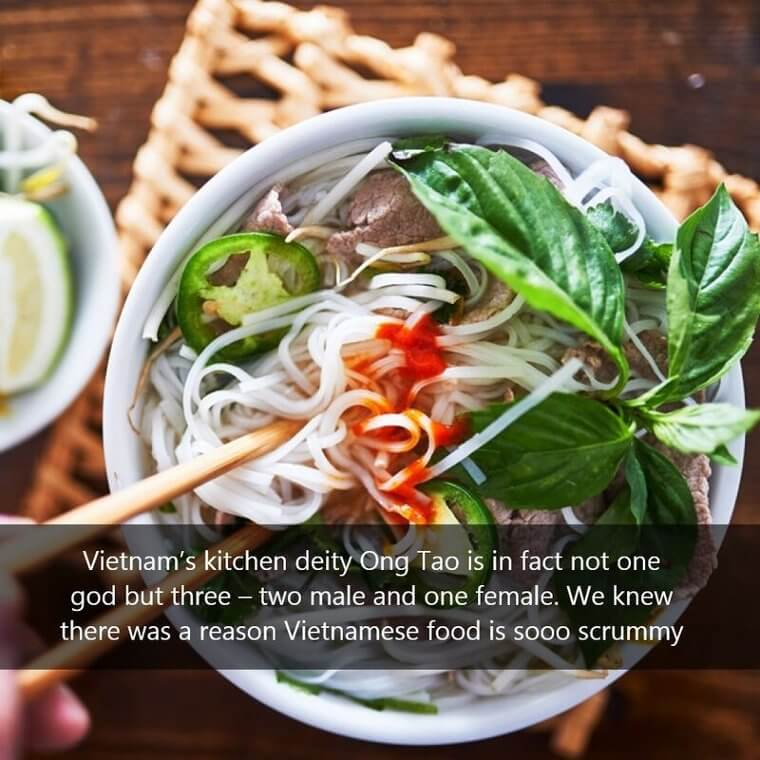 It's likely that some grizzled veterans from Vietnam came up with this concept. Coffee is the most common way in which this is consumed. If you ever want to go to the bathroom first thing in the morning, you could try drinking some poop coffee, which is specifically formulated to induce bowel movements.
The Cutest and Smallest Mammal Ever
This bat, discovered not so long ago, is the result of Batman having a cute child. The bumblebee bat (Craseonycteris thonglongyai) is the smallest mammal in the world, weighing barely 2 grams and measuring 1 to 1.3 inches in length. It is roughly the size of a large bumblebee.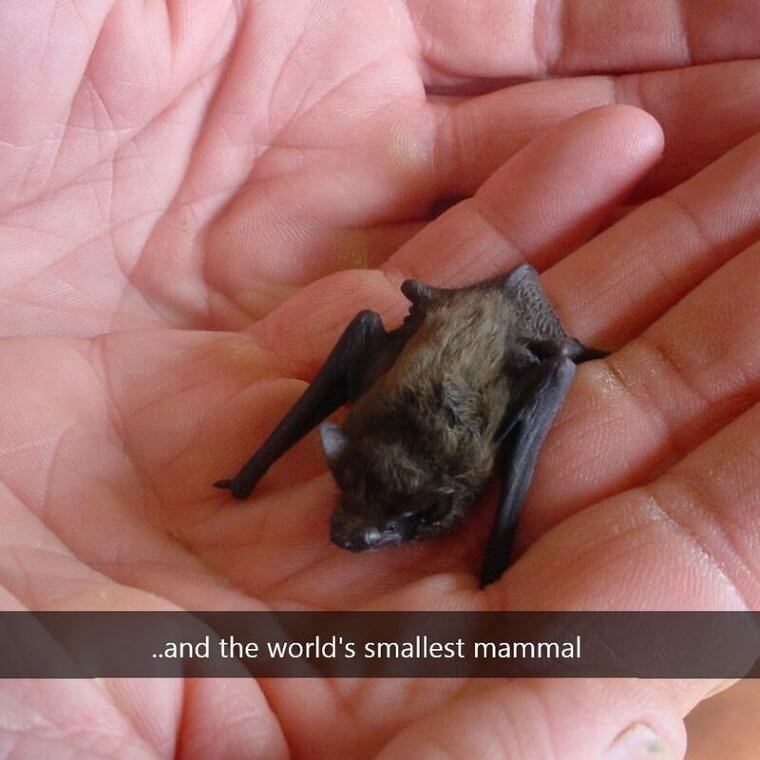 It was discovered in 1974 by Thai zoologist Kitti Thonglongya and is known as Kitti's hog-nosed bat due to its pink, pig-like snout. The tiny bat inhabits caves in western Thailand and Myanmar (also known as Burma), where it lives in colonies of typically fewer than 100 individuals. The Kitti's hog-nosed bat gives birth to only one offspring per year, and sadly, their population has begun to decline. This is yet another life about to be extinguished by nature. Could it get any sadder?
Thought of Insects as Fine Dining
The Chinese market is enormous, and throughout its many stalls can be found an incredible variety of strange foods. Grub worms are prepared by threading them onto skewers and then cooking them until they are done.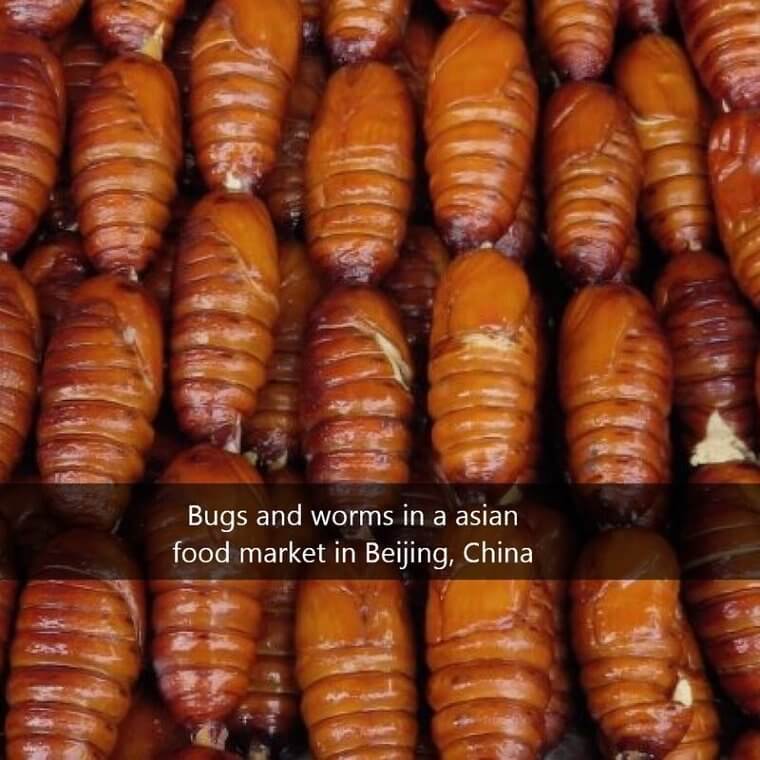 They burst like a pimple, and even if they are nutritious, unless your name is Bear Grylls, you won't be able to stand the taste of these things, which will make you want to throw up. You have to wonder who was the first person to consider that it would be beneficial to one's health to consume worms.
Structure Inspired by the Star Wars Universe
A structure that looks like it was lifted directly from the Star Wars film series can be found in Singapore. Although it is home to animation studios, the general public is welcome to tour the premises. Visit this Tatooine-inspired location, then, if you want to put yourself in the shoes of a young Anakin Skywalker.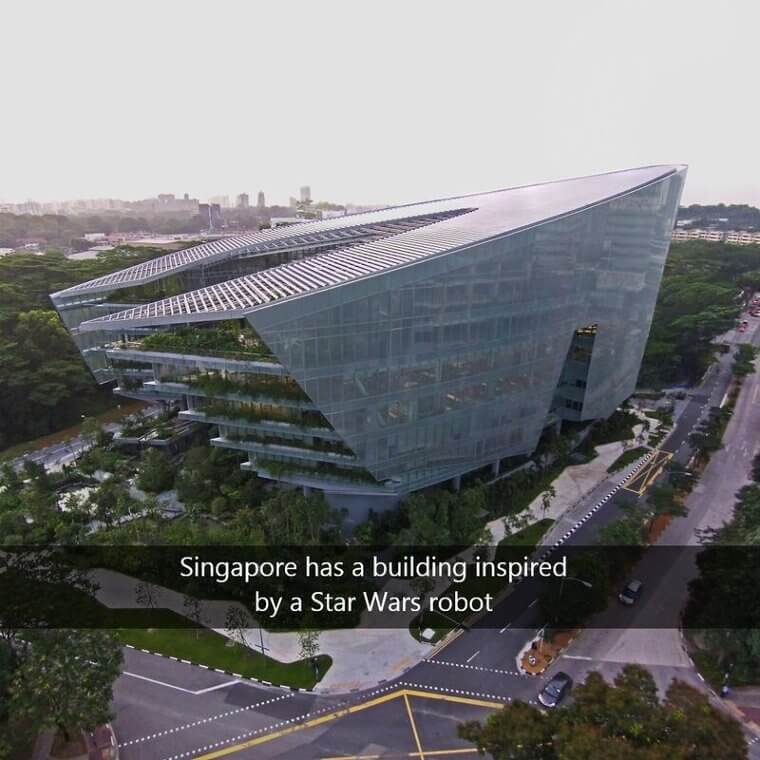 The nearly 250,000-square-foot Sandcrawler Building is situated in a southwest Singapore suburb. The property features a theater with 100 seats, shopping areas, and a Yoda fountain surrounded by tropical gardens. Since its 2013 opening, this has become an unexpected landmark for a large number of tourists. Given that Star Wars continues to produce films that are accessible to a younger audience, this should not come as a surprise.
Fish That Are Capable of Walking
To bring the evolutionary discussion full circle, it's possible that this fish was related to the one that first sparked interest in the theory of evolution. There is a fish called the Cryptotora Thamicola that lives near waterfalls and is able to walk on land.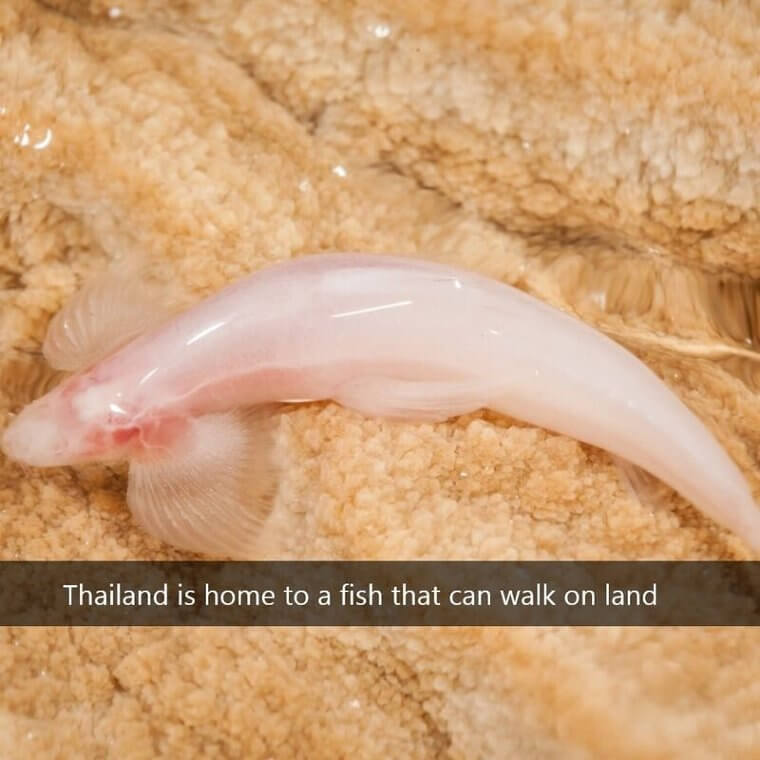 Surprisingly, this walking fish is related to goldfish, but it looks more like a salamander, despite not being related to salamanders in any way. However, goldfish are its closest living relative. It's a little unsettling to think about fish approaching you on land when you least expect it.
The Sleep Routine of Japan's People
Japan is home to some of the most dedicated workers on the planet. To the point where they are unable to continue working due to exhaustion. This indicates that due to the lack of sleep caused by their work, they frequently nod off in inappropriate places.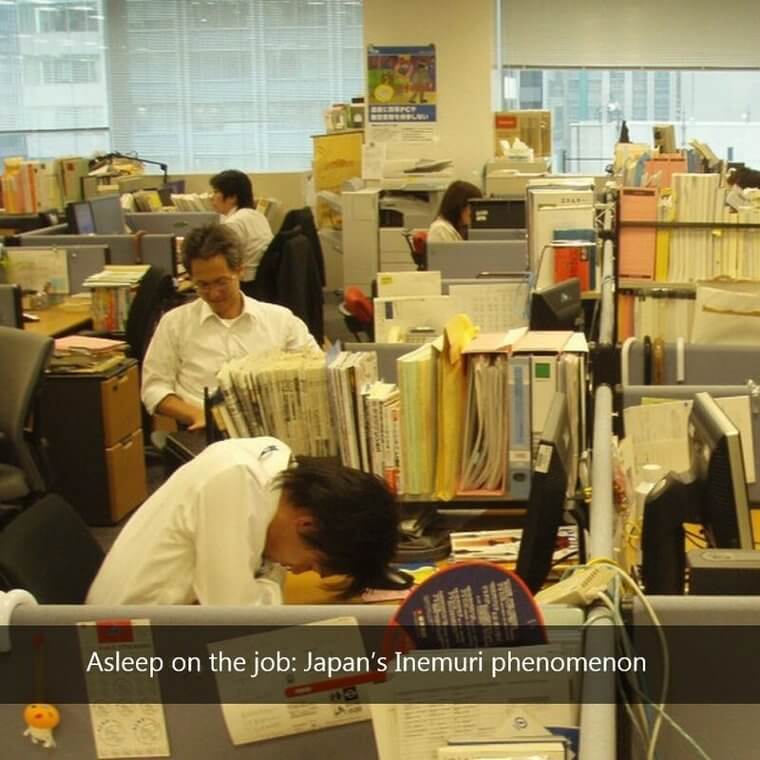 However, nobody bothers them because behavior like this is considered normal by the people who live out there. These kinds of people are frequently observed in subways. Because of this, it is acceptable to sleep like a baby even if you are a middle-aged man when you have been working for a number of hours in a row.
Crotchless Pants That Are Popular in China
It is impossible to ignore the call of nature when it comes. To those who are unfamiliar with the culture, it might come as a complete surprise to see a child engaging in personal "grooming" in public. And for that, they have special crotchless pants.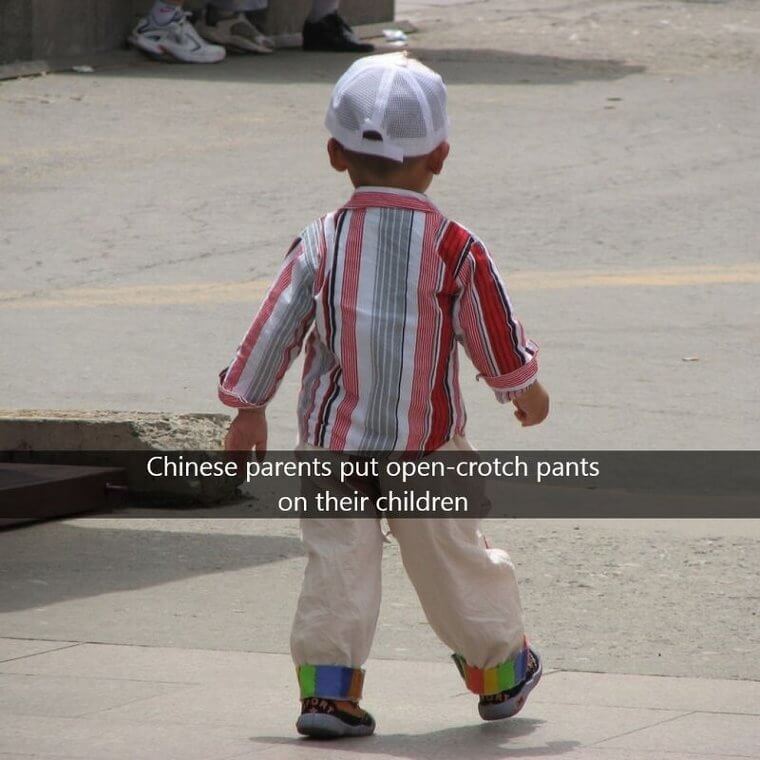 A specialized pair of pants known as kidngkù is designed to make it simpler for young children to relieve themselves. Many people choose to use diapers these days because they are thought to be cleaner. However, this does not mean that you will never see a kid wearing crotchless pants again because some parents continue to dress their children in such garments.
Volcanoes Are the Bomb in Indonesia
It is noteworthy that Indonesia, which is located close to the tectonic plate that is known as The Ring of Fire, contains approximately 150 volcanoes within its borders. Because each of these volcanoes is still active, you should avoid getting too close to them unless you can withstand the heat of an oven.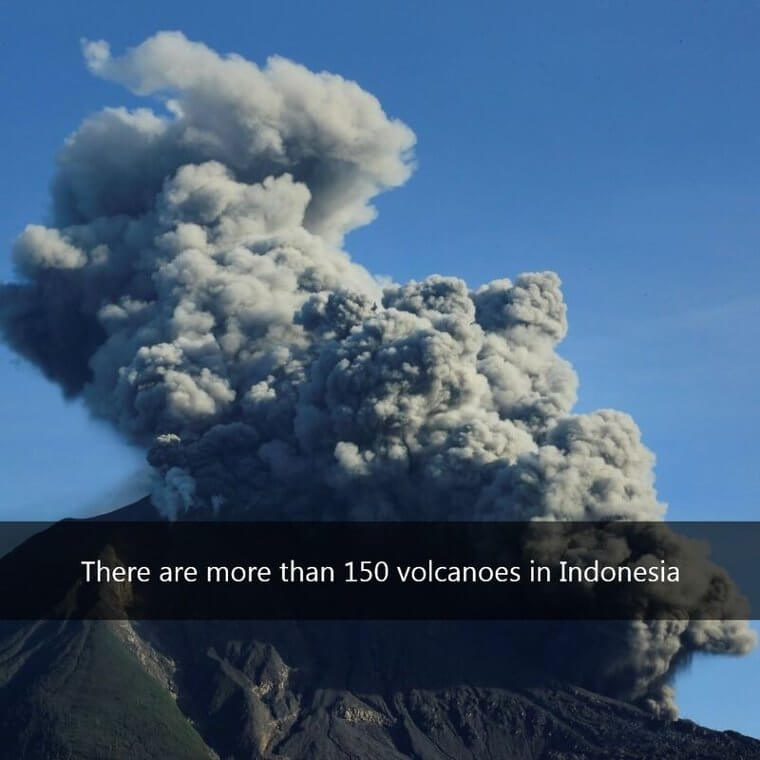 Back in the year 1600, there was a significant explosion that took place, and as a result, the entire island was covered in soot. Although there is still activity there once every two years, it is perfectly safe to visit. We heard from many stories that the view is as magnificent as it gets…just imagine the stunning scenery you can encounter
Married Couples Sleep in Separate Beds
In Japan, married couples often choose to sleep in separate beds. The majority of the time, this occurs after a child has been born so that the mother can sleep with the child. Up until the time when the child is a teenager, the mother is the one who is responsible.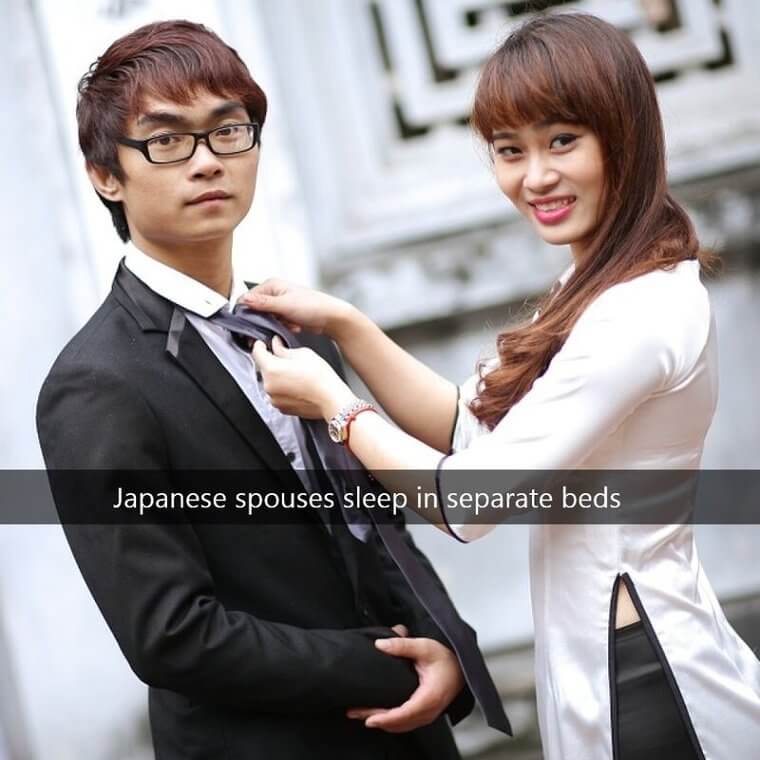 People from other countries may find it peculiar because sleeping in separate beds precludes any opportunity for physical contact. Who doesn't enjoy a good snuggle? It is possible that this is also one of the reasons why the birth rate in Japan has been falling, but we won't say for sure.