In the same way that renovations add value to your home, upgrading your backyard will increase the selling price of your property. Making some improvements to your outdoor space will also provide you with a safe haven to relax after a busy day at work, no matter what the size of your patio or yard is. Below you will find inspiration for anything from a meditation station to an awesome place to party outside!
Make a Pond or Fountain With an Old Tire
You can use any type of large tire for your pond. Wash the tire thoroughly before placing it in the location where you want your new pond. You can use spray paint or a hose to outline where you need to dig a large enough hole for the tire to fit in!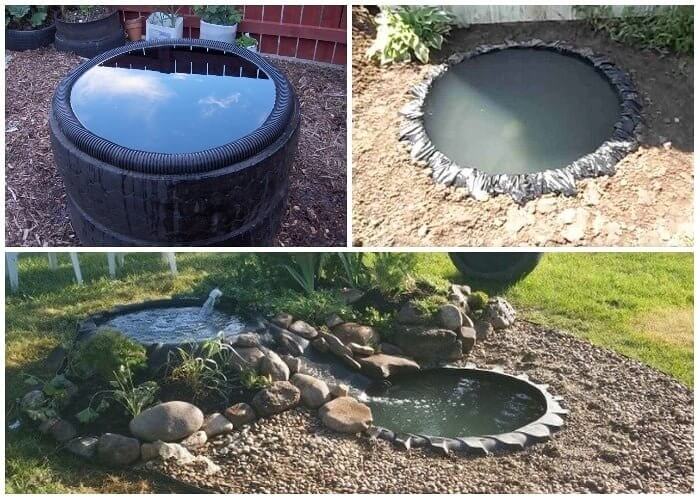 Use a strong lining material inside the pond that can withstand prolonged sun exposure and possible holes. Lastly, you can decorate the surroundings of your pond with rocks and plants to style it the way you want. Try adding fish if you like! You can also turn it into a fountain with a small water pump. 
Install A Wall Planter
Looking to spruce up your balcony or fence? Add these adorable wall planters! It's a great way to add some green if you're short on space. Be wary of how much sun or shade your plant needs, if they're perennials or annuals, as well as if hanging is what's best for them.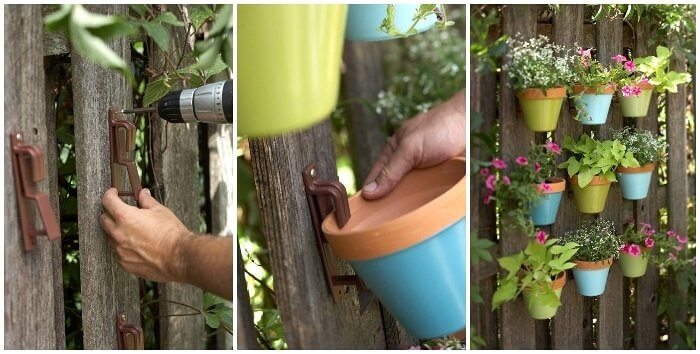 You can make these out of many different containers based on your preference just make sure you're picking the right size with the correct drainage. Adding such an addition can make your space feel so much more beautiful when you're adding things like small flowers. You can also add small herbs to make this DIY more functional!  
Use Salvaged Bricks for Garden Beds
If you are able to get your hands on some bricks, you can turn them into handy raised beds to plant anything of your choice. First, make an outline of your brick borders to make something like a rectangle if you please, then dig a shallow hole. 

Use mortar to cover the base, then you can start placing the first layer of bricks, leveling them with a spirit level before using a mallet to hammer them into place. You can decide how high you want your beds to be before filling them with a compost and topsoil mixture and finally – seeds and plants!

Make a New Patio With Pavers and Gravel
This is actually an easy project! But in order to make your project easier for yourself, take a moment to first sketch your planned patio. It will help you to visualize a plan. With your plan in mind, use spray paint or chalk to mark out the area where you will be excavating to accommodate the pavers.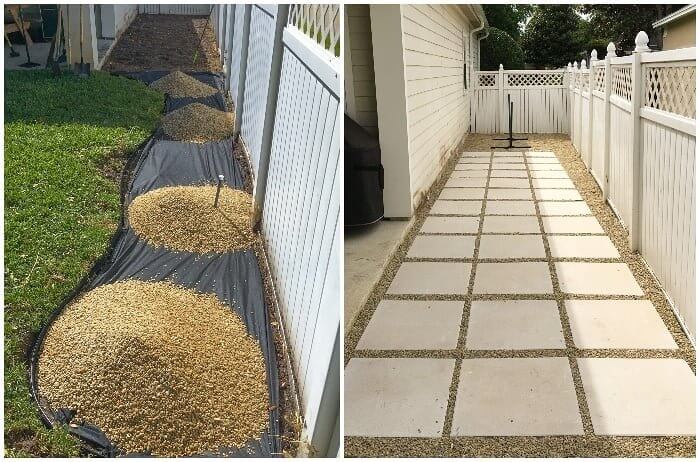 After installing your edging, you need to dig to the correct depth which will be about two to three inches to accommodate pavers or pea gravel. Use a tape measure consistently throughout your excavation to ensure the prepared space is level before laying your pavers, especially from opposite corners.
Pavement Molds Can Make Beautiful Walkways
This is a great project that needs preparation. You may also need some type of permit in your city to ensure the ground is stable enough. As an estimate, use an 80-pound bag of concrete for every two feet that you plan to pave. Use a spade to dig out the turf before digging a 2-4 inch trench.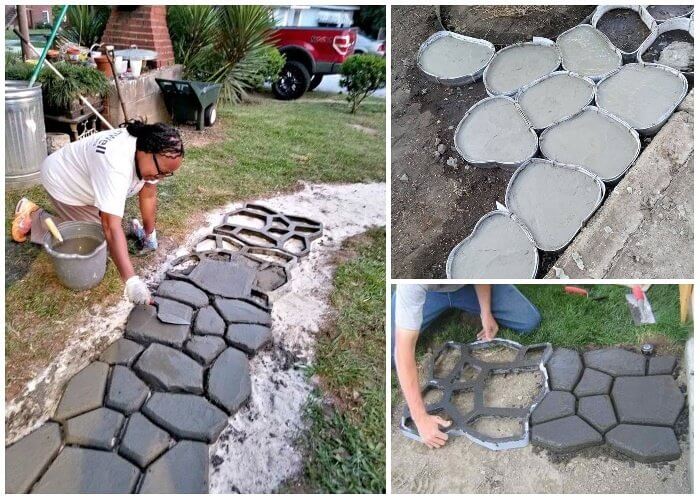 Fill the trench with gravel and crush and level the gravel before preparing your concrete mix. Start at one end of your walkway and place the stencil down before filling it with concrete using a shovel or trowel. Pat the concrete to make sure that the mold fills entirely and lift the mold straight up to avoid damaging the paving. Hose the new paving straight afterward. And you have a new walkway! 
Build Your Own String Light Planters
You can transform your patio into a magical place at night by building a few string light planters. For the upright poles, 4x4s work well and as an extra measure, you can stain and seal them to last longer outside. Attach the posts to the planters using two corner braces on the sides to keep them secured while you are waiting for the concrete to dry.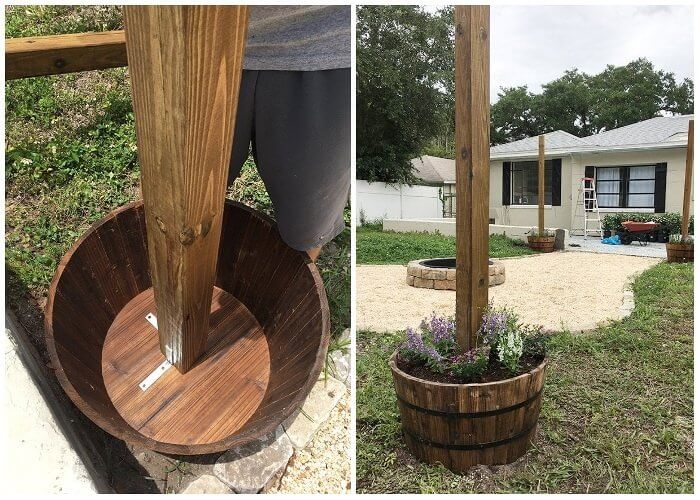 Then, position the 4x4 and fasten it to the bottom of the barrel with screws. As an estimate, use about two bags of concrete and a 50/50 water mixture to fill the barrel a little less than halfway. You can then add rocks for drainage and drill holes in the surrounding concrete before planting flowers in your planters. You have a beautifully lit yard in your future! 

Make Your Own Planter Box
For those who have a big green thumb, planter boxes can really make a backyard pop. With just some wood, different types of screws, and landscape fabric you've got yourself a working planter box! Don't forget the blueprints before starting your project.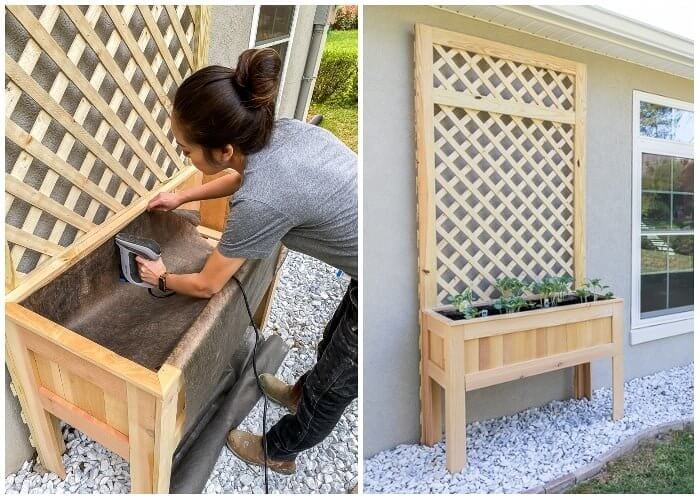 Once you've built your planter box, we recommend painting it according to your heart's desire. Feel free to add other accessories like shells or other ornaments. Or just keep it a classic wood. Either way, start planting! 

An Alternate Way To Make Concrete Mix
Once in a while, you may come across the need for concrete mix when switching things up in your home or backyard. Alternative concrete mix is suitable for lots of different posts. Instead of using insanely heavy quick concrete, opt for the handmade concrete mix that is much easier and lighter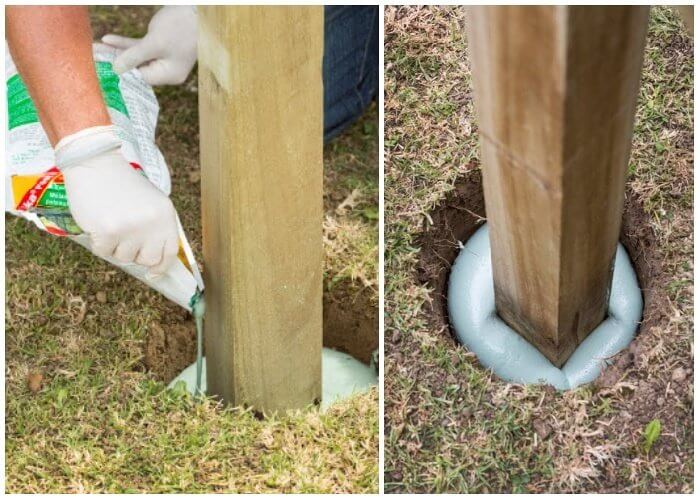 Just mix the bag before you open it and it'll fill whatever hole you're trying to fill. It sets quickly under 5 minutes and just add a layer of topsoil on top and enjoy your new study post. You're becoming quite the handyperson! 

Design Your Own Cinder Block Fire Pit
If you have a backyard, you should have a fire pit! It is an easy way to bring life to your outdoor area. A cinder block fire pit is a low-cost way to meet that need of yours. First, figure out how big you want your pit to be and fill the middle with sand or gravel to avoid any accidental fires.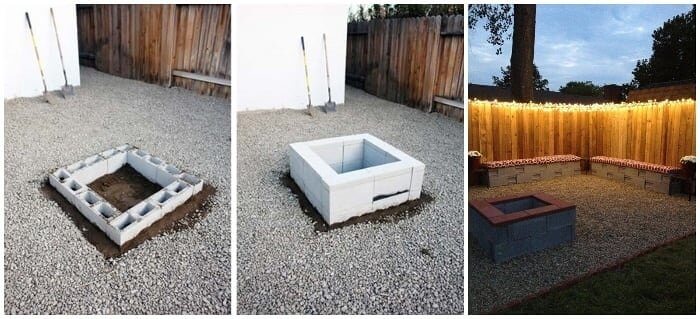 Add the first layer of blocks to stabilize it, then to get the height you want, add a second layer. After your second layer, try using fire-rated concrete cap blocks to finish the project. Then add some chairs or couches and we'll bring the marshmallows and sticks! 

Install a Peaceful Fountain
The sound of water flowing can make anybody feel serene and relaxed. You can have this beautiful music from nature in your garden and your home by simply installing a fountain. Depending on the size and layout of your garden, you can choose from an array of fountain types.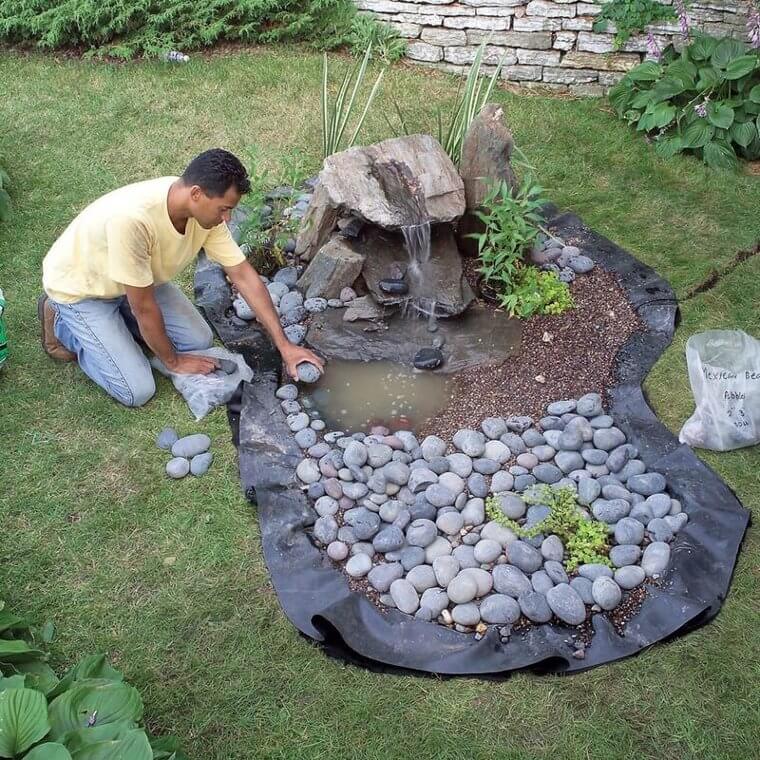 If your garden has an informal layout as most do these days, you should ideally place your fountain along a path or in a corner. For more formal garden designs, the fountain should be located in the center as a main focal point. River stones or gravel complement a fountain perfectly and you can have fun decorating around your new feature.
A Family Affair
Imagine hanging out with your family or friends under the night sky watching your favorite movie… You can make that happen by simply setting up your own outdoor cinema! You can have it in your backyard with a firepit nearby or against your fence.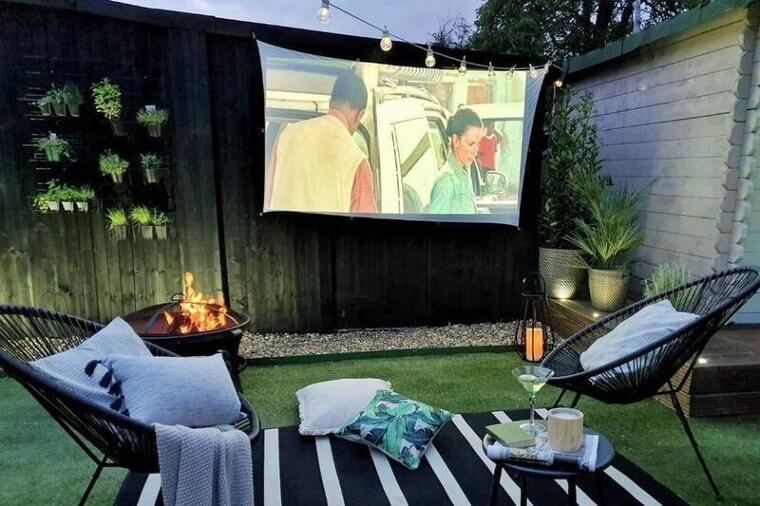 Besides investing in a screen and projector, you will also need a video source and speakers. Your screen can simply be a plain white sheet and as a source, you can use a laptop or other streaming device. Lastly, your speakers will perform better and be more protected on speaker stands. Don't forget the popcorn!
Fish Can Light Up Your Garden
A pond with colorful fish can serve as a wonderful focal point in your garden. It will enhance your whole space with the tranquility of the water and the vibrance of the fish swimming in it. Having fish can also teach children valuable lessons about caring for animals.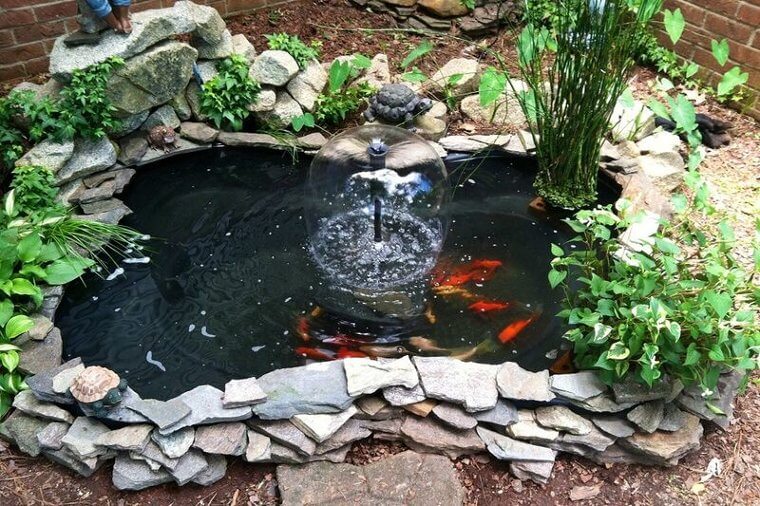 When choosing fish to keep in your pond, Koi is a very good species as they can survive a range of temperatures. Always ensure that you have enough space for the type and amount of fish you intend to keep as they will grow drastically in size! Certain types of goldfish also do well in ponds.

Build a Deck or Patio Outside
You don't need a huge backyard to put your feet up after a long day and enjoy the outdoors. A decked patio can do just that and more. Imagine a cozy area outside complete with a coffee table, couch, and comfortable cushions to recline on while savoring the fresh air and enjoying your beverage of choice.
When placing your deck boards, make sure to have the "bark side" facing up so that the side with the rings will face down. This will prevent the rings from collecting water and so causing water damage to your deck. Taking good care of your deck by keeping it clean and treating the wood will ensure that you have an outdoor escape to enjoy whenever you need it.

Transform a Tree With Lights
You can create a magical faery feature by lighting up a tree in your yard. These days, you can find a fun selection of string lights to choose from. For a playful feeling, you can get colorful or flashing lights. White lights are a bit more serious and minimalist while warm lights create a more romantic or relaxing vibe. With the technology of LED lights and their energy efficiency, you can even get solar-powered lights for your tree.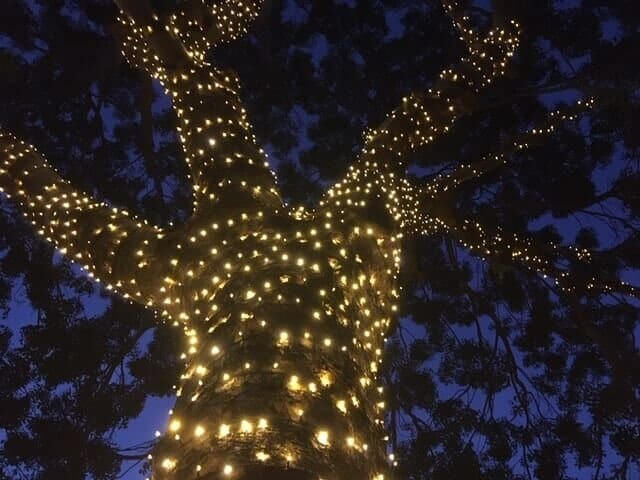 To transform your tree at night, arrange your chosen lights from the bottom of the tree's trunk by wrapping them around toward the top. You can place some lights closer to the front of its branches and tuck others deeper to create a feeling of depth. The connectors can be hidden by putting them deep inside the branches.

Rug Up Outside
You can take your patio or deck to the next level with one easy step – add an outdoor rug! It will round off and bring together your special space outside. With the availability of nylon, polyester, acrylic, and manmade polypropylene rugs it is easy and convenient to find the perfect rug to keep outside. These rugs can last much longer in the elements than traditional rugs.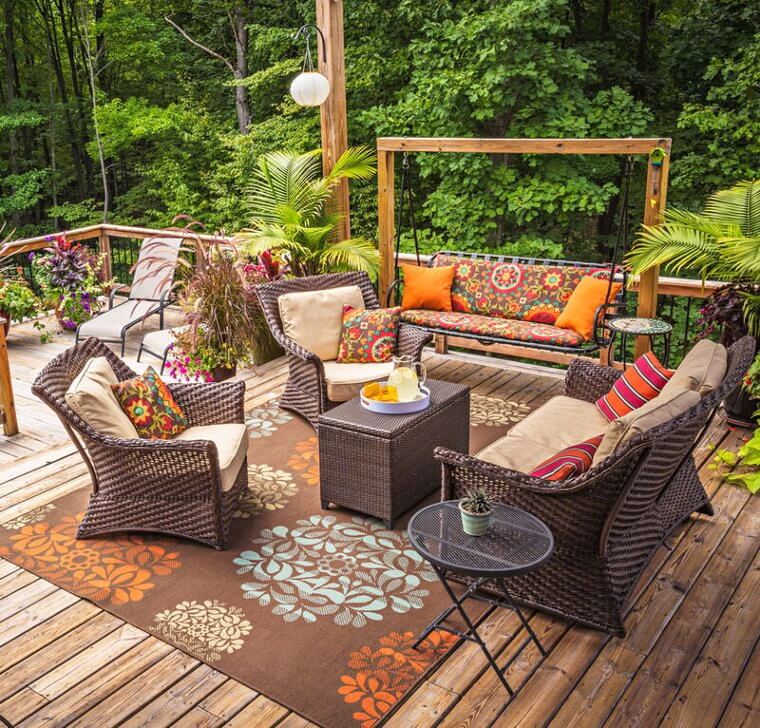 Besides being able to survive well through rain, sun, sleet, and snow most synthetic rugs are safe to use on wooden decks since they tend to dry quickly after getting soaked. If you need a rug to withstand a humid, wet, and rainy climate then polypropylene would be the best material for your new outdoor rug.

The Magic of Mirrors
Interior and exterior designers alike use mirrors to create the impression of more space. While modern mirrors with alternative shapes can give your garden a contemporary look, the use of antique mirrors can conjure an appearance of fantasy. In addition to these factors, you can also play around with the way that light reflects off your chosen mirrors.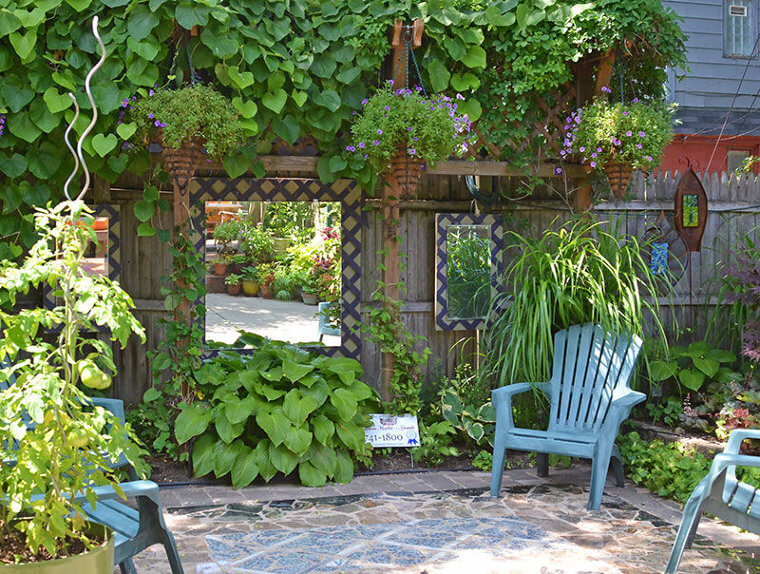 If your budget doesn't allow as many plants as you may desire, mirrors can help by effectively doubling the number of plants you see. You can also experiment with your creativity by reinventing a space with light that reflects from a mirror onto plants or a wall.

Uplift Your Ambiance With Happy Tones
Every home can benefit from a wind chime. They are well-suited for the outdoors since they can be made from an assortment of materials like cane and metal and they also come in an array of shapes, all of which create a different ambient sound. Windchimes can send never-ending soothing notes through your garden and home that integrate perfectly with nature's own acoustics.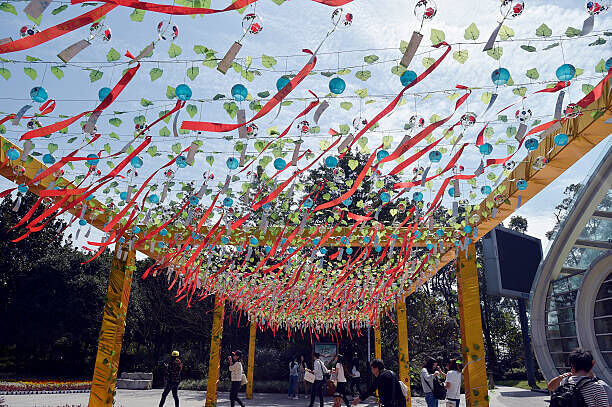 These instruments that are played by nature through wind are believed to bring good fortune in parts of Asia. They are also used to provide good Feng Shui with their gentle notes. Bamboo, wood, and ceramic can also be used to make these beautiful-sounding ornaments.

Make a Mural
With your chosen theme in mind, it can be an exciting and fun project to uplift your outdoor area with a special mural. You can either decide to get your hands dirty and paint it yourself or perhaps seek the help of an artistic friend or even hire a professional if your budget allows for it. You can paint a mural on a wall or ideally on a wooden surface.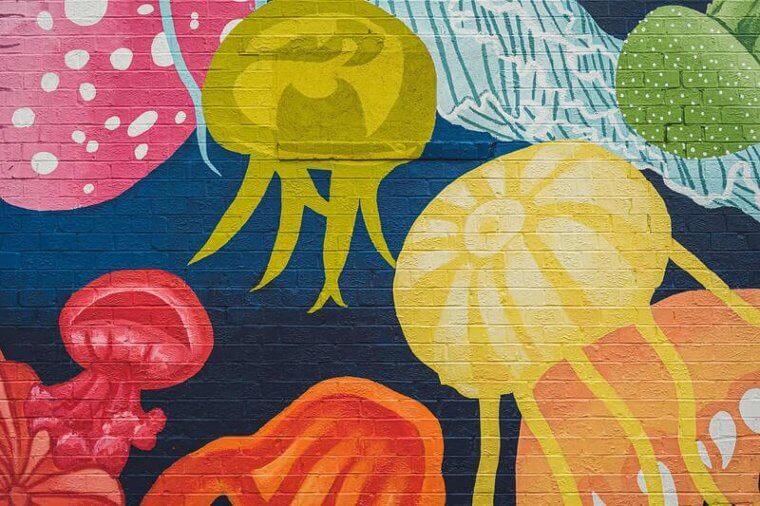 Murals really come to life with bright colors and prominent designs. Go big or go home! Paintings of tropical plants and trees or even designs on your fence like snowmen can bring your yard to life. Acrylic paints that are oil based are best to use for outside murals and will usually last the longest.

Conceal Your Trash Easily
This project is simple yet effective. Nobody likes to see trash, so use this handy tip to conceal your trash can with ease. You would only require vinyl from a hardware store and a hammer or rubber mallet. If you have six solid inserts, three patterned inserts, and four 3-tier post kits you can assemble a two-sided construction pictured below without any glue, concrete, or fuss.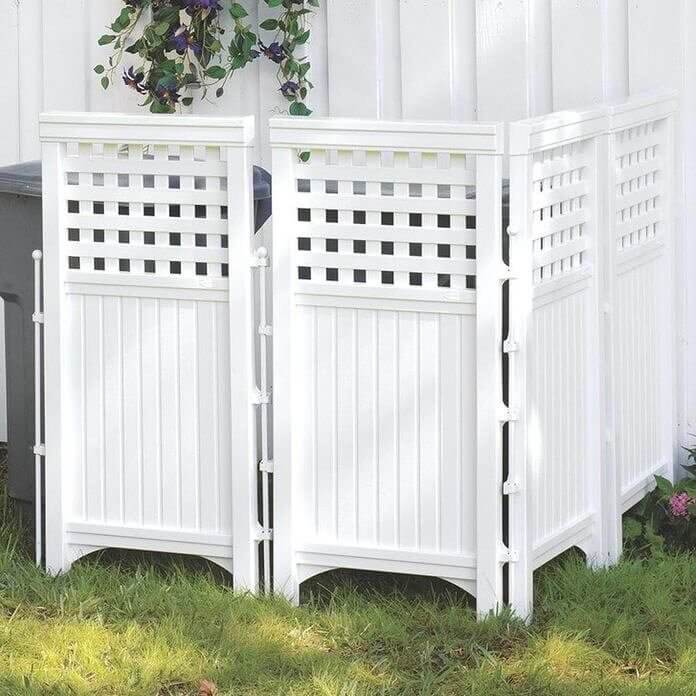 Simply take your necessary measurements, then put the stakes hallway into the ground before placing the posts on top and sliding the inserts into the post groves, and there you go! No more ugly trash in your yard.

Set Your Desired Mood With Special Lighting
One can conveniently set the mood and change the atmosphere of a gathering place by controlling the lighting. With softer, dimmer lighting, you can set a more intimate mood. Outside, less lighting can be more enjoyable.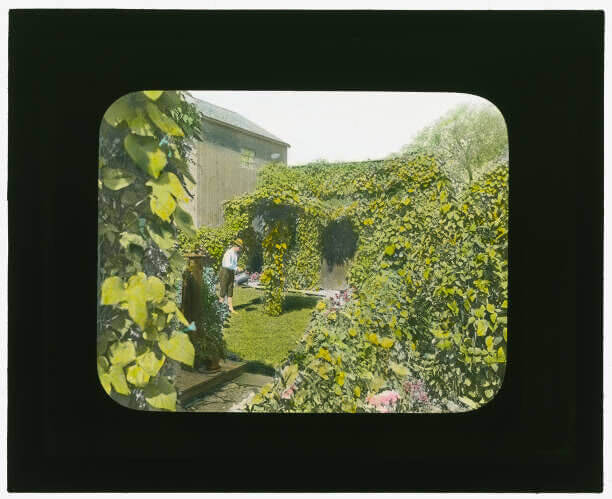 It is with good reason that candles are known to create a romantic atmosphere… You can also use candles outside in jars, votives, or lanterns. String lights and fairy lights are also great for softer lighting to make your guests feel relaxed. With all the solar options these days, you don't have to do much as they will automatically switch on at night and they don't even need power!

Set Your Intention
Deciding on a theme or an era to base your new outdoor upgrades on is like setting a goal to work towards. It will guide you and help you stay focused on your vision. A vintage theme can provide a funky setting and scouting for vintage furniture and décor to capture your era can be a lot of fun! Another popular theme for patios and outdoor areas is a Scandinavian design which incorporates a relaxing and clean feeling.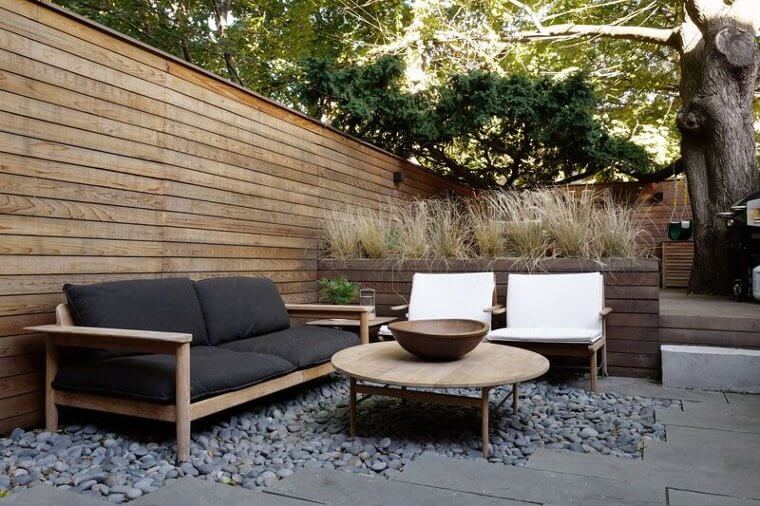 When selecting the space for your new outdoor area, consider a site that gets some sunlight. Next, you can emphasize and decorate this space by placing furniture, rugs, plants, and other items that fit your space and your theme. If you are going for a Scandinavian theme, remember that the style is focused on minimalism, so dive into those neutral colors, but do not over-accessorize.

Create a Brick Paving
If you are using salvaged bricks, use a hammer and chisel to first remove any old mortar from them. Next, it is important to decide where you are going to lay the bricks so that you can prepare the area. Rototill and rake the place where you are going to lay the bricks and then spread newspaper and sand over the prepared soil.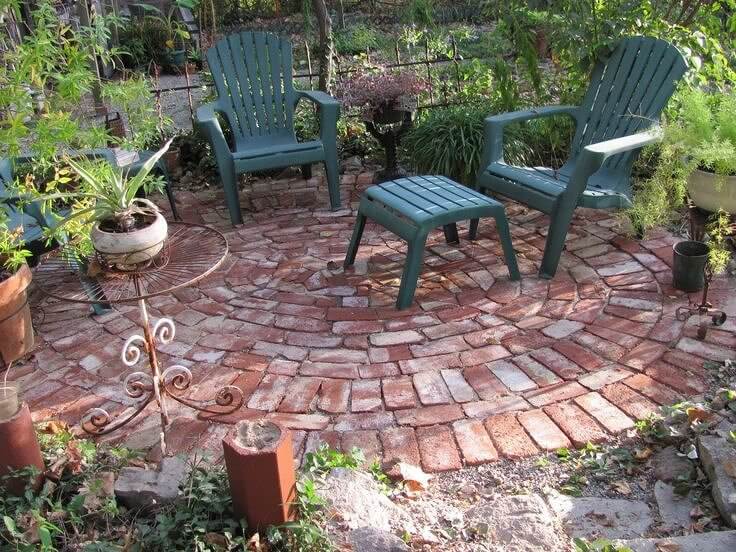 You can use many layers of newspaper as it will stop weeds from growing through your bricks and it's naturally biodegradable. Form your pattern and make a base out of clean, dry sand. Spread the sand over the bricks so that there aren't any gaps. This will also hold the bricks together. Be sure to make an edge around your project to finish it off.

Transform Your Yard With a No-Dig Veggie or Flower Bed
Once you have decided where to locate your no-dig garden, start by leveling the space in the size and shape that you want the garden bed to be. Next, cover this area with ten to twenty layers of newspaper and moisten them with a hose or watering can. Apply a layer of blood and bone meal before wetting the paper again.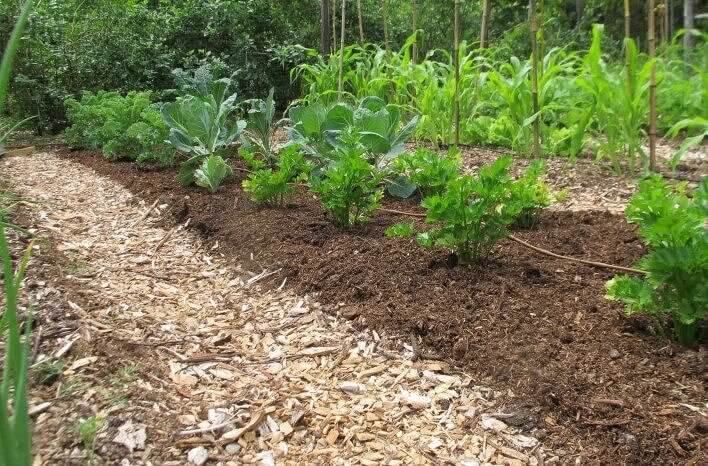 Now, spread some alfalfa over your beds before applying another layer of blood and bone meal and yes – wet the garden again! Use straw to make the next level of the bed then add the last layer of blood and bone meal and some more water. Use organic compost to make a layer of about two to four inches on top. Sprinkle the garden one last time before planting to your heart's desire!
Decorate Your Yard With DIY Concrete Balls
First, spray your chosen glass spheres with cooking spray. Next, prepare your concrete mix to a desirable consistency before pouring it into the spheres. The concrete should have a mud or cake batter-like consistency. You can add a little more water if the mix is too thick.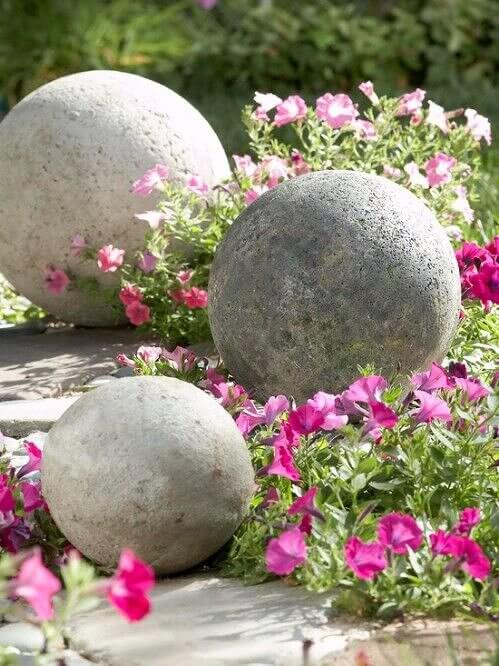 Be careful not to make the mix too wet as you don't want it to fill the glob's neck. This will ensure a smooth sphere. Put the sphere away for a few days inside a plastic bag to dry before breaking the glass with a hammer and you're done!
Use a Stock Tank as a Pool
For that summer feeling, you can get an instant swimming pool with the right stock tank. There is a variety of galvanized tanks in different shapes and sizes available online or at feed stores. Just be sure that the tank you choose for your pool has a protective interior coating like heavy-duty zinc G90 to prevent corrosion.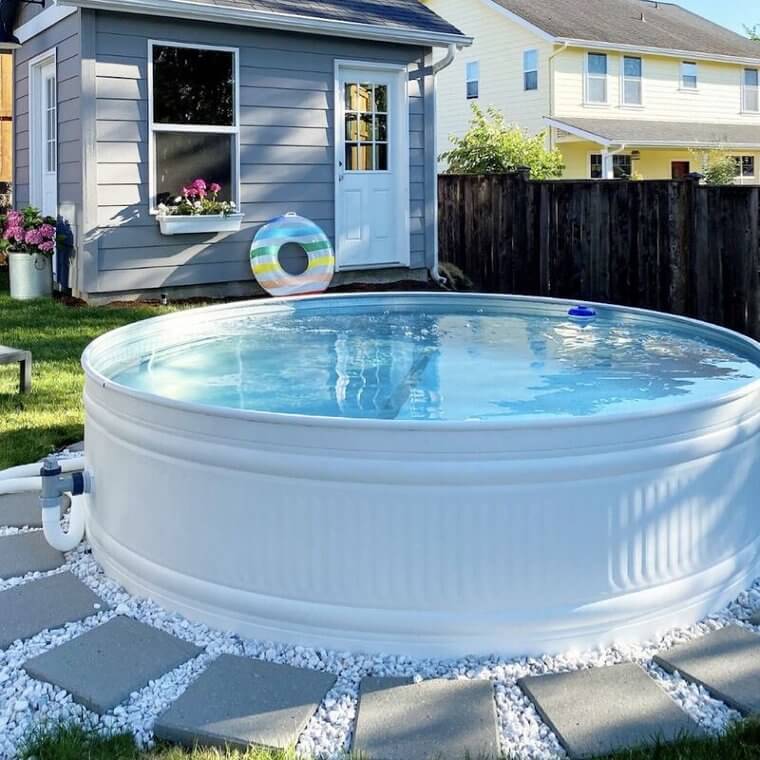 This coating helps your new swimming pool to be more resistant to harsh weather so that you can enjoy a refreshing swim for years to come. This project is so simple that it can be done on a weekend! You can find all the instructions you might need online.
Paint a Creative Design on Your Concrete Floor
As with any painting project, you should first clean your surface thoroughly. For the best results, mix Tide Oxi with warm water and scrub the concrete surface by dividing it into smaller sections. When it has dried completely, you can plan your desired pattern with painter's tape and a ruler.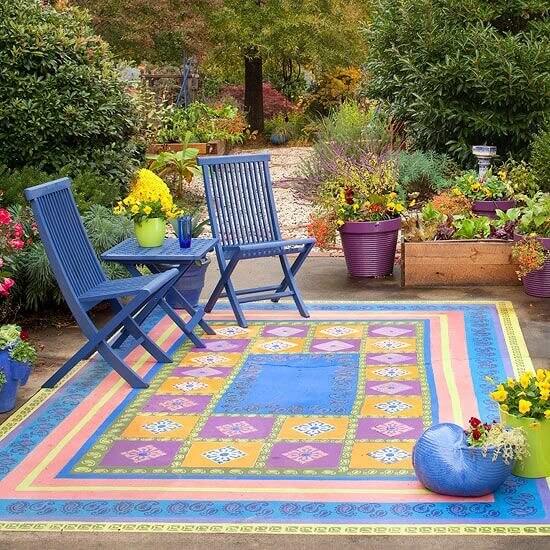 If you have a pattern planned, first paint the background color and allow it to dry before painting the pattern over the base color. You should use concrete paint and it is best to wait for it to dry overnight before adding your next layer. You can also try using stencils for this project. If you do use tape, consider waiting ten hours before removing it to ensure that the paint is dry.
Upgrade an Outdoor Space With a Trellis
If you have enough space in your yard or even on your patio, add some style by constructing a trellis. You can plant creepers around it and decorate the space with other colorful foliage. With the addition of some outdoor furniture and perhaps hanging a curtain, you can create a very special and cozy outside chill space.
If you want to use an old ladder as a trellis, make sure that its feet are planted firmly into the ground so that strong winds cannot blow it over, destroying your plants. You can also use branches to construct a teepee-shaped trellis.
Plant a Garden in Minutes
This DIY hack can save you a lot of time and effort when planting a new garden! Using a muffin tin, you can easily create perfectly spaced indentations in the soil to plant your new seeds or plants in. The spacing is good for most seed types.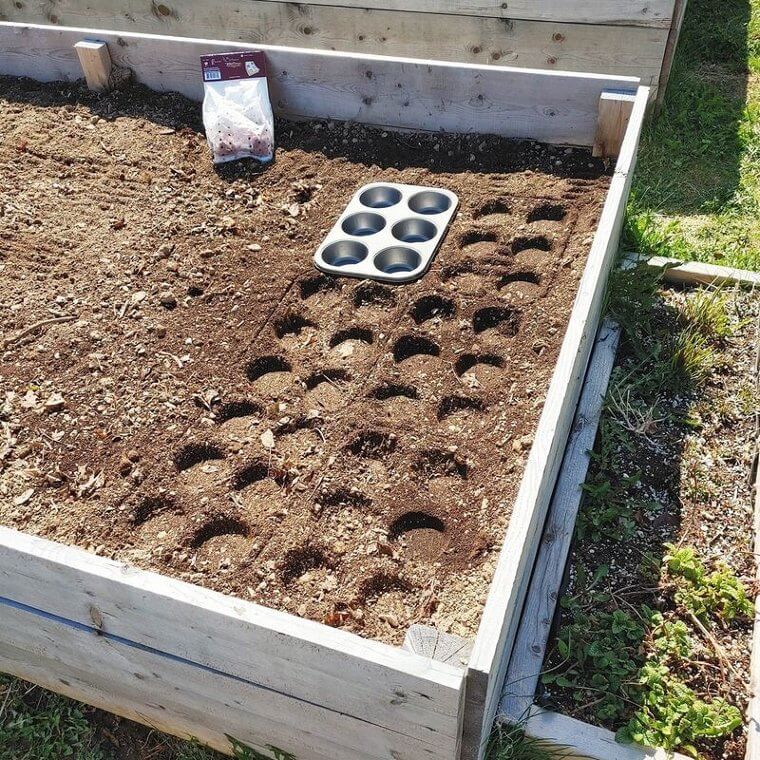 Examples of vegetables that do well with three inches of spacing like a muffin tin are beets, carrots, onions, and parsnips. Soil that has been recently tilled and aerated works best for this spacing technique.
Build Your Own Rock Garden
To prepare the space for your rock garden, remove any turf first and level the soil. Once the sod has been removed, you can use edging bricks or other materials to create an edge to keep your choice of rocks or stones inside.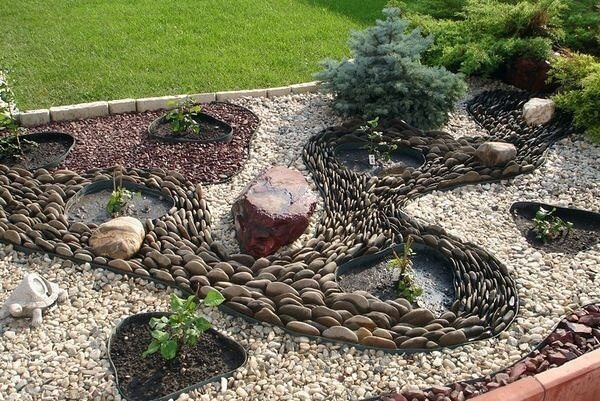 Before pouring your stones inside, cover the soil with newspaper to prevent grass and weeds from growing through your rock garden. First, wet the paper thoroughly before throwing the rocks over. You can experiment with different shapes and types or sizes of rock and stone for your special rock garden.
A Fence Can Keep Your Yard Private
While privacy and security are usually the primary objectives of building a fence, they can also be stylish expressions. You can experiment with marble or colors in your fence or keep it cool with cast iron or dark wood. As for the height of the fence, you can choose how high you want to go.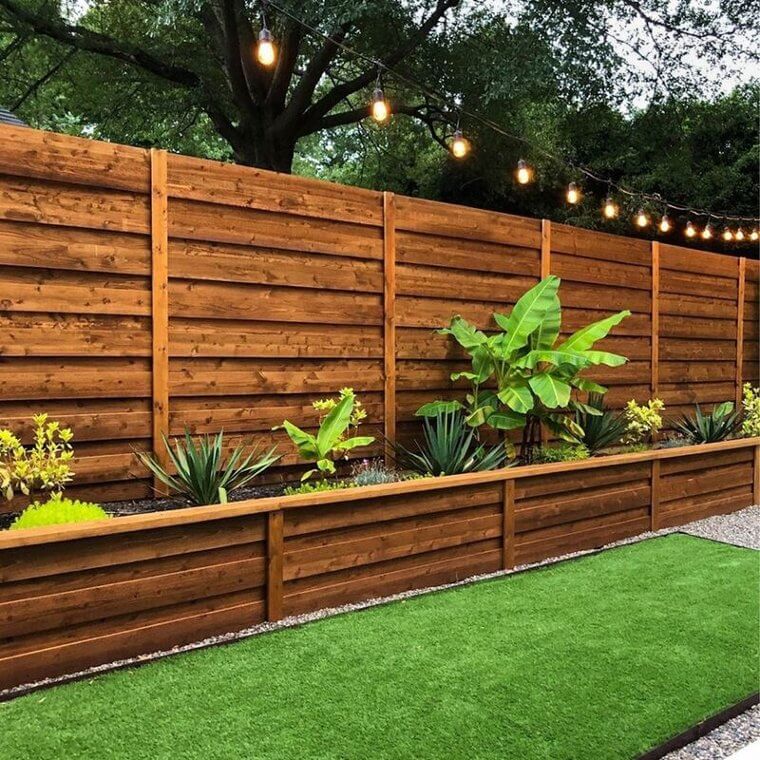 If your fence itself is not so easy on the eye, you can use creeping or hanging plants to disguise the construction. Vertical gardens can also be great for hiding a fence or one could incorporate a plant bed like in the picture. Using plants that are narrow-growing along a fence will help to save space in a smaller yard.
Step It Up With Outdoor Stairs
You can make your yard appear to be more spacious by having outdoor stairs. Build them along a pathway or connect two different areas like the pool and the patio for instance. Stairs can help organize your garden and will provide your guests with a clear and appealing path to stroll along.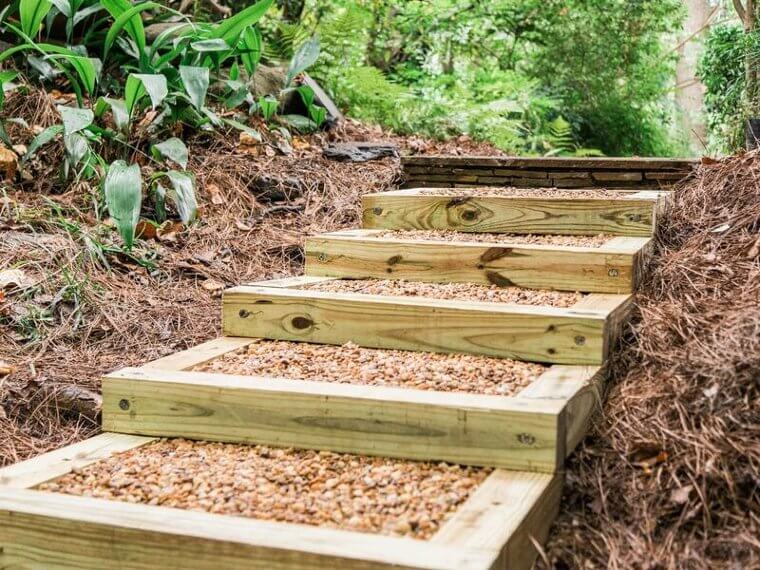 Since outdoor stairs are much less formal than indoor ones, your measurements and layout don't need to be perfect. You can have fun with your theme and materials like concrete, wood, brick, stones, and tiles to name just a few!
Set up a Dining Table Outside
If you enjoy having large dinner parties, this idea can expand your hosting possibilities. It is also fantastic if you happen to enjoy fresh air! For the most part, you need a sizeable table after which you can be creative with your choice of tableware, chairs, and other essentials.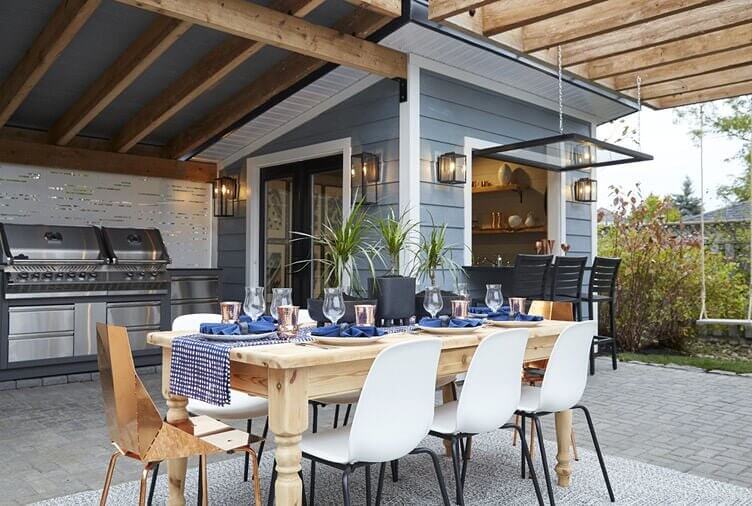 Patio furniture and some bar stools can bring the space together while sticking with a simple, outdoor appearance. If you enjoy barbequing, then this would be the perfect place to have one. Now, you can have an al fresco dining option with plenty of space around the dining table.
 
Choose a Place for a Book Nook
Anybody who enjoys snuggling up with a good book will appreciate this next design. Imagine a comfortable and cozy space to curl up in, all in the close vicinity of your backyard! When selecting a spot for your new outdoor nook, keep in mind that you want to make it warm and snuggly with pillows, blankets, and possibly even a fireplace.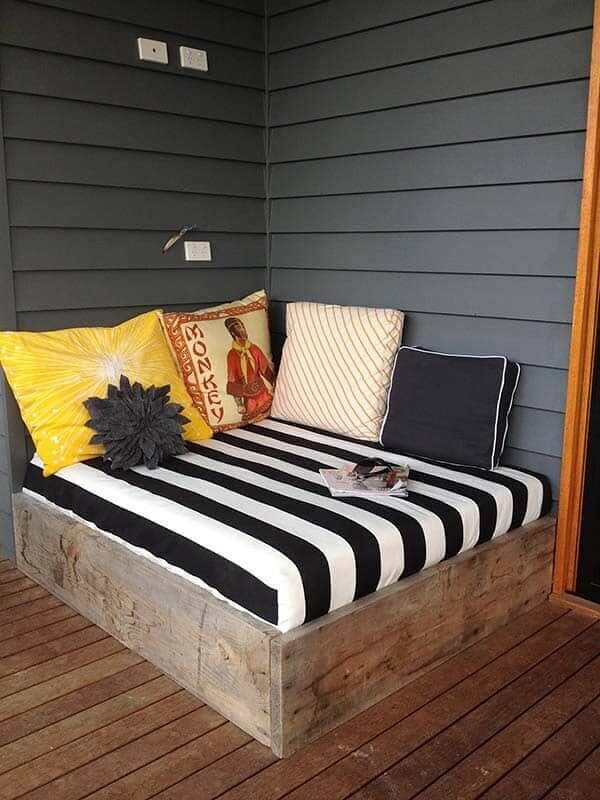 With a bit of creativity, this project doesn't have to involve moving mountains. It can be as simple as a seating area with large cushions and a blanket against the cold. If mosquitoes are a problem, you could also incorporate a mosquito net for extra comfort and relaxation
Get Funky With a Fire Pit
There is no excuse not to have a fire pit! It can be close to your patio or in the yard. With the addition of some seating space, it will be the best place to hang out with friends or family on weekends or to just unwind after a busy day. Always make sure that your fire pit is built on a level surface and it shouldn't be closer than 10ft to any structures.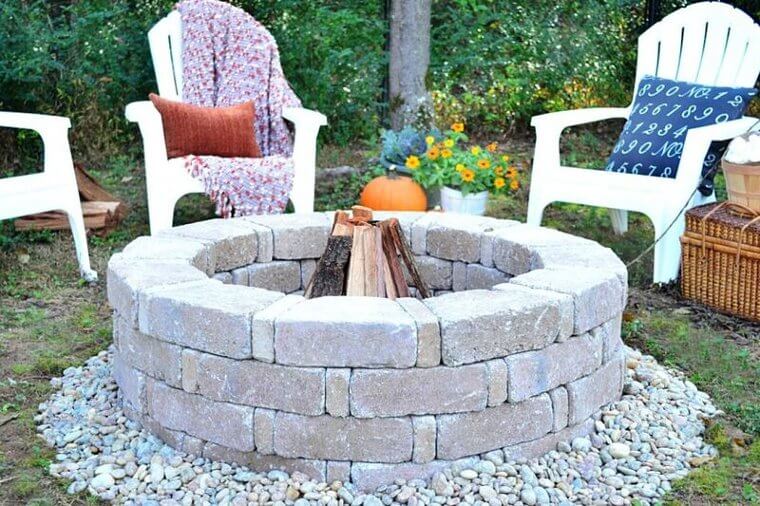 If you have a nice open space, your fire pit should ideally be 20-25ft from anything and definitely not close to any trees with low branches, anything flammable, or woodpiles. There is legislation in place to ensure a neighborhood's health and safety, so be sure to adhere to that.
A Hammock Brings a Beachy Feeling
Besides looking idyllically inviting, hammocks are great to relax in, read a book, or take a nap. There's a variety of hammocks available to choose from in different colors and made from different materials. You are bound to be able to find one that speaks to you or maybe even two!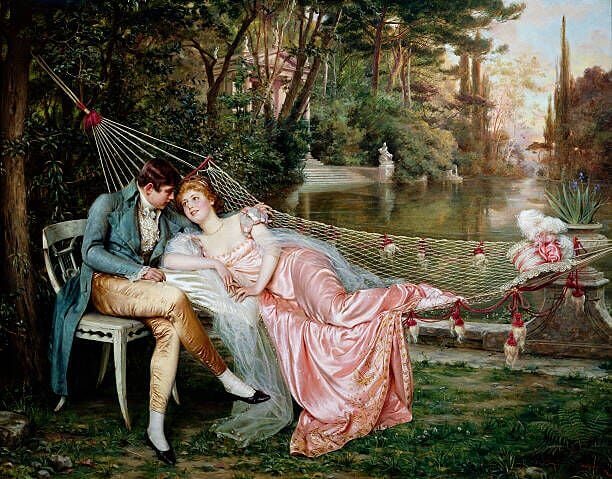 If you have two solid objects like trees, garages, houses, or fence posts to hang a hammock from you are already prepared for your new lounging spot. Alternatively, you can plant posts to hang a hammock wherever you prefer.
Cinder Blocks Are Handy for Raised Garden Beds
You are free to decide the dimensions of your garden depending on how much space you have and what you would like to plant. Start by measuring and marking the area where you will build your new garden bed and then level the ground and dig a shallow foundation of a few inches. Try to keep the blocks level as you place them in order.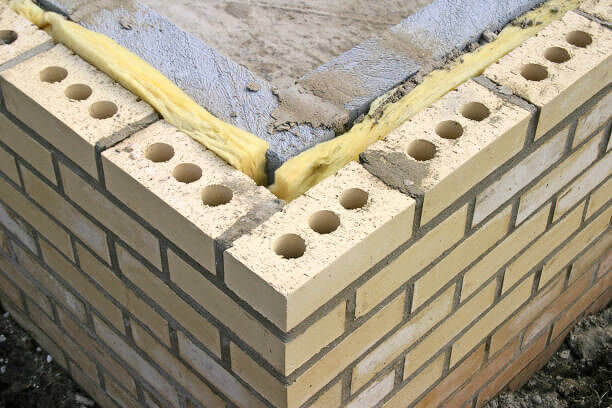 Now, use landscaping fabric and hardware cloth to keep pests and weeds out of your garden bed by placing it beneath the blocks. Add soil to the blocks to keep them steady if you want to add another layer. You can also use the soil inside the blocks as extra planting space over and above the soil in the bed.
Get Grilling in Your Own Backyard
A barbecue or grill can be a handy addition to your pool area or backyard. You can build it in a shape and style that best suits your needs, but whatever you prefer, do not build your grill on the grass. It should be a good distance from anything flammable like trash bins for instance.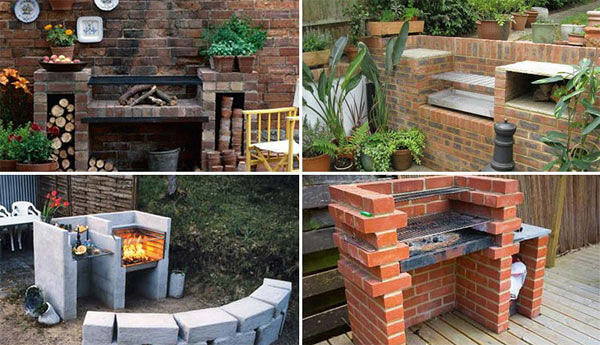 The area around your grill should be clean and it shouldn't be located close to mulch, hedges, low-hanging branches, or other materials like these. Your grill should be at least 10ft from your house according to the U.S. Consumer Product Safety Commission.
Design a Practical Outdoor Cart
If you strive to give your beloved guests the best service and drinks in the neighborhood, investing in a mobile outdoor cart is a must! You can stock it with drinks and mixers and use it as storage for any other barbeque equipment. The best part is that it can live outside, as it should be weather-proof.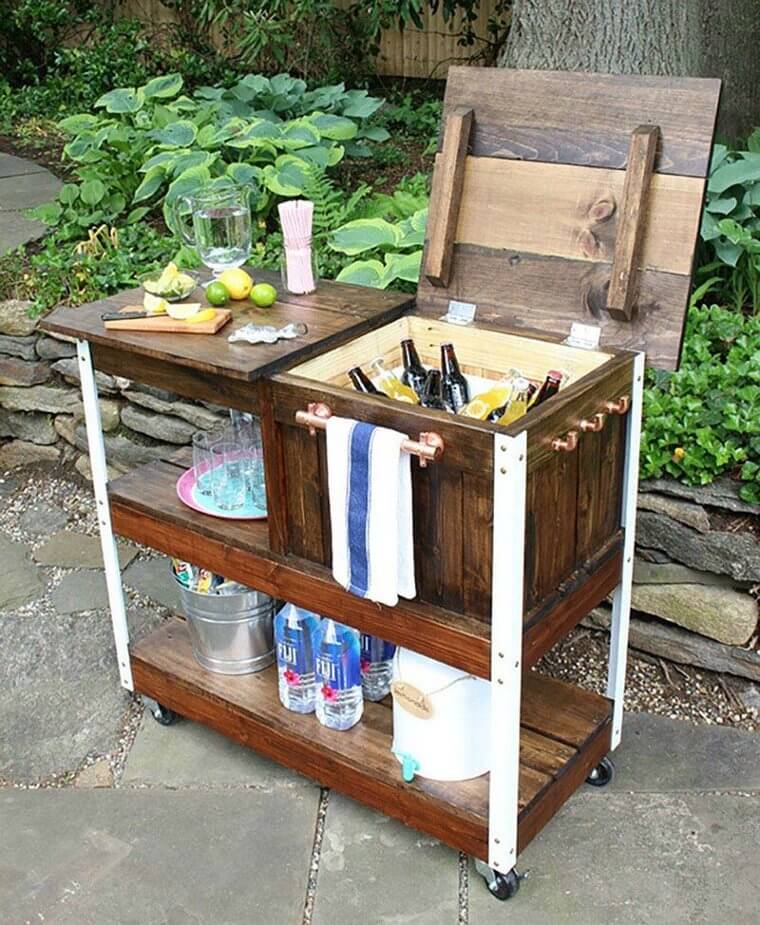 You can even opt to fold it up and store it away during winter months. It's perfect for keeping cocktail essentials like shatterproof glasses, mixers, alcohol, reusable straws, and whatever else you may need to make your signature drinks. Plus, you can leave all your bottles in the cart instead of bringing them back in every night.
Raise the Bar With a Hot Tub
Just like swimming pools, hot tubs can be installed below or above ground level. If you want to have it next to your fence, you can build it above ground, while a hot tub would most often work better below ground on a patio. This splashy addition to your yard could be the ultimate treat, but be sure to set it up on a solid foundation.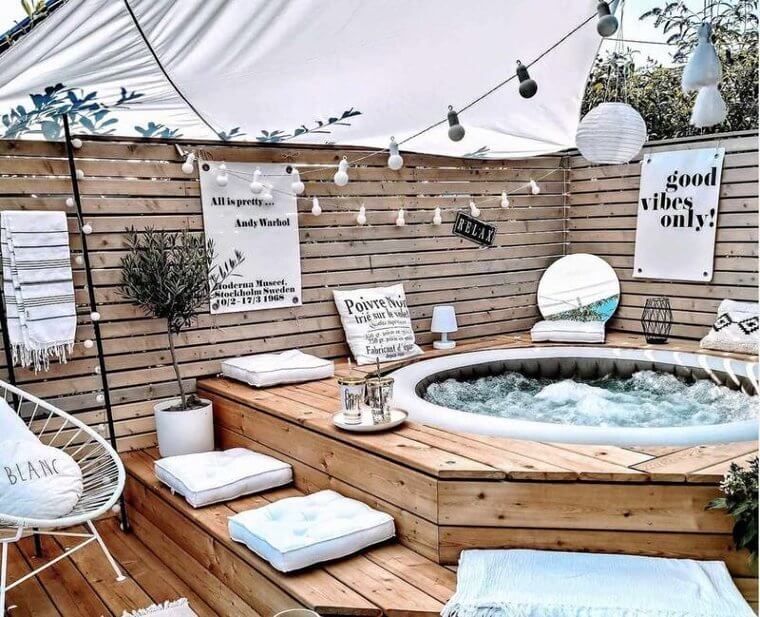 The base of the tub must be able to support the full weight of all the water. The best surfaces for this are level concrete slabs or reinforced decks. If the tub is close to dirt and grass, it could attract bugs and moisture, which should be avoided.
 
Kids Will Love a Playground Outside
If you have young children, you can have fun building a playground in the yard. They will enjoy it and it doesn't have to be too extensive – even a swing or a small treehouse will be fantastic. Mow the lawn as short as possible to help ensure that there aren't any sharp objects or rocks in the area.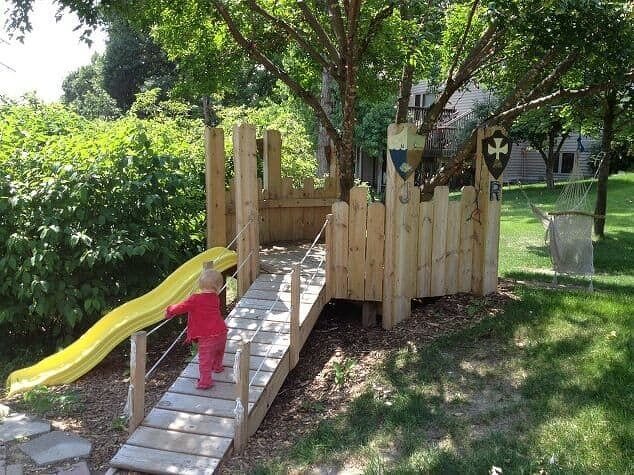 To avoid children stumbling, check the ground to make sure that it is smooth and level. Adding a foot of sand and mulch under any equipment will also be very beneficial. If you have elevated features, they should have railings for safety, as this is the top priority for any playground.
Color Your Garden Pretty
Consider brightening up the mood of your garden by simply investing in some blooms and flowers to position throughout your yard. Roses and cacti make colorful flowers that will make you feel revitalized. Color has the ability to heal and spread good energy.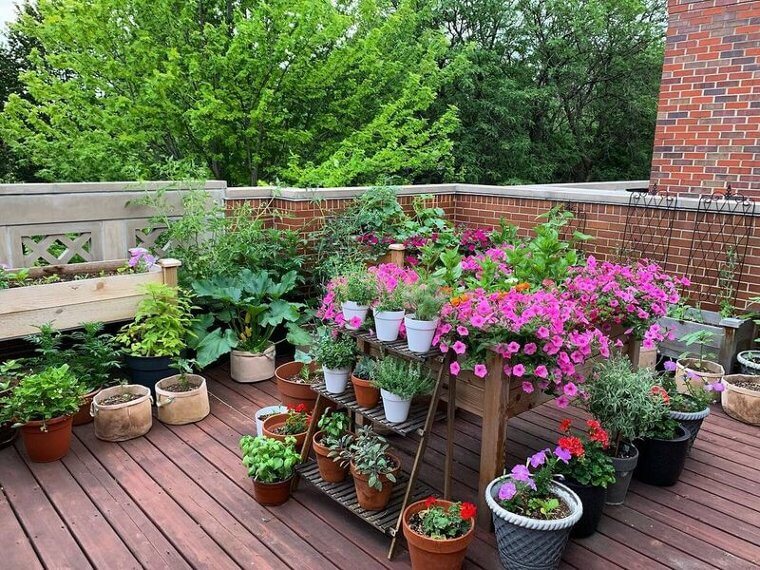 While orange, yellow, and red which are warm colors will add vibrant energy to your garden, cool tones like pink, purple, and blue emit a calming ambiance. Flowers in cool colors also have the ability to make a flower bed look bigger.
Build a Simple Pizza Oven
People who don't love pizza can't be trusted, right? Imagine cooking up the best wood-fired pizzas at home… All you really need to do is a backyard pizza oven! Stone, concrete, and brick are usually used to construct these magical domes half-domes.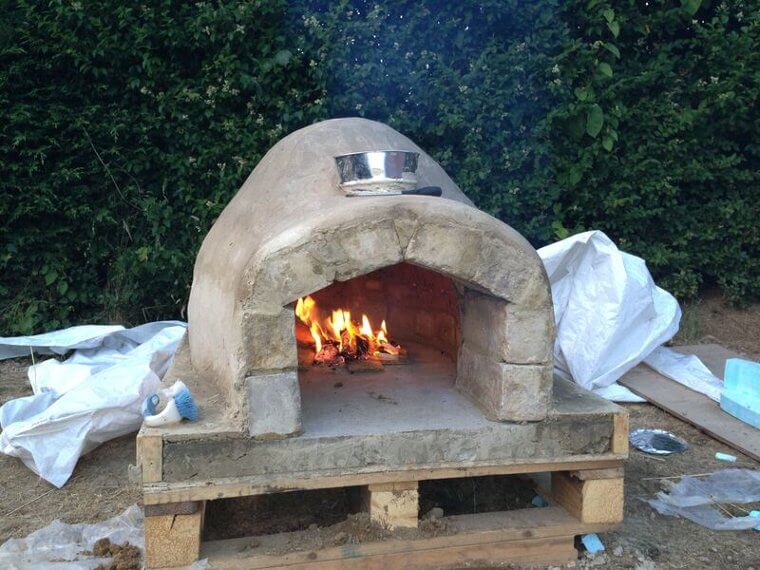 These days, there are many outdoor pizza oven designs to choose from. In addition to the traditional wood-burning oven, there are also gas-fired brick ovens that have large surfaces for cooking pizzas and other meals at very high temperatures.
Nap in Style in Your Backyard
If you are looking for a more comfortable resting place than a lounge chair or hammock, try a bed! It will make the best place to read a book, lie down for a nap, or practice some meditation. Besides a traditional bed, there are also swinging beds available in different styles and they are great for sunbathing too.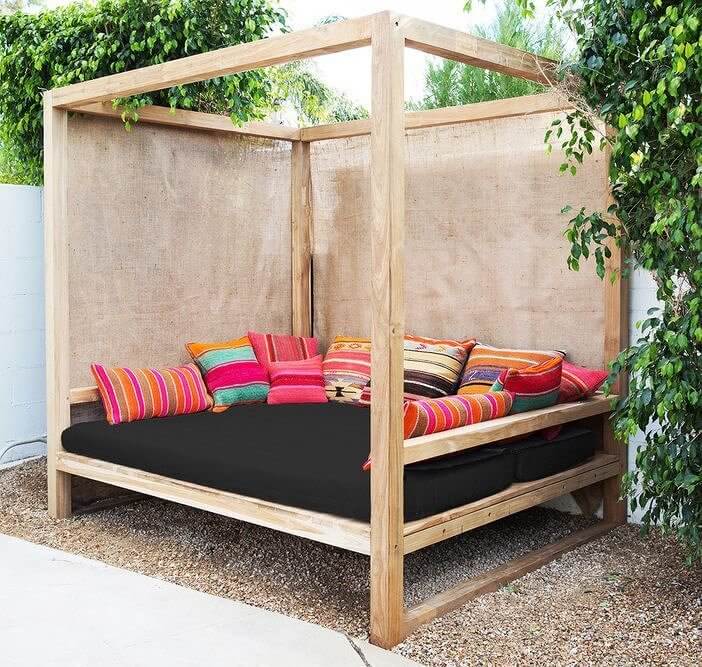 If your outdoor bed isn't waterproof, it has to be in a protected area. Ideally, they should be resistant to bad weather and prolonged sun exposure. Most importantly – they need to be extremely comfortable!