We couldn't believe our eyes when we saw these building design photos on the internet. These designs fail for many reasons and it's a scary thought that these designers may still be out there plying their "trade." Evidently, they didn't apply the basics of accurate measurement and meticulous pre-planning to their projects. And to attract prospective buyers, the homeowners opted for substandard photographers and interior decorators to highlight their home's best features. Take a look and see what you think!
Refuge or Dumping Ground?
What is this room's purpose? Is it a refuge for parents whose only chance to escape their children is when they go to the bathroom? Or, is it a dumping ground for the parents of people who find it unaffordable or uncomfortable to place their parents in a retirement home? Happier with them in the family home, do they closet them in this all-in-one 'retreat' hoping they will seldom be seen!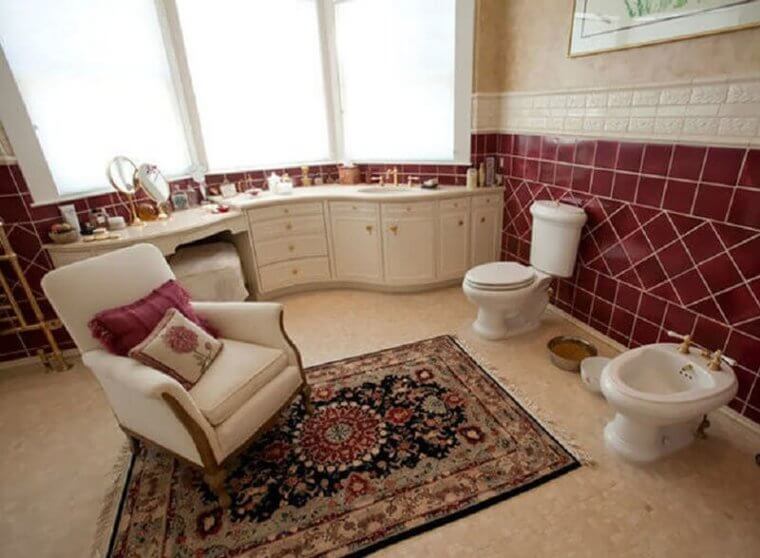 It is pleasingly decorated and neat, and the comfortable high-back chair invites a curl-up with a good book. Everything is at their fingertips here, and even their pets share this space being catered for with food and water bowls. Whether refuge or dumping ground, is having a view of plumbing fixtures, like toilets and bidets, or hearing flushing toilets desirable at any time? It certainly feels more like a prison cell!
​Too Many Doors in a Bedroom
Just look at all those doors! Does this homeowner simply love doors or suffer from omniphobia? It seems that he has purposefully catered for every known disadvantage of closing up a bedroom. Having so many doors certainly ensures proper air circulation through your house and that carbon dioxide which can cause headaches, tiredness, and that stuffy feeling will never get trapped in your bedroom overnight.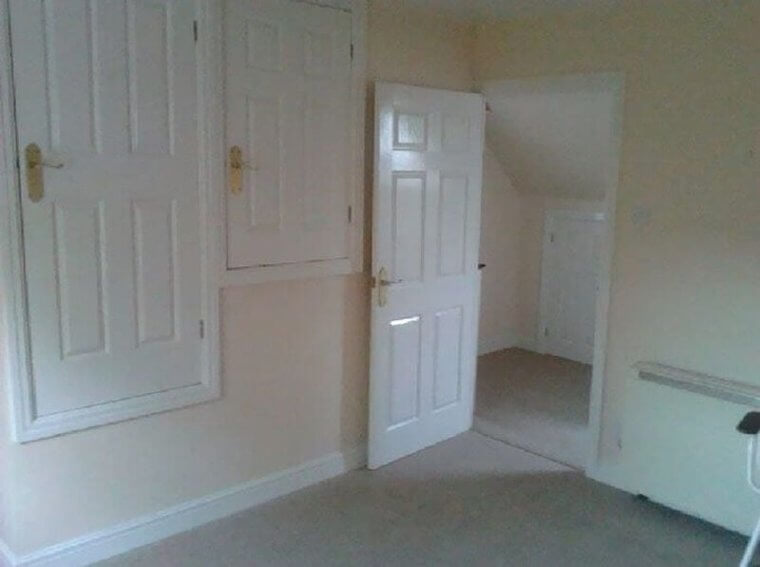 With open doors, you can hear your children awaken or have bad dreams, hear any mysterious noises, smell any outbreak of fire and can reach and rescue your family with several escape route options. But in contrast, Feng Shui followers believe that bedroom doors drain our energy so finding the right position for the bed in relation to all the doors is hugely important. The homeowner will be hard-pushed to find that position here, won't he? 
​Answering the Call of Nature
Unless there is a large number of people living in this house or bathrooms are in short supply, then this bathroom set-up can only be to accommodate those who often urgently need to go to the toilet and just cannot ever make it up the stairs in time. What waste did this homeowner consider - only waste of space?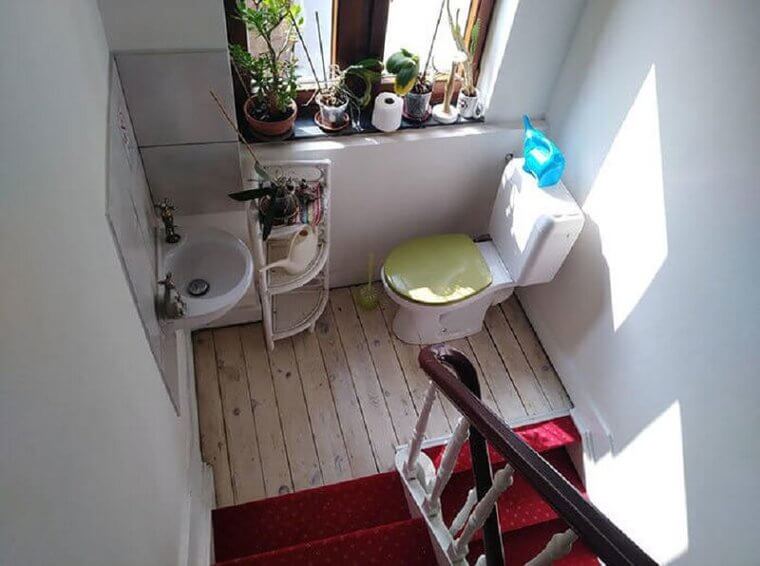 Visitors who ask to use the bathroom will not be surprised if they are told "It's just at the top of the stairs" because literally, it is. But they will probably find the lack of privacy very offputting. Will it be at the top of a prospective home buyer's demolition list or his renovation list to make it more private or will it simply scare him away?
When There's Too Much Space
If the brief to the architect and interior designer required plenty of open space with minimal obstruction so that the kids would be free to run around, chase one another, and play games, then this room unquestionably met the requirements. There is no doubt that kids could have romping fun here however, as a family living space, with no kitchen in sight, this is much too spacious.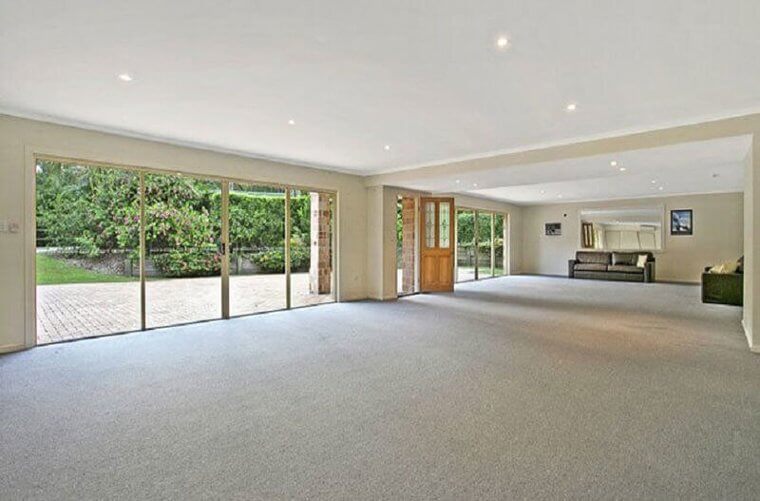 If mirrors have several uses in a room like brightening and opening up the space, making it feel larger, and creating a focal point, then this mirror is quite superfluous here. It only makes this huge space feel more empty. Either the owner is still planning on filling it with more furniture or the architect was not designing this home for a normal-sized family. Perhaps it was for Snow White and her seven dwarfs!

Miss Piggy, Go Home
As pigs are social animals tending to spend about 70 percent of the day exploring their surroundings and rooting for food with a midday rest of several hours, it appears that this pig may be indulging in some pandemic isolation or some extra snooze time indoors. The state of the room indicates it has been there for some time as it looks just like a messy pigsty.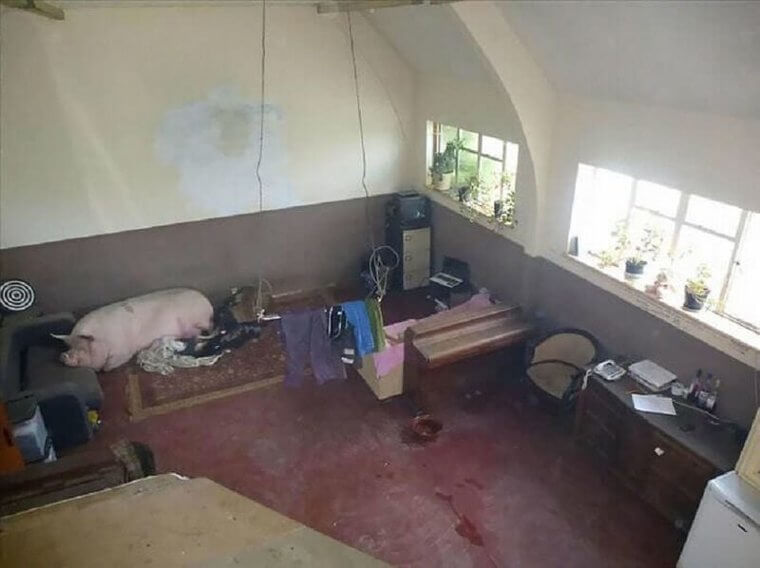 Goodness knows why, but apparently, a guy seeing this photo of the pig resting its trotters inside the home was tempted to buy the property. Perhaps he liked the idea of a pet-friendly home at first but he later decided to sell the property as he could not stop the pig from returning.  Maybe this was the third little piggie only trying to hide from the big bad wolf?

Decorating With Patterns
While skilled interior decorators can sometimes use a single, repeating patterned fabric in a room to create a stylish and relaxed ambiance, some home site brands recommend that as a rule of thumb use at least three patterns to give a room personality, life, and energy. They say that choosing too few colors and patterns can give a room a dull and soulless feel.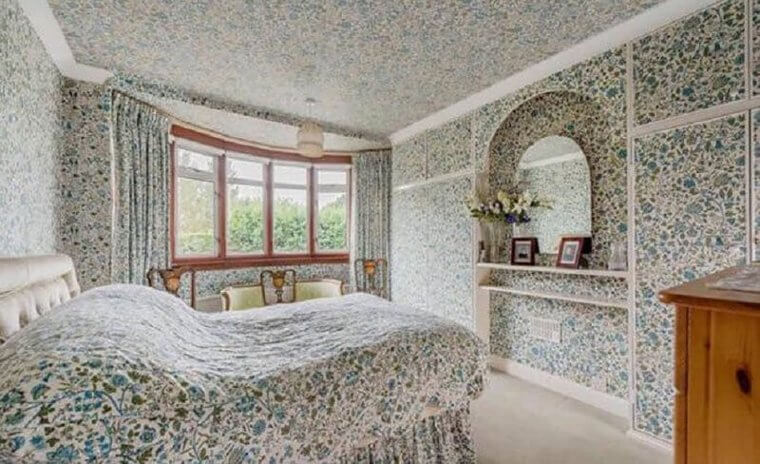 This homeowner obviously does not believe in that principle. We do not have to guess which pattern he loves because it is everywhere covering nearly everything from walls, curtains, and ceiling to bedding and bed skirt. While too much patterning very often overwhelms a room there are always exceptions. How do you find this room's floral motif in muted shades - visually appealing, calming and impactful, or quite overwhelming?

Scary Like Hell
Picture yourself in either of these two scenarios. As a prospective property buyer, you discover this large, unusual space under a house you are viewing, or you are the new owner clearing up this room who when lifting the old floor covering reveals the satanic symbol painted onto the floor. Would it not creep you out and send shivers down your spine?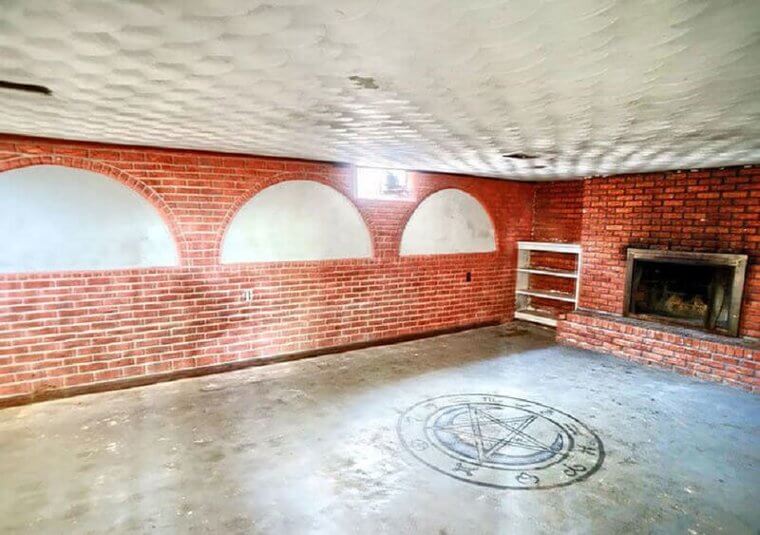 Being below the house and ground, dungeon-like, large, spacious, and private, make it ideal for satanic rituals and activities. Would it set your mind racing and wondering what exactly had been taking place here and what other horrors you might find next? Surely, only the fearless would not be daunted by this space or scared away! Or is it really only a man cave or storage area?

A Home-Grown Enterprising Solution?
Sometimes when repair work to your home is urgently needed, the timing is just not financially convenient. So you have to find an alternative, more economical solution, and raiding your garage or storage room seems like it might be a good idea. Isn't this why you keep all your old junk as things may prove handy at a later stage?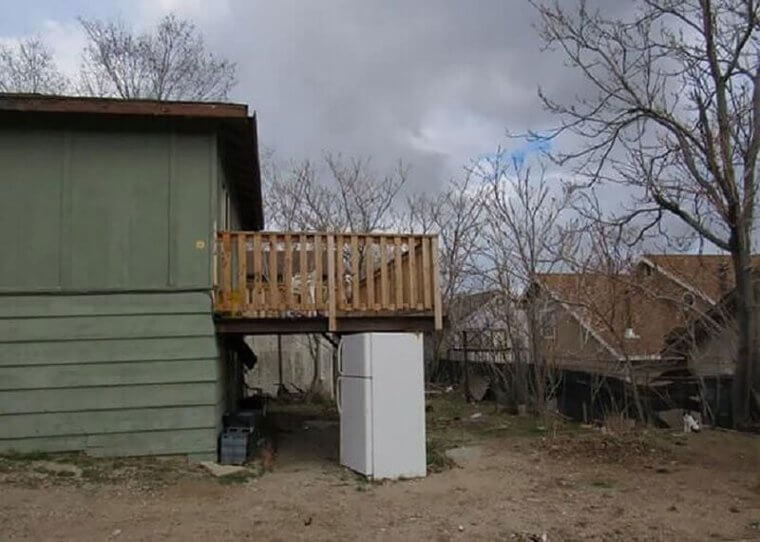 This enterprising homeowner solved his problem and put his old, long-forgotten, and discarded fridge to good use. Sturdy and just the right height it proudly bears the weight of the wooden deck but for how long? Until he can fix the deck properly himself or will he leave this task, or the fridge, for the next owner? That is if he gets one!
​Lying in State
It looks suspiciously like a body has been dragged across this carpet and out of the room. We would like to ask whose body it is and where the body is now. On second thoughts, would we? Is it still in the house and oh! what is that we can see lying in the passage? Eerie!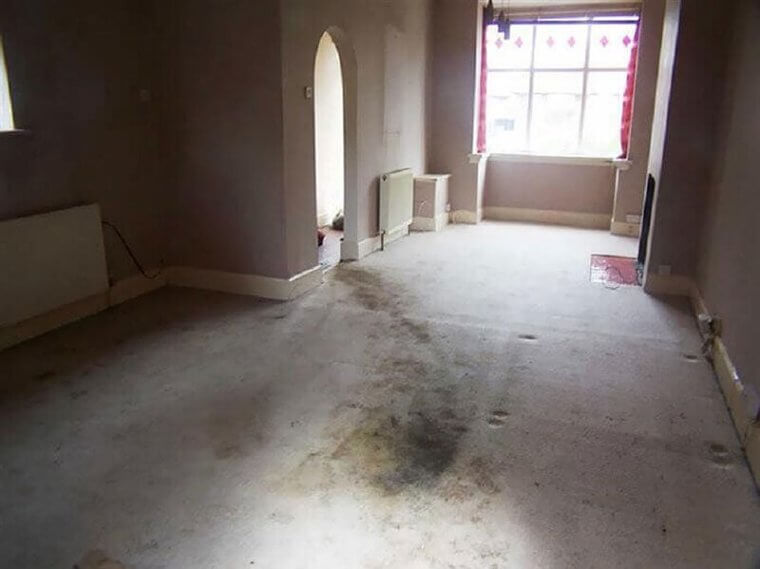 Not many people would feel encouraged to view this house. Only the brave and the bold will venture here. After all, what else lies hidden in the rest of this property, both inside and outside? Also, people may already be discouraged by seeing that there will be some biggish costs involved in fixing it up - new carpets for starters!

Too Hot or What?
It looks like a great property in a good area with its largeish, well-maintained pool but what is all that unusual debris at the bottom of the pool? Are they poolside loungers? Did the heat of the day make them too hot to touch, or recline on, so the owners just dropped them into the pool to cool off? Or, did someone throw a tantrum here?
And what about those lounger cushions half in the water? Surely the owners realize that as they soak up water they will not make good floaters? Or, perhaps the owners think that putting them into the pool will clean them easily? If these are homemade slides for the kids, they will only work once or twice before the cushions slip off the edge down into the water. Quite bizarre!

​A Cool Appliance or Not?
Some people like air conditioning and others prefer ceiling fans to cool their homes. This homeowner appears to be a big lover of fans because this fan has been so well used it looks ready to bite the dust. Or was it perhaps on sale, or a gift, or a very cheap purchase?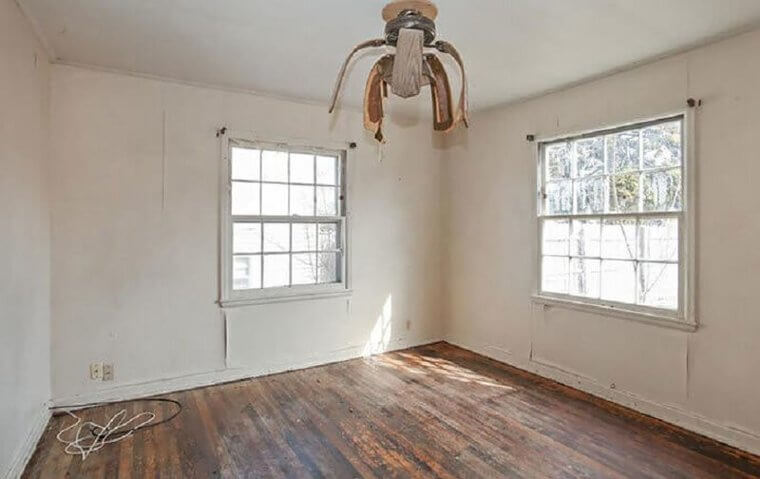 Was there a heatwave this summer? This could explain why the fan appears to have melted. But how did this homeowner cope with an ineffective cooling mechanism then? Hopefully, tall people do not live here as they might still be bruised from bumping their heads or be stooped from always bending to avoid the blades. This fan has expired, it has to go!

A Safety Hazard
Is it really necessary to house so many fire extinguishers in your home or is the homeowner a collector of fire extinguishers? We have all heard the phrase 'prevention is better than cure' but, honestly, placed together in a single assembly point is just plain silly, and definitely not an effective safety precaution.

What does this picture tell interested prospective buyers? Great advertising is meant to entice interested buyers but this photo reveals that this house is not safe and that it is susceptible to fire outbreaks. Instead, it will drive them away. After all, who is willing to risk buying a hugely expensive asset when they believe it is fire-prone?

​A Mirrored View
Heaven help the inebriated who urgently need to use this bathroom after a night of excessive drinking. We feel sure they will not find their way as this hall of many mirrors will confuse even the strictest teetotaller. Of course, narcissists will relish their time here where they can see and watch themselves from all angles.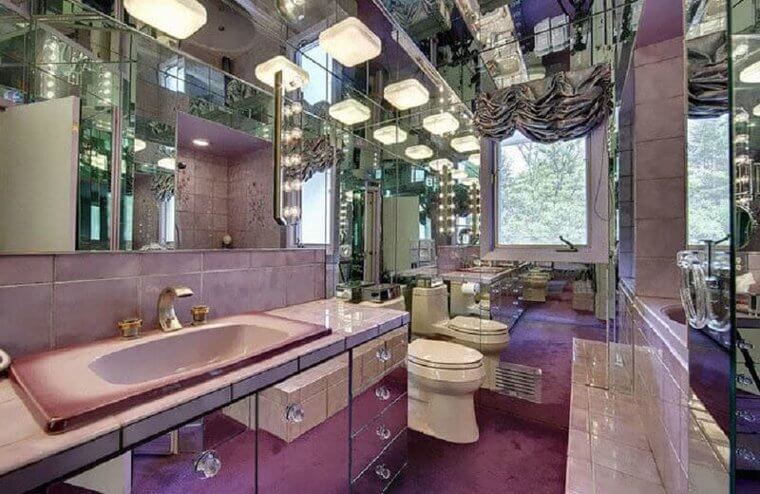 Is your greatest desire to be the most beautiful person in the world? Well, if you ask any of these mirrors "Mirror Mirror on the Wall, Who's the Fairest of Them All?", you will be well pleased with the answer because, yes, it is you. Who else could it be with a myriad of images of yourself featured all over the bathroom?

Collector or Hoarder?
This homeowner is an obsessive collector of furniture as well as indoor plants and vases of cut flowers, so much so in fact that he is running out of space. Soon he will not be able to enjoy his meals at the dining room table or move through the room at all. All this clutter is a designer's nightmare.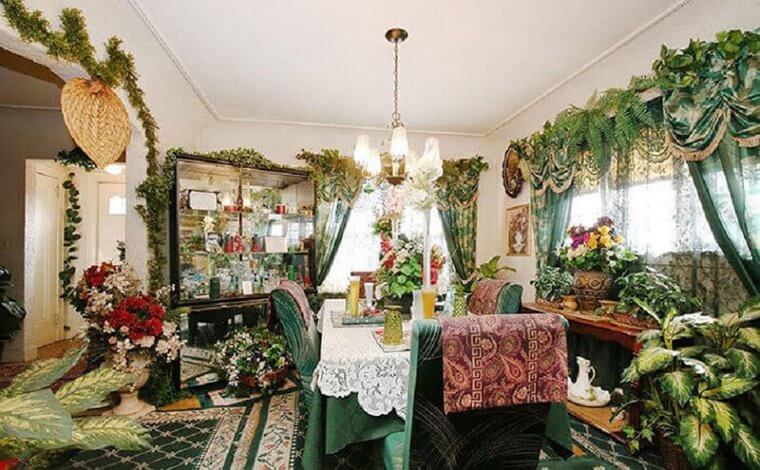 Interior designers recommend that a room should never feel cramped or overcrowded. They claim that too much furniture can have a negative impact on the flow of the room and hamper proper ventilation. It must be quite a feat for this homeowner to maneuver himself through this room without knocking over something. He really is stretching the limits here.

Shaded in Pink
Where is this room? Is it a movie set or a museum that showcases rooms in the homes of the well-to-do in the 17th century? As for the CRT television set and window shutters, what are these anachronisms doing here? This can only be a room in the home of a modern-day person who just loves everything about that period in history.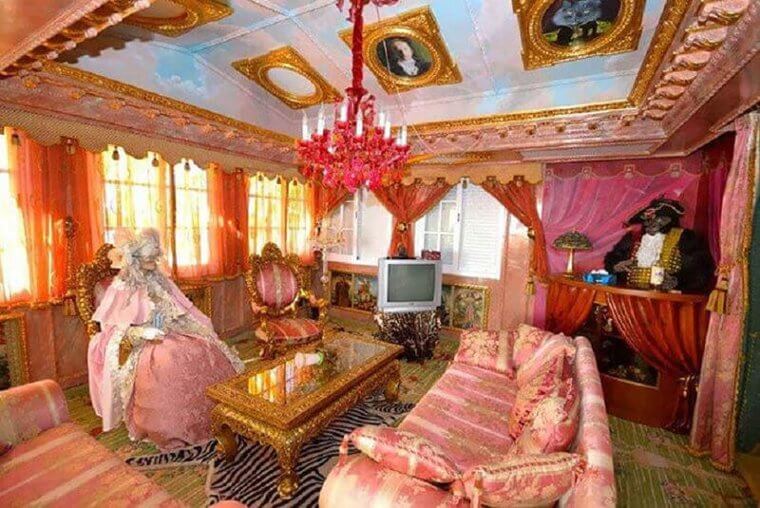 This ornately decorated room will not only confound most people but also interior designers today. From the mannequin in period costume, the monkey in a pirate's outfit, the ceiling portraits to the side wall artworks this room belongs in another time. All this and its somewhat pink monochromatic look are only likely to appeal to and attract very few prospective purchasers.

Peeping Tom
Here's a view of this property's backyard patio from the laundry room. But, is that just a figment of our imagination or is it really someone peeping from behind the door? It is such a tight spot so how could he expect to be excluded from the photo or did he peek out thinking the photograph was already taken?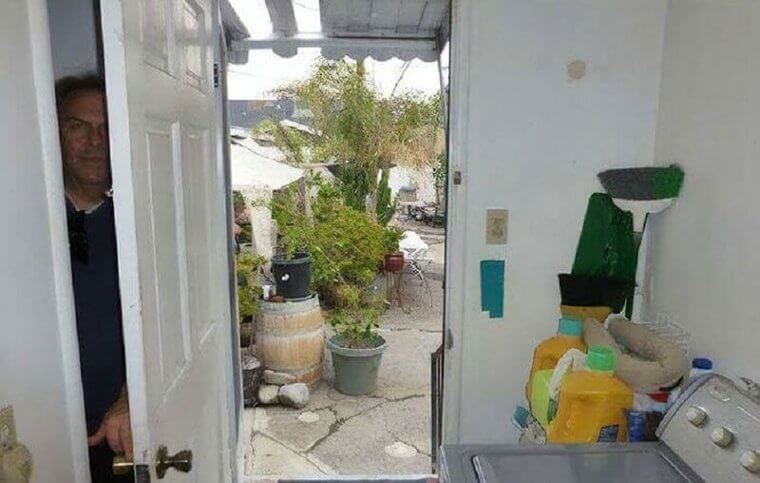 Perhaps the problem lies with the real estate photographer. Is he just an amateur or new at the job and unaware of the guidelines? The purpose of real estate photography is to sell houses so its focus should be on featuring only the home. Nothing personal should be visible and this includes pets, photographers, homeowners, and their families…and peeping Toms!

Left to Guess the Rest
This lovely kitchen must be brand-new in a newly-built home! It is very stylish in its color scheme shades of coffee, cream, and chocolate! Preparing meals here will definitely be a breeze in summer with that extra-large ceiling fan in motion. But, who has defaced that partially visible white wall?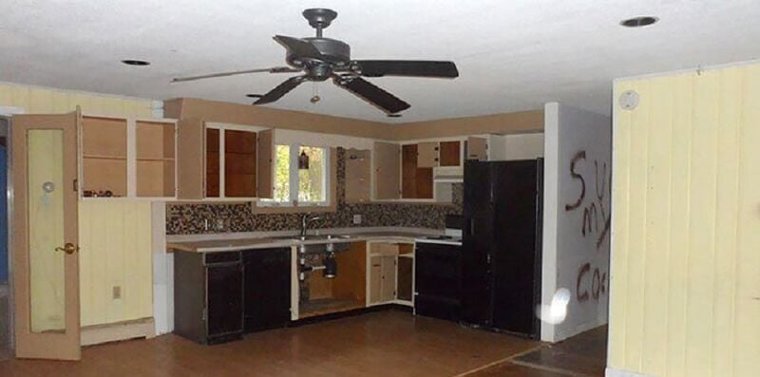 We wonder if this is the work of a graffiti artist randomly passing by or whether it is a message someone left for the owner! We cannot see the whole message so we have to guess the rest of it. It looks somewhat disturbing and we are really hoping that it is more polite than it seems to be!

When Privates Are Not Private
We have heard of family-sized bathrooms but this one has us really confused. With two wash basins, two toilets, and a bidet in the same bathroom, it is really extraordinary. It will be a tight squeeze with everyone using it simultaneously. But, just what the intention with this bathroom is we are not quite sure.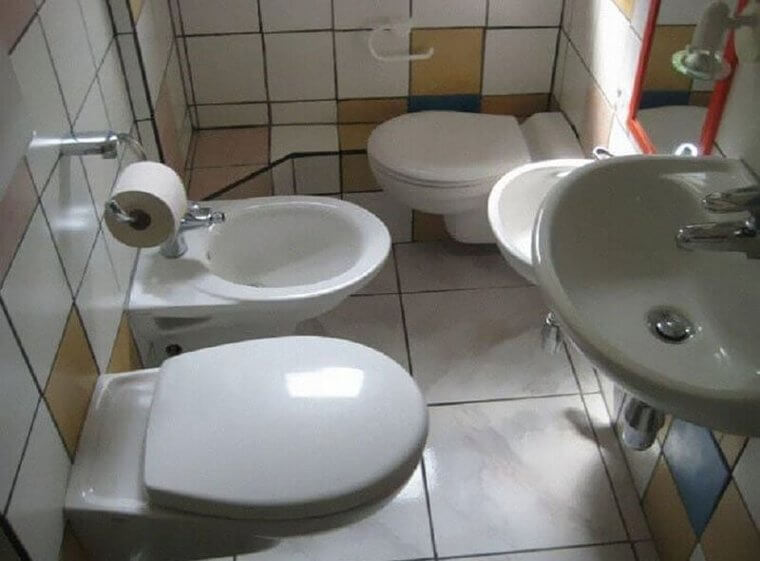 Could it be the only bathroom in the house, or for a parent and child to use at the same time? Or, could it be for two people extremely different in height - one very short and one very tall? What if, when it is already in use and someone else has an urgent urgent call of nature? Well, let us rather not think about that!

​A Veil of Secrecy
It seems that the builder of this home failed to comply with national building regulations on ventilation and simply added a false ventilation panel to pass the building inspection. Who would have thought it possible? And who would normally bother to check the vents of new constructions in any case?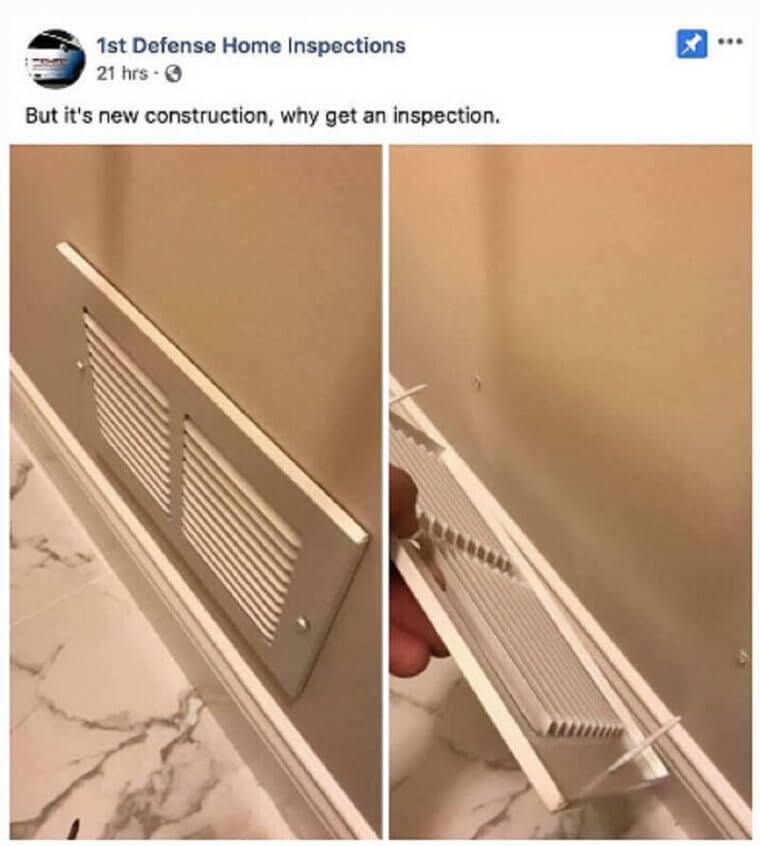 There is a lesson in this for all property buyers. Always insist on having a professional, reputable company inspect any home you wish to purchase before you sign an offer! It may cost a lot but at least you will not be sorry later! Then you will definitely not perspire throughout, or expire during, the summer!

These Animals Are Here to Stay
Disputes with neighbors are never fun. Some can be easily resolved and others can make one's life very uncomfortable and miserable. Some neighbors will be accommodating and others are not. So, if you have neighbors, try to keep on good terms with them, it is best for happy, harmonious living.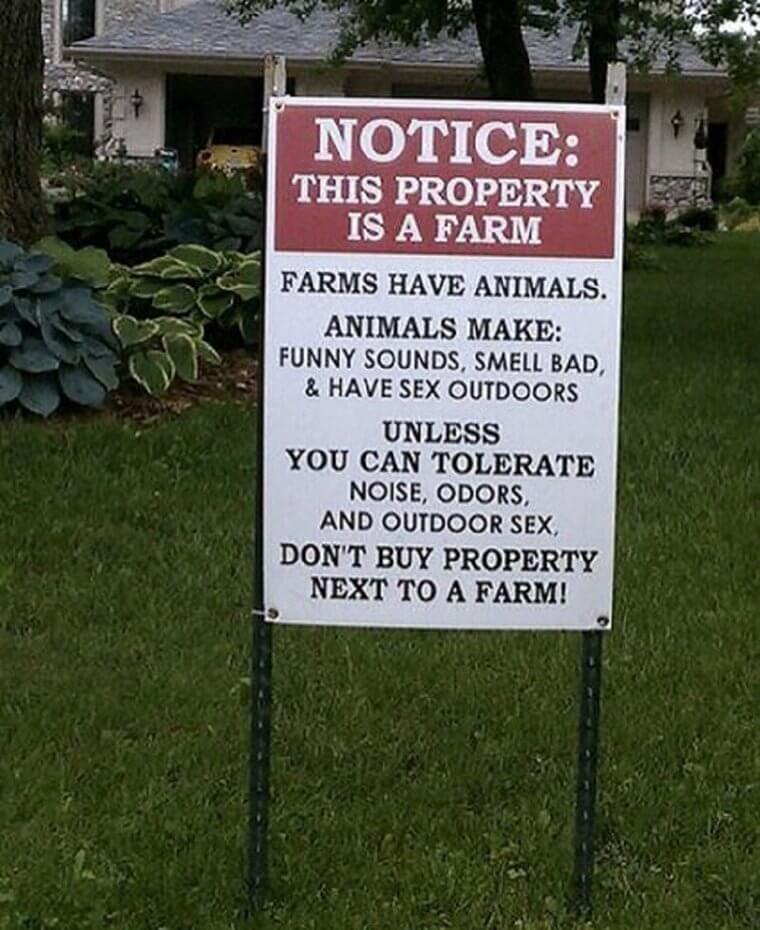 We can only assume that this farmer has had previous run-ins with neighbors who complained about his animals. They must have been unpleasant experiences that he does not wish to repeat so he has created this board as a warning. Buy somewhere else if your pet hate is animals and their habits, these animals are here to stay!

What Hides Behind
It just goes to show that, as we have said before, you should never sign an offer to purchase a home until it has been inspected thoroughly by a creditable, professional home inspection company. This will expose any shortcuts and false coverings people use to disguise problems and flaws just to sell and get a better-than-deserved price for their homes. It will be well worth your while!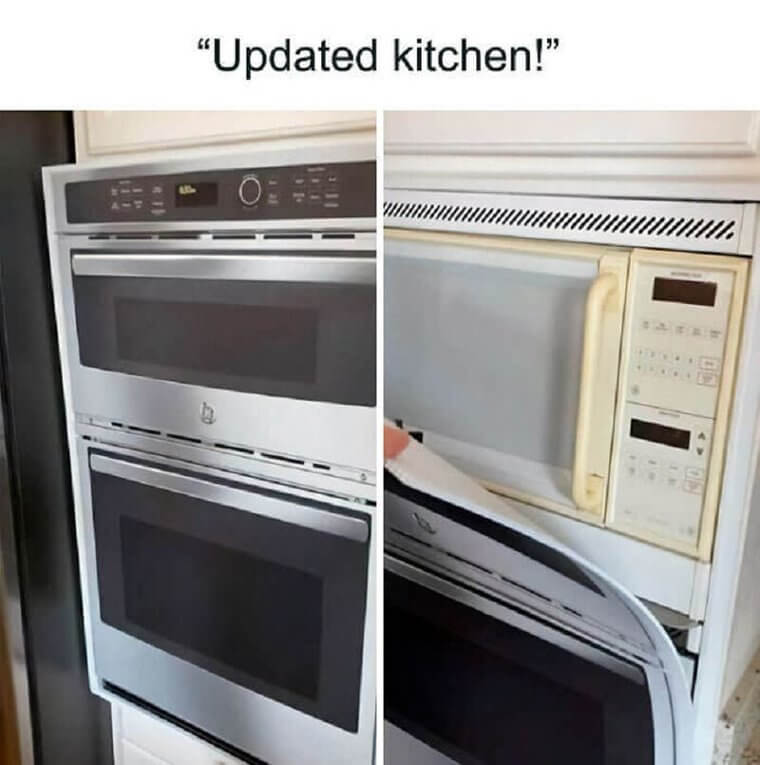 This proves that prospective buyers should test everything to ensure good working order; open and shut every door, window, and cupboard, test all the appliances, keys, and alarm, check all the plumbing, flush the toilets, and switch on the stove, grill, hot plates, extractor fan, and microwave. How did these owners expect to get away with such deception? A false front to hide an old microwave! Unbelievable!

Stairway to Heaven?
Someone was pretty determined this house needed an extra toilet and decided to install it in this minute cupboard-like space next to the stairs but above floor level. Weird! There is absolutely no privacy as it is so squashed into this tiny space that the door cannot be closed and access to it means clambering over this makeshift unstable opening. Hopefully, the plumbing never fails!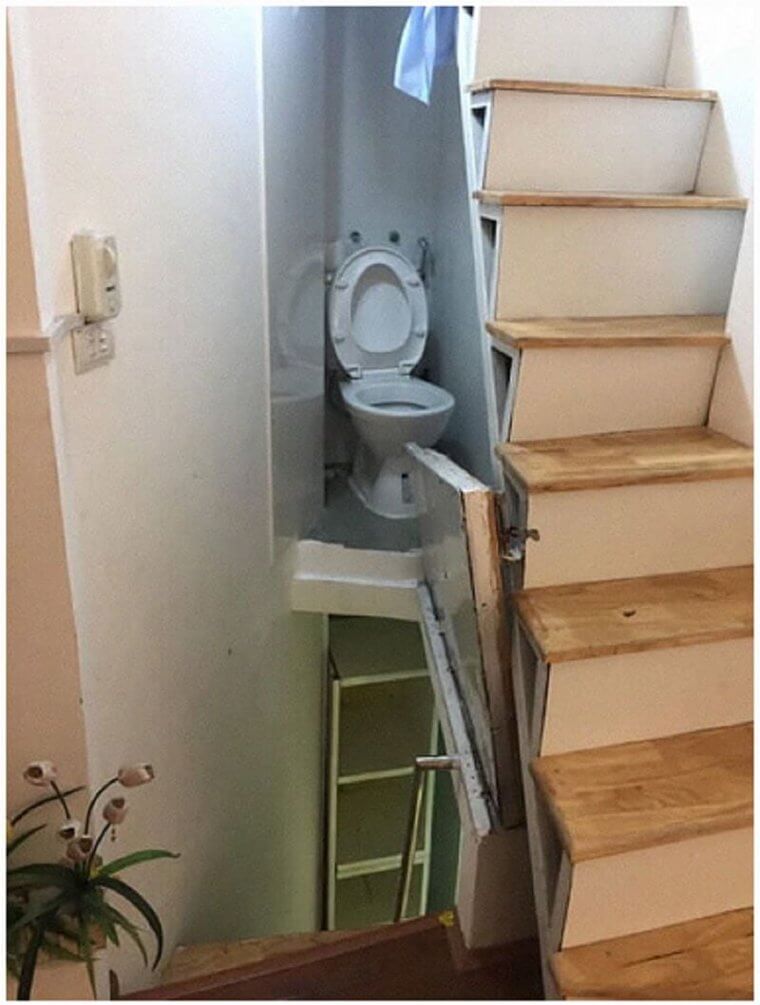 What about those scary stairs? Where do they lead to?  Where is the banister rail? The stairway is so steep, the risers are steep and the treads are very narrow. Looking at it all is quite unnerving and frightening. Clearly, none of the residents who use those stairs suffer from acrophobia. It is a bit late but obviously, they should have used the services of a professional here.

Construction Gone Wrong
Was it really necessary for this homeowner to almost demolish an exterior wall of his house just to have a wall-mounted TV set? Even an amateur should know his limitations. But perhaps he responded to a dare or he was drunk and thought it was a good idea at the time. What a horrifying sight awaited him afterward!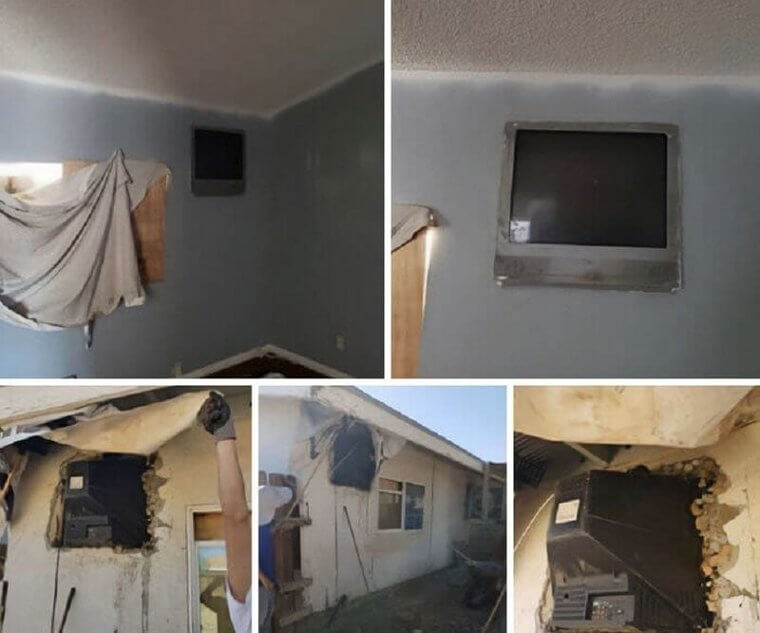 He certainly never considered such practicalities as the bulky size of a CRT box set or how weather conditions like snow, rainstorms, high winds, and lightning might affect the TV set. Inadequately installed, unbalanced, and exposed to the elements!  Wow, he really goofed up this job! Seeing the reality of what he had done and the cost to repair the damage must have been quite shattering.

Take a Second Look
He got this wrong alright! It looks like green gas slowly rising upwards from the lawn. Give it a second look and you will realize that it is someone's botched effort at photo editing. It is a how-not-to lesson - how not to try photo editing an unhealthy ugly lawn into a lush lawn with limited photo editing skills.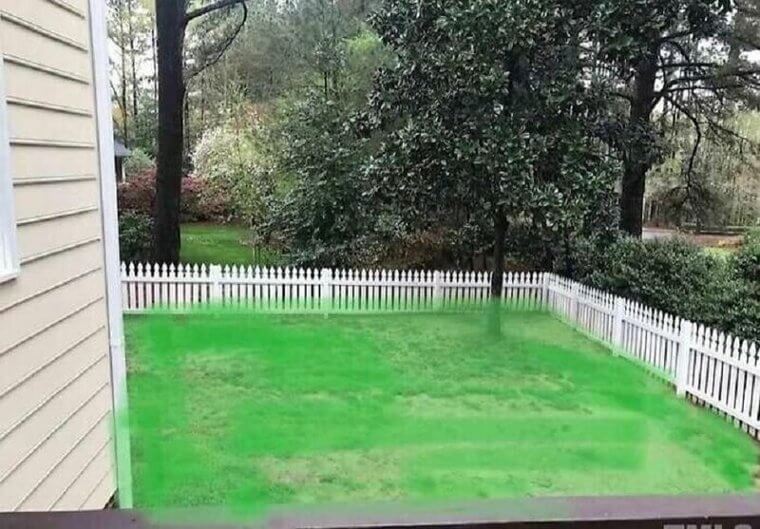 A photo is one thing but the reality is another. What did this artist expect to happen should the photo entice a prospective buyer to view this property? On the other hand, maybe he intended to attract Martians or the "little green men" to visit this property or to encourage Shrek to relocate to this green zone.

Get It Right the First Time, or Else
How could they have gotten this design so wrong? It is apparent no experts were consulted when this building was designed. Trying to enter this home each time must give this owner some seriously anxious moments especially when drunk or late at night. One miss and this means spending the rest of the night outside.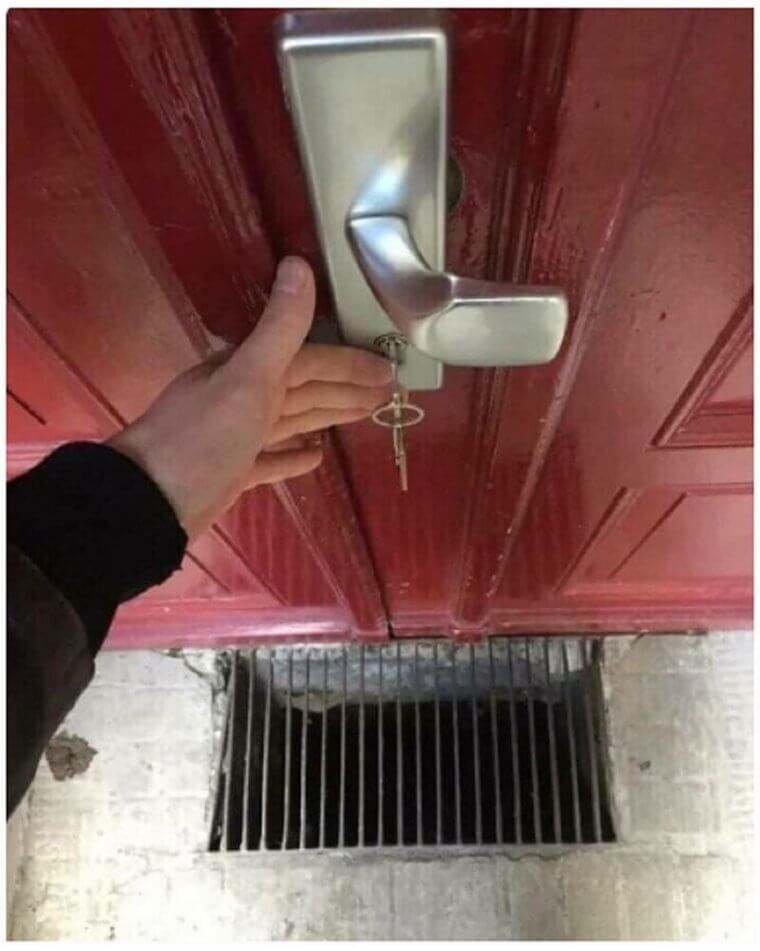 We cannot help wondering how many house keys have fallen through that grid and what else has landed down there. Entryways to homes are usually appealing and inviting but this is an eyesore. We cannot believe that the owner has not made it more attractive or devised some method to safeguard the house keys. Even a simple welcoming doormat would have done the trick!

Under the Illusion
This bathroom will be nightmare-inducing for any drunk who uses it. Can you just picture his confusion and how he will grope around trying to feel for the edge of this hole? We feel sure someone will try to put something down the hole just to see it drain away. But it won't, will it?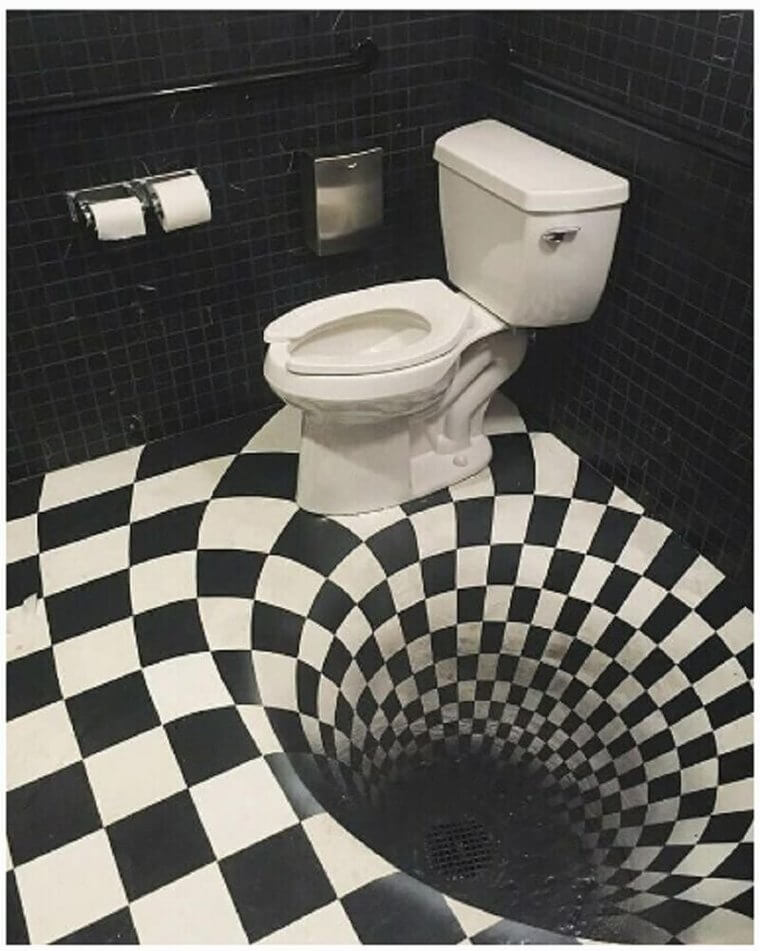 This optical illusion and the feeling of teetering on the edge will curtail any long visits to this bathroom. Not much sitting and resting, no long telephone calls and not much scrolling on phones will happen here. People will be up and off in no time…  if people will even be prepared to use it at all!

Missing the Steps
This renovation is quite an achievement given its awkward position and the rather narrow carpet-covered treads. It is hard to fathom what its purpose is. The railing indicates it might be useful for exercising, or for acrobatic, balletic, or balancing training. If it is a catwalk then it is not a normal catwalk. In any case, cats do not need any railing.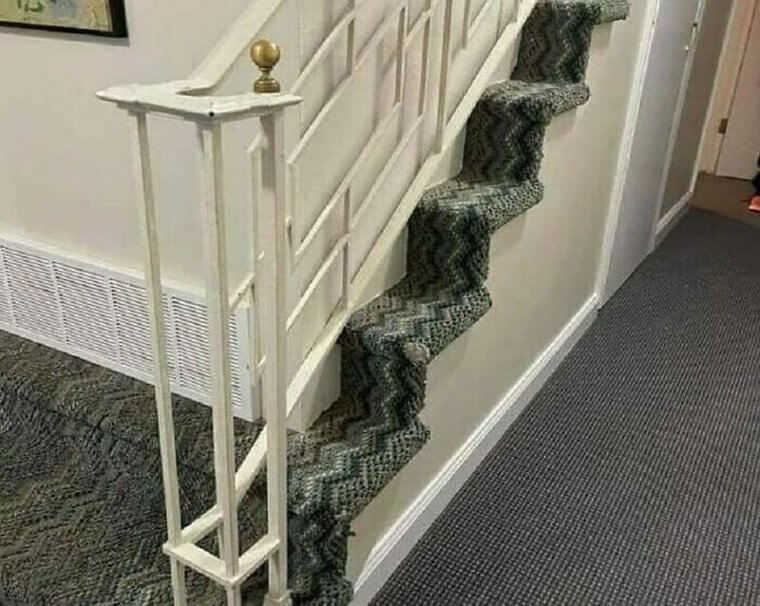 If it is for humans to use as a stairway, then climbing it will be rather difficult and cumbersome for them and likely to result in many falls. Should it be intended as a decorative piece, then we think it has missed the mark because it looks more like someone's construction error and design blunder. It is definitely a misstep… oops, no pun intended!

Horror House or Family Home?
It might look derelict and have been abandoned ages ago but it looks like a pretty solid building. With its good structure and lots of hard cleaning, care, and attention it should fix up well. As is, it would be great as a movie set or on one of those scary foreboding homes on spooky, ghost, or haunted house tours.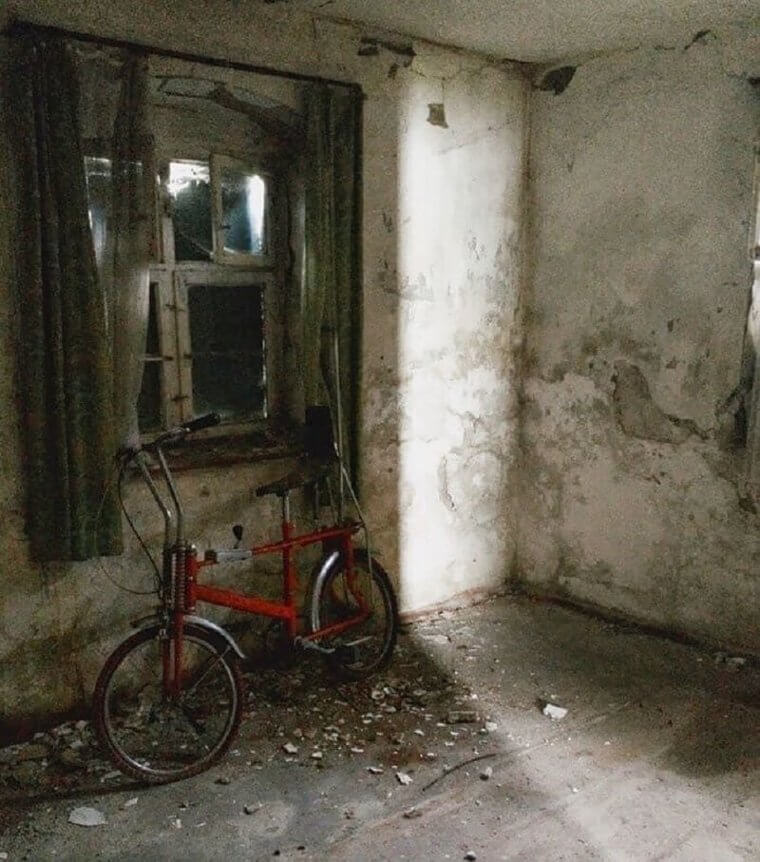 But someone was not afraid to visit here. Maybe when walking around, the eeriness of it all got too much for him and he ran off leaving his red bicycle behind. If you should want to buy this property and renovate it for your family, it might be worthwhile and wise to have an exorcist cleanse and purify it first - just to be sure!

A Smart Prison Perhaps?
Is this a posh prison block for millionaires or ex-celebrities who are now in prison and prefer to pay to ensure a more plush 'stay'? The entrance of each two-story, apartment-like cell has a wooden front door, a personalized doormat, and a decorative cell number sign. The upper-level balcony lets them view their neighbors, give them a wave, and chit-chat with them. What luxury!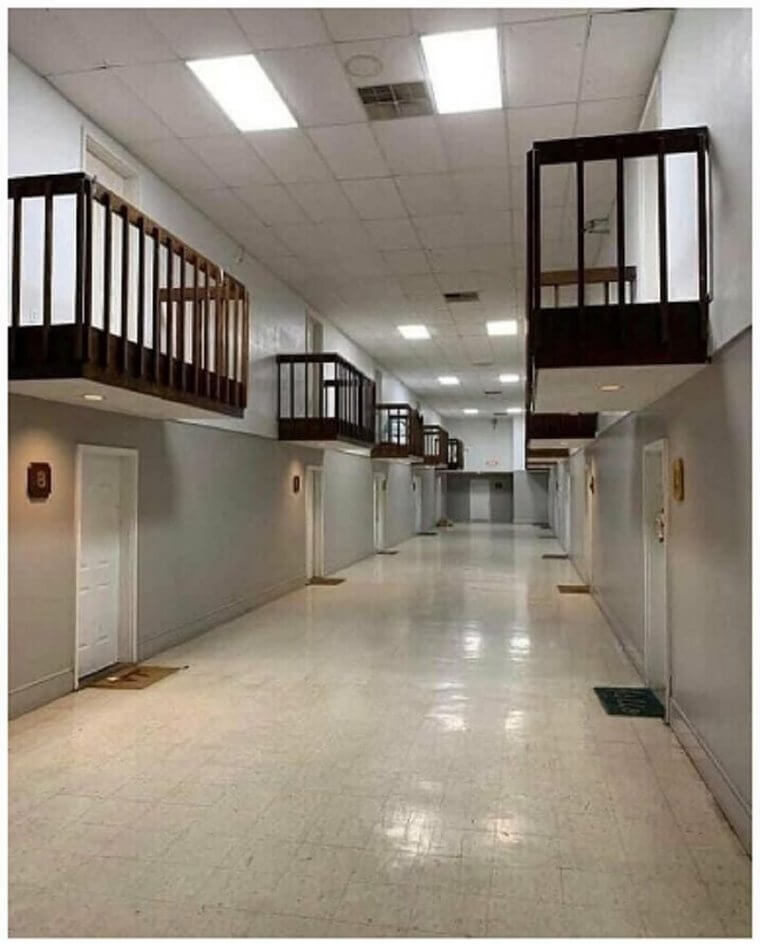 Or, could it possibly be a new-age apartment complex with interior balconies so neighbors can better communicate with each other or watch some activity happening in the atrium, like a pilates or aerobics class, or a product demonstration? It is well-kept but a bit clinical so could it be some type of isolation institution where only the cured may venture onto their balcony while the uncured are in lockdown inside their 'cell'?