Barbie the movie has hit theaters and is already breaking records, receiving backlash, and stirring up controversy. The film is produced by Margot Robbie, who just so happens to play the lead leggy blonde Barbie doll we've all grown up with. But working on Barbie was far from tickled pink. From production, to the cast, to the crude backlash from public figures—these are the behind-the-scenes secrets.
Viewers Are Attacking The Film
As Barbie hit the theaters, viewers can quickly notice that aside from being a movie about a famously known toy, it strives to attack some new-age themes, like feminism and the LGBTQ+ community. Unfortunately, not everyone is pleased. The movie's promotion of woke themes faced criticism on Twitter, with some users labeling it as "man-hating feminist trash."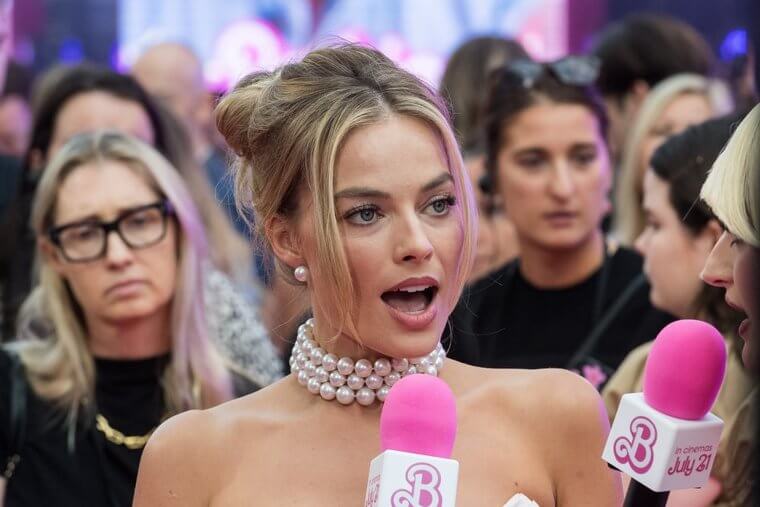 One viewer expressed her dismay on a talk show, calling the movie the "most insidious packaging of feminist cliches and trans grooming." Despite the fact that her daughters were excited to see the movie, she decided against letting them watch it after learning about one of Barbie's sidekicks being portrayed by trans actress Hari Nef. "Is nothing sacred? There aren't a lot of movies that appeal to little girls, and now this is off the list," she expressed.
NSFW French Poster
The film's tagline stirred up some controversy when it was translated for the French poster, going viral due to a potentially unintended, more explicit meaning. The French tagline reads, "Elle peut tout faire. Lui, c'est juste Ken" – which closely matches the original English, meaning "She can do everything. He's just Ken." But in French slang, "Ken" has a double, more explicit, meaning.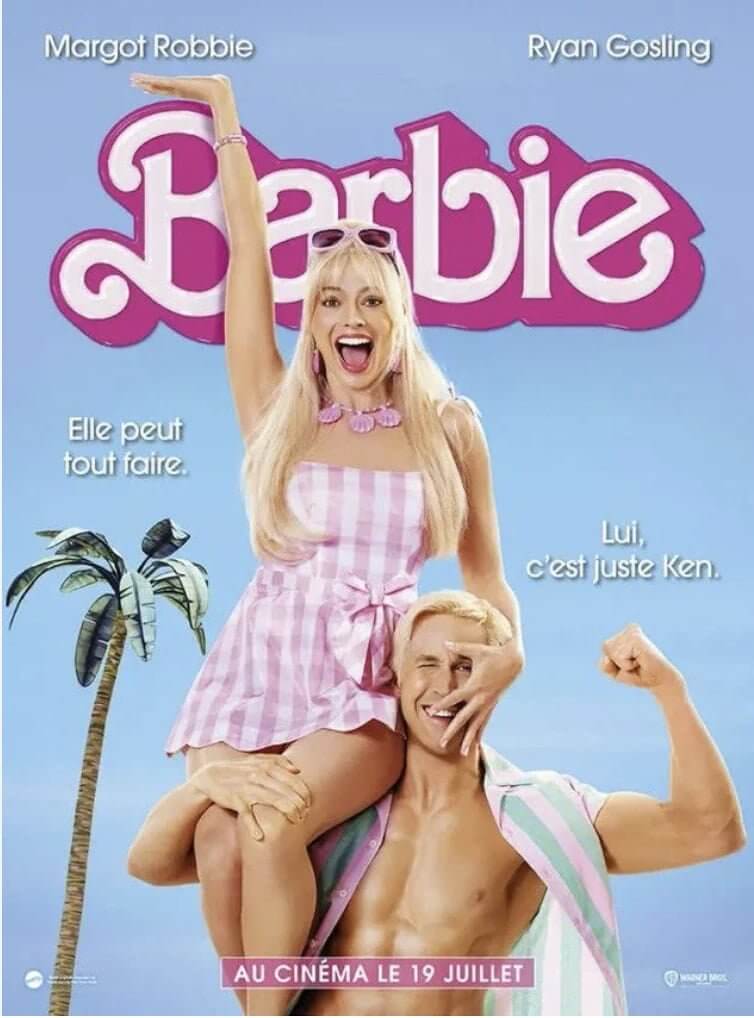 Ken represents the f-word, resulting in the tagline: "She can do everything. He just knows how to f---." The debate about whether the double entendre was intentional remains open, but a French marketing executive emphasized that there was no other way for it to be interpreted. "It's definitely deliberate; there's no way a French speaker wouldn't have noticed the dirty pun," they said. "It's sort of genius, really, that they slipped that in."
Margot Bribed Ryan Gosling To Play Ken
It turns out that Gosling needed some enticing to accept the role the tan, bare-chested, cheesy-smiling Ken. Robbie revealed in an interview, "I bribed him essentially. I felt his hesitation, and I said, 'If you do this movie with us, I'll buy you a present every single day.'" Gosling confirmed, "And she did.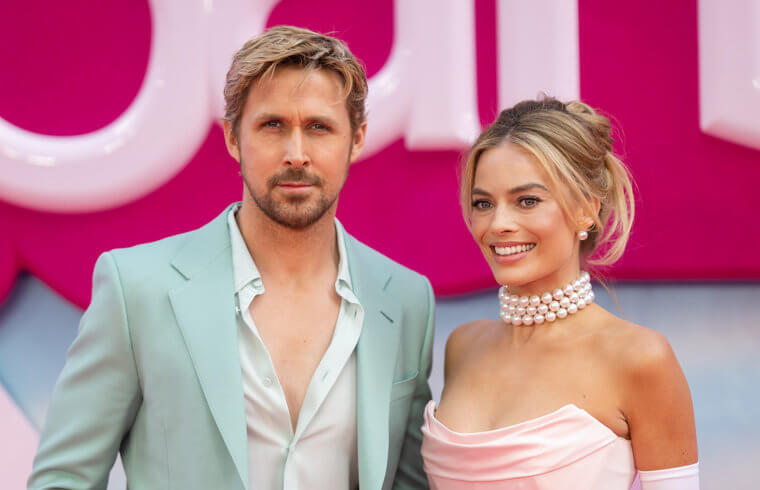 "Every day there was this pink wrapped present from Barbie to Ken to, I think, encourage Ken-ergy," Gosling continued. "They were all beach-related or horse related." It seemed to work, but maybe for a different reason you would expect. "Yeah, it was amazing. I mean, it was a long shoot, so at a certain point, it felt like 'this is not sustainable. This can't continue,' but it did."
Margot's Friends Were Disappointed In Her
When Margot took on the role of Barbie, her friends eagerly anticipated a sexy scene between Barbie and Ken, played by the charismatic Ryan Gosling. However, as the film hit the silver screen, disappointment filled the air as there was no steamy makeout sequence between the two. In a recent interview, Robbie candidly shared how upset her friends were with her.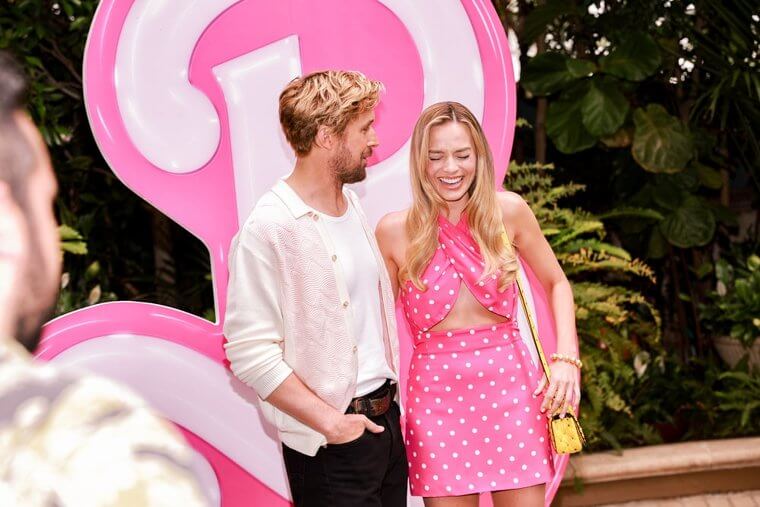 "All of my girlfriends were like, 'Well you did a whole movie with him, and you don't kiss? What's wrong with you? I thought you were kind of in charge of this one,'" She candidly shared. "I was like, 'I know, I can't check that one off [my list],'" Robbie revealed. Margot later admitted that Gosling is one of her Hollywood crushes, making this missed opportunity even more painful.
Barbie Backlash
For such a huge film, it's no surprise that it was prone to a fair share of controversy. When the first full trailer for the movie premiered some fans were surprised to see Ryan Gosling as Ken, and questioned his ability to take on the "Kenergetic" role. "Ryan Gosling is too ugly and too old to be playing Ken, they should've cast Henry Cavill or Chris Evans bye," a viewer tweeted.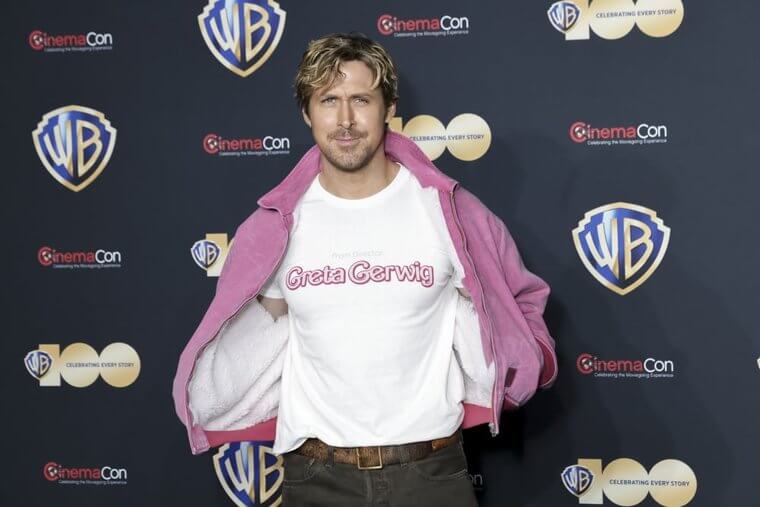 But Gosling fans quickly came to his defense and expressed their excitement to see the heartthrob grace the role of Ken. Gosling seemed unfazed and stayed true to his Ken-ergy, stating in an interview with GQ before the movie's release, "I would say, you know, if people don't want to play with my Ken, there are many other Kens to play with."
Barbie Is Banned In Vietnam
In the film, there is a scene featuring a map showing China's territorial claims in the South China Sea using what is called a "nine-dash line". This line is used in maps to depict China's claims over parts of the South China Sea, including areas that Vietnam considers its own. Vietnam views the line as offensive and a "violation of its sovereignty". The UN even ruled it officially invalid.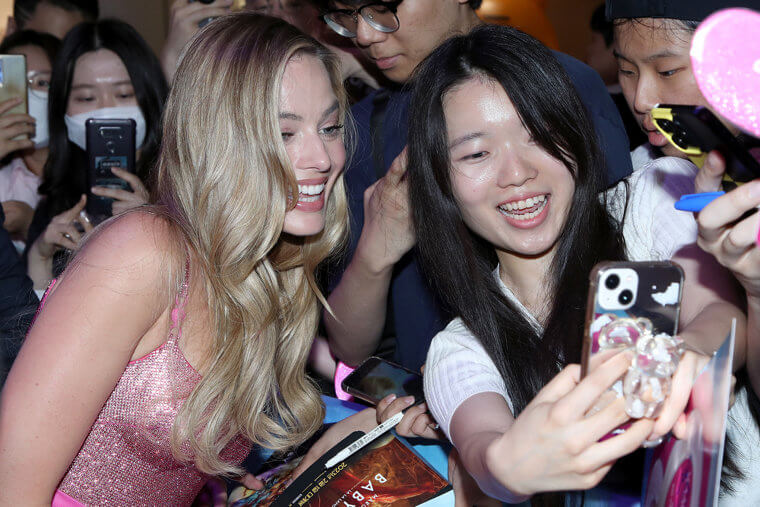 A spokesperson from Warner Bros. defended the scene, stating, "The map in Barbie Land is a child-like crayon drawing. The doodles depict Barbie's make-believe journey from Barbie Land to the 'real world.' It was not intended to make any type of statement." The Philippines government also contemplated banning the film but ended up just blurring the image of the map to avoid any misinterpretations. 
Amy Schumer Won The Role of Barbie
Amy Schumer was originally cast as Barbie, but in 2017, it was revealed she had dropped out of the project. At the time of her exit, she cited scheduling conflicts' with her 2018 film I Feel Pretty as the reason for her departure. But in 2022, she finally revealed the real reason she left.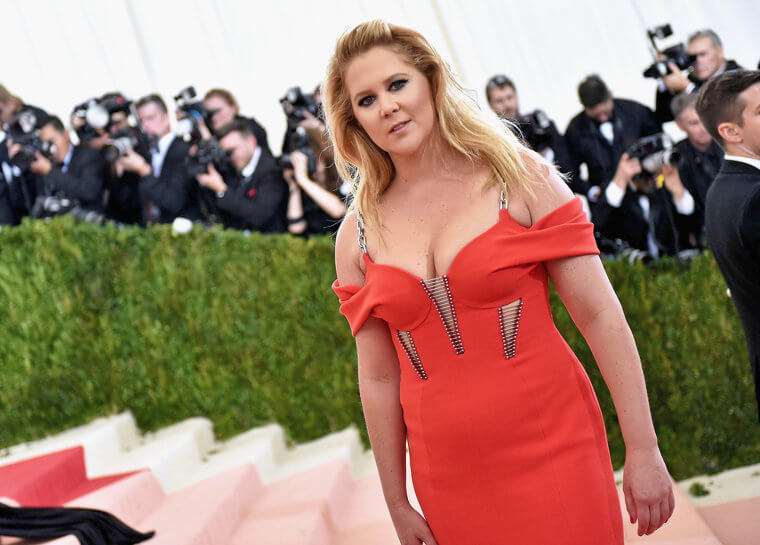 "They definitely didn't want to do it the way I wanted to do it, the only way I was interested in doing it,'" she shared. She explained that she and her sister/writing partner Kim Caramele wrote Barbie as an 'ambitious inventor,' while the studio asked that she would be a "high heel made out of Jell-O". Amy shared that she was sent a pair of Manolo Blahniks to celebrate the film deal. "The idea that that's just what every woman must want, right there, I should have gone, "You've got the wrong gal,"' she said.
After Amy There Was Gal
Margot Robbie has surprised fans by revealing that Gal Gadot was initially considered for the lead role of Barbie in the upcoming film. In a recent interview with Vogue, Robbie shared that both she and director Greta Gerwig were searching for someone with "Barbie energy," and they believed Gadot would be a perfect fit.
According to Robbie, "Gal Gadot is Barbie energy. Because Gal Gadot is so impossibly beautiful, but you don't hate her for being that beautiful, because she's so genuinely sincere, and she's so enthusiastically kind, that it's almost dorky. It's like right before being a dork." However, due to prior commitments, Gadot couldn't take on the role at that time, so Margot Robbie ultimately stepped in.
What Went Down In The Barbie Cast Sleepover?
During the production of Barbie, Margot hosted a sleepover for all the Barbie actresses before the photography began. The actors playing the Kens were allowed to stop by or phone in through Facetime. They even formed a group chat together. However, Michael Cera, who plays Allan, was not part of the group chat.  No hard feelings though, he just doesn't own an iPhone.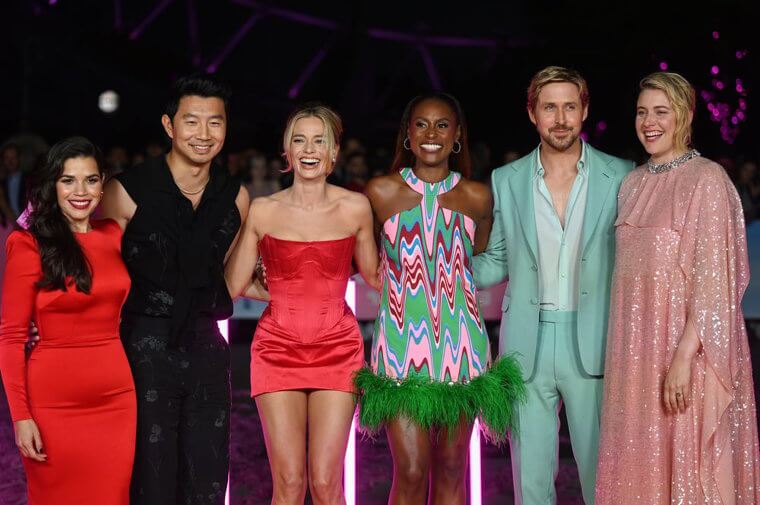 Robbie also instituted a weekly pink dress code, and anyone who didn't comply would face a fine. The collected fines were donated to a charitable cause. Ryan Gosling proved to be exceptionally skilled at comedy, resulting in plenty of laughter on set and sometimes even ruining some takes due to Robbie's uncontrollable laughter. Overall, this star studded cast is definitely one we wish were a part of.
Margot Compared Barbie To Jurrasic Park
If you haven't been living under a rock, you know Margot Robbie plays Barbie in the film. But did you know she is the producer as well? Barbie is produced by Margot and her husband's company LuckyChap which aims to promote female stories from female storytellers. Margot revealed that she pitched the movie to Mattel and Warner Bros. by comparing it to Steven Spielberg's massive sci-fi-adventure flick Jurassic Park.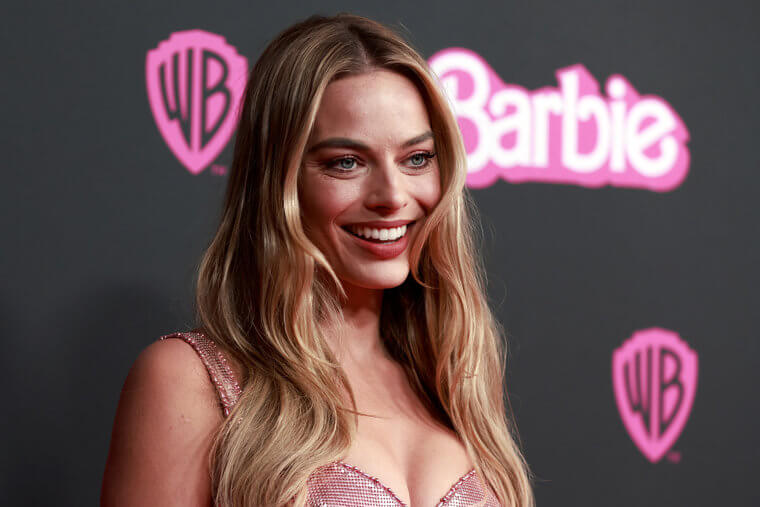 "My pitch in the greenlight meeting was the studios have prospered so much when they're brave enough to pair a big idea with a visionary director...like, 'dinosaurs and Spielberg'." Robbie shared. "Now you've got Barbie and Greta Gerwig,'" she added in an act of desperation to get the film off the ground. "I told them that it'd make a billion dollars, which maybe I was overselling, but we had a movie to make, okay?!"
Margot Was Paid A Record-Breaking Salary
According to a Variety report, Margot Robbie received a salary of $12.5 million for her role in the Barbie movie, matching what Ryan Gosling was paid to portray Ken. This makes Margot the highest-paid actor of 2022. According to reports, Margot's net worth is a whopping $40 million —$14 million more than what it was just a year before.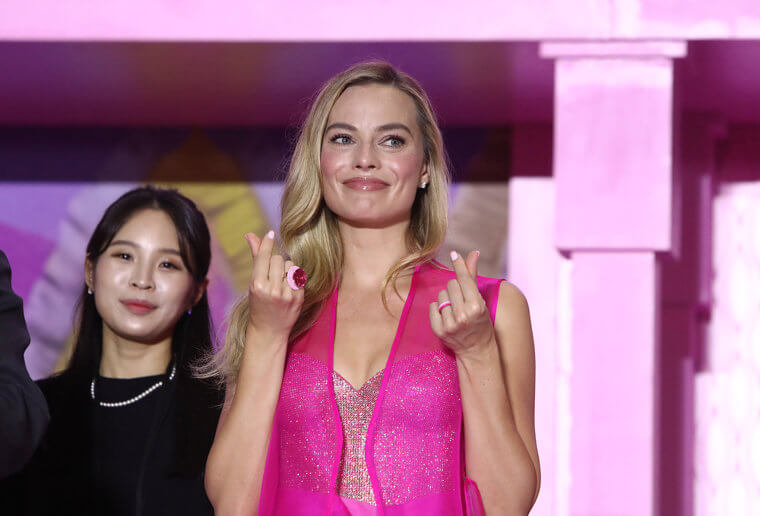 But, considering the factors involved, Margot's salary appears to be a reasonable amount for both Warner Bros. and Mattel to invest in the megastar. Her paycheck is "only" less than 10 percent of the movie's total budget, reportedly set at $145 million. Given how successful the film is at the box office, securing Robbie as the star and producer of Barbie was undoubtedly a worthwhile investment for the studios.
The Cast Had To Get A Skin Makeover
Playing a plastic doll, the case couldn't show up with their natural, blemished skin. Jasmina Vico, the woman behind the stars' glowing appearances on-screen revealed, "It wasn't just makeup and facials that worked magic for the 'Barbie' cast to achieve flawless skin". She had to find the key to that radiant and superficial look. And it was more than just lighting...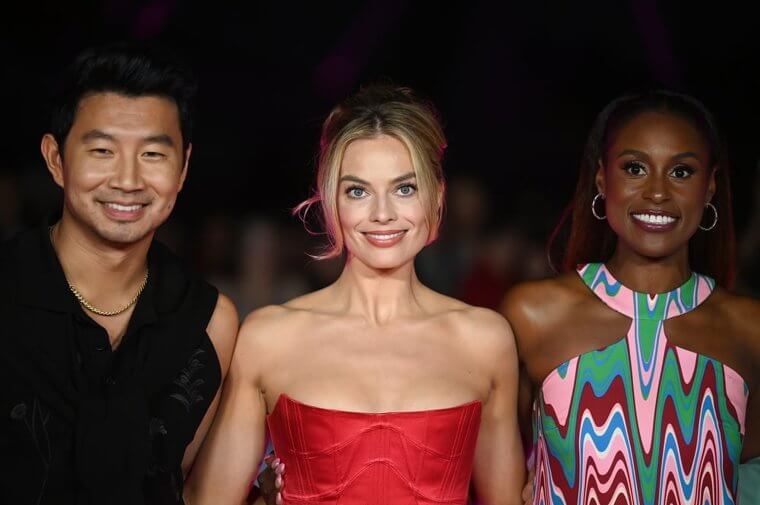 Vico's secret weapon was milk thistle tea, a popular remedy from her native Croatia. The tea, which has a bitter taste, flushes out the liver and brings out the skin's radiance. The stars of 'Barbie,' including Margot Robbie, America Ferrera, and Emma Mackey, embraced the tea wholeheartedly, with Robbie even making it for her fellow cast members during their legendary sleepover. If anyone got a zit, Vico pulled out a combination of salicylic acid and ice.
Margot Robbie Is A Real-Life Barbie
The Wolf of Wall Street made Margot Robbie a household name. Her depiction of Barbie has made her an icon that will go down in history, but she had been making moves in Hollywood long before she graced the big screen. Ever since this Australian actress set her sights on an acting career, she has been a force to be reckoned with.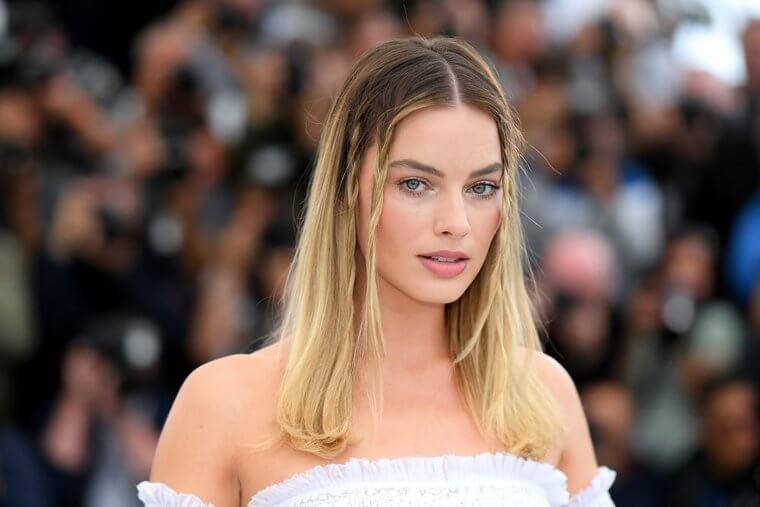 With a picture-perfect smile and it-girl attitude, it seems like life has always been glamorous for the Aussie star. But, not everything has always been smooth sailing for Margot. Let's take a look into Margot's life and career—way before she was the Barbie girl.
Down on the Farm
Margot Robbie was born on July 2, 1990, in Dalby, Queensland, Australia. She grew up on her grandparents' farm on the Gold Coast of Queensland where she participated in a bunch of outdoorsy farm activities.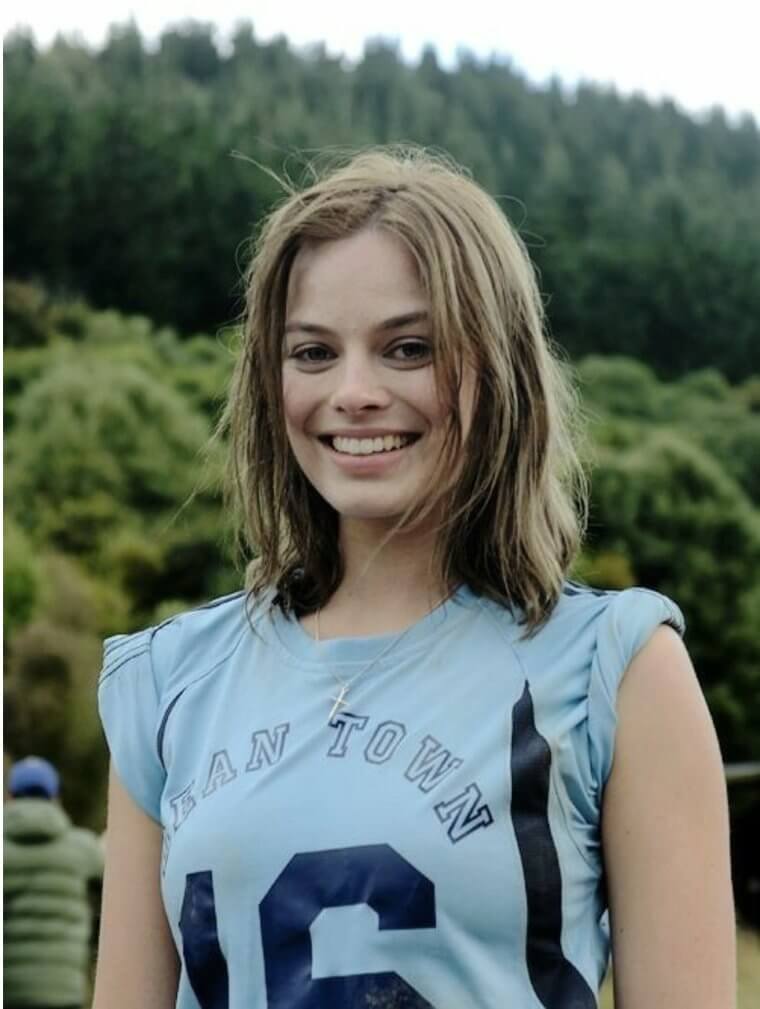 You can tell Robbie is a country girl at heart because she said, "I'm happiest when I'm surfing or out on the farm hunting wild pigs, building cubbies out in the paddocks, or riding around on motorbikes." And as she grew up, her family gave her the lovely nickname "Maggot." And it even followed her to school where her classmates got wind of it!
Trapeze Artist…
At eight years old, Robbie had an odd interest that would eventually come in handy for a specific role in her acting career. (Yes, even odder than chasing wild pigs or something that would earn her the name "maggot.")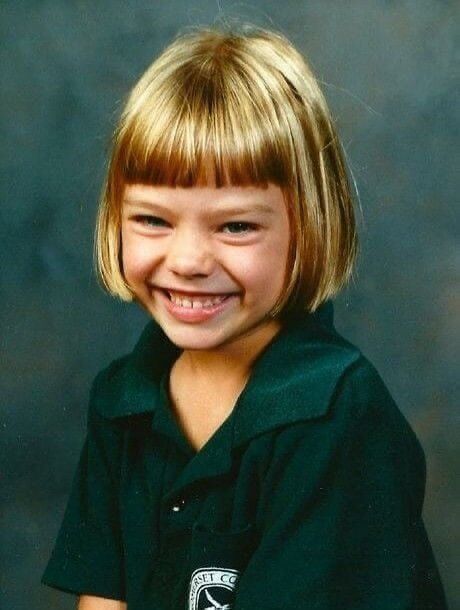 Little "Maggot" went through a trapeze program at a circus school when she was 8. She even earned her "trapeze certificate!" As it turned out later, she was able to put those skills to use as Harley Quinn in The Suicide Squad movies.
…to Sandwich Artist
When eventually Robbie decided that she wanted to become an actress, she moved to Melbourne, Australia. While trying to break into the acting business, she had to take a few other less than ideal jobs in the meantime.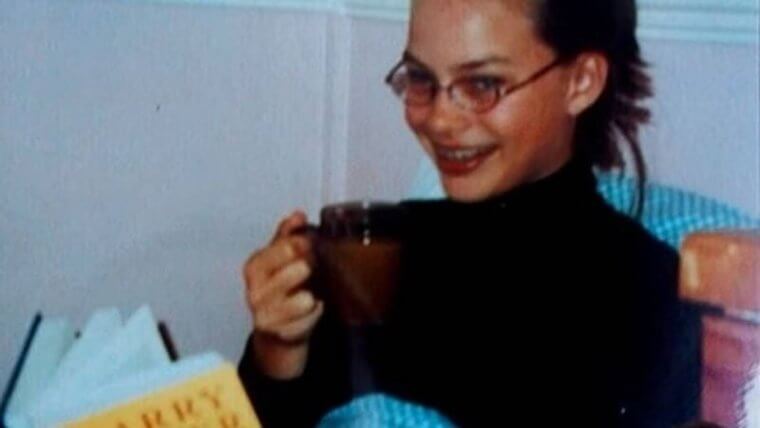 One of those jobs was working for Subway as a sandwich artist! However, in 2007, after she graduated from Somerset College, she finally landed her first acting role. She played Caitlin Brentford in the "Somersaulting Dogs" episode of the television show City Homicide.
Vigilante Justice
After landing the role in City Homicide, Robbie went on to star in a handful of lesser-known "B-movies." A couple of them were pretty criticized, like the first one in 2008, Vigilante.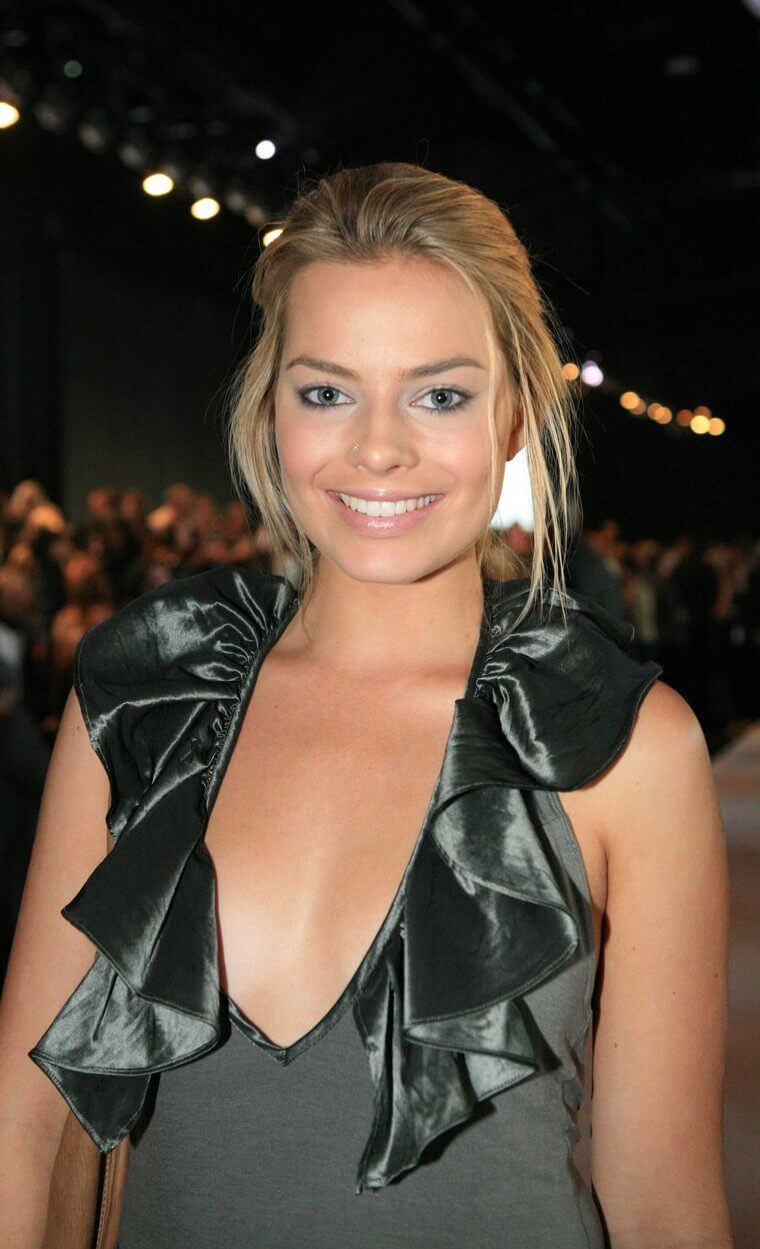 In Vigilante, Robbie played a man's fiance who turns into a vigilante after she was assaulted and then brutally murdered. As you probably guessed, Vigilante flopped and even earned an IMDb rating of less than 3.5. But we guess it's true that even the best stars have to start out small!
Just Being Neighborly
That same year, Robbie landed a role as a series regular on the Australian soap opera Neighbors. She played Donna Freedman, a character that was described as beautiful and fiery. Even more ironic, she was known for having pigtails at one point.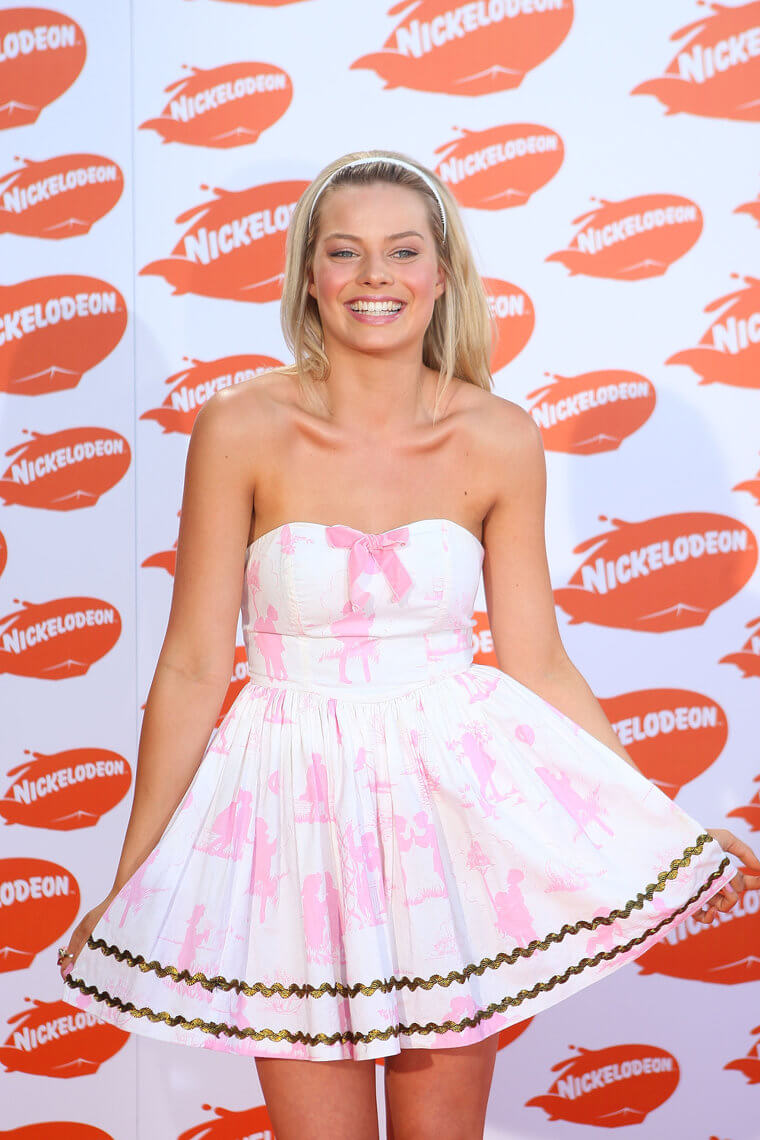 Sounds like Donna Freedman was the perfect practice for playing the one and only fiery, pigtailed Harley Quinn. It seems that a lot of Robbie's old habits would return later in her career. Robbie was on Neighbors until 2011.
Head in the Clouds… Almost Literally!
By the time Robbie was done with Neighbors in 2011, she had moved on to America, leaving her family and boyfriend behind in Australia.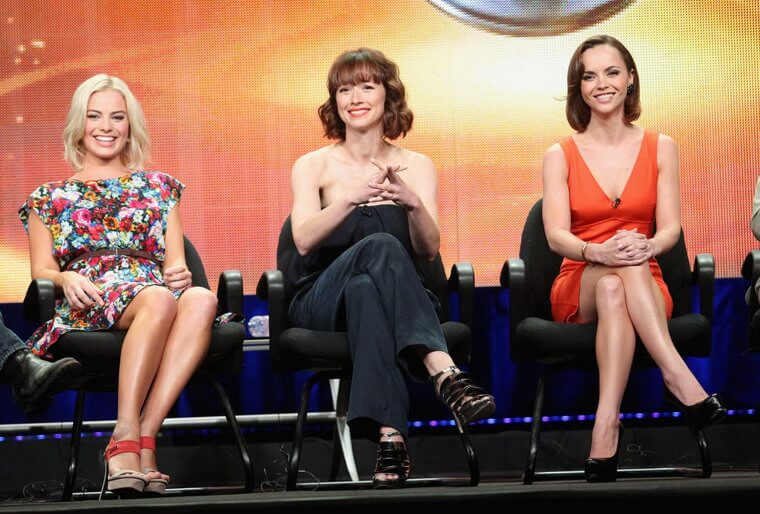 After all, her acting career was steadily growing after she landed a lead role on the comedy series Pan Am next to veteran actress Christina Ricci. Pan Am was critically acclaimed and once even called the "Mad Men of the sky." During the show, she even got to wear retro 1960s outfits, including the extremely tight girdles.
Retro Pains
Luckily for Robbie, the 1960s is her favorite decade. From the women's movement to the fashion to the hair, she loves everything about that period.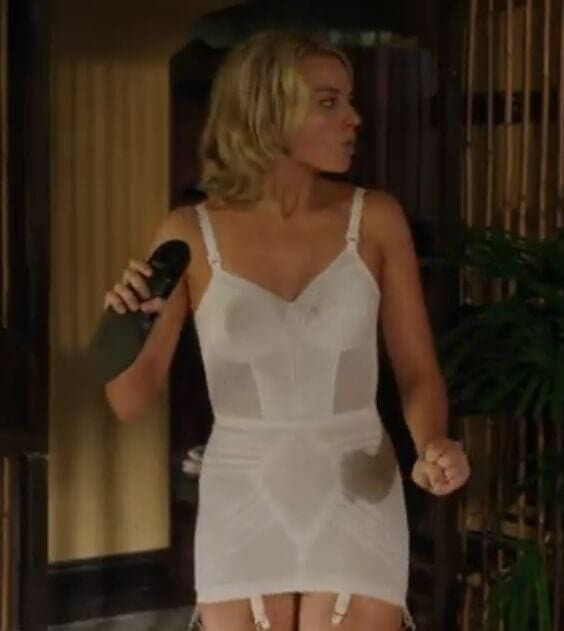 Perhaps that's why she had such a great time filming in all those retro costumes on Pan Am. In fact, the retro girdles they had to wear while filming the show were so tight, Robbie and Ricci had to help each other into their costumes each day. Robbie once said, "I don't know how women in the 1960s did it. I don't know how women got dressed by themselves."
It's About Time People Learn Who Margot Is
Finally, in 2013, Robbie landed her very first role in a Hollywood film. She played Charlotte in About Time, a movie about a man who discovers he can time travel and decides to use his abilities to get a girlfriend. However, he finds out that little changes in his life affect him more than he bargained for.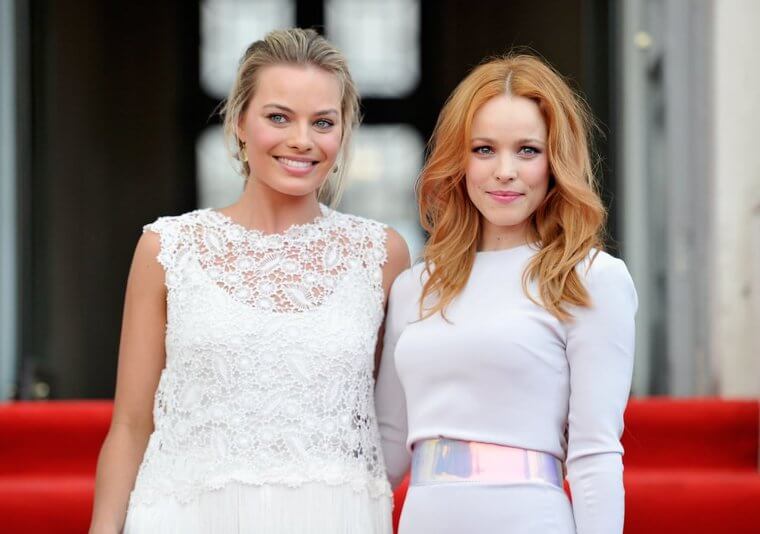 In About Time, Robbie got to act alongside some big-name actors including Domhnall Gleeson, Rachel McAdams, and Bill Nighy. After making this movie, Robbie began to get recognized all over Hollywood.
The She-Wolf of Wall Street
However, the movie that practically officially launched Robbie's career into the stratosphere was when she played Naomi Lapaglia, the smoking hot second wife of wild businessman Jordan Belfort, in the 2013 film The Wolf of Wall Street.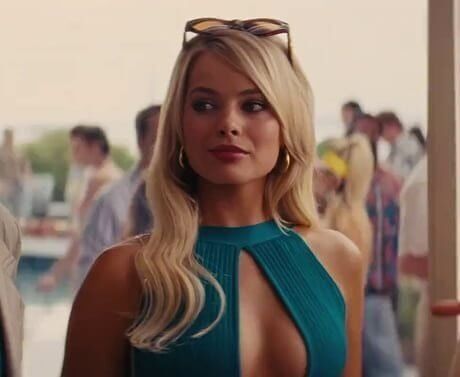 Many other hot blonde A-List Hollywood actresses auditioned for the role of Naomi, too! But Robbie's pure talent ultimately led to her winning The Wolf of Wall Street role over the likes of actresses like Amber Heard, Rosie Huntington-Whiteley, Teresa Palmer, and even Blake Lively!
All or Nothing
When she auditioned for The Wolf of Wall Street, Robbie was admittedly pretty nervous, especially when it came to her audition scene. During her audition, she and Leonardo Dicaprio were acting out a scene where they had a fight. So, she walked up to him and slapped him right across the face.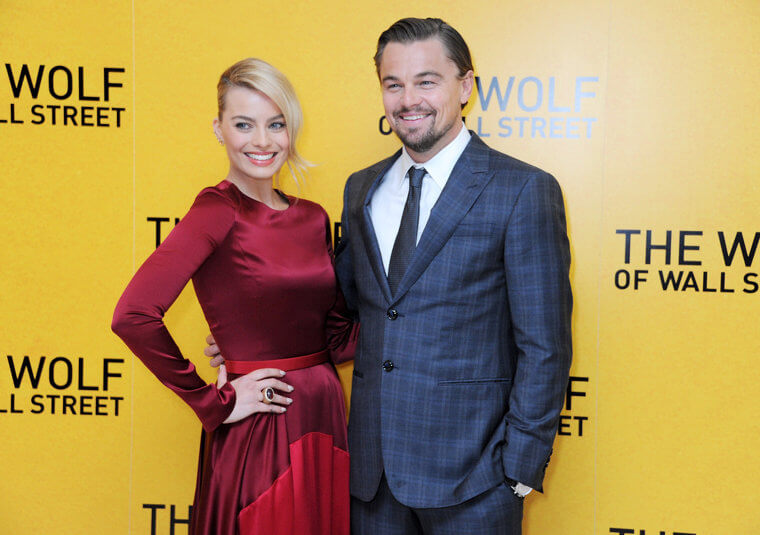 Later, Robbie said, "I'm thinking you just hit Leonardo DiCaprio in the face. They're going to arrest you because that's assault. You're definitely never going to work again, that's for sure. They'll probably sue you as well in case there's a bruise on his face and he needs to film something else." But then, Leo and the director, Marty, started laughing. The director thought it was great and Leo even asked her to hit him again. Needless to say, it landed her the part.
On Display
One of the many reasons Robbie turned heads in The Wolf of Wall Street was her knockout looks on display. And, boy, were they all on display as she appeared nude in the film.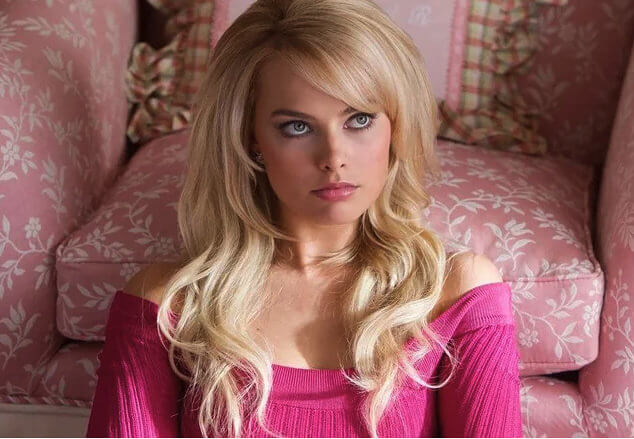 In fact, Robbie herself insisted on appearing nude in the film during the scene where her character, Naomi, is trying to seduce Jordan Belfort. She once shared in an interview that, "the whole point of Naomi is that her body is her only form of currency in this world. So when Marty was trying to help me out and said in the scene where she seduces Jordan perhaps I could have a robe on, I said she wouldn't. She has to be naked. She's laying her cards on the table."
Liquid Courage
In The Wolf of Wall Street, Robbie had to film a sex scene with Leonardo Dicaprio. And, always the professional, she had preparations to do for that scene, as well.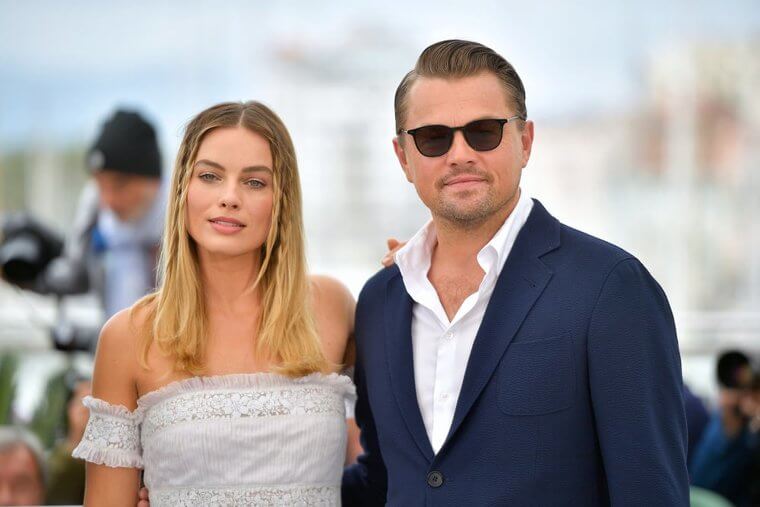 However, these preparations looked a little different than normal. For the sex scene, Robbie took three shots of tequila at 9 o'clock in the morning before filming. Sounds like quite the day on set. The reason Robbie partook in the tequila was to calm her nerves. The scene was so racy and she had never done anything quite so revealing that her hands were shaking.
Hollywood Recognition
Her role in The Wolf of Wall Street clearly turned into a career game-changer for Robbie. She even went on to earn a lot of recognition for her portrayal of Naomi.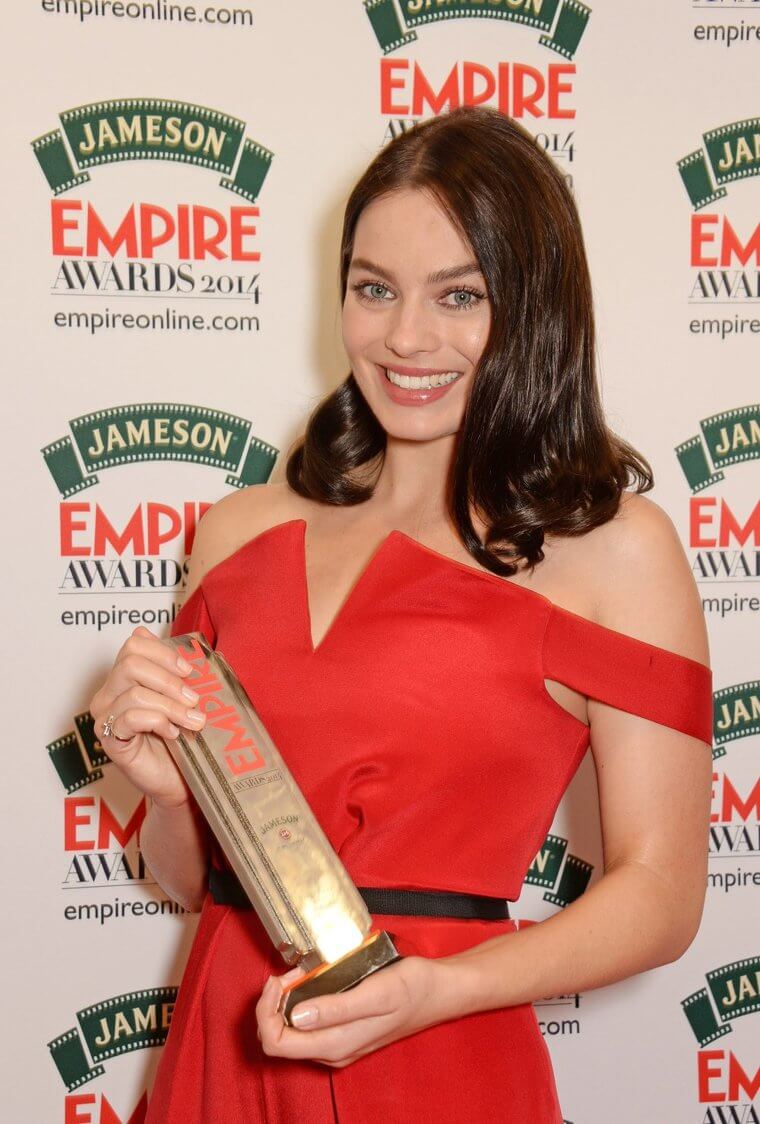 First, she won an Empire Award for Best Female Newcomer. Then, she was even nominated for an MTV Movie Award and then a BAFTA. All it took was playing Naomi Lapaglia, the second wife of Jordan Belfort, to earn Robbie the notoriety in Hollywood that she definitely deserved.
No Thank You
After the success of The Wolf of Wall Street, and after everyone saw how smoking hot Robbie was, she got quite the offer from Hugh Hefner who asked for "that one from Wolf of Wall Street."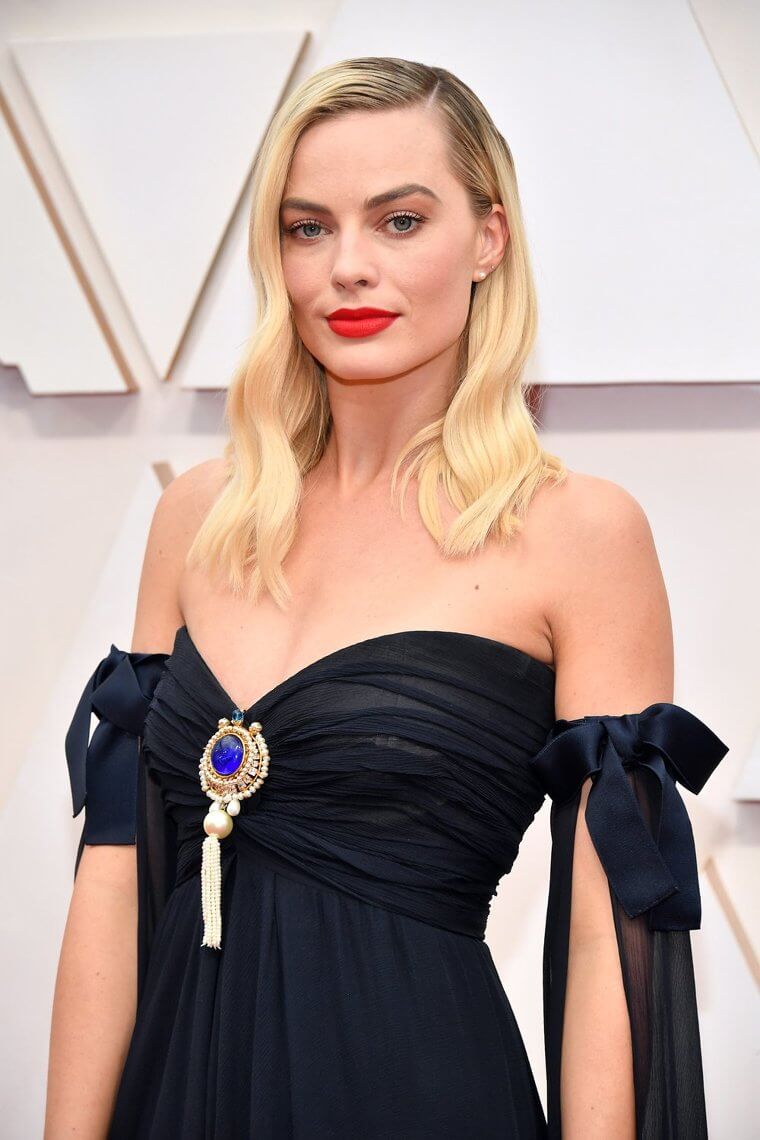 Robbie was asked to pose for Playboy, but she turned it down and all the money that came with it. She stated that she would only take her clothes off for artistic reasons and not to be on the cover of gentleman's magazines. Robbie also said that she wasn't shy about her body, or the fact that she was young and beautiful. She even said, "When I'm in my 50's, I'm going to be looking back saying, 'Whoop, whoop. Look how good mum looked!"
Time to Focus
Before starring in Suicide Squad together, Robbie and Will Smith were in a movie called Focus alongside each other in 2015.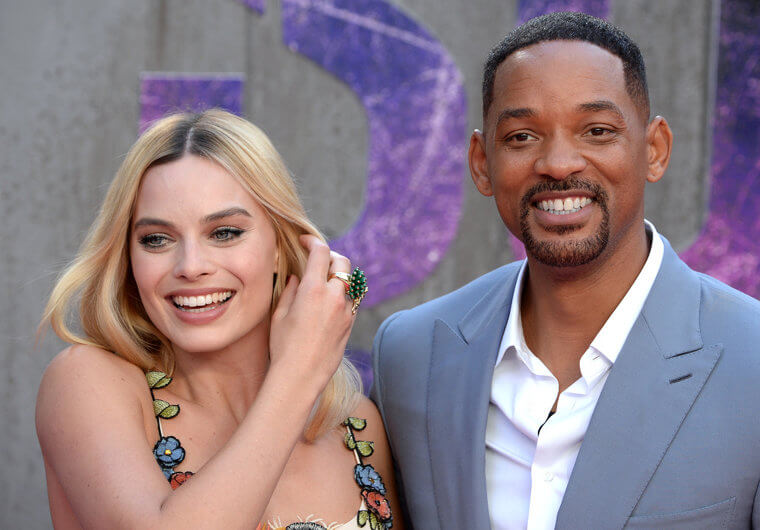 When she auditioned for the role opposite Smith, Robbie was worried she wouldn't get it because he was the half of one of the longest-lasting couples in Hollywood and the two of them would never seem like a couple. However, they had undeniable chemistry when they first met and she got the part. In fact, they were seen in a photobooth off-set and instantly appeared in the tabloids. Yikes!
Into the Jungle
One of Robbie's next big roles came when she was cast as Jane in the 2016 movie The Legend of Tarzan, based on the classic tale.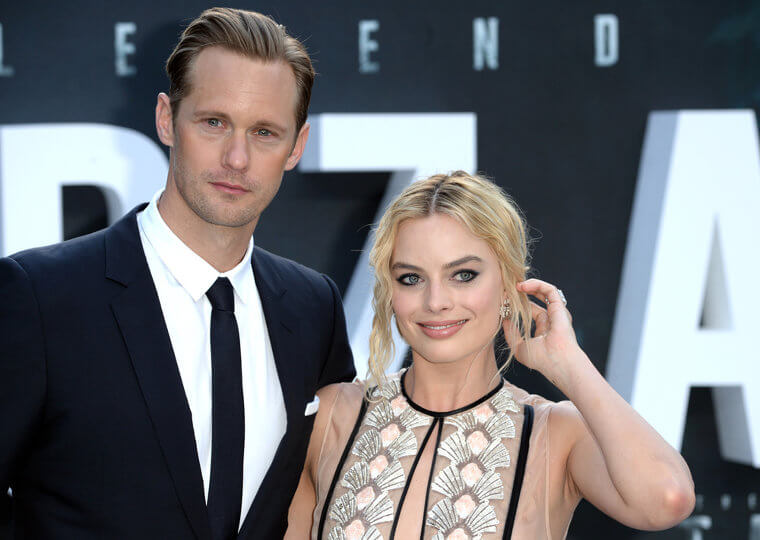 Just like with The Wolf of Wall Street, she beat out some other well-known actresses to get the part, including Emma Stone and Jessica Chastain. But we're pretty sure Emma Stone doesn't have any hard feelings, at least. She beat out Margot Robbie for the role of Sam in the 2014 movie Birdman. Let's just call this one for one, ladies.
No Dieting Here
Apparently, Robbie was told she needed to lose weight for her role of Jane in The Legend of Tarzan. However, Robbie flat out refused. And it's a good thing, too! Because whoever told her that was clearly delusional!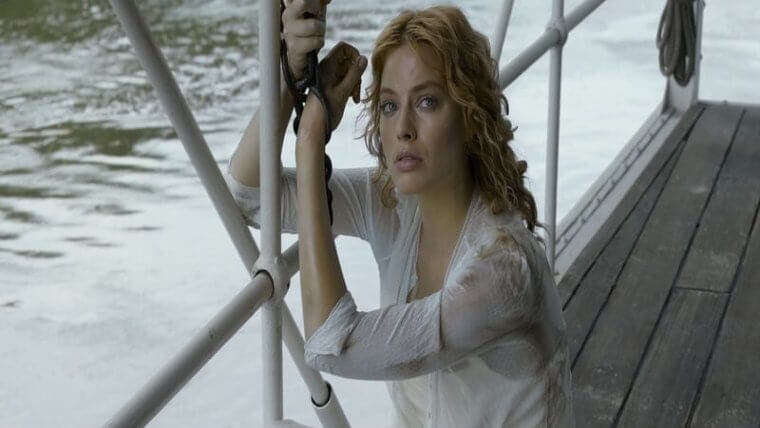 Robbie was more concerned with having a good time going to pubs and enjoying the local drinks and dishes since it was going to be her first time filming in England. Which makes sense since she had admitted that her favorite foods are beer, fries, and burgers! Now that's the kind of role model we like to hear about!
So Good at Being Bad
One of Robbie's most iconic roles to date (and trust us, there have been a few) has certainly been that of the DC comic book villain Harley Quinn, a psychiatrist-turned-pigtailed psychopath and the girlfriend of the Clown Prince himself, in the 2016 movie Suicide Squad.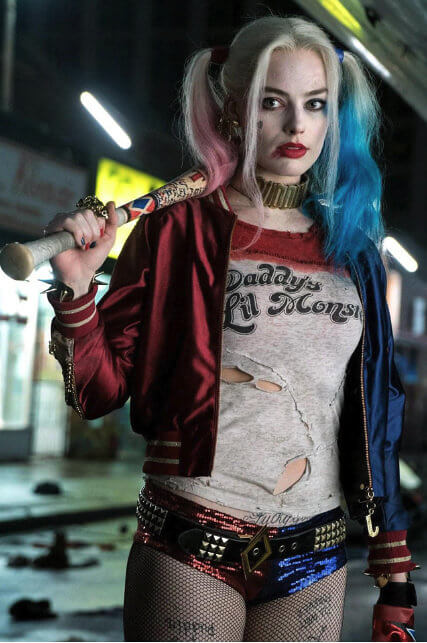 For this role, Robbie didn't even have to audition! She was simply offered the role. She has since reprised the role twice in Birds of Prey in 2020 and the second Suicide Squad movie in 2021.
Not Her Favorite... At First
Something that surprises most people about Robbie's iconic role of Harley Quinn is that she didn't like her at first. In fact, she hated her. The first time that Robbie read through the script for Suicide Squad and realized that she was the Joker's girlfriend and also a psychopath, she wasn't very happy with the character.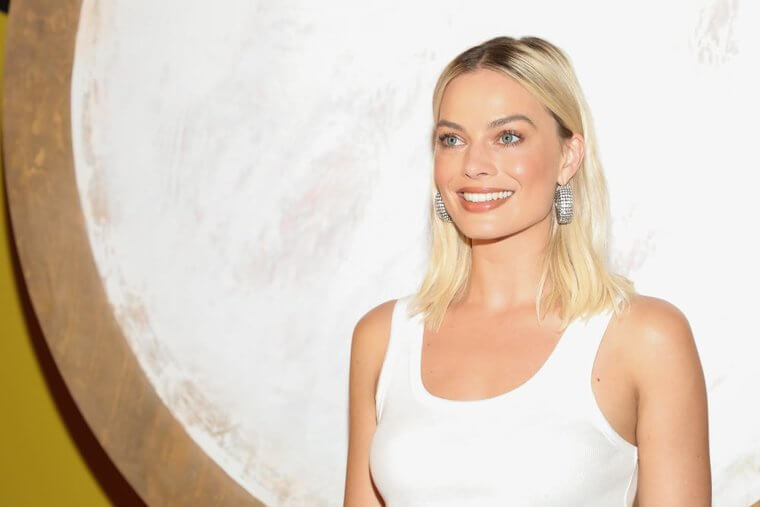 She said, "I thought, I have nothing in common with her. I hate her. It was a really tricky one to get my head around." However, Harley Quinn eventually grew on Robbie the more she worked with the character.
She Has Her Own Production Company
Margo, her husband Tom, and their close friends Sophia Kerr and Josey McNamara established a production company called LuckyChap Entertainment. After getting drunk together at the London premiere of The Wolf of Wall Street, the four co-founders decided to move into a house together in London where they conceived the idea of starting a production company.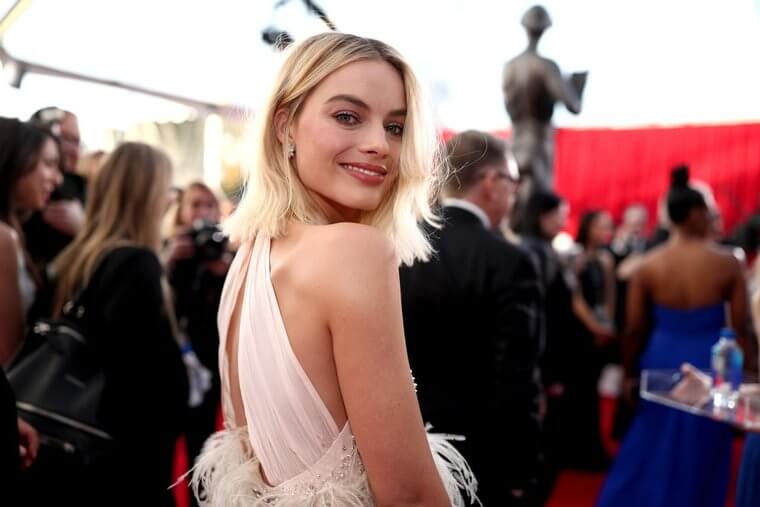 Their mission is to champion female-driven projects and become a platform for diverse storytelling. Their notable productions are I, Tonya, and Barbie, in which Margot also plays the lead, as well as Birds of Prey and Promising Young Woman. LuckyChap has won 8 Academy Award nominations and 11 BAFTA nominations as of 2021.
Come On, Barbie
One notable undertaking was the highly-anticipated Barbie film, a whimsical fantasy comedy. Robbie not only took on the role of producer but also secured the coveted lead as Barbie herself. Acquiring the rights from Mattel in 2018, she enlisted the talented Greta Gerwig to pen the script and helm the director's chair. The duo immersed themselves in the world of Technicolor classics like The Red Shoes (1948) and The Umbrellas of Cherbourg (1964) for inspiration. Notably, Robbie's exceptional portrayal reportedly earned her a staggering $12.5 million, making her the highest-paid actress in Hollywood that year, as reported by Variety. This captivating endeavor showcases Robbie's dedication to empowering female-centric narratives while leaving audiences eagerly anticipating the magic that awaits on the silver screen.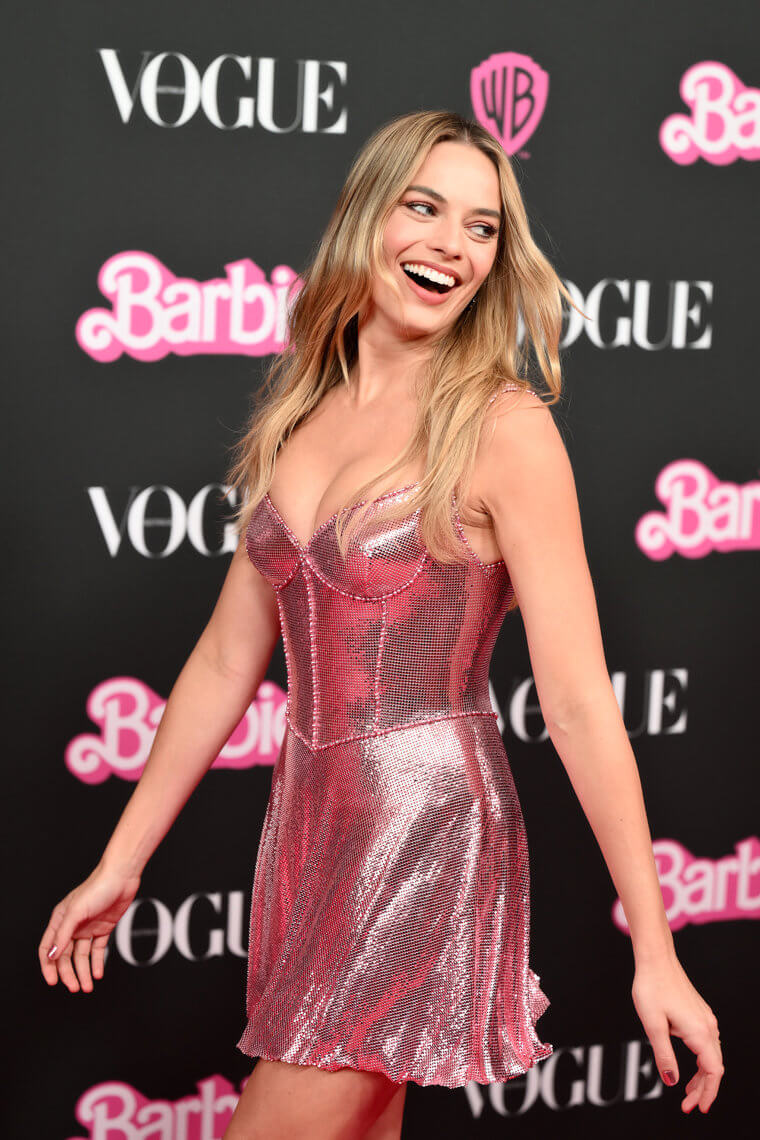 Potential Vampiric Abilities?
Of course, as Harley Quinn, one of the second most important factors of the Suicide Squad movie was who was going to play her counterpart of the Joker. They ended up casting Jared Leto as the Clown Prince and Robbie's love interest. And when you look at the two side by side, you can't even tell that Leto is 19 years older than Robbie.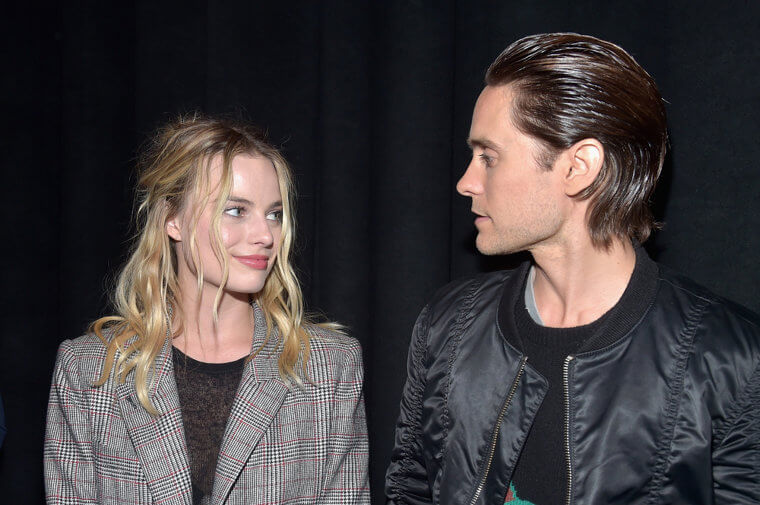 While there is plenty of evidence to suggest Leto is a vampire (we mean, does it look like he ever ages?), there was a question about Robbie's age one time. A magazine listed her age as 23 in 2008 when she should have just been 18. While it was probably just an error in writing, you just never know…
Don't Breathe!
Thanks to one scene in Suicide Squad when the Joker drives a car into the water with Harley Quinn still inside it, Robbie had to develop an interesting skill for the movie.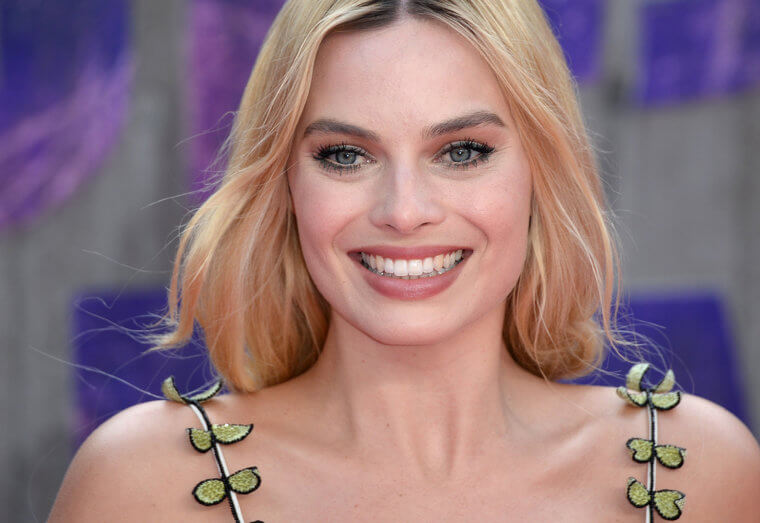 Robbie had to develop the ability to hold her breath underwater for up to five minutes to film the scene! Thankfully, Batman came to Harley's rescue before Robbie had to learn how to hold her breath for even longer. But we didn't even know someone could hold their breath for that long, or that someone could even learn it as a skill!
Raising Brows
If there's anything you can say about Margot Robbie, it's that she's definitely dedicated to her craft. On the first day of shooting Suicide Squad, Robbie asked David Ayer, the director of the movie, to do a special favor for her. She asked him to shave off a chunk of her right eyebrow.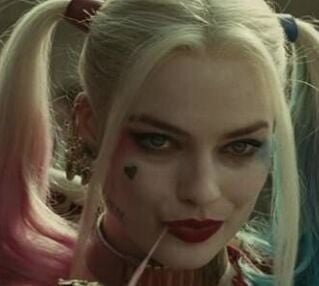 Robbie did this to help her get into character. And guess what? Ayer obliged and shaved it right off her face. We're pretty sure as beautiful as Robbie is, she got some pretty funny looks walking around town when she wasn't filming.
Tatted Up
During the filming of Suicide Squad, it appears that Robbie picked up a new hobby in the true spirit of Harley Quinn. She learned how to tattoo. In fact, she gave tattoos to most of her castmates on the set of Suicide Squad.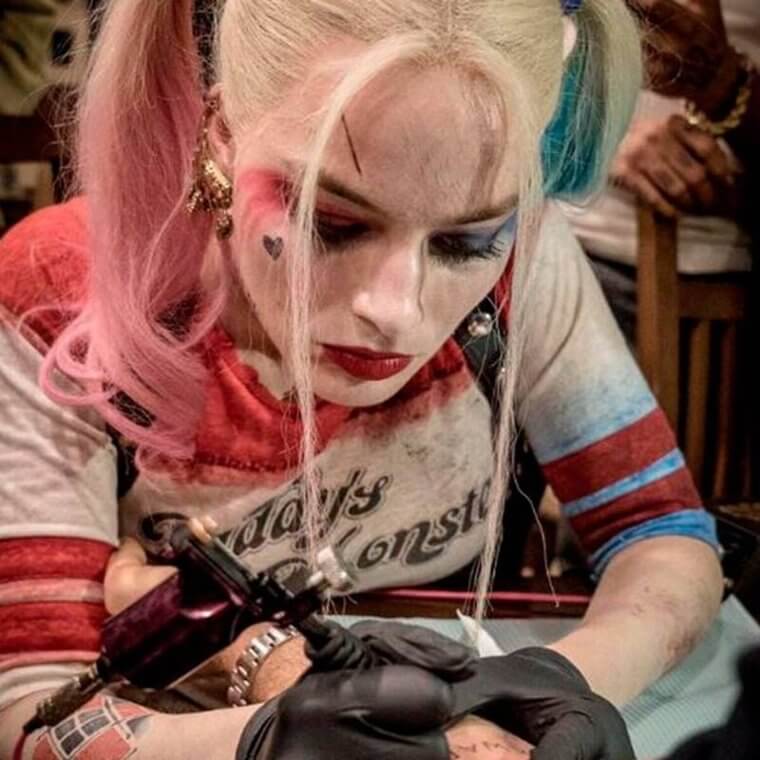 What is Margot Robbie's tattoo specialty you may ask? It's the exact thing she tattooed on her castmates- the word "SKWAD." That's pretty appropriate if you ask us! We just wonder when she'll start taking appointments!
Hollywood Glam
Being such a Hollywood icon at this point comes with its perks, such as red carpet events. Robbie's favorite red carpet designers are Ellie Saab and Oscar de la Renta.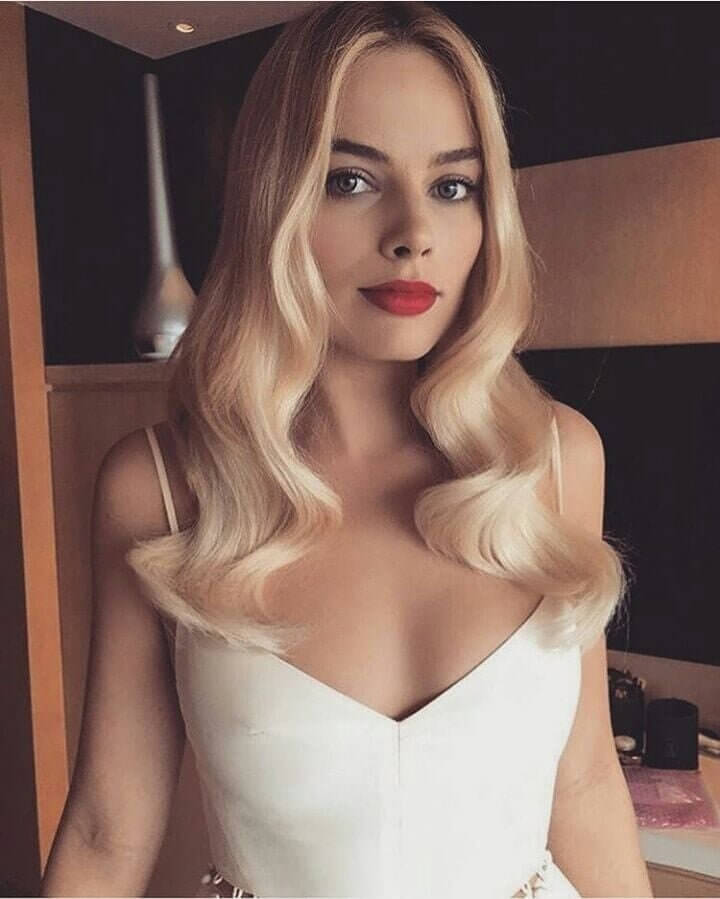 And Robbie loves getting all dressed up for the red carpet. However, she loves that part much more than actually stepping out for the event. She said that once she steps out all glammed up, people instantly recognize her and give her all their attention, stopping her in the street. That's less than ideal for Robbie.
In Disguise
Pan Am went off the air in 2012 and in her downtime while looking for her next project, Robbie had to find new ways to amuse herself.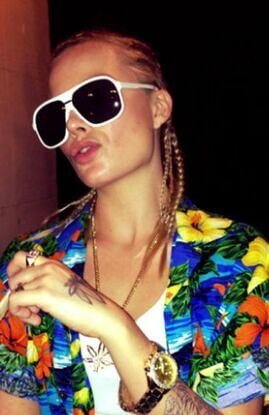 One of those ways ended up being dressing up just like James Franco's character in the 2012 movie Spring Breakers for Halloween. The photos of her costume look so much like him, that you have to do a double-take. In fact, you have to be careful not to mistake her for the real James Franco.
Fashion Choices
Robbie has her favorites when it comes to red carpet designers, but for everyday wear, she loves to support Australian fashion brands.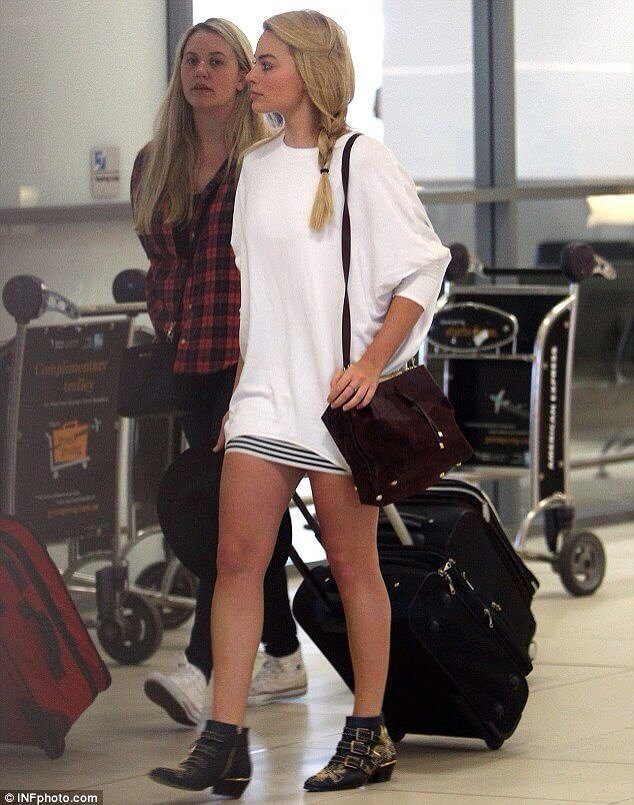 And when she's not all glammed up for shooting a movie or a red carpet event, Robbie loves dressing down. In fact, she has admitted that she's not a girly girl by any means. She said, "Most of the time, I end up wearing shorts and a t-shirt and a pair of Converse. If I'm making an effort, it's on the less feminine side, more grungy and edgy."