From Princess Diana to Queen Letizia, there's no shortage of fashion icons from Royal families. Whether it's a formal event, a wedding, or a premier, these divas know how to show up looking like a million bucks. Are you ready to take a deep dive into the extravagant world of Royal fashion through the ages? Let's get started!
Grace Kelly, 1956
Oscar-winning actress and certifiable fashion icon, Grace Kelly, became Princess of Monaco in 1956. At the wedding ceremony, she wore this jaw-dropping vintage lace masterpiece designed by the renowned costume designer, Helen Rose. The dress was a gift from MGM Studios to Kelly for her special day.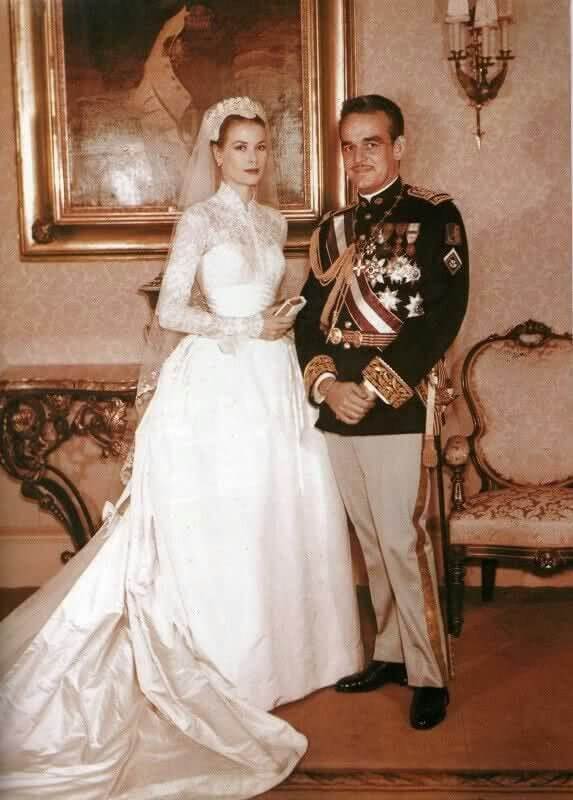 The Hollywood diva shared vows with Rainier III, stunning everyone in this gown featuring 125-year-old lace and classy pearl detailing. Kelly's classic updo accentuated the graceful lace details and presented a beautiful silhouette. According to rumors, Kate Middleton's wedding dress was inspired by this very gown.
 
Meghan Markle, 2017
These official engagement pictures released by Kensington Palace show Meghan Markle glowing in her stunning, floor-length Ralph & Russo gown. Hailing from the Fall/Winter '16 collection, the dress featured black tulle with a silk organza skirt and a lace-filled bodice with gold threadwork.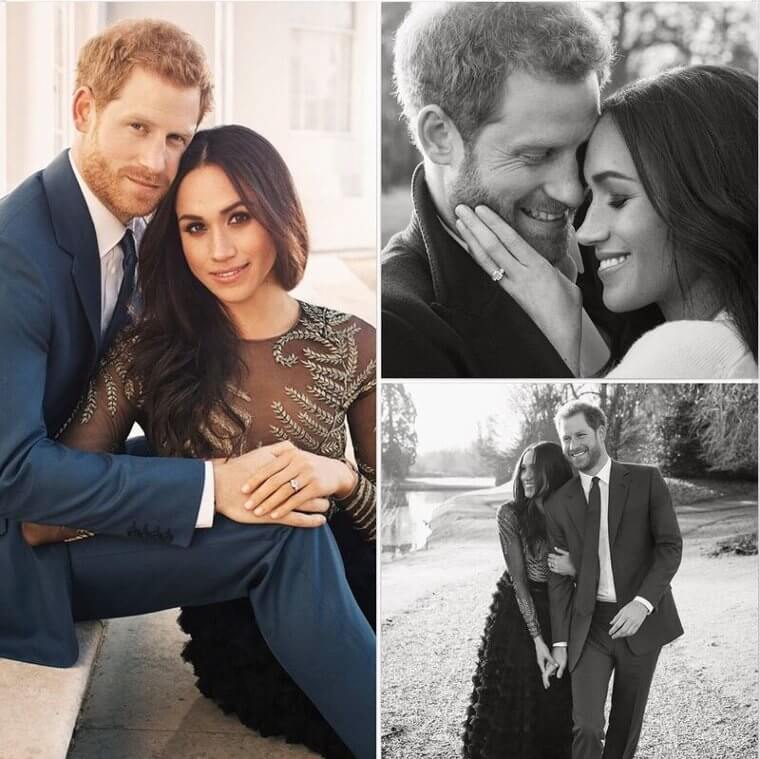 Some found the dress to be a risqué choice for a Royal engagement shoot due to its sheerness. However, the engagement photographer, Alexi Lubomirski, was shocked to hear all the criticism. He explained that they went with a dress that Markle felt most comfortable in.
Princess Diana, 1989
Princess Diana has always been a style icon for people all over the world. Back in her heyday, she used to turn heads with her bold fashion choices. This red-hot stunner she wore at a banquet during a state visit is definitely a fashion statement for the ages. Just look at that color!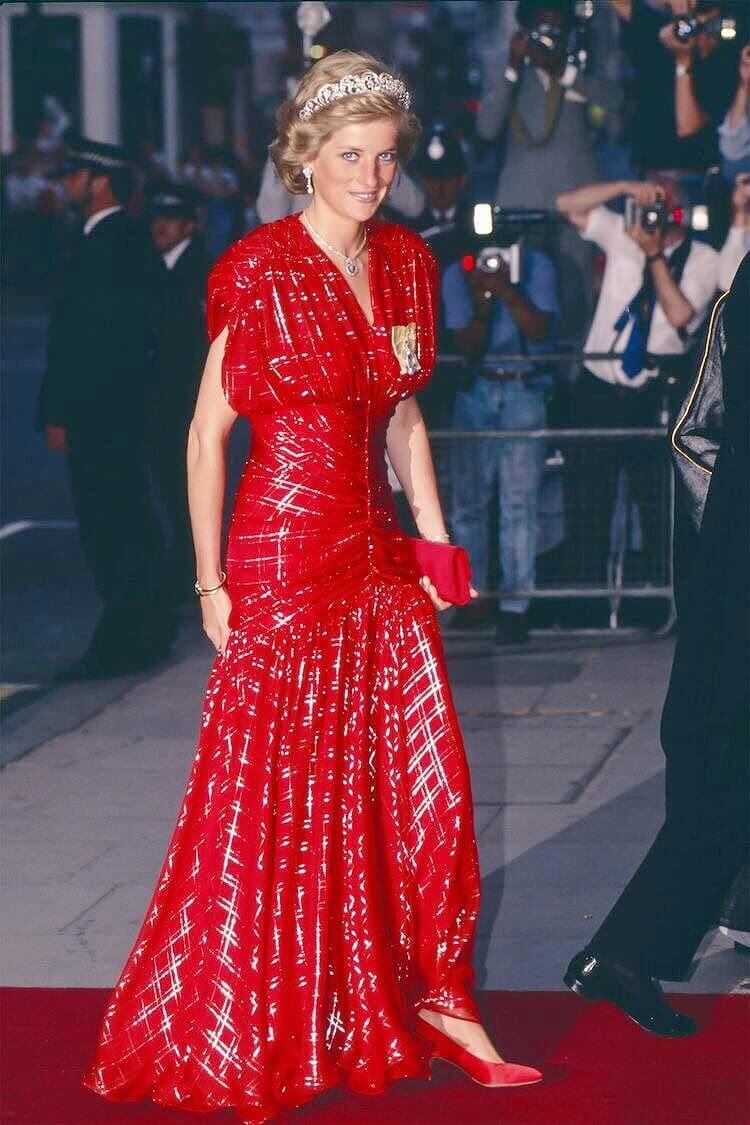 The dress matched perfectly with her red clutch and heels, creating a monochrome look. She kept it simple in the accessories department with a sparkling necklace and her favorite Cambridge Lovers' Knot tiara. The gorgeous tiara was first commissioned by Queen Mary herself in 1913. The tiara was passed down from one generation to another and has recently been flaunted by Kate Middleton, the Duchess of Cambridge.
Kate Middleton, 2021
On the red carpet, everyone looks like royalty. But Kate Middleton outshone all when she graced the premiere of No Time to Die. She looked every inch the Duchess that she is in her champagne gold Jenny Packham gown.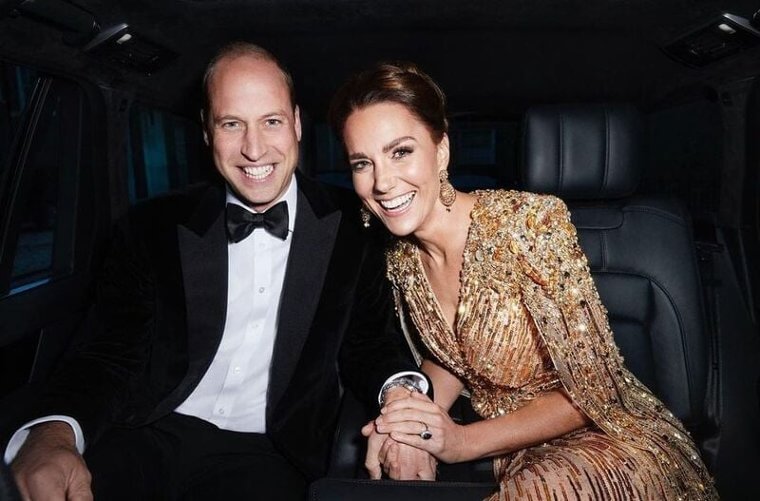 The gold sequined dress had a dramatic cape moment that left us speechless and made the Duchess look like a veritable goddess. The beauty of the gown combined with Kate's inherent grace made her a showstopper on the red carpet. Reportedly, even James Bond himself couldn't help but comment on how lovely she looked that night.

Queen Elizabeth, 1953
On her coronation day, Elizabeth II made history and not just due to her prestigious stature. The new Queen looked positively regal in a Norman Hartnell gown as she posed with the Duke of Edinburgh at Westminster Abbey.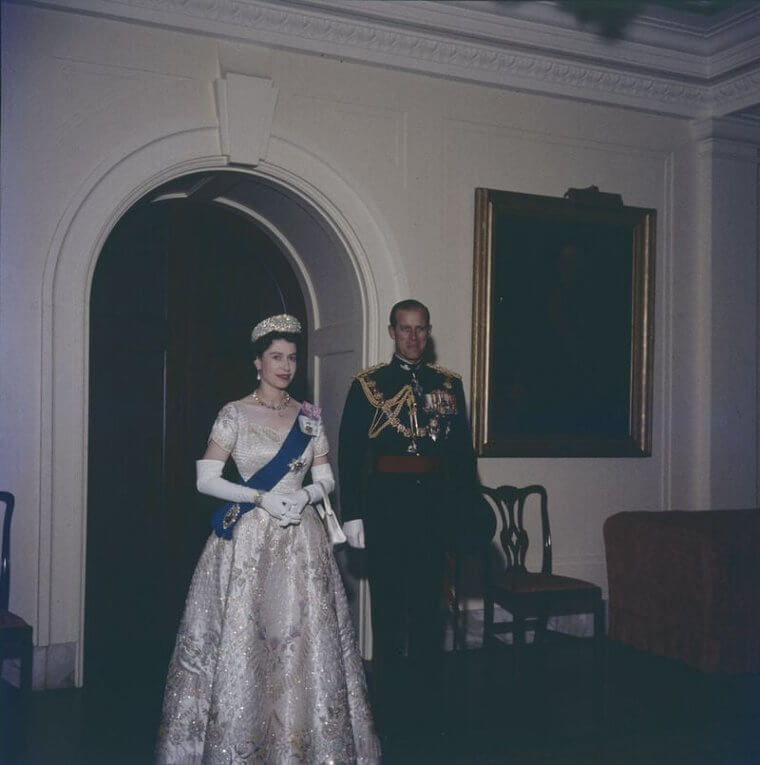 The dress juxtaposed classic white duchess satin with intricately embroidered floral emblems that represented commonwealth countries. The embroidery shone through in gold and silver without taking the limelight away from the pièce de résistance, the George IV State diadem. The crown she wore was originally made in 1821 and had been passed down from her predecessors, Queen Victoria and Queen Mary.

Meghan Markle, 2018
Meghan Markle tied the knot with Prince Harry in a sleek and elegant Givenchy gown. The dress was elevated to the next level with a 15-feet long veil made out of silk tulle and detailed hand-embroidered flowers. The Queen Mary Diamond Bandeau tiara was the perfect cherry on top.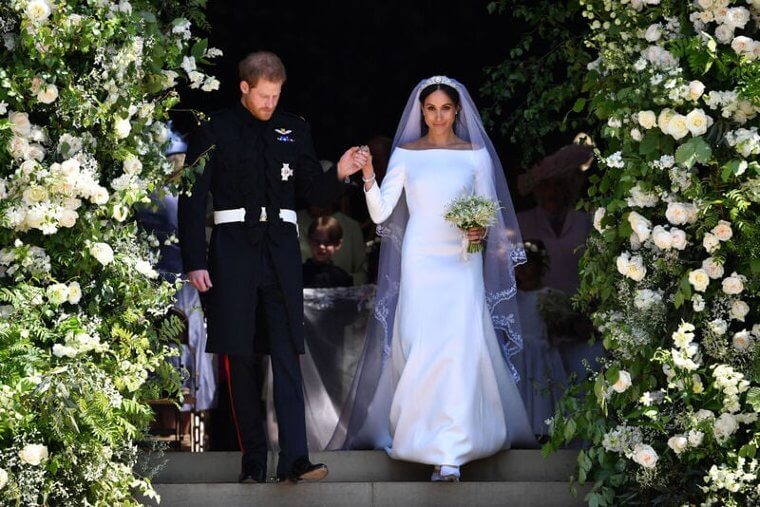 The dress creation process was a five-month-long collaboration between Markle and Givenchy. The Duchess wanted her wedding dress to be true to her style. According to her, the dress designing process was very private and the details were kept between her and the designer. In the end, Markle's iconic dress managed to wow everyone and leave a lasting impression.

Grace Kelly, 1958
While attending the Imperial Ball at Astor Hotel in 1958, Grace Kelly shined in this flirty and playful dress. The actress and her husband were the guests of honor at the formal ball and best believe that Kelly looked every bit the princess that she was.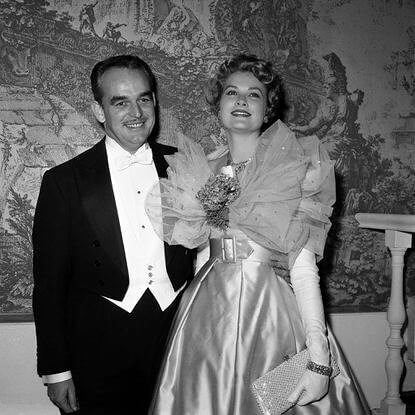 The dress featured a giant organza bow that immediately captivates you and that's when you notice the sweet bouquet tying it all together. Apart from the big bow moment, Kelly kept it simple with an elegant necklace and chic curls framing her stunning face. This dress is the perfect representation of Kelly's bold and unique style choices that made her a true fashion icon.

Kate Middleton, 2011
There's no denying that royal weddings are a sight to behold and one of the most unforgettable aspects of these events is the wedding dress. The same was true for Kate Middleton who exchanged vows with Prince William at Westminster Abbey, on April 29, 2011. The Duchess of Cambridge wore a bespoke Alexander McQueen masterpiece designed by Sarah Burton.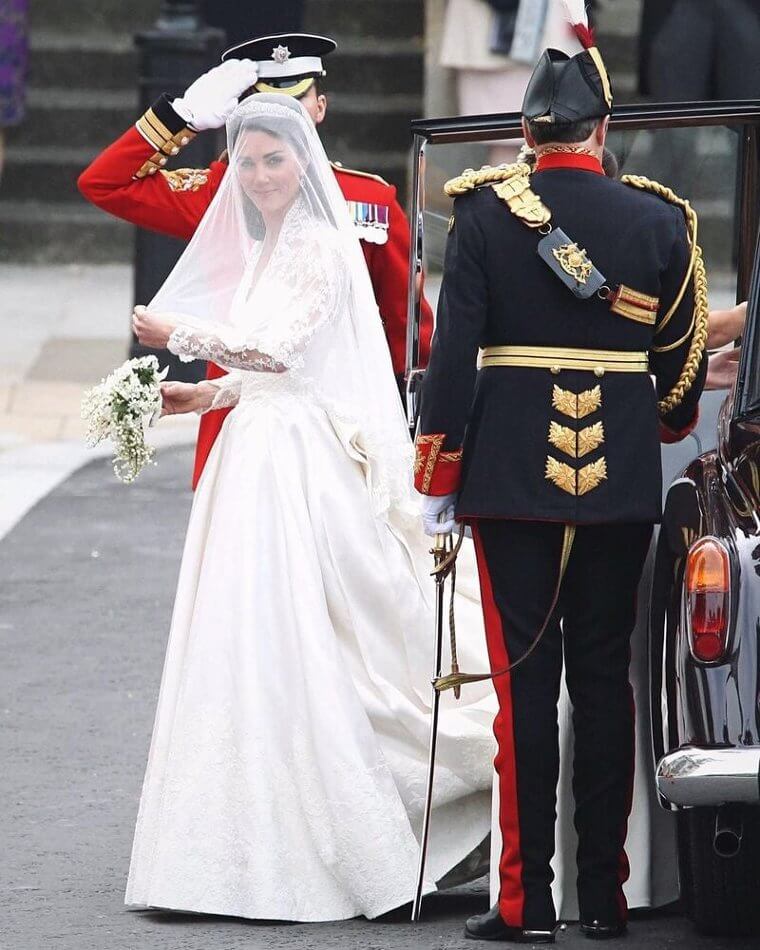 With lace sleeves, intricate embroidery, and a large 9-foot train, the dress turned heads and created a super flattering silhouette. It wouldn't be a royal wedding without some tiaras in the mix! Kate Middleton borrowed her 1000-diamond Cartier Halo tiara from Her Majesty, Queen Elizabeth II.

Grace Kelly, 1969
At the Rothschild Ball in 1969, Grace Kelly showed up at Chateau de Ferrieres-en Brie in an elegant feather-laced gown that made her look like an angel. The dress featured a feathered hem and feather-trimmed bell sleeves that made a statement.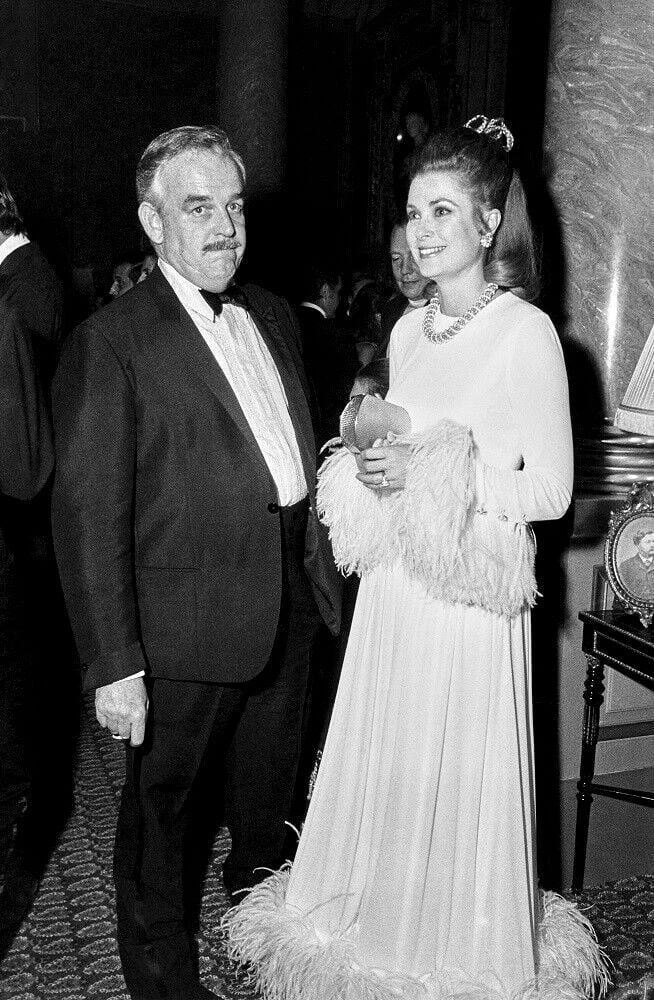 Kelly paired it with a half-up, half-down hairdo that struck the perfect balance between classy and playful. Her accessories included a stylish mini-crown, a simple clutch, a chunky necklace, and shiny stud earrings. All in all, Grace Kelly looked like the belle of the ball!

Princess Eugenie, 2018
Princess Eugenie's wedding gown was filled with personal elements and symbols that were important to her and the groom. The look was designed by Peter Pilotto and Christopher De Vos and featured tasteful touches that were an ode to their family, their home, and their love.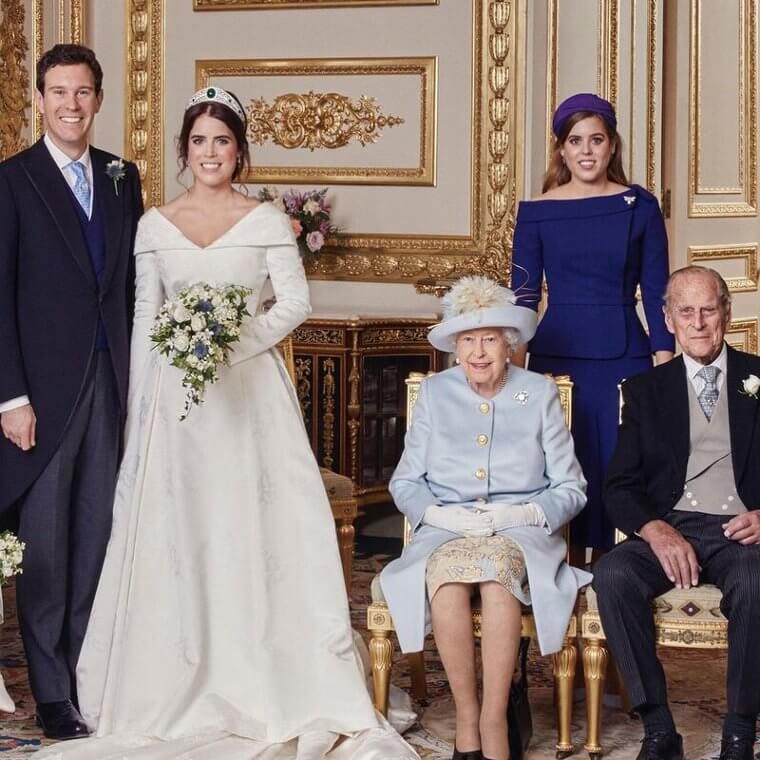 Each symbol represented something important to the couple. The thistle was for Scotland which is an important place for the couple, the shamrock represented the Ferguson family and the York rose and ivy was for their home. In addition to that, the Princess made sure that the dress showed off the scars she got from her scoliosis surgery. It was her way of honoring everyone who supported her, standing up for young people, and establishing that scars can be beautiful.

Princess Diana, 1994
Princess Diana was known as a trendsetter and rule-breaker for a reason! According to Royal customs, it is frowned upon to show too much skin. Perhaps that's why most gowns we have looked at in this article have been below the knees. In fact, apart from a few exceptions, the majority of them have been floor-length.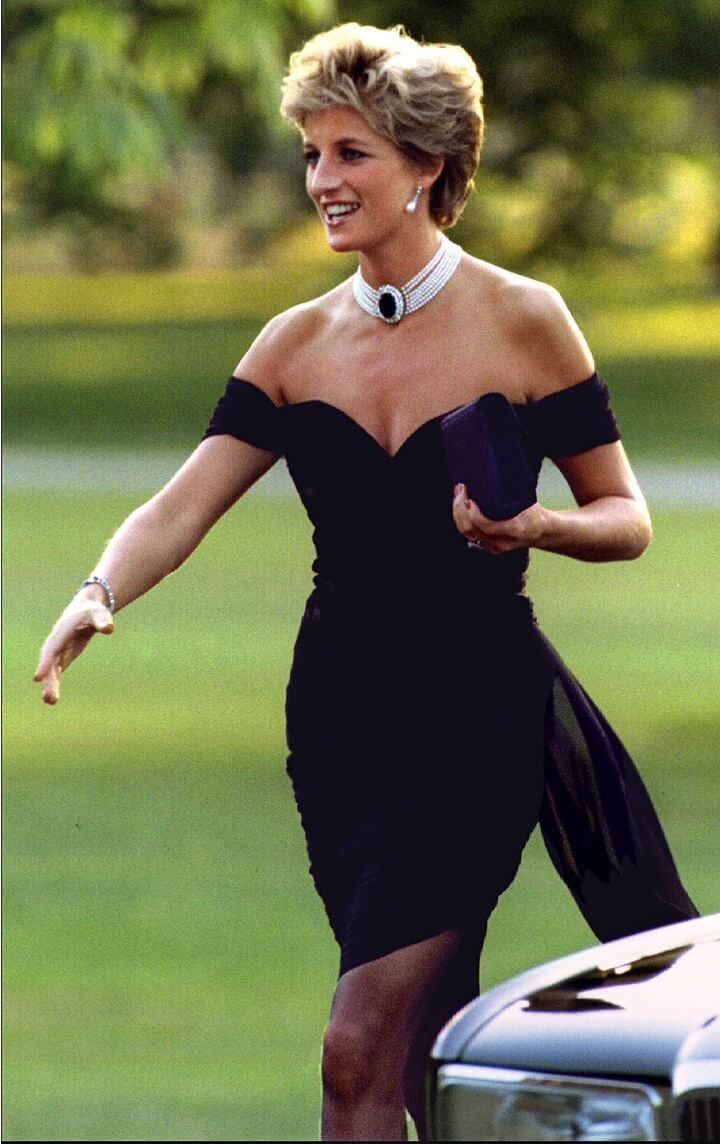 Imagine the outrage and drama sparked by this little black dress that Princess Diana rocked at the Serpentine Gallery. This is certainly more leg than we've ever seen displayed by any royal over the years. No wonder this Christina Stambolian "revenge dress" gown went down in the annals of history as one of Lady Di's most iconic looks.

Princess Diana, 1981
Diana Spencer and Prince Charles's nuptials took place at St. Paul's Cathedral in 1981. Much like other royal weddings, all eyes were glued to Lady Diana who looked breathtaking in her iconic wedding gown. The dress was designed by David and Elizabeth Emanuel and decorated with approximately 10,000 pearls.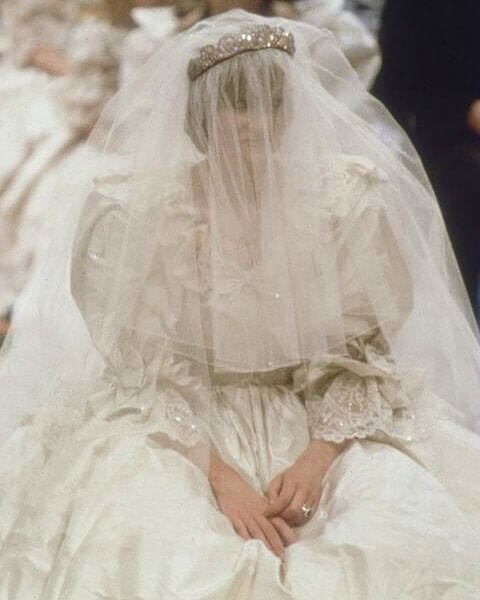 It took the designers months to create the stunning gown which also included a 25-foot long train and lace passed down from Queen Mary herself. Diana adorned the Spencer tiara which is a significant element from her aristocratic family history. Reportedly, Queen Elizabeth II offered Princess Diana her famous Lover's Knot Tiara as well.

Queen Letizia Of Spain, 2004
In a Gala Dinner hosted by the Spanish Royal family, Princess Letizia of Spain looked like true royalty in her gorgeous ice blue gown. The Gala was held in honor of Czech President Vaclav Klaus and his wife visiting the Royal Palace of Spain.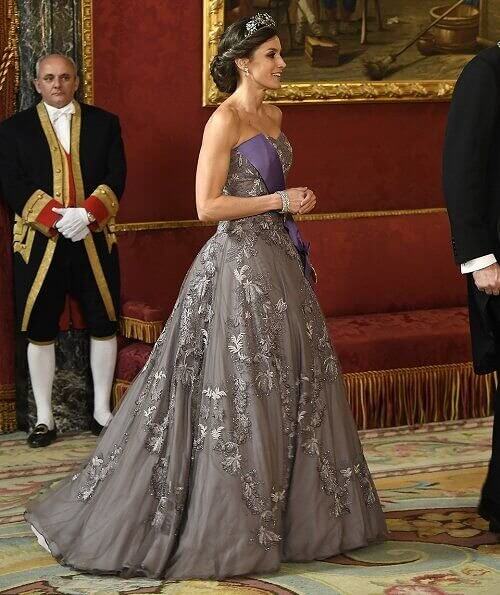 The dress was paired beautifully with a delicate Prussian tiara made by a German court jeweler named Koch. The silvery tiara is made up of sparkly laurel leaves that are set against columns of gems. Queen Letizia received the tiara as a gift from Queen Sofia on her wedding day.

Kate Middleton, 2012
It would be safe to say that when it comes to fashion, the Duchess of Cambridge never misses. This one's from a dinner at the Royal Palace by the King and Queen of Malaysia. Perhaps the best part about royal fashion is how diverse it is. In this look, Kate can be seen in a gorgeous white and gold Alexander McQueen piece that fits right in with the theme of the event.

And guess what? The Duchess loves this gown so much that she has worn it on multiple occasions! That's quite surprising coming from a Royal who has the world's biggest designers at her beck and call. Clearly, it's not a faux pas when the Duchess of Cambridge does it.

Queen Elizabeth II, 1947
When Queen Elizabeth tied the knot with Prince Phillip, she wanted her wedding dress to represent her nation and provide a message of hope. Norman Hartnell, who is known to be the official royal wedding dress designer, took inspiration from Botticelli's Allegory of Spring.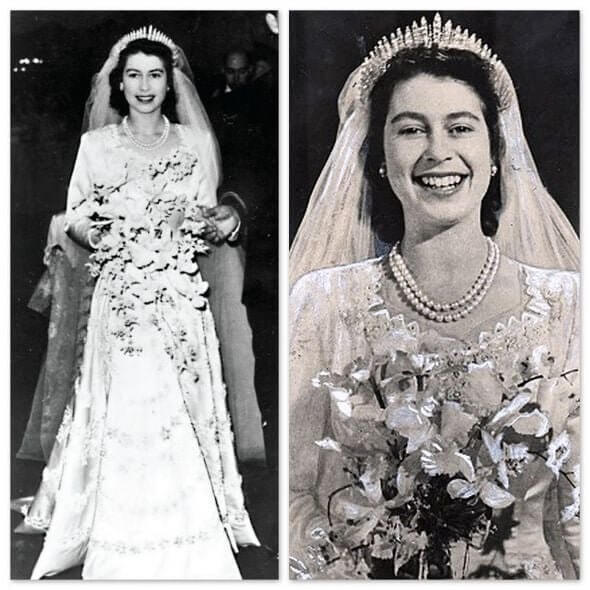 Just like the painting, the gown was embroidered with garlands of spring flowers that symbolized the blooming hope that Queen Elizabeth II wanted to showcase. The accessories included some classy pearls and subtle earrings. The hairstyle was elegant but minimalist and showed off her stunning tiara.

Queen Letizia Of Spain, 2015
Queen Letizia of Spain never misses an opportunity to flaunt her superior wardrobe, even in a simple black-tie event. In 2015, she showed up looking like a true Queen at a dinner for the Peruvian president Ollanta Humala Tasso and his wife Nadine Heredia Alarcon.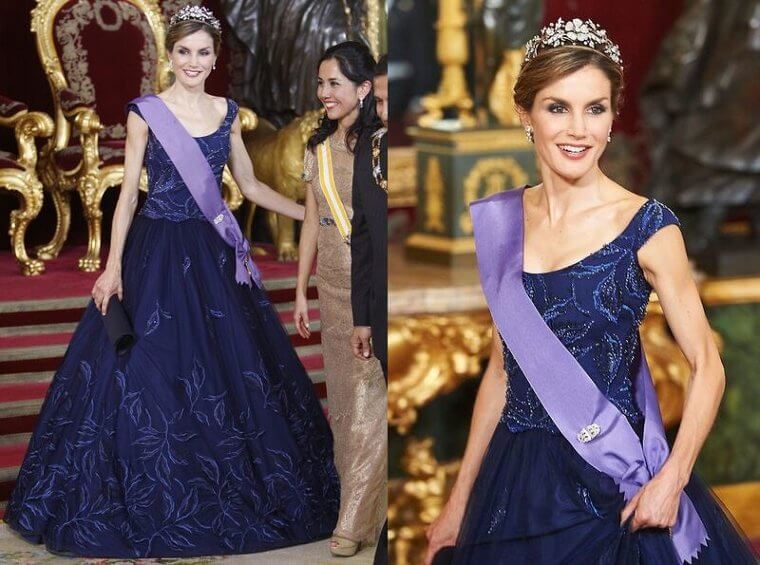 The dinner took place at the Royal Palace and Letizia was seen rocking her favorite Felipe Varela gown in a deep, midnight blue. She embellished it with a Mellerio Floral Tiara from the prestigious French jewelry house Mellerio dits Meller. The gorgeous 19th century Pearl Fleur de Lys tiara showcases diamonds and pearls on a white gold base. 

Princess Diana, 1987
Royal fashionista and trendsetter Lady Di strutted around at the Cannes Film Festival in 1987 in a baby-blue Catherine Walker piece straight out of Hollywood. This ice-blue gown has gone down in history as one of Diana's greatest fashion moments.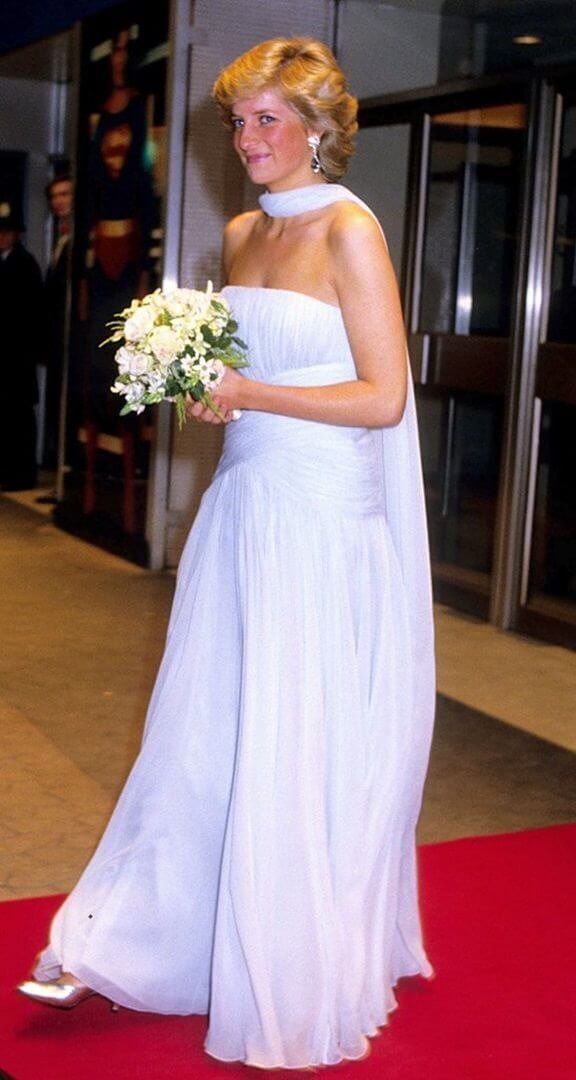 The gown was embellished with a chic scarf that flowed behind her like a train and minimal accessories in the form of some chandelier earrings and a bracelet. The Princess of Wales was famous for filling her wardrobe up with meaningful outfits. This one was a homage to Grace Kelly, heavily inspired by her look from the classic Hitchcock movie To Catch A Thief.

Meghan Markle, 2018
Formal balls aren't the only events attended by Royalty. In the modern world, the royal families around the world have become more casual about appearing in film and fashion events as well. That's especially true for the British Monarchs who are practically pop culture icons at this point.

Meghan Markle, the Duchess of Sussex, fits this modern outlook even more since she was a Hollywood actress before she married Prince Harry and entered the royalty. In 2018, she made a surprise appearance at the British fashion awards in this black one-shoulder Givenchy dress. The only accessories she wore were chunky gold bracelets and some dark nail polish.

Queen Letizia Of Spain, 2010
We've already established that Queen Letizia Of Spain is a fashion icon like no other. If you need any proof of that, just take a gander at this look she sported in 2010. While attending Princess Victoria's pre-wedding ceremony, the Queen showed up in this jaw-dropping blood-red number.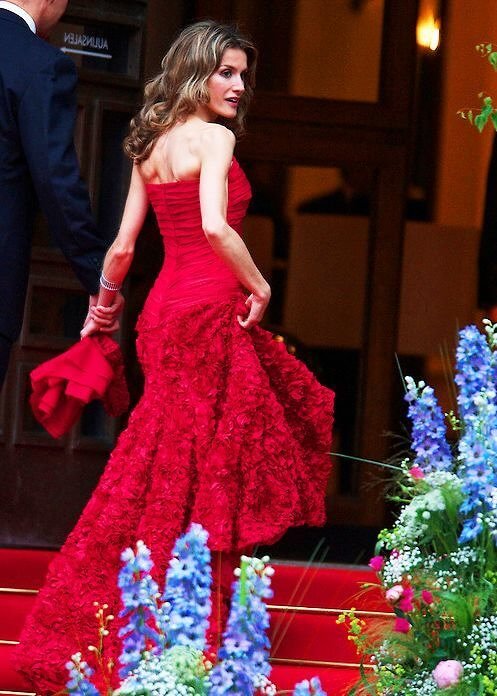 The strapless, cross-body floral gown fit her like a dream and showed off all her best features. Since the dress itself was such a bold statement, the Queen kept it minimal in the accessories department. She wore classy earrings with a matching red clutch and let her gorgeous hair down in waves.

Princess Margaret, 1956
The youngest daughter of King George VI and sister to Queen Elizabeth II, Princess Margaret was a force to be reckoned with in the royal world. She was especially well-known for her remarkable style and statement jewelry pieces.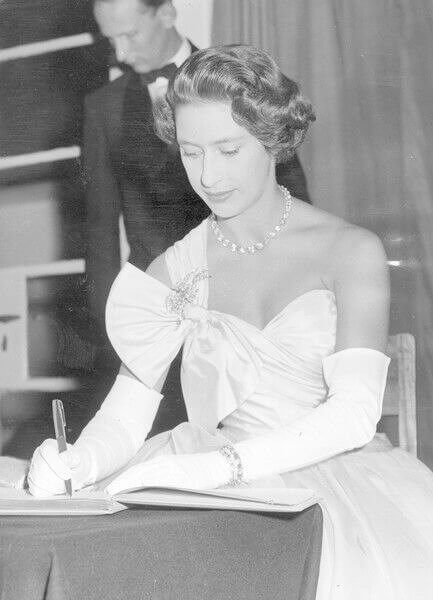 While visiting the European School in what is now the Republic of Tanzania, the Princess looked ethereal in this sophisticated yet classy one-shoulder gown. The dress was embellished with long gloves, a delicate bracelet, and a sparkly necklace that accentuated her neckline. She wore her hair in close-cropped curls, a classic updo that went perfectly showed off her features.

Meghan Markle, 2018
When we're talking about a Royal Wedding, the show-stopping wedding dress isn't the only one to write home about. After the main ceremony, there's a grand reception which deserves a dress of its own. And Meghan Markle came through with hers.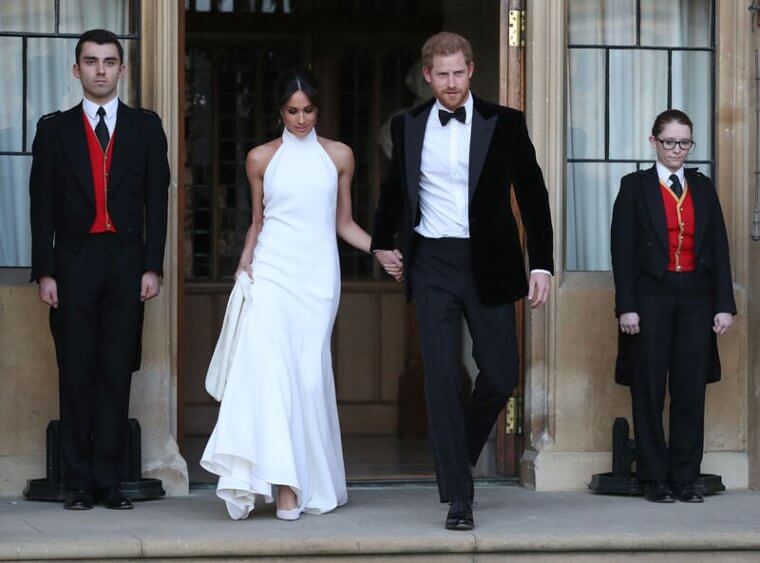 After the wedding, the Duchess of Sussex changed into a sleek and sophisticated Stella McCartney dress in pure white. The halter neck dress was paired with minimal jewelry including some delicate earrings and a meaningful ring. The aquamarine ring on her finger belonged to Prince Harry's late mother, Princess Diana.

Princess Diana, 1985
The '80s were all about that wide shoulder aesthetic that made women look like a boss. It also seemed to be a big favorite of Princess Diana. She sported this uber-glam metallic silver gown for a film premiere held in Australia.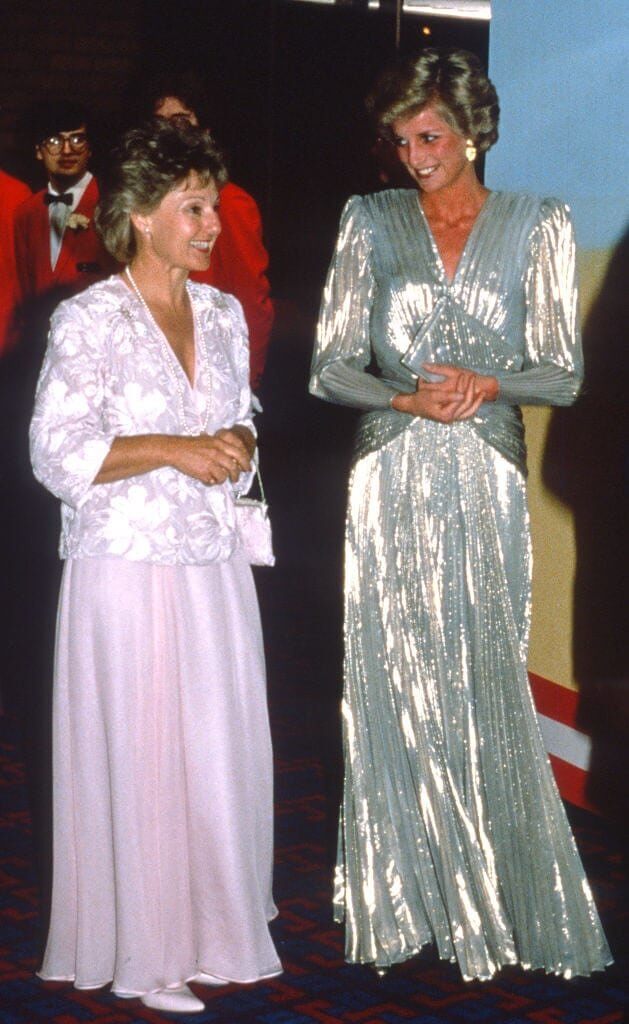 The dress was designed by Bruce Oldfield and boasted an impressive shoulder-heavy silhouette. The dress tapered at the center to accentuate Diana's waist as the material flowed beautifully around her legs. All in all, Lady Di looked like a total stunner.

Queen Elizabeth, 1961
Queen Elizabeth has always been quite a dignitary and an active participant in foreign visits. If someone knows how to receive guests, it's the Royals. So, you bet there was a grand event when John F. Kennedy and Jackie Kennedy graced Buckingham Palace with their presence.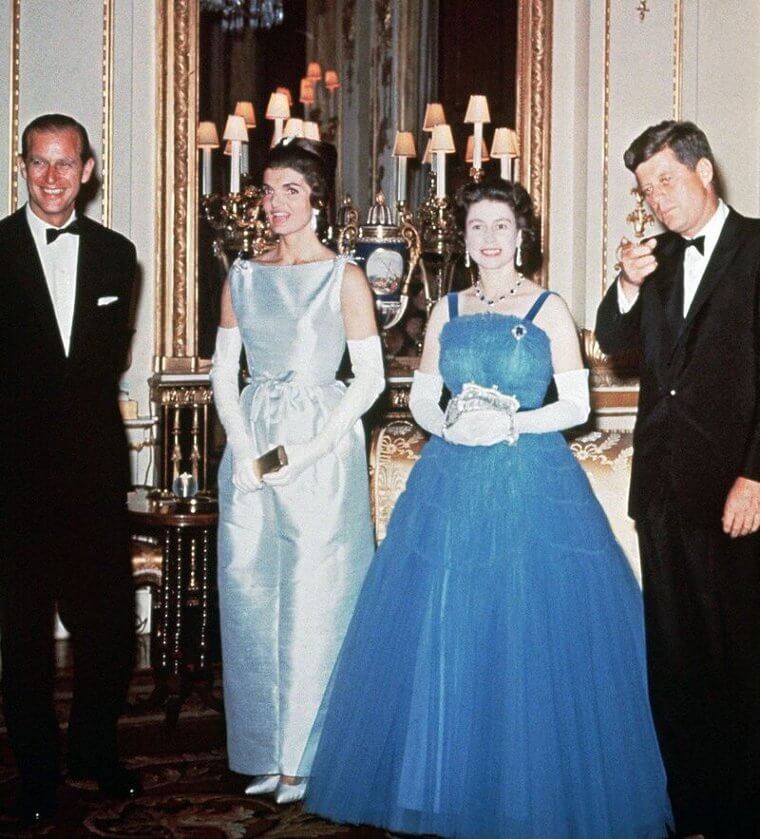 For this special occasion, the Queen donned her stunning blue tulle gown with snow-white gloves and some striking accessories. Her sparkling brooch and necklace matched the blue dress, while her silvery earrings completed the look.

Kate Middleton, 2018
In 2018, everyone at the BAFTAs was intent on making a political statement by wearing black. The color represented the Time's Up movement that had taken Hollywood by storm. Even the Golden Globe red carpet had been full of black-clad celebrities.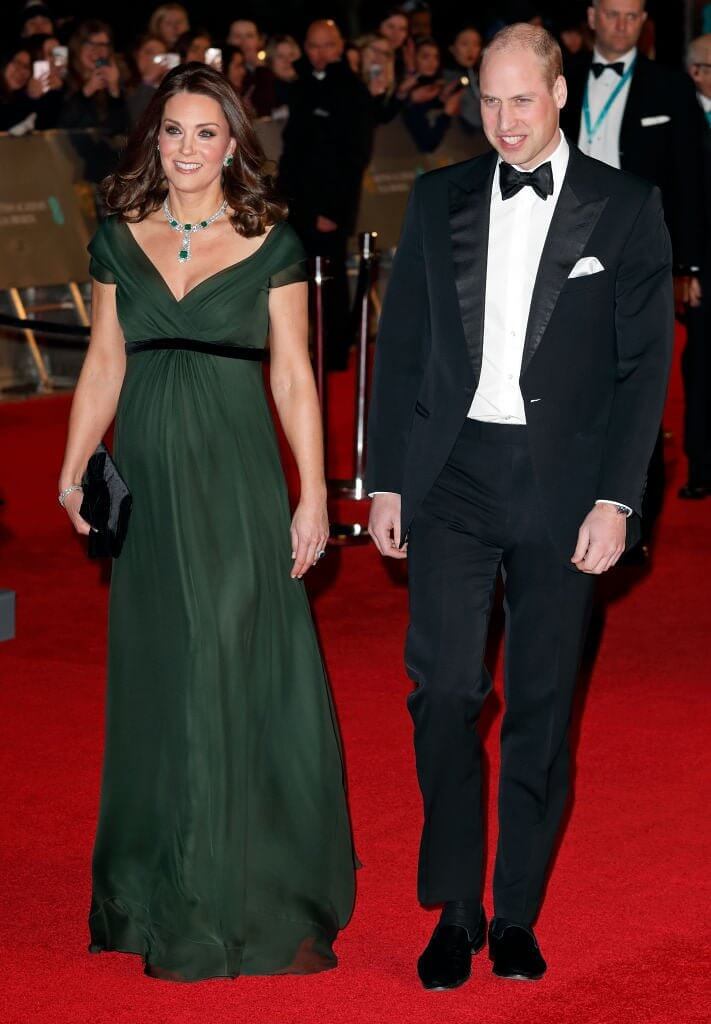 Unfortunately, royal protocol does not allow members of the family to make a political statement, even if it's through their stylistic choices. That's why Kate Middleton stood out at the BAFTA's in this gorgeous dark green number by Jenny Packham. Some believe that the Duchess showed solidarity through the black sash incorporated in the dress.

Princess Margaret, 1990
In the year 1990, the Queen Mother celebrated her 90th birthday. The grand event took place at the prestigious London Palladium. To commemorate the special occasion, the Royal Mint even issued a special £5 piece.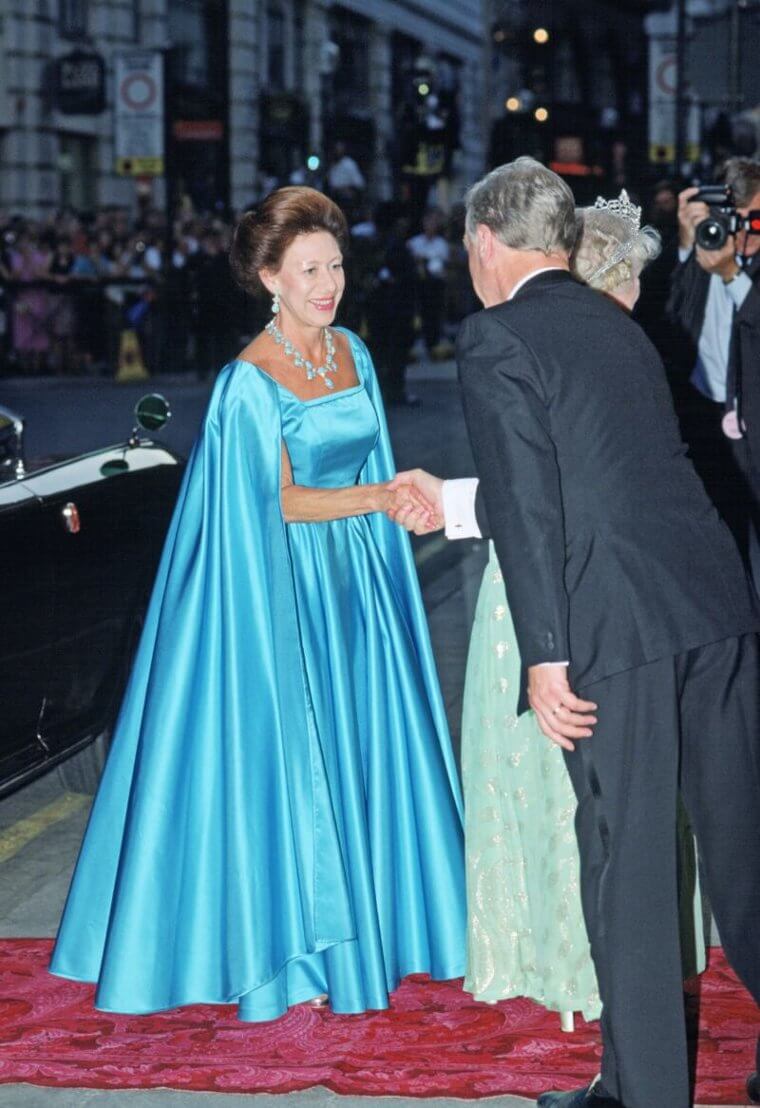 Of course, the late Queen's daughters had to make a show-stopping statement. Princess Margaret turned up in this stunning caped gown in a shiny teal fabric. Accessories included some classy earrings a gorgeous teal necklace to match the brilliant color of the dress. Her hair was in a simple yet sleek updo perfect for a formal setting.

Princess Diana, 1985
Royal Princesses are expected to fly around all over the world for tours, galas, and appearances. Each event is an opportunity to show off their unique style and introduce new trends. Back in the day, Princess Diana was more popular than any Hollywood celebrity.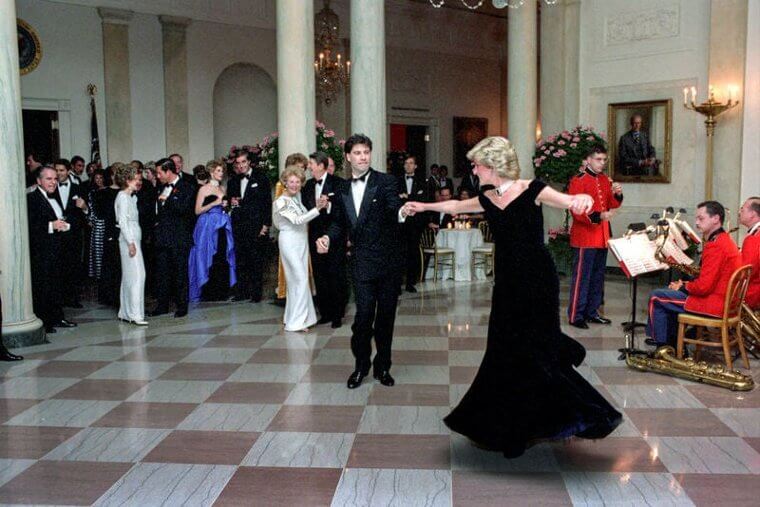 People all across Europe, America, and all over the globe were always following what the Princess was flaunting. On an official visit to the United States, she pulled out this sleek black off-shoulder dress from Victor Edelstein. The off-shoulder neckline was used to show off her chunky statement choker and matching earrings.

Princess Anne, 1980
Princess Anne, also known as Princess Royal, is 17th in line to the throne. She is the only daughter of Queen Elizabeth II and Prince Phillip. As a part of the royal family, she too has wowed the world with her fashion statements.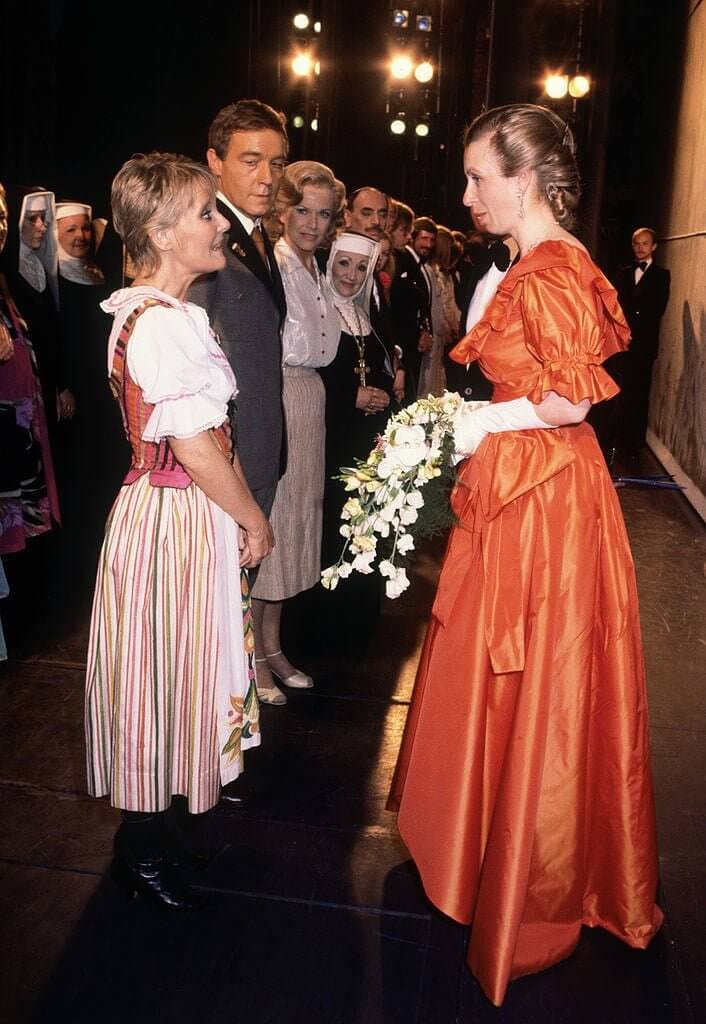 Here, the Princess Royal can be seen arriving in Paris for a special occasion that clearly involved a bit of dress-up. The flattering tangerine-colored gown makes Princess Anne stand out in the crowd. The dress is paired up with a stunning necklace and earrings set with a golden clutch and white gloves.

Princess Margaret, 1955
Princess Margaret became so famous for her superior sense of style that the term "The Margaret Look" was created after her. In 1955, she was spotted on a tour of the Caribbean in this sunny yellow, cap-sleeved dress.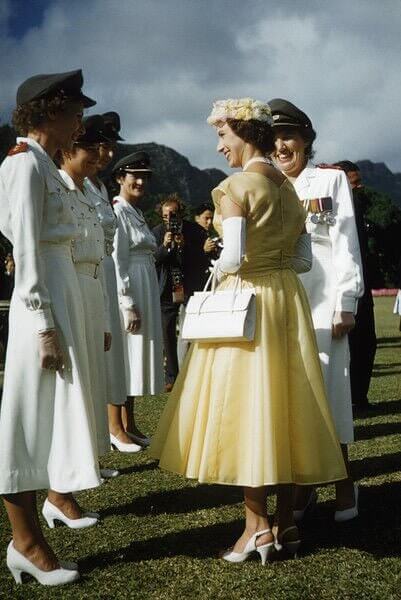 As opposed to the floor-length ball gowns that we usually see Royalty in, this tea-length dress was perfect for moving out and about. The soft yellow paired perfectly with pristine white gloves, a white purse, and a chic yellow hat. All in all, the look was fresh, fun, and super classy as always.

Queen Elizabeth, 1952
It is undeniable that the Royals know how to serve up grace and elegance like no other. Whether it's a regular day out or a grand ball, you'll spot Royalty in their finest clothes, without a hair out of place. Of course, all these expectations are part and parcel of belonging to a prestigious aristocratic family.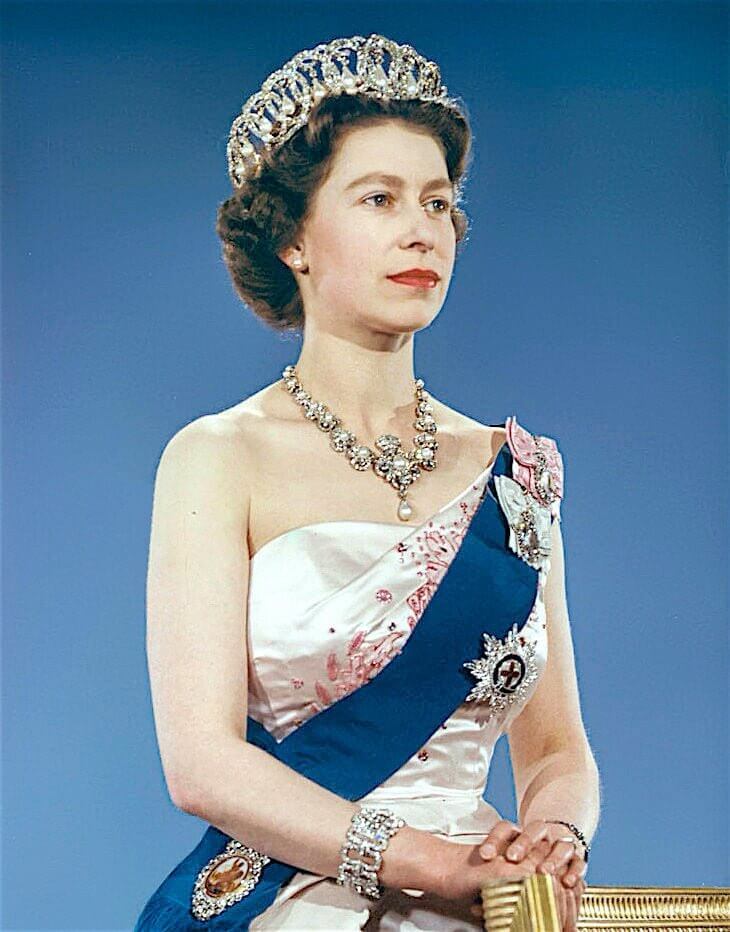 Perhaps the most famous Royal to this day is Queen Elizabeth II. Naturally, she has stunned us with countless graceful looks over the years. The Queen was newly coronated when she was spotted in this striking piece. The tulle gown wowed onlookers with intricate metallic lace detailing and a classic floor-length silhouette.

Queen Mother, 1980
So far, we've been looking at young royals dressed to impress on all occasions. Apart from the young, elders in the Royal family are not far behind when it comes to fashion. Take the Queen Mother for example.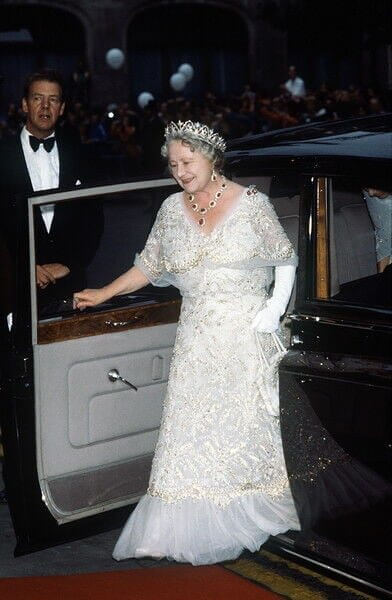 On her 80th birthday celebration, the Queen Mother showed up at the Royal Opera House in this exquisite white and gold lace dress. The floor-length gown was trimmed with classic tulle and the gold detailing went beautifully with her glittering ruby necklace and tiara.

Queen Letizia Of Spain and Queen Elizabeth, 2017
With so many grand galas, official visits, and more, royals run into other members of royal families all the time. Here, we can see Queen Elizabeth and Queen Letizia of Spain posing for a picture at Buckingham Palace.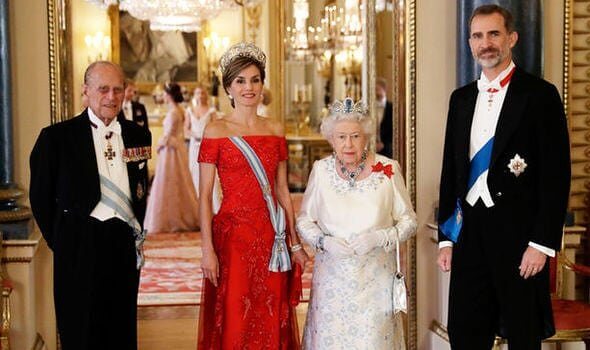 This is certainly a crossover we never knew we needed! Queen Letizia of Spain stood out in a deep red off-shoulder number that accentuated her graceful neck and collarbones. We love that she's kept it simple with a tiara, earrings, and an understated bracelet. On the other hand, we have Queen Elizabeth. Her Majesty looks regal in an off-white gown and red ribbon.

Kate Middleton, 2019
The Duchess and Duke of Cambridge made an appearance at the 2019 BAFTA Awards looking like a gazillion bucks. Kate Middleton has always been a media darling with her endearing personality and graceful looks. She's even known to repeat her outfits once in a while!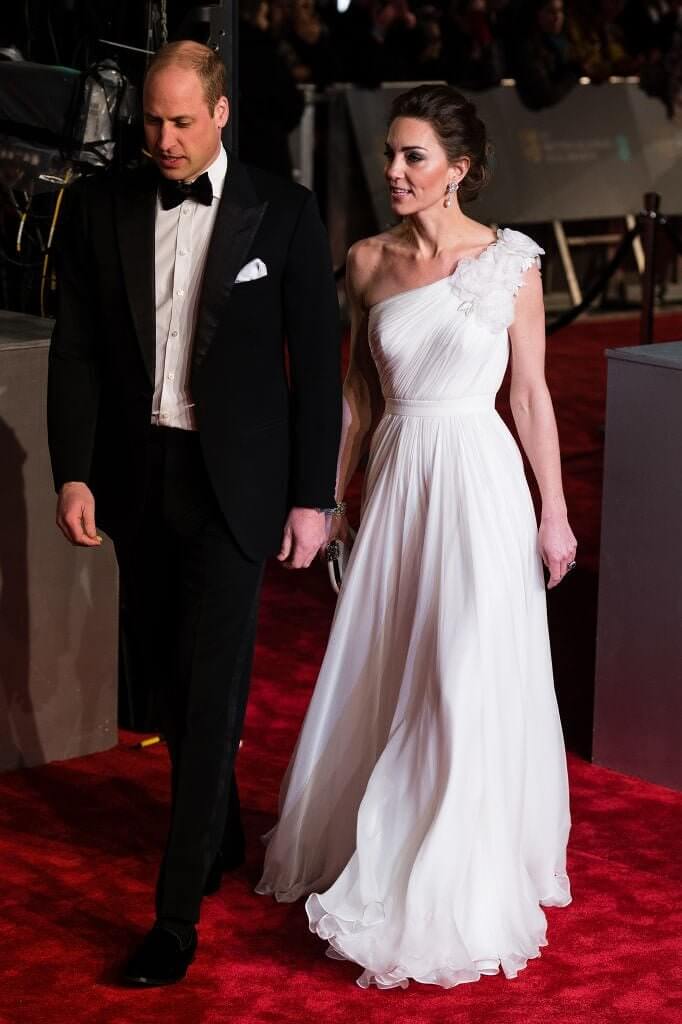 At the awards, the Duchess wore a ravishing one-shoulder gown by Alexander McQueen. The stunning white gown wowed everyone with floral details and pleating. Kate Middleton kept it sweet and simple with a  white clutch, some silvery earrings, and a bracelet.

Queen Letizia Of Spain, 2013
So far we've seen Queen Letizia of Spain in brilliant blue and fiery red gowns. This one is a lot more understated and subtle than those. The Queen wore this dress in a Gala Dinner hosted at the Royal Palace for Crown Prince Naruhito of Japan.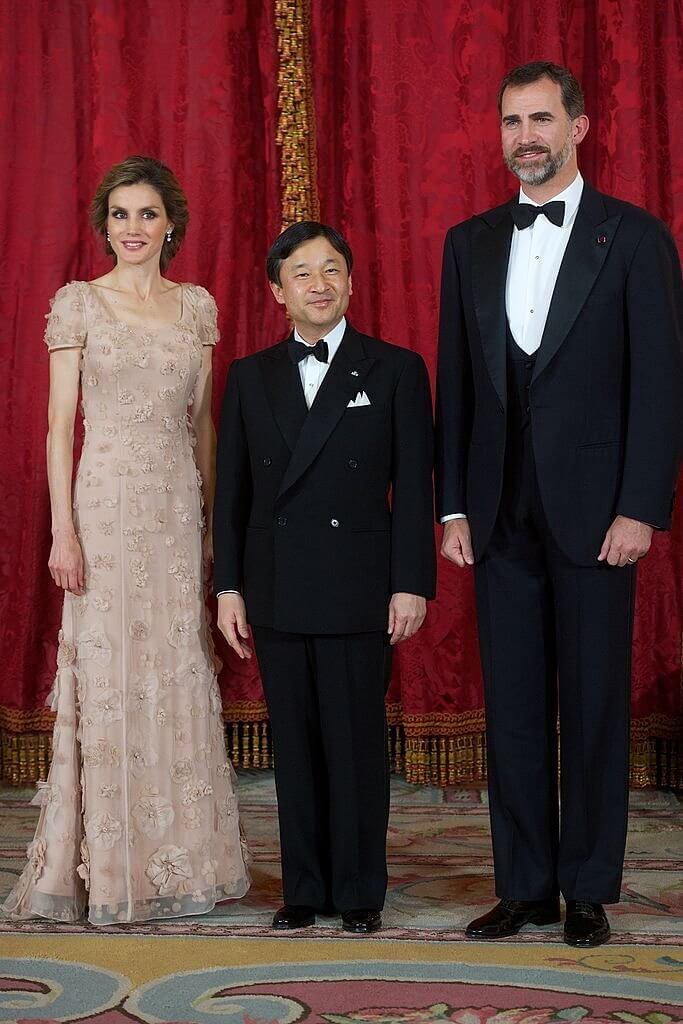 The nude-colored gown showed off some floral details and a pretty simple silhouette that was super flattering on the Queen. Instead of layering on the bling, the Queen chose to keep it simple with delicate earrings, leaving her wrists and neck bare.

Princess Margaret, 1960
While the everyday fashion of Europe's richest is a sight to behold, their special wedding day finery is a dream come true for fashion lovers. Even back in the day, Royal weddings were a huge deal for everyone in Europe. Here's an iconic look from Princess Margaret on her wedding day in 1960.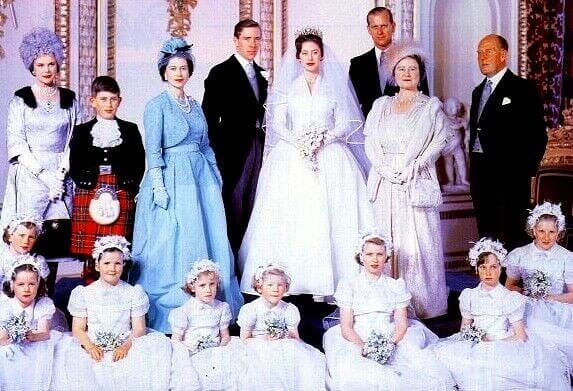 The Princes shared vows with Antony Armstrong-Jones in a gorgeous silk organza gown by the official royal dressmaker Norman Hartnell. This dress came with a long, floor-length veil. As is customary for a royal wedding, the Princess wore a stunning tiara to top it all off. This was the first royal wedding that was televised with over 300 million avid viewers.

Queen Rania Of Jordan, 2016
Rania Al-Abdullah, Wife of King Abdullah II, and Queen of Jordan is a well-renowned philanthropist and fashion icon all over the globe. She is known for being involved with various causes including women's rights, environmental issues, educational access, and more.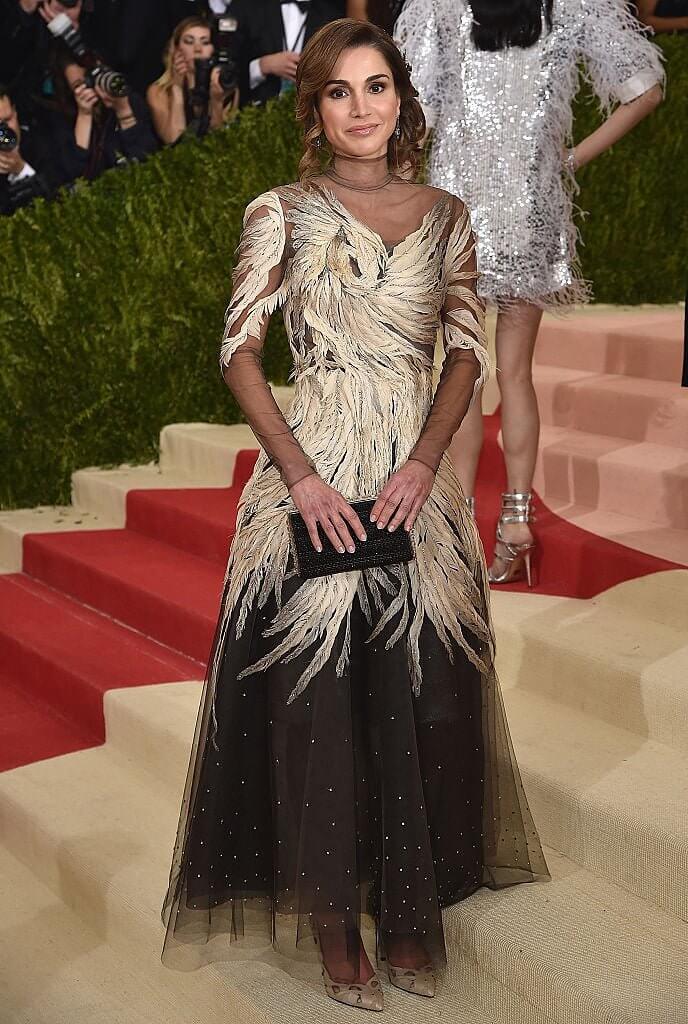 For the Met Gala in 2016, Queen Rania sported a feather-decorated gown in a monochrome color scheme. The theme for the 2016 Met Gala was Manus x Machina: Fashion in an Age of Technology. We're not sure if the dress fits this theme, all we know is that it looks stunning on the Monarch.

Princess Sofia Of Sweden, 2014
Princess Sofia was a model and reality TV star before she tied the knot with Prince Carl Phillip. She attended the Nobel Prize Banquet alongside the handsome Prince. Her maroon tulle gown made her look like a fairytale princess come to life.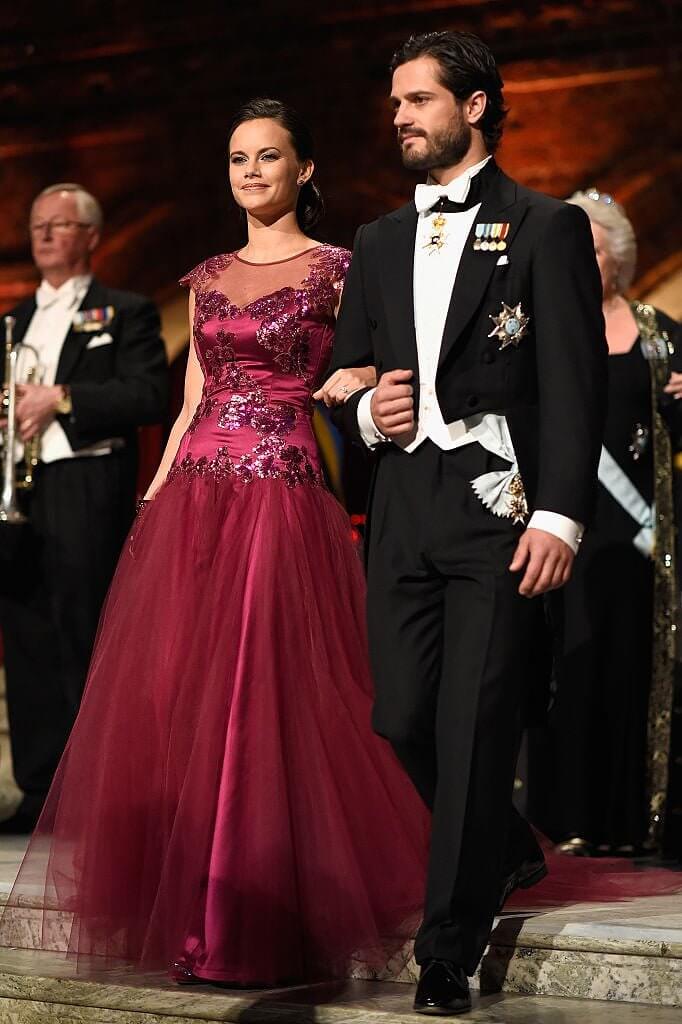 Princess Sofia was a model and reality TV star before she tied the knot with Prince Carl Phillip. She attended the Nobel Prize Banquet alongside the handsome Prince. Her maroon tulle gown made her look like a fairytale princess come to life.

Princess Elizabeth And Princess Margaret, 1949
When it comes to the royals, fashion runs in the family. As we drool over Kate Middleton's and Meghan Markle's outfits today, it's important to acknowledge the legacy that gave birth to royal fashion. To honor Royal fashion through the ages, here's a trip down memory lane.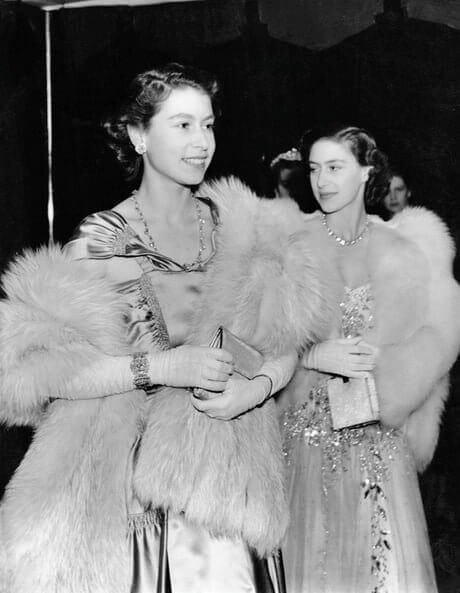 Pictured here are Princess Elizabeth and Princess Margaret looking ravishing in their respective gowns. Both sisters were stunningly beautiful in their heyday. The poise and grace with which they hold themselves is also pretty eye-catching.

Kate Middleton, 2018
We've seen the Duchess of Cambridge sporting some pretty modern gowns recently. But she switched it up a bit at a State Banquet held in Buckingham Palace. The ice-blue mermaid gown made her look like a real princess.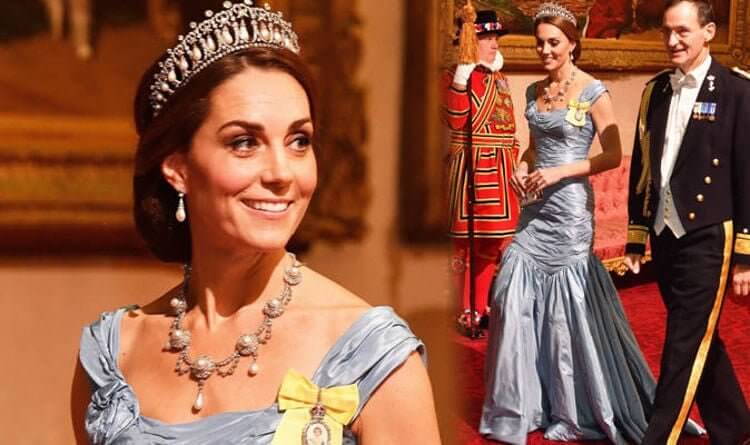 The dress was designed by Alexander McQueen, who seems to be her favorite designer. This more traditional dress was topped off with a delicate tiara and intricate pearl and diamond necklace. The Duchess's elegant updo is the perfect final touch to this Cinderella-like look.

Princess Sofia Of Sweden, 2015
Princess Sofia of Sweden positively glowed at her pre-wedding dinner in 2015. She turned heads in an ice-blue embroidered gown with a sultry side slit. The gown took center stage when paired with some subtle studs, an understated clutch, and some classic nude heels.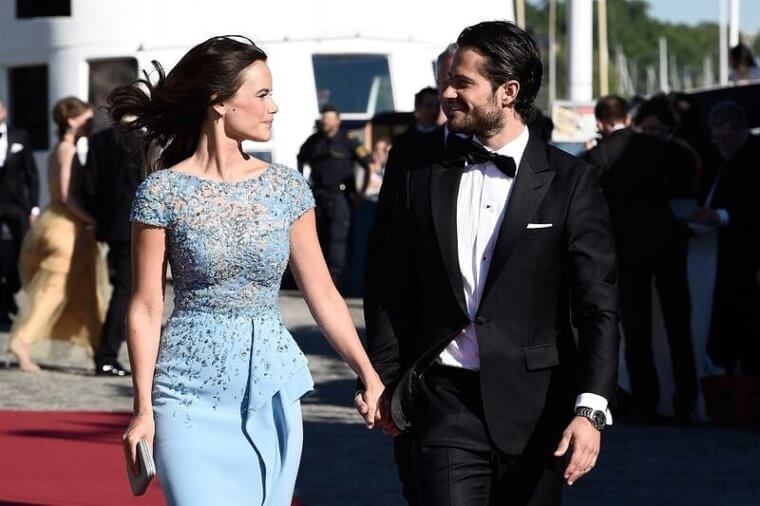 We love how Princess Sofia seems to keep it classy with little to no jewelry pieces. This ensures that all the focus remains on her gorgeous gown. And on the arm of her husband, the tuxedo-wearing Prince Carl Philip, Princess Sofia looked like true royalty. We think they make a ravishing couple!

Queen Rania Of Jordan, 2004
We've already talked about what makes Queen Rania stand out from the crowd. Apart from being drop-dead gorgeous, the Queen is a highly accomplished woman who truly cares about her philanthropic pursuits.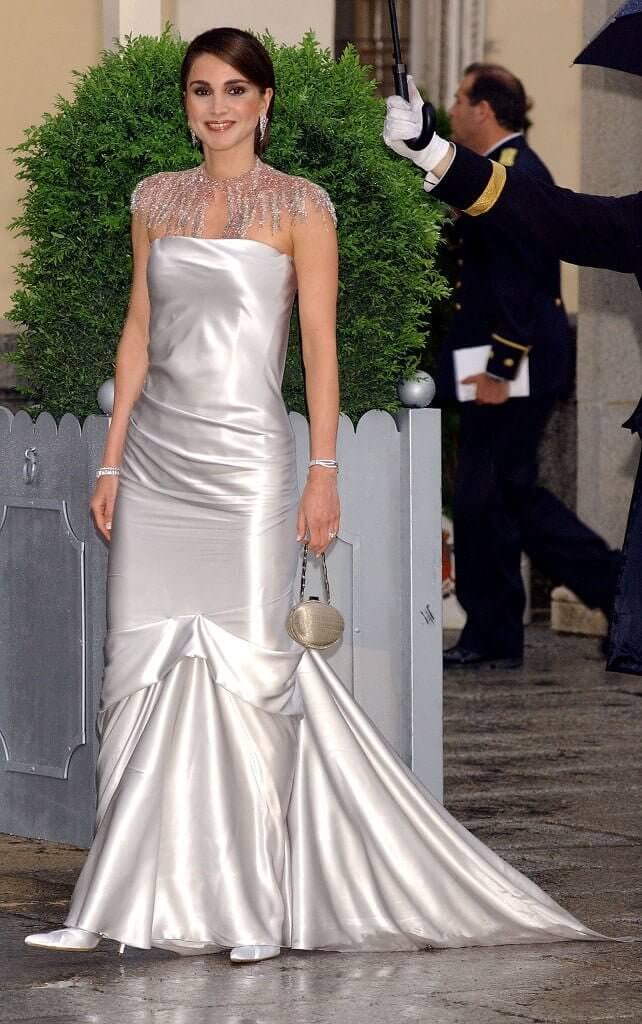 To top it all off, the way she carries her fashionable wardrobe is truly something else. Here, you can see her wowing everyone at a gala dinner in El Pardo Royal Palace. While the metallic satin gown is pretty standard, the exquisite shoulder detail takes this dress to the next level.