It's happened to everyone at some point, maybe because of a make-up trend that didn't suit our faces or some questionable products that made your skin break out in a rash. However, when it's done by a professional, you have to wonder what went wrong? Scrolling through social media, there is evidence that every day, someone out there is having a very bad make-up day. From crazy eyebrows to overdoing the bronzer, here's a selection of botched make-up jobs that will make you laugh, cringe, and cry.
Orange You Glad I Didn't Use Too Much Bronzer?
If you start at her eyebrows, maybe she was looking for a Nike endorsement. The problem is that it doesn't really get any better from there. Her stunning green eyes have been made up well, but there's just so much… orange. It's highlighted by her arm in the shot, which just looks like it belongs to someone with a lot lighter skin. 
She also seems to have had more work done than is strictly necessary, giving her the appearance of a scary doll. Maybe if she toned everything down a few shades, she wouldn't get mistaken for a mannequin in her local boutique. Those brows though… shudder.
Penguin Brows
This looks like a stage make-up tutorial gone wrong. Once more, a pretty girl has decided that she needs some statement make-up to really make those eyes pop, and somehow managed to make everything look worse. It looks like a few penguins are having a nap over her eyes (which are so well made-up, until the white).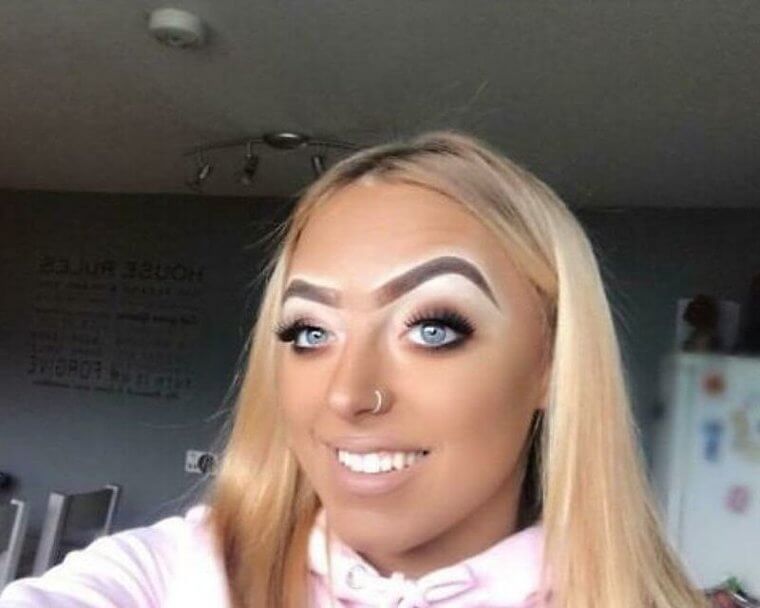 Below the eyes, she seems to have gone wild with a contour brush, but in an entirely wrong shade. Who making big bucks from all this orange foundation? Her chin is a completely different color to her cheeks. She seems happy enough in her selfie, but someone really needs to tell her what's gone wrong here.
Going for Plastic
This girl has a beautifully freckled face, but she obviously feels self-conscious about it and has decided to cover it all up.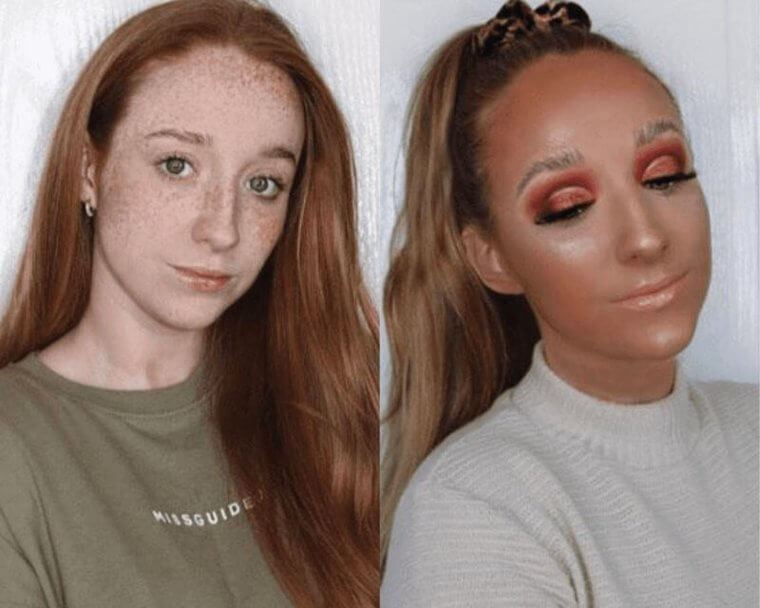 She's obviously gone for several layers of foundation that are too heavy for her skin-tone, and now she doesn't even look like herself anymore.  In the first image, she's wearing a top with the logo Missguided, and it says a lot about her make-up choices! 

Clown Face
The brows on the left are almost perfect, but let's say she wanted to thicken them up. What exactly was she thinking to come up with the brows on the right? Who has ever made that look fashionable? Did she use a paintbrush?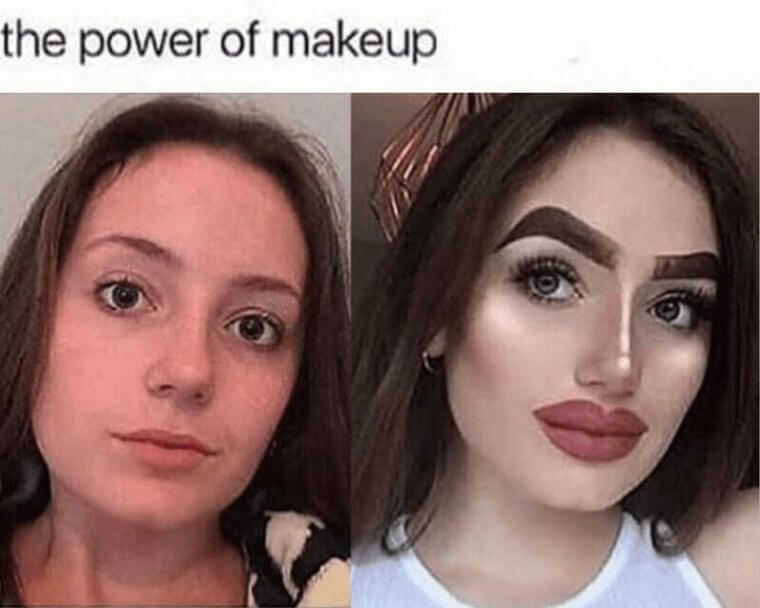 She took a petite nose that people would pay for and contoured it out of existence. Sure, she could have wanted a plumper lip - did she have to go for lips so overblown that they look ridiculous? Unless she's planning to appear on RuPaul's Drag Race, there's simply no excuse for any of this. Perhaps she should, the queens could teach her a thing or two!

Foundation Fail
The make-up artist here can be commended for those eyes! That pink wing is spectacular, but then there's a lot to question. Why are the brows that big? They don't work on her face, and they take away from that beautiful eye make-up.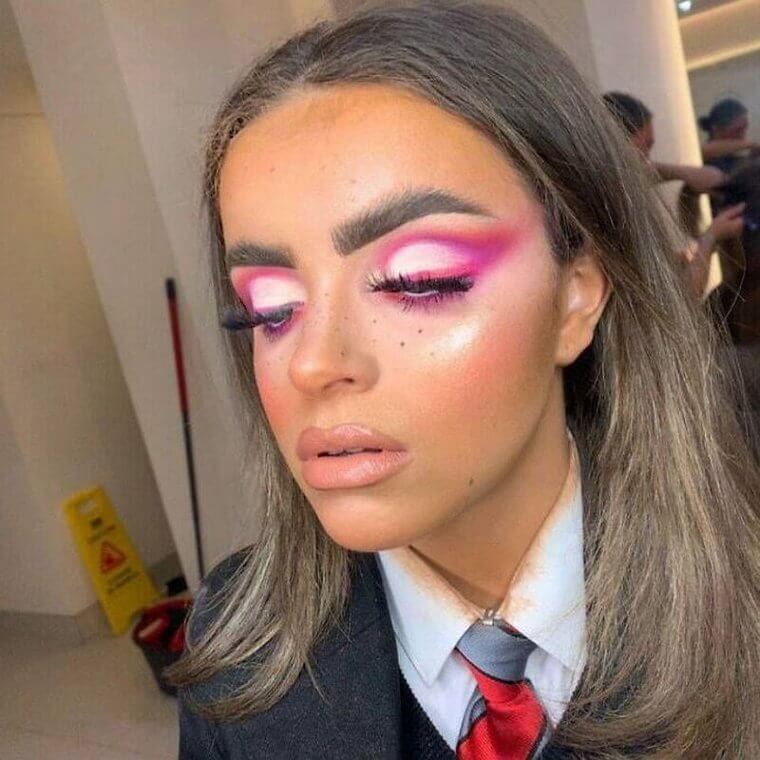 When you take in more details about the photo, it all starts to look a bit bizarre. Why is there a mop and wet floor sign behind her? Is she wearing a school uniform? Why was all that foundation applied while wearing a white shirt? If this is a casual school look, it's not working. 

The Real Geisha
Sometimes you're just trying to learn something new, and it goes horribly wrong. Geisha have been a paradigm of beauty in Chinese and Japanese culture for hundreds of years, and it's such a distinctive look that it's understandable people want to copy it. White face, red-winged eyes, slight brows, and ruby red lips - the overall effect is demure, yet striking - in photo two.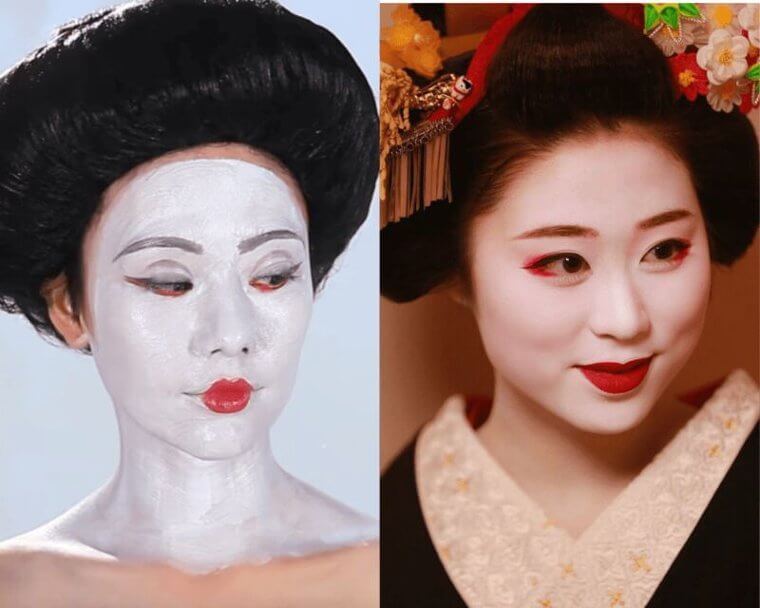 We should give this one the benefit of the doubt, as maybe it's a make-up artist trying to learn her craft in the first photo. Firstly, we're not sure white emulsion paint works as a foundation. It looks like they tried to make the girl up using paints made for canvas rather than faces! It may have looked simple, but it's clear that an expert hand is required.

Even Celebrities Get It Wrong
The Kardashian/Jenner clan have made a fortune out of looking good. From advertising lip liner and bronzer to actually running entire make-up empires, they seem like good people to follow for make-up trends. However, even they are prone to a slip or two. Glancing over their popular E! Television show that made them famous, one wonders how they ever came so far.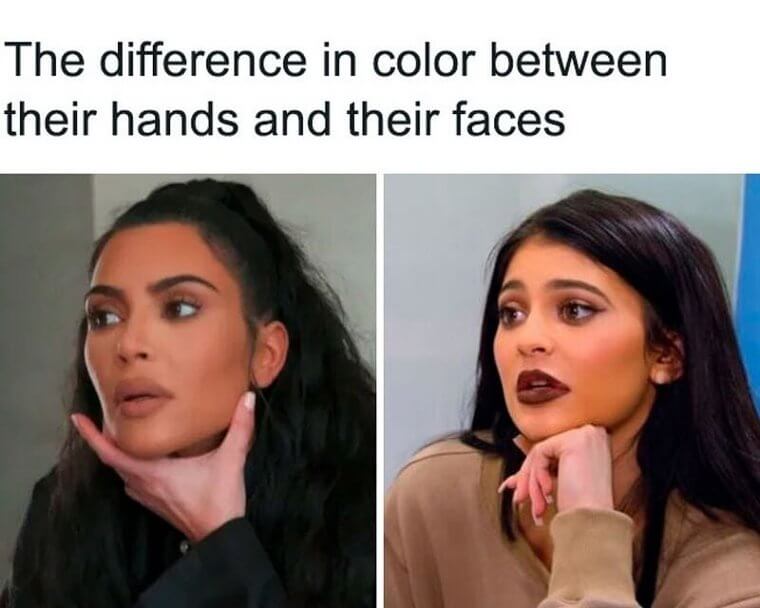 Their eyes and brows are on point, practically perfection. But what WAS Kylie thinking with that lip? Then there's the big question of why their hands are several shades lighter than their faces? Kim can rock that shade foundation, but when she raises her hand to her face, it just seems so odd. Kylie could tone it down a bit, she's a little orange, and it's clear this photo is a few years old. Maybe the E! Make-up artist was off sick that day?

Is That a Flag on Your Brow?
Well, at least she's realized that the make-up artist has really done her over here. She obviously brought an image to a make-up artist and then paid someone to do that to her face. Someone less than qualified, we'd bet. It takes a certain amount of skill to get those colors blended, but surely anyone can see the girl didn't ask for some exotic flag on her eyebrow.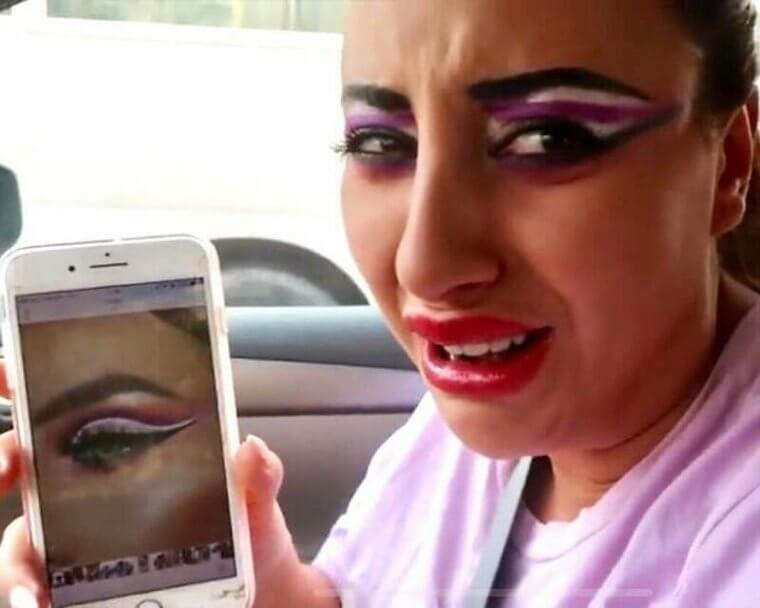 It's just crazy, it's almost like there's another eye in there staring out. It's a real shame, because her lip looks perfect, even through the tears. Hopefully, this wasn't a special occasion, because that looks like it all might be hard to take off. Maybe look through the make-up artist's reviews before asking her for something bold and outrageous.

Not a Mask
This seems to be an excerpt from a television show or movie, so hopefully, it was a comedy scene, because surely no one would purposely do their face like that? The foundation is so thick, and so far away from her natural skin color that it actually looks like she's wearing a mask. At least, if she'd covered her neck and face, it wouldn't look so glaringly wrong.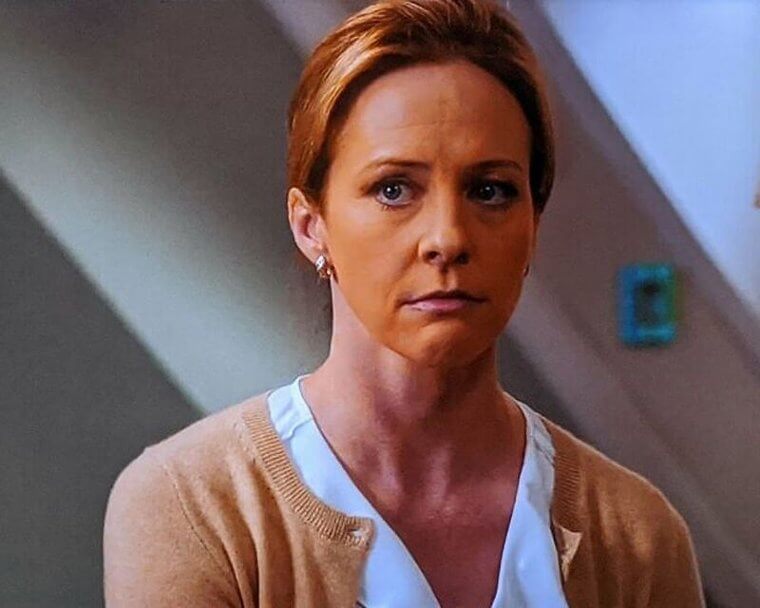 It's like she dipped her face in turmeric, or perhaps she was testing a new tan product, but the results went somewhat awry. Maybe she had an argument with the make-up artist that morning and she just caught sight of her face in the mirror three hours later. Whatever the explanation, there's clearly some advice to the viewer: do not try this at home. 

Smokey or Scary?
Ok, admittedly we've all gone a bit heavy-handed on the smokey eye, but has no one told this girl that black eyes don't really work with her hair? Moving down, the white also pops against the orange, and not in a good way.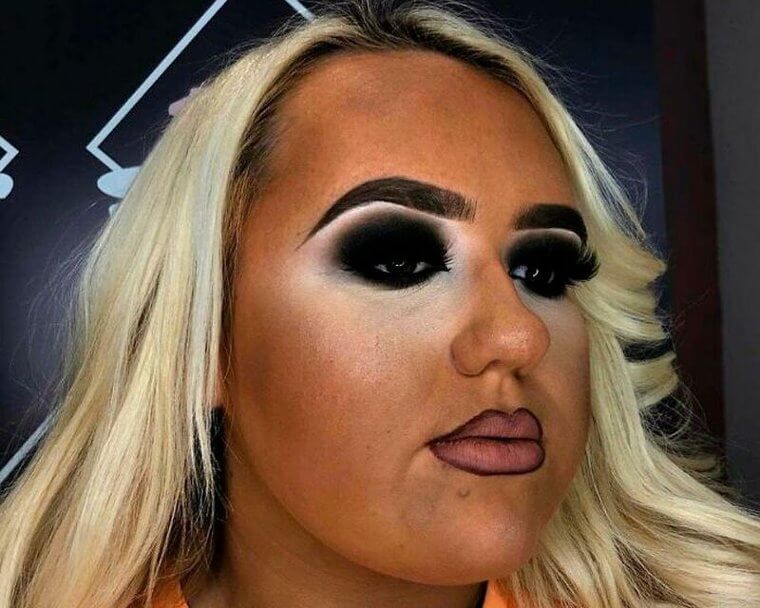 Then we get to the lips, and oh dear, just no. Lip liner with no color is a trend that should have been left in the past. It wasn't cool then, even when people thought it was, and it just looks dreadful now. The overall effect would probably scare small kids, so you could threaten this as their babysitter. 

Style Hero to Zero in Seconds
At first glance, you'd probably admire this person's style. The hair looks perfectly coiffed, and then, what happened? Did they dash out of the house without finishing their make-up?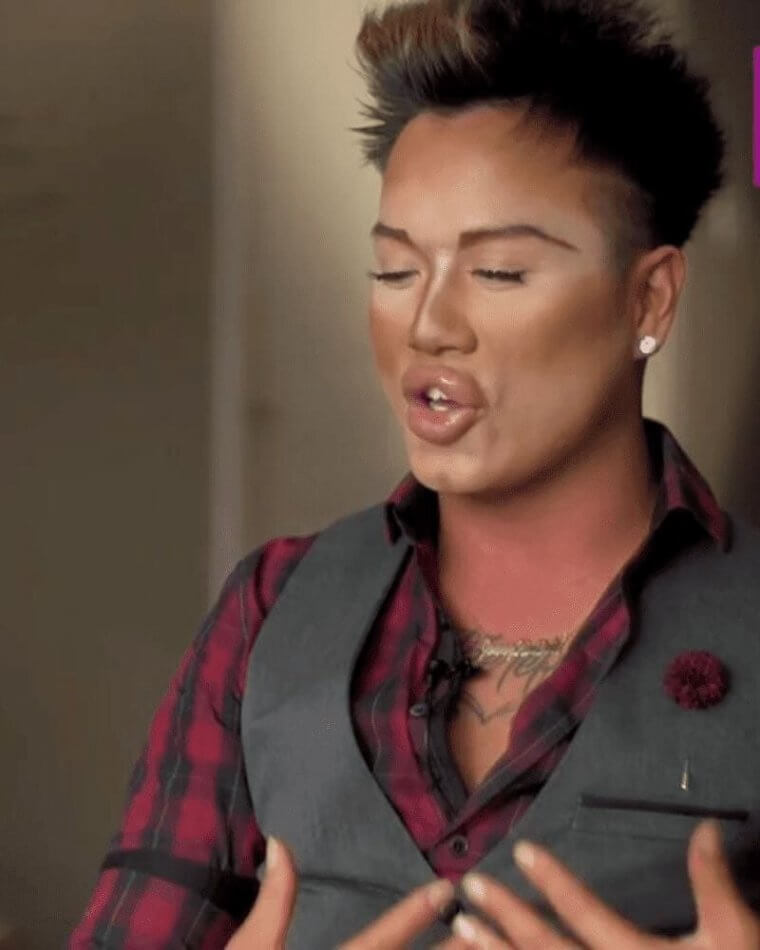 It looks like they got sunburnt on their neck, but then wouldn't you try and blend the foundation to cover that? The eyes are a work in progress, but I'm not sure those brows are worth saving. A slick of lip gloss is all very well, but you can't start contouring and not finish. This person needs the assistance of a pro. 

Shine Bright Like a... Car Reflection
That's honestly what this sheen reminds us of, the sun hitting a metal service. I know metallics were a trend, but I'm not sure this was the overall aim. She has a good thick brow, but as you glance down the face, it becomes clear that a few things aren't working. Mostly, she went big on the eyes, which would be great under lights, unless they weren't eclipsed by those great shiny cheeks!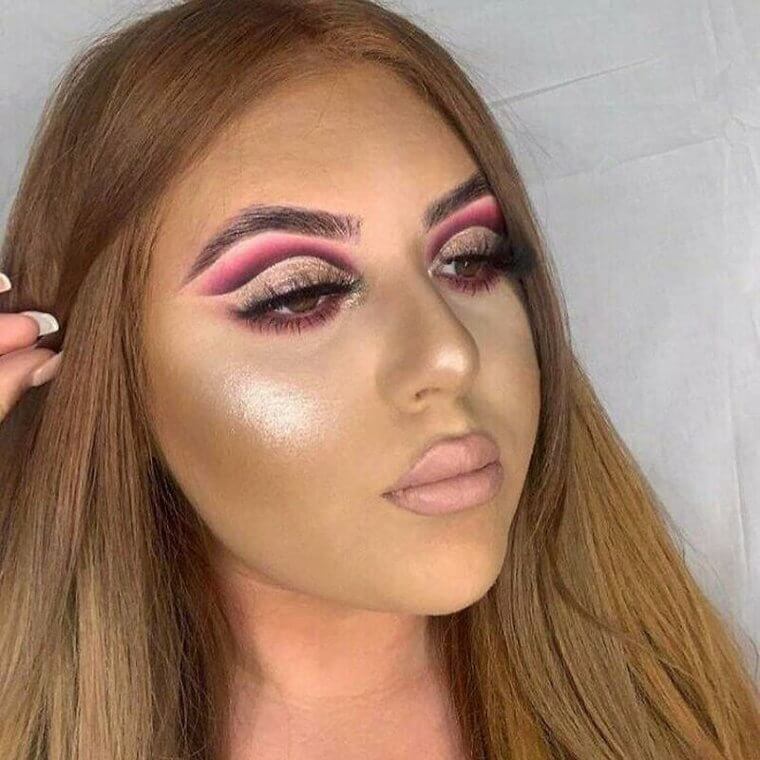 She seems to have chosen different foundation colors for different parts of her face, and the overall result is just a bit… muddy. Her lips are pretty but a little too pale with everything else going on. To be fair, it's far from the worst on this list, but it does show that one 5-minute YouTube tutorial does not turn out a make-up artist result. 

A Lot Going On
Ok, sometimes you want to stand out from the crowd, there's nothing wrong with that. She's got serious brow game here, and then there's the palette box of colors on her eyes. It's not that there's so much wrong with it, it's just all a bit too much. Where to look? Does anyone need a rainbow between their eye and brow? Imagine how distracted you'd be trying to have a conversation with her?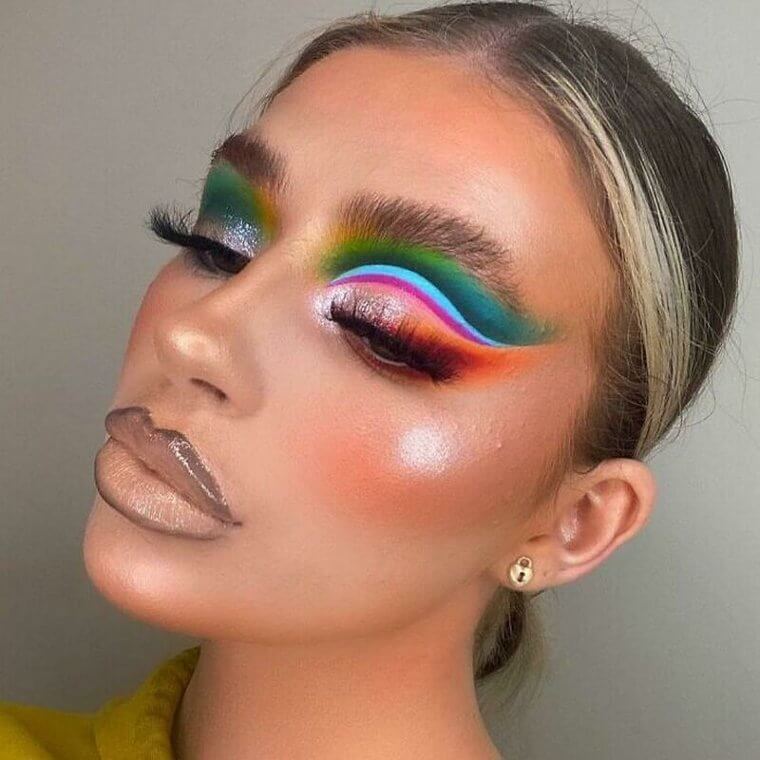 The cheek color is ok, although also a bit much, and then we come to the lips. They probably ruin the whole effect as the dark lip liner appears quite like a mustache, and we'd argue that is not what she was hoping. So, this is a fail, but marks for effort. 

Nose Off
Straight off here, you have to wonder if she wanted her nose to look like that of a deer, or some woodland animal? It's contouring gone wrong, lesson three. She seems to be wearing twinkly contacts, which is a bit much too. The lashes are overdone, and nearly covering her dark, dark brows, that don't really match her hair.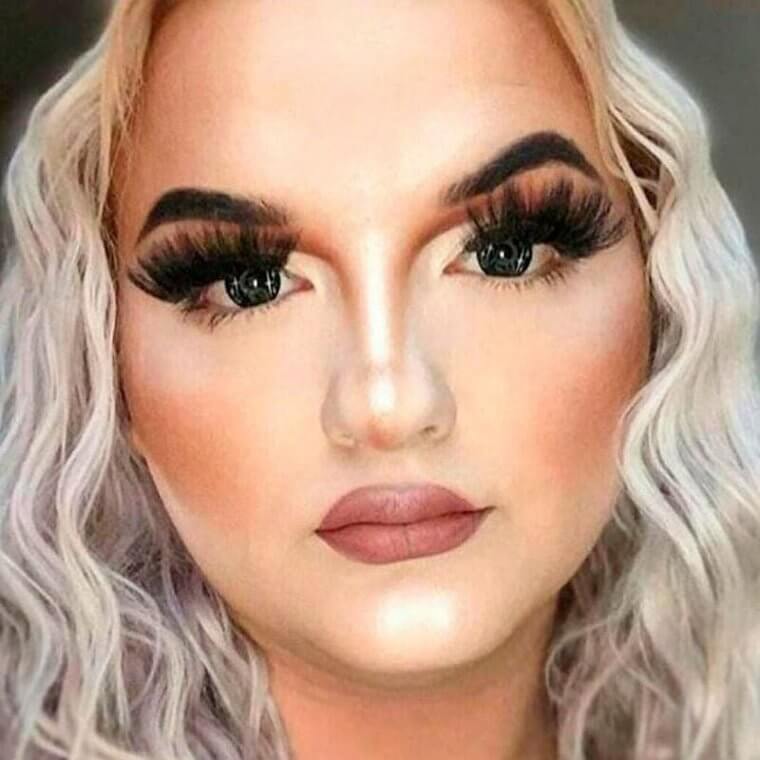 It looks like a cartoon character, but it's probably hiding a pretty girl underneath. She doesn't even look pleased with the results herself. Perhaps the fancy dress was a cartoon and she thought anime would look good? Whatever is going on here, maybe she shouldn't try it again. 

Back From the Dead?
There is something quite disturbing about this, it's almost like someone dead in disguise. What is really disappointing is that this girl clearly has beautiful eyes and good bone structure, so the less is more approach really could be working for her. The lips make her look disappointed with her lot in life, but hopefully, she's just down about this makeover.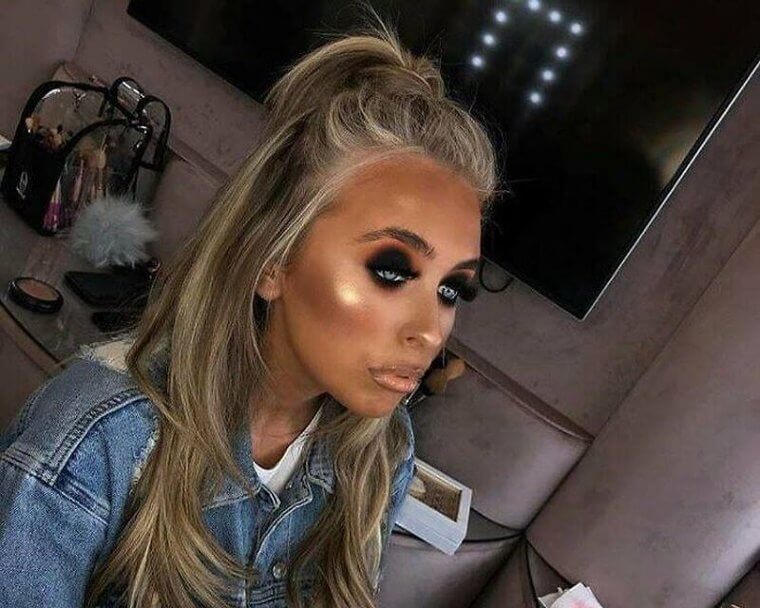 Black, black eyes only work in certain scenarios, and this isn't one of them. The foundation is poorly applied, the brows look sparse, and once again, orange seems to have won. Why does everyone want to wear a shade of Donald Trump? It doesn't even work on him!

Looking for Clicks?
This woman decided she would do her face as an ad for her services. Too bad her services are make-up! She tagged it as soft, subtle, and glamorous, when in fact, it doesn't actually tick any of those boxes. We'd hate to see her bold, loud and trashy make-up! Where to start with this epic social media fail?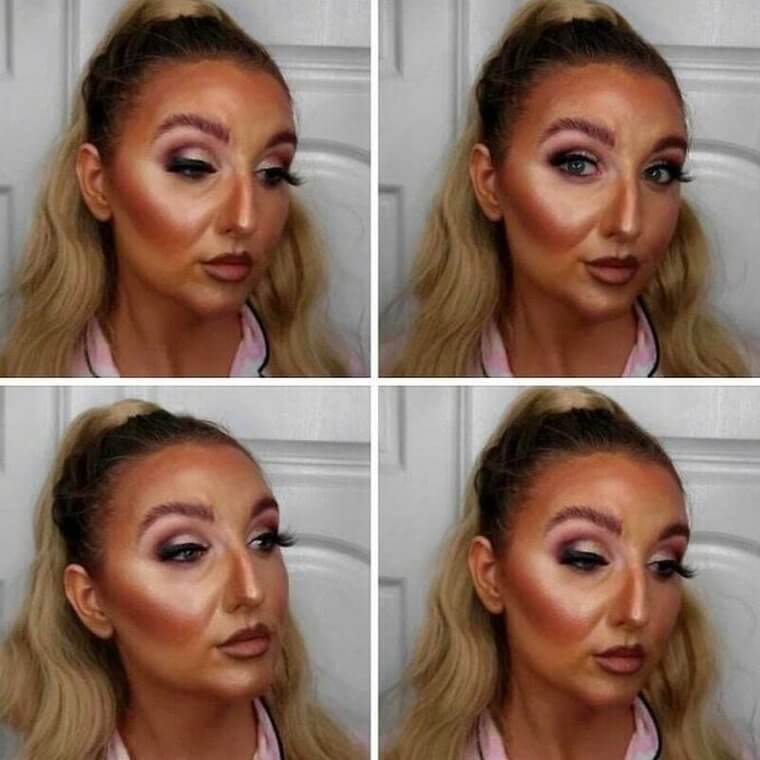 Ok, let's start with the good. Her eye make-up is pretty, although it's more dramatic than subtle. The shade that she has gone with for her foundation, blush, and contour is frankly, completely the wrong color for her skin tone. She seems to have contoured her nose crookedly. She has actually made her cheeks look worse than they probably do without make-up. She's asked people to click on this to see her Instagram. Maybe it got better there?

Golden Eye
There's every chance that this is a mid-makeover photo, at least we're hoping. If her eyes weren't closed this wouldn't look quite so odd, but someone hasn't heard of a blending brush. The rest of the make-up is so light (in fact they could contour more), and there's not even a slick of lip gloss, so we're going to just go with work in progress.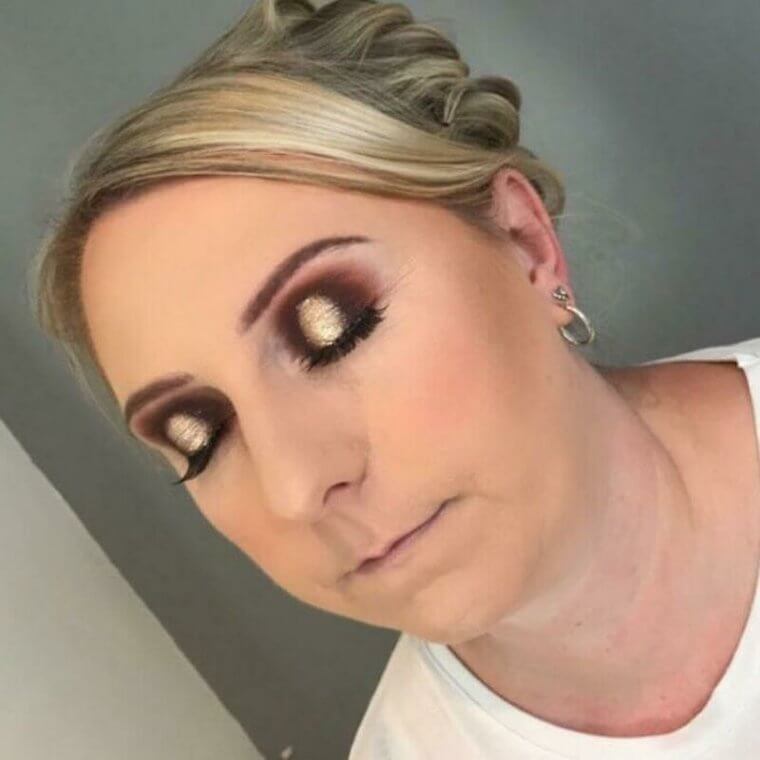 Maybe she fell asleep in the middle of her make-up for a special occasion and the girls were just pranking her. Either way, it's an odd look and it's not working out that well for her. Or the MUA ran off before she was finished. Gold is great, but you don't just throw it on the canvas and leave it there. 

Upcoming MUA's
You've had a show about models, a show about drag queens, a show about makeovers, Netflix has clearly seen a gap in the market for up-and-coming make-up artists. Sure, there could be some really cool looks created and some talented individuals working hard on their craft. Then we got sneak peeks of the contestants.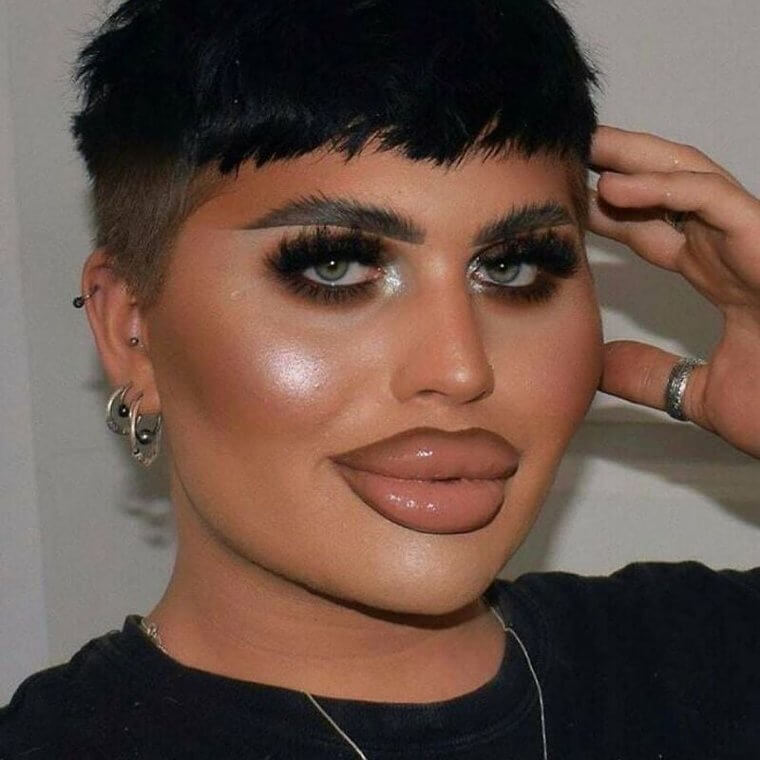 Here's one of the make-up artists that made the cut. There are many questions here. Would you let her near your face?

Bumblebee Eyes?
If this is another contestant for the show, there really appears to be no hope. Why do some people claim to be artists when they can't even handle a lip brush? Here, it looks like she used a trowel for her foundation, it's that thick. Then she has smeared something on her lips that doesn't look particularly appealing. Maybe she tried to black out her eyes so she couldn't see what an absolute disaster she's made of her face.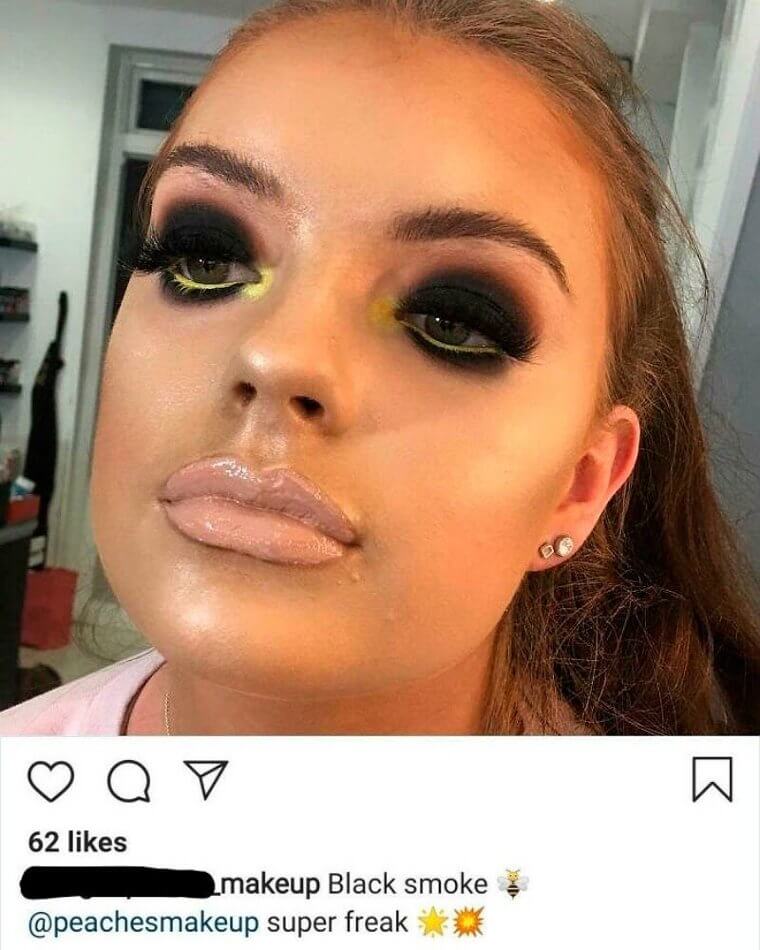 But wait, there's more. She decided on some yellow eyeliner and the inner eye. Who decided that looking like a bee is so next season. Something is going on between the nose and eyebrows too that looks like bad blending, tweezing, or blocked pores. It's not good. None of it is, wipe it all off and start over. 

Wrong Purchases Don't Get Any Worse
The foundation she chose to buy was easily the worst option she could have gone for. The only positive note is that judging by the caption on her post is that she was self-aware of the issue which is a stark departure from the other instances mentioned on this list.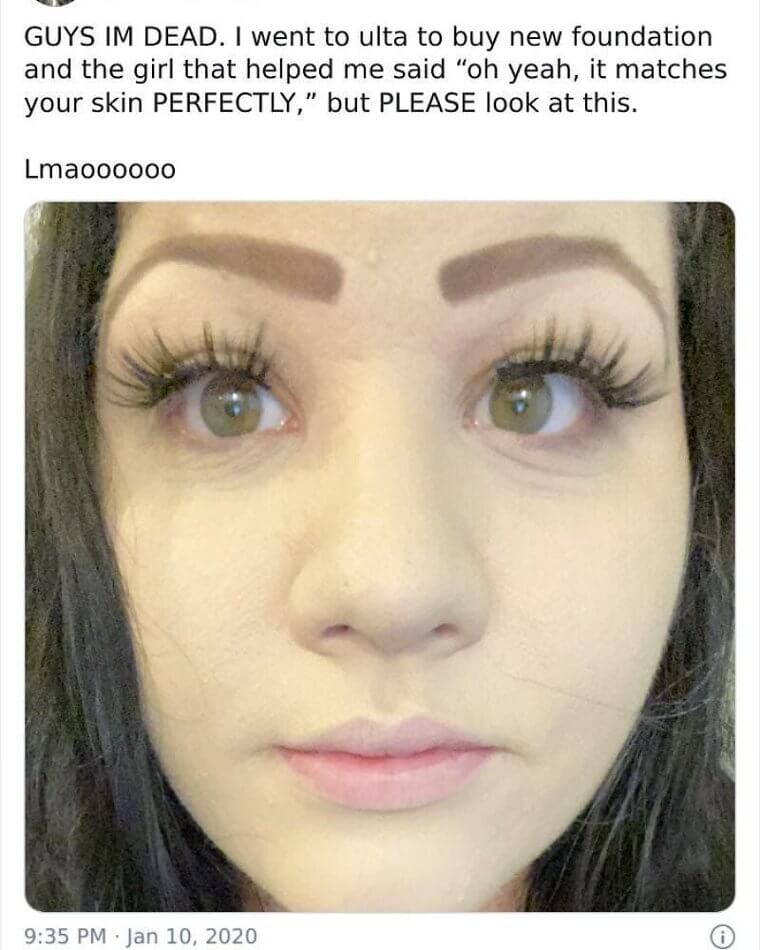 While other posts displayed women posing for the camera oblivious to the disaster on their face, that wasn't the case here. In her caption, she says that it all began at the store where she brought it from. She then paired the disastrous foundation with a funny brow and bad eyelashes to complete a very disappointing look.

What Happens When you Apply a Bucket of Foundation?
Here, the issue runs way beyond just the foundation used. It is not even the first issue! The foundation's shade is as excessive as it comes, and it is equally shoddy. If she were to live in the North Pole, her coat of foundation should keep her very warm and comfortable!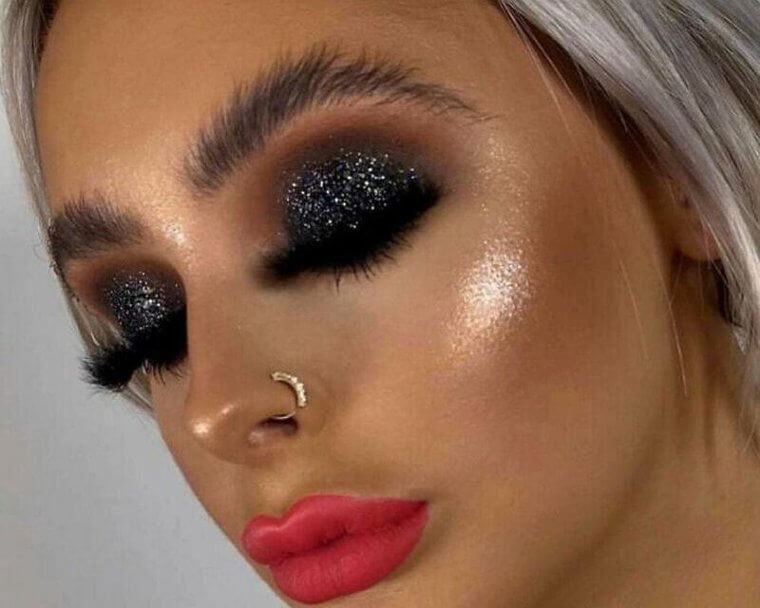 The next disaster is the poorly drawn brows. Scattered and seemingly drawn by a two-year-old, it is just a bit of a squiggly brow action. The blush is far too metallic, and her lashes are so long they seem to have a bit of fur at the end of them. It's a holiday look, for sure, but more Halloween than Christmas. 

A Disaster on Every Level
The first question anyone would have after looking at the below image is; why is she so orange? Don't worry, we will get to that in a bit, right after we describe why her entire face is just oh-so hilarious. We feel bad but her face certainly looks too funny.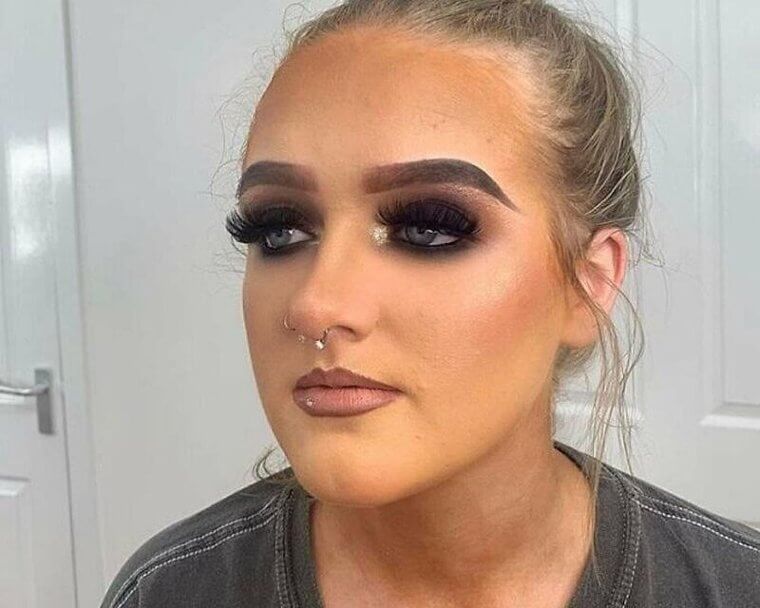 For some, her brows bring back memories of bloodsucking leeches and given the glaring distance to the hairline, this is a big no from any stylist. Obviously, she needs to lay off the foundation while her lips[s look like they could use some additional attention. How uneven? We really wonder about the quality of makeup artists today.

Anymore Polish, She Would Be Furniture
How? And why did she think this would be a good option? If she could hold still without breathing, there is no doubt that many would mistake her for a mannequin! What is also curious is that whoever applied her make-up certainly took their liberty and went beyond her face.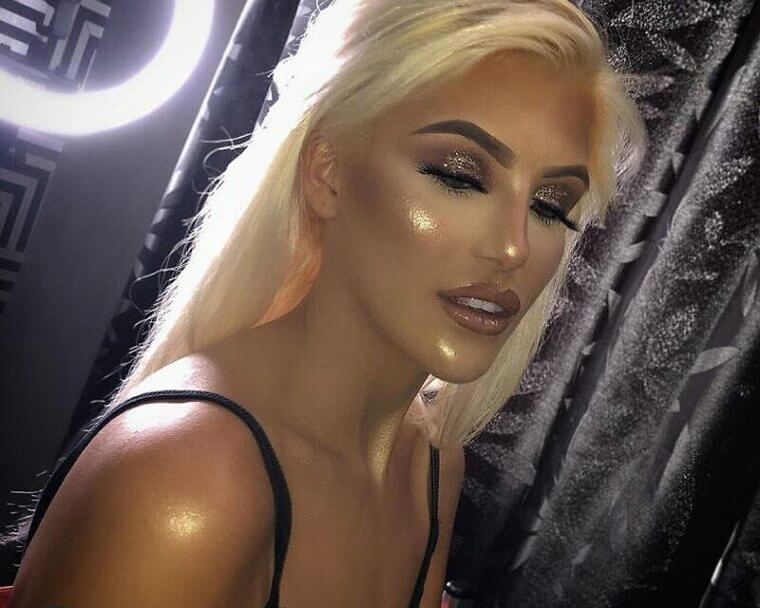 The atrocious makeup goes all the way down the neck to her shoulders and her chest. It's akin to a complete painting, albeit glitteringly horrendous. It gives the impression of someone who took a swim through mud and then used a towel and a healthy dose of glitter to blend it in with her skin. 

There Are Better Ways to Cover Acne
When comparing with the before image, it is obvious to anyone that her main goal was concealing her acne, but we have to say, there are better ways to do this. For instance, a subtle or lightly colored foundation will accomplish the same job without looking as artificial as her final work.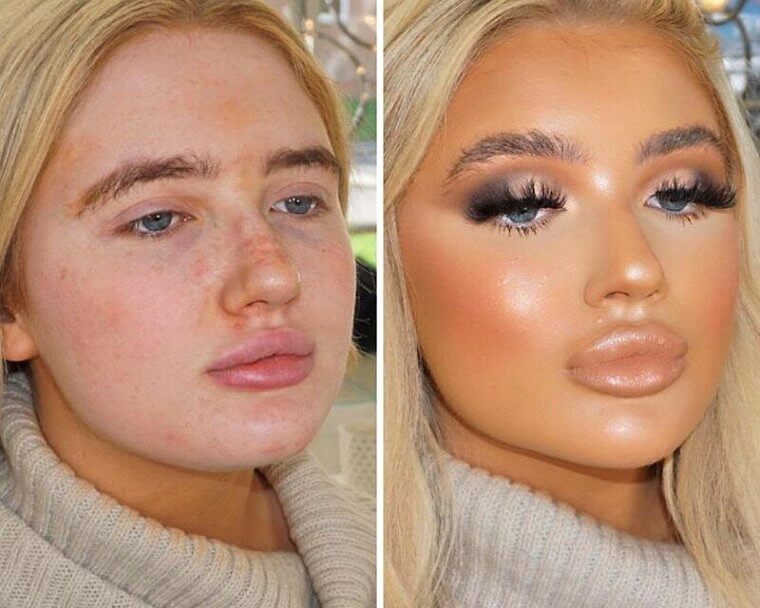 Similar to many examples on this list, she has ignored the simple and easy answers and instead opted for the conventional plastering of multiple layers of makeup. To be fair, her final result seems much better than most make-up examples; it is even, well applied and although not natural at all, this isn't the worst look she could go for.

What's Wrong With Natural?
The image seen on the left shows us a good looking girl with a calm and beautiful face. While there is absolutely no issue with wanting a makeover to look more glamorous, problems arise when people go about it the wrong way. The image on the right is a very good example of what NOT to do.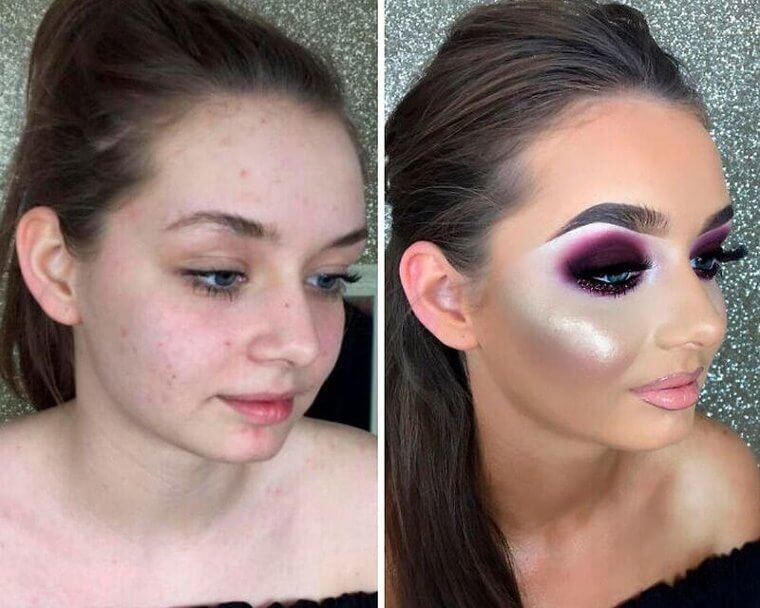 The forehead seems to be going in the right direction, if slightly dark. Then when you look at the cheeks, you notice just how wrong it all is. Her blend of several colors has left a weird hue and the messy application looks probably nothing like what she intended to do. The key takeaway here? Keep it simple and try not to go overboard.

You Paid How Much for This?
The caption to the below image was "3rd time is a charm, she loved the look." However, one look at the lady's face tells us, it is unlikely that's the case. Aside from the facial expression, the work done on her is confusing. We have so many questions starting with, didn't she have a mirror??!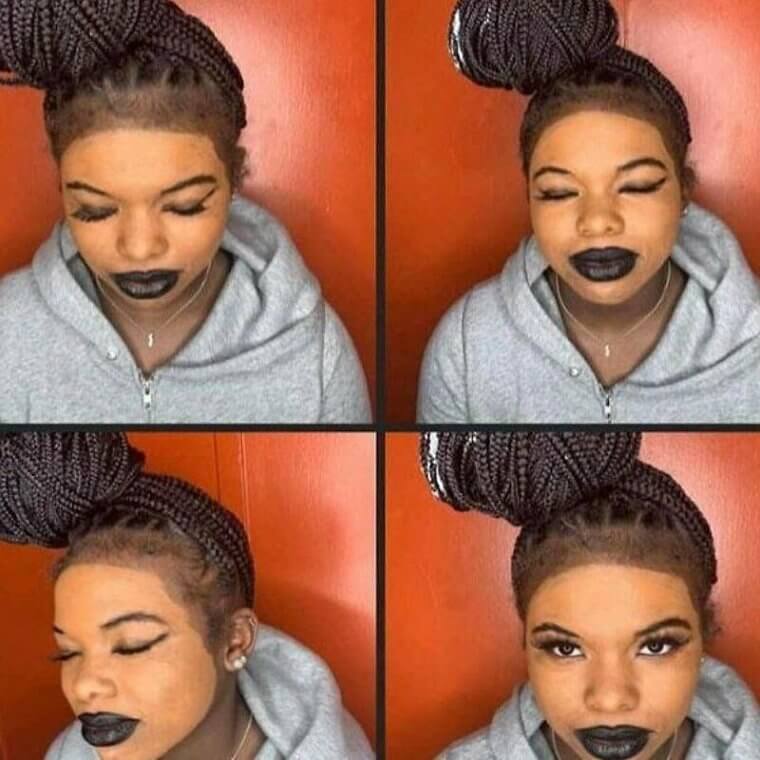 Since the plastering didn't cover the entirety of her body, anyone can clearly see a difference in skin tone between her face and the rest of the body. It gives off the appearance of a turmeric mask that people put on temporarily. We just hope the poor lady didn't pay too much for this!

Celebrities Get It Wrong Too
Can you guess who this is in the below image? While wracking your brain, do take a good look at the lady's face. Now take a look at her cheeks, neck, and arms. Have you spotted the glaring error in her makeup process? The foundation she used is completely different from her actual skin tone!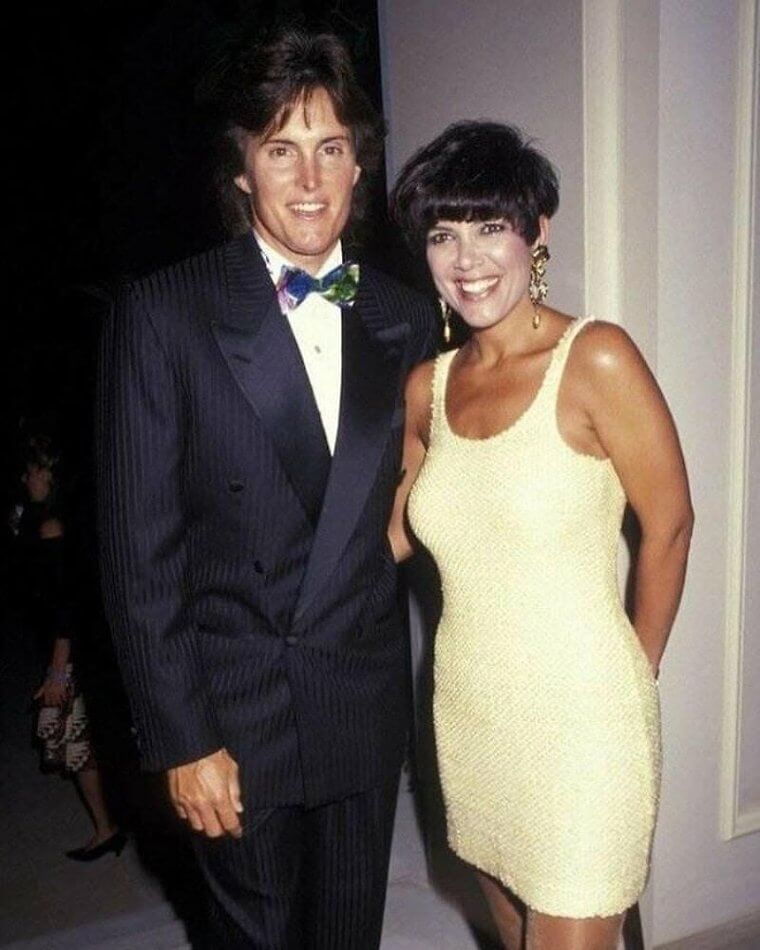 Some may argue that this was actually a fashion trend back in the nineties. However, regardless of whether she was following the trends or made a genuine mistake, it's clear to all that she used the wrong foundation. Do learn from this; the next time you are applying makeup, compare your face with the rest of the body. 

Brows Don't Get Any More Enormous
Let's begin with the positives; the makeup is a truly great job that looks nice. The foundation she used blends well with the skin tone and has been used sparingly to great effect. But then, there are those eyebrows that absolutely ruin the effort she put into her work on the face.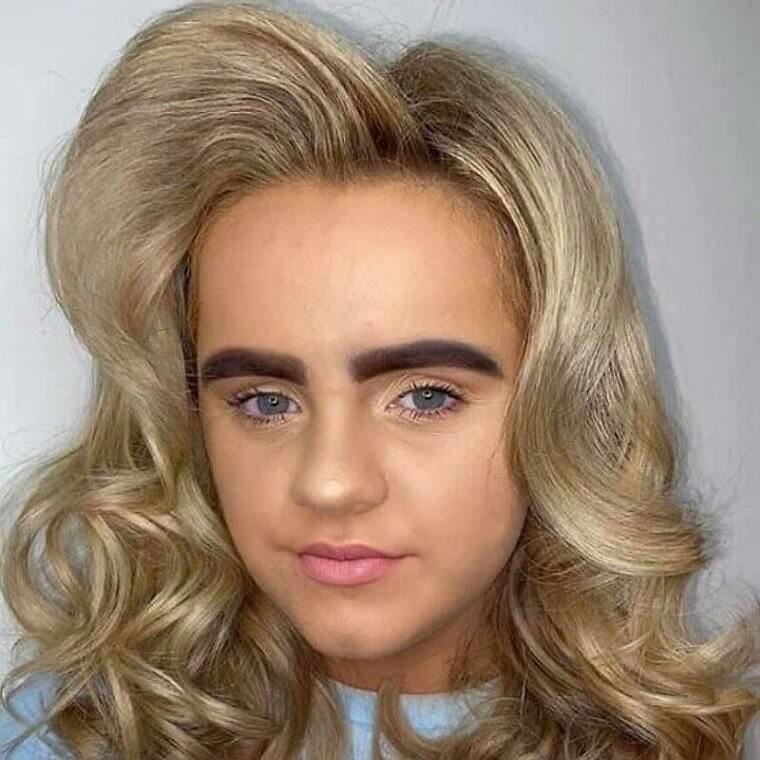 There is no beating about the bush. Those brows are way too thick and large, leaving her looking like she's in her fifties. It completely ruins the entire look. The good news is that we know she can do a good job so once she corrects this, we can expect much better outcomes.

It's Always the Eyebrows
If eyebrows could, they would be out on the streets demanding justice for all their brothers and sisters who were drawn poorly. A key example is the image below - there's nothing wrong with the tools used, it's clearly a bad job by the makeup artist. We find it difficult to understand how someone could screw up this badly.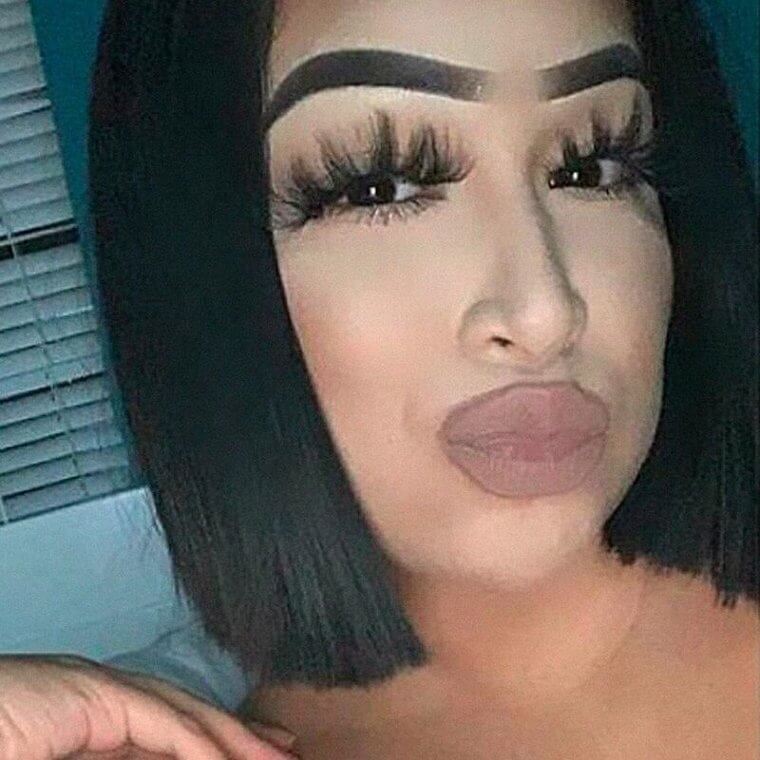 The eyelashes deserve their own conversation but even that is not as much a problem as the eyebrows. Bad eyebrows remain amongst the most common makeup mistakes and sadly, things aren't any different here. On the plus side, if she can learn from this, we will see better results in the future.

Not Building On the Right Foundation
Like its namesake when building a house, a foundation has to be strong and, most importantly, suitable. It's what underpins the entire project. Get it wrong and there'll only be trouble further on down the line. So why oh why choose a foundation that doesn't match the original skin tone?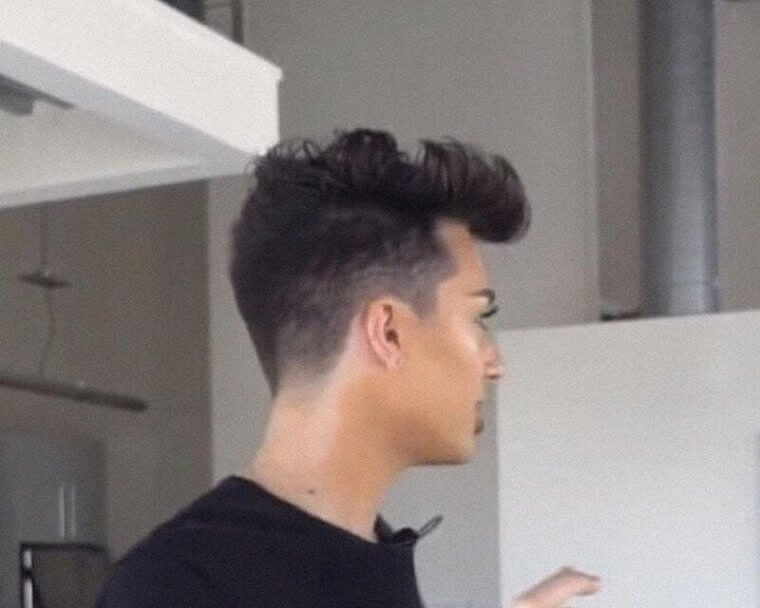 When looking at this unfortunate make up job face-on, it's possible to just about get away with it. But unfortunately, life is a 360-degree experience. Just the slightest movement of the head means that the shift in skin tone will jar massively. There isn't a makeup artist on earth who can blend these totally different colors. 

Makeovers Aren't Always a Good Thing
There's so much to be said for the natural look. It's effortless and reflects greatly on what's on the inside, too, because it's not about trying to be something that the person is not. The image on the left hand side highlights perfectly all the advantages of taking it easy on makeup and accessories.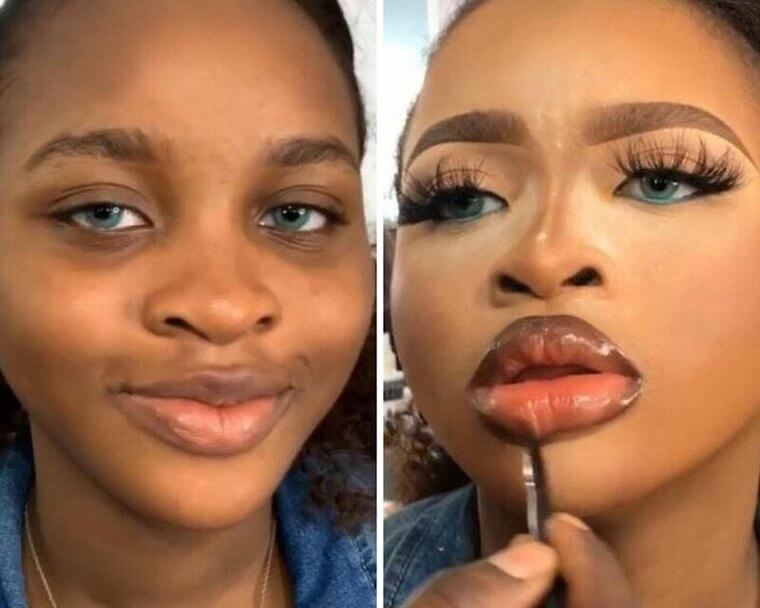 Unfortunately, the post-makeover image on the right is totally unrecognizable from the understated beauty and elegance that went before it. The eyelashes look like lethal weapons and there's an overall feeling of the subject now presenting a dishonest version of herself. Perhaps some light makeup might have been an idea, but the makeover has gone over the top. 

Makeup That Reflects Its Wearer
There's not a lot about this look that could be said to be natural or classic. It's not a vision of how women looked in more glamorous times; it's very much of its time in the 21st century but with no influence from the glory days of high female style.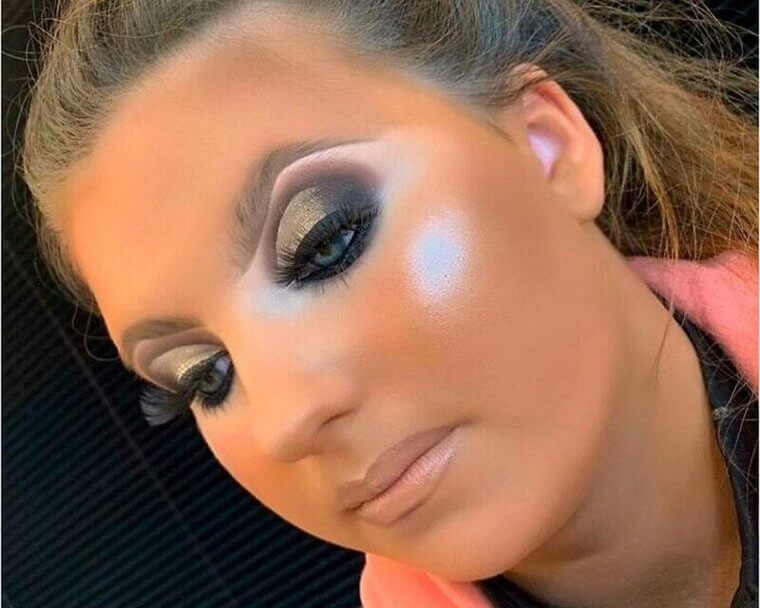 There are some aspects of this look that have been extremely well done, with special attention being given to the eyeliner. Unfortunately, the whole face reflects light extremely vividly. There's a lesson to be learned here in downplaying and not using as much makeup in pretty much all areas.

Natural? Really?
There's a lot to unpick here. This must have used up every last speck of powder, the lipstick must have been worn down to nothing and the eyelashes might very well have been made to order because they're so daring - and yet the heroine of the piece describes the look as "natural"?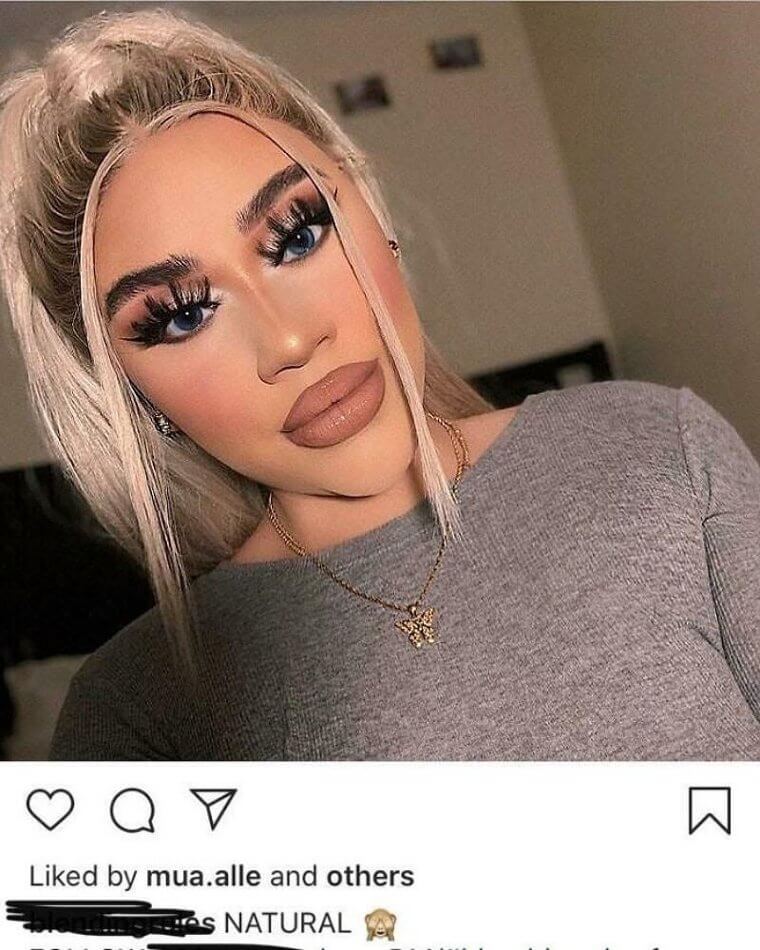 It's a brave stand to take, and in some ways it has to be applauded because it's such a brazen attitude. There's clearly a pretty girl hiding underneath these layers. It's so unfortunate she felt she had to cake herself in them before her error in judgement with her self-description.

A Supposed Professional
Look at the color of the face, then look at the color of the neck, then look at the color of the face again. As a presenter on a TV show dedicated to the art of makeup, this is far from the professional look that would be expected. It's not just about the color and the blend of the foundation, though. There's also simply far too much of it.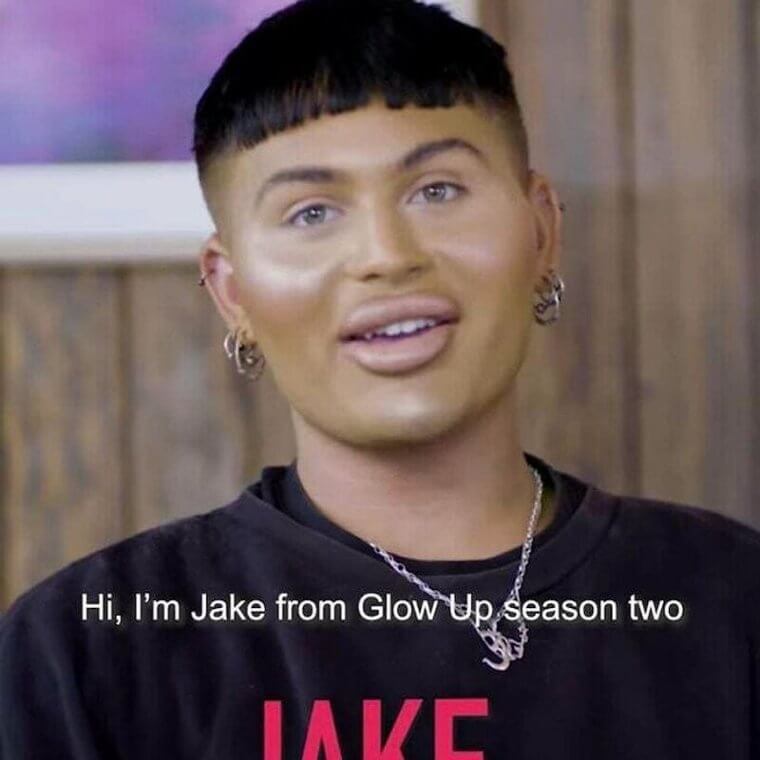 'Glow Up' may well be the name of the show but that just isn't happening here. Nothing about this make up shines or shimmers, apart from where the light reflects off the cheekbones. It's a dull look, which one might expect to be so much better because it's been done by the professionals.

Don't Go Overboard On the Foundation
Yep, it's another freaky foundation incident. This wrestling presenter has obviously had a bit of a mishap, but it's as though she hasn't realized it. There's so much of the product piled onto her face that it could almost blend into her blonde hair, because the two colors are almost so similar.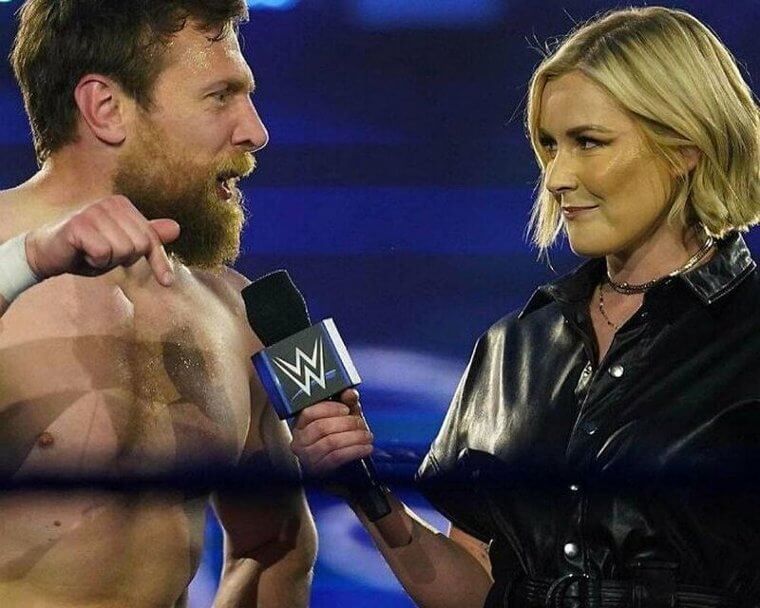 The ringside lights at this bout must be strong, because there's a definite sense of dread that this foundation will end up running down her face, too. Foundation is such a critical part of the entire makeup process but it's also one that so many wearers get wrong. It's time to learn the basics. 

Taking To the Podium In Bad Makeup
The pressure was certainly on before this lady applied her makeup or had it applied for her. Sadly, the pressure told, resulting in a job that was considerably under par. The makeup has failed pretty much every task that's being asked of it in this example. Mismatched skin tone and the product are just the start of the drama.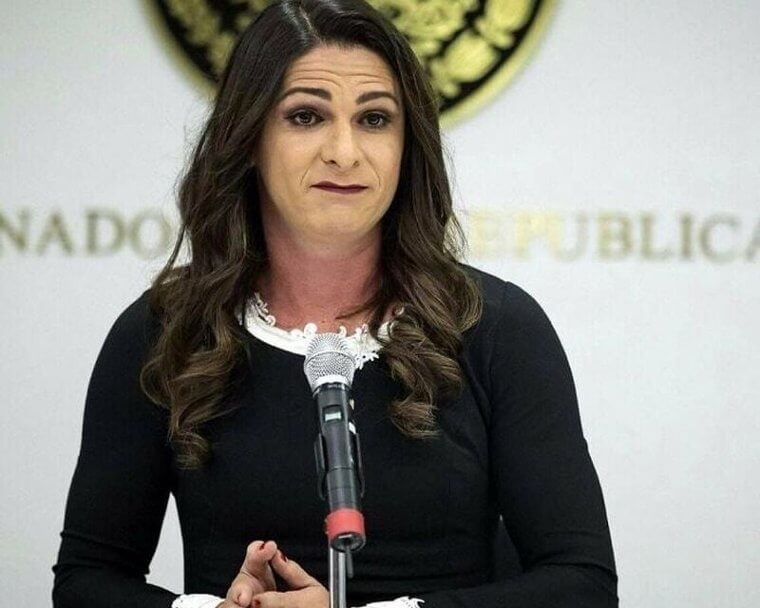 As well as covering imperfections - because absolutely nobody is perfect - the job of makeup is to also add a dash of grace and refinement. Fail, fail, fail, in this case. Instead, too much has been used, and not used well enough, that has resulted in something of a Morticia Addams look. 

The Internet Never Forgets
Being a celebrity in the age of the internet is tough. All the wardrobe miscalculations, all the bad haircuts, and, yes, all the ridiculous makeup decisions are all still out there. All the committed surfer needs is the desire to see them and the time on their hands to track them down. Because find them, they will.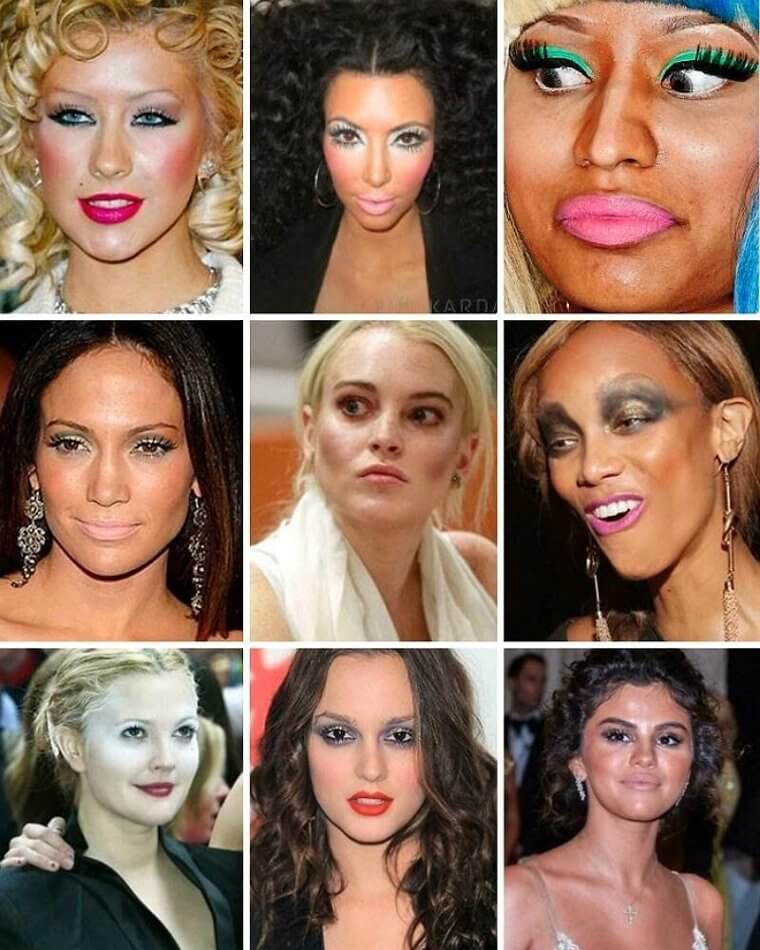 Christina Aguilera, J-Lo, Lindsey Lohan and every single one of these female stars will have reinvented themselves several times since their early career makeup disasters. They'll never choose to look like this again, but the permanent reminder of how they used to look will always be out there. And their makeup artist will be under strict instruction never to replicate the styles. 

The Importance of Skin Tone
It's another foundation catastrophe! While it seems that there isn't much of an issue when taking a first look at this image, the issue rears its head on closer inspection. Yellow foundation? Really? On beautiful African American skin such as this? It was a decision as baffling as it was silly.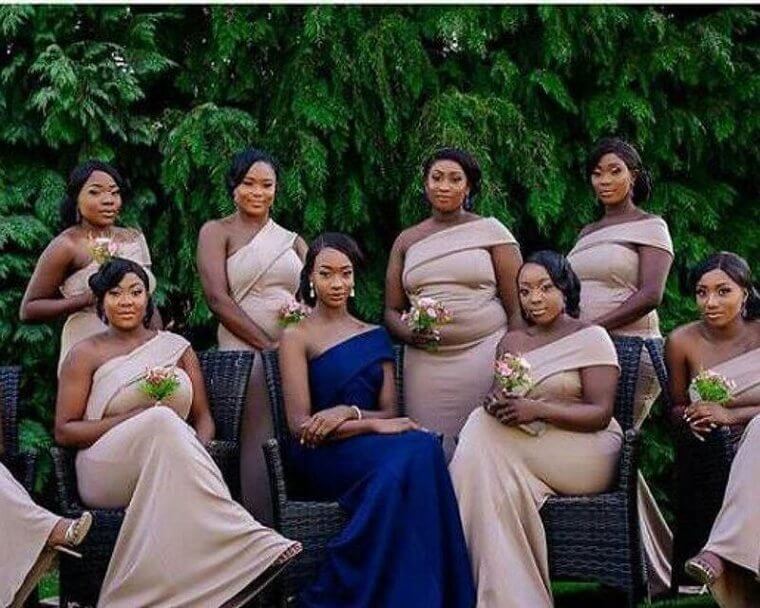 Taking the shade of the foundation down a few notches would have been the more sensible course of action here. Then, the photographer could have experimented with light to bring out his subjects' beauty. Because they're really attractive girls, but how they look in the picture lies with the makeup artist rather than themselves. 

To the Extreme
It's hard to imagine that someone has looked into the mirror after this makeup was applied and was happy with what they saw. There's so much going on and the overall effect is more than a little frightening. The smooth, slicked hair is merely the tip of this, particularly terrifying iceberg.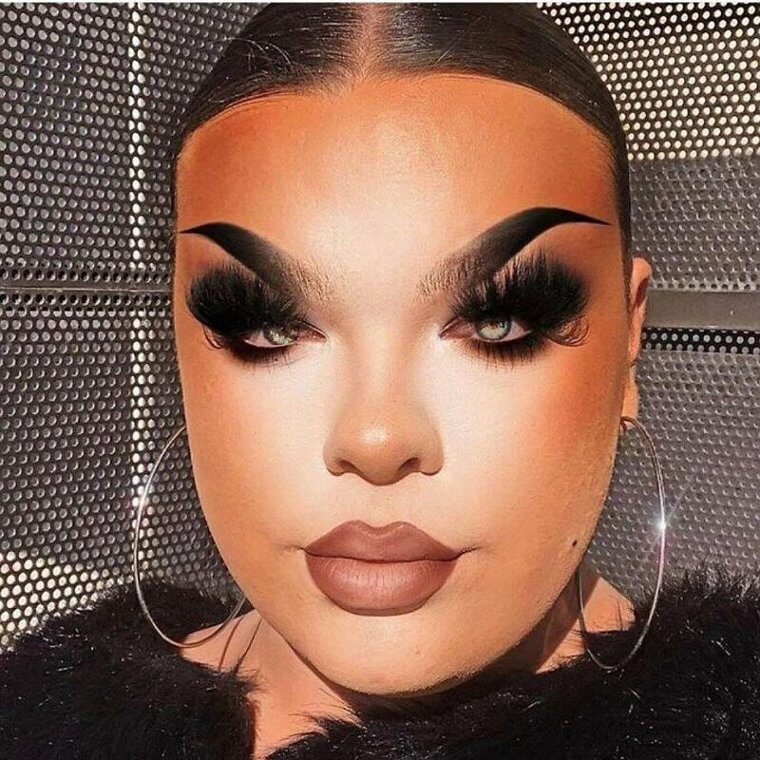 The brows are perhaps the most unnatural ever captured in a photograph, while the lashes look like small, furry animals. The full lips are nice, but the mouth is too small to justify them and will look like a tiny porthole when it's opened to speak. There's just an over-reliance on everything here and the overall look suffers for it.

Hiding Natural Beauty
Some people are born naturally beautiful and really have no idea. Look at the photo on the left, it's hard to believe that it's the same girl. So fresh-faced, perfectly dewy skin, and big green eyes. Even her brows and eyelashes are great. A slender nose and a sprinkling of freckles and this girl looks ready for her close up.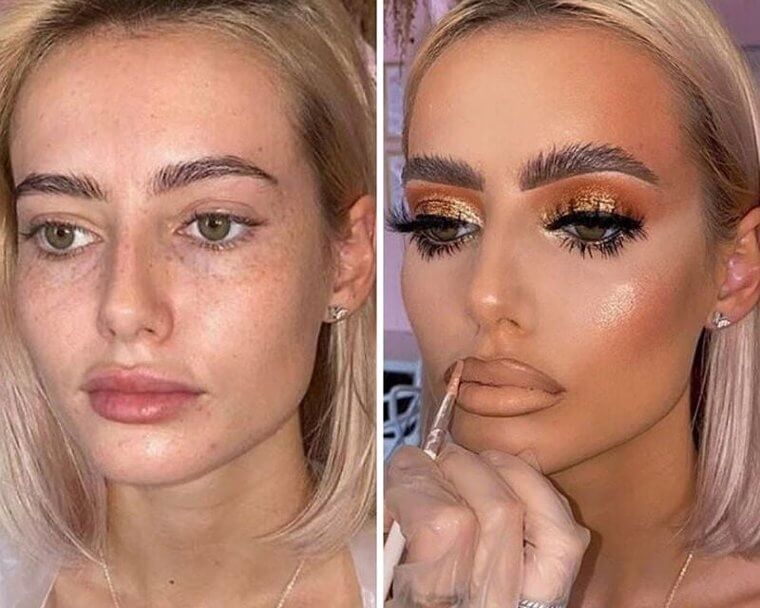 So, who is responsible for what happened on the right? They must have told her that she'd look like a doll, but actually she's morphed into some kind of scary mannequin. She decided to cover all that up, and turn her gorgeous living face into a doll's. The lashes are wrong, there's just too much foundation and powder, and please someone can we stop using a dark liner with a pale lip? 

Send in the Clown
When it's a family or close friend's wedding, it's normal to want to look your very best. Of course you don't want to draw attention from the bride, but her hot brother might be there, or the groom's best friend from football will be looking mighty fine in a suit. It's a big day out, so the dress, the shoes, the hair and make-up are all just part of parade.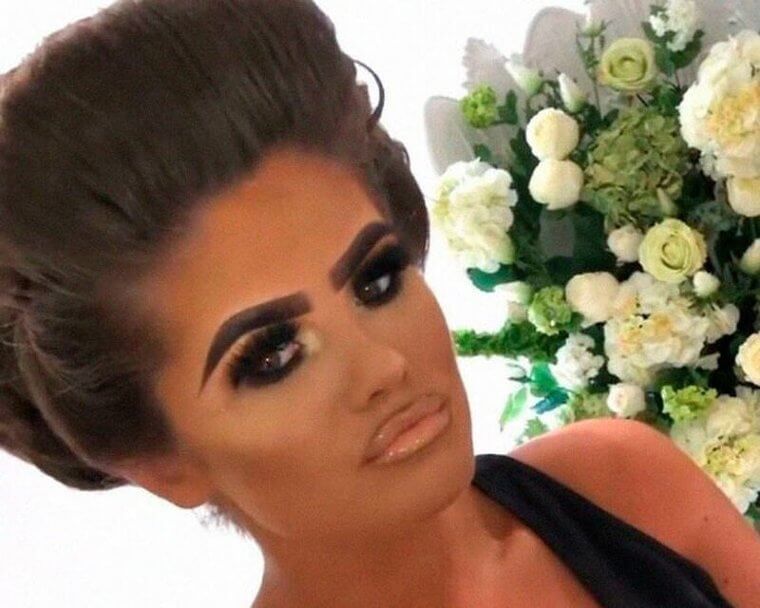 The thing is, some people aren't used to wearing a lot of make-up and may not be comfortable in the latest trends. Others may book a MUA and tell her to give them the works, and then it turns out like this. There's nothing dramatically wrong (except those overbearing brows) but it just all seems a bit much, and she probably should have kept it simpler. 

Rainbow Bright
This girl (or her MUA) was clearly pretty proud of her unusual look, as she's made an Insta post about it. There's a lot going on but it's hard to know what look she was trying to actually achieve. The brows are fierce, one or two are out of place but we can forgive that. Then, it seems she's used different shades of foundation on many parts of her face, but who knows why?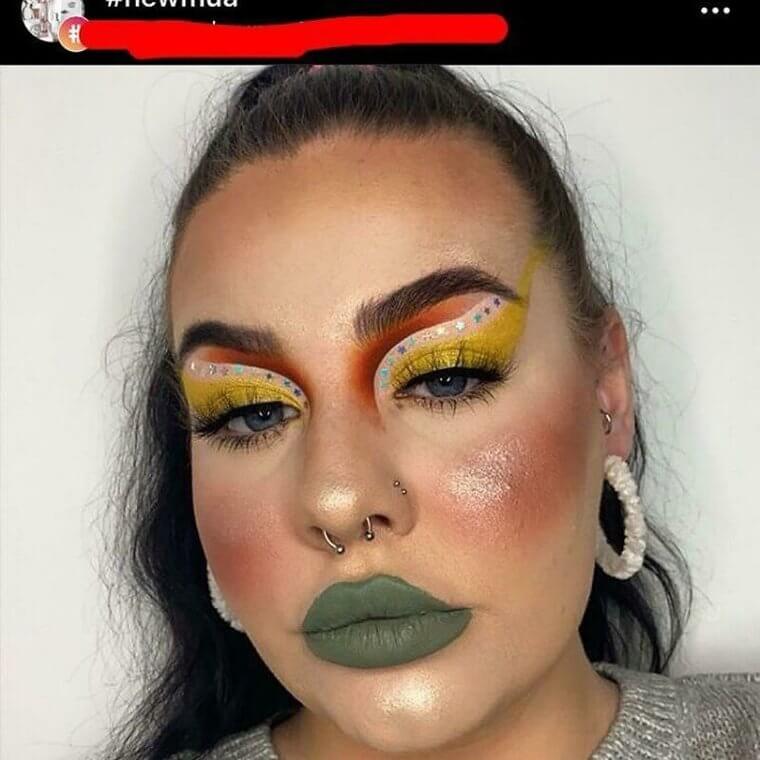 The stars might have worked with something else, like a festival look, but this doesn't seem to be going in that director. Green lips? It's certainly a bold statement, and then she has some highlighter just on the tip of her nose, so it stands out but doesn't really do anything for her. There are things done well here, but none of them seem to match up, so it's probably better just removing some, or all of it.

A Shady Lady
Is she holding her head up because she's weighed down by all that make-up? Who knows where the make-up ends and she begins? The problem here is obvious - no one has shown this girl her colors, it seems like she might be trying to wear a palette for a different skin tone entirely, when you see her hands. 

She has beautiful eyes, but with everything else going on, the focus isn't on them. Uneven lips, with a color that is much too dark, even along with the awful foundation she has chosen. And that stripe down her nose makes you more like Rudolph, the red-nosed reindeer, rather than whatever influencer she saw sporting this look. 

The Stuff of Nightmares
One glance at this and you're likely to recoil in horror. We cringed for her when we saw her big smile. Honey, there isn't anything to smile about here. Unless you're on next in the town fair comedy? Her brows are drawn somewhere in the middle of her forehead and then the purple / orange abomination combination is just a whole truckload of awful that has been dumped on her face.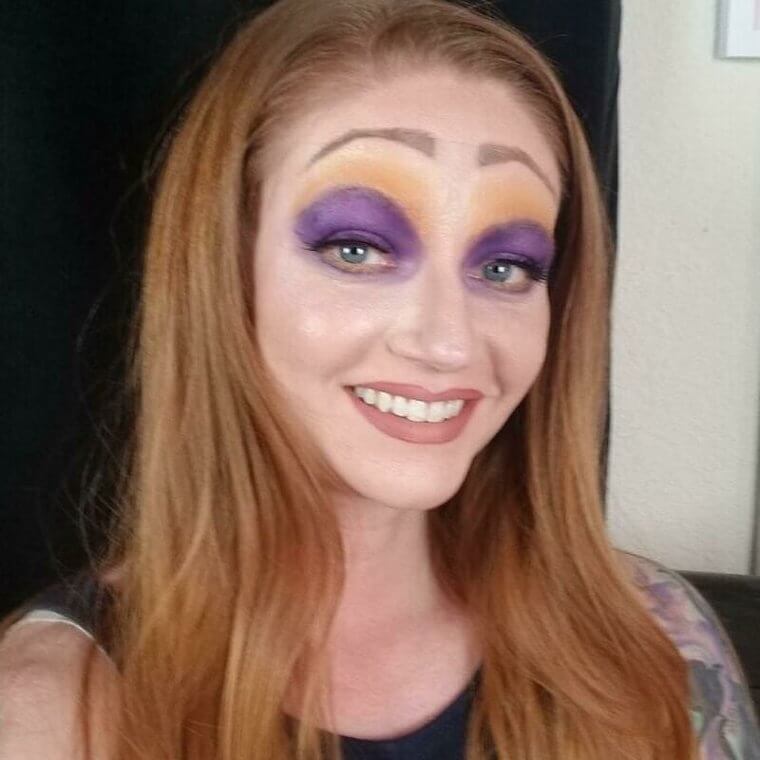 With such a beautiful smile and hair color, a nude palette would change everything here, with some cat-eye flicks to finish it off. Her foundation looks a little watery, leaving her with a shiny effect, but to be honest, with those crazy colors above her eyes, no one's really looking further than that. 

Immortalized in Bronze
That's a statue, right? Wrong. Take the pretty blonde on the left, and change her beyond belief? There's no doubt that this make-up artist is skilled with a brush, but she's hiding the features that she could have accentuated here. Look at that skin, those eyes, the shape of her nose? You don't have to do much to make a face like that the center of attention.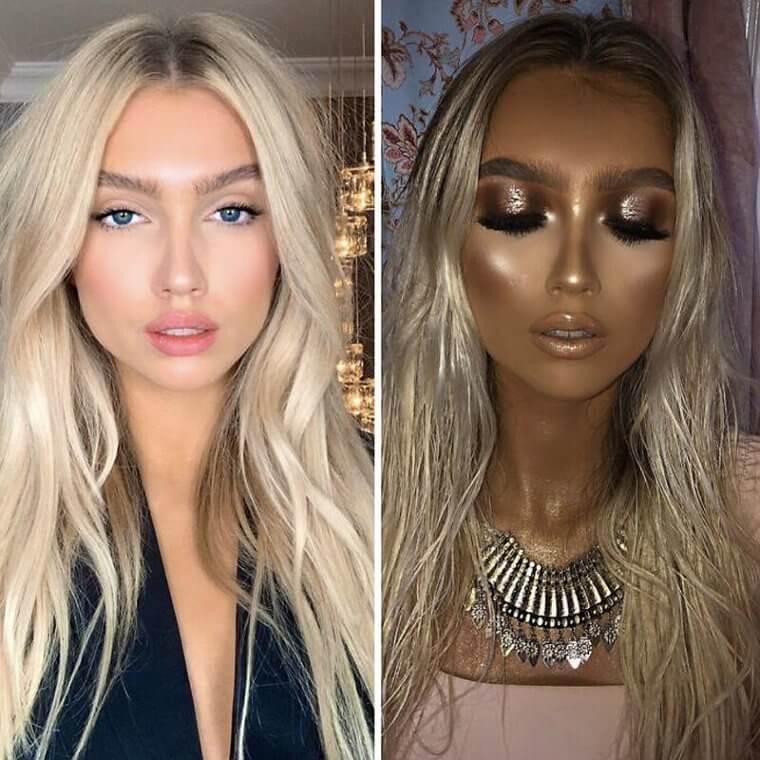 It looks like she walked onto a movie set, and they tried to style her as an Egyptian queen. The lesson here is that if you wonder if there's too much bronzer, you probably should have stopped an hour ago. Make-up is supposed to make you look pretty, not like a whole other person!