Weddings are often considered an experience full of stress, worry, and sheer panic but there are plenty of focused, highly dedicated brides who are more than capable of rising to the moment. Better yet, they still find the time to create their own wedding dress, adding a unique and personalized touch to their special day.

Keep reading for the most creative brides who show us that making your own dress can sometimes be better than buying it. #32 is unquestionably the most unbelievable!
Modernizing Mom's Wedding Gown
When this bride was handed down her mother's wedding gown, she didn't spare much thought to it. She wanted her own dress and so, set about looking for something completely new. Unfortunately, her research and options left her wanting more. And, that's when she realized she may as well make her own vision come true.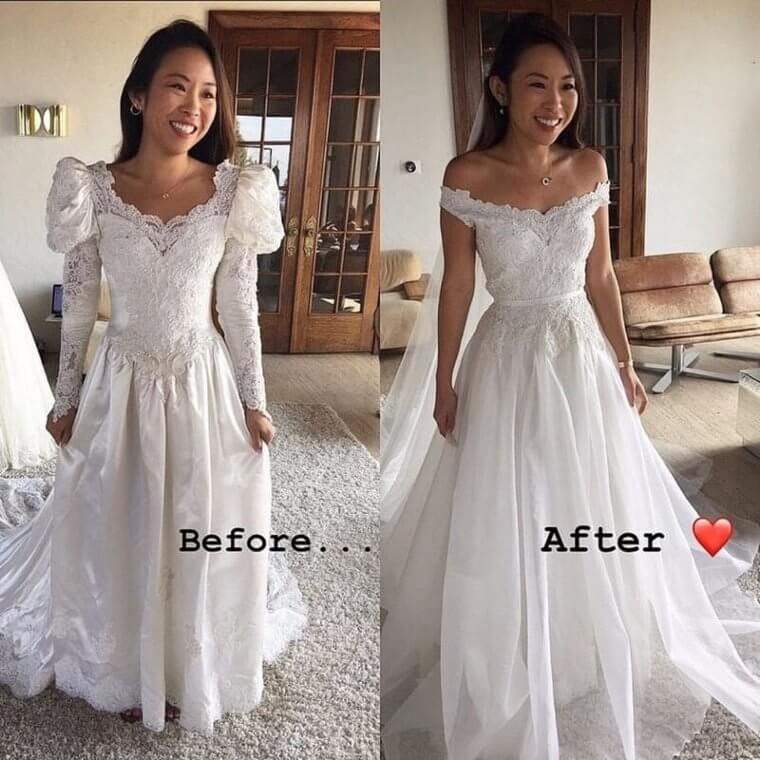 With that, she pulled out her mom's wedding dress. It was thirty years old and the style certainly indicated so. However, with a bit of careful planning and a healthy dose of creativity, the bride finally had what she needed. And she didn't have to waste an inch of the original gown.
Putting Hobbies to Good Use
Chi Krneta had a long bus commute every day back home from work. Her commute took an hour every day. To kill time, she took to crocheting. So she had, on average, close to five hours to work on her hobby every week. She spent it designing and sewing the custom satin lining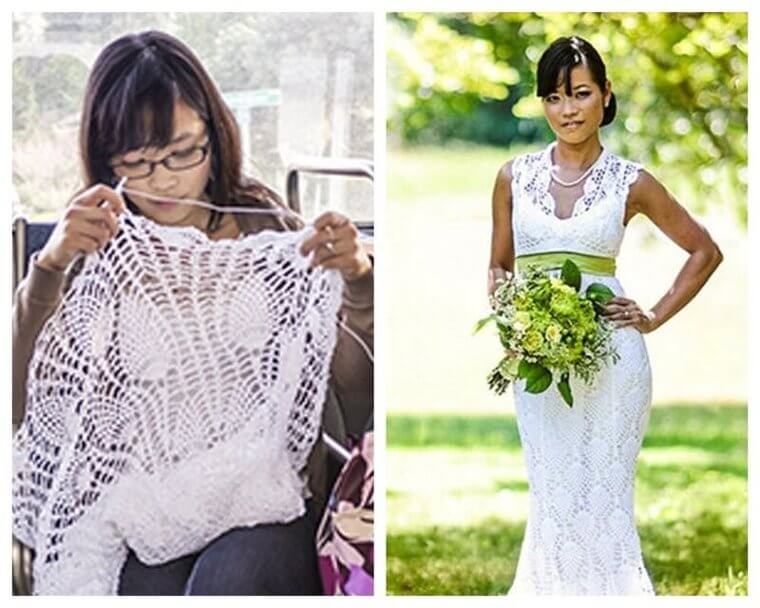 While she had no plans on creating a wedding dress, come wedding season, she thought it would be a great idea to incorporate her hobby into her wedding dress. The final result quickly went viral. She said the cost of materials was unbelievably low and that the design was one of her own. Interested brides can find it online and recreate it!

Lacing It Up
Purchasing a gown from a bridal retailer is a process that will easily cost thousands of dollars so this brave DIYer decided to do it herself. And she delivered great results. She started her project by making sure that the measurements were precise.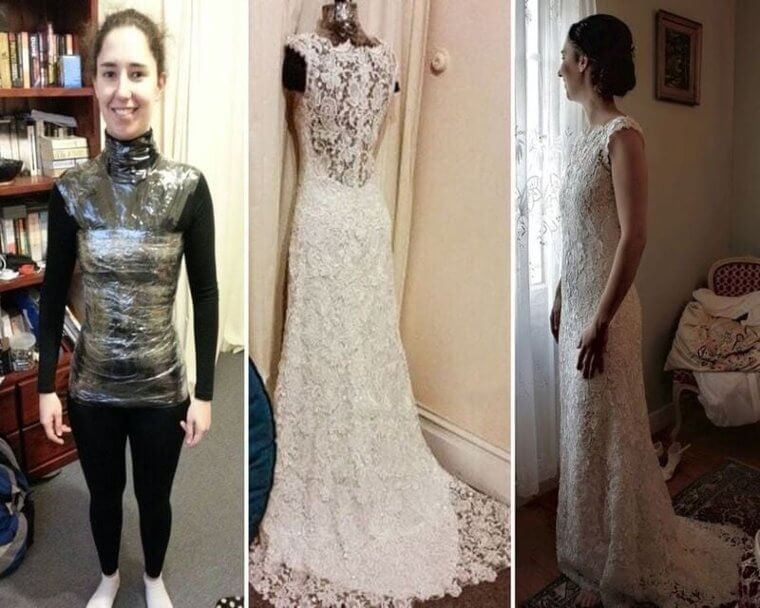 How did she do this? Well, together with her fiance they made a mannequin. The best bit? She used a YouTube tutorial and had it made completely out of duct tape. Once she was sure the measurements were right, she bought the fabric and began on her wedding dress. It was definitely a gorgeous effort.
Bringing Vintage up to Date
This bride was delighted to find a beautiful, pristine wedding dress for a grand total of $50. However, as with all vintage items, its design was reminiscent of its era. This was not the effect the bride was looking for and she knew she needed to make some changes if she were to use it for her wedding.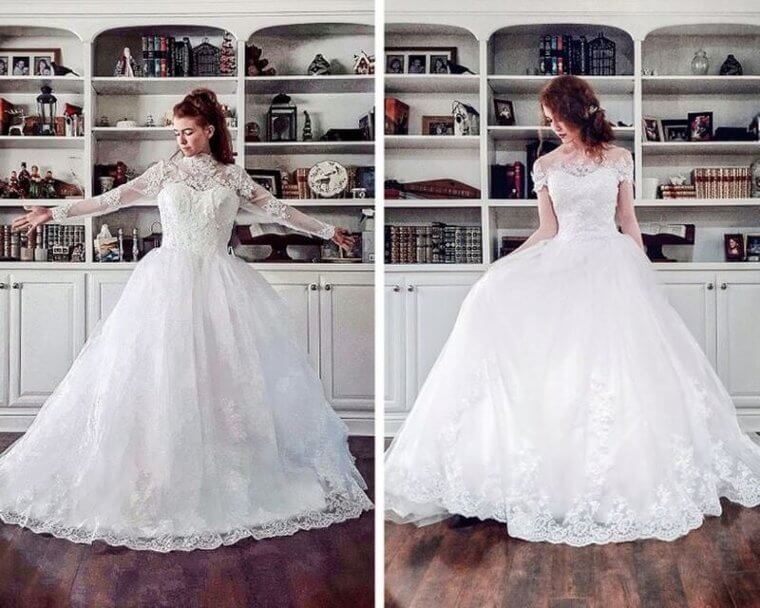 She did this by removing the sleeves of the vintage gown. Additionally, she removed the high neck and customized the bodice to her body proportions. It was a little bit of work but she was rewarded with a classic, beautifully detailed wedding dress - the perfect addition to her special day.
A Brave DIY Project
It takes quite a bit of bravery and talent to make your own wedding dress and this bride here showed us that she has both in plentiful supply. She had many who doubted her - her friends and family did not think it would be a successful endeavor. Well, we are glad she didn't let that deter her.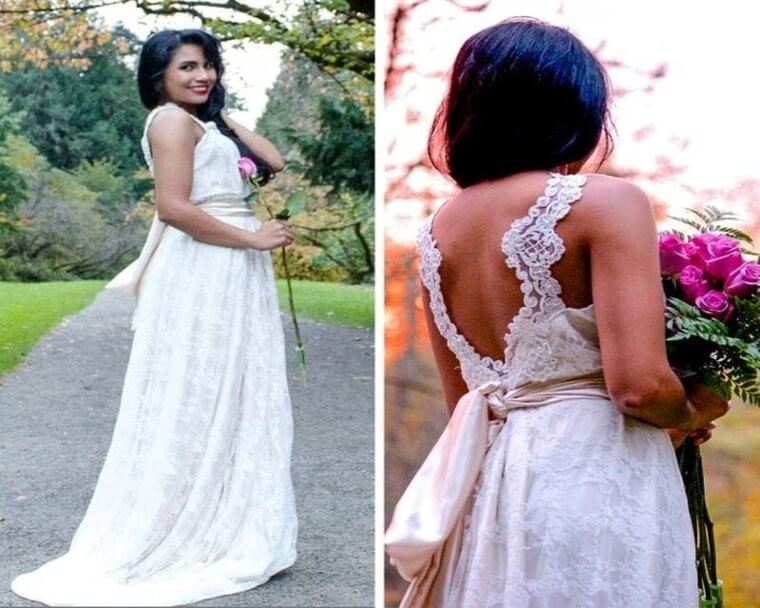 With a careful plan, precise measurements, and several meters of fabric, she managed to pull it off successfully and leave everyone shocked and awe-struck. Looks like all those DIY projects she worked on in the past have finally helped her out!
Beautiful Beige
Just like many on this list, this soon-to-be bride realized that she needed to make her own wedding dress if she were to wear something that reflected her unique style. How to do this? Well, her first move was to hunt down an antique white wedding dress that she could then customize.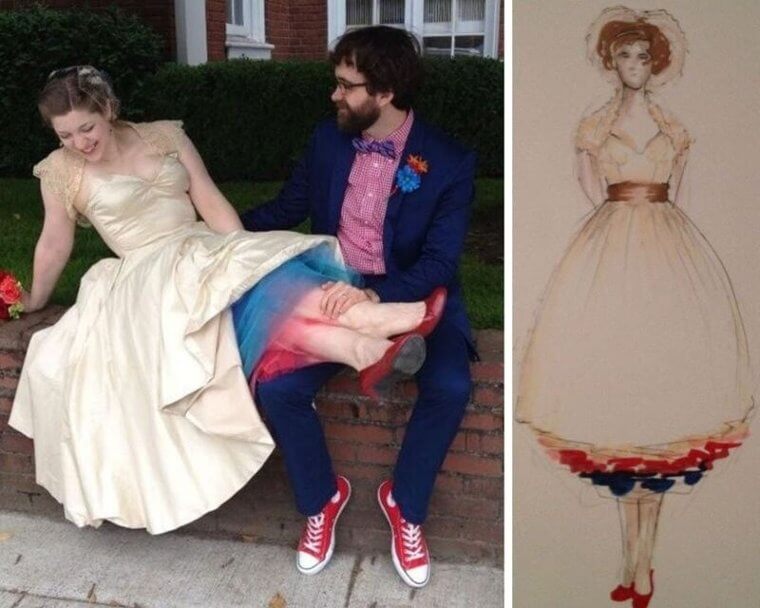 She decided white was too plain. To add a splash of color, she stitched in colored tulle in the hem at the bottom. This playful touch was perfectly complemented by the groom who wore matching red shoes.
Crafting a Designer-Esque Dress
Maya had a clear and unique design mapped out in her head. She took this to a seamstress to be stitched in time for her dreamy cliffside wedding. The end result? She ended up with one of the best wedding dresses we have ever seen. It was a perfect fit for her romantic setting.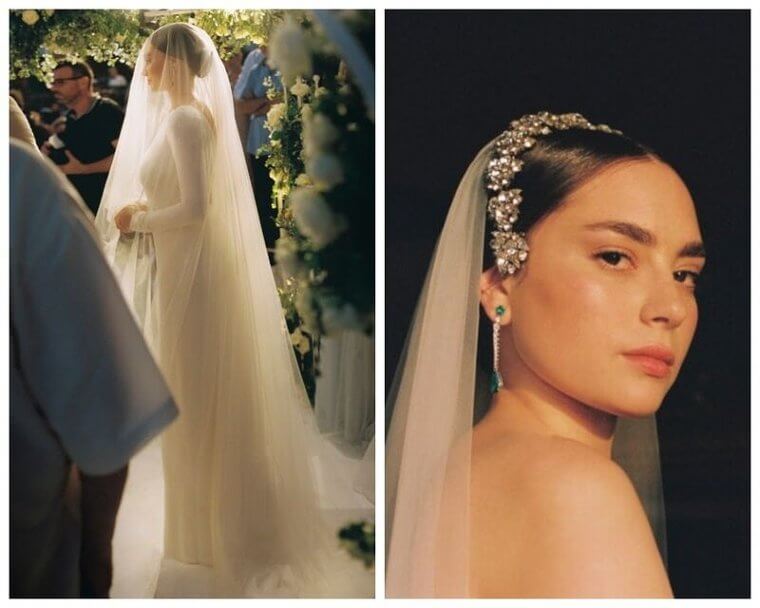 She paired her wedding dress with a vintage 1970s Dior headpiece from Paris. She was insistent on adding an element from Paris as this was a city that was dear to both her and her fiance. Given this significance, the headpiece was the ideal addition to her fairy tail veil.

Transforming a Family Keepsake
As she was preparing for her own wedding, Erica took out her mother's gown, sewed in the '80s, and decided to put it on to see if she could use it. She didn't like it at first but after a little while, she did see the potential in it. By following her instincts, and with assistance from a seamstress, she was able to reuse this vintage dress in 2018.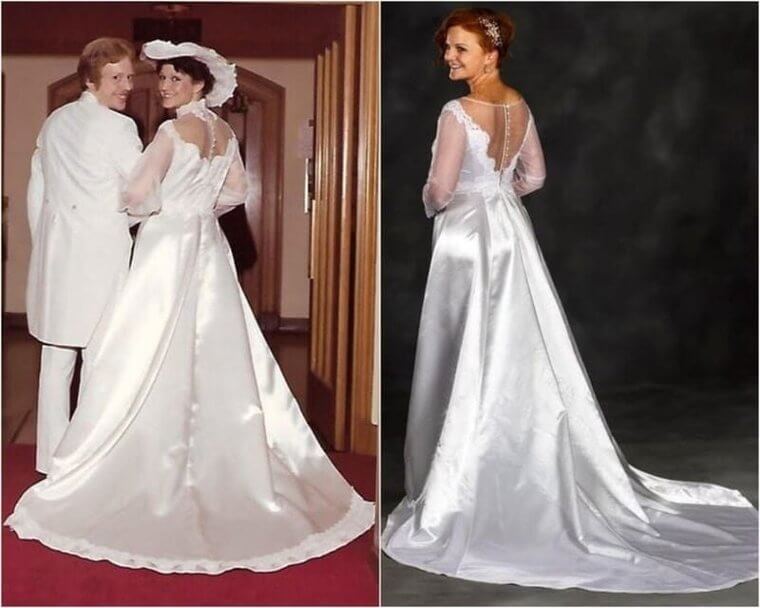 The main bits altered were the open back and the sleeves. They also had to refit the skirt to fit Erica's proportions. These were very minor changes but they helped transform it from a family classic to a modern-day gown that still kept to Erica's personal preferences.

A Very Specific Wedding Theme
This couple was known for their eccentric flair and they just had to fuse that flair into their wedding. They opted for an autumnal mermaid, a very specific theme. This ruled out purchasing a gown from a retailer so they began hand-stitching their own dress. They also crafted the groom's suit as well as all the decorations.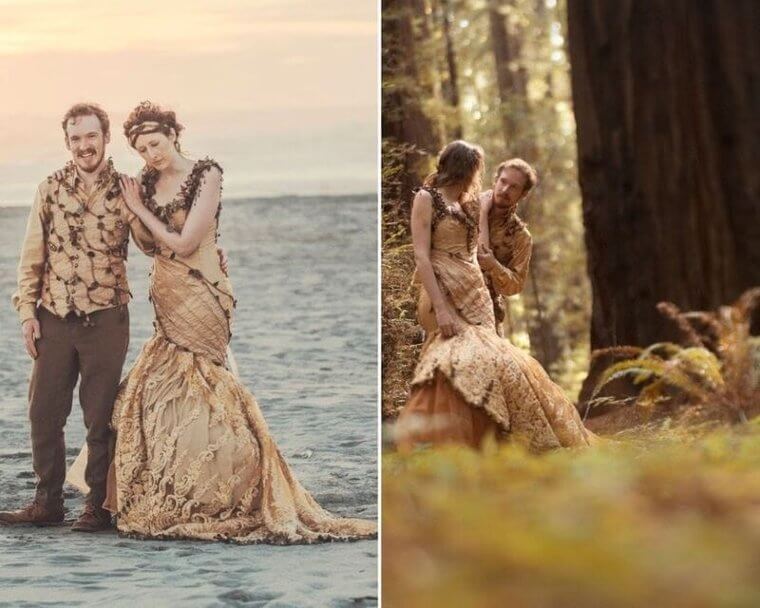 Combining fall themes with a distinct mermaid touch, this bride was able to create one of the most unique wedding dresses we have ever come across. The stunning photoshoot also made use of very unique backdrops that matched the wedding theme. It's a 10/10 in every aspect.
YouTube Tutorials Are a Godsend
Everyone knows there is a YouTube tutorial for just about everything. It can help you solve a math equation, DIY a shelf, or troubleshoot your PC. In this case, thanks to a tutorial from Nick Verreos, it can also help make your own wedding dress.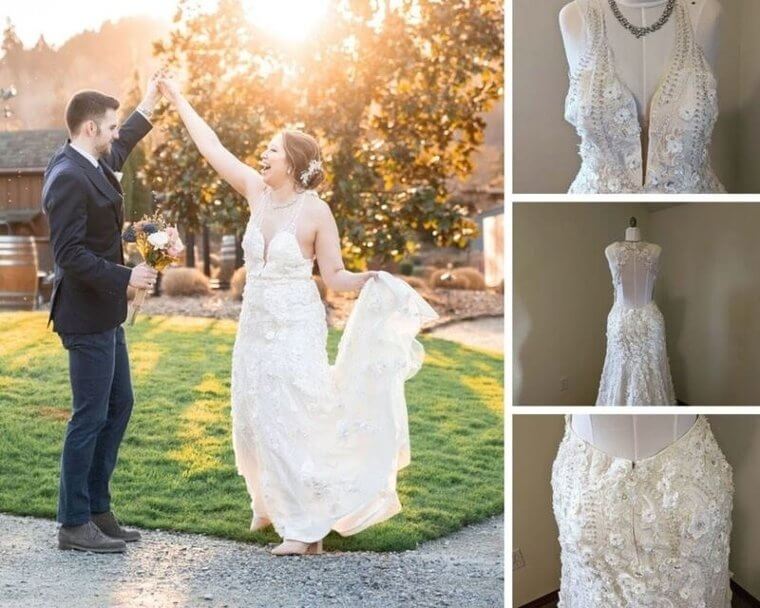 This method allowed this bride to customize the wedding gown to her preference, leading her to a gown that fit her perfectly, both in style and dimensions. Every inch of the gown was self-made, from the delicate laces to the wedding train.
Wedding Inspiration? Balenciaga
This bride always had a deep love for classic clothing, especially pieces from the fifties. So, when her wedding was on the horizon, she knew exactly what style she wanted to go with. She hunted far and wide before she set her eyes on a haute couture gown created by Cristobal Balenciaga himself.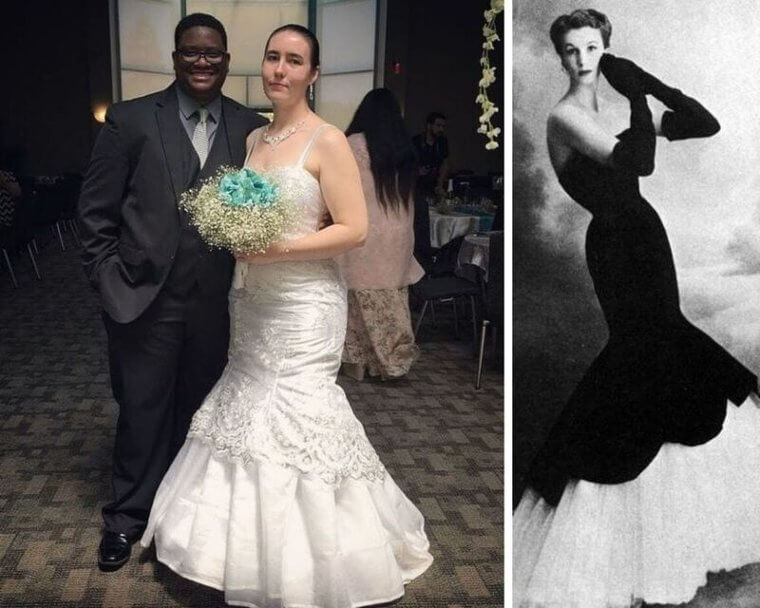 The dress was beautifully detailed and was adorned in precise embroidery that immediately caught the eye. She, of course, made a few alterations to the dress before the big day but mostly kept to its original theme. Posing next to the lucky groom, she paired her dress with colorful flowers and vintage-themed jewelry.
Beaded Bodice Inspiration
She was a dancer known for her artistic mindset so it was hardly a surprise when this bride designed her own wedding dress. Channeling all her creative energy into it, her final result was awe-inspiring. She looks like a princess straight out of a storybook.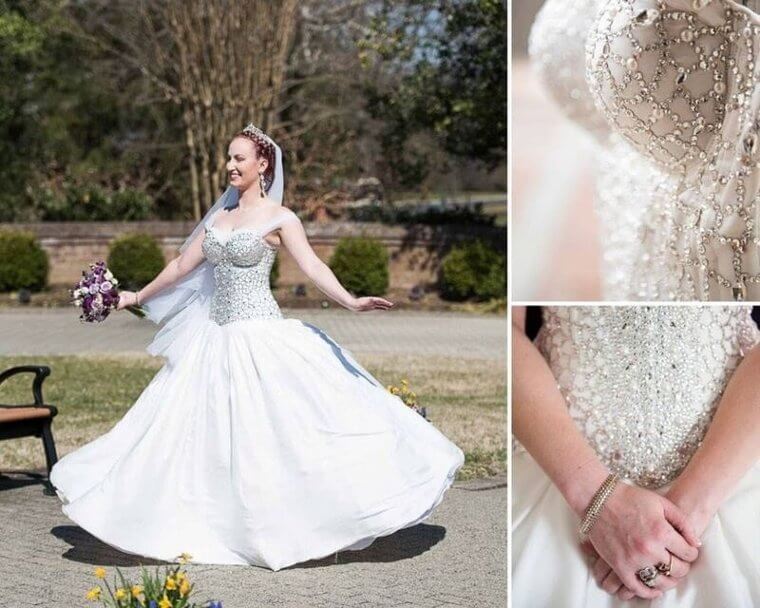 The silk skirt and bodice were sewn as two different dresses. This left the skirt simple yet elegant while the rhinestone detail was simply glittering. The beading is definitely stunning but what really makes it stand out is that the bride created a pattern by herself, thus expressing herself during her big day. 
Traditional Indian Theme
The traditional Indian wedding gown remains among the most intricate of all designs out there. And this bride ensured hers was unique and completely handmade. Throughout her dress, she included little design details that gave us insight into the couple's life and their bond, from how it began to their big day.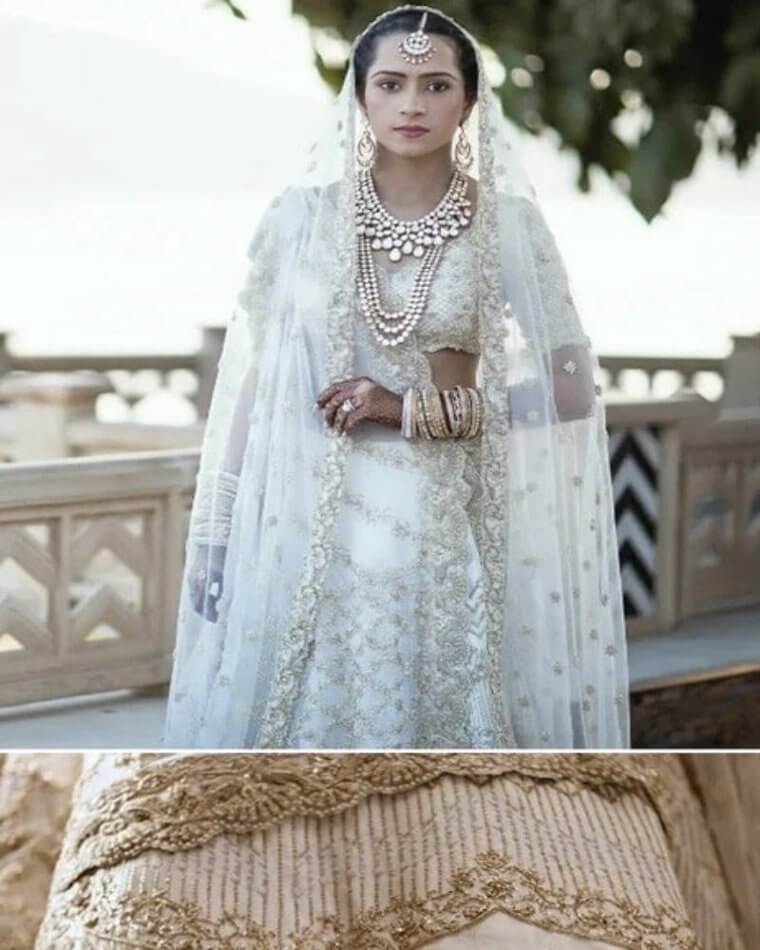 For instance, if wedding goers had looked closely at the skirt, they would have noticed the couple's names stitched using Zari thread. Similarly, there are intricate details on every corner of the gown. It definitely stole the show at the wedding and we are sure it will be a treasured keepsake in the family.

Adding Some Color to Your Wedding
This bride was loved by all for her larger-than-life personality and she decided that she wanted to express it through her wedding dress. Knowing it was quite a specific request, she decided to begin the process herself by painting a stunning, eye-catching gradient on the ends of her dress.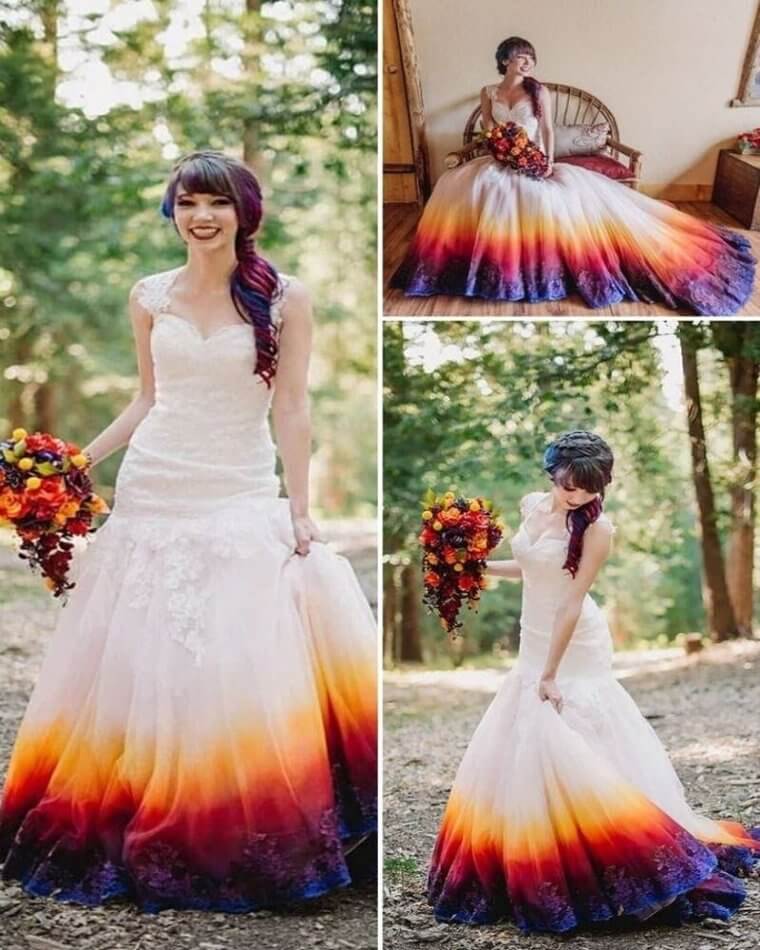 She said that she was unsure of her work at the beginning and contemplated calling it off at one point. But, as the project gathered steam and things started coming together, she stopped doubting her vision. In the end, she walked down the aisle in a stunning, all-around unique dress.
Cutting It Short
As a wedding dress designer, Brooks Ann Camper wasn't new to the world of wedding gowns. Running a profitable design business, she had been creating wedding dresses for friends, family, and her community for quite some time. So when it was time for her wedding day, she knew exactly what she wanted and how to get it done.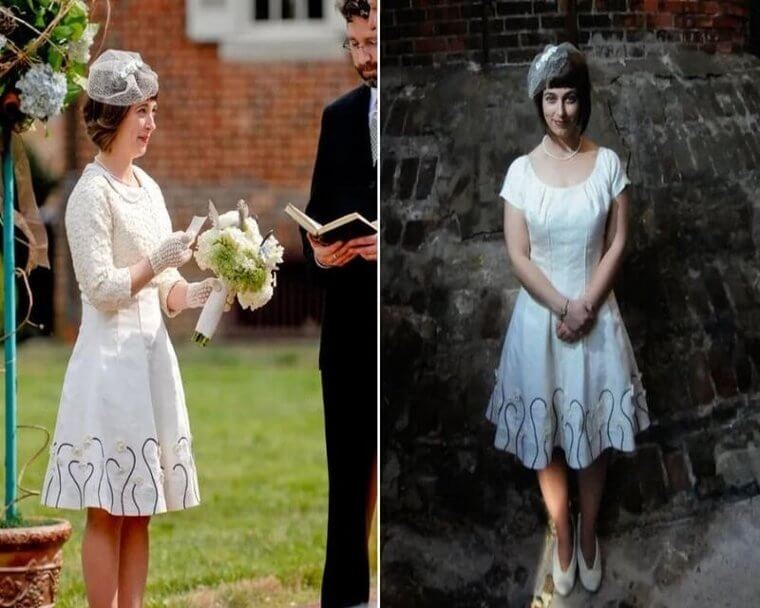 She detoured from the usual long wedding dress and went for a short design. It was custom made and ran till her knee. It was a throwback to a very classic design that she pulled off perfectly, and it's feasible that she could wear this dress to other occasions too.
Gold Sequins
White is a guaranteed hit for any wedding dress. This bride, however, liked a big splash and wanted to make sure it happened. She took her white dress and adorned it with a myriad of dazzling gold sequins as well as rhinestones.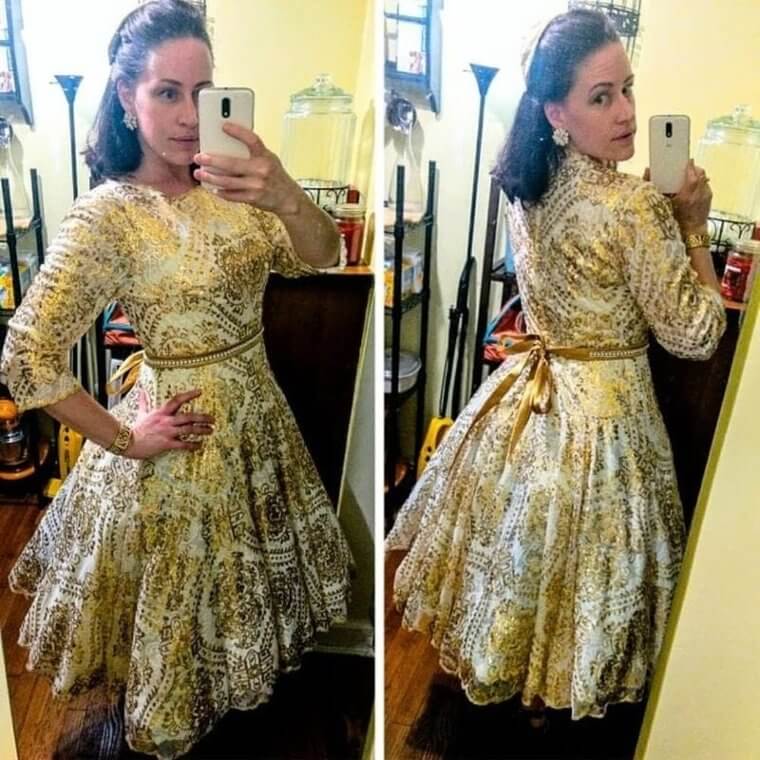 The silhouette of the dress was also unique and very ballroom-esque in style while the gold highlights glittered under the lights. It's very well done and is highly recommended for anyone looking for something different from the norm.
On a Tight Budget?
Under a tight budget, this bride and groom decided that they would create everything by themselves to keep costs down to a minimum. They sought the help of their friends and family, creating customized, handmade bouquets, decorations, and wedding cakes. And yes, that included the wedding dress too.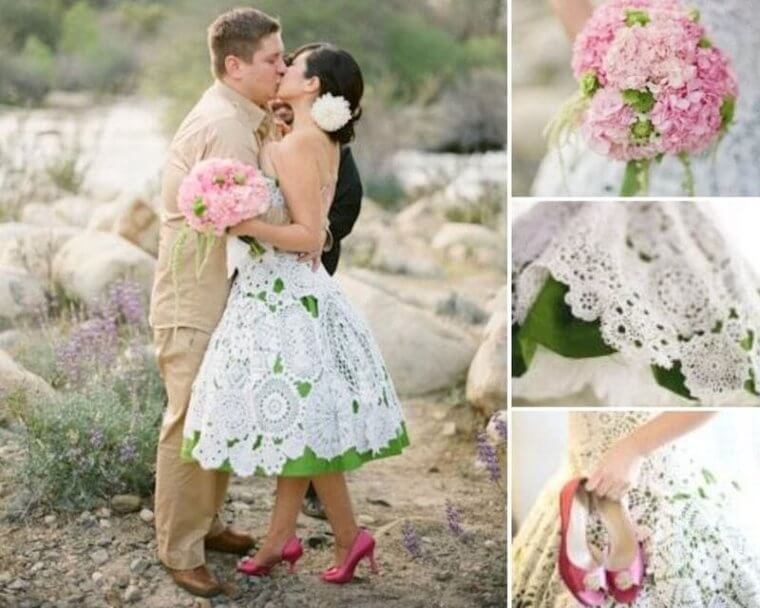 The final result looks unbelievably beautiful and heartwarming. The bride's wedding dress was simple yet elegant. It was a lace gown, filled with delicate, earthy patterns that were perfectly complemented with a green lining and pink heels.

Classic Floral Inspiration
For her wedding, this bride decided to draw inspiration from the floral gowns of the fifties and sixties. Floral designs had always piqued her interest so she used them to create a style that's not often used in wedding dresses.
The issue is that such patterns are always somewhat of a hit or miss but in this case, the floral design came together to deliver an elegant, youthful, and summery look. The bride matched it with a similar headpiece to cap it off.
A Fun Cocktail Gown
This bride here was tired of the usual wedding gowns. Wishing she had something more fun and unique to wear, she took it on herself to create it. However, rather than starting from scratch, she hunted around for a wedding dress that she could alter. She finally found a vintage wedding gown that she deemed fit for her project.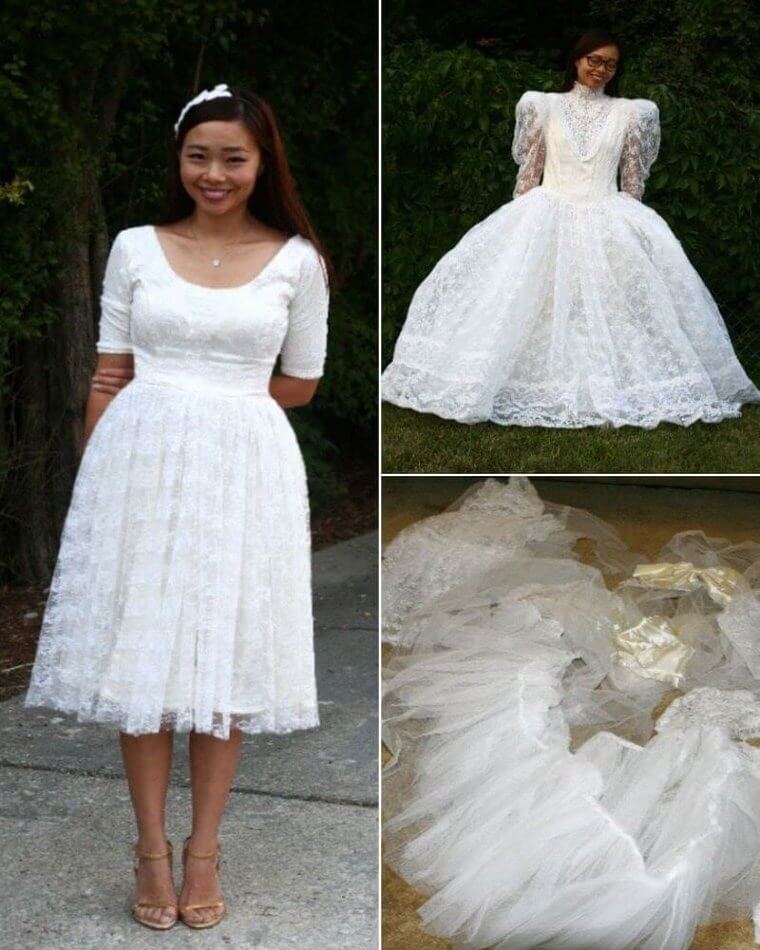 It took quite a lot of work and even more hours but at the end of it, she had turned an antique wedding dress into a fun, cocktail-esque dress. What really helped her pull it all together was the matching headband, made from spare fabric she had lying around.
Fresh and Funky
Continuing the theme of brides looking for something fresh, this bride transformed her traditional wedding gown into a stunning, punk rock style dress. She did this by trimming the bottoms, showing the legs through high-low shapes, and adding splashes of paint.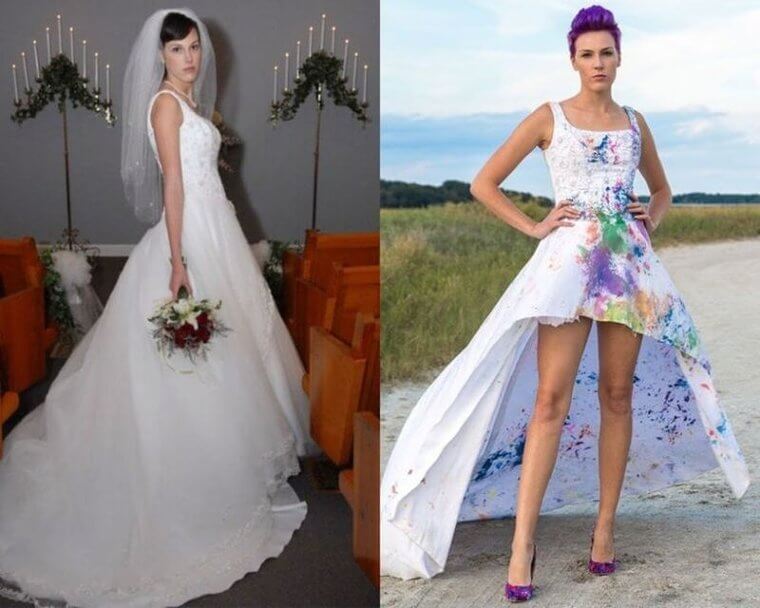 To complete the look, she even transformed herself. She had a haircut and colored her hair to bright purple, both of which fit perfectly with the punk rock aesthetic she was hoping for. It is a remarkable and very creative wedding look.
Radiant in Yellow
Some brides aren't a fan of all white on the day, and why should they be? The tradition only began around the time of Queen Victoria, so actually choosing your favorite color is a great way to bring your own personality into the day. This bride wanted to stand amid the flowers and shine.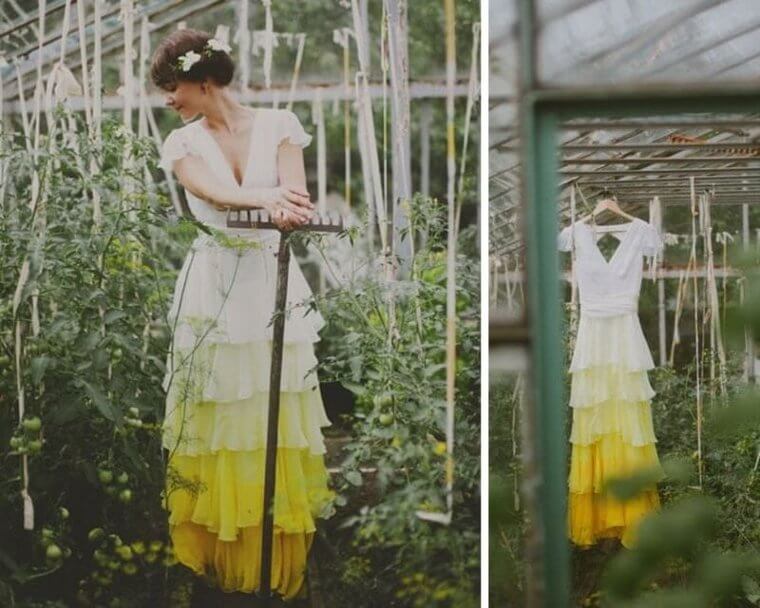 She didn't go with a full yellow wedding dress and instead introduced it in gradients from the waist down, creating a beautiful effect that lights up her frame. She hand-dyed the layers to create this look, and in the setting of a greenhouse, she brings the sunshine. She truly made herself stand out in a unique way.

Mermaid Effect
This bride clearly dreamed of being a mermaid on her special day. However, a mermaid tail isn't really practical when you need to walk down an aisle. She decided that she would incorporate the colors of the sea into her dress, with matching hair. This style was also achieved by hand-dying the fabric. Her groom went for a swashbuckling pirate look.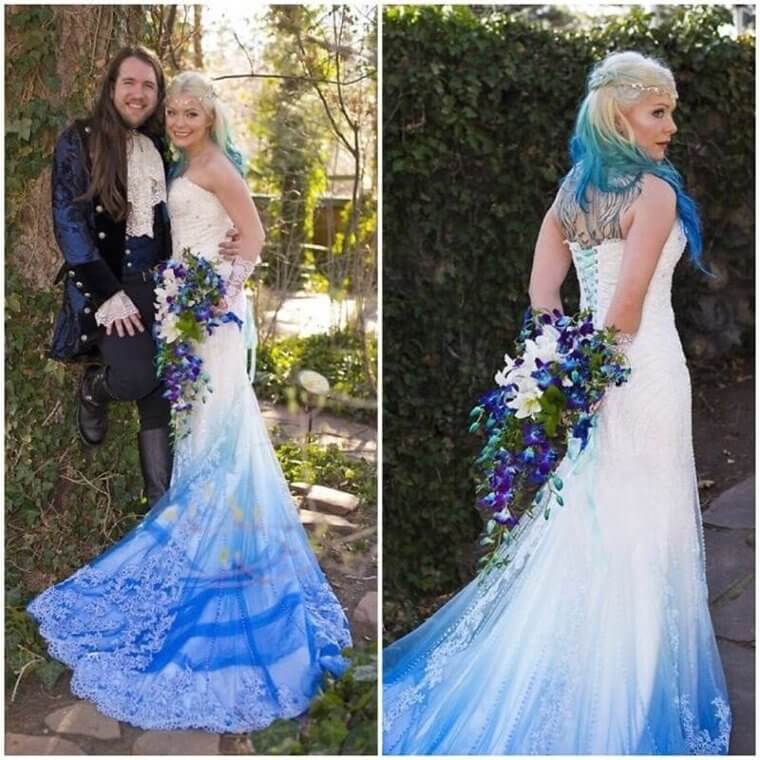 The mesmerizing effect on the train and her stunning bouquet really packed a punch on their special day. Lace embellishments and tiny gems completed the gown, which is truly a work of art. If they were going for a Little Mermaid look, then they certainly achieved it.

Rhapsody in Blue
Another bride who was blue in a good way was this one. They had agreed on an outdoor wedding and the bride wanted a simple white dress that was nice and flowy. However, she decided to incorporate her favorite hue into the design. Using dye, she created a gradient of ocean blue that led to navy blue from the mid-calf to the bottom of the dress.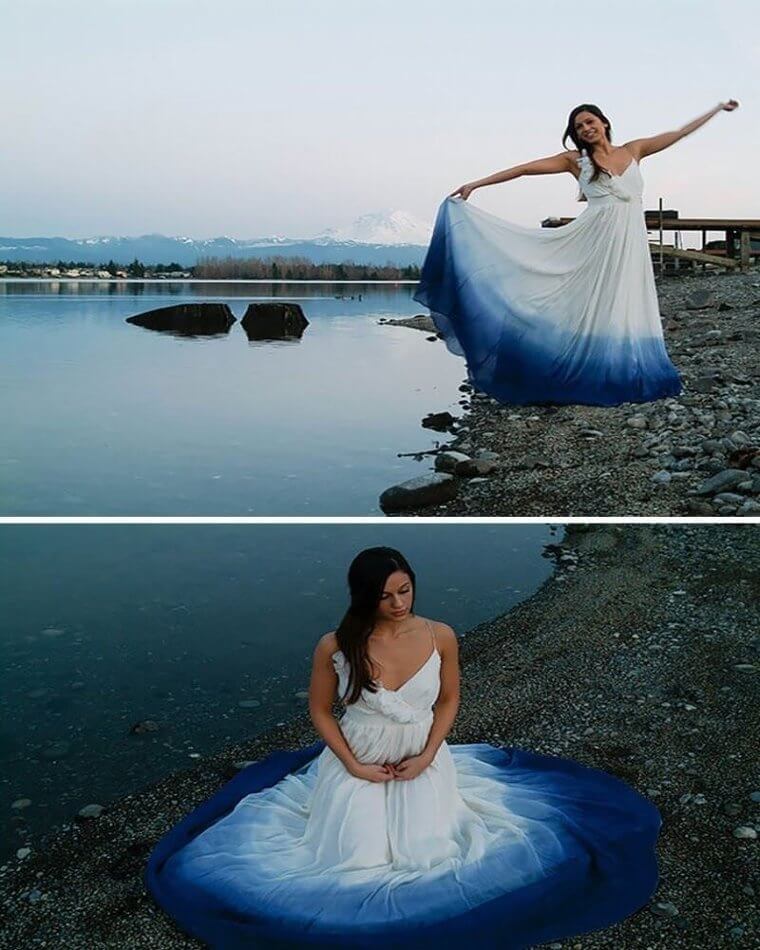 This look is sensational against the dark gravel. The bride looks like she is melting into the nearby lake. The delicate ruffle on the front of her dress is another simple element that has a wonderful effect. Her desire to blend in with nature really worked here.

Group Effort
Although a wedding day is all about the bride and groom, many people come together to make it a success. Emma was lucky that her sister was a bridal designer, so she could get the dress of her dreams. However, hand-stitched ruffles take a lot of time and work, so more people were required.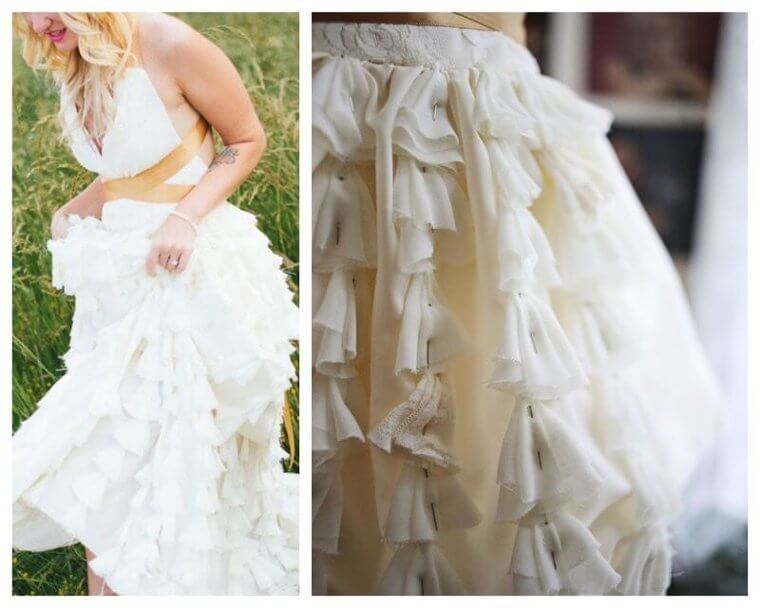 Many of Emma's friends joined in to make the ruffles on the skirt. Her plunging bodice into the softness of the skirt has the dramatic effect that Emma sought. This meant that many people's work was evident on the special day and it's doubtful that Emma will be putting this dress for auction on eBay! 

A First Piece
What if you're eager to create your own wedding dress, but have no experience? Don't let that put you off. This bride didn't, and she managed to sew her own wedding dress from a design. She made it her own by adding lace embellishments. The delicate flowers on the top look like they were made by professionals.
Sewing her own dress meant that she put all the love into it. It took time and energy, but she wouldn't have it any other way. The skirt was much easier to make than the top of the dress, but it flowed in a way that showed off her figure. Her dream day deserved a special dress.

A Vision of Love
Sometimes it just takes a little bit of vision to transform a dress. When this bride-to-be tried on an 80's style dress, she knew that she couldn't get away with the puffy sleeves and outdated shape, but she saw something in the dress that made her stop and think, "what could it be with a little tweaking?"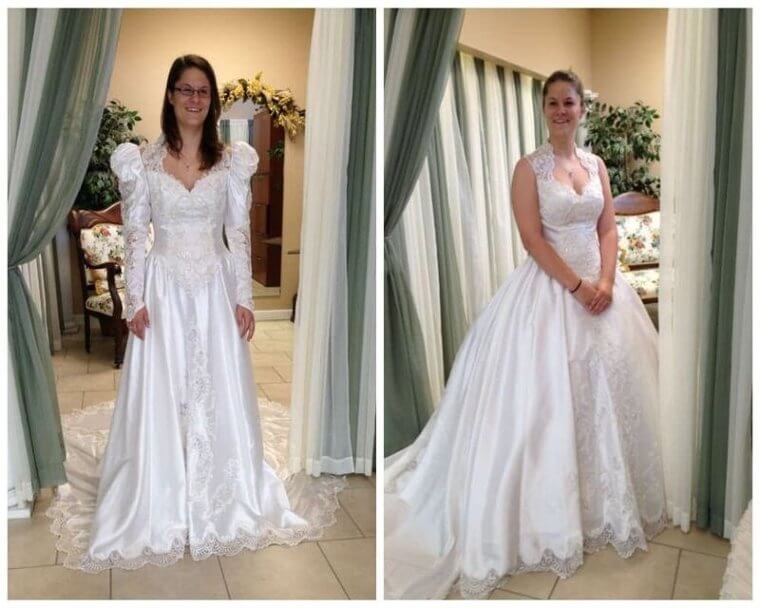 First, she had to get rid of those sleeves. She consulted a tailor, explaining her ideas and they sculpted a brand new dress from the old one. A crinoline underskirt added more shape to the dress, it was nipped in further at the waist, but the lace was left around the neck. Look how beautiful the end result is! 

Updating Mom's Dress
Of course, every mother wants to pass down her wedding dress to her little girl, but styles change. Luckily this mom was open to her daughter making some changes to her dress. She simply hoped it would bring as much joy to her child as it had brought her. It is kind of cool as an heirloom.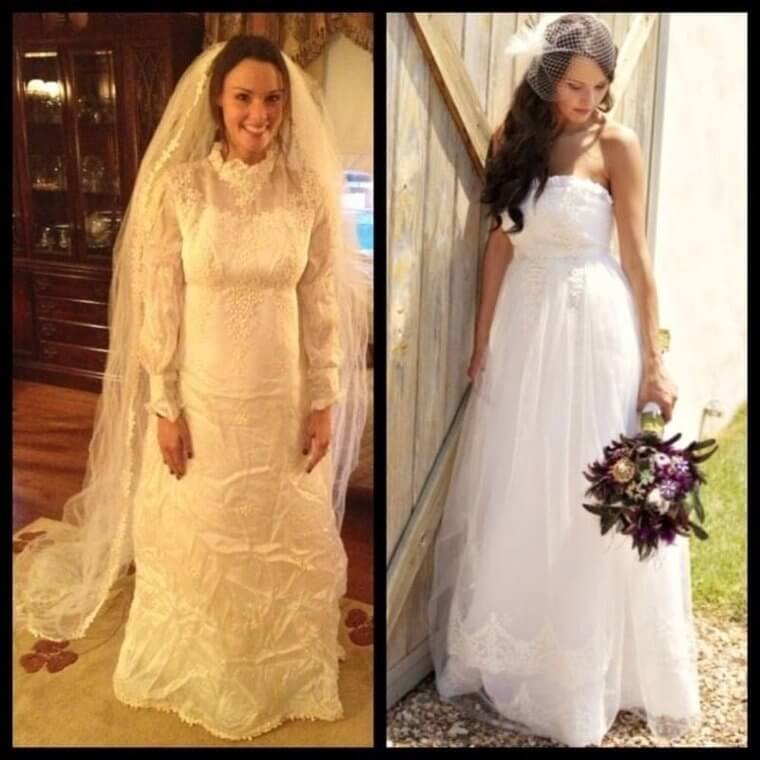 First, she decided that she would change the shape a little, with some more layers to the skirt. The original lace accents were kept on the bodice of the dress but she decided against the sleeves, as she felt they were dated. She also removed the veil. It all worked out well so that mom and daughter were delighted.

Keeping It Vintage
Vintage is definitely in, and some brides know what they like. There are some very desirable fabrics that are harder to find now, so this is why some people choose to get something older. However, this bride had in mind some changes that would make the dress almost like new.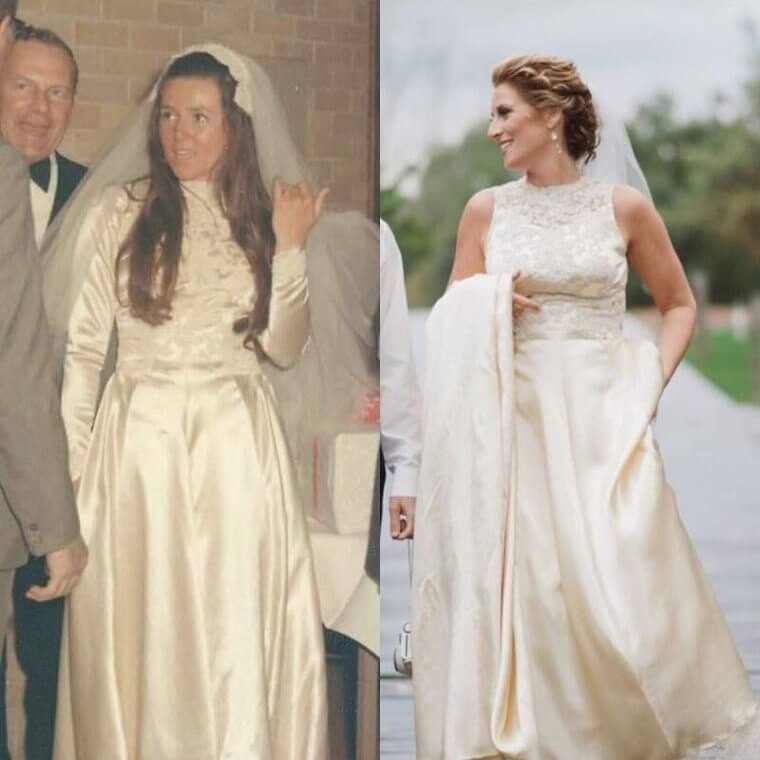 It honestly looks like a dress fit for a Disney princess. She kept the bodice but once again removed the long sleeves, showing off her toned arms. The skirt was further fitted to her shape, giving a modern look, and she used some of the original fabric as a wrap. 
From Lingerie to Bridal Wear
If you've got some skills for design, then it's expected that you might want to make something your own. Madalynne was used to designing underwear and lingerie but wasn't put off by a wedding dress. She decided she would find a pattern that she liked and buy some muslin to make it a reality.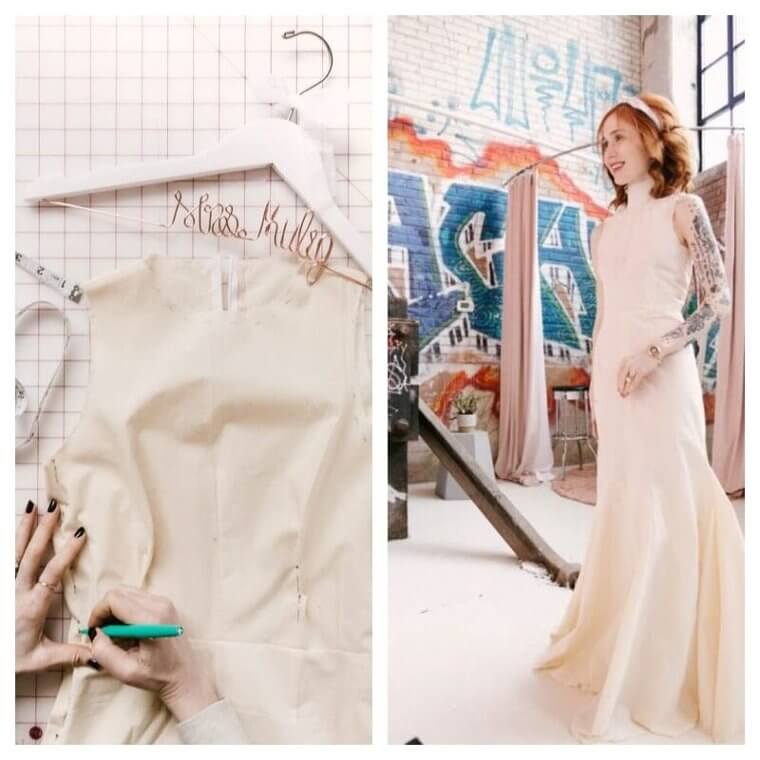 It was a great project for her design blog. She made the dress step by step with photos documenting each part of the process. The fit was perfect for Madalynne, and even though she made some alterations, it was a dream dress for her. Her work also inspired other brides to make their own dresses.
Go Western
It's amazing what you can do with all the materials older dresses have. This girl really wanted to wear her mom's wedding gown but knew that she'd have to make some serious adjustments for her style. She decided to sit down and plan it, hopefully making a dress with a more country vibe.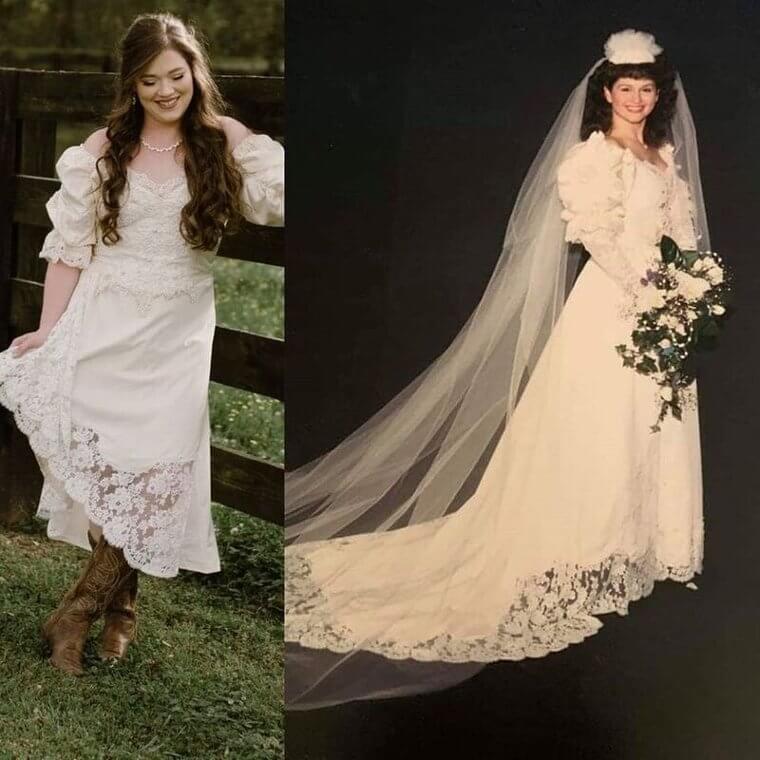 The headdress wasn't for her, and she wanted to keep the lace fringing at the bottom. She thought a shorter style would suit, especially to show off her cowboy boots. She managed to keep the original lace on the end while making the dress her own, and it looked great! 
A Slight Adjustment
One bride took a look at her mom's dress and decided that she didn't really want to change a thing. The headdress was a little outdated so she decided that she would minimize it to make it a more modern look but she wanted to keep the frills on the dress.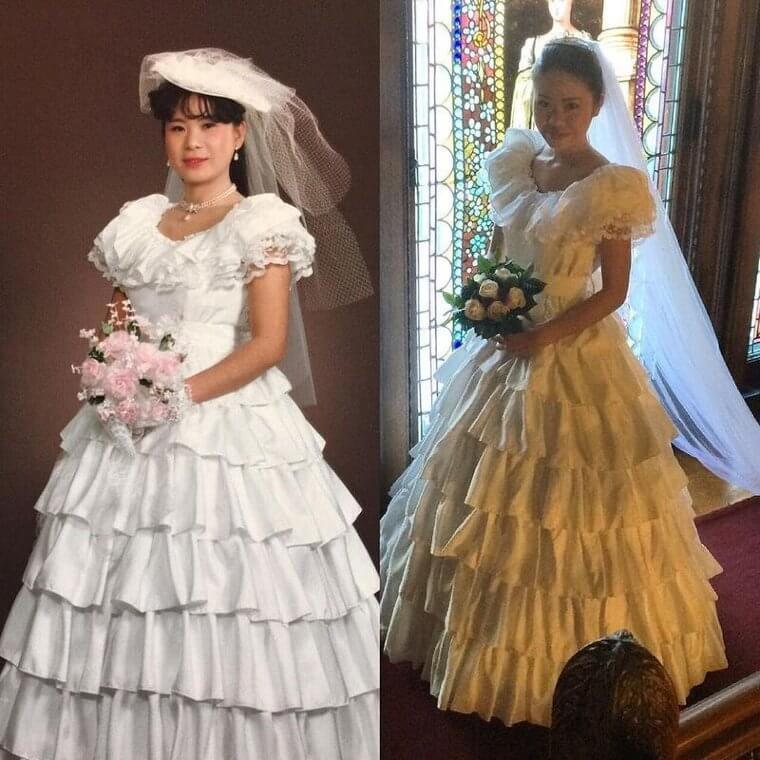 This dress probably took a lot of work originally, so by keeping it in its original style, the bride has got herself an unusual dress but also one that mirrors her mom's style many decades ago. The treasured keepsake stays in the family and who knows, maybe another bride will wear it in the future? 
A Little Less 80's?
The '80s was a decade with big hair, big sounds, and big sleeves. There is a lot to be nostalgic about but the style probably wasn't the greatest. However, this bride saw something in an 80's wedding dress that sparked her imagination. Once she got rid of those puffy sleeves, everything changed.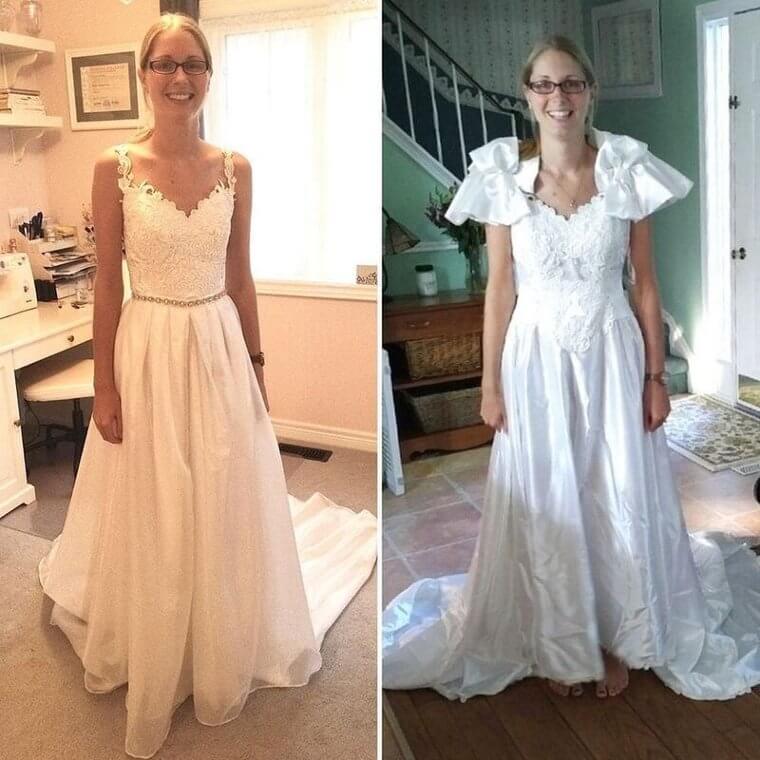 She tightened the bodice to show off her slender frame, and the addition of a jewelled belt brought the dress right into the 21st century. It's hard to believe that the dresses on the left and right are actually the same. It just shows how tiny little changes can make something incredible. 
From Then Til Now
First, can we just say how alike this mom and daughter are? It's actually uncanny. Mom was the epitome of style back in the '70s with her drapey dress and cascading bouquet. Her daughter liked the dress but had some thoughts on how she would modify it to her own liking.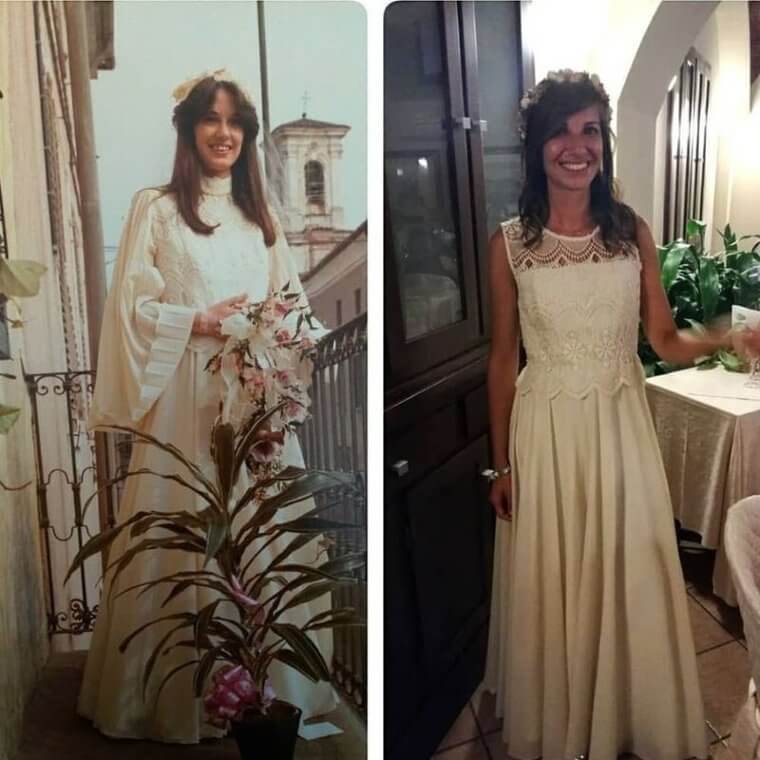 Once again, it was time to remove the sleeves, but by doing so she revealed the beautiful lace on the bodice. The neckline was lowered and it completely changed the dress. This was a successful alteration and it's evident that the beaming bride thought so too. The addition of flowers in her hair is a lovely throwback to mom's bouquet too.

A Neckline That Lasts
Although wedding dress styles can change almost seasonally, sometimes there's an element that works no matter what decade you're in. When this bride was seeking a vintage gown, she fell in love with the collar on this one. The shorter sleeve length suited her too. Now, all that mattered was fitting the dress to her form.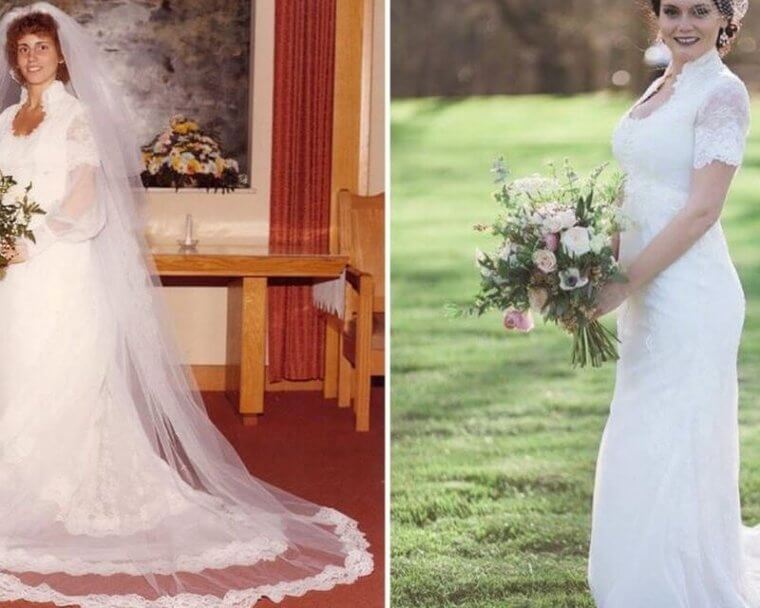 The structured collar but open neckline was a real wow factor, so it's great that she kept it. Removing the veil and going for a more subtle headdress also worked to show off her natural beauty. Vintage definitely won the day in this instance. 
A Labor of Love
Kelsie was keen to make her own dress for her wedding, so she looked up tutorials online. It took her eight months, but she came up with her own design and completed her gown in that time. The gorgeous leaf effect is a real stand out and Kelsie was pleased with her efforts.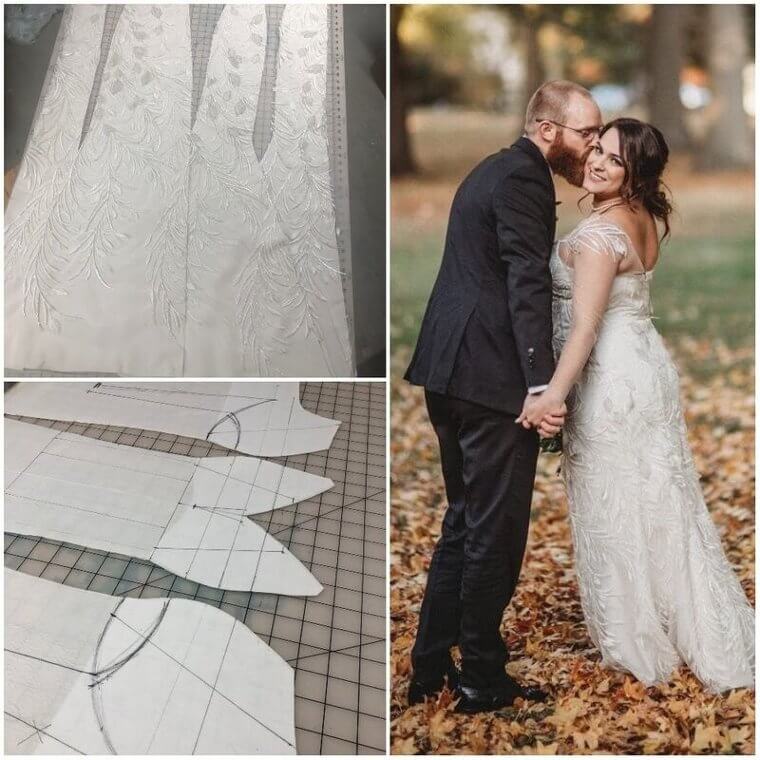 However, she was also very modest! She explained that it wasn't perfect and even admitted that on the special day she managed to tear the mesh a little while she was dancing! Well, it was her dress to do what she liked with, and she looks utterly gorgeous in the photos.