Burning Man, a mesmerizing annual event in the heart of Nevada's Black Rock Desert, is a unique and awe-inspiring testament to human creativity, self-expression, and communal spirit. Over the years, it has evolved into an iconic event that the lucky ones get to mark on their calendars, having expanded to more than 80 regional events across six continents. But this magical event didn't happen overnight, and we're here to take you on the journey of Burning Man's beginnings and growing success (with a few fatal hiccups along the way).
The First Burning Man Hit the Beach in 1986
It's difficult to imagine a time before Burning Man was an annual event. Yet in 1986, the iconic affair was a random idea thought up by carpenters Larry Harvey and Jerry James. Larry was going through a midlife crisis and called up his buddy, Jerry, to say, "Let's … let's burn a man, Jerry."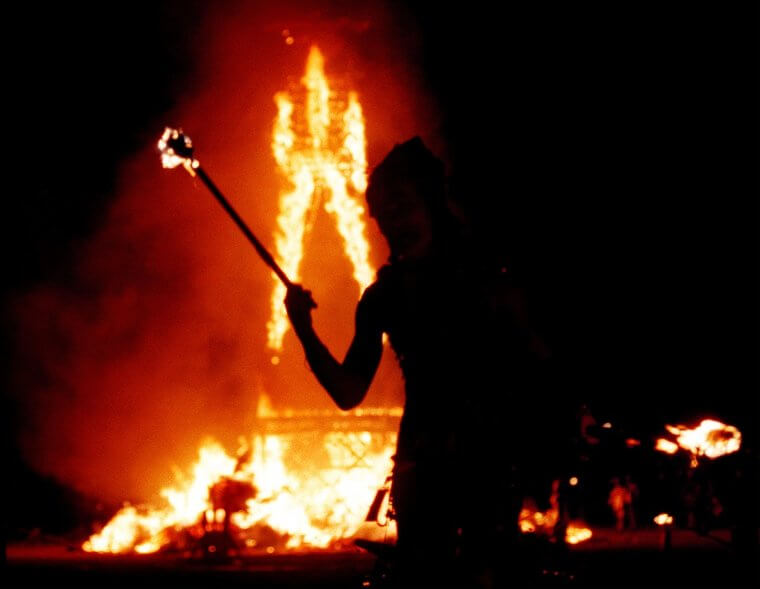 The pair used their woodwork skills to build an 8-foot human effigy and dragged their creation to Baker Beach with a group of friends. They poured gasoline on the structure and set it ablaze, drawing attention from everyone on the beach. All of a sudden, the space was overcome with a "spontaneous performance" as the group of people started singing, and a community was created. At this moment, Burning Man was born.
One Year Later, a Tradition Is Created
The first "impromptu" Burning Man left a lasting impression so the organizers decided to recreate the special event and burn another man in 1987. Only this time, they had more time to prepare and started building their structure weeks in advance, creating a 15-foot tall effigy which they set alight in front of 80 people. Each of the attendees contributed to the creation of the event's core values, the most notable being communal effort, which echoed on into the future.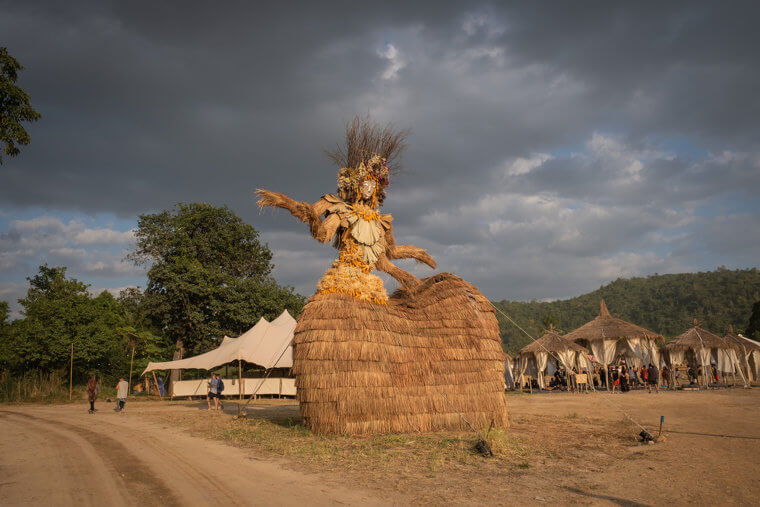 By 1988, the event was more official, with posters, T-shirts, and fliers encouraging people to attend. It's also the first time that "Burning Man" became the event's official name, with at least 200 people cementing its values into history (and the future).
Burning Man Makes a Move
Baker Beach had hosted Burning Man for four years, but in 1990, authorities forced the organizers to move the event where the flaming structure wouldn't present a hazard. The group moved to the Black Rock Desert in Nevada at the suggestion of the San Francisco Cacophony Society, a local collective of artists and practical jokers who attended the "second" Burning Man in 1988.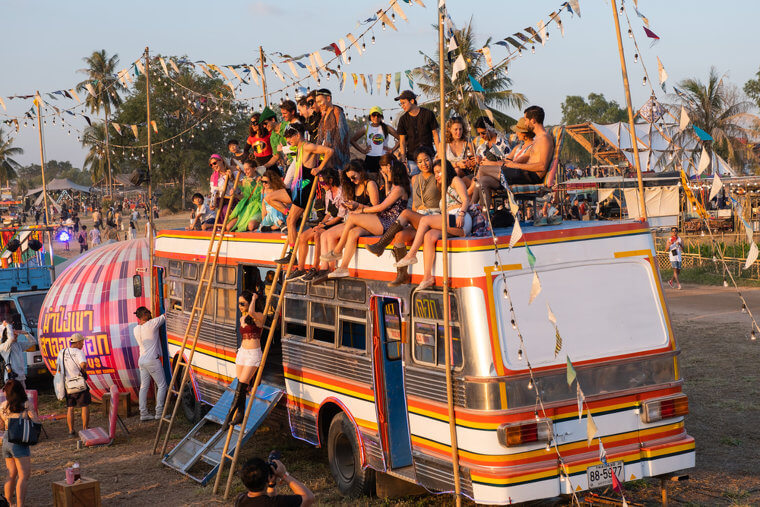 The free-spirited group became involved in all parts of the event organization, including planning the 1990 event. While the numbers dwindled to 90 attendees for the first desert Burning Man, this figure would blow up at an exponential rate in future years — but would they be prepared to handle tens of thousands of people? 
Burning Man Develops Unique Traditions
By 1991, Burning Man attendance had already grown to 250 people who flocked to the desert to celebrate love, life, and community. It was also the first year the desert survival guide was created for attendees. Fire dancer Crimson Rose set the 40-foot-tall structure alight, keeping the event tradition going. At the same time, another tradition was developing.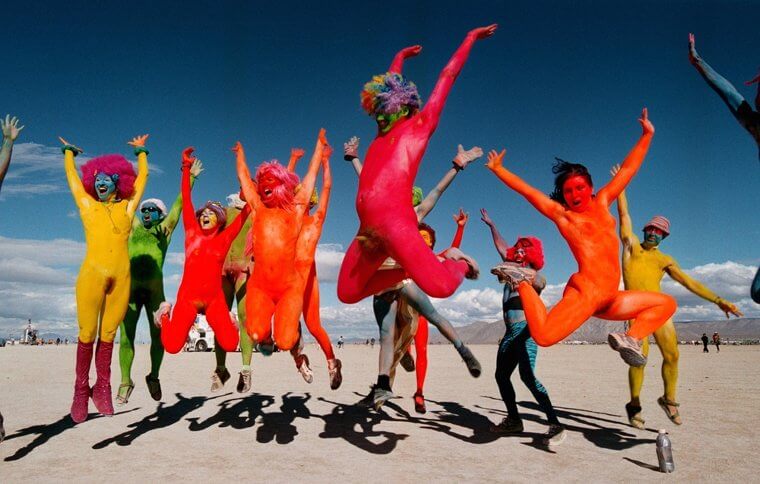 The Bureau of Land Management reported that "no trace of the burning ceremony or campsite can be found" after the event, and in the process, they cemented another one of the event's tenets. The "leave no trace" mentality has been taken forward in years to come and remains prevalent today. While impactful, it certainly wasn't the only tradition to develop.
Burning Man Becomes an Official, Structured Event in 1992
After a few years, Burning Man became an anticipated event, and with the growing attention, the organizers had to adopt a more formal approach. In 1992, blueprints and a site plan for the camp were developed, along with Rangers, a group of emergency personnel who located lost campers. The Black Rock Gazette was also created, the first of several future newsletters filled with important safety and logistical information about the event.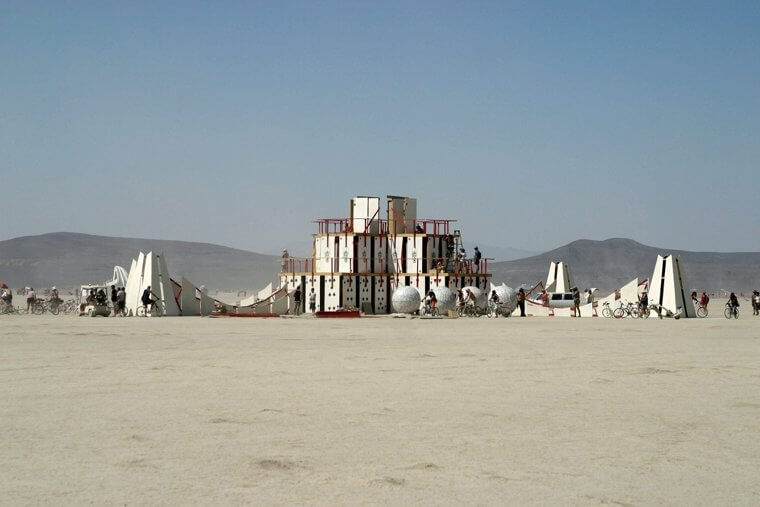 Around the same time, attendees started organizing theme camps, which have since become a beloved trope of the event. These interactive theme camps were wild and wacky, with some abstract themes, including "11:11 Make a Wish," "404: Village Not Found," and "The Camp With No Name."
Burning Man Experiences a Massive Growth Spurt
By 1995, Burning Man was fast approaching the ten-year mark, and it had grown in leaps and bounds. For example, the desert space that hosted the free-spirited campers was officially called Black Rock City, known (and loved) as the home of the iconic annual event and serving as a magnet for desert dancers of all ages.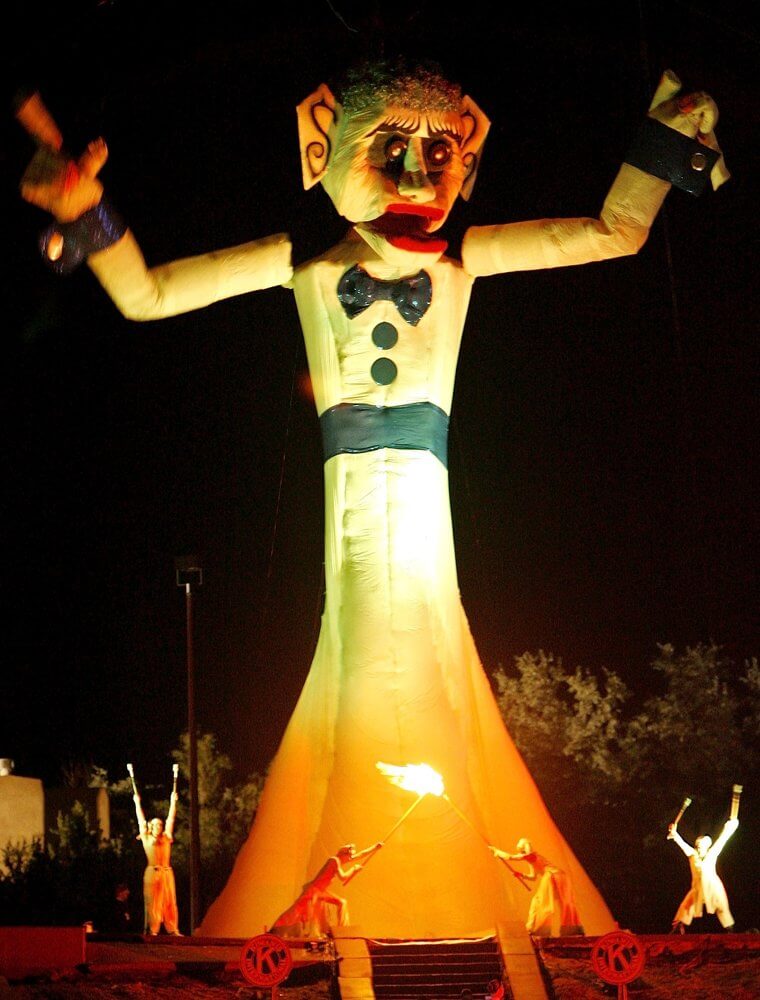 Along with the rise in attendees, media attention increased for the event as both local and national media coverage documented the revelry. For example, CNN started the annual coverage of Burning Man in 1995, and participants started broadcasting their own experiences with a 24-hour radio broadcast. With the explosion of the internet age, multiple websites were created, and the Black Rock Gazette was uploaded daily.
Expenses Mount Up, Leading to Chaos
In 1996, Burning Man took a turn for the worse after several people suffered injuries during a rave located a mile from Black Rock City. Organizers had failed to keep up with the influx of new participants. They made the "strategic" decision to move the event to Fly Ranch, a private plot on the Hualapai Flat in Washoe County, in 1997 — but it was an expensive experiment.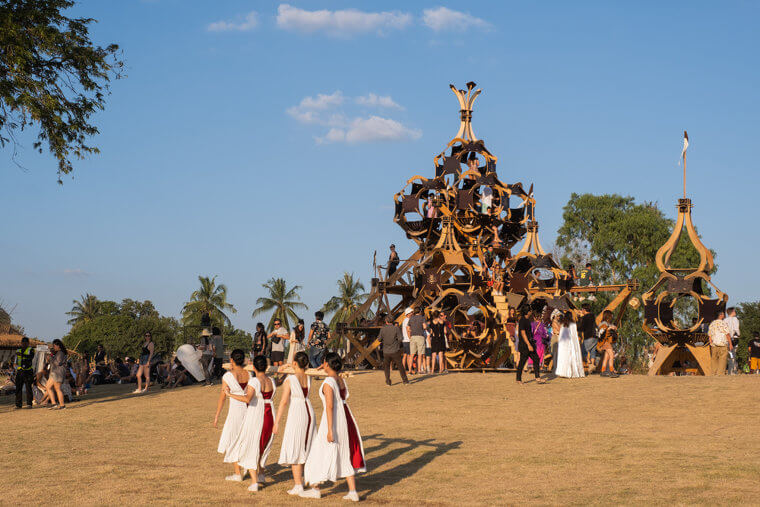 Officials in Washoe County weren't part of the Burning Man vibe and charged a hefty $350,000 fee for fire and law enforcement protection. Ensuring that they received their money, they confiscated 100% of the proceeds at the gate, leaving Burning Man in $200,000 debt. But the essence of the event didn't die, and founders, organizers, and participants pooled their funds to keep Burning Man alive.
Dropping Anchor While Branching Out
In 1997, Burning Man returned to Black Rock City, where they belonged, recognizing the desert space as the event's official home. Simultaneously, they launched the first satellite Burning Man, where 30 people participated in the regional event in Texas. Spreading the good energy to San Francisco, the event also launched its first art exhibition titled The Art of Burning Man: An Incendiary Exhibition, which Larry Harvey described as "myth, as ritual, as a kind of erotic property; a form of collective selfhood."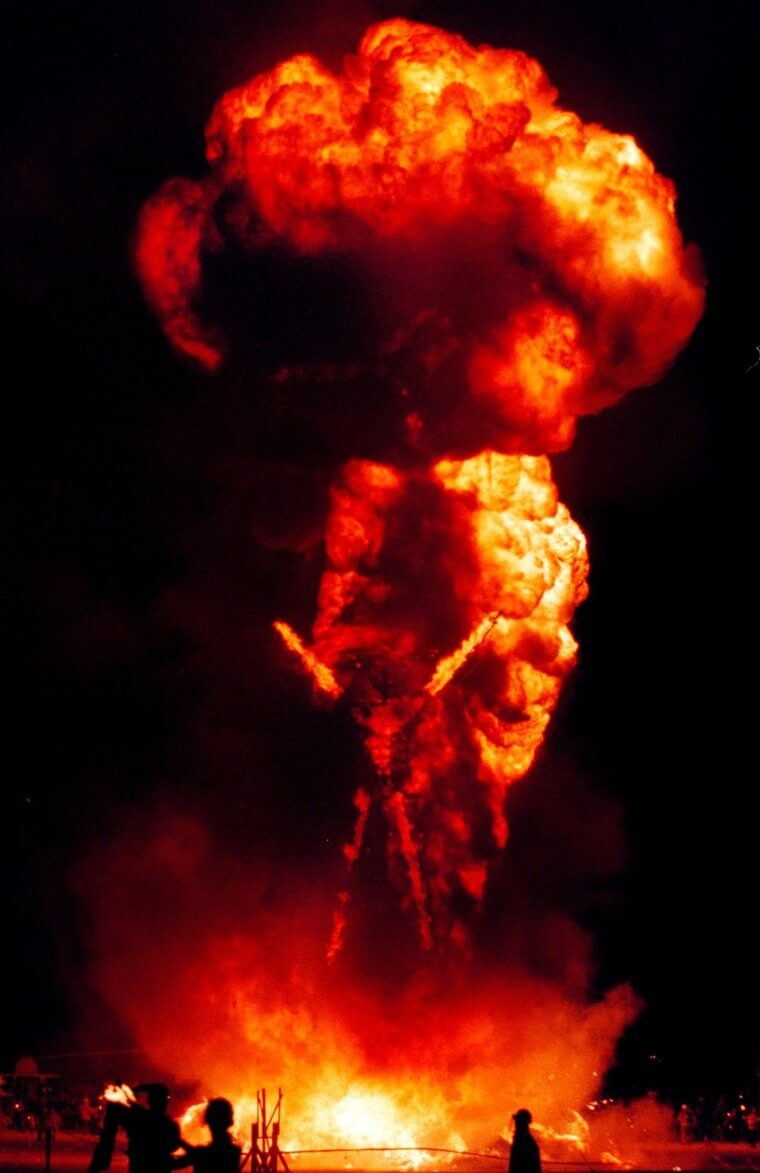 In 1999, Burning Man underwent more changes when the event moved from a Sunday to a Saturday, allowing participants more time to "leave no trace." The second Burning Man art exhibition was also launched that year at the Bruka Theater Gallery in Reno, featuring the largest-ever interactive Etch-a-Sketch display.
Burning Man Grows: Both the Effigy and the Problems
In 2001, organizers pushed the limits with the iconic man, constructing the effigy atop a 30-foot installation, meaning that the structure had to be hoisted up by a crane. Was it worth the effort? Why not ask the participants who could climb the structure and enjoy endless views of Black Rock City?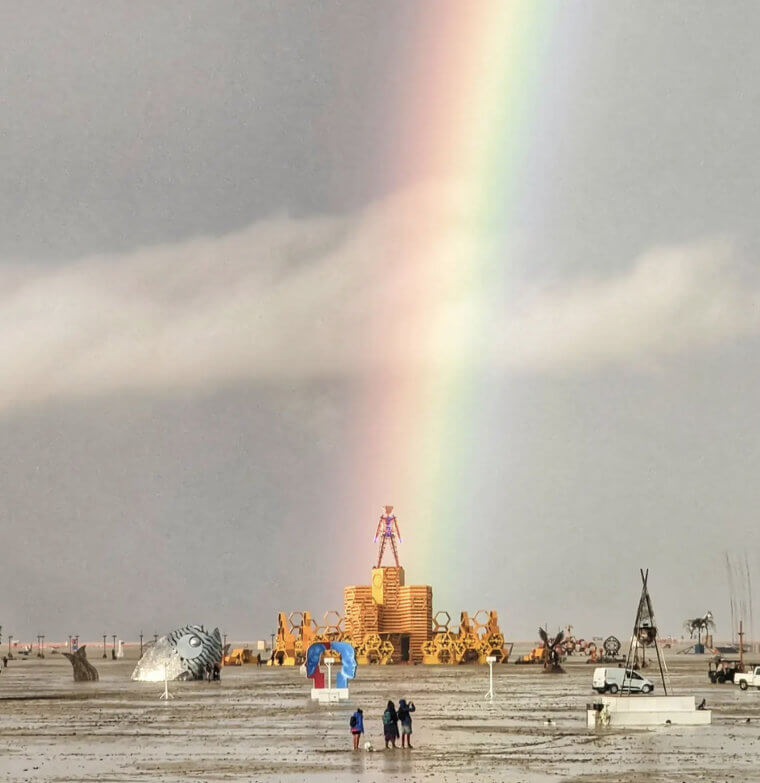 Burning Man 2001 also experienced a few other milestones, from having to deal with the sudden appearance of counterfeit tickets, the "Jiffy Lube Incident," which included an explicit sign of two men having sex outside a theme camp, and the development of the first "AfterBurn report." The document made the event even more official, including strengths, weaknesses, and budget to consider for events moving forward — of which there were many!
An Airport Makes It Easier for Attendees
At the turn of the new millennium, Burning Man had grown significantly, and by this point, Black Rock City had its own airport, making the commute a lot easier for far-flung visitors. In 2002, approximately 70 airplanes and helicopters landed at the temporary airport, highlighting the space's value (probably why it remains active today).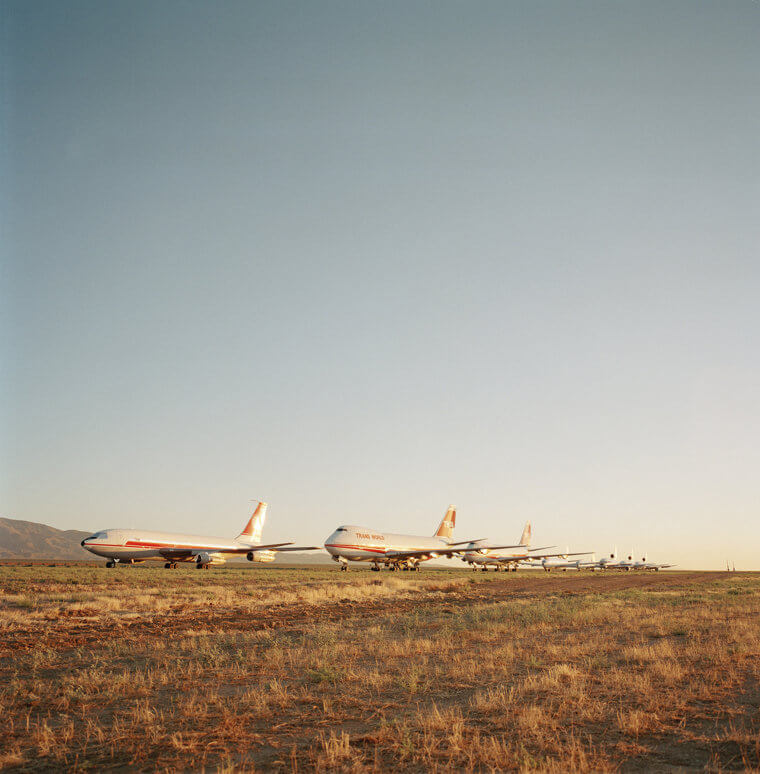 The airport continues to service other aviation needs in the area today, with the organizers starting to set up control towers, runways, and checkpoints two weeks before the event (ensuring that they "leave no trace" in the process). Yet the Burning Man organizers remind chancers that you still need to buy a ticket — even if you can catch a flight to the event.
Burning Man Takes a Biblical Turn
In 2004, Burning Man's popularity proved its worth, with more than 35,000 people participating in the festivities, congregating in the heat, rain, and dust storms to watch the 80-foot structure atop a dome-shaped observatory burn to the ground. By now, the event had developed a core belief system documented in the Ten Principles of radical inclusion, gifting, radical self-expression, community, responsibility, leaving no trace, and participation.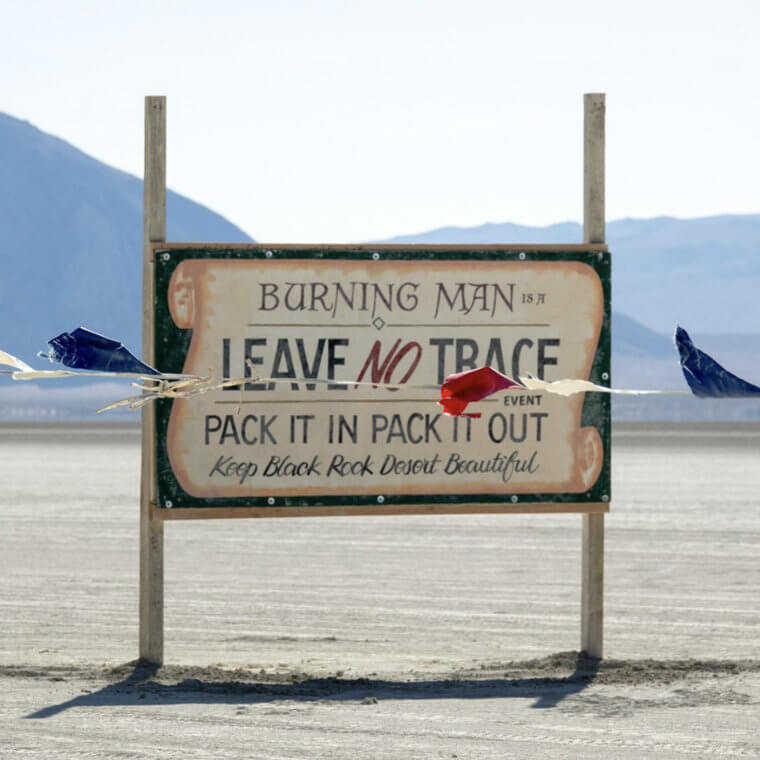 The Ten Principles were developed by founder Larry Harvey in an effort to document how the event has developed and what it stands for. In the process, these principles have become the ethos of the globally-renowned event — which was becoming more global by the year.
Burners Without Borders Is Established in 2005
In 2005, Hurricane Katrina prompted the start of Burners Without Borders, a charitable organization that initiates civic projects and disaster relief in local communities around the globe. Participants at Burning Man also combined their efforts to raise more than $35,000 for recovery efforts. Other grassroots groups stemming from Burning Man have developed since, such as Lawyers for Burners.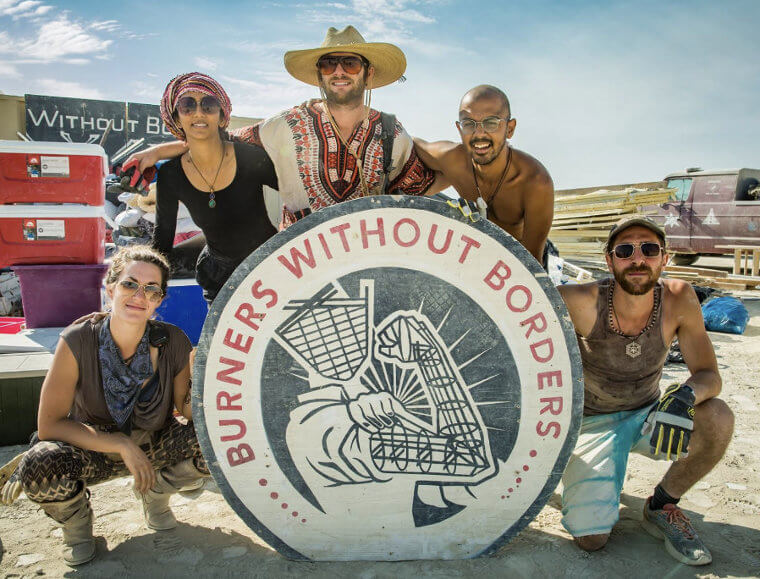 Around the same time, technology started to become more accessible, and Black Rock City benefitted from the installation of a public Wi-Fi network. Combined with the increase in Burning Man art grants from $250,000 to $425,000, an additional 275 art installations were brought to the desert.
The Man Is Burnt Twice — And Then Again by the Great Recession
In 2007, the famed man structure was prematurely burnt by an arsonist who took advantage of the darkness during a lunar eclipse. A team quickly got to work to rebuild the effigy within 35 hours, ensuring that the structure, now representing a phoenix, was ready to burn again at the right time. As for the arsonist, he was apprehended and turned over to the authorities for endangering the lives of fellow burners.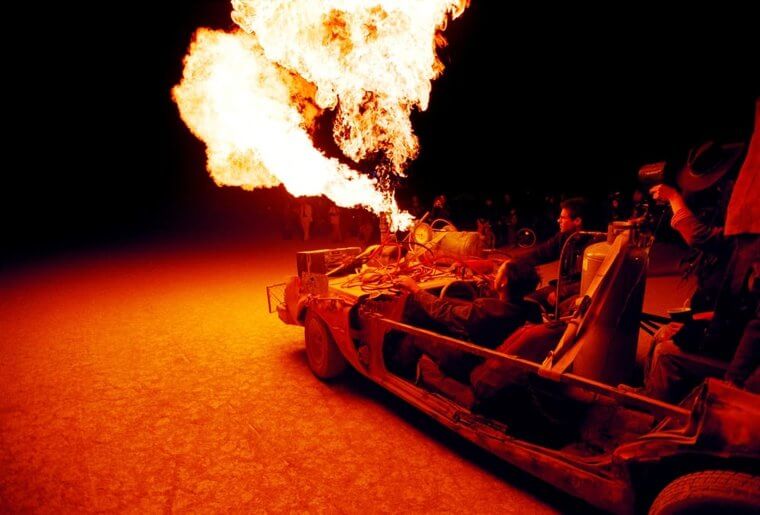 In 2009, Burning Man took a knock, along with the rest of the world, due to the Great Recession. For the first time, the event experienced a decrease in participation and art installations. Luckily, the event bounced back stronger than before in 2010, with a record number of people participating in the beloved desert event.
Selling Out for the Third Year in a Row
In 2013, Burning Man was sold out for the third year in a row, with roughly 40% of ticket holders being first-time attendees. The community was growing, and organizers had to manage the environmental impact, creating the Burner Express Shuttle to reduce car numbers (although the trip could take up to eight hours).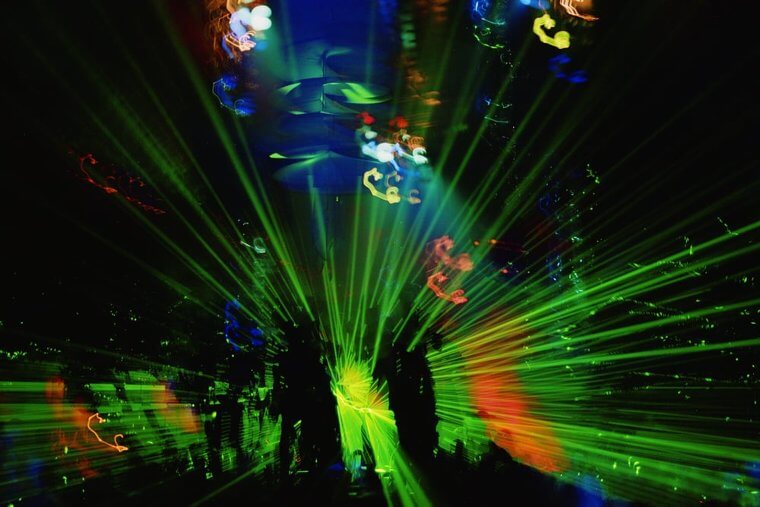 It was a constant struggle to balance technological advancement with safety and the heart of Burning Man. For example, the event experienced the dramatic rise of drones and lasers, forcing the organizers to create new rules and institute an all-out ban on lasers in 2015. They also strengthened Burning Man's drone policy to only permit flying for media coverage, event operations, art documentation, and art performance. Unfortunately, the event's biggest battle was yet to come…
Deaths Strike Burning Man
In 2017, the Burning Man structure stood at a monumental 105 feet tall, with nearly 70,000 people in attendance. Unfortunately, the event's growth was overshadowed by the death of burner Aaron Joel Mitchell, who ran into the fire and later died from his injuries. The official website stated, "The incident shook our community, but the outpouring of sympathy for Joel and his friends and family immediately initiated a process of healing."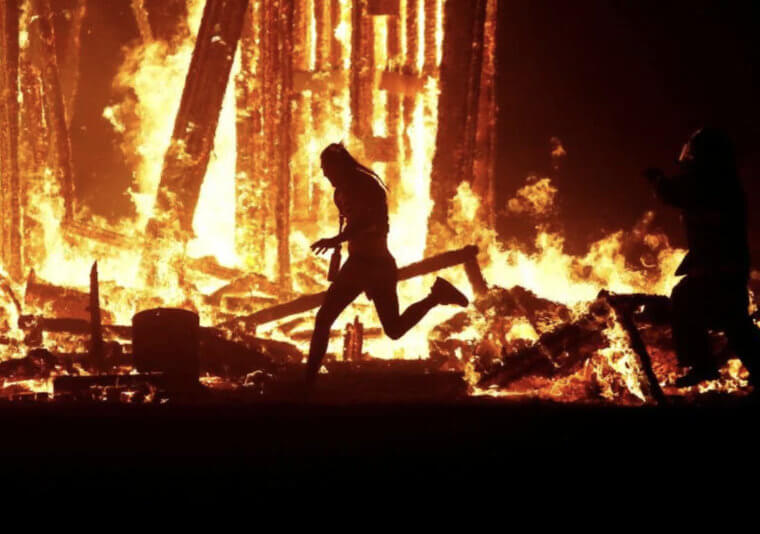 The following year, another death struck the Burning Man community when co-founder Larry Harvey died from a stroke at the age of 70. He invested his time and money until the very end, serving as board president, and chief philosophic officer, and heading up a nonprofit that helped the event.
The Year 2019 Is Filled With Scandals
In 2019, the Reno Gazette Journal reported 58 arrests, primarily for drug possession. However, there was also an instance of sexual assault which occurred as hundreds of volunteers and workers arrived to set up for the event. The charge against Oleg Ivanov was handled by Bryce Shields, Pershing County District Attorney, who later said, "If this year is like previous years, more will be reported after the event."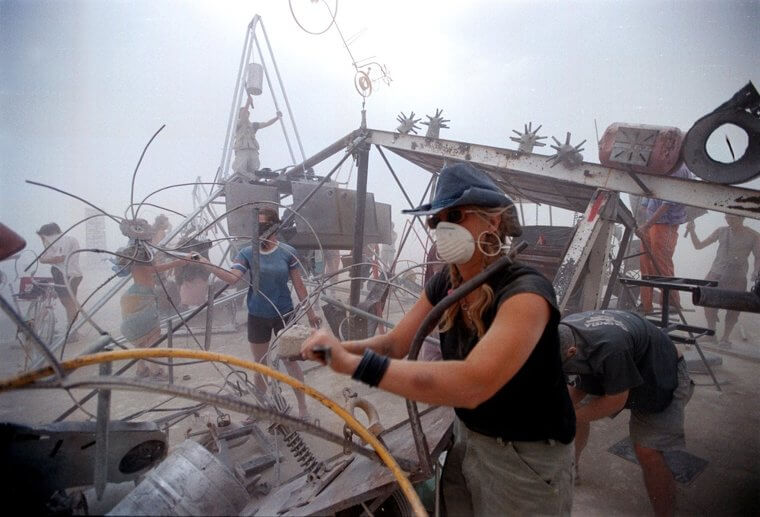 In addition to the arrests, there were two related deaths. The first was a 61-year-old Nevada man, Lonnie Richey, who was killed in a fatal car accident leading to the site, having recently spoken out about the dangerous and stressful work environment. Unfortunately, his death wasn't the only one that year.
A Young Man Dies Under Mysterious Circumstances
A 33-year-old man named Shane Billingham also died after being found unresponsive in his vehicle at his camp, a situation that the police called "suspicious." Shane's lifeless body was transported to the local coroner for further assessment, and the Buring Man Project released a statement the following morning explaining that the deceased had inhaled a high concentration of carbon monoxide.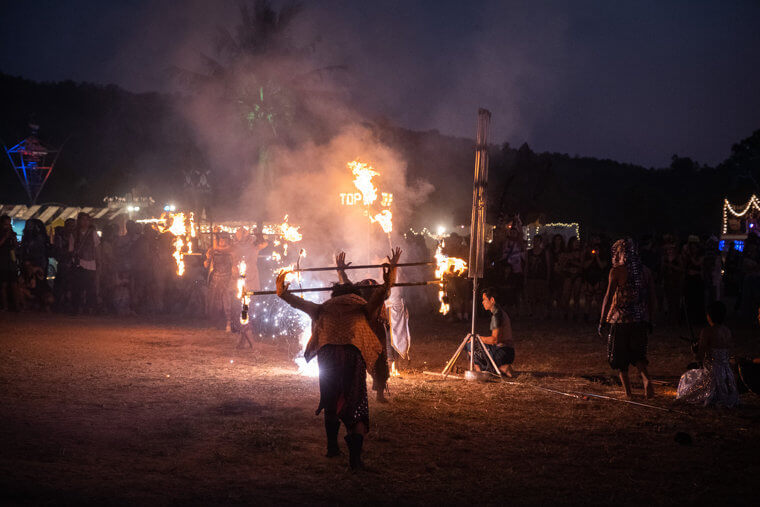 The Monday had more tragedy in store, with a plane departing from the festival crashing near the Reno-Stead airport. All three onboard were injured, and luckily, no one passed away. Unfortunately, it wouldn't be the last tragedy to strike the event. As the event grew, so did the risk of danger increase.
A Ticket to Burning Man Comes With a Warning
In the beginning, tickets to Burning Man were free. However, they have since become an expense that can cost attendees several thousand dollars — and even their lives, with each ticket coming with a disclaimer that attendance may lead to death.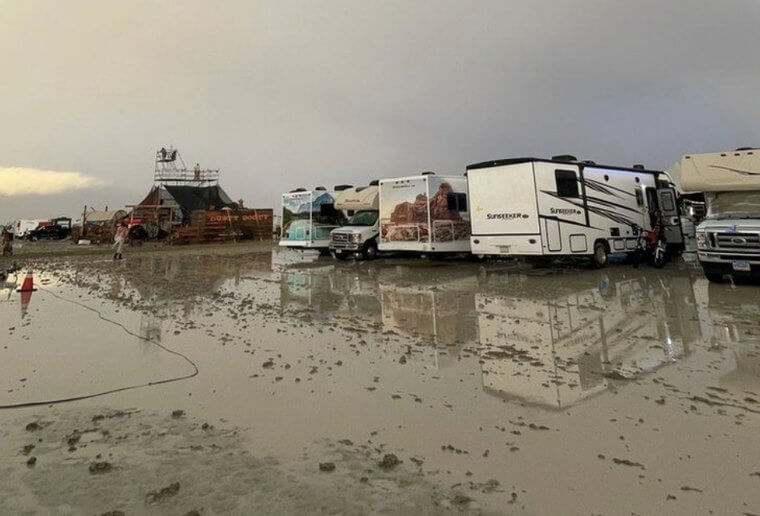 For example, arriving at and leaving the event could cost you your life, as was the case with Craig Nielson, who died on the way to his first Burning Man. Art carnage is another risk, as was the case with Katherine Lampman, who jumped off a moving art car and was run over by the display. There have also been stories of suicides at Burning Man, and the case of Paul Addis, who took his own life years later based on his event experience.
Various Ways To Die at Burning Man
There's no denying that Burning Man is a massive party that introduces the risk of drug and alcohol abuse, behavior that has cost the lives of attendees. Even so, emergency medical personnel have commented that the numbers for "alcohol- and drug-related patients continue to be remarkably low for an event of this size."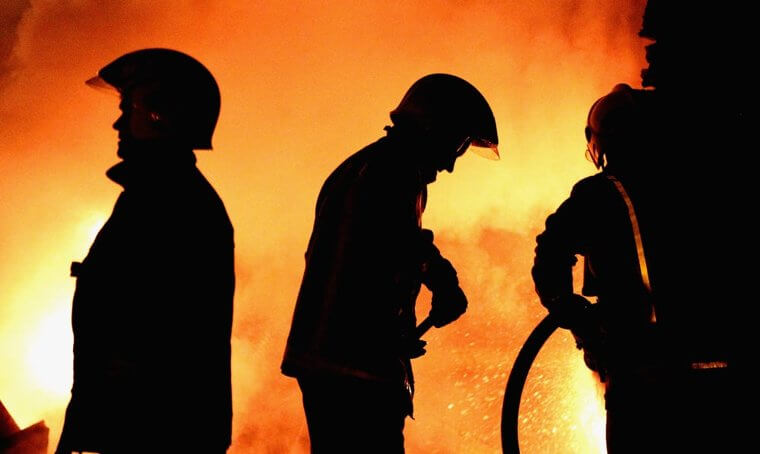 In one dramatic instance, death-by-murder was discovered when an erratic Christopher Scott Johnson admitted to his actions. Carelessness is another risk and potential cause of significant injury at Burning Man. For example, Jim Keith fell off a stage and broke his knee in 1999. Sadly, he died in the ICU after surgery a week later. Being burnt is another consideration — either by the hot springs in nearby Double Hot or by one of the burning structures themselves.
The Pandemic Presses Pause on Burning Man
The pandemic had a devastating impact on the entertainment industry, and Burning Man was no exception. As the world shut down to manage the spread of the disease, Burning Man organizers were forced to cancel the 2020 and 2021 events. Unfortunately, a few rogue groups decided to go ahead with the festivities and they created controversy in the process.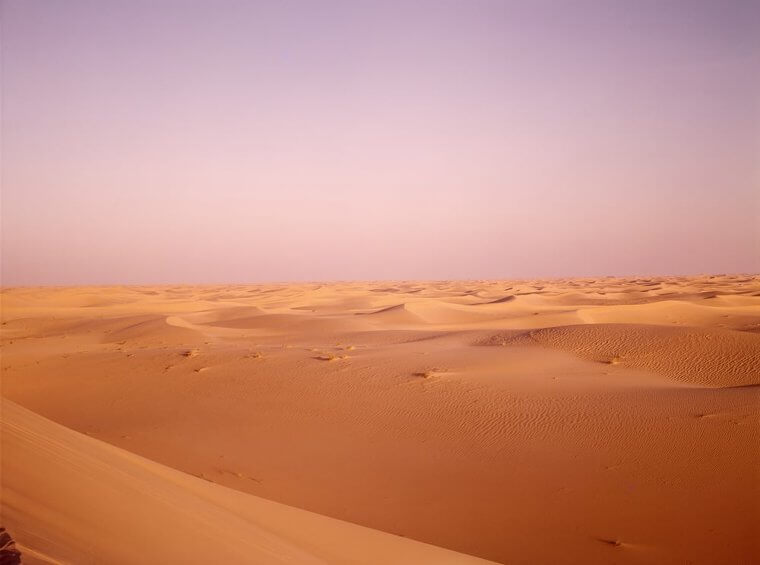 In 2020, roughly 1,000 rebellious party-goers celebrated the festival in Ocean Beach, San Francisco. Another (larger) group indulged in an informal gathering at Black Rock City. Both of these undercover events were criticized for endangering public health. One year later, the numbers for the informal party exceeded 20,000 people, with the iconic structure being created with a collection of drones to bypass the "no fires" rule for the year.
Reflection on the Recent Burning Man
Decades have passed since its inception, and Burning Man continues to go strong, but not without its bouts of drama along the way. Recently, the mass exodus of Burning Man 2023 made the news after thousands of attendees were trapped for days after heavy rainfall and flooding caused the desert campsite to descend into chaos.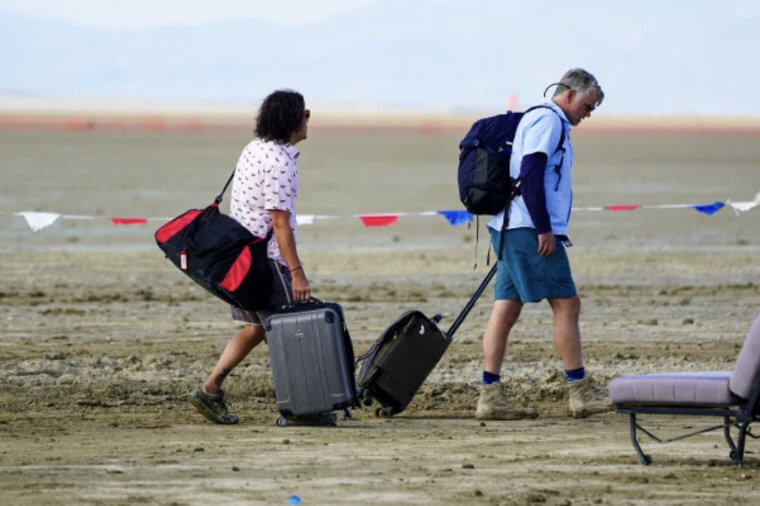 Organizers were left with a dirty situation to clean — both literally and figuratively. The "leave no trace" became more of a challenge than an ethos as the area was left littered with abandoned vehicles, furniture, and trash. To make matters even more filthy, attendees were instructed to urinate in bottles to save space in the porta-potties, which were "surrounded by a halo of shredded toilet paper that clung to shoes."
Mass Exodus Makes Headlines
For most burners, the event is marked in the calendar months in advance, and every inch of the agenda is soaked up. Yet in 2023, the agenda was soaked in a different way — by torrential flooding that caused a mass exodus with an unbearable wait time to get on the road. Pictures of the exodus have been shared online, with famous individuals, such as country singer Oliver Anthony, trapped in the "flooding chaos." 
The final lighting of the 'temple' marked the end of the Burning Man festival, with the remaining attendees leaving shortly after. While some enjoyed the event's unexpected intimacy, other revelers started lashing out at one another due to the delayed exit, which became increasingly impossible to navigate as the floor turned into a mud pit.
Announcement of a Death Adds to the Chaos
Unfortunately, the environmental struggles of the 2023 Burning Man were just the tip of the iceberg. A 32-year-old Leon Reece's lifeless body was discovered on the playa. Despite the efforts of emergency personnel to revive the young partygoer, Leon was pronounced dead by the festival doctor. Upon further inspection, it was announced that he died from suspected drug intoxication.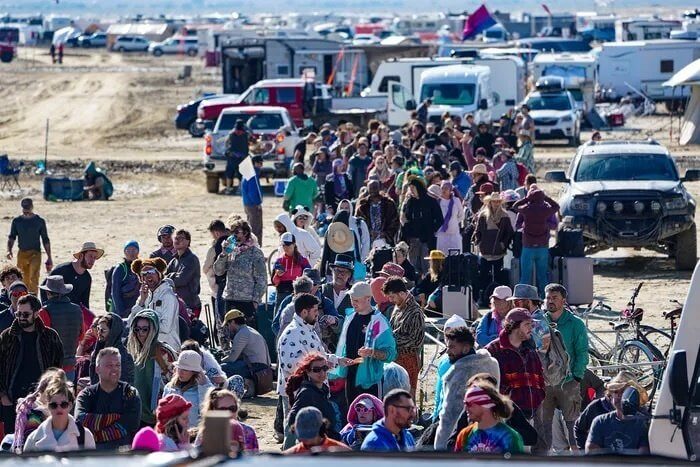 As you can imagine, tongues started to wag about the poor exit planning of the event. So, it was also an opportunity for the Nevada Department of Health and Human Services to squash all rumors about health hazards, confirming that no unusual diseases were found at Burning Man after flooding and sanitary concerns circulated on social media and news outlets. 
What's in Store for the Future of Burning Man?
In the wake of the chaos around Burning Man 2023, there have been lots of discussions about the event's future, touching on both exciting possibilities and ongoing challenges. As the event evolves, it's essential that the event organizers pay attention to the problems that may arise and how to manage them best to avoid scandalous headlines and tragic accidents.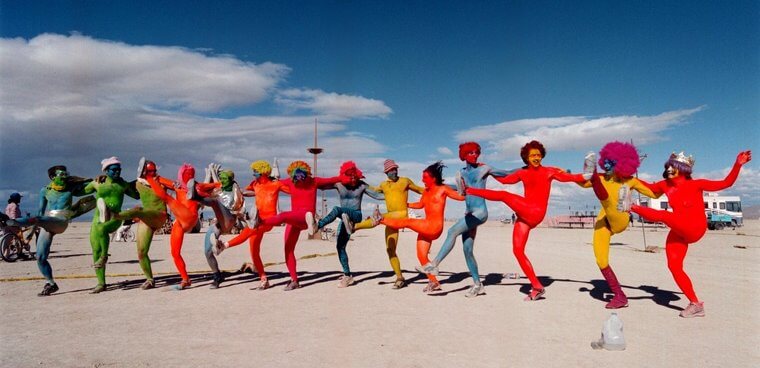 So, what can we expect from Burning Man in the future? We can only hope that sustainability, artistic innovation, and community-building principles will be prioritized as they were originally intended while managing global expansion, technology integration, and economic considerations. We're excited to see the future of Burning Man — how about you?
Skeletons in the Closet: History's Most Controversial Brands
In our modern world, massive multinational corporations generate billions while shaping our daily lives. While some emerged recently thanks to innovative ideas and technologies, most have grown over decades, or even centuries. There's an old saying that it's impossible to become a billionaire by honest means, and the dark history of these company histories will make you believe it. Here are 15 major uncomfortable scandals linked to global household brands...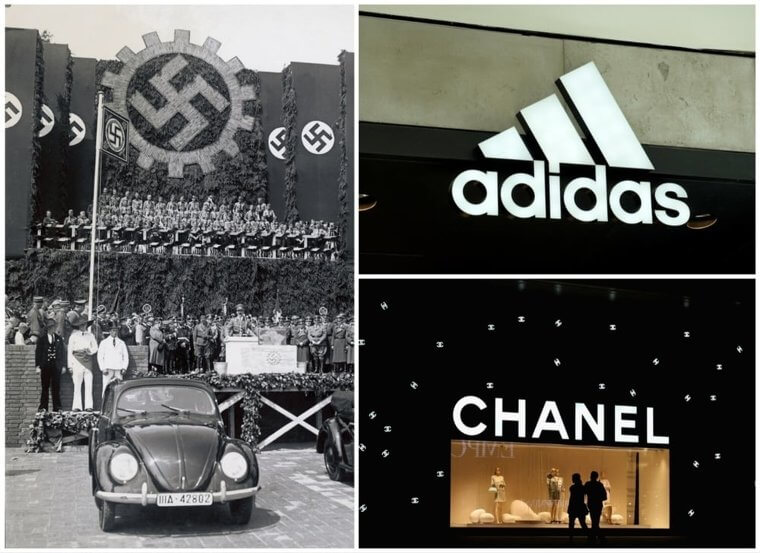 JAB Holding Company
You might not be familiar with JAB, but you've likely come across their brands—maybe even enjoying one of their products right now. JAB is the $20 billion force behind Krispy Kreme, Jimmy Choo, Pret-A-Manger, and holds a large stake in Dr Pepper. In 2019, JAB faced significant reputational damage when a German newspaper unveiled that its founders, Albert Reimann Sr. & Jr., were enthusiastic Hitler supporters and exploiters...
Not only this- they had also used Russian civilians and prisoners of war as forced laborers during World War II. Shortly afterward, The New York Times published that Reimann Jr's had a Jewish mistress whose family was murdered in German extermination camps. In retribution, JAB established the Alfred Landecker Foundation, through which they donate millions to fund projects in honor of Holocaust victims.
Hugo Boss
Today, Hugo Boss thrives as a global high-street brand, earning nearly $3 billion annually. However, in 1931 it faced bankruptcy, retaining just six sewing machines after failed ventures. A fortunate turn came with World War II, as Boss secured contracts to create uniforms for the SS and Hitler Youth, saving the business.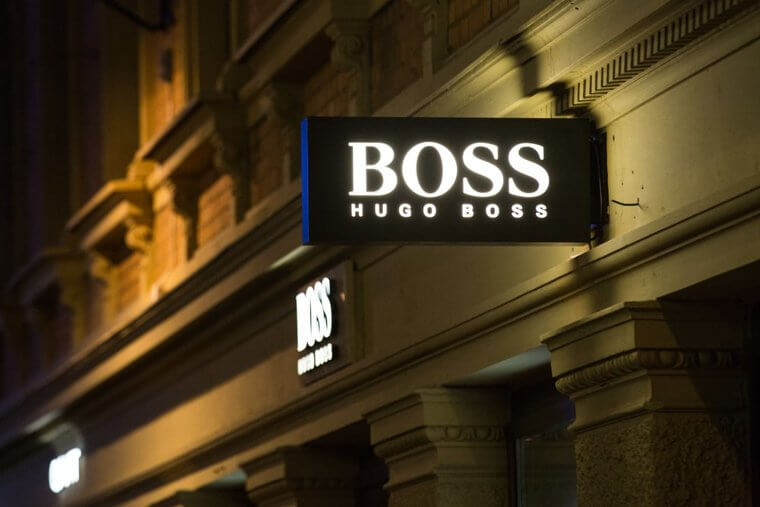 Hugo Boss, who was Nazi Party member #508,889, revived his company by using prisoners of war as free and forced labor. Post-war, he passed down the business to his family, who rebranded and laid the foundation for today's empire. Over time, Hugo Boss changed hands, and now it's making amends by donating to various charities, aiming to make up for past forced labor practices.
L'Oréal
Renowned for their hair, skin, and cosmetic products, L'Oréal has inseparable links to the fascist group La Cagoule. Founder Eugène Schueller not only supported but financed the French secret society, offering its meetings space at L'Oréal's Paris headquarters. La Cagoule, an anti-communism and anti-democracy group, shared leadership with the Social Révolutionnaire (MSR) party.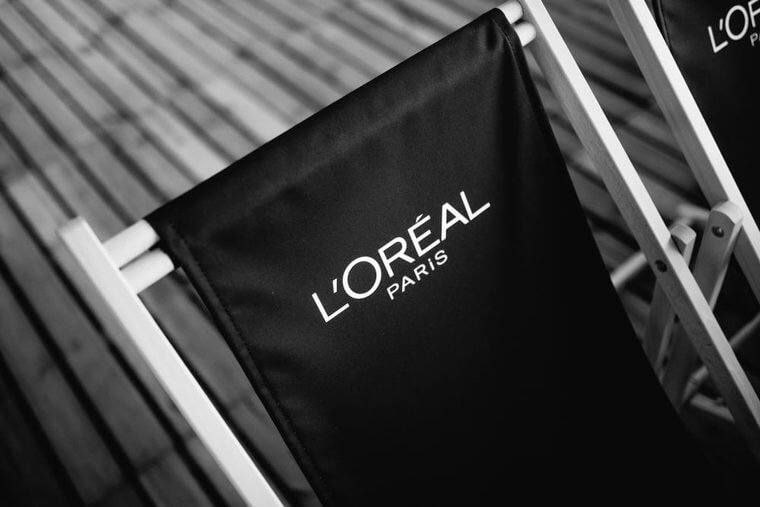 When World War II broke out and France became occupied by German forces, the MSR sympathized and collaborated with the invaders. After the war ended, several party and society members were hired as L'Oréal executives. One such recruit was Jacques Corrèze, who was appointed CEO of the brand's only licensed U.S. distributor. Corrèze was forced to return to France in 1991, due to his political past.
Coco Chanel
Despite her achievement in creating the best-selling perfume ever, Gabrielle "Coco" Chanel's association with Nazi Germany reveals a darker side. Preceding World War II, she was an outspoken and renowned anti-semite. As German forces imposed anti-Jewish regulations in France, she seized the chance to take full control of Parfums Chanel from its Jewish directors.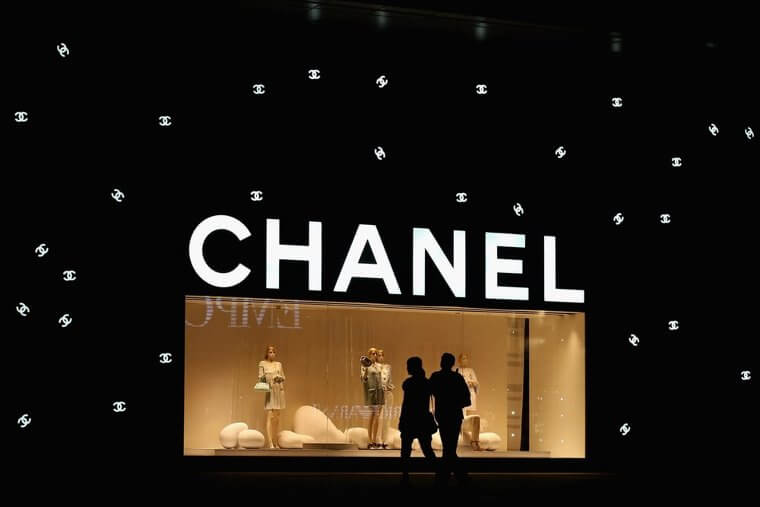 More seriously, Chanel was apparently employed as a spy for German forces and actively aiding in the occupation of Madrid. During the war, Chanel lived at the Hotel Ritz in Paris, the accommodation of high-ranking Nazi officers. Also living there at the time was a German aristocrat named Baron Hans Günther von Dincklage, with whom Chanel had a romantic affair.
Volkswagen Group
While these brands may appear distinct, namely Audi, Bentley, Lamborghini, Porsche, SEAT, and Škoda, they belong to the same contemporary motor conglomerate. Established in 1937 in Berlin, the Volkswagen Group binds them together. Given this time and place, it's unsurprising that Volkswagen, along with at least two other brands, shares ties with the German Nazi Party.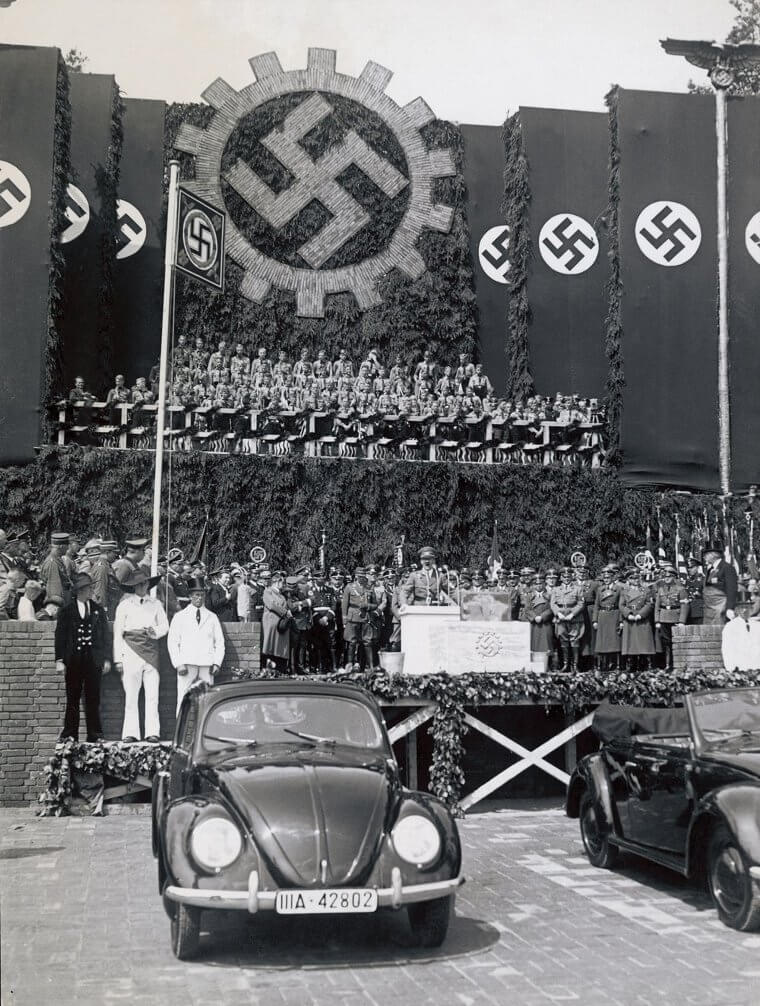 Ferdinand Porsche engineered the Volkswagen Beetle, the company's inaugural product, supported by Adolf Hitler. Hitler personally laid the foundation stone for the first Volkswagen plant on May 26, 1938. Also, historians believe Audi used thousands of forced laborers from the Jewish extermination camps in the 1940s.
Adidas and Puma
Before Adidas and Puma, there was Gebrüder Dassler, the precursor to these modern brands. Founded by Adolf and Rudolph Dassler in the German village of Herzogenaurach, they were active and fully subscribed Nazi Party members in their 30s during Hitler's rise, with Rudolph serving in the German military in World War II.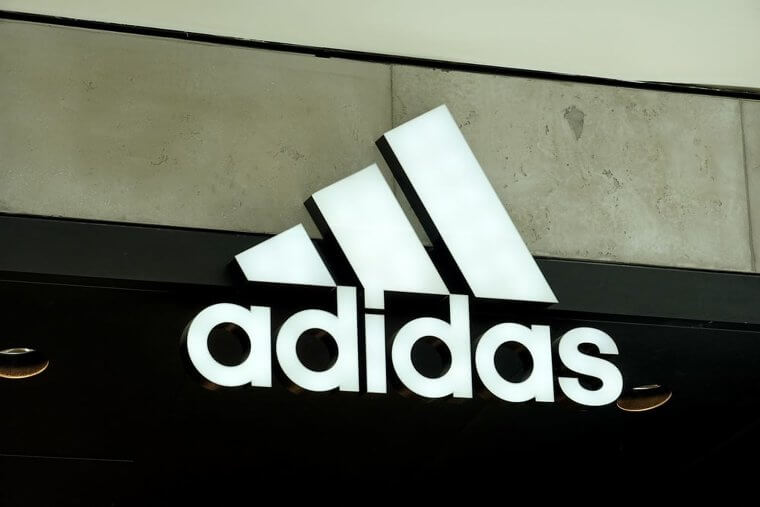 Amidst the war, the Dassler brothers' relationship soured, leading them to testify against each other in front of Allied forces after the war. Rudolph Dassler's Nazi connections resulted in a year of imprisonment. Post-split, they founded Adidas and Puma. Though both brands have distanced themselves from their contentious origins, an official reconciliation remains absent.
Ford
Henry Ford, an American industrialist, pioneered the assembly line, and transformed the manufacturing process. Despite his achievements, he held controversial views. He funded square dancing in schools to push out the rise of jazz, which he linked to Jewish culture. He even bought his local newspaper to publish his own anti-Semitic writings, compiled into a four-volume book called "The International Jew: The World's Foremost Problem."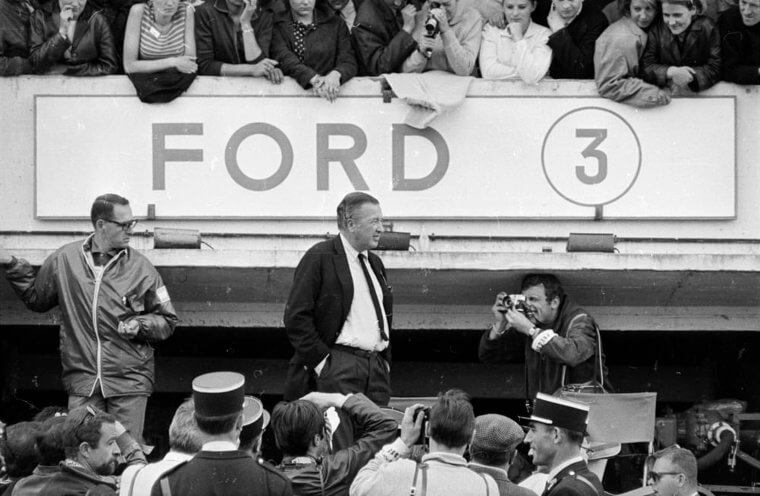 Ford developed strong ties with top Nazis like Himmler and Hitler, who openly praised him. Despite later apologies due to negative consequences on his business, the German consul still awarded Ford the Grand Cross of the German Eagle, Nazi Germany's top foreign honor, for his 75th birthday.
Nike
After decades of accusations, in 1998 Nike's CEO and founder Phil Knight famously and publicly acknowledged prioritizing profits with the company's involvement in sweatshops, forced overtime, and child labor. Labeled as a symbol of global issues in sports and society, reports even claimed Nike may have pushed infrastructure to relocate for cheaper labor and fewer restrictions.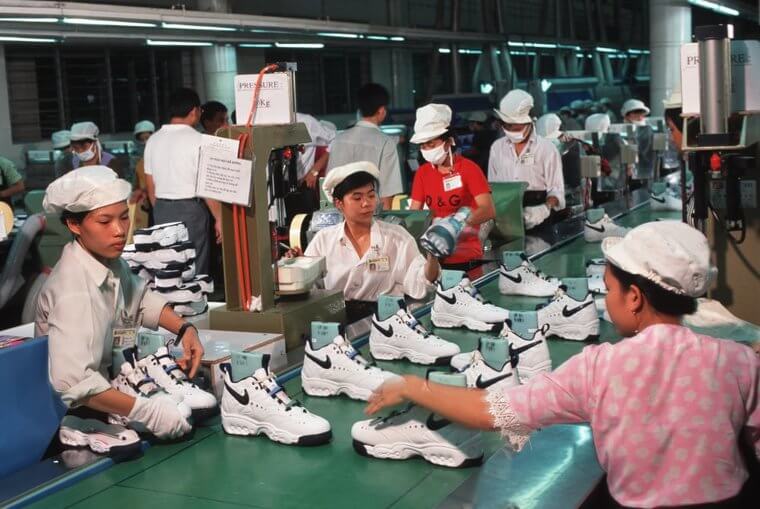 Amid public pressure, Knight addressed all accusations against his company. A minimum age requirement was implemented for subcontractor employees, and a dedication was established to maintain air quality standards equivalent to those in the US. By 2005, Nike had emerged as a trailblazer in transparency concerning overseas manufacturing practices.
BMW
In 2016, BMW expressed "profound regret" for its association with aspects of the German war effort, which had greatly benefited the company. Back in the 1930s, BMW received significant funding from Herbert and Harald Quandt, who amassed their wealth by acquiring Jewish businesses and employing forced labor to produce weapons for the German war effort.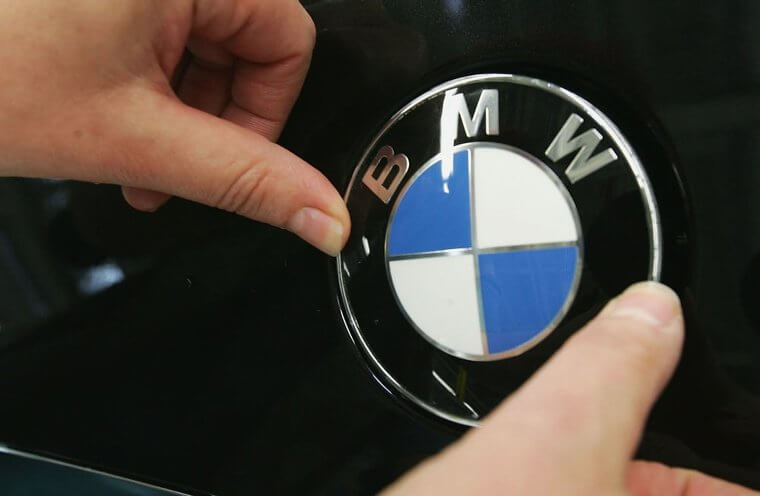 BMW even repurposed its factories for Luftwaffe aircraft engine production during the war, using around 40,000 prisoners from concentration camps as forced labor. Post-war, BMW was initially banned from making vehicles or aircraft, but the brand was back in full production by the start of the 1950s.
Uniqlo
"The machine will never stop so after the day shift workers finish work, the night shift workers come, and the machines keep going. So around 12 hours every day." This was quoted in a report filed about a Uniqlo factory in China in 2015. International labor laws state nobody should work more than eight hours a day, without paid overtime and everyone should have at least one day off per week.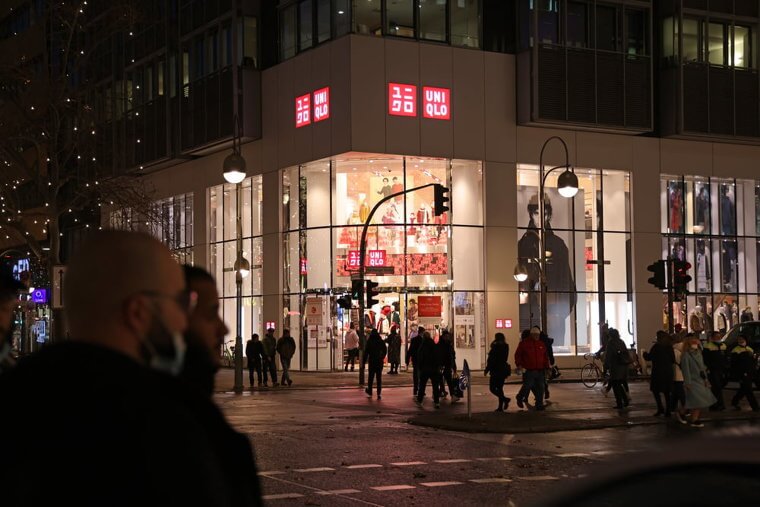 Researchers alleged that Uniqlo employees faced underpayment, overwork, and hazardous conditions, including sewage-covered floors, inadequate ventilation, and high temperatures. In response, Fast Retailing, Uniqlo's parent company, acknowledged some of these challenges like prolonged working hours in some locations...
Barneys
"During the entirety of our 90-year history, Barneys New York has prided itself on providing an unparalleled customer experience to every person," said Mike Lee, the Barneys CEO in 2013. His statement followed a controversial period for the retailer after two black customers claimed they had been racially profiled and mistreated by the department store.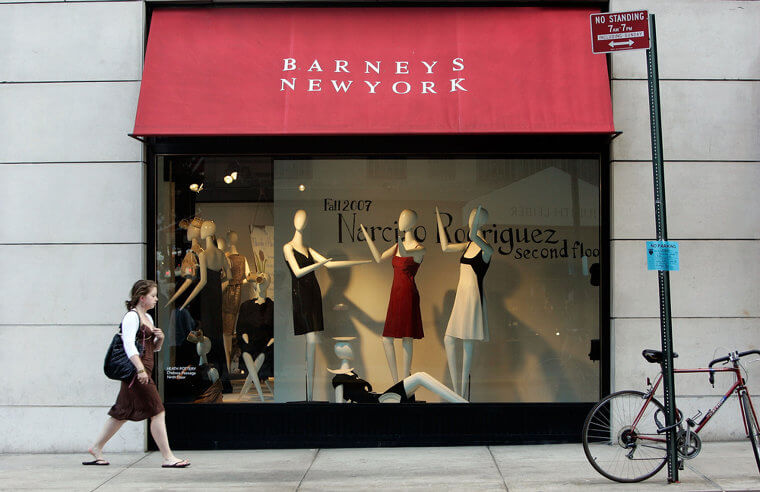 One customer, an NYC College freshman had been detained and arrested on suspicion of stealing a $350 belt, despite providing the store with both ID and a receipt with his name on it. After a woman named Kayla Phillips spoke up to say she had received similar treatment, Barneys was taken to court and forced to agree to a settlement of $525,000.
Forever 21
In comparison to some of the controversies on this list, the issues raised by Forever 21 employees in 2012 may seem minor. To those U.S. workers, however, it was a very serious matter. Six staff members at Forever 21 stores took their employer to court on the grounds they were forced to complete unpaid labor.
Echoing a successful claim of $4 million against Polo Ralph Lauren in 2010, these five women claimed they were "frequently kept at stores during lunch breaks and after the ends of their shifts while they were searched for stolen merchandise." As these employees were not compensated for their over-time, lawyers argued it was a contravention of U.S. labor laws.
Wells Fargo
The list of accusations and controversies surrounding the U.S. financial services company Wells Fargo is long. From one of the largest embezzlements in history by an assistant operations officer in 1981 or increased loan rates charged to black and Hispanic customers, one of Wells Fargo's biggest scandals actually occurred around 2016...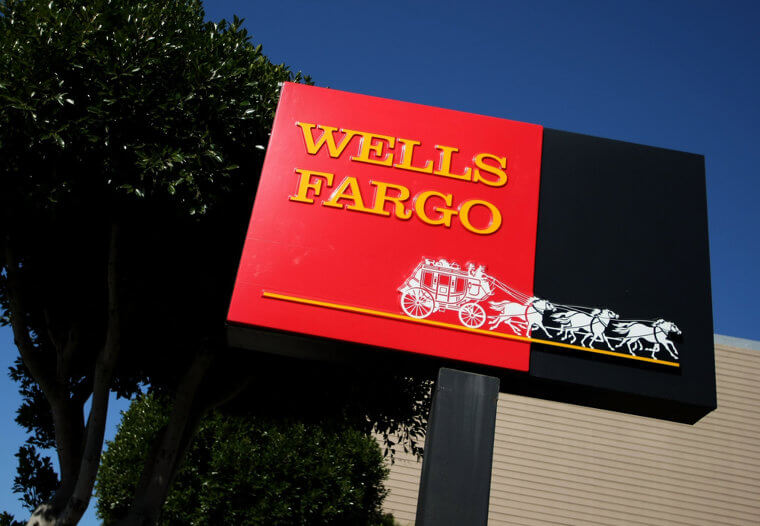 After the company launched a commission incentive for employees who opened new accounts, staff members opened over 1.5 million checking and savings accounts and issued half a million credit cards without asking customers first. This led to huge charges being levied on customers for products they had never requested. When the scandal broke, more than 5,300 employees were fired and Wells Fargo had to pay $185 million in fines plus $5 million in refunds to affected customers.
Quaker Oats Company

What became one of the most sinister brand controversies to happen in America started as a seemingly wholesome "Science Club" for disabled children at a state school in Massachusetts. From around 1946, a number of children were invited to become members of the club and, with signed consent from their parents, many took up the exciting opportunity.

For seven years, club members got free and purportedly nutrient-rich meals under a study by MIT, Harvard, and Quaker Oats. What the parties failed to mention was the addition of radioactive calcium and iron to the food, aimed at creating results they can use for advertising. Naturally, this revelation caused outrage among parents, kids, and the public.
Jameson Irish Whiskey
But it wasn't until 108 years later that the brand's biggest and most gruesome controversy unfolded. James S. Jameson, the creator's great-great-grandson, capitalized on his family's wealth, becoming a self-proclaimed explorer and adventurer.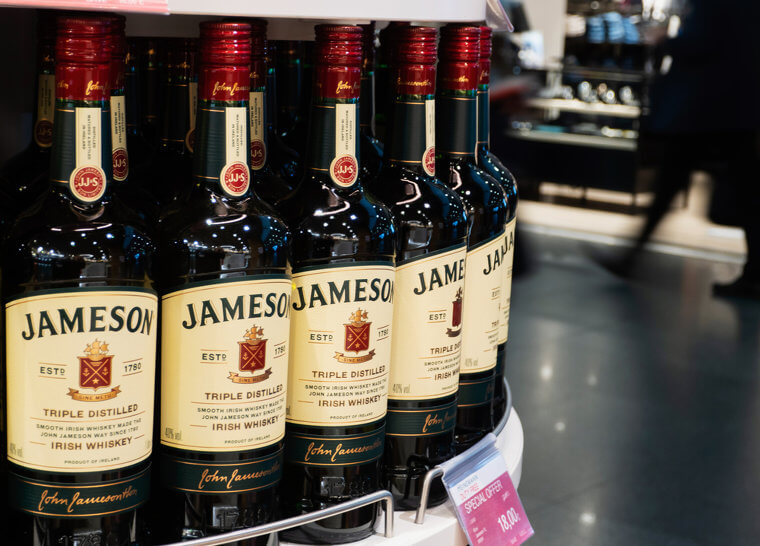 During an African expedition, James Jameson ventured into the Congo, specifically an area inhabited by cannibals. Eager to witness cannibalism firsthand, he bought a young girl from a local family and presented her to the tribe. He observed as the helpless and unfortunate girl was fatally stabbed, killed, and consumed by the tribe.