Although these furry friends can be annoying, from time to time, we cannot deny the fact that we love them more than anything. Even the times when they tip over our water bottle, eat our lunch while we are not paying attention, or leave little smelly "gifts" all around the house.

However, we still cannot leave them without a form of punishment. This punishment is related to the internet and it is called cat shaming. Take a look at this list of ridiculous cat-shaming moments you will surely not forget about! 
The Cat Nip Addiction
Sometimes our furry buddies are the most curious creatures ever. This little one was attracted by the nice smell of catnip and lost touch with reality. You can see it on his face, he is not aware of what is going on around him and his owner is shaming him for going ham with the "greens."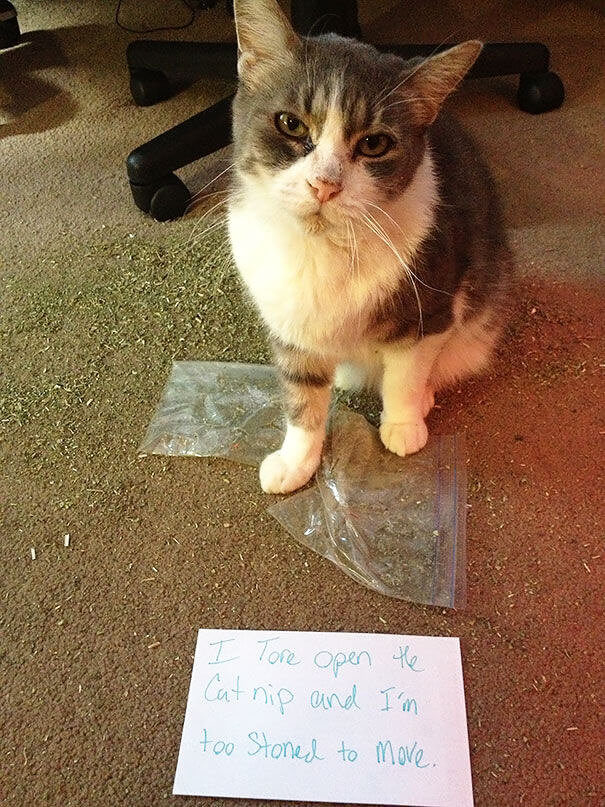 His facial expression is just purrfect and the rubble decoration is enhancing the surface of the carpet, which contributes to this amazing picture. However, we cannot really be mad at the cat since he just could not resist something so enchanting being so close to his paws.
The Cheddar Thief
Whoever said that cats didn't like cheese lied. This feline friend proved all of them wrong by holding this charming sign saying that it reached a big block of cheddar cheese. This picture is already so cute, but when you see that its paws look like they're actually holding the sign, it gets even cuter.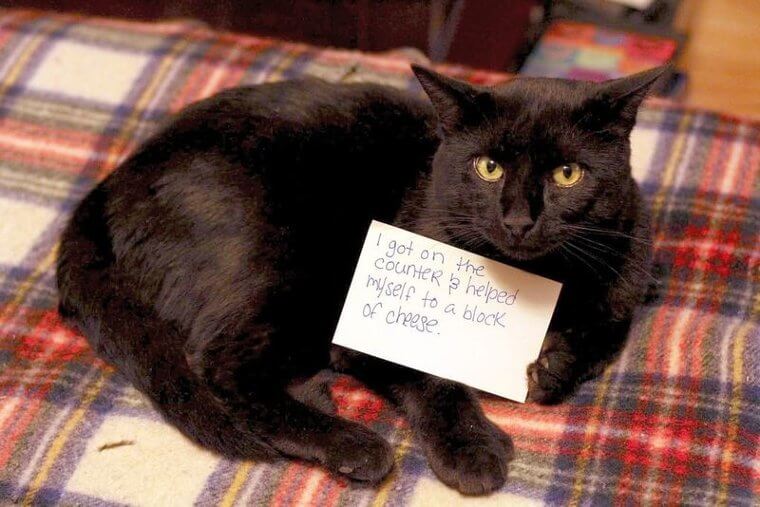 We assume that he tried to eat the sign seconds after his owner took the photo, but we must give credit where credit is due as he really managed to take a picture of a rare and amazing moment. The cat will probably think again before taking cheese from the counter again… or not.
The Furry Bully
Sometimes cats are very evil animals, especially for dogs who are their archenemies since the beginning of time. Usually, cats are afraid of dogs but this one proved us wrong. This cat is known as the neighborhood bully and all the dogs are aware of it.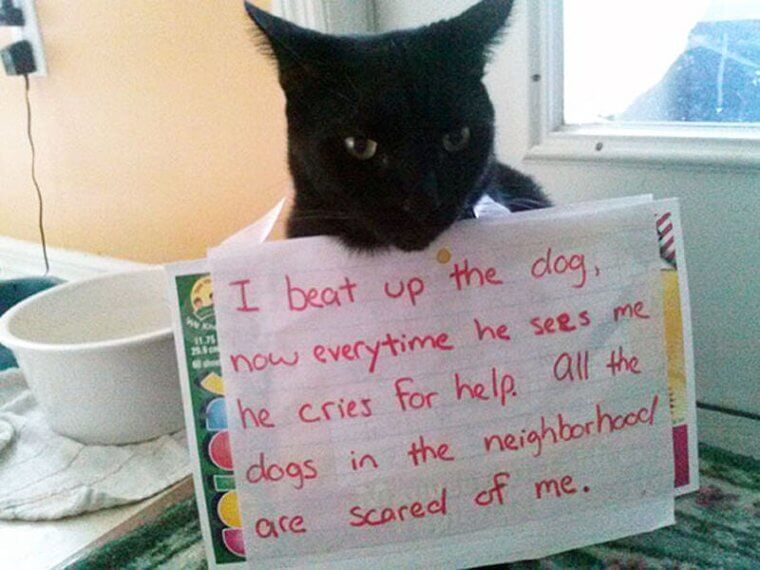 The claws and mean looks would for sure terrify even the biggest and strongest dog. It can not only intimidate them but also seriously hurt them. They usually enjoy being tough in front of dogs but this occurrence deserves a cat shaming moment. Our favorite is surely this sandwich board sign.
The Show-Off Licker
Every cat owner knows how much cats like to lick their private parts as absolutely no one can see them. Perhaps, they will stop after they notice that you are watching them but we assure you that they will continue with their cleaning routine quickly after you turn your head. There is undoubtedly no shame in their game.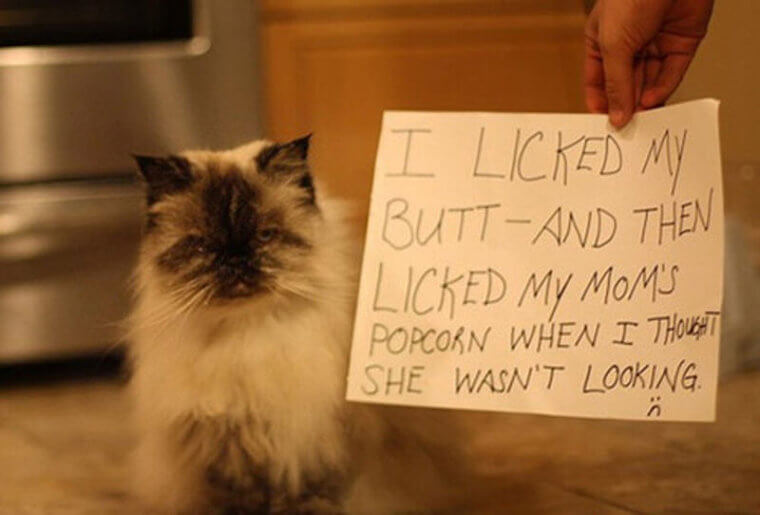 Hence, this nasty sign is not surprising at all, as cats will come near you and your food right after they are done with their cleaning. Not really hygienic, right? However, this cat tried to do it right when her owner wasn't looking. What a naughty cat!

Cat Jealousy
Okay, this one might really come as a shock. We have all heard that cats like to pee on things but this one is really unusual. This cat peed on an actual hamster. This desperate hamster survived this unexpected shower and is surely gonna tell this story to his little friends.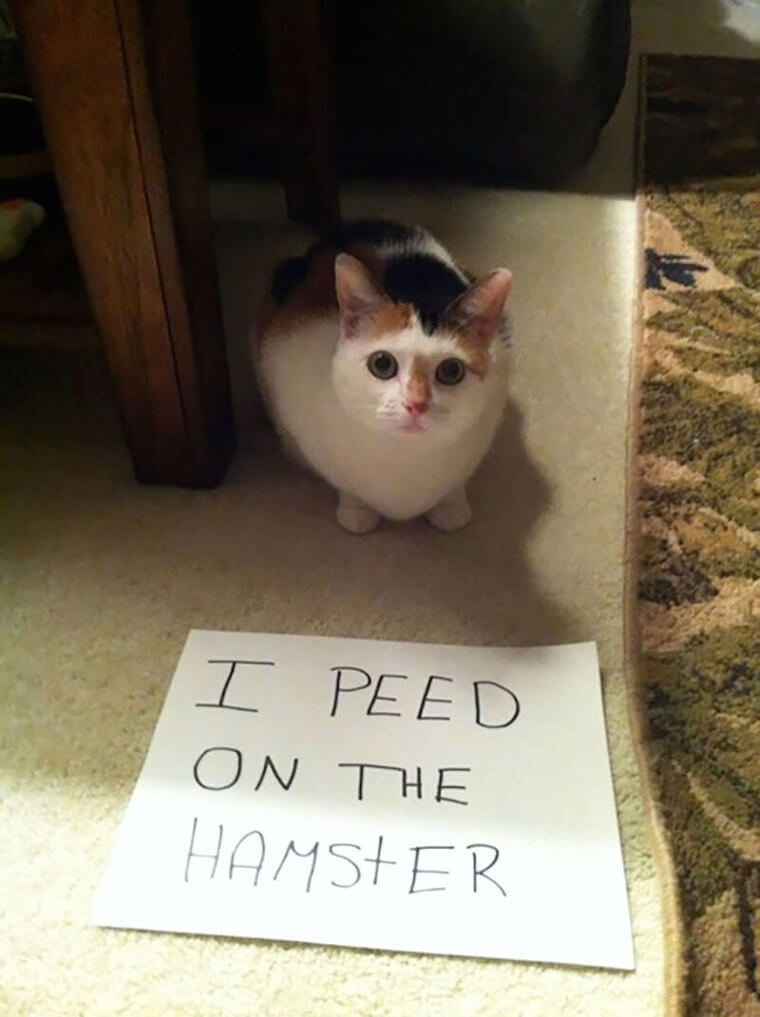 The cat must have been a bit jealous of the second pet because this process was surely not easy. The cat is now hiding under a desk since he knows that this only means trouble. However, we do not know if you could ever be mad at this adorable face he is making. He certainly knows how to avoid punishment.

The Immoral Kitty
This one is a real kitty hussy. It left the house, had a lot of fun, and now has parental obligations and no partner to help it. After the catnip, the game of trying to tip over the dumpsters, and in general very reckless behaviors, we can only say that this cat is a real rebel.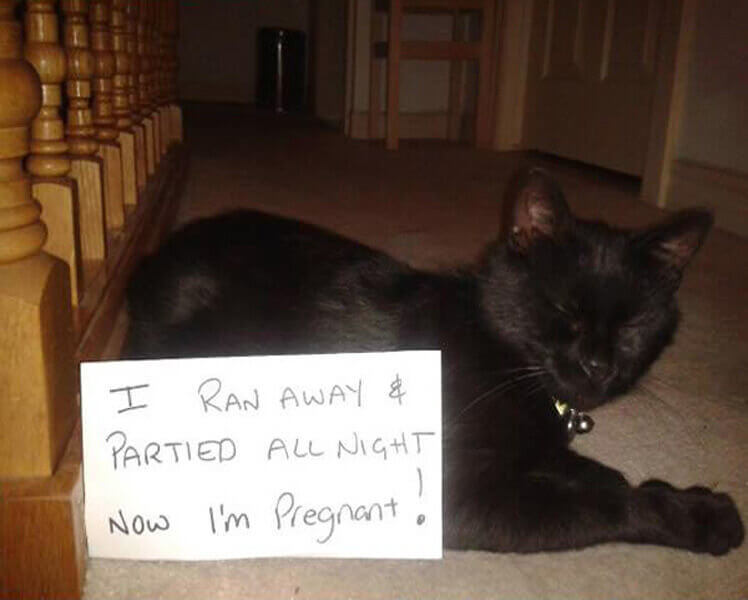 Luckily, the owner still wants to help out with the babies. This post is so funny, and this cat takes "cat-shaming" to a whole new level. Fortunately, cats don't know how to access the internet because this one would be ashamed for sure.

No Regrets
Well, this cat could not care less that it threw up in the fish tank. Just look at her face, it looks like it does not feel any remorse that it ruined the home of the fish. We are, however, proud of the cat for not eating the fish like many of its buddies would've done.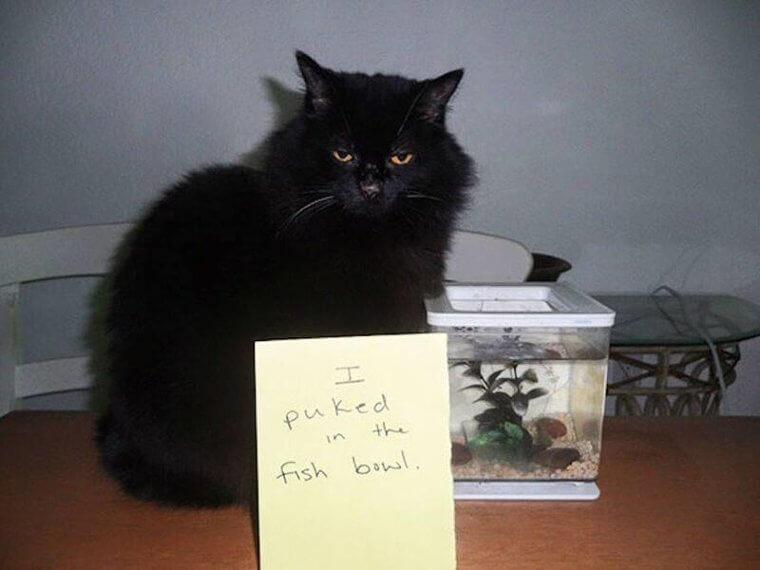 However, we are not sure about who had to suffer the most, the cat or the owner that had the task of cleaning up the puke. We think that the fish are the winners since the cat ruined their home. The owner was probably expecting this outcome one day since every cat owner knows that their pet will throw up sooner or later.

The Wrong Litter Box
Now, this is some dark humor, we are just wondering whose task it was to watch the cat. This is not the proper way of honoring your grandparent. The cat got into the urn and decided to sneeze. This is surely not what the grandmother wanted for her afterlife.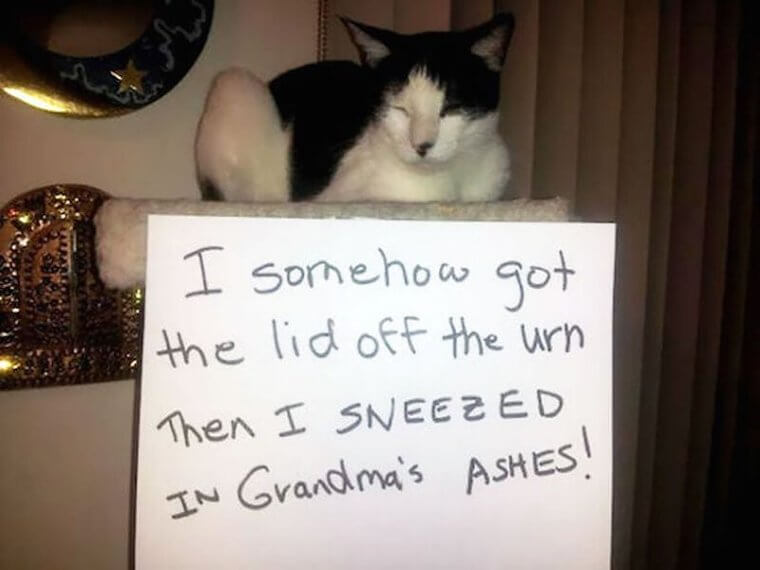 It totally reminds us of the scene in Meet the Parents in which the cat peed in the ashes of DeNiro's mother. Luckily, this cat did not urinate and we can not blame it for sneezing in the ashes.

Bye Bye Privacy
One thing you need to say goodbye to as a cat owner is surely privacy. They will follow you to the bathroom, kitchen, or even the sofa - it is like a furry keychain. It is said that cats follow us to the toilet because they are trying to understand our porcelain litter box, and why it is so complicated.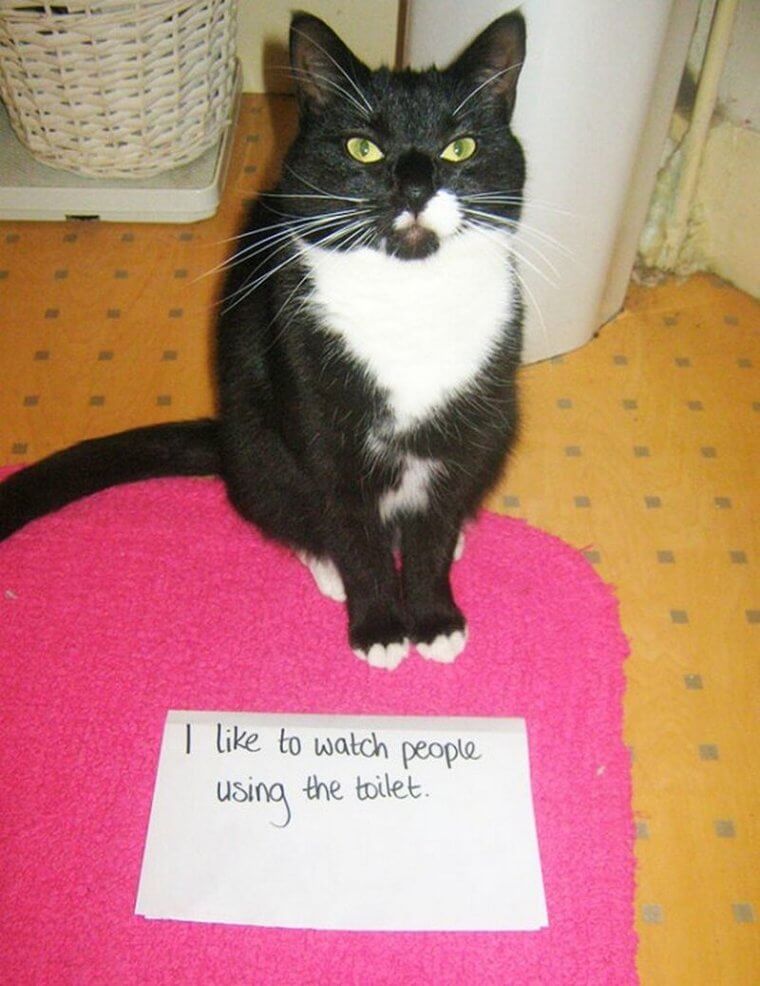 Maybe they don't like the sound toilets make. Still, it is pretty creepy the cat is trying to make sure that you are safe and that nothing bad happens. Although quite annoying, it is mostly just cute.

The Fake Prey
Whenever cats decide to bring a dead animal to their owners, it is simply a sign of appreciation or honor. However, when they are faking it and pretending to catch an animal that has been killed by a car a couple of days ago, it just becomes funny.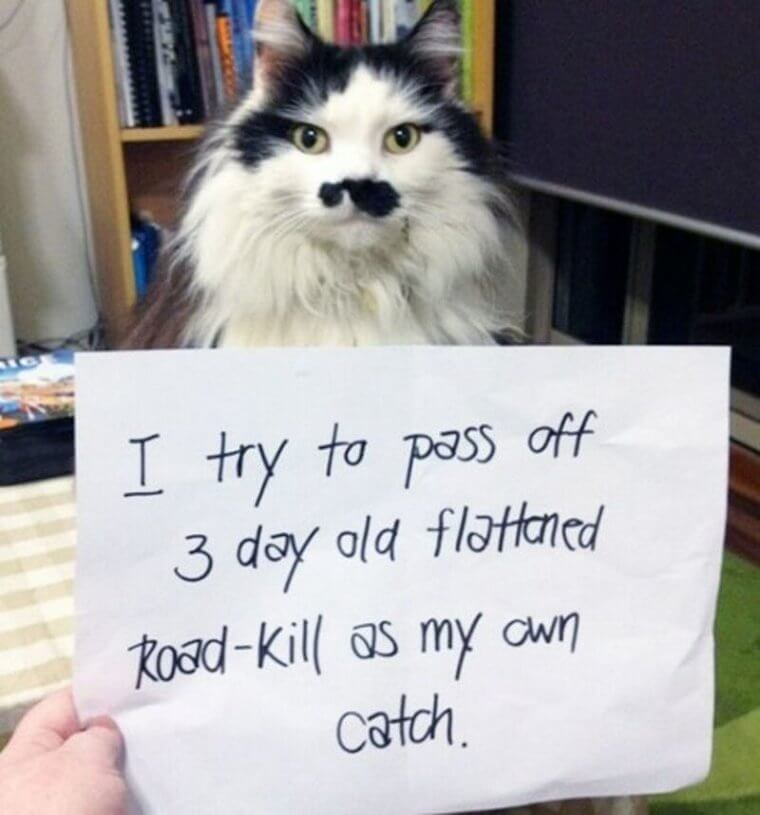 This cat probably thought that it was going to outsmart its owners and that they would never notice that the animal was not killed by it. After all, it is the thought that counts. The funniest thing is that the cat will never know that the owners realized the little charade, but the rest of the internet will!

The Wrong Toy
Usually, we think of cats as animals that can entertain themselves, but sometimes this ability is just missing. What was this cat thinking? Did it really think that it was a monkey or something like that? He really needs to be stopped before it crosses the line, which it probably did because it is already on the internet being cat-shamed.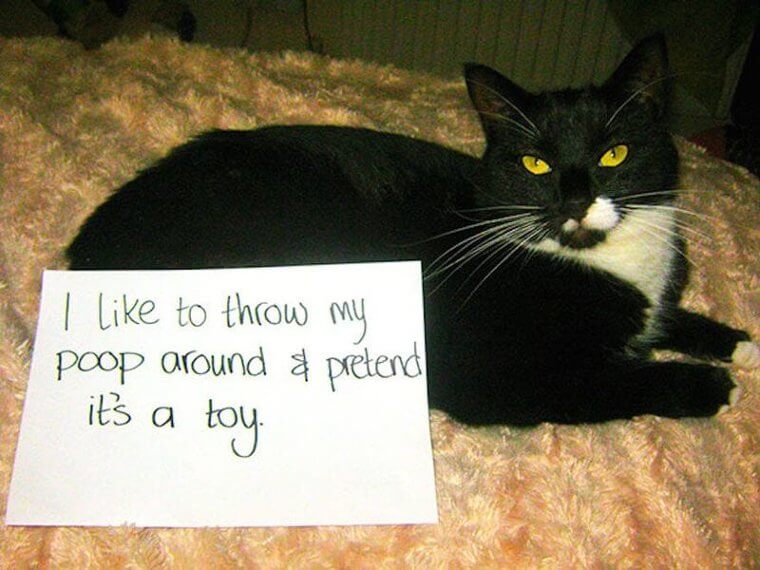 This cat wanted to bring a toy but brought its own poop to the owner's feet instead. However, you can't blame it because it did not do it on purpose. It is gross, but the cat just probably needs more toys and more training when it comes to the litter box.

Smelly Surprise
It is true that cats do not need to go on a walk or take a bath, but their litter boxes are a hassle of their own. You always need to keep them clean or your bed will be the next victim. If this never happened to you then you are one rare lucky owner, because usually, cats leave little presents around your house if their boxes are not clean.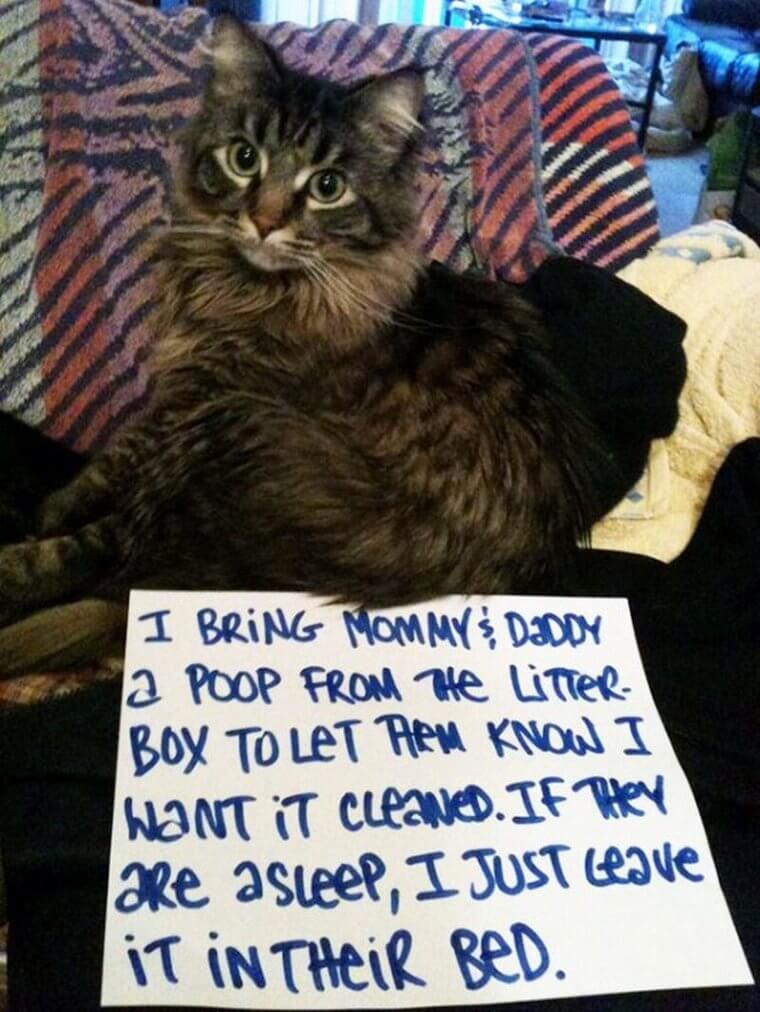 The only solution to this problem is to clean the litter box regularly and try to always remember to keep it that way. If not, you will find many more smelly gifts under your sheets or carpet. This is surely not a good surprise to start your day with.

Unexpected Shower
Cats' biggest enemy, besides dogs, is for sure water. However, this poor cat learned the tough way that it was not supposed to jump in the fishbowl. This kitten probably saw its biggest fantasy - fish - and forgot that the only thing standing between them was the thing it hated - water.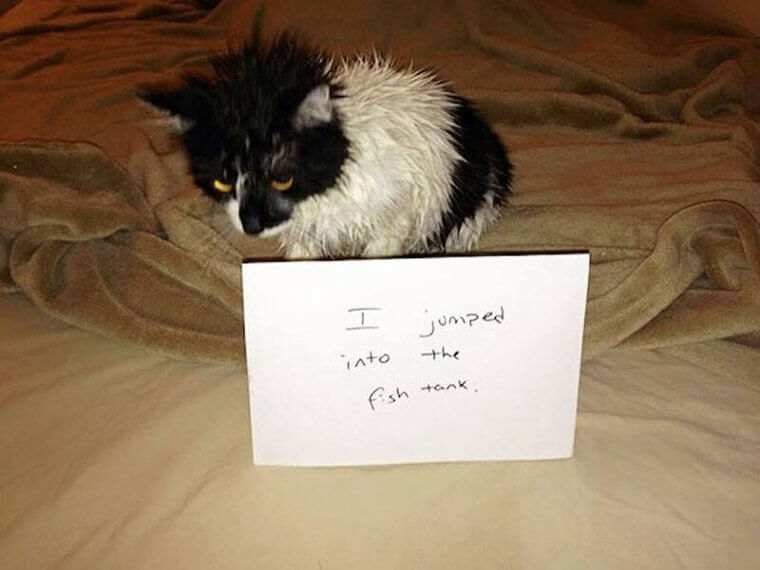 We just hope that it learned its lesson after this cold shower. Looking at its face, it will surely give up the hobby of hunting fish. Luckily, it has a warm house and many blankets to warm itself up before going into its next adventure.

The Worst Snack Ever
You can see that we have created a hall of fame for cat shaming here, and this little diva is certainly the star of it. This might gross you out, but just imagine having a half-killed mouse being thrown in your mouth by your own cat.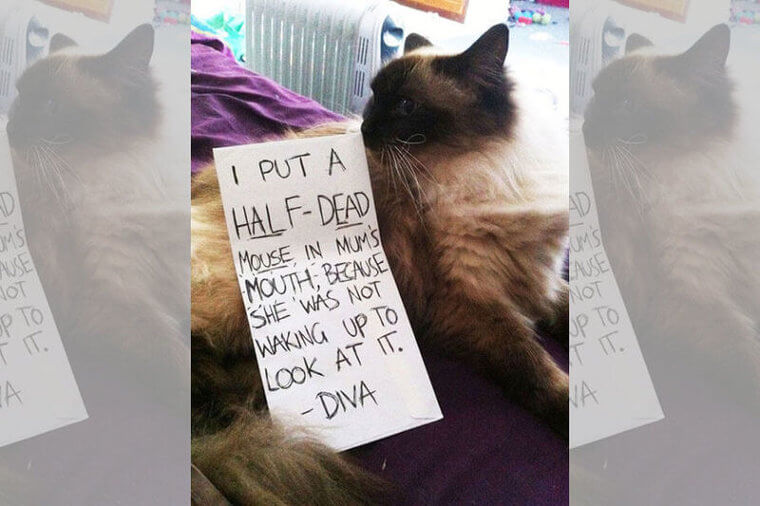 This is surely the worst-case scenario that could ever happen and this lady was hunting for attention after completing this task. This is such a mean way of treating your owner. it could have just killed the mouse and put it in front of its owner's feet as every cat does but this one really put in the extra effort.

Scrunchie Obsession
We are not really sure why cats are so obsessed with scrunchies. Maybe because they are flexible and you can launch them high up in the air, or just because their owners are always losing them and trying to find new ones. Whatever the reason, every cat adores collecting and chewing plain hair ties.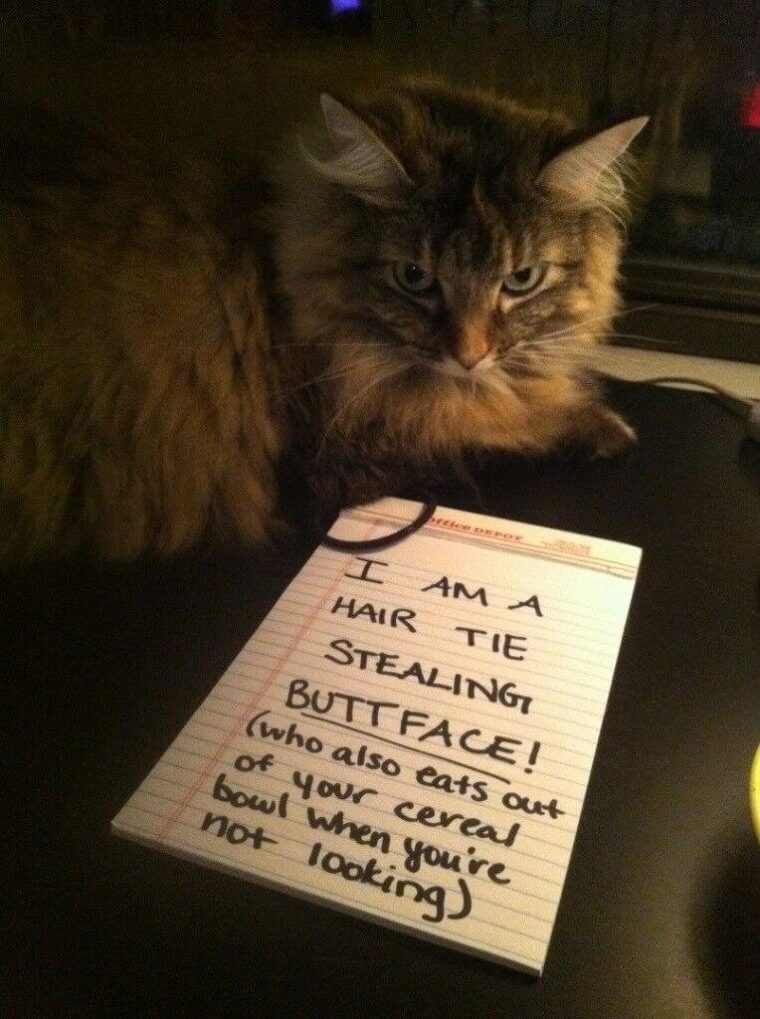 This one couldn't care less about how much its mom loves her hair ties. Its cute, "forgive-me" face is maybe adorable for us but not for his owner. Although this is a fun little game for the furry friends, try to always keep an eye out for them since they could easily choke on a hair tie.

The Greedy Brother
"I punch this cat in the face until she lets me eat her dinner, even after I've already been fed." This probably explains the experience of being the owner of two cats. We are just guessing that the orange tiger on the left is the older brother. Why, you ask?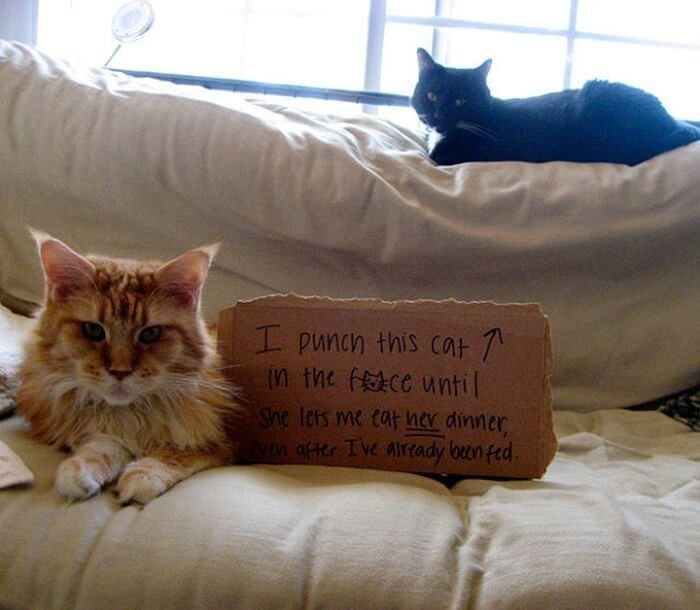 Because this cat is a real bully. He decided to fight his sister until she gave up her own food. Now the brother has an extra bowl of food, although he has already finished his first portion. What a bad day for the cutie sitting on the couch.

Crackers or Fish?
The eyes are telling the whole story. Its ears are up and it is staring with its bulging eyes. This expression screams guilty as we are looking at the goldfish crackers casually put on the top of the cat tree. We know that cats enjoy hunting goldfish so this is a ridiculous mistake.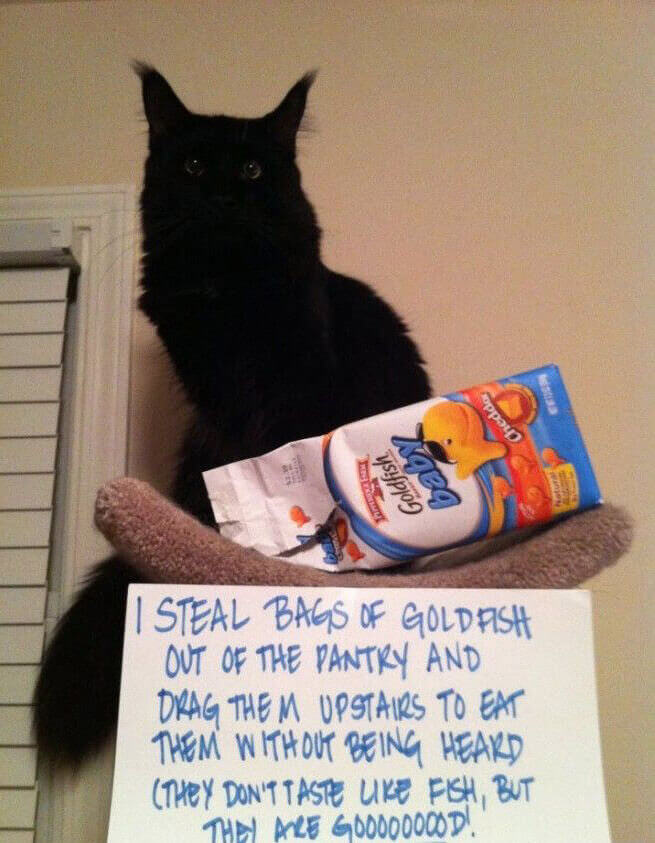 Maybe it realized after catching a real fish that these crackers were far more delicious and we can't blame it. Still, we find this extremely impressive as it managed to take the whole bag of goldfish to its tree and put it at the top.

Hair-Drying Nightmare
This cat went without its litter box and decided to make the whole world its litter box. It doesn't care about electronics or gadgets, which are surely not pee-proof. Unfortunately, everyone but the cat is aware of that.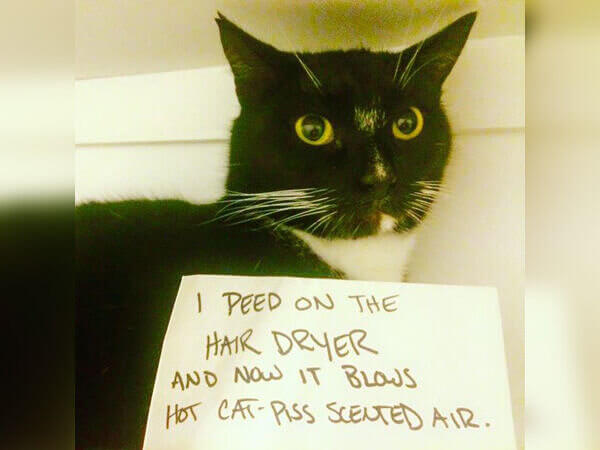 This cat decided that its owner did not need a hairdryer, so after peeing on it, it was very much impossible to use. And you cannot even think of washing it because it would end up in a catastrophe. We just hope that the owner bought a new hairdryer, as the smell of pee in your hair is certainly not appealing.

The Possessive Kitty
You are probably familiar with the phrase daddy's girl, now this is a real daddy's cat. She loves her owner so much the love of other people doesn't even matter. The rest of the family just has to live knowing that they will never be as amazing as daddy.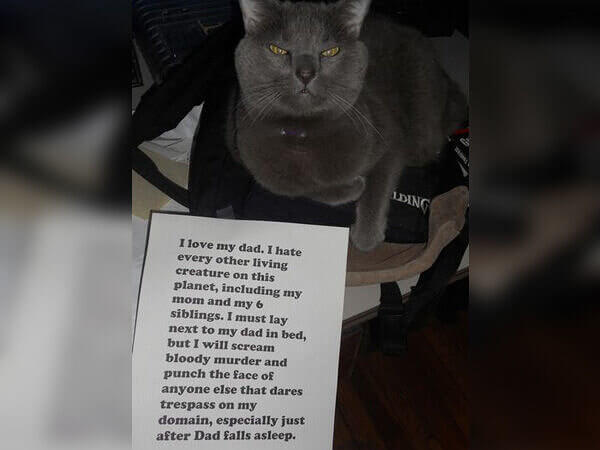 They have to sneak up to their dad so they can spend some quality time together without getting caught by his favorite girl. If they do get caught, however, they need to survive her jealous episode because she is, after all, the queen. This shows once again that no one can disrupt the love that exists between a cat and its owner.

Good-Morning Songs
Every cat owner is familiar with this scenario, especially if they have a cat that loves to talk. This is a pretty annoying occurrence especially for those that are not morning people. This cat enjoys singing in the early morning hours. Maybe this is the time of the day when its vocal cords work the best.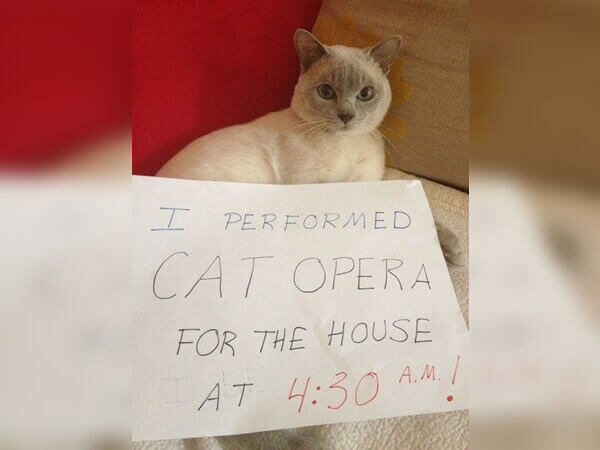 This is nothing strange, cats usually meow a lot, and this is to catch the attention of their owner. They are super cute, but we must admit that they sometimes do unexplainable things as if they just wanted to annoy us. They probably don't and we just need to let cats be cats.

Toilet Paper for Dinner
Cats love taking miscellaneous things and play with them, they have a special love for round shapes and they enjoy unrolling things. You guessed it, the perfect example is toilet paper, which is apparently fascinating for every animal, and, when they discover it for the first time, they become unstoppable.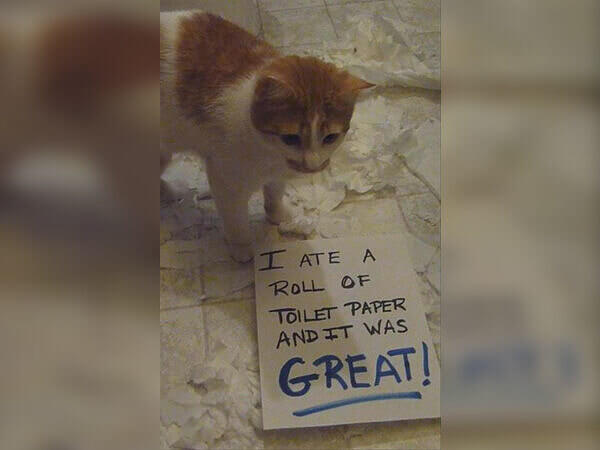 This cat played for hours with the toilet paper roll and not only did it make a real mess but it also decided to go even further than that, it actually ate the toilet paper. We just hope that the owner is not a college student trying to make ends meet and that this isn't their last toilet paper roll.

The Perfect Plan
Every cat owner knows that cats love to be the center of the universe, especially when it comes to other pets. Cats don't really like competition, especially if the second pet is a fish. This kitty got too close to the fish tank, tipped it over, and once the fish was out of the bowl, the cat saw it as a delicious reward.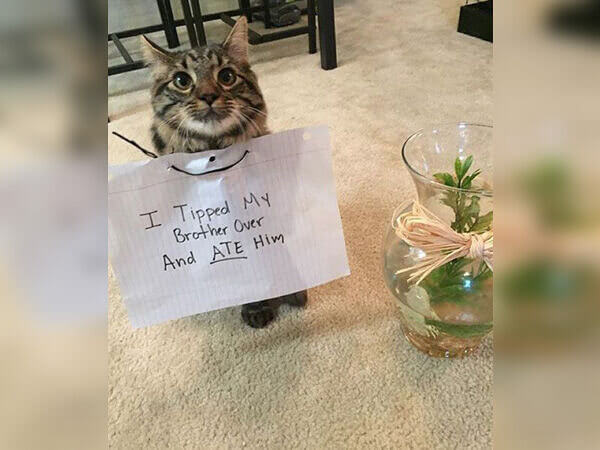 One thing is certain, cats love eating fish. Perhaps this was not an accident and it was a part of the kitty's plan all along. If we look at it, we see that it is guilty but we are certain that the cat is not sorry for the accident and that it enjoyed it very much.

The Poopy Surprise
This scenario is ridiculous but it must have been a real horror movie for the poor owner. This kitty decided to eat a small ball of yarn, thinking it would be delicious. However, the yarn came out of the other end, very slowly. As if this wasn't horrific, as the cat saw the poopy yarn, it thought that it was a new one and it started chasing and playing with it.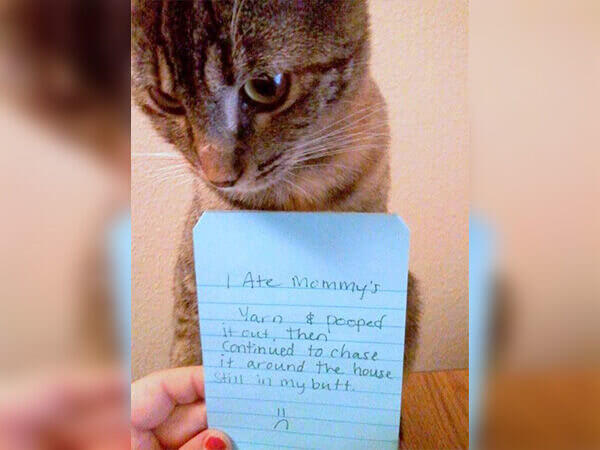 We believe that the cat managed to get rid of the yarn, probably because it played with it so much. This was for sure a poopy mess and the poor owner had to clean all of this up, maybe even help the cat and take out the yarn. We believe that it will think twice next time it comes across a ball of yarn.

The Locked-Up Cat
You have probably already understood that someone was looking for their cat for hours and couldn't find it. That is because cats like to crawl into hidden spaces, cabinets, and other unexpected places. Cat owners keep looking for hours and end up finding their cat on the top of the closet or even behind it.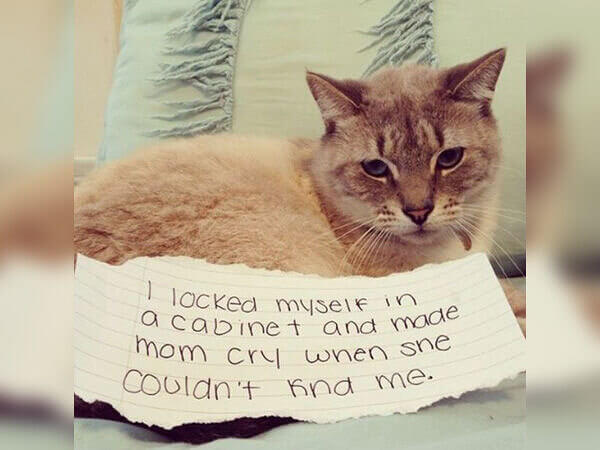 This poor lady could not find her cat anywhere. However, we cannot blame her since her cat locked itself inside the cabinet, and the owner did not even look there because she assumed that the cat could probably not lock itself up. Well, she was wrong. Cats really do like to give you a shocking surprise.

The Devil Cats
Many people refuse to get cats because they believe that they are evil creatures and we can't blame them because sometimes this just turns out to be true. We do not know why because they are very cute fluffy and furry creatures, but there is something evil in their eyes that shows they are not so innocent after all. These two cats look like their life-long goal is to kill any person that they run into.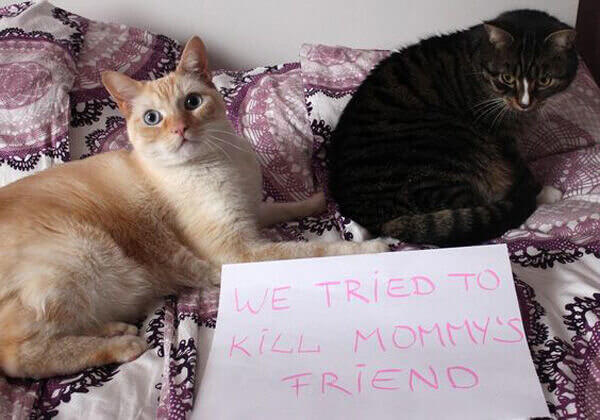 We do not really know how the cats tried to kill the friend of their owner, but it is concerning that they even tried. This must have scared the heck out of her friend and they will think twice before returning to this home, or even ever getting cats.

The Fake Friendship
The biggest reward for any cat owner is when their cat consciously shows them love and affection because this is something that is very difficult to get out of a cat. The cutest thing here is that this owner was sick when their cat decided that it was time to show some love. They must have felt so much better at first.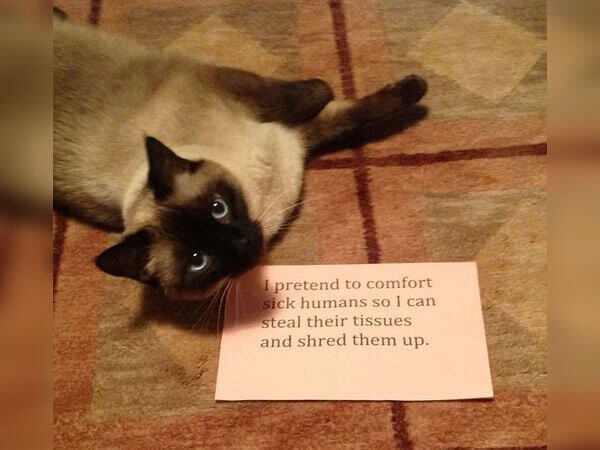 Unfortunately, this was not the cat's intention, it just wanted to reach the box of tissues. The cat was secretly collecting the tissues and making a mess, which surely angered the owner. However, this cat was pretty satisfied with its fort of tissues and had no idea what was wrong.

Fiery Cat
Now, this is what we call a trouble maker. This cat is pretty smart because it managed to find out how oven knobs work, although they were childproof, and it almost burnt the whole house down. To make matters even worse, this is not the first time the cat did this, so we must believe that it is a true pyromaniac.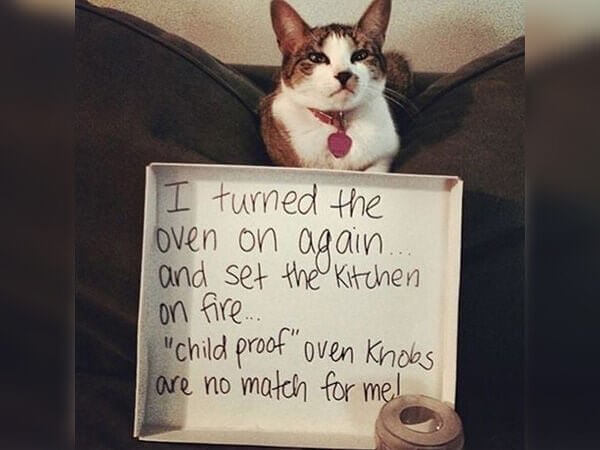 The cat shows no regrets and it is even proud of its work of art. The fact that the cat is not scared of the fire is another unusual wonder. We just hope that the homeowners have good insurance that can cover for the mess that was made by the furry creature.

Hacker Kitty
This cat is a straight-up hacker. It knows how to delete files, but it is not something you would want in your office. The poor owner was not paying attention and the cat decided to walk over the keyboard. It managed to select all of the desktop files and move them to the trash bin, just by using her four paws. Luckily, she didn't delete them permanently and they could be restored.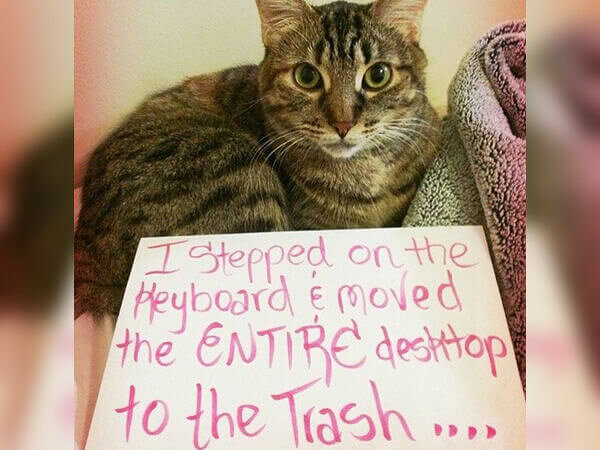 The cat looks like he has no idea what happened, or what could have happened. At least the owner knows that they should always be next to their computer and other important stuff. Either that or they should buy an external drive just in case.

The Worst-Case Scenario
Thanksgiving is such a joyful holiday, but we must admit that it is very stressful. You have to clean the whole house, work on the big dinner, prepare the pumpkin pie and maybe some cookies, try and clean the carpet so that your mother does not criticize you and, of course, get yourself ready. Now it is time to relax, or is it?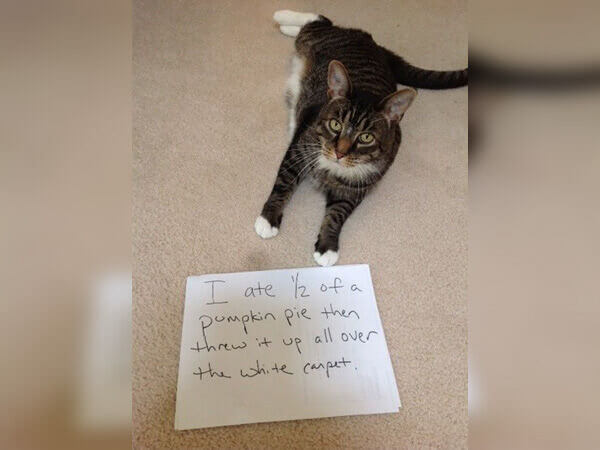 The cat put its paws in the pumpkin pie and then they decided to throw it up on the freshly cleaned carpet. They probably didn't like the taste or maybe it was too sweet. Whatever it was, the cat surely ruined the special celebration.

Grinch's Partner
Freya the Cat can join the Grinch, as they both hate Christmas. She ate all of the villagers that belonged to the village that her owner made for the holiday. She probably thought that these villagers were real and that they were helpless since she was more powerful than them.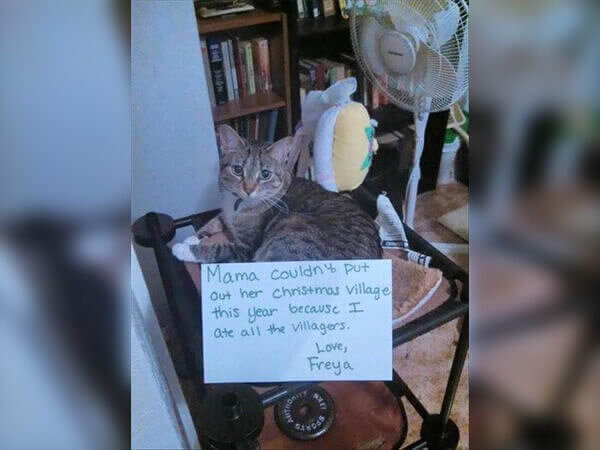 She was finally the bigger one and nothing could stop her. The owners immediately decided to prove to her that her behavior was wrong. She could be feeling guilty but we believe that she was not so sorry. After all, it must be difficult to be the smallest one in the house.

Is It a Cat or a Dog?
Although dogs and cats are known as everlasting enemies, this is not always the case. They sometimes like each other and even absorb each other's behavior. For example, this kitty decided to drink water out of the toilet just like a real dog does.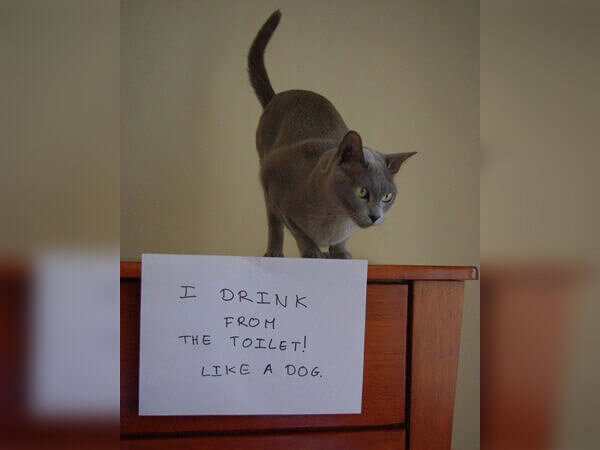 This is a miracle because cats are usually kind of clumsy, and we would expect it to fall into the toilet. It apparently prefers toilet water over fresh water since this is the only way it likes to quench its thirst. Kind of gross but very much remarkable!

Pets Are Not Allowed for a Reason
When landlords decide that the tenant can have pets in their house, the pet really needs to be obedient. However, they are usually small monsters.  For example, this little kitty is the main reason why its owners will probably not get their security deposit back.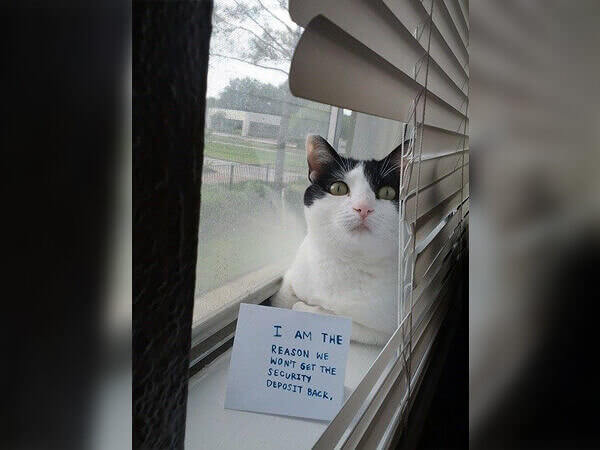 This cat has destroyed the blinds and it is completely aware that it did something wrong. This is only one of the many scenarios that happen when cats live in an apartment. We were not shocked by the outcome and we can confirm that this is one of the reasons it is not allowed to have pets in a rented apartment.

It Was Worth It
As you might assume, the cat's facial expression says the whole story. The cat is guilty and we bring you the evidence. It is adorable to see small paws on the surface of the amazing, fresh pie, but this is surely the nightmare of every cook. After hours of preparing the pie, the cat just ruined it.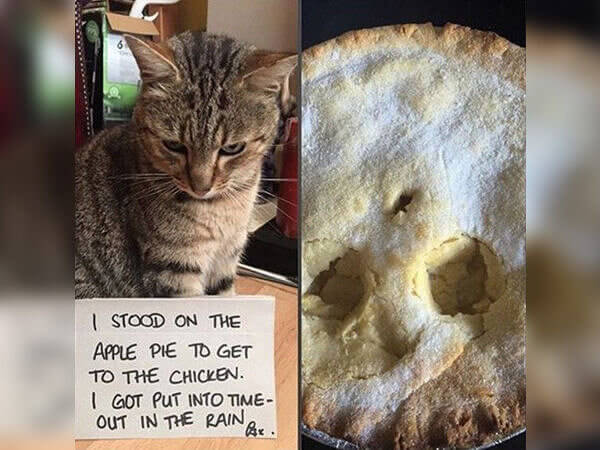 However, we can also blame the owner since they left the chicken close to the pie and the cat decided to eat the chicken and destroy the pie. It is certainly guilty as charged, but it is also a happy and satisfied cat with a full tummy.

No Regrets
This is Pond. Well, this cute cat did something very wrong but it does not really care. It did something horrific for every student, it ate her paper. You can see it in its eyes, "Yeah, I ate your paper. There's nothing you can do about it because I already did it."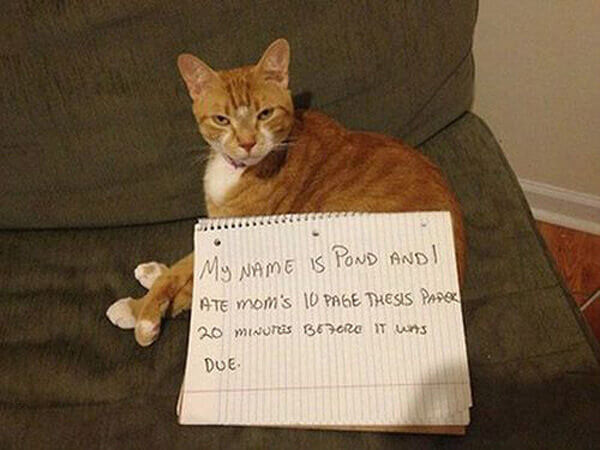 The owner probably had some kind of backup because it is very easy to just download it and print it again. However, Pond decided to tackle the paper just a couple of minutes before it had to be turned in. What an unlucky coincidence...

The Hat of Shame
Cats are always inquisitive and they try to sneak into every mysterious place they come across. Even when they do not do what they had planned, they still manage to make a mess and they should be punished for that. 

This cute cat just wanted to experience what a toothbrush would taste like. Although it did not make a huge mess, no one wants their toothbrush to be licked by a cat that uses its tongue to clean its whole body. The poor cat is aware of the mistake and probably hates the hat as well.

Beware, Otto Bites
This is Otto, a small black kitty with big and charming eyes. It really does look like an adorable cat that you just want to love. Well, the reality is that it's just an illusion because you should not even dare and befriend Otto. It seems very nice on the outside but it actually bites anyone who comes close to it and tries to pet it.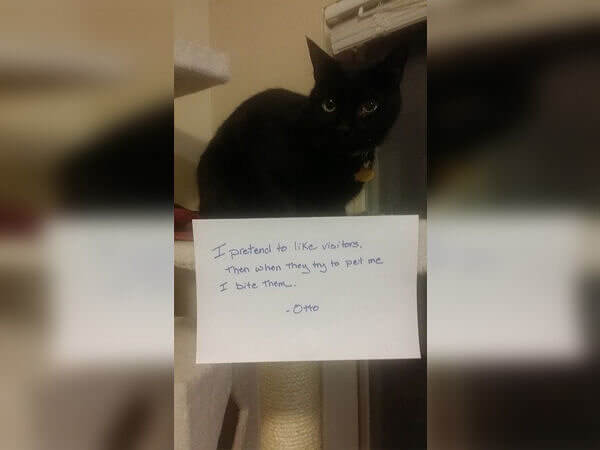 So don't let it fool you because it doesn't like anyone. There is nothing that can win it over, not even a treat or yarn ball. Many have tried this but all that they got were scars. Otto is really a tough one. 

Advil Is Not a Good Choice
Now, this cat played with some serious stuff, it looks guilty and it really should be because it had to go to the vet after this. The cat ate Advil pills and no cat should ever eat those. So, the consequences of this treat were quite bad.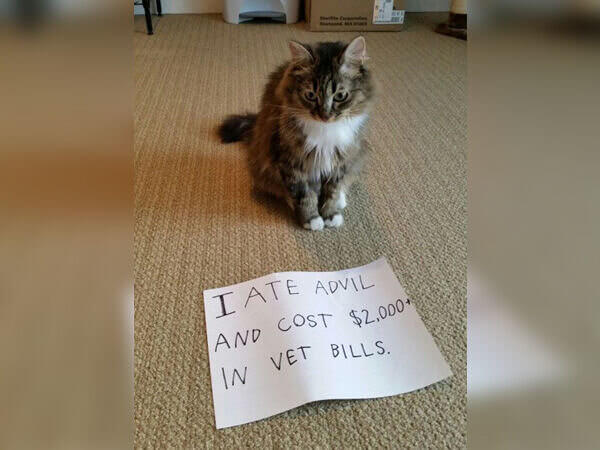 The owner was probably terrified and they had to take the pet to the vet, which the cat hated, and they also had to pay for this dumb accident. This accident cost them $2,000. Luckily, the cat's health is all that matters and it looks alive and healthy. We just hope that it now knows that pills are not a good toy to play with.

The Cat That Had No Control
This cat is not happy to see you at all. The reason? You just disturbed it while it was doing its thing. The owner is not the happiest about it and the cat is probably feeling ashamed a bit since it really got caught in the act.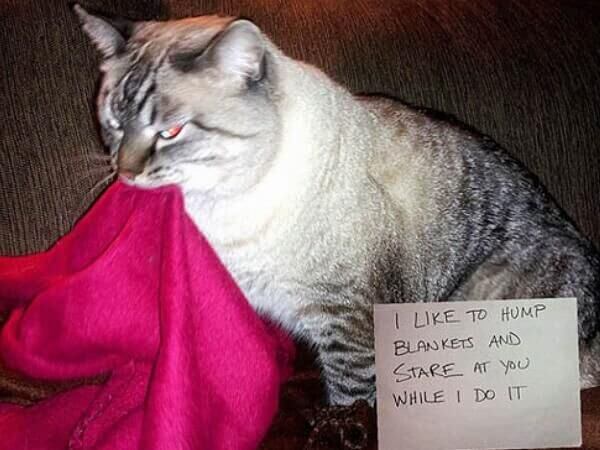 The cat has probably touched all the blankets and sheets, so now none of them can be used comfortably. However, this cat, even after getting caught, looks like it does not plan on stopping, but rather waiting for its owner to leave so it can continue. 

Apple-Eater
As we all know, cats love chewing a wide variety of objects. This cat in particular has developed a craving for computer and phone cables. Unfortunately for the owner, what their cat prefers to chew are Apple products, and its favorite one is the iPod charger.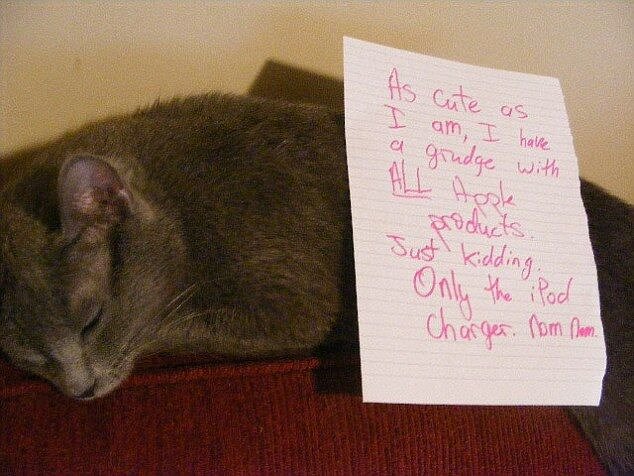 We are not quite sure whether the cat feels any kind of remorse, as the owner decided to scold her just when it was asleep. Regardless of it, the owner should probably go to extreme lengths to try and hide the charger from the cat.

The Sausage Theft
Let us introduce you to Benny the Cat. If you are wondering why Benny is so sad, it is because his owner is scolding him for eating all the sausages. It is very much obvious that Benny feels sorry for what he has done because he is avoiding eye contact.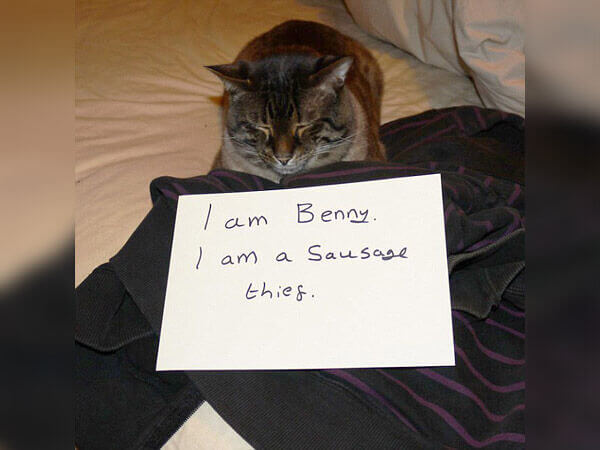 If Benny could talk, he would probably say he feels bad for stealing but, truthfully speaking, those were probably the most delicious sausages he has ever had. Getting shamed on the Internet was definitely worth it. We have to say that we totally stand with Benny on this one! He really does look like he is sorry.

No Use Crying Over Scattered Trash
If it could more than meowing, this cat would certainly say, "Yes, I just did this. What are you going to do about it? Oh yeah, that's right. Nothing. All you can do is clean up my mess and deal with it. Because I own you."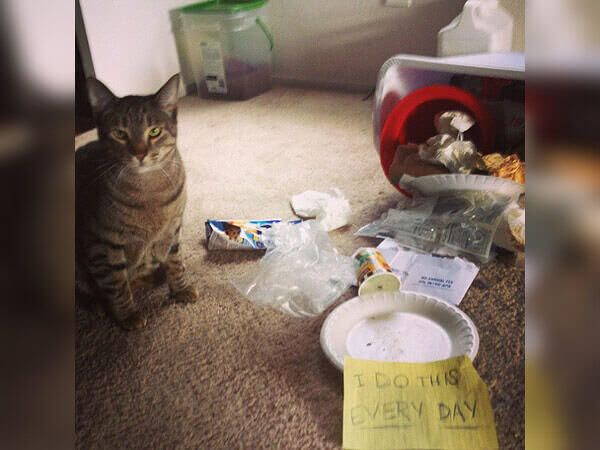 This cat has apparently turned over the trash and, because of it, the garbage is scattered all around. Obviously, the cat feels no shame or guilt over its actions. After all, it won't be the one doing all the cleaning at the end of the day. Moreover, this is not the first time this cat has done this and it surely won't be the last. As there were no consequences the first time this happened, why should there be any now?