One of the best things about college football is the fans. At places like Michigan, Ohio State, Tennessee, and Nebraska, among others, it's common to have 100,000 people in attendance for games. Sifting through those people, you'll find celebrities in attendance or standing on the sidelines because of their VIP status. Without further ado, here are some of the biggest and best celebrity college football fans.
Russell Crowe – Michigan
Russell Crowe probably doesn't immediately jump to mind when you think of celebrity fans who would root for the Maize and Blue. But, the star of Gladiator, A Beautiful Mind and L.A. Confidential is a fan after striking up a friendship with former Michigan head coach Lloyd Carr.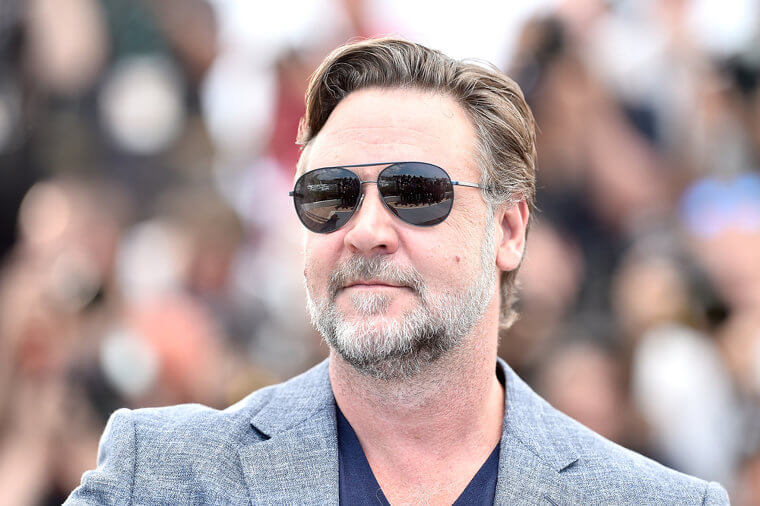 He spoke to the team prior to the game with Notre Dame in 2007 and joined Carr for the post-game interview. No word on whether Crowe is a big fan of Jim Harbaugh or not, but I like to think, the two will soon become best friends. Could you imagine Harbaugh playing Gladiator to get the Wolverines pumped up for their rivalry game against Ohio State and Crowe surprises the team and comes out in full Gladiator regalia? Now, that would be a video that goes viral in about .2 seconds. That may seem like a longshot, but a guy can dream, right?
Matthew McConaughey – Texas
The Oscar winner from Dallas Buyers Club and Emmy-nominated actor from True Detective made a push for the top spot but comes in as the runner-up. The 46-year-old actor was born in Uvalde, Texas and attended the University of Texas at Austin College of Communication where he earned his degree in Radio-Television-Film. I guess that decision to attend school there worked out pretty well, huh?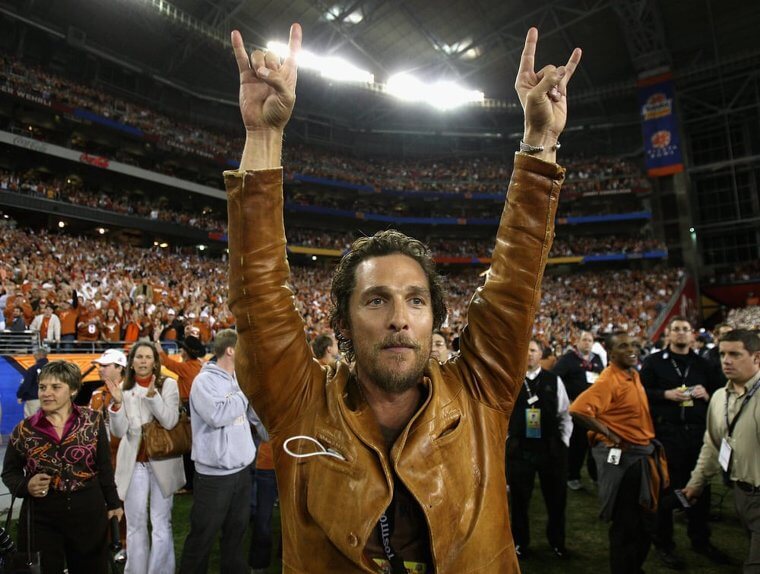 McConaughey and his family reside in Austin where is the unquestioned superfan of the Texas Longhorns. He took part in pregame festivities before the Iowa State game in 2014 and was seen celebrating on the field with players and coaches after Texas knocked off the Ohio State Buckeyes in the 2008 Fiesta Bowl. He's about as cool as it gets and I think we'd all love to tailgate with him to see how many times he'll tolerate us drunkenly shouting, "Alright, alright, alright" at him.
LeBron James – Ohio State
LeBron James went to the NBA straight from St. Vincent-St. Mary high school in Akron, Ohio but if had to go to college, the four-time NBA MVP was going to suit up and play for the Ohio State Buckeyes. He's attended football games and is in the corner of Ohio State head coach Urban Meyer who has given King James an open invitation to The Shoe.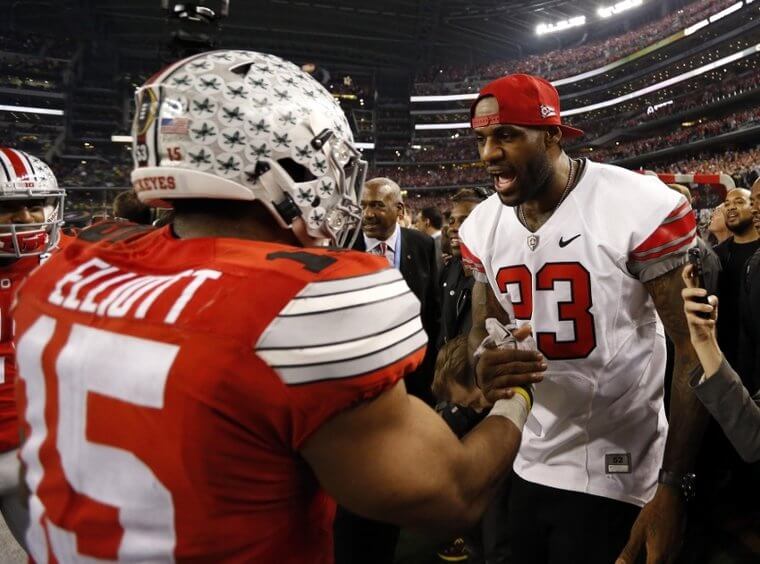 King James was even on hand to see Ezekiel Elliott run for 244 yards and four touchdowns to win MVP honors of the National Championship Game in 2015 when the Buckeyes trounced Marcus Mariota and the Oregon Ducks. Some celebrity fans wouldn't be bothered to travel to see their team in action, but credit LeBron for taking the time out of his busy schedule to see Ohio State in action, in a championship setting nonetheless. Wonder if Urban Meyer or any Ohio State players will be in attendance for LeBron as his Cleveland Cavaliers pursue an NBA title this year?
Snoop Dogg – USC
One of the biggest rappers of all-time is a longtime fan of USC football and has the attire to support his fandom. He can routinely be seen in his USC hat and shirts on the sidelines of games supporting the Trojans. He may even have a gin and juice while tailgating before the games.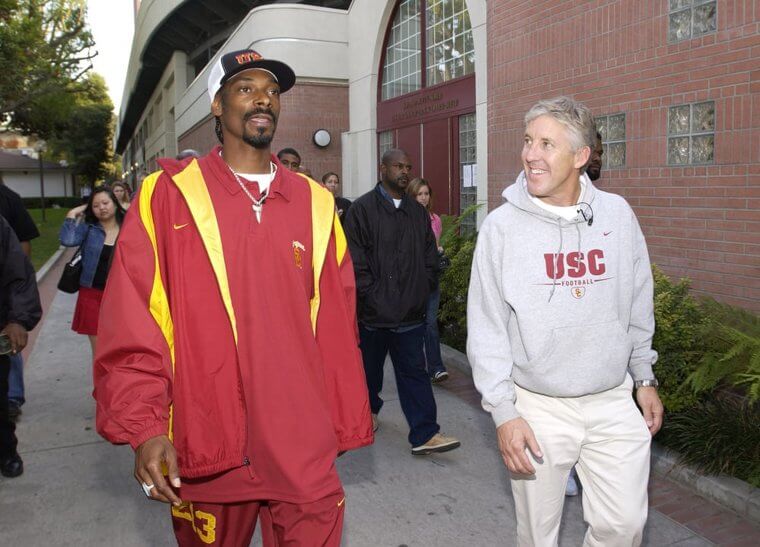 Despite his son Cordell Broadus playing wide receiver for the rival UCLA Bruins at one time, Snoop's remained a fan of USC, which means he has to get the top spot. When you pick your team over your own flesh and blood, you know you're a die-hard fan. Between Snoop Dogg and Will Ferrell representing the USC Trojans, they are the head of the class when it comes to boasting celebrity fans. But would you expect anything less from the school in Los Angeles? I wouldn't. And they have such a stranglehold on the celebrity fan market that you didn't even see any UCLA celebrity fans on this list.
Will Ferrell – USC
This one was pretty obvious and I'm sure you were saying to yourself when you clicked on this list that the star of Anchorman, Step Brothers, Elf, and dozens other was going to pop up on this list. Will Ferrell is a USC alum and spent more time on the sidelines during the Pete Carroll era than former backup quarterback Matt Cassell. That's no shot at Cassell, but a tribute to Ferrell who rarely missed an opportunity to see the team that was one of the best dynasties in modern college football history.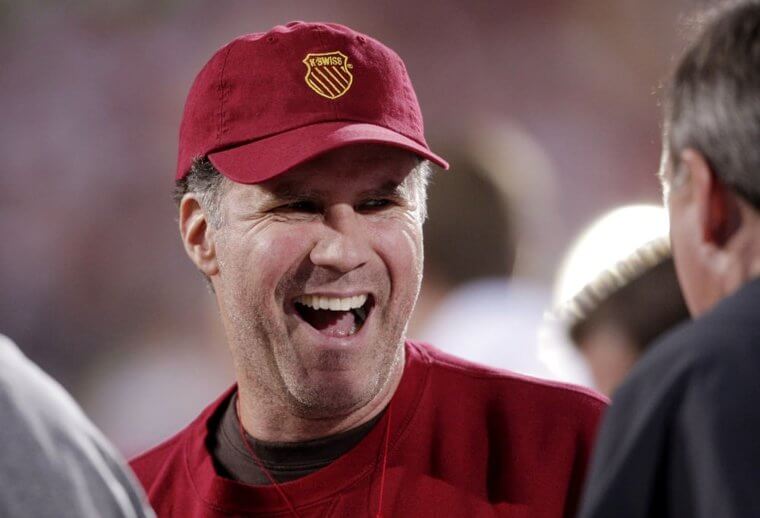 I'm not sure what Ferrell's next project will be. I don't think he's working on Anchorman 3 or a sequel to Casa de mi Padre (thank God) but I would love to see Ferrell to a movie or documentary about USC football. We saw Ferrell enter the sports world last spring when he played in spring training games and played every position on the diamond to raise money and awareness for a friend's charity in an HBO production. So please double down on the sports projects and do something either serious or funny or a combination of the two and shine some light on the Trojans.
Toby Keith & Jim Ross – Oklahoma
Outside of Barry Switzer and Bob Stoops, I don't know if anyone has attended more Oklahoma football games over the last 35 years than former WWE announcer Jim Ross. Second place may be country music star Toby Keith. Ross used to have Boomer Sooner, Oklahoma's fight song, as his entrance music and opened J.R.'s Family Bar-B-Q in Norman, Oklahoma in 2007. He is a longtime season ticket holder and never misses a home game, where he is often seen patrolling along the sidelines.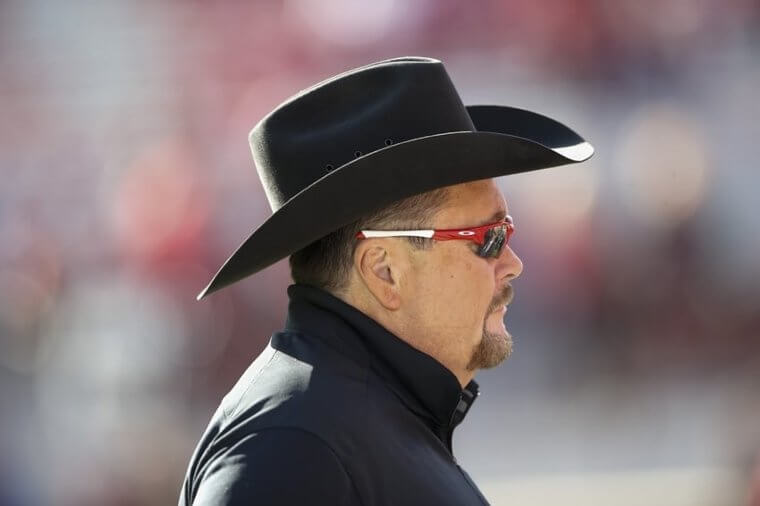 Just for fun wouldn't it be fun to hear JR serve as a color analyst for a game, or at least a quarter or a few drives to hear the passion and excitement he had during his pro wrestling calls? I know I'd love to hear that, so let's make it happen! Keith, a Clinton, OK native often spends his Saturdays in the fall in Norman for Sooners football games and has even been known to stop by during practices. The country music superstar may be more well-known outside Oklahoma than JR but he'll have to take a backseat when it comes to being the resident Oklahoma celebrity fan. But there's no shame in being No. 2 unless we're talking about being in second place in the Big 12.
Vince Vaughn – Notre Dame
One of the most recognizable Hollywood stars, Vince Vaughn is an avid supporter of the Fighting Irish. A Minnesota native, Vince Vaughn grew up in the suburbs of Chicago and like most college football fans in suburban Chicago became a fan of the Fighting Irish. He regularly attends Notre Dame football games, both home and away.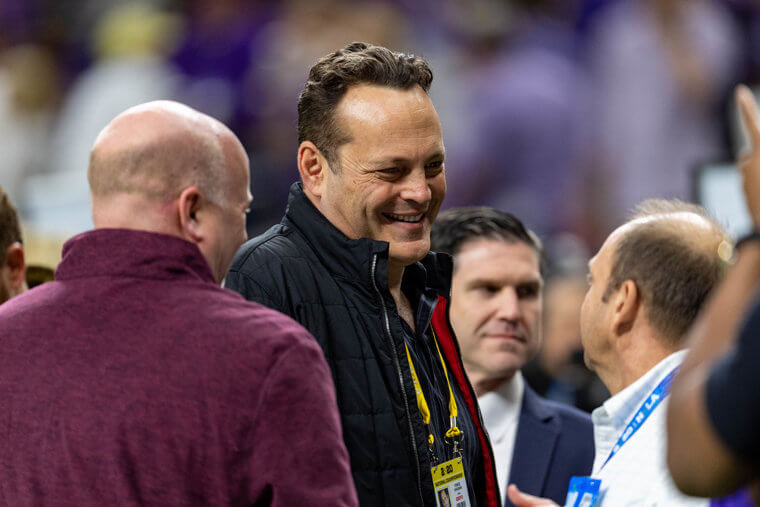 Vaughn has even appeared on ESPN College GameDay as a celebrity guest picker in 2012 when the Irish took on the Stanford Cardinal, and again in 2020. He was interviewed by UND.com reporter Jack Nolan when he was a sideline guest of the Irish in 2012. He's so lucky that he even got a role in the movie Rudy about a Notre Dame walk-on. He's so money, he doesn't even know it.
Tim Cook – Auburn
The CEO of Apple is a little busy running a billion-dollar company to attend all of Auburn's games on the Plains, but he does let his fandom show on his Twitter profile of all places. "Fan of Auburn football" comes right after "Apple CEO" on his Twitter bio and we have to assume Auburn football comes second in his life behind the company that churns out awesome technology we all rely on.
How much of a celebrity Tim Cook is up for discussion. On one hand, he's been recognized by Fortune as one of the world's greatest leaders in the world, which is an incredible honor to be sure. But on the other hand, how many people would be able to recognize Cook if he walked into the room wearing a shirt that said, "I'm Apple CEO and Auburn football fan Tim Cook" on it? I think the majority of casual fans would have no idea, but that's not an indictment on him, it's probably a sign that those people aren't using their Apple products to properly educate themselves on the man responsible for putting the devices in their hands. Nevertheless, War Eagle!
Roy Jones Jr. – FSU
Of course, when you think of FSU fans the first two names that come to mind are the late Burt Reynolds and College GameDay broadcaster Lee Corso, both alumni of the football program. But as far as celebrities go, boxer Roy Jones Jr. is counted among the most famous Seminole fans in the country. Jones, a native of Pensacola, Florida, is a vocal FSU fan. He's been spotted at football practices and has even performed a rap song he wrote about the FSU basketball team.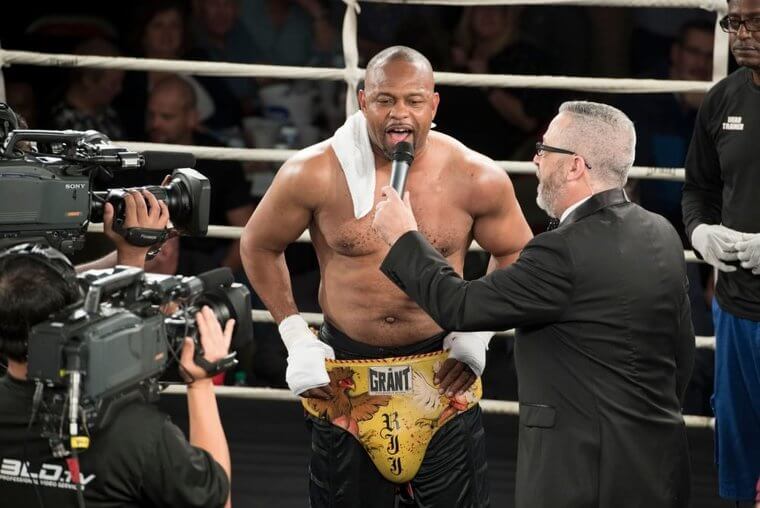 The Seminoles are in the midst of some lean years right now, but Jones' fandom hasn't wavered. The one-time boxing champ is a member of the Florida Sports Hall of Fame, and is considered one of the greatest boxers in the history of the sport. I doubt many Gator fans will get into an argument with him about which Florida school runs the state.
Shaquille O'Neal & James Carville – LSU
Literally the biggest fan of LSU is the 7-1, 300-plus pound alum, Shaquille O'Neal. Before he was the Big Aristotle or Shaq Diesel or any number of other nicknames attributed to Shaq, he was wearing the purple and gold of LSU. He still has the purple and gold blood running through his veins and still attends at least one football game each year and you can't miss him, he's the biggest guy in the stadium, if not the south. If you ask nicely, Shaq may even go crowd surfing in the student section. Just make sure you have plenty of friends nearby to hoist the future NBA Hall of Famer up in the air.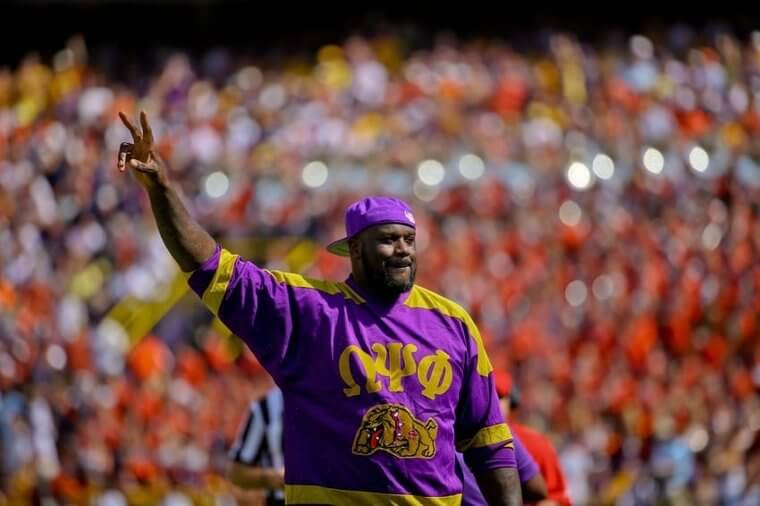 What would a list of celebrity fans be without James Carville, the Ragin'Cajun, representing the LSU Tigers?! Carville is one of the most recognizable political pundits but on Saturdays during the fall, there may be no bigger LSU football fan than he. And you just know Carville can whip up a mean gumbo recipe and tailgate and party with the best of the folks in Death Valley.
Eric Stonestreet – Kansas State
Eric Stonestreet has two Emmy Awards he won for playing Cameron Tucker on Modern Family, but I bet he'd trade one of them in for a Kansas State Wildcats national championship. Stonestreet is one of the more vocal celebrity sports fans who has appeared at Kansas City Chiefs, Kansas City Royals and Los Angeles Dodgers games but his heart lies with Kansas State.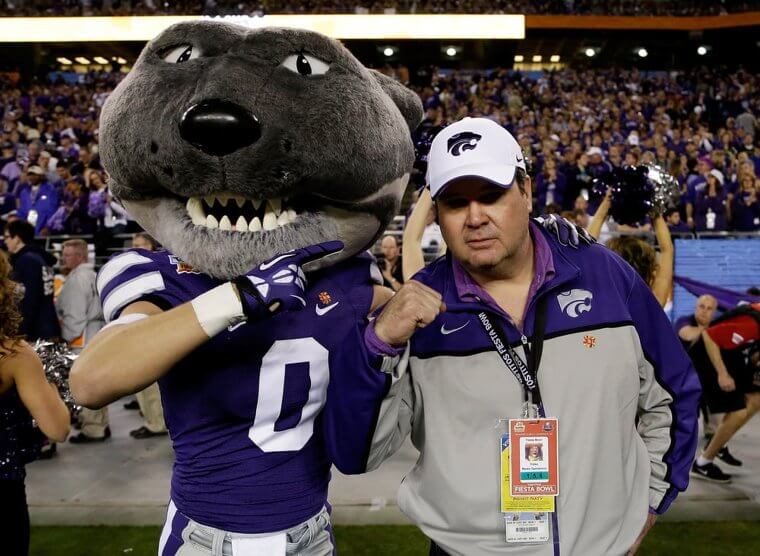 He graduated from the university in 1996 and has been seen at many games decked out in purple cheering on the Wildcats. He was seen on College GameDay in a purple Kansas State jumpsuit and outside of Bill Snyder there may not be a greater ambassador of K-State than the two-time Emmy winner. When Modern Family wraps up production, maybe we can get Stonestreet to produce a documentary about legendary Kansas State head coach Bill Snyder. A 30 for 30 on The Little Apple would be so awesome and I can't think of a better person to lead up that project than none other than the two-time Emmy winner who is hilarious as Cameron Tucker on the ABC comedy series.
Tiger Woods – Stanford
Did you know Tiger Woods once shared a classroom with current Stanford head football coach David Shaw? Besides that little fun fact, the former greatest golfer on the planet has performed the coin toss at a Stanford-Cal game and served as an honorary team captain for the 2012 Fiesta Bowl in Arizona. While Tiger continues his process to return to the links and the form he once displayed before his career and personal life went in the toilet, Tiger will be cheering on Christian McCaffrey and the Cardinal like the proud alum that he is.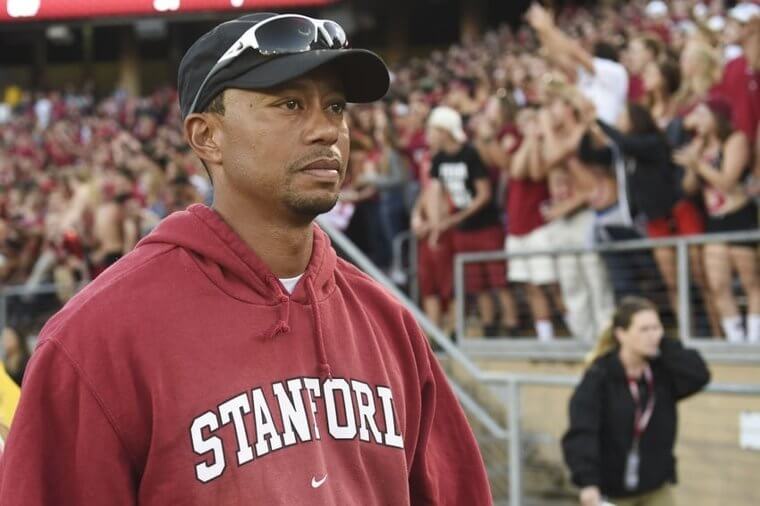 Stanford has a large alumni base and boasts an impressive list of graduates, but in the sports world, there may not be a more famous representative of Stanford athletics than Tiger Woods. It's great when giants come back to support the university after they've graduated. Hopefully, Woods will be able to find his game and have a rebirth just like the Cardinal football program as had since Jim Harbaugh resurrected the program before leaving it in the good and capable hands of Shaw.
Phil Knight & Ty Burrell – Oregon
Nike CEO and billionaire Phil Knight is the biggest Oregon fan on the planet and he's donated a ton of his money to show his support. The Ducks have among the best facilities in college football and there are probably some NFL teams that are envious of what the Ducks have thanks in large part to Knight's contributions. He's more than a checking account though as he's a frequent visitor to Autzen Stadium cheering on the Ducks.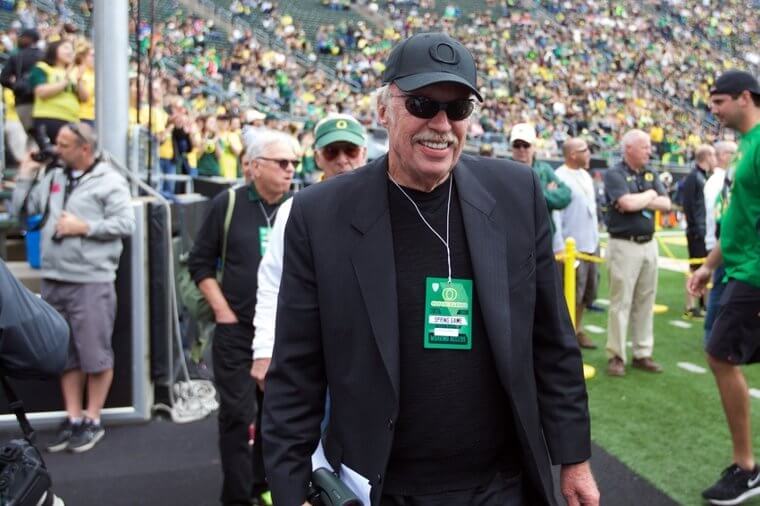 Ty Burrell is the second Emmy-winning actor from Modern Family to appear on this list. Like Stonestreet, he is a huge supporter of his alma mater. Burrell has mentioned his fondness for the school and its football program, in particular since he achieved superstardom in the Emmy-winning ABC series. He even released a short video clip of himself in a bathtub with some little ducklings and gave a message to the Oregon football team. You don't see other fans getting cozy with their team's mascot now do you?!
Ryan Seacrest – Georgia
A familiar face to nearly all of America, Ryan Seacrest is — quite literally — one of the most vocal Georgia fans you'll ever find. The American Idol and Live With Ryan and Kelly host made this abundantly clear when he once attempted to teach co-host Kelly Ripa how to "bark like a Dawg" on national television. Samuel L. Jackson, Jeff Foxworthy, and Bubba Watson are other notable celebrities who bleed red and back.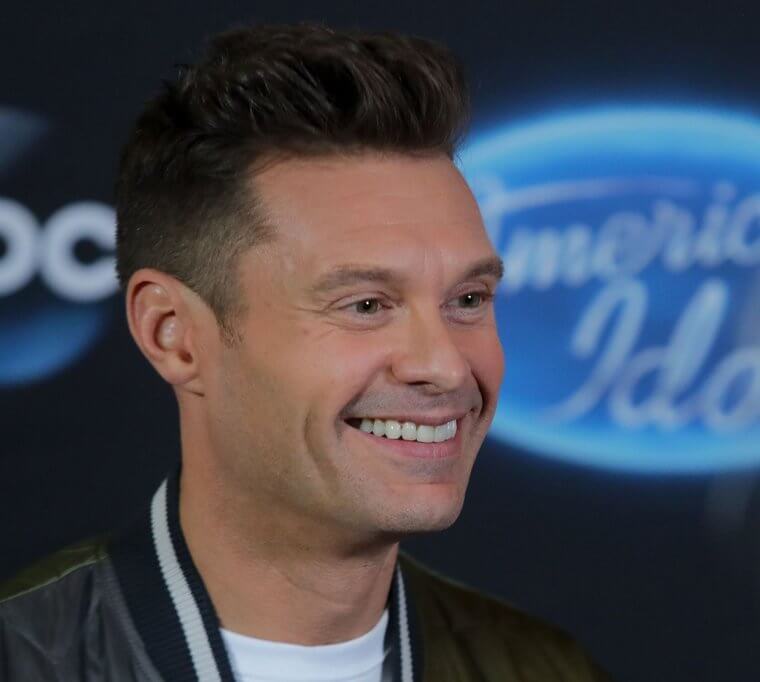 Sam Jackson brings his same intensity we've seen for years in films like Pulp Fiction to his twitter feed and during Georgia games is an absolute must-follow to get an unfiltered perspective from a die-hard fan. Watson is such a fan that he wanted former Georgia head coach Mark Richt to serve as his caddy for the 2016 Masters Tournament. Even though Richt was let go by the university he presided over for 15 years and is now the coach at his alma mater at Miami, Watson can't forget what he meant to the Bulldogs program.
Melissa Joan Hart & Channing Tatum – Alabama
When you have claimed 16 national championships in football, you're going to have a number of celebrity fans. I couldn't settle on one so I went with Melissa Joan Hart who adopted the Crimson Tide at the urging of her husband, musician Mark Wilkerson. She's active on Twitter too, following numerous college football writers (present company excluded) and regularly tweets her thoughts on Alabama during games. I still hold out hope that Melissa will throw a follow to me and "explain it all" why she wasn't following before I wrote about the former star of Clarissa Explains It All and Sabrina The Teenage Witch.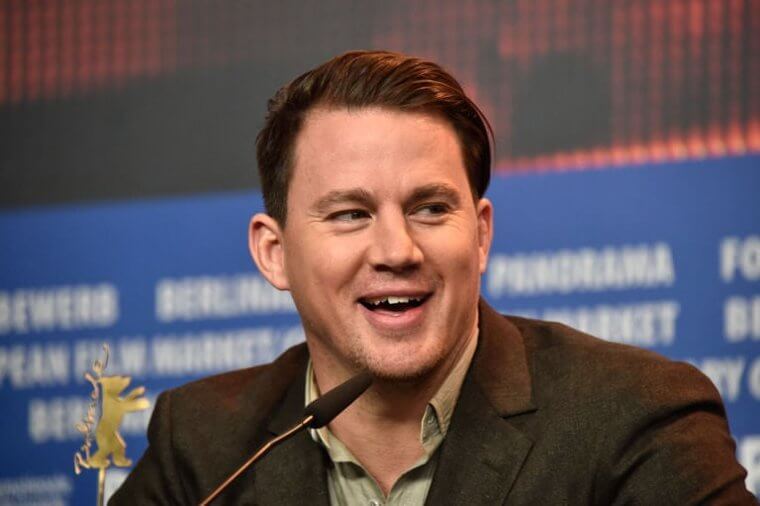 Channing Tatum is a native of Cullman, Alabama and made it perfectly clear that he favors the Tide over rival Auburn in a GQ interview. That came to the delight of female Alabama fans who couldn't possibly maintain their celebrity crush of the star of Magic Mike if he was a fan of that other team in the state. If I'm College GameDay producer Lee Fitting, I can't think of a better celebrity guest picker than Tatum when Alabama opens up the 2016 season against the USC Trojans.
Seth Meyers – Northwestern
Seth Meyers grew up on the east coast in New Hampshire but he was born in Evanston, Illinois where the Big Ten program is located. The Saturday Night Live alum and host of Late Night with Seth Meyers on NBC returned to Evanston to attend college at Northwestern where he got to see his Wildcats make an incredibly rare trip to the Rose Bowl in 1995.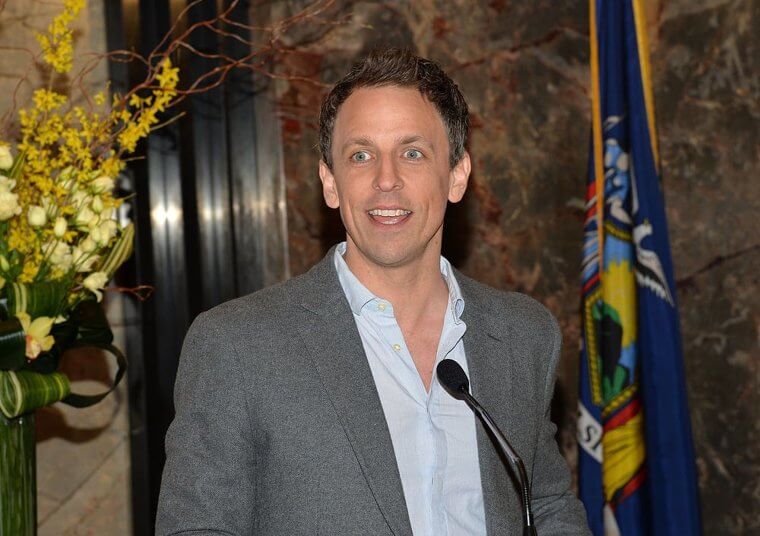 Myers should get bonus points for being so publicly proud of his alma mater because Northwestern hasn't always had so much to cheer about. Kudos for sticking with the program, Seth! Meyers narrowly edged out another Northwestern alum, Michael Wilbon. The longtime writer for The Washington Post who is now more synonymous with ESPN after more than a decade as the co-host on Pardon the Interruption, Wilbon frequently wears purple to show off his Wildcat pride and is as vocal as anyone when it comes to repping Northwestern on the biggest sports network in the world.
Ashton Kutcher – Iowa
Ashton Kutcher has made his sports allegiances known for a long time. He's proudly worn a Chicago Bears hat since his time on That 70s Show but the all-time favorite team for the Cedar Rapids, IA native is the Iowa Hawkeyes. He's such a fan that the school was charged with a secondary rules violation after he and his then-wife Demi Moore met with some Iowa basketball recruits during a football game. However, one has to wonder why Kutcher's character in the Netflix series The Ranch is a former quarterback for Florida State and not Iowa though.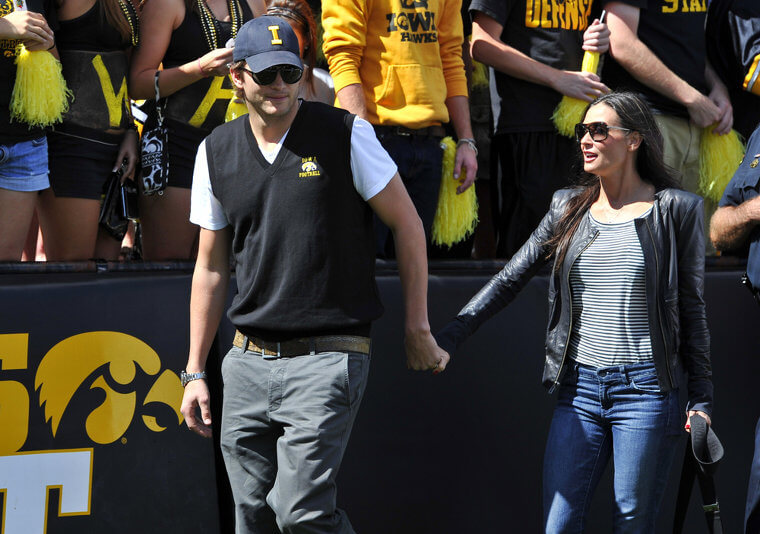 I mean, come on dude. He loses a few points for that, but he isn't one of those phony celebrities who is seen at games just so they can have their picture taken and present the image that they are actually vested in the successes and failures of the team. In addition to Kutcher, actor Tom Arnold is a big-time ambassador and supporter of Iowa athletics and has donated his time and his money to give them anything they may need.
Larry the Cable Guy – Nebraska
The Blue Collar Comedy comic and Prilosec spokesman is also a big fan of Big Red football. Larry the Cable Guy is a Nebraska native who has been seen on the Huskers sideline and often photographed wearing his Nebraska apparel. He may be the favorite comedian of folks in Nebraska because of his fondness for the only team that matters in the state.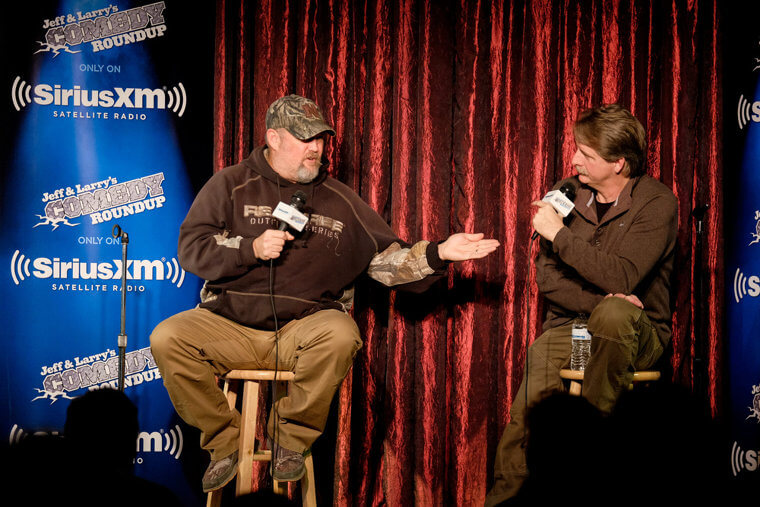 Lincoln, Nebraska morphs into the largest city in the state on home football game days and for many of those game days, it's the Blue Collar comic who is seen in his Big Red gear as he sits in the Sea of Red. In the picture above, Larry the Cable Guy is on stage with Jeff Foxworthy, a noted Georgia fan, and I can only imagine the two are discussing the 2013 Capital One bowl game and the 2014 Gator Bowl the two teams played against one another. Both teams came out with a win, but the winner of the rubber match goes to Larry the Cable Guy because he's ranked higher than Foxworthy who only got a brief mention as Georgia's celebrity fan.
Adam Duritz – California
If Sonny Dykes were to miss a few practices or there was some sort of emergency and he couldn't coach for a limited amount of time, the lead singer of the Counting Crows could step right in and fill his shoes. Okay, that's a reach but Adam Duritz is a walking encyclopedia when it comes to August and Everything After when it comes to Cal football. I've always wanted to reference the breakout album title by the Counting Crows in a sports article so that dream has now been achieved. I have to think it would be a dream come true for Duritz to put on a headset and call plays in the Bear-raid offense.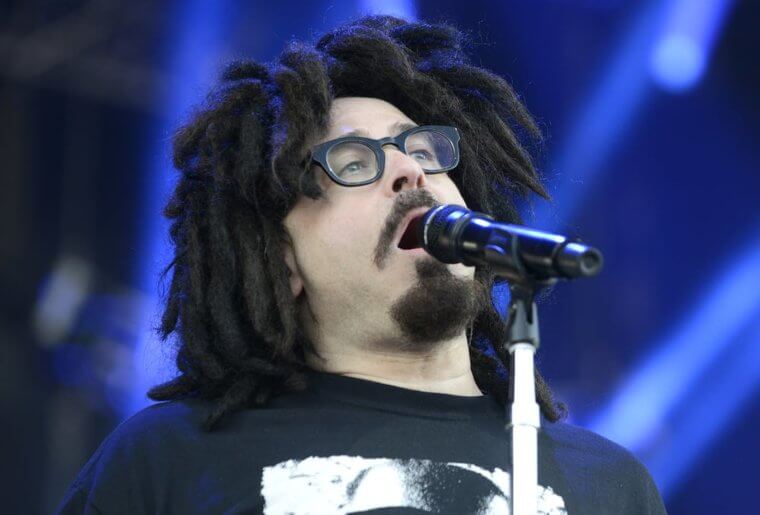 Maybe he'll have some thoughts on who should replace quarterback Jared Goff in the starting lineup and how the Golden Bears can compete for a Pac-12 division title? He has also appeared on broadcasts as a pre-game analyst and offered commentary at halftime of Cal games so his opinion is valued enough to provide his opinion on what he sees. How many other celebrity fans are that dialed into their teams? The answer: Not many.
Luther Campbell – Miami
The former frontman for the rap group 2 Live Crew is totally plugged into the Miami Hurricanes football team. He's affectionately known as Uncle Luke and can be seen in the ESPN 30 for 30 documentary The U  where he talks about his involvement with Miami football. During the 80s and early 90s when Miami was the king of college football, he served as the unofficial mascot or spokesman who would urge local athletes to play for the U.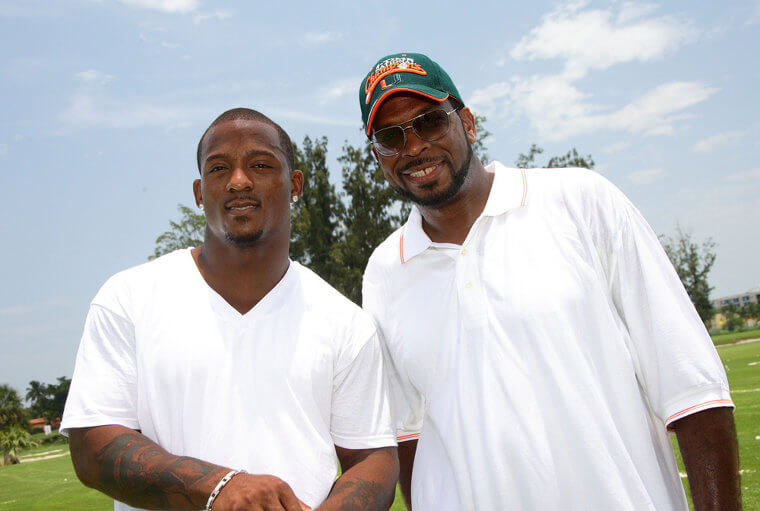 The relationship hasn't always been perfect between the two parties with Luke threatening to expose some violations the university has committed, but like most familial relationships, there are good times and bad times. With Miami resuming its quest to return to national greatness in college football, Luther Campbell will certainly be right there with his beloved Hurricanes. If that doesn't work soon, I think it's time to hire Uncle Luke and have him coach up the Canes. I mean, he can't do any worse than Randy Shannon or Al Golden, right?
John Daly – Arkansas
John Daly was one of the more colorful and entertaining personalities on the PGA Tour who was known for hitting it long off the tee and his penchant for guzzling Diet Coke and burning through a pack or two of cigarettes during his round. He could also be seen in practice rounds wearing Arkansas gear as the former member of the Razorbacks golf team has remained committed to supporting his school, even though he didn't graduate from the university.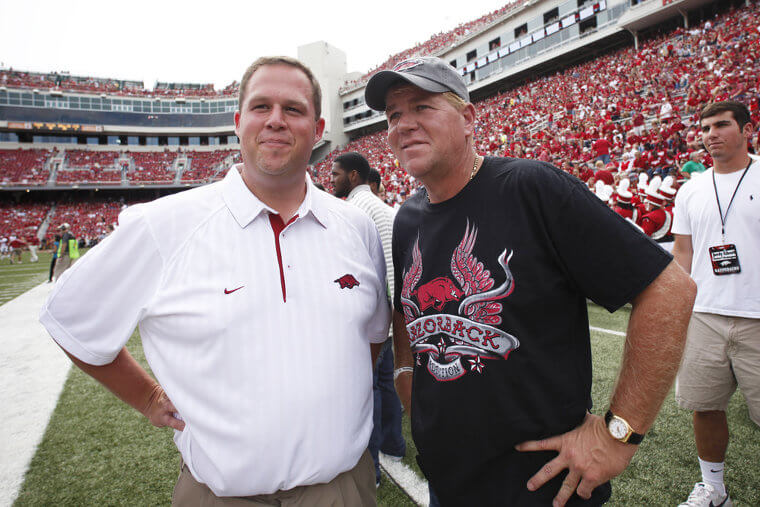 Now I can't help but imagine John Daly and former Arkansas Razorbacks head coach Bret Bielema sharing stories and pounding Diet Coke 12 ounces at a time. Tell me you would not be interested in a Bielema-Daly reality show. You know you'd DVR that show and it would be appointment TV. I think I smell an opportunity for the SEC Network to have more original programming besides the 18 hours a day of the Paul Finebaum Show.
Kenny Chesney – Tennessee
Kenny Chesney gets good-natured ribbing because he seems to be friendly with just about every SEC program. He's like the Drake of the college football world, but his heart is with the Tennessee Volunteers. Chesney was born in Knoxville and produced an ESPN documentary about former Tennessee quarterback Condredge Holloway who was the first African-American starting quarterback in the SEC and broke the color barrier at Tennessee.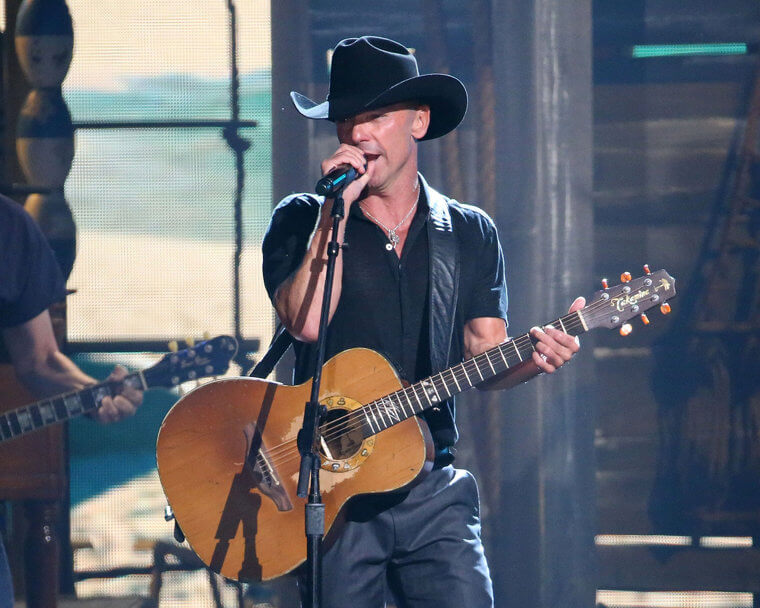 Ask Tennessee fans about Chesney and you'll get a split reaction from the fan base. Because of his fairweather status, many Vols fans don't want to "claim" him as one of their own. If you don't claim Chesney, then perhaps you'll claim David Keith as the biggest celebrity fan of the Vols. The actor known for Officer and a Gentleman was born in Knoxville and still lives there today with his family. He went to school at Tennessee and when his schedule permits, he's seen on the sidelines for home games in Neyland Stadium.
Katy Perry & Shepard Smith- Ole Miss
Katy Perry is best described as the biggest celebrity cheerleader for Ole Miss after her stellar guest appearance on College GameDay when ESPN filmed from Oxford. Afterward, the singer ingratiated herself with the locals by drinking beers and jumping off bars. You could definitely hear the singer "roar" when the Rebels upset the Alabama Crimson Tide that night. But calling her the biggest fan could be a reach because I don't think she knew anyone on the roster that morning she arrived in Oxford, Mississippi.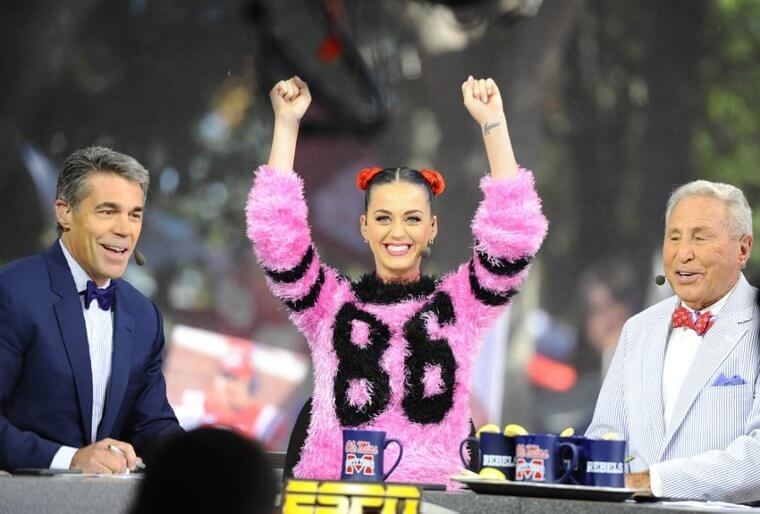 As for the biggest fan? That's gotta be Fox News anchorman Shepard Smith who grew up in Holly Springs, Miss and later attended the university. He claims he grew up with a poster of Archie Manning hanging in his room, so that's the first step to gauge his Rebel fandom because Archie has God-like status on the campus where 18 is the speed limit in honor of his jersey number. Smith not only attends Rebel football games but shows up for basketball and baseball games too. That's a true fan.
Darius Rucker – South Carolina
While he was a student at South Carolina, Darius Rucker formed the band Hootie and the Blowfish that was one of the most popular bands during the mid-late 90s. The band may have moved on and Rucker is having success as a solo country artist but the one thing that has remained the same is his love for the Gamecocks.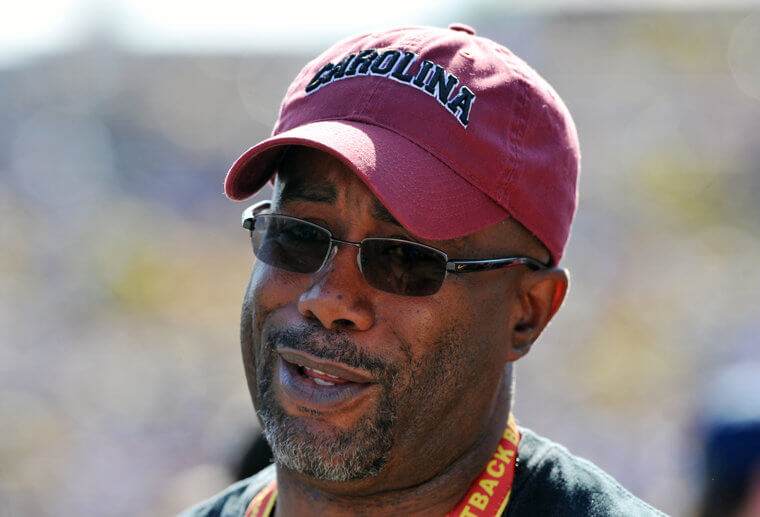 Rucker's fandom has definitely been tested after South Carolina endured several tough seasons since Steve Spurrier resigned as head coach. I don't anticipate Rucker abandoning ship like Spurrier did because Rucker was a fan before the program took off under his watch, so he's been through some lean years before. With Will Muschamp now jettisoned, there could be more lean years ahead and I have to think Rucker is serenading Spurrier singing, "I only wanna be with you."
Greatest College Football Programs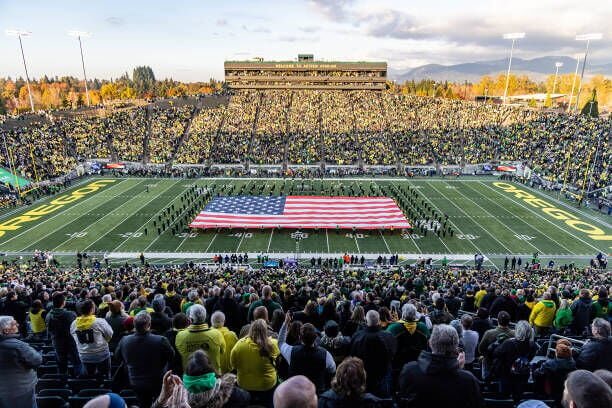 ​If you know anything about American football, you're probably aware that prestigious colleges have football scholarships and programs to keep the sport alive. In fact, college football is fiercely competitive and enjoyed by people all over America. After analyzing 150 years of game stats and wins, we have picked the country's top 20 college football programs. So what are you waiting for? Ready, set, go!
Alabama
With 15 national titles under its belt, Alabama is undoubtedly one of the country's best football colleges. They have a super high rating of 74.9, and it's hard to deny the rich history of the Crimson Tide. Legendary coaches Wallace Wade from 1925 to Nick Saban have been a part of this formidable team.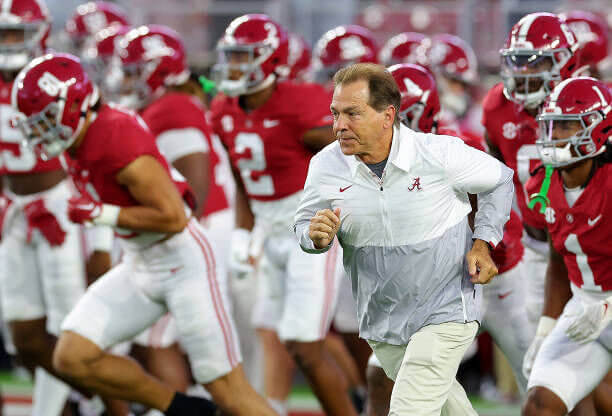 Saban has bagged the national championship four times in the last ten years alone. Apart from five championship wins, seven coaches have earned an SC title, and twelve have enjoyed at least a single 10-win season. All in all, Alabama has one of America's highest-ranking college football programs.
Notre Dame
Coming as a close second to Alabama, Notre Dame has a rating of 72.9 with 13 national titles attached to its name. The Fighting Irish peaked during college football's mid-life, and Knute Rockne made the team a formidable foe when the game was in its 50th to 125th year from 1919 to 1994.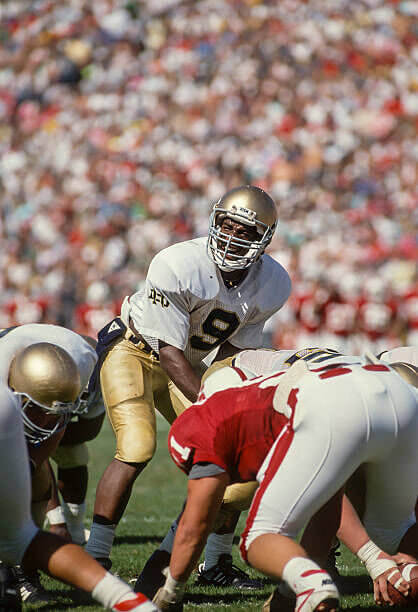 The coaches that came after the highly revered Rockne kept the momentum going for Notre Dame. From Frank Leahy to Ara Parseghian, Dan Devine, and Lou Holtz, all of the Irish coaches were esteemed Hall of Fame members with celebrated careers. While the team hasn't excelled in the past 25 years, Brian Kelly might turn things around for them.
Ohio State
With a rating of 69.9 and eight national titles to back it up, Ohio State made it to the big three. There's no denying that the Buckeyes are a force to be reckoned with. The fans are demanding, the players are hardworking, and the performance is excellent.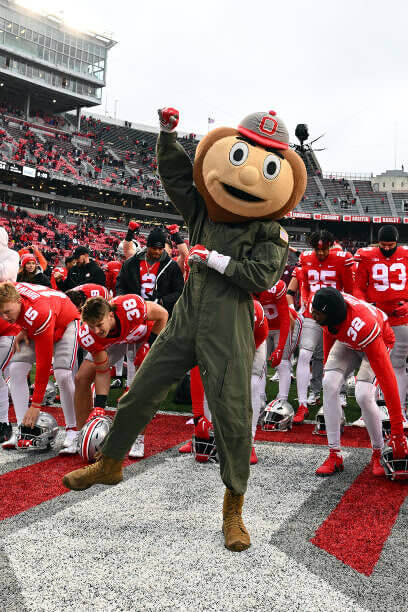 What's even more impressive is the coach line-up over the years. From Woody Hayes to Urban Mayer, almost all the coaches since 1951 have been College Football Hall of Fame royalty. And the ones that weren't are simply waiting to be inducted.
Oklahoma
Since Bud Wilkinson took Oklahoma under his wing in 1947, the college has been playing world-class football, landing them among the giants. With seven national titles and a 68.5 rating, Wilkinson's successors aren't to be taken lightly either. Incredible athletes like Barry Switzer, Bob Stoops, and the current coach Lincoln Riley have led the team to the top.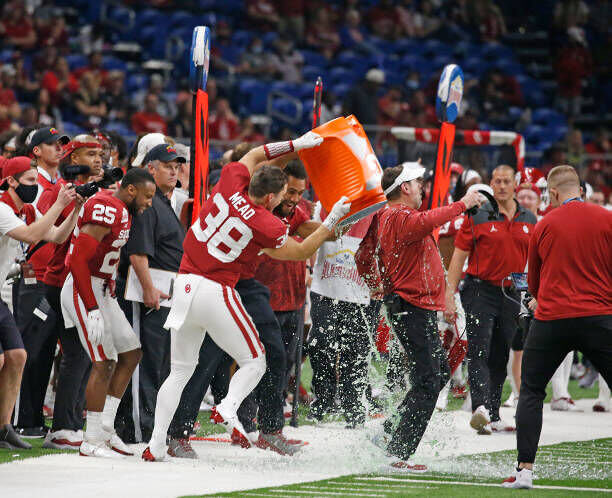 Oklahoma has gotten the cream of the crop to lead their team toward victory. By bringing in talent from the Lone Star State, Oklahoma ranked 28th in terms of population, has managed to reach the big leagues.
USC
Let's enter the West Coast to visit USC's team, the Trojans, which boast nine national titles and a rating of 67.25. The history of SC goes way back, almost before World War II, when Howard Jones established its supremacy.
Since then, the college program has only gotten better and stronger. Some examples include John McKay and Pete Carroll, who scored many wins over the years. Ultimately, both joined the NFL, and the NCAA kept the game alive. While the Trojans haven't been at the top of their game, history teaches us that they'll get back on their feet in no time.
Michigan
Throughout the 1920s, Michigan dominated the Big Ten, winning seven out of its ten national titles between 1901 to 1933. The middle part of college football history wasn't the best era for The Wolverines. During these 50 years, the team lost its footing only to regain it in 1969.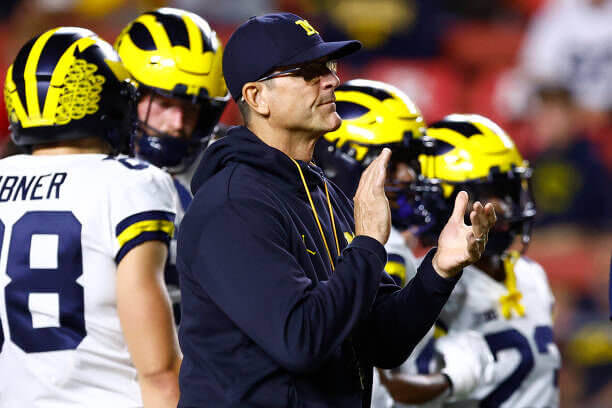 That's when Bo Schembechler appeared for its centennial season and turned their bad luck all upside down. Once Michigan can beat Columbus, their biggest rival, they're definitely making a huge comeback.
Yale
If we stop judging solely on recent events for a moment, it's clear that Yale had a powerful monopoly on the rankings in the first 50 years of college football. It's hard to deny them a spot in the Top 10, considering the Father of American Football, Walter Camp himself, was a player here.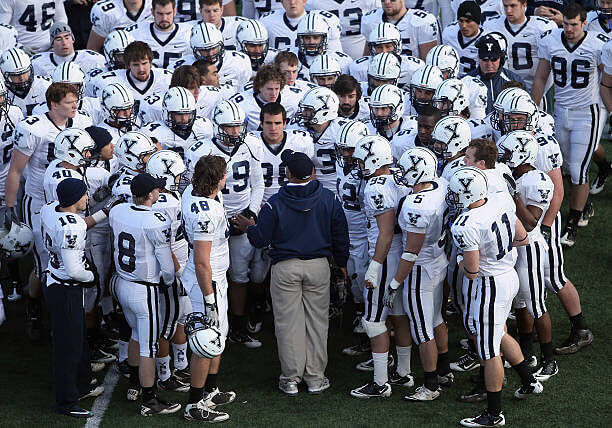 All through the 1970s, no other Ivy League College would dare to consider itself an equal to Yale in the football arena. Yale has 18 national titles and a 66.7 rating, but they've lost their power to another Ivy League giant, Harvard.
Nebraska
Nebraska's Cornhuskers made their way into the top 10 based on their stellar performance in the last 50 years of the previous era of college football in America. Out of its five national titles, only one was won in 1970, which was the beginning of a lucky era for the team.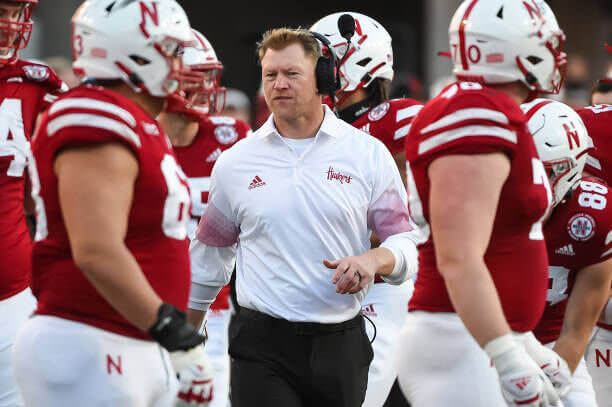 In the next thirty years, the Huskers were the number one team. Unfortunately, their performance has taken a turn for the worse in the last two decades. Nebraskans are hoping that Scott Frost will finally bring them back into the limelight.
Texas
The Texas Longhorns have a turbulent history of ups and downs. While the team has made it to the elites, it has taken quite a complex trajectory. If there's one thing the Longhorns can promise, it's unpredictability.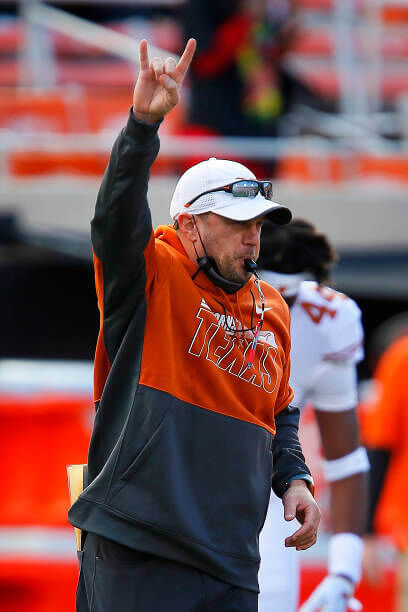 Just when you think they're a permanent fixture at the top, they surprise you by disappearing again. But when their game is good, it's spectacular. First in the 1940s with Coach Dana X. Bible, then in the 1960s with Darrell K. Royal, and finally in the 2000s with Mack Brown – during all these eras, the team played like never before. The Longhorns would also get extra points for their fight song and mascot if we were giving any.
North Dakota State
Winning 15 national titles is no easy feat, and that's why North Dakota State is the very best of the best. The college has risen to the top in the past decade by dominating the FCS completely, and it's as good as when they monopolized Division II for 25 years starting in 1965.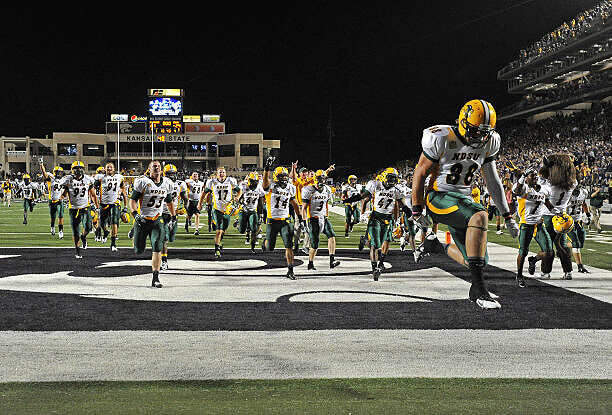 At this point, they're rated 63.6 and are definitely at the top of their game. Plus, the Bison fans have got some serious game spirit. Just take a look at College GameDay from 2013 to understand what it means to be a fan of the Bisons.
Princeton
For the first 50 years of college football, the Princeton Tigers held a permanent position in the Big Three that was cemented when they defeated Rutgers on 6th November 1869. Since then, they've found success after Woodrow Wilson resigned as coach.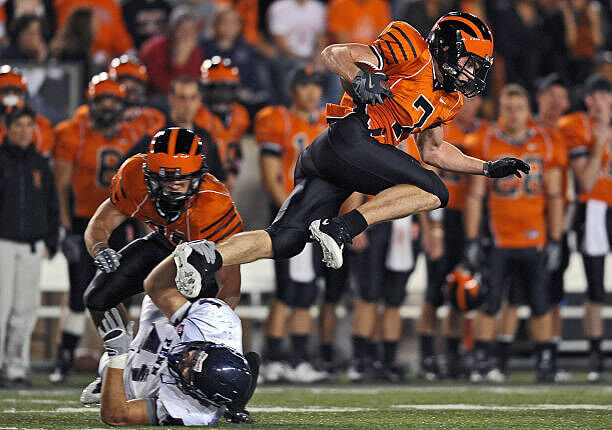 Dick Kaznmaier also led the Tigers to the outstanding 9-0 record, along with a ranking of No. 6 in 1951. But what else do you expect from the latest Ivy league winner of the Heisman Trophy? Overall, Princeton has brought home 15 national titles with a rating of 62.8.
Penn State
Penn State's college football greatness only began in the last 50 years of the game when Joe Paterno entered the field. Before Paterno took the reigns in 1966, Penn State joined the top 10 twice. For 47 seasons straight, Paterno provided a consistently stellar performance.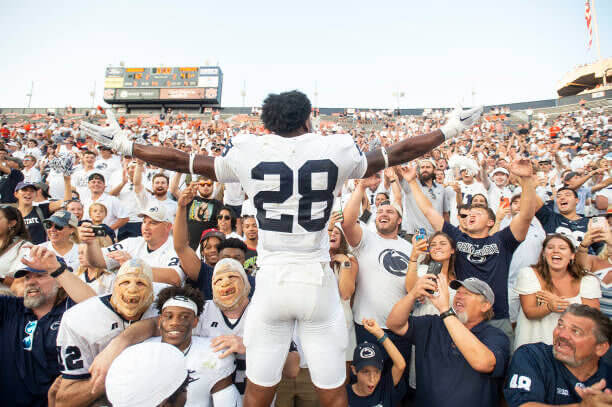 Unfortunately, the scandal and the legacy he left behind were just as historic as his excellence in the football arena. Considering Paterno's solid foundation, it's no surprise that Bill O'Brien and James Franklin managed to rebuild the program with great ease.
Harvard
College football and the prestigious Ivy League school are old, familiar friends. In fact, if it weren't for one of its alums, Theodore Roosevelt, college football would not be where it stands today. Even their home stadium, Harvard Stadium, is the oldest in the sport's history.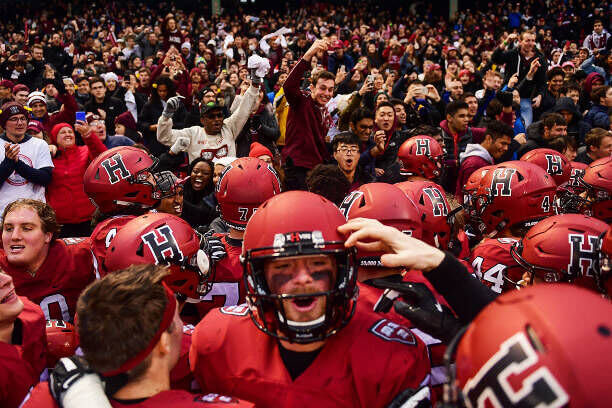 Keeping in line with the legacy, Harvard was part of the Big Three for the better part of 50 years at the beginning of the sport. They now have a rating of 60.8 and eight national titles. Today, they're at the top of the ladder when it comes to Ivy League schools, leaving competitors like Yale behind.
Tennessee
The Tennessee Volunteers were on top of the Southeast football scene for the second half-century of American college football. Their success can be credited to Gen. Robert Neyland, who knew how to defeat their biggest rivals – Frank Thomas of Alabama and Bear Bryant of Kentucky.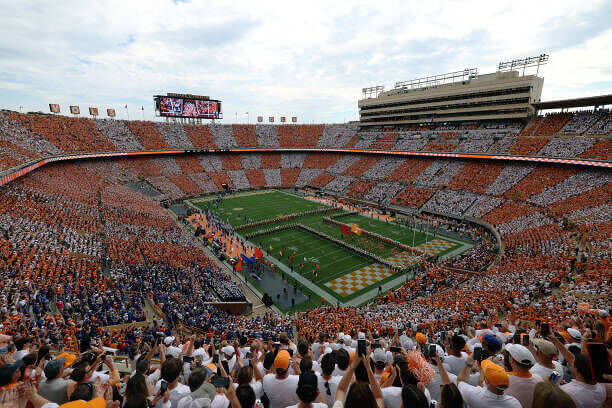 Since Neyland, the Volunteers have struggled to rise to their former glory and continue to lag behind Alabama and Florida. Both teams are led by excellent coaches, with Steve Spurrier at Florida and Bryant at Alabama. Tennessee will have to do a lot better to make a comeback.
LSU
LSU is lucky enough to be the only public university in a state filled with rabid football fans. While they have only four national titles and a rating of 59, the Tigers have some strong support. To give you some perspective on how passionate the fans can be, let's take the example of Huey P. Long.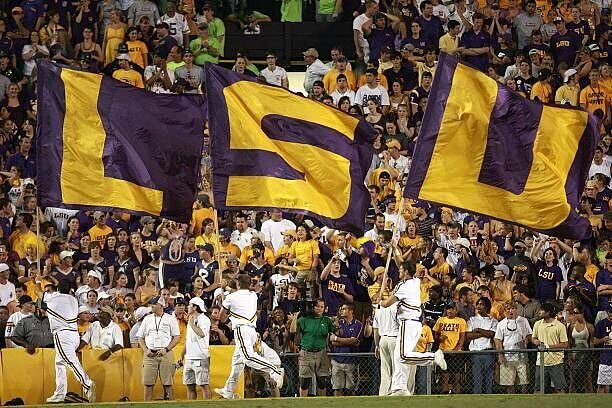 Long was the US senator and governor during the Depression. The Senator was so football-crazy that he enlarged the band and even wrote some spirited songs for the team. He also removed celebrated coach Biff Jones just because he refused to let Long speak to the team. The fans carry that legacy forward by being absolutely ruthless in the face of competition.
Mount Union
Racking up 13 national titles and a rating of 58.7, Mount Union has been home to some of the best coaches in the business. The best example is Larry Kehres, the highest winning percentage holder in college football history.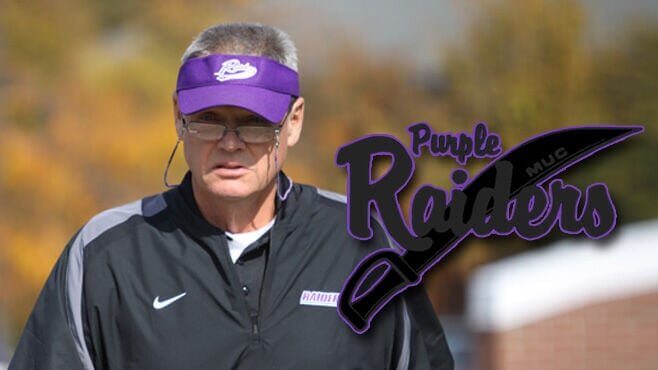 The Purple Raiders bagged 54 games straight under the guidance of Kehres, setting an NCAA record. During that, they only lost one match and went on to win 55 more games, a stunning streak that landed them on the top. They dialed it back a bit in 2016 after Kehres retired in 2012.
Miami
Even though the rest of the college football teams had a head start of 67 years, they still weren't ready for the Hurricanes to strike. Miami reached the top 20 regardless of their late start courtesy of their two decades of excellence that lasted from the 1980s to the 2000s.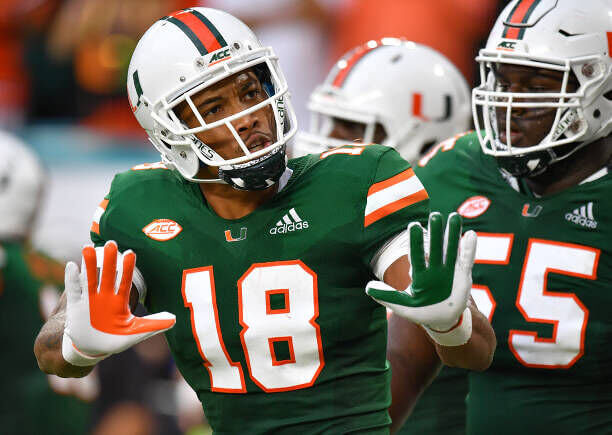 During that period, the Hurricanes took home five national championships under four different coaches. Miami may not be in its golden years currently, but its wins are still considered historic in the world of American college football.
St. John's (Minn. )
St. John's went on a winning streak under John Gagliardi, who joined in 1953 and retired in 2012. During his tenure, the head coach played 60 seasons and led the team to a total of 465 victories. According to all our stats, St. John deserves a spot in the top 20.

The college has had one of the best football programs in the past century. Winning four national championships and 27 conference titles is no walk in the park. All thanks to Gagliardi!
Florida State
Before World War II, Florida State was a women's college and only started accepting men after they returned from the big war. Once Bobby Bowden took over in 1976, Florida State reached the top five teams and stayed there for fourteen seasons straight.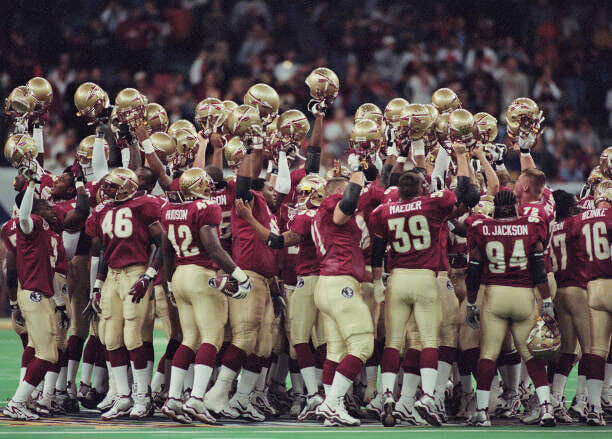 During that, they won two national championships and tried for three others. After Bowden, Jimbo Fisher continued the legacy of the Seminoles. One of the team's most significant advantages is that they're in a state brimming with football talent, and Bowden recognized that and took full advantage of it.
Auburn
The Auburn Tigers bagged two national titles, one in 1957 and the other in 2010, but that's not all they're credited to. The Tigers have also hindered Alabama's chance of winning a national title in 1972, 1989, and 2013. Talk about being a thorn in the side!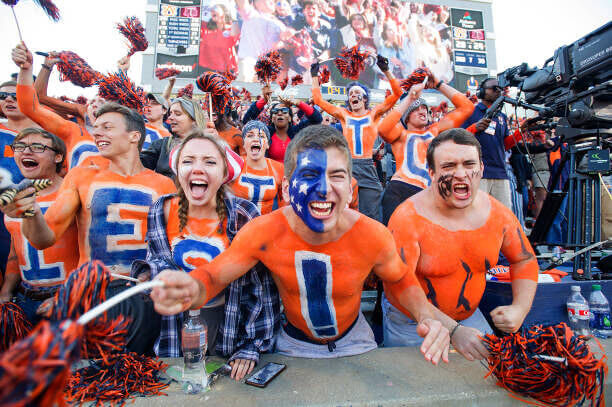 True Tiger fans have relished their wins and the downfall of Alabama's potential wins. Auburn's football program has progressed massively since the Tigers got their own home-field advantage, and previously they had to play two hours away in Birmingham.