Ellen DeGeneres and Portia De Rossi
Even if you're not familiar with current LGBTQ+ couples in Hollywood, you've probably heard of Ellen and Portia. These two have been one of the most popular power couples since 2004. Back when they first met, they were very occupied with their careers. Portia was building her modeling and acting career, while Ellen focused on stand-up comedy, which evolved into the creation of the famous Ellen show.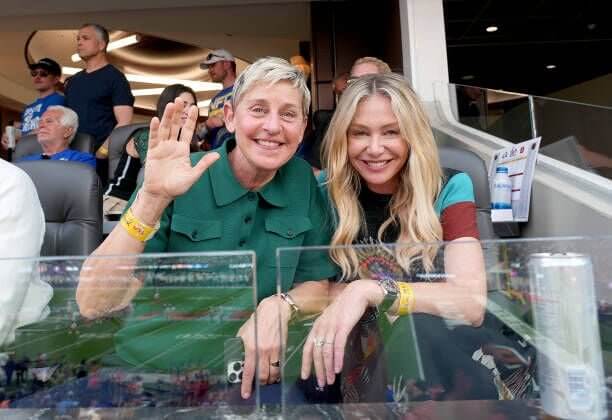 The two love birds got married after four years of being together and still are happily in love. Portia doesn't appear on the Ellen show that often but whenever she does, Ellen never fails to show how much she appreciates her. The two have become one of the most iconic LGBTQ+ couples of our age and are a great example of what true love should look like. Ellen even received a Presidential Medal of Freedom for fighting for LGBTQ+ rights!
Neil Patrick Harris and David Burtka
Chef, David Burka, and actor, Neil Patrick Harris, are relationship goals in Hollywood. The two were very secretive about their relationship in the past. Luckily, as the world is more open-minded allowing for LGBTQ+ couples to express their love freely, we have been seeing more of this powerful match on the entertainment scene.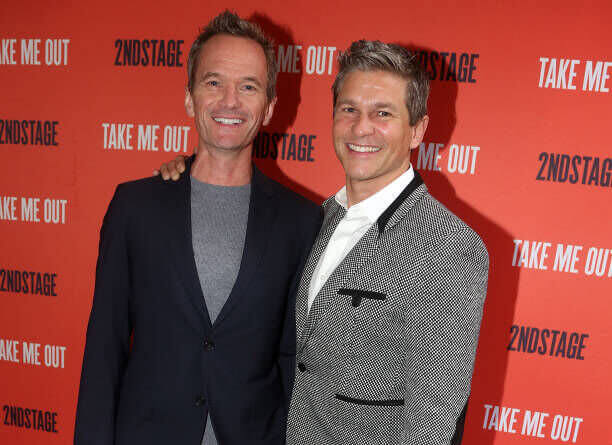 Both Neil and David have very successful careers. Neil has made his acting dreams come true, whereas David is now focusing on cooking, which has been his passion for a long time. After keeping their relationship secret and away from the public's eye for five years, the two got engaged and made it official in 2014. They even became parents through surrogacy in 2010 when their twins were born. 

Jodie Foster and Alexandra Hedison
Believe it or not, when Jodie Foster made a guest appearance on Late Night with David Letterman, the host made some unbelievable comments about her sexuality, implying that it is sad that she will never be with a man. While this is something you should never tell a member of the LGBTQ+ community, Jodie didn't take it to heart since she was as happy as one can be, married to her partner, Alexandra Hedison.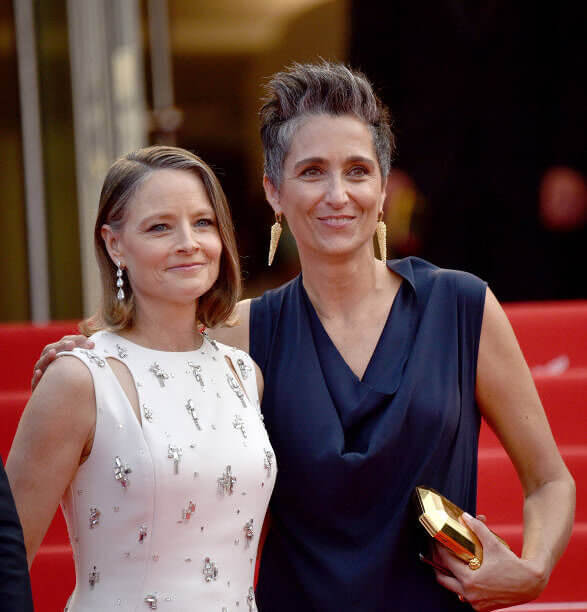 Foster is considered one of the best actresses in Hollywood and her partner, Alexandra, is a director, artist, as well as a teacher. The two got married back in 2014, only one year after they met. Interestingly, Alexandra Hedison used to date Ellen DeGeneres back in the day and Foster brought two kids into the marriage from her previous relationship with Cydney Bernard. She has two sons, one of whom is pursuing an acting career in hopes of following in his mother's footsteps.
Cara Delevingne and Ashley Benson
Cara Delevingne began her career in the fashion industry where she became a model at a very young age. Even though Cara always wanted to be famous for something, it didn't seem like modeling was for her. Or at least not the only thing. However, now that she is also acting, Cara has an opportunity to fulfill her dreams under the spotlight. But, of course, we are here to discuss her relationships rather than her career, which is why it's important to mention that she began dating the lovely Ashley Benson.
Benson is a model and actress and is mostly remembered as Hanna Marin in Pretty Little Liars. Besides her role in the teen mystery-drama television series, she also starred in the films Bring It On: In It to Win It, Christmas Cupid, Spring Breakers, Ratter, and Chronically Metropolitan. Sadly enough for the twosome, they ended their relationship in the Spring of 2020. Only time will tell if they'll reconcile in the future.

Michael Sam and Vito Cammisano
Here is a truly touching story of an NFL player and his emotional outburst on live TV. Michael Sam, a talented football player, couldn't stay calm when he was drafted to the NFL. He couldn't control his emotions and ended up kissing his boyfriend, Vito Cammisano, on live television. The reactions from the public were mixed but Michael couldn't care less. He was happy and in love.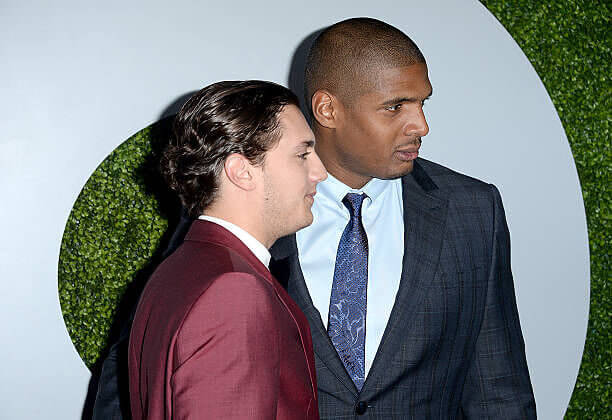 While Michael pursued his sports career, Vito was an alumnus of the University of Missouri. The two went public with their relationship when they got engaged in January of 2015. Unfortunately, they broke up five months later. The reason for their split is still unknown.

Rebel Wilson and Ramona Arguma
Australian actress, comedian, and writer, Rebel Wilson, announced her engagement to filmmaker and director Ramona Agruma after dating for over a year. The engagement was celebrated with photos posted on social media, along with Wilson expressing her excitement for the future and thanking her fans for their well-wishes.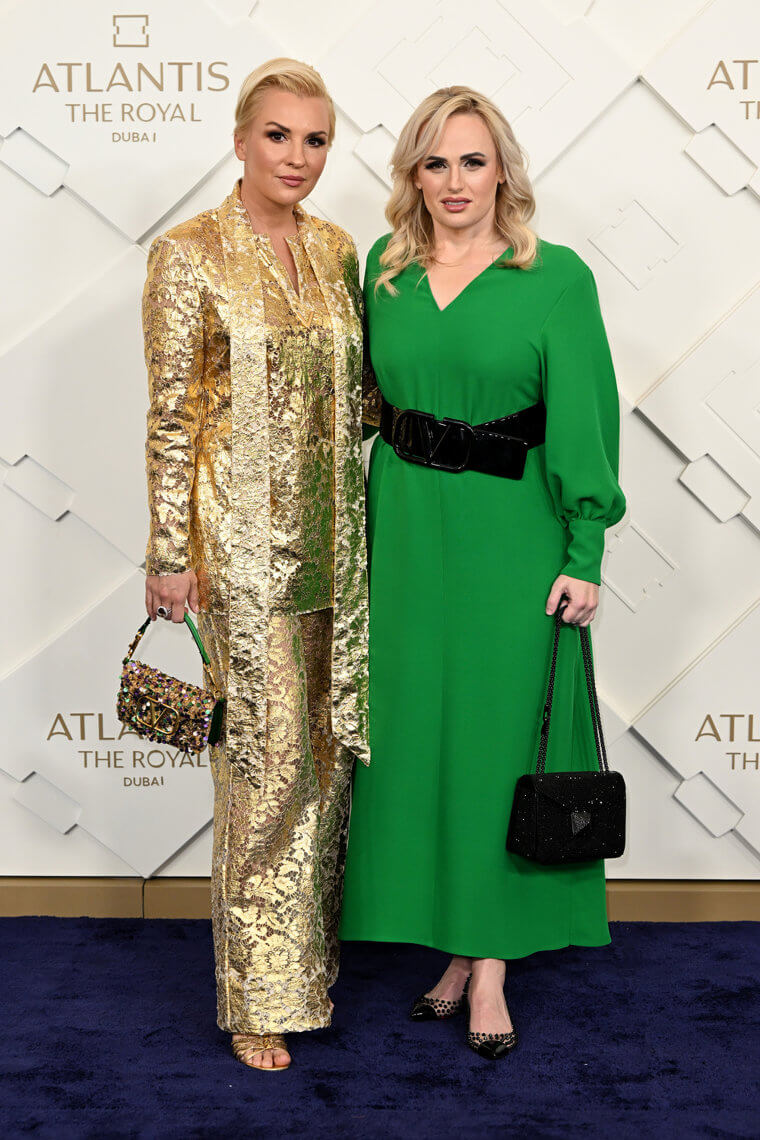 Wilson's engagement is a significant milestone, given her previous struggles with love and dating. She has been open about her transformation journey, which has included prioritizing her health and happiness, adopting healthier habits, and ultimately finding love with Agruma.
Catherine Bell and Brooke Daniells
Actress Catherine Bell, known for her work on the TV series JAG and Army Wives, and photographer and event planner, Brooke Daniells, have been together for more than eight years and show no sign of stopping. They got together in 2012, a year after Catherine's separation from actor, Adam Beason, with whom she shares two children.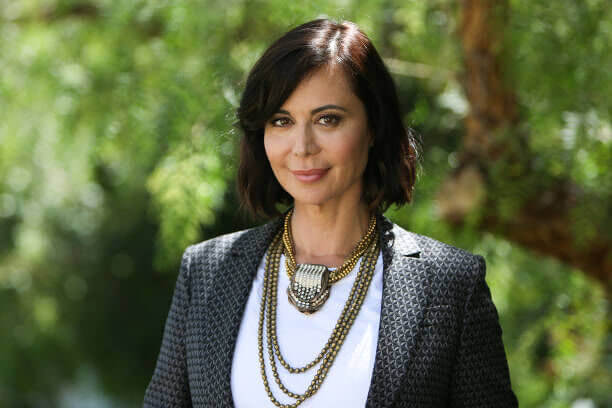 Both Catherine and Brooke are members of the Church of Scientology, a religious organization started in 1952 whose most famous current spokesperson and member is actor, Tom Cruise.
Sarah Paulson and Holland Taylor
Now here's a match that nobody was expecting! We were all shocked to see Sarah Paulson, who is 46 years old, dating 78-year old Holland Taylor. These two are a great example that love knows no limits and their relationship is definitely one that's going to be remembered.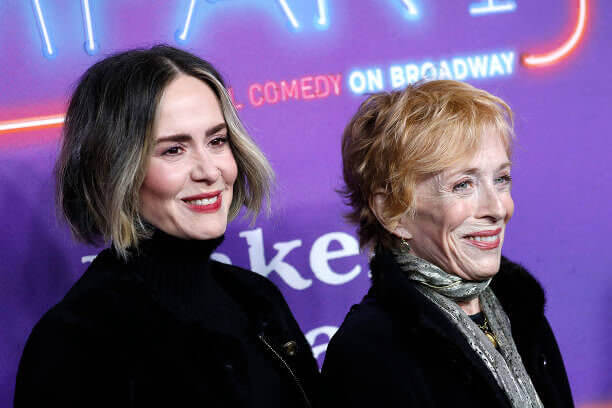 You might recognize Holland Taylor from the famous sitcom Two and a Half Men where she starred as Charlie Sheen's character's mother. Sarah Paulson also has a successful acting career with her biggest success being the roles in all seasons of the American Horror Story series. Even though many were shocked by her choice of partner, Sarah couldn't care less about what people think of her and Holland. After all, we always say that age is just a number!
Jenna Lyons and Courtney Crangi
Jenna Lyons is a fashion designer and a successful businesswoman who made a drastic turn in her life. After being married for nine years to none other than artist, Vincent Mazeau, she decided to switch teams and look for love elsewhere. Jenna started dating Courtney Crangi right after she met her in 2011. If you haven't heard about Courtney, she is the sister as well as the business partner of the famous jeweler, Philip Crangi.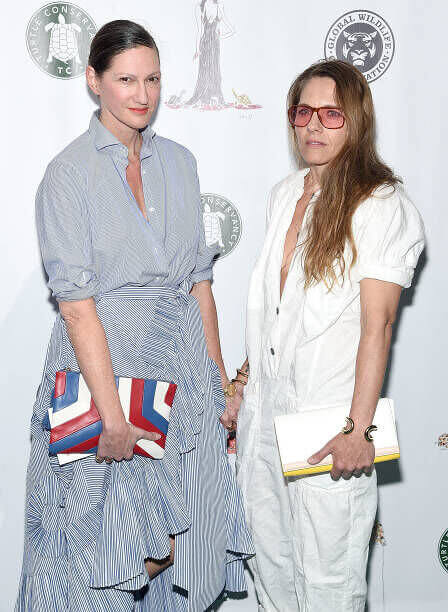 Unfortunately, despite them having a good run, the relationship ultimately came to an end. The two broke it off in 2017 when their lives changed once again. Lyons was 49 at the time and she quit her position as the creative director of J. Crew because of poor sales and results. Crangi was 44 at the time the two broke up and she continued working with her brother. 
Kendrell Bowman and Anthony Wayne
Could there be a better match than a Broadway star and a stylist? Looks like Anthony Wayne got himself a personal stylist when he started dating Kendrell Bowman. Wayne made his debut appearance on Broadway in 2011 in the musical, Anything Goes. He met Kendrell and the two hit it off right away!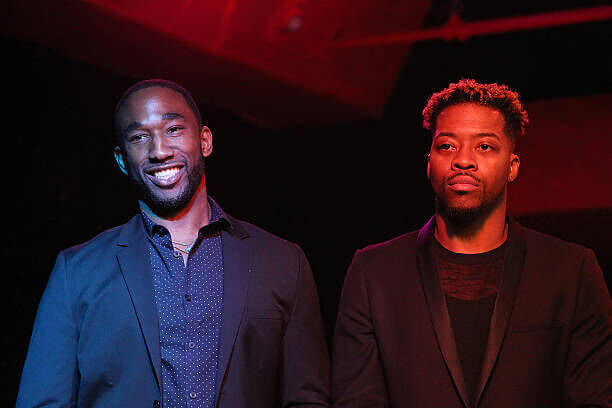 The two became inseparable. They happened to be working on the same project, a successful off-broadway musical titled You Make Me Feel Mighty Real: A Sylvester Concert. Wayne was obviously the talented star of the show, whereas Bowman was in charge of directing and designing costumes. The two of them fit well together both in business and in their personal lives, which is why their relationship is so successful!
Samira Wiley and Lauren Morelli
If you are familiar with the LGBTQ+ scene then you probably know that the Netflix series, Orange Is the New Black, is a pretty big deal in the community. The show played an important role in the lives of Samira Wiley and Lauren Morelli. Lauren Morelli is the writer responsible for the entire show, whereas Samira was one of the leading characters named Poussey Washington.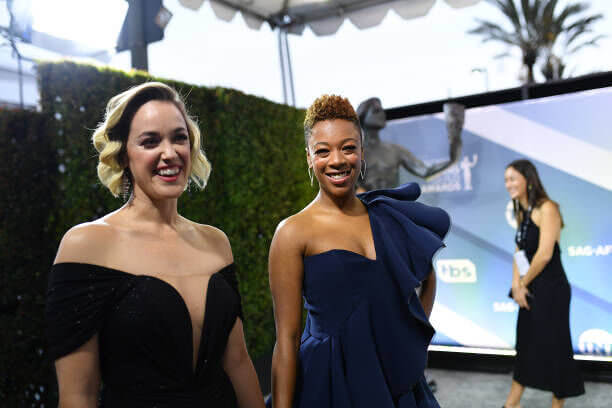 The two met on set and practically became inseparable. They officially got engaged in 2016 and married one year later. Interestingly, Morelli was previously married to a man but she couldn't neglect the fact that she was attracted to people of the same sex. Hence, she eventually had to let go and follow her heart. Working on the set of Orange Is the New Black helped her come to a realization regarding her sexuality. She got divorced and later fell in love with none other than Samira Wiley.
Nico Tortorella and Bethany Meyers
Nico Tortorella and Bethany Meyers got married in March of 2018. Their wedding was truly spectacular in the New York City courthouse where both of them wore beautiful white gowns. The two finally decided to tie the knot after being together for over 10 years. As you might already know, Nico Tortorella is a popular actor who is also the star of the comedy show called Younger and identifies as genderfluid. Bethany, on the other hand, is a fitness entrepreneur and doesn't know much about acting.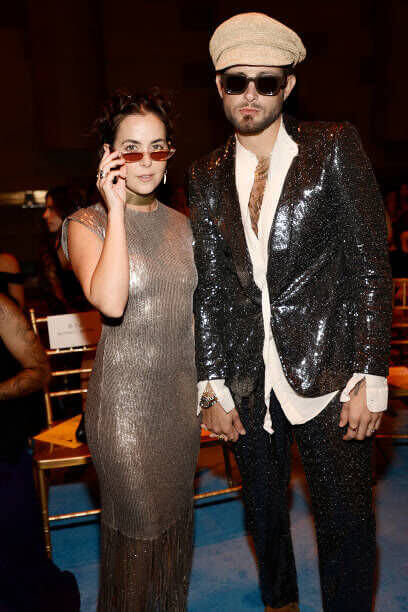 The two are very happy in their marriage, despite their relationship being somewhat untraditional. A strange fact is that they don't live together. They communicate via FaceTime on a daily basis and see each other once a week. 
Jesse Tyler Ferguson and Justin Mikita
You probably recognize Jesse Tyler Ferguson from the popular TV series, Modern Family. Outside of the show, he decided to start his own family with Justin Mikita. The two love birds got engaged in 2012 and married shortly after in 2013. What's really heart-warming about these two men is not only their lovely relationship but also their act of kindness on their wedding day.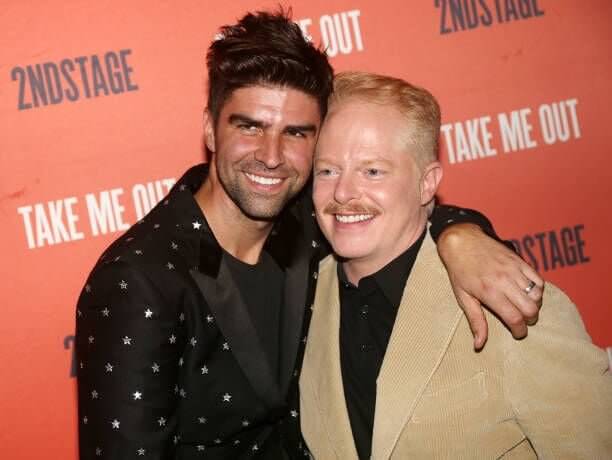 They decided not to take wedding gifts in the traditional manner but rather donate everything to charity. Thus, they kindly asked all wedding guests that, instead of bringing a gift, they donate to the charity "Tie the Knot," which is a marriage equality charity. How kind is that!
George Takei and Brad Altman
Here's George Takei with his significant other, Brad Altman. Even though he is 84 years old, George is living his life to the fullest, enjoying the rewards of his successful career with the love of his life. As you already know, George is no longer a member of the Star Trek franchise cast but his character, Hikaru Sulu, will always be remembered.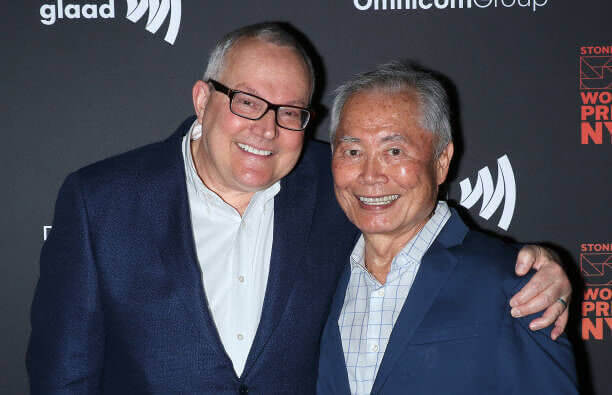 George publicly announced that he was gay back in 2008 when he made things official with Brad Altman, the popular actor, and writer. The two of them have been sharing their lives for more than 18 years. Interestingly, the unbeatable duo even appeared on a couples' gameshow called The Newlywed Game and they won $10, 000 which they gave to a charity of their choice. They chose to donate the money to the Japanese American National Museum. 

Sam Fox and Linda Olsen
Samantha Fox, the former model, and singer married her long-time partner Linda Olsen. They got married at a beautiful ceremony in Epping Forest, Essex, the United Kingdom, on a beautiful June Saturday (2022).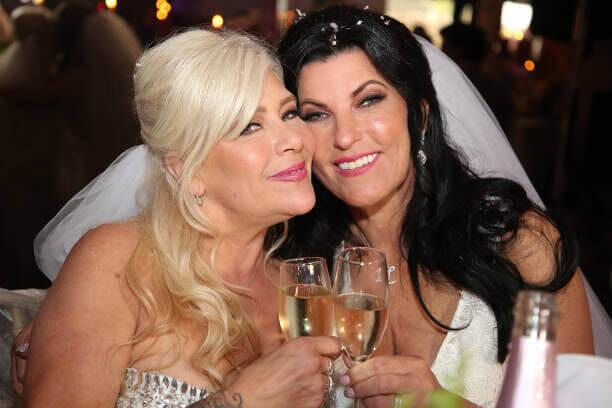 It was supposed to happen two years ago, but, as we all know, COVID19 had different plans. Sam, now 56, was a huge star in the 1980s with her hit "Touch Me". She stunned guests with a white strapless gown and sparkly detailing. She also had a beautiful bouquet of beautiful pink roses.
Lance Bass and Michael Turchin
Next up are Lance Bass and Michael Turchin, a happy couple who spent three years dating before they finally tied the knot in 2014. Lance Bass was one of the N'Sync members and he kept his sexuality on the down-low for quite some time. It took him many years to build up the courage to finally speak up, which happened in 2006 when he revealed to People magazine that he was gay.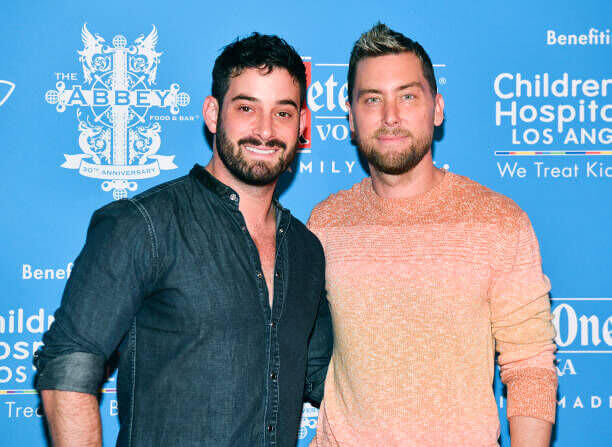 The two are now happily married, enjoying their life together. What's interesting about their relationship is that they were the first gay couple to get married on cable TV. Their wedding went live on the show, Lance Loves Michael: The Lance Bass Wedding. If you haven't seen it, it's worth taking a look at the happiest day in their lives!
Chely Wright and Lauren Blitzer
Chely Wright is one of the first stars of country music who openly came out as gay. She came out in 2010 in an attempt to encourage people to stop hate and bullying towards the members of the LGBTQ+ community. She was very open about herself and even admitted that hiding who she really was left a toll on her mental health and overall well-being.

A year after coming out, Chely announced that she got engaged to an advocate of LGBTQ+ rights, Lauren Blitzer. The couple officially tied the knot in Connecticut in 2011. Their family grew in 2013 when their identical twins were born - George Samuel and Everett Joseph. They have been living as a happy family ever since!
Cynthia Nixon and Christine Marinoni
Cynthia Nixon, the popular Sex and the City star, is another woman in Hollywood who turned her life around in order to pursue true happiness. She was married to Danny Mozes with whom she shared her life from 1998 to 2003. The two even had children and seemed to be enjoying a happy marriage. However, Cynthia always felt that something was not quite right and decided to call it quits.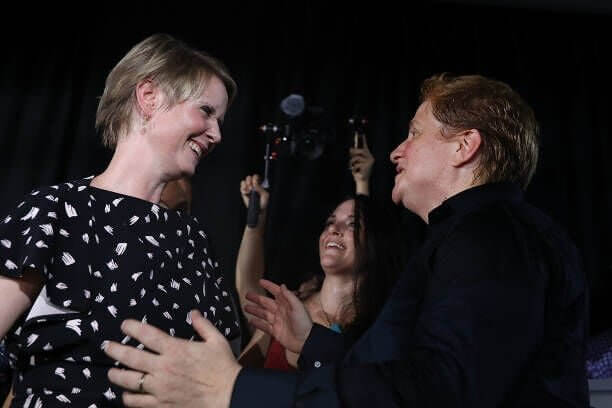 Little did she know that she would run into the love of her life only a year after splitting with her husband. She met Christine Marinoni, an education activist who swept her off her feet. The two got engaged in 2009 after dating for five years and they officially got married in New York in 2012. Marinoni even gave birth to a son in 2012 and extended the happy family. Interestingly, we should mention that Nixon's oldest son is transgender.
Elton John and David Furnish
Elton John and David Furnish met in 1993 and started dating right away. As a popular singer, Elton was happy to have his director by his side as a supportive and loving partner. They have enjoyed a happy relationship ever since and even tied the knot via a civil partnership back in 2005, since getting married to a person of the same sex was not legal back then (unfair, we know).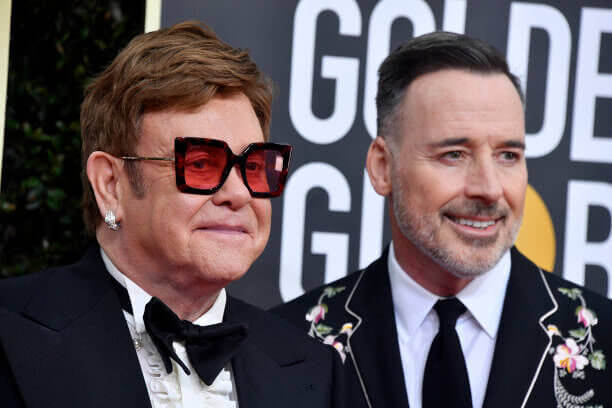 However, as soon as same-sex marriage became legalized in England and Wales, the two didn't hesitate to get married for real. Their lovely wedding took place on December 21, 2014, which was a day their entire family will always remember. Let's not forget that the two had a child born via surrogate even before the wedding. Their first child was born in 2010, while their second son joined them three years after. 
Tom Ford and Richard Buckley
Our next iconic couple is Tom Ford and Richard Buckley, one of the world's most famous fashion designers and fashion journalist. What a match! The story of how the two met is truly remarkable. They shared an elevator ride for 10 floors and by the end of the ride, they knew something was happening between them.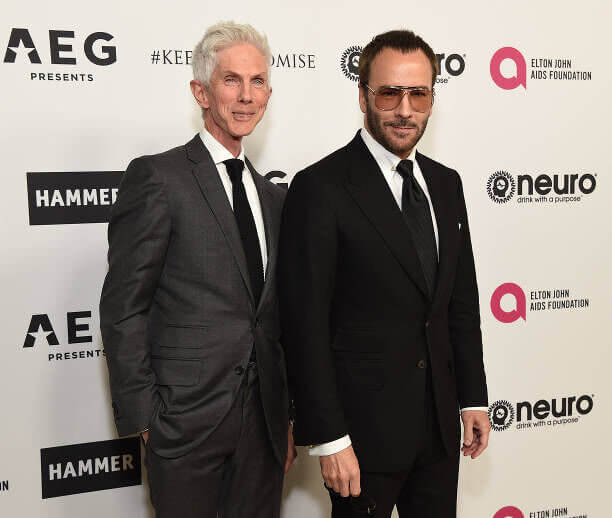 The adorable elevator ride took place in 1986 and the two have been in love ever since. They officially got married in 2014 and started their own family with a son named Alexander John Buckley Ford. When they were asked what the secret of such a successful relationship was, they said that the secret lies in having respect for your partner. It's a good lesson to take away!
Wanda Sykes and Alex Sykes
People were a lot more judgmental a decade ago when Wanda Sykes worked up the courage to come out as gay. After she came out, Wanda met Alex Niedbalski and fell in love instantly. Even though she used to be married to a man, Wanda decided that it was time to be true to herself so she let herself enjoy her newfound love. The man she was married to from 1991 to 1998 was Dave Hall, a popular record producer back in the day.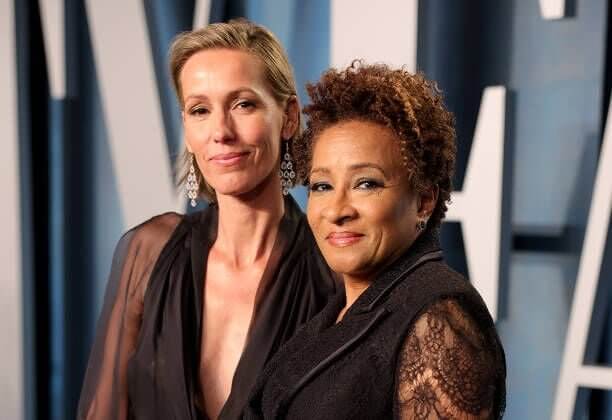 However, Wanda didn't let her past stop her from enjoying her life again. She got married to Alex and the two started a beautiful family with a son and a daughter. The fraternal twins were born in 2009 when their family expanded. The two are still happily living together!
Michael Kors and Lance Lepere
Lance Lapere worked as an intern at Michael Kors' company back in 1990. The two ended up taking a business trip to Paris together and, along the way, they learned that they had many things in common. After all, Paris is the city of love and it's very difficult to resist falling in love when you're walking together in front of the Eiffel Tower!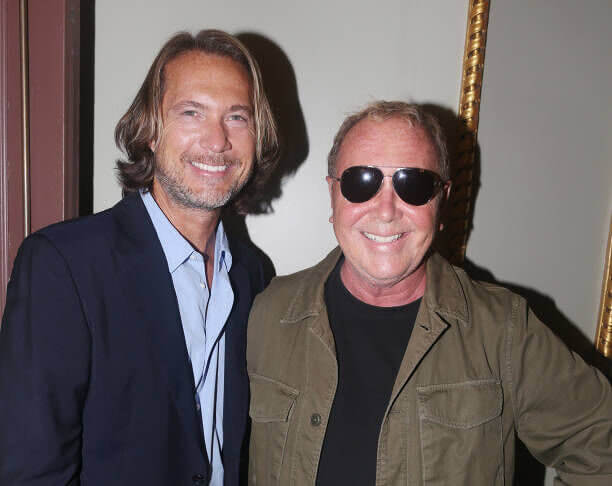 Ever since their trip together, Michael and Lance became inseparable and got engaged and eventually married in 2011. Clearly, the two just couldn't wait to tie the knot in Southampton, New York on the beautiful Dune Beach. After all, marrying someone barefoot on a beach was one of Michael's lifelong dreams!
Jillian Michaels and Heidi Rhoades
Have you watched The Biggest Loser? Jillian Michaels was one of the trainers of this popular reality show. Even though the show was great, the real action took place in her own reality show hosted on the E! Channel called Just Jillian. It was in this show that Jillian proposed to her partner and talent manager, Heidi Rhoades.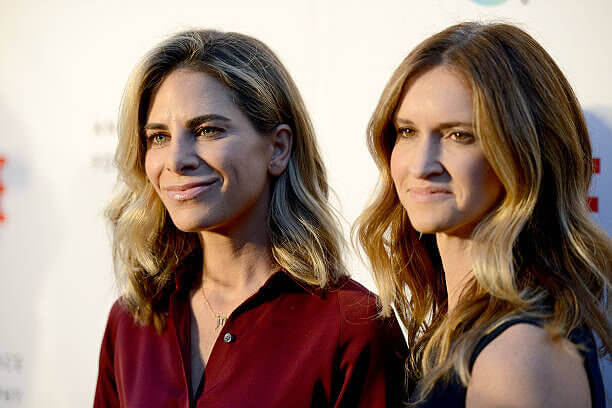 So many people witnessed the blooming love between these two women back in 2011. Unfortunately, the two broke it off in 2018, which left their fans in shock. Despite the sad ending, Jillian and Heidi only have positive things to say about one another and their relationship. They even said that they still love each other but things simply don't work and they are much better off as friends. 
Jim Parsons and Todd Spiewak
The Big Bang Theory star, Jim Parsons, started dating his now-husband, Todd Spiewak, 15 years before the series began. In May 2017, the two decided to tie the knot or, as Parsons said, "to legalize this thing." They made it official in New York City's Rainbow Room.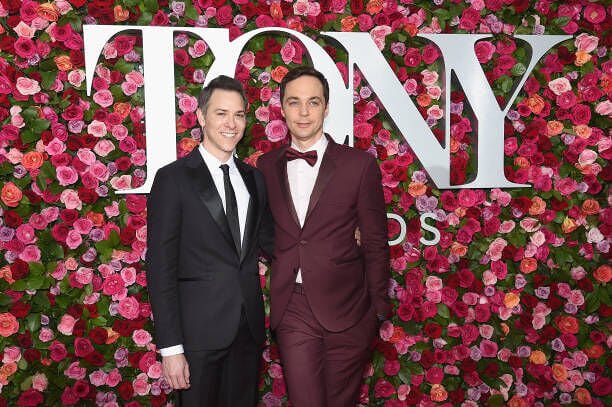 Interestingly, no one expected that Parsons would get married in the end. He always said that he was okay with how things were while he and Todd were just dating. However, he gave in and finally decided to make it official. He once described that being with Todd was as "close to being with God."
Lily Tomlin and Jane Wagner
Lily Tomlin made her debut appearance on the entertainment stage in the 1960s as a stand-up comedian. Being a talented artist and comedian, Lily quickly built a successful career. She appeared in many TV shows and movies, as well as had her share of Broadway appearances for which she won numerous awards. There is no doubt that she can be satisfied with what she has achieved.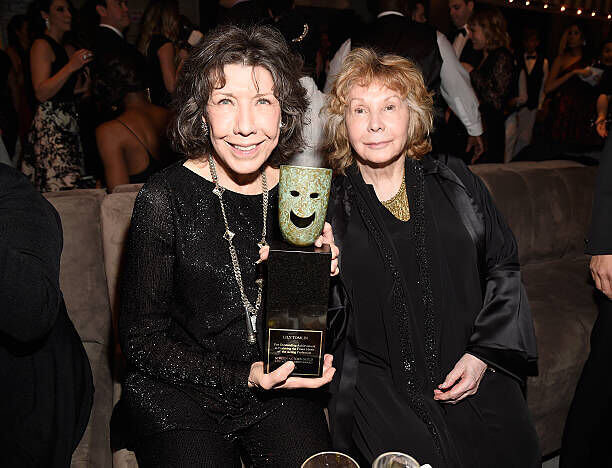 However, her biggest achievement took place in 1971. That's when she met Jane Wagner and the two fell in love. Interestingly, the two collaborated on Lily's album titled And That's the Truth. Soon after, they started dating and went public with their same-sex relationship. They decided to officially get married in December of 2013.
Melissa Etheridge and Linda Wallem
The story of how Melissa Etheridge and Linda Wallem fell in love is quite interesting. The two were best friends for a really long time and, when Etheridge became a single mother of four kids, she called Linda to help her deal with all the motherly responsibilities. Little did they know that things would go in a completely new direction.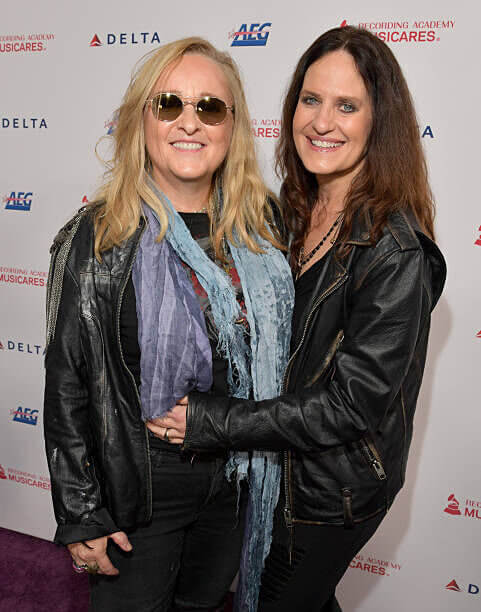 As time went by, the two of them became closer and closer. It didn't take long until they found themselves falling for each other. The result of their shared time was a new relationship that made both of them tremendously happy. They even decided to go all the way and legally tie the knot. After all, marriage comes with many benefits, and these two love birds were ready for it!
Elliot Page (formerly Ellen Page) and Samantha Thomas
Elliot Page is a famous actor who appeared in many TV shows and films throughout his career. His most important and successful appearance was in the film, Juno. Before 2014, we didn't even know that there was a whole different side of Elliot. During a Human Rights Campaign, he worked up the courage to openly admit his sexuality and talk about it on a public stage. Page initially came out as a gay woman and then as transgender.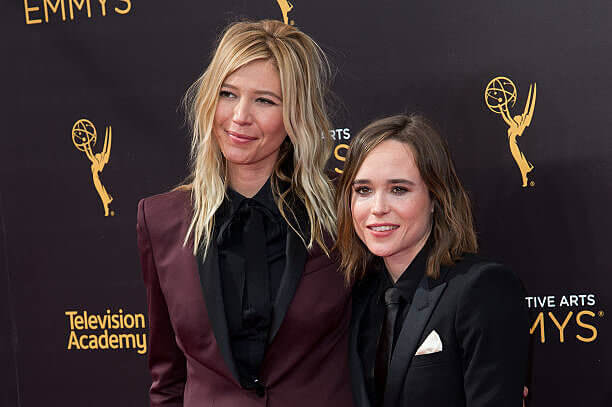 Besides his sexuality, Page discussed how things affected his mental health. People were very supportive of him after his brave actions during the campaign. This picture portrays himself and Samantha Thomas at a public event. The two spent a year and a half together before they called it quits. Elliot then married Emma Portner, a talented dance teacher but they finally split in 2021.
RuPaul and Georges LeBar
If you haven't heard of RuPaul, he is a drag queen icon who is responsible for the success of drag and the fact that people have started accepting it. He is also the most famous and successful drag queen in all of the United States. RuPaul spent over two decades with his boyfriend and now husband, Georges LeBar. The two have been together for over 20 years and counting.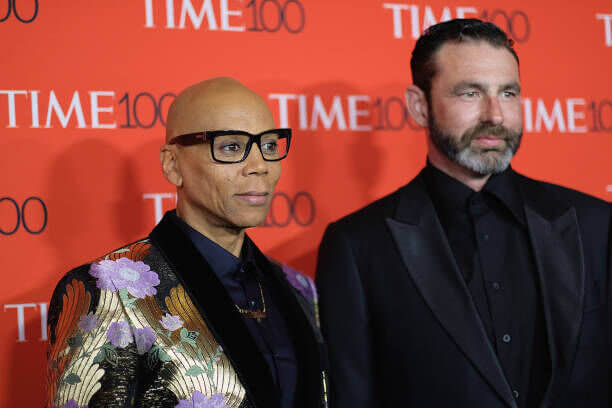 The two met in Limelight nightclub in New York City back in 1994 and they have been dating ever since. Their relationship is quite successful and LeBar doesn't seem to be bothered by some of his husband's extreme performances. He owns a 50-acre ranch in Wyoming and likes to go there to relax and spend time in nature. RuPaul, on the other hand, says he likes to do whatever he wants.
Cheyenne Jackson and Jason Landau
This handsome match between Cheyenne Jackson and Jason Landau was made public back in 2013. Cheyenne is a popular actor whose most important appearance was in the fifth season of American Horror Story, titled Hotel. He found his soulmate in Jason Landau who is also an actor and an entrepreneur. They got married after a year of dating and they have been living the married life since 2014.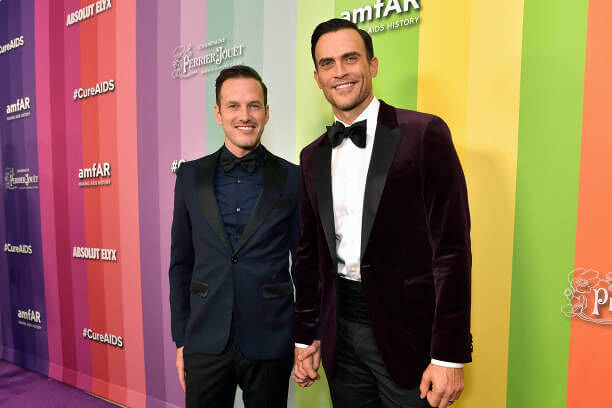 The two now are a happy family with their twins. Being a dad was Jackson's lifelong dream so he fully dedicated himself to being a good father. He took a six-month break from work to spend time with the twins. The two of them always seemed to be happy with each other. We are hoping that this happiness will last for a lifetime!
Robin Roberts and Amber Laign
In December 2013, the host of Good Morning America, Robin Roberts, came out as gay, even though her close friends and the people working with her already knew the truth about her sexuality. However, Robin felt that it was time to be honest and open about it in public. She didn't only admit that she was gay but also that she had been dating massage therapist, Amber Laign, since 2005.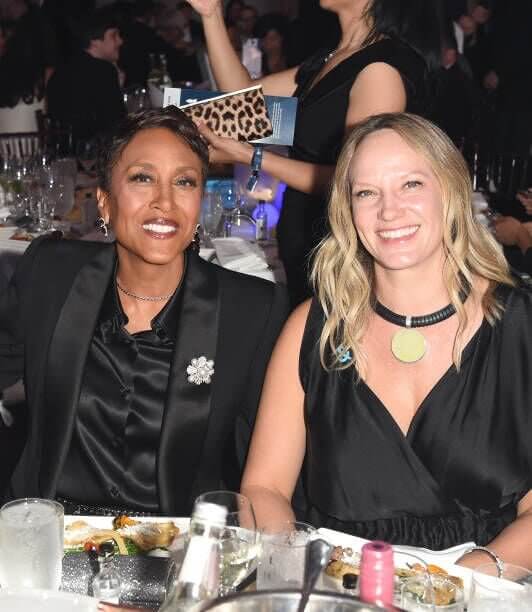 The two are still happy together and Robin couldn't be happier about the fact that she had the courage to go public with how she felt. She was even one of the 31 LGBTQ+ History Month Icons in 2015. She received many awards for her courage, including a Peabody Award in 2012 and an Arthur Ashe Courage Award from ESPN in 2013. Unfortunately, she did struggle with health issues, as she dealt with bone marrow disease.
Sara Gilbert and Linda Perry
Many of you will recognize Sara GIlbert from the popular sitcom, Roseanne, where she starred as Darlene. Besides being a successful actress, Sara is also the host of The Talk, a talk show that aired on CBS. Many fans of the Roseanne show were excited to hear that Sara was actually dating her co-star, Johnny Galecki, which she announced after coming out in 2010.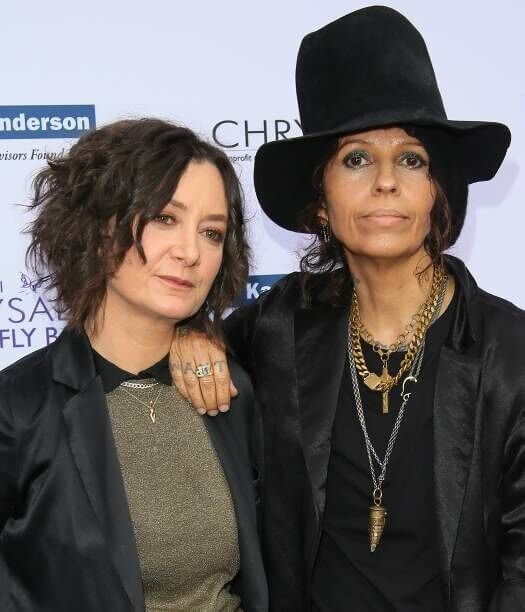 Sara has had quite a diverse history when it comes to dating. She also dated Allison Adler, a successful TV producer, but they broke it off in 2011. She is currently with none other than Linda Perry who is a producer and the lead singer of the band, 4 Non Blondes. After getting engaged in 2013, the two extended their family in 2015 when they had a son named Rhodes Emilio Gilbert Perry.
Barry Manilow and Garry Kief
Next up are Barry Manilow and Garry Kief. Manilow is a well-known singer and songwriter who left a tremendous impact on the American public stage. Throughout the five decades of his career, Manilow created numerous hits and songs that will be remembered forever. He was also open about his sexuality in public and he dated Garry Kief, a successful manager, since 1978. The two got married in 2014 and, interestingly, both were in relationships with women prior to getting together.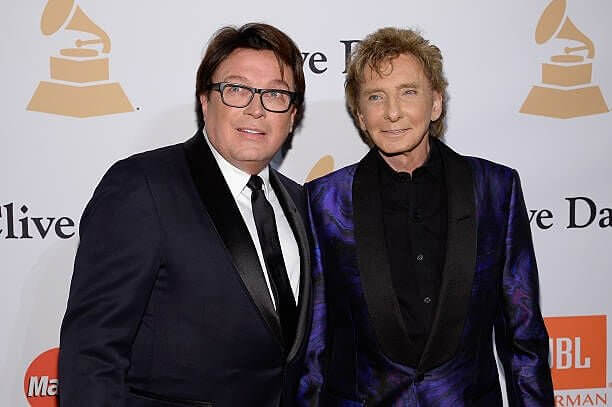 Manilow was married to his high school sweetheart, Susan Deixler, but two years after tying the knot, the two got divorced. Garry was also married to a woman and he even had a daughter named Kristen, born in 1976. However, both of them wanted to pursue their true happiness and they found it with one another. Their relationship was sealed in their Palm Springs estate where they officially got married.
Nate Berkus and Jeremiah Brent
Here is one of the most adored LGBTQ+ couples on the Hollywood entertainment scene. The relationship between Nate Berkus and Jeremiah Brent is simply too adorable to describe. The two didn't date longer than a year but they instantly knew that they were made for each other. Thus, the couple got engaged in 2013 and only a year later they tied the knot. Interestingly, the same year they got married was the year when their daughter was born.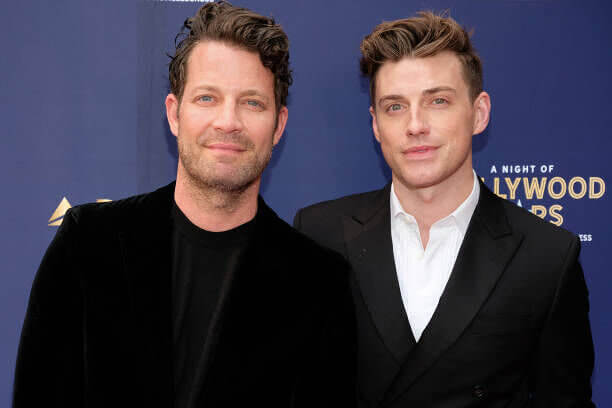 They are not only in a happy relationship but they also work together and have their own TLC show titled Nate & Jeremiah by Design. They dedicated themselves to promoting surrogacy because that's how they had their own daughter and recently a son as well. Their son is named Oskar Brent-Berkus.

David Hyde Pierce and Brian Hargrove
You might recognize David Hyde Pierce as Dr. Miles from the popular sitcom titled Fraiser. However, this successful role is not the only thing David has to be proud of. Three years after the show, he announced that he was gay, even though he didn't say anything about who he was dating at the time. It was his publicist who later announced that David was dating Brian Hargrove, a successful director, producer, and writer.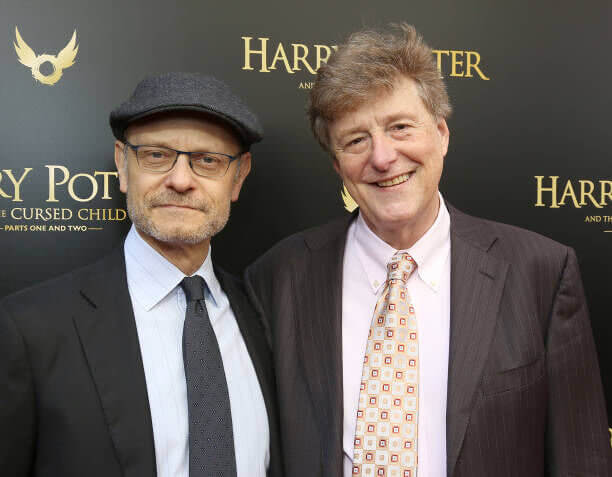 Pierce openly talked about his relationship for the first time when he accepted his Tony Award for the musical Curtains. The two of them got married in 2008 and they've been happy together for 24 years and still counting. Interestingly, they got married only a few days before Proposition 8 was adopted, which was a law that banned same-sex marriage. This was some very sad news for the couple but, luckily, things are looking better now!
Ryan Murphy and David Miller
Ryan Murphy is the man responsible for so many hit shows and series in our generation. He created the popular Glee series as well as the series Nip/Tuck, American Crime Story, and the famous American Horror Story. Besides being a successful director and TV show creator, Ryan Murphy is also happily married to the man of his dreams.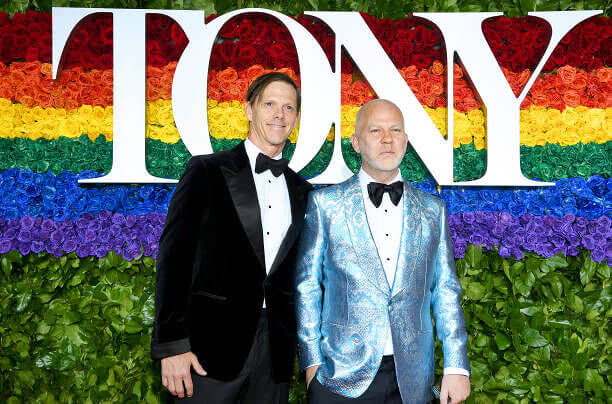 He is in a happy marriage with photographer David Miller. The two dated for 15 years and officially got married in 2011. In 2012, they had a son via surrogate whom they named Logan Phineas. It took only two years for them to get another son named Ford through surrogacy as well. They are now living as a happy family!
Tig Notaro and Stephanie Allynne
As a famous stand-up comedian, Tig Notaro just cannot stop talking about how in love she is with Stephanie Allynne. She married the actress in 2015 and the two had two adorable twin boys only a year later. Interestingly, when Stephanie Allynne first met Tig Notaro, she didn't consider herself gay and she didn't really see herself with a woman in the future. However, spending time by Tig's side made her realize that she's not so straight after all.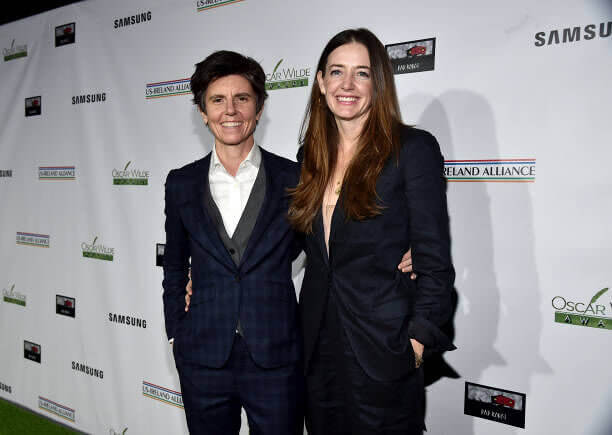 Allynne even said that being with Tig has helped her recognize her true self. Prior to getting together with Notaro, Stephanie dated men but none of those relationships were long enough to be called serious. That might have been the case because she wasn't really happy with men in the first place. It was with Tig Notaro when Stephanie first said "Oh my god, I am fully in love with this person."
Alan Cummings and Grant Shaffer
Alan Cummings and Grant Shaffer got married in 2012. The match between a character actor and a graphic designer seemed to be a jackpot since the two of them spent many years together. After two years of dating, they decided to make things official by entering a civil partnership in 2007 until they finally got married in 2012. The two now live in New York City.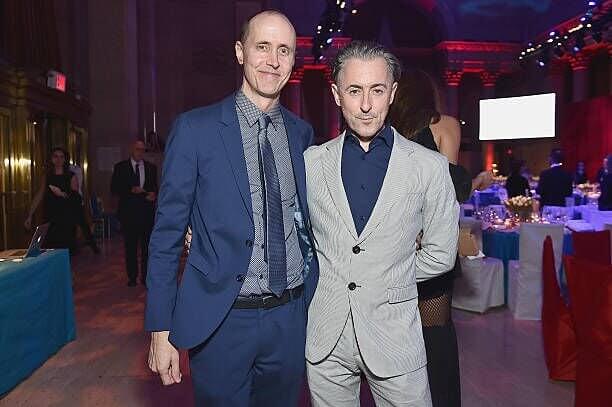 Besides their happy relationship, both of them have very successful careers. Shaffer had great success with illustrations, as he illustrated for popular magazines and newspapers, including The New Yorker. He even made a comic series titled 30 Kinds of Passion, which earned its spot in the 2008 edition of the Best American Comics Guide. 
Matt Dallas and Blue Hamilton
Matt Dallas is a successful actor who played Kyle in the Kyle XY series. Interestingly, Matt got engaged to Blue Hamilton in 2013 and announced his engagement via Twitter. The two continued their relationship and tied the knot in 2014. That's also when the actor Matt and the publishing executive Blue adopted a two-year-old son named Crow.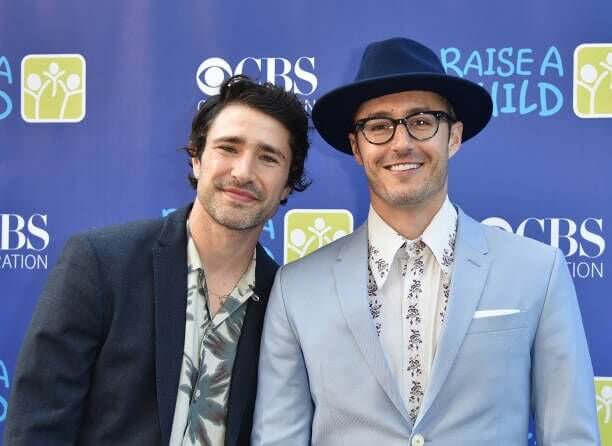 Since both of them were very busy, adjusting their priorities when they adopted a child was quite a challenge. However, both Dallas and Hamilton admitted that having a child has been the best and most positive thing that's ever happened to them. Dallas even said that he used to be selfish with his time but now he always puts his son first. 
Brittney Griner and Glory Johnson
As much as people loved this couple, it's sad to see how things ended between them. The famous WNBA star Brittney Griner was married to Glory Johnson, who was also a basketball player. The two had problems prior to their marriage and the situation didn't get any better when they tied the knot. In fact, they were only married for 28 days when they called it quits after they were arrested for domestic abuse.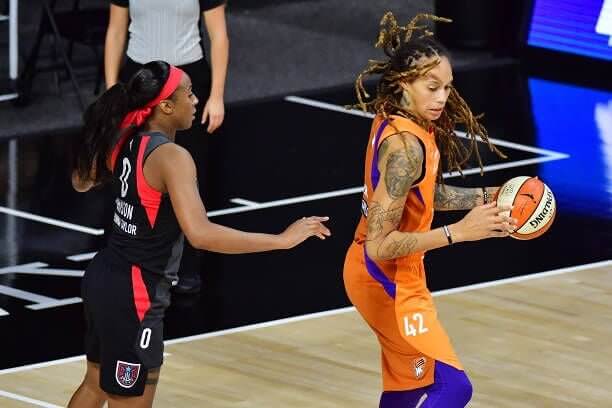 After things cooled down, Griner started a new relationship with a man Christopher Fry. On the other hand, Johnson was the one to take care of the twins she conceived via a donor sperm while she was still with Griner. It's quite sad to hear how this love story ended.
Raven Symone and AzMarie Livingston
Raven Symone had many successful appearances in TV shows and films, including Sesame Street and The Cosby Show. Raven Symone came out as gay and dated singer, actress, and model AzMarie Livingston for quite a while. The two were actually working together as guest stars on the FOX series Empire.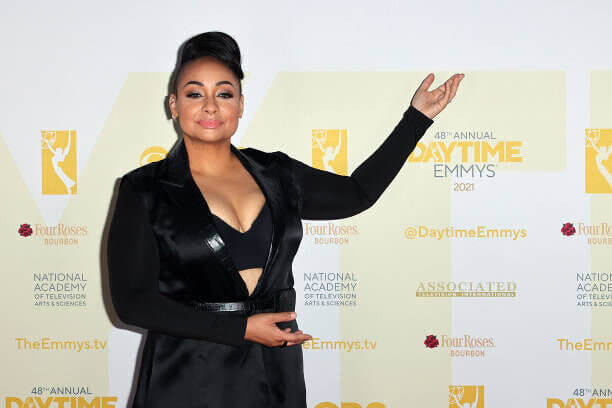 Livingston also built a successful modeling career and even appeared as a contestant on America's Next Top Model: British Invasion back in 2012. Unfortunately, the two dated for three years and ended things in 2015. We're not sure what the reason for their breakup was but there is no doubt that both women were very proud of their sexuality. It was Symone who stated that she does not want to be labeled by the fact that she's gay but rather called a human who loves another human. She is now married to Miranda Maday.
Daniel Franzese and Joseph Bradley Phillips
You will probably recognize Daniel Franzese from Mean Girls, even though this successful comedian has had many appearances on television. There is an interesting story behind Franzese's relationship with stylist Joseph Bradley Phillips. The two fell in love and Franzese couldn't resist but to propose in a very unlikely place - in a Starbucks!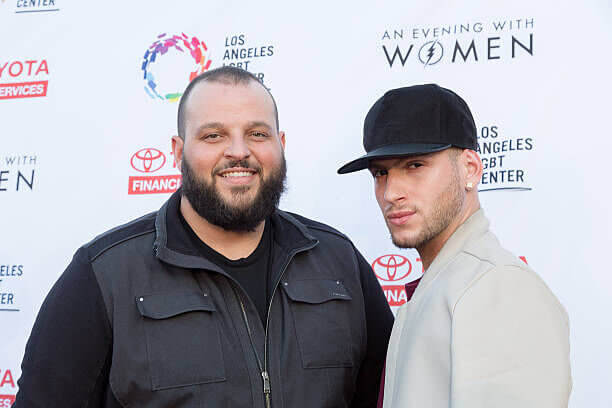 Unfortunately, the Starbucks romance didn't last for very long because Franzese and Bradley Philips broke it off quite soon after the engagement. It turned out that they weren't ready for the big step so they came to a mutual agreement that they are better off as friends. Still, the Starbucks engagement is a pretty cool story to tell!