It's undeniable that the Met Gala is one of fashion's biggest events. No wonder it has been dubbed the "Oscars" or the "Super Bowl" of the fashion world. Yet, that does not mean that everyone who attends the annual posh event meets the standard of the most respected fashion critics. Believe it or not, some of the weirdest style moments took place at the Met Gala, some were even deemed inappropriate. Even those considered best-dressed stars strutted the event's carpet with fashion misses they would rather forget. Nevertheless, here are some of the most questionable wardrobe moments that happened at the Met Gala.
Karlie Kloss
After the previous year was canceled, fans were excited to see their favorite celebrities return to the red carpet for the Met Gala 2021. This is the biggest fashion event of the year, and people look forward to seeing those attending go all out, making bold statements with their clothing, which is why we thought Karlie Kloss could have done better with her look for this particular occasion.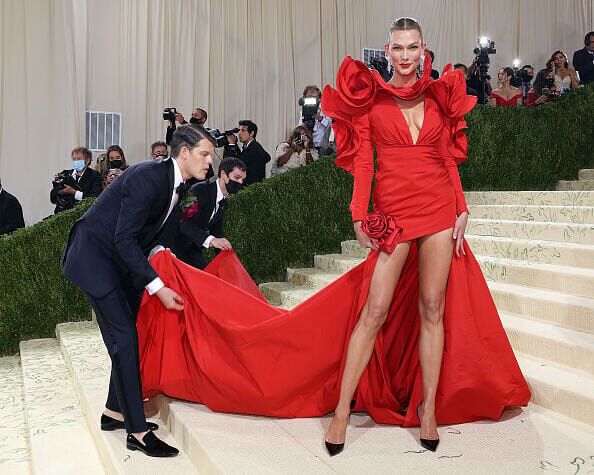 While the dress isn't terrible, it could have been more appropriate for a date night or a music concert, but not the Met Gala. Seems like Kloss didn't put much effort and thought into her outfit, which is disappointing for someone who hosts a fashion show as big as Project Runway.
 
Kim Kardashian
Some may consider Kim Kardashian their fashion icon, but the reality is that her style has always been hit or miss. This is especially evident in her years of attendance at the Met Gala. Remember her custom Givenchy dress in 2013? That outfit certainly inspired wannabe interior designers.

Nevertheless, the reality star shocked everyone when she sashayed down the 2021 Met Gala carpet. Kardashian wore Balenciaga literally from head to foot—covering even her face. The photographers probably did not recognize her, if not for the people announcing her arrival. Fashion experts and the online community were torn; some liked it, while others thought the entire look was a fail. Regardless, the outfit certainly is unforgettable.
Cara Delevingne
Honestly, we're not entirely sure what happened here. On paper, everything should have worked here- the stunning and statuesque Cara Delevingne in s tailored, ruby-red Diot suit and fierce heels to match? What can possibly go wrong? Well, everything.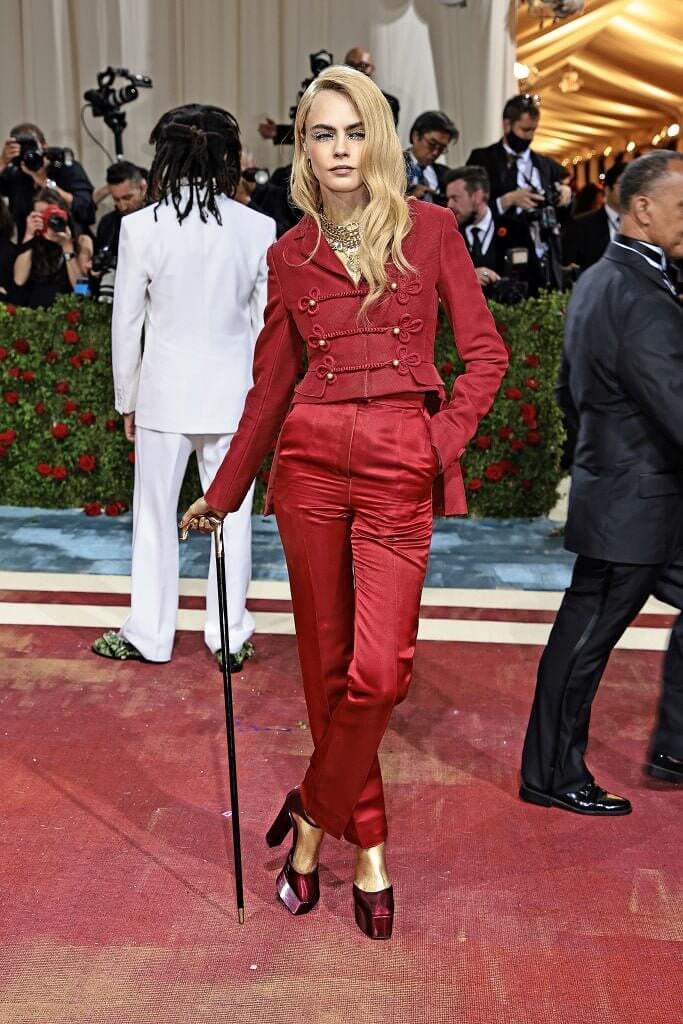 The suit was very ill-fitted, and made poor Cara look awkward, not to mention the fact that it absolutely nothing to do with the the,e of the Gala itself. And that's before mentioning the gold body paint that Cara chose to put on undenath the suit, which later in the night turned out to be quite the sensation, and we'll let you decided if for better or for worse.

John Galliano
One of the most-awaited moments at the annual Met Gala is the red-carpet walk of the stars, as it features luxurious ensembles from renowned fashion houses. Many have don John Galliano's gorgeous masterpieces, so it's to be expected he would also show up looking like a million dollars. Yet, at the 2001 event, the designer fell short of the glitz and glamor.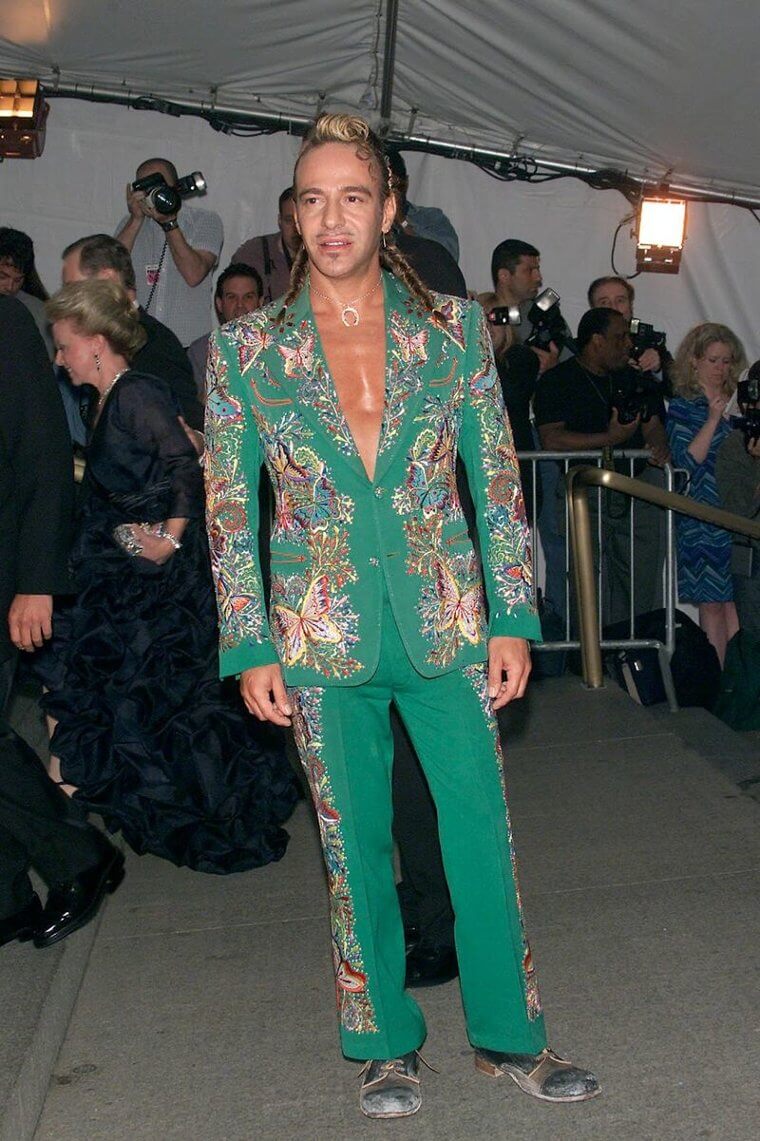 The theme was Jackie Kennedy: The White House Years, and we doubt the former first lady would approve of Galliano's suit. Considered a fashion icon, Jackie O. is famous for simple, clean, and classic silhouettes. This butterfly-printed green suit is far from "simple," which means the designer veered away from the gala's theme.

Madonna
For the 2009 event, the theme, The Model as a Muse: Embodying Fashion, essentially meant "come in the style that you want, as long as it's fashion." True enough, Madonna arrived in something only an icon like her could rock. She was dressed from head to foot by Marc Jacobs, who was working at that time with Louis Vuitton.

The musician wore a sleeveless teal mini dress with a poofy skirt that she paired with thigh-high patent leather boots and her trademark fingerless gloves. As for Madonna's headpiece, she had on an oversized scrunchie that she designed with Jacobs. Although the entire outfit is very much the music star, many can't seem to grasp the need for the bunny ear-like thing on top of her head.

Pete Davidson
If there is one thing we can take from Pete Davidson's outfit at the 2021 Met Gala, it's that he cleans up nicely. The scumbro aesthetic he is associated with was absent, along with the expected men's suit. The SNL star instead wore a shiny dress by Thom Browne.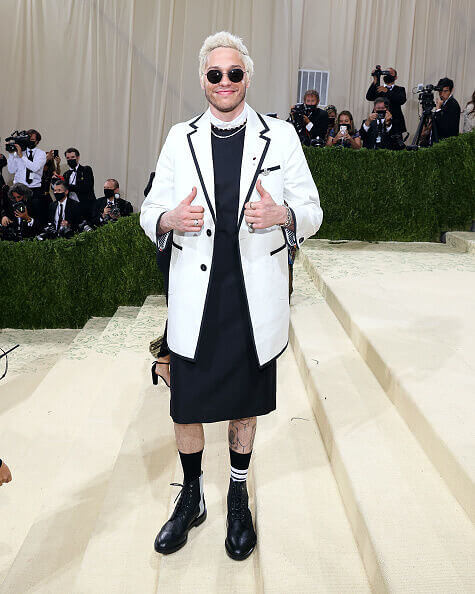 As it happened, there was a heartwarming story behind his ensemble, as he had on accessories with Garnet stones, his late father's birthstone. The star's stylist thought to honor the brave firefighter, who passed away on 9/11 since the gala was held in September of that year. Nevertheless, some were not fans of the look and considered the comedian's attire a fashion fail at the Met.

Naomi Osaka
Online debates have erupted over Naomi Osaka's Louis Vuitton outfit, and some have called it a fashion miss. Others, however, appreciate the boldness of her attire, which gives homage to her heritage. The tennis star, one of the gala's co-chairs, arrived in a show-stopping outfit by Nicolas Ghesquière's designs for Louis Vuitton.

It was a custom corseted dress made of colorful, graphic jacquard, a silk-mix cape composed of 22 ruffles, and 18 meters of leather satin. The highlight of Osaka's outfit was the bustier that features a Koi fish, a nod to her Japanese roots. Perhaps the problem with the tennis pro's look was her hair because it didn't seem to go well with the ensemble.

Kim Petras
German musician Kim Petras saw it fit to don a substantial 3D horse head, an extra long ponytail, and a matching bodice for her Met Gala 2021 appearance. In fact, she became one of those who drew the most attention at the event.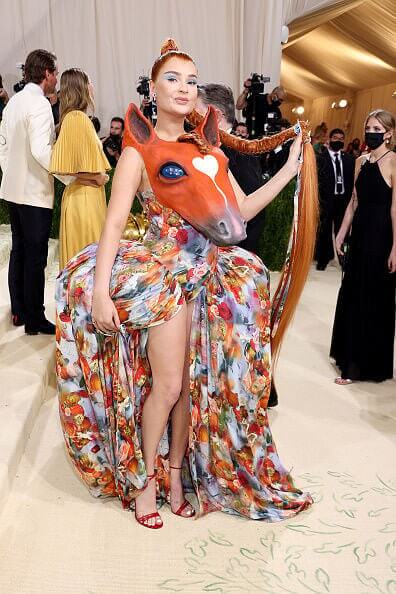 The singer and songwriter might have been rocking the outfit in her head, but what it translated to on the red carpet did not pan out well with the masses. This might be the ultimate failure of the entire event. Kim learned a good lesson: what you fantasize about might not end the way you imagined it.

Shailene Woodley
was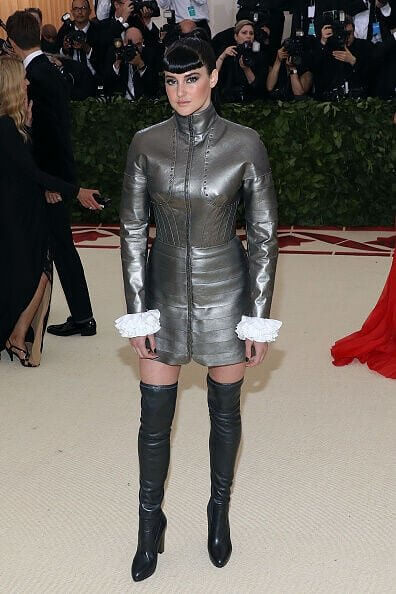 It seems like they only saw the word imagination, for which they didn't imagine far enough, as Ralph Lauren only managed to achieve this cartoonish villainy look that many people did not appreciate. Catholicism would have inspired so many ideas, but they didn't think this one through at all. Woodley might have stood a better chance if she wore a more priestly look.

Jessica Simpson
At the turn of the new century, the 2001 Met Gala honed Jackie Kennedy and her unique fashion sense during her stint in the White House. Nonetheless, the American actress and singer Jessica Simpson did an injustice to the fashionista with the outfit she settled on.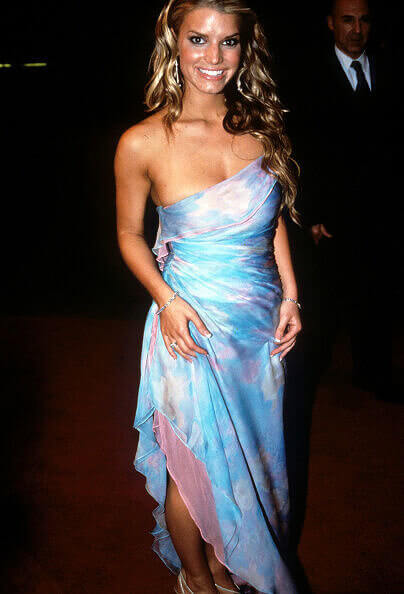 The color scheme of her off-the-shoulder dress missed the mark by a mile. We mean, a pearlescent pastel? Who does that? There were so many period pieces to choose from, and settling on that one was a wrong move for Simpson. Most people scored on this one, and she could have, too.

Jaime-Lynn Sigler
Jaime-Lynn Sigler made a name for herself after perfecting the role of Meadow in The Sopranos, thus earning a spot at the high table at the 2003 Met Gala. Nevertheless, her good intentions to portray the theme as she effortlessly shows characters in her films did not pay off; she looked out of place among the rest of the gods and goddesses in the T-shirt dress she chose to wear.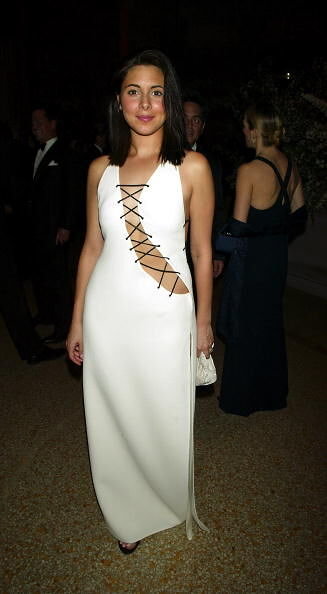 Someone should have pointed out to Sigler the minute she stepped out of her house that the theme was Goddess: The Classical Mode. It was not awe-inspiring like a goddess should.

Rihanna
The singer and beauty entrepreneur Rihanna sure made headlines when she stepped into the 2015 Met Gala in an imperial yellow, fur-trimmed cape that was embroidered with scrolls and scrolls and scrolls of flora and a headdress. "I'm so in love with this dress, but the train is insane! I can't really walk in it without any help—but it's so worth it. I love this dress so much! It's Chinese couture and it's made by Guo Pei. It's handmade by one Chinese woman and it took her two years to make. I found it online", she confessed on the red carpet.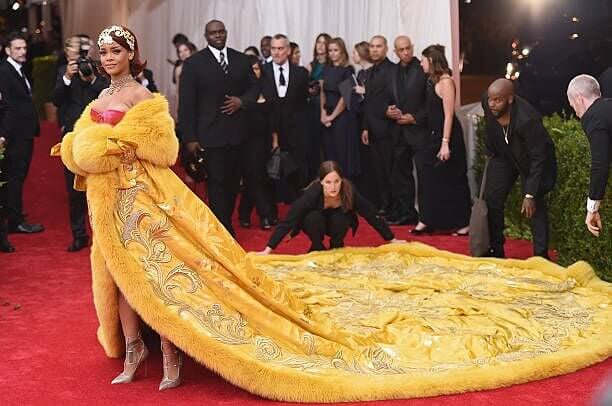 The audience, however, disapproved of her outfit and within minutes, her dress had gone viral but for the wrong reasons: hundreds of memes surfaced on the internet, some alluding to large pepperoni pizzas, omelets, and others even characters from Sesame Street! 

Zac Posen
A designer himself, a red-carpet event would seem like a recipe for excellence in fashion for Zac Posen. Yet, during the 2004 Met Gala, Zac, having already been briefed about the Dangerous Liaisons theme way before the big day, settled on a bullfighter-esque style that didn't cut it.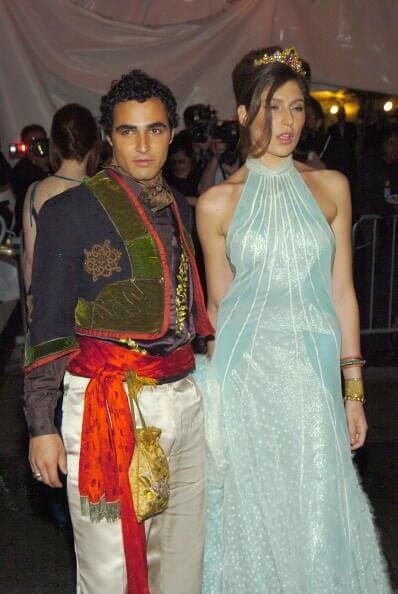 We get it, the theme might have been a little dramatic, but the star's outfit was a below-average move for a fashionista. It instead dulled his appearance and, possibly, taste in fashion. If he had thought it through well, we think he would have hit the mark on this one.

Zac Posen
A designer himself, a red-carpet event would seem like a recipe for excellence in fashion for Zac Posen. Yet, during the 2004 Met Gala, Zac, having already been briefed about the Dangerous Liaisons theme way before the big day, settled on a bullfighter-esque style that didn't cut it.

We get it, the theme might have been a little dramatic, but the star's outfit was a below-average move for a fashionista. It instead dulled his appearance and, possibly, taste in fashion. If he had thought it through well, we think he would have hit the mark on this one.

3LW
Among all the girl groups that entered the music scene in the early 2000s, 3LW emerged as a hip and happening band, with their eponymous debut album selling over 1.3 million copies in America. The three little women naturally earned an invite to the mighty Met Gala the following year in 2001.

Excited to present their chic fashion, the trio turned up in outfits that glaringly clashed with that year's theme of Jacqueline Kennedy's years in the White House. Jackie probably would have loved to wear those but didn't! Let's give the girls the benefit of the doubt since they were pretty new to the spotlight then.

Victoria Beckham
Are you surprised to see the internationally famous style icon Victoria Beckham on this list? Let us explain, this was well before she turned over a new leaf and let her inner fashionista take over. It was the 2003 Met Gala, and everyone was dressed to fit the Goddess theme.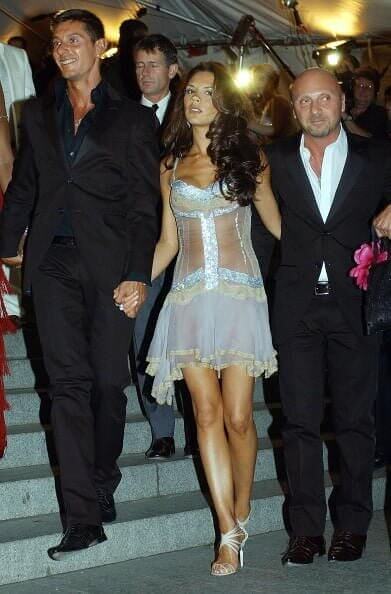 From Victoria's sheer mini-dress, it's clear she tried hard to match the theme, but it missed the sweet spot by a mile. If you recall her MTV Awards outfit the same year, you may notice her apparent affinity for corset styling during those times. Fortunately, the spice girl's sense of fashion evolved enough over the years to launch her fashion brand, Victoria Beckham Beauty.

Jennifer Love Hewitt
In 1999, Jennifer Love Hewitt was barely out of her teens when she accepted an invitation to that year's Met Gala. Even though she had considerable experience as a child actor, her chosen outfit for the event proved her inexperience in the styling department.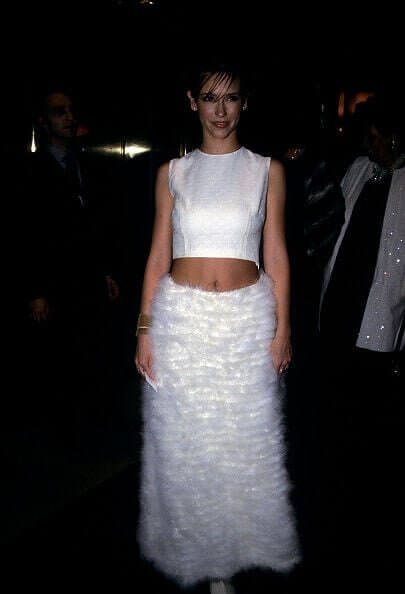 For many, "Rockstar style" in fashion is often synonymous with leather, high boots, sequins, and even a grunge look. Unfortunately, Jennifer misinterpreted it as feather and fluff and appeared in a white feathered skirt with a plain sleeveless top, showing off her midriff. It wasn't cool then and won't click as a rock fashion now. We are sure she'd cringe hard if ever she sees those pictures again.

Anna Wintour
When the grand theme of the 2004 Met Gala is as wicked as "Dangerous Liaisons," you'd expect the then editor-in-chief of Vogue to don something edgier and bold, giving the models and gorgeous actresses a run for their money. Alas, it turned out differently. Anna Wintour wore a strange crystal embellished overcoat with a weird neckline that didn't quite make the cut.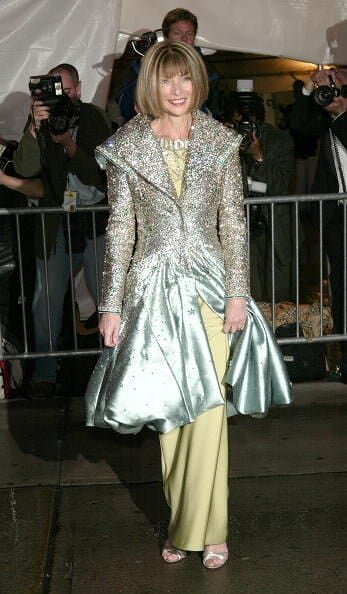 Anna did sparkle in the Christian Dior Haute Couture outfit but fell awfully short of making an impression with her design choice. Given her standing in the fashion universe, the public did expect her to make a unique statement at one of the most coveted fashion events on the calendar.

Kendall Jenner
Over the years, Kendall Jenner has made it a habit to stun us with her gorgeous appearances in various breathtaking outfits. She did err on one instance, though—at the 2017 Met Gala. Even though we are used to her revealing ensembles, her lingerie-inspired see-through La Perle dress with a thigh-high cross-body slit didn't quite cut it that year. The theme was the art of the in-betweens, and her costume was neither here nor there.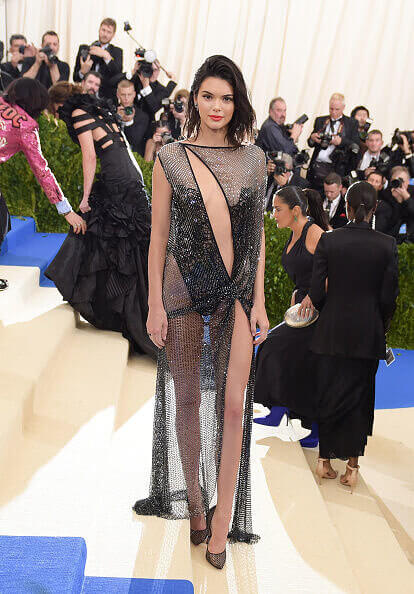 Kendall has hardly appeared in less-than-perfect dresses, and the fans were a tad disappointed at her choice of outfit for the Met Gala that year. Given how consistent she has been with her unique red carpet looks, we can let this one slide.

Wiz Khalifa
Wiz Khalifa is known for his lyrical prowess and mastery of rap, and apart from that, he also stands out with his fashion choices. For the most part, the rapper has donned memorable outfits during events, but for this Met Gala, he missed the mark with his selection of clothing.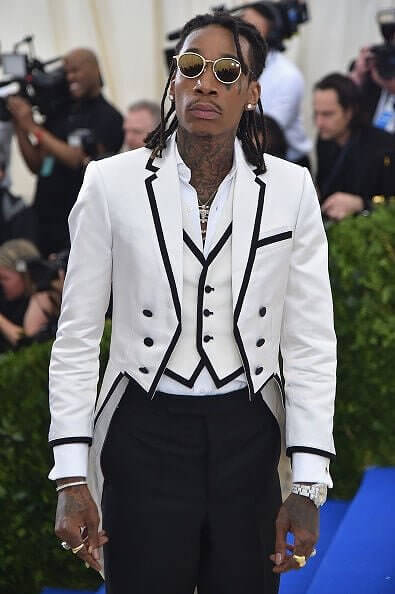 Khalifa opted for a classic look, with a white suit that featured black piping, and while it looked good, it wasn't quite what we expected from him. Instead, the lad looked like he came straight out of the old black and white films, with his white shoes completing the look. The 'Black and Yellow' star undoubtedly failed with this choice, but we must say, he tried.

Sandra Lee
Sandra Lee may be undeniably capable of whipping up a delicious meal with minimal ingredients. Nonetheless, she isn't at the top regarding fashion if her 2014 Met Gala garment choice is anything to go by. Surprisingly, the acclaimed chef decided to don a bridal gown on the red carpet.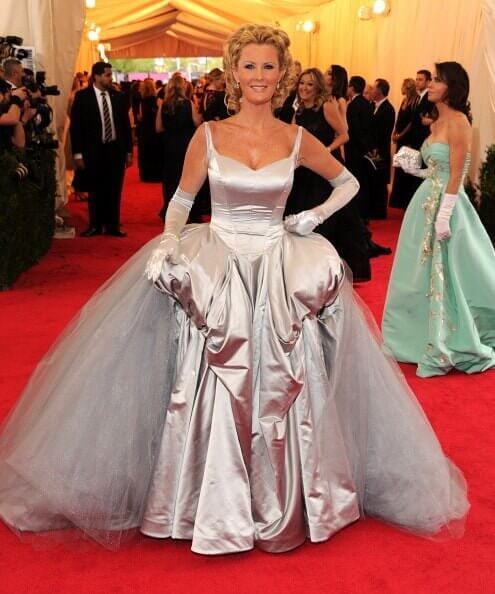 We have no idea who advised her that it would be nice to wear a bridal gown to the event, but it backfired massively as the author looked out of place. Lee would have undoubtedly left everyone stunned if she strutted the dress while walking down the aisle, as it looks glorious for a wedding.

Freida Pinto
Indian performers are associated with vibrant colors and intricate designs for their outfits, but sometimes, where there's a specific theme, they may come short. For example, Freida Pinto discovered that sticking to her native fashion style could backfire when she wore her ivory silk Chanel gown in the 2011 edition of the Met Gala.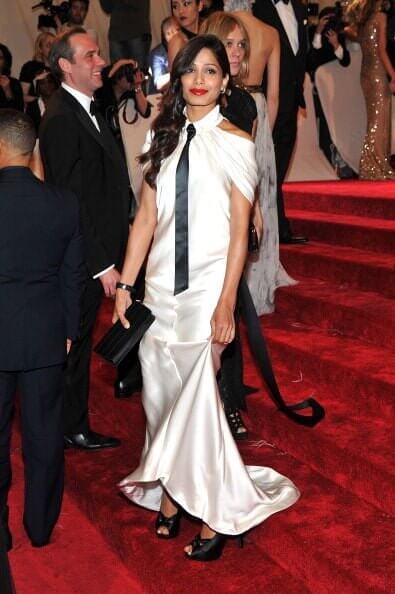 Even though she did her best to stick to the year's theme, Alexander McQueen: Savage Beauty, the dress made her look like she was promoting the old Hollywood glam vibe instead of something savage. Yet, we must commend her for trying her best. Freida was definitely on the right path.

Kimora Lee Simmons
Models are widely considered fashion role models by their fans worldwide, and Kimora Lee Simmons is no different. Of course, the fashionista has been in the modeling business for a while now. Nonetheless, when she showed up at the 2008 Met Gala in a colorful dress, many people were left scratching their heads, wondering why she opted for that particular gown.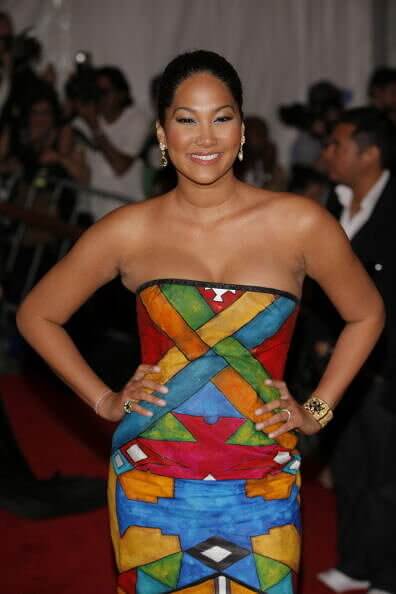 The year's theme was superheroes, and Simmons opted for the multicolored halter dress, which, while it looks like something a superhero would wear for a night out, didn't fit the entrepreneur as expected. In addition, something felt off with the whole outfit, which didn't favor the television personality on the fashion streets.

Serena Williams
The 2011 Met Gala was meant to honor Alexander McQueen, but his iconic style and classical lines did not at all inspire the Tennis legend Serena William's creative juices when she was choosing her outfit for the event. Her prowess on the tennis court did not help either, for the masses did not forgive her for wearing a halter, feathered flapper-style look that did not accommodate her frame.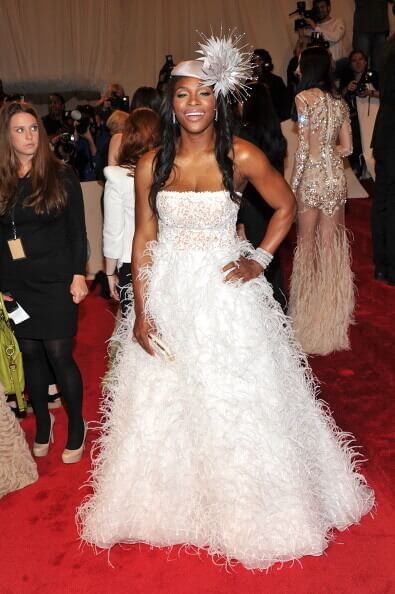 Some may argue that no amount of athleticism can help on the red carpet where a good outfit that embraces the theme has totally been ignored. Well, this outfit situation did not land Serena on the list of best-dressed.

Kristen Stewart
With the theme of 2021's Met Gala being American Fashion, we get why Kristen Stewart would opt for a pink jacket with metallic flowers and simple white pants. Even so, this ensemble just doesn't work.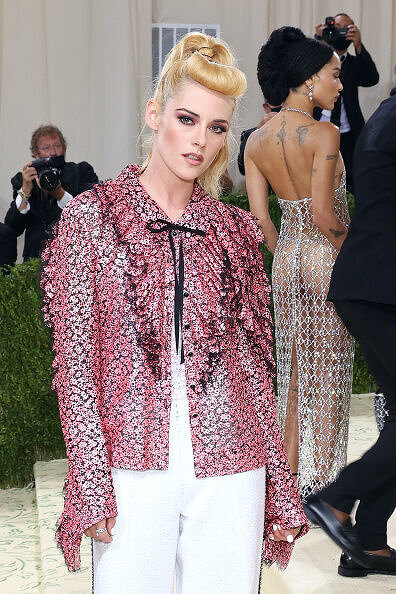 While the pieces are fine when each is considered separately, we can't help but think this Twilight star and her team picked out clothing items they liked without thinking much about how they would look when they're all put together. We have seen better looks on Stewart, which is why we're confident she could have done better if only she and her stylists were more deliberate about the entire outfit.

Nicki Minaj
Nicki Minaj fits the label of a superstar so well that fans expected nothing less of her at the 2017 Met Gala. She had good intentions to adhere to the theme of the Japanese label "Comme des Garcons" and the founder-cum-designer Rei Kawakubo. Needless to say, wearing the leather Obi belt with the face of Kawakubo was probably biting a bit more than she could chew.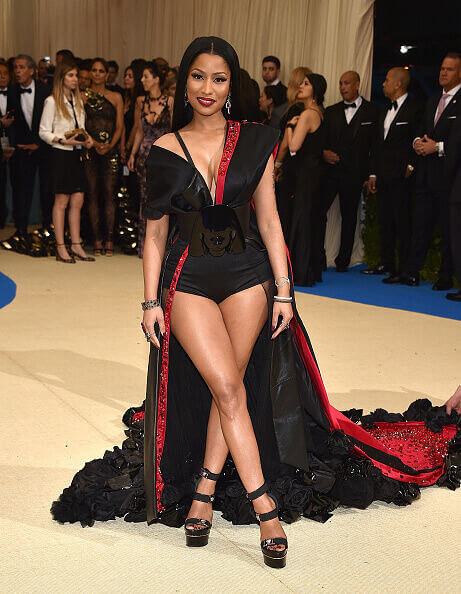 Nicki's fans disagreed with her and she ended up capturing the attention on the red carpet for all the wrong reasons. The Trinidadian rapper walked away with recognition for her strange taste in fashion, but that's not a winning criterion now, right?

Timothée Chalamet
The 2021 Met Gala was all about putting America further up on the fashion list and nothing screams more American street style than wearing a pair of converse to the red carpet event. Timothée Chalamet hit the bull's eyes with this one, but pairing it with a white suit didn't end well.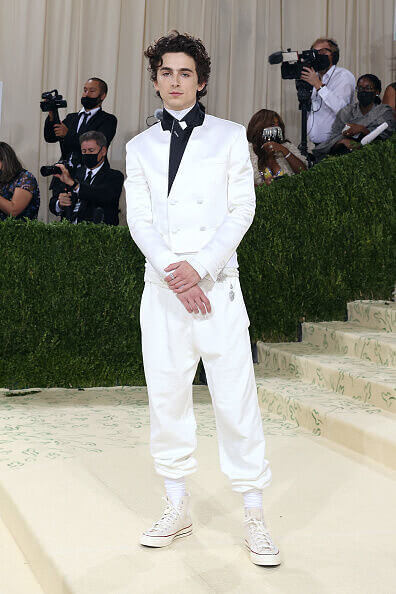 The two just didn't work out, as criticized by those who saw the outfit. He was not the only attendee to incorporate something that would add to their street fashion credit, but Timothée was our top pick for the one that went awfully wrong. It would have been better if he decided to go all American street style.

Sarah Jessica Parker
You may know Sarah Jessica Parker from her memorable performance as the fashionable Carrie Bradshaw, but it's surprising that she also has some fashion misses. The theme for the 2015 Met Gala was to shine a light on Asian culture, which has influenced fashion and Hollywood for a while now, and the actress' choice of accessories missed the mark.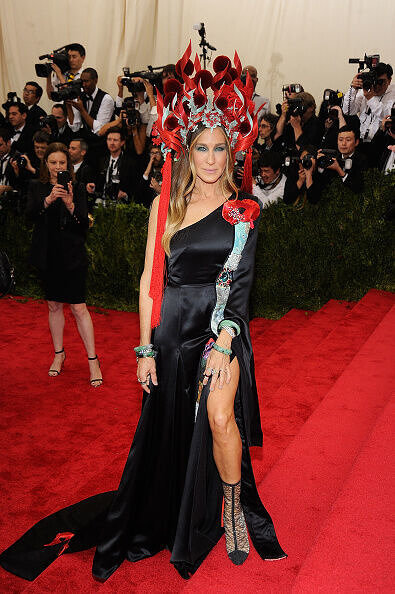 Parker donned an elegant black dress that featured a strip of Chinese garments. Although exciting, her headdress was insensitive to Chinese culture. We may never know whether she didn't research what was acceptable in the country's traditions, but the headgear took everything away from the otherwise stunning outfit.

Harry Styles
The outcome of Gucci pairing with Harry Styles is usually legendary as they have proven time and time again. The Met Gala was just another opportunity for Harry to carve out his name in stone as a trendsetter in fashion, but his choice of outfit only managed to raise eyebrows instead of standards.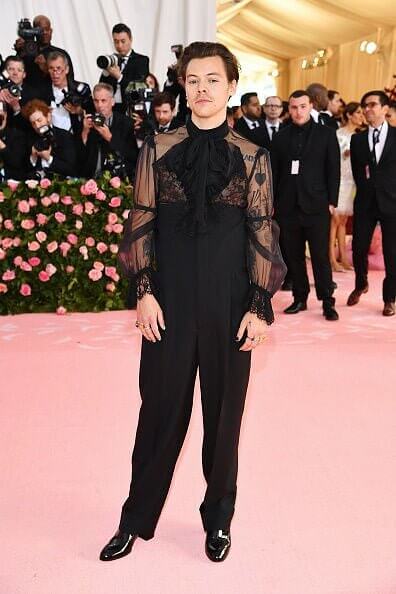 Even though it went well with all the accessories he had, the conservative look fell short of the expectations of many. The reputation on the carpet that Harry had built for years culminated in an anti-climax of some sort, as his overall appearance this time was not as stunning as everyone had expected it to be.

Dakota Johnson
While folks have conflicting opinions on Dakota Johnson's outfit at the 2017 Met Gala, some feel like the Fifty Shades star went a little bit far with the color black in her attempt to match the theme. The American actress is well known for rejecting dress codes and must have wanted to do so the gothic way while still less obvious.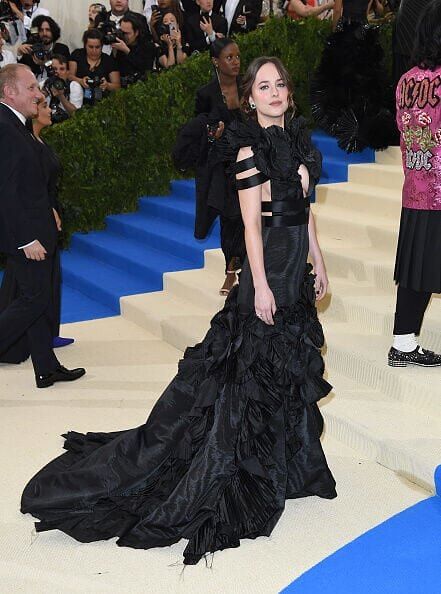 We will give it to her; this custom black silk moiré dress with all its ruffles stole all the attention but appeared quite bulky. On Johnson's attempt to match it with black satin platforms and silk evening clutch, we're not saying it was so horrible, but we know and have seen better from the star.

Rihanna
The year is 2021, the event, the long-awaited Met Gala, and Rihanna is the last celebrity to walk the red carpet because she did not make it on time. Unfortunately, this time around, contrary to what was expected, this star was not fashionably prompt.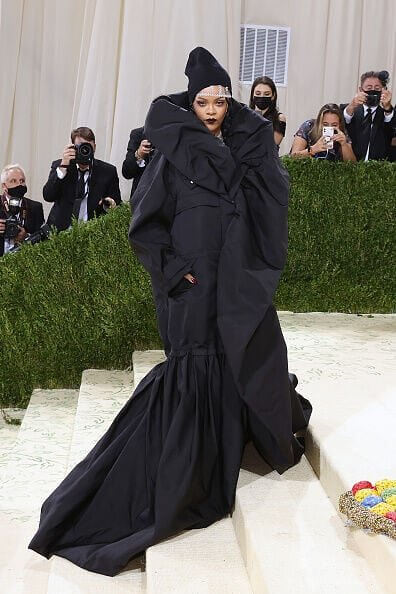 Throughout the years, Riri has distinguished herself as a style icon who isn't afraid to take risks, so it's no surprise that many thought the black Balenciaga dress was too conservative. In all fairness, though, the 'Umbrella' singer was pregnant at the time and was trying to hide her bump until she was ready to share the good news with the world, so she gets a pass for this look.

Olivia Rodrigo
In honor of punk music, Olivia Rodrigo rocked a black one-piece outfit by Yves Saint Laurent to 2021's Met Gala. While the lace was appropriate for the "All American" theme of the event, we expected the 'Traitor' singer, who had by then dropped her first album, to opt for a more daring look that gave more insight into who she was.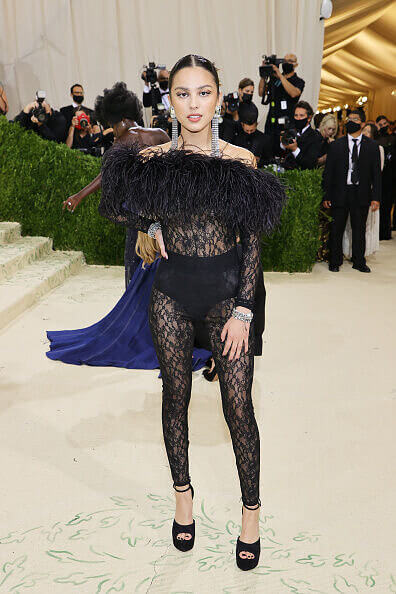 Even so, it was Rodrigo's first time attending a Met Gala, so she's still learning, and we're confident that we will see her adventurous side with her outfits in the future. We have to give credit where it's due, though, so sidenote; we loved the songstress' simple yet chic hairdo and the silver accessories.

Taron Egerton
After a stellar performance on Rocketman, people expected Taron Edgerton to keep the buzz going with his look for 2021's Met Gala. Unfortunately, Egerton did not impress; the classic and well-fitted suit was predictable, and nothing stood out about the outfit besides the beads used to embellish the coat.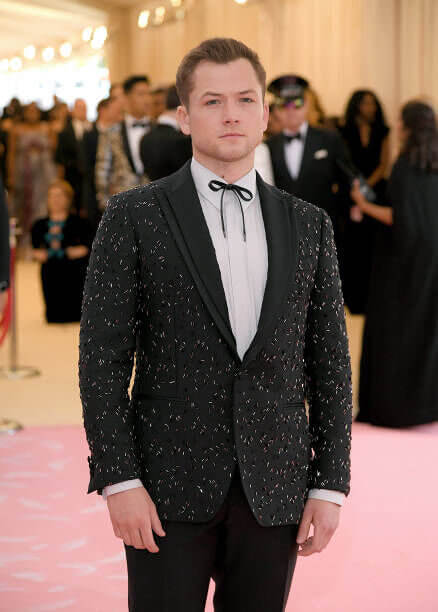 You get 365 days to prepare for attending the biggest fashion event of the year, and the best you can come up with is a black suit? Fans were left wondering what happened to good old effort and careful thought. Egerton, if ever you get to read this, we're rooting for you, and we know you can do better, so please do.

Kris Jenner
There is no doubt that Met Gala is a place to experiment with fashion, but each year, the occasion has a set theme that celebs have to follow. So before we discuss how the dress that Kris Jenner is sporting isn't the best decision she made, we will give you a background of the concept of the event. The year was 2019, and this time the organizers chose to go with a camp-inspired fashion theme.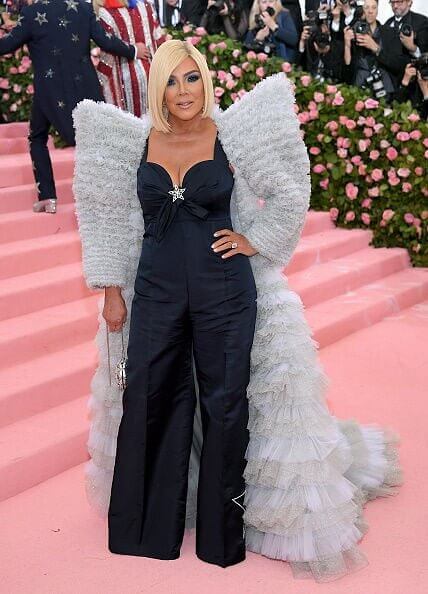 Regardless of the truth that Kris' outfit would be perfect for any other red-carpet affair, it was not apt for the 2019 Met Gala. We hope she learned from her major fashion faux pas and took some tips from her daughters while choosing her ensemble the next time.

Sara Sampaio
The Met Gala has seen some gorgeous outfits that sit well with the theme and some ensembles that aren't even remotely close. Unfortunately, the 2019 event was one occasion where many celebs completely ignored the camp-inspired fashion wear. One of them includes model Sara Sampaio, who, instead of sporting a campy outfit, chose to wear a very prom-type ensemble.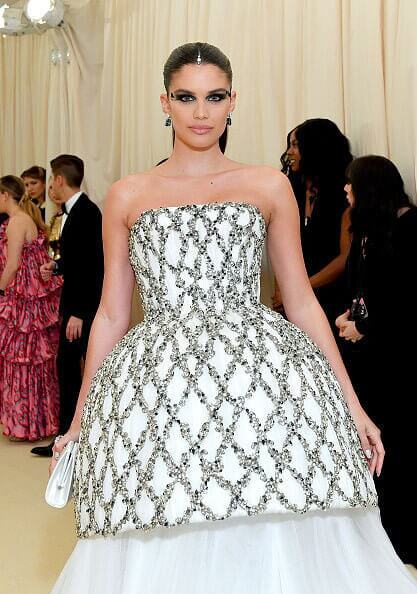 We aren't sure if this celebrity did not understand the theme or if it was plain rebellion. Well, there is no doubt that all eyes would have been on Sara if she had worn this dress at a dance. Although, for the Met Gala, this attire is a major fashion fail.

Shawn Mendes
There is no doubt seeing Shawn Mendes in this black suit may have left many women drolling for him. The outfit certainly is appropriate when one wants to make a statement, but it does fall short when making an entrance at the Met Gala. Again, to be clear, the 2019 theme was camp-style fashion, although we aren't sure why many celebs, including Shawn, chose to ignore the concept.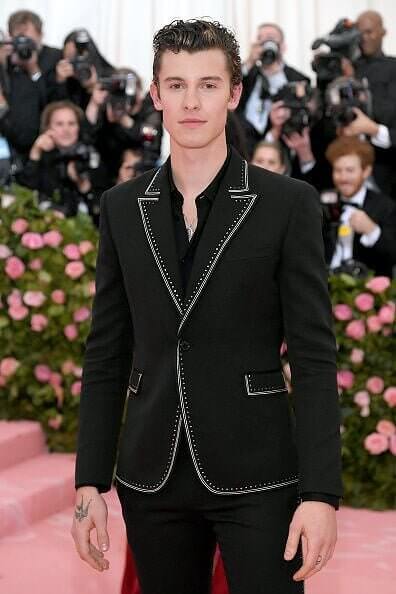 Well, he could have worn something comfortable that people usually wear when on a camping trip. Although, Shawn's ensemble is far from anything one would sport while outside in the woods. Regardless of how much we love how handsome he looks, we would have loved to see him wear something campier.

Hailey Baldwin Bieber
The 2019 Met Gala saw many rebel celebs who chose to sport outfits opposite the theme. Interestingly, one name that we cannot give a miss on this list is Hailey Baldwin Bieber. There is no doubt that this bare-back pink ensemble does justice to her toned physique, but this wasn't the correct place to flaunt it.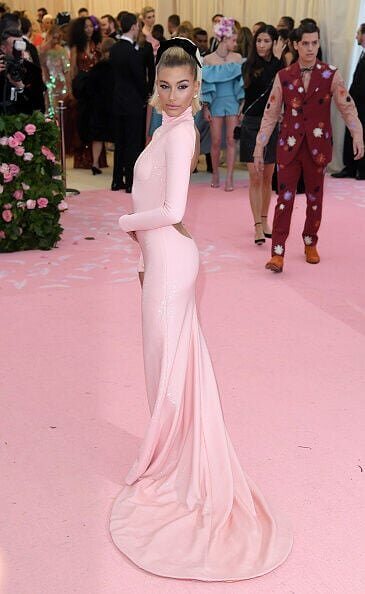 It certainly isn't the correct attire for a camp-style fashion, and we do not understand Hailey's thoughts when she finalized this dress for the occasion. Looking at how these tinsel town stars did not stick to the concept of the Met Gala, we believe it did not sit well with any of them.

Katy Perry
For starters, Katy Perry's ensemble isn't a Met Gala faux pass as she stuck to the theme. Nonetheless, she indeed went quite overboard with her attire. While the concept of the event was Heavenly Bodies, the 'Teenage Dream' singer decided to dress like she stepped out straight out of heaven.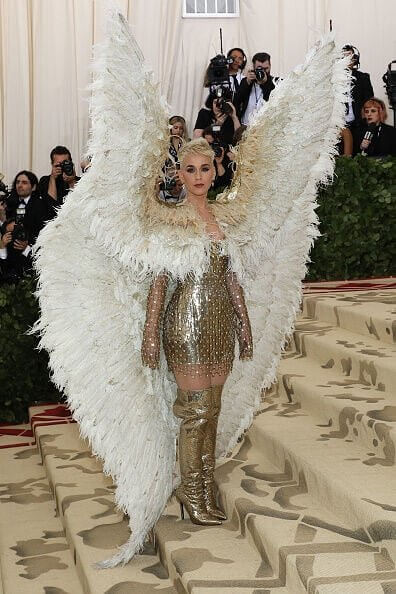 Even though Katy is famous for her bizarre ensembles, this bright golden dress wins the award for her most unconventional apparel. Interestingly, Katy also spent a fortune on those angelic Versace wings. As a result, we believe this celebrity stood out in the crowd not for adhering to the theme but for going overboard. So Katy's dress can be counted as a Met Gala fail.

Lana Del Rey
Choosing an outfit for the Met Gala red carpet event is like preparing a meal. A little bit of this, more of that, and plenty of skill and fashion sense. When Lana Del Rey hit the floor of the 2018 Met Gala, many looked quizzically at her attire. Were those wings on her head? And what was with the two bearded men following her around?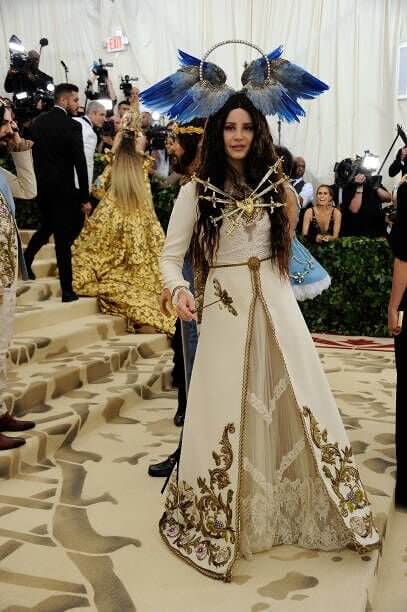 Jared Leso and Allesandro Michele, who flanked the singer, were supposed to resemble Jesus, as all came to learn soon enough. Regardless, unfortunately, this was a bit too religious than tradition allowed. Lana was lucky to escape unscathed despite the swords sticking into her heart.

Grimes
Being among the top most affluent men in the world will have you excused for almost any wrongdoing, but not going opposite of the set theme at the Met Gala. The 2018 Met Gala expected invitees, including Grimes, to honor the Heavenly Bodies. Well, you would request we cut the Canadian musician Grimes some slack. Still, we don't think it will happen because his plus one also decided to adorn Tesla-inspired accessories - talk of a double tragedy.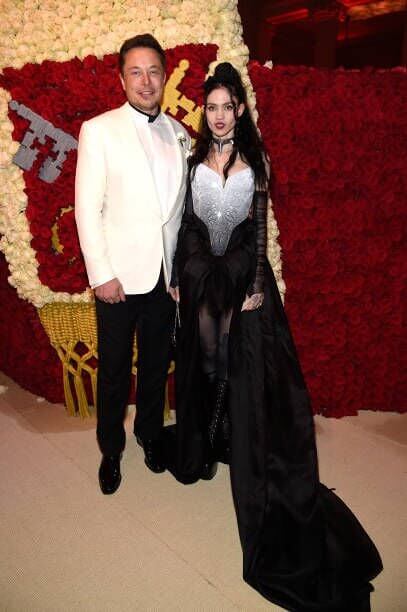 This no doubt grabbed attention for all the wrong reasons, as it didn't even attempt to scream an itsy-bitsy of Catholicism. Elon Musk and Grimes embarrassed the Tesla Company considering the tech giant is on its way to conquering the stars.

Thandie Newton
A celebrated actress who is a stunning beauty never struggles to turn heads and capture the spotlight in a red dress. Add the touch of Swarovski crystals and a very queer-looking hat to complete the lethal cocktail.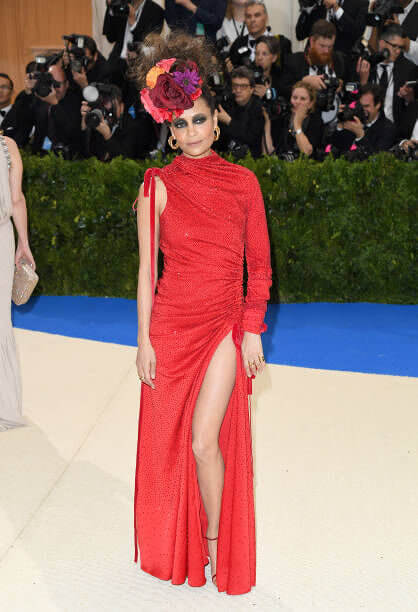 Thandie Newton would have fitted well in a private ball where guests are encouraged to be themselves, but not the red carpet at the 2017 Met Gala, where the main focus was designs and styles of Kawakubo and the art in between. Unfortunately, even though the outfit fit tightly and hugged her body well, Thandie's dress was not well thought out for the event, and the only list she was going to end up on was the worst-dressed one.

Mandy Moore
This great actress was distracted or inspired by the wrong idea when she settled on her Michael Kors gown. In addition, as if blending was not in her vocabulary, Mandy Moore decided to stand out with a bright, lavender eyeshadow, shattering the last ounce of chance for redemption.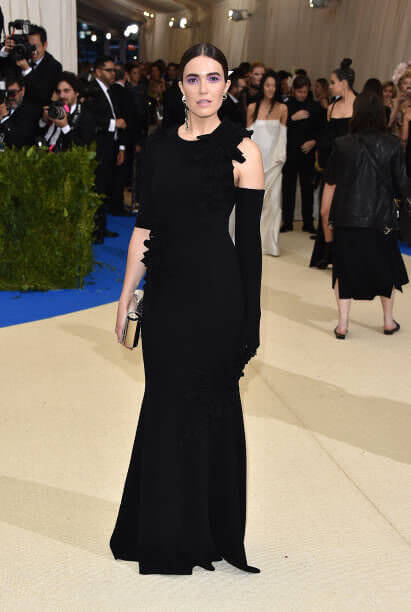 Mandy's entire outfit did not excite the paparazzi at the 2017 Met Gala. Her elegant purse tried to rescue the situation but got drowned in the ensuing blackness of the gown. She looked like a character playing a wife with a bruised eye. We adore you, but you must impress us with the next one, Mandy.

Gigi Hadid
For her reputation as one of the most beautiful models to ever enter the stage, Gigi Hadid fell short of her talent when she got to the Met Gala in 2017. Where millions of people will scrutinize the decision for an outfit, it is best to approach things cautiously. Unfortunately, Gigi Hadid chose a Tommy Hilfiger piece that ended up being a terrible choice to grace the top-tier event.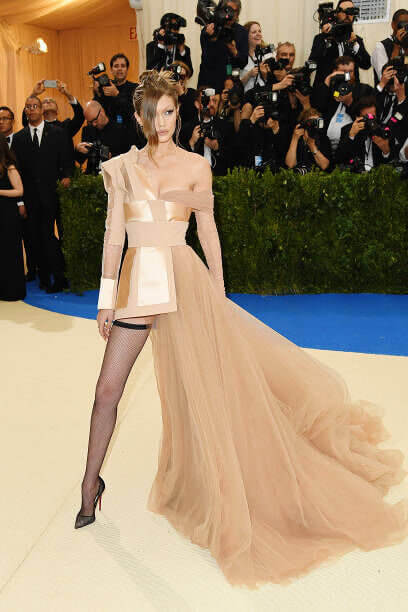 Gigi's outfit didn't put her on the pedestal she deserved to be. She got tongues wagging instead as folks said the most difficult things about her sense of fashion. Luckily, she would get many more red-carpet appearances in the future, and she has a chance to redeem herself.