Death doesn't mean we have to lose our sense of humor. Celebrity epitaphs attract lots of fans each year. They're places where we can visit to feel a sense of connection to our beloved authors, musicians, actors, and others who have passed on, and also draw inspiration. But they're also places to have a good laugh while we're at it. Here are some of the most memorable gravestones of the rich and famous.
Celebrity gravestones attract lots of fans each year. They're places where we can visit to feel a sense of connection to our beloved authors, musicians, actors, and others who have passed on, and also draw inspiration. But they're also places to have a good laugh while we're at it.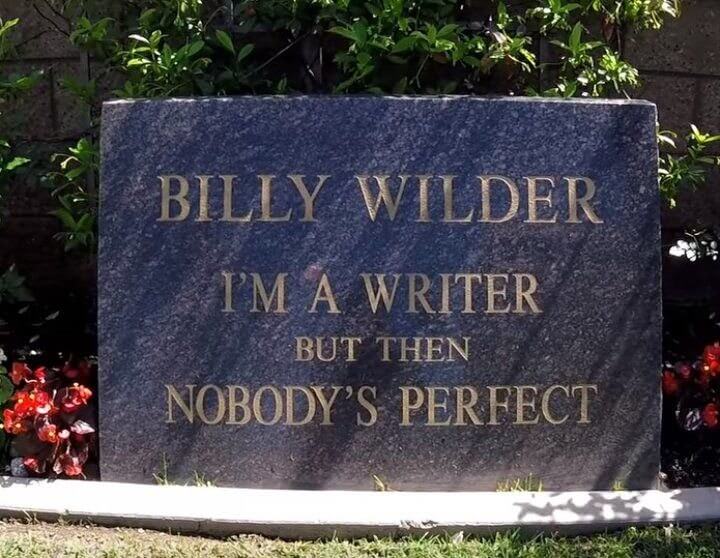 It takes a special skill set to transform a gravestone into a stage, and the stars on this list were able to pull it off. They may no longer be with us but their legacy⁠ and their sense of humor⁠ live on. Here are some of the most memorable gravestones of the rich and famous.
Mel Blanc Goes Out With a Bang
Also famously known as The Man of a Thousand Voices, Mel Blanc is the voice behind some of our most beloved cartoon characters. For over 50 years, Blanc voiced Looney Tunes' Bugs Bunny and his iconic "What's up, doc," and Barney Rubble on "The Flintstones."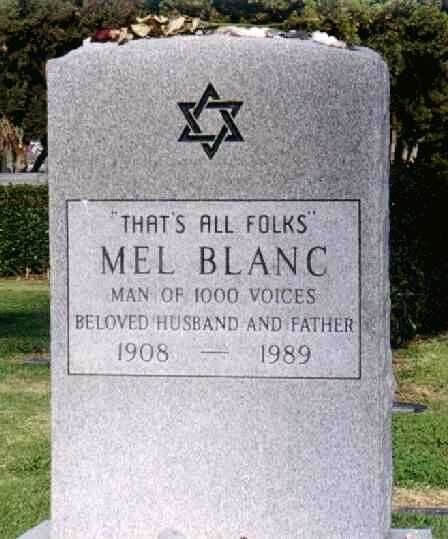 Blanc's ingenuity made such a great impression on fans world-over that he and his character Bugs Bunny earned stars on Hollywood Boulevard. One of Blanc's most famous lines—"That's All Folks!"—  is now engraved on his tombstone and was spoken by some of his most prominent characters such as Bugs Bunny, Porky Pig, and Daffy Duck. A slogan that was usually trailed by a smile and a wink.
Rodney Dangerfield Got Some Respect in the End
Well-known for his catchy one-liners about how he could never get any respect, Rodney Dangerfield made the catchphrase, "I get no respect" popular. The inscription on the celebrity comedian's headstone is also a joke at his own expense. This he would yell before audiences, much to their delight.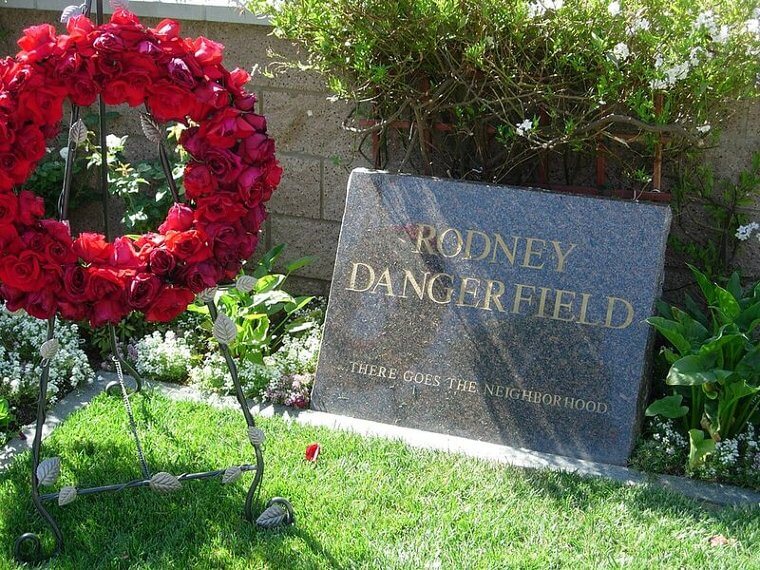 Dangerfield's humor also left audiences in stitches with his notable roles in movies such as "Caddyshack" and "Back to School." Apart from the silver screen, his monologues on late-night talk shows were packed with lines such as "When I was born, I was so ugly that the doctor slapped my mother!" Even from six feet below, it appears Dangerfield just had to give us one last joke.
Leslie Nielson's Final Joke 'Rips' on His Gravestone
Comedian Leslie Nielson is famous for his deadpan comedy roles as Dr. Rumack in the ludicrous satirical film "Airplane!" and as Frank Drebin in the comedy-crime series "The Naked Gun." As an entertainer, he responded to the absurdity of his surroundings with an amusing deadpan delivery ("I am serious, and don't call me Shirley"). "Airplane!" Shot Nielson to celebrity status, and by the end of his career, he had performed in more than 100 movies and 150 TV shows.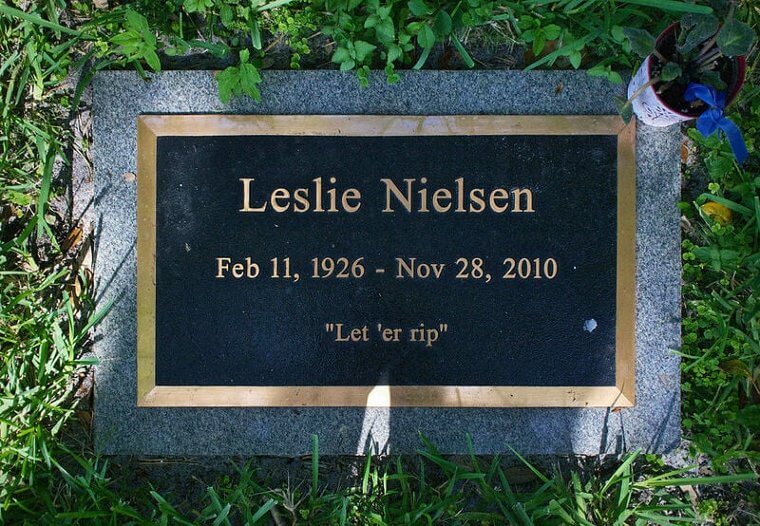 Nielson was also widely known as a slapstick comedy fanatic, especially when flatulence was discussed. He also promised in a 1996 interview that his epitaph would be in reference to his love for whoopie cushions and his favorite practical joke. He fulfilled his promise in death, with his epitaph simply reading, "Let 'er rip."
Dee Dee Ramone's Lovestruck Fans
Rock bassist and songwriter Dee Dee Ramone of the legendary band Ramone is remembered in his biography as being the band's most prolific lyricist. Though he experienced some difficulty singing and playing bass at the same time, Dee Dee is nonetheless credited for writing some of the world-renowned band's greatest hits, such as "53rd & 53rd," "Wart Hog," "Commando," and "Bonzo Goes to Bitburg."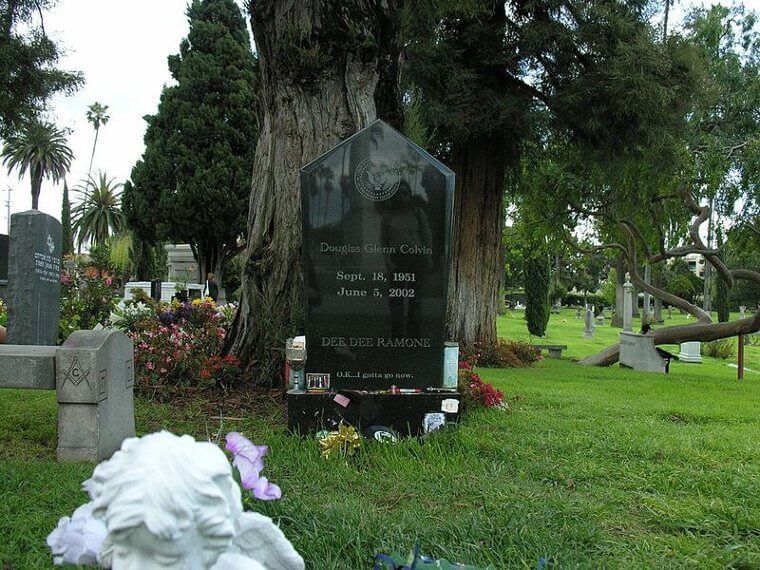 Sadly, Dee Dee passed away at just 49 years old after developing complications from substance abuse. Fans of the beloved singer still visit his gravesite to pay tribute, and his gravestone can often be found adorned with lipstick kisses. A short and sweet epitaph is also ingrained on his gravestone. It reads, "O.K...I go to go now."
Jesse James' Infamous Death and Epitaph
Legendary Missouri outlaw Jesse James was widely known for robbing banks, stagecoaches, and trains, and was already a national sensation by the time he died in 1882. James lost his life after he was shot by Robert Ford, a fellow outlaw. It was later discovered that Ford had conspired with Thomas T. Crittenden, the governor of Missouri, to bring down the infamous robber.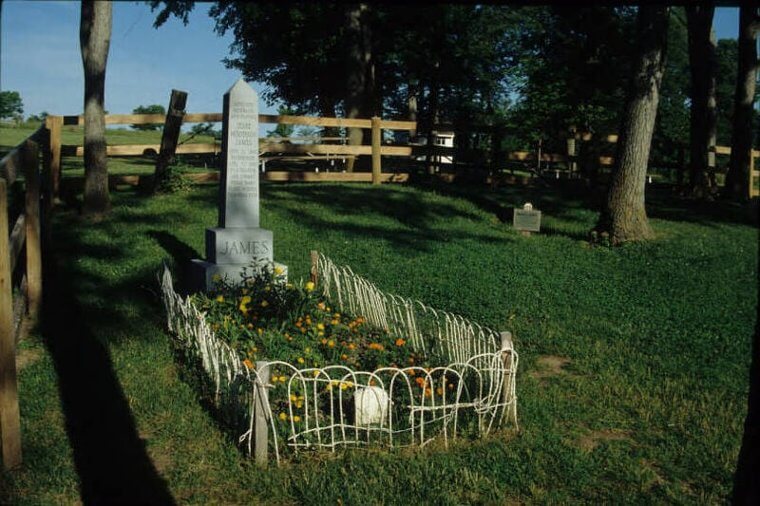 After his passing, swarms of people gathered in the modest house in St. Joseph, Missouri, to catch sight of James' body. He was finally put to rest in a grave in Kearney. Without sugar-coating her words, his mother inscribed for him the following memorable epitaph: "Murdered Apr. 3, 1882, By a Traitor and Coward Whose Name is Not Worthy to Appear Here."
Robert Frost's Famous Love Tale
Following his death on January 29, 1963, Robert Frost left a part of himself behind in his numerous award-winning works of poetry. With a Pulitzer Prize and a Congressional Gold Medal to his name, the American poet's most prominent works include the collections, "A Boy's Will" and "North of Boston."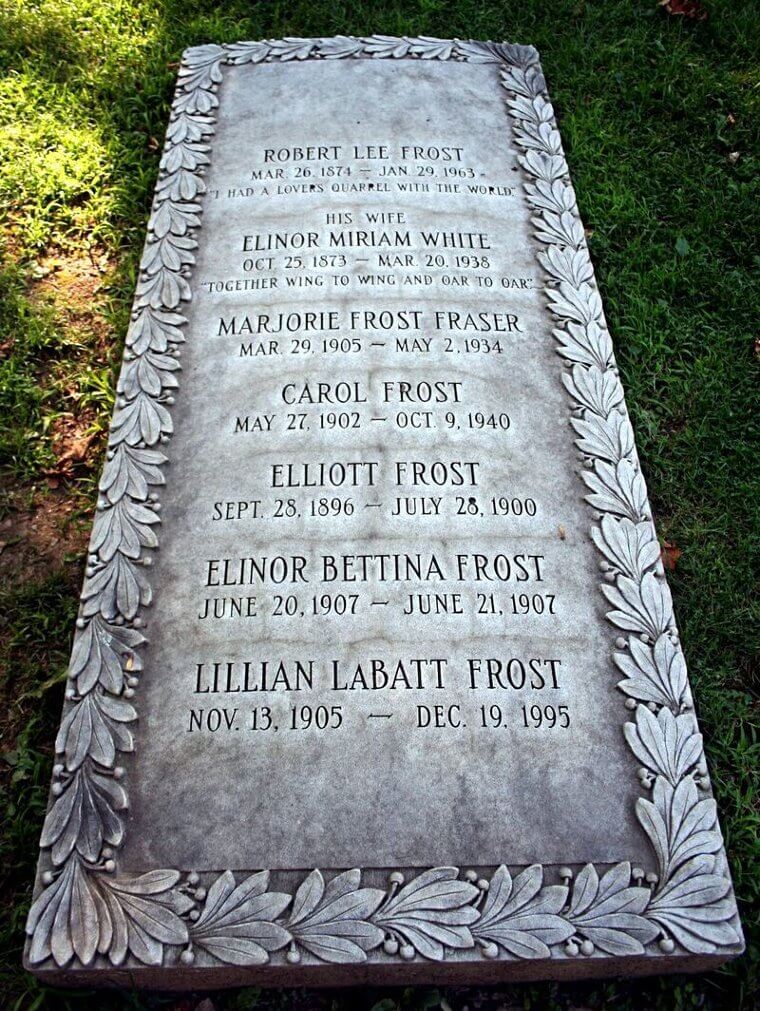 The now-popular line, "I had a lover's quarrel with the world," were taken from his 1941 poem, "A Lesson for Today." Frost requested for the poem's last lines to be engraved on his gravestone. The full line of the poem reads, "And were an epitaph to be my story I'd have a short one ready for my own. I would have written of me on my stone: I had a lover's quarrel with the world."
Jackie Gleason's Final Cheer
Jackie Gleason's big, blustering on-stage personality on Broadway helped him land his first major breakthrough gig in 1940 for the TV show "The Life of Riley." He was adored by the audience and soon after, got noticed by some successful studios. After three years of starring in "The Life of Riley," CBS gave the comedian his most memorable show, "The Jackson Gleason Show."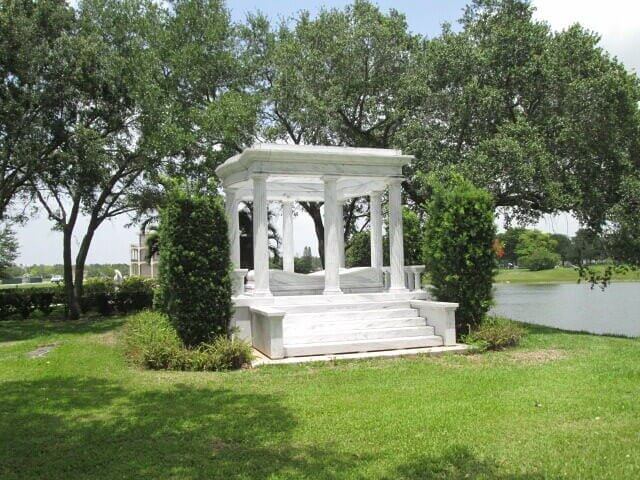 Gleason's experience in Broadway was what inspired the slew of dance and musical numbers he used to jazz up the show. "And Away We Go," was one of his most popular songs and also became one of his trademark numbers. During his lifetime, Gleason became known for  "Away We Go," so much that the line was engraved on the steps leading up to his gravestone. It serves as one last pun from the comedian, as well as a memorial.
Dean Martin Takes a Bow At the Peak
Born in Steubenville, Ohio, actor/singer Dean Martin rose to stardom in Hollywood and passed on at age 78 in his home in Beverly Hills with a view of the city of Los Angeles. Martin's popularity waned slightly from 1958 to 1964, but he reasserted himself as one of America's greatest entertainers.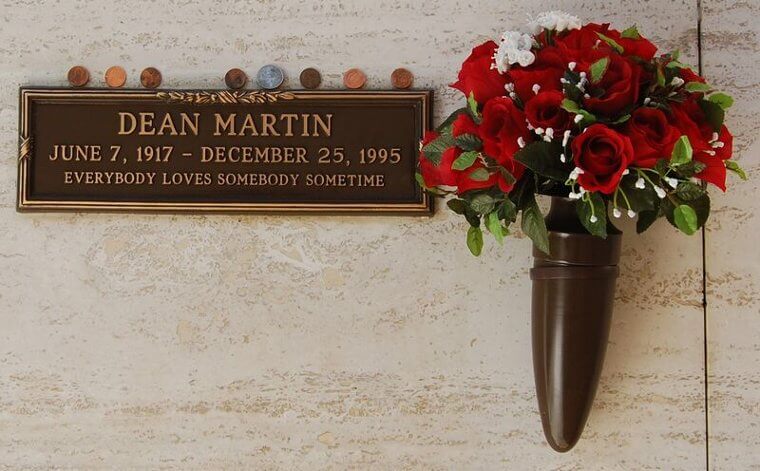 Martin released the ballad "Everybody Loves Somebody" in 1964. Though showbiz pundits expected that Martin would never stand shoulder to shoulder with more modern performers, the song peaked at number one on Billboard, knocking The Beatles' "A Hard Day's Night" from their perch at the top to the number two spot. It was an incredible musical feat that is still remembered in the epitaph of the singer's Westwood Memorial Park gravestone.
Marilyn Monroe Keeps Getting Kisses
You can't talk about Hollywood icons of the '50s and '60s without mentioning Marilyn Monroe. Despite her battles with mental health, her disappointments with her below-standard pay by studio executives drove her to build her own studio in 1954, thus giving her the reigns over her career. That was when she starred in her most notable films, such as "The Seven Year Itch," "The Misfits," and "Some Like It Hot."
You can find the famous blond's grave in Westwood Village Memorial Park Cemetery, right next to her ex-husband and fellow superstar, Yankees slugger Joe DiMaggio. Today, Monroe's burial site continues to attract tons of fans who come to kiss the adorable actress' gravestone, which is now embellished in lipstick marks of everlasting love.
Rick James Keeps Rocking on His Gravestone
Commonly known by his stage name, Rick James, James Ambrose Johnson Jr. was widely known as the very first super freak. He released his most popular album, "Street Songs," in 1981, which featured hit tracks such as "Give It To Me Baby" and "Super Freak," of course.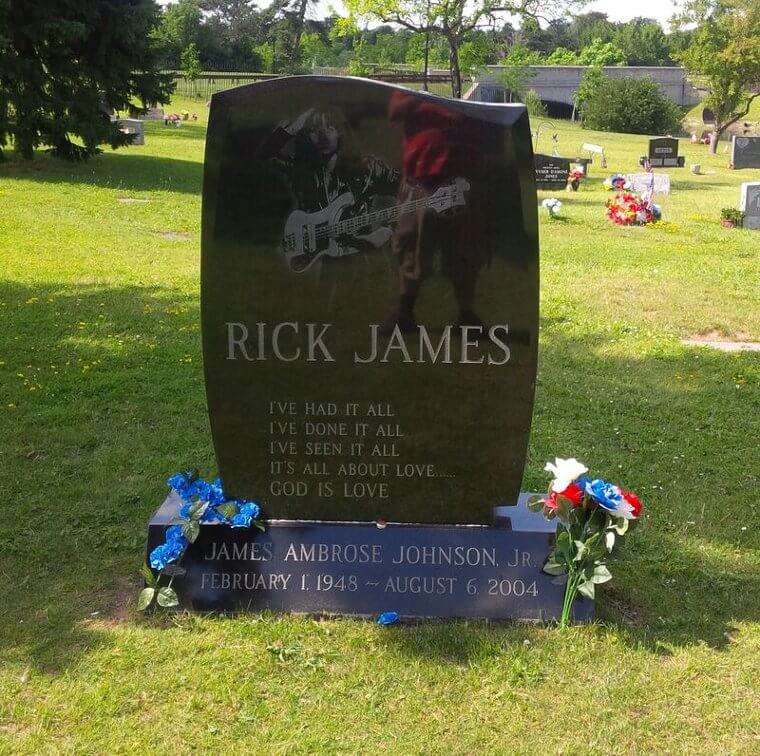 In 1997, a series of health issues forced James into early retirement. He later made a comeback to mainstream pop culture in 2004, following an appearance on Chappelle's Show, which recounted his wild partying days in the '80s. Sadly, James passed on later that year from heart failure. Chappelle's Show fans visiting his gravesite won't be greeted with the famously hilarious line, "I'm Rick James…" from the show. 
Jayne Mansfield Fans Will Go the Extra Mile for Her
Jayne Mansfield had a brief but successful career, which began from Broadway and landed her on the silver screen. Best known for movies such as "The Girl Can't Help It" and "Too Hot To Handle," she's endeared to many as one of Hollywood's most iconic actresses. However, away from the camera, the famous blonde's reportedly turbulent personal life and publicity stunts were also well known, like the several "wardrobe malfunctions" she had.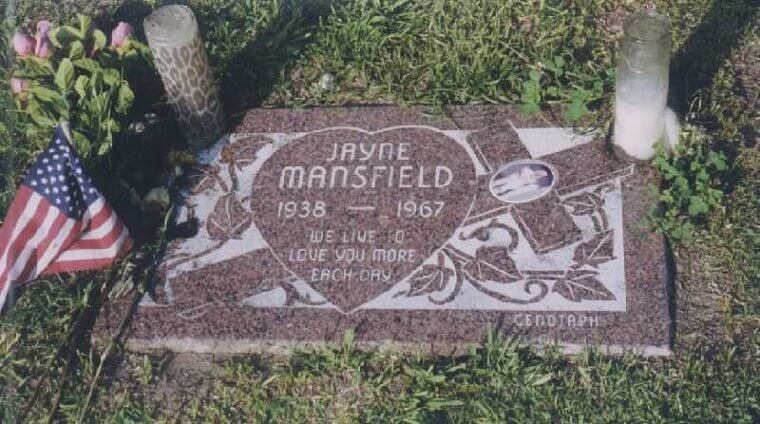 Unfortunately, Mansfield lost her life in a car accident at just 34 years old and was buried beside her father in Pen Argyl, Pennsylvania, in a heart-shaped tombstone. A group of fans in California came up with the idea to install a cenotaph as a tribute to her in Hollywood Forever Cemetery. Interestingly, the cenotaph has her birth year purposefully listed as 1938 instead of 1933 in honor of the actress who had a penchant for giving incorrect details about her age.
Jack Lemmon's Last Acting Credits
A lot unlike the grumpy old man he portrayed in his glory days, Jack Lemmon earned a lot of recognition for his talents on-screen. The Oscar winner played roles in "The Odd Couple," "The Apartment," and "Some Like It Hot." Lemmon lived a modest life before his Hollywood debut. He was a Harvard Graduate and served as an officer in the U.S. Navy.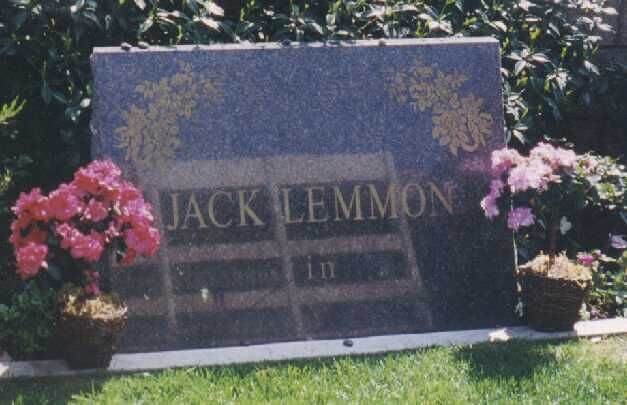 Renowned for his comic timing and wry humor, it seems Lemmon wanted to leave one last memorable impact before signing out. Inspired by his almost 100 acting credits during his career, the funnyman had the words "Jack Lemmon in" ingrained on his epitaph, followed by nothing else but the ground. He may be gone, but Jack Lemmon definitely had the last laugh.
Sam Kinison's Career Switch Is Immortalized
Stand-up comic Sam Kinison launched his professional career as a Pentecostal preacher. He had a "fire and brimstone" style of preaching that was often punctuated by distinct screams. He would later incorporate the howls into his comic routine. Kinison's former job as a preacher helped shape his stand-up career, and there wasn't anything he couldn't poke fun at, including Christianity, the Bible, and Evangelist scandals.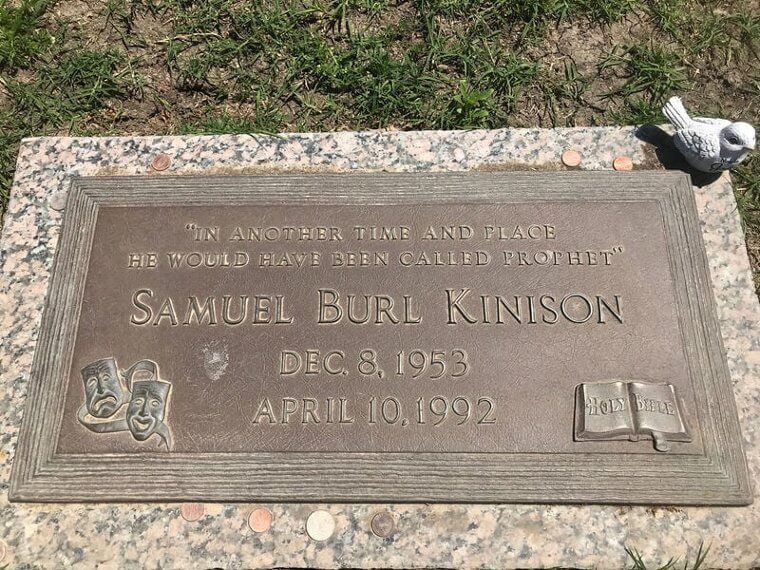 Sadly, Kinison's life abruptly came to an end on April 10, 1992, after he was involved in a car accident. Renowned comedians of that era, such as Robin Williams, George Carlin, Rodney Dangerfield, and Jim Carrey, all paid their respects to the talented comedian with special performances. Nonetheless, Kinison had one memorable last joke on his gravestone that played on the idea of his life had he remained a preacher.
Princess Diana
The final resting place of Princess Diana is at her family home in Althorp Park, Northamptonshire. The Spencer family estate has been in their family for centuries, and it was always Diana's wish to be buried there. Her grave is on a small island in the middle of a small lake called The Round Oval. The island is only accessible by a bridge, and it is surrounded by trees and flowers. Diana's grave is simple and understated.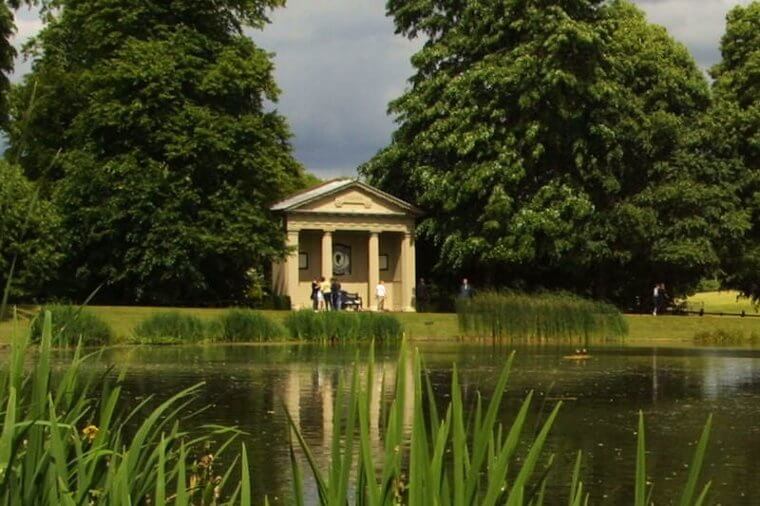 A white marble headstone bears her name and dates and is surrounded by roses. Diana's favorite flower was the white rose, and so her family planted a white rose garden in her memory near the burial site. The Spencer family home is open to the public, and visitors can pay their respects to Diana at her final resting place.
Oscar Wilde's Ironic Gravestone
It's a shame an aging portrait couldn't help Oscar Wilde live for eternity. Born in Dublin, Ireland, Wilde is one of the world's most famous playwrights and authors. The distinguished writer offended the powers that be, at the time, with his "morally indecent" novel, "The Picture of Dorian Gray." He was later arrested and convicted for charges connected to homosexuality which, at the time, was illegal in the United Kingdom.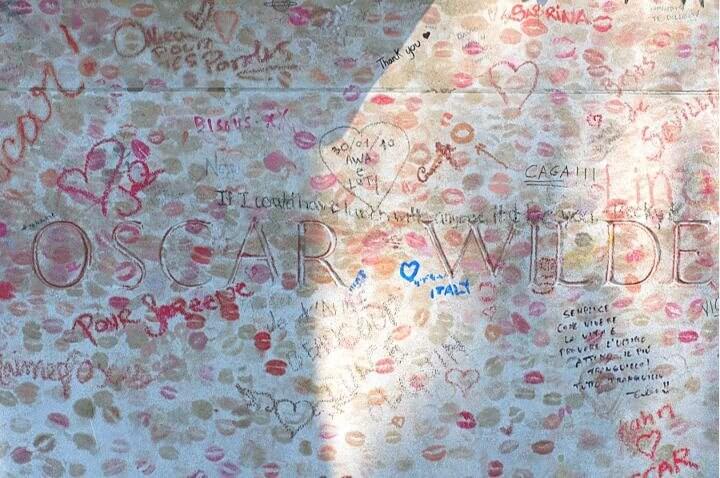 Wilde's landing in prison for following his heart was recognized on his headstone, which reads, "A kiss may ruin a human life." Fans of Oscar Wilde have, over the years, decorated his gravestone with kisses, resulting in the corrosion of the stonework. So, the French authorities erected a barrier and started imposing a fine of €9000 on anyone caught kissing Wilde's tomb. Kissing the celebrated tombstone may no longer ruin a life, but it surely can cost a pretty sum!

NEXT: It must have been hard for anyone at the funeral of this famous writer to keep a straight face after reading his epitaph.
Harry Houdini
Houdini was one of the most famous and renowned magicians and escape artists of all time. He was born in Hungary in 1874 and died in 1926. Houdini's grave is located in the Machpelah Cemetery in New York. Houdini was famous for his daring and death-defying escapes, many of which involved being handcuffed, shackled, or chained. He would often escape from jails, prisons, and other confinement. Houdini's most famous escape was from a Chinese Water Torture Cell, in which he was suspended upside down in a tank of water while handcuffed. He managed to escape from this cell and many others like it, much to the amazement and disbelief of onlookers. Houdini's grave is a simple and unassuming plot in the Machpelah Cemetery.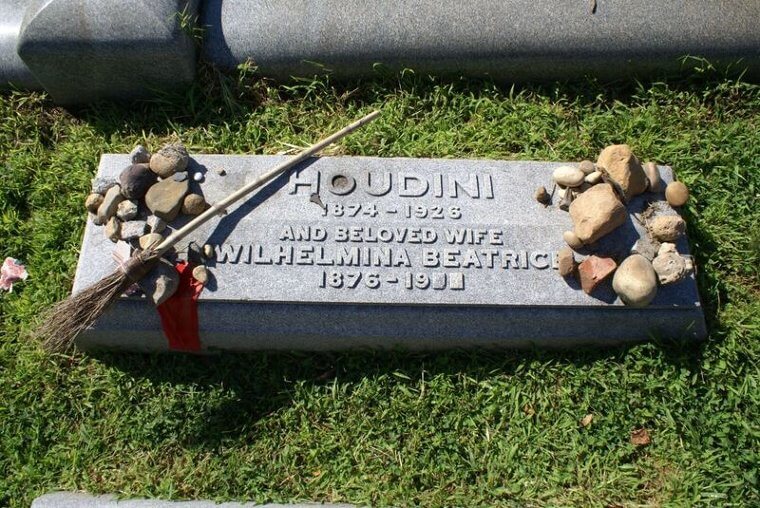 There is a large headstone with his name and dates of birth and death. On the headstone are two small handprints, which are said to be Houdini's. These handprints are said to have been made when Houdini placed his hands on the stone and used his magical powers to levitate himself off the ground. Whether or not you believe in Houdini's magical powers, there is no denying that he was a master escape artist and magician. His grave is a fitting tribute to a man who amazed and baffled people with his skills.
William Shakespeare's Curse Is Avoided
The famed playwright took serious measures to ensure no one would violate his resting place and move his bones after his death. Who can blame him? Grave robbing was quite common in those days. There's a chilling warning on the scribe's tombstone that reads: "Good friend for Jesus sake forbeare, To dig the dust enclosed here. Blessed be the man that spares these stones, And cursed be he that moves my bones."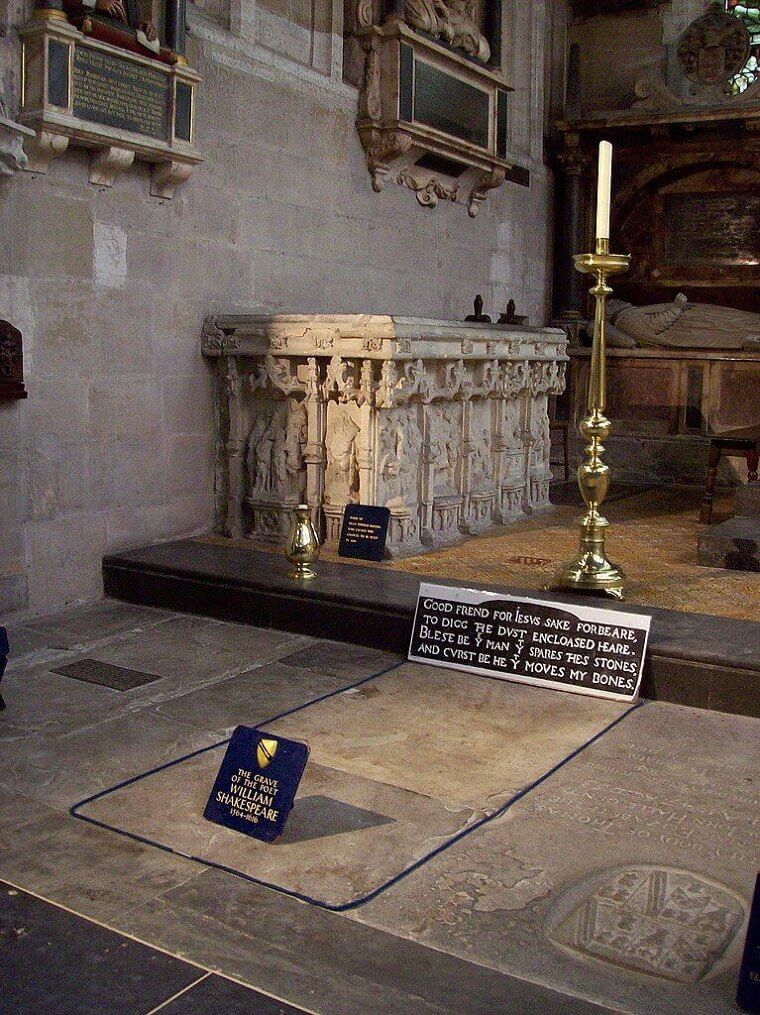 Basically, anyone who dared touch Shakespeare's remains would be cursed. If we're to think about the many horrific deaths that struck characters in his plays, we might understand why his warning has so far been heeded. Even though the grave got fixed in 2008, laborers were mindful so as not to move anything, so they wouldn't disturb the slumber of one of the greatest authors that ever walked the face of the earth.
Aaliyah
Aaliyah was an American singer, model, and actress who tragically died in a plane crash at the age of 22. She was born in Brooklyn, New York, and was of African American and Native American descent. Aaliyah rose to fame in the early 1990s with her debut album, Age Ain't Nothing but a Number, which sold three million copies in the United States. She followed up this success with her second album,One in a Million, which went double platinum and spawned the hit singles "If  Your Girl Only Knew" and "One in a Million".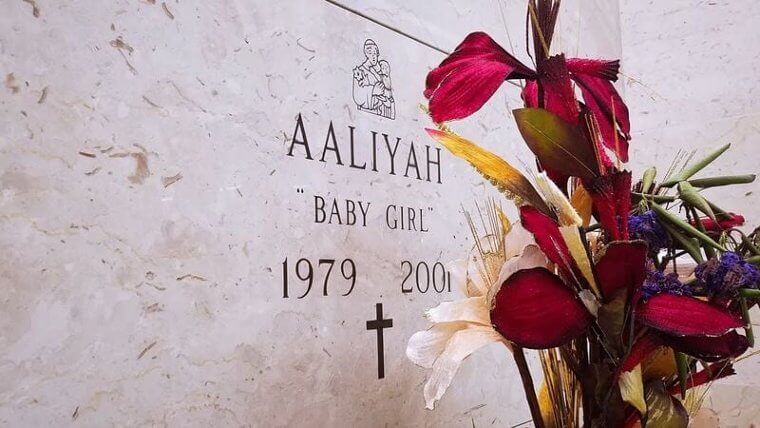 Aaliyah's final album, Aaliyah, was released in 2001 and debuted at number one on the Billboard 200 chart. The album's lead single, "More than a Woman", peaked at number one on the Billboard Hot 100 chart, making Aaliyah the first artist in history to have a posthumous number-one single. Aaliyah's untimely death in 2001 sent shockwaves throughout the music industry. She was survived by her parents and her older brother, Rashad. Aaliyah's grave is located at Ferncliff Cemetery in Hartsdale, New York.
Doc Holliday's Cryptic Gravestone
Hailing from a wealthy family, Doc Holliday was born John Henry Holliday in Griffin, Georgia, in 1851. At 21, he earned a degree in dentistry, giving him the moniker, "Doc," but he later left Georgia for the Wild West in the wake of being diagnosed with tuberculosis. He hoped the new climate would help ease his symptoms, but he discovered something different.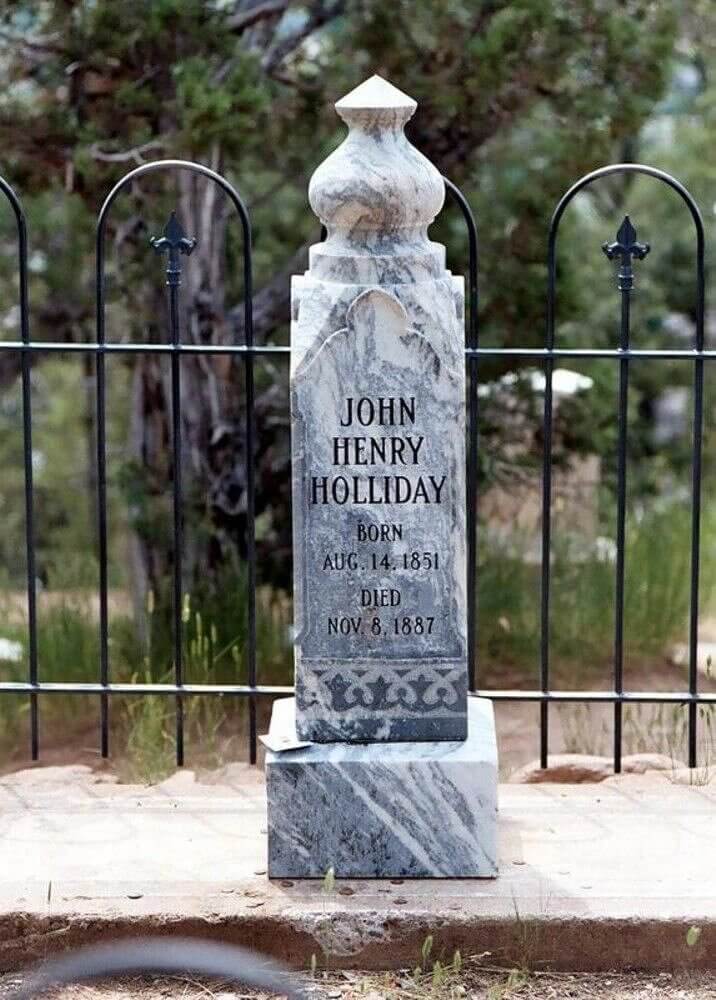 On his journey through the American Southwest, Holliday picked up gambling, which was a noble profession at the time. Sadly, he was never cured of tuberculosis and died of it at age 36. The famed gunfighter was indeed buried in Linwood Cemetery, but no one knows the exact spot. Even Doc's epitaph alludes to this mystery.
John Belushi Parties On
Celebrated for his impressions of Henry Kissinger, James T. Kirk, and Ludwig van Beethoven, comedian John Belushi first achieved fame as a cast member of the popular TV show "Saturday Night Live." Although producer Lorne Michaels didn't want to grant him an audition at first. In his personal life, however, Belushi battled with drug abuse, which he eventually died from.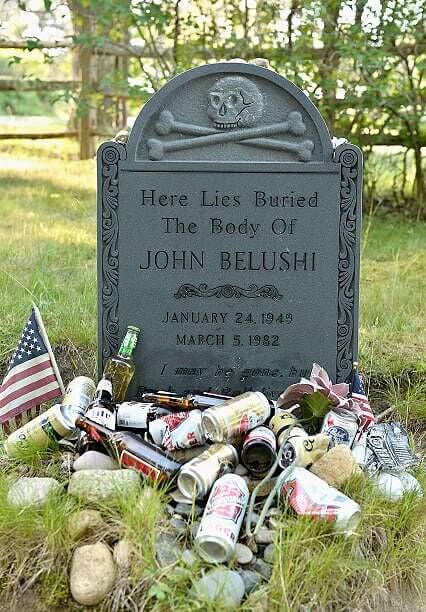 It would appear as if fans were wishing they'd gotten the opportunity to share one final drink with the acclaimed entertainer. Thus, his tombstone, which reads: "I may be gone, but Rock and Roll lives on," usually has many empty bottles piled around it. One final round for the late comedian and his fans.
Billy Wilder Affirms a Hard Fact
Originally born in Berlin, Billy Wilder started his career in film writing in the late 1920s. As the Nazi party became more prominent, the young Jewish writer and his family escaped from Germany to Paris, and later on to Hollywood. There, Wilder achieved success as a writer and a director for hit movies such as "Sabrina," "Some Like It Hot," and "The Apartment."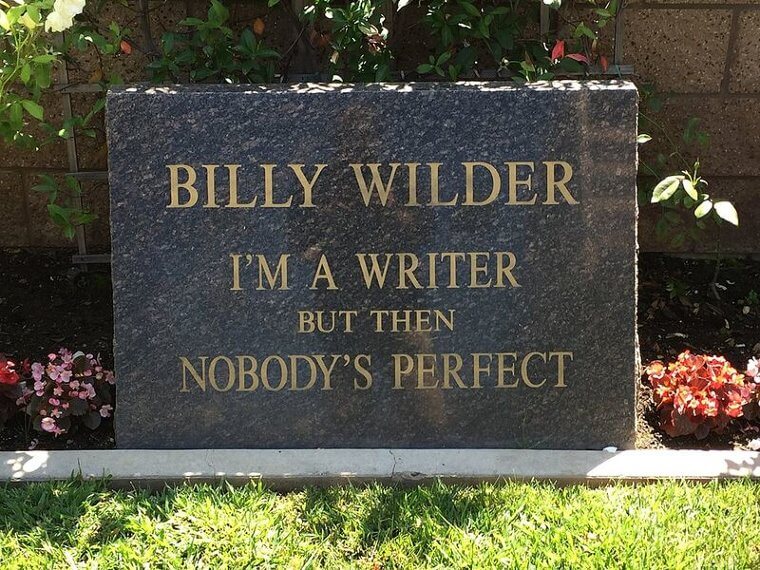 Wilder worked majorly in film noir during World War II, releasing "Sunset Boulevard" and "Double Indemnity." He decided to make a switch to comedy in the 1950s, which turned out well for the star. His comedy writing prowess eventually earned him an Oscar Award, as well as a Lifetime Achievement Award. But even in his last days, Wilder still had the time to throw one last joke at his fans, making his gravestone one of the most memorable.
Joe Mafela's Lavish Gravestone
Although he grew up under South Africa's ruthless apartheid era, Joe Mafela began acting when he was 22. And 10 years after, in 1974, he won a leading role in "Udeliwe," South Africa's first all-black film. When South African TV made its debut in 1976, he changed his focus to becoming a TV superstar.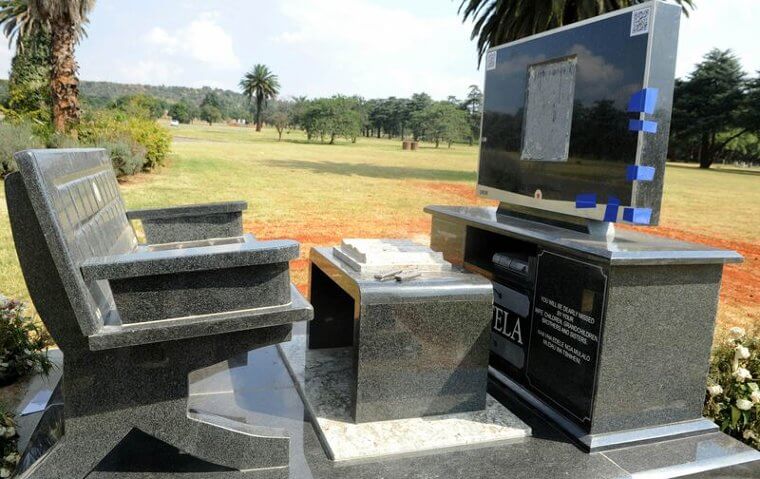 After more than 50 years as an actor, Mafela lost his life in a car accident in March 2017. His lavish gravestone mirrored his commitments to TV and reportedly cost about $20,000. Although a few fans condemned the late actor's extravagant grave, others defended his decision, with one fan tweeting, "You can't expect Joe Mafela to have a similar tombstone to your grandfather. That's Sdumo, Jubalani Cebekhulu, Wonke Wonke buried there!"

NEXT: These next gravestones will both make you laugh and leave you in awe.
Peter Falk's Moving Epitaph
In his tribute to Falk, Steven Spielberg said: "I learned more about acting from him at that early stage of my career than I had from anyone else." Indeed, Peter Falk had plenty of experience in the entertainment industry to impart to others. He is most famous for starring in the television series "Columbo," which, remarkably, was aired from 1968 to 2003.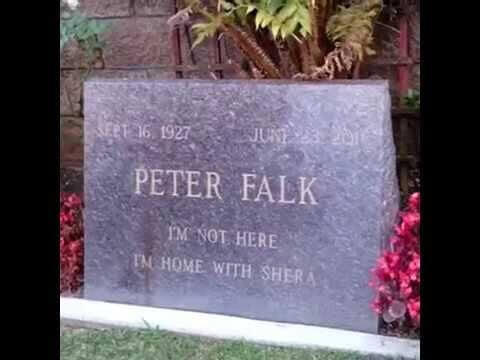 Falk wasn't just a talented actor, he was also fortunate in his personal relationships. He tied the knot with actress Shera Danese in 1977, and the couple made appearances together on many episodes of Colombo. After his death, Falk bequeathed his $5-million estate to his wife, in addition to a moving tribute to her on his gravestone.
Frank Sinatra Passes On an Uplifting Reminder
One thing we're sure of is that Frank Sinatra did it his way. The "My Way" crooner was one of the best-selling music artists of all time, selling more than 150 million records worldwide. Sinatra also earned a spot on TIME's 20th century's 100 most influential people list. A multi-talented performer, Sinatra was a brilliant singer, dancer, and actor.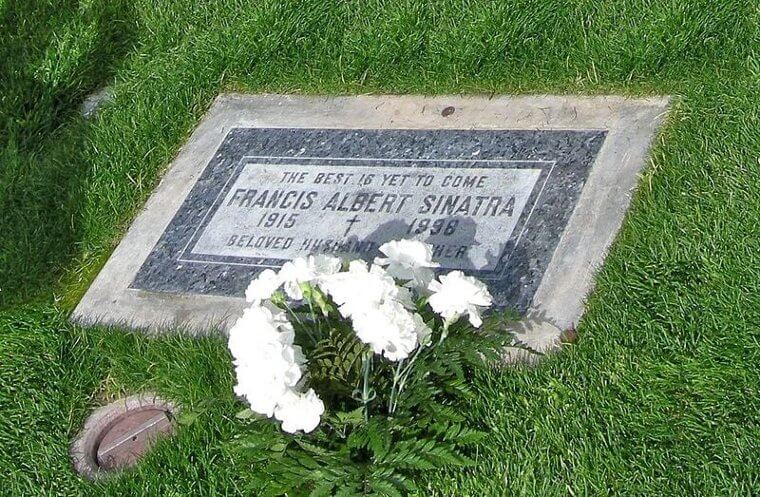 Sinatra died in 1998 at age 82 and was buried in a cemetery not far from Palm Springs, California. Possibly to aid him on his journey to the afterlife, the late superstar was buried with a pack of Camel cigarettes and a bottle of Jack Daniels. Loaded with two of his best companions, his epitaph was derived from one of his classic hits, "The Best Is Yet To Come."
Betty Davis Shuns the Easy Road on Her Way Out
As it turns out, "I did it the hard way" is a fitting memorial for this incredible, pioneering actress. Known for playing a variety of characters in numerous genres including film noir, comedy, and drama, Bette Davis is regarded as one of the most significant women in Hollywood history by the American Film Institute.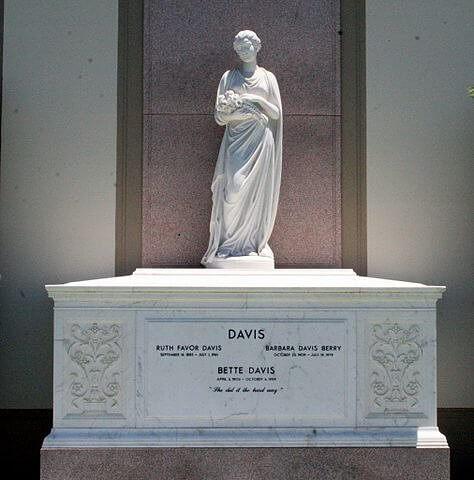 Davis was a trailblazer in the entertainment industry. She was the first person to secure 10 Academy Award nominations. The leading lady was also the first woman to be presented with a Lifetime Achievement Award by the American Film Institute and was the first female president of the Academy of Motion Picture Arts and Sciences. She's surely not one to take the easy road.
Winston Churchill's Outstanding Exit
The man who led Britain to victory in the Second World War wasn't a king, but the funeral procession he was given suggested he was. Churchill's coffin was taken up the river Thames by barge, where the dockyard workers had arranged for the cranes to be lowered in a salute, before arriving at Waterloo station for a particular reason.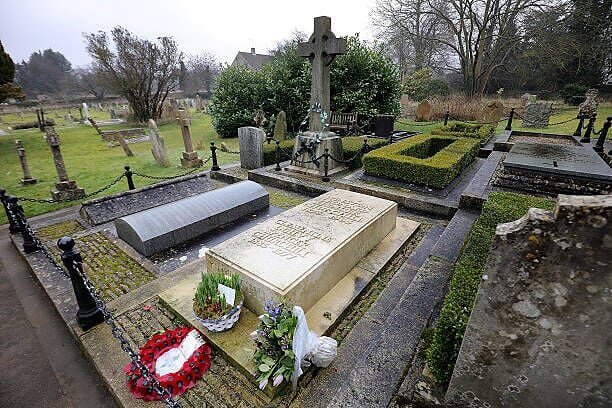 Although Waterloo was not in the route, Churchill had insisted that his coffin passed through there if the then French president Charles de Gaulle outlived him, as a jab at his ex wartime comrade. It was reported that Churchill said before his death, "I am ready to meet my Maker. Whether my Maker is prepared for the ordeal of meeting me is another matter." Hopefully, both of them are getting along just fine.
Fans Continue to Party With Jim Morrison
When he was the lead vocalist for the famous rock band The Doors, Jim Morrison was popular for his outlandish and unruly performances. His enigmatic persona was so much loved by his fans that they viewed him basically like the human encapsulation of the counterculture movement of the 1960s.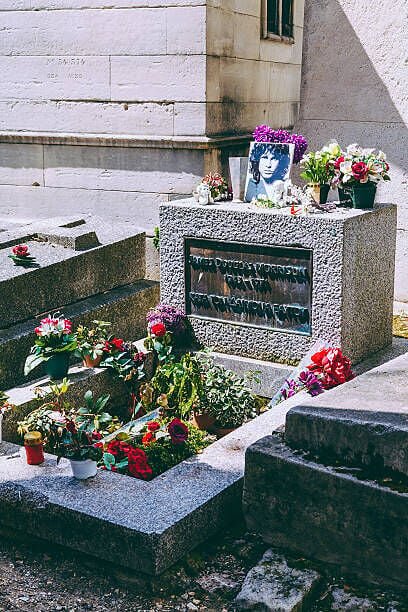 Tragically, Morrison died suddenly in Paris at 27 years old. Because the cause of his death has never been ascertained, over the years his fans have come up with different speculations. Morrison was buried at the Pere Lachaise Cemetery in Paris, which is a popular attraction in the city. Today, fans celebrate the life of one of the most iconic frontmen in musical history by leaving anything from bottles and flowers to cigarettes on his adored gravestone.
Walt Disney
In his lifetime, Walt Disney was a trailblazer in the animation industry, helping it develop what many would say are the most famous cartoon characters in history. In 1955, he opened Disneyland, one of the best-known theme parks in the world. He still holds the record for the most Academy Awards earned by a single individual.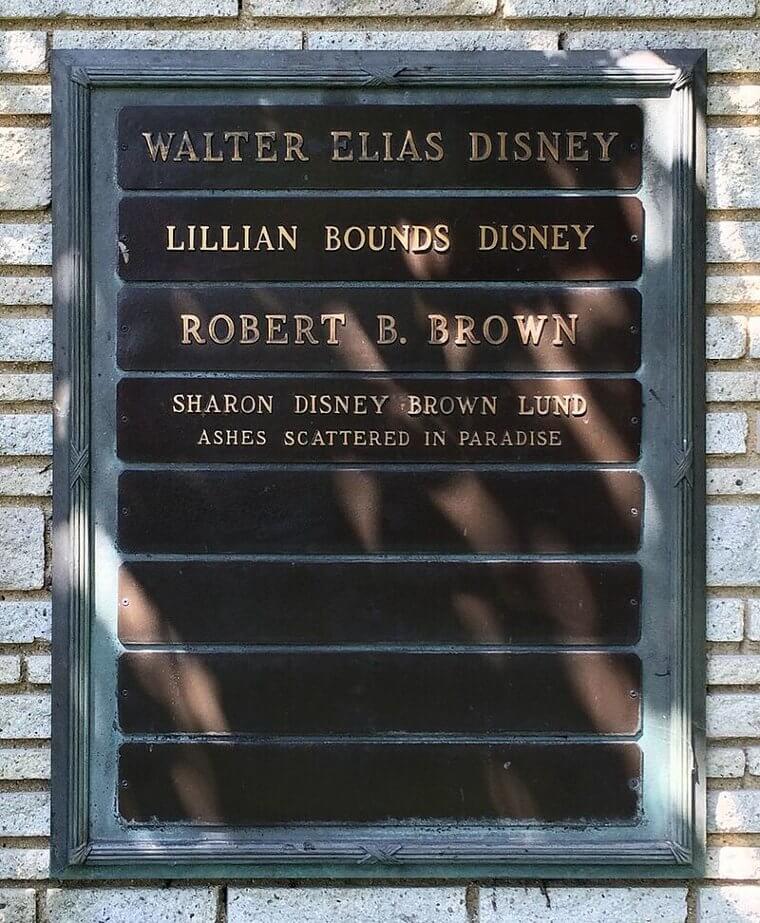 Disney passed on from complications arising from lung cancer in December 1966. Despite his warm and charming persona, Disney was known to be a private man and his funeral mirrored this. It was attended by only family and friends. Although the business mogul's gravestone is situated in Forest Lawn Memorial Park, Glendale, California, it is rumored that he was actually frozen and buried beneath the Pirates of the Caribbean ride in Disneyland.
Andy Warhol
Pop art icon Andy Warhol was born and brought up in Pittsburg and achieved acclaim in the New York art scene in the late 1950s up until his death in 1987. He was well known to entertain a wide range of personalities at his residence, from upcoming artists to Hollywood celebrities. Warhol would film a variety of these upcoming artists and right after, declare them popular, thus inspiring the line, "15 minutes of fame."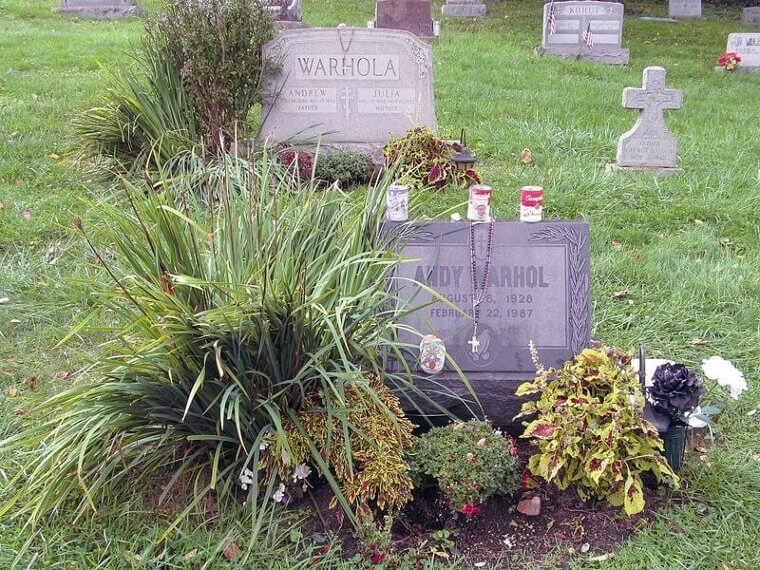 After his death, Warhol was buried beside his parents, 20 minutes away from his hometown of Pittsburgh. He was given a simple grave, but before long, fans beautified it with a variety of the artist's popular subjects, especially Chanel perfume, Coca-Cola, or cans of Campbell's soup.
Jimi Hendrix
Rock legend Jimi Hendrix started playing the guitar at the age of 15. By the time he was 27, he was the highest-paid performer in the world, headlining the now-iconic Woodstock Music Festival. Sadly, Jimi died just a year after his Woodstock performance from a drug overdose. At the time of his death, he had become the greatest guitarist in history.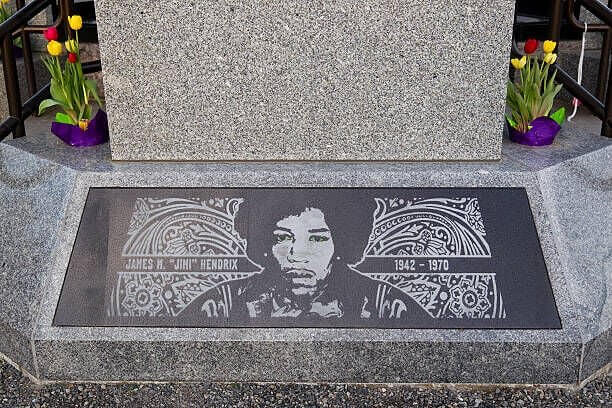 Hendrix was initially buried in a simple grave in Renton, Washington. But in 2002, his remains were secretly relocated by his fans to what could be termed an elaborate shrine for the late famed guitarist. Despite its already remarkable structure, fans originally wanted to feature a bronze sculpture of Hendrix and a purple fountain, but the idea was later axed.
Ed Wynn
Isaiah Edwin Leopold, best known as Ed Wynn, was a trailblazer in the entertainment radio domain. He performed his skits as a real stage show with a live studio audience present. Wynn then made a shift to television and provided his voice for Disney classics such as the Mad Hatter in "Alice in Wonderland" and Uncle Albert in "Mary Poppins."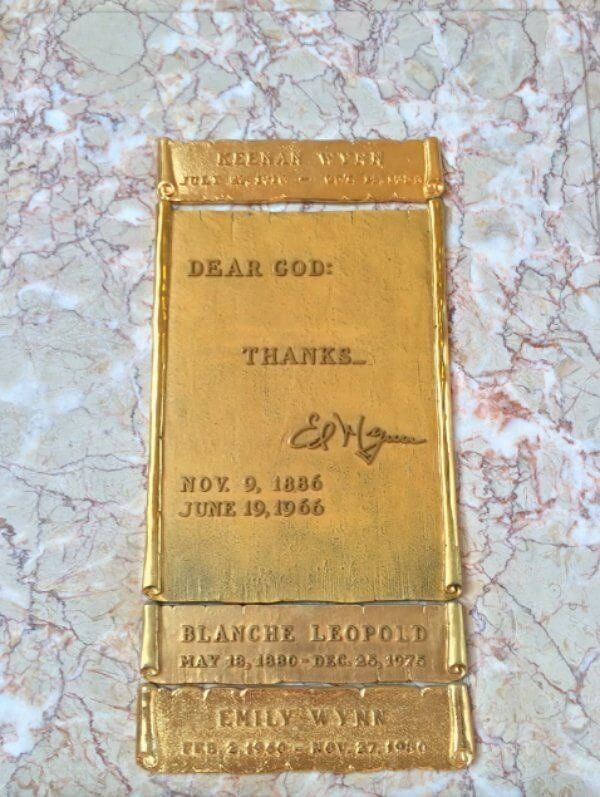 Wynn succumbed to throat cancer and passed on in 1966 at the age of 76. According to his granddaughter, Walt Disney was one of the treasured humorist's coffin bearers. On his gravestone reads a hand-signed message from Wynn to God that simply says: "Dear God: Thanks." Red Skelton, a comic discovered by Wynn, said at his memorial service, "His death is the first time he ever made anyone sad."
Merv Griffin's Devotion to Comedy
On the off chance you didn't know this already, Merv Griffin was the brain behind internationally-acclaimed hit game shows Jeopardy! and Wheel of Fortune. An on-air personality and media tycoon, Griffin also owned the TV production companies Merv Griffin Enterprises and Merv Griffin Entertainment, and hosted his own talk show, "The Merv Griffin Show."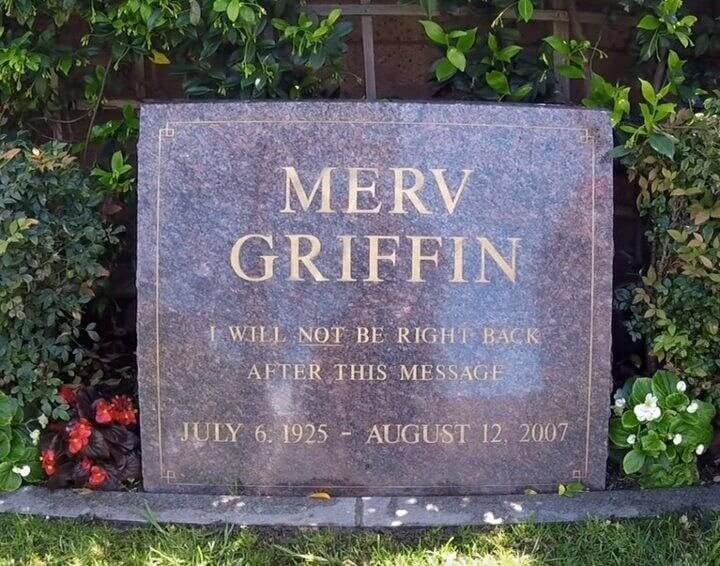 Griffin was interred at the Westwood Village Memorial Park in Los Angeles, the final resting place of numerous other Hollywood stars. While speaking with interviewers, Griffin often joked that he wanted "I will not be right back after this message" inscribed on his tombstone. He's only partially correct, though. These days, although he can no longer give us live entertainment, anybody can go on the web and catch a show of Griffin on stage, grinning from ear to ear.
Stan Laurel and Oliver Hardy
Stan Laurel and Oliver Hardy, better known as Laurel and Hardy, were a comedic team who gained fame from the late 1920s to the mid-1940s for their slapstick comedy. The pair were already famous before they teamed up, each having appeared on-screen several times. They starred together in more than 107 films and are widely regarded as the greatest comedy team in film history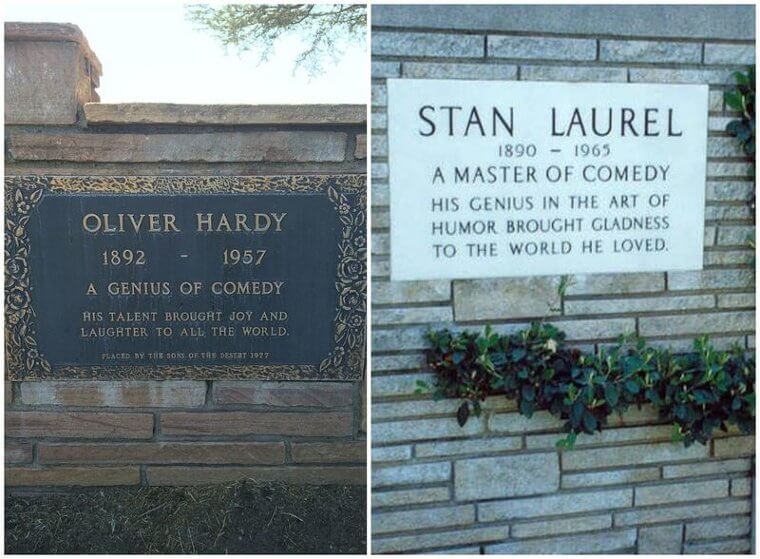 Although the pair weren't buried together, their appreciation society ensured they were reunited through the epitaphs on their tombstones. Before his death, Laurel issued a warning, saying, "If you cry at my funeral I'll never speak to you again!" Apparently, they both wanted to maintain their humor even after they had passed.
Edgar Allen Poe
Edgar Allen Poe's life was complicated, and sadly, so was his death. Initially interred in an unmarked grave in Baltimore in 1849, the community dreaded the gravesite would be forgotten, so they ordered for a tombstone. But before it could arrive at the burial ground, it was ruined in a freak train accident.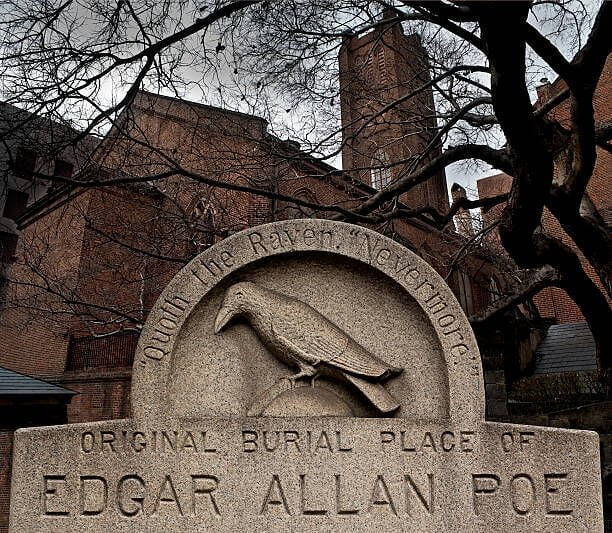 Donations were collected and a befitting monument for the famed poet was designed, but there was another mishap. Poe's birthday was erroneously stated and the monument was too big for the original burial site. The people eventually ditched the idea of erecting a gravestone and rather relocated Poe's body to a different cemetery which had a tombstone waiting. Apparently, the headstone with the raven on it was put in place to mark his initial gravesite, but it is set in the wrong place!
Jules Verne
Jules Verne was an author who broke the rules. He was a prolific French novelist, poet, and playwright, and his works include "Twenty Thousand Leagues Under the Sea," and "Around the World in Eighty Days." Verne was also known for conducting diligent research about his subjects before writing about them and earned the title, "Father of Science Fiction," due to his nitty-gritty writings about voyages to faraway places.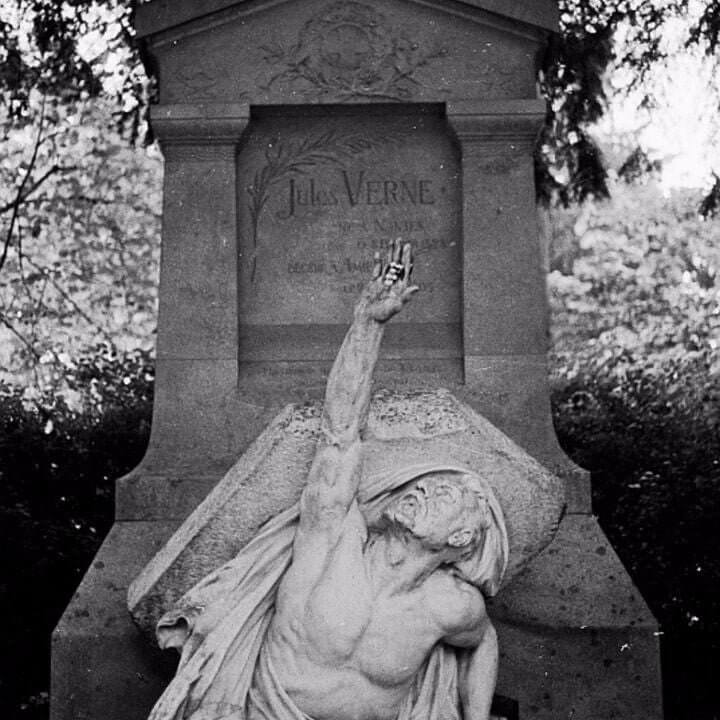 Verne was buried in the Cimetiere de la Madeleine in Amiens, France. The statue in front of the gravestone features a death mask of the writer and depicts him emerging from the grave. Perhaps alluding to one of his most popular works, "Journey to the Center of the Earth."
Sir Isaac Newton
Where would we begin in describing Newton's achievements! They're innumerable. Maybe his findings on the laws of motion and universal gravitation, which he published in the book, "Mathematical Principles of Natural Philosophy," first published in 1687. The book is now regarded as one of the most significant in the history of science.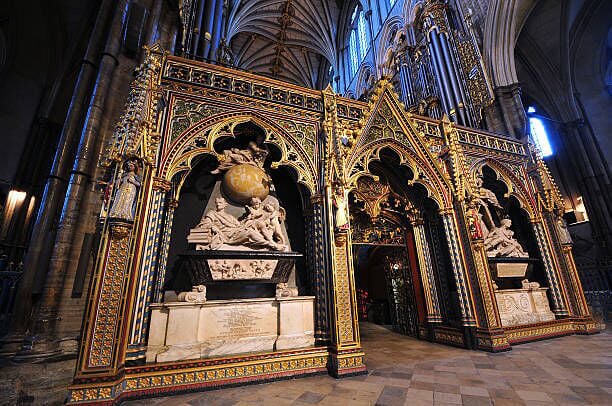 Newton passed on in 1727 at the age of 84; thus making him the oldest individual on this list. He also received the honor of being interred at Westminster Abbey. The late scientist's gravesite features a memorial statue of him relaxing underneath a globe, perhaps at long last having some rest after advancing human knowledge by giant strides.
Louis Armstrong
Deemed the King of Jazz, Louis Armstrong's career lasted from the 1920s up until the late 1960s. During this time, he was regarded as a "crossover" entertainer, meaning in a time when America was divided by race, his music was able to unite everyone.
Although Armstrong was laid in a simple gravestone, his funeral was far from simple and was attended by more than 20,000 people. His epitaph simply reads: "Satchmo," one of his popular monikers, which he earned supposedly for having a large mouth. He was originally called "satchel mouth," but the nickname was later shortened to "Satchmo."
Billy Mays
Billy Mays was a popular television pitchman who became a television infomercial pop-culture icon with his passionate sales of household products. He is easily remembered for his distinctive voice, dark brown beard, and high energy as he promoted household products such as OxiClean, Kaboom, Fix-It, and many others.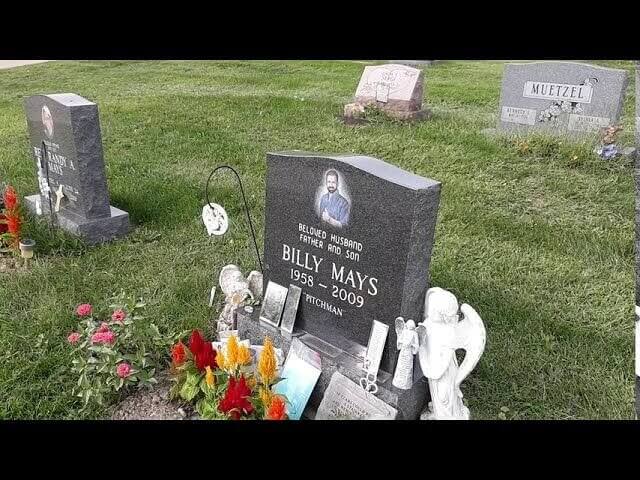 May passed away in June of 2009 in his home from heart failure. During his burial, the pallbearers donned May's signature blue shirts and khaki pants in honor of the late salesman. On Mays' gravestone is a photograph displaying the typical Billy Mays look, alongside a modest epitaph that simply says, "Pitchman."