As far as celebrity families go, the British royal household stands alone, specifically when it comes to fashion. When one of them wears something new, it can sell out in a matter of minutes. So we can safely say that the royal style is a billion-dollar business.
No wonder even celebrities take inspiration from their looks. From Kim Kardashian to Blake Lively, here are some of the stars who went "twinning" with some members of the royal family.
Queen Elizabeth and Blake Lively
Queen Elizabeth became a style icon during her long reign, but not for starting trends. Instead, the monarch incorporated her outfits based on the events she attended. When needed, the Queen's style was bold but subdued when mirroring a national mood. Even Queen Elizabeth's bright-colored blocked outfits had a purpose: to make her stand out from the crowd.
Who would not have spotted her in this lime green attire on the first day of Royal Ascot? Blake Lively appeared inspired by the queen's style when she stepped out to promote her movie A Simple Favor. The actress is known to make bold fashion statements, so it was not surprising to see her in this bright green Versace suit.
Meghan Markle and Jennifer Garner
Meghan Markle and Jennifer Garner had something in common aside from their acting career; both women are known for being fashionable. No wonder they wore the same elegant navy blue Roland Mouret number on two separate occasions. The Alias star donned the dress when she got her star on the Hollywood Walk of Fame.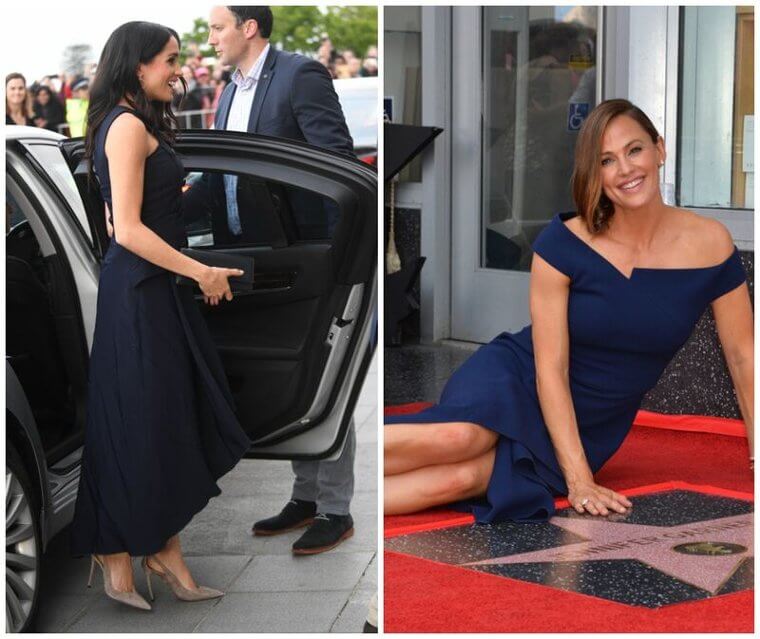 In contrast, the Duchess of Sussex was spotted in the outfit a day before her wedding to Prince Harry, when she met the queen for tea. Although both women had the same dress on, each styled it differently. Garner's hair was up and had a pair of navy blue ankle-strap pumps. In comparison, Markle wore light gray Manolo Blahnik heels and had her tresses down.

Kate Middleton and Lisa Vanderpump
Who inspired who? Many people would think Lisa Vanderpump copied Kate Middleton when she wore this pussy-bow pink blouse and black pants outfit. Nonetheless, that is if they are unfamiliar with the Real Housewives of Beverly Hills star. Fans of the reality show know that Vanderpump loves to wear bow blouses—it could very well be her signature style!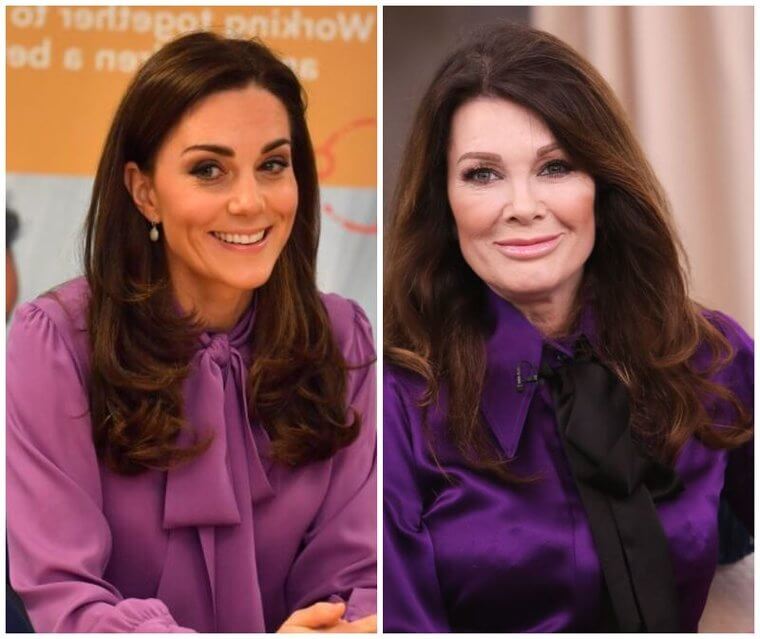 Still, it's unlikely that the Princess of Wales had the English TV star in mind when she chose the lavender top to pair with her wide-legged trousers. When Page Six posted the matching outfits, Vanderpump could not help but joke about her difference from the fashionable royal, saying Kate has blue blood while hers is pink.
Kate Middleton and Alicia Vikander
She may be a royal, but Kate Middleton does not shy away from repeating outfits. One of the dresses she wore twice was this off-the-shoulder dress by Barbara Casasola. The new Princess of Wales first stepped out in the ankle-length gown Art Fund Museum of the Year prize event held in the Natural History Museum in 2016.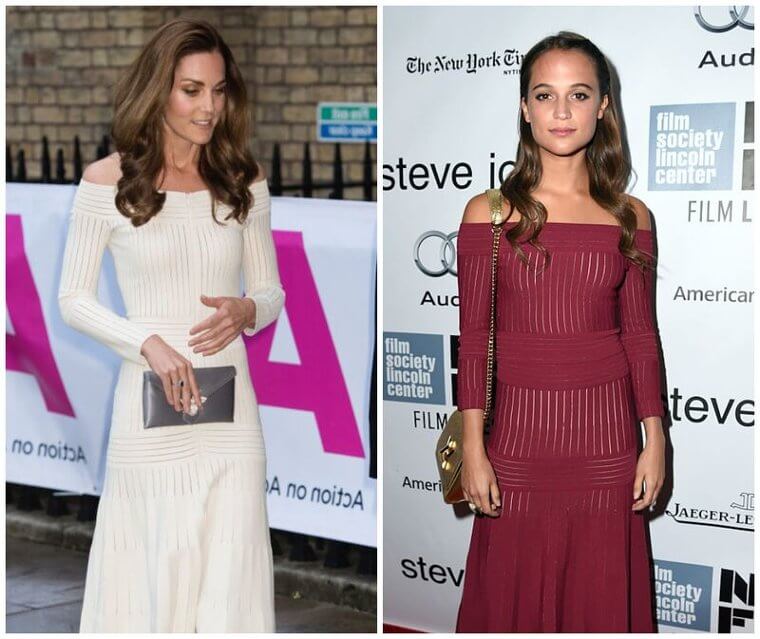 The gorgeous mom-of-three wore the fitted white dress again in 2019 when she attended a gala dinner recognizing Addiction Awareness Week. Alicia Vikander channeled the Princess of Wales for the premiere of Steve Jobs by wearing the same dress in a different color. This was not the first time the actress wore Barbara Casasola's creation; the designer seems to be her favorite.

Meghan Markle and Sophia Bush
The British royal family is one of the most notable families in the world. Their day-to-day actions inspire millions of people in one way or another, and fashion is one such thing. The former actress Meghan Markle is one of the royals who come under people's scrutiny.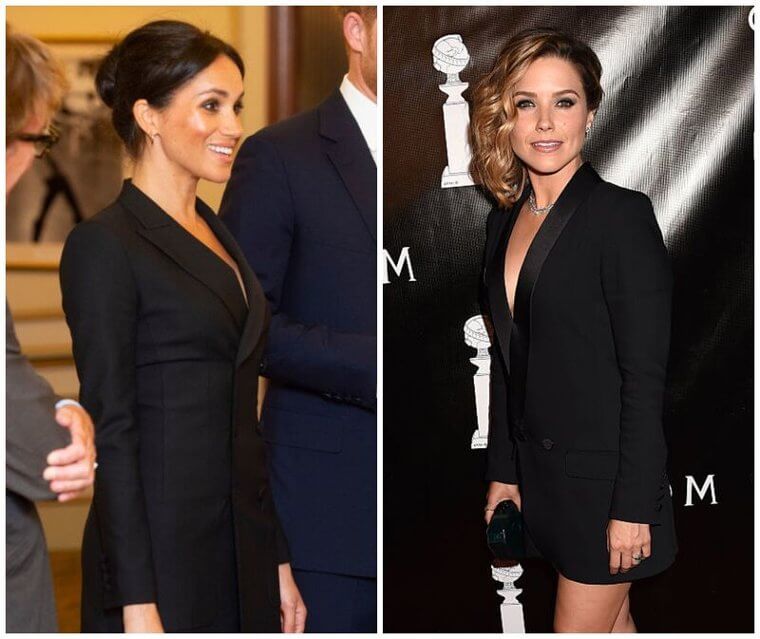 When she stepped out to see Hamilton, people made all sorts of comments about her black dress. Yet, her dress inspired the American actress Sophia Bush to replicate her look. The actress donned a similar mini tuxedo when she marked her presence at the Hollywood Foreign Press Awards. Her dress was from Judith & Charles.
Princess Diana and Lili Reinhart
Princess Diana is surely the one royal family member who common people loved and admired the most. Her kind and gentle behavior made her everyone's favorite. Apart from her beautiful nature, Princess Diana also knew very well how to turn heads with her fashion choices.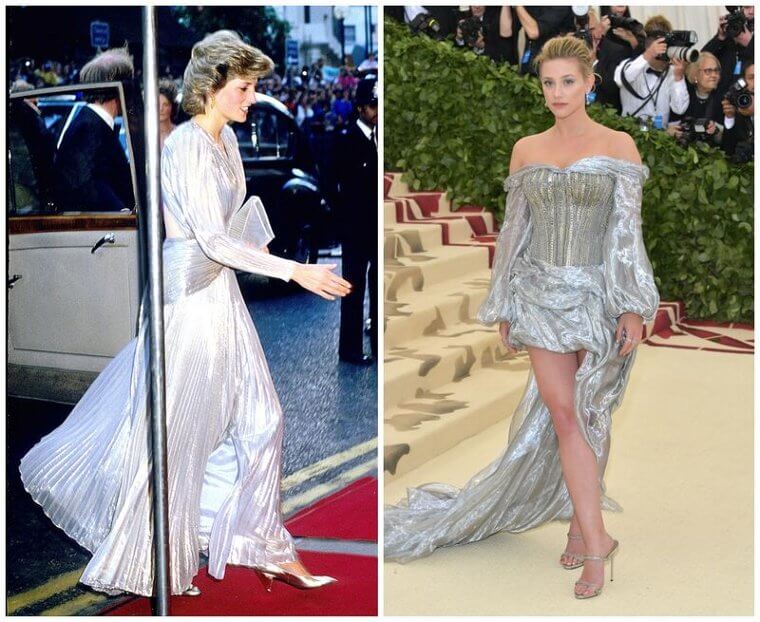 In 1985, people were left gasping for air when they saw Princess Diana in a beautiful silver lame dress that she wore at a movie premiere. The dress was designed by the famous British fashion designer Bruce Oldfield. In the 21st century, actress Lili Reinhart recreated that look in a modern way and wore a similar dress. Undoubtedly, both women looked absolutely gorgeous.
Meghan Markle and Nicky Hilton
We have discussed how royals have an impact and how people take inspiration from them. This time, let's turn the tables around a little and see how the royals got inspired by celebrities' fashion sense. In 2015, we saw the businesswoman, fashion designer, socialite, and model, Nicky Hilton, dressed in a beautiful red gown tailored with a cape over it. She wore this dress to attend a gala.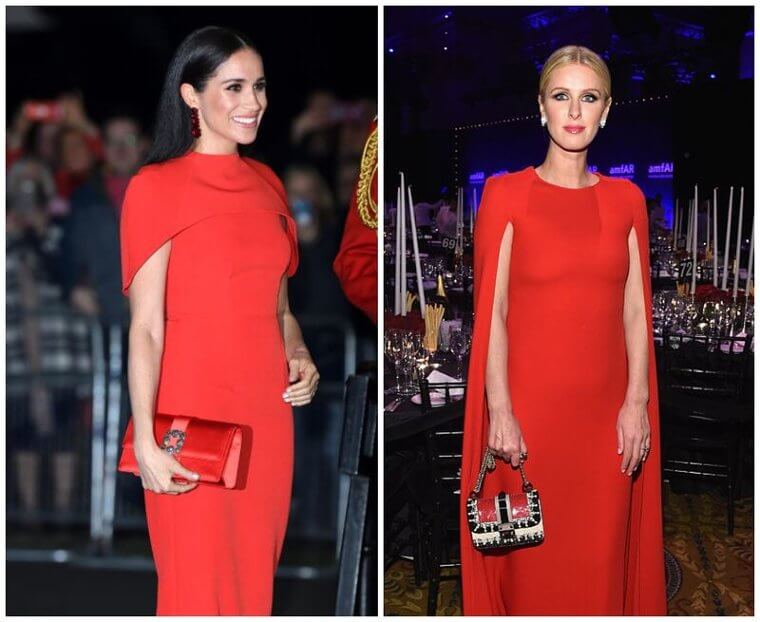 Then, after five years, the Duchess of Sussex, Meghan Markle, took it upon herself to recreate that look. She stepped out in a beautiful deep red gown from Safiyaa. She paired the dress with matching shoes and a matching clutch. The Duchess wore this outfit to the Royal Albert Hall.
Kate Middleton and Abigail Spencer
The year 2018 marked the marriage of Prince Harry and Meghan Markle. This most recent royal wedding was attended by a number of notable people. Since Meghan Markle belonged to the acting industry, we got to see many actors grace the ceremony with their presence. We guess it must be the wedding where the Duchess of Cambridge spotted the actress, Abigail Spencer.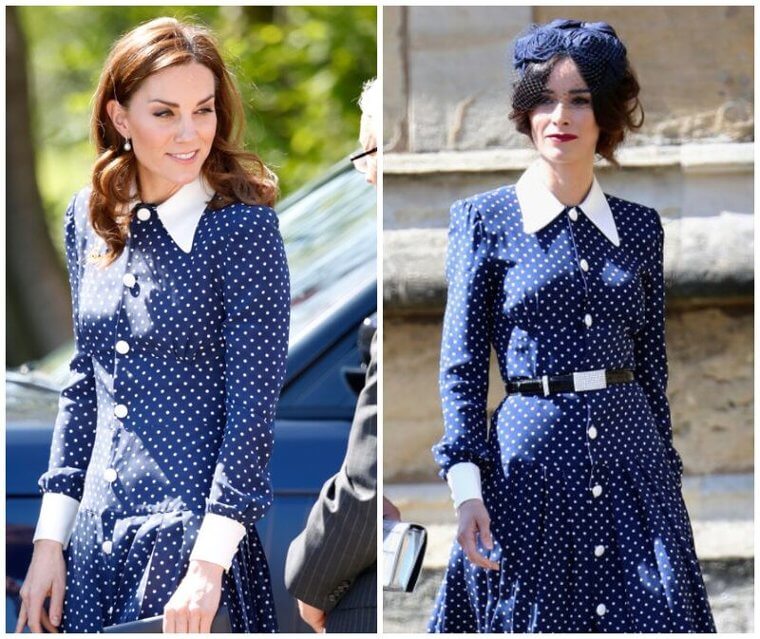 Spencer knew she was going to attend a royal wedding and dressed appropriately. She wore a navy blue dress with polka dots by Alessandra Rich. One year later, we saw Kate Middleton wear the same outfit when she got ready for a family portrait.

Meghan Markle and Kim Kardashian
We got to see another big fashion coincidence happen between the Duchess of Sussex, Meghan Markle, and the reality star and popular media personality Kim Kardashian. In 2007, Kim Kardashian wore this Jackie O Sheath dress by Black Halo. She opted for the white dress and accessorized it with a black belt.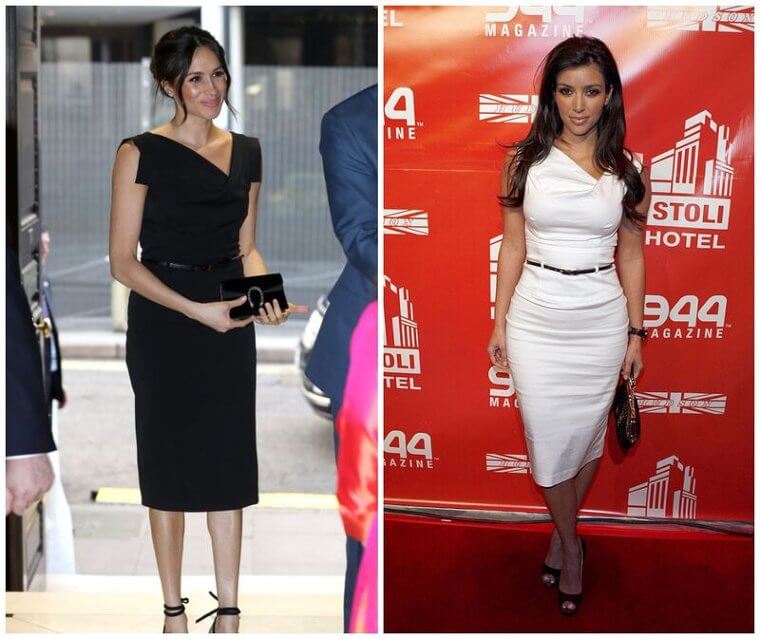 It looks like this dress never goes out of fashion as the Duchess of Sussex, Meghan Markle, also wore a similar dress in 2018. She opted for black color and donned it for a Women's Empowerment reception. Meghan paired the dress with black heels and accessorized the look with a black belt and a black clutch.
Kate Middleton and Elisabeth Moss
This outfit on Kate Middleton has received praise from the fashion bible Vogue itself for a good reason. It wasn't the first time a celebrity wore this emerald color shimmery ensemble designed by The Vampire's Wife. Interestingly, years before the Princess of Wales opted for this ensemble for her trip to Ireland, Elisabeth Moss donned the same attire at a press event.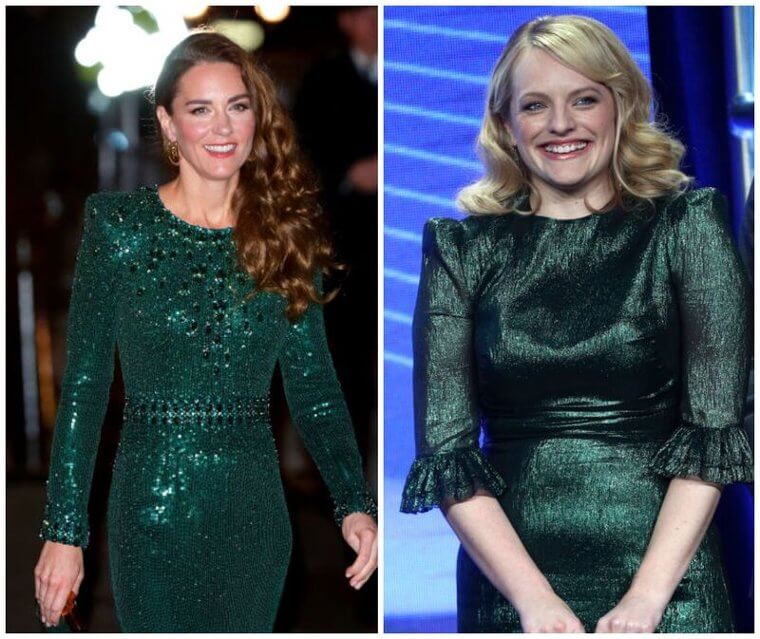 This outfit seems to be the right match for royals, A-list celebs, and even entrepreneurs. These are just two of the many people who sported this gorgeous dress, and the list also includes Jennifer Aniston, who chose the black version of the apparel.
Meghan Markle and Amanda Peet
The Duchess of Sussex, Meghan Markle, has always stolen the show with her fabulous outfits, and celebs often look for inspiration in her wardrobe. Even when she was pregnant with her first child, she opted for an ensemble that did not draw unnecessary attention to her baby bump but did give us a hint that she was expecting. Meghan wore this periwinkle gown designed by Carolina Herrera during her visit to Morocco in 2019.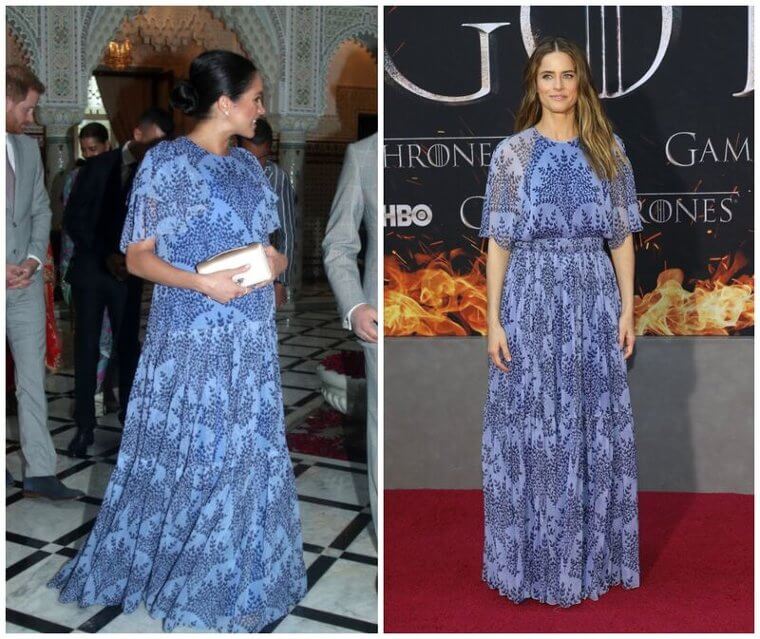 Interestingly, just a few months later, we saw Amanda Peet following in the footsteps of the royal lady, wearing the same ensemble at the premiere of season 8 of Game of Thrones.
Kate Middleton and Drew Barrymore
It is a proud moment for designers when their designs are liked and flaunted by celebrities at functions and events. Such was the case for fashion designer Tory Burch when not one, but two public figures opted for the same dress from her collection. The Duchess of Cambridge Kate Middleton and Drew Barrymore wore the same outfit at different events, although separated by several miles and living on distinct continents.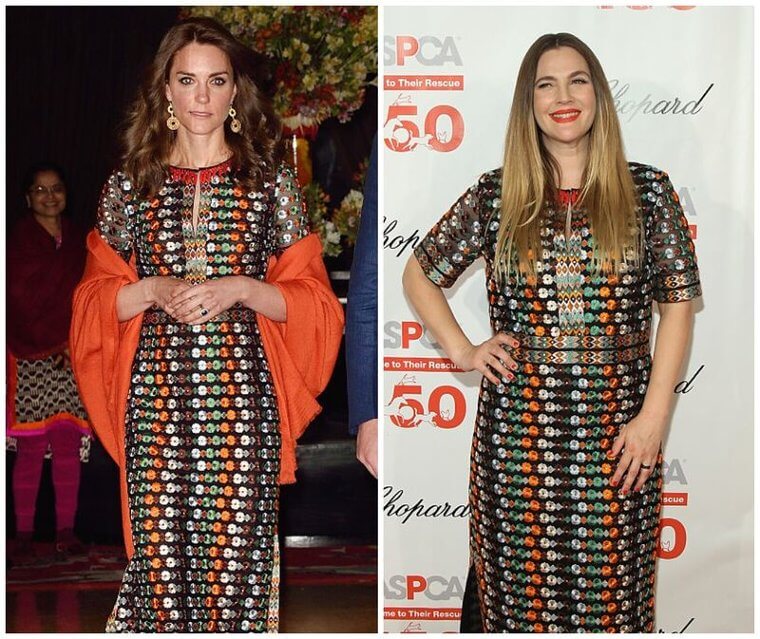 The Duchess, while on her trip to Bhutan to have dinner with the king and queen, sported this retro-inspired dress, teaming it up with an orange shawl. On the other hand, Drew donned this ensemble at the 2016 ASPCA Bergh Ball, minus the cloak.

Princess Diana and Elle Fanning
Even today, we remember Princess Diana's lively personality and enviable fashion sense. Over the years, Tinsel town celebrities and members of the royal family drew inspiration from her outfits. One such dress of the former Princess of Wales that stars have donned on the red carpet is this powdered blue gown designed by Catherine Walker. Diana graced the 40th Cannes Film Festival in this strapless ensemble. Her attire was said to be inspired by the outfit worn by Grace Kelly.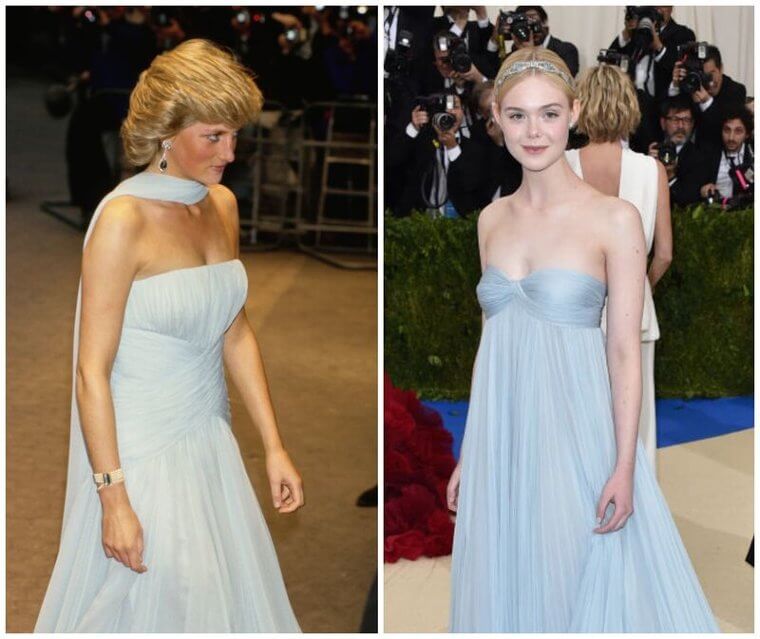 Three decades later, Ella Fanning opted for a similar ensemble as her Met Gala look, styled by Miu Miu. Diana sported a scarf, but Ella chose to do otherwise.
Kate Middleton and Dakota Fanning
On this rare occasion, the Hollywood celebrity beat out a Royal by wearing the dress first. Dakota Fanning looked regal in a white one-shouldered dress at the 2018 MET Gala. Kate Middleton also looked elegant in the same design at the 2019 BAFTA Awards.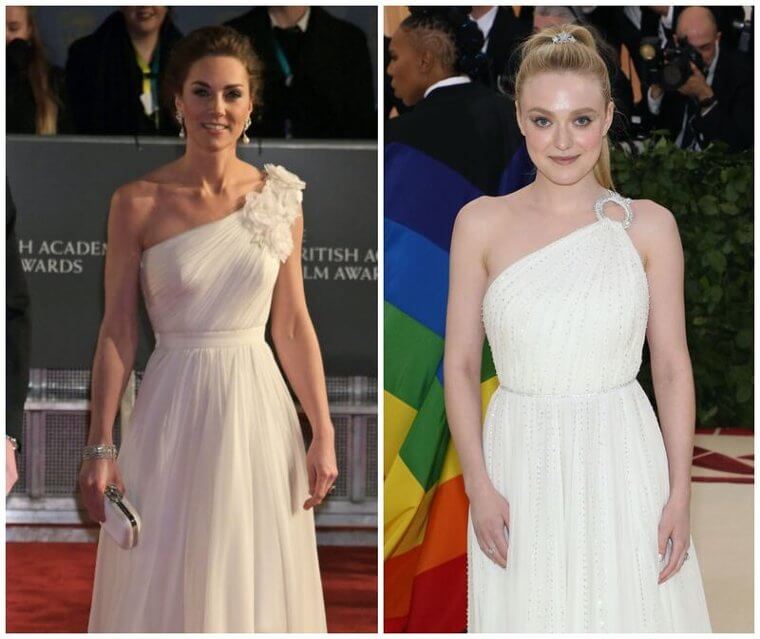 Dakota's custom gown was a Miu Miu design with a gold ring on the shoulder that linked the front side of the dress to the back. The American actress paired hers with Fred Leighton jewelry. Designed by Alexander McQueen, Kate completed her look with Jimmy Choo heels and a white clutch bag. Needless to say, both did the dress justice.
Kate Middleton and Mandy Moore
Whether on the red carpet or attending a press event, celebrities and royals love simple but elegant dresses. Mandy Moore may have taken some inspiration from Kate Middleton as she wore the same dress as her but in a different color.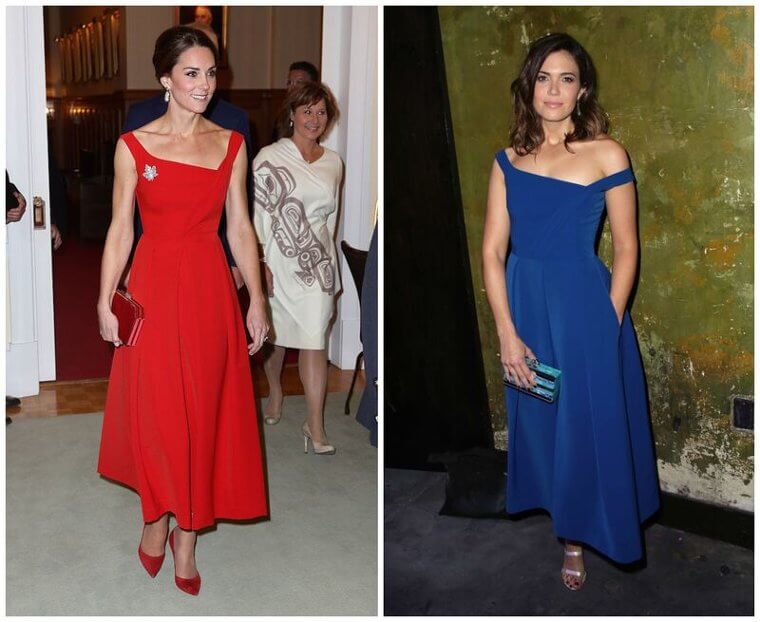 During a 2016 tour of Canada, the Duchess of Cambridge wore a red number of the Preen by Thornton Bregazzi. She accessorized the look with red pumps and a matching clutch. The following year, Mandy opted for a blue number which she paired with a sky blue clutch bag and silver strappy heels. So which color would you have picked and why?
Queen Elizabeth and Hailey Beiber
Believe it or not, Queen Elizabeth was a fashion icon in the UK and worldwide. For her 90th birthday, she wore a neon green number, and the UK reported a whopping 137% rise in the sale of neon clothing. During a visit to the Sultan of Oman, the British royal wore a sunny yellow dress with a matching floral hat.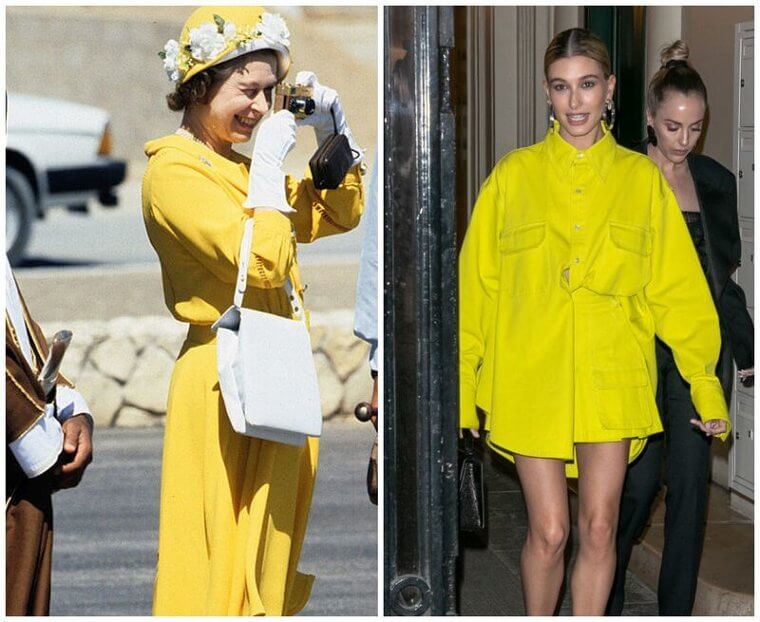 Several decades later, Hailey Beiber looked stunning in an outfit of the same shade. The model paired her look with accessories such as high heels and a black handbag. On the other hand, the Queen chose white accessories to complete her look.
Kate Middleton and Sienna Miller
2015 was the year for floral prints, and neither celebrities nor British Royals were left behind. Sienna Miller and Kate Middleton looked elegant while wearing the same floral print by different designers.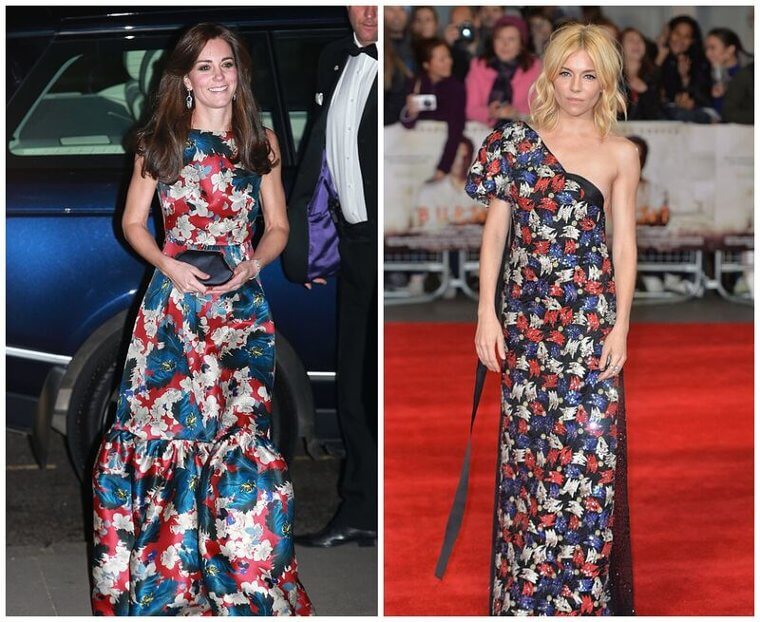 The Duchess of Cambridge wore a gown by Erdem while attending an auspicious occasion. It featured large blue, white, and red flowers and was voluminous on the lower part, giving it a unique design. The British actress wore a Marc Jacobs one-shouldered gown with a similar floral pattern and colors, although hers were much smaller. Who wore it better, the Duchess or the actress?
Meghan Markle and Victoria Beckham
While designers do not usually sport their own outfits, Victoria Beckham decided to make an exception this one time. She wore her own creation while attending a wedding in Spain with her husband and footballer, David Beckham.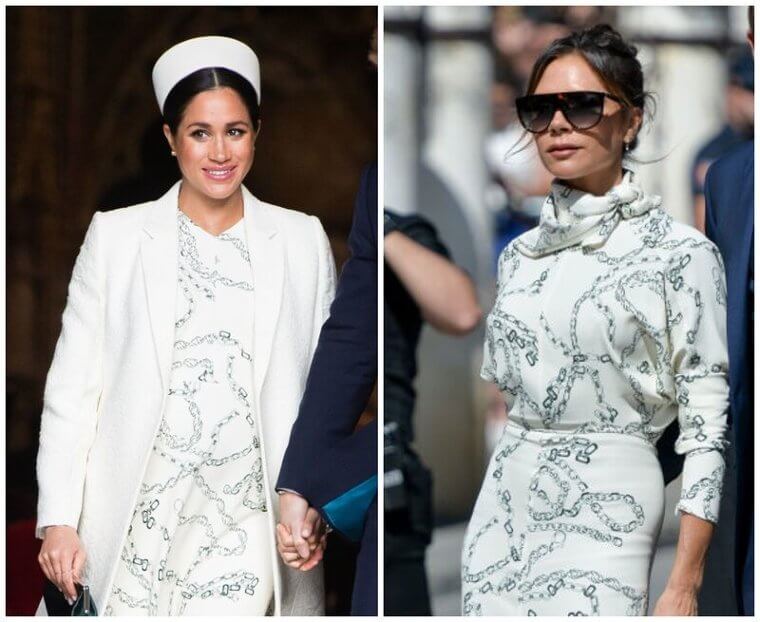 The dress was the same one that was also worn by the Duchess of Sussex, Meghan Markle. The Duchess wore the elegant printed gown to Westminster Abbey for a Commonwealth Day service in 2019. She matched it up with a pillbox hat, a white gown, and a green purse. While she toned the whole look down, Victoria, in contrast, sported a pair of bright pink heels and chic sunglasses.

Princess Diana and Jennifer Lawrence
Princess Diana is no new name on our list. It is because she never ceased to dress beautifully, hence her style became an inspiration for different celebrities. The princess also knew how to properly adorn her outfits. For the Back to the Future film premiere in 1985, she graced the event in a crimson shoulder-padded velvet dress that had a long strand of pearls down her back. The dress was made by her favourite designer, Catherine Walker.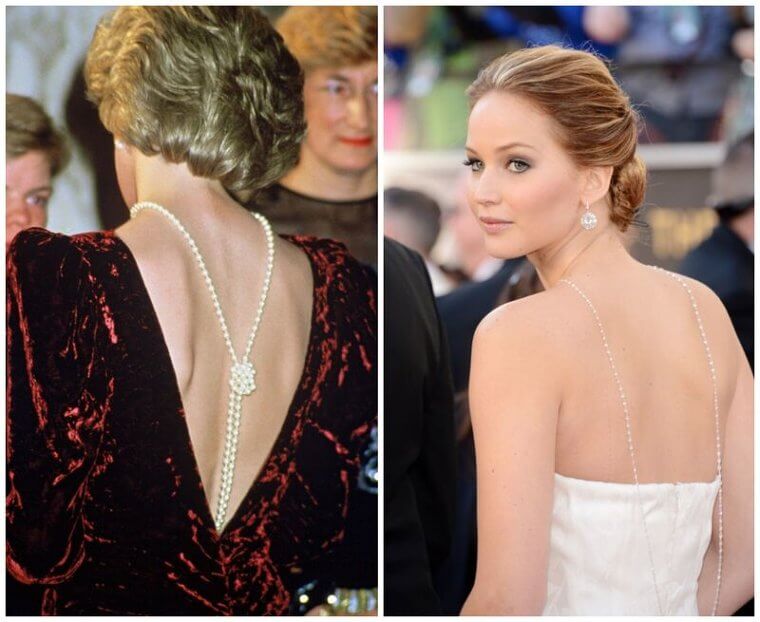 A recreation of this lovely dress was made by popular actress Jennifer Lawrence for the 2013 Oscars. While the monarch's dress was a dark shade of wine color, Jennifer went with a white Christian Dior dress and a Chopard back necklace.

The Duchess of Cambridge & Serena Williams
A royal wedding is no small event, and Kate Middleton's sister, Pippa, understood that clearly. Serving as one of her sister's bridesmaids, she received much media attention after turning up at the wedding looking gorgeous and elegant. On the other hand, Kate was the reverse at Pippa's wedding. She opted for a more subtle look to grace the occasion. Kate went in a nude dress made specially for her by Alexander McQueen.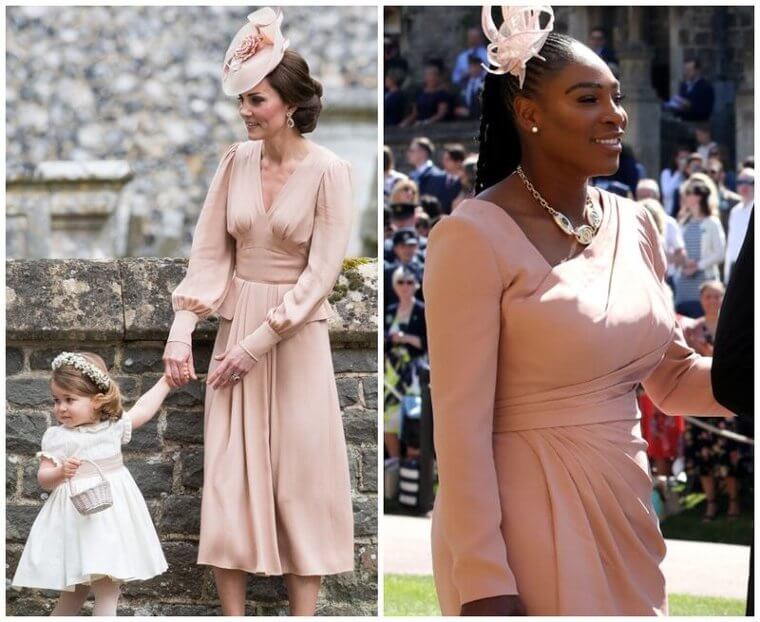 In 2018, professional tennis player Serena Williams was spotted in a similar nude dress for the royal wedding of Meghan and Harry. It was a great choice because she looked stunning in the dress.

Princess Diana and Hailey Bieber
Princess Diana was fashionable and often experimented with fabrics, heritage prints, accessory selection, and footwear for her outfits. For example, she once wore a double-breasted plaid dress in red with a matching clutch, gold earrings, and red courts for a 1990 event in Devon.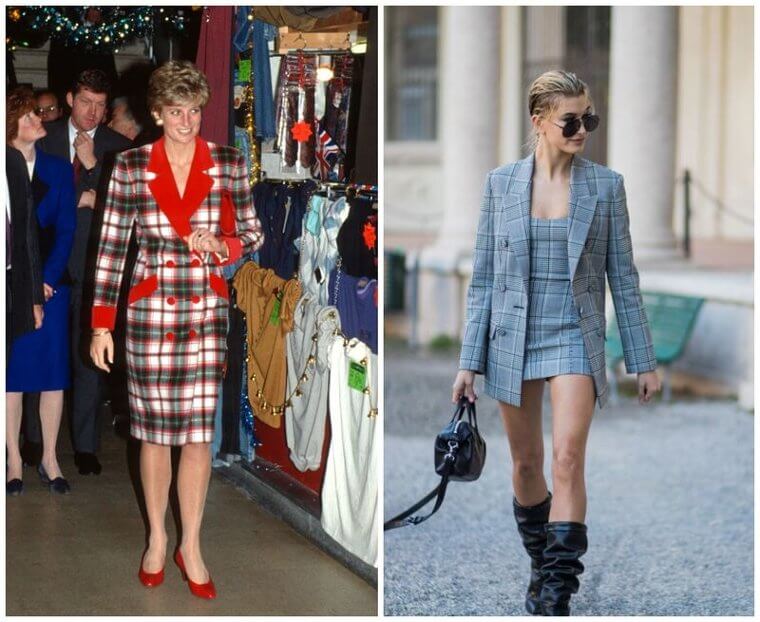 Like most of her outfits, this plaid look was also famous and became an inspiration for many over the decades, including model Hailey Bieber. When she was on a trip to Japan, Bieber wore a similar plaid dress inspired by the '80s style. She paired it with chain necklaces, hoop earrings, a silver bracelet, and a watch.
Kate Middleton and Carey Mulligan
Carey Mulligan, a renowned British actress and BAFTA winner wore the asymmetrical ERDEM plaid dress for an award event in 2017. She paired it with nude accessories and a stylish loose bob. It was the first time the dress was featured publically, and it looked nothing short of stunning on her.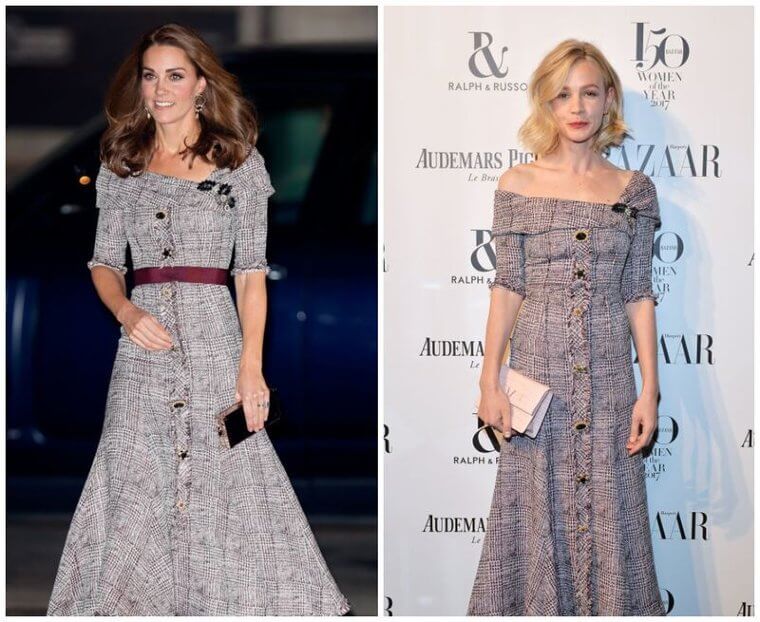 Kate Middleton, the Princess of Wales, did a fashion crossover with the actress a year later by wearing the gown for a public event. The dress was royal-appropriate and complimented her style. The Princess paired it with closed-toe courts and a purple belt.
Meghan Markle and Glenn Close
Since Meghan Markle became part of the British royal family, her fashion choices have gained more traction. This Everlane jumpsuit has inspired two more colors by the brand after Meghan wore it on two different occasions–for a British Vogue photoshoot and then for a royal tour in 2019 with her husband, Prince Harry.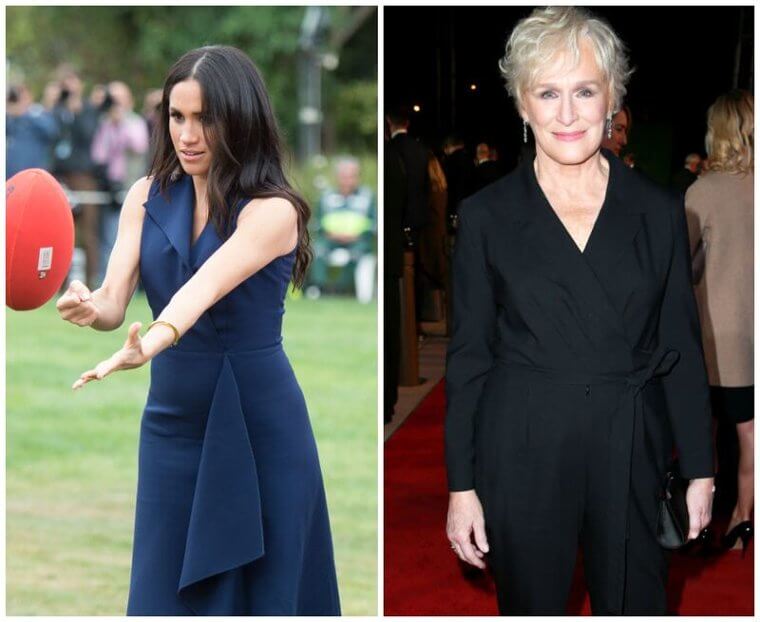 The jumpsuit cost Meghan $120 only, but that's not what got people's attention. Once her outfit became a public statement, her fans noticed that Glenn Close wore a similar outfit for the Palm Springs International Film Festival.
Kate Middleton and Angelina Jolie
The Princess of Wales knows her outfits well and always picks the right ones for public events. Her trip to the Netherlands in 2016 introduced people to her dove gray dress with peter pan waist belt and collar. It turns out that Angelina Jolie's 2014 appearance inspired the "Catherine Walker" outfit to receive her honorary damehood.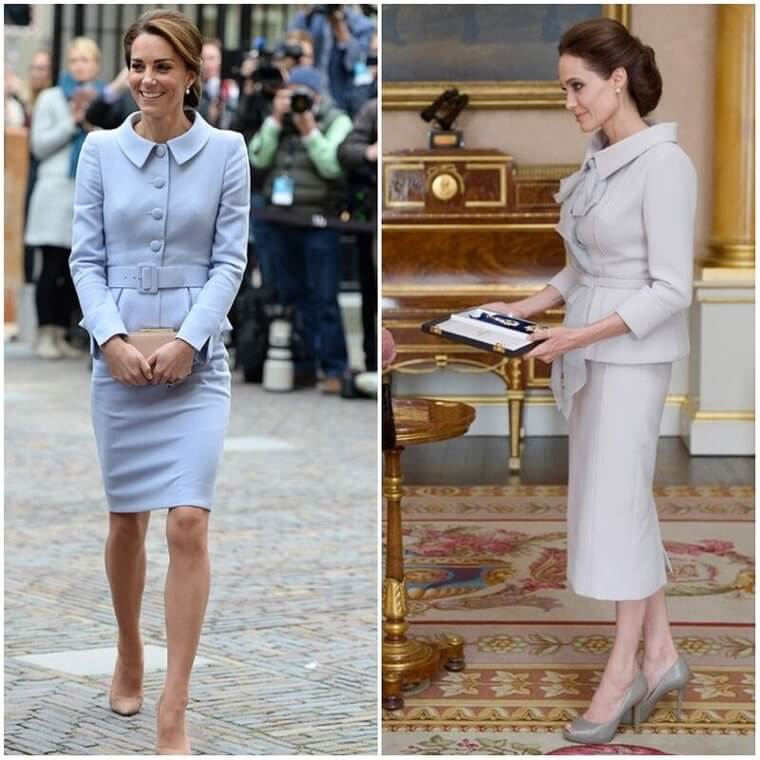 When the actress met the Queen of English in 2014 at Buckingham Palace, she donned a Ralph & Russo dress in matching pumps. The attire was appropriate for meeting the Queen and fit her royal look perfectly!
Queen Elizabeth and Victoria Justice
Queen Elizabeth II has been a fashion icon for decades since ascending the throne. Not only inspiring her subjects but also celebrities in Hollywood. This time, the longest-serving monarch of the UK inspired Victoria Justice to wear a bright green outfit.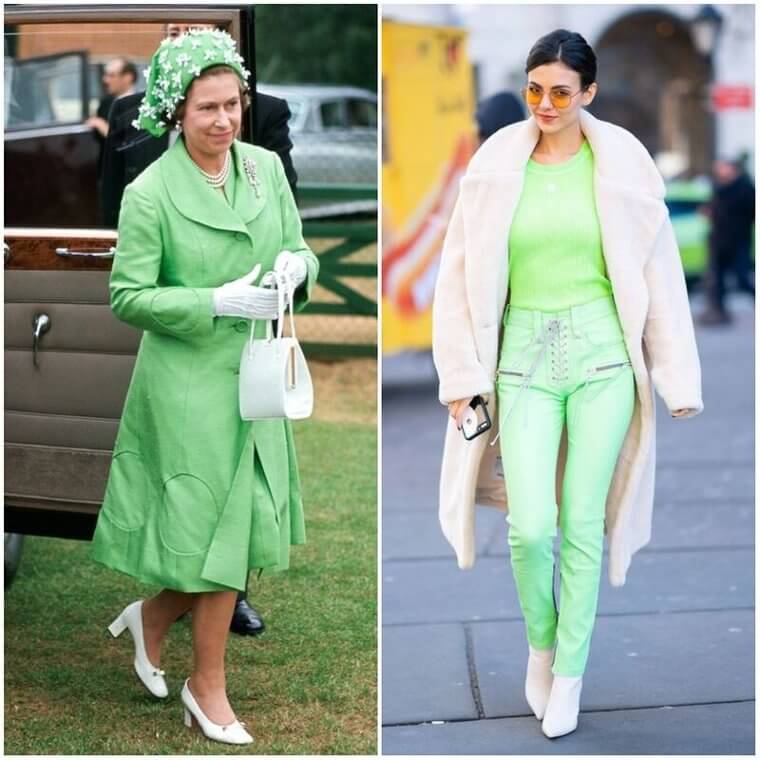 For the Queen, it was a mid-length dress and a long coat to match it, while for Victoria, it was a matching set of tight-fitting top and pants. The young American actress chose to pair her outfit with a long white fur coat, white ankle boots, and sunglasses. On the other hand, the British royal decided to pair her look with white accessories, which included court shoes, gloves, and a handbag.

Meghan Markle and Julianne Moore
Even though the outfits are different, the actress and the royal family member look stunning. Julianne Moore's 2019 outfit for Cannes Film Festival is an emerald Dior gown that makes her look breathtaking in every pose.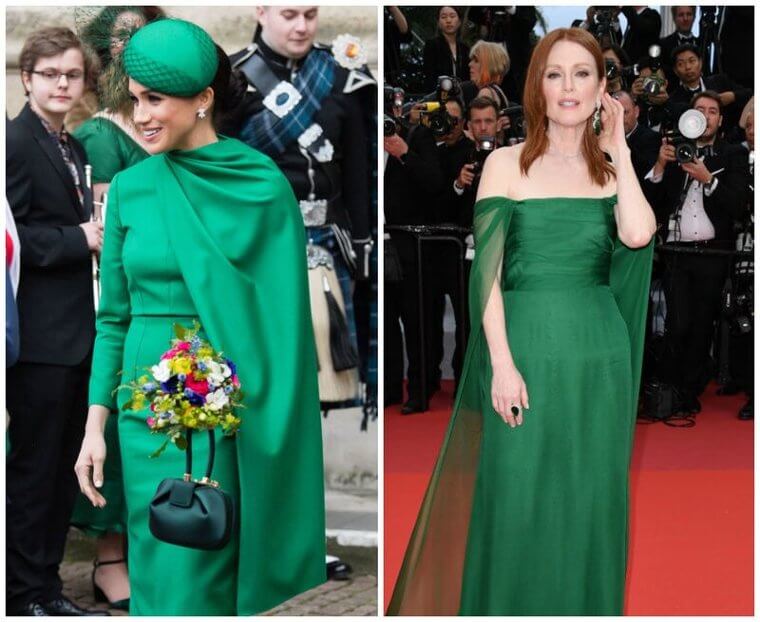 When Meghan Markle wore an outfit of the same color for the 2020 Commonwealth Day celebrations, she made people turn with her elegant royal look. The nude pumps and pillbox hat, paired with a cape dress by Emilia Wickstead, created a historic look for Markle.
Princess Diana and Emily Ratajkowski
Actress and model Emily Ratajkowski is not new to the limelight, and the late Diana, Princess of Wales, had a following of her own, too. Despite the fact that the press was always up and about in the princess' business, that never stopped her from stepping out in her most comfortable athleisure outfits.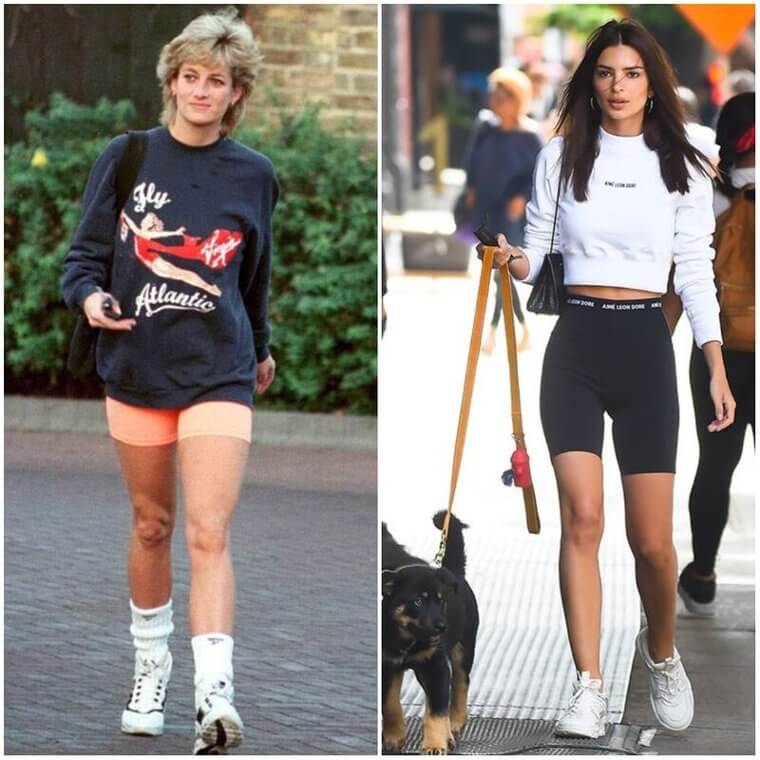 Here, the princess was photographed sporting cycling shorts paired with a loose sweatshirt and sneakers. Emily was also once seen wearing activewear that seemed inspired by the Princess of Wales. While Emily embraced the cycling shorts and sneakers, she updated her look with a crop top instead of a sweatshirt.
Queen Elizabeth and Priyanka Chopra
While some people would love to mix colors when dressing up, the reverse is the case with the former Queen of England. Queen Elizabeth loved dressing from head to toe in only one color and did that throughout her whole regime. In this picture, the monarch was wearing a yellow dress while visiting Germany in 1965. As expected, her hat, coat, fashionable gloves, and handbag also matched the colors of her dress.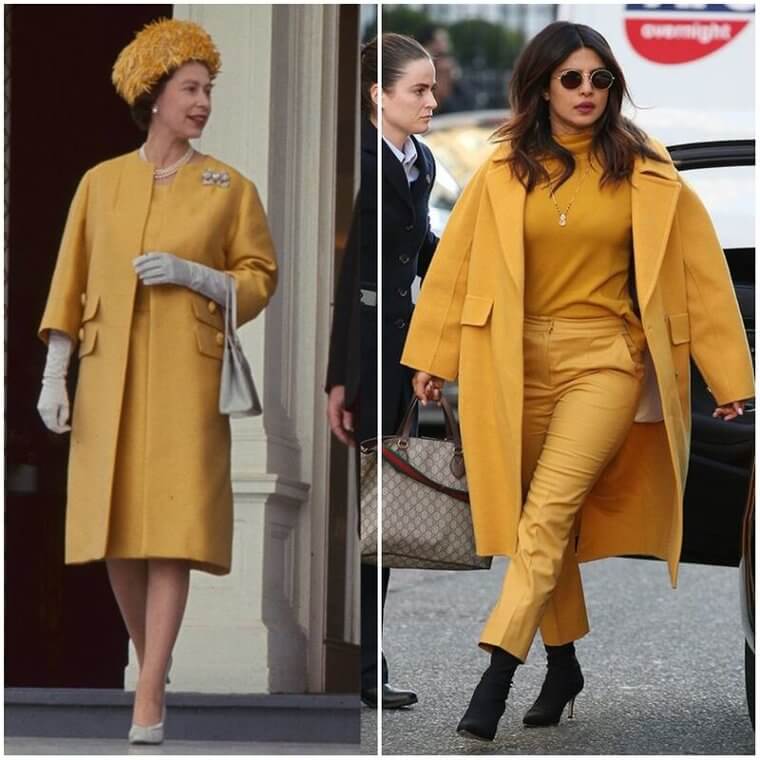 We bet Priyanka Chopra must have fallen so in love with this color to have decided to replicate it from head to toe. The Indian actress looked gorgeous after stepping out in a yellow turtleneck, pants, trousers, coat, and black boots.
Kate Middleton and Reese Witherspoon
Kate Middleton seems flawless and ever-elegant whenever she makes a public appearance. The royal member is so well dressed that there are numerous accounts on social media dedicated to posting pics of her every outfit. While the public undoubtedly follows her fashion sense, celebrities also do the same.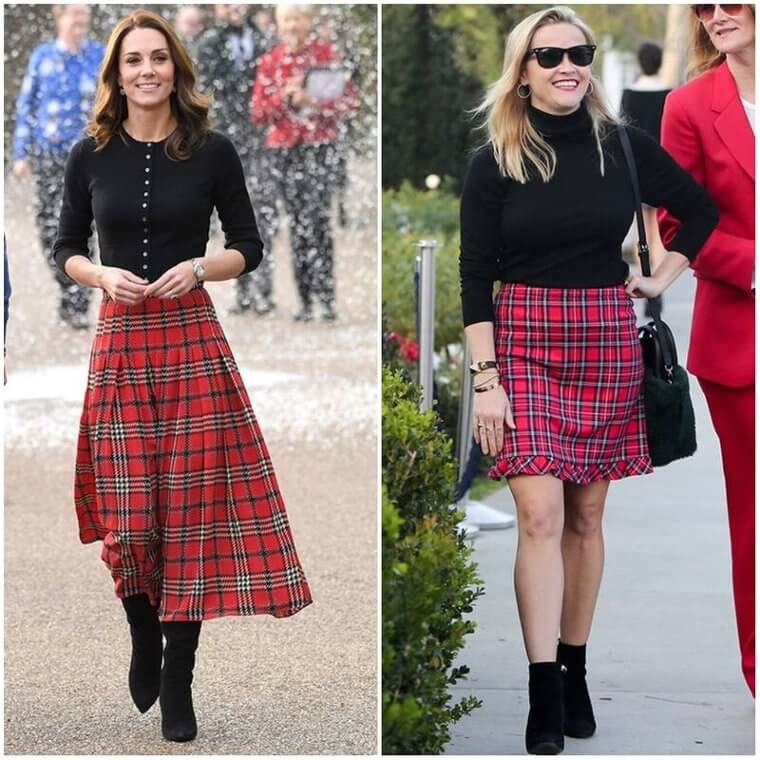 Kate once wore a mid-length red plaid skirt designed by Emilia Wickstead in 2018. She added a pair of long boots to the look, making it more graceful. Actress Reese Witherspoon sported the same look not long after, with the only difference being that the Draper James skirt was a bit shorter.
Kate Middleton and Rita Ora
The category of similar dressing spotted here is accessories. Usually worn instead of a pillbox hat or fascinator, the dynamic hat-headband has been sighted on the Princess of Wales several times. We completely see why Kate continues to rock them with ease because the accessory adorns the head in a certain style that sets it apart from other conventional headdresses.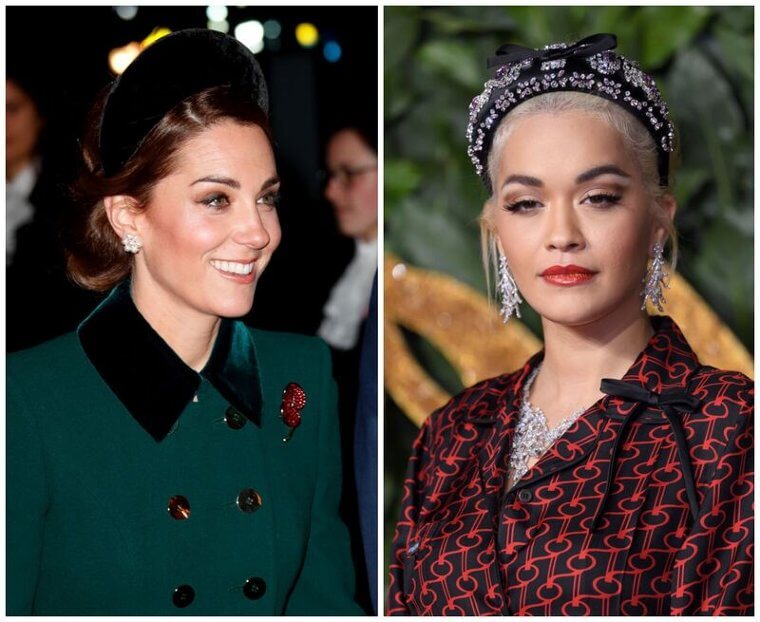 The cushioned bands could be made of plush materials or bedecked with beads and other decorations. As one would expect, this sophisticated aesthetic has been very popular in the fashion world. Even singer Rita Ora rocked this beaded headband to the 2018 Fashion Awards and looked absolutely stunning in it.
Princess Diana and Gigi Hadid
Princess Diana served as proof that even royals know how to slay streetwear fashion flawlessly. While on a vacation in Austria in 1993, she was photographed wearing double denim and a black jacket. The princess looked stylish and ski-ready with her bulgy snow boots and engraved leather belt.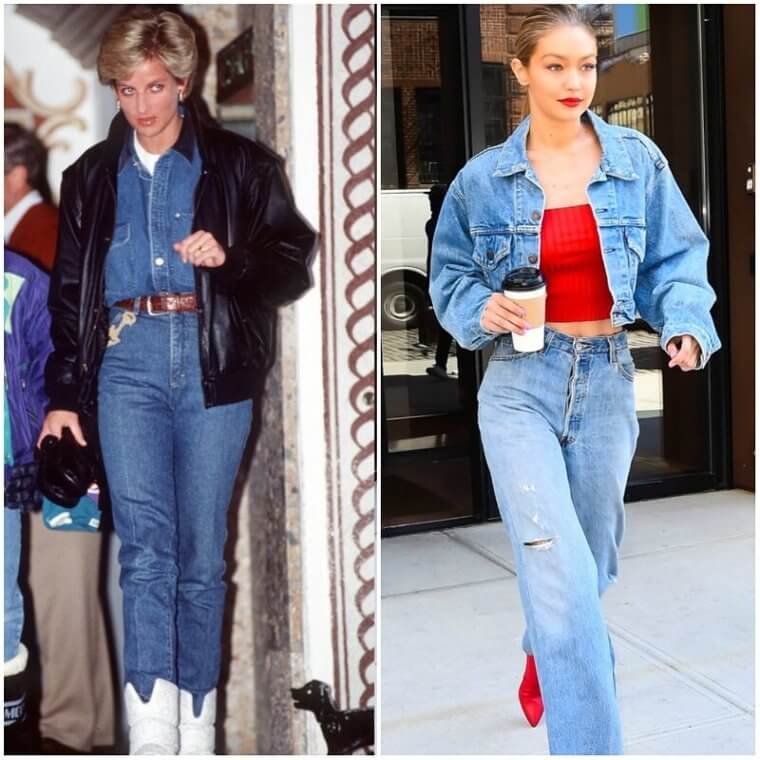 Years later, the late royal was responsible for the high-waisted baggy jeans worn by American model Gigi Hadid. Just like Diana, the prominent element of Hadid's street style was double denim, and she rocked it beautifully as well.

Queen Elizabeth and Kristen Bell
Not everyone can pull off monochromatic ensembles, but for the former Queen of England, we can certainly say that isn't the case. Interestingly, we could credit her for initiating the trend of solid-colored outfits. We've often spotted the late Queen Elizabeth in several one-toned attires, and many Tinsel town stars have mimicked her look.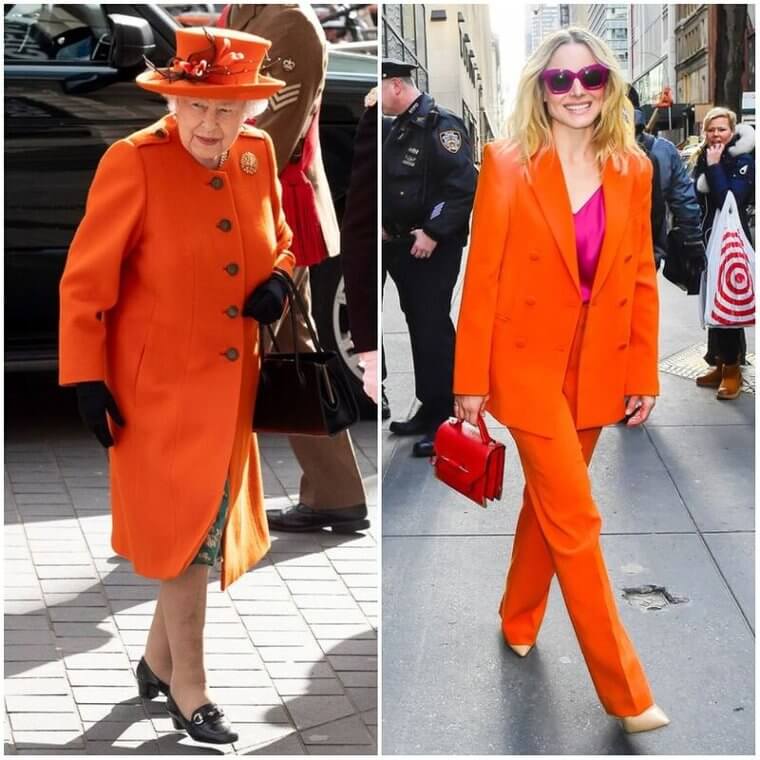 The royal lady's orange jacket was one of the many occasions when she chose to stick to a single shade, pairing it with Gucci shoes and a Launer purse. Kristen Bell, taking inspiration from the monarch, stepped out in a similar shade pantsuit, adding a tonal variety by teaming her outfit with a fuchsia pink blouse.

Queen Elizabeth and Gigi Hadid
Gigi Hadid is a true fashion symbol, with millions following her every look all around the world. Yet, it seems that the well-dressed supermodel does take fashion advice sometimes. Having said that, however, whenever she takes inspiration from someone else, she makes sure that it's from a royal.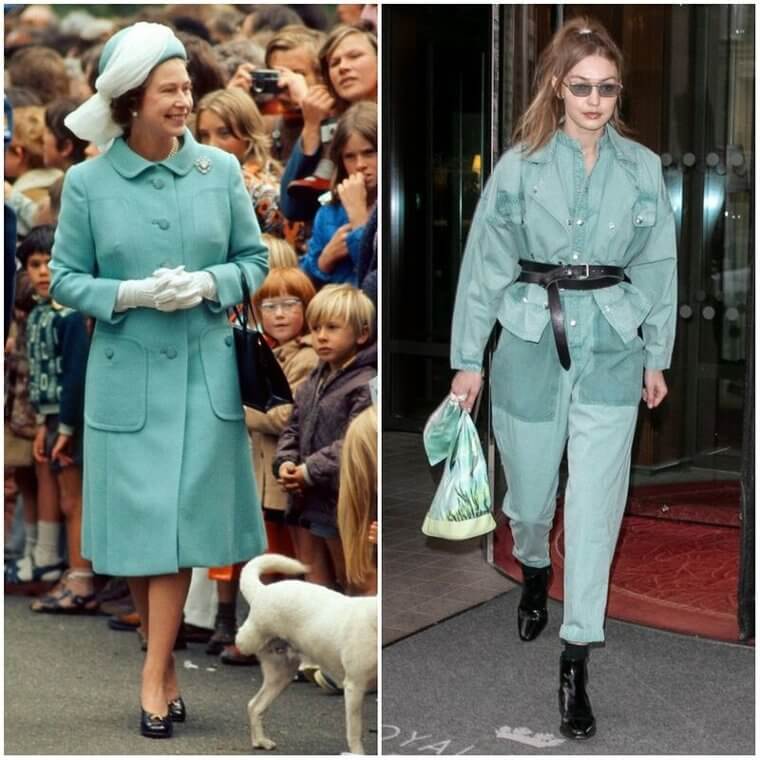 Queen Elizabeth was known to pull off striking monochromatic looks with sheer elegance and sophistication. She wore a teal blue ensemble on her 1977 visit to New Zealand. Gigi was spotted at the 2019 Paris fashion week sporting a modern version of the Queen's head-to-toe teal outfit and we must say, she nailed the look.
The Princess of Wales Nailed These 35 Elegant Looks
In 2011, Kate Middleton stunned the world in her gorgeous Alexander McQueen wedding dress. Since that memorable initiation into the British Royal family, she has mesmerized the public with her classy dressing style. The Princess of Wales is well-known for recycling her clothes and donning ethical fashion brands.
Kate is always elegantly dressed in outfits befitting the occasion, whether attending charity events or simply dropping her kids off at school. Let's look at some of her most stylish moments.

The Duchess Stuns at the Royal Ascot
The Royal Ascot is a prestigious annual event in the British social calendar attended by royalty dressed to the pins. Among them, Kate Middleton looked like a modern-day Disney princess in her dreamy, powder-blue mid-length dress featuring a pleated tulle skirt. Her fans quickly noticed that she and the late Queen had matched for the 2019 event.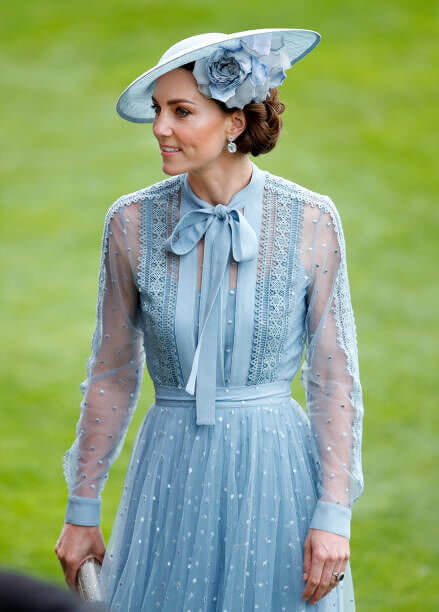 The protocol-approved gown was designed by Elie Saab and had a polka-dotted sheer overlay with gorgeous lace detailing and a darling tie neckline. The Princess of Wales teemed it perfectly with a matching floral-adorned Philip Treacy hat, metallic-silver pumps, and beautiful monochromatic drop earrings by jewelry designer Kiki McDonough.
Looking Casual Yet Chic in Zara
Over the years in the limelight, Kate Middleton has mastered the art of looking royally elegant in any outfit. A case in point is her classy presence at the Children and Young People's Health and Development Center of the Sunshine House in London. She was meeting the nurses at the center, which is probably why she downplayed her royal status to look warm and approachable.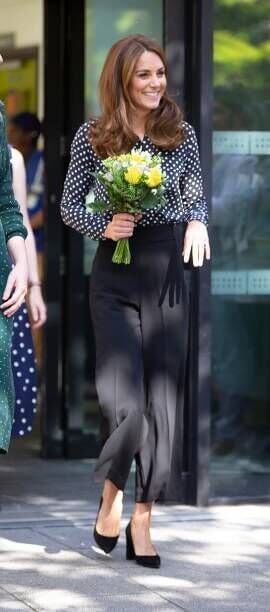 Her Highness, The Princess of Wales, was dressed casually in Zara's black and white polka-dotted top over wide-leg black culottes, but her impeccable sense of style was unmistakable. She let her beautiful blond tresses frame her face to enhance her overall visage. As always, the shutterbugs went crazy over her chic appearance.
Kate Repeats Magical Magenta Winter Suit
Celebs usually prefer not to repeat their outfits in public, but Kate Middleton has never shied away from it. She is known to wear the same outfits more than twice, and we love a princess who recycles her clothing. So, no one was surprised when she chose to wear the fabulously fitted skirt suit from the 2015 fall collection of Oscar de La Renta twice in three years.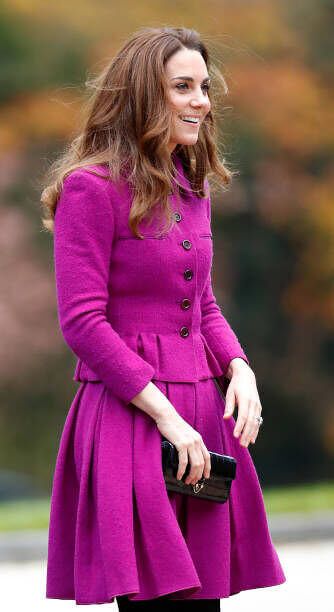 Kate debuted the bright Magenta two-piece peplum suit in early 2017 for a visit to London's Royal Opera House. She repeated it again in November 2019 when she stepped out to grace The Nook, the new facility of Children's Hospices in Norfolk, with her royal presence.
Kate Middleton Shimmers in Green
On their royal visit to Pakistan in October 2019, the Prince and Princess of Wales honored the country's official colors and tradition by appearing in matching green ensembles. The public couldn't stop raving about Kate Middleton's stunning floor-length glittery dark green Jenny Packham gown. She completed the elegant look with a traditional shimmering dupatta scarf worn on one shoulder.
Next to his gorgeous wife, Prince William looked splendid outfitted in Pakistan's traditional knee-length buttoned-up sherwani, making him the first among British royalty to do so. Still, all eyes wear on the ethereal presence of the Duchess, who rightfully stole the limelight yet again.
The Duchess Looks Resplendent in Blue
In all the years we have seen Kate Middleton dress in style for her public appearances, blue seems to magnify her elegance a thousandfold. So, it isn't surprising that she chose the color for one of her outfits during her royal tour of Pakistan with her husband, Prince William. She looked resplendent in a teal-blue salwar kameez, the traditional outfit for women in the country.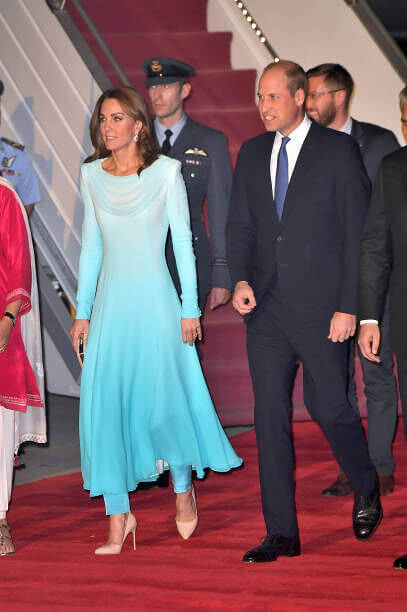 The unique color of the dress designed by Catherine Walker is a special nod to her late mother-in-law, Princess Diana, who had worn the same teal during her 1996 visit to Pakistan. In the past decade, the fashion choices of the two gorgeous royal women have been often compared.
One Dress, Two Occasions
Kate Middleton is not afraid of wearing the same dress on two different occasions. She proved that again by wearing an off-the-shoulder stunning white Barbara Casasola dress to the Art Fund Museum of the Year event in 2016 and the 1st Annual Addiction Awareness private gala in 2019.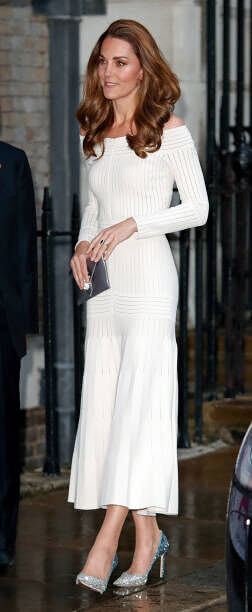 The dress looked elegant and stylish on the Princess of Wales on both occasions, but the different accessories made both appearances unique. For the 2016 event, Middleton accessorized with peach shade pencil heels and a silver clutch. For the addiction awareness event, she went with glittery pumps and a satin clutch.

Dressing for Charity Support
The Princess of Wales has developed a fine taste in fashion over many years, and one of her favorite brands is Beulah London. Kate Middleton debuted her 2019 public appearances with a dark-green number with long sleeves, an olive-colored clutch, dark pumps, and a gorgeous smile.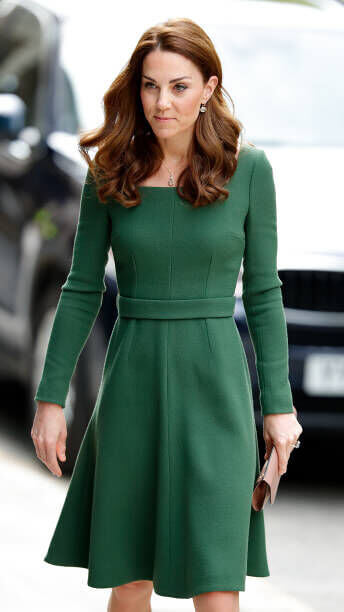 The dress was a $770 design that helped the princess support Beulah London's cause of donating 10 percent of the entire profit to human trafficking victims. Rather fittingly, she wore the dress to support another charity called Family Action, which offers financial and emotional support to underprivileged families.
A Dress for the Parade
Sporting a yellow coatdress with a floral fascinator, Kate Middleton looked every inch the Princess of Wales at the Trooping the Colour parade in 2019. Alexander McQueen is the genius behind the coatdress, and Philip Treacy designed the fascinator. Middleton's overall outfit looked perfect for a family event at Buckingham Palace.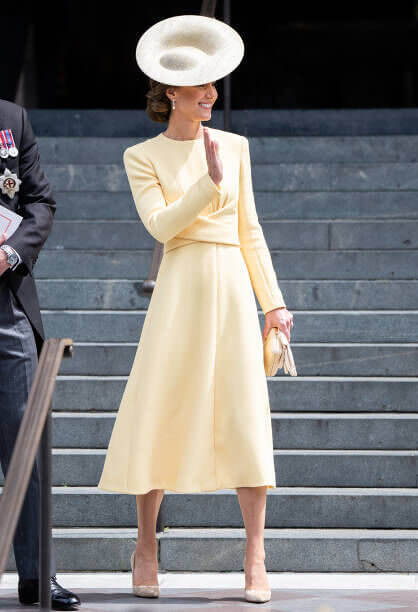 The princess had worn a similar dress at Prince Harry and Meghan Markle's wedding a year before this event. So, most royal fans thought that Kate was giving a nod to Harry and Meghan's first wedding anniversary.
Stepping Out for the Awards
A stunning one-shoulder white gown by Alexander McQueen caught everyone's attention when the Princess of Wales stepped out for the British Academy Film Awards in 2019. Although she looks great in any dress she wears, the princess appears extra gorgeous in white dresses.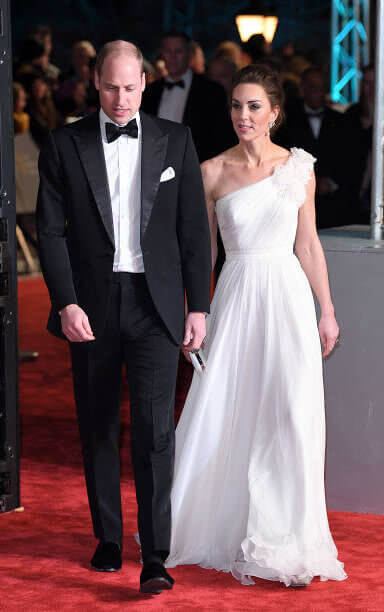 Pairing the McQueen gown with a diamond bracelet, white clutch, a bun, and pearl and diamond earrings that once belonged to Princess Diana, Kate complimented her husband, Prince William's outfit perfectly. The couple arrived for the red carpet event at the Royal Albert Hall, making every fan go wild with their appearance.
A Gown for the Princess of Wales
The title, Princess of Wales, might be new for Kate Middleton, but her appearances have reminded royal fans of Disney princesses over the years. Many of her appearances have been inspired by Disney characters like Cinderella and Aurora. Take this rose-pink multi-toned gown, for example.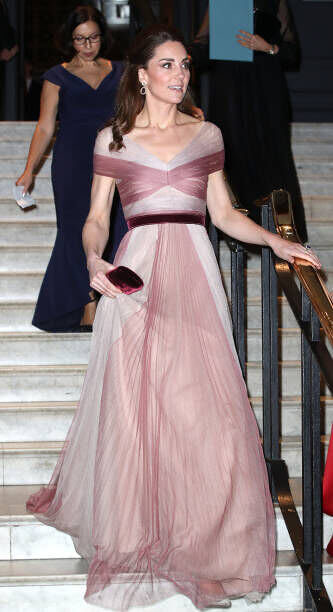 As she walked down the stairs effortlessly, the princess looked elegant in her tulle gown paired with a Prada clutch and white heels by Oscar de la Renta. Kate appeared in this dress for the 100 Women in Finance Gala in 2019.

The Duchess Who Makes Her Own Rules
Kate Middleton is known for going against the norm, sometimes. In 2019, she wore a $2,480 Missoni to a party in Belfast in support of the extraordinary and influential young people of Northern Ireland. Her presence and that of Prince William surprised all those who were being honored as they had least expected royalty at their function.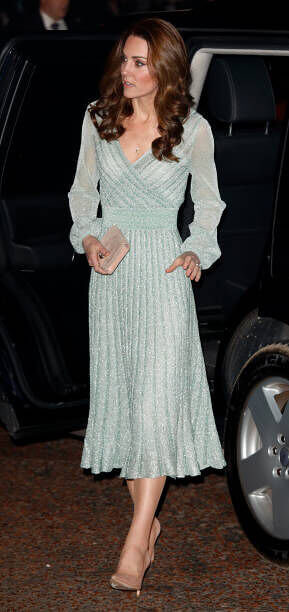 Besides her outfit, the duchess went a step further to get heads turning and tongues talking. As the event was underway, she elegantly walked behind the bar, moved toward the tap, and poured herself a pint. If her beautiful dress had missed the headlines, this surely wouldn't.

A Sense of Royal Perfection
On her second day in Northern Ireland, Kate Middleton wore a baby-blue Mulberry coat to a charity Cinemagic event in Ballymena. Unsurprisingly, the luxury brand is one of the duchess' go-to labels in the UK.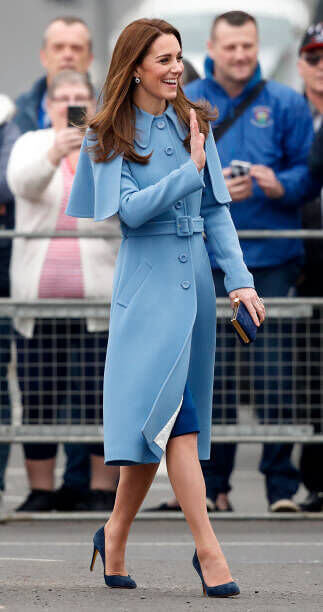 The beautiful coat was adorned with large, round buttons down the front and was strapped in place with a matching belt. Nevertheless, more than the other striking features of the coat was its unique cape that really accentuated majesty and elegance. Royalty certainly bestows one with a sense of perfection and finesse, but it seems Kate has an extra dose of these qualities, especially in her dressing.