Part of what makes celebs seem, well, in-human is the sense of perfection that surrounds them. Of course, it's not a solo process. Celebs have stylists, make-up artists, and personal shoppers to help them look their best. But another tool up the entertainment world's sleeve is Photoshop. Keep reading to see how these celebs really look without the famous photo-editing tool... 
Britney Spears Has Seen Better Days
We've all followed Britney's journey from being a successful teenage star to a young adult struggling. Recently, her conservatorship made headlines when the #FreeBritney movement took the world by storm. All of these difficulties and challenges are clearly seen in the first picture of Britney's face.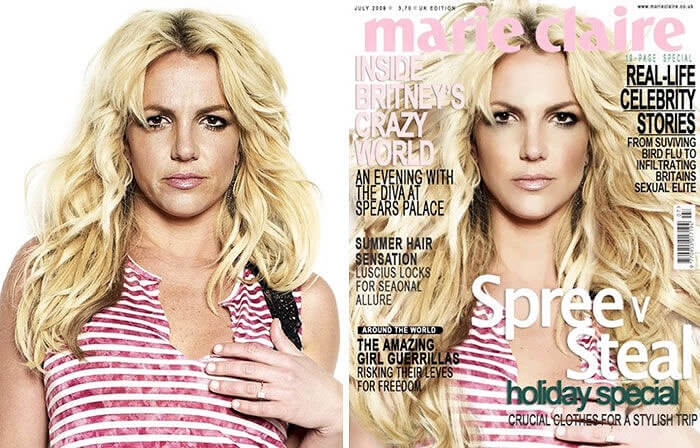 However, photoshop is incredible software, and all of Britney's facial lines are gently smoothed over when on the magazine cover. Her eyes have received a helpful lift and her hair flows out to look luscious and full. Looking at the picture on the right, it's difficult to imagine that she's seen a hard day in her life!
Madonna Shows Her Age
Gone are the days when women were able to age gracefully and let their hair go grey without touch-ups, and their skin sag without botox. While we're pretty sure that Madonna has indulged in various treatments to keep her looking like a cougar, as the picture before photoshop reveals a few aging progressions.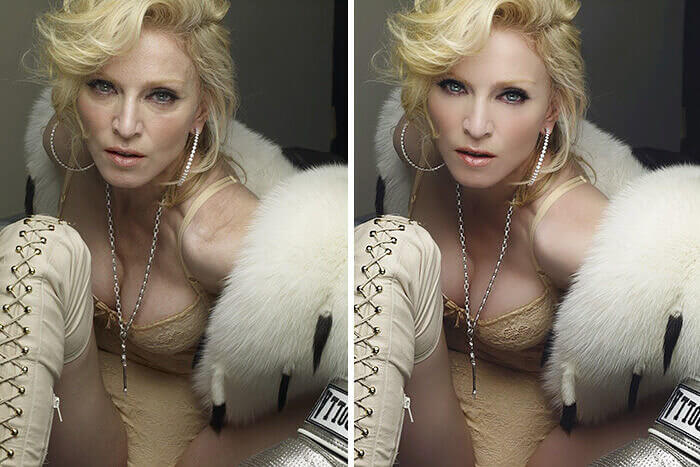 At the age of 63 years old, Madonna remains an icon in the musical world. The Queen of Pop seems flawless on the magazine covers, but the raw pictures show wrinkles that would otherwise go unnoticed. We must admit, the small creases in her shoulder make us like her more! 
Beyonce Not Looking So Flawless
Beyonce is a global icon, earning her nickname Queen B. When the diva steps on the stage, the whole crowd stops and stares, and when you see her face online, everyone's jaw drops. Yet as the raw picture of Beyonce reveals, not even makeup can hide some blemishes, and Photoshop needs to step in to complete the illusion.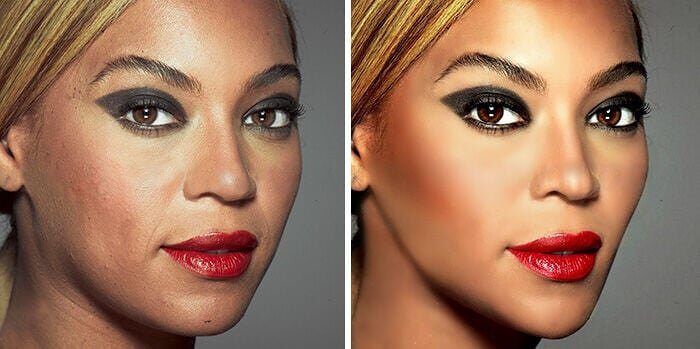 A simple brush stroke over Beyonce's face has removed the irritations that rest underneath her blush and foundation. The neat little lines on her neck are blended into the skin and the color has been adjusted to make her eyes pop. Yet while we're well accustomed to these simple adjustments, we draw the line at making her nose smaller.
Fergie Flaunts a Natural Look
Fergie achieved great success while singing for Black Eyed Peas, the popular hip-hop group from the start of the millenium. But while years have passed, Fergie doesn't seem to have aged much, largely because most of the images we see of her have been touched up.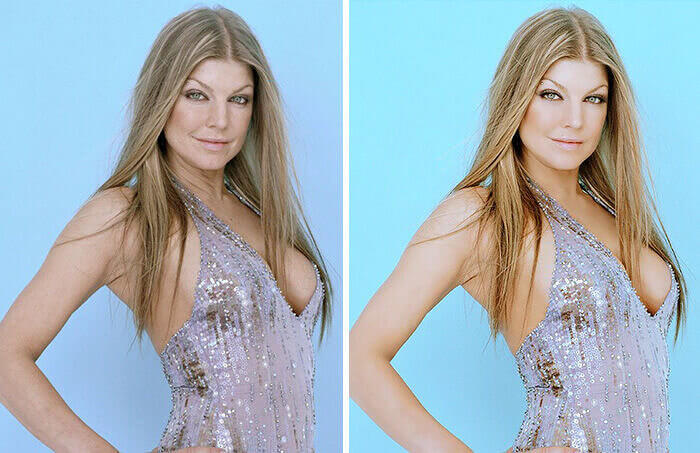 Before Photoshop, Fergie's mousey hair falls delicately on her postured shoulders. Her smile causes creases from her lips and her eyes are fairly bright. A few edits later and her skin is saturated and wrinkle-free, with no smile lines contributing to her facial expression at all. Either way, she's still gorgeous!

Cindy Crawford Gives Photoshop a Run for Its Money
Cindy Crawford is a legendary supermodel and television personality who dominated during the 1980s and 1990s. Looking at pictures of the veteran model today, you'd be quick to say that she still has it - but looks can also be deceiving.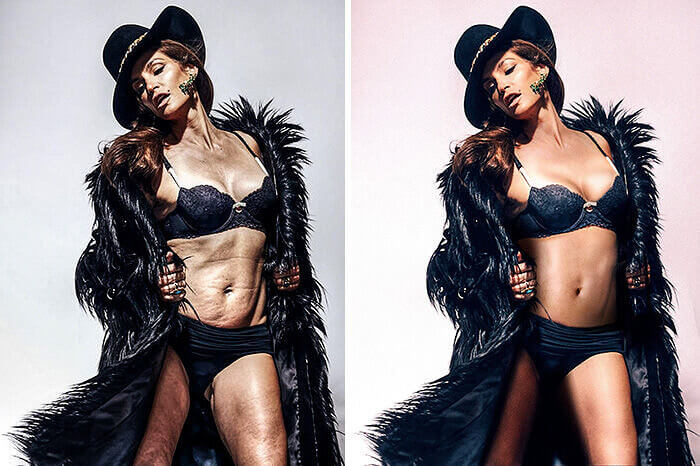 While the photoshopped image shows a tight, wrinkle-free body, the reality is a lot more human. Before photoshop, Cindy's body shows her age and experience, having had children and aged gracefully. Regardless of her imperfect skin, we still think she's a rockstar!

Avril Lavigne Becomes a Porceline Doll
The punk rock princess is a beauty and has an iconic look. Her piercing blue eyes and dead straight hair have contributed to the image that Avril Lavigne has flaunted with her music. Yet certain features do well in certain regions, and so Avril's image underwent a bit of editing for an international magazine.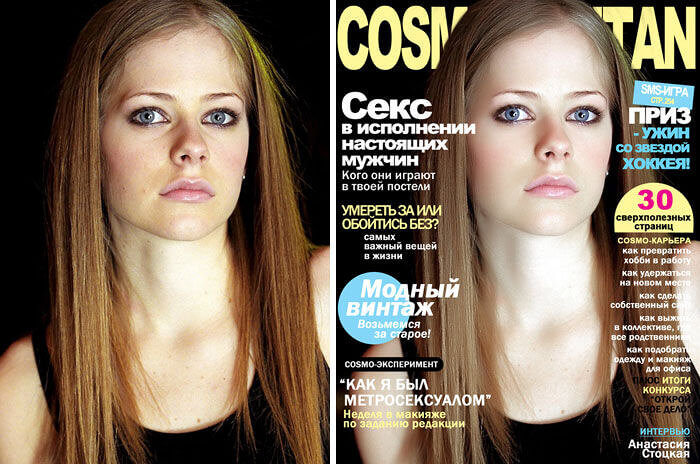 She may be a skater girl, but she's also got smooth, porcelain skin according to the foreign Cosmopolitan magazine. By lightening and smoothing her skin, Avril Lavigne is given an innocent, childlike appearance - which is a very different tune to the rebellious music that she produces!

Katy Perry's Coloring Is Illuminated
If Katy Perry had to post the first picture on Instagram, she would most likely receive a million likes (and shares), yet Rolling Stone took it one step further and decided to add a few Photoshop edits.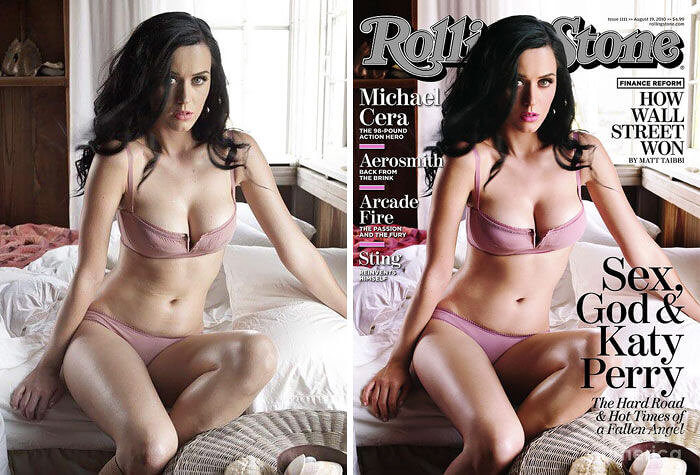 As a musical pop star, Katy Perry is the perfect model to appear in the popular music and political magazine. However, just before she made the cut, her skin needed to be airbrushed and the colors needed to be brightened. It also seems that her boobs have been made slightly perkier!

Jennifer Lawrence Is Almost Flawless
It's not surprising that Jennifer Lawrence won FHM's Sexiest Woman Alive in 2014, and she's only gotten more gorgeous since. You could easily play a game of Spot the Difference with these two photographs of Jennifer Lawrence.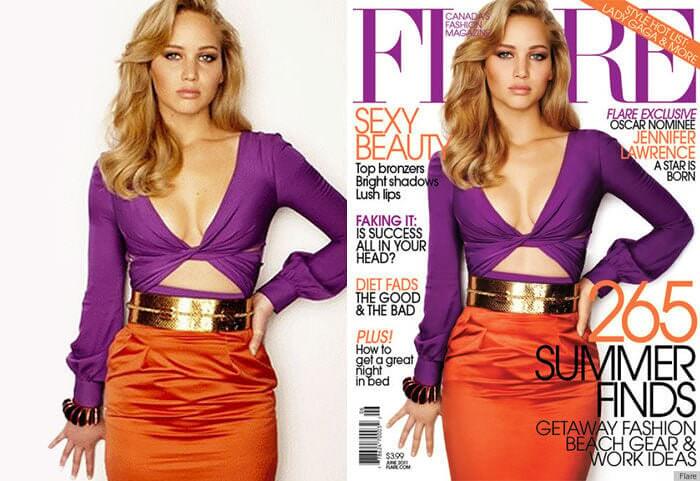 Yet even with her outrageously good looks, Jennifer Lawrence was trimmed down and perked up using Photoshop. The Hunger Games Star had sections of her hips and waist removed and her chest pumped to feature on the cover of Fire. Even these small changes can leave fans fooled into thinking that the star looks like something that she's not.

Lady Gaga Undergoes a Different Transformation
We've all seen Lady Gaga's astounding aesthetic, from her controversial dress made of meat to the time that she walked out on stage covered head to toe in human hair. Yet in the September edition of Vogue, she underwent a different type of transformation.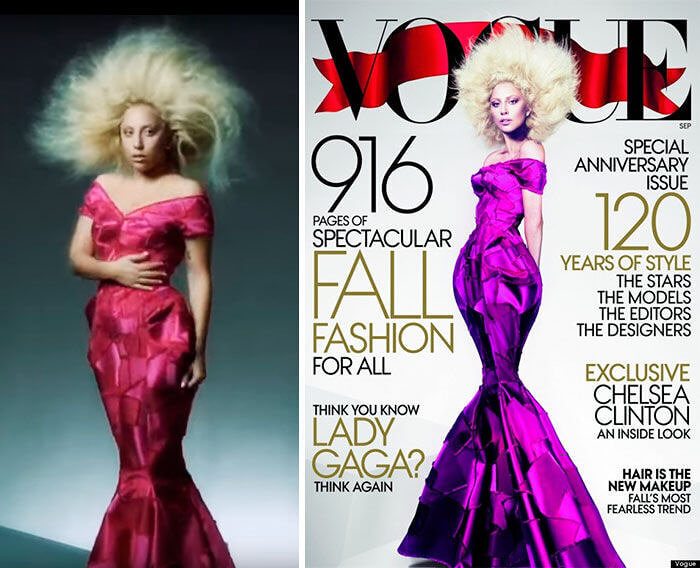 Her wild and wacky hair is designed in accordance with her haute couture dress, but the look isn't extreme enough for the team who decided on the final cover. Instead, the shape of her body was entirely resculpted, her cheekbones lifted, makeup added to her face and her hair was remodeled. This begs us to ask: why get the icon to model in the first place?

Keira Knightley Is Outraged by Her Edit
Keira Knightley is a versatile actress who is able to fill various roles. From an endearing sweetheart in Love Actually to a Victorian-era woman in Pride & Prejudice as well as an adventurous lead in Pirates of the Caribbean - Keira Knightley can do it all. Yet the media still felt the need to tweak her natural image.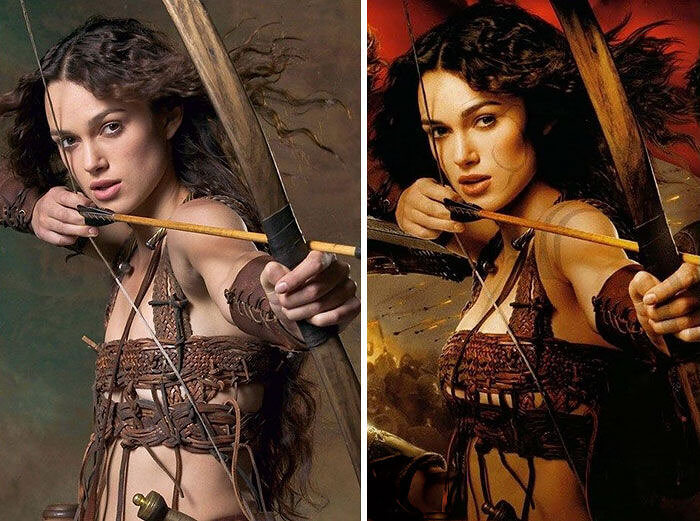 In the first picture, Keira appears as we know and love her, yet Photoshop enlarged her breasts, reshaped her stomach, and darkened her features. When the photograph was released, Keira expressed her anger at the deviation from authenticity, especially about the enlargement of her chest.

Eva Mendes Has Her Wild Side Toned Down
Eva Mendes is a sight to behold. Even her raw photograph is close to perfect, painting a picture of the incredible actress in a natural setting. Her wildly styled hair appears natural and her makeup is delicate enough to showcase her features as they are - yet Photoshop was used for a few finishing touches.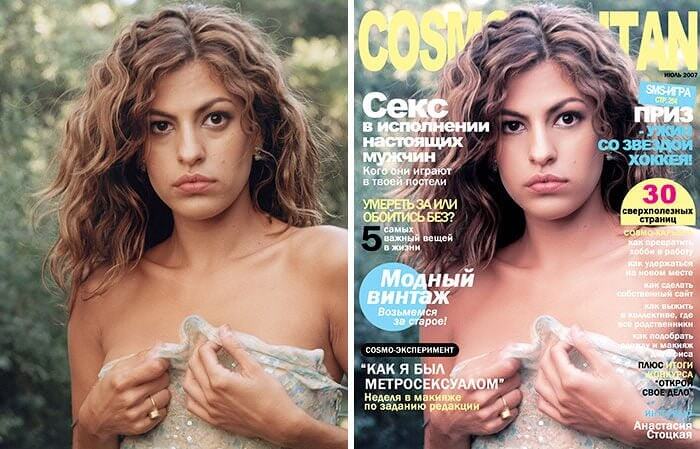 The Ghost Rider star's image has had a few notable changes. The most obvious is that her skin has been lightened and all facial lines have been removed. In the process, her look of natural strength and focus have been softened and lost. In our opinion, she looked better in the first picture!

Teeny, Tiny Zendaya
Gorgeous Zendaya Coleman is all the craze at the moment, starring in the coming of age show Euphoria and fan-favorite Spider-Man: No Way Home. In fact, she's even dating the superhero in real life! In many ways, Zendaya is perfect - unless Photoshop gets ahold of her.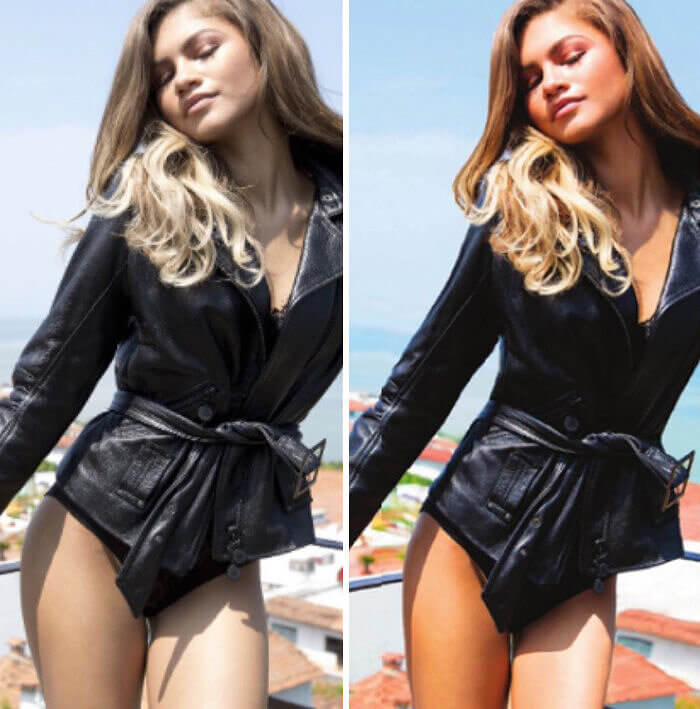 In this particular picture, Zendaya looks sexy and playful, wearing a leather jacket without any pants. While the outfit remains the same in the second picture, her thighs and waist have been notably slimmed and her gorgeous brown skin has also been over-saturated, setting an unrealistic precedent in beauty.

Tyra Banks's Face Changes Shape
Tyra Banks is an OG in the modeling world, with looks that could simultaneously melt your heart and freeze the room. Her beautiful face flaunts symmetrical features and natural glamor, yet Photoshop takes the picture the extra mile.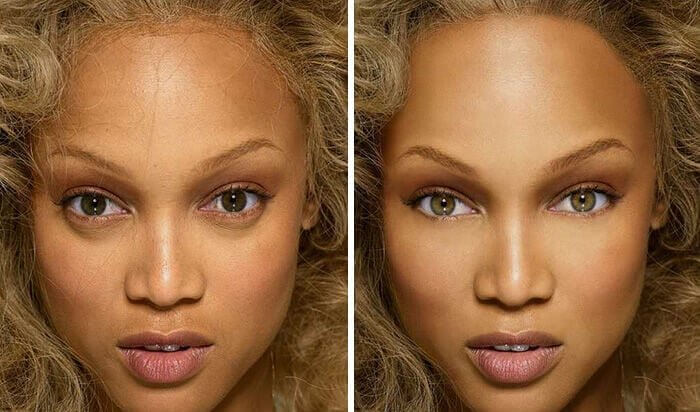 In the photoshopped version, Tyra's face has been obviously slimmed. Her cheekbones are accentuated and the coloring has been adjusted to make her appear sharper than in reality. Perhaps most notable is the discoloration of her eyes and the not-so-subtle removal of her hairline.

Kristen Stewart Has All Expression Removed
Kristen Stewart has earned a reputation for being a dead-pan and expressionless actress. While she's excelled in the various roles such as Bella in Twilight and Joan Jett in The Runaways, her mouth seldom tilts in either direction - except for the first picture on the left!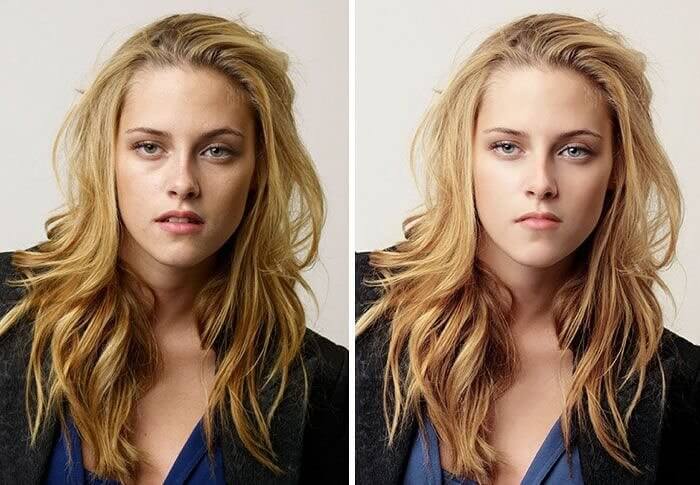 Unfortunately, editors removed the little bit of personality Kristen was willing to show when they edited her photograph. All lines and coloring were wiped clean and a tight-lipped expression was preferred over a slightly agape mouth - even Kristen's raised eyebrow seems to have settled!

Angelina Jolie's Perfect Features Get a Brush-Up
Angelina Jolie is widely heralded as one of the most beautiful women in the world - at any age. So it's a wonder that anyone feels the need to photoshop her.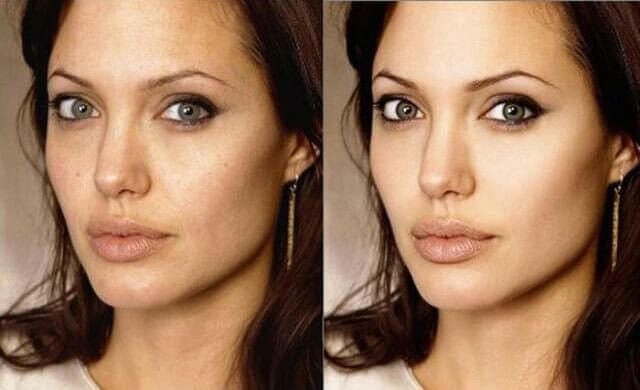 If the photoshopped image boasts perfect features, then the raw image showcases features that are very nearly perfect. The Tomb Raider star still flaunts a sultry gaze with pouted lips, but her skin is notably smoother in the second image.

Megan Fox Has Every Blemish Removed
For many years, Megan Fox has been adored as a sex goddess. Her edgy nature and interesting taste in men has only escalated her popularity, but note even the star from Jennifer's Body is perfect - as the raw picture of her clearly shows.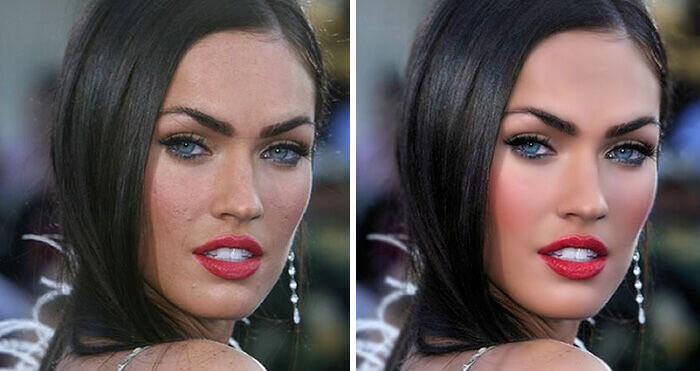 While her features will most certainly turn heads, it's obvious that Megan Fox's skin isn't flawless, with faint bumps shining through the foundation. But not to worry! A few clicks on Photoshop and she looks like a wax model ready to be positioned in Madame Tussauds!

The Edit on Gwen Stefani Is B. A. N. A. N. A. S
Gwen Stefani has always walked to the beat of her own drum, and we love her for that!  Although years have passed since she first stunned the crowd, Gwen still holds the same fiery look in her eyes - and it's amplified with Photoshop.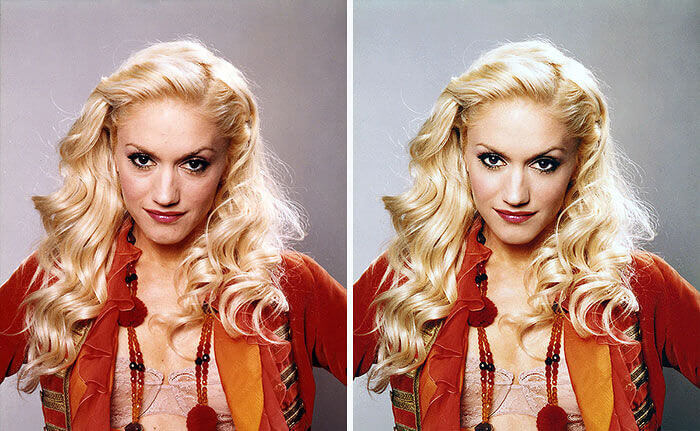 The subtle lines around the singer's face tell stories of countless memories and hard work that's gone into producing one hit after another. Yet Photoshop hides these lines and smooths over her skin, adding a glow that makes her appear far more youthful.

Penélope Cruz Shows Photoshop Isn't Necessary
Not many can compare with the natural beauty flaunted by Spanish actress Penélope Cruz, with her gorgeous dark hair, her smoldering eyes, and perfectly symmetrical face. Yet the media has decided to smoothen her appearance further.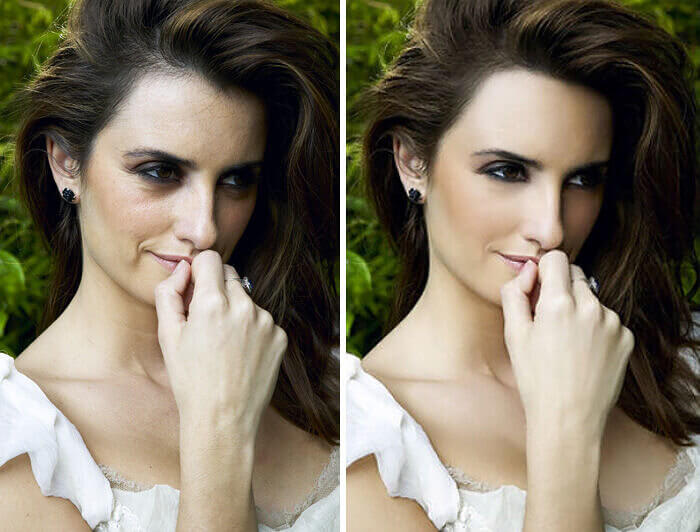 The Pirates of the Caribbean star is almost flawless in the first picture, with only a touch of pigmentation, revealing snippets of the life that she enjoys outside of the big screen. Yet after a quick edit on Photoshop, all of her skin is glossed over and stray hairs are neatly put back in place.

Lindsay Lohan Wears Her Baggage
It's no secret that finding success as a child star puts your sanity at risk and Lindsay Lohan is the perfect example of how Hollywood can take you on a wild rollercoaster ride. From the cute and innocent girl in The Parent Trap to an adult struggling with addiction, it hasn't all been rainbows and butterflies for the star.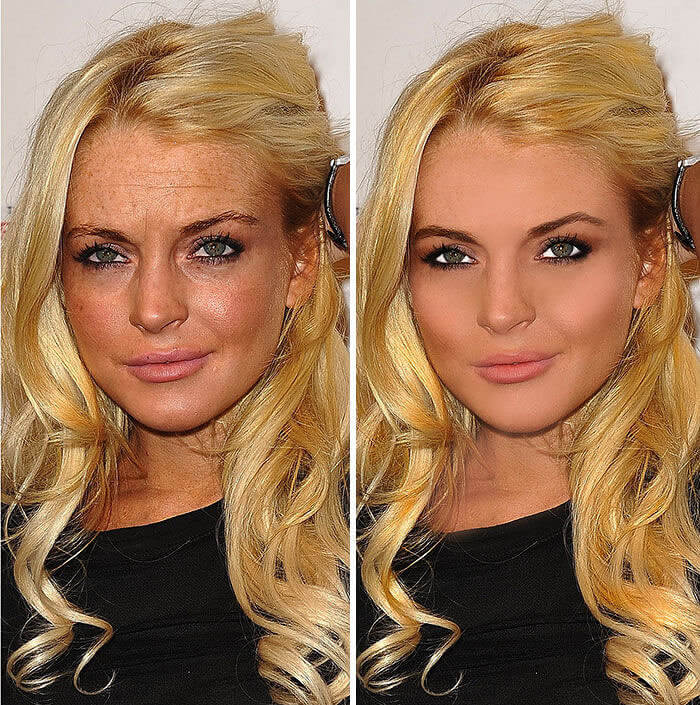 Yet Lindsay has vocalized her commitment to overcoming addiction, and while her raw picture shows a bit of damage done over the years, she still radiates beauty. As expected, even this beauty needs to be brushed up to share with the media, and Lindsay's beloved freckles have been eliminated with a few edits.

Photoshop Gives Miley Cyrus an Elegant Touch
Something doesn't sit quite right with the Photoshopped picture of Miley Cyrus, especially when compared to the original picture. While we're all accustomed to seeing Miley Cyrus in various forms of dress (and undress), these pictures boast an elegant and mature aesthetic - with a few differences.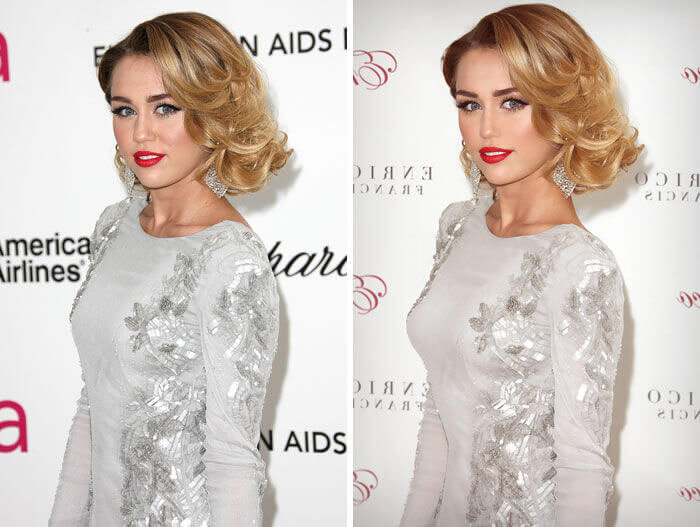 The photographer managed to snap a beautiful picture of the husky singer looking glam. Yet during the editing process, a few key changes were made, almost changing her appearance entirely. Miley's face is slimmed, her nose is reworked, her breasts are enlarged and even her back has been refined. And that's not to mention the airbrushing of her skin!

Kim Kardashian Reveals That Not All Is as It Seems
Kim Kardashian is the ultimate diva who is a trendsetter in fashion, beauty, and lifestyle. Kim K fans are quick to lap up any subtle suggestions that she flaunts on social media, believing that she can do no wrong. Yet as the unedited picture shows that the star is not as perfect as she seems.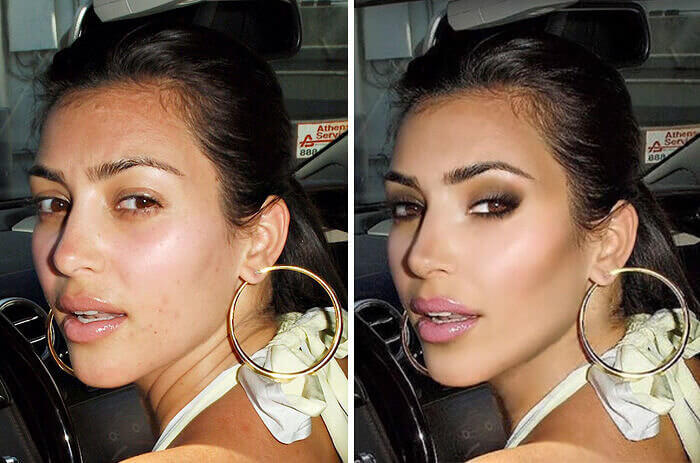 Without makeup and editing, Kim is almost unrecognizable. But before sharing this picture, her skin has been carefully smoothed over and all blemishes have been eliminated. Her eyes have been delicately painted and all flaws have been carefully hidden with the help of Photoshop.

Leighton Meester
Out of all of her roles, Leighton Meester is best known for playing Blair Waldorf on Gossip Girl, where she exudes style and charm. In real life, Leighton Meester doesn't look very different from the dolled-up character, boasting a brilliant natural beauty. Yet even the gorgeous star has room for improvement according to Photoshop.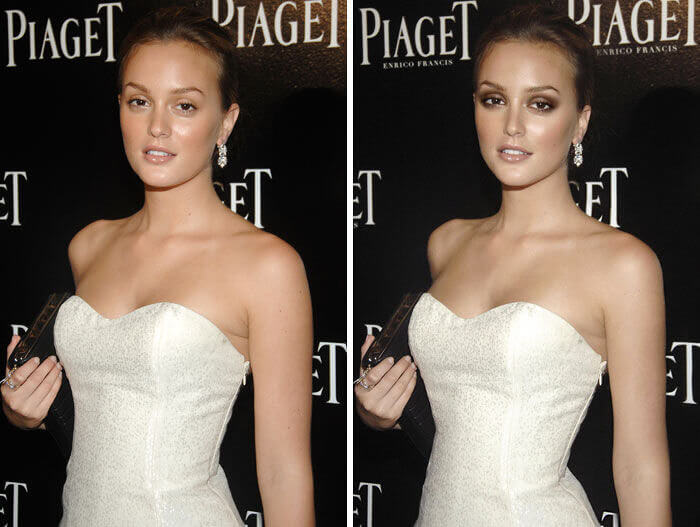 In the edited picture, Leighton has had make-up applied to her face, darkening her eyes and accentuating her cheekbones. Her skin has been painted with a bronzed tone and her waist has been notably slimmed. If not even Leighton is good enough for a magazine without being touched up, then none of us stands a chance!

Natalie Portman's Features Are Accentuated
Of all of the photoshopped images, Natalie Portman's picture is the most realistic. Rather than dramatically slim her nose or cut away her shoulders, the edited picture of Natalie simply brings life to the picture by highlighting the colors.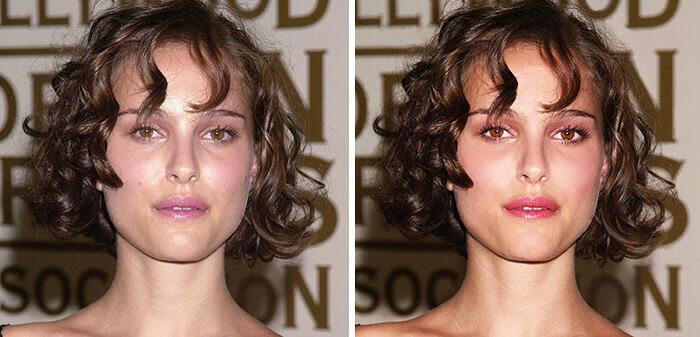 Even so, the editing process has led to a few changes to the original image. For example, she appears more youthful and less washed out. Her cheeks also seem more defined, her lips more luscious, and her signature beauty mark removed. Otherwise, everything else seems as it should be, and who hasn't added a simple filter to a picture anyway!

Does Jennifer Aniston Really Need Editing?
In our eyes, Jennifer Aniston can do no wrong. The fact that Brad Pitt left her for Angelina Jolie still breaks our heart and as the years have proven, Jennifer Aniston just doesn't get old. While we still think she looks like a solid 10 in the raw photograph, Photoshop thought that they could push it up to an 11.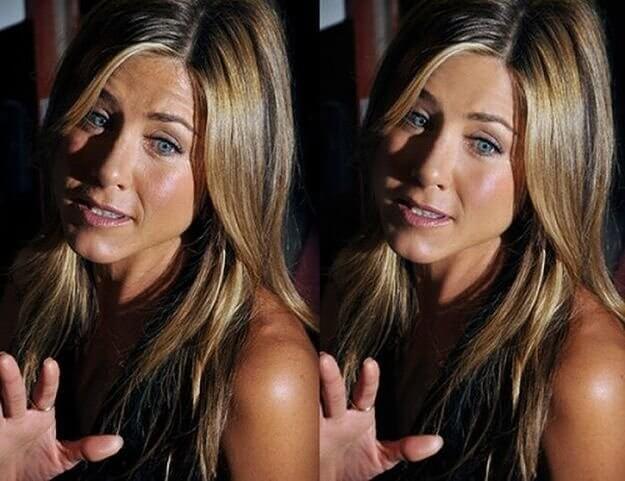 To be fair, Photoshop barely had to do any work on our favorite Friends character. In our opinion, their feeble attempt to smooth over her already-smooth skin did more harm than good.

Kim Cattrall Moves on From Sex and the City
We love her for playing the role of Samantha in Sex and the City, but even kinky sex icons get old and Kim Cattrall's gentle wrinkles show the years that have passed. But rather than let the actress age with grace, Photoshop has covered it all up.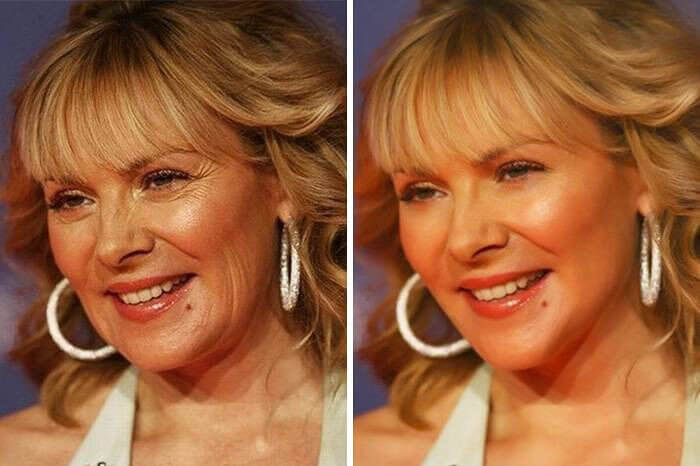 The edited image has removed all wrinkles and smoothed over her skin, making her features seem less mature and more synthetic. So, how do you feel about Photoshop and the role that it plays in creating a misguided perception of your favorite celeb?

Photoshopping The Truth On Social Media: The Online World Calls Out Celebrities For Misrepresentation
In the highly public world of today, celebrities and social media go hand in hand. The rich and famous now rack up millions, even hundreds of millions, of followers and devout fans on Instagram, Facebook, Twitter, and so on. With so much pressure riding on a single post, many celebrities stretch the truth to keep the "likes" flooding in! We've been keeping a close eye on things and have the scoop on some of the celebrities editing the truth on social media.

Kim Kardashian and Blac Chyna Add Extra Padding
Kim Kardashian and Blac Chyna's friendship was a dramatic one, but back in 2014, the pair were best friends. Kim K posted a selfie of her and Blac Chyna that year, which turned into a massive scandal for the reality star!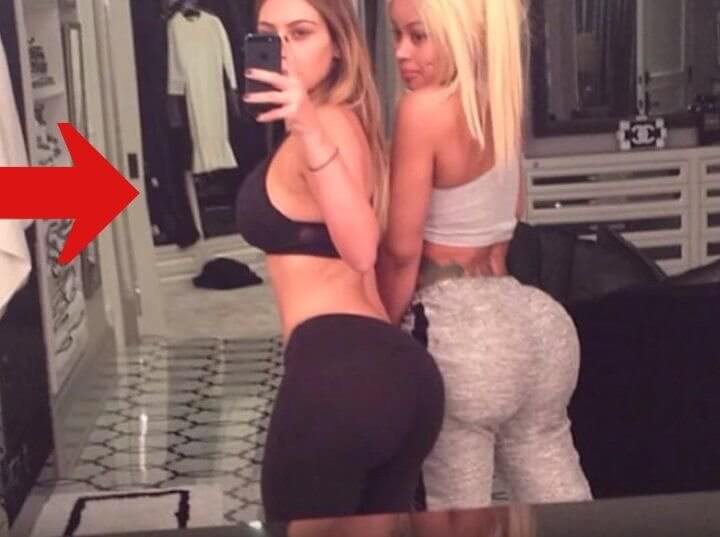 On/off friends Kim Kardashian and Blac Chyna seemingly photoshopped this photo posted on Instagram, and fans of the super celebrity began commenting immediately, as the door frame in the background appears warped, leading all to believe the voluptuous beauty photoshopped her curves. As the photo was posted a mere 12 months after the birth of daughter North West, we can forgive her for needing a little extra software to enhance her already incredible body!

Not Your Jet, Justin
While Justin Bieber didn't 100% lie, he didn't exactly tell the truth either. In 2014, Bieber posted a selfie aboard a sleek jet he'd acquired for the Christmas holidays. Excited by this, he shared the news on social media.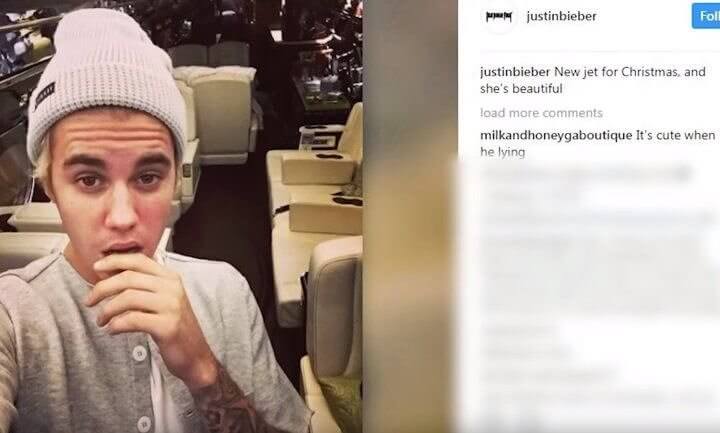 Bieber posted this photo with a more than misleading caption, which read, "New jet for Christmas, and she's beautiful." With no further explanation, fans were left believing Bieber had bought the jet for Christmas. In reality, he had only rented the plane (a G4) to fly him from Canada to New York City. Perhaps the post was wishful thinking. Better luck next year, Justin.

Thigh Gap Bust
Though it may seem crazy, even someone like Beyoncé can go down the Photoshop path. Being a singer, songwriter, actor, and one of Time magazine's top 100 most influential people didn't seem to be enough to keep Queen B away from the controversial software.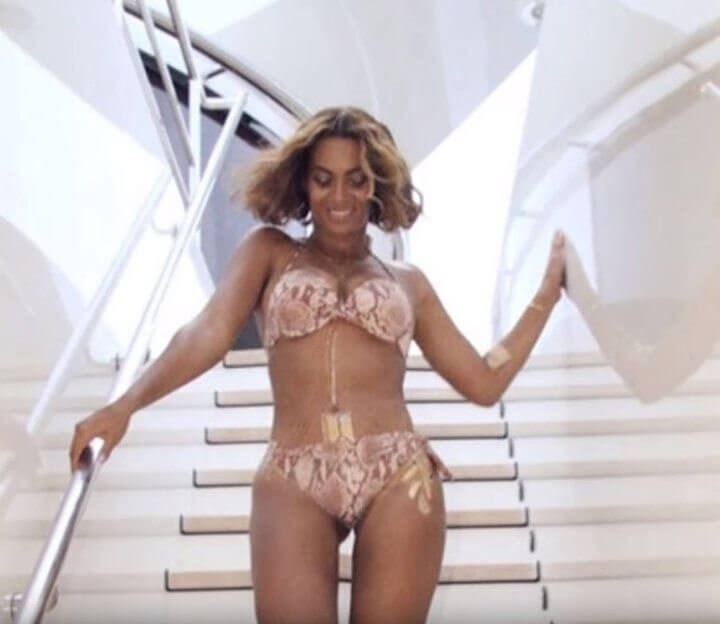 Suspiciously-wonky stairs got fans talking in this photo of Queen B's thigh gap taken during Beyonce's thirty-third birthday party. After the photo was posted, fans noticed a strange distortion on one particular step, right where Queen B's thigh gap is. With so many women yearning to look like the superstar, we can't work out why she would edit her photos.

Khloé Kardashian's Fake Baking Mishap
Khloé Kardashian was "sooooo proud" of herself after supposedly baking a lavish Thanksgiving meal. She uploaded a picture showcasing pumpkin, pecan, and cherry pies alongside some monkey bread. Unfortunately, the online world was quick to point out that her pies were far from picture-perfect.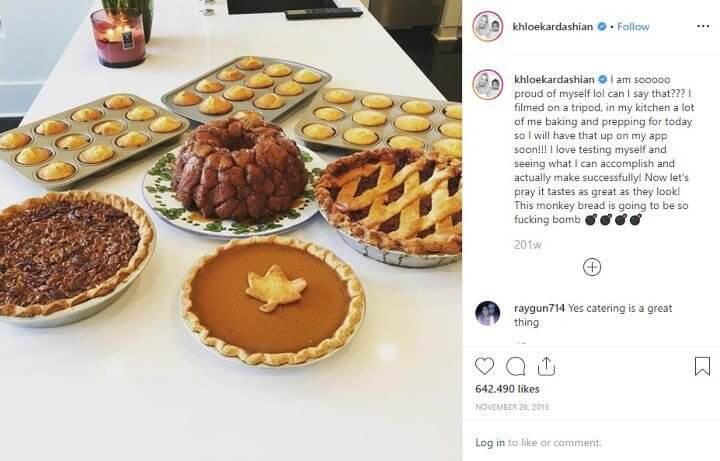 TMZ revealed the pies that Khloé was so proud of were bought from a Los Angeles-based bakery called Sweet Lady Jane. The only work this Kardashian did in her kitchen was to make the store-bought pies photoshoot worthy! Perhaps next Thanksgiving will provide Khloé the opportunity to show off her culinary skills.

Oh Dear, How Did This Happen!?!
Kim Kardashian's daughter North was innocently playing on her mother's phone when she 'found' a particular photo, or so the reality star claimed. Considering the natural curiosity of kids, perhaps the toddler did stumble across various photos of her reality star mother, but what are the odds that she would 'find' and post this one?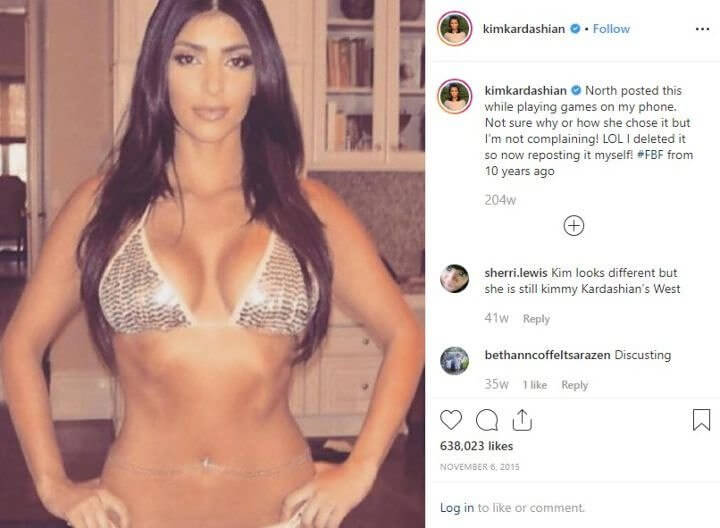 Kim wanted to convince fans her two-year-old daughter not only found the flattering photo but also posted it to her social media as well. The reality show star is no stranger to posting selfies, so it's baffling that she would blame her daughter for this particular post. This will probably remain a Kardashian family secret.

To Cook Or Not To Cook - That Is Britney's Question
Celebrity chefs beware! Or maybe not. In January 2016, pop royalty Britney Spears posted a picture of Mexican grilled corn on her Instagram with the caption "It's honestly too good to be true mmmm." At least the caption was correct.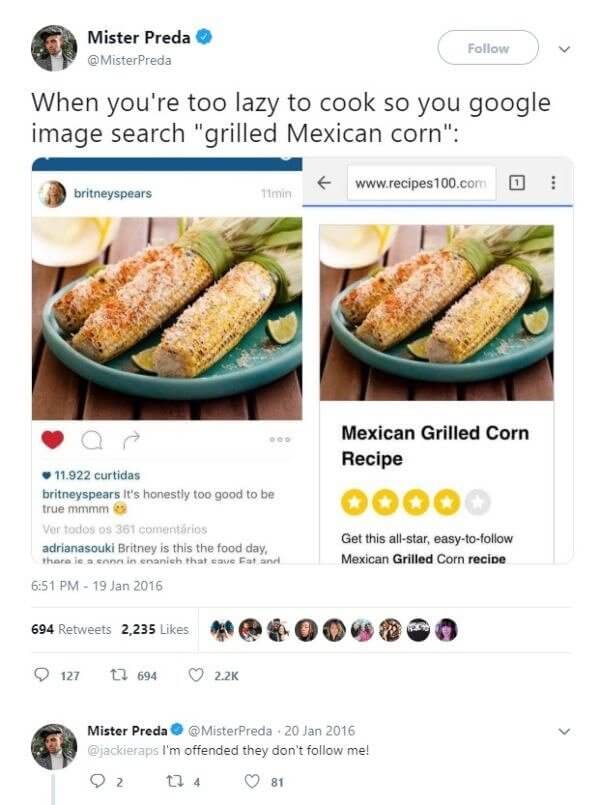 A fan, @MisterPreda, posted a photo of Spears' Mexican grilled corn post next to an identical photo from a site named recipe100.com. It appears the megastar found this photo on the recipe100.com site and decided to repost it instead of cooking the corn herself.

Gordon Ramsay Posts the Ugly Truth in Photo With Kris Jenner
It runs in the family! Kim Kardashian learned her Photoshop skills from the best: her mom, Kris Jenner.  The undoubted head of the Kardashian clan might have gotten away with it, had celebrity chef Gordon Ramsay let her.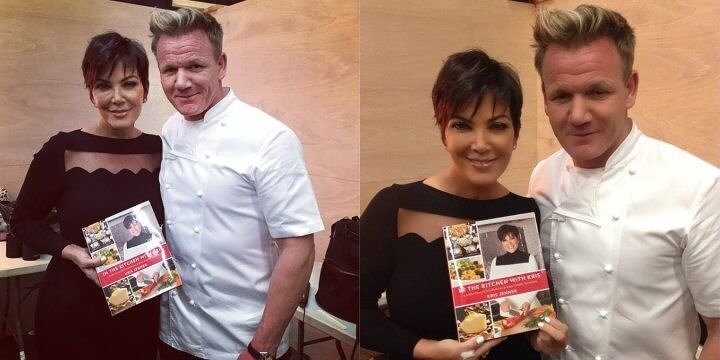 Kris Jenner would prefer her face without wrinkles, so she erased all traces of imperfections from a photo of her and Ramsay together. Jenner, unfortunately, hadn't banked on Gordon posting the original shot, completely untouched and unedited.

Lohan Is Bending the Truth
Something went very wrong in this famous photo of Mean Girls star Lindsay Lohan. Apparently not 100% satisfied with her backside, Lohan took to Photoshop to erase her imperfections. What she failed to notice however was the curious-looking door frame behind her.

Lohan's Photoshop skills need serious work, as the edited shot not only warped the door frame in the background, but it also gave Lohan's thigh and backside an out of proportioned look. Fans of the star were swift in pointing out the obvious touch-up blunder, so here's hoping she has learned her lesson.

Miranda Kerr's Secret: Shot Altered In Famous Victoria's Secret Runway Show
Super-beauty Miranda Kerr soared to great heights as Australia's first Victoria's Secret model, though she began her journey on the catwalk at the age of 13. Ranked as one of the highest-earning models worldwide by Forbes Magazine, Kerr's success was vast. With millions watching her every move, the Victoria's Secret angel naturally succumbed to the pressures of perfection.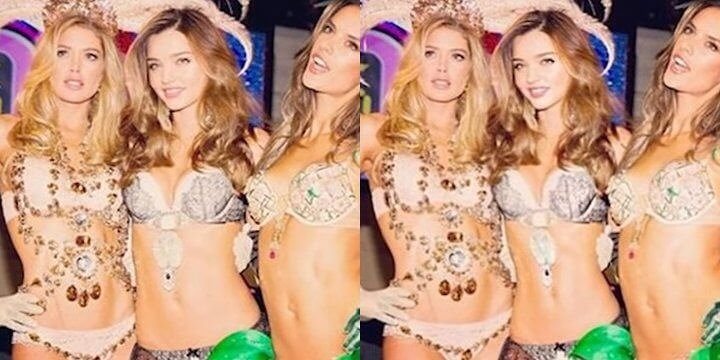 In 2012, Vogue published a photo of Kerr with two other models at the Victoria's Secret Fashion Show. Upon inspection of the Vogue shot and the Australian model's post, fans noticed an obvious slimming of Kerr's waist area. Miranda denied having edited the photo and claimed she found it online, not realizing it had been altered.

Kim K Faces More Photoshop Drama
With over 146 million followers (and counting) on Instagram, Kim K should be in the habit of double-checking her photos, right? It doesn't appear so. Fans were up in arms over this particular photo of the bombshell, and we don't blame them.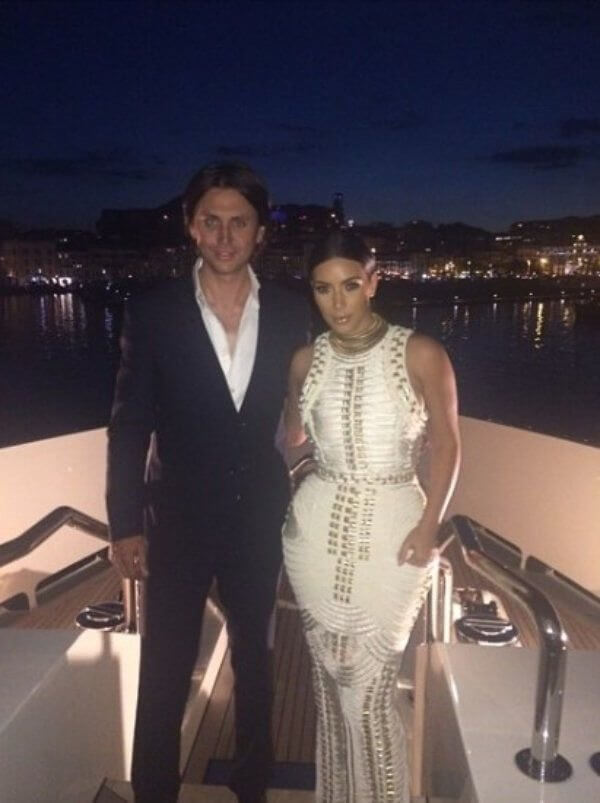 Upon looking at the photo, it is clear that the reality show star, in an attempt perhaps to appear thinner, accidentally cropped out her own arm! Either Kim doesn't care that the edit was a huge blunder, or she did it on purpose.

Bieber At It Again!
Justin Bieber claimed a brand new Bugatti was his, adding yet another social media faux-pas to his list. Bieber captioned the post, "Uncle Stunna Luv. My first Bugatti #generosity," leading fans to believe the luxury car was his. The truth though, is that the Bugatti was loaned to the star by rapper Birdman.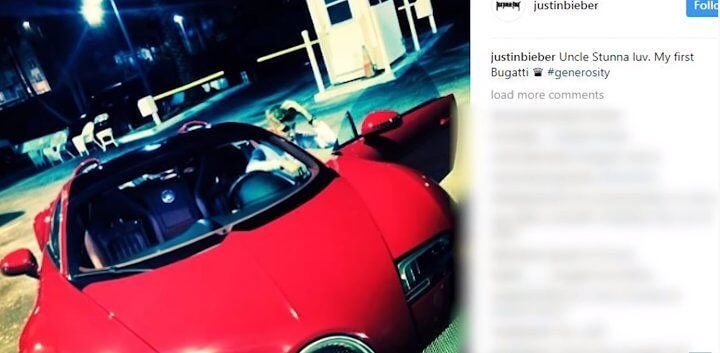 The car in question is worth nearly two million dollars, so we can see why Justin would want to own such a grand automobile. Birdman generously offered to loan his Bugatti to Bieber whenever he found himself in Miami; here's hoping it doesn't end up in the same state of some of his previous cars.

Stack Of Blanks
In 2009, Soulja Boy, aka DeAndre Cortez Way, was one of the most popular rappers in the industry. In 2010, Forbes listed him as one of the industry's highest-earning rappers. With a prestigious magazine naming him one of entertainment's top earners, Soulja Boy might have wanted to showcase that point with this post.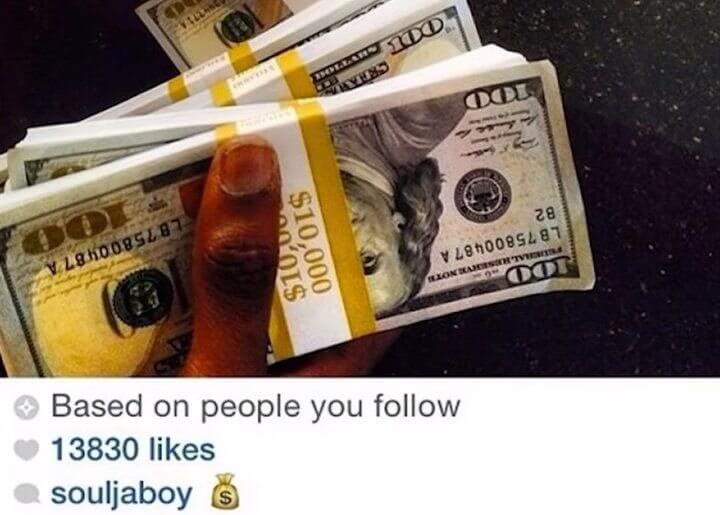 Responsible for the dance phenomenon following "Crank That," Soulja Boy posted a picture of himself holding what looked like three stacks of cash. In reality, the stacks turned out to be just three 100 dollar bills on top of blank, white pieces of paper. Fans were quick to point out the fake post, and the rapper deleted the original photo. Unfortunately for him, it had already been reposted multiple times by mocking fans.

Kylie Jenner: Cereal Liar
In one of the strangest and unnecessary lies to grace social media, Kylie Jenner tweeted in September 2018 that she had tasted cereal with milk for the first time. Describing it as "life-changing," Jenner's fans wasted no time calling her out. Twitter user Joseph Shepherd reposted a photo Jenner had uploaded in 2013 of none other than a bowl of cereal with milk.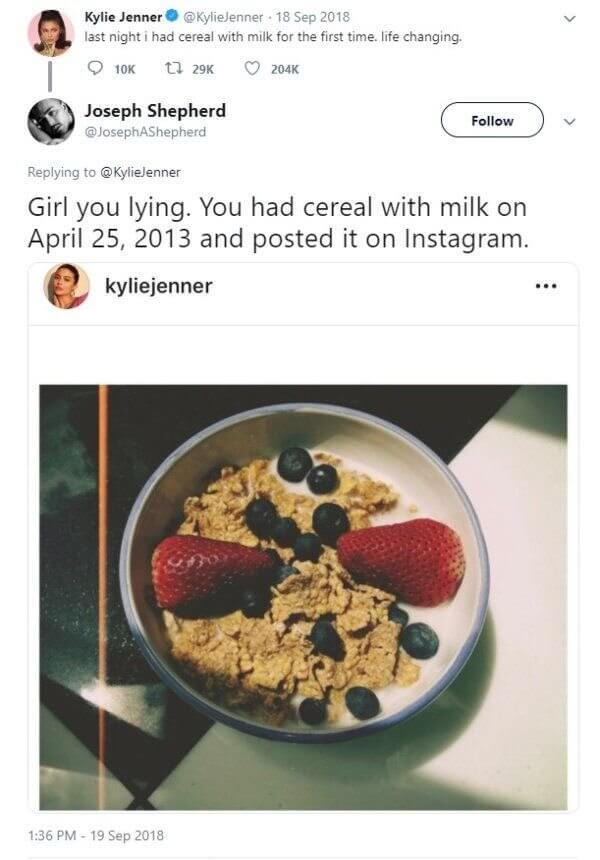 It's hard to determine why Jenner would lie about trying cereal and milk for the first time. Also, why would she brag that it was the first time? Why would she bend the truth? What was there to gain? It is a mystery to us all.

Paris Hilton Invents The Selfie, Or So She Says
On November 19, 2006, Paris Hilton made history - or so she claims. In a 2017 Twitter post, the socialite posted pictures of herself and Britney Spears with the caption, "11 years ago today, Me & Britney invented the selfie!" Of course, everyone knows that there were already plenty of photos out in the world providing evidence to the contrary.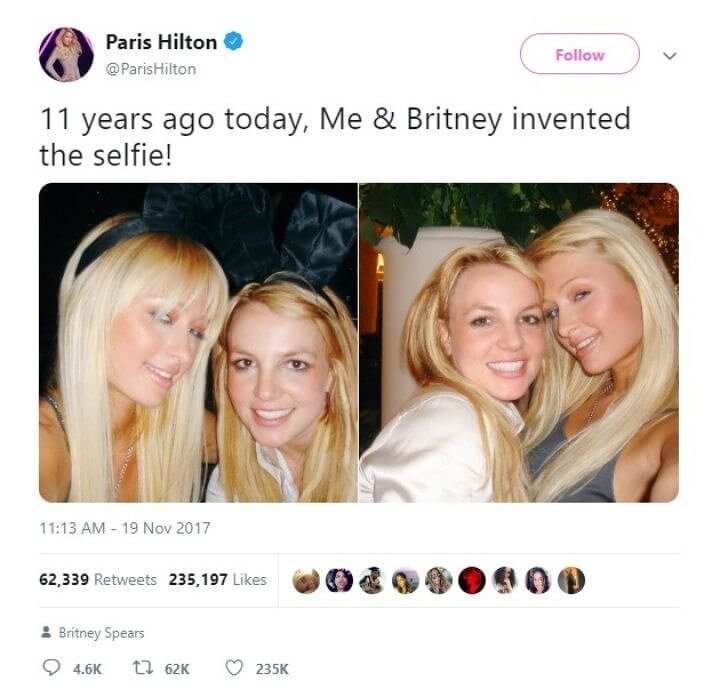 While the hotel heiress may have just been joking around, this post claiming she invented the selfie was entirely incorrect. A New York Times article noted that the first selfie ever taken with a camera dates as far back as1839! It seems this socialite was a little late with this claim.