Taylor Swift and Katy Perry's Famous Feud
Katy Perry and Taylor Swift had a serious feud that dragged on for years. The beef between the two megastars began when Perry was reported to have poached three of Swift's backup dancers for her tour while Swift's tour was still ongoing. However, it was later revealed that the dancers had been working for Perry before she took a break from performing and only just went back.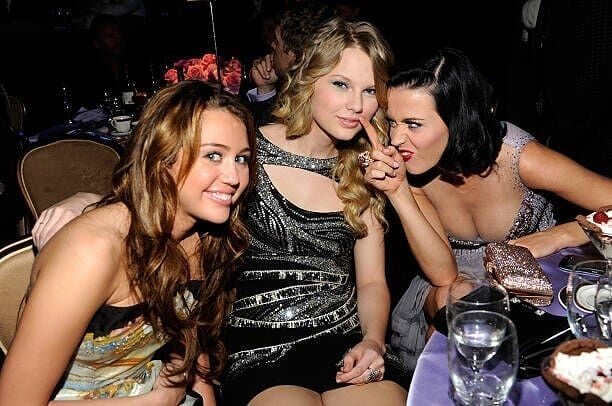 Swift dished out against Perry in a cryptic 2014 Rolling Stone cover story, accusing the Dark Horse singer of trying to sabotage her tour. In response, Perry tweeted "Watch out for the Regina George in sheep's clothing..." This continued for a while until 2018 when the pair finally decided to squash their beef. Soon after, they appeared in the music video for You Need to Calm Down dressed up in adorable burger and fries costumes.
Nicki Minaj Accused Swift of Taking Her Slot
Nicki Minaj appeared in Katy Perry's revenge song Swish Swish, and there's a reason why. Apparently, the rapper took a side in the conflict, particularly as it came after she and Swift fought publicly on Twitter a few years back. It all started when Minaj made a post about being snubbed at the VMAs while "other women" who featured slim girls in their videos got nominated.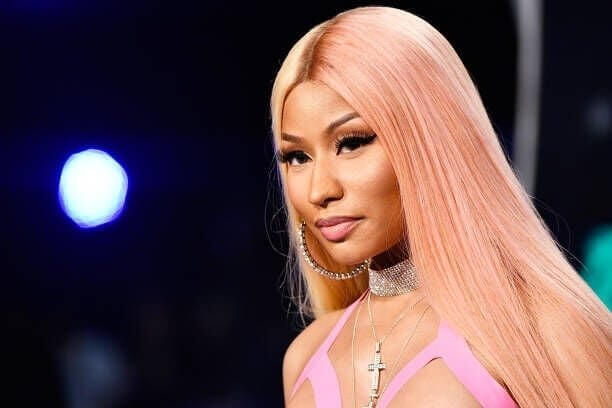 Swift assumed Minaj was referring to her and called out the rapper for blaming her instead of one of the men who also got nominated. Minaj then denied it was Swift she was talking about, even adding that she "loves her." Still, she somehow got involved in Perry's Swish Swish and even tweeted "N—- sit down. Be humble" after Swift released Look What You Made Me Do.

John Mayer Felt 'Humiliated' Over Row With Taylor Swift
Many of Taylor Swift's songs have been about her former flames, and the long list of famous exes includes names like Joe Jonas, Harry Styles, and John Mayer. The Gravity singer's relationship with Taylor began in 2009 and ended a short while later in 2010.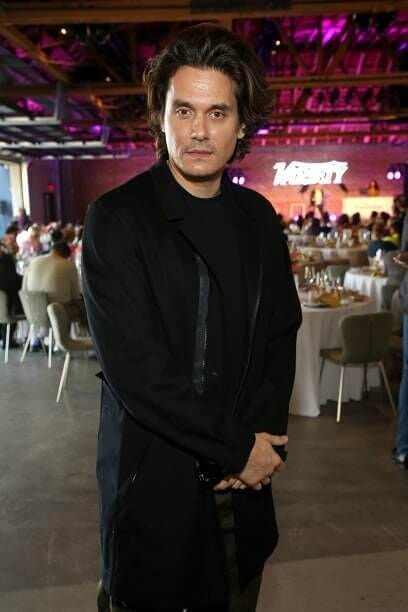 At the time, Mayer was 32 and Taylor only 19, and in her song Dear John, she implied she made a mistake dating him, that she was manipulated, and that she regretted everything. In an interview, Mayer said he felt "humiliated" by Swift's comments. "How would you feel if, at the lowest you've ever been, someone kicked you even lower?" he said.
Justin Bieber Didn't Like Her Friendship With Selena Gomez
Though he's now married to Hailey Baldwin, Justin Bieber reportedly still resents Taylor Swift, and these hard feelings date as far back as when he was in a relationship with Selena Gomez.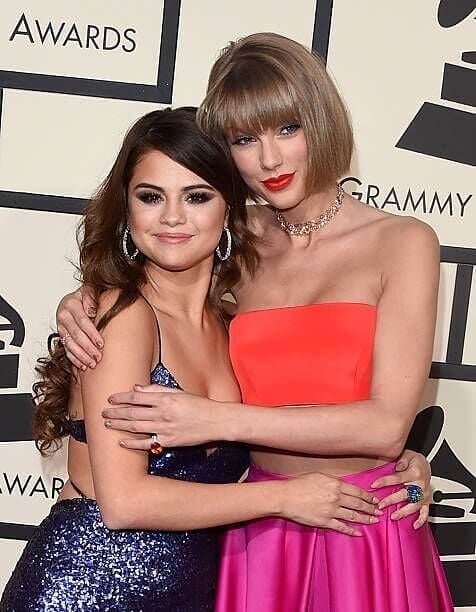 It turns out that Bieber thinks Taylor was behind the problems he faced in his relationship with Gomez, as the pop star kept telling her she was better off without him. If you're wondering if this is true, just take a look at the video of Beiber and Gomez at the 2014 VMAs and you'll catch Taylor sticking her tongue out at the couple.
Kelly Osborne Slammed Swift for Being Falsely Modest
Kelly Osborne and Taylor Swift have spent time together on Instagram and the pair even whipped up cookies, but later on, things went sour between the two and the Fashion Police star had a few not-so-nice things to say about the songstress.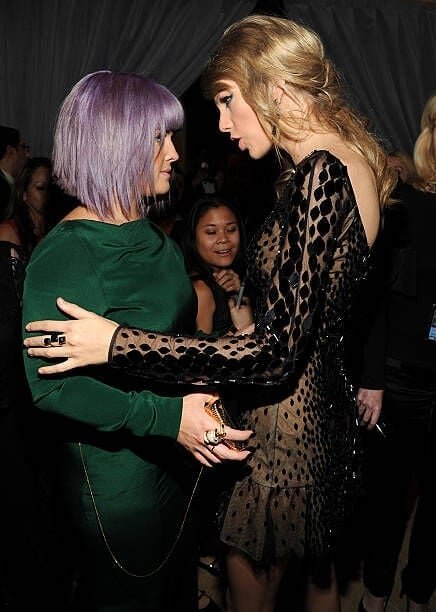 She said, "My biggest pet peeve about Taylor is that she walks on stage in front of 25,000 people and still goes, 'Me? You're here for me? Of course, you're Taylor Swift, get over it!" Yikes! Let's just say Osborne isn't Swiftie's biggest fan.
Hailey Beiber Dissed Her Squad
Taylor Swift is known to have a "squad" that includes famous names like supermodel sisters Gigi and Bella Hadid and Selena Gomez. They frequently hung out together, featured in her music videos, and made surprise appearances at her concerts and on Instagram. One of the Hadids' good friends, Hailey Beiber, doesn't quite get the whole thing.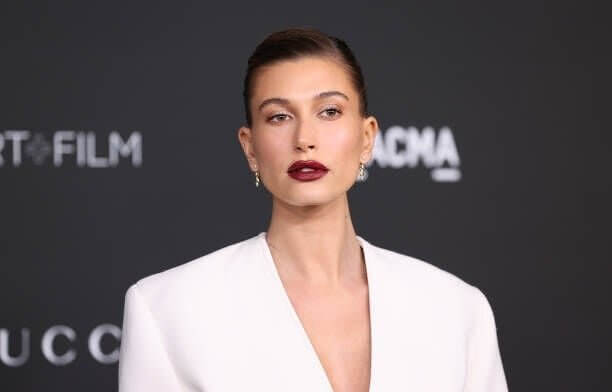 "I don't understand the Taylor Swift squad at all. I don't know what having a squad means. I just have my friends and that's it," Hailey said. After that, she liked someone's post on Instagram that said they'd "smack" Swift for a "sweet tea from McDonald's." Now that's brutal.
Chloe Grace Moretz Has a Different Definition of Feminism
Another celeb who wouldn't be joining Swift's exclusive squad is actress Chloe Grace Moretz. In 2016, she revealed she had actually been invited to join the "powerful girl-squad"  but turned down the chance, saying the posse of galpals was nothing more than a clique. Although she praised Swift's musical talents, Moretz called her out on "appropriating exclusivity."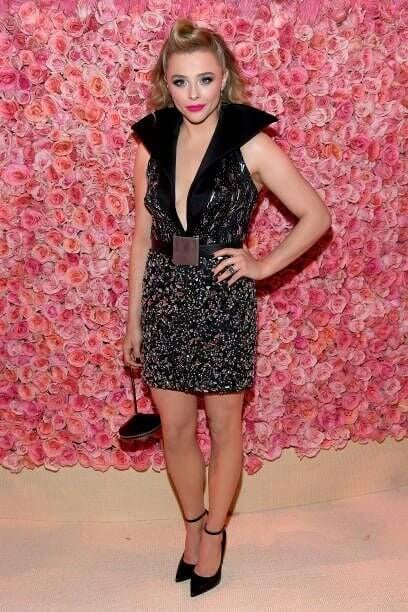 The type of feminism Moretz prefers is the type that includes people. "It's not just about women being powerful," she explained, "It's about races being powerful; genders being powerful." Basically, it's not about that mean girl squadism for Moretz.
Kanye Thought Beyonce Should Have Won Instead
Okay, we're not going to blame Taylor for this one because it was Kanye who started the feud. Let's go back to when Taylor won the award for Best Video at the VMAs. As she attempted to accept her award, the rapper stormed onto the stage and snatched the mic from her. He then proceeded to rant about how Beyonce should have won the award instead. Taylor was clearly upset and by the time he "let her finish," her time was already up.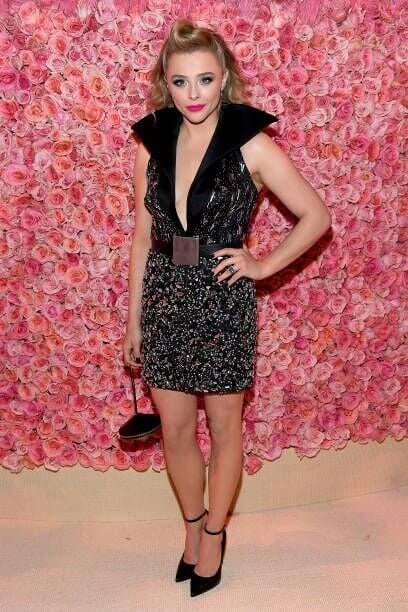 It didn't end there. Kanye supposedly publicly apologized and, for a while, it looked like they were cool, but apparently, the rapper wasn't done. He released a music video titled Famous that showed a nude wax-figure lookalike of Taylor Swift and other celebs in bed with him and had the lyrics, "I made that b— famous." Swift was infuriated and got her gang of besties to lash out at him online.
Kim K Called Her a Liar
In defense of her then-husband, reality TV star Kim Kardashian released a series of videos on Snapchat to prove that Taylor gave the go-ahead for the controversial lyric to appear in Kanye's song. Although the video doesn't explicitly show Taylor approving being called a b—, it was enough to win the public over to Kanye's side and people started calling Taylor a snake.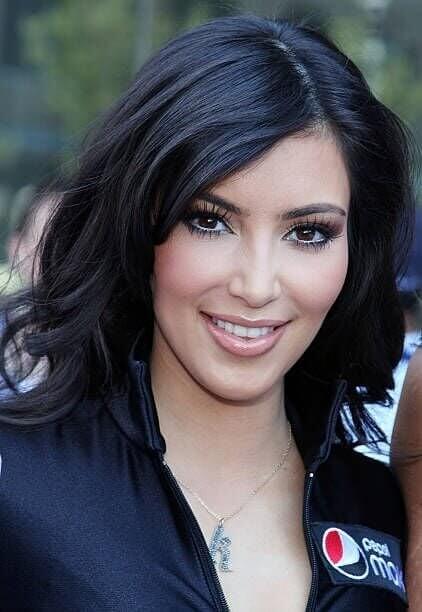 Taylor denied approving the lyric and responded to the accusations with the song Look What You Made Me Do. She also called Kanye and Kim bullies and tagged Kim's actions as a "hate campaign." A source told Radar Online that "Kim hates Taylor and she can't understand why she's always talking about her." While another source claimed the reality TV star was upset about that line in the song that said Kanye might still get hitched with Taylor.
Scooter Braun Stole Taylor's Music Masters
Taylor's beef with Scooter Braun centers around the rights to her music. Braun, who was also Kanye West's manager during his dispute with Taylor, bought a huge stake in Big Machine Records, the company that produced Swift's first six albums and owns the rights to the masters. Big Machine had reportedly sold those rights to Scooter Braun behind Taylor's back without giving her the opportunity to bid on her own music before they were then sold to Shamrock Holdings.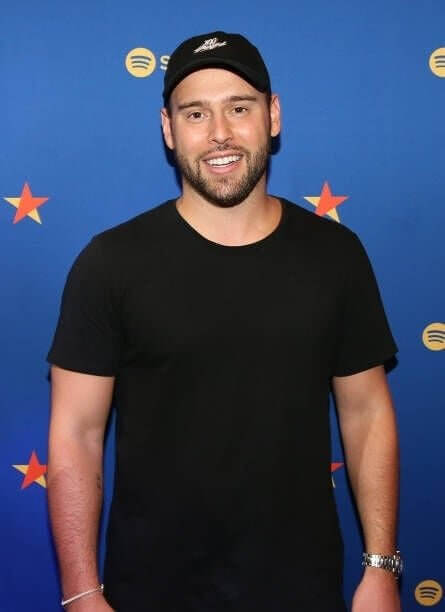 "I learned about Scooter Braun's purchase of my masters as it was announced to the world," Taylor wrote. "All I could think about was the incessant, manipulative bullying I've received at his hands for years." After finding out that Scooter would still profit from her music, Taylor refused to cooperate with Shamrock and instead decided to re-record all her old songs.
Sia Supported Scooter Braun
Following Braun's row with Swift over music rights, Chandelier singer, Sia, who is one of the pop stars Braun manages, rose up to his defense. She tweeted, "You're a good man @scooterbraun I hope this passes quickly. I love you keep going." Eek!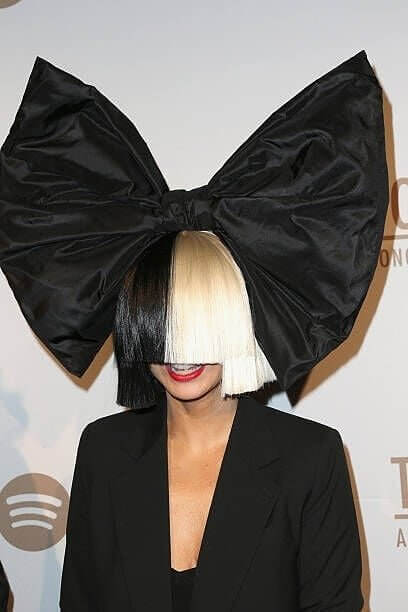 Her statement implied she thinks Swift was at fault while Braun was innocent in the whole debacle. As expected, Sia came under attack by Swift's fans for supporting Braun, and we can say the two stars are no longer on the best of terms.
Karlie Kloss Is No Longer Part of the Squad
Tay Tay and supermodel Karlie Kloss met in 2013 at a Victoria's Secret fashion show and quickly hit it off. The pair would often refer to each other as their twin and broadcast their friendship all across social media. But somewhere along the line, they stopped being BFFs. Taylor not only missed Karlie's wedding to Josh Kushner in 2018 but also wrote a couple of songs about her.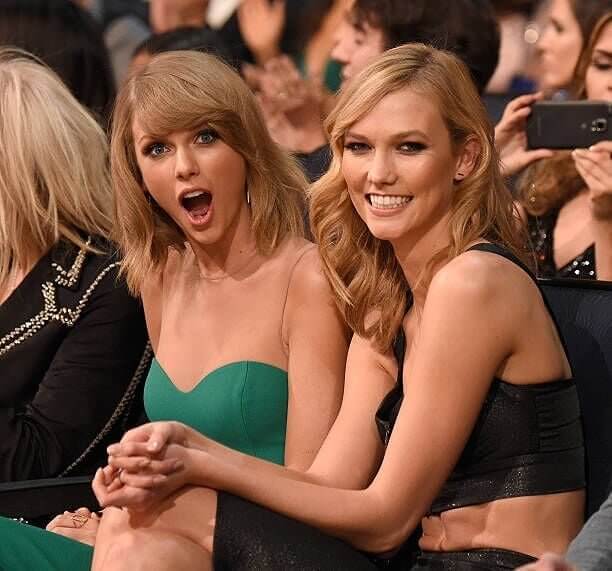 In the video for Look What You Made Me Do, Swift is wearing a shirt with the names of her besties and Kloss' name is missing. Even Taylor Swift told the New York Times that the feud was "keeping her up at night" and she'd like to know what was going on between them both. However, according to sources, the friendship may have crashed due to Kloss' involvement with Kanye West and Scooter Braun.
Calvin Harris Felt Intimidated By Her Success
Taylor and Calvin Harris had a seemingly beautiful romance but it ended badly after 15 months. The reason for the split was reportedly because the Scottish Dj "couldn't handle" Taylor being a bigger star than he was. Then it came to light that Swift actually wrote his biggest hit featuring Rihanna, This Is What You Came For, under a pseudonym.
In a series of tweets, Harris ranted about Taylor, saying he was "hurt" that she released that information after he'd said he may not work with her, thereby making him "look bad." He wrote, "I figure if you're happy in your new relationship you should focus on that instead of trying to tear your ex bf down for something to do. I know you're off tour and you need someone new to try and bury like Katy ETC but I'm not that guy, sorry. I won't allow it."
Miley Cyrus Called Her a "Frigid Ice Princess'
Miley and Taylor certainly aren't big fans of each other. The Wrecking Ball crooner hit back at Taylor after she labeled her 2013 VMA performance with Robin Thicke "grotesque." A source told OK! Magazine that Miley said "Taylor is stuck up and can't deal with how prissy she is. [I] can't stand girly." She added, "Taylor is a...frigid ice princess who bored Harry Styles out of bed."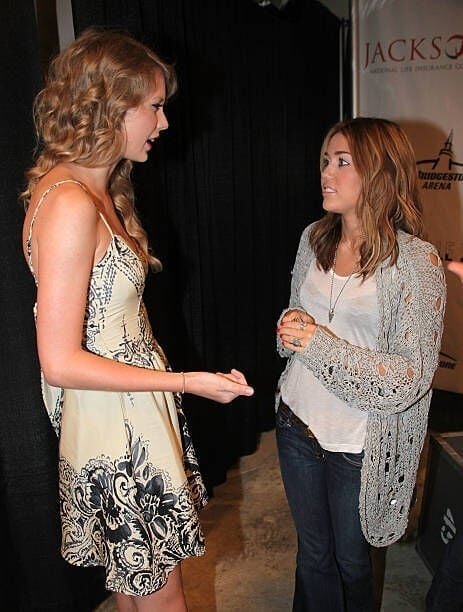 Sometime later, the New York Post published an article claiming "everything Britney did, Taylor does better," and a fan reacted by posting a mash-up video of a bunch of celebs laughing. Miley Cyrus liked the video, letting everyone know she isn't on good terms with Swift. As usual, Swift's fans came out in full force to bash Miley for attacking Taylor out of the blue but considering it wasn't the first time, it seems something had gone wrong between the two.
Joe Jonas Was Dragged in Taylor's Music
Following a whirlwind romance between the two pop stars that lasted just three months, Joe Jonas revealed that he had broken up with Swift over a 27-second phone call. In response, she dragged him in a few of her songs, like Much Better, The Last Kiss Forever, and Mr. Perfectly Fine.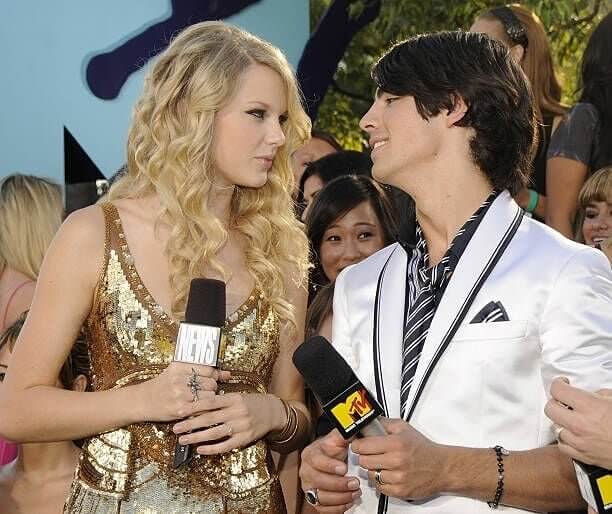 After it looked like they had gotten over everything and with Jonas now married to actress Sophie Turner, Taylor re-recorded and re-released many of her old songs, including the ones about Jonas. What's funny is that Sophie shared Mr. Perfectly Fine on her Instagram stories and wrote, "It's not NOT a bop."
Camilla Belle and the Line Taylor Wrote About Her
Camilla Belle and Joe Jonas started dating after the singer broke up with Taylor Swift, and that was enough to earn the actress a line in one of Swift's songs. Swift, who is known for sharing her innermost thoughts through her lyrics, shaded Belle in the song Better Than Revenge with the line, "She's an actress, but she's better known for the things that she does on a mattress."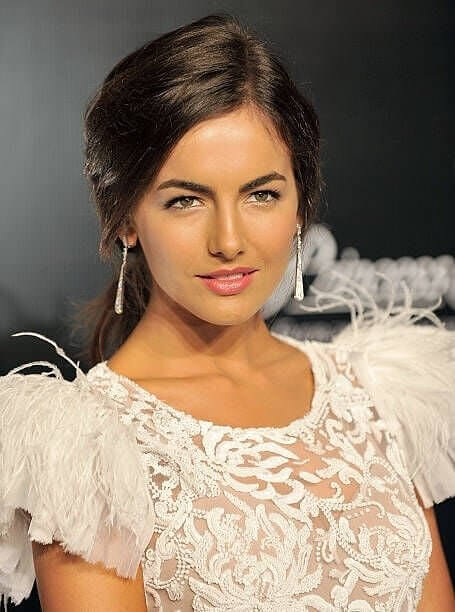 Sometime after, when Swift and Kanye were in the midst of their squabble and Kim posted the Snapchat video of her, Belle tweeted, "No need for revenge. Just sit back & wait. Those who hurt you will eventually screw up themselves & if you're lucky, God will let you watch."
She Was the Reason Demi Lovato and Selena Gomez's Friendship Broke
Chart-topping singer Demi Lovato and Taylor Swift used to get along, but that was before Taylor and Joe Jonas became an item. A while after the pair broke up, Jonas started a relationship with Demi Lovato. Lovato, who was a longtime friend of Selena Gomez, was upset that Selena and Taylor were spending more time together than with them. And when a fan asked how Selena was doing, Lovato replied, "Ask Taylor!" leading to speculations that Taylor somehow drove a wedge between the two friends because of Joe Jonas.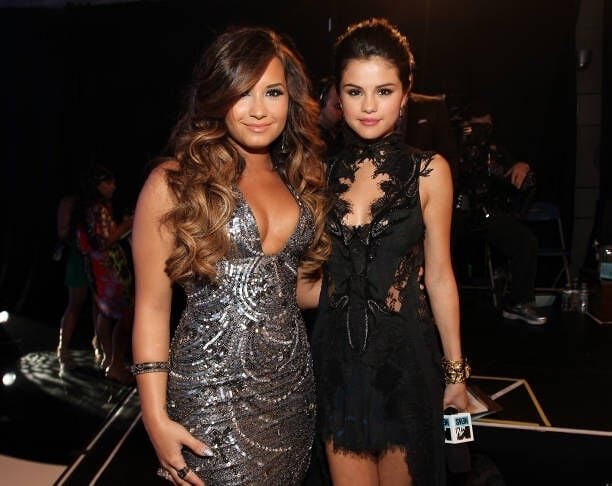 Six years later, Demi Lovato called out Swift for not "supporting" singer Keysha in her legal battle against her producer, Dr. Luke. In response, Swift said she made a $250,000 donation. Demi then tweeted, "Take something to Capitol Hill or actually speak out about something and then I'll be impressed."
She Told 'One Direction' to Shut Up
It's unclear what made Taylor and Harry Styles split up after just a few brief months together. A source told The Daily Mail that "They were on holiday and had an almighty row." While the One Direction singer has not said anything against Swift, something major must have happened between them to make Swift dislike him and his band so much.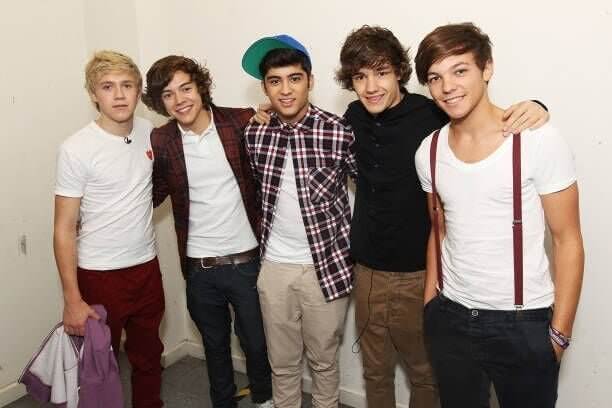 When 1D took the stage to present an award during the 2013 MTV VMAs, Taylor was caught mouthing "Shut the f**k up" at the band. The pop princess thought no one was looking but of course, people were.
Diplo's Offensive Body-Shaming Tweet
Back in 2014, Diplo took to social media to body shame Taylor Swift, and it remains unclear why the DJ decided to lash out at her. He tweeted, "someone should make a Kickstarter to get taylor swift a booty," and received widespread backlash for the comment.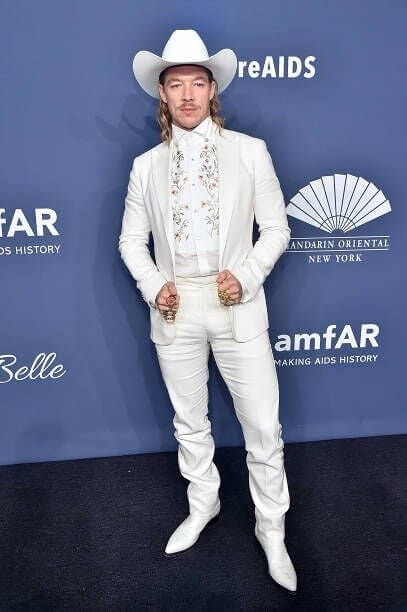 Even Lorde rushed to Swift's defense and asked if they should do something about Diplo's tiny member. A year later, in an interview with GQ, Diplo lashed out at Taylor for having a ruthless army of fans. Let's face it. If they had to rise up to her defense like that, he likely crossed a line.
Jared Leto Dissed Her Music
In 2015, actor Jared Leto caught some heat for criticizing Swift's music. A video clip of the actor was leaked on TMZ showing him having an earful of Swift's album, 1989. Although the album was a commercial success and received praise from critics, Jared didn't think it was worth all the hype.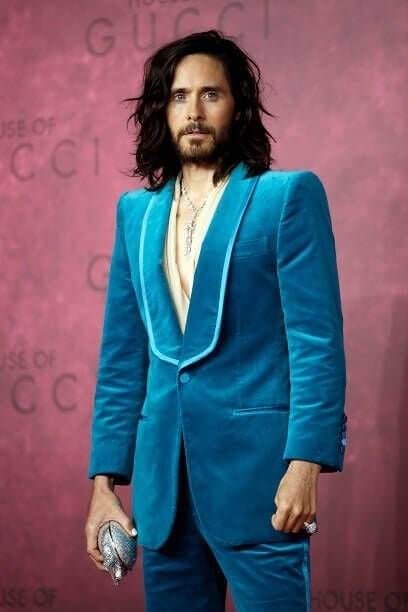 "F**k her," he said in the video. "I don't give a f**k about her. It's about whatever works for us." Some would argue that Swift did a better job on the album than he did as the Joker.
Fey's Joke Wasn't Well Received
In 2013, Tina Fey and Amy Poehler poked fun at Taylor Swift's dating history and the pop star didn't find it funny at all. The pair jokingly said that Swift should "stay away from Michael J. Fox's son" and that she needed "some me-time to learn about herself." Yikes! Later on, Taylor famously said in an interview with Vanity Fair, "there's a special place in hell for women who don't help other women."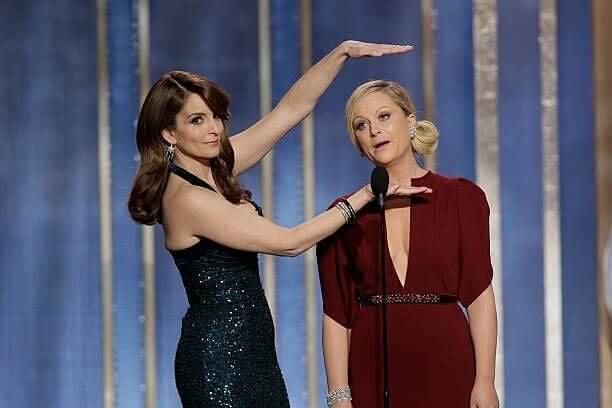 Although Poehler later admitted she "felt bad" that Swift was unhappy with the joke, Fey held her ground. "I did not see that one coming. It was a joke. It was a lighthearted joke," the comedian said. Then she went ahead to make fun of Swift on several other occasions.
Rihanna Isn't Interested In Performing With Her
While Rihanna isn't known for taking part in online feuds, the Caribbean superstar took a side in the Katy Perry-Taylor Swift war. Rihanna is known to be good friends with Perry but she isn't that friendly with Swift and refused to perform on stage with her.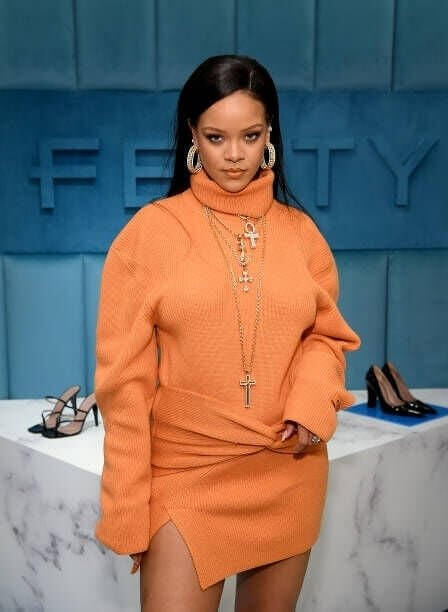 "I just don't think it makes sense." She said, "I don't think our brands are the same." She also said that Taylor is a "role model" while she isn't - and later shed more light on what she means by role model. "I'm not perfect. I'm not trying to sell that."
Father John Misty Called Her Concerts 'Disturbing'
Joshua Tilman, better known as Father John Misty, attended one of Taylor Swift's concerts and had a few words to say about it. In an interview with Rolling Stones, the Indie singer described the experience as both "holy" and "disturbing."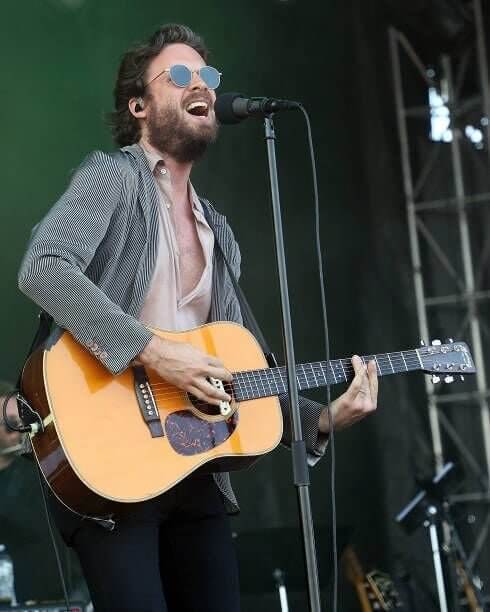 "This insistence on telling girls, 'I'm normal, don't let anyone tell you what you should be,'" He said. "If you wanted to curate an evening with the Grand Leader, this is what you would do. It's a very, very false normal. And that's dangerous." He also added, "It was psychedelic. She fully impregnated my dilated soul with her ideology." Okay, that last part is a little confusing.

Lorde Didn't Like Her Friendship With Taylor
"Magic" was the word Lorde once used to describe her friendship with Taylor Swift. The New Zealand singer even stood up for her during her rift with Kanye West, and others, but those days are long gone. The pair don't hang out together anymore and Lorde has had some pretty nasty things to say about being friends with Taylor.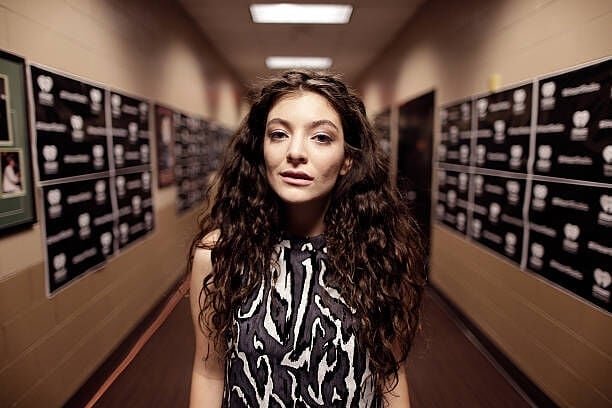 "It's like having a friend with very specific allergies," she said about the friendship, "There are certain places you can't go together. Certain things you can't do...It's like having a friend with an autoimmune disease." Lorde later apologized for using the phrase "autoimmune disease" as it was insensitive towards people who actually have them.

Avril Lavigne Was Upset About Taylor's Tumblr Post
The beef between Taylor and Canadian grunge-pop star Avril Lavigne began when Taylor liked a Tumblr post comparing the way she interacts with her fans during meet-and-greets to the way other celebrities do. It suggested the Bad Blood singer treats her fans better than other pop stars do.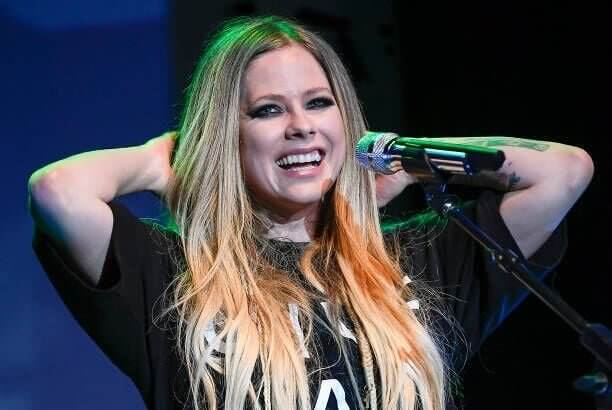 Avril didn't like that and responded to the post by tweeting, "Comparison is judging and judging a person does not define who they are it defines who you are. We all love our fans." She's definitely up to something, and that would explain why she isn't a fan of Swift.
Kendall Jenner Was On Her Family's Side in the Feud
Kendall was once part of Taylor's girl gang but now insists that she and the songstress really weren't that close. Later on, it became clear that the model was only a seasonal member of the gang. The duo dated Harry Styles at different times, which is partly the reason Kendall gave Taylor an attitude after the supermodel got back with Styles.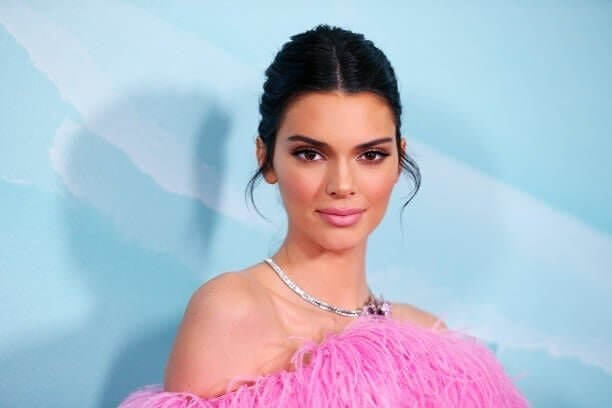 Then there is, of course, the infamous feud between Taylor and Kim Kardashian because everyone knows that no matter what, the Kardashian-Jenner family will always support each other.
What Drake Bell Said About Taylor's Boyfriends
As we've learned already, there are a lot of celebs who don't think too highly of Taylor Swift. Another on this long list is Drake Bell, former star of the Nickelodeon show Drake and Josh. After hearing that Tay Tay may be dating 1D star Harry Styles, he said during an interview with Pop Candies TV, "Taylor Swift? Is she makiig the rounds? She has been making the rounds." Ouch!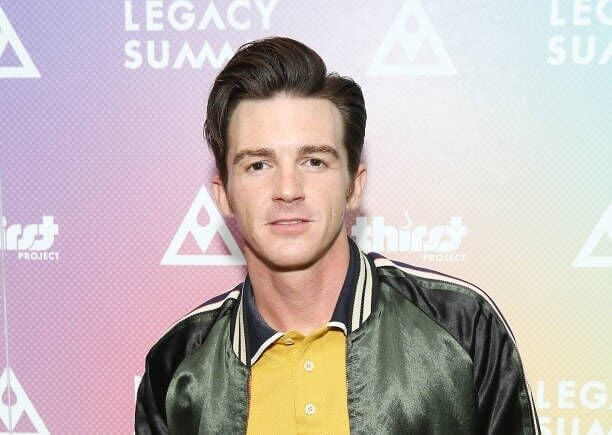 He was probably trying to say that she gets around, but that's some serious diss directed at the pop star. His friends then quickly showed up and offered him some hot dogs to try and save him from dropping any more embarrassing comments.
Ed Droste Was Pleased the World Was Getting to Know
In 2015, Ed Droste, frontman of the indie rock band Grizzly Bear shared on his Twitter page a tabloid post accusing Taylor Swift of being a "mean girl." According to the article, an insider disclosed that the singer is a "control freak' who lets everyone around her know that she's the boss.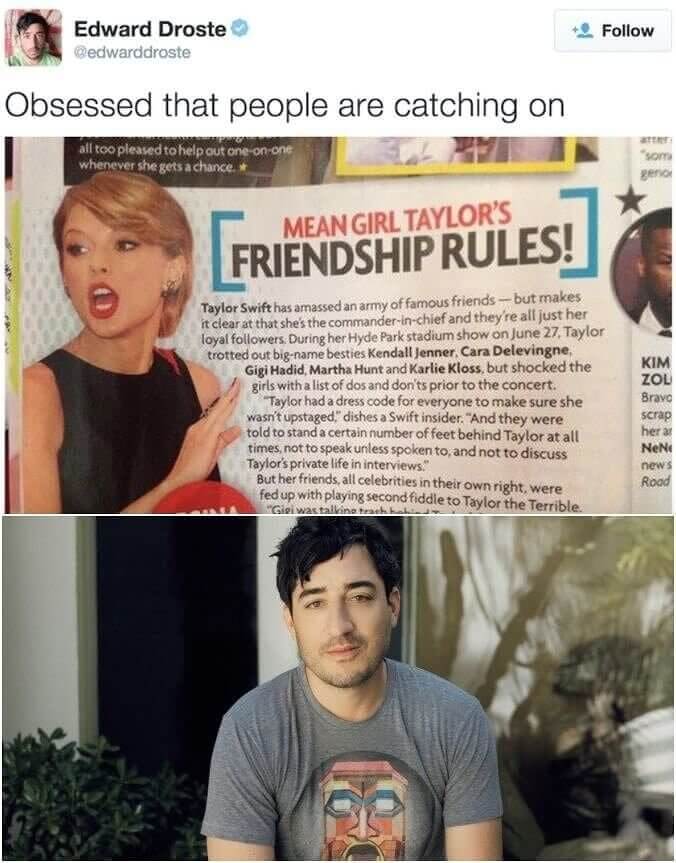 Ed wrote that he's "obsessed that people are catching on," and as expected, Taylor's gal pals rushed to her defense, tweeting back that it's all a "load of BS."
Lushsux's 'RIP Taylor Swift' Mural
Right after Taylor went up against Kanye and Kim in the famous Snapchat feud, a giant mural appeared in the streets of Melbourne that bore a striking resemblance to Swift. On the art was also written, "In Loving Memory of Taylor Smith 1989-2016." The artist behind the satirical piece was Lushsux.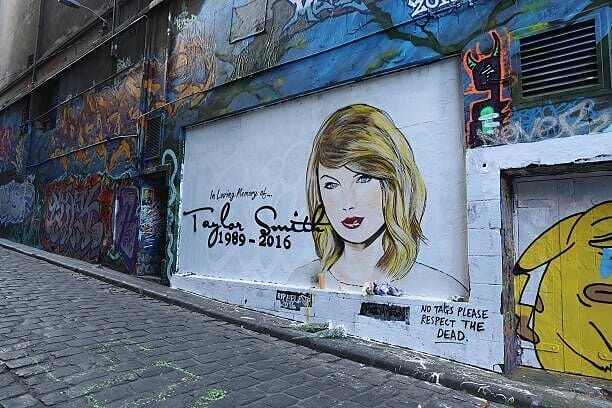 He said that not long after painting it, Taylor's lawyers had asked him to remove the mural or face legal action. None of that mattered though, as the street art was changed just a few days after.

From Bad to Worse to Surprisingly Kind, This Is What Famous Celebs Have Said About Their Equally-Famous Exes
Bashing our exes after a nasty breakup can happen to all of us - and since celebrities are humans, after all, they do it too. The difference is that when we do some bad-mouthing, barely anyone cares. We usually get some hugs, annoy a couple of friends, but eventually move on with our lives. But when you're a celebrity and you're purposely being petty about an ex (especially if they're a celebrity too), then there are many more consequences to the words said, and we're not talking about just a couple of annoyed friends.

The entire world sadly thrives on this drama, which inspires news outlets and paparazzi to get whatever they can to share on news platforms. And unfortunately, the worse it gets, the more entertaining it usually is for the public. From the likes of Justin Bieber and Selena Gomes to Tom Cruise and Katie Holmes or Angelina Jolie and Brad Pitt, find out what these celebs had to say about their exes.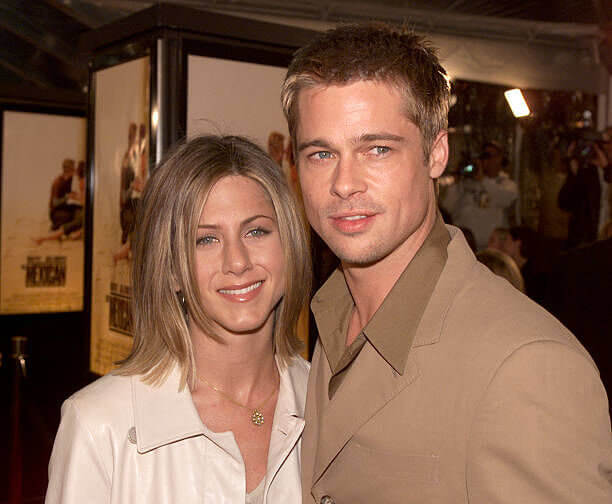 Brad Pitt and Jennifer Aniston

To this date, many of us haven't gotten over the fact that Brad Pitt and Jennifer Aniston are no longer an item. They were famously married between 2000 and 2005, but eventually got divorced citing "irreconcilable differences". Back then, Pitt said: "I wasn't living an interesting life. I think that my marriage had something to do with it", while Aniston was more neutral by claiming that none of them had done anything wrong. Evidently, the two are on better terms as they were seen happily interacting at the 2020 SAG Awards.
Interestingly, just one month after their breakup hit the press, Brad Pitt and Angelina Jolie were all over the news.


Angelina Jolie and Brad Pitt
Though fans believed that Angelina Jolie and Brad Pitt were meant to be together forever when the world heard the news of their divorce people could simply not believe it. Things got even worse when the divorce ended up becoming extremely turbulent.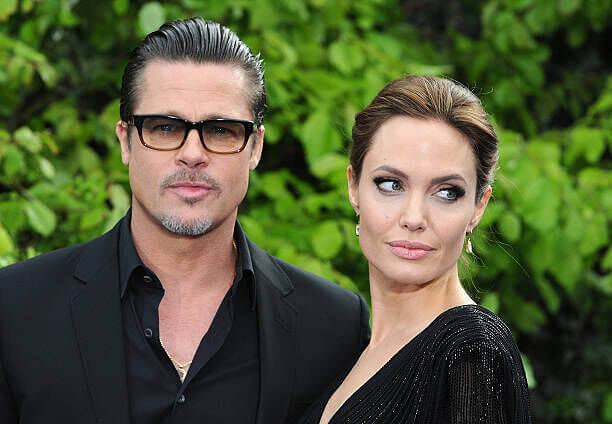 Angelina Jolie wasn't shy to talk about the pain she endured not only as a result of the divorce process, but also the relationship itself: "My body has been through a lot over the past decade, particularly the past four years, and I have both the visible and invisible scars to show for it. The invisible ones are harder to wrestle with." As of 2020, the two are still locked in a vicious divorce and custody battle.
Jenny Slate and Chris Evans
Jenny Slate and Chris Evans dated for about a year, between 2016 and 2017, but unfortunately, their relationship couldn't survive the pressure that Chris's fame put on them. In an interview, Slate went said that she didn't think she was his type and that that was the actual reason they had broken up.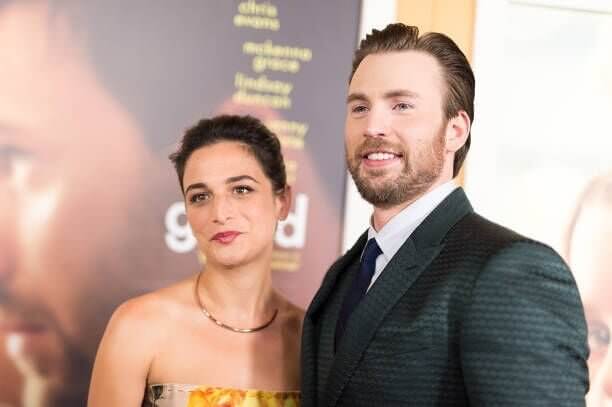 In her own words: "I'm considered some sort of alternative option, even though I know I'm a majorly vibrant sexual being." She also clarified that they didn't end things on bad terms, but they never really saw each other again or spoke that much after the breakup.
Jennifer Lopez and Marc Anthony
Jennifer Lopez and Marc Anthony were one of those long-standing power couples in Hollywood until they got divorced in 2011. When asked about the breakup, J. Lo claimed that the couple had tried to do everything they could to stay together, but it was simply not meant to be.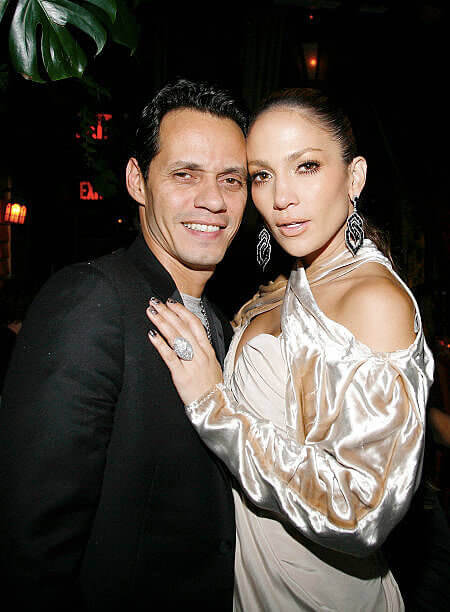 Though J. Lo hasn't said much more than that, as she believes things should stay private, Marc Anthony has been very vocal about the fact that he still loves her, even saying about her loves after him that "...anyone that means something to her, means someone to me."

Gwen Stefani and Gavin Rossdale
Though we can barely remember a Gwen Stefani love life before Blake Shelton, Stefani had a pretty long relationship before the country singer. She was married to Gavin Rossdale for 13 years, and the couple was actually together for nearly 20 years in total.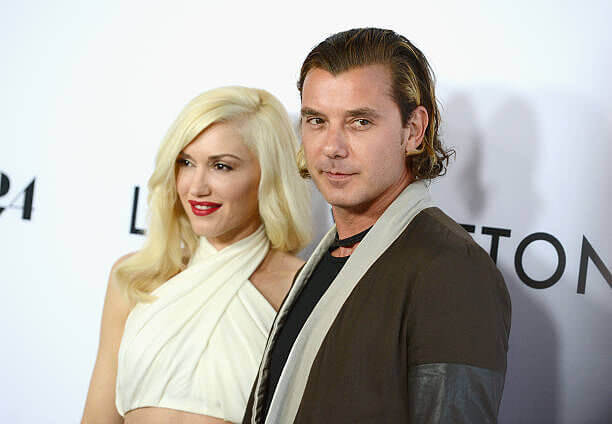 They have three children together whom they co-parent today, but due to "irreconcilable differences" they got divorced in 2015. When asked about it, Gwen said that though she wished it hadn't happened, the divorce was just a part of her life journey. None of them commented on the terrible rumors and allegations of Gavin's affair with the nanny. 
Kanye West and Amber Rose
Kanye West and Amber Rose were a couple that the press absolutely loved. They dated between 2008 and 2009 but ended up splitting up because Amber believed that Kanye had cheated on her with Kim Kardashian.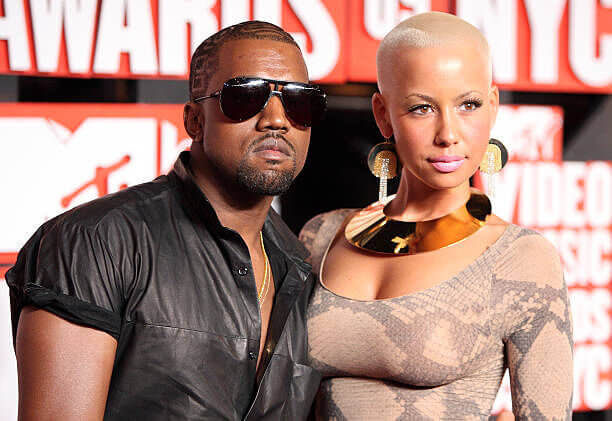 Kanye, however, harshly shared with the public that he had to "take 30 showers before he got with Kim"... yikes! Amber retaliated on Twitter saying "are u mad I'm not around to play in ur a**hole anymore?". After that, they continued to bash each other publicly for a while.
Justin Timberlake and Britney Spears
Though Justin Timberlake and Britney Spears's relationship was literally twenty years ago, we still remember it as if it was today. Sadly, the '90s pair was caught up in rumors that Spears had cheated on Timberlake with his best friend, Wade Robson.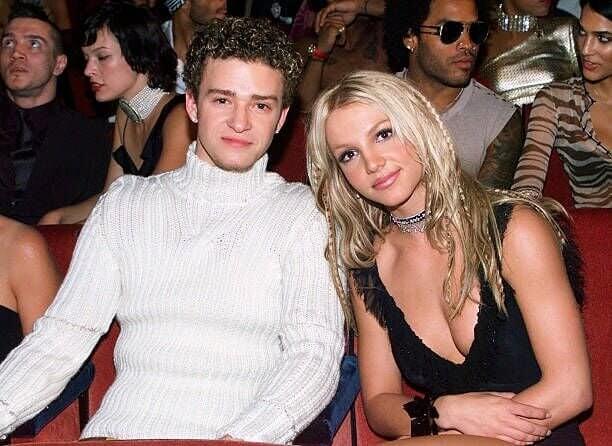 Timberlake apparently took it to his song, "Cry Me a River" to share exactly how he felt: "You don't have to say, what you did, I already know, I found out from him. Now there's just no chance, for you and me, there'll never be. And don't it make you sad about it." Ouch.
Nicole Kidman and Tom Cruise
Nicole Kidman and Tom Cruise met in 1990 on the set of Days of Thunder. They were married for 11 years when they eventually got divorced in 2001, completely taking the world by surprise. While they were together, they adopted two children, Isabella and Connor.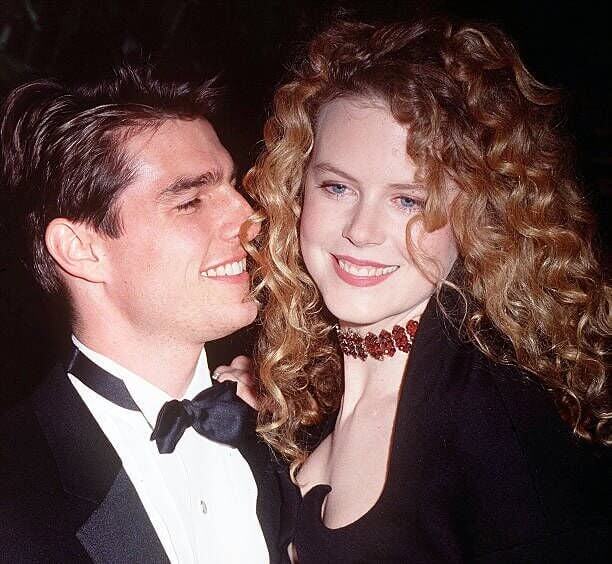 Though they remained fairly silent about the divorce and both moved on to have other marriages and children, Kidman did famously diss Tom Cruise's short stature that one time. She said on David Letterman's show during an interview: "Well, I can wear heels now."
Selena Gomez and Justin Bieber
Okay, if there is one couple that the media and fans alike were completely obsessed with, that was Selena Gomez and Justin Bieber. The teen dream duo split a number of times and got back together until they officially called it quits in 2014. They both claimed that their relationship had gotten very serious when they were too young and immature, which made it difficult to remain together.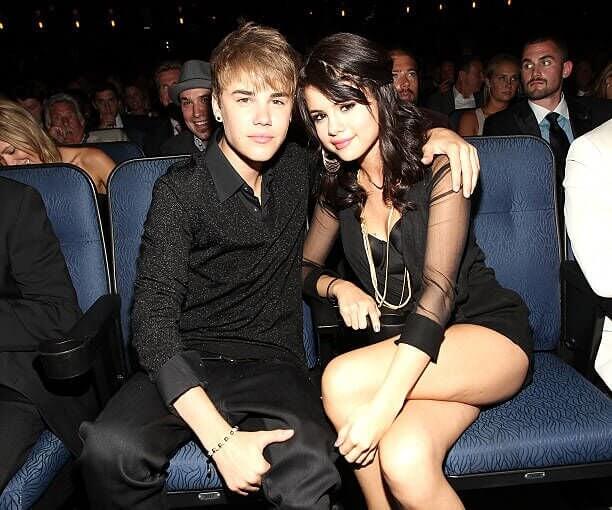 But the teen duo has since thrown a lot of shade at each other both through music and on social media, including this comment by Selena on Justin's Instagram when he posted a photo with someone new: "If you can't handle the hate then stop posting pictures of your girlfriend lol". Justin fired back with, "It's funny to see people that used me for attention and still try to point the finger this way. Sad. All love."
Alanis Morisette and Ryan Reynolds
Before being married to Scarlet Johanson and now Blake Lively, Ryan Reynolds was actually engaged to the rock singer Alanis Morisette. The couple was together for five years before they announced their split in 2007. While Reynolds quickly started dating Scar-Jo, Morisette turned her pain into music, releasing the album Flavors of Entanglement not too long after.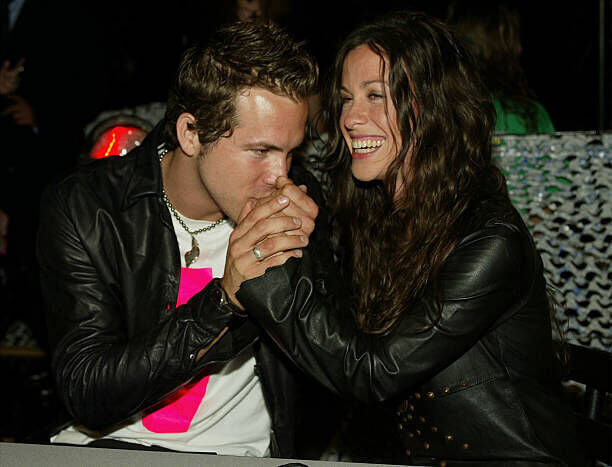 She also publicly shared that she was in incredible pain, but was working through it. Today, both of them are married with kids and don't seem to have any contact with each other.
Ben Affleck and Jennifer Garner
Ah, where to start? Ben Affleck and Jennifer Garner were believed to have one of the strongest and most legit marriages in Hollywood until things got pretty messy. They split in 2015, but apparently, Affleck had hooked up with the nanny... so typical.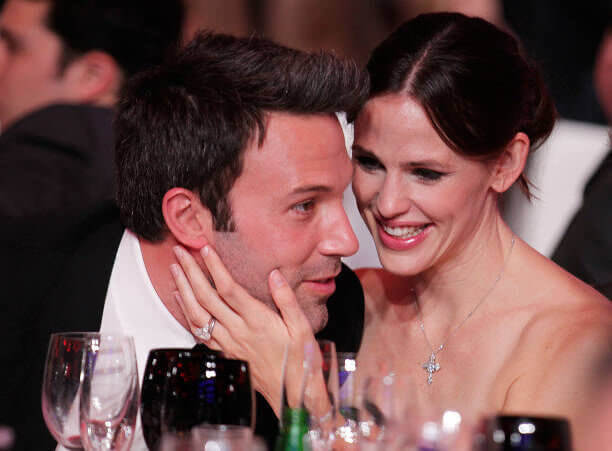 Though they seem to be on pretty good terms these days, especially for the sake of their three kids, Jennifer has once sent a pretty cryptic message about Ben to fans:  "I always say, 'When his sun shines on you, you feel it.' But when the sun is shining elsewhere, it's cold. He can cast quite a shadow."

Ben Affleck and Jennifer Lopez
Since Ben Affleck seems to have really kept his relationships in Hollywood, we couldn't refrain from mentioning the famous Ben Affleck and Jenniffer Lopez duo. After 18 short but intensive months together, "Bennifer" (#1) announced a nasty split in 2004.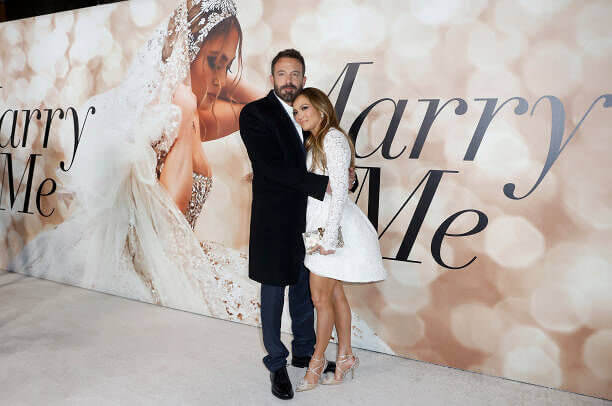 Affleck was pretty verbal about it this time, saying: "So gross it's destructive to my career, it's destructive to my soul, to my everything." He not only claimed that he felt gross while dating the artist, but he also said how much he regretted their engagement. I guess they forgot all about it with their recent comeback.