A lot of celebrities have huge families, and who wouldn't want to share the love (and fame) with a big family. Angelina Jolie and Brad Pitt's brood of 6 are well-known, but did you know that Eddie Murphy has 10 children? Here are our favorite celebrities with more kids than we knew they had.
Bruce Willis - 5 Kids
The American action star is known for his roles in Die Hard, Pulp Fiction, 12 Monkeys, and Mercury Rising. He was married to actress Demi Moore from 1987 to 2000. During his marriage to Moore, the couple had 3 daughters, Rumer, Scout, and Tallulah.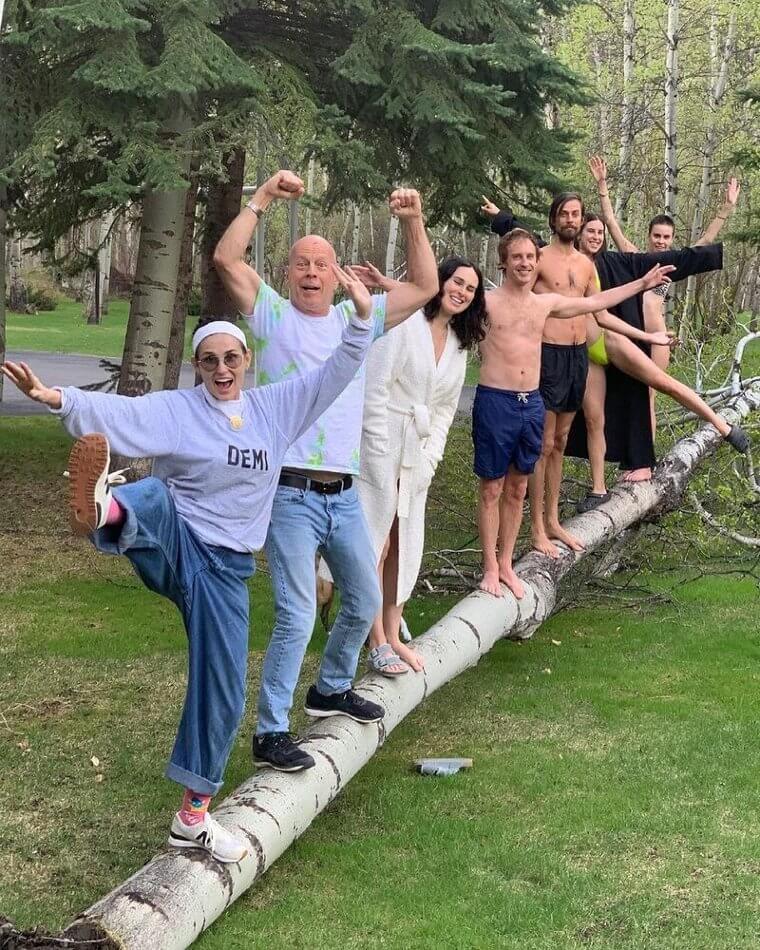 In 2009 Willis married Emma Hemming, a wedding that was also attended by ex-wife Moore and her then-husband Ashton Kutcher. The couple has two daughters, Mabel and Evelyn. With five children and all of them daughters, Bruce Willis is definitely not a father to be messed with.
Kevin Costner - 7 Kids
The two-time Academy Award-winning actor Kevin Costner is known for his epic films over the years including Dances with Wolves, Waterworld, Robin Hood: Prince of Thieves, and The Postman. What may surprise you is that he has a very large blended family.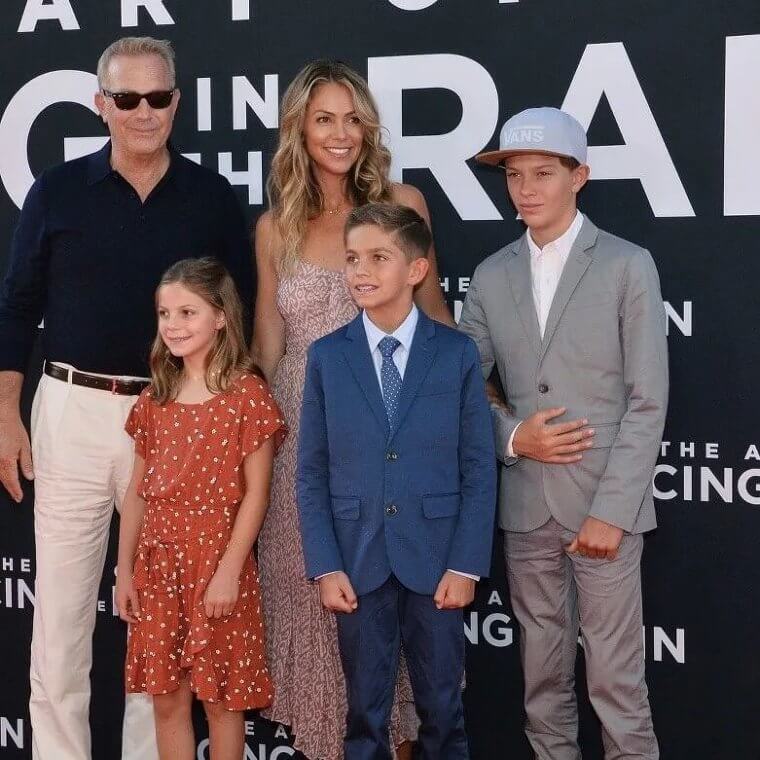 In 1978 he married Cindy Silva and the couple had three children. They divorced in 1994, and following the divorce, his brief relationship with Bridget Rooney produced a son. Finally, in 2004, Costner married his current wife designer Christine Baumgartner with whom he has three more children.
Muhammed Ali - 9 Kids
Muhammed Ali was born Cassius Clay and is considered one of the best heavyweight boxers of all time. He was an American professional boxer, activist, and entertainer and during his 74 years, he fathered nine children. He was married four times.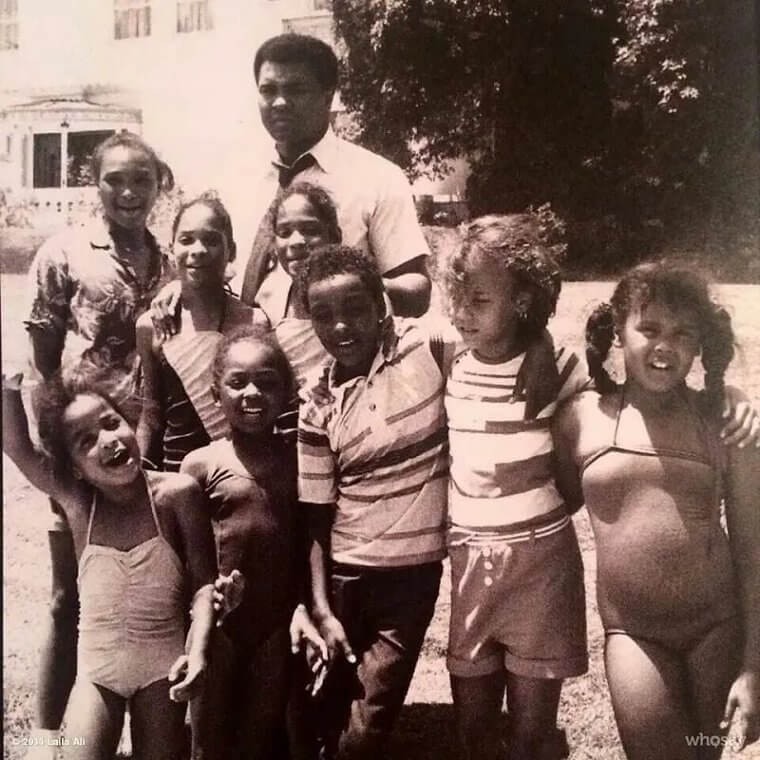 Ali's first marriage to Sonji Roi produced no children, but his second marriage to Belinda Boyd in 1967 produced four children - Maryum, twins Jamillah and Rasheda, and Muhammed Ali Jnr. During his marriage to Boyd Ali fathered a child with Wanda Bolton, a daughter Khaliah in 1974, and a daughter Miya in 1972 with Patricia Harvell. His third marriage to Veronica Porche produced two daughters Hana and Laila Ali. He adopted a son, Asaad with his fourth wife Yolanda Williams. During his marriage to Williams Kiiursti Mensah-Ali came forward and claimed to be Ali's daughter from a 20-year relationship with Barbara Mensah.
Billy Ray Cyrus - 6 Kids
This country and western singer is most famous for his song "Achy Breaky Heart" and for being the father of daughter Miley Cyrus, whose role in Hannah Montana, which she acted in with her dad, made her internationally famous. Billy Ray has been married twice.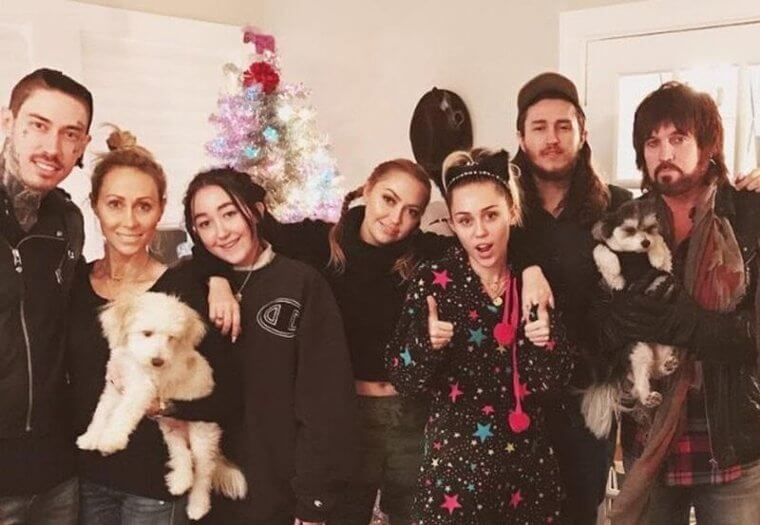 His marriage to Tish Finley in 1993 has produced three children - Miley, Braison, and Noah. The singer also legally adopted Tish's two children Brandi and Trace from a previous relationship. He also has a son with Kristin Luckey who was born in the same year as Miley.
Bob Marley - 12 Kids
Bob Marley was a Jamaican reggae singer and songwriter who was a solo star and a member of Bob Marley and the Wailers. Bob Marley married Rita Anderson in 1966 and the couple had four children, with Marley adopting Rita's two children from previous relationships.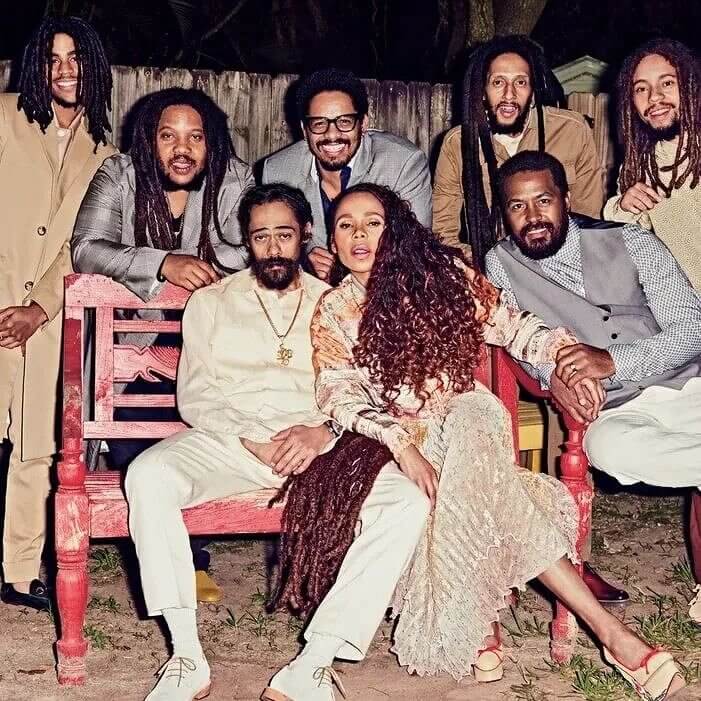 Marley went on to have seven other children - officially - with seven other women even though he remained married to Rita until his death in 1981. The children listed on the official Marley website starting from the eldest are Sharon, Cedella, Ziggy, Stephen, Robert, Rohan, Karen, Stephanie, Julian, Ky-Mani, and Damian. A couple of other children have claimed to be Marley's over the years.
Nick Cannon - 12 Kids
Comedian, actor, rapper, and all-around entertainer Nick Cannon has twelve kids and counting, with his eldest kids (twins Moroccan and Monroe with songstress Mariah Carey) being born in 2011. His next children followed in 2017 and 2020 with dancer Brittany Bell, followed by twins in June 2021 with DJ Abby De La Rosa. Also arriving in June of 2021 was a son with Alyssa Scott. Tragically, their son, Zen, was found to have a brain tumor and passed away just months later in December of 2021. A month later, Cannon announced at a gender reveal party that he was expecting a son with Bre Tiesi. In November 2022, Abby De La Rosa gave birth to their third child, Beautiful Zeppelin Cannon.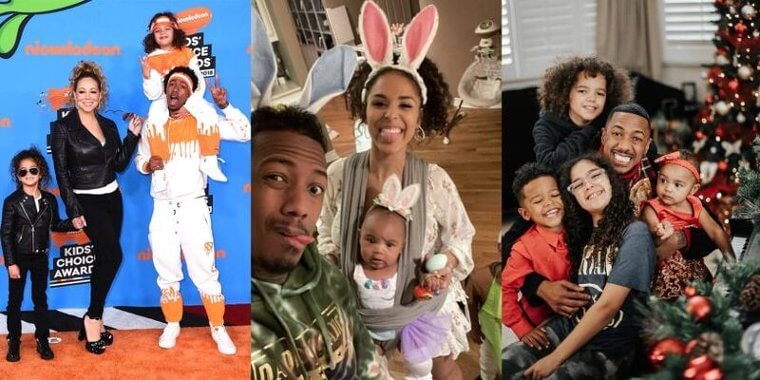 It seems Nick has taken it upon himself to repopulate Earth. He welcomed his 12th baby on December 14th. Cannon and model Alyssa Scott had daughter Halo Marie Cannon. Their baby girl arrived roughly one year after the death of the duo's son Zen, who died at age 5 months from brain cancer. "December 14, 2022. Our lives are forever changed," Scott wrote on her social media. "Zen is in every breath I take. I know his spirit was with us in the room that morning. I know he is watching down on us. He shows me signs every day. I will hold onto this memory forever."
Kris Jenner - 6 Kids
Kris Jenner is the matriarch of possibly the most famous family in celebrity history, which began with their reality show Keeping Up With The Kardashians. It is almost impossible to pick up a magazine or go online without seeing one of the members of this famous family involved in something - whether it's a breakup scandal or the launch of some new business venture.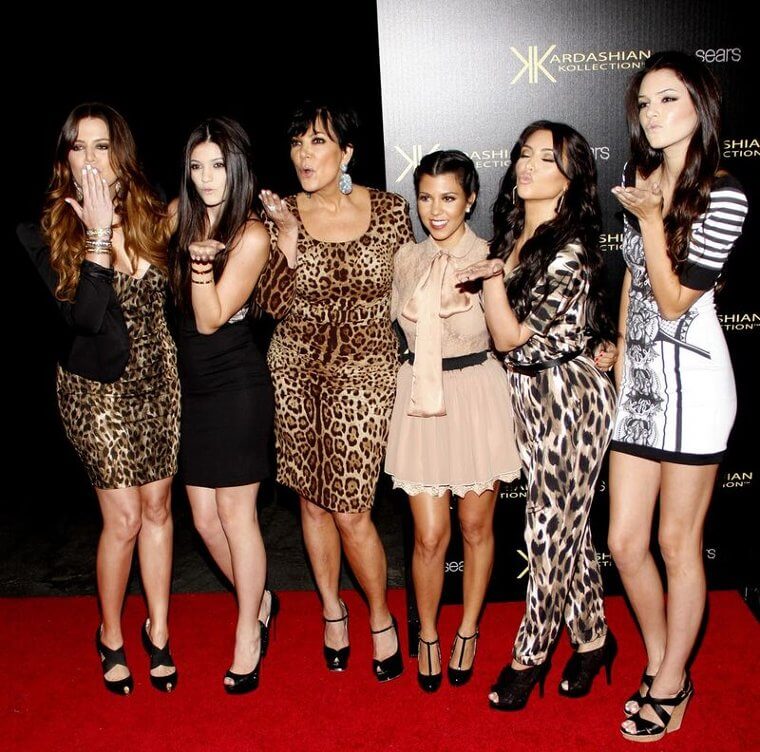 Kris Jenner has been married twice and has six children. She was married to Robert Kardashian from 1978 to 1991. During their marriage, they had four children - Kourtney in 1979, Kim in 1980, Khloe in 1984, and Rob in 1987. She married Bruce Jenner in 1991 and they divorced in 2015. During their long marriage, the couple had daughters Kendall in 1995 and Kylie in 1997.
James Van Der Beek - 5 Kids
James Van Der Beek is mostly known for his role as Dawson Leery on the CW's Dawson's Creek. Other than a few film roles, the actor has mostly had television appearances and has appeared on How I Met Your Mother, One Tree Hill, Pose, and Don't Trust the B-----in Apartment 23.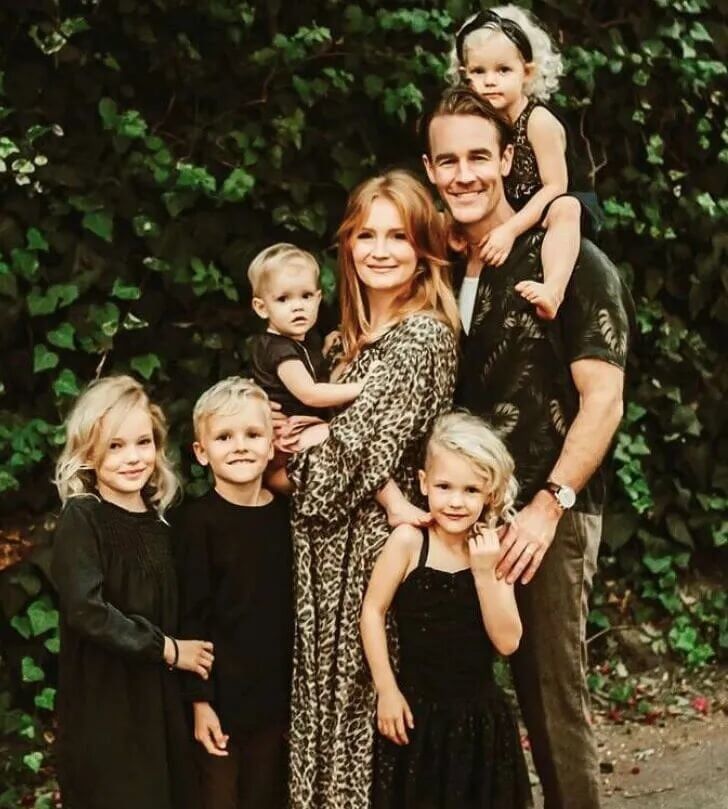 What you may not know about the actor is that he and his wife Kimberly Brook whom he married in 2010, have five children. Their children Olivia, Joshua, Annabel, Emelia, and Gwendolyn were all born between 2010 and 2018. His wife suffered a miscarriage in 2019.
Taylor Hanson - 7 Kids
American musician Taylor Hanson became famous when he formed a band in 1992 with his brothers Isaac and Zac. The band, aptly named Hanson made a string of hits in the late '90s and early '2000s. In 2002 Taylor married Natalie Anne Bryant when he was just 19.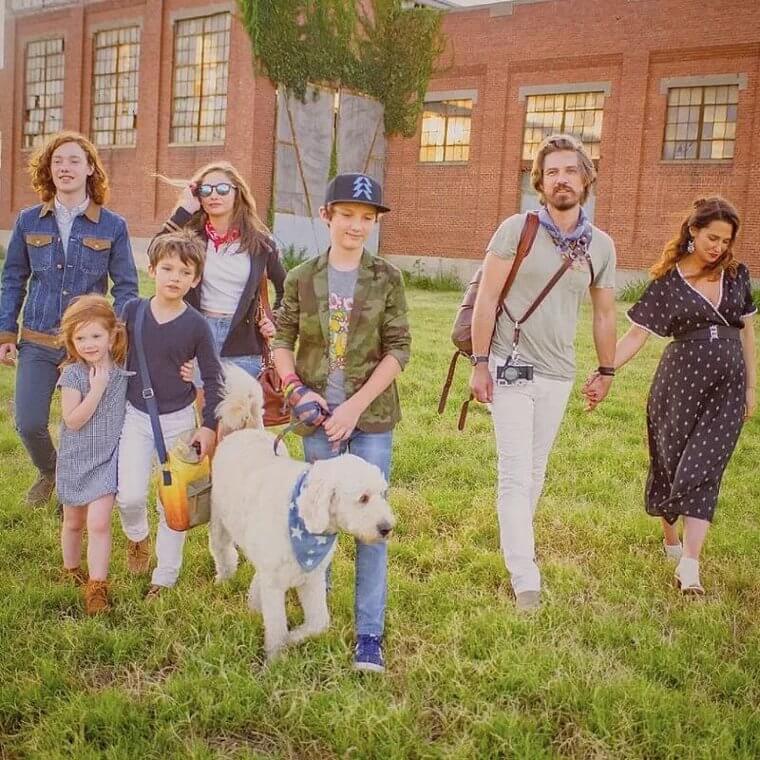 The couple welcomed their first child in 2002, and have since had six more children, including a daughter in 2020. So I guess Taylor Hanson is all grown up now with his own family of seven kids and a wife of 19 years.

Tori Spelling - 5 Kids
Tori Spelling, the star of '90s teen drama Beverly Hills 9021 hasn't done a whole lot of series acting since her stint on 90210 ended. She has made a number of made-for-television films though, and she's been raising a rather large family.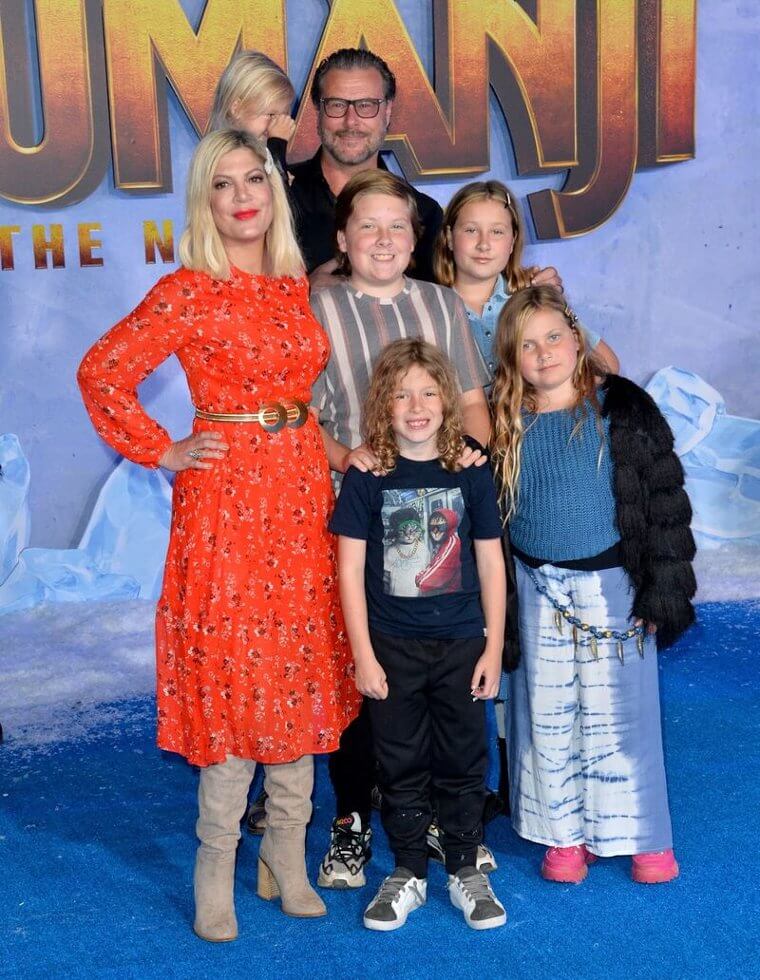 In 2006 Spelling married actor Dean McDermott. The couple had both been married to other people when they met. McDermott has a son, Jack from his previous marriage to Mary Jo Eustace. Spelling and McDermott have five children together ranging in ages between four and 14. Despite cheating scandals over the years, the couple is still together.
Angelina Jolie and Brad Pitt - 6 Kids
Angelina Jolie and Brad Pitt are both massive stars and have appeared in scores of award-winning films. Though the famous couple has since divorced, the story of their massive family is still endearing to this day. Between them, they have six children.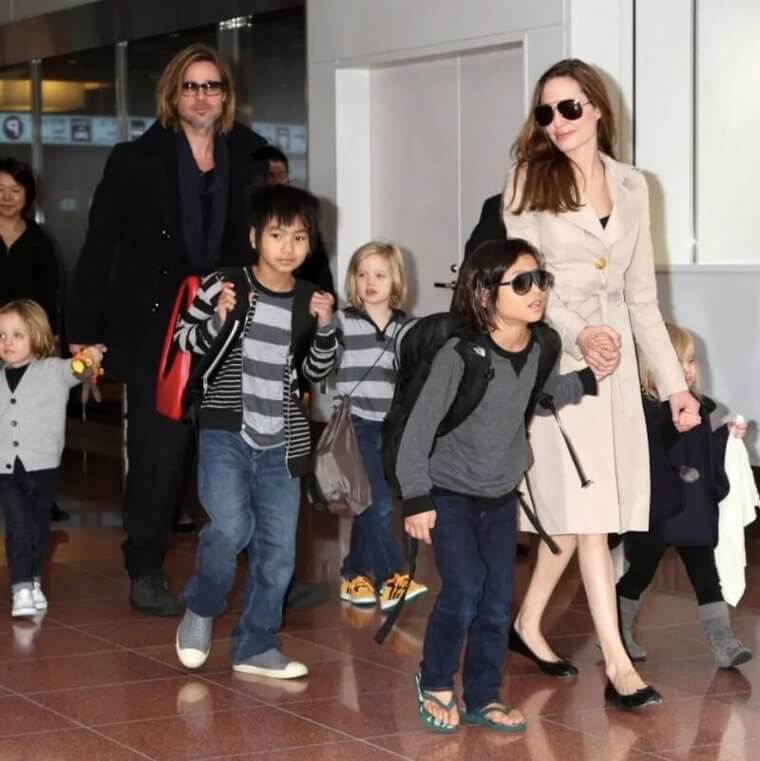 Angelina Jolie adopted her first son Maddox (who some say shares a resemblance to her despite their differing heritages - maybe it's the personal affect!) from Cambodia in 2003 when she was still married to Billy Bob Thornton. She then adopted Zahara from Ethiopia in 2005 whilst in a relationship with Brad Pitt. Pitt legally adopted both Zahara and Maddox. The couple then gave birth to their first biological child Shiloh in 2006 and adopted Pax from Vietnam in 2007. In 2008 Angelina gave birth to twins Knox and Vivienne, and the couple divorced in 2019.

Lauryn Hill - 6 Kids
Lauryn Hill is a six-time Grammy award winner whose debut album The Miseducation of Lauryn Hill became one of the best-selling albums of all time in 1998. She is also a member of Fugees, an early '90s hip-hop group. Lauryn Hill has six children.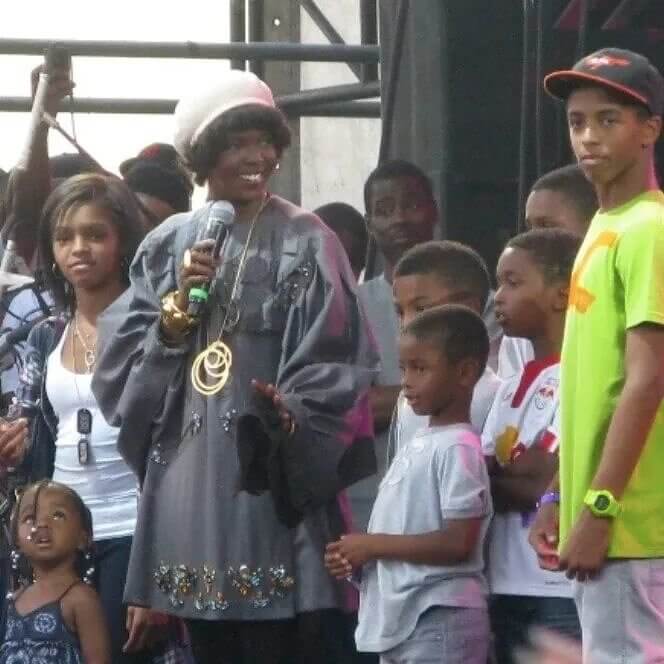 The singer-songwriter was in a long-term relationship with Rohan Marley (son of reggae star Bob Marley) and the couple had five children until they split in 2009. In 2011 Lauryn Hill gave birth to her sixth child whose father's identity is not known to the public.
Sean Combs - 6 Kids
Sean Combs, also known as Diddy is a hip-hop legend. The American rapper, singer, record producer, and executive founded Bad Boy Records in 1993 and is responsible for shaping the careers of artists Usher, Mary J.Blige, and The Notorious B.I.G. Combs has six children.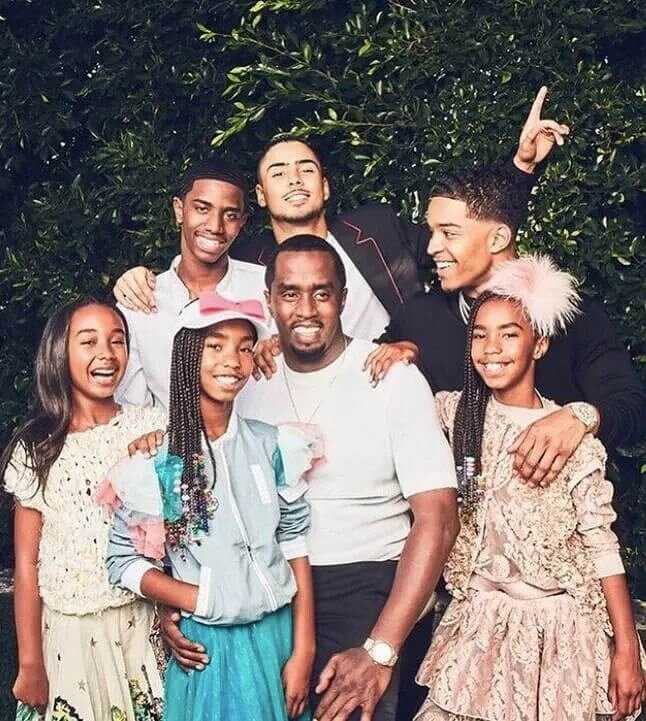 His eldest son Justin is the result of a relationship with Misa Hylton-Brim in 1993. He was involved with the late Kimberly Porter between 1994 and 2007, and the couple shares three children, with Combs legally adopting Porter's son Quincy from a previous relationship. He also has a daughter named Chance with Sarah Chapman, born five months before the birth of his twins with Porter.
Steven Spielberg - 7 Kids
The famous director Steven Spielberg is known for his work on the big-budget films Jaws, Jurassic Park, Saving Private Ryan. E.T. the Extra-Terrestrial and the Indiana Jones franchise to name a few. He is however not really known for having seven children.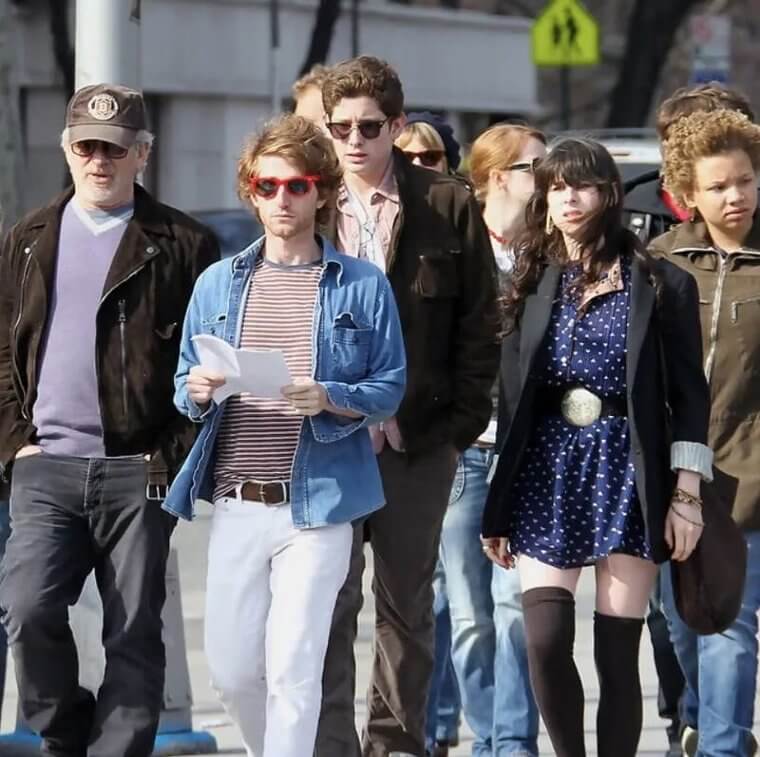 Spielberg was married to actress Amy Irving between 1985 and 1989. The couple had a son in 1985 and divorced in 1989 involving one of the most expensive settlements in history. He married another actress Kate Capshaw in 1991, and they have three biological children together, as well as an adopted daughter. The couple also shares two other children together - a daughter from Capshaw's first marriage and a son she adopted before meeting Spielberg.
Clint Eastwood - 8 Kids
To this day the legendary American actor, writer, and director, known for the Dirty Harry films, the Spaghetti western films he made with filmmaker Sergio Leone, and for directing and acting in Million Dollar Baby, has yet to confirm the exact number of children he has fathered.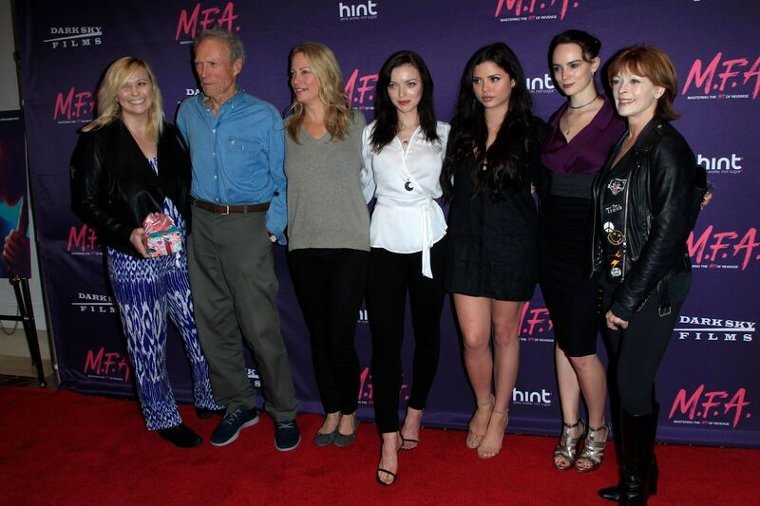 What we do know is that he had a daughter named Laurie with an unknown woman just before meeting his future wife Maggie Johnson with whom he had two children before divorcing in 1984. During his marriage to Johnson, he had an affair with stuntwoman Roxanne Tunis resulting in a daughter in 1964. In 1986 and 1988 Eastwood had two children with Jacelyn Reeves, a flight attendant. in 1993 he had a daughter with actress Frances Fisher, and in 1996 he married news anchor Dina Ruiz. The couple had a daughter in 1996 and divorced in 2013.
Dr. Dre - 6 Kids
Andre Romelle Young, known as Dr.Dre to the public, is an American rapper, record producer, and audio engineer. He was the president of Death Row Records and has collaborated with fellow musicians Snoop Dogg, Eminem, 50 Cent, 2Pac, and Xzibit to name a few. He has six children.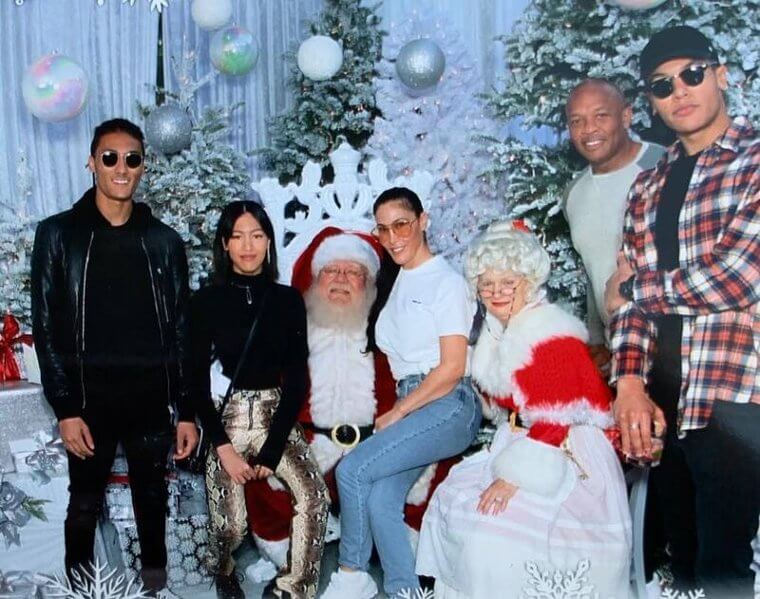 Dre and girlfriend Cassandra Joy Greene were teenagers in 1981 when they had their first son Curtis, who was brought up by Greene. He went on to have three more children with Lisa Johnson. In 1988 with Jenita Porter he had another son, Andre. Andre died at the age of 20 after a heroin overdose. In 1991 he had a son, Marcel, with singer Michel'le. He married Nicole in 1996, and the couple had two children, Truice and Truly. They divorced in 2020.
Eddie Murphy - 10 Kids
It probably comes as a complete surprise that comedian Eddie Murphy has 10 children. The actor is known for his hilarious roles in films such as Trading Places, The Nutty Professor, Holy Man, Beverly Hills Cops, and for his voice work in the massively popular Shrek films.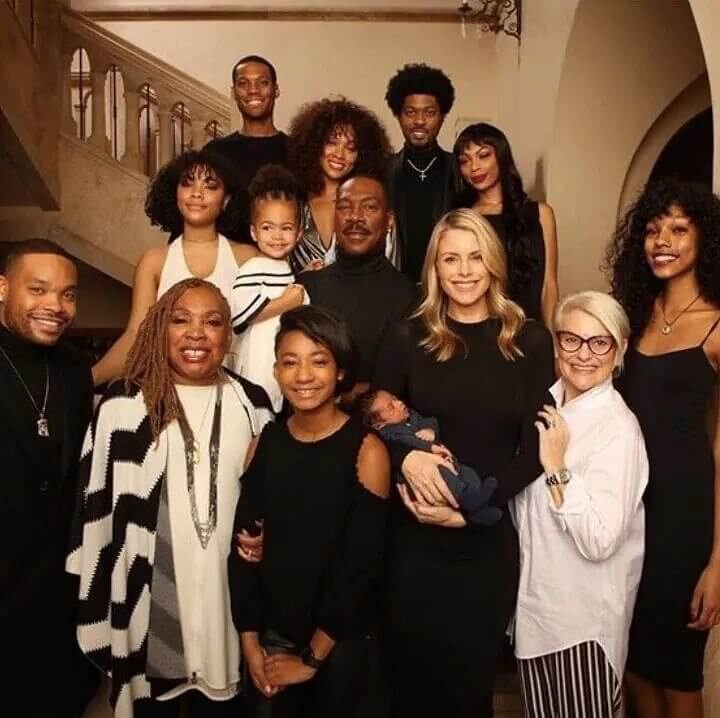 His first two children were born in 1989 and 1990, the result of relationships with Paulette McNeely and Tamara Hood respectively. He then married Nicole Mitchell in 1993, and the couple had five children together during their 13 years of marriage. In 2006 after a brief fling with Spice Girl Melanie 'Mel B' Brown their daughter Angel was born. In 2016 and 2018 he had two more children with Australian model and girlfriend Paige Butcher.
Madonna - 6 Kids
Madonna is referred to as the 'Queen of Pop', and for a very good reason. She has dominated the music charts for decades and is famous for her incredible ability to reinvent herself over and over again. Madonna is also a mother of six children.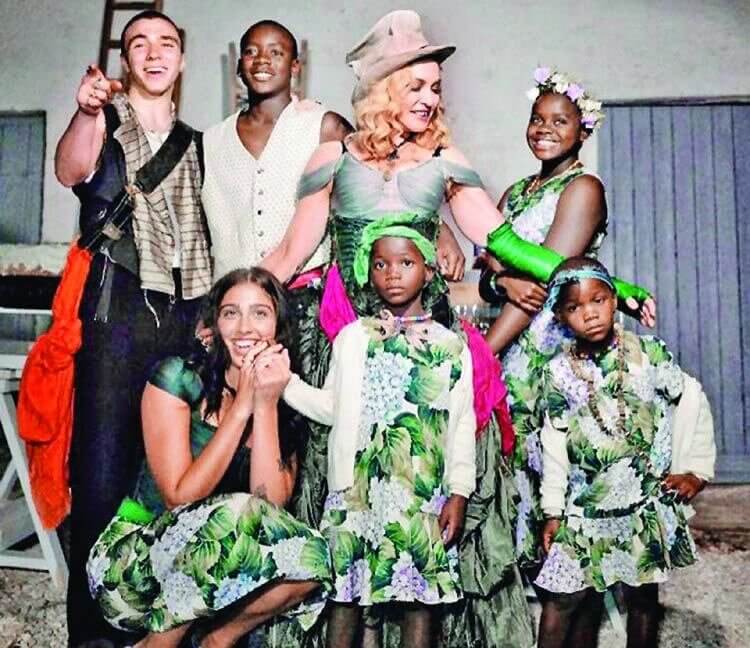 Her eldest daughter Lourdes was born in 1996 and whose father is Carlos Leon, a Cuban dancer and Madonna's boyfriend at the time. Her second child, a son, Rocco, was born in 2000 during her marriage to film director Guy Richie. During her marriage to Richie, the couple adopted David Banda from Malawi in 2006. Following her divorce in 2008 the singer adopted Mercy James in 2009 and the twins Estere and Stella in 2017.
Steve Harvey - 7 Kids
Steve Harvey is an American TV and radio presenter, actor, and former stand-up comedian who is most recognized as the host of the Steve Harvey Morning Show, Family Feud, and Celebrity Family Feud. He also happens to have a huge family and has been married three times.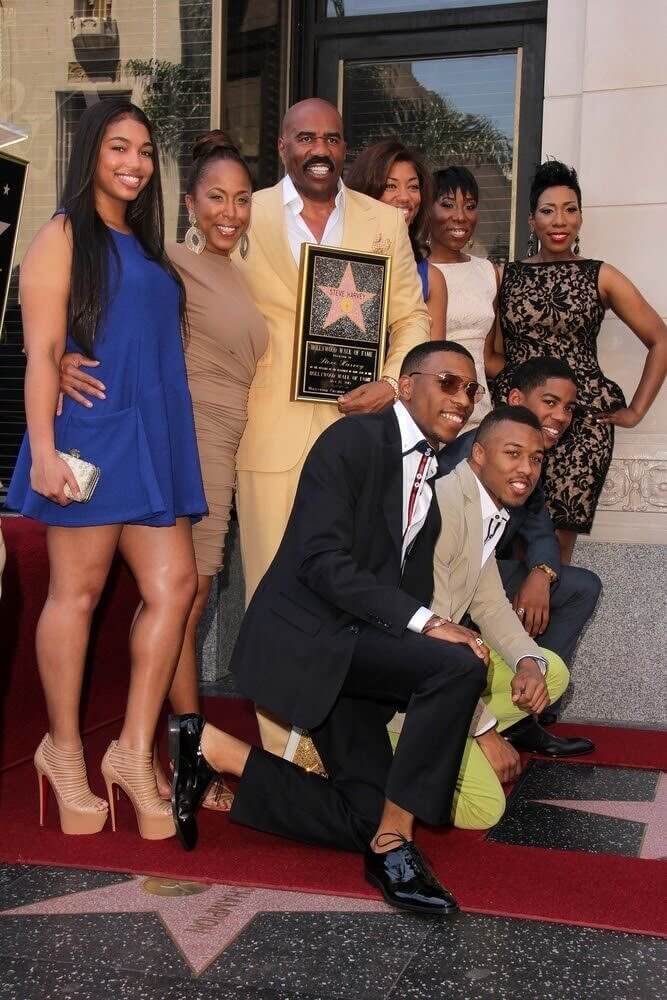 He married his first wife Marcia Harvey in 1981 and the couple had twins Karli and Brandy in 1982. In 1991 they had a son Broderick and divorced in 1994. Steve married his second wife Mary Shackelford in 1996 and the couple had a son named Wynton before their divorce in 2005. In 2007 he married his current wife Marjorie Bridges who had three children from a previous relationship, and all of whom Harvey adopted.
Mia Farrow - 14 Kids
This incredibly talented and influential American actress has appeared in over 50 films and has received multiple nominations and awards for her acting over the decades. Most notably she appeared in 13 of Woody Allen's films during the 12 years they were partners. With Allen, she has one biological child and the couple also adopted two during their time together.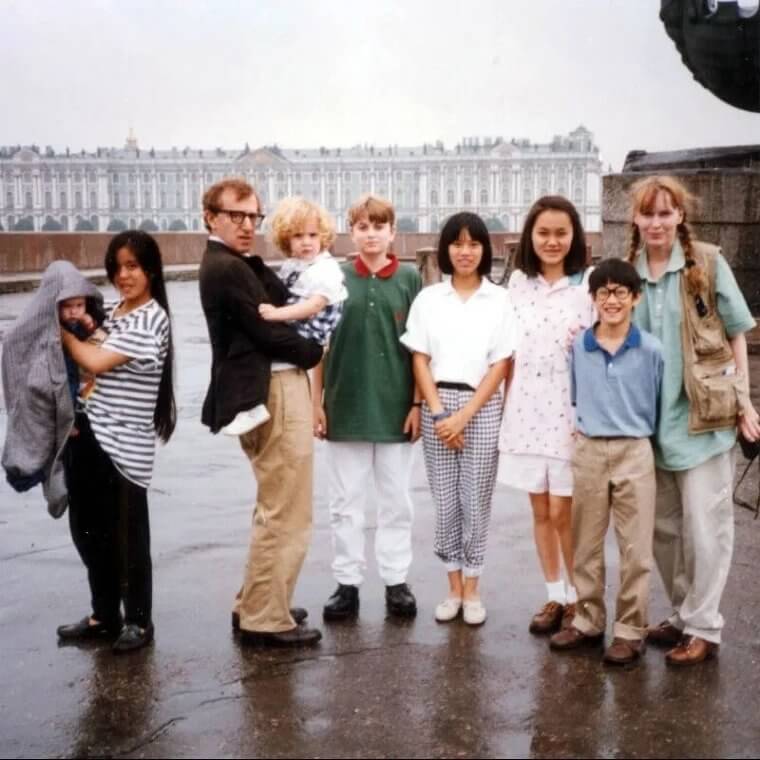 She was married to Andre Previn from 1970 to 1979 with whom three of her children were biological and three were adopted. After her relationship with Woody Allen ended in 1992 Farrow adopted five more children until 1995. There are a lot of controversies surrounding the Farrow clan.
Kate Gosselin - 8 Kids
In 1999 Kate married Jon Gosselin and in 2000 the couple welcomed a set of twins into the world - Cara Nicole and Madelyn Kate. She would achieve international recognition in 2004 when she gave birth to sextuplets Alexis Faith, Collin Thomas, Hannah Joy, Aedan Jonathan, Leah Hope, and Joel Kevin.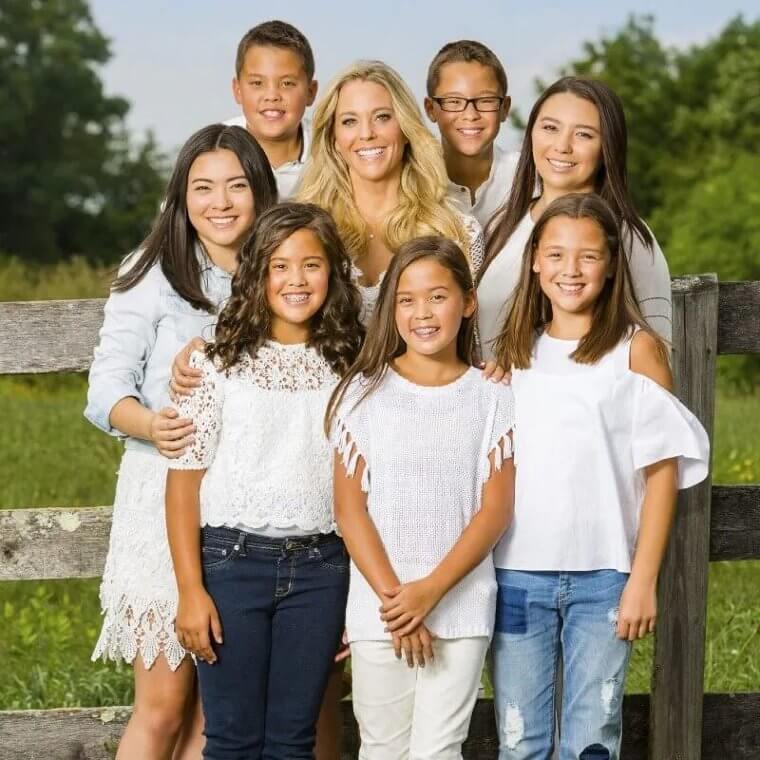 The family became famous after their reality show Jon & Kate Plus 8 aired in 2007. The show followed the lives of the massive family. After the couple's divorce in 2009, the show was renamed Kate Plus 8 and focused on Kate's life as a divorced mother of eight children.
Alec Baldwin - 7 Kids
Alec Baldwin is a member of one of the most famous Hollywood families. He is the eldest of four acting brothers and is also a writer and film producer. He has appeared in the films Beetlejuice, The Hunt for Red October, Working Girl, and The Aviator.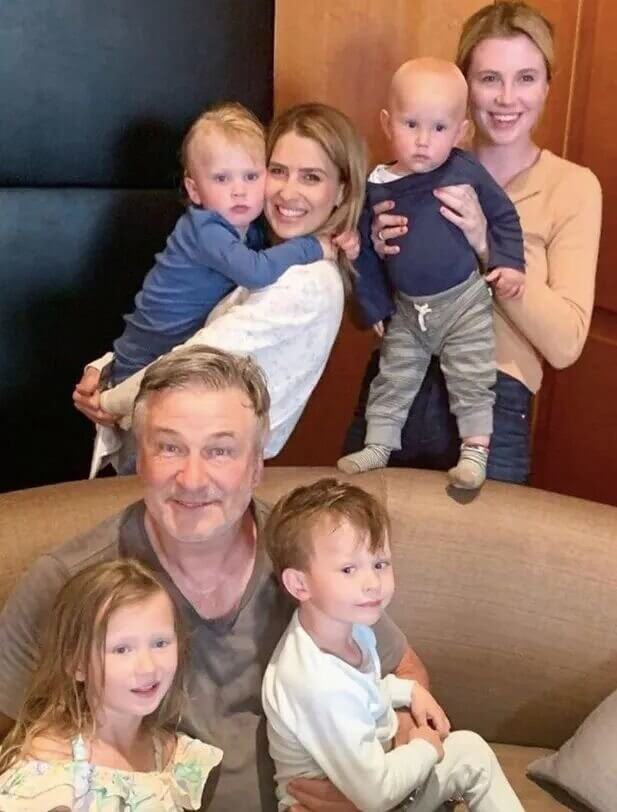 Baldwin married actress Kim Basinger in 1993. The couple had a daughter Ireland born in 1995. They divorced in 2002. In 2012 he married yoga instructor Hilaria Thomas, and the couple has since had six children together.
Robert De Niro - 6 Kids
Robert De Niro is an incredibly talented actor, director, and producer who is known for collaborating with director Martin Scorcese in the films Mean Streets, Taxi Driver, Raging Bull, Goodfellas, and Casino to name a few. Mostly known for his dramatic roles, he has since taken up comedy in his later years. He has six children with three different women.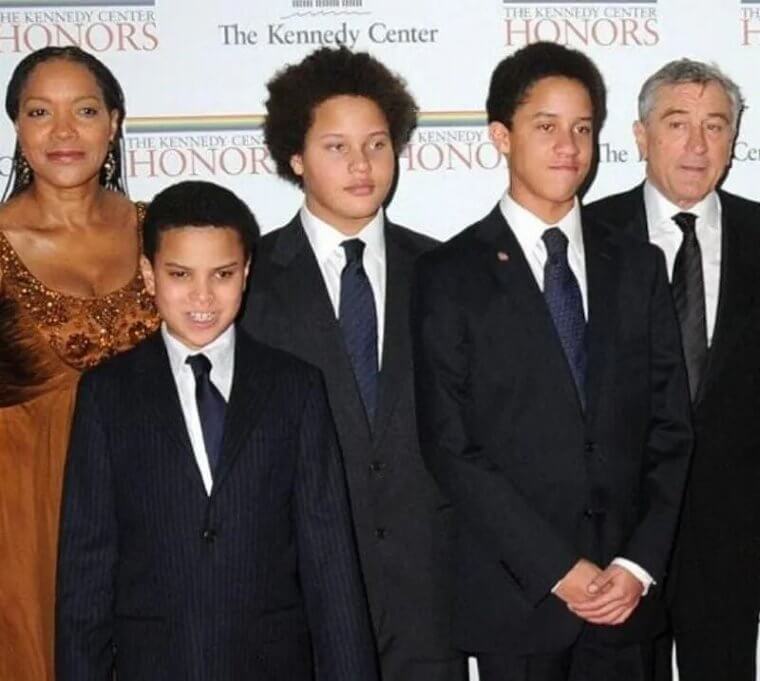 His first marriage to Diahnne Abbott in 1976 produced their son Raphael, and De Niro also adopted Abbott's daughter Drena from a previous marriage. During his relationship with model Toukie Smith, the couple had twin sons Julian and Aaron in 1995. His second marriage to Grace Hightower produced a son Elliot in 1998, and a daughter Helen in 2011.

Jude Law - 6 Kids
The English actor has appeared in a number of critically acclaimed films over the years. He has also won many awards most notably for The Talented Mr.Ripley and Cold Mountain. The actor has been married twice and has six children.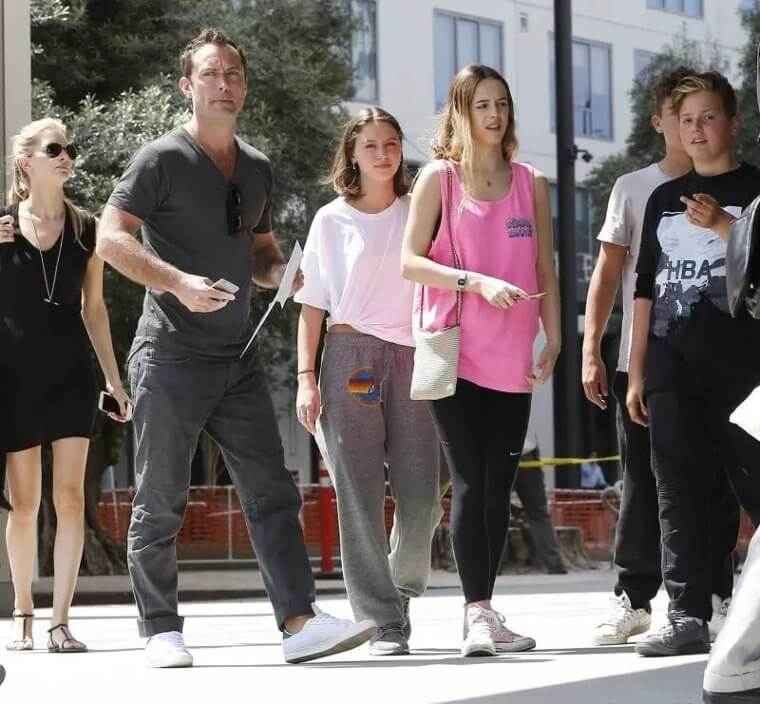 During his marriage to actress and fashion designer Sadie Frost from 1997 to 2003 the couple had three children - Rafferty, Iris and Rudy. In 2009 he had a daughter with Samantha Burke with whom he had a brief relationship with. In 2015 he went on to have another child with Catherine Harding. He married Phillipa Coan in 2019 who gave birth to their son in 2020.
Marie Osmond - 8 Kids
Marie Osmond is an American singer, performer, and talk show host who is a member of the very famous show business family The Osmonds. Together with her brother Donny Osmond the siblings co-hosted the very popular variety show, Donnie and Marie from 1976 to 1979.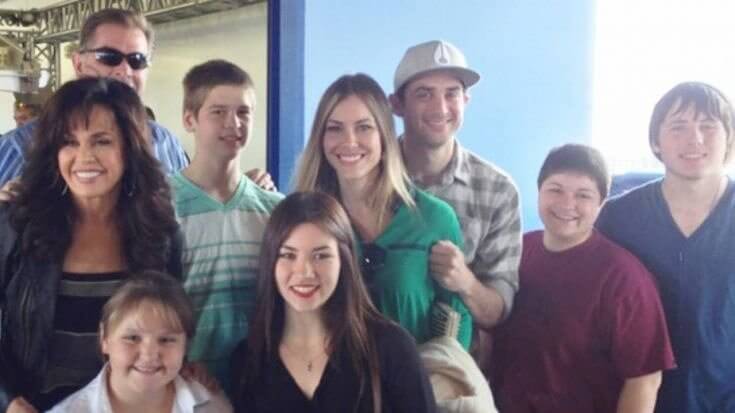 During her marriage to Stephen Craig from 1982 to 1985, she had her first child, a son Stephen James Craig. They divorced in 1985 but would remarry in 2011. Her second marriage in 1986 to Brian Blosil produced two more children, Matthew and Rachel. The couple adopted five children - Jessica, Michael, Brandon, Brianna, and Abigail before their divorce in 2007.

Mike Tyson - 7 Kids
Mike Tyson is an American former professional boxer renowned for his success in the competitive sport. He's held several boxing titles over the years and has been inducted into the International Boxing Hall of Fame. He has been married three times and has seven children.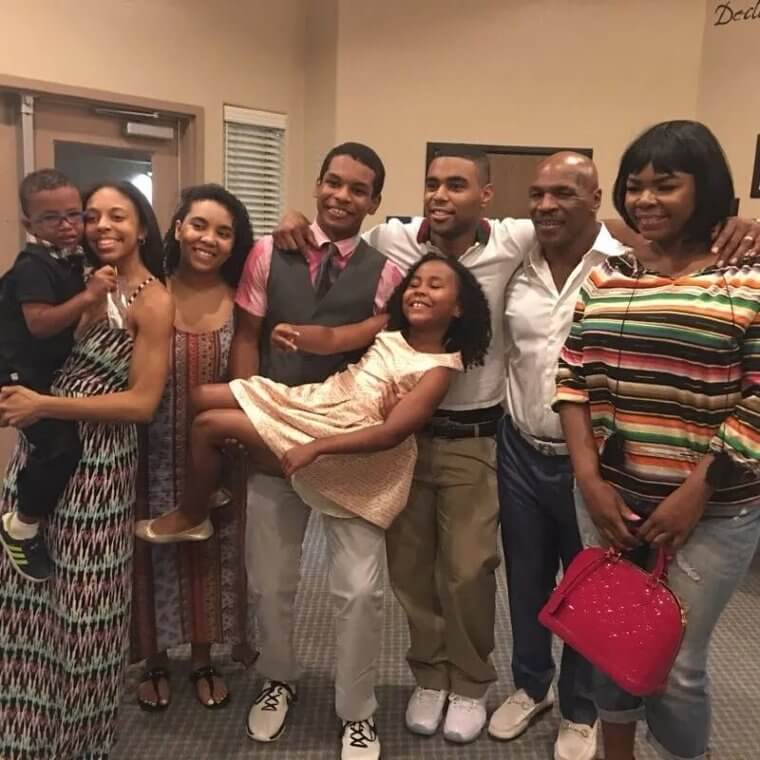 He had no children during his first marriage to actress Robin Givens but did have two children in 1996 and 1997 with his second wife Monica Turner. He had a previous child, his first, with Kimberly Scarborough in 1990. Whilst dating Sol Xochitl two more children were born in 2002 and 2005. His current marriage to Lakiha Spicer has produced two children
Shaq - 5 Kids
Shaquille O'Neal, most commonly referred to as simply 'Shaq' is an American former basketball player. He is now a sports analyst for the TV show Inside the NBA. Shaq has also released a few rap albums, and has been known to DJ, and acted in the film Kazaam.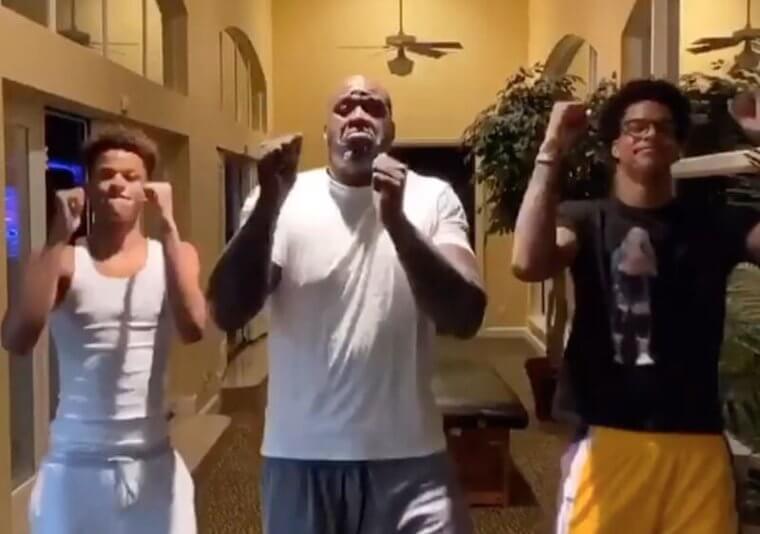 O'Neill married Shaunie Nelson in 2002. The couple had four children: Shareef, Amirah, Shaqir, and Me'arah. They divorced in 2009. He also has a daughter, Taahirah, from a previous relationship with Arnetta Yardborough.
Kim Kardashian - 4 Kids
Kim Kardashian is pretty much known to everyone with access to the internet. She is an American socialite, businesswoman and TV personality who became famous for a sex tape in 2002, and then along with her entire family became household names with their reality show Keeping Up With The Kardashians from 2007 to 2021.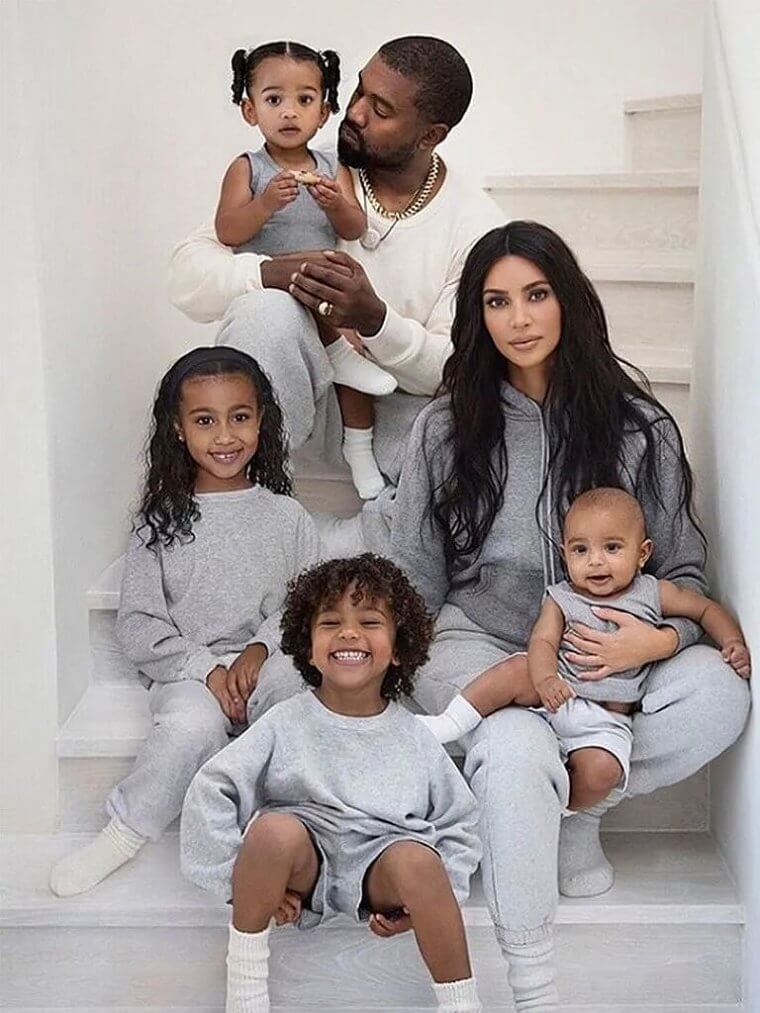 Kim has been married three times, most recently to Kanye West whom she is in the middle of divorce proceedings with. The couple have four children. Daughter North was born in 2013 and son Saint in 2015. Due to health reasons the couple's youngest children Chicago born in 2018 and Psalm in 2019 were both born via surrogacy.
Chris O'Donnell - 5 Kids
Chris O'Donnell is an American actor who has appeared in Scent of a Woman, Batman Forever, Batman and Robin, Mad Love, The Chamber, and The Three Muskateers. He currently stars on NCIS: Los Angeles as NCIS Special Agent G.Callen, a role he also played in a crossover episode of Hawaii Five-O and American Dad!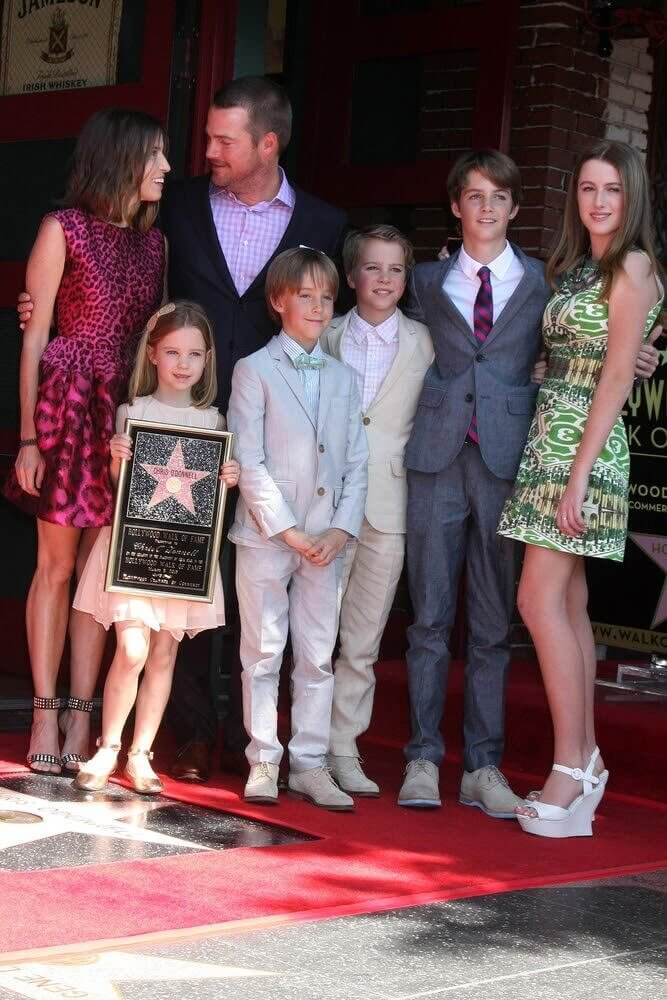 O'Donnell married Caroline Fentress in 1997. The couple has been married since and has five children - Lilly Anne, Christopher, Charles McHugh, Finley, and Maeve Frances. He and his wife are practicing Catholics.
Donny Osmond - 5 Kids
Donny Osmond is a singer, actor and former teen idol. Along with four of his older brothers, they formed the musical group The Osmonds. He also co-hosted the extremely popular Donny & Marie with his sister, who is also on this list.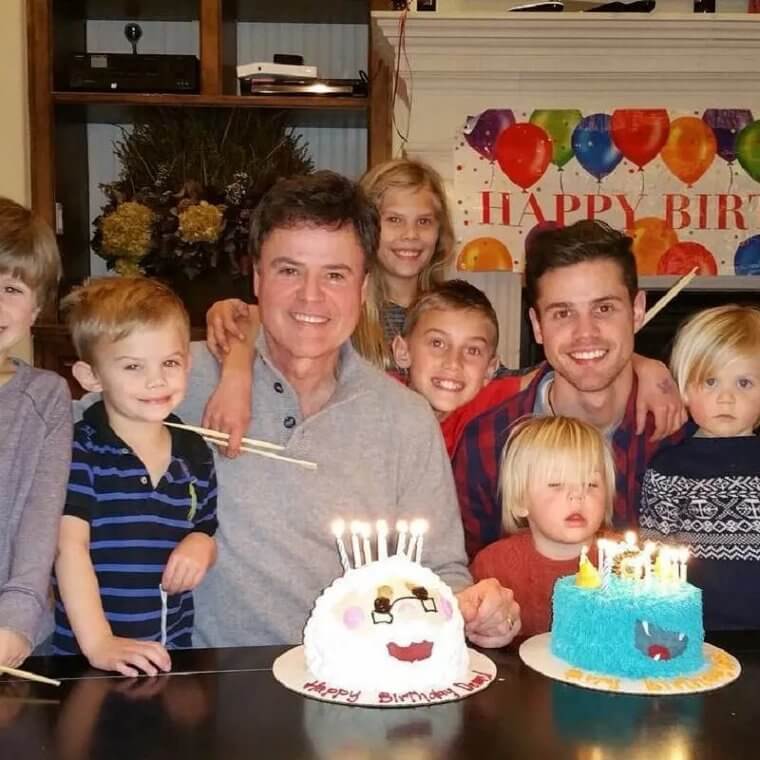 In 1978 Donny married his wife Debra Glenn. The couple has five sons together - Don, Jeremy, Brandon, Christopher, and Joshua. They currently have 12 grandchildren. Donny Osmond has been in the news lately for opposing same-sex marriage and criticizing other musicians for using profanity in their songs.
Kirk Cameron - 6 Kids
Kirk Cameron is an American actor known mostly for his role on the ABC TV show Growing Pains between 1985 to 1992. He was nominated for two Golden Globe Awards for this role, and also made a few film appearances during his career as a child actor. His sister is Candace Cameron Bure, a fellow actor who became a household name on the sitcom Full House.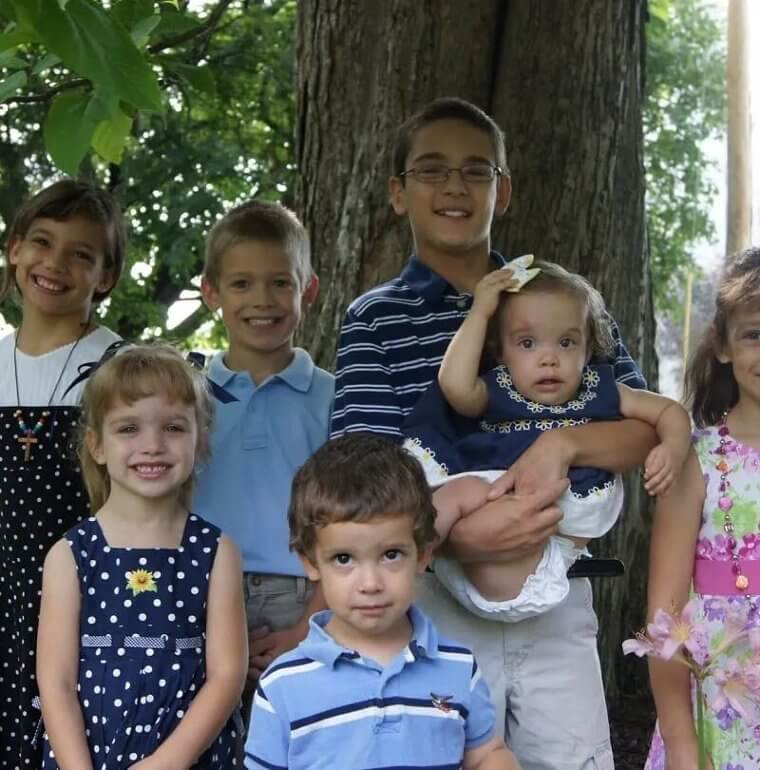 Cameron is an Evangelical Christian and married his wife fellow Growing Pains actress Chelsea Noble in 1991. The couple has been married for almost thirty years and has six children, four of whom are adopted - Jack, Isabella, Anna, Luke, Olivia, and James.
Joseph Simmons - 7 Kids
Joseph Ward Simmons, an American rapper, singer, DJ, and minister, is probably more well-known for co-founding Run-DMC, the hip-hop group that brought the music world "It's Tricky", and the brilliant cover of Aerosmith's "Walk this Way". Simmons had a reality show on MTV called Rev's House.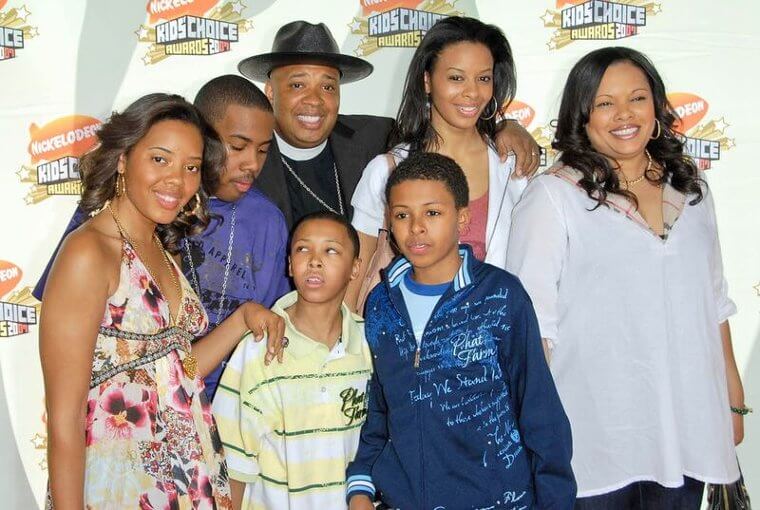 His first marriage in 1983 to Valerie Vaughn produced three children - Vanessa, Angela, and Josepeh. He married Justine Jones in 1994 and the couple also had three children: Daniel, Russell, and Victoria. Victoria passed away shortly after she was born. The family soon adopted Miley Simmons after that.

Ginuwine - 9 Kids
Elgin Baylor Lumpkin better known as Ginuwine is an American singer, songwriter, and dancer known for being one of R&B's top artists and for his first four albums having massive commercial success in the late '90s and early '2000s.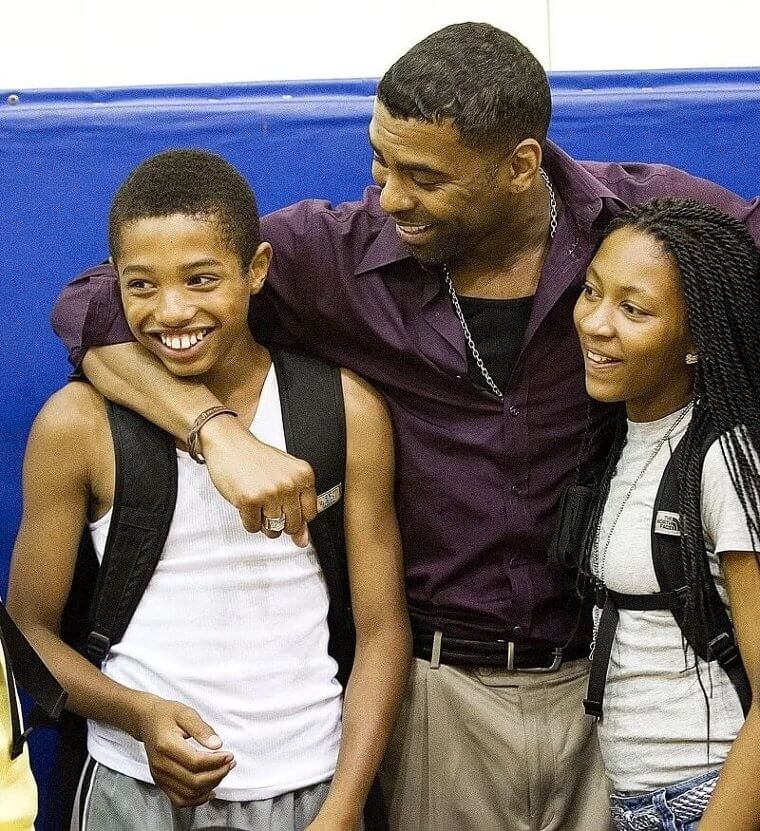 Ginuwine married Tonya M.Johnston, also known as Sole in 2003. The couple had two children together - Story and Dream Sarae. He also has a son, Elgin who was born in 1991 from a previous relationship. In 2009 he admitted to having nine children altogether. Four of these children are from three different women, named Ramonda, Tiffany, Ginel, and Tahjair. He also has two step-children, Dejan and Cypress, who are Sole's from a previous relationship.
Mel Gibson - 9 Kids
Mel Gibson the American actor, screenwriter, producer, and director appeared in big-budget movies like the Mad Max franchise, Braveheart, the Lethal Weapon series, the romantic comedy What Women Want, and directed and produced the Biblical drama The Passion of the Christ. He has nine children.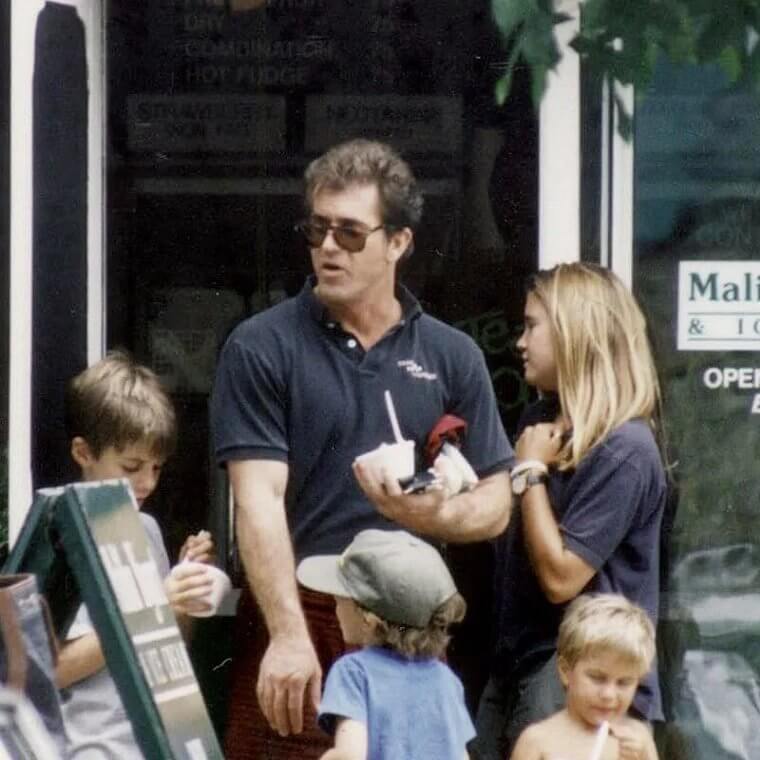 During his first marriage to Robyn Moore, the couple had seven children - Hannah, the twins Edward and Christian, William, Louis, Milo, and Thomas. They were married in 1980 and divorced in 2011, however, Gibson had also been involved with Oksana Grigorieva between 2009 and 2010 and they too had a daughter Lucia born in 2009. Gibson has been in a relationship with Rosalind Ross since 2014 and the couple has a son Lars born in 2017.

Charlie Sheen - 5 Kids
Charlie Sheen the American actor comes from a family of actors and people in the entertainment industry. His father is Martin Sheen of Apocalypse Now fame, and his brother Emilio Estevez starred in a string of hits in the '80s including The Breakfast Club and St.Elmo's Fire. Charlie himself has had roles in Platoon, Young Guns, and on CBS's Two and a Half Men.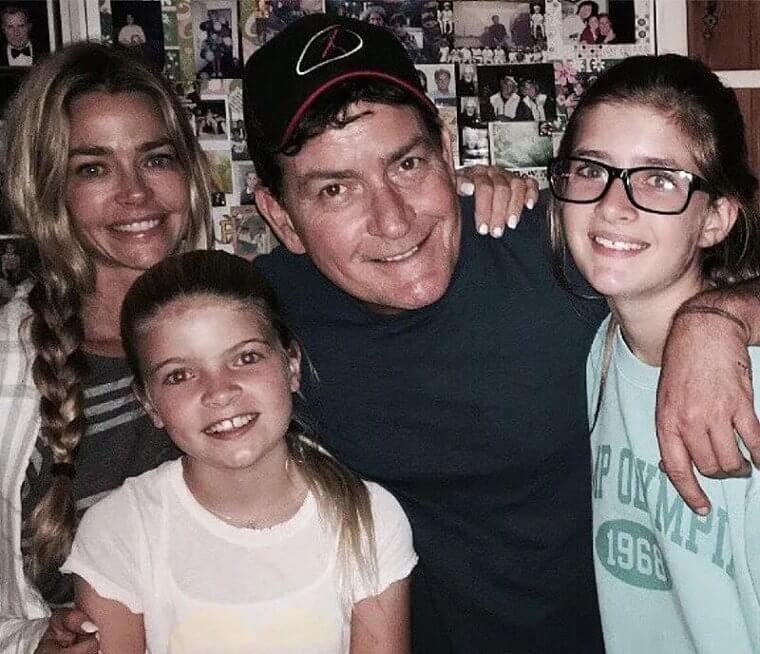 He had a daughter, Cassandra, in 1984 with Paula Profit. In 2002 he married his second wife actress Denise Richards with whom he had two children, Sam and Lola Rose. The couple divorced in 2006. In 2008 Sheen married Brooke Mueller and had twins Max and Bob in 2009. The couple divorced in 2011, with the twins going into the custody of Mueller's parents after she was repeatedly found unfit due to drug use.
Stevie Wonder - 9 Kids
Stevie Wonder is an American singer, songwriter, and record producer who has been blind since birth. This talented musician is considered a 'musical genius and performs R&B, jazz, funk, gospel, and pop. He has been married three times and has nine children.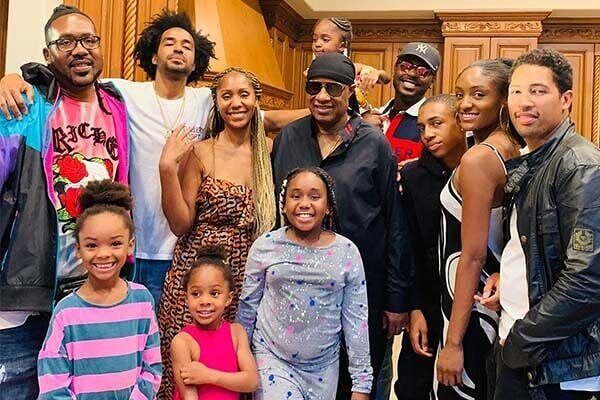 Wonder has two children with Yolanda Simmons, Aisha born in 1975, and Keita in 1977. In 1983 the singer had a son, Mumtaz with Melody McCulley. He also has two children Sophia and Kwame with an unidentified woman. With his second wife Kai Millard Morris, Wonder has two sons, Kailand and Mandla. His eighth and ninth children were with his third wife Tomeeka Bracy.

DMX - 15 Kids
The late rapper Earl Simmons, known by his stage name DMX, made a massive name for himself in the music industry until his death earlier this year. The songwriter and performer also appeared in several films such as Exit Wounds, Romeo Must Die, and Cradle 2 the Grave.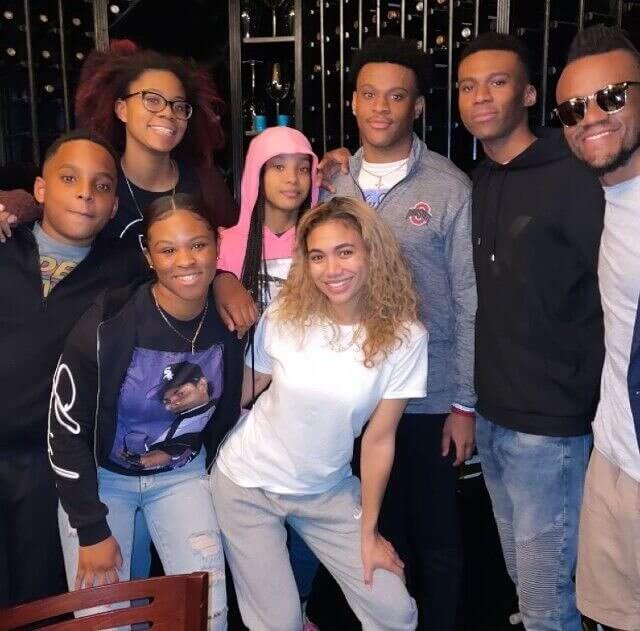 DMX was married to Tashera Simmons from 1999 to 2014 and the couple had four children. The 11-year marriage apparently ended due to the rapper's numerous affairs. He was the father of 15 children from nine different women.
Charlie Chaplin - 11 Kids
Charlie Chaplin was an English comedian, actor, filmmaker and composer who worked during the silent film era. He rose to fame after his role in The Tramp, and then went on to star in The Gold Rush, City Lights, The Circus and Modern Times. He was married four times, and fathered 11 children.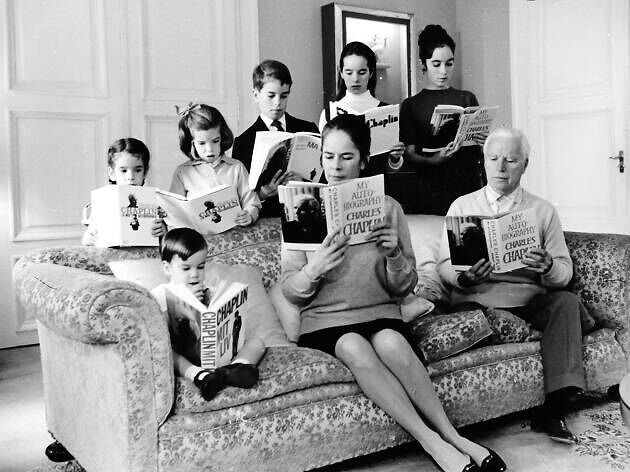 His first marriage to Mildred Harris produced a son, Norman,who unfortunately died three days after birth. His second marriage to Lita Grey produced two sons, Charles and Sydney. His fourth marriage to Oona O'Neill produced eight children - Geraldine, Michael, Josephine, Victoria, Eugene, Jane, Annette and Christopher.
Sting - 6 Kids
Gordon Matthew Thomas Sumner, also known as Sting is an English singer and actor who is known mostly for his solo music career, as well as for performing with his band The Police. Sting has been married twice and has six children.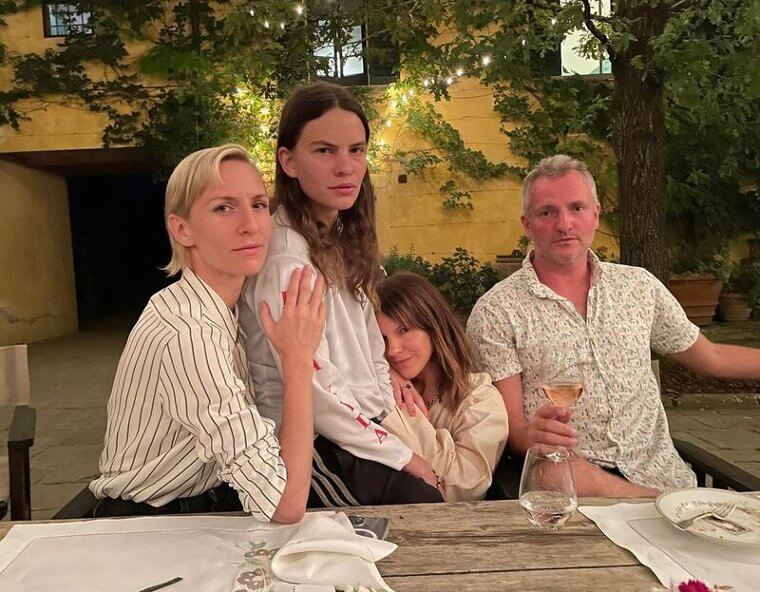 He married his first wife Frances Tomelty in 1976. They had two children Joesph and Kate before divorcing in 1984. He went on to marry actress Trudie Styler with whom Sting had an affair during his marriage to Frances. Trudie and Frances had been best friends. The couple eventually married in 1992, and have four children - Brigitte, Jak, Eliot, and Giacomo. Sting and his wife remain married.
Master P - 9 Kids
Percy Robert Miller, otherwise known as Master P, is an American rapper, actor, producer, and a former basketball player for the Charlotte Hornets and the Toronto Raptors. He has nine children.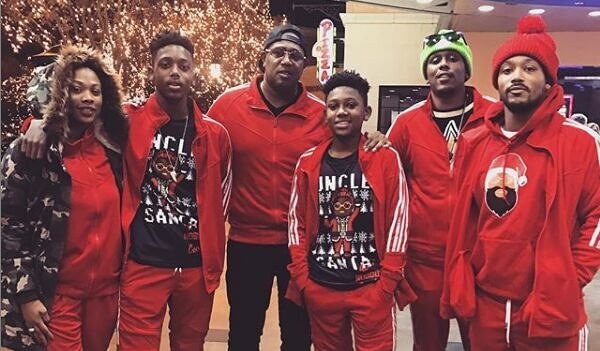 Master P married his ex-wife Sonja Miller in 1989. The couple divorced in 2014, but during their long marriage, they had seven children - Percy 'Romeo', Vercy 'Young V', Hercy, Mercy, Tytana, Inty, and Itali. The rapper also has two other children, Veno, who is actually his nephew who he raised after his brother's death, and Cymphonique whose mother has never been publicly revealed.

Willie Nelson - 7 Kids
Willie Nelson is an American singer, actor, activist, and country-music icon. He is also famous for his activism in legalizing marijuana, and in the use of biofuels. He has been married four times and has seven children.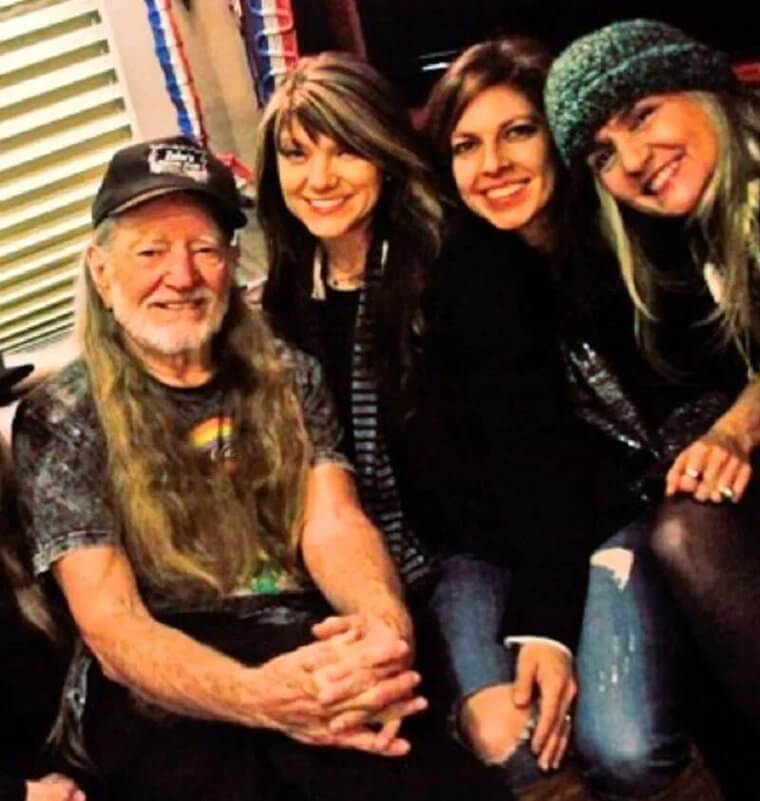 During his first marriage to Martha Matthews from 1952 to 1962, he fathered three children - Lana, Susie, and Willie Hugh. His second marriage to Shirley Collie ended after she found out Nelson had fathered a daughter, Paula with Connie Koepke. He later married Koepke and they had a second daughter, Amy Lee. He married his current wife Annie D'Angelo in 1991 and the couple has two sons Lukas and Jacob.

Arnold Schwarzenegger - 5 Kids
Arnold Schwarzenegger is an Austrian-American actor, former bodybuilder, and once served as the governor of California. His film roles include the Terminator franchise, Kindergarten Cop, Total Recall, and True Lies.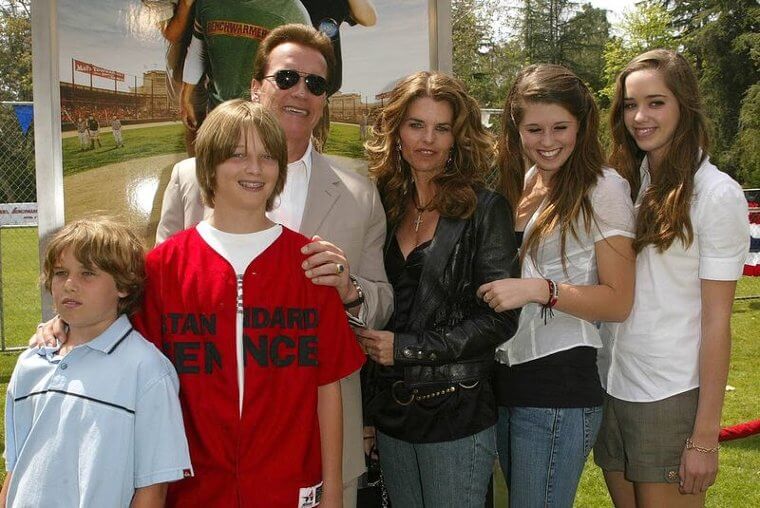 The actor and former athlete married Maria Shriver in 1986. They had four children: Katherine in 1989, Christina in 1991, Patrick in 1993, and Christopher in 1997. After 25 years of marriage, Schwarzenegger and Shriver divorced. During that time it became public news that the actor had also fathered a child with the family's housekeeper, Mildred Baena. Their son Joseph was born a few days before Christopher in 1997.
Rod Stewart - 8 Kids
Rod Stewart is a British rock star, singer, songwriter, and producer. His musical hits include "Maggie May", "Da Ya Think I'm Sexy" and "Sailing". He has a reputation for being a ladies' man and has eight children with five different women.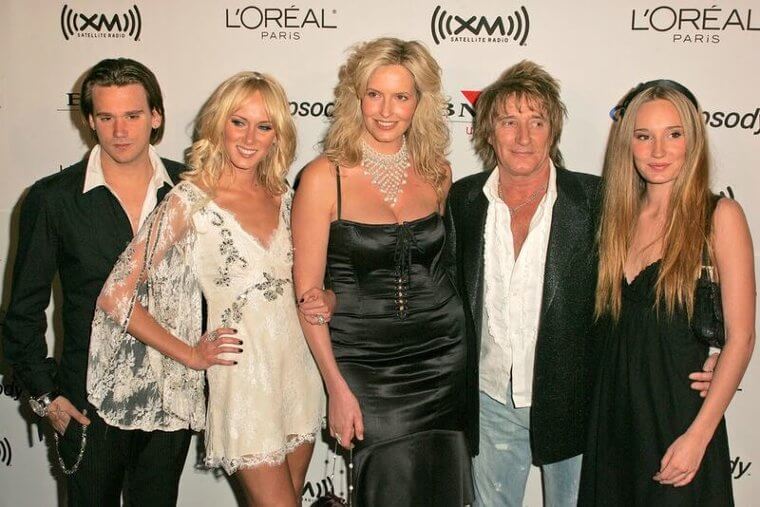 In 1963 Stewart had a daughter Sarah with Susannah Boffey, whom they put up for adoption. His first marriage to Alana Stewart produced two children, Kimberly and Sean. He had a daughter, Ruby, in 1987 with Kelly Emberg. During his second marriage to Rachel Hunter, the couple had two children Renee and Liam. He has two children with his third and current wife Penny Lancaster-Stewart.
Jamie Oliver - 5 Kids
Jamie Oliver is a British chef, restauranteur, and TV personality who became famous after his cooking show The Naked Chef aired in 1999. He has since gone on to appear in several TV shows and documentaries over the years including Oliver's Twist, Jamie's Kitchen, Jamie At Home, and Jamie's 30-Minute Meals. He has also written several recipe books.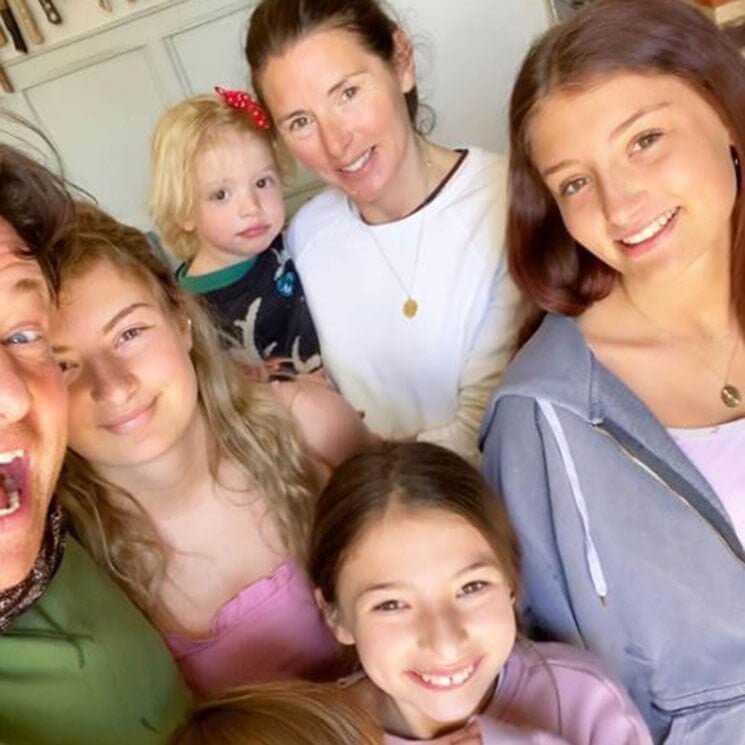 In 2000 he married Juliette 'Jools' Norton, and the couple has five children. Poppy Honey was born in 2002, Daisy Boo in 2003, Petal Blossom in 2009, Buddy Bear in 2010, and River Rocket in 2016. They are still married.
Mick Jagger - 8 Kids
Mick Jagger is a British singer, songwriter, and founding member of the rock & roll band The Rolling Stones. His career spans 60 years, and Jagger continues to make music and tour to this day. He's only been married and divorced once, but has had several high-profile relationships. He has eight children with five women.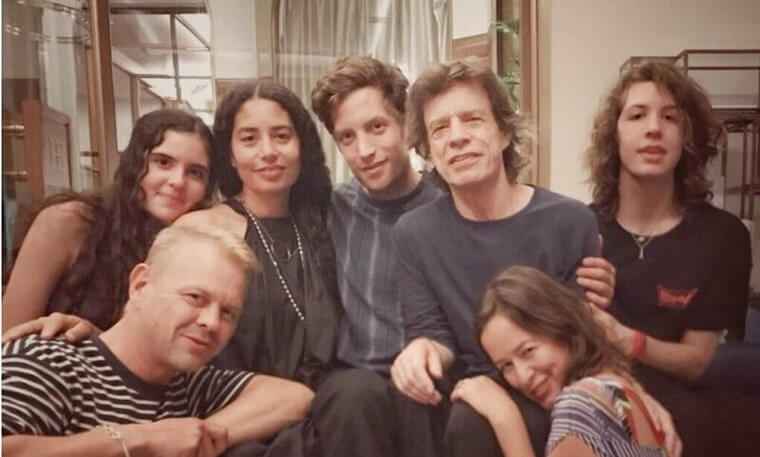 His first child Karis was born in 1970 following a relationship with Marsha Hunt. Bianca Jagger, his only wife, then gave birth to Jade Sheena in 1971. Jagger was in a relationship with Jerri Hall from 1977 to 1999, and they had four children together - Elizabeth, James, Georgia May, and Gabriel. Luciana Gimenez Morad gave birth to his seventh child Lucas in 1999, and his eighth child, Deveraux was born in 2016 to Melanie Hamrick.
Brian Wilson - 7 Kids
Brian Wilson is an American singer and songwriter who helped form The Beach Boys. He is considered a master at songwriting, and wrote the massive hits "Good Vibrations", "Help Me, Rhonda" and "I Get Around", and has been inducted into the Rock and Roll Hall of Fame, and the Songwriters Hall of Fame.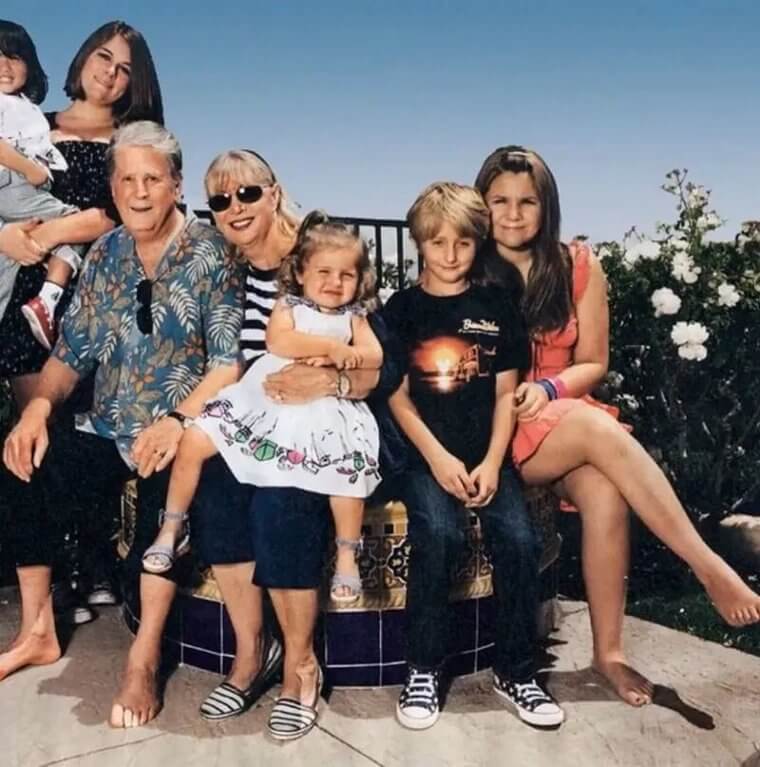 Wilson married Marilyn Rovell in 1964, and the couple had two daughters - Carnie and Wendy - who would later form the music group, Wilson Phillips - and divorced in 1979. He married Melinda Kae Ledbetter in 1995, and they adopted five children: Daria Rose in 1996, Delania Rae in 1998, Dylan in 2004, Dash in 2009, and Dakota Rose in 2010.
Cristiano Ronaldo - 4 Kids
Cristiano Ronaldo is a Portuguese professional footballer who has played for Manchester United, Real Madrid, and Juventus. He is considered to be one of the best soccer players in the world. He has four children.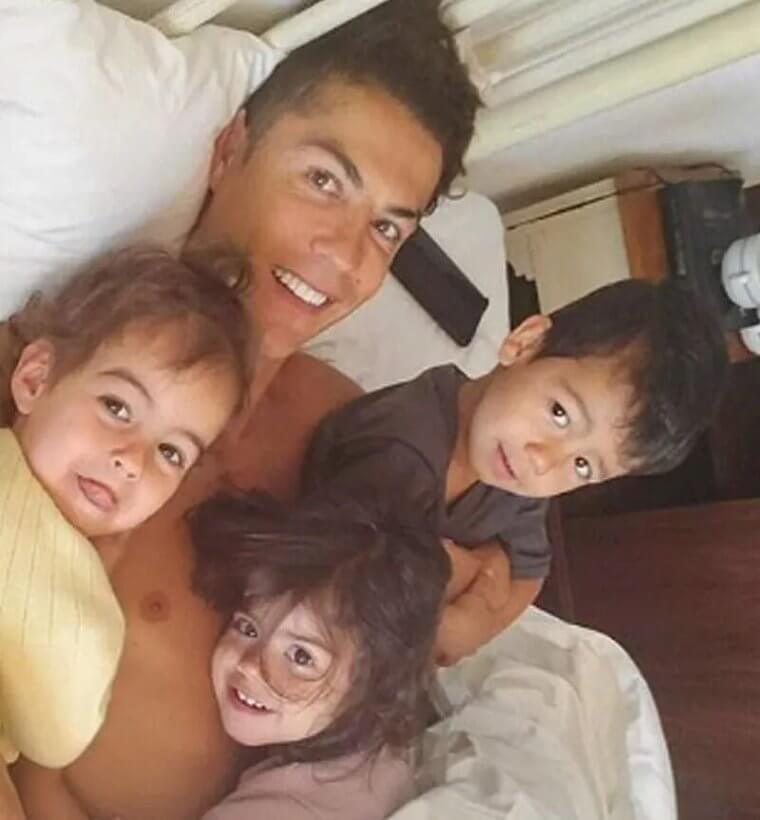 Ronaldo has full custody of his first son, Cristiano Jnr, born in 2010 and whose mother's identity is still unknown. In 2017 he became the father to twins Eva and Mateo via surrogacy. He is currently in a relationship with Spanish model Georgina Rodriguez, and with whom he has a daughter Alana, also born in 2017.

Paul McCartney - 5 Kids
Paul McCartney is an English singer, songwriter, and record producer who was a member of one of the most famous pop groups in music history - The Beatles. After the Beatles, McCartney also performed in the group Wings with his first wife Linda. He has been married three times and has five children.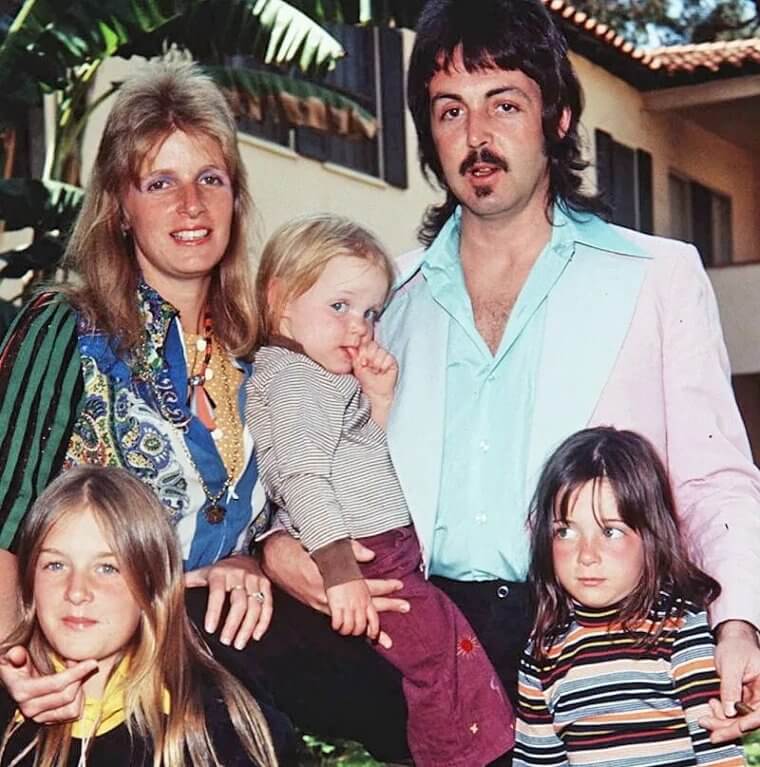 McCartney married Linda Eastman in 1969 and remained married until her death in 1998. The couple had four children, Mary, Stella, and James, with Paul adopting Linda's daughter Heather. In 2002 he married former model Heather Mills, and they had a daughter Beatrice in 2003.
Marlon Brando - 11 Kids
Marlon Brando was an American actor and film director who worked in the entertainment industry for over 60 years. His most notable films include A Streetcar Named Desire, The Wild One, Apocalypse Now, On the Waterfront, and The Godfather. He passed away in 2004, was married three times, and had 11 known children.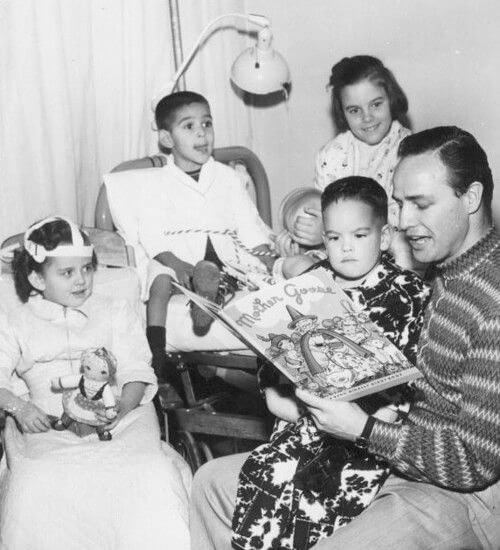 His first son was Christian Brando born in 1958 to his first wife Anna Kashfi. He then had two children, Miko and Rebecca, with his second wife Movita Castaneda. His third wife was Tarita Teri'ipaia, and the couple had two children, Simon and Cheyenne. Marlon adopted Tarita's daughter Maimiti from a previous relationship, as well as her niece Raiatua. He adopted his assistant Caroline Fischer's daughter Petra when she was 14 years old. He also had three children, Nina, Myles, and Timothy with his housekeeper.
Gordon Ramsay - 5 Kids
Gordon Ramsey is a world-renowned British chef who is as famous for his food as he is for the screaming and swearing he does on TV shows such as Hell's Kitchen, Ramsay's Kitchen Nightmares, The F-Word, and Masterchef. He has five children.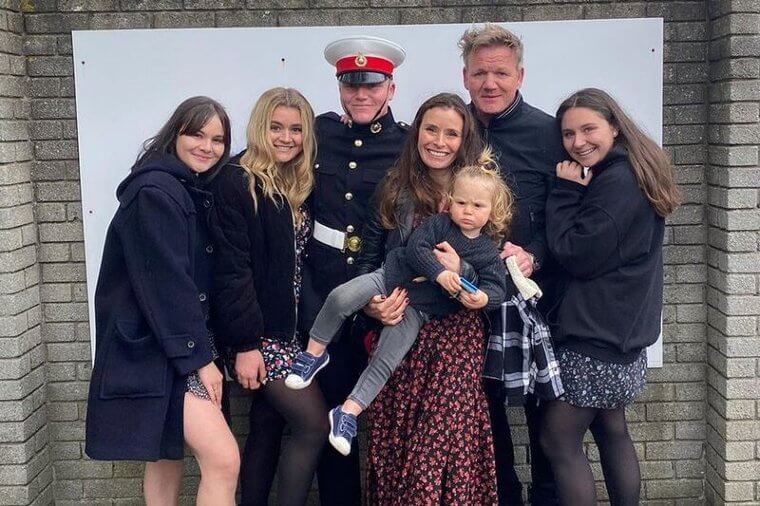 Ramsay married Cayetena Elizabeth Hutcheson in 1996. They have been married ever since, and have five children: Megan, Holly, Jack, Matilda, and Oscar. Most of Ramsay's children have appeared on his show The F-Word, and his daughter Matilda and her siblings even have their own cooking show, Matilda and the Ramsay Bunch.
Bob Dylan - 6 Kids
Bob Dylan, formerly Robert Allen Zimmerman, is one of the most well-known American singers and songwriters of all time. "Blowin' in the Wind", "The Times They Are a-Changin'", "Like a Rolling Stone" and "The Hurricane" are just some of his greatest hits. Dylan has 6 children and has been married twice.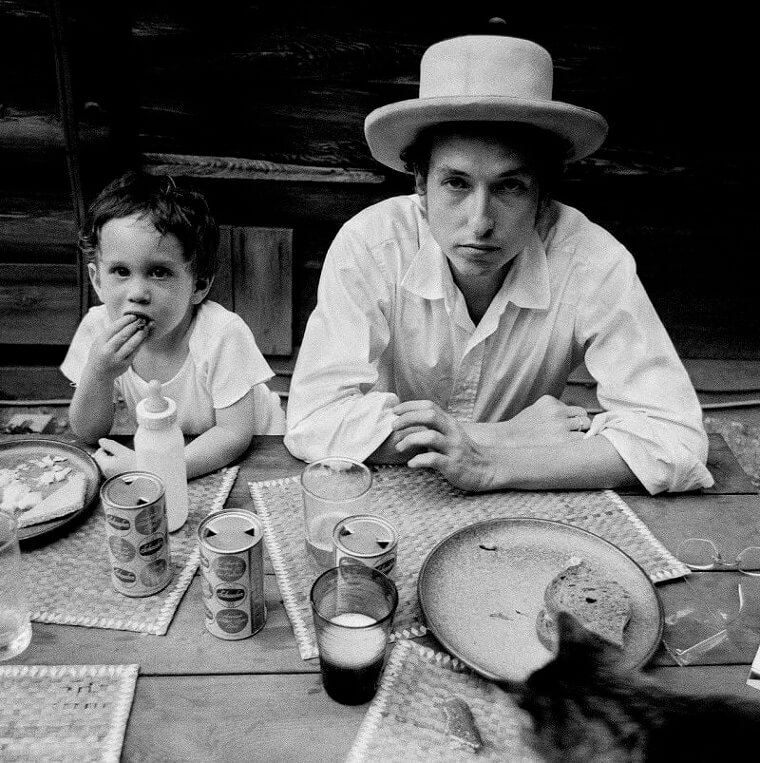 Dylan married Sara Lownds in 1965, and they had four children - Jesse, Anna, Samuel, and Jakob. He also adopted Sara's daughter Maria from a previous marriage. They divorced in 1977 and Dylan went on to have a daughter, Desiree, with his backup singer Carolyn Dennis. They married in 1986 and divorced in 1992.