Tattoos are no longer limited to drunken sailors, in fact, the once taboo art form is now somewhat commonplace amongst Hollywood's most famous. There are those who get their ink to profess their love, others do it out of inspiration and then there are those who, well, let's face it, make a rash decision after a long night of drinking at the club. No matter the reason, each tattoo is a memory etched into the skin as a reminder of the time in your life when you chose it.

While more and more celebrities are opting for ink, there are some who have regrets. From misspellings and blundered translations to break-ups and immature choices, these A-listers, like many others, either chocked their tattoo mishaps up to a lesson learned or had it removed altogether. 

Let's take a look at the tattoo regrets of the Hollywood elite. Once you click through this list of celebs you will surely choose your ink a bit more carefully.
Angelina Jolie
Prior to hooking up with the hunky Brad Pitt, stunning Hollywood superstar, Angelina Jolie, was married to actor Billy Bob Thornton from 2000 to 2003. During their time as husband and wife, the two had no qualms about publicly professing their love for one another and did so in some unconventional ways.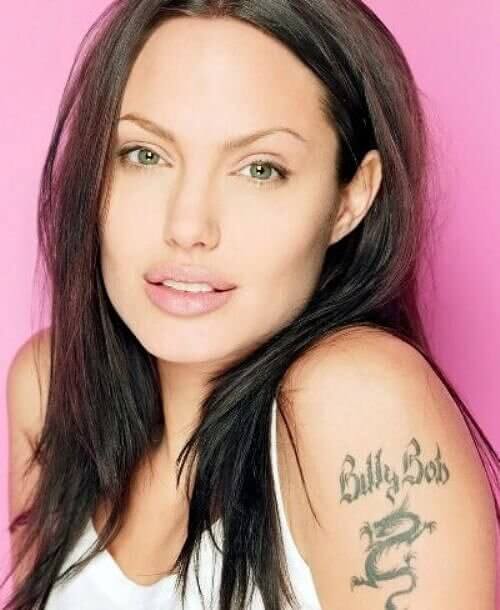 Aside from wearing vials of each other's blood around their necks, Jolie also decided to get inked with her beloved beau's name on her bicep. After the couple ended things and Jolie moved on to dedicating herself to her children, she replaced the original tattoo with the GPS coordinates of the birthplaces of her six kids.
Adam Levine
Known for his love of tattoos, Maroon 5 lead singer, Adam Levine, has quite a few he is proud of, however, he does have one that drives him batty. Originally, he had a Russian prisoner-inspired tattoo placed on his right shoulder but was unhappy with how it came out.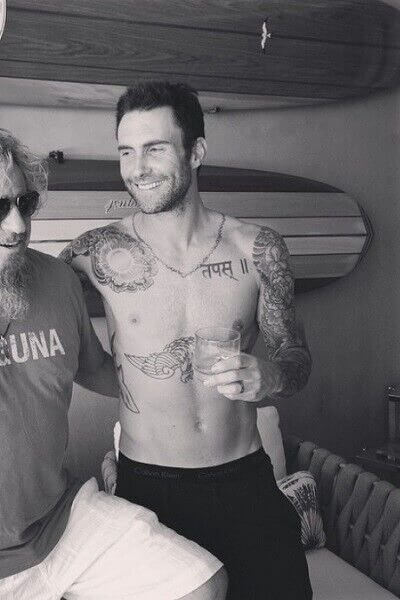 Like many who have tattoo regrets, he asked his artist to improve upon it, basically, transform it into anything better than what he had. The problem was, the more they tried to improve it, the worse it got. When being interviewed by Anderson Cooper, Levine admitted his tattoo defeat by saying that it now looks like "a cauliflower with a sun in the middle of it. It's just despicable-looking".
Ben Affleck's 'Awful' Phoenix Back Tattoo
In a clip from 2016, Jennifer Lopez made fun of her then-ex Ben Affleck's phoenix back tattoo. Affleck's new tattoo was the topic of discussion between J.Lo and Cohen in an interview in 2016 and J.Lo did not hold back from speaking her mind about how much she did not like the tattoo. "It's awful" she yelled at Cohen. "I mean, I would tell him that. I would tell him like, what are you doing?"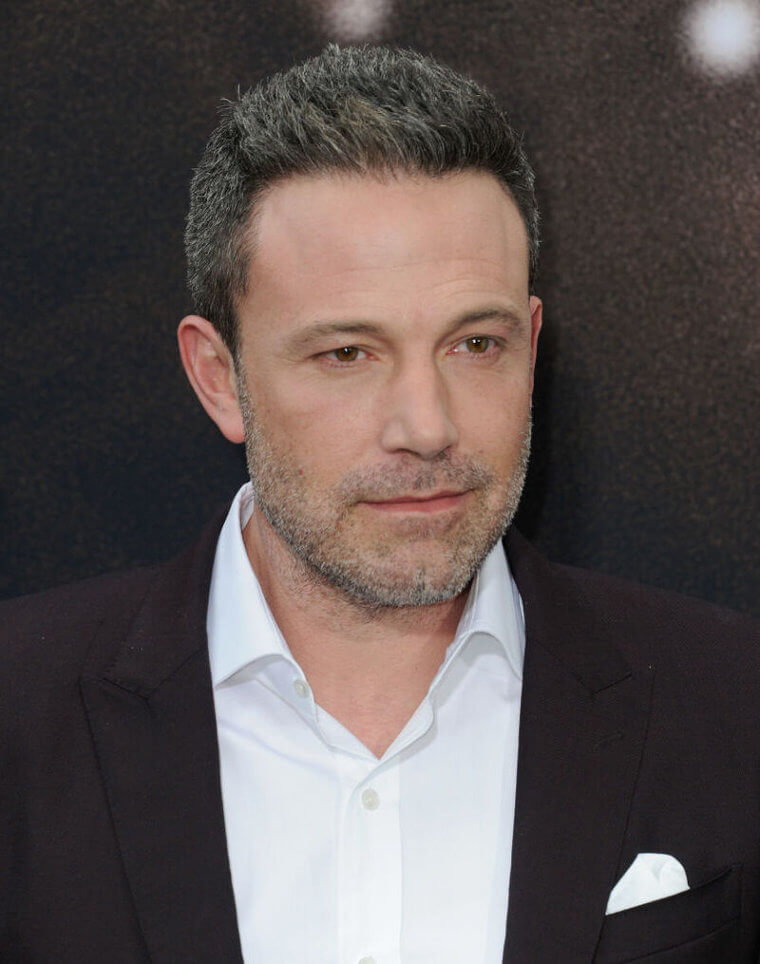 In a 2019 interview with Ellen Degeneres, Affleck addressed his tattoo. "It represents something really important to me," he told DeGeneres, "It's meaningful to me, I like it." Either way, despite of the tattoo that J.Lo says she hates, the couple got back together in 2021 and are now engaged. 
Hayden Panettiere
The motivation behind Heroes star, Hayden Panettiere's tattoo is a sweet one, she chose it in honor of her father and his sound advice. After her father bestowed his wisdom by telling her that whenever one door closes, another always opens, Panettiere chose to have the saying "Live without regrets" tattooed down the length of her side in the Italian language.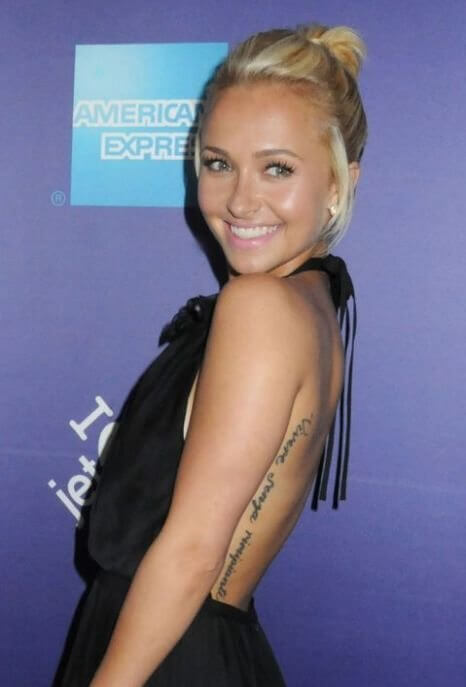 While the tattoo looks beautiful, the young star soon came to realize that it was misspelled. The irony was that she literally had to follow her own advice in regards to her new ink. Not for long though, she had it removed in 2013.
Presley Gerber
As the son of supermodel, Cindy Crawford, it seems a sacrilege to cover up any part of that handsome face, even so, that is exactly what Presley Gerber did. The 20-year-old model opted to tattoo the word "misunderstood" at the height of his cheekbone, just under his eye.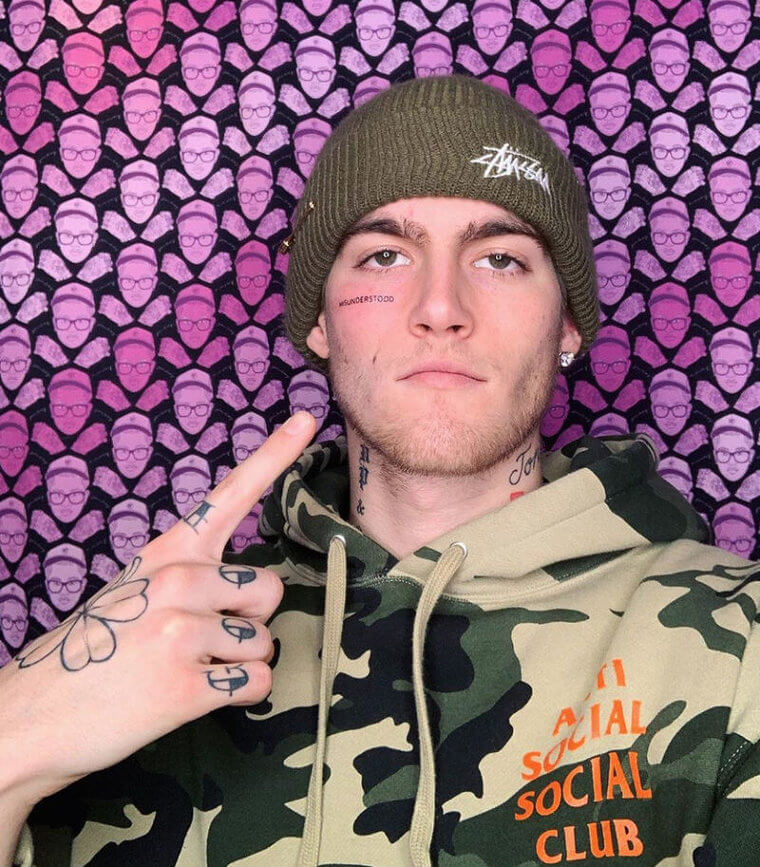 When fans voiced their concerns about his new tattoo and what it would do to his career, he replied with a scathing video explaining that it says misunderstood because that is how he has felt his entire life. He went on to say that if anyone had a problem with it or his family, they can tell him face to face, "I will give you my address - I promise - and you can come say it to my face". Yikes!
Amy Schumer
Funny lady, Amy Schumer, has no problem poking fun at herself, the same goes for her tattoo. Donning the hashtag #Yesiknowmytattoosucks, Schumer finds humor rather than regret when showing off her tramp stamp.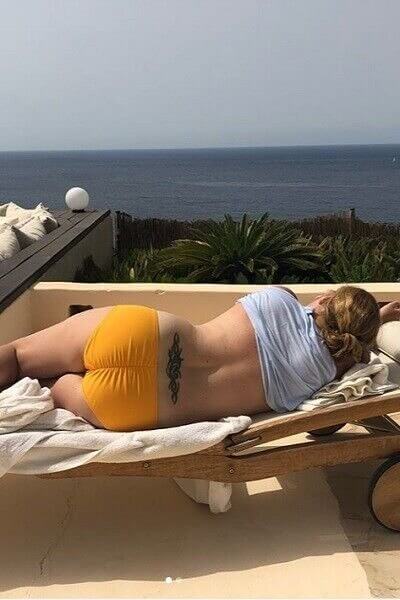 It is actually understandable that she has no regret because it was this ink that inspired the title of her New York Times best-selling novel, The Girl with the Lower Back Tattoo. Her 2016 autobiography was very well received and won the Goodreads Choice Award Best Humor. Schumer says she is in no rush to cover up something of which she can continue to poke fun.
Nicole Richie
The epitome of style, fashionista, Nicole Richie, has a total of eight tattoos, seven of which she holds dear because of their meaning and one which she truly regrets. Feeling rebellious at the young age of 16, Richie decided her first tat should represent her zodiac sign which is Virgo so she had the word "Virgin" inked on the inside of her wrist.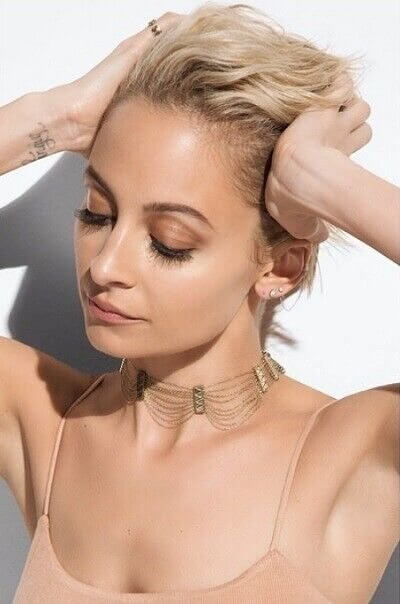 As a teenager, she said the tattoo made her feel "so deep and so cool", however as an adult and now a mother of two children, she refers to the tat as "embarrassing and desperate". 
Megan Fox
Sultry actress, Megan Fox, once idolized pop culture icon, Marilyn Monroe, so much that she had a portrait of the actress tattooed on her forearm, however, as time went by she began to regret her decision. As she learned more and more about Marilyn she realized that the actress actually led a very sad life.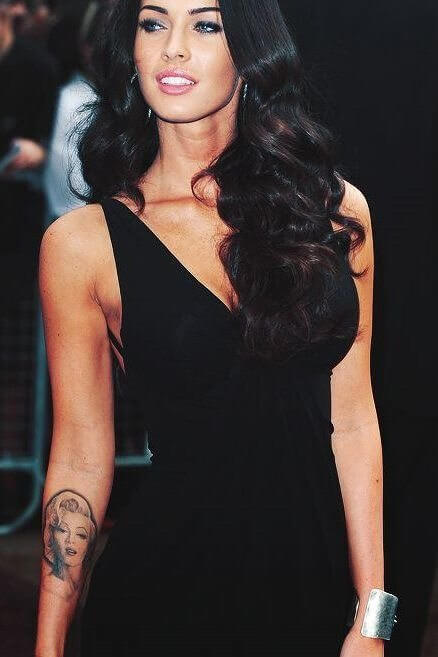 In an interview, Fox announced that she was having the tattoo removed after learning that Marilyn suffered from a personality disorder and bipolar disorder. She went on to say that she was concerned that her tattoo would invite negative energy into her life. 
Eva Longoria
Desperate Housewives star and restaurateur, Eva Longoria, fell in love and married basketball legend, Tony Parker, in 2007. To honor their marriage and her new husband, she had their wedding date tattooed on her wrist in Roman numerals. The perfect way to remember your anniversary right?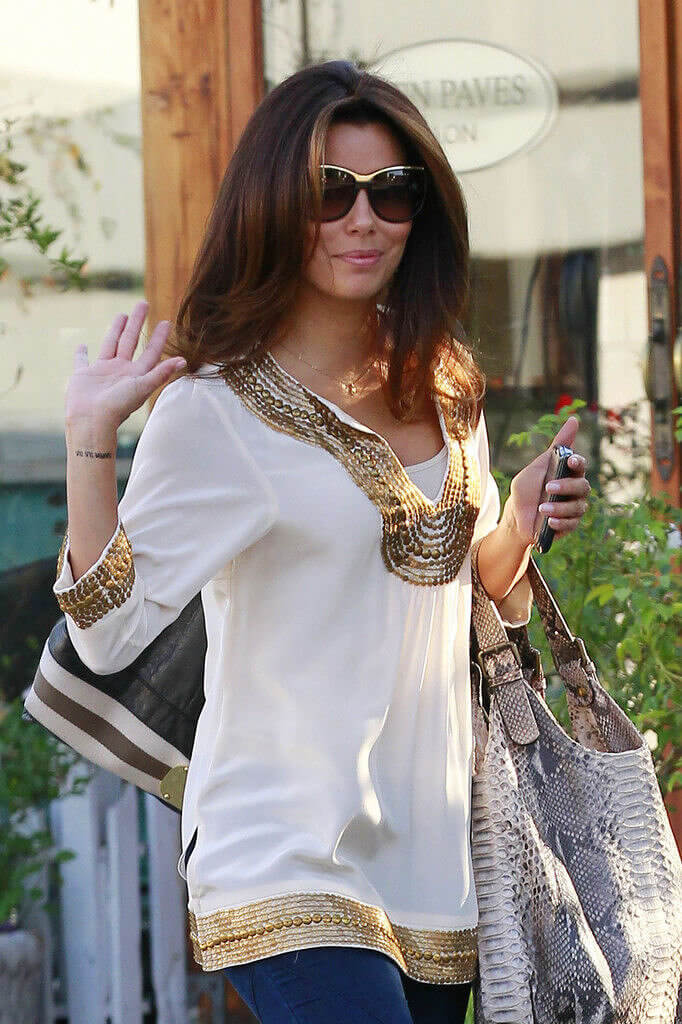 Well, sadly, the marriage only lasted three years so the tattoo that was supposed to represent an unshakeable love now was only a reminder of love lost. Longoria bounced back though, she had the ink removed and went on to marry the love of her life, José Bastón.
Kaley Cuoco
Another celebrity to go the Roman numeral route was Big Bang Theory star, Kaley Cuoco. After dating her tennis pro sweetheart, Ryan Sweeting, for just three months, the couple decided to tie the knot. Cuoco also decided to commemorate the date by having it tattooed on her back in Roman numerals.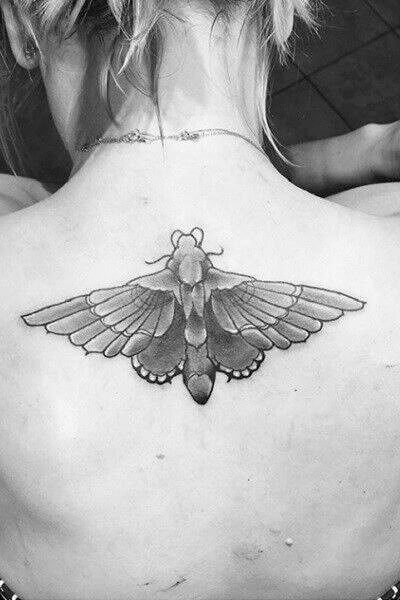 When the couple settled their separation two years later, Cuoco had the wedding date covered up with a moth. When asked if the moth was a symbol of spreading her wings, she laughed and said, "No, it was just big enough to cover up the numbers".
Jessica Alba
Hottie, Jessica Alba, seems to have a love-hate relationship with her tattoos as she has already had one of the four removed. While being interviewed by James Corden on The Late Late Show, Alba admitted that she has another that she is rather embarrassed about, a bow just above her bottom.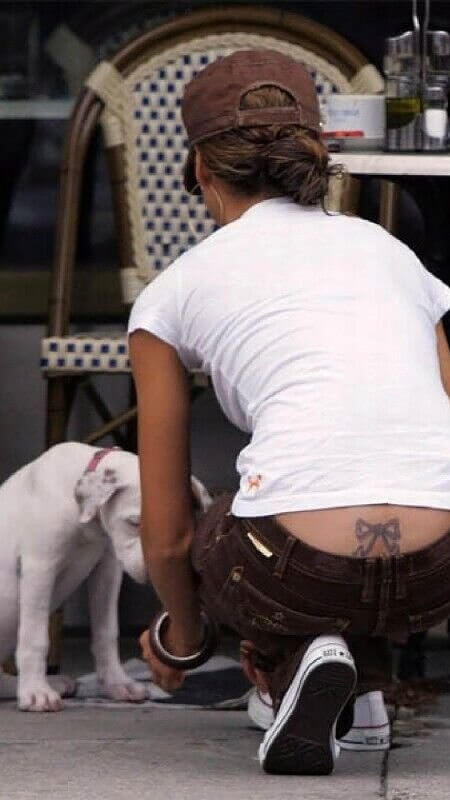 When asked the meaning behind the bow, Alba simply said, "You know what? I was going through a breakup". Sounds like it was a perfectly logical and well thought out decision. Whatever makes you feel better right?
Pete Davidson
When Saturday Night Live funnyman, Pete Davidson, was engaged to pop star, Ariana Grande, the couple decided to celebrate their love for one another by getting a series of tattoos, one of which was a Playboy bunny mask behind his ear.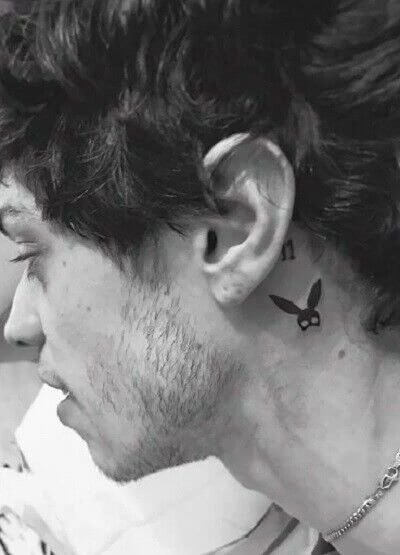 The mask was chosen because it was the same as the one Ariana Grande wore on the cover of her Dangerous Woman album. Sadly, the engagement was called off so instead of keeping the tattoo the way it was, Davidson had it covered up with a large heart with a lowercase "a" beside it. 
Ariana Grande
It doesn't seem as though pop star, Ariana Grande, regrets the tattoos she and her former beau got together, however, she did suffer a tat blunder herself. In an attempt to ink an ode to her hit single "7 Rings", she asked to have the title tattooed in Japanese lettering on the palm of her hand.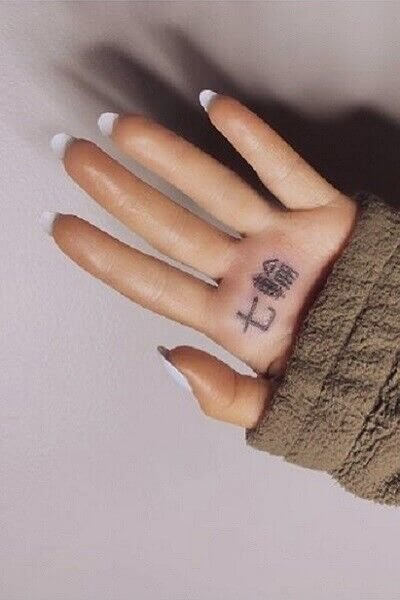 Imagine this vegan's surprise when her Japanese fans pointed out that the lettering actually translated to "tiny charcoal grill" and not "7 Rings". Grande quickly jetted back to the tattoo shop in an attempt to get it fixed but joked with her fans saying, "also….huge fan of tiny bbq grills". 
Ben Affleck
When A-lister, Ben Affleck, first debuted his massive and elaborate phoenix back tattoo after a tumultuous split with actress, Jennifer Garner, he tried to convince the world that it was drawn on for a movie role. However, three years later, it is still prominently displayed.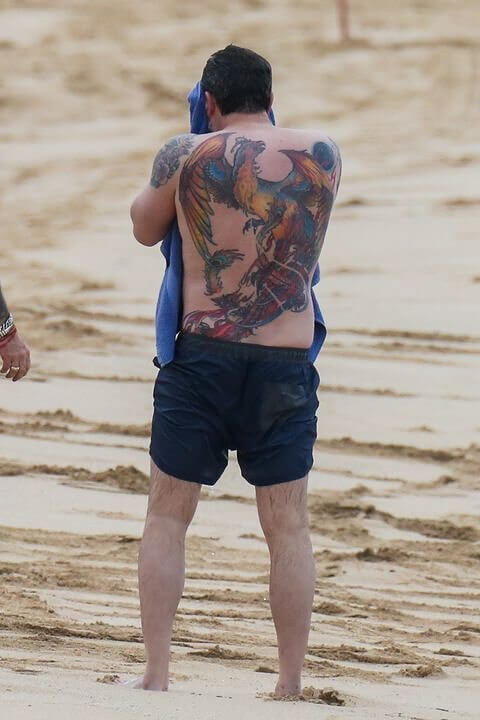 Understandably, Garner took offense to the piece due to the possible meaning behind it. Legend dictates that the Phoenix rises from the ashes leading Garner to believe that she may be the ashes in this scenario. When talking to Vanity Fair she stated, "I refuse to be the ashes".
Khloe Kardashian
In an attempt to pay tribute to her late father, reality star, Khloe Kardashian, opted to have a cross tattooed on her lower back in his honor. When her older sister, Kim, found out, she convinced Khloe that she had to get it removed, which she did.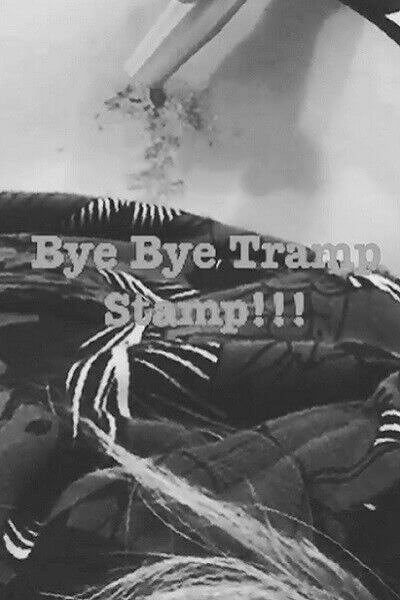 When explaining her decision to have the cross removed to her followers on Instagram, she admitted that her tattoo had been an error in judgment and that she should have listened to her sister in the first place when she told her, 'You don't put a bumper sticker on a Bentley'. 
Liam Payne
Those who regret their tattoos usually do so over time, however, for One Direction star, Liam Payne, his regret over the arrows he had inked on his right forearm came immediately. While being interviewed on The Ellen DeGeneres Show, Payne admitted that he woke up the following morning and immediately Googled tattoo removal.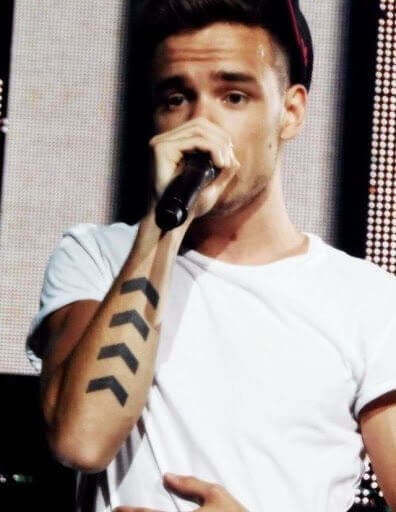 He went on to say that because of the negative reaction from his family over the new ink, he knew it had been a mistake. But was it a mistake? It turns out the tattoo he so regretted actually made him more successful. When clothing mogul, Hugo Boss, saw it they approached Payne about doing a clothing line centered around the arrows. Way to turn a negative into a positive!
Johnny Depp
A-list bad boy, Johnny Depp, is known for his plethora of tattoos as well as his highly public relationships with famous women. When he and Edward Scissorhands co-star, Winona Ryde,r were Hollywood's It Couple from 1989 to 1993, Depp pledged his love by having a ribbon tattooed across his shoulder that read "Winona Forever".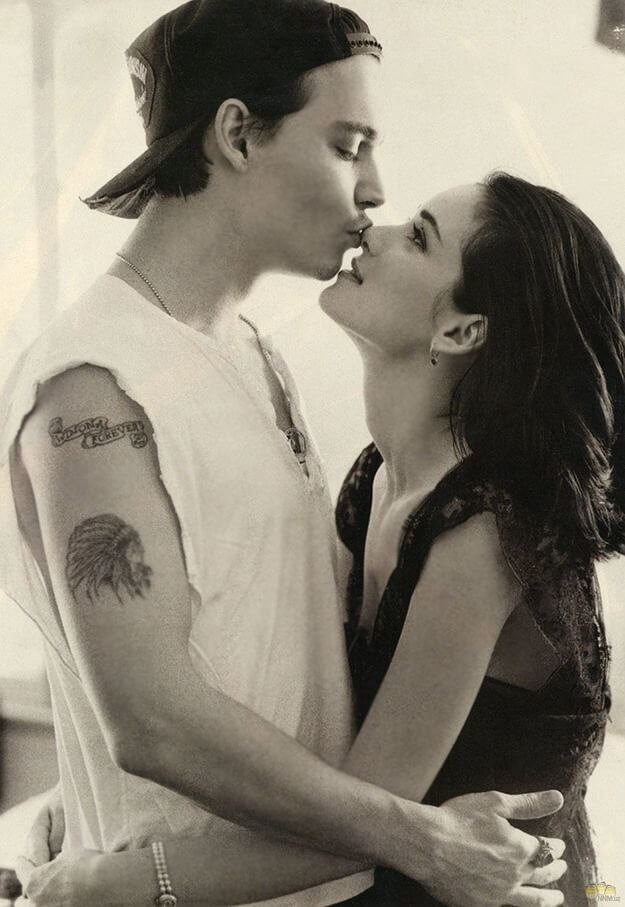 When the couple split ways in 1993, Depp came up with a clever solution to his tattoo problem. He asked the artist to change "Winona Forever" to "Wino Forever", a tat to which many can relate.
Johnny Depp Yet Again
You would think that Johnny Depp would have learned his lesson after his debacle with the "Winona Forever" tattoo but, needless to say, he did not. When the Hollywood bad boy married actress and model, Amber Heard, in 2015, he got her nickname "Slim" tattooed across his knuckles.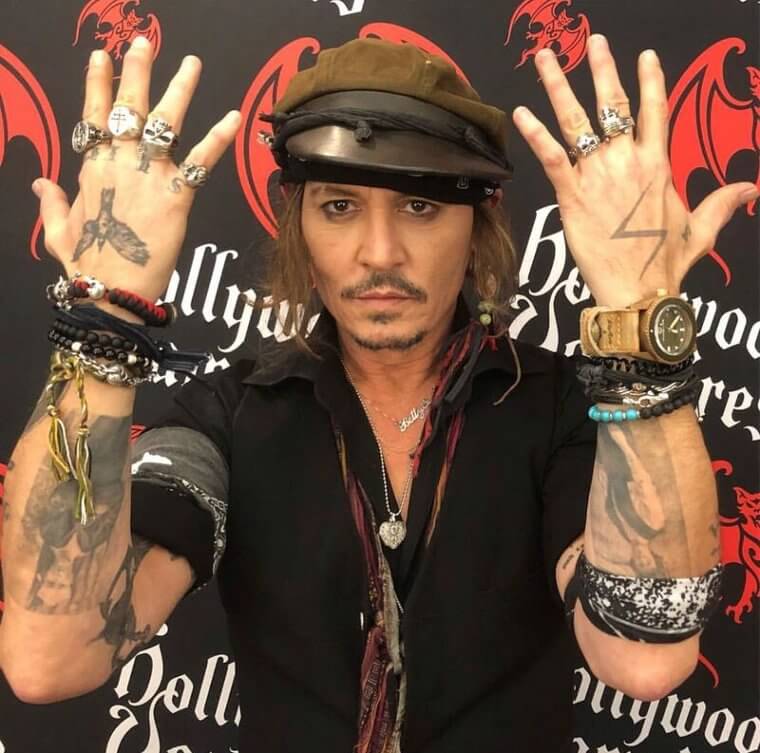 Sadly, a year later the couple separated, and good old Johnny was left with yet another tattooed reminder of love lost. So what did the clever Depp do? Instead of reading "Slim" he had the tat changed to read "Scum". 
Iggy Azalea
When Australian rapper, Iggy Azalea, was dating A$AP Rocky she cemented their relationship by tattooing "Live Love A$AP" on her index, middle, and ring fingers. When the couple split a year later, instead of having the tattoo removed, she got more ink in the form of an X over A$AP.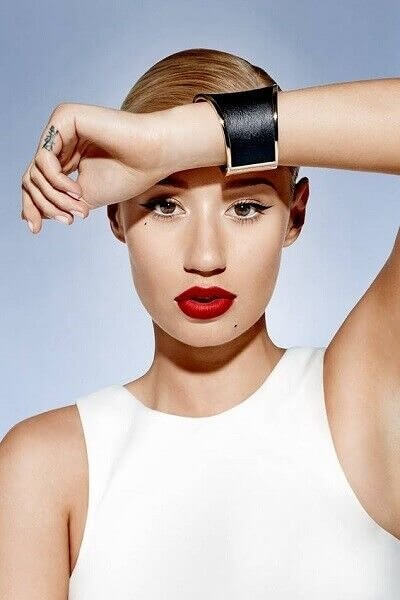 Though she doesn't regret her relationship with A$AP Rocky, her engagement to basketball player, Nick Young, in 2015 prompted her to have the tattoos removed altogether. Though that relationship did not work out, she now has a clean slate for any potential future beaus.

Charlie Sheen
Known for his drug use, mental breakdowns, and sex scandals, there is no doubt that Charlie Sheen may have some regrets. Though he has multiple tattoos, it would seem that he only regretted one of them. When the Two and a Half Men star was married to actress, Denise Richards, he had her name tattooed on his inner wrist.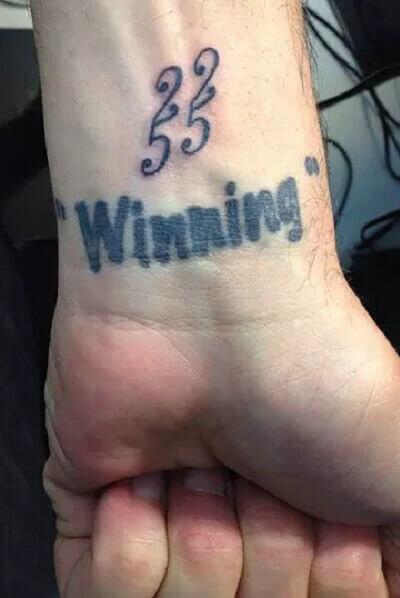 Upon their tumultuous split, drug-fueled Charlie Sheen decided to replace his ex's name with the catchphrase of his public meltdown. Instead of his wrist reading the name "Denise", it now reads "Winning".
Nick Cannon
When comedian, Nick Cannon, was married to his singer-songwriter wife, Mariah Carey, he was so devoted that he had her name tattooed from shoulder to shoulder across his back. When the couple split six years later, Cannon decided Jesus was on his side and he aimed to prove it.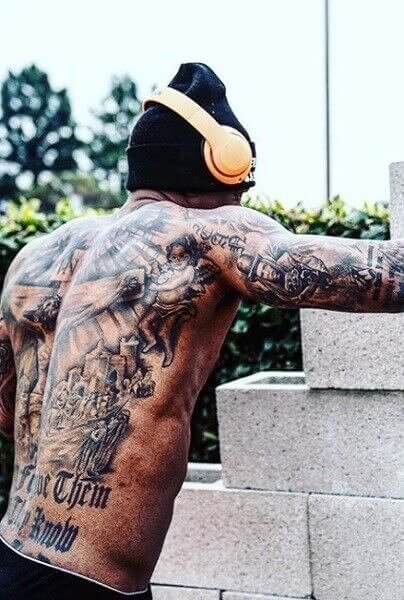 The comedian spent 30 hours in the tattoo parlor to not only cover up the "Mariah" tattoo but also to complete a full back piece with a crucifix theme. The artwork includes Jesus on a cross with angel wings, four cherubs to represent his children and a quote at the bottom that reads, "Father, forgive them for they know not what they do".
Kendall Jenner
While Kendall Jenner is known for having diminutive tattoos that are hard to see, the tattoo of the word "Meow" on the inside of her lip could only be revealed by her own Instagram account. When asked why she got the tattoo or if there was any meaning behind it, Jenner admitted that she got it on a drunken whim and "Meow" was the first thing that came to mind.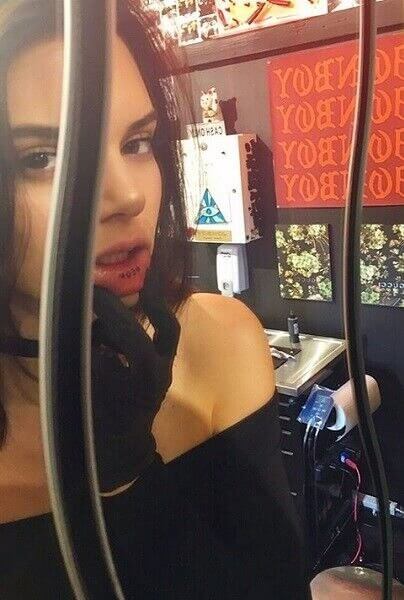 Of course, older sister, Kim Kardashian, gave her the same line as she gave Khloe, "Don't put a bumper sticker on a Bentley". Even so, Jenner's mischievous nature and rebellious spirit typically win out.
Kat Von D
As one of the most famous tattoo artists in the world, Kat Von D is tatted from head to toe with everything from roses and stars to portraits and ex's names. Rarely has she felt the need to get a tattoo removed, that is until her break up with ex-fiance, Jesse James.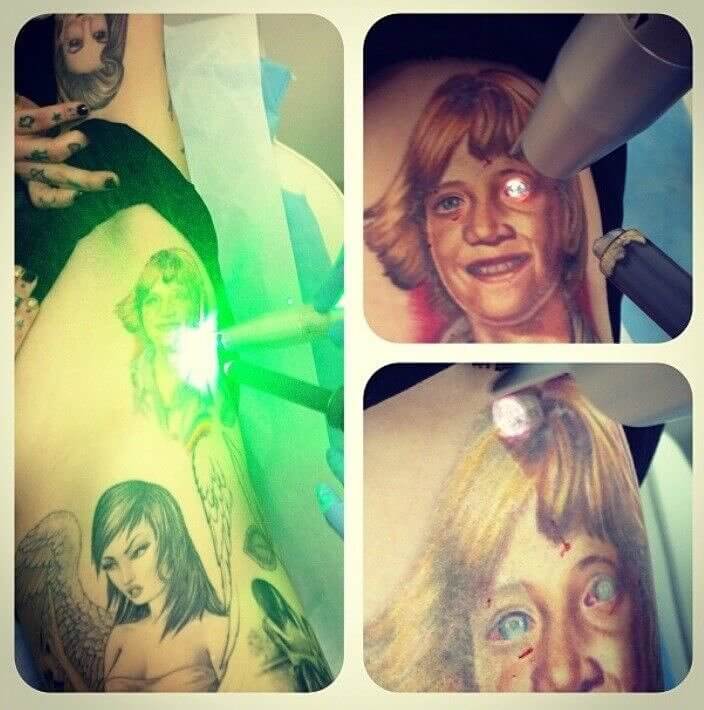 During her relationship with the reality TV personality, Kat Von D had her beau's fifth-grade school portrait tattooed on her rib cage. When she found out James had been cheating on her, Kat Von D ended the relationship but considered keeping the tat. A year later, she went ahead and had it removed.
Britney Spears
Popstar, Britney Spears, has numerous tattoos throughout her body, many of which she got when she was going through a tumultuous time in her life. In 2004, she had a Hebrew Kabbalah symbol tattooed on the back of her neck after discussing her troubles with the one and only Madonna.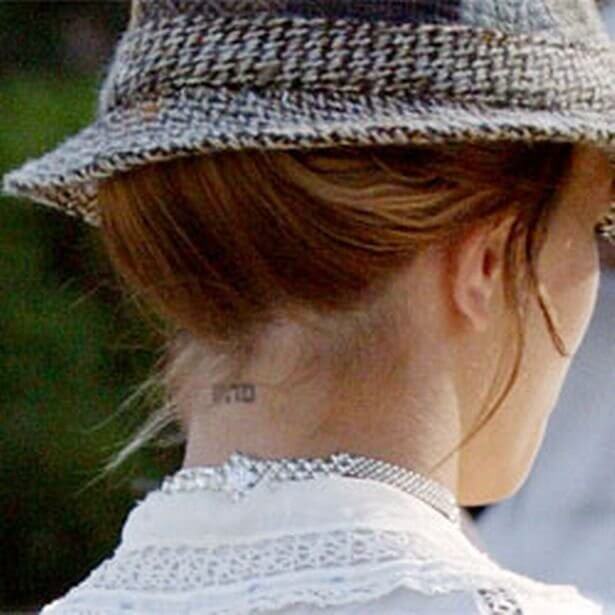 Per Madonna, the symbol would be a healing source for her life moving forward, something that could provide her some solace. While the sentiment was sweet, in 2008, Spears' world was in a tailspin and her erratic behavior was highly publicized. Because of her troubles, she reportedly decided to have the tattoo removed saying that instead of giving her solace it was making her feel like a hypocrite.
Drake
When Canadian rapper, Drake, was dating singer Jorja Smith, he wanted to commemorate her June 11th birthday by having the number "11" tattooed on his arm. Soon thereafter, the relationship went south and both parties moved on to date other people.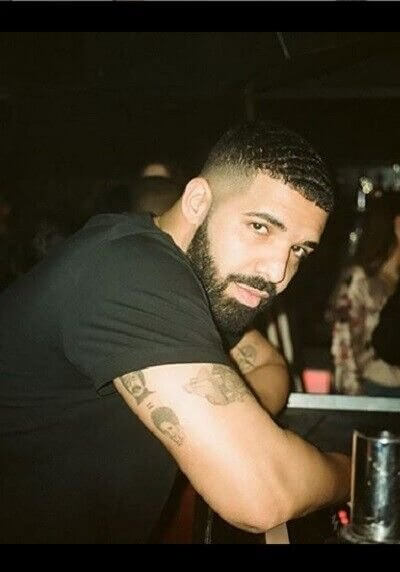 Because the tattoo was small and inconspicuous, Drake didn't consider having it removed. Turns out he didn't need to. When his baby boy was born on October 11, 2017, the tattoo took on new meaning as he now dedicates it to his son. Sounds like fate to us.
Jenna Dewan
Although the hunky Channing Tatum and his ex, Jenna Dewan Tatum, called it quits after eight years of marriage, the two will be forever bonded by a line from their wedding vows which they both had tattooed on their bodies.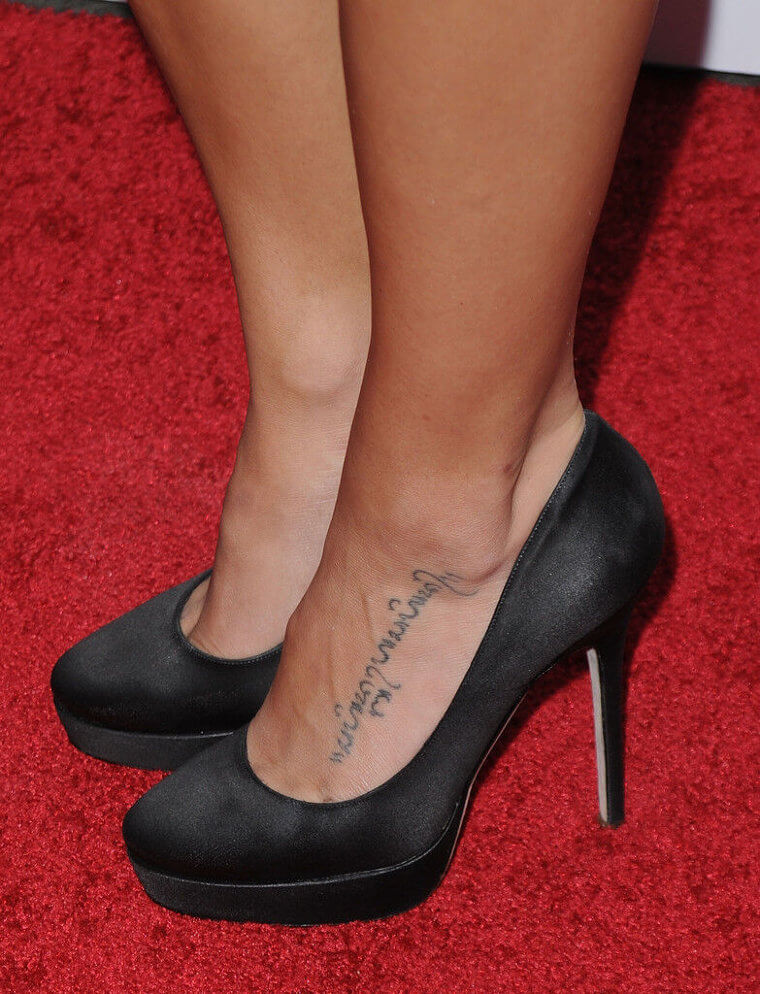 While honeymooning in Bali, the newlyweds both had "side by side" tattooed in Balinese, Channing on his rib cage and Jenna on her foot. Luckily, their split was amicable because they are not only bonded by their matching tattoos, the couple also has a daughter together whom they both adore.
Demi Lovato
In a spur of the moment drunken decision, superstar, Demi Lovato, decided to get matching tattoos with three of her friends. In 2011, while on a tour bus, she had her friend, Ivey Ensley's lips inked on her inner arm. At first, she liked the whimsical tat as it reminded her not to take herself too seriously.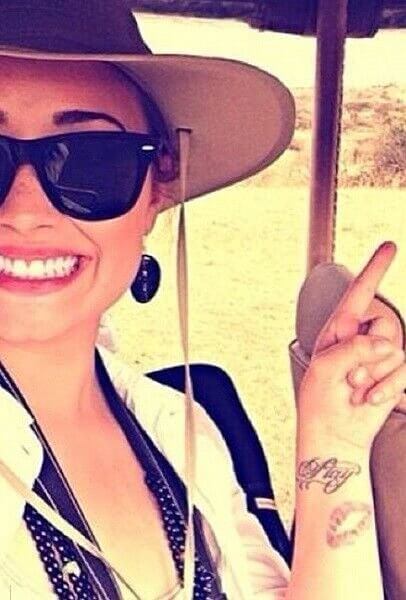 As time went by, however, fans began pointing out that the lips looked more like an anus. Because these comments were online, the original tattoo artist brought up public allegations that Lovato never paid for the tattoo and that she had made a fool of herself while getting it. This turned into a bitter online argument that was finally squashed once Lovato had the tat covered up with a rose.
Adrienne Bailon
While The Real co-host, Adrienne Bailon, was in a two-year relationship with Rob Kardashian, she decided to give his name some prime real estate by having it tattooed on her bum. Just days later, while the tattoo was still healing mind you, she was hit with the news that he had been cheating on her. Double ouch!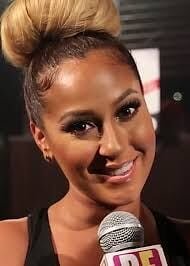 Obviously, a tattoo of a man's name on your derriere can be a potential turn off for any new intimate relationship so Bailon had to decide to either cover it up or laser it off. She chose the latter and has since married musician, Israel Houghton.
Melanie Griffith
Award-winning actress, Melanie Griffith, showed her devotion to her husband, Antonio Banderas, by having a heart with his name tattooed onto her bicep. After 19 years of marriage, though, the Hollywood elite couple mutually decided to file for a separation in 2015.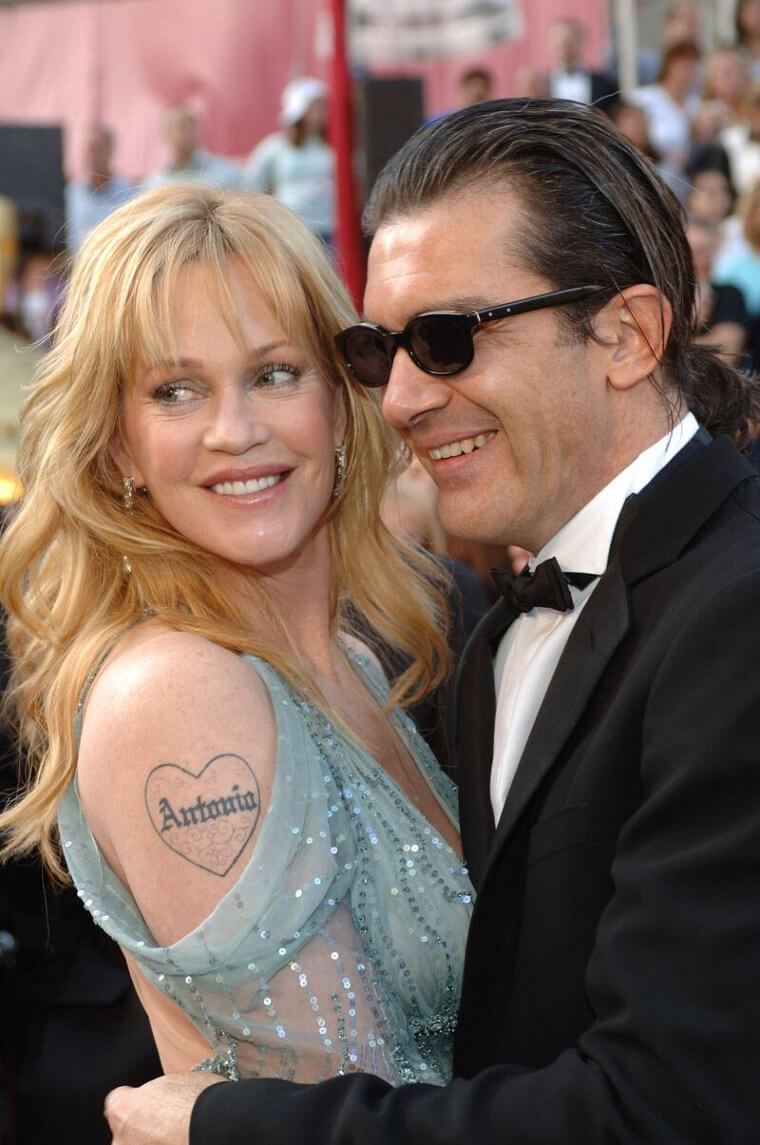 At first, Griffith attempted to cover the tattoo up with thick makeup, however, that proved to be tiresome after a while. She then decided to begin the laser removal process. As they say, absence makes the heart grow fainter and fainter and fainter. Not how it goes? Oh well, you get the drift.
Amber Rose
Model turned activist, Amber Rose, was married to rapper, Wiz Khalifa, for three years. As a way to celebrate their love and her devotion to him, she had a portrait of her husband's face tattooed onto the back of her arm.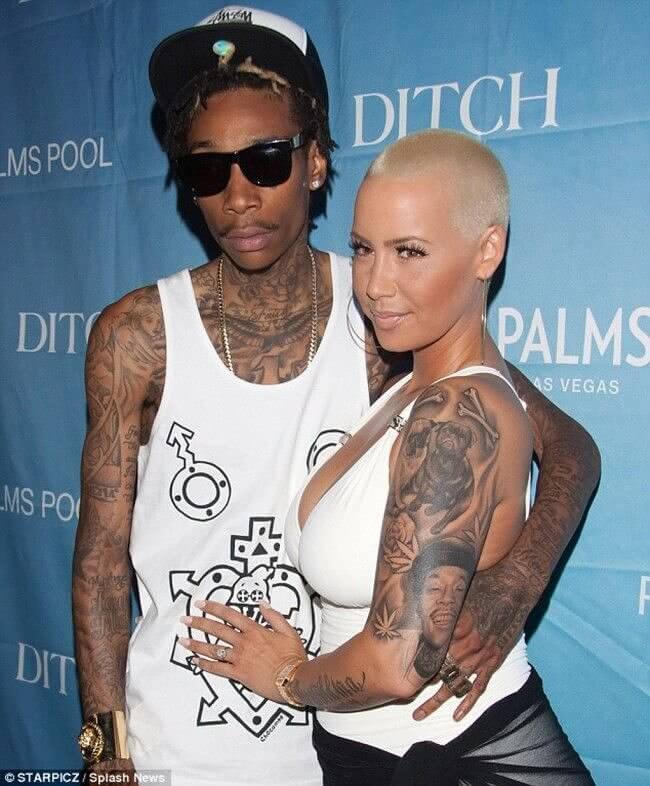 Three years of marriage and one son later, the couple called it quits citing irreconcilable differences. Instead of having the tattoo removed, where she once donned a portrait of Khalifa, she now proudly displays a portrait of Slash, the lead guitarist from Guns and Roses. She must be a big fan because in 2019, after giving birth to a baby boy, she named him Slash Electric Alexander.
Justin Bieber
Popstar, Justin Bieber, has come a long way from the baby-faced boy he was when he first became famous. He is now nearly covered in tattoos, so many that you cannot tell where one piece stops and another one starts. Even so, some fans were quick to point out that they noticed one in particular that could be linked to another famous singer.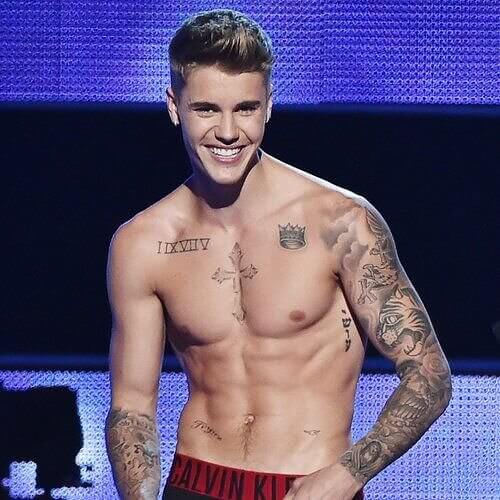 When asked if his new ink was in dedication to his former girlfriend, Selena Gomez, Bieber admitted it was and says he regrets it. Though it blends perfectly with his tattoo sleeve, he is still trying to find a way to successfully cover it up.
Emilia Clark, The Mother of Dragons
While you have witnessed many tattoos that celebrities have clearly regretted,  there are many more tattoos that celebrities choose to get inked that they actually love.

The Mother of Dragons is certainly one of the most memorable characters in TV history, so it's unsurprising that Emilia decided to commemorate her time playing Daenerys by having herself inked with the image of Drogon, Rhaegal, and Viserion, the three dragons her character tended to in the show.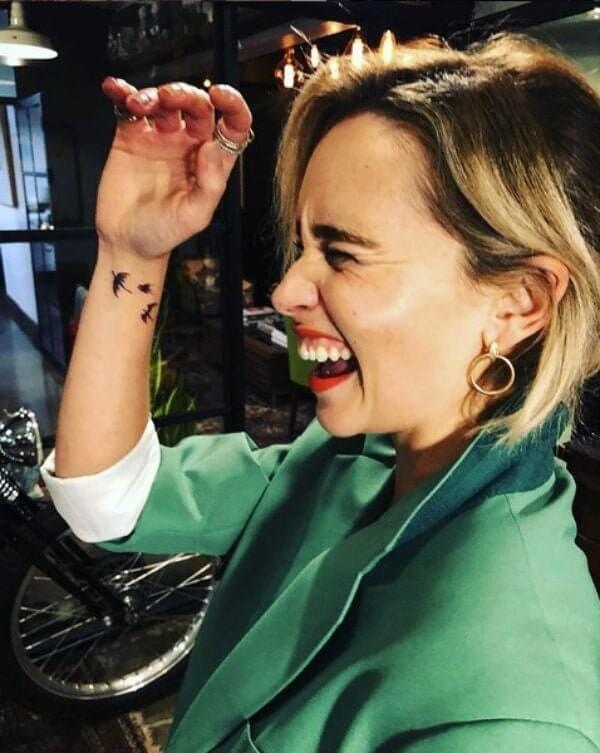 Still not done with the show despite her surprising character arc, Clark, on an Instagram post where she features her new body art, said "Dr. Woo made sure this mamma ain't NEVER forgetting her babies."
The First Avengers
The Avengers, of course, was a series of superhero movies that were massively popular. And so, naturally, after Avengers Infinity War, the cast wanted a way to commemorate the time they've spent in the franchise. Scarlett Johansson came up with a great idea to do just that by convincing fellow cast members, Jeremy Renner, Chris Evans, Chris Hemsworth, and Robert Downey Jr. to get matching tattoos.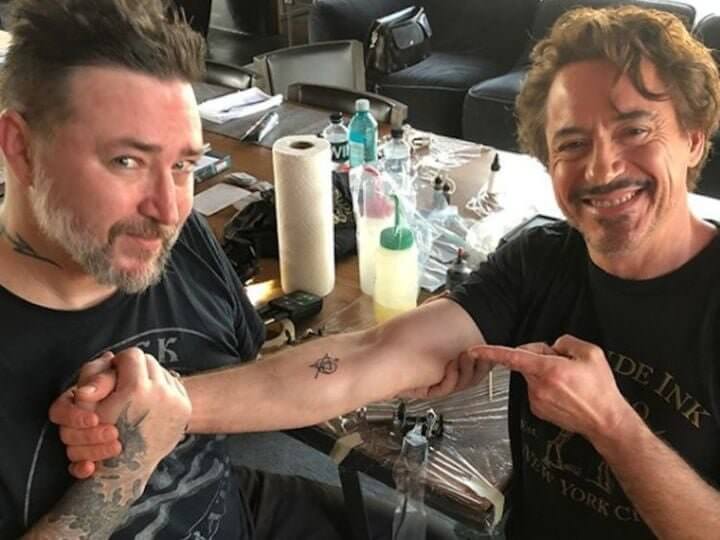 Explaining the genesis of the idea, Robert Downey Jr. said: "it was Johansson's idea, and she and Evans did it in New York. Then, their New York guy, Josh Lord, who is amazing, flew out to LA, he did me, did Renner, and then we just bullied Hemsworth into doing it, and he got it."
The Starks
Sophie Turner and Maisie Williams, who played the beloved Stark sisters, Sansa and Arya, on Game of Thrones (that global TV phenomenon that you might have heard of) became really close friends on set so they wanted to commemorate their time on the show by getting matching tattoos.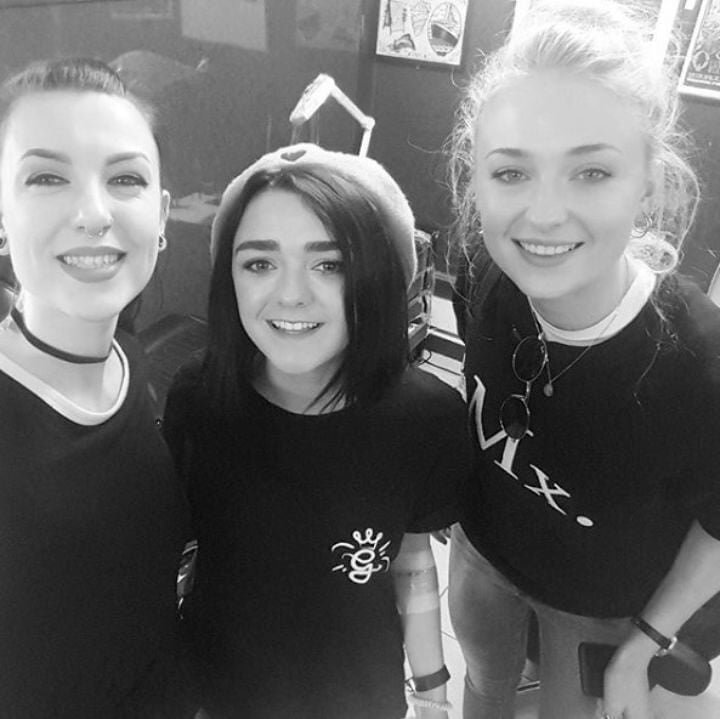 Initially, they wanted to get tattoos that commemorated their characters' survival on the show but opted instead to ink themselves with the date they were cast on the show. In an interview with Elle, UK, Sophie Turner said: "We always said that we wanted them so we got the date 07.08.09 on our arms because that's the date that both of us found out we'd got our roles in Game Of Thrones." This wouldn't be the only Game of Thrones tattoo that Sophie Turner would get inked - and the next one caused a bit of panic. 
Sophie Turner
A year before the ending of the legendary Game of Thrones series, Sophie Turner got a tattoo of a dire wolf head with the text "The pack survives". This tattoo symbolizes her character's House in the series. With many characters dying throughout the series, this tattoo might have hinted that her family survived until the end, but did it?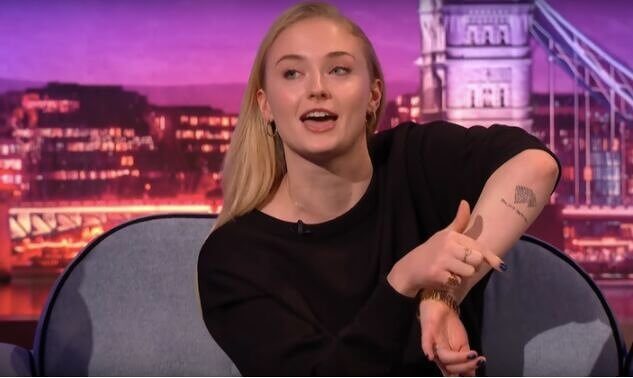 As it turns out, her family members did survive until the end, meaning that her tattoo did, in fact, spoil the ending. Turner claims that the tattoo is nothing more than a moral she lives by and it wasn't a hint at how the series would end.
Angelina Jolie Was Moved by Winston Churchill's Speech
Angelina Jolie has a reputation in Hollywood for being slightly offbeat, obscure, and almost untouchable. This makes her an intriguing person - and so do her tattoos. The iconic actress has the Roman numerals  "XIII V MCMXL" inked on her forearm to commemorate a date of one of Winston Churchill's speeches.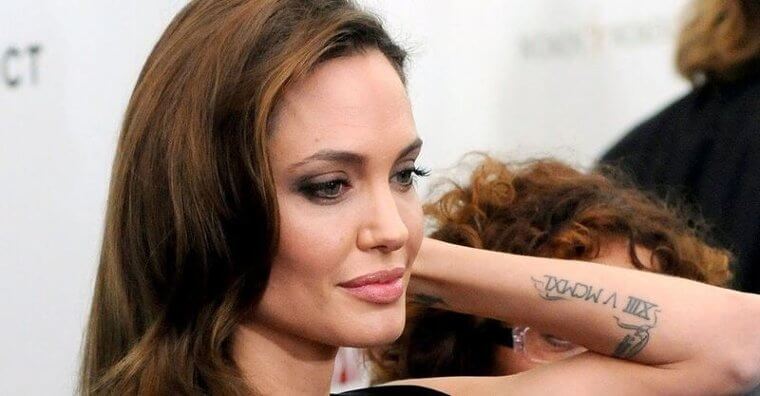 On May 13th, 1940, he gave the "blood, toil, tears and sweat" speech to the British House of Commons. Continuing this theme of hard work and dedication, Angelina Jolie also has the words "toil" and "tears" on the inside of her arms. 
Cara Delevingne Flaunts Her Lion Finger Tattoo
Whether you believe in star signs or not, you can't deny the intrigue of reading your horoscope and drawing parallels to your life. Cara Delevingne is a Leo and it is thought that she commemorated her zodiac sign with a ferocious and detailed lion on her finger.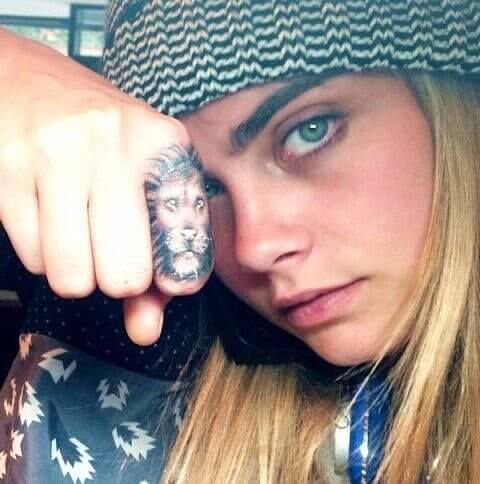 It just so happens that lions are Cara's favorite animals and you'll find that the model has shared several pictures of the beasts on her Instagram feed. She has tattoos of other wild animals as well, such as a snake that coils around her hand and an elephant on her forearm. 
The Men of The Lord of The Rings
The Lord of The Rings was about the "one ring to rule them all," but apparently, a few of the cast decided to get one tattoo to rule them all, too; nine of the films central stars got together to get themselves matching tattoos to commemorate their involvement with the three epic fantasy adventure films whose total worldwide gross nearly exceeded the 3 billion mark.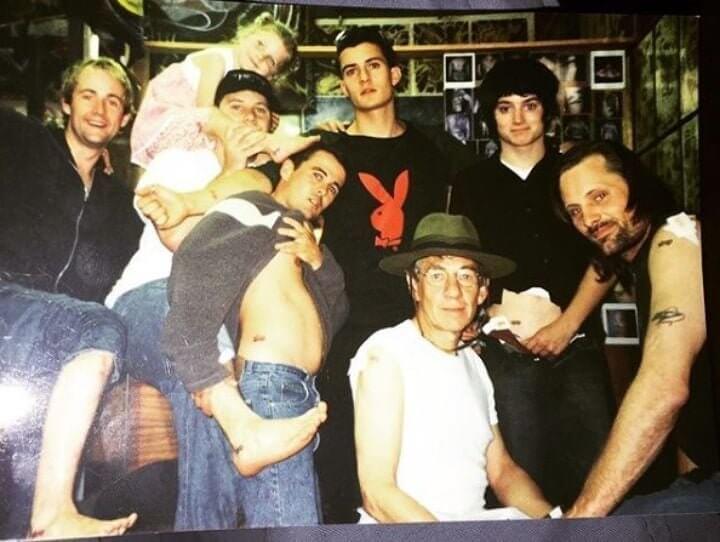 During a premiere at the Odeon Cinema in London's Leicester Square, Elijah Wood, who plays the beloved Frodo, revealed: "We felt the experience was both wonderful enough and profound enough to have ourselves branded," Wood said, "so we went ahead and did that about a week before we finished."

The Cast of Suicide Squad
The cast of David Ayer's film about a DC supervillain team were just like the characters they portrayed—that is to say, they're just as badass. You see, they didn't just get matching tattoos, they got matching tattoos from each other. You heard that right; they didn't bring in a tattoo artist to do it for them, they did it on each other themselves.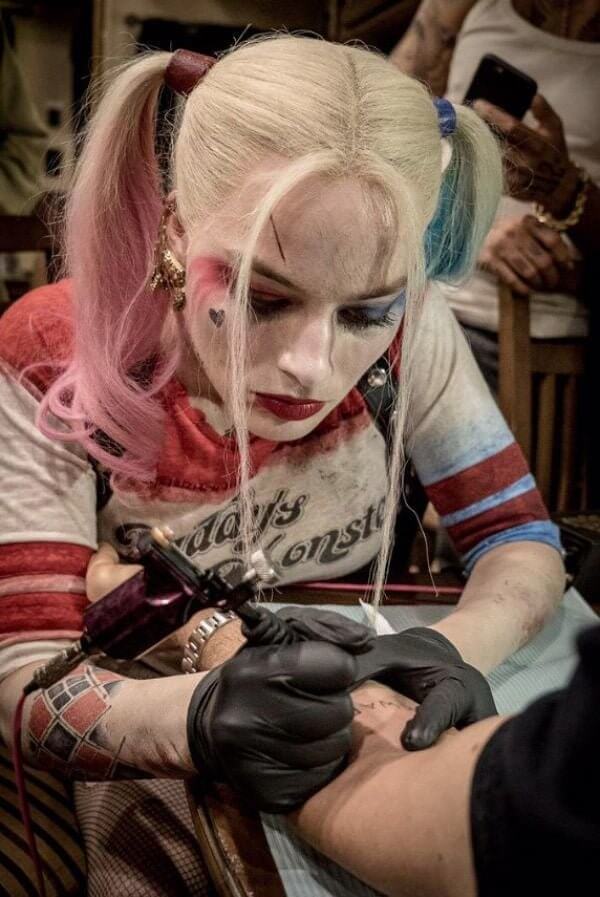 Margot Robbie, Will Smith, Cara Delevingne, Joel Kinnaman, Karen Fukuhara, Jai Courtney, and director David Ayers have all posted their commemorative ink on social media. It was reportedly Margot Robbie and Will Smith who did most of the tattoos on their fellow cast members. Joel Kinnaman, however, said in an Instagram post that he thought Smith's tattoo talents were nonexistent, saying "Will has many talents, tattooing is not one of them. It was like watching a drunk baby fly a helicopter."
BFFs Kendall Jenner and Hailey Baldwin
It's totally unsurprising that these two would be best friends. They have more than a few things in common, after all; they both come from celebrity families, they're both models, and they both have millions of followers on social media. And, apparently, they have matching tattoos, too, to commemorate their friendship with each other.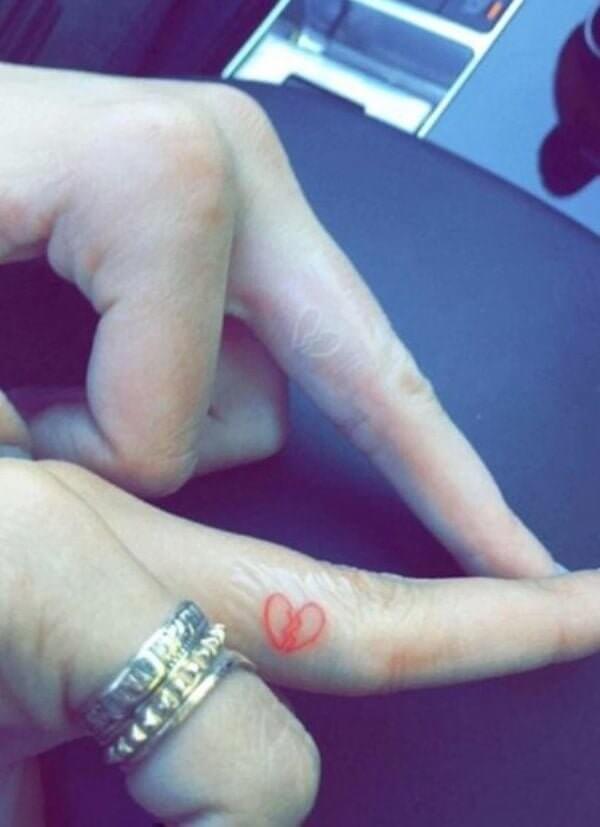 The two bombshells documented their tattoo experience on Instagram and Snapchat. It is an image of a broken heart in their middle finger. Jenner's tattoo is white while Baldwin's is red—both were simple, cute, and cool. So, if you have a BFF you want to profess your undying friendship to, forget the bracelets and get a tat instead.
Demi Lovato
You've no doubt heard of people who've gotten tattoos of their mothers but have you ever heard of someone get a tattoo of their grandmother? You have? Well, how about someone who got a tattoo of their great grandmother? No? Well, now you have. Demi Lovato got a tattoo of her great-grandmother, who she endearingly calls "Mimaw."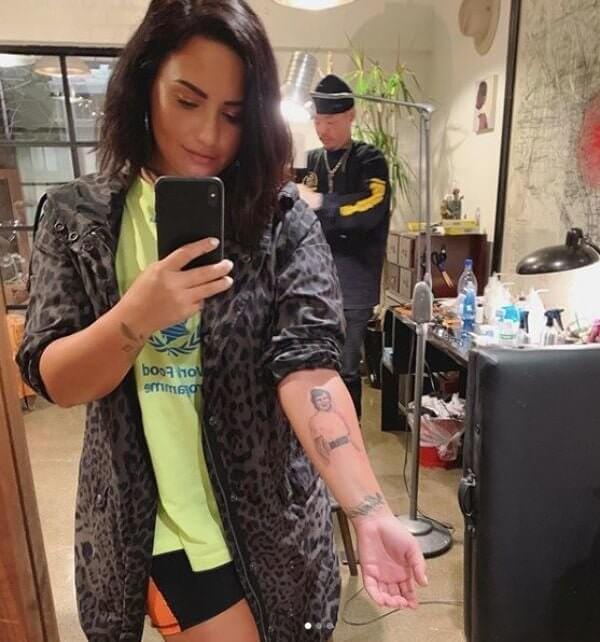 Known tattoo artist to the stars, Dr. Woo, used an old photo of "Mimaw" for reference. It was a photo of her when she was 26, which was Demi's age when she got the ink.
Offset Honors His Child - On His Face!
Offset and Cardi B have a scandalous on-again-off-again relationship, much of which is being held together by their baby daughter, Kulture, who was born in July 2018. Just like you'd expect any proud father to respond, Kulture quickly became the apple of Offset's eye.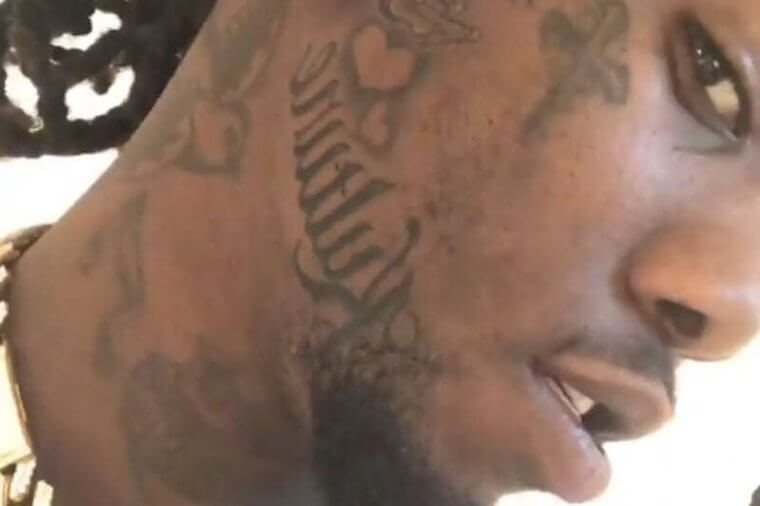 To commemorate his love for his baby girl, the Migos rapper got her name inked across the side of his face. While it may be 'sweet' now, we can't help wonder if his daughter will grow to be a disgruntled teen embarrassed by her father's dedication. 
David Beckham
The man has a full sleeve of tattoos—on both arms. And that's not counting the ones on his torso, too. But what many don't know is that a lot of Beckham's tattoos are commemorative. If anything, the man is a walking commemoration to his family and his football life.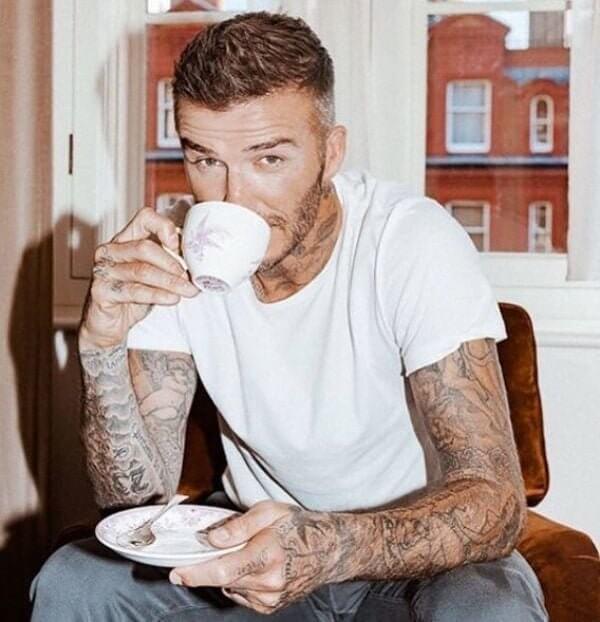 David has a "Harper" inked on his chest to pay tribute to his cute little daughter, a "Buster" to remind him of his relationship with his son, Brooklyn, and, really, a lot more else. 
Tom Holland
Tom might not have been invited by the original Avengers cast to get a tattoo that matched theirs, but he had his own done to commemorate his association with the friendly neighborhood spider. He had a Spider-Man symbol inked under his foot and admitted in an interview that getting it done hurt quite a bit.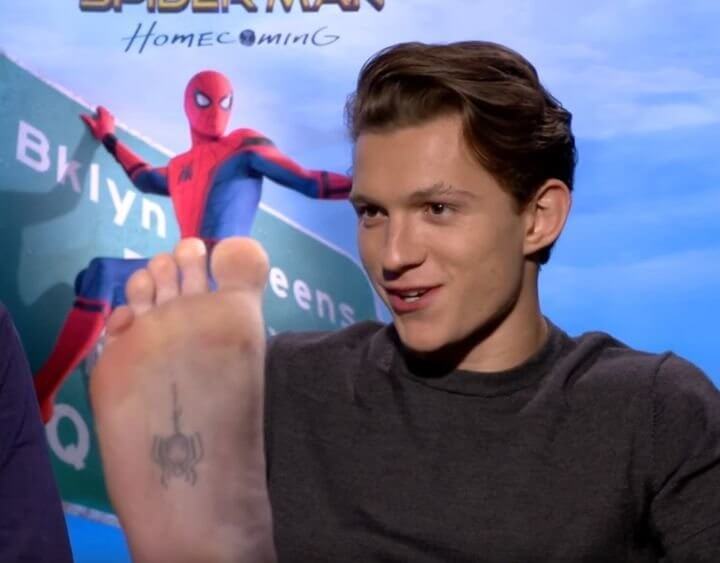 At a press tour for his latest movie, Homecoming, Holland said "I always wanted to get that Spider-man symbol on the bottom of my foot, but I just never thought I would get it done. The opportunity came about and he [Keith McCurdy] was like, 'Yeah we can do that.' And I had it done, and, yeah it was an amazing experience."
Jason Momoa
One might find it interesting to know that, for the movie Aquaman, a lot of Momoa's fake tattoos that were put especially for the show were added onto his real ones, giving us what we see on screen. The tattoo on his forearm is a tribute to aumakua, a god of Hawaiian Mythology.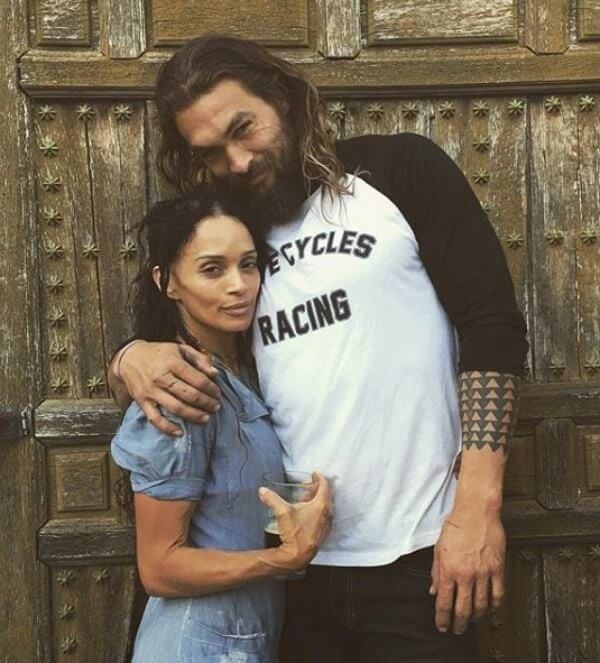 Of the large 'aumakua' tattoo on his forearm, Momoa says "It's supposed to take the darkness out of your heart and bring the light in." 
Gisele Bündchen Is a Modeling Star With a Star Tattoo
Gisele Bündchen is one of the highest-paid supermodels who has earned herself a captive audience around the world. Her fans who appreciate her beautifully sculpted face and slender features will instantly recognize the delicate star tattoo on her wrist.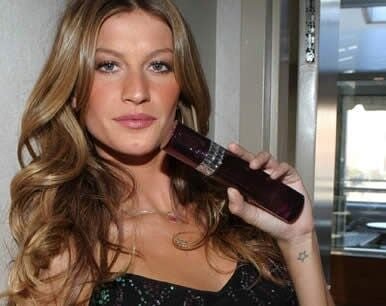 The meaning behind her star tattoo makes the symbol extra-special. Gisele shares, "It's a shooting star, for my grandmother. She died when I was young. When I first moved to New York, there were no stars in the sky, so to remind me of her I drew one on my wrist and kept it there for a month, and then had someone draw it in, which is why it's a little crooked." If only her grandmother could see her now. 
The Ladies of Mamma Mia!
Mamma Mia, that wonderful movie about a bride-to-be whose story is told through the songs of a popular 1970s music group called ABBA, was such a hit that its stars wanted to commemorate their involvement in it by—you guessed it— getting matching tattoos. Amanda Seyfried, Ashley Lilley, and Rachel McDowall weren't just friends in the movie, they became friends in real life, too, and wanted to seal their sisterly bond with a tattoo.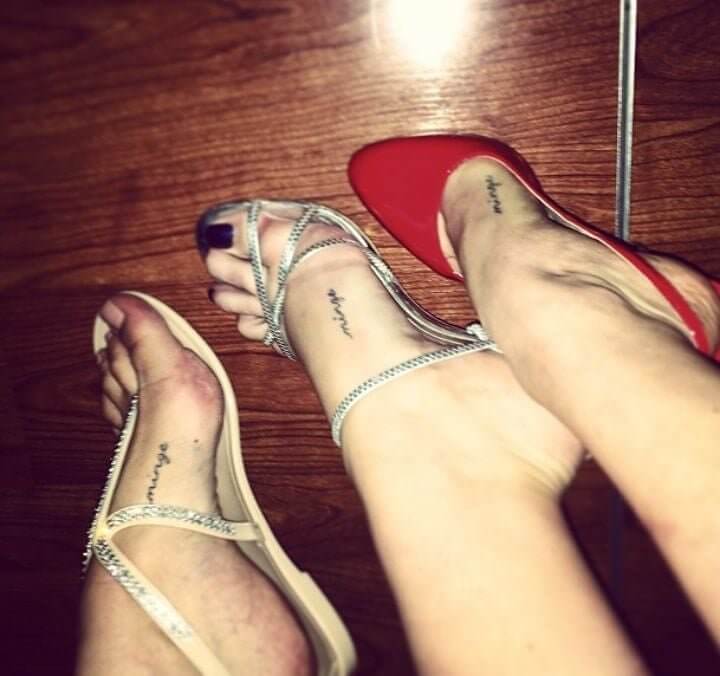 They decided to get the word "minge" inked on their feet, which is a word Amanda describes as a term of endearment. "In England, it means vagina," Amanda says. "But in the U.S., which is where I spend most of my time, it just doesn't mean anything. So we commemorated our friendship with 'minge' tattoos." 
Bryan Cranston, Walter White
To commemorate his role in the massively successful TV series, Breaking Bad, where he played a mild-mannered, high school chemistry teacher turned drug lord and criminal mastermind, Cranston decided on having himself inked with "Br Ba" symbol from the periodic table that is instantly recognizable as the logo of the show.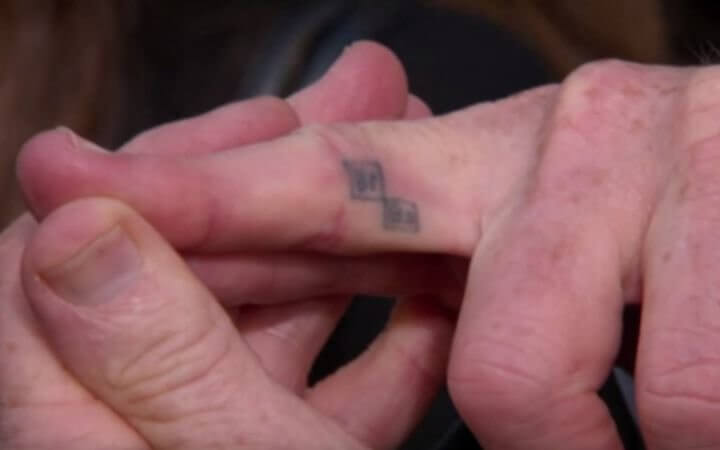 One of the show's department crew members, who turned out to be a tattoo artist, inked Cranston with the show's symbol. And, why not, the role of Walter White, after all, catapulted Cranston into meteoric heights and marks a turning point in his career. 
Zayn Malik's Hidden But Adorable Star Wars Tattoo
The former One Direction member is the perfect example of a boy becoming a rugged man.  Zayn Malik has nearly 50 tattoos that are bold and decorative. His sneaky Star Wars tribute tattoo can easily be missed if you're not aware of its existence - but when you see it then you'll smile!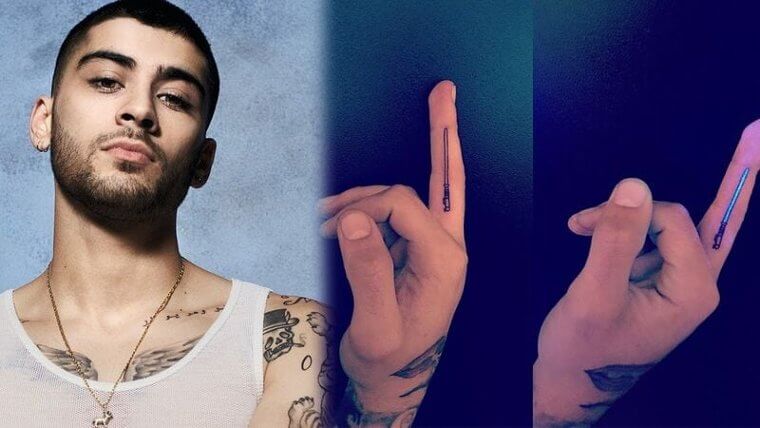 The singer has a thin lightsaber tattoo on the inside of his finger. The outline has been filled in with UV ink so that it becomes illuminated under a black light. How quirky!
The Gorgeous Ladies of Pretty Little Liars
Pretty Little Liars is about a group of friends who banded together to vanquish the unidentified adversary who is threatening to reveal their most sinister secrets. And, it turns out, these friends banded together to get matching tattoos, too.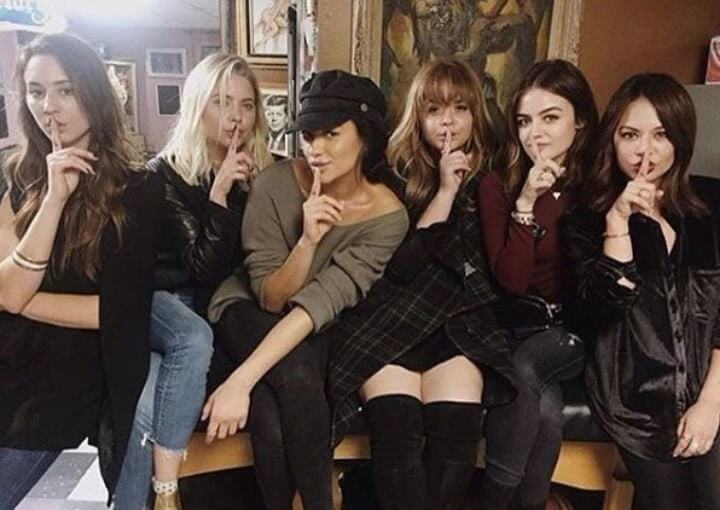 Shay Mitchell, Troian Bellisario, Ashley Benson, Lucy Hale, Sasha Pieterse, and Janel Parrish revealed on Instagram that, after concluding with the filming of the show's season finale, they all got their index fingers tattooed with the initials of their character's names.