Step back in time and witness the vibrant history of New York City like never before. Often, aged images in black-and-white create a detachment in our modern world. But these colorized photographs from the late 19th and early 20th centuries, breathe life into the iconic scenes of such a forgotten era. These color-restored images offer a unique glimpse into the hustle and bustle of a city on the cusp of transformation. Let's rediscover the city that never sleeps...
Women on the Subway
In this vintage snapshot from around 1910, you can catch a glimpse of the inside of a subway car. The scene showcases elegantly dressed women passengers alongside a sharply dressed male conductor. It's like stepping back in time to the early days of subway travel.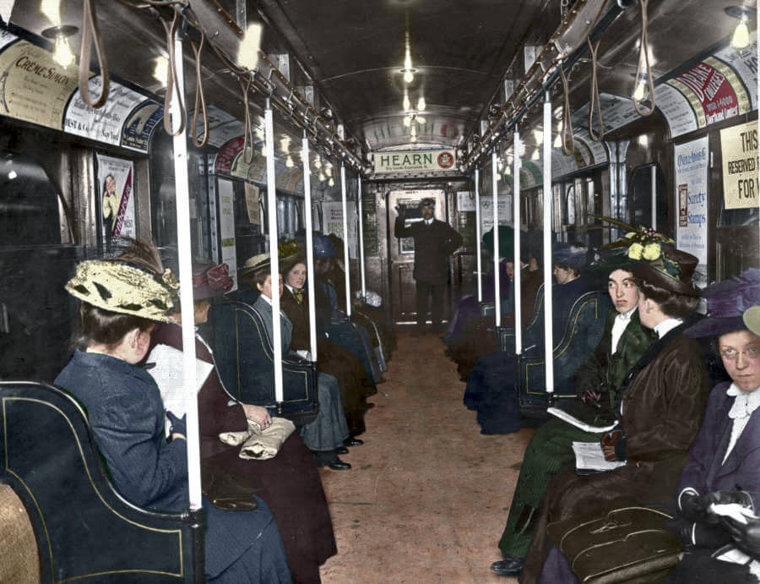 The passengers' attire exudes a sense of classic style, while the conductor's uniform adds a touch of professionalism to the picture. This image captures a slice of history, giving us a charming look into how people commuted on subways in the past. It's a reminder of the timeless appeal of well-dressed travelers and the enduring tradition of uniformed conductors, all within the confines of a subway car from a bygone era.
A Toast to the End of Prohibition
In December 1933, folks in New York City joyously raised their glasses and clinked them together in a heartfelt toast, marking a significant moment in American history: the end of Prohibition. It was a time when people could finally enjoy a legal drink after the 13-year dry spell, and the enthusiasm was palpable.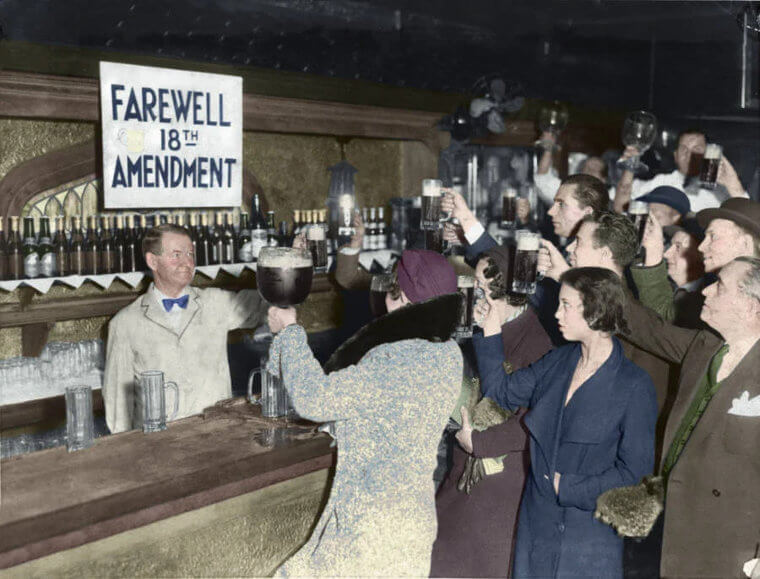 Prohibition, which began in 1920, banned the sale and consumption of alcoholic beverages across the United States. This era gave rise to speakeasies, underground bars, and a thriving black market for booze. However, it also fueled crime and corruption. The repeal of Prohibition in 1933 brought an end to these illicit activities, generated tax revenue, and allowed responsible drinking once again. It's a historic moment that not only celebrated freedom but also marked the start of a new era in New York
Boys Working From A Young Age
These scrappy youngsters were the backbone of communication in the neighborhood. Armed with bundles of newspapers, they weaved through the crowded streets, shouting headlines and delivering the latest updates. Their importance was undeniable, as they bridged the gap between information and the community.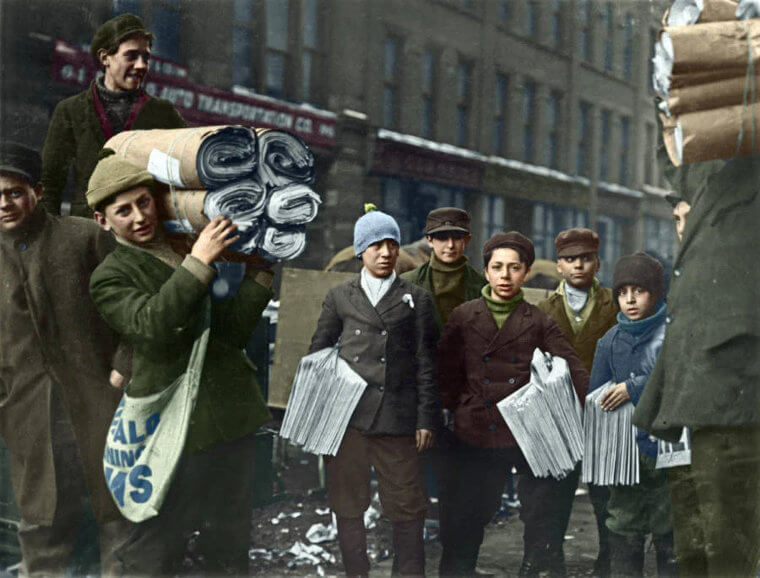 In an age before smartphones and the internet, the newsboys were the information highway of Mulberry Street. They brought news of local events, politics, and even a taste of the world beyond. Their dedication and resourcefulness helped connect the diverse residents, creating a sense of belonging in this dynamic neighborhood.
A Window Cleaner of the Empire State
In this classic snapshot from March 24, 1936, we catch a glimpse of a window washer taking a well-deserved breather while working on the iconic Empire State Building. It's a candid moment frozen in time, showcasing the impressive feat of human engineering and the everyday heroes who kept this towering skyscraper gleaming.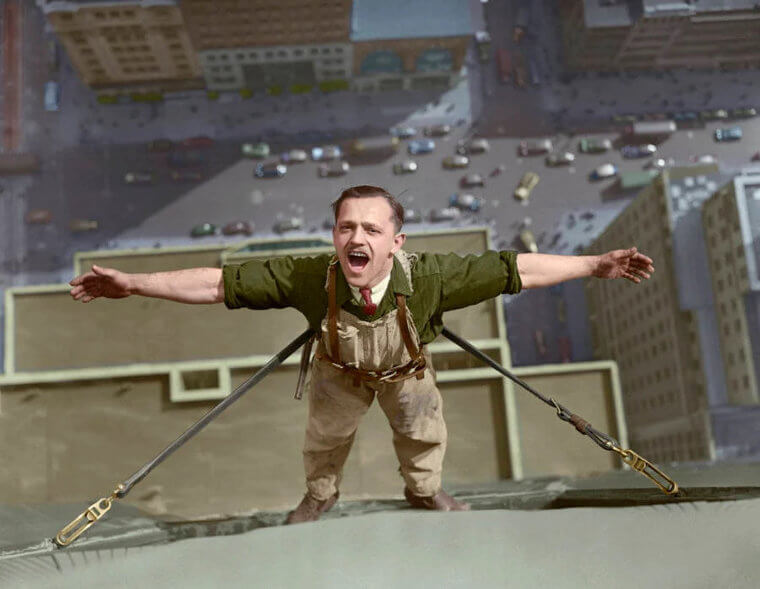 The Empire State Building, completed in 1931 during the Great Depression, stands as an enduring symbol of American ingenuity and ambition. Rising 1,454 feet into the New York City skyline, it was once the tallest building in the world. Constructed in just over a year, this art deco masterpiece boasts 102 stories and has been a focal point of countless movies, photographs, and historical events.
Shoeshiners in Times Square
In the 1940s, Times Square held a unique and pivotal role in American history. It wasn't just a bustling hub of entertainment; it was a symbol of resilience and unity during a crucial period. Picture this: soldiers and sailors lounging near Father Duffy's statue, while enterprising boys polished their shoes. This iconic scene from June 1943 encapsulates the essence of the era.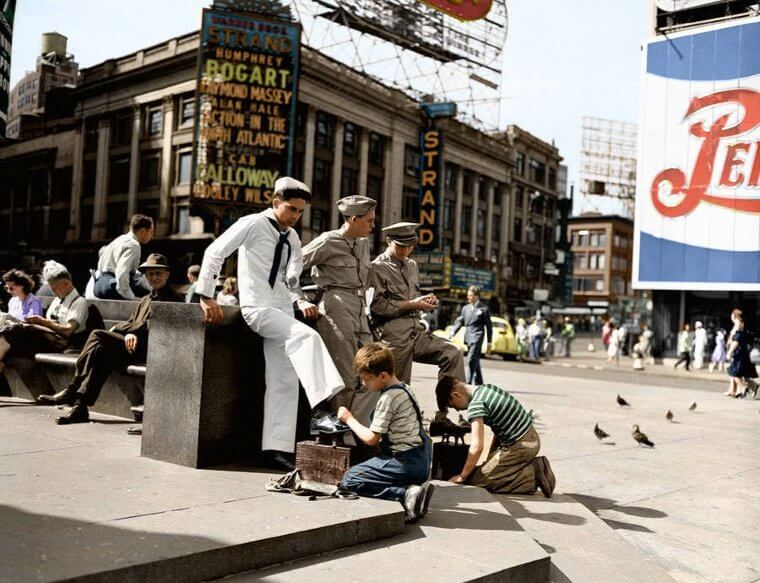 Times Square wasn't merely a crossroads of commerce and culture; it was a meeting point for people from all walks of life. During World War II, it served as a beacon of hope for the nation. The vibrant billboards and neon lights provided a sense of normalcy amid the chaos of war.
A Beggar in the New York Streets
An unidentified beggar, potentially bearing the scars of World War I, is captured in this timeless street scene. The exact date remains a mystery, adding to the intrigue of the photograph. The beggar's poignant presence evokes a sense of empathy and reflection, serving as a poignant reminder of the enduring impact of historical events on individuals.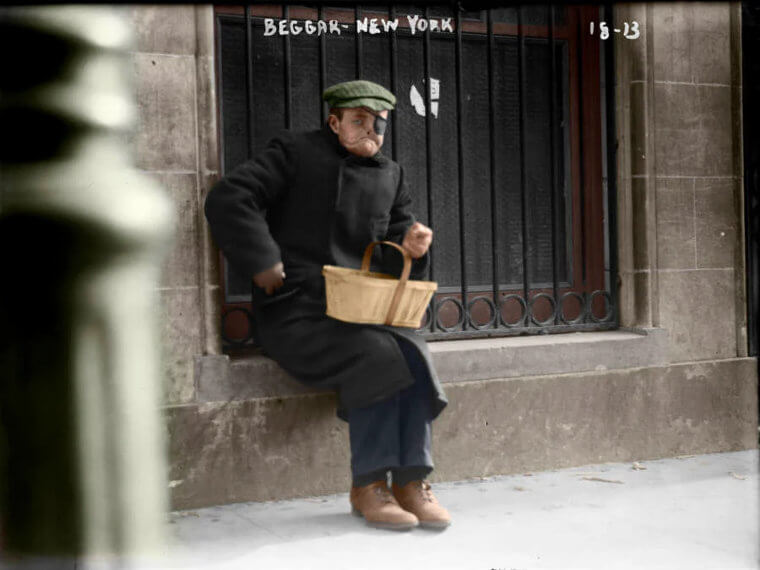 This candid snapshot freezes a moment in history, offering a glimpse into a bygone era when the world was gripped by the turmoil of war. The beggar's weathered face and posture tell a story of resilience and hardship, inviting viewers to contemplate the human experiences hidden within the folds of time.
A Quick Lunch In The Sky
In the iconic photograph "Lunch Atop a Skyscraper," we glimpse a breathtaking moment frozen in time. Picture this: daring laborers casually perched on a steel beam, suspended over 800 feet above the bustling streets of New York City. It's not just a stunning image; it's a symbol of resilience and ambition.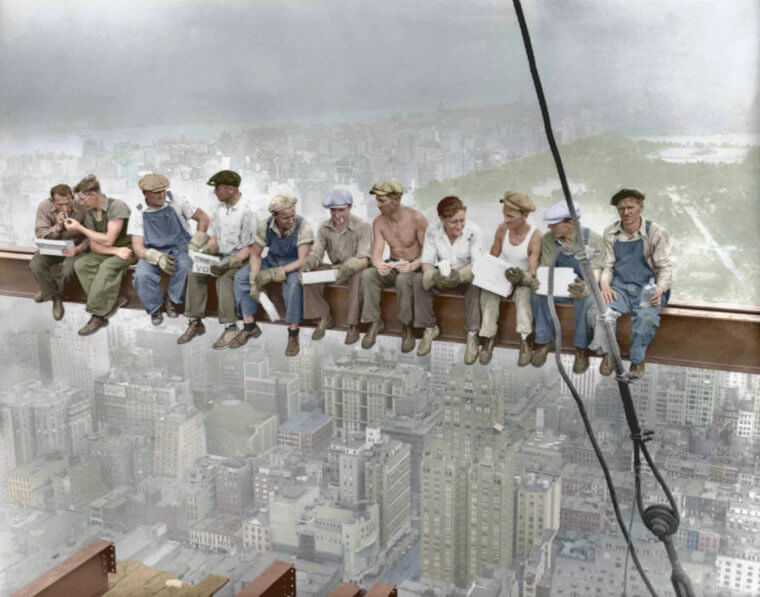 Taken on September 20, 1932, this photograph captures the essence of the Rockefeller venture. The RCA building in Rockefeller Center, a soaring 70-story structure, stands as a testament to human innovation. These fearless workers represent the determination and skill that went into constructing such monumental skyscrapers.
Nikola Tesla At Work In 1916
In the bustling cityscape of Manhattan in 1916, the brilliant inventor Nikola Tesla could be found diligently at work within the confines of his office. Tesla's workspace was a testament to his unique genius, adorned with scientific apparatus, meticulously organized papers, and the unmistakable hum of electricity. He was a man on a mission, driven by a relentless passion for innovation.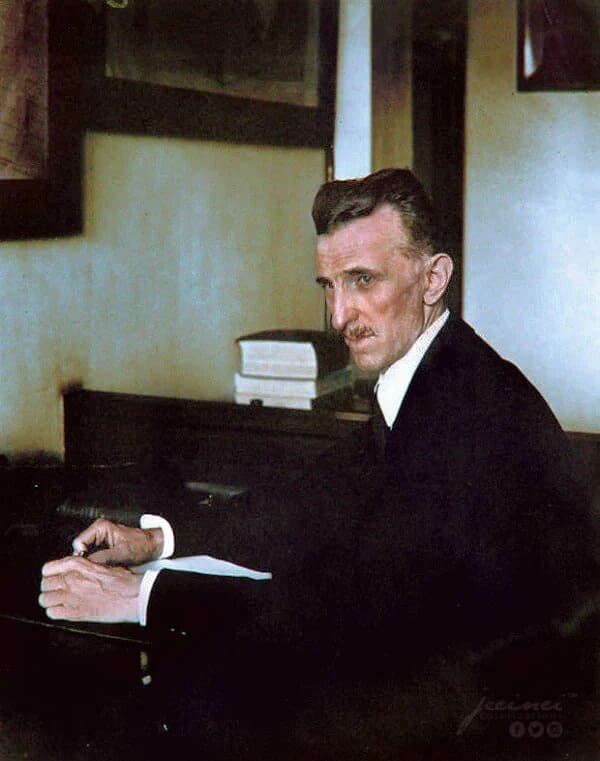 Nikola Tesla was a pioneering inventor and engineer known for his contributions to alternating current (AC) electrical systems, wireless communication, and numerous inventions and innovations in electrical engineering. His work laid the foundation for modern electrical power distribution and wireless technology, making him a key figure in scientific history.
A Farewell Kiss Before The War
During World War II, American soldiers played a pivotal role that can't be overstated. Picture this: a heartfelt farewell kiss shared by a couple at Penn Station as he embarks on his journey to the front lines. It's a poignant scene that encapsulates the sacrifice and courage displayed by millions of servicemen and women during that tumultuous era.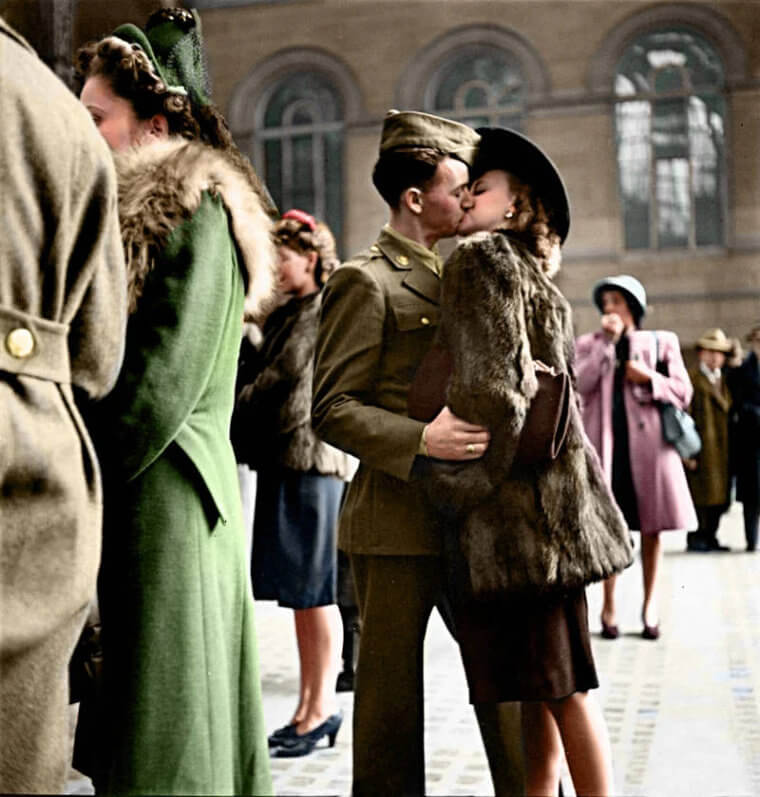 These soldiers were more than just uniformed individuals; they were the backbone of freedom and democracy on a global scale. The importance of American soldiers in World War II extends far beyond national borders. Their dedication, bravery, and unwavering resolve influenced the course of history, shaping a world where tyranny gave way to liberty.
Sweatshops in the 1890's
In the late 19th century, sweatshops played a pivotal role in the lives of many workers, like the young boy and several men captured in a poignant 1889 photograph. These establishments, though controversial, were of significant importance during the 1890s.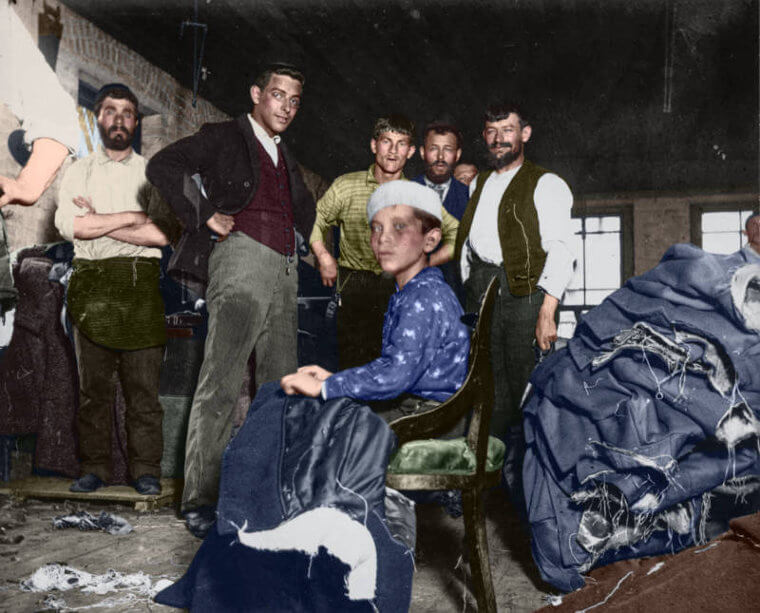 During the 1890s, sweatshops served as hubs for rapid industrialization. They fueled the manufacturing boom of the era, contributing to the production of clothing, textiles, and other goods that were in high demand. However, it's essential to recognize that these conditions also highlighted the need for labor reforms and workers' rights, ultimately leading to significant social changes in the years to come.
Kids Playing In The Street Post-War
In 1946, amidst the vibrant streets of West Harlem, a group of children came together, holding hands and forming a united circle. This heartwarming scene encapsulates the spirit of a bygone era when kids found joy in simple pleasures. The streets were their playground, and friendship was their bond.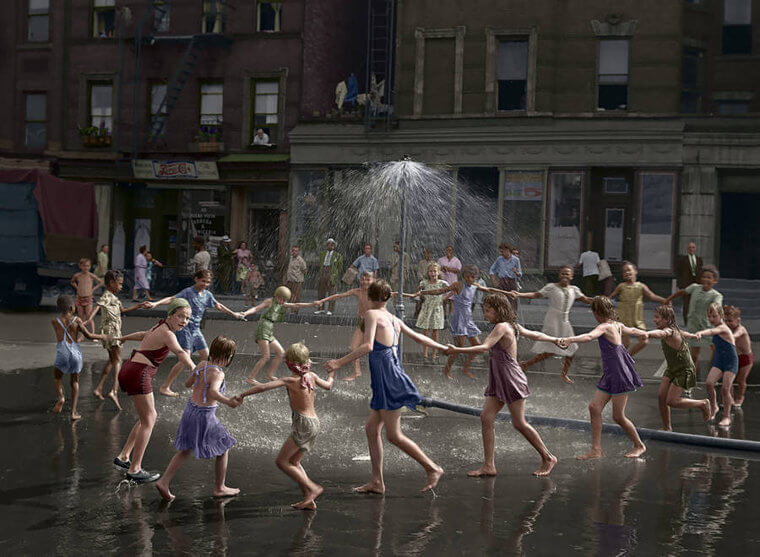 These children, full of innocence and hope, remind us of a time when the world was a bit simpler. West Harlem's bustling streets served as a backdrop for their adventures, and their unity was a testament to the community's strength.
Schoolkids in Harlem
In 1930s New York, young students in Harlem embarked on a unique journey of resilience and determination. These black schoolchildren faced challenges that were deeply rooted in the racial segregation of the era. Despite the adversity, their spirit shone brightly.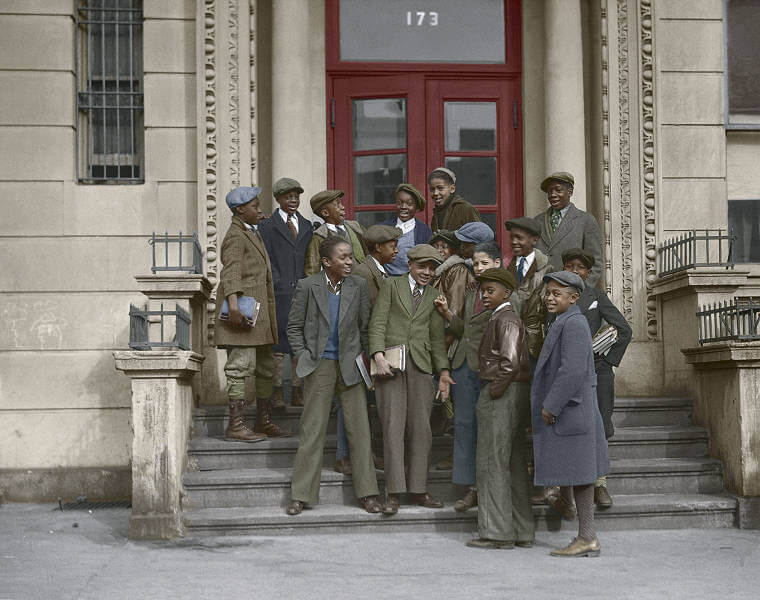 In the heart of Harlem, a vibrant neighborhood teeming with cultural richness, these schoolboys pursued education with unwavering dedication. They navigated segregated schools, limited resources, and a society that often denied them equal opportunities.
A Peanut Vendor in Manhattan in 1945
During World War II, Manhattan played a pivotal role that extended far beyond its iconic skyline. The bustling streets of Lower Manhattan, like this peanut vendor's corner in 1945, may seem an unlikely setting for wartime significance, but appearances can be deceiving.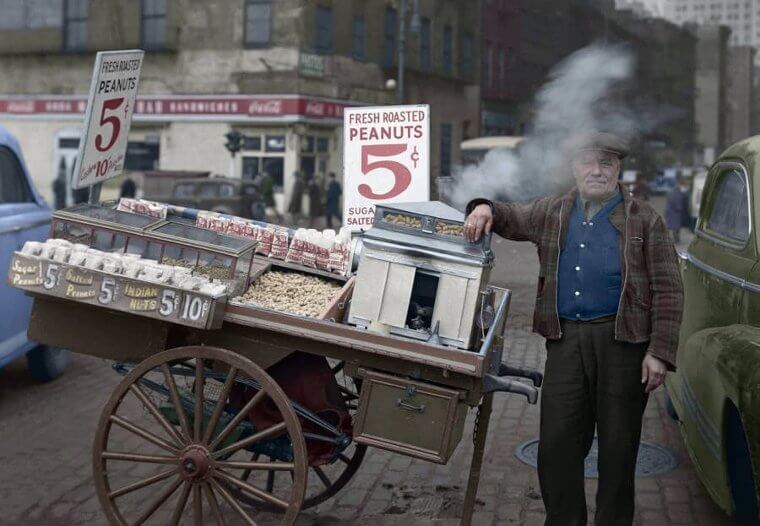 Manhattan served as a hub for war-related activities, from military planning to the production of critical supplies. The city's docks were a vital point of entry for troops and supplies, ensuring a steady flow of resources to the frontlines. The Manhattan Project, conducted in secret, led to the development of the atomic bomb, altering the course of history.
Shantytowns In Central Park
During the tumultuous era of the 1930s, shantytowns popped up right in the heart of places like Central Park. Picture this: 1933, the Great Depression is in full swing, and folks found themselves in dire straits. Shantytowns, though humble and makeshift, played a crucial role during those tough times.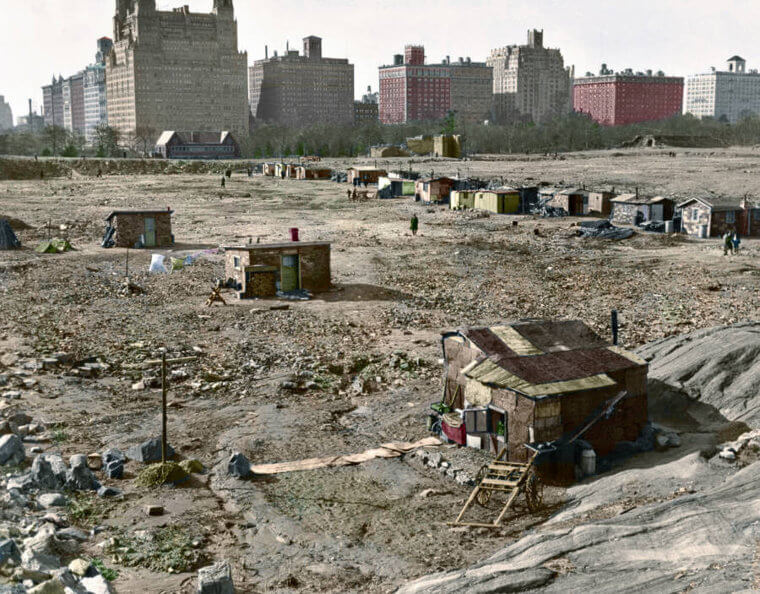 In the midst of despair, shantytowns were more than just a collection of makeshift shacks; they were a testament to the indomitable human spirit. They highlighted the importance of community and survival in the face of adversity, offering a glimmer of hope in an otherwise bleak landscape. These humble dwellings in Central Park stood as a reminder of the challenges faced during the Great Depression.
A Bootblack Working Near City Hall
In July 1924, a young bootblack could often be spotted near City Hall Park, offering a glimpse into the remarkable work ethic of boys at such a tender age. These youngsters, often from humble backgrounds, played a vital role as bootblacks, shining shoes and providing a valuable service to passersby.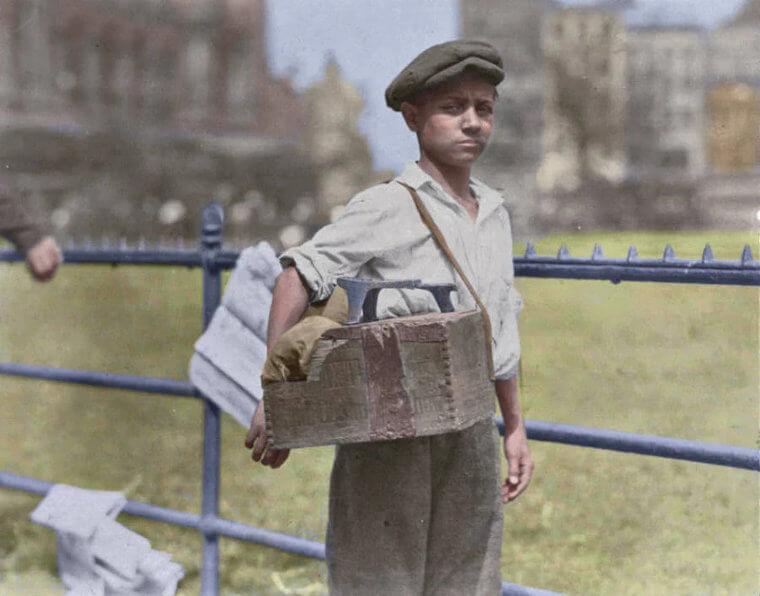 The work of these young boys was a testament to their determination and resilience. From dawn till dusk, they diligently plied their trade, ensuring that shoes gleamed and people walked away with a sense of pride. It was a common sight in that era, reflecting the economic challenges of the time.
Staying Cool in the Summer
In the scorching summers of old New York, heat waves played a pivotal role in shaping the city's history. Back in the day, folks would go to great lengths to beat the sweltering heat. Like this picture here: children eagerly licking massive blocks of ice to keep cool, a common sight on a scorching July day in 1912.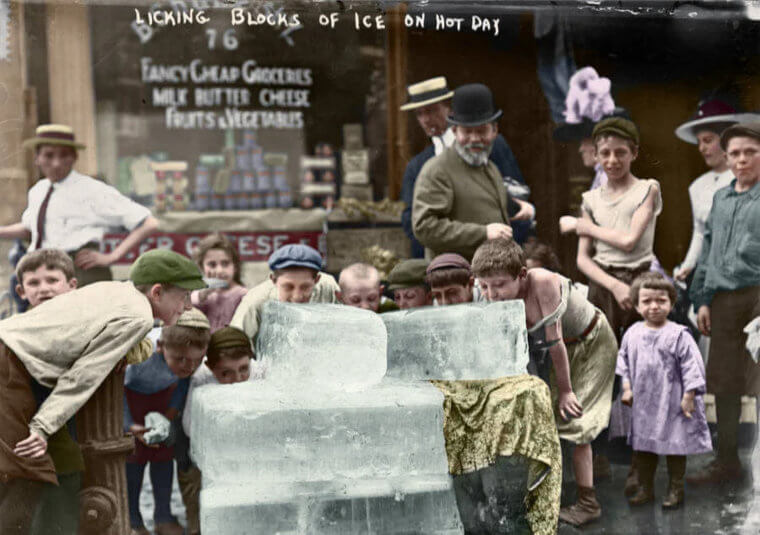 Heat waves weren't just an inconvenience; they were significant events that impacted daily life. They pushed New Yorkers to adapt and innovate. The importance of surviving these blistering heat waves cannot be overstated. They drove the development of technologies like air conditioning, forever changing how we endure the summer heat.
Children Playing In The Street
In the early 1900s, New York had a rather grim side to its bustling cityscape. Picture this: kids frolicking near a lifeless horse, abandoned in the street, left to decay. It was a sight all too common around 1905, capturing a glimpse of a bygone era.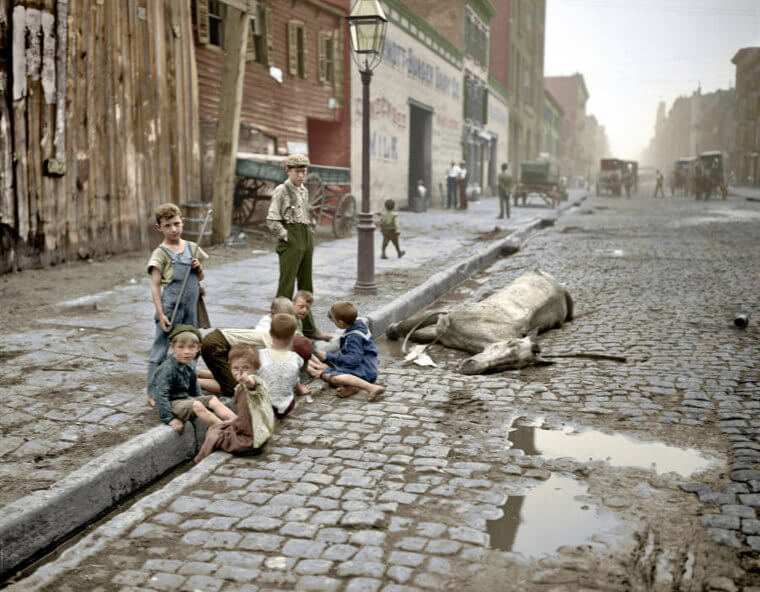 During that period, New York was in the midst of rapid urbanization and faced various challenges. Overcrowding and inadequate sanitation were pervasive issues. The photograph of children casually playing near a deceased horse serves as a stark reminder of the harsh living conditions and lack of proper infrastructure in some areas.
The Empire State Building
In 1930, amidst the hustle and bustle of New York City, a dedicated laborer toiled on the construction of the iconic Empire State Building. This monumental project would later become a symbol of ambition, resilience, and the American dream.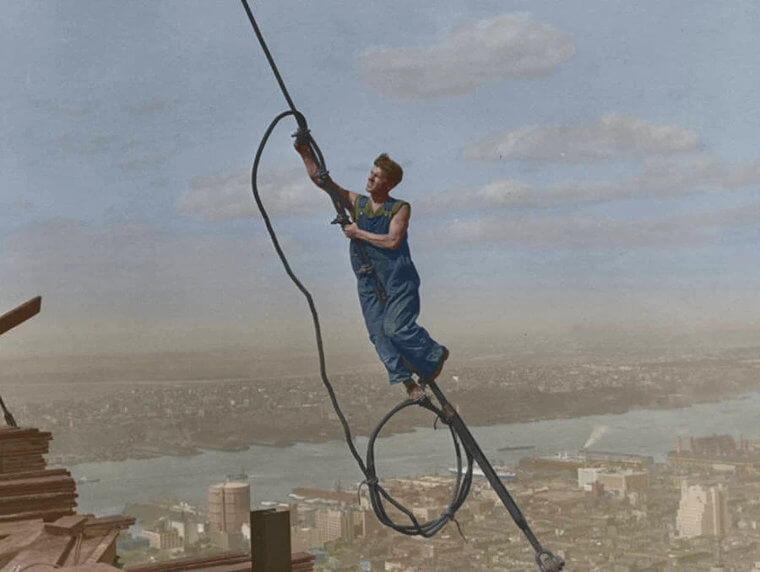 The Empire State Building, towering at 1,454 feet, stands as a testament to human achievement. Its construction during the Great Depression was a beacon of hope, providing jobs to thousands and demonstrating the indomitable spirit of New Yorkers. Beyond its physical stature, the Empire State Building holds a deeper meaning. It represents the enduring spirit of New York—a place where dreams are pursued, challenges are conquered, and the sky is not the limit, but the beginning.
A Romanian Immigrant
In the early 1900s, Romanian immigrants played a pivotal role in shaping the cultural tapestry of New York City. Their arrival at Ellis Island, much like the iconic image of a Romanian piper, brought a unique and melodious contribution to the city's immigrant symphony.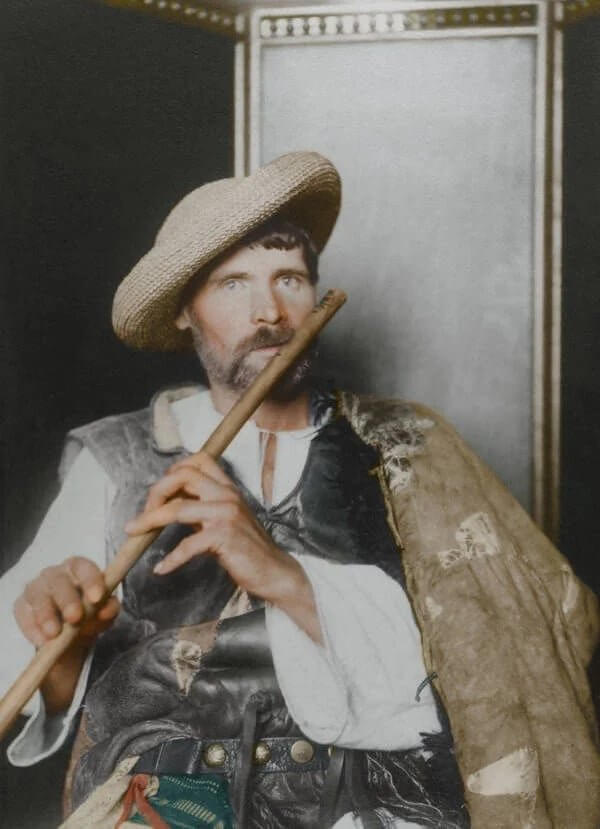 Their presence not only added diversity but also enriched the city's economic and social landscape. They contributed to various industries, helping to build the foundation of modern-day New York. Their legacy endures in the cultural events, restaurants, and traditions that continue to thrive in the city.
Brooklyn Bridge in the 1910s
In 1904, the Brooklyn Bridge stood as an iconic symbol of engineering brilliance. This magnificent structure, spanning the East River, captured the essence of progress and connectivity in the early 20th century.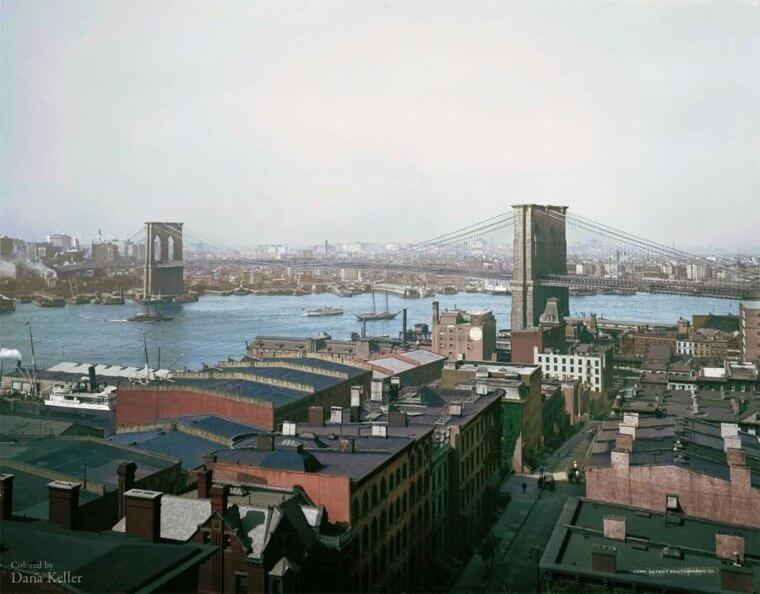 Back then, the Brooklyn Bridge wasn't just a means of crossing the river; it was a testament to human innovation. Its imposing stone towers and sweeping cables not only linked Brooklyn and Manhattan physically but also bridged the gap between two bustling metropolises.
Orchard Street in the 1910's
Orchard Street in the early 1900s was an absolute gem in the Lower East Side. Picture this: bustling sidewalks, shopfronts adorned with colorful wares, and a vibrant atmosphere that defined the spirit of the era. From around 1902 to 1914, Orchard Street was the place to be.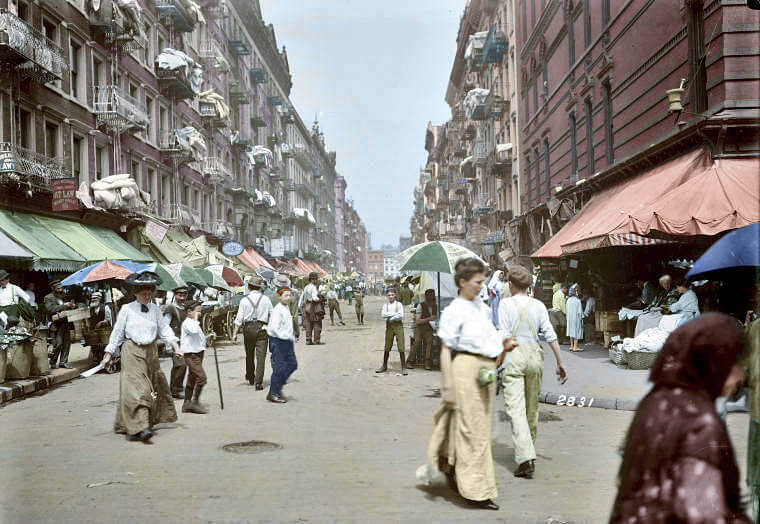 The Brooklyn Bridge. Circa 1904.
Harlem During World War II
Harlem in 1943 was a vibrant and culturally significant neighborhood in New York City. Known as the epicenter of the Harlem Renaissance in the 1920s, it continued to be a hub for African American culture and creativity. The Great Migration had brought a substantial African American population to Harlem, contributing to its rich diversity.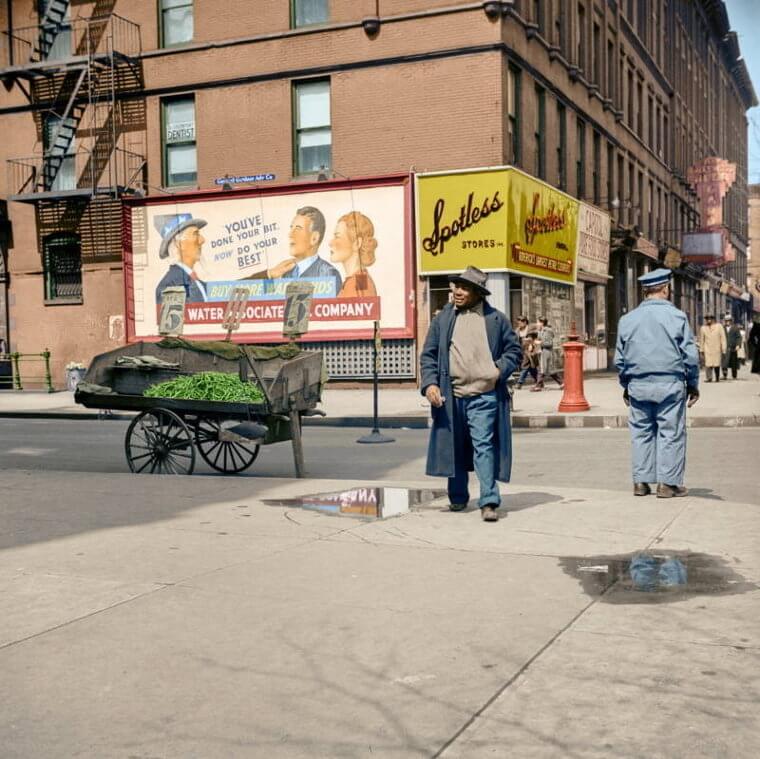 During this time, jazz music thrived in Harlem's nightclubs and bars, with legends like Duke Ellington and Count Basie performing regularly. The Apollo Theater became a renowned venue for showcasing African American talent. Despite the cultural richness, Harlem faced social challenges, including racial segregation and poverty. World War II had a significant impact, leading to a boom in factory jobs and migration from the South.
How To Receive A Larger Tip
In 1930, the Waldorf-Astoria Hotel in New York City played a pivotal role that resonates even today. Imagine this scene: high above the bustling city, waiters served lunch to two steelworkers perched on a girder during the hotel's construction on November 14, 1930. This iconic moment captured the essence of the era's spirit and ambition.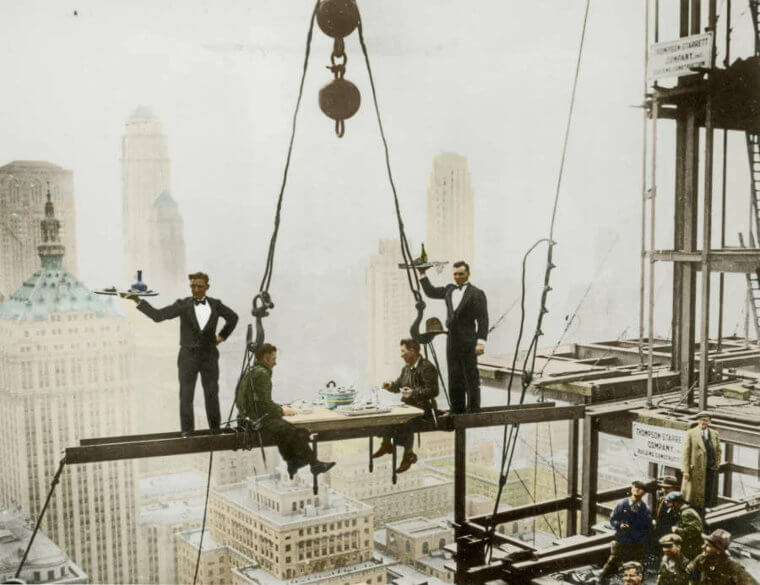 The Waldorf-Astoria Hotel, known for its opulence and grandeur, stood as a symbol of New York's ascent to greatness. It wasn't just a place to stay; it was a testament to the city's unmatched luxury and sophistication. With its grand opening in 1931, it became an elite destination, hosting world leaders, celebrities, and dignitaries.
Broadway In The Early 1900s
Back in the early 1900s, Broadway wasn't just a bustling street; it was a heartbeat of culture,entertainment, and progress. Picture this: at 72nd Street and Broadway, a horse-drawn fire engine races toward a blaze, emblematic of the era's energy and dynamism.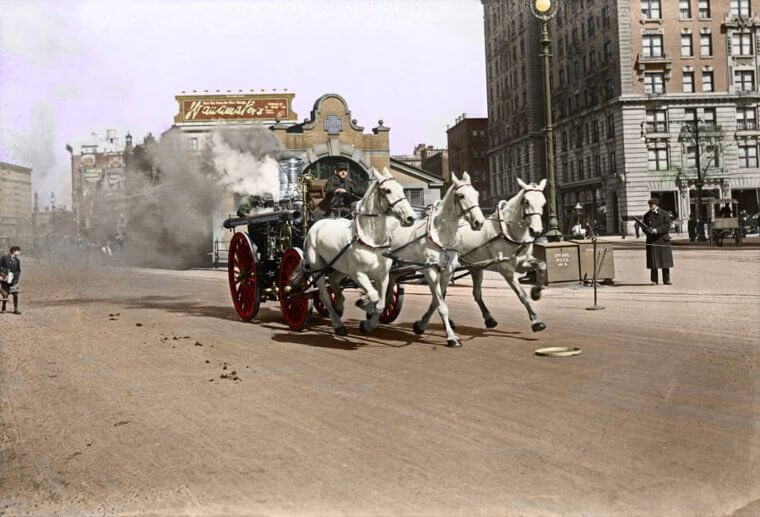 Broadway played a pivotal role during this time, setting the stage for the modern entertainment industry we know today. The theaters along this iconic strip hosted groundbreaking plays, musicals, and vaudeville shows that captured the imagination of New Yorkers and beyond.
A Photo With Tragic Consequences
On May 6, 1937, the German airship Hindenburg soared gracefully over the iconic skyline of New York City. Little did anyone know that within hours, this majestic airship would meet a catastrophic fate in Lakehurst, New Jersey. The importance of this moment in history cannot be overstated.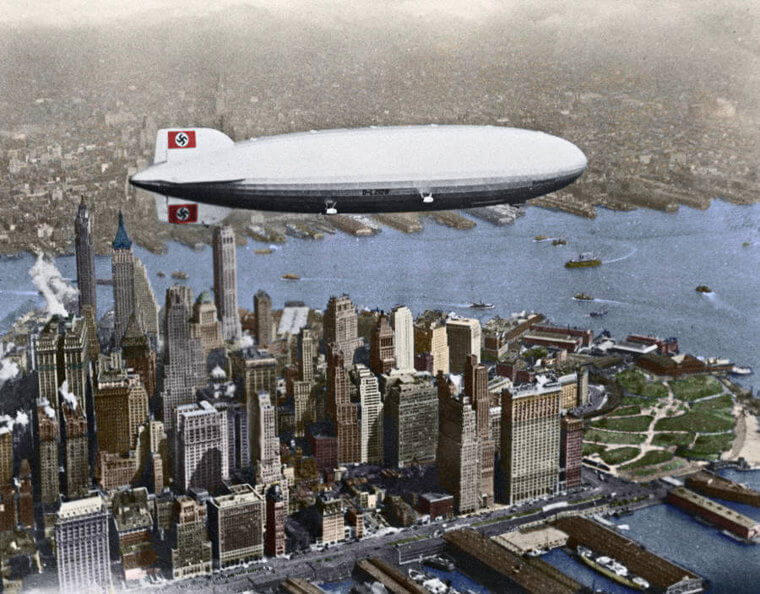 The presence of the Hindenburg over New York City was a significant event. It represented the pinnacle of airship technology at the time and was a symbol of German engineering prowess. However, tragedy struck as the Hindenburg attempted to dock in Lakehurst. A sudden and devastating explosion claimed lives and forever changed the perception of airship travel.
An Immigrant Italian Family
In 1908, a determined Italian immigrant mother and her three children embarked on a journey to reunite with their family patriarch in Scranton, Pennsylvania. Their story unfolds at Ellis Island, a pivotal point of entry for countless immigrants seeking a new life in America.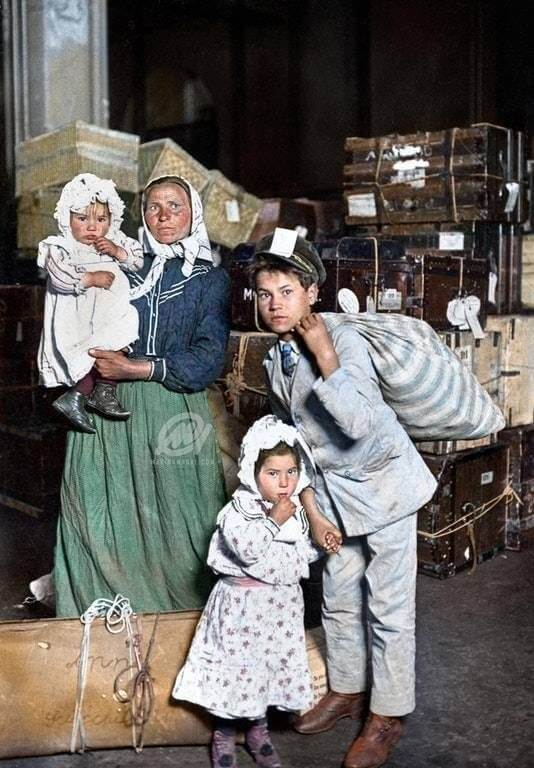 This poignant snapshot from history captures the essence of countless immigrant experiences during the early 20th century. It's a reminder of the courage and sacrifices made by those who pursued the American dream, laying the foundation for future generations.
A Family in Poverty
In the gritty streets of 1890s New York, an impoverished young girl clutches a baby close to her, perched in the shelter of a dimly lit doorway beside a forlorn garbage can. This poignant snapshot captures the stark reality of an era marked by crushing poverty, where many struggled to make ends meet in the bustling metropolis.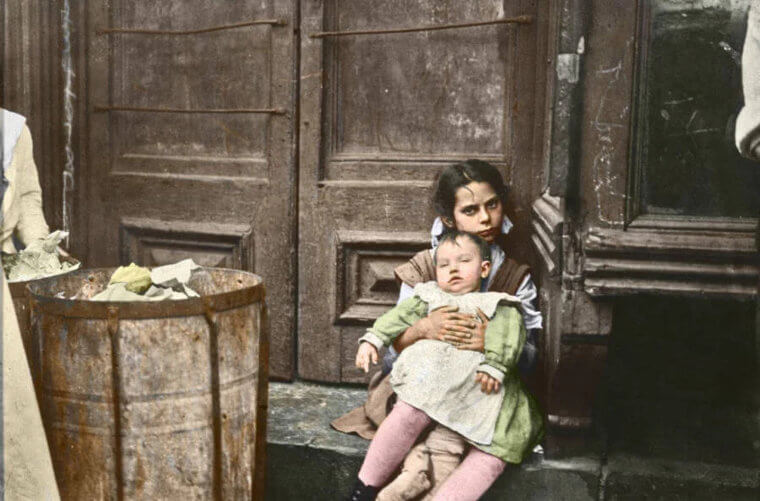 During this tumultuous time in the city's history, poverty wasn't merely an unfortunate circumstance; it was a pervasive force that shaped lives and communities. Families faced daily hardships, battling against the odds for survival and a brighter future. The streets bore witness to countless stories of resilience and determination, as individuals sought to overcome the challenges of their time.
Chilling in the Alley
In the late 19th century, a gritty alleyway tucked away on Mulberry Street in Manhattan gained notoriety as "Bandit's Roost." It served as a hub for both men and women from diverse walks of life. This seemingly ordinary alley held a remarkable historical significance during that era.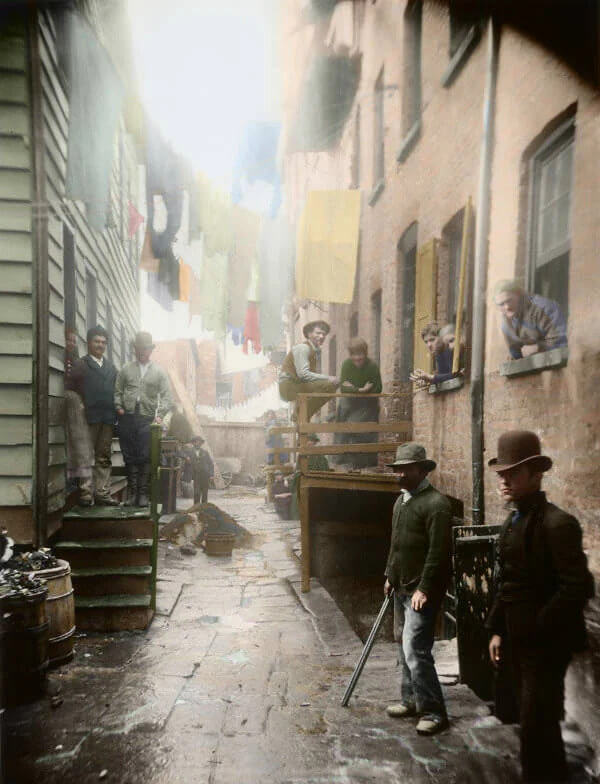 The importance of "Bandit's Roost" lies in its representation of the social and economic challenges faced by many New Yorkers at the time. It was a place where individuals struggled to make ends meet, often resorting to unconventional means of survival. This unique glimpse into the past offers a sobering reminder of the hardships endured by ordinary people in a rapidly changing urban landscape.
Central Park in 1933
Central Park in 1933 was a serene oasis amidst the backdrop of a world grappling with the Great Depression. The park's lush landscape offered solace to New Yorkers, providing a temporary escape from the harsh economic realities of the time. People sought refuge beneath the shade of majestic elm trees, their leaves rustling with whispers of hope.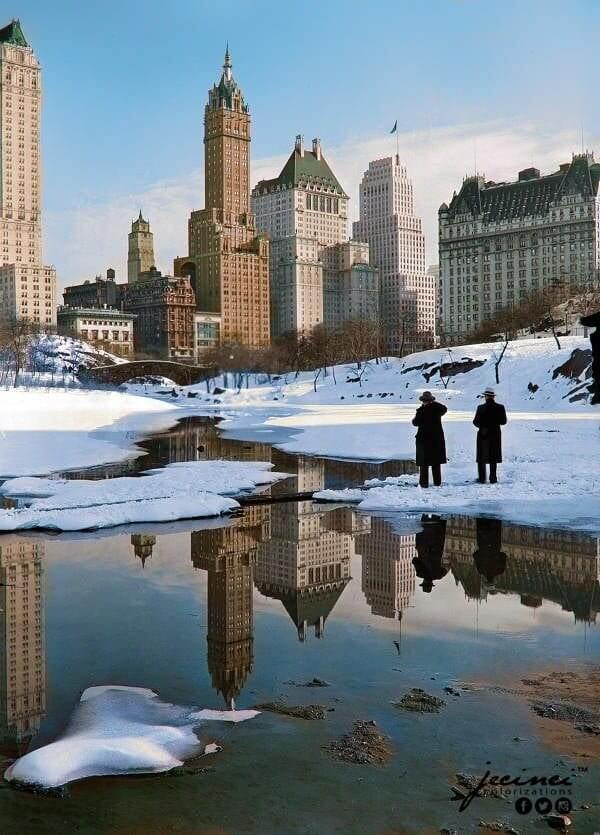 The park's iconic landmarks, such as Bethesda Terrace and the Central Park Zoo, provided respite and entertainment. Families strolled along winding pathways, children marveled at the diverse wildlife, and couples enjoyed romantic boat rides on the tranquil Central Park Lake.
Algerian Immigrant at Ellis Island in 1910
Algerian immigrants arriving in New York during the early 1900s played a pivotal role in shaping the city's diverse cultural landscape. These newcomers brought with them a rich tapestry of traditions, flavors, and experiences that left an indelible mark on the Big Apple.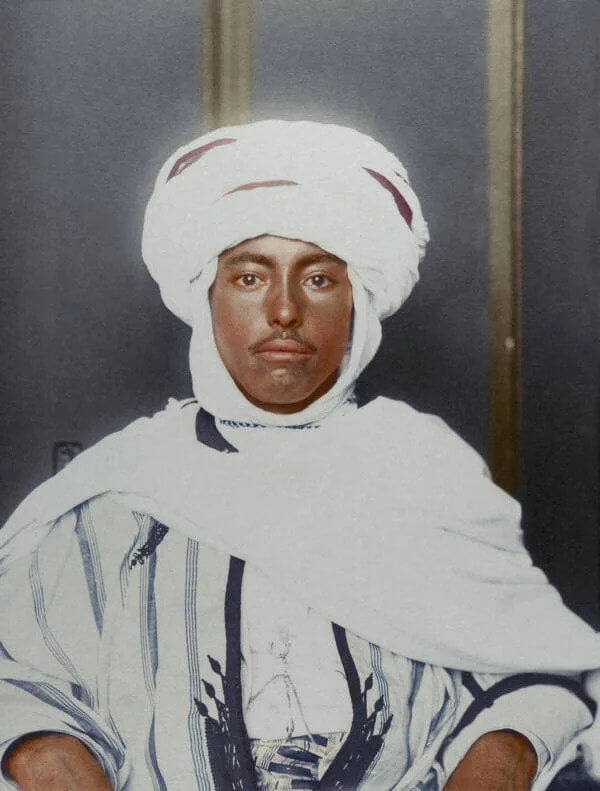 In the bustling streets of New York City, Algerian immigrants found opportunities for economic advancement, contributing their skills to various industries. They added unique flavors to the city's culinary scene, introducing New Yorkers to North African cuisine and exotic spices.
Mulberry Street in Color
In the bustling streets of 1900s New York, Mulberry Street stood as a vibrant hub of activity. Back then, this iconic Manhattan thoroughfare played a pivotal role in the city's social and cultural tapestry. Picture a scene straight out of history, where horse-drawn carriages clattered along cobblestone streets, and the air was thick with the aroma of freshly baked bread and the chatter of diverse communities.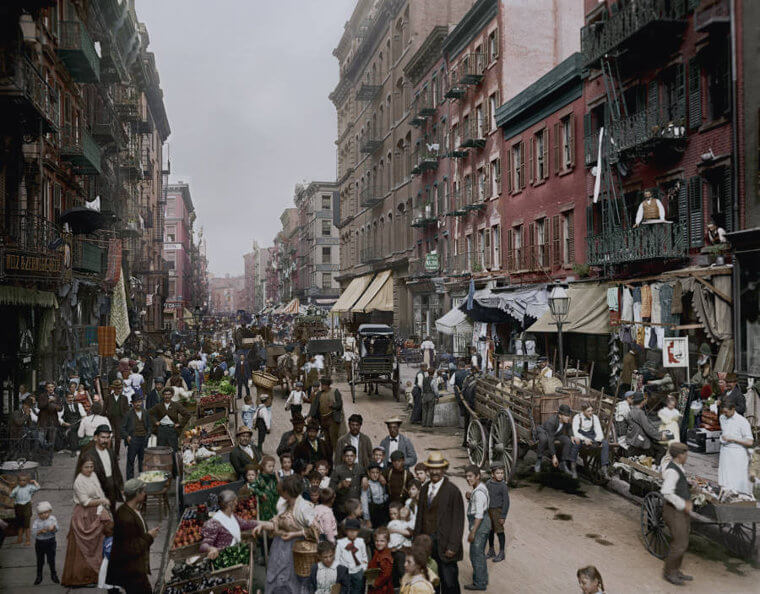 Mulberry Street was a microcosm of the city's melting pot, teeming with immigrants who brought their traditions and flavors to this dynamic urban landscape. It was a place where Italian, Irish, Chinese, and other immigrant communities converged, creating a rich tapestry of cultures and cuisines.