The enduring allure of the Wild West persists through photographs passed down through time. Yet, these aged images, often in black-and-white or sepia tones, create a detachment in our modern world. It's easy to overlook that the subjects were once living, and the scenes, real. But when these photographs undergo the transformative process of colorization, they bridge the gap between past and present, breathing new life into history. Let's dive in...
The Bull Chief
In 1908, meet Bull Chief, a prominent figure from the Apsaroke (Crow) tribe. Back in the 1870s, Bull Chief was quite the warrior, leading numerous raiding parties into white settlements. However, as the United States expanded westward, life took a turn for him and his people.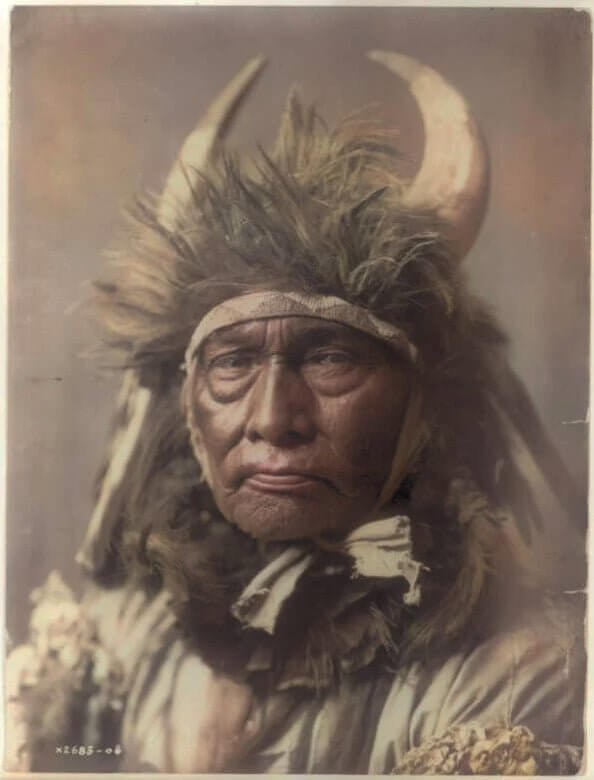 They were compelled to relocate to a Crow reservation. This shift marked a significant change in Bull Chief's life and the history of the Apsaroke tribe as they adapted to a new way of living. This snapshot from the past sheds light on the challenges faced by indigenous communities during a pivotal period in American history.
Abducted Wild West Kids
Jimmy McKinn, an abducted 11-year-old, was found with Apache captors. Surprisingly, when rescued, he strongly resisted going back to his family, showing a preference to stay with the Apaches.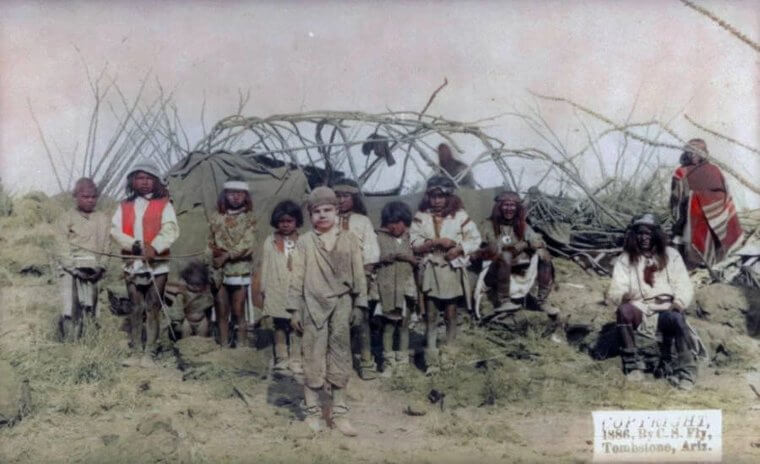 This intriguing case sheds light on the complex emotions involved in child abductions. While it's not uncommon for abducted children to develop some form of attachment to their captors, McKinn's case stands out. His reluctance to return home suggests a deep connection forged during his time with the Apache group.
Teenaged Mill Girls
More often than not, children were put to work and conditions were not always the friendliest. During the time before Children's Labor Laws, they were underpaid or not paid at all and many were poor or came from disadvantaged homes.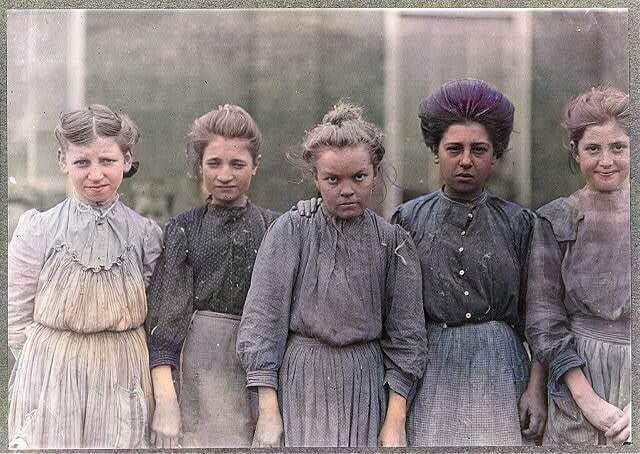 These are some of them. Teenage girls, some still very young, who are working in a cotton mill in Macon, Georgia. They even still have cotton lint all over them after a long day's work. 
The Role of the Chinese in the West
Chinese immigrant labor in the 1800s American Wild West played a crucial role in the region's industrial growth. However, this workforce faced racial prejudice from white settlers, sparking the enactment of the first significant anti-immigration laws in the United States to curb Asian immigration.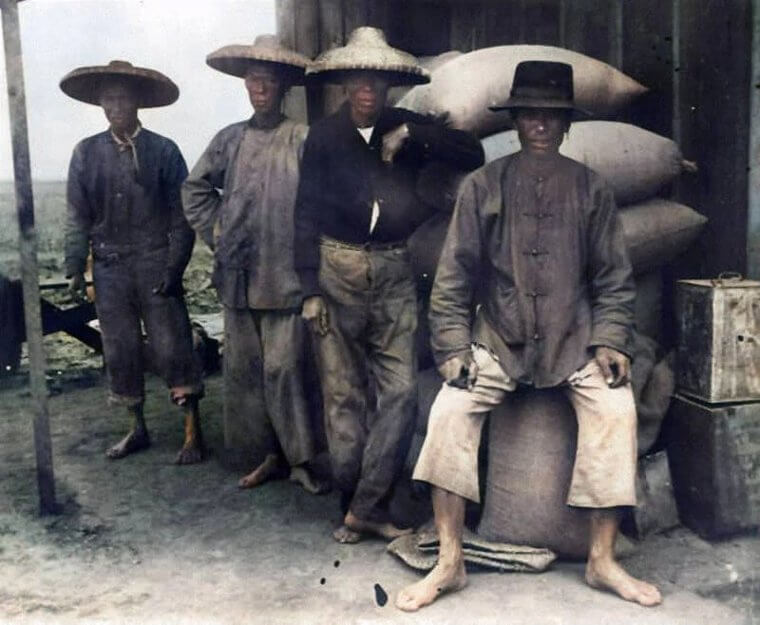 In the 1800s, as the Wild West expanded, Chinese immigrants contributed significantly to its burgeoning industries. Yet, their presence stirred resentment among white pioneers, leading to the introduction of America's inaugural anti-immigrant legislation. These laws aimed to restrict further Asian immigration, reflecting the complexities of life in the Wild West during that era.
A Black Sheriff in Pocatello
In this 1903 photo, a black sheriff in Pocatello, Idaho is seen on horseback. During the 1800s in the Wild West, about one in four cowboys were black, yet their tales often remain overshadowed by the narratives of white settlers.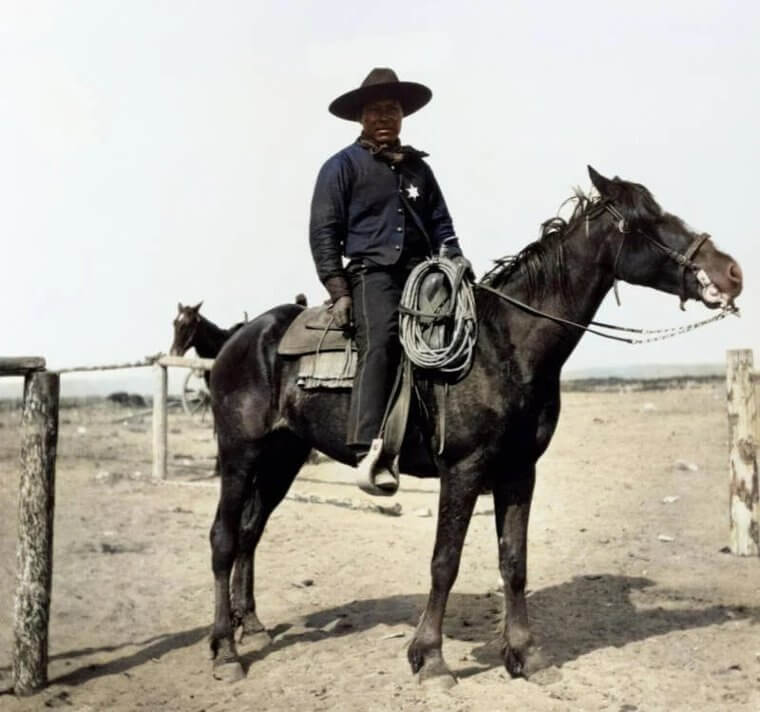 William Loren Katz, an expert in African-American history, notes that after the Civil War, becoming a cowboy was among the limited options for men of color, offering an alternative to roles like elevator operators or delivery boys. This historical snapshot sheds light on the diverse and often overlooked experiences of black cowboys in the 1800s Wild West.
Butch Cassidy in Color
Butch Cassidy, whose real name was Robert Leroy Parker, was the leader of the "Wild Bunch" gang. He and his gang were responsible for a string of daring heists, making him a legendary figure in the annals of American history. Cassidy's life, much like the Wild West itself, was a complex blend of adventure, danger, and notoriety.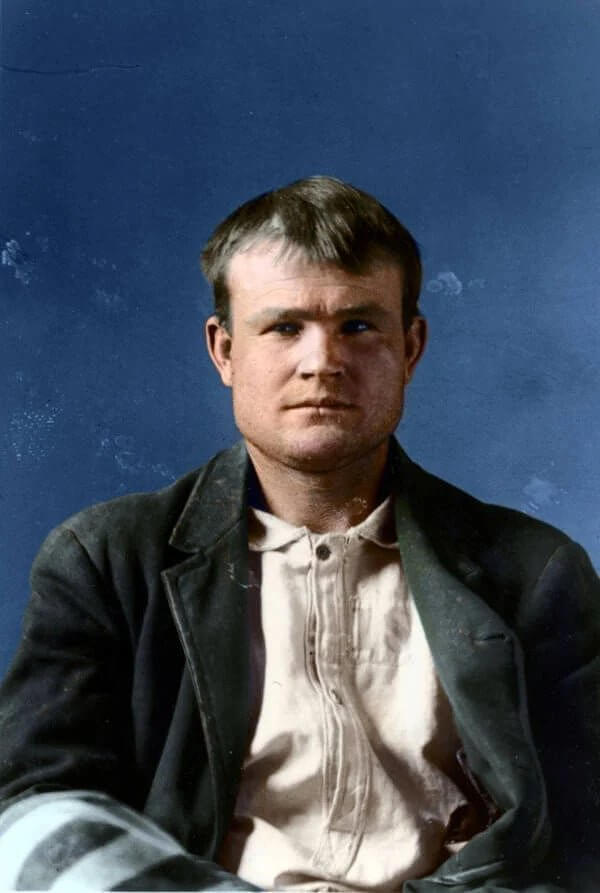 In 1894, a notorious outlaw named Butch Cassidy found himself on the wrong side of the law. His mugshot, captured that year, serves as a captivating glimpse into the Wild West of the 1800s. This era was marked by rugged landscapes, lawlessness, and untamed frontiers.
Annie Oakley, The Shooter
Annie Oakley, born Phoebe Ann Moses in 1860 in Ohio, gained fame in the late 19th century as a remarkable sharpshooter of the Wild West era. At just 15 years old, she showcased her exceptional gun skills by defeating a traveling marksman in a shooting contest. This victory marked the beginning of her journey to stardom. Oakley mesmerized audiences with her daring and precise shooting performances.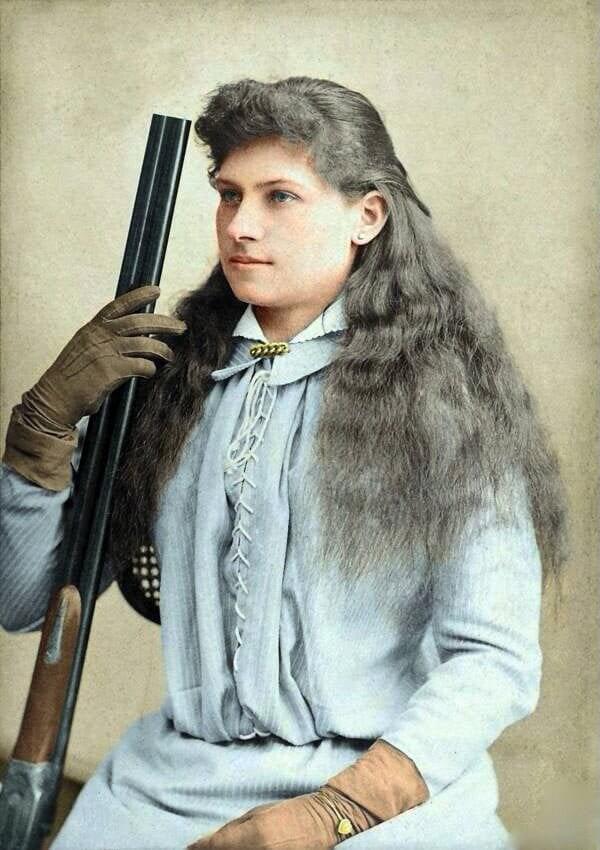 In an era when the Wild West was filled with legends and outlaws, Annie Oakley carved out her own place as a celebrated sharpshooter. Her captivating skills and charisma made her a beloved figure. Oakley's life in the 1800s Wild West embodied the spirit of adventure and mastery with firearms, leaving an indelible mark on American history.
Jesse James In Color
In the 1800s Wild West, James gained notoriety for his daring heists and evading the law. His gang, including his brother Frank, became infamous for robbing banks, trains, and stagecoaches.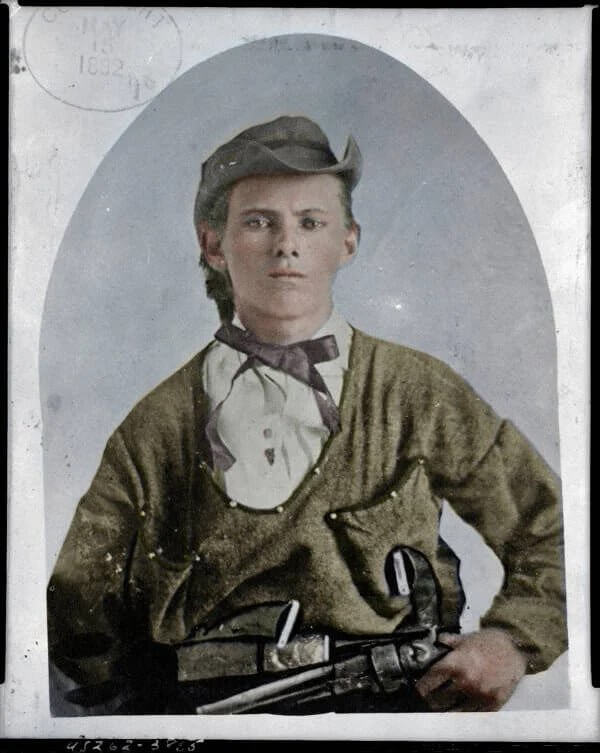 At 17, Jesse James (1847-1882) left Missouri to fight as a Confederate guerrilla in the Civil War. Later, he led a notorious outlaw gang in his home state. While some Eastern newspapers romanticized James as a modern-day Robin Hood, there's no evidence he shared stolen loot beyond his gang. The 1800s in the Wild West were characterized by a rough and adventurous lifestyle, with outlaws like Jesse James capturing the imagination of the American public.
Buffalo Bill's Wild West Show
During the 1800s, the Wild West was a rugged and untamed frontier characterized by cowboys, Native American tribes, and adventurous pioneers. Buffalo Bill's show recreated this atmosphere with thrilling reenactments of stagecoach robberies, duels, and encounters with Native American tribes like the Sioux.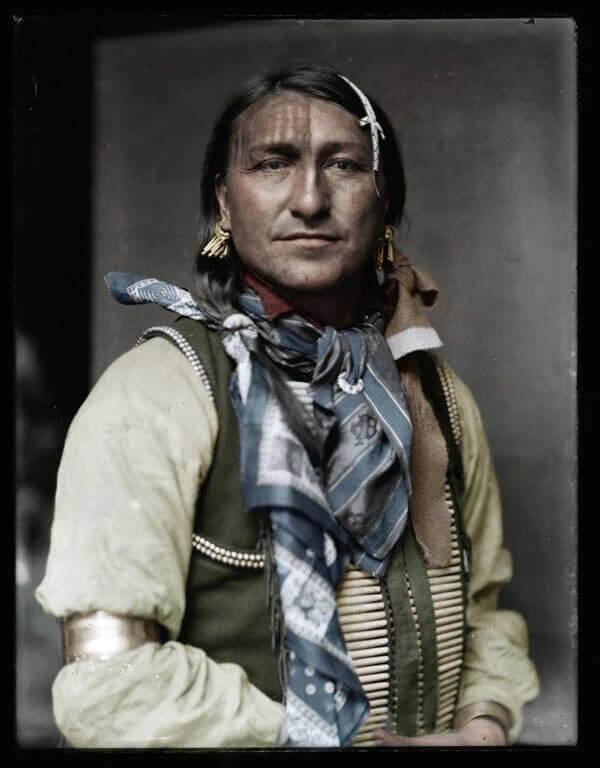 Joe Black Fox, a Sioux Indian from Buffalo Bill's Wild West Show, played a significant role in depicting life in the 1800s Wild West. This iconic show, founded by William F. Cody, aka Buffalo Bill, was a traveling spectacle that showcased various aspects of the era.
A Mound of Bison Skulls
In the 1870s, the Wild West witnessed a grim sight: heaps of bison skulls. During this era, the U.S. Army sought to quell resistance from Native tribes in the western United States. Bison hunting held vital significance for these tribes, providing both sustenance and social cohesion. To undermine them, the Army sanctioned the indiscriminate slaughter of buffalo herds wherever they roamed.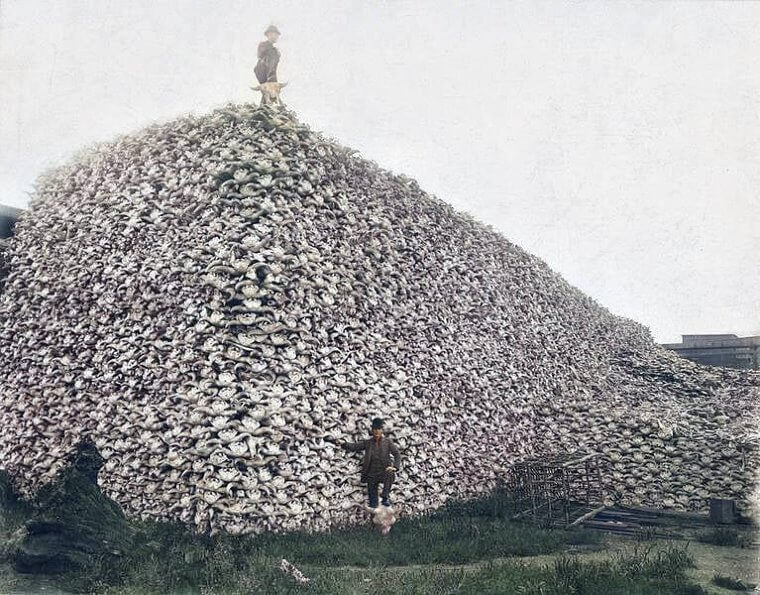 Once, the Great Plains teemed with 60 million bison. By the late 19th century, only around 300 survived. Congress intervened, outlawing the slaughter of the last remaining herd in Yellowstone National Park. Today, there's a resurgence, with approximately 200,000 bison roaming the lands.
Brothels Emerge
In the Wild West, a unique and somewhat controversial facet of the city's history unfolded in the form of brothels. As the area underwent rapid urbanization and population growth, it became a hub for gold miners, traders, and laborers seeking fortune in the goldfields. Alongside the development of this bustling metropolis emerged a network of brothels, catering to the desires and needs of the predominantly male population.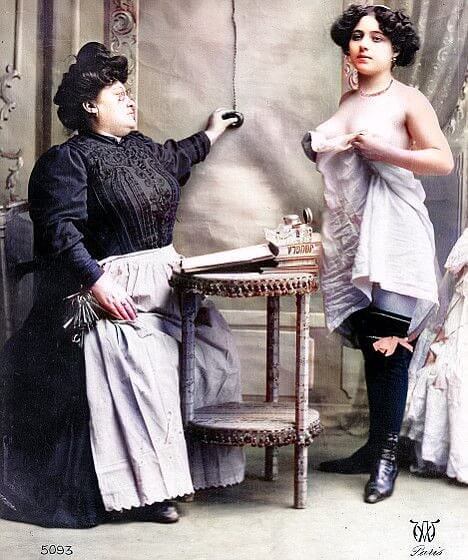 These establishments, often tucked away in discreet corners of the city, offered various services to their clientele. While considered illicit by some, they played a significant role in the social fabric of the time, providing companionship, entertainment, and a sense of camaraderie. The brothels of Melbourne's wild west were not without controversy, as they frequently operated on the fringes of the law.
Olive Ann Oatman
In 1851, Olive Ann Oatman, a young woman from what's now Arizona, got snatched by an unidentified Native American tribe. Her life took a turn when they sold her to the Mohave tribe, where she spent five years and got her face tattooed with blue ink.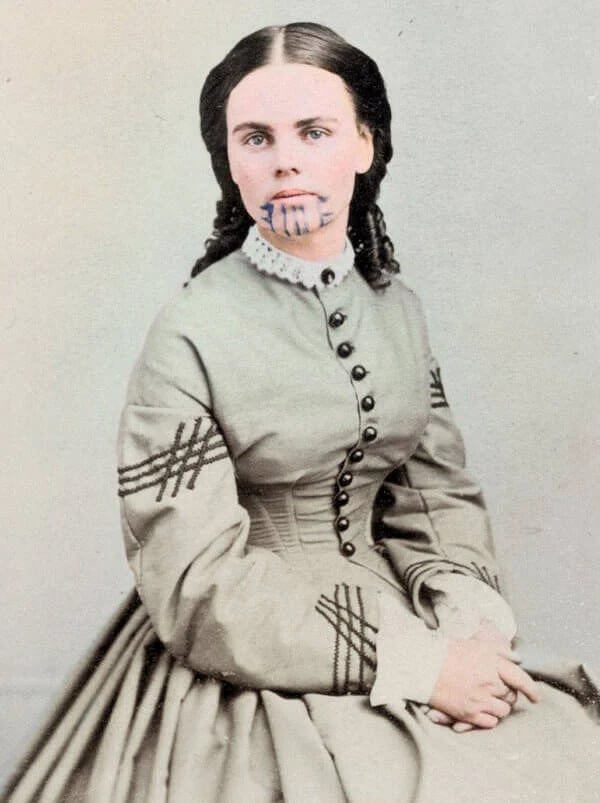 Once freed and back in a white settlement, she penned a widely-read "memoir" recounting her time in captivity. Olive Ann Oatman's story is a captivating glimpse into a remarkable chapter of American history (1837 - 1903).
"Wrinkle Meat"
Chief John Smith, known as Kahbe Nagwi Wens, meaning "Wrinkle Meat" in English, hailed from the Chippewa tribe in Cass Lake, Minnesota. While some reports suggested he lived to be 132-138 years old, it's more likely he passed away around 100 years old due to pneumonia in 1922.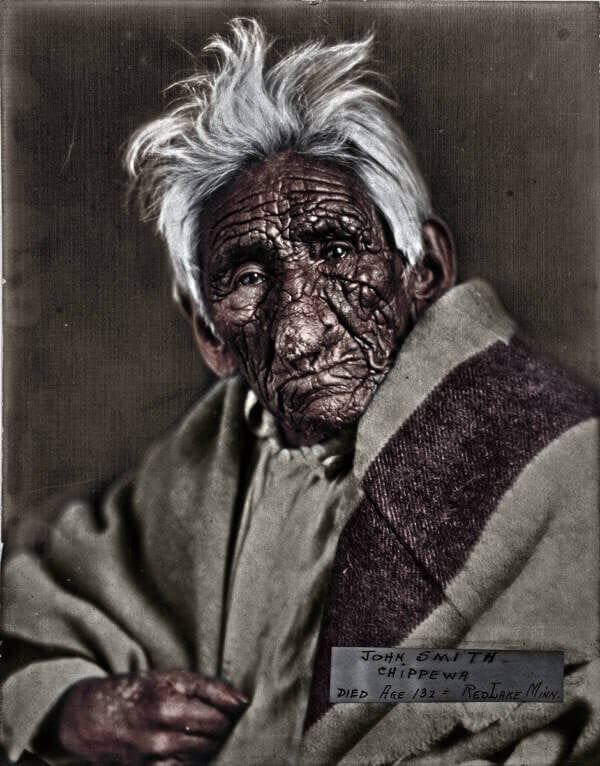 In the backdrop of the 1800s Wild West, Chief Smith's story provides a unique glimpse into Native American life during that era. His longevity and tribal roots shed light on the challenges and resilience of Indigenous communities in the face of changing times.
Male Buddies Pose Together
In the Civil War era through the 1920s, it was quite common for close male friends to visit a photographer's studio together, seeking to capture a portrait as a cherished keepsake of their friendship and camaraderie. Inside these studios, photographers offered an array of backgrounds and props for the men to choose from, enabling them to create a personalized picture.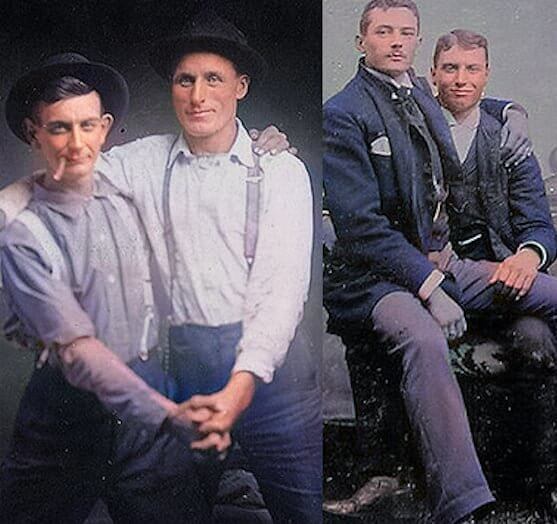 The resulting photographs often featured the men in relaxed and familiar poses. To the modern observer, these poses might appear as though the men were gay lovers, and it's entirely possible that some of them were. These images simply reflected the deep intimacy and close friendships that were characteristic of the era, without intending to reveal any hidden orientations. They were entirely unremarkable to their contemporaries.
The Infamous Wyatt Earp
Following the infamous O.K. Corral gunfight in Tombstone, Arizona, Wyatt Earp (pictured in his later years) ventured into various business pursuits, notably operating a brothel. However, his enduring legacy was shaped during his brief stint as deputy sheriff under his older brother Virgil in Tombstone during the 1800s Wild West era.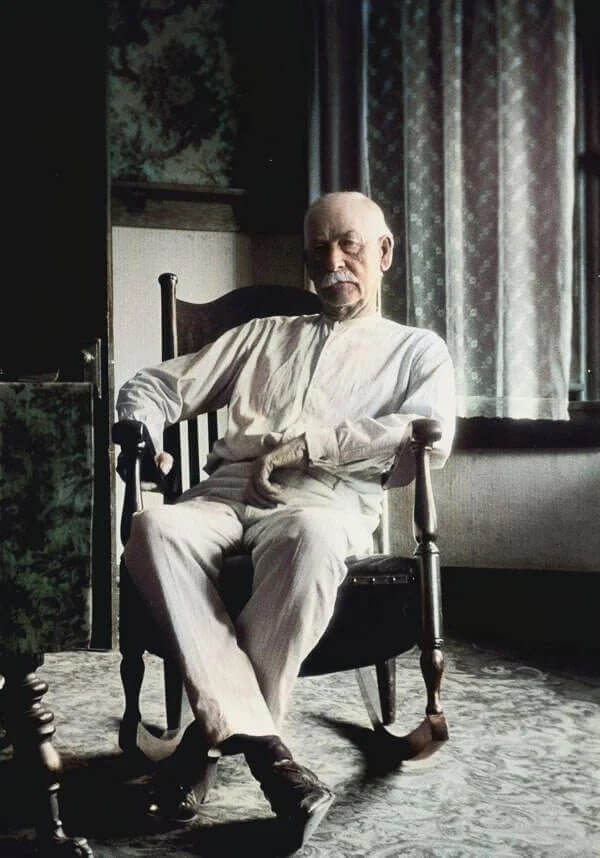 Earp boasted of taking down over a dozen outlaws throughout his career, yet controversy swirled around him. Surviving outlaws accused him and his posse of shooting those who sought to surrender, leading to multiple murder charges. Remarkably, he escaped indictment on all these counts.
Mugshot of Laura Bullion
Laura Bullion (1876 - 1961), part of Butch Cassidy's Wild Bunch gang in the 1890s, had a run-in with the Pinkerton's Detective Agency in 1893, leading to her infamous mugshot. Her criminal escapades culminated in the Great Northern train robbery, earning her a five-year prison sentence in 1901.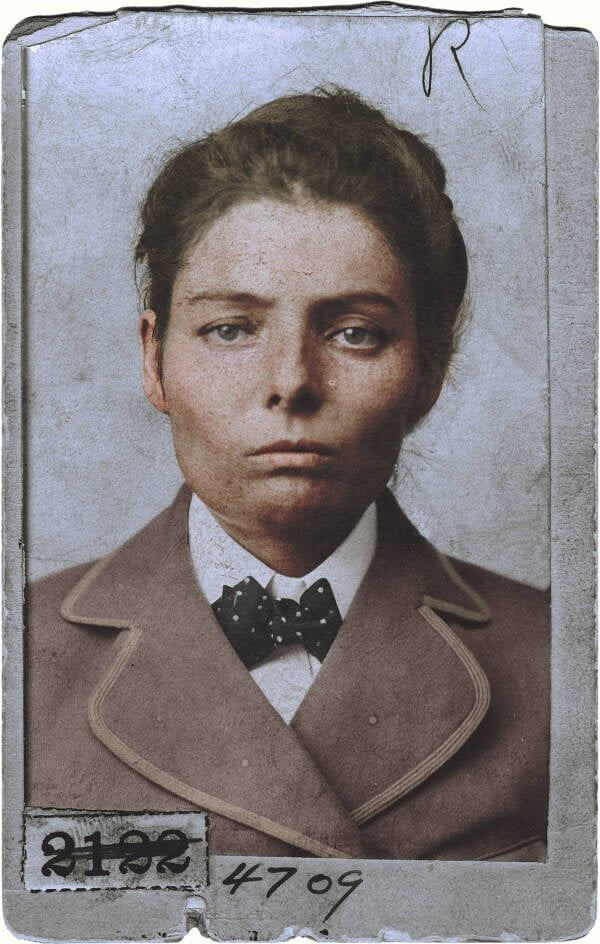 Upon her release, Bullion attempted to make an honest living in Memphis, Tennessee, trying her hand at sewing and interior design. Unfortunately, success eluded her, and she spent her final years in poverty, passing away in 1961. This snapshot of Bullion's life offers a glimpse into the rugged reality of the Wild West during the 1800s, where outlaws like her were both celebrated and condemned, leaving a mark on history that continues to intrigue to this day.
The Oklahoma Land Rush
The Oklahoma Land Rush kicked off at noon on April 22, 1889, involving roughly 50,000 participants eager to seize their piece of the 2 million untamed acres in Oklahoma. Parceled into lots of up to 160 acres each, settlers had the opportunity to stake their claim without any upfront costs, provided they committed to dwelling on and enhancing their allotted land.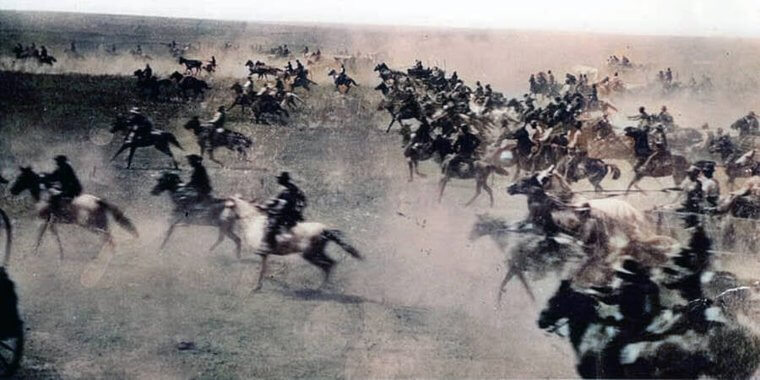 This land was originally designated by treaty for Native American tribes displaced from other U.S. regions. However, as with many Indian Treaties, the U.S. government disregarded its commitments in pursuit of Manifest Destiny.
An Unidentified Gold Miner
In 1851, during the transformative Gold Rush era that began in 1848, a portrait captured the essence of an anonymous Californian gold miner. This iconic period, known as the Wild West, left an indelible mark on California and the western United States. The Gold Rush beckoned adventurers from far and wide, turning dusty landscapes into bustling towns.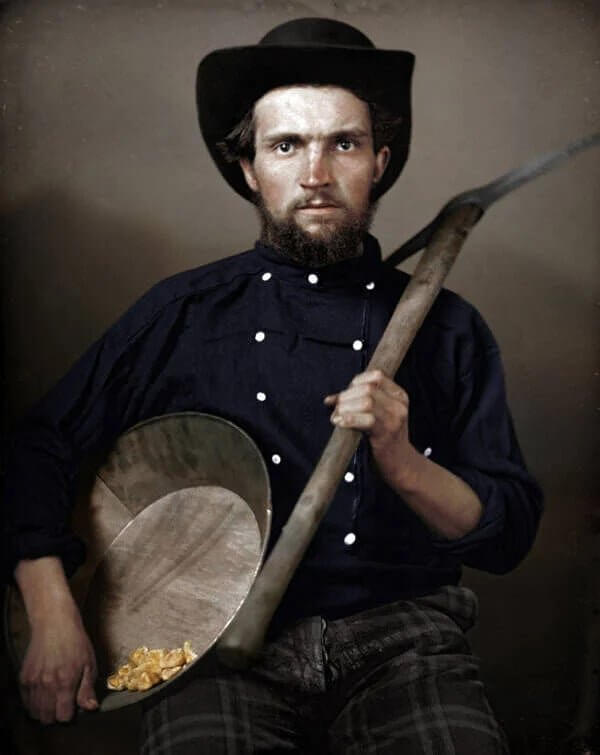 Life in the Wild West was defined by prospectors panning for gold in the rugged wilderness, living on the edge of lawlessness. Saloons and dusty streets were the backdrop of daily life. The allure of striking it rich drove many to risk it all, forging a unique chapter in American history.
The Exciting and "Elegant" Life of a Saloon Girl
It's no secret that brothels were popular establishments in the Wild West. But don't confuse the role of a saloon girl with that of a prostitute. The family dynamic was a strange one in California, with the number of men being far more than that of women.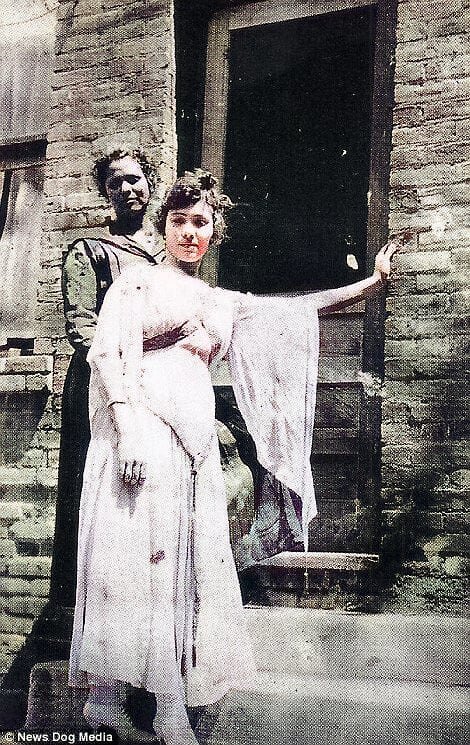 Saloon girls would give these lonely men some attention by dancing, singing, and socializing with them in saloons. The extra money that the cowboys spent on gambling and drinks was a bonus. Unlike prostitutes, saloon girls were considered to be "ladies". Their jobs were thought to be decent for the times. However, that didn't mean that they were safe. Many of the women kept knives and pistols on their bodies for protection.
Saloons in the Wild West
In its realistic depiction, the Klondyke Saloon brought to life the vibrant saloon culture that was ubiquitous during the Wild West era. With swinging saloon doors, rustic décor, and bartenders in period attire, visitors could immerse themselves in the atmosphere of a bygone time. It was a place where one could sip whiskey, engage in card games, and enjoy the spirited entertainment that characterized saloons in the 1800s Wild West.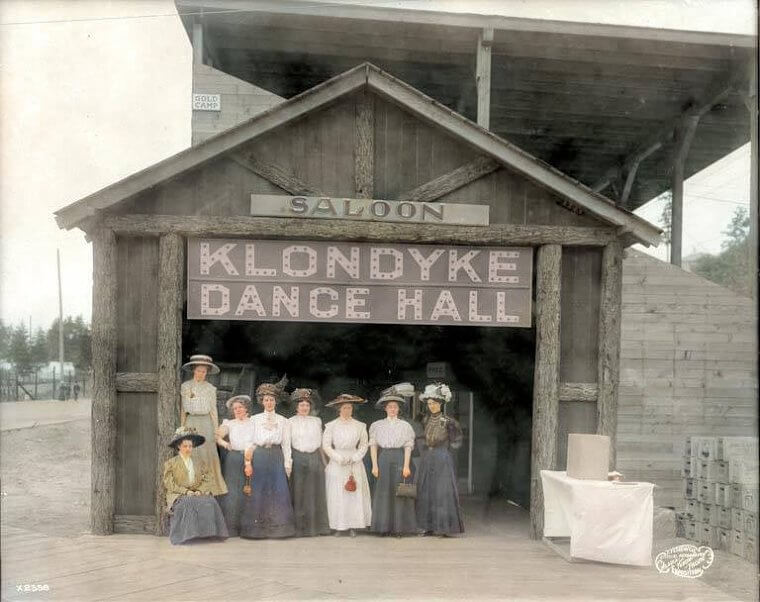 The Klondyke Dance Hall and Saloon, constructed in 1909 for the Alaska Yukon Pacific Exposition in Seattle, Washington, had to briefly shutter its doors due to its astonishingly authentic portrayal of Wild West life in the late 1800s. This charming establishment not only showcased lively dance performances but also transported patrons back to an era where cowboys, outlaws, and prospectors roamed the rugged landscapes of the American frontier.
A Navajo Man in Full Costume
Back in 1904, a captivating scene unfolded as a Navajo man donned the full splendor of ceremonial regalia. His attire, adorned with a mesmerizing mask and intricate body paint, showcased the depth of Navajo culture and tradition.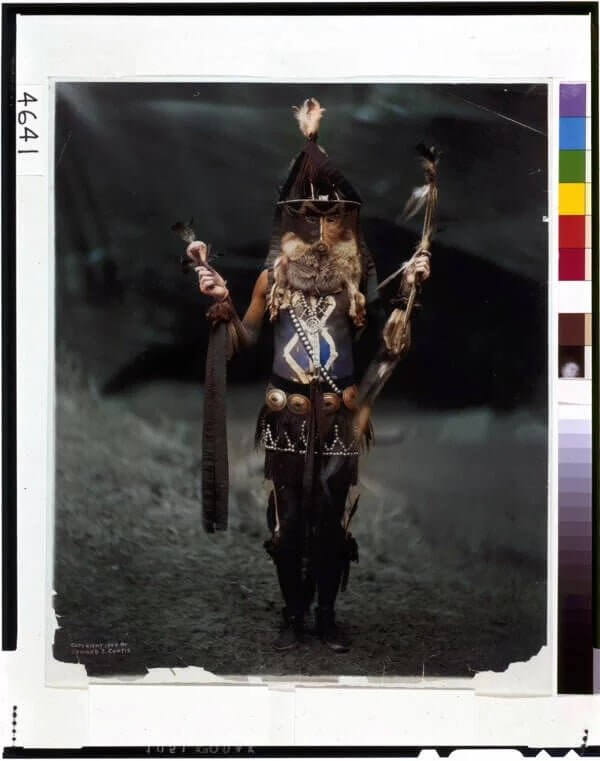 This striking image offers a glimpse into the vibrant heritage of the Navajo people during that period, a testament to their enduring customs and the profound significance of their ceremonial practices. It's a snapshot of a moment frozen in time, where tradition and artistry melded to create a captivating visual spectacle, preserving a piece of history that continues to fascinate and resonate with those who encounter it.
A Wild West Court
Judge Roy Bean (1825 - 1903), known as the "law west of the Pecos," presided over his unique courtroom in a Texan desert saloon during the 1800s.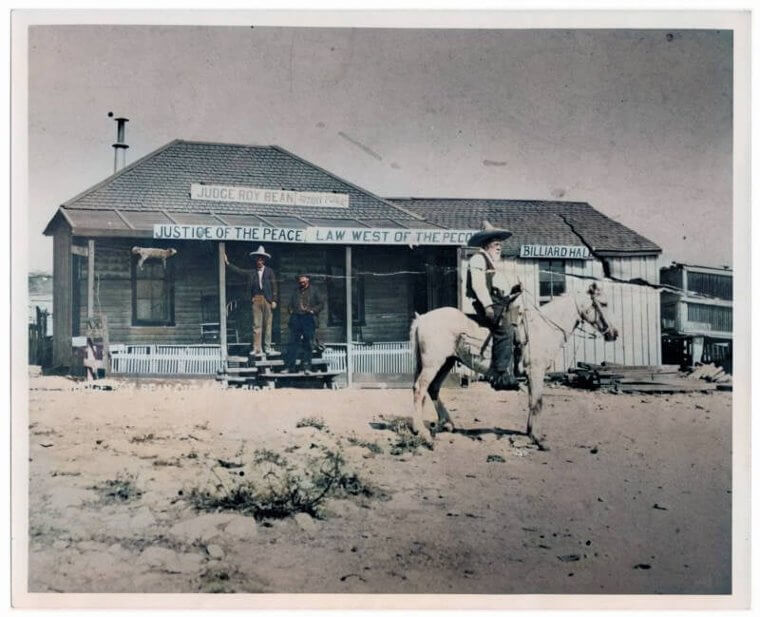 Although frequently depicted as a no-nonsense "hanging judge" in various media, Bean, in reality, handed down the death penalty to only two individuals, with one managing to escape before facing the gallows. His eccentric persona and unconventional judicial style have become legendary symbols of life in the wild west during that era.
Prostitution in the Old West
Prostitution in the Old West, much like in other regions during the 1800s, was a common occurrence. However, the unique freedom of the western frontier allowed numerous prostitutes to ascend to the role of brothel owners.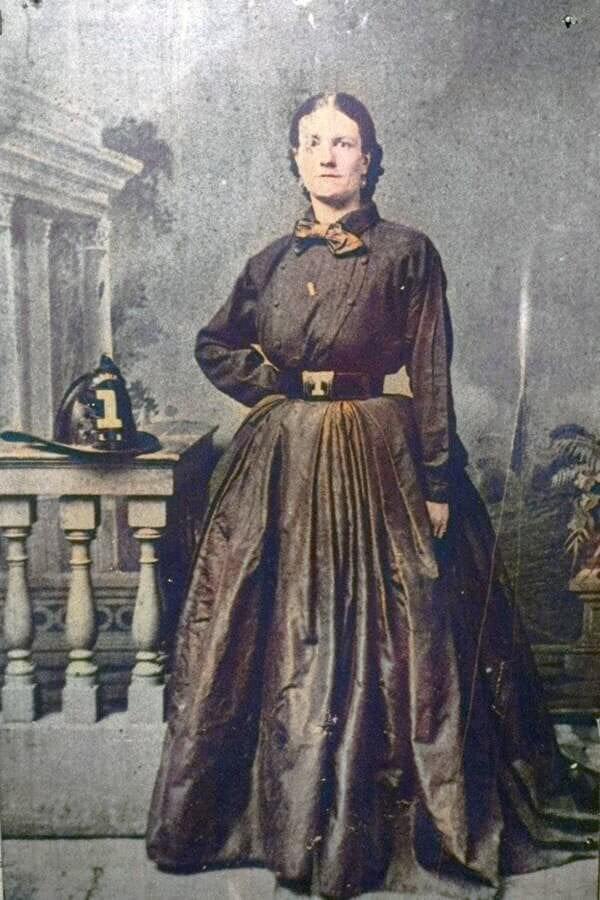 Life in the wild west during this era was marked by rugged landscapes, lawlessness, and the pursuit of opportunities. As pioneers and fortune seekers flocked to the untamed frontier, brothels sprung up alongside saloons and gambling halls. These establishments often operated openly, catering to the needs of miners, cowboys, and settlers.
A Wild West Pout
In 1898, a mugshot captured the essence of life in the Wild West. Goldie Williams, the woman in the photo, found herself in trouble with the law in Omaha, Nebraska, charged with vagrancy.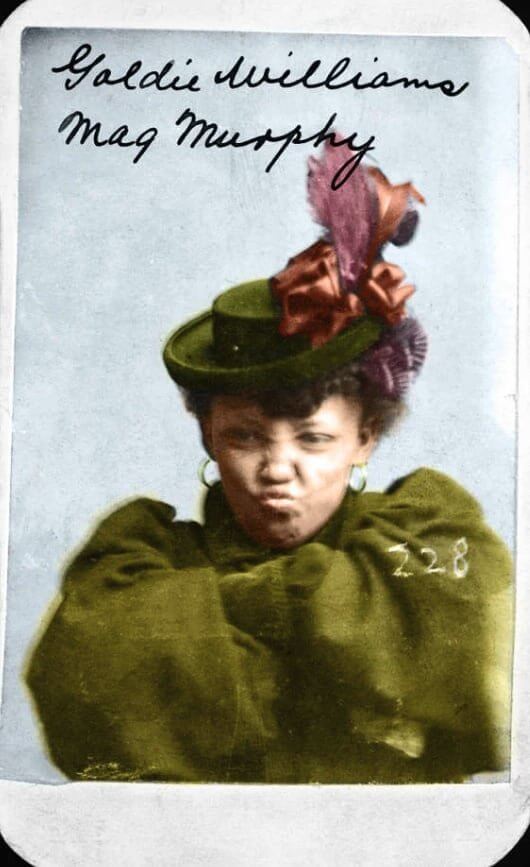 Goldie Williams, with a pout on her face in the picture, adds a touch of humor to the scene. In an era marked by rough living and tough characters, her expression seems almost out of place.
The Famous Geronimo
Famous Apache leader Geronimo (1829 - 1909) battled U.S. and Mexican forces in the 1800s along the U.S.-Mexico border. Despite being captured multiple times, his ultimate surrender in 1886 led to a lifetime as a U.S. prisoner of war.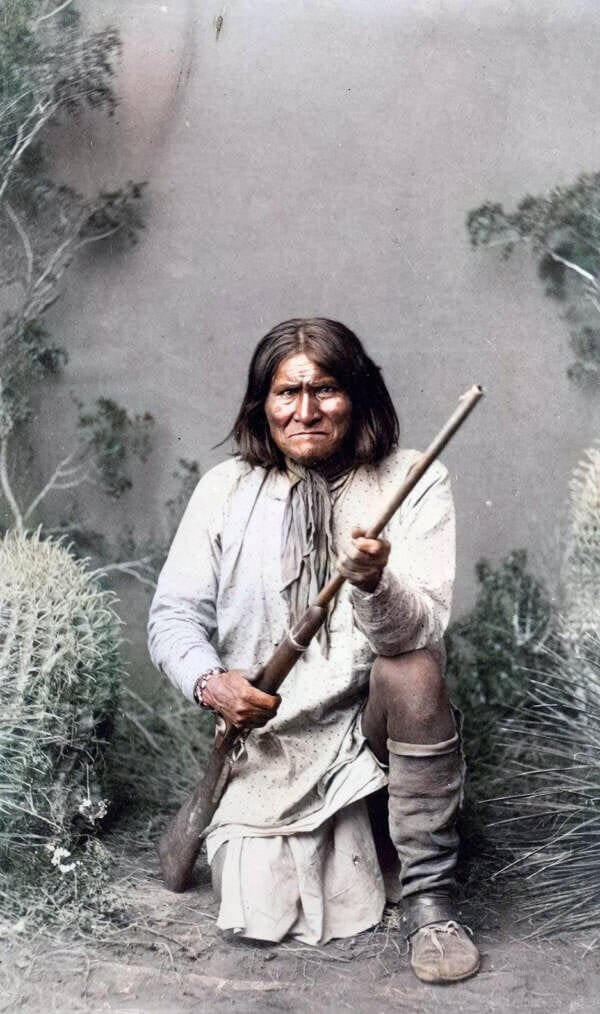 Geronimo became a prominent figure in American propaganda, featuring in parades and photo shoots, like the 1887 one. He used these occasions to sustain himself financially after being confined to an Arizona reservation.
Cowboy With Lasso
In 1902, a cowboy readies his lasso, guiding cattle through the vast expanse of Kansas during the Wild West era. Cowboys played a pivotal role in shaping life in the 1800s American frontier. They were rugged, skilled individuals who herded cattle, often embarking on long cattle drives across unforgiving terrain.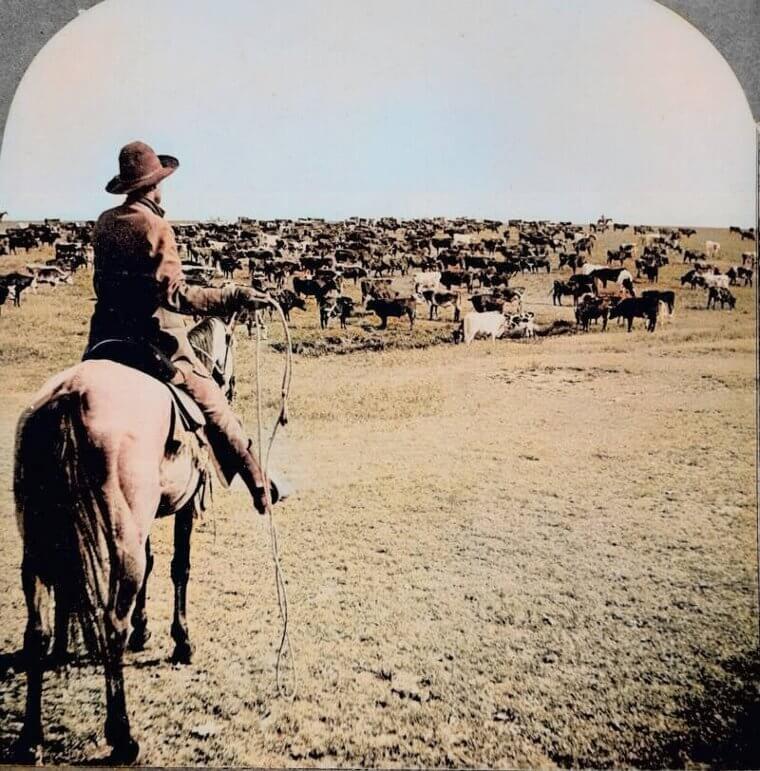 These daring men were known for their distinctive attire, including Stetson hats and spurs, which symbolized their unique way of life. The Wild West was a time of lawlessness, adventure, and opportunity, and cowboys were at the heart of it all. They herded cattle, protected ranches from rustlers, and forged a sense of identity that endures in American culture today.
A Waiting Stagecoach
Back in the year 1882, there stood a stately stagecoach in the heart of Tombstone, Arizona, a town with a storied past dating back to its founding by eager prospectors in 1879. What set Tombstone apart from other places of the era was the legendary showdowns that unfolded within its dusty streets.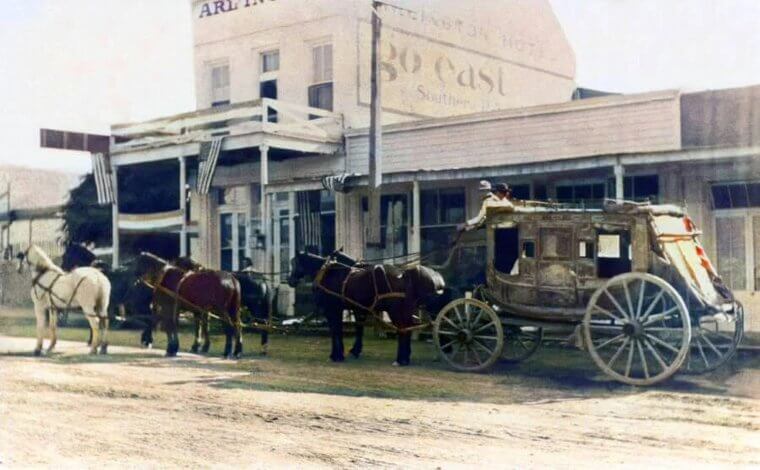 This dusty enclave of the Wild West became infamous for the fierce confrontations that pitted lawmen against outlaws, none more iconic than the dramatic faceoff at the O.K. Corral. The very mention of Tombstone conjures images of a tumultuous era where brave individuals sought fortune, justice, and survival amidst the unforgiving landscape of the American frontier.
Slave to U. S. Marshal
Bass Reeves (1838 - 1910), a former slave, made history as the first black Deputy U.S. Marshal west of the Mississippi River.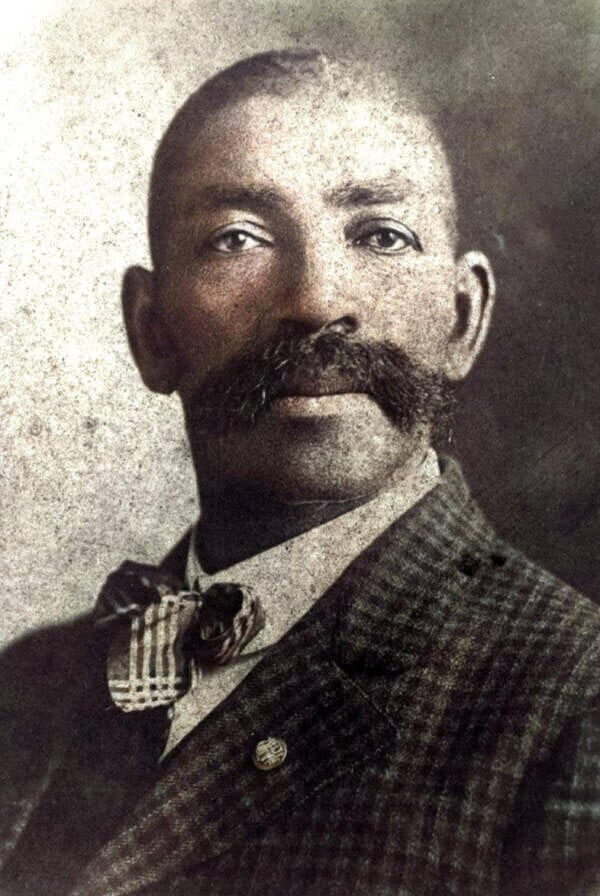 His remarkable career saw over 3,000 arrests and 14 outlaws slain in self-defense. Reeves had a unique approach, often opting to capture wrongdoers alive for legal proceedings. His legacy is intertwined with the rugged life of the Wild West in the 1800s.
An Injured Criminal
In 1897, James Collins, a 23-year-old tailor, found himself on the wrong side of the law in Omaha, Nebraska. His run-in with the authorities was over a burglary, a crime that was not uncommon in the Wild West during the late 1800s. This mugshot of Collins serves as a glimpse into life in that era, where lawlessness often prevailed in the vast, untamed landscapes of the American frontier.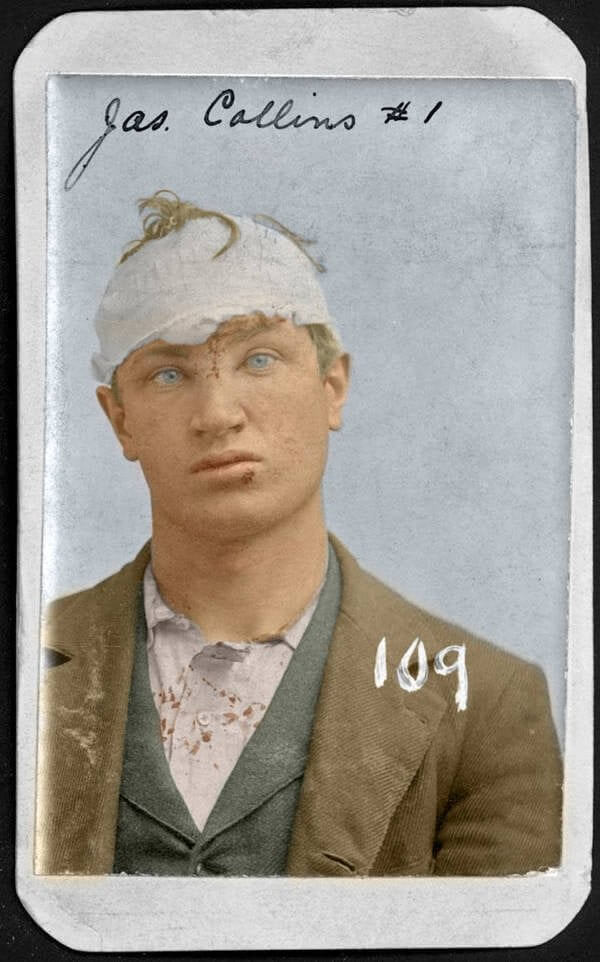 The 1800s were a turbulent time in the Wild West, marked by rapid expansion, gold rushes, and the clash of cultures. Outlaws like Jesse James and Billy the Kid were infamous figures, and the frontier towns were hotbeds of both opportunity and danger. James Collins' arrest is a testament to the challenges and uncertainties faced by individuals trying to make a living in this rugged and lawless environment.
More of the Gold Rush
In 1881, a snapshot captures a nameless prospector in California. This moment in history followed the famous 1849 gold rush and the subsequent downturn in fortunes. During this era, a band of determined prospectors stumbled upon silver in the rugged mountains, describing it as having a "calico-colored" hue.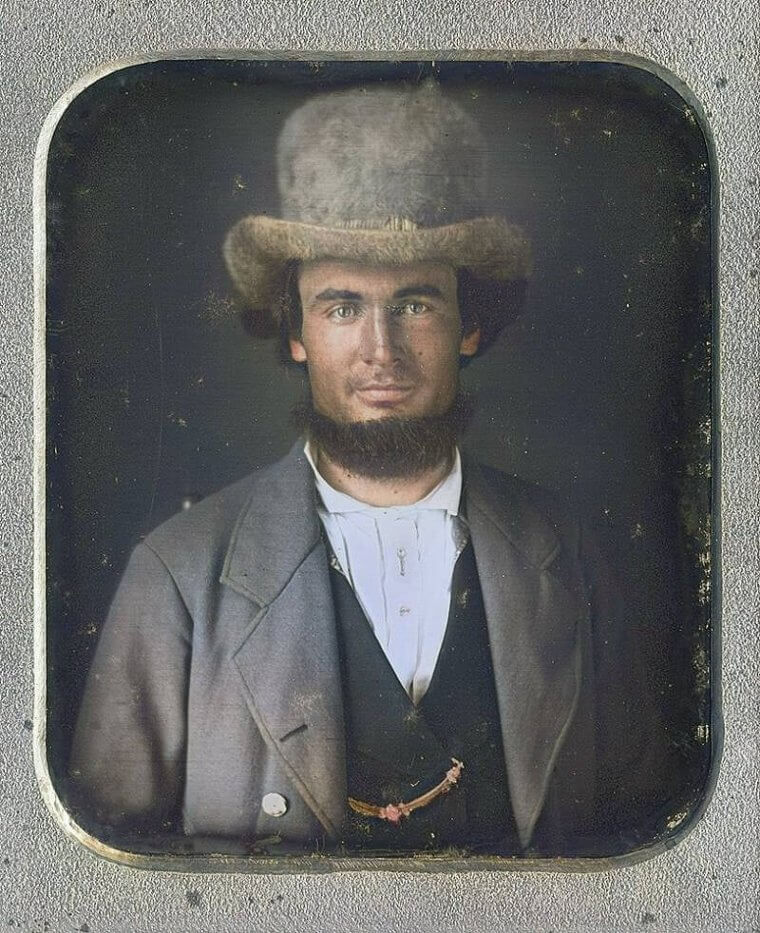 This discovery led to the establishment of a thriving mine, giving birth to the town of Calico, California. By the 1880s, it had risen to prominence as one of California's major silver suppliers. However, the fate of Calico took a downturn with the passage of the Silver Purchase Act, which sent silver prices into a tailspin. This economic blow ultimately led to the complete abandonment of Calico, California in 1907, marking the end of an era in the wild west's rich and colorful history.
The Building of US Railroads
In 1868, a railroad bridge was built in Green River Valley, Wyoming, with Citadel Rock as a striking backdrop. This construction marked a pivotal moment in the history of the Wild West during the 1800s. Railroads played a transformative role in shaping life on the frontier during this era.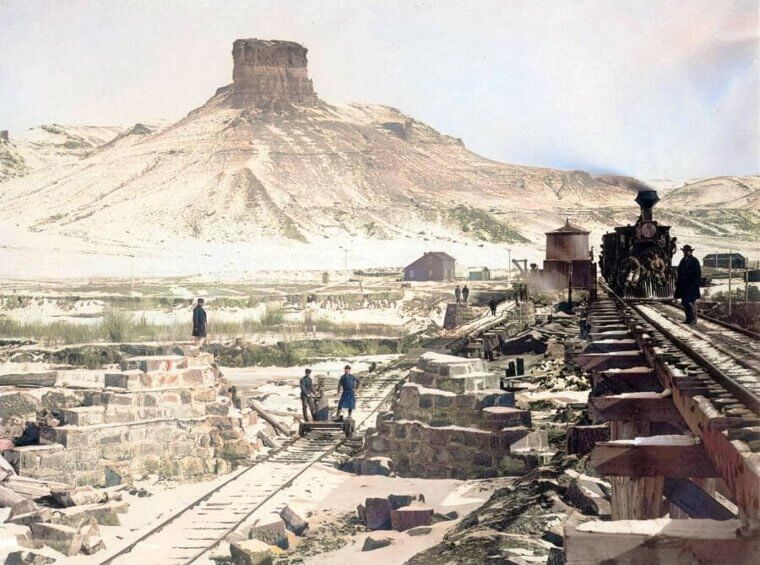 The railroad bridge, set against the picturesque Citadel Rock, symbolized progress and connectivity. It facilitated the movement of people and goods across the rugged terrain, revolutionizing travel and trade in the region. This development led to the growth of towns and settlements along the railroad routes, bringing a sense of civilization to the previously untamed West.
Freed Slaves in the Wild West
After the Civil War, the American West saw a significant influx of freed slaves. Their migration to this frontier represented a dual purpose: escaping their troubled past and pursuing better prospects in a place where the entrenched prejudices of the East held less sway.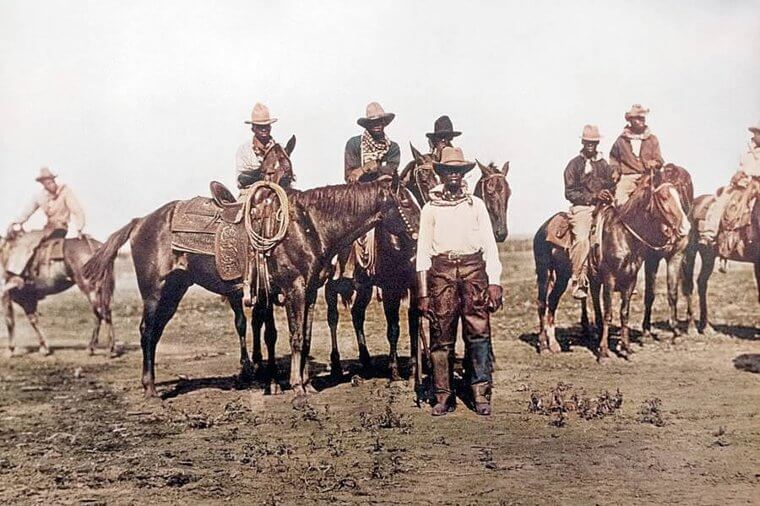 This mass movement of African Americans into the Wild West during the 1800s reshaped the region's demographics and cultural landscape. It marked a pivotal moment in American history, as these brave individuals sought to build new lives on the frontier.
A Family of Settlers
In the 1800s, covered wagons were the go-to mode of transport for settlers trekking into the Wild West in pursuit of land and a new life. These wagons, a familiar sight during this era, carried not just belongings but also dreams of a fresh start. As countless Americans and immigrants ventured into the untamed frontier, the covered wagon symbolized their resilience and determination.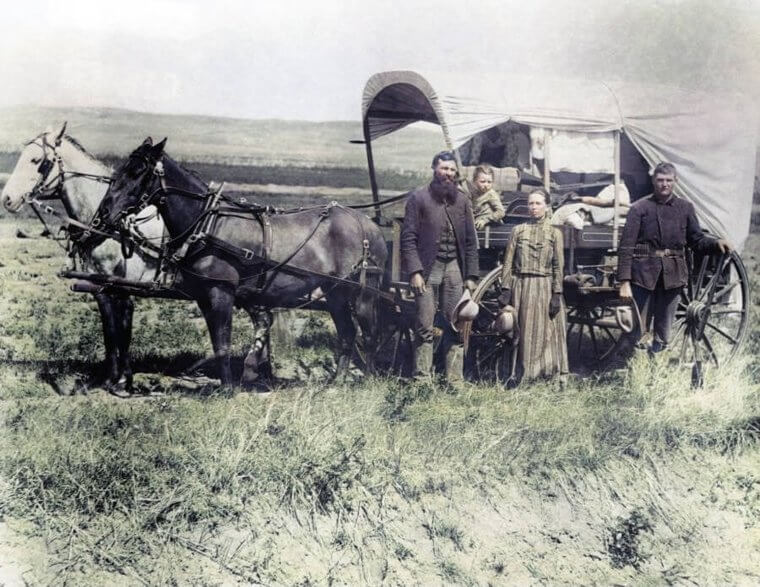 These iconic wagons, crafted to withstand the challenges of the West, braved harsh terrain and unpredictable weather. They served as a testament to the pioneers' unwavering spirit. It wasn't just about traveling; it was about forging a future in the rugged wilderness.
The Infamous Billy The Kid
One of the Wild West's most famous outlaws, Billy the Kid, originally known as Henry McCarty (1859 - 1881), hailed from the New York City Irish slums before venturing out West. He gained notoriety through various run-ins with the law, including several murders.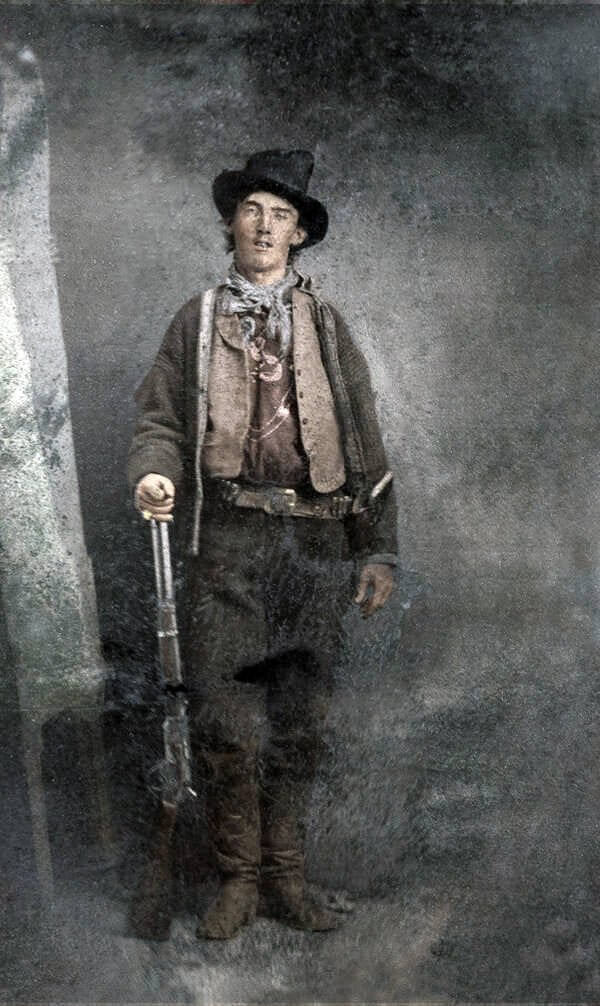 During this time, Billy the Kid's reputation grew, with claims of him killing up to 27 men, though the actual count was lower. Eventually, the law caught up with him, and he met his demise in 1881 at the age of 21. Jesse James, another renowned figure of the era, also played a significant role in the Wild West's tumultuous history.
Belle Star, the Infamous Outlaw
In the 1800s Wild West, Outlaw Belle Starr (1848 - 1889) became a notorious figure. In 1886, she was arrested by Deputy U.S. Marshal Charles Barnhill, marking a significant chapter in her tumultuous life. Belle Starr's story was extensively covered by the National Police Gazette, who affectionately dubbed her the "Bandit Queen."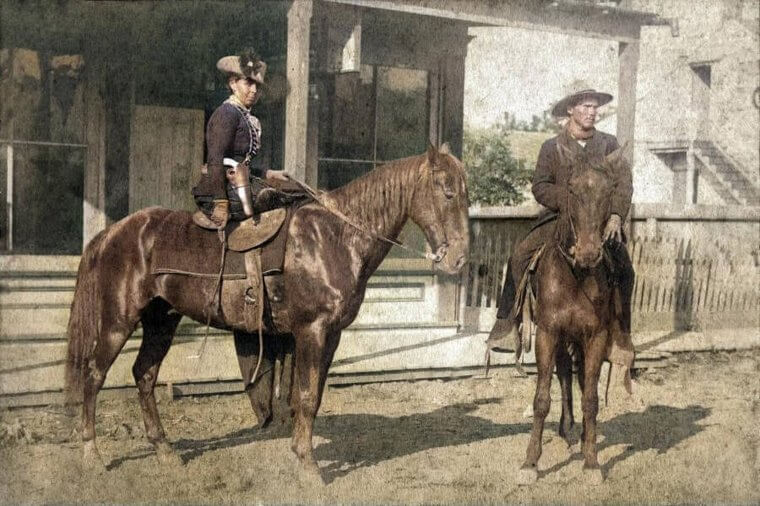 This nickname encapsulated her reputation as a daring and enigmatic figure in a time when the Wild West was a frontier of lawlessness and adventure. Her arrest by Deputy Barnhill, depicted in historical accounts and widely circulated at the time, added to the mystique surrounding her. Belle Starr's legacy endures as a symbol of the captivating and often treacherous life in the Wild West during the 1800s.
A Deserted Miners Camp
In the 1800s, miners established camps in the wild West, like this one in San Juan County, Colorado. These rugged settlements clung to the sides of mountains, embodying the spirit of the era. Life here was tough, marked by harsh conditions and the pursuit of riches buried beneath the earth.
The miner's camp was a hub of activity, where prospectors toiled tirelessly, hoping to strike it rich. They faced dangers from the untamed wilderness, like wild animals and unpredictable weather. The camaraderie among miners was palpable, as they shared stories, dreams, and the occasional card game.
Early Chinese Discrimination
Initially hired for manual labor on the railroad, Chinese workers proved their mettle and advanced to more skilled roles like tracklayers, masons, and even foremen. Their proficiency was undeniable. However, their immigration to the United States triggered one of the country's most notorious anti-immigrant backlashes in history.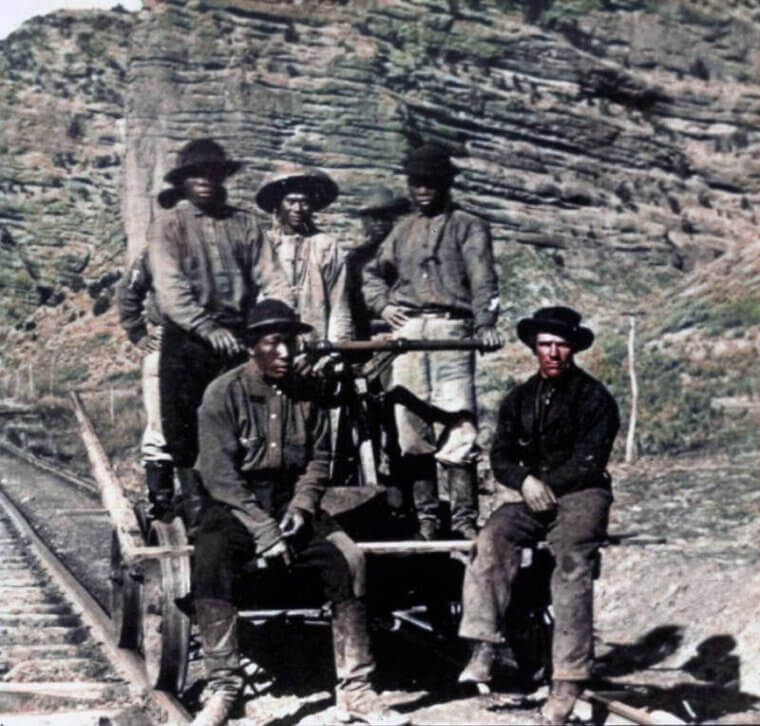 In the mid-1800s, Chinese laborers played a pivotal role in constructing the American railway system. This led to a significant shift in their roles within the industry, where they assumed key positions in the construction and management of railroads. Unfortunately, their success was marred by widespread prejudice and discrimination, culminating in the notorious anti-Chinese sentiment that swept across the United States during that period.