There are tons of objects that you probably see on a daily basis that you don't even know just how useful they are! Small things that go unnoticed like color, size, and shape actually give a design a whole other purpose that makes the object so much handier! If you're curious as to what objects you might be missing out on, keep reading. Here is a list of 40 different things that you are using every day that have hidden features you never even guessed.
The Tiny Pockets on Jeans
If you've ever wondered why there's a tiny pocket within a larger pocket on your favorite pair of jeans, we've got you covered!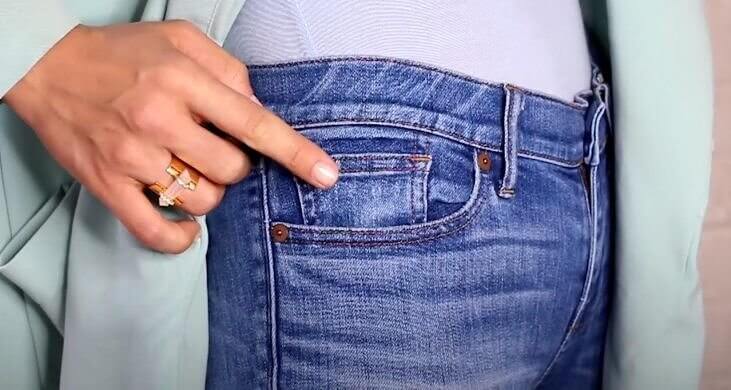 That small pocket is called a watch pocket and it comes from the time when jeans first became popular. The watch pocket was a place where men could put their pocket watch. Now, not many people are carrying pocket watches, so chances are your watch pocket goes mostly unused. Maybe you could try using it for coins!
Pasta Spoons
We're sure you're familiar with pasta spoons. They're the ones of a bunch of spikes and a single hole in the middle.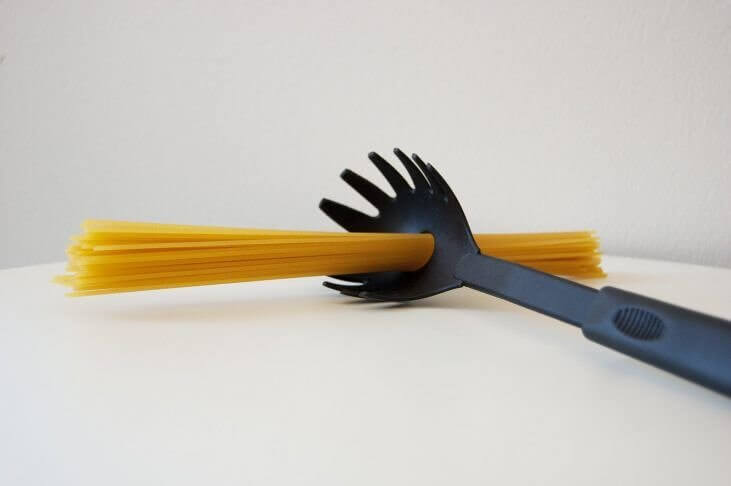 While they're great for scooping up jiggly pasta and straining it, that little hole has an ingenious second purpose. That one hole represents a single serving of pasta. More specifically, it's one serving of spaghetti noodles. So instead of ending up with too much or too little spaghetti noodles next time, you have a handy way to figure out the perfect amount!
Cart Key
Many of us have experienced the frustration of arriving at the grocery store with a lengthy list of items to buy, only to realize that we lack a quarter to unlock a shopping cart. In such situations, we might consider carrying our items manually or abandoning our shopping plans entirely.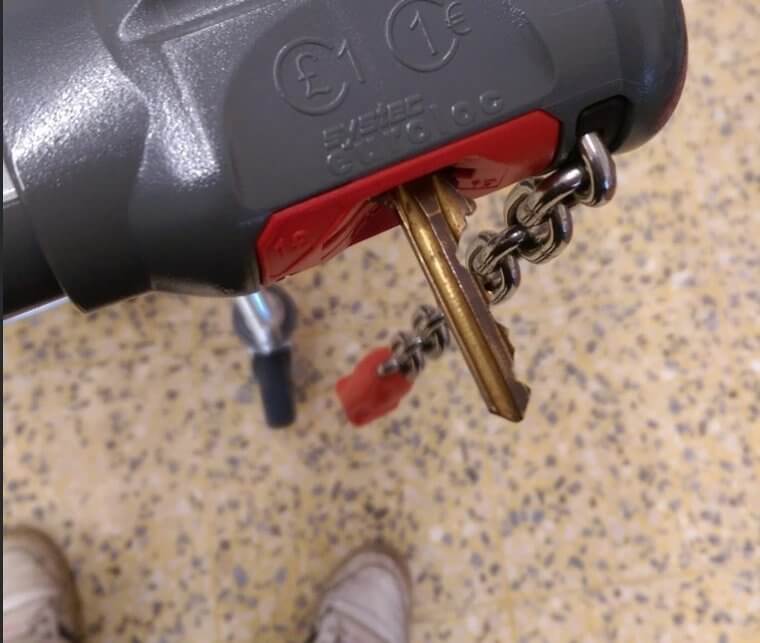 However, there is a simple solution at hand: make use of the top end of a regular metal key. Not only can this piece of equipment be used for opening mailboxes and gate locks, but it can also unlock shopping carts, providing a dual-purpose functionality.
Holes on Airplane Windows
You may think that holes in airplane windows are the opposite of helpful, but these tiny holes actually play a very important role in maintaining everyone's safety on a flight.
These tiny holes are known as bleed holes and they help maintain the air pressure in the airplane cabin during flights. Bleed holes work by allowing air to pass through and between two different layers in the acrylic airplane window that has three layers. So don't let these tiny holes scare you on your next flight!
The Gas Gauge Arrow
Everyone who drives is familiar with the gas gauge. You have a small picture of a gas tank and a  dial that ranges from E for empty and F for full. What we bet you didn't notice before was the tiny arrow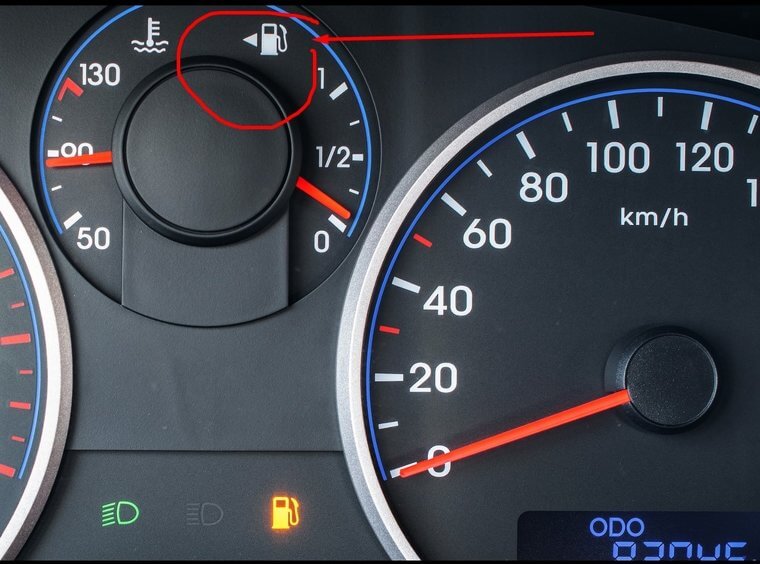 Even further, this tiny arrow could point to either the left or the right depending on the car that you are driving. This is because this arrow indicates which side of the car the gas tank is on and which side you could pull up to the gas pump on! Keep this in mind next time you drive a different car!
The Small Hole on Padlocks
Padlocks have this small hole underneath where you insert the key. And while they may look like an easy "in" for burglars or anyone who is looking to pick a lock, they actually don't have anything to do with that.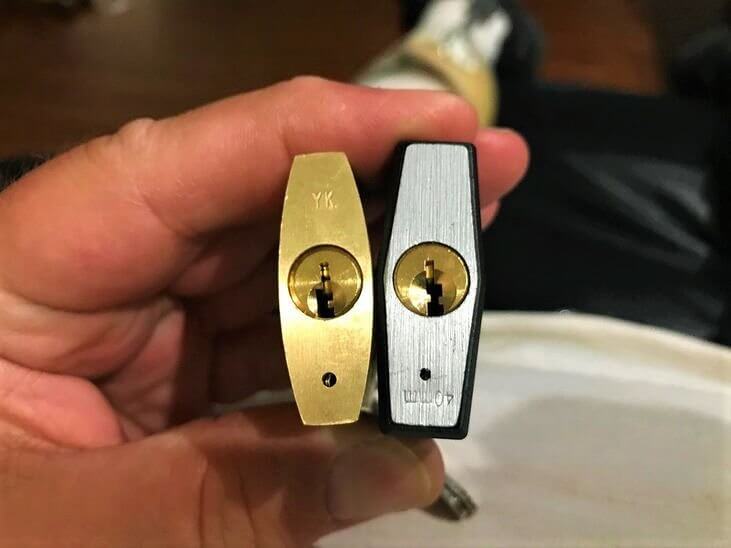 The holes on padlocks are present so that water can drain out of the padlock in the event of rain. This prevents it from rusting. This hole can also be used to oil the lock in the event it gets stuck.
The Indentation on Wine Bottles
Many people don't know that the indentation on the bottom of wine bottles serves a purpose. In fact, it even has a name. The indentation on a wine bottle is called a punt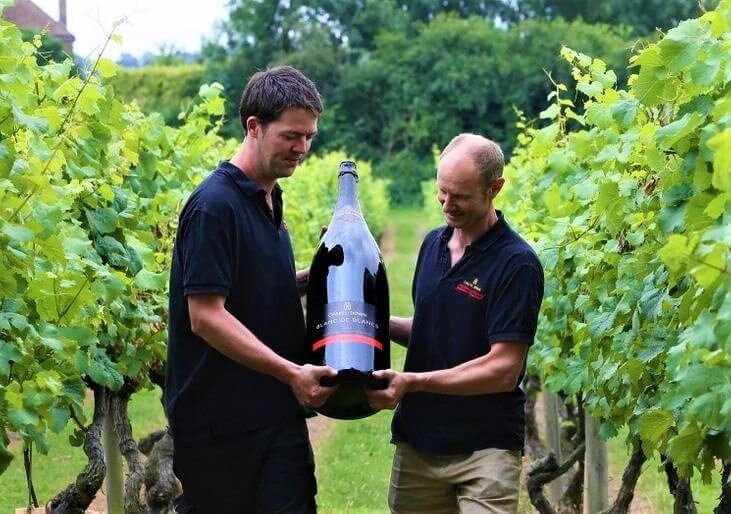 And the punt has several purposes. The punt helps the wine bottle chill quicker, catches sediment, and even makes it easier to handle. The next time you head out to a wine tasting or split a bottle with friends, make sure to bust out this fun fact!
Solo Cup Lines
Red solo cups are the beverage container of choice for many drinks, especially alcoholic ones. But, the cups made famous for parties and drinking, come in handy for more than just parties.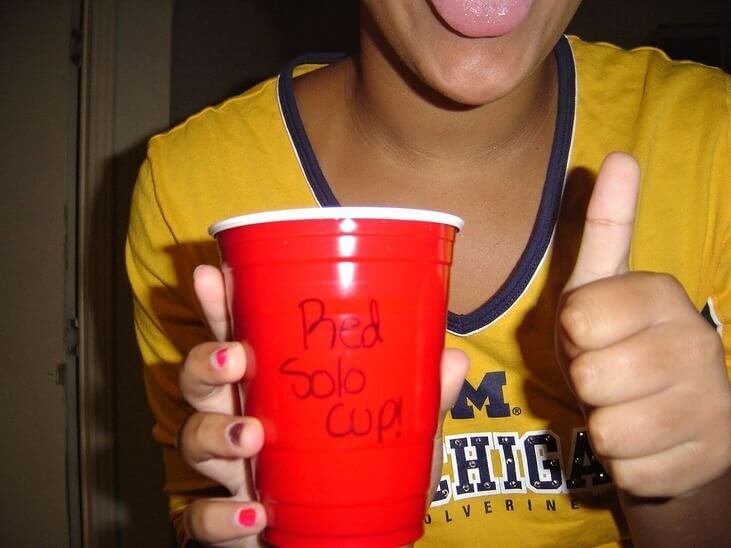 Many people don't know that the lines around solo cups represent different values of liquid so you know just how much you are drinking. The bottom line represents 1 ounce for shots of liquor, the next line up represents 5 ounces for glasses of wine, and the third line represents 12 ounces for beer.
Diamonds on Backpacks
Many backpacks have a small fabric diamond with two lines that are sewn on the front of the backpack. Many people think this diamond is just a part of branding or a logo.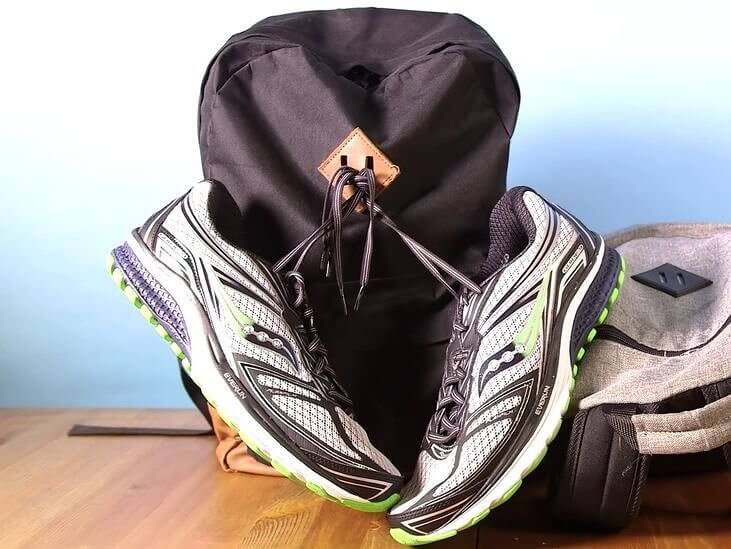 These diamonds are not, in fact, a logo, but a functional tool that comes in pretty handy. These diamonds even have a name. They are known as pig snouts or lash tabs. Lash tabs can be used to hang things with strings, like outdoor gear or tennis shoes. This can make carrying things a lot easier and leave more room in your bag for other things.
Bumps on Sidewalks
If you've ever wondered who the bumpy sections of sidewalks that look like lego pieces are there for, then you're in luck! We've got the answer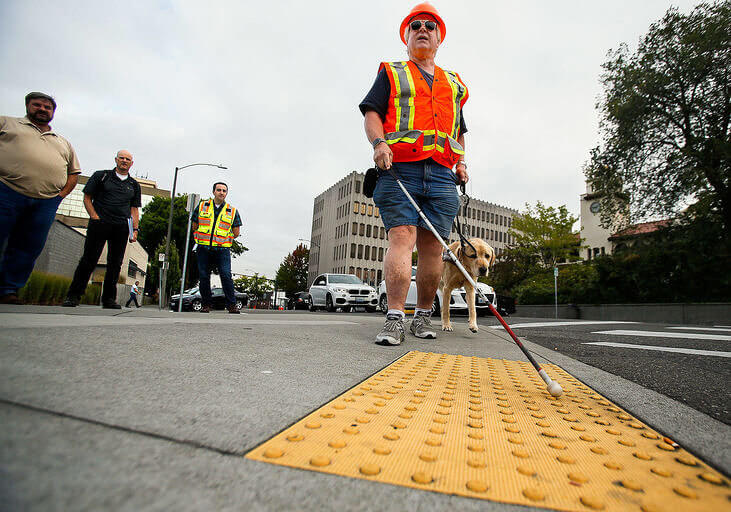 The bumps on sidewalks are known as tactile paving. They are usually painted yellow and can be found where sidewalks are about to end and the street is about to begin. Tactile paving serves the purpose of warning anyone who is visually impaired about upcoming dangerous areas. They can feel this area with canes or their feet and it can prevent them from walking out into traffic unprepared.
Bottle Cap Liners
Bottle cap liners are small circular discs that are placed on the inside of a bottle cap to help keep the contents of the bottle fresh and prevent leaks. They are usually made of plastic or rubber and come in different sizes and shapes depending on the type of bottle they are being used for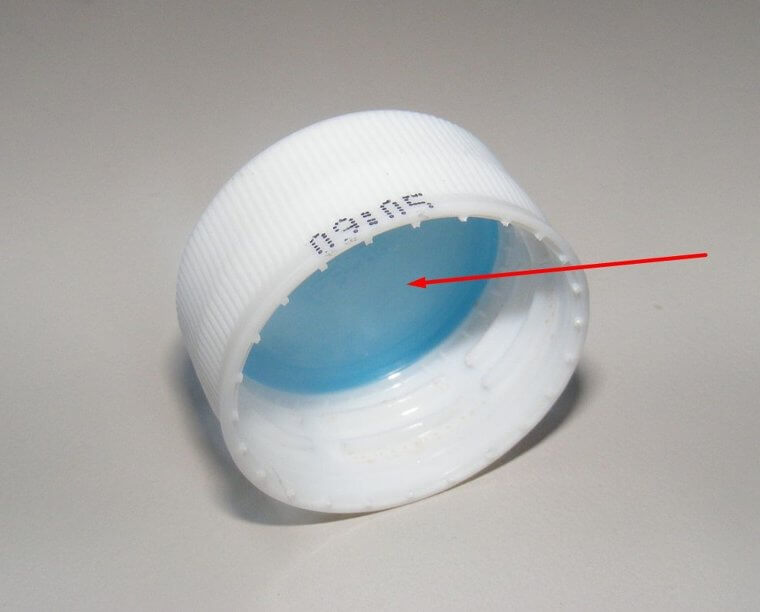 The purpose of the bottle cap liner is to create a tight seal between the cap and the bottle, which helps to prevent air and moisture from getting inside the bottle. This is important because air and moisture can cause the contents of the bottle to spoil or lose their flavor, especially in the case of food or drink items.
Measuring Diamonds
It's possible that you've overlooked a particular aspect of your tape measure, but that's perfectly alright because chances are, you won't ever require it. This attribute is primarily intended for contractors.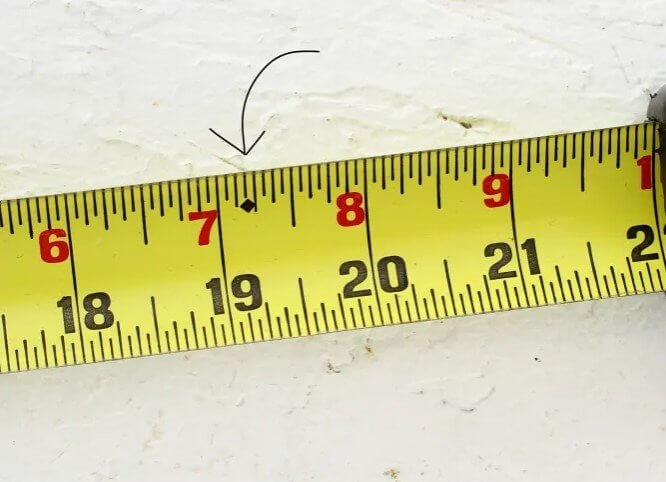 These contractor symbols consist of diamonds that are spaced just over 19 inches apart on the tape measure. This measurement corresponds to the standard spacing of trusses that are used when constructing roofs.
Car Seat Belt Stopper
It might seem like a drop of molten plastic simply dropped on the belt. But no! There is a reason. A simple one, but still a reason. Believe it or not, It has to do with speed, and not safety.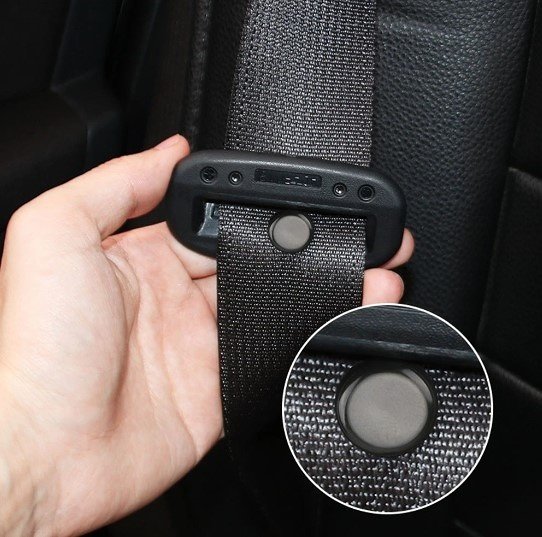 The small plastic button functions as a buckle stopper, keeping the belt buckle in place so when you get in the car, you will be able to buckle yourself up quickly without searching for it stuck between the car seats
Keyboard Grooves
Look down at your keyboard. Have you ever noticed those two little bumps or grooves on the F and J keys on your computer keyboard? Keyboards are used so frequently that we hardly notice them anymore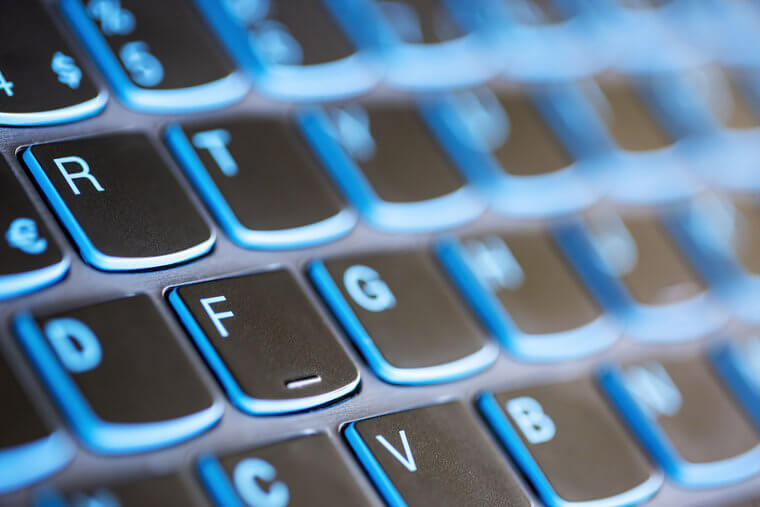 Those grooves are there so you know where the "home keys" are without looking. The home keys are the F and J keys, or where your index fingers rest when you are typing. Unless you have taken a keyboarding class or are a trained typist, you may not have even realized that's what they were for!
Holes in Lego Heads
Legos and Lego people are well known for their appearance. The heads on the Lego people have a hole all the way from the top of the head to the neck.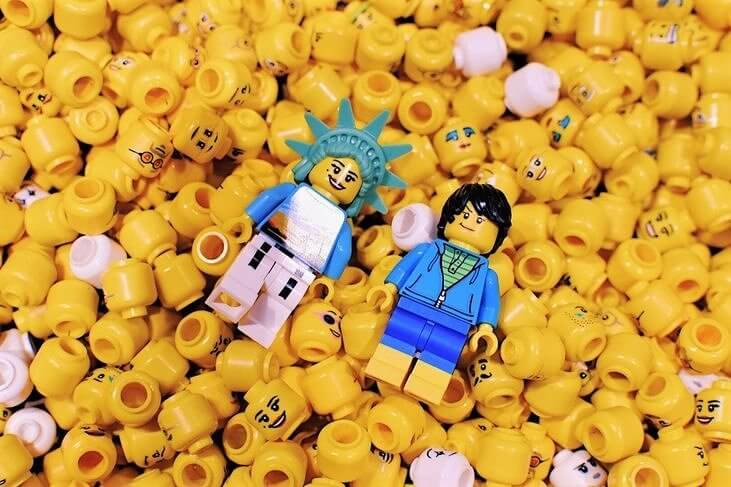 While this is just a staple of the design that allows you to easily snap on a wig and a body, the hole serves an important secondary purpose. The holes in Lego heads are a safety feature. In the event of a child swallowing and choking on a Lego head, the hole allows their airway to remain open so air can get through and they can continue to breathe.
Tabs on Rearview Mirrors
The common tab located on the bottom of rearview mirrors isn't just a part of the design. Much like everything else on this list, it serves a mostly unknown purpose.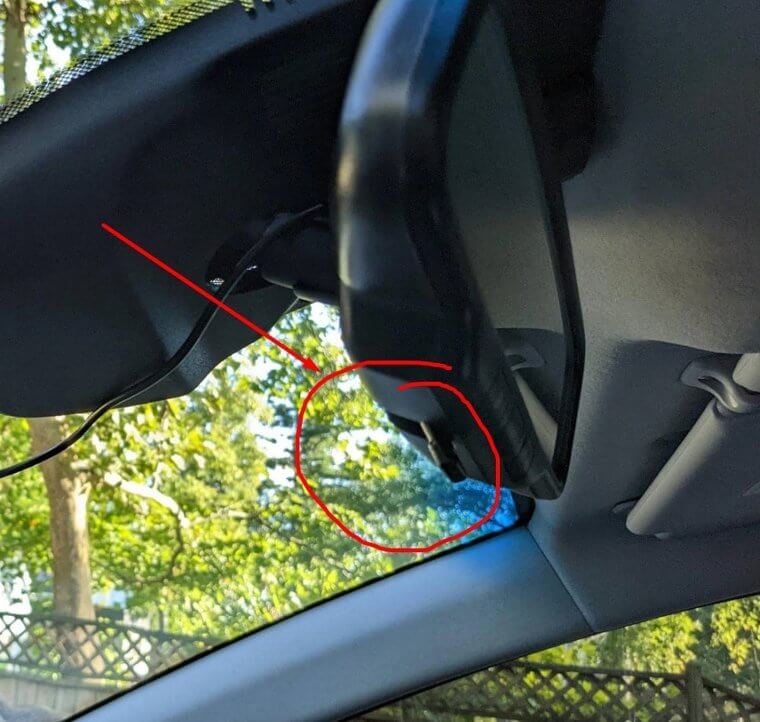 The tab on your rearview mirror is there for when someone behind you has on their high beam lights at night. Instead of getting blinded by their lights, you can flip the tab and it will shift the angle of the rearview mirror. The glass is thicker on one side and when it is flipped, the bright light will dim.
Tic Tac Lids
The lids on Tic Tac containers have a dual purpose. Besides keeping the Tic Tacs nice and fresh, it also helps you dish out just one single Tic Tac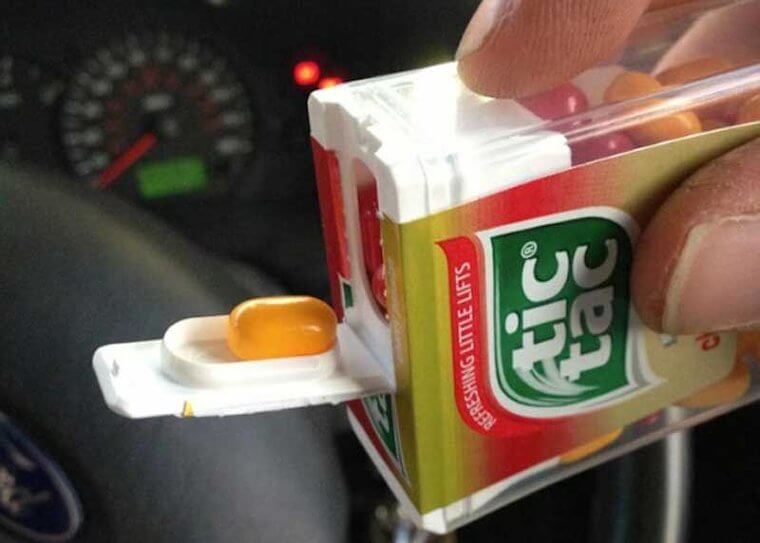 All you have to do is turn the Tic Tacs upside down (with the lid still clicked in place) and then slowly open the lid. You will have just one Tic Tac sitting there! While most people have more than one Tic Tac at a time, this is useful to know in case you ever need to get to one single Tic Tac in a hurry
Fabric and Buttons That Come With New Shirts
When you buy a nice, new shirt, you will usually find a small plastic bag that contains buttons and sometimes even small pieces of shirt fabric.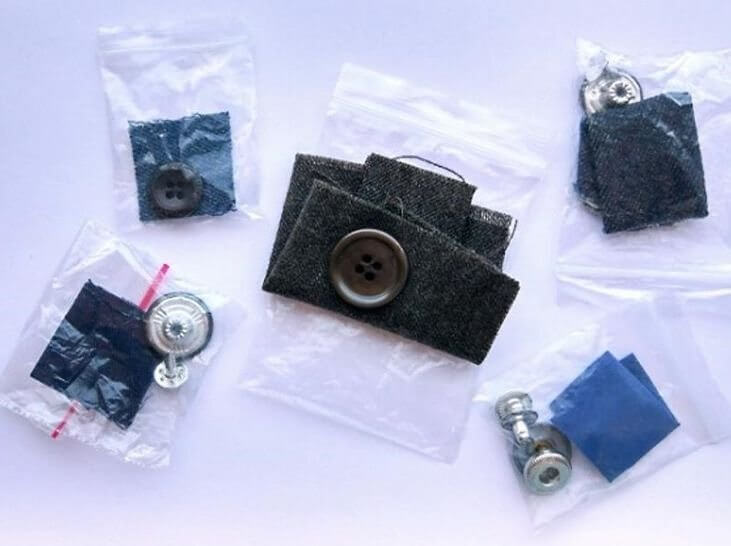 Many people assume that these are spares for mending your clothes in case you lose a button or get a hole in your shirt. However, they are there so you can test out cleaning products before putting your new shirt in the wash so you don't accidentally ruin it. Talk about a lifesaver!
Backpack Whistles
Many backpacks that are used for outdoor activities like hiking come with a little whistle right next to the buckle. This is called a survival whistle.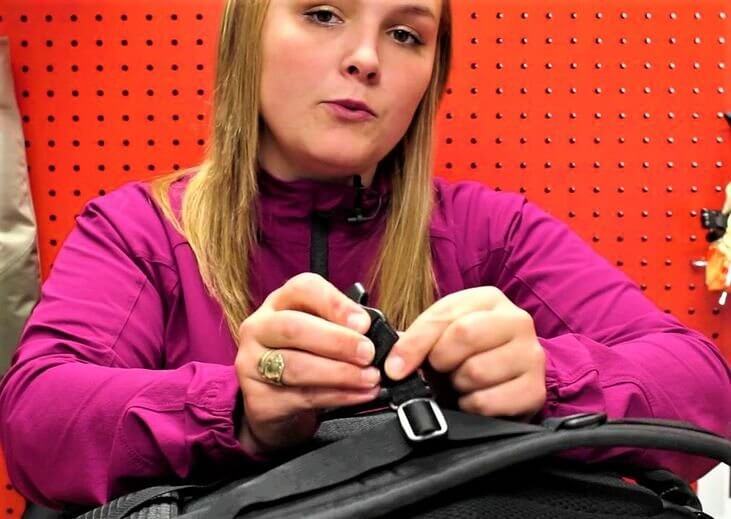 The presence of the survival whistle is pretty self-explanatory: survival. It is there in case you ever run into danger while your out in the wilderness, especially if you are somewhere without cell phone service. In a pinch, you can blow the survival whistle and call attention to the danger you are in. They are very useful in emergencies.
Toaster Trays
Not many people know about the hidden tray located on toasters. Most toasters have them and if you are looking for it on yours, you should look on the bottom for a way to slide it out.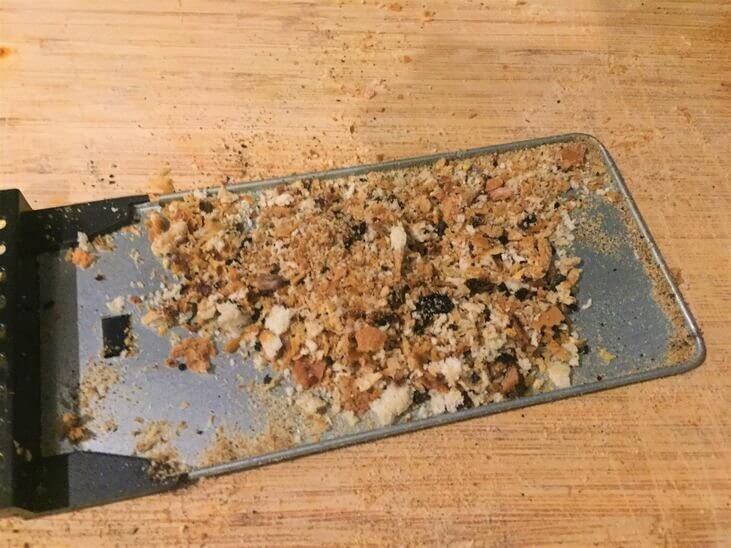 These toaster trays are there to collect all the crumbs and bits of bread that are inevitably going to fall off your toast and remain in the toaster. So instead of letting those crumbs sit there and burn, take the toaster tray out and empty it before toasting your next bagel!
Holes in the Side of Converse Sneakers
If you own a pair of Converse, you may have noticed the unnecessary holes close to the arch of the shoe. These holes aren't unnecessary, in fact, and are actually there for your laces. They are for what is called "Bar lacing."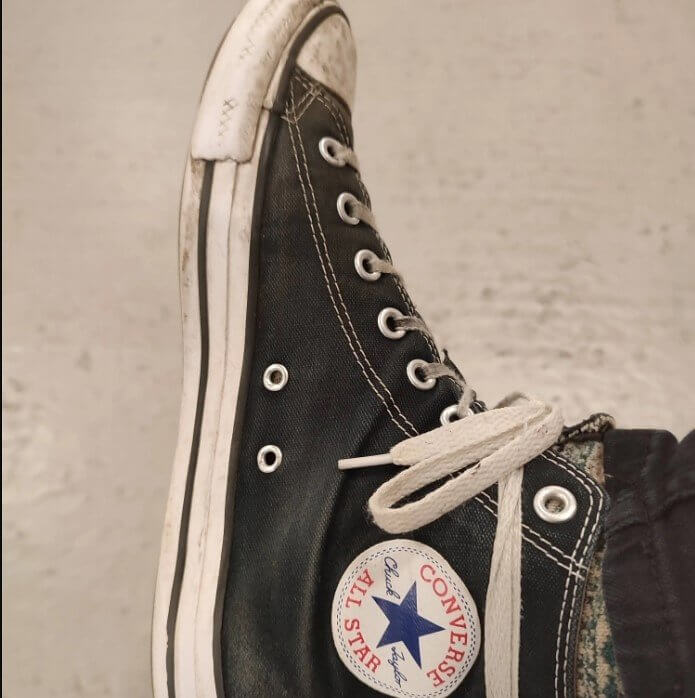 Instead of lacing your shoes the normal way you are probably used to, you can slide your laces through these holes along with the others, and you will give your feet more ankle stability than the normal method! Try this method the next time you pick up a pair of Converse. BTW, that's why the laces are longer than usual
Loops on Grocery Carts
Grocery carts can be very different depending on where you are shopping. However, they do have some things in common. Besides the handle and four wheels, many grocery carts have these curved loops built into the sides.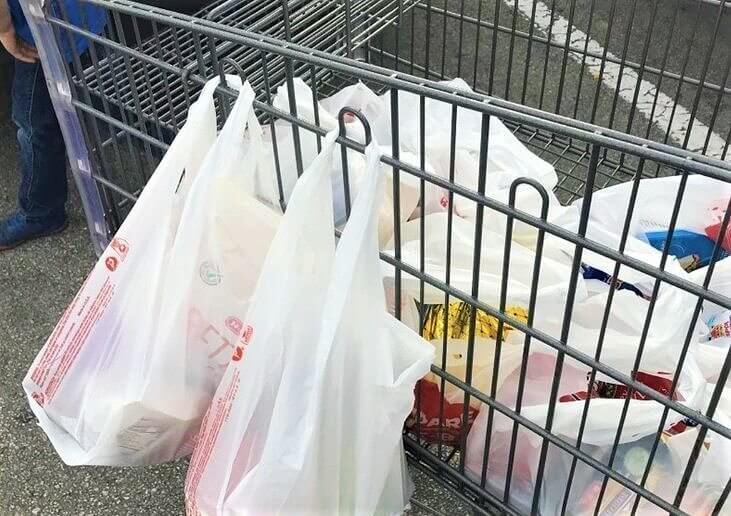 These loops aren't just there to make the grocery cart look nice! They are actually there for you to hang your bags. You could even hang your raincoat on these loops or visually impaired people could hook their service dog's leash on them.
Pockets on Women's Underwear
Many people have been perplexed by the little pocket located inside of women's underwear. This little pocket is located in the crotch and many people mistakenly assume that it has something to do with holding feminine hygiene products.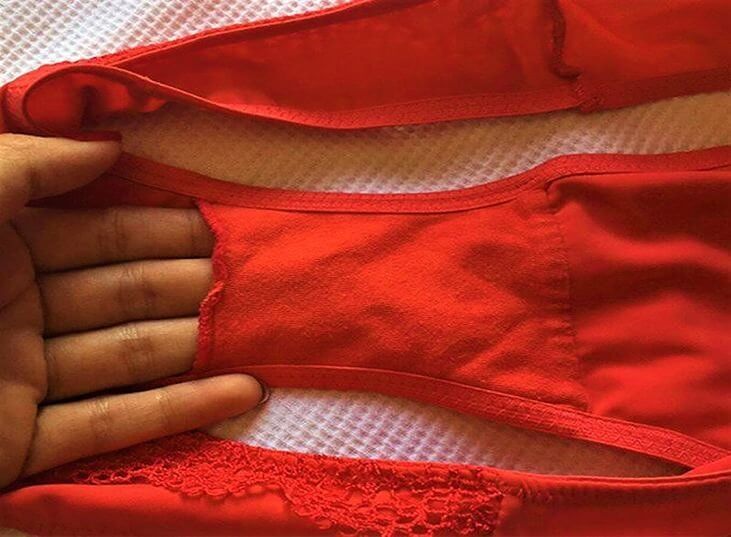 The real purpose of the pocket isn't actually for holding anything. Though it is a pocket with one side open and one side closed, it is just there as a barrier. The double-layer barrier provides comfort as well as aids in general hygiene.
U-Shaped Toilet Seats
U-shaped toilet seats are most commonly found in public toilets. Instead of installing fully circular toilet seats on public toilets, u-shaped toilet seats are used for hygiene.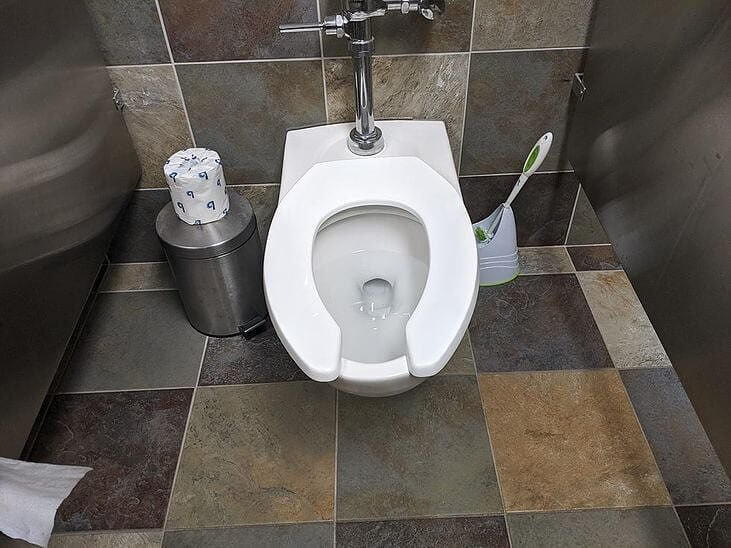 Without the front section of the seat, the toilet seat is much more hygienic because it prevents your private parts from contact the seat. This is a great measure to ensure public health and safety. Since private parts aren't coming into contact with the seat, it reduces the number of germs or other contaminants your own private parts might come into contact with when you just can't wait until you get home.
Bristles on Escalators
Every time you've gotten on an escalator, you've probably noticed the bristles along the side. They may look like they are there to clean and shine shoes, but they actually serve a purpose for safety without you even realizing it!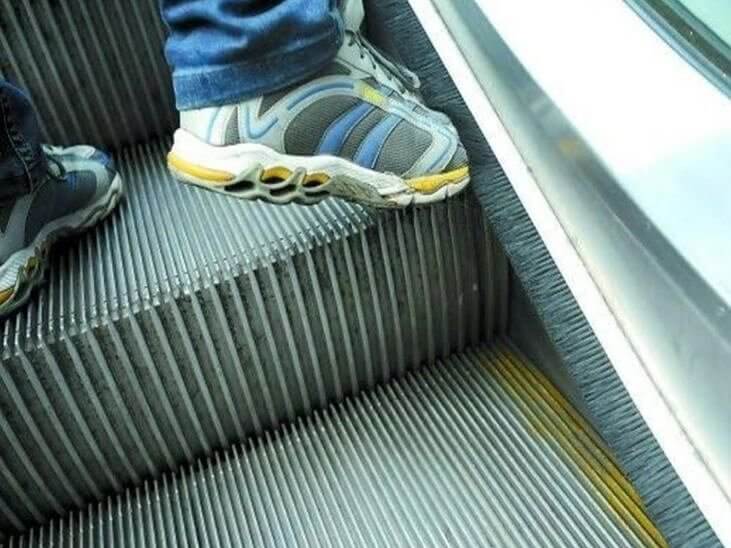 Yep, those escalator bristles are there to warn you toes that they are too close to the edge of the machine. They keep your shoes, and your feet, from getting stuck in the escalator, too. Talk about a useful hidden object!
Holes in McFlurry Spoons
McDonald's McFlurrys are a summertime staple, but have you ever wondered about the spoon that comes with one of these tasty frozen treats?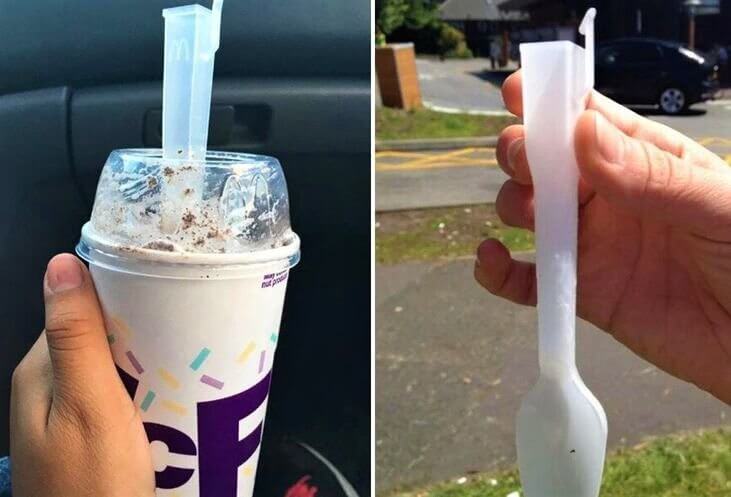 The McFlurry spoons are quite odd. They are wide and thick with a large square hole at the end. They certainly aren't like an average spoon! The reason they are made like this is that the spoon attaches to the McFlurry machine and is used to mix up the ice cream and toppings! They have to be nice and sturdy to deliver the sweet treat to your mouth, too!
The Shape of Screwdrivers
Many screwdrivers have a six-sided handle. What you probably don't know about screwdrivers is that the six-sided handle isn't just for looks. It actually serves a useful purpose!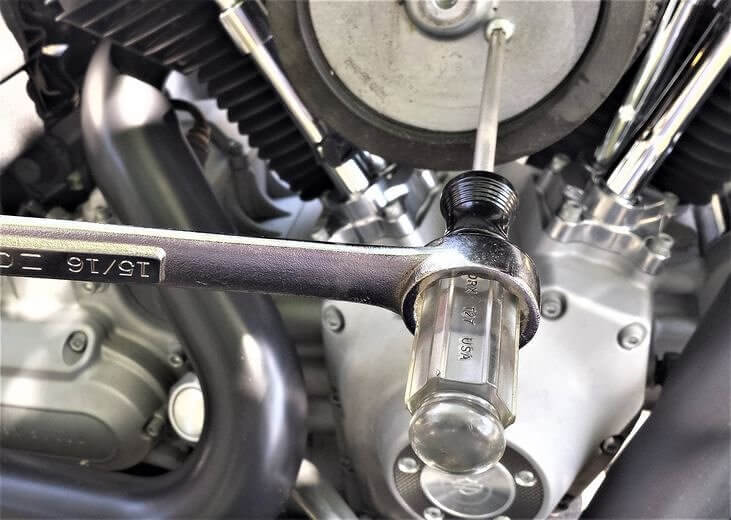 The six sides of a screwdriver handle basically turn it into a larger screw when necessary! If need be, you can always slide a wrench around the screwdriver's handle. Adding the wrench lengthens your reach and gives you better leverage for turning the screwdriver when you have to get to spots that are hard to reach.
Detachable Headrests
Headrests are detachable for many reasons. They are easier to adjust, let you customize your sitting experience, and they are even great for safety!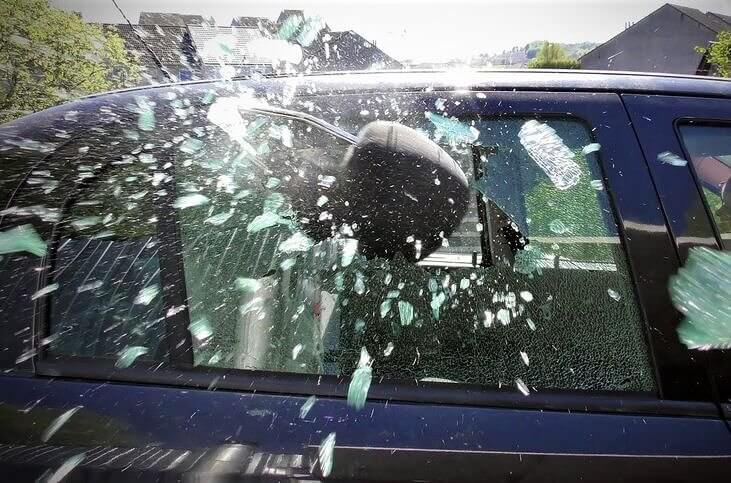 They may not have been designed this way on purpose. In fact, there have been many debates on whether or not safety was the main reason to make headrests detachable in the first place. Either way, detachable headrests can be used to break car windows in the event of an emergency. If the unthinkable does happen, you can use them to escape your car through the window!
The Holes in Measuring Tape
Have you ever noticed the hole in the flat, metal end of measuring tapes? It's not just a design flaw, but a really handy feature that not many people know about.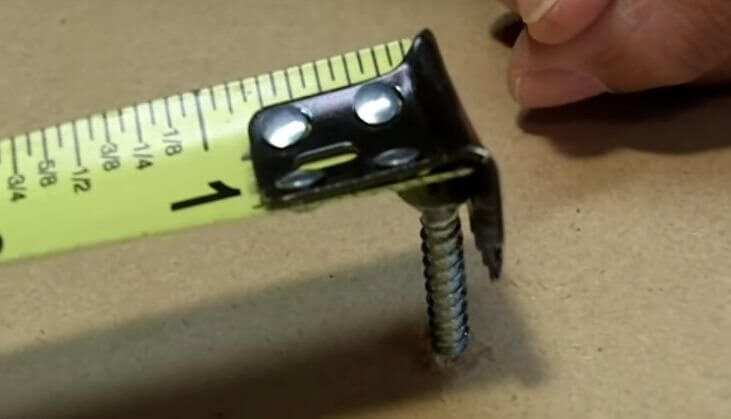 The hole is there so you can hook that metal tab on the end over nails or screws. This keeps your measuring tape secure so you don't lose your place. This also keeps you from having to stretch all over the place to grab your tools or mark your spot. How handy is that?!
Bottle Necks
Nobody likes a warm beer, and we can't blame them. Warm beer is just downright gross and can sometimes ruin a good night.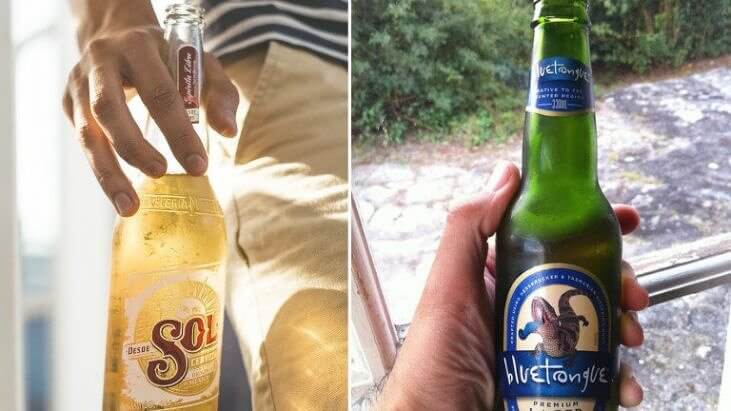 If you find your beer getting warmer faster than you like, try this neat hidden feature: hold your beer by the neck of the bottle instead of the body of the bottle. If you hold your beer by the body or the base, your hand might be heating up your beer as you hold it. Just by holding your beer by the neck, you could keep your beer cooler for longer!
Bread Tags
Bread tags are clearly used to keep bread bags closed and to help the bread inside stay as fresh as possible. However, did you know that the color of the bread tags serves another important purpose, as well?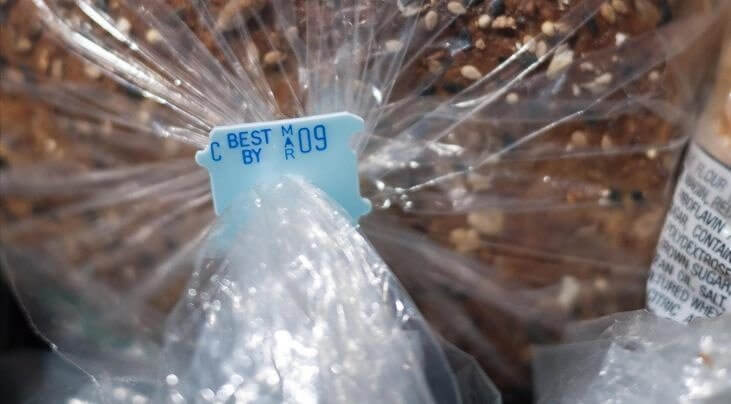 That's right, the color of the bread tag can tell you what day of the week the bread was baked. Different colors indicate different days of the week. For example, the blue tag in this picture tells us the bread was baked on a Monday!
Holes in Pen Caps
It has become pretty common to expect your pen cap to have a hole in it and this hole isn't just a design feature or a great way to make a whistling sound effect. In fact, it is a safety feature, as well.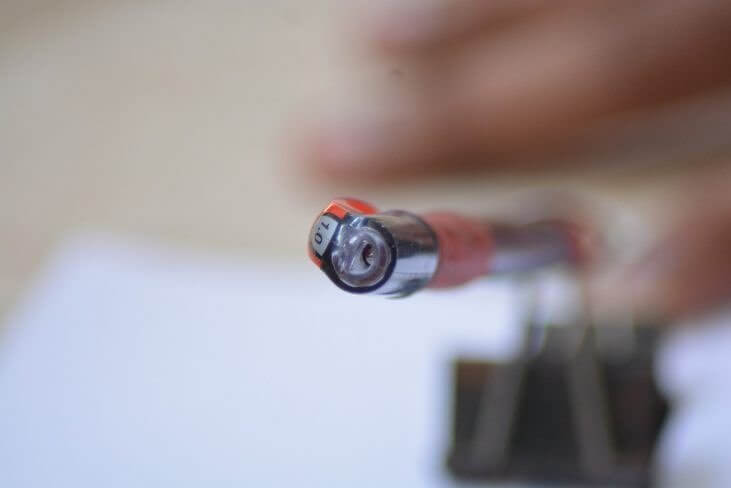 Much like the holes in lego heads, the holes in pen caps are a way to ensure safety in the event of someone swallowing or choking. And as it turns out, a lot of people tend to choke on pen caps. But with the hole in the cap, the person choking can still breathe while they wait for help!
Chinese Takeout Containers
The purpose of Chinese takeout containers is pretty straightforward- they hold your food. And while many people dive right in and eat straight out of the container, many people don't know that you can turn them into makeshift plates, as well!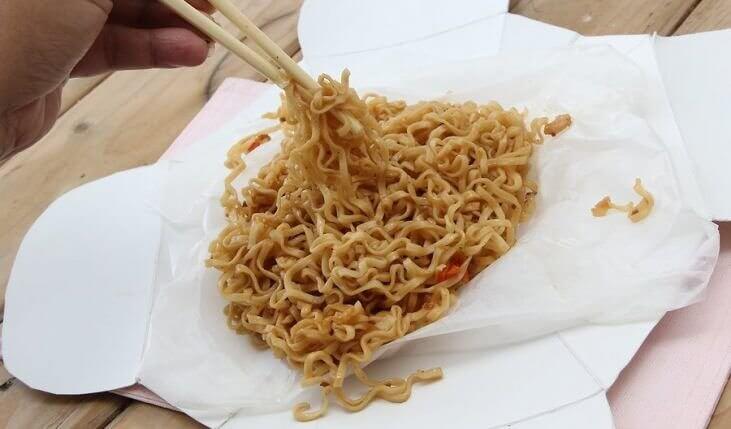 All you have to do is unfold the containers and they become plates! That means instead of digging around the bottom of the cartons, you have full access to all of your food. And you won't even have to do any dishes! Talk about useful!
Pom-Poms
Many people don't think a good beanie is complete without a nice pom-pom on top. They are stylish and show personality. And they can be made out of yarn, faux fur, and much more.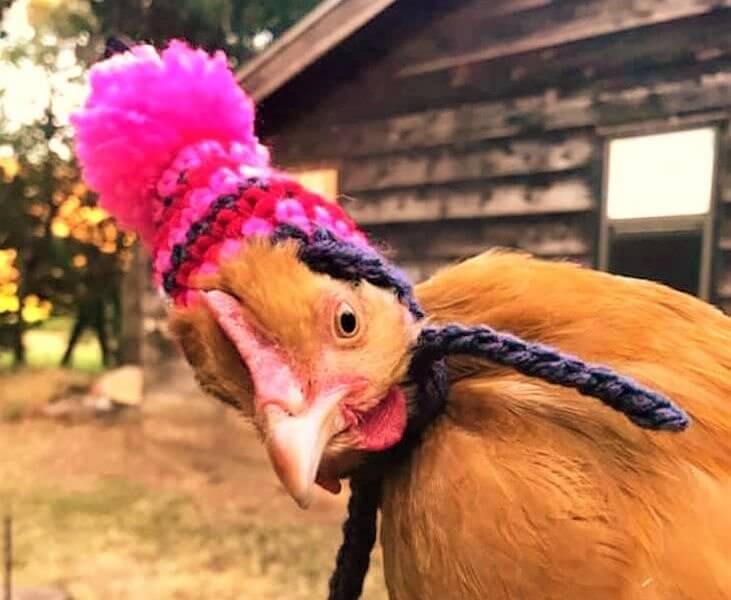 However, what they might not realize is they serve a secret purpose. Even though they are stylish, pom-poms are a great way to hide seams on a beanie. Pom-poms can also be used to hide errors or issues in the fabric or sewing job and give a project a nice, finished look.
Tabs on Soda Cans
If you use straws to drink soda out of a can, you know just how difficult it can be to corral the straw. It keeps bobbing up and down with the carbonation.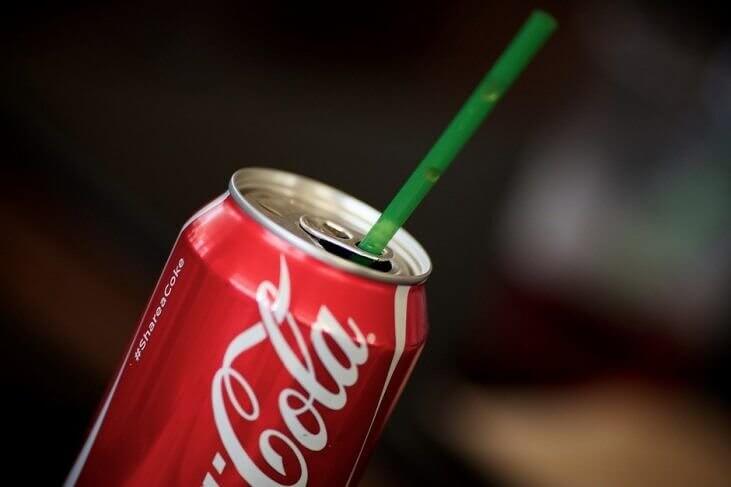 If this is something that annoys you, you will be pleased to know that it can be simply solved just by using the tab on the soda can. All you have to do is is flip the tab down and slip the straw through it. The tab will keep the straw in place and keep you from bobbing your head all around for a sip of soda!
Applesauce Lids
Have you ever taken applesauce or even a fruit cup to eat at lunch, but forgot to pack a spoon to eat with? We've all done it, and we'll probably all do it again!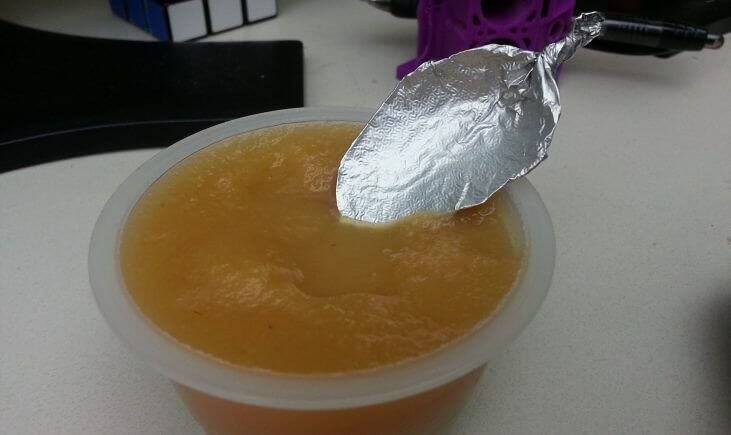 The next time you forget to pack utensils here's a hidden feature that will come in handy so you don't have to drink your applesauce: you can turn your applesauce lid into a spoon! All you have to do is a little strategic folding and twisting with the foil lid and soon, you will have a makeshift spoon for scooping up applesauce.
The Drawer Under the Oven
If you have a drawer under your oven, chances are you are using it to store pots and pans. You wouldn't be the only one! After all, it is the perfect size for all those kitchen tools.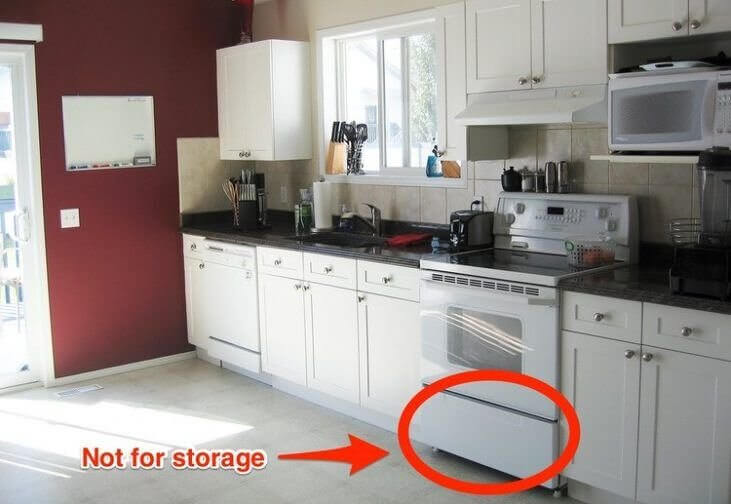 However, that was not the original purpose of that oven drawer. The drawer under the oven is technically supposed to be used for keeping food warm while you are waiting to eat or for the rest of your food to cook! Did we blow your mind?
The Numbers on Glass Ketchup Bottles
You may or may not have noticed these small numbers on glass ketchup bottles. They are just raised numbers, so they can look kind of invisible.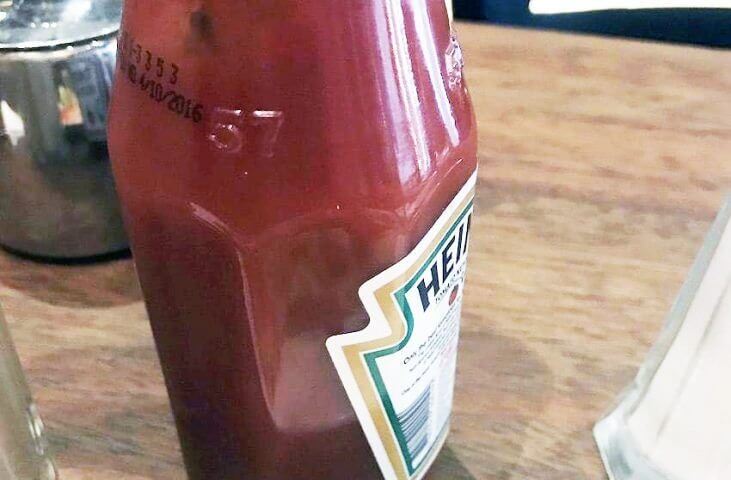 However, those numbers actually have a very useful purpose! If you find the raised "57," tap that exact spot instead of repeatedly smacking the bottom of the glass bottle to get the ketchup out.  That spot is known as the sweet spot and it gets the ketchup out much easier than any other method. The 57 comes from the name of the ketchup makers, Heinz 57.
Disposable Condiment Cups
You know the condiment cups we are talking about. They are those white, paper-like cups that you can find at most diners or fast food establishments.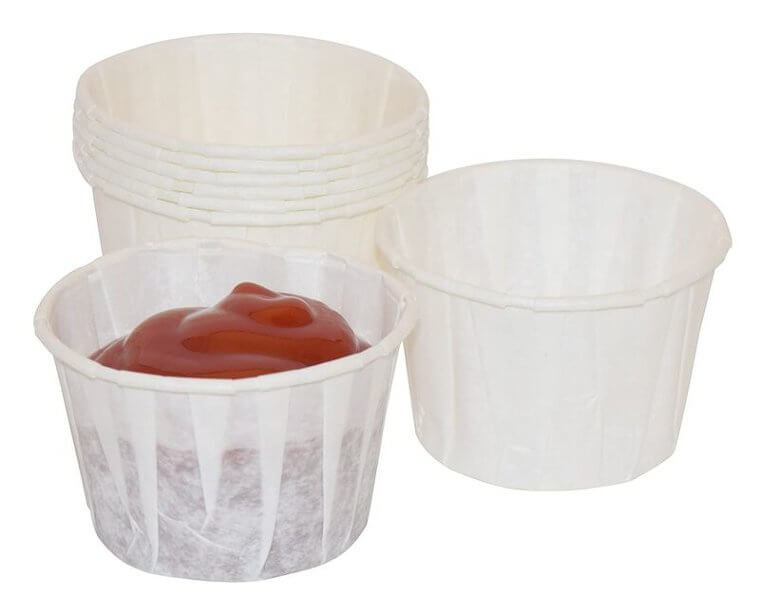 You just pump your condiment of choice into the cup and you're good to go, right? Wrong. Because chances are, you're going to have a hard time dunking a nugget into those small cups. The good news is, you don't have to struggle with your nuggets! These condiment cups were designed so they could unravel into a cup with a larger mouth so your nuggets can fit right in there!
The Holes in Pot and Pan Handles
Most people just assume that the holes at the end of the handle on pots and pans are for hanging them up. And while they're not wrong, those holes also offer a second maybe even more useful purposes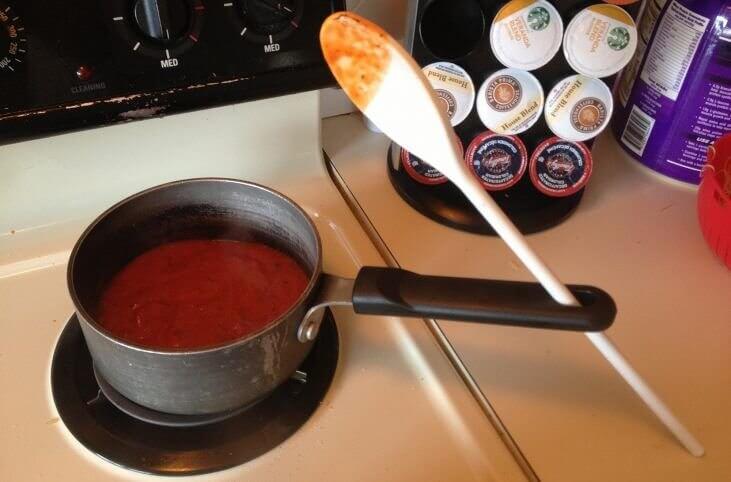 You can use the holes in the handles for propping up your cooking utensils! Instead of dripping your food all across your stove, you can slide the end of your utensil right into that hole and it will keep it over your pot or pan.
Latches on Gas Pumps
As kids, we all thought our parents used magic to pump gas without using their hands. Now, as adults, we all realize that they were using a hidden feature of gas pumps.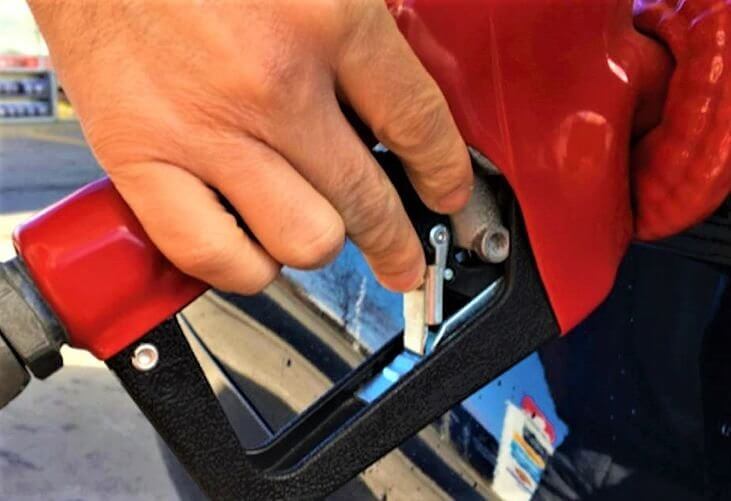 Gas pumps have a small, hidden latch right beneath the top of the handle. If you flip this latch down while you pull the handle up, the handle will lock into place. This allows the nozzle to continuously pump gas without you having to lift a finger! When your tank is full, the latch will automatically disengage. If you want to stop it before then, just disengage the latch with your finger.