The images that we get to see on Google Earth come from a number of sources: satellites that are located fairly close to earth and are able to capture high-resolution photos, and satellites that are located much further from earth, and are instead in the geosynchronous orbit being able to snap much wider shots that are unfortunately snapped with a much lower resolution. The good thing is that with so many sources, google earth ends up compiling a fair amount of interesting imagery of our earth. From marriage proposals to suspicious lakes, take a look at some of the strangest collection of images from Google Earth.
A Marriage Proposal
People go to great lengths to propose to their loved ones, but no one can really top up what this guy did to propose to his partner. Back in 2008, a Tokyo resident called Yasushi was pretty much ready to propose to Natsuki, his long-time girlfriend.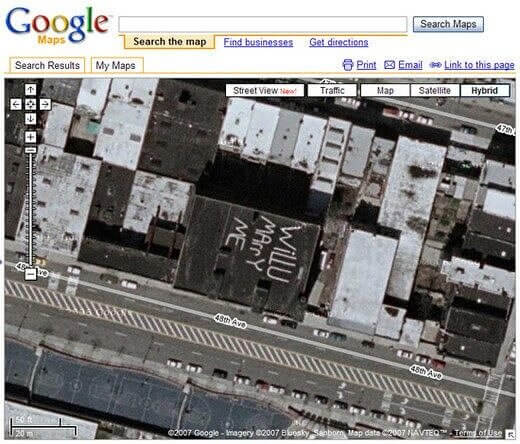 But he had no idea how he wanted to do it. And then, as he came across several types of GPS art, he thought that proposing by using Google Earth was the best way to do it. So after a lot of logistics and a couple of bucks, Natsuki said an enormous yes after the unique proposal. 
The Escher Effect
This photo is the perfect example that when two satellite pictures are stitched together, one may get an interesting take of earth. This picture combines aero snaps of buildings in Paris, France, that were taken in different aerial vantage points.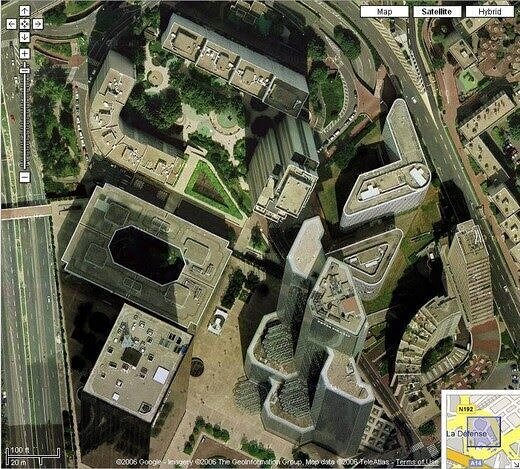 Because the buildings' pictures were taken from a different angle, the buildings that are located on the edges of the picture look like they are weirdly leaning towards the ones standing next to them. If we look at it from a different perspective, it can also look like they are leaning away from each other too. 
A Piece Of Art
This satellite picture shows the site of what was once a volcano crater named Cerro Prieto. The extinct crater is located at a site near Mexicali in Baja California, Mexico. Over the years, it seems like site visitors continued to grace the site with their graffiti, resulting in a piece of art that is big enough to be seen from up high.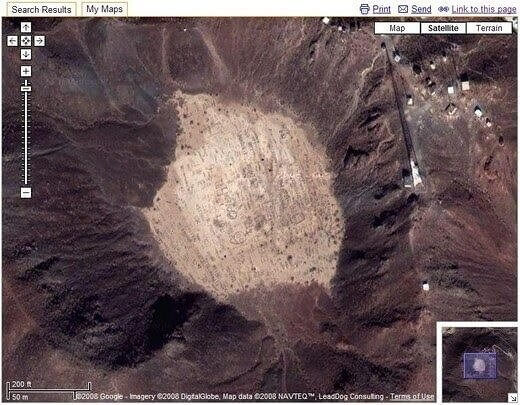 The probability of it being accidental is small, as it looks like whoever drew the graffiti was hoping that it could be seen from either an airplane or a satellite. 
The Unknown Stone Arrow
Although it isn't clear if this is the correct photo, in 2017, Google Earth made one of its biggest discoveries so far. Satellites were able to capture a series of huge stone "gates" somewhere in Saudi Arabia that existed for thousands and thousands of years.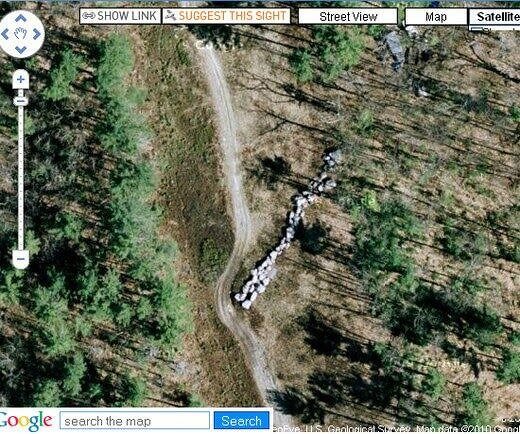 Archeologists named the low rock walls as "gates" because apparently, they resemble some sort of field gates all the way from above. To this date, researchers and archeologists have not been able to study the "gates" from up close, and have done it mostly via satellite. 

An Auto Antics In The Netherlands
This satellite picture taken in Westenbergstraat, Netherlands, has also made it to Google Earth's list of the weirdest and most inexplicable shots ever. It's a fact that many places in the world have terrible access to parking, and car owners are forced to do the weirdest maneuvers so they can find a spot to park.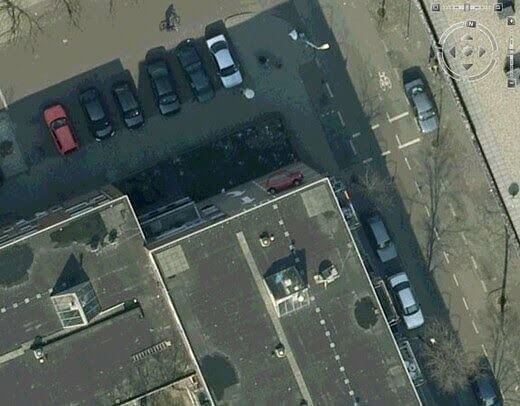 Apparently though, no other place in the world has quite the ability that the drivers of the cars in this photo have. Due to the angle that the shot was taken in, once we take a careful look at this picture, it looks like some cars have parked on the side of the walls of the building. 

A Localized Black Hole That Was Missed
According to the general theory of relativity, a black hole is a specific region of space in which absolutely nothing can escape, including light itself. Throughout the years, astronomers have made several strides in discovering many places around the world where black holes exist.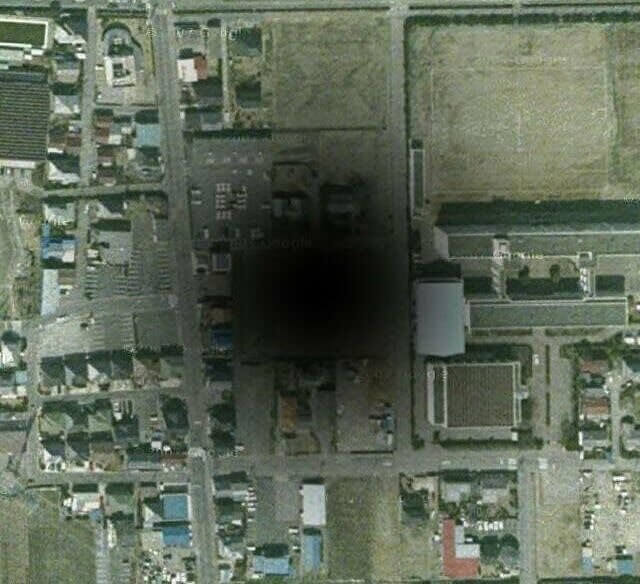 But according to this photo, they have failed to identify this black hole located about 60km north of Tokyo. Although a black hole is overall invisible, it can be observed if it interacts with another matter, which as we can see in this picture is a school building in Gyōda city.

The Face of Satan on Earth
Some time ago, a 26-year-old internet fan was playing around with Google Earth, when he somehow recognized the image of Satan on earth. He randomly saw the image as he trawled the map site while he looked for different Pagan holiday destinations.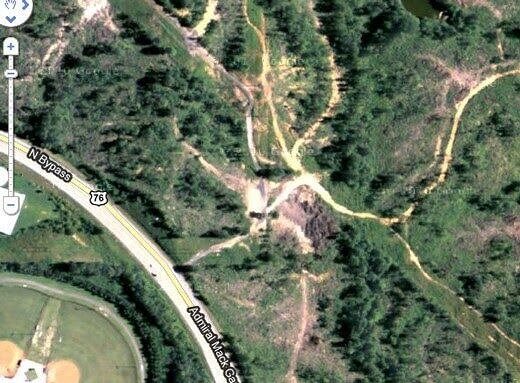 What he didn't expect though, was to come across an image that clearly looked like Lucifer's horns starring right up. The satellite picture was taken from a very religious city in Atlanta, Georgia. After the internet fan shared the picture on his social media pages, no one could believe that it was actually real because of how bizarre it looks. 

A Stunning Heart-Shaped Island
Lovers from all around the world were absolutely stunned by this satellite photo of a heart-shaped island located on the coast of Croatia. The Island is called Islet of Galesnjak, also known as "The Island of Love", and it measures only 130,000 square feet.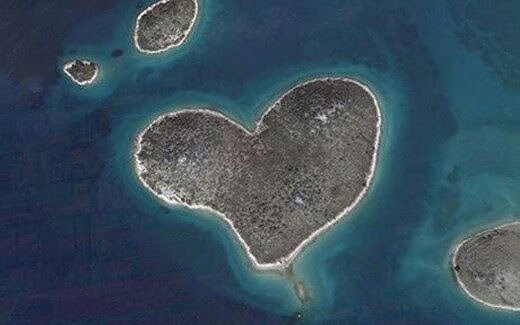 The image went completely viral after its very unusual shape took the attention of some very curious viewers. Google Earth first highlighted the image in 2009, but to this date, internet users continue to be stunned by it. Since it went up on the app, fans have started rating the Island in order to convince more people to visit it. 

A Man-Shaped Lake Was Found In Brazil
Another weirdly shaped source was located in the town of Lacanga, very near São Paulo, in Brazil. The man-shaped lake was picked up by Google Earth when the platform was on a mission to find the oddest spots on earth. It's important to note that the lake is an artificial lake, and yet, it is incredible that it's shaped exactly like a giant.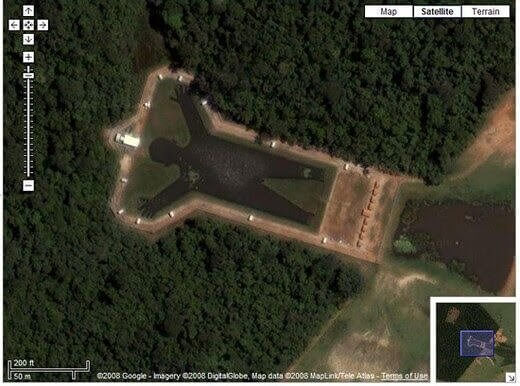 The artificial installation was created with that specific purpose, even though the reasons why the man is standing with his ends up are unknown. The lake is called Lagoa Humanóide, and it seems to be located in an area that is very well taken care of. 

The Bloody Lake
Something about this lake can be very triggering. The blood-red lake pictured here was taken via satellite just outside Iraq's Sadr City. Several theories came up in relation to the color of the lake, including some particularly macabre speculations.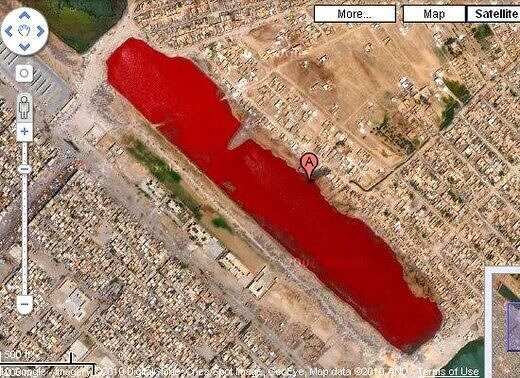 One internet user suggested that several slaughterhouses in Iraq dump blood into different canals, which would result in a lake full of blood. The theory was never confirmed or properly investigated though, so we'll take it as false. What some people think is that a combination of pollution and sewage has caused the color to be bright red. 

The Issaouane Erg Desert
The Issaouane Erg desert is located in a set of Dunes in Algeria and has made it to our list of strange Google Earth Images. The different colors and shapes of these dunes are considered some of the most amazing in the world, and if we pay enough attention to the image, it almost looks like the dunes have very identical shapes.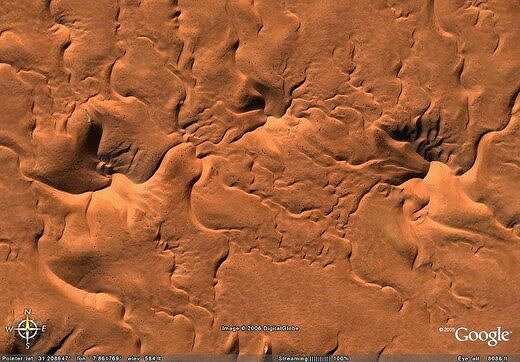 There are tens of thousands of dunes like these ones spread all around the vast areas of the Issaouane Erg desert. To those who are wondering, Ergs are simply vast areas of moving sand that are surrounded by little to no vegetation. 

A Giant Gulliver
A giant man and Satan's face weren't the only figures that Google Earth identified on earth. Apparently, this giant Gulliver was found somewhere in the Hunters Hall Park in Scotland. It seems like the image was designed by Jimmy Boyle in 1976 while he was in prison.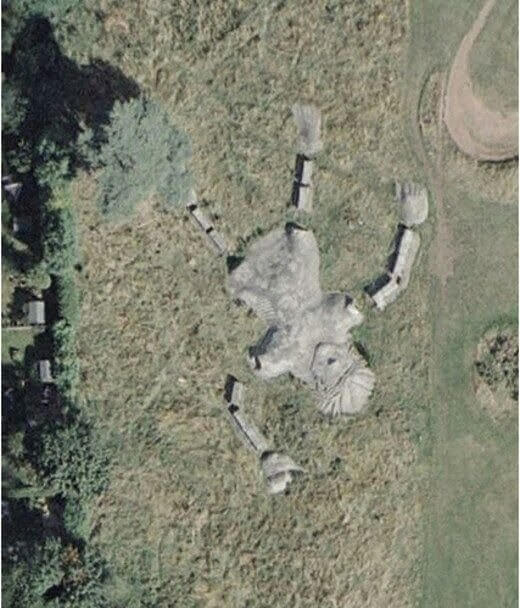 The sculpture has 100 ft and is considered to be the longest concrete structure located in Europe. Although it meant something at some point in history, today it doesn't anymore and it now sadly lies there completely neglected while also being threatened to be demolished. 

Terrain Face
Photos like this continuously prove to us that mother nature is just unmatched. This terrain located in Alberta, Canada, has formed itself in a way that accidentally forms what really looks like a human face if viewed from up in the air.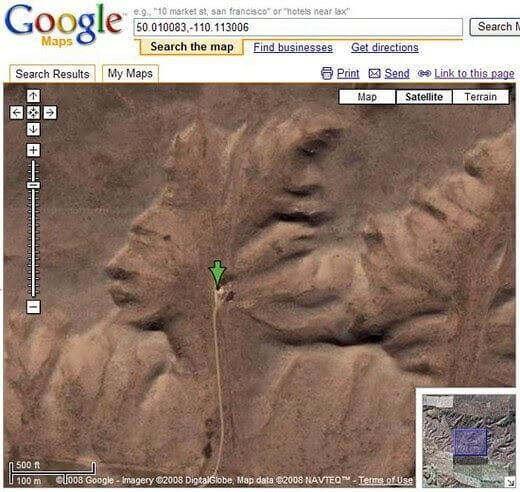 There is a very specific point where the picture needs to be snapped through satellite, as it's not that easy to identify it with little knowledge. Some people who had a bit of time to analyze the picture even further have suggested that the little road that leads up to the pinpoint could be described as a set of "iPod headphones". 

The Famous Osmington White Horse
The Osmington White Horse is located just outside of Sutton Poyntz in the UK. The figure dates back to prehistoric times when it was carved into white chalk just where the hillside was. The figure pictures King George III as he rode his white horse in one of his visits to the north of Weymouth in 1808.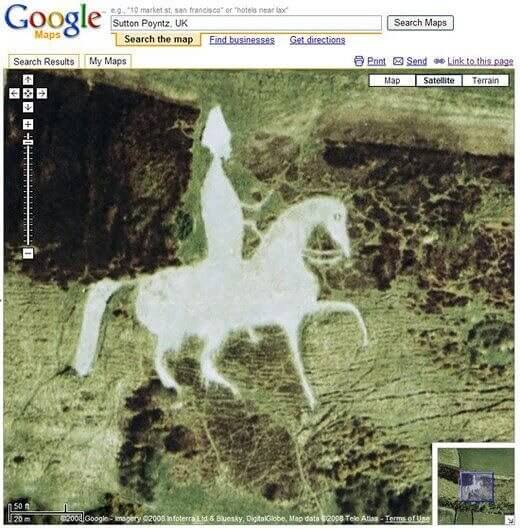 The name of the horse shapes are actually called "Leucippotomy", and they can be seen from miles around. The figure was restored in 1989 for a broadcast on TV, which was later deemed a controversial decision. 

Another Google Escher Effect
When it became clear that images taken from certain angles on satellites create weird shapes, people started calling it the "Escher Effect" or the "Google Escher Effect". This picture of downtown Houston was also taken from a faraway satellite but the angle managed to create a weird angle to the building we are looking at.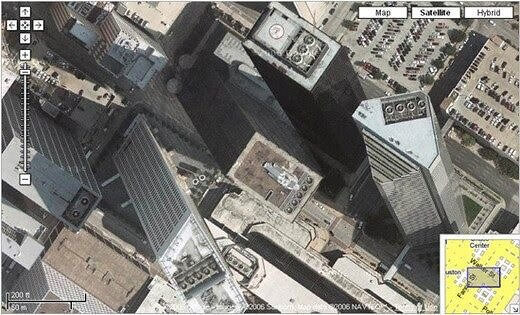 The more we look at it, the more it looks like some buildings are on top of others, and the tallest buildings were somehow built on a diagonal angle that makes no sense at all. 

Random Land Art Near The Airport In Munich
This Google Earth image pictures a beautiful piece of art that is a bit bigger than the usual size we are used to seeing. Although not much is known about the artists who did it and for how long the land art has been there, the land art is often seen by airplanes that are about to land at the Munich Airport.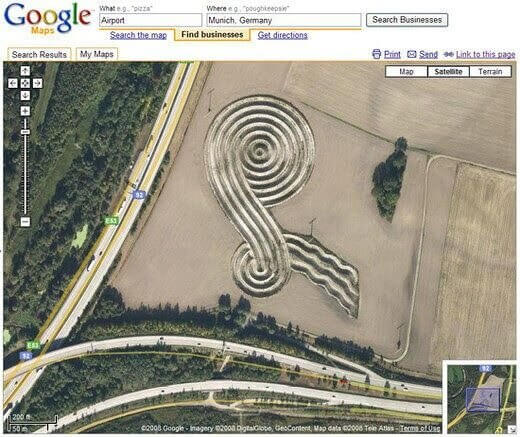 Curiously, land art dates a long time, with the most famous piece being the Spiral Jetty, created by Robert Smithson in 1970. In order to create the piece, the artist used a combination of earth-moving equipment. 

The Unique KFC Space Logo
KFC decided to make history by creating the first ad that could be seen all the way from space. The brand's logo was placed near Rachel, Nevada, with astronauts and extraterrestrials being able to see it loud and clearly.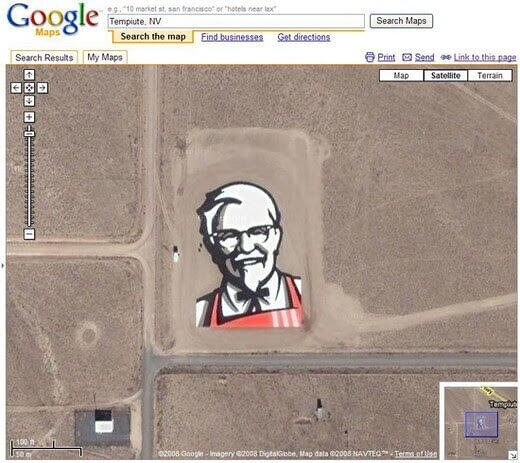 The giant logo was also part of KFC's campaign relaunch, as they rebranded their company by changing up the version of the KFC icon. The ad measured 87,500 square-foot, portraying the well-known image of Colonel Sanders in the middle of the Nevada desert. 

A Firefox Logo
Firefox also decided to up their game in the advertising field, by investing in this giant image of their logo easily seen from very high above. The crop circle art is located very near Portland, in Oregon. As we can see from major companies who have invested in ads that are seen from a satellite and from space, alien technology doesn't seem to be so far after all.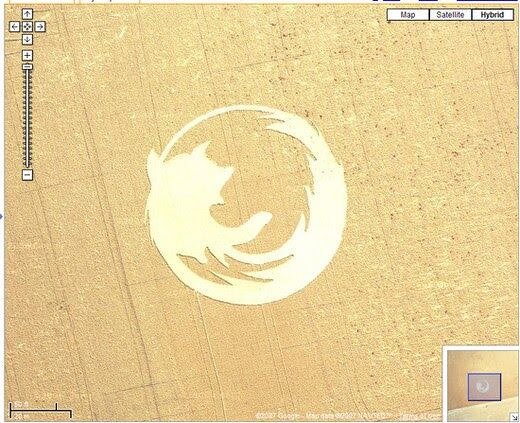 This particular giant logo was created in 2006 when a group from the Oregon State University Linux Group decided to create a giant logo that measured over 45,000 sq. ft. That way, they celebrated the company's 50 million downloads. 

Where Is Waldo?
A talented Canadian artist named Melanie Coles decided to take her skills and build a giant "Waldo" image on the rooftop of a house located somewhere in Vancouver, Canada. The plan was for the image to be later reached through several interactive mapping applications including Google Maps and Google Earth, which clearly worked perfectly.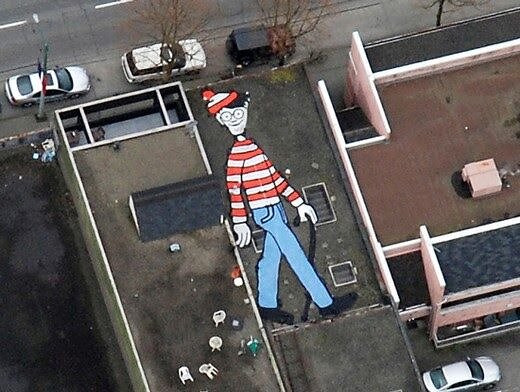 The photo taken from the satellite was later shared in Coles' sister Flickr account and shared several times on social media. Curiously, outside of the US, the "Where's Waldo" game is also known as "Where's Wally" in other places in the world. 

A Giant Bunny In The Park
A while ago, a group of Italian artists from a town near Artesina worked together on a giant pink bunny that measured 200 feet in length, which is equivalent to about 60 meters. Their piece of art was made on the side of a random northern mountain in Italy.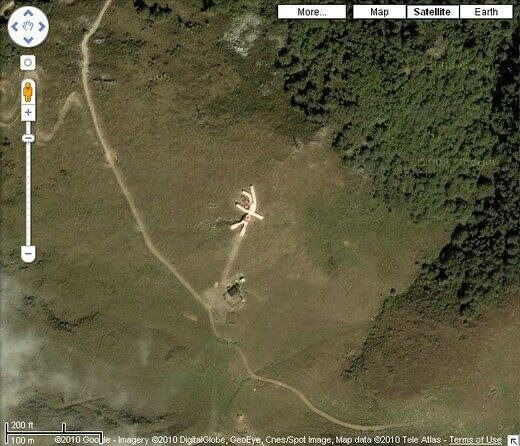 This aerial view portrays the bunny exactly as it is, giving us a peek into the pink wool that the artists used to create their piece of art, which is supposed to last there until the year of 2025. 

A Serious Coca-Cola Logo
Coca-cola didn't want to stay behind in their ad game, so they also created a giant add of their own. Even though coca-cola is one of the most popular drinks in the world, that doesn't mean that their advertisers don't do everything in their power to maintain the brand's name in everyone's minds.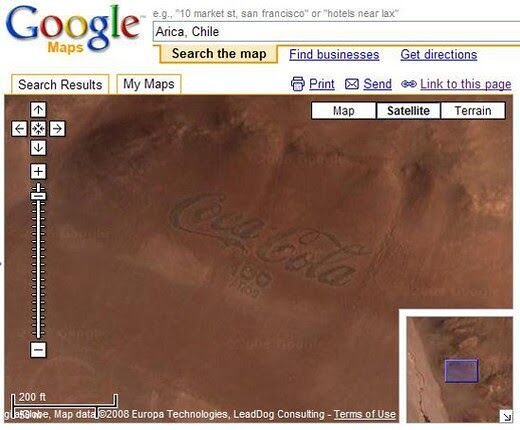 This particular ad was created to commemorate the brand's 100th anniversary, and instead of creating another billboard ad or TV ad, they decided to make a giant logo made our of 70,000 coca-cola bottles spread on the Chilean desert. 

A Huge Portrait of Ghenghis Khan
The people of Mongolia have together decided to carve a giant drawing of Ghenghis Khan on the hillside right outside of Ulaanbaatar. For those who don't know, Ulaanbaatar was not only the founder but also the first big Emperor of the Mongol Empire and Great Khan.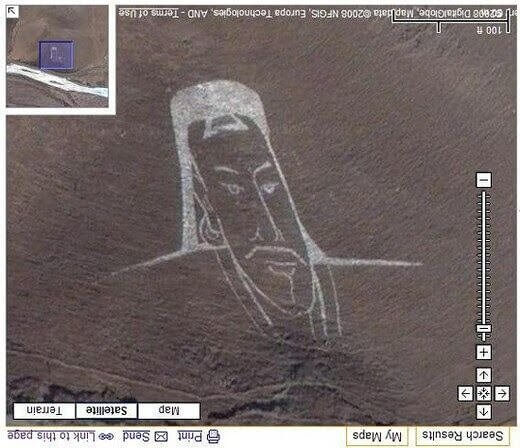 Since his rule, the Mongol Empire became the largest contiguous empire in the history of time, even after he died. When he came into power, he had already managed to unite several nomadic tribes from around the Northeast area. 

Da Vinci's Vitruvian Man
The Vitruvian Man is one of the most recognizable illustrations in the world, created by the one and only Leonardo Da Vinci. This giant representation of it is displayed in crop art in Germany, with the original one having been drawn all the way back in 1487.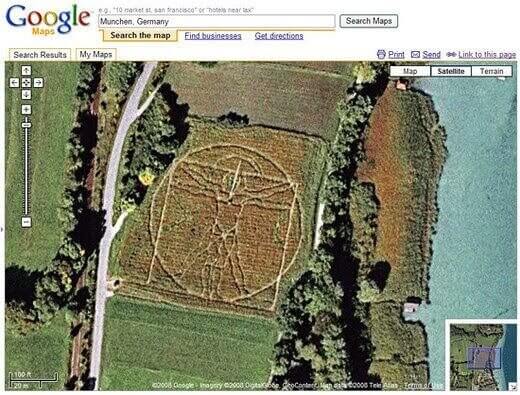 The drawing portrays a male nude that is placed on two superimposed positions inside of a square and a circle. In a way, it is the archetypal "perfect man". In addition to being an incredible picture, the piece of art is also a mathematical triumph. 

The Symmetrical Palm Islands From Dubai
The Palm Islands of Dubai are a set of completely artificial Islands located in Dubai, United Arab Emirates. The plan is that a major residential and commercial infrastructure will be built throughout the next couple of years by Nakheel Properties. 

The property developer has contracted Jan De Nul and Van Oord, who are known Belgian and Dutch contractors specialized in dredging and marine contracting. The Islands are composed of three Palms: Palm Jebel Ali, Palm Jumeirah, and Palm Deira portraying one of the most beautiful artificial islands in the world.

The One And Only Oprah Maze
There is a very little amount of people who don't know who Oprah Winfrey is. She has become an icon and the most influential woman in history, loved by millions of fans and admirers from around the world.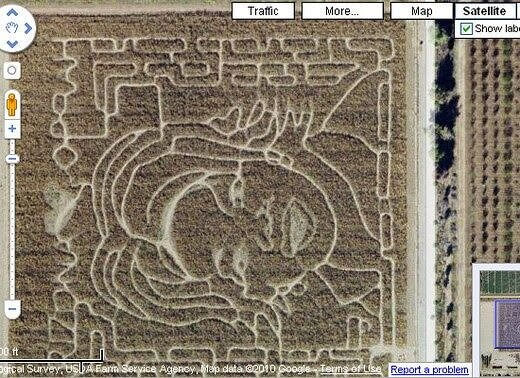 Oprah doesn't just have a hugely syndicated magazine and show called O, Forbes has also made it official in their platform, by dubbing her the most powerful woman in the world. As a form of homage for her, a farmer from Arizona decided to create a giant maze with her face back in 2004. 

A Record-Breaking Fingerprint
The world's largest fingerprint is actually called the "Fingermaze", and can be seen at Hove Park in Brighton. The work of art was created by Chris Drury back in 1993 and is made of York stone, lime mortar, and turf.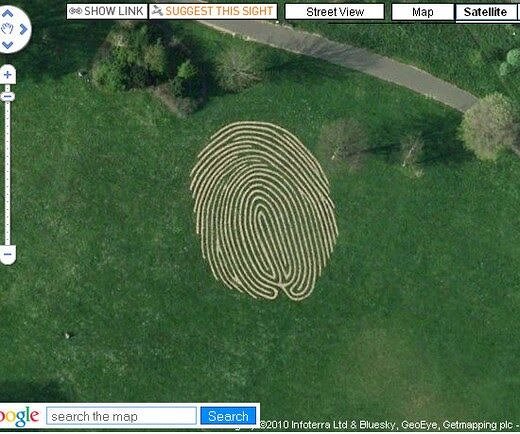 The second one looks at it, it seriously looks like we're in fact staring at a human fingerprint. Lime mortar serves to use less energy to produce while being able to leave much less of a carbon footprint than cement would. According to the artist, walking inside the fingerprint maze can be a meditative journey. 

A Mansion With The Shape of a Guitar
This guitar-shaped mansion went viral when an image from Google Earth was shared all over social media. The American mansion has 15 bedrooms and is composed of a long guitar-shaped driveway adding to its unique architecture. The property is located in Shoal Creek, Alabama, and comes with several features across its 27 acres.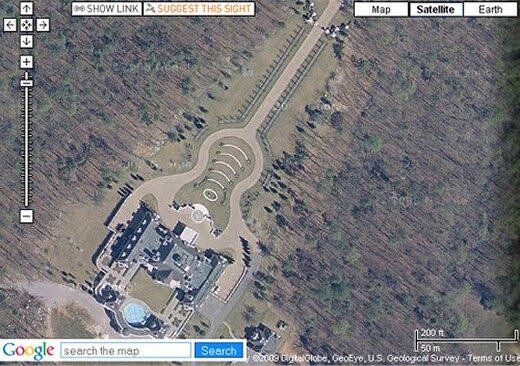 Some of these features include a horse-riding arena, a fitness center, 16 bathrooms, ceiling murals, and of course, a couple of crystal chandeliers. The mansion was actually up for auction, which means that by now it might have a brand new owner.

A Declaration Of Love
When in love, some people are able to go to great extents to declare their love for someone. At some point in time, people started getting inspired by the number of lovers who decided to declare themselves through Google Maps. Several romantic messages were suddenly seen spread all over the country and were able to be seen by tons of people who were up high.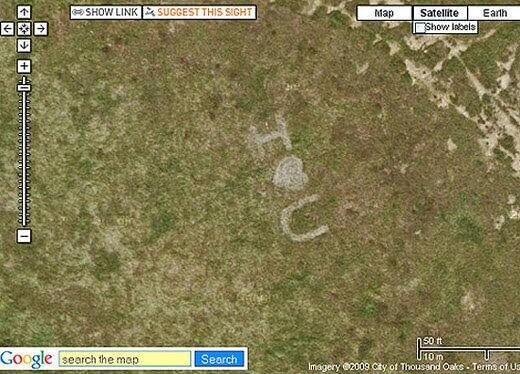 This particular message can be seen in an abandoned field located in Oaks, California. Although the authorship is unknown, it is suspected that this particular declaration is a general one, and not made for a specific person. 

Crop Circles On Google Earth
The circles we see here are located in the desert right next to Beatty, Nevada. The crop circles actually portray a method of irrigation called center-pivot irrigation, also known as central pivot irrigation.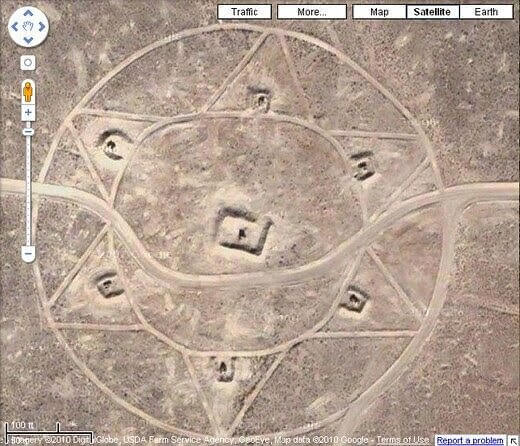 The method of crop irrigation works like this: the equipment rotates around a pivot, resulting in the crops around it being watered with sprinkles. When viewed from above, we can see a circular pattern in the crops that came as a result of the circular area centered on the pivot being continuously irritated. 

A Roof Ad
Skateboarding and roller skating have been popular sports amongst different communities for years, with its hype passing a couple of years ago. Although the sports remain somewhat popular, there hasn't quite been another Tony Hawk or Ashlie Atkinson for a while.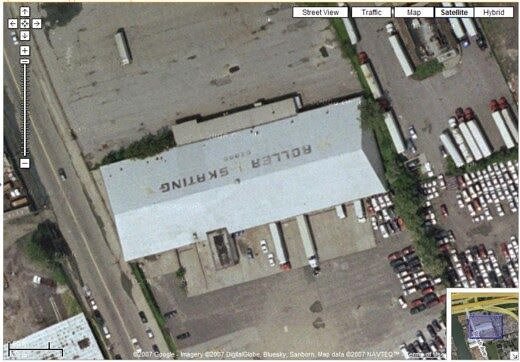 So in an attempt to recruit some more skaters to their crew, a group of people decided to create a huge advertisement on a roof in order to advertise a Roller Skating rink. The ad was put very close to the LaGuardia Airport in New York City, probably with the intention of making an impression on incoming passengers. 

A Roof Ad
Skateboarding and roller skating have been popular sports amongst different communities for years, with its hype passing a couple of years ago. Although the sports remain somewhat popular, there hasn't quite been another Tony Hawk or Ashlie Atkinson for a while.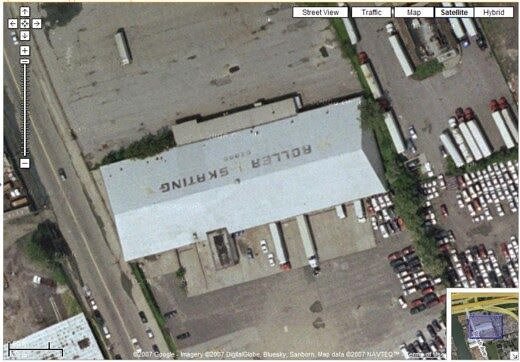 So in an attempt to recruit some more skaters to their crew, a group of people decided to create a huge advertisement on a roof in order to advertise a Roller Skating rink. The ad was put very close to the LaGuardia Airport in New York City, probably with the intention of making an impression on incoming passengers. 

The Ford Motor Company Sign
Another company that seems to have put an effort in amplifying its logo was Ford. This photo taken from above showcases the company's logo and trademark above a building, allowing anyone who flies close enough to easily see it.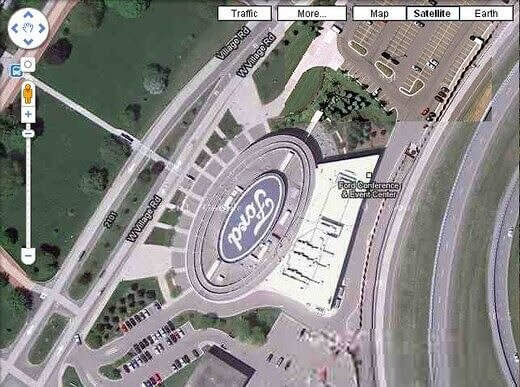 The American automakers have made their way to becoming the world's fifth-largest automaker. It was founded in 1903 by Henry Ford, not taking too long to become one of the largest and most profitable companies worldwide, after managing to join the small group of companies that survived the great depression.  

A View of Ghost Town
This aerial photo gives us a wide and far glimpse into the Ghost Town of Prypiat, located in Ukraine. The town can be found very near the Ukraine-Belarus border and was named after a river that is also located nearby.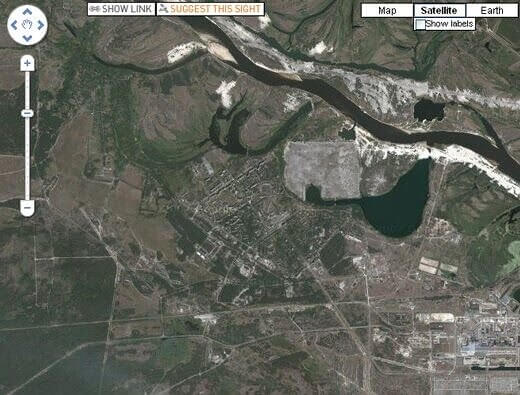 After being founded in 1970, the city was named a nuclear city, which essentially means that the city is a closed city in the Soviet Union. Its main purpose is to serve the Chernobyl Nuclear Power Plant that is nearby. By 1979, the city had about 46,360 people living there, when it was also officially declared a city. In 1986 though the town was evacuated due to the Chernobyl nuclear disaster.

"Ni Pena Ni Medo"
The expression "Ni Pena Ni Medo" literally means "No Shame No Fear" in Spanish, and as we can see in the picture below, someone decided to make things very clear. The saying was written in the deserted sands of the Atacama Desert, located in Chile.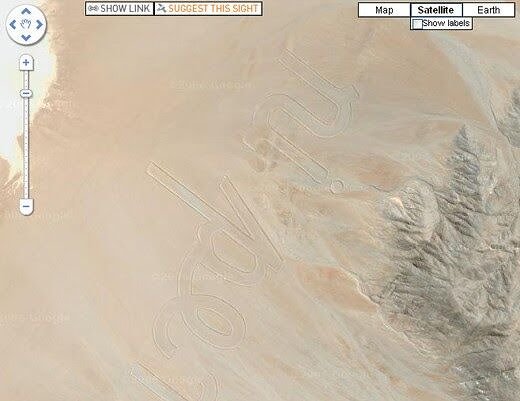 It is said that together, the play in words is to this date the world's largest poem. The four magical words are written throughout 3.15 kilometers and portray the work of poet Raúl Zurita. Zurita was a Chilean poet who suffered horrors at the hand of the military dictatorship that took place in Chile all the way back in the 70s and 80s. 

The Giant of Córdoba
Honestly, there is no sensible explanation for what we see in this picture. At first glance, we could swear that this is a giant taking a bath the moment a satellite caught it on camera, but we know that that's not really possible.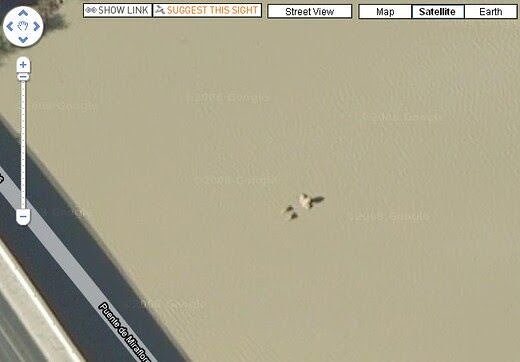 This "giant" was pictured in the Guadalquivir River located in Córdoba, Spain, which mostly flows westward towards the Atlantic Ocean. The river is considered one of the longest rivers in Spain, with one of the richest and most varied areas of animal life and plants surrounding it.

A Celebration of Brunel's 200th Birthday
This maze was created in 2006 with the intent of celebrating and honoring the life of Isambard Kingdom Brunel on his 200th birthday. The corn maze was built just outside of Bickleigh, in the UK, paying homage to Brunel who lived from 1806 to 1859.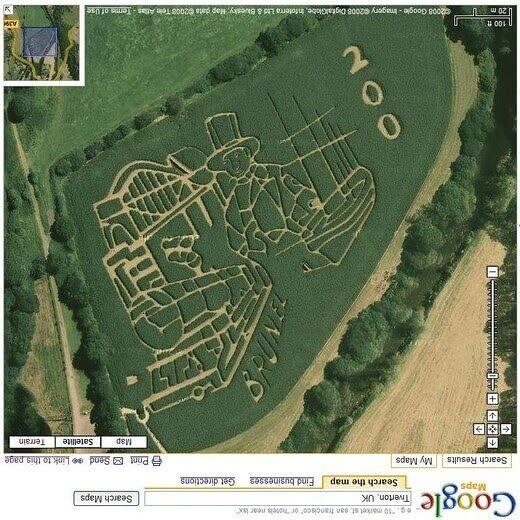 The famous British engineer is mostly known for his work on the Great Western Railway, which comprises a series of famous steamships. One of these steamships includes the first-ever steamship with a propeller. He is also known for his numerous tunnels and bridges.

The Bug of Illinois
Although this picture requires a little bit of attention to it, it compiles a number of land art pieces created by Michael Heizer and built on Buffalo Rock located in Buffalo Rock State Park. The art is called Effigy Tumuli and was built between the years of 1983 and 1985.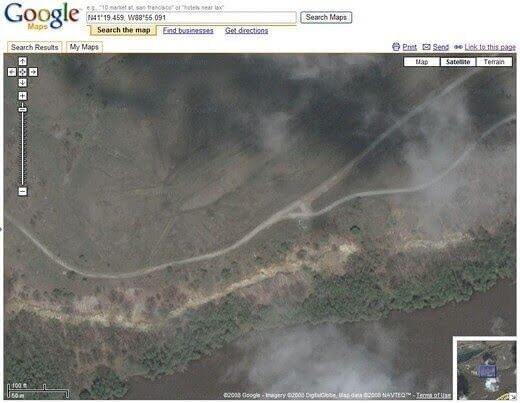 Although the animal shapes are hardly visible when taken from satellite pictures, the artist drew a roach or beetle shape outlined in this quick screenshot. The truth is that when it comes to Michael Heizer's art, this is the only representational work that was created by him.

Karl's Maze Located In Germany
For some reason, there is very little information about Karl's Maze, which is located in the small town of Purkshof in Germany. The picture taken from an aerial view has been shared many times on several platforms, but those who are curious to know a little bit more about it have failed to do so.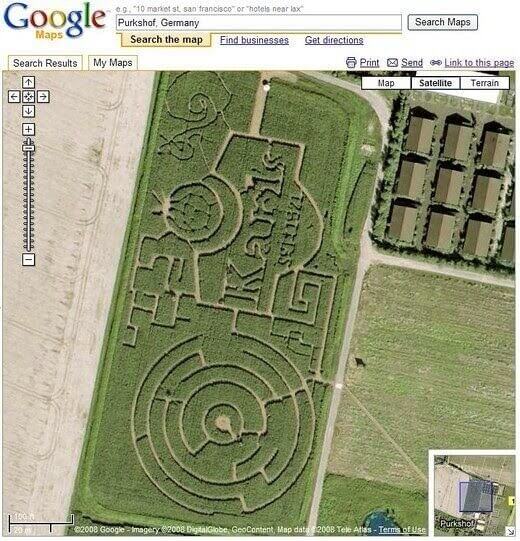 Purkshof is a small municipality that is located in the northeastern state of Mecklenburg-Vorpommern. The maze is rumored to date from a while ago and is easily one of the most incredible sights to see from above. 

The Island-In-A-Lake
Now here is something we don't get to see very often - a mouthful and an eye-full that Google Earth was able to snap and put on our radar. This "Island-in-a-lake-on-an-island-in-a-lake" is located on the Philippine Island of Luzon.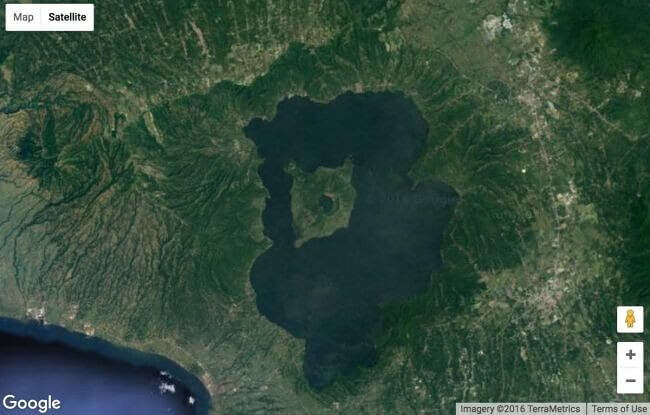 As we can see, the Island is composed of a tiny Island which is inside a crater lake that resides on an Island called Volcano Island in a lake called Lake Taal, yikes! Although the phenomenon was thought to be unique in the world, it was found that there is another 4-acre spit of land located in Northern Canada. 

A Strange Set of Wheels
The wheel structures picture below is located in the Azraq Oasis in Jordan. They are believed to date back around 8,500 years, which essentially makes them older than Peru's geoglyphs known as the Nazca Lines.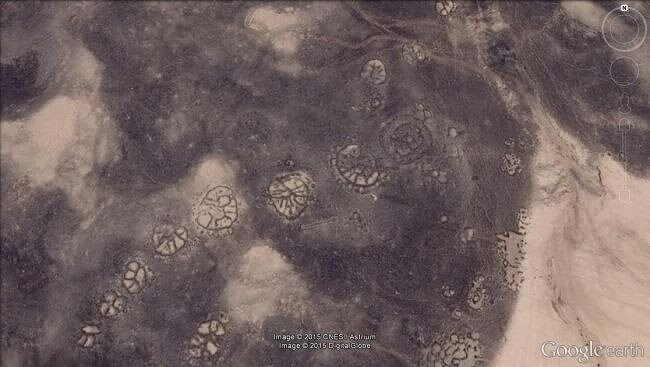 The circles can be easily seen from above the Azraq Oasis, and they are curiously positioned in such a way that they align with sunrise in winter. The wheel structures have been being investigated by a group of scientists in the Middle East, mostly through satellite imagery that is provided by Google Earth.

A Bull's Eye
According to the research being done by scientists, some of the different "wheels" located in the Saudi Arabian desert resemble a bull's eye. The bull's eye is composed of three triangles that point toward the eye, accompanied by small piles of stones that lead from the various triangles all the way to the bull's eye wheel.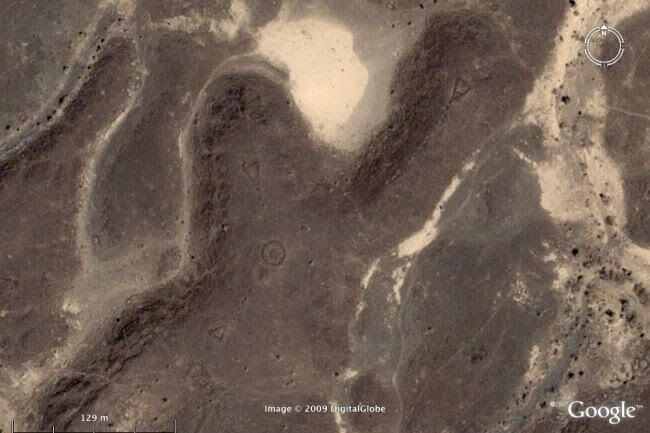 One of the scientists in charge of the project is David Kennedy, a scholar at the University of Western Australia, who points toward the importance of understanding the bull's eye phenomena in order to understand the wheels.

Sandy Or Phantom Island
Back in 2012, a group of researchers from Australia encountered an Island that is basically the size of Manhattan, forgotten somewhere in the South Pacific. The place is called Sandy Island and had mysteriously popped in their maps somewhere in the northwest of New Caledonia.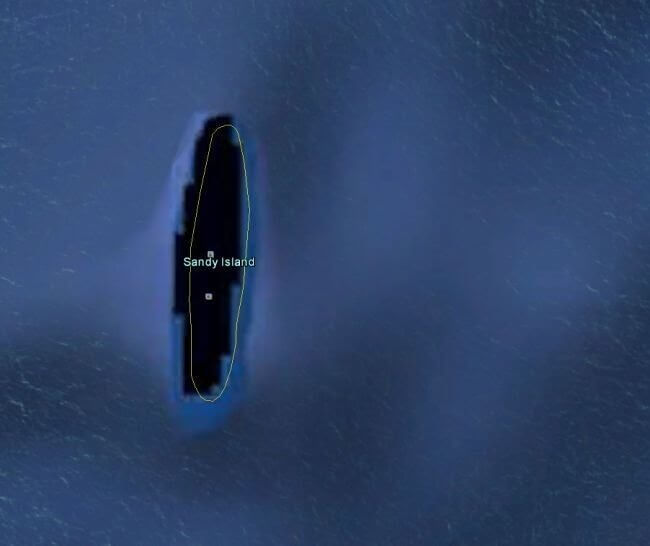 When searched, it can be seen as some sort of black polygon on Google Earth, which makes it even more mysterious and interesting. When a group of new scientists sailed there to further investigate the place, they discovered open water instead of solid ground.

A Confusing Pentagram
Somewhere in an isolated corner of Kazakhstan, in the unknown steppes of central Asia, a huge pentagon can be easily seen from an aerial view. The pentagram measures about 1,200 feet, which is equivalent to 366 meters in diameter. Online users have obviously come up with a bunch of bizarre theories that speculate the pentagon's origins.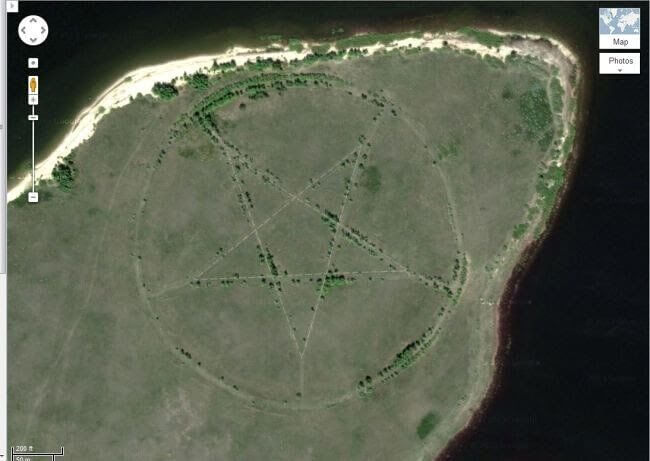 While some argue that the five-pointed star has something to do with nefarious religious sects or devilish things, it was concluded that the pentagram is actually the outline of a park that was made in the form of a star.

Completely Abandoned Launch Sites
In 1968, the Oahu Defense Area in Hawaii was seriously equipped with a number of missiles in the open air. They also had earthen revetments or embankments paired with the missiles that were always ready to be launched. Back then, the United States had supersonic surface-to-air missiles spread over almost 300 sites, mostly between 1954 and 1970.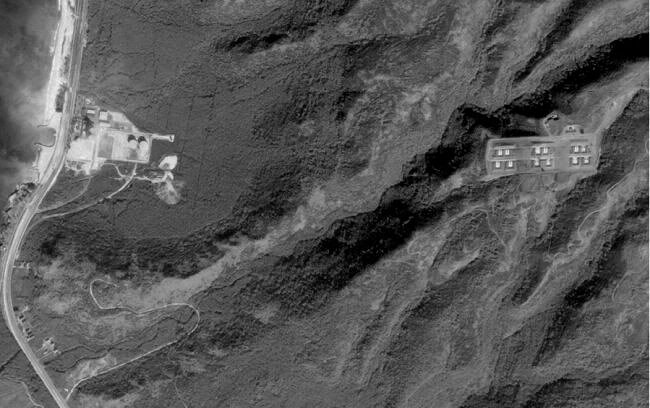 In fact, some of these missiles were so powerful that they even carried nuclear warheads. Today, the abandoned missile launch sites still exist, with a number of specialists hoping to preserve them for historical reasons. 

A Spiral Design
This beautiful aerial photo shows us what looks like either an alternative universe or a spiral portal, that is, as a matter of fact, just a huge spiral design located in the Egyptian desert.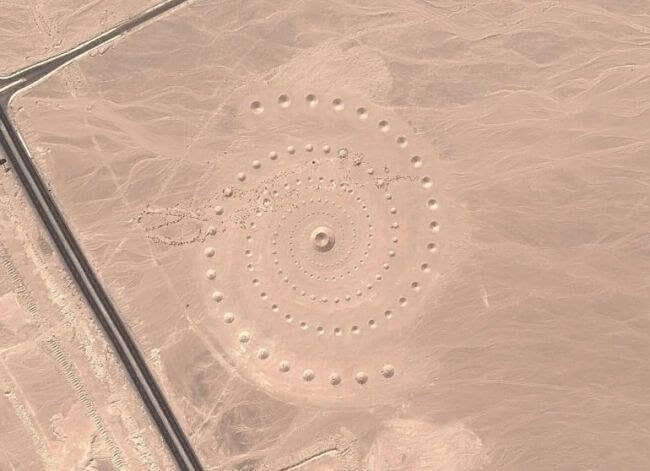 The design can be found not too far from the Read Sea and was created by artists Danae Stratou, Stella Constantinides, and Alexandra Stratou in March of 2007. The art installation called " Desert Breath" is as long as 1 million square foot, which is the same as 100,000 square meters. 

Several Holes
This photo retrieved from Google Earth is certainly not one with a pleasant history. This image shows the destruction and the several holes that were pockmarked and dug by looters in Apamea, Syria. The civil war in Syria has existed for decades, damaging hundreds of archaeological sites around the country.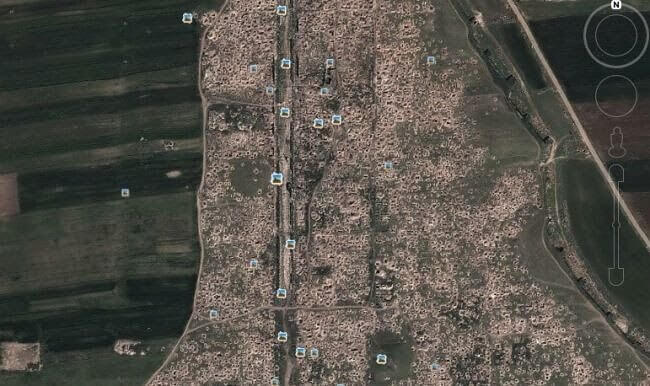 The war also resulted in damaging every single one of the six UNESCO World Heritage sites located across the country. This image of Apamea almost looks like the surface of the moon, with the looted area being far larger than the excavated area. 

An Ancient Boneyard
This boneyard is basically where every single U.S military plane retires and dies. It is called The Davis Monthan Air Force Base, and it's located in Tucson, Ariz. The "boneyard" is completely closed to the general public and comprises a 2,600-acre plan.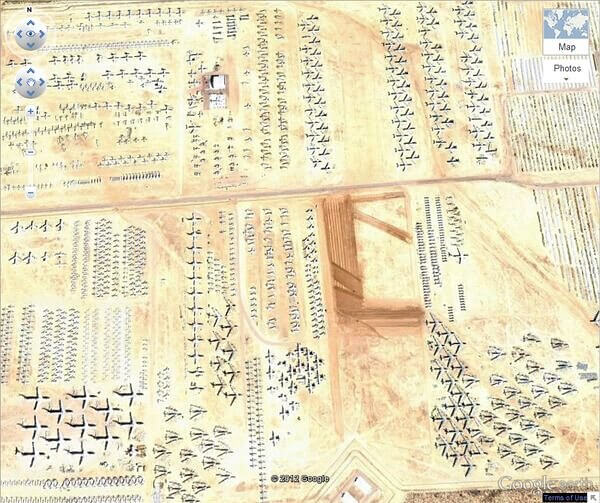 Although we don't get to easily see it, thanks to Google Earth's high-resolution features, we now get to see every single plane that the US military has flown since WWII. Curiously, the "boneyard" was used as the site of a music video by Tom Petty. 

The Biggest Word Ever
Hamad bin Hamdan al Nahyan is not only a member of Abu Dhabi's ruling family but also one of the richest billionaire Sheikhs in the world. He has so much power that one day he decided that he wanted his name carved into the sand of al Futaisi Island, which is owned by him and his family.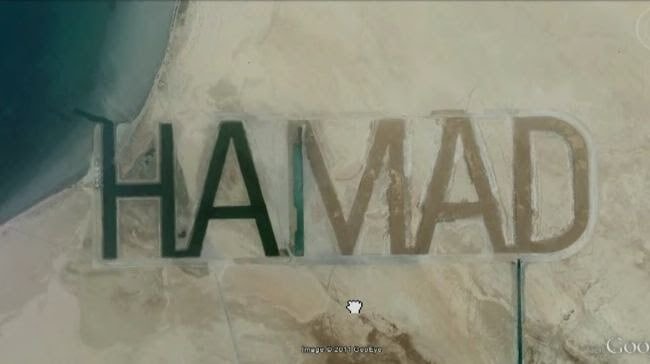 His name was carved so big that it resulted in a half a mile tall and two miles long word - arguably the biggest word in the entire world.  

A View of Wild Elephants
Unfortunately or fortunately, we don't get to see elephants roaming around in their environment easily. There are several places around the world that provide safe and fun safaris, but other than that, we don't get to easily see them running in the wild the way we see it in this picture.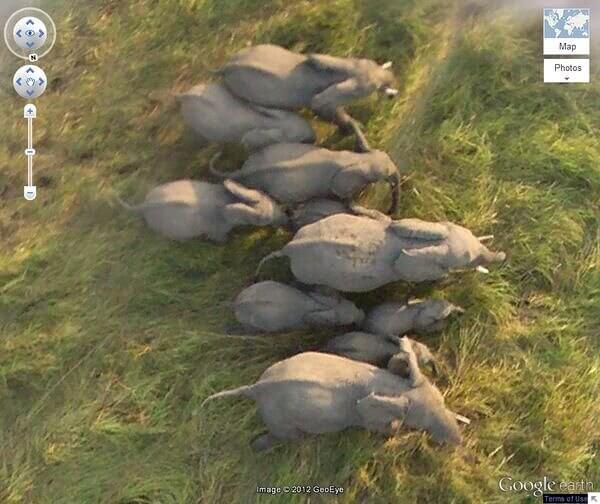 This photo capture by Google Earth gives us a beautiful glimpse into a herd of African elephants running in the wild, thanks to a number of high-resolution images captured by satellite in Chad. 

A Strange Bunker
This Google Earth image was taken on the desert floor located near Mesa Huerfanita in New Mexico. The drawings portray two big diamonds that are surrounded by two overlapping circles. According to author John Sweeney, the site could be hiding a bunker that belongs to a group from the Church for Scientology.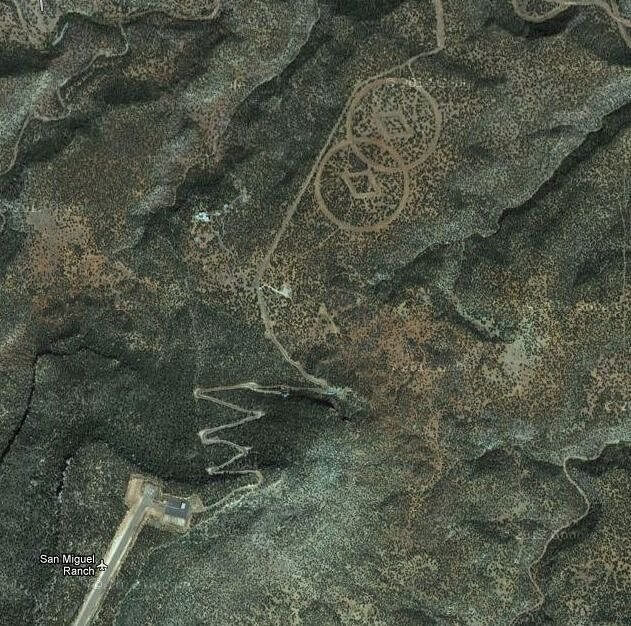 Even though there is no proof of any of his suspicions, the theory does sound pretty compelling. Yet, we're pretty sure that because of the secrecy surrounding the Church of Scientology, we won't know much further than this anytime soon.  

The Mysterious Gobi Desert
Google Earth is constantly bringing light into some of the most unknown and mysterious places around the world. The Gobi Desert's strange structures and patterns can be seen on the surface of China's Gobi Desert.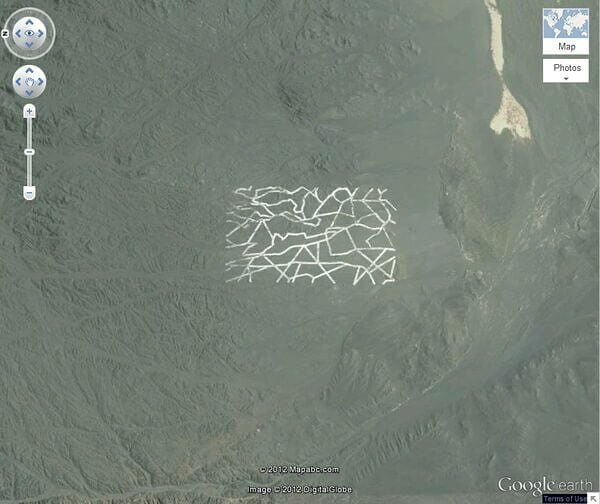 According to several experts in the field, it seems like the image points us toward a secret military base with different structures that are used for many purposes that are unknown to the public. Suspicions of the base's purpose are to spy satellite calibration, test radar instrumentation, and test different types of weapons.