If someone stood in their local bar 25 years ago and said that one day there'd be a whole industry full of people that made a living out of dressing up in their bedroom and taking pictures of themselves, they'd have been laughed out of the building. Cosplay, something that used to be a bedroom thing, hit the mainstream years ago and there is an infinite spectrum of efforts and results available. We've put together 40 fantastic female fancy dressers.
Black Widow
Makeup artist and cosplayer, Helen Stifler has nailed her Black Widow look. She's the spitting image of Scarlett Johansson, making sure every detail of her costume is perfect. Natasha Romanova, also known as Black Widow, made her Disney-Marvel Universe debut on the big screen in 2010's Iron Man 2. Since then, the character has appeared in over ten other films in the franchise, leading her to finally get her own origins standalone film in 2021.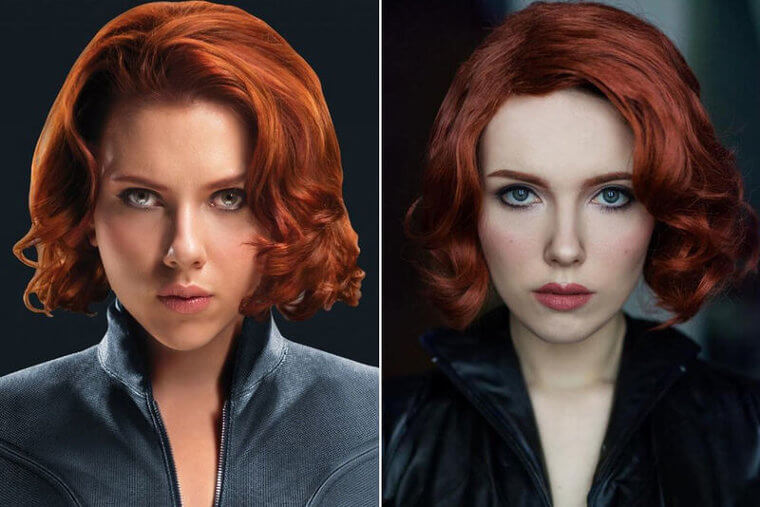 Johansson, in typical modern Disney-Hollywood fashion, lashed out at the fans when the film didn't do as well as expected. She said that people were judging her now 40-year-old looks, and even called many Marvel fans sexist. Johansson had no issue using her abundance of sex appeal to secure many iconic roles. In the end, the Black Widow movie was about ten years too late and the story had already been told.
Jesse
This keen cosplayer has done her homework before taking a few snaps of herself dressed as Jesse from the Pokémon TV show. Not only has she emulated the outfit, the look, and the body language, but she's found herself often where the character imagines herself when daydreaming. The only thing this super-fan could have done to improve this shoot is if she had a friend and a cat to portray the rest of the gang.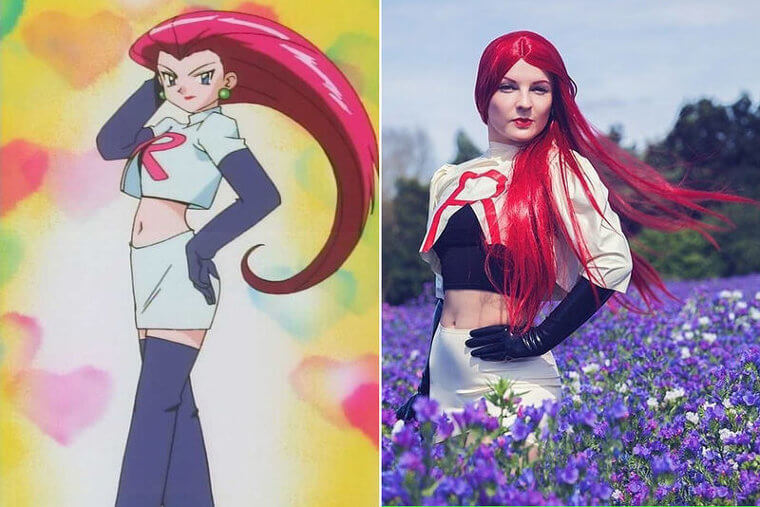 Originally, Team Rocket, Jesse, James, and Meowth were the main antagonists in the Pokémon TV show. They would follow the protagonist, Ash Ketchum, and execute many dastardly deeds to steal his Pikachu. In time, the trio became less of a threat, even teaming up with the good guys with a "they might be pains in the backside, but they're our pains in the backside" approach.
Wasp
After a decade of paying the wages of some of Hollywood's biggest names, the Disney-Marvel Universe's wardrobe department seems to have been hit with a few budget cuts in more recent years. It's one thing for a professional adult film company to publicly mock your costumes and show they can do a better job in their 18+ parodies of superhero franchises, but when cosplayers at home are showing an international film studio up, it's surely time for a long, hard look in the mirror.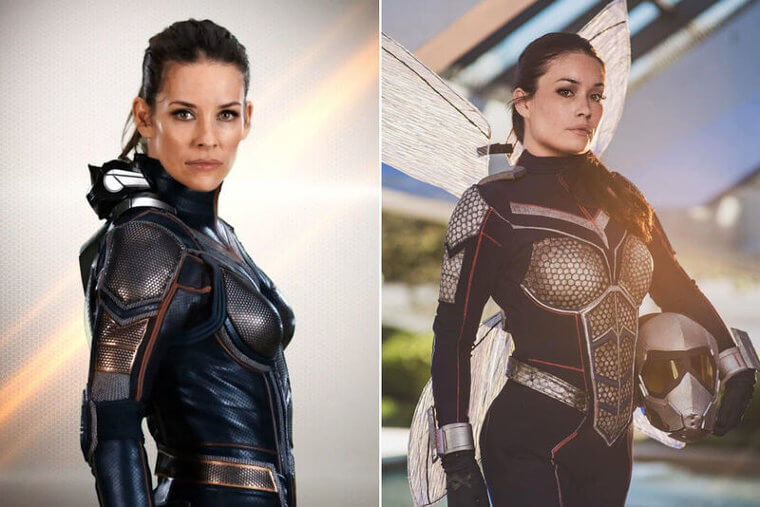 The fact that she bears a striking resemblance to actress Evangeline Lily obviously works in her favor, but cosplayer Babs Butcher meant serious business when she made this Wasp outfit. If they stood side-by-side and asked people which the professional costume department made, people would more than likely go with Babs! The Wasp can be seen in Ant-Man and the Wasp and Avengers: End Game.
She-Ra
Cosplayer Olivia Mears claimed that this outfit is her all-time favorite that she's ever made. She was inspired to make it after watching Netflix's 2018 recycling of She-Ra: Princess of Power. Despite the remake's costume being rather different from the 1985 design, Olivia adjusted it slightly to bring back a bit of that fierce-but-feminine charm. We agree with her decision and think she did a brilliant job!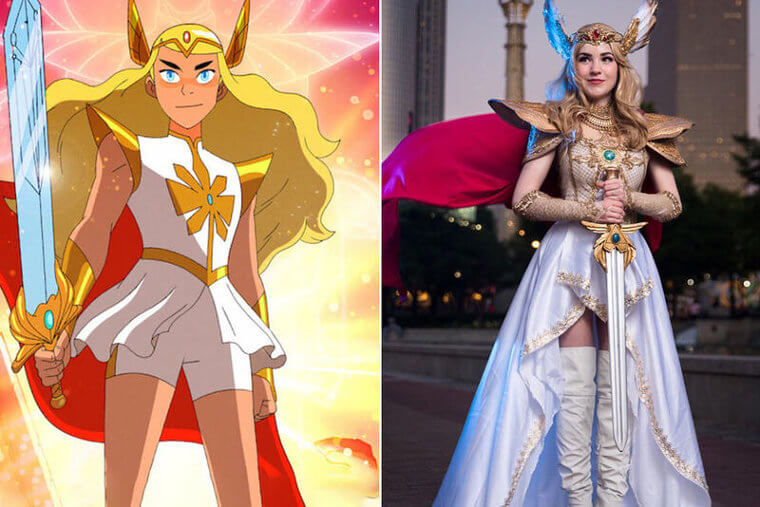 She-Ra: The Princess of Power was initially a spin-off to He-Man and the Master of the Universe animated TV show. Both the cartoons from the 1980s have since been remade with attractive modern visuals and less creative depth, as well as having live-action films made in the past. If they plan to make any more live-action pictures, we hope they give Olivia a call!

Dark Phoenix
We've got another example of the lack of attention to detail (or quality) in Disney-Marvel's superhero wardrobe. The first few X-Men films saw costumes that jumped out of the screen almost as much as they did in the animated cartoon. Nowadays, that's sadly not the case. Luckily for us, and now you, we've got the efforts of this California-based cosplayer.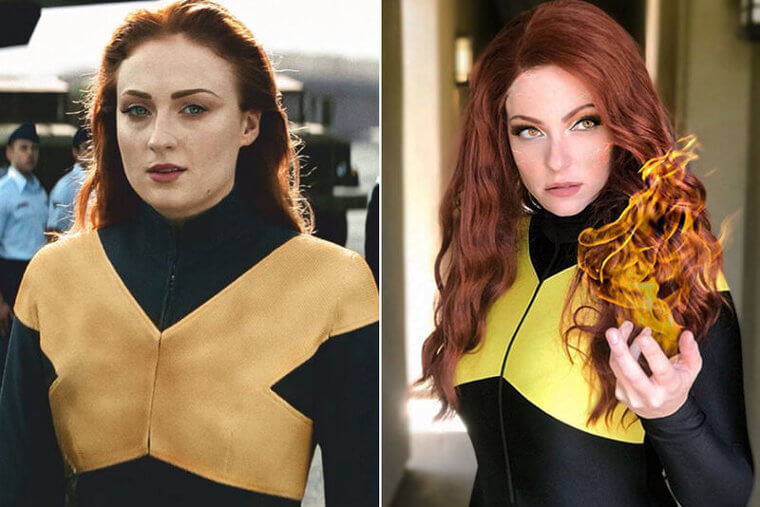 Even though Jean Grey's modern outfit from X-Men: Dark Pheonix is as flat as a plate full of water, someone who isn't getting paid the big bucks went and showed Disney-Marvel how it's done. After Famke Janssen played Jean Grey for several films and made the character iconic to a new group of fans, Disney went and rebooted the X-Men franchise in their own image and recast many players; Jean Grey is currently played by Sophie Turner.

Betty Boop
Italian cosplayer Vanessa Adularia decided there was nothing modern that she fancied pretending to be, so she took inspiration from the 1930s and posed as Betty Boop. The problem with real-life versions of animated characters is that sometimes human beings aren't built the same way as their cartoon counterparts. For example, unless you're Andre the Giant, there's no way that you could recreate the size or shape of Boop's head.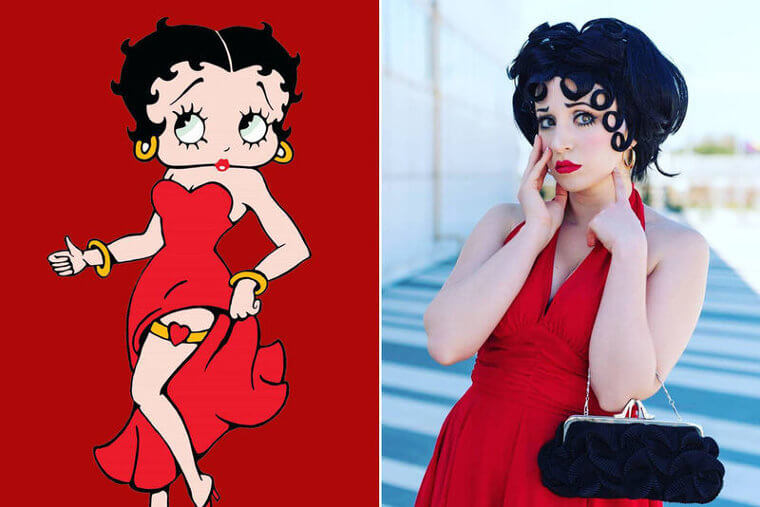 If, however, we're judging on her similarity to Helen Kane, the actress whose caricature allegedly inspired the creation of the animated flapper girl, then she's hit the nail on the head. Boop first appeared on TV screens in the 1930s and was considered a lot more adult-orientated as we've come to know her. That's what decades of the character being on clothing and stationary will do, as she's one of the most well-known cartoons in history!

Kim Possible
One would imagine that cosplayer Natasha Kujawa was a fan of Disney's Kim Possible series in the early 2000s. Natasha took the simple cartoon design and converted it into a perfect real-life look that doesn't look too out of place. She's got the outfit, the wig, and the pose all down to a T.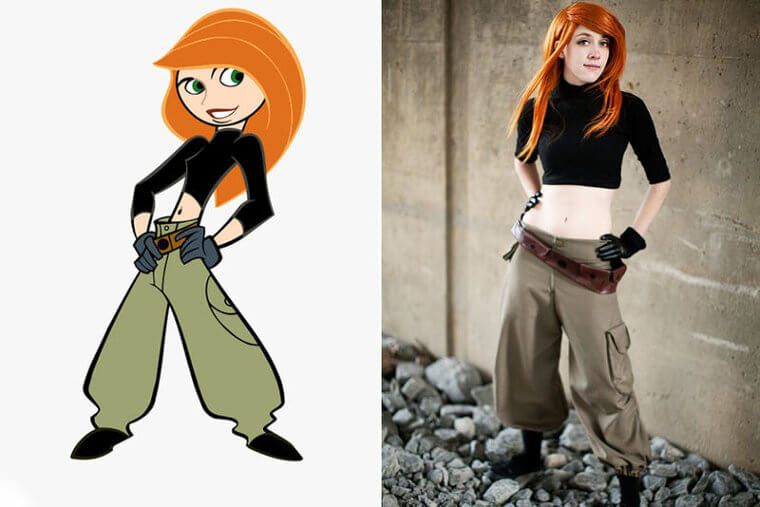 Kim Possible first aired in 2002 and quickly became one of Disney's most popular series. Christy Carlson Romano, also well-known for her role as Ren Stevens in the Disney Channel's sitcom Even Stevens, is the actress that voices Kim in the cartoon. The TV show lasted for 87 episodes and had two full-length movies specials, there was also a live-action film made in 2019, but that's hardly worth mentioning when we've got Natasha's Kim-personation.

Sailor Mars
Ah, the 1990s, a time when the number of accessible anime series could be counted on your hands. Even though there are now a thousand animes for every imaginable genre and previously-successful formula, the classics still shine through! Take this Brazillian cosplayer's efforts at Sailor Mars, for instance. Possibly more so than other cartoons, Japanese anime is often impossibly colorful and unrealistic to emulate. 10/10 goes to this young lady!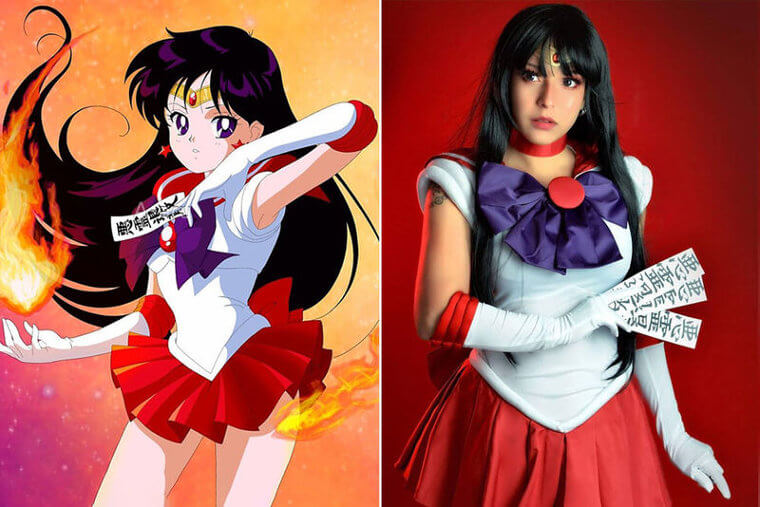 Sailor Mars is from the Japanese manga and anime series Sailor Moon. Mars is one of a team of soldiers who protect Earth from evil-doers. In order to hide in plain sight, the Sailor Soldiers pose as regular middle-school students. As her ofuda scrolls suggest, Sailor Mars has control of the element of fire, as well as other psychic and pyrokinetic attacks!

Catwoman
Considering the sheer number of Batman and Batman-related series and films that have been made by this point, possibly the most iconic incarnation of Catwoman is Michelle Pfeiffer's portrayal in Tim Burton's Batman Returns in 1992. Selina Kyle first debuted in Batman #1 in the spring of 1940 and she was initially billed as "the Cat," later getting the full Catwoman name.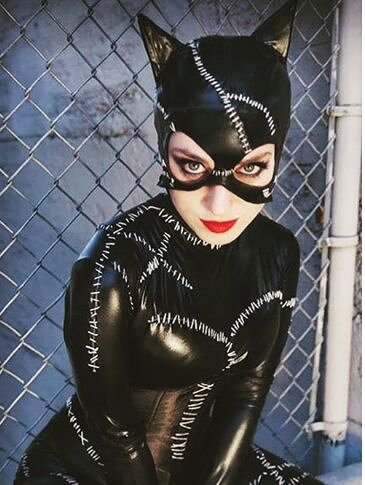 The anti-heroine has appeared fighting against Bruce Wayne and beside him on occasion, and this cosplayer's talents are definitely the cat's whiskers! As well as looking like she's stitched herself back together and partway through her nine lives, she also dons other DC characters like Harley Quinn, Mera, and Woman Woman.

Batgirl
Once again the world of cosplay brings us an outfit that looks like it just came off a big-budget movie set. Nailing every element of the Batgirl suit, she even looks like she just got in from a night of fighting crime in Gotham City. Although everyone recognizes this look as Batgirl's, it wasn't always the case, DC tried to do something different before.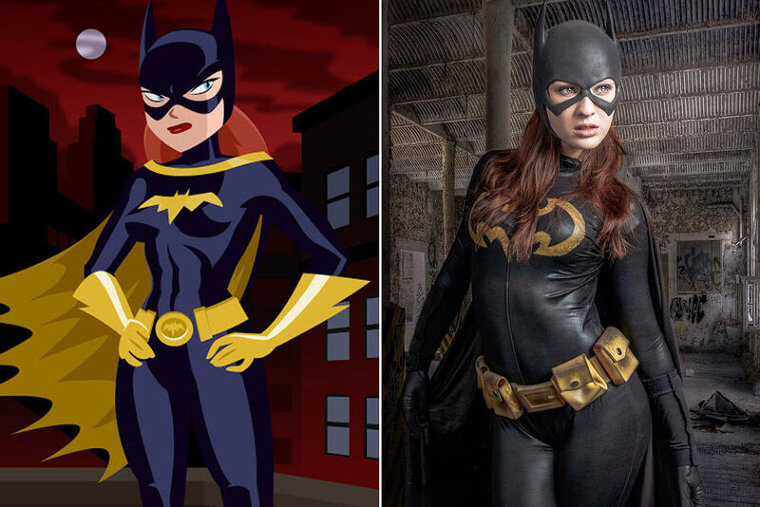 The first shot that DC took at Batgirl was between 1961 and 1964 when they introduced Betty (later Bette) Kane, the niece of Batwoman, who appeared as Batgirl in Batman #139. A few years after she'd been erased by the writers, Batgirl reappeared in 1967. This time, Batgirl was Barbara Gordon, Commissioner Gordon's daughter, and that version of the character is the one that they settled with. Bette Kane moved on and was re-used by DC as Flamebird.

Rogue
This next one is for fans of the original X-Men comic and animated TV show. One of the main characters from the 1980s and 90s is one of the most underutilized in the modern era. Sure, she was in a few films and had Anna Paquin portraying her by pulling a few sad faces, but Rogue never got to shine as bright as she should have. At least this cosplayer and self-confessed "comic nerd" remembers the good old days.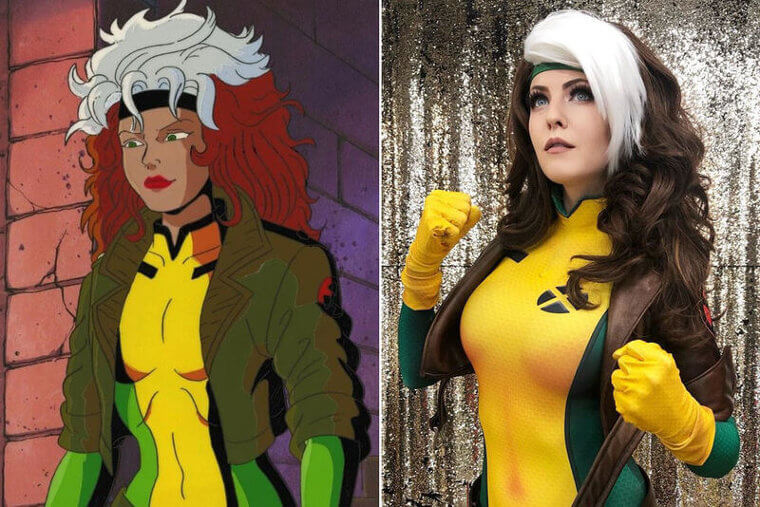 Sure, Paquin's performance saw her draining/absorbing the powers of a few other mutants, but there's much more to the character than that. Fans before 2000 will fondly remember Rogue flying around, blowing up sentinels and tanks with one punch, and offering snappy one-liners. Hopefully, Disney-Marvel's habit of rebooting everything will eventually lead to a Rogue of the same caliber as this cosplayer stepping onto the battlefield.

Misty
Cosplayer Madison Kate took no prisoners when she decided to recreate the sassy and intense leading female of the Pokémon series, Misty. Not only has Madison got the costume down to the thread, but she's certainly got the attitude and body language covered too. Misty and Madison may look like trouble, but we know the former is both good-hearted and knows how to get out of a spot of bother, and we assume the same of the latter.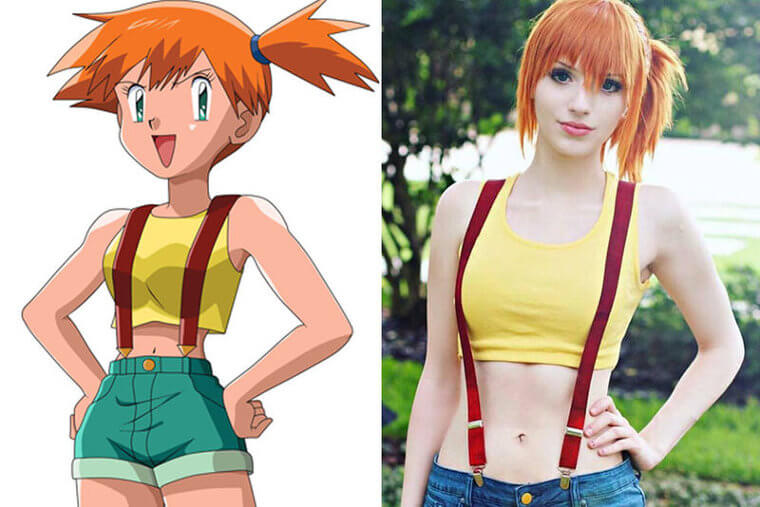 Misty has been around in the Pokémon Universe since the beginning. She was in the first video game that kicked everything off, as well as the manga and TV cartoons. After losing to the main protagonist, Ash Ketchum, she retired her status as a Pokémon Gym leader and joined Ash on his adventure around the world to become a Pokémon master.

Rey
We're back with another round of "which of these is by a professional movie studio, and which is a talented cosplayer?" It's Disney again, and this time, it's Disney's reimagining of the Star Wars franchise that has people eager to play dress-up. If we're being honest, Daisy Ridley is not the droid we're looking for, but cosplayer Joanie Brosas is!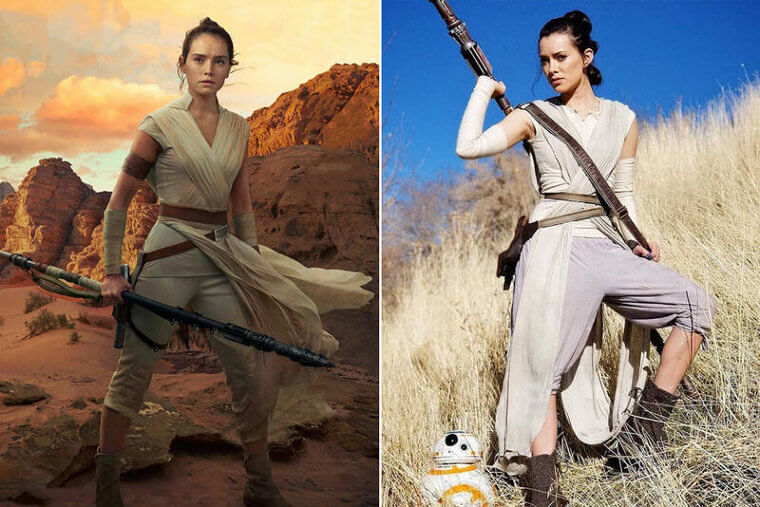 Although the homemade costume is just as good, if not better, the Ridley shot looks a little too enhanced and unrealistic. The natural setting for Brosas' location adds to Rey's gritty, scavenger lifestyle and does a much better job at drawing the viewer's attention. Rey first appeared in the 2015 film Star War: The Force Awakens and reprised the role in Star Wars: The Last Jedi and Star Wars: The Rise of Skywalker.

Princess Zelda
This Arizona-based cosplayer took no shortcuts when she became Princess Zelda from the Legend of Zelda video game series. Not only did Sarah Huff do a grand job of the costume, hair, and makeup, but the elvan ears are a wonderful finishing touch worth highlighting! Although many casual gamers mistake the game's lead character Link for the titular character, there's no mistaking Sarah as the real deal.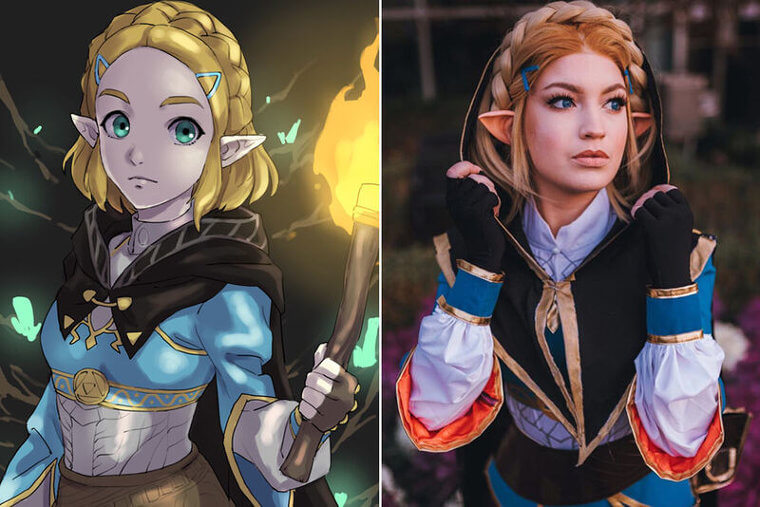 When the first game was released in 1986, Zelda played the role of a pink-dressed damsel waiting in captivity until her knight in a green tunic arrived. As each game was made, more of the story was told, and the characters grew over time. Zelda herself became more active and independent, occasionally getting her hands dirty on the battlefield when the time called for it.

Elastigirl
It wouldn't be a stretch to say that this cosplayer would fit the bill as Elastigirl if a live-action version of The Incredibles was ever made. As we've mentioned already, it's sometimes difficult to translate some of the shapes and designs of animated characters into the real world, but this incredible fan didn't let that stop her.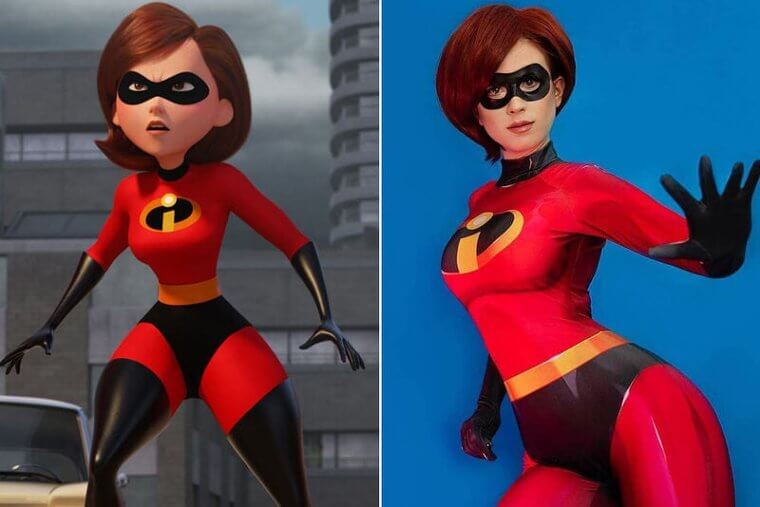 Elastigirl, also known as Helen Parr is the mother of a family of superheroes who thought her days of fighting crimes with her husband were long over. They've since had children, who possess their own special abilities, and the recent surge in crime convinces them to suit up as a family and protect the world. The first film was released in 2004 and a sequel eventually showed up in 2018.

Jeannie
If this cosplayer who, genuinely was named Jeannie at birth, wasn't destined to score a perfect ten when attempting an I Dream of Jeannie fancy dress, we don't know who would be. Barbara Eden herself would be proud if she saw this woman's portrayal of her most memorable role, she might even have to work out if she didn't have a long-lost daughter she'd magically forgotten about!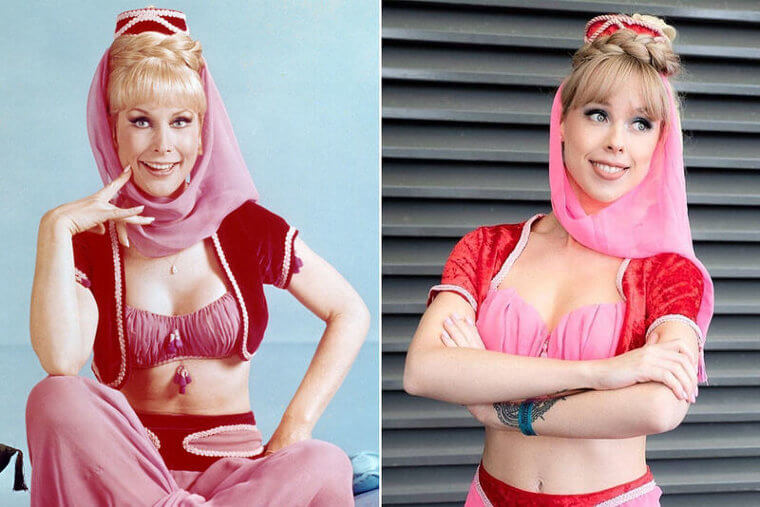 I Dream of Jeannie first hit TV screens in 1965. It began in black and white and transitioned into color after the first season was well-received and the show was renewed. It ran for five seasons and followed the adventures of Jeannie, a 2000-year-old genie that was discovered and set free by a man named Tony. Jeannie instantly falls in love with him, and Tony, who happens to be an astronaut Captain, has his entire life turned upside down by Jeannie's wish-granting.

Xena: Warrior Princess
Another bit of classic television is on offer now, as cosplayer Irine Meier dons this legendary outfit of Xena: Warrior Princess. As with most of the ladies on our list, the DIY battle armor looks ready to go and would easily get Irine past security and onto the set, even if just for a few minutes. We don't know too many people that would want to risk finding out how much a chakram to the face hurts.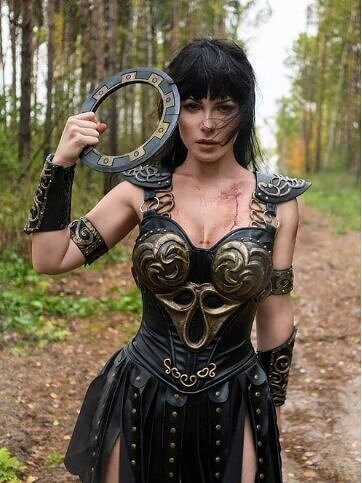 The iconic Lucy Lawless was cast as Xena in three continuous episodes of Hercules: The Legendary Journeys in 1995 as a villain, but after clashing with Hercules, her heart was moved and her mind changed. Lawless made such a good job of the character that she was given her own spin-off series later that year, a series that had more episodes than the show it was spawned from!

Starfire
While DC's Starfire does have several different designs, including having yellow skin, we found a stunning contribution to the Starfire of 2017's Super-Sons. If the beaming smile doesn't catch your eye, the costume and her hair will! This is just one of many of her jaw-dropping outfits, she also enjoys dressing up as characters from Marvel, anime, and even classic Disney!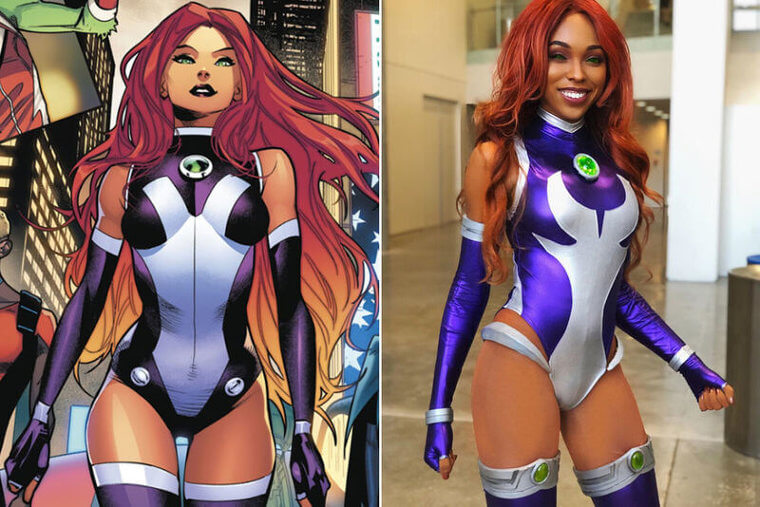 Starfire is actually from the planet Tamaran and she arrived on Earth after fleeing her violent sister's attack. She met Dick Grayson, the original Robin, and together they formed the Teen Titans. With the ability to constantly absorb ultraviolet radiation and use it to fly and fire stored energy out of her hands, she's found herself shoulder to shoulder with some of the greatest, and toe-to-toe with some of the worst that DC has to offer.

Lara Croft
2021 was the 25th anniversary of the first Lara Croft movie which catapulted Angelina Jolie onto the celebrity map. Instagramer Enji Night is a famous cosplayer and she has a special place in her heart for Lara Croft. She has created her costume and even flew to the Dominican Republic to an amazing jungle location to take some pictures of her cosplay.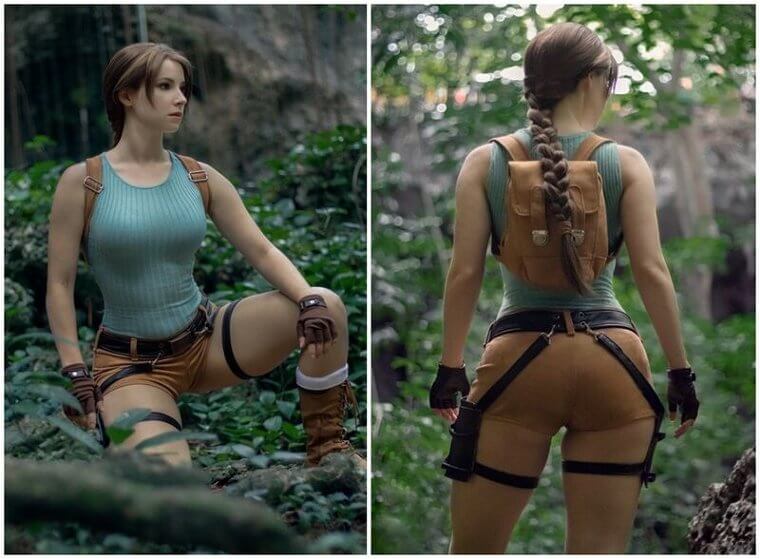 This is what she wrote on her profile when she introduced us to the costume. "What was the first videogame you ever played? 🤔 Mine was Tomb Raider and until today these game series have a special place in my heart! Lara was definitely my childhood hero, this is why I'm always super thrilled to cosplay as her. Aaand since this year it's the 25th anniversary of the game release, I decided to continue my last year tradition and shoot 3 versions of her. 🤭 The first one is the most iconic; the Anniversary version! I hope you like it 😊 Costume and photo made by meee😁"

Poison Ivy
Cosplayer Alyson Tabbitha could easily be mistaken for Uma Thurman's Poison Ivy from Batman & Robin in 1997. Inspired by a character that was inspired by Nathaniel Hawthorne's short story, "Rappaccini's Daughter," the costume isn't the only thing that is complicated and layered, but Alyson pulled it off! Writer, J.T. Krul described Poison Ivy best, "The thing I love most about Poison Ivy is her walking that line between bastion of Mother Nature and psycho Eco-terrorist…"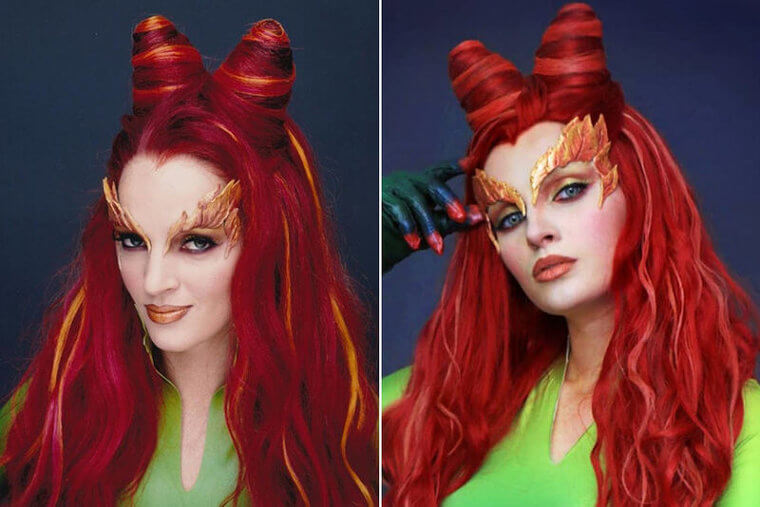 "She sees herself as the hand of Mother Nature. If Mother Nature were 'God,' then Ivy would be her 'Jesus.' She defends the defenseless nature of the world and truly believes in her cause. Maiming, mauling, and mutilating are extreme measures, but it's nothing compared to what irredeemable cruelties humanity's done to the world of nature. Ivy always sees the greater good as she punishes those who deserve it."

Mystique
Nobody would hold it against anyone if they chose not to go the whole distance and dress up like Mystique from the X-Men. After all, the concept is to essentially strip off and paint yourself blue. Rebecca Romijn was brave enough to make several films as the character, thanking some well-placed rubber scales to cover her most delicate parts, whereas Jennifer Lawrence didn't go the whole hog with her portrayal.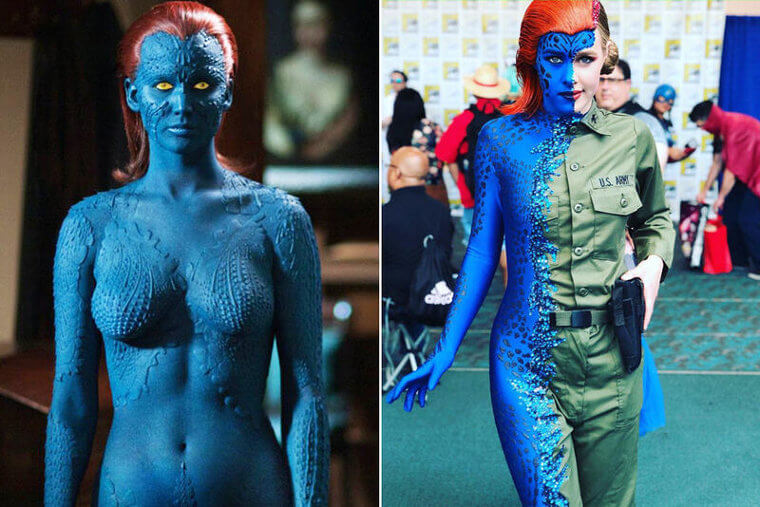 With that in mind, cosplayer Evy Thomas found a clever workaround to this dilemma when she created this mid-transformation Mystique. Part of the character's flesh can be seen, but so can part of a disguise she used in X-Men: Days of Future Past. How she made it is a mystery to us, but that's what we'd expect from one of the most complicated Marvel villains of all time.

Queen Mera
We dive into the depths of DC's Atlantis for our next fantastic female fancy-dresser. Kristin from Los Angeles is another queen of the cosplay scene, especially when she's rocking her costume of Mera. The specific look she's going for is that of Amber Heard's portrayal found in Justice League, Aquaman, and the upcoming Aquaman and the Lost Kingdom movies.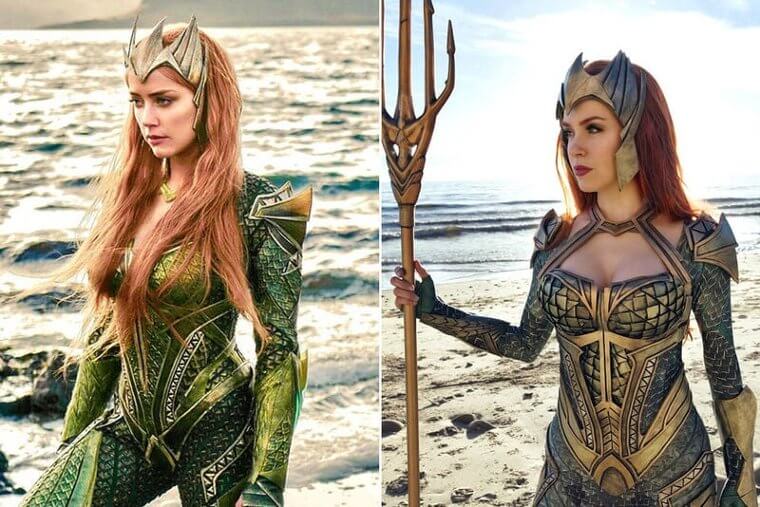 Mera first appeared in 1963 in the Aquaman comics as a queen of the sea and became the Queen of Atlantis and the husband of Aquaman. She didn't stop there, after things didn't work out with Aquaman the first time, she found herself dealing with life-shattering loss and having a breakdown. From Atlantis to the mainland of Earth, to the Netherworld, she had a rough road to peace and eventually joined the Justice League.

Captain Marvel
Jamie Koala, a cosplayer, fashion designer, and owner of Koala Art Design had been told by many of her friends and fans to make a Captain Marvel costume. When she adhered to the request, she impressed not only those who already followed her but anyone mistaking her attire as the genuine article. She even hand-painted the suit herself, which took seven hours!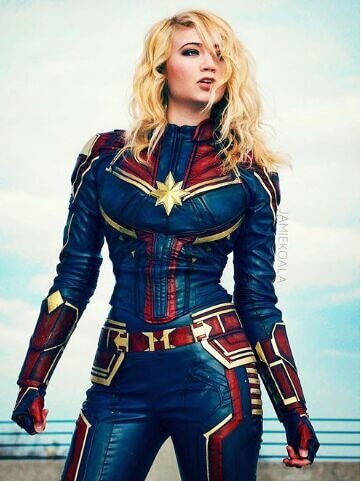 The Carol Danvers version of Captain Marvel that Brie Larson is known for is the design that Jamie put to shame. Danvers first appeared in Marvel comics as Ms. Marvel in 1977. The original Captain Marvel, featuring Mar-vell was published in 1967 and saw a few changes over the years. Danvers didn't even get the promotion from Ms. Marvel to Captain Marvel until 2012, she was the 7th character to be given the title.

Wonder Woman
Wonder Woman by cosplay, Wonder Woman by nature. That's the mentality of our next cosplayer, Brigitte Goudz. Not only does she have the skills to make a costume ready to be in front of cameras, but she wears the outfit with pride. There's a good reason for that, her commitment to the gym and healthy living combined with her amazing creative skills is more than enough to stop onlookers dead in their tracks.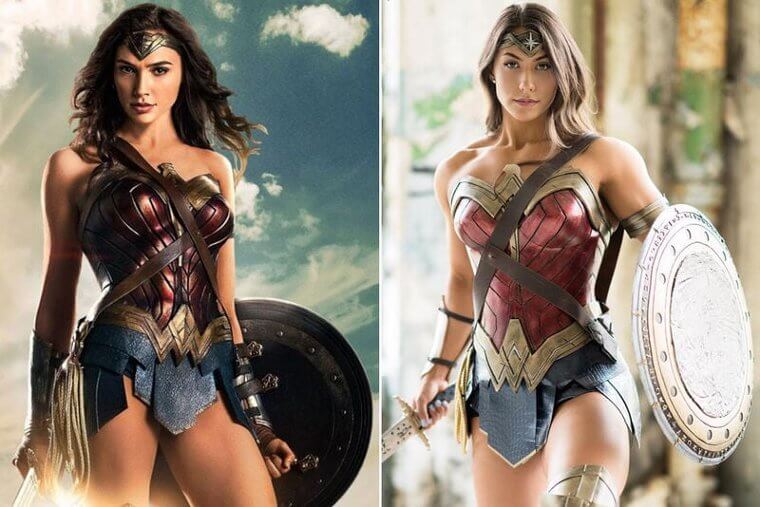 Brigitte is obviously harnessing her inner Gal Gadot, who began playing Diana Prince/Wonder Woman in 2016's Batman v Superman: Dawn of Justice. Gadot has since reprised the role in Wonder Woman, Justice League, and Wonder Woman 1984. Wonder Woman herself debuted in 1941 in All Star Comics #8, and she became a household name in the 70s thanks to Lynda Carter's portrayal in the live-action TV show.

Hawkgirl
Understanding someone else's imagination often causes us to start thinking outside the box. This was the issue that this cosplayer encountered, but she realized she didn't need to make Hawkgirl's wings from scratch. Instead, she bought a pair of baby pink angel wings from Victoria's Secret and painted them white and brown. Not only do they look good, but they're not rigid and they bounce when she walks and moves around.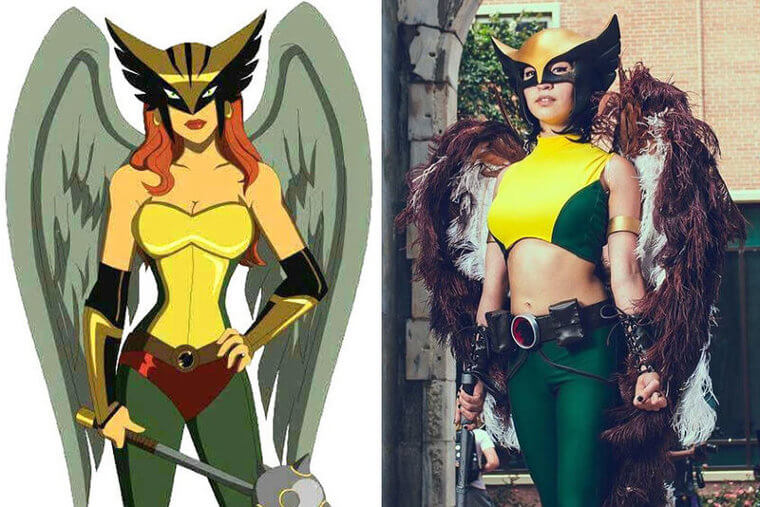 Hawkgirl first appeared in Flash Comics #1 in 1940. She has been reimagined numerous times, but more often than not, she can be found fighting crime alongside her partner, Hawkman. In the Arrowverse series, Hawkgirl is played by Ciara Renée. The character has also been featured heavily elsewhere in the animated DC world, in the shows Justice League, Justice League Unlimited, The Flash, Arrow, Young Justice, DC Super Hero Girls, and DC's Legends of Tomorrow.
Mantis
We're convinced that even though Mantis can see an infinite number of outcomes within an infinite number of realities, none of them show cosplayer Eugenia Mashina missing the mark with her Mantis cosplay. Eugenia also caters to other people too, as she has her own Etsy shop, Nia's Handmade Stuff. Eugenia's take on Mantis is from the live-action Disney-Marvel movies, where the character is portrayed by French actress, Pom Klementieff.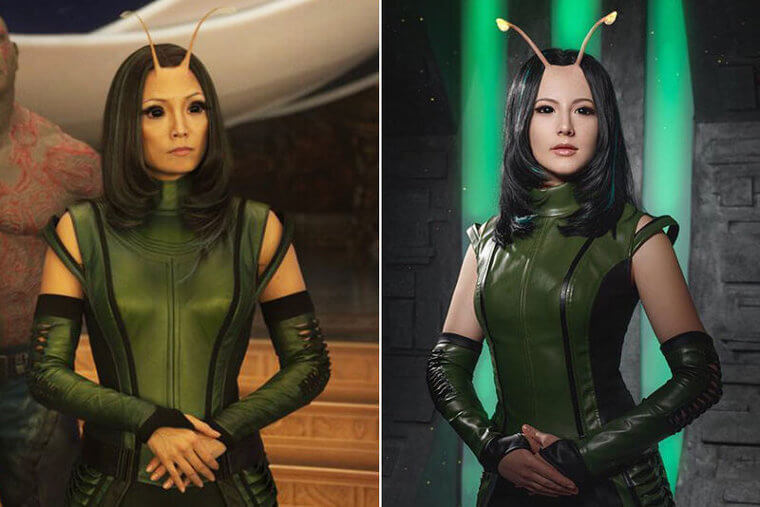 Originally, Mantis didn't have any actual antenna as she does in the live-action movies, her hair was just fashioned in that way. Even with the extra effort, Eugenia's outstanding outfit will stay in our minds for some time. Another interesting fact is that although she first appeared in Avengers #112, writer Steve Englehart carried Mantis' story through three other comic companies before returning to Marvel; she was named Willow for DC and Lorelei for Eclipse Comics and Image Comics.

Princess Hilda
It's evident to see a lot of time and attention went into this cosplayer's Princess Hilda costume. Kuma from Atlanta used the Triforce and wished to become a princess from another realm, and it worked! As well as the immaculate Lorulian dress, the ears, hair, and accessories have the judges on their feet.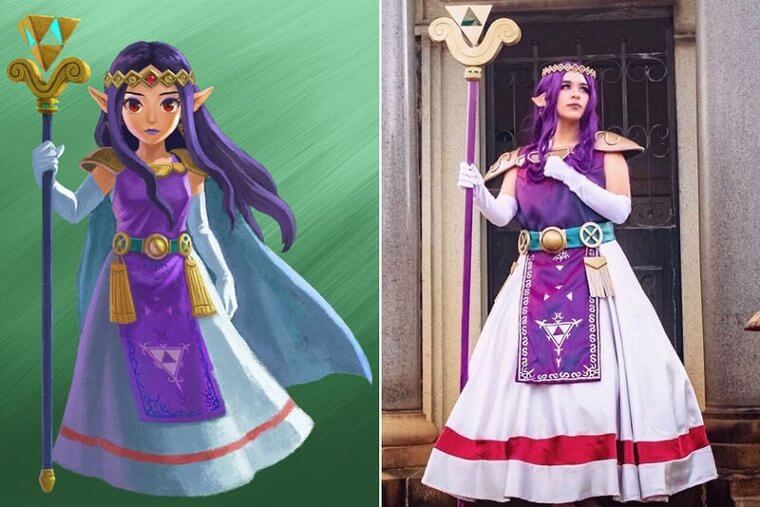 Princess Hilda was introduced in 2013's The Legend of Zelda: A Link Between Worlds, a spiritual successor to the highly-successful 1991 SNES classic, The Legend of Zelda: A Link to the Past. Hilda is the parallel world's counterpart to Princess Zelda, and her help is needed if Link is going to set things right in the unknown world of Lorule.

Scarlet Witch
We're pulled into an alternate reality with this cosplayer, model, and comic enthusiast's rendition of the Scarlet Witch, Wanda Maximoff. Kaycee shows us that she's able to conjure up a hex or two herself by not only matching the outfit, hair, and makeup, but adding a little digital witchery in there for good measure.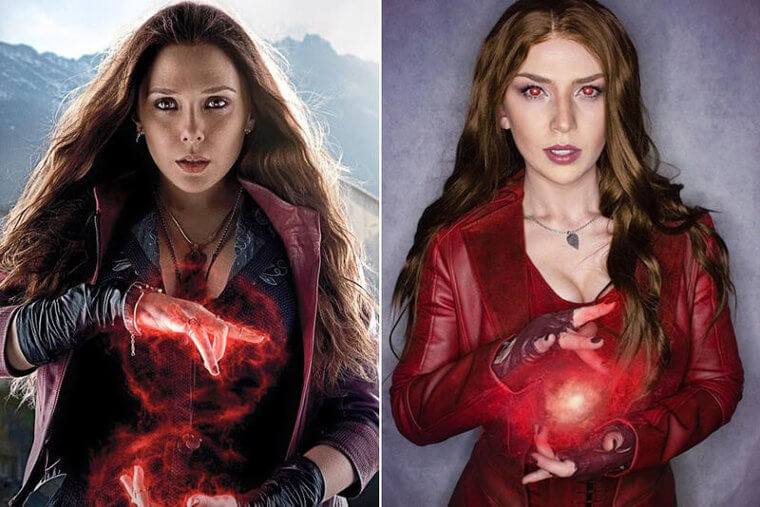 Wanda is the daughter of a powerful witch, Natalya Maximoff, and the notorious mutant, Magneto. She made her Marvel Comics debut in The X-Men #4 in 1964. Wanda and her twin brother Quicksilver have since become iconic in the comic book world as well as in the Disney-Marvel Universe, starring in numerous live-action shows and movies.

Catra
Cosplaying genius Nikki Warner didn't want to pick a costume that could be knocked together in a couple of minutes. If she'd wanted an easier task, she would have emulated the original Catra design and not the much more complex version we've been introduced to more recently. With that in mind, hats off! The transfer from cartoon to real life is incredible!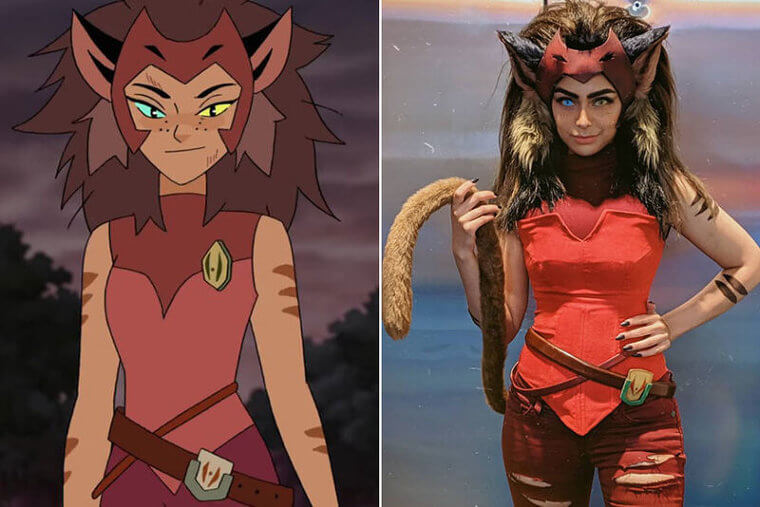 In the original 1985-86 She-Ra: Princess of Power, Catra was a woman who dressed up and behaved like a cat. She had a magical mask that allowed her to transform into a panther-like creature, but she wasn't an actual feline herself. In the 2018-20 reboot, she is naturally a cat-like creature with fur, a tail, claws, and big ears. The recycled show also saw Catra and She-Ra hastily fall in love, where before they'd always been mortal enemies.

Cheetah
Casabellacosplay describes herself as "just a nerd who likes making things" on her Imgur profile, but we're here to say that this cosplayer from the Midwest deserves a lot more credit than that. Not only is bravery involved to wear something so thin, but a remarkable amount of talent and skill has gone into making this Cheetah costume.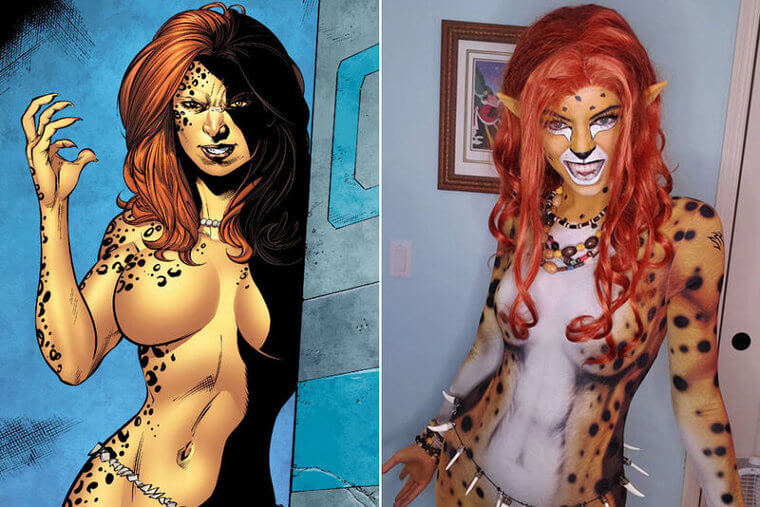 Cheetah first pounced onto our comic book pages in Wonder Woman #6 all the way back in 1943. She remained a claw in Wonder Woman's side for many years in cartoon form and even made her live-action debut in 2020. Kristin Wiig was cast to play the Dr. Barbara Ann Minerva version of Cheetah in Wonder Woman 1984.

Nelliel
Netherlands-based Muriel found that cosplaying was an easy way to spend some off-time and earn a bit of money while studying. For this photoshoot, Muriel drew inspiration from the Japanese manga and anime series Bleach. She's not the only one fired up about the news of a new season of the anime FINALLY arriving in 2022, but she's definitely helping everyone get in the mood with her Nelliel cosplay. Nice touch with the foam and foam-clay skull!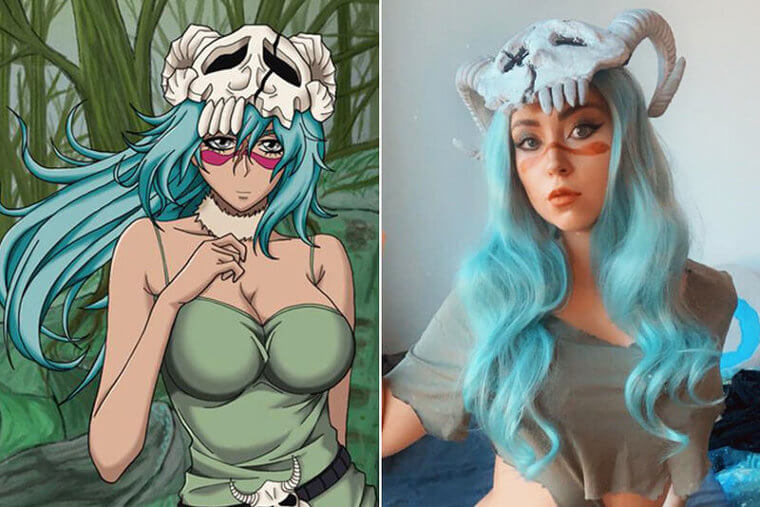 Also known as Nelliel Tu Odelschwanck, or Nel Tu for short, Nelliel is one of the deadly "Arrancar." Despite being much older, she often presents with a child-like form and demeanor, as well as speaking in a very contradictory manner. Don't let her appearance fool you, not only is Nelliel incredibly powerful, but she can also transform into a lance-wielding beast!

Esmerelda
Sometimes a cosplayer will wear an outfit once and never bother with it again; either because it didn't work out how they wanted it to, or because they were simply adhering to a fan request. Then, you get someone that loves a costume so much, that they leave it at the front of their wardrobe, ready to pretend at the drop of a hat. Here's a woman that knows what she likes, and that's Esmerelda from Disney's version of The Hunchback of Notre Dame.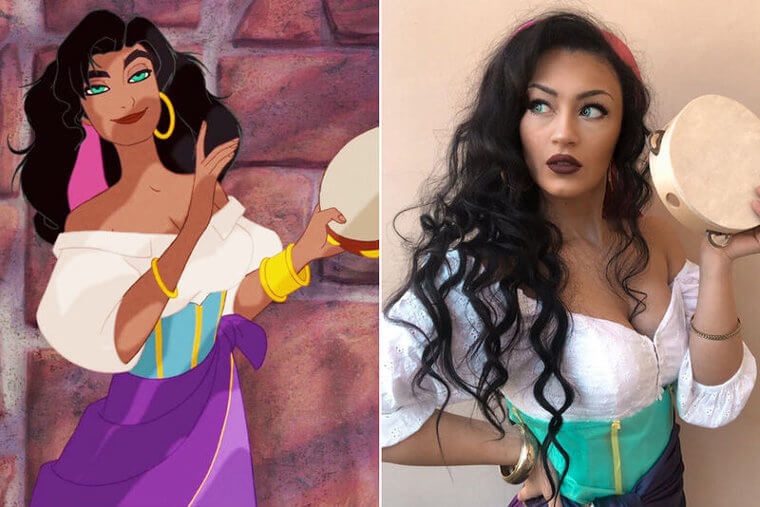 Italian cosplayer Suzy has a range of other outfits, but her go-to, all-time favorite is Esmerelda. Whether it's the enchanting melodies, the exotic movement, or the sultry smile, Suzy is a natural fit for the French-Roma dancer who has a pet goat, Djali. We just can't help but lean in and get caught up in those eyes!

Merida
Nikita is somewhat of a cosplaying veteran as she's been making outfits since 2006. She even refers to herself as an "expert in sewing and performing," and we can see why she's so confident to claim as much. Here's Nikita as Merida from Disney-Pixar's 2012 film, Brave.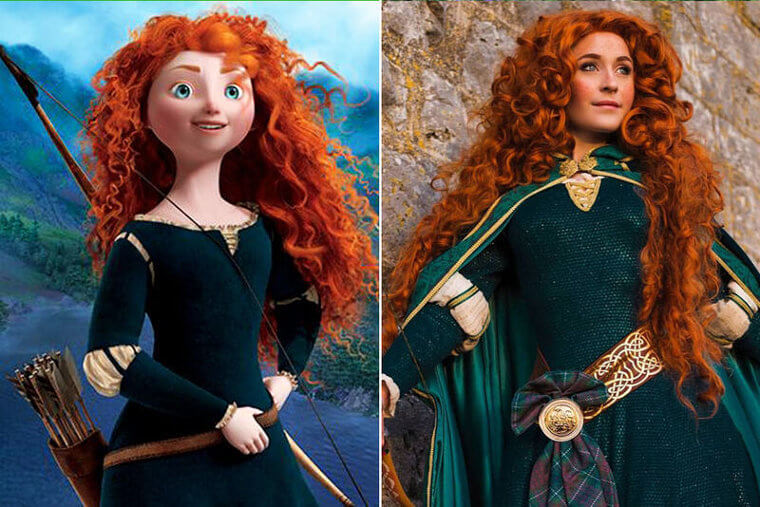 Considered "a breath of fresh air among the princesses," Merida was introduced as the 11th Disney Princess in 2013, making her the first princess to be created by Pixar. She's also the first of the bunch to be Scottish, red-headed, and single. Nikita loves the character so much, that it's one of her regulars every winter.

Crysta
This professional cosplayer has brought a bit of nostalgia our way with her magical Crysta costume. Not only that but she's had the chance to show off her prop-making skills too, just look at that staff! Crysta is the main character in the 1992 animated classic, FernGully: The Last Rainforest.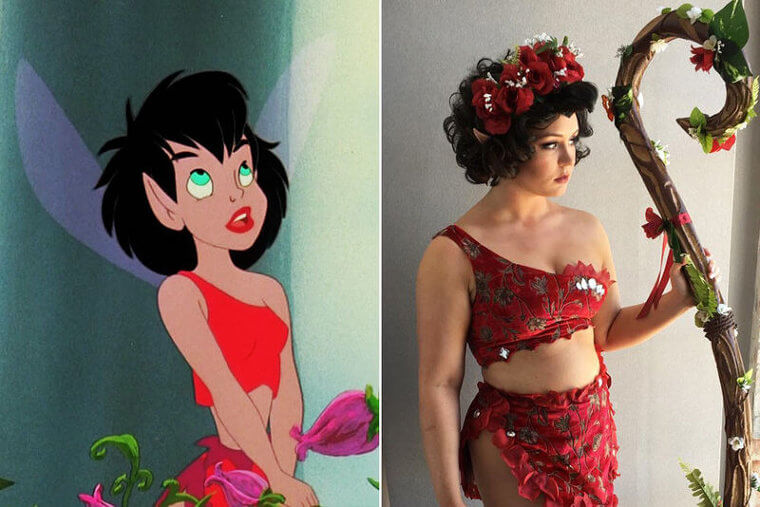 In the movie, Crysta accidentally shrinks a human down to fairy size and convinces him to help the rest of the fairies protect their rainforest from the destructive humans. Wayne Young, the producer of the film admitted it was "blatantly environmental" in nature, but he made an active effort to avoid it being considered "preaching." Many of you may wonder what that's like, entertainment writers today seem to have lost the knack for finding a pleasant balance.

Stephanie Brown
Despite real-life cosplaying heroine Brooke calling herself "just a tattooed chick who loves the world of fantasy, comic books & superpowers," her secret identity is out and we're all for celebrating it. She doesn't just play dress-up for her own webpage, but she's also a model for the Australian non-profit organization, Cosplay Edits N Stuff. Here's Brooke taking a page out of Stephanie Brown's book, who, at the time, was taking a page from Robin's.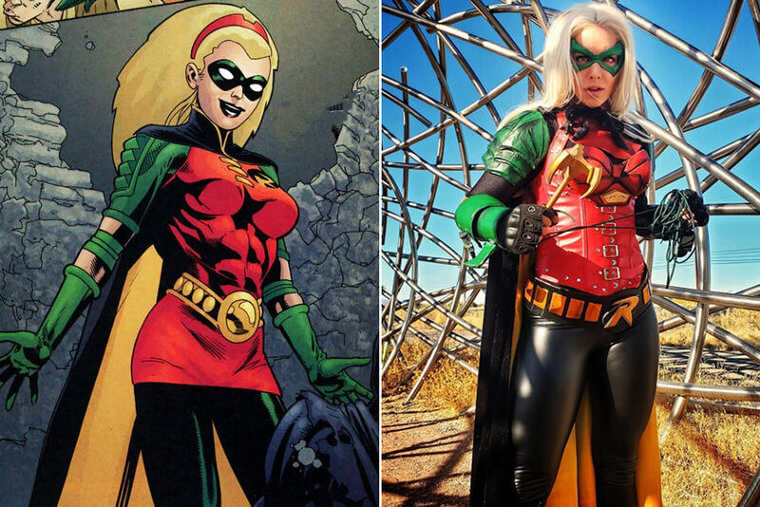 Truth be told, Stephanie Brown is the ideal idol for any die-hard DC cosplay fan. We say this because not only has Brown appeared in the DC comic world as her own alter-ego, Spoiler, but she was also the fourth character to portray Robin, and the fourth to become Batgirl. Brown, the daughter of the criminal Cluemaster first appeared in Detective Comics #647 in 1992.

Belle
Another classic Disney offering next, as the master of the art of Disney cosplaying shows us all how it's done. Los Angeles-based fancy-dresser Anne not only demonstrates her beautiful Belle impression, but she's also advertising her very own business, Royal Coven clothing. As you may have guessed, most of her products are Disney-orientated.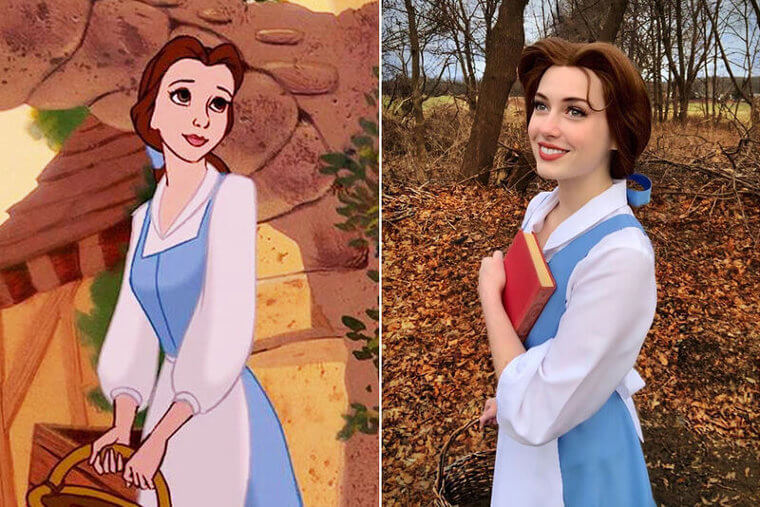 Anna captures every element of Belle's clothing, hair, eyes, smile, and innocence; good job! This version of Belle is the main female character in Disney's 1991 re-telling of the timeless tale, Beauty and the Beast.

Fran
Our next cosplayer not only has the name for the task at hand but obviously the skills to match. Honey Bunny herself said that her Fran costume really tested her and took her out of her comfort zone. On top of that, she also had to make use of materials she'd never used before. We're thankful for her perseverance, the results are out of this world!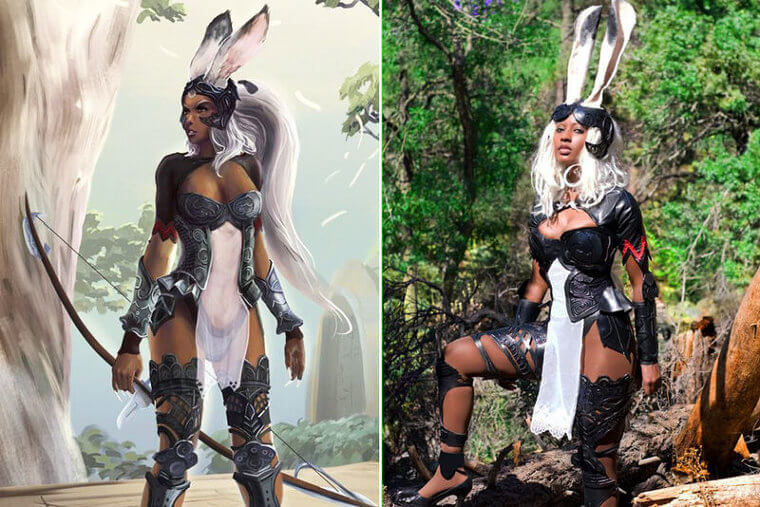 Fran is one of the main characters in the 2006 video game, Final Fantasy XII. She is one of the once-rarely-seen Viera, a mysterious race of humanoid rabbits that hide away from the other races. She is from a cloaked woodland village called Eruyt; the place she left behind to discover the outside world when younger, knowingly having the door locked behind her.

Sailor Jupiter
Another Sailor Soldier has been spotted in our collection of cosplayers, this time it's Sailer Jupiter! Here we have Australian cosplayer, dancer, and self-described geek, Kim Kine with a magnificent effort at bringing an anime classic to life. Kim's Instagram comes with more than just pictures of her pretending, she also offers advice, wellness tips, and what she calls "posture hacks."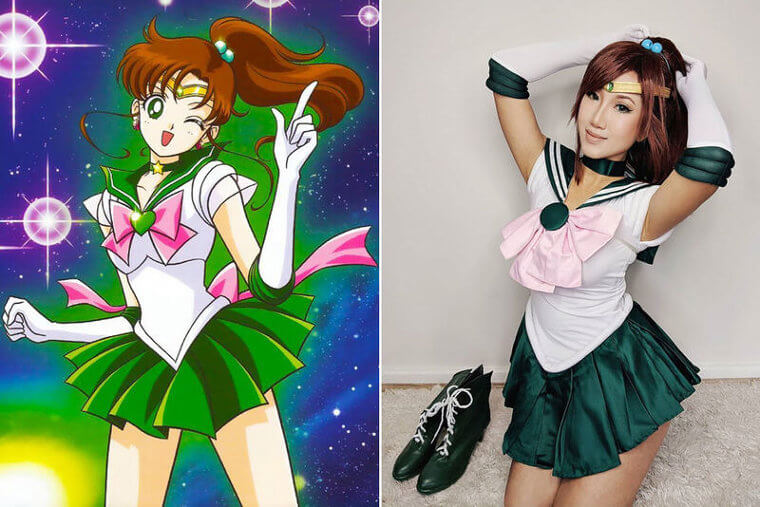 Just like her fellow Sailor Soldiers, Sailor Jupiter has her own set of skills, powers, and memorable personality traits that she uses to protect the Solar System from evil beings. Thanks to her immeasurable superhuman strength, Jupiter is considered the "muscle" of the group, she also boasts a dominance over plant life and electricity.

Thumbelina
More warm, fuzzy, 1990s vibes are on the cards next. Colorado-based cosplayer and singer Ginny Di shrinks herself and the rest of us down to size so she can show off her Thumbelina outfit. Of course, extra points have to be awarded for the backdrop, making use of a real-world photograph to trick our eyes and minds makes all the difference.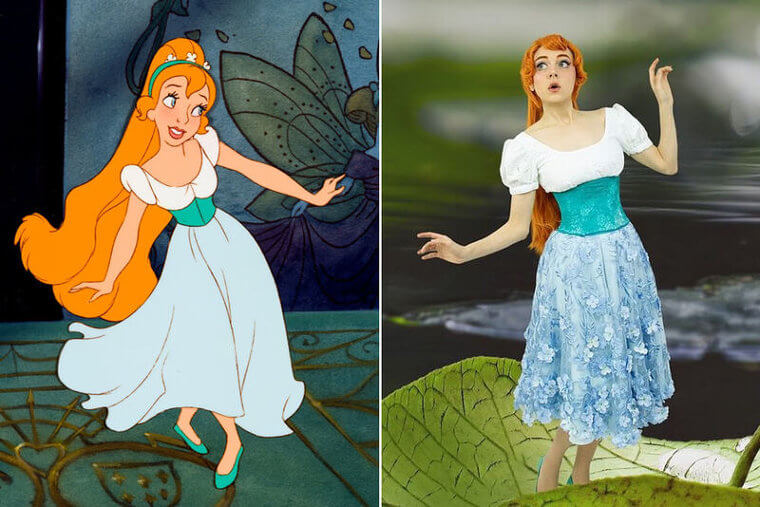 The Thumbelina character was first created in 1835 by Hans Christian Anderson. Once the fairy tale was translated into English, Thumbelina was used in many stories over the years. Warner Brothers' animated release of Thumbelina in 1994 is the most well-known of them all, and it's the one that Ginny has copied so perfectly.

Xayah
This talented Hungarian cosplayer and costume artist was clearly up for the fancy-dress challenge of a lifetime in November of 2019 when she was visiting London. She obviously wasn't there for the tourism, although she may have enjoyed the sights in regular clothing later. What she did leave, was a room full of jaws on the floor at the League of Legends world final viewing event when she arrived as Xayah.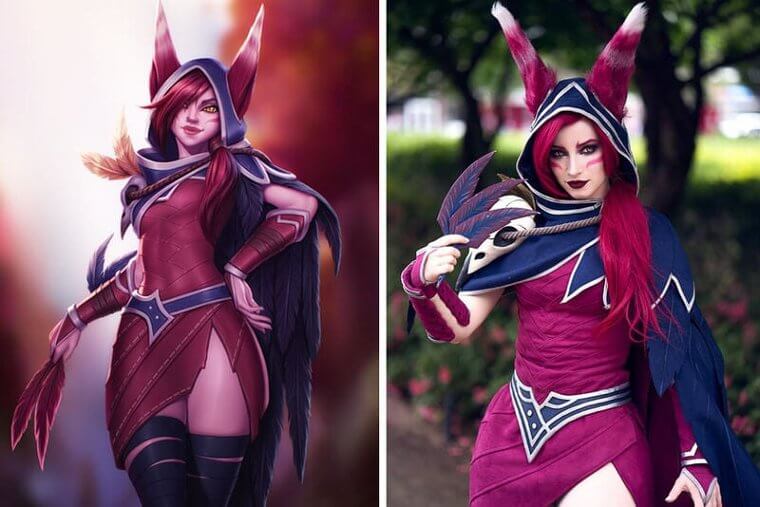 Xayah is a Vastaya, an ancient race of demi-humans that have been altered by the magic of the Spirit Realm. The throwing-knife-like feathers she wields are not in short supply, the wing on her shoulder produces them and she can recall them once she has put one in someone's throat from afar.

Widowmaker
Cosplayer Gui Hellsing turns all the heads as she proves she's the true blue beauty at the 24-7 comic con known as social media. Here she is with her spot-on performance as "the "great defensive hero" Widowmaker from the 2016 video game, Overwatch.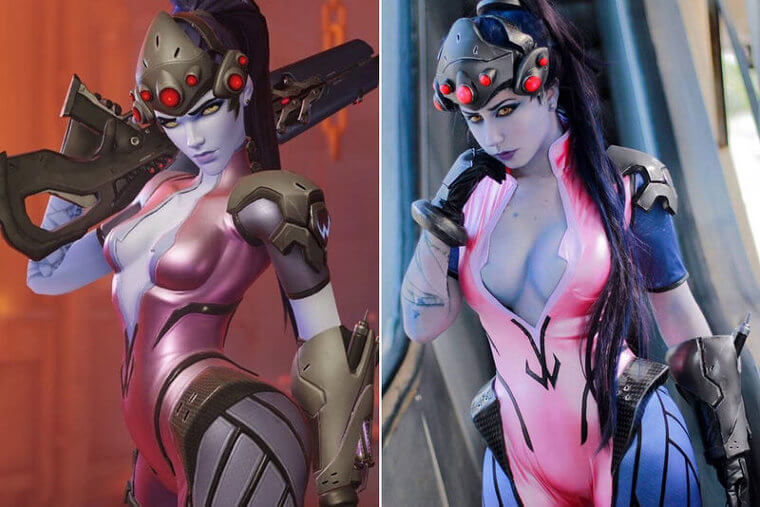 Overwatch is a "hero-shooter" where Widowmaker is one of the playable characters. The fiercely feminine French sniper makes use of her grappling hook to relocate with ease, and her "Venom Mines," small explosives she can stick to a surface with the intention of poisoning others. She can also see through walls and obstacles with her ultimate ability, Infra-Sight.