This enchanting story begins with a young couple who decided it was time to welcome an addition to their home. The couple dreamed of their nuptials and the patter of tiny feet around the house. But before these dreams would come to life, they wanted someone that would share in their love and happy moments, so they set out for the local animal shelter. At the shelter, they were inundated with love from adorable little pets, great and small, but it was a little Tamaskan puppy named Raven who stole their hearts. They knew right away that she was the one.

Back home, the sprightly pup kept her human parents on their toes. Playtime was great, but the couple knew she needed more: a buddy of her own. So with Raven in tow, they went back to the shelter. This time, they allowed Raven to pick out her own sibling, and the amorous pup made a most peculiar choice. But first, a little background on mom and dad.
The Couple
Back in 2015, Christina and Vincent were engaged lovebirds in Texas with plans of raising a family of their own someday. The couple, who are now married, had some details about their future family planned out already. For instance, they wanted children who would grow up having multiple siblings.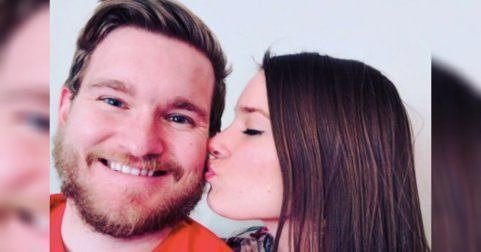 They understood that raising little ones is a huge responsibility, and it was best for them to iron things out before starting the journey. But one thing that lingered in their minds was the ideal time to add a new member to the family.
Having the Conversation
For couples who plan on becoming parents, having "the talk" is essential. This intimate conversation sheds light on what the new bundle of joy would mean for the couple emotionally, financially, and career-wise. Who would need to stay at home? How would the housework be handled? These are some of the questions that have to be answered before taking the huge step of raising kids.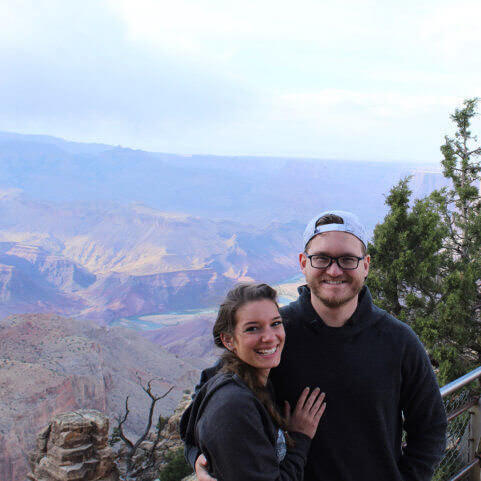 In addition, they also have to be on the same page on how many children they can cope with, as raising kids can be a strain on finances if not well planned out. Christina and Vincent discussed these things and arrived at a reasonable conclusion.
Analyzing the Situation
Without a doubt, parenting is one of the hardest jobs in the world. Having a baby would usher in unfathomable love and thrill, but also anxiety, sleepless nights, and frayed nerves for the couple. Essentially, raising kids is a full-time job and one that many people can't juggle with their demanding careers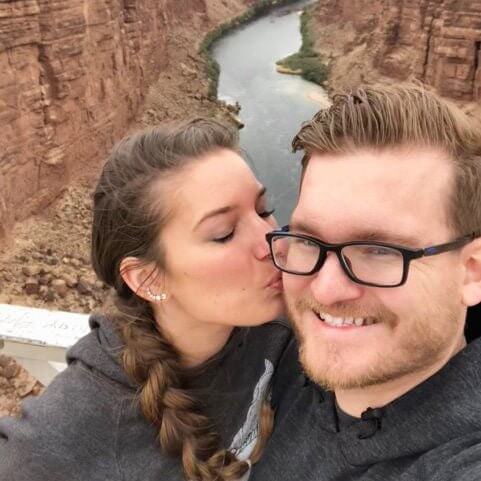 For Christina and Vincent, who are medical professionals, they arrived at the conclusion that it was best to wait a tad longer before having their own bundles of joy. Meanwhile, they could get something they've always dreamed of—a fur baby.
The Resolution
Many couples choose to have pets instead of children of their own, while others prefer having pets before having their own children. Whichever the case, the love shared between pets and humans is simply magical.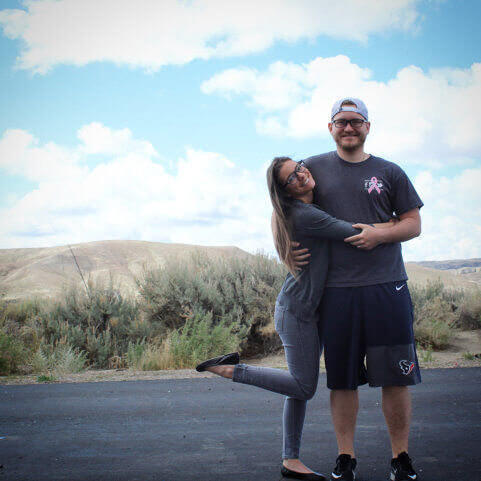 People can be so attached to their pets that the line between human and animal fades away. The pets are seen as real children, often called "fur babies" or "fur kids", and are bona fide members of the family. With all the love our furry companions give, they deserve it all.

Proud Parents
Christina and Vincent decided to start their family with a cute little furball, so they began looking for a pet to adopt in their local animal shelters. Their search ended in a shelter in Lubbock, Texas, in May of 2015.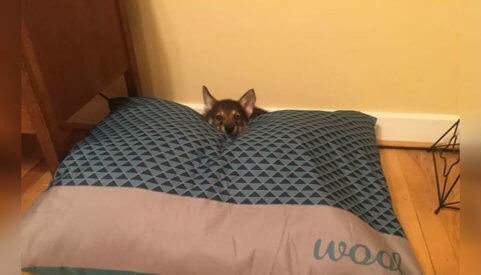 They were shown some puppies to choose from, but it was Raven who captured their hearts. As soon as they locked eyes with the Tamaskan Husky, they knew she had to come home with them. The adoption papers were signed and Raven was welcomed into the family. But soon she began exhibiting a worrisome behavior.
Cuteness Overload
Raven quickly adapted to life in her new home. She had a clean, comfortable bed, toys, and was showered with affection. Although she chewed on her toys once in a while, she was always forgiven. It was hard to get mad at her cute little face with the bold, brown eyes and big, pointy ears!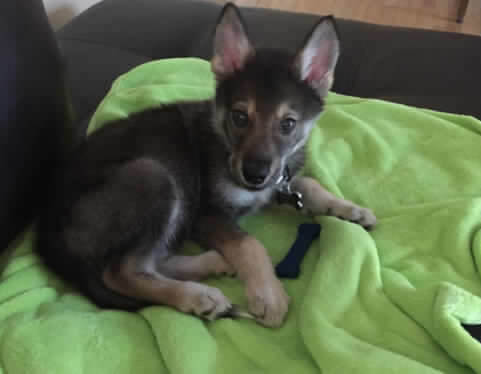 But the more Christina and Vincent played with the husky, the more they noticed something striking about her. And one that will cause them to make a decision that will change their lives forever.
Texas' Friskiest Pup
Raven was fiery when it came to playtime, which was often. She loved to play with her owners, run around in the yard, and explore her surroundings. She was as frisky as she was cute. Being the only pet, it got harder for the couple to keep up with their zippy little girl, so they settled on a permanent solution.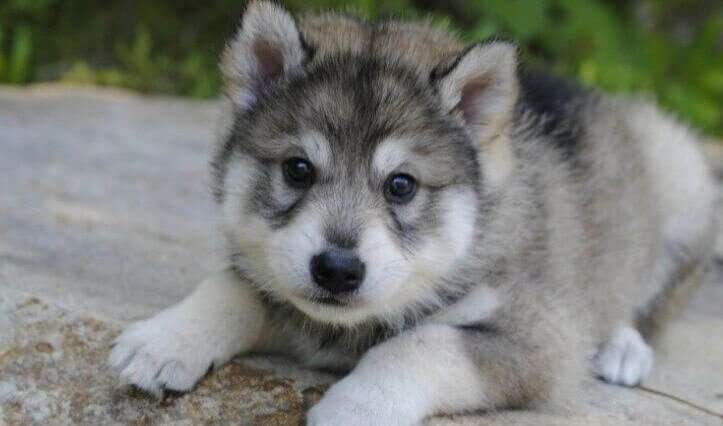 They thought Raven needed an extra playmate, especially one who would keep her company whenever they are away. Christina knew exactly what to do; in fact, she'd had it worked out almost all her life.
Little Girl, Big Task
The next month after Raven's arrival, the trio headed back to the shelter where they had adopted her from. Seeing her old home again, Raven probably thought that she was being taken back for good by her human parents, but that wasn't the case at all.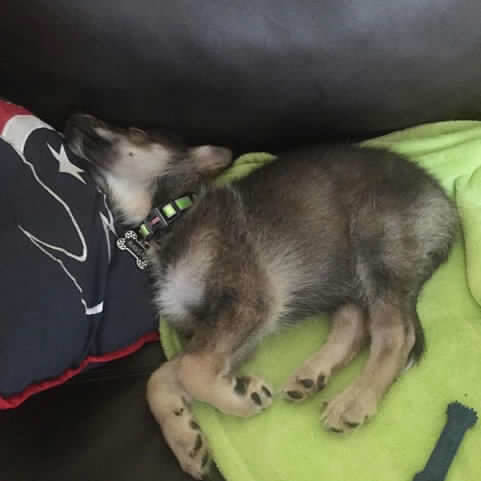 It was to be another major life decision for the family, and Raven had been chosen to make it! She was going to choose the family's latest member⸺her own little feline playmate! "I had always wanted a dog and a cat to grow up together. It's been like a life goal," Christina said. What a lucky little pup Raven was!

The Chosen One
The shelter workers introduced Raven to four little kittens who had been abandoned, but it was the very last one that won her love. It was an adorable 8-week-old tabby cat. The two hit it off right away.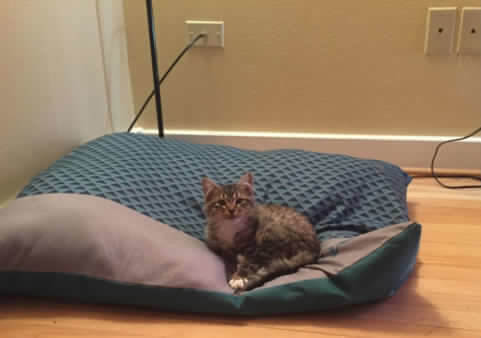 The adoption papers were signed immediately, and Woodhouse the kitten was officially removed from the shelter and happily welcomed into their loving home.
An Inseparable Pair
Since returning from the shelter, Raven and her little brother Woodhouse have been inseparable. Woodhouse couldn't be any more perfect for Raven; she's head over heels for him and lavishes him with affection.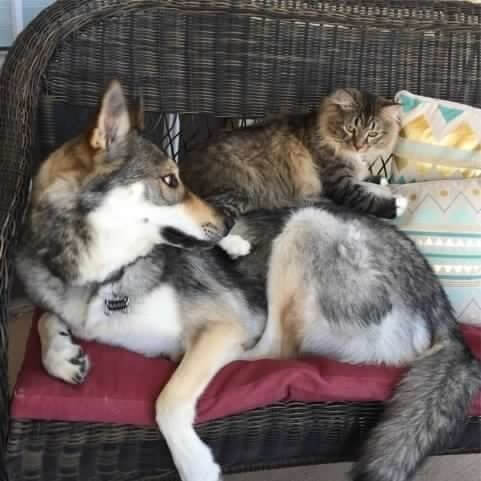 Christina explained, "I wanted them to be able to get along well. [I wanted] her to actually meet the cat and have the cat get along with the dog as well." Cats and dogs may be famous for their rivalry, but these two furballs are changing the narrative.
Big Sister Duty
Woodhouse has been on the sunny side of life since he got adopted. He's received a happy home, two loving human parents, and a best friend/older sister who cares for him like a second mom.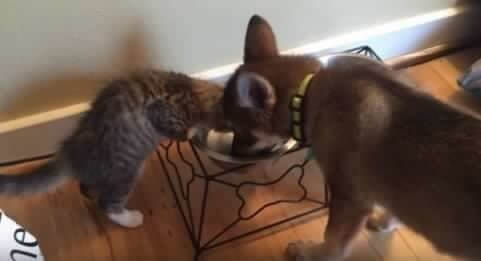 The unlikely pair played with each other so much on their first day together that they got dehydrated. They had no trouble drinking water out of the same bowl afterward, as shown in the picture Christina posted online. She said proudly, "At one point Raven grabbed one of her peanut butter rawhides and held it for Woodhouse to lick." What a gal!

Best Buddies
The bond between Raven and Woodhouse is out of this world. As they grew out of their puppy fat, they just couldn't get enough of each other. Raven would freely share her toys with Woodhouse. They would cuddle together in the morning, hang out at the park together during the day, and cuddle again before falling asleep at night.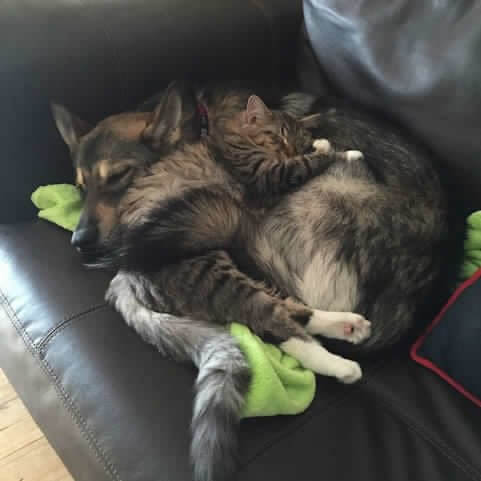 As in the picture above, it's hard to tell where Raven's love for Woodhouse ends and where Woodhouse's love for her in return begins. It's all one big fluffy ball of sweetness.
Boss Kitty
Despite being several sizes bigger, Raven doesn't mind being bossed around by Woodhouse. "They are perfect with each other. They don't cuddle as much as they used to when they were a puppy and kitten. But they're still always together, always playing together," Christina told The Dodo.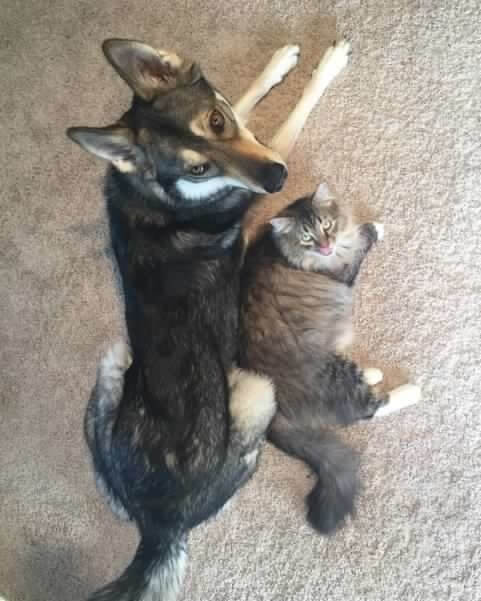 "Woodhouse actually chases the dog around the house. And they like to play tag," she added. Isn't Raven just the sweetest pooch?!
Travel Pals
The duo also enjoys going on long car trips with their mom and dad. With the wind in their faces, fascinating views to feast on, and each other for company, it's obviously one of their favorite things to do.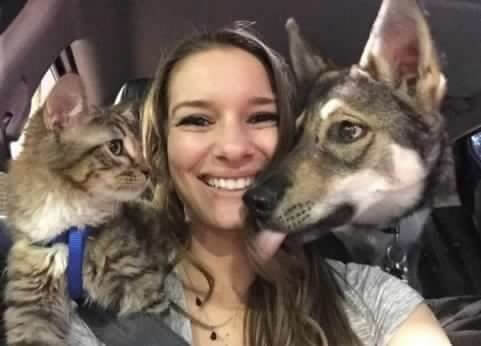 Of all the places they have visited, one remains the cream of the crop. It has plenty of room to jump around and play with lots of cool breeze and sand. Can you guess where?
Happy Beach Days
Raven and Woodhouse normally don't like water, but the beach is one exception. Perhaps it's the presence of each other that's made it easier for them to handle being splashed by the cold, salty seawater. Perhaps it's the vastness of the sea that's alluring, as they have more space to play.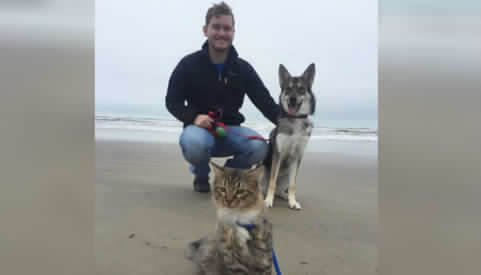 It could also be the soothing sea sand beneath their paws. Whatever's the case, these two buds can't get enough of beach life. What are we doing if we're not doing it with our best friends?

Holiday Best
Raven and Woodhouse are always game for spreading love and joy during the holidays (and pose for the camera for their fans while they're at it too!). Check out their patriotic and snazzy Fourth of July costumes!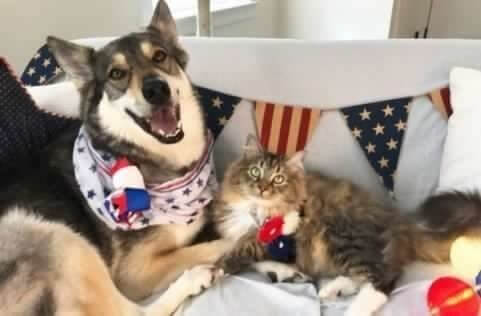 Mom does a great job of dressing up her fur babies for the holidays. Be it Easter, Christmas, or Halloween, you can count on these two to be the most dashing duo on the block.
Birthday Mates
Raven and Woodhouse do everything together, including celebrating birthdays. Born just a few weeks apart, Christina and Vincent decided they would celebrate their birthdays at the same time each year.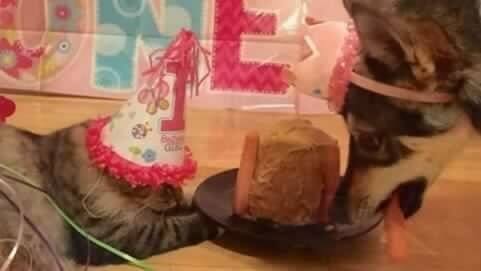 For their birthday they get colorful decorations, cool hats, and delectable treats. Christina made them a sumptuous peanut butter and hotdog cake one year, and they posed for the camera for cool photos to mark the day.
One Big Happy Family
Despite their obvious differences in character, one thing is for sure: Raven and Woodhouse make a perfect pair. And with such caring and loving parents as Christina and Vincent, the future looks bright for this big, happy family⸺which was about to get bigger.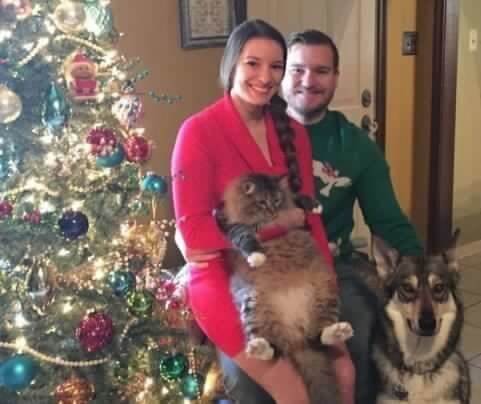 With a baby girl on the way, we rest assured she's in good hands with her two furry siblings. They'll be delighted to cuddle up with her and shower her with affection.

A Special Friendship
This dynamic duo's special friendship teaches us that no matter how different from each other we look on the outside, our hearts remain the same. Raven and Woodhouse are the last pair many would think can get along, but they've looked past instincts and let love lead them to a beautiful friendship.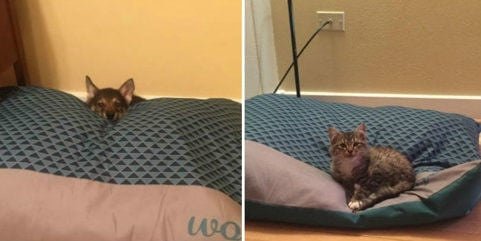 Between both of them, there's tons of love to give to everyone who opens up their hearts to receive. Vincent and Christine, as well as all their future kids, will never lack good laughs and affection with these two around.
Destined to Be Together
Looking back, it does seem Raven and Woodhouse were destined to be adopted by Christina and Vincent. More so, that they had allowed Raven to pick out Woodhouse. If the two hadn't met and connected emotionally, things would have turned out very differently; they likely wouldn't be the close buddies we know and admire today.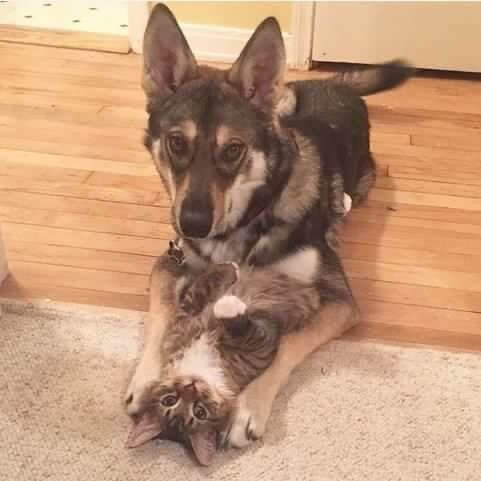 It's been an awesome few years since this magical adventure began, and with this adorable family set to welcome a new human member, it's safe to say that the best times are yet to come.

The Little Girl Who Lived With Animals
It's every child's dream, and a parent's nightmare, a little kid running free in the wilderness with wild animals, and not a care in the world.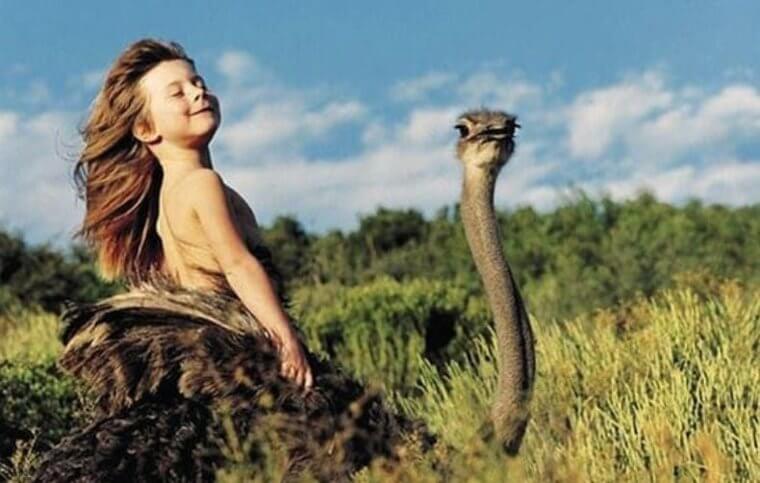 One little girl got to live the dream, and then some, spending the first ten years of her childhood in the African bush, with elephants, monkeys, leopards and snakes as her best friends. It's a truly amazing tale of a real-life 'Mowgli", and not surprisingly the story of the girl who lived with animals has been made into a book and a documentary film. The little girl's adventure was also captured in a series of photographs, documenting every moment of her unique childhood, and the pictures are absolutely stunning.
Meet The Real-Life Mowgli
Tippi Degré was born June 1990 to French parents, Sylvie Robert and Alain Degré, while they were living in Windhoek, Namibia, Africa. Sylvie and Alain are wildlife photographers and the three of them traveled extensively throughout the African continent on a truly amazing and unique adventure.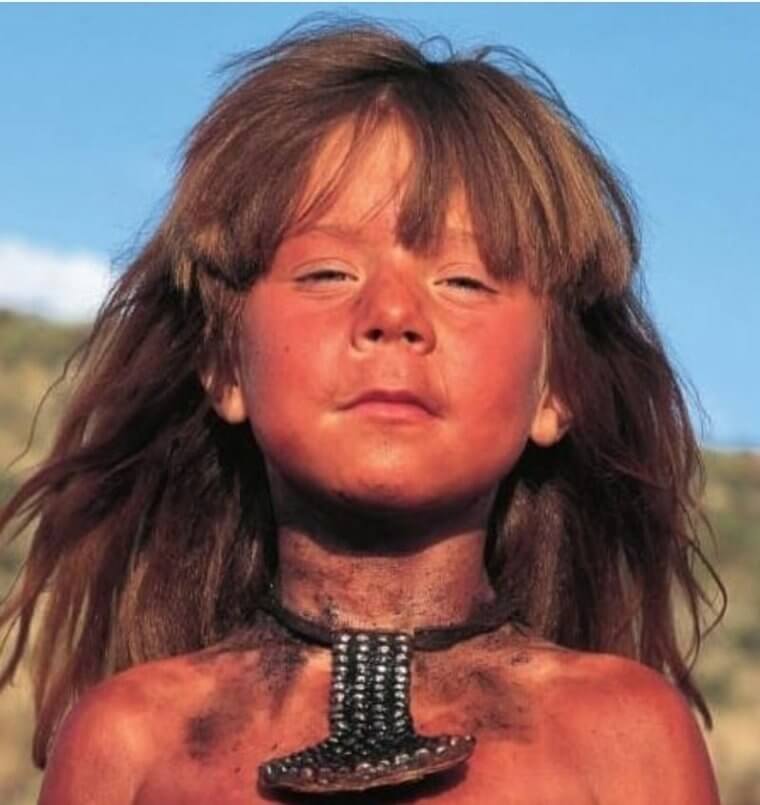 The little girl was named after Alfred Hitchcock's actress of choice, Tippi Hedren, who starred in a number of the British director's movies, including "The Birds". It wasn't just birds that Tippi Degré surrounded herself with while growing up in the African bush. She was also besties with elephants, leopards, snakes, crocs, and an assortment of amazing reptiles.
Far From A Regular Childhood
While she was still a tiny baby, Sylvie and Alain made the decision to give their daughter a very unconventional childhood.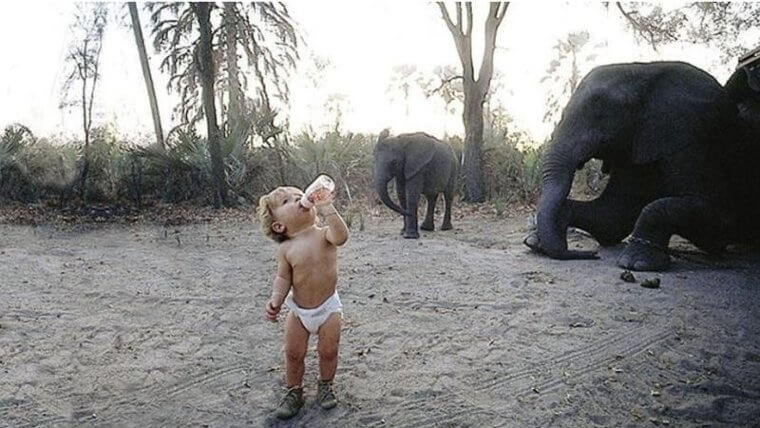 For the first ten years of her life, she was allowed to run free in the wild, left to her own devices, playing with all and any of the wild animals, insects, and reptiles that she came across.

Magical Upbringing
Tippi's parents have no regrets when it comes to their unconventional parenting choices. Her mom Sylvie talked about her daughter's unique upbringing in an interview with the British newspaper, The Telegraph.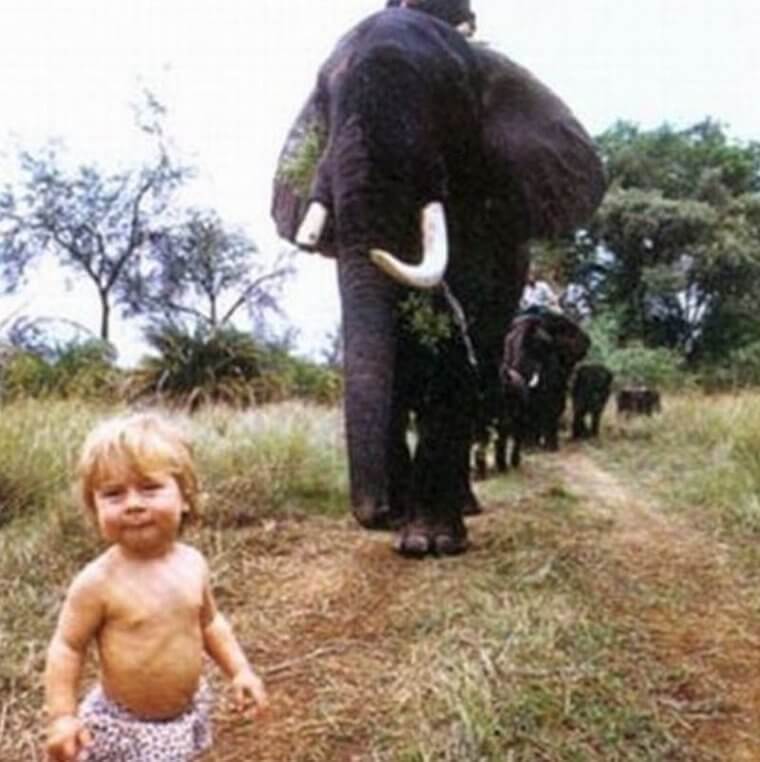 "It was magical to be able to be free in this nature with this child," Sylvie explains. "She was a very lucky little girl - she was born and raised until the age of ten totally in the wild. It was just the three of us living in the wild with the animals and not too many humans."
Fierce and Fearless Adventurer
Right from the beginning, Tippi was a fierce and fearless adventurer. She was immediately able to integrate herself with the wild animals living around her, and a number of "ferocious beasts" quickly became the child's best friends. According to Tippi's mom, the little girl wasn't scared by anything, and despite many of the animals towering above her tiny body, she viewed herself as being of equal stature.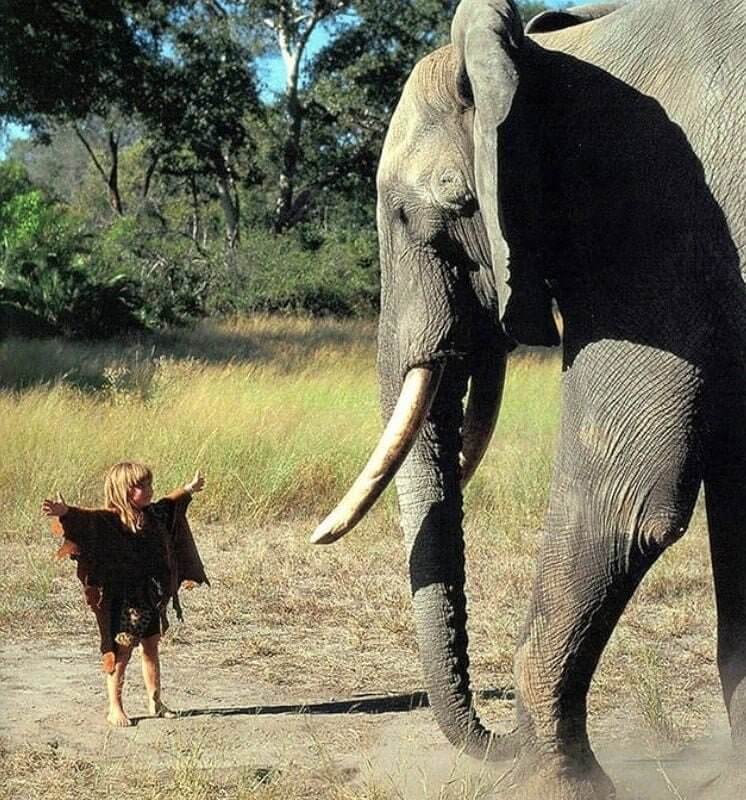 "Tippi always said that everybody was gifted and this was her gift," Sylvie explained. "She was in the mindset of these animals. She believed the animals were her size and her friends. She was using her imagination to live in these different conditions.  She had no fear. She did not realize she was not the same size as Abu the elephant. She would look into its eyes and speak to him. She was a year and a half when they first met and it was a special time - just incredible."
Natural Instincts
Tippi was a natural when it came to adjusting to life in the African bush. Nothing phased the little girl, and her main "worry" each day was making sure the monkeys didn't steal her bottle! She slept in a loincloth, with a huge knife by her side—just in case any unwelcome and unfriendly animals made an unexpected visit during nap time.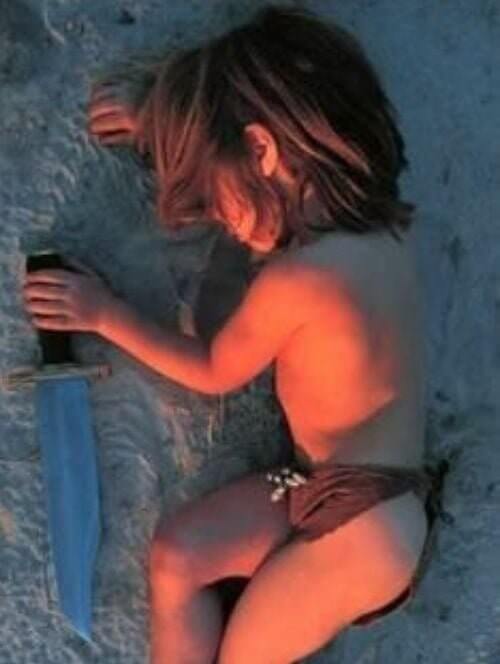 And she had an uncanny natural instinct when it came to the wild animals around her. Sylvie recalls many occasions when her young daughter would call her over and "point to an elephant eating from a palm tree and say 'mummy, be quiet, we're going to frighten him.'" 
Thriving in The Wild
It wasn't just Tippi's natural instincts that were finely honed from a very young age—her motor skills were also incredibly advanced.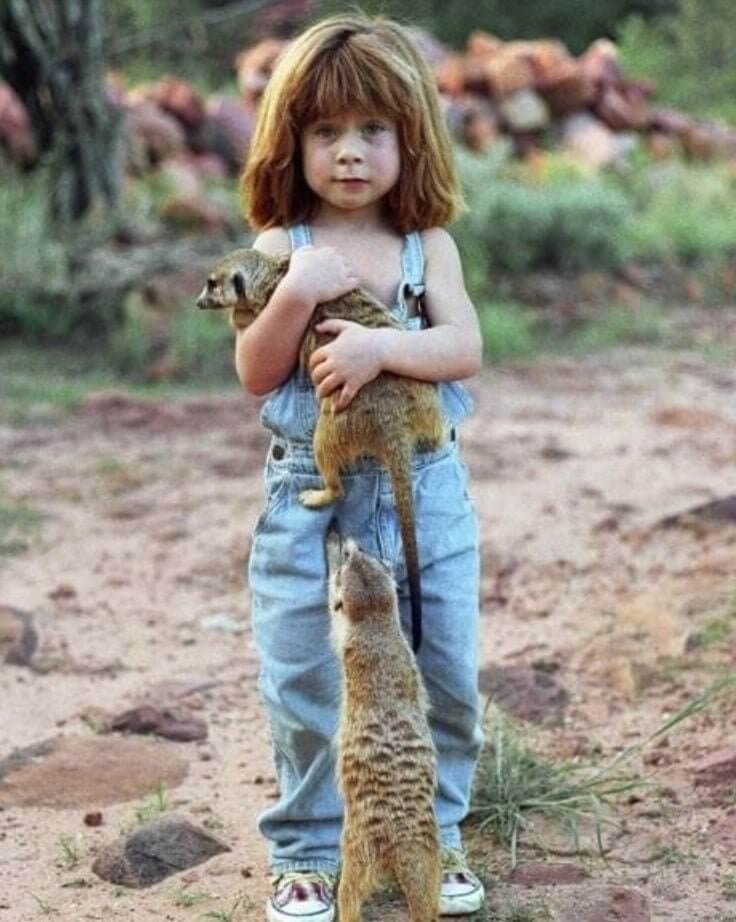 Sylvie claims her little girl was running around the jungle on her own from the tender age of ten months! Most children are still crawling at that age, and don't start walking confidently, let alone running, until around the 14-15 months mark.
Street Smarts In The Jungle
Although Tippi was fearless, she wasn't reckless and she understood and recognized dangers from an incredibly young age.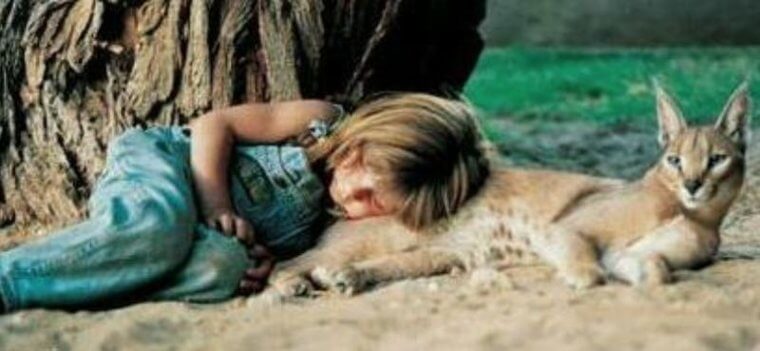 Most children her age only have to worry about looking both ways before they cross the street, but obviously Tippi had a whole load of potentially dangerous situations to be on the lookout for. The little girl's parents were careful to instill a healthy sense of danger in their daughter and also to teach her survival techniques pretty much from the day she was born.

Her Folks Kept An Eye Out
Although Tippi was given a remarkable amount of freedom—a level that most kids couldn't even imagine—her parents did keep their eye on her and stepped in if they felt their daughter was in any potential danger.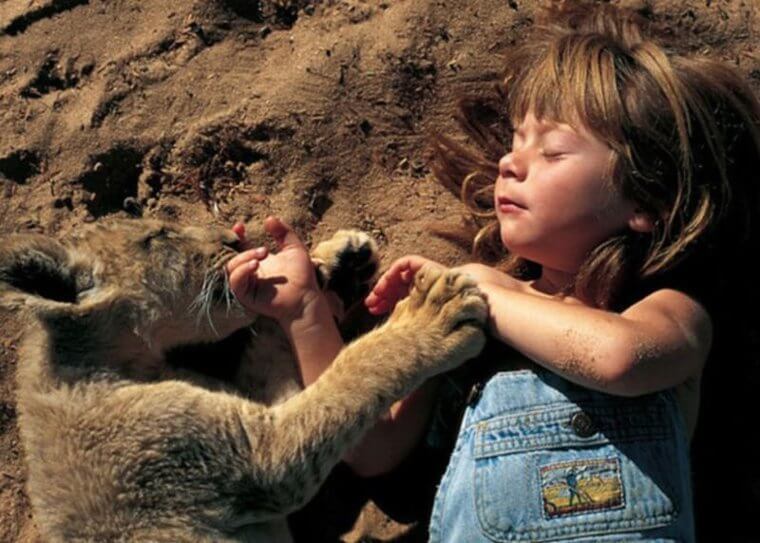 Working as wildlife photographers had given Sylvie and Alain an ability to understand signals and recognize potential red flags when watching animals' body language. So, Sylvie was immediately placed on high alert after she noticed a grown lion called Mufasa that Tippi had befriended as a little cub, acting in a potentially predatory way towards the little girl "Mufasa came to Tippi and he brushed her with his long tail, like a cat would do, and she almost fell down," Sylvie explained. "I had to take her away, I was not at ease."

Only One Bite
Amazingly, given the fact she played with elephants, lions, leopards, and snakes every day, Tippi was only bitten once! And, it wasn't even one of the "ferocious" big beasts that attacked her!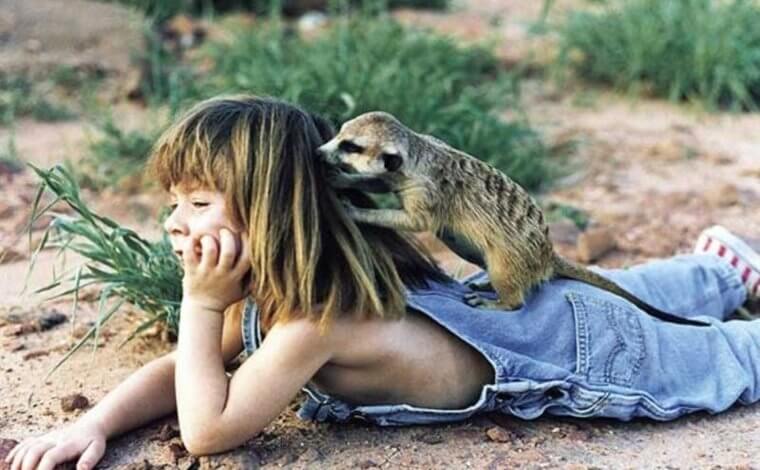 "Farmers often keep orphan animals and raise them in their house," Sylvie told the Telegraph. "Sometimes they are tame or used to humans and so this is how Tippi was able to be so close with them."

"If I had the least fear I would not have let Tippi anywhere near them. She was only ever bitten once and that was on the nose by a Meerkat." There was also another incident, but it thankfully didn't end in any biting. "Cindy the baboon once attacked Tippi's hair and pulled out a handful." Sylvie believes it was done as an act of jealousy.
 
No Regrets
Despite the bite on the nose, Sylvie and Alain have no regrets when it comes to Tippi's upbringing. Sylvie believes she gave her daughter the best gift she could ever have, and that her life in the wild was far superior to any childhood she would have experienced growing up in a city.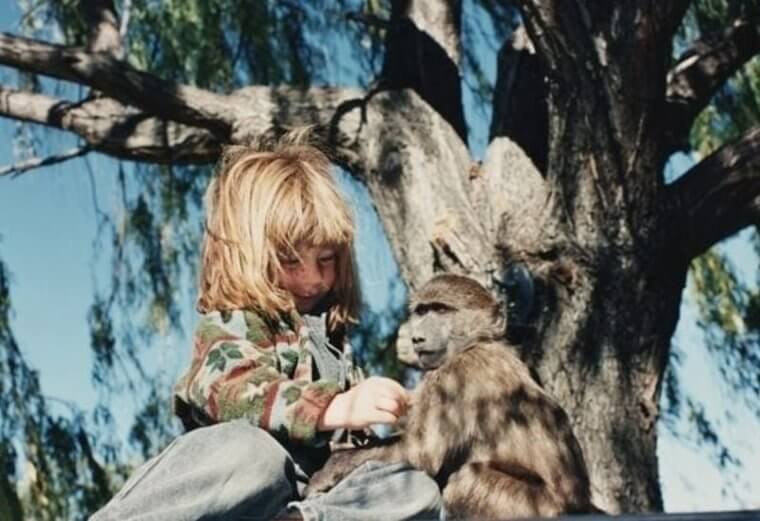 "For me, it was incredible to think you offer all of this to a child, because I was at ease, because I liked it and because we had lived with the Meerkats in the Kalahari desert for six years before Tippi was born," Sylvie said. "I believed it was fantastic to have that to offer to a child compared to what I would be able to offer to a child living in a city for example."

The Big Gray Bestie
Tippi's BFF was big, grey and tipped the scales at a whopping 14,000Lbs! The little girl was only 18-months old when she first met Abu the elephant, and they became firm friends fast.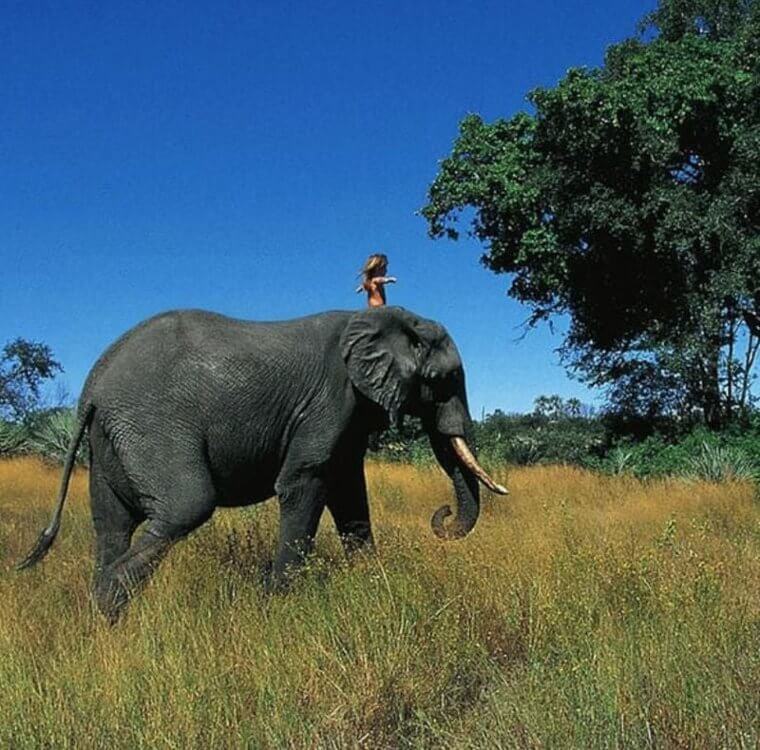 Tippi wasn't bothered by their huge difference in size, in fact, she didn't even realize she was tiny compared to the giant beast, and they immediately created a very special bond! "She had no fear," her mom explained. "She did not realize she was not the same size as Abu the elephant. She would look into its eyes and speak to him. She was a year and a half when they first met and it was a special time - just incredible."

Another Wild Bestie
Abu wasn't the only wild bestie that Tippi had, she was also BFFs with a fully grown leopard named J & B! The leopard was raised by a local farmer after being discovered orphaned when his parents died.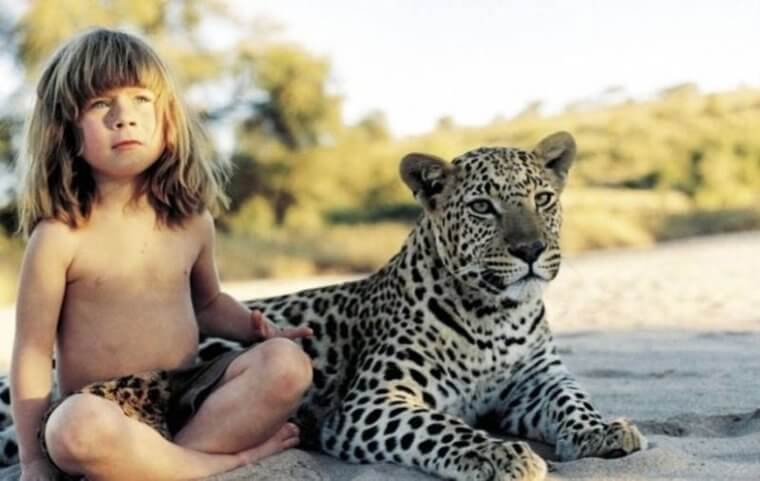 Tippi and J & B immediately hit it off, playing together in the bush and cuddling together for hours. However, despite his love for Tippi, and being raised by a farmer, the leopard wasn't fully domesticated, by any means. On one occasion the leopard tried to attack another little girl. Thankfully though, Tippi was close by, and after she shouted at J & B to leave the little girl alone he dutifully backed away.

She Could "Talk" To The Animals
It's obvious from an incredibly young age that Tippi had a gift that very few humans possess The little girl could "talk" to the animals—communicating, connecting and interacting with them with the utmost ease.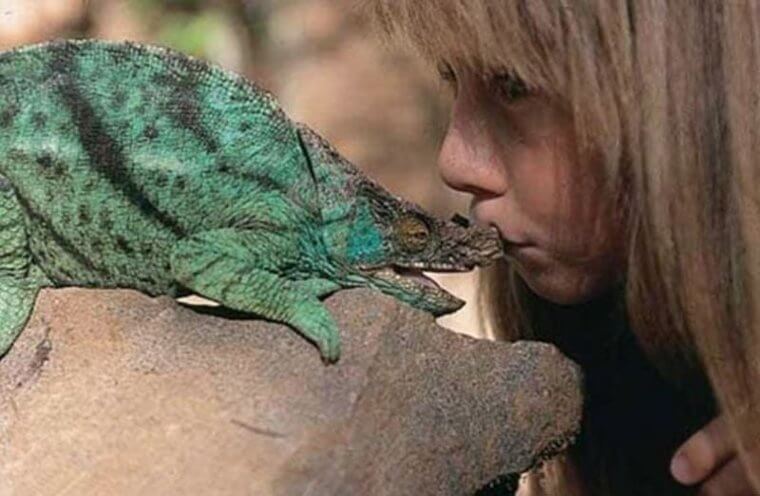 "Tippi always said that everybody was gifted and this was her gift," mom Sylvie explained.
All Creatures Great And Small
As far as Tippi was concerned, all creatures were equally as wonderful as each other and equally deserving of her love and affection.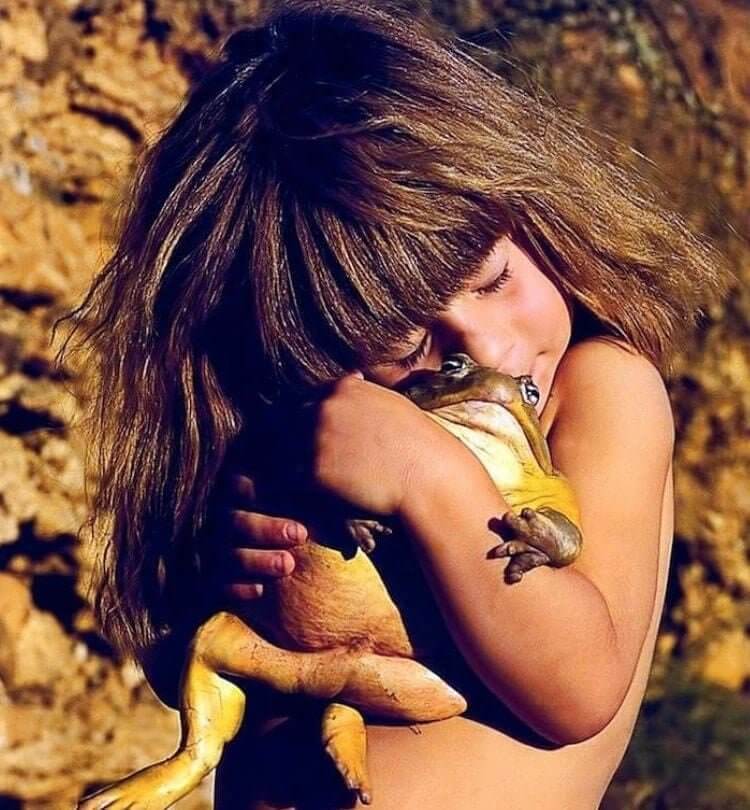 Unlike many little girls of her age might, Tippi didn't shy away from slimy reptiles, in fact, she positively embraced them! Tippi didn't just gravitate towards the cute furry animals, or the hot-blooded types, she also loved giant African bullfrogs, so much so that she would regularly hug and pet them.

Snake Charmer
It wasn't just frogs that were among the unusual creatures Tippi loved to hang with. The little girl also embraced snakes, of all colors and kinds.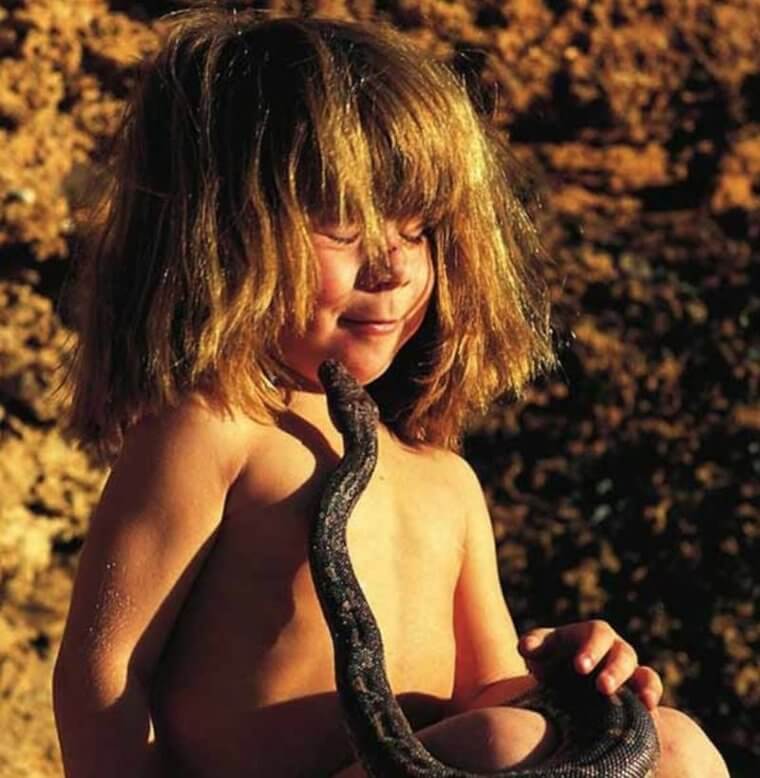 The majority of full-grown adults would be terrified of going within ten feet of a snake slithering around in the African bush--or anywhere else for that matter!--but Tippi had no such fear. The little girl loved to let snakes slither all over her and would even give them a little "kiss" from time to time. Yikes!

Two-Legged Friends Too
Tippi didn't just have four-legged, feathered, hopping, swimming and belly sliding friends, she also had more conventional two-legged ones too. Well, more conventional by African standards anyway!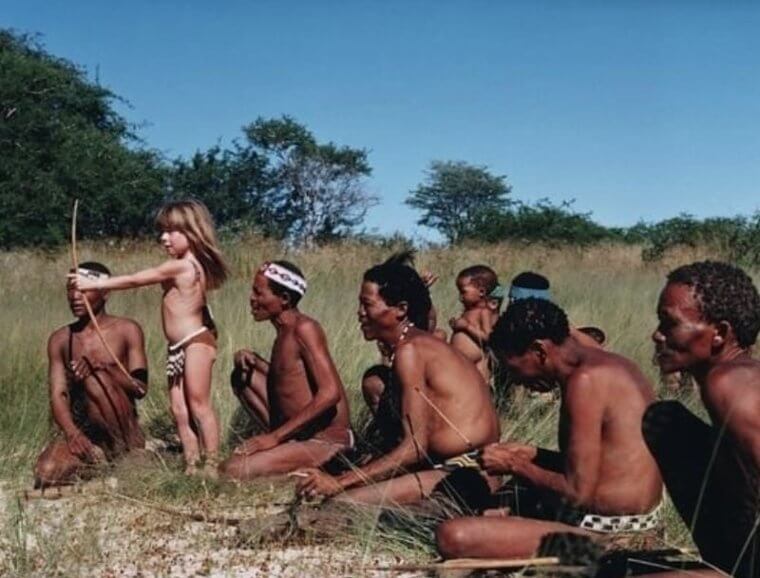 Throughout her time in the bush, Tippi encountered many native tribespeople and bushmen, but she became particularly close friends with the people of the Himba tribe in the Kalahari. The tribe taught Tibbi to forage for roots and berries, speak their language, and how to use a bow and arrow for hunting. "When we filmed the San Bushmen of northern Namibia we would let Tippi spend the day with the group without us until she would fall asleep among the kids," mom Sylvia explained.

Honorary Tribe Member
The tribespeople immediately warmed to Tippi and didn't hesitate to treat her as one of their own, accepting her and taking her under their wing. In addition to teaching the little girl how to hunt, the women would brush and bead her hair, and the children played with Tippi just like she was a sister or a cousin.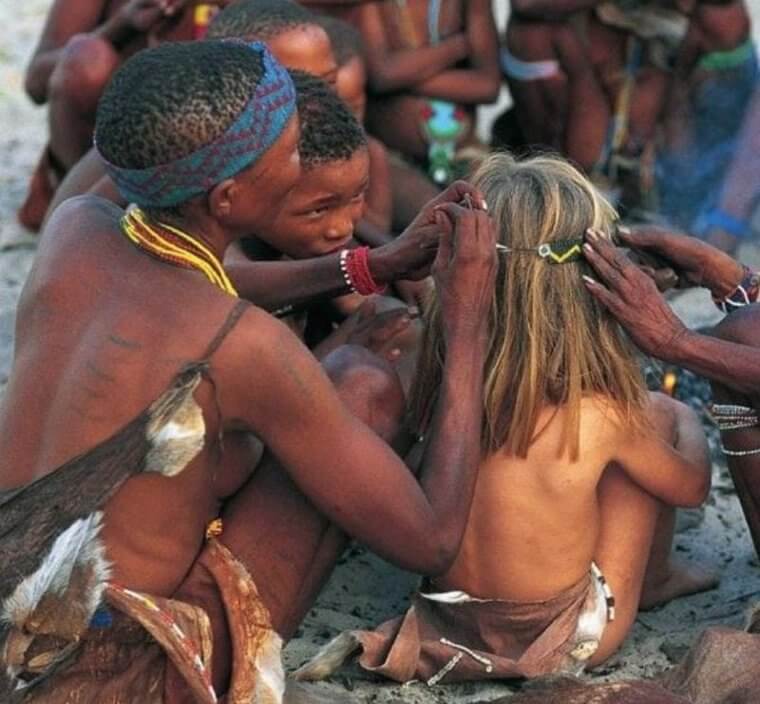 "When we came to a village with African children, within two minutes Tippi was the clown and people found her so cute," Sylvia shared. Sadly, years later when the family returned to Europe, Tippi was to discover that not all people, and especially children, are as friendly and welcoming.

Feeding Time
Most kids never get the chance to feed the animals when they visit them in a zoo. But luckily for Tippi, she had no such restrictions when she was growing up.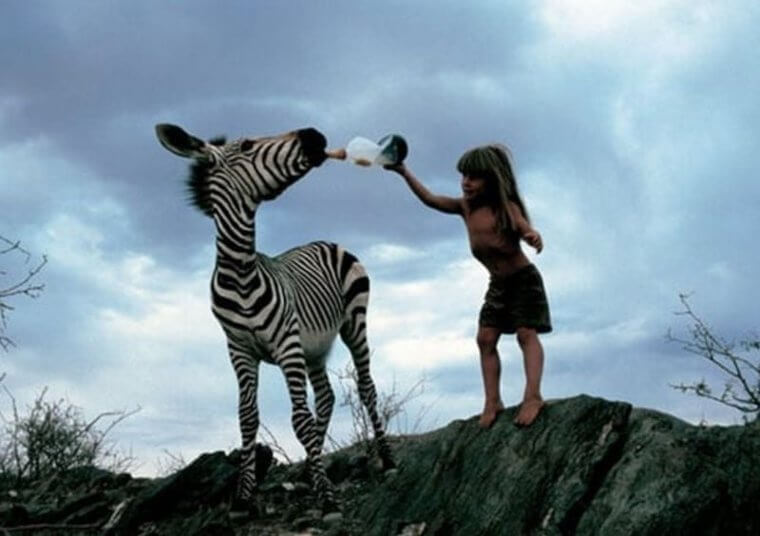 The animals that she visited, and played with daily weren't stuck behind bars, they were allowed to roam free, and there were no rules and regulations governing her interactions with them. The little girl regularly played with an adorable baby zebra, and would even feed it milk from a bottle.
No X-Box Zone
Unlike other kids her age, Tippi didn't grow up glued to a TV screen, or playing with an X-Box or the latest "My Little Pony". This little girl had real-life zebras to play with, and adventures to rival even the very best computer game!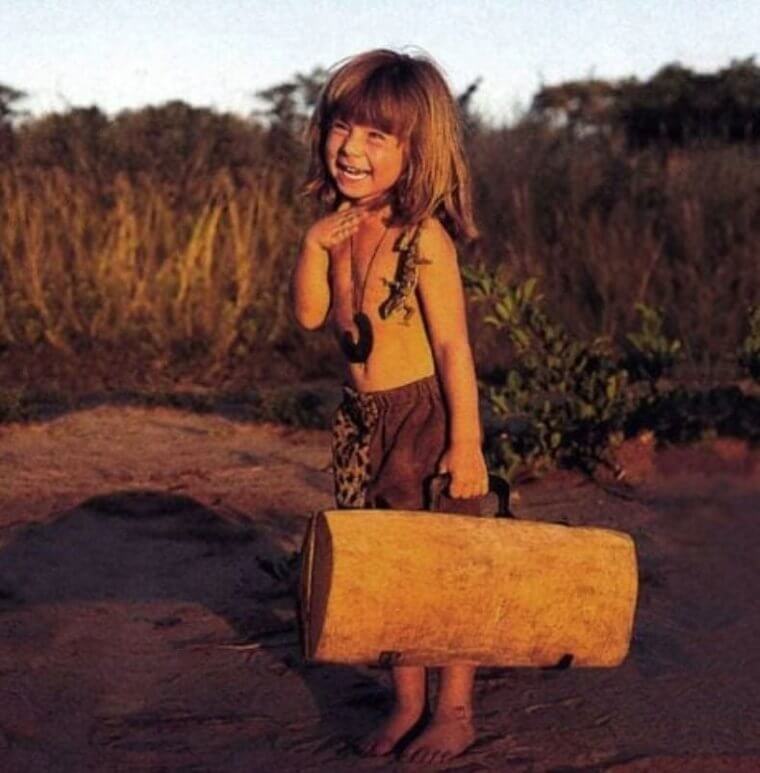 But it wasn't just Tippi's playtime that was unconventional, her lifestyle was decidedly different too--from her clothing to her home to the food that she ate. Most little girls have an array of dresses and shiny patent shoes to choose from--Tippi, however, wore a loincloth and ran around the wild barefoot! And while many little girls love to carry pretty little purses in bright colors, Tippi preferred to carry a suitcase carved from the wood of local trees!
Animal Tutors
Given their remote location it's not surprising that Tippi's parents chose to home school their daughter. In addition to the regular, run-of-the-mill boring lessons that other children her age were subjected to, Tippi had the added benefit of learning the lessons of the African wild.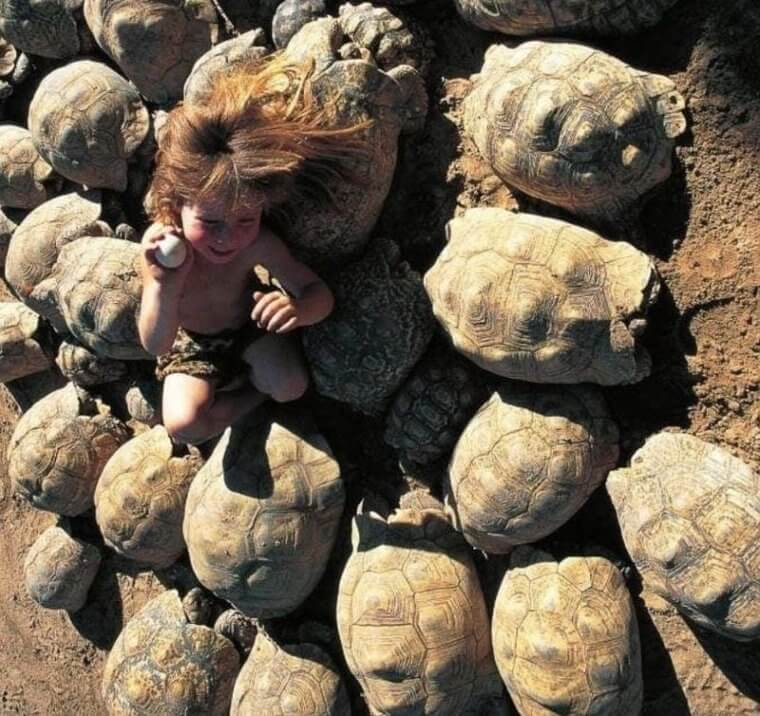 And, in addition to her parents, nature and its vast array of beautiful and wonderful creatures were Tippi's tutors. Tippi's parents regularly involved animals in their teaching, and there's no doubt that there's a whole lot of very valuable lessons that we can all learn from them. For instance, turtles are great for teaching children things like patience, dedication, and determination towards achieving goals. Tippi's homeschooling would prove so successful that she later struggled to adjust to "regular' school and chose instead to return to her parents' teaching.
Camera Shy
Despite starring in literally hundreds of absolutely stunning photographs throughout her childhood, it turns out Tippi doesn't actually like being in front of the camera!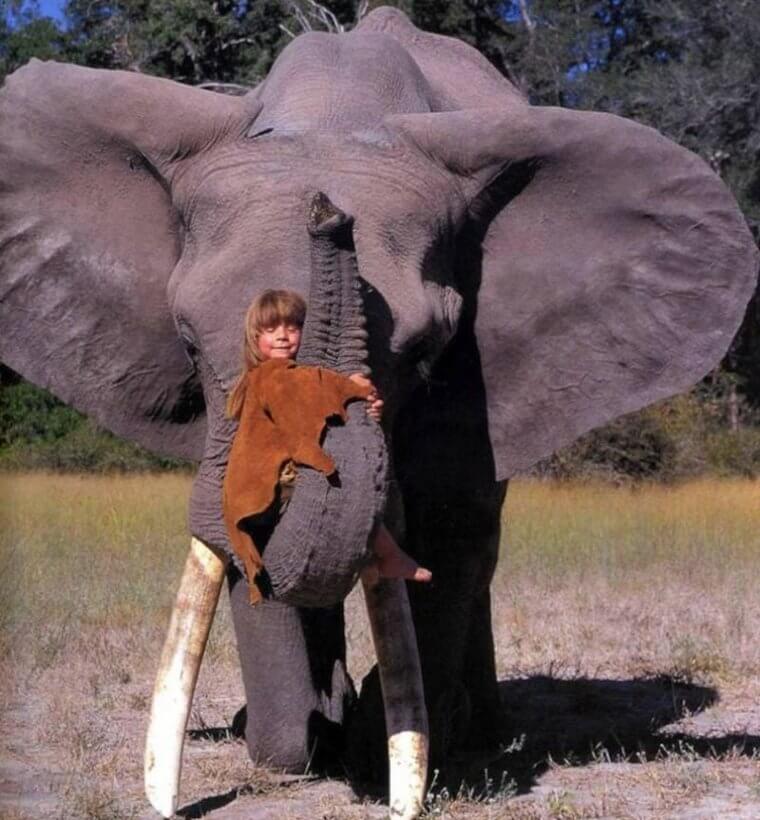 Tippi and her parents returned to Africa when she was 12, to film a series of documentaries for the Discovery Channel. Tippi's mom had the time of her life, describing the experience as "wonderful". Tippi however? Not so much! "It was great to see the elephants and the lions, but it would have been better if it hadn't always been in front of the camera," she told the Telegraph. "It was hard work, it was difficult, it was hot and I was not happy all the time. I was worn out at the end of it."
Wasn't Quite as Wild as You'd Think
Although Tippi was left to run free in the wild during her early childhood, and befriend a whole array of wild and wonderful creatures, many of them weren't strictly "wild' wild. Her mom Sylvie admitted that many of the animals had actually been tamed by local farmers after being discovered abandoned in the bush.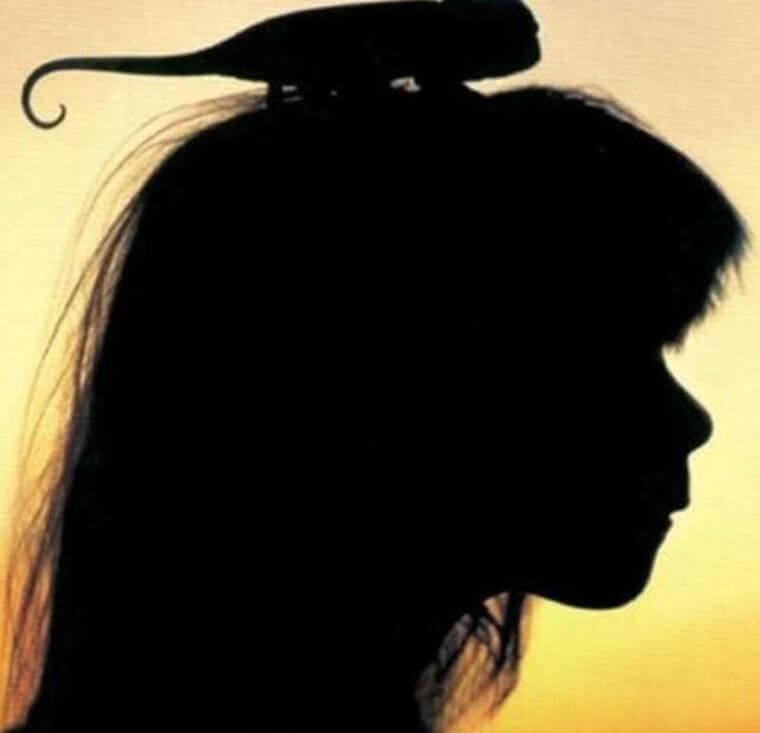 "In the arid or semi-desert regions of Southern Africa people have farms of 10,000 to 20,000 hectares," Sylvie explained. "The farmers often keep orphan animals and raise them in their house. Sometimes they are tame or used to humans and so this is how Tippi was able to be so close with them."
Tough Transition
After ten glorious years of running free in the wild, it was time for Tippi to pack up her wooden suitcase and board a plane for Europe. Tippi and her parents moved into a small apartment in the middle of Paris, and it comes as no surprise that the then-10-year-old girl struggled to adjust to her new life in the big city.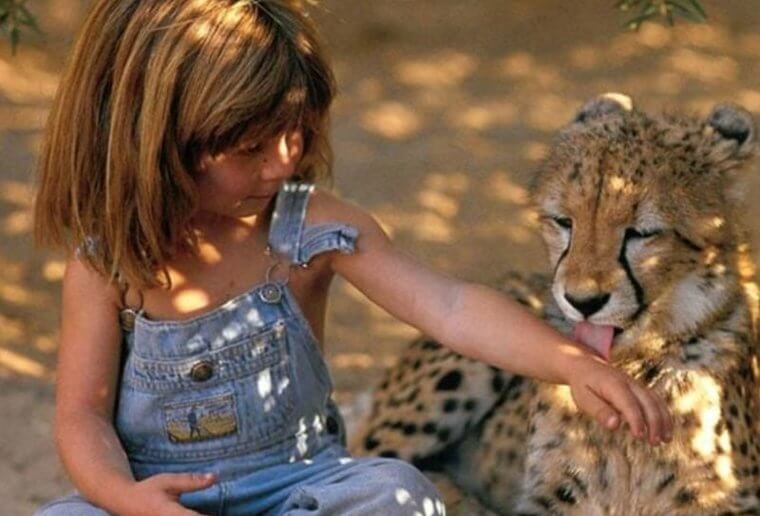 All of her four-legged friends were gone, and the family's apartment was so small they couldn't even get a dog to keep their daughter company. The first two years were particularly hard for Tippi. Eager for their daughter to assimilate into "normal" society, they enrolled her in a Parisian school. But, Tippi struggled to form friendships with other children her age and found she had nothing in common with them.

Eventually, her parents admitted defeat and pulled Tippi out of school in order to teach her at home. The then-teenager was still depressed though and missed her animal pals immensely. Her parents came to the rescue, buying a little budgie for their daughter to play with. "It would go everywhere with her, even on the train, flying right by her side, sitting on her head or falling asleep on her shoulder," her mom Sylvie shared.

Blessed By Africa
Now a 29-year-old woman, Tippi looks back on her childhood in Africa with great joy and fondness. She regards herself as being "blessed" for the experiences she had and views herself as African.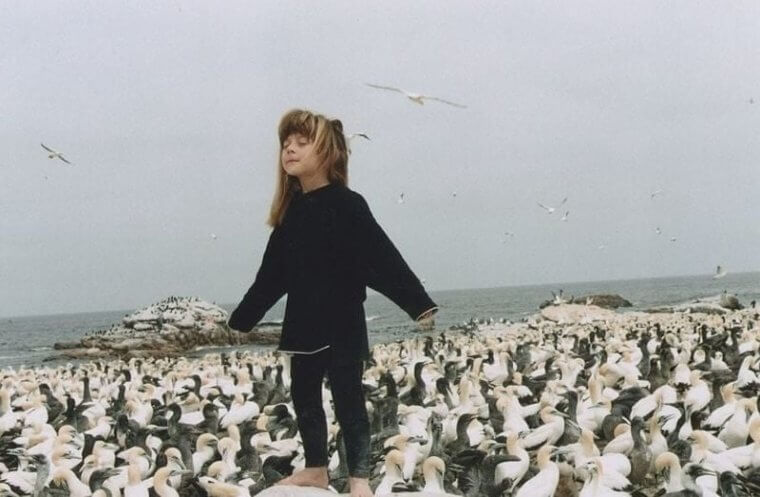 Mom Sylvie shared that her daughter wants to get her Namibian passport and work to become an ambassador for her birth country."Tippi believes she is African and she wants to get a Namibian passport," Sylvie said. "She wants to become an ambassador for Namibia. It is like Mowgli's story, but Tippi's is true."