Recently, there's been a cool new trend recreating old family photos. In times when we're overloaded with bad news, these images certainly warm the heart. Here are some couples who decided to do the same and if you liked the family pics, you're going to love these. During a time when divorces are at an all-time high, these beautiful images are a reminder that some loves last forever. These images inspire hope that we won't all get left on the shelf and that a great love could come and sweep us away. 
All About the Car
While this photo is a stunning recreation, it is also surprising to see that this couple has preserved their '56 Chevrolet in near perfect condition all these years later. They have obviously cherished their car in the same way that they cherished their lives together.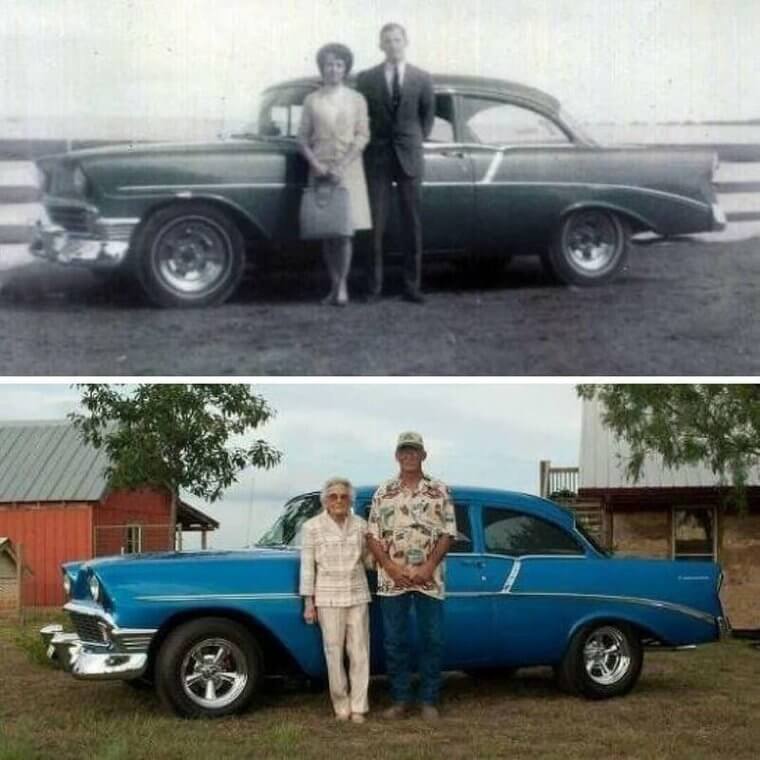 If you look closely though, you can see one slight error; the husband has his hands in front of his wife rather than behind. They also look shorter and a tad bit frailer. Age wears you down, it would seem, but it can't extinguish the fire of love.
Celebrity Anniversary
What was an odd photo to begin with is still an odd photo recreated by Katherine Heigl and her partner, Josh. Why the sweatband!?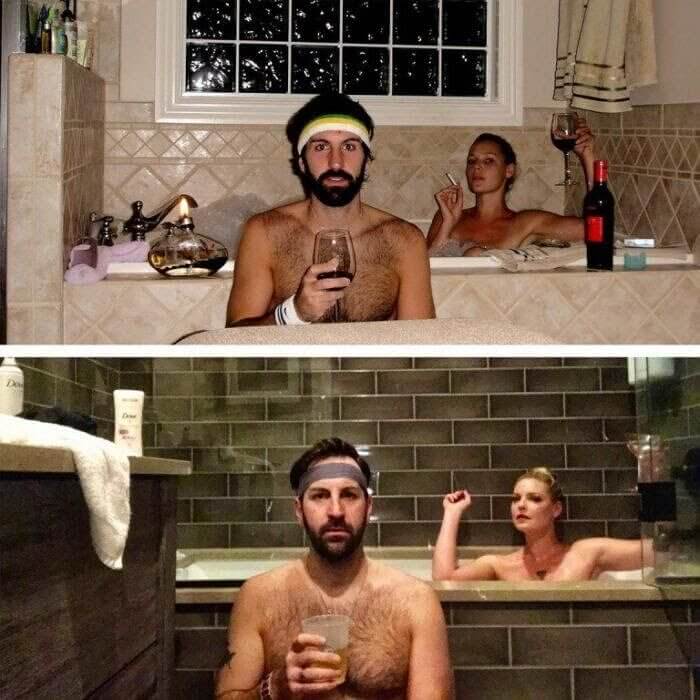 Heigl said that a few things had changed since the original photo was taken. She has quit smoking, probably put on a few pounds and although she admits that she's less spontaneous than her younger years, she still loves Josh as much as the day that she met him. 
Cute Friendship Blossoms
When they were just three years old, this photographer caught them holding hands while he was the ring bearer, and she was the flower girl. Fast forward 20 years and these two were captured at another wedding. But, this time, it was their own! The thing is, neither of them actually remember that first photo at all!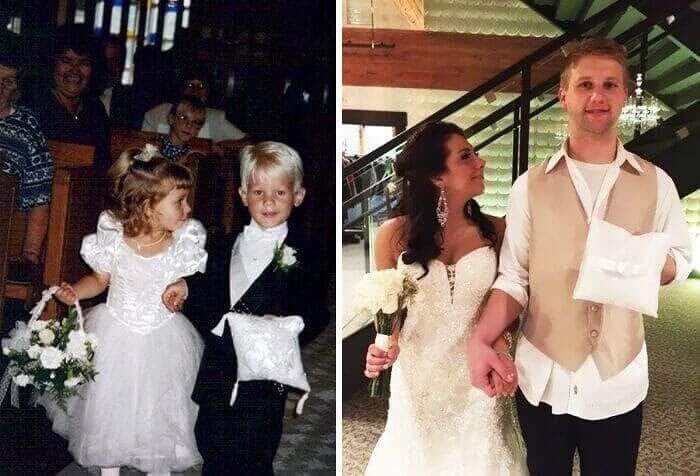 They actually only got to know each other in high school when she walked up to him and said: "I think I have a picture of you on my wall at home." If that isn't the cutest thing you've ever heard, then you're made of stone. Her comment piqued his interest, and it turned out she was telling the truth!
Always Up for Some Cake Smashing
This photo is a close recreation of the old photo of this couple acting silly at their wedding with the addition of the photographer photobombing. The tradition of smashing cake in the face goes a long way back for this couple, and don't they look fun?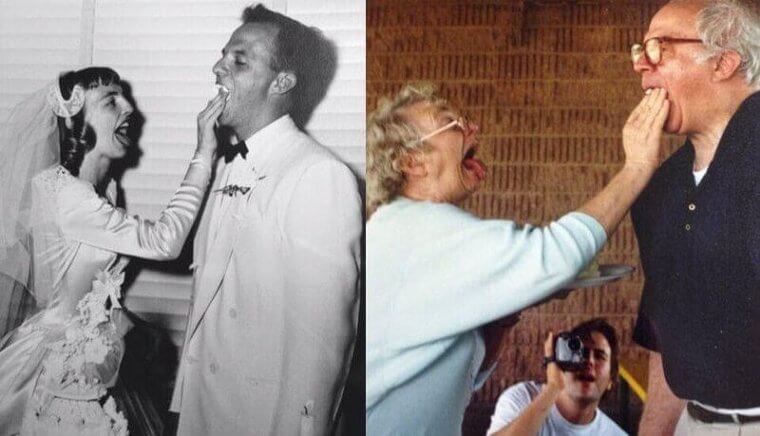 There was a time when a husband would break bread over his newlywed wife's head. The tradition had something to do with the idea of male dominance and claiming the woman as his own. It is much better that it has evolved into a hilarious fun event today.
You Raise Me Up
If you have been to a Jewish wedding, you know that a good time will be had by all. The highlight of any Jewish wedding is the Hora dance where the person is lifted high on their chair. During a wedding, it is usually done for the bride and the groom.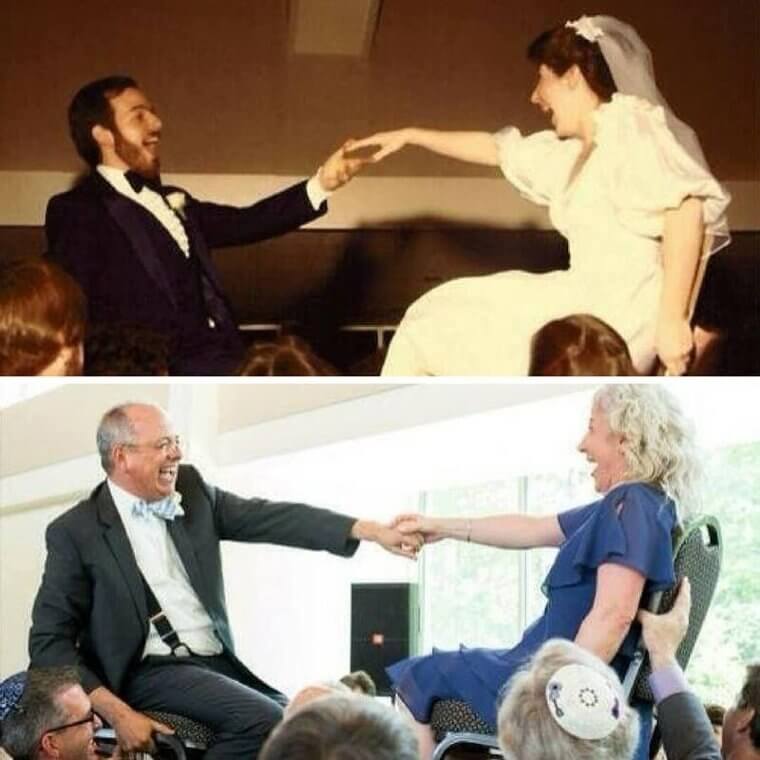 This couple took the first photo at their wedding during the Hora. They later recreated it during their daughter's wedding many decades later. It's a nod to their own special day, but also pays tribute to their daughter on her own wedding day, which is sweet. 
Celebrity Family Photo
We know now that celebrities love the trend as much as we do. This photo captures Catherine Zeta-Jones updating a photo she took with her husband and children while on vacation in Canada. The photograph is roughly two decades old – which is pretty evident by the quality.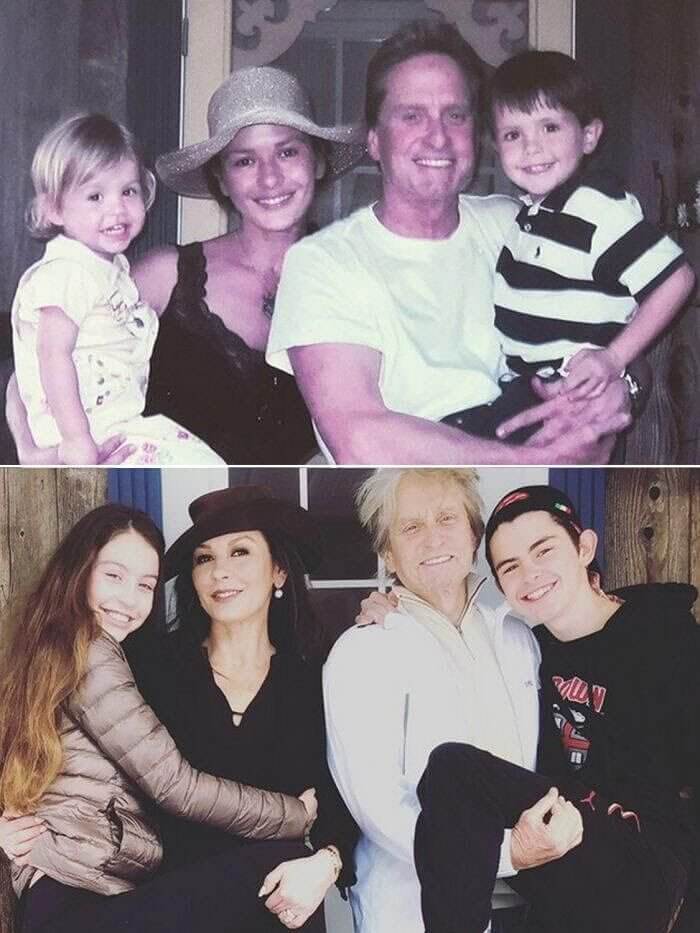 At the time that the second photo was taken, their son, Dylan was age 17 while their daughter Carys was 14 years old. She posted the comparison photograph on Instagram with the caption "As time goes by! Outside our cottage in Canada." What a good-looking family.

The Adoring Gaze
The original photograph was shot when the two kids were on a carousel at the local fairground. If we are judging by looks, we could pinpoint this as the moment that she was smitten by him. Men being men, there is no doubt he had a clue!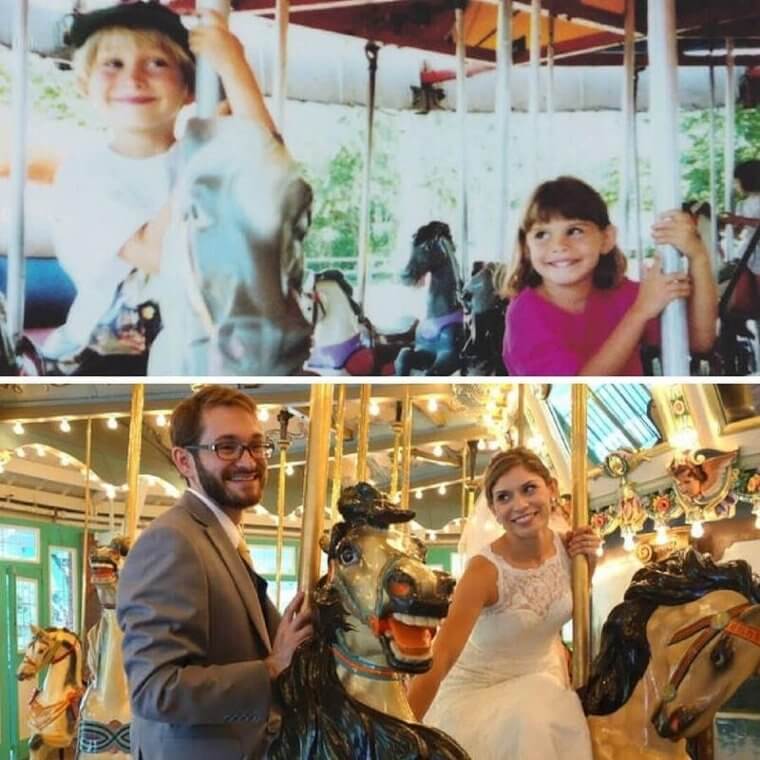 One striking aspect of the recreated photograph is that the couple managed to shoot the image on the exact same carousel as the original photograph. This photograph was taken on their wedding day to honor the moment she knew they were destined for each other!
Biker Love
This couple took a little longer to recreate this photo – about 40 years to be specific. The initial photograph was shot after they came home from the wedding party on their bike. The wedding dresses and the background all come together to make one bad ass picture.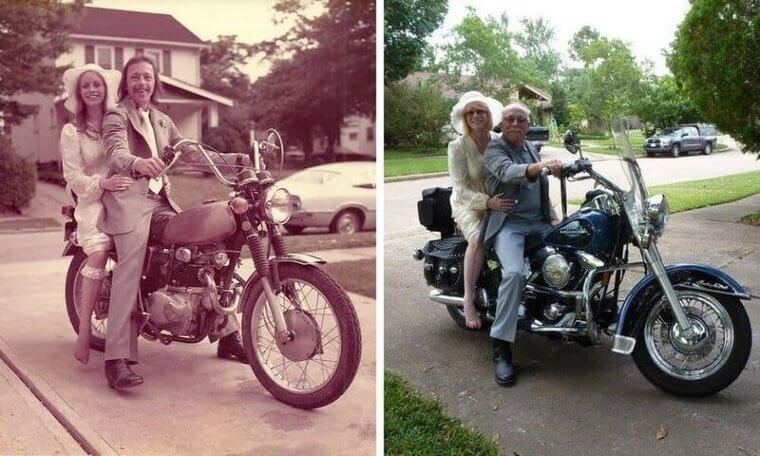 How cool is the bride though? She rode in a motorbike while in her wedding dress with her garter on show. Skip four decades more and she gets back on a motorcycle yet again while still fitting in her wedding dress. That's one lucky husband!
Check Out the Dress!
At first glance, the two below may seem like siblings but they are actually a couple who were once childhood friends. Their recreation of the old picture is one of the most perfect examples on this list. This couple first met in preschool and this picture was taken on this little guy's 6th birthday.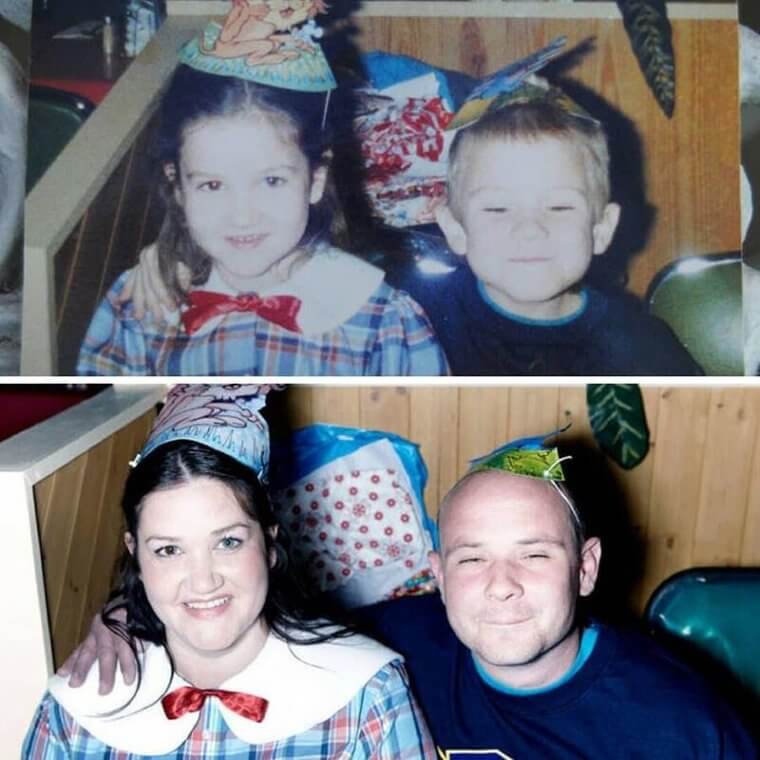 It is great that the two of them took the time to go that extra length and get themselves clothes similar to the clothing in the first photograph. Young love certainly bloomed for these two cuties. The guy looks pretty pleased that he's kept her all these years. 
Will Smith and Ellen DeGeneres
Before we get into it, a disclaimer. Will Smith and Ellen DeGeneres aren't a couple. In fact, both are happily married to other women. However, this was an iconic moment in showbiz history - just after Will Smith joined Instagram. Will is always one to poke fun at himself, and this time was no different.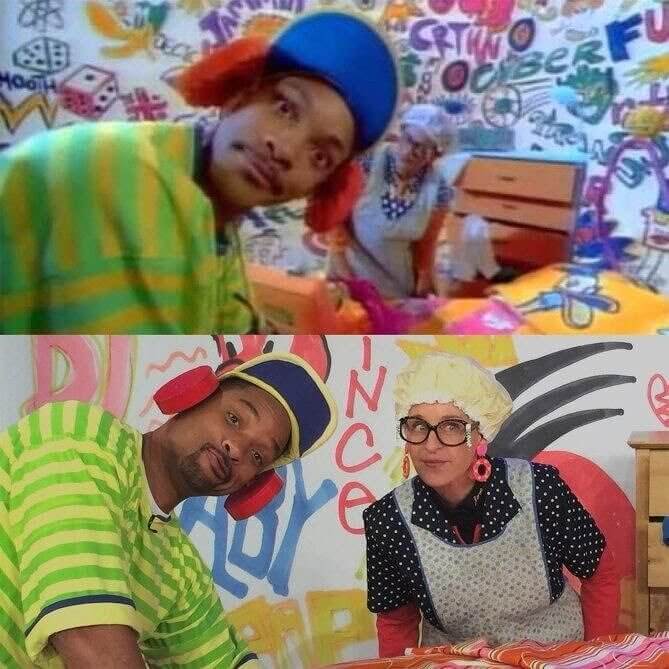 Anyone born in the 80s will be familiar with this photograph. After all, who hasn't watched The Fresh Prince of Bel-Air? This lovely recreation by Will Smith is a great way to pay homage to the brilliant TV series and introduce the TV show to younger audiences who were not around in that era. It wasn't Ellen in the first one either, but hey, semantics.
70th Wedding Photo
This sweet couple from China celebrated their 70th wedding anniversary at the Northern Hot Springs Park in China, where they tied the knot 7 decades ago. She was back, sporting her wedding gown and he was in his tuxedo thanks to their children who took the effort to recreate the moment.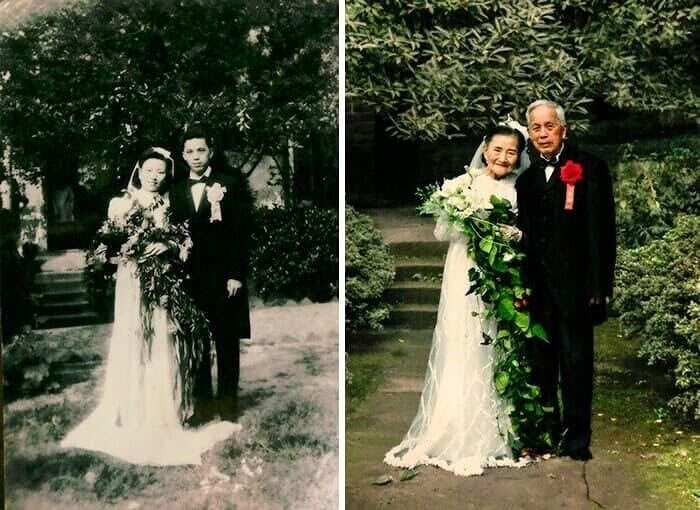 It brought back all the happy memories for the couple and provided a real keepsake for them. 70 years of marriage is unfathomable to most couples, you have to wonder what their secrets are - both to long life and happiness. They could write a book on both.

Come to the Gun Show
At first glance, it looks like there isn't much that's different between the two images below. Look closer and a few things have changed; his taste in glasses has slightly gotten better over time. He traded out his 80s glasses for shades to complement his classic dad t-shirt, which even has a barbecue on it.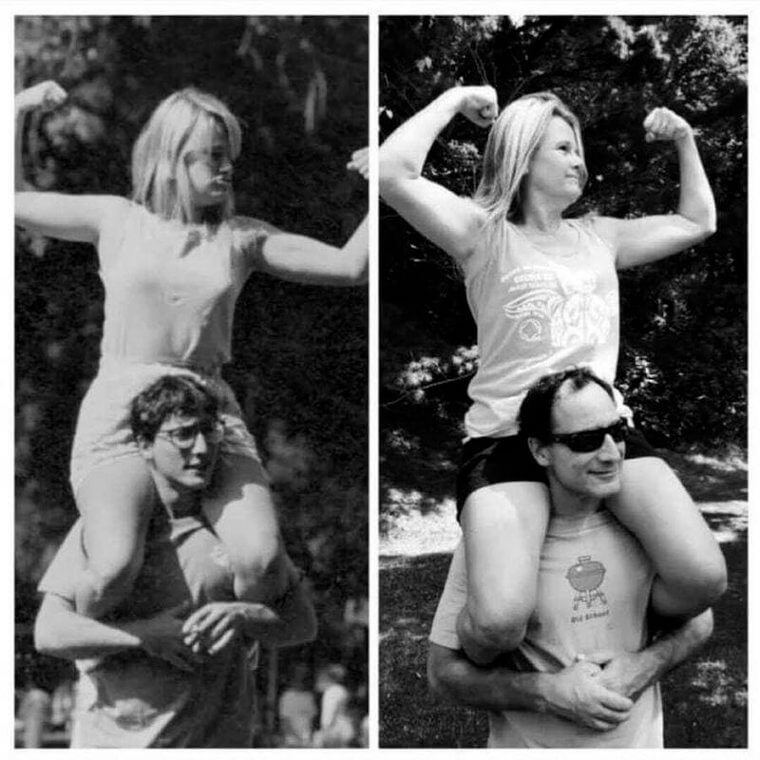 They do look like a fun pair. It's not the usual couple's photo, but that makes it all the more interesting. What was going on that first day? Had she just completed an Iron Man competition, and perhaps beaten him? Or were they just goofing about at a summer party?
One Tree House
The photo is more magical when you realize the couple is standing right beside to the exact same tree in front of the same home, more than three decades on. Indeed, everything's the same. Another cool detail is that the guy still has a mustache and his wife is still smiling!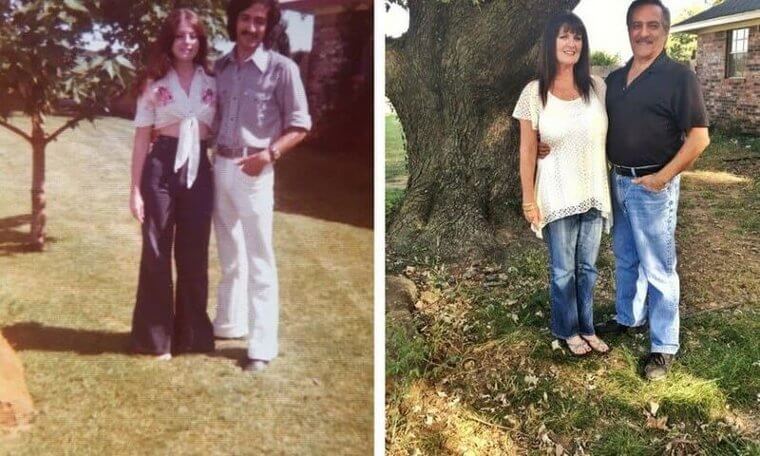 She may not still have those luscious curls, but she's still got the long locks and while the clothing may not be spot on - they are both in denims and still in great shape. They're clearly good for each other, and staying much the same has done them no harm at all.

Michael Sheen and Kate Beckinsale
Although Kate and Michael are no longer a couple, the beauty lies in how they remained friends in their mutual goal of giving their daughter the best life they could. 17 years after the birth of their daughter, Lily, they decided to recreate the magical moment from when their daughter was born. Even Lily, now a teenager joined in to make this magical moment a success.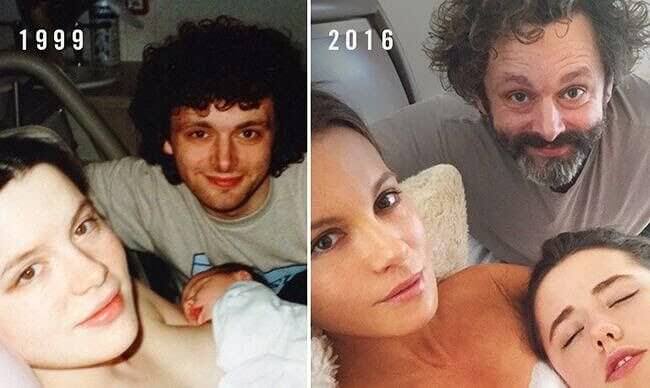 To be fair, she was needed to recreate the photo, so it's a good thing she agreed. Beckinsale wrote, "Always a baby to me #Lily", as she posted the image on Instagram. Who wouldn't want to be the child of these two celebrities?   Also, Kate seems to improve with age.
Prom Night All Over Again
This husband posted their recreation of prom and captioned it as: "my wife might be a vampire." Hopefully, he's referring to the fact that she hasn't aged one bit and it's actually extraordinary. The first photo is at junior prom from their high school days. She hasn't aged one bit over the years passed by since high school.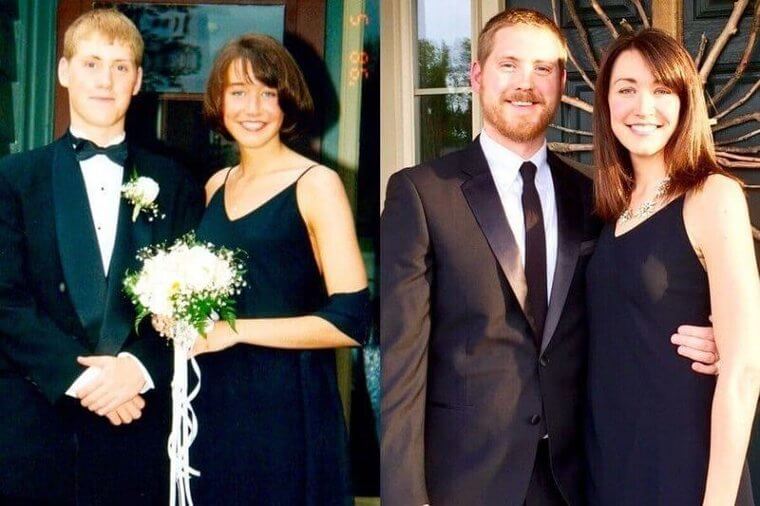 It gets better, she still fit into her high school prom dress from 20 years ago. Is it good genes? Eating well? Whatever her secret her is, she looks absolutely stunning. The only change seems to be her hairstyle. He looks pretty good too, but the facial hair is a dead giveaway. 
Another Anti-Aging Advertisement
Here's another lady who seems to have the secret to hardly aging in a book at home. The only thing that appears different about her is the color of her hair. In this case, the couple's son suggested that they recreate their wedding photo 45 years on.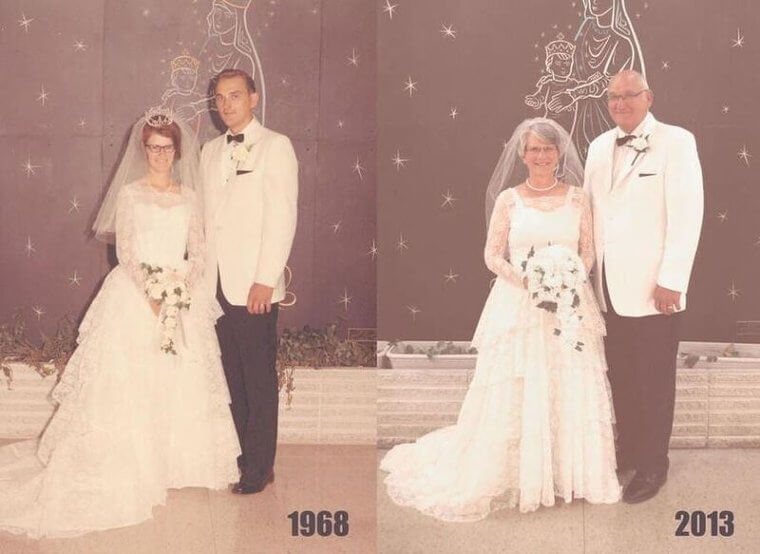 Everything, including the mural of the church wall, remains the same but the plants in the background must have been removed over time. Nonetheless, the couple is as cute as ever, with the erstwhile bride still fitting into the beautiful lace number she wore in 1968.
Saved by the Dance Crew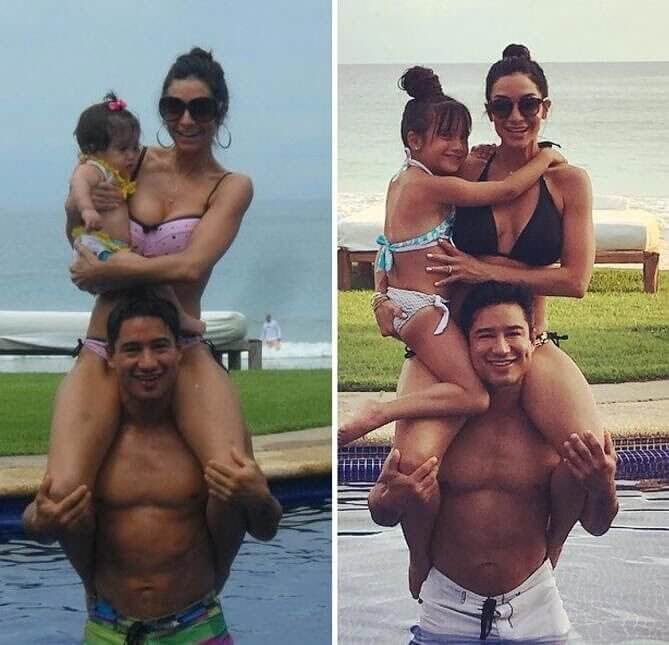 The holiday fun feels are all here, and it even seems to be taken in the exact same spot. Mario has swapped out the brightly colored shorts, but he seems to be maintaining that fantastic physique. Mind you, traveling to exotic destinations such as this would keep you motivated! 
Growing up Together
This photo might even be the youngest original photo of a couple, ever! Aubrey & Mike were born only 11 days apart from each other and grew up together as children as their parents were good friends. It comes as no surprise that they only thought about each other as friends when they were young.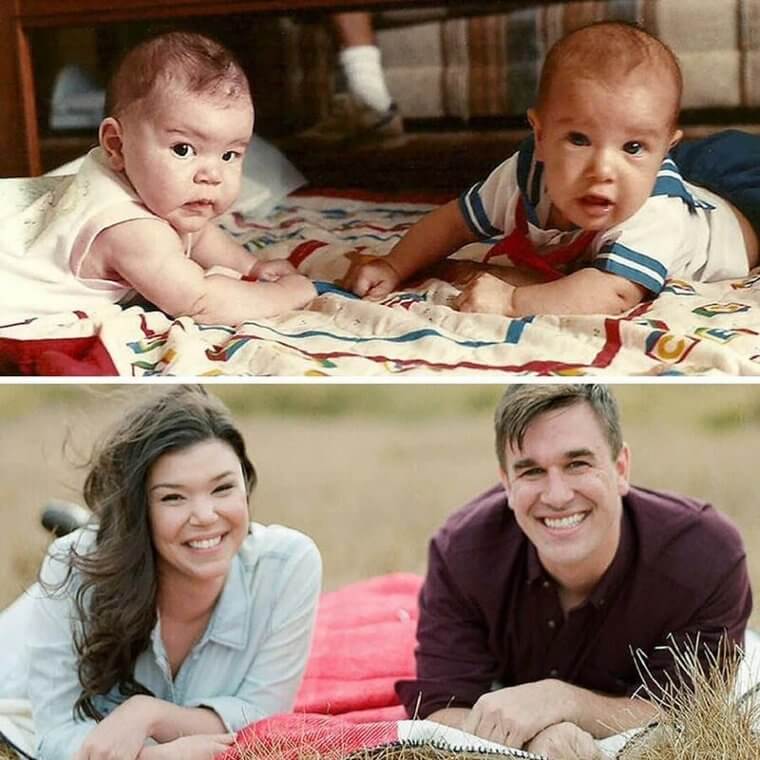 Things changed after they started going to college and eventually began dating. Three years down the line, childhood best friends got married and even decided to recreate their childhood photos. Together from the day they were born. How many can say that?

Every Little Detail
If the above couple wins the prize for the youngest photo together, then the next couple wins the prize for the most precise photo! This couple returned to Dallas, Texas, many years after the original photo was taken with the sole purpose of recreating their first photo of them there.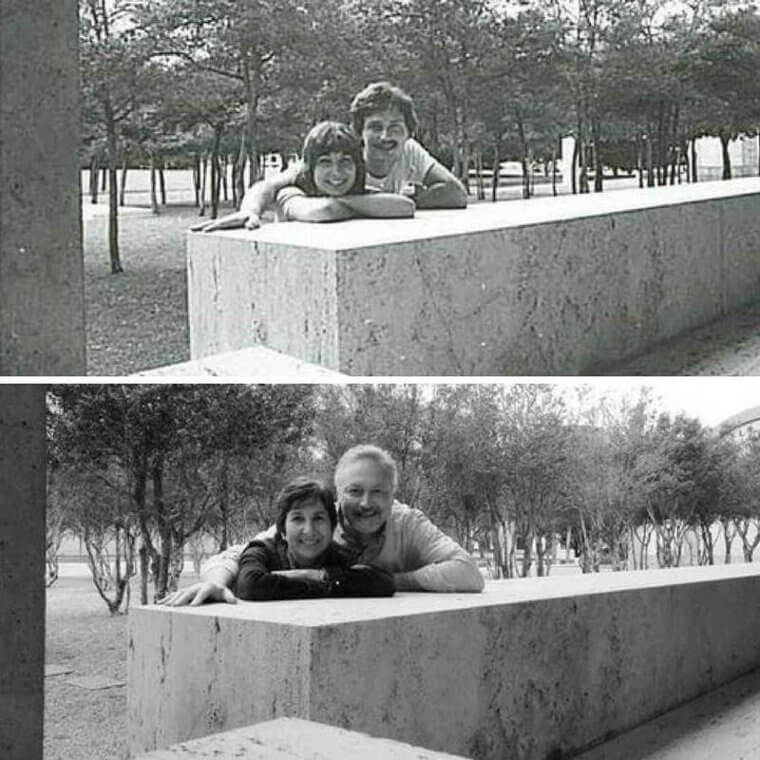 The only difference between the two pictures is their hairstyles. Obviously as in love now as they were back then, their smiles are positively beaming out of this photo. The guy is also sporting his 'tache, and why not? He's obviously as faithful to his facial hair as his wife.

Fun Loving
Keeping a childlike sense of humor certainly makes life run a bit more smoothly. Growing older doesn't necessarily mean you have to get duller and these two know it. Their grandchild asked them to strike a pose again, and they were delighted to.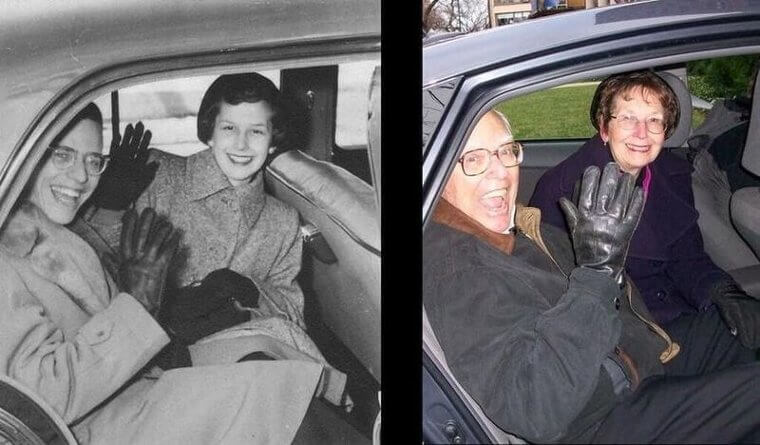 The pair is now in their 80s so the original photo must be nearly 60 years old, but they still show that joy for life in the second image. With big smiles, they must be off on a journey somewhere really cool - or perhaps they just treat every day as a new adventure. Did you know? 

Motherly Love
The next photo is not a couple, but a recreation of a mother and son just over 34 years after the original photo was taken, of Justin Baldoni and his mother. When her birthday came along, the pair thought it would be a good way to celebrate the passing of time and hence the new photo came about.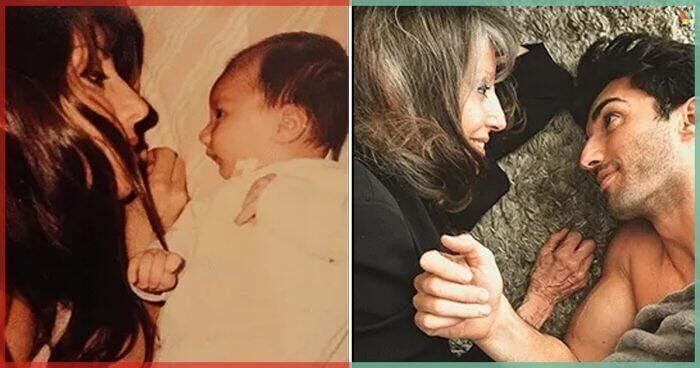 It looks pretty funny 34 years on, with the muscular actor laid beside his mom. Justin has had success in several areas, from directing to public speaking and even as an entrepreneur. Television fans will know him from "Jane the Virgin" and "Everwood". 

A Loving Glance
Little boys aren't that impressed by little girls. However, little girls know better. Despite this guy not really wanting to be caught on camera alongside her, this girl persevered, knowing he would eventually give in to her feminine charms. 

They're certainly not in 6th grade anymore and now they are off to prom, he thought it would be a good laugh to recreate the photo. Now, he's out of the trainers and shorts and looking far more dapper, whereas she obviously always had style. 

Not Impressed
Wait… How does he know where he's going if his eyes are closed? Apparently these two walked down the aisle at a wedding, next to each other when they were just kids. 23 years later, the two walk down the aisle but this time as a married couple. They thought it would be a laugh to recreate the photo.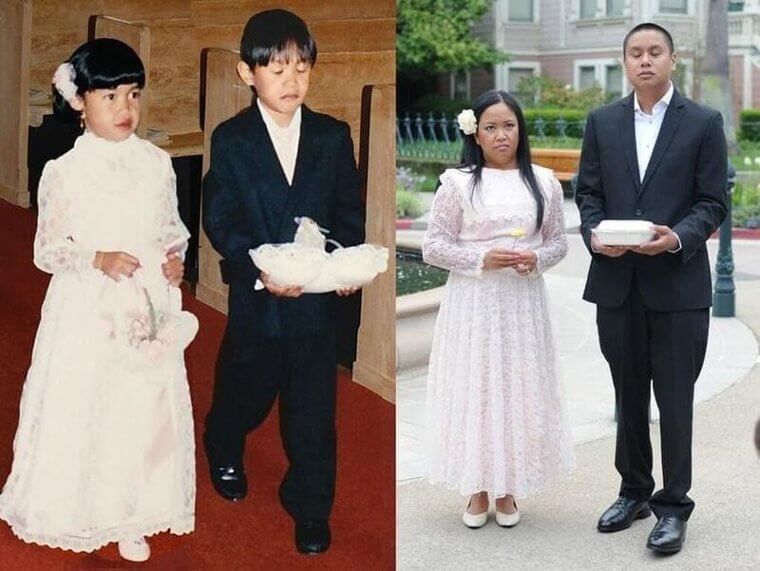 She nails the disappointed look and his eyes are… closed, again. Perhaps this picture just communicates the way things really are, but it's more likely that the couple has a good sense of humor and wanted something on the mantelpiece other than the staid wedding poses that are normally seen.

Winning on and off the Pitch!
If you're a hockey fan you'll know who Scotty Bowman is. He's had many great accomplishments as a coach in the NHL. Nine of his teams managed to win a Stanley Cup, so the man knows all about greatness. These pictures show him and his wife kissing that coveted trophy - the first image is when the Montreal Canadians won the cup in 1977.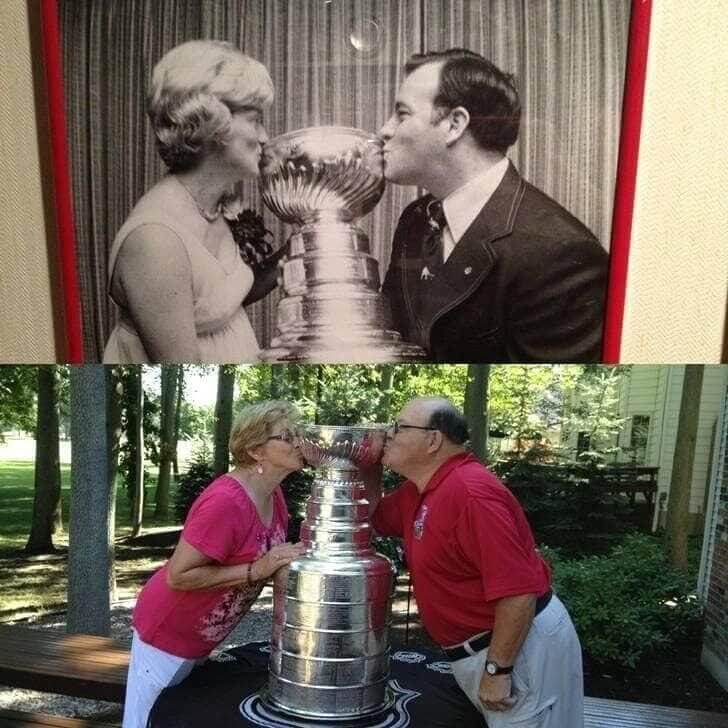 The next image is when Bowman was a consultant for the Chicago Blackhawks in 2013. Bowman holds the record for the most wins in the league history: 1,248 wins in the regular season, 223 in the Stanley Cup playoffs. Not to mention, he holds the second most Stanley Cup wins by a player, coach, or executive with 14 victories. This lady saw a winner and grabbed him!

Rocky Love?
On the beach and drenched in love, this couple has some memories of good times with photo number one. She's flashing her pearly whites and he's posing with his abs on show. Young and in love, they were in the prime of their life.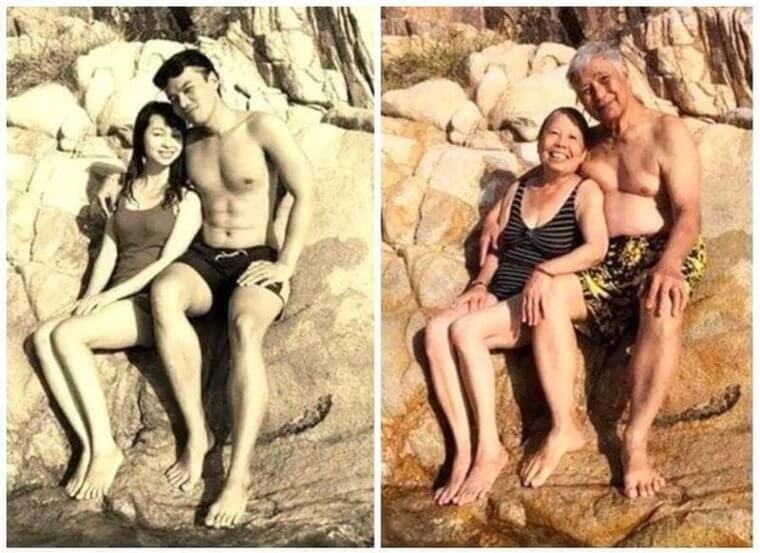 Photo number two shows that although time may have passed, their love has never dimmed. They still love a dip and it's clear they have a favorite spot that they go to. They've probably made many happy memories on this beach with their family. 

Check Out the Detail
These two photos show a very young couple, first as children and now as they are today. The guy is only 13 in photo number one, but he's smiling knowingly at the camera - did he already know this love would last? Look closely at both images and something else becomes apparent too - they've been very loyal to the recreation.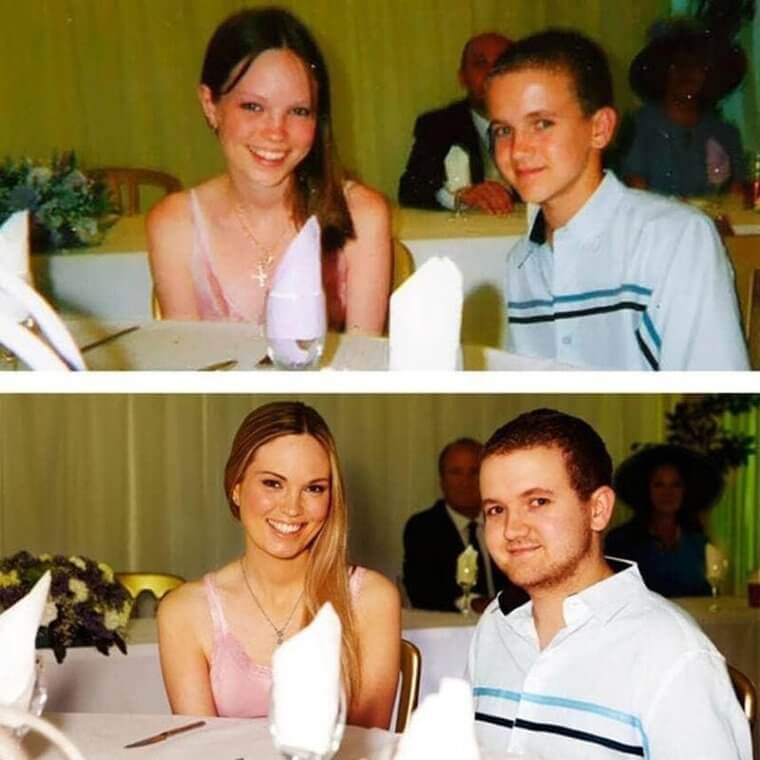 Even the people in the background and their clothing all looks remarkably similar to the earlier photo. The cups, the napkins, the position of the knife - they were truly dedicated to making this one almost identical. Which begs the question, will they do it again in ten years? 

Motorcycle Lovers for Life
These two most certainly found their ride or die. The couple who were shown earlier on a motorcycle love to recreate special photos from their past. The motorcycle might be just out of shot, but we're sure it's there somewhere. Many decades have passed but she still looks at him like she's won the lottery. 


No doubt there's been thick and thin, but it seems like a strong bond. This lady also donned a sunhat, which isn't the same as the earlier one, but close enough. This is a picture perfect love that should inspire adventurous types everywhere. 

What's Changed?
When the original photos were taken, most people probably didn't think too much about their surroundings. In recreating the photos, it can be difficult to control those - buildings get knocked down, people move to different houses, plants and trees grow where there once was only grass. This couple were lucky enough that all the elements remained.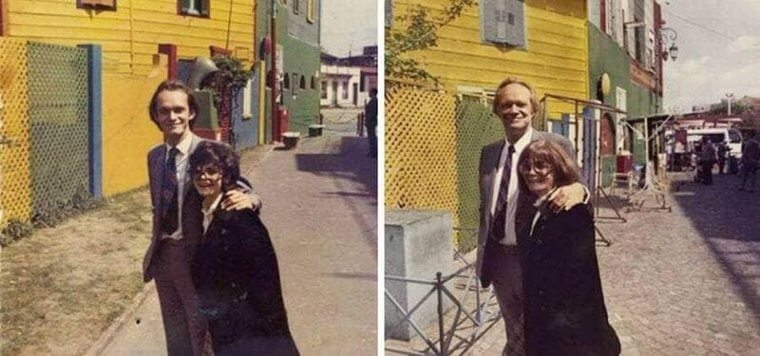 When their daughter captured the second image, she was totally enthralled by her parent's love. The pictures were taken 40 years apart, yet very little has changed. How many yellow houses have remained the same for that long? Not to mention the couple don't seem to have aged 40 years either. 

A Passionate Kiss
This love is like you see in the movies. Their passion for each other burns brightly out of both images, so they must have had an amazing life together. Look at the way he's holding on to her so tightly, as if she might slip away if he didn't. Although her kiss says that she'd never go anywhere without him.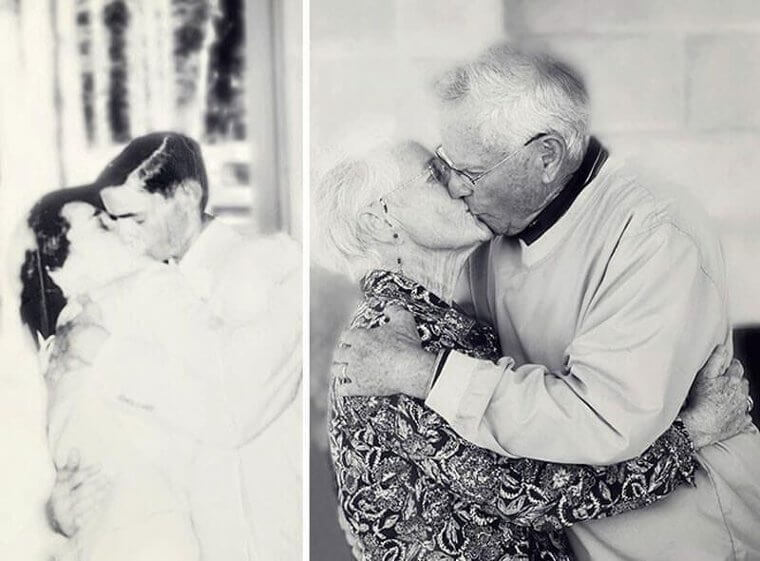 These two definitely found the one when they met, and the way they still cling to each other so tightly inspired their family to have them recreate the photo from 60 years earlier. One can only hope to have a love like this, not everyone finds it. 

Where He Needs to Be
This guy holds his love pretty close to his chest, or is that her chest? It would be safe to say that he totally adores her. It's a really cute pose and it looks like one that he's happy to be in all the time. He's probably breathing in her sweet scent and she also seems happy to have him right there.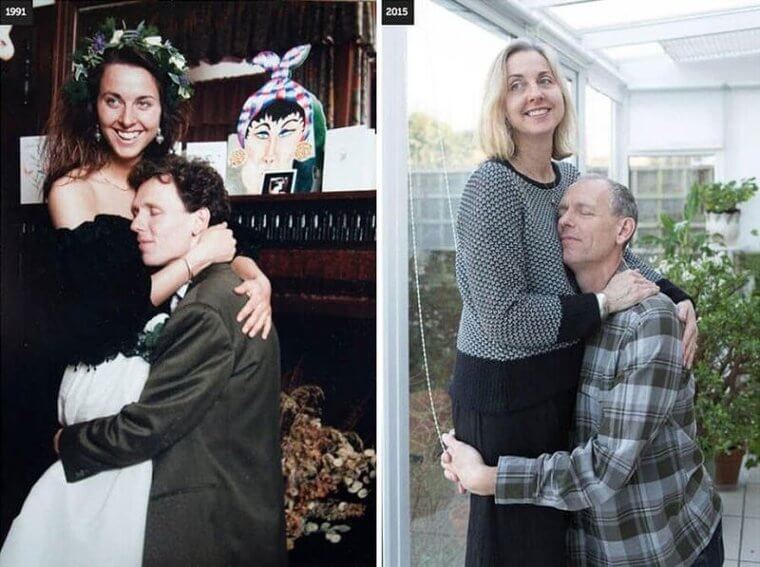 If you've ever felt safe with someone, this is what it looks like. These photos were taken around a quarter of a century apart. Her hair has changed, he's not in a suit anymore but he still worships her every single day. That's something to look upto. 

Three Times the Happiness
Not just one recreation, but two! Here we can see the same couple in three different periods of life, how incredible is that? They started as childhood friends and their relationship progressed through the years and they are still together, happy as ever. 


From kiddies to the picture of youth and now a ripe old age together. Some might say that the wedding dress in the first photo was a sign of things to come, but who could have known? It's remarkable how elegant they look in each photo. 

Decades of Love
From kiddies to the picture of youth and now a ripe old age together. Some might say that the wedding dress in the first photo was a sign of things to come, but who could have known? It's remarkable how elegant they look in each photo.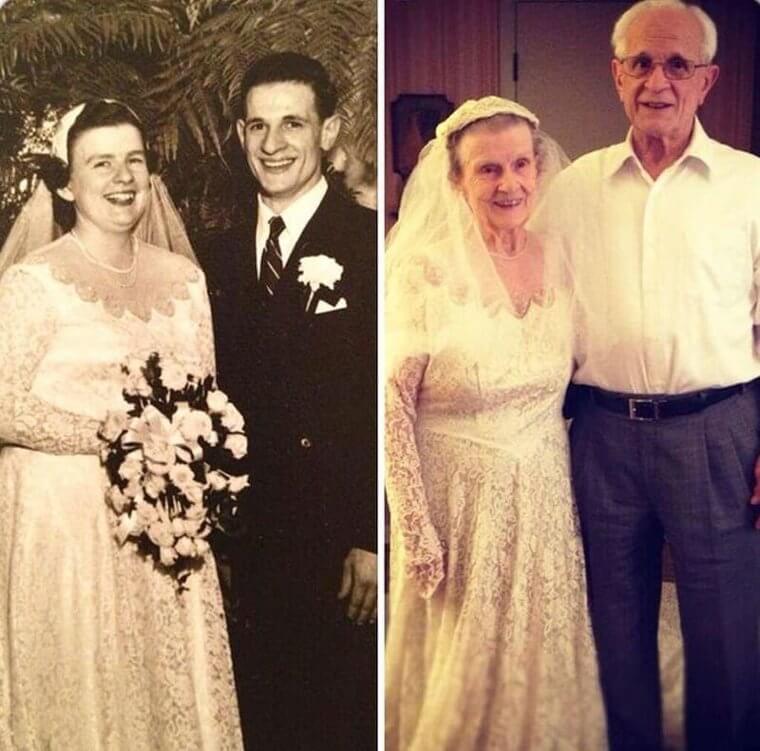 Happily together after so many years, these too look like they've led a long, happy life supporting one another. Their grandchildren now have not just one, but two wedding photos to keep as family treasures. Look at the intricacy of that lace, it is stunning.

Another Wedding Photo
This couple only has one photo from their original wedding day, which is a little sad when you think about it. When their children discovered this, they said why didn't the parents dress up again and as well as recreating the wedding day, they could take a whole batch of new photos. So, they headed back to the church where they got married and set about doing so.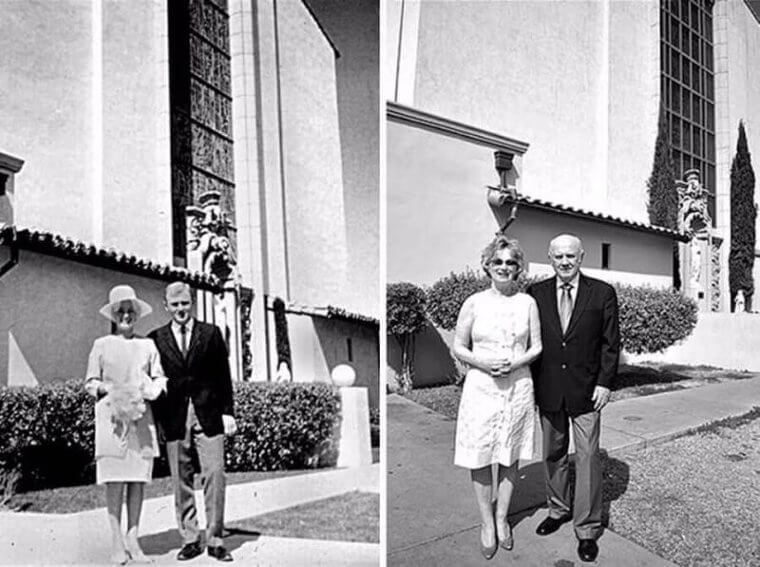 She certainly looks as elegant as her wedding day, and he's got the suit practically spot on, even if his hair has thinned over the years. Now they have two splendid days to remember and a batch of fantastic new photos that not only pay tribute to the first day, but a whole host of new memories too.

Matching
This lady may not have her wedding dress anymore or perhaps she thought that it wasn't in style now, so she went with something else. The man is obviously so pleased that she's stuck around and he's got the matching tie to prove it. Fun and laughter is in both their eyes - a testament to a happy life together.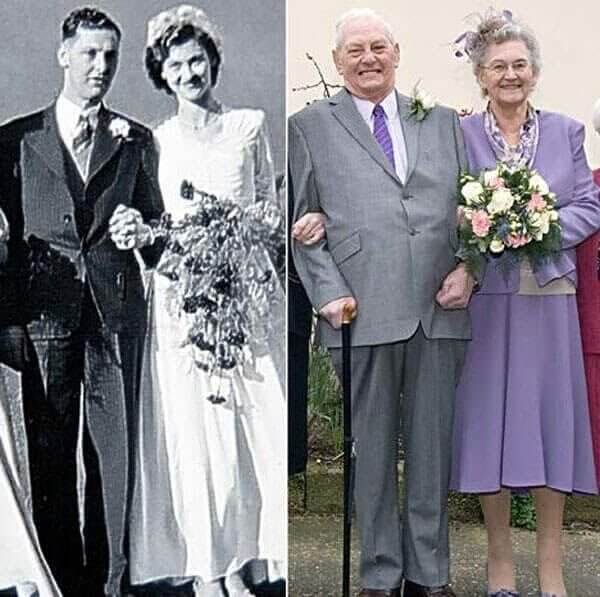 This is another photo where the grandchildren were instrumental. Granny and Grandad make great posers, but the kids know that these memories are simply amazing, and they get to be part of a celebration that they were never around for in the first place. 

Vintage
Photos of couples riding in cars - it has a nice ring to it, and everyone loves these kinds of images. There's a certain romance to a vintage car, and it makes one think of exciting journeys. This first wedding image is so vintage and utterly perfect - that heart-shaped neckline, the heart necklace, her head thrown back in laughter.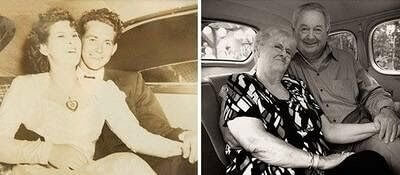 The necklace is gone, but she still rests her hand on his leg in total trust. Fifty years on and their love won't rust like the car. They still have places to go and memories to make and they look perfectly happy doing all that with each other. 

A Sandy Beginning
When you look at the first photo, you'd be forgiven for thinking this was brother and sister. Many questions arise - did he bury her first? Who buried him? Either way, neck deep in sand is not a good look. However, the fact that they recreated it years later means they must have been having fun.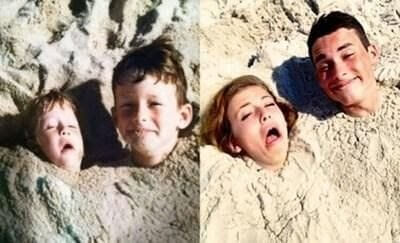 This is definitely one of the more unusual photos on here and you have to admire them for that. The expressions in the second photo are spot on as well, and you have to give kudos to people who are happy to be buried up to their necks in sands simply for a photo op. I bet they are killing it on Insta. 

Beauty in the Eyes
This guy simply loves his wife just as much as the day they were wed. Who can blame him? She's a remarkable looking woman and seems to have aged like a fine wine. Their smiles tell a story of a life lived with plenty of love and laughter. Undying love obviously keeps you young.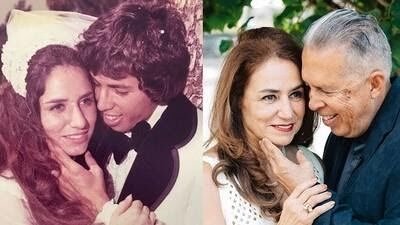 Although they didn't don their wedding clothes for the later photo, they still look like they have their Sunday best on and her hair has been curled. He doesn't have quite the amount of hair that he had 50 years ago, but his smile is still magnificent.

Hanging at the Beach
From teenage heartthrobs to adult models, these two look pretty hot together. She has kept her beach body, and somehow the same bikini too. The sun has obviously been shining on their relationship, as though they are still young, it's obvious the photos were taken years apart. 


The boats in the background may have had a fresh lick of paint, but their summer spot still looks pretty much as it once was. Every day is sunny when you're in love and these two have been making the most of that sunshine. Hopefully they'll have many more glorious days together. 

An Iconic Landmark
Travel memories are made better when you go with someone you love. If you're hanging out by the Golden Gate Bridge, it would be remiss not to take a photo. These guys struck a pose near the towering bridge and when they returned many years later, it was time to do that again.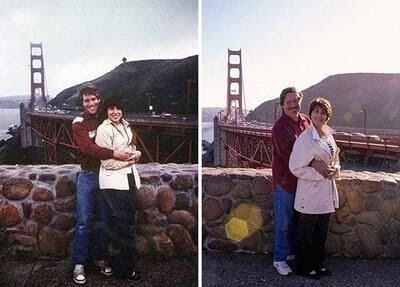 There's a lot more traffic on the bridge these days, but the couple even managed to match the clothes they were wearing in that first photo. They look a tiny bit warmer though, but the famous San Fran fog may have lifted that day. Love near a landmark, super cute. 

And... Flash!
Photo booth shots are the best! Whether it's on a beach boardwalk or simply a shopping mall, the temptation to jump in and capture the moment is pretty high. These pictures were taken more than 50 years apart, but the couple in them are still very much in love.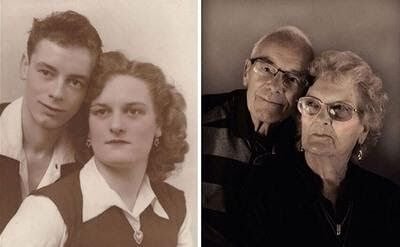 Although their eyesight may have decreased a little over the years, they still know how to make each other smile. Look at the mischievous smile playing on her lips in the second photo. Her hair still remains the same, as she's clearly a woman who takes grooming pretty seriously. 

The Pretty Bonnet
What a pretty bonnet, no wonder she kept a hold of it for so many years - even if it isn't worn very often. Her husband is clearly happy with his lot, he has a contented grin that hasn't aged at all through the years. He decided against the flower buttonhole, but it's still a good effort.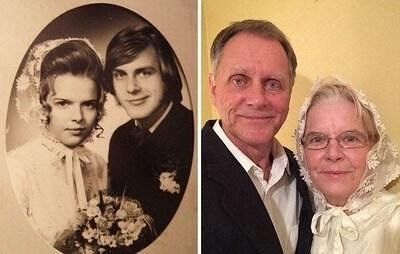 They decided to reverse positions for the second photo, but are still celebrating their love at least 40 years on. A little greyer, a little wiser but not even a bit less happy with the promise they made on their wedding day. Couple goals right there. (Bonnet goals too).

Pride Moments
Young and in love, but it wasn't allowed. This gorgeous pair had their photo taken on an LGBTQ march in 1993. 24 years on they were on another march, "The Equality March for Unity and Pride". It's a shame that they still have to march for their rights, but they faithfully recreated the photo as a symbol both of their love and to give hope to other couples.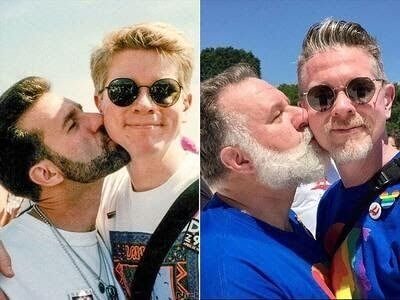 Some states have now legalized same-sex unions, but the battle is far from over. This pair may be a little older and grayer, with a lot more facial hair, but they are committed to each other and will fight for the right to be recognized until they are in their graves. 

Costume Play
It's always good fun to play a little dress up and get a photo taken, but who gets the chance to don the same attire twice? Many people love the Wild West and recreating events from it. The women are a little sexier, the men a little manlier - it's all good fun.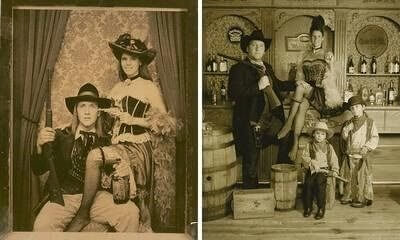 It's always good fun to play a little dress up and get a photo taken, but who gets the chance to don the same attire twice? Many people love the Wild West and recreating events from it. The women are a little sexier, the men a little manlier - it's all good fun.

Same, Same But Different
That building behind these two is the place they first met, which was their high school. His mushroom cut was probably done at home, and her jacket might have been thrift store, but they are still the picture of young love. So what has changed since the 90s?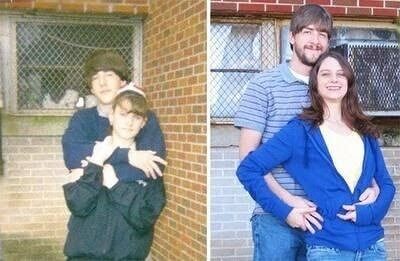 They seem altogether happier (probably to be away from that school). He's updated his hairstyle a bit, but still likes the heavy in the front look. They seem totally relaxed in each other's company and the two decades that have passed seem to have been good to them. Staying together since school is an inspiration many could aspire to.