Demi Moore and Bruce Willis were among the most powerful couples in Hollywood. Moore became addicted to alcohol, and lost touch with her daughters, who in turn suffered from eating disorders and drug addiction. Regarding her celebrity status, Moore explained, "if you carry a well of shame and unresolved trauma inside of you, no amount of money, no measure of success or celebrity can fill it." Bruce Willis and Demi Moore were a power couple at the top of the list of the most beloved couples in Hollywood for more than a decade. She was his first wife, but he was not her first husband. Demi Guynes (her original name) was only 16 years old when she met singer Freddy Moore in 1979.
Tough Beginnings
She had a sad and difficult childhood, as she recently described in her autobiography, Inside Out. In it, she told of her two alcoholic parents who used to cheat on each other and fight non-stop, about the discovery that who she thought was her biological father was actually her adoptive father, and about her mother's suicide attempts, one of which Demi thwarted in a moment of resourcefulness: "I remember...using my fingers, the small fingers of a child, to dig the pills my mother had tried to swallow out of her mouth." She has said that that moment was the end of her childhood as she knew it.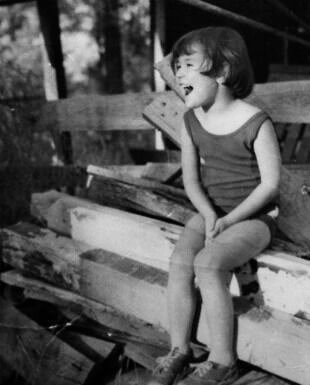 In one of the more difficult accounts in the book, Demi recalls that when she was 15 she returned home to find a man who was friendly with her mother. He raped her, and after he finished, he asked her how it felt to have her mother make her a prostitute for $500. Occasionally, her mother used to take her to pubs and pimp her out to men.
Meeting Freddy Moore
She also met Freddy Moore in a pub, and the two soon became a couple. It did not bother them that she was a young girl and he was 12 years older than her, nor the fact that he was married.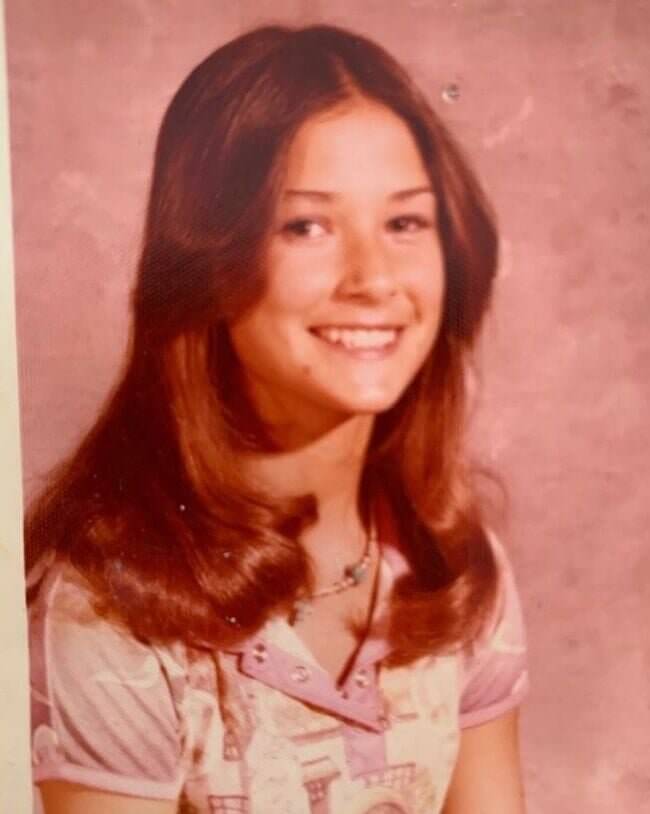 He left his wife for her, and as soon as his divorce was finalized in 1981, they got married. Demi took his last name. The marriage only lasted four years. Freddy said,  "I've never met a woman with a more obsessive need to be liked and loved". She did not stay around to hear that comment, and even before they officially divorced she had already found her way into the arms of actor Timothy Hutton. 
From Nude Model to Promising Actress
With her marriage to Moore, Demi also made her first steps in the entertainment world, beginning to model and even appearing nude on the cover of an adult magazine. She got a few small roles in movies and a major role in the soap opera General Hospital, where she starred alongside John Stamos for several years before he became Uncle Jesse in Full House.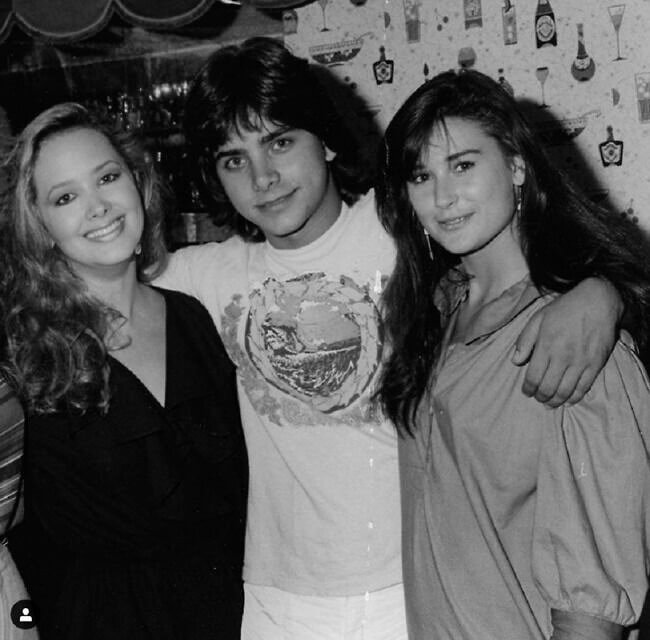 After several other films, Demi got her big break with the films St. Elmo's Fire from 1985 and About Last Night, which came out about a year later. Both roles boosted her status and secured her a place on the lists of promising actors at the time.

A Close Call
It should be mentioned that Demi's career was almost cut short before it had even barely begun. After all, she had gone through in previous years, Moore was not in a good mental state and was addicted to alcohol and drugs. It was the knowledge that she was about to lose everything that made her quit her vices; Director Joel Schumacher planned to fire her from St. Elmo's Fire after she arrived on the set on drugs. She promised him that she would take care of the problem and checked herself into a rehab facility.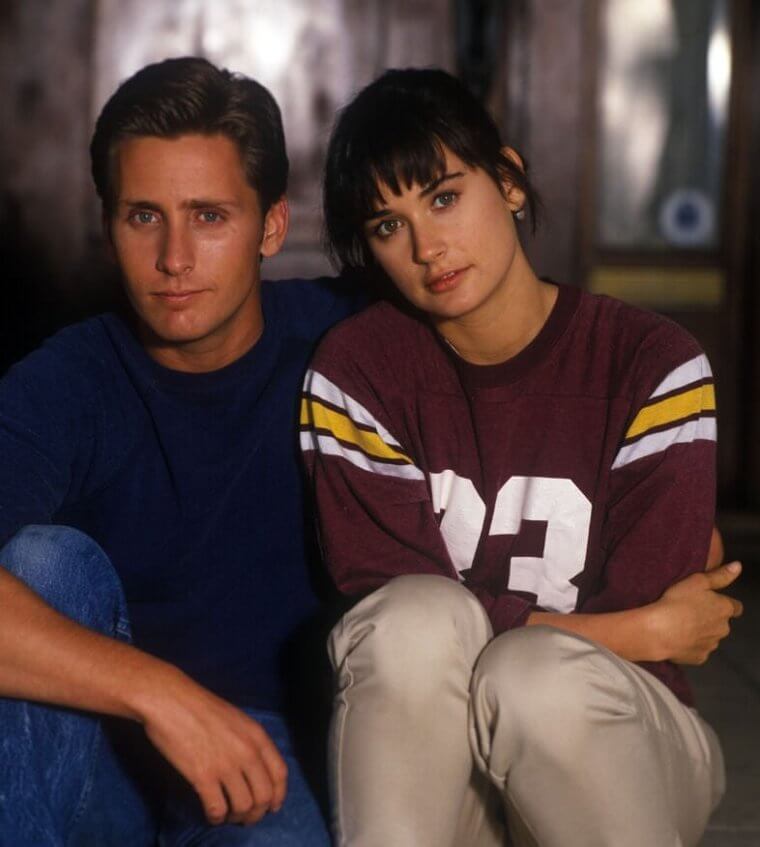 In St. Elmo's Fire, Demi met Emilio Estevez, one of the big stars at that time. They became a couple and got engaged, but then - she met Bruce Willis.

Meeting Bruce Willis
It happened in 1987 at the film premiere of one of Estevez's movies, at which Willis was also present. Moore was not impressed with him at first, but already on that same evening, her mind changed. She said in her autobiography: "Bruce was so gallant -- in his own boisterous way, a real gentleman." Estevez noticed that Willis had his eye on his fiancée, and later told her, "He's all over you, like a cheap suit in the rain."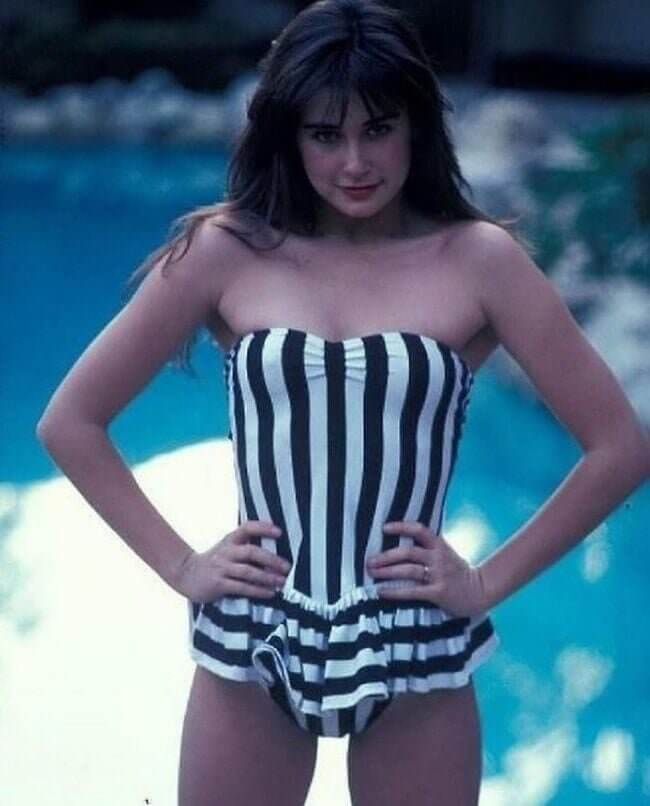 Estevez was right. Moore said that on her way home, the limousine in which Willis rode stopped next to her car. She recounted that he popped out of the sunroof with his friends and they waved at her and called her name. She felt as if she was receiving a message to "pay attention to this guy." Her engagement to Estevez ended shortly afterward, and a few months later she and Willis were already married.

The Stage Cured His Stuttering
Willis was born in 1955 in Germany to a German mother and an American father who was a soldier in the US Army. About two years after Willis was born, his father was discharged from the army and the family moved to the US. He was a shy boy and used to stutter, which led to ridicule from his classmates on more than one occasion.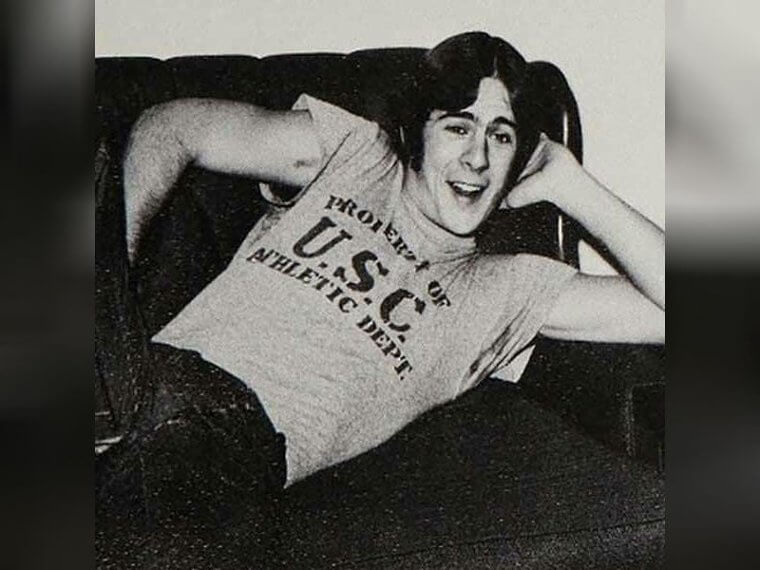 In high school, Willis got involved in theater. To his surprise, he discovered that as soon as he took the stage, his stuttering disappeared. He played in a school show and realized that he stopped stuttering when he was onstage; the stutter returned once he was off it. He started becoming the class clown, much to the teachers' amazement. After graduating, Willis worked in several unconventional jobs, ranging from a security guard at a nuclear power plant to a private investigator, until he decided that his future was in acting.

His Start in Hollywood
In the early 1980s, Willis became a full-time actor, and within a few years, he became one of the biggest movie stars in the world. However, many may not remember that his initial success was actually on television - in the series Moonlighting. The show, which aired for five seasons starting in 1985, was a huge hit and even won him Emmy and Golden Globe Awards.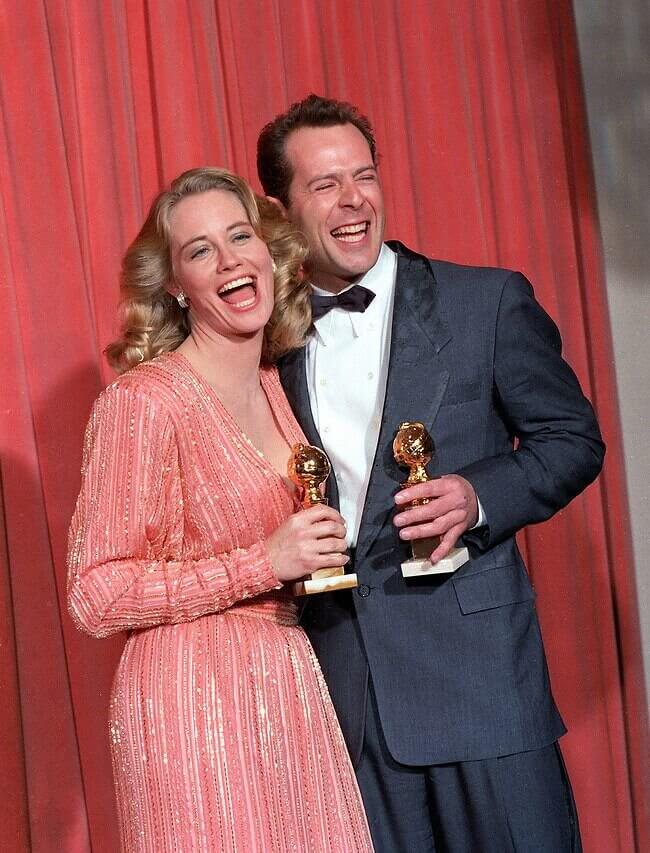 Willis starred in the show alongside Cybill Shepherd, and it was a known secret that they did not like each other. They managed to overcome their mutual dislike for several years until in 1989 Shepherd had enough, and Bruce was already strong in the film industry thanks to Die Hard. He did not stick to a single genre in his work, combining dramas and comedies, and he even tried his luck in singing, releasing two albums in the late 1980s. Unfortunately, he realized pretty quickly that the audience preferred him as an actor and less as a singer.

An Engagement Among the Poker Tables
After he and Demi became a couple, Willis wasted no time in proposing to her in late 1987 - just four months after they first met. The two were in Las Vegas and were walking amongst the poker tables when the star turned to her and said, "We need to get married." Moore said in her book: "We'd been joking about it on the flight there, but suddenly it didn't seem like he was kidding."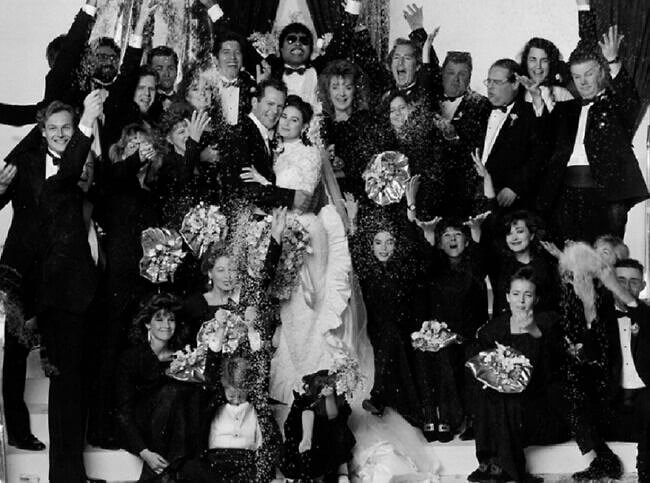 They held a modest ceremony already that weekend in their suite and a larger and more glamorous wedding a month later. Exactly nine months later, their eldest daughter Rumer was born, around the same time, the couple celebrated only one year since having met. Moore recounted that when they got back to real life, she wasn't really sure if they even actually knew each other.

The Striptease That No One Wanted to See
The early 1990s posed an interesting challenge to the couple's relationship. While Willis had starred in several films that did not live up to their expectations, Moore had become one of the biggest stars in the world.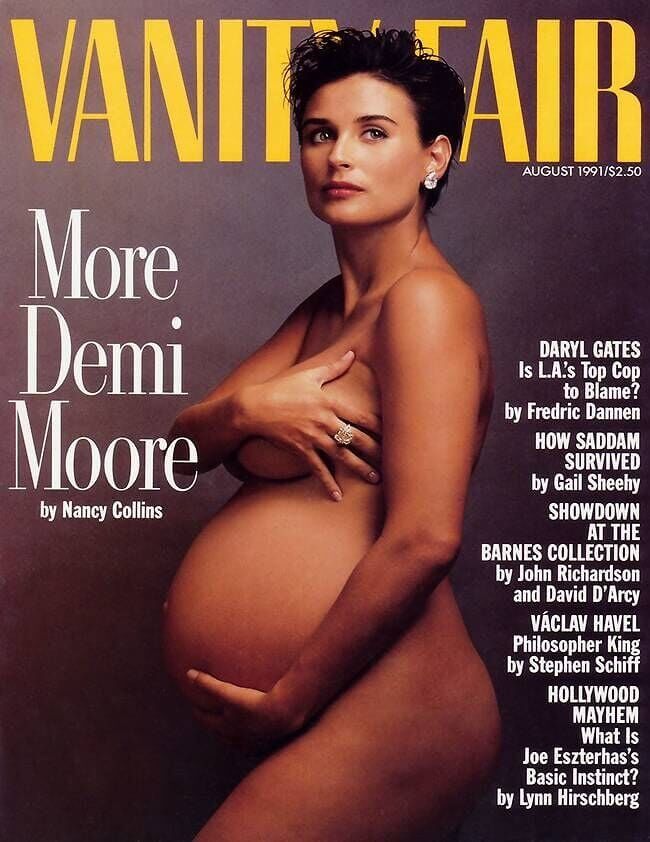 In 1991, when Demi was late into the pregnancy with her second daughter Scout, she was photographed nude for Vanity Fair magazine. The cover featuring her pregnant became all the buzz. It was too early in time to "break the internet", but it certainly broke the newsstands and various entertainment programs. The cover has become iconic, and over the years has received countless mentions and imitations from many pregnant stars (Demi herself bared all yet again for the magazine about two years ago).

Demi's Career at the Time
Moore's career was also at its peak at the time: she had a string of successful films, including Ghost, A Few Good Men, Indecent Proposal, and Disclosure, and at one point she held the title of the highest-paid actress in Hollywood when she received $12.5 million for the film Striptease, where she played a divorced stripper struggling to get custody of her daughter.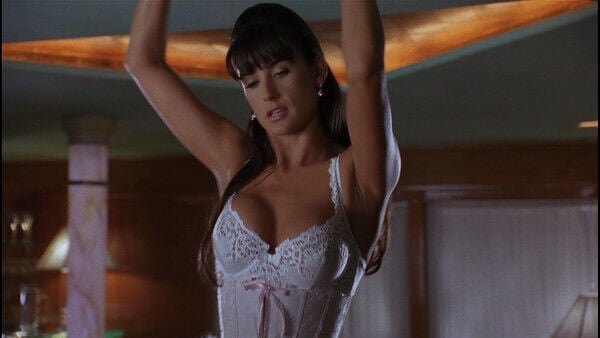 It was the film that was supposed to cause critics to crown her as a "brave actress", and attract the curious audience who wanted to see her dancing naked on a pole. Unfortunately, things didn't exactly go as planned and the film failed, both with critics and at the box office. Instead of being featured at the Oscars, the movie was a multiple-time "winner" at the Golden Raspberry Awards, in which both the film and Moore herself came out with the trophies that no one in the film industry is interested in getting.

Defending Her Mother
Rumer recently came to Demi's defense: "When my mom was the highest-paid actress, she suddenly was 'difficult,' 'high maintenance' or a 'diva..."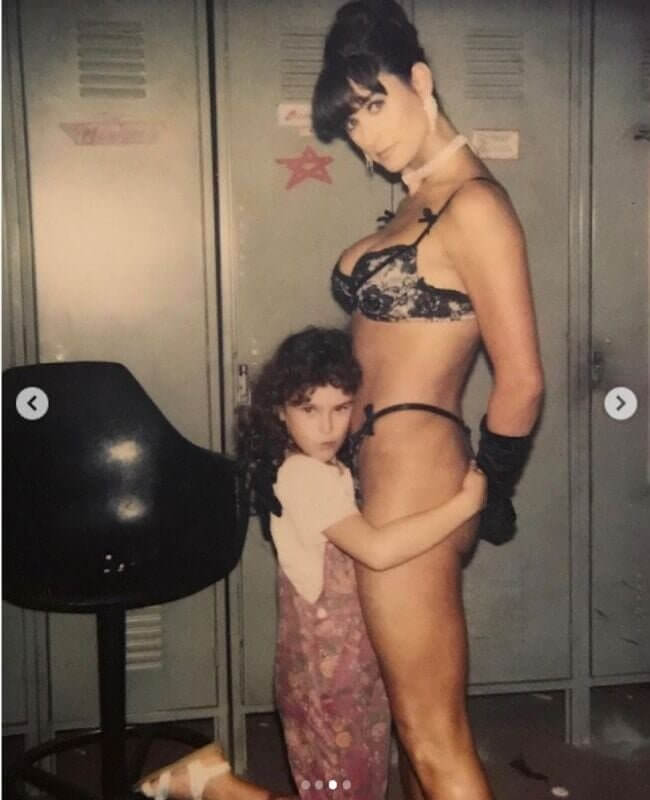 "If the same thing happened to my dad or any [man], then they're lauded and told how amazing they are."

Https: //cdn. Wazimo. Com/media/images/demi-Moore-Family-Life/60166fb0c7f56. Jpg
For a short time, she returned to being the most talked-about star in the world when, in 1997, she chopped off all her hair for the movie G.I Jane. Although people were excited about it for a little while, they were content with seeing the new look in the newspapers and avoided going to see it in the theater. The reviews were also not good, and what's more: she once again won a Golden Raspberry Award. Not that she should be pitied. At least professionally, she continues to work frequently, even if you probably haven't seen too many of the projects she's been involved within the last two decades.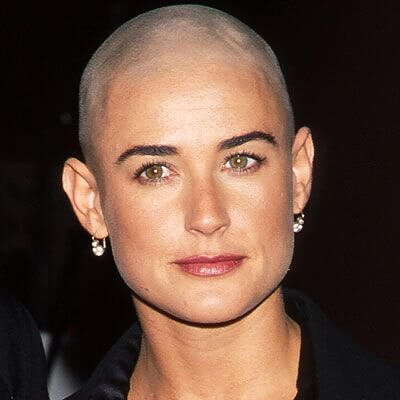 In the late 1990s, the situation was reversed: while Moore experienced a lot of disappointment, Willis' career was revived thanks to films such as Pulp Fiction, 12 Monkeys, The Fifth Element, and, of course, Armageddon and The Sixth Sense - which were two of the most successful films of the decade. A particularly memorable guest role in Friends (for which he also won an Emmy Award) and the film The Whole Nine Yards, where he starred alongside Matthew Perry, reminded audiences that he also definitely knows how to make them laugh. 

Bruce's Doubts About Marriage
At the Willis-Moore home, the situation was much less successful. In 1998, the news broke out that the couple was divorcing after 11 years of marriage and three daughters together. Rumors of problems between the two began long before that, and in her book, Moore admits they were true. As early as 1991, Willis had told her that he wasn't sure he wanted to be married. He also demanded that she stay home with their daughters instead of filming, and threatened that if she did not do so, their marriage would be harmed. Willis told her that if she left to film a movie, it "would not work".  Demi recounted that while her career flourished, her life was miserable.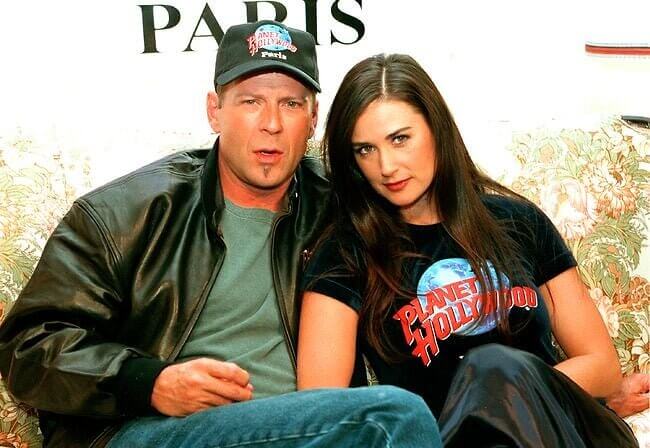 There were also tales of infidelity, which Willis did not rush to refute when he said in an interview with Playboy: "No woman is going to satisfy a man's natural impulse to procreate...The impulse doesn't go away because you have three or 10 or a hundred kids. On an emotional level, to think that you are going to find one person who understands what you need right now and can give it to you, to anticipate what you will need 10 years from now, 20 years from now, 30 years from now...is a myth. Yet that's what marriage is based on."

Moore and Willis Get Divorced
Moore later said that Willis "craved excitement and novelty." She described the situation in detail: "he wanted to do whatever...he wanted. Not so unusual in men that age - he was thirty-six at the time - and throw in celebrity and money? You do the math."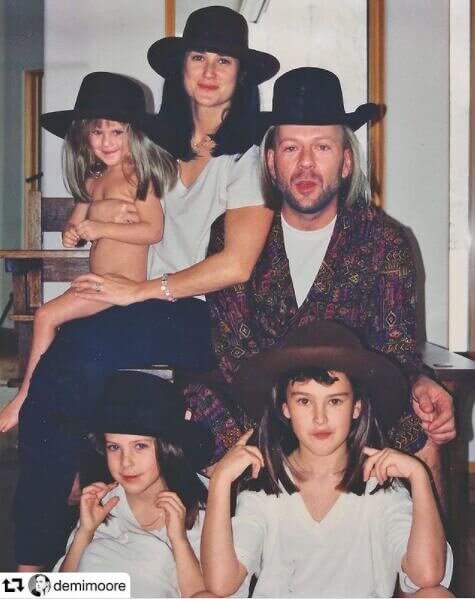 The divorce was finalized about two years after the announcement of their split, and in a way not commonly seen with divorced couples, they maintained a good and friendly relationship. So friendly that Willis and Moore's next partner, actor Ashton Kutcher, became good friends. 

An Amicable Split
Moore recounted: "It's a funny thing to say, but I'm very proud of our divorce...I think Bruce was fearful at the beginning that I was going to make our split difficult, and that I would express my anger and whatever baggage that I had from our marriage by obstructing his access to the kids — that I'd turn to all of those ploys divorcing couples use as weapons...But I didn't, and neither did he."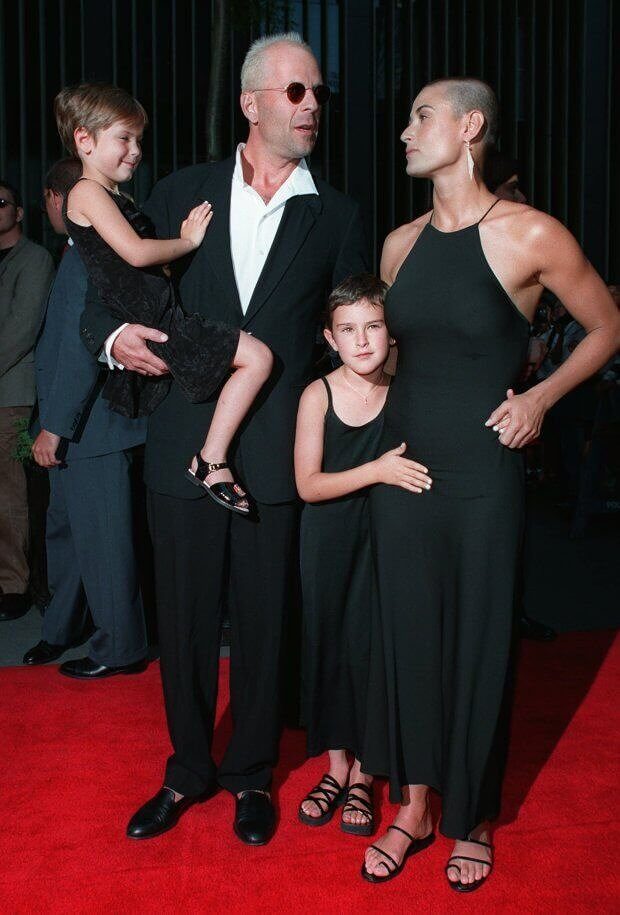 The divorce was definitely quite amicable. Moore even took part in Willis' "Roast" on Comedy Central in 2018 and joked: "I look at our marriage like The Sixth Sense. You were dead the whole time."

Moore Dates a Younger Man
In 2003, 41-year-old Moore started dating 25-year-old Kutcher. Quite a few dates were spent at the Kabbalah Centre in Los Angeles, where they became regular members alongside many other celebrities.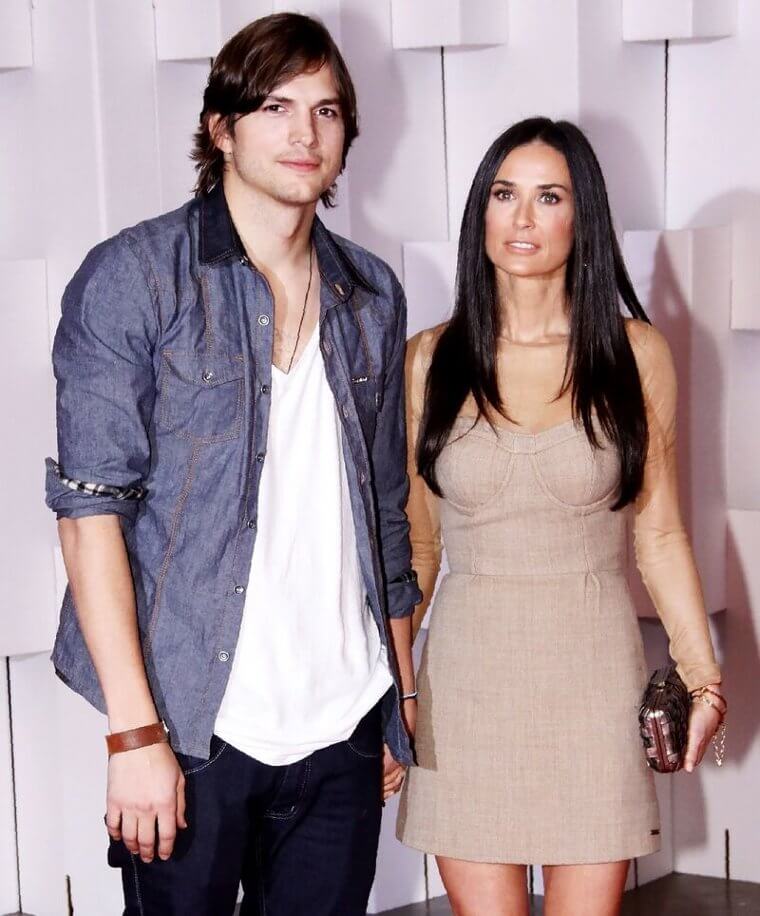 They got married after two years of dating (Willis was among the wedding guests), and the beginning, at least, was good. With Kutcher, Moore stated that she felt as if she "could just go back in time and experience what it was like to be young, with him — much more so than I'd ever been able to experience it when I was actually in my 20s." He would also leave her romantic post-it notes with sweet words, including writing that she was "magical" and that he believed in her.

Kutcher's Thoughts on Alcoholism
The rest of their marriage was a bit less exciting. Moore claimed in her book that Kutcher forced her to have threesomes with him, and at one point he began cheating on her, which he justified by claiming that the fact that they had threesomes permitted him to be with other women without her as well. They also tried to get pregnant but were unsuccessful. The couple even experienced a miscarriage which Moore blames herself for, saying, "I was wracked with guilt and convinced what had happened was my doing", believing it had something to do with her drinking and smoking. After the couple apparently agreed on using an egg donor, Kutcher pulled out after a match was found.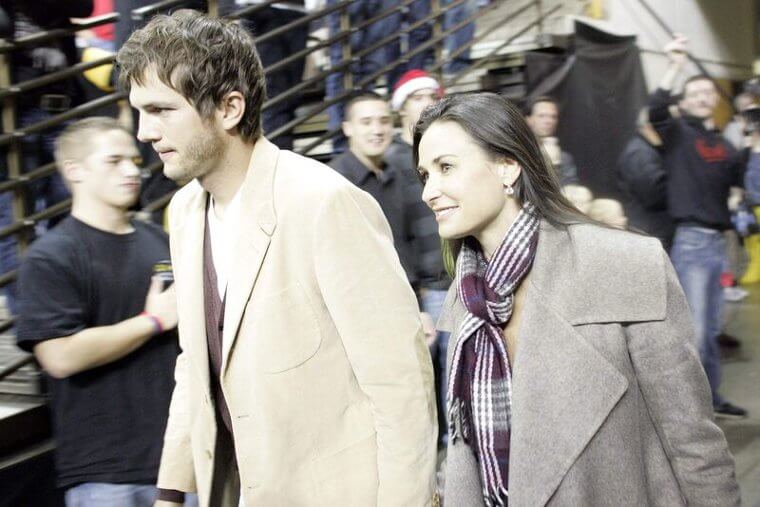 20 years after quitting drinking, she took up the habit again, encouraged by Kutcher, who did not believe that alcohol addiction was a real thing. She felt the need to please him, and after "a glass here and a glass there," as she put it, she became addicted again. When that happened, Kutcher was angry with her. Moore remembered: "Ashton had encouraged me to go in this direction. When I went too far, though, he let me know how he felt by showing a picture he'd taken of me resting my head on the toilet the night before...It seemed like a good-natured joke at the time. But it was really just shaming."

Bruce Gets Married, Demi Divorces
Demi and Ashton divorced in 2013, after eight years of marriage. Kutcher (now married to Mila Kunis and a father of two) did not attend Moore's 2019 book launch party and wrote on Twitter that he did not intend to comment. Willis, on the other hand, actually supported her and attended. After reading the book, Moore said, he called her. She was afraid he would be angry and was surprised to hear he was moved by what he read. He told her how proud he was of her.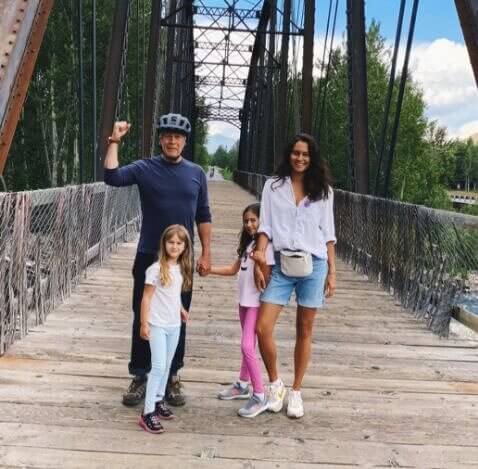 In 2009, Willis also remarried - to model Emma Heming, 23 years his junior. His pattern of having daughters continued with two more born to him: Mabel (9) and Evelyn (7). He shared: "I spent the last 10 years single and, for the most part, unhappy. In a dark place. I never thought that being with someone else was the answer...Then I started hanging around Emma, and on a day-to-day basis my life became much happier."

A Tough Time
Moore went through a difficult time during her divorce from Kutcher. Not only did the breakup depress her, but so did her alcohol addiction and the fact that her daughters stopped speaking to her back when she got married because they felt that she was investing all her time in her husband. Rumer once mentioned that she felt like she and her sisters were "not enough" for their mom.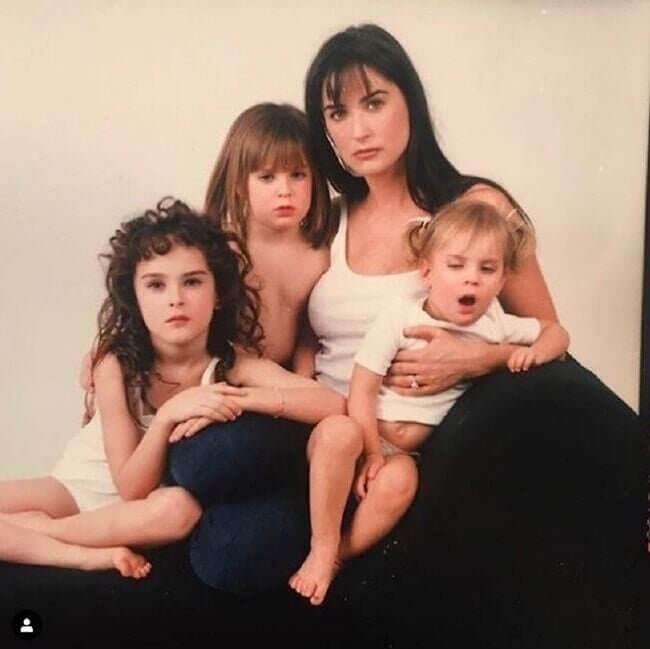 When they realized that their mother returned to using drugs and drinking again, they hoped that they would be able to help her on their own, but to no avail. Rumer explained: "I wanted her to show and prove to me that I'm important enough for you to get sober...I want you to show me that being in my life is worth more than any drug, any man, anything." They quickly realized that it was not in their power to help her and that she was the one who had to solve her problems for herself. Eventually, she weaned off drugs and alcohol again, and her relationship with her daughters was restored.

Mother-Daughter Love
In an emotional social media post on Mothers' Day, Moore's youngest daughter Tallulah wrote that she used to tear up when she would hear ads on the radio about mothers. "I didn't talk to my mom for almost 3 years," she shared, "However....3 years did not stretch to forever...I often wonder what kind of connection could be formed were I to meet the 26-year-old Demi. I think we'd have a lot of laughter."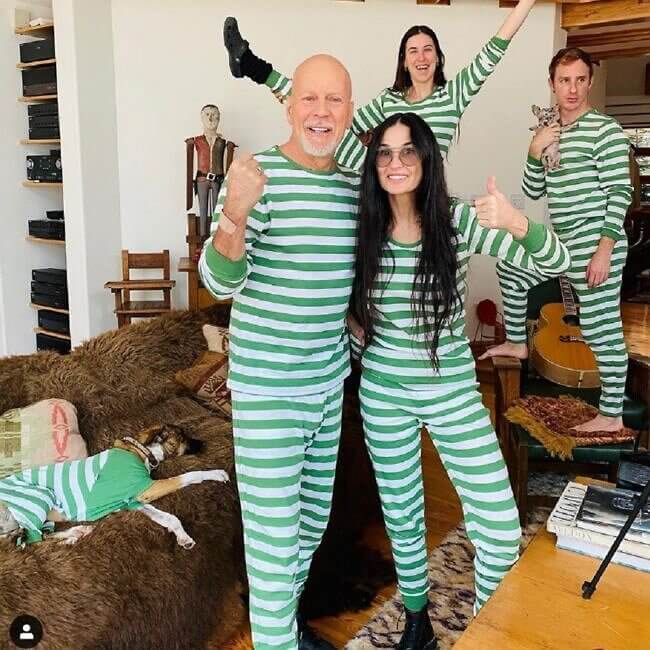 Just to clarify how good the relationship between all of them is now (well, minus Ashton) - Demi, Bruce, and their daughters spent the beginning of the quarantine period together last year in Idaho, with Bruce's wife and their two daughters joining later, taking advantage of the free time to take a fun and heartwarming family photo session. "They are one big happy family," said an acquaintance, expanding that Moore and Willis are very close, have vacationed together a lot, and get along well.

Demi Now Moves In to Take Care of Bruce
Following Bruce's heart-breaking dementia diagnosis, Demi rushed to his home and has now moved in to team up with Willis' current wife Emma Hemming Willis to help care for the 67-year-old.  "Demi has moved in, and she is not leaving until the very end. At first, no one outside the family could understand what Demi was doing living with her ex and his new wife, but now it makes sense," a source said.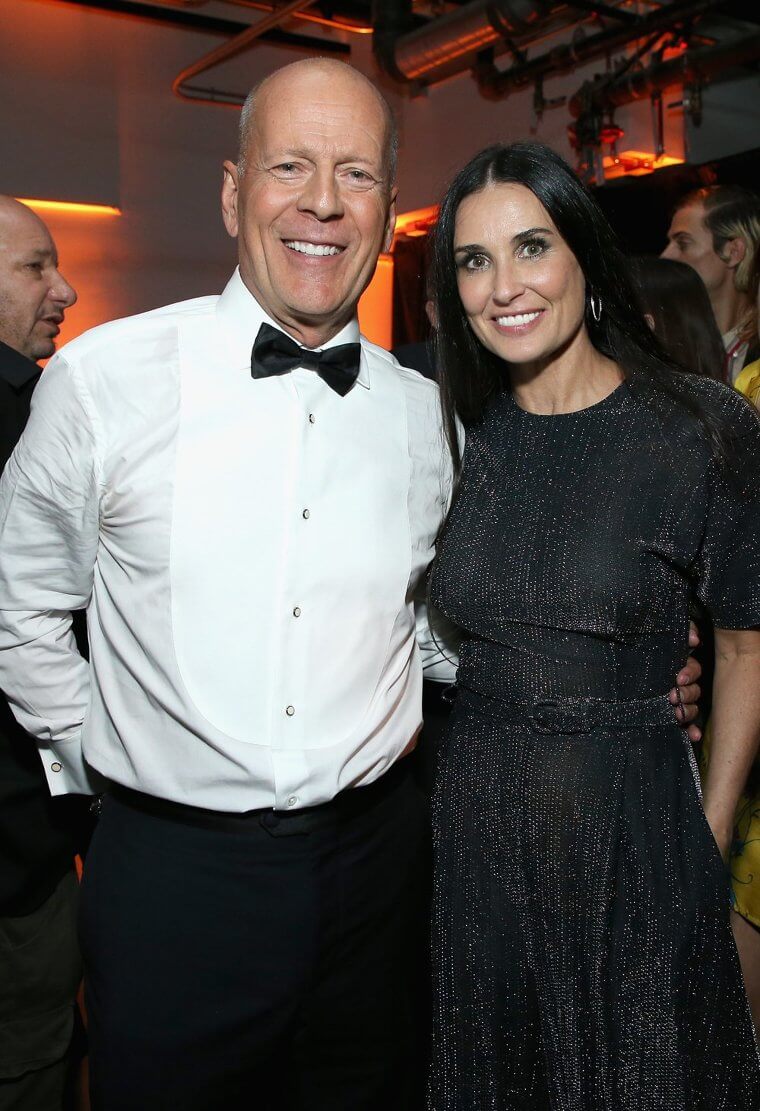 While it is still uncertain for how long they will all live together, a source has said that she is not "leaving until the very end" - proving that Demi has been a great source of comfort for the entire family. "Demi has been a rock for the family and is determined to make sure every day Bruce has left on earth will be filled with love," the source continued.

The Willis Sisters
Moore and Willis' daughters have also stirred up quite a bit of interest over the years. The paparazzi have spent quite a bit of time trying to photograph them, and the gossip columns have dealt on more than one occasion with the heated debate of who they resemble more, their father or their mother.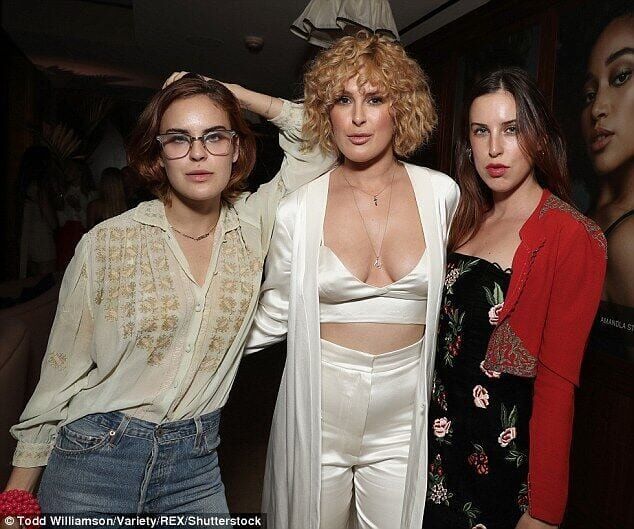 Problems plagued all three women. Tallulah (26) dealt with a drinking problem, drug addiction, and eating disorders. She said she started drinking at the age of 14, and in later years she almost died of alcohol poisoning. Yet another time she collapsed after consuming cocaine and painkillers. She revealed that she suffers from body dysmorphic disorder (from which sufferers are excessively disturbed by characteristics in their appearance that they perceive as defects, which causes them severe distress or impairs their functioning in various areas of life), which led her at one point to reach a weight of only 95 pounds.

A Whole Family in Recovery
Scout (30) admitted to being addicted to cosmetic treatments, and Rumer (32) also said in 2017 that she overcame addiction, although she did not reveal what type of addiction it was. Rumer wrote on Instagram: "I am really proud of myself...I can honestly say I have never been more proud of myself in my entire life." She also said her mother was the one who inspired her to do so. She explained that she was the last one in the family to sober up.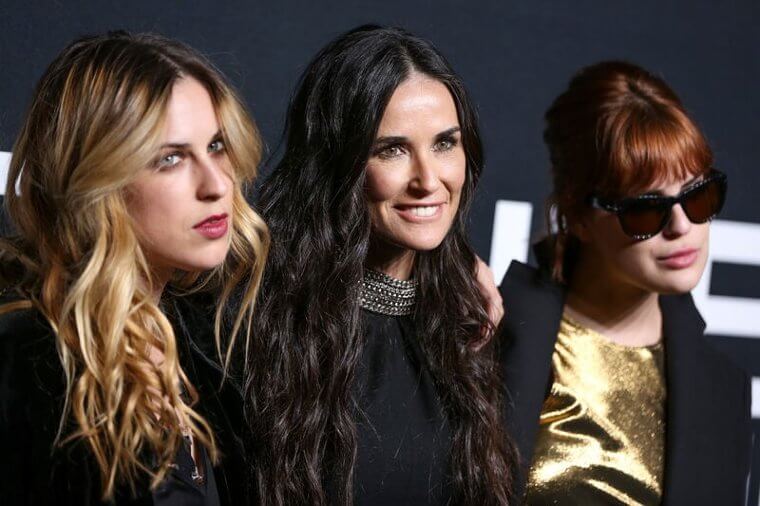 Of all the sisters, Scout is the most reticent, and the peak interest in her was in 2014 when she got upset after Instagram suspended Rihanna's account when she uploaded a topless photo of herself. In response, Scout showed her support by touring the streets of New York while topless, and uploaded a photo to Twitter with the caption "Legal in NYC but not on Instagram."

Trying to Break Free From Their Parents' Shadow
Tallulah had some experience in acting and developed a career as a fashion designer, launching her line called "Willis" with a slightly different spelling: Wyllis - perhaps an attempt to differentiate herself from her famous father. With that, she said that quite a bit of the inspiration for her designs comes from her mother.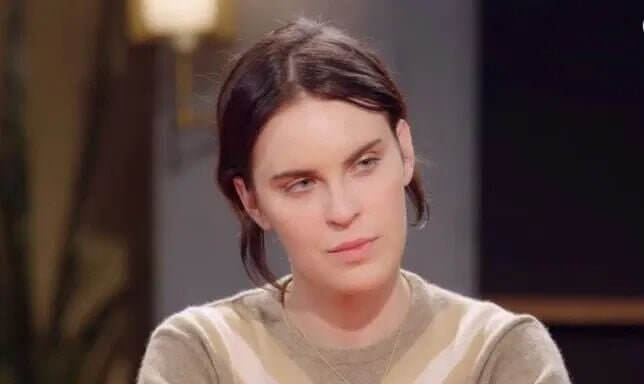 The one who was most determined to follow in her parents' footsteps is Rumer, who over the years has starred in quite a few television series and movies, but never became a real star. Her career highlights were when she starred in Quentin Tarantino's Once Upon a Time...In Hollywood and mainly in various reality shows: she won Dancing with the Stars in 2015 and she reached number five in the first season of The Masked Singer in 2019.

Bullies Behind the Screen
Internet bullies did not spare Rumer when she was young, and she discovered at a very early age how cruel people online can be. She shared how embarrassed she was when bloggers commented on her face, citing references including "huge jaw" and "potato head". "When you're 14 or 15, I didn't really understand having value in myself yet," she continued, "my mind went to, 'Okay, so if I get skinny or if I dress the right way or present myself very hyper-sexually and dress this way, then I'll be valued."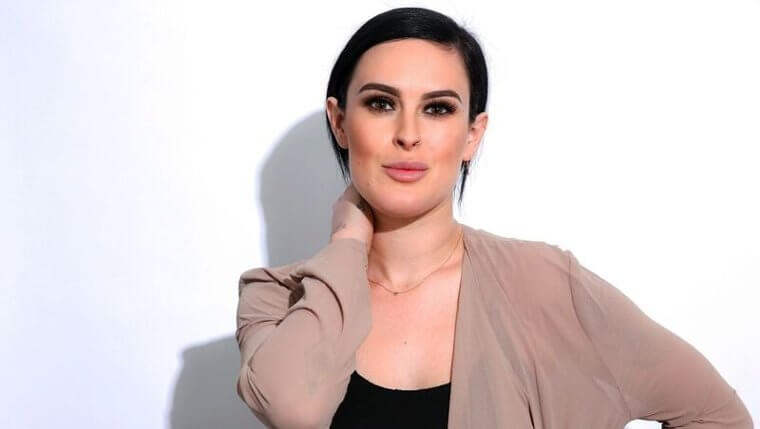 More than once Rumer shared how difficult it was for her when her appearance was compared to that of her mother, and when they laughed at her for having the terrible luck of getting her father's genes. Although her look has changed quite significantly over the years, and although she admitted that she seriously considered having plastic surgery, she claims she did not get any work done. She said: "Here are my flaws, and it's okay. I'm still me." 

Standing Behind Her Choices
Rumer still takes people's words to heart from time to time, and when some claimed she was lying and actually did get plastic surgery, she slammed them: "If I choose to do something to myself, it's because I've thought about it."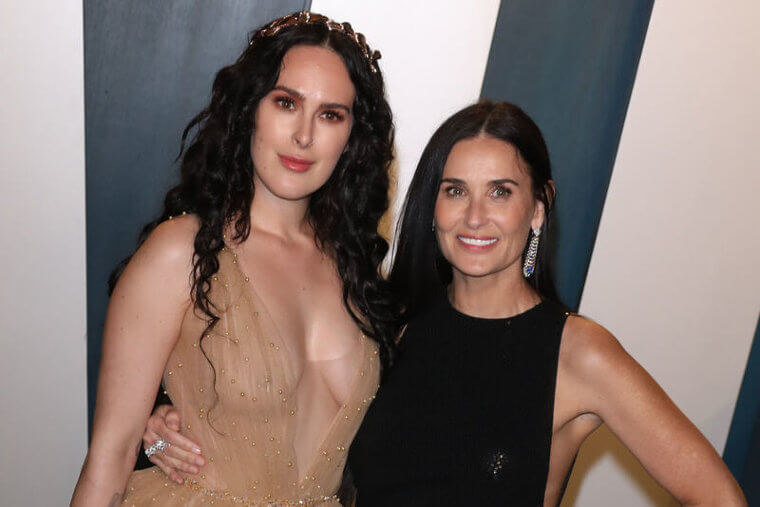 "And if it's going to make me feel better, I won't be ashamed of the choices that I make."