There's a never dull moment with dogs. When it comes to humanity's fluffiest friends, their childlike curiosity and penchant for adventures keep you always entertained. This is why they make excellent travel companions, and it's pretty fun to see their peculiar reactions to new things as they travel with us in what they probably perceive as our crazy moving machines. Here we have dog owners who took car trips with their beloved pooches and had us rolling with pictures of their amusing antics.
Gangster of New York
There are dogs who look like they can't even hurt a fly, and then there are breeds who look like they can take down the entire city. Their floppy ears and clueless expressions might sometimes be misleading, but Rottweilers undoubtedly belong to the second category.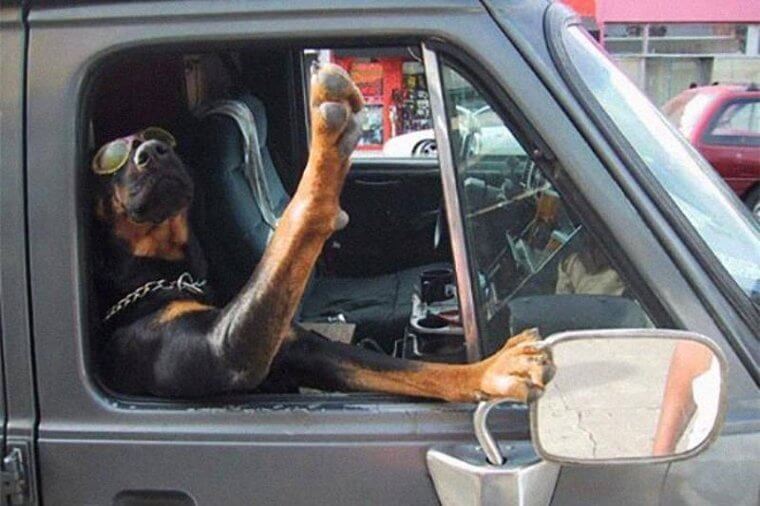 For example, look at this Rottweiler sitting like a king; the posture says it's not the one to be messed with. The way it is waving out of the window with its smug face, dangling chain, and cool sunglasses, we bet it can land a lead role in Martin Scorsese's next flick.
Enjoy What Fits You
Puppies can be very cute, and when they get creative, they become even more adorable. This little dog understands that it won't be a puppy forever. So, while it's still small and sizeable, it chose to enjoy every single tiny space that perfectly fits it.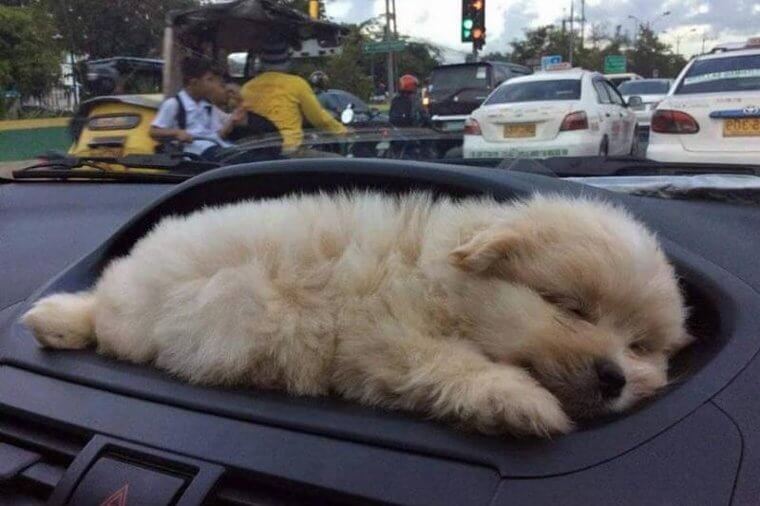 Isn't that just wonderful? The dog has chosen to enjoy life while it lasts and also enjoy what fits it while it is still that size. Perhaps, it also knows that growth comes with responsibility, so it has to enjoy its "puppyhood" as much as it can.
Werewolf on the Highway
Have you seen those viral videos where a cute dog with lustrous hair doesn't look that cute anymore after it's shaved? Thanks to their furry coats, it's so easy to forget that our fluffy buddies aren't really that pretty underneath them.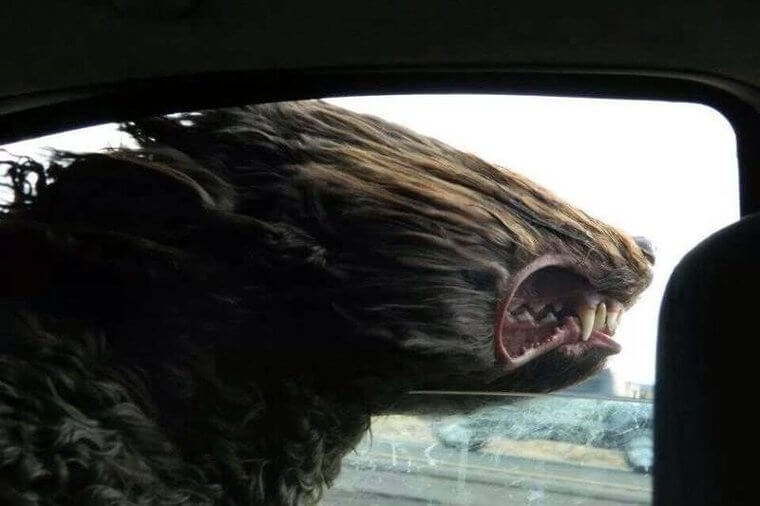 Here we have a doggo having the time of its life by enjoying the wind out of a car window. The owner probably wanted to take a lovely picture of their pet having a great time, but what they got didn't resemble their adorable fur baby. With the wind hitting so hard, the canine had its jaw blown back and teeth exposed, looking like a menacing beast.

Not Excited for the Trip
On the one hand, humans have been ruining their postures day by day, while on the other hand, we have this dog sitting so straight that it can start a yoga class. It's crazy that despite being a four-legged animal, it has totally nailed the sitting style meant for us two-legged mammals.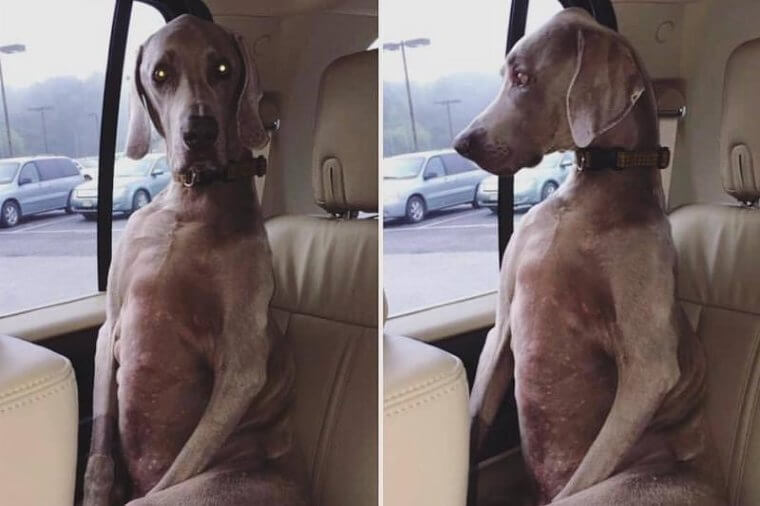 Apart from the posture, the dog's expression was another thing that caught our eye. It is looking at its human as if they have done something unthinkable. The way the dog then proceeds to stare out of the window shows how utterly disappointed it is.

Ready for the Pizza Party
After spending so much time with us, our love for pizzas also rub off on our dogs. Can you blame them, though? With its mouth-watering aroma and taste, pizza is a star on everyone's favorite food list.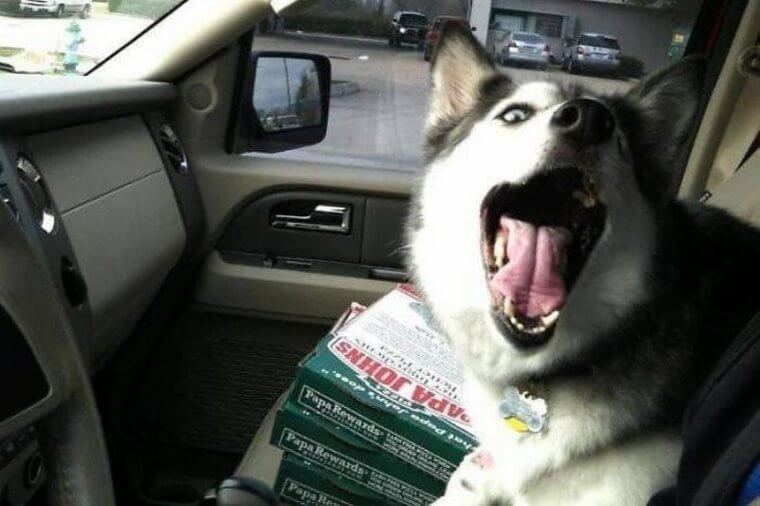 Three pizza boxes sound like heaven, and we can't blame this dog for completely losing it over them. The husky looks so excited that it can barely control itself and its eyes are ready to pop out any moment. Taking the boxes from it might not be easy; huskies are known for arguing, and it seems prepared to chew your ear out if you part it from the dearest pizzas.

Dog. Exe Has Stopped Working
Almost every kid enjoys car rides. We remember being impatient and climbing into the car while excitedly waiting for our parents. Dogs are just like kids, and they love car rides as much as we do.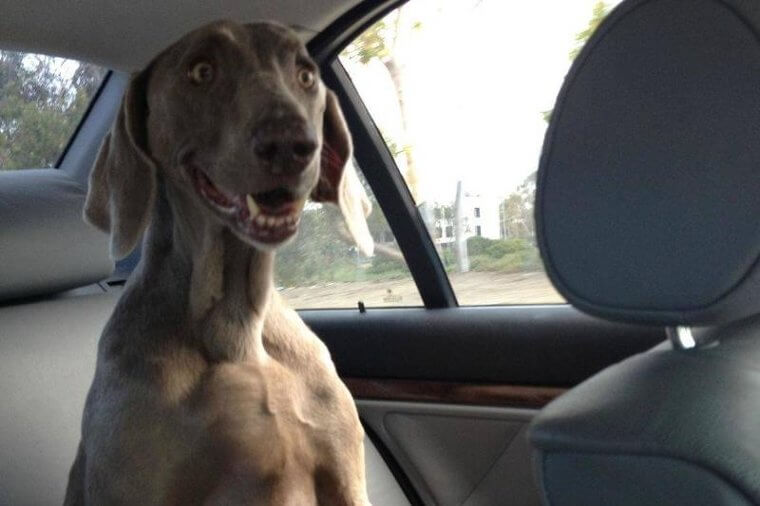 This dog looks so excited to go on a ride that it almost makes us jealous. It's smiling from ear to ear, with raised eyebrows, looking eager for its owner to start already. In its excitement, the Weimaraner has even forgotten to sit like a dog, and it doesn't look like it's going to relax till they reach the destination.

A Good Way to Improvise
Dogs can be hilariously creative. We better not let them get bored, or else, they'll come up with something that'll blow our minds. Take a look at this cute little puppy. It must have exhausted itself jumping and yapping all over the car. Now, it's time for a good afternoon rest.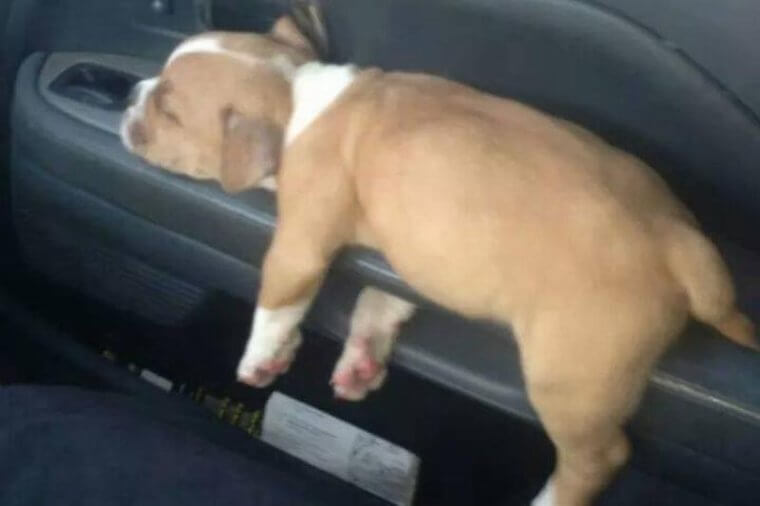 Of all the comfortable places in the car, the little canine chose the armrest as the best spot for a nap. Weird, right? That's not all. Even the way it lies comfortably makes it look as if the armrest was made for that particular purpose.

Chilling the Way You Want
No doubt, sleeping after a stressful day can be both relaxing and refreshing. When animals rest, they often don't mind who's watching or taking notes. They sometimes don't even care about their sleeping position too. If the posture soothes them, then that's it.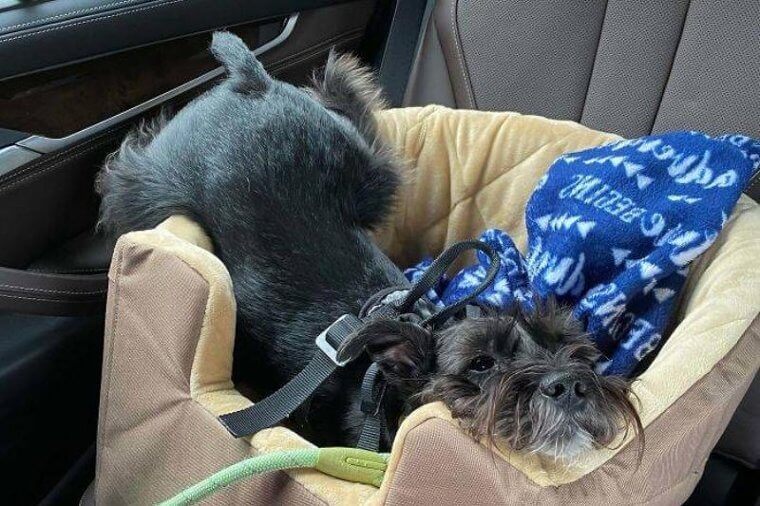 This cute canine demonstrates this completely. It seems to be having the best time of the day as it stretches out its entire frame on the couch. Its lying posture may look out of the ordinary, but the little pet doesn't seem to care one bit. We just hope that this chilling posture wasn't interrupted for any reason.

What a Cute Face
Have you ever wondered what goes on in the mind of your pet? If you do, then you're not alone. No one would see this dog's facial appearance and not wonder what exactly it's thinking.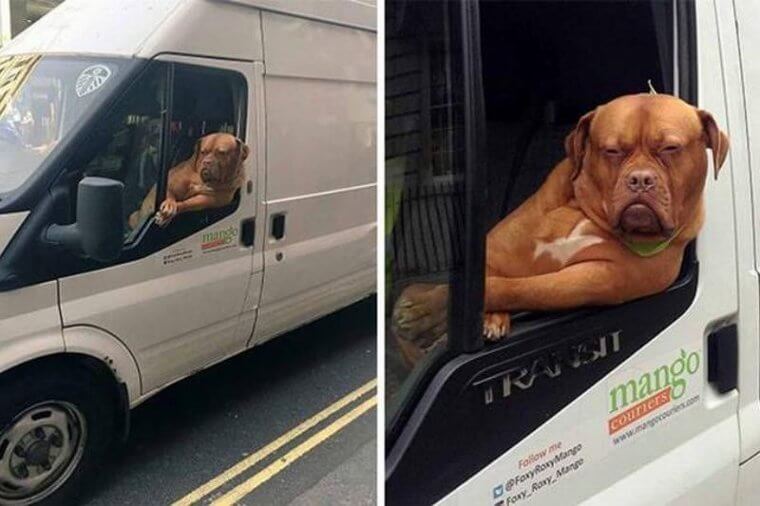 Well, we can make some guesses based on what the dog's face looks like. It might just be enjoying the cool breeze gently massaging its face. Perhaps, it may be trying to impress another canine of the opposite gender. Is there a possibility that the dog might be mimicking its owner? We wish we could answer those. Still, that doesn't erase the cuteness behind the dimmed eye and straight face.

Cut the Extra Mile
Actions speak louder than words and funnily enough, some of our pets understand this. They'll do everything possible to get our attention and let us know that a particular activity is wearing them out.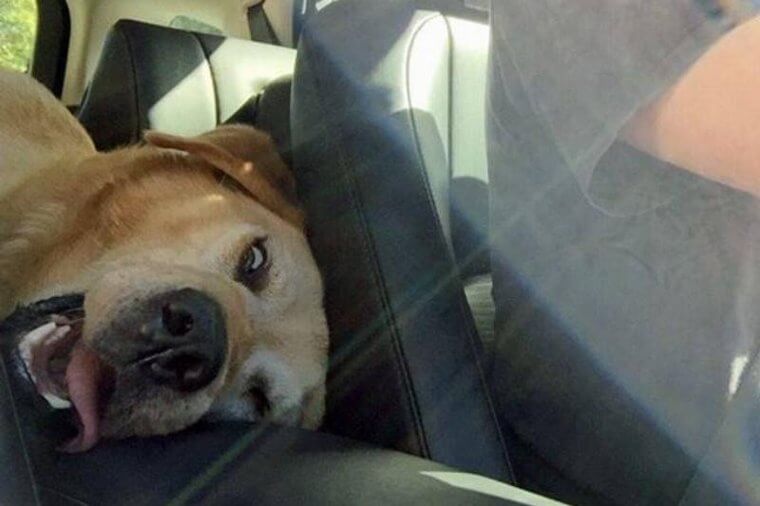 Look at this dog's approach to nonverbal communication. The owner had just upped its walking distance from 2 miles to 2.5. Now, the dog must protest against the extra mile. It definitely needs some rest and lying down won't be enough. A vivid facial expression like this is enough to let its owners know how serious it is.

When Your Puppy Calls Shotgun!
Growing up, you probably took turns riding in the front seat of your parent's car, or maybe even fought over that spot with your siblings. Yet, our furry buddy over here has this prestigious position all to himself without any competition. How nice is that?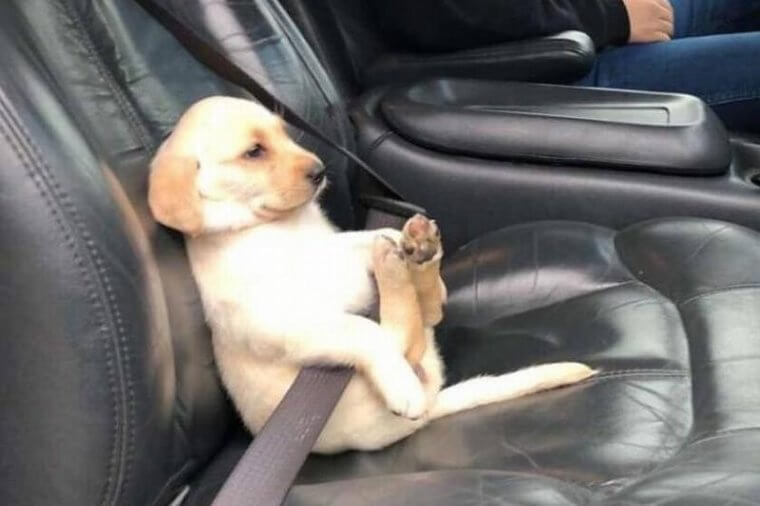 You can tell from the way he's sitting that this is something he's grown accustomed to and enjoys as well. His owner has strapped the safety belt in firmly in case of any emergencies and is gazing at him with an expression of utmost affection. With the way the poodle poked out its legs and laid out its tail, it's impossible not to stare at him the same way.

Just Right Behind You
When you're driving, there are so many things that could distract you from the task at hand. A funny sign will do, as well as someone yapping away in the car. We bet this cute dog poking its head right behind you and smiling so adorably would also do the trick.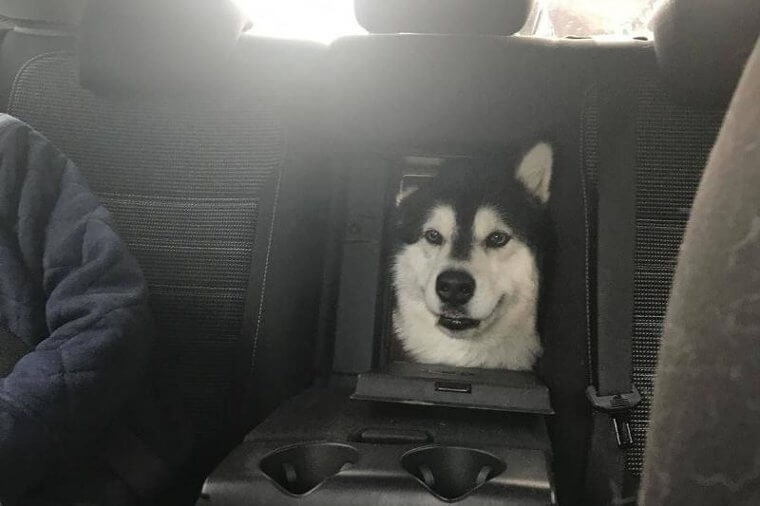 That's probably the reason why its owners locked it up in the trunk of this car, but somehow this fur ball managed to make his presence known. We haven't seen this precious little fella in real life, but already we've got a soft spot for him. These are the kind of pups that you can't help but feature in a Hollywood romance.

As Fast as the Wind
This is a great part of car rides that both humans and animals enjoy. Honestly, there's nothing like sticking your head through the sunroof or the car window to get that exhilarating gush of wind on your face.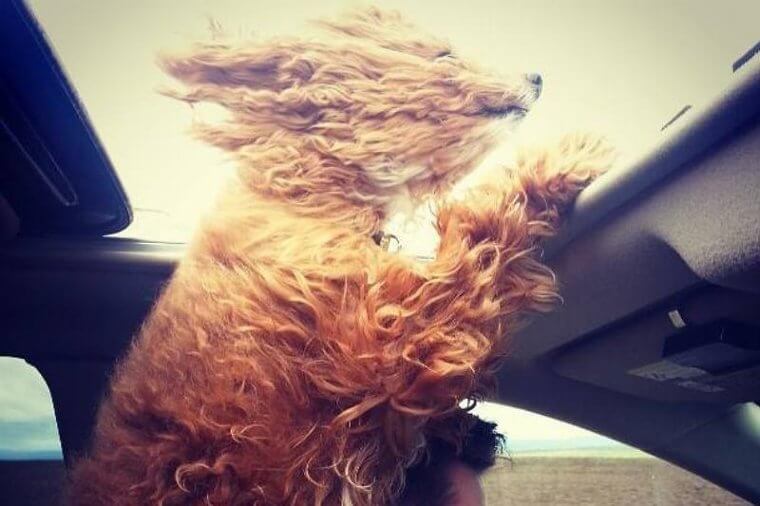 Since this guy was busy on the wheel, he couldn't do it himself, so he let his dog enjoy it instead. Though he'll need to have his hair straightened after all that brisk air, you can tell this furry pup doesn't mind. Next time you're driving around with your dog as well, we recommend you try this fun activity to boost your dog's mood and also help you two bond.

This Dog's in a Bad Mood
We've seen so many cute and cuddly fur balls on this list that we thought it was time to take a break and check back with reality. This dog is here to remind you that not all our furry buddies enjoy car rides with adorable smiles plastered on their faces.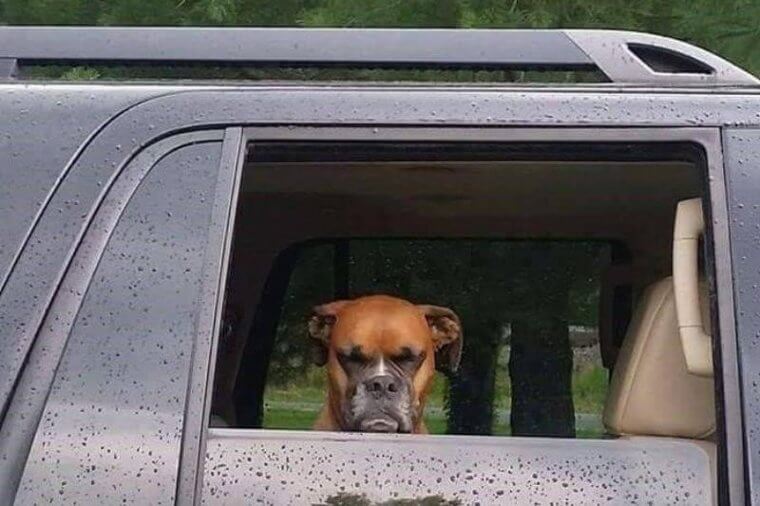 A lot of things could have led to this stern expression, and all hints point to an owner who had forgotten some very vital information about this pup. They probably left this canine waiting in the vehicle for too long while shopping or catching up with a friend. Let's hope they reconcile and things get back to normal for them.

All I Want Is a Cracker
Another cute quality about dogs is that they're very tenacious. Their determination would probably be matched only by humans. Have you ever seen a dog struggle for a cracker in a box? If you haven't, well, here you go.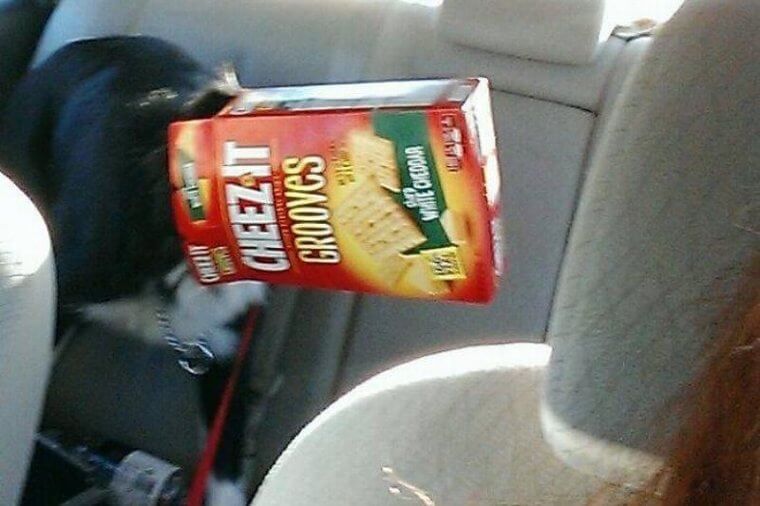 From the look of things, this box is completely empty, but someone failed to inform this hungry fella. You can almost see him thrashing and barking in the box, begging for at least one cracker to fall into its mouth. As tiring as the experience must have been for the little guy, it certainly must have given the human passengers a good laugh.

My Chin's Resting Bag
If you just stumbled on this picture and wished to be a pet for a second, the feeling is relatable. Everyone deserves such a luxury of relaxation, but is a dog a part of "everyone"? It must have found himself a loving pet owner!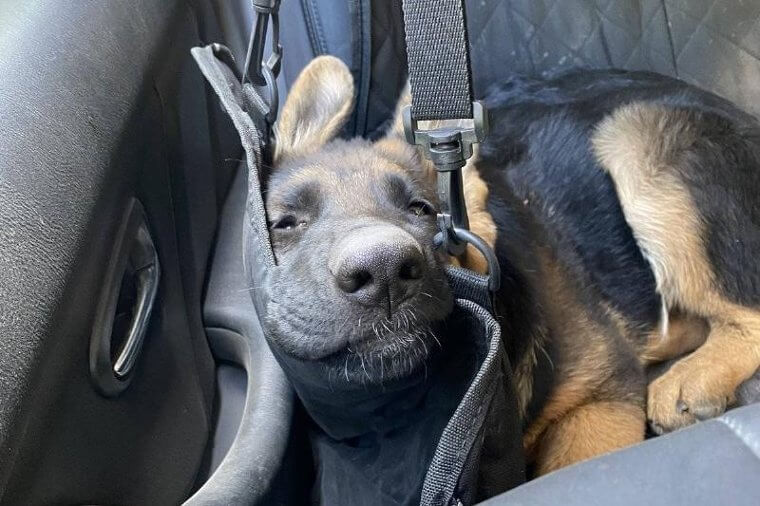 Meanwhile, what exactly is that unknown strap holding its chin, and where is it hooked? Now, imagine this chin support, the possible breeze, and the motion associated with the moving car. The imagination alone will make you want to fall into a very long relaxing sleep!

What a Happy Chill
Oh, wow! Sometimes, when we find an image like this, it makes us wonder if animals are also faced with too many worries like humans. We're not sure they do, or even if so, could it be that their struggle stops the moment they find pet owners?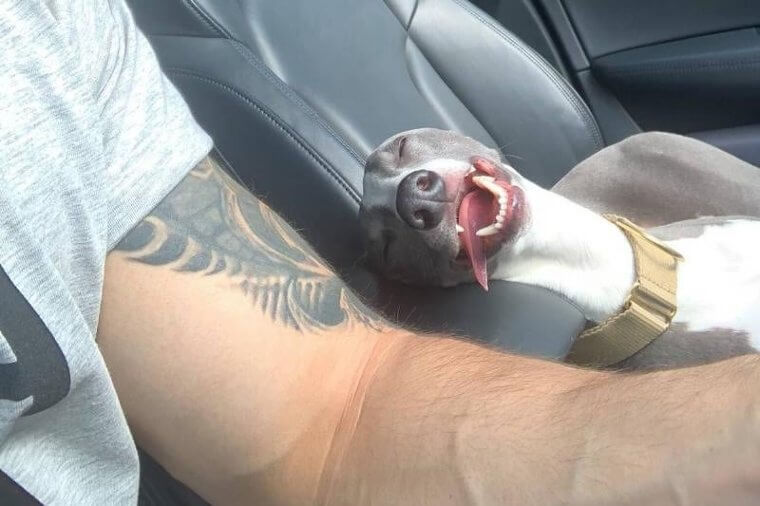 It's puzzling because looking at the way this dog sleeps with a cute face and dangling tongue, you could tell its peace is coming from a deep place. If you also noticed, there's a strap across its neck, holding it firm to the seat for heavenly relaxation; this tranquility is utterly visible and makes you wish for such a happy chill.

Give It a Cheese! Cheese!! Cheese!!!
When a dog blesses us with a "cheese face" asleep, it is cute, soft, and innocent. Meanwhile, we can't say the same for the "cheese face" while awake. Those are two different moods and feelings.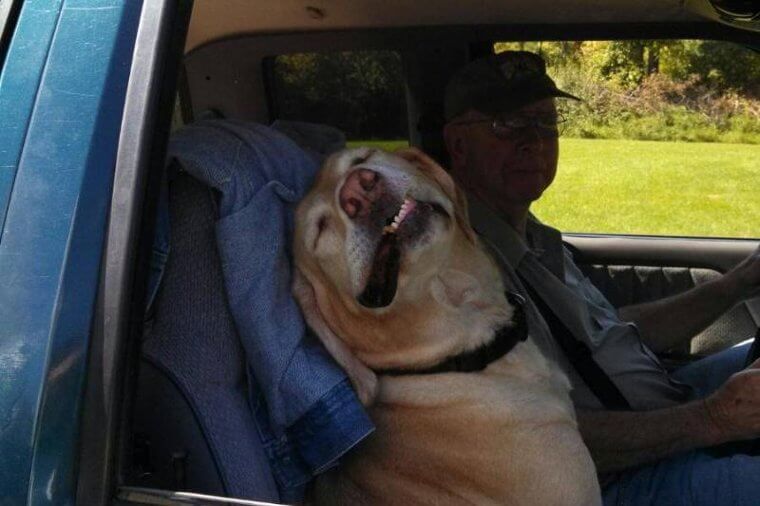 Staring at this adorable dog, you can feel the serenity, peace, and innocence, and you may never want to stop staring. Dogs are just that charming when sleeping. So, if you happen to find one around in this position, you could quickly make a "cheese face" and capture the moment together; you don't have to be asleep. It'd be a beautiful thing to look upon.

Say Hello to Big Jolly Buddy!
Say Hello to one of the oldest big buddies on the list. You could guess he's that old from his big-sized appearance and aging eyes.

For some reason, this big buddy seems to be relishing the breezy atmosphere in the back seat. With the way it is edged on the window, with both arms resting on the window edges like a human figure, anyone would assume there's an old country song by Tim McGraw playing repeatedly in the car as it enjoys the motion. What a cool way to enjoy the life of an animal with humane advantages!

Could This Be a Bulldog's Backside?
Objects in the mirror are closer than they appear but the understanding of this picture seems to be far-fetched. When you take a first look at it, you'd bet with everything within you that it is a bulldog's posterior! Probably one with a screw tail?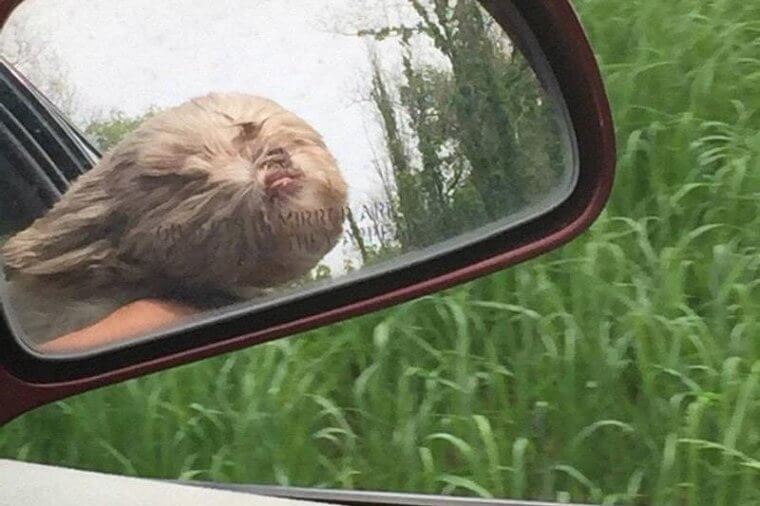 Believing it's a dog's face is hard, but further analysis shows it was out to receive a cool breeze, as the wind blew adversely at its face. Anyways, looking at the weight of this wind, the dog's intention is totally relatable. Of course, it wanted nice fresh air; who wouldn't? After all, everyone loves a refreshing atmosphere!

To Accept or Deny the Offense
The user who is the proud owner of these lovable puppies is the one who shared this photo online. They said that at one point, they heard what sounded like a dog farting in the back of the truck. The following are examples of the wonderful glances that these Labradors gave them when they turned their heads to look at them.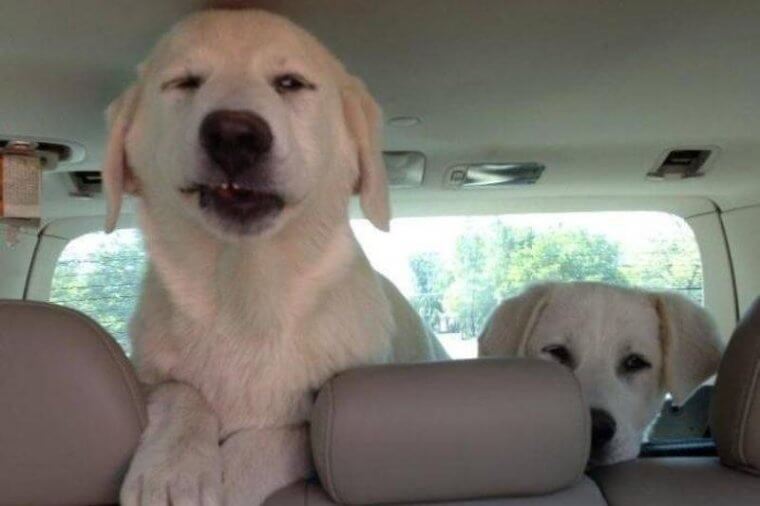 It does not seem like either one of them is going to accept that they are accountable for the offense that was committed. When you share your house with dogs, though, incidents such as these are almost par for the course.

Happy Pet Having Fun From Car Window
Dogs do not seem to be bothered by the fact that the wind from the window blows their ears and face about as if they were in a hurricane. Once the wind dies down, things must feel really strange! It's like exercising your face at the gym.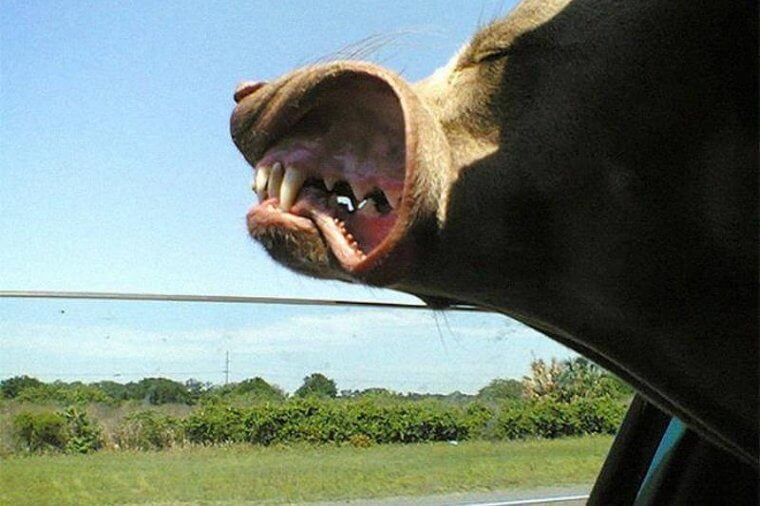 This dog had no shame as he thrust his snout out of the window at a pace that allowed the wind to blast his chops in its direction. After such a long trip in the automobile, their mouths are almost certainly going to be parched, even if it does help them remove the pieces of candy that are stuck between their teeth.

Taking the World One Smile at a Time
Here is a cute Pomeranian dog that loves traveling in a car. The adorable little dog is giddy with excitement as they watch the wind make their dazzling coat wiggle and prance about excitedly.

Who could possibly refuse to give in to such an inviting grin? Images like this prove that people do deserve the loyalty and friendship of dogs. When people see this dog and its owner getting into a car together, it looks adorable. There is not a shred of question in anyone's mind that this is the case. We can only keep our fingers crossed that the next time we go on a road trip, it will be as interesting as this one was for the dog.

Hurry! I've Got an Appointment
It's very glaring that this German Shepard needs to get somewhere. He's here, ready to go, but his driver apparently needed to stop quickly to get something on the way.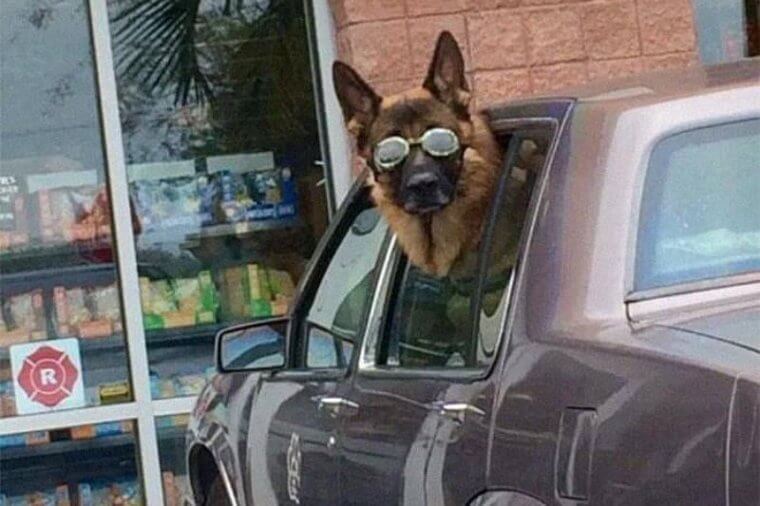 So, the dog simply sits in the car, sunglasses on, completely natural. A closer look and you'll see that the dog appears to be in a rush to reach his destination and does not have time for such drawbacks; hopefully, his companion does not arrive late. He's probably also keeping his fingers crossed, hoping that the human friend remembers to bring him some beef jerky from the store.

Goodbyes Are Best Said With a Hug
Having to say goodbye is difficult—particularly for dogs and their owners! This picture appears to show a woman saying goodbye to her golden retriever before he goes for a ride with another human.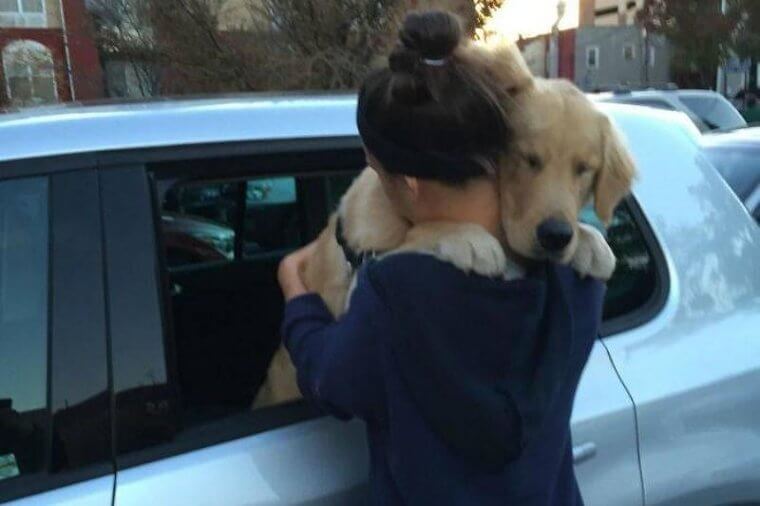 Realistically speaking, he's possibly just running errands with someone else like he would do any other day and will probably stop at the dog park for a treat if there's enough time. Yet, who knows how long it will be until they see each other again. A hug is the best way to say goodbye in this scenario.

We Are More Than a Pet
A social media user posted this photo of her dog trying to socially interact from the backseat against all odds. She wasn't afraid to tell the world that other pet keepers aren't alone, especially after a dog owner shared a photo of his pitbull attempting to break through the netting.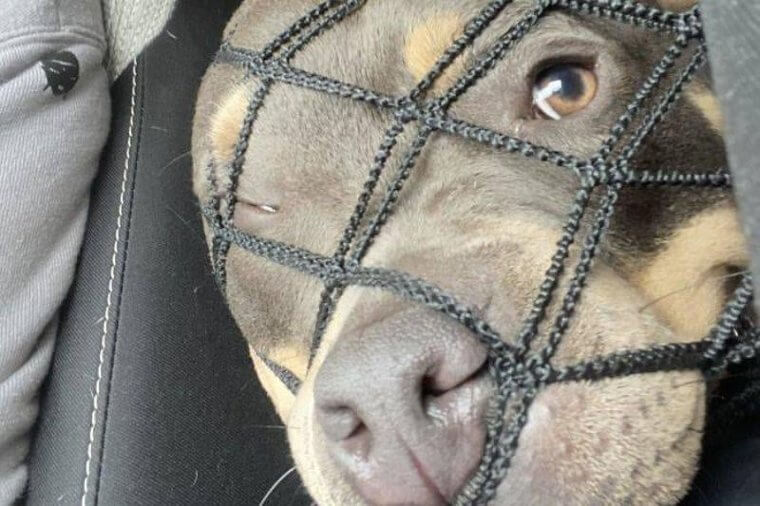 Dogs simply want to be participants in the conversation at all times! While sharing the front seat, there is no hurdle strong enough to keep these dogs from lavishing affection on their best friends at every opportunity.

Not Your Regular Pet
Judging by its size, this fluffy dog is enormous! He is larger than most children and adults and won't even fit in a car seat. This one here is driving shotgun while sticking his head and paw out the window.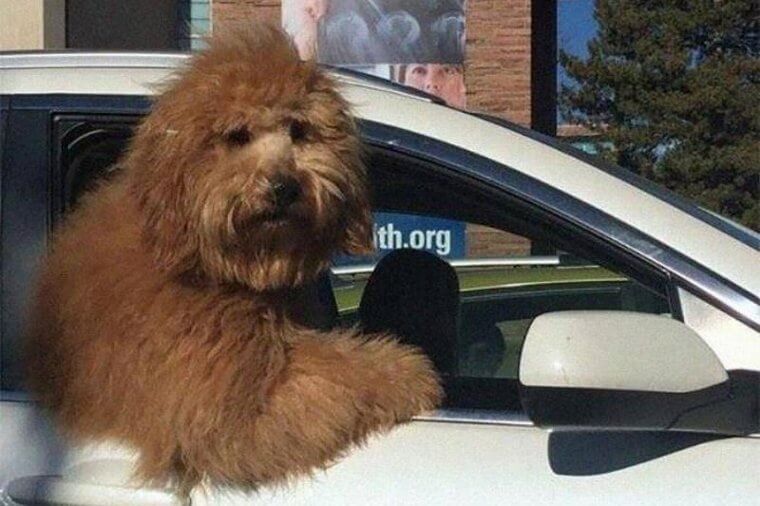 The large animal is simply going about his business in the most honorable way conceivable, unlike some of the other dogs that go crazy while in the car, biting at the wind, creating a disturbance, and begging for attention. This big guy is just going about his business in the most admirable way possible.

Shotgunning Like a Pro
This dog's got an appointment, can you hurry up? The probability that the dog hit the door or roof of the car with his paw and barked, making angry sounds to alert the owner is more than 50 percent. We suspect that it's also the reason why his owner is laughing so hard and struggling to get the car moving. He's the boss. We mean the dog.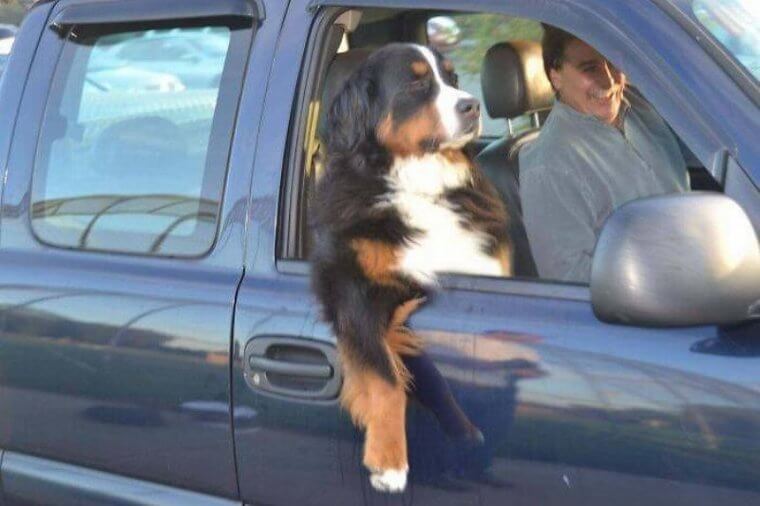 That Bernese mountain dog being as cool as a cucumber while riding shotgun, when other dogs would have been sticking their tongues out and panting in excitement is hysterical. It is also very cute.

My Fur Got Nothing on Me
This has to be the most elegant dog to have walked the Earth. Look at its perfect poise! Of course, its fur is trying to get in the way of all that class, but this little doggy has perseverance that goes on for days! Doesn't it remind you of a perfect movie ending? Something that goes like this, "She enjoyed the warm rays of the sun in her face and the wind in her fur, as they drove into the dazzling sunset."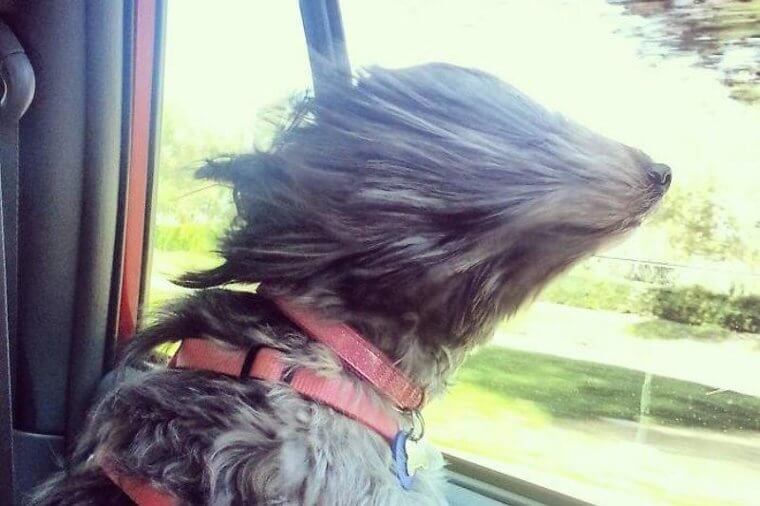 Attention, screenwriters and movie directors! This is the perfect ending for that puppy story you're working on!

Emotional Support on a Sling
Aww, would you look at that? We'll try as much as possible to focus on the pitbull and not gush about the adorable sling. Okay, whoever came up with that idea is a genius. It looks so comfy and warm. We are sure that the pup is enjoying his ride.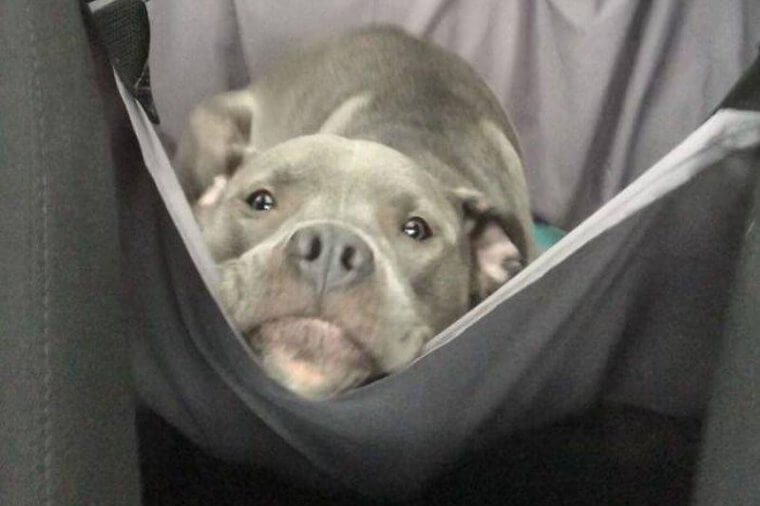 Nonetheless, it looks like he is saying, "Hey you, you know I'm here for you, right? I got you. Now pet me," to his owner. It's all in the eyes. His owner must be lucky to have a very affectionate dog. Most dogs who are enjoying their rides would be bouncing with excitement.

The Look of Betrayal
That stuffed animal in his jaws had to be what baited him into the back seat. The Siberian husky looks downright terrified, skeptical, and full of regret, which is the exact opposite of the expression most dogs have when going on car rides with their owner. He seems betrayed and is trying to figure out who's to blame. We bet he's considering his owner and the stuffed animal.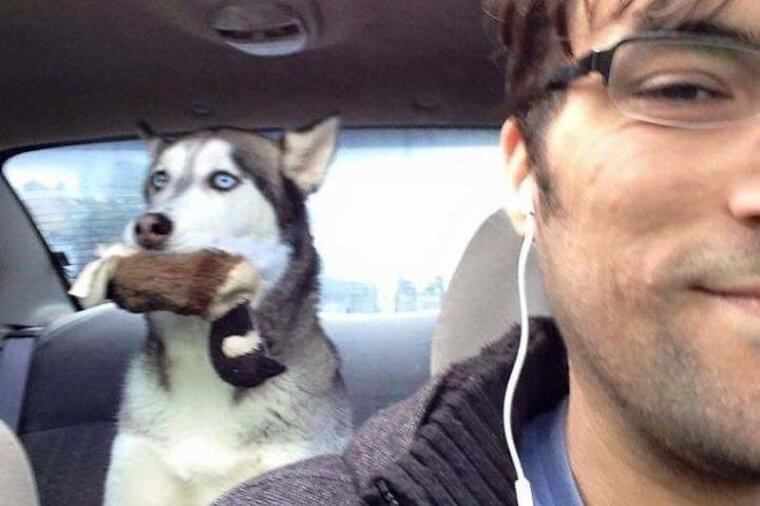 This looks like the occasional trip to the doctor, or to any event frequented by his owner that he dreads. He's probably asking where they are going and wondering if he has been tricked again.

Dogs Wanna Have Fun!
Dogs love the wind. "Go faster! Let's see how distorted my face can become," barks the dog. Hold on. Is that a dog or a llama? The neck is oddly long for a canine, and do not get us started on the shape of its ears or the color of its fur. The leash and teeth tell another story, though. We also do not think that a llama would show this type of excitement for a car ride.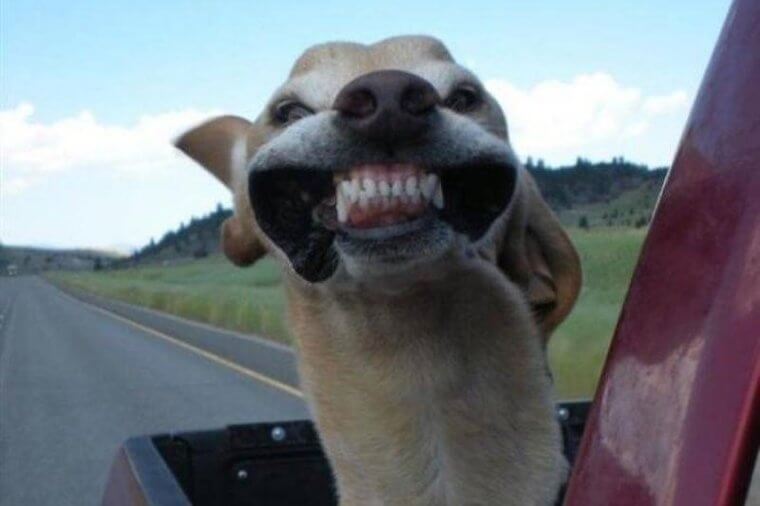 Anyways, this pup sure knows how to have fun in the wind! It doesn't mind the wind slapping its face and transforming him into another animal while it's at it.

Drooling on Mother's Leather Bag
Most dogs drool in a car when affected by motion sickness because of nausea that comes with car rides, and others drool when stressed. On some occasions, the human canine friends love to ride in the car because of the fascinating sights and sounds that almost seem like an adventure, and their excitement also makes them drool.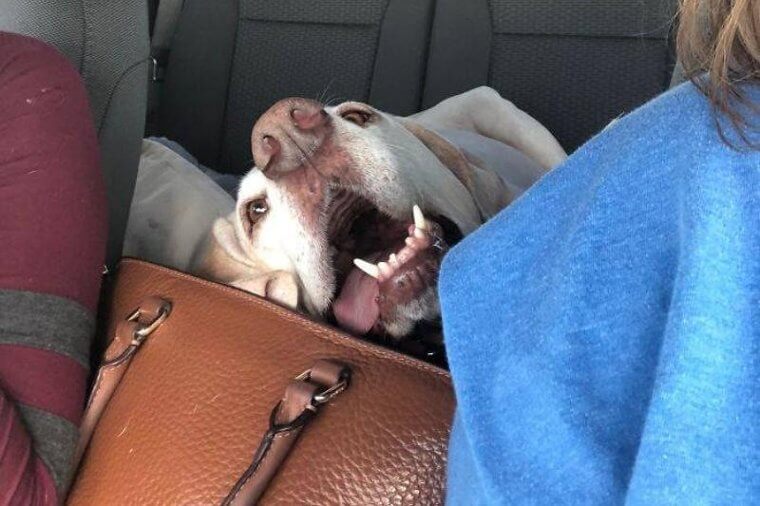 The netizen who shared the photo of their family pet said it's a situation the family deals with on almost every car ride. Hopefully, the mother doesn't mind a drool puddle in exchange for the dog's companionship.

Look How Long My Tongue Is!
Dogs love to stick their tongue out the window when riding in a car, and that's a fact we can't deny. Our furry friends seem to enjoy keeping their tongues out and watching them flap in the breeze.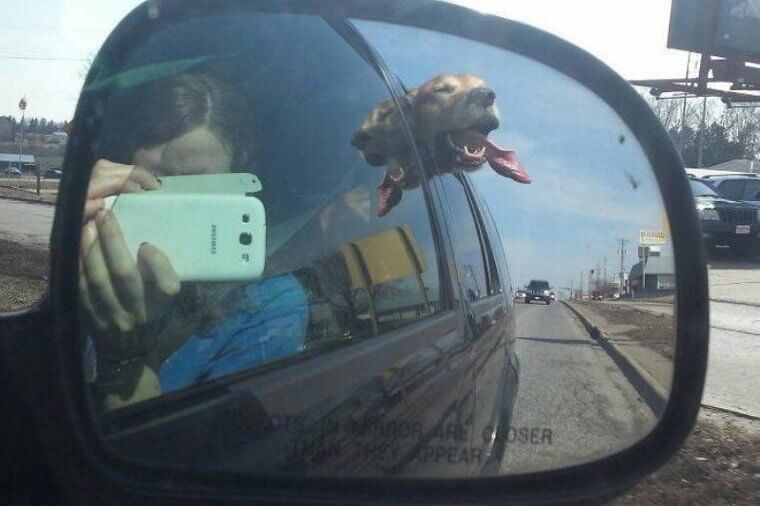 Since we're not up in their minds, we can't exactly figure out why they do it; however, basic biology has a pretty solid explanation. According to animal science, dogs let their tongue hang out to haste the evaporation process of moisture from their mouth. Now that's a valid reason to stick your head out of the window!

Hey Folks, Here's What Solemn Means
In a world where most dogs stick their tongues out of car windows or revel in the feeling of the wind rushing through their fur, this old soul has managed to keep calm. We can see that this canine has found its unique way of enjoying the ride as it has chosen to sit in the back seat and enjoy the trip.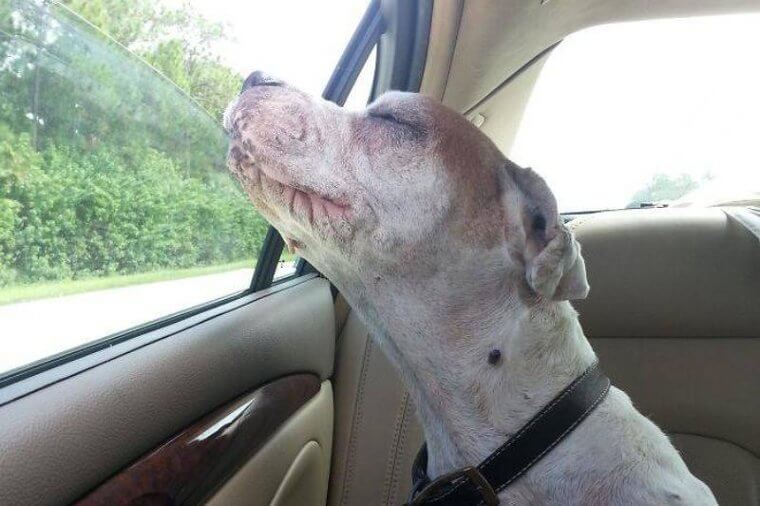 The sheer calmness on the dog's face makes this photo one of the most wholesome on this list. It almost looks like it went on a long walk with its owner and is relishing the drive back home.

Safety Can Never Get Too Much
We've finally uncovered another canine superpower because no one would've thought this dog could get comfortable in such an awkward position. Even with its muzzle firmly anchored between the seat belt and the door, our furry friend here seems to care less and is enjoying an afternoon car nap. Hopefully, nobody will disturb their sleep.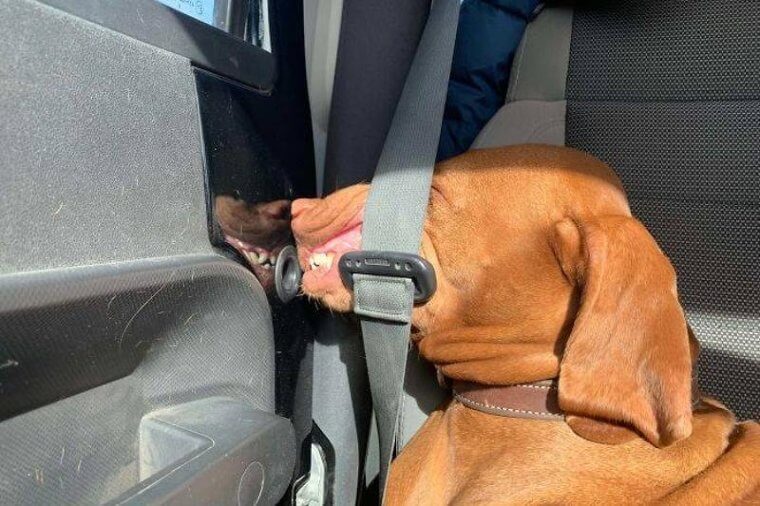 Maybe the dog took driving classes with its owner, and the emphasis on seat belts stuck, we never can tell. Meanwhile, we're sure that these dog photos will convince you that each dog has their style when riding in the car.

Mouth Sailing on the Sunroof
While most dogs relish car rides to stick out their tongues and watch them flap in the rushing wind, this big guy wants something different. From his hung head and locked jaws, you can tell that he wants to feel the air hit his mouth at full speed.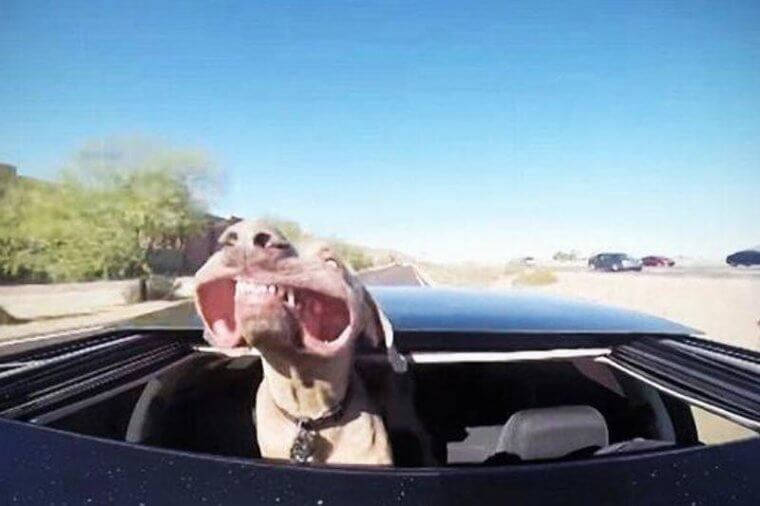 Hopefully, the owner has a bottle of water to rehydrate because taking in air that fast would suck up the moisture from the dog's mouth. Whoever took this video must've laughed hard at seeing their pooch's head protruding from the sunroof.

Too Tired to Raise a Brow
The owners of the dog, who seemed both joyful and exhausted at the end of the journey, were nice enough to offer this image of their pet's reaction to the journey they made together. They said that the previous week, "we went 2 miles, and this week we pushed it to 2.5."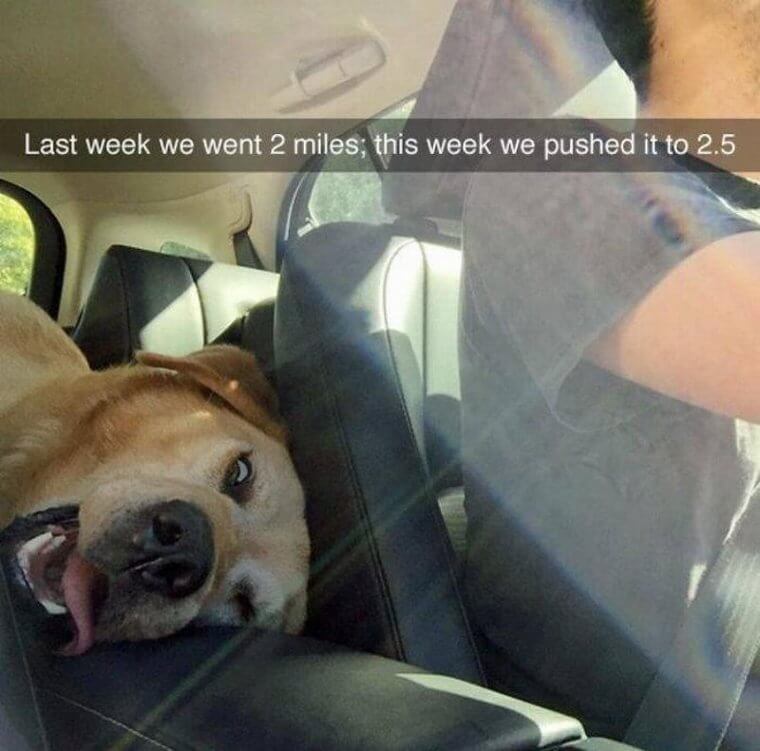 Despite the fact that the increase in miles doesn't seem to be bothering the humans, this dog is clearly beginning to feel the impact. His face portrays an expression of hilarious physical exhaustion, and that says it all. Even while he is content to join his owners on their treks and does not object to doing so, he is not too enthusiastic about doing it.