Dollar stores are where we get great value for our money, and can choose from a vast range of products that are more affordable as they cost a smidgen of the original price. We are all counting our pennies and seeking out bargains. Should you wish to be even more economical you can have a crack at some of these simple dollar-store hacks. These smart techniques are cost-effective, time-saving, and could be life-changing as they will give you some great tips that you will want to apply in other projects in the future. Here, we reveal some of their best hacks to get you started…..even as soon as today!
Drawer Organizer Dividers
What did we do before we discovered drawer dividers? They are perfect organizers keeping our drawers neat and tidy with similar items partitioned together but separate from the next group. Their uses are endless and ideal for things like make-up, jewelry, underwear, socks, and toiletries.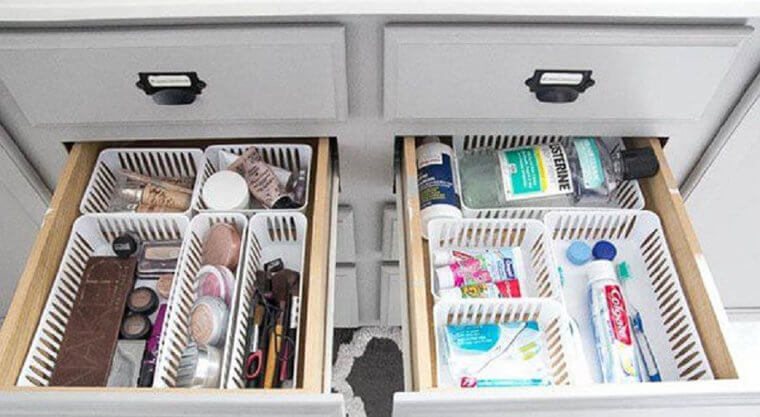 Store-bought dividers tend to be pricey but here's a nifty low-cost hack to try. Get some of these little plastic baskets that you can arrange to fit perfectly inside your drawers. They are available in most stores and in various sizes to choose from. But, go prepared with your drawer measurements and buy a few in different sizes to ensure they fit the space and the storage items. We bet you'll soon be using these in all your drawers!
Baby Essentials Kit
We know how necessary, yet difficult, it is to keep the baby essentials like lotions, creams, powder, brushes, comb, and diapers close at hand and altogether if you are a parent of a newborn. Buying a baby organization kit costs far too much money when you can have a lot of fun creating your own more cheaply.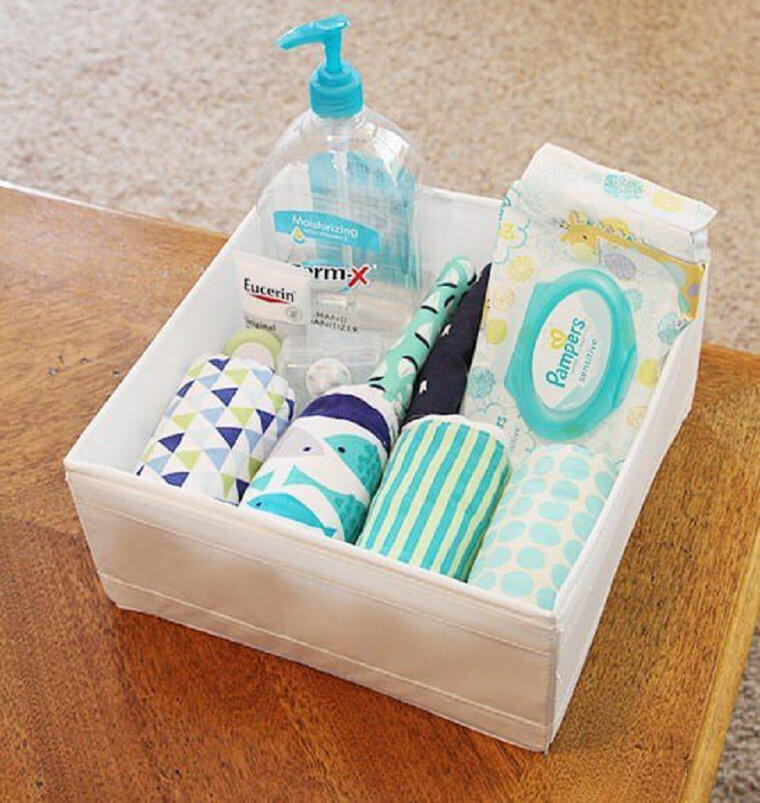 You can choose any receptacle as the base for your baby essentials but do give this inexpensive alternative some consideration first. Pop along to your local dollar store and select a smallish organizing box. Arrange all the items for your baby neatly inside. Pretty it up with ribbon or washi tape your baby's name on the box. It's that simple and easy!
Emergency Preparedness
We can never be over-prepared for an emergency but often preparing an emergency kit is one of those tasks that we keep putting off and that never happens. Having an emergency kit is an essential step in ensuring protection and immediate and short-term survival for our household during unexpected events.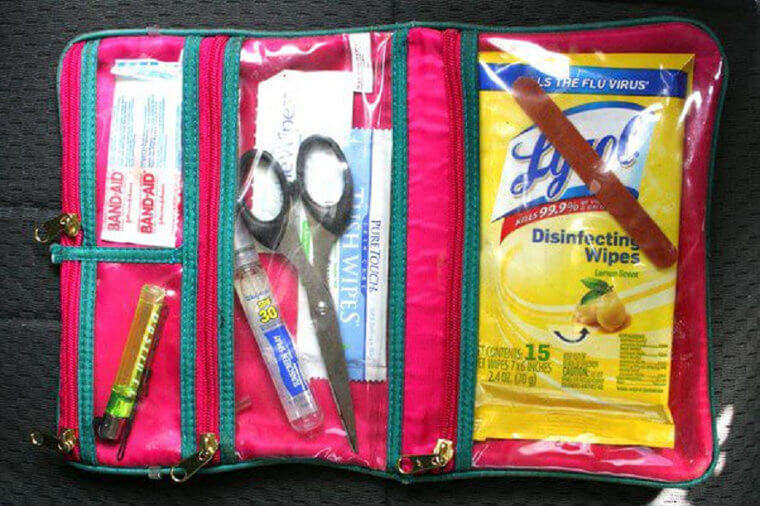 Store it in a handy and easily accessible place known to everyone in the home. Here's a hack to organize one quickly before you procrastinate anymore. Purchase a make-up bag from your local dollar store, remove the make-up, and add those emergency items vital for you and your family. These should include things like bandaids, bandages, disinfectant wipes, disposable sterile gloves, scissors, safety pins, a whistle, a flashlight, water, batteries, and a phone charger. Be extra proactive and create one for your car too!

Transformed Trash
We see it so often when someone reveals that they wish to discard something and another person leaps with joy at relieving them of it. It's true that "one man's trash is another man's treasure" and although we might find it quite hard to believe that someone fancies our disliked and about-to-be-discarded item, we are amazed when they transform it into something interesting and useful.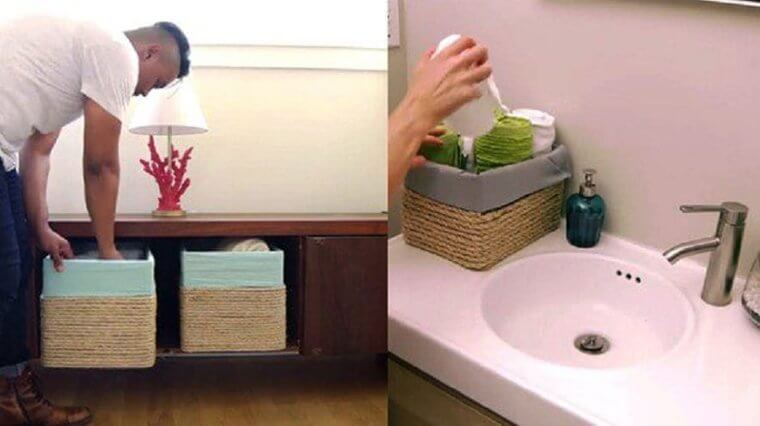 We've already mentioned how we need to be inventive in increasing storage space, if limited, in our homes. Well, this enterprising person converted ordinary cardboard boxes into decorative functional storage units. With glue, twine, a little imagination, and some of his precious time he created attractive storage "baskets" for his bathroom in which to store his towels. Now, at little cost, his bathroom looks neat, organized, and contemporary!

Anchoring Tablecloths
It's very annoying when a tablecloth just simply will not stay fixed on the table but keeps sliding all over the place. It's a nightmare, especially for those who love entertaining and hosting lots of parties. It not only spoils the neat, attractive appearance of the table setting but also poses a risk to any precarious décor or food items.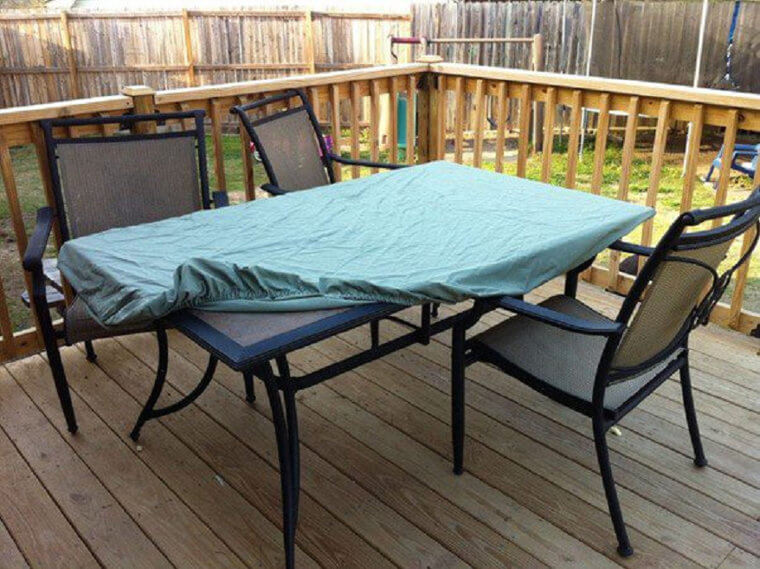 However, there are several clever ways to stop a tablecloth from slipping. Purchase a non-slip table protector to place under your tablecloth that can be re-used on multiple occasions. You can purchase interesting table weights or even make your own inexpensive set. One idea is filling miniature buckets with colorful glass beads, shells, or pretty pebbles that can be suspended with jewelry wire and dog clips from the tablecloth. If the table size permits, a fancy fitted sheet with elasticized corners makes an ideal antislip tablecloth.

Building Bookends
If you're an avid reader, you may have several books you are busy reading. Some you read from start to finish while others you pick up and continue reading in between. Having them handy and displayed on your bookshelf makes for easy access.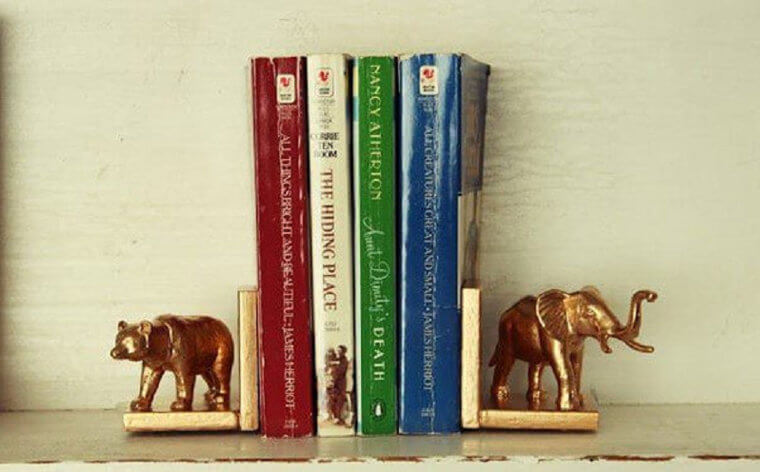 Bookends will keep them upright and together, but these can be expensive, especially when it is easy enough to make your own. All you will need are some inexpensive toys or ornaments, glue, four pieces of ready-cut same-size wood, and some paint and varnish. Paint the wood and the ornaments if you wish. Varnish them and when they are dry glue two pieces of the wood together to make an L-shape then glue an ornament to the bottom piece. Repeat this with the rest of the wood and the other ornament to have two matching bookends. Easy peasy!

Marvelous Masons
Did you know that Mason Jars, those glass jars with wide openings and airtight screw tops that are predominantly used in bottling fruit at home, were named after an American tinsmith, John Landis Mason, who patented Mason Jars way back in 1858?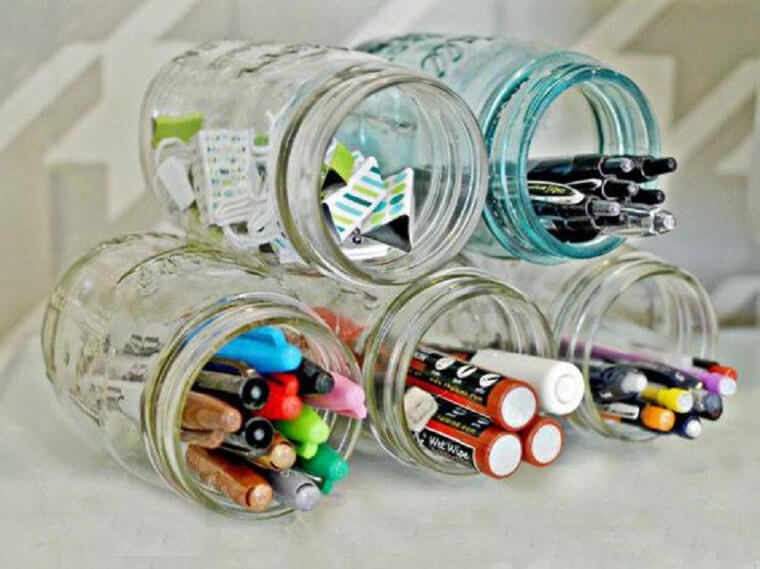 Today they are very popular and are regarded as one of the top storage jars and are used to stow a wide range of products. In this post here we see they are being used to store a variety of writing instruments but you can find a use for these multi-purpose jars in any room in the house. You can leave them natural and transparent or you can transform them as you wish: garnish them with ribbons, or beads, or treat them with brightly colored paints and patterns to blend with or match each room's décor.

Private Snack Bar
It's wonderful to snuggle up in comfort on the couch and watch a good movie, or two, especially if the weather is rainy, or cold and miserable. But it's far more enjoyable when you have a variety of delectable eats and tasty drinks to snack on. But, there never seems to be enough space to put all these close at hand.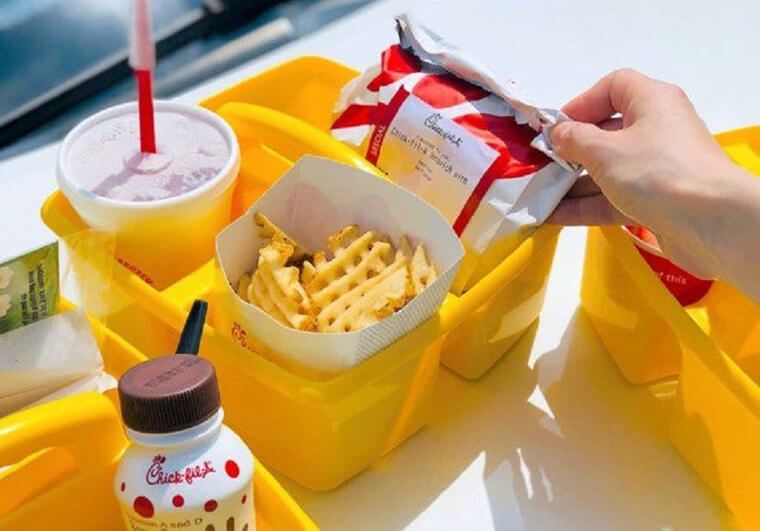 So, what about a shower caddy? They are compartmented making them perfect for all your snacks and they come in a variety of bright colors. Pick one up from your local dollar store and when you next watch a movie at home you will be well pleased with your purchase when you see how handy it is for all your drinks and snacks.

Bathroom Blues
When taking a bath, we often find that when we need certain items they are just out of reach, and stepping out of the bath to fetch these causes a watery mess on the bathroom floor. The bathtub ledges can easily become cluttered with all the shampoos, soaps, and other bathing products making the bathroom look untidy.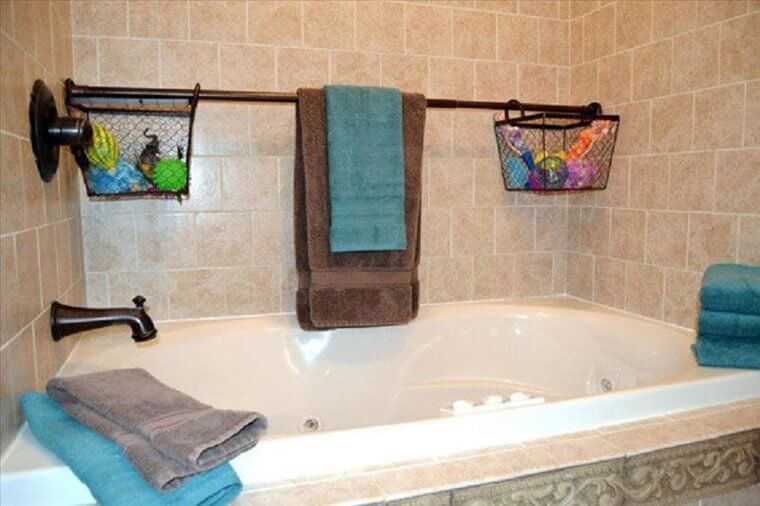 This bathroom space issue needs to be resolved. Installing a shiny shower rod is one solution. You can hang some shower baskets from this and stow the bathing products in these - perhaps soaps creams and shampoos in one and sponges, loofahs, and washcloths in another - to alleviate the clutter on the tub ledges. After your bath hang your towel over the rod to dry and if it's safe and sturdy, use the rod as a support rail….only when necessary.

The Ironing Spot
One of the most dreaded household chores is the pile of ironing that remains to be done at the end of the wash day. It is a tedious and laborious job but the sight of beautifully ironed goods is very pleasing especially if they've been ironed by your helper.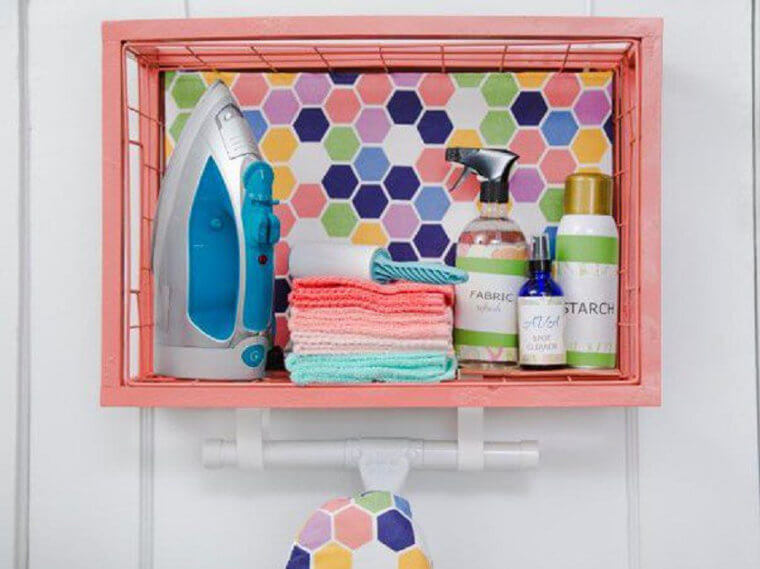 Keeping your ironing things in one place may relieve some of your stress though. Using strong adhesives or anchor screws, mount a cheap basket on the wall in your laundry or ironing room to store all your ironing essentials together and for easy access. Of course, this hack only helps with storage! You'll still have to do all the ironing but unfortunately, we haven't found a way to help you with that as yet!

File Holder Order
We have discussed some cheap simple ways of organizing pot lids, small kitchen utensils, and spices, seasonings, and condiments. Now we are about to suggest a smart method of storing all those tins of canned goods that will save some much-needed space as well as make their contents more visible.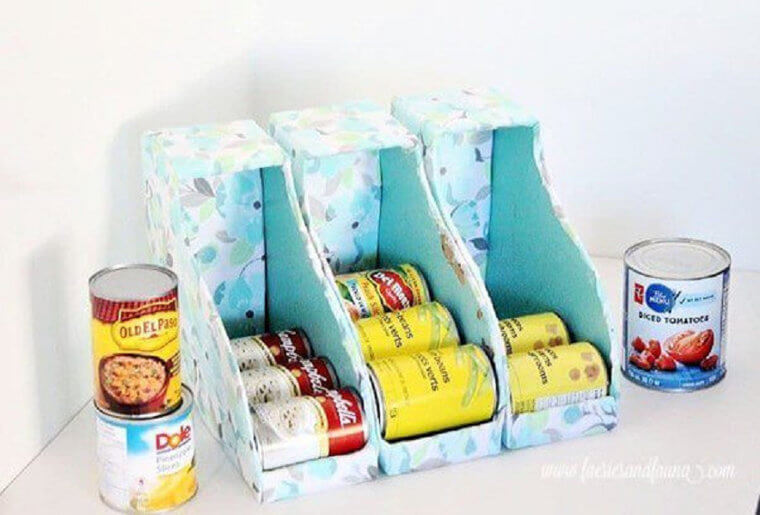 Be sure to buy quite a few attractive upright file holders. To prevent the cans from rolling out, fit some wire across the bottom of the file holder. Then turn the holder around. Fill the folders with all those tins of canned goods. If possible, store only one type of canned goods per file holder to be super-organized and for easy access. Look how appealing and organized your kitchen is now!

Versatile Coffee Filters
If coffee is your thing, especially a strong brew of freshly made coffee, then you are sure to have a box, or two, of coffee filters in your home. There are so many unexpected and brilliant uses for coffee filters around your home that it might be worth your while to consider buying some.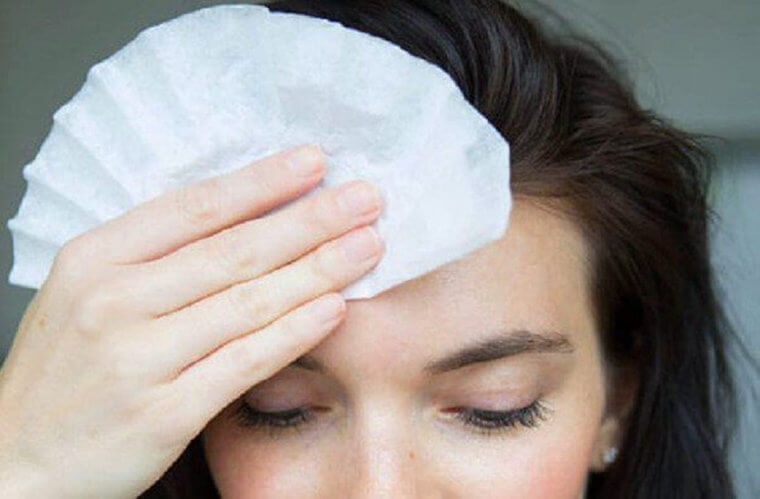 Here are some options. Being lint-free they are ideal for cleaning windows, mirrors, reading glasses, and glassware as well as removing dust from TV and phone screens. Slip a coffee filter between your plates to protect them from scratches and chipping. Line your plant pots with a coffee filter to prevent soil from leaking out through the drainage holes. Or, you can use them to make a cold compress for headaches or puffy eyes.

Decorative Kitchen Utensils
It doesn't matter whether your kitchen utensils are made from wood, metal, or plastic but if you have more than one identical set, you may want to utilize each set for a particular type of cooking - say, one for cooking fish and the other for vegetable products.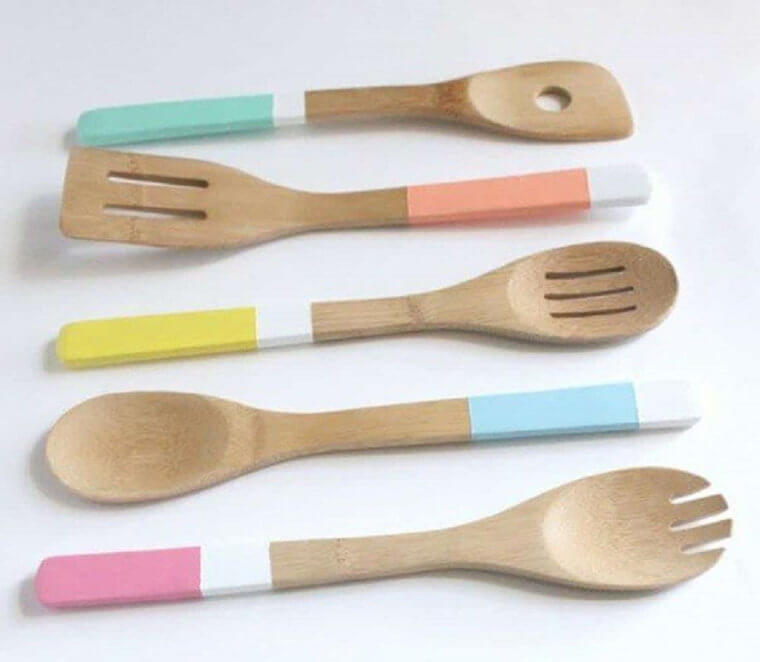 Or perhaps you just want to have aesthetically pleasing utensils in your kitchen. Whether you want to differentiate the sets or to have decorative utensils, wrap some pretty contact paper or fancy washi tape around the handles. Paint this paper with a few coats of clear varnish to protect your decoration and allow it to dry before storing or using the implements. Now you have your own attractive personalized sets of kitchen utensils!

Creative Colored Vases
Having fresh flowers in your house not only adds brightness and color to your rooms but their wonderful floral fragrances will also infuse your home. To enhance their beauty ensure that you display them in beautiful shapely vases. You can create your own very easily.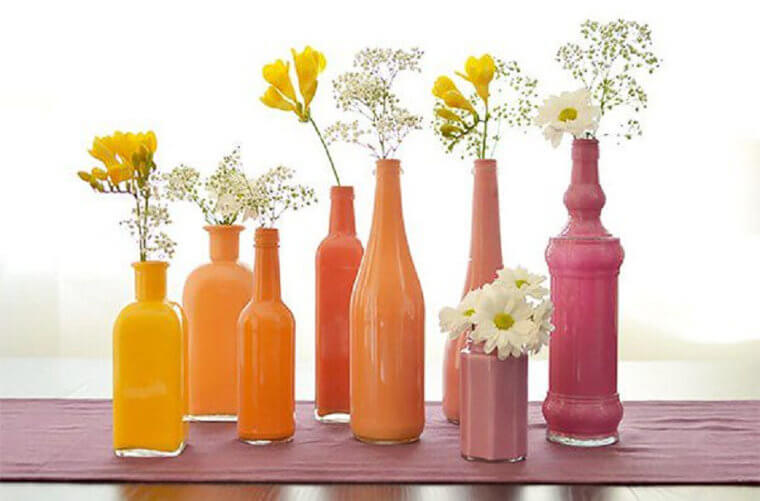 Just buy a variety of clear bottles or vases from the dollar store. Get creative and spray paint them with coatings of enamel paint in shades of your choice. You can mix some paints to get differing blends, add some pretty patterns, or decorate them with wonderful washi tape or embellishments like glass beads, ribbons, or thin metallic chains. Add the flowers and showcase them in clever arrangements dotted around your home.

Electronic Cord Chaos
We all love our electronic devices. But, if you have lots of them it won't be long before you have a jungle of cables lying around creating unsightly clutter in the house. Then, when you need one it's that particular one that is the only one you cannot find.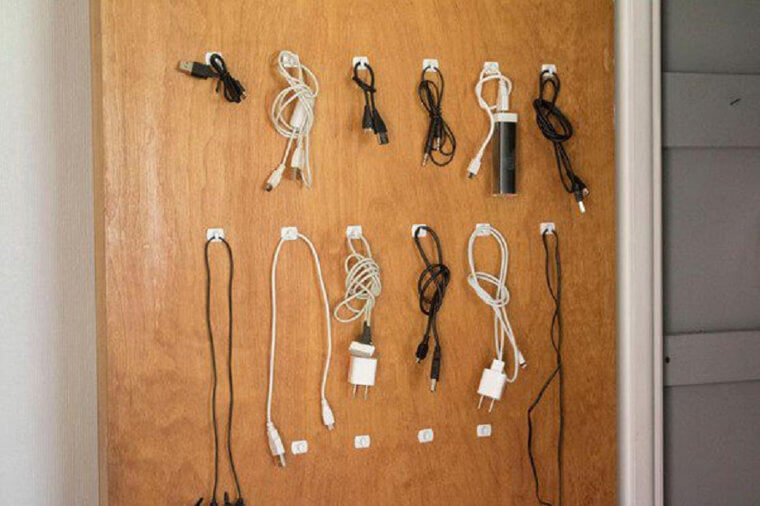 Soon it will become apparent that your electronic cables need some organizing! Minimize the confusion of device cords by bundling some cords together with zip ties, or corral them into flexible foam tubing, spiral wraps, or even into a piece of pool noodle sliced open at the back. Another recommendation is to attach adhesive hooks behind a door for all your cables. Maybe label your cords for quick identification but do whatever is needed to restore order and reduce your frustration!

Smart Shower Caps
We know that a shower cap is used to keep water or moisture from people's hair when bathing or showering or when they are busy treating or dyeing their hair at home. But, if you thought that a shower cap is a single-use product, then think again.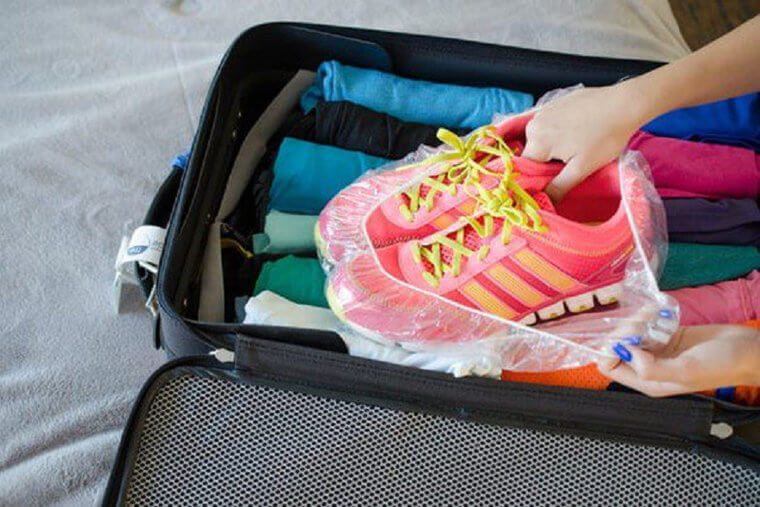 You will be surprised how useful this cheap, disposable product can be. Shower caps are handy for covering left-over foods, sliced fruit and vegetables when preparing meals, dough when left to rise, protecting gadgets and bicycle seats, and other items from dust and debris. When traveling cover your shoes with shower caps to contain the dirt and protect the clothes in your suitcase. In fact, they make excellent covers for almost anything you can think of!

Spice Caddy Usage
A spice rack is a wonderful organizing tool that stores bottles of spices, dried herbs, and seasonings, but a spice caddy usually has the additional advantage of being portable as well. Both racks and caddies are clever essentials to keep order and save space in a kitchen.

But are you aware that they can be just as useful elsewhere in your home? Spice caddies make ideal organizers for things like your bottles of essential oils or your little bottles of craft paints. Buy bottles from the dollar store to house haberdashery accessories like buttons, sew-on beads and pearls, sequins, and pins, or fill them with essential stationery items like paper clips, erasers, staples, or highlighters. Now with your stationery caddy neat and tidy, you can display it on your home desk. 

A Simple Organizing Solution
Shower caddies, or organizers, are handy storage containers for all your bathroom essentials. Don't leave shampoos, soaps, shaving items, and loofahs on the bathtub ledges rather store these in a caddy to keep the bathroom clean, neat, and clutter-free. They come in various sizes, shapes, and designs from simple plastic baskets with drainage holes to stylish stainless steel variations.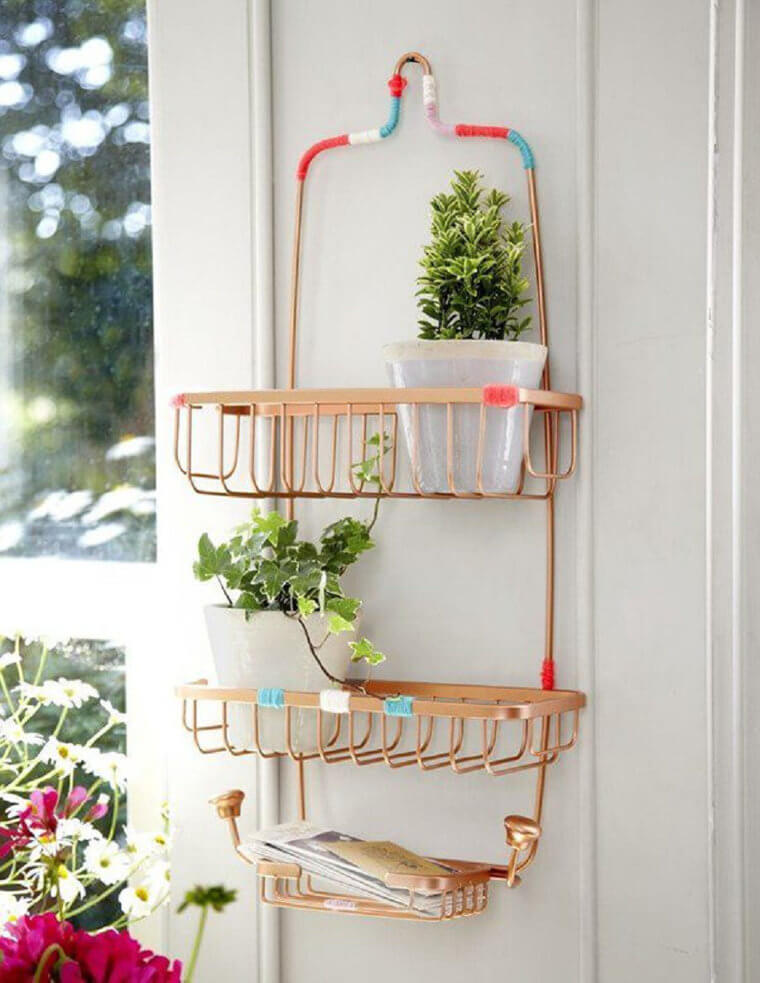 The most popular are corner-mounted or those that fit over the showerhead. But just as these nifty caddies resolve the bathroom chaos, with a little ingenuity and creativity they can bring order elsewhere in the home. Some possible storage uses are: in the mudroom one for each family member to store mittens, beanies, hats, and gloves; to house the laundry products like detergents and softeners, house-cleaning products, car cleaning items, spices, work-desk writing materials or to display indoor plants. Shower caddies! Such versatile organizers!
Pillowed Comfort
We all love our beds. It's where we long to sink and wallow in its soft, cozy, comforting aura or where we prop ourselves up while we enjoy and become engrossed in a good fascinating read. But nobody enjoys those hard, cold walls that we brush up against in the middle of the night or lean against especially when it's a chilly winter's morning or evening.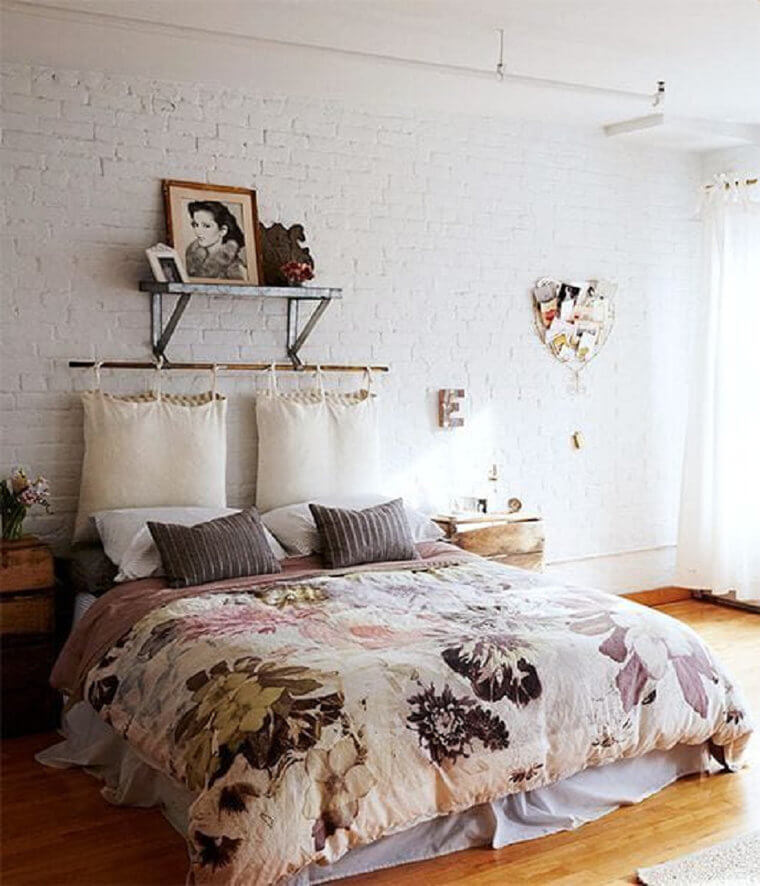 What we need is a barrier! A barrier will separate the wall from the bed so that we avoid getting our heads too cold or bumping them on the hard wall during the night, so that we have perfect back and neck support when reading in bed, and, most importantly, that we get a good night's sleep. Hanging pillows on the wall behind the bed is an inexpensive solution especially if they're decorative, plump, and textural to enhance the room's aesthetics.

Smart Space Savers
If storage space in your home is limited, o find inventive ways to keep your home looking neat and clutter-free. Decorative baskets or fabric storage bins complementing your decorating scheme make ideal functional, pleasing storage solutions. Install shelving on walls or inside your cupboards, and under-the-bed drawers for storage.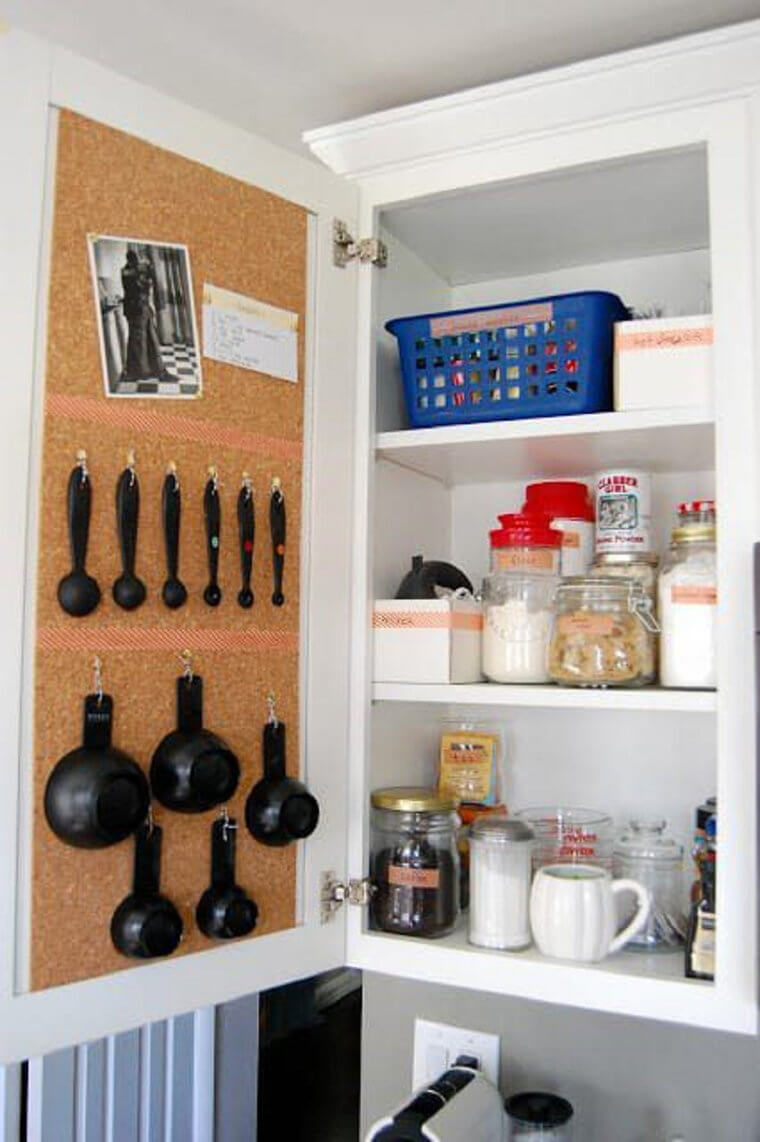 Hang paperwork organizers and pen holders on the walls surrounding the work desk. Other ways to increase your storage space include using items that perform two functions like an appealing bowl or decorative box near the front door which also stores keys, sunglasses, and wallets when not being used or beautiful stylish containers on the kitchen worktop stowing cooking utensils. Storage hooks affixed inside kitchen cabinet doors for hanging kitchen implements or on clothes hangers to store jewelry, belts, or scarves make simple effective storage solutions.

Car Interior Chaos
There's nothing worse than getting a lift with someone whose car is littered with debris like empty plastic bottles, used takeaway coffee cups, or empty burger boxes. It's creepy and makes you feel dirty when you have to move some of these to make some space for yourself.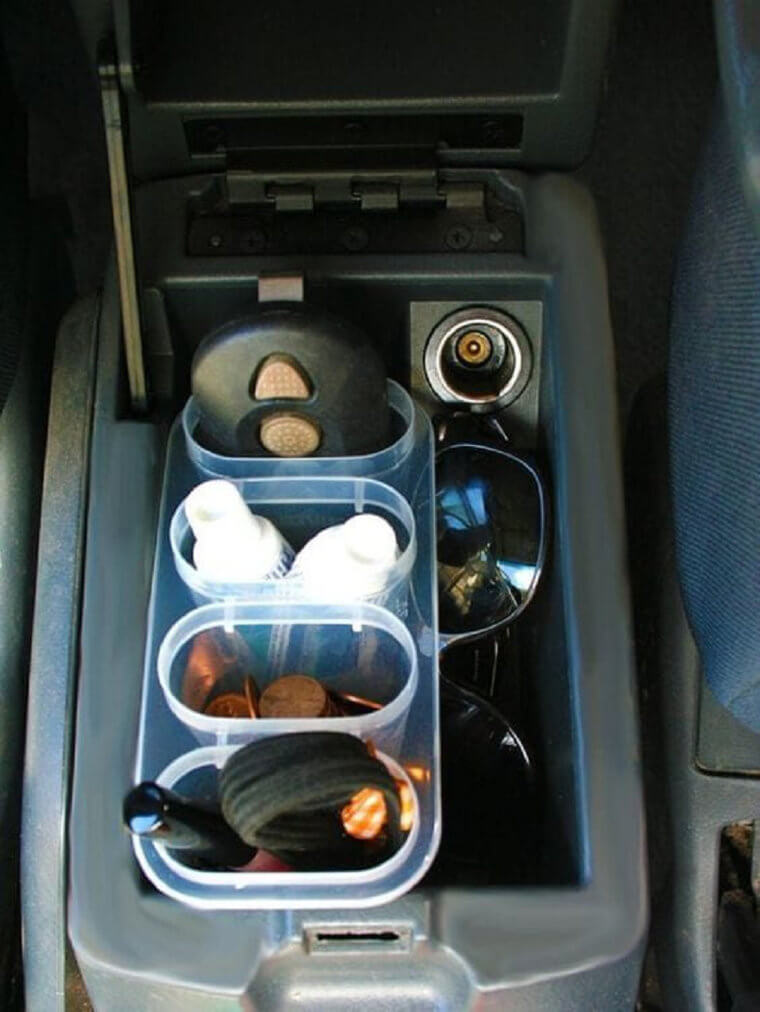 Of course, if you're desperate for the ride you just have to accept this but a clean and tidy car always makes an impression. This person likes his car interior organized and tidy so he's created a small stack of storage compartments in his console by using a popsicle mold. If you like this idea then purchase a mold and place it in the console. You can designate each section for particular items or just use them randomly. It is an ideal way to hold things like sunglasses, loose change, and cleaning materials and to keep the interior clutter-free.

Lovely Fridge Interior
Most of us own a refrigerator. Occasionally products leak and make the interior shelves and drawers rather sticky and messy so we know our fridge has to be cleaned - and defrosted, of course - from time to time. But, perhaps not all of us are lucky enough to have a domestic helper who will carry out this chore.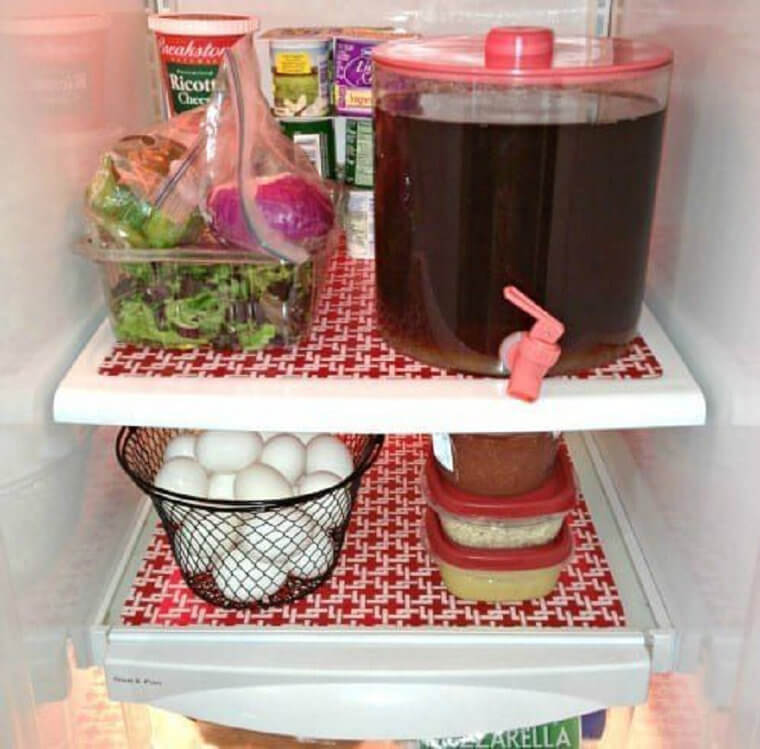 We might have to do this ourselves. Give this little hack a try. You never know it could just make your life a little easier. Purchase a few placemats to put on the fridge drawers to prevent anything from leaking onto the drawers. They will make the fridge interior more attractive and if you choose plastic placemats they are easy to clean. Most of the time just a quick wipe with a wet cloth is all that is needed!

Jewelry Display Stand
When we get home from an outing or a hard day at the office and change into our lounging-at-home outfits, a conveniently placed jewelry stand is ideal for catching the pieces of our jewelry as we remove them. You may find that buying an exclusive, on-trend jewelry stand is rather costly or unaffordable.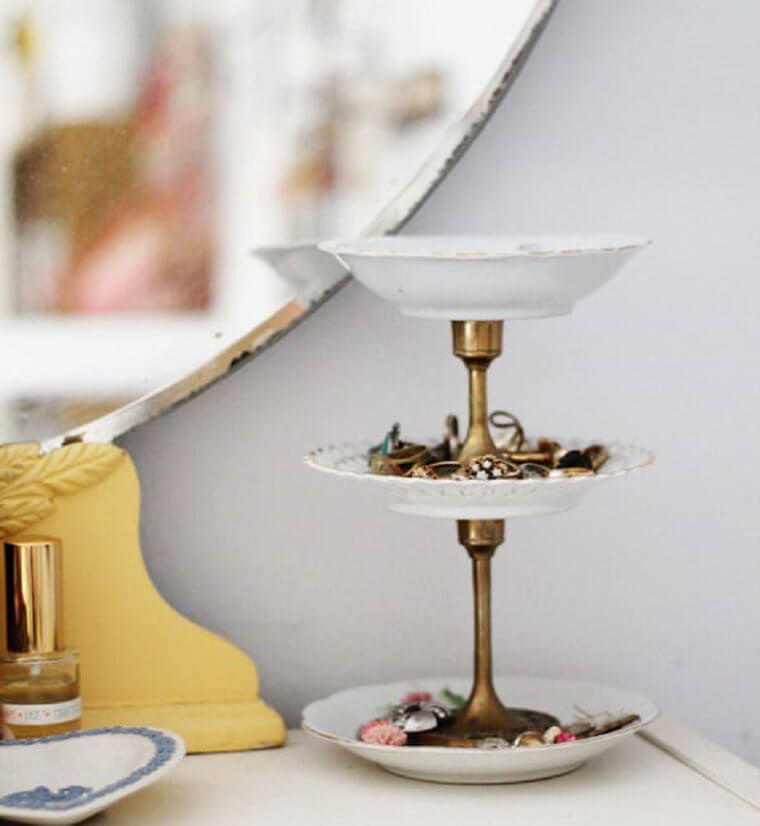 Save yourself this expense by giving these hacks a try. Transform a coffee mug stand into a bracelet or necklace holder. Choose pretty and appealing tea saucers that blend with your interior décor and interesting candlesticks to create an enchanting jewelry stand. The tea saucers will act as catchall trays and safe resting places for your jewelry items. Should you wish, personalize these two options with gold or silver thread, or touches of paint or glitter!

Dish Rack Uses
Dish racks have more uses in the kitchen than just as repositories for washed crockery or cooking utensils to air-dry. Placing a dish rack inside your kitchen drawers or cupboards makes an ideal organizer to hold the lids of pots, pans, containers, or your dinner and side plates, and saucers.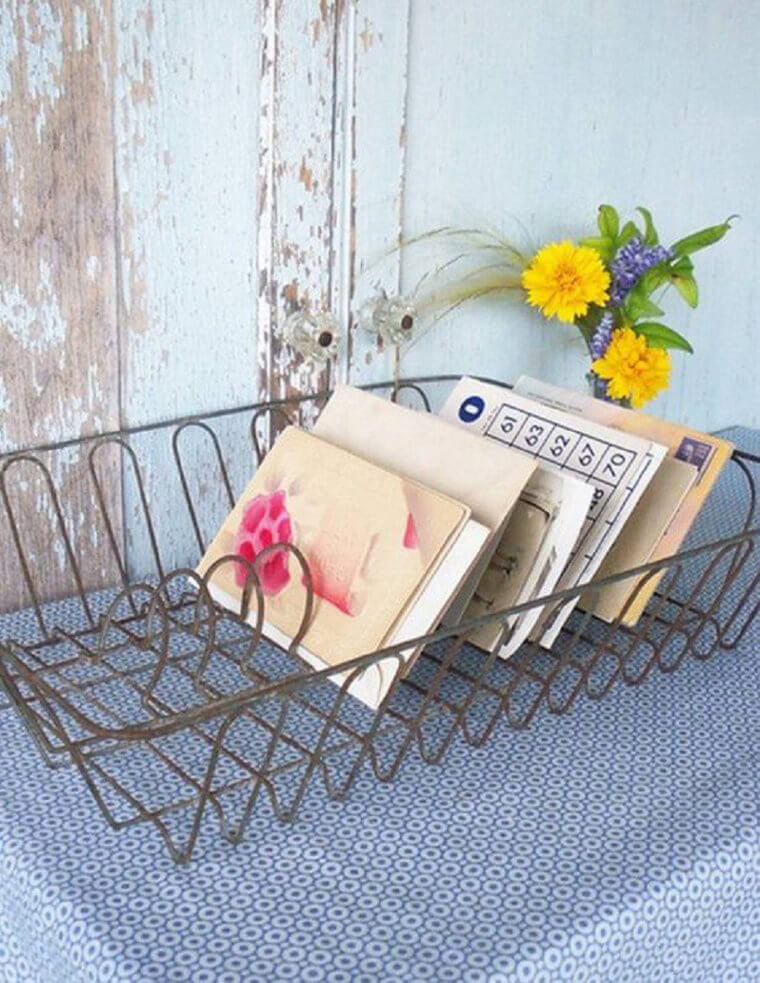 Besides the kitchen, dish racks can be used in other rooms in your house too. They make perfect organizers for cookery books in the kitchen, and handbooks, guides, mail, and documents in the home office. Stand one upright and use it for hanging jewelry, hang one in the entranceway to suspend miscellaneous items on s-hooks such as keys and locks, or create a charging station for all your electronic gadgets. There are endless uses for dish racks in the home, just rack your brain for ideas!

Versatile S-Hooks
S-hooks provide more storage space for closets, drawers, doors, and walls. They can suspend a multitude of household and office items, on a variety of rails and rods, are customizable as they can slide to-and-fro along the rods and rails, and can be easily and immediately removed or added.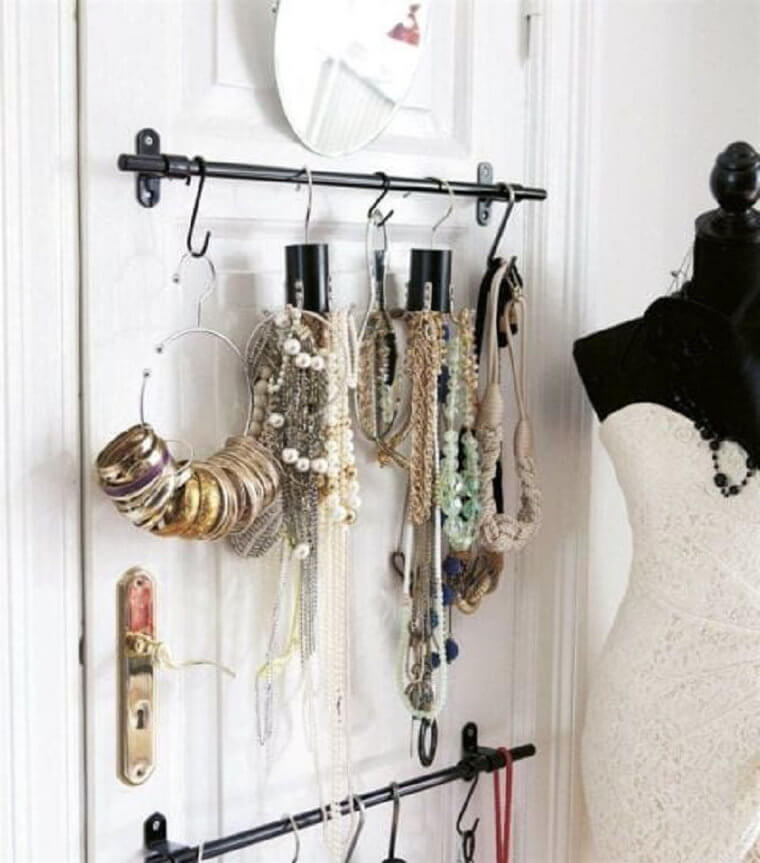 Besides, when items are hanging they are more easily accessible. S-hooks are ideal for hanging tools and smaller gadgets needed for projects in the craft room or garage, storage of coats, hats, umbrellas, and bags in the entranceway or mudroom, and for hanging cooking implements close to the stove and workspace in the kitchen. Hang bracelets, bangles, and necklaces, or even scarves or belts, on s-hooks on rails inside closets. S-hooks are perfect low-cost storage options.

Lovely Shining Lights
Those of us who love entertaining and hosting parties regularly are always looking for different and innovative ways to decorate our homes with interesting party items. If you're throwing a party at night or in the early evening nothing creates an indoor or an outdoor ambiance better than soft lighting.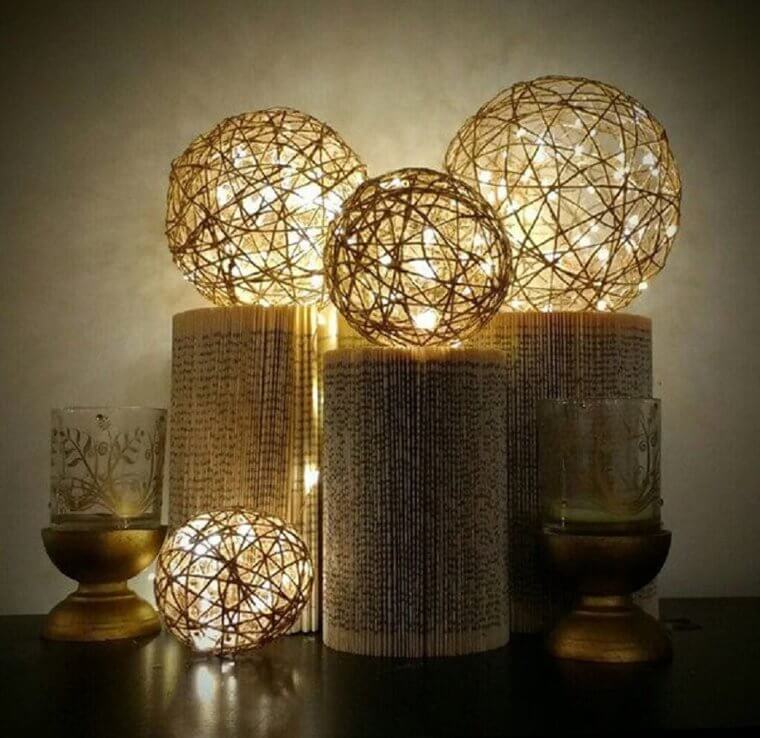 So why not create your own? There are many simple, easy projects to make DIY inexpensive lighting. Home-made beautiful candles can be displayed in a myriad of appealing ways to illuminate your setting. But what about making a Moon Light? All it requires is glue, twine, balloons, and some LED fairy lights and voila, you have several lovely lights to brighten up your indoor spaces, patio, or garden.

Instant Indoor Greenery
We've all heard how beneficial indoor plants are for our health: how they improve the quality of the air, help relieve stress, improve our mental health and add moisture to the air. Besides these benefits, their greenery adds a beautiful fresh brighter look to any room.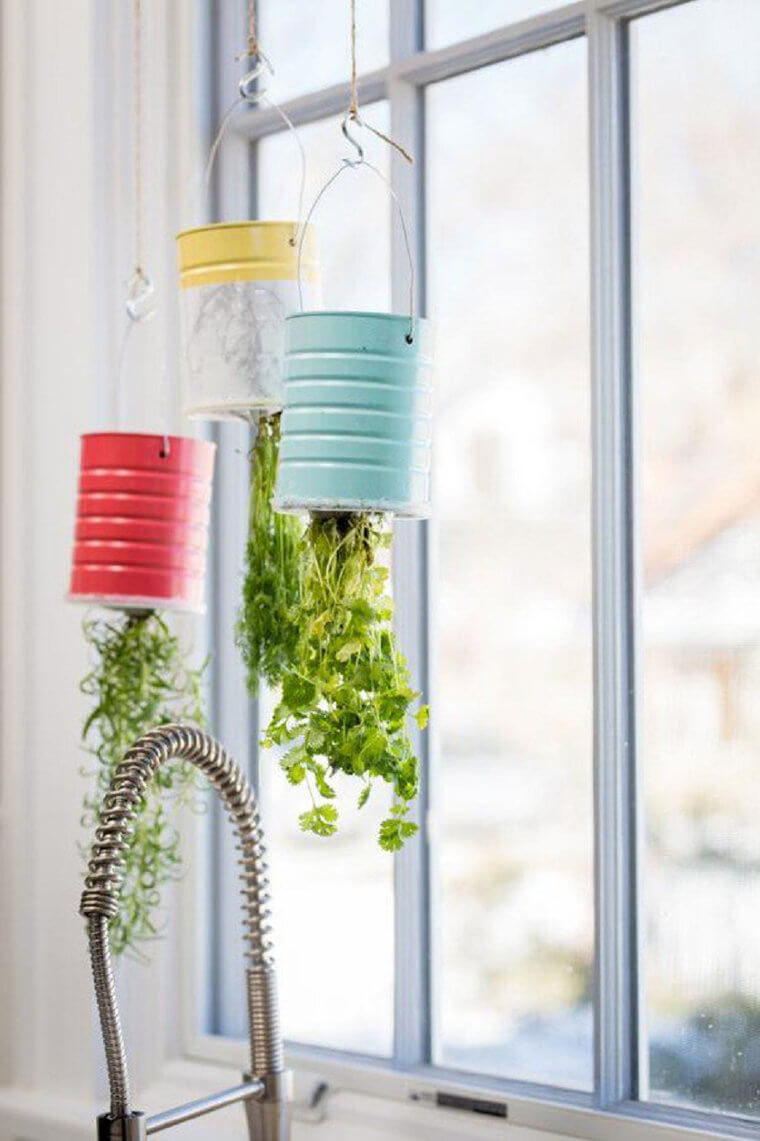 As not everyone has sufficient space to keep any plants we suggest that you try out this hack. Take a few empty tin cans that you have personalized with pretty paints and funky designs and fill them with your choice of little lush green or flowering plants or herbs. Suspend them with wire and s-hooks in front of a bright, lightly sunny window. Hey presto, there you have an inexpensive greenery and flowering addition to your space!

Car Hooks Hack
The importance of car seat headrests is undeniable. They are designed to enhance our comfort during any car ride and are vital in protecting our necks and heads from whiplash or injury in the event of a traffic accident. They are also detachable and can be used to smash open a window if you need to escape from the vehicle.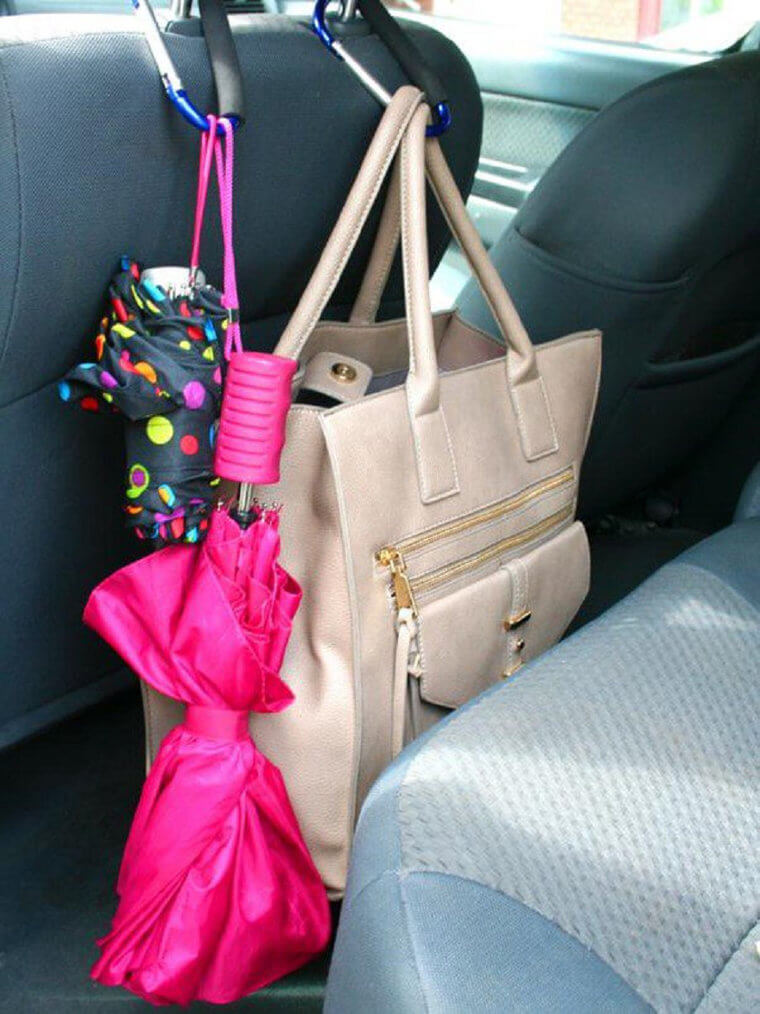 Sometimes certain items are best stored upright or hanging in our cars. Headrests are useful with that. Attaching some carabiners to the metal pegs of the headrest provide you with a safe, sturdy, and handy way of hanging your purse and shoppers and preventing spillage onto the car seats or floor. You can even store umbrellas here. We hope you will find this hack useful!

Embellished Light Switches
Unless your new home has been custom-built and you have selected everything you want in it from appliances to the wall and floor coverings, cabinetry, and amenities, most newly-built homes come with standard fittings. Light switches are usually only chosen for their functionality and are pretty plain and uninteresting until you decide to personalize them.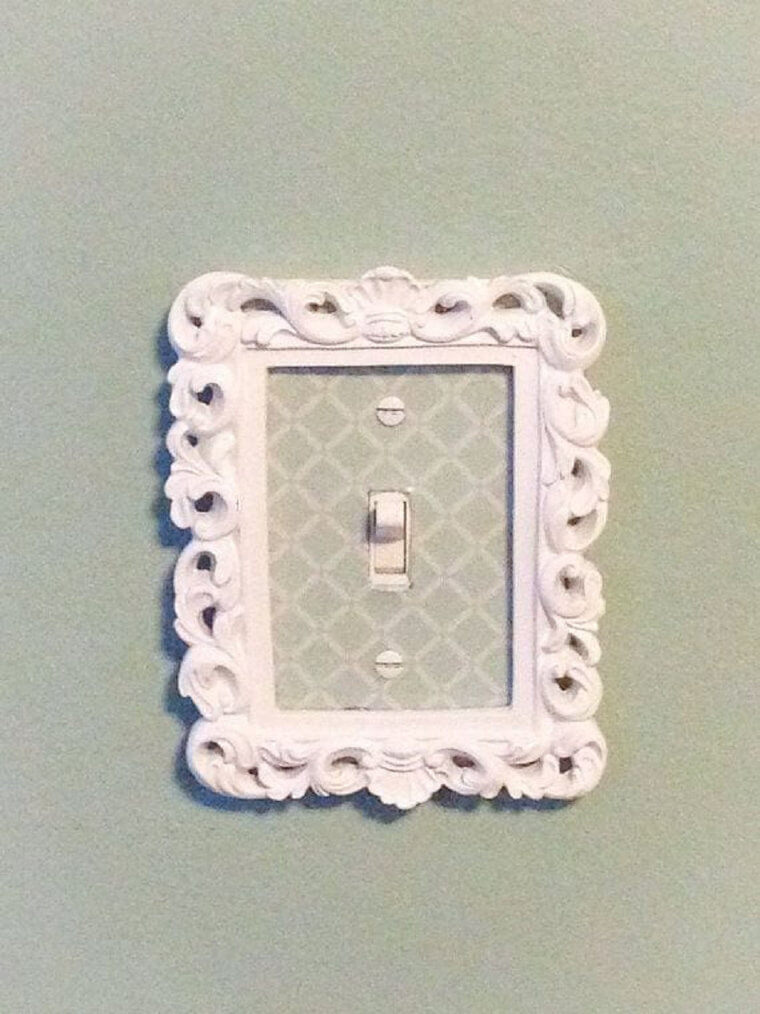 Here is one simple cheap and easy way to embellish the standard light switches and have your newly-built home reflect your personal style. Buy a small photo frame and pop out the glass before transforming the frame with paint, stickers, or washi tape. Fix the frame around one of the light switches for instant appeal and personalization.

Wonderful Ways With Washi Tape
Washi tape is a thin, durable, decorative masking tape made from paper that has a plethora of uses for art, craft, scrapbook, and DIY projects. It originated in Japan and the term washi comes from the words 'Japanese Paper.' It will adhere to many surfaces, even wood, metal, and plastic, and can be removed easily.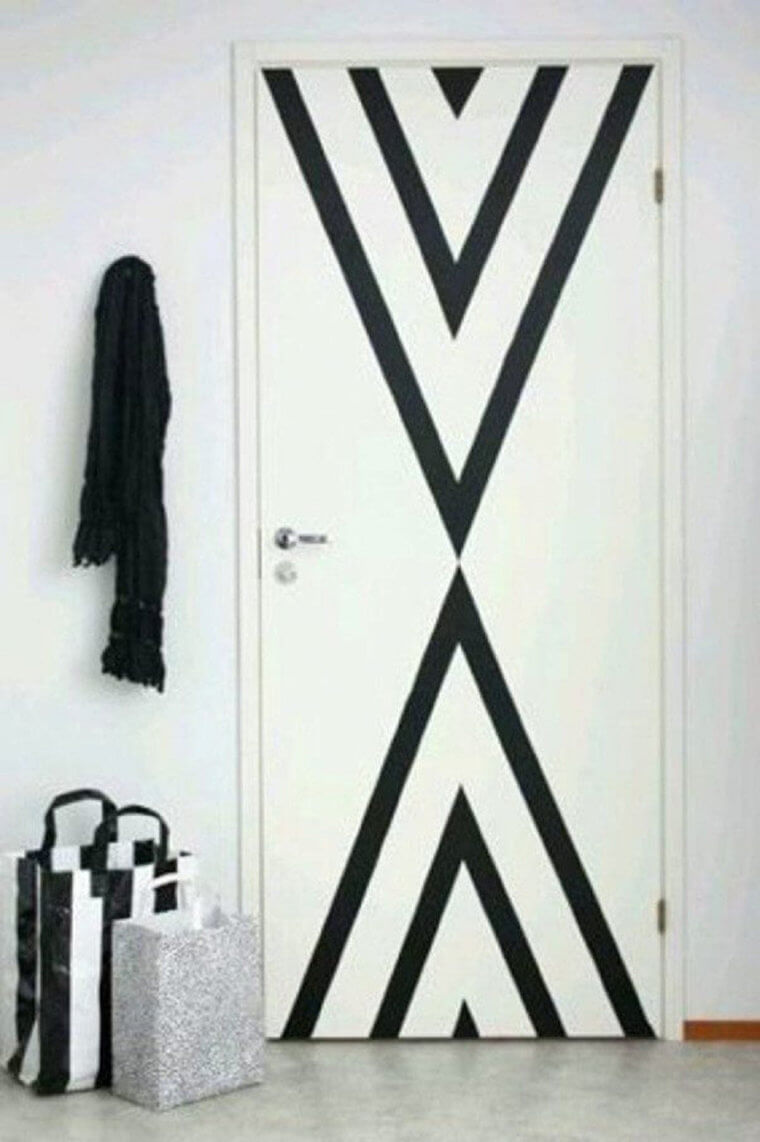 A big bonus is its availability in hundreds of patterns and colors. It's ideal for decorating paper crafts like cards and bookmarks, creating bunting, journaling, and pretty gift wrapping but few people are aware that it can be used to beautify doors. Choose the tape that delights and pleases you, apply it to a dull door, and then coat it with a layer of varnish to secure it and to protect the tape from dirty or sticky fingers. Your uninteresting door has been transformed.

Tying Back Curtains
It's spring again, the sitting room has been closed up for winter but now you want to allow the natural light into this space again. But, the curtains are new and you didn't think to buy any tie-backs at the time. Never mind, it won't be necessary to buy any with all the DIY options out there.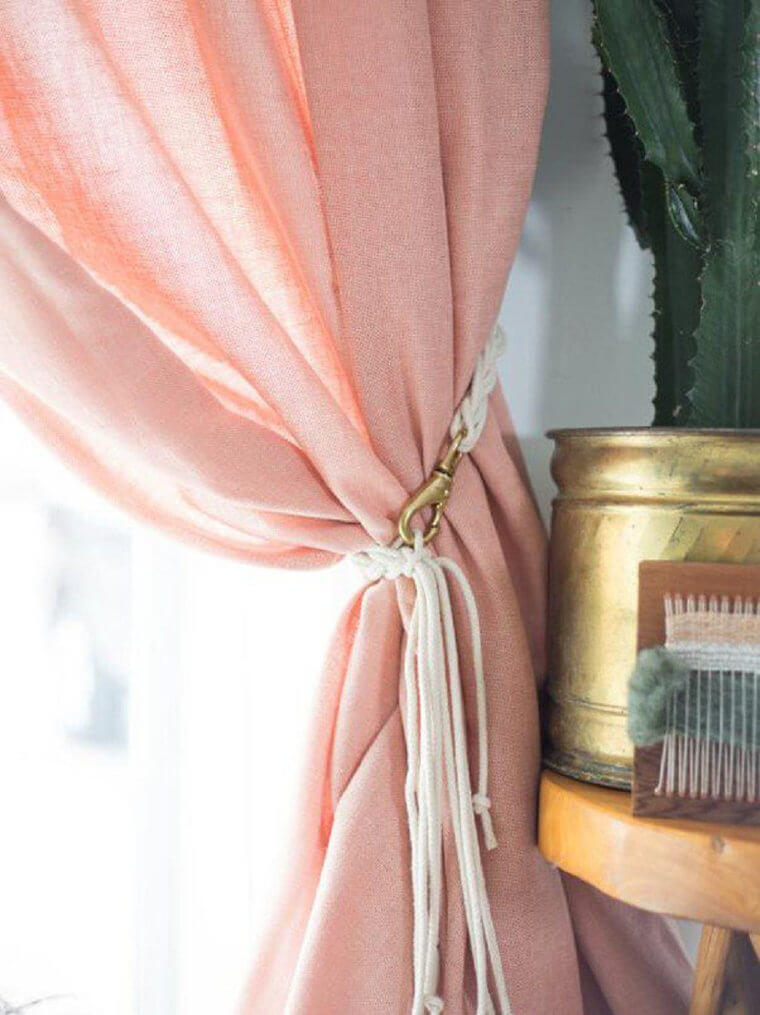 You'll have fun making your own. You can use simple inexpensive things like fancy cords, strings of wooden or glass beads, belts, chains, men's ties, scarves, leather cords, ribbons, or jute rope. Head off to your local haberdashers and see the endless variety of options available. Or, as in this post, you can buy some white braided rope and gold snap clasps from the dollar store to create your own stylish tie-backs to make you proud!

Effective Kitchen Storage
A well-organized kitchen makes it easier to keep clean, find items when you need them, and prepare family meals. Space always seems to be at a premium in a kitchen so some good regular re-organizing is required to keep maximizing the storage space.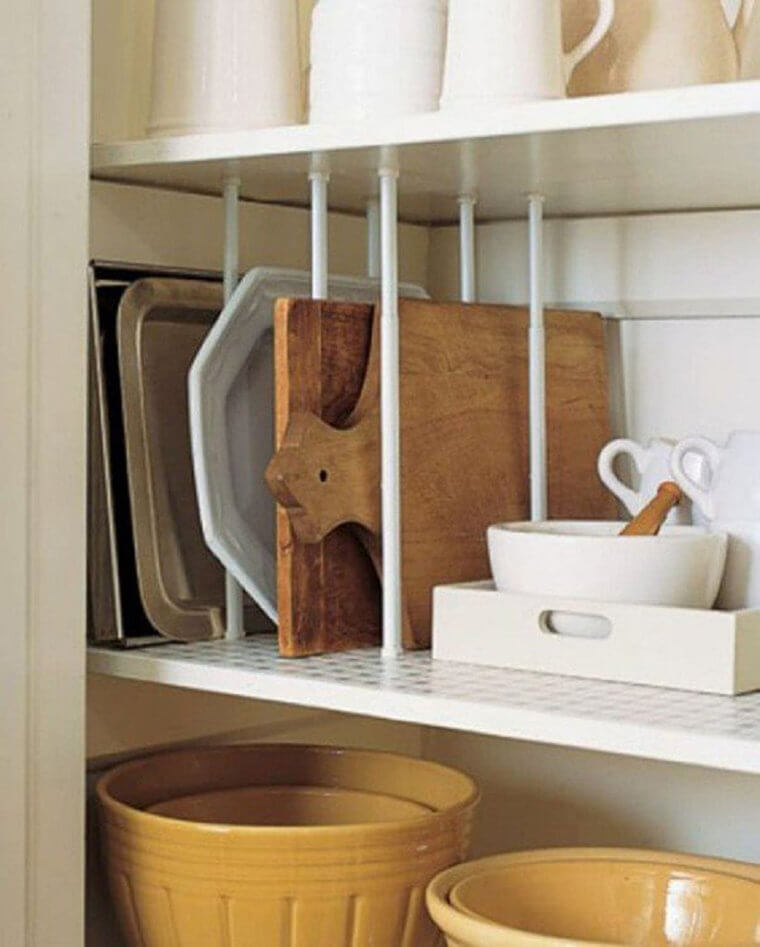 Small hooks are ideal for smaller things and dish racks are for the lids of pots, pans, containers, or spare crockery. However, there are those items that will free up lots of space if they're stored upright like cutting boards, baking trays, muffin pans, and metal or porcelain platters. Fit several extendable wooden bars inside your cabinet on one of the shelves to create upright storage space for these. Slot them in between the bars to give a tidy, orderly look. It's an easy, quick resolution!
The Junk Drawer
Over time we all accumulate a series of miscellaneous items that, even in the most well-ordered homes, do not belong in any of our other collections. So we dump these in a spare drawer which ends up looking like a chaotic mess of things like pens or pencils, packets for drinks, tablet bottles, or random tiny objects like paper clips. It's a hotchpotch!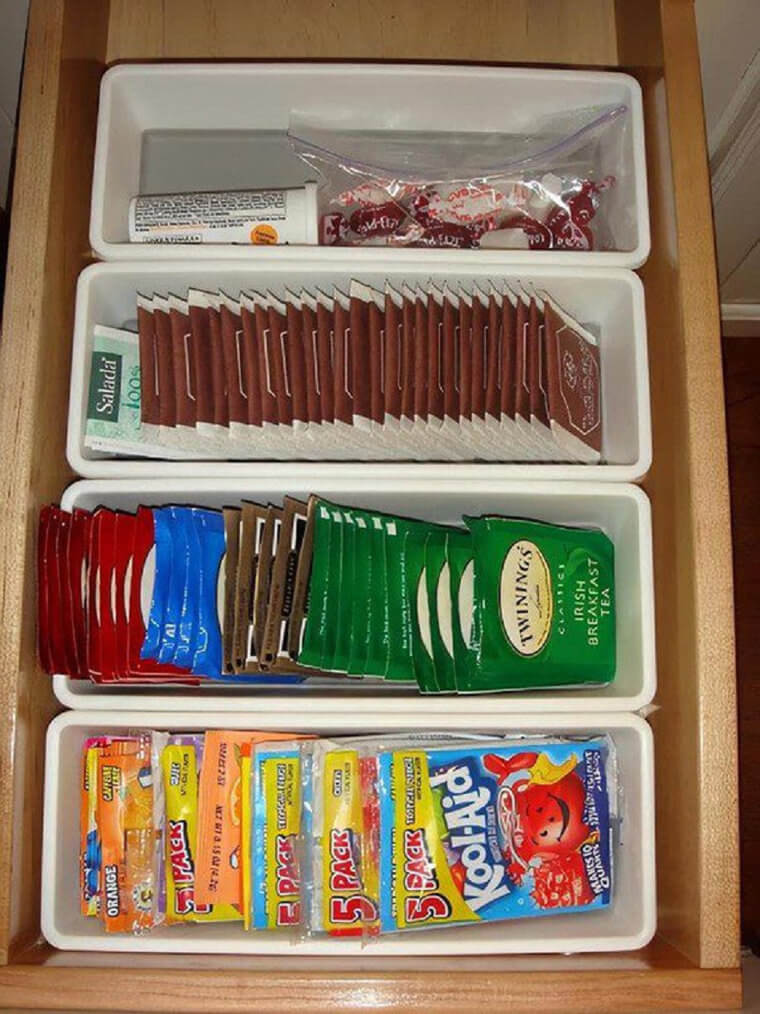 A perfect solution is these longish pencil holder organizers. They're available at the dollar store and are sold fairly cheaply in packs. Get a whole pack of them as you will always be able to find a use for the extras. They're so very handy. In no time at all, you will have sorted these random items neatly into organized compartments in your drawer. The junk is now sorted!

Mounted Magazine Racks
We have already suggested that a dish rack inside your cabinet is ideal for storing the lids of pots and pans. But a dish rack can take up quite a lot of shelf space and what if you have so many lids that a single dish rack will not suffice? Here we suggest that you buy a vertical wall-mounted magazine rack from the dollar store.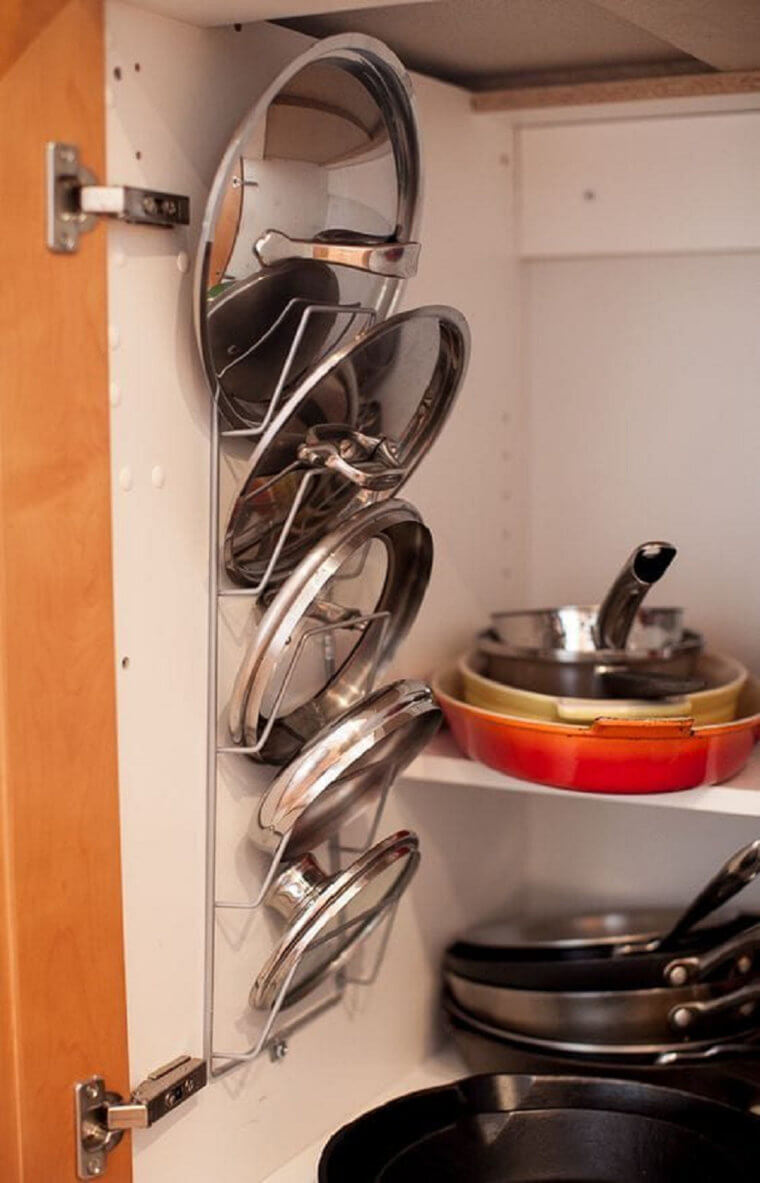 The right spot to mount the magazine rack is inside an upper-level cabinet to allow for easy reach of your lids. If the space permits stack these in order of size to save time. These vertical magazine racks also work well in the kitchen to hold plates or hard-backed cookery books, or even in the broom cupboard to stack some of the essential household cleaning tools like dustpans and brushes.

DIY Non-Slip Coathangers
Sometimes we have clothing that for some reason just will not stay on the clothes hanger. Perhaps it's the type of fabric but it doesn't matter which type of coat hangers we buy, the clothing just slides off and lies crumpled at the bottom of our closet.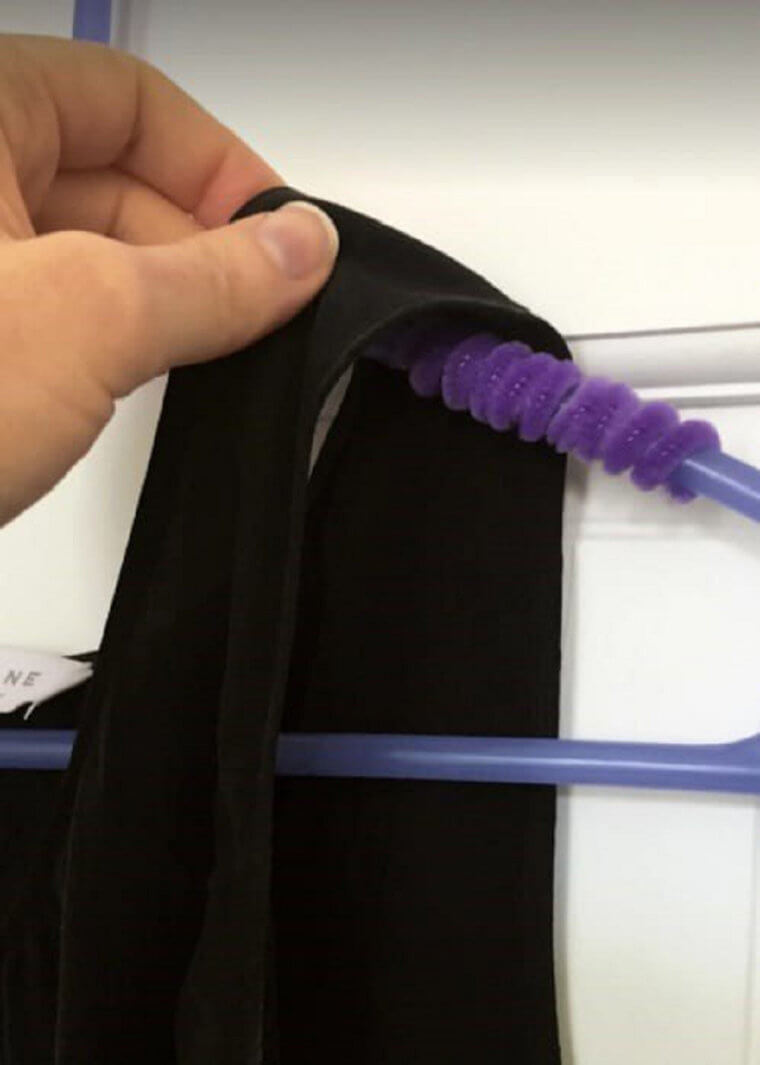 We've tried lots but to no avail; wooden, plastic, metal, fabric, cheap or expensive. None seem to help! Here's a simple inexpensive hack that may solve this dilemma. Buy some pipe cleaners and at each end of the hanger wrap one around the bent shoulder section. It might need two to pad this entire shoulder section. Be sure to wrap over the pipe cleaner ends to protect your clothing. We're sure this will have a better non-slip grip on your clothing. Pretty and colorful too!

Home-Made Massager
There's nothing quite like a massage to rub away those knots in your shoulders after a long tough day at work. But it doesn't help if there isn't anyone at home to give you a massage, and physios and masseurs, and electronic massagers are often a bit too expensive.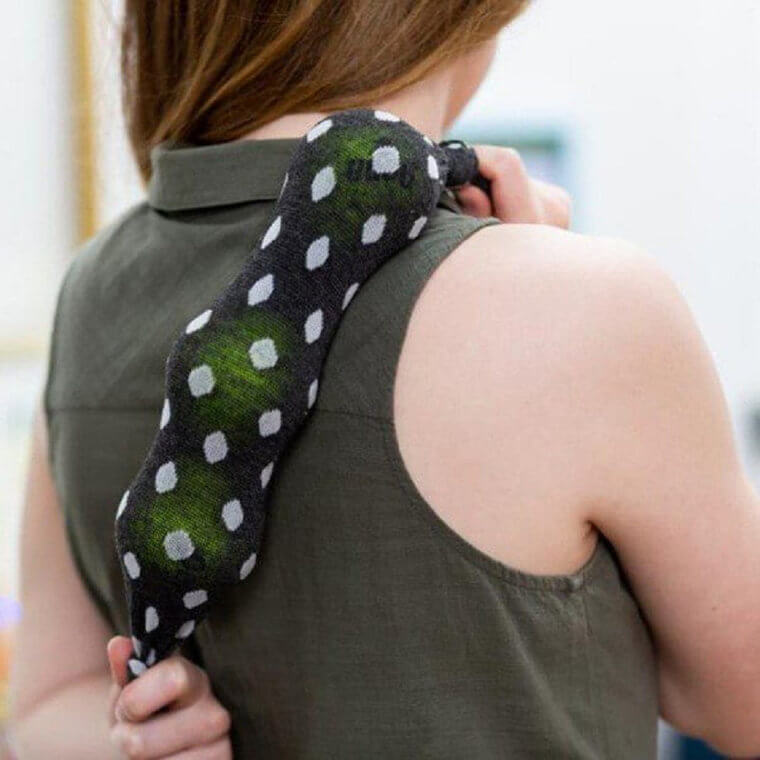 But relax, here's a more affordable alternative to try. Put about three tennis balls inside a long sock. Close both ends tightly with a knot or a taut rubber band to ensure the balls do not fall out. Hang it over your shoulder and pull it back and forth. We hope this cheap homemade massager works well and gives your aches some much-needed relief.

Pencil Holder Storage
If you're a busy, adventurous cook then perhaps as you've been trying out lots of different recipes your collection of spices and condiments has grown so much that your spice rack is overflowing or you have yet to acquire the first one for your kitchen.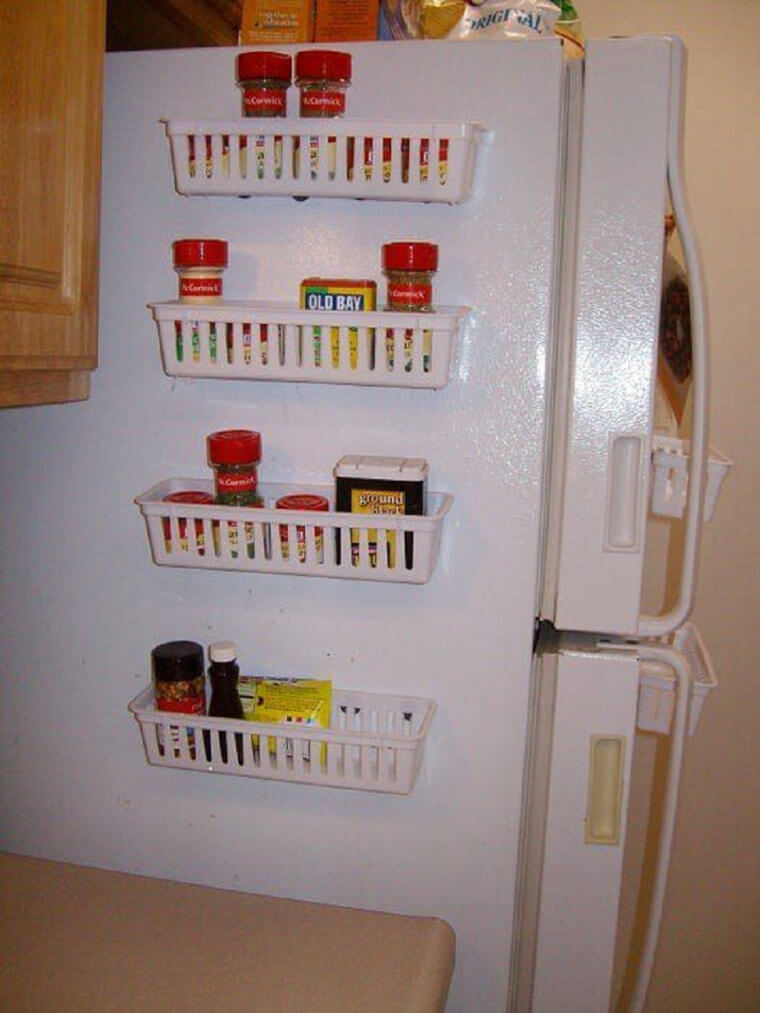 This hack will provide you with easy access to your spices and condiments. Attach some pencil holders to the outside of your fridge. This is an economical way to store your spices and condiments which will allow you to reach for them easily and also free up some extra kitchen space. Decorate them, label them, or paint them to fit your style, and then collate the spices in the way that works best for you!

Repurposing Shoe Organizers
These days we think twice about simply throwing things into the trash can. Instead, we first think of ways to repurpose these unwanted items just as we do with unwanted gifts. Here we discuss shoe organizers. Not everyone likes their shoes displayed in hanging shoe organizers but a repurposed shoe organizer has many handy uses.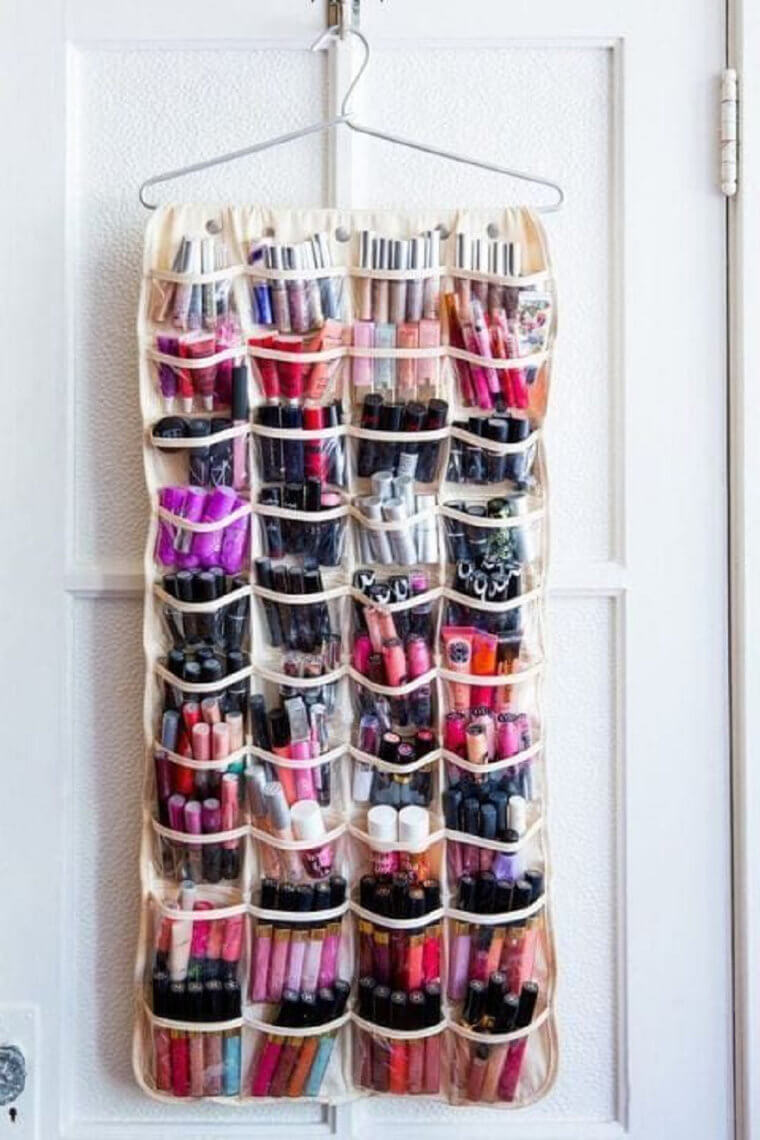 It is useful for smaller tools like pliers and screwdrivers in the garage or to grow a vertical garden of herbs or tiny plants outside the shed. Hanging one behind your bedroom closet door offers endless options: personal care products like brushes, combs, and nail accessories; socks, gloves, and beanies; scarves; or as in this post your make-up collection.

Transforming Used Tin Cans
Think before you throw away your empty tin cans. You might find that they can be reused to organize all the knick-knicks and oddments you have lying around your house, in the garage, or even in the garden shed. Be sure to clean and sanitize them thoroughly before repurposing them.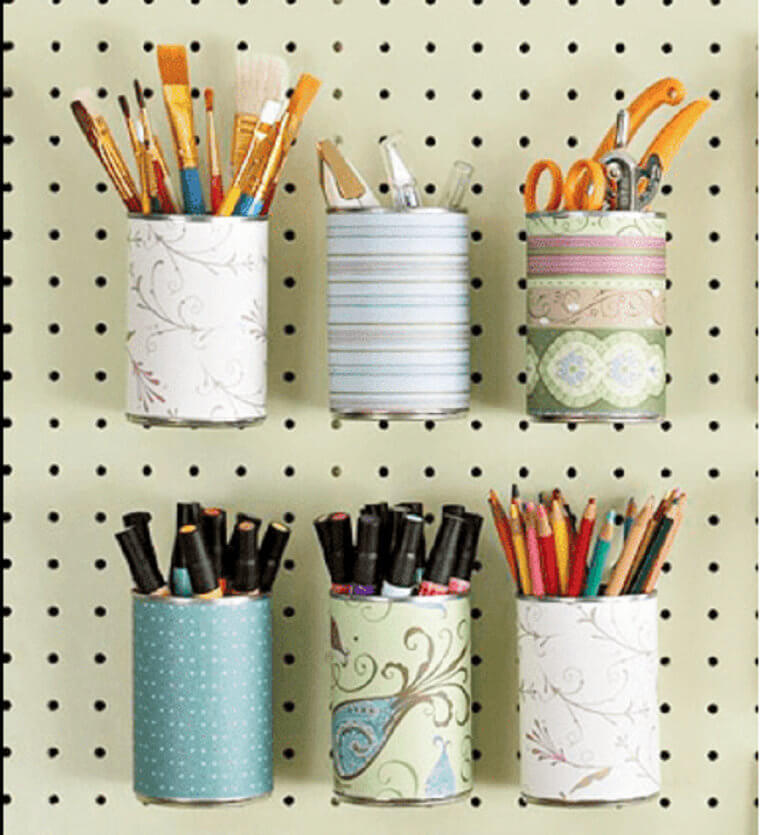 Jazz them up and make them look eye-catching. It's easy! Paint them in inviting colors, attach strips of wrapping paper, shelf liners, or adhesive wallpaper to them, or wind twine or attractive washi tape around them. When ready fill them with your goodies and then these cheap and pleasing organizers are ready to be displayed.

Marbelizing Plain Teacups
Have you seen the recent trend on social media of people posting their DIY-painted teacups? You buy an inexpensive set of plain white teacups or mugs, and add your personal touch with this effortless DIY marbelizing treatment. They look appealing and in a flash, you will have a new set of unique teacups.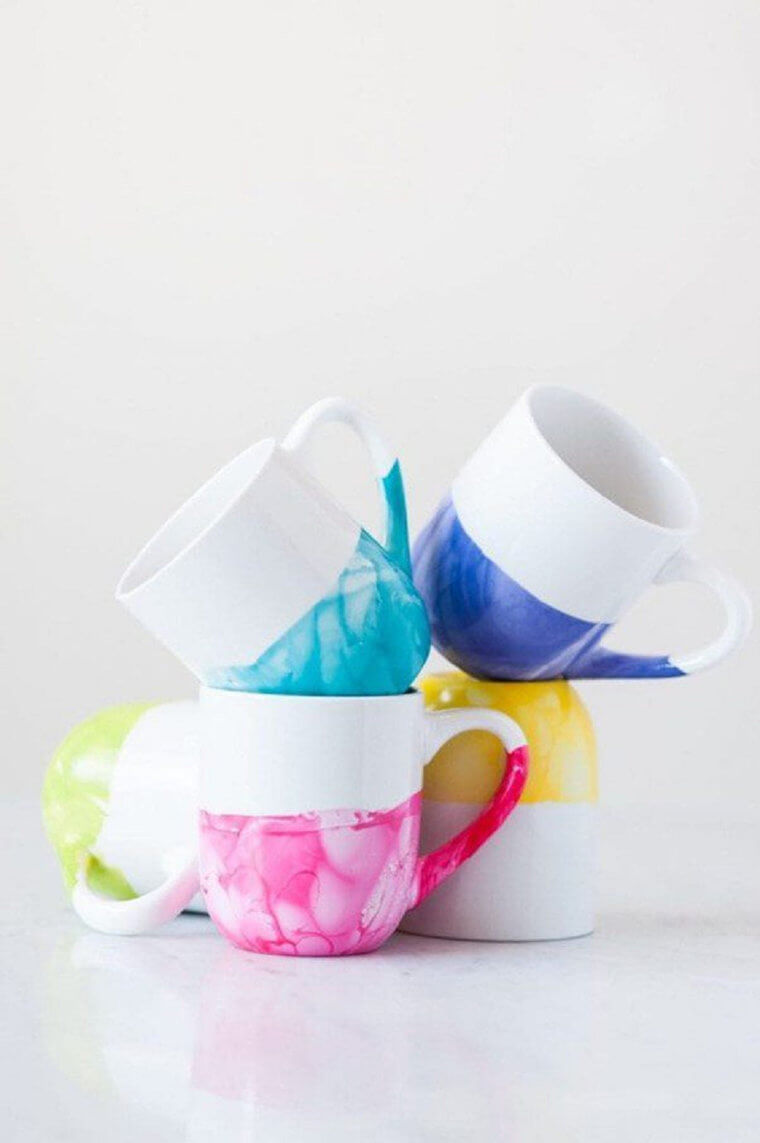 It's easy! Drop some nail polish into an old bowl of warm water. Using a toothpick swirl the nail polish around in the water until you are happy with the pattern. Quickly dip a cup into the tub, lift it out after a few minutes, and let it stand until dry. Repeat until your set is complete! You'll just love the look.