Drone sales are reaching higher peaks year after year. Just a few years ago, a civilian owning a drone was considered a fantasy, because they were only used for military purposes. Nowadays we have people using drones left and right. Whether for recreational purposes or professional purposes, everyone loves to have a drone with a high-quality camera on it. Because there are now drones flying everywhere over the world, it was only a matter of time before they started catching bizarre and highly unexpected scenes. We have compiled a list of the best scenes captured by drones. Make sure to read on and see the most interesting events unfold through the eyes of a drone.
 
Shadow Play
The image you are looking at was captured by a drone off the coast of an isolated beach, where only two people were walking their dogs, creating a beautiful image, that is very pleasing to the eye,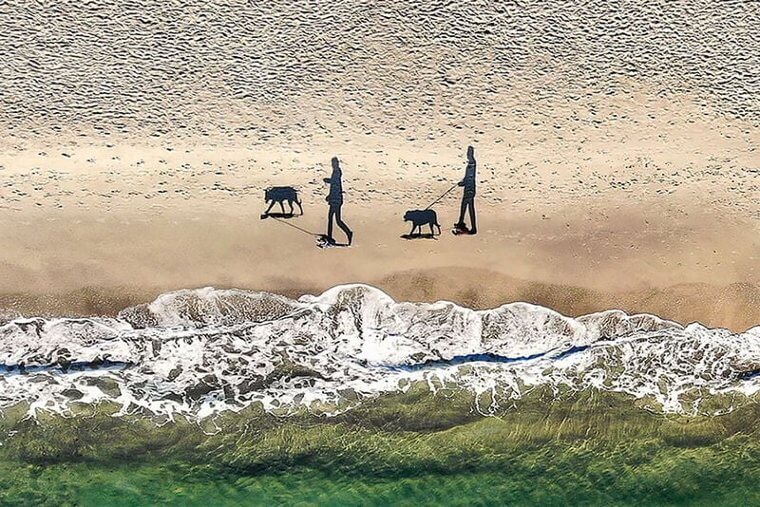 But the emptiness of the shot isn't what catches our eye here. It's the enormous shadows caught by the drone flying from above that makes this a truly unique photograph. Their massive figures make this image look almost like a painting- with their dark shadows stretching out across the sandy plains and the foamy water washing up on the shore. 
Gulliver the Gentle Giant
The image you are looking at was taken in Edinburgh, Scotland when a drone was doing a fly over a field. It might seem disturbing at first, but there is a simple explanation for the picture. What you are looking at is a statue dubbed Gulliver the Gentle Giant. It was actually made by convicted murderer Jimmy Boyle while he was imprisoned in the Barlinnie Prison in Glasgow.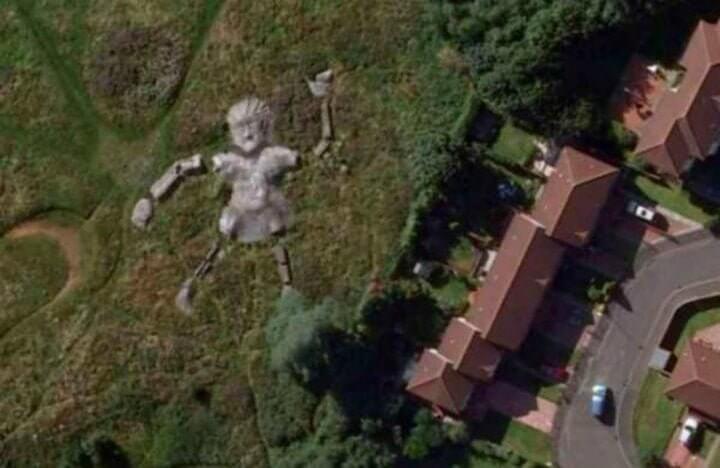 The statue was placed and unveiled back in 1976 and it became very popular with the local population. The children loved it and loved playing near it. However, just like most other things in life, it was slowly forgotten about and fell into disrepair over the years. The local government decided that it was time to remove the statue back in 2011. It was not only unstable, but it was also in the spot where they wanted to establish a flood prevention system, so it was best for everyone to have it removed. It was digitally scanned prior to the demolition, and it now lives on in the cyberspace.
World's Worst Traffic Jams
More than 1.4 billion people are currently residing in China, thus making it the world's most populated country. And that title brings a lot of trouble in different shapes and forms for the country and the citizens themselves. It is no secret that they have the worst traffic jams in the world. What you are looking at is a photo from a drone that flew near the border with Hong Kong. It snapped a photo on the Beijing–Hong Kong–Macau Expressway. You are looking at 50-lanes that are filled with traffic to the brim.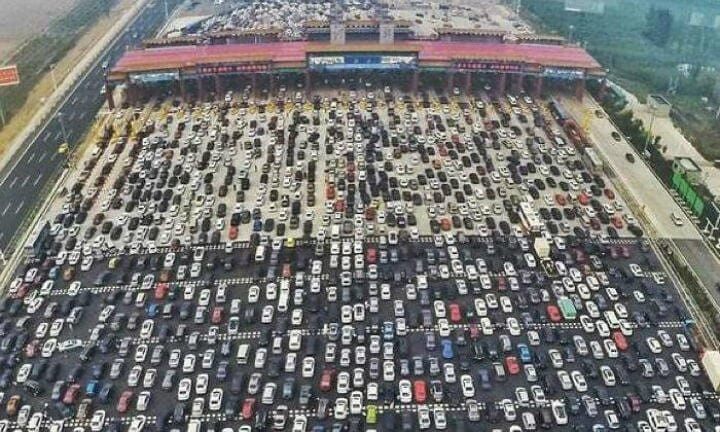 There is a great explanation as to why an Expressway was full on that day. Thankfully it was not due to an accident but due to a Chinese national holiday called "Golden Week." This is the time of the year that most of the population has a week off, and they go and visit their family. This, obviously, quickly becomes a problem with a population as high as China's. The picture itself caught the worst traffic jam ever recorded, and this was back in 2010. It actually lasted for a staggering 12 days, before it cleared out. Some of those cars were only able to travel a mile in a single day. Imagine that.  

Waterlillies Galore
There is something so stunningly beautiful about nature- and this picture is no exception. In this drone shot, the bright purple and pink hues, combined with the deep green creates the perfect contrast.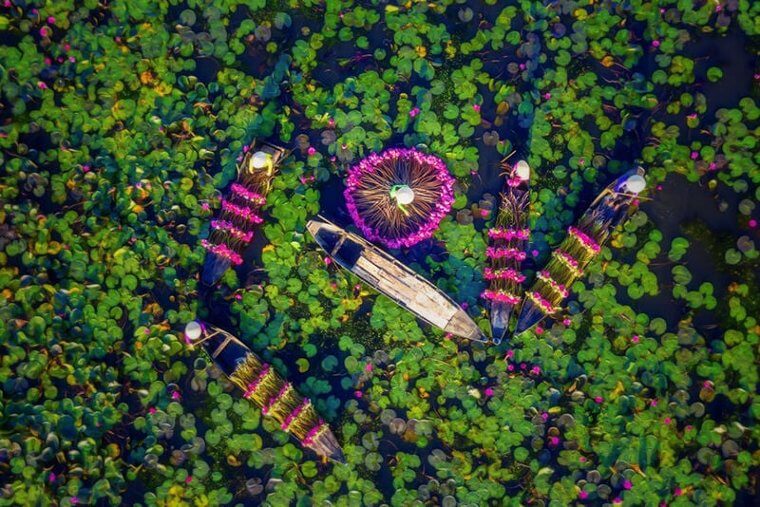 You might be wondering exactly what you're looking at and where this beautiful location is. This was taken in Vietnam where the locals make their living by picking water lilies and selling them in their local markets.
The Silverdome
What you are looking at is The Silverdome. It is a stadium that was once home to the Detroit Lions football team. They moved out of that place back in 2002, when they made the new Ford Field their home. The Silverdome itself is quite a historical monument. It was once a Super Bowl host, it saw the visit of a pope, it was a place where the NBA finals were played, and even Elvis had a concert there during his best years.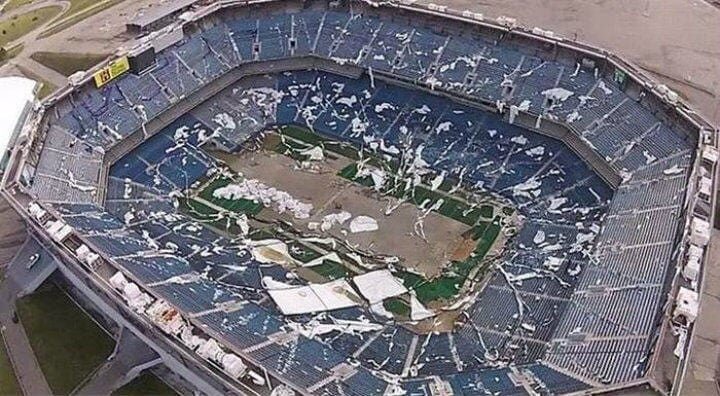 It was purchased in 2009 by investors that wanted to turn it into a soccer stadium. However, that never happened. The reasons are unknown, and there is still no news from the current owners what the future plans are. The stadium was stripped throughout the years, and pretty much everything valuable was taken and sold. The drone picture you are looking at shows the skeleton of the Silverdome and tells a sad story of just how quickly a place can be forgotten about.  
The Six Flags Theme Park
This photo was snapped in New Orleans East. What you are looking at is the abandoned Six Flags theme park. The park was closed during the preparations for the Hurricane Katrina back in 2005, but nobody expected that it would close for good on that sad August month. This particular drone photo captured the park just two weeks after the hurricane, and you can see that it was still mostly underwater at the time.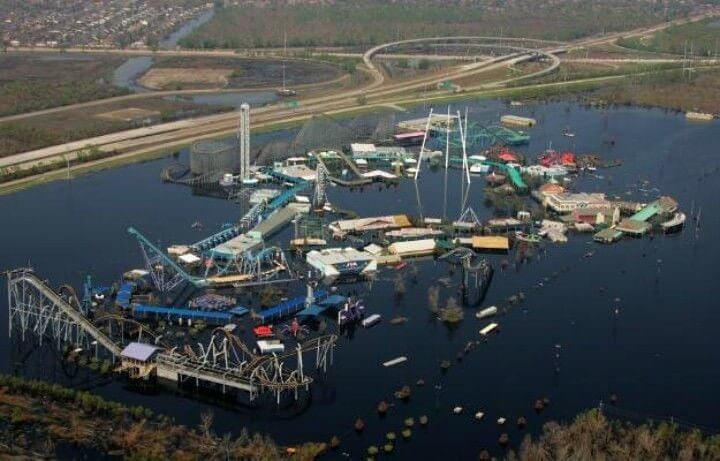 There have been numerous different plans proposed in order to revitalize the place, but none of those plans ever became a reality. The place is still abandoned to this day, and its condition is getting worse and worse as each year passes. However, the New Orleans Police Department patrols the grounds of the park 24/7 in order to catch trespassers, so if you are a thrill-seeker you might not even make it to the gates of this ghost-town amusement park.
Mont Saint-Michel
This particular photo was snapped for the 'Dronestagram' travel photography contest. You are looking at the Mont Saint-Michel which is probably one of the most recognizable UNESCO World Heritage Sites. You can find it in Normandy, France. There are more than three million visitors that come to this place each year, and see first-hand what it has to offer. The island itself is quite a historical location. It was used as strategic fortification since ancient times and later became the seat of the monastery that has been present there since the 8th century AD.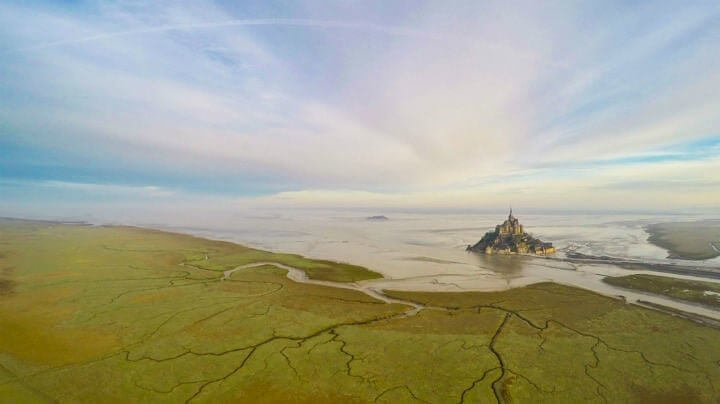 When the low tide hits, pilgrims can make their way to the island on foot. When the high tide hits, however, it cannot be accessed by anything else than boats, and it quickly becomes rather obvious why it was so easy to defend it.  The Mont Saint-Michel was actually never conquered during the Hundred Years' War, and that is not due to no attempts. The English tried to take it over many times but failed every single time.
The Boneyard
It is no secret that the US spends a lot of money on military equipment. But what happens to the equipment that served its purpose? Fighter jets, specifically? Those get their final resting spot at "The Boneyard" in Tucson, Arizona. It is a storage center that has been around since the end of the Second World War. It currently stores about 4000 different types of military airplanes and is thus the largest in the world to do so.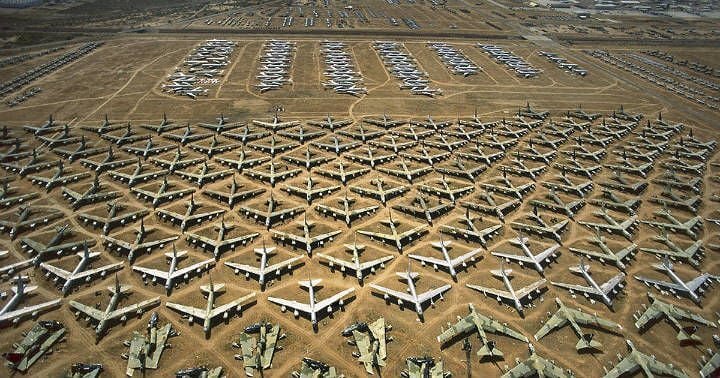 The Southwestern United States has very low humidity and that is why the metal on the airplanes does not corrode. It is a perfect place to store and preserve airplanes for as long as possible. The base basically operates like an expensive junkyard. It turns a profit of around $500 million each year by supplying the US military and other allied militaries with spare parts. It is, however, the decision of the Congress when it comes to selling equipment, and to whom they sell it to.
The City of Hong Kong
Take a look at this amazing birds-eye-view of the city of Hong Kong that was captured by a drone flying over it. The city of Hong Kong is actually quite well known across the world for its immense skyscrapers. They are, without a doubt, beautiful to look at, but they present a huge problem for the citizens of Hong Kong due to the difficulty to get an affordable place in the housing market.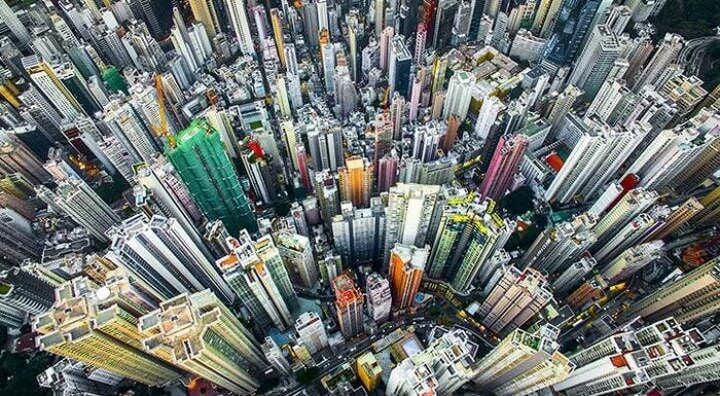 If we take a look at the statistics, we can see that Hong Kong is the fourth most densely populated region in the world. There are more than seven million residents living in quite a small area. Thus the need for skyscrapers. The housing market is facing quite a few issues, the biggest being the demand for more living space. They are unable to provide an apartment for everyone, and thus have to make the apartments smaller and smaller. As if that was not bad enough, you will be paying top money for even the smallest apartments.
Polar Bear in the Wild
This photo, taken in Nunavut (the largest and most northern territory of the nation) in Canada in 2019, shows a polar bear in its natural (and disappearing) habitat. Taken by photographer Florian Ledoux, it was the runner-up for the Endangered Planet portfolio of the CNN 2019 Travel Photography awards.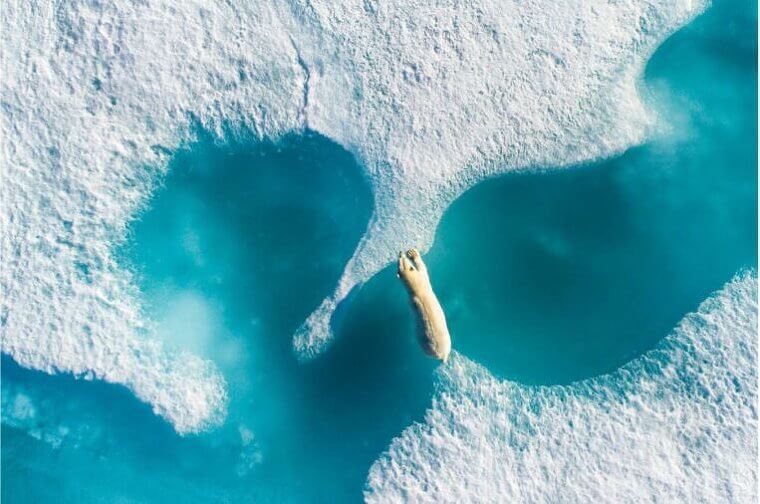 The photo evokes the loss of Arctic ice with the advent of global warming - both the natural habitat and the apex predator it shows are becoming increasingly at risk in a warmer world.
A Rooftop Peeper
This photo shows the dangers of drone technology when it comes to personal privacy. In spaces we would otherwise consider ourselves to be alone, drones can allow a stranger to observe. This photo, taken of a woman in Slovakia, shows just what types of things drones could be used for in the worst ways.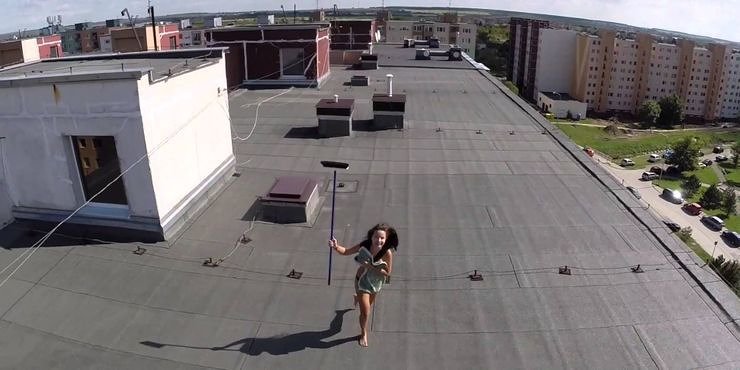 Lying on her own roof, sunbathing, she was clearly interrupted in a moment she wasn't looking to share. She grabbed a broom to knock the drone out of the sky, but its operator clearly managed to get away in time, and with this photo in tow.
Xiwei Reservoir
This photo shows that what's one man's blissful relaxing moment is....also probably the rest of our blissful relaxing moments. This photo captures just one such time we wish we could transport ourselves to right now.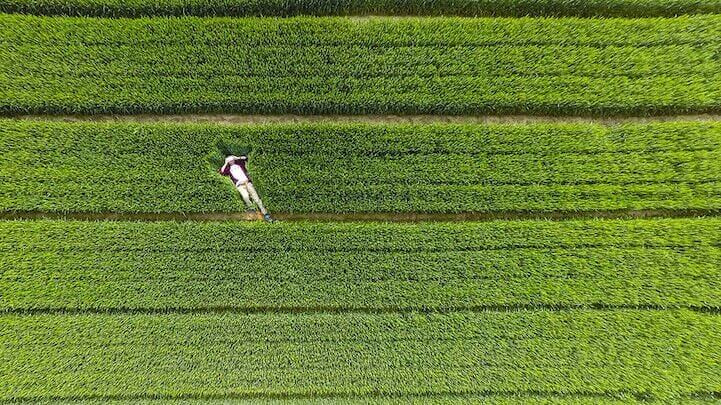 Captured in the Xiwei Reservoir in Shandong, China, it shows a young man enjoying a beautiful afternoon laying down as the vegetation outlines around his body. The fact that we can't see any traces of disturbance in the field around him makes it seem almost as if he were just dropped there in place.

Camel Train in Saudi Arabia
This took place in the desert dunes outside of Riyadh, Saudi Arabia. At first, it's a bit confusing to understand what's actually going on, but it becomes clear after you take a better look at the picture.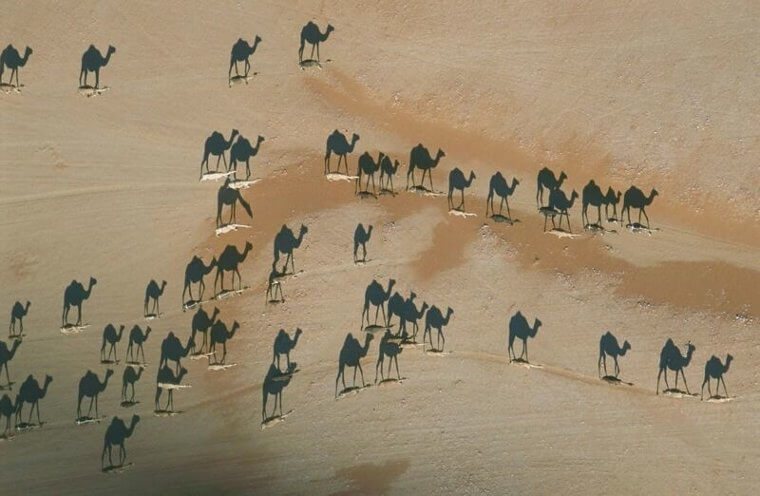 The camels are in a line across the bottom of the photo. The low winter sun makes them appear much larger as it casts their shadows against the dunes in an exquisite display. Despite following the same path as the rest of its herd, the camel at the back has a shadow that makes it seem like it has to climb a big hill to make up ground.
Hippos in the Serengeti
Believe it or not, this photo, which won a prize in 2018's International Drone Photography Contest, wasn't taken by a professional photographer, but rather by a Swiss lawyer named Yannick Wavre. Wavre captured it in Tanzania's Serengeti National Park when he saw the group of hippos waking up from an afternoon nap and heading into the water - a rare occurrence given that hippos usually sleep or submerge almost entirely in water during the day's heat.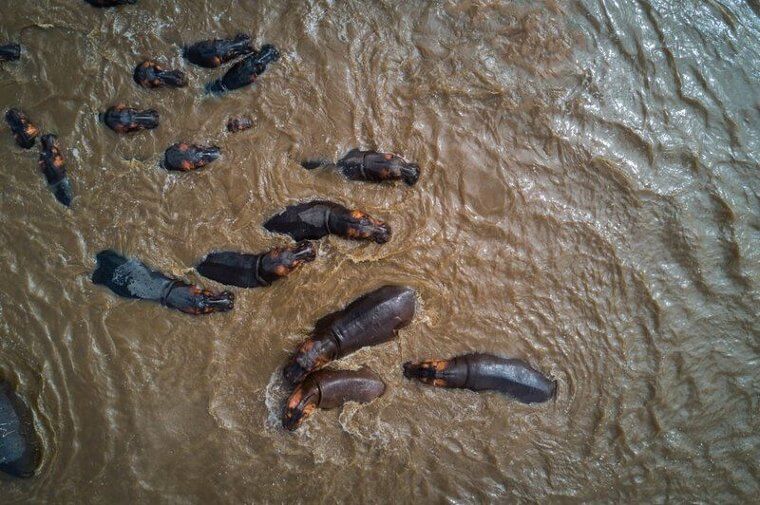 In Tanzania on honeymoon, Wavre was able to snap the picture thanks to drone photography, which allows for an approach outside the scope of traditional photography.
Basilica of Saint Francis
What you are looking at is a castle at the set of Game of Thrones. Just kidding, it is an actual place in Umbria, Italy that was photographed by a drone. Also, it is not a castle. It is the Basilica of Saint Francis of Assisi. It has been on Earth for centuries – the construction itself started in 1228, according to the research.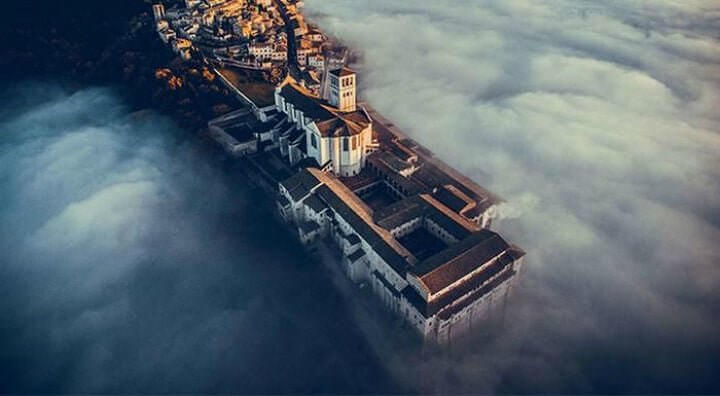 The layout is rather simple. You have two churches on a hillside along with a crypt. The crypt is the spot where the remains of Saint Francis are being held. Who was Saint Francis? Well, he was from a town called Assisi, which later became one of the most important Christian pilgrimage sites, thanks to him. The whole complex was put on the UNESCO World Heritage list back in 2000.
The Communal Nest
What you are looking at is not the head sculpture of a cow or a buffalo. It is, however, the largest-known bird nest on Earth. If you wanted to snap a photo like this one, you would need a drone, obviously. However, you would also need access to the Kalahari Desert, which the South African photographer, responsible for the shot, had. The Kalahari Desert spans over 350,000 square miles and is located on the territories of Botswana, Namibia and South Africa.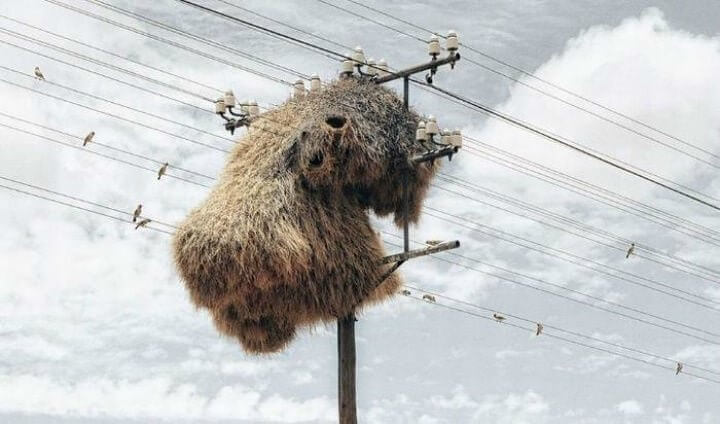 There are hundreds of social weaver birds living in this particular nest. They are actually well-known for their maintenance skills. They constantly repair and readjust their nests, so it is not rare to see a nest like this one last for 100 years. The birds use what is available in their region, so the nests are commonly built from twigs, grass and even cotton. Experts in the field call these type of nests the communal nests, and that is actually highly uncommon when it comes to birds. 
The Scary Clowns
Let us take a small step back in history. The year of 2016 was quite a strange year for numerous reasons, but one that particularly stands out was definitely the scary clown sightings reported throughout the world. This particular photo was captured by a drone flying over a field in Huntsville, Alabama. It perfectly captures what the whole scare was about. A scary clown encountered in the middle of nowhere. Sure, there are numerous skeptics, writing this photo off as a fake, there are a few people out there that consider it a genuine sighting. Fake or not, it is definitely something that none of us would love to encounter in a cornfield.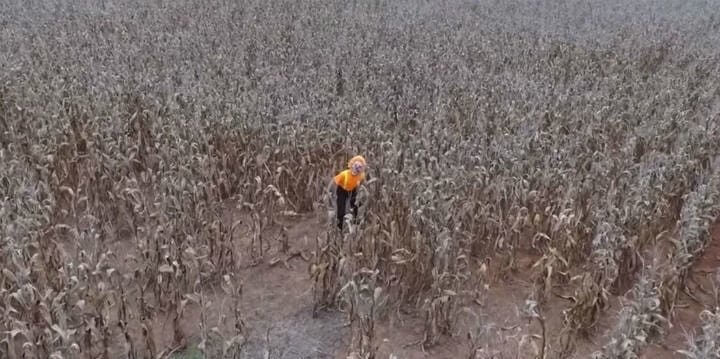 The majority of people were actually convinced that the whole thing was just a practical joke that was playing out on a global level. Others thought that it was just a great promotional campaign for the 2017 release of "It." However, there is no denying that some people were left forever scarred by the clown incidents. It actually became so bad at its peak that McDonald's announced that they will not publicly display their mascot, Ronald McDonald, as to not be tied to the incidents. And this was good thinking on their part, considering that many clowns were arrested due to criminal activity.
Christ The Redeemer
This particular drone photo supplied us with a rare view of Rio de Janeiro's Christ the Redeemer statue. The famous statue is located on top of the 2,329-foot-high Corcovado Mountain. It is 124.7 feet tall and it took the workers nine whole years to build and assemble it.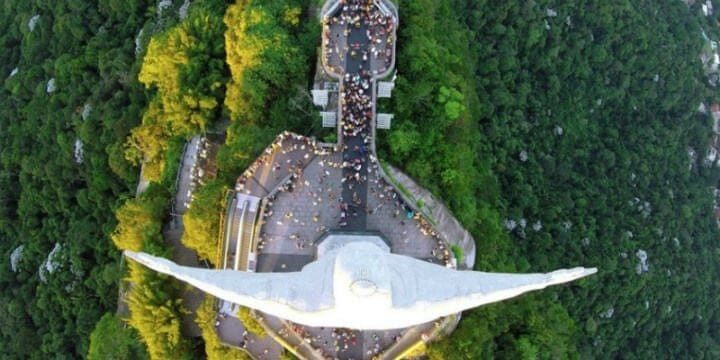 The statue is, without a doubt, huge. It is, however, a common misconception that it is the largest in the world. It is not. It actually claims the third spot, just after Bolivia's Cristo de la Concordia and Poland's Christ the King. Christ the Redeemer is, however, placed so high up that it is no stranger to lightning strikes. Back in 2014, a lightning strike actually took off one of the fingers on the statue.  
Guatemalan Sinkhole
What you are looking at is a sinkhole that appeared in Guatemala City just after the city was hit by the tropical storm called Agatha. This all went down back in 2010, and it, unfortunately, took a three-story factory with it. There are numerous different factors that can contribute to the appearance of sinkholes, and pretty much all experts agree that it is not always due to natural causes. This sinkhole, in particular, was a cocktail of numerous different things that contributed to its appearance. The Tropical Storm Agatha that we have already mentioned, then the Pacaya Volcano eruption and on top of that a leakage from sewer pipes.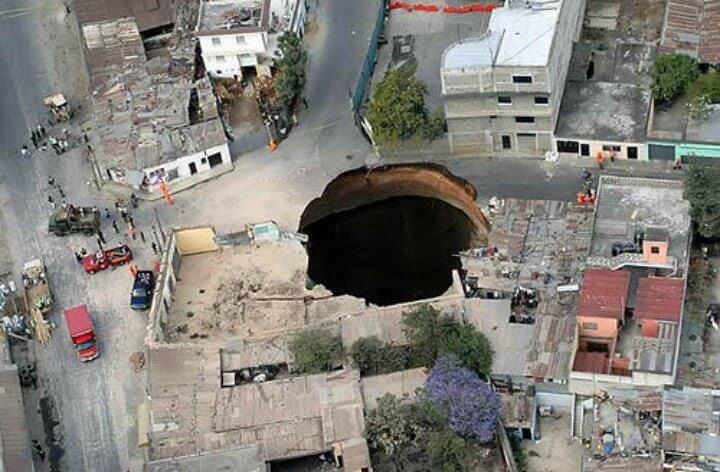 The diameter of the sinkhole was roughly 65 feet with the depth being around 300 feet. What is even worse is the fact that sinkholes are a frequent occurrence in Guatemala City, and are highly unpredictable. You could be walking down the street and a sinkhole would appear and you would not even know what happened. Geologists are seriously concerned about the well-being of everyone involved and are thus putting heavy pressure on the government to have the sewer systems be inspected on a regular basis.  
A Crocodile Resort
If you were unable to make it out, there is a three-meter-long crocodile swimming in this particular photo. It was captured by a drone that was flying over a beach resort on Phuket Island, Thailand. We do not have to tell you just how dangerous a crocodile can be. They can strike a human before we are even able to react. The saltwater crocodiles and the Nile crocodiles are amongst the most dangerous in the world, and they are personally responsible for hundreds of deaths each year, especially in Southeast Asia and Africa.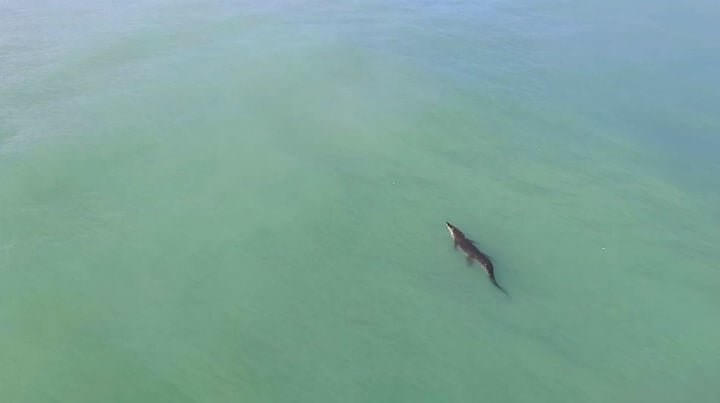 This particular crocodile was probably one of the fellas that escaped a nearby crocodile farm. It does not seem too strange, but when you think about it – who's grand idea was it to allow a crocodile farm right next to a beach resort? You do not need us to point out just how dangerous practice like that is and just how deadly it can get.
Morrison's Quarry
You can snap a picture just as beautiful as this one if you fly your drone over Morrison's Quarry in Chelsea, Quebec. Morrison's Quarry is located just outside of Ottawa and all it takes for you to reach it is a short, 25-minute drive. The scenery changes so drastically that you will feel like you have magically left the country you were at and landed in a tropical resort.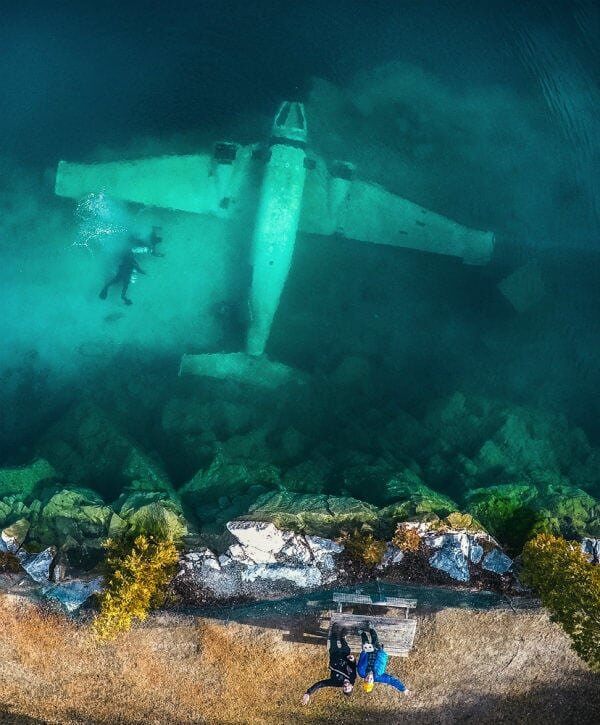 The water is so pristine and so clear that it is a perfect spot if you want to go scuba diving. You will also find the largest bungee jump in the country here, so if you love adrenaline, you will feel right at home here. The plane itself is not the only thing that you will find in these waters. There are numerous tugboats and cars there too. And no, they were not dumped there by people using it as a trashcan. They were placed there specifically for the divers to make things more interesting, and even practice saving somebody from a submerged car or an airplane.
Vietnamese Ducks
Now, this photo is truly stunning and a great representation of how a man can work together with nature. It was snapped above the Ba River, downstream of Tuy Hoa City, Vietnam. You can see a farmer that is feeding ducks that have surrounded him. Duck farming is actually quite a common thing in Vietnam and is actually considered a tradition of the Vietnamese.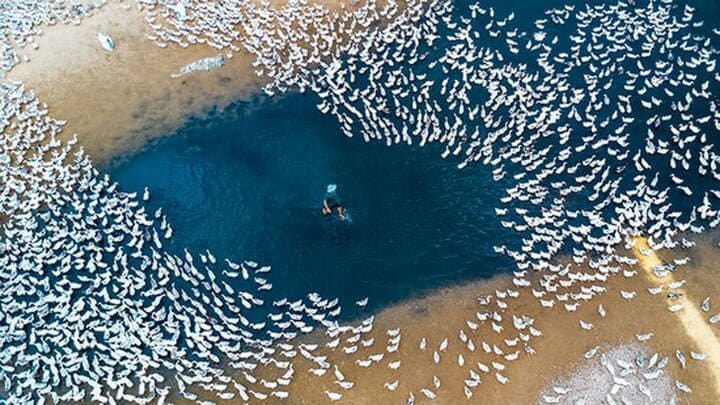 There are about 30 million ducks raised each year in Vietnam, and the ducks are usually bred for their meat, and sometimes even their eggs. They are, however, raised seasonally. They put the ducks on the rice fields when the fields are still in the early stages of growth. This is due to two main reasons. The ducks will not eat rice, but they will eat all the insects that can harm the rice fields, thus keeping them safe and sound. The second reason is that what goes in must go out at one point, and the manure is actually quite a benefit for the rice fields because it supplies them with nutrients without having to use any chemicals in the process.  
Staten Island Boat Graveyard
This might come as a shocker to many, but there is a boat graveyard right in the middle of New York City. If you do not believe us, look it up yourself. It is called the Staten Island boat graveyard and has been there since the 1930s. Quite a strange thing to have in such a large city, right?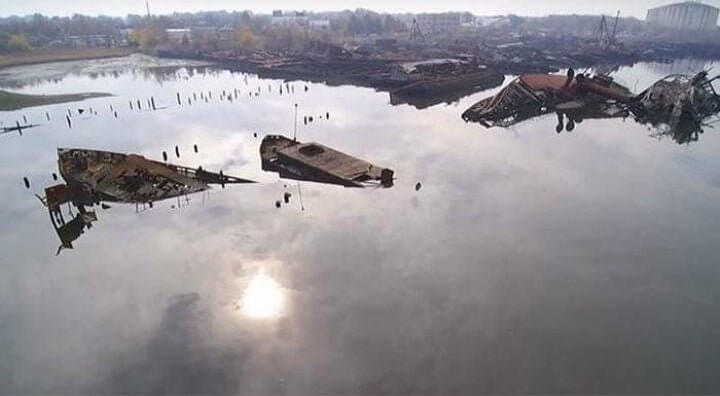 Well, it was not meant to be a graveyard when the original plans were made. It was supposed to be a simple salvage yard, where boats would be brought in to be disassembled and the useful parts sold on. It was not turning much profit so they decided that it was not worth it and abandoned it. Everything was left where it was, and you can now watch around 100 boats slowly decomposing over the years. It is now one of the most popular points for travelers who are aware of it, and most photographers. And thanks to the latter we have a beautiful shot of the graveyard from a drone.

Mir Mine, Siberia
What you see in the picture is the Mir mine in Siberia. It is one of the more special locations on this planet because it is the first and largest diamond mine ever built. The excavations started back when it was all under the Soviet Union jurisdiction, and has been active ever since.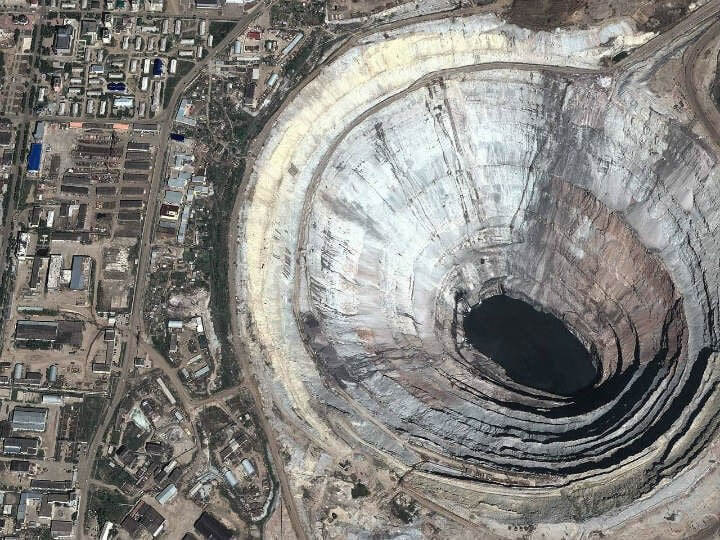 This particular diamond deposit was discovered back in 1955. The Soviet geologists, led by Yuri Khabardin, were proved correct as soon as the first drills hit the ground. Yuri, as a leader of the team, was awarded the Lenin Prize. Back in the Soviet Union, the Lenin Prize was considered one of the highest awards a person could win. When the production of the mine reached its peak it produced 10,000,000 carats each year. The whole Soviet Union basically relied on the mine after the war, because the profits were actually holding them above water.  

Pegasus Airline Flight 8622
You are looking at Pegasus Airlines Flight 8622 on a drone shot from the city of Trabzon. The flight itself was supposed to be a domestic flight. The plane was used to transport passengers from the city of Ankara to the city of Trabzon and vice-versa. When it reached Trabzon, however, it missed the runway and slid down a cliff. Fortunately enough, it stopped right before hitting the Black Sea.
The airport was quickly shut down and remained shut down until the investigation was over. It showed that the reason for the accident was not a human error, but an engine malfunction. The plane was, obviously, greatly damaged in the accident with one of the engines even tearing off and falling into the Black Sea. Fortunately for the 168 passengers in the airplane at the time, not a single one of them was hurt.  

The Lotus Temple
This is a beautiful drone shot of The Lotus Temple located in New Delhi. The Lotus Temple itself is the center of the Bahai'I faith. The photographer controlling the drone was Amos Chapple-Rex, who gave us a beautiful insight into just why it is called the Lotus Temple. As you can see the structure looks like a blossoming lotus flower. It is also surrounded by nine pools and a few gardens, making it a really peaceful and one-of-a-kind place.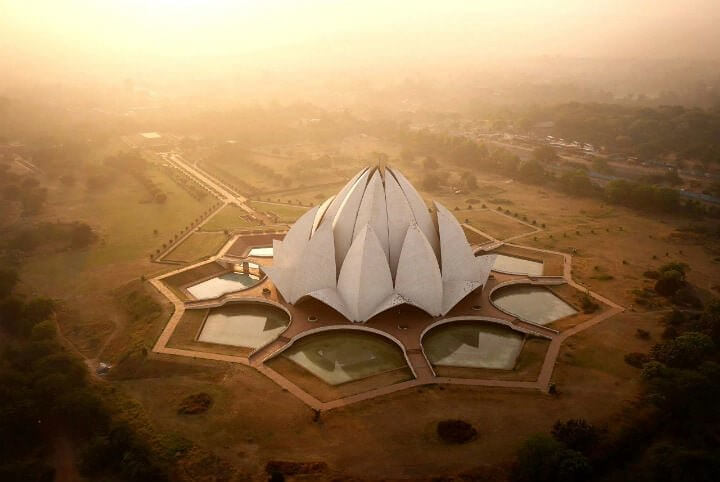 The great mind behind the temple was an Iranian-American architect Furiburz Sabha. More than 3.5 million people visit the Temple annually, and it is thus one of the most visited spots in the whole world. The construction took 10 long years to complete, but it was definitely worth the wait. As Canadian architect Arthur Erickson said, it is "one of the most remarkable achievements of our time, proving that the drive and vision of spirit can achieve miracles."

Hurricane Harvey
Moving forward with the not nearly as beautiful photo as the previous one. What you are looking at is a drone shot taken right after Hurricane Harvey destroyed the Houston metropolitan area. It was actually at this point when drones were used not only to photograph the chaos the hurricane left but were also used to see how much damage was done to homes, roads, bridges, power lines, oil, gas facilities, and office buildings. They were also used in-case they would stumble upon a survivor.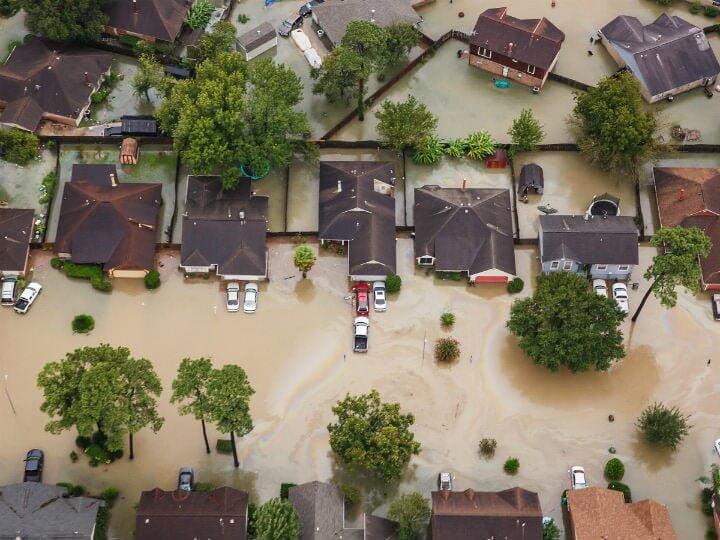 Hurricane Harvey split the number one spot with Hurricane Katrina from 2005, regarding the damage it inflicted. The total bill was around $125 billion, and most of the damage done was due to flooding. Hundreds of thousands of homes were lost due to Hurricane Harvey, and around 30,000 people were displaced. There was also 17,000 rescue mission conducted altogether.
The Tubbs Fire
Moving on from one catastrophe to another. The Tubbs Fire is regarded to be one of the most destructive fires that California ever had to face in their whole history. The fire broke out in October of 2017 and spread fast. At the time, it was considered at the most destructive fire in California's history and destroyed 5,643 buildings. The estimated value of things destroyed was around $1.3 billion.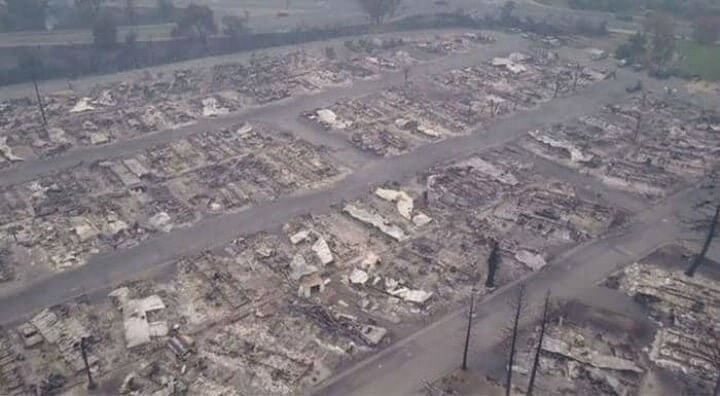 Now to the picture in front of you. You are looking at the aftermath of this catastrophic fire. The investigation took over a year to finish, and according to all the evidence, the cause of the fire was a failure of a private electrical system. The fire quickly spread no-thanks to the dry land throughout California. The city of Santa Rosa was hit the most, and more than half of the building that was lost to the fire were homes.

Swimming in Circles
People always seem to seek the most abandoned and unexplored places on Earth. We are looking for something new, something that nobody has seen before. This next drone shot is a perfect example of things we do not see every day, and a perfect example of a working hierarchy even in marine organisms.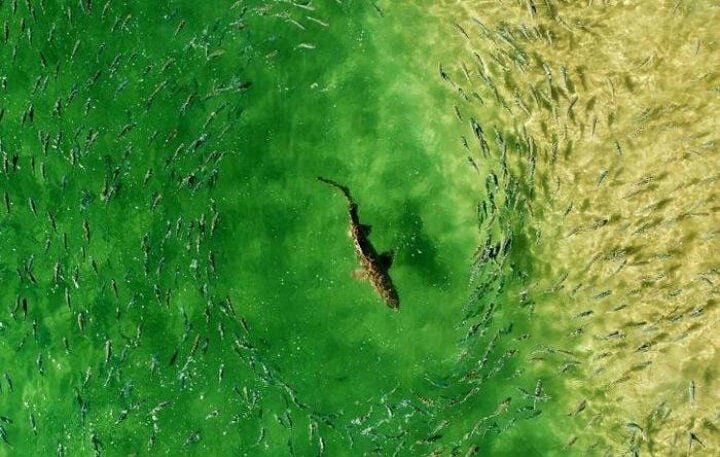 What this drone caught is quite astonishing. A shark is swimming in the water with a school of fish surrounding him. He is not bothered by them, but they are still some distance away, you know, just in case. We do not know what contract these guys signed, but we are digging it. A great shot.
The Kraken Hole
We are taking a look at the Kraken Hole or the Glory Hole. Yes, we know that it sounds a bit kinky and weird, but we swear that it is a real thing. It is not, however, a natural occurrence but rather a man-made one. It is an artificial spillway that was built on the grounds of a Californian reservoir.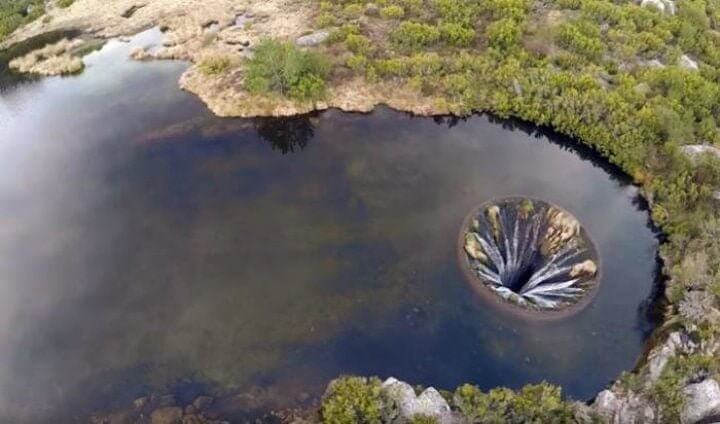 It does not matter if it is man-made or not, it looks amazing. Especially this particular shot from the air. If you did not know what the backstory to this hole is, you might think that you have just stumbled upon a vortex of some kind. Maybe a vortex that leads into the very depths of our beautiful Earth. That thought sounds quite creepy, and we are glad that this is not the case.

The Wind Turbine Challenge
We are not entirely sure whether this man wanted a great view of his life or something else, but we are grateful for this beautiful shot that we could consider a selfie. We are also not sure if the man in the photo climbed up on the wind turbine to do some maintenance work, or if he was there with this mission in mind.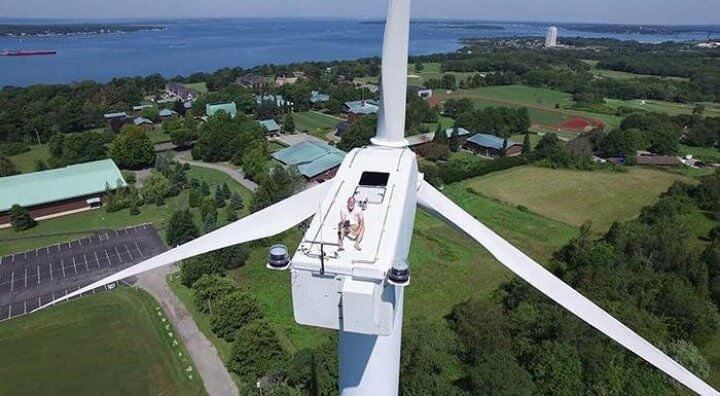 It was certainly a great call to fly his drone and snap a picture of himself, however. We would like to know how he got up there and how he got down from there.
Swimming With Whales
When we think about whales, there is probably not a person in this world that would not take the chance to watch them swimming around. However, most of us will never experience the luxury to actually establish a short connection with them and taking a look up close. This group of people, on their vacation in Mexico, were the lucky ones.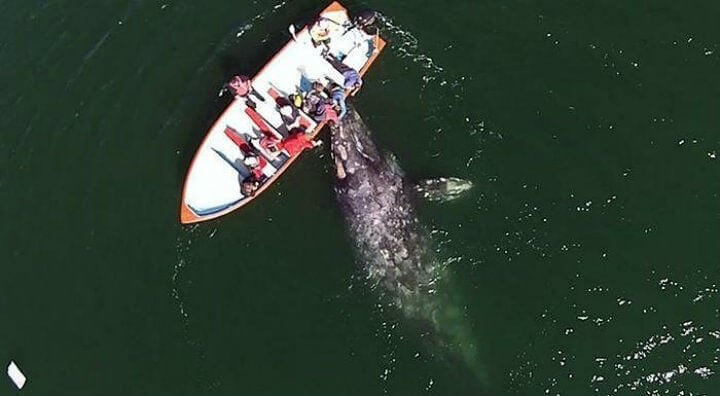 They were on a simple boat ride when a gray whale decided that he would inspect who was onboard. He was so close that they could even touch him, and he let them. Thanks to the drone that was flying overhead, they now have video proof too, as this is a story that not many would actually believe.
Watch Out
More and more people around the world are choosing sun-bathing on a roof as a great way to catch some fresh air and some rays for your skin. However, it quickly turns into a bad day when somebody decides to take a drone up there and film what is going on. This nice lady in the photo certainly gave us a great idea on how to get rid of unwelcome guests. Beat them with a broom. Or in this case, throw it at them.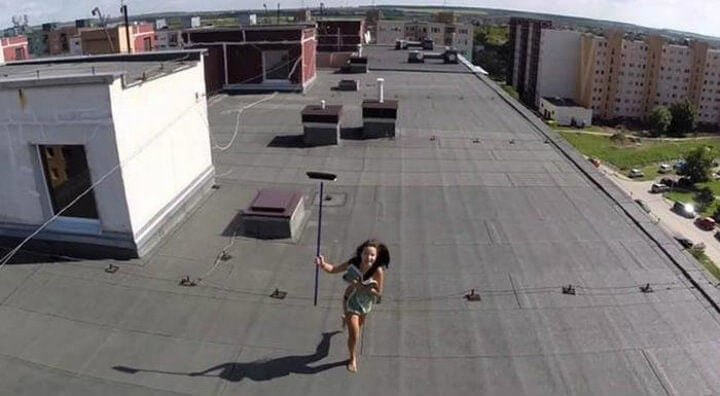 We are not trying to play a devil's advocate here, but we recommend that this lady goes on a beach or takes a trip to the closest swimming pool next time. It is less likely that you will be visited by a drone there, especially in the more remote spots.
Peace or Adrenaline
If you have not heard about it yet, waterfall diving is a thing. And it is also one of the most terrifying things you can watch, let alone pull off. You are looking at a perfectly timed photo of a Guinness World Record holder Di Huanran as he makes his jump into the waterfall. The way this photo was taken makes it all look peaceful, when in fact the waterfall is making pounding noises and adrenaline levels are at the max.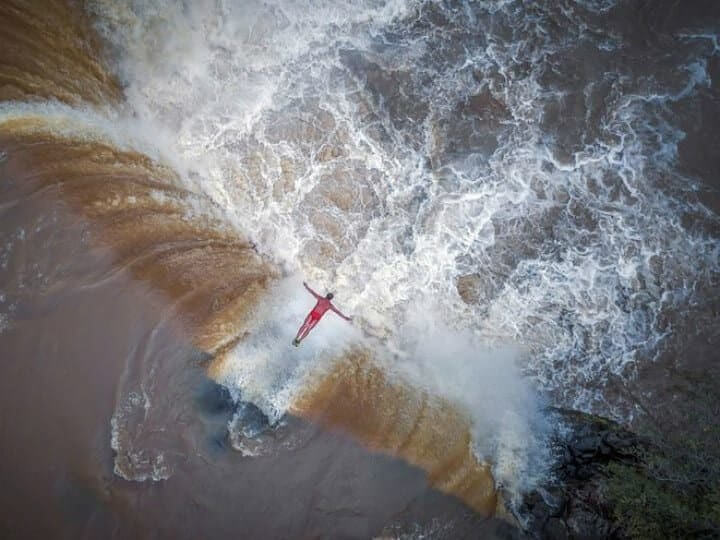 The photographer whose drone took the photo, said, "He is over sixty, he is the world record holder for the Guinness waterfall diving. In China's famous spout of the Yellow River and the great falls of the water tower in Heilongjiang province, he surprised the world with his leap." 
Climbing up a Cliff
We are all looking down a steep cliff on this one. We suggest that you skip this one if you are afraid of heights. It is not easy to relate with the climber on this one, because it all looks dangerous and hard for us, but it might be a walk in the park for an experienced climber like himself. We are sure he is used to defying gravity on a daily basis.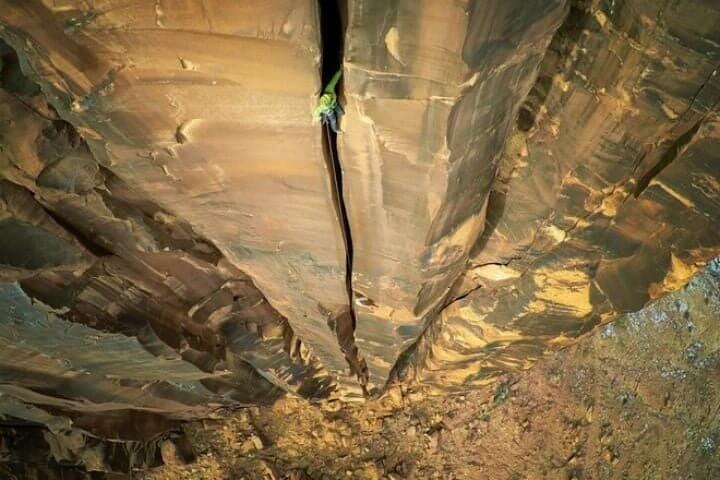 The whole face of the cliff is so humongous that it is actually quite hard to even spot the climber at first. Even though he is wearing a neon top and helmet. This picture is yet another example of just how convenient drones have become. If this climber was to get stuck, the people on the ground would know immediately. Drones are taking the role that helicopters played back in the days.
New York City
Now, this shot might remind you of a post-apocalyptic Hollywood movie, but it is, in fact, a real image. The fog in the background swallowing New York City looks quite menacing, we agree. As if that was not bad enough, the Central Park appears empty, with not a person in sight. That is far from typical. So what is the backstory?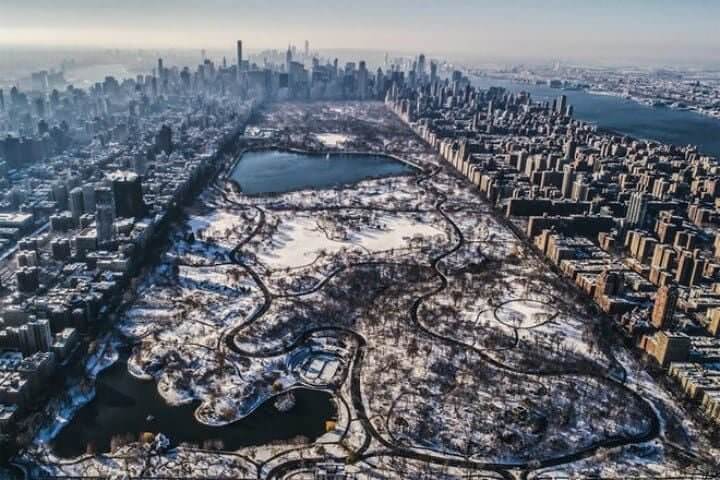 New York City is one of those places on Earth that gets really hot in summer, but it all reverses in the winter when it gets engulfed in regular snowfall and low temperatures. The drone took the shot as soon as the first snowflakes of the year stopped falling and caught a winter wonderland in the middle of one of the biggest cities in the country. And no, we are not trying to cover up a zombie apocalypse.
Smile and Wave, Boys
This right here is one of the most stunning shots ever taken by a drone. It was also taken in such high resolution that it hides more detail than you can spot at first glance. It might be hard to see them at first, but there are two people at the top of the clock tower waving at you. This beautiful photo was taken in Ostrava, Czech Republic.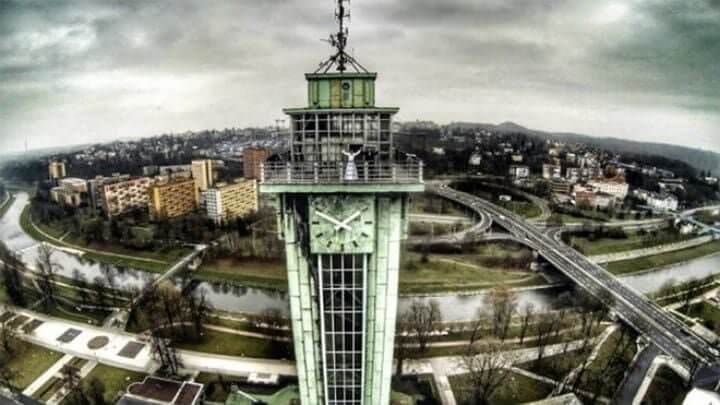 There is, however, no clear information regarding the two people at the top. We are not certain if they knew about the drone, or if they were simply enjoying their day and just happened to be in the shot. One thing is for sure – their view was on par with ours.
Camels in the Sand
This mesmerizing photo was taken by photographer Abdullah Alnassar using a Phantom 4 Advanced. It might look like it was a product of computer animations, but it was not. What you are looking at is a flock of camels, casually walking on the sand dunes of Saudi Arabia. The sun was in a perfect position so that the shadows gave us a dramatic mirror effect. It resulted in both beautiful composition and color.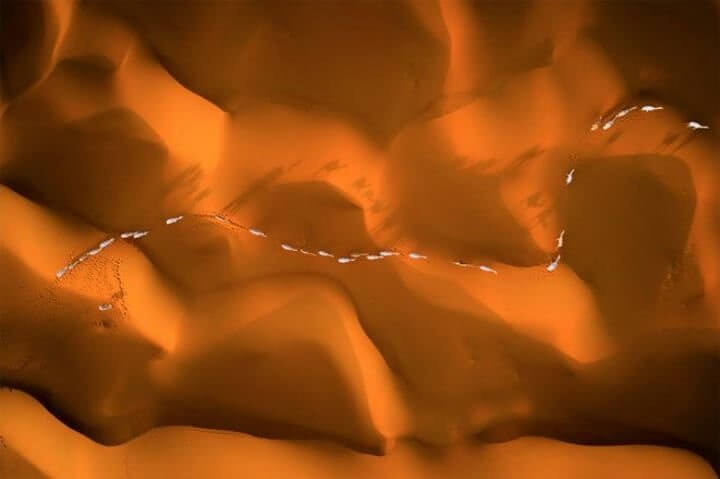 For those of you who are wondering, the Arabian camels, are one-humped camels. They live in the deserts of Saudi Arabia and some other places in the Persian Gulf. The first nomads domesticated them approximately 3500 years ago, and each of them can carry vast amounts of baggage. And for a long time too – usually 25 miles each day. The flock of camels in the picture is not a part of a caravan, and they are quite possible free roamers.
The Bicycle Kick
For our first photo on the list, we chose a soccer player who got photographed by a drone while he was performing a bicycle kick. A bicycle kick is far from easy to achieve, and it just adds to the perfection of this shot. But one has to wonder – why is he playing on a tennis field?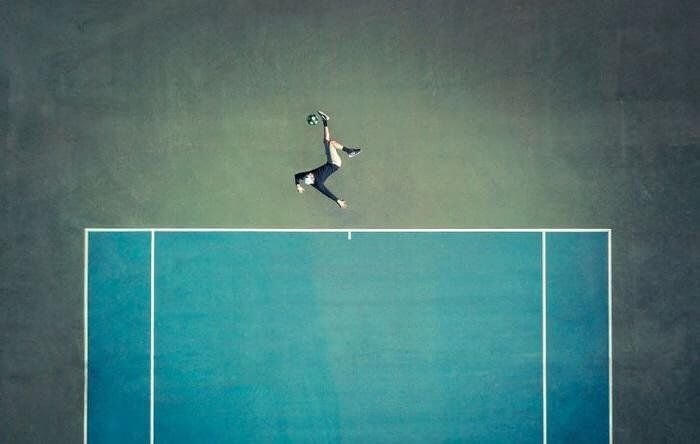 We might never know the answer to that, but one thing is for certain. This photo was taken with perfect timing, and it just goes to show that there are professionals and amateurs in photography too, and shots like these are what split them apart.
The City of Homs
It was the year of 2011 when the civil war in Syria began. Most of the opposition forces claimed the city of Homs, and the city became the spot where most fighting was done. This photo from a drone shows you the extent of the damage done in those fights. For those of you wondering – the city has been almost entirely abandoned and most of it is destroyed today.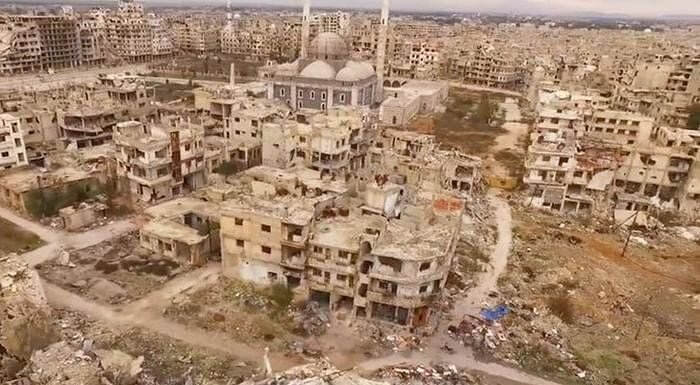 Unfortunately for everyone involved, the Syrian civil war brought a lot of death and destruction. It does not matter what your religious or political beliefs are, we can all feel compassion for the people who lost their lives for being at the wrong place at the wrong time.
Fishing With Talons
Now, this photo could hardly have better timing than it did. An eagle catching a fish at high speeds but caught in the moment forever. Eagles continue to show us why they are considered as a symbol of power all over the world.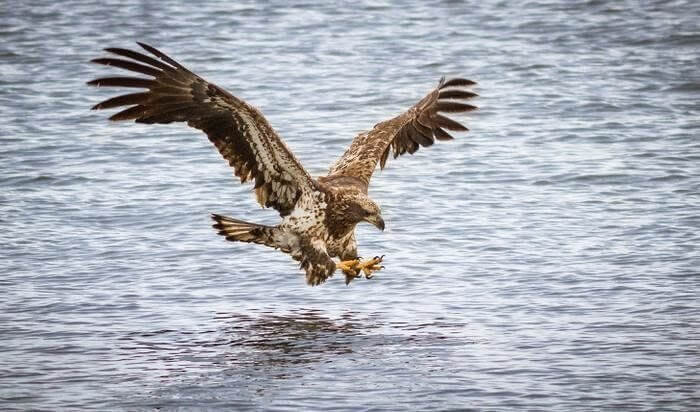 When we look at those outstretched talons and wings and take a look at those eyes that were made of focus, we can all agree that both nature and this shot are perfect.