Everyone must have gotten into trouble with their teachers at some point as students. There must be at least one instance in our lives as primary schoolers when we were pulled up by our teachers for doing something we shouldn't have or probably even nothing. Here are a few interesting anecdotes about elementary school kids getting into hot water for no fault. As adults, they are still salty at how they were punished by the authorities.
A Delayed Loo Break for the Kid
When it's time to go to the loo, it's time to go; it's impossible to stop the force of nature. Some teachers need to get this simple fact, which becomes a problem for the kids.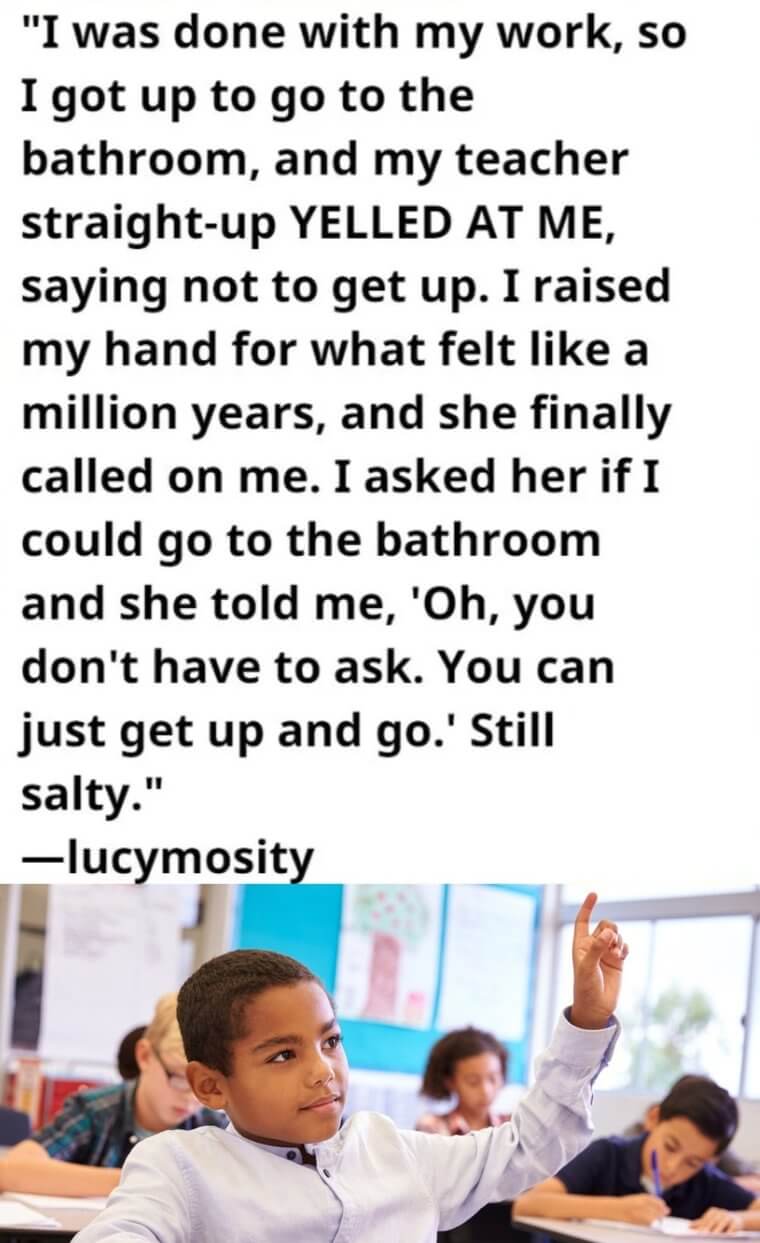 Here's someone who is still miffed about that one instance years ago in elementary school, when as a student, the person got up to visit the washroom but was yelled at by his teacher. The boy did his best to get the teacher's attention by raising his hand repeatedly. On hearing that the student wanted to go to the washroom, she said he could simply get up and go without waiting for her permission. We get why he still remembers the story.
 
Not Every Mom Deserves a Mother's Day Card
This is quite upsetting; read on, and you'll know why. A netizen, Garrin MacDonald, shared this incident from his primary school. When everyone in his class had to prepare a card for Mother's Day, he was the only one who didn't.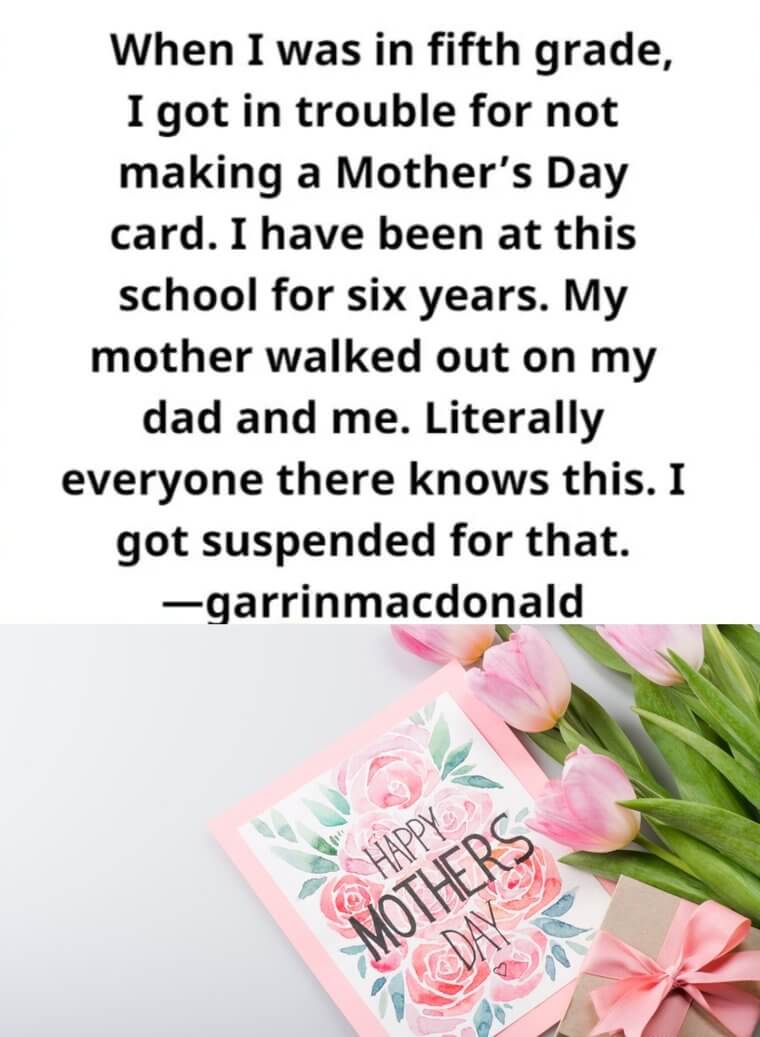 Instead of asking him for a reason, his teacher punished him for not following instructions. If only the instructor had asked his student, he'd have known that the young Garrin's mother had walked out on him and his father a few years ago. He has been studying in that school for six years, and everyone already knows about it. We wish the teacher had insight into the boy's circumstances.
A Kid's Name Got Her Into Trouble
This one takes the cake of all the bizarre cases where kids get punished for no fault. This girl had a guy's name, and her teacher made a deal out of it. While returning their test papers, she called out her name and was looking for a boy to answer.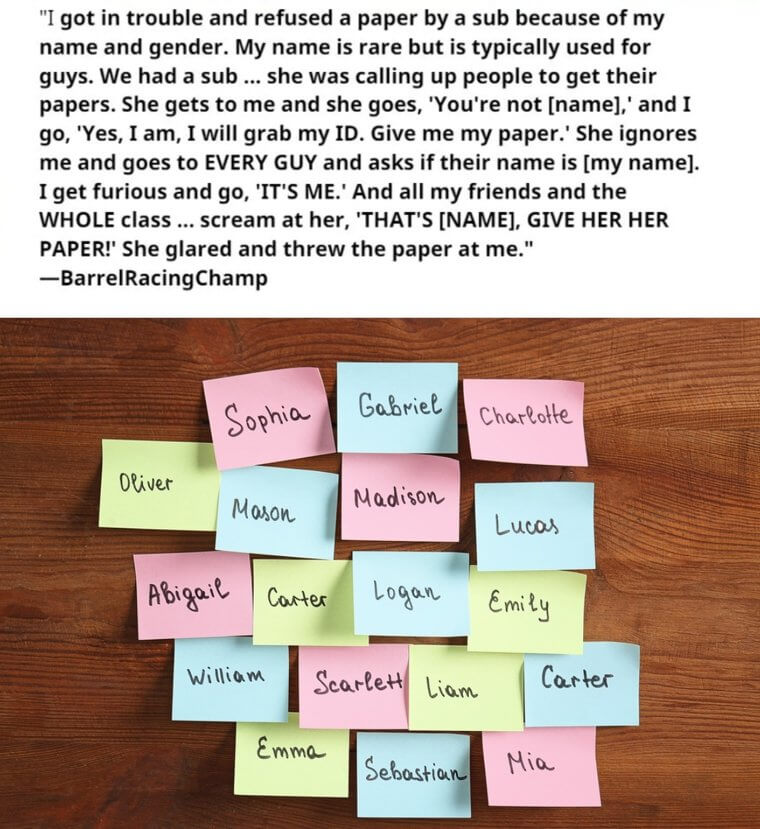 When this girl student got up to take the paper, the teacher refused to believe that was her name, not even when she offered to take out her ID card as proof. The instructor completely ignored her and went to every boy in class, asking if the paper was his. Finally, when she realized otherwise, she threw the paper at the girl.

The Weird "No Bleeding" Rule
We often hear of many weird rules teachers impose on the kids, but this one is difficult to understand. As shared by a netizen from their school days, their class had this "no bleeding" rule that had to be strictly followed so as not to irk the teacher.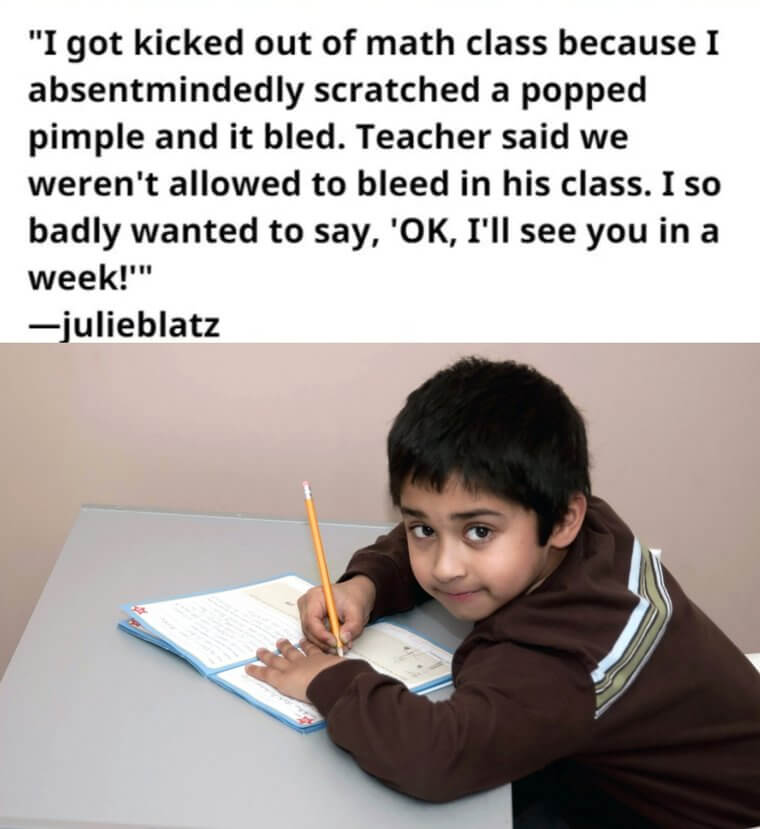 One day, this person nicked her pimple while scratching, and it started to bleed. Lo and behold, this angered the math instructor, who asked the student to leave the class immediately and not return until the bleeding stopped. Way to be sensitive, dear sir! The girl had a sound mind to tell him she was indeed "bleeding" and would return in a week.

The Teacher Who Couldn't Encourage
Kids always need constant encouragement, especially when given tasks. Apparently, this teacher didn't get the memo as they ended up hurting this little girl. The student and her classmates had been asked to color a girl's hair, and because the pupil had been told by her mom that she was half-blonde and half-brunette, she decided to color the drawing similarly.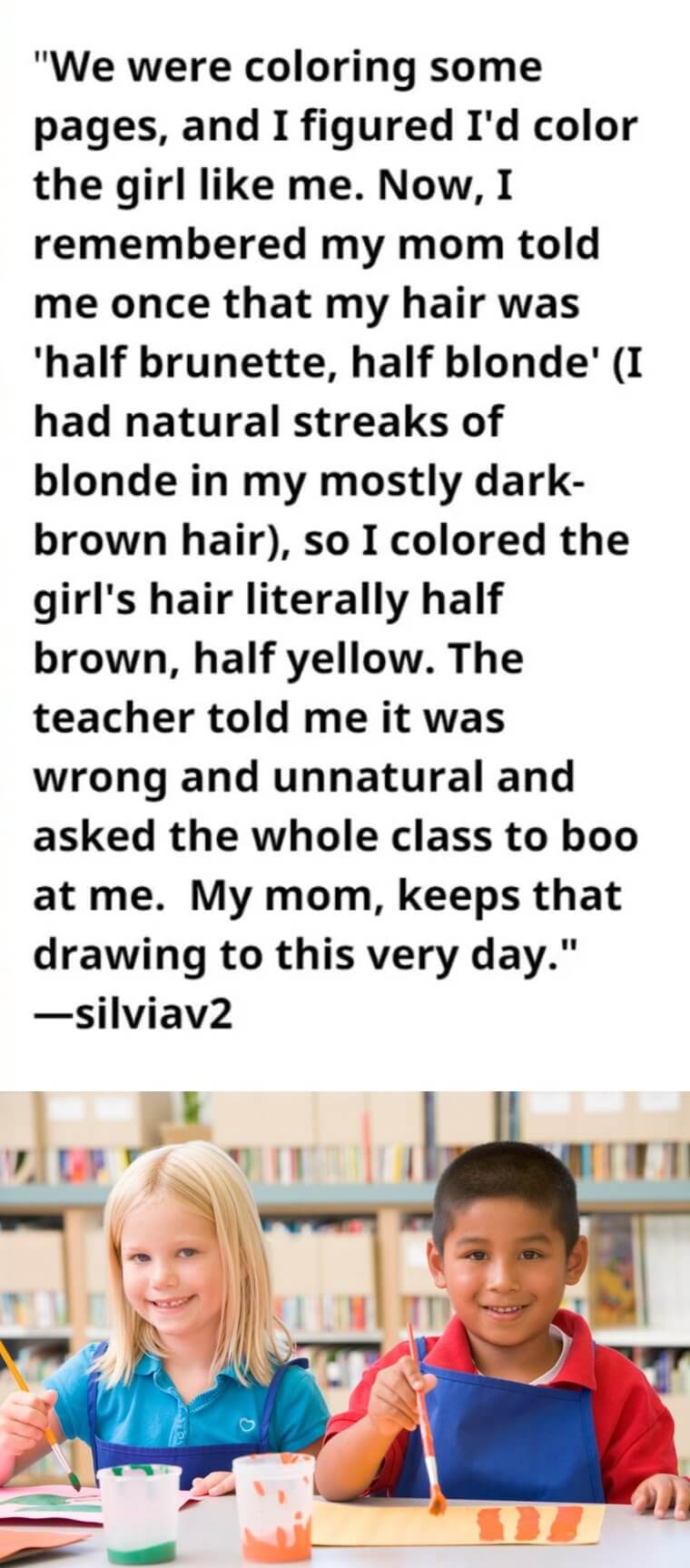 This artistic idea didn't impress the teacher because the girl had used half-yellow, half-brown colors. To her, the girl shouldn't have used the colors because they were unnatural. To make matters worse, the teacher asked the rest of the class to boo her. Thankfully, mom came to the rescue and kept the painting for her as a prize.

The Ten Minutes Solution
A particular student had his classroom upstairs, which meant they had to sit against the balcony railing—it was a rule. Unfortunately for this third-grade pupil, a bird had left its droppings on his seat, and he didn't have any other place to sit.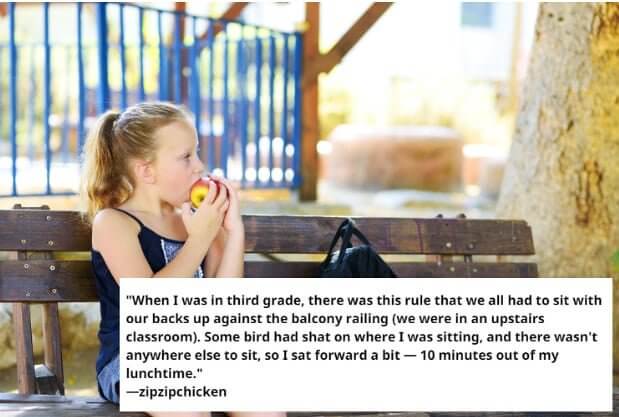 To solve the issue, the poor boy adjusted his posture such that he wouldn't come in contact with the droppings. This was an uncomfortable posture, and he had to sit that way for ten minutes. Then, because he broke the rule, he was also yelled at. Talk about double trouble.

The Struggles of a Catholic School Student
Anyone who has attended a private Catholic School can attest to the fact that they have a lot of rules, and some of them are just unnecessary. Still, break any of these rules, and you're in for it. This pupil learned this the hard way, though.

She had said OMG, i.e., oh my goodness, in her first grade and was sent to the principal's office because of that. It was there that she realized that the school regarded "oh my goodness" as abusive language. We don't understand the logic behind that thought, but the girl got disciplinary action anyway.

A Plot Twist in School
Usually, pupils get punished for sleeping in class, but the case was different for this pupil. She has always had trouble sleeping, so she couldn't nap when it was naptime. Instead, the girl started playing with her sleeping bag. Her teacher didn't take this well and instructed the child to go to sleep.


When she replied that she couldn't, the teacher got angry and dug her nails under the poor girl's jaw, threatening to take her to the principal's office if she wouldn't get some shut-eye. Note that this pupil was just in preschool at that time, so the teacher's act was downright mean.

A Lesson on Etiquette
Sneezing is one of the most natural things to do, and no one should be punished for that. Well, except they break the etiquette code and sneeze without a handkerchief or tissue or fail to maintain a good distance from people.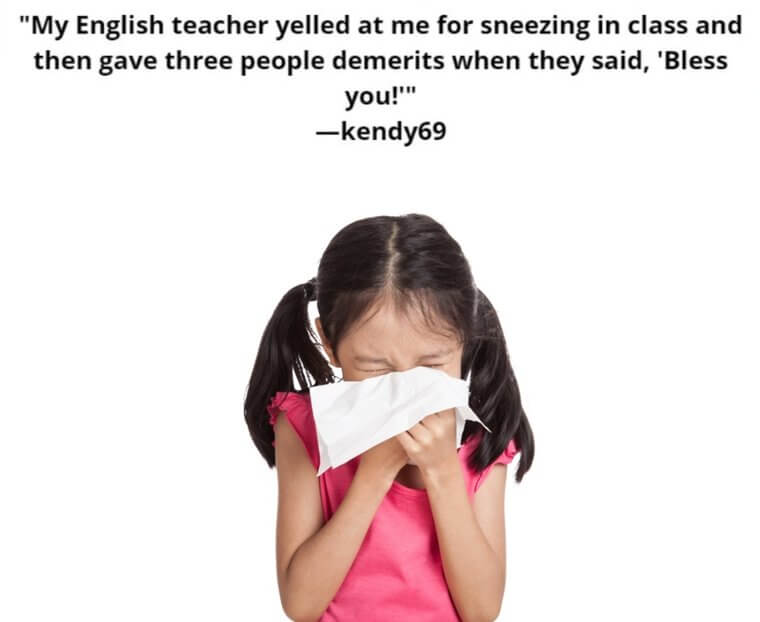 In this pupil's case, his only offense was to sneeze in class, an action that the teacher didn't take lightly. The kid was yelled at, and even his three classmates who had said, "Bless You," were given demerits. Chances are, other students would try to suppress their sneeze in the teacher's presence the next time. Issues like this make one wonder if some people should really be teachers.

Pushing an Abuser Can Land Anyone in Trouble
Bullying and harassment are serious issues that should not be taken lightly. Not only does it have a devastating effect on school-age children, but there are also legal consequences for schools that do not act against cases of harassment. This case is disturbing and we wish the school punished the offender according to the code of conduct.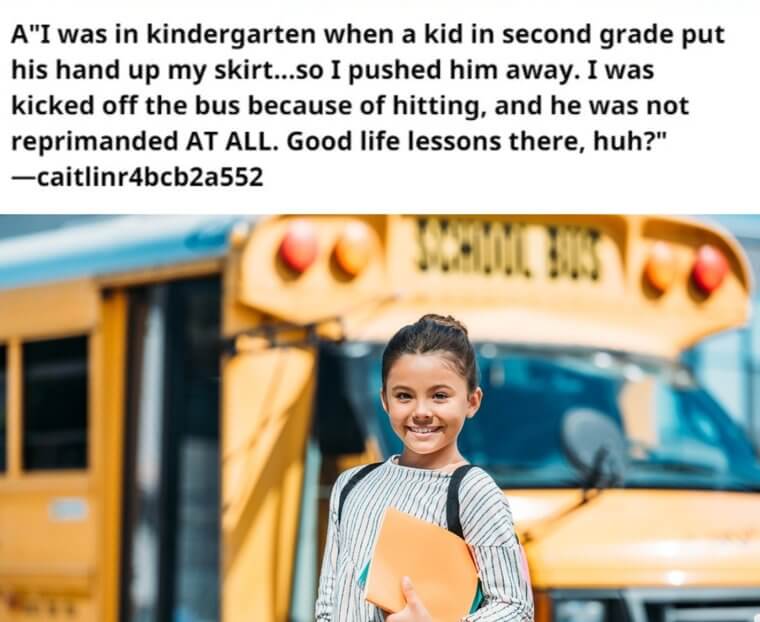 Here is a young girl who got harassed by a second-grader right inside the school bus. Kudos to the girl for pushing him away from any further advancement on her. In return, the girl was kicked off the bus because she defended herself. The abuser, however, didn't pay for his offense. Schools should endeavor to listen to both sides of a story before taking action.

This Teacher Got It Wrong
Truly, teachers often misunderstand their students, like in the case of this young child. When dealing with kids, teachers need to be patient and more understanding. Here, a kindergarten schooler was unhappy as another student skipped the line.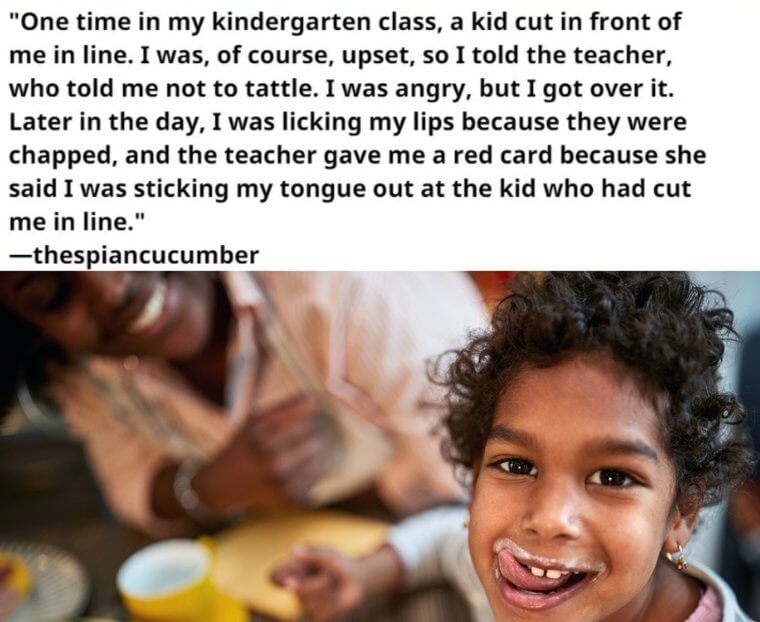 He told the teacher about what happened but was told to overlook the incident. Moments after the event, the kid was seriously licking his cracked lips. The teacher sighted him and misinterpreted his action as sticking out his tongue at the kid who had jumped the line. We think the teacher was too hasty to give this young boy a red card.

This Kid Got Punished for Zero Offense
Punishment should be for students whose conduct falls below standard and not the other way around. Some teachers have been found punishing students for reasons that make no sense. The kid in question got disciplined for taking off his hat with an attitude.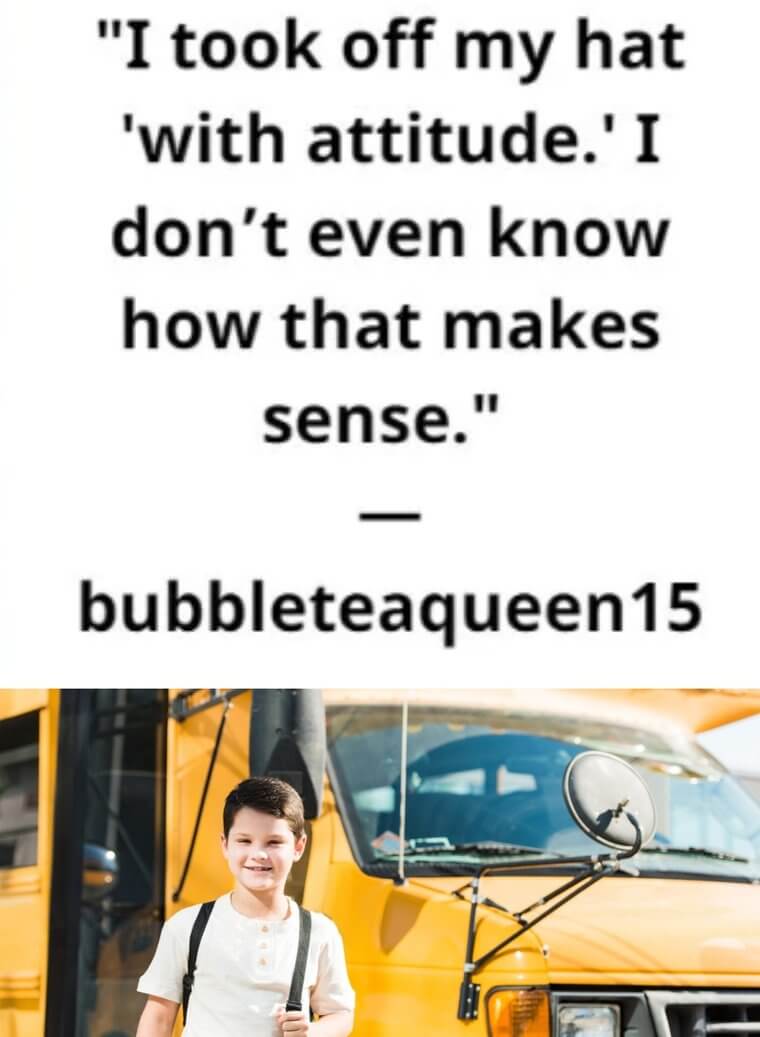 We think it make more sense if the teacher asked questions about such action; perhaps the boy was uncomfortable with the hat. This action doesn't add up because kids should only be punished for tangible reasons and not for silly things. We understand it's not easy being a teacher, but training to become a reasonable and decent teacher is essential.

Scolded for Getting the Correct Spelling
Some things are just unbelievable! We understand kids sometimes have to be punished for their wrong actions, but who dares to punish a child for spelling his name correctly? This might sound weird, but this child got punished for his brilliant act.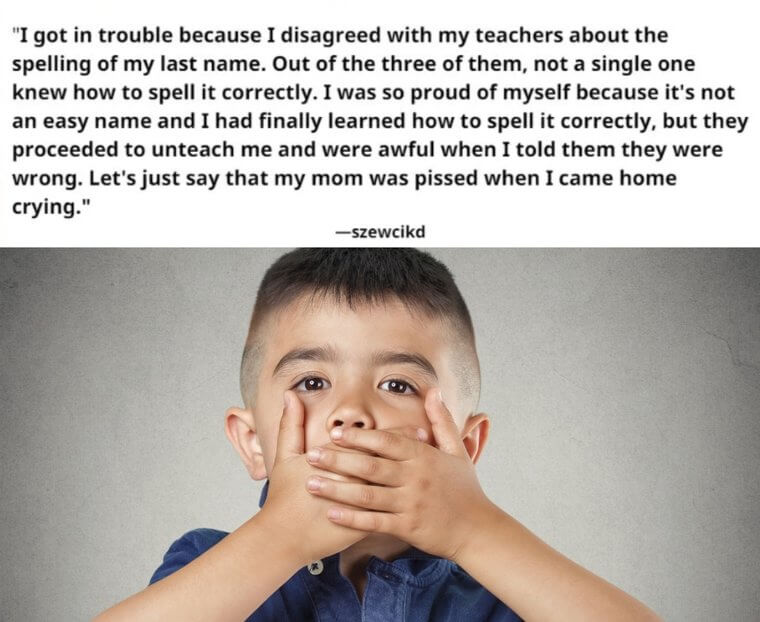 Here are three teachers who teamed up to frustrate this boy for spelling his name correctly. The teachers couldn't spell his name accurately, hence they had to confuse the young boy to prove him incorrect. The boy came home crying, and the concerned mom took up the situation by giving the teachers their dose. This serves them right; we need more supermoms.

Scolded for Painting in the Wrong Direction
Art sessions ought to be one of the best sessions elementary schoolers should look forward to and not the other way around. More than ever, schools are ensuring that art and creativity fall on the list of priorities, but how do we get kids to enjoy art when the atmosphere does not support creativity?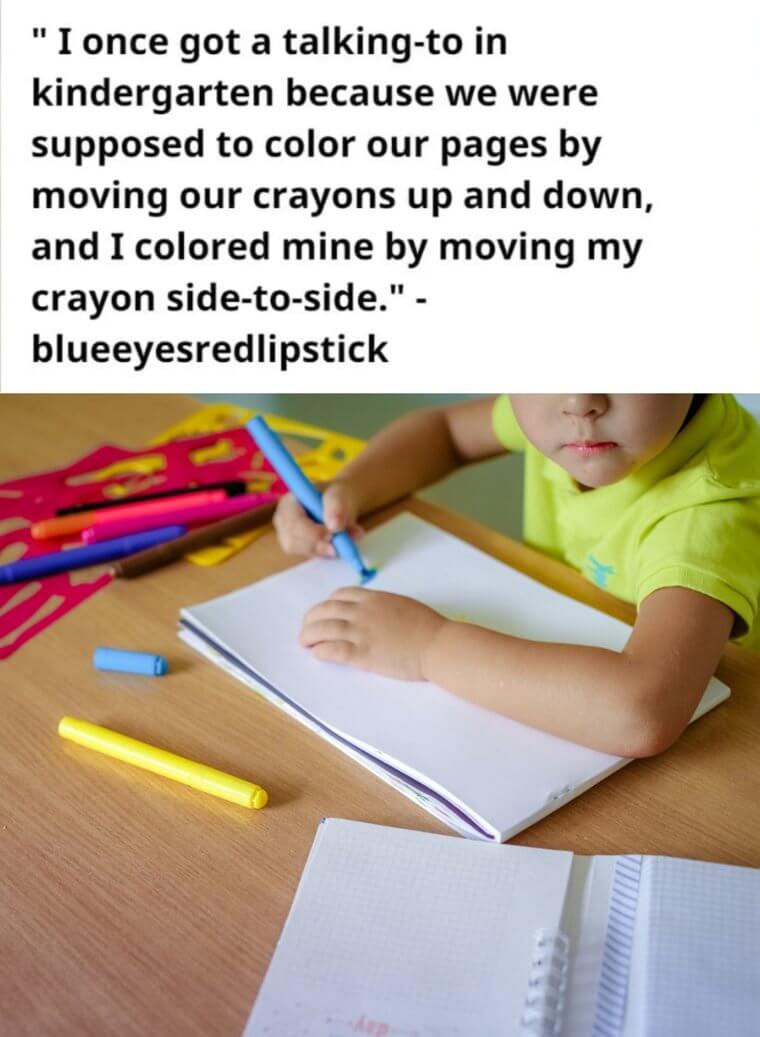 The teacher in question here should learn how to correct children in a lovely way. This kindergarten girl got scolded for not holding her crayons properly. She was accused of painting her drawing book in the wrong direction. Some teachers need to serve as a lesson to others who have no compassion for little children.

Penalized for Spilling the Beans
Has your sincerity ever backfired or what is the point of telling the truth if we end up getting punished for it? This child has a good heart and could not stand another kid ruining the school property.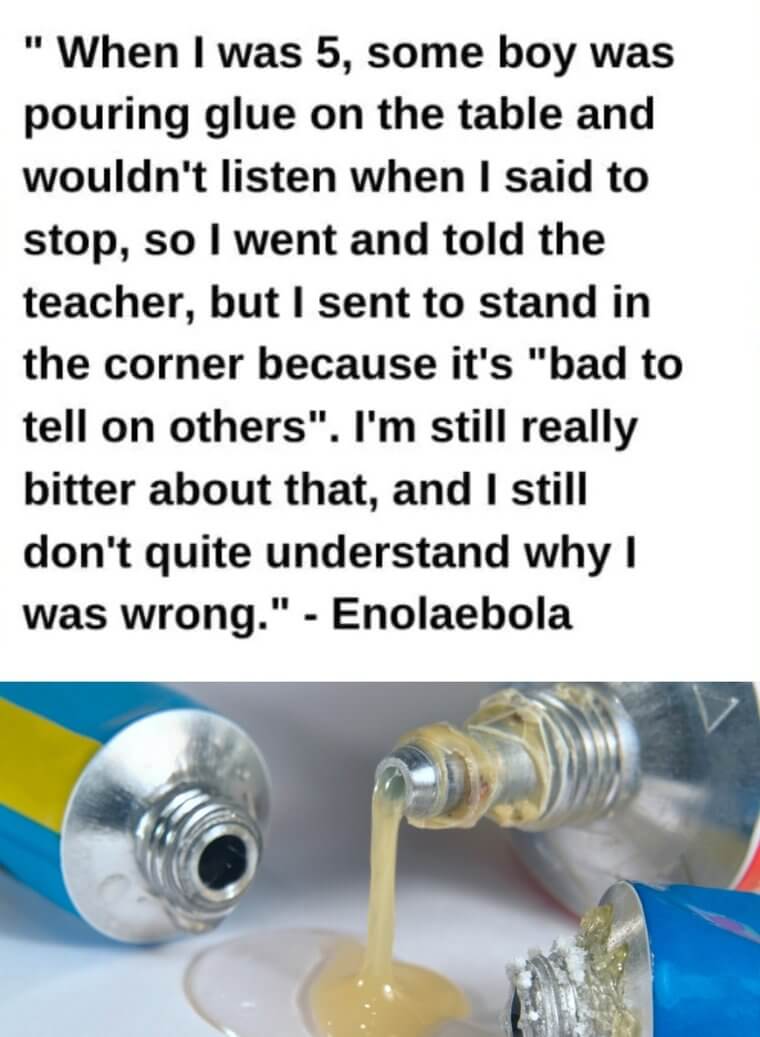 He observed one of his classmates deliberately pouring glue on the desk and wouldn't stop even when he told him it was not a fair thing to do. The kindhearted boy walked up to the teacher and reported the ongoing damage, but his effort was not appreciated as the teacher scolded him for reporting others and asked him to stand aside. When schools have sensitive and brave students like this, we think a good reward system should be put in place to encourage them.

This Kid Was Neglected After Twisting His Knee
School injuries and accidents are common among preschoolers. From falls to fractures, kids are inclined to hurting themselves while running around or even during sports activities in school. In this light, almost all schools adhere to safety standards, but there have been many records of negligence from some teachers.


This incident concerns a fifth-grade Asperger's student who could not express himself after getting a sprained knee while playing volleyball. All he could do was scream, yet the teacher felt everything was well, thinking he was acting up. The kid was made to move around with a swollen knee which later turned out to be something serious.

Almost in Trouble for Name Spelling
Struggling with spelling is an inevitable part of elementary school children. In fact, it is a mistake often made by both adults and children. Several names can be difficult or confusing to spell. For example, Christopher could be misspelled as Kristofer.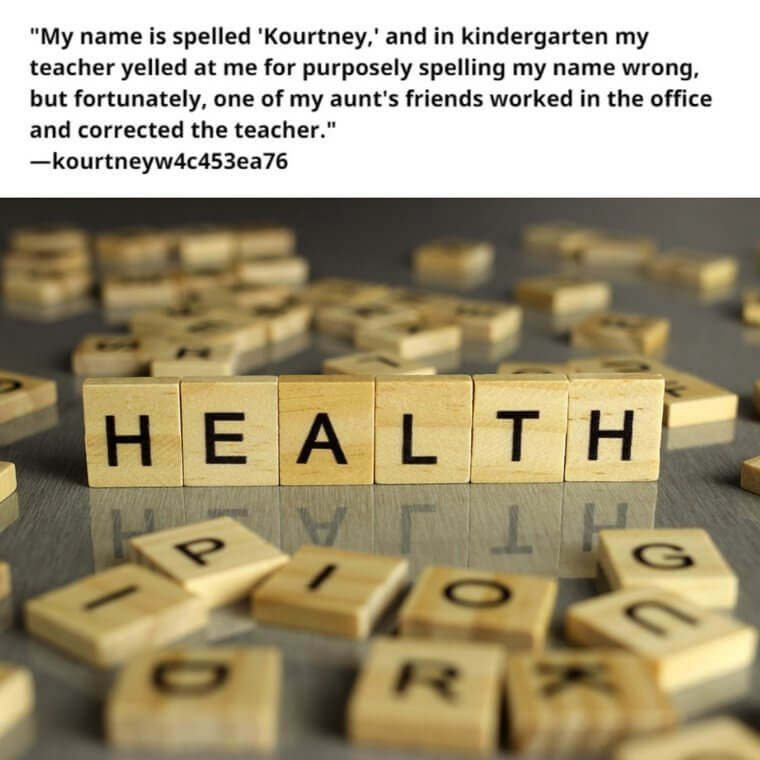 Monikers with longer syllables especially are not easy for kids to spell. This child's name is Kourtney. Her teacher asked her to spell the name and yelled at her for deliberately spelling it wrongly. Luckily, before she could subject the child to further punishment, she got help from a family friend who works in the school office.

He's Not Even Here
For some teachers, the training likely comes with a yelling unit or one in which they form an attitude toward the student because they have done something wrong repeatedly. This boy Corey was unfortunately known as the class noisemaker to the point the teacher assumed it had to be him when someone couldn't keep quiet.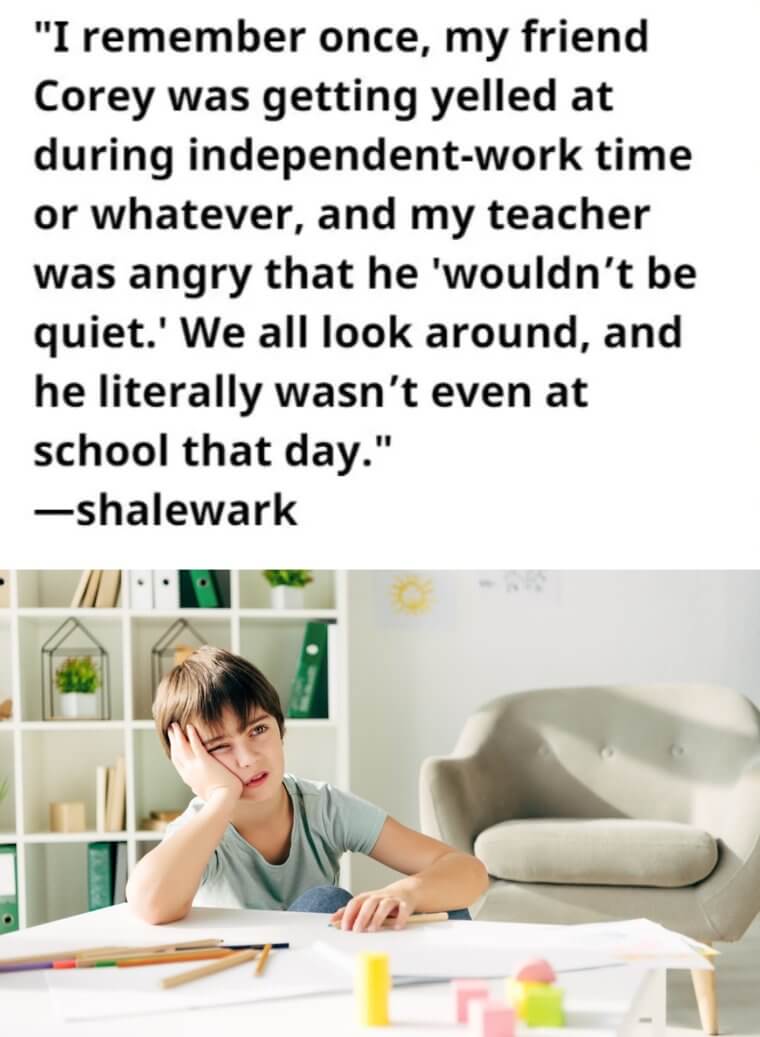 It turns out the young boy wasn't even at school that day. Maybe the teacher mistook someone else's voice for Corey's, or they got the names mixed up, but it's funny and strange because they had missed the student's truancy in the first place. Hopefully, the teacher could stand the embarrassment.

That Style Isn't Welcome Around This Place
We've all been harassed at some point in school for our dressing choices. While some manner of dressing is non-negotiable, there are some instances when a teacher goes too far with the strictness. This sixth-grade kid, for example, had on a pair of fingerless gloves in class, and the teacher had him take them off.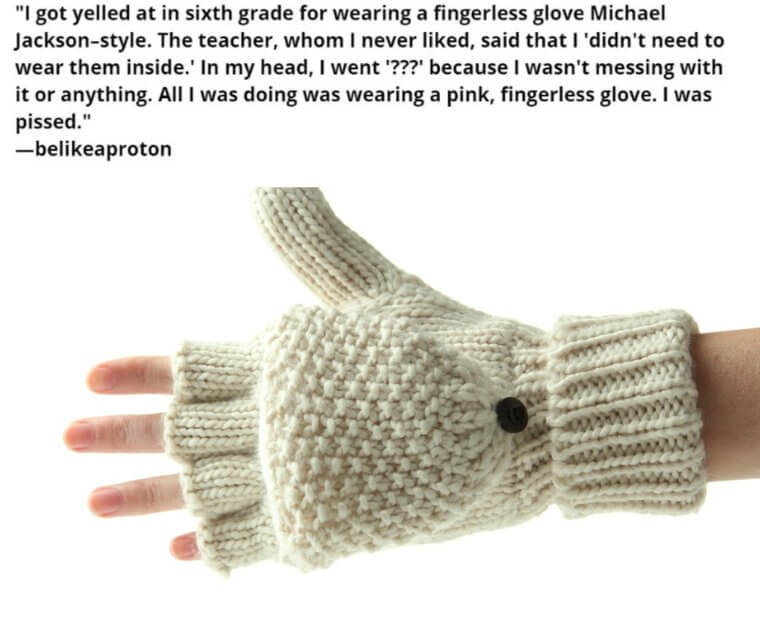 The saddest part is they got yelled at for it when the teacher could have done so calmly. Considering the kid wasn't even all over their pink Michael Jackson-style gloves or anything, we wonder why this teacher was so opposed to this particular glove design.

Dubbed Disruptive for Having Too Many Erasers
This poor kid had ADHD, making him want to own more than one eraser. As if having three erasers wasn't enough to get him into trouble, his classmate added some more erasers to the kid's desk to get him into more trouble.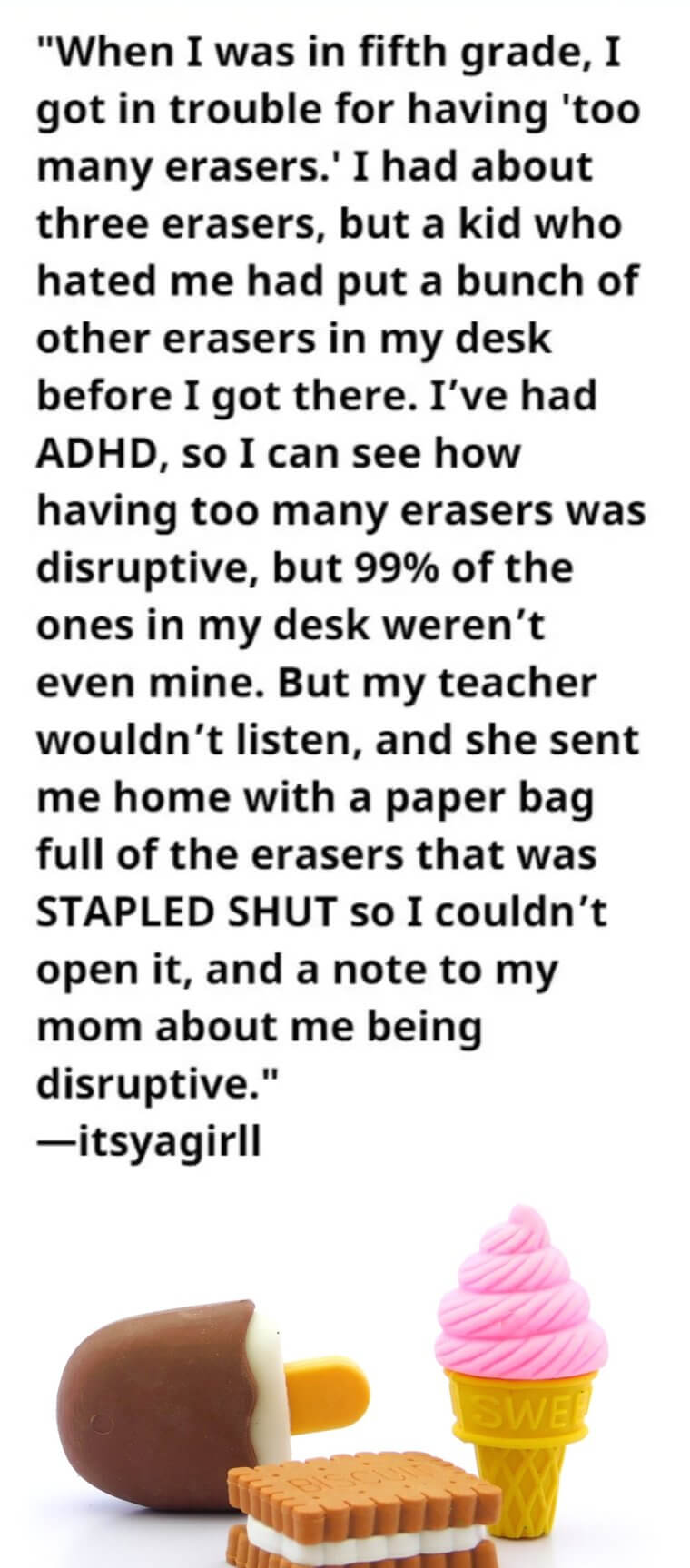 When his teacher checked his locker, they weren't willing to listen to anything this boy had to say. He sent him home with the eraser collection in a paper bag and a note accompanying it for his parents. The note pointed out that the kid was disruptive, which wasn't the case at all. The teacher should have first offered him a listening ear and considered his claims before jumping to conclusions.

You Let It Happen
Kids in the '80s must have had a rough time in school if all the principals behaved like this one. Imagine choosing to be the bigger person, and instead of getting into a fight, you report a classmate who shoves you into the desk to your principal, but they come for you as well!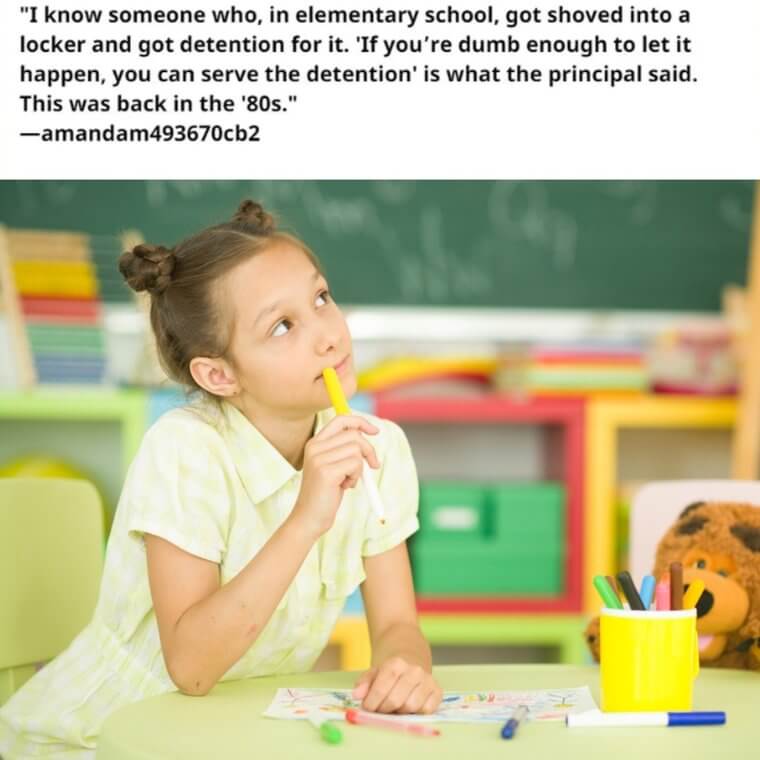 Rather than punishing the bully who shoved this kid, the principal shamelessly called the kid out for letting it happen to him before going on to issue them detention. In his exact words, the kid was "dumb" for letting it happen. Shocking, isn't it?

Called Out for Reading During Recess
We've heard of kids getting scolded for not reading, so this is new. A student was caught reading quietly during recess in one corner of the playground instead of playing with her friends. Apparently, this wasn't to the teacher's liking, as the girl was sent to the office and her parents were called to address the issue.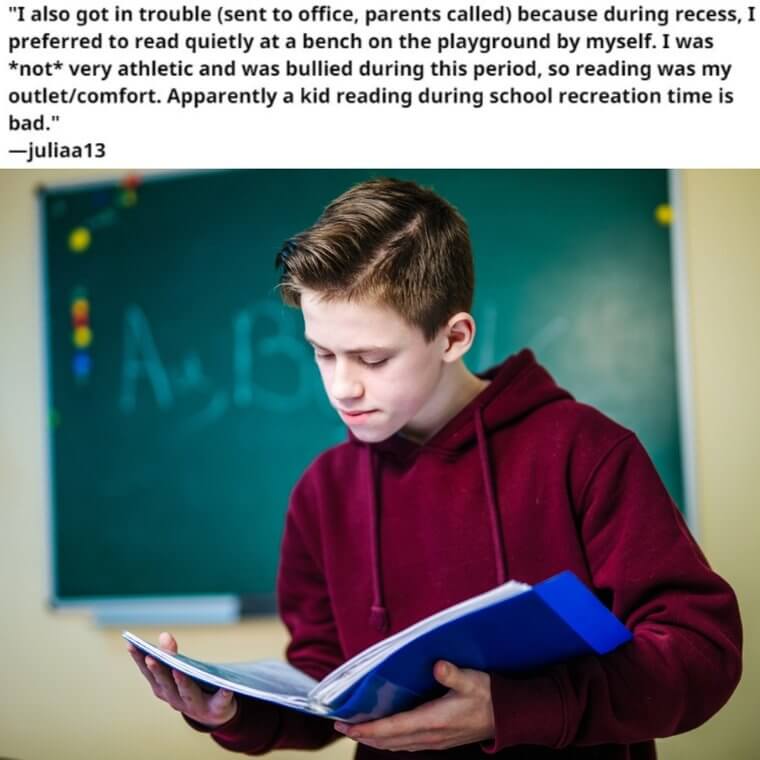 The student wasn't athletic and got bullied by her classmates for being physically inactive. So, she found solace in reading. Instead of scolding the girl for her reading habit, the school authorities should have probed more about the circumstances that drove her away from playing with her friends. Also, no one should be punished for reading.

Gifted Student Deemed Mentally Unfit for Class
Here's a harsh truth about most teachers; they don't like it when their students don't pay attention in class. Instead of self-reflecting and seeing why the kids don't find their lectures interesting, they blame the child. This happened when a student was caught looking out the window during a boring English lecture.


The gifted child was immediately dubbed unbalanced and disturbed by the instructor in a note sent to her parents. Her mother got livid and wrote back to the school authorities, after which the talented student was made to do independent study. Justice prevailed as the English teacher was let go after six months for an unrelated issue.

Asthma Attacks Not Allowed in Her Class
Sometimes, teachers are in the wrong, and this one makes us seethe. While we understand that a certain decorum must be maintained in class, exceptions must be made for health reasons. A teacher wanted pin-drop silence in her presence and threatened that the first one to make a sound would be sent to the principal's office.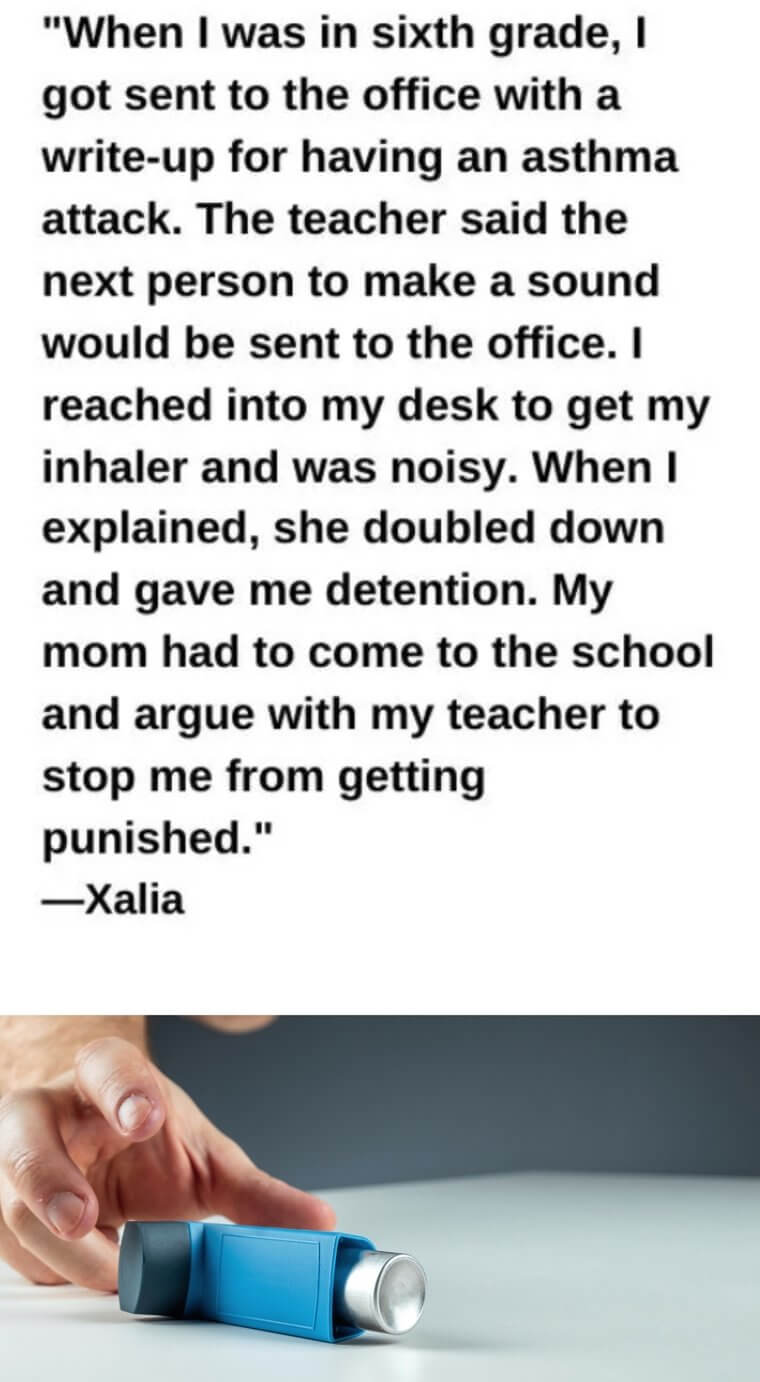 Unfortunately, this was when a student had an asthma attack, and she made noise while taking out her inhaler. Her explanation angered the instructor even more, and the girl was given detention. Later in the evening, the child's mother visited the school and gave her teacher an earful.

Reprimanded for Being a Poor Whistle-Blower
Have you ever tried blowing a whistle? It's more complicated than it seems. Some people don't get it no matter how many times they try, and it's okay if you don't. Unfortunately for this netizen, learning to whistle during his preschool days was a mandatory exercise.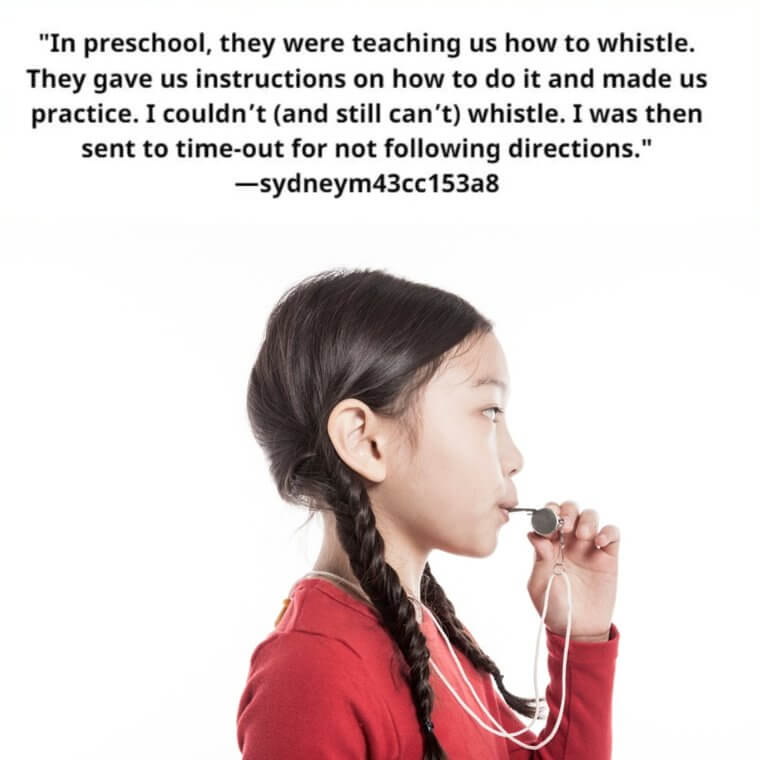 We never knew learning to whistle was an important exercise that warranted punishments, especially for preschoolers. The young boy simply couldn't find the groove and failed to master the whistle-blowing technique. Despite all the detailed instructions he was given and made to practice hard, he couldn't. The instructor lost his patience and punished the student with a time-out for not following directions.

Penalized for Early Submission of Assignment
Just when you think you've heard it all, there's another bizarre reason a student gets punished. This person couldn't help but recall when she was suspected of cheating when she submitted her math assignment much earlier than the others in the class. The teacher was sure she couldn't have done it alone in record time.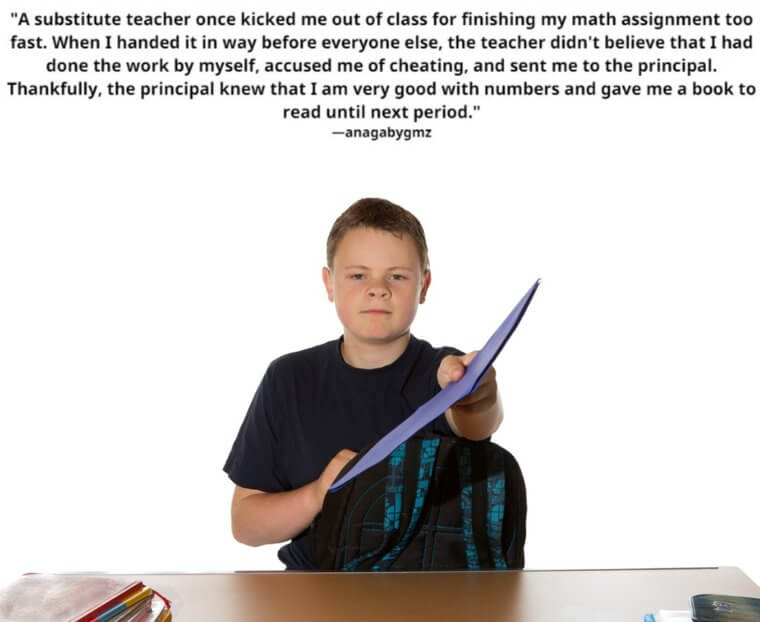 Thankfully, when the student was sent to the office, the principal knew her to be excellent with numbers and let her off. She was given a book to read until the class was over. We wonder why the math teacher jumped to conclusions about a capable student, and since when did early submission of assignments become taboo?

Her Glucose Monitor Got Her in Trouble
When children get sick, it's the responsibility of adults, like their parents and teachers, to check up on and take care of them. The love and affection the child receives can help them cope with the ailment.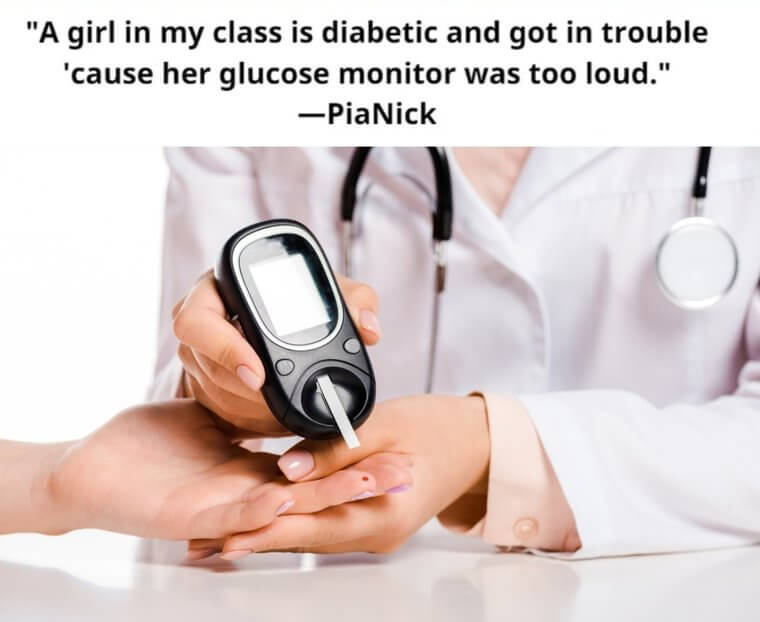 Sadly, sick kids don't always receive all the attention they deserve. This person's post tells the story of a diabetic girl who got into trouble because her glucose monitor was too loud. How should that even be a matter? The fact that the little girl moves around with such a device should attract sympathy from her teachers. Instead, they chose to look beyond her predicament and focus on the nuisance her monitor was causing. What a shame!

Punished for Bringing Homemade Lemonade to School
Most schools have vending machines that provide students with drinks and snacks at affordable prices. Some kids may, however, prefer to come along with homemade provisions for several reasons. It could be that they can't afford what's sold in school, or perhaps, it's not their favorite. Whatever their reasons, they should be cut some slack and allowed to bring their own food and drinks.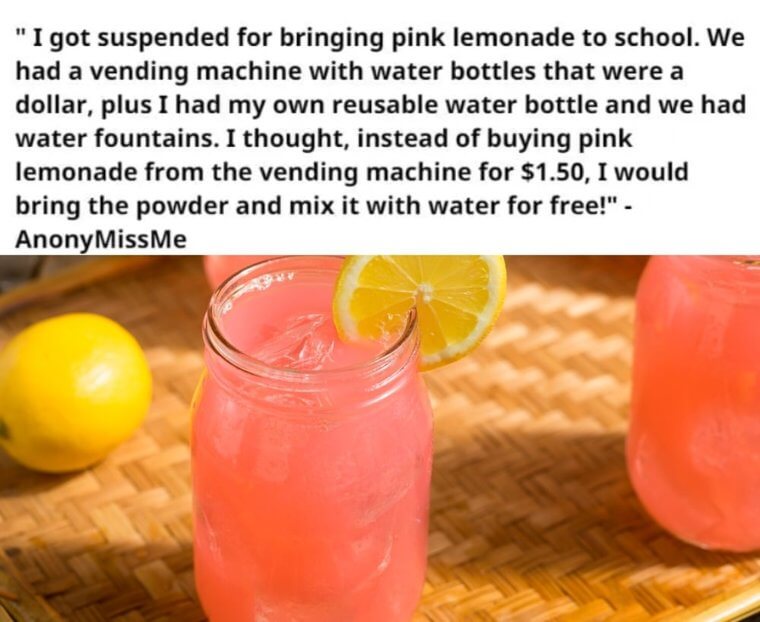 That wasn't the case for this student who was suspended for bringing pink lemonade to school. She didn't want to buy it from the school because she could get it prepared at home for free. Yet, the teachers wouldn't have any of that and punished her for thinking straight.

They Thought He Had Hard Substances on Him
Innocent students often get in trouble because of an obvious misunderstanding. When this happens, though, we hope that the school authorities come out straight and apologize for their overreaction.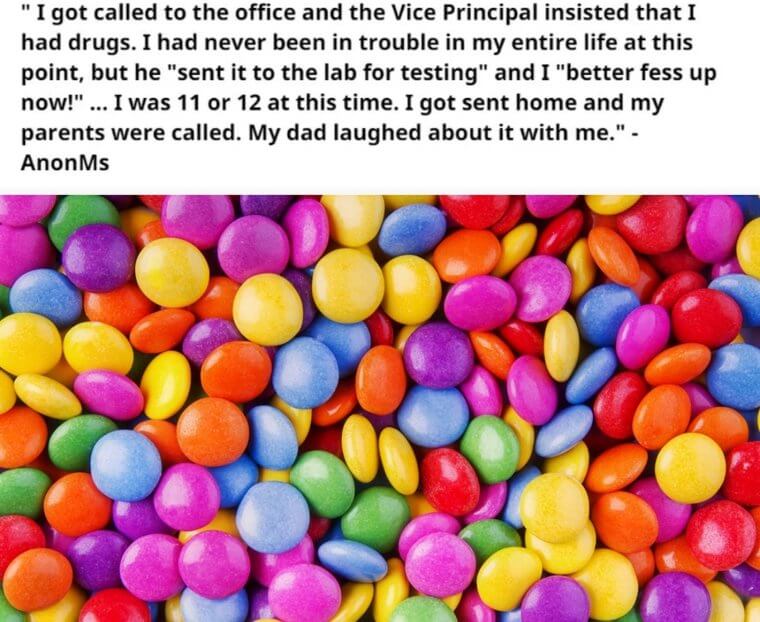 This young student must have felt worried when the vice principal invited him to the office. To confirm his fear, he was accused of coming to school with hard substances and was asked to fess up. Nevertheless, a close examination revealed that what the student had wasn't anything close to the speculation—it was candy. Still, the damage had been done already.

Asked to Get an Immediate Haircut
Schools have rules and regulations which help them maintain discipline and order. Still, some of these rules can be very inconvenient for parents and students alike.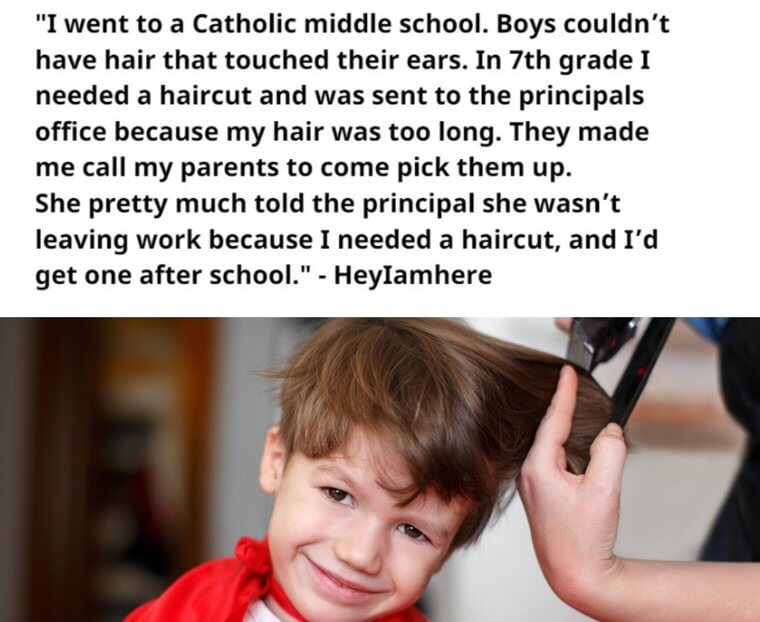 This person attended a Catholic school that had strict rules about hairstyles. Boys weren't allowed to grow long hair and because his had grown longer than expected, he was asked to get a haircut immediately. Well, since his parents weren't available at the moment, getting an immediate haircut wasn't going to work. The school had no choice but to allow him to remain in class until after school hours.

Drinking Too Much Water on a Hot Day
Some teachers make rules that show their unwillingness to do their duty. At such times, the kids are the ones to bear the brunt of the teachers' laziness.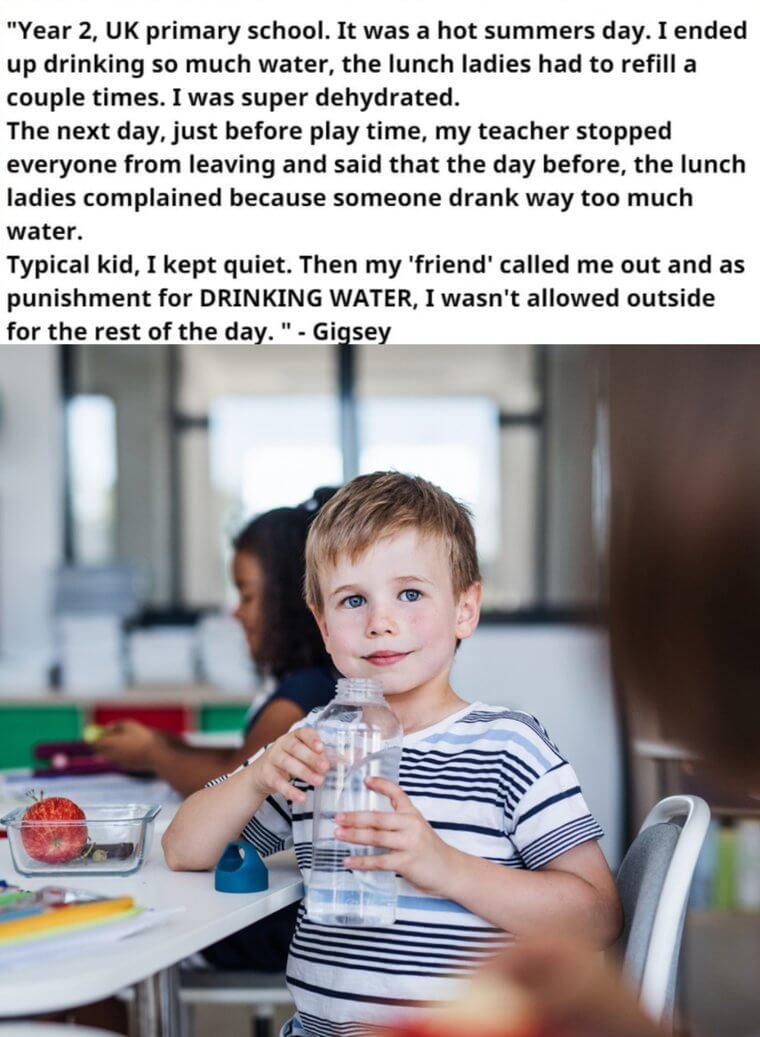 It was a hot summer day and this kid was feeling very dehydrated. She needed a lot of water to keep her going and didn't know she was upsetting the lunch ladies. They felt that the little girl was inconveniencing them and decided to report to her teacher. The teacher, too, fell for their lazy complaint and decided to punish the child by not allowing her to go outside the following day. Since when did asking for water become an offense?

Getting Into Trouble for Feeling the Snow
Lately, schools seem to be giving out suspensions as though they are giving out gifts. It's a different thing if this kid had tampered with a snow sculpture; all the student did was touch the snow, and here comes an unimaginable punishment. The kid got suspended for reaching out into the snow. We think this is not enough reason to make any child stay out of school.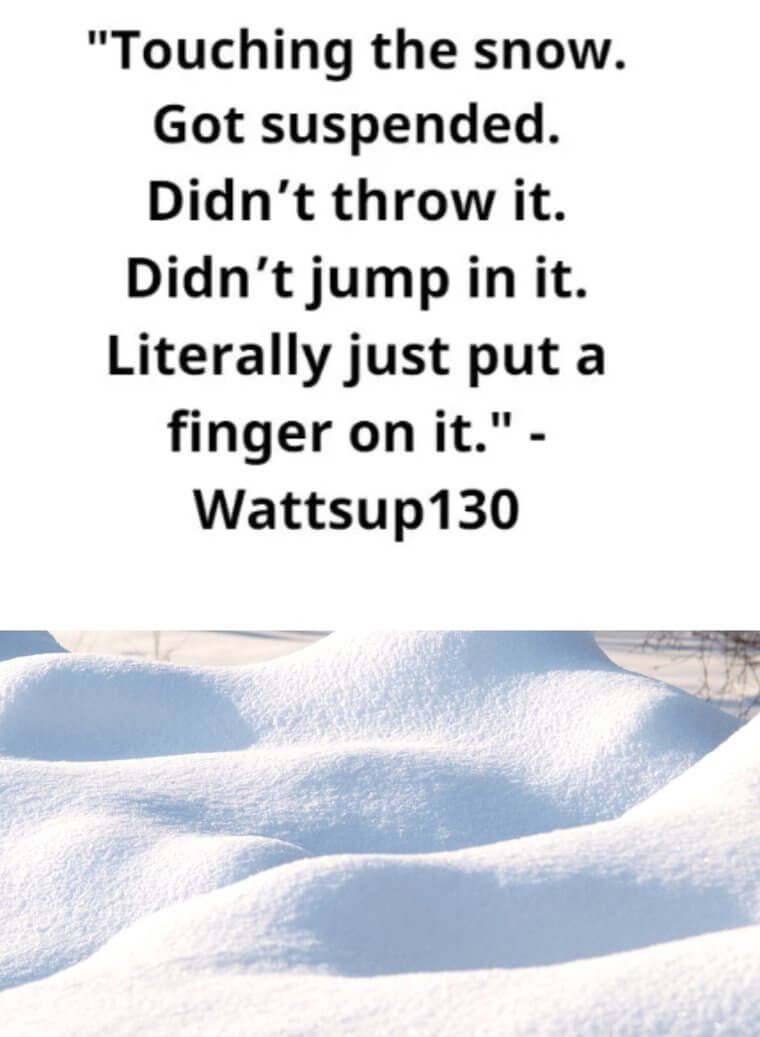 Elementary schoolers should not be deprived the opportunity of being children. Plus, while schools are responsible for children during their stay on the school premises, there are better ways to handle a situation like this.

In Trouble for Following Instructions
At one point or another, most of us have landed in trouble at school, but it is not the best experience when you are a kid. We all know that there is always that teacher who delights in scolding or punishing pupils for doing nothing or for doing the right thing as in this case. This poor child got into trouble for following instructions.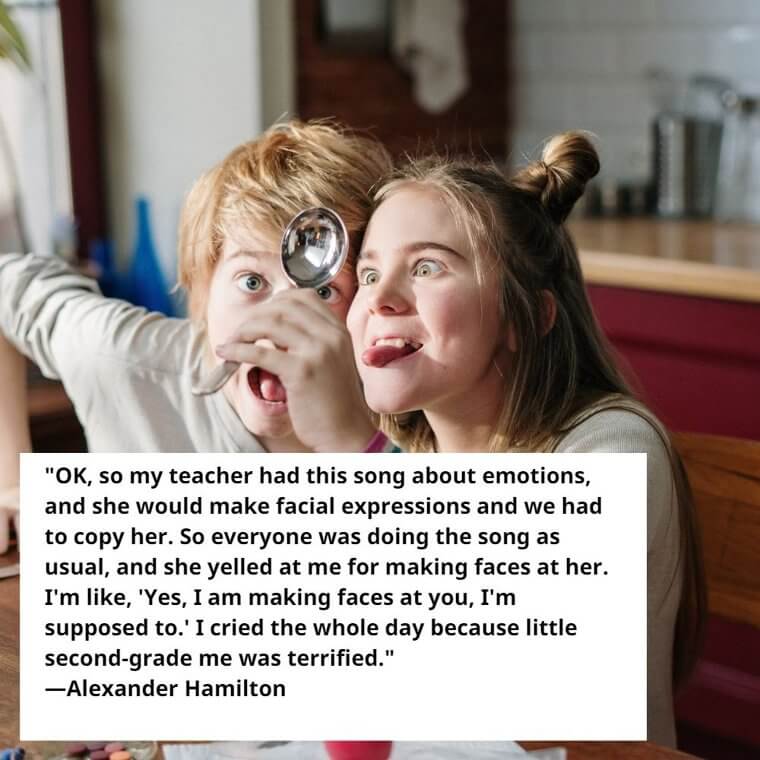 This second-grade teacher brought up a song about emotions and instructed the class to mimic her facial expression while singing. It seems she got carried away by the song and forgot the instruction she gave to the class. Unfortunately, the teacher transferred her weird emotion to one of her students by yelling at him for making faces at her.

Penalized for Helping a Fellow Student
School punishments are sometimes imposed even if the student is not guilty of the supposed offense. When a student is subjected to school discipline, everyone presumes they "did it." What if the student is innocent? In this case, this boy got into trouble for helping a girl open the cap of a bottled soda drink as requested.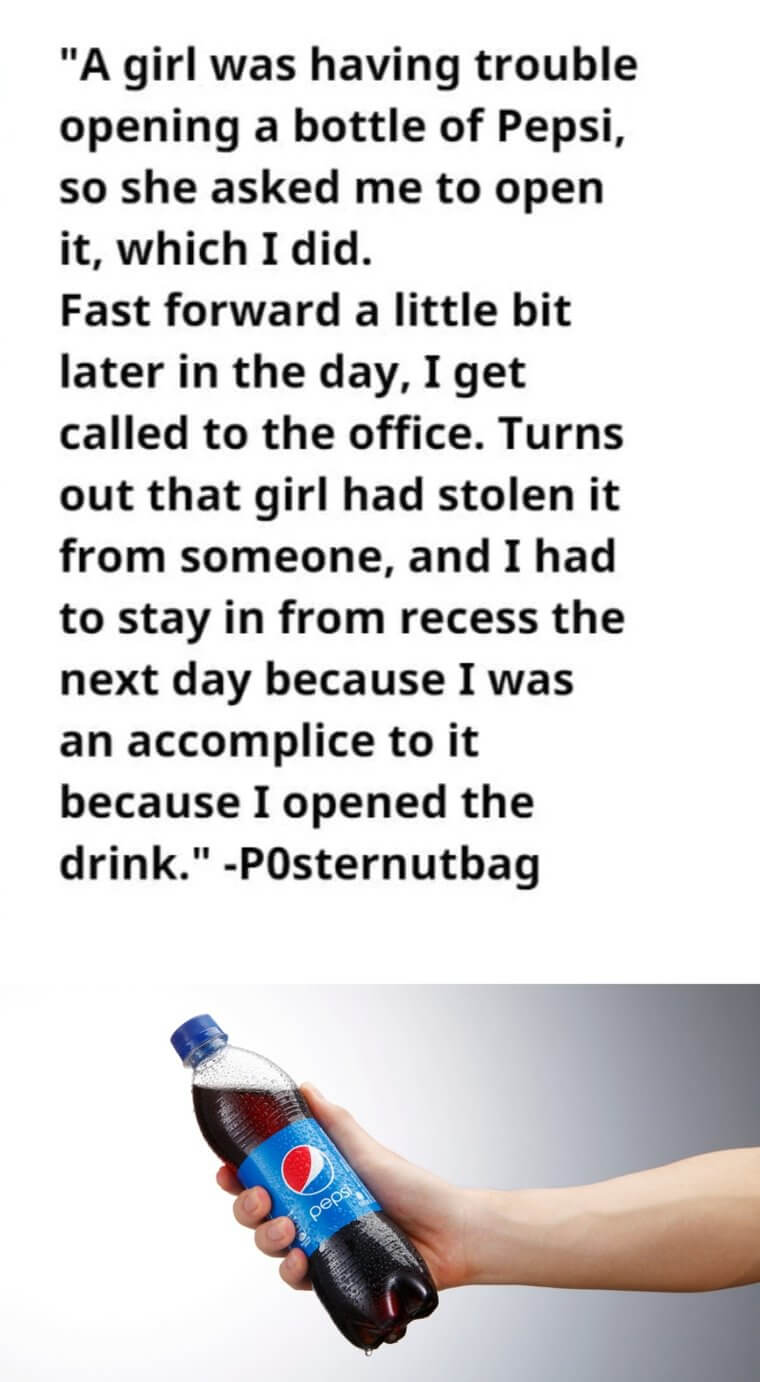 No one could ever imagine the girl had stolen the soda drink from somewhere; all the boy did was help open the bottle. For this act of kindness, he was asked to see the principal and said to be an accomplice of the stolen drink. We think schools should learn to give students fair hearings and conduct proper investigations before punishment.

Opening a Salad Dressing Bottle
It's frustrating how some bottles have tight caps that require brute force to get the cover off. If adults have a hard time with tight bottle caps, then we genuinely feel for children. This fifth grader's experience was not pleasant as she ended up taking the blame for a design drawback. All she wanted was to have her salad dressing on the veggies.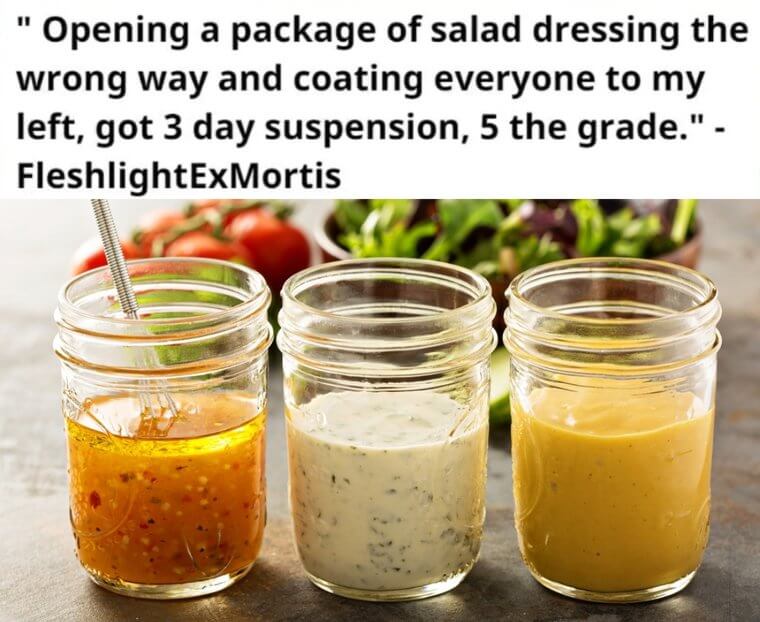 As soon as she opened the bottle, a good amount of salad dressing popped out and splashed on a few of her classmates. Her teacher misinterpreted what happened and gave the elementary schooler three days of suspension. We hope bottle manufacturers take note of this drawback.

Teachers Who Don't Own Up to Their Mistakes
Here is an internet user who relays a story from their kindergarten days. The kids were allowed to step out for intermission only if they said a word starting with the letter "E." It's hard to respect teachers who don't own up to their mistakes, but there are enough and more instructors like that from every school to fill a book.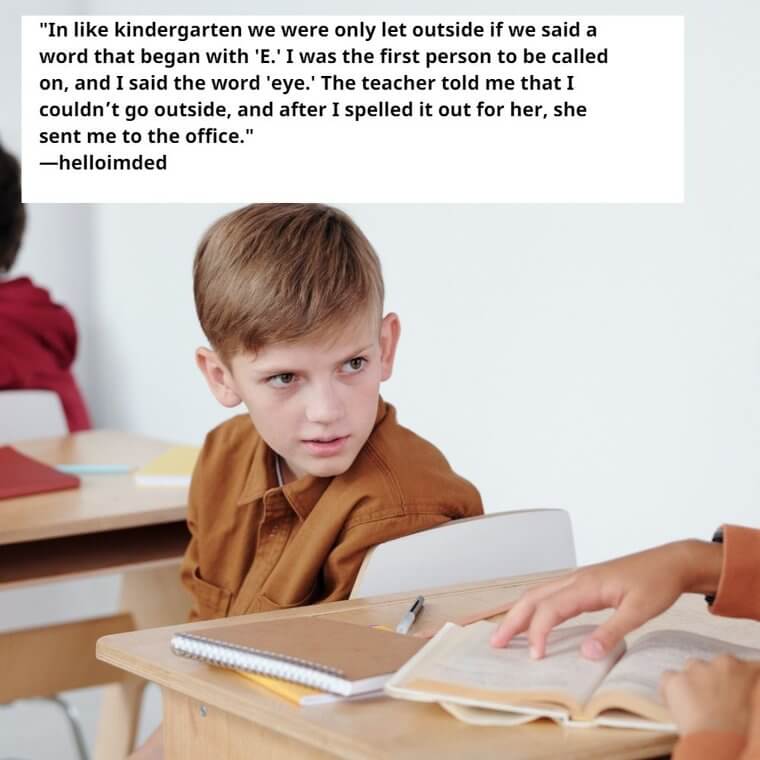 So, this person had confidently said "eye," but it's more likely that the teacher mistook it for "I" and refused to let her go outside. She got even madder at the kid when she spelled the word out for the teacher. As a punishment, she packed the kid off to the headmaster's office.

Punished for Defending Herself
It is the responsibility of the school to keep kids safe, but a lot of schools are guilty of negligence, which is quite alarming. The fact is, the cases of violence between very young children are usually difficult to handle; however it is the responsibility of schools to create a safe environment and punish the offenders after investigation. This second-grade girl was pinned to the wall by a boy while playing.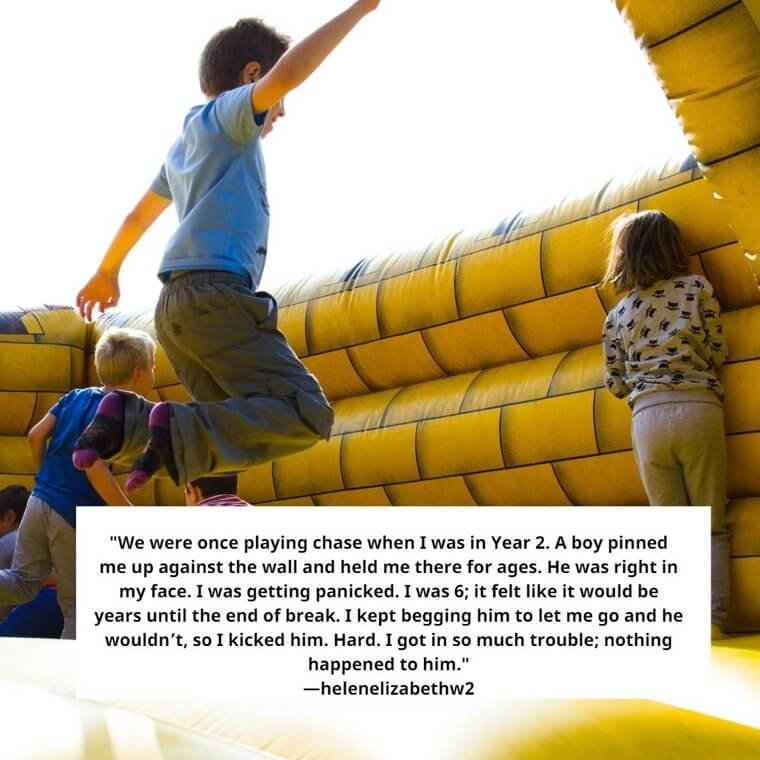 She got terrified and begged the boy to get his hands off her, but all was to no avail. The girl had to kick the boy before she got released from his grip. Unfortunately, the school got it all wrong and disciplined the girl for defending herself instead of conducting a proper investigation.

Punished for Cutting a Part of His Hand
Accidents are unavoidable in school; it is the responsibility of teachers to care for the student in such instances. There is no answer to when this duty starts or ends; teachers are to be vigilant especially when kids are using sharp objects during a classroom activity. While this kid was cutting paper, he ended up cutting part of his finger. As he began to bleed, another kid got irritated and started vomiting.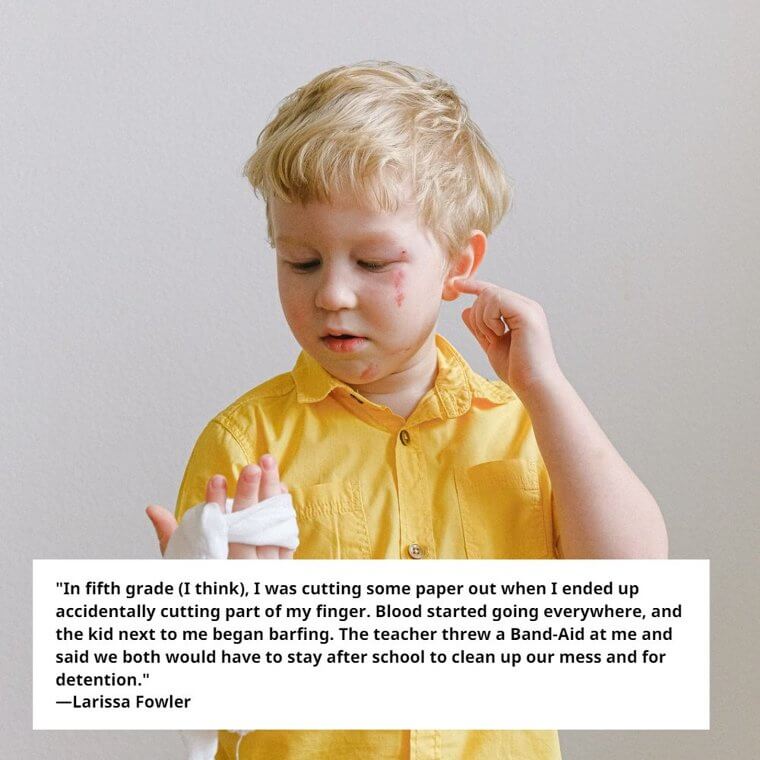 The teacher, however, didn't show concern toward the incident; instead, the kids were made to clean the mess after school hours. To increase the punishment, the teacher sent them to detention for messing up the classroom.

You Should Have Said This Instead
Remember when you were learning a new language and found a vocabulary you liked and couldn't wait to use? You probably misused it, and someone corrected you, which eventually made it stick. Depending on how they went about it, you may have felt discouraged or pumped to keep learning the foreign language.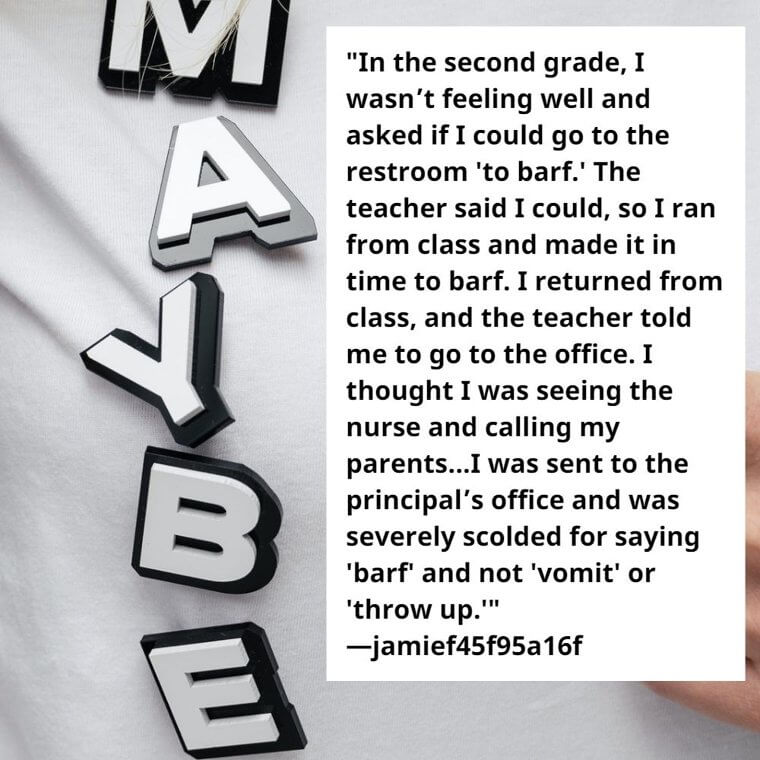 This particular teacher may have gone overboard when she sent the kid to the principal's office for using an informal word. The kid who asked for permission to use the restroom said they wanted to "barf" instead of "throw up" and ended up receiving a proper scolding for it.

Ignored After Getting Bruises
Playtime is very vital to the growth and development of children, but playing around also carries the potential for injury. If an injury does happen during playtime, it is the duty of the teacher to help the child and administer needed first aid right away. This elementary school child got into trouble for his injuries.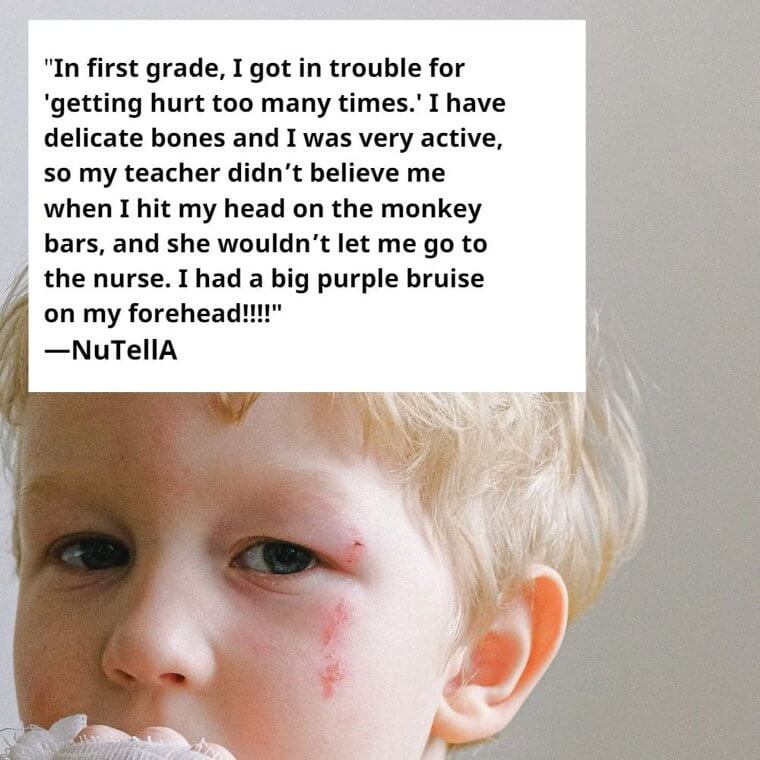 It is a case of a hyperactive kid who often gets injured; he probably does not listen to instructions from his teacher. Here, he hit his head against the monkey bars and sustained a huge bruise. Of course, superactive kids are difficult to believe and in this case, the teacher didn't even allow him to get treatment from the nursing room.