Modern dating is generally difficult, but more so in our hectic culture. Indeed, we ought to use caution in making our selection. Nevertheless, you might rethink going on dates altogether after hearing some of these stories. Some are funny, but most of them are simply mean. It's incredible how many oddballs and self-centered singles there are. Here, you will either laugh out loud or groan in horror.
Love Doesn't Cost a Thing, Right?
Shopping is probably almost every woman's kryptonite, and it's the same for this lady. Unfortunately, her plans of splurging do not include her own money. Some ladies indeed lust for guys just for the sake of their financial assets. Judging by how this person asks for a luxury bag without batting an eye, we surmise this is not true love.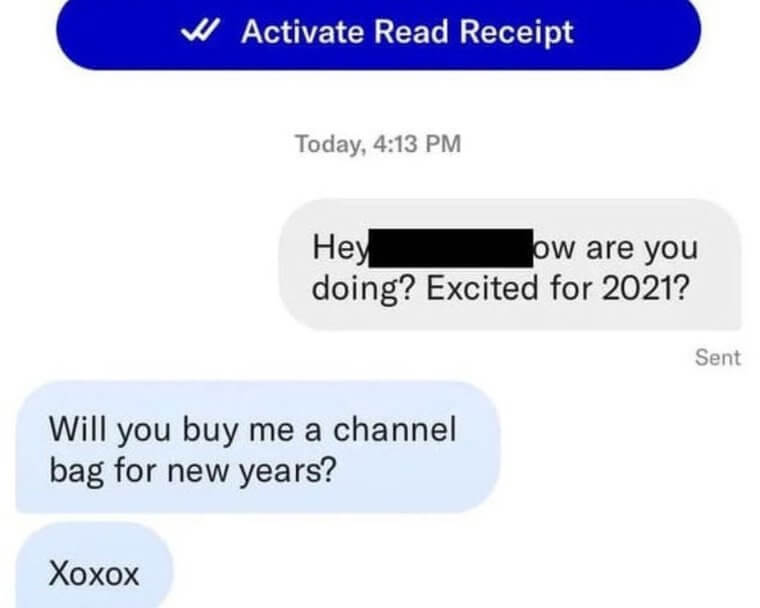 What's even more appalling is the tinge of rudeness in her messages. This is a no man's land indeed, as this one's got dollar signs all over her eyes. Look out, everyone, this sugar baby's out for some serious shopping extravaganza.
A Walking Red Flag
We have to feel for those who have it tougher when it comes to finding a life companion. In certain circumstances, one may see why they're taking so long. Look at this walking red flag that dares to declare everything he's not looking for in a woman. He may have to wait a long time for his princess to arrive.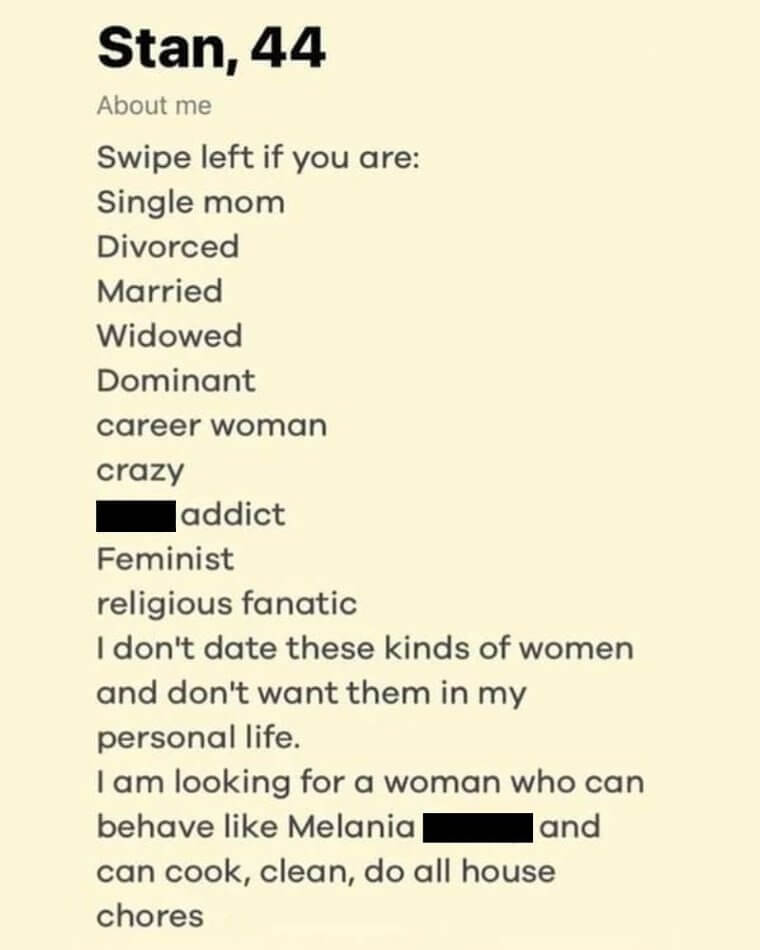 This man-child knows precisely what types of ladies he won't date, so one can easily find out if they're on his list or not. You should make sure you have a secure career, too, because he likes to have his spending habits subsidized by hard-working ladies. Whoever wants to get to know this guy should just run away now!
Dating Her Comes With an Extra Fee
Here's a prime example of why dating is so hard these days. This woman appears to be a catch until she decides to let everyone know that she's not going out with any guy unless they pay for her kid's babysitter. On top of that, the singleton also wants a complete stranger to pay for the child's take-out food.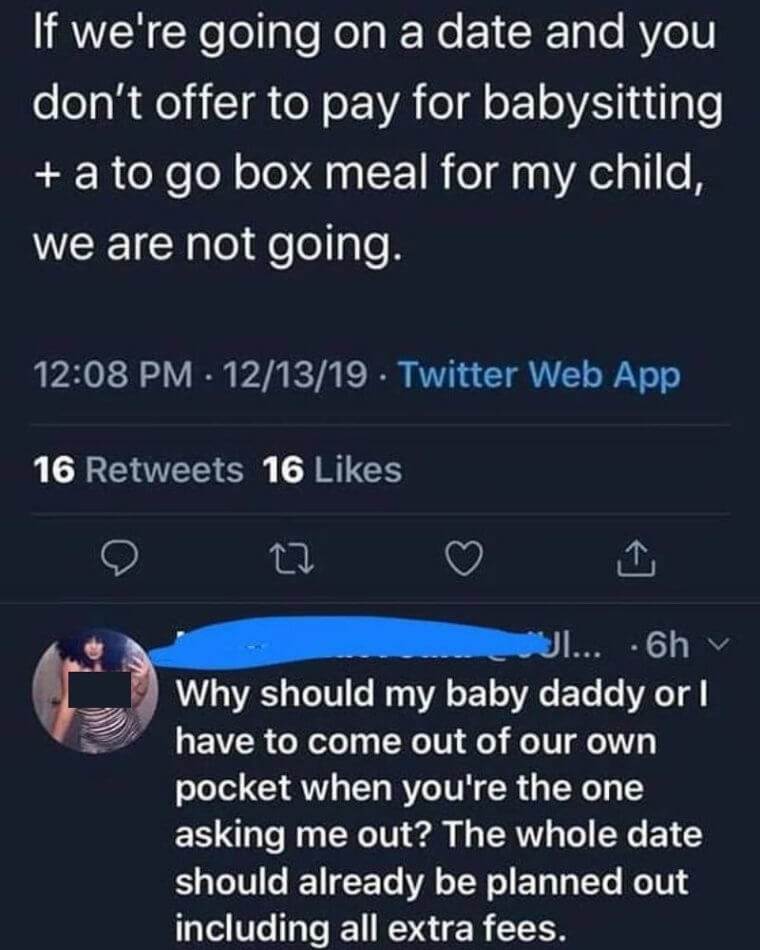 That would have been doable, but she added that it wasn't reasonable for her to pay as she wasn't the one who asked to go on a date. Oh well, avoid a lady like her if she constantly makes unreasonable demands. We've never heard of charging more than usual for a romantic outing, and it's safe to state that one shouldn't go there unless there's some extra cash on hand.

Send Now, Reply Later
People often expect a response to a text message to arrive within a day, if not immediately. Sometime later? That should tell us something, at least, about their character. This person must have had a busy day at work, though, since she only replied to the message days later!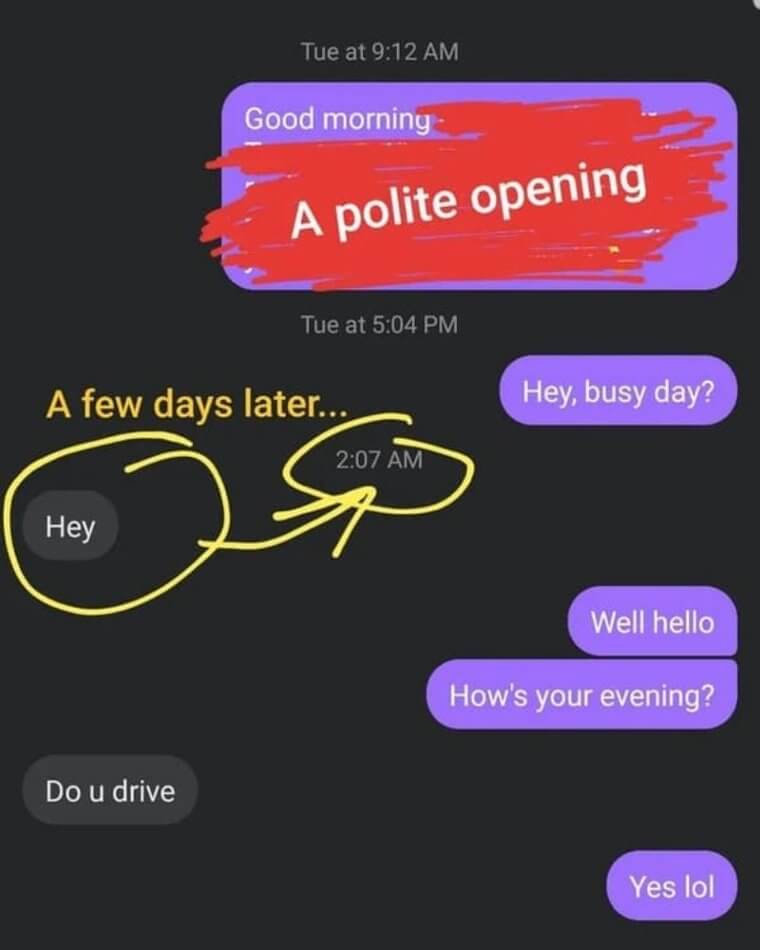 What's even more curious is the response she gave. Instead of answering the question, she asked the guy if he could drive. Of course, he responded yes, but by now, we all know what this lass has in her mind. She probably wants to ask him a favor. If only the girl was polite enough to respond in the first instance, then perhaps driving her around would even be considered!

Fund Your Own Shopping Sprees
Anyone who advises her to go out and spend her money must bring on fits of laughter. This lady basically wants to be taken care of by a wealthy man—a person who foots the bill for everything, relieving her of the burden. That sounds like a dream!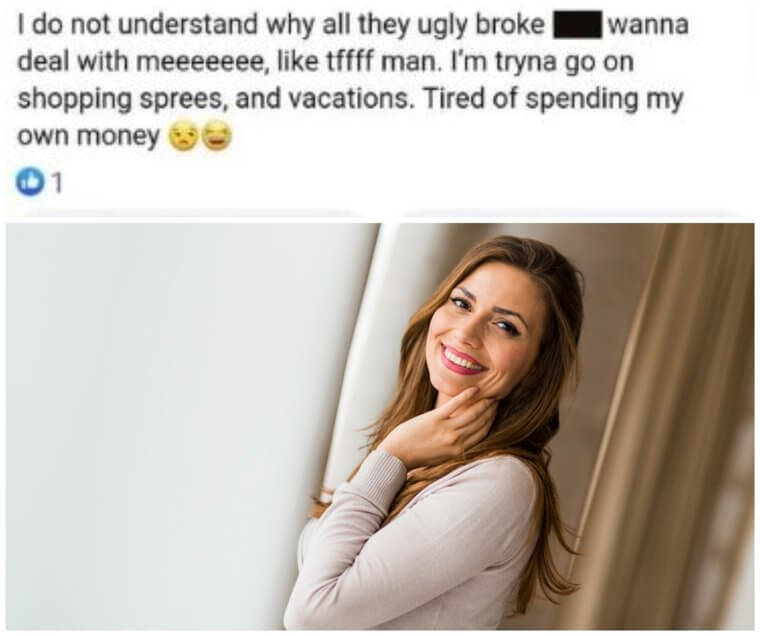 If she needs time off, she shouldn't have to pay for it. The males in her life need to learn to prioritize her happiness. Sarcasm aside, some individuals are so bizarre. Unless there are men out there who are willing to shell out wads of cash to fund this woman's shopping desires, then step aside and look for a date elsewhere.

Do Better Than Her Ex
One grave mistake people make while dating is to compare their current partner to their ex, which is a strict no-no if you want to continue with the relationship. Here's a woman who wasn't too pleased with the spending habits of her boyfriend.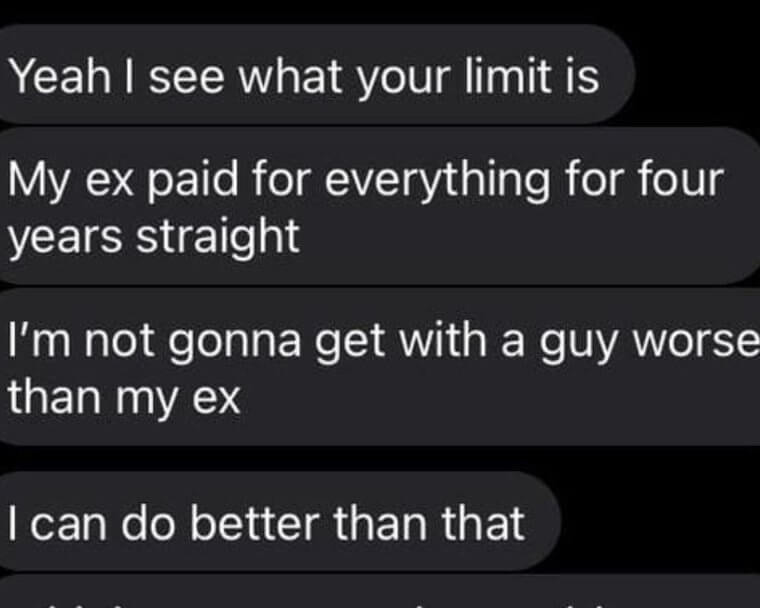 She believes he should pay for all their meals together, just like her ex did for the four years they were dating. This is a major red flag you can spot from a mile away. Fortunately for the guy, she refused to date him, supposedly because she wouldn't settle for someone worse than her ex. We don't know about that, but we're sure he could do better.

All Kinds of Broke
Truer words were never spoken; it's a fact in the dating world that no one can refute. A guy buying you sparkling water but no drinks is a statement of his spending capacity. What about the girl who depends on someone else to pay for her meals? Does she have the right to complain about having to drink only plain water on a date?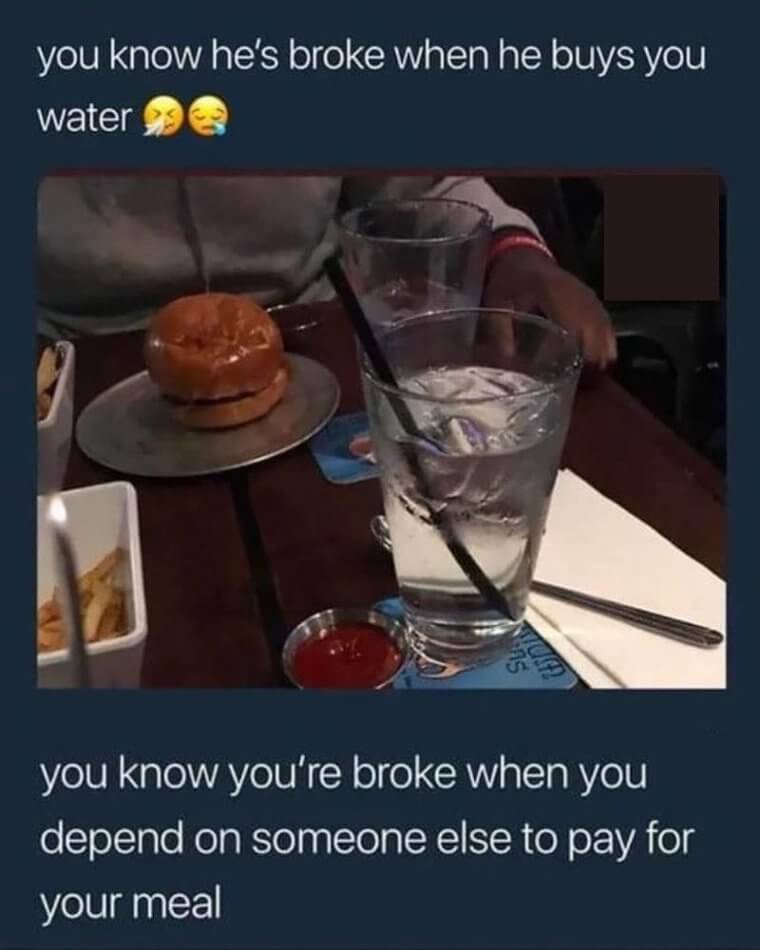 Whatever the case, the fact remains that the meal usually has at least a snack, dessert, and a drink when you are out on a date. Who settles for sipping on iced water while looking deep into each other's eyes? We wonder who blinked first and got out of the relationship pronto.

How to Repel "Real" Women
We are stunned at the pure venom in this detailed description of what this man dislikes in the opposite gender. It's a disgusting departure from the usual posts about what a man seeks in a woman. To put it mildly, we haven't seen a more hate-filled tirade against women on a dating site than this post.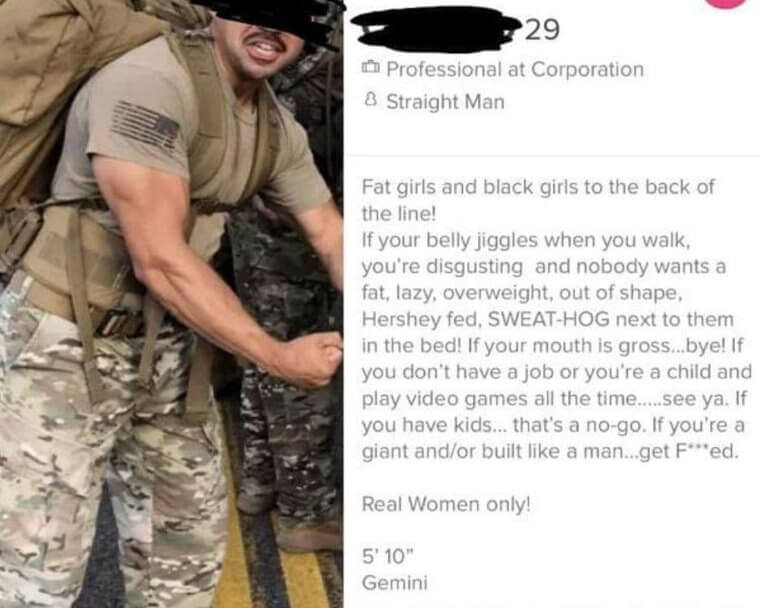 Ironically, the "real women" this man wants to attract through his lengthy post will never respond to it. It's also pretty obvious he has no idea what a real woman is and probably will never recognize one, even if she accidentally lands on his doorstep. As if his words weren't enough to repel womankind, his picture is no great shakes either.

Entitled to Free Food
We are not sure we should be dissecting this bland exchange of texts, but we'll give it a try. While one isn't sure what to eat, the other painstakingly listed out every food delivery app on planet Earth in response. It's clearly the getting-to-know pre-dating stage, and from the looks of it, that's where their story ends.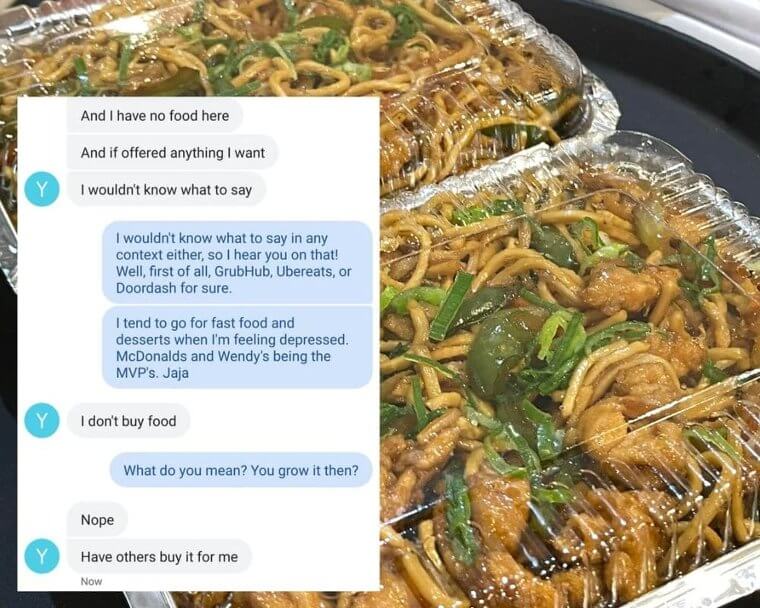 As if that wasn't enough, the person said he never buys food for himself. Did he wish for the girl to order him some or at least get the point of the conversation? We hope she realizes he isn't the prince charming who'd buy her food; instead, the guy would expect her to pay for his every meal.

Swipe Right, If You Dare
Let's get honest here; did you get to the end of the list or roll your eyes midway and move on? Unlike most, we read through the zillion non-negotiable deal breakers that the person has quite painstakingly put forth. Initially, we had thoughts, which slowly dissipated the longer the list got.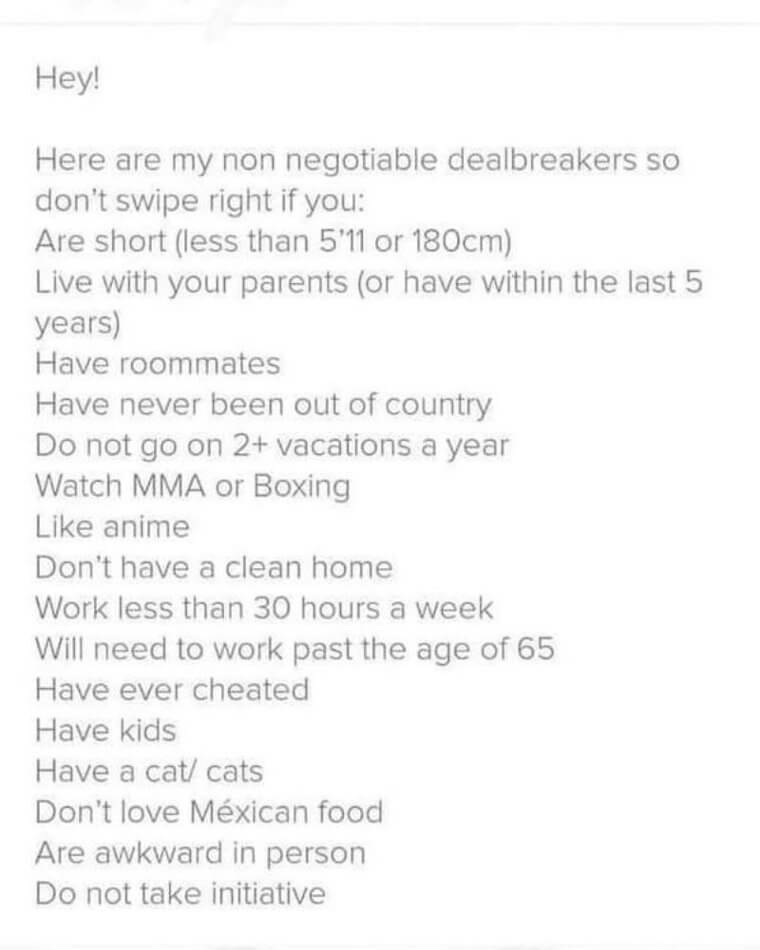 Some points are valid but could have been put in a better way. This person wants a well-to-do, employed, single, and faithful partner who doesn't like cats, anime, MMA, and Mexican food. He should be a frequent traveler who, most specifically, lives in a clean home all by himself. If someone can get this specific on the net, imagine how finicky she'd be in person. Swipe left, please.

You're Getting This One, Yes?
The dating scene has majorly evolved, and while some people have adapted to the times, some, like this lady, haven't. She went out on a date with someone and picked up the tab, something that she didn't like at all. The lady hated paying the bill so much that she asked her date to refund the money.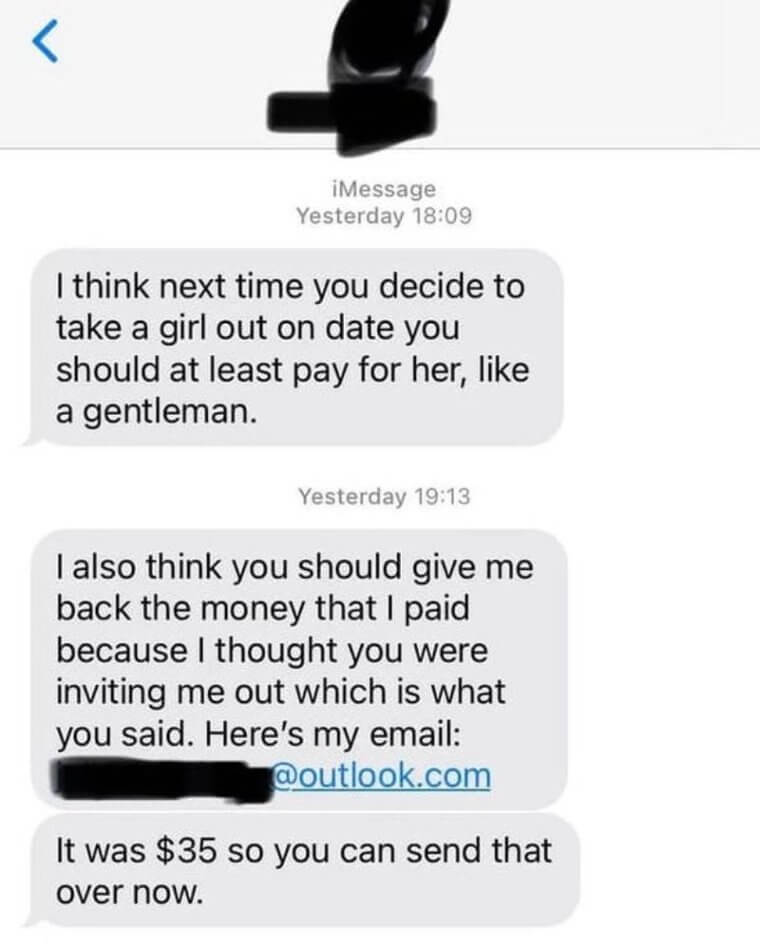 While we understand that she's frustrated about taking care of the bill, which shouldn't be the case because we presume that she also ate, offering to split the cost would have made more sense. Either way, we doubt these two would be going out for another date soon.

What Is That Destination?
By the looks of things, this woman seems like she would push and nag you until you give her what she wants. Still, we don't understand her demands; where exactly are "Grease" and "Due by?" That is confusing, let alone the idea that she wants to go alone, whereas it might have been more romantic to take the trip with her partner.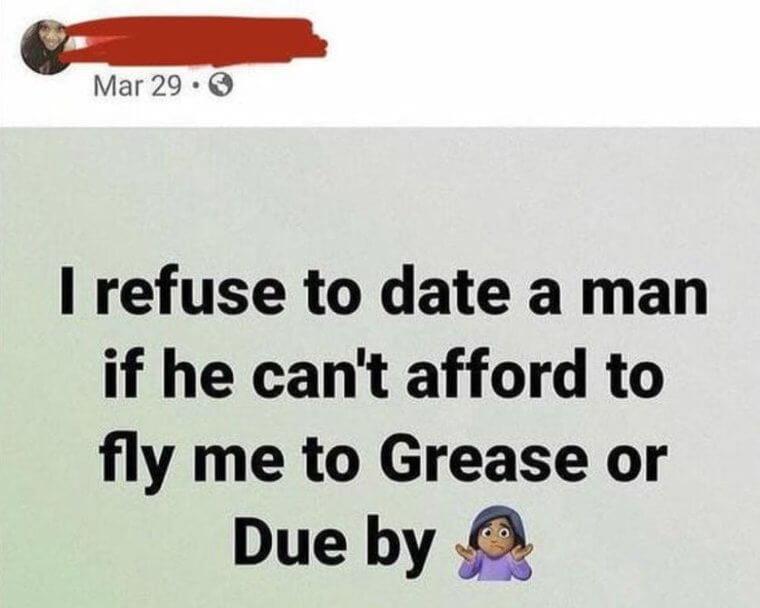 Her confusing destinations aside, we don't understand why the man has to pay. If she wants the vacation, she's better off working and saving for it instead of waiting for someone to pay for her. Besides, does it mean that if she doesn't get the man who can fly her to "Grease," she'll not go on vacation?

A Tad Overuse of Emojis
With the advent of emojis, it's not surprising to see them used in informal engagements, but this person doesn't know how to regulate them. She plastered the emoticons whenever possible, and taking her seriously is pretty hard. This looks like something a teenager would draft, but not from a mother of three, as she claims.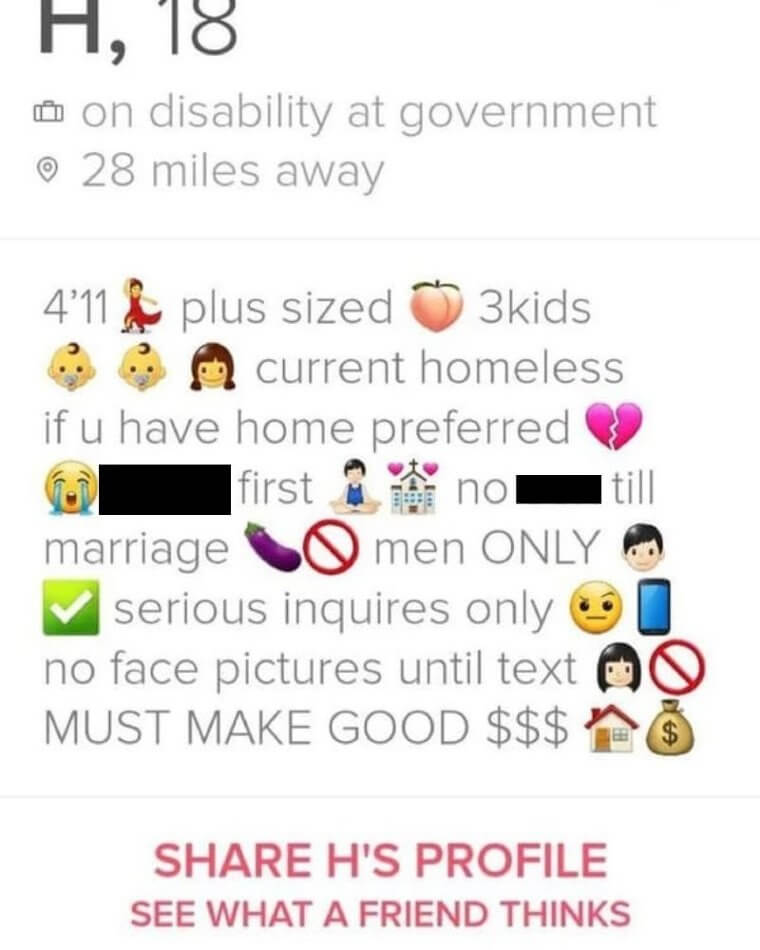 The format of the profile is one thing, but we cannot overlook its contents. There are details that we believe shouldn't be made public, like being homeless. That would ultimately tell potential suitors that what you're looking for isn't love but a place to live instead.

An Insane Requirements List
We all have our preferences regarding romantic partners; there's nothing wrong with that, as we all want different things. Yet, this lady decided to come up with a ridiculous list, to say the least, and we don't think there's anyone who'll fit her standards.

To start with, we're interested in knowing how she's going to measure the size of the lips or how small it is. Also, the person has to agree with everything she says, which means if they disagree on something, it'll be a full-blown conflict. If you can also provide a picture of your ex-girlfriend, and she happens to be more beautiful, then you stand no chance with this lady.

What Are You Saying?
English is not a native language for billions of people worldwide, and it's understandable if one cannot correctly speak it. Yet, describing one's dating profile should be done clearly so that people understand what you're saying. This lady had trouble expressing herself; we could only pick bits and pieces of what she wanted.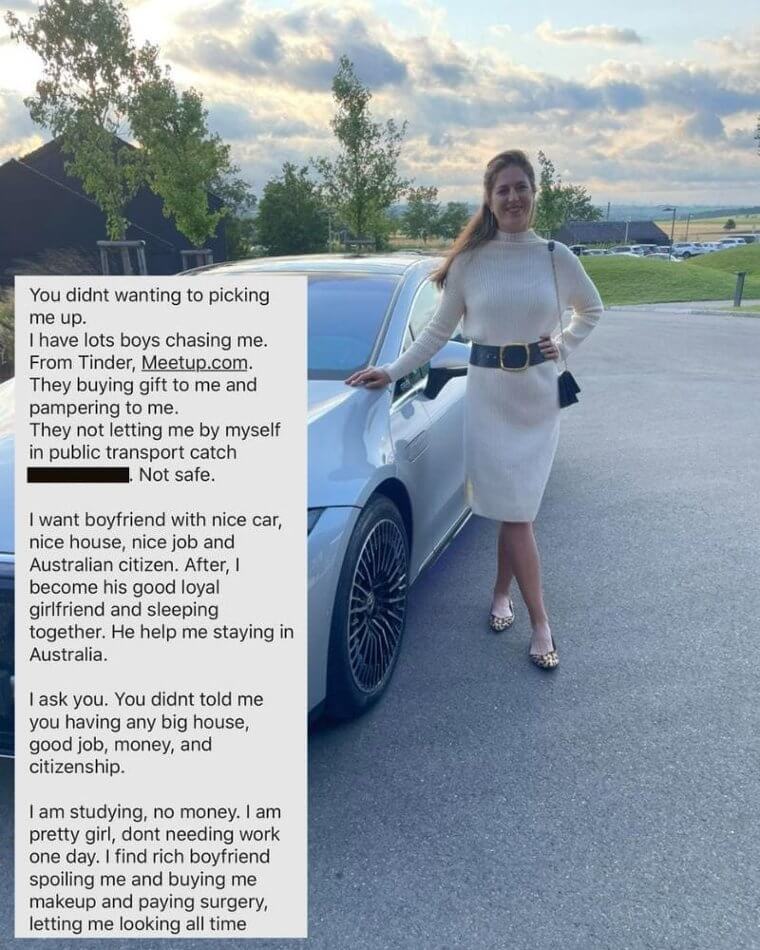 By the looks of things, the lass doesn't want to work a day in her life, and she wants her man to take care of all her bills and be treated like a queen. There's a caveat to that, though: you should also spend all of your time driving her around as she doesn't want to use public transport. Go figure.

When Good Genes Are a Must-Have for Romance
Forget the other unreasonable demands; if you meet someone who tells you they want to date someone intelligent but not smarter than them, accept that they won't make a good life partner and move on quickly.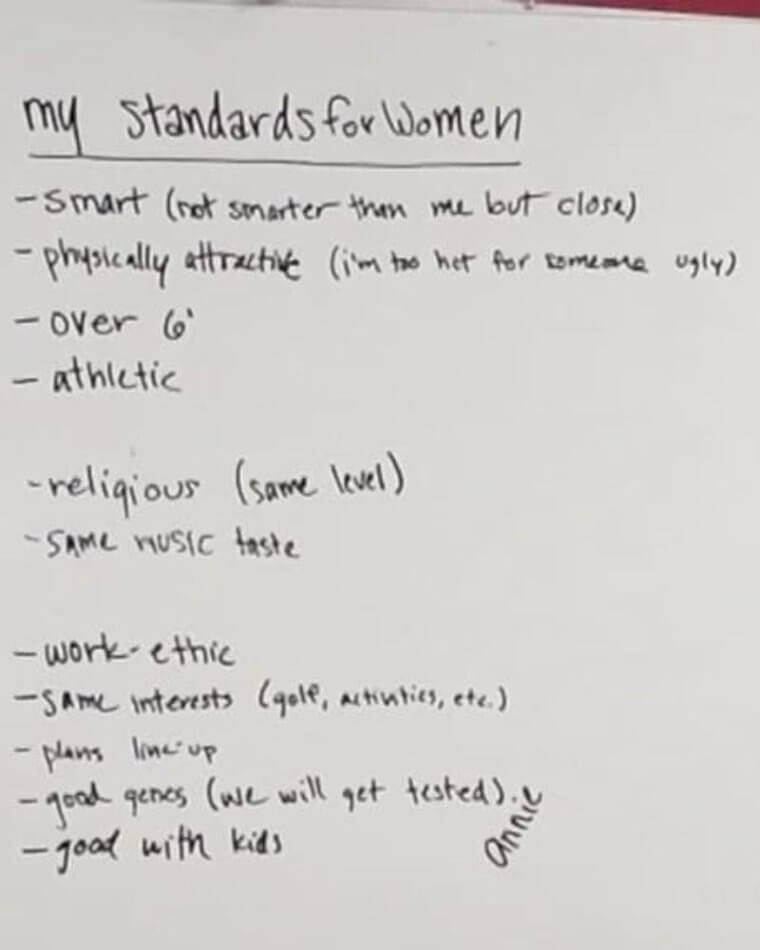 This person takes pride in being the most intelligent in the room, so they probably surround themselves with "yes people" who never question or challenge them to grow. Also, what happens when you, the one who requested a gene test, find out that you have "bad" genes while your potential partner has "good" ones? What happens, then?

From Wanting a Date to Endless Insults
Always watch out for someone's reactions when they don't get what they want; that's the true test of their character. While we understand that this fellow couldn't afford to pay for his date's expensive meal, he should have explained himself and left it at that. The insults were unnecessary and proof of immaturity.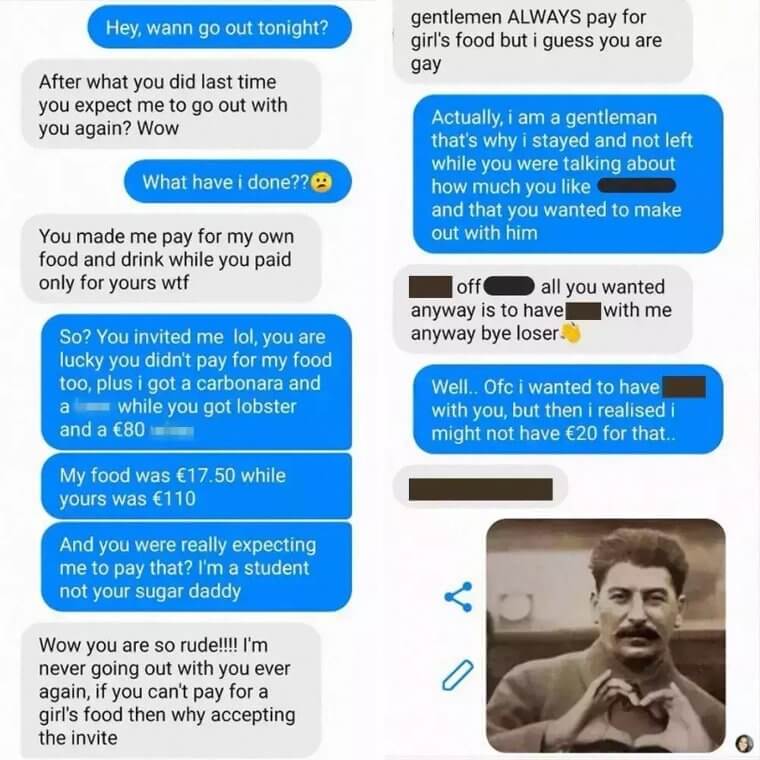 The lady might have wanted someone who could afford to pay for the most expensive item on the menu, but even without that, if the fellow had been respectful, maybe he could still have a shot with her. It is widely accepted that whoever asks the other for the date should pay for the meals. Notwithstanding, that's a discussion to be had before going out.

When Silence Isn't Enough
We're sure the lady who got this message is glad she dodged a bullet with this one. Who in their right mind does this? If you don't like the person you went out on a date with, don't call or text them. Instead, be decent enough to move on quietly rather than tear them down like this guy did.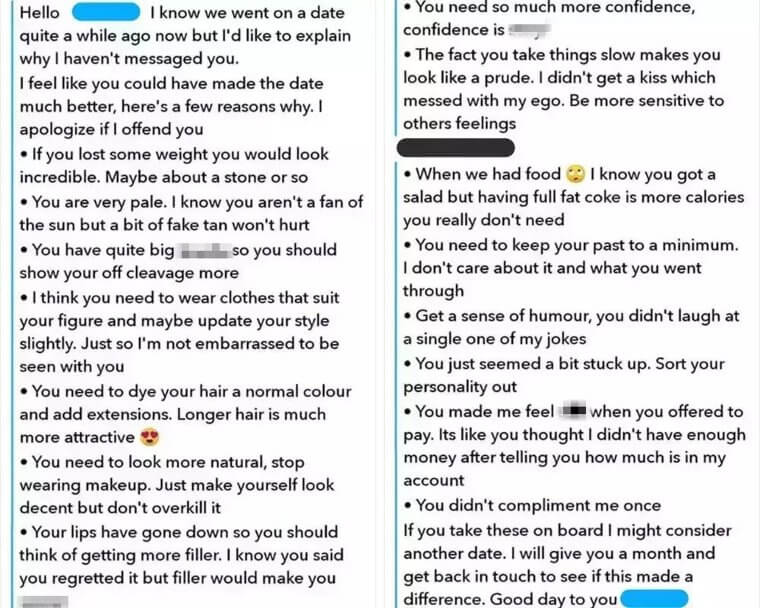 It's obvious she, too, didn't like him, otherwise, she could have texted earlier as it had been a while since they went out. We just hope she didn't take any of this to heart or even waste any more of her time on this undeserving fellow.

Keep the Weight Comments to Yourself
It's interesting how those whose lives are in shambles always know what others should do with their lives. If you ask us, the last thing on this fellow's mind should be romance. For now, the guy's main focus should be getting out of debt and working hard to escape poverty; anything else is an unnecessary distraction.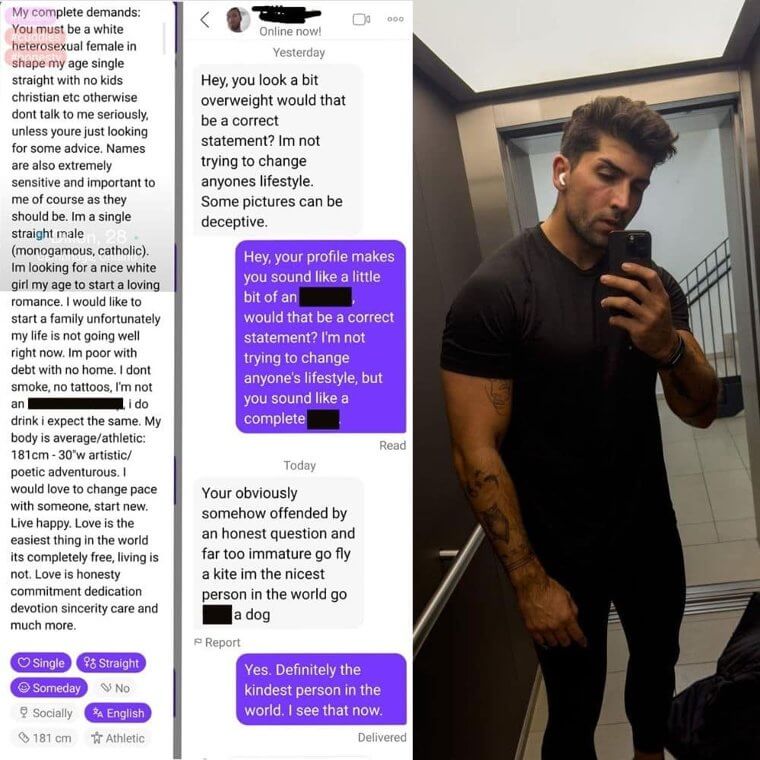 Still, even if his finances were in order, commenting about someone's weight is rude. You don't like them? Swipe on to the next profile until you find what you like instead of dishing such comments that leave others feeling bad about themselves.

An Arm-Twisting Strategy That Doesn't Work
No matter how much someone likes you, you cannot arm-twist them to do everything you want. It may work the first or second time, but eventually, people get tired when relationships are one-sided.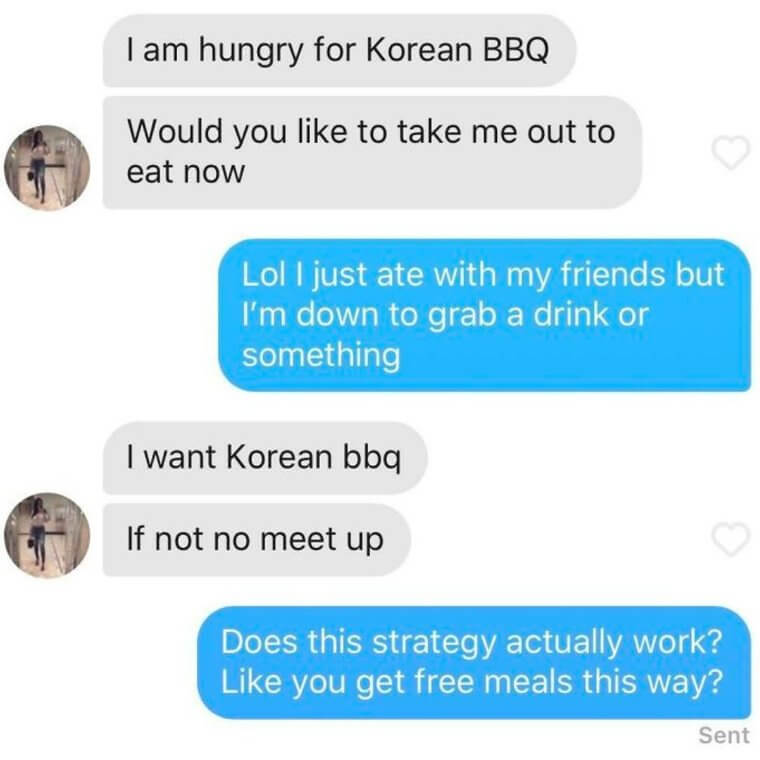 Here's what this lady should have done if she wanted to see the guy: go to the restaurant, order the meal she's craving, be courteous enough to pay for it, and then let the fellow have whatever drink he wants. "Compromise is key for a healthy relationship," really works.  Yet this seems like this woman is more concerned about having someone cater to her needs than having a relationship.

Too Late, Too Soon
While this lady thinks she's ready for marriage, we actually believe that it's the opposite. Who clamors for a wedding like this, especially when the other party is obviously not yet ready? If you asked us, it's not difficult to know why she's still single—this lady has probably chased all her suitors away with her wild demands.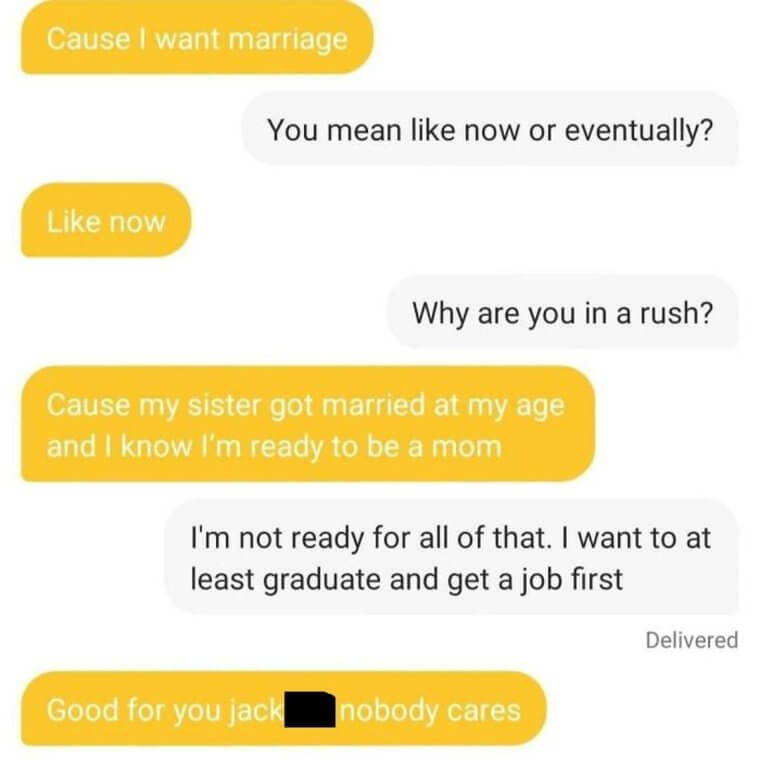 Since her sister's already married, perhaps she can find out what made the other woman walk down the aisle on time because, at this rate, it's easy to see this lady grow into an old spinster. Of course, if that happens, we'd know who to blame—her.

Isn't That Her Job?
If self-centeredness were a person, it'd be this woman. Who goes out on a first date and starts making strange demands, like asking your date to get food for your kids? Of course, it's not the man's fault that she couldn't make something for her children before leaving the house, and in that case, the onus was on her to buy her children dinner.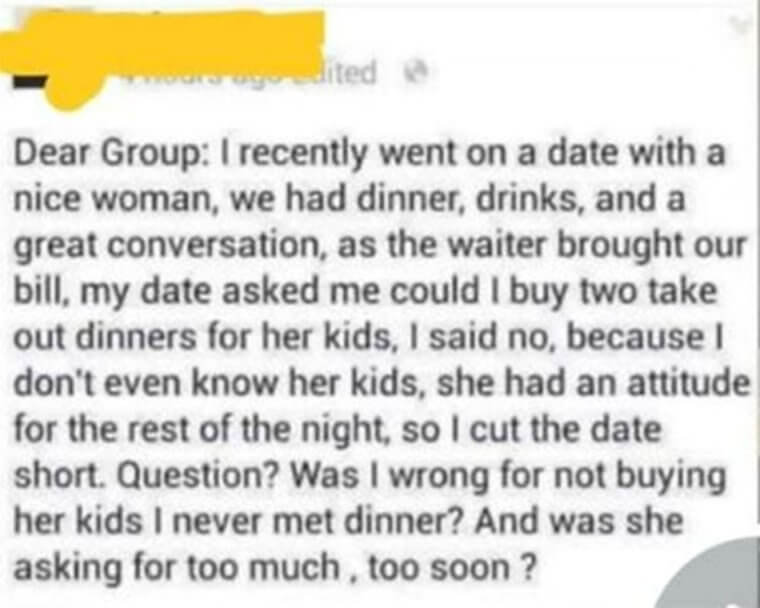 For someone just getting to know you, making that kind of demand is way out of line. We can't blame the man for cutting the outing short, nor should he feel guilty for doing that. And to answer his question, she was asking for too much, too soon.

In Constant Need of Money
If we were this guy, we wouldn't waste time blocking this girl's number for good. How's it that in all her conversations, she always needs money for something? While we aren't concerned that she needs money—everyone does; the problem is how this lady's projecting all her money problems onto a guy she just started talking to.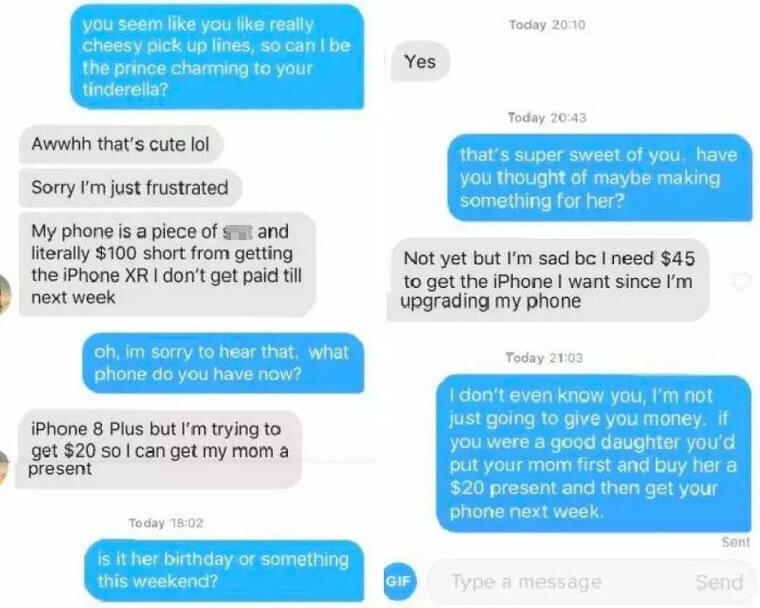 In fact, with how quick she is to talk about money every single time, we'll not be surprised that she's just lying to get money out of this man. It's good that this guy was smart enough to call her out on the issue.

No Better Comeback Than This
Every time, ladies have to deal with men in this category - men who're intimated that she's doing well on their own. So, when this woman informed her date that she didn't feel a spark, which isn't wrong to do, this guy decided to respond with "feedback" that wasn't necessary.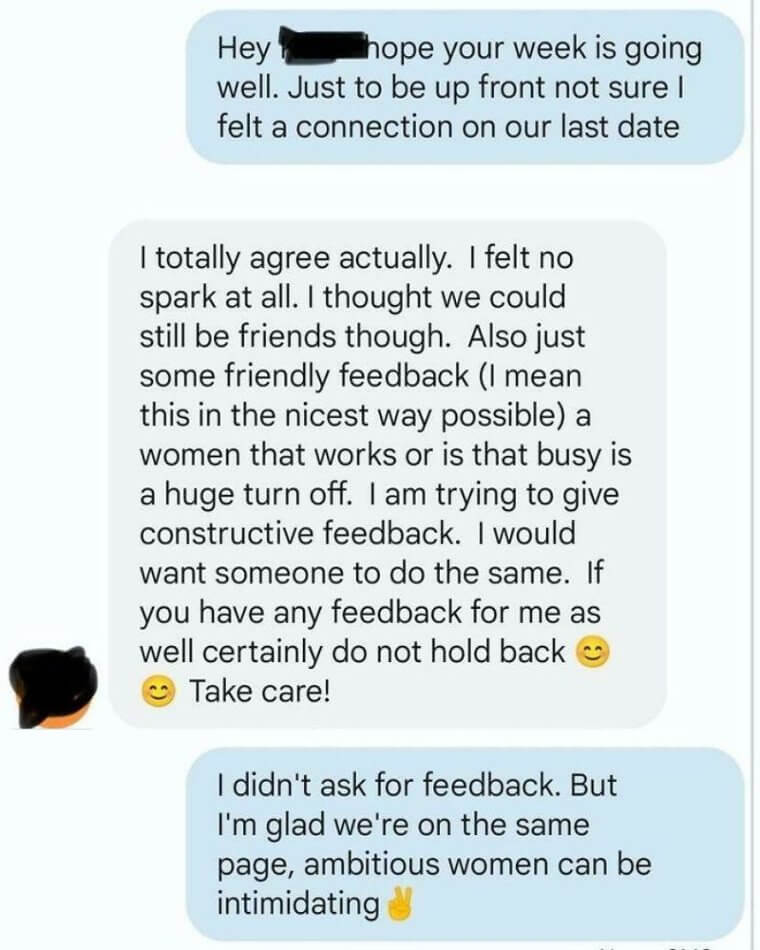 Does it even make sense to tell a woman that it's a huge turn-off for her to be working? Would he rather want a woman who depended on him for everything? Well, it looks like it. No wonder the lady didn't feel a connection; she deserves better than this egotistical man. We're glad that she gave him an adequate response.

Too Much for So Little
It's funny that someone would expect intimacy from you for just a bunch of flowers and a few dollars, but that's the world we live in. Even worse, this guy expects to reach that level of intimacy on the first date and claims to stop being nice after his "efforts." We don't know who this guy is, but we need him to calm down.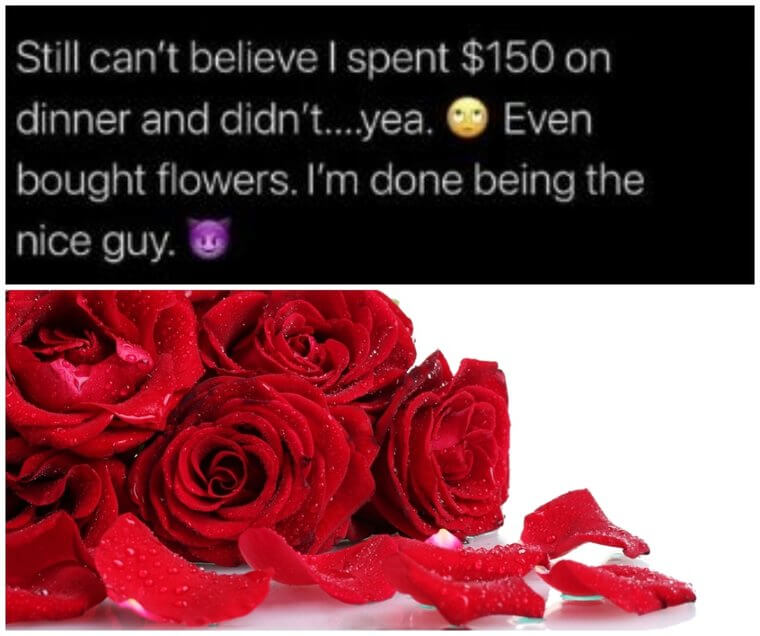 We're also glad that the lady didn't give him that kind of privilege. Guys like this need to be avoided; she obviously dodged a bullet. Hopefully, no one falls for his schemes.

And the List Goes On
We are in total agreement on the concept of self-love, and the first paragraph of the about me column of this dating profile talks all about it, which seems perfectly fine. Although what bothers us is the qualities this woman's ideal partner should have. We cannot come to terms with this person's checklist.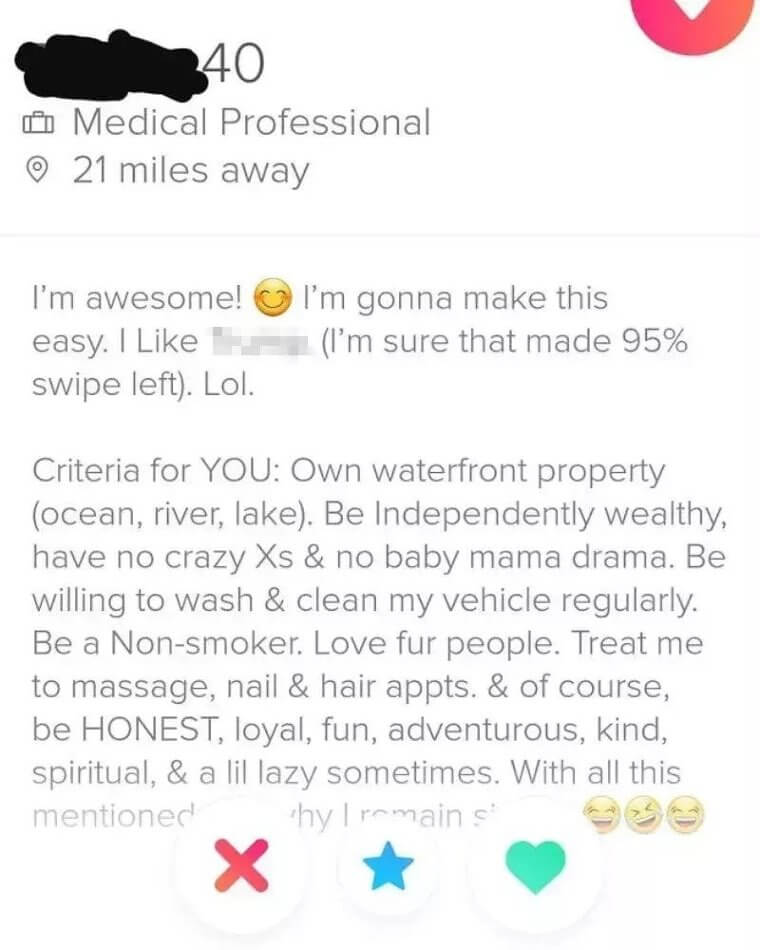 We assume it's only left swipes that her profile may have gotten on the dating application. Presently she is single, and we believe her struggle to find the right partner might continue a little longer than expected. After all, it isn't easy to bump into the right man that checks all the boxes, especially a list like hers.

Not Looking for a Relationship
Judging by the conversation, we do not think this woman is looking for a serious relationship but only wants someone to buy food for her. She not only kept him waiting for a text but also did not apologize for her behavior and came straight to the point. We are glad the man put his foot down and refused to entertain her orders.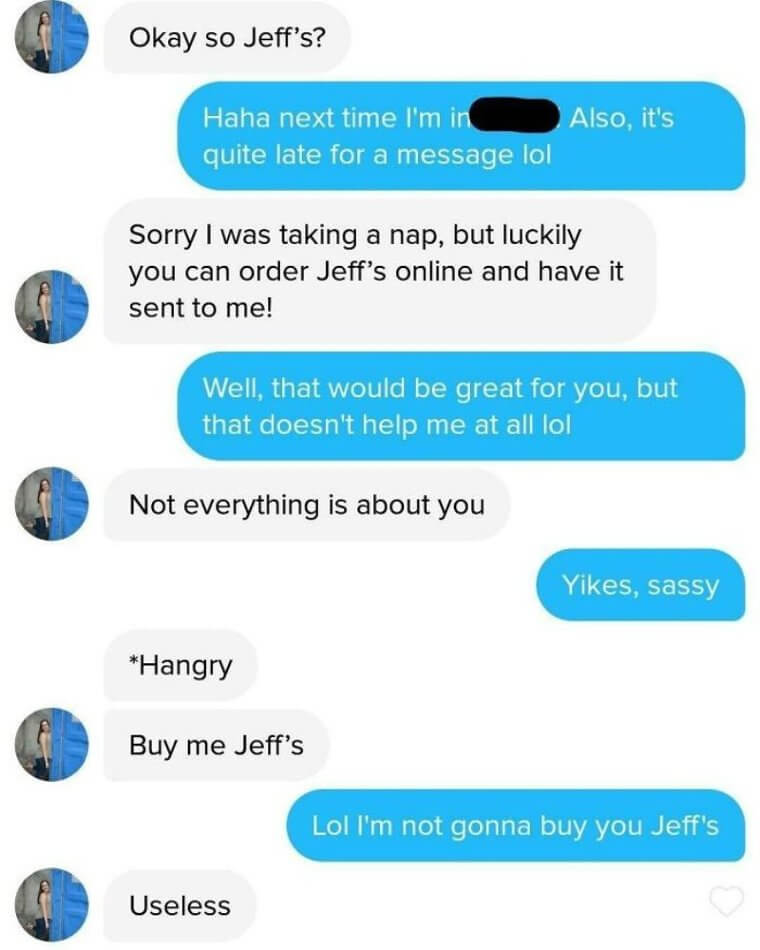 Need we say why this lady ended up on the list of still single? That attitude will not get her anywhere, let alone getting a boyfriend. After all, it takes two to work a relationship, and love is not a one-way street.

A Ticking Time Bomb
People who can't take rejection are the worst, really, because they feel entitled to everything and everyone, which shouldn't be the case. So, for instance, the person in this conversation started all sweet because they didn't expect a no from the person they were pursuing.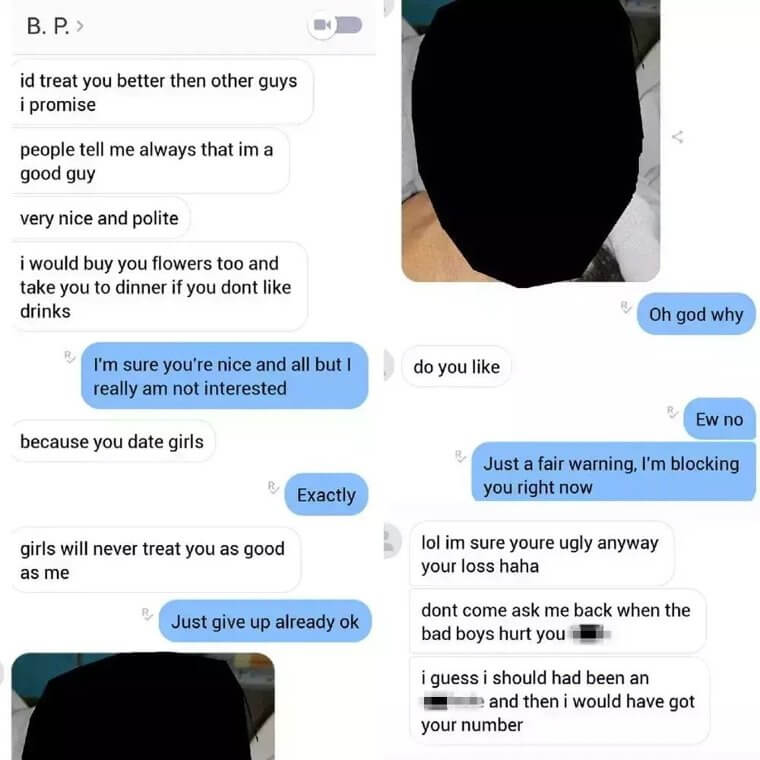 They however became bitter toward the end after realizing their efforts weren't bearing any fruit, something only cowards do. While one is allowed to be aggressive when going after the things one wants, the world will be much better if we can all learn to tell apart the time and situations that warrant aggression from those who don't.

Oh, You Bet We're Swiping Left!
We all know finding the yin to your yang is no small feat, and sometimes the people we end up falling for won't always tick all of our boxes, but this guy has some pretty high standards we can't help but wonder what his plan B is. After all, if we're being realistic, he isn't going to meet someone that fits his description perfectly.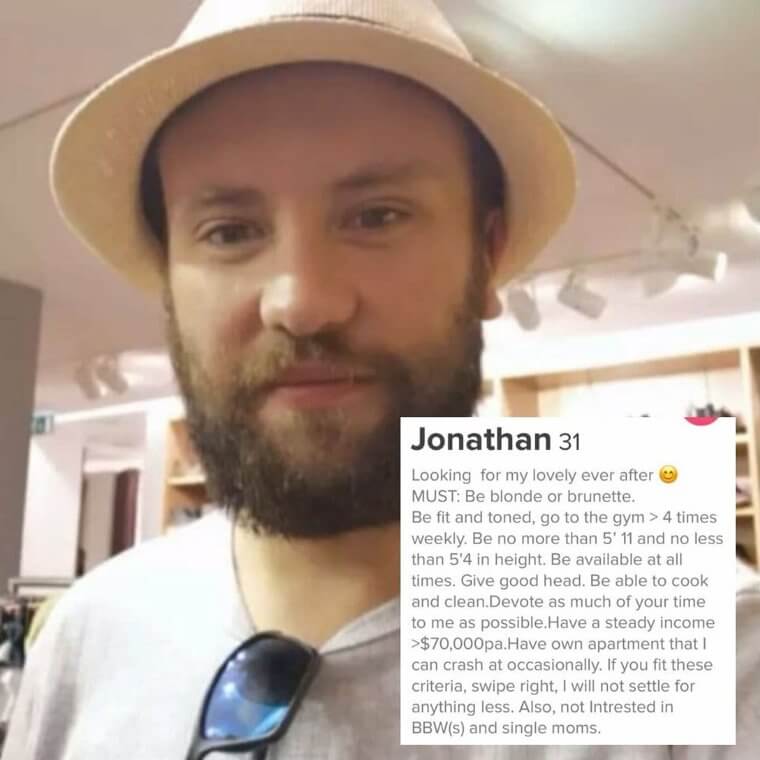 He should consider coming up with a description in which he doesn't need to fall in love with the idea of a person instead of the actual person. If not, no one's swiping right in their right mind or for the right reasons.

Here's Another Inconsiderate One
The times when people were glad to have partners who are caring, loyal, and honest are long gone. Nowadays, people study the list of materialistic possessions owned by an individual before choosing to date them. This lady is the same!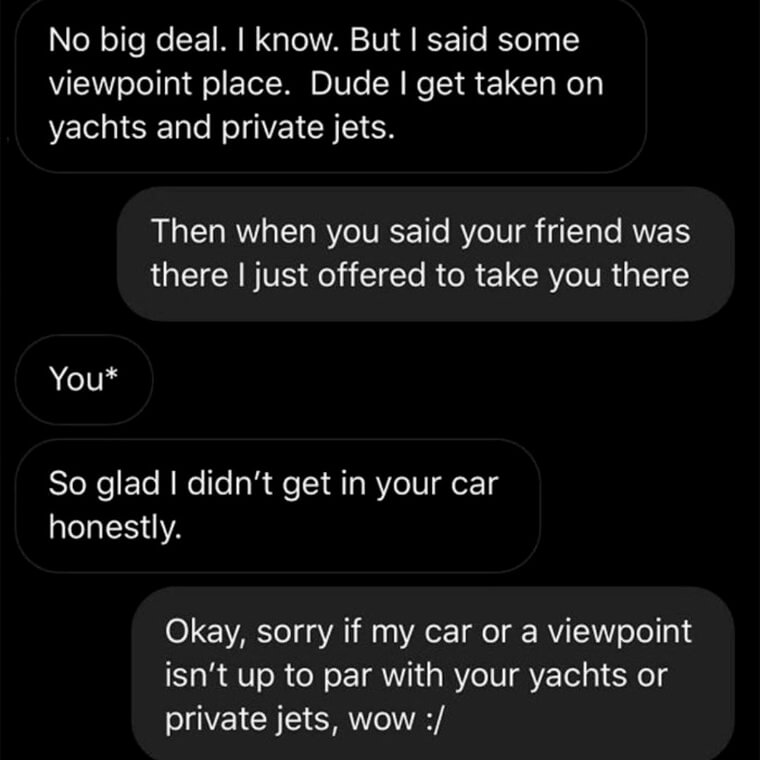 We don't understand how she could be so ruthless and selfish. If this woman wishes for private jet or yacht rides, why can't she pay for them herself? Those who throw demands around like that are certainly ones to steer clear of. Also, it's important to first find out what kind of person your date is before sticking around with them.

Who's Winning the Gold Star?
Not us, for sure! This confusing message cannot be worth just a gold star, but a lot more. After all, there is a little too much honesty present in this. We can't deny his claim of having a big ego as he went on specifying all that he can do.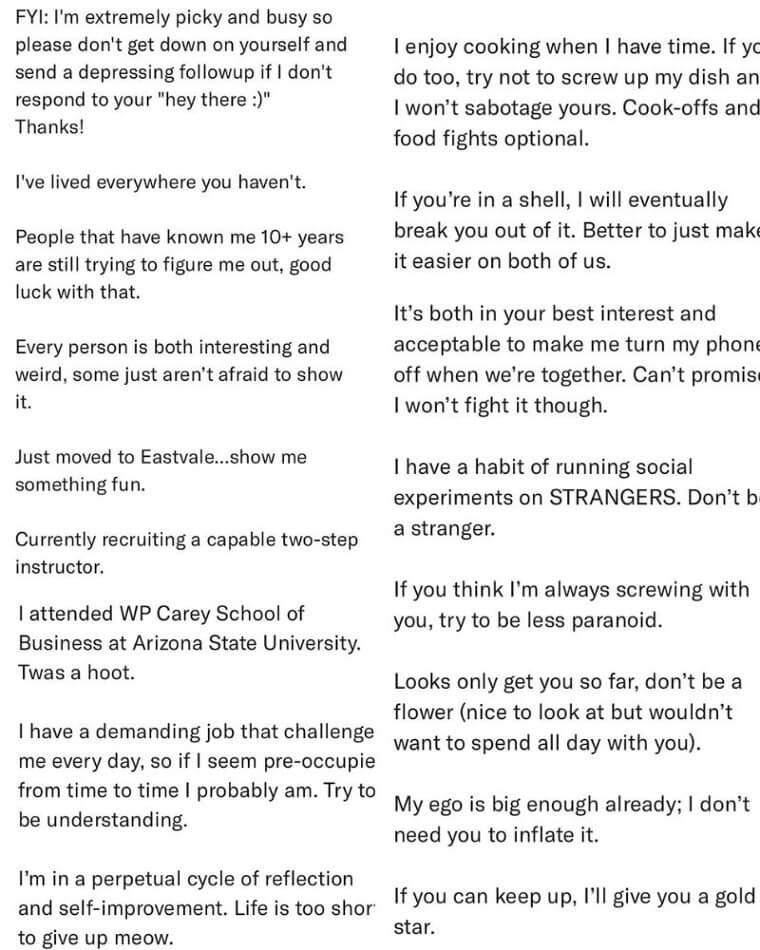 We bet no girl would want to trust this self-obsessed man, and he's worth no one's time. Even his pals may be trying their best to comprehend who he is. We hope this person reviewed his text and read it aloud to himself before hitting the send button. That would've been a smart move.

Notify Before Going for a Shower
When you send a text to somebody, you hope to get an answer back within an hour or so. Yet, this woman can't bear wasting a minute of her life waiting for responses. She not only wants instant replies but also needs notification of every activity that her prospective date is doing. Can you guess what dating this lady would be like?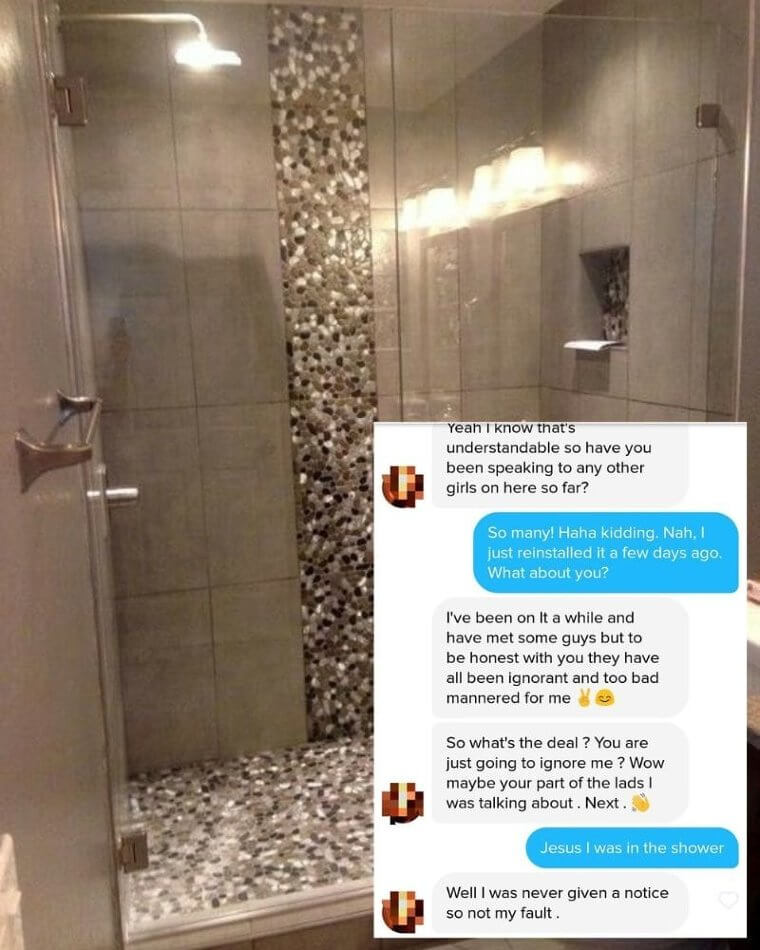 The mere thought of having a partner who expects to be informed, even while going for a bath, is indeed intimidating. Frankly, we don't believe most guys can keep up with such restless individuals for long.

Someone, Please Stop Her
Canceling plans abruptly can annoy anybody but endlessly ranting through texts isn't a wise move. So, this lady certainly requires a stop button. Many would have instantly blocked her because of her constant polemics. Although witnessing this girl's heated responses is entertaining, one might as well be left scratching their head after going through her innumerable replies.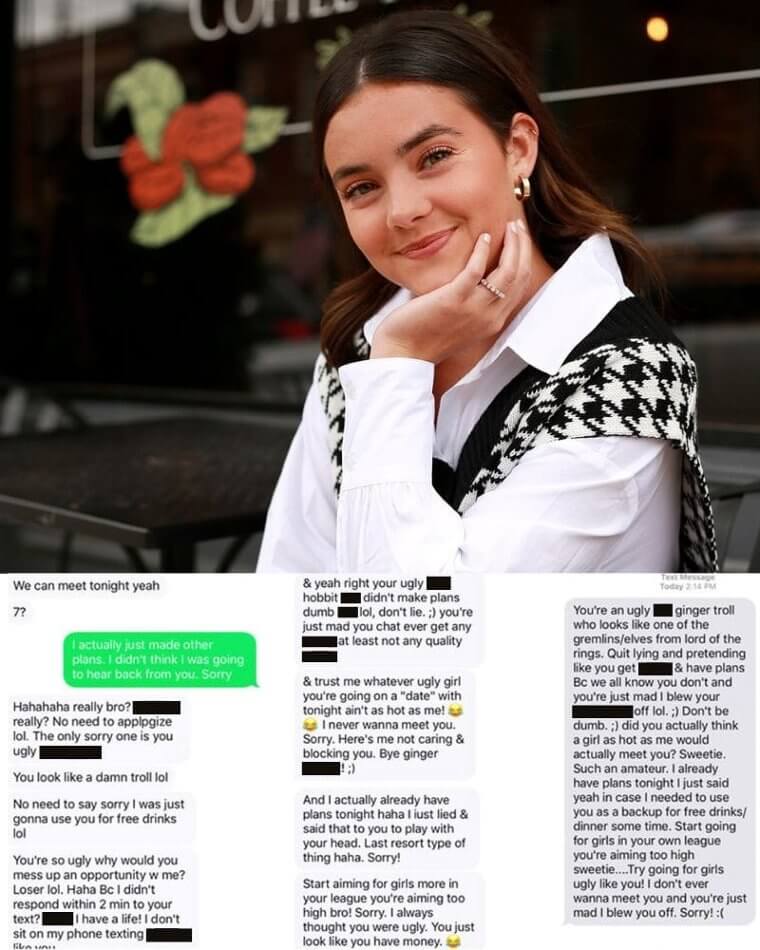 Maybe, she felt that all of her words would somehow affect him, which is funny. The sole reason for her outrage was that the guy considered apologizing to her after fixing new plans. We guess it's safe to not talk about a date with this lady.

Need a Congenial Personal Assistant
Here's someone who has binge-watched the film, Secretary. Yet, he isn't aware that the real world doesn't work the same way. So, he ended up posting a job offer for his dream assistant on a dating site. Well, we don't understand if he's seeking a secretary to manage his home business or a date.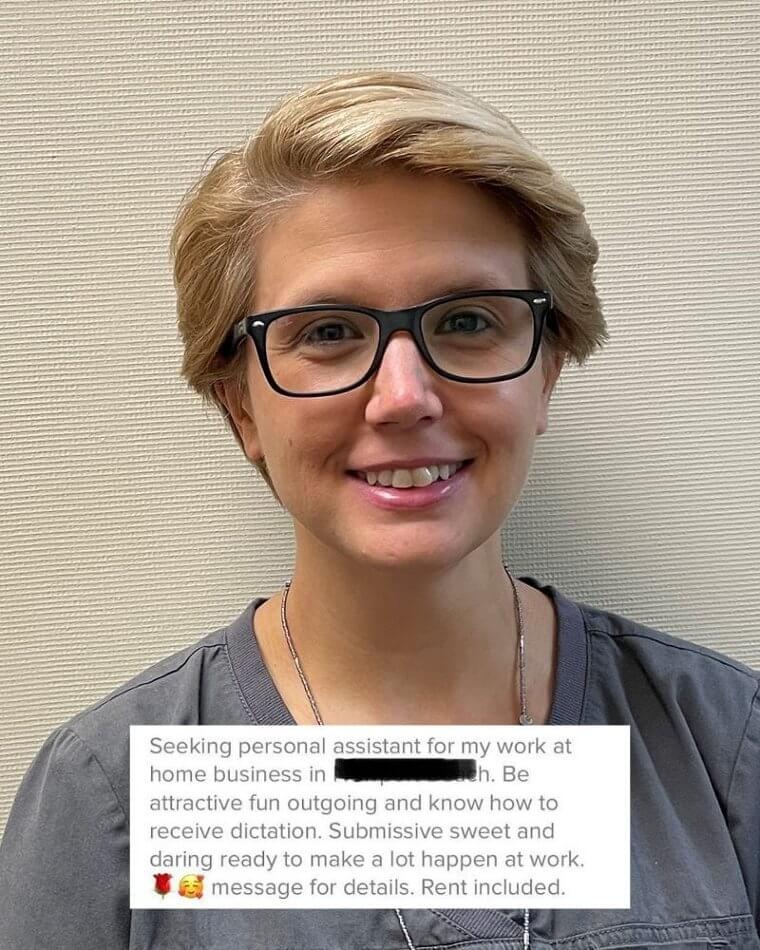 Besides, does this person feel that adding emoticons conveys his heart's desire any better? It's not every day that we come across people who desire their assistant to be outgoing, attractive, and fun. In all honesty, many people would neither consider working as his secretary nor dating him.

Seeking a Full Refund for the Date
When you enter the dating game, you may not end up being in a relationship. It is the hard truth, so there is no option but to accept reality. Also, there is nothing to be sour about if things do not go your way. Nonetheless, the individual here took offense when this lady politely refused to take their relationship to the next level.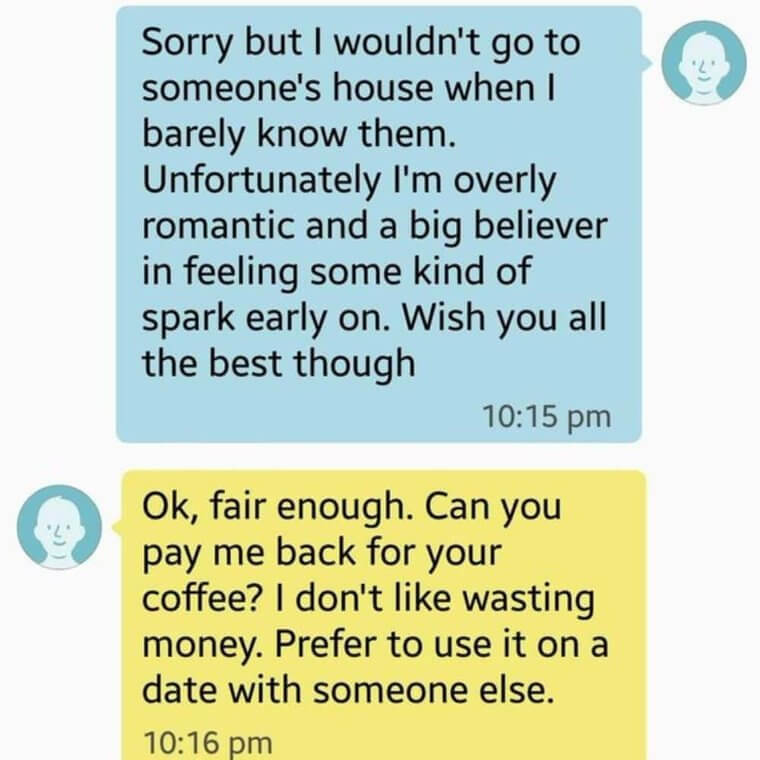 Apart from asking for his money back, which frankly is quite rude, the man also went on to brag about already finding his next date. Well, It's a good thing the woman ended things before it was too late.

He Comes With an Instruction Manual
Some people think they own the other person and expect them to follow everything they say. Here is an example of a rude guy who did not bother to initiate a polite conversation with the girl he intended to date and instead came straight to the point. We are surprised that the boy ditched the girl only because she did not do as he said.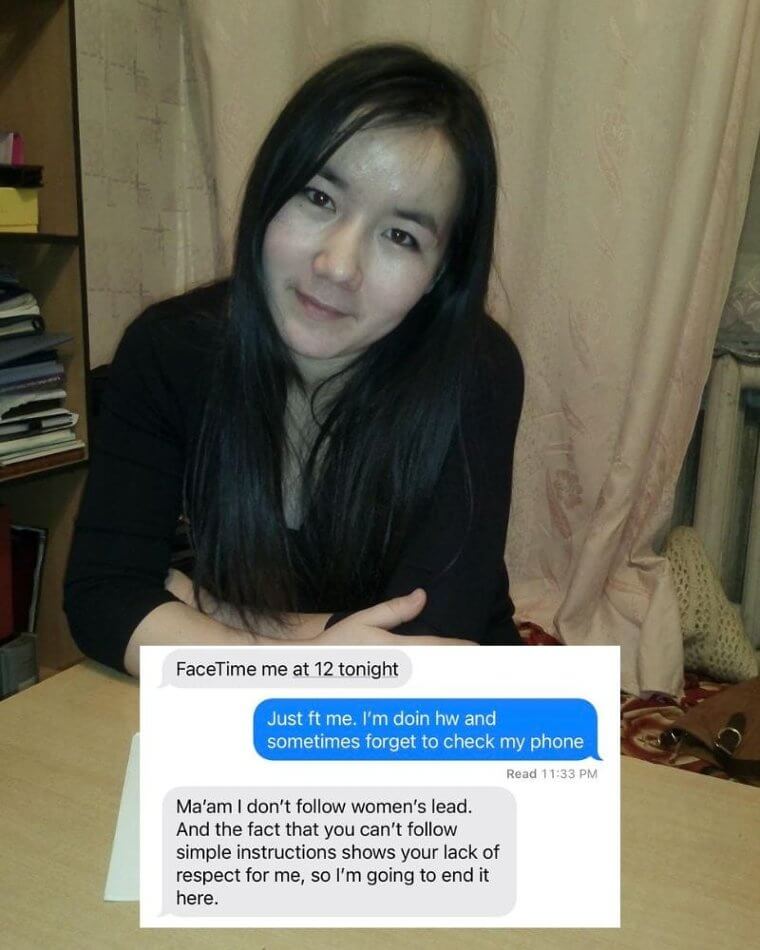 We do not know what to say to such individuals, but we hope he got a befitting reply from her. We wish the female finds a better match in the future, and all we can say to the guy is good luck, mate, for finding a woman with this attitude.

Wanted a Handyman as Boyfriend
This lady might have registered herself on the wrong website. Reading her profile description, she isn't looking for a partner but a handyman. It is one of the oddest profiles by far.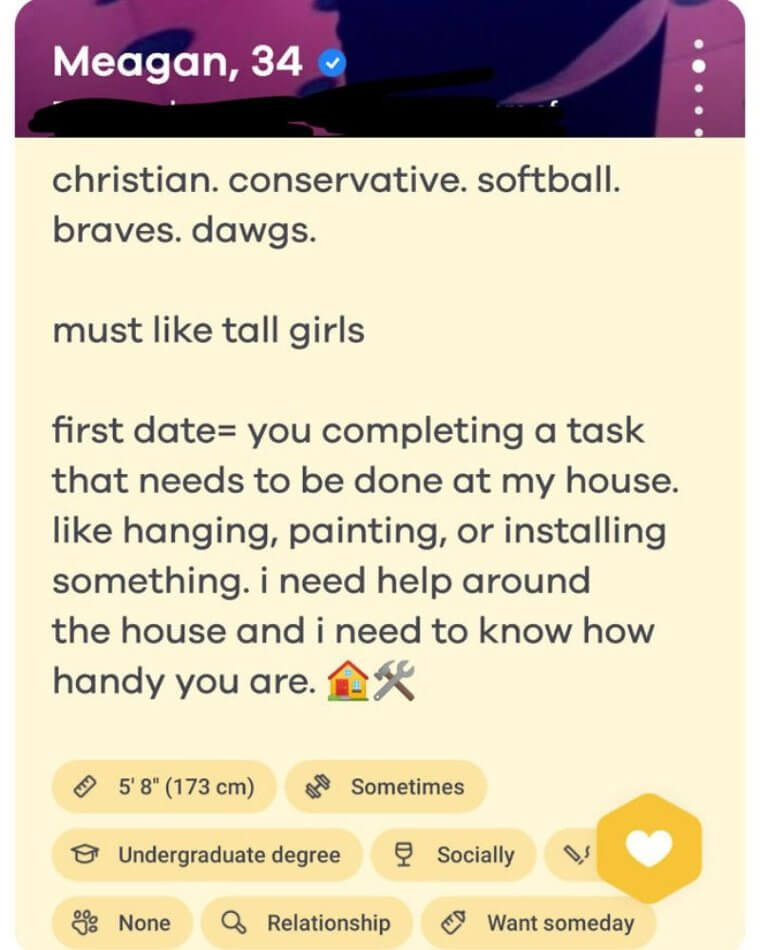 The lady's list is the classic example of making men do the heavy work, but we are still determining if she'll treat or tip the guy after he finishes all the chores on the first date. On second thought, we wonder if this is what women expect guys to do when they first meet. We, however, cannot say what she'll make him do on the second date.

Does He Expect a Grand Welcome?
Why would a person let you stay in their house when they do not wish to even talk to you? Some people do not understand the meaning of boundaries and think it is alright to bother people at your convenience after betraying them. We are astonished at this man's audacity of wanting to crash at the girl's place after hurting her.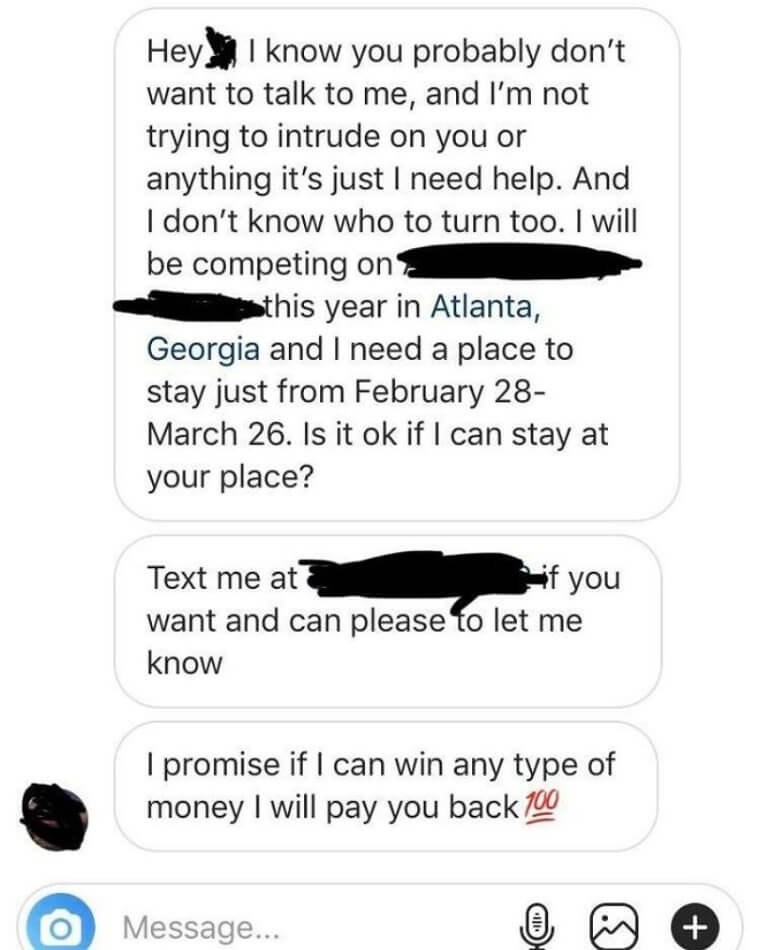 The gentleman thinks he's booking a room at a hotel, given how he has made sure to mention every detail in the message. Nonetheless, judging by the picture, we don't think the boy got any response, and we assume he might have even gotten blocked, and it serves him right.

Expecting a Little Too Much
The dating scene has changed over time, and it has become common among individuals to split the bill after the first date. So we assume this gentleman asked his date if she would go halfsies when paying. The poor guy would not have expected he would get a long list of beauty expenses in return.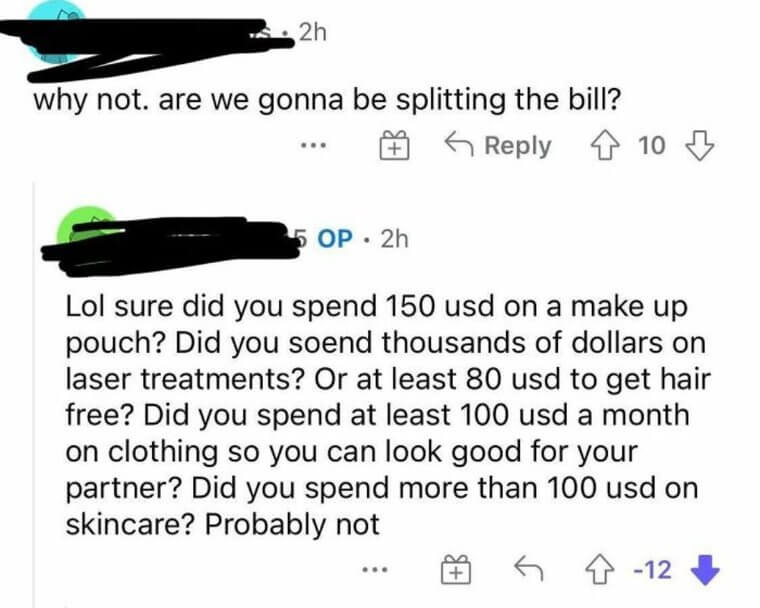 Sadly, this female thinks since she splurges on makeup and other items to look good on all of her dates, the man is entitled to share the burden with her. We suggest that the guy maintains a safe distance from her if he wants to have any savings.

Does the List Even End?
It looks like this man has added all the adjectives he learned in school to his dating profile. We forced ourselves to read the entire list, so we can assume many ladies must have swiped left after having it read halfway. Well, dating him will be tedious for any girl if he finds someone anytime soon.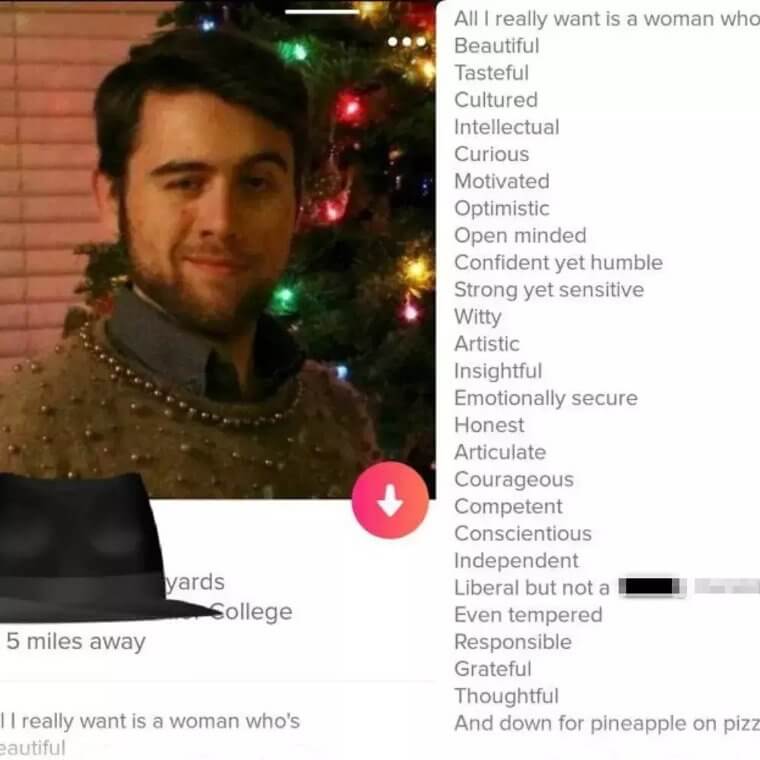 Even after using almost every word in the dictionary to prove his linguistic fluency, he has only failed to impress us. Also, a major point to note is that the guy likes pineapples on his pizza. At least from our side, we recommend moving to the next gentleman.