Open-casket funerals are pretty common. It's not always a comfortable thing, but it can be important in giving closure to the deceased's loved ones. Even celebrities have open-casket funerals. Whether they wanted to give their fans one last chance to say goodbye or wanted to dispel any inaccurate rumors surrounding their death, there are many reasons a celebrity would have an open-casket funeral. Despite all these figures being famous for different things, they all have the fact in common that they had open casket funerals. Keep reading to see all of the figures who gave the world one final look into their lives through these creepy photos.
Mahatma Gandhi
Mahatma Gandhi led the Indian independence movement in India's effort to gain independence from British rule. He was well known for his thoughts on peace and the fact that he encouraged people to speak out using nonviolent actions and civil disobedience.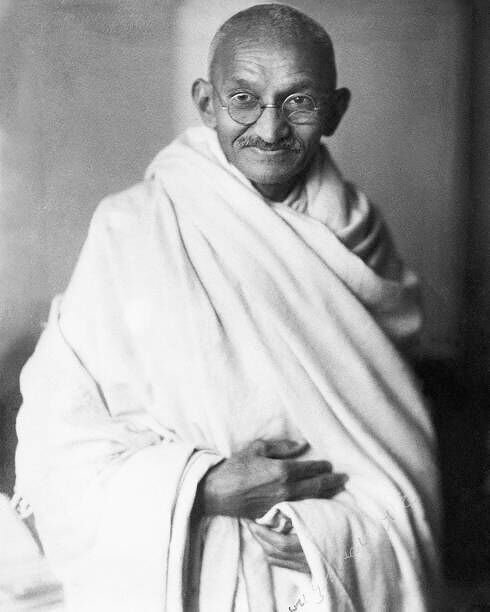 In fact, to protest the tax the British put on salt, he went on the Dandi Salt March which lasted for 250 miles. He was also imprisoned multiple times for his protests. Eventually, he helped lead India to win its independence.
Mahatma Gandhi
Despite Mahatma Gandhi's call for nonviolent actions and the fact that Britain finally granted India independence, there was violence brewing on the horizon. The Hindus of India were butting heads with the Muslims of Pakistan and their conflict started escalating.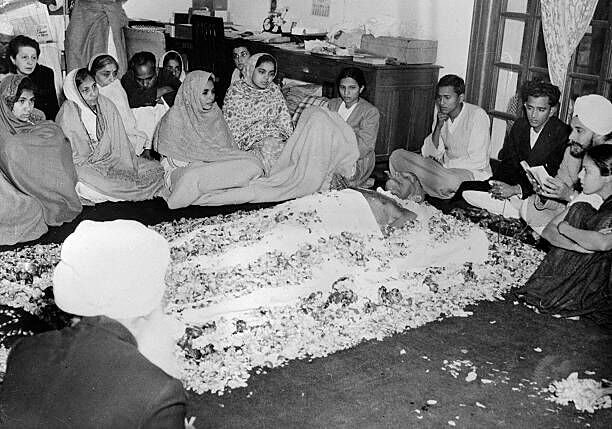 In 1948, Gandhi was assassinated by Nathuram Godse who was a Hindu nationalist. He shot Gandhi three times in his chest and didn't even try to escape being caught. Godse was tried and executed in 1949. An open-casket funeral was held for Gandhi.
Martin Luther King Jr.
It is well known that Martin Luther King Jr., the iconic civil rights leader, was shot and killed outside of his hotel room in 1968. His most famous speech was the "I Have a Dream" speech that remains one of the most quoted speeches in the history of the world.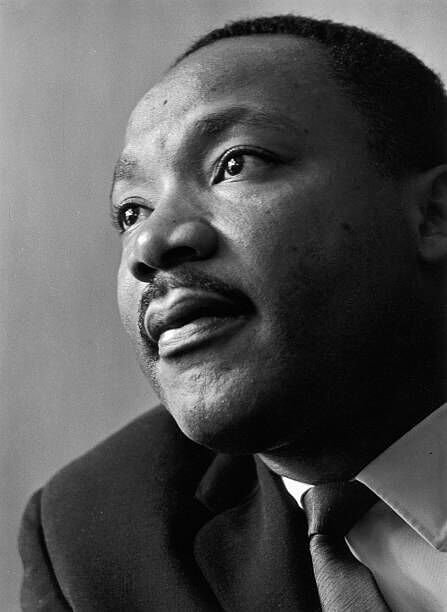 Just one day before his assassination, King gave his "I've Been to the Mountaintop" speech. When he died by an assassin's gun, King was only 39 years old. His body was on display in an open, bronze casket in Memphis, Tennessee and the gunshot wound in his neck was still visible. Many people who visited his casket stopped to kiss the glass over his face.

Martin Luther King Jr.
Martin Luther King Jr.'s body was taken to Atlanta where it was finally interred at the Martin Luther King, Jr. National Historic Site. His wife, Coretta Scott King, was also buried there with him when she died.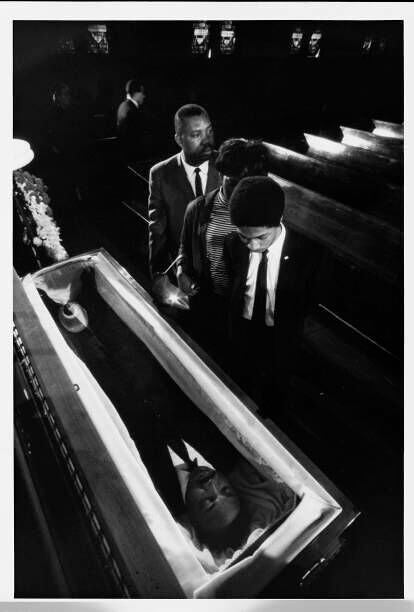 One of King's most memorable quotes is: "I have a dream that my four little children will one day live in a nation where they will not be judged by the color of their skin but by the content of their character."

Mother Teresa
Mother Teresa was born in 1910 in Skopje, which is the capital of the Republic of Macedonia. She first took her vows to the Catholic Church when she was 21 years old and dedicated her life to serving others, especially the sick and the poor.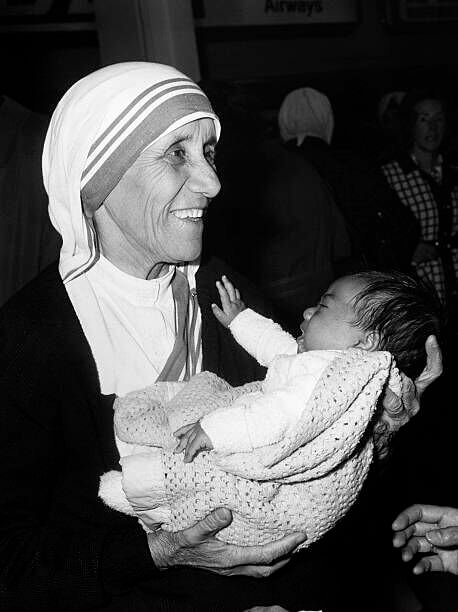 Mother Teresa was also known as Blessed Teresa of Calcutta. She died when she was 87 years old in 1997. After she died, her body laid in repose for one week in St. Thomas, Calcutta, India.

Mother Teresa
Millions came to view Mother Teresa's body and mourn her passing. She was even canonized, or declared a Saint, in 2016. That was very appropriate considering both Catholics and non-Catholics held her in high esteem long before her death.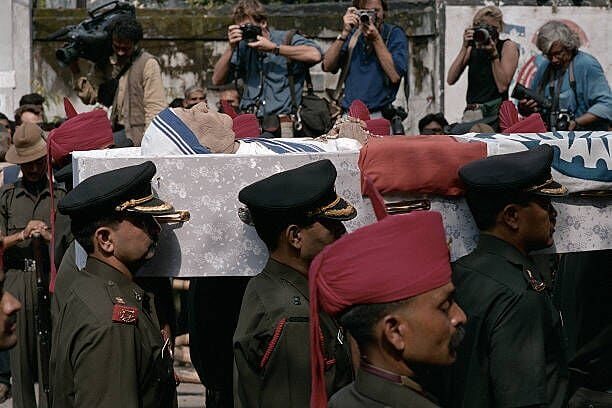 During her life, she got international recognition for her work founding the Missionaries of Charity who provided free services to "the poorest of the poor." Nowadays, Mother Teresa is referred to as Saint Teresa of Calcutta within the Catholic Church. Not to mention, Outlook India ranked her as the fifth-greatest Indian of all time.

Abraham Lincoln
Abraham Lincoln was famously the 16th president of the United States who was assassinated while watching a play at Ford Theater in 1865. He was shot by the actor and Confederate supporter John Wilkes Booth.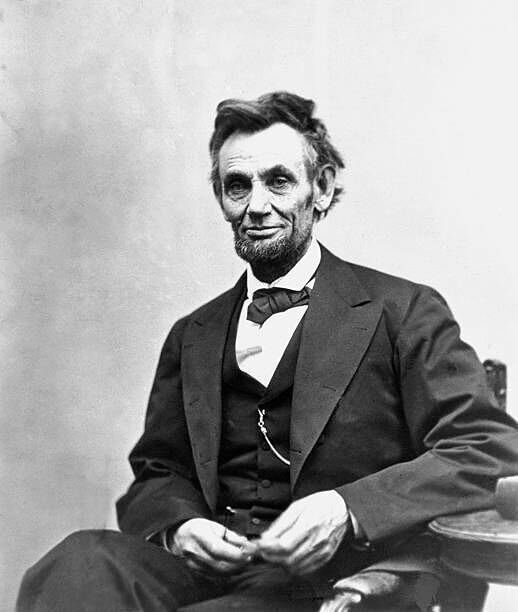 Lincoln's presidency is known for the way he led the Union to eventually win the Civil War. He was also an advocate for abolishing slavery. Even to this day, Lincoln is considered one of the United States' greatest presidents whose legacy has been literally cemented by monuments all over the country.

Abraham Lincoln
After he died, Abraham Lincoln's body was carried through 180 cities on a train dubbed "The Lincoln Special." The end of the route ended in Illinois, Lincoln's home state where he was finally laid to rest.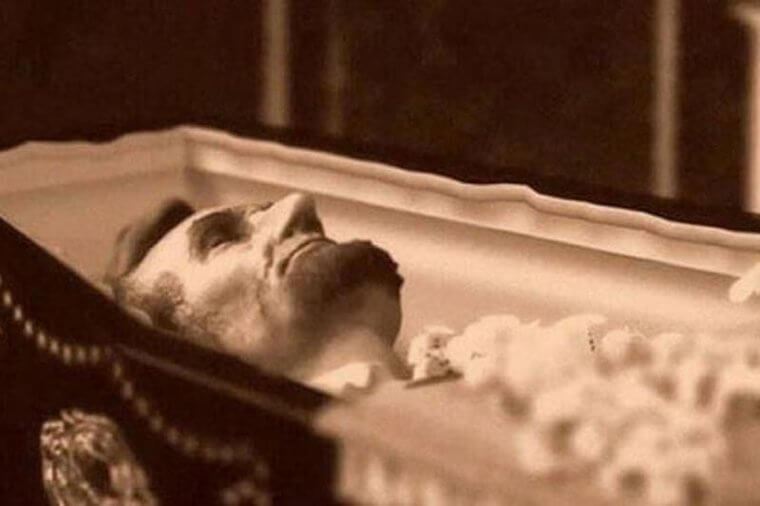 At every stop along the way, his body was taken off the train and displayed so the public could mourn him. Lincoln's impact was immediate at the time and lasting long after, with many towns and streets in the United States being named after him.

Whitney Houston
One of the most shocking celebrity deaths of the past few decades was that of pop icon Whitney Houston. To go along with such a shocking death, there was an outrageous photo leak to accompany it.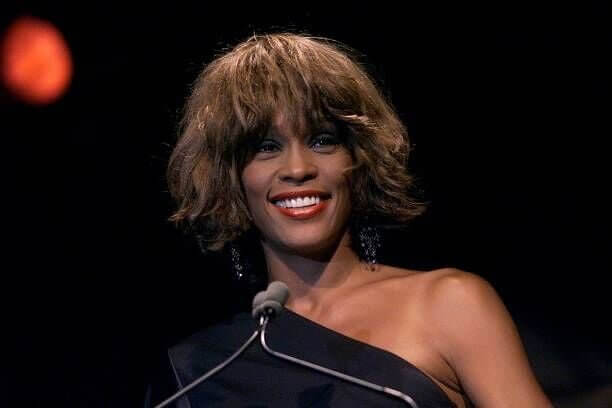 Someone who worked at the funeral home where Houston's body was taken took an illicit photo of her in her casket and sold it to The National Enquirer. There was a lot of public outrage over the fact that the publication published the photo. That issue was one of The National Enquirer's best selling issues.

Whitney Houston
To twist the knife even deeper and make things eerie, almost the exact same thing happened to Witney Houston's daughter. Bobbi Kristina died after being found in a bathtub, unresponsive. She was in a coma for six months, only to slip away three years after her mother died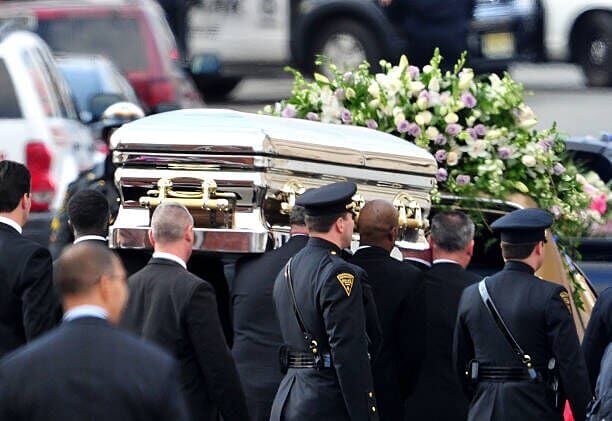 Like what happened with her mother, someone took a photo of Bobbi Kristina in her casket before her funeral and sent it to the tabloids. The photo was never published, but an unknown tabloid reportedly purchased it for $100,000.

Judy Garland
Judy Garland was an American actress and singer. While she starred in many roles throughout her life, she is best known for playing the part of Dorothy Gale in The Wizard of Oz (1939).

Judy was later pronounced dead, just two weeks after her 47th birthday. Her official autopsy stated that she died from an accidental overdose, and there was no evidence of suicide. Her funeral took place five days later on June 27, 1969, in New York - with more than 20,000 people lining the streets to pay their respects to the star. 

Coroner Gavin Thurston
Coroner Gavin Thurston told the press at the time: "This is quite clearly an accidental circumstance to a person who was accustomed to taking barbiturates over a very long time." The autopsy also found a number of old scars on the actresses' body during their investigation.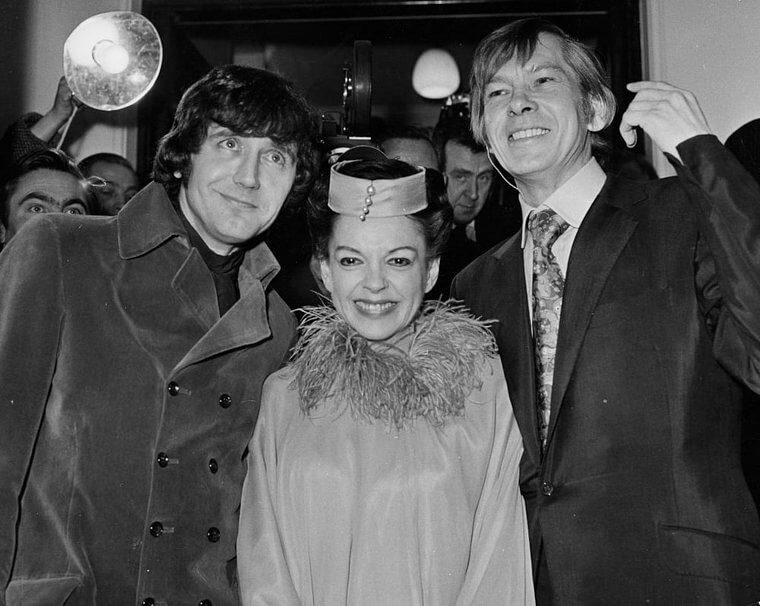 In her later years, Judy is also reported to have suffered from liver problems, acute hepatitis, kidney ailments, and injuries suffered in falls, however, the coroner's report did reveal that there was no cirrhosis of the liver relating to alcoholism. Her husband Mickey Deans also explained that Judy did not drink a lot of alcohol, saying: "My wife drank very little, as opposed to what people think.

Elvis Presley
Elvis Presley is known as the King of Rock and Roll. Even after all these years, he is considered one of the most influential musicians of all time, especially considering he was one of the first to bring rock music into mainstream music.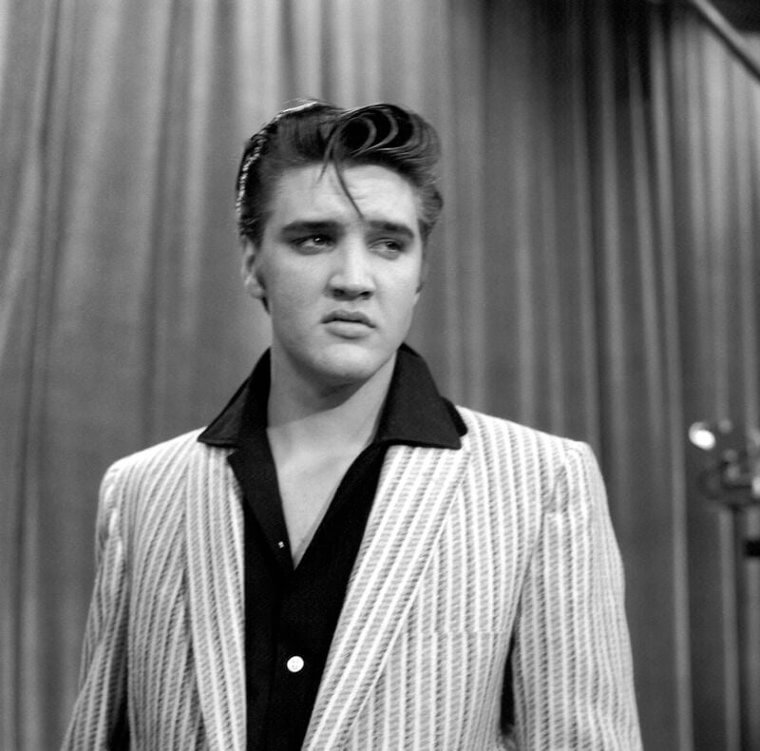 When he first hit the music scene, many people disapproved of him because of the way he gyrated his hips. They thought that was indecent. Despite his subsequent nickname of "Elvis the Pelvis", Elvis quickly became famous all over the world and even released some gospel albums.

Elvis Presley
Besides his successful music career, Elvis Presley was also an actor. He was the leading man in many romantic and musical films.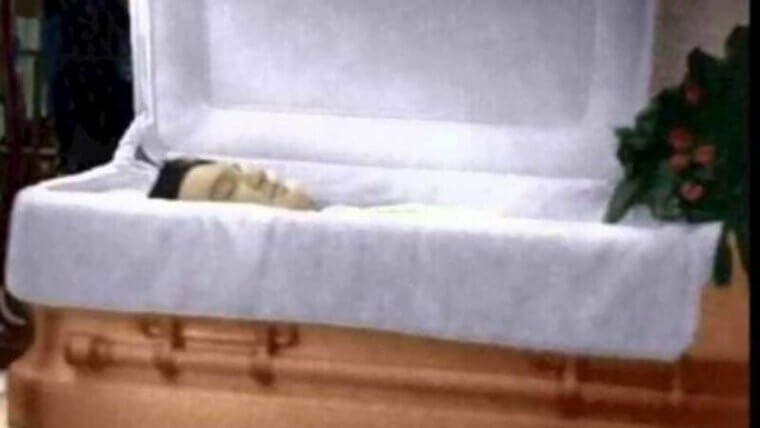 Unfortunately, Elvis had a drug addiction like many other people in the entertainment industry. This took a toll on him and was evident in his appearance. He looked very different at the end of his career than he did at the beginning. His drug addiction and enormous weight gain are what ultimately led to his death. Elvis died of a heart attack when he was just 42 years old.

Louis Armstrong
Louis Armstrong was one of the most legendary jazz musicians of the 20th century. He was a celebrated performer and very influential in the music industry. Not only that, but he was a composer, singer, and fantastic trumpeter, as well. Many of his songs remain popular to this day.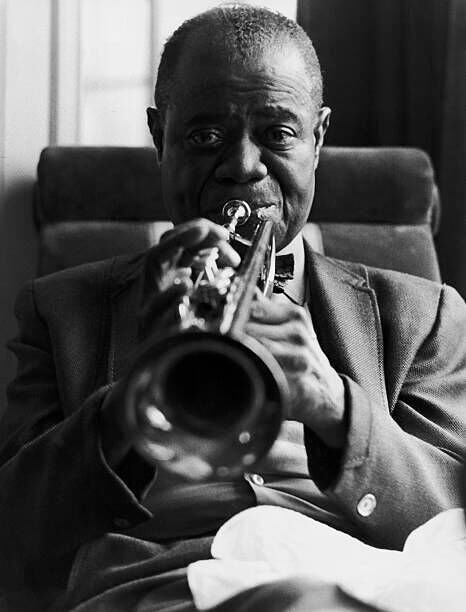 Armstrong died in 1971 when he was 69 years old after suffering from a heart attack. His death came after he had played back-to-back performances for two straight weeks, which wasn't easy at his age and clearly impacted him negatively.

Louis Armstrong
Naturally, Louis Armstrong's funeral attracted some of the biggest names in the music industry at the time. An open-casket funeral was held for the music legend and his pallbearers were even superstar musicians. This was only fitting seeing how important Armstrong was.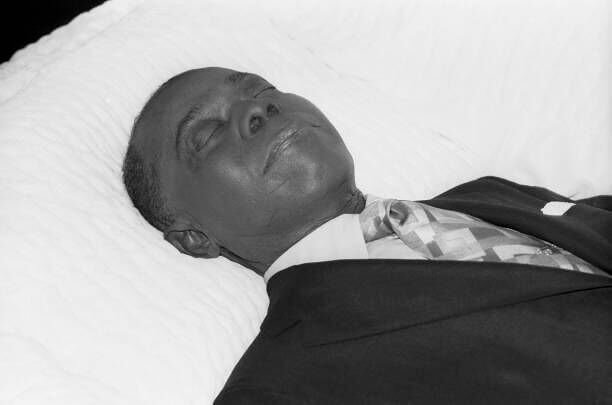 Some of the famous celebrities that attended Armstrong's funeral included Johnny Carson, Bing Crosby, Ed Sullivan, Ella Fitzgerald, Frank Sinatra, and Dizzy Gillespie. Armstrong's contribution to the jazz genre and the music industry is still felt to this day.

Grace Kelly
Grace Kelly was an American icon who lived every little girl's dream of going from being a famous actress to being the Princess of Monaco. She died in 1982 after a tragic car accident where she had a stroke while driving.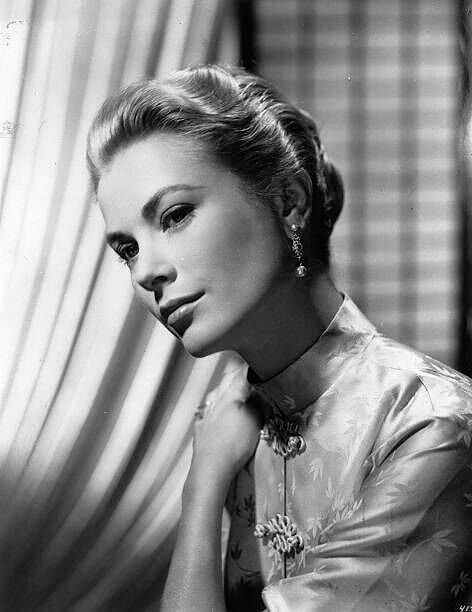 Fellow actor James Stewart gave a memorable speech during one of her many memorial services. He said, "You know, I just love Grace Kelly. Not because she was a princess, not because she was an actress, not because she was my friend, but because she was just about the nicest lady I ever met. Grace brought into my life as she brought into yours, a soft warm light every time I saw her, and every time I saw her was a holiday of its own. No question, I'll miss her, we'll all miss her, God bless you, Princess Grace."

Grace Kelly
Grace Kelly's funeral was held in the same cathedral where she married Prince Rainier, the Prince of Monaco, in 1956 in a fairytale wedding many girls dream of. Almost 100 million people viewed Kelly's service on live television including celebrities, heads of state, and other royals.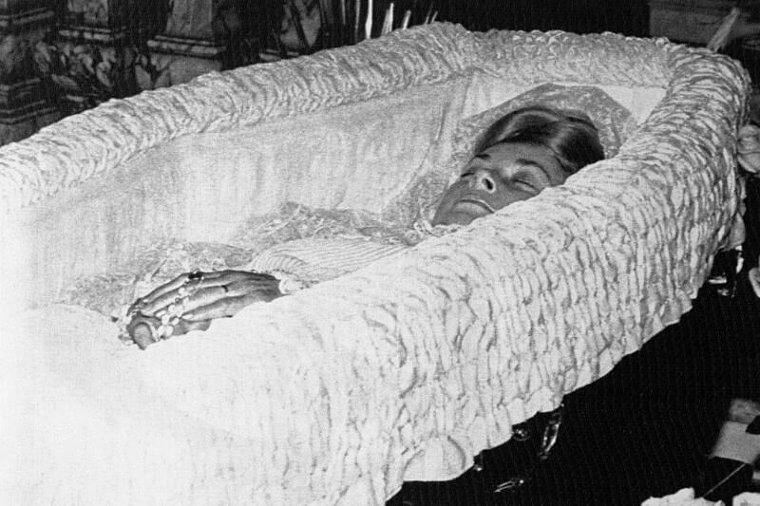 Kelly's first funeral service was held at the Cathedral of Our Lady Immaculate in Monaco-Ville and was attended by big names such as Princess Diana, Cary Grant, Nancy Reagan, Danielle Mitterrand, and many others.

Etta James
Etta James had one of the most iconic and memorable voices in the entire history of music. She died in 2012 and had a public funeral, despite how much her fans disapproved. She was an R&B and blues musician who struggled with many different things throughout her life.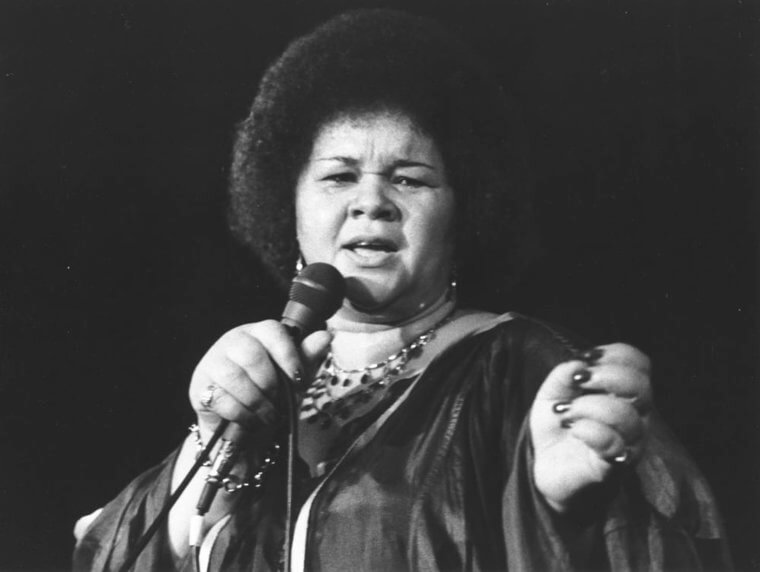 At different points in her life, she struggled with a heroin addiction, suffered physical abuse, and even went to jail. Despite all her hardships, she was still able to remain a strong woman and eventually made a comeback that solidified her place in musical history.

Etta James
Singer of the legendary song "At Last," James died after suffering from Leukemia for one year. She died right before her 74th birthday. Her funeral was attended by other musical legends including Beyonce, Stevie Wonder, and Christina Aguilera who all performed songs during the service.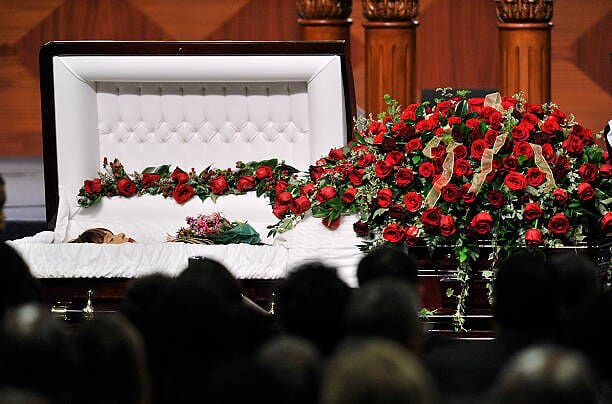 James' funeral was conducted by Reverend Al Sharpton. The funeral was so impactful that Anne Cusack, a journalist covering the funeral, sat down her camera out of respect when those presiding over the funeral asked for no-photos.

Jesse James
Jesse James was a famous outlaw who lived in the 19th century. He remains one of the most notorious outlaws of all time. He robbed a long list of people during his career as he and his gang robbed banks, trains, and anywhere they thought had money.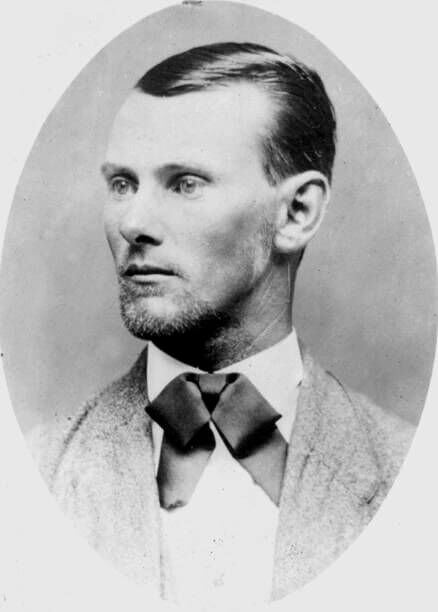 And while many think his career spanned decades, he actually died when he was only 35 years old. James was murdered in 1882 and at the time, many rumors surfaced that he had faked his death.

Jesse James
Because of these rumors, after James died at the hands of a new member in his gang who wanted to collect a reward, his body was put on ice. Then, it was transported to Saint Joseph, Missouri, his home state, where people gathered to take pictures with it.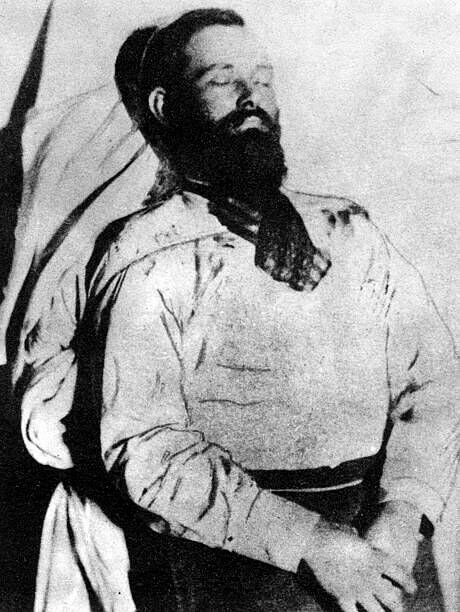 It was here that another rumor started that James' mother charged people a quarter to take a penny from his gravesite like a souvenir. The rumor also said this is how she made a living for the rest of her life.

Vladimir Lenin
Vladimir Lenin was a revolutionary communist and political theorist who headed up the Russian Republic from 1917 to 1924. Later, he was also the head of the Russian Soviet Federative Socialist Republic and then the Soviet Union from 1922 to 1924.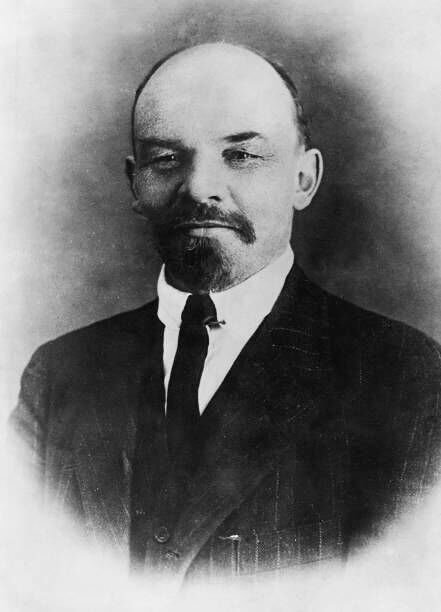 Lenin was responsible for the political theories that have become known today as Leninism. Leninism was a precursor to communism that proposed a dictatorship that should be led by the working-class people. It was basically a proposal for the organization of the communist party.

Vladimir Lenin
An open-casket funeral was held for Vladimir Lenin when he died in 1924 after suffering from a stroke. In fact, his body is still available for viewing at the Lenin Mausoleum.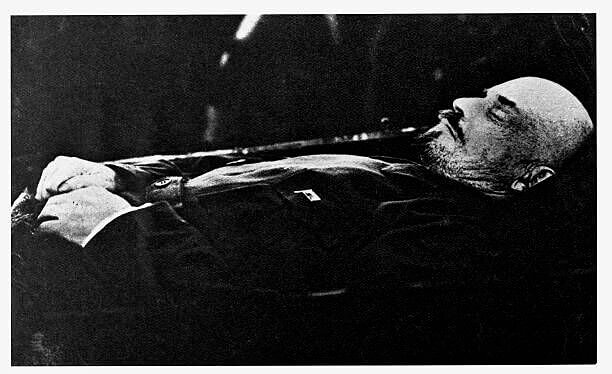 Lenin was once seen as a national hero in Russia. However, since the Soviet Union has collapsed, people consider his political theories to be divisive and controversial. Because of this, and the fall of the Soviet Union, they are considering removing his body from display once and for all.

James Brown
James Brown is known as the "Godfather of Soul." He was a legend whose career spanned decades and turned him into someone larger than life. Known for his enthusiastic stage performances of hits like "Say It Loud - I'm Black and I'm Proud", he is one of, if not the most, sampled artists of all time.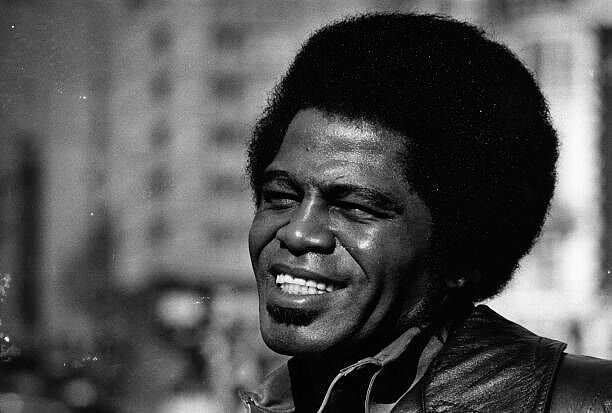 Brown first hit the scene in the 1950s and he continued to make music until his sudden death in 2006 from congestive heart failure. Throughout his life, Brown also suffered from various problems including drug addictions and bad relationships.

James Brown
Naturally, when he died, the Godfather of Soul drew quite a crowd to his open funeral.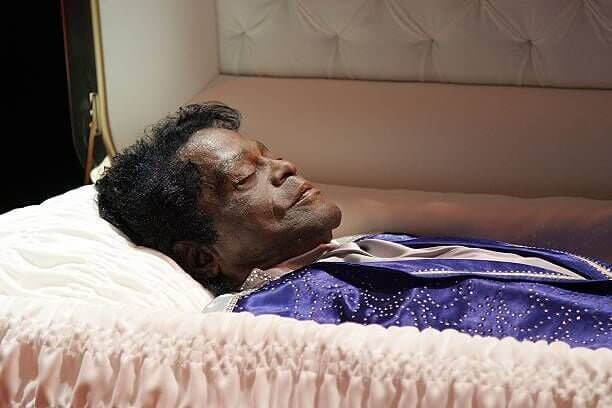 Several A-list celebrities came to pay respect to James Brown including 50 Cent, MC Hammer, Buddy Guy, Ludacris, Little Richard, Jesse Jackson, Jerry Lee Lewis, LL Cool J, Lenny Kravitz, Todd Williams, Al Sharpton, Joe Frazier, Prince, Ice Cube, Dr. Dre, Dick Gregory, Ice-T, Bootsy Collins, Lil Wayne, Stevie Wonder, and Don King. Even now, over a decade after his sudden death, Brown is known as one of the most influential yet misunderstood musicians of his time.

Chris Kelly
Chris Kelly was one half of Kriss Kross, the famous rap duo. Chris Smith was the other half of the duo. Kelly died in 2013 after overdosing in Atlanta, Georgia.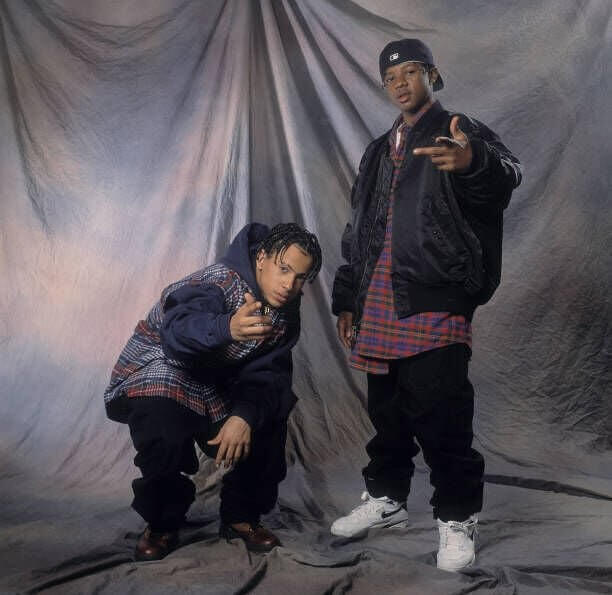 Kriss Kross first became famous in 1992 when their first album was released when they were young teenagers who were known for wearing their clothes backward. At the time of his death, Kelly was 32 years old. The picture of the Kriss Kross reunion show above was taken only a few months before Kelly's death. Kelly is on the right and Smith is on the left.

Chris Kelly
Kelly's drug addiction began as Kriss Kross's popularity started fading over time. Unfortunately, his addiction ultimately led to the end of his life when he overdosed on cocaine and heroin.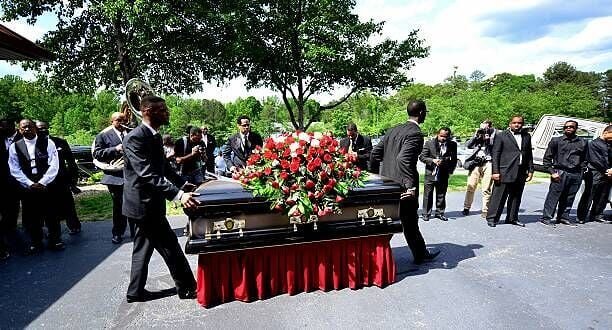 His presence has been missed in the music industry. After he died, a producer who had worked with Kelly said that he saw Kelly as "the son he never had" on Twitter. Kelly had an open casket funeral in Atlanta. It is pictured above during his Baptist service. He was laid to rest in Westview Cemetery.

Hank Williams
Hank Williams is considered to be one of the most influential and important people to ever be a part of country music. He also made numerous contributions to multiple genres of music and was inducted into several different Halls of Fame like the Country Music Hall of Fame, the Rock and Roll Hall of Fame, and the Songwriters Hall of Fame.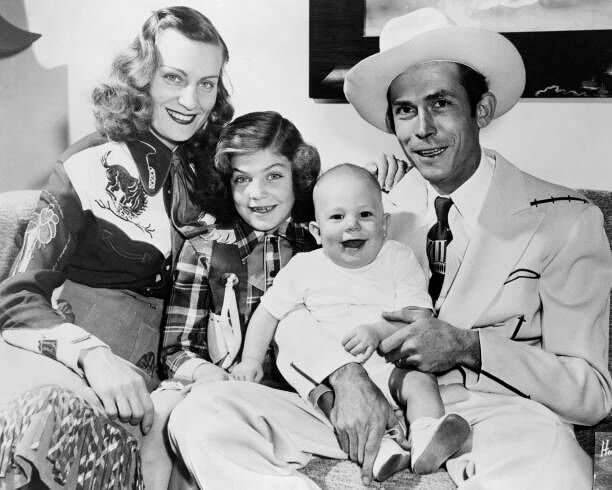 Williams died in 1953 due to a heart attack which was caused by a deadly mix of morphine and alcohol in his bloodstream. After his death, the singer who performed "Hey, Good Lookin'" had an open casket funeral in Montgomery, Alabama.

Hank Williams
Two thousand people attended Hank Williams's funeral. Williams had suffered from spina bifida ever since he was born and led to the back pain he felt his entire life. Many think that he turned to substances to deal with the awful pain he felt every day.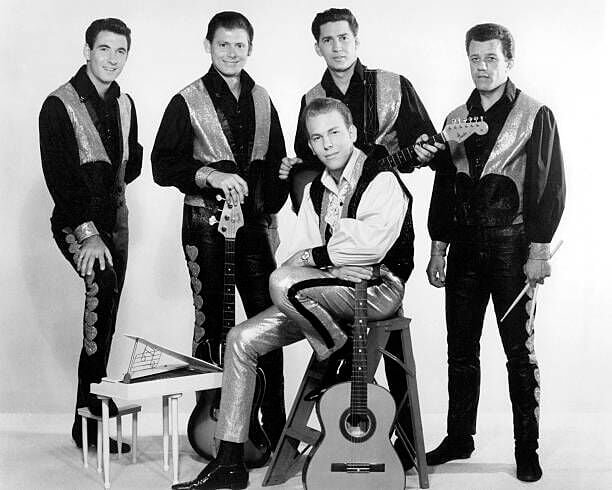 However, his substance abuse turned into an addiction and led to his death when he was only 29 years old. After his death, Williams' body was displayed at his mother's house before it was displayed at the Montgomery Auditorium. He was later buried in the Oakwood Cemetery Annex. Williams' son, Hank WIlliams Jr., and his grandson, Hank III, have both become country music musicians, as well.

Marvin Gaye
Marvin Gaye was a crooner who sang sultry hits such as "Let's Get It On." His death was absolutely heartbreaking and shocking. His own father murdered him in his home on April 1, 1984. Many consider it to be one of the most shocking and unexpected events of the time.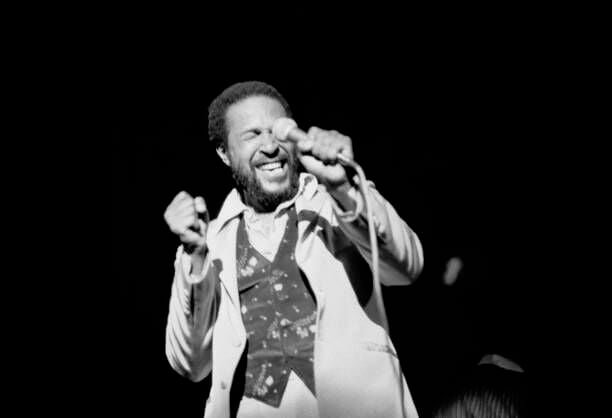 Gaye had just had a fight with his father. After the fight, he told his mother, "I'm going to get my things and get out of this house. Father hates me and I'm never coming back." Unfortunately, he never got out of there as his father found him and shot him just a few minutes later.

Marvin Gaye
Marvin Gaye's body was cremated. However, before his cremation, his body was on display at the Forrest Lawn Memorial Park. Despite Gaye's legacy and his music which has lasted generations, there had been no biopic of his life in Hollywood.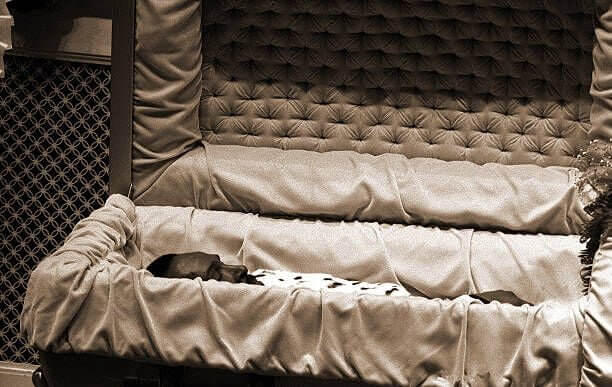 The legacy of the Prince of Soul lives on as he is considered to be the foremost voice of Soul Music, who was able to combine and intertwine it with gospel, pop, and jazz.

B. B. King
B.B. King was a blues legend. He made numerous contributions to the music industry, and not just to the blues genre. He introduced a sophisticated solo style where he bent the strings on his guitar more than any other artist.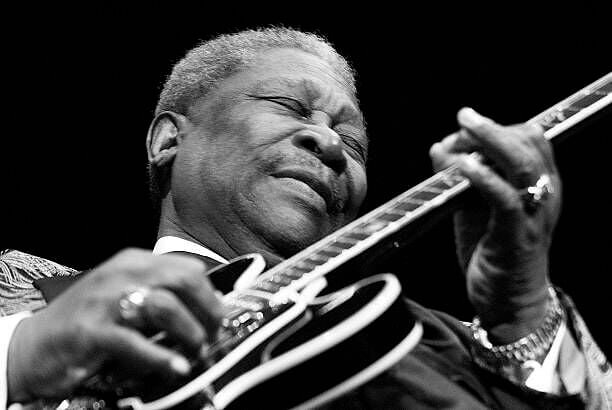 King died when he was 89 years old in 2015. After he died, his open casket was available for viewing at the Delta Interpretive Center and the B.B. King Museum. He was dressed in his signature attire of a floral tuxedo jacket and a purple satin shirt. With him were also two black Gibson guitars.

B. B. King
B.B. King was honored in a letter from President Barack Obama who said, "B.B. may be gone but that thrill will be with us forever. And there's going to be one killer blues session in heaven tonight."

King had a funeral whose procession went straight down Beale Street in Memphis, Tennessee where thousands of people watched, paying their respects, and a brass marching band led the hearse. The procession ended at the church where the service was held, Bell Grove Missionary Baptist Church.

Bela Lugosi
Bela Legosi was a legendary horror actor who was known for his iconic roles in classic horror movies like The Wolf Man, The White Zombie, The Son of Frankenstein, and, perhaps his most famous role of all time, Dracula.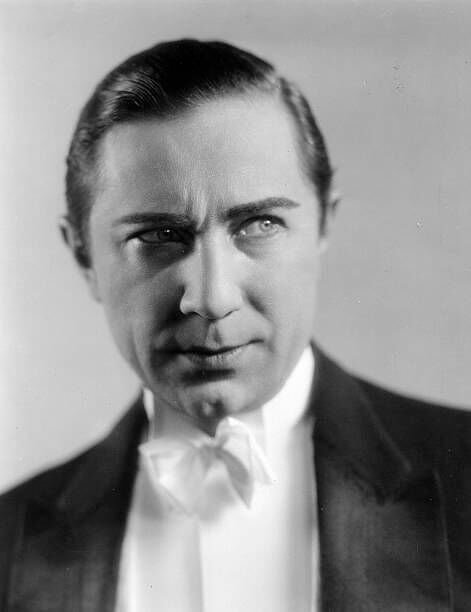 Lugosi died in his sleep when he was 74 years old in 1956 and was discovered by his 5th wife the next morning. Lugosi's son, Bela Lugosi Jr., and his ex-wife, Lillian, requested that he be buried in his Dracula costume.

Bela Lugosi
True to the requests of his son and ex-wife, Bela Lugosi was buried in his infamous costume, including the collar and the cape.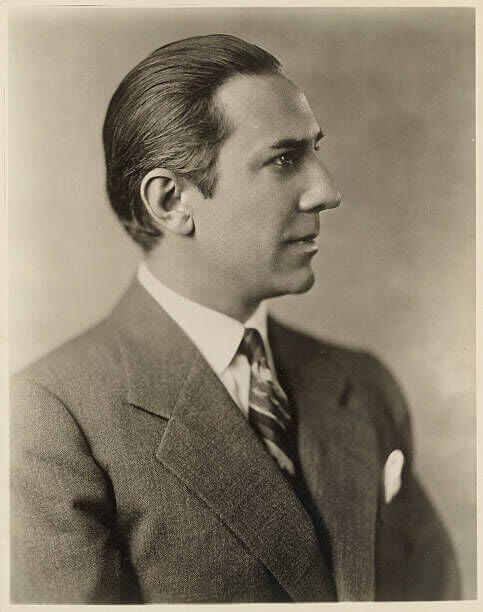 At his open casket funeral, a friend who was close to the family, David Katzman, snapped this photo of Lugosi decked out in his costume in his casket. All dressed up as Count Dracula, this photo of Lugosi's body is pretty creepy and almost realistic. It looks like he might just sit up, ready for a drink of blood!

Tiny Tim
Tiny Tim was an eccentric musician who sang the song "Tiptoe Through the Tulips." He played the ukulele and was considered to be one of the most popular ukulele players in the world. He first rose to fame in New York after Roger Ebert, the famous film critic, saw him and said: "I first saw Tiny Tim very early in his career, in Greenwich Village in the winter for 962-63. There was a convention of college newspaper editors, and a few of us- I remember Jeff Greenfield coming along- went to the Black Pussycat and found ourselves being entertained by a man the likes of whom we'd not seen before. He was already locally popular."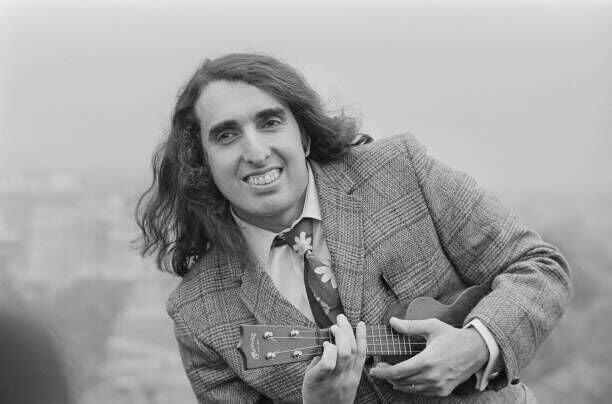 Tiny Tim, actually named Herbert Butros Khaury, was known for singing in a high falsetto voice, aside from his proclivity towards the ukelele. 

Tiny Tim
Tiny Tim died from a heart attack in 1996. He was actually on stage performing a concert when he died. His heart attack occurred during his very last song at the end of his performance. Tragically, he told his wife he wasn't feeling good before he went on. However, he decided to go out there because he didn't want to disappoint anyone.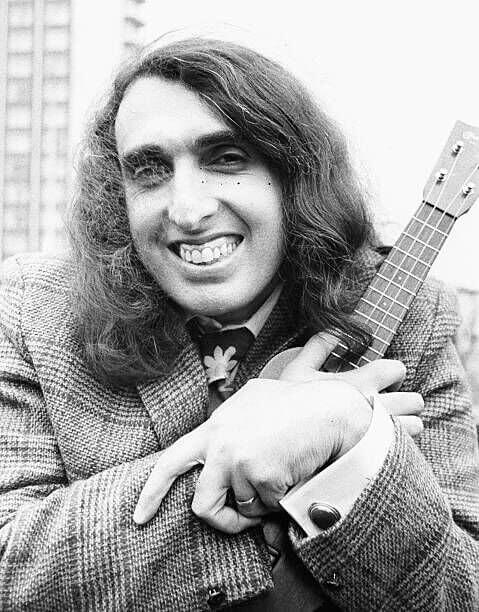 Tiny Tim had a public funeral when his casket was left open. Many different celebrities attend his funeral including Howard Stern and Elton John.

Sam Cooke
Sam Cooke was a famous soul singer. In fact, he is considered to be a pioneer of the soul genre and has been called the King of Soul.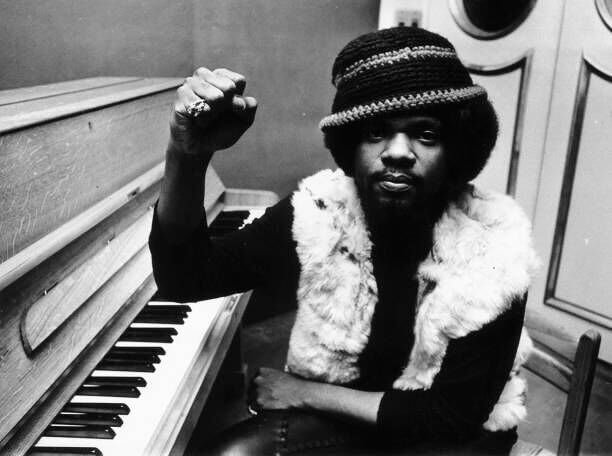 He died when he was only 33 years old after he was attacked in 1964 at the Hacienda Motel in Los Angeles. The altercation occurred when the manager of the motel said Cooke broke into her office and attacked her. So, she shot him. The motel manager was never charged with Cooke's death because it was considered to be "justifiable homicide." 

Sam Cooke
Sam Cooke was on the way to the top of his career when his life was cut short. At the time of his death, he was already extremely popular and at the top of the charts. At the age of 33, Cooke had already had 23 U.S. Top 40 hits. Even after his death, Cooke had three more U.S. Top 40 hits.

His funeral was held in Chicago where several thousand of his fans attended. His funeral was also open casket.