Like any other means of travel, air transport has its drama. The experience you didn't expect to have while traveling by air is exactly what you'll come across at some point and, sometimes, even worse. Indeed, sitting together with a hundred other strangers in a metal tube in the sky for multiple hours can amplify any experience, good or bad. So here are some of the world's most amusing, unusual, and sometimes uncomfortable moments that airline passengers encountered during travel.
Performing Acrobats at Work
Now, it's universal knowledge that flight attendants have the most beautiful features, legs not withheld. So it's no doubt why these gorgeous ladies always rock short skirts and heels. After all, one's got to flaunt it if they have it, right?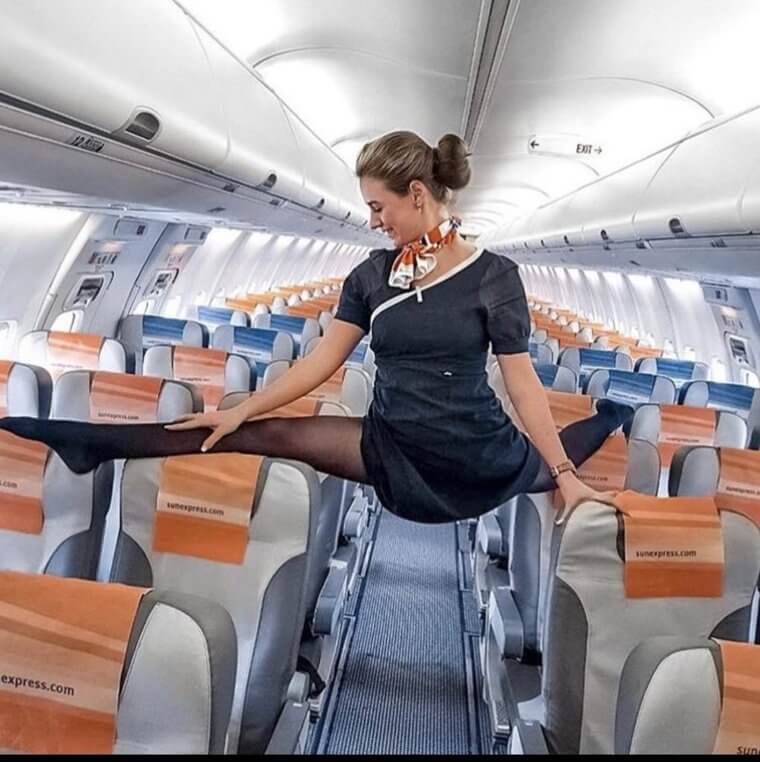 The flight attendant in this photo wasn't taking any chances and decided to showcase her flexibility along with it. Their first passengers on the plane were most likely confused as to whether they were there to travel or get entertained but we bet they still found the whole thing amusing. Who said one couldn't have a taste of both sides, though?
That's What We Call Flying Solo
No, this isn't a chartered flight booked by this man, but instead, he was the only passenger aboard. He is one lucky gentleman who managed to fly alone on the 160-seater passenger flight. We wonder what time of the year this was that the entire plane was vacant.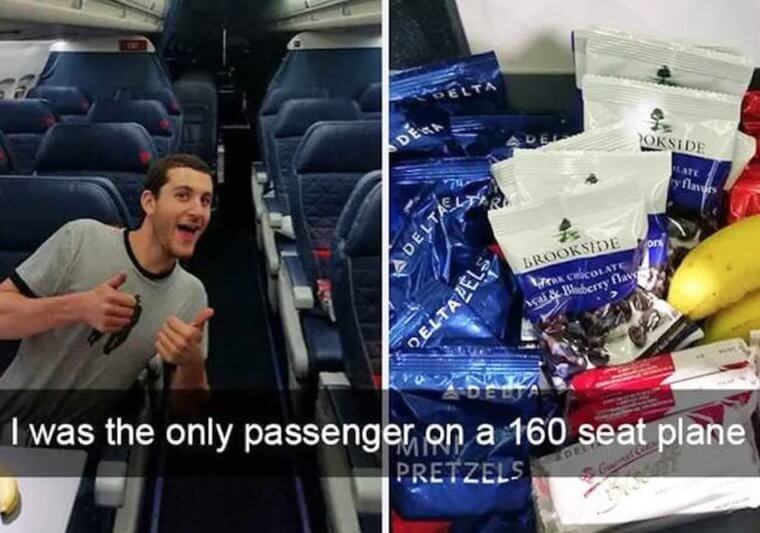 Even we would love to book a seat during those non-peak seasons. We wonder if airlines let their airplanes fly when there's only one passenger on board. Couldn't they just put him on another flight with some other travelers? On another note, it's a once-in-a-lifetime opportunity, and not everyone gets a chance like this.
You Might as Well Give Up Your Seats
You've probably always imagined what it would be like sitting next to Eddie Hall, the World's Strongest Man winner, and luckily today, you get a sense of it through a picture.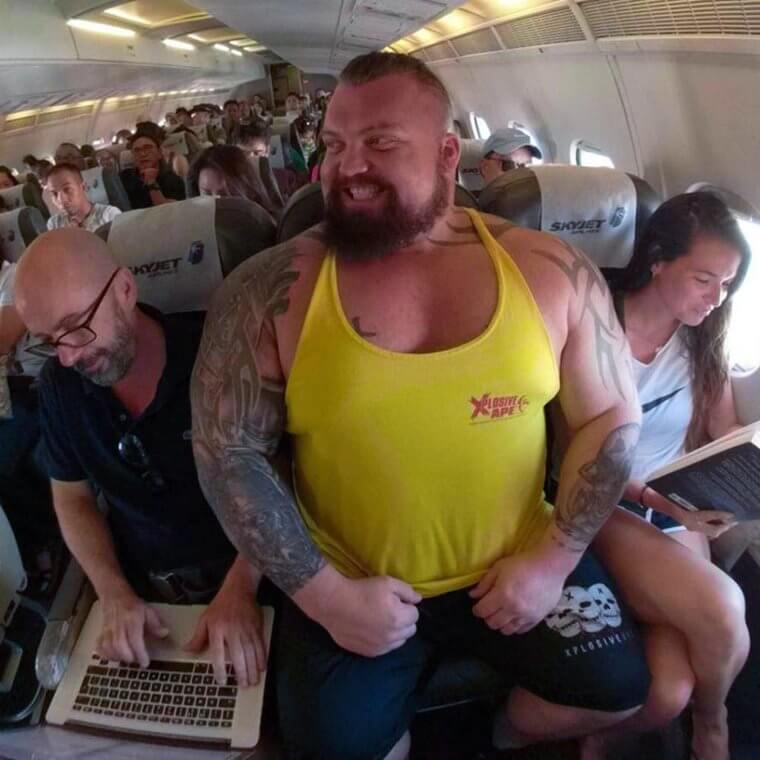 From the look of it, these two seated passengers next to Hall must significantly feel the effect of his 6-foot-three height and 362 pounds. He took up three-quarters of the airplane seat and left them squeezed at the far ends. This might seem like a photoshop to some or, worse still, a photo of a guy who enjoys using his enormous size to intimidate others for anyone who doesn't know Hall.

Humans on a Conveyor Belt
Until we stumbled upon this picture, we only saw bags doing the rounds on a conveyor belt at the airport. Two humans showing their acrobatic skills is a first for us, and we assume the same goes for you.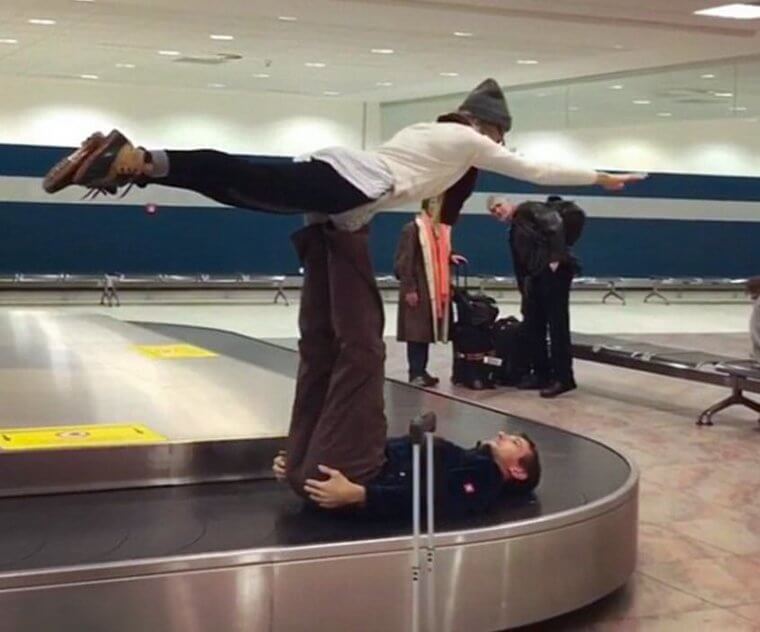 We understand waiting for your baggage to come can be a job, but jumping on the luggage carrousel isn't the solution. Even the couple in the background look stunned after witnessing this strange scene. We must say the pair does have some great moves, but we don't think this was the correct place to show off. We wonder where the airport security was while all this was happening. Also, we want to know what happened next.

Of Fly Flying Pigs
In case you didn't already know, pigs are now considered emotional support animals and can come with you on the airplane. They may not be as common as pets like cats and dogs, who have been welcome on flights for years, but more people are opening up to the fact.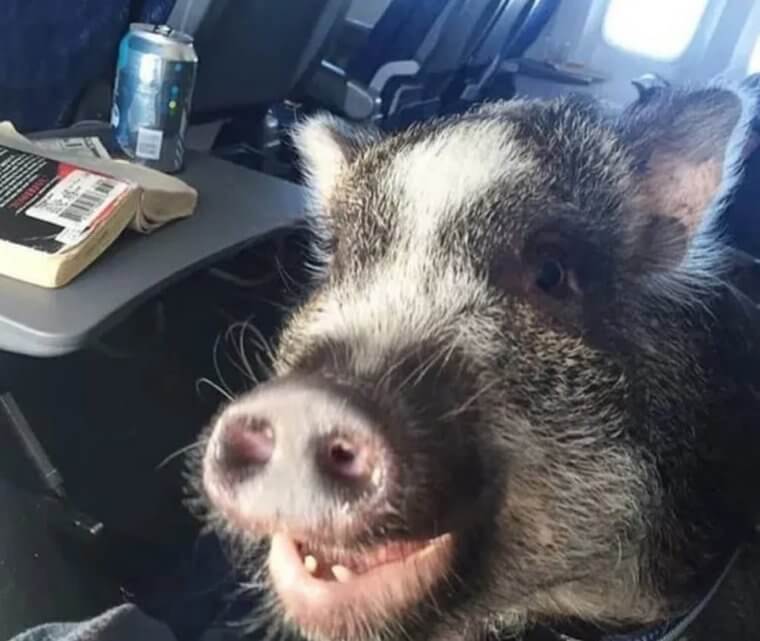 This passenger decided to fly with their pig and even take a photo of him in the air. From where we stand, they were more of an emotional support pet than another animal getting shipped from one place to another, and the fly black and white beauty is enjoying every bit of it.

Appreciating the Patient Passenger
While we are already used to airlines scooping awards like Passenger Choice Award, passenger awards might as well become a thing now. Imagine getting an award for not standing up when the plane lands.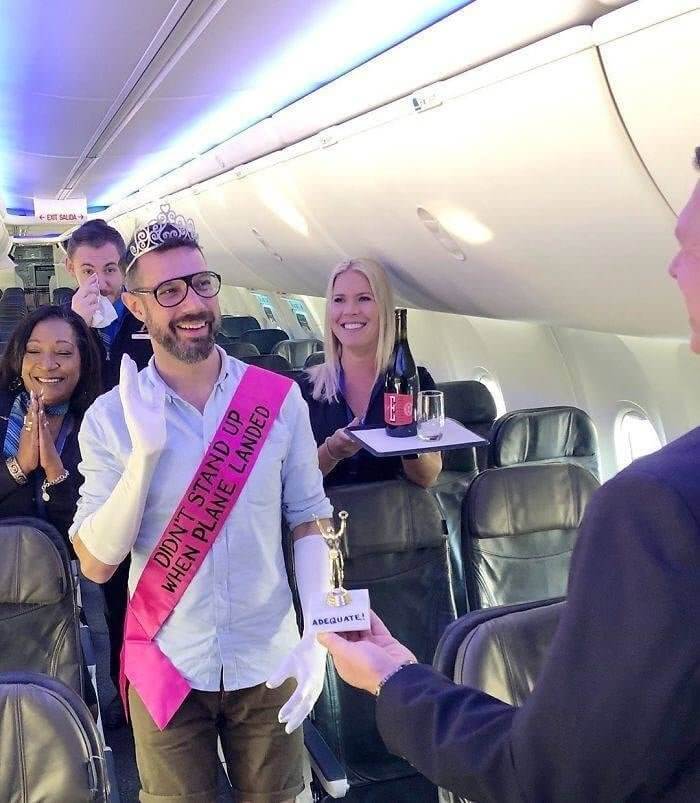 Usually, most people will be in the aisle before the seat belt sign turns off or the doors open. Why? They could have another plane to catch or believe it'll help them exit faster and collect their luggage quicker despite being in the last row. This passenger impressed the plane crew as he didn't stand in the aisle, and they decided to make it worth his while.

Bringing the Bedroom to the Plane
Plane naps are hardly ever comfortable, especially if you are traveling in economy class, but comfortable clothes, travel pillows, noise-canceling headsets, and pills have made it easier for passengers looking to get some shut-eye.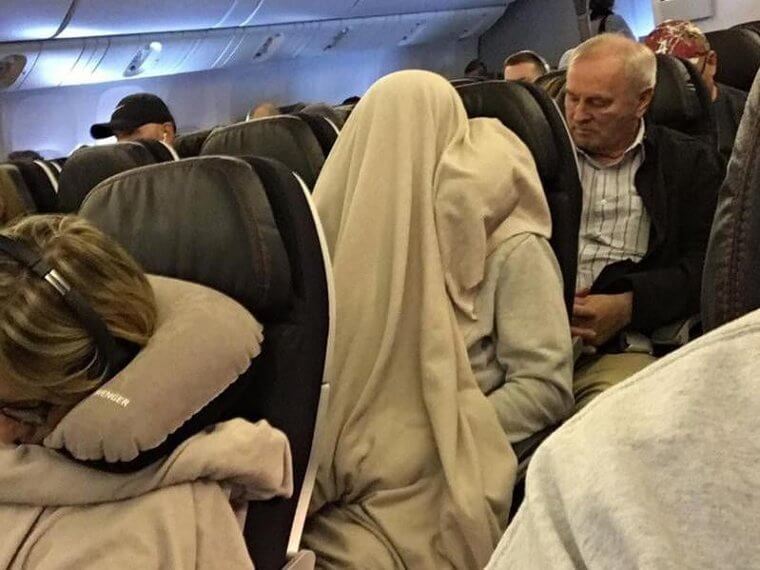 Besides choosing the right seat, frequent plane passengers will also tell you to lean over the tray table instead of reclining or leaning to the sides for maximum rest. You might bring a throw blanket to cover your head if you are extra like this passenger. Add an eye mask, and you will be utterly oblivious to your surroundings for a hot minute and possibly even sleep like a baby.

Hitching a Free Ride
For many people, plane rides are anxiety-filled. After all, the idea of flying thousands of feet above the land isn't that comforting. Now, imagine, as you start getting comfortable in your seat, a giant spider comes crawling out! It's the stuff from nightmares, indeed.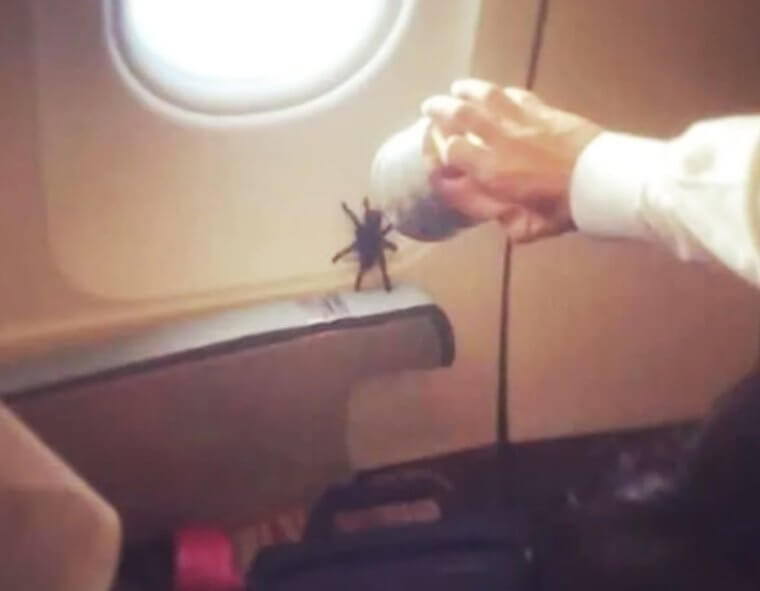 A passenger did try to take the matter into his hand by attempting to capture it with a can. We aren't sure if he was successful or if the flight attendants took care of the issue, but we hope at least one of them worked for the sake of everyone's sanity.

Pulling a Ron Swanson Stare
This guy reminds us of no one but the fictional character Ron Swanson and his iconic stare in Parks and Recreation. Portrayed by American actor, comedian, and producer Nick Offerman, Ron's facial expressions are so classic they have memes and GIFs scattered all over the internet.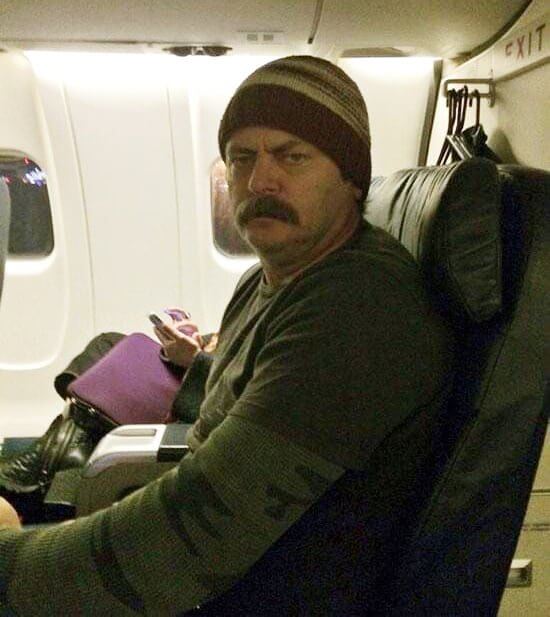 This guy decided to pull a Ron Swanson stare when he realized this person was taking pictures of him. If this stare alone wasn't warning enough for them to stop taking photos of him, we are not sure anything scares this photographer. He was likely bent on securing a picture of Ron's doppelganger and wouldn't miss the chance to share it on the internet.

An Adorable Passenger Aboard
It has become a common occurrence to see service animals and pets aboard a plane. Usually, our furry friends are locked up in their crates, resting on the floor. Nonetheless, this dog did not have to face a similar situation, and instead, the airline permitted the doggy to occupy the seat next to its parent.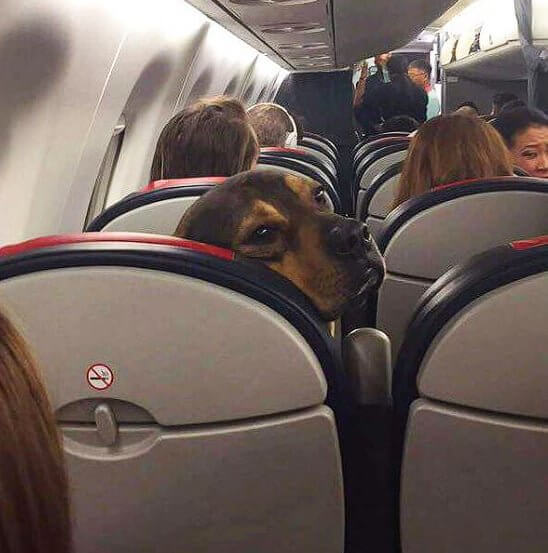 Doesn't it look adorable? Imagine catching this cute little creature peeking behind from the seat ahead. Many may find this picture funny, but this one melts our hearts. We assume the dog not only received fancy treatment from the crew but also got petted by the passengers.

Caught in the Act
This picture here is interesting, and we wonder if a traveler would ever attempt to do this in an airplane. Nonetheless, we assume it's a member of the crew rather than a passenger, given how the flight looks practically empty.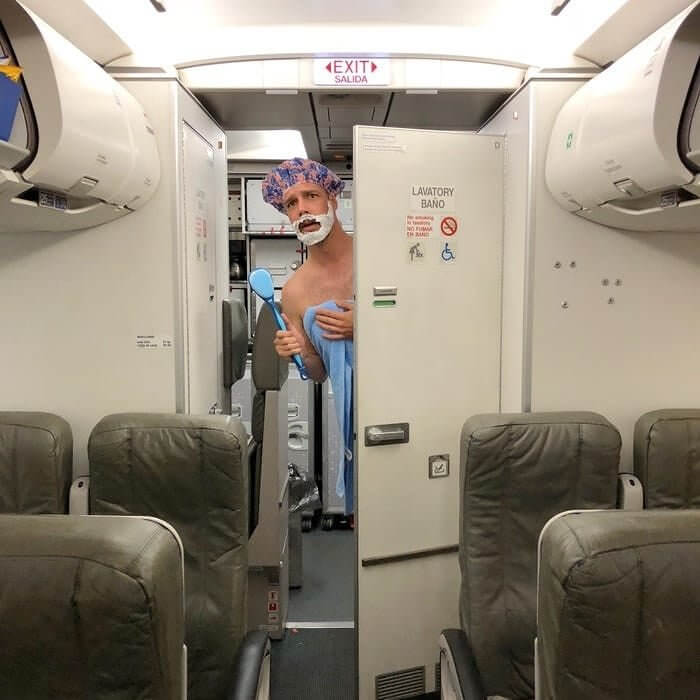 We understand long working hours may get tedious for the staff, but there is no reason for one to groom themselves inside the plane. There are many reasons for our flight getting delayed but imagine having to wait longer to board the plane because the crew members decided to take long showers.

That's Not Where You Get an X-Ray Done
An airport is a place where immense security has to be maintained. One has to not only get their bags screened but also pass through a metal detector for the officials to determine whether individuals aren't carrying any prohibited items.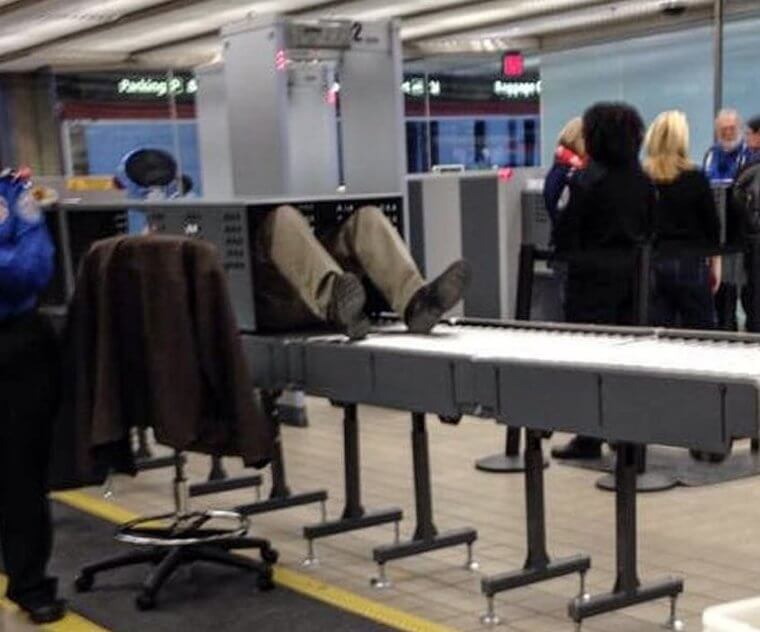 So before getting frisked by the machine, everyone has to remove their jewelry, belts, and other materials that have even the tiniest metal. Nonetheless, it looks like this man here didn't want to take off his belt and shoes and decided to go through the x-ray device along with his belongings. Well, the airport security must have gotten to see all his organs also.

Beautiful Air Hostesses Hiding Overhead
Air hostesses go through rigorous training. Their job requires great professionalism but sometimes we see them putting on some good humor. If you've never seen them act funny, then this picture is for you.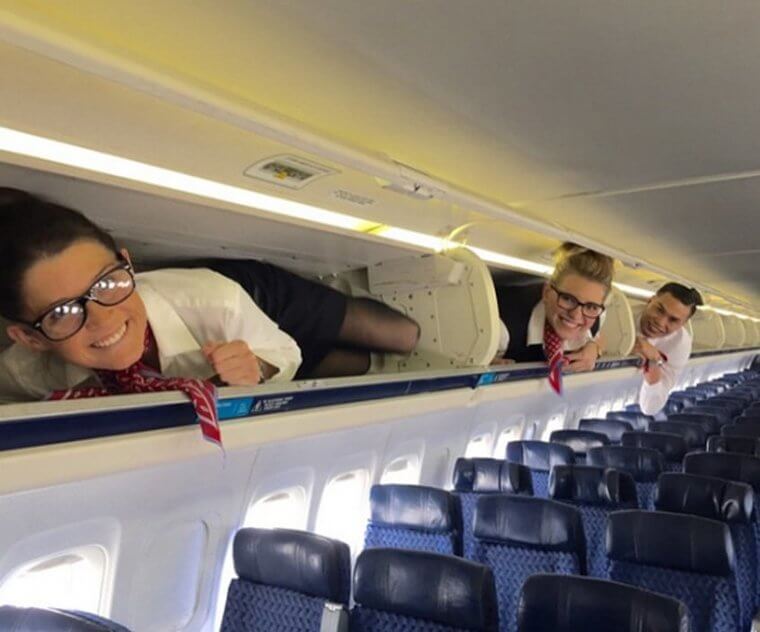 These ladies must have thought of what it would be like to fit into that tiny space. Perhaps, they were trying to surprise one of their coworkers or were just doing it for the fun of it. Whatever their reasons, we can agree that seeing them act in this funny way is evidence of their humanity.

Sharing Your Seat With an Extra Arm
Sharing a seat with a very robust passenger can be inconvenient and sometimes feels like a nightmare. For some people, however, it's quite a pleasant experience especially if the fleshy individual is a friend or relative.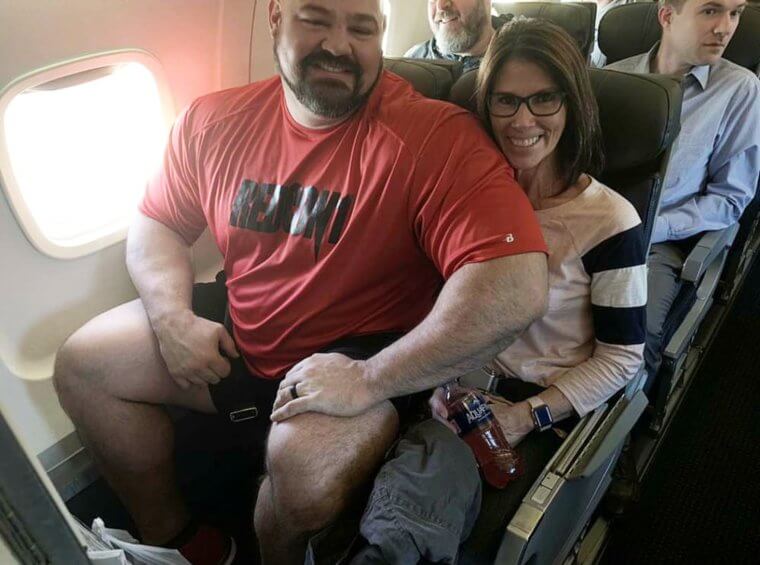 It sure looks like this guy needs extra space for his huge arms or even an extra seat for his large frame. Whatever the case, the lady next to him doesn't look disturbed at all. In fact, the smile on her face tells us that she doesn't mind sharing her seat with the guy's arm.

A Cute Puppy on a Plane
Dog lovers can often go to any length to make their pets happy. Some people take their pets with them during family trips and some even buy a flight ticket for the cute canine.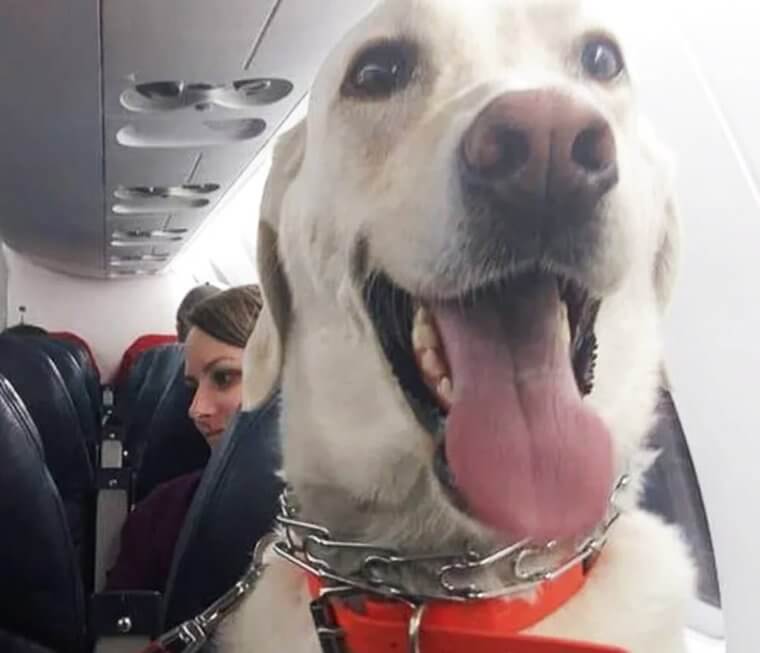 This puppy is clearly enjoying itself on the plane. Imagine sitting next to one of these cute animals and having it curl up close to you. It can be a once-in-a-lifetime experience. We, however, wonder if this dog has any idea where it is. Can it perceive that it is thousands of miles above the ground and traveling at an incredible speed? It would really be fun to know.

A Funny Flight Attendant
While flight attendants take their jobs seriously, it doesn't stop them from pulling off funny stunts if the occasion presents itself. When this happens, these beautiful ladies leave behind funny and unforgettable memories like this one.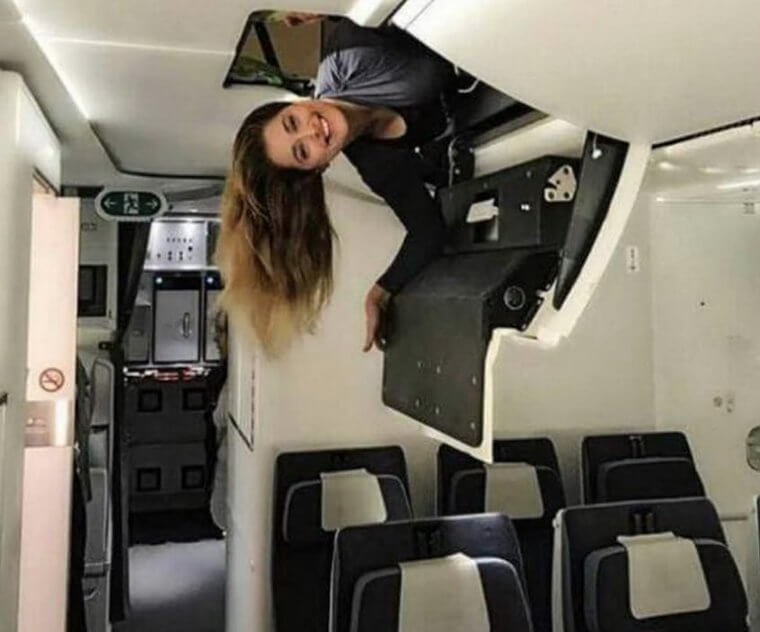 This lady must be trying to prove a point. This singular act is evidence that she's fit and trim and can fit into any tiny space like that. Imagine walking into a plane and seeing this funny sight. You'll have no reason to doubt that you'll have a great flight because this attendant is definitely the friendly type.

A Picture for Victoria's Secret
Most people love to take selfies once they're on the plane and especially if it's their first flight. Some of these pictures help one to relive the memories of that wonderful day. A few others, however, are so cute that they make us wonder if the person works as a model for Victoria's Secret.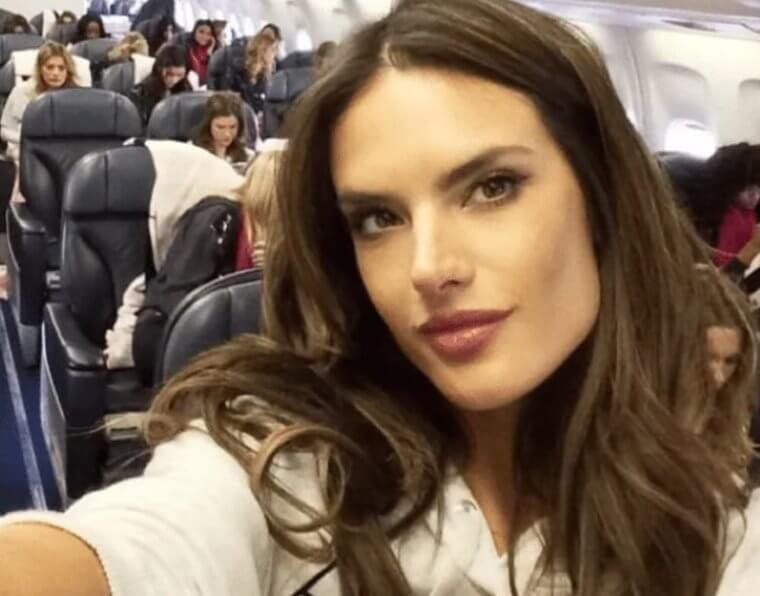 This lady's selfie perfectly captures her beautiful face as it stands out from the sea of heads in the background. Beyond helping her save some fond memory, the picture can definitely inspire her to start a career as a model if she's not one already.

How to Lock a Window
When flying a thousand feet up in the air, the last thing you want to see is a window strapped with a makeshift cardboard cover. While a man seems to read his newspaper unbothered in the picture, we don't think other passengers feel the same.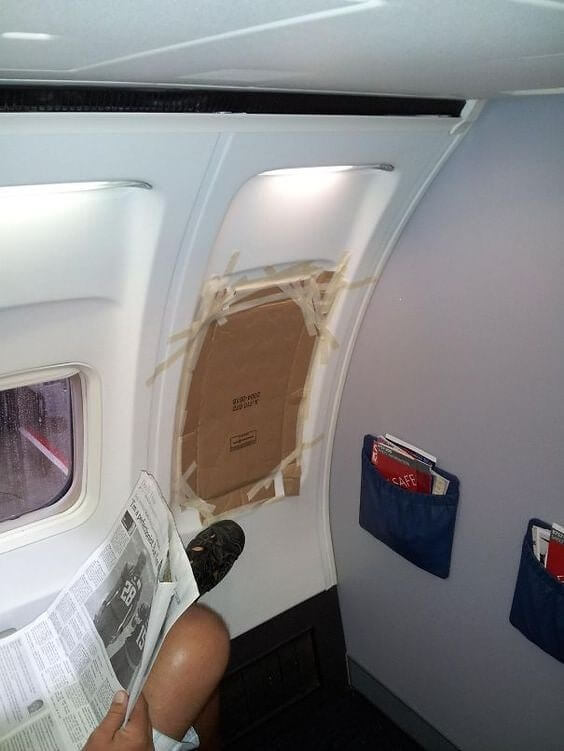 With developing technology and well-qualified pilots, airplanes are one of the safest means of travel. The airplane body has become sturdier over the years and is designed to withstand extreme conditions. This knowledge, however, does little to soothe the passengers when they see shoddy repair works like this. Hopefully, such methods aren't used for critical components of the plane.

A Kiss on the Nose
Flying for long hours and dealing with hundreds of passengers, including rude ones, every day isn't an easy task. Like in every other job, flight attendants also need breaks to recharge themselves and carry out their duties in a responsible manner.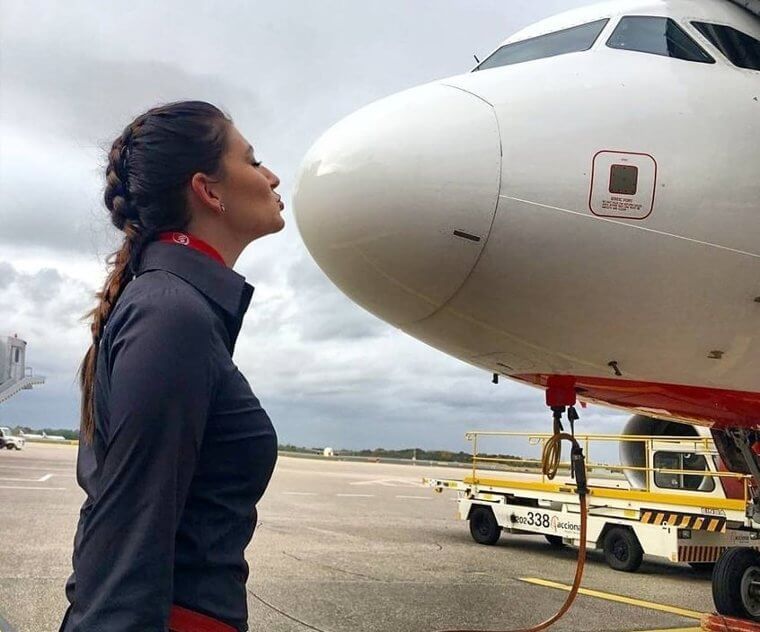 This air hostess chose to have a little fun with one of the airplanes on the runway during her free time. One can see her ready to give a little kiss on its nose. Maybe the date in the sky went quite well, and this was a small parting gift.

A Dangerous Safety Instruction
Whether in the sea or the air, "life vest under the sea" is quite a scary sentence. The passenger here saw the dark humor in this unintentional instruction and decided to share it with the internet. We did have our laughs, but it might be different with some!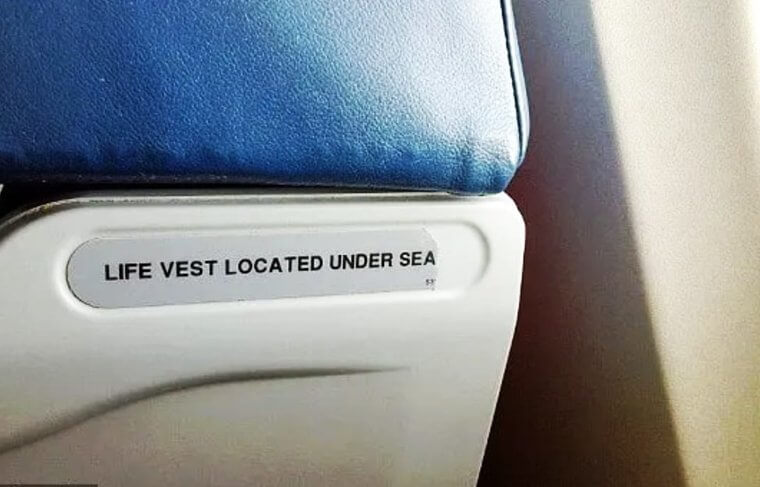 It's evident that the letter "t" is missing from the word "seat." Still, this might not be that obvious for non-English speakers, aged people, or little kids. Airplane staff should make sure all their instructions, particularly the safety ones, are dispatched clearly to the passengers.

Crown for the Birthday Boy
Being stuck in an airplane on your birthday, surrounded by strangers, sounds like a terrible way to celebrate the day. While nothing can match having your family and friends with you to celebrate your birthday, this passenger still got a memorable gift.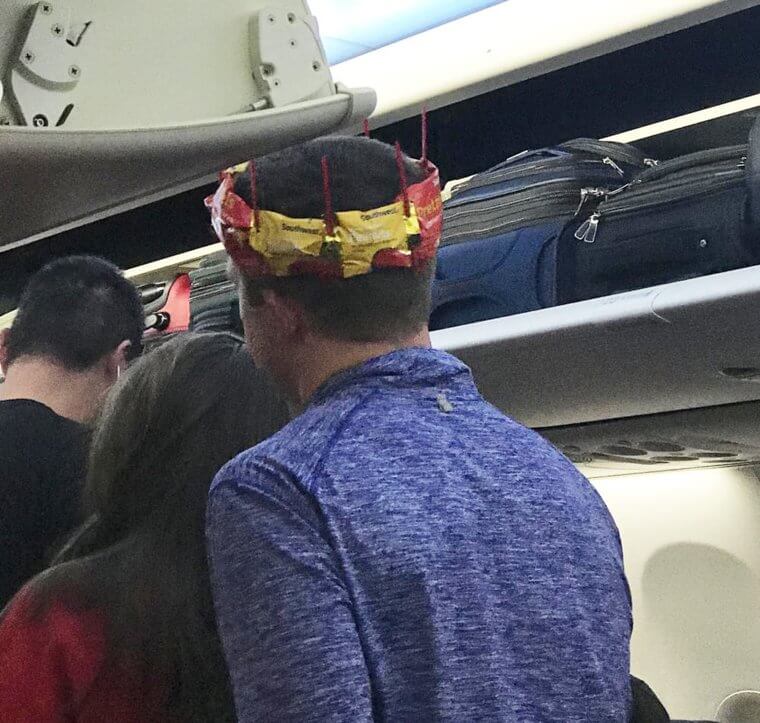 The flight attendants on the plane decided to make him feel special by making him a crown out of peanut and pretzel bags. Okay, that doesn't sound like anything special, but it's the thought that matters, isn't it? Among all his travel stories, this will sit as a funny little anecdote for the man.

Serving Your Drinks in Some Pomp and Color
Part of the top marketing techniques for airlines is a creative advertising strategy and providing perks geared toward improving the user experience and delighting customers. This particular airline's CEO decided to go all out by dressing up as a stewardess.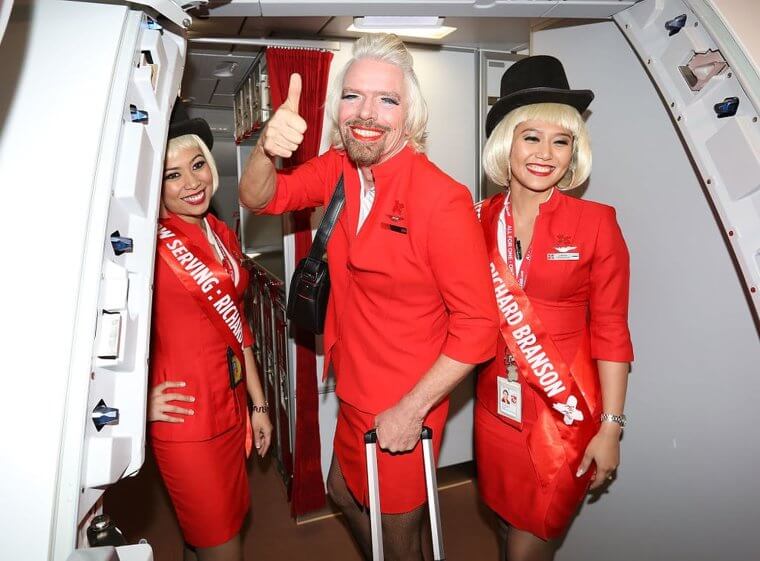 We'll give it to them; the makeup was a total game changer, seeing they went for a purple eyeliner to grab their customer's attention and even matched the lipstick to their jacket color. We suspect, however, there was an underlying intention to all of this—inclusivity. Nevertheless, even if there wasn't, who wouldn't want to be served by a CEO-turned-stewardess on the plane?

Chilling in the Overhead Bin
We don't know what this passenger was trying to achieve, but they must have wanted to see if a person could fit in the luggage bin.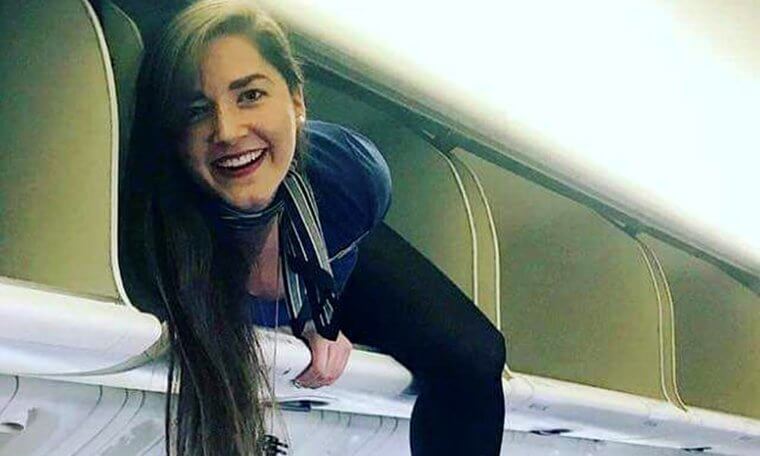 While they succeeded in getting up there and even had a photo of themselves taken, you are probably wondering whether the flight attendant wasn't around to stop them or they simply decided to let the lady have her cake and eat it too. We doubt the latter is viable, but either way, we find this whole thing amusing because who in their big age decides it's okay to pull such a stint on the plane?

I've Got My Eyes on You
This guy decided to prove us wrong when we thought we'd seen it all. Instead of wearing his glasses as every average person would, he wore them at the back of his head on the flight.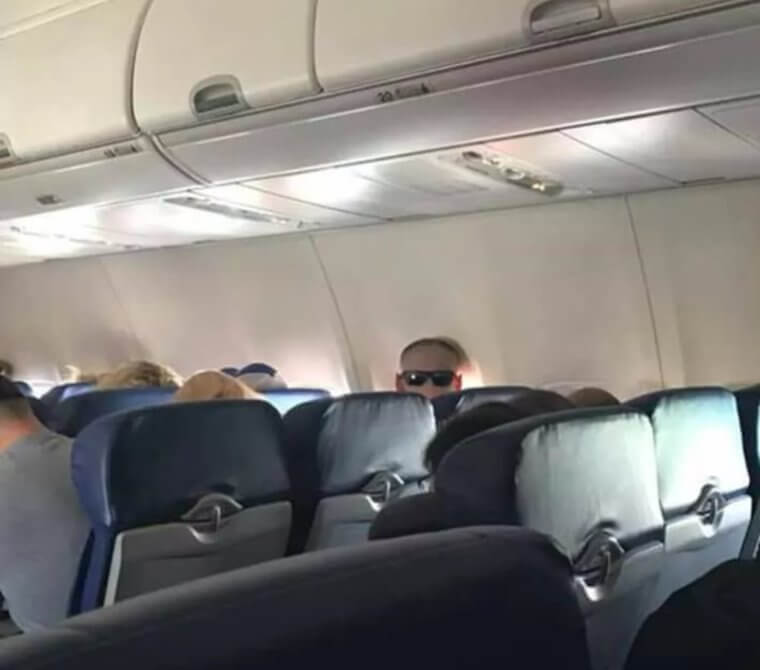 Whether he was looking to draw attention or play mind games with his fellow passengers, it sure is creepy and funny. Anyone's first instinct would be that this guy is staring at them before realizing that isn't the case. This still doesn't take away the fact that he made them uncomfortable, possibly throughout the entire flight. So, maybe try pulling something less creepy next time, mister detective.

Talk to Me, Mate
This is hands-down one of our favorite airplane passenger encounters on this list. How cute is this passenger's seatmate who also kept trying to start a conversation with them the entire ride?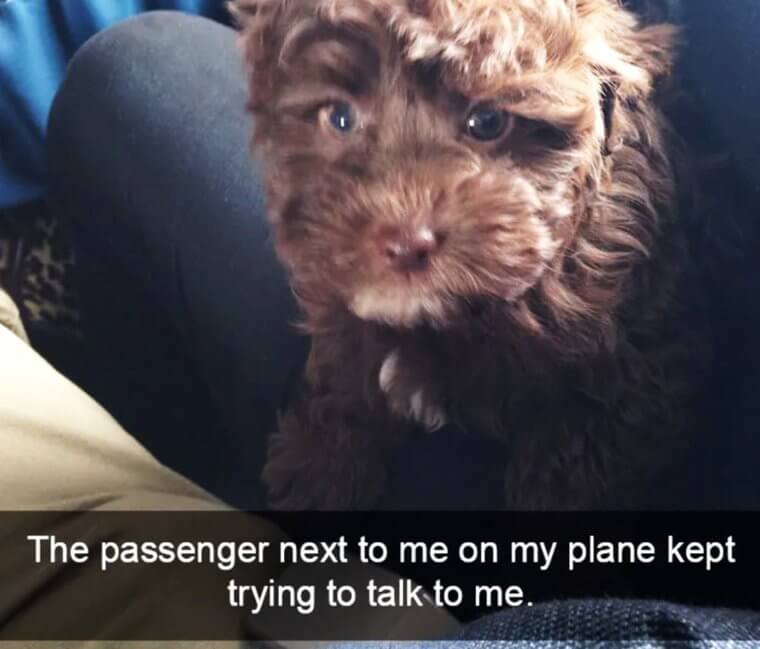 Dare to Be Different
This one will surprise you even more if you think you've seen every strange sight there is on an airplane. This flight attendant was captured hanging upside down from the hand luggage compartment.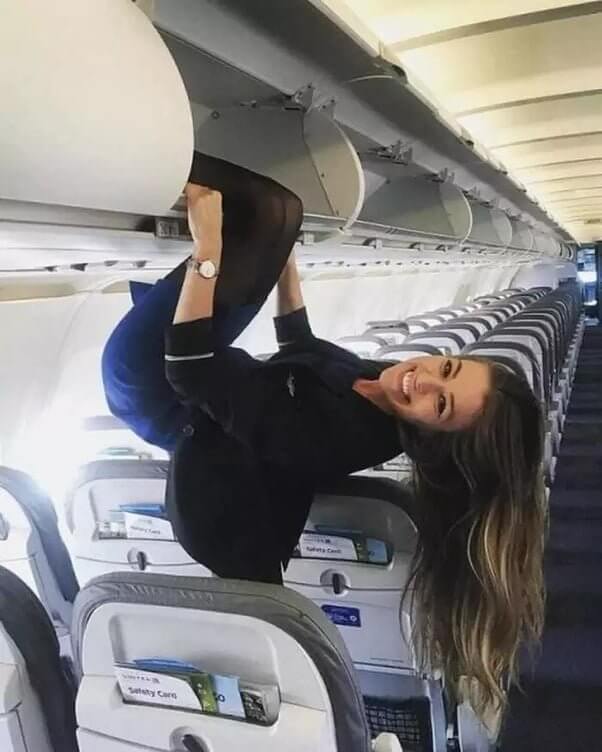 Although it is undoubtedly a strange sight, for some daring people, it may be a fun and exhilarating experience. Overall, we have to applaud her sense of humor because it's not every day that you see an air hostess dangling from the hand luggage area while beaming from ear to ear. If you're prepared to take a risk and attempt something new, you can also try out this stance.

Flexibility at Its Peak
Traveling on a flight can be highly stressful and can cause cramping, especially if it's a lengthy journey. This explains the posture of the lady in this picture. We must admit that she is really flexible and is making use of her ability to stretch out her legs in a weird manner.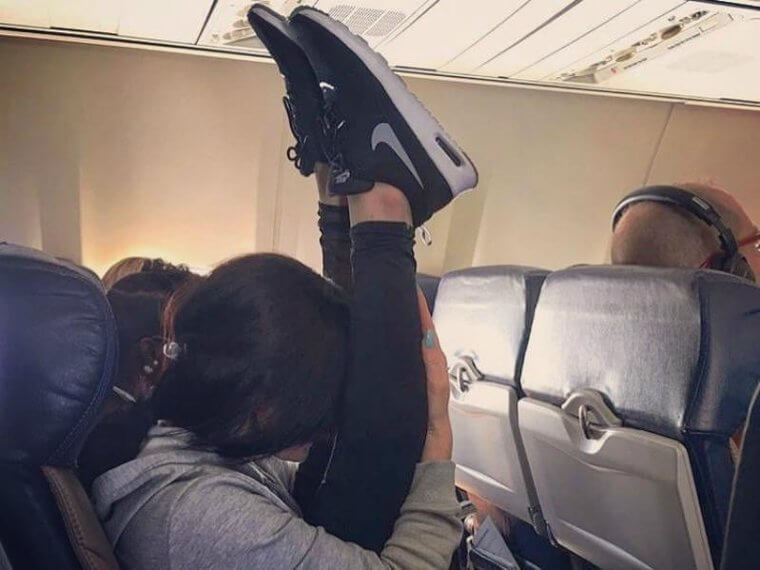 Her flexibility is one that caught the eyes of other passengers. They found it intriguing that someone is able to reach such flexibility, and it most definitely left a lasting impression. While most people stretch their legs by taking a walk on the airplane, she found a perfect way to stretch while sitting, which is quite impressive.

A Turkey as a Companion?
Finding a live turkey on an airplane is one of the rarest things that could happen to anyone. Yet, passengers on this particular flight had a turkey embark on their journey with them. It was so shocking that someone had to take a picture to be sure it was real.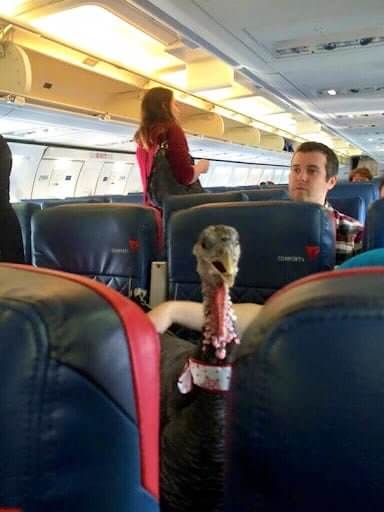 People even made several jokes including Thanksgiving Turkey jokes. If we were to make a list of things that can be found on a plane, a live turkey certainly won't make that list. That's because it is simply rare and unusual to find the animal on an airplane. We bet the passengers found this strange just like we did!

Prank of the Century
Not everybody has experienced being pranked on a flight. It is mostly people minding their business. In this instance, though, a certain man played a joke on a sizable number of passengers.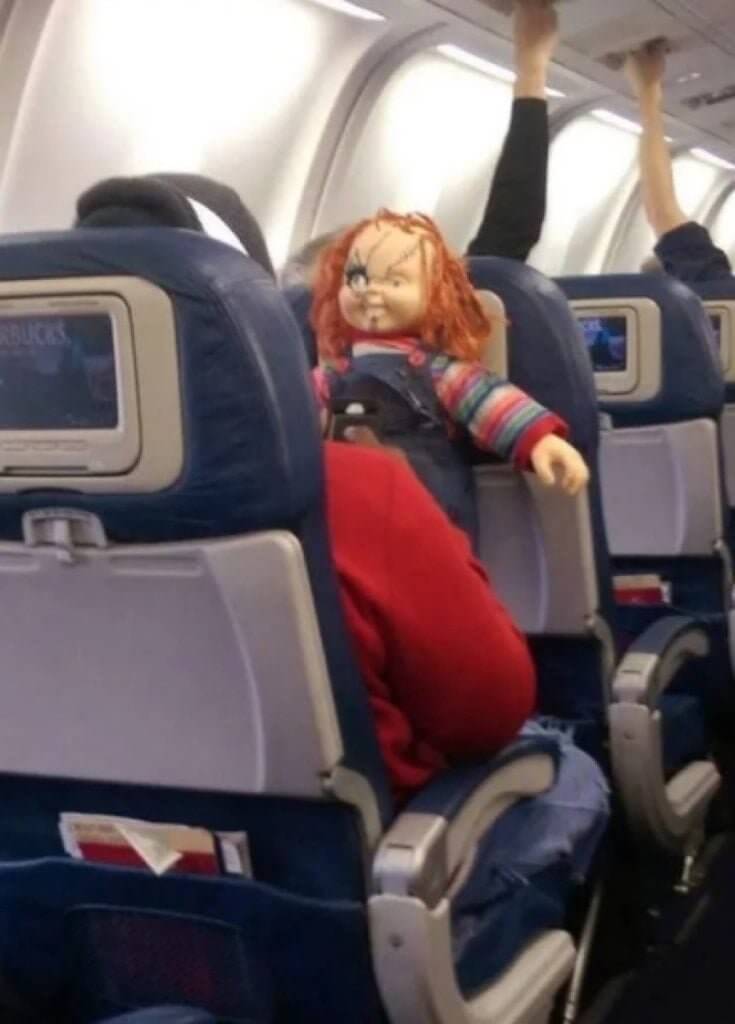 Just imagine walking down the aisle of an airplane, and upon getting to your seat, Chucky, the main character from a horror movie, occupies the seat next to you. Scary, right? Apparently, a man on this flight brought in Chucky, which ended up scaring other passengers as they got on board. They couldn't get their eyes off the stuffed toy as they laughed and talked about it.

Watch Out for the Pilot!
As passengers boarded this plane, they were greeted by a sight they never anticipated; the pilot was wearing a horse head as a prank! They stared in disbelief as the pilot paraded down the aisle wearing a horse head.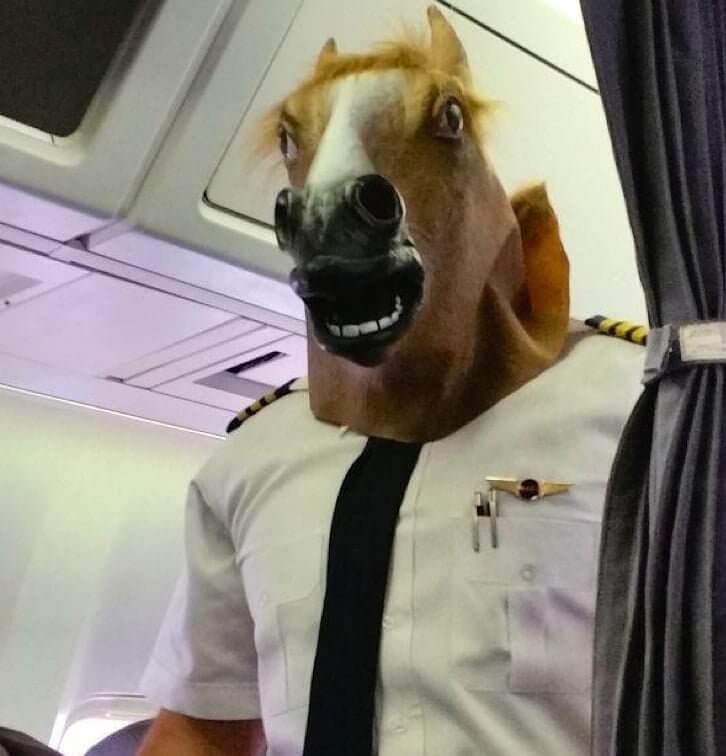 Some were a little perplexed, while others just couldn't stop laughing. He amused the passengers, some of whom even gave him a nickname for his antics. Despite their initial disbelief and perplexity, the passengers ultimately warmed up to the pilot and his jovial demeanor. Even though they were sad to see him depart as the plane touched down, they were able to leave the journey with smiles on their faces and memories to last a lifetime.

Where Did It Go?
When about to board a plane, almost everyone prefers to go through the tunnel. It is easier to drag our little luggage with us and just a little walk can get us straight inside the plane.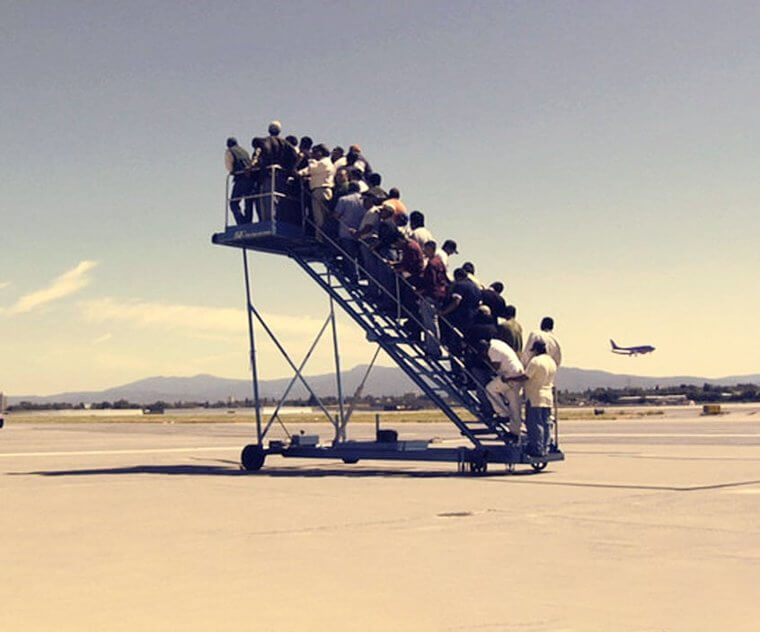 So, when passengers see that they would have to walk out of the airport and climb a whole staircase, they get a little annoyed. Unfortunately for these people, climbing a staircase was not the worst part; it was what happened after. To their surprise, there was no plane waiting for them. This makes us wonder why these people are still standing there and what they are waiting for. Is the plane going to shift to reverse and come back for them?

Not a Problem Identifying Luggage
Airports can get a little tiring. There are many situations where we feel like getting out of the mess and finally reaching our destination already. Speaking of airport hassles, there is one instance that drives almost everyone crazy, and that is when someone else has the same suitcase as yours.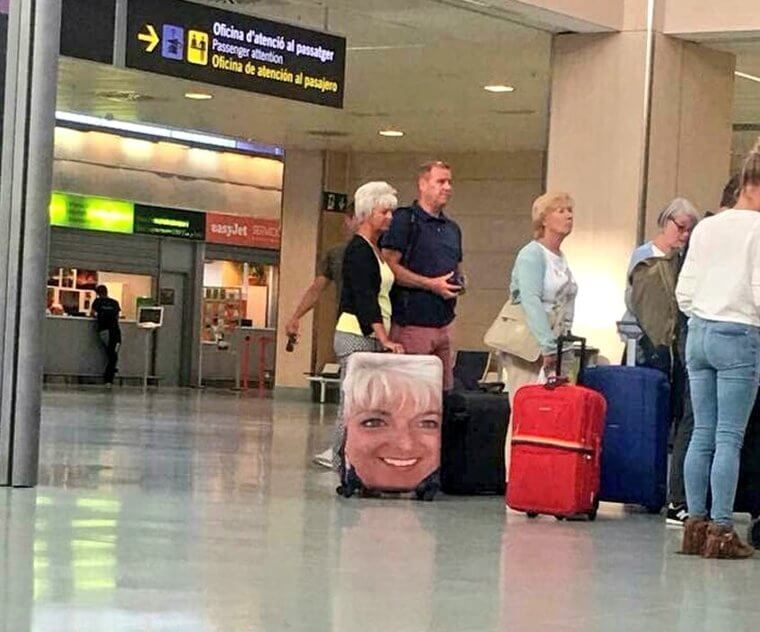 This creates a lot of confusion and sometimes people even take the wrong bag home. Well, it looks like this lady has the perfect solution to this problem. All we need to do is get a suitcase and print our faces on it. This might creep out a few people at the airport but it will save many people from trouble.

That's a Tough Task
Since we are on the topic of airports and traveling problems, how can we move forward without mentioning kids? No matter how adorable they are, one cannot deny the fact that traveling with kids is the last thing one would want to do.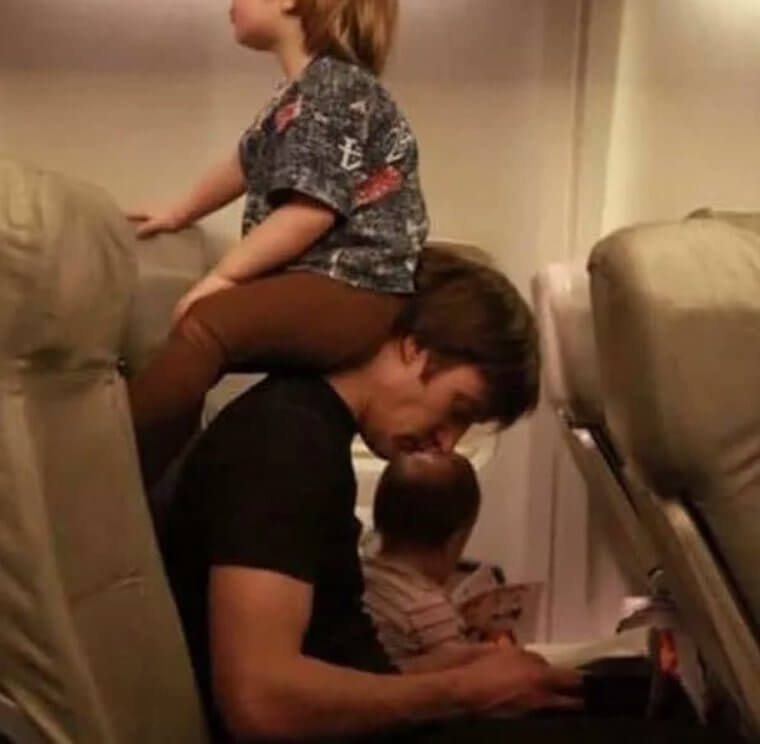 Just a little glance at this picture would tell us why people dread the situation. Kids are free-willed, they do not understand the situation and do whatever pleases them, even if that means sitting on their dad's head during a flight. Hats off to this man for dealing with this situation with patience, and why would he not? After all, he is his child.

That's an Interesting Coincidence
One of the most boring things in this world is long flights. One cannot do anything but sit in the plane for hours, browsing through movies, with not much space to move. While for most of us, this is the representation of a flight, some of us get a little interesting twist in theirs.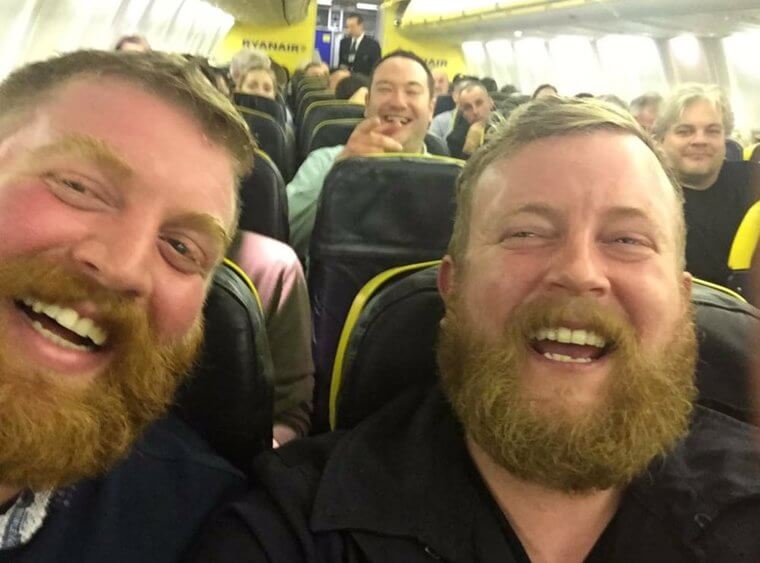 Take this man for example. He met with a pleasant coincidence when he got the seat next to his true clone. Both the men must be excited to see their look-alike and this would have instantly sparked a conversation. This means that this flight would not have been boring and tiring for them.

The Little Pony and Air Travel
What's better than an ordinary pony or miniature horse, for a little kid whose greatest wish is a pony? You guessed right! A flying one. In this case, when presented to the child, this pony's going to be like "I flew once you know?"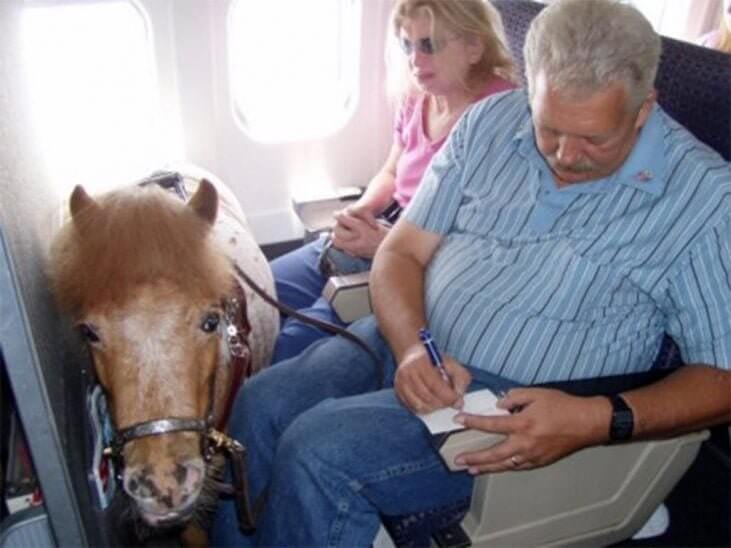 That has to be the motive for bringing a miniature horse aboard a passenger plane! Here's the deal: horses are not supposed to travel in passenger airplanes. They are flown around in cargo planes. Now, can we begin to ask ourselves how the horse was sneaked into the aircraft and why its owners look so darn serious like it's the most normal thing on the planet?

Travel Prank Gone Wrong
Now, this is disturbing. We can't place the exact source of the trauma, but we have questions. Before we ask away, it is paramount that you know that a woman pranked her sister by printing her image on her suitcase and it was hilarious.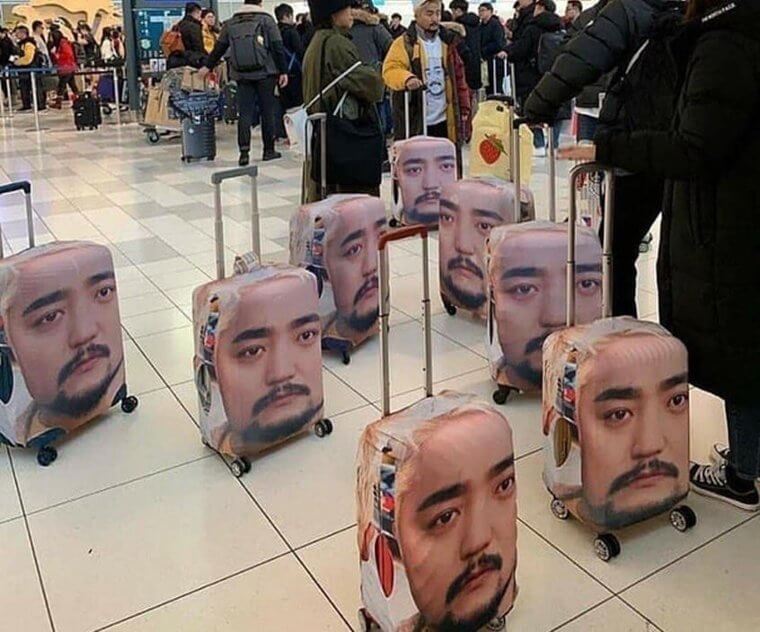 This guy, however, looks like he is about to cry. He looks like he is regretting his choice of friends. How did they come up with this plan? What were they expecting? Here's the good thing, at least no one's baggage will go missing. Wait! How are they going to tell their luggage apart?

Star Wars Takes Over the Skies
If you're a Star Wars fan, nothing's more gratifying than Chewie walking down the aisle and placing his suitcase in the overhead compartment beside you. It significantly brightens the otherwise boring boarding and flight period.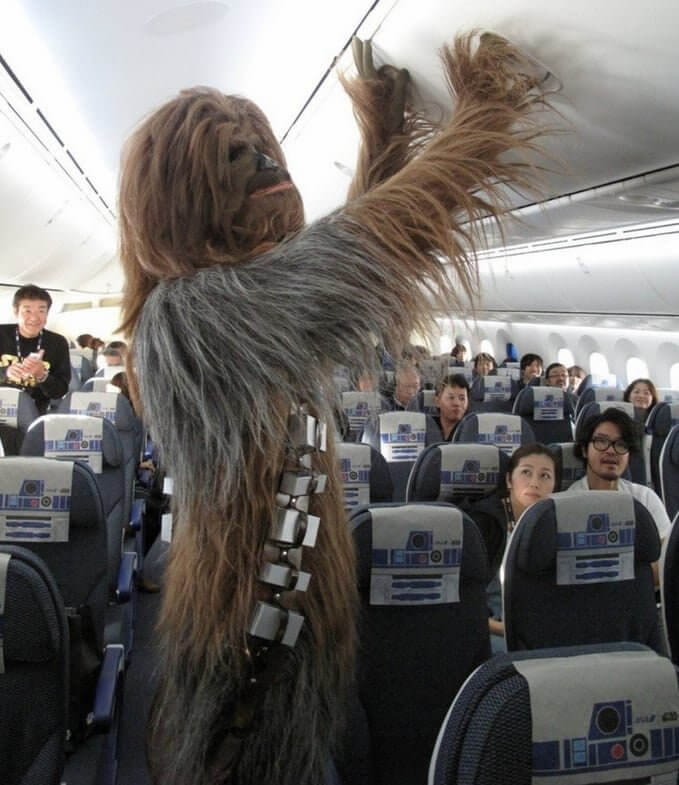 As you're trying to keep yourself from bursting with excitement in your seat, shouldn't you be concerned that Chewbacca is posing for selfies and not taking over from the pilot? Doesn't it ring a bell? Stormtroopers usually board the Star Wars-themed jet, so you cannot believe your incredible luck. Yet, beside you is a woman who's perplexed and wondering what the world is turning into.

The Overhead Compartment Has All the Answers
When luggage goes missing after a long flight, you begin to ask yourself about the mystery behind the overhead compartment. Is there a portal that leads to an alternate universe in there? Trust us when we say the flight attendant is also as confused as you are.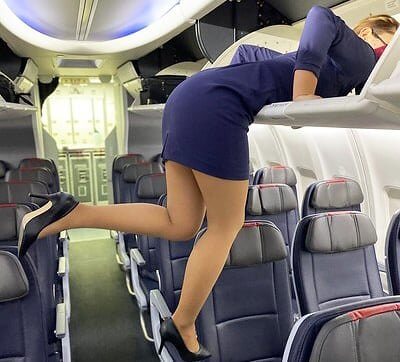 Why else would she climb into the overhead compartment and stick her head all the way in? To resolve the mind-shattering mystery of your missing bag pack, she has become a secret agent. Even if your bag pack is still nowhere to be found after everything, she's going to get an A for effort. Be careful, though, so she doesn't disappear too.

First-Class Relaxation at the Airport
We get it. You need to relax properly after a particularly stressful flight in which you were situated between a mom, her fussy baby, and an obnoxious teenager with loud music. To make matters worse, the lady behind you couldn't keep her mouth shut.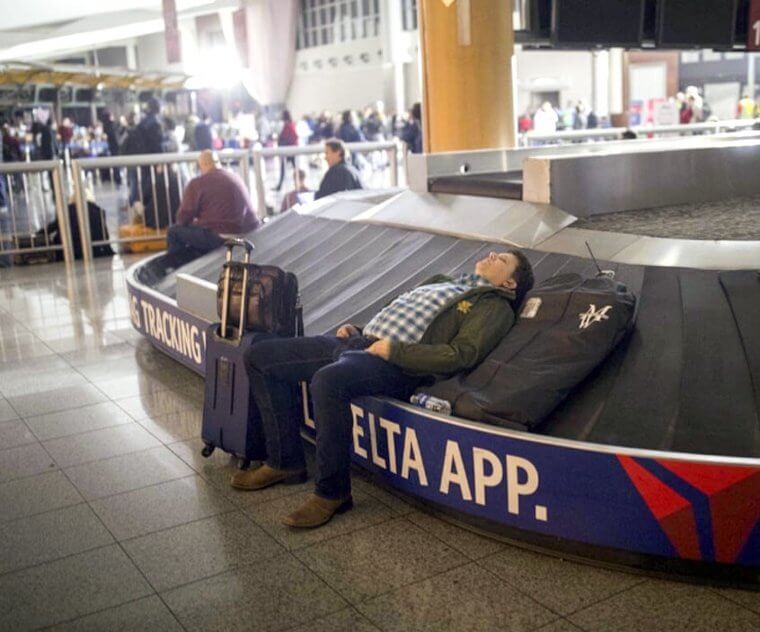 Maybe it wasn't the flight that stressed you out; maybe it was standing at the baggage reclaim for longer than required without seeing your prized suitcase, or it could be that you've been waiting forever to board your already delayed flight. We understand these frustrations but as much as we want you to relax, what are you going to do when the carousel starts spinning?