Think of the church and what is the first thing that comes to mind? Perhaps it's the Gothic architecture of European cathedrals. Perhaps it's the beautiful stained-glass windows. But more likely it's the sight of a pastor or priest giving a stern sermon to their church-goes. What you probably don't think about immediately is jokes. But here we are in the modern world and somehow churches, and more particularly, church signs have become known for their jokes. Whether it's a commentary on current affairs or just a good old-fashioned pun, these churches have seen their quirky signs go viral on social media.
Forgive Me, Fathers?
One of the things that concern many people about the Christian church is its view on gay relationships. Many young gay people and gay families, in particular, can feel ostracized by the church and how they might be accepted.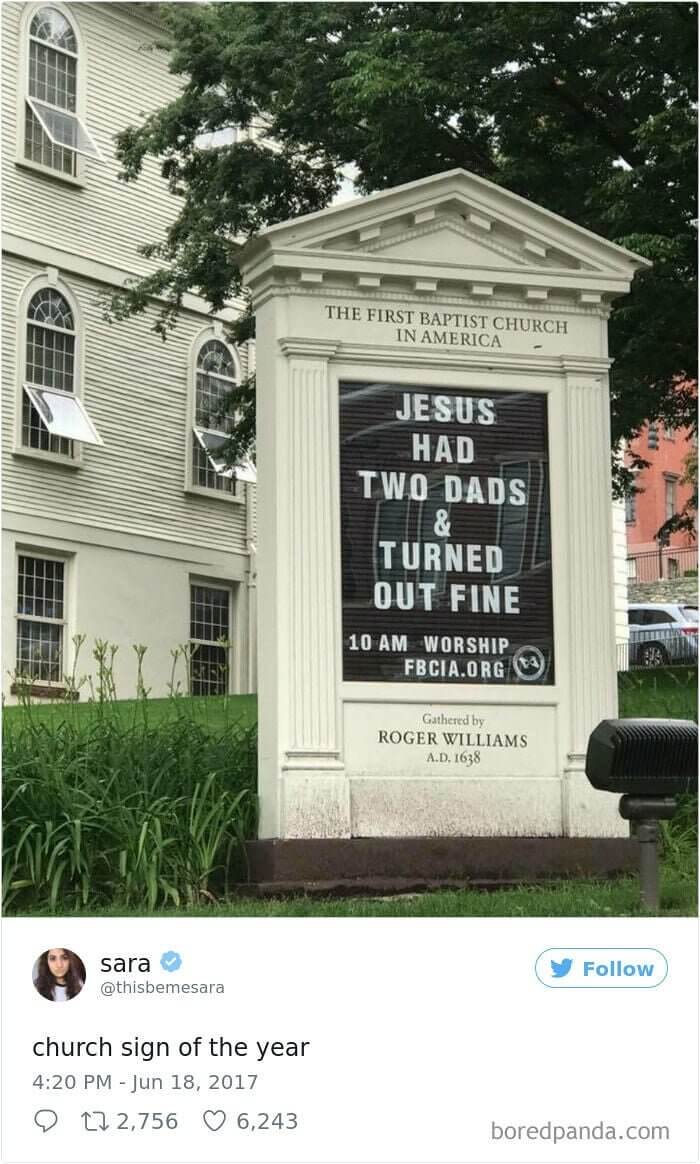 But the pastor at the congregation of the First Baptist Church of America found a clever way to let these people know how he feels. It's hard to criticize a non-traditional family set up when Jesus himself grew up in one.
A Sin of Omission
Let's be honest here. How many of us can really say we've read every word of the Apple terms and conditions? We might start out with the best intentions, but as we scroll further and further down the page and see how much there is left to go, it's only natural we give up and skip to click "Accept".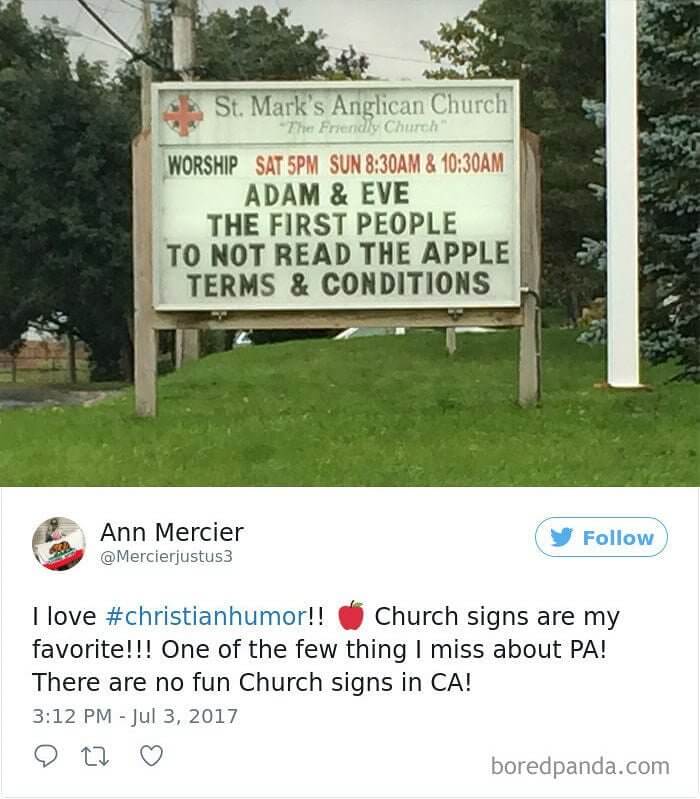 To be fair though, the repercussions for Adam and Eve might have been a little more serious. Imagine getting kicked out of Paradise for not reading all the details on your new iPhone!
Summer Shortcuts
With the advent of social media, we've become used to seeing these kinds of funny church signs. And in fact, knowing that their efforts are going out on Twitter, many pastors or priests might feel the pressure to keep coming up with the goods.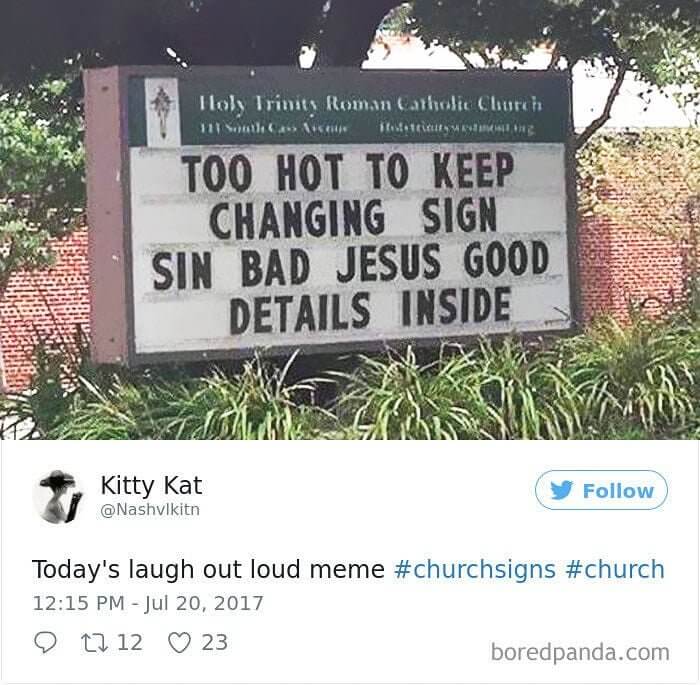 The summer heat obviously got too much for this sign changer. They opted to create a shortcut that would cover all the basics – and in the process created something just as funny. Just goes to show how simple things can be the best.
Gratitude Reminder
Not all of the signs on this list are funny, some have simply been created to give us something to think about as we go on with our days. And if these messages can be made with a bit of poetry, they can be so much more effective.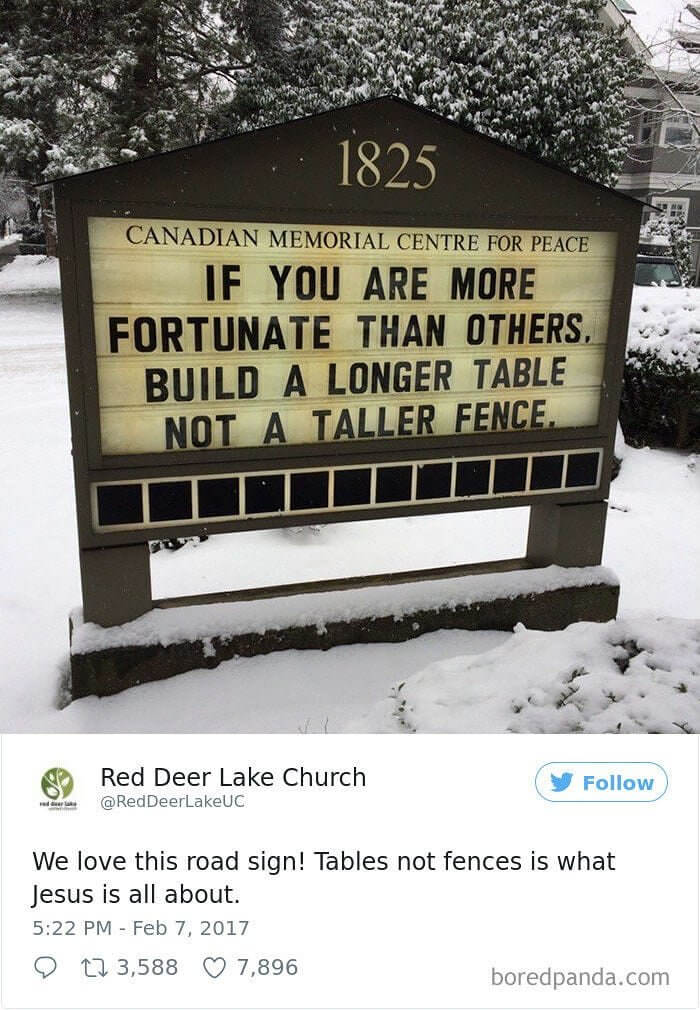 Here we are reminded that if while we may be tempted to do everything that we can to hold on to what we have, if we are blessed with abundance, then it's only right that we should share with others less fortunate than ourselves.
No Haters
Even if you're used to giving a sermon each Sunday, coming up with the right words for all these signs would still be something of a task. So if you come across a quote from a like-minded soul, why not use the opportunity to promote them.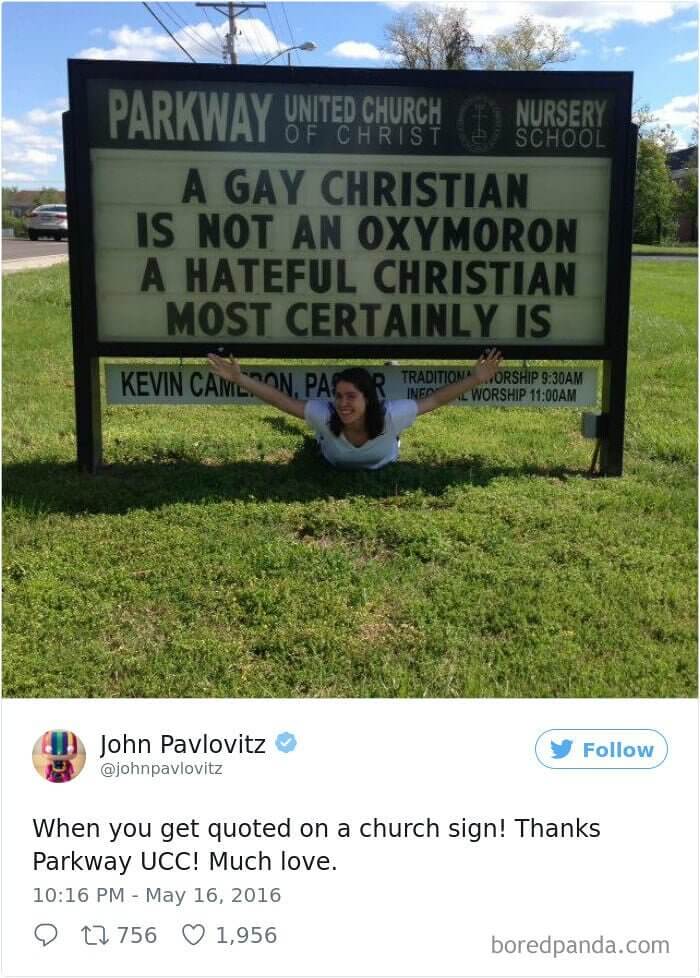 This clever quip comes from Pastor John Pavlovitz, who's also a well-known author. Here he reminds us that homosexuality might be frowned on by certain sections of the church, being hateful is abhorred by the whole religion.
Not Mutually Exclusive
Along with the church's stance on homosexuality, another thing that often comes up is the question of how religion and science can fit together. Some segments of Christianity take a very literal approach, teaching creation over evolution.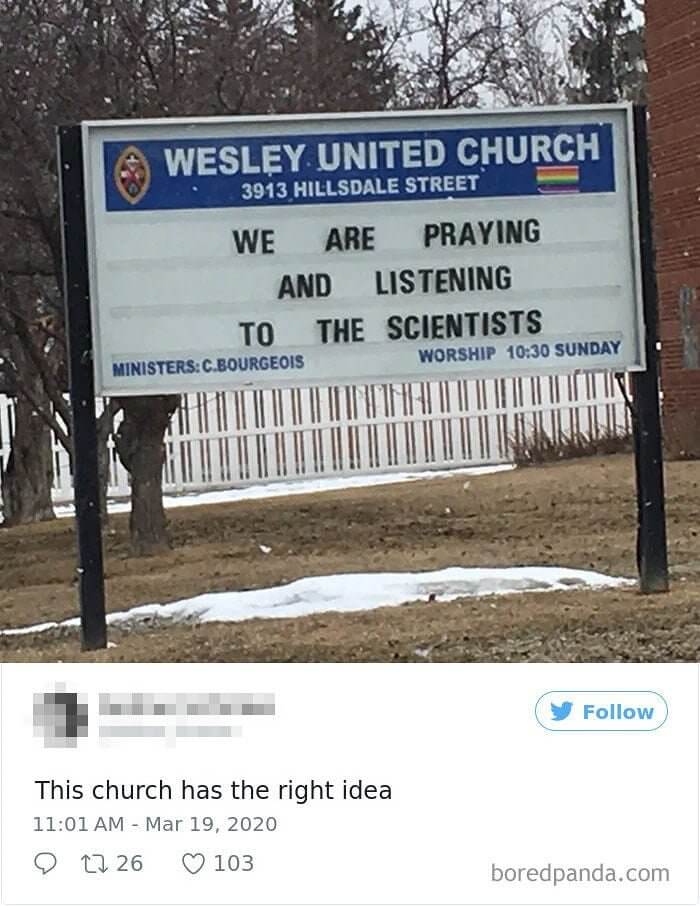 This congregation of the Wesley Uniting Church shows that it doesn't have to be one or the other. Praying is vital to any religious person but it doesn't mean you have to ignore all of the great work that modern science has given us.
Please Stop!
How much do you believe in the power of prayer? For many people, it is simply a way of keeping in touch with their faith, but others believe it really can change the events that happen in their lives.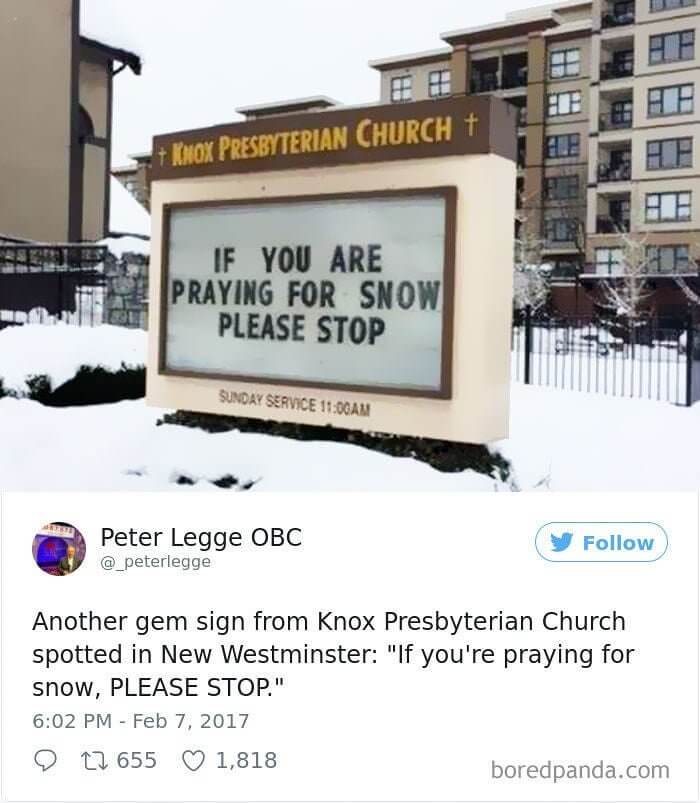 This may be a little tongue in cheek here, but apparently, this sign-writer believes that prayer can even change things like weather. If that's true, then it seems that one of the parishioners of the Knox Presbyterian Church has been praying too hard.
The Traffic Report
To be honest, we wouldn't have ever thought about this concept. It takes a clever reverend to take two common phrases and manage to add some extra meaning to them, as well as injecting a little bit of humor.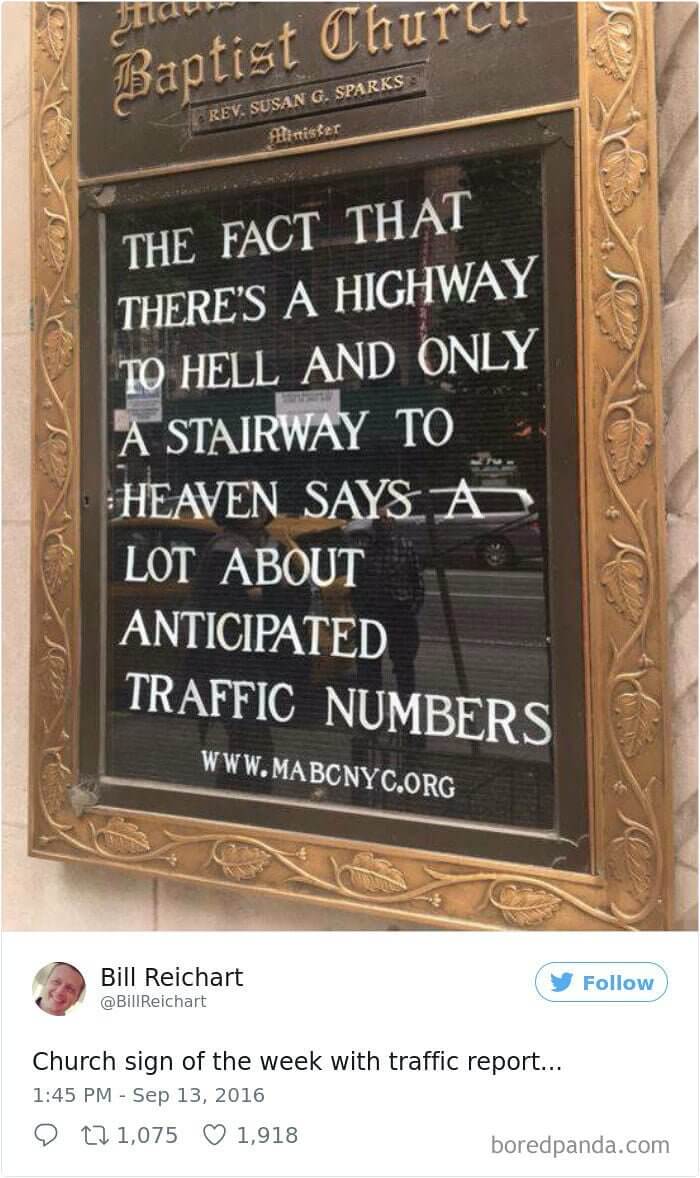 We hope that most of us would want to get to heaven, but if we all get our wish, it is hard to imagine that everyone would be comfortable getting there single file. Just think of the queue! And on second thoughts, let's hope that there's an escalator rather than stairs.
Temperature's Rising
Just like parish newsletters, these church signs are usually used for making announcements to parishioners. This might involve sermon times for the week, services for special holidays, or other church activities. But here we're looking at some more basic church admin – the theft of the air conditioning units.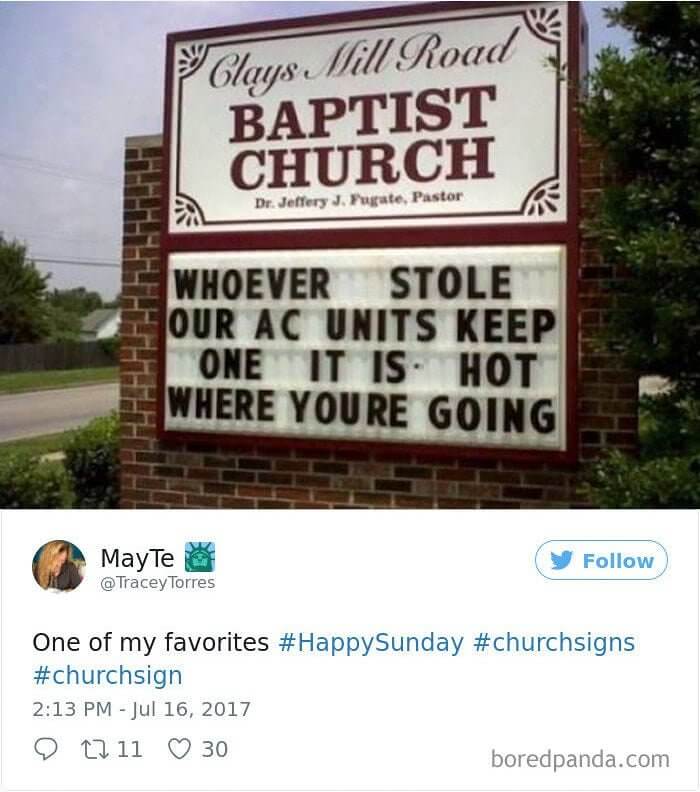 For those that worship at traditional and ancient churches, having air conditioning might seem a little out of place. But getting some relief from the summer heat can be one way of making sure that attendance numbers are up.
Puppy Love
Church leaders have the often difficult task of introducing the teachings of the bible to their congregation. Much of the bible, with its archaic wording, can be difficult for many to read from start to finish.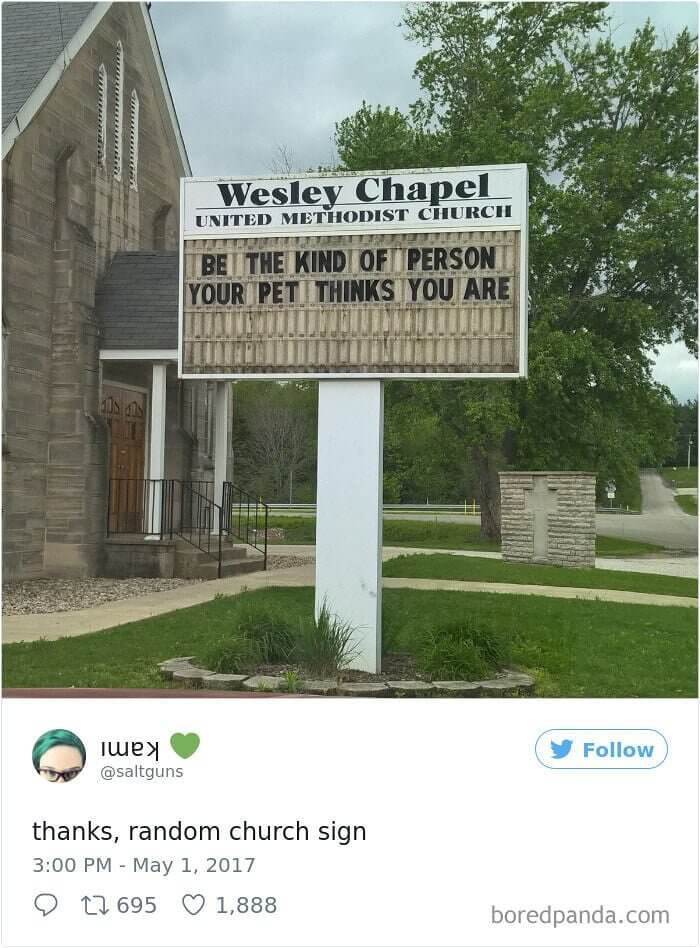 And even those that do might still be left wondering exactly what all of it means, which is where the pastor can help. Here, this clever signwriter has managed to get to the bones of Christianity with just a few words that we can all understand.
Modern Verse
As we've just mentioned, the overall messages of the bible might be timeless, but sometimes the wording can be a little old-fashioned. This can make it a little harder to find material for a sermon on more modern themes, such as driver safety.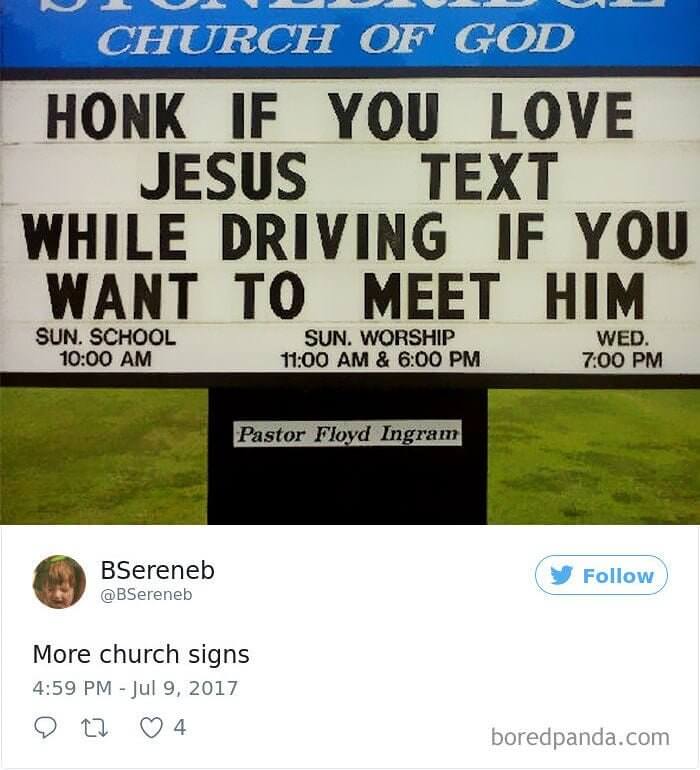 "Honk if you love Jesus" is a well-known bumper sticker, but just a few extra words and it can become a warning for all of us who might consider texting and driving. We just hope no one is distracted by the sign while in their car.
Helpful Reminder
We're sure this is not going to come as a surprise to anyone, but people can get very passionate about their religious beliefs. And it's not just tension between members of different religions, but it can be with non-believers as well.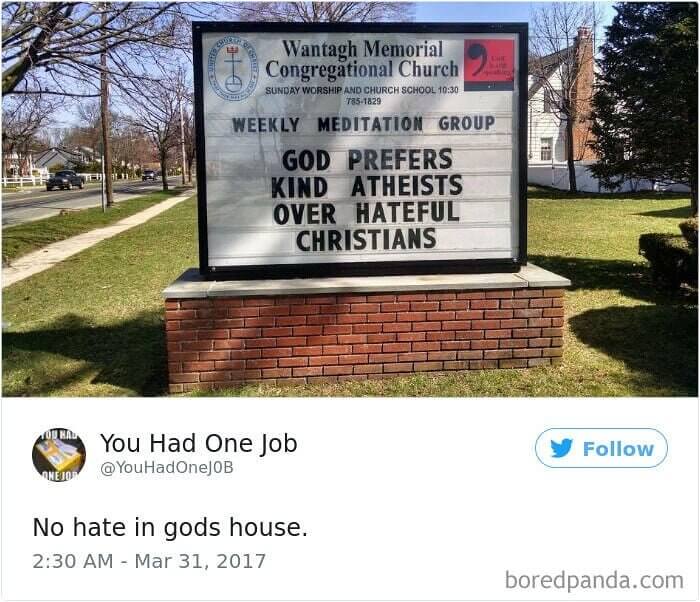 This sign from the Wantagh Memorial Congregational Church is a helpful reminder that no matter what you believe (or don't believe), the most important thing is how you behave towards others. Or as one Twitter user mentioned after seeing this sign, "There's no hate in God's house."
Don't Play God
It seems to be a bit of a recurring theme with these signs. While they can be used to give out useful information about the church, they also serve just as well as general reminders about how we should be treating one another.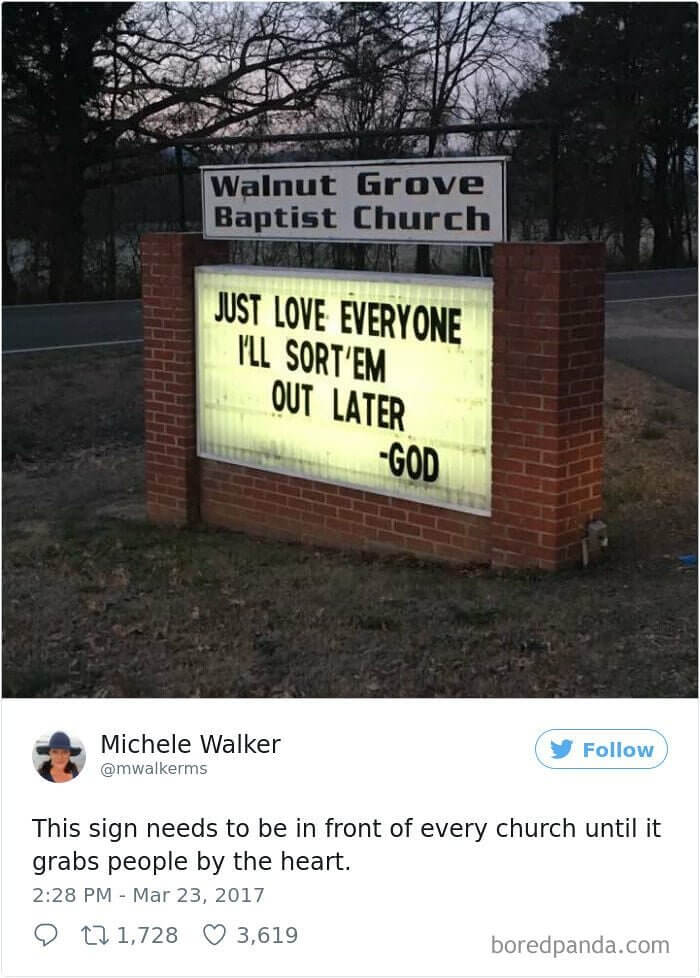 In these difficult times, it can be easy to blame others and spread hate, but according to the Walnut Grove Baptist Church, this isn't up to you. While we're not sure that this is a direct quote from God, you get the picture.
You Say Tomato
If you think there's something vaguely familiar about the design for this church sign, you wouldn't be the only one. This church has taken more than a little inspiration from the packaging of everyone's favorite ketchup bottle.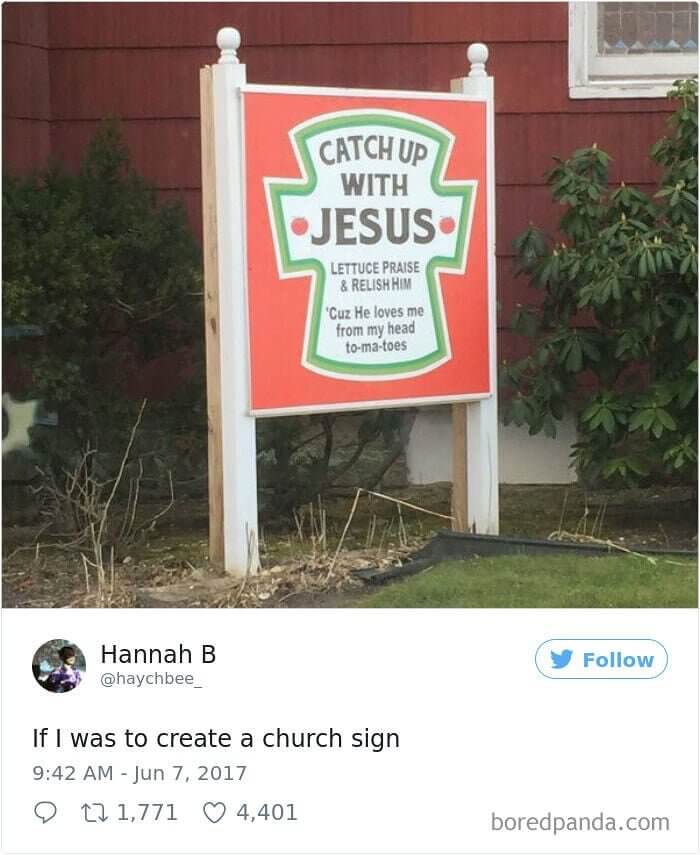 Whoever ordered this must have been pretty confident it would be a winner, as unlike the other signs on this list, it can't be changed. Of course, it's those cheesy puns that make it so good – and led it to go viral on social media.
Revenge Not Required
Some of the funniest signs on this list might just as well be straight out of a joke book. They've been added just for laughs and maybe to see just how much attention they can get on Twitter or other social networks.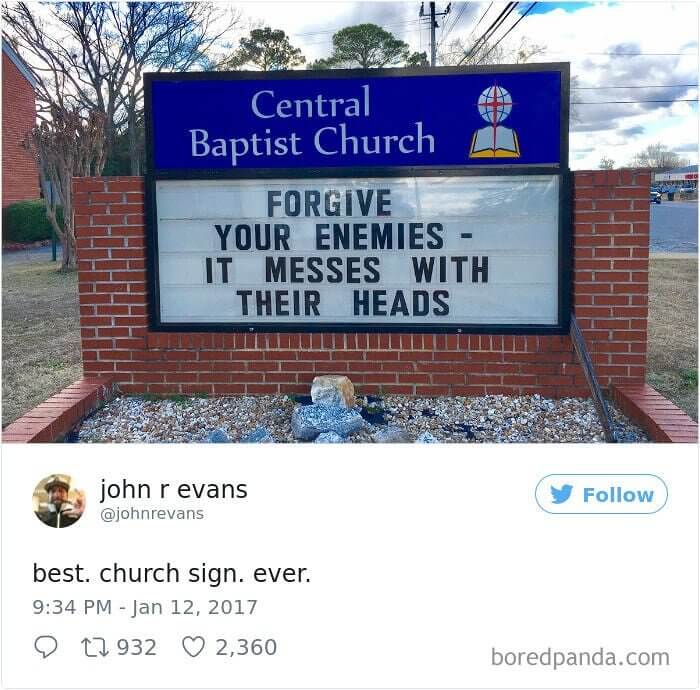 But the best ones combine a good sense of humor with a lesson that can be linked back to the church. This saying certainly hasn't been quoted directly from the bible, but the message is definitely one that we can get on board with.
God's Trail Mix
It must be difficult for the leader of any congregation in any part of the church to instill a sense of balance with their followers. On the one hand, the bible teaches that spiritual passion is important to faith, we've all seen the dangers of religious fervor that's gone a bit too far.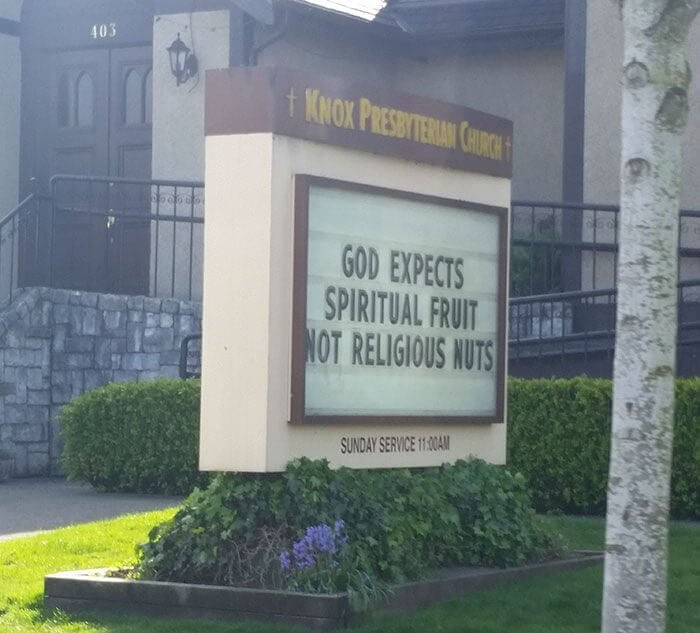 As we've said before, sometimes the best way to get an important but difficult message across is to add a little humor. Transforming these lessons into fun sayings is certainly one way to get people to remember them.
Raining Puns
When you're coming up with new ideas for a church sign, there's always one thing you can count on as being relevant: the weather! Not only is it topical, but it's also within God's domain – for better or for worse.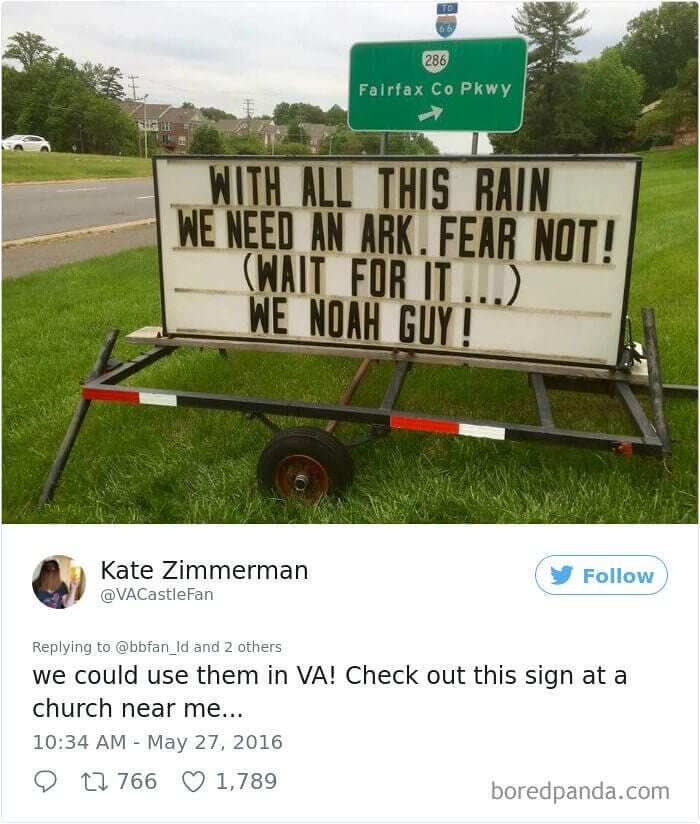 It looks like that in this particular world they were experiencing some of the worst of the weather offerings, bad enough to bring out visions of the great flood. But we're not sure that's quite a good enough reason for using a pun this cheesy.
Ouch!
The photo of this sign at the Knox Presbyterian Church had many people online questioning if it was even real. We've seen plenty of silly and lighthearted comments about heaven and hell, but none that go so far as to make fun of a funeral.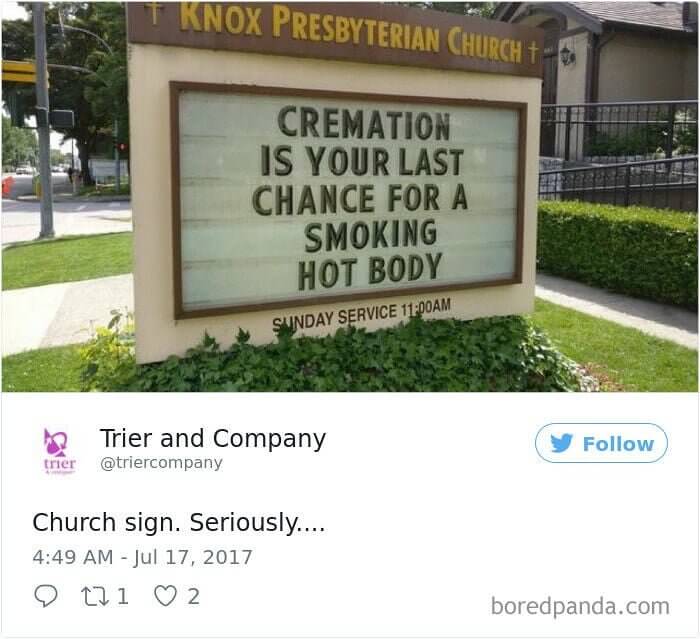 We know that a business has to advertise its services, but getting a cremation is the kind of thing you're certainly not going to impulse buy based on a sign – no matter how funny it is.
Modern Faith
One question many pastors must ask themselves is how to keep religion relevant to modern times. The messages might be timeless, but it's how you present them that can make all the difference for church attendance numbers.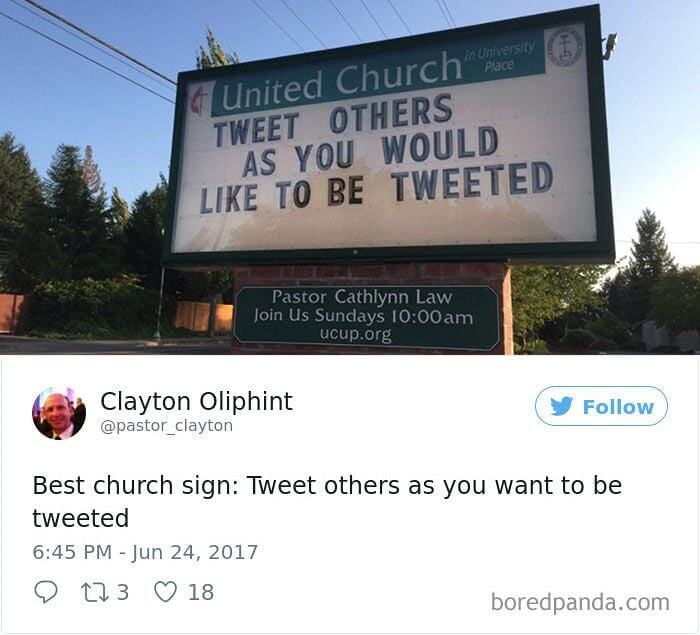 One way to do it is to put in terms that relate to our modern world, such as we see here with this twist on "Do unto others as you would have them do unto you." But really, this should be a guide for everyone with a Twitter account and not just the ones that believe in God.
Not So Relevant
OK, we're at a loss with this one. We're not really sure how this message relates to the church, or even how it might be used to get people in the doors. And come to mention it, it's not even a particularly good joke.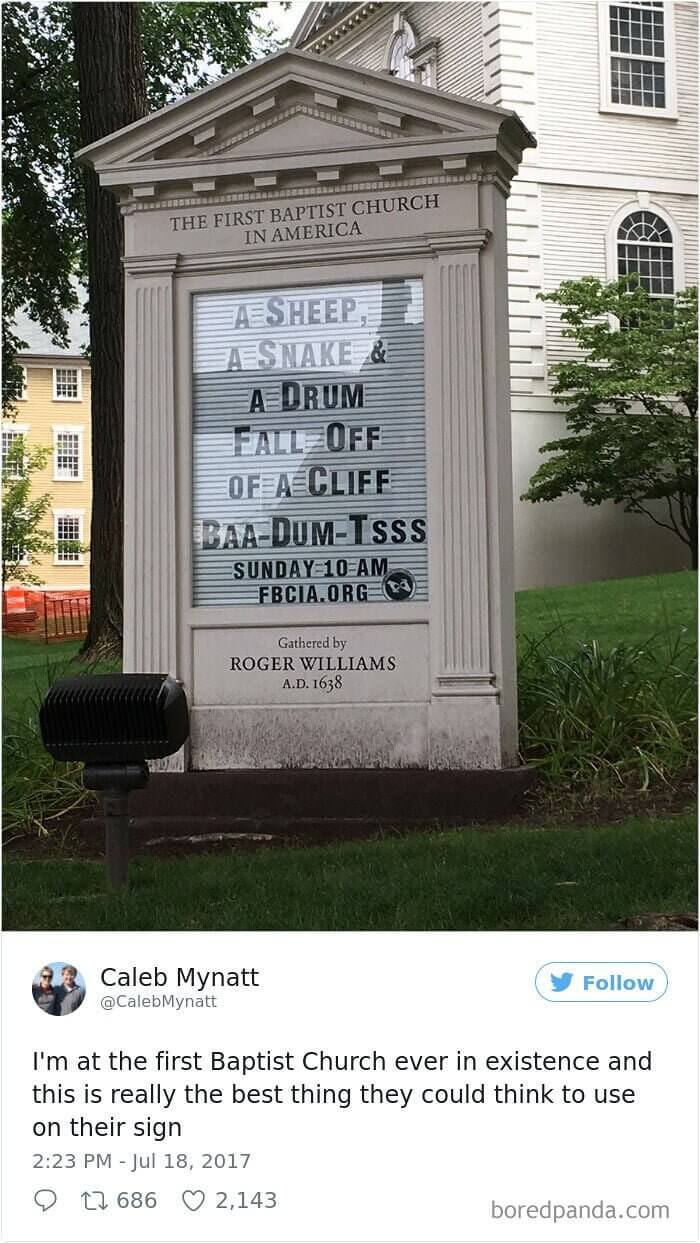 Even the Twitter user who originally took the photo couldn't understand what was going on. They posted the image with the caption, "I'm at the first Baptist church ever in existence and this is really the best thing they could think to use on their sign."
Getting Political
We're not going to point out exactly who this sign is referring to, but put together the pieces and we're sure that you can work it out. We'll give you a clue – this man is no longer president-elect. In fact, he's no longer president.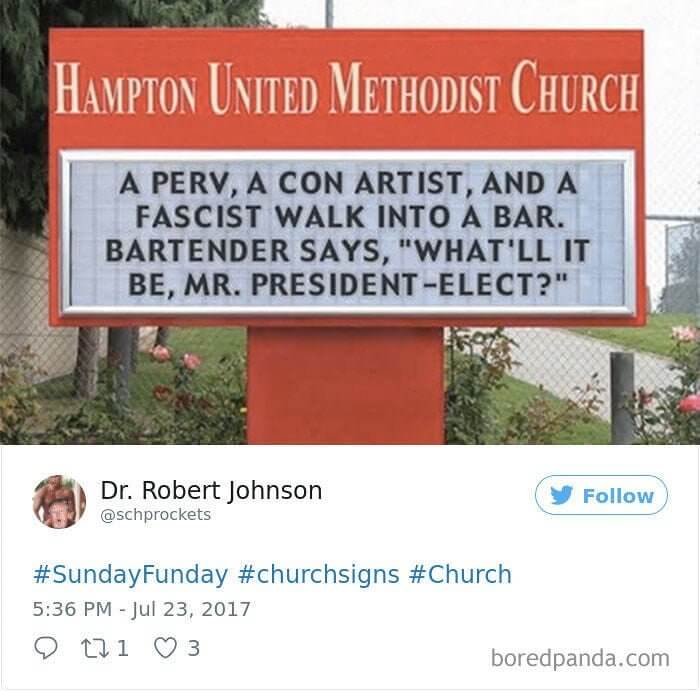 The sign composer here has come up with a pretty witty joke, which could actually be applied to many different public figures. But do you think it's a little out of line for the church to be commenting in this way?

Funny Bunny
As we've said before, pastors often have to find ways of raising attendance numbers. With our modern busy lives, not everyone has Sundays set aside for going to church. So one method is to give people a gentle nudge about how many times they've been attending.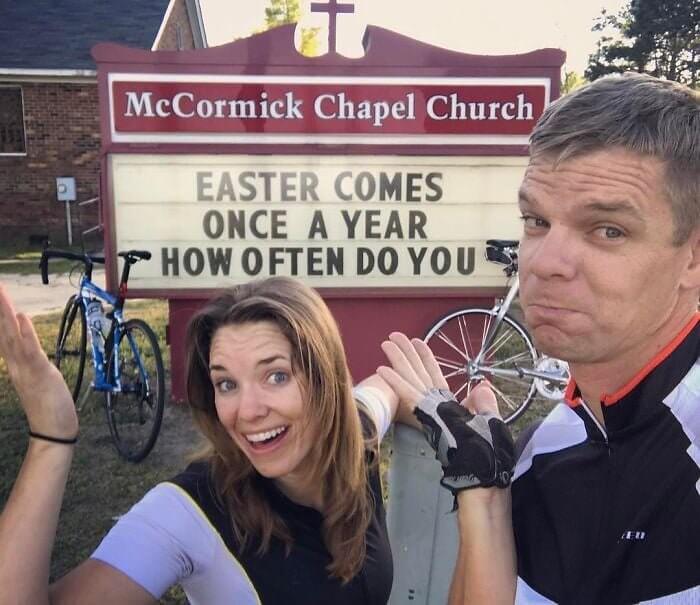 Easter is one time of year when people might make a special effort, so it's a good time to remind them to come more often. One thing we're not sure about though, is whether this signwriter was aware of the double meaning here.

Think About It
Most of us are familiar with the story of Jesus, even if you're not a practicing Christian. Fearing that King Herod would find and kill their newborn child, Mary and Joseph took the baby Jesus and fled to Egypt.

They had no papers, they were simply refugees escaping to safety. This story is normal to us in the context of the Bible, but many people struggle to apply this to the refugee situation that's going on in the world today.

Hot Water
Now this church has really nailed the art of the humorous sign. There's nothing controversial here, just some good clean fun, and with a joke that they can actually manage to relate back to the church and religion itself.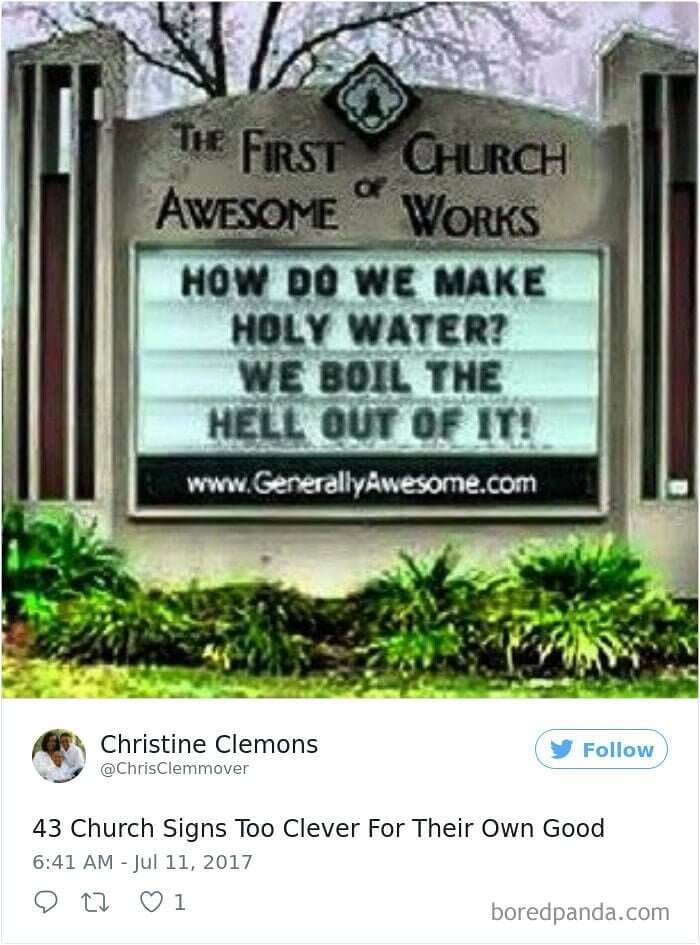 Of course, it can be a great idea to use these spaces to get the message out about important issues, sometimes people just want a good laugh. We do have to point out that there's a little bit of image editing here – don't go trying to join up with the First Church of Awesome Works.

All of the Animals?
You know the story. In Biblical times, God planned a great flood to clear the earth and essentially start from scratch. But to create the new world, he ordered Noah to build a giant ark and fill it with two of every animal so that they could repopulate the world.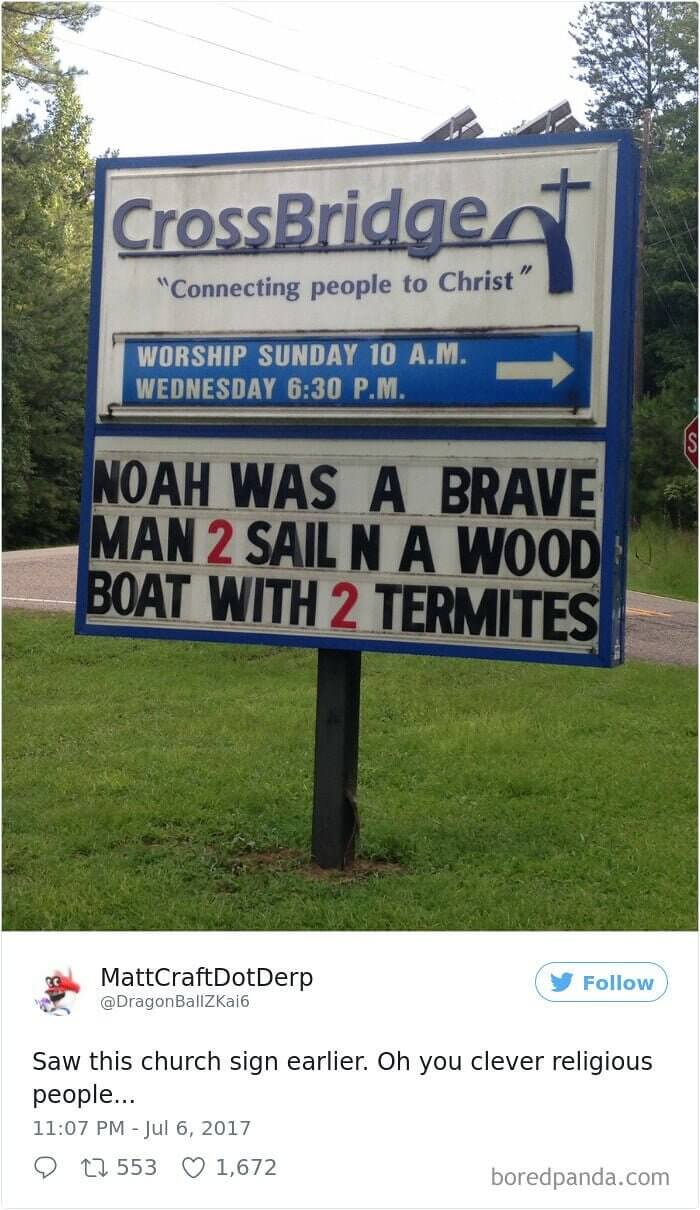 So far so good. We've all seen the images of lions and tigers and elephants getting on board in their pairs. But when God said all the animals, he didn't just mean the famous ones. Yes, that means two termites would be on board as well.

Everything Has Its Purpose
The bible tells us that everything on this earth was created by God. And so everything in this world must have its purpose. Many non-believers often have this question for Christians – how can God have created all of the bad things that we experience too?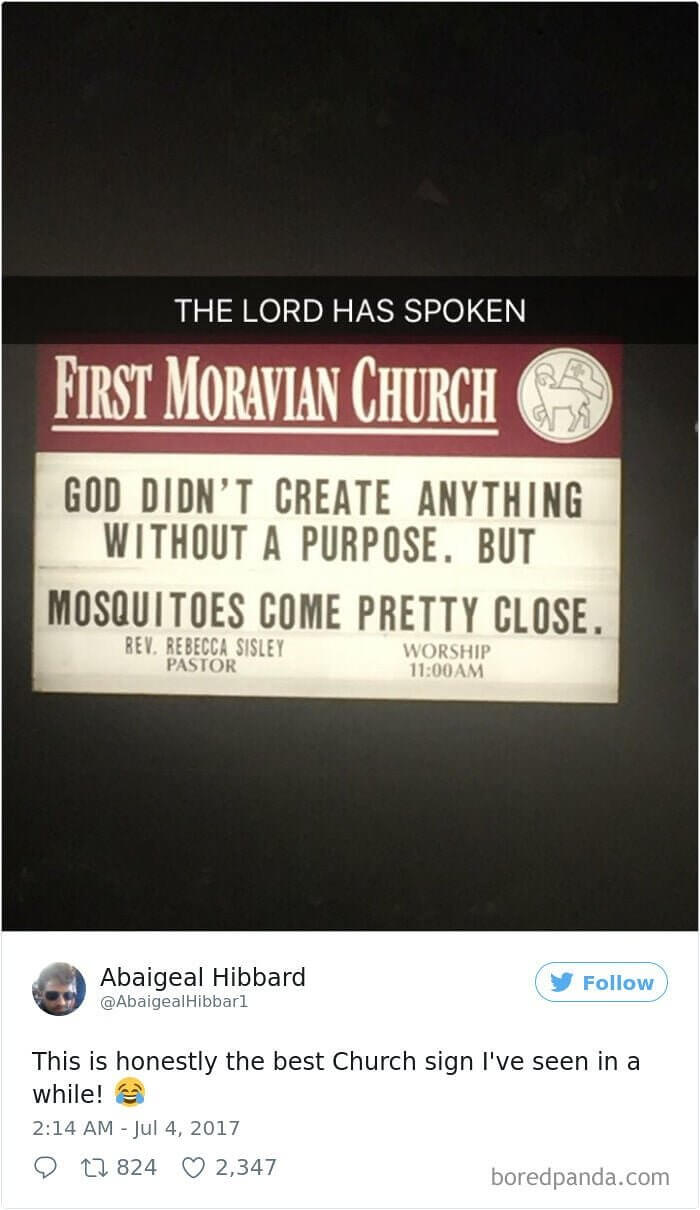 The most common answer is that God moves in mysterious ways and that we just have to trust that it's all part of his plan. But with this sign, it's nice to see that even the most devout of Christians can get frustrated with some of God's creations.

Down With the Kids
We've mentioned a few times that part of a church leader's duties is to find ways to connect with their parishioners and ideally increase attendance rates. This must be a particular challenge when it comes to the younger part of the population.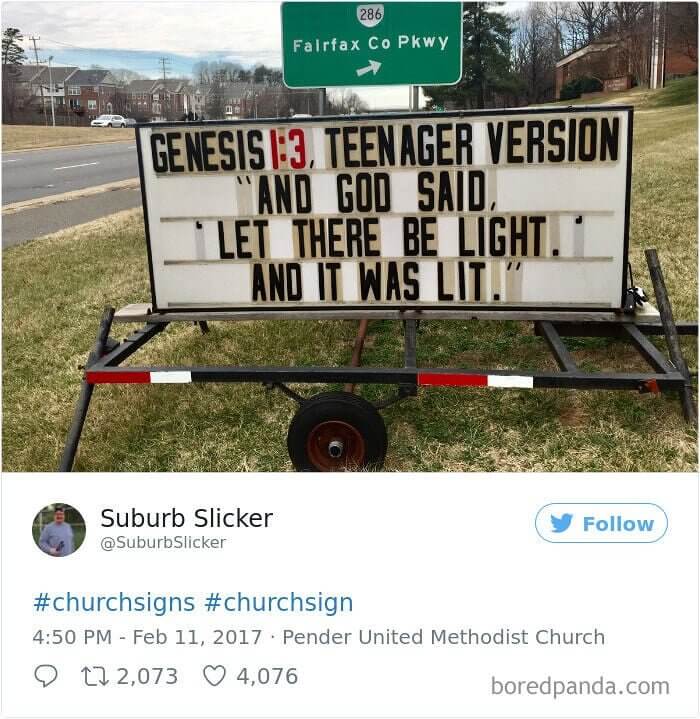 Someone here is obviously making a valiant effort to reach out to the teenagers in their area. But we think this is going to fall pretty flat. Unless of course, the pastor is trying to connect with parents on what it's like to have teenage kids!

Don't Exaggerate
Here we are back to the weather again – it's a popular topic for these church sings. From the look of this list, you would assume that every church here is in one of the hottest or coldest parts of the world – or sometimes the wettest.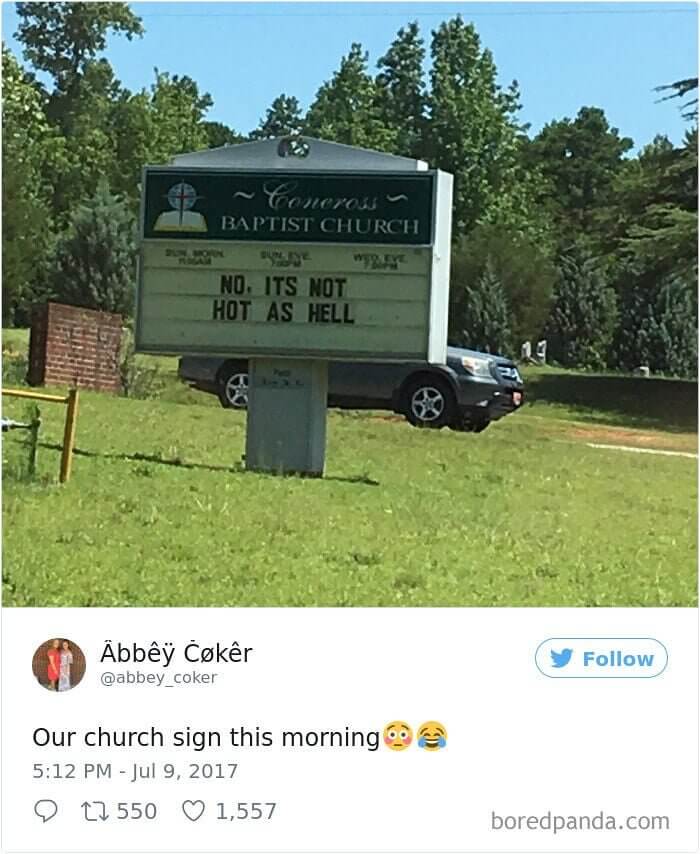 As a pastor, it must be frustrating hearing people exaggerate about the weather, especially after preaching about the fires of hell. So next time you're complaining about the summer heat, just remember: there's always somewhere hotter you could be.

Slow Down
The Bible doesn't teach us about creation and the story of Jesus. Through its many parables, it aims to explore the ideas of right and wrong, and how we should be behaving as people. And for those that don't take the information as it's written, there's always a little prodding.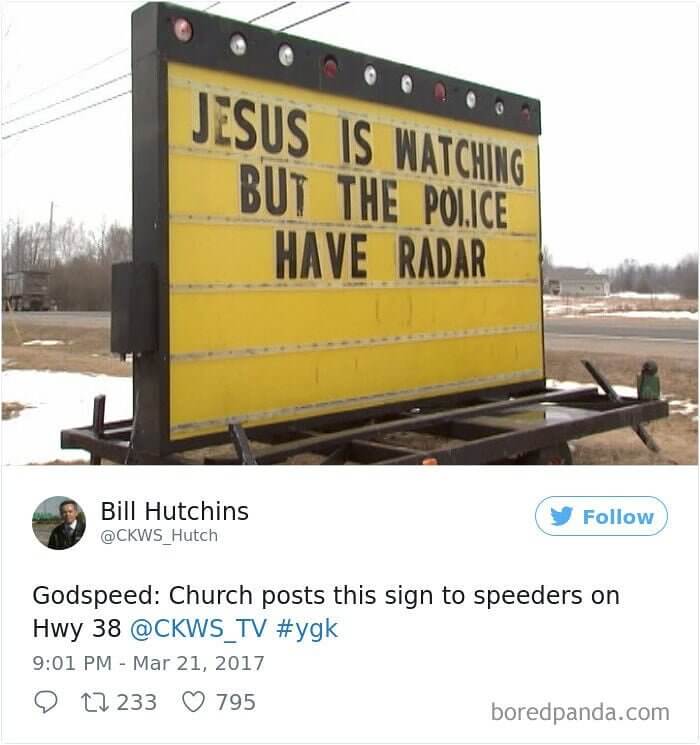 If we need an extra reason not to sin, we're told that God or Jesus is watching us at all times. And in the end, all of our misdeeds will catch up with us. But if you want people to behave now, it's the fear of a ticket that's going to keep them driving under the limit.

Aim for Perfection
Now here's a slightly different sign to end on. Now, this wouldn't work at all one of the outdoor signs, but this pastor has found a way to get a bit of humor into one of the less talked about areas of the church – the bathroom.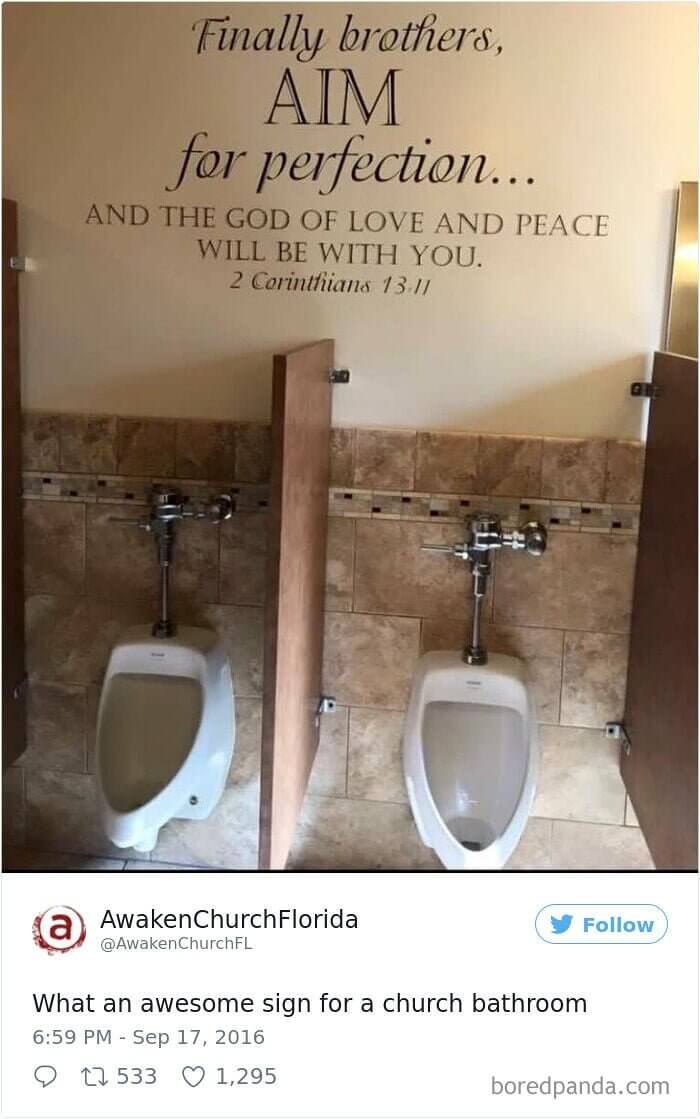 Dare we say it, but perhaps this church has a female pastor. While a urinal at least doesn't have a lid that can get messy, keeping men on the straight and narrow so to speak must still be an issue. Or perhaps the sign was put up at the request of the cleaner.