Is there anyone among us who doesn't have secrets? Indeed, it's hard to tell your spouse or partner everything, especially ones that are too embarrassing to reveal. Nevertheless, this compilation proves that not all secrets people keep from their spouses are shameful. Most of them are too funny not to laugh out loud.
The Cat Did It
Lying is normal for kids, especially when they do something wrong, such as brake a vase in the living room. Because they fear the repercussions, they would hide any evidence of their wrongdoings. Well, it seems this husband's childlike qualities persist because he let the cat take the fall for the towel rack breaking.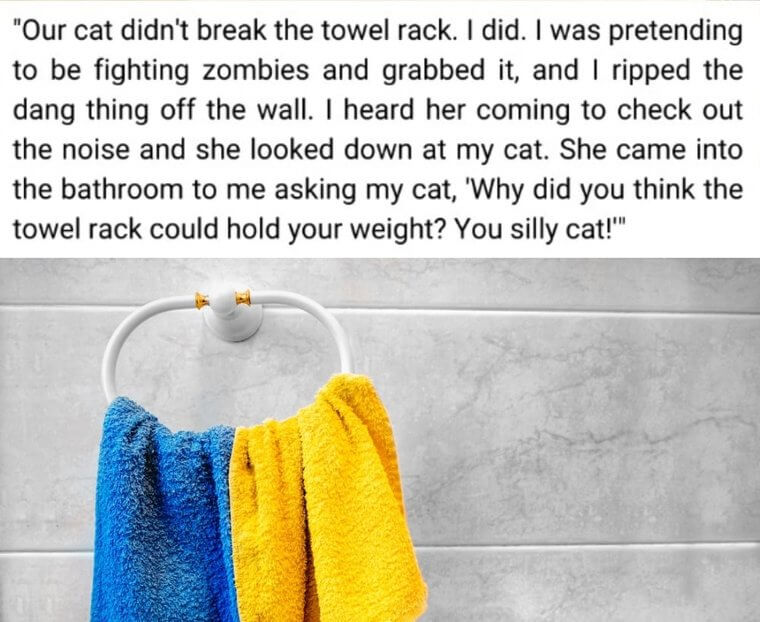 Not only that, but he also likes to play pretend by himself. You know, like when kids play alone, acting like they're someone else, such as their favorite superhero. This silly guy imagined he was fighting zombies, probably after watching The Walking Dead or World War Z. It's a good thing cats don't talk; otherwise, this husband would be in a lot of trouble.
A Secret He'll Never Tell
Although childbirth is a beautiful thing, it can be messy. One of the worries of would-be moms is "doing number two" while pushing their babies out. It does happen, not to all birthing women, but to some. Because it's a private act that should be done in the bathroom, pooping is one of the top childbirth fears of women, including this man's wife.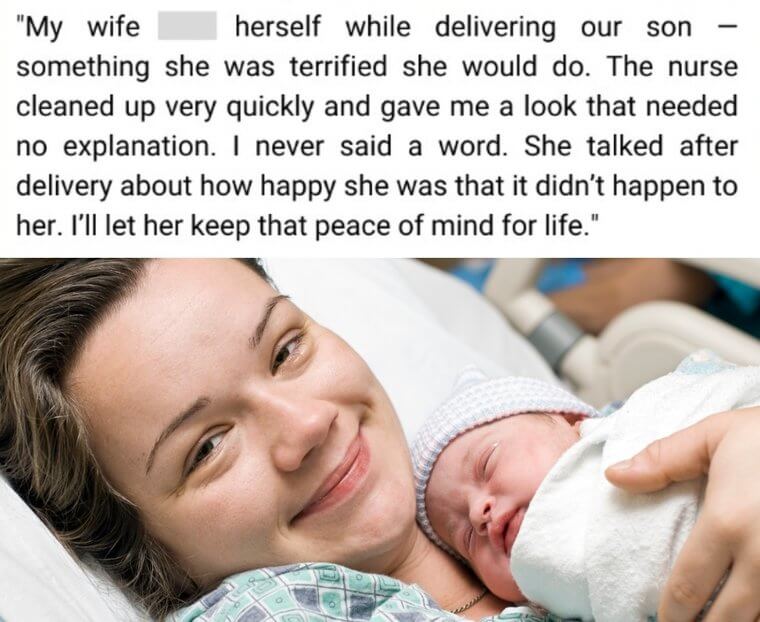 Luckily, the nurse present cleaned up the mess before the patient noticed what had happened. She must have already assisted in many births and knew how to handle the situation. Kudos to the husband for keeping his wife's secret for her peace of mind. That's the least he could do after all the childbirth pain his sweetheart went through.
Practicing His Marriage Proposal
It takes a lot of effort to maintain a romantic relationship. Suppose one partner is deaf and the other is hearing; what happens then? Yet, there really is not much difference, especially when the hearing impaired is an excellent lip reader. No wonder many such relationships work, like this couple.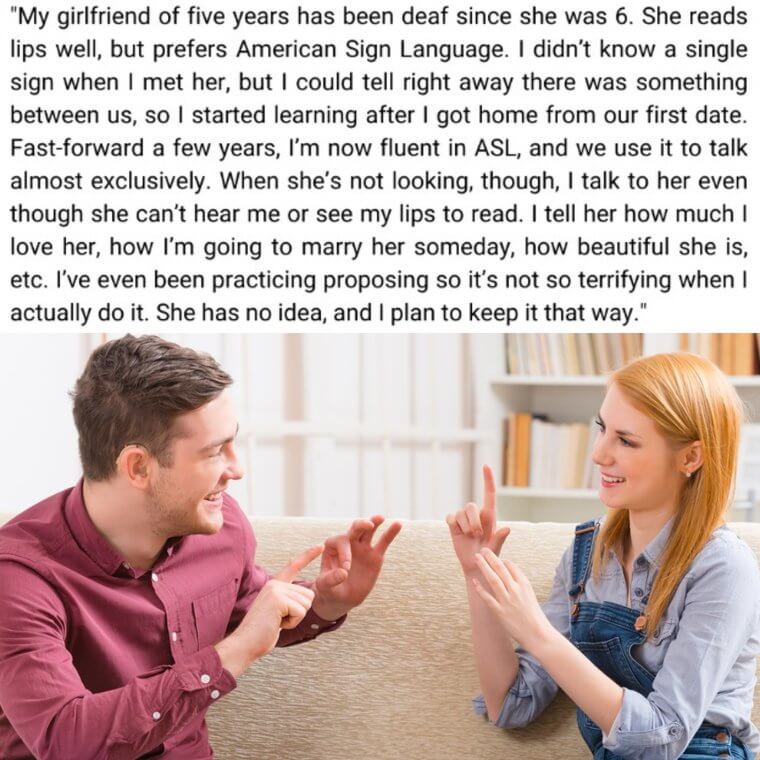 The guy is so devoted to his girlfriend that he learned ASL, even becoming fluent in it. How sweet is the secret he keeps from her? No need to practice proposing from afar; he could do it with her beside him. Of course, the only difference is his sweetheart is facing in a different direction.

A Husband's Smoothly Executed Secret
Personalized gifts are a great way to show someone how much you care for them. We understand how this man's wife treasures the gift her sister gave her. Its print was probably a limited edition or something the lady designed herself. Despite it looking rare, though, it was hard not to recreate for this smart man.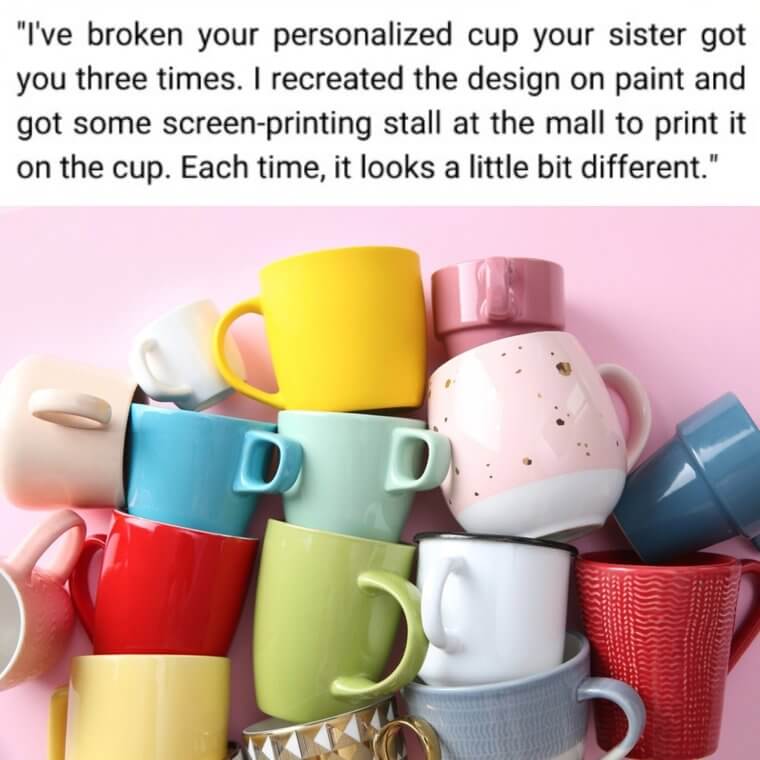 The big secret he kept from his wife was breaking the precious mug three times. Every single time he did, the guy had a similar cup made. The gift may be special to his wife, but it seems she did not pay much attention to its design; every time it was remade, the distinctive pattern looked a little different.

Always Has One More Roll Left
Yahtzee is a dice game that has been a favorite for over a decade, bringing happiness to parties, gatherings, and family game nights. One reason why it's beloved by many players is it can never be boring. You get a different objective every time you roll, keeping the game engaging from beginning to end.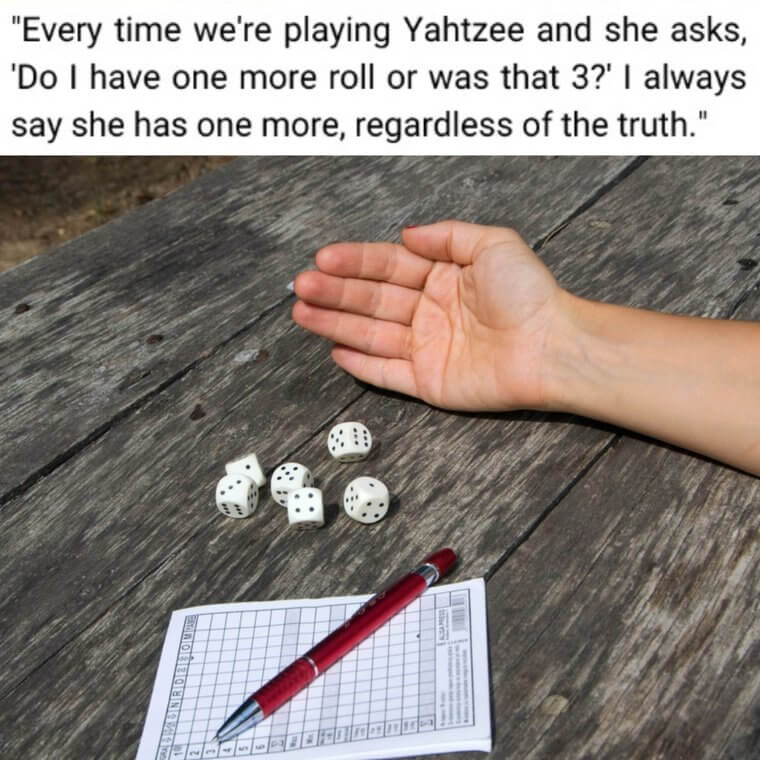 For each turn, a player gets three chances to roll the dice. One husband plays the same trick to her wife every time they play Yahtzee. He tells his spouse she has one chance to throw the acrylic cube. We cannot decide whether the deception is sweet or mischievous.
Using Kids to Get a Crush's Attention
Most of us have done things we aren't proud of in the name of getting our crush's attention, so even though we may want to reproach them for it, we understand why this person would use kids to get what they want. Yet as horrible as what they did may sound, can we blame them when they all wanted a shot with the girl of their dreams?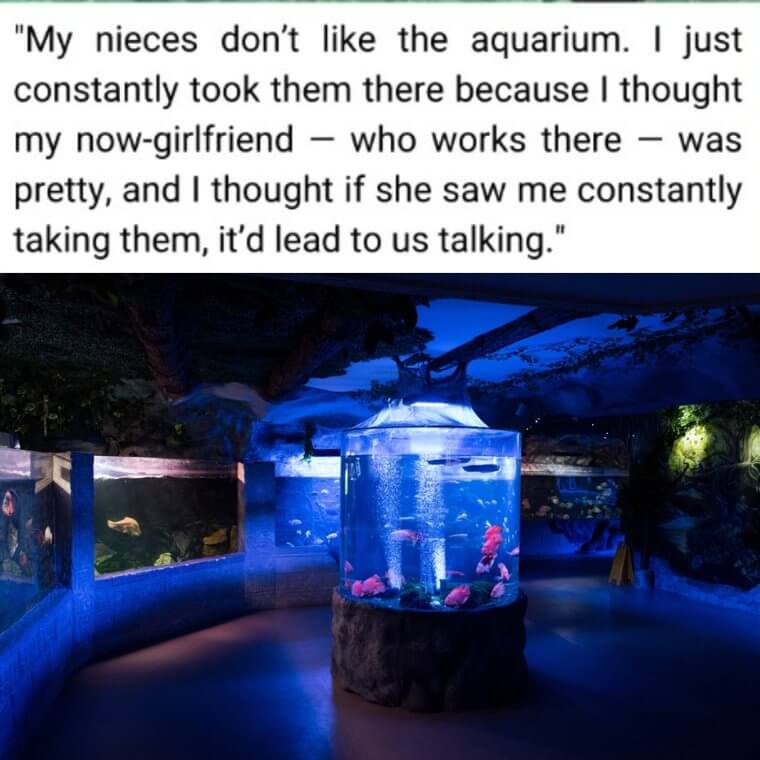 Besides, the nieces weren't hurt in any way during this process. Granted, they didn't like the aquarium, but at least they got to appreciate nature and to bond and got to bond with their uncle during these trips.

A Dream Career That's Better off Unshared
It's important to share our biggest dreams with the people we love. This way, we build a connection with them while also making them our accountability partners who will remind us of these aspirations and steer us back in the right direction when we lose focus.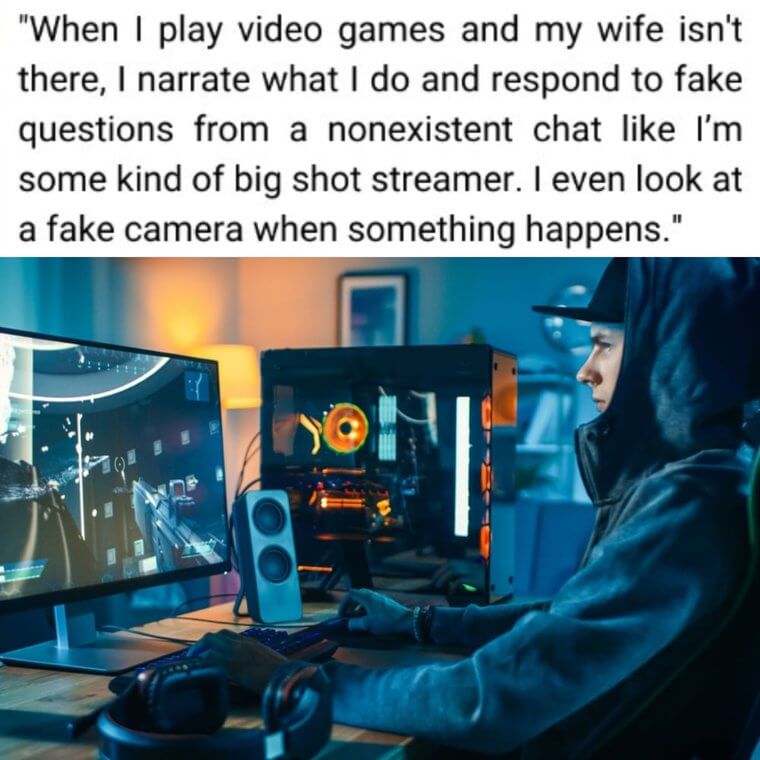 What if the ambition, though, is to be a gaming streamer? While a number of people have made it through this chosen career path, let's be honest; not everyone is cut out for it. Besides, if this guy ever decides to be a streamer, although just for a while, it may take away the financial stability he and his family currently enjoy.
An Intruder That Turned Into a Friend
It's common to have wild animals visit someone's yard every once in a while. Some people are scared by this thought, while for this person here, they look forward to having a badger come by every morning.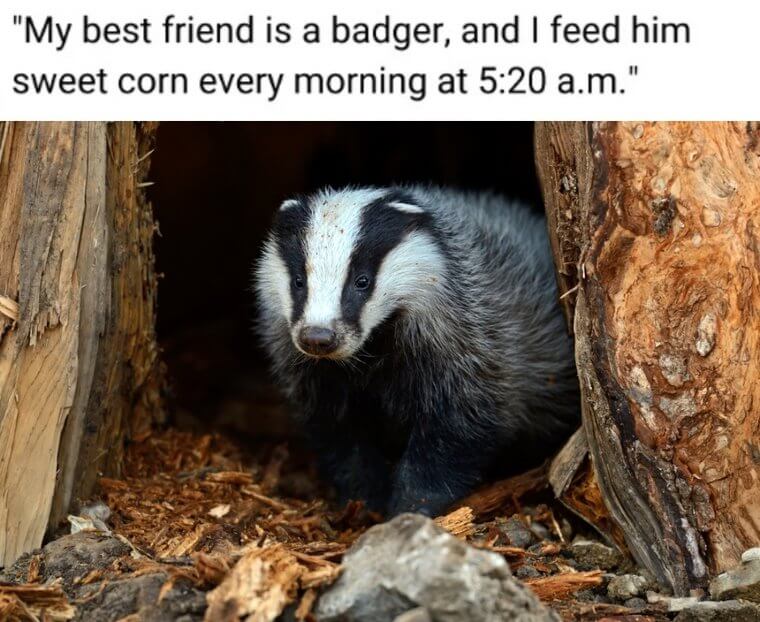 Not just that, but they also enjoy feeding this mammal, whom they now consider their best friend. Although their partner may not like the idea at first, as it only encourages the badger to keep coming back, we have a feeling they would eventually warm up to it as well. You fail to tell them about this special creature in your life, and as soon as they spot it, they call the wildlife department, and the best friend's gone for good.
Embarrased by Loving One's Spouse More Than Before
We're no love experts, but we know without a doubt that this person's attraction to their wife is normal and exactly how love should be. The more you spend time with someone, the more you love them. Little things such as how they care for you and your children and ensure everyone is well become more apparent, so why would it be a surprise that you love them more?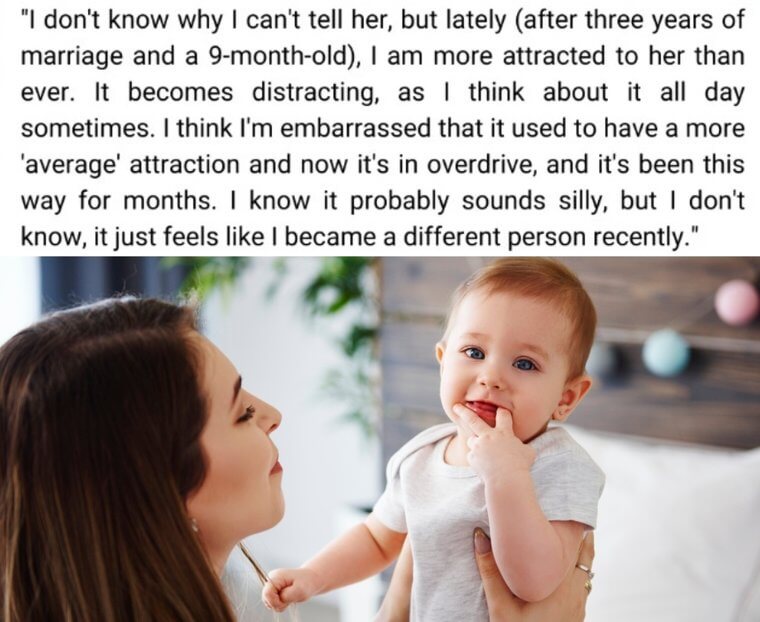 No need to be embarrassed about it; tell your partner how you feel. You're most likely to have a positive reaction rather than the negative one you've imagined. You might even find out that you're not crazy, as your partner feels the same way you do.

A Desperate Attempt to Destroy All Incriminating Evidence
Whether it's watching ten episodes of your favorite TV series back to back all night long or eating an entire pack of chips in one sitting, we're all guilty of excessive indulging every once in a while. Even so, it's hard to admit this to others, especially those closest to us, out of fear of judgment.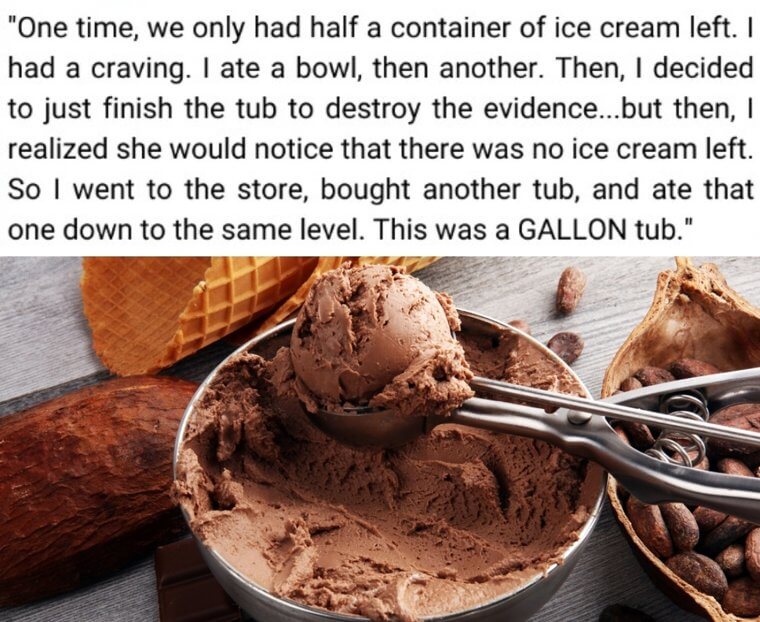 We promise we're not judging you mister, but how did you not get sick after eating all that ice cream? Destroying all evidence, we understand, but wouldn't you have just told your wife that you had a guest and decided to serve them some ice cream?

Momma's Cooking Is Below Par
In many homes, the woman's usually the one handling cooking duties, except in cases where the husband is a better cook. For someone who whips up some of the most delicious delicacies out there, it must feel weird to taste something that's not up to par.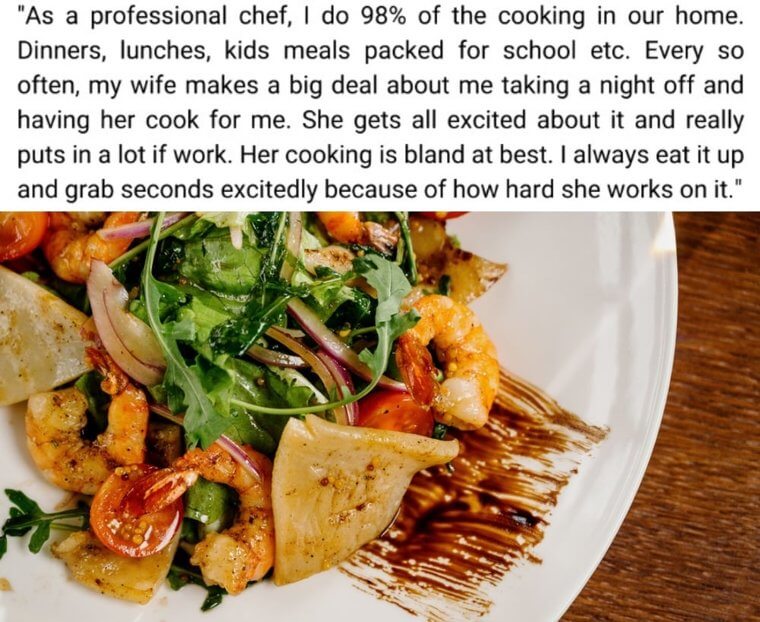 A typical example is this man who does most of the cooking at home because he's a professional chef. On days when his wife decides to impress him with her cooking, he usually has to force himself to enjoy the meal, not because the woman is a good cook, but because she has put in so much effort to cook him something. He should try to teach her a trick or two in the kitchen.

Anything to Make Him Happy
Love can make us do anything, no matter how bizarre it might be. This woman has noticed that her husband has a strong passion for cargo trains, and she indulges him whenever she can. For instance, whenever the lovers are out, she drives by a train depot so her husband can get a glimpse of his favorite machine.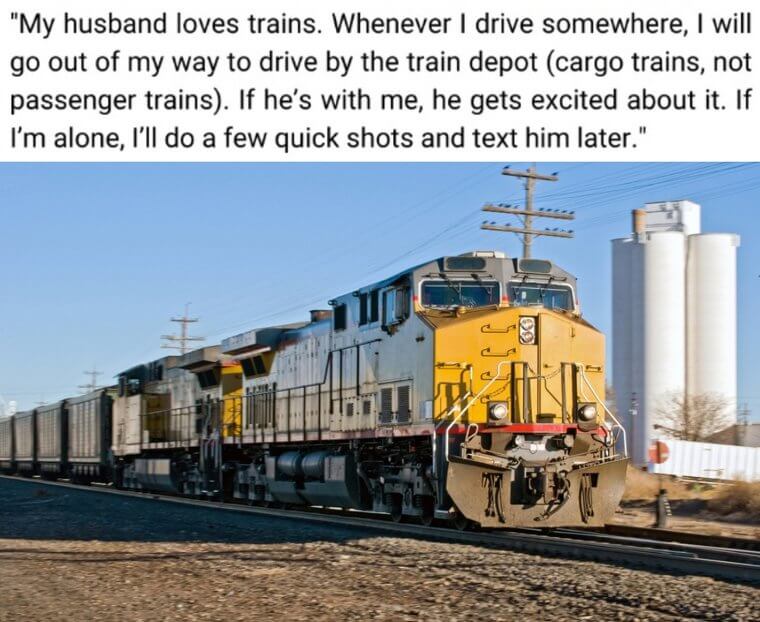 Also, on days when it's just the woman in the car, she still stops by the depot to take pictures to show her husband. The woman is obviously not a fan of train depots, but she goes out of her way to keep her husband happy—a virtuous woman indeed!

Chicken Wings Got Him Good
We can't blame people who're addicted to chicken wings. Who can resist the spicy and crunchy nature of those wings? Well, that's unless you're a vegan. Still, as addictive as this piece of meat can be, some people can go overboard to satisfy their love for it.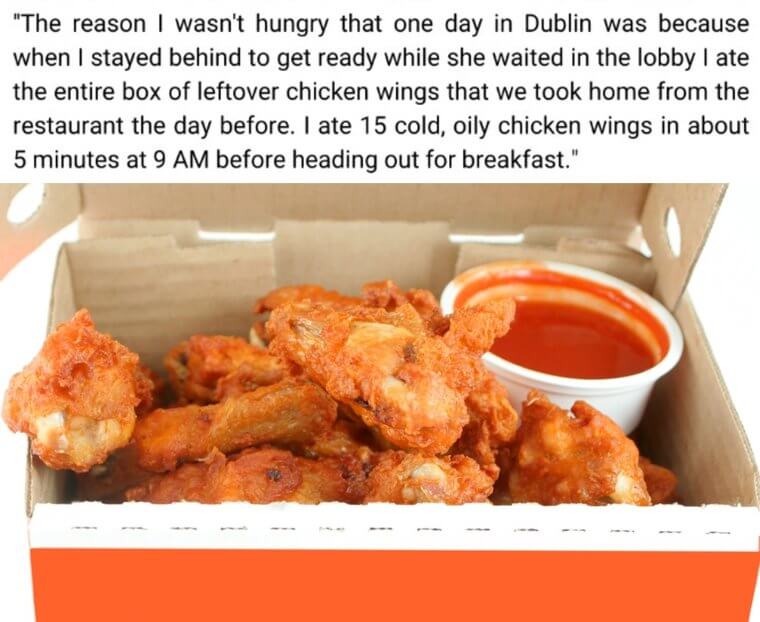 This man and his wife had a box of leftover wings from the previous night's dinner, but it looked like the husband couldn't get over that deliciousness. So when it was time for the couple to go out for breakfast, he snuck back into the room to devour all the wings. If his wife noticed that his wife didn't have an appetite that morning, we wouldn't know. Hopefully, she noticed that the chicken wings had mysteriously disappeared.

More Gist Partners at Home
It turns out that a cat's meow isn't for another feline; it's for humans and other animals. This information should mean something to cat owners -when your cat meows, it's most likely trying to communicate with you.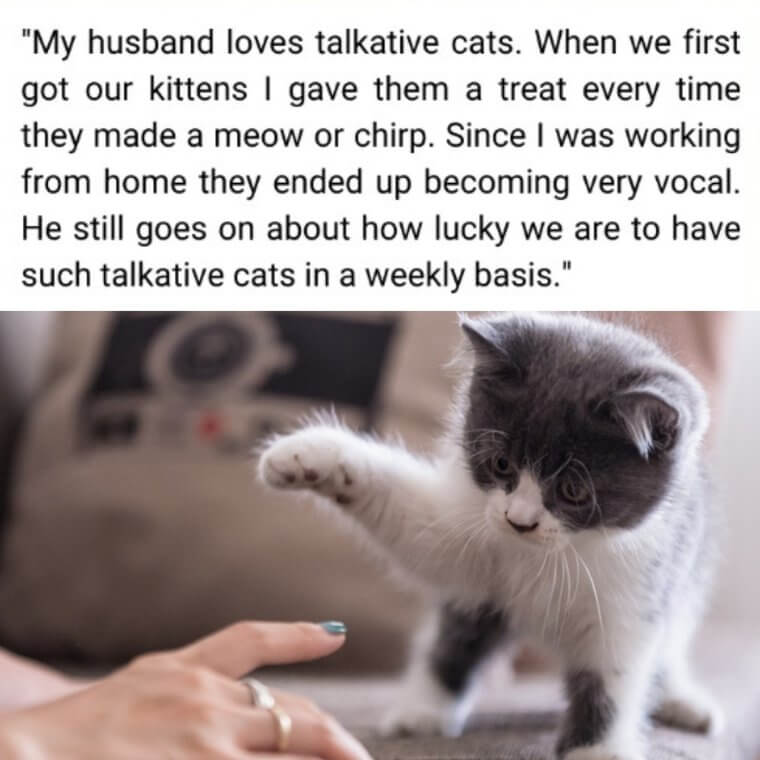 One man loves this particular trait in cats, and because of that, they trained their pets to be talkative. The wife did this by giving their kittens some treats after they made a meow. Now the couple is a proud owner of talkative cats, and the husband couldn't be happier. Just another day of doing something to make our lover happy.

Losing to Keep the Peace
Mario Kart is a highly competitive game, and it can even make or mar a relationship. There's just something about getting hit by a shell or falling off the track that gets us all worked up. Yet, no matter how competitive Mario Kart might be, it's still not a good enough excuse to fight your partner.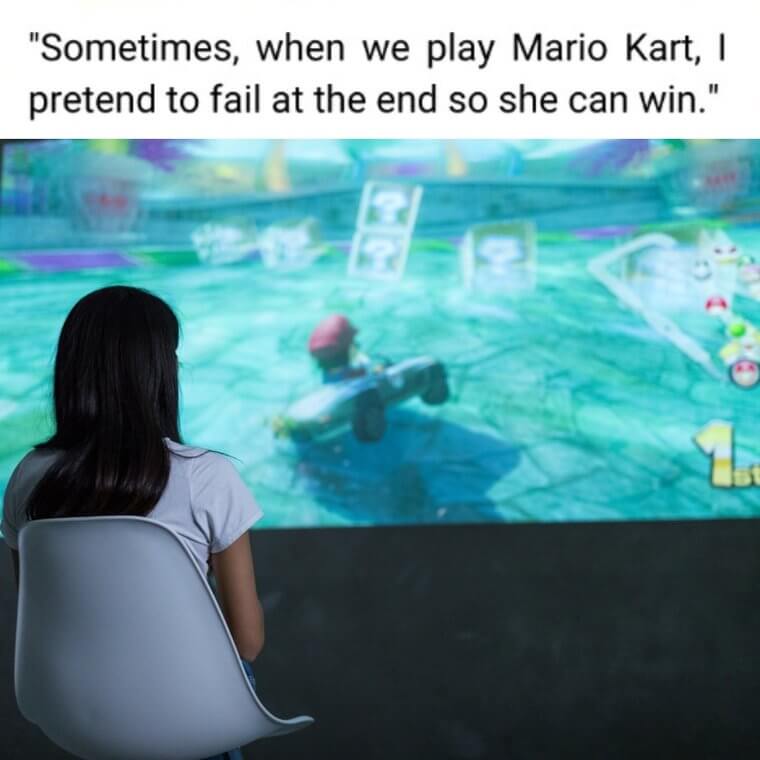 This is why this guy decided to be the bigger person by pretending to lose so that his girlfriend could win. Did someone say, "a knight in shining armor?' Of course, he is! Who wouldn't love a guy who'd do anything to ensure peace in his home?

Secrets Can Double the Happiness
The moment a youngster takes their first step is indeed noteworthy for new parents. They deserve a chance to experience that feeling because it's undoubtedly one of the best "firsts" to celebrate in a couple's life. The sight of their little one toddling around fills them with pride as it's one of the early indications of how fast the baby is growing.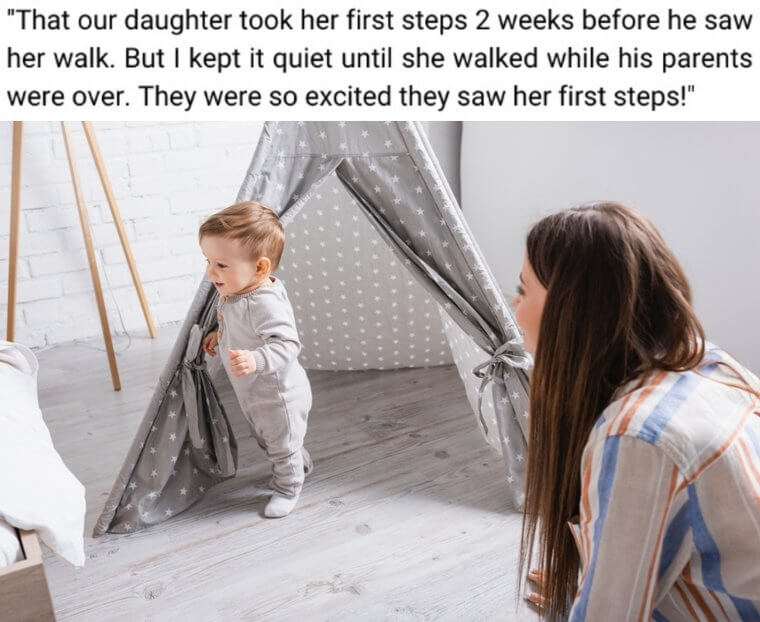 Here, this lovely secret amazed the father and also the grandparents by gifting them a glorious moment. We can completely see why everyone treasured it. So, no wonder that such secrets should be maintained for the grandparents' joy.

No Offence in Not Sharing Airheads
Returning home with cute little surprises for your spouse is no wonder the best feeling ever. Any relationship may greatly benefit from them to rekindle its spark. One's day can be made with just a simple candy that expresses your concern for them. Every gift has a special emotion attached to it that enhances its value and the recipient's joy. Yet, what if they don't get it eventually?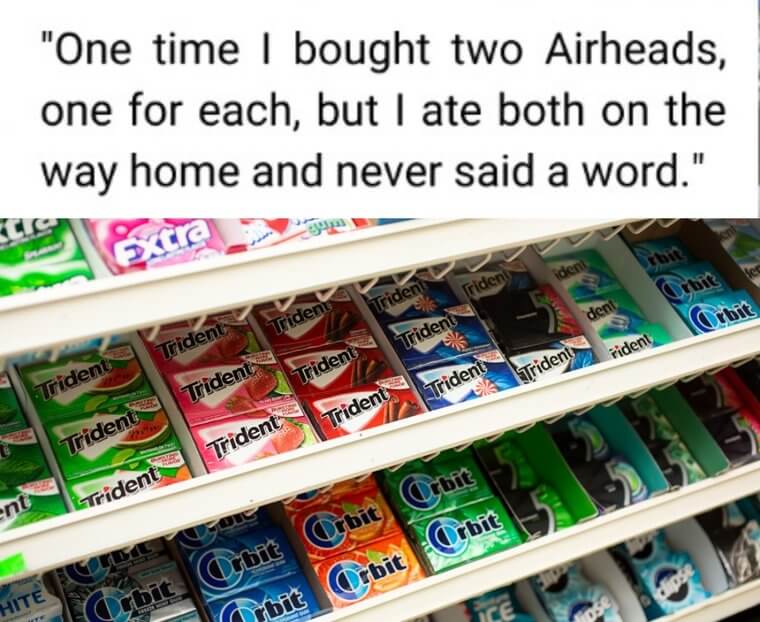 Here, the partner wouldn't be upset as he barely knew that an Airhead was on its way. What isn't known in the first place can't possibly cause suffering, except the loss of a tasty delicacy.

Tricks to Evade Saltiness
When the seasoning is right, our recipe will turn out nothing less than perfect. Even distasteful foods tend to get tasty from the addition of salt, sugar, and other condiments. However, too much salt doesn't seem good for any dish, and anybody who has tried to prepare and eat pasta after putting in too much salt can tell you so.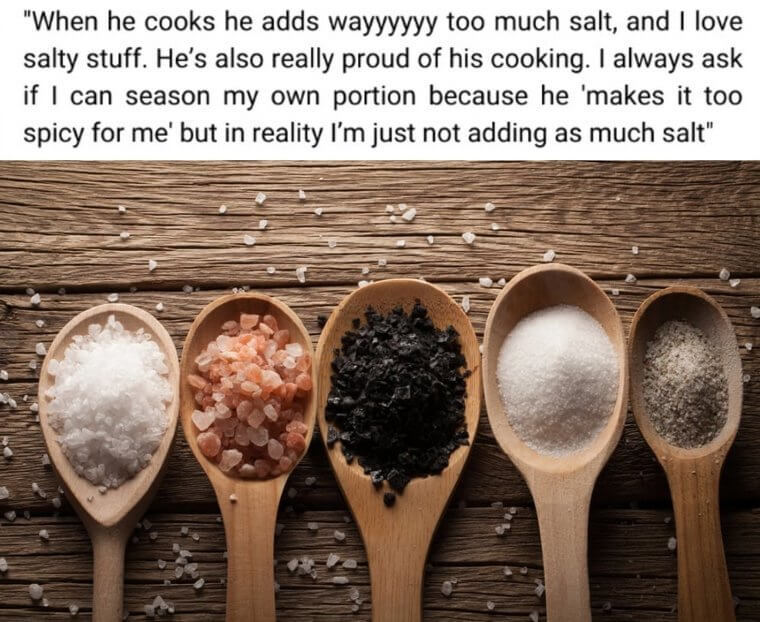 We love how this individual devised a great strategy to solve the problem without making their spouse feel bad. Yet, wouldn't it be a lot simpler to just ask them to be mindful while adding the salt or tone it down?

No Hole Was Hit
Monarch butterflies are among the most beautiful creatures but sadly, they are on the verge of extinction. However, this prudent lady took it upon herself to disperse seeds of milkweed plants around to save the butterfly species because their caterpillars consume its leaves.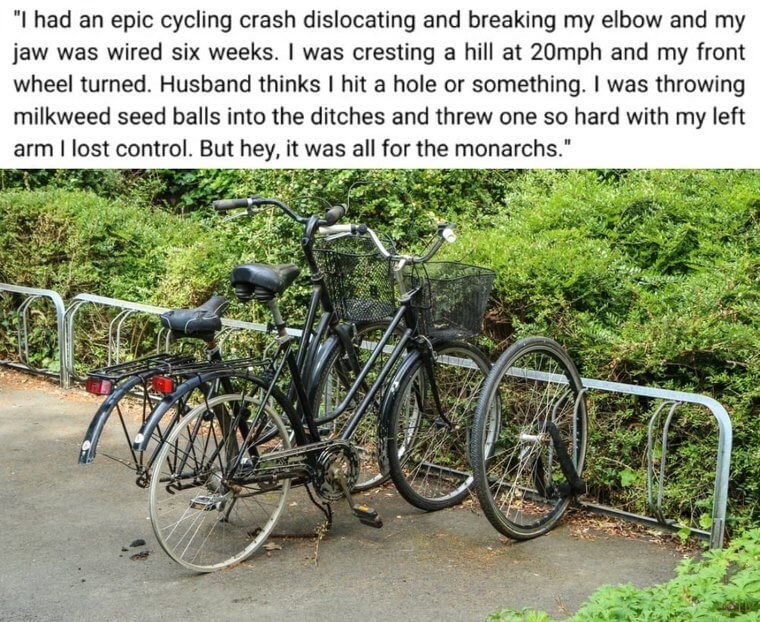 Such kind of action is indeed kind towards nature. Yet, this person ended up in a severe accident while doing so. Also, being embarrassed by the mishap, she chose to hide the real reason from her husband. We guess the spouse would feel safer with her cycling ventures if she said what truly caused such a collision!

The Inventor of a Language
Some kids claim to have imaginary pals. Experts say that this happens because children love to explore the world around them and enrich their newly developing social abilities. Yet, did you ever hear of children creating other strange things, such as an entirely imaginary language?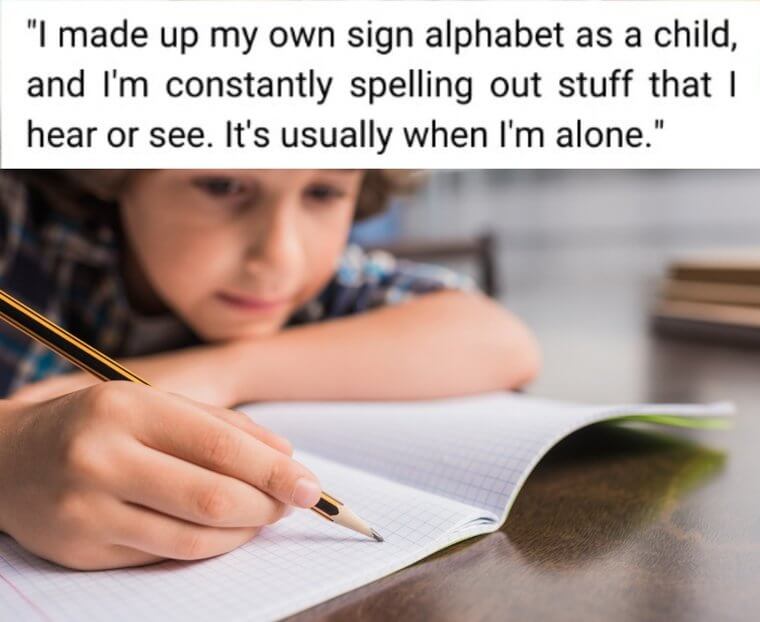 We simply adore how this individual has kept on using his fictitious sign alphabet, even as an adult. Well, no wonder their spouse would find it amusing as well if they ever discovered it. Keeping secrets in a marriage is not a great idea, but there might be even worse stuff one can disguise, after all.

I'm Not That Hungry Today
Perhaps one of the most calming and relaxing parts of the day is coming home after a long day and enjoying a nice meal with our partner. Many people look forward to sharing a meal with their partner, but what if the partner is living under the delusion that they can cook like a professional chef?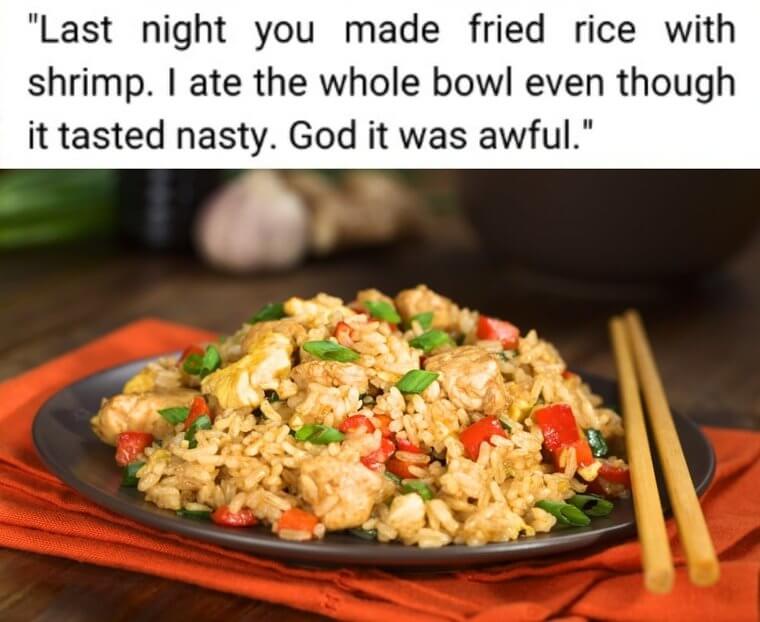 Well, in that case, people can end up in somewhat similar situations like this post. What is even sadder is that this person cannot reveal the ugly truth to their partner, maybe because they love them too much. Poor things could only make a social media post about it to relieve some stress.

I'm Not That Hungry Today
We are completely right when we say that the internet is filled with emotional posts. Many of them are fabricated just to get people's reactions, but some are genuine to their core. When we talk about genuine heartfelt posts, this one tops the list with ease.


This woman has literally poured her heart out for her husband in this post. When they say that children make marriages even stronger, they mean it and it's also pretty evident in this post. The arrival of this baby boy has not only made the couple parents but has also made the wife fall in love with the husband all over again.

When He Enjoys Her Frustration
Being in a relationship is very cute. We get to enjoy the company of our favorite person for the rest of our lives. Where relationships are beautiful for the most part, they also show us the interesting sides of our significant other too.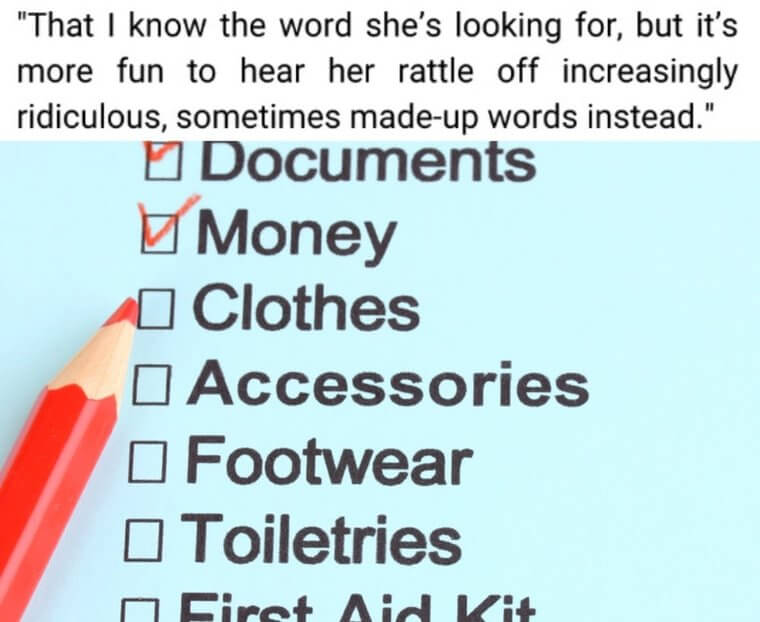 This poor woman seems to have trouble remembering words. She easily gets frustrated when she can't think of the word she wants to use. What's even funnier is that she is in a relationship with a man who finds it very cute and enjoys every time she is looking in the air trying to get the word to her mind.

She Is the One
Getting into a relationship or deciding to settle down with a person can be hard sometimes. How can we tell for sure that this person is the one we've been looking for? Well, while some of us are in this pickle right now, this guy should know for sure that she is the one.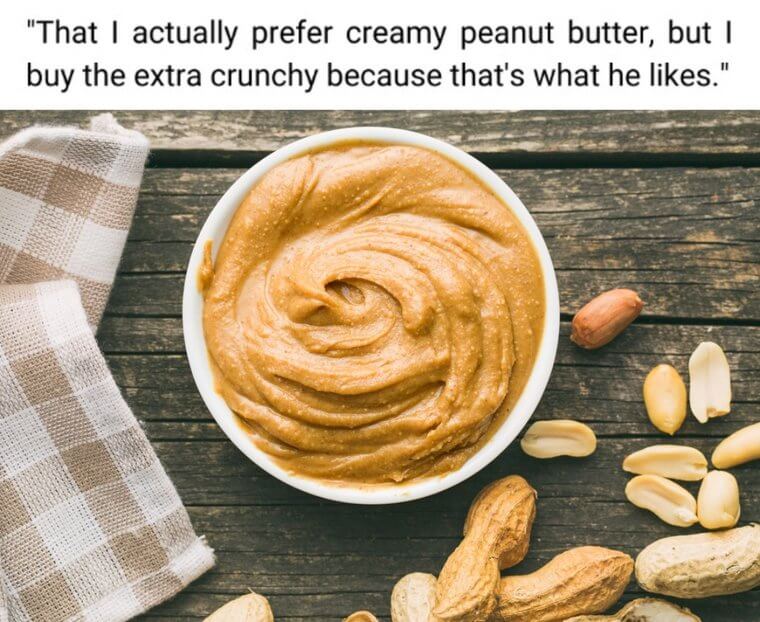 Why? Well, it's clear. She knows how much he loves the crunchy peanut butter. So she buys the same every time. While this might not seem a lot but let's just keep in mind that she likes it better when it's smooth. This woman puts her man before her and this trait wins our hearts.

The Feeling Is Hard To Explain
Usually, when we see someone picking their nose, we get grossed out immediately. Why not, it is categorized as a weird thing to do in public. This is why many people do it when they are all alone, or at least think that they are alone, just like this woman did.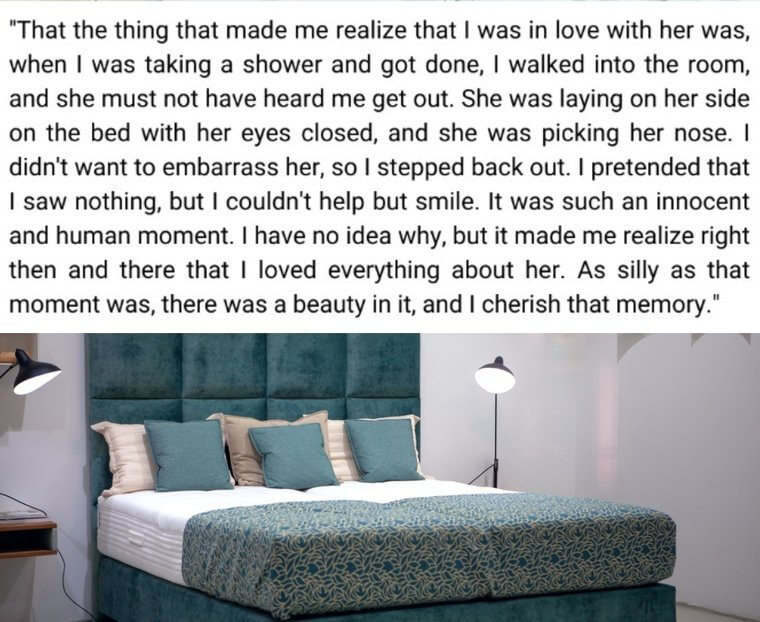 Poor thing was having a very private moment, and that is when her partner walked in on her. This is where things get interesting because instead of being grossed out, this man just stood there admiring his lady. To others, it was weird, but ask this man how much in love he felt with this woman at the moment.

These People Are Unable to Forget the Most Embarrassing Things They Did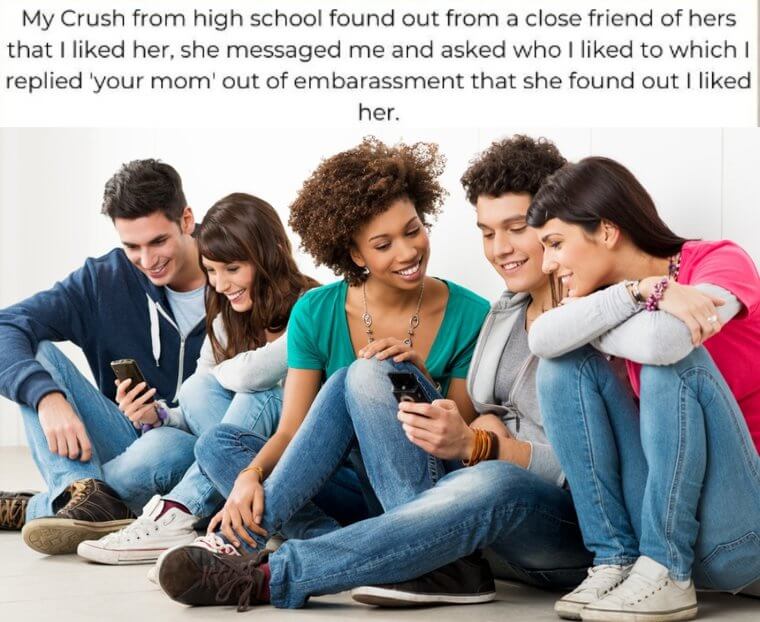 We're all flawed, and that's why we have done and will do even in the future when we know better, something we're not proud of. So instead of trying to act like a cringe-inducing event didn't happen, the best thing we can do is to own up to the part we played. Granted, such experiences are embarrassing as they're happening, but - as we will prove with real-life examples below - they become mad hilarious as we look back on them.
Embarrassed by Bodily Functions
The body reacts in surprising ways when we're nervous, and nothing proves this better than the reaction that this person's body had just because they felt shy about reading out loud in front of their class. Yet even without the nerves, a sneeze isn't a bodily function we can easily tame.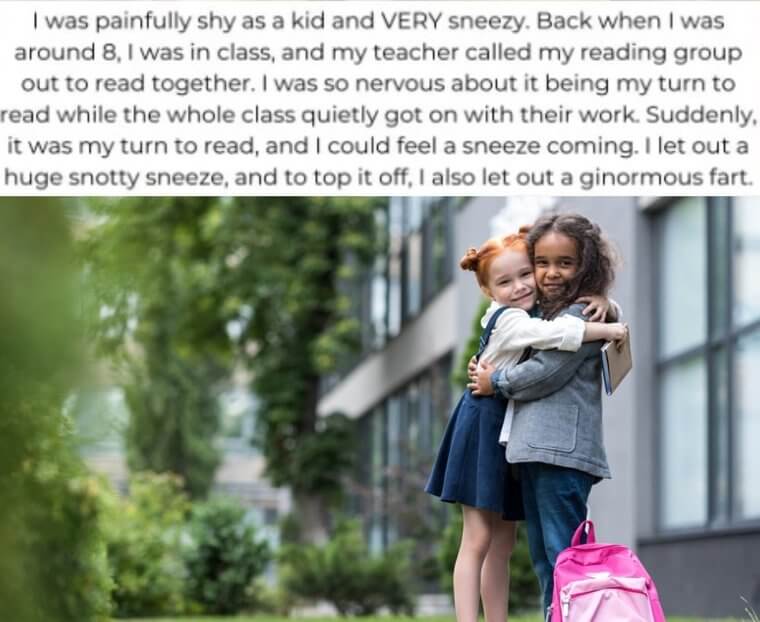 DeliciousMonk, if ever you get to read this, you were only about eight, and we're assuming probably most of your classmates were also around this age. So they've probably already forgotten about this incident, and it wasn't as big a deal to them as you thought it was.
When You Forget That the Camera Is Rolling
Thanks to technological advancements that have now made video calls possible, people can work from home, only getting together with their team members via the web every once in a while. The convenience people enjoy today is unmatched, saving them time and money that would have otherwise been spent commuting.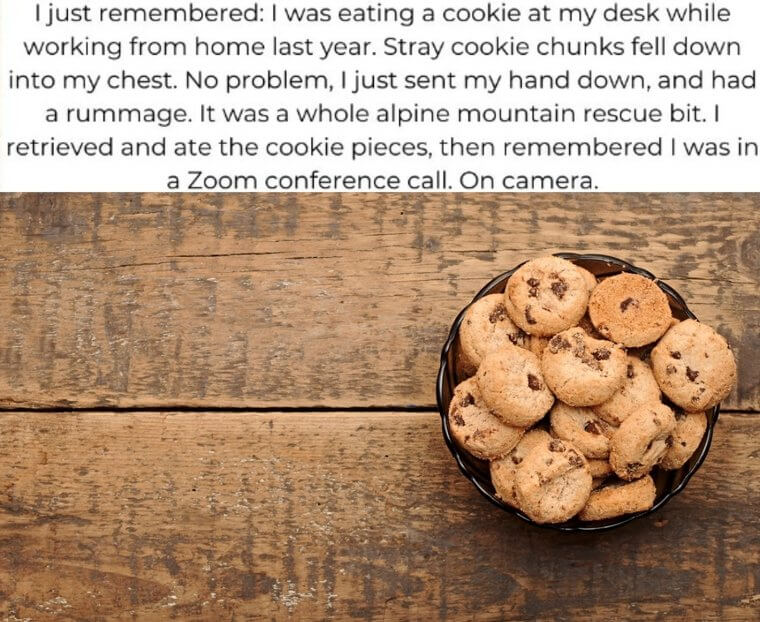 Every good thing, though, has a negative. Social media has robbed people of their privacy, and even the things that could stay hidden, like this user eating cookie crumbs off their chest, is now no secret. You can tell this person has good workmates because although they saw it all, no one said a word to embarrass them.
Dumbfounded to the Point of Acting Strange
No matter how old one may be, a crush will make even the most confident person act strange. For some weird reason, even though we may love nothing more than to talk to them and spend time in their presence, we see someone we like, and our brain shuts down as Omar-Abdelfattah's did upon shaking a pretty girl's hand.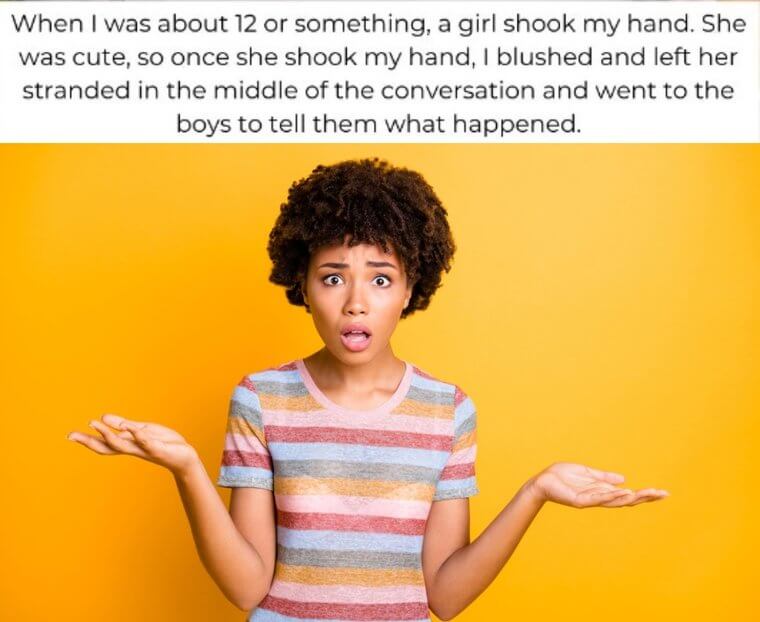 The poor girl must have been so confused by the whole situation she probably thought she had bad breath or body odor that the then 12-year-old boy couldn't stand. As excited as he was about the physical contact, we doubt Omar-Abdelfattah's crush dared to talk to him after this encounter.

A Joke That Failed to Land Where Intended
Laughter is good for the soul, which is why we should surround ourselves with people we can have heart-to-heart conversations with and goof around with every so often. It might be weird to others, but we find Petalesdejuin's friendship with her roommate adorable.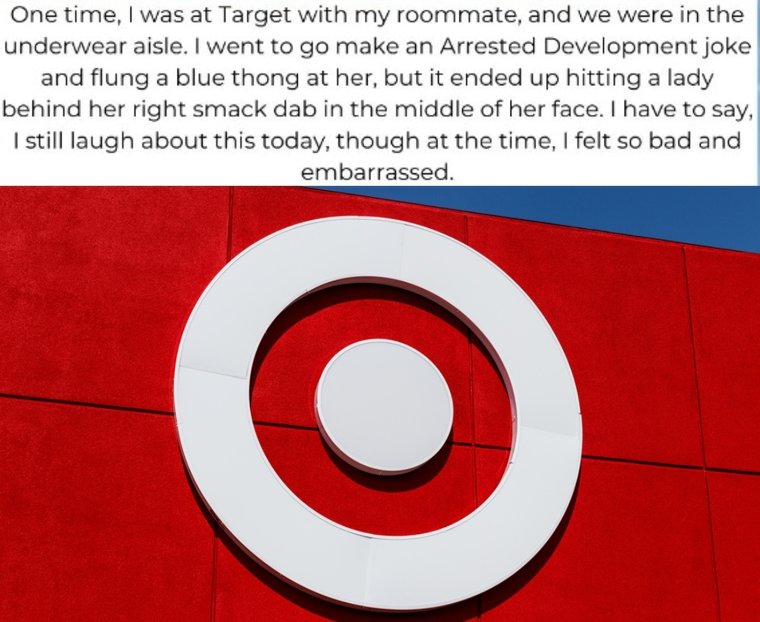 Unfortunately, unless you have that kind of bond with someone, they won't find your jokes as funny as you may imagine them to be. We're confident the incident would have been hilarious if the underwear had landed on the roommate's face. Still, because it didn't, it was embarrassing and probably even upset the lady who got hit.

A Ring That Ruined a Perfect Moment
We only say "I do" once (or twice) in our lifetime, which is why weddings are special, especially for those getting married. Even the minor details that others may not think of as a big deal, such as cutting the cake or even dancing with their friends, are of great importance to the newlyweds. So imagine just how horrified they must have been to have a cellphone ring as they exchanged vows!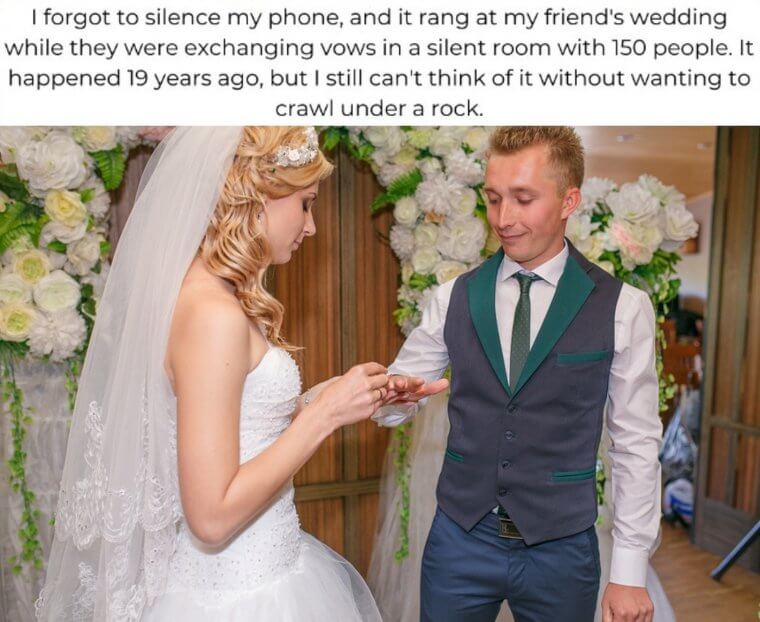 Since this was a friend, the couple may have found it easy to forgive. Yet that doesn't change the fact that the buddy ruined a perfect moment and made it about themselves rather than the ones getting married.
Don't Let Anyone Underestimate You
Dealing with breakups can be challenging for some people, to the point of forgetting who the real culprit is, just like this internet user who got dumped right before her prom. It's Ok to break up with someone, but doing it right before a special occasion and not giving any explanation is exceptionally harsh.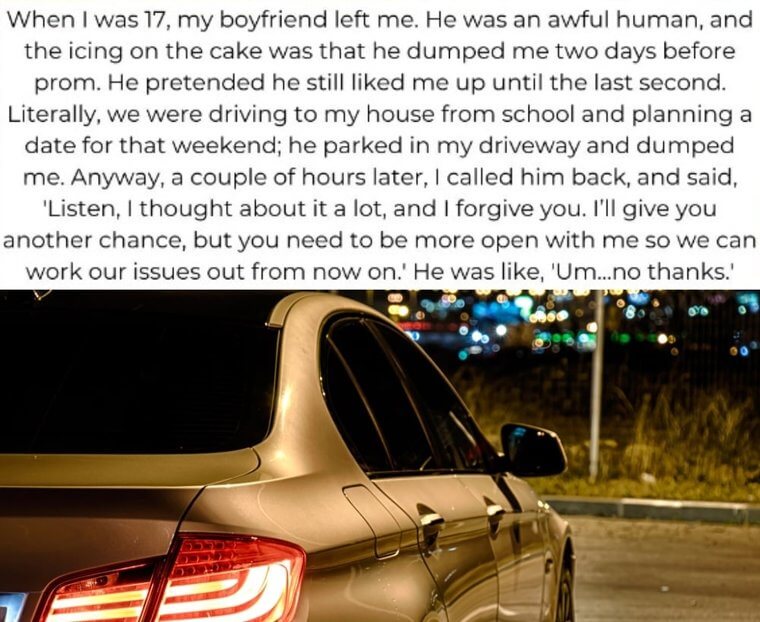 She says her date dropped her off and decided to break up with her on the spot. She was so shocked that she went home and called him. She told him she would try to give their relationship a new chance, but he refused. It's like she was apologizing for being dumped just to avoid being alone.

Getting Too Excited With Your Moves
Some people have terrible stage fright, and being in front of a big audience can be a terrifying experience. This internet user tried to deliver her best performance during a dance competition. Still, unfortunately, she was blinded by the stage lights.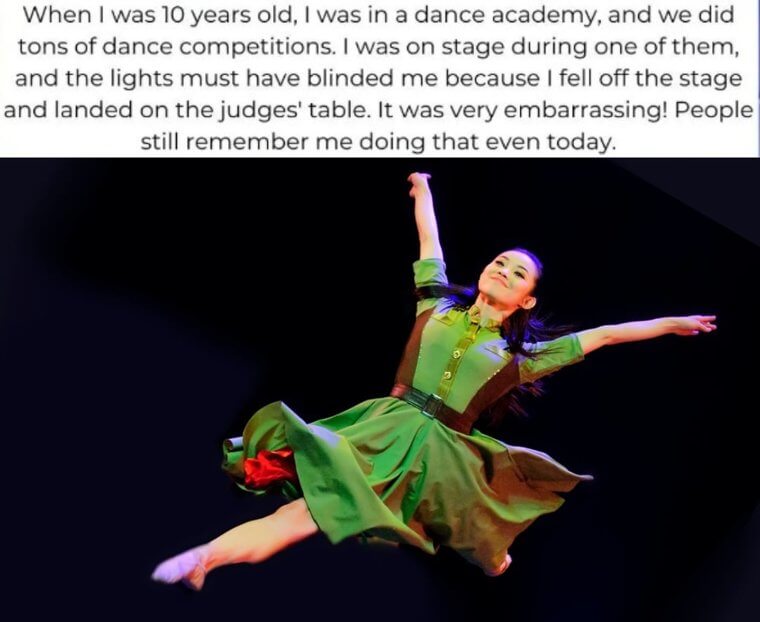 Not only was she unable to see the stage, but she also miscalculated her steps. As a result, she fell off the stage and landed on the judges' table. Decades later, everyone in her family still remembers this incident, and we're sure that the judges are still unable to forget it. Regardless, we're unsure how her dancing career went after that.

Tips for Getting Your Crush's Attention
Everyone gets extremely embarrassed around their crush, and it's quite challenging to talk to that person, especially if you're shy. But some people have got several creative cool ideas to try, and this internet user decided to get out of the box.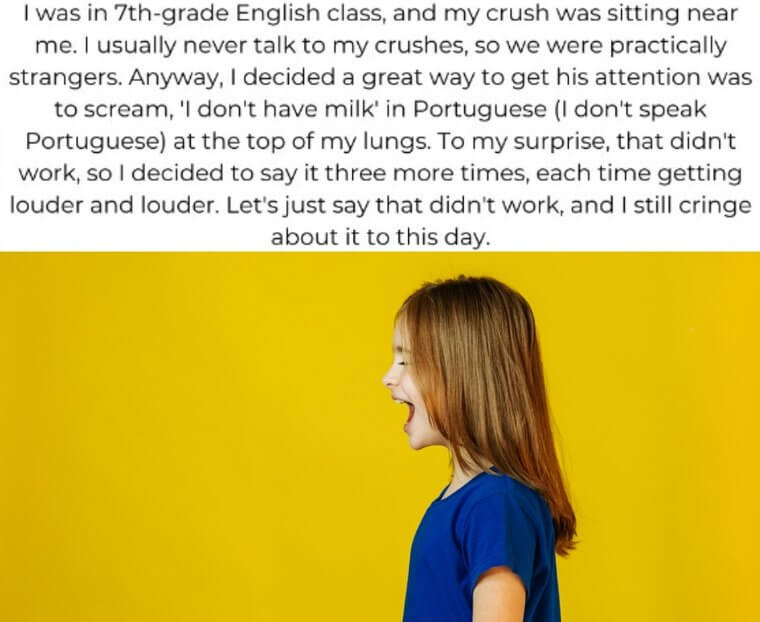 In 7th grade, she had a crush on a boy and couldn't find anything to talk about. Desperate to attract his attention, she decided to do something crazy. So, she screamed, 'I don't have milk.' Nonetheless, she said it in Portuguese and didn't know how to speak Portuguese well. She said it three times when it didn't work out, but nothing happened.

Keep It to Yourself
As we spend more time at work, we learn not to share everything we think. And this internet user learned this lesson the hard way during one Christmas office party. When the office decided to hold an Ugly Sweater party, everyone got excited, or so he thought.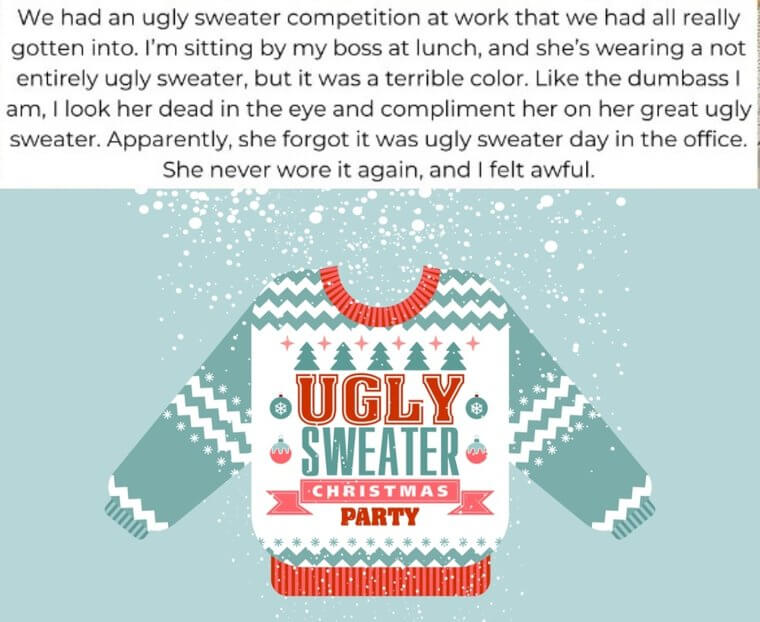 So, while having lunch with his boss, he complimented her ugly sweater. Turns out, she forgot that it was Ugly Sweater day, and she was just wearing a regular sweater to work. Needless to say that she never wore that sweater again. We can't help but imagine what an embarrassing moment it has been for both of them.

What An Incredible Prank
Kids and pranks always go together; although some can be funny, some incidents are hard to swallow. Unfortunately, this applies to the story this internet user shares. We can't help but think of the poor people who had to deal with the consequences.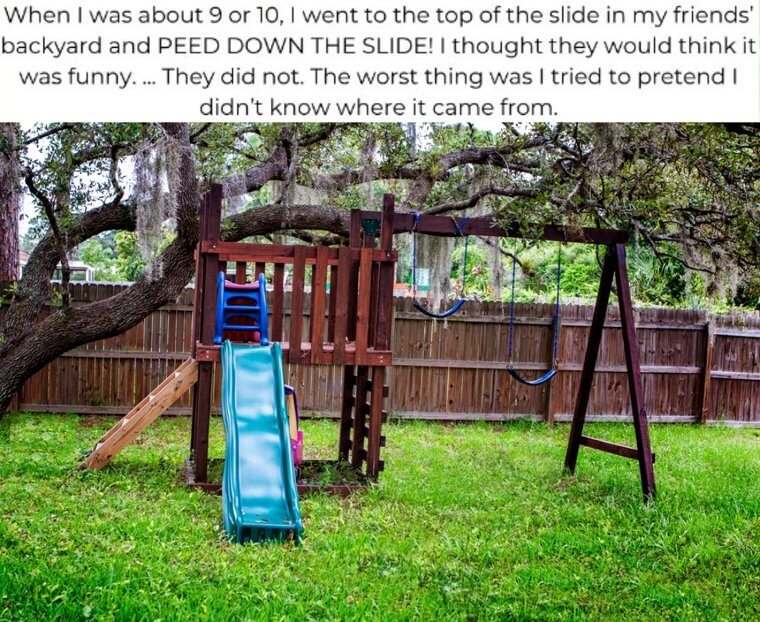 So, when this user was ten years old, he decided to pee down the slide found at a family friend's house. He thought it was funny, but apparently, no one else did. When he didn't see that the prank went how it was supposed to, he acted like he didn't know where it came from.

Better to Be Safe Than Sorry
We assume many of us have been in the same situation as this lady, where we have mistaken a random stranger for someone we know. Although for us, it must have been a simple wave of the hand from far away and not exactly sitting in someone's car without checking who is in the driver's seat.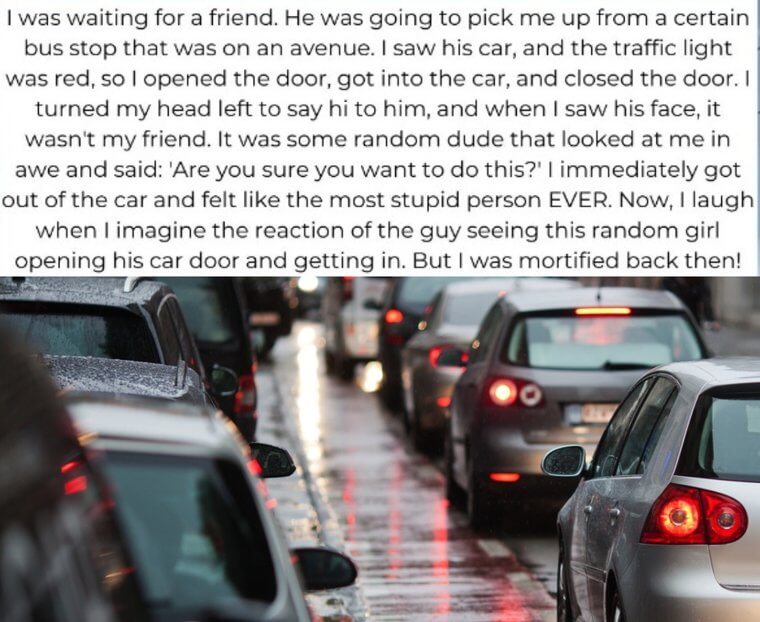 Fortunately for the woman, things didn't turn otherwise, and she instantly got out of the vehicle after she realized it wasn't her friend. So, thankfully, the girl got away with a mere do you want to do this rather than something untoward. Nonetheless, on the brighter side, she got a cringe-worthy story to tell her friends.

Nervousness Got the Best of Her
We can sympathize with this social networking website user who had a rather embarrassing moment with a colleague. Such moments happen to many of us once in a while. Understandably, she had a slip of the tongue as she was new at the office and was yet to get comfortable with her new co-workers. Moreover, it turned out that her associate was pretty attractive, which made the lady more awkward.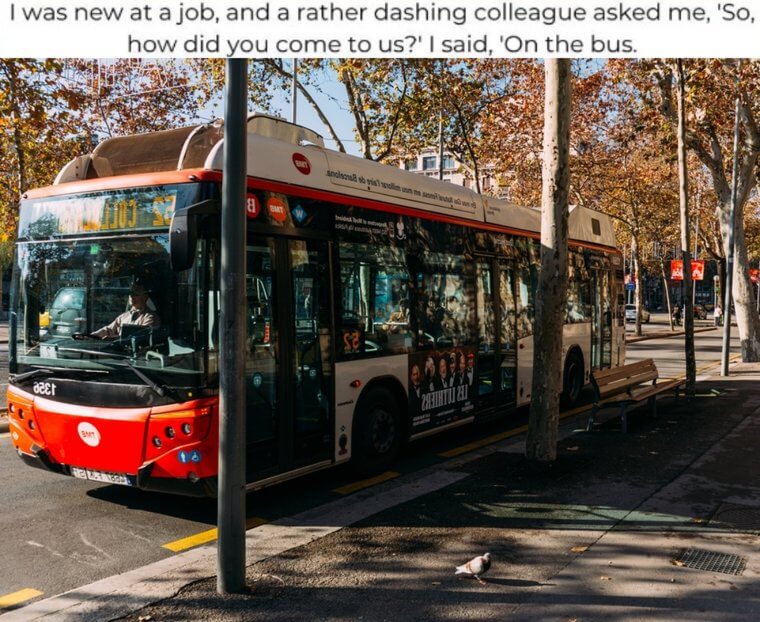 We hope the woman's nervousness didn't kick in each time she spoke to her handsome colleague, and she managed to at least go on a date with him later. Nonetheless, even if she didn't get anything from the moment, she has a funny story to remember for a lifetime.

The Things We Do for Love
There are different ways in which individuals deal with heartbreak. Some do not seem to get to terms with their breakup and try everything to win their lover back, while others manage to move on instantly. This opinion-sharing website user indeed falls into the first type. Not only was she unable to accept that her boyfriend did not wish to be with her any longer, but she went a step further to make a souvenir to remind him of their not-so-eternal love.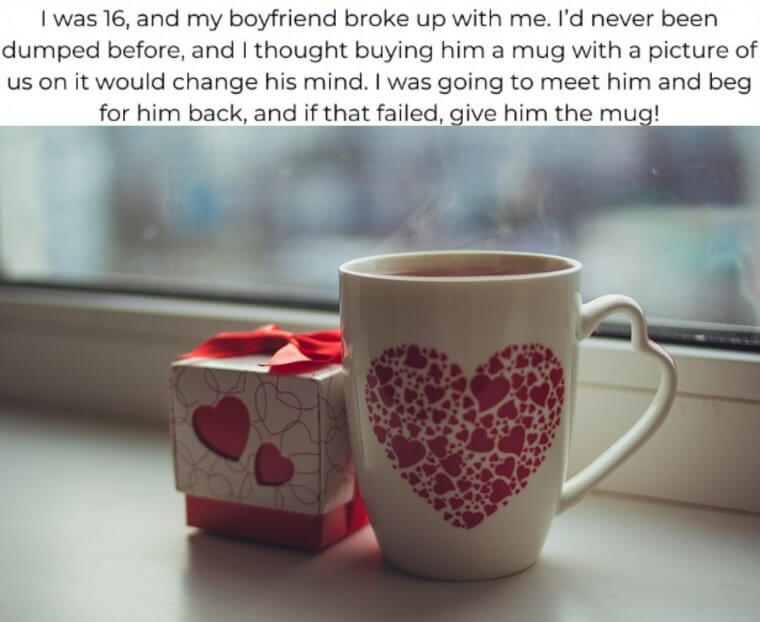 Unfortunately, the gift failed to work its magic on her former beloved, and the lady ended up being brokenhearted and with a constant reminder of her beau.

Things Got Awkward in No Time
Indeed, love does not differentiate between looks, age, height, weight, and other physical attributes. For two people who have a deep adoration for each other, these things do not matter, but their friends and family always bring in such factors between their love. This discussion platform user did the same thing with her friend's partner and candidly judged her for dating a younger man.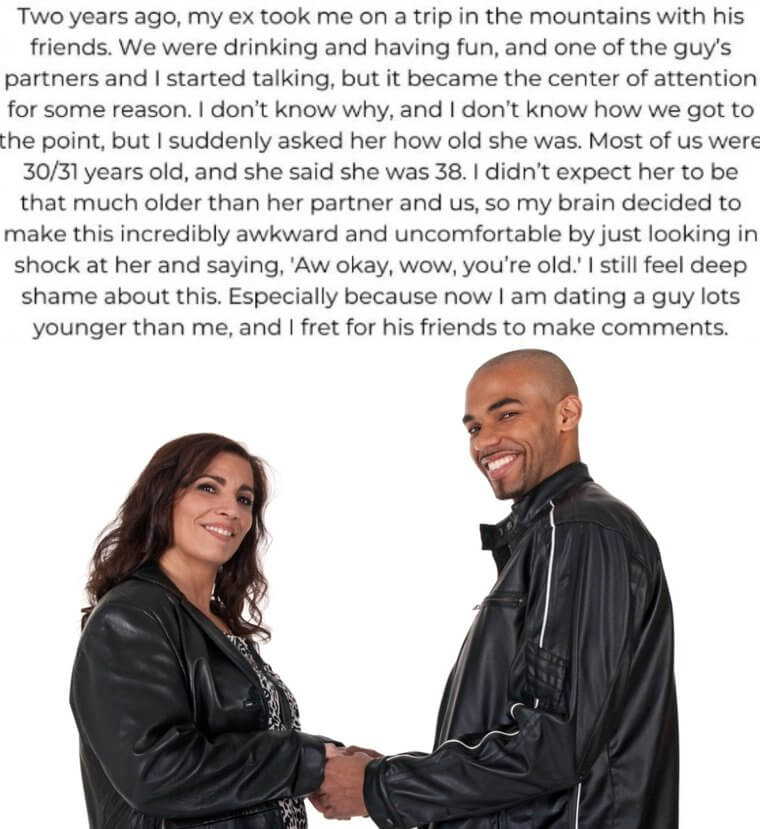 Undoubtedly, there would be an awkward silence between them for a minute or two, but hopefully, the 38-year-old didn't feel embarrassed because of the girl's words. Nonetheless, today when she is facing the same scenario, this lady realized how her buddy's girlfriend would have felt back then.

A Common Drunken Mistake
The night party certainly feels great, but the next day when you end up with a hangover can make you feel terrible. This discussion platform user had a bad hangover, but instead of getting a raging headache, he was rather drunk. So much so that he forgot to release the handbrake and realize that it was his vehicle moving that was moving forward.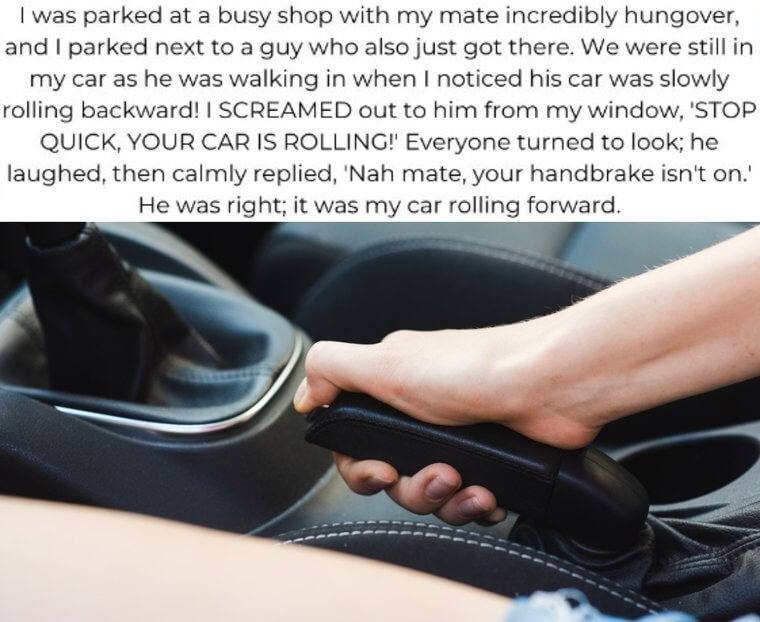 Even despite being tipsy, the man had the best interest at heart. Nonetheless, we hope he did not drive back home in this condition and took a cab instead. What is more interesting is that the guy remembered the story once he got sober.

Not the Smoothest Move
We honestly can't blame this lady for doing what she did—we've all done some weird things to get our crush's attention. For example, in this girl's case, she thought the best way to get her heartthrob to fall in love with her was to act scared whenever he touched her in any way.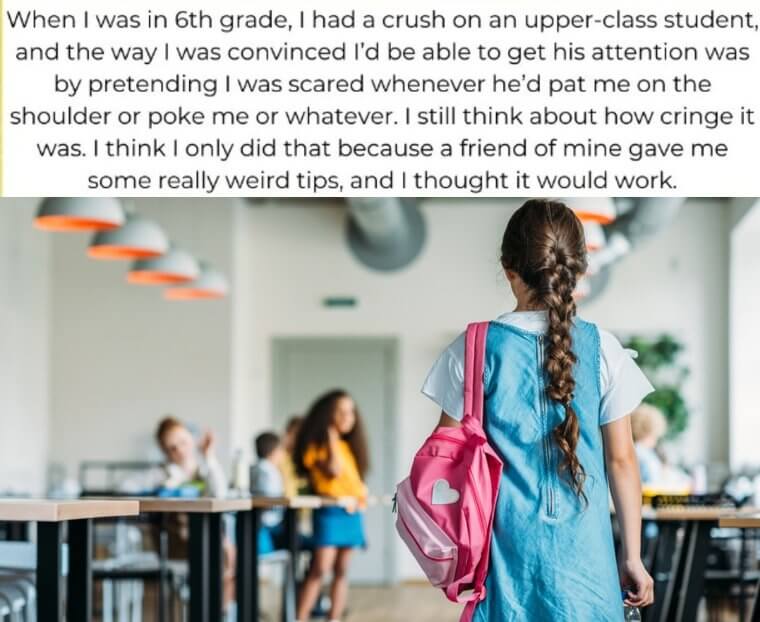 We don't understand the logic behind that move, and we're certain the guy was as confused. Nonetheless, in defense, the lady was in 6th grade at the time, so she was basically inexperienced in the love department and only had an equally|naïve friend as a guide. Still, she'd always cringe whenever she remembered the incident.

Blame It On the Laughing Gas
Many people dread the time that they have to visit the dentist. Of all medical checkups, it's usually the most uncomfortable because there's nothing fun in having someone play around in your mouth. Most times, to help patients relax, some dentists use laughing gas.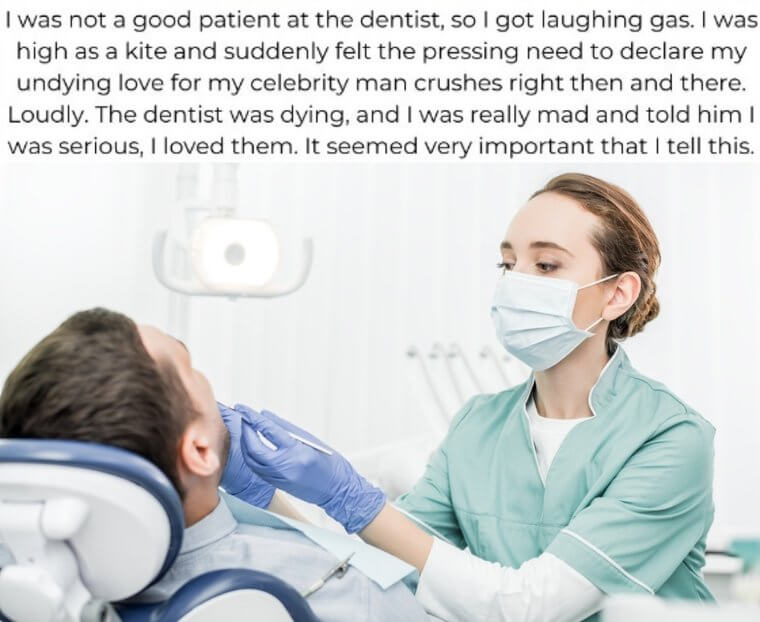 Even though the anesthetic makes people act weird, this social media user had it bad. The aftereffect of the laughing gas was a burning desire to declare her love for her celebrity crushes loudly. In fact, the lady got mad when she realized the doctor wasn't taking her seriously. Needless to say that the dentist had a field day working on this particular patient.

Kids Can Be Heroes Too
One beautiful thing about kids is that they'd do anything for you once you're in their corner. That includes protecting you from angry brothers. This netizen can clearly remember an encounter he had at his father's colleagues' house party several years ago. He had easily made friends with the man's many children and soon started running around and entering off-limits places, such as the big brother's room.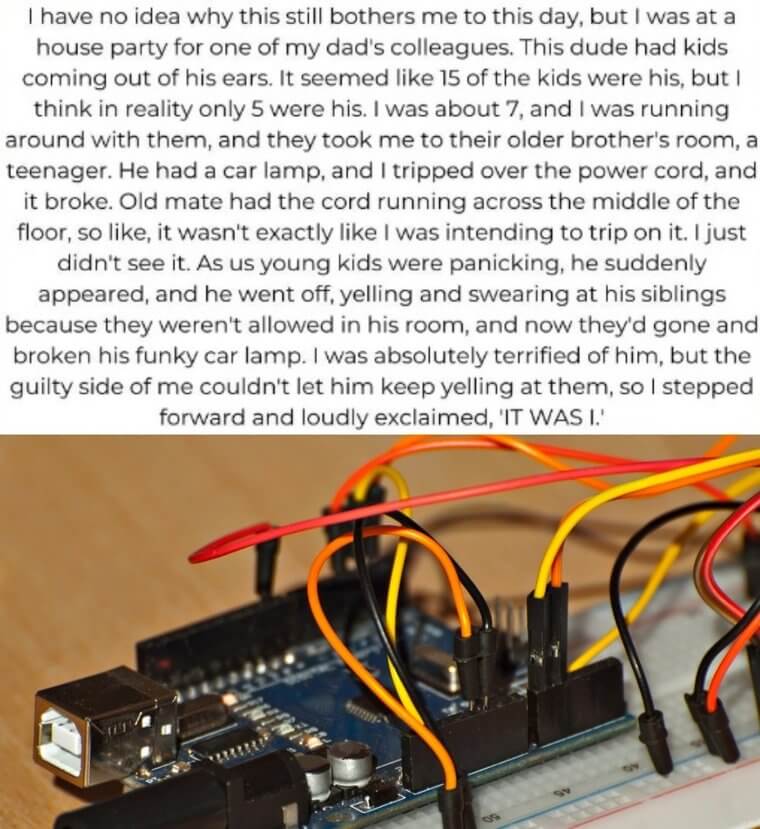 Unfortunately, this young boy tripped on a wire and broke the car lamp. As if on cue, the brother walked in and started shouting at his siblings for trespassing. Feeling guilty, the little boy stepped in and declared that he was the culprit. A pretty brave move, but he cringes remembering the incident.

A Poor Idea of a Joke
It was supposed to be a joke; everyone was supposed to laugh about it and move on. These were the thoughts of this man after his joke backfired. A colleague had been bragging about his wife participating in a marathon, and he'd only wanted to say that he could do more than 26 miles—which was a joke anyway.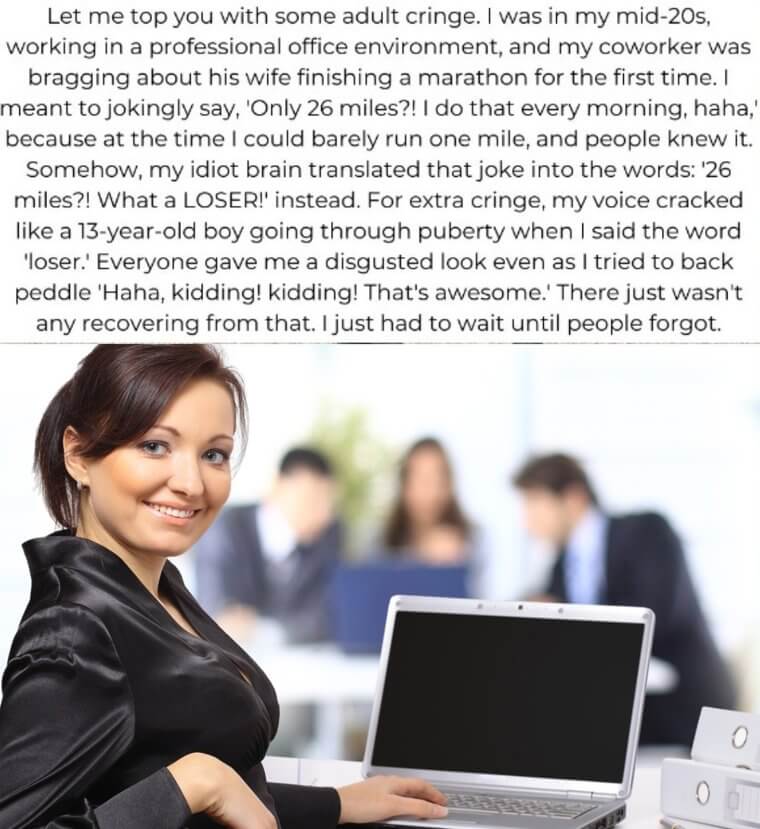 Unfortunately, at that point, his mouth refused to cooperate with his brain, and he ended up saying something entirely different. What was supposed to be a joke sounded like an insult and earned him bad stares from his coworkers. This was beyond embarrassing for this man, and he could only wait till they all forgot about it.

A Sound From the Past
We've all done some weird things in the past, and while some remain a distant memory, others come back to haunt us. For example, this guy was notorious for barking like a dog in school and public when he was a teenager. Well, he finally got rid of that habit once he grew older, but some people have decided to remind him of his 'hey-days' constantly.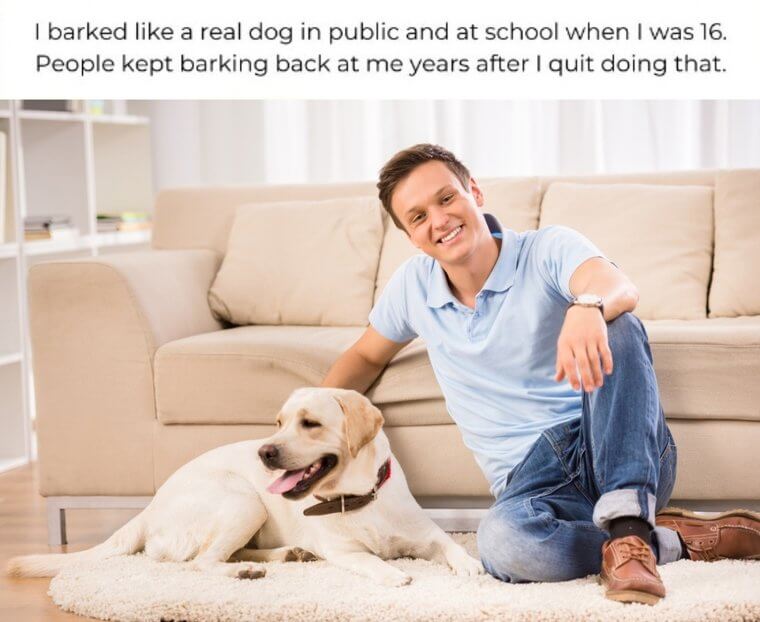 Now, his friends make it a duty to bark at him, and he can't help but remember how he used to do the same back in the day. Unfortunately, it doesn't look like this memory is becoming a distant one anytime soon.

When It Haunts Us Back
Let us be honest for a moment; we all have done things we regret in our lives. If we could get three wishes from a genie, one of them would be to go into the past and erase that mistake. Why? Such mistakes embarrass us, especially when they come back to haunt us.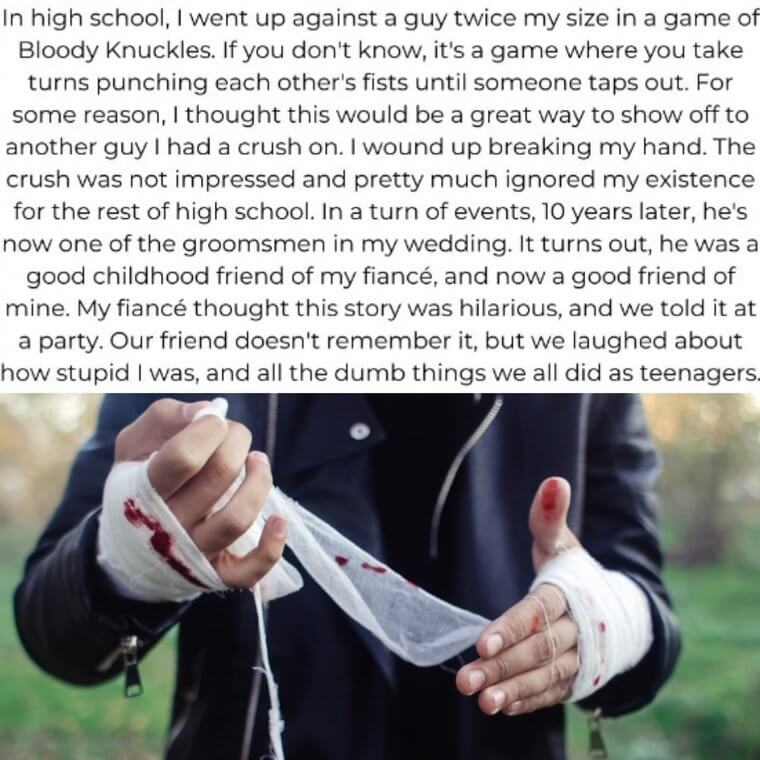 This person was very unfortunate. The poor thing just wanted to forget about the fight and the person for whom he got into a fight. Sadly, he got reminded of that cringe moment on his wedding day. Thankfully, the couple now gets a great laugh out of it, and things are all good.