These days, millions of photographs are taken every day by those with smartphones. We take photos of everything, from what we eat, and the places we visit, to sunsets, parties, and the people we are with. Grabbing a phone to snap a moment is commonplace, and posing for a selfie is an everyday occurrence. But before the convenience of camera phones, most people used Canon and Kodak cameras, which required rolls of film that had to be processed. Now, these images can come back to haunt them, with bad choices of clothes and haircuts, but they are a window into the past for future generations and are wonderful memories as we grow older. Here are some of the more embarrassing, weird, and jaw-dropping ones.  
A Relic From The Titanic
This image was submitted to the website AwkwardFamilyPhotos.com after they visited their friend's grandmother's home. It seems that the elderly woman hadn't been too enamored by her late husband, and as soon as he was no longer on this earth, she decided that it was time for an upgrade.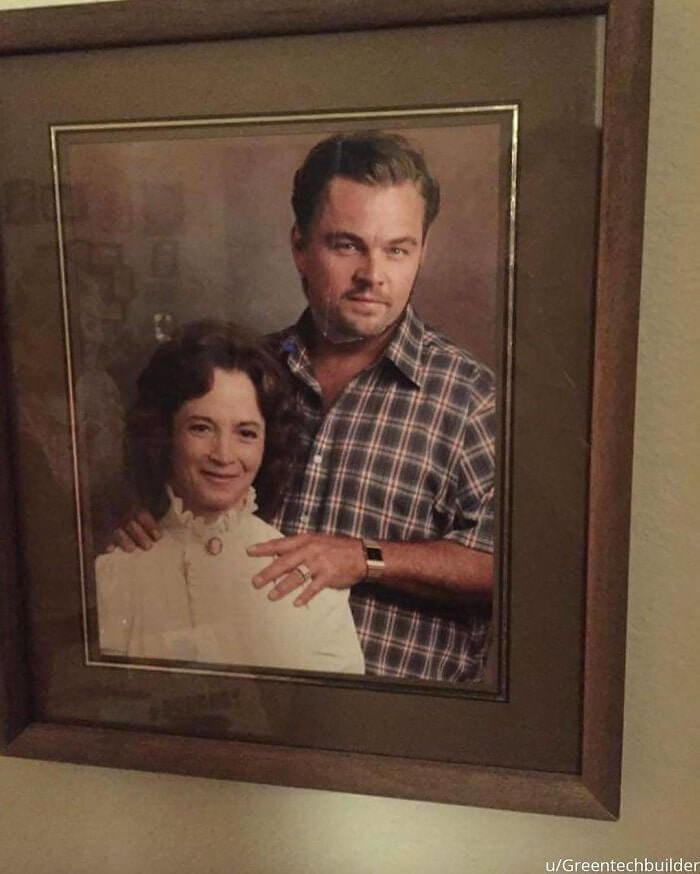 What better person to replace her husband with than A-list actor Leonardo DiCaprio? Apparently, he was a friendlier face to look at than her husband...!
This Man Would Be Arrested If He Did This Today
In the 1960s and '70s, there was a much more laid-back approach to life and having fun. These days the world is filled with rules and regulations that can stifle our enjoyment. We have to abide by so many health and safety rules that sometimes it detracts from the sheer joy and spontaneity that was available back then. The fact that this man was even allowed to take a baby onto an amusement park ride would be inconceivable today.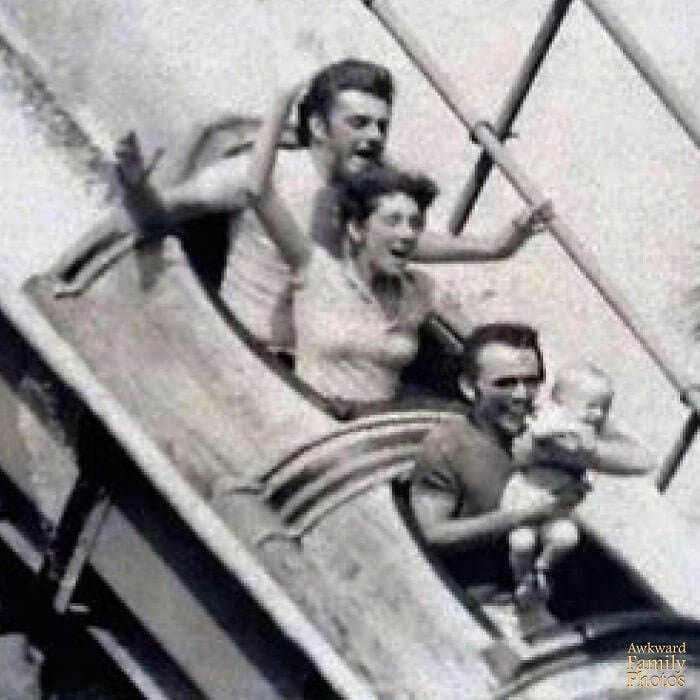 This photo was taken in 1977 at a theme park in Coney Island. There is no way a baby would be allowed anywhere near this water ride today, and anyone trying to get their toddler onto it would surely be arrested for endangering the life of a minor. 
Now That's What We Call Camouflage
These young men obviously grew up in a household where nothing went to waste. When the new family couch arrived, it was accompanied by a set of curtains. When it was clear that the matching items would overwhelm the room, not enhance it, their mother had an amusing idea and the boys happily went along with it.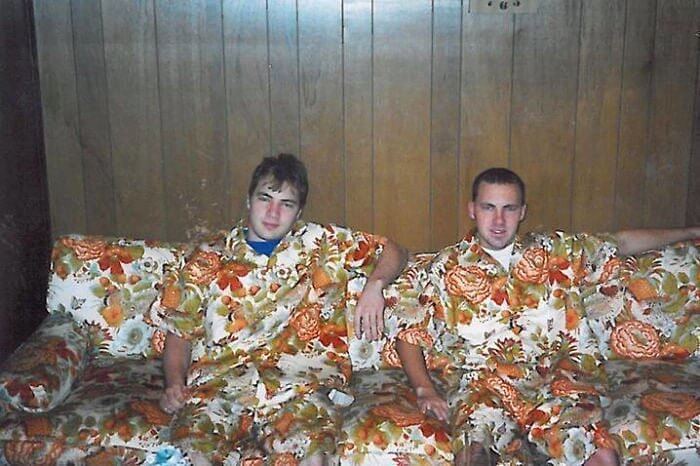 In a scene reminiscent of 1965's The Sound of Music, she grabbed her sewing machine and used the excess material to make outfits for her sons. They were game for a laugh and didn't hesitate to sit on the new couch and pose for a photo. 
Who Needs A Seatbelt When You Have An Arm
In the sixties in Jackson, Wyoming, the Snow King Chairlift gave people the chance to enjoy a fun ride to the top of Snow King Mountain. The climb to the top was almost 1,600 feet and the scenic views were breathtaking. This mother and daughter were enjoying their ride to the summit with no safety procedures in place. It's amazing to think that the slightest slip would have plummeted either one of them to certain death, but back then, health and safety precautions weren't in place.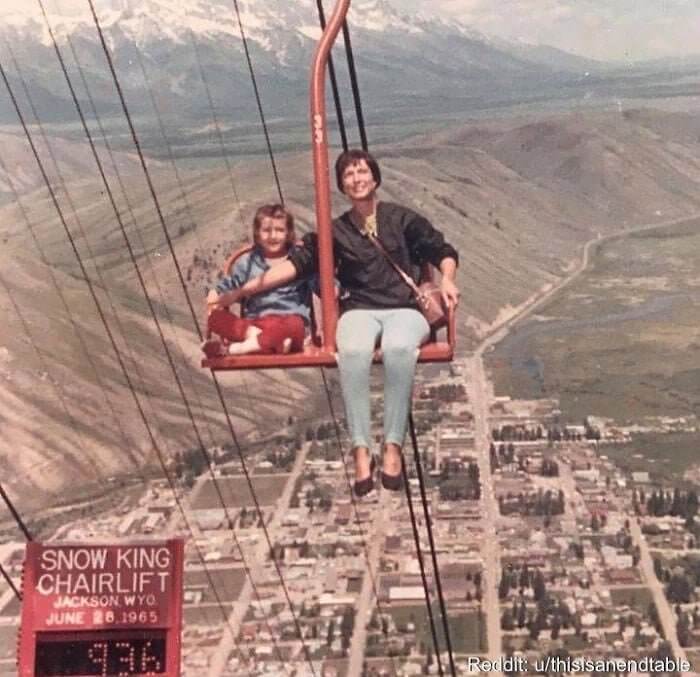 In 2010 a seven-year-old boy fell from the lift, but thankfully was only 30 feet up when it happened. Miraculously, he didn't even break a bone!
We Are Not Amused
The person who took this photograph must have received an earful from not one, but five, feisty grandmas. All decked out in festive Christmas jumpers, and seemingly all going to the same hairdressing salon, these women are in no mood to be caught on film. They look positively furious.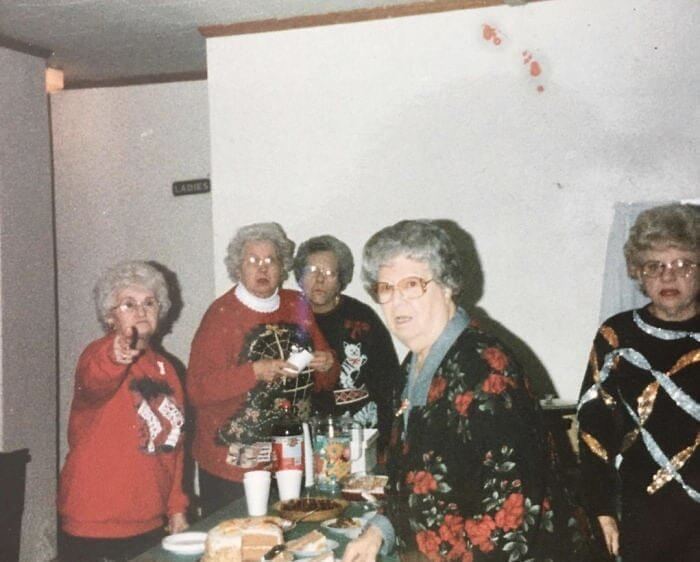 The woman on the far left of the photo is the great-grandmother of the lady who uploaded the photo onto the website. She commented that it looks like "the cameraman just stumbled into a secret meeting of the grandmas', and we tend to agree with her. He was probably assigned to washing up duties for invading their private conversation. 
What's With The Menacing Smile?
Here is another example of a good idea not turning out so well. Official school photos are a yearly event at most schools and this particular photographer was assigned to snap the preschool youngsters. Knowing how hard it is to work with children, he had a few tricks up his sleeves to get the best results in the end. This isn't one of those cases.
He handed a beautiful pink rose to a cute girl in a satin lilac dress. He coaxed her to smile at the camera lens, but he didn't get the results he was after. Instead of a sweet, adorable pose, her mother was presented with a rather sinister-looking stare. We're not sure if this picture was framed and mounted in the family home, or hidden from sight. 
Eighties Fashion At Its Finest
While the '70s was generally considered to be one of the worst decades when it came to fashion, things improved dramatically in the '80s. Looking back at photos from that time usually raises a few chuckles, especially when it came to stone-wash denim, leg-warmers, and come crazy hairstyles, but this couple shows how it should be done.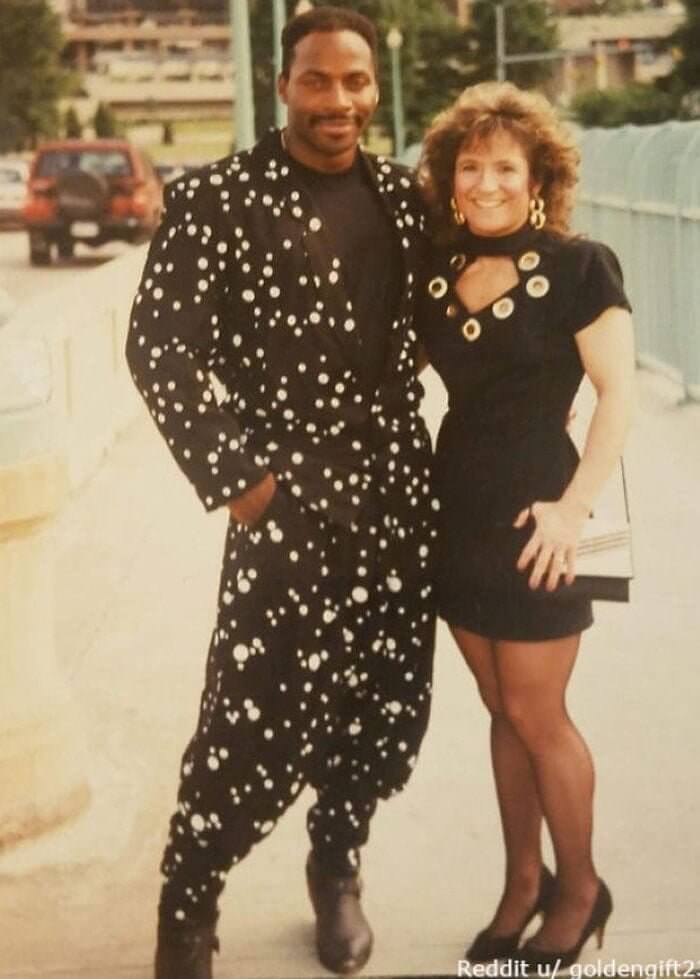 They rocked their outfits, with the gentleman decked out in a black and white suit, with pants reminiscent of MC Hammer's baggy get-up in his video for "Can't Touch This", and his wife hits all the right notes with large hooped earrings and a little black dress. They make a great-looking couple. 
Looking Back At Your Younger Self Isn't Only For People
When this boy had his photo taken for his school yearbook in 2002, he chose to bring his bird, Jeff, to the session. He wanted to capture the moment for posterity and do something a little bit different. It's great to see Jeff's funky hairstyle and bright red spot by his eye. The photograph was placed in a gold frame for everyone to admire. Little did this man know how much it meant to Jeff.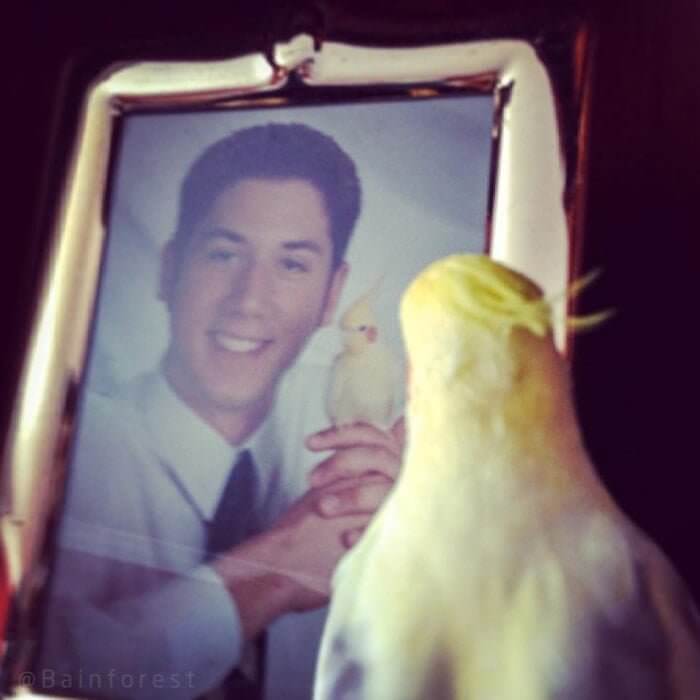 A decade after the photo was taken, this man walked in to find Jeff out of his cage, as he usually was, staring at the image of himself and his owner. It was a priceless moment, with Jeff seemingly understanding that it was him. His owner commented that as he took the photograph of Jeff staring at himself, he was aware that this was "sentimentality in its truest form."
Remember To Check For Mirrors!
While all eyes are meant to be on this proud grandmother and the impressive table setting she had created for the forthcoming Thanksgiving dinner, it's hard not to be drawn to the mirror at the end of the room. It's no wonder that this made it onto the Awkward Family Photos website. Many people voted and commented on this image when they spotted Grandpa in the reflection wearing nothing more than a pair of Y-fronts!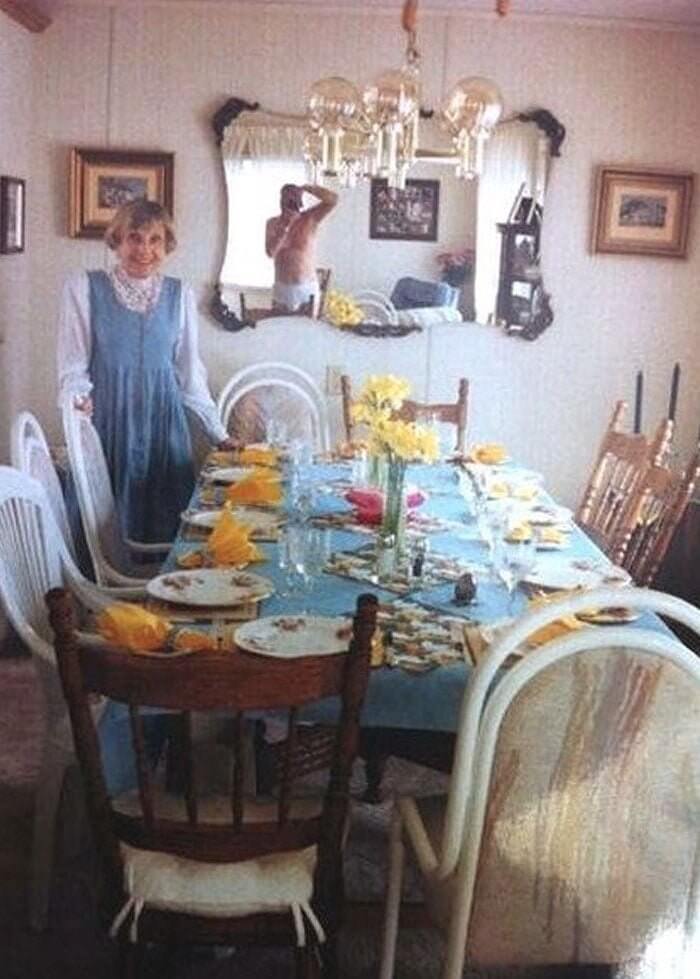 It's a shame that this scantily-clad grandfather detracts from the hard work and effort that his wife had put into making the table look so fantastic, but hopefully she saw the funny side of it. 
This Woman Can't Get One Minute To Herself
This poor mom isn't allowed one moment of peace and quiet to tend to her most basic needs. As a mother of two small children, she had her hands full from the time she woke up to the time they finally went to sleep. This photo was taken when she tried to go to the bathroom during the day and her kids weren't having any of it. They needed their mom and it just couldn't wait.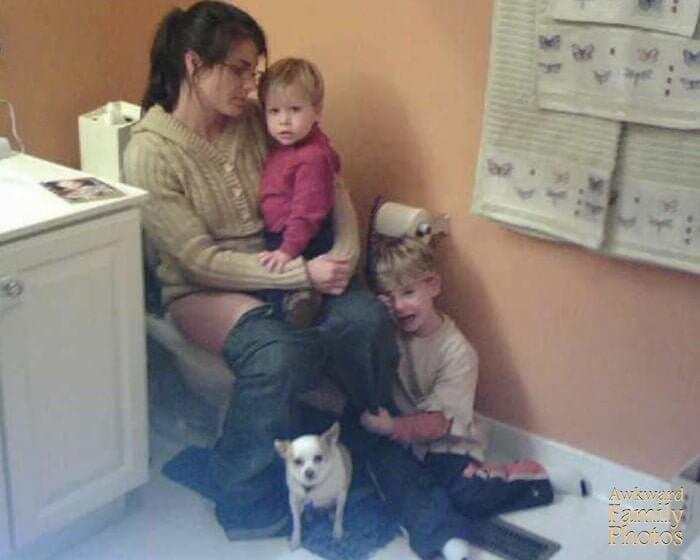 This exhausted mom was desperately seeking a few precious moments but to no avail. Her mother heard the commotion of the grandchildren bursting into the bathroom, followed by the dog, and she grabbed her camera. The infamous photo is now on Grandma's wall for everyone to see, and she sends a copy of it to her daughter every Mother's Day. 
Someone Is Not Amused
When parents already have a child and then become pregnant, they have to carefully explain the situation to their son or daughter that soon they won't be the only child in the family. Some of them get very excited at the thought of being an older brother or sister to the new arrival. Others don't quite comprehend what's about to happen to the family dynamic. And then there are the angry ones.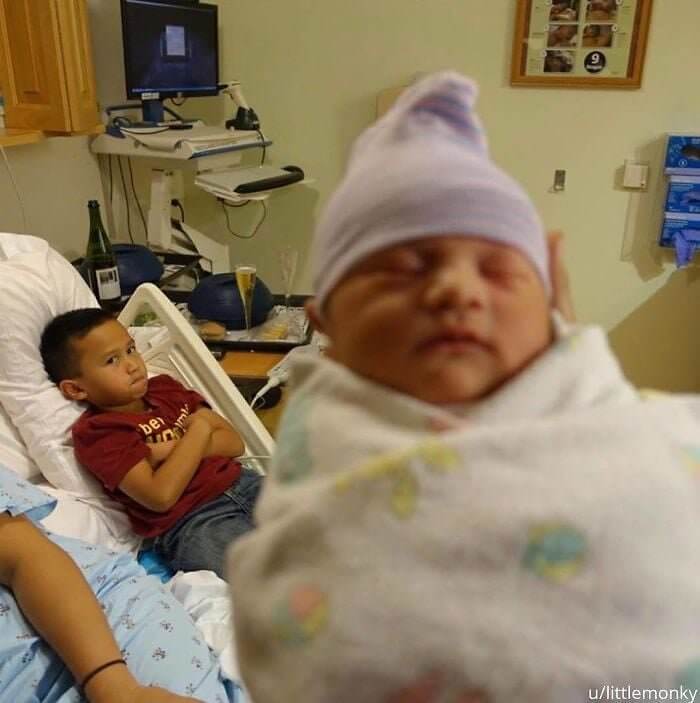 When this young boy was brought to the hospital to meet his new sibling, he obviously didn't like all the attention they were giving to the bundled-up baby. Having received all the love, hugs, and kisses up until this point, he was caught on camera looking downright furious. 
So Much To Discuss About This Awkward Family Photo
This family is clearly not run-of-the-mill and they obviously have a sense of humor. The mother is a stay-at-home mom of five children, four of whom are adopted. Together with her husband, who is a teacher, they made a promise to focus on their children and provide them with care, love, fun, and laughter. They made it a point to teach their children to be able to laugh at themselves, believing it to be a "wonderful attribute".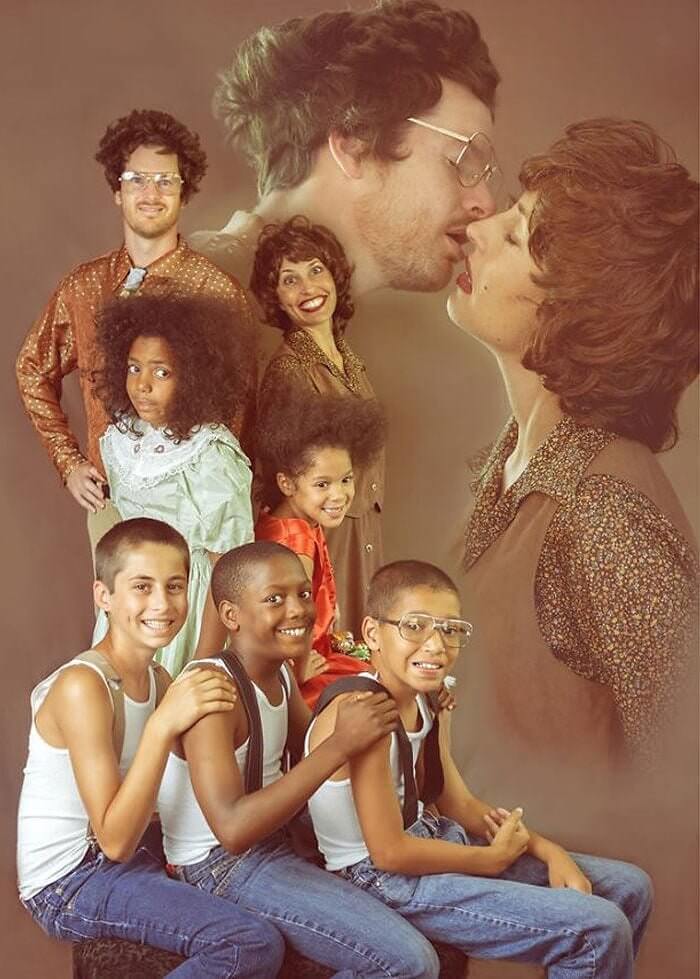 Each year, they did a fun family Christmas card, and they went all out on this one, purposefully posing with crazy hairstyles and the worst clothes the parents could find. The embarrassing attempt at an erotic kissing session is the icing on the cake! That must have been a fun house to grow up in.
When You've Got To Sleep, You've Got To Sleep
Being by the ocean has a calming effect on people. The sound of the water and the gentle waves almost have a hypnotizing effect. It's easy to doze off when listening to the tranquil sounds while lazing on a sandy beach in the sunshine. For one lady, it was impossible to stay awake.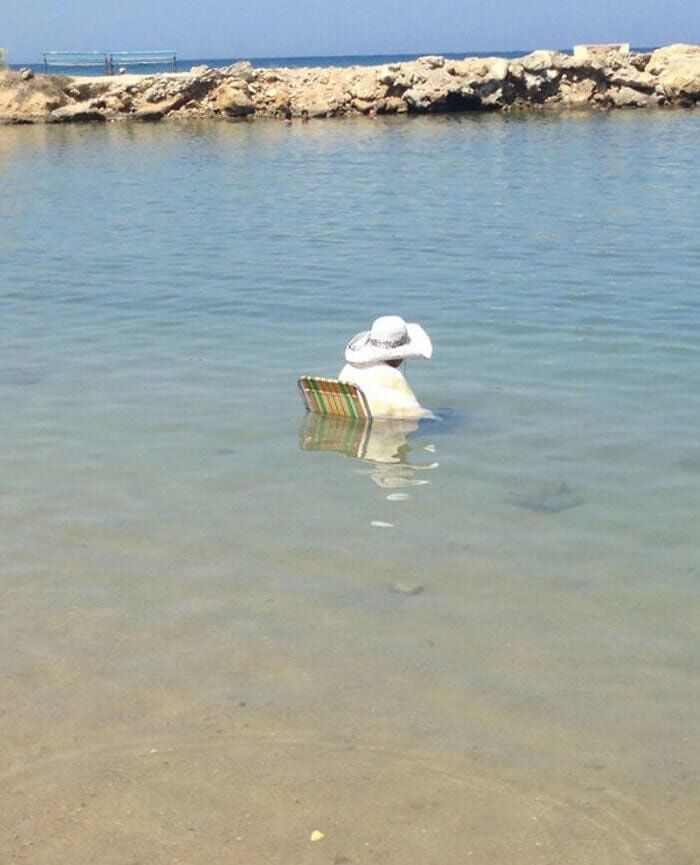 In her white shawl and large sunhat, this grandmother couldn't help but doze off in her chair. The only problem was that the tide had started to come in. Not wanting to disturb her slumber, her family left her to sleep for a few more minutes. But during that time, the water levels rose dramatically. Before this family went to wake her up, they took the opportunity to take a photo.
Grandma's Just Chilling
This laid-back woman is someone's great-grandmother, and she sure knows how to relax. With her three-quarter-length jeans and pristine white Nike sneakers, she is engrossed in a phonecall and oblivious to the fact that someone is taking her photo. You have to admire her wardrobe choice, and the striped socks are a nice touch. She seems to be a woman who values comfort and her pose tells you a lot about her attitude.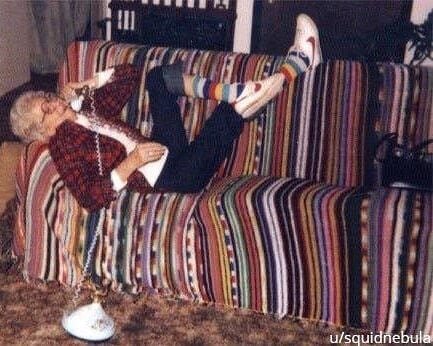 Taken in the 1980s before the invention of the cell phone, she is rooted to the spot with her rotary-style landline phone. These are now a thing of the past, so it's lovely to see one again. The striped throw on the sofa is a great touch too. 
The X-Rated Bubble
When the sun comes out, there is nothing better than soaking up some rays, enjoying a dip in a pool, and having the most fun possible. In this photo, the paddling pool is set up and ready for anyone to have a splash in. But trouble came when this sun-loving lady decided to use a bubble wand. The results were hysterical.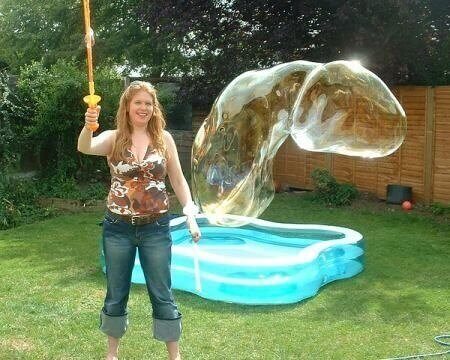 It's impossible to see anything else except a large phallic shape when you look at the massive bubble she made. What's even more impressive is that her friend managed to take a photo of it before it burst. 
A Poet With A Difference
When a boy named Jonathan was in the second grade, his class was asked to write a poem about anything they wanted. It was clear that Jonathan had a strong message about his sister. While it may not win any poetry competitions and only consists of two sentences on repeat, it conveys his feelings very clearly. So much so, that his parents framed it and hung it on their wall, where it remains to this day.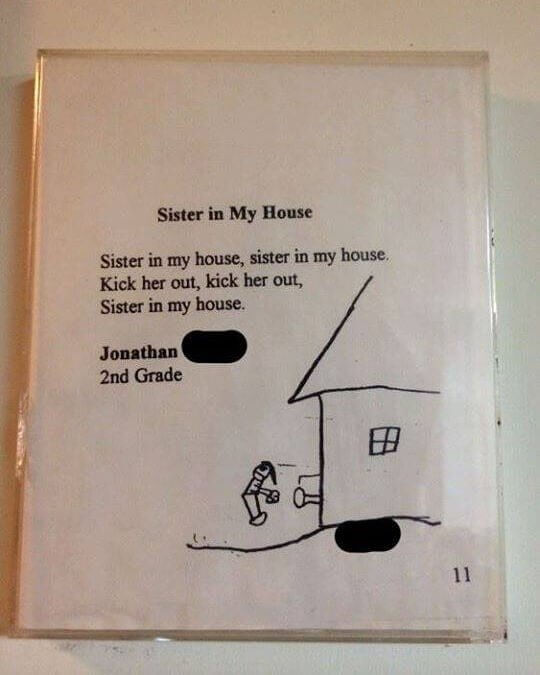 It must be difficult for his sister to regularly come back to the family home to see her brother's harsh words staring back at her. "Kick her out, kick her out, Sister in my house" is accompanied by a drawing of her standing outside. 
A Little Man With a Lot to Say
It looks like this photo was taken at a wedding, with the lady in her finest clothes, and a white floral arrangement attached to her dress. This was taken in 1987 and it's clear that the boy in the dapper suit is deep in conversation. He is very animated and is skillfully able to hold onto his drink while animatedly voicing his opinion.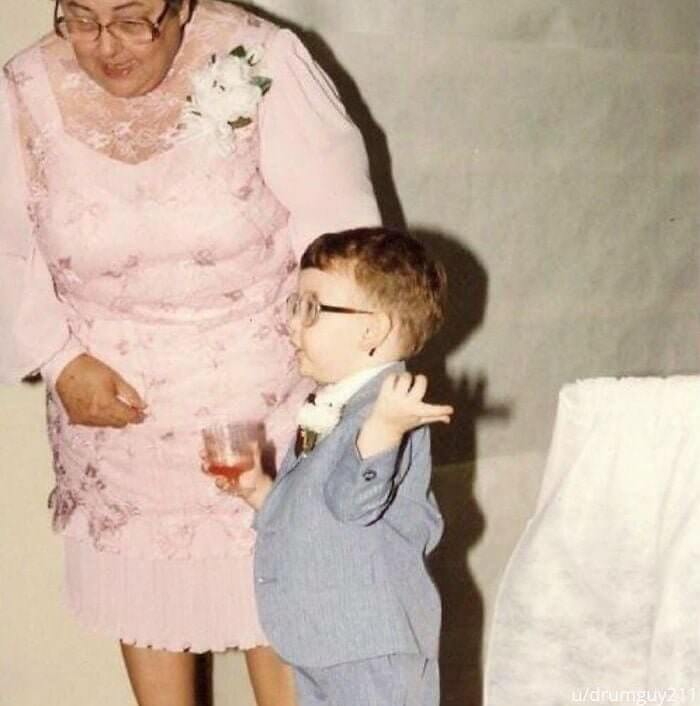 It looks like this little man has a career as a public speaker ahead of him, either as a politician or a motivational speaker. He certainly has the confidence!
Glum And Glummer
Children usually love visiting zoos - they are places of huge adventure, wonder, and fun. There is nothing better for most youngsters than to spend hours looking at giraffes, elephants, monkeys, and the incredible aquatic creatures. Some animals are equally at home in the water and on land, one of which is the hippopotamus. These impressive creatures can hold their breath for up to five minutes, closing their ears and nostrils when underwater.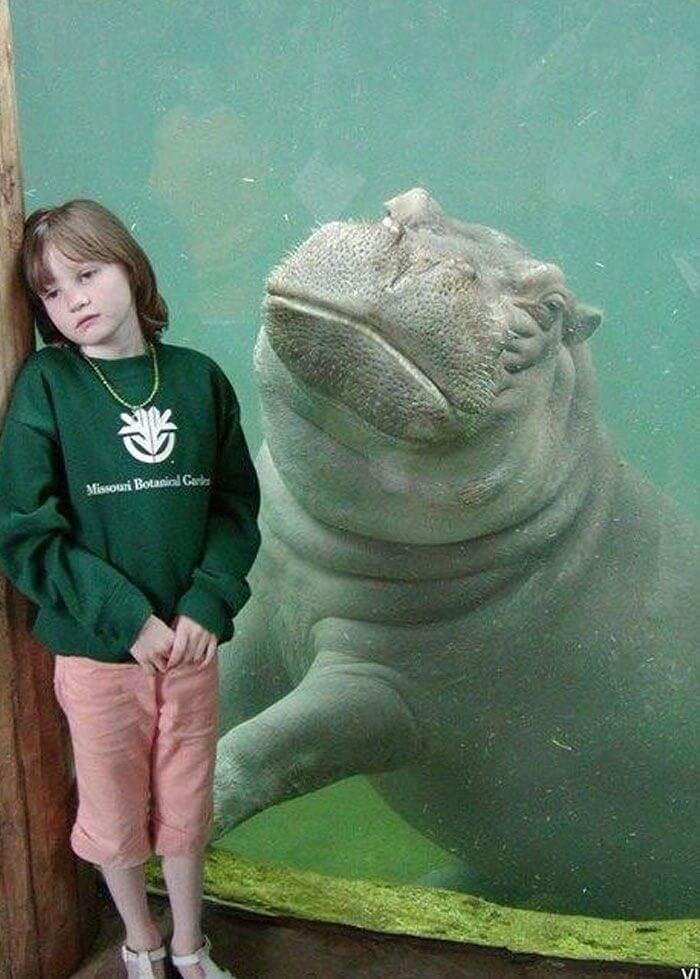 This intrigued hippo dove down to see what was happening through the glass and found a young girl leaning against the window. But she was completely unaware of its presence, seemingly lost in deep thought. With each of them tilting their heads, it makes for a great photo. 
This Kid Looks Like A Famous Hollywood Character
It's hard not to think of a Robin Williams role when looking at this cute young girl. She is dressed in a rather old-fashioned dress, complete with frills, and the large glasses only help her to match the Williams character from the 1993 film, Mrs. Doubtfire. In the film, Robin dresses up as Mrs. Doubtfire so that he can spend more time with his children.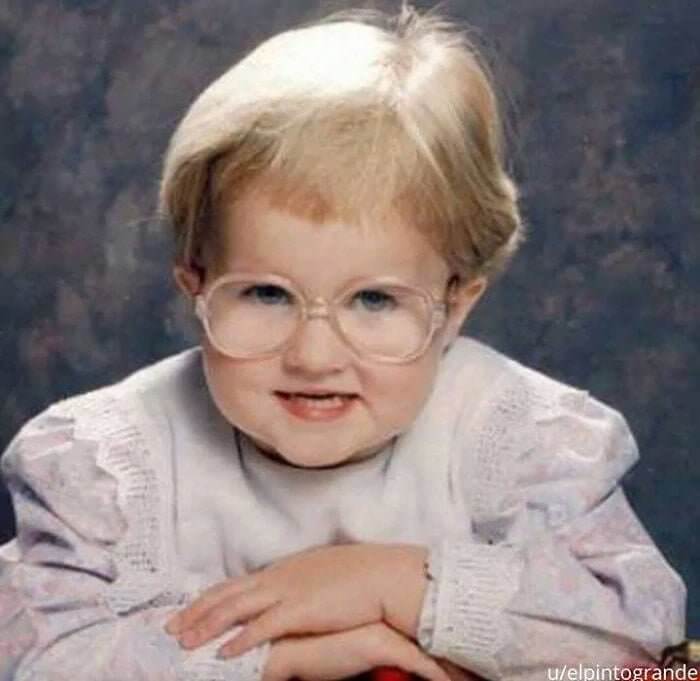 This adorable child looks uncannily like the Scottish nanny, but we hope that her fashion sense has improved over the years. 
How To Keep Amused As A Child
Children get easily bored, and in the days before video games and smartphones, they relied on their imagination for fun moments. According to the woman who submitted this shot, apparently, this was one of her favorite ways to keep herself entertained.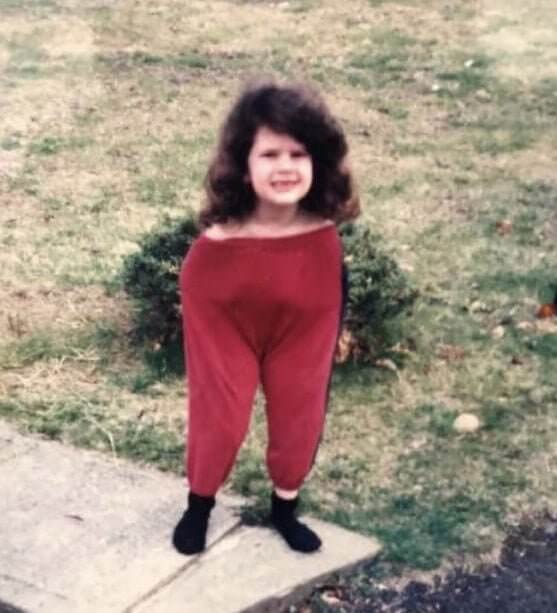 It makes for a great photograph and she seems genuinely proud of herself for making her top half disappear. That cheesy grin says it all and we bet she looks back fondly at those days of innocence and fun. 
Proving That a Parent Will Do Anything to Make Their Child Happy
Growing up in the 1970s and '80s was a wonderful time of innocence. Children didn't have smartphones to lose themselves in, and computer games were incredibly basic and not as popular as they are nowadays. Kids had to rely on their own imagination and a lot of outdoor activities. For a young child, owning a BMX bike was everything! They would spend hours learning how to do tricks such as wheelies and jumps. They would build small ramps to practice on, but sometimes a child didn't have the right equipment, as in this case.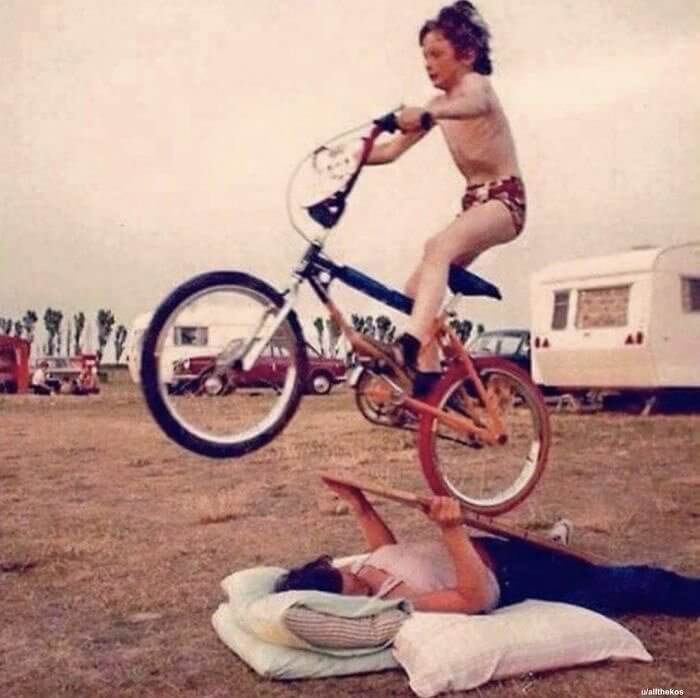 This amazing mom made herself into a ramp so that her son could perform his trick - that's love for you!
The Wrong Person Needs Treatment
Having a baby is said to be one of the most painful experiences a woman can go through, so it's always helpful when their partner is allowed into the delivery room to help them through the process. But things didn't go as planned with this particular birth.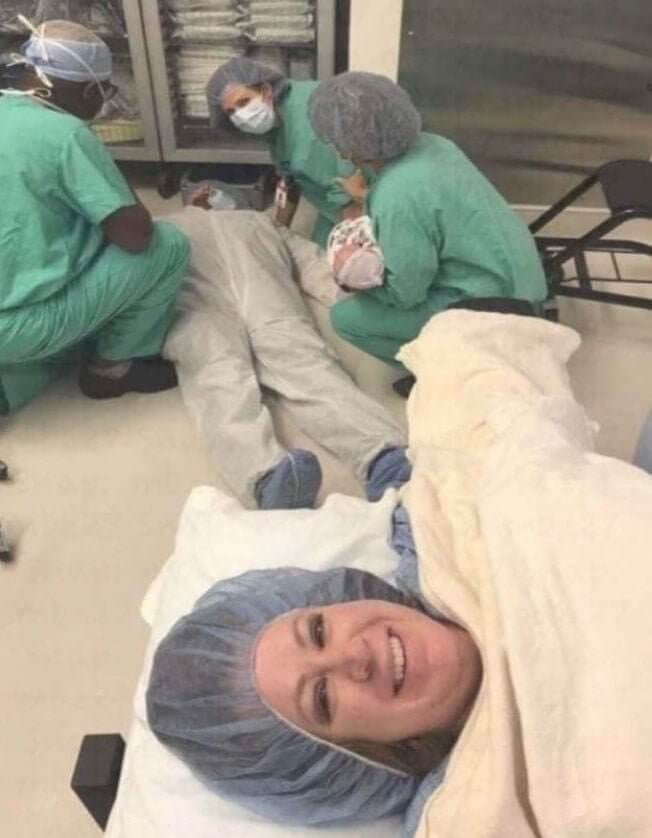 Watching a loved one suffering can be extremely traumatic and it was obviously too much for this man when he started to feel faint and collapsed on the floor. The medical team had to refocus their attention and attend to the man, while his partner posed for photos and found the incident rather amusing. At least it distracted her from the pain for a short while. 
More Bored Than Scary
In 1986, acclaimed author Stephen King published his 18th novel, entitled IT. It told the story of a shapeshifter who particularly favored appearing as a clown called Pennywise who would lure children to their deaths. The book was made into a television series, with Tim Curry in the starring role, and in 2017, a film version was released. The film was a huge hit and became a popular choice for Halloween costumes.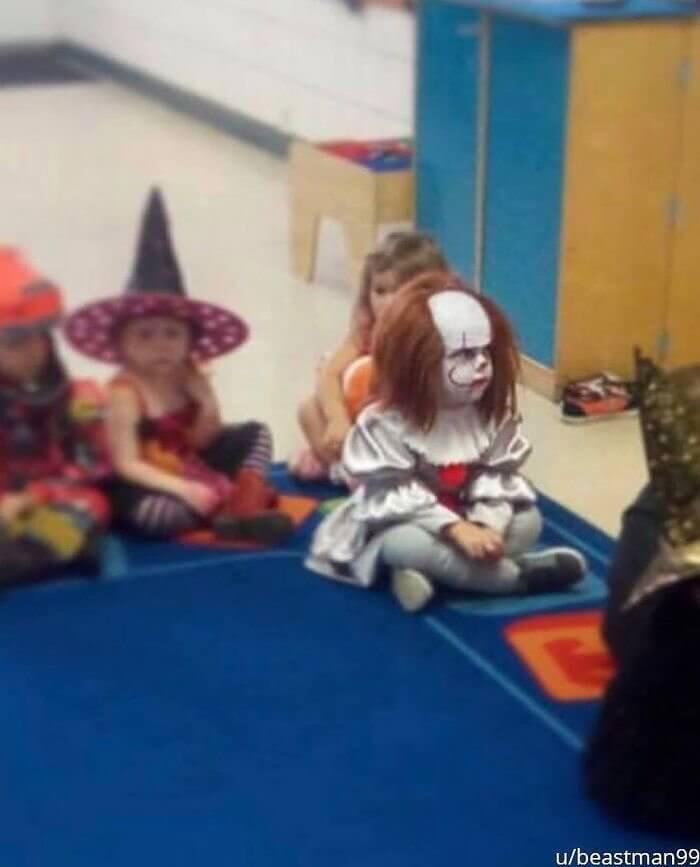 This three-year-old is obviously too young to have seen the scary movie, but his parents took great pride in getting the look just right. Unfortunately, he doesn't seem too impressed with their choice. 
Can You See The Resemblance?
Apparently, we all have a doppelgänger - someone who looks uncannily like us in almost every way. You may have seen articles listing famous people and their doubles, such as Natalie Portman and Keira Knightley, or Zoe Saldana and Thandie Newton. This person uploaded a photo of her grandparents as she is convinced that they look like celebrities. Let's see if you agree.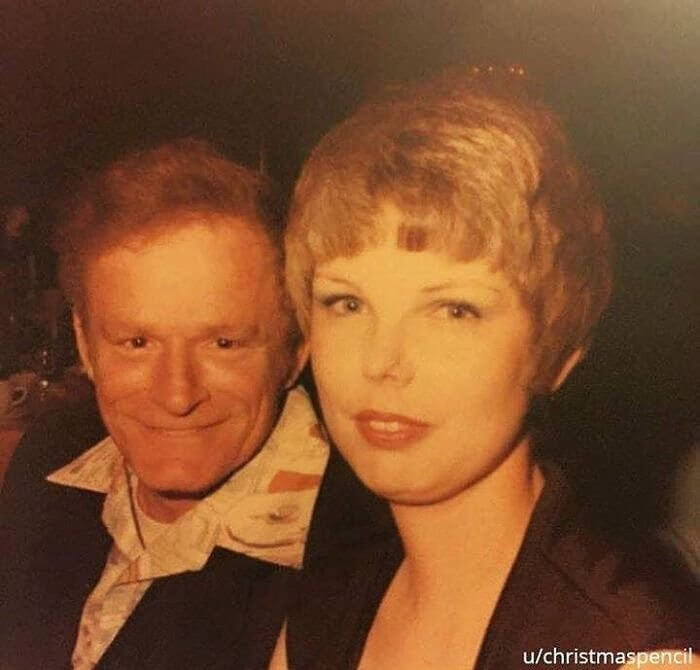 When this woman looked at an old photograph of her grandparents, she instantly saw her grandmother as an older version of singer Taylor Swift. She's convinced that her grandfather is the spitting image of Hugh Hefner, owner of the infamous Playboy magazine. Can you see the similarity?
That's A Whole Lotta Hairspray
The Eighties were all about fashion, music, makeup, and big, big hair. These eight siblings took their appearances very seriously, so when they arranged to do a professional photo session, they went all out to ensure the perfect look. The brothers had chiseled jawlines and tightly-permed hair, while the sisters looked as though they had each used ten cans of hairspray to achieve their look.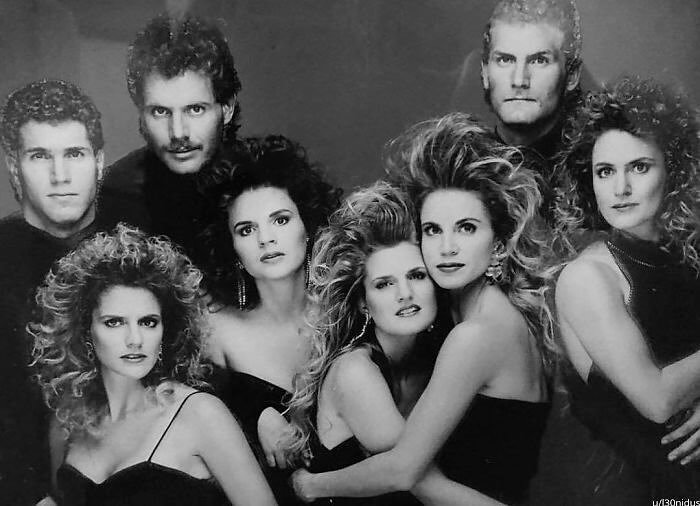 Everyone in the 1980s opted for the 'big hair' look, and those with straight hair would spend hours at a salon getting perms done. This is a very good-looking family and they should feel proud of this image as it's a wonderful memory of days gone by. 
How To Keep A Child Amused
Children get bored easily, and it's exhausting for parents to try and keep them entertained for an hour or two. It's especially difficult to get them to behave during a meal or out with others. But the most trying times are when they are surrounded by other people, for example, during a long-haul flight or at a social occasion. When you've got to take a toddler to a wedding, it's more tiring than enjoyable.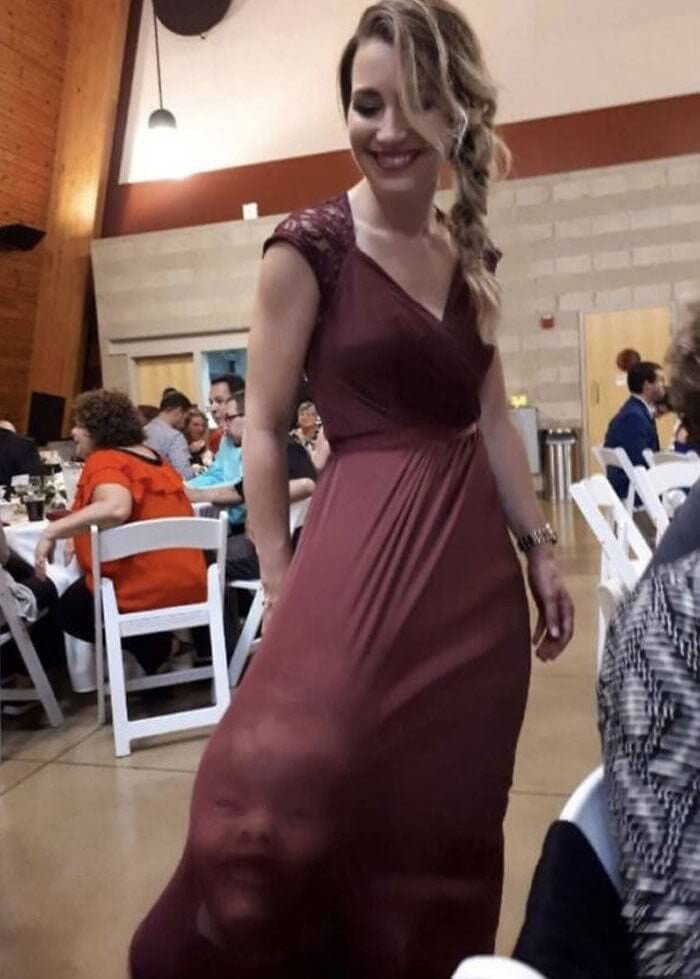 This toddler was kept entertained by some of the wedding guests and found great amusement in hiding up a lady's stretchy dress while pulling faces. The result was rather scary but made for a great photo opportunity. 
Go, Grandma, Go!
You can tell from the decor that this is an old photograph, with the glitzy chandelier and old-fashioned tablecloth, but the lady in the photo is definitely ahead of her time. Her clothes are understated but her attitude definitely isn't. She was born in 1899 when women were supposed to behave a certain way, but now that she is enjoying her golden years, good behavior isn't at the top of her list.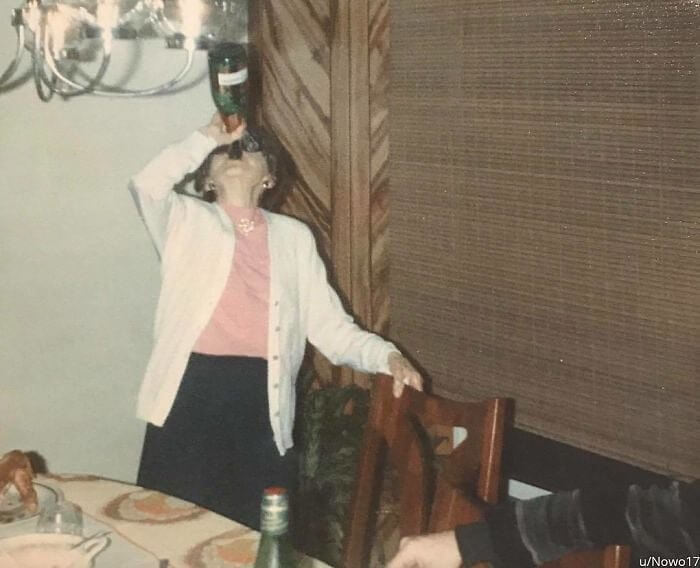 Her great-grandchild uploaded this fantastic moment onto the Awkward Family Photos website with the caption, "Never met her, but definitely a legend." We wholeheartedly agree!
This Youngster Is Starting Motherly Duties Early
This young girl already looks like a professional when it comes to feeding her baby brother. She has the bottle held up at the right angle and the baby is in heaven as he gulps down the formula. It looks as though she has done this many times before, and doesn't seem fazed in the slightest. She is transfixed by whatever she is watching on television, and it gives her mother some time to get on with her chores, or in this case, grab a camera to capture the moment.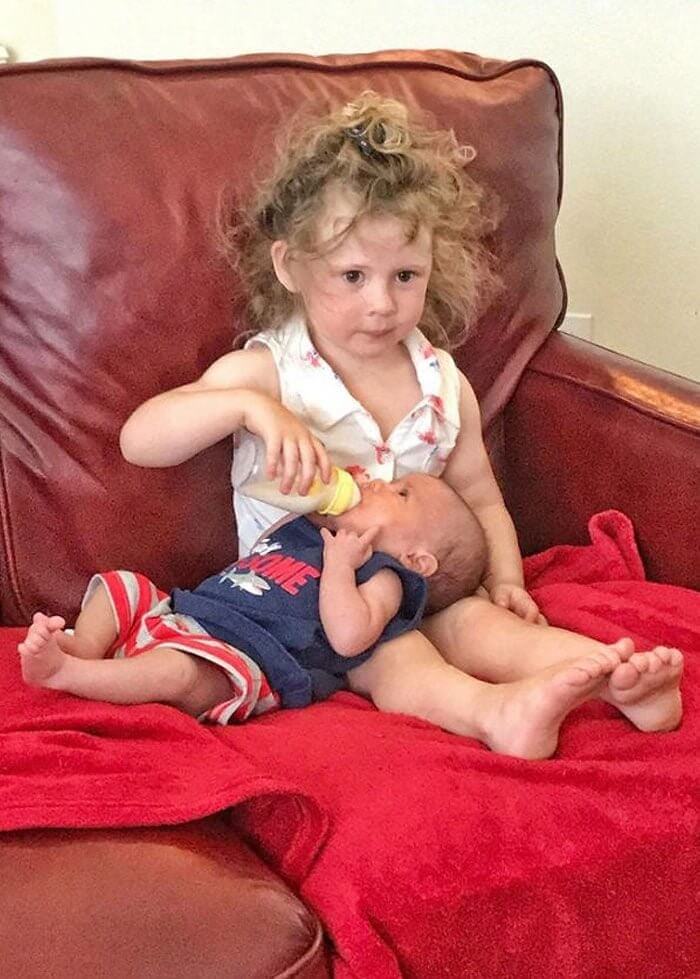 When her mother submitted the photo she hilariously added the caption, "My daughter looks like a mom that regrets all her life decisions." Hopefully, this baby grows up to appreciate his sister's efforts in raising him, because usually, not many older siblings are happy to lend a helping hand. 
Why Can't All Teachers Be This Cool?
When you think of California in the '70s and 80s, surfing usually comes to mind. Blonde-haired, tanned surfers waiting for the perfect wave while topping up their tans - it was the epitome of cool. Being at school on a sunny day when the beach is calling your name was torture for those who loved riding waves, but when your teacher made a lesson exciting, it distracted you from what you were missing out on.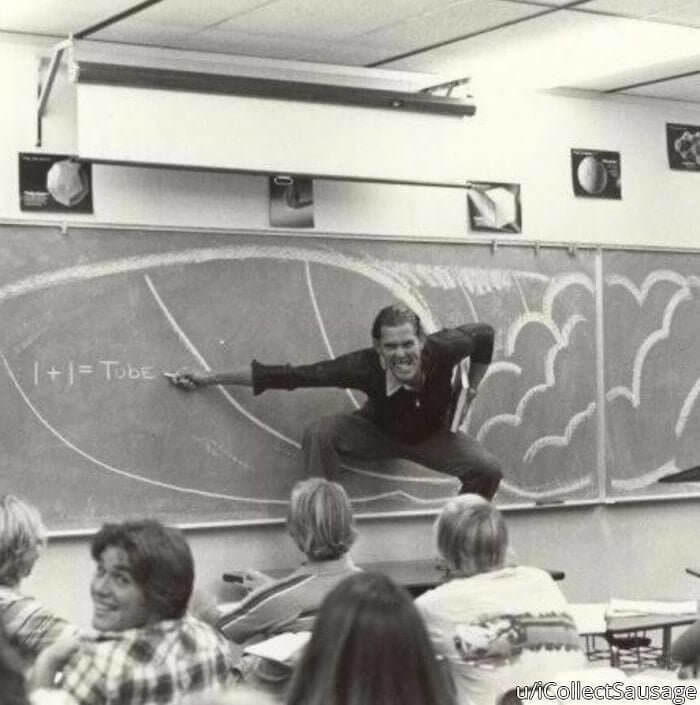 This photo shows an enthusiastic teacher teaching math in an unorthodox way to his class in the late 1980s. He's on top of his desk, riding an imaginary wave while teaching his students that "1 + 1 = tube". His classes must have been so much fun. 
The Epitome Of Cool, Doubled
Fathers are known to come up with some crazy ideas with their kids, especially if it involves making themselves look cool at the same time. This father couldn't resist dressing his baby up in a black vest top, popping on a pair of tiny sunglasses, and adding a gold chain to match his own outfit.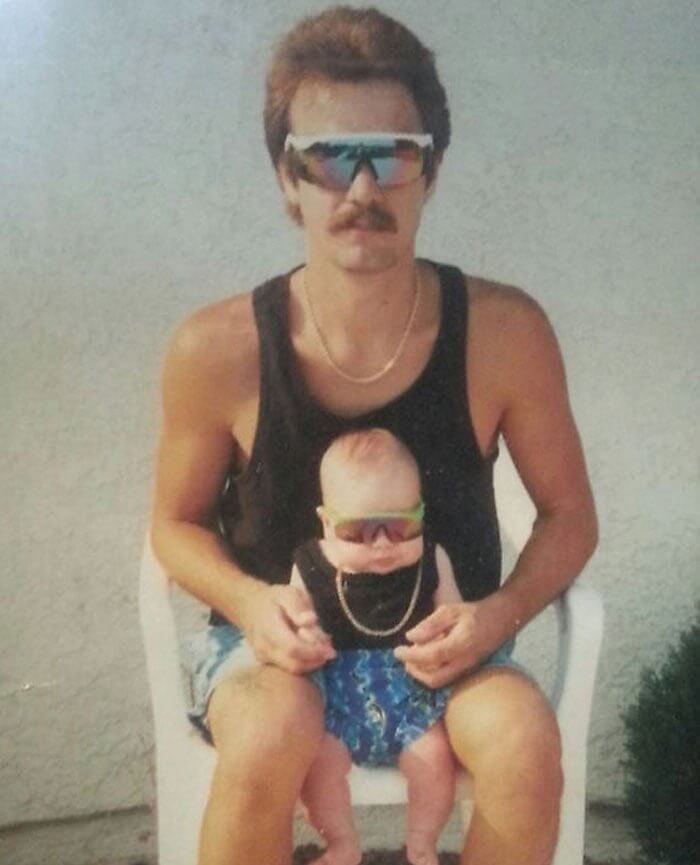 They both have the same facial expression which makes it even more amusing. This makes for a wonderful memory for this very cool father and son to look back on. 
One of These Kids Is Not Like the Others
There was a song in the popular children's show Sesame Street that asked its young viewers to spot the odd one out. The woman who sent this image into the Awkward Family Photo website was a good sport, saying that she was a lot different from her sisters. She added a caption that stated that her two older sisters had been accepted into private school and she had been refused.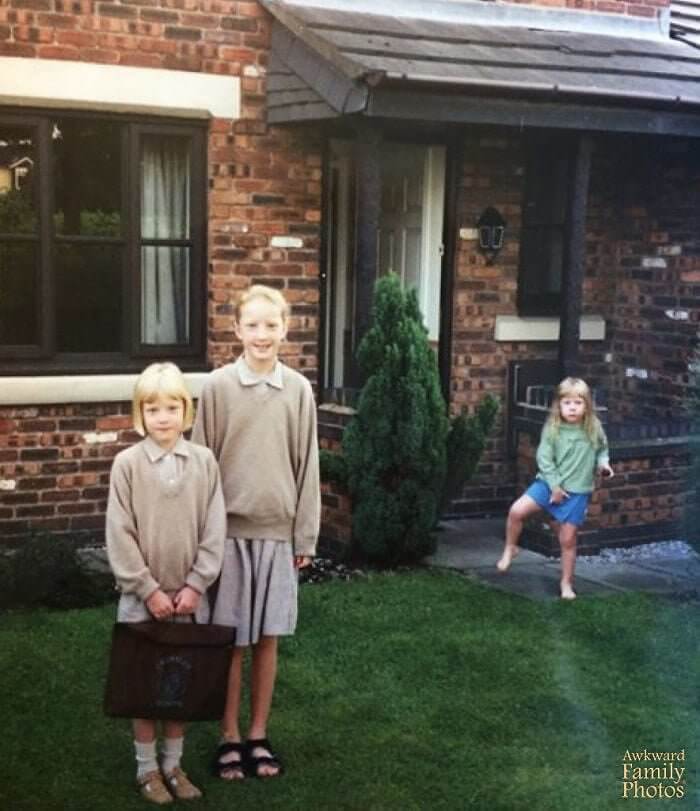 It's always good to be able to laugh at yourself, and it makes for a great photo, with her sisters standing up straight, with not a hair out of place, while she is scratching herself, seemingly not bothered about her appearance or her manners. 
No Thanks, You Can Keep The Eggs
Children usually look forward to celebrating Easter. For them, it's not about going to church or eating a large meal with the family, it's all about the chocolate. It's believed that the idea of the Easter Bunny was first mentioned in the 1500s, with the notion that it hid chocolate eggs in gardens appearing in stories in 1680. But no one mentioned that the bunny would evolve to look so menacing!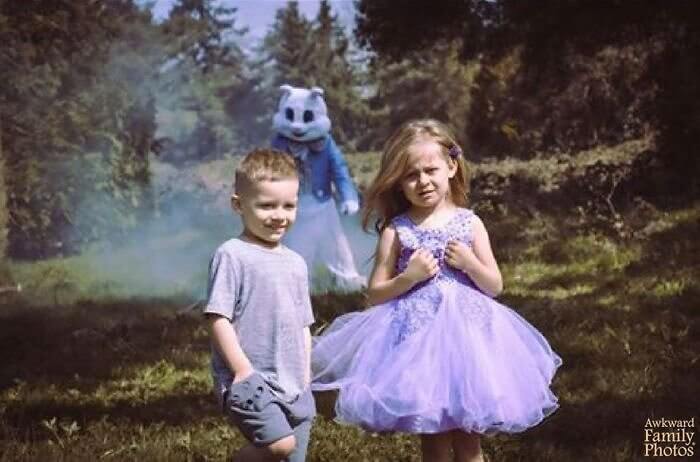 It looks like the girl in this photo has already seen him, but the boy is smiling widely so maybe he hasn't turned around yet. They probably won't want to go hunting for chocolate treats next year. 
Thanks For Nothing, Great-Grandma
When a family member works for a professional photography studio, you would think that when they create a simple collage piece for someone in the family, that it would portray each person in a good light. But in this case, there is a huge grudge against this baby's great-grandmother, and for very large and obvious reasons.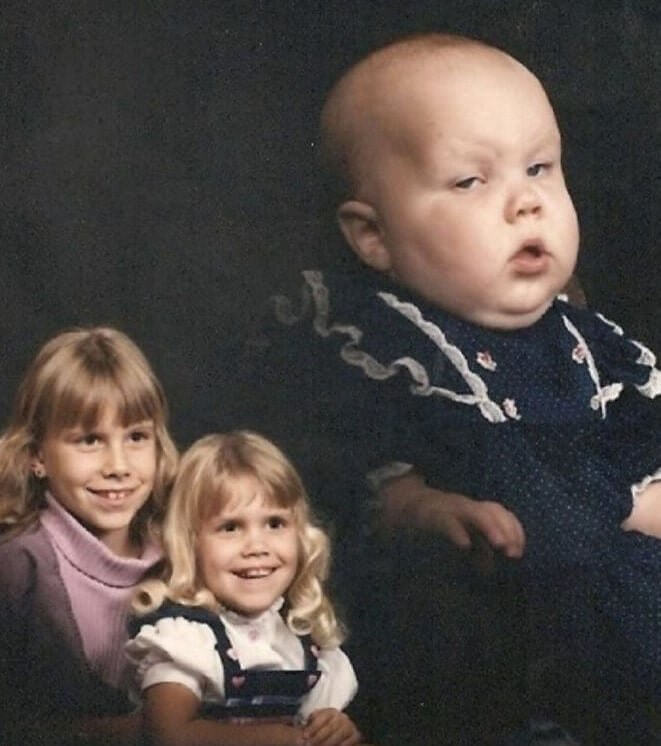 While she was babysitting for her three great-children one afternoon, she decided to surprise their mother with a photo. She took the children into the studio and snapped away. While the two girls look sweet and cute, the youngest child was described by themselves years later as being "in a food coma floating in the sky."
Is This Trickery Or Is This Girl Levitating?
Usually, a child is baptized soon after birth, around the age of three to six months. The ceremony involves dressing the youngster in white and having their head anointed with holy water. It's a joyous day for their family and friends and is believed to ensure their safe passage to heaven if they live according to the rules of their religion. The lady who submitted this photo was ten years old when she was baptized.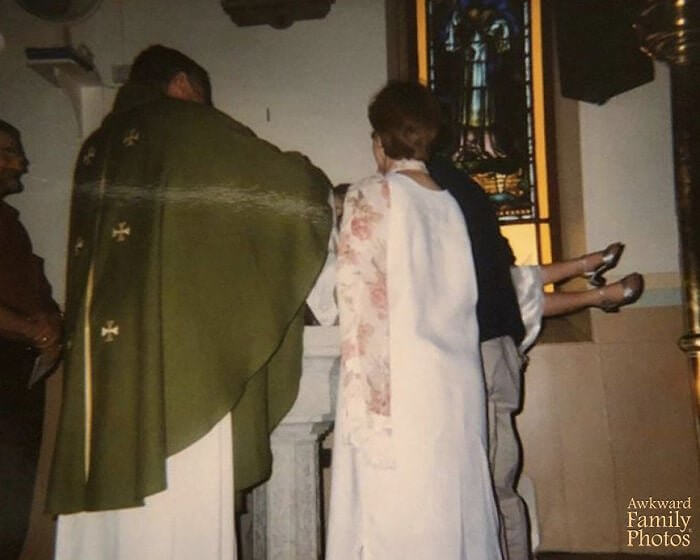 Her mother and the priest are blocking most of the view, but it's clear that this girl is not relaxed at all. Her body is rigid and she isn't too happy about being held horizontally. It makes for a funny photo nonetheless. 
Party Time! Excellent!
What seemed like a great idea at the time ended in tears and shock for these two wannabe rockers. Wayne's World became an instant hit on Saturday Night Live when it was first broadcast in 1989. It was so successful that a film version was released in 1992, with a sequel the following year. The main characters, Wayne and Garth, were known to blast rock music at ear-deafening volumes, especially Queen's "Bohemian Rhapsody".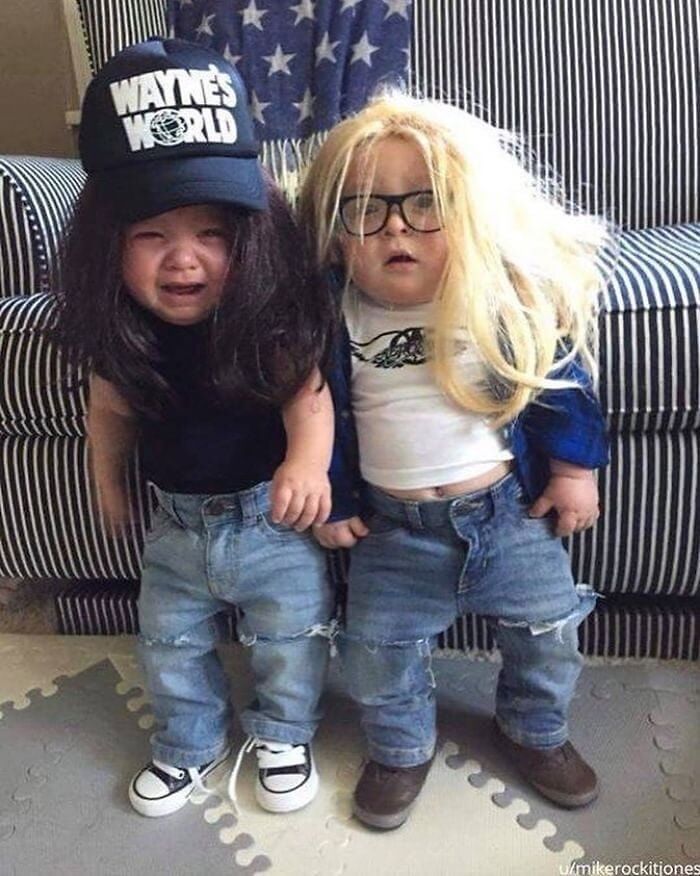 This photo was accompanied by the caption, "Why dads shouldn't be left alone with their kids." Little Wayne is traumatized by having to wear a black wig and a Wayne's World baseball cap. Little Garth just looks stunned by his outfit. Hopefully, they will find humor in it when they grow up. 
What's Stuck On This Ceiling?
At first glance, one would assume that this man had attempted to flip a pancake and it got stuck on the ceiling. With two kitchen utensils in his hands, it makes sense that his pets are patiently waiting underneath the delicious hot pancake, coaxing it to slowly peel itself off the ceiling and drop to the floor. But that's not the case here.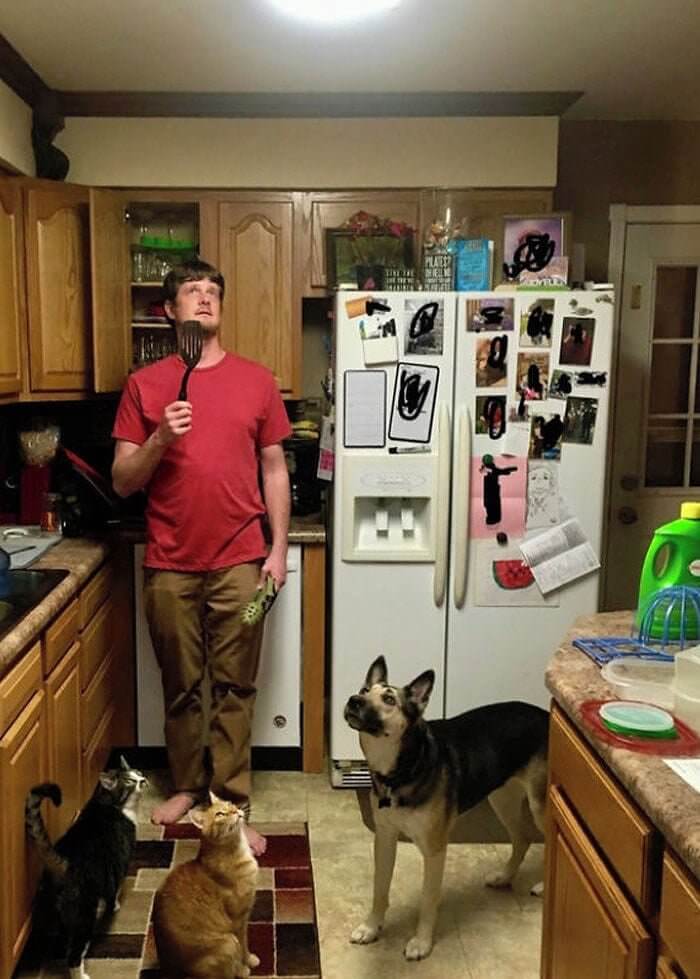 The man who submitted this photo isn't a cooking failure at all. The clue is in the very bright light in the kitchen. The glow of the light has attracted a moth and it's fluttering around and around the bulb. All animals love to chase butterflies, bees, and moths, so it's no wonder that they are transfixed by the newest member of the household. 
That's One Keen Gardener
When people reach certain ages throughout their lives, they commemorate it with big parties, a trip of a lifetime, or some crazy adventures. Usually, these milestones are at 21, 40, 50, and 100. But this confident 80-year-old grandfather wanted to do something a little bit different to celebrate his birthday.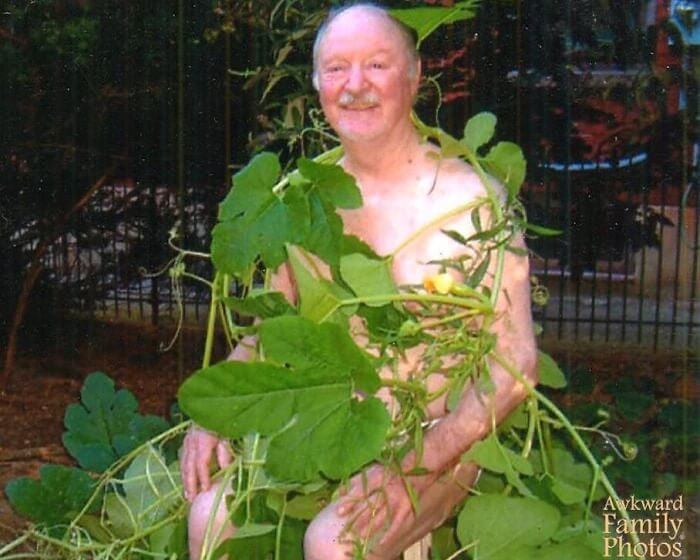 When this gentleman reached his ninth decade, he chose to strip off and cover himself in vine leaves. The strategically placed vegetation spared any blushes, and he was so happy with the photo that he sent it to his family members.
This Wasn't Meant To Look So Creepy
In 1980, Stanley Kubrick directed a film called The Shining, which was based on a Stephen King book. King is renowned for writing disturbing horror stories, and this was one of his most famous. The film was set in a hotel and starred Jack Nicholson as a man who took his family away to an isolated hotel for a vacation. During their stay, things go from bad to worse, including a run-in with an evil set of twins asking the son to "Come play with us, forever and ever and ever."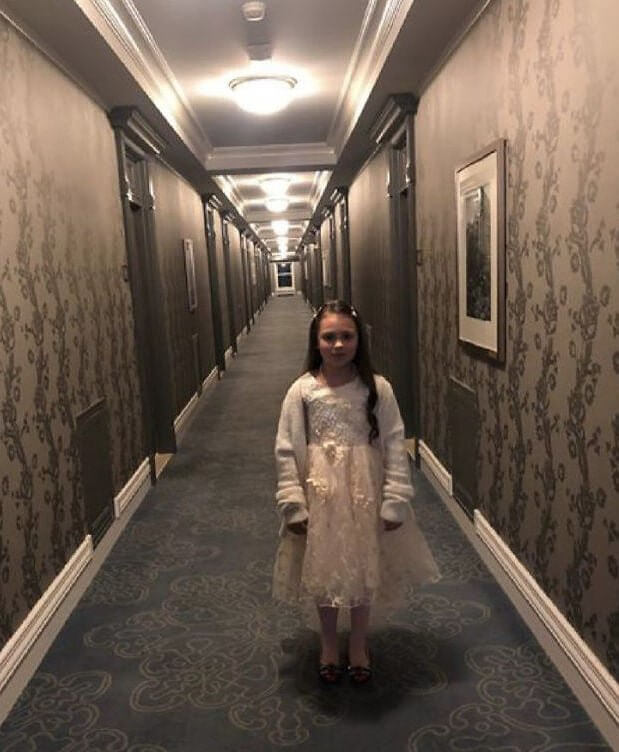 When this mom wanted to take a photo of her ten-year-old daughter before they headed to a New Year Eve's dinner, the end result looked eerily like one of the scenes from the movie. All that was missing was the other sinister twin. 
He's A Softie Really
We all have that one family member who is a little bit eccentric. Perhaps it's their crazy hairstyle, wacky wardrobe, or over-the-top makeup, and sometimes it's all of the above, as is the case with Uncle Jack.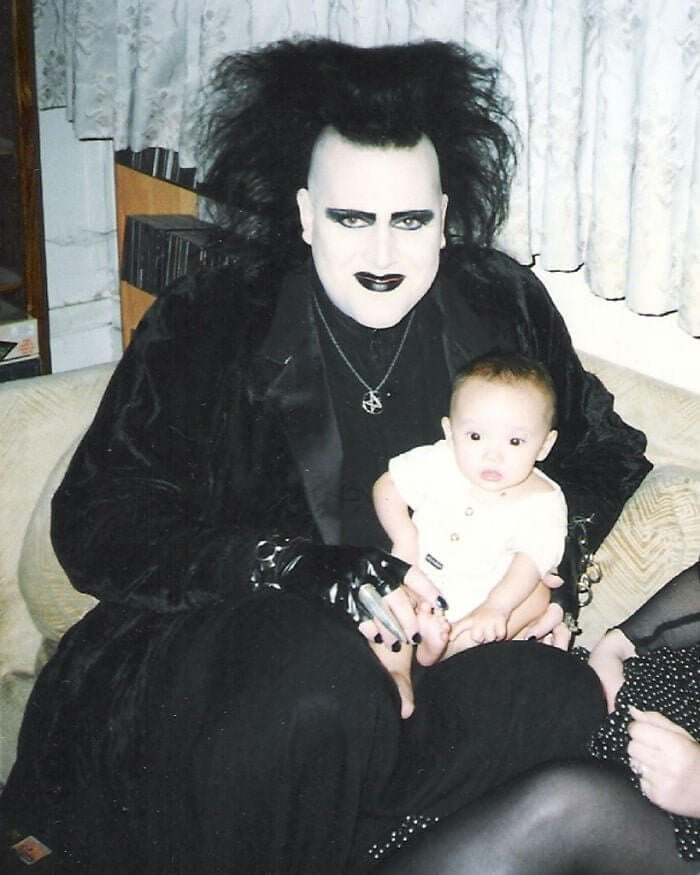 Jack was a goth and loved to dress in black, with drastic black and white makeup, and black nail varnish. The family had grown used to seeing him like this but the same can't be said about the latest member of the family. He looked rather stunned when he was placed on Jack's lap for a photo. We're sure he now doesn't bat an eyelid when Jack pops round for a visit. 
This Is What Happens When Mom Takes You To The Mall
It was all the rage to take your children to the local shopping mall and get their hair and makeup done for a set of glamor photos. Most girls jumped at the chance of being allowed to wear eyeshadow, blusher, and lipstick. This young lady was just 11 when her mom took her to the photo session at the mall and she loved every minute of it, posing with confidence beyond her years.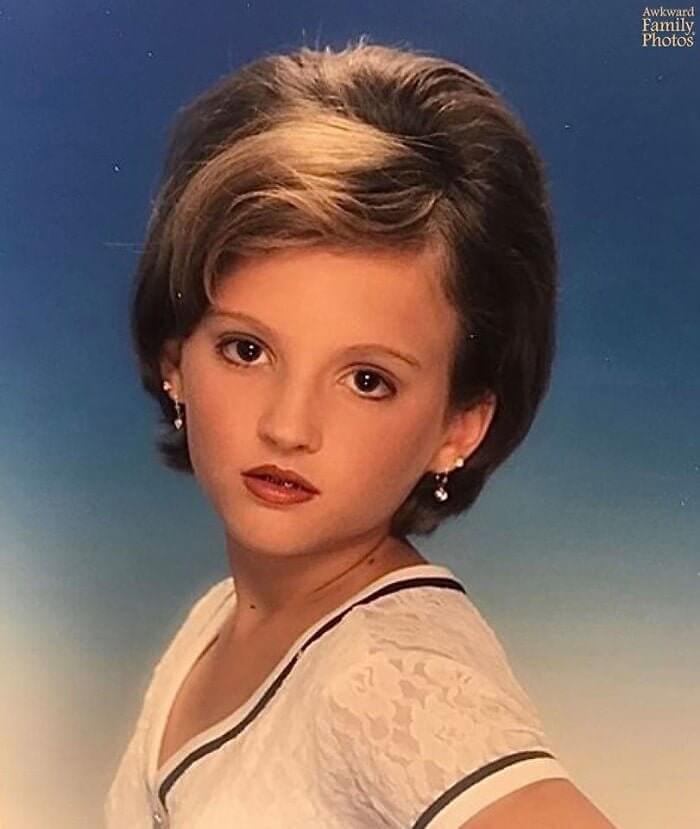 The framed photograph is still on display in her parent's living room, even though she is now a grown woman. Looking at it now, she thinks she looks like "a middle-aged woman who wants to speak to the manager."
Well, That's One Use For It
Technology moves incredibly fast. Developments in electronics mean that newer, faster, better versions of everyday gadgets come onto the market at lightning speed. Remember when cell phones were bulky and cumbersome, or when computers were too heavy to carry around? Nowadays, these such items are becoming both bigger and smaller, depending on the needs of the customer. In the case of television sets, the bigger, the better.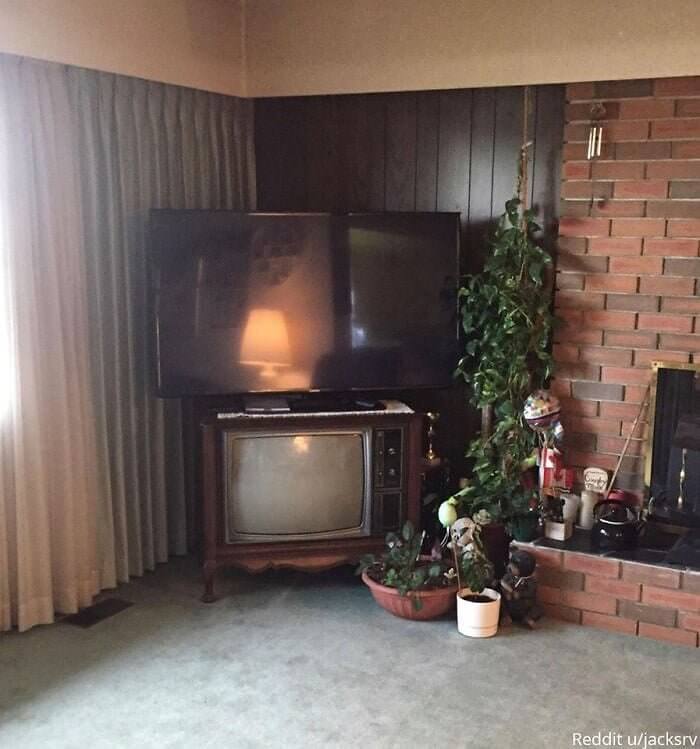 But when the new flatscreen arrived at this lady's house, she was stumped with what to do with the old clunky one. So she decided to use it as a stand for the new television. Ingenious!
It's Not Like You Can Have A Do-Over
A couple's wedding day is meant to be perfect in every way. They meticulously plan every step, from who to invite, to the venue, food, music, speeches, and seating plan. To capture every moment of their wedding day, most couples hire a photographer to cover every aspect of what is meant to be the best day of their lives. So you can imagine the disappointment, rage, and upset when a photographer doesn't quite match up to expectations.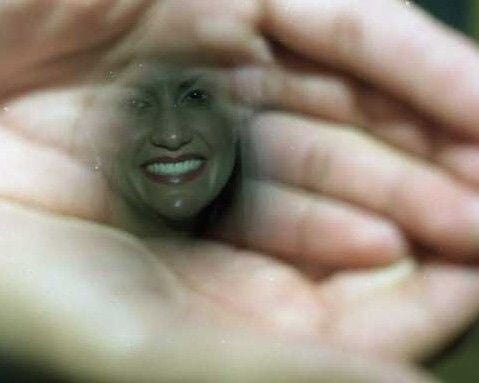 You have to give them points for originality here, but the result is horrendous. One can only imagine what the rest of the photos look like. 
The Water Baby
Babies can be born with a full head of hair or completely bald. Some have a few wrinkles and resemble an elderly person. Sometimes, a large baby will take time to grow proportionately but in their early days, they may not appreciate having their photo taken for future evidence of their chubbiness.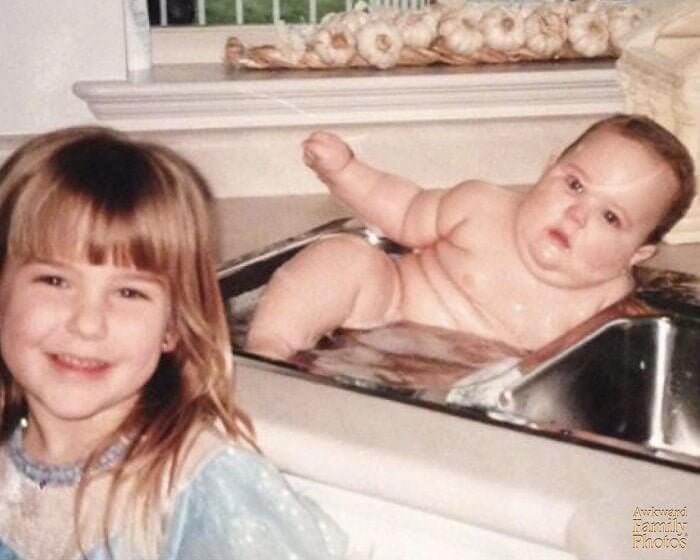 This proud parent was giving their toddler a bath in the kitchen sink and took the opportunity to take a photo of both of their children. But this bathing babe is a tad on the hefty side, with some fat folds on his arms, legs, stomach, and face. The double-chin is also adorable. 
This Is What Happens When Parents Lie to Their Kids
You've got to love a mom and dad with a sense of humor. When you've got a cool set of parents, days are never dull, but when you are young, they can use you for their own amusement. The blissful age of innocence can be taken advantage of, with hilarious results.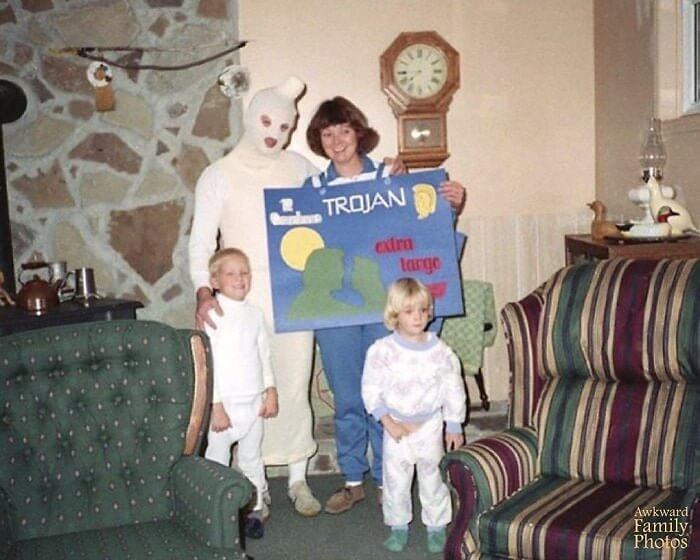 It was 1994 and these two children had been told that Mommy and Daddy wanted the whole family to dress up for Halloween. Their father was going to dress as a sock, and their mother would be a sock box. The kids had to wear their pajamas, as they'd been told that they would be the "dryer lint" to complete the look. And there you have it, The Condom Family. 
Is This Another Alien Autopsy?
In 1995, a black-and-white grainy film was released, apparently showing a secret examination of a supposed alien creature. It was claimed to have been one of the bodies recovered from the infamous 1947 crash in Roswell, New Mexico, and was apparently filmed by a military cameraman. Conspiracy theories continue to surround this footage and the Roswell incident.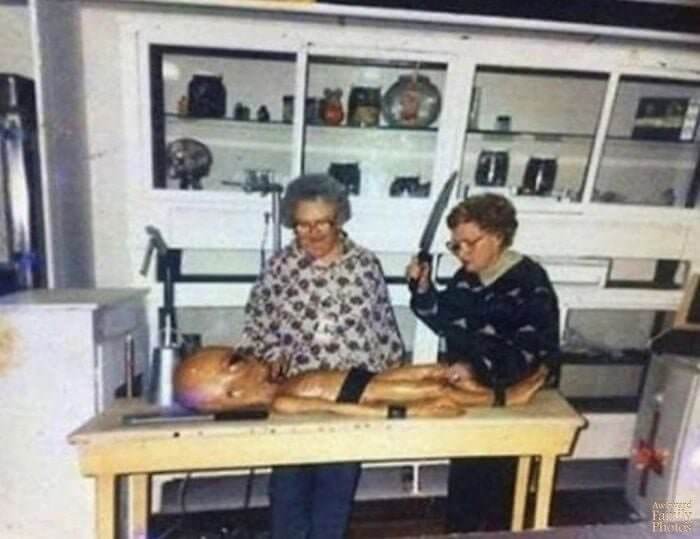 A grandchild submitted this photo onto the Awkward Family Photos website, showing her grandmother and friend seemingly recreating the autopsy in the comfort of her kitchen. We love their sense of humor and commend them for livening up their day with some creative and comical adventures. 
Who Is Giving Birth to a Grown Man?
When a baby is growing in the womb, they are usually positioned with their head at the top and feet at the bottom, in what is known as a breech position. After 37 weeks, the baby turns around to face the other way in time for the birth. On the rare occasion it doesn't, the head is the last thing to appear. It slightly resembles what's taking place in this photo.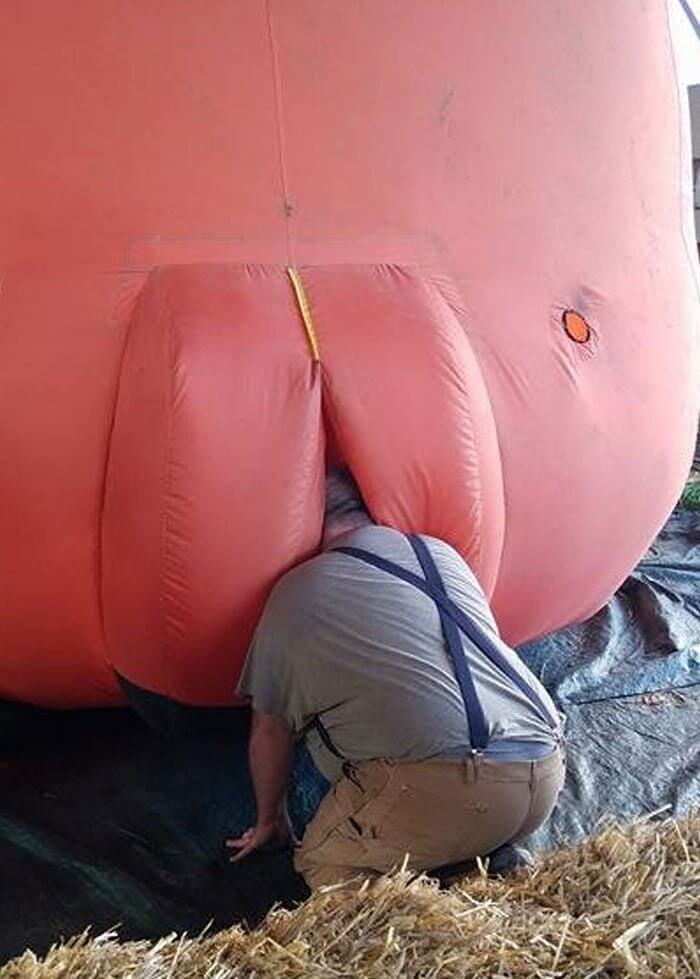 When the owner of this photo arrived at their friend's house, they were thrilled to see a giant inflatable pumpkin in the garden for the kids to enjoy. What this person hadn't counted on was seeing a man with his head stuck inside the back of it. It made for a great photo opportunity. 
A Prime Example Of Parental Cruelty
Some people love entering competitions in the hope of winning a big prize. It's all harmless fun when it's just themselves doing it, but when they involve other people and make them look ridiculous, well that's just mean.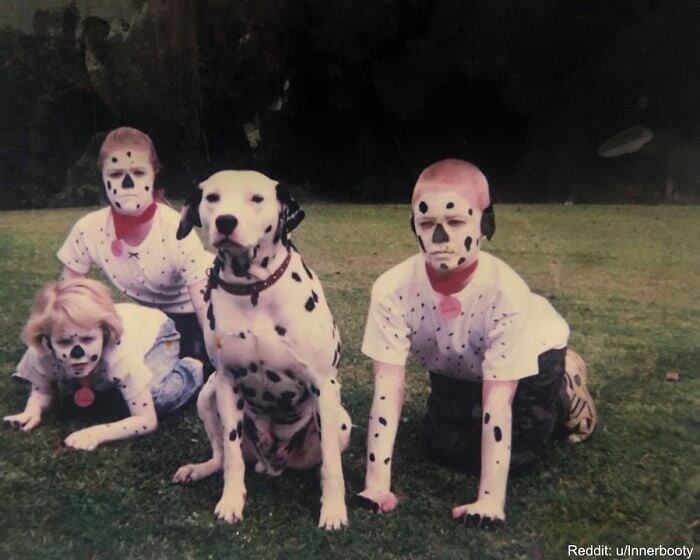 These three children were forced to dress in spotted T-shirts, have their arms painted white, and their knuckles painted black. Their faces were covered in black and white makeup too. But worse was to come. Their parents made them assume a dog-like pose and the photo was entered into the local pet look-alike competition. How humiliating. After that ordeal, we hope they at least won first prize. One of the siblings said that the photo "still haunts us."
Seventies Chic
The 1970s will never be heralded as a stylish, fashionable time. Trousers were flared at the bottom, men wore high-heeled shoes, and boots, and the hairstyles were ghastly. Home decor was either flowery and overwhelming or kitsch and daring. But there were a few cool things about that decade, albeit not very many. The film Star Wars was a massive hit, and disco music filled the airwaves and nightclubs.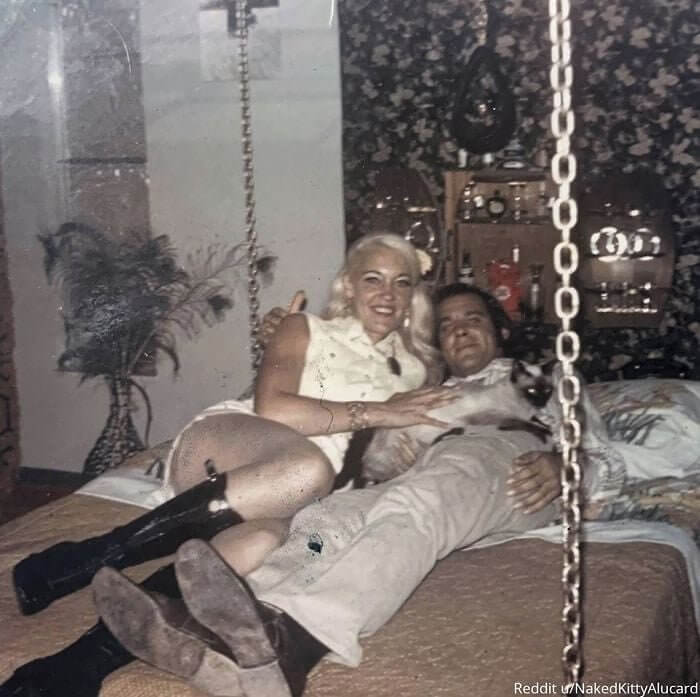 In 1972, this person's mother was the epitome of cool, having a bed that hung from chains and a mini-bar for a headboard. Her hotpants and knee-high boots tell you that she was anything but boring.
You Probably Shouldn't Eat That
On April 26, 1986, during a safety test at the Chernobyl nuclear power plant in Ukraine, something went very, very wrong. One of the reactors exploded, causing one of the worst nuclear disasters in history. The fallout was catastrophic, with 350,000 people forced to evacuate the immediate and surrounding areas. Nuclear waste poured into the water system and went into the soil.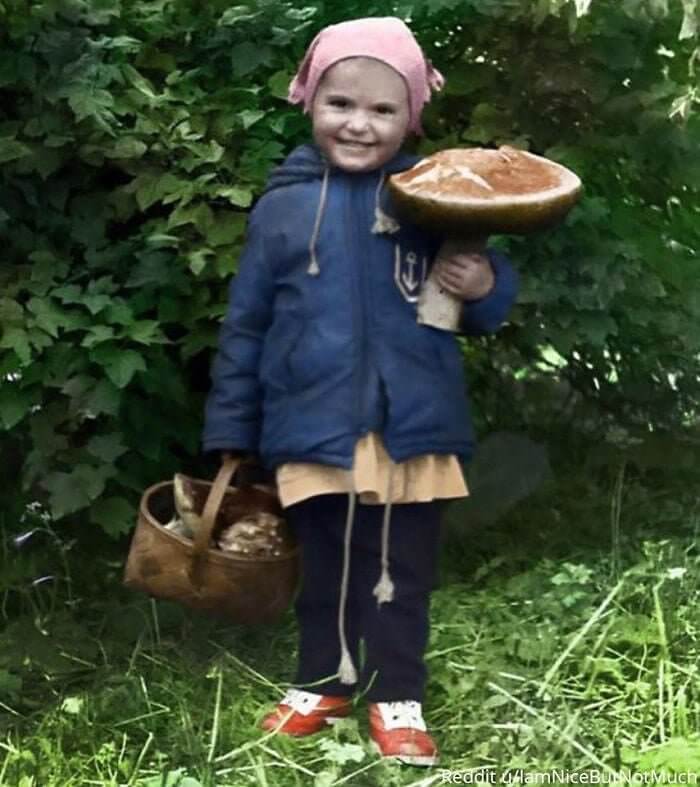 This young girl was pictured picking mushrooms the following year in the neighboring country of Belarus. While she is clearly delighted at finding such a massive mushroom, eating it might not have been the best thing to do. Thankfully it didn't do her any harm, as she was able to submit the photo many years later. What a relief.