Even though vandalism is a criminal act, it is not always detrimental. Let's face it, creatives can see beauty and humor in places the rest of us cannot, so why not turn a blind eye to some of their antics if they are contributing to the beautification of cities?

That's why we compiled a list of acts of "vandalism" that are too amusing to be considered illegal, from sculptures shaving themselves to flowers transforming into a Simpsons character.

Please take a moment to enjoy this compilation of instances in which vandalism should not have been classified as such.
U Can't Touch This!
According to what we see, whoever placed this here must have been thinking about doing so for quite some time. In other words, not only is the phrase "Hammer Time" neatly typed and printed, but the piece of paper itself appears to be laminated!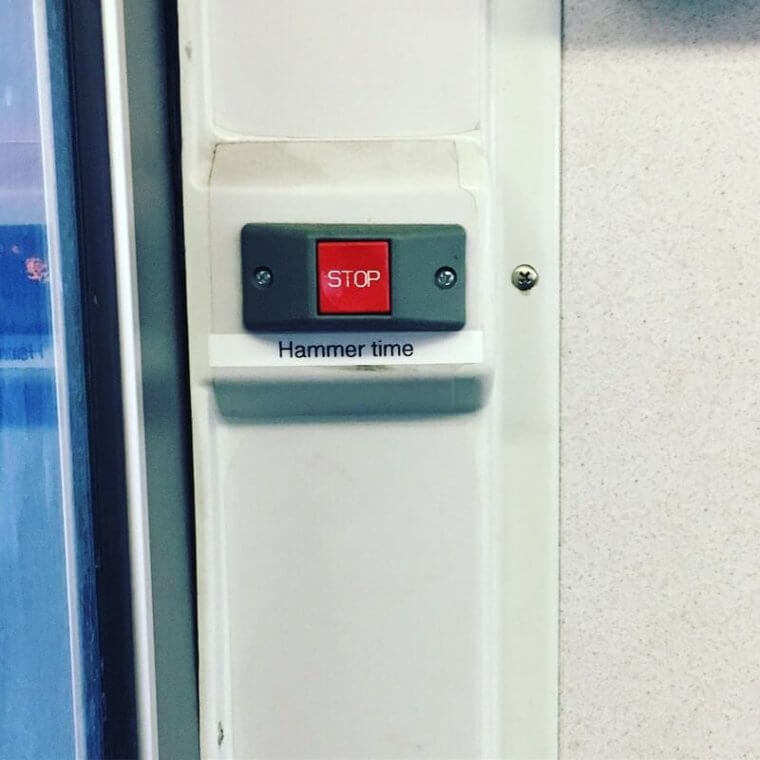 In any case, this MC Hammer "U Can't Touch This" allusion is hilarious in its own right. Without a doubt, people who have seen this amusing act while boarding or disembarking the train have cracked a smile as they passed it.
Chuck Norris Sat Here
Almost everyone enjoys Chuck Norris's witty one-liners. He is so invincible that even time stands by and watches him. Most likely, this shattered bench served as his final resting place, and it was left in shattered pieces.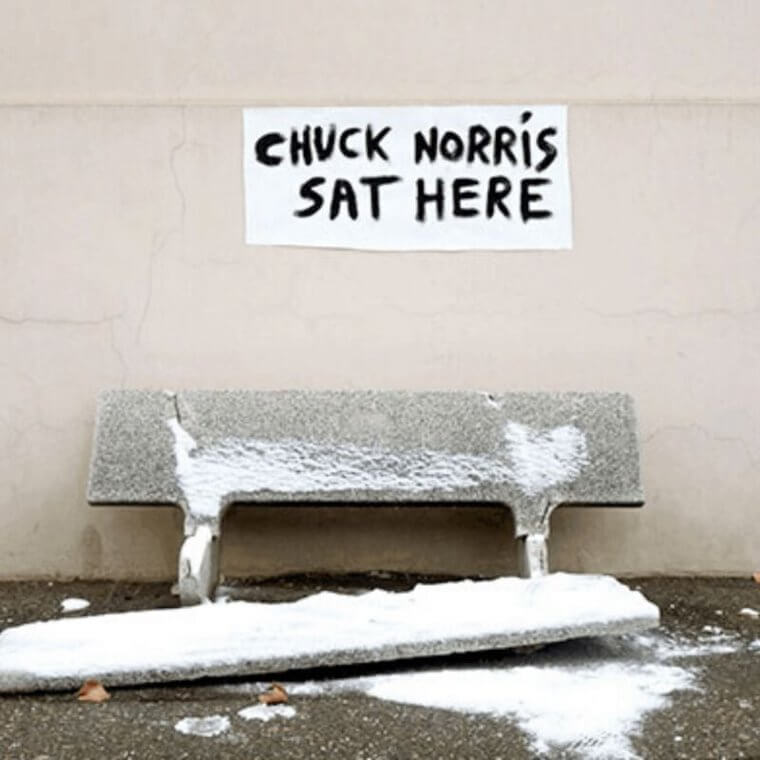 You should see what happens when you cross paths with Chuck Norris! Having said that, if you find this picture amusing, please do not share it with Chuck Norris or anyone else. We'll be the first on his list when he gets back!
One Rule
Because of some inexplicable reason, this vandal believes they have life completely figured out and that they can summarize what life is all about in four words: "Live fast, pet dogs." When you think about it, it's pretty great advice to follow.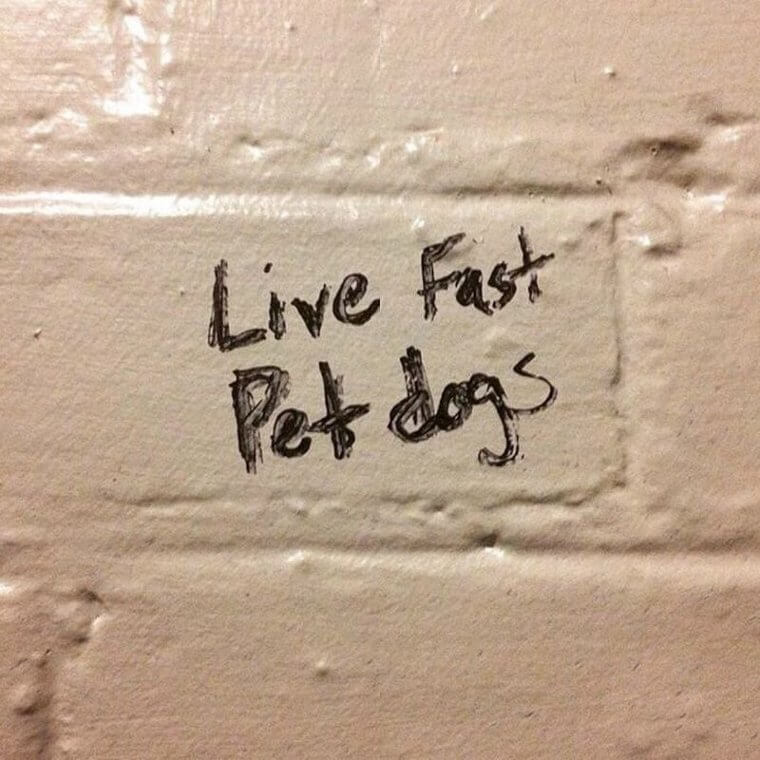 However, as much as we believe that it is sound advice to heed, we are confident that there are numerous other suggestions for leading an enjoyable lifestyle. What about cats? Surely, they are also deserving of appreciation. In a world filled with complexity and nuances, four words are insufficient to guide one's life.
Kung Fu Fighting
To be honest, whoever is responsible for this Kung Fu masterpiece deserves a lot of credit! Using only a little bit of patience and paint, this old and broken piece of metal was transformed into a truly amazing piece of art!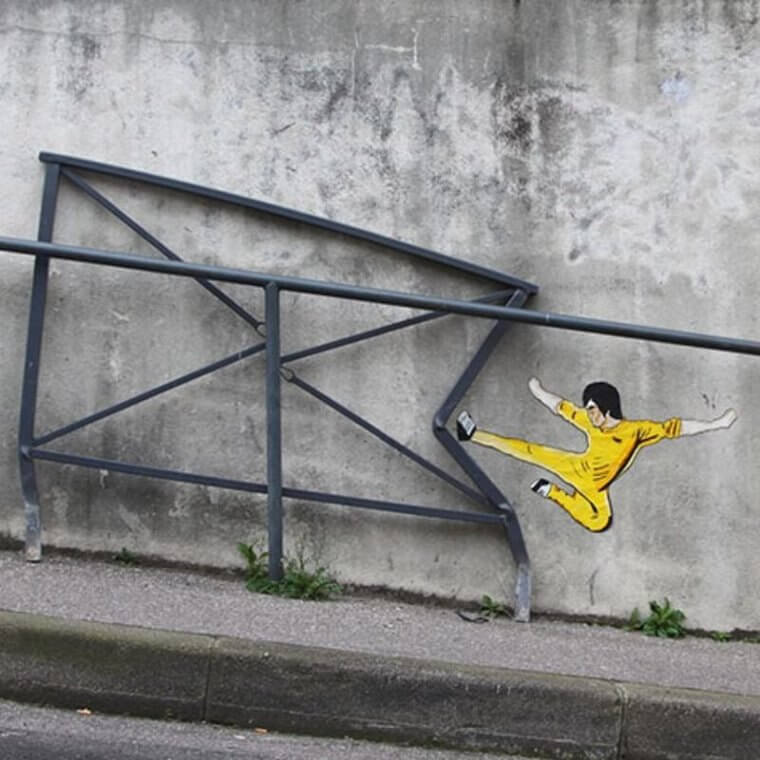 In fact, the painting is so well-done and imaginatively placed that it actually makes it appear as if the dent in the board was intended to be there. After all, not many people...or things...can withstand the wrath of Bruce Lee, the legendary martial arts master.
That's a Grate Fish
Something doesn't smell right here, and we don't think it has anything to do with sewer grates. To be honest, we believe it is safe to say that, by this point, you can really turn anything into a work of art, including drainage systems.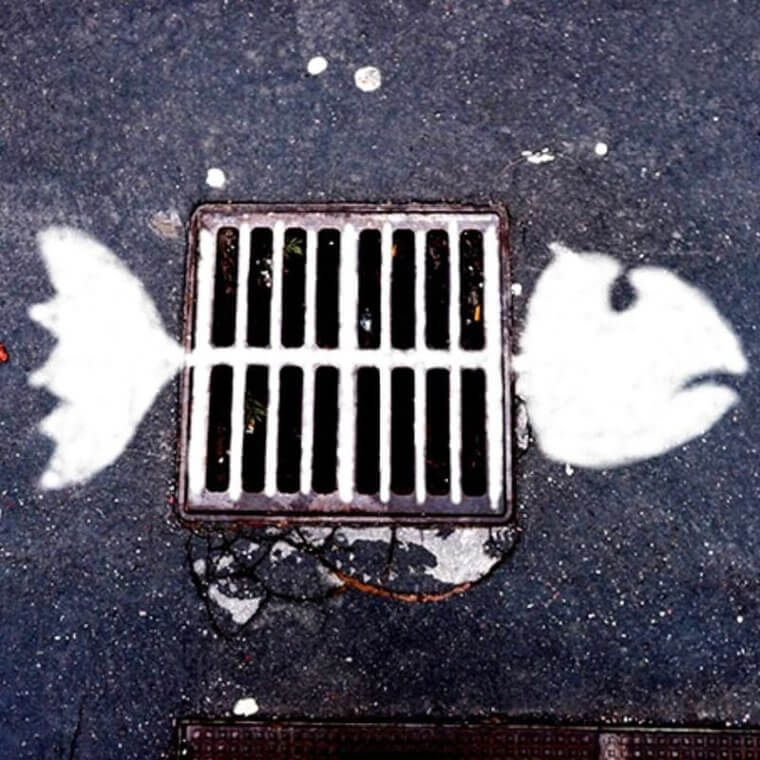 Sure, it doesn't necessarily appear as if the person who created this spent all of their spare time on it, but that doesn't rule out the possibility that they did. Because, after all, their imagination allowed them to see a fish in something that most people wouldn't even consider looking at on a daily basis.

Where Is Johnny?
If you've seen The Shining, we can guarantee that when you look at this photo, you'll automatically say "Heeeeeere's Johnny!" in your head (or out loud). And those who haven't seen Stanley Kubrick's psychological thriller from 1980 are probably just curious as to why actor Jack Nicholson appears to be creepy in the film.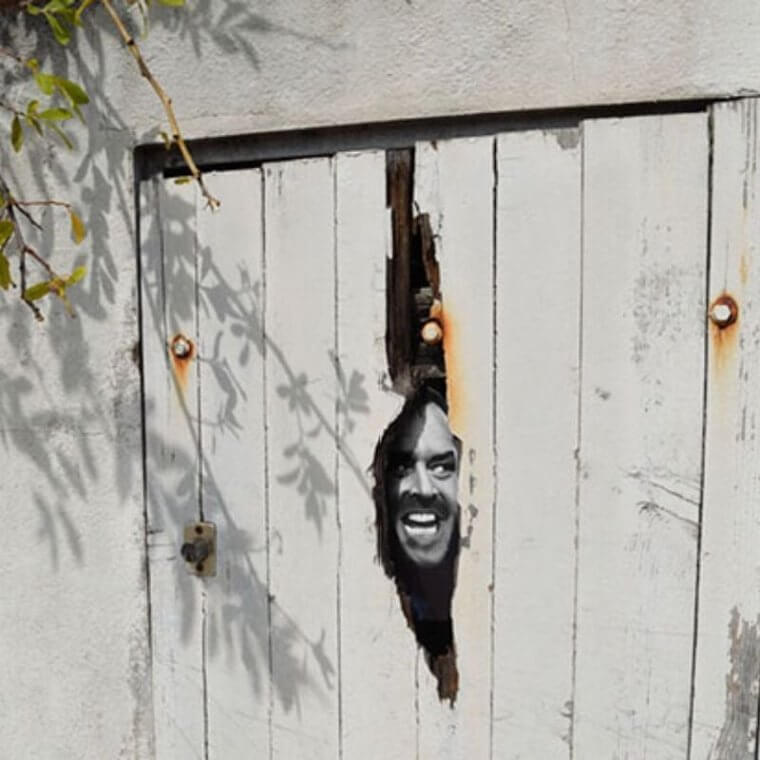 There's no denying that this is one of the most creative and slightly amusing ways to divert attention away from an obviously large crack in this wooden fence, regardless of whether or not you've actually seen the movie.
Jay Z Is Here to Help
Sorry everyone, but it appears that the solution to your printing problems has been obscured by Jay-Z's face. Now, he may be a rap legend, but we all know that he isn't qualified to assist you with your printing issues.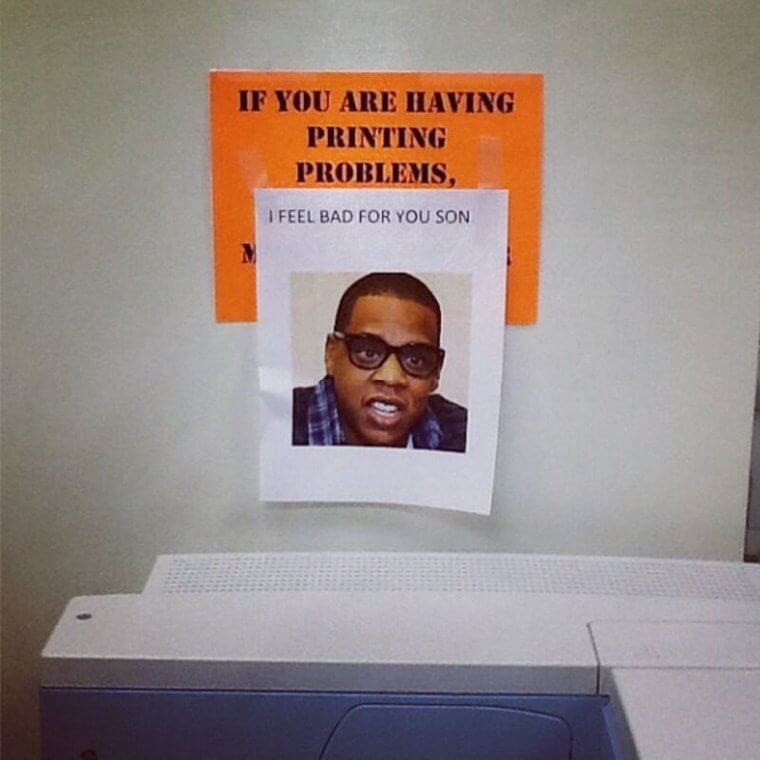 Even so, not only is this a pretty amusing way of livening up the university printing lab during finals week, but we're confident that any students who came to print out their study guides got a good chuckle with this little wordplay.
Customer Is King
What does it take to get some decent customer service in this town?! There is no justification for keeping someone waiting for 45 minutes when an employee isn't even going to show up at the end of the day to wash the hands of a paying customer!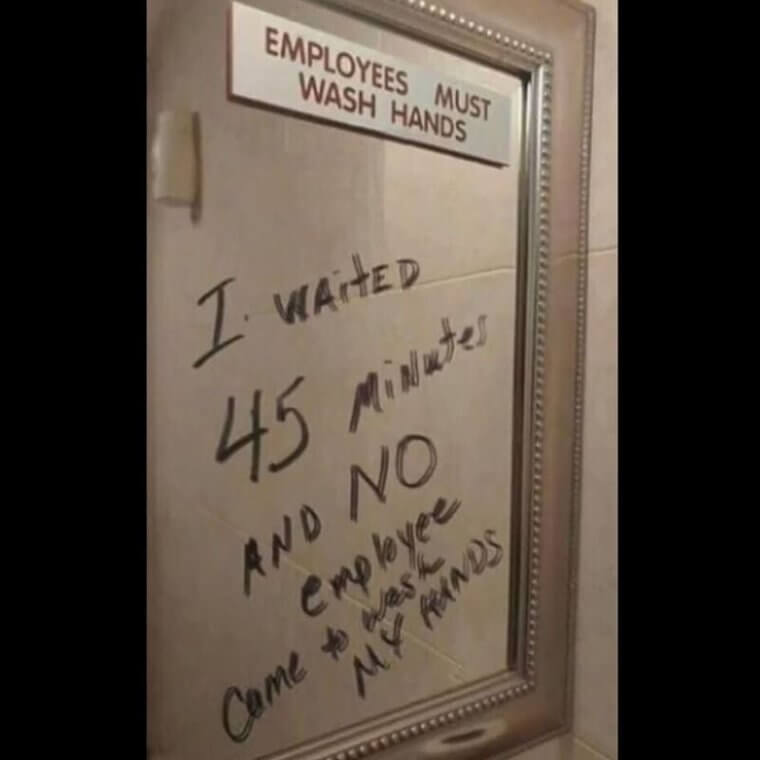 Okay, we're just kidding, but this little message made us laugh out loud. However, while it is possible that the employees will find it irritating to clean off the mirror, we can only hope that this amusing, little joke will bring a smile to their faces at first.
We're Lovin' It
McDonald's, why do you have to be so abrasive with your customers? However, even though we shared all of our nuggets with you, you are treating us with hostility and demeaning language simply because we told you not to finish all of the French fries. Ha!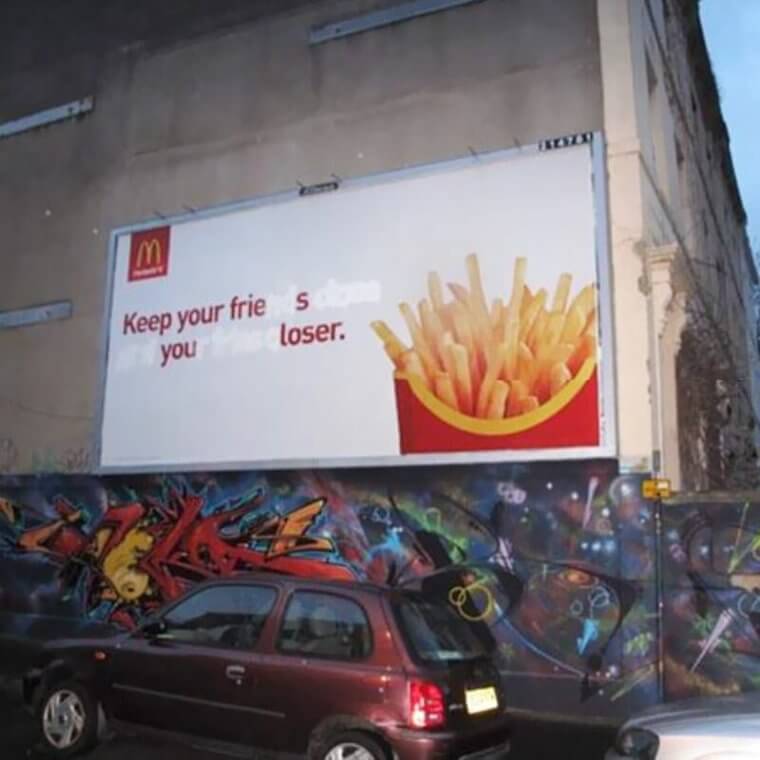 I mean, can you imagine driving by this massive advertisement and reading a message that was obviously constructed by painting over half of the letters? We understand that this isn't the original advertisement, but we have to admit that Mickey D's appears to be a little less welcoming now...
Where Is Waldo?
Let's face it: if you didn't have a copy of Where's Waldo? when you were a kid, you can't really claim to have had a childhood at all, can you? Who hasn't had a good time searching for that strange-looking, spectacle-wearing, red-and-white-striped-dressed guy in the neighborhood?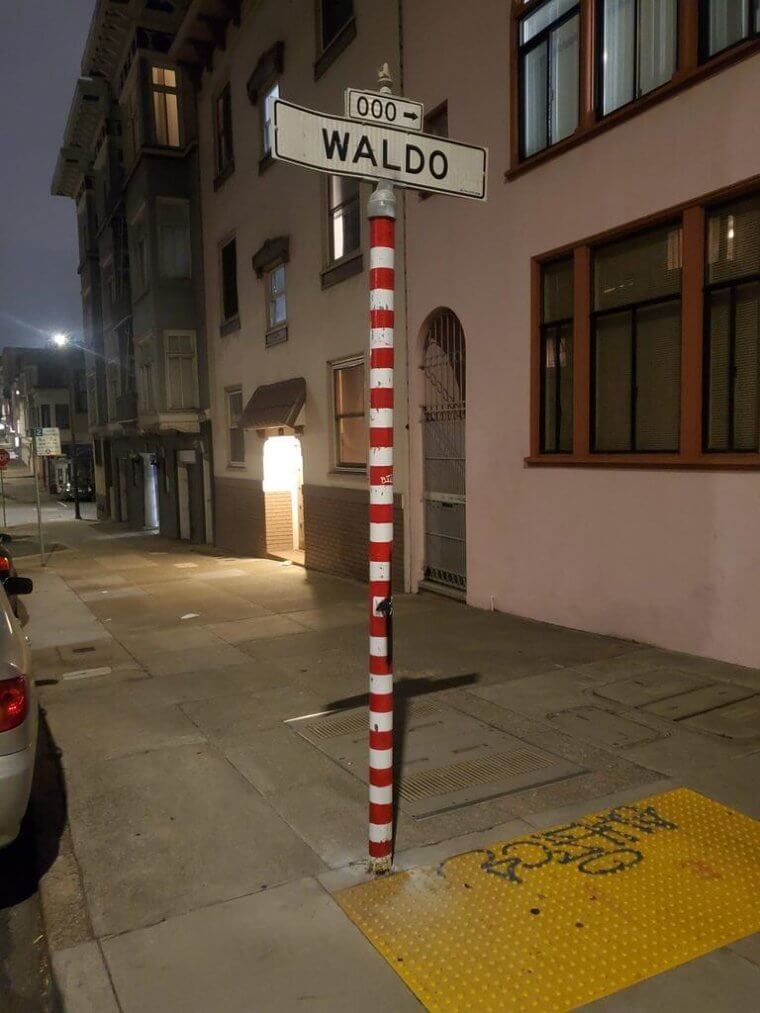 When this individual came across a sign with the word "Waldo" written on it, he or she saw an excellent opportunity for some sort of amusing vandalism. Simply painting red stripes on the pole was all that was needed to make it authentic.
Smelly Sausage
There's no denying that waiting for the bus can be extremely monotonous, especially if the bus is running late. When waiting for their bus to arrive, some people prefer to relax by listening to music or talking on the phone, while others prefer to get a little more creative with their waiting time.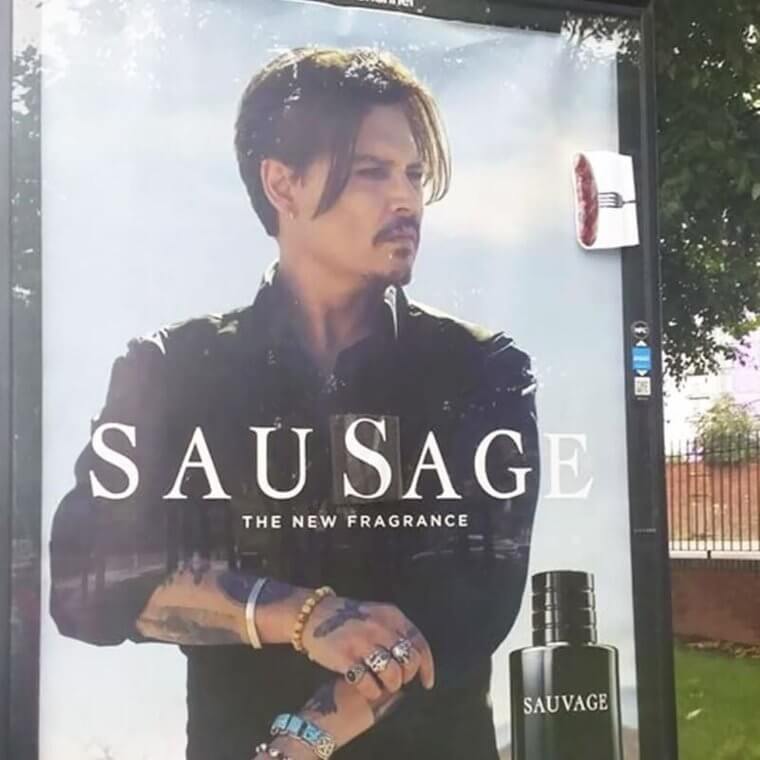 For example, take a look at this Sauvage advertisement. Johnny Depp went from being the face of Dior's fragrance for men to being a guy who is just plain hungry for some meat with the addition of a single letter to the name of the new perfume.
It's Leaking
This may have been just a hunk of metal before, but now it's a riot of color and creativity, which just goes to show — and we think you'll agree — that vandalism doesn't have to be aesthetically offensive.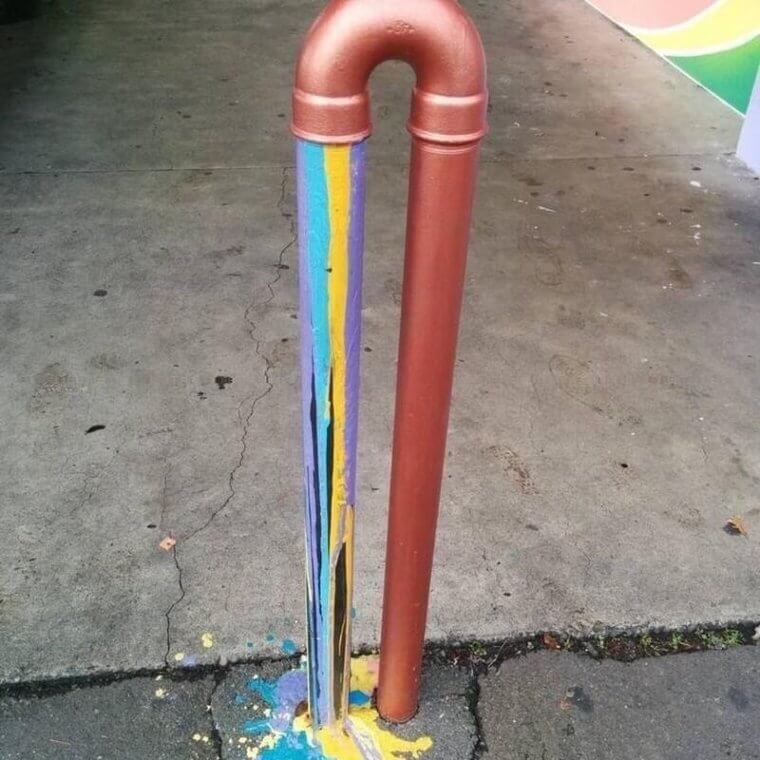 We also appreciate the fact that the artist responsible for this followed through with splattering paint on the ground, giving the impression that all of the paint "leaking" from the pipe is actually splashing directly onto the pavement.
Goats Butter to the Rescue
A flawless allusion to the supernatural comedy Ghostbusters is made in this picture. If you happen to witness any paranormal goat sightings, you know who to contact right away! However, despite the fact that there is less vandalism and more creativity and enjoyment, the reference is still excellent.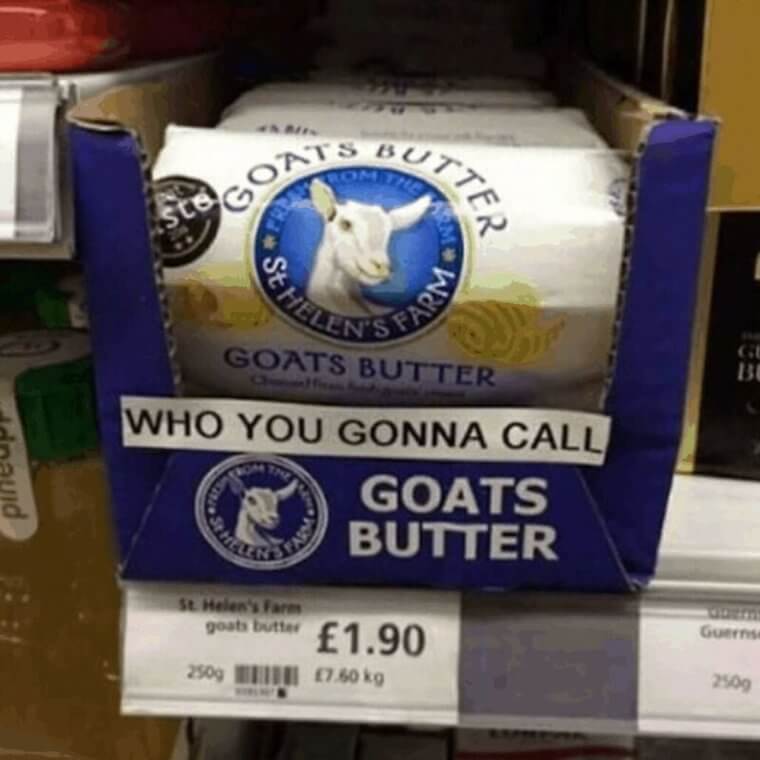 Furthermore, it is available at a reasonable price! When you say "Goats Butter" out loud, it sounds exactly like a child would say "Ghostbuster," which is what makes it so memorable. Strap yourself in and allow the goats' butter to nourish you!
Hanks, Tom!
Tom Hanks expresses gratitude for your efforts in tidying up after yourself! In reality, however, whoever is responsible for this is a complete and utter genius. Regardless of which fast-food restaurant this garbage can belongs to, we'd like to visit them.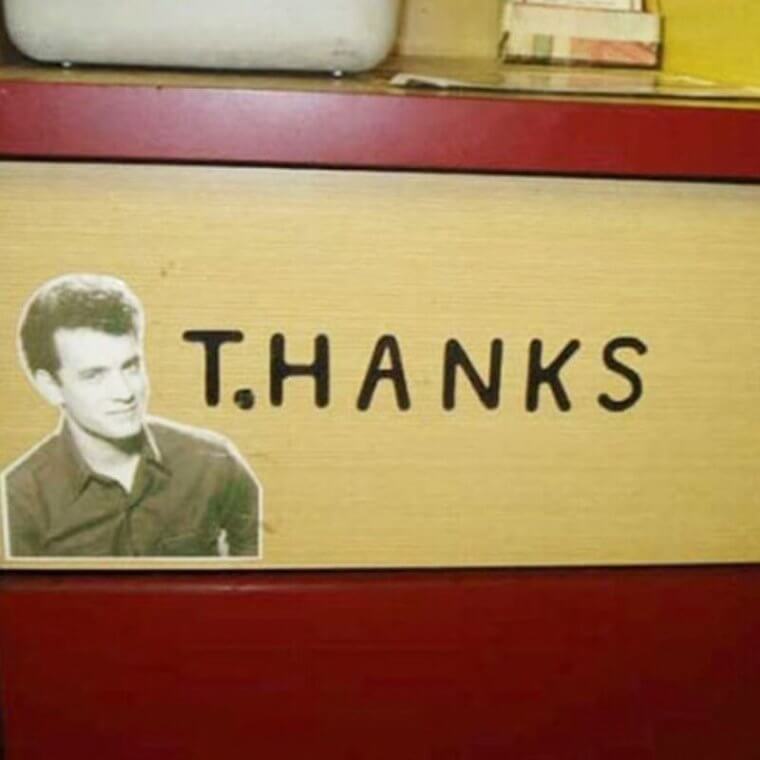 The staff's attempt to make their customers smile while they throw their trash away, or a random person's attempt to pass the time while they wait for their order to be ready, we can guarantee that no one will ever complain about this because who doesn't like Tom Hanks?
STOP
Here, the message of the vandal is to put an end to vandalism, which is expressed through... (shock and horror) vandalism! The irony is not lost on me. The obvious clash of ideologies — a vandal who advocates for the cessation of vandalism — makes this act of vandalism all the more amusing and eye-catching than it otherwise would be.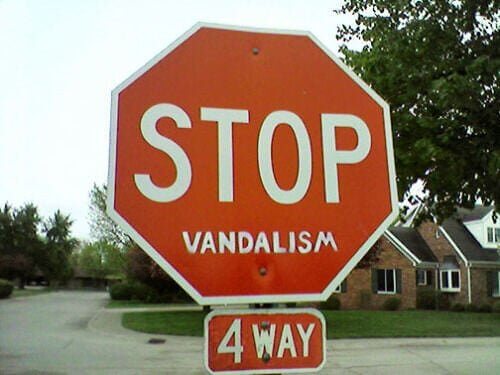 Driving and passing traffic will almost certainly give this sign a second glance. Perhaps future vandals in the area will think twice before painting over a billboard the next time they pass through. We can take this as a lesson that we shouldn't vandalize. However, if you do, it's best to keep it lighthearted!
Street Fighters
If there is one thing we can take away from the superhero Ant-Man, it is that size isn't everything. It is the manner in which you employ the tools at your disposal. The fact that it does not resort to street art in the traditional sense distinguishes it from other forms of vandalism, such as graffiti.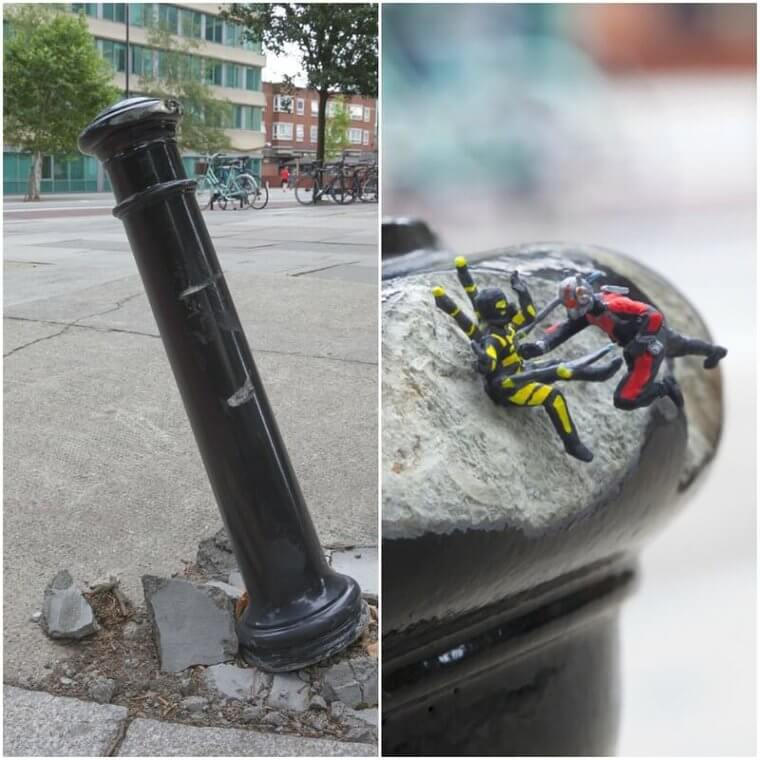 As part of his project, an artist used miniature figures of Ant-Man and his adversary Yellowjacket to recreate a scene of the two fighting while in their minuscule form. That it is hidden in plain sight is a wonderful feature!
Tony the O. G.
You didn't think this was just some dreary sculpture from the colonial era, did you, fellows? Well, believe it or not, you aren't entirely wrong in your assessment. Tony Hawk, as you can see in this picture, is the original.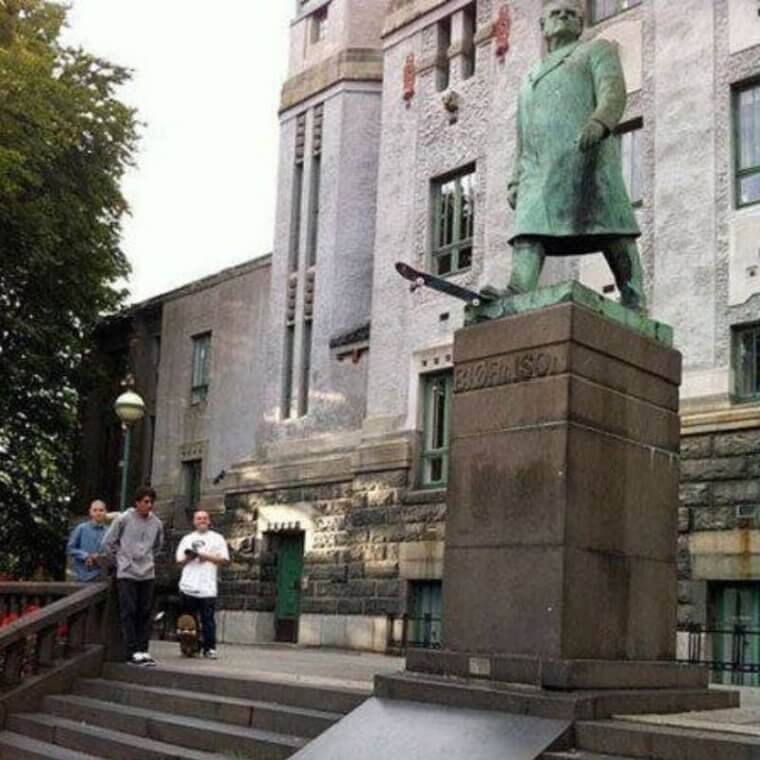 Because of his posture, it's clear that this statue is about to unleash a slew of devastating moves on us. Okay, fine, you got us this time. We're not sure if this centuries-old statue is a professional skateboarder, but we can assure you that we wouldn't mind seeing him cruising down the streets on a skateboard.

X-Men Also Use the Bathroom
It's likely that you are familiar with the popular comic book superheroes known as the X-Men, and that you are familiar with the group's leader Charles Xavier (better known as Professor X). Xavier is accompanied by Logan, who is more commonly known by casual fans as Wolverine.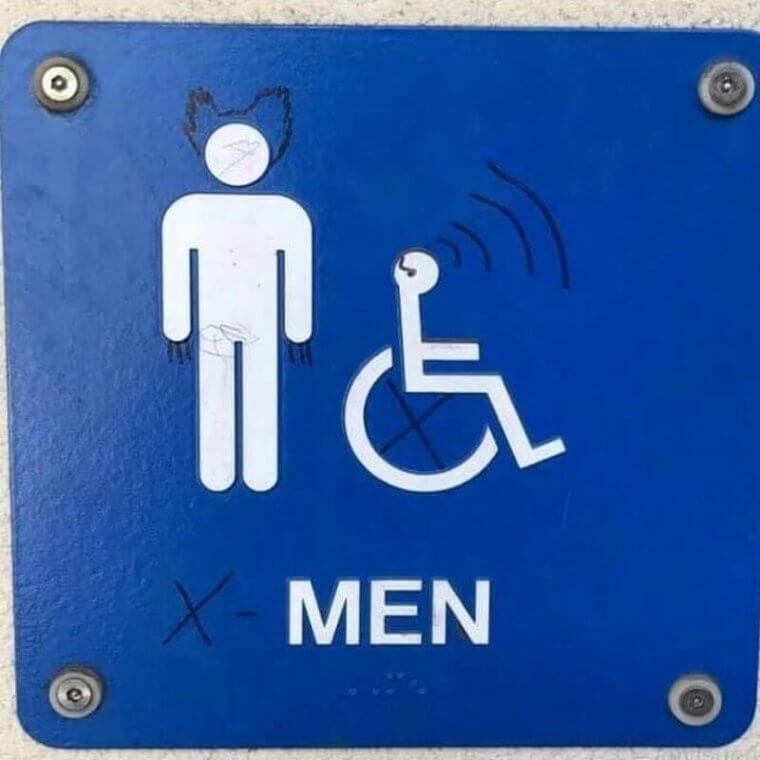 Those retractable claws, as well as the wacky hairstyle, have become iconic at this point. Additionally, we appreciate the lines that appear to be coming from Professor X's head, which suggests to us that he is employing some form of telekinesis. He, of course, is confined to a wheelchair.
In 3... 2... 1...
Huh. Who knew you could simply press a button, and the entire universe would be restarted? If that were the case, someone would have rebooted the universe a long time ago...unless they did reboot the universe, and we are just not aware of it because our bodies are rebooting at the same time as the system.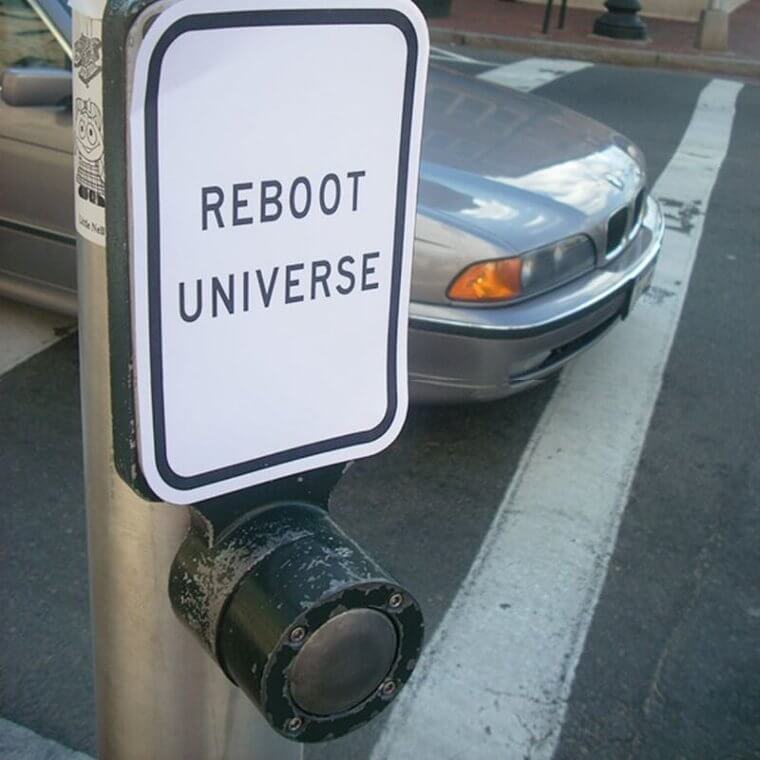 Is it possible that we're robots? Not to worry — we're getting ahead of ourselves here. No, we aren't in some sort of Matrix scenario, despite the fact that our little freak-out just now indicates that we have probably seen the film a couple of times too many.
Let's Turn the World Off and Back On! Does It Help?
There is no actual damage to any property as a result of this entertaining street art installation. The artist wishes to communicate a strong message while also having a good time. The switch appears to be turned on – perhaps we should try turning it off and back on to see if that makes a difference?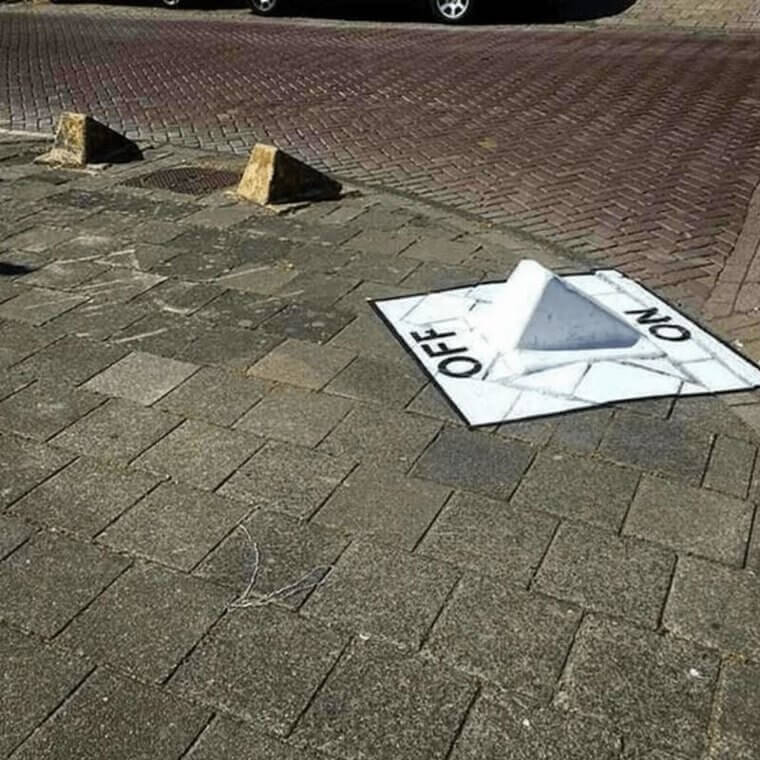 Tiny Street Art
This joke is unlikely to elicit a laugh from many serious environmentalists, but it may be just what is needed to draw attention to such serious issues. Tiny street art is not only imaginative, but it is also so small that it is likely to go unnoticed by onlookers.
The miniature artwork appears to be so lifelike that it is difficult to believe that it is not a complete picture. It's just a drawing on the wall, after all! This is an incredible creation that demonstrates the true strength of a sumo wrestler!
Winter Vandal-Land
This is the kind of vandalism that we can wholeheartedly support and encourage. This is due to the fact that it is not permanent. Over time, it will disappear! However, while it is in place, it is almost certain to bring a smile to the faces of those who see it.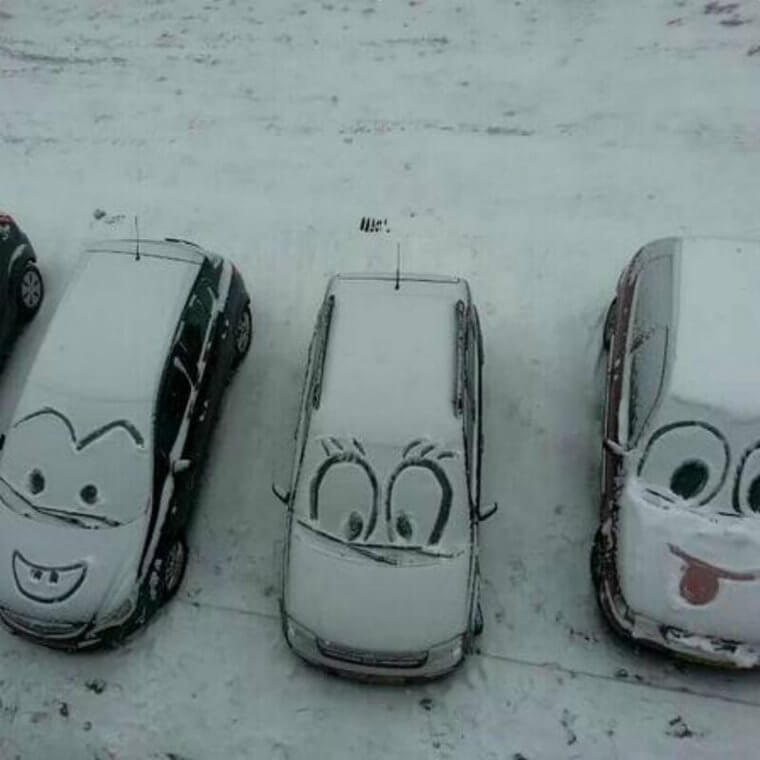 What's particularly striking about this photograph is that each vehicle appears to have been given its own distinct personality and identity. There's a cheeky young man in the forefront, followed by an embarrassed woman and a goofy individual who appears to be in good spirits—what an incredible time to be alive.
Ow, My Eye!
Easily one of the most inventive and amusing examples of "vandalism" on this list, this is a must-see. We are completely sympathetic to this cinderblock's plight. What's more, the best part is... The fact that the artist responsible for this doodle didn't even end up defacing public property in the process is noteworthy.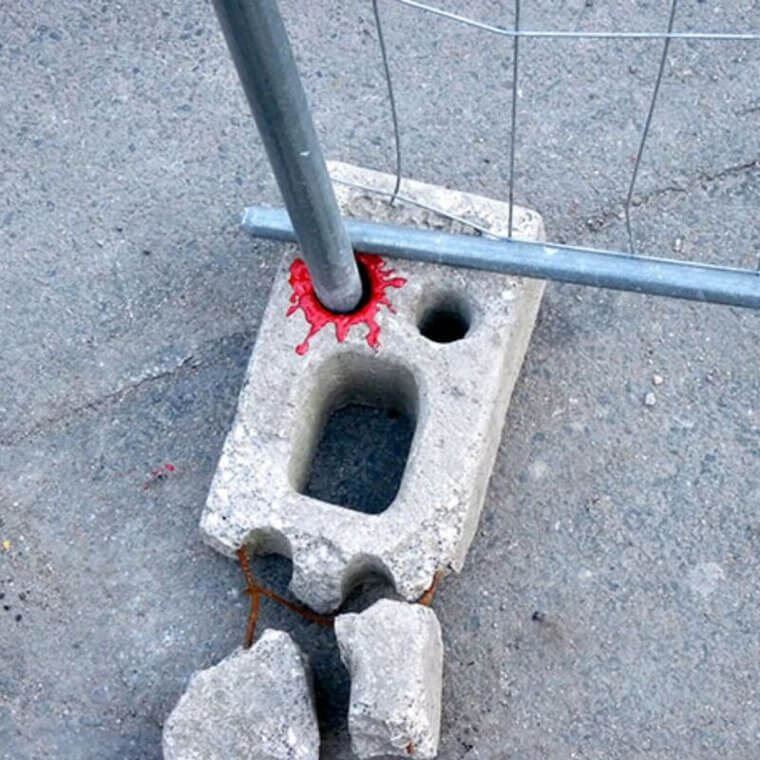 After all, the cement stone — which is used to hold the metal fence upright — was already broken when the perpetrator discovered it and brought it to life with his or her actions. Isn't it amazing how a small amount of red paint transformed this inanimate object into something completely different?
"Run Forrest, Run! "
Everyone, whether they want to admit it or not, makes references to movies. Since the beginning of the film industry, people have been quoting lines from films. We mean, how could you possibly say no? There are some films in cinematic history that have such amazing writing that people can't help but quote lines from them to the point where they become part of the social norm.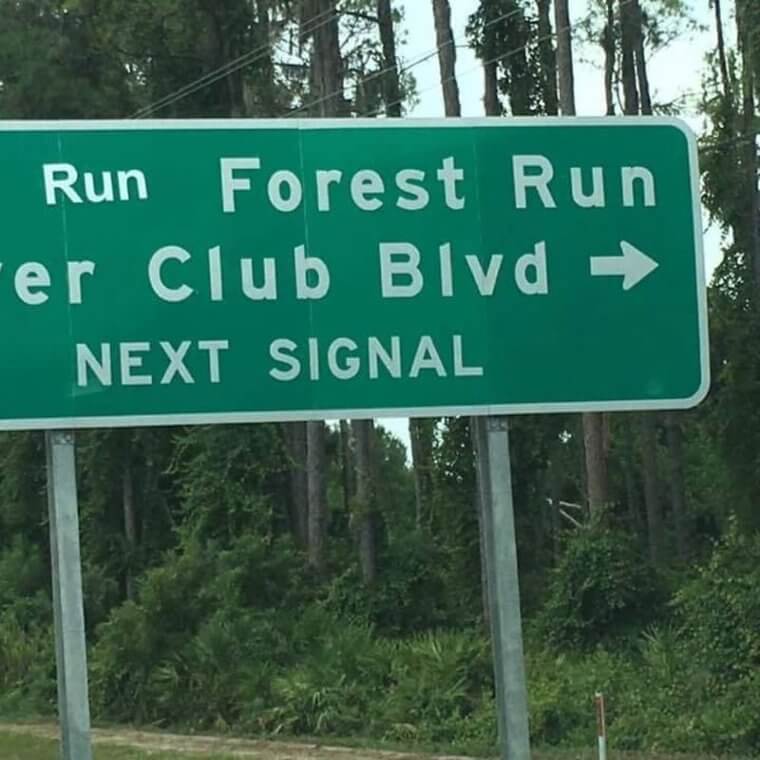 This is one of those films. Take, for example, the movie Forrest Gump. Even those who haven't seen the movie are aware of the "Run Forest, Run" allusion in this passage. But it is a clever play on words that everyone who sees it will be able to appreciate."
Vandalisms of the Third Kind
Don't you just adore the types of vandalism that completely alter the environment in which they occur? To illustrate, consider this example, which is a simple sign intended to alert drivers that a road crossing is nearby.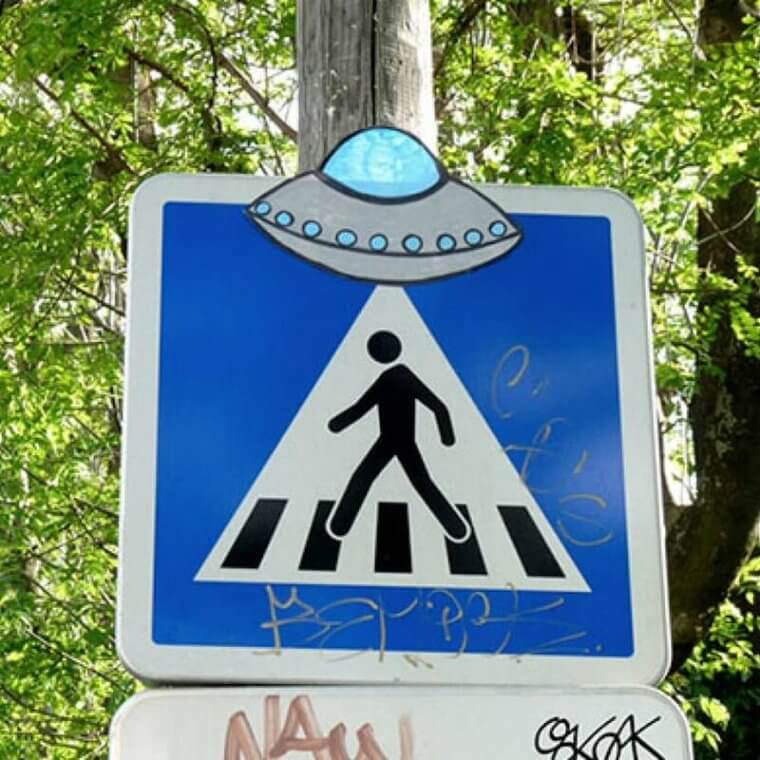 However, this individual decided to place a cut-out image of a UFO on top of the image, which immediately gives the impression that this individual is being abducted by extraterrestrials. We will never look at a sign like this in the same way again in our lives.

Even Statues Have to Shave
Whatever your thoughts on this picture of a statue holding a pink disposable razor are, it reminded us of those centuries-old paintings with contemporary captions that we used to see in museums. Truly a unique piece of art.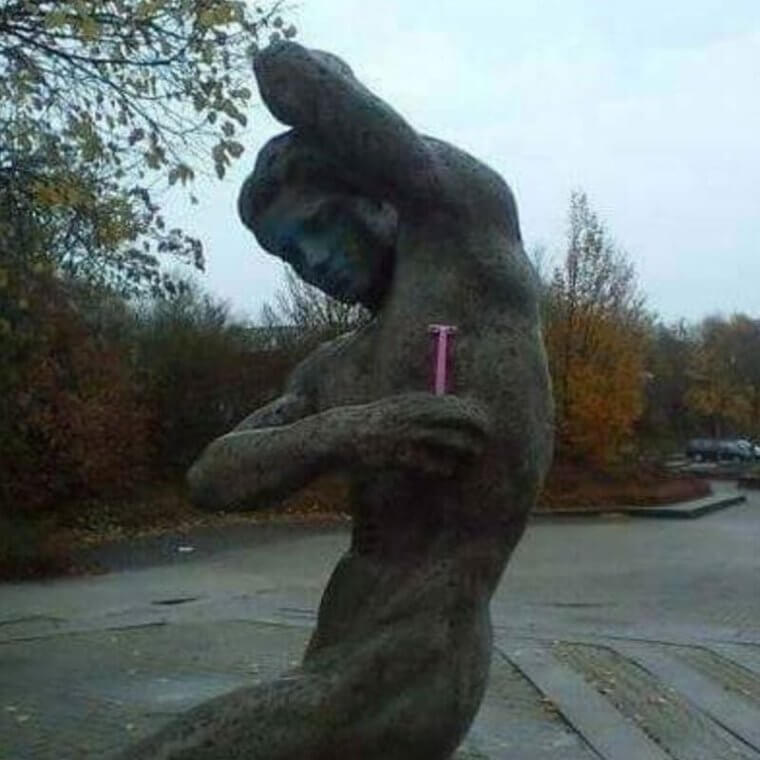 Anyway, we have no idea what kind of person travels around with a spare razor in their bag, but whoever came up with this brilliant idea deserves to be recognized as a low-key genius. In addition, even statues need to shave every now and then. Perhaps this statue should even be moisturized afterward because his skin appears to be a little parched...
They Really Elevated This Sign
We're not entirely sure what this was originally intended to be or where this photograph was captured. That the vandal in question chose to transform the sign "Peele" into a line from the classic Aerosmith song "Love in an Elevator" is something we can be certain of.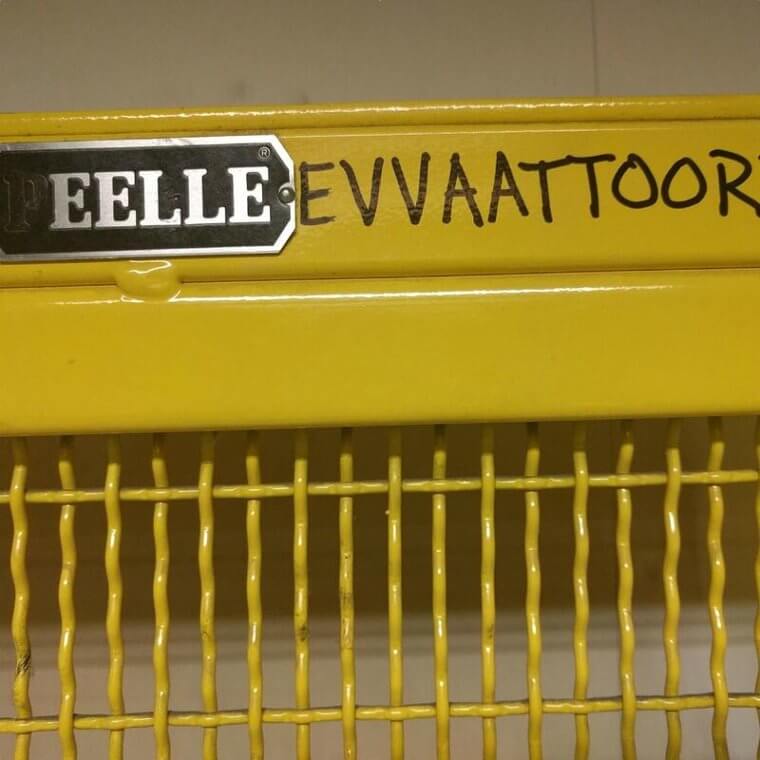 Unless it is referring to that memorable little number, we have no idea what it could possibly be referring to. Regardless, we will give the individual an eight out of ten for their efforts. Let's just hope you understand what I'm saying.

IPaid Too Much
Well, folks, it appears that yet another person who was waiting at the bus stop became a little disinterested in their surroundings. Instead of simply listening to music to pass the time like everyone else, this individual expressed his displeasure with Apple's pricing policies, specifically with regard to their iPad product.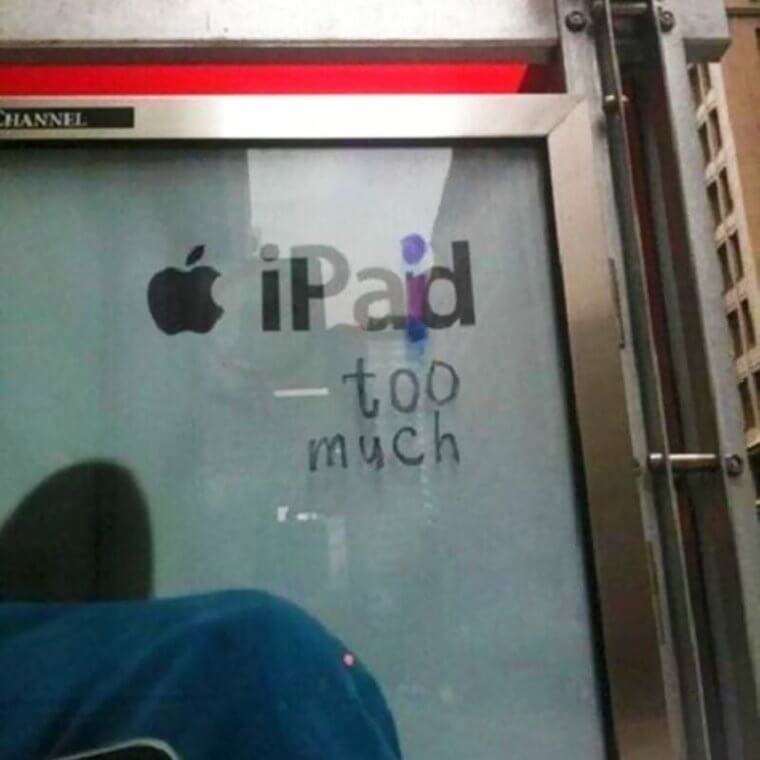 While we can't say for certain whether or not this individual was ever a devoted Apple customer, we can say with certainty that there is no love lost between the two companies at this point in time.
Applaud the Jellyfish
People, you've all read the note, right? Applauding the jellyfish is exactly what you should do, and you already know it! In all seriousness, though, wouldn't it be hilarious if you came across this little note taped to the hand-dryer in a public restroom and it made you chuckle?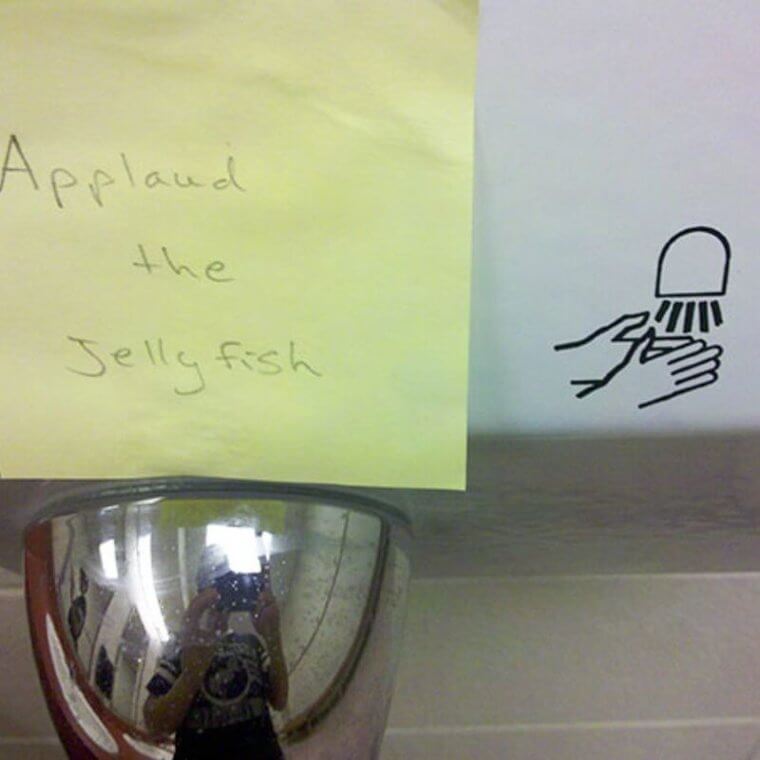 Consider the following scenario: after washing your hands, you turn to dry them and notice this joke. However, while it may appear to be a little ridiculous, it is sometimes exactly what you require to get through the rest of the day.
Vandal-Eyesing A Statue
Let's be honest here: googly eyes make everything funnier, no matter what. Initially, this copper sculpture appeared to be no different than any other, and it did...until some genius pulled a bag of googly eyes out of their pocket and stuck a couple of them on this kitty cat.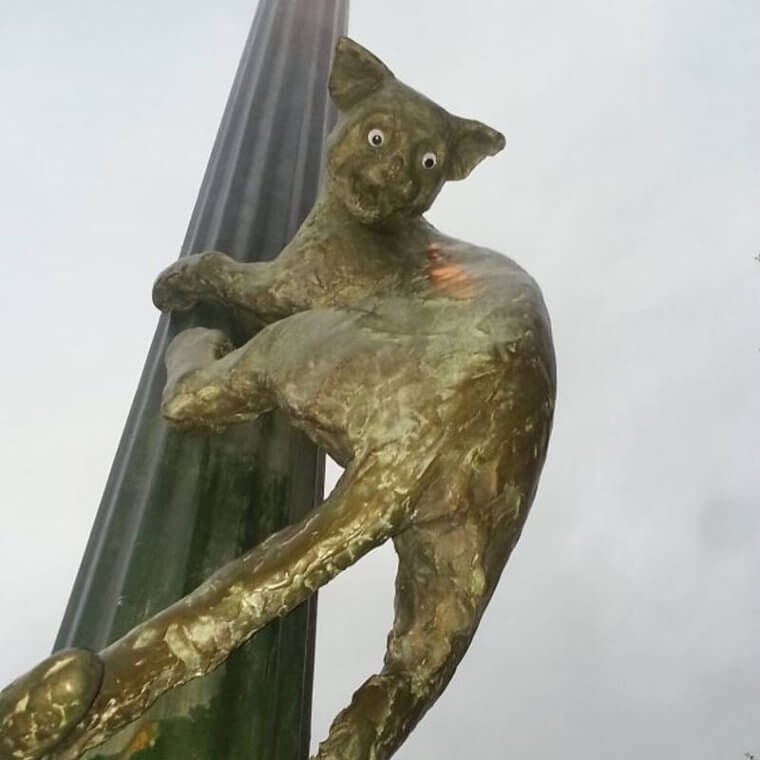 Before, it's likely that people walked right past this piece of art without giving it a second thought. But now? People on the street can't stop themselves from snapping photos of this comical yet terrified-looking wildcat, which is simply attempting to flee from its predator.
Looks Heavy
All we ask is that you pay attention to the 'Do Not Enter' warning sign; otherwise, if you drive the wrong way and crash, you will be dragging your car parts down the side of the road as a result of your actions.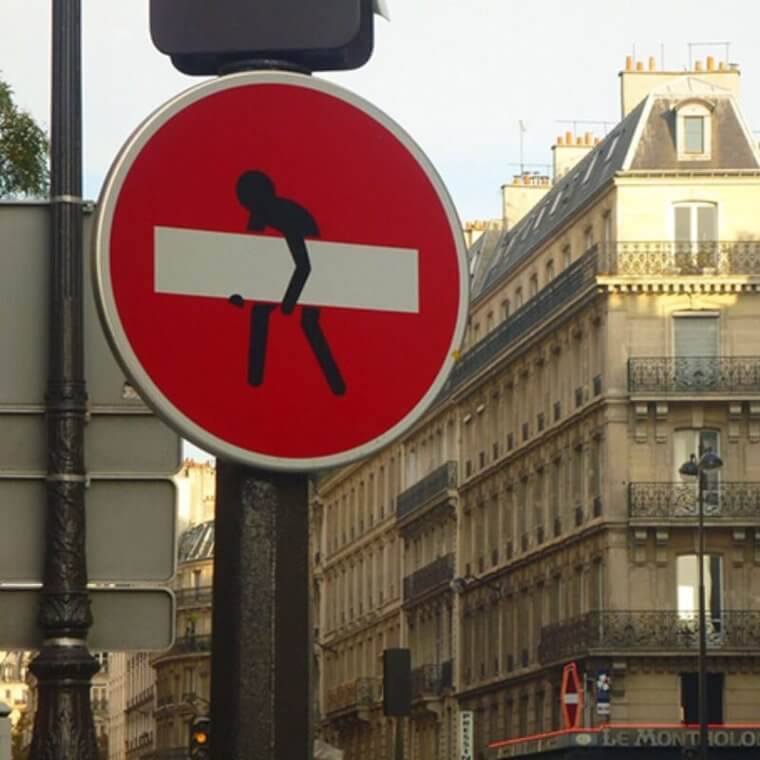 In reality, the individual who only mildly vandalized this road sign is a very cunning individual. When we first saw this sign, we had to take a second look because the stick-figure man — who appears to have had a difficult day — appears to be the one who is supposed to be there.
"No... This Is Patrick! "
In the event that you were ever a fan of Spongebob, you will most likely recognize this drawing and find it amusing. And, after all, why wouldn't it? The episode from which this memorable quote was derived is absolutely hilarious. However, whoever created this has some serious doodling skills, not to mention the fact that this is a really clever reference to the scene in which Patrick Star is taking phone calls at the Krusty Krab restaurant.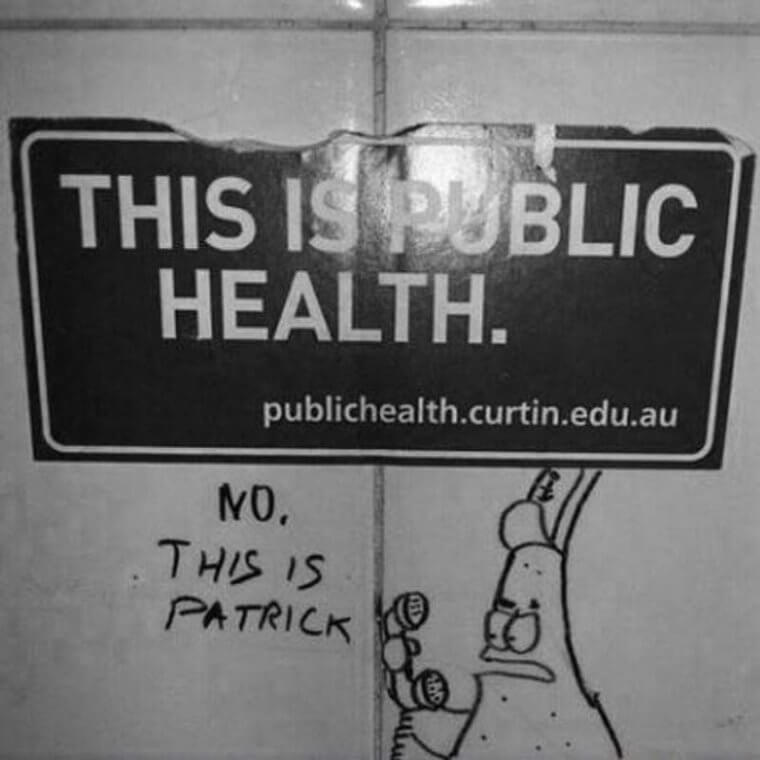 In response to the question, "Is this the Krusty Krab?" Patrick makes the erroneous claim that "no, this is Patrick." As soon as he receives more than one of the same questions, Patrick loses his cool and starts screaming before hanging up the phone with a slam.
A Glitch in the Matrix
There's no denying that this is some truly amazing street art in and of itself, but it's even more rewarding to look at if you understand the context in which it was created. It's likely that you need to watch The Matrix to understand what we're talking about — or not because we're about to give you some spoilers.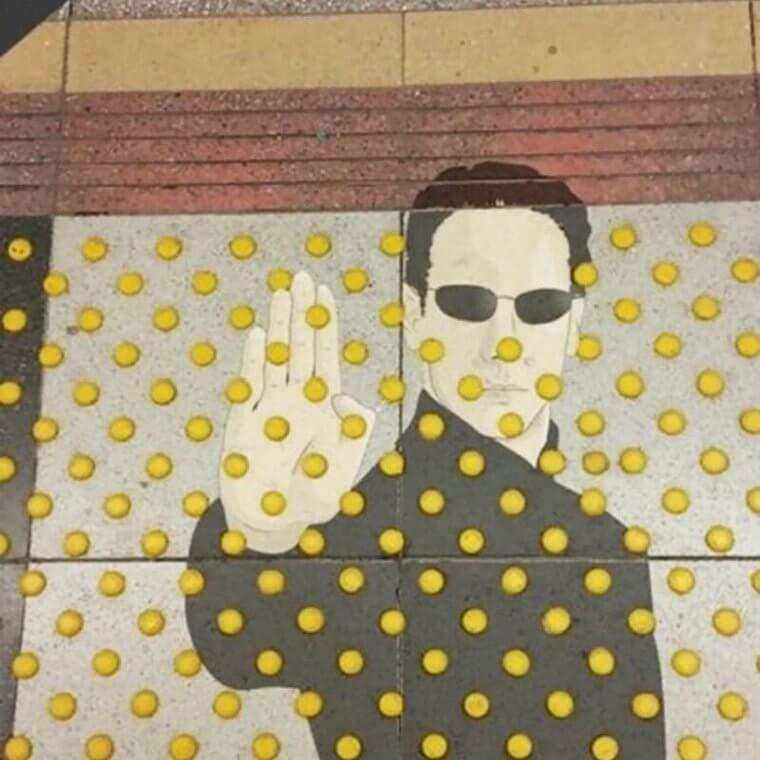 An ordinary sidewalk was transformed into one of the most epic scenes in cinematic history by the artist responsible for this work of art, in which Keanu Reeves' character Neo literally stopped bullets in mid-air.
Treat Your Friends
While we'd like to believe that this billboard is simply a little worn down, the fact that only specific letters are missing rather than the entire word seems a little too coincidental to be a coincidence. And, while we don't support acts of vandalism, we can't help but laugh at this hilarious play on words by the author.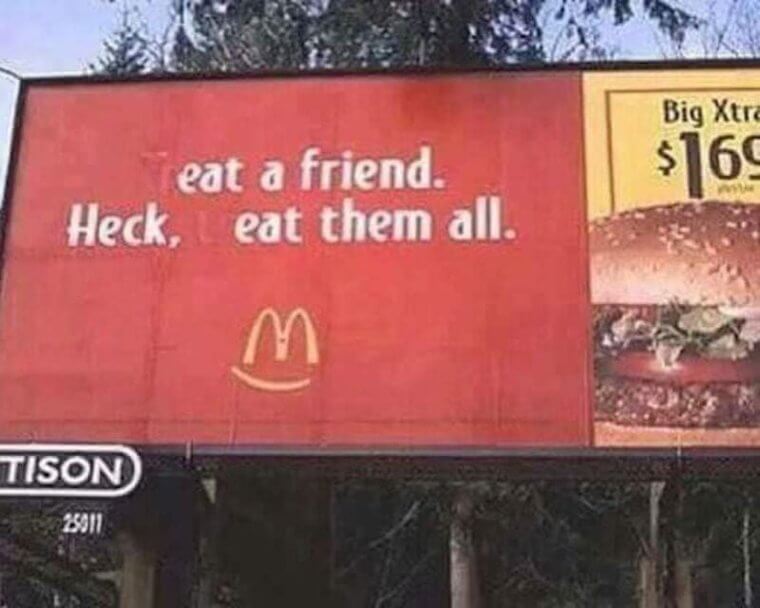 The removal of two letters from this McDonald's billboard changed it from being a cutesy slogan to endorsing human cannabilism in the blink of an eye. Perhaps it is preferable to treat your friends rather than eating your friends, just so everyone is clear.
Stairway to Heaven
Guys, are you serious? There's a stairway to heaven? Is it possible that this means what we think it means? Taking all the way up these stairs, does that mean we'll get to meet John Bonham, one of the greatest drummers the world has ever seen in person?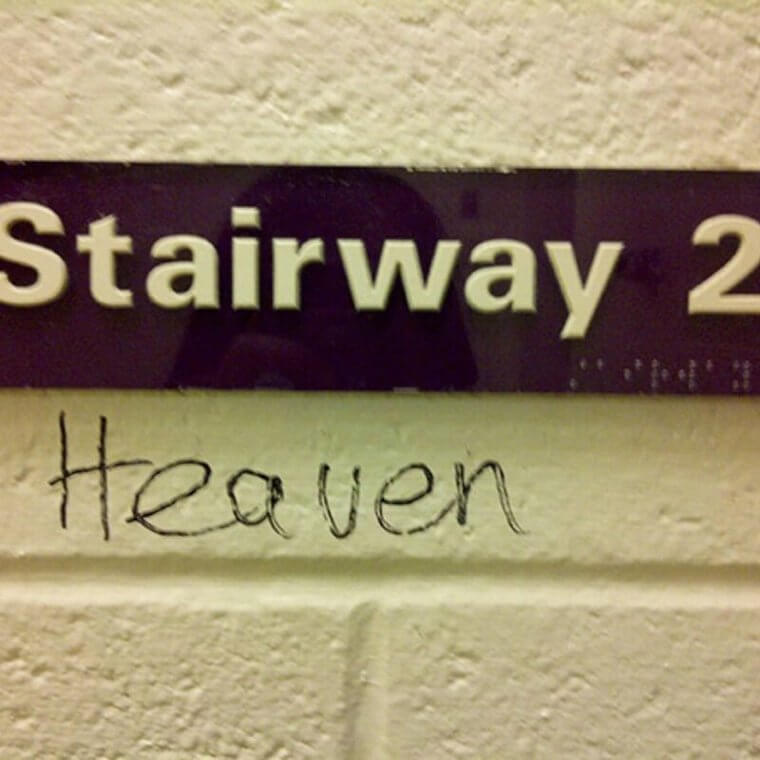 If that's the case, we'll definitely be taking the stairs instead. And if it doesn't, we'll just take the elevator instead, because it would be a pretty long journey if we didn't end up meeting John Bonham at the end of it all. I'm just throwing it out there...

Use Water
It's guaranteed to make anyone with a dry sense of humor crack up when they see this. Certain aspects of this joke sound like they could be said by a father; however, as we all know, 'dad jokes' are notoriously amusing.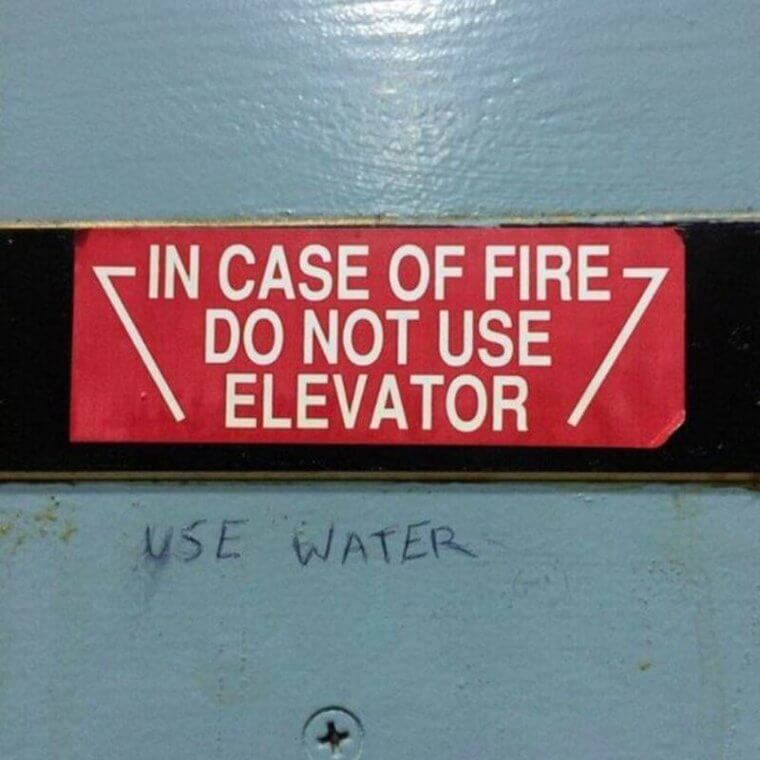 While the person who wrote this may have had a little too much free time on their hands, at the very least, people will be able to crack a smile as they read the 'In Case of Fire' notice. Not only do they understand how to use the stairwell in an emergency, but they also understand that water can put out a fire as well!
Hakuna Matata Welcomes You
What a beautiful phrase, "Hakuna Matata" (good luck)! The spray-painted 'Hakuna' on this sign gives a whole new meaning to the phrase "Matata." Whoever drives into this town, which is located in the Bay of Plenty on New Zealand's North Island, can be sure that they will have nothing to worry about for the rest of their lives.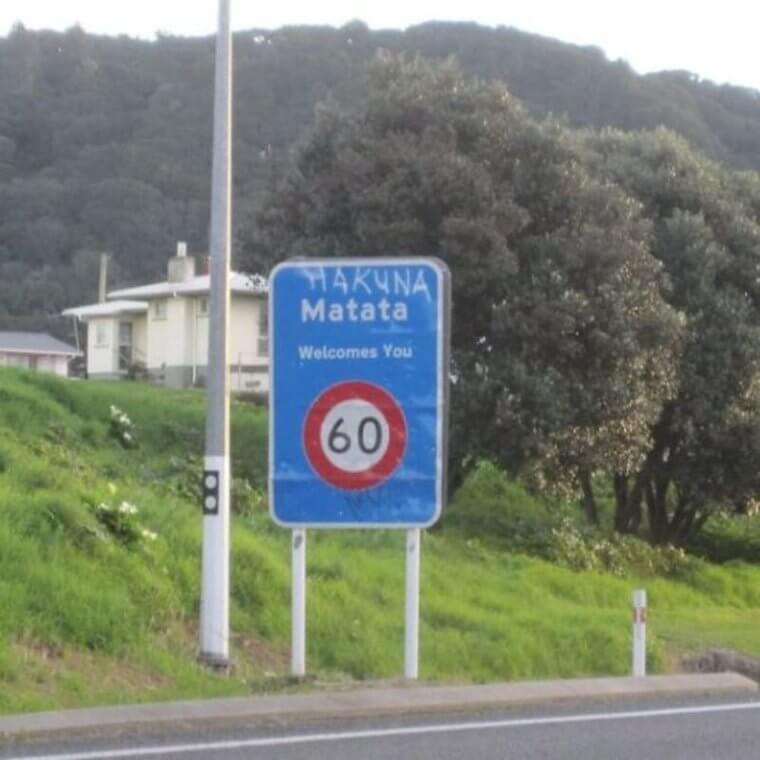 Considering the number of curveballs life throws at us on a daily basis, we all know that isn't going to happen anytime soon. Nonetheless, holding out hope for better days is never a bad thing.
School of Liberal Farts
Do you think it's just us, or does this look like it could be the set of a Seth Rogan movie? We are not here to condone vandalism, but for what is often a mindless and unsightly pastime, this bit of amusement does appear to be a little more meaningful.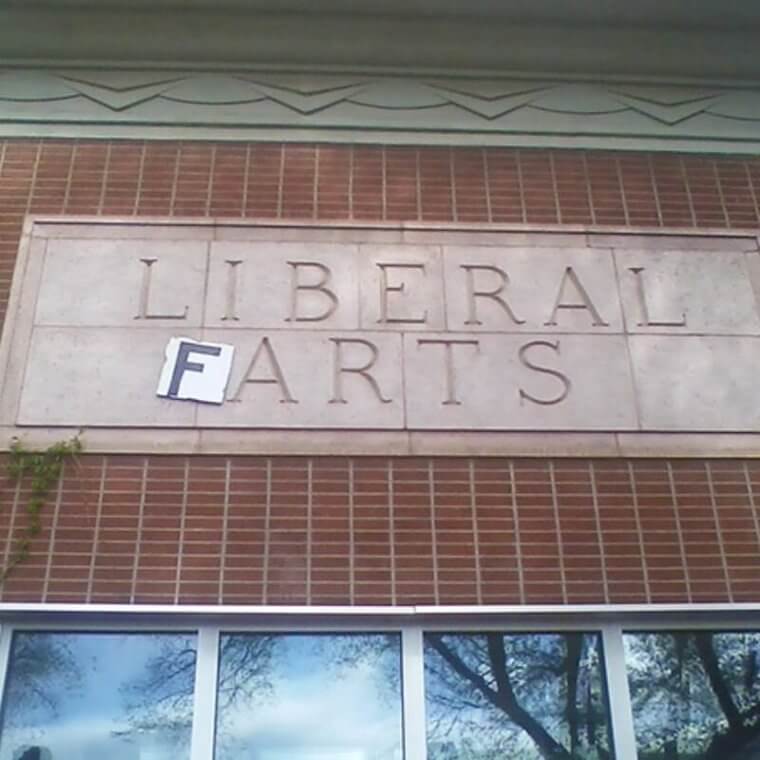 Is it true that liberal students are being referred to as a bunch of farts? Or are they implying that they fart profusely on a regular basis? Whatever the circumstances, it isn't every day that flatulence is brought up as a topic of discussion in school...
Ugly But Affordable
There's no denying that art class was one of my favorite parts of the day as a child. "Mess it up and dress it up!" your teacher would say when you were working on your drawing and you made a mistake and needed a new piece of paper.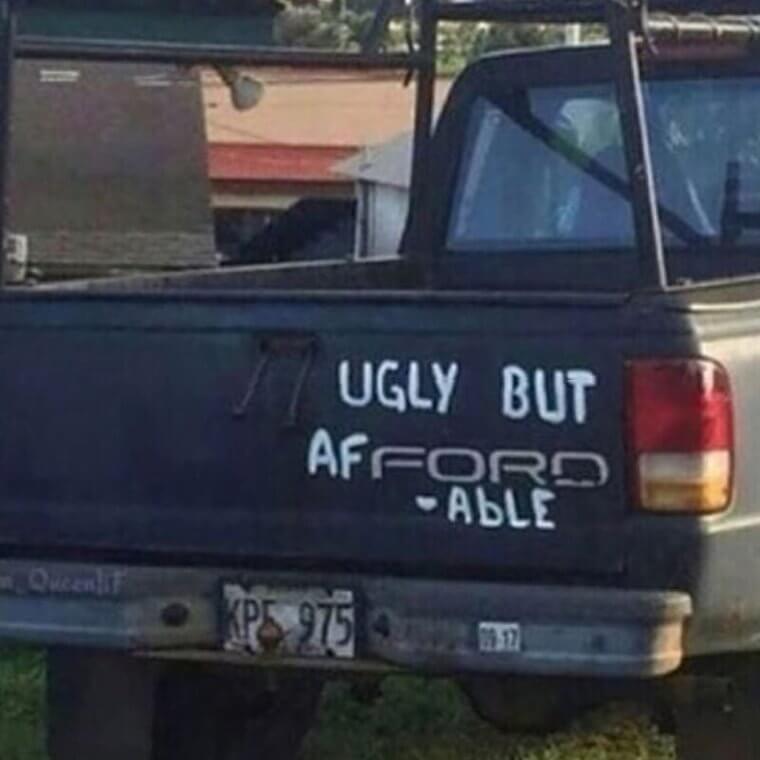 That's exactly what this Ford brought to our attention. Despite the fact that the car itself is a little beat up, the owner has clearly made it more appealing by finding a sense of humor in his "ugly" but "affordable" pickup truck.
Blue Is the New Black
There's no denying that Marge Simpson has some of the most recognizable blue hair in all of fiction, if not all of fiction. We're baffled as to why it's perched on its end like a popsicle. But hey, that's what animation is for.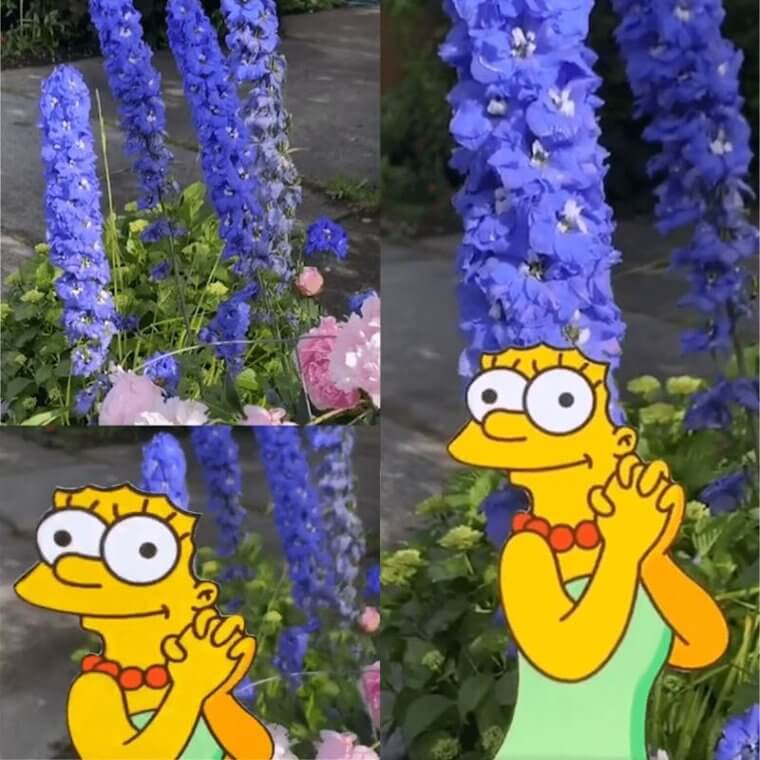 This opportunistic street artist noticed a resemblance between Marge's hair and this assortment of flowers and decided to make a painting about it. Simply cut out the head and body of Mrs. Simpson in cardboard form and position her perfectly at the bottom of the flowers, and he was done.
Nom, Nom, Nom
Vandalism of public property, as we've stated numerous times in this article, is absolutely not acceptable. If someone is going to spray paint something on a perfectly good brick building, it might as well look like this.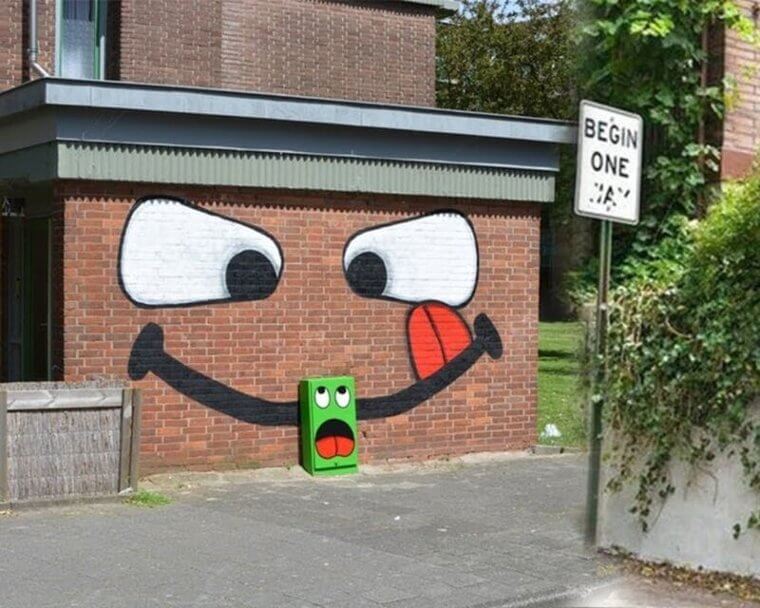 Now, you're not just looking at a brick building and an electric box; you're witnessing the transformation of these inanimate objects into animated characters. He might end up as Bricks' dinner if the little guy doesn't watch his step....