,Starting and keeping up with a healthy lifestyle is a full-time commitment. Some may find it easier to stick to a new diet of balanced and nutrition-filled meals, but all will agree, especially the people you'll see on our list, that the habit of driving to and working out at the gym is a big hurdle to get over. Sit tight and watch as these people try their best to achieve their fitness goals with plenty of hilarity in tow. There is no law obligating people to wear a pair of good old sneakers to work out but high heels aren't really the usual alternatives either. 
 
'Power' Nap
This scene sure stirs up a couple of possible background stories. Is this a well-deserved nap after an intense workout session or is this a pre-workout power nap?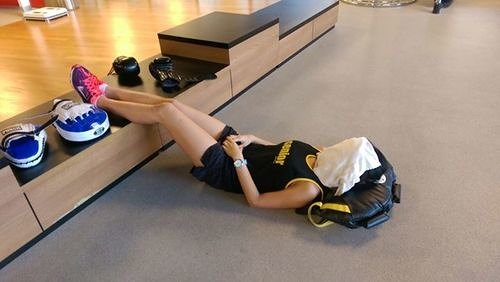 Maybe this was taken by this lady's workout buddy to commemorate that time her friend didn't let a sleepless night interfere with her fitness regimen only to end up sleeping at the gym. One thing's for sure though, a couple shots of espressos before hitting the gym would've helped. 
A Furry Surprise
It's humbling to see that having a fit body doesn't give anyone a free pass to look good wearing questionable clothing items. Case in point is this trainer who made a bold fashion choice with his cat-astic black and white leotard.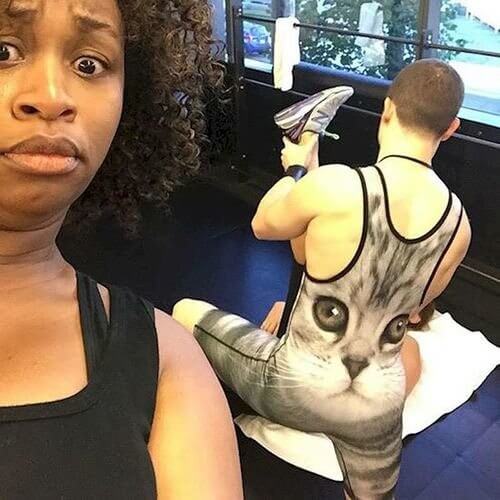 The kitty sure is cute but there's a proper time and place for this leotard, purrhaps at home, preferably while alone. 

#LifeGoals
Let's be honest here. We all want to be this cool when we're old. Imagine ditching your friends for bingo to go to the gym and enjoy watching fit and attractive men go about their workouts as you sit there sipping on a margarita or two.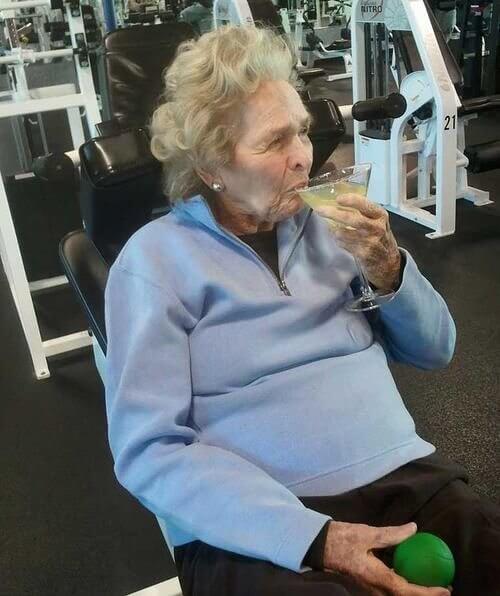 No wonder this woman became a sort of local legend. If this is what retirement is like, then sign us up ASAP!
The Stairs Are Right There!
This next one looks like a picture from a photo series of ironic scenes in modern-day America. If you can't see what's wrong with taking the escalator over the stairs to get to the gym, then you have some rethinking to do.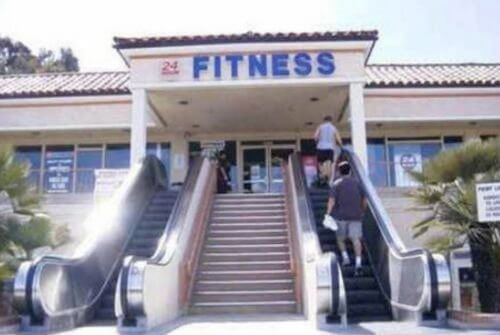 In the first place, doesn't it seem counterproductive to place escalators that lead to the gym? Ever heard of leg day? We can only wonder what other interesting workout equipment this gym offers.

A Test of Willpower
You'd think the act of prepping yourself and driving to the gym on the reg are enough challenges already.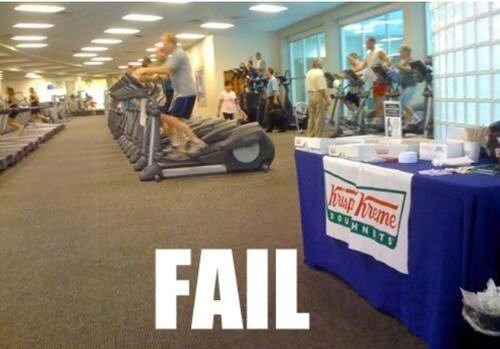 Unfortunately, the trainers at this gym think otherwise. Perhaps they think that setting up a booth of free doughnuts near the cardio equipment is a great way to test the willpower of their clients. Will they negate an hour on the elliptical for some tasty treat of sugar and carbs? 

#JustTallPeopleThings
With the movement for inclusivity taking front and center in the media, gyms have designed their spaces to accommodate people of various races, gender, and religion. But it seems that they forgot people come in different shapes and sizes as well.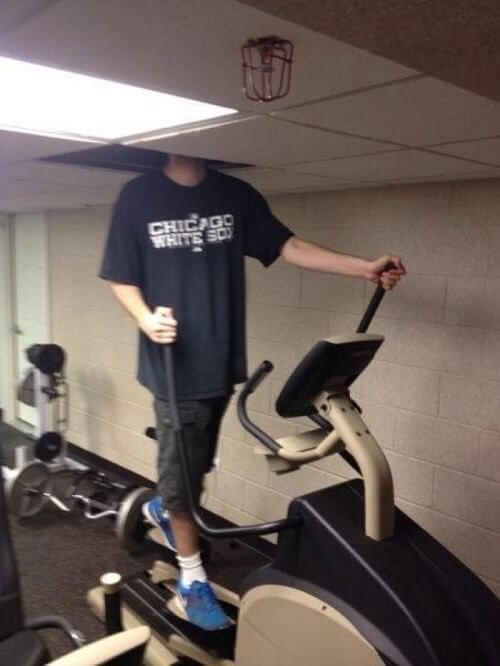 This guy thought his local gym in Chicago offered great deals until jumped on the elliptical. Kudos to him though for making the best out of the situation and being the bigger person (get it?). 

Babysitting at the Gym
If there's a list of things to do to get child protective services called on you, this would probably break the top ten. We're sure there's some parent-baby exercise class you can sign up for and this is surely not it.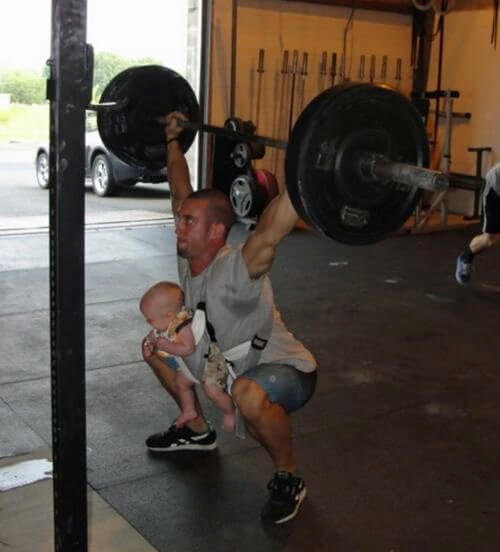 Risking a baby's safety so that daddy can get in his strength training while mommy is at the grocer's is never a good idea. 

The Importance of Leg Day
We all have problem areas that give us the motivation to work out. But that doesn't mean we get to neglect other parts of our body.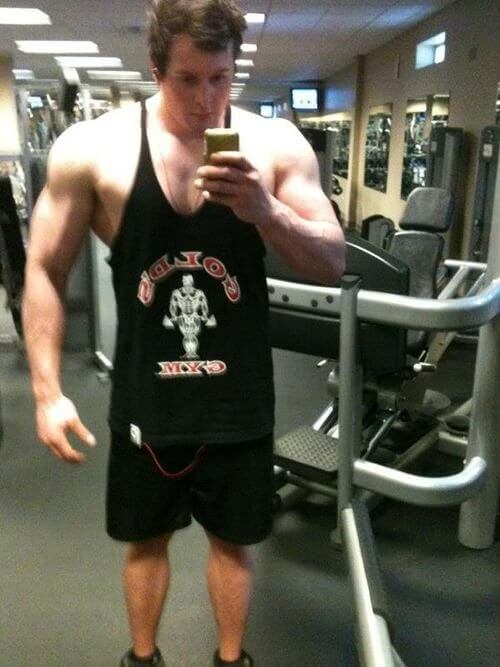 Take this guy as a warning to follow your friends' advice and never skip out on leg day ever again. 

Working Off a Big Mac
Decades of eating unhealthy fast food seem to have caught up with Ronald. Although big macs are tasty and delicious, they surely aren't helping him lift those weights up.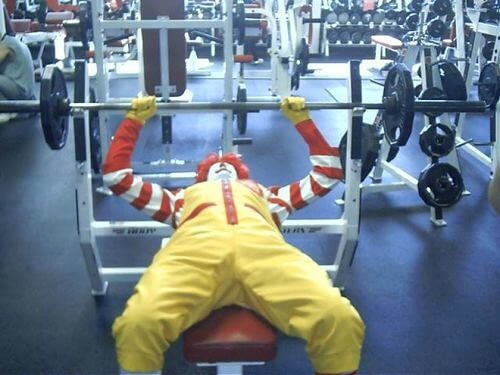 Let's hope he sticks with his fitness journey and leave his fast food dishes for others to enjoy for now. 
Lifting Is Risky Business
As it is, lifting heavy weights is already a bit dangerous. And it becomes even more when people who skipped out on the safety orientation at their gym try to concoct new challenges while they lift.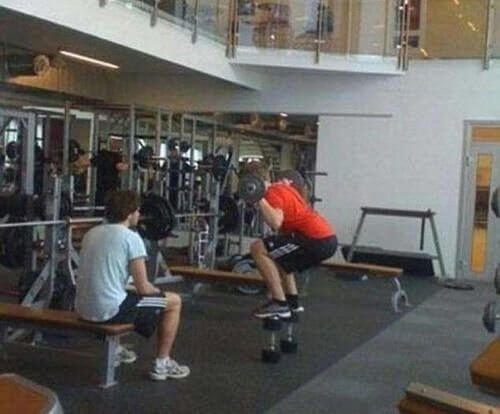 Having a spotter sure can help you stay in proper form but they won't be able to save you from serious injuries waiting at the slightest wrong move. Maybe try standing on the bench next time?

Working Out With the Squad
Activities are more fun when you do them with friends. Well, exercising isn't any different. Why not hang out with the squad and work on your core muscles at the same time, right?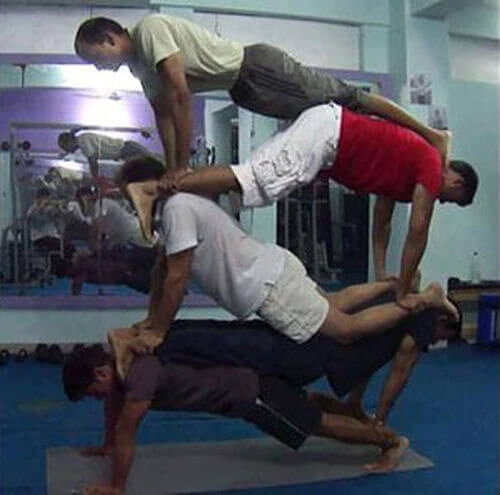 Just be careful though, especially if you're on top, breaking your arm when you collapse off is never fun. 

A Yogi's Dream Dog
Wouldn't it be nice if your dog practiced yoga with you instead of interrupting your floor flow? No more wasted minutes of distracting your dog away from your yoga mat just so you can meditate in peace.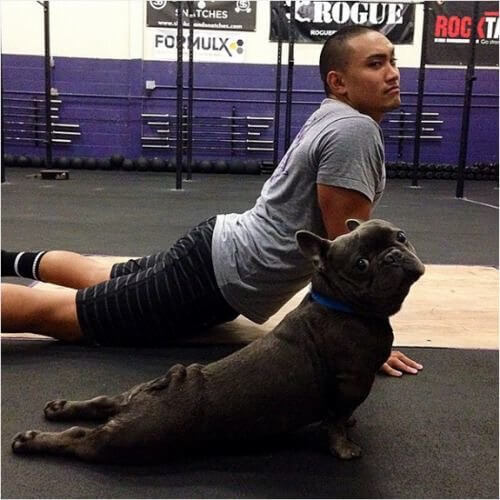 What's more, imagine how cute your little pup will look trying to do the upward-facing dog pose!

Multi-Tasking
Time is precious, and this multi-tasking old lady proves it. Why waste precious time waiting for your perm to finish at the salon when you can sneak in some leg work at the gym instead?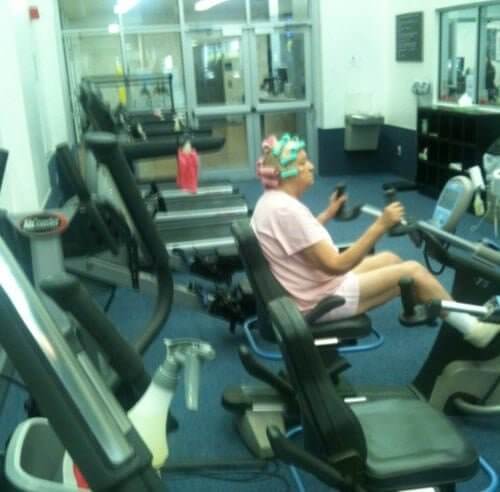 Ya girl's not going to let age and time constriction interfere with her fitness goals. And we commend her for that. 
Dress for the Job You Want…
…not the job you have. This aspiring cyclist sure has a long way to go but we have no doubt he'll reach his goals seeing his dedication.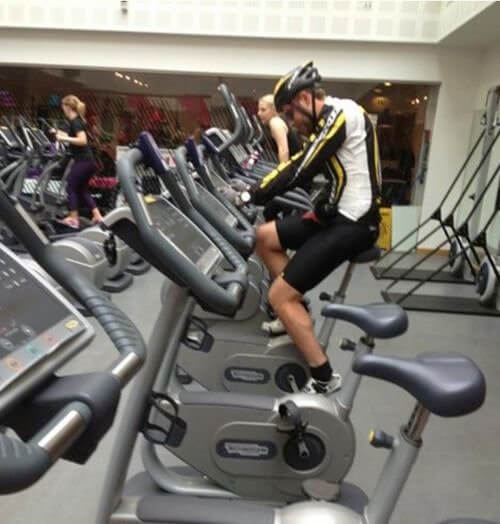 Wearing full mountain riding gear while using an indoor stationary bike may seem ridiculous to some but this soon-to-be athlete doesn't care.

#FitnessGoals
We've all seen girls like these at our local gym. They go in dressed in the trendiest workout clothes with a full face of 'no makeup' makeup and take hundreds of pictures even before breaking a sweat.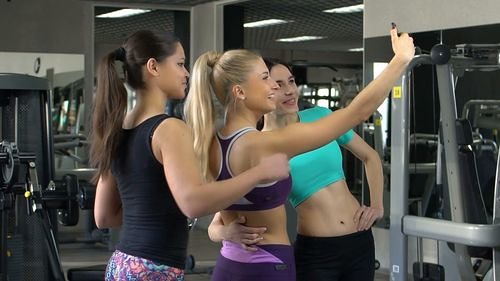 Gotta keep that Insta feed updated and looking pretty, right? 

Prepping for the Winter
There's always that one hard-working regular at your gym that makes you feel guilty about your lazy ways as they're always up to something productive.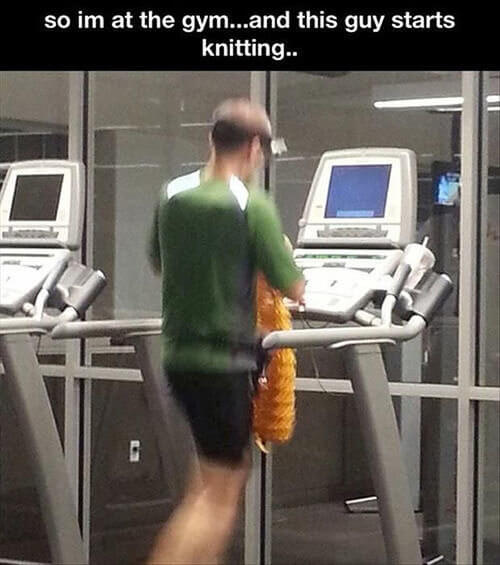 This guy knitting a scarf while on a treadmill is surely one of them. Not gonna lie though, that circle scarf is looking cozy and would surely keep him warm for the winter. 

The New iPod?
Good music can definitely make working out more enjoyable than it is. A good playlist is a surefire way to motivate you to get through a hard workout. This guy thinks the same. But he seems to have a different means of listening to his tunes.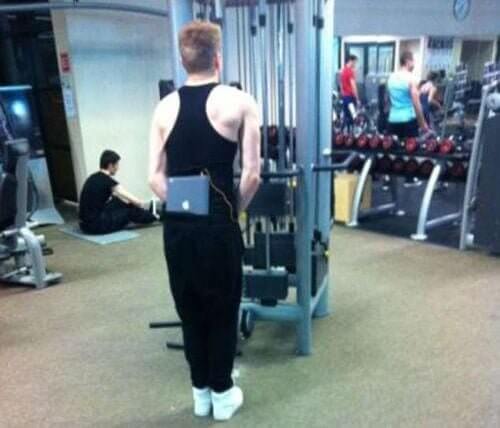 We prefer using our smartphone or an old iPod. It seems like he owns a newer, bigger, more advanced iPod (which happens to be an iPad). 

Leg Lifts
Never skipping leg day is foolproof advice but this guy seems to take it to a whole new level. Is he just challenging himself (in a rather risky manner)? Or doesn't he know that those aren't for leg lifts?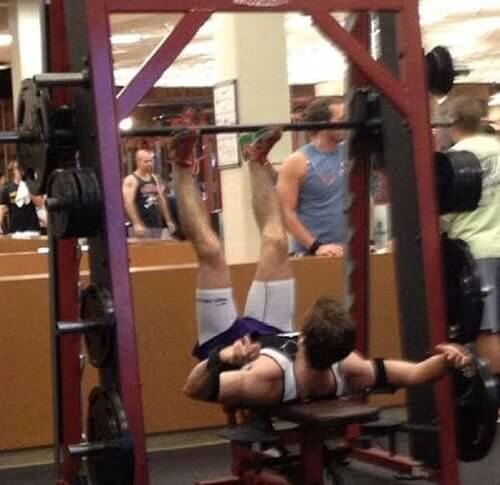 Maybe he shouldn't have skipped on hiring a trainer. Might have saved him from the embarrassment and ensuing serious injuries when his feet slip off the handlebars. 
First Week of January at the Gym
Ah, January. That time when your local gym is suddenly bustling with new faces ready to accomplish their resolution to achieve their #fitnessgoals.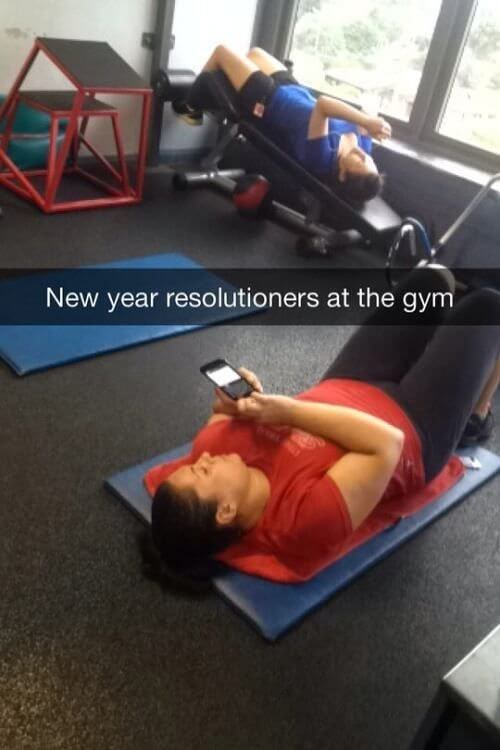 It's always a fun time to watch them dwindle down and disappear come February or March. 

Time Management
College students know the importance of proper time management. Sleep, academics, socializing, and fitness are usually the basic things we should make time for in order to live a balanced life and keep our sanity intact.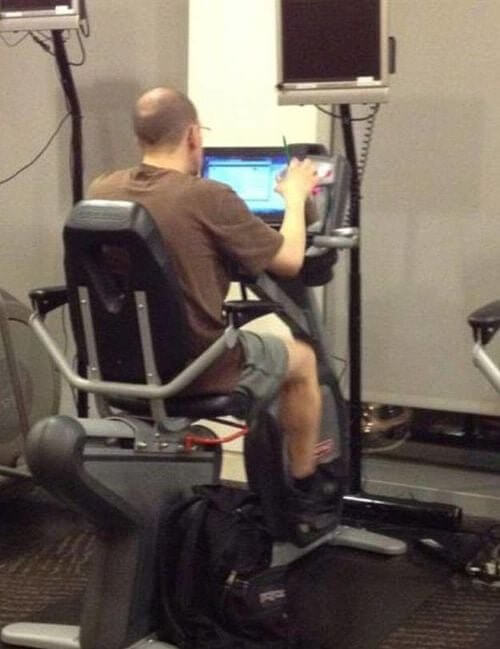 This engineering student at a prestigious university surely knows and tries to live by that. Keeping both his body and mind sharp would surely help him keep his grant while looking good for the ladies. 

Danger! Falling Weights!
We don't know what happened next after this picture was taken but we're guessing that it's far from pleasant. Just look at his friend/spotter's expression.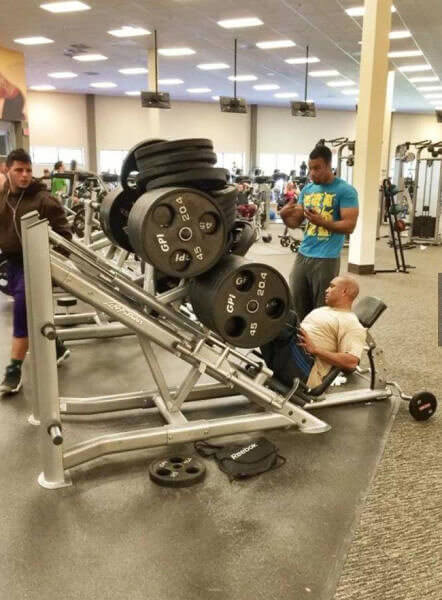 This guy probably thinks that he's the Incredible Hulk what with his strength manifesting in his great physique but those near-falling heavy weights will prove that wrong. 

Rebel With a Cause (and a Cupcake)
This guy got fed up with the entire concept of going to the gym, so he decided to rebel against by bringing a cupcake to his next workout.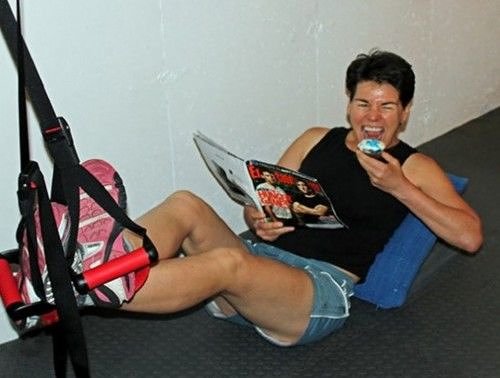 Eating a full-fat cupcake while doing sit-ups is surely counterproductive but he seems to be having fun.

The Thing IRL
People at the gym surely did a doubletake like that dude in the background when they saw this scene.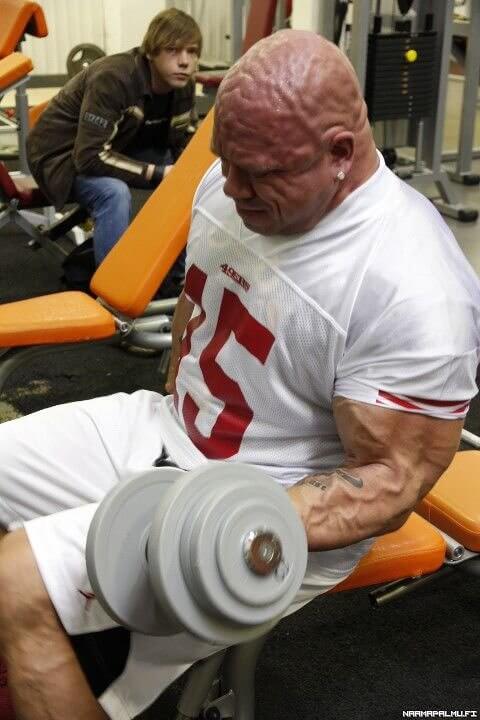 Is that guy the Thing from Fantastic Four or just a really hardcore weightlifter? Who knows!

Running In(side) Circles
Remember those running wheels that used to come with your hamster's cage? Believe it or not, you can finally know what it's like to try running in those.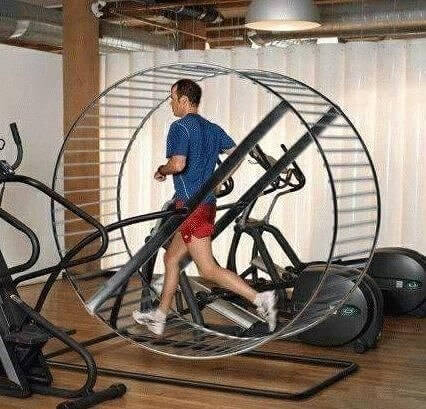 Maybe your local gym has purchased the first batch of this latest innovation in exercise equipment. Better find out for yourself!

Set a Good Example
We've all had that one overweight gym teacher when we were in school. This is probably him now expanding his work experience to be a personal trainer.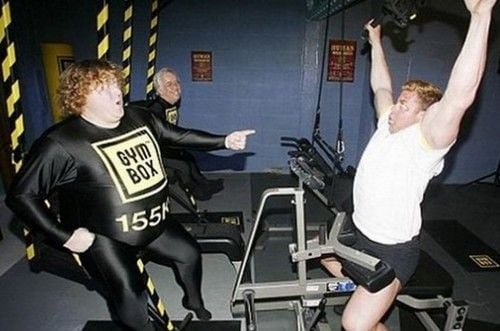 Like before, he probably should apply his lessons to his personal fitness regime first before encouraging others to do so. Aren't personal trainers supposed to be walking advertisement for the services they offer?

Fitness Couple
Relationships should be about accepting and supporting each other no matter what. Having your partner by your side while working out would surely motivate you to do better.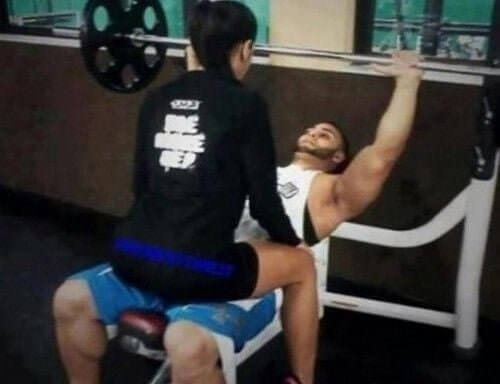 Who needs a personal trainer when you have a supportive girlfriend to shout motivational phrases at you while you lift? Now, that's love.
Positive Reinforcement
If you don't have a girlfriend to motivate you when working out, a whole chocolate cake may be the positive reinforcement you need. Nothing like the prospect of eating your favorite food to keep you going.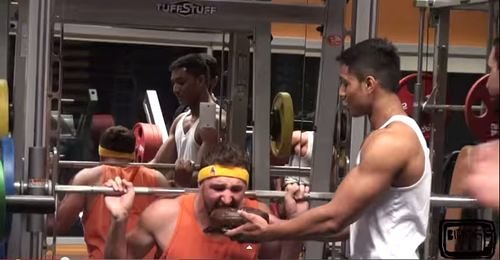 Just be ready for the angry looks though. As a general rule, eating at the gym should be avoided at all costs. 

Couch Potato No More
Mr. Potato starts his journey to self-improvement and sets an example for kids to get off the couch to begin an active lifestyle. That's one possibility.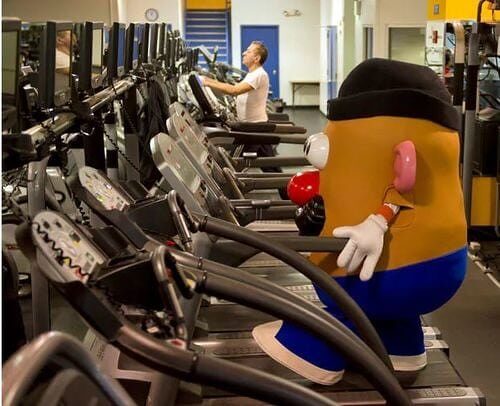 This can also just be an employee who decided to sneak in a workout in between their shifts at the local toy store or party planning service. One thing's for sure though, that person must be sweating buckets under that thick costume. 
An Athlete's Best Friend
Dogs are truly man's best friend. They will love you unconditionally and even take interest in the other things you love.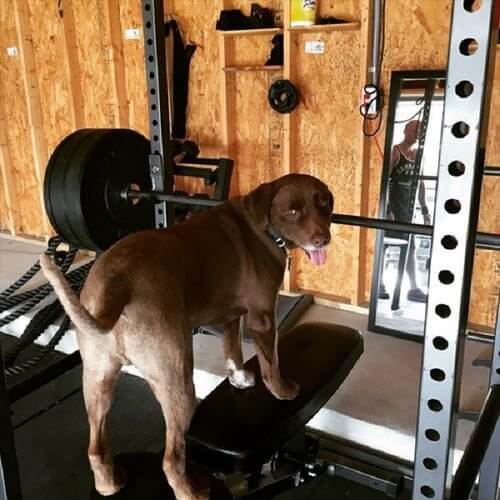 Take this adorable dog, for example, who is his human's training buddy. Seeing his dog enjoy working out surely motivates this athlete to accomplish his training. 

Know Your Limits
Part of self-improvement is being honest to yourself about your strengths and weaknesses. Don't overstep your limits just to impress that cute girl at the gym. Case in point is this guy.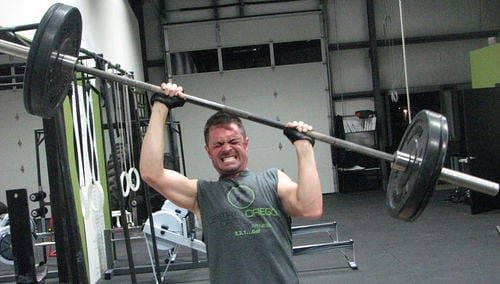 Treat him as a warning against pushing yourself too hard and for the wrong reasons too. Getting Sheila from the gym's number isn't a good trade off if it's your safety that's on the line. 
The Treadmill Is My Catwalk
Gym clothes are just a construct as this girl demonstrates with her glammed-up choice of workout wear.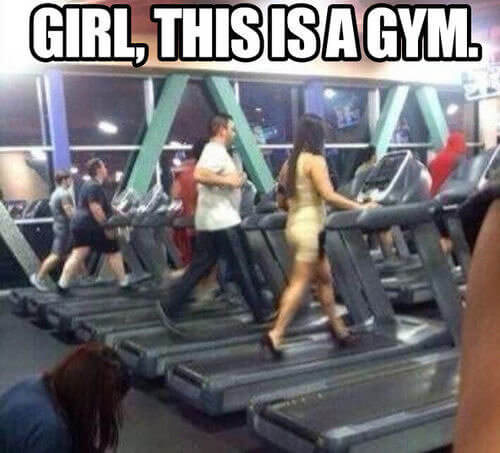 Well, perhaps it's her way of practicing her catwalk for the real deal. As people say, dress for the job you want, not the job you have. 

The Look of Instant Regret
By the looks of it, this girl has regretted decision of swinging hard on those ceiling bars immediately after she made it. And we don't blame her.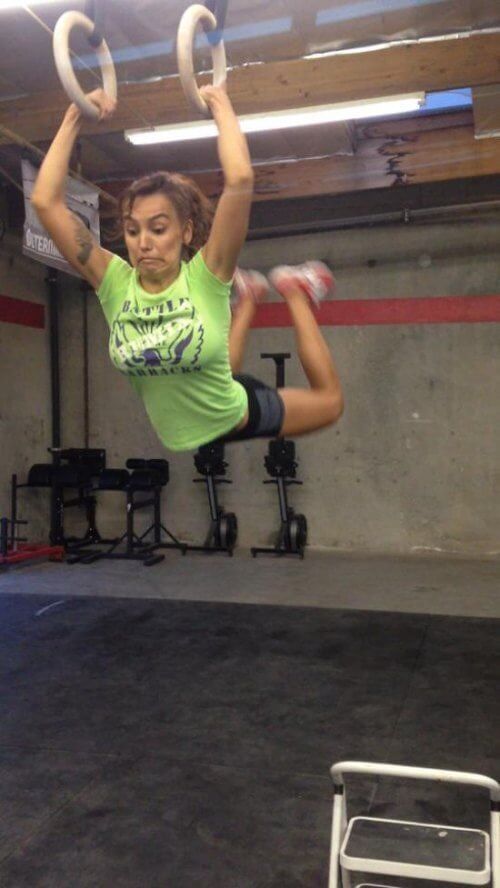 We don't know what exactly happened after this picture was taken but we're pretty sure it didn't end pleasantly for her. 

Hard at Work or Hardly Working?
If you're a regular at the gym, you'll know that people make ugly faces while working out. Facial expressions can range from Edvard Munch's Scream to Goya's Saturn Devouring His Son.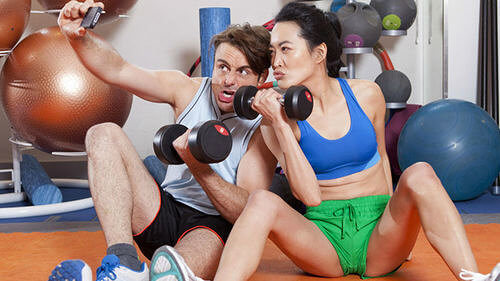 And these two friends are busy trying to recreate these looks to post on social media. We're sure their fellow gym goers prefer if they make these faces while hard at work rather than for fun. 

Gym Spa
You'd think this guy's just gotten out of a sauna after a massage judging how comfortable he looks. Maybe he's just unwinding after an intense workout? Or maybe he forgot that he was at the gym instead of at home?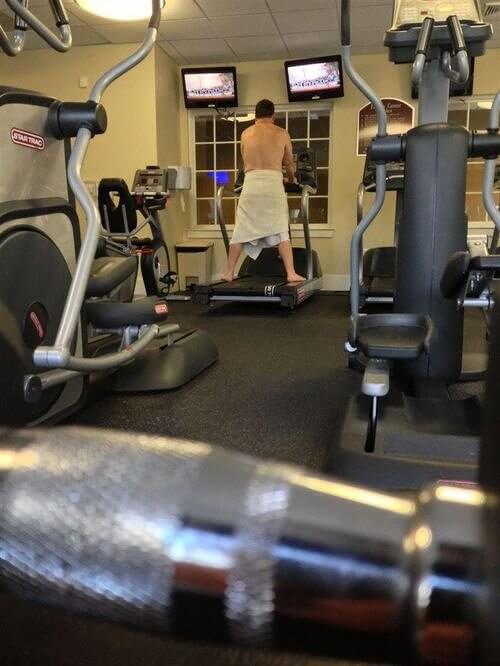 Anyway, it's pretty clear that his priority is to relax while watching the game in peace. 
Brain Exercises
When you hear the term brain exercises, a game of chess, sudoku or crossword usually comes to mind. Well, this guy has different things in mind. After all, isn't the brain a muscle that needs to be exercised as well?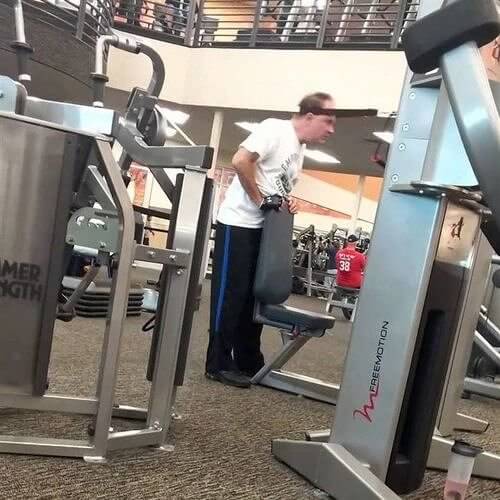 We just hope somebody told him how to use the machine properly afterward. That doesn't look comfortable at all. 

Feeding Machine
Lots of people detest doing cardio on the treadmill. Count this kid as one of them. That's why he got creative and turned the machine he hates into something a bit more enjoyable.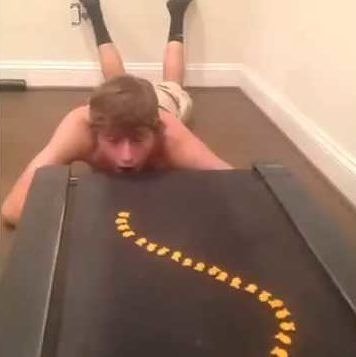 And voila, as any teenager would do, he repurposed the treadmill into a feeding machine! Honestly, we aren't even surprised. 
Walking Is Overrated
We aren't really sure what this woman is getting at with her antics.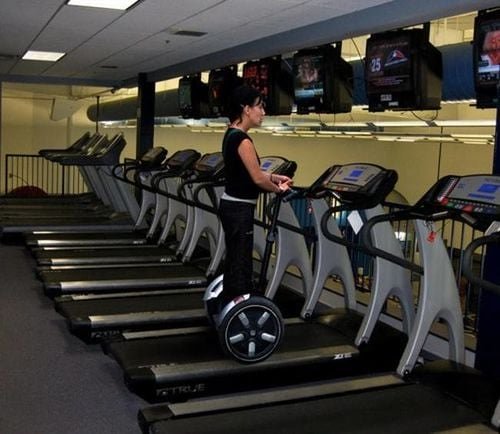 Putting a Segway on a treadmill will surely eliminate the need to walk or run, but why go on the treadmill in the first place? Is this a new multi-purpose invention we aren't aware of? 
Training to Keep You Safe
Ever wonder how Batman keeps in shape to fight crime? Well, it seems that cardio is the answer. What a sight it must be to see Batman in full crime-fighting costume breaking out a sweat at your local gym.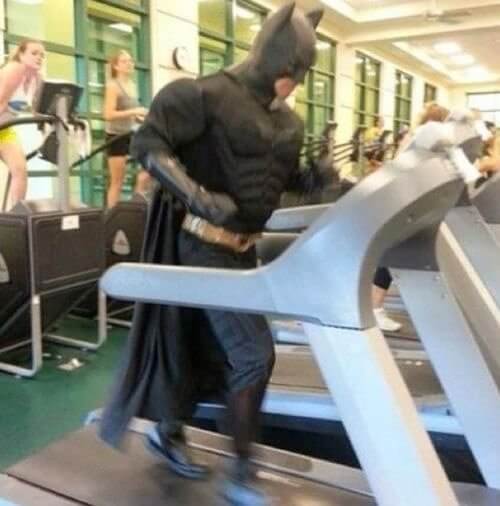 You can now sleep soundly at night knowing that our masked hero is working very hard to keep us all safe. 

Old Habits Die Hard
Sometimes old habits are just difficult to change as this girl proves. She took her couch potato habits to the gym and even brought a chair to sit on a treadmill catch up on her tv shows.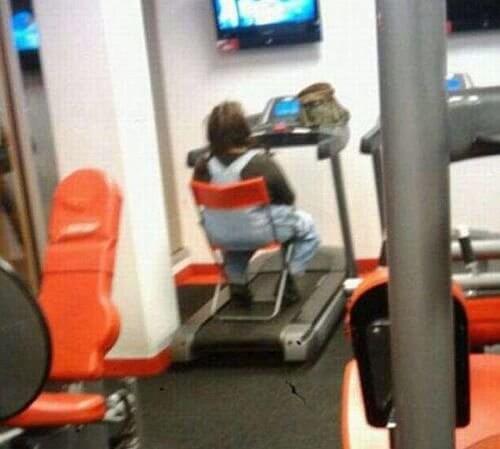 The person who nudged her into going to the gym surely won't be happy when they find out about this.