When you become a parent, it changes your life. With all the seriousness of raising a child, you need some daily humor to get through it all. These parents have decided to share with the world some funny moments through the use of the famous social media app Snapchat.

They give us some insight into what it's like to be a parent and the things they experience to give us a good laugh. We can all agree that using jokes is a coping mechanism and we're lucky that we get to see the outcome. 
Dads Out to Play
When the moms are away, the dads come out to play. In most cases, their ideas are adventurous and well-thought-out, but sometimes they can be risky. This dad clearly didn't hesitate at the opportunity to swing on a rope with his little girl.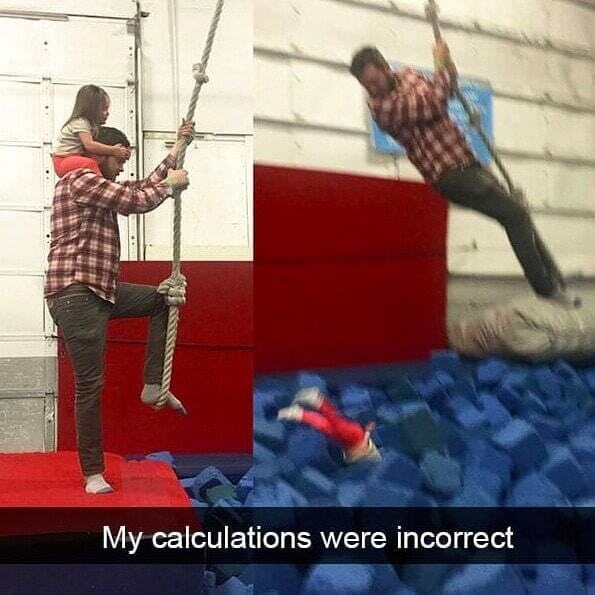 As if we couldn't see it coming, she surprisingly fell right off. Luckily for her, she landed safely in a cushioned pile of foam, and luckily for us the whole experience was recorded! We can only imagine what mom had to say about this.
Shopping Isn't for Everyone
Shopping for parents was once a blissful and easy-going experience, you could walk around the mall for hours doing your own thing. Well now, this experience has been ruined by their children. Having your moody child complaining throughout the whole excursion, can't be fun.
It's known that children don't enjoy the mall and regularly get dragged along to help with the groceries. Parents have to often deal with their dramatic teens in the middle of the mall, like in this picture as the boy refused to walk any longer.
Who Wore It Best?
Sometimes it's easy to believe that a dad's main role as a parent is to totally humiliate you. Though it may be annoying and embarrassing at times, we can't disagree that they make us laugh.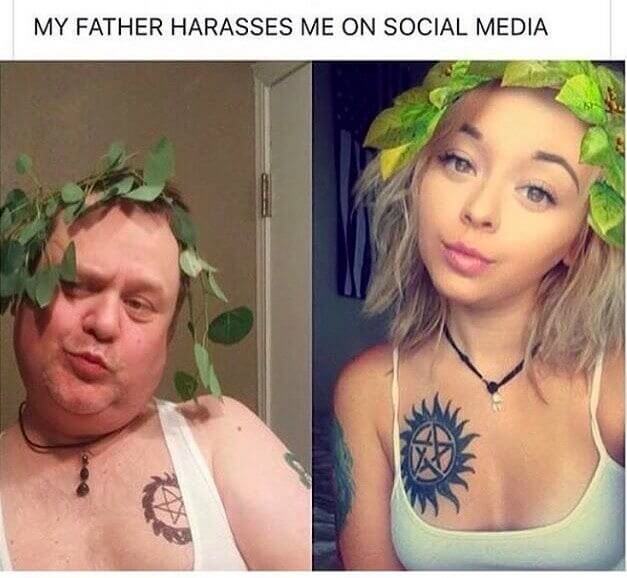 This dad went to the next level with his mission to tease his daughter on Snapchat when he copied her latest selfie. We can't speak for his daughter and her feelings towards it, but we think it's hilarious. Not only did he copy her pose, but he went as far as to recreate her entire outfit from a choker to a tattoo.
That's Going to Leave a Mark
Little humans are unique and very difficult to understand sometimes. They just do the most bizarre things- and make us wonder- what on earth they were thinking! This picture is no exception, as this mom's daughter used a permanent sharpie to color her entire face.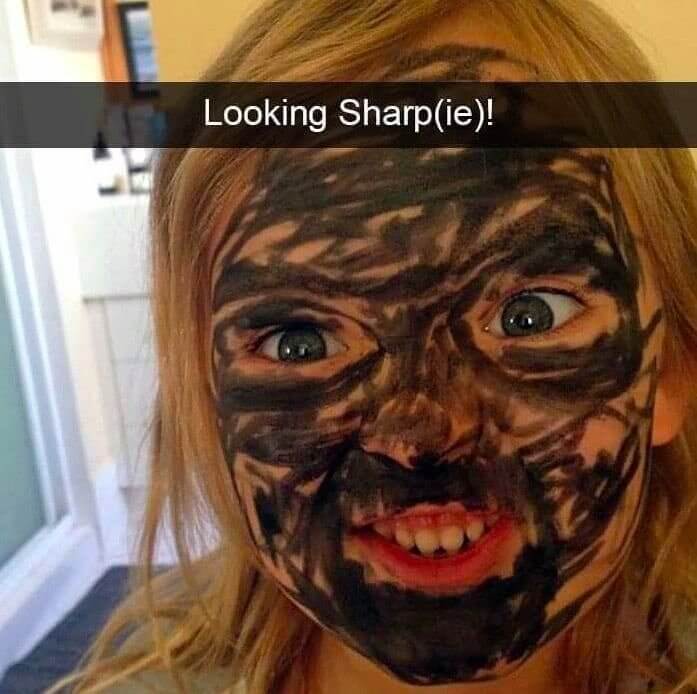 One can only imagine the struggle to get that off but it's inevitable and children will do things such as this often. So, it's best just to find the humor in it and not take things so seriously. Like this mom, with her punny Snapchat about the experience.
This Boy's Stopping Traffic
At nearly every birthday party as a child, there would be face painting. This is what we looked forward to the most at our friends' parties, and we took deep consideration of what we wanted to be. This is still true today as face painting continues to be popular.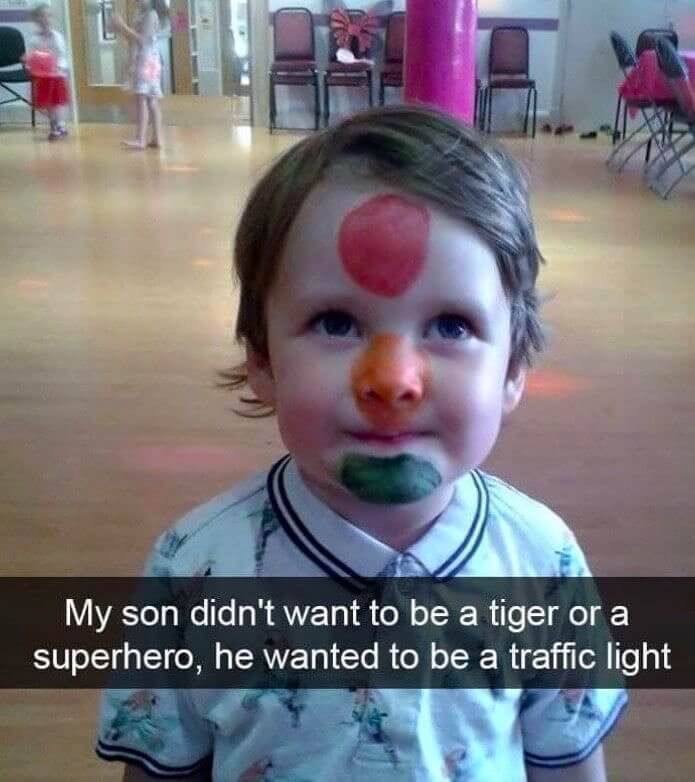 While most of the children went for popular animals and princesses, this little boy originally decided that he wanted to be a traffic light. With orange, red, and green dots down the middle of his face, this mom couldn't resist taking her camera out to post this cuteness on Snapchat.
Protesting for What You Want
We all know that children can act out and be difficult when they don't get their way. They simply just don't understand that what they want, isn't even possible sometimes. Such as this little boy who is protesting to swim when he doesn't even know how to swim.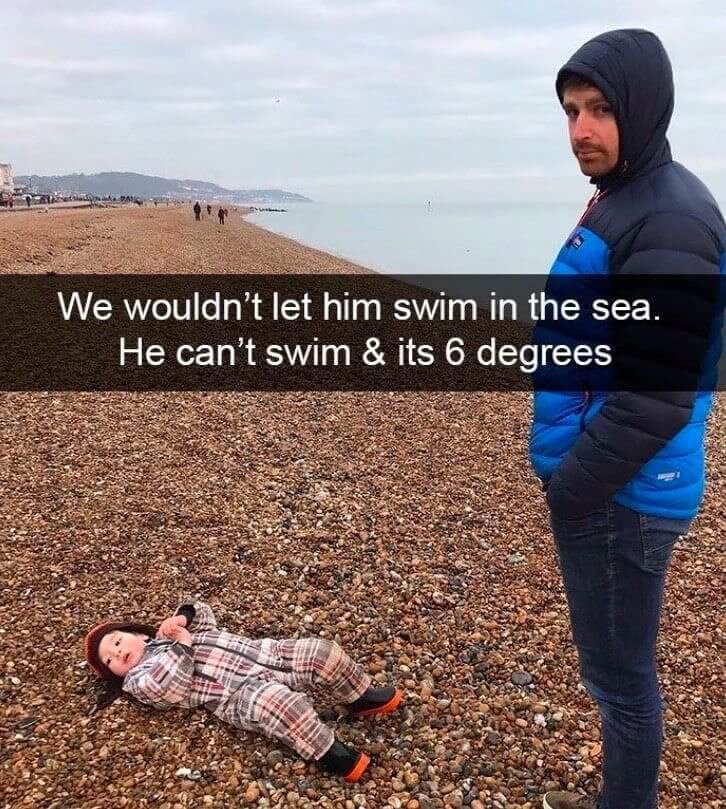 We get it, anyone would want to swim at the beach! But not when it's freezing and we don't know how to swim yet. Regardless, we have to admit that his little protest on the beach is hilariously adorable.

The Sad Feeling of Betrayal
Fruit has always been popular in many desserts, as it's topped with all the sugary goodness that you wouldn't even know there's something healthy in there. Take caramel candy apples for example, which is a popular children's treat.
This poor guy didn't find any humor in the fact that he discovered his candy caramel apple actually has a real apple in it. On the other hand, the mom found it hilarious and decided to share it with us on Snapchat.
Help, My Mom Has Lost It
When your mom is up to date with social media trends such as Snapchat, you can only expect some weird messages here and there. This mom decided to message her daughter in the early hours of the morning after a fun night out with some dark humor.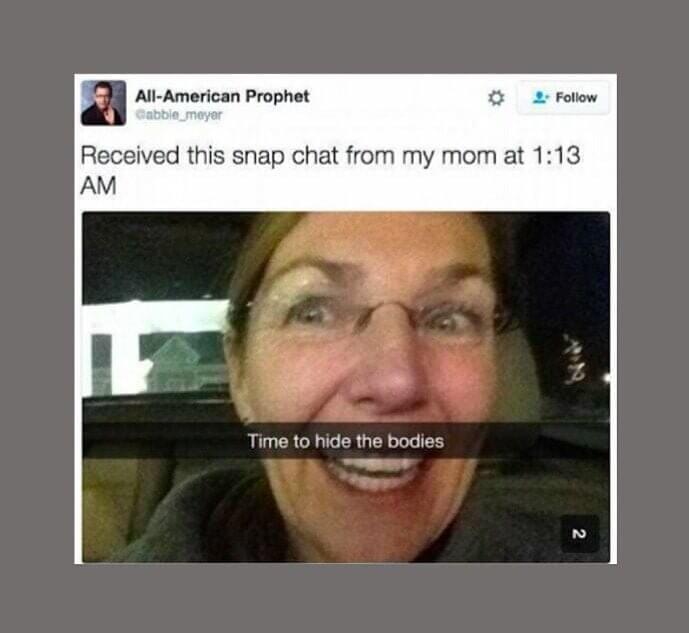 This mom not only has a better social life than her daughter but also has a good sense of humor as she sends this creepy snap. Hopefully, the daughter found it as funny as we did.
Turkey on the Loose
Being a parent is tough, especially in the mornings before dropping the children off at school. The rush to get them all ready, make them lunch, and get them all in the car in a short amount of time is difficult. To top this morning routine off, this mom has to handle her children as well as a lost turkey.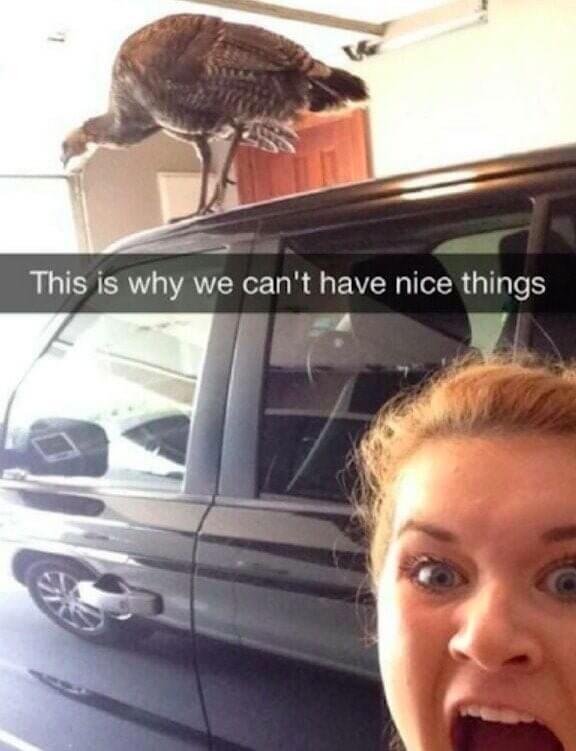 Before adjusting her plans, obviously, the moment needed to be shared on Snapchat so that everyone can see how her day is going thus far. Hopefully, they managed to get the turkey to wobble away.
If There's a Will There's a Way
It's safe to say that parenting requires more than two arms. The busy lifestyle requires the ability to balance holding your toddler while getting through daily activities. Getting love and cuddles from your little one all day is special, however, it makes basic things like eating rather difficult.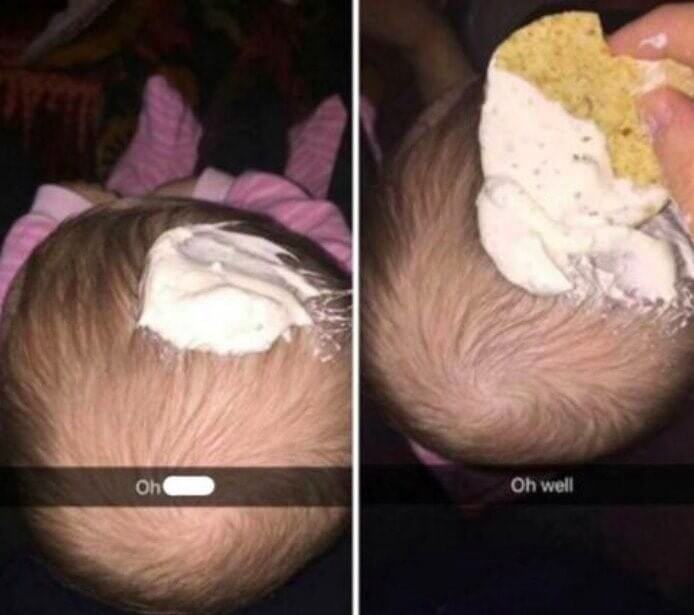 This dad was determined to get his snack time in while looking after his child at the same time. After dropping some chip dip on his toddler's head, he made a plan to clean it up by using his chips instead of finding a cloth.

Some Cold Hard Cash
We don't like to admit it, but parents can be hilarious when they want to be. They can come up with the most interesting and funny jokes to play with their children. Like this dad for example, who just wanted to give his son exactly what he asked for. He just had a different way of doing just that.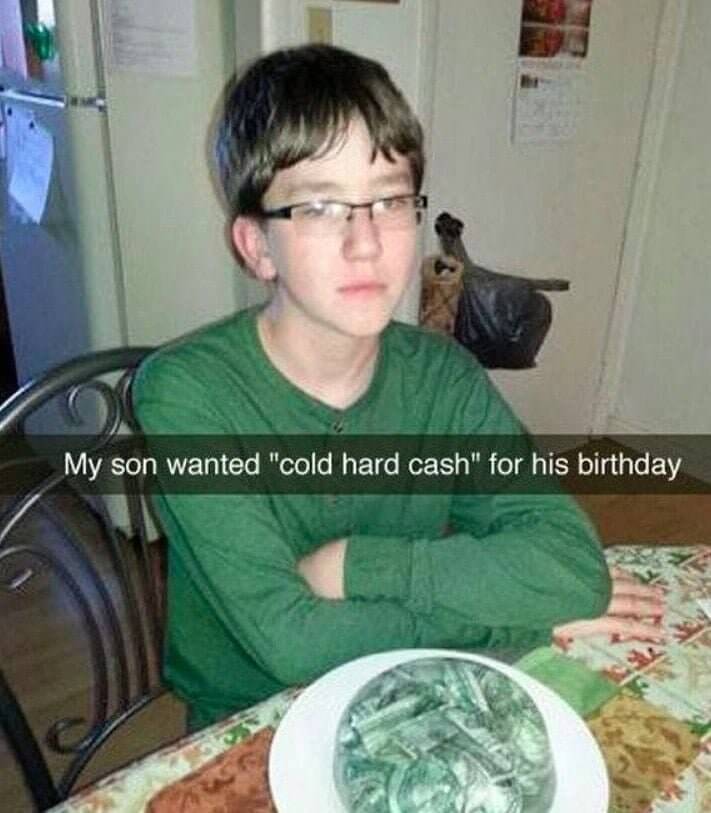 It may not have been what the son was expecting but hilariously, it's literally what he asked for. This dad gave his son cold hard cash. We may find this funny but the son doesn't seem as impressed as we are.
Teddy Graham Snack Break
When this dad was left in full responsibility for his 14-month child for the day, mom decided to leave small important notes around the house to help him out. One of these notes was placed on Teddy Grahams, a delicious and well-known snack.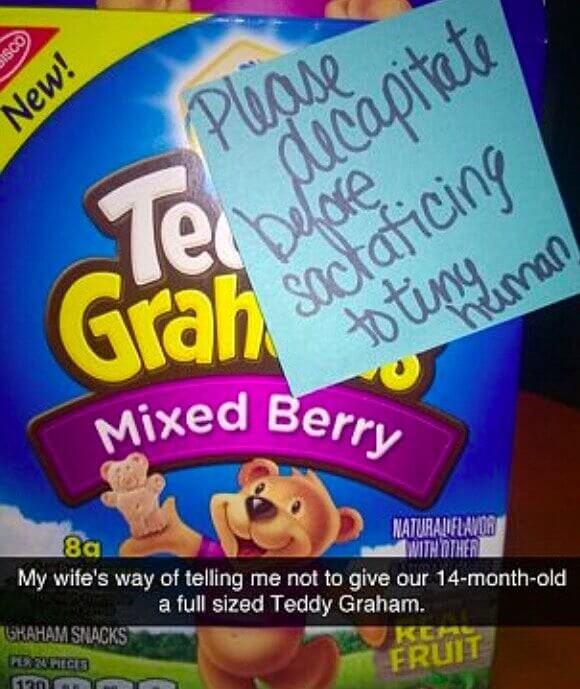 The dad was left with clear instructions on how to give the Teddy Grahams to his toddler. However, Instead of just simply informing the dad to break the Teddy Graham in half for their toddler, she went an alternative route for the description. That poor teddy bear.
Just a Little Makeover
This mom used Snapchat not only for the filters, but to show her artistic drawing abilities to the world. Creativity took over in a moment of possible boredom where she decided to give her little human a new face.
Those who know Snpaychat will understand the skill needed and we can't deny that the drawing takes some talent. Not everyone would be able to give their baby eyelashes, eyebrows, and even lips like that. This mom did a great job and the result gave us all a laugh. 
Hiding in Plain Sight
Playing hide and seek as a child was one of the best games ever. This boy was playing hide and seek with his mom and found the perfect hiding spot which was in plain sight, defeating the whole purpose of the game.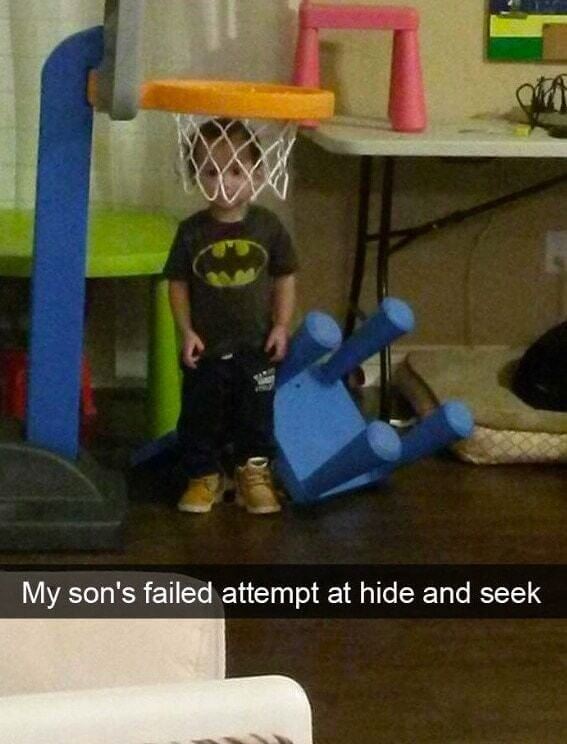 The funny thing is, he truly believed that no one could see him, at least he tried. You can often expect this sort of thing from children as they do the funniest things without even knowing it.

Dragon Reporting for Duty
It's well known that children love any excuse to dress up. This boy came outside ready to help his mom working in the garden, dressed up in a dragon costume. She simply asked him to get ready to work in the yard with her and this was his choice of attire.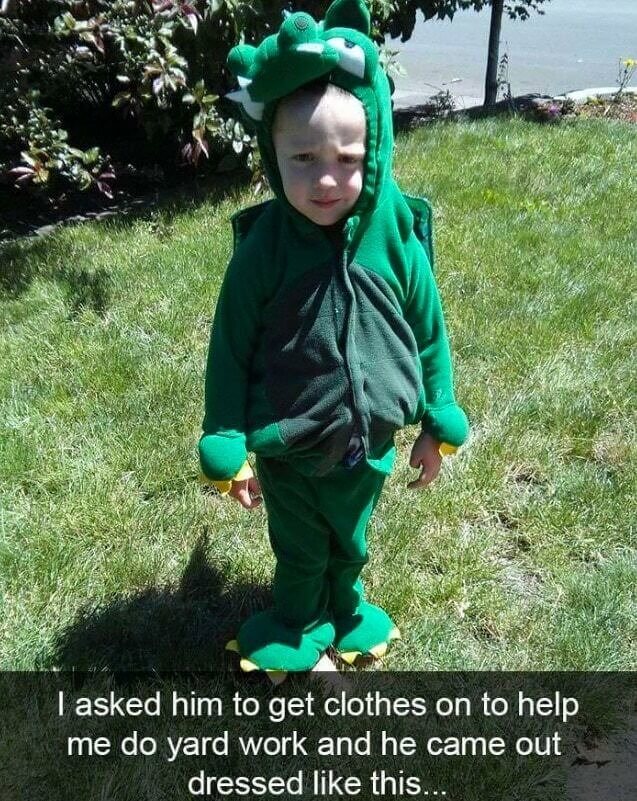 We're not sure how he managed to do any yard work in this outfit. Regardless, he was ready to help out which is all that matters. We can only imagine this mom's expression when he walked outside dressed in his dragon costume, but it's extremely cute so we won't complain. 
Getting Your Chores Done
Having your parents join any social media can be daunting, in this case, it's Snapchat. We like to keep our social life and parents separate so they don't have to judge our selfies and spy on our daily lives.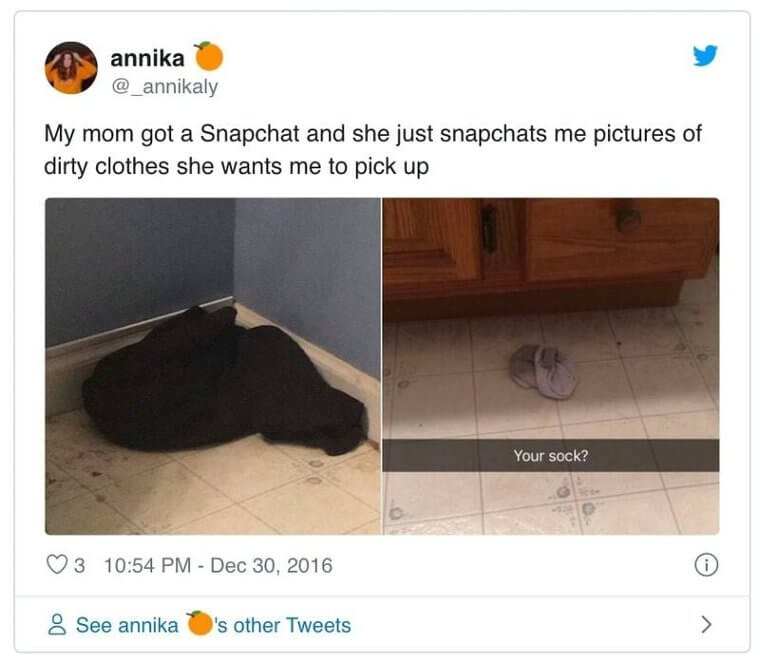 This mom uses Snapchat for an interesting approach of getting her daughter to do her laundry instead of stalking like a normal mom. Her mom sends her snaps of any clothing lying around the house which needs to be picked up.
An Apology From the Heart
Sometimes being a parent requires discipline to teach important life lessons. For example, when this mom's daughter had been behaving badly, her mom insisted on a letter of apology. The mom wanted her daughter to learn that her behavior was unacceptable.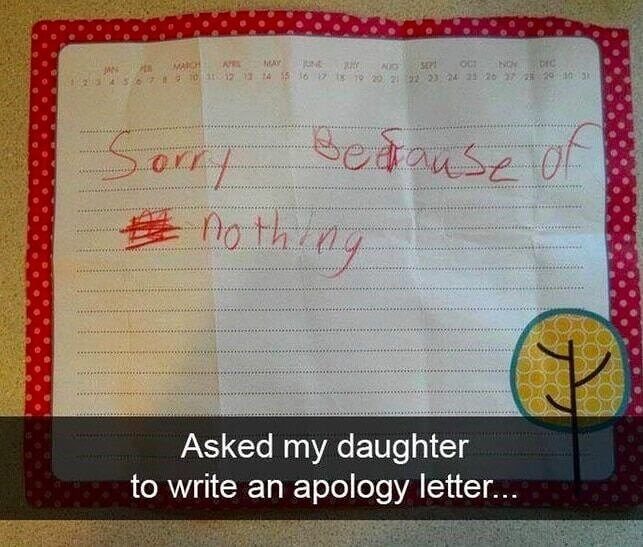 Sadly, the daughter didn't agree that there was anything wrong with how she behaved and gave a cheeky response in her apology note. Luckily the mom found some humor in it and shared it via Snapchat for a laugh.
Can't Take Them Anywhere
Going out for dinner anywhere when you have children becomes a difficult activity. You can try your very best to please them. Such as taking them to their favorite place and giving them their favorite meal, but at some stage, they'll still get upset with something.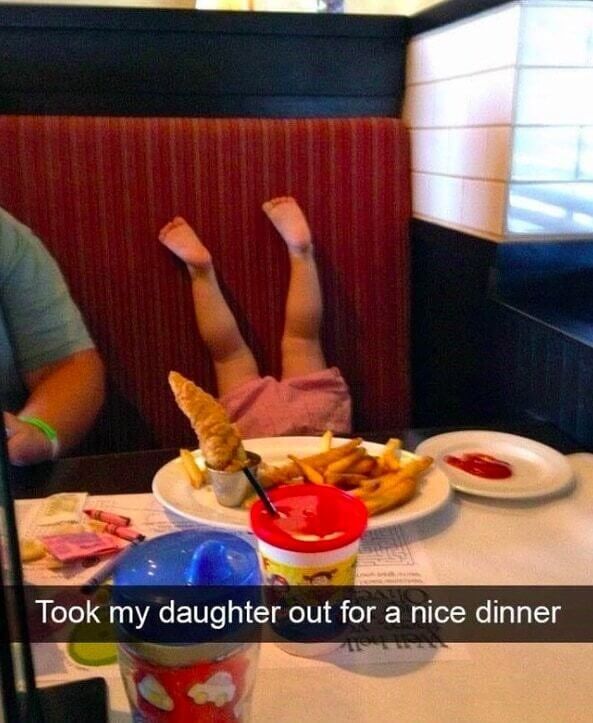 When this family tried to take their toddler out for a nice dinner, the result was an upside-down tantrum in the middle of the restaurant. Causing a scene can be embarrassing for parents as it is but sometimes you just have to laugh at the situation.

And the Oscar Goes To
There are two sides to every toddler. They have an adorable sweet side and then there's the side we all know and dread. The moment when your child doesn't get their way and they start to have a full-on meltdown, making tasks difficult.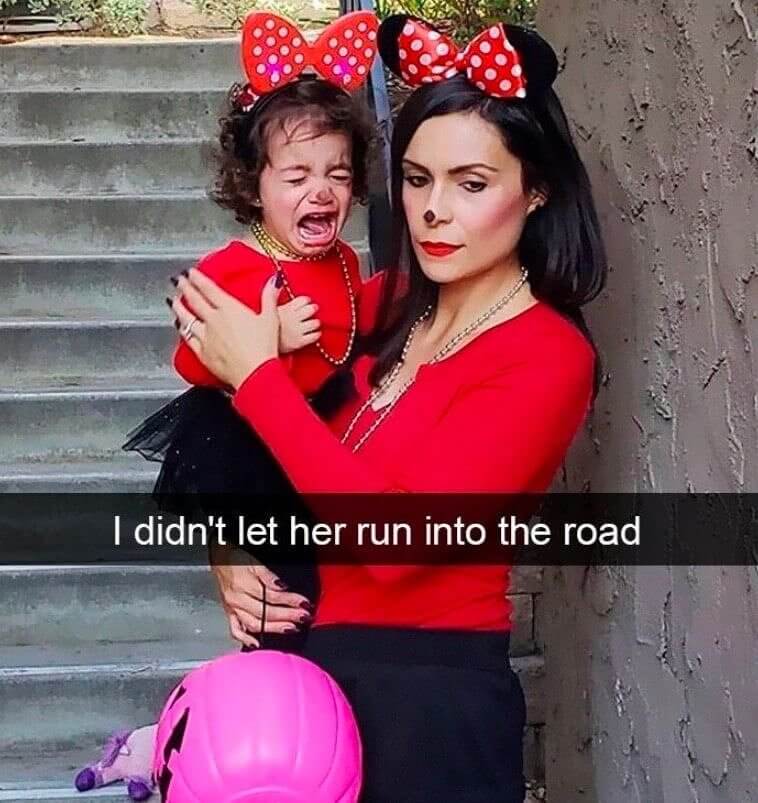 The scary thing is, you never know when their meltdowns are going to hit. Sadly for this mom, after all the effort put into cute matching Halloween outfits, the little Minnie mouse had a meltdown and ruined all the photos. At least her reason for the tantrum was valid, wasn't it?
A Veggie a Day Keeps the Doctor Away
Having your mom checking up on you is relatable, they just want to make sure you're staying healthy and happy. This may include them harassing you about your sleep patterns, working out, or even checking that you're eating enough fruit and vegetables.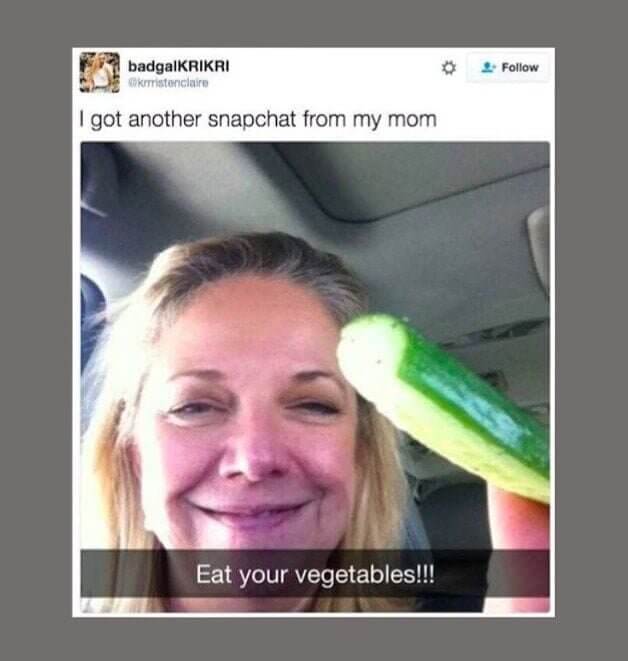 This mom originally decided to use Snapchat as a tool to check up on her children and remind them to stay healthy. It's hard to forget to get your daily dose of fruit and vegetables when you have your mom sending you snaps about them every day.
Like Mother Like Daughter
Being a mom means having everything that you do be copied by your little one. They see you as their role model therefore they want to be just like you. In this case, this little girl wanted to look just like her mother.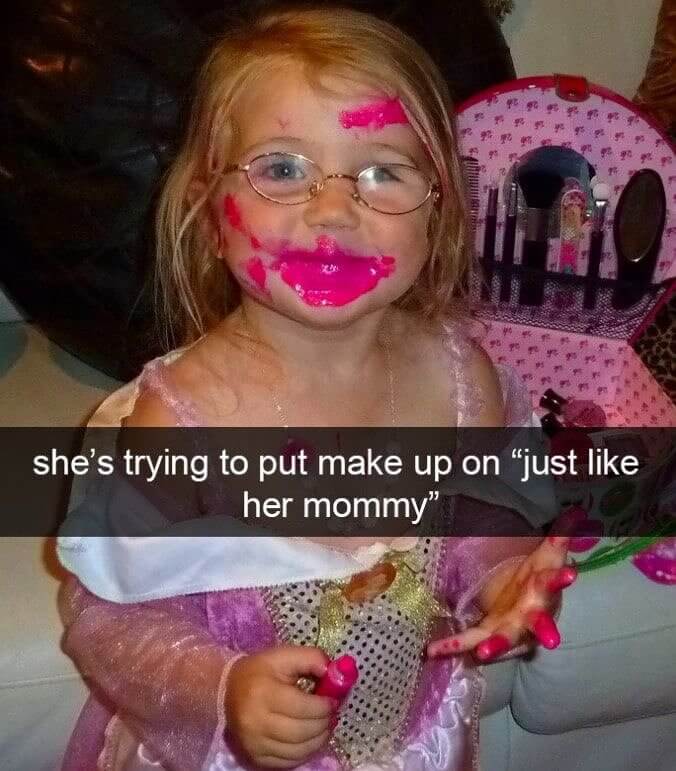 This daughter decided she would copy her mom's makeup so that they could be the same. We're assuming the mother doesn't use pink all over as her style but you never know. Regardless, it was an adorable gesture that needed to be shared with us.
Face Swapping at Its Finest
Gone are the days where you would take just a normal cute photo when out with your child. Thanks to Snapchat, parents have turned to funny filters such as the well-known face swap for memorable photos.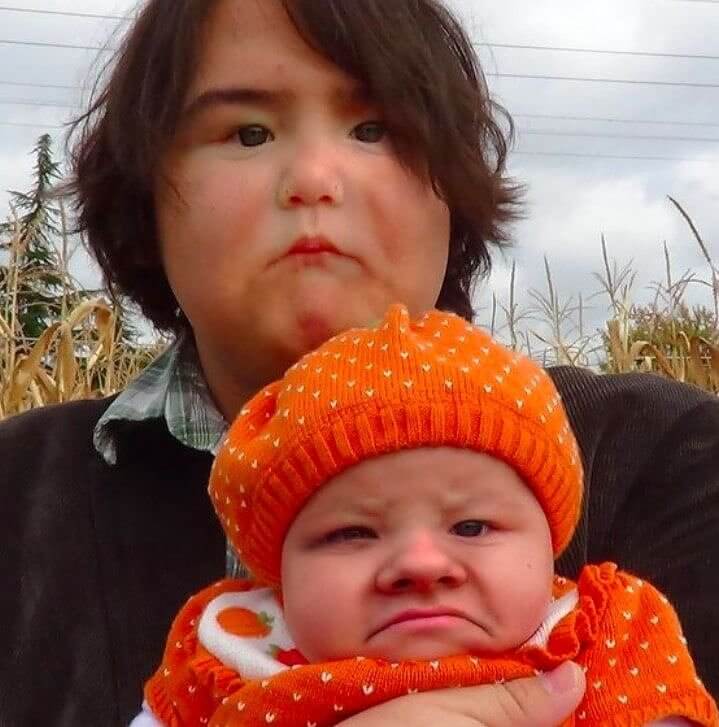 Though the face swap filter is hilarious, some weird results have occurred because of it. Take this one for example, when this mom was taking a fall stroll and took a face swap snap with her baby, the toddler looked like an upset pumpkin.

The Coolest Birth Giver
Sometimes parents get really invested with Snapchat. Like this mom, who not only knows how to use the app well but has even named herself Birthgiver. We have to admit - She seems pretty cool, though her daughter may not agree with us.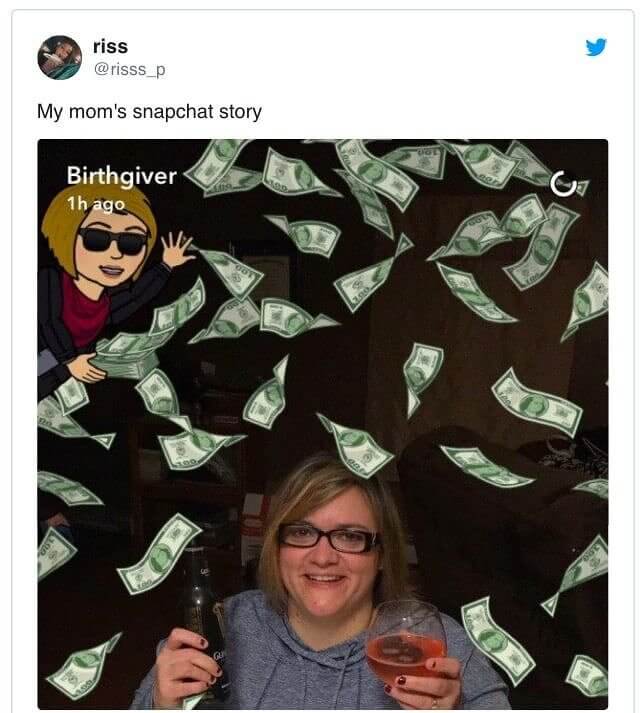 The Birthgiver shared a snap of her emoji, throwing money on a selfie of her as she enjoys a night alone. To top the photo off making us all jealous, she's holding not one, but two drinks. Clearly having a really good time.
A Moment of Regret
Often children are quite stubborn and will stick to what they believe. In this case, this son really believed that he didn't need the toilet. His parents had asked him multiple times and he convinced them that he was all good.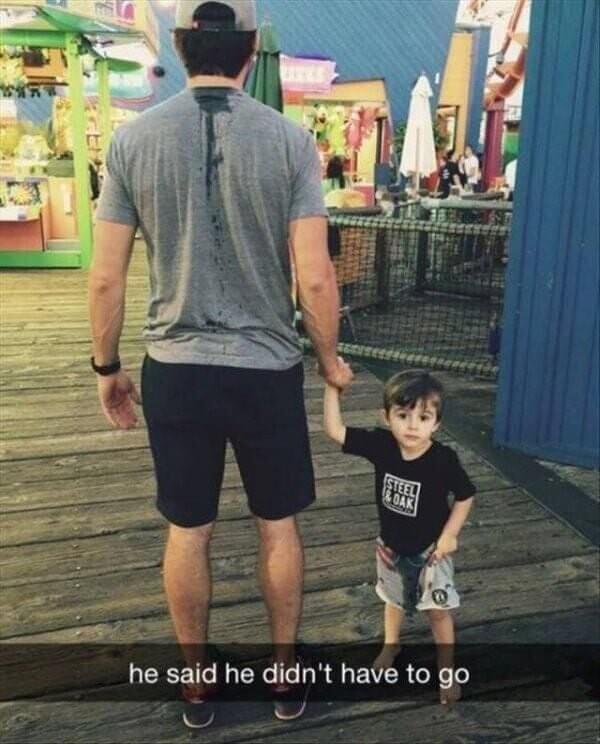 Clearly, he wasn't all good and this poor dad got in between his son and the toilet. We can't imagine this father was very happy with a wet back and will probably have some trust issues with his son going forward. However, at least they got a funny snap out of it.
The Ultimate Hiding Spot
It's no surprise that children think completely differently from the way adults do. They tend to have a more creative way of thinking and therefore come up with some surprising stuff.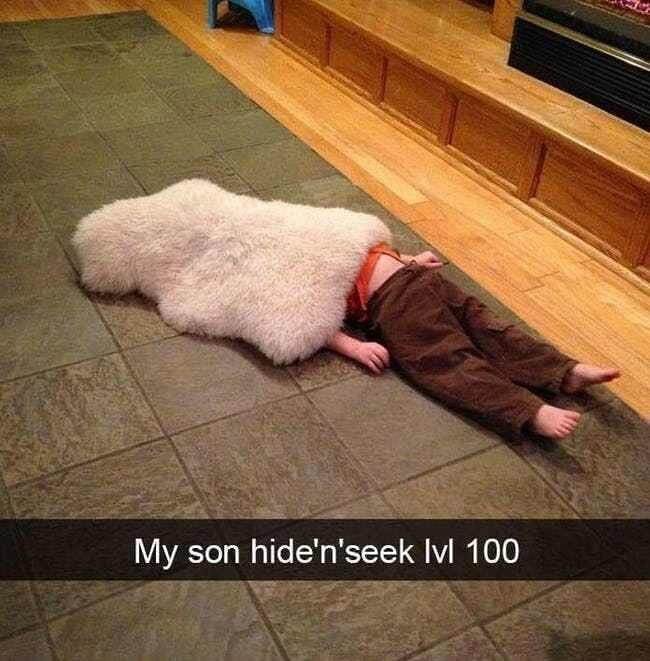 Playing games is a good way to see your child's creativity come out. For example, this mom was playing the popular game of hiding and seeking with her son. When it was her turn to look for him and his turn to hide, he thought his mom would never find him in his new spot, under the carpet.
Being a Smooth Operator
Going on a flight anywhere with a child can be scary, they may get fussy or upset and make things extremely difficult for the parents. In this image, that's not the case. This little charmer decided to leave all the fuss at home and only bring his swag with him on the plane.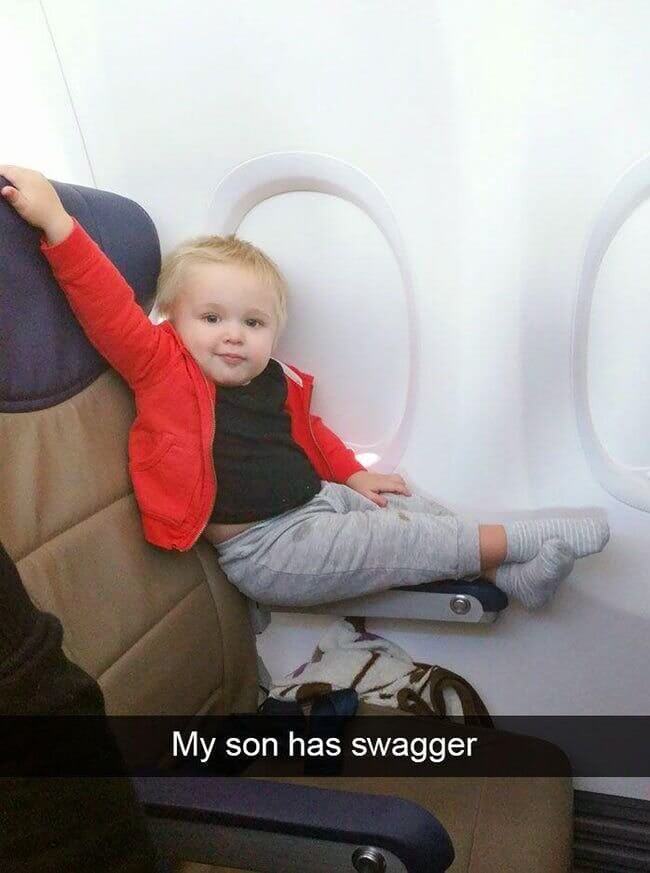 Children honestly don't even try, yet they can be the cutest humans on the planet sometimes. This boy is the perfect example of a heartbreaker and hopefully, his flight buddies were impressed by his charming pose.
You Better Ketchup With Me
Parents like to imagine what their children will be like when they grow up. It's only natural to envision them in different career fields based on their interests from a young age. You'll wonder if they'll be spending their days helping people in a hospital or if they'll stand up for someone in court as their lawyer.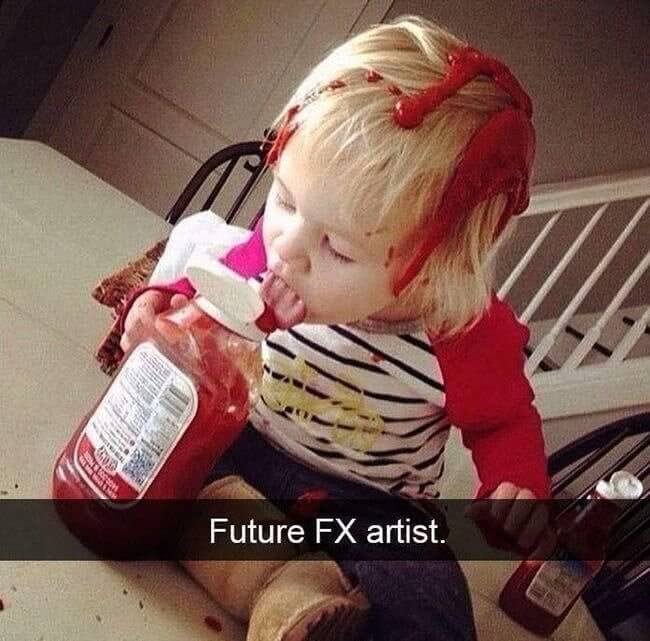 Wherever the world may take them, we can't help but think about it. For this mom, her son's future career field was staring her right in the face. Her son threw ketchup all over the place, including on his head and she just knows he will be a true artist with special effects one day.
A Different Approach to Potty Training
Kids are naturally curious as they are discovering the world around them. This curiosity leads them into all sorts of trouble and sticky situations. This little boy is no exemption, as his mom heard him crying and found him in a rather unusual spot.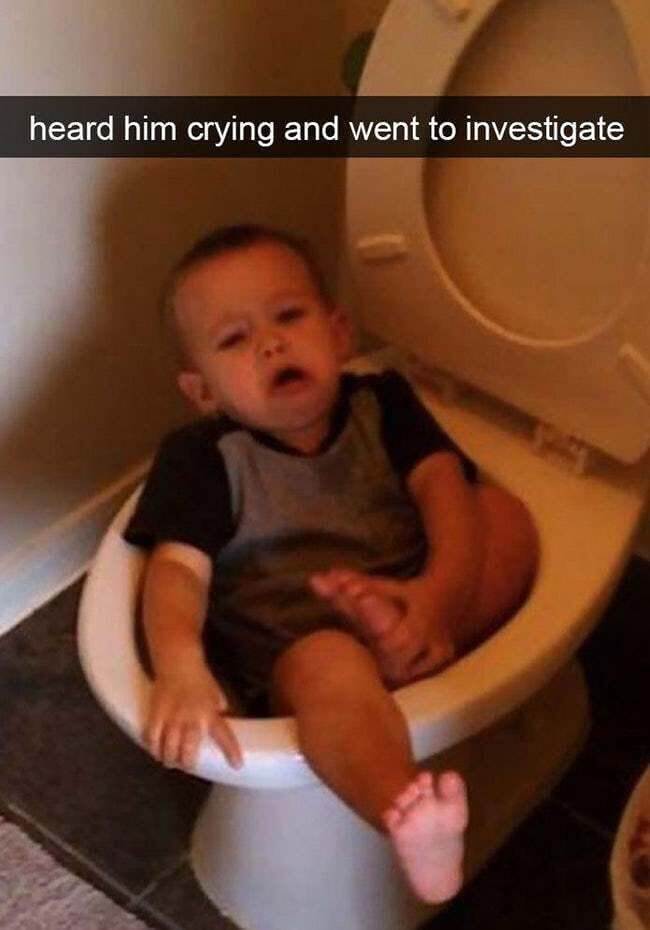 His curiosity led him to go swimming in a toilet. We can only imagine this mom's reaction when she found him stuck in the toilet. As funny as it is, you really can't have them out of your sight because who knows what they'll get up to.
Hopefully, It's Worth the Wait
Children are small humans with mixed emotions. This little boy got so excited when he found out he was getting cinnamon rolls, followed by a meltdown when he discovered they're not instant and he has to wait.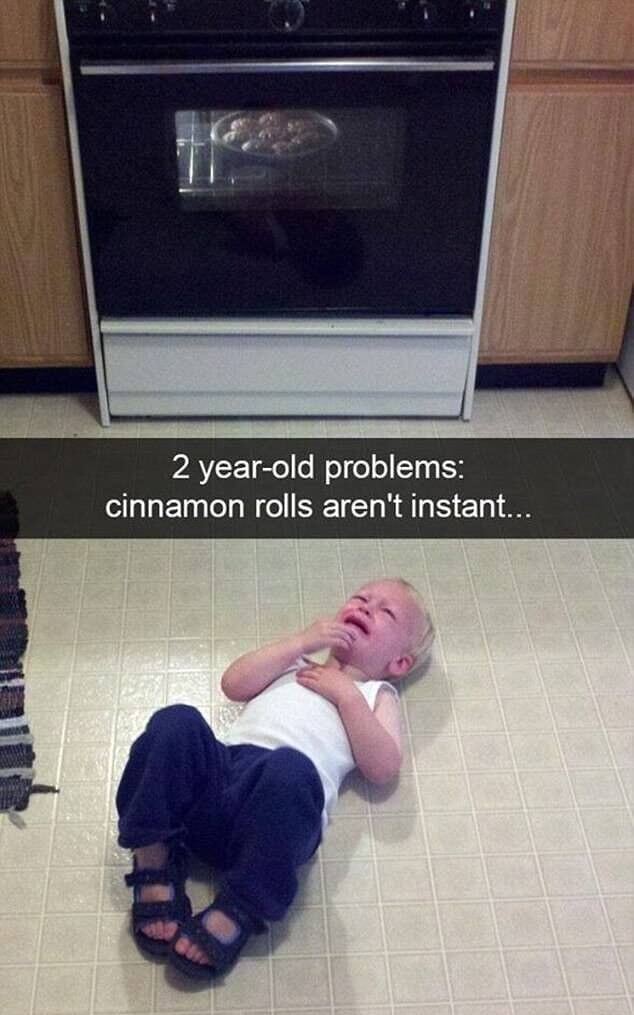 The 25 minutes felt like the longest wait of his life. We too would cry over cinnamon rolls, they are simply the best! Understandably this little boy was distraught as he thought the cinnamon rolls were instant.
It's His Birthday, He'll Cry if He Wants To
As mentioned before, children don't always understand everything that is happening around them. To us, their birthdays are a special event that needs to be celebrated with cake and presents, surrounded by family and friends.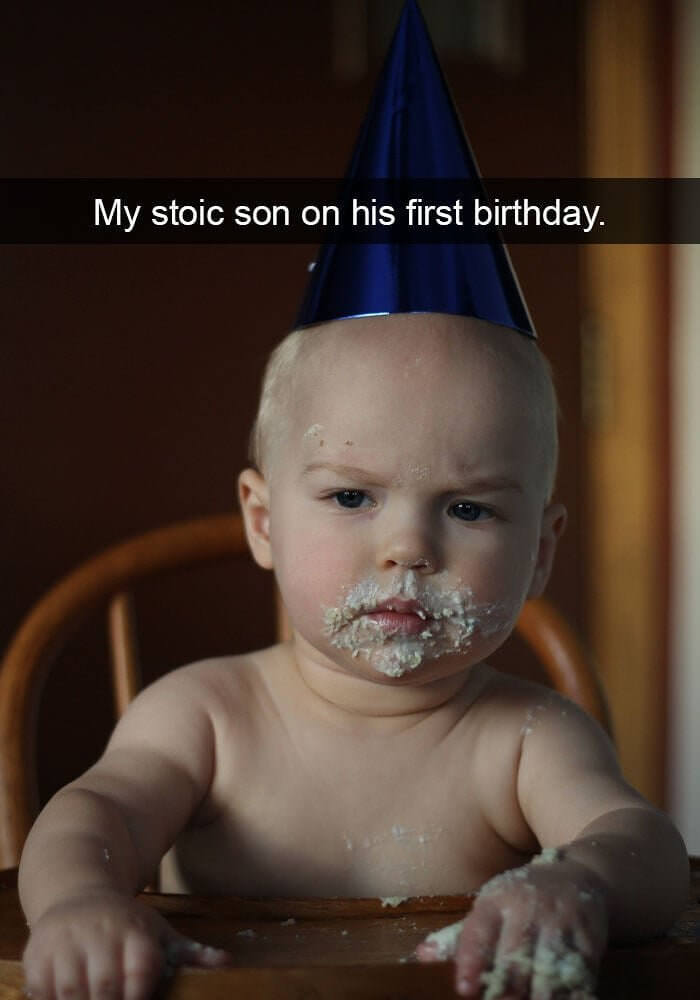 Before the age of four, your child may not have a clue what is even going on. Like this boy, who not only looks confused but also looks very unimpressed with the whole event. Except for the cake, he clearly enjoyed the cake.
The Most Humble Children
Being a parent has its challenges. You want to be the best role model you can be and teach your children to be good people inside and out, but you also want them to embrace who they are and love themselves.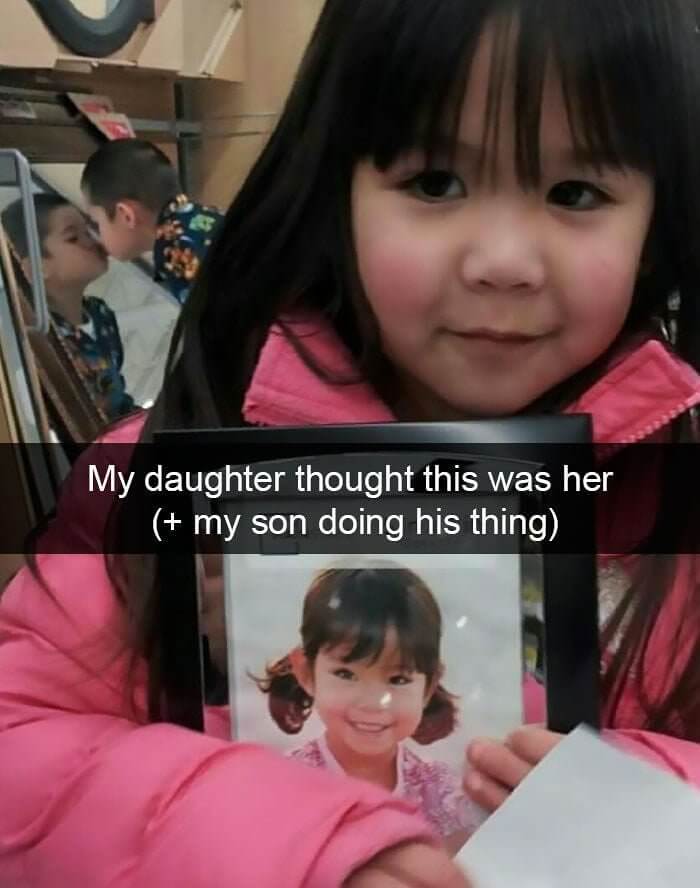 This parent obviously has two beautiful children, who might love themselves just a bit too much. As the daughter is showing off a picture of a model that she's convinced is her, and the son is kissing his reflection in the background. They say confidence is key, so at least they know they're beautiful.

We Don't Need No Education
Starting school is an exciting adventure for both children and parents. While parents finally get time to themselves, their children get new stationary, exciting new bags and they get to create new friendships.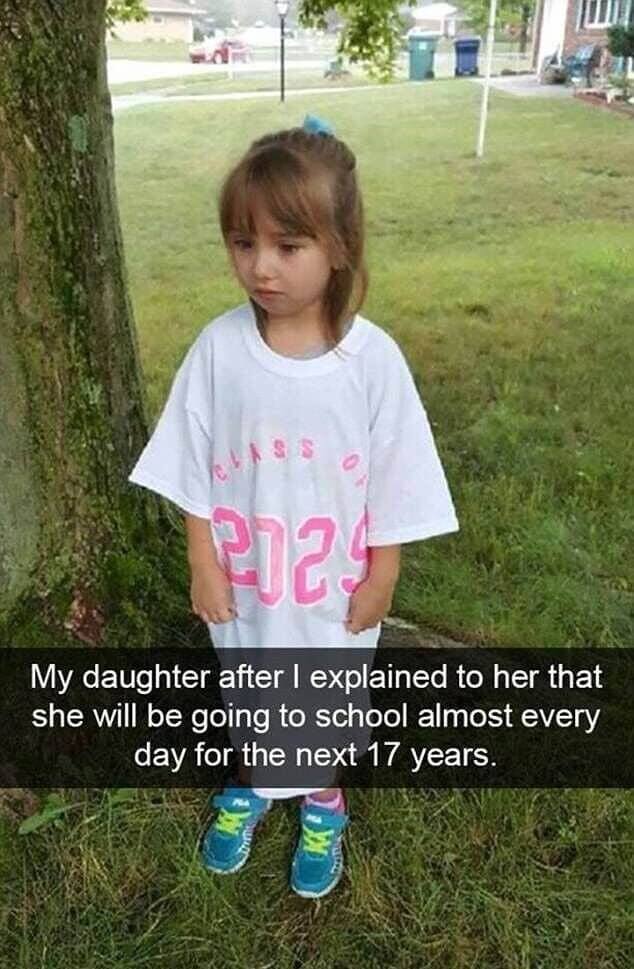 The first day of school is a memorable day and can bring about lots of good and bad emotions. For this Kinder, it brought about the harsh realization that this would be her life for the next seventeen years. As you can see, she's not very excited about it.
Definitely Your Mothers Child
When you have a child, every day they will do something that will remind you of yourself or your partner. It may be their appearance or the things they say and do showing their personality developing. Your child might have his father's smile or enjoy reading like his mom.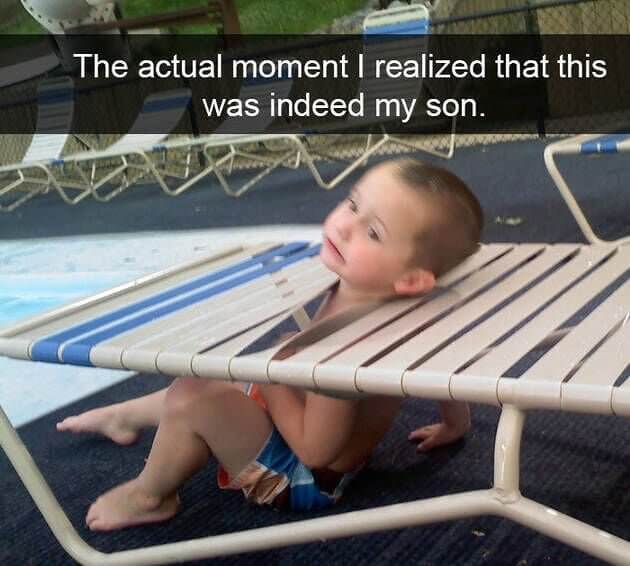 In this case, this child is as clumsy as his mom. When his mom turned to find him stuck in between a lounge chair she had the distinct realization that there's no doubt he's just like his mother.
Better Luck Next Time
Parents want their children to try out multiple activities to find that special one they enjoy. Extracurricular activities are a great way for kids to use their energy in a good way. Whether it be sports, music, dancing, or any curricular activity they want their child to get involved in something.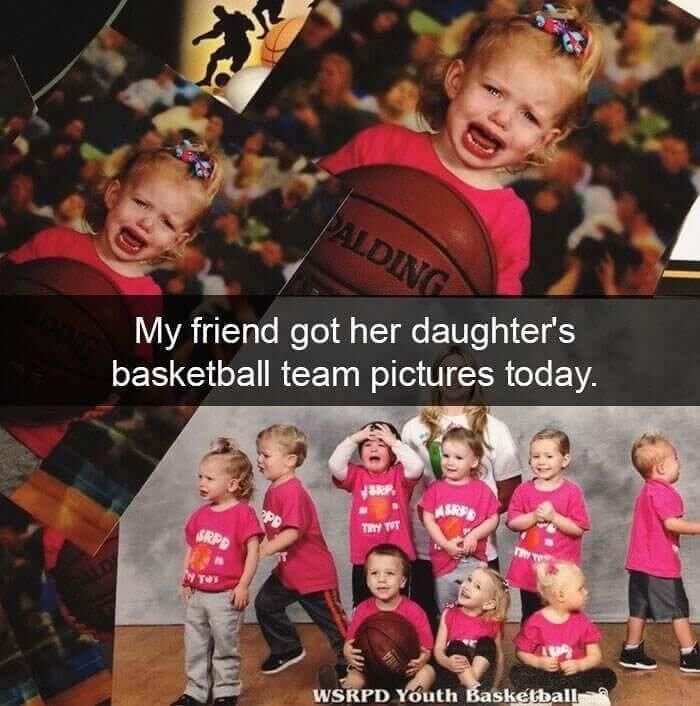 These parents took a chance on basketball as their daughters' sport. We can safely say because of these photos, basketball won't be in her future plans. The little girl had a meltdown during the team photoshoot, showing us her feelings towards the sport.
It's Not What It Looks Like
As a kid, the most dreaded time is bedtime. When your parents tell you to turn off your favorite show and get to bed every night when you're not even tired! This boy took matters into his own hands and decided he was not going to sleep tonight.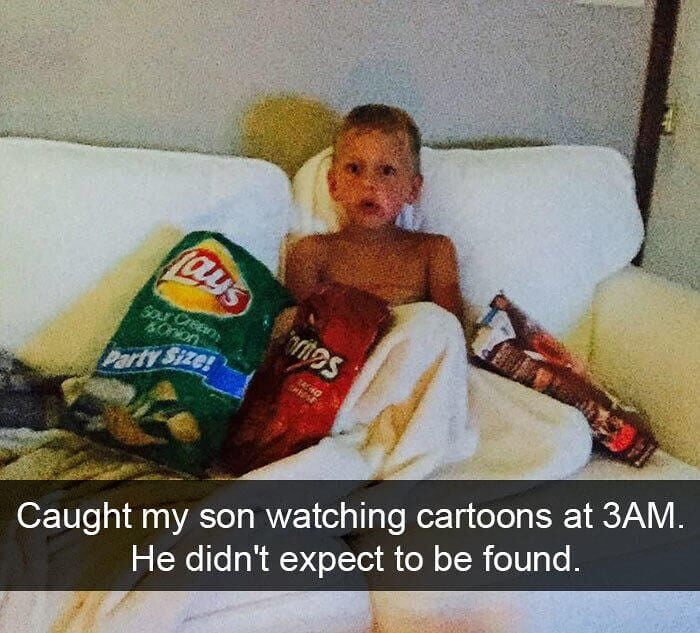 He plotted his plan and snuck out to get some comfort food to watch his cartoons while his parents were sleeping. He clearly wasn't expecting his mom to wake up and find him like this. The look on his face just shows that he knows he's going to be in trouble now.